Death Beauty Famous Quotes & Sayings
List of top 100 famous quotes and sayings about death beauty to read and share with friends on your Facebook, Twitter, blogs.
Top 100 Quotes About Death Beauty
#1. You have to appreciate life before you want to preserve it," she said.
"And it's the survivors who maintain the most light and poignant hold upon the beauties of living. Women know this more often than men because birth is the reflection of death. - Author: Frank Herbert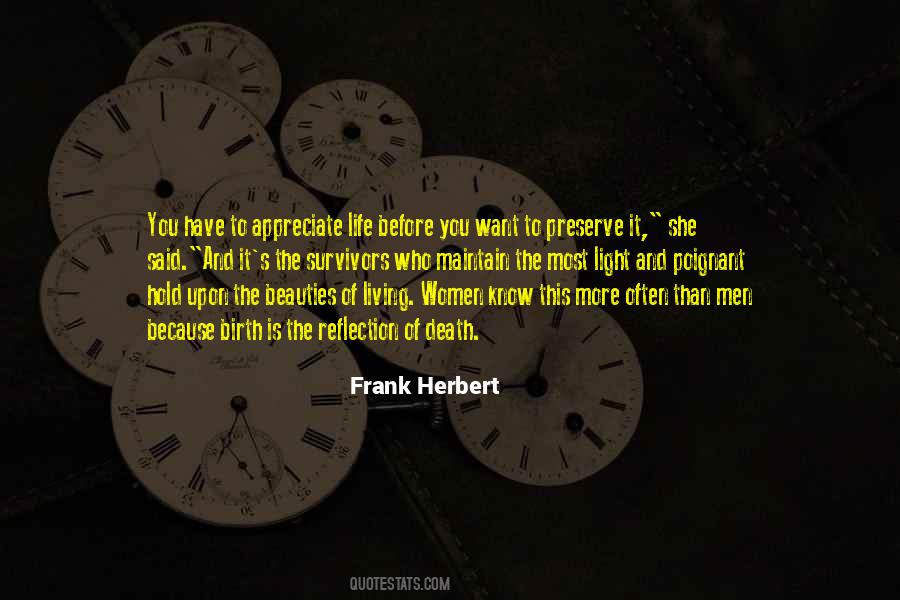 #2. Your face encompasses the beauty of the whole earth. Your lips, as red as ripening fruit, gently part as if in pain. It is the smile of a corpse. Now the hand of death touches life. The chain is forged that links the thousand families that are dead to the thousand generations to come. - Author: Edvard Munch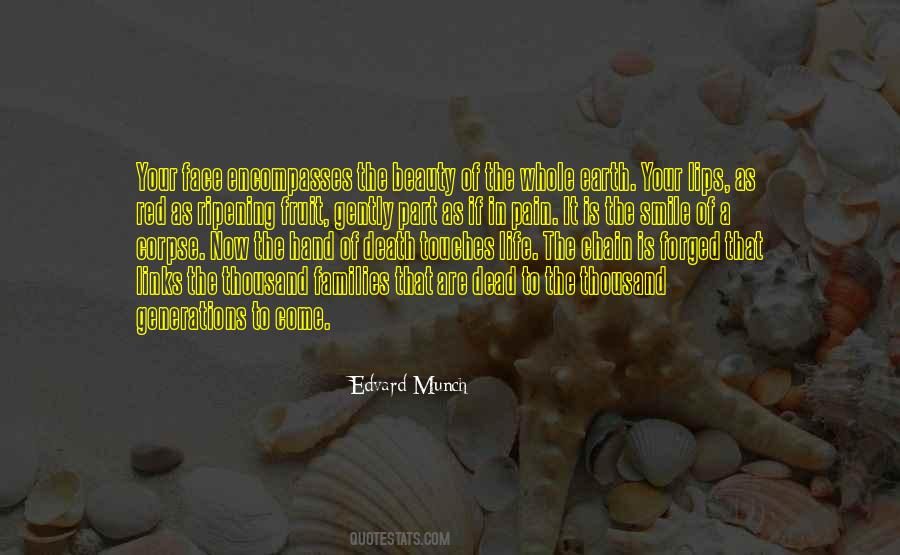 #3. I took a deep breath of the syrupy sweetness of summer, suffused with bees and birds, and I thought to myself how beautiful this world can be. How lucky we are to be here, to be part of it, for however long we have. - Author: Jennifer Ryan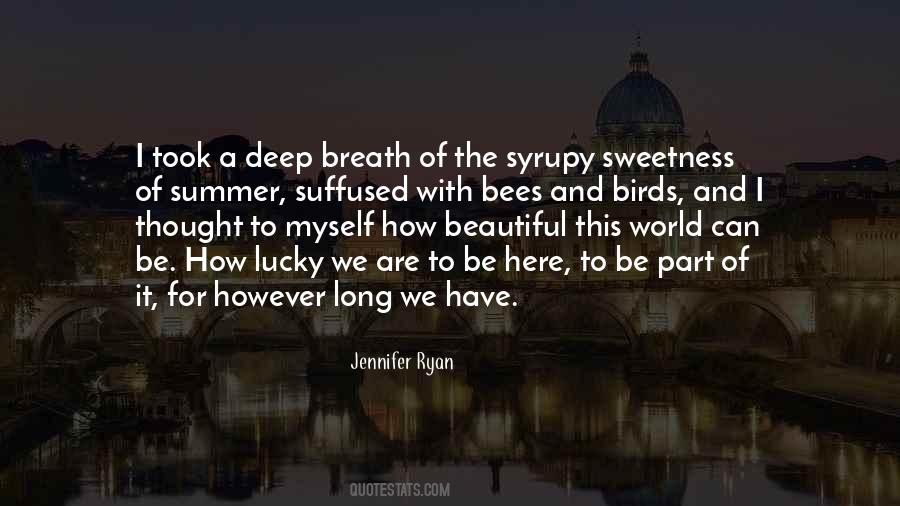 #4. Life gives us no such handy markers - a storm comes, and far from this being a harbinger of death and collapse, during its course a person discovers love and truth, beauty and happiness, the rain lashing at the windows all the while. - Author: Alain De Botton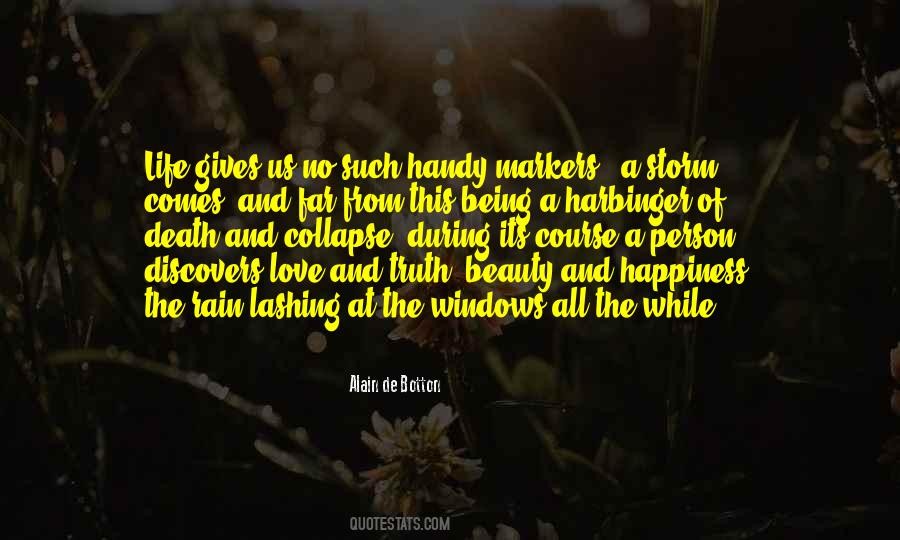 #5. Scoundrels [ ... ] simply don't die. The ones who die are always the gentle, sweet, and beautiful people. [ ... ] Scoundrels live a long time. The beautiful die young. - Author: Osamu Dazai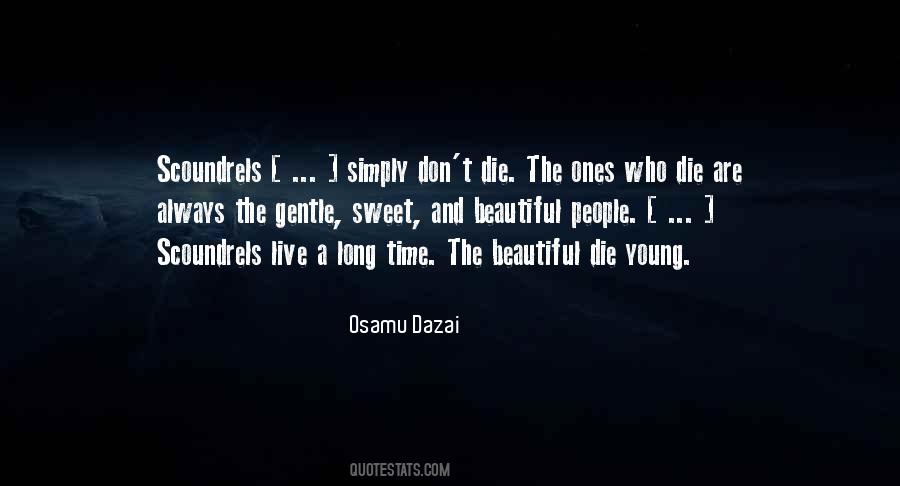 #6. We often forget that we are simple human beings, here to enjoy the beauty, magic, and mysteries of life and the nature to wonder. Not to live a complex, mechanical, stressful corporate life to death. - Author: Debasish Mridha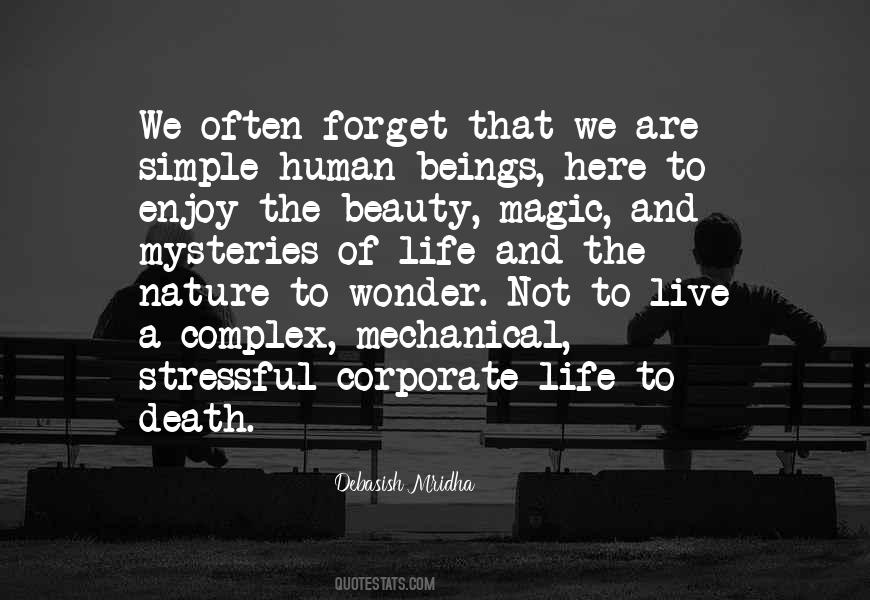 #7. I decided that it was like the difference between the beautiful old Godsend graves and the new ones open to receive coffins (which I never can bear to look at); that time takes the ugliness and horror out of death and turns it into beauty. - Author: Dodie Smith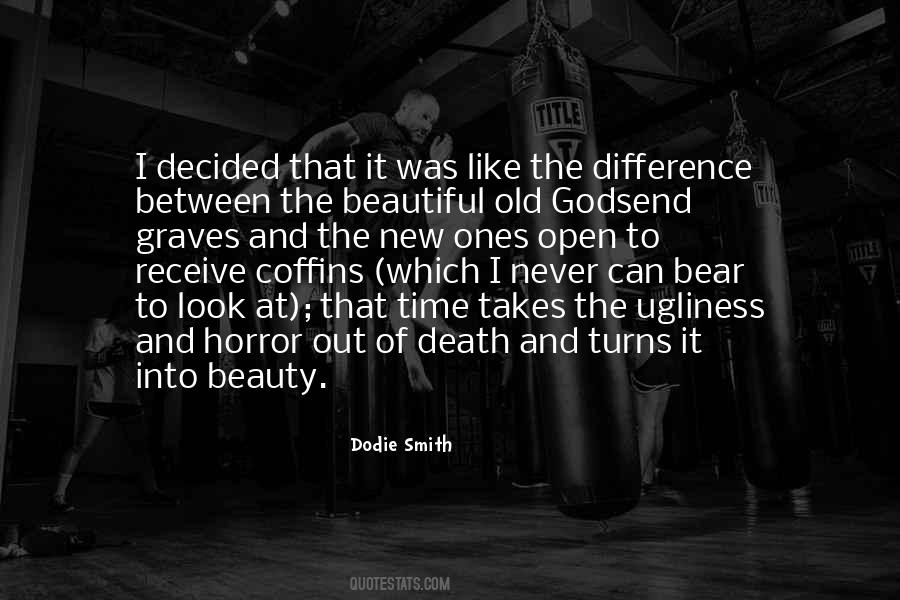 #8. Perhaps the whole root of our trouble, the human trouble, is that we will sacrifice all the beauty of our lives, will imprison ourselves in totems, taboos, crosses, blood sacrifices, steeples, mosques, races, armies, flags, nations, in order to deny the fact of death, which is the only fact we have. - Author: James Baldwin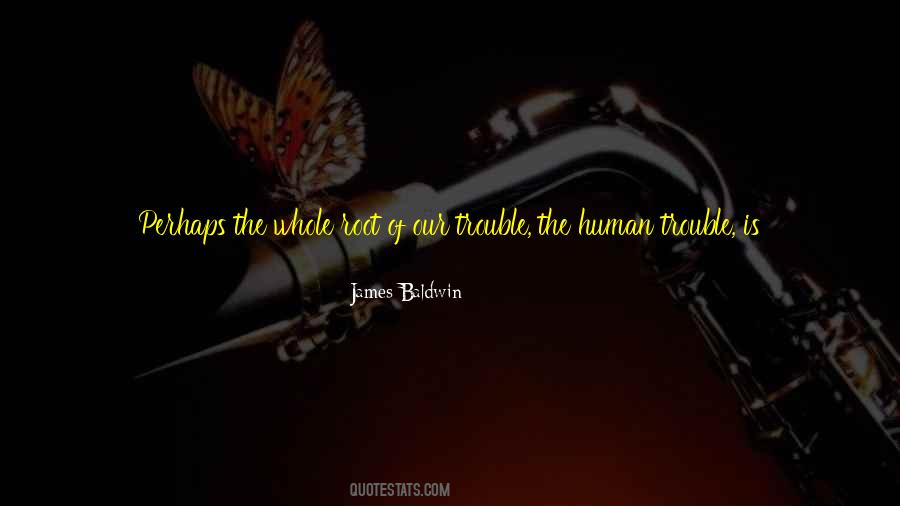 #9. The man who lives without conflict, who lives with beauty and love, is not frightened of death because to love is to die. - Author: Jiddu Krishnamurti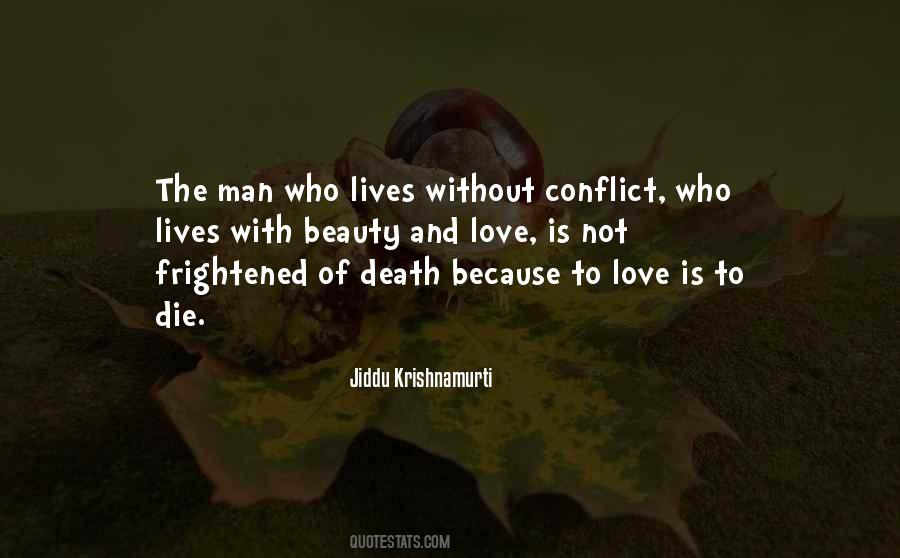 #10. I never again looked at the sky and saw only vastness and beauty. From that afternoon on I saw that death was also and always there. - Author: Kay Redfield Jamison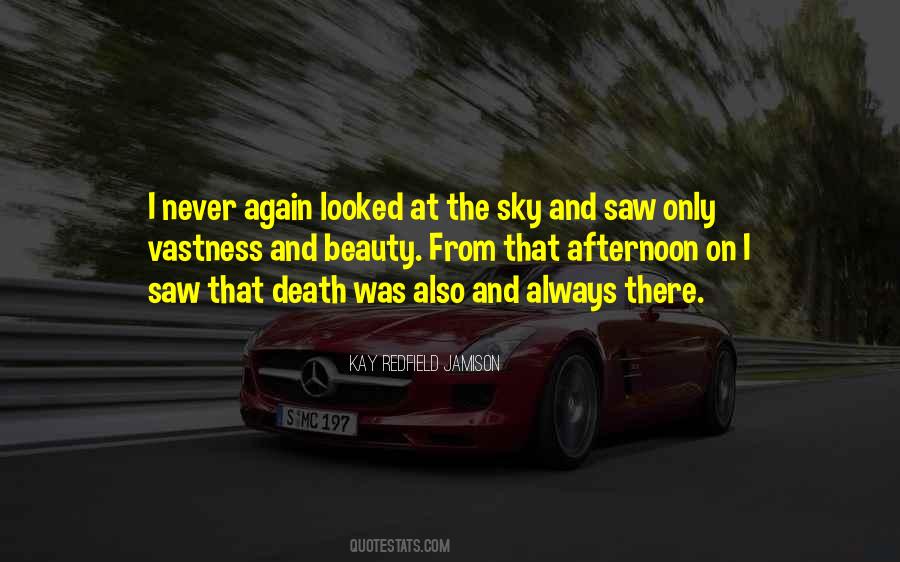 #11. Beauty is an omnipresence of death and loveliness, a smiling sadness that we discern in nature and all things, a mystic communion that the poet feels. - Author: Charlie Chaplin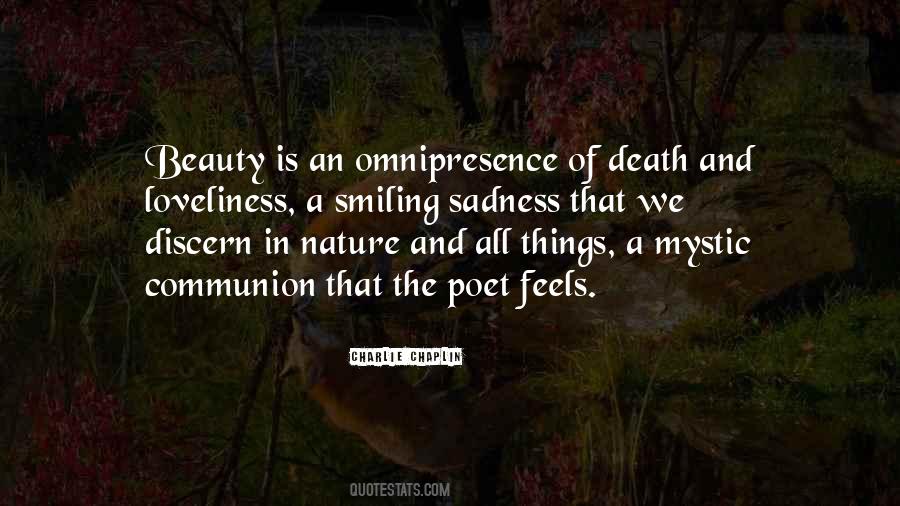 #12. Beauty stands and waits
with gravity
to start her death-defying leap - Author: Lawrence Ferlinghetti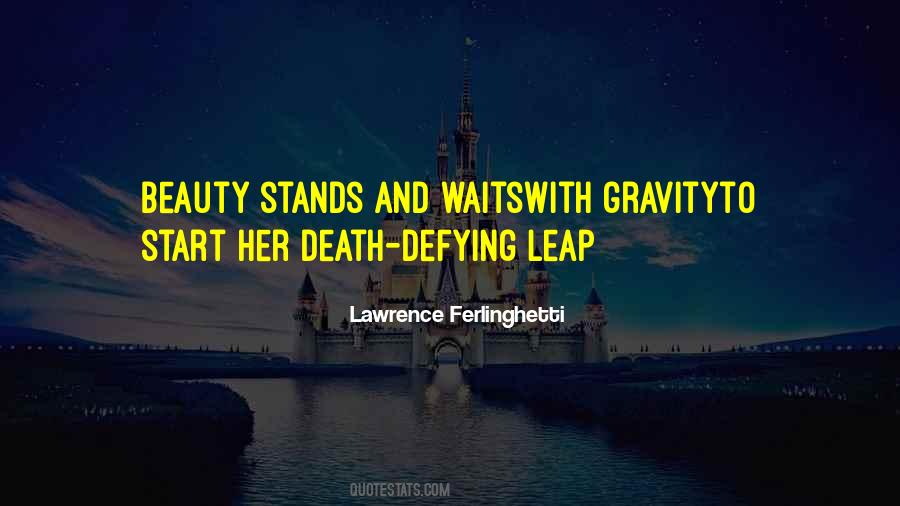 #13. Swans moulting die, snow melts to tears,
Roses do blush and hang their heads - Author: Henry Noel Brailsford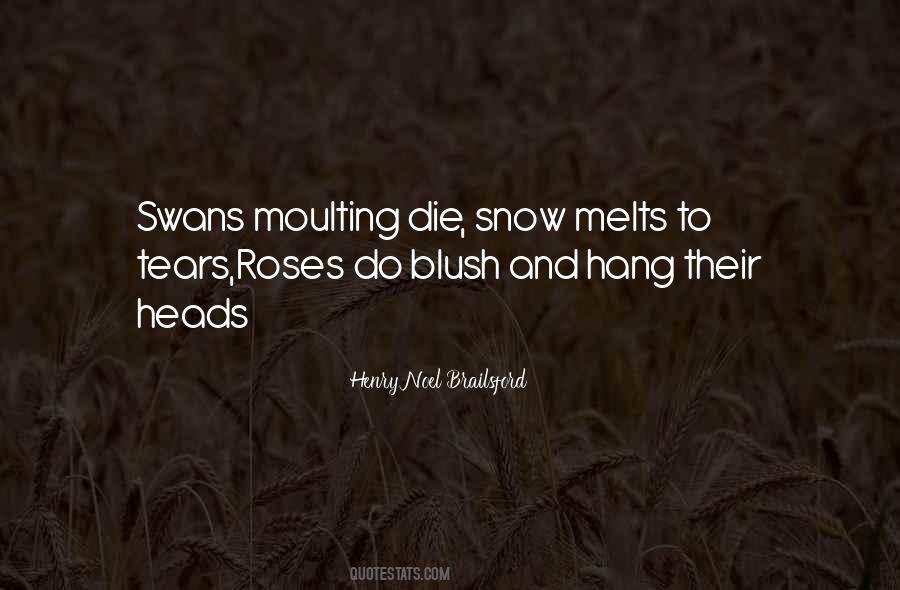 #14. Could beauty be caught and hurt
they had done her to death with their sneers
in ages and ages past,
could beauty be sacrificed
for a thrust of a sword,
for a piece of thin money
tossed up to fall half alloy
then beauty were dead
long, long before we saw her face. - Author: H.D.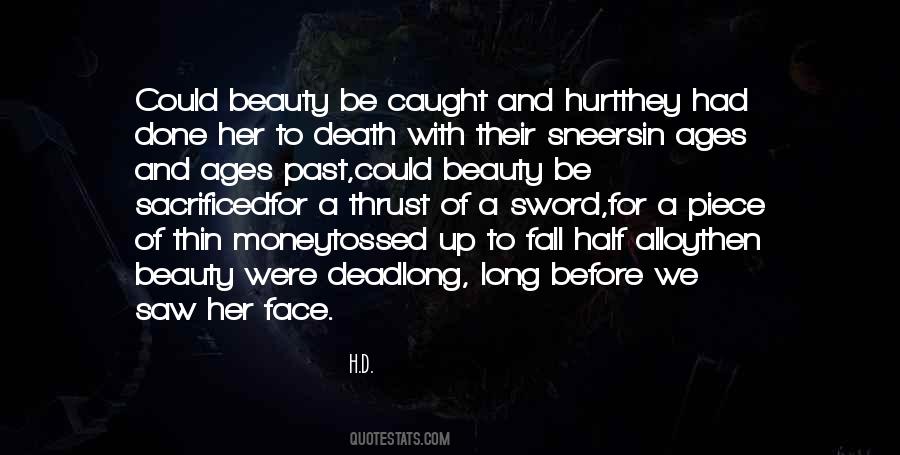 #15. There is a life and there is a death, and there are beauty and melancholy between. - Author: Albert Camus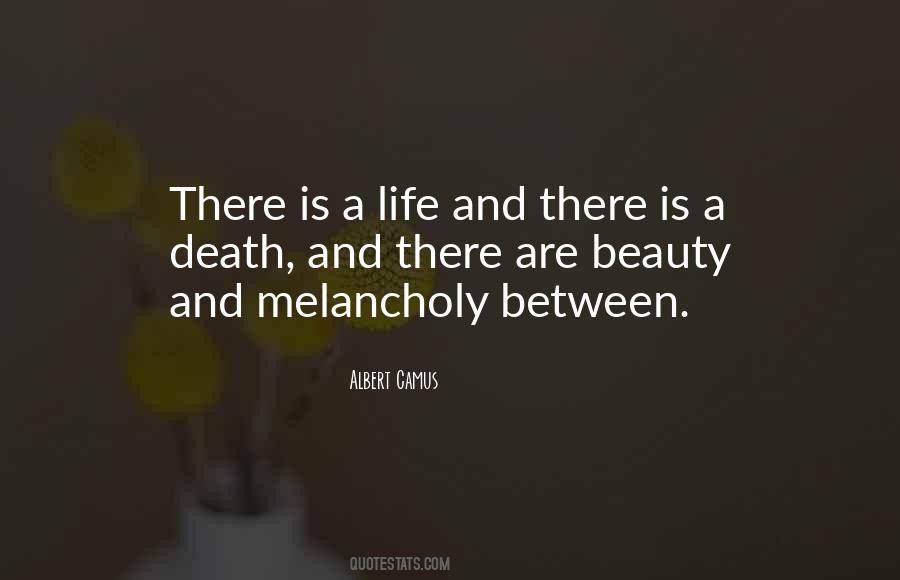 #16. I reply with a letter as brief as his: 'My brother, after my first battle the only thing I now worship is the sun, a star that represents death's constancy. Beware of the moon, which reflects our world of beauty. It waxes and wanes, it is treacherous and ephemeral. We will all die some day ... - Author: Shan Sa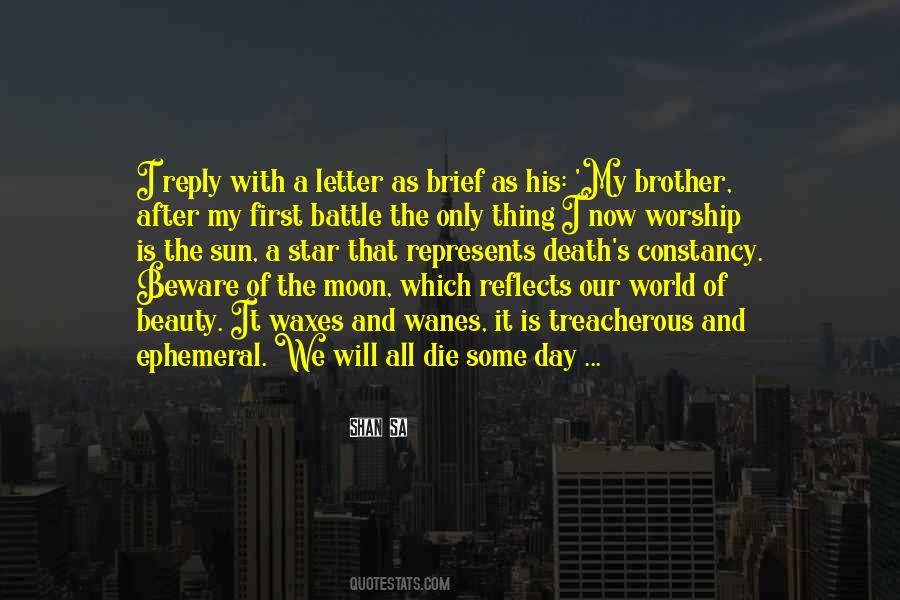 #17. Every work cancels the dark. Every work is a hymn from the other side of memory to a memory that is spellbound. Beauty is death's gift to vulgar life so that it can live in beauty. - Author: Edmond Jabes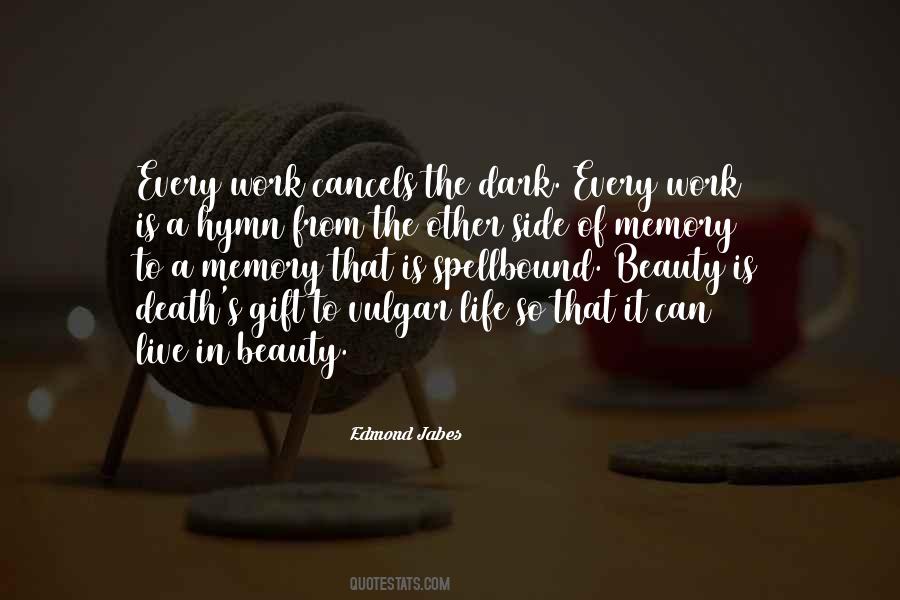 #18. Strigoi don't see beauty. Only death. You found something beautiful. One thing that's beautiful. - Author: Richelle Mead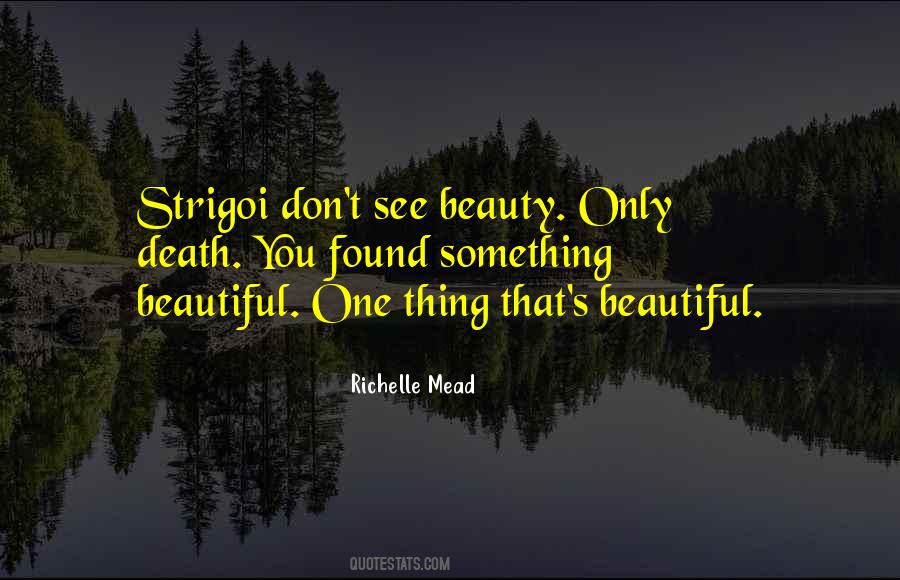 #19. I envied these women I saw before me, their beauty still intact. Life has its revenge of life. Untimely death is the secret of eternal youth. - Author: Shan Sa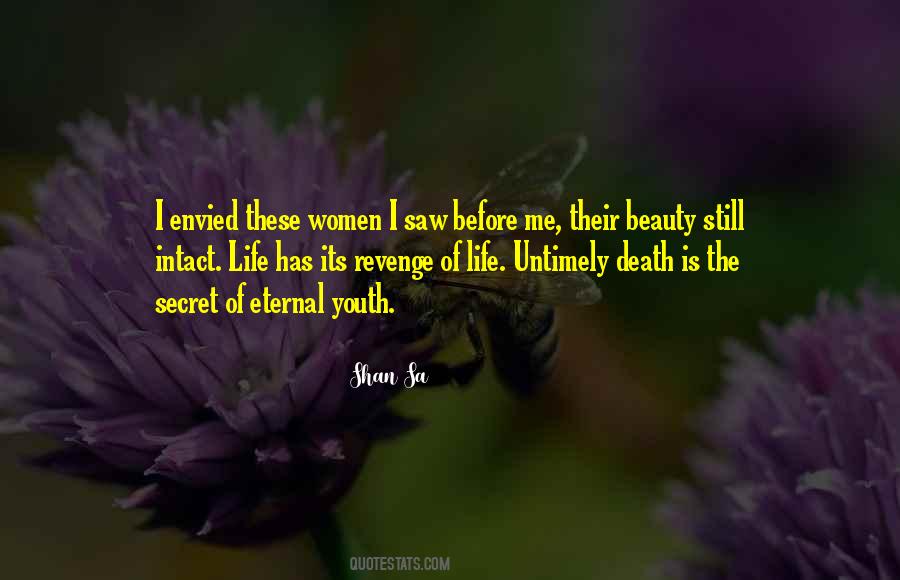 #20. Grief is tremendous, but love is bigger. You are grieving because you loved truly. The beauty in that is greater than the bitterness of death. Allowing this into your consciousness will not keep you from suffering, but it will help you survive the next day. - Author: Cheryl Strayed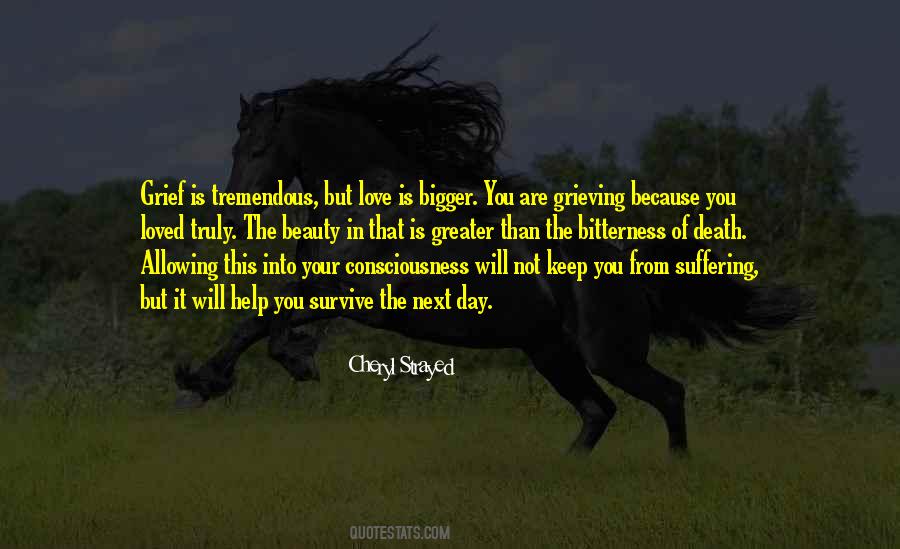 #21. His voice was like honey and velvet. "Death, that hath sucked the honey of thy breath, hath had no power yet upon thy beauty," he murmured, and I recognized the line spoken by Romeo in the tomb. - Author: Stephenie Meyer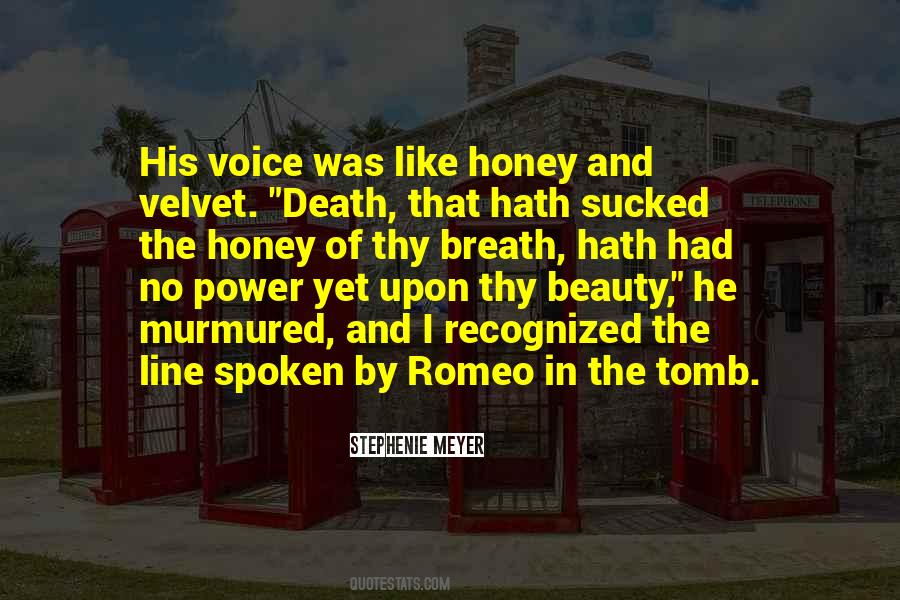 #22. Life has left her footprints on my forehead. But I have become a child again this morning. The smile, seen through leaves and flowers, is back to smooth away the wrinkles, as the rains wipe away footprints on the beach. Again a cycle of birth and death begins. - Author: Nhat Hanh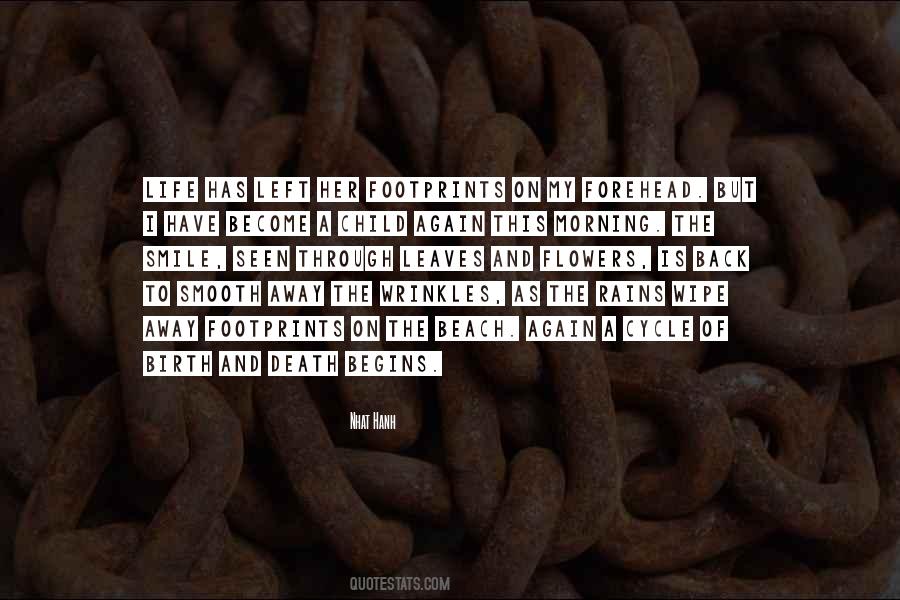 #23. The death of a beautiful woman is, unquestionably, the most poetical topic in the world. - Author: Edgar Allan Poe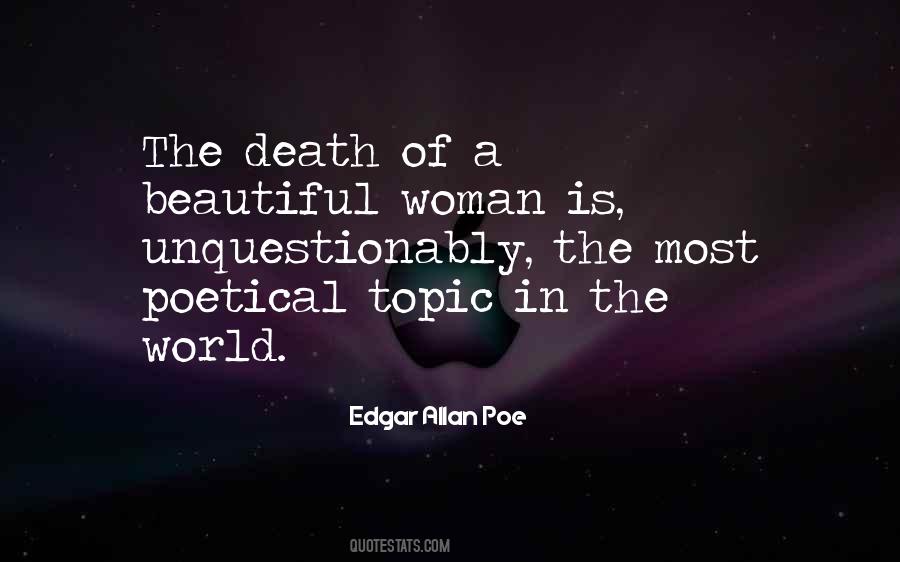 #24. For love and beauty and delight, there is no death nor change. - Author: Percy Bysshe Shelley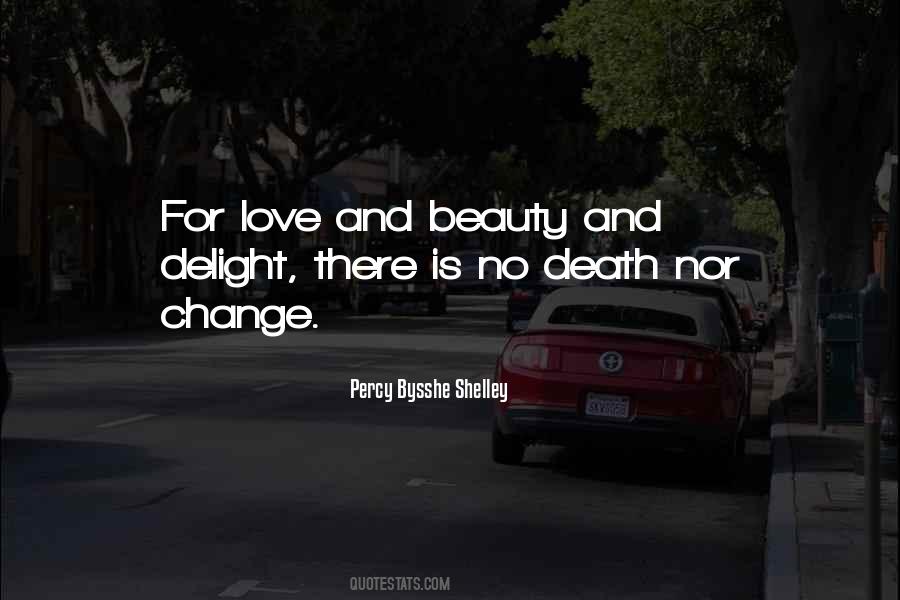 #25. There is something beautiful in every person that never dies, no matter their misfortunes. - Author: Bryant McGill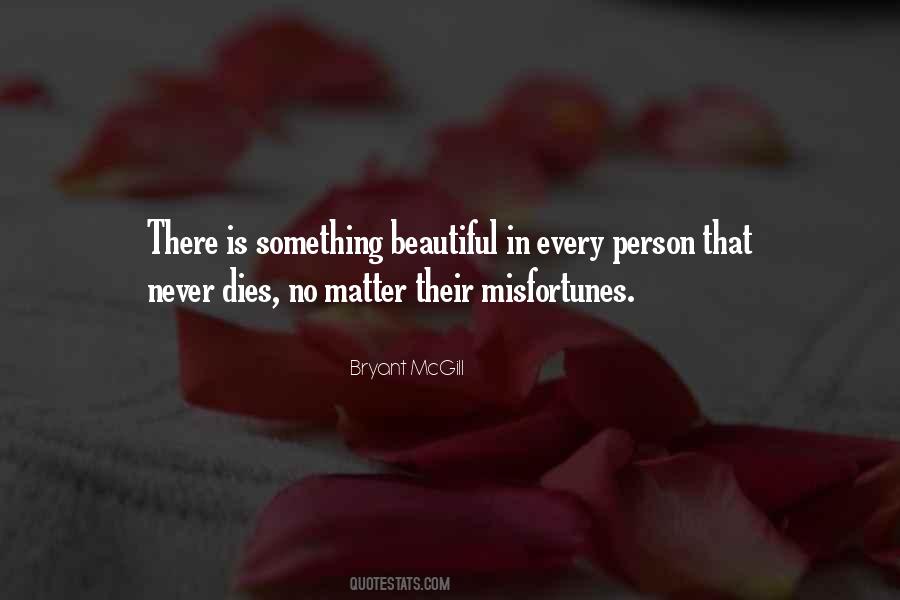 #26. Time makes everything mean and shabby and wrinkled. The tragedy of life, Howard, is not that the beautiful things die young, but that they grow old and mean. - Author: Raymond Chandler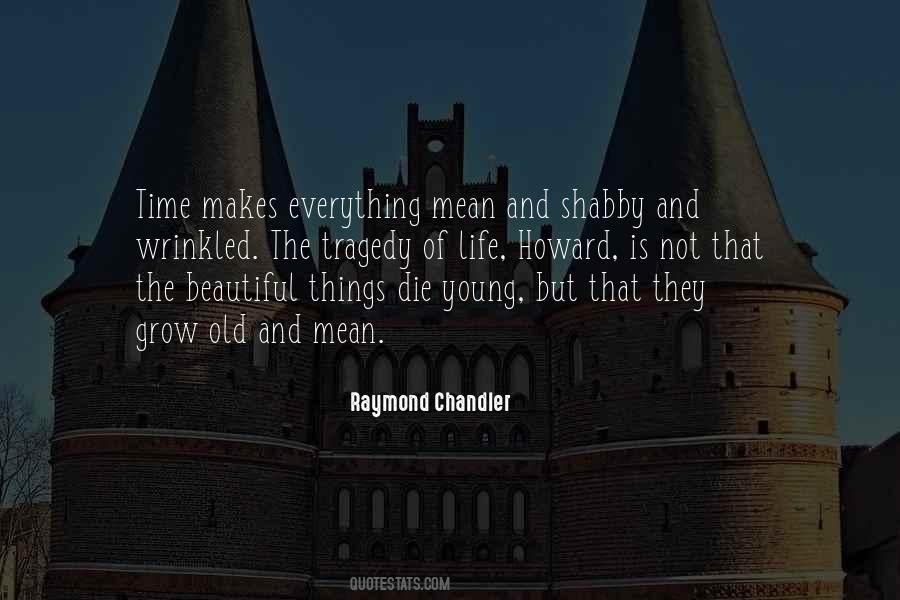 #27. It's alright to die cause death is the only thing you haven't tried - Author: Ed Sheeran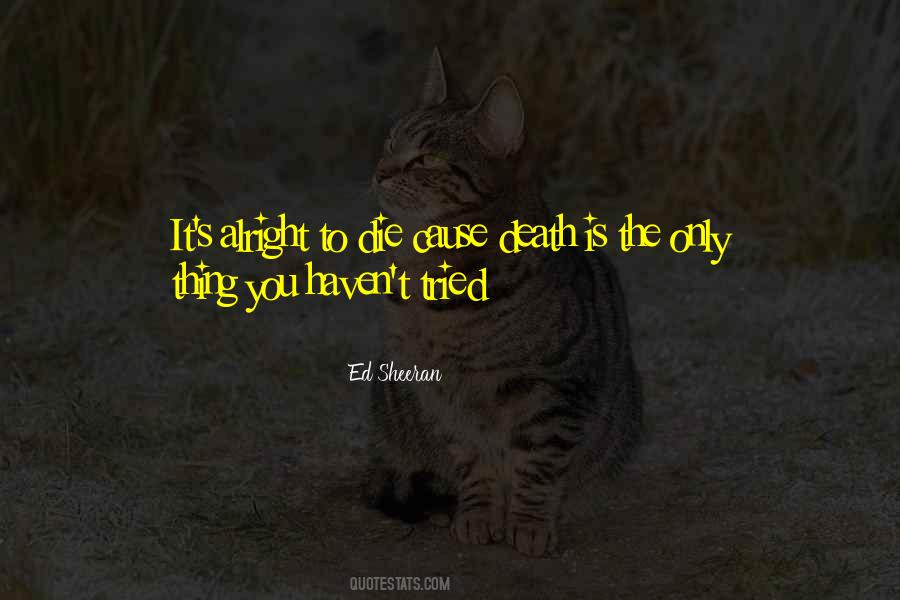 #28. They do not want to know that centralization is not only the death-knell of liberty, but also of health and beauty, of art and science, all these being impossible in a clock-like, mechanical atmosphere. - Author: Emma Goldman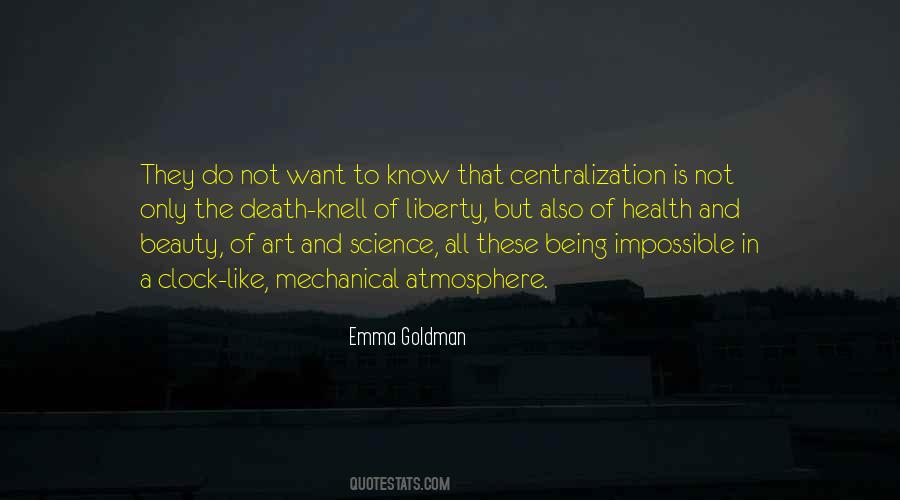 #29. One could argue that it's romantic to die for love. Of course, then you're dead and unable to take that honeymoon trip to the Alps with all the other fashionable young couples, which is a shame. - Author: Libba Bray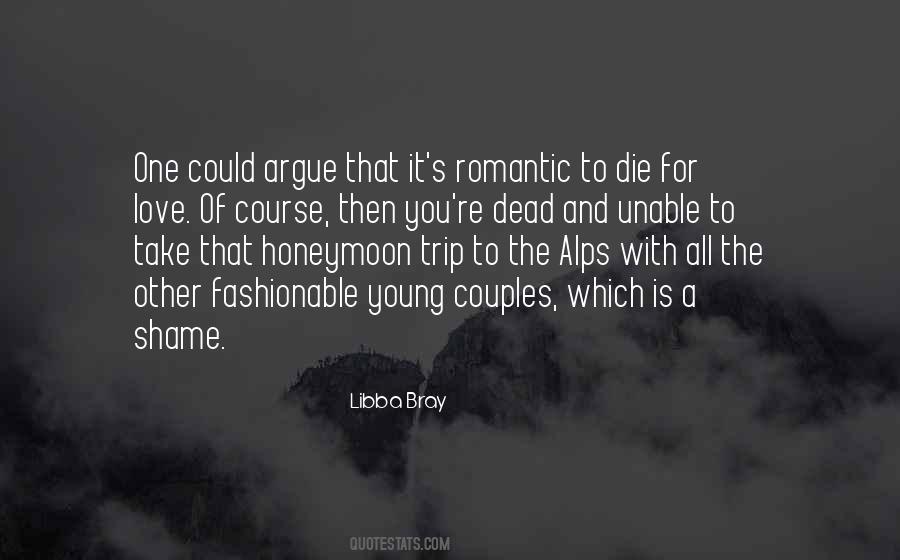 #30. We are all the walking wounded in a world that is a war zone. Everything we love will be taken from us, everything, last of all life itself. Yet everywhere I look, I find great beauty in this battlefield, and grace and the promise of joy. - Author: Dean Koontz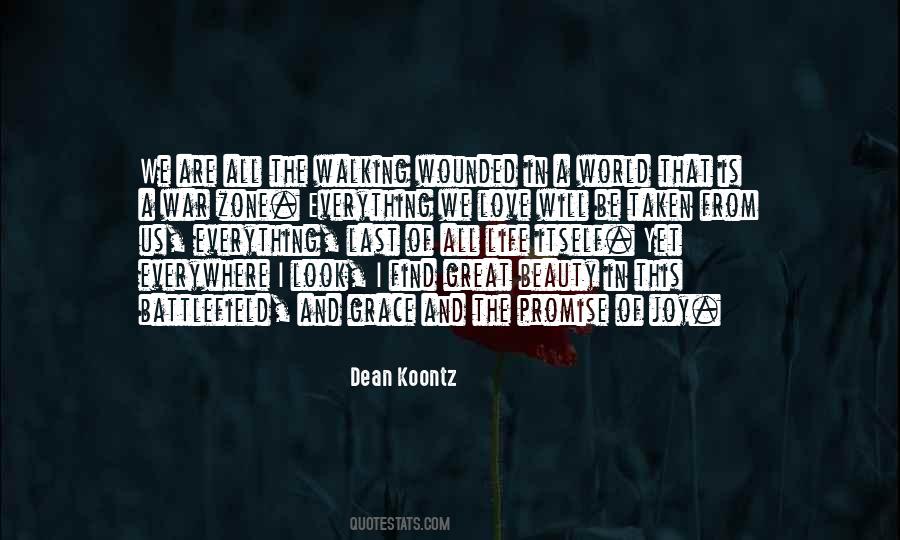 #31. For nothing is deader than a body that once had life and has it no more. - Author: Chris Priestley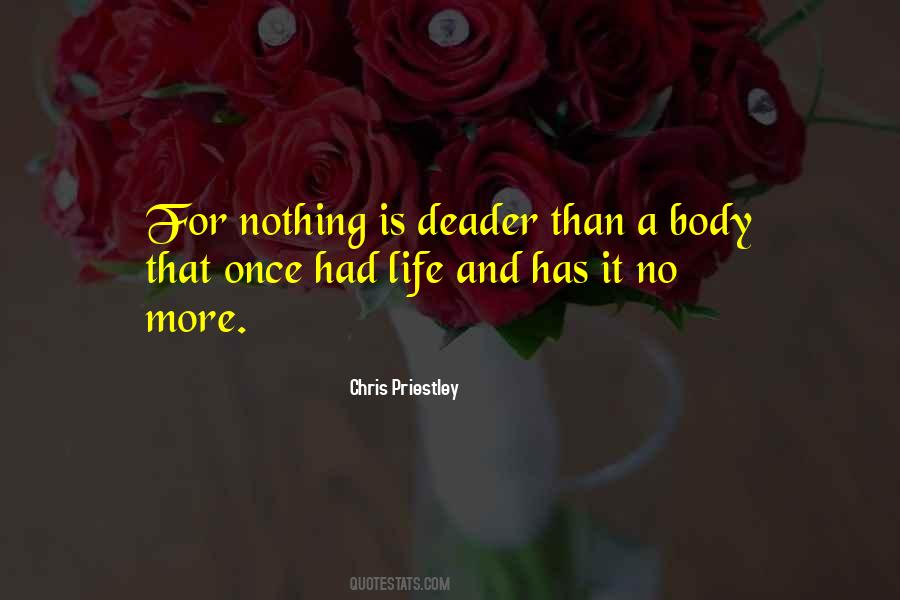 #32. It is not with earth, though I must till it, I feel at war..but I may not profit of what it bears of beauty,untoiling, Nor gratify my thousands swelling thoughts with knowledge, Nor allay my thousand fears of death and life. - Author: George Gordon Byron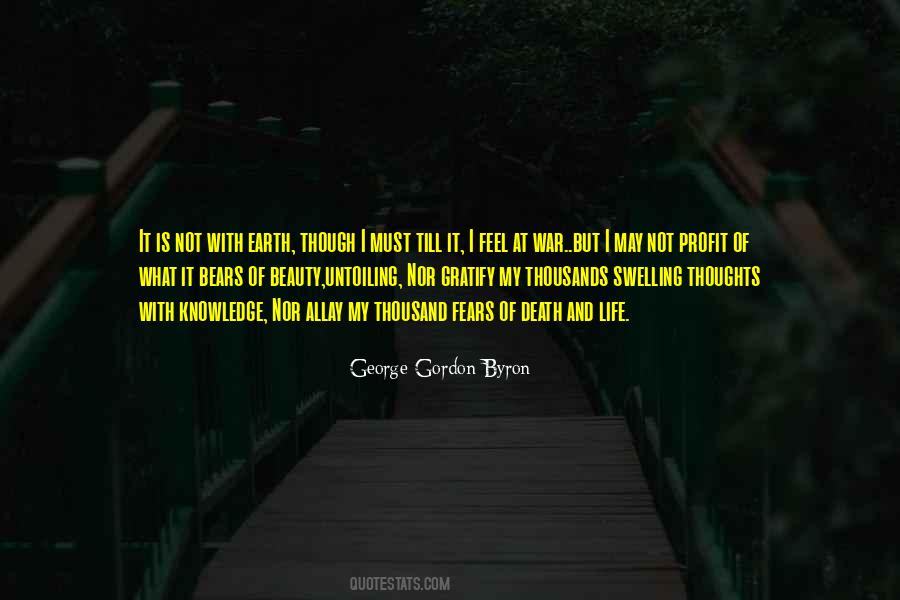 #33. For me a corpse has a beauty and dignity which a living body could never hold ... there is a peace about death that soothes me. - Author: John Christie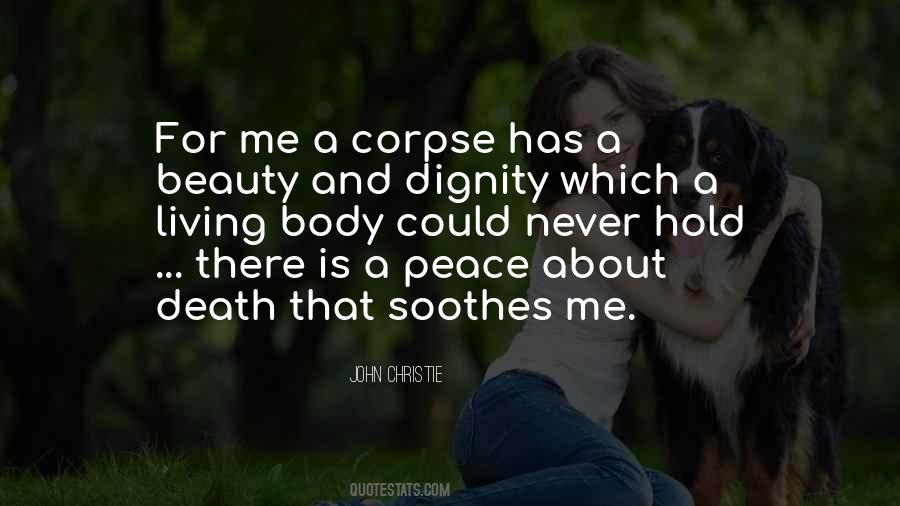 #34. When things are beautiful on the surface it is hard to imagine that dying is appropriate for them. - Author: Tessie Regan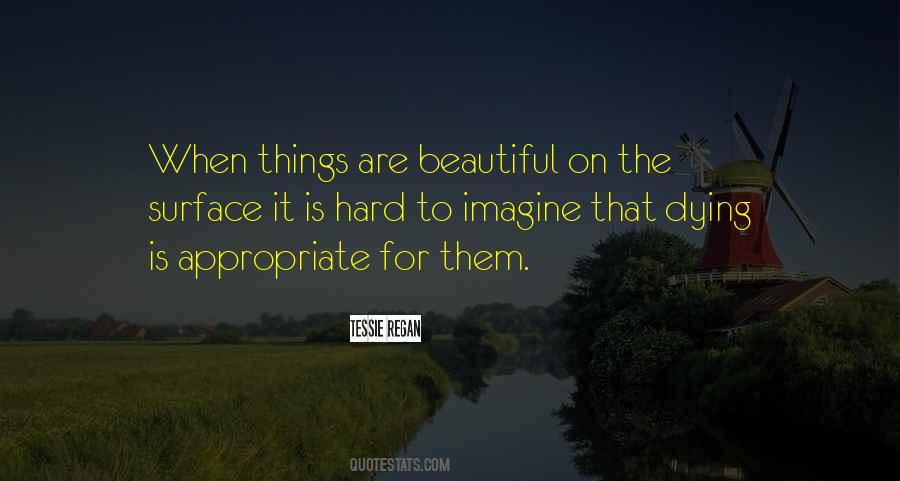 #35. It was this mystery, bereft now of all fear, and this beauty together that made life the endless, changing and yet changeless, thing it was. And yet mystery and loveliness alike were really only appreciable with one's legs, as it were, dangling down over into the grave. - Author: Walter De La Mare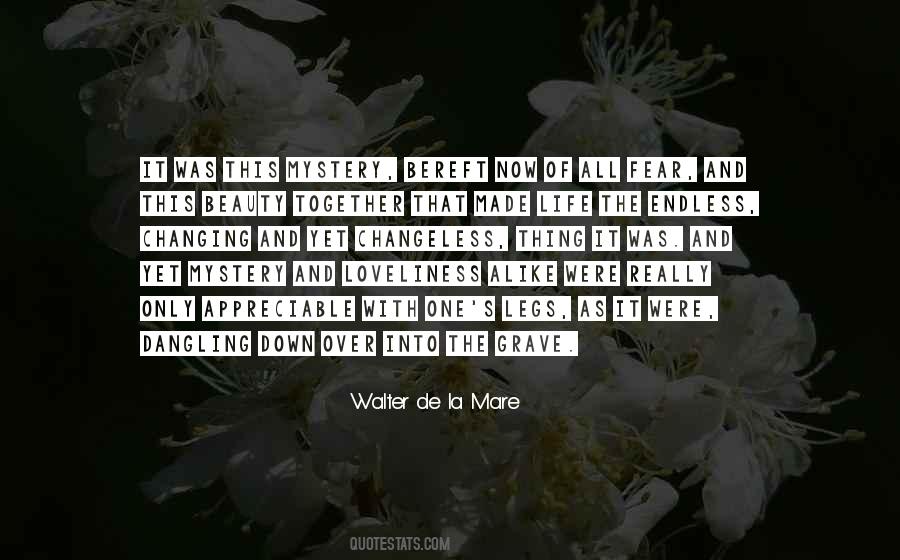 #36. Why was it I was seeing beauty in death rather than life? - Author: Sui Ishida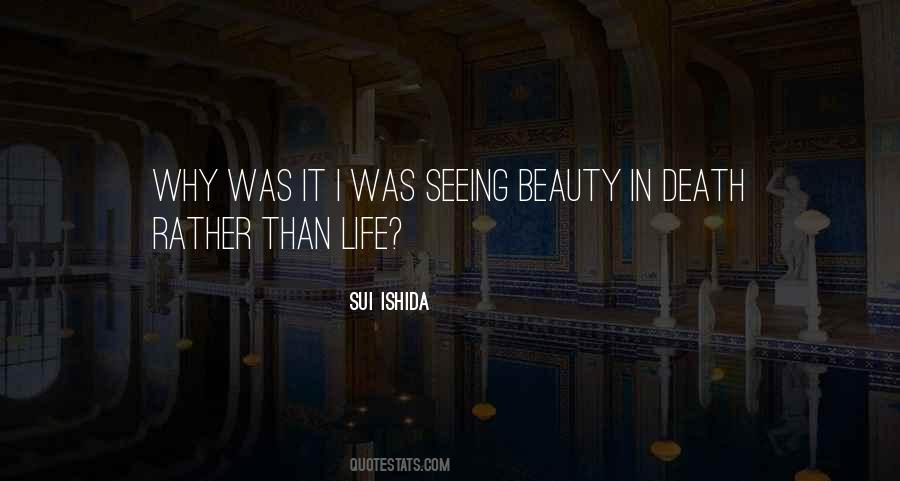 #37. Who journeyed to Denver, who died in Denver, who came back to Denver & waited in vain, who watched over Denver & brooded and loned in Denver and finally went away to find out the Time, & now Denver is lonesome for her heroes, - Author: Allen Ginsberg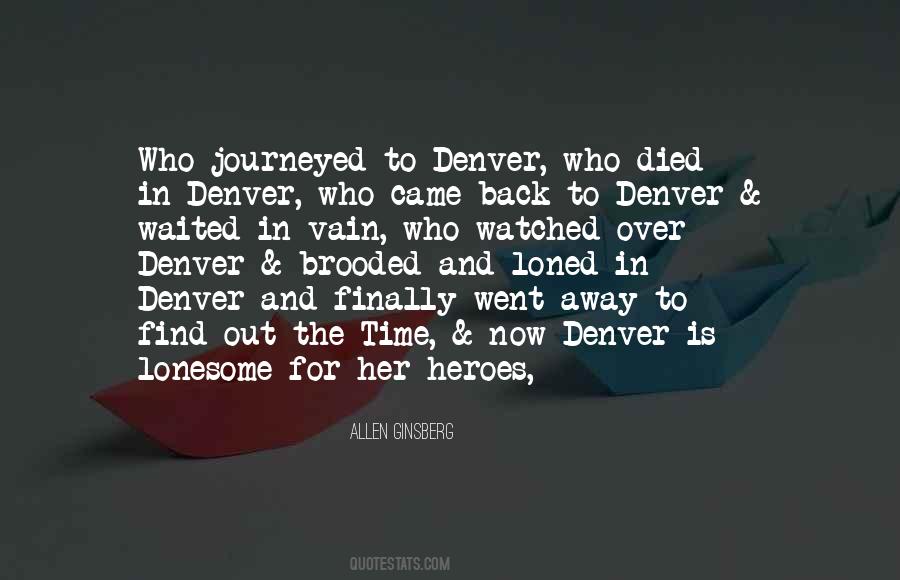 #38. All mountain streets have streams to thread them, or deep grooves where a stream might run. You would do well to avoid that range uncomforted by singing floods. You will find it forsaken of most things but beauty and madness and death and God. - Author: Mary Hunter Austin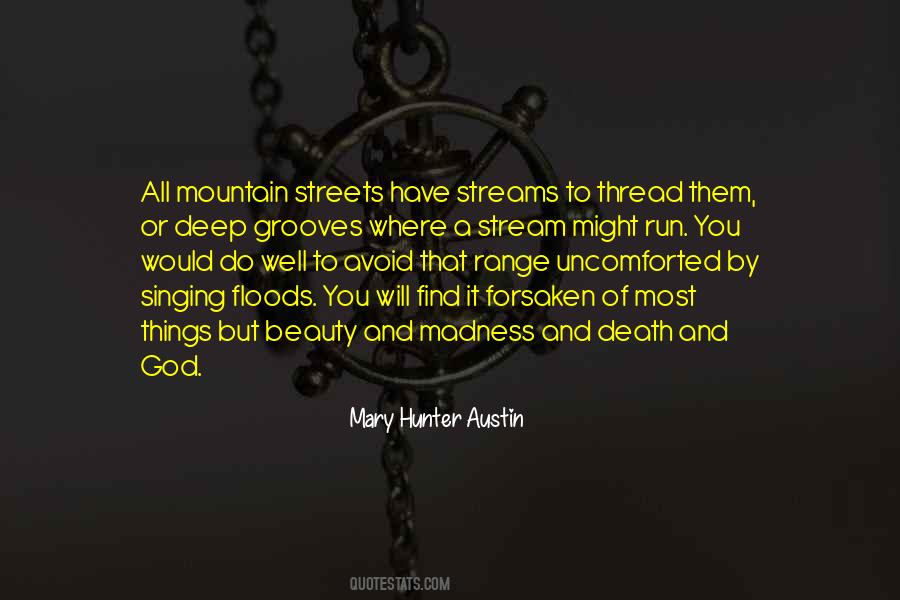 #39. I'm interested in time, fame, death, beauty, truth, all those things. - Author: Marianne Faithfull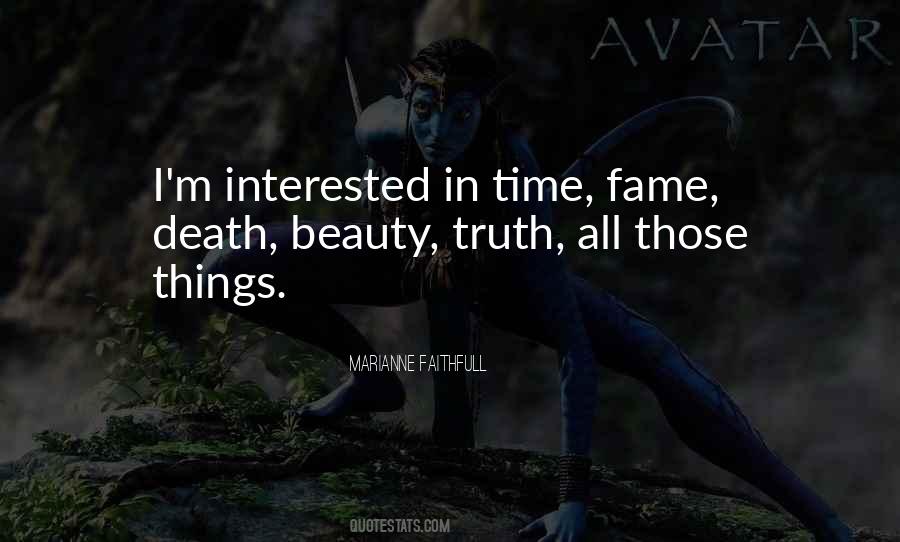 #40. There's beauty and darkness in everything: Sorrow in joy, life in death, throns on the roses. You can't escape pain and torment anymore then you can give up joy and beauty ... - Author: Cate Tiernan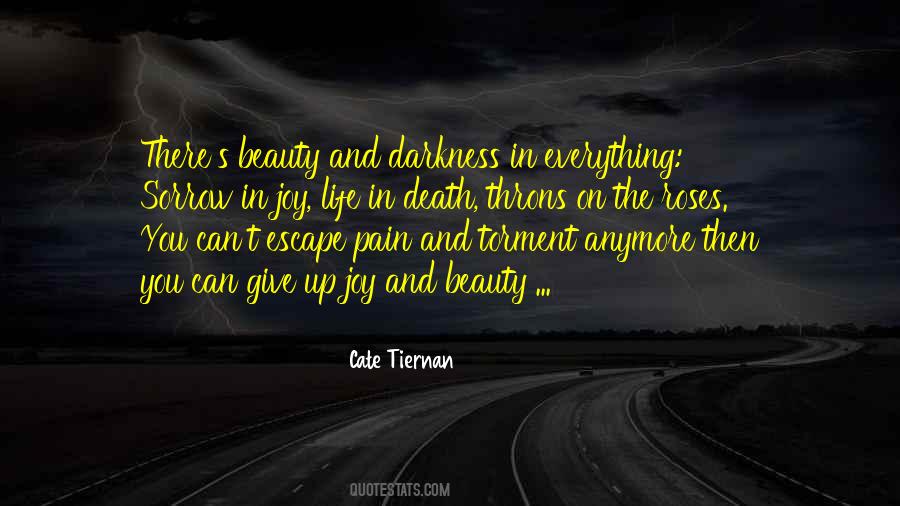 #41. Now that Karen has been resurrected, I can travel beyond the black mirror. I can discover who I have lost with the
floating hearts and severed heads of my medicine. I must now whisper my other friends back too. I'm sad they're gone ... sad and blue. - Author: Nicholaus Patnaude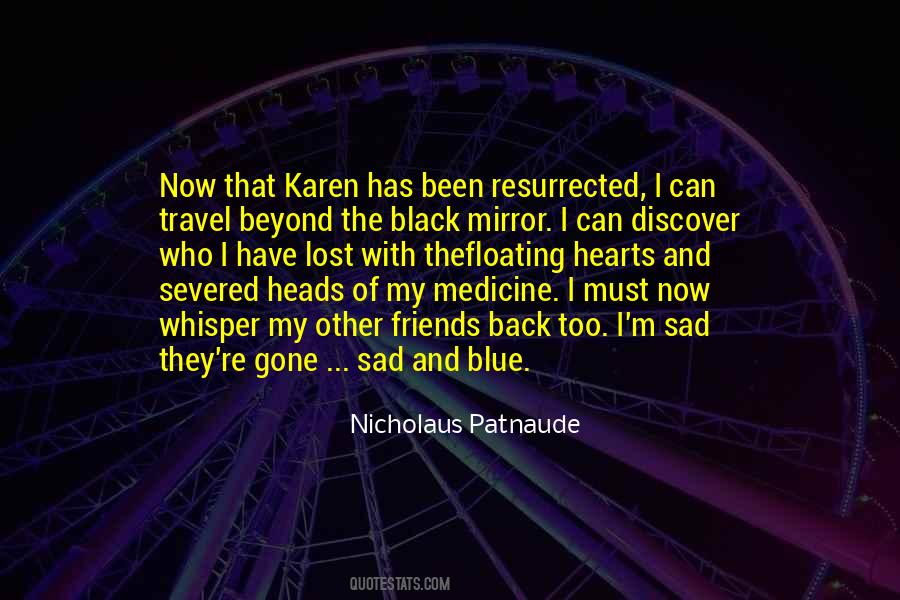 #42. There was a pretty young woman I used to see pegging out sheets and I worried that she would grow old there and that no one would know how beautiful she was. And maybe she would die without ever having really lived. - Author: Sebastian Faulks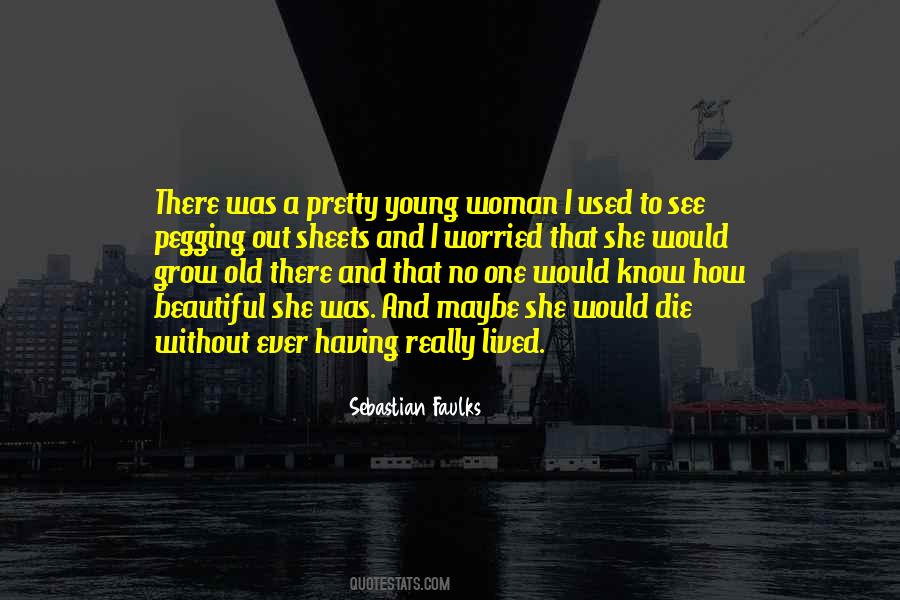 #43. The ethereal beauty of the female semblance conceals that they really are dangerous like a great white shark in the most peaceful and deep water.
(quote from the exhibit at the Cultural Museum) - Author: Czon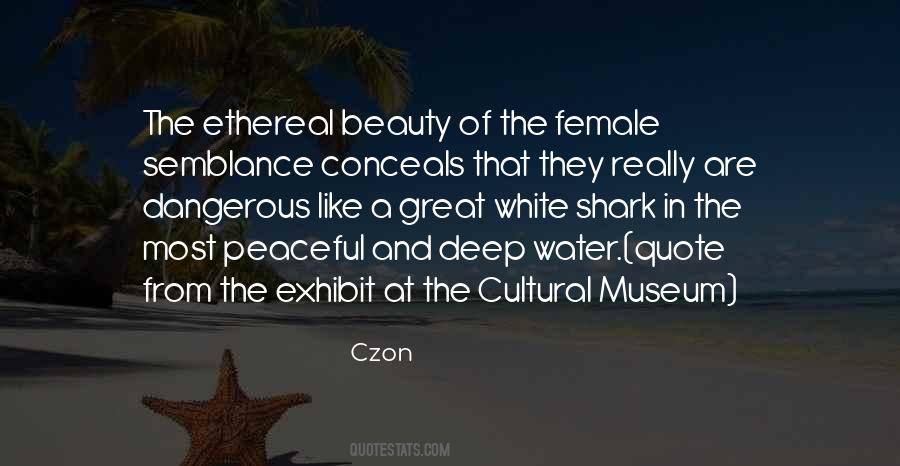 #44. I say that the true artist seer, the heavenly fool who can and does produce beauty, is mainly dazzled to death by his own scruples, the blinding shapes and colors of his own human conscience. - Author: J.D. Salinger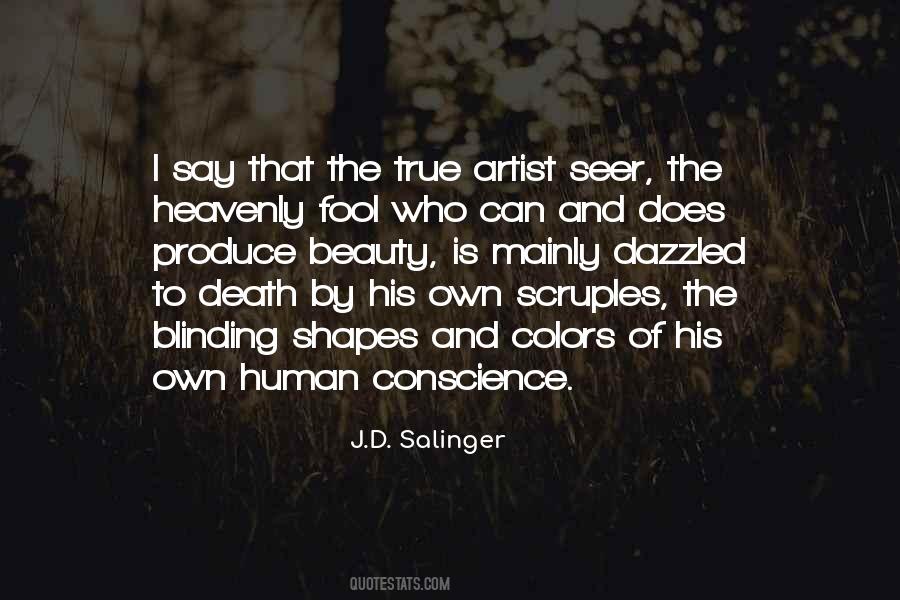 #45. The rose petal floats on water. The kingfisher flashes above the pond. Life and beauty swirl in the midst of death. - Author: Robert Jordan
#46. The best news of the Christian gospel is that the supremely glorious Creator of the universe has acted in Jesus Christ's death and resurrection to remove every obstacle between us and himself so that we may find everlasting joy in seeing and savoring his infinite beauty. - Author: John Piper
#47. It often happened that after death faces become softened and even resolved into their youthful beauty, that this was especially so when death had been preceded by any acute or prolonged suffering. - Author: Bram Stoker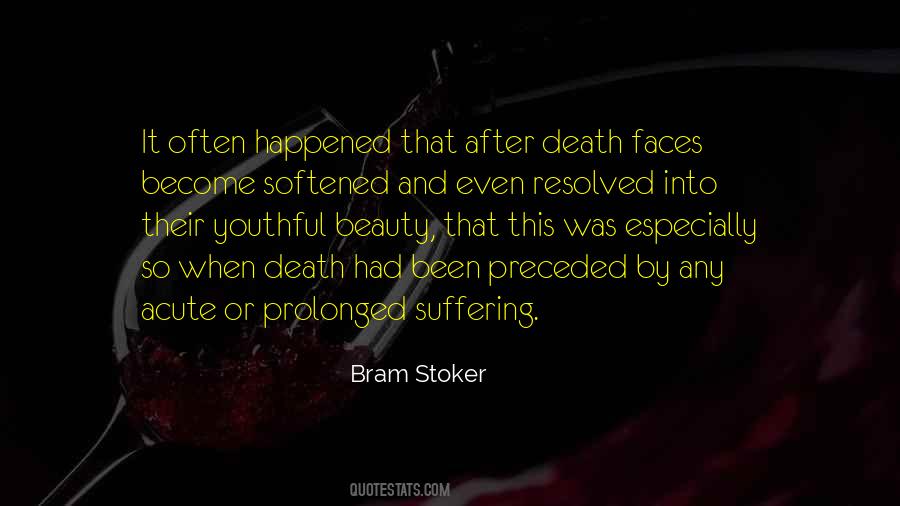 #48. A whole tree of lightning stood in the sky. She kept looking out the window, suffused with the warmth from the fire and with the pity and beauty and power of her death. The thunder rolled. - Author: Eudora Welty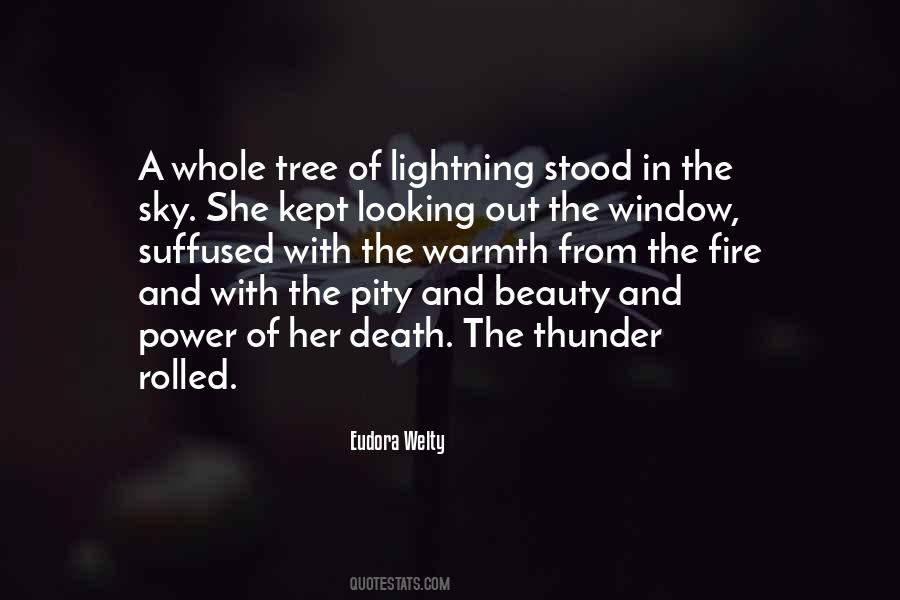 #49. Such beauty that for a minute
death and ambition, even love,
doesn't enter into this. - Author: Raymond Carver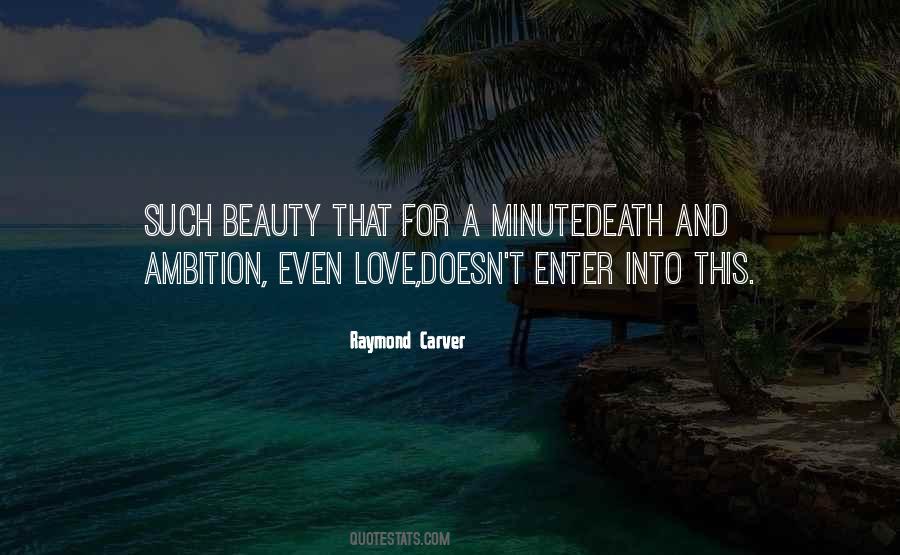 #50. Death is the mother of beauty," said Henry. "And what is beauty?" "Terror. - Author: Donna Tartt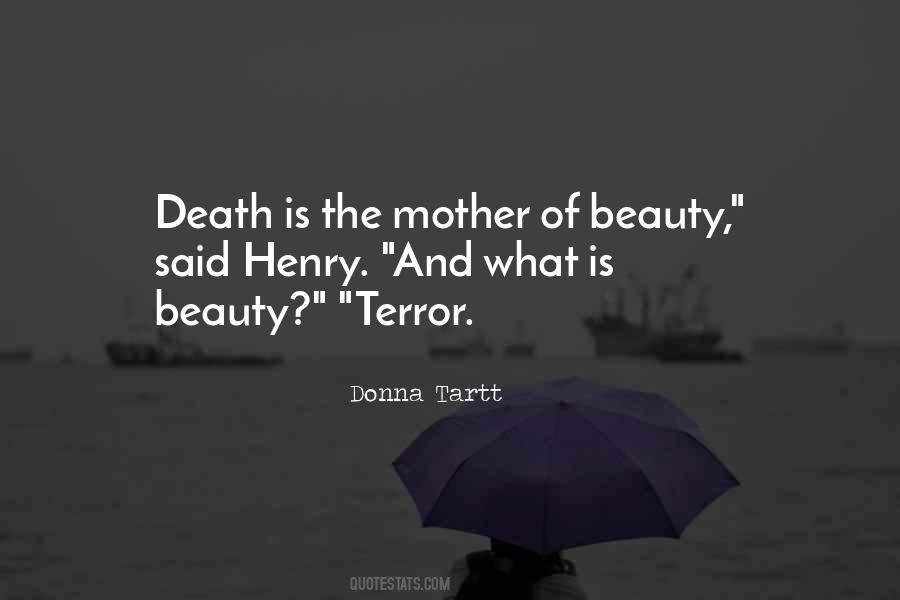 #51. The Beauty of Death - Author: Kahlil Gibran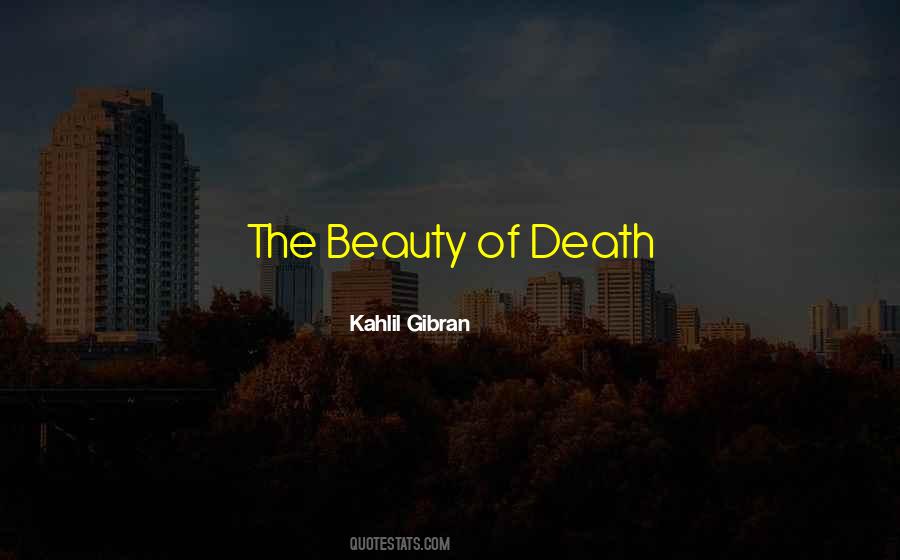 #52. Let me live my final days whole.
Let my memory remain that I might know love's face.
Life don't unwrap me to be fed to scavengers.
I want to escape into light - not exist in darkness. - Author: Susie Clevenger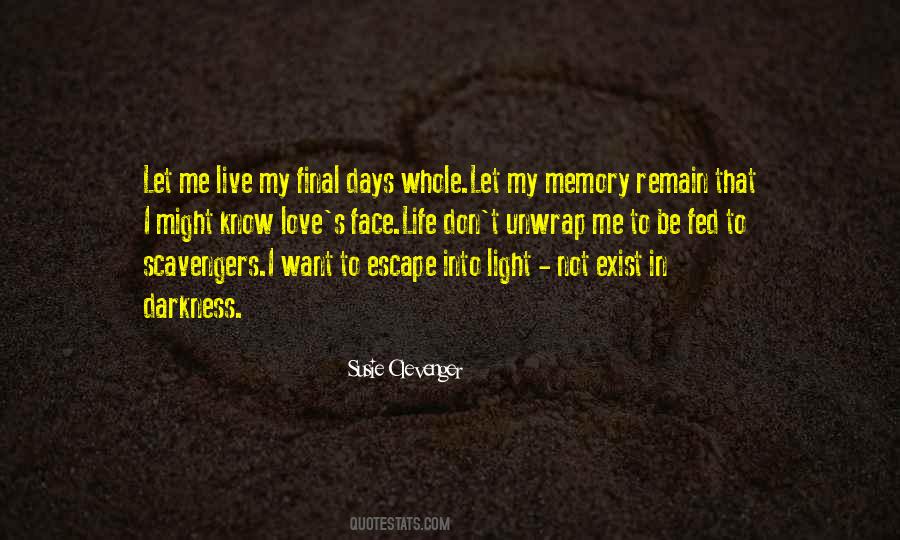 #53. How may paintings have preserved the image of a divine beauty which in its natural manifestation has been rapidly overtaken by time or death. Thus, the work of the painter is nobler than that of nature, its mistress. - Author: Leonardo Da Vinci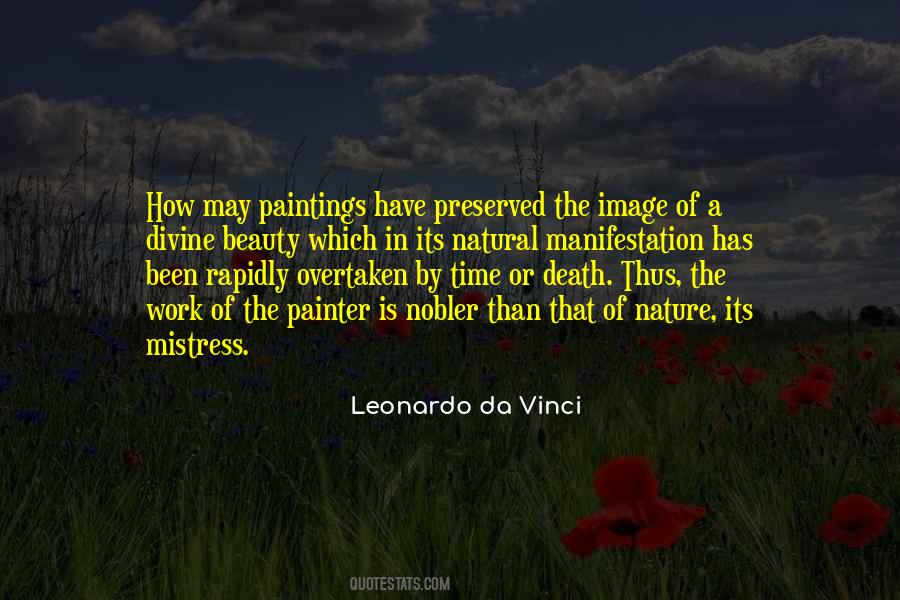 #54. There is just as much beauty in birth as there is in death, and it changes our lives just the same. They both add things to us and take things away. Pg. 155 Undone - Author: Brooke Taylor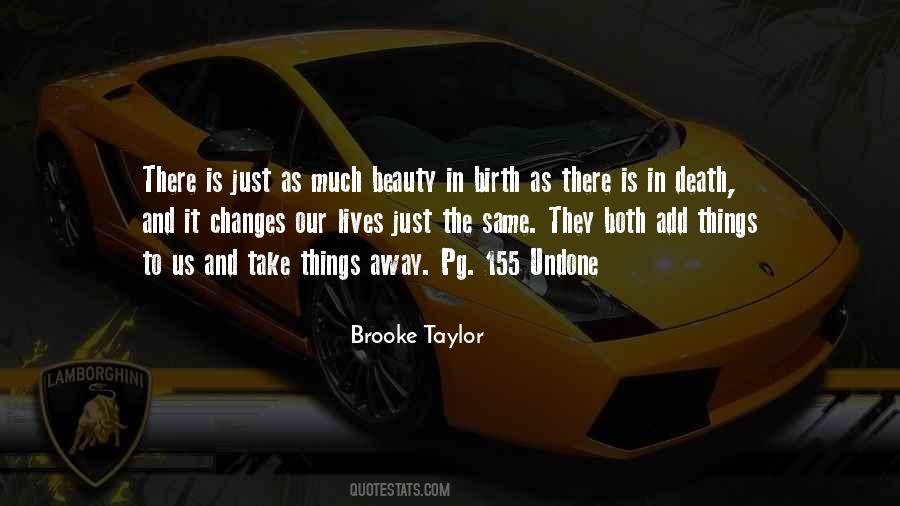 #55. Birth and death are the most singular events we experience - and the contemplation of death, as of birth, should be a thing of beauty, not ignobility. - Author: Jacob K. Javits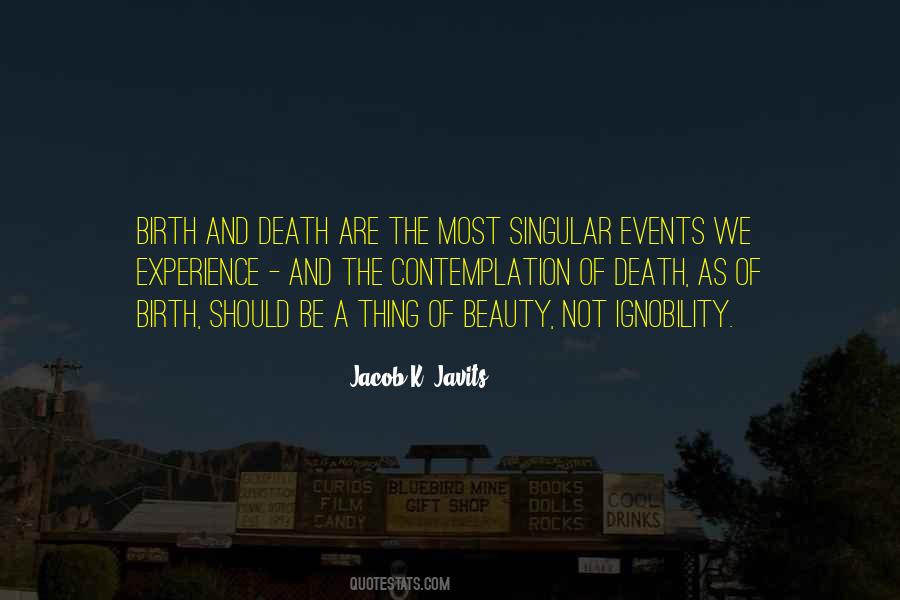 #56. There is beauty and darkness in everything. Sorrow in joy, life in death, thorns on the rose. - Author: Cate Tiernan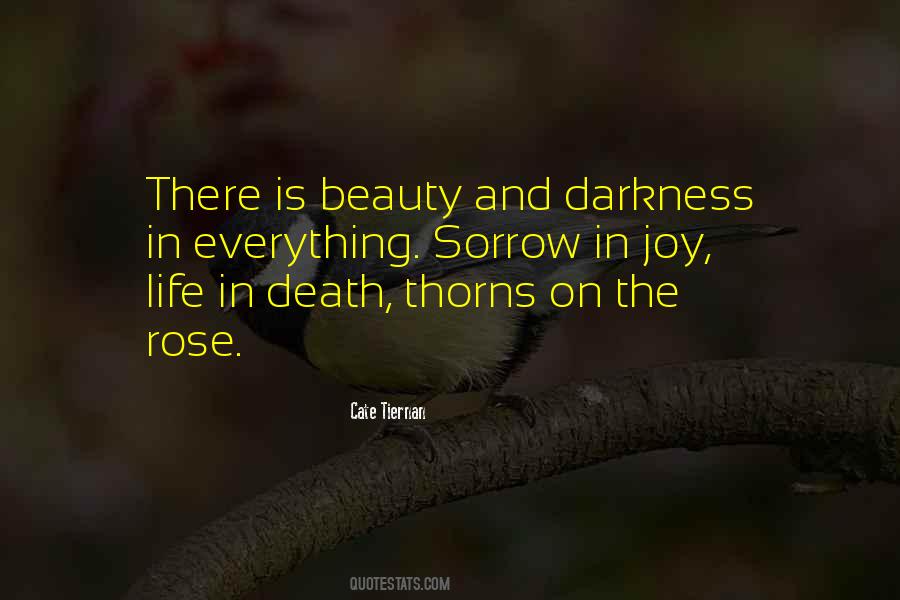 #57. It is the youngest in the family who tends to the elders to learn about the sacredness of life and the beauty of death. - Author: Misty Upham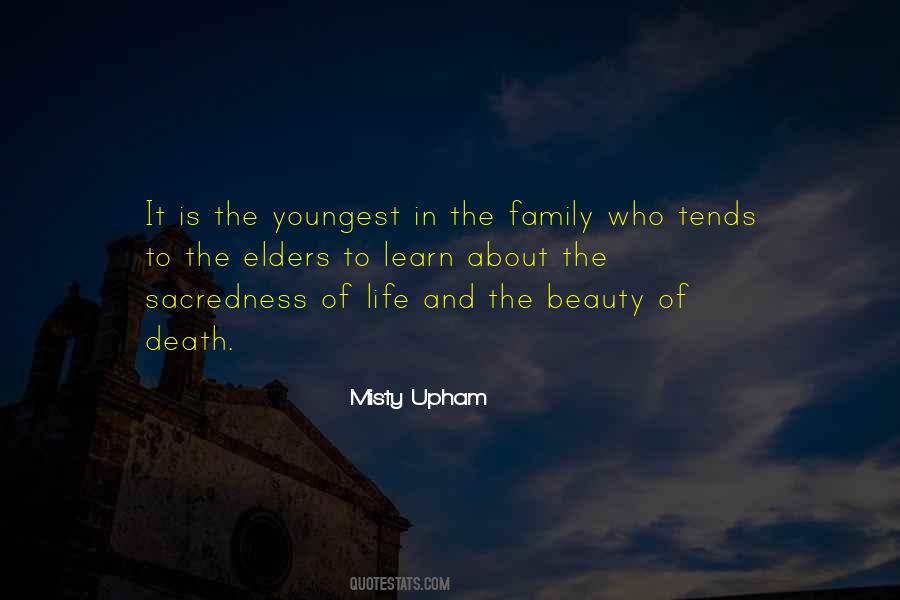 #58. It's unnatural to believe death usually has a beauty and a concordance and is usually a coming together of your life's work. It leads to frustration for the patient. And it leaves grieving families convinced they did something wrong. - Author: Sherwin B. Nuland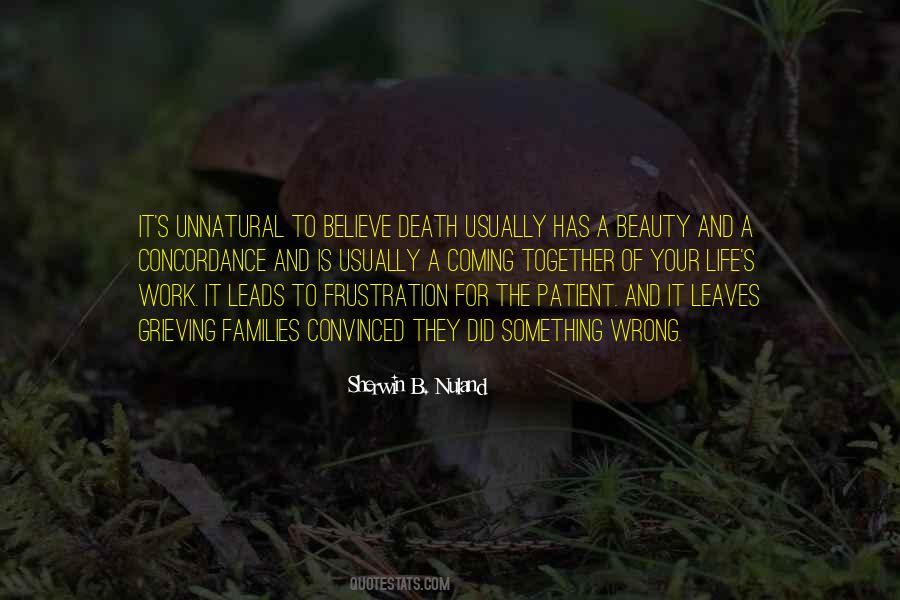 #59. As he lay expiring in the agony of death, the standers-by could hear him say softly 'I have seen the glories of the world. - Author: John Aubrey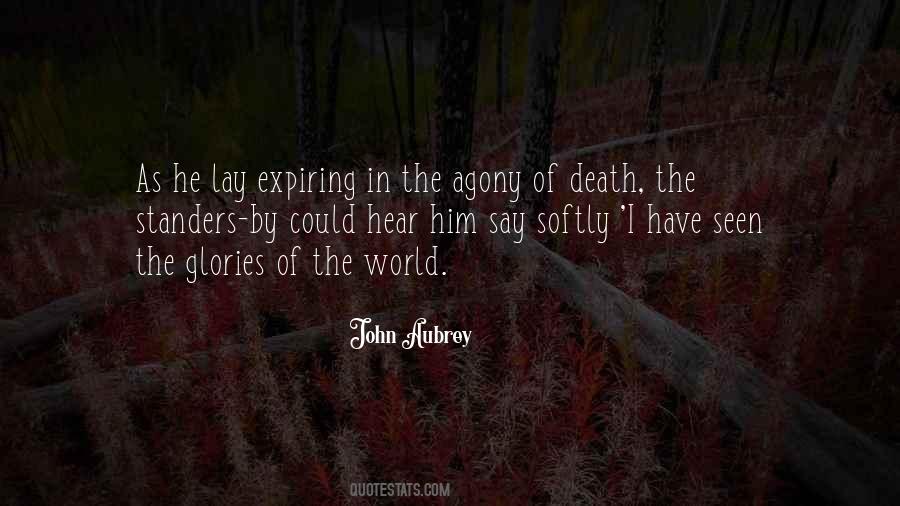 #60. Time is the warp and matter the weft of the woven texture of beauty in space, and death is the hurling shuttle. - Author: Annie Dillard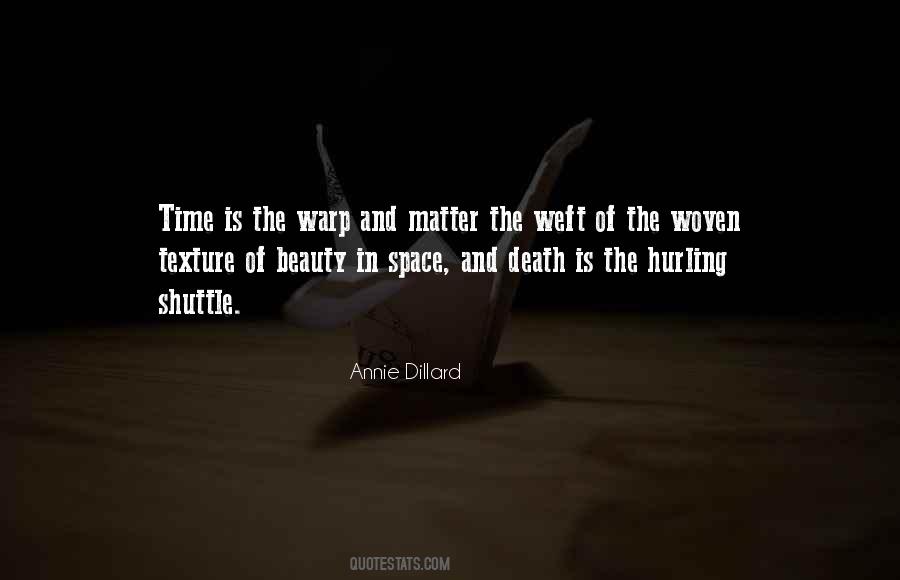 #61. There were times when he sat watching the boy sleep that he would begin to sob uncontrollably but it wasn't about death. He wasn't sure what it was about but he thought it was about beauty or goodness. Things that he'd no longer any way to think about at all. - Author: Cormac McCarthy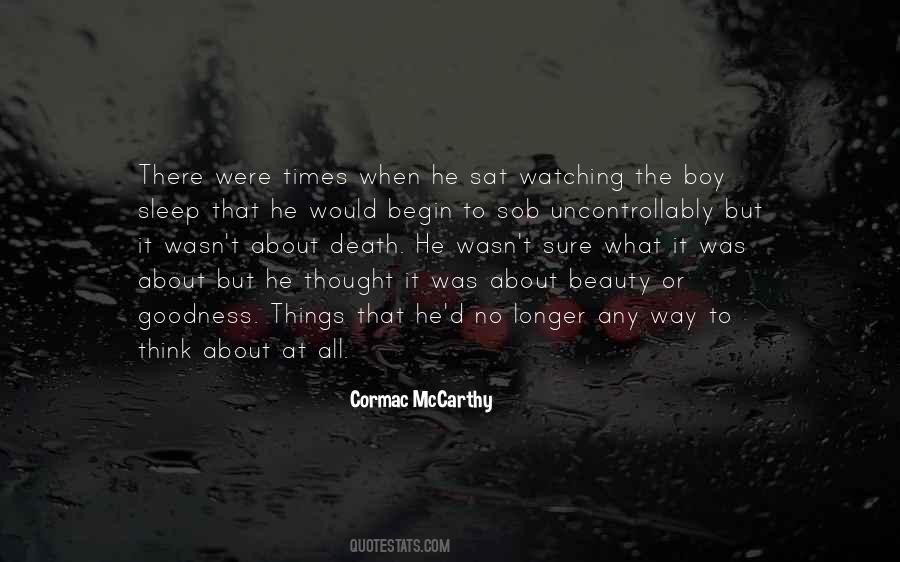 #62. Death is the Mother of Beauty - Author: Mark Turner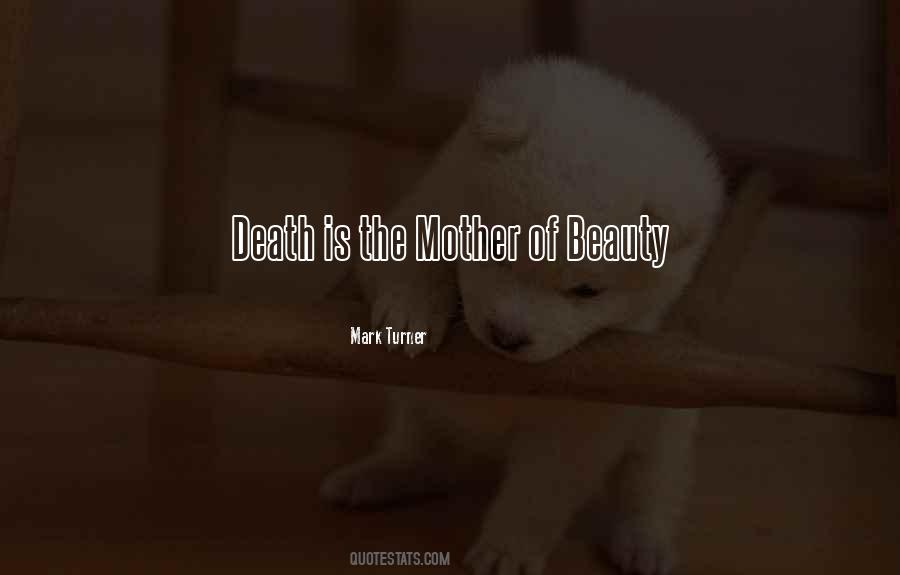 #63. If I should die," said I to myself, "I have left no immortal work behind me - nothing to make my friends proud of my memory - but I have lov'd the principle of beauty in all things, and if I had had time I would have made myself remember'd. - Author: Dan Simmons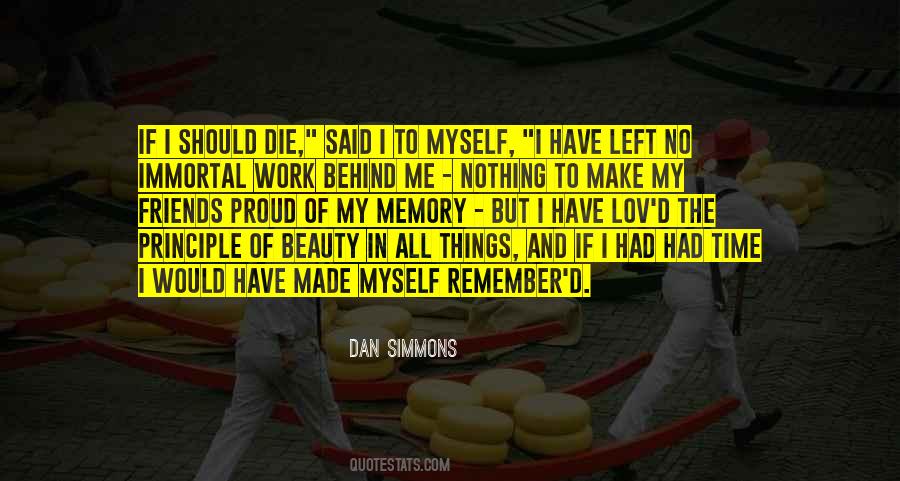 #64. Humanity is as horrified and repulsed by real nature as it is by real death. Thus, we strike back against this formidable opponent with our sharpest weapon: our imagination. From this noble tool - born of necessity and elevated to beauty - culture was born, and the war against nature begun. - Author: Anthony Marais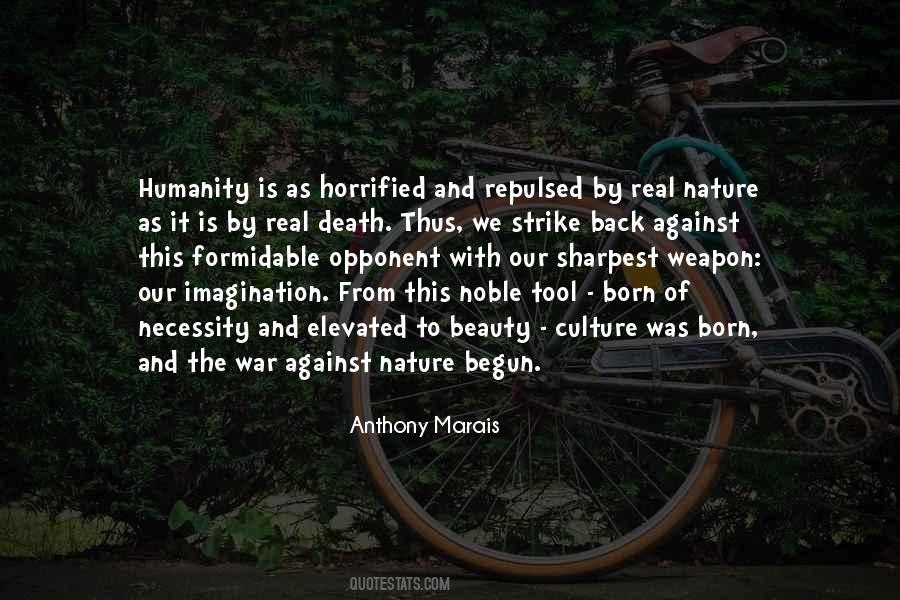 #65. Why should I stay? Nor seed nor fruit have I,But, sprung at once to beauty's perfect round,Nor loss nor gain nor change in me is found,-A life-complete in death-complete to die. - Author: John B. Tabb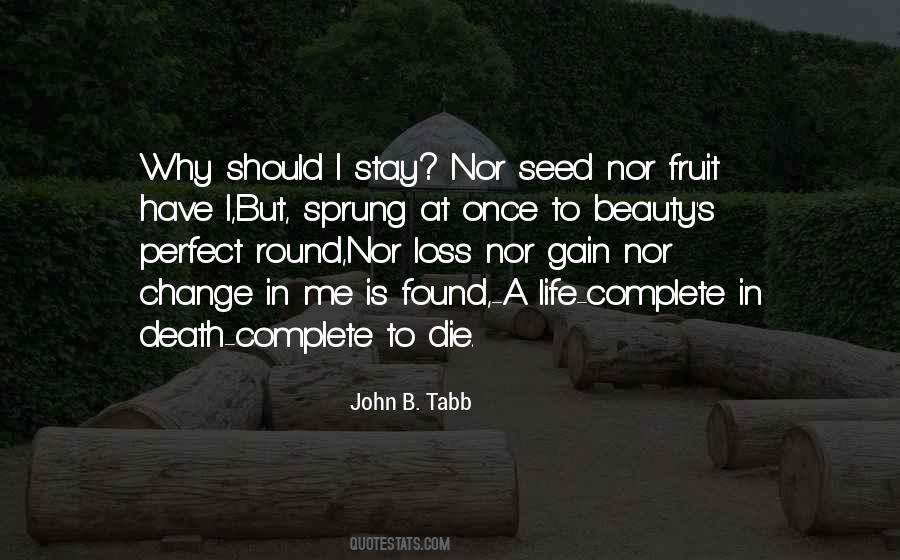 #66. Everything I thought I knew about what it meant to be a man was stripped away. What remained was what it meant to be a man who loved a woman as much as I did. To be a human being experiencing this life in all its ugliness, its beauty, its pain and hate; good and evil; love and death. - Author: Emma Scott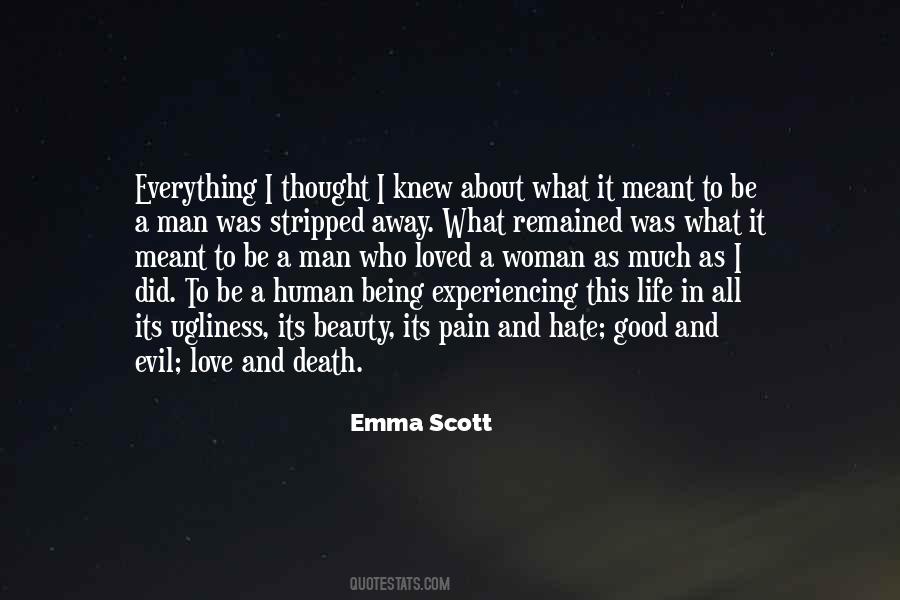 #67. Art is built on the deepest themes of human meaning: good and evil, beauty and ugliness, life and death, love and hate. No other story has incarnated those themes more than the story of Jesus. - Author: John Ortberg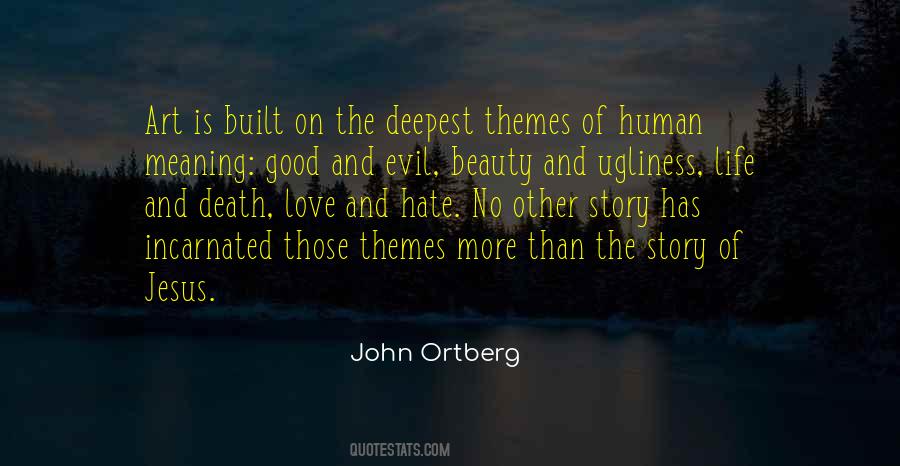 #68. At that moment I remembered something Cal had told me: that there is beauty in darkness in everything. Sorrow in joy, life and death, thorns on the rose. I knew then that I could not escape pain and torment any more than I could give up joy and beauty - Author: Cate Tiernan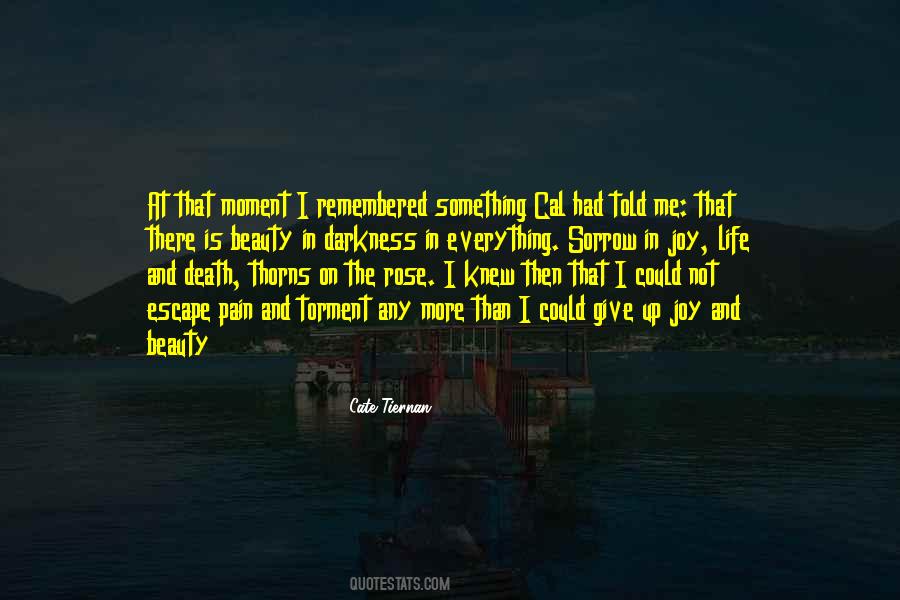 #69. The natural beauty of the earth made hard for me to consider the pathetic struggle of humans on the face of it. The great release of death, I thought, was not from the bondage to our lovely planet- who could ever wish to leave this extraordinary place?- but from one another. - Author: Valerie Martin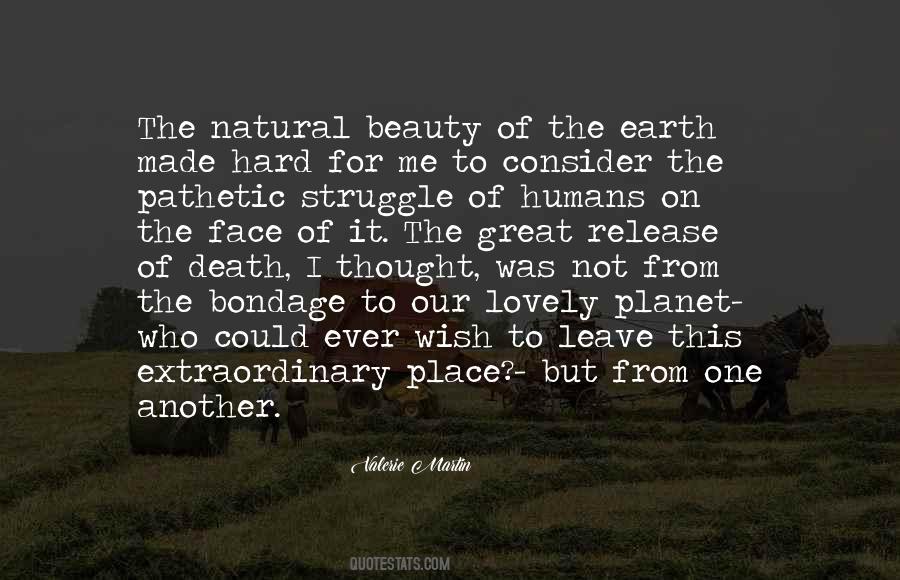 #70. I have always enjoyed cemeteries. Altars for the living as well as resting places for the dead, they are entryways, I think, to any town or city, the best places to become acquainted with the tastes of the inhabitants, both present and gone. - Author: Edwidge Danticat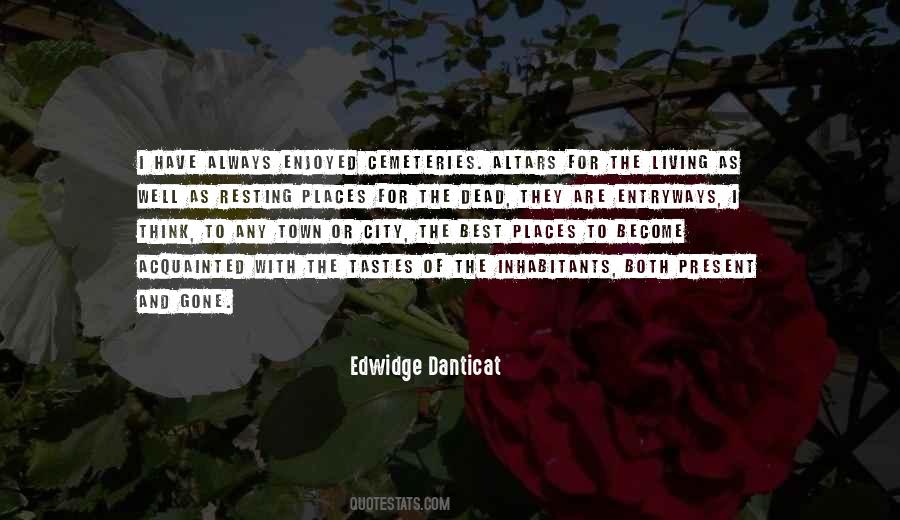 #71. Death, that hath suck'd the honey of thy breath hath had no power yet upon thy beauty. - Author: William Shakespeare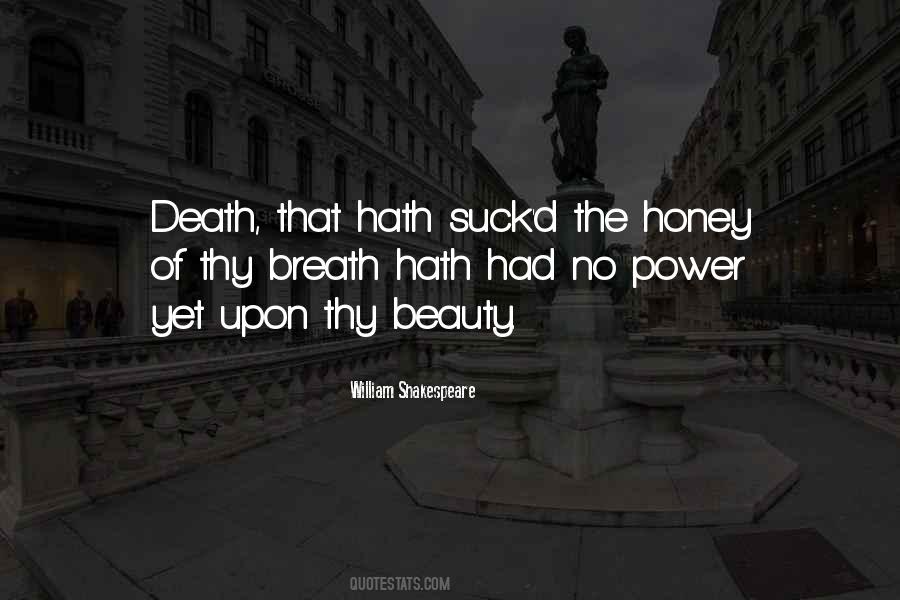 #72. It's not Life that begans at forty, it's Death
- Victoria - Author: Kathy Lette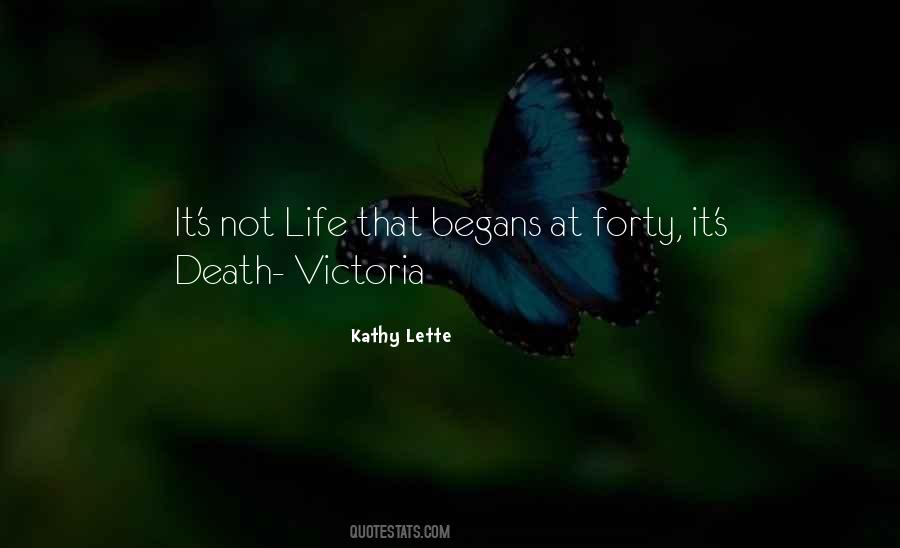 #73. Most of all, it was the wild music that impressed Matt. It did the same thing that playing the piano had done when he was frightened and lonely. It took him into another world where only beauty existed and where he was sage from hatred and disappointment and death. - Author: Nancy Farmer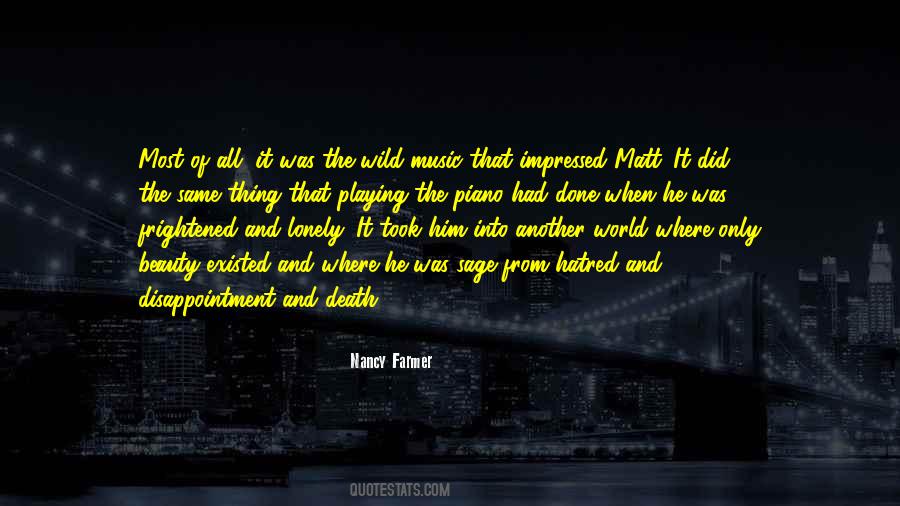 #74. Once we visit death, once we see the beauty waiting for us, our fear's gone. Used to be never a book written, of our experience with dying. Now there are shelves, waiting to be read. The beliefs, the experiences of so many others, now. - Author: Richard Bach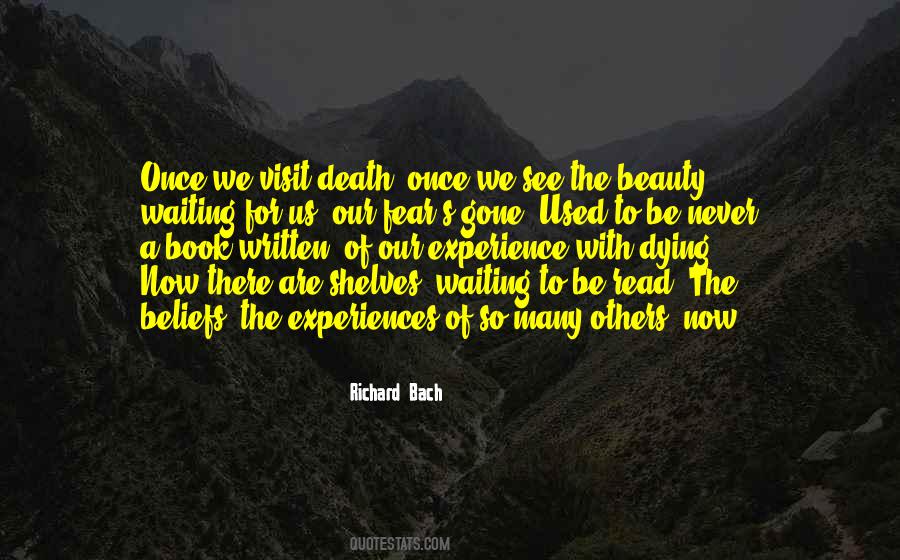 #75. Far too often, it is at the moment where we finally stand on the very precipice of some great thing that we turn and abandon it, for it is at these seminal moments that fear wins and greatness dies. The beauty of Christmas is that God steps over precipices. - Author: Craig D. Lounsbrough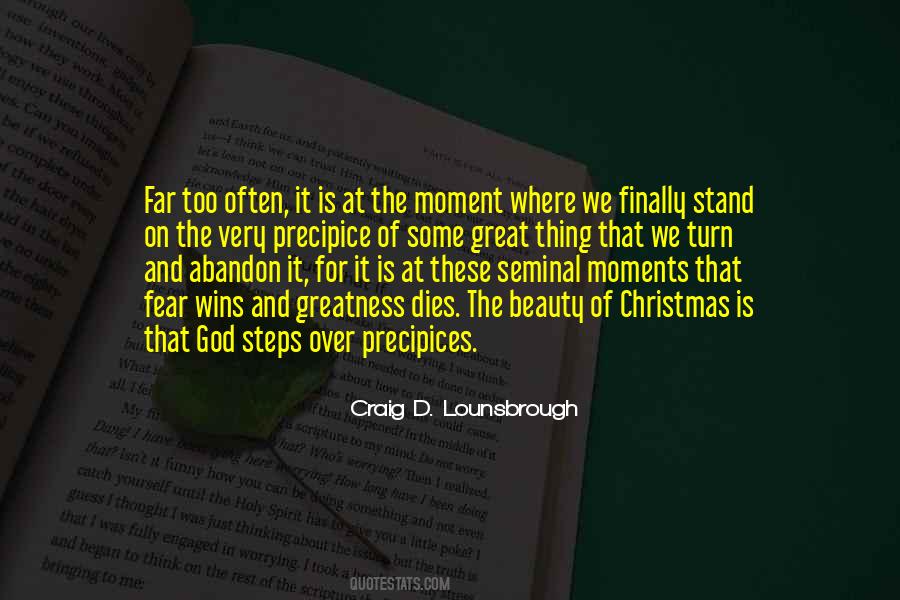 #76. When Death hath poured oblivion through my veins,
And brought me home, as all are brought, to lie
In that vast house, common to serfs and Thanes,
I shall not die, I shall not utterly die,
For beauty born of beauty
that remains. - Author: Madison Cawein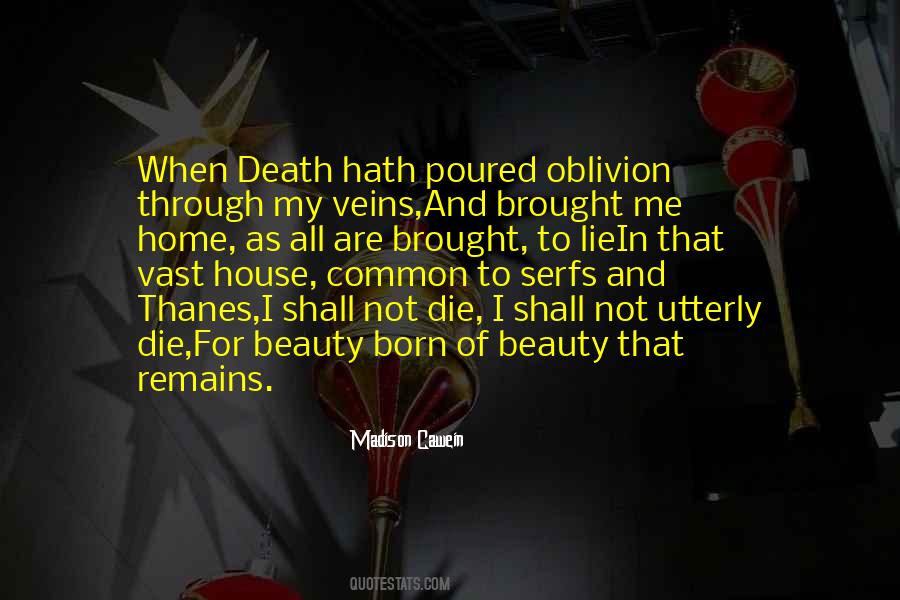 #77. Death is a name for beauty not in use. - Author: Irving Layton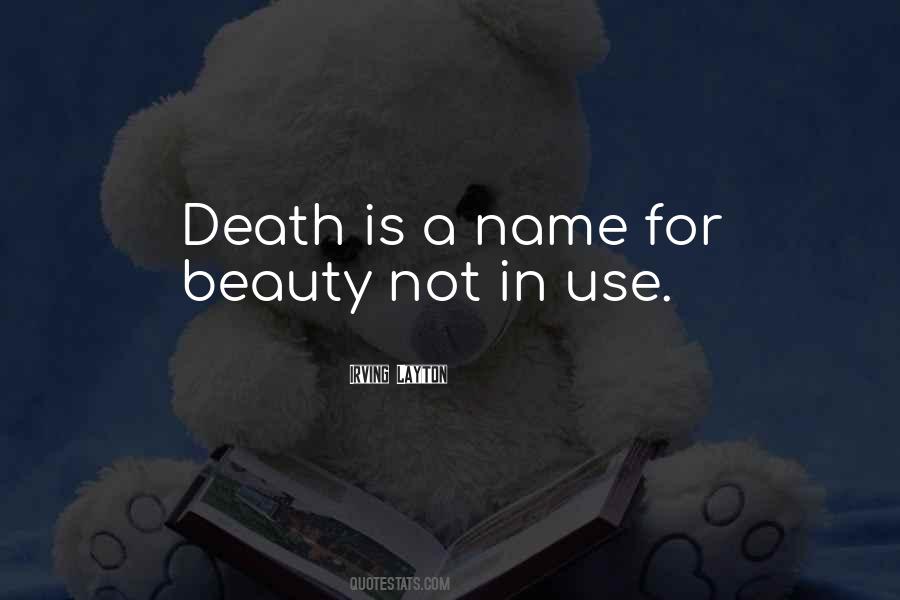 #78. Even in death she was more beautiful to him than she ever was alive. - Author: David S.E. Zapanta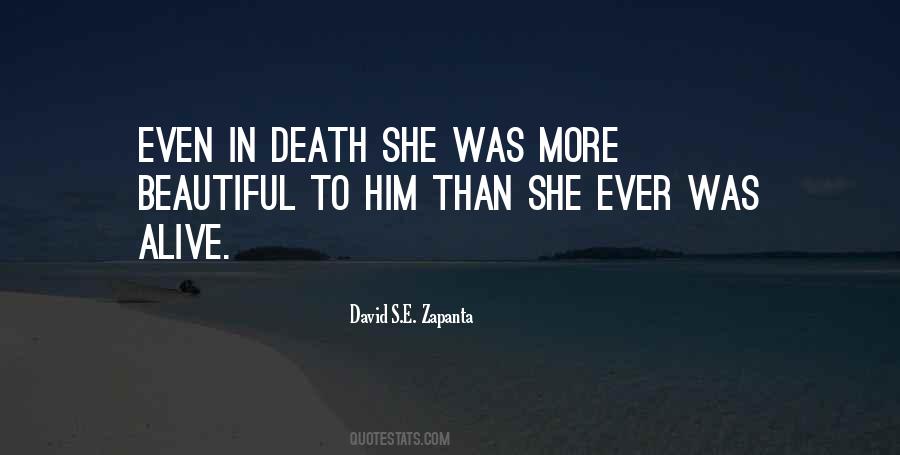 #79. Can the beautiful be sad? Is beauty inseparable from the ephemeral and hence from mourning? Or else is the beautiful object the one that tirelessly returns following destructions and wars in order to bear witness that there is survival after death, that immortality is possible? - Author: Julia Kristeva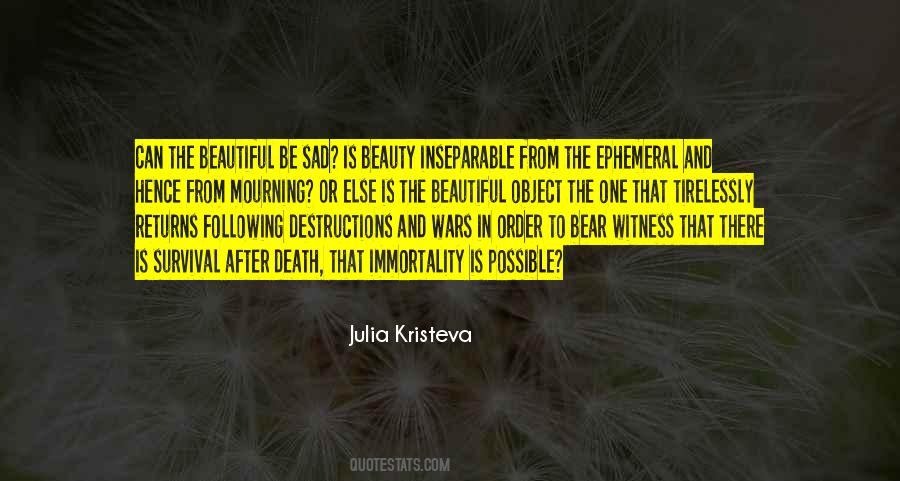 #80. Emma was horrified and transfixed at the same time. She was watching Jonah Kinlock doing what he did best. There was a certain macabre beauty in watching form and function wedded together. In Jonah's case, a dance of beauty and death. - Author: Cinda Williams Chima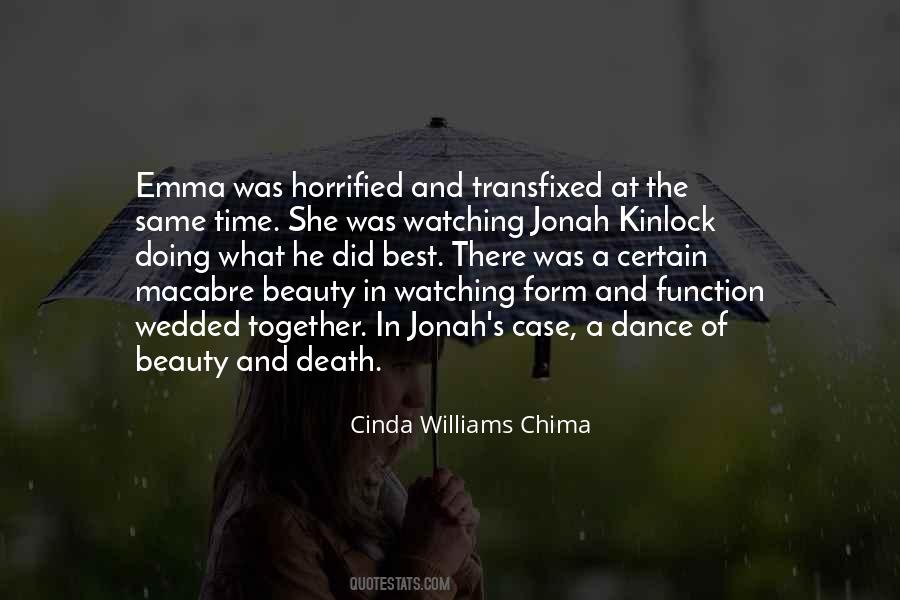 #81. But undying memories stood like sentinels in her breast. When the notes of doves, calling to each other, fell on her ear, her eyes sought the sky, and she heard a voice saying, Majella! - Author: Helen Hunt Jackson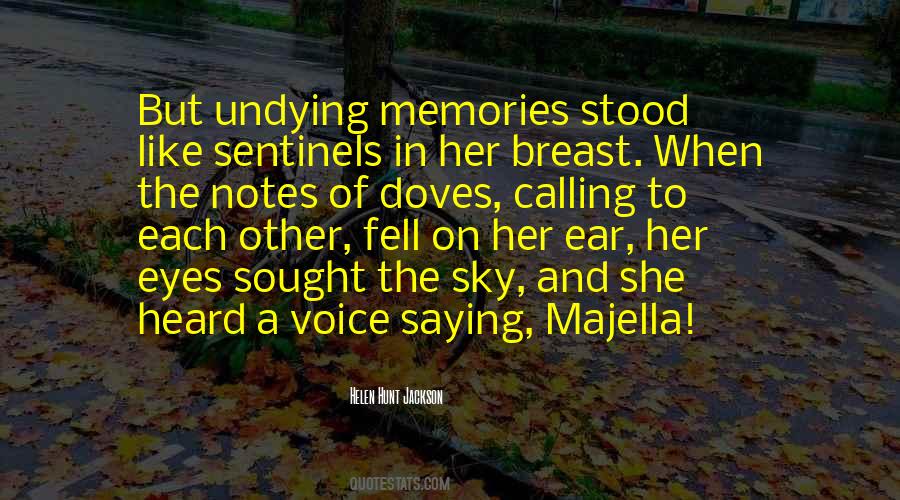 #82. Beauty was the ultimate arsenal. Beauty was meant to deceive. It was meant to trick and beguile so their prey never saw death coming. - Author: Pepper Winters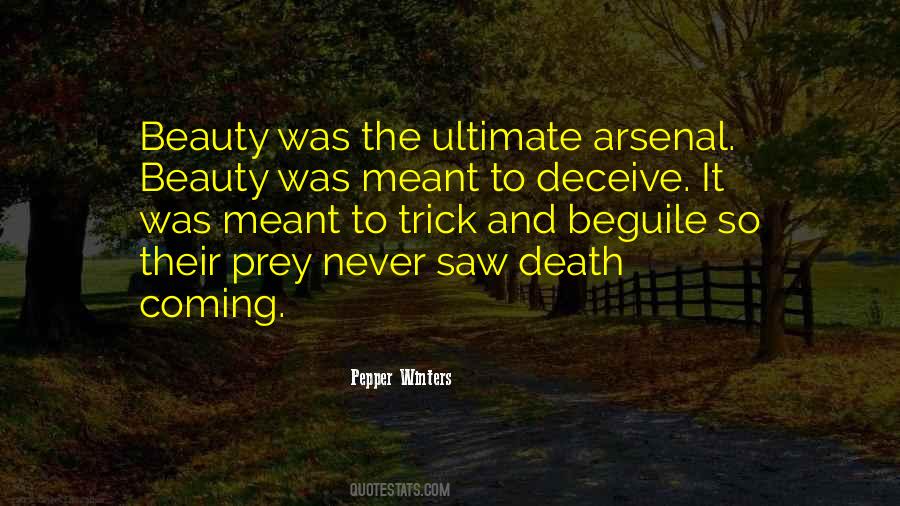 #83. I sat up in the strange bed fearing it had been a dream, afraid I would never see her again. Not because I wanted anything from her, only her presence. The disappearance of the presence of beauty is the most despairing of events on this time-wheel of ours that rolls onward towards death. - Author: Roman Payne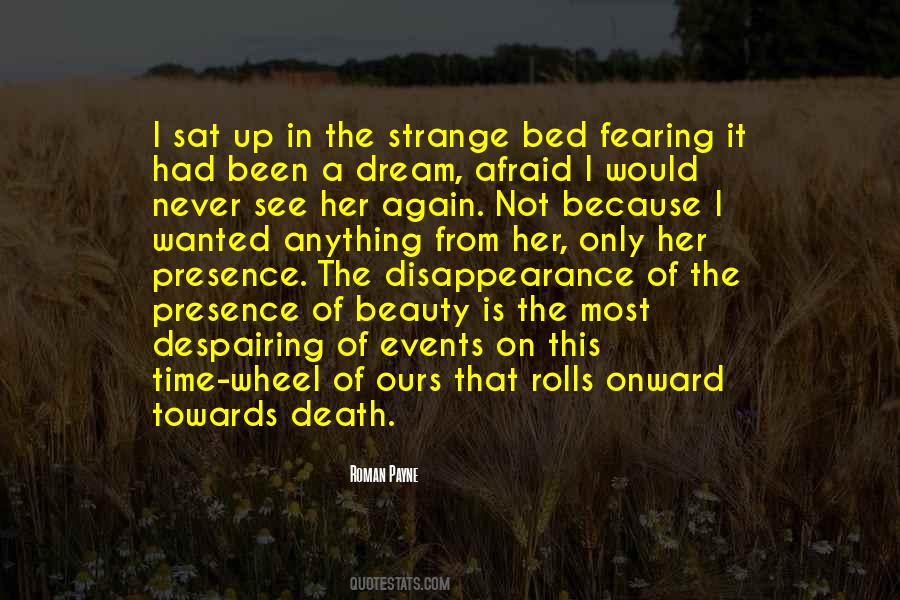 #84. We wake, if we ever wake at all, to mystery, rumors of death, beauty, violence ... - Author: Annie Dillard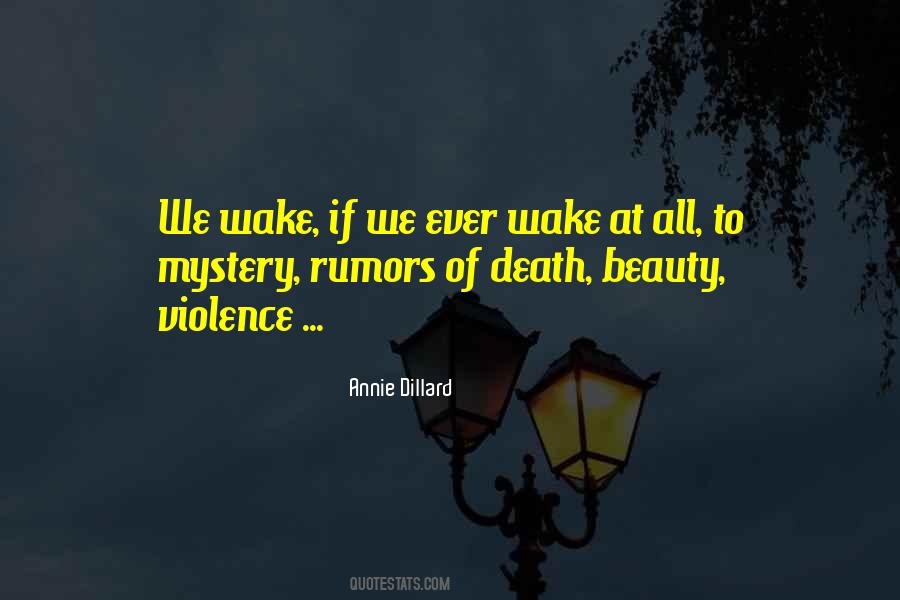 #85. Beauty and anguish walking hand in hand the downward slope to death. - Author: Alfred Lord Tennyson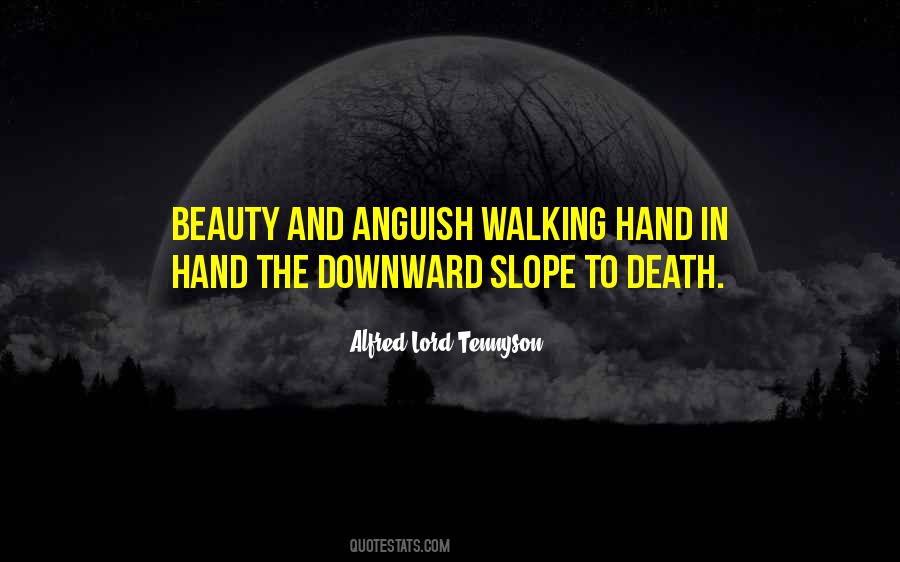 #86. I respect everything in change and the solemn beauty of life and death ... and therefore, while man is amidst the immense beauty of objective bodies, he must possess the capacity of self-perfection and must observe and represent his world with full confidence. - Author: Ansel Adams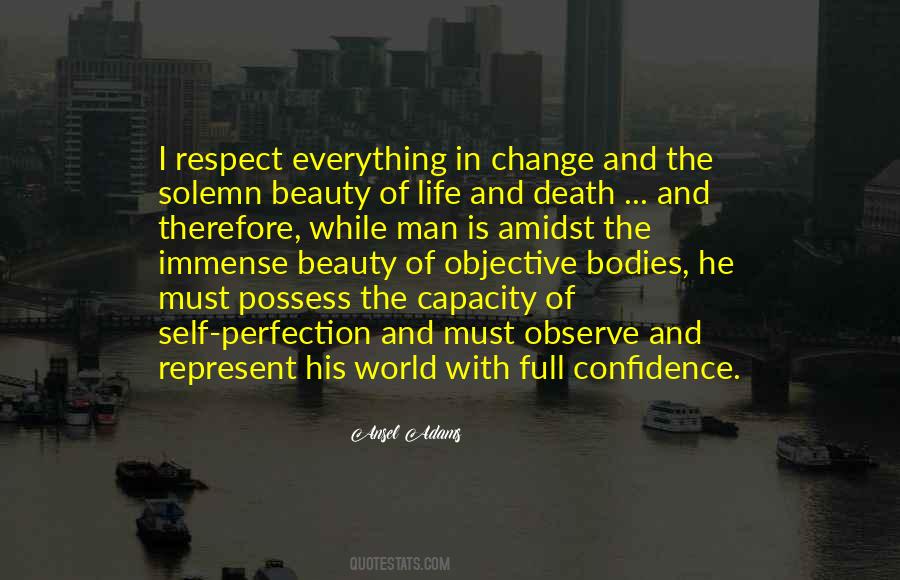 #87. Man with his burning soul Has but an hour of breath To build a ship of Truth In which his soul may sail- Sail on the sea of death. For death takes toll Of beauty, courage, youth, Of all but Truth. - Author: John Masefield
#88. When death speaks to me, it speaks only of the beauty of life. - Author: Marty Rubin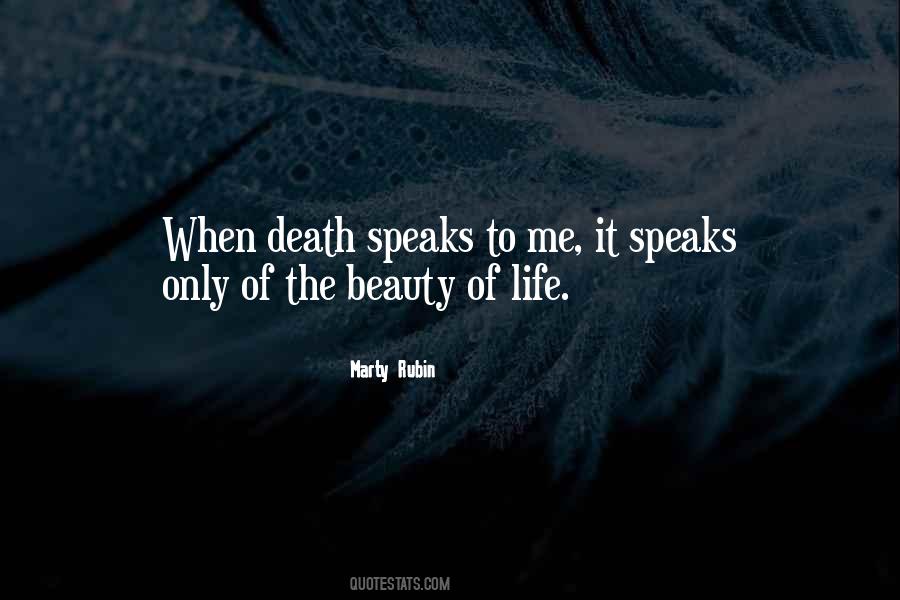 #89. Pierre little foresaw that this world hath a secret deeper than beauty, and Life some burdens heavier than death. - Author: Herman Melville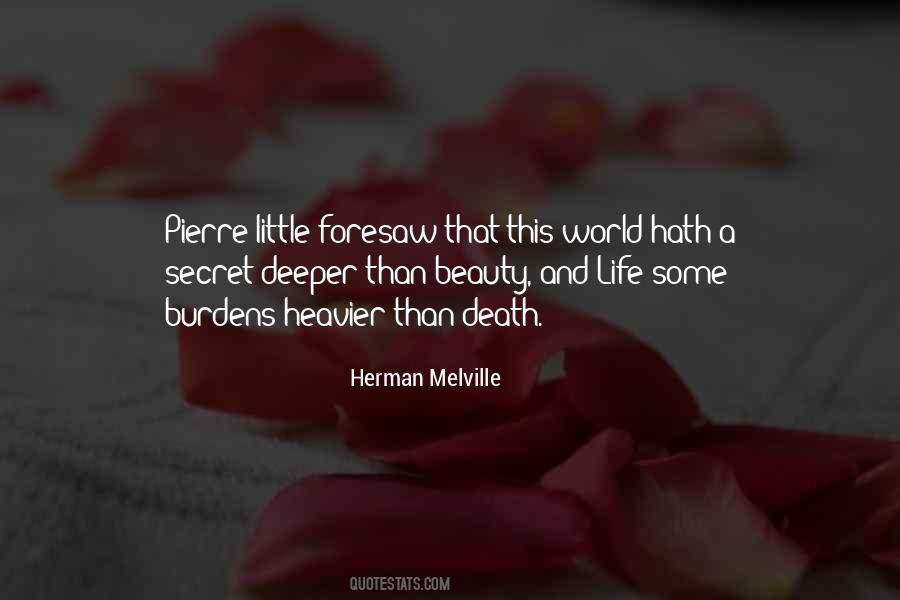 #90. The pure beauty of death is impossible to describe as the birth of a child, the betrayal of a lover, the moment of orgasm - Author: Heidi Postlewait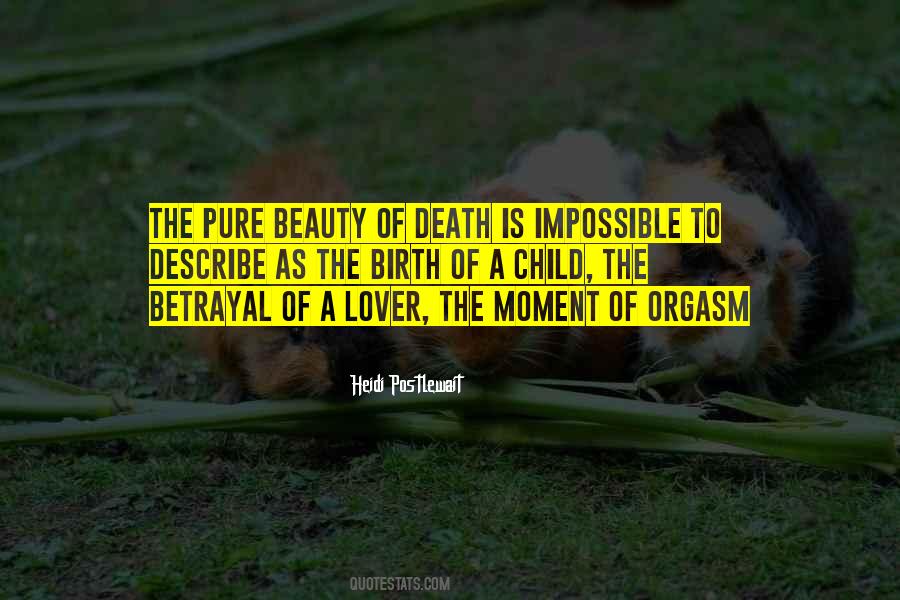 #91. The moonlight rained down on the beach as if to shine a spotlight on my solitude, and I wanted to cry out at it, 'Why did you take her? You, surrounded by all of your twinkling stars and infinite wonders and darkness. There's already enough beauty where you are. - Author: Rachael Wade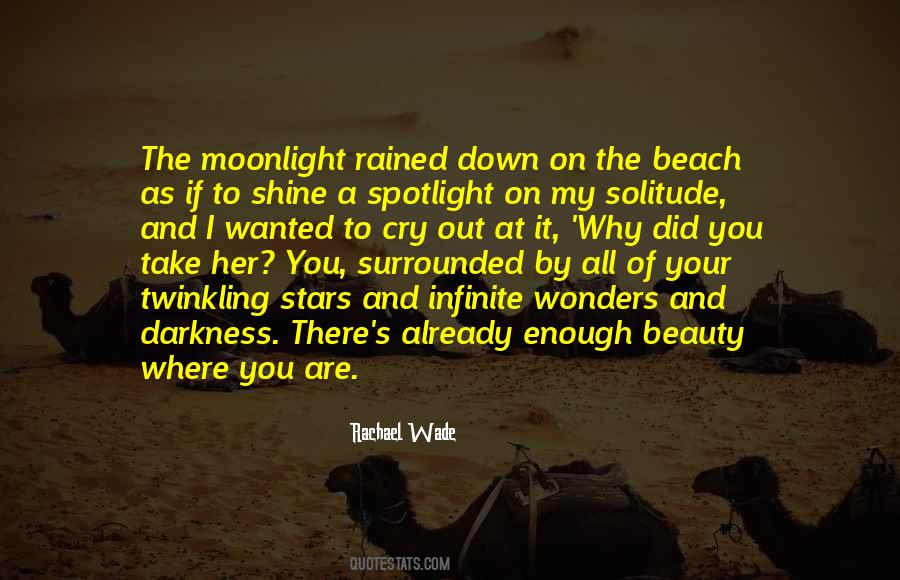 #92. In the dark room where I began My mother's life made me a man. Through all the months of human birth Her beauty fed my common earth. I cannot see, nor breathe, nor stir, But through the death of some of her. - Author: John Masefield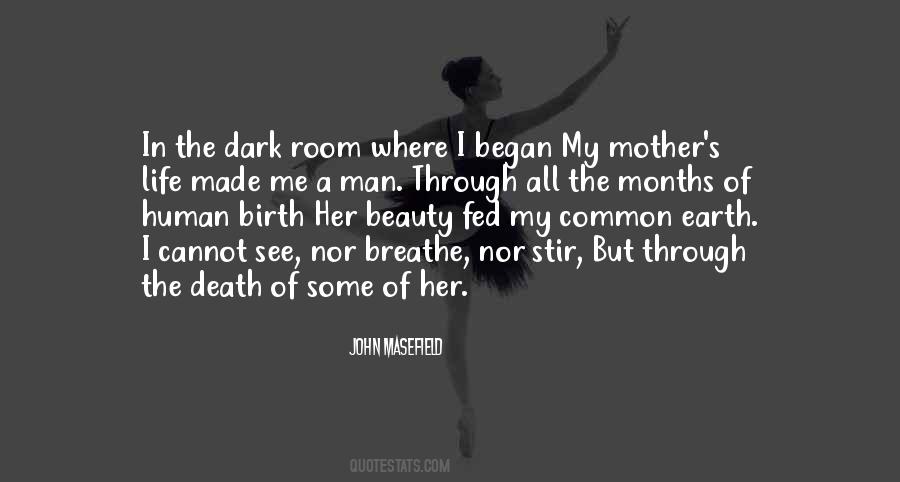 #93. And as the ax bites into the wood, be comforted in the fact that the ache in your heart and the confusion in your soul means that you are still alive, still human, and still open to the beauty of the world, even though you have done nothing to deserve it. - Author: Paul Harding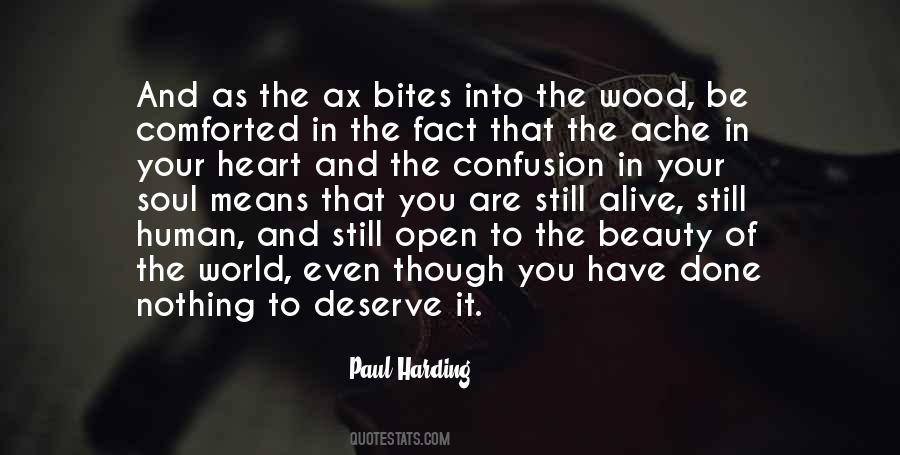 #94. Death is the mother of beauty; hence from her,
Alone, shall come fulfillment to our dreams
And our desires. - Author: Wallace Stevens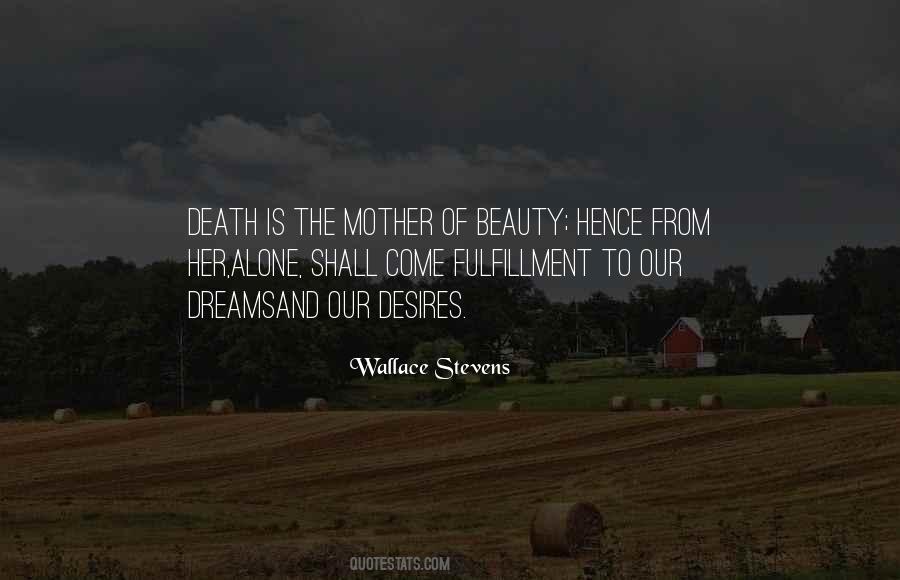 #95. Yet, he thought, if I can die saying, "Life is so beautiful," then nothing else is important. If i can believe in myself that much, nothing else matters. - Author: Mario Puzo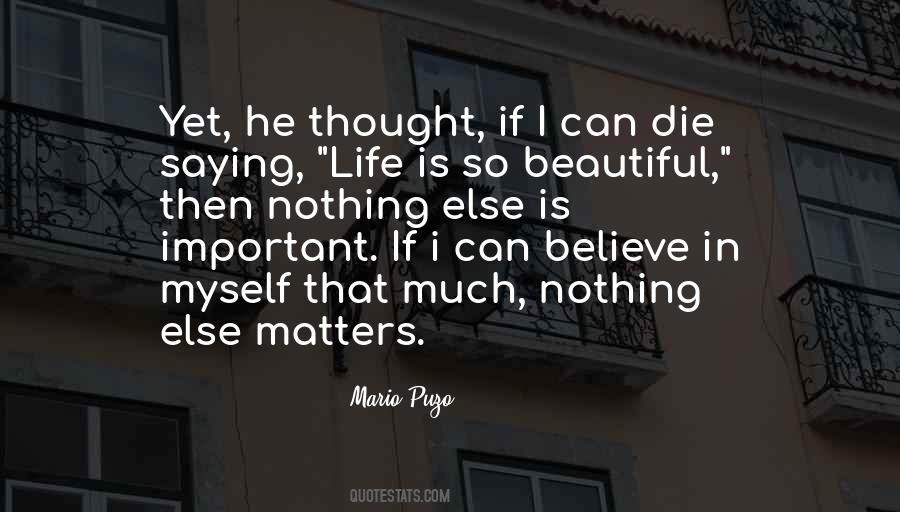 #96. How ugly we must look to them, spilling light into every dark corner to push back the shadows, blinding ourselves to the true beauty of emptiness. - Author: Shaun David Hutchinson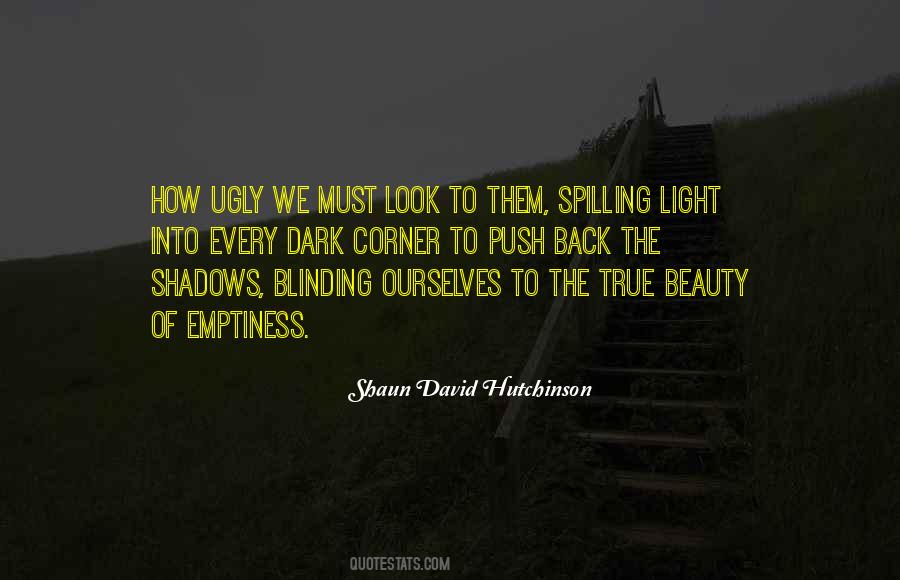 #97. The beauty of sand, in other words, belonged to death. it was the beauty of death that ran through the magnificence of its ruins and its great power of destruction - Author: Kobo Abe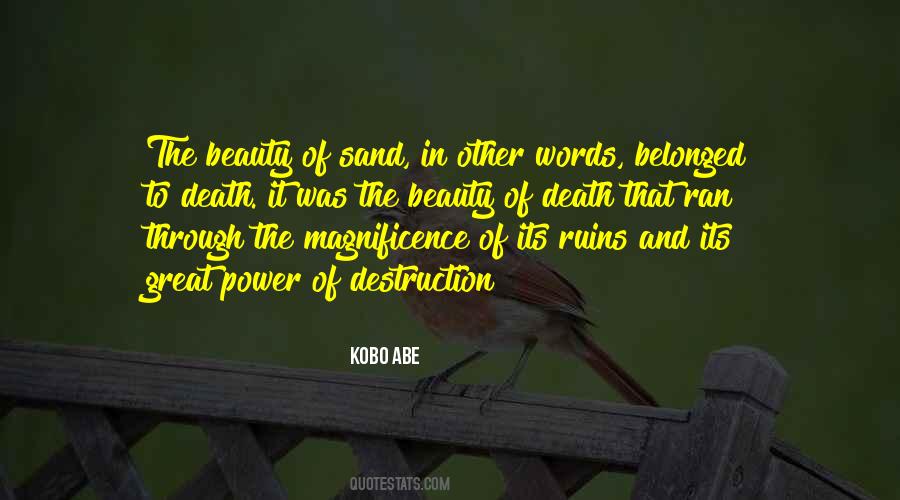 #98. Innocence is beauty.
ignorance is death. -Kuroshitsuji - Author: Yana Toboso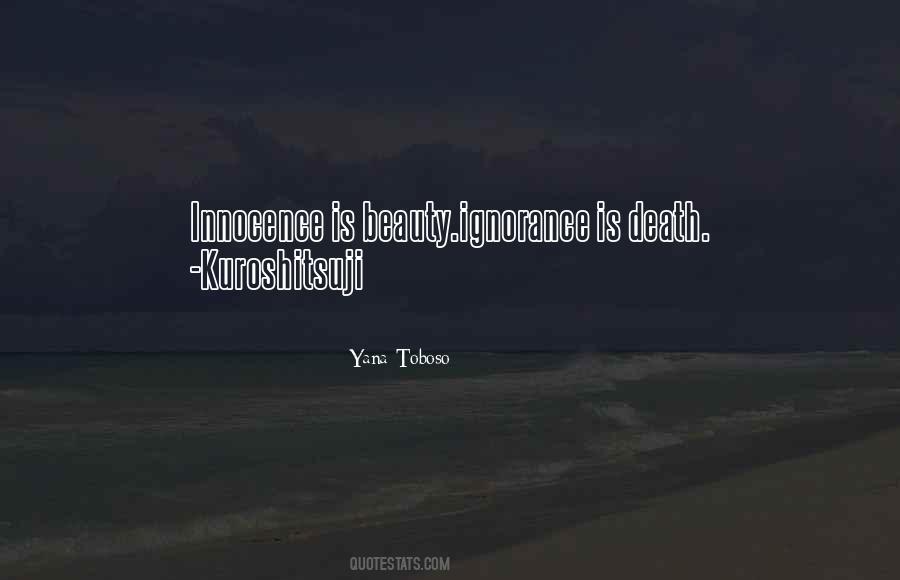 #99. Beauty is sweet to us, because she dances to the same fleeting tune with our lives. Knowledge is precious to us, because we shall never have time to complete it. All is done and finished in the eternal Heaven. But earth's flowers of illusion are kept eternally fresh by death. - Author: Rabindranath Tagore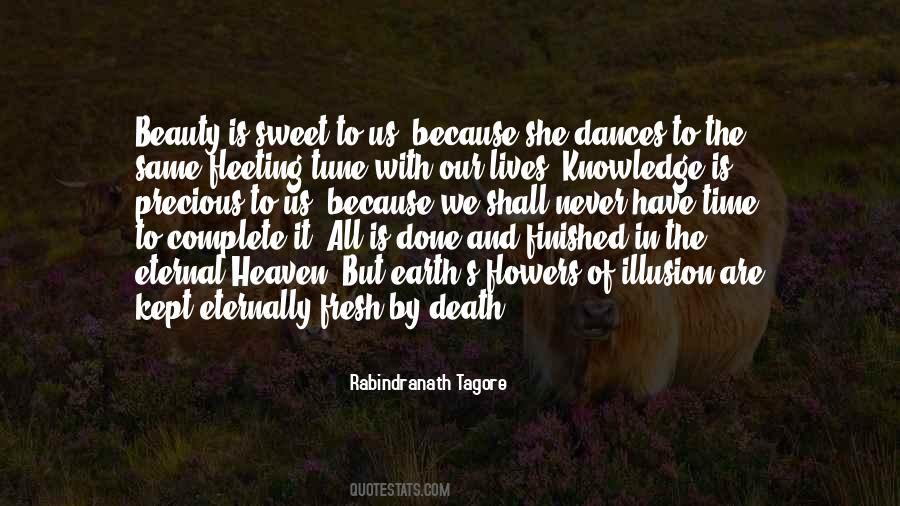 #100. Books loved anyone who opened them, they gave you security and friendship and didn't ask for anything in return; they never went away, never, not even when you treated them badly. Love, truth, beauty, wisdom and consolation against death. Who had said that? someone else who loved books. - Author: Cornelia Funke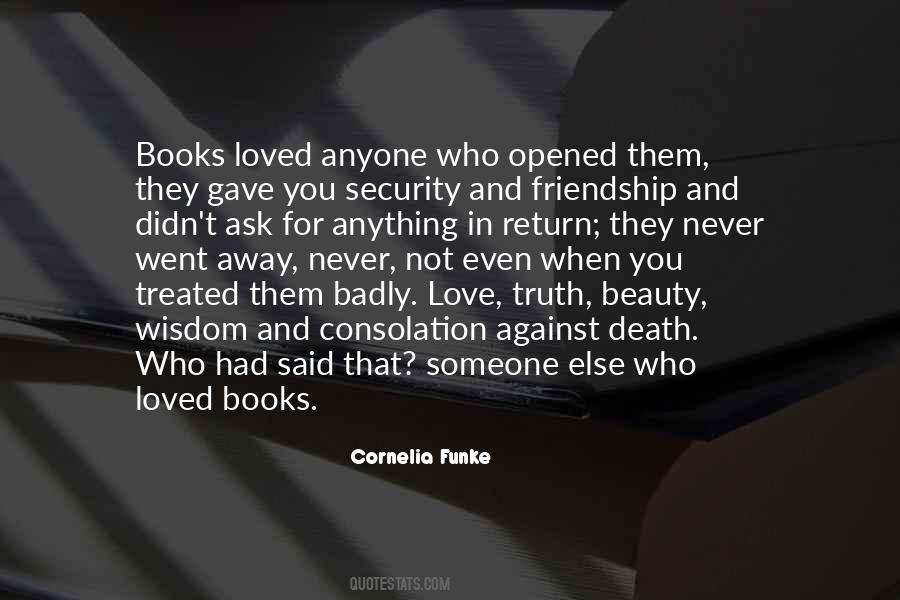 Famous Authors
Popular Topics