Conscience And Freedom Famous Quotes & Sayings
List of top 57 famous quotes and sayings about conscience and freedom to read and share with friends on your Facebook, Twitter, blogs.
Top 57 Quotes About Conscience And Freedom
#1. Religious liberty is the first freedom in our Constitution. And whether the cause is justice for the persecuted, compassion for the needy and the sick, or mercy for the child waiting to be born, there is no greater force for good in the nation than Christian conscience in action. - Author: Mitt Romney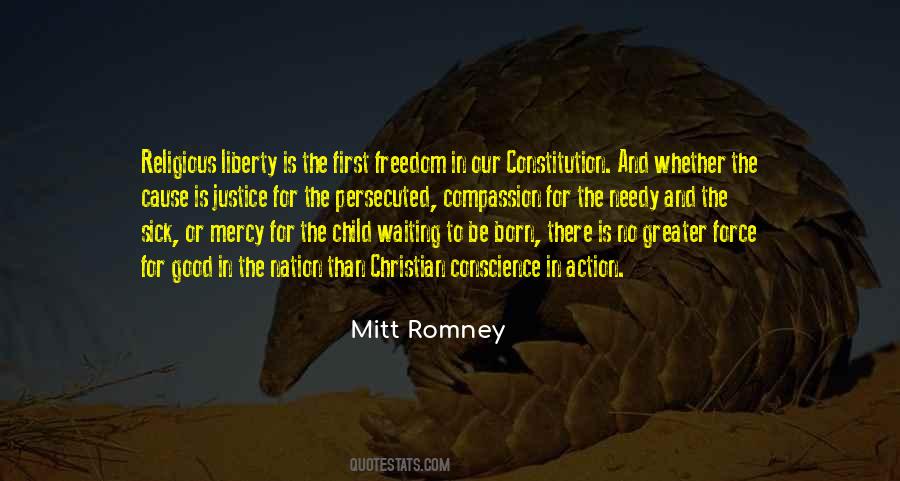 #2. Freedom of conscience entails more dangers than authority and despotism. - Author: Michel Foucault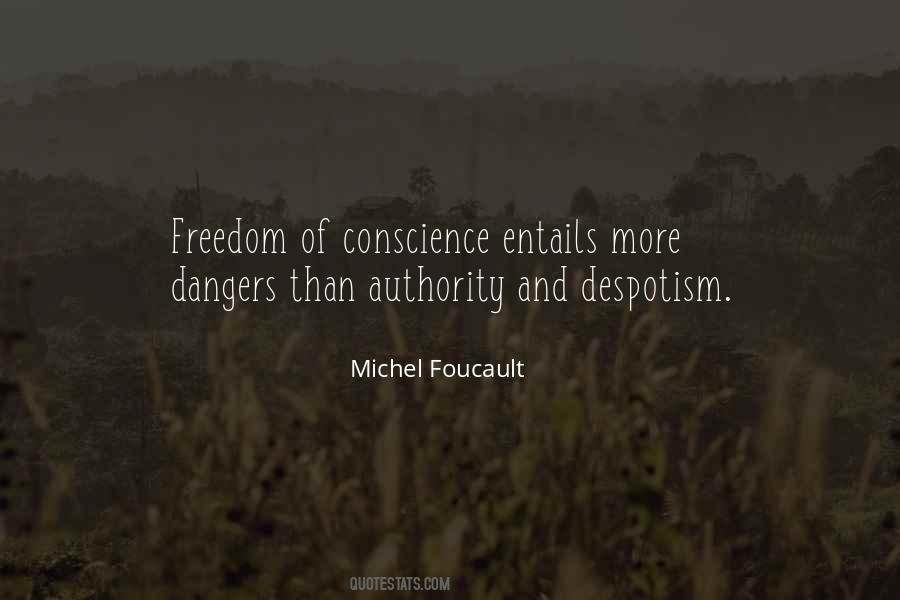 #3. You made us for yourself, Lord, and our heart is restless until it rests in you. In this creative restlessness beats and pulsates what is most deeply human - the search for truth, the insatiable need for the good, hunger for freedom, nostalgia for the beautiful, and the voice of conscience. - Author: Pope John Paul II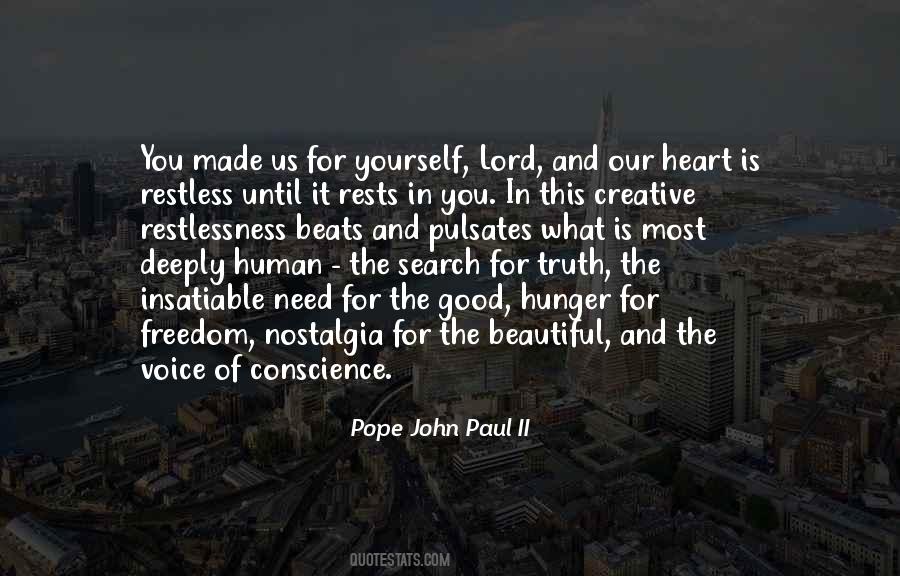 #4. Freedom of religion is one of the greatest gifts of God to man, without distinction of race and color. He is the author and lord of conscience, and no power on earth has a right to stand between God and the conscience. - Author: Philip Schaff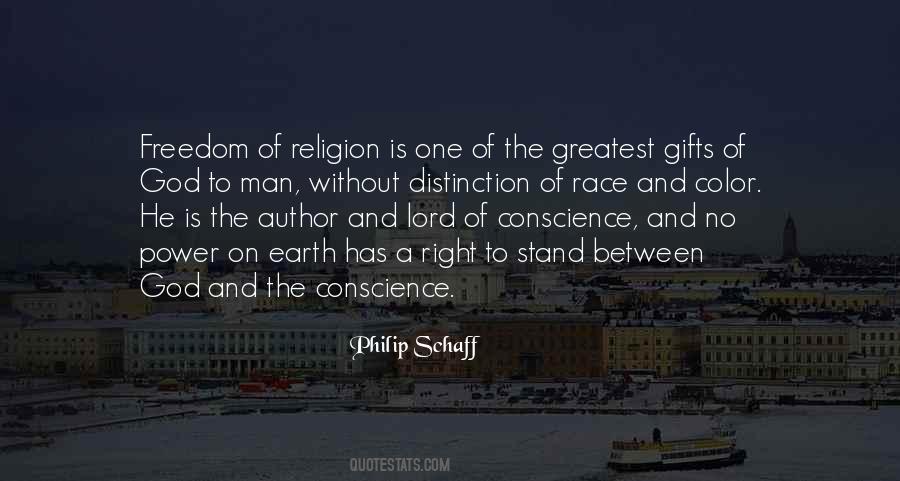 #5. The old law of an eye for an eye leaves everyone blind. It destroys communities and makes humanity impossible. It creates bitterness in the survivors and brutality in the destroyers ... In winning our freedom, we will so appeal to you heart and conscience that we will win you in the process. - Author: Martin Luther King Jr.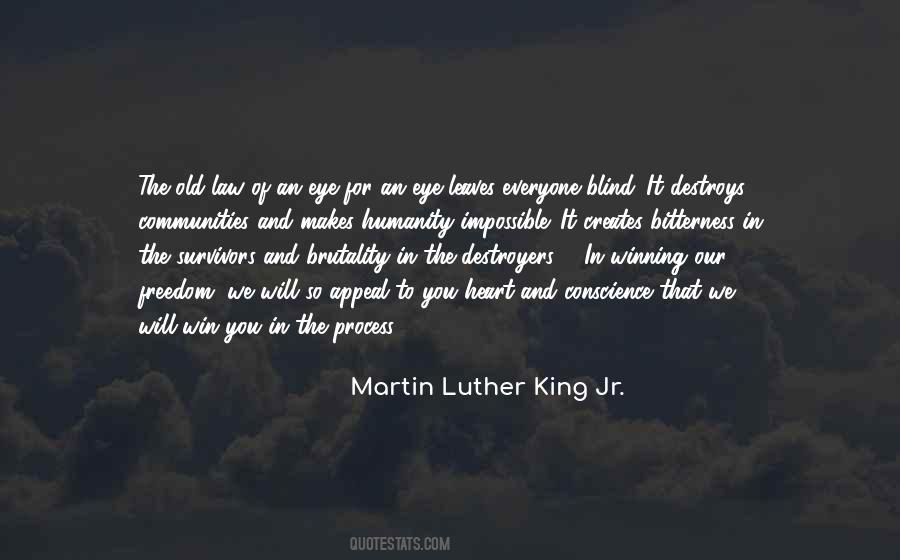 #6. Wild liberty breeds iron conscience; natures with great impulses have great resources, and return from far. - Author: Ralph Waldo Emerson
#7. Freedom of conscience is a natural right, both antecedent and superior to all human laws and institutions whatever; a right which laws never gave and a right which laws can never take away. - Author: John Goodwin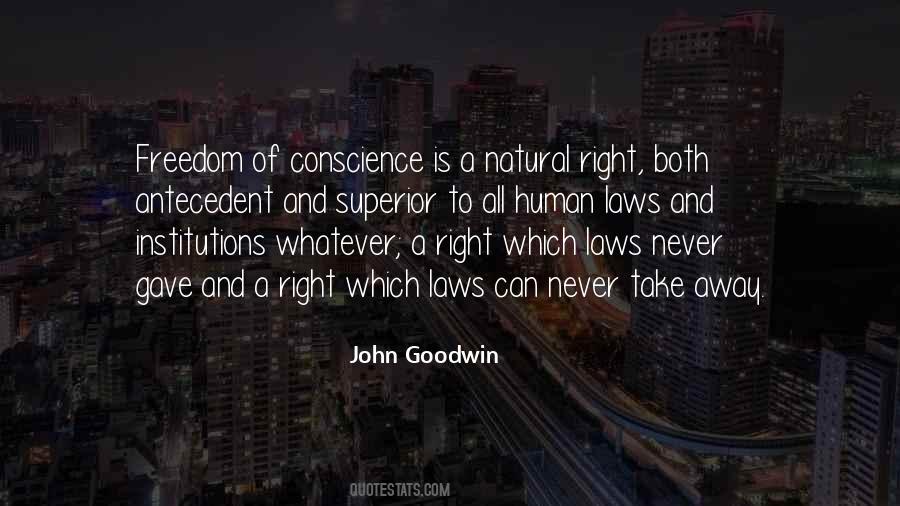 #8. The more people come together, the more borders will be opened and people and opinions get together, the more unrenouncable tolerance will be a fundamental part of our social life. Without tolerance there is no religious liberty, no freedom of conscience and no freedom of thought. - Author: Thomas Klestil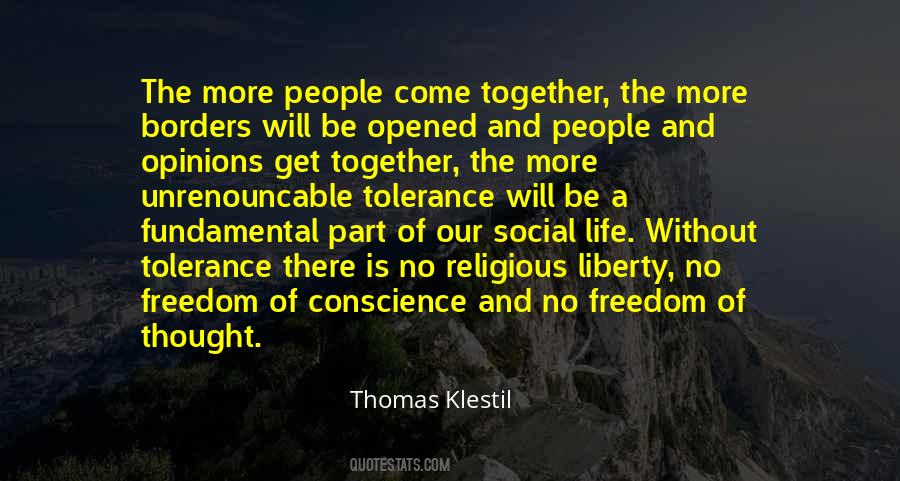 #9. It is not true that democracy will always safeguard freedom of conscience better than autocracy. Witness the most famous of all trials. Pilate was, from the standpoint of the Jews, certainly the representative of autocracy. Yet he tried to protect freedom. And he yielded to a democracy. - Author: Joseph A. Schumpeter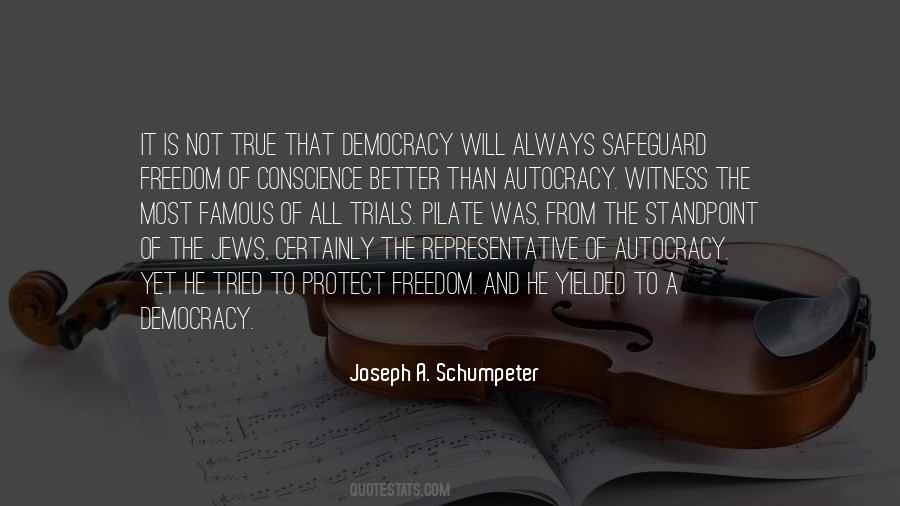 #10. Sometimes I feel like I'm losing my mind," she said with a hint
of sadness.
"You lost your mind a long time ago," he said seriously. She looked at him with indignation. "That's a compliment for anyone who knows the freedom and clarity of losing their mind," he reaffirmed her. - Author: Daniel J. Rice
#11. It matters not whether these weapons of ours are humane: if they gain us our freedom, they are justified before our conscience and before our God. - Author: Adolf Hitler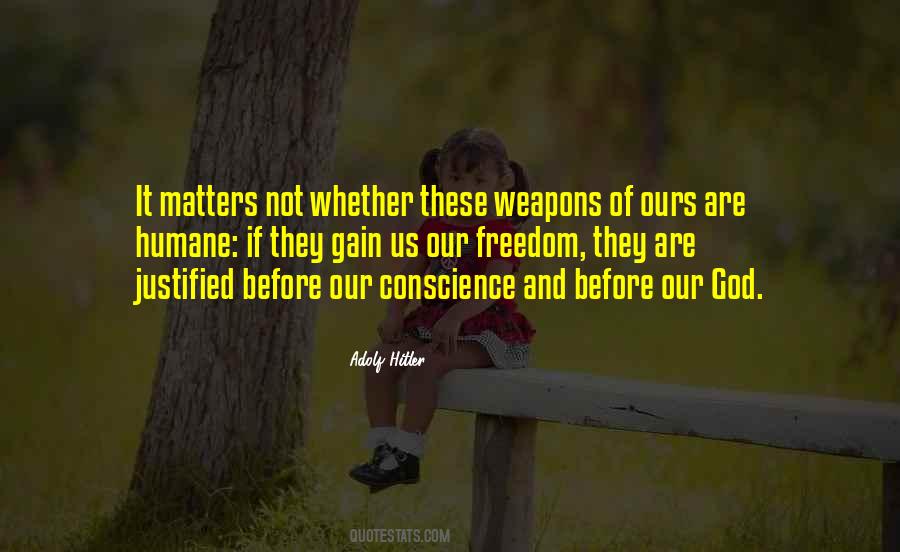 #12. President Obama orders religious organizations to violate their conscience. I will defend religious liberty and overturn regulations that trample on our first freedom. - Author: Mitt Romney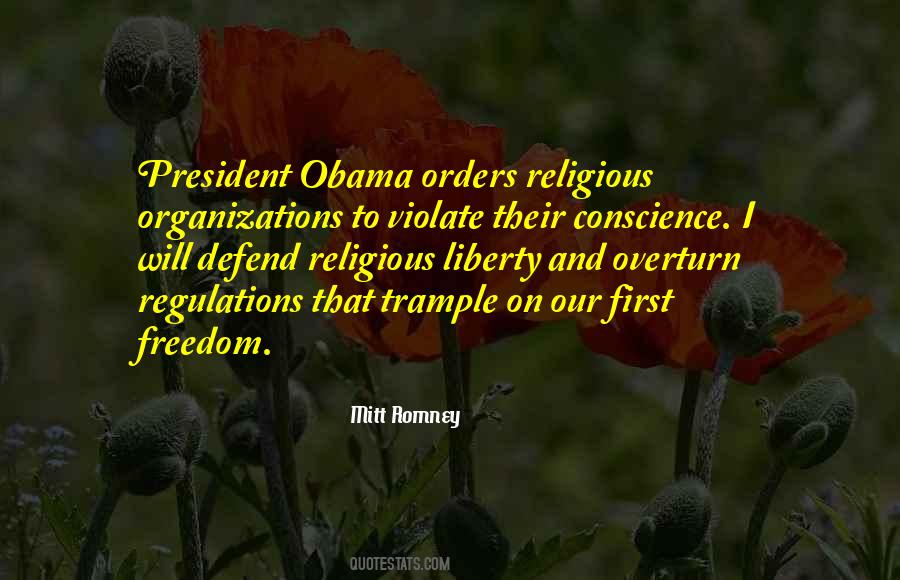 #13. The aim is freedom conscience and truth - Author: Robert Fripp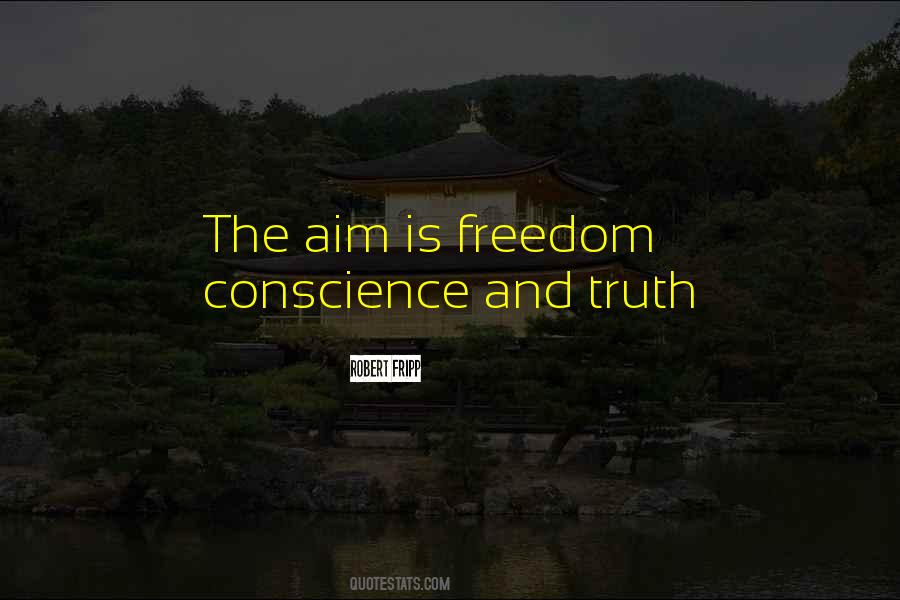 #14. In our country we have those three unspeakably precious things: freedom of speech, freedom of conscience, and the prudence never to practice either. - Author: Mark Twain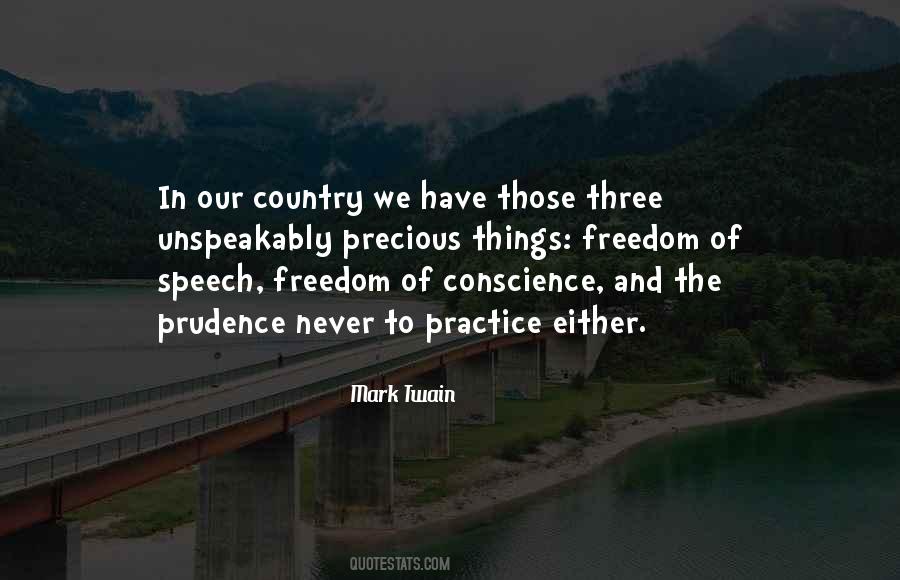 #15. Free societies are hopeful societies. And free societies will be allies against these hateful few who have no conscience, who kill at the whim of a hat. - Author: George W. Bush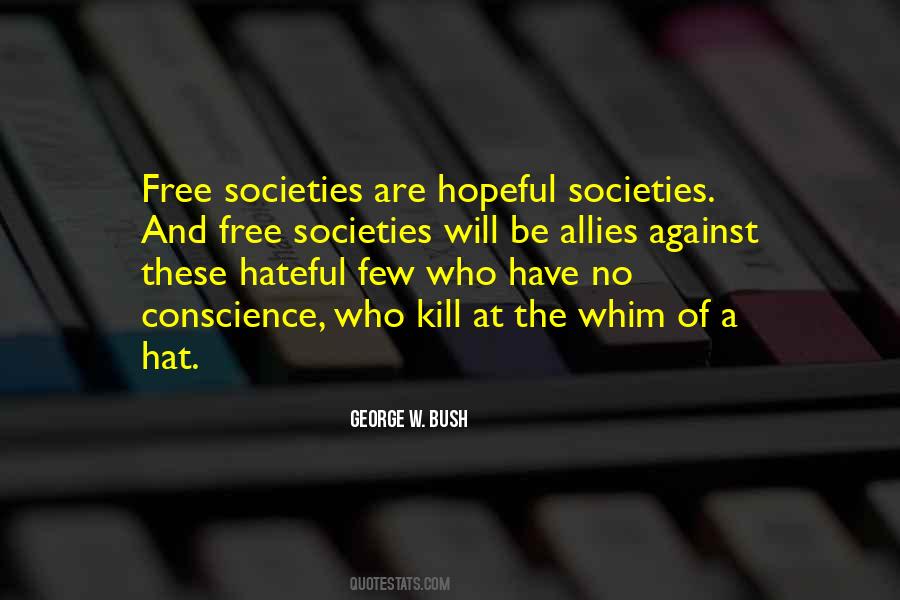 #16. The legal toleration of abortion or of euthanasia can in no way claim to be based on respect for the conscience of others, precisely because society has the right and the duty to protect itself against the abuses which can occur in the name of conscience and under the pretext of freedom. - Author: Pope John Paul II
#17. You'll never let me go, will you? Giving me the space and freedom I want isn't your idea of love, is it? You'd rather cut me deep on earth to spare me pain in hell, whereas I think hell is right here. - Author: Matthew J. Hefti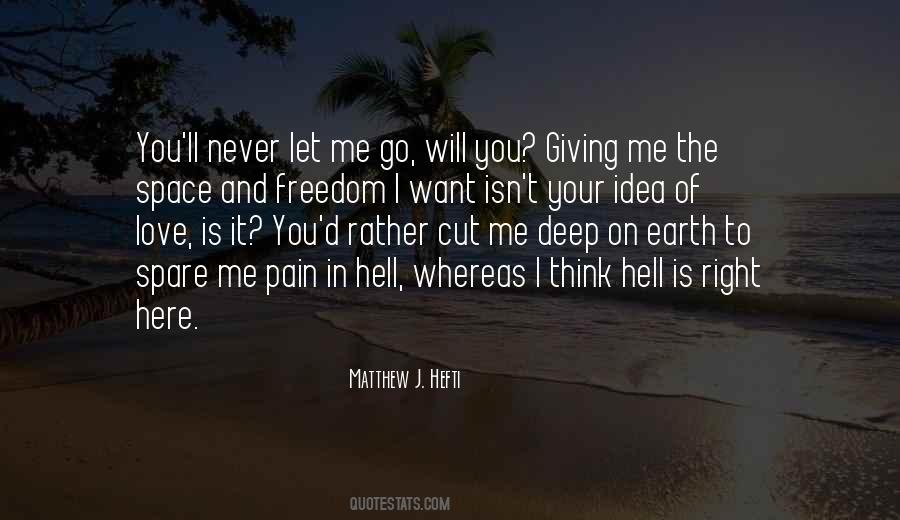 #18. Our interests and our conscience compel us to act on behalf of those who long for freedom. And we must be a source of hope to the poor, the sick, the marginalized, the victims of prejudice. - Author: Barack Obama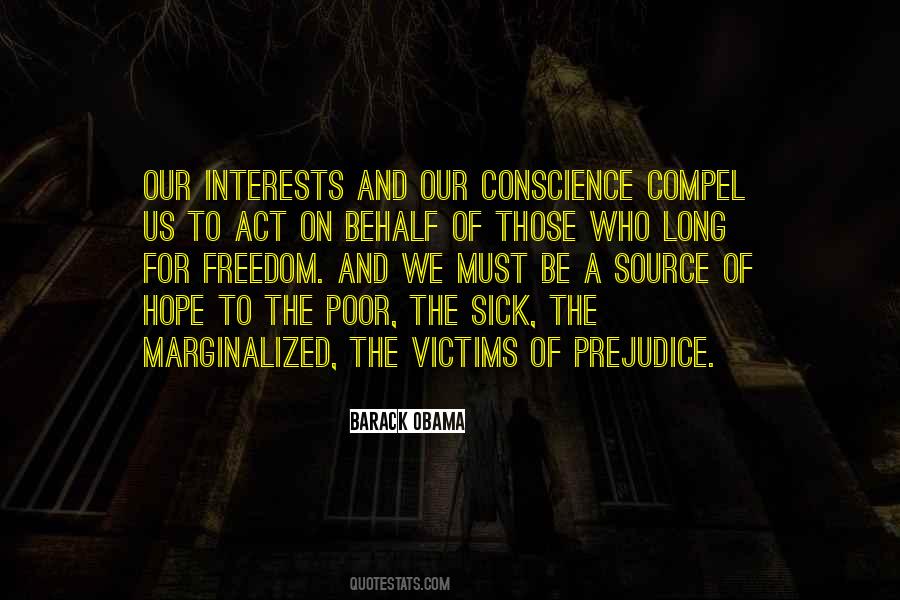 #19. But since I realised that peace and freedom were unattainable on earth, my spirit aspired aloft, and everything that my chosen path required ceased to conflict with my conscience, because my conscience was calling me out into space, and was not much interested in what was happening on earth. - Author: Victor Pelevin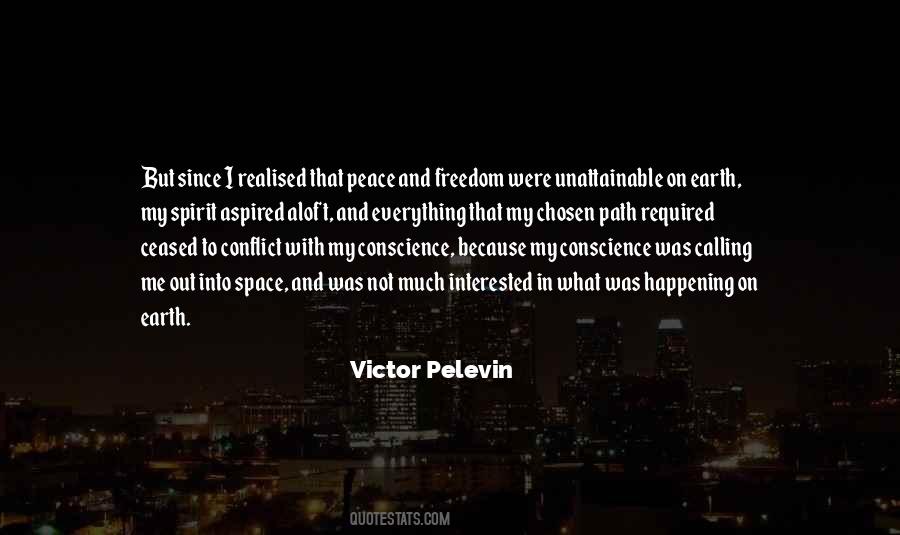 #20. All of our effort should be focused on protecting the religious liberties and freedom of conscience for those Americans that profoundly disagree with the decision. - Author: Carly Fiorina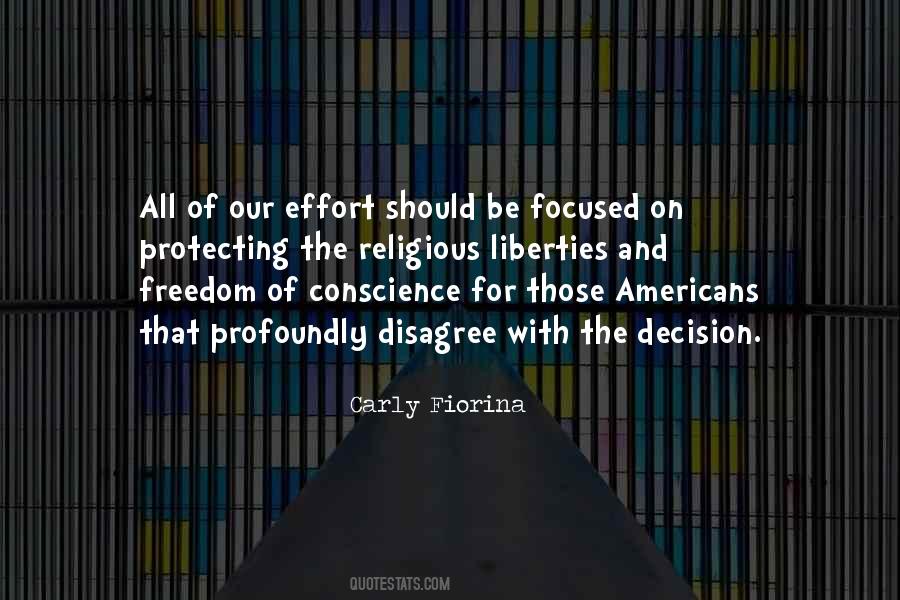 #21. When freedom does not have a purpose, when it does not wish to know anything about the rule of law engraved in the hearts of men and women, when it does not listen to the voice of conscience, it turns against humanity and society. - Author: Pope John Paul II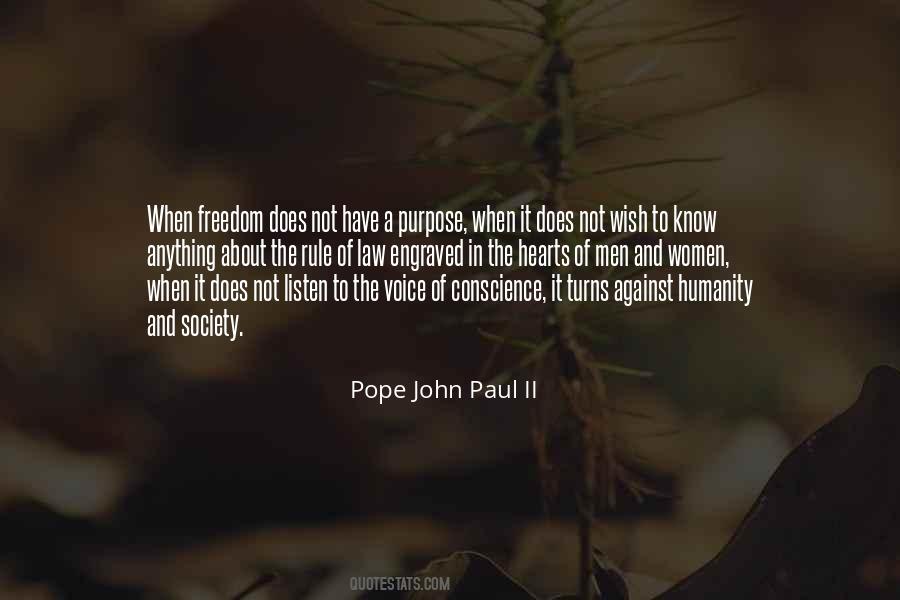 #22. A tranquil conscience invites freedom from anguish, sorrow, guilt, shame, and self-condemnation. It provides a foundation for happiness. It is a condition of immense worth. - Author: Richard G. Scott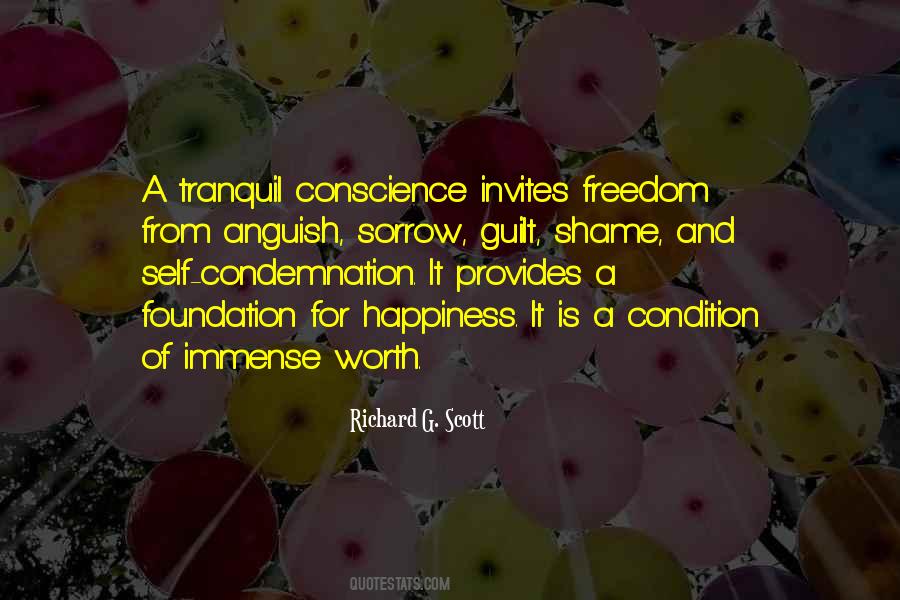 #23. It is by the goodness of god that in our country we have those 3 unspeakably precious things: freedom of speech, freedom of conscience, and the prudence never to practice either of them. - Author: Mark Twain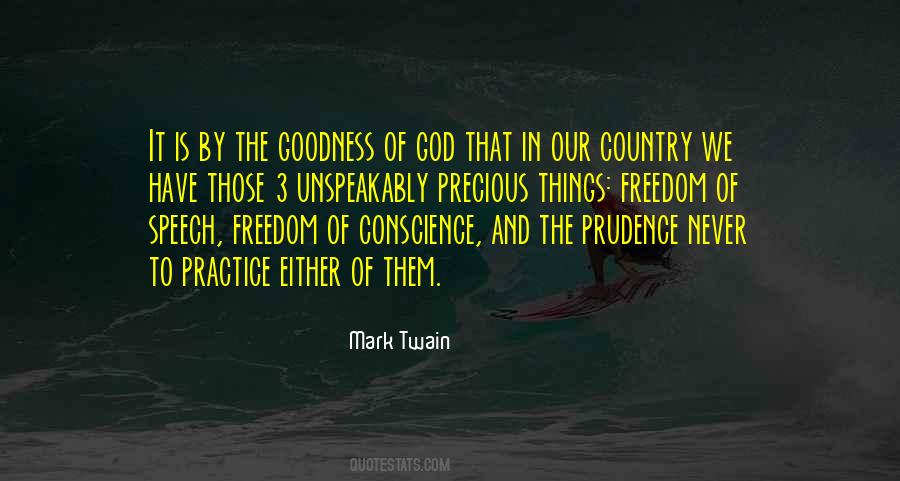 #24. War is wrong. Conscription for war is inconsistent with freedom of conscience, which is not merely the right to believe but to act on the degree of truth that one receives, to follow a vocation which is God-inspired and God-directed. - Author: Bayard Rustin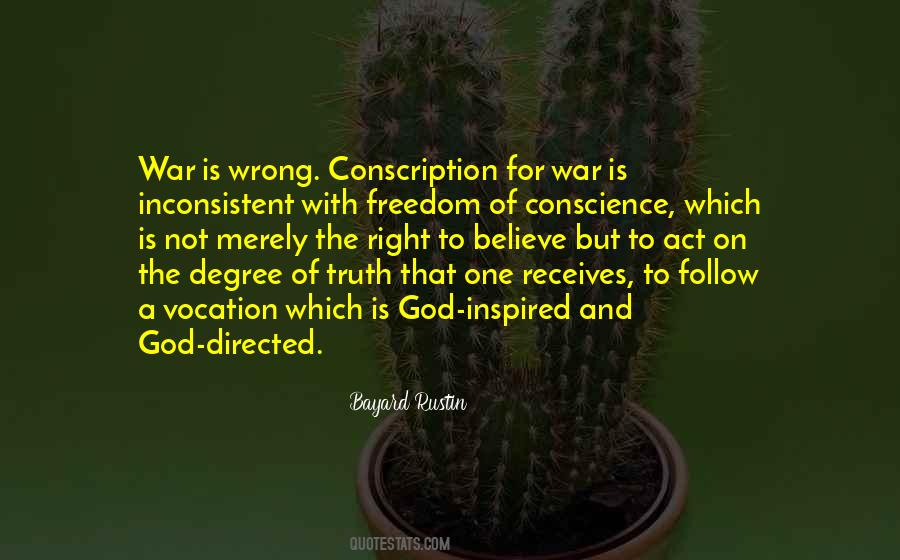 #25. Hatred is corrosive of a person's wisdom and conscience; the mentality of enmity can poison a nation's spirit, instigate brutal life and death struggles, destroy a society's tolerance and humanity, and block a nation's progress to freedom and democracy. - Author: Liu Xiaobo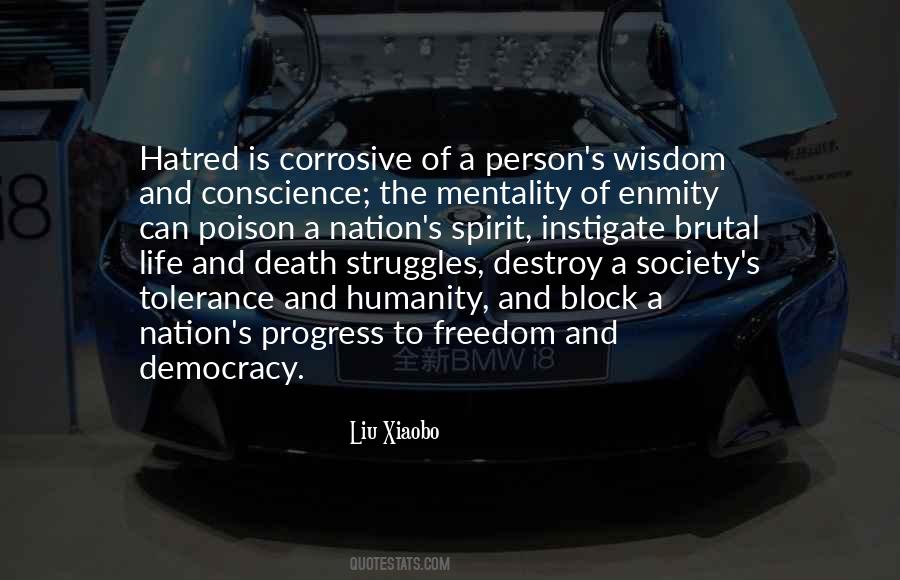 #26. One day we shall win freedom, but not only for ourselves. We shall so appeal to your heart and conscience that we shall win you in the process, and our victory will be a double victory. - Author: Martin Luther King Jr.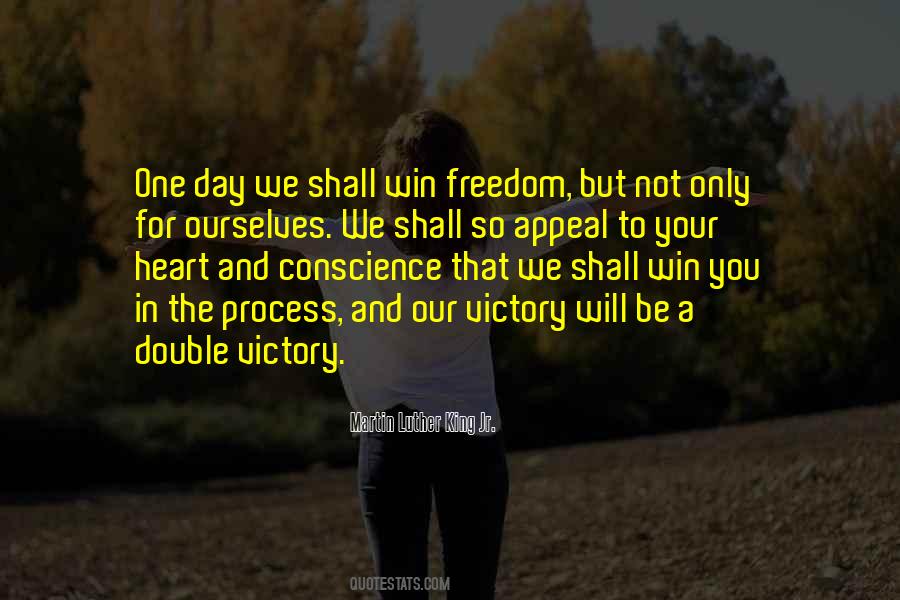 #27. And so it is to the printing press
to the recorder of man's deeds, the keeper of his conscience, the courier of his news
that we look for strength and assistance, confident that with your help man will be what he was born to be: free and independent. - Author: John F. Kennedy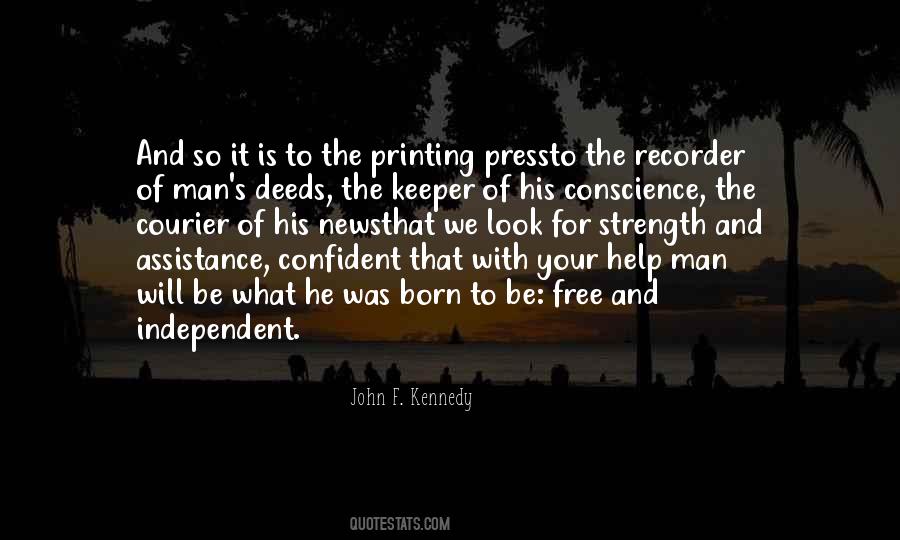 #28. There's clearly a war against freedom of conscience happening, and the most resistant fighters are the chosen victims, in a deliberate, persistent and consistent dumbing down of the population. - Author: Daniel Marques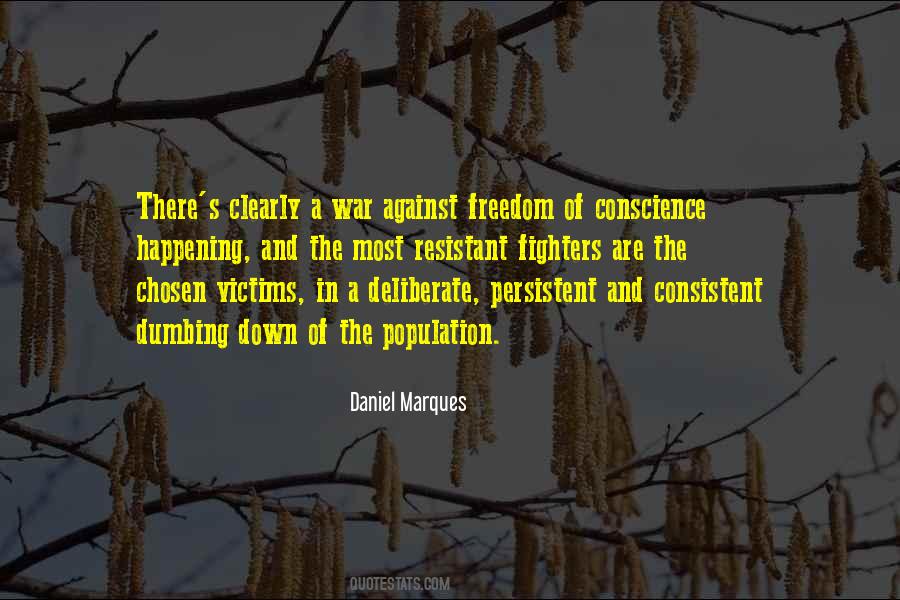 #29. I can't in good conscience allow the U.S. government to destroy privacy, internet freedom and basic liberties for people around the world with this massive surveillance machine they're secretly building. - Author: Edward Snowden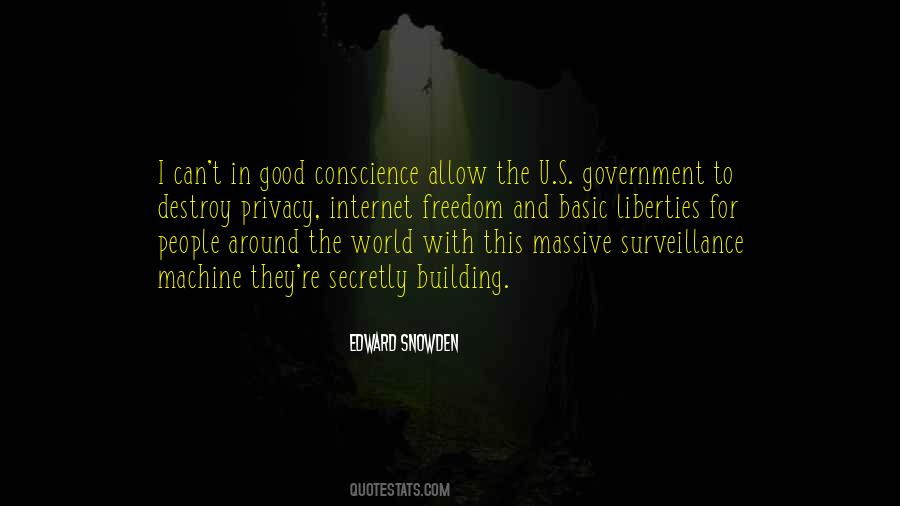 #30. We claim the privilege of worshiping Almighty God according to the dictates of our own conscience, and allow all men the same privilege, let them worship how, where, or what they may. - Author: Joseph Smith Jr.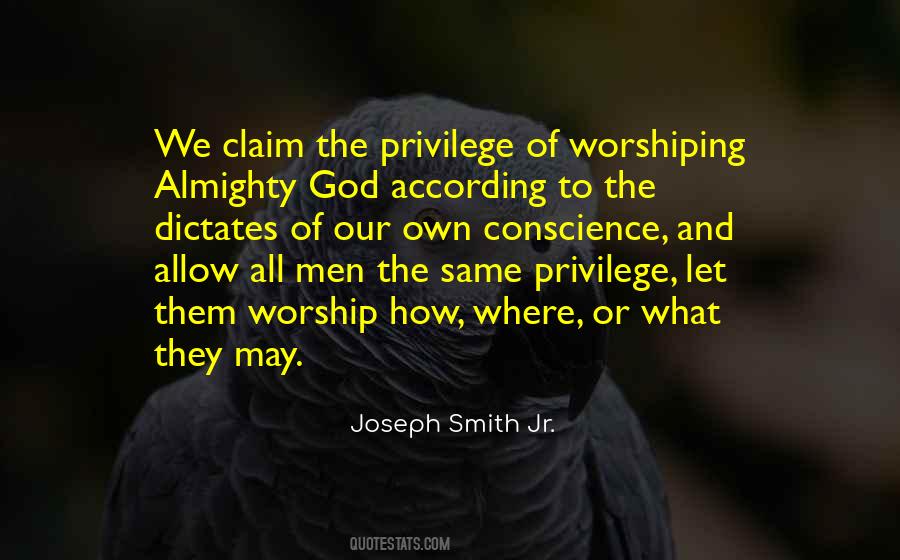 #31. Sitting there I had a vision of the world with nations, systems, economic blocks, hardening and consolidating; a world where it would become increasingly ludicrous even to talk about freedom, or the individual conscience. - Author: Doris Lessing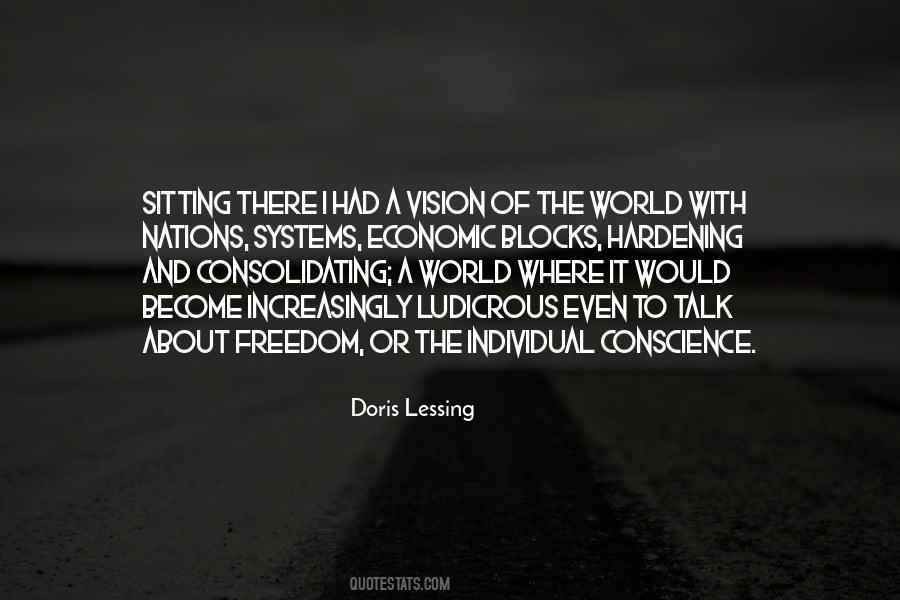 #32. The racist conscience of America is such that murder does not register as murder really, unless the victim is whiteblacks knew that white blood is the coin of freedom in a land where for four hundred years black blood has been shed unremarked and with impunity. - Author: Eldridge Cleaver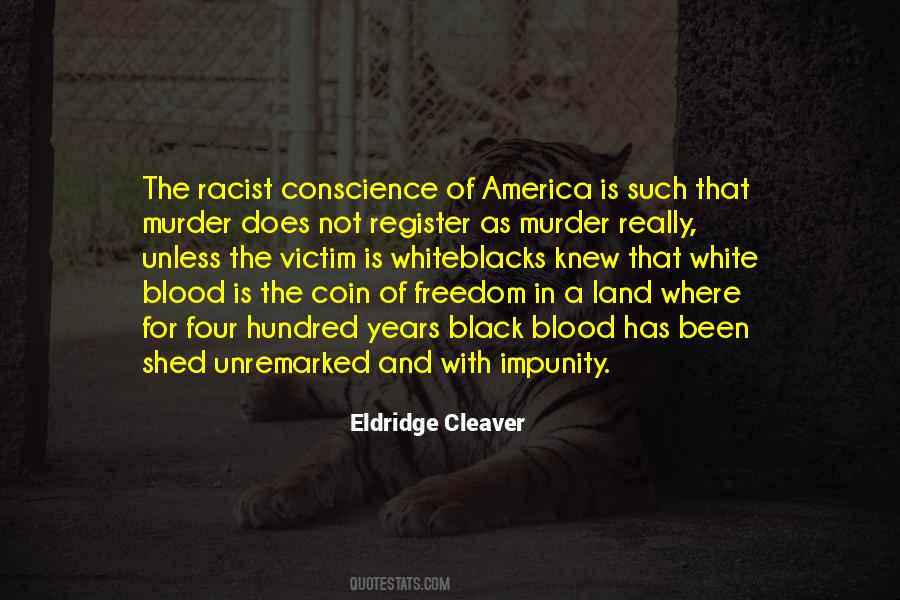 #33. Wild liberty develops iron conscience. Want of liberty, by strengthening law and decorum, stupefies conscience. - Author: Ralph Waldo Emerson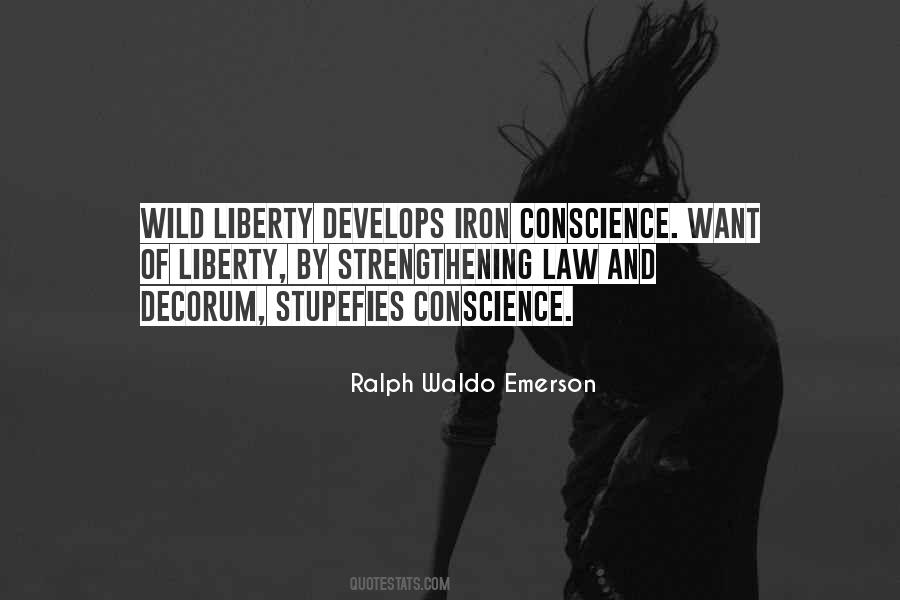 #34. The inviolability of the seal of confession is so fundamental to the very nature of the sacrament that any proposal which undermines that inviolability is a challenge to the rights of every Catholic to freedom of religion and conscience. - Author: Sean Brady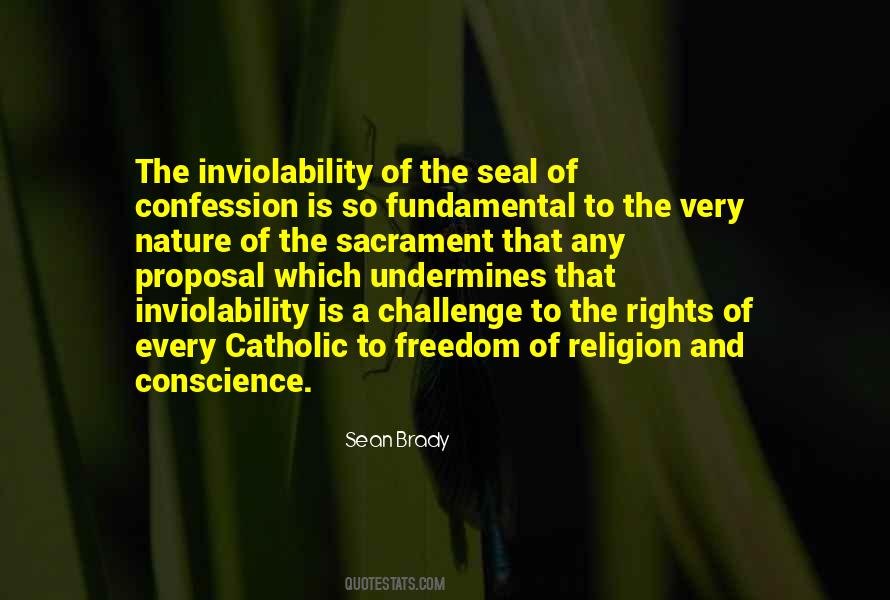 #35. Freedom of conscience, of education, of speech, of assembly are among the very fundamentals of democracy and all of them would be nullified should freedom of the press ever be successfully challenged. - Author: Franklin D. Roosevelt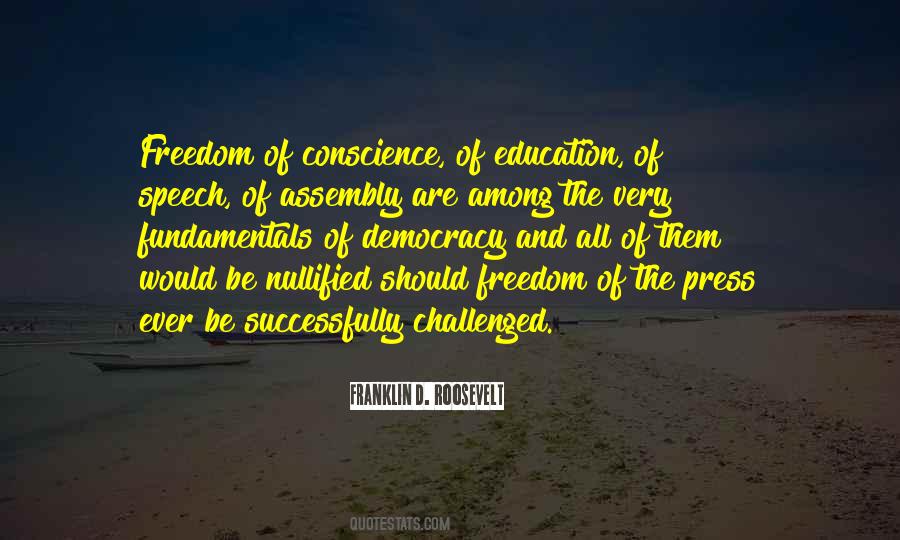 #36. Roger Williams died sometime during the early months of 1683. Some of what he said and wrote during his lifetime belongs to the seventeenth century. But much of his historical and philosophical record speaks to us across the centuries. - Author: Alan E. Johnson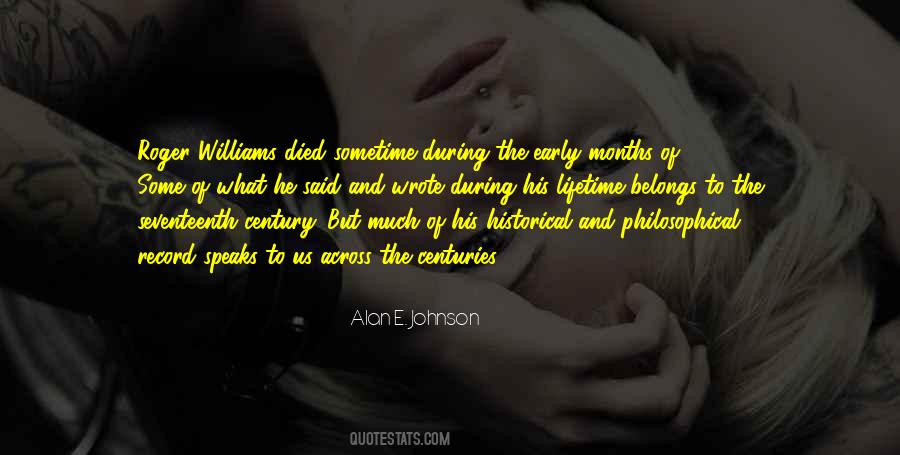 #37. The key imperatives of modernity: freedom of conscience, tolerance of difference, equality of the sexes, and an investment in life before death. - Author: Ayaan Hirsi Ali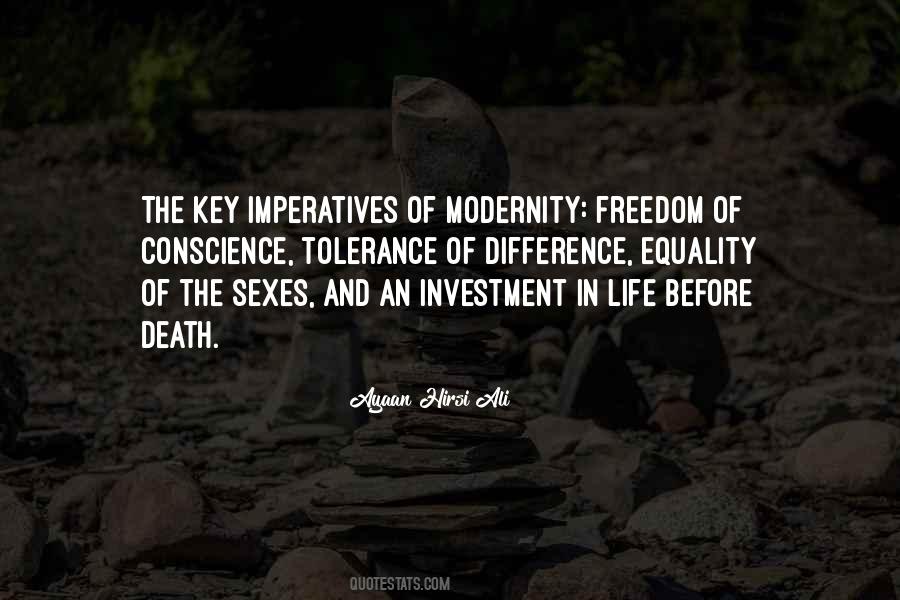 #38. Do you know what morals are Violet? They're other people's rules. Do you know what a conscience is? Freedom to use your own intelligence to determine what is right or wrong. You possess that freedom and no one can remove it from you - Author: Amy Tan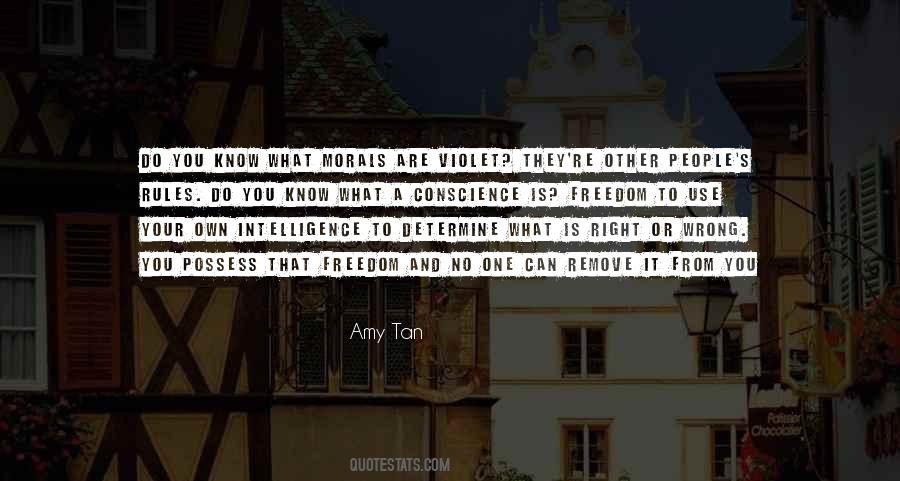 #39. Driven from every other corner of the earth, freedom of thought and the right of private judgment in matters of conscience direct their course to this happy country as their last asylum. - Author: Samuel Adams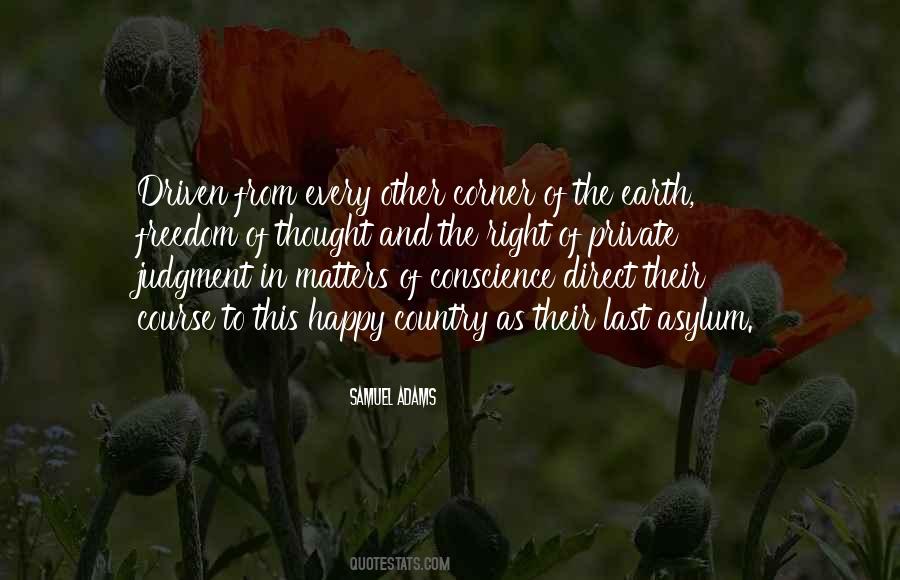 #40. The exploitation of women, mass hunger, disregard for freedom of conscience and for freedom of speech, widespread and racial discrimination all these evils are far too prevalent to be overlooked. - Author: Rene Cassin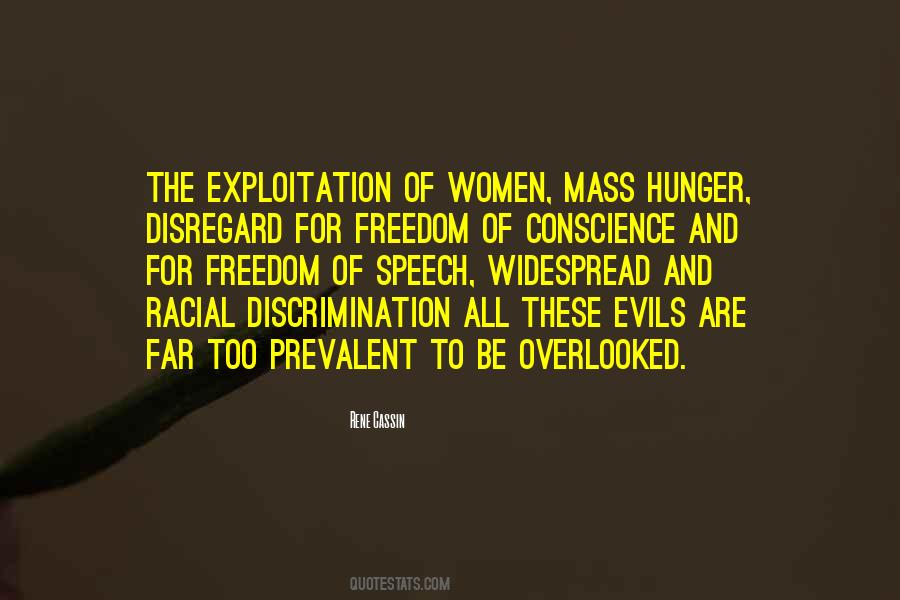 #41. No political party can or ought to exist when one of its corner-stones is opposition to freedom of thought and to the right to worship God "according to the dictate of one's own conscience," or according to the creed of any religious denomination whatever. - Author: Ulysses S. Grant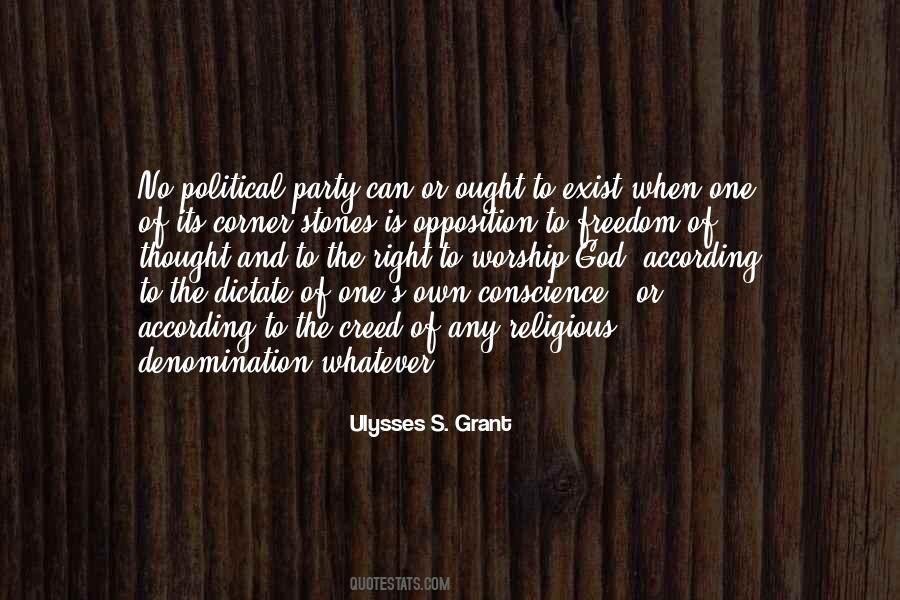 #42. I cannot approve of monarchs who want to rule over the conscience of the people, and take away their freedom of choice and religion. - Author: William The Silent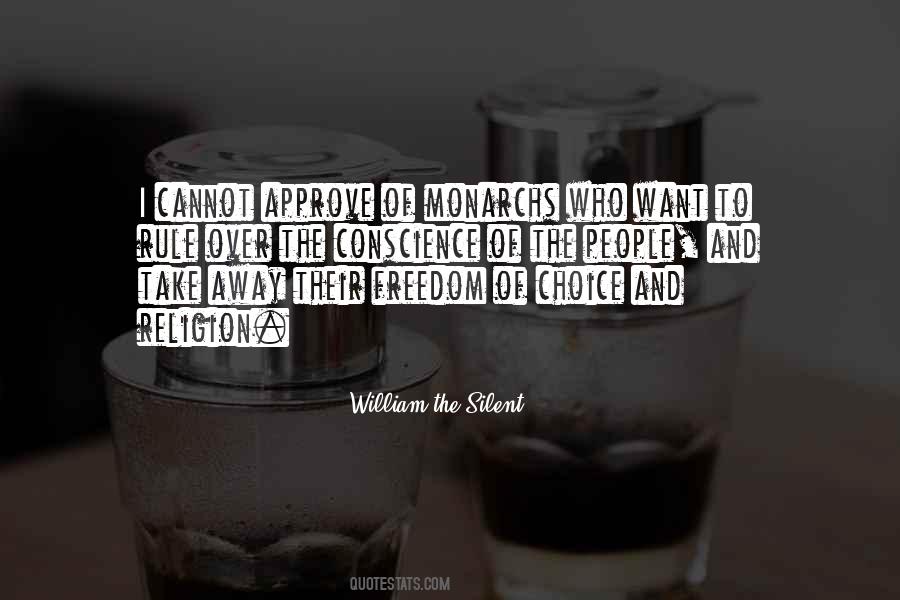 #43. Freedom of conscience does not mean being uncontrolled - we have to control ourselves and at times submit to others ... - Author: John Geddes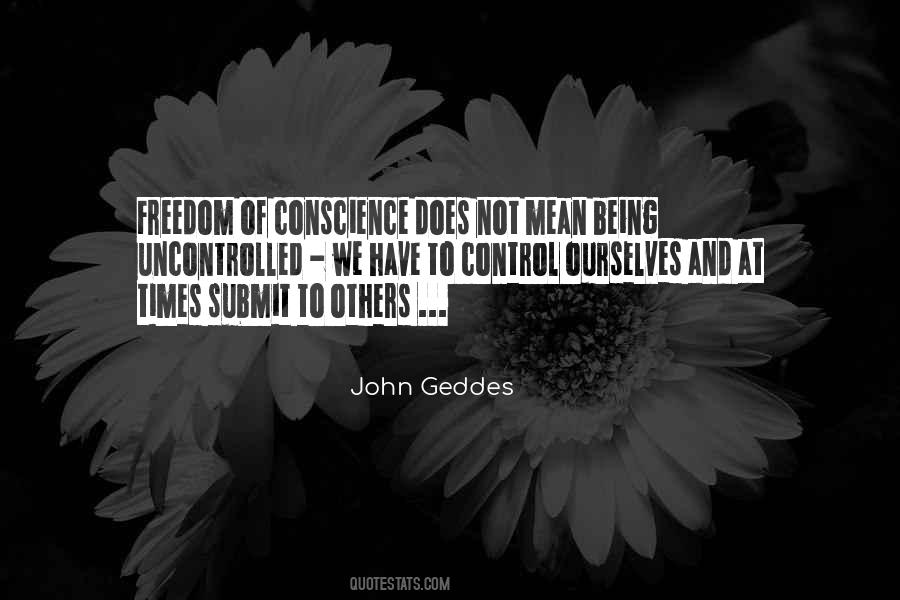 #44. I have lived under totalitarian Communism, so I prize freedom as much as anyone and have long fought for freedom of conscience and speech. - Author: Os Guinness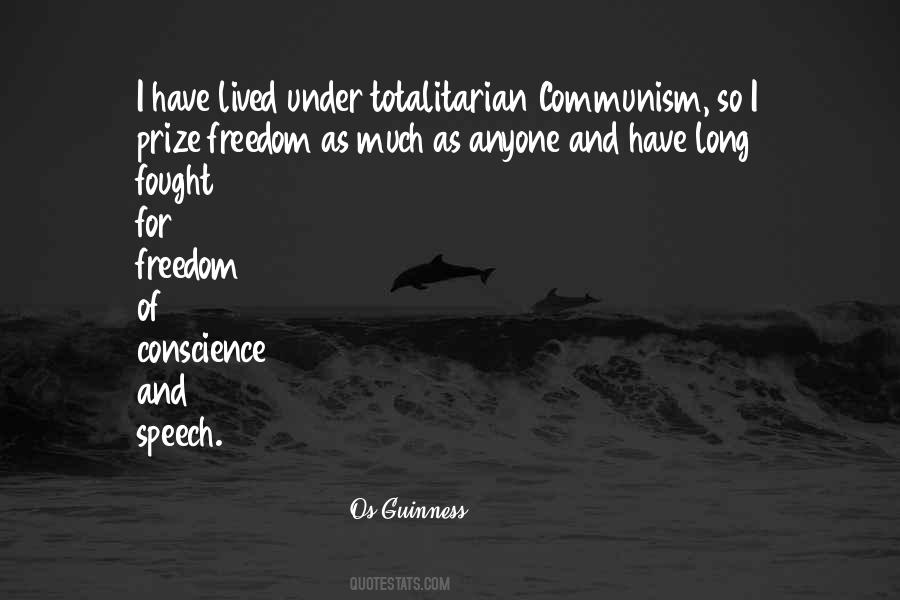 #45. While many believers walk around with a guilty conscience and feel disqualified to receive God's promises, we are able to enter a level of freedom that assures us we are qualified at any moment to boldly enter His presence, to shine with His glory, and to do great exploits for His kingdom. - Author: Katherine Ruonala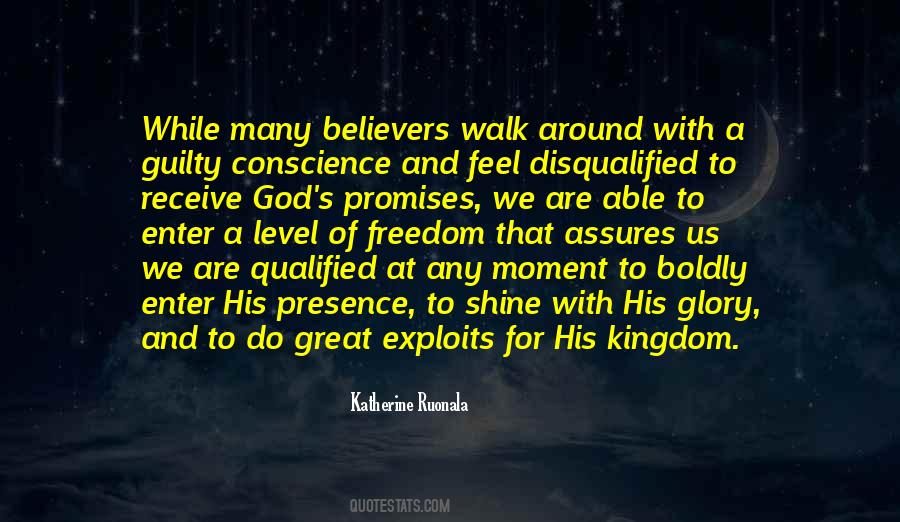 #46. Everyone has the right to freedom of thought, conscience and religion; this right includes freedom to change his religion or belief, and freedom, either alone or in community with others and in public or private, to manifest his religion or belief in teaching, practice, worship and observance. - Author: Eleanor Roosevelt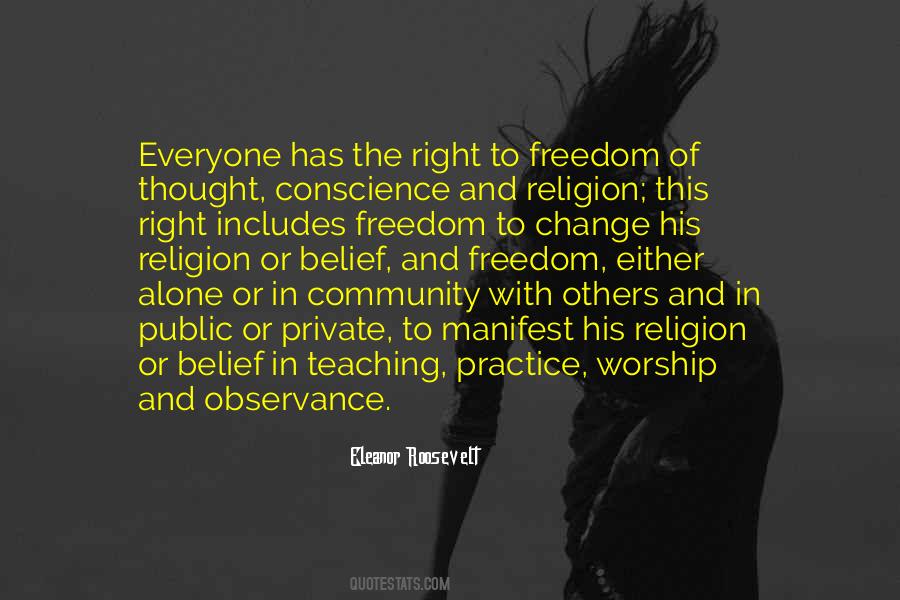 #47. Our greatest happiness does not depend on the condition of life in which chance has placed us, but is always the result of a good conscience, good health, occupation, and freedom in all just pursuits. - Author: Thomas Jefferson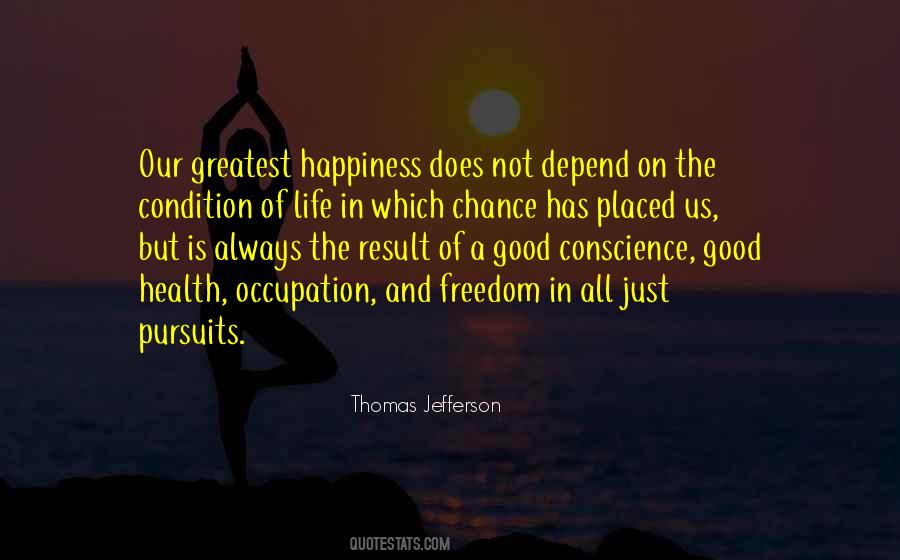 #48. The nation demands a movement which has written upon its banner the internal and external national freedom that it will act as if it were the spiritual, social and political conscience of the nation. - Author: Franz Von Papen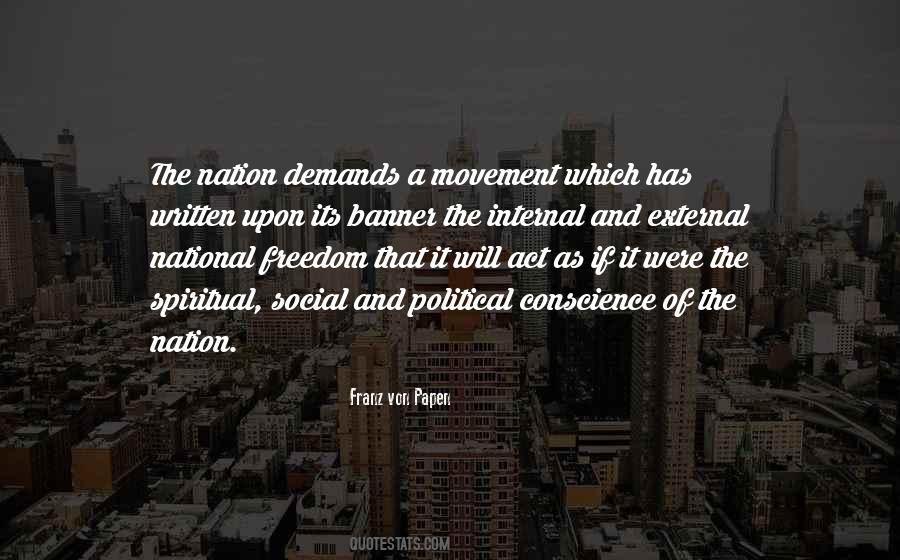 #49. Perhaps religious conscience upsets the designs of those who feel that the highest wisdom and authority comes from government. But from the beginning, this nation trusted in God, not man. Religious liberty is the first freedom in our Constitution. - Author: Mitt Romney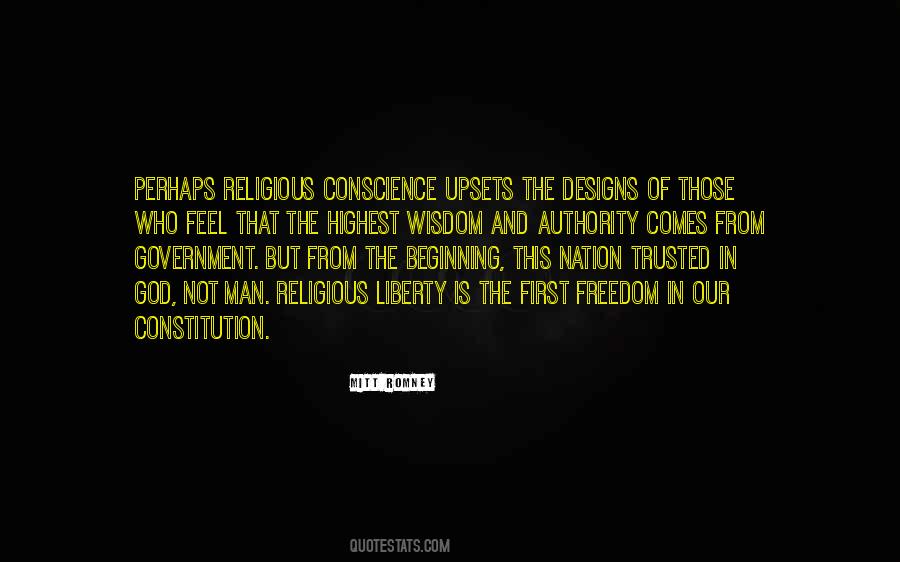 #50. Academic freedom really means freedom of inquiry. To be able to probe according to one's own interest, knowledge and conscience is the most important freedom the scholar has, and part of that process is to state its results. - Author: Donald Kennedy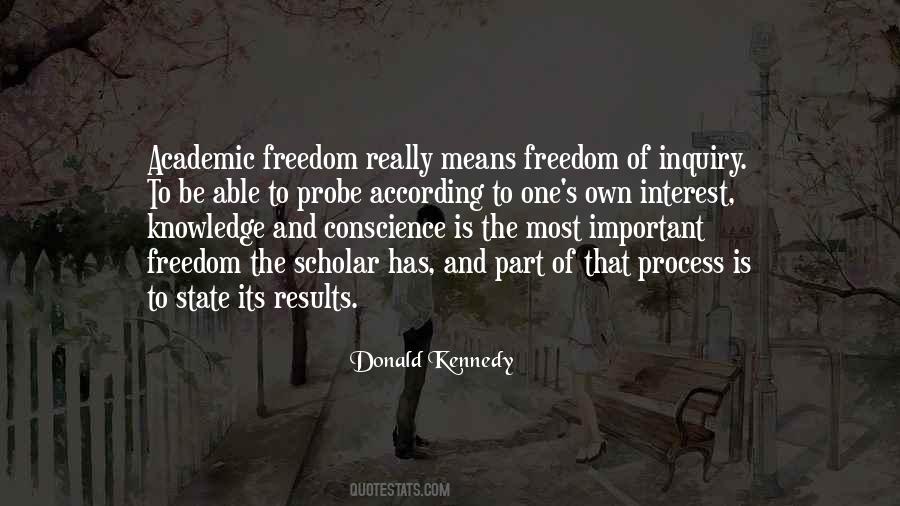 #51. One's soul is made up of the unity of conscience and what compels you. That is, at the core, there is already a devotional relationship between these two. We just need to realize that and give them both the freedom to do what they wish. - Author: Darrell Calkins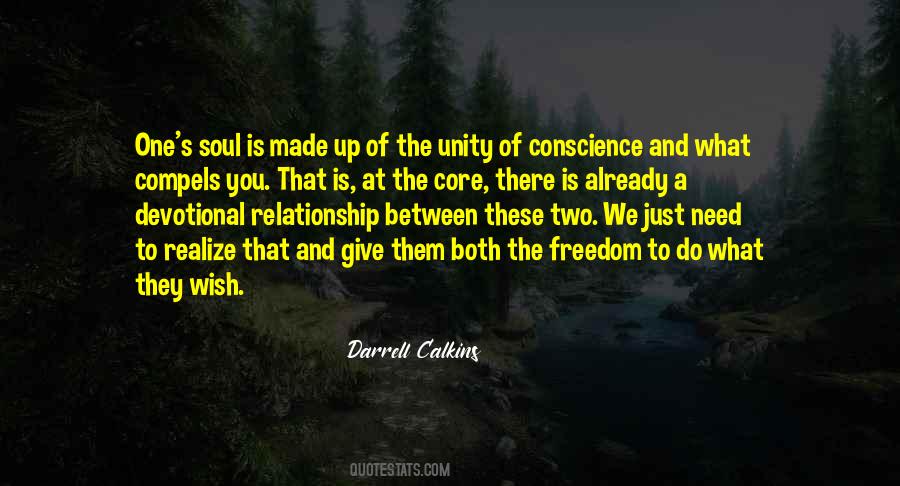 #52. Without integrity and conscience we lose our freedom. - Author: Jack Kornfield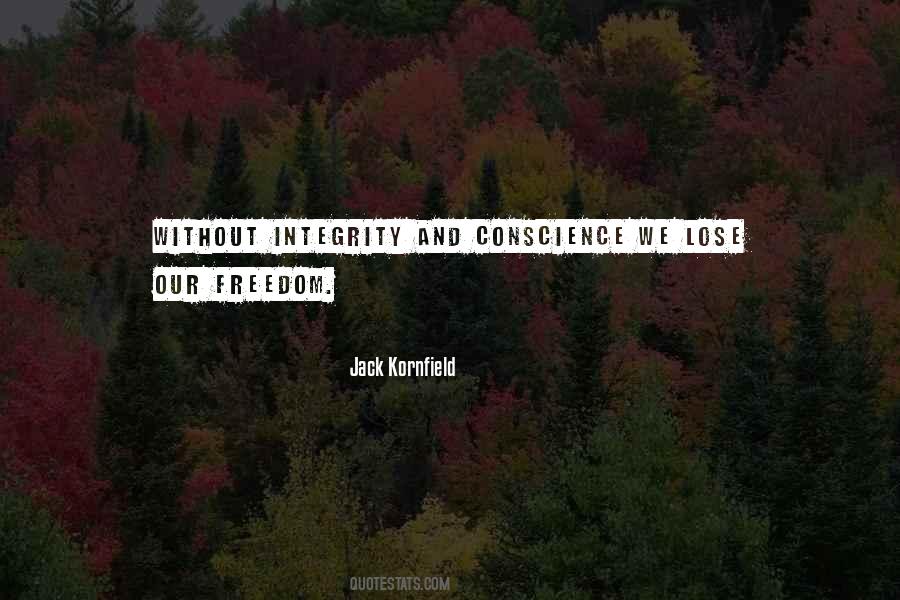 #53. Genuine bravery for a writer ... It is about calmly speaking the truth when everyone else is silenced, when the truth cannot be expressed. It is about speaking out with a different voice, risking the wrath of the state and offending everyone, for the sake of the truth, and the writer's conscience. - Author: Murong Xuecun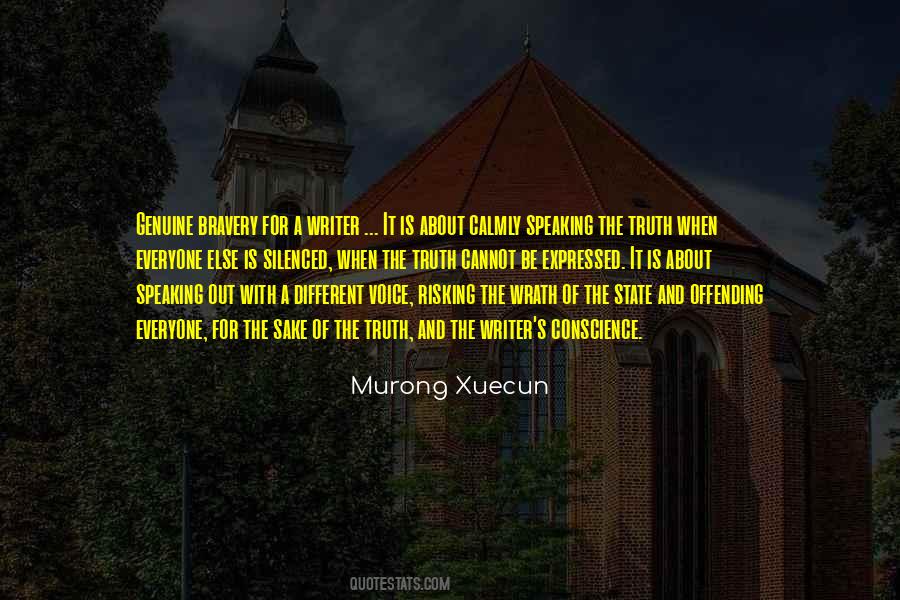 #54. Give me the liberty to know, to utter, and to argue freely according to conscience, above all liberties. - Author: John Milton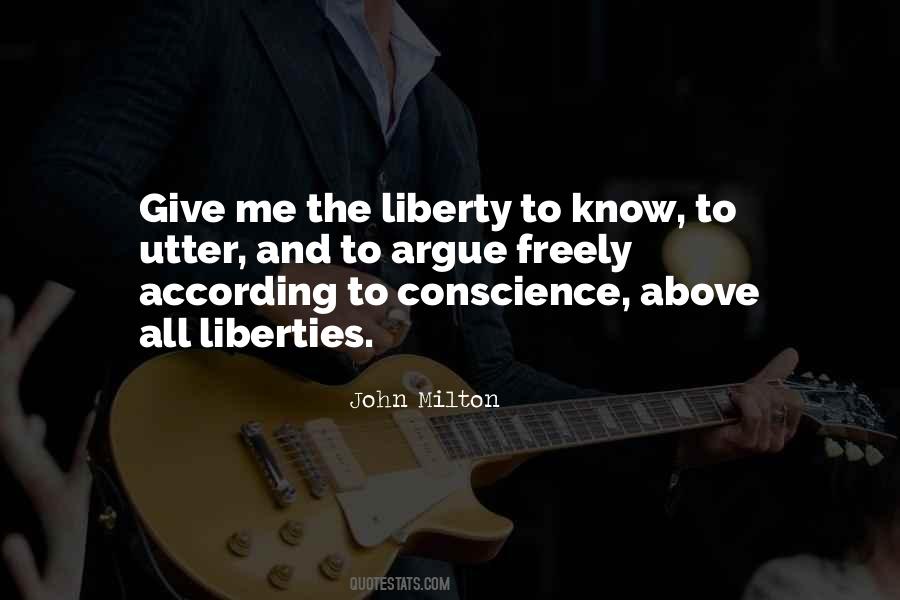 #55. As crucial as religion has been and is to the life of the nation, America's unifying force has never been a specific faith, but a commitment to freedom - not least freedom of conscience. - Author: Jon Meacham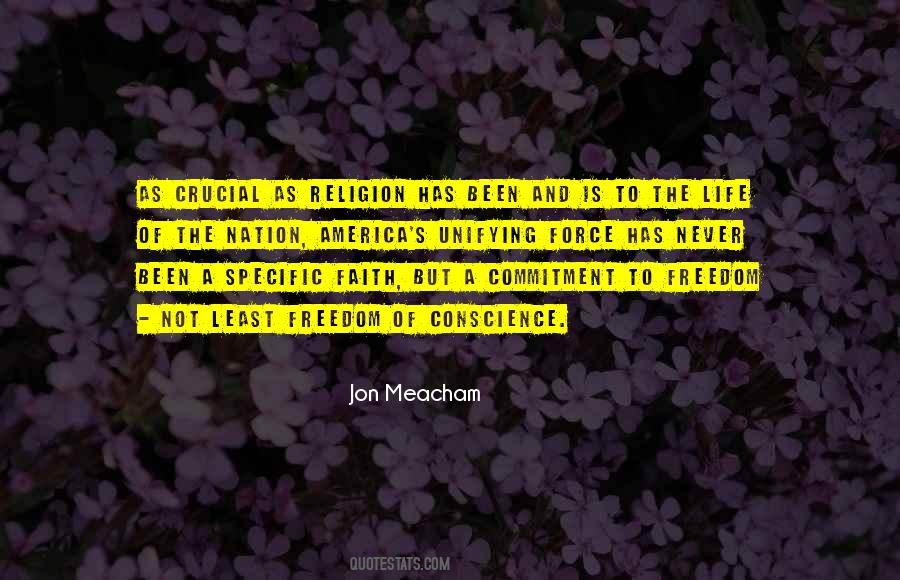 #56. Every human has four endowments - self awareness, conscience, independent will and creative imagination. These give us the ultimate human freedom ... The power to choose, to respond, to change. - Author: Stephen Covey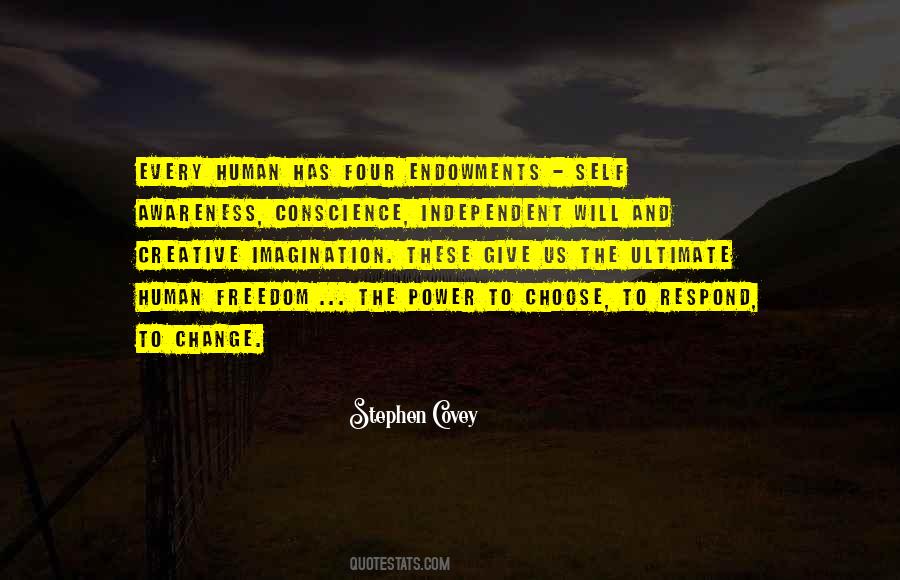 #57. Freedom is the only real doctor of the sick slaves; and a good conscience, of the ill masters! - Author: Mehmet Murat Ildan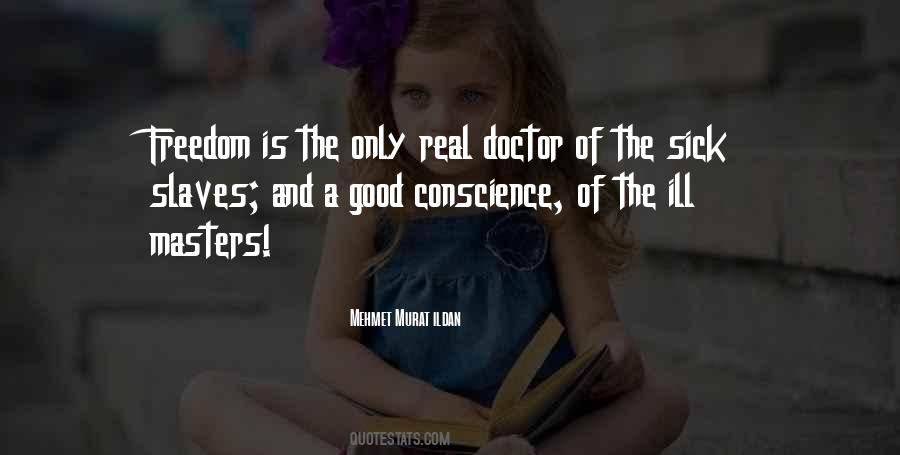 Famous Authors
Popular Topics