Comfort And Peace Famous Quotes & Sayings
List of top 94 famous quotes and sayings about comfort and peace to read and share with friends on your Facebook, Twitter, blogs.
Top 94 Quotes About Comfort And Peace
#1. The only way to find peace is to face the unknown and trust that God has heard your tears. - Author: Shannon L. Alder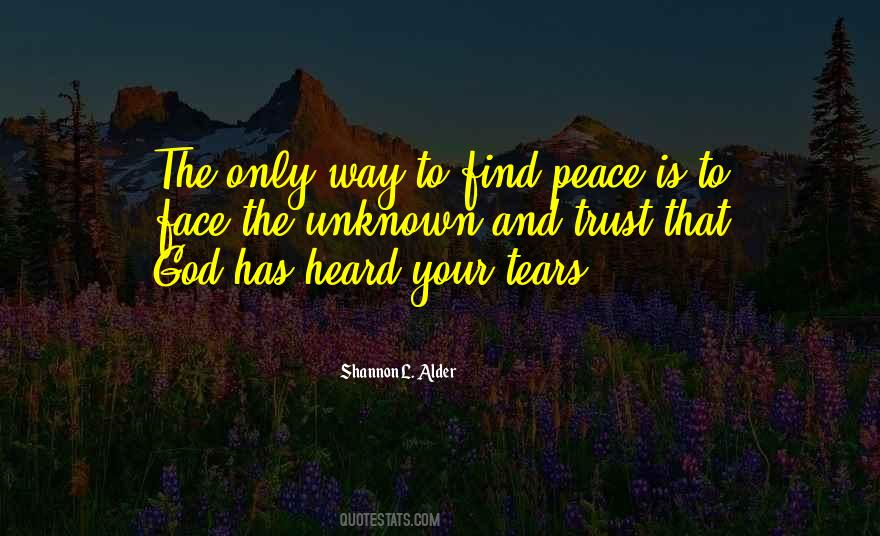 #2. Lord Jesus, bring comfort to all those who mourn and peace of heart to those under pressure and tension, in Jesus Christ's name - Author: T. B. Joshua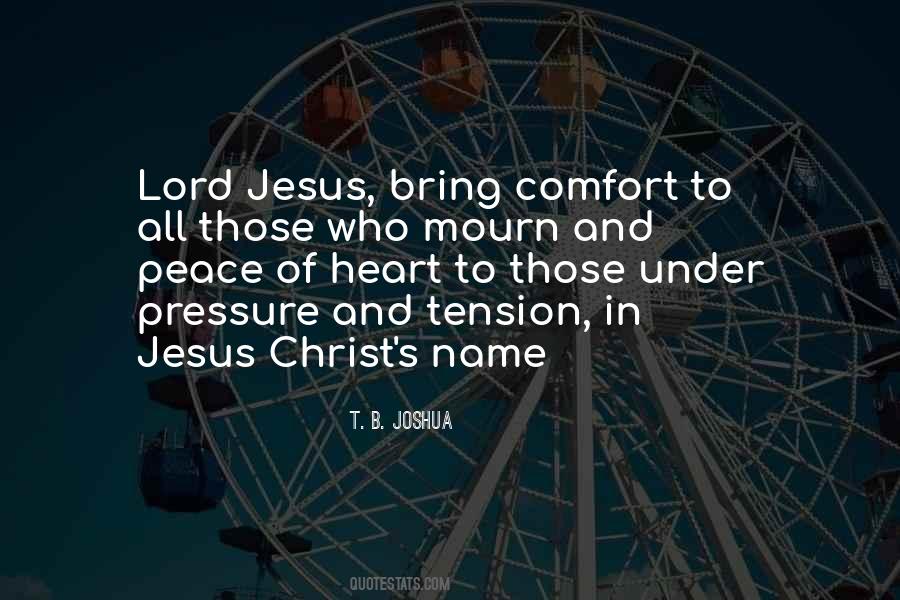 #3. While there may be thorns and disappointments, while there may be heartache, even heartbreak, there can be peace and comfort and strength from the Lord for those who follow Him. - Author: Gordon B. Hinckley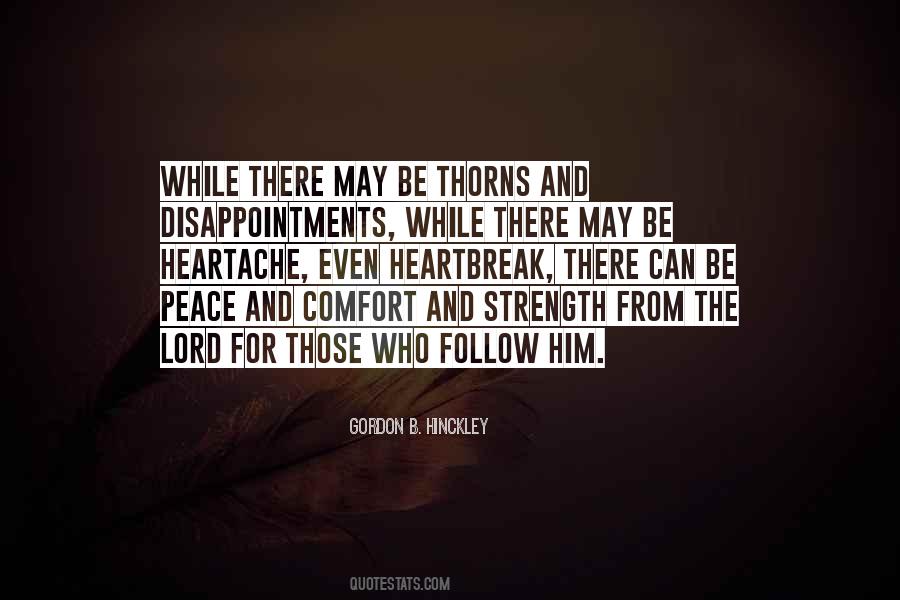 #4. Peace in this life is based upon faith and testimony. We can all find hope from our personal prayers and gain comfort from the scriptures. Priesthood blessings lift us and sustain us. Hope also comes from direct personal revelation, to which we are entitled if we are worthy. - Author: James E. Faust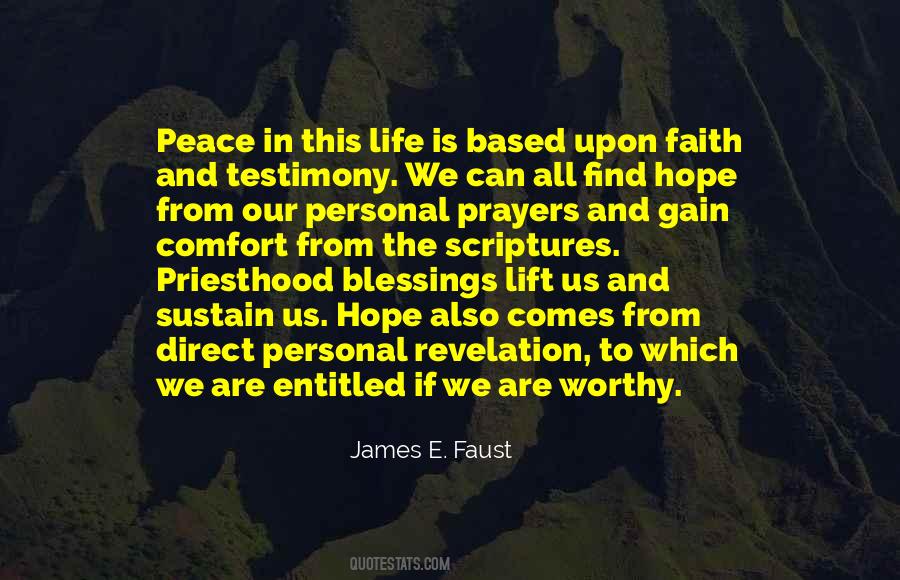 #5. We should never forget that everything Adolph Hitler did in Germany was "legal" and everything the Hungarian freedom fighers did in Hungary was "illegal." It was "illegal" to aid and comfort a Jew in Hitler's Germany. - Author: Martin Luther King Jr.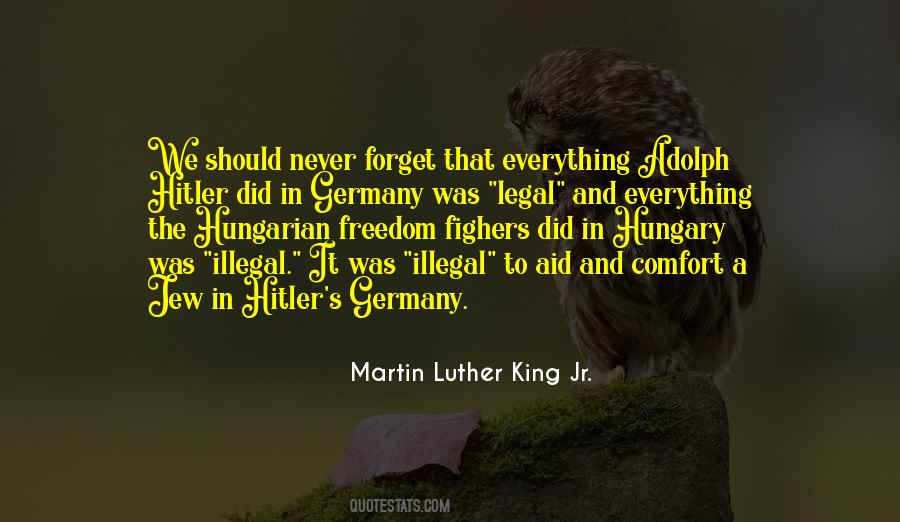 #6. There are lots of ways to bring joy, happiness, peace, laughter, hope and comfort into your life, and they cost absolutely nothing. - Author: Sandra Magsamen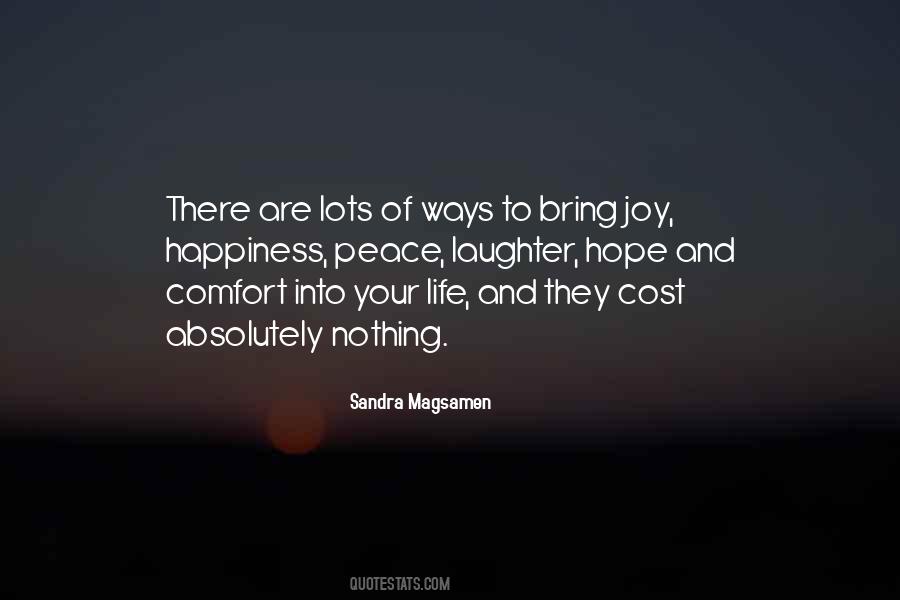 #7. He realized that body and mind formed one reality which could not be separated. The peace and comfort of the body were directly related to the peace and comfort of the mind. To abuse the body was to abuse the mind. - Author: Thich Nhat Hanh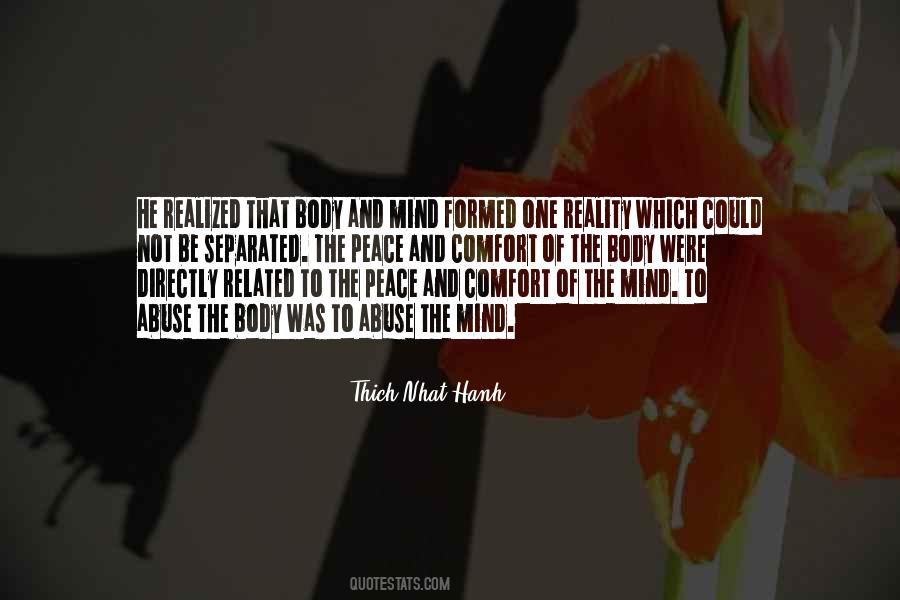 #8. It's tough to say no to peace, to the comfort of it. All through history, people have traded wealth, children, land, and lives to buy it.
But peace can't be bought, can it, chief, prime minister? The only ones offering to sell it always want something more. They lie. - Author: Jim Butcher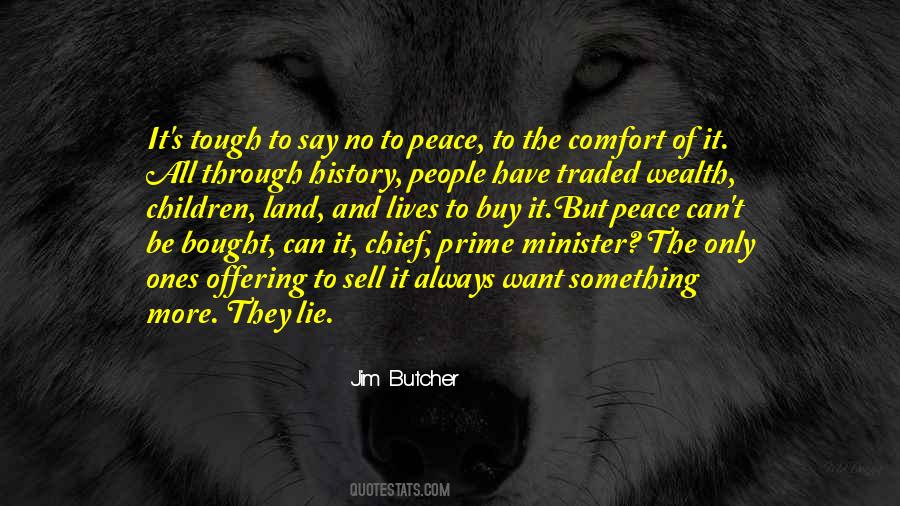 #9. Please Say A Prayer For All Who are Broken Hearted And Grief In Despair. May They Find Peace In The Loving Arms Of God And Comfort In Our Prayers. May They Pray For Us When It's Our Turn To Need Help In Our Own Despair. - Author: Timothy Pina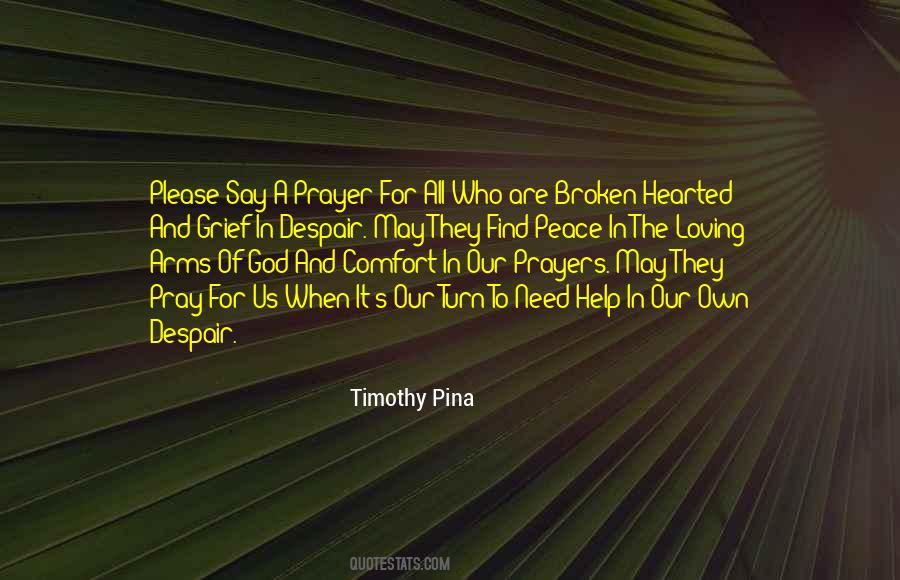 #10. Her short blond hair shifted in the wind, and she appeared the very definition of peace and comfort. Like she belonged in the world that had existed before everything was scorched. - Author: James Dashner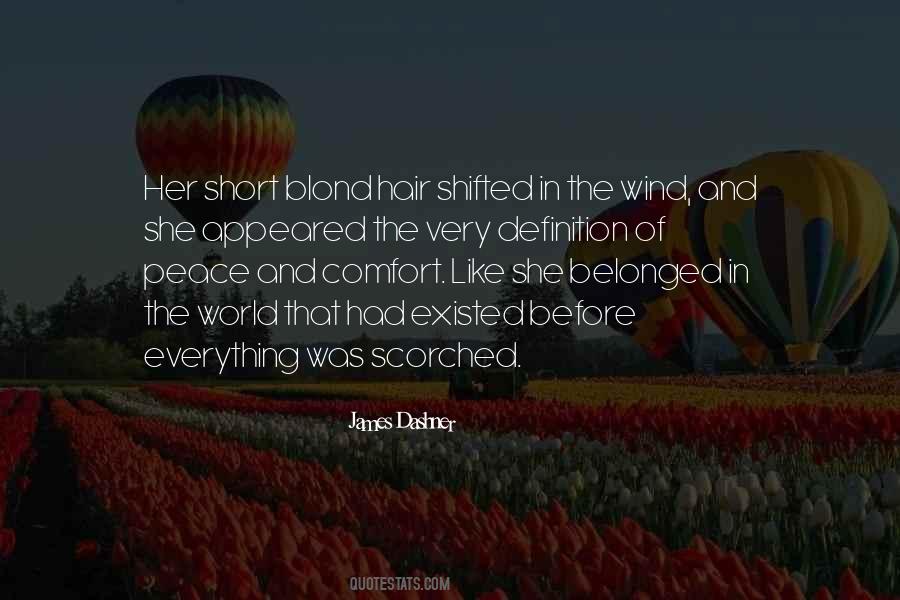 #11. There is nothing for you in this bleak hospital room but a cold and empty nothingness that has no answers, can give no peace, will provide no comfort to the living. - Author: Rebecca James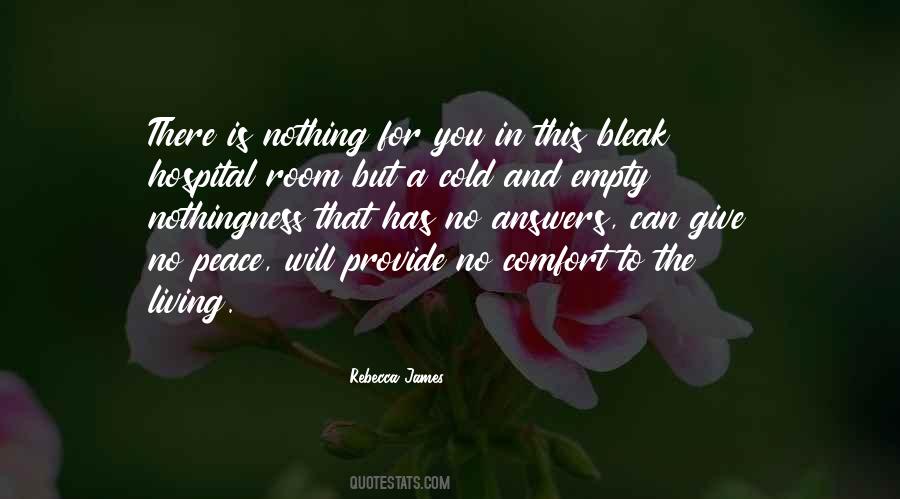 #12. It is true that God may have called you to be exactly where you are. But, it is absolutely vital to grasp that he didn't call you there so you could settle in and live your life in comfort and superficial peace. - Author: Francis Chan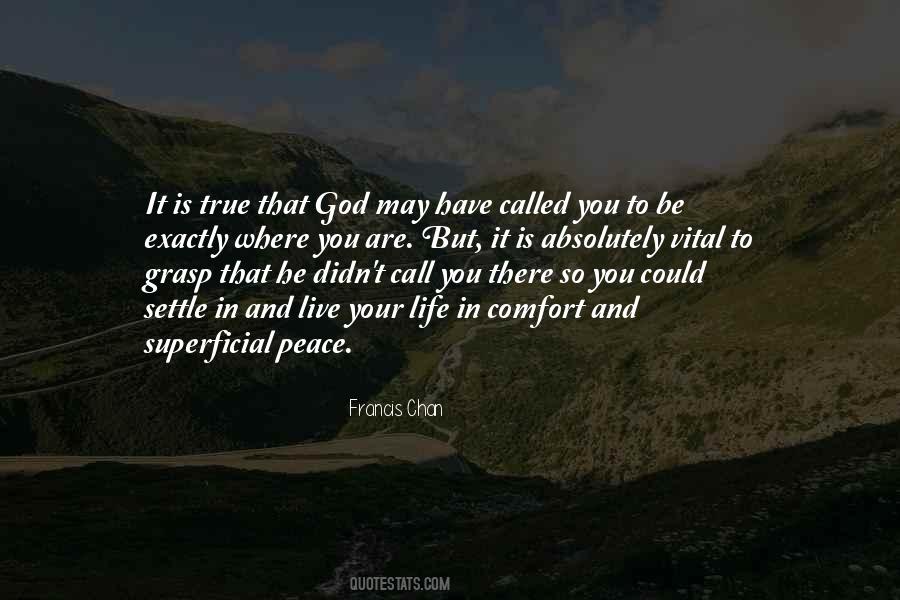 #13. I find that peace. I find the serenity. I find a familiar deep comfort that can be found nowhere else. Miller wreaks havoc on my mind, body, and heart. And he chases it away just as well. - Author: Jodi Ellen Malpas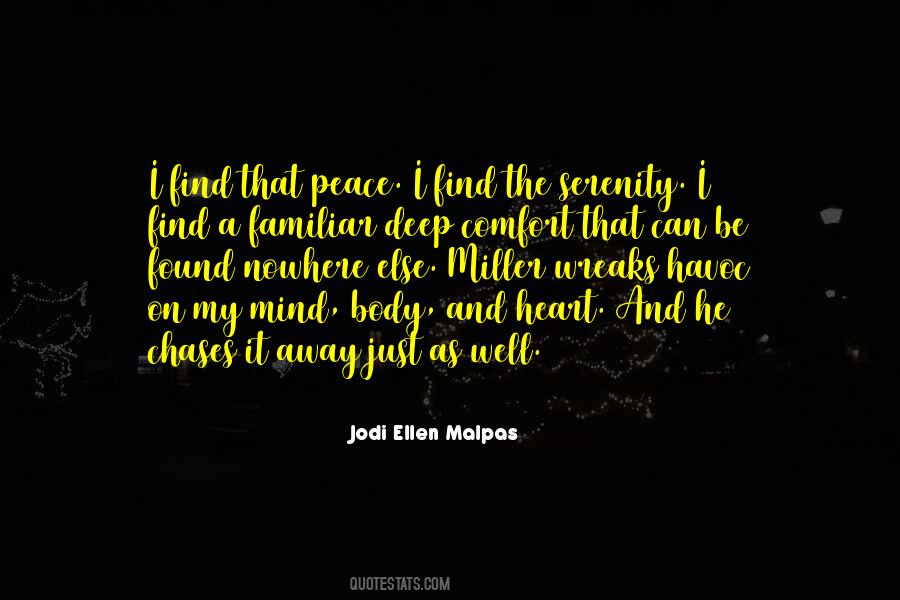 #14. The spirit of the tea beverage is one of peace, comfort and refinement.
- Author: Arthur Gray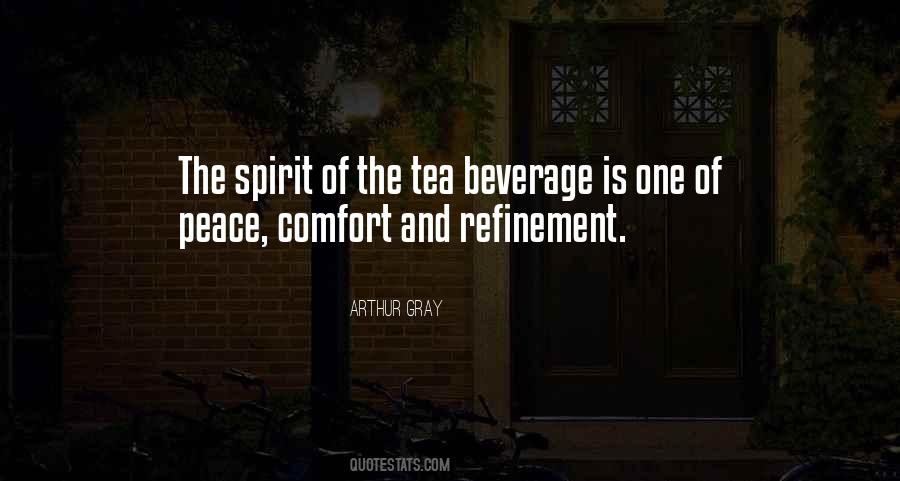 #15. Every state in America has an end of life directive or durable power of attorney provision. For the peace of mind of your children and your spouse as well as the comfort of knowing the government won't make these decisions, it's a very popular thing. Just not everybody's aware of it. - Author: Johnny Isakson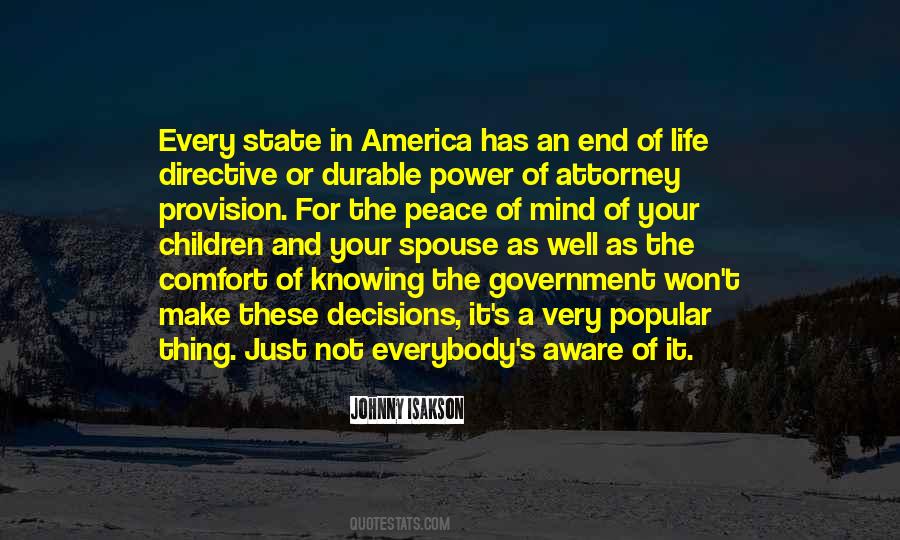 #16. Though I am faced with many adversities, my heart will not faint. The Lord is my comfort, my hope and my peace. - Author: Lailah Gifty Akita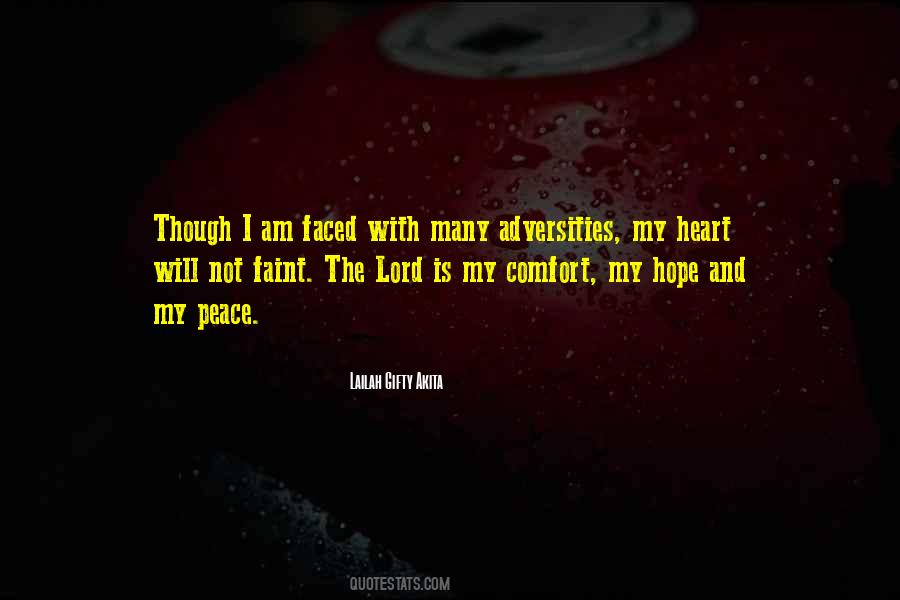 #17. I didn't think it was possible to love him more than I already did, but i was wrong. His arms are the only place where I find peace and comfort. I feel safe when they're around me, like nothing can get to me. - Author: Alison G. Bailey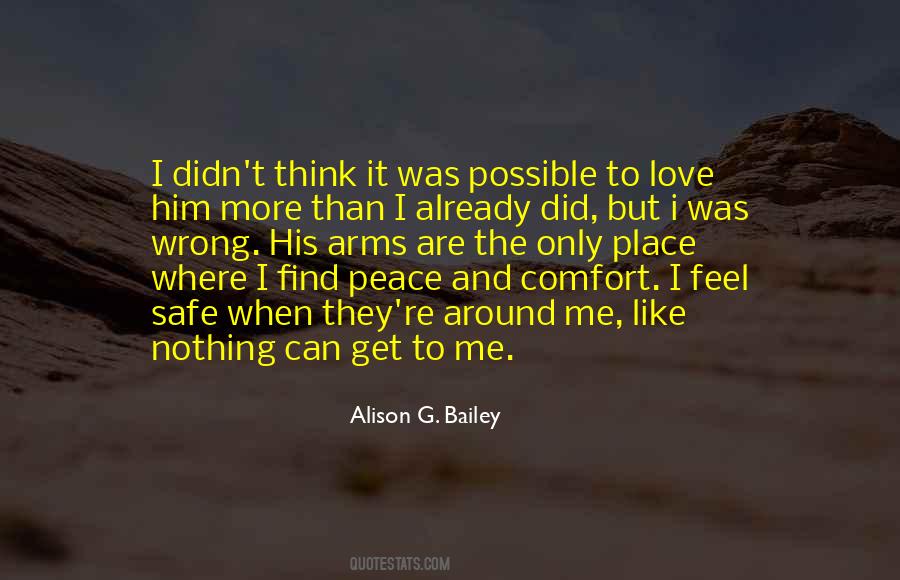 #18. All things seek for comfort and no one wants discomfort. A sound mind does not just improve speed; it increases efficiency and joy, and bond the body and the soul perfectly as well! - Author: Ernest Agyemang Yeboah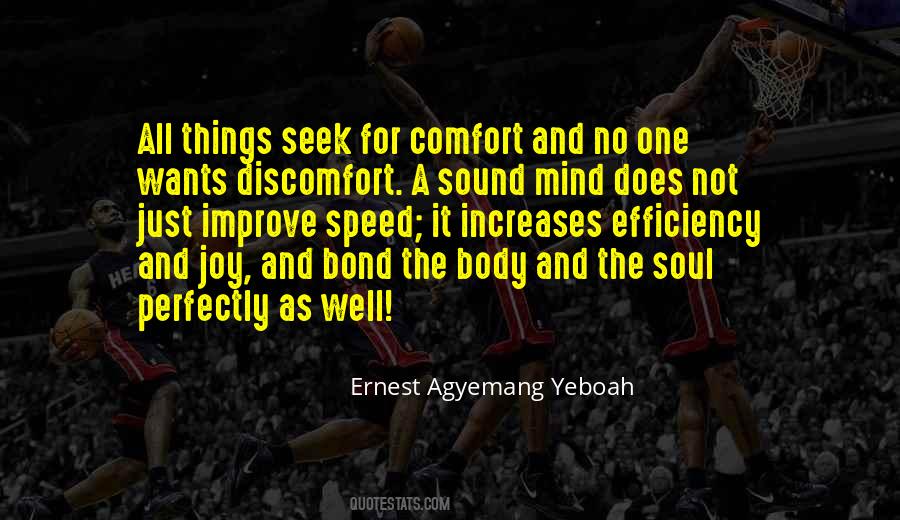 #19. After the clouds, the sunshine; after the winter, the spring; after the shower, the rainbow; for life is a changeable thing. After the night, the morning, bidding all darkness cease, after life's cares and sorrows, the comfort and sweetness of peace. - Author: Helen Steiner Rice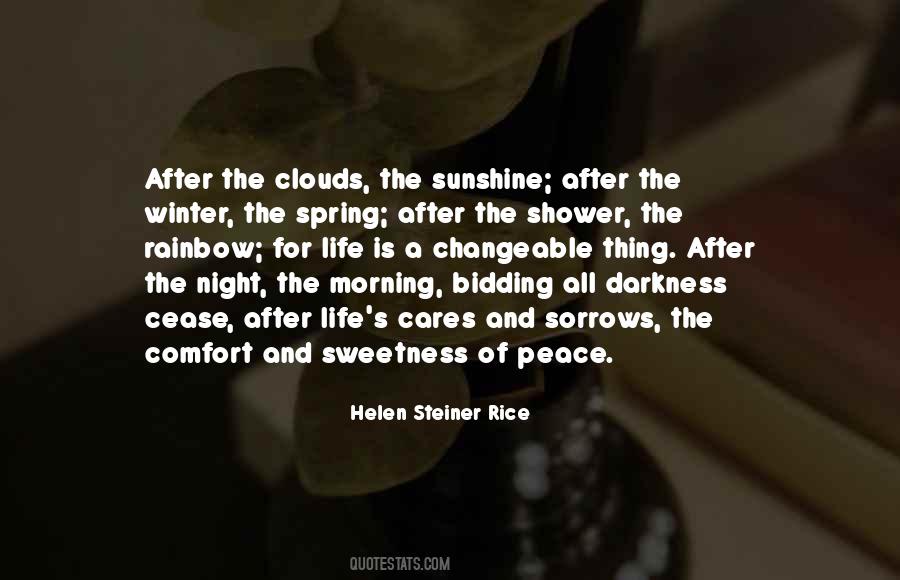 #20. After all, I long to be in America again, nay, if I can go home to return no more to Europe, it seems to me that I shall ever enjoy more peace of mind, and even Physical comfort than I can meet with in any portion of the world beside. - Author: John James Audubon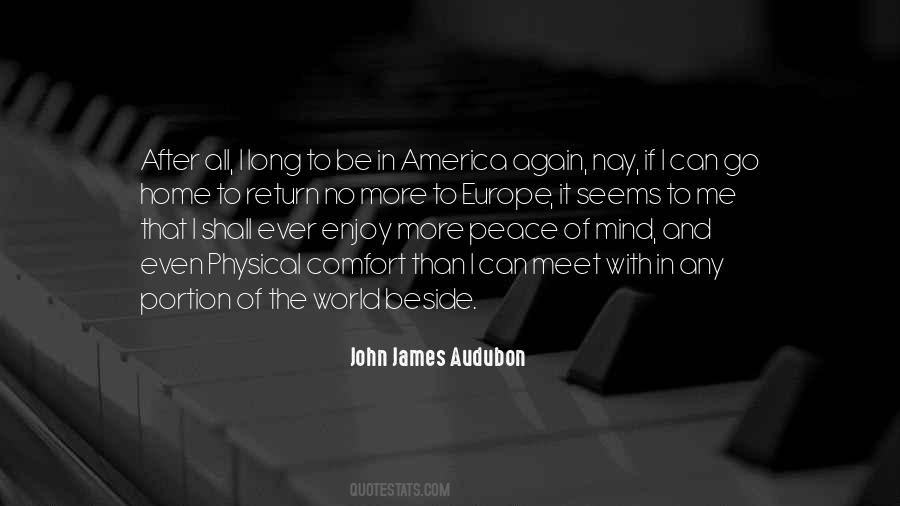 #21. Peace fell upon her spirit. Strong comfort and assurance bathed her whole being. Life was so solid and splendid, and so good. - Author: Thomas Wolfe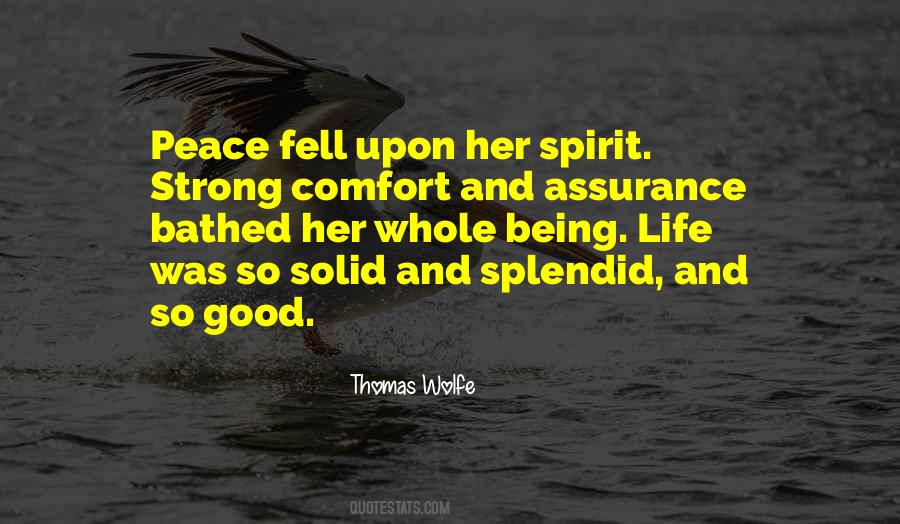 #22. Overrun with Goths wearing sandals and soaking lentils at home, the future I wanted is gone. The future I was promised. Everything I expected. The way everything was supposed to turn out. Happiness and peace and love and comfort. - Author: Chuck Palahniuk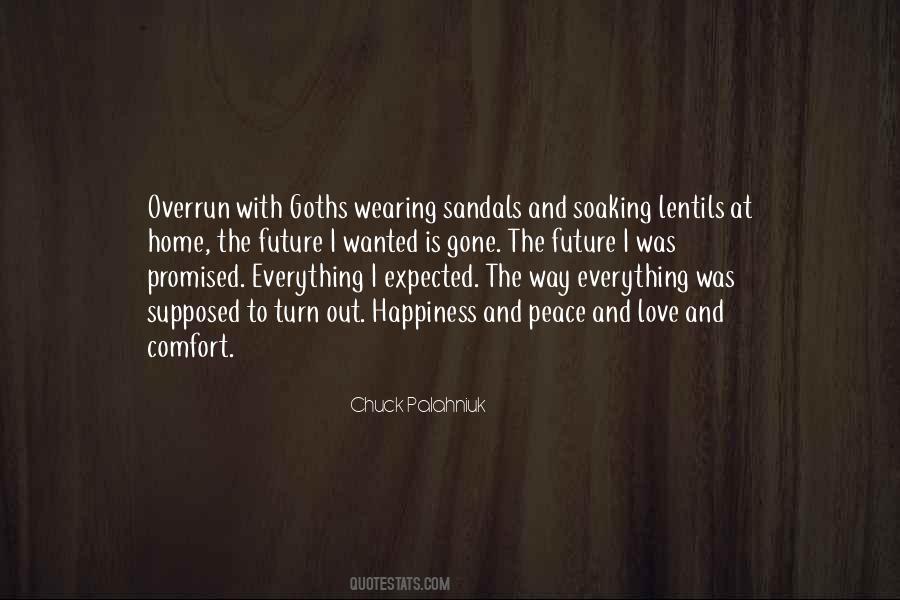 #23. I know nothing which can so comfort the soul; so calm the swelling billows of sorrow and grief; so speak peace to the winds of trial, as a devout musing upon the subject of the Godhead. - Author: Charles Spurgeon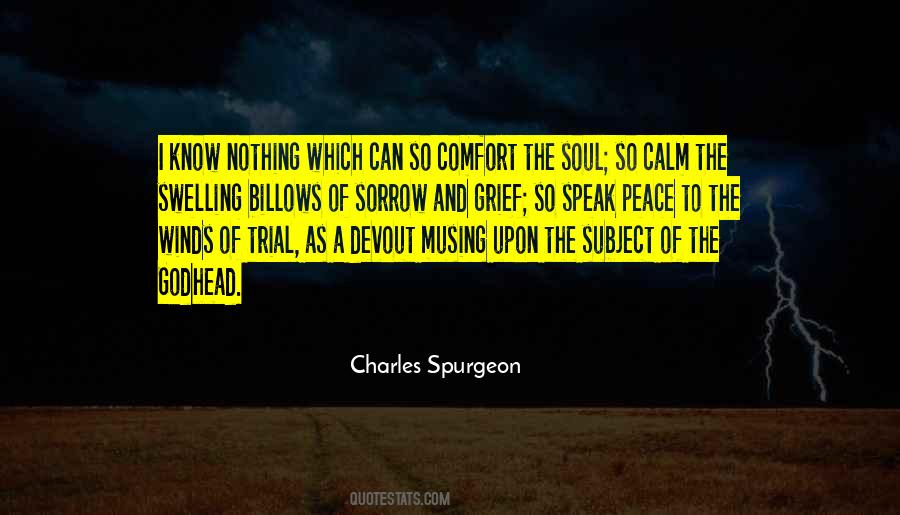 #24. The purest form of prayer we can engage in is to feel peace: the kind of peace that comes when we surrender totally to what is, as is - in the knowledge and comfort that Spirit has it all handled and that it will all work out for the best if we just get ourselves out of the way. - Author: Colin Tipping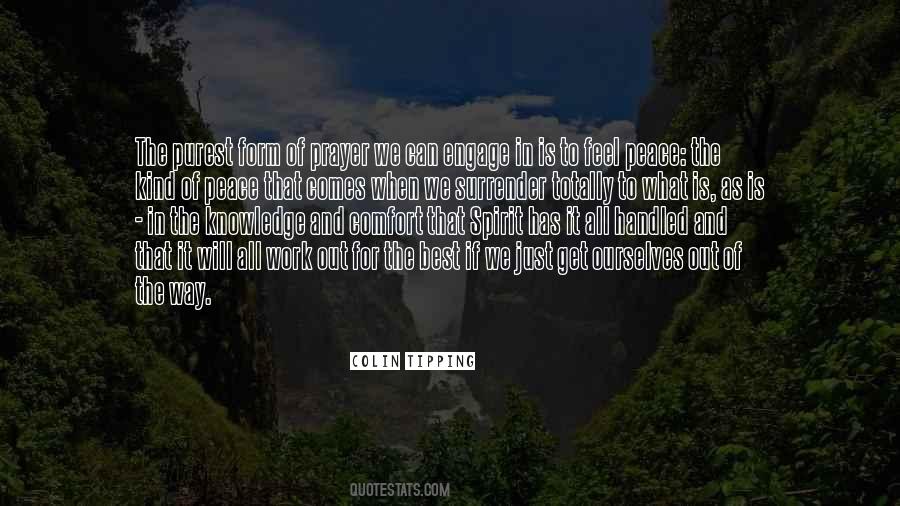 #25. Eternal God, the refuge of all your children, in our weakness you are our strength, in our darkness our light, in our sorrow our comfort and peace. May we always live in your presence, and serve you in our daily lives; through Jesus Christ our Lord. Boniface
FURTHER - Author: Thomas C. Oden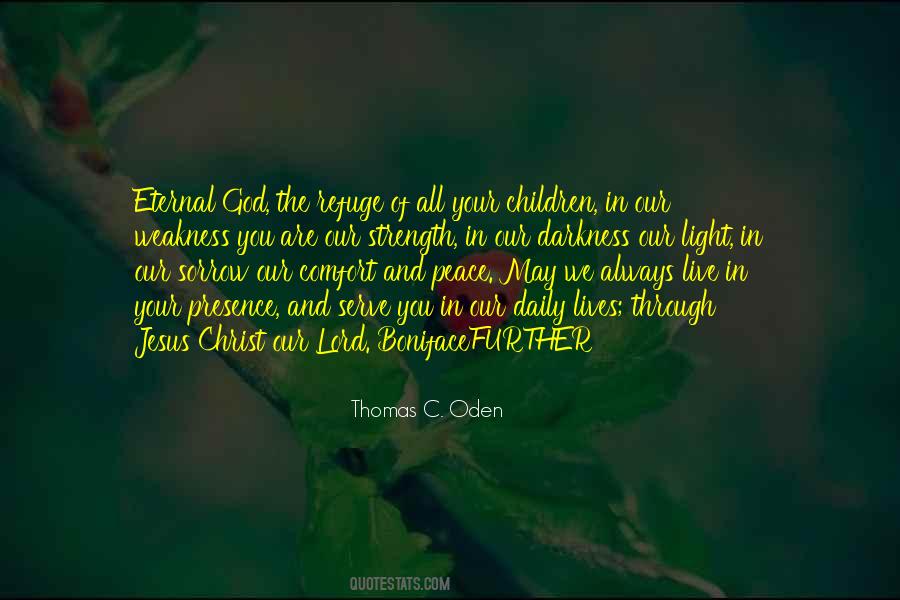 #26. Love is a place of rest, a place of comfort and a place of peace and enjoyment. - Author: Euginia Herlihy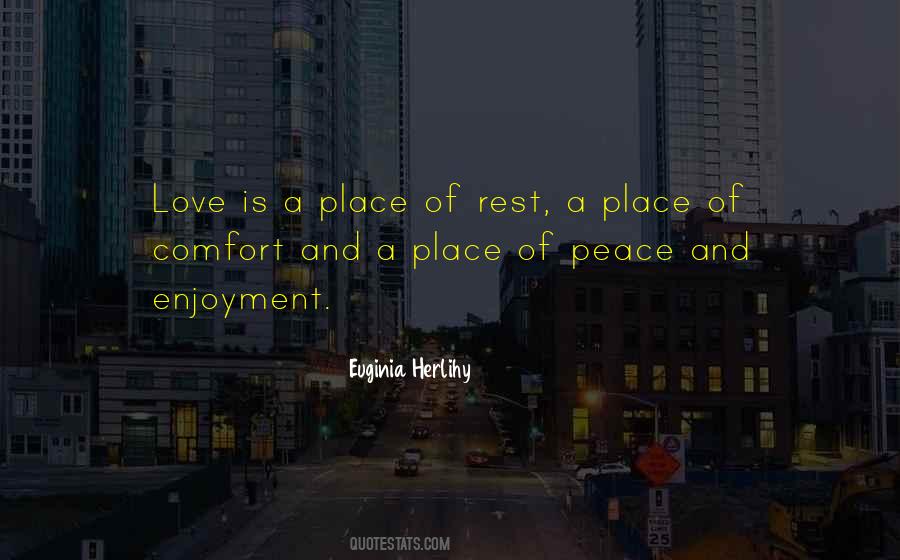 #27. Memories last forever in those years you both shared, may you find peace and love and comfort from all those who care. - Author: Susan Smith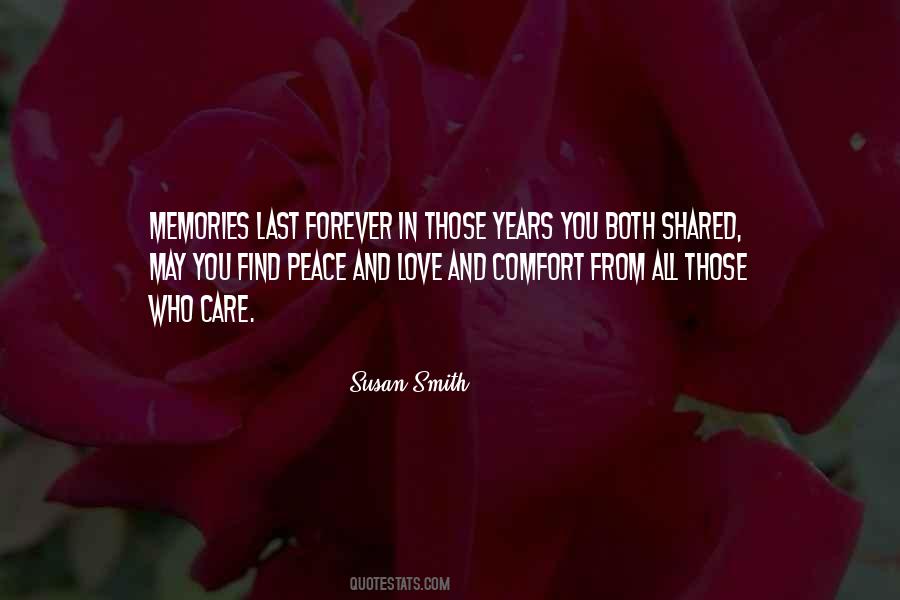 #28. Our closeness to the Lord will, in great measure, determine the peace and comfort and renewed strength that we feel as we invite the Spirit into our lives. - Author: Robert E. Wells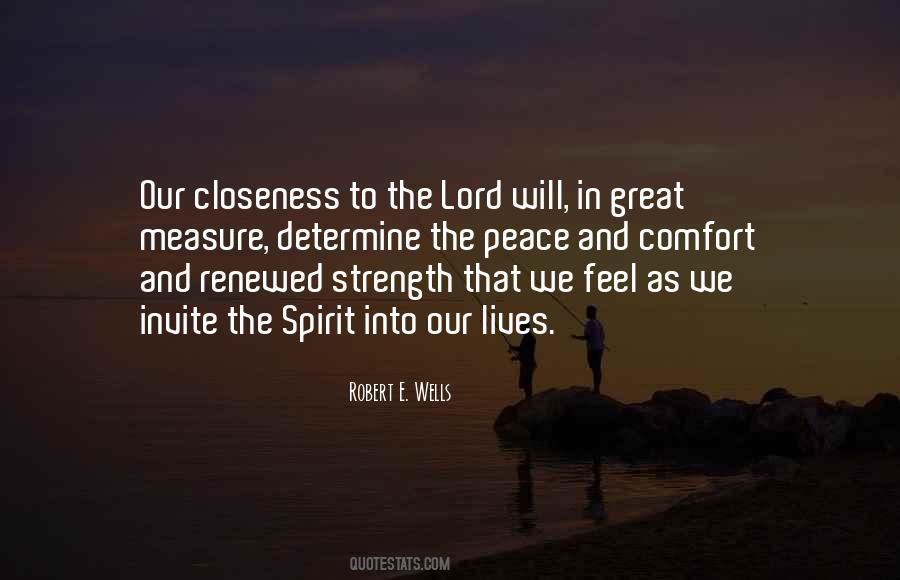 #29. I think a lot of us are not on a path; we're in a rut. We have confused comfort with peace, belief with faith, safety with wisdom, wealth with blessing, and existence with life. - Author: Erwin McManus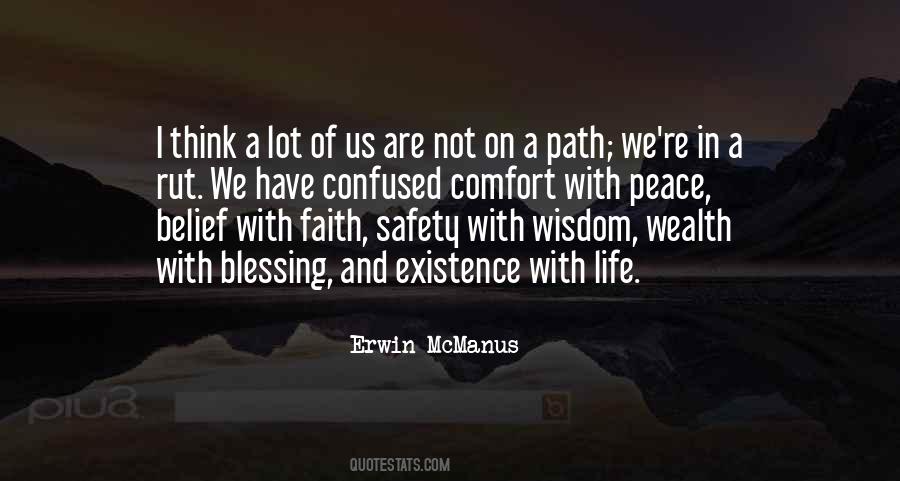 #30. Agriculture is for living; mind culture is for life. Skills are for shaping material things so that they cater more for the comfort of man; studies are for shaping attitudes, feelings, desires, emotions and impulses of man, so that they may confer more peace, more joy and more fortitude on man. - Author: Sathya Sai Baba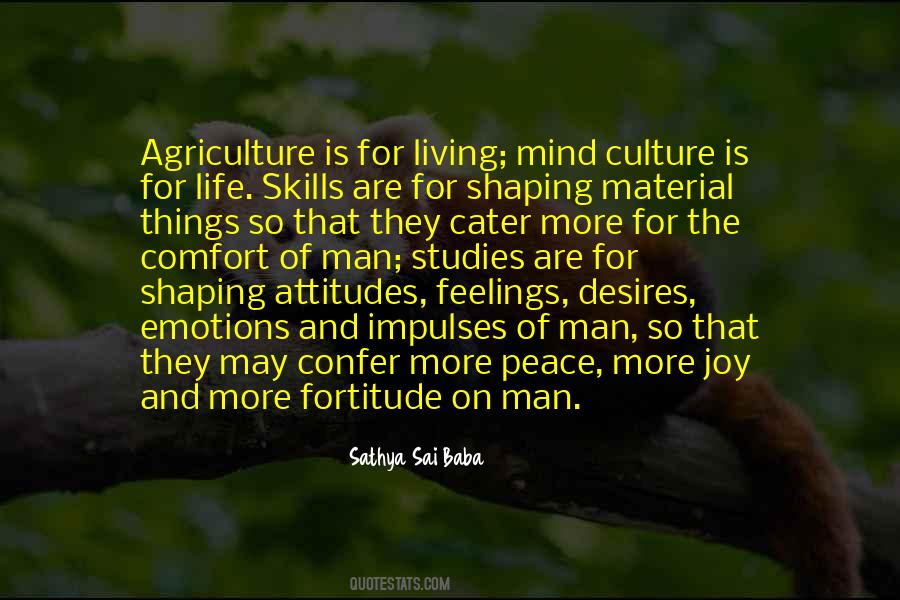 #31. May heaven's richest blessings rest upon you, my beloved associates. May faith grow in your hearts. May there be love and peace in your homes. May there be food upon your tables and clothing on your backs. May the smiles of heaven warm your hearts and bring comfort in times of trial. - Author: Gordon B. Hinckley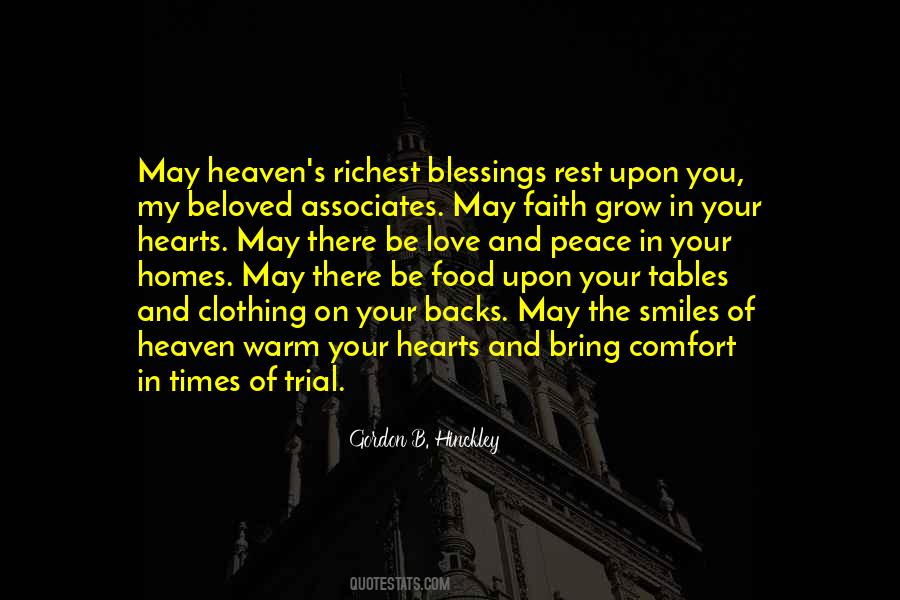 #32. If you love helping people, and you love trying to bring comfort and peace to their life at a very, very difficult time, you're going to have to look pretty hard to find a profession that gives you more opportunities than the funeral business. - Author: Steve Southerland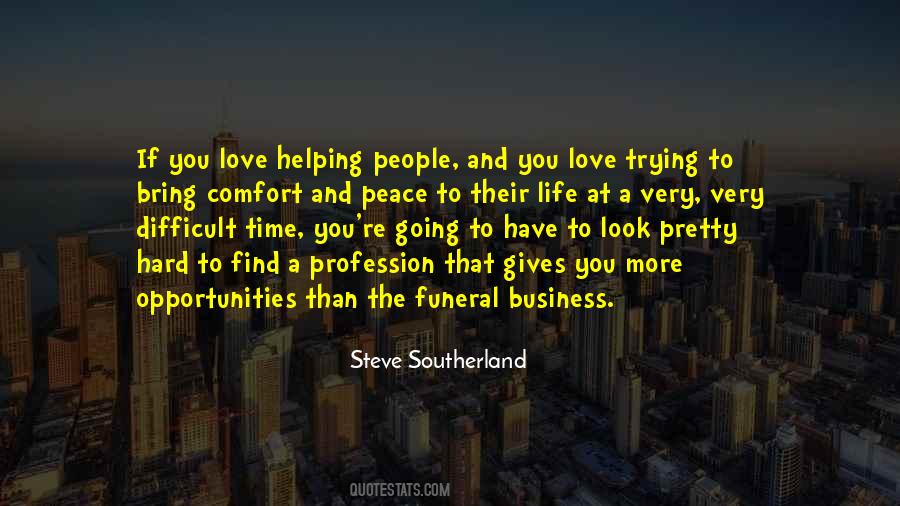 #33. You do not really care for God's mercy or His comfort either, so long as you live in any sin. And it is well that you do not; for you can have neither. Your peace will be like a river, when you put away your sin; but not one word of true peace, not one drop of true comfort, can you have till then. - Author: Alexander Whyte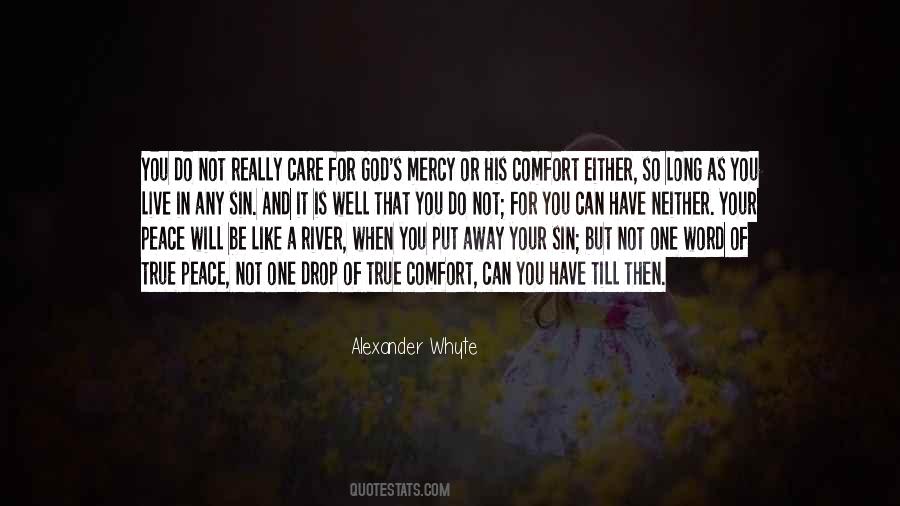 #34. Subduing and subdued, the petty strife, Which clouds the colour of domestic life; The sober comfort, all the peace which springs From the large aggregate of little things; On these small cares of daughter, wife or friend, The almost sacred joys of home depend. - Author: Hannah More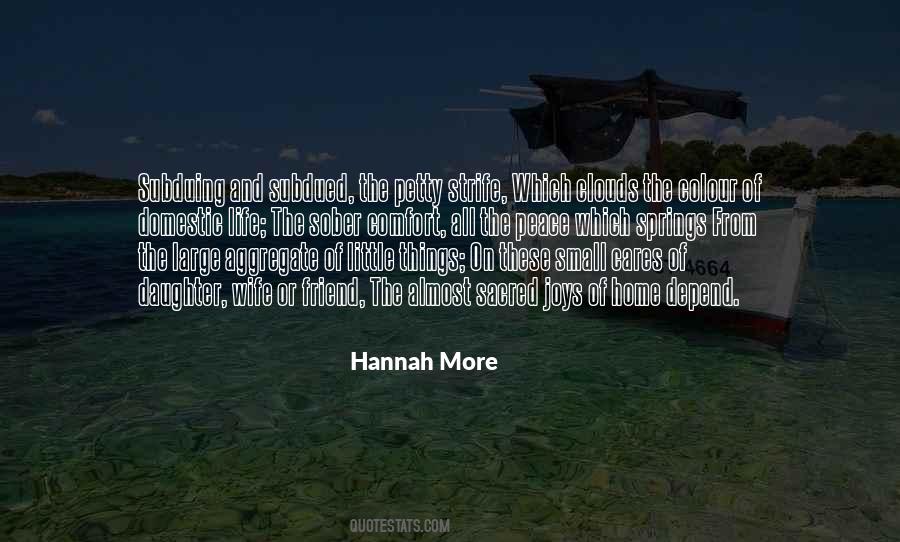 #35. God, you are within me and with me right now and you give me comfort. You give me peace. You give me strength. You give me all the blessings I need to live an abundant and blessed life. - Author: Paul McManus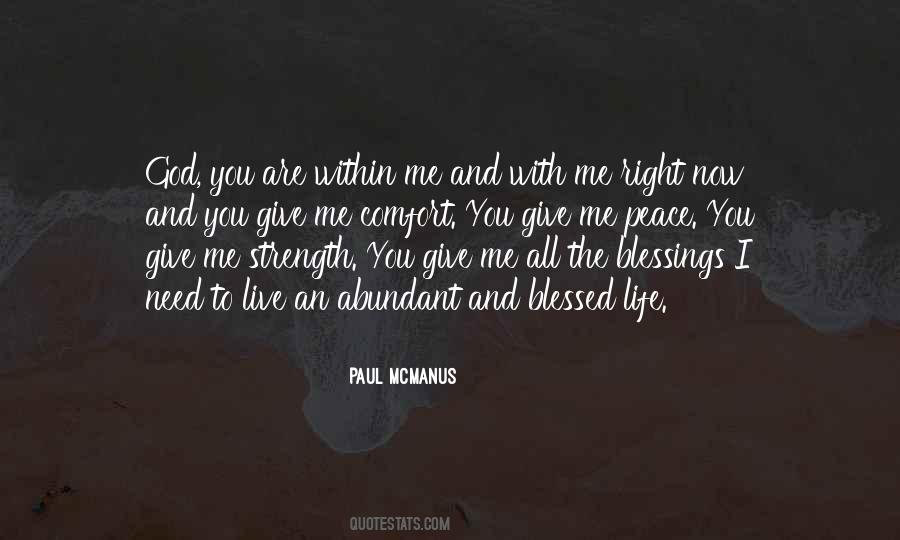 #36. Peace in the struggle to find peace.. comfort on the way to comfort. And if I shed a tear I won't cage it I won't fear love. And if I feel a rage I won't deny it. (I won't fear love. - Author: Sarah McLachlan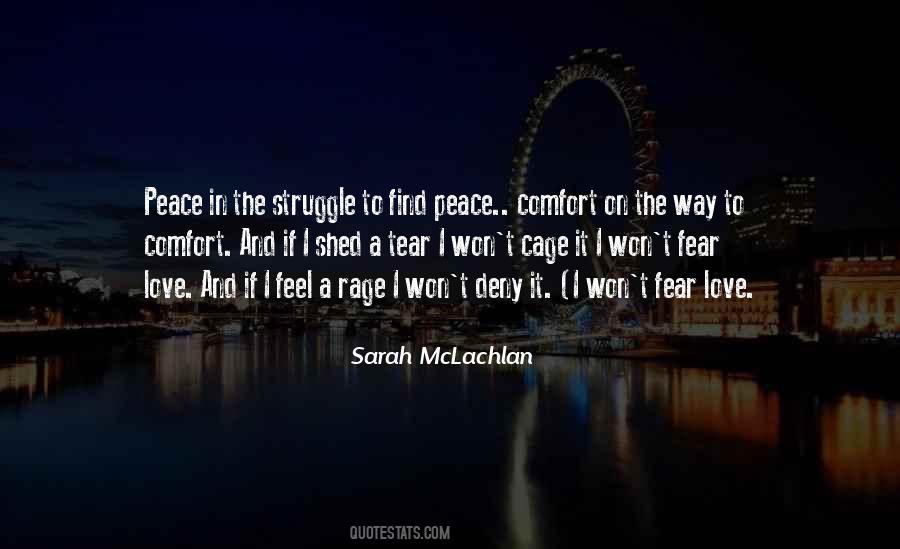 #37. Ifs, buts, and perhapses, are sure murderers of peace and comfort. Doubts are dreary things in times of sorrow. - Author: Charles Haddon Spurgeon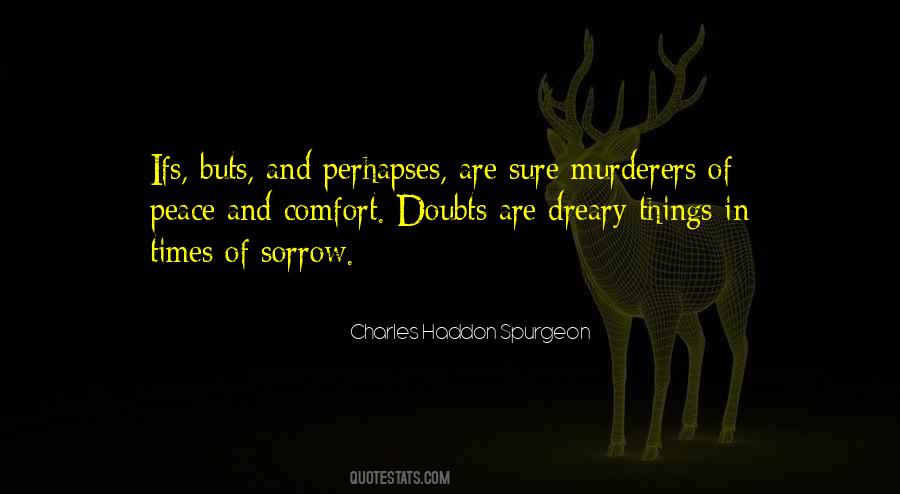 #38. I often tell people in the clinics, the human possesses the one thing that means more to the horse than anything in the world, and that is peace and comfort, - Author: Buck Brannaman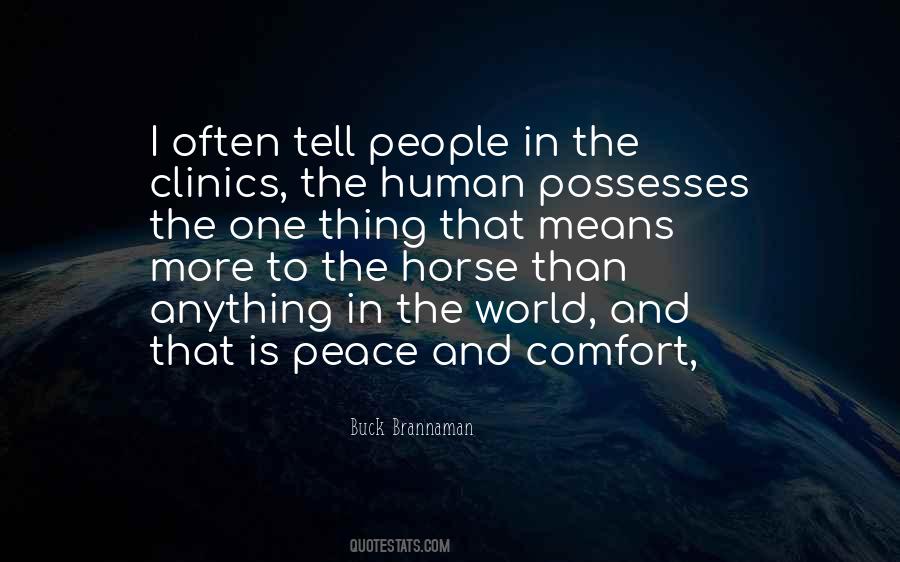 #39. Humanity wants comfort in its sorrow, light in its darkness, peace in its turmoil, rest in its weariness, and healing in its sickness and diseases: The Gospel gives all of this to us. - Author: Billy Graham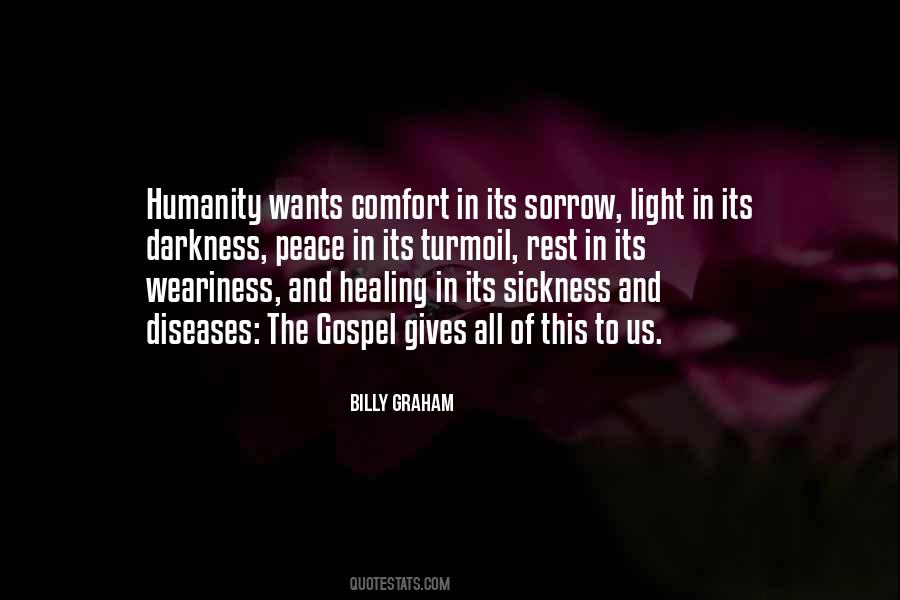 #40. December is an old friend; it reminds you of the past, together you share some laughs and tears, you feel warm-hearted though it's freezing outside. But, the goodbye is inevitable. May the memories we share with this friend next year be filled with comfort, peace and Love. - Author: Mohamed Atef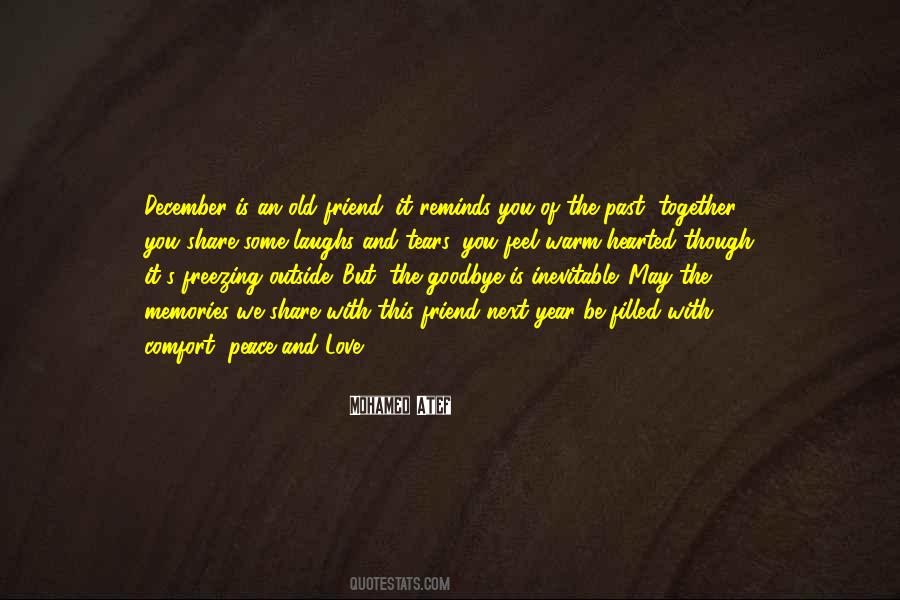 #41. When my time to die comes an angel will be there to comfort me. He will give me peace and joy even at that most critical hour, and usher me into the presence of God, and I will dwell with the Lord forever. Thank God for the ministry of His blessed angels. - Author: Billy Graham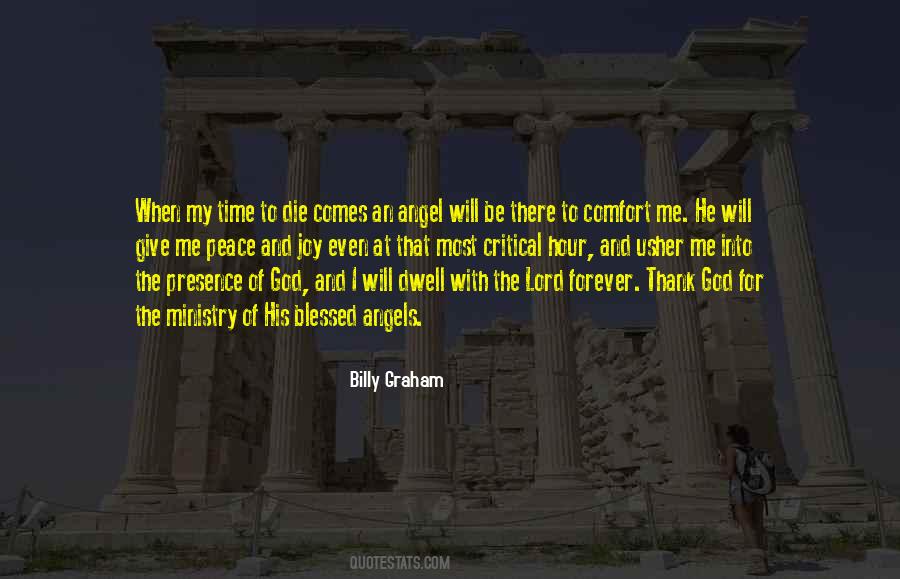 #42. Any thought which tends to inspire, to comfort, and to give peace to the mind is good. - Author: Ernest Holmes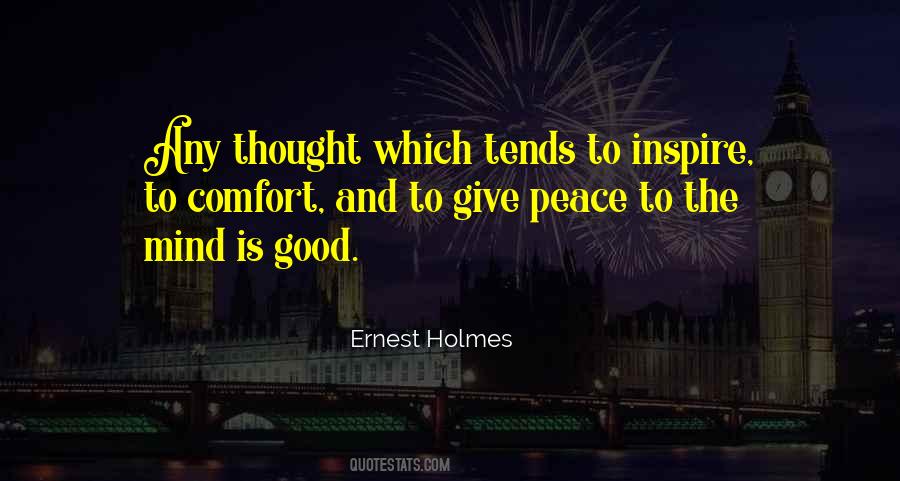 #43. The comfort and sweetness of peace. - Author: Helen Steiner Rice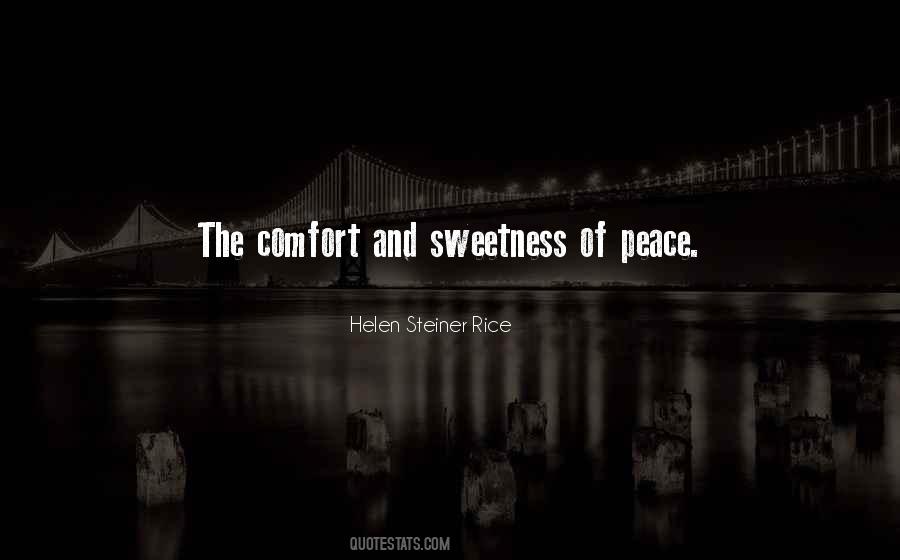 #44. Memories can bring comfort to the old and infirm, but memories can also be implacable foes, a malicious army of temporal ghosts forever pillaging the long-sought-after peace of our twilight years. - Author: Rick Yancey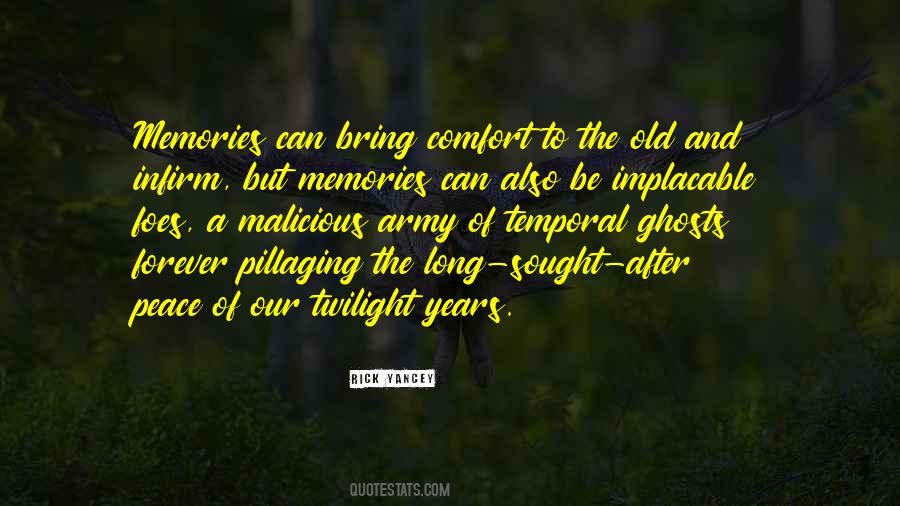 #45. The greatest comforts and lasting peace are obtained, when one eradicates selfishness from within. - Author: Guru Gobind Singh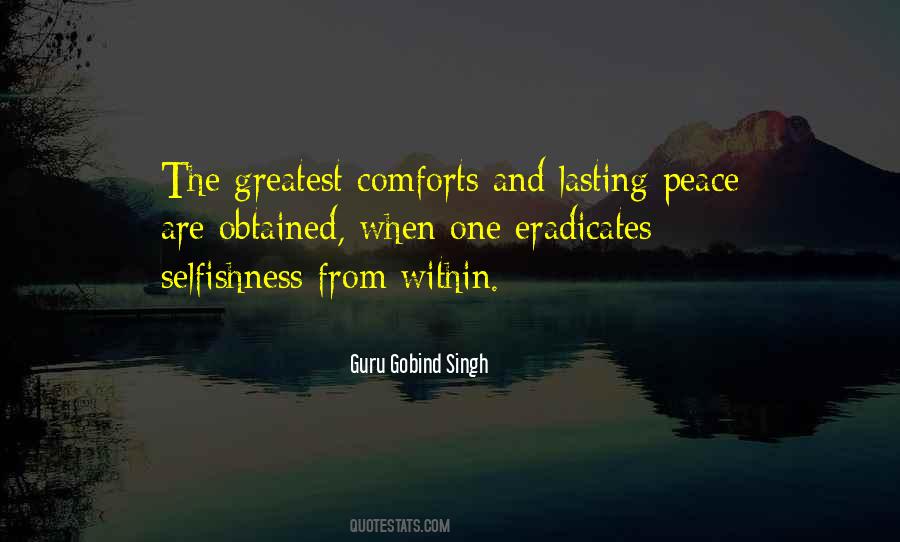 #46. When I ask the angels for answers to the human mystery, I find they guide me to a sense of peace and comfort in my soul. The angels do this not by bringing me answers and intricate theories, but by bringing me creative ways of responding to life with light in my heart. - Author: Terry Taylor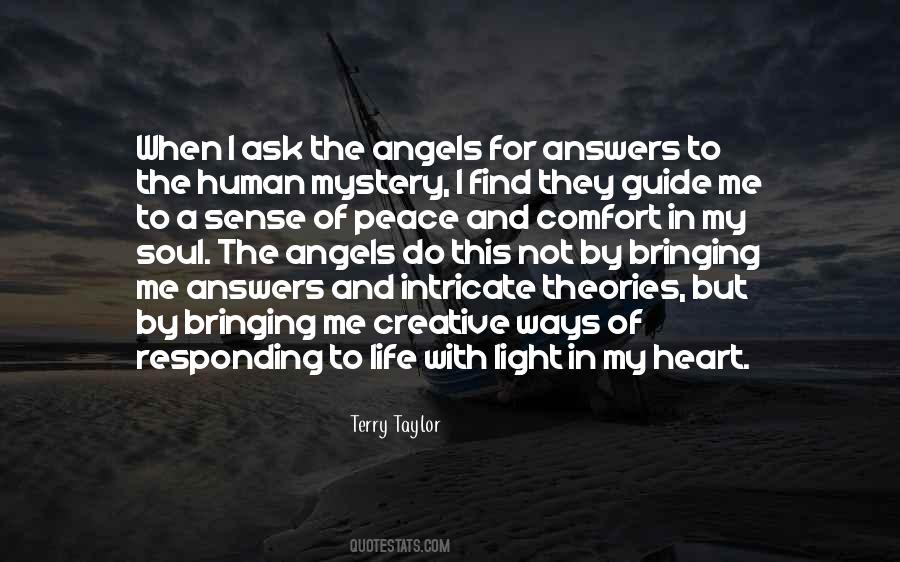 #47. Now stir the fire, and close the shutters fast,
Let fall the curtains, wheel the sofa round,
And, while the bubbling and loud hissing urn
Throws up a steamy column and the cups
That cheer but not inebriate, wait on each,
So let us welcome peaceful ev'ning in. - Author: William Cowper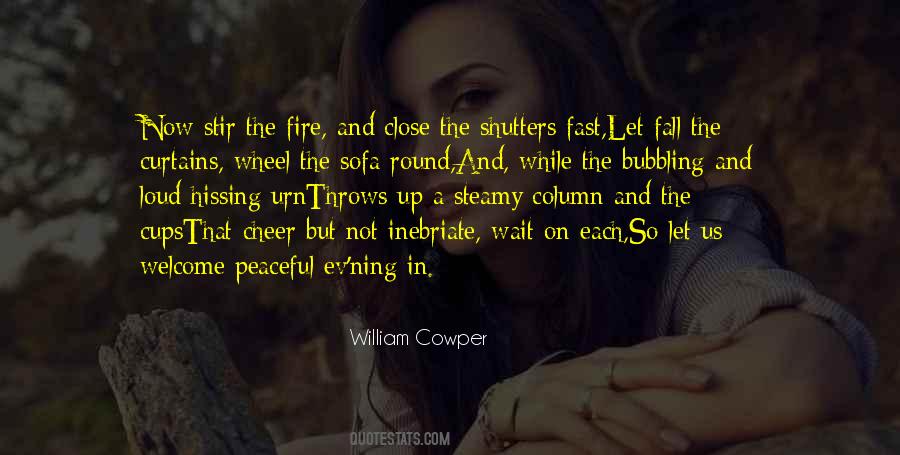 #48. I have never known this kind of peace. Never known this kind of comfort. And sometimes I am afraid," he says, dropping his eyes, "that my love will terrify you. - Author: Tahereh Mafi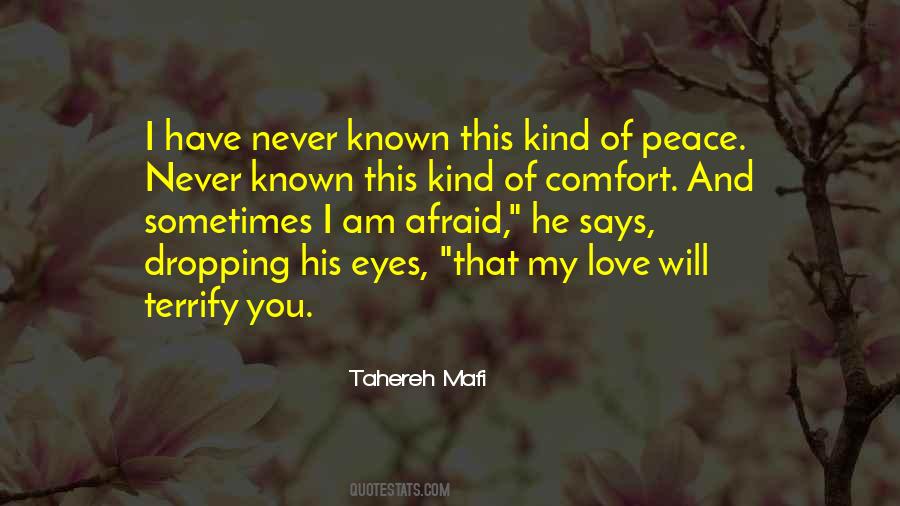 #49. I have passed the mountain peak and my soul is soaring in the firmament of Complete and unbounded freedom; I am in comfort, I am in peace. - Author: Khalil Gibran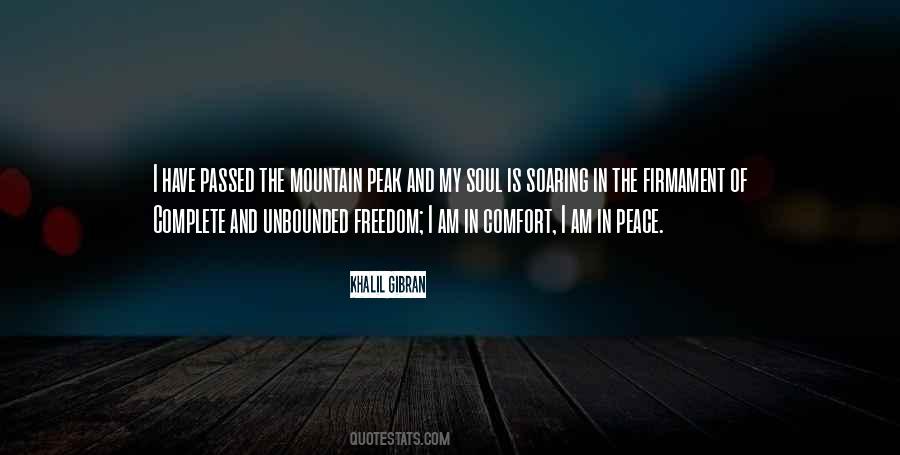 #50. We recognize the universal power of music to touch the hearts of men and women everywhere and in all generations-to inspire and encourage, to sustain and lift, to comfort and bring peace. - Author: Gordon B. Hinckley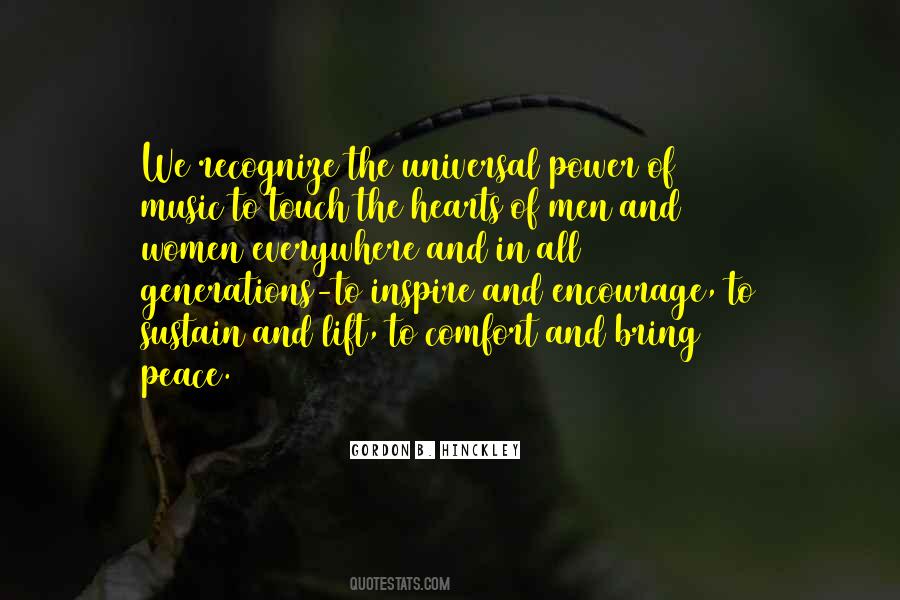 #51. I'd like to live in great comfort. And peace.' And then she added, quite to her surprise, 'With no one to tell me what to do or how to do it. - Author: Kathleen Tessaro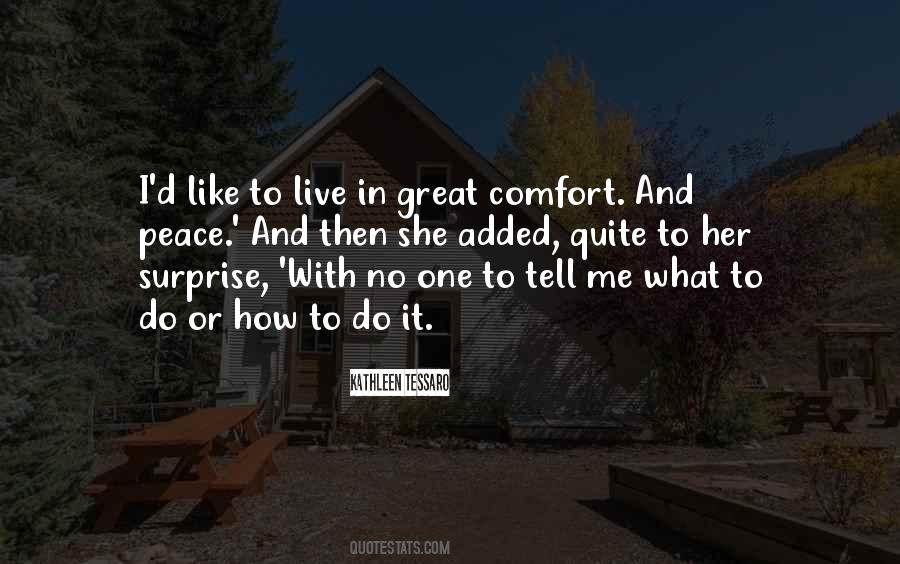 #52. From his cradle to his grave a man never does a single thing which has any FIRST AND FOREMOST object but one
to secure peace of mind, spiritual comfort, for HIMSELF. - Author: Mark Twain
#53. Our mating is chemistry and biology. My body, my blood, needs you on a fundamental level. You. Your body brings me peace, comfort. Your blood restores my immortality and humanity. But I wanted you before this, Shayla. - Author: Laura Kaye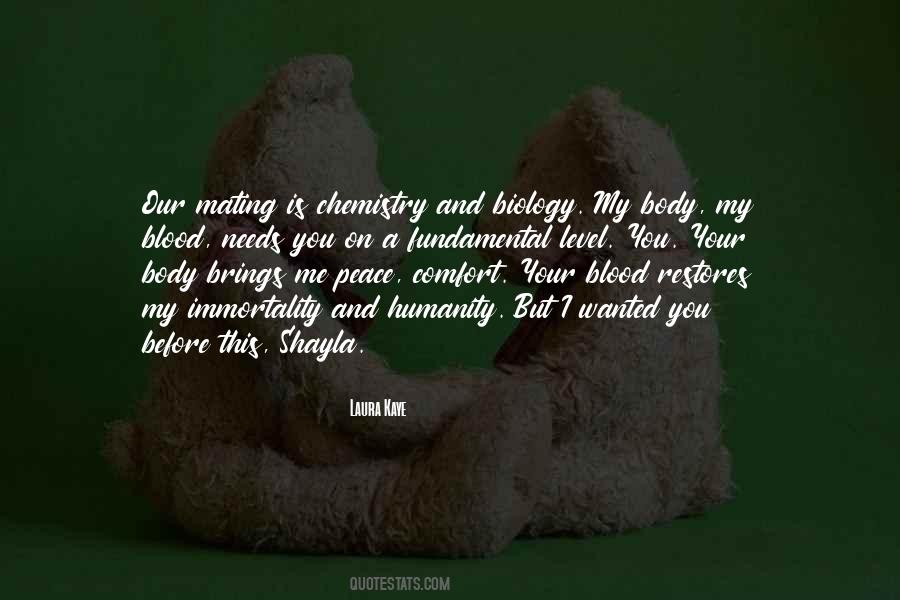 #54. From the world's perspective, there are many places you can go to find comfort. But there is only one place you will find a hand to catch your tears and a heart to listen to your every longing. True peace comes only from God. - Author: Charles Stanley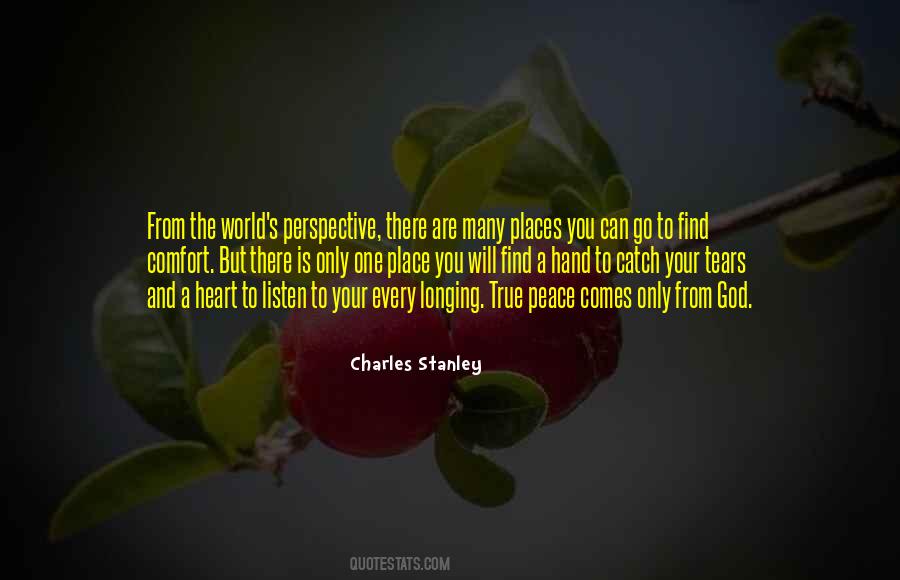 #55. At the worst possible moment, the most painful, darkest moment when you can't take it anymore and you are afraid, that is when a feeling of peace and comfort will come over you, and it's like nothing you've ever felt. - Author: Ann Brashares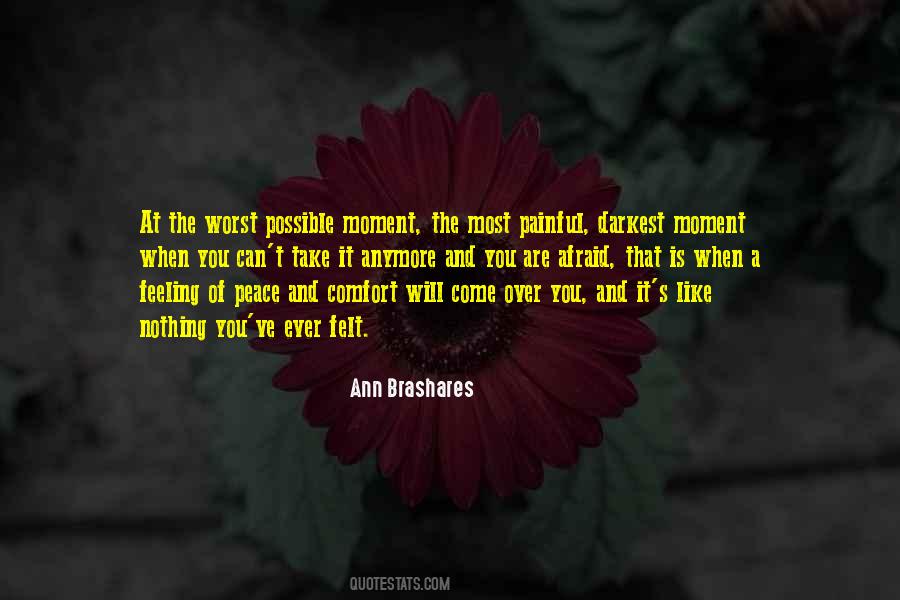 #56. We call upon people everywhere to work for peace, to forget the quiet comfort of their homes, to leave behind their fears and feeling of powerlessness, their privileges and possessions, and join us as active participants and co-workers for peace. - Author: Petra Kelly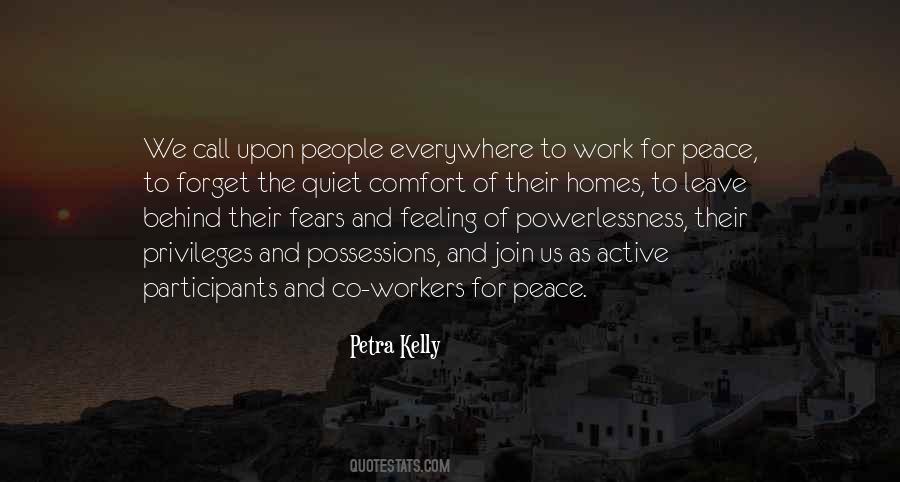 #57. No country can find eternal peace and comfort where the vote of Judas Iscariot is as good as the vote of the Saviour of mankind. - Author: Thomas Carlyle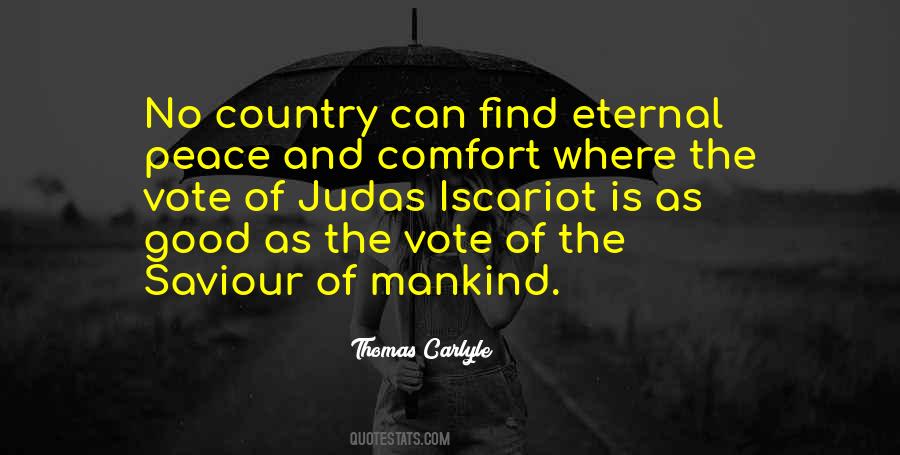 #58. I have endeavoured to dissipate these religious superstitions from the minds of women, and base their faith on science and reason, where I found for myself at last that peace and comfort I could never find in the Bible and the church. - Author: Elizabeth Cady Stanton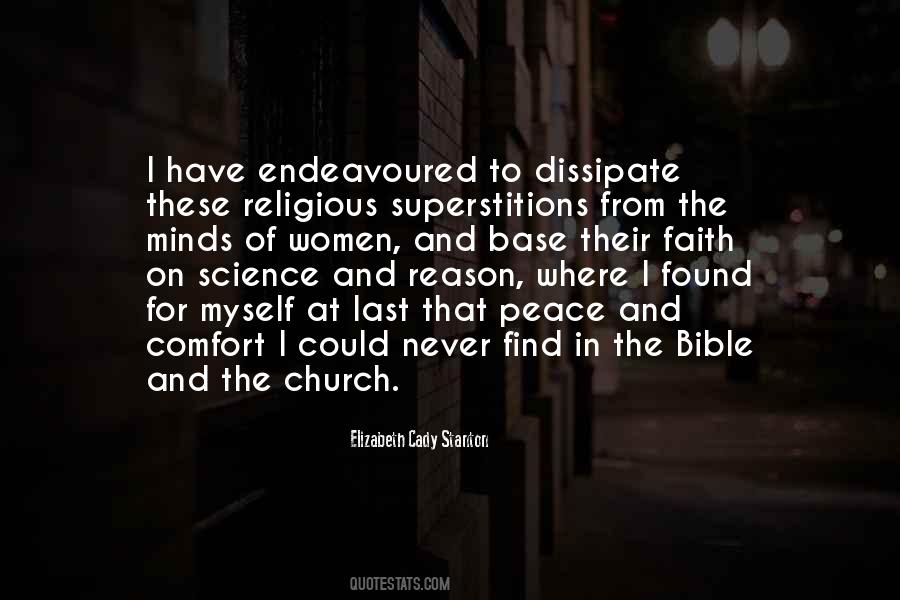 #59. The ultimate source of comfort and peace is within ourselves. - Author: Dalai Lama XIV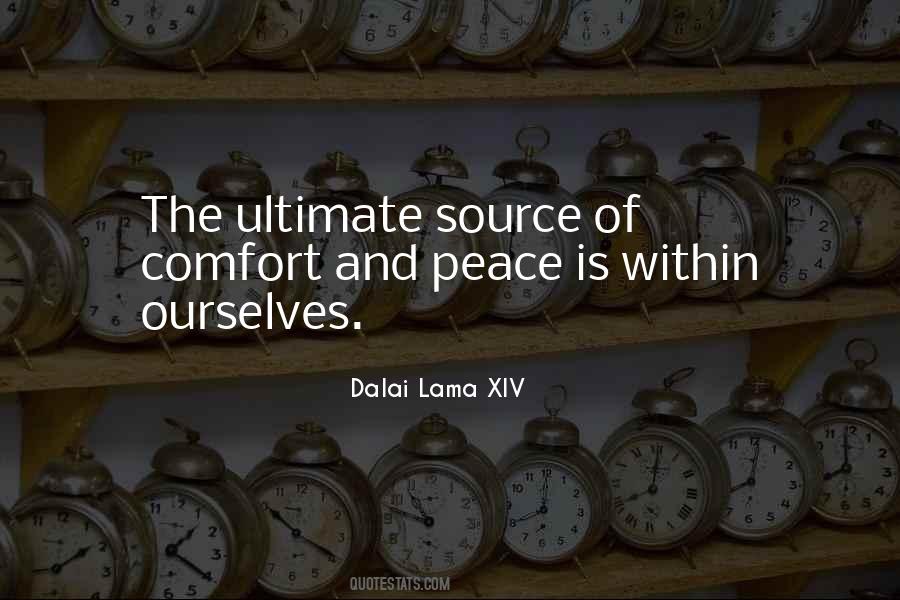 #60. He has taught me the meaning of devotion. With him, I know a secret comfort and a private peace. He has brought me understanding where before I was ignorant. - Author: Gene Hill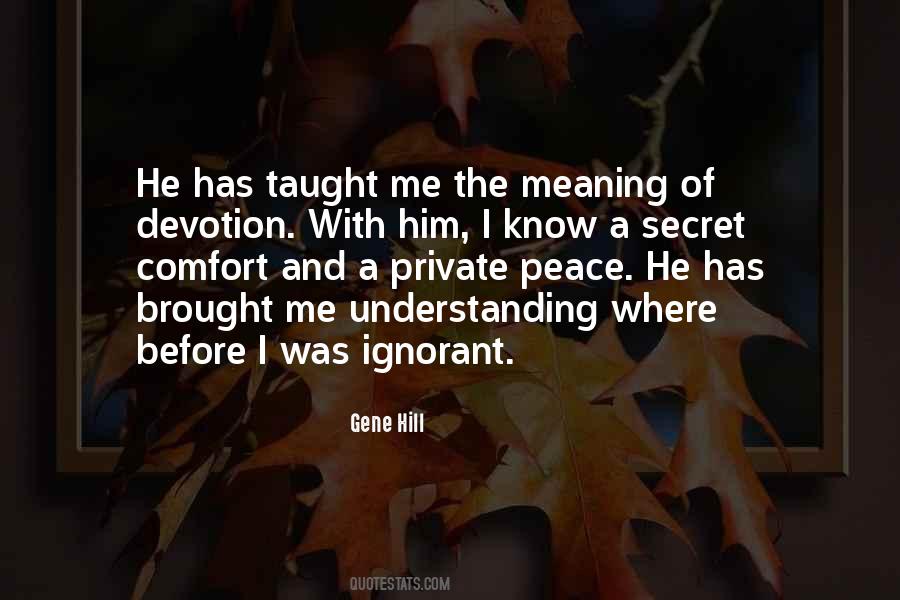 #61. What would you like to do with it?' he pressed. Grace thought a moment. 'Live, Monsieur Tissot. I'd like to live in great comfort. And peace.' And then she added, quite to her surprise, 'With no one to tell me what to do or how to do it.' He - Author: Kathleen Tessaro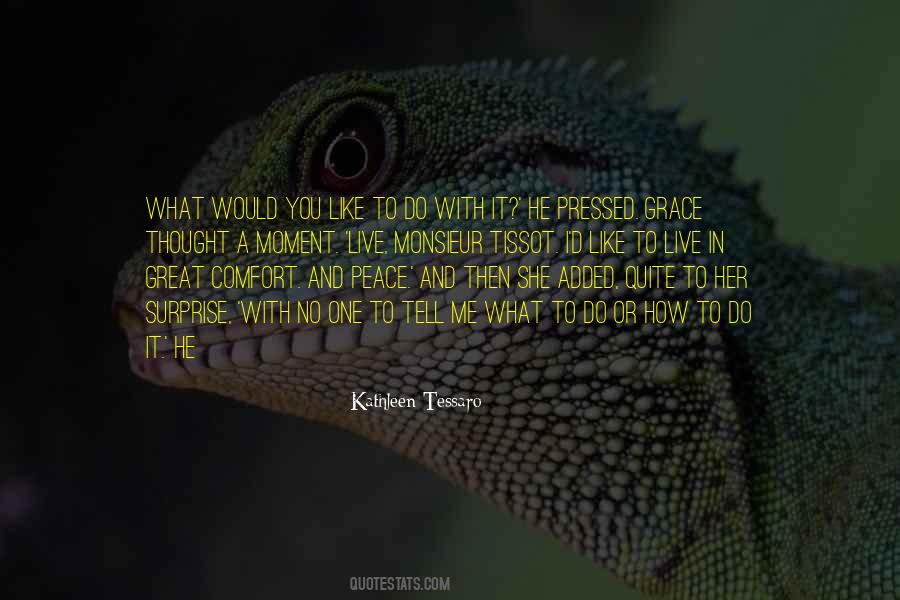 #62. Great calm, generous detachment, selfless love, disinterested effort: these are what make for success in life. If you can find peace in yourself and can spread comfort around you, you will be happier than an empress. - Author: Rabindranath Tagore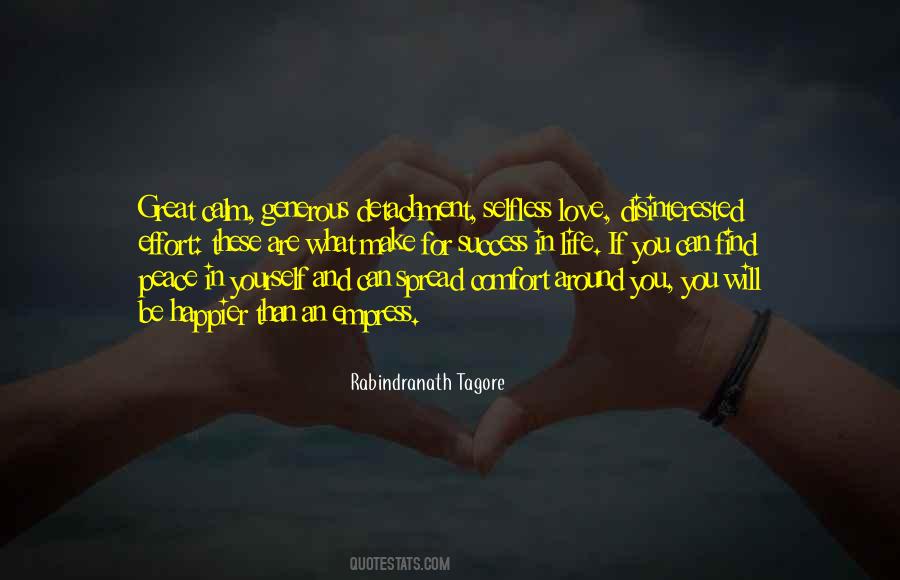 #63. The greatest comfort comes from within. Sit down comfortably. As you control your breath, let your mind watch your body. Tell yourself, "It's Ok." At this moment your soul will find peace and your body, too, will follow, finding comfort and new strength. - Author: Ilchi Lee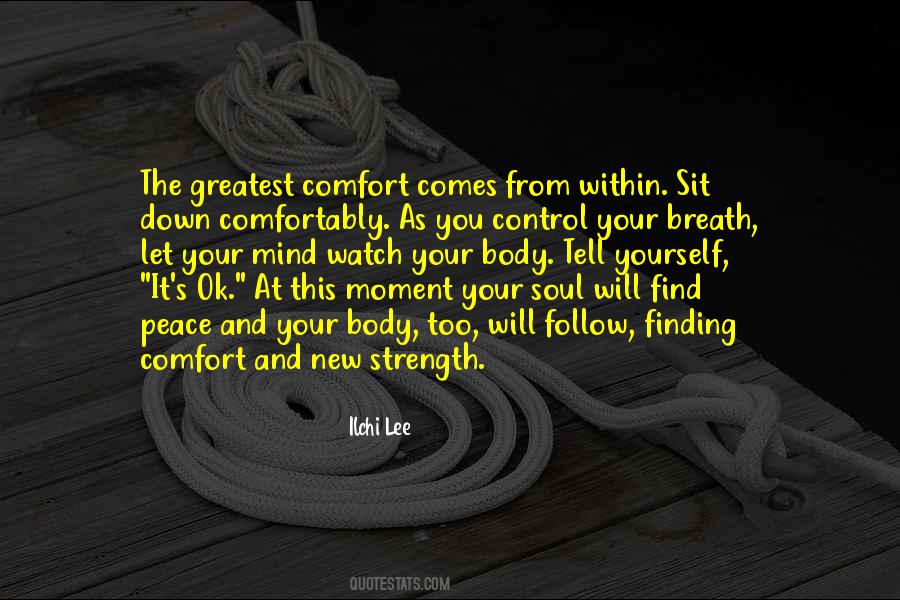 #64. There was a lot of Southern Baptist preachers and some yelling ones but mostly we had a pastor who didn't scream and I found a lot of comfort and joy and peace as a child hearing the Bible. - Author: Victoria Jackson
#65. If we have no inner peace, we deceive ourselves into thinking that comfort and prosperity will bring happiness. - Author: Dalai Lama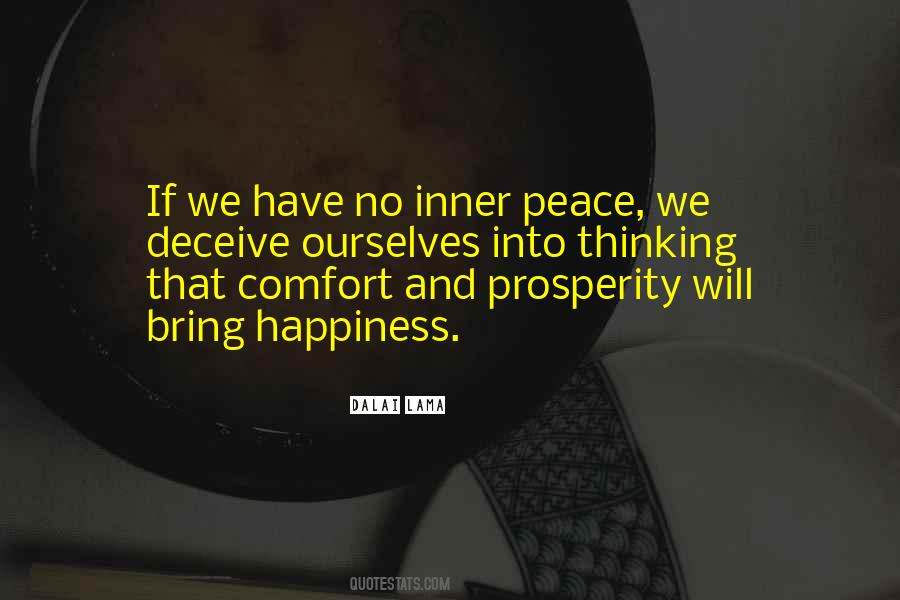 #66. A consecrated Christian life is ever shedding light and comfort and peace. - Author: Ellen G. White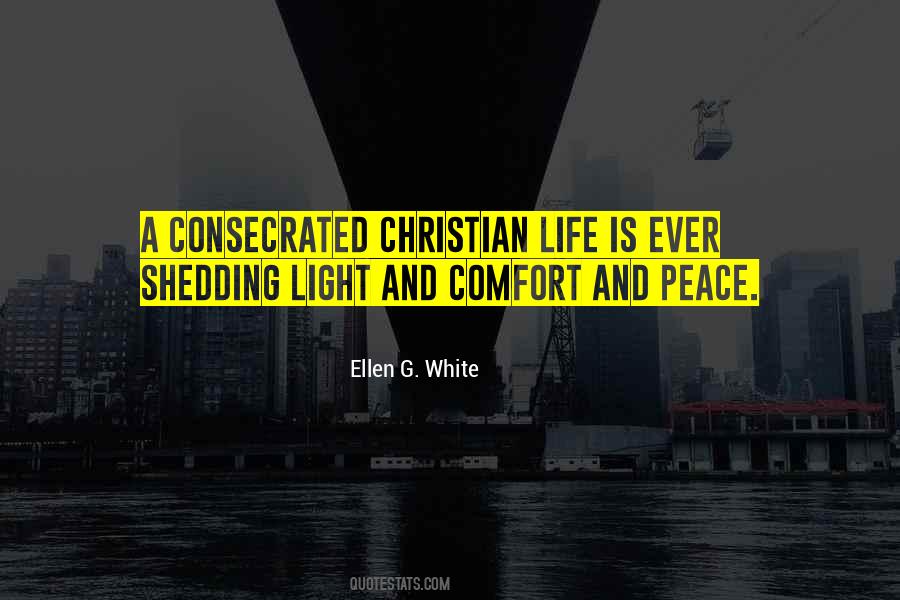 #67. The horse responds to comfort, they respond to peace better than about anything else you could do. All he wants you to do is just leave him alone. So if the horse responds to you and you give him a little peace and comfort that means more to him than anything. - Author: Buck Brannaman
#68. We don't necessarily need to know each other's name, age, profession, drug of choice, childhood trauma or recent tragedy to understand what pain feels like and offer comfort. We are strangers drawn together by a shared desire for lasting peace. - Author: Marta Mrotek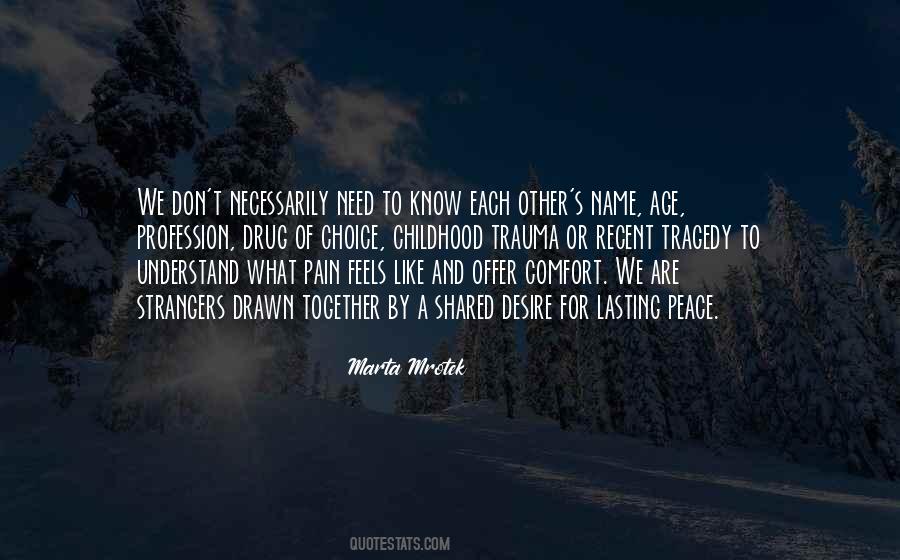 #69. The Lord's way is the only way for us to experience enduring happiness. His way brings sustained comfort to our souls and perennial peace to our homes. - Author: Russell M. Nelson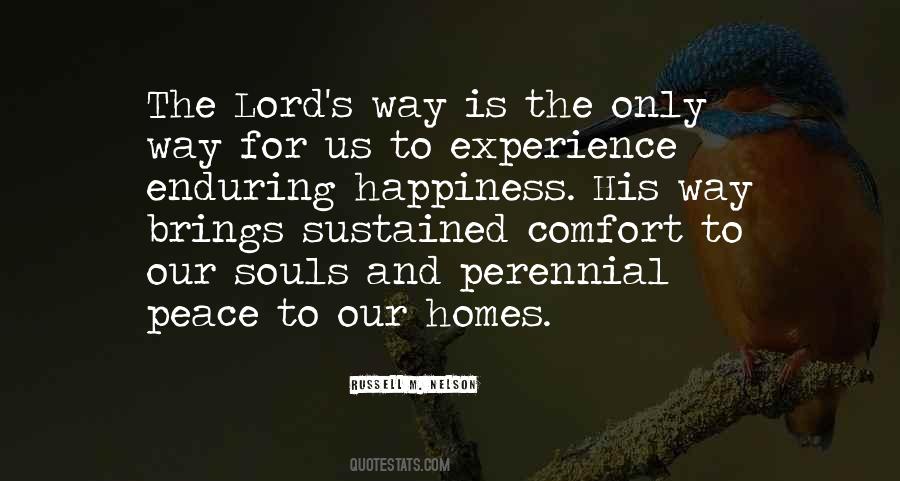 #70. The formula of life is simple. It is the formula of giving - giving courage, attention, peace, love and comfort to yourself and the society. - Author: Amit Ray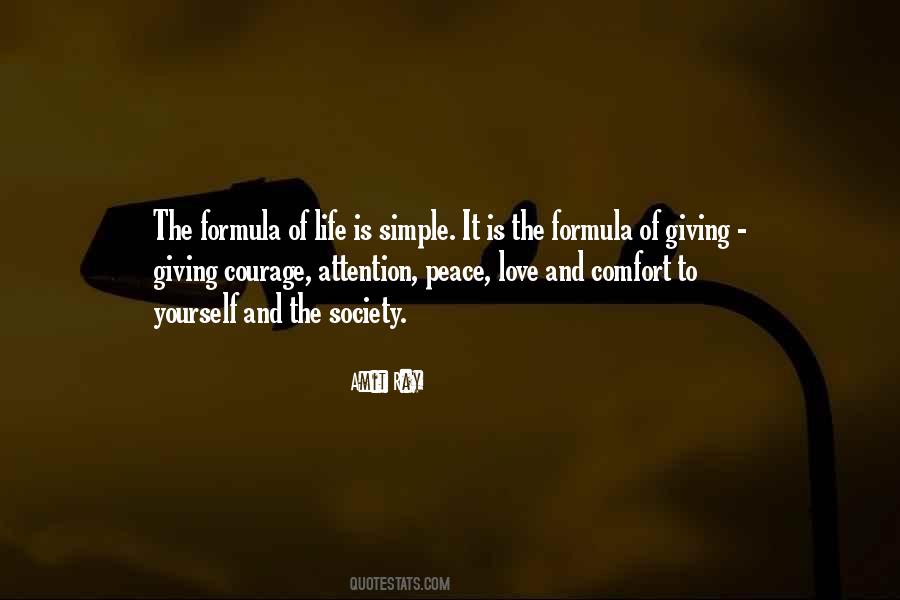 #71. Peace, comfort, quiet, happiness, I have found away from home. Only your own family, those nearest and dearest, can hurt you. - Author: Mary Boykin Chesnut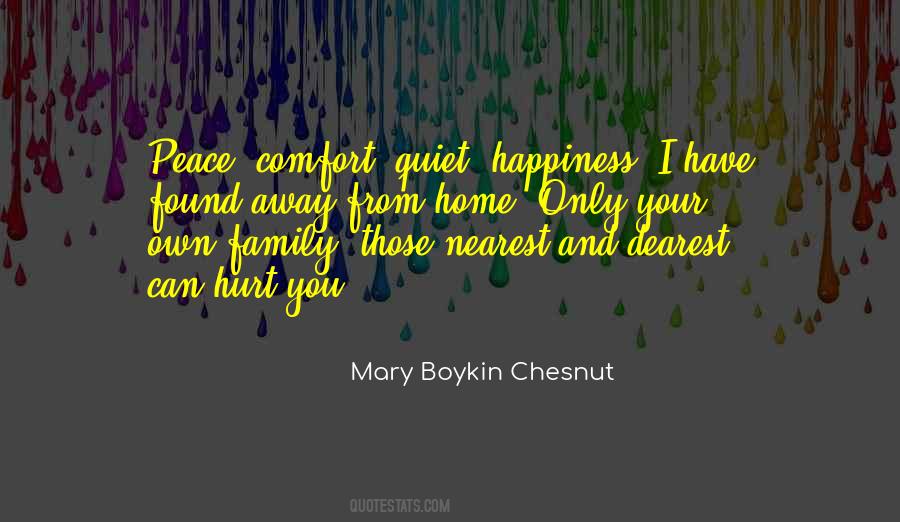 #72. Every unmortified sin will certainly do two things: - [1.] It will weaken the soul, and deprive it of its vigour. [2.] It will darken the soul, and deprive it of its comfort and peace. [1.] - Author: John Owen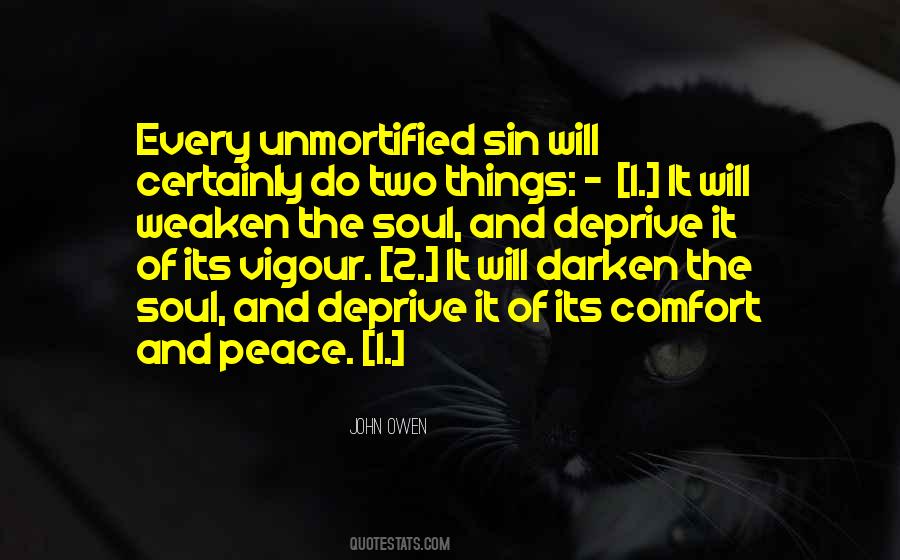 #73. If I am a son of God, nothing but God will satisfy my soul; no amount of comfort, no amount of ease, no amount of pleasure, will give me peace or rest. If I had the full cup of all the world's joys held up to me, and could drain it to the dregs, I should still remain thirsty if I had not God. - Author: Geoffrey Studdert Kennedy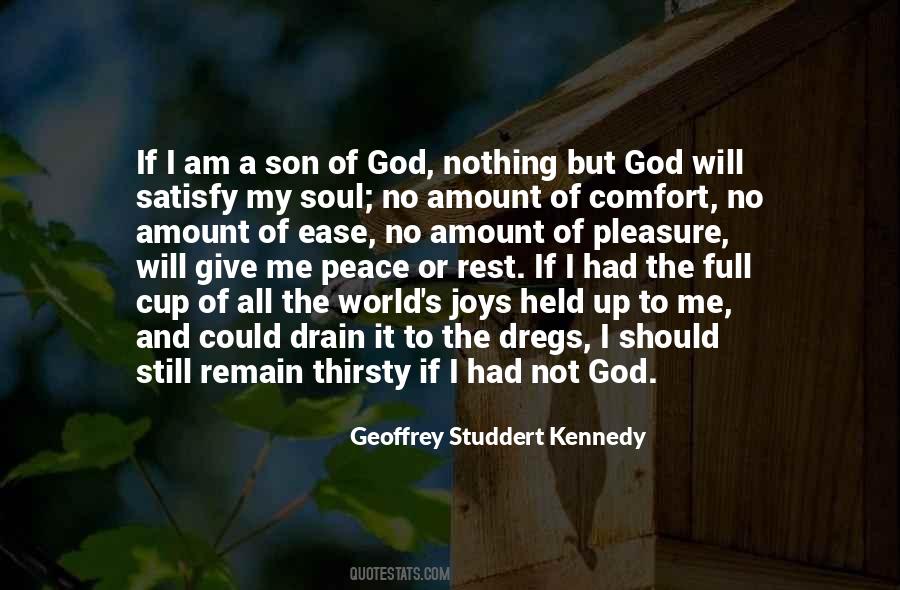 #74. While one would like to say that God will punish those who do such things and that people often speak in just this way it was his experience that God could not be spoken for and that men with wicked histories often enjoyed lives of comfort and that they died in peace and were buried with honor. - Author: Cormac McCarthy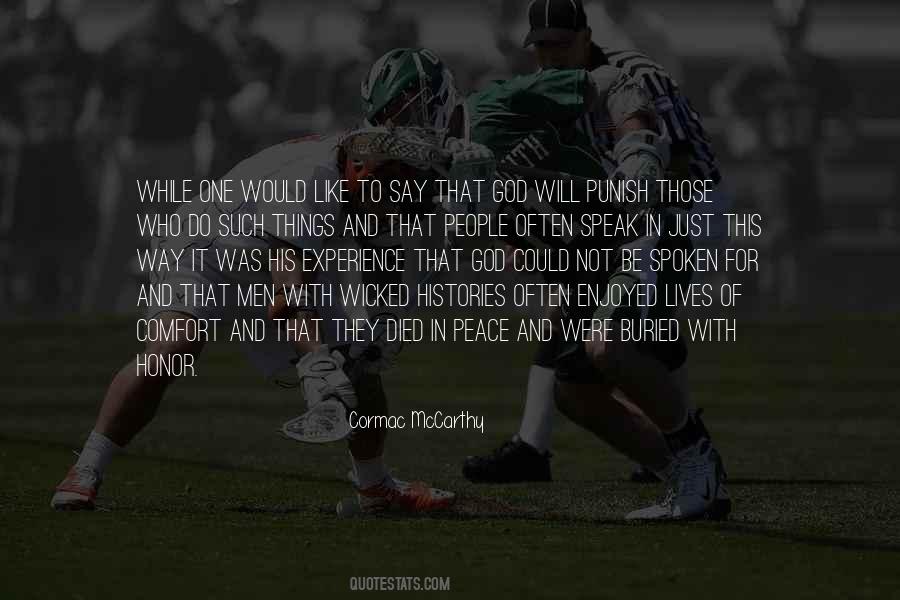 #75. I find a lot of comfort and peace just being outdoors. Whether on a beach or on a path near our house, I would walk for an hour or two, just alone with my own head to think things through. - Author: Meredith Vieira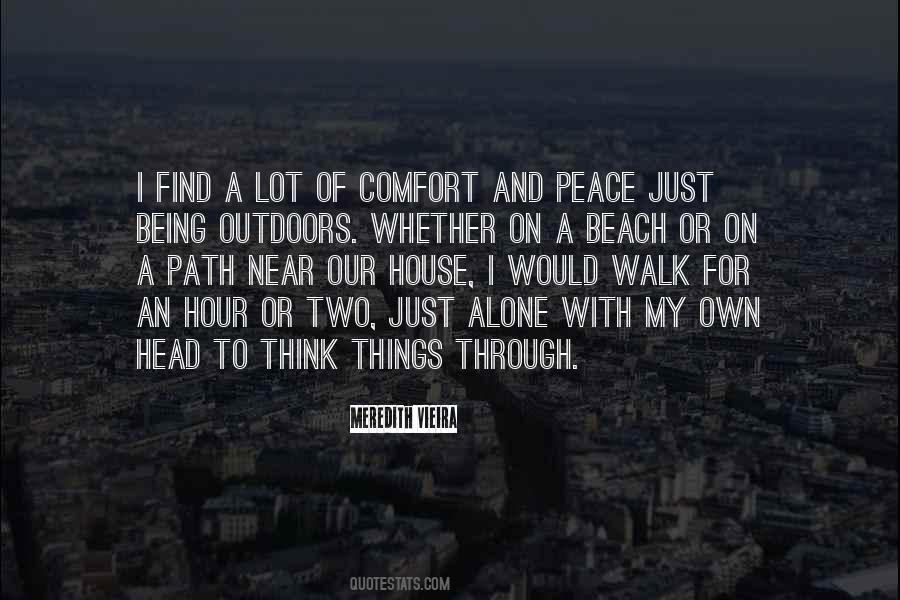 #76. There is peace and rest and comfort in sorrow - Author: Soren Kierkegaard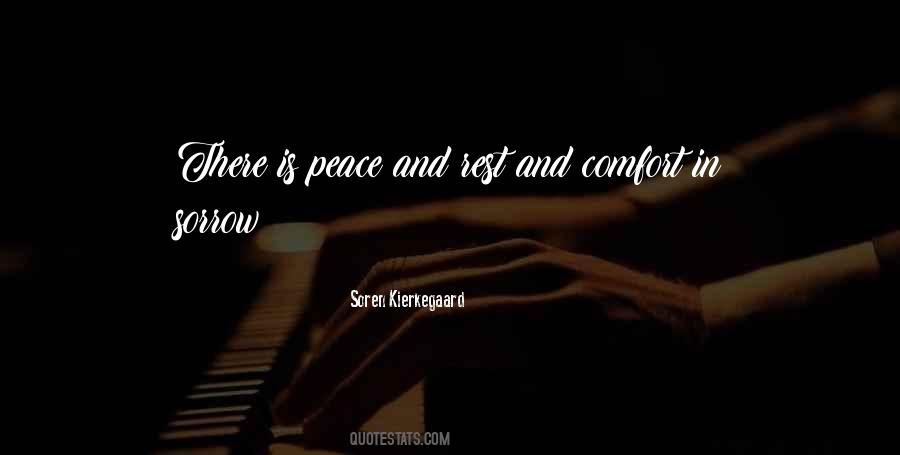 #77. When I got untethered from the comfort of religion, it wasn't a loss of faith for me, it was a discovery of self. I had faith that I'm capable enough to handle any situation. There's peace in understanding that I have only one life, here and now, and [that] I'm responsible. - Author: Brad Pitt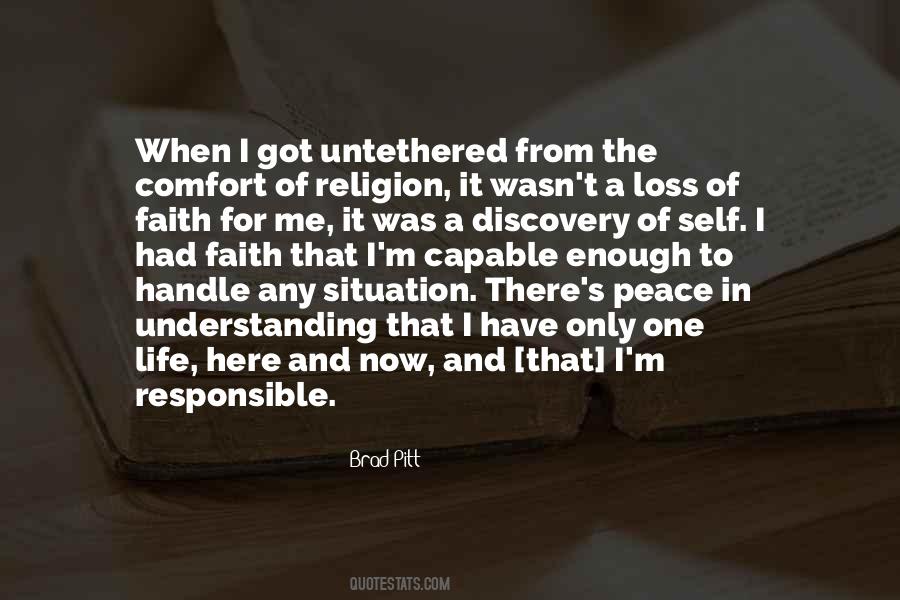 #78. out my cigarettes, break each one in half and give them to the Russians. They bow to me and then light the cigarettes. Now red points glow in every face. They comfort me; it looks as though there were little windows in dark village cottages saying that behind them are rooms full of peace. The - Author: Erich Maria Remarque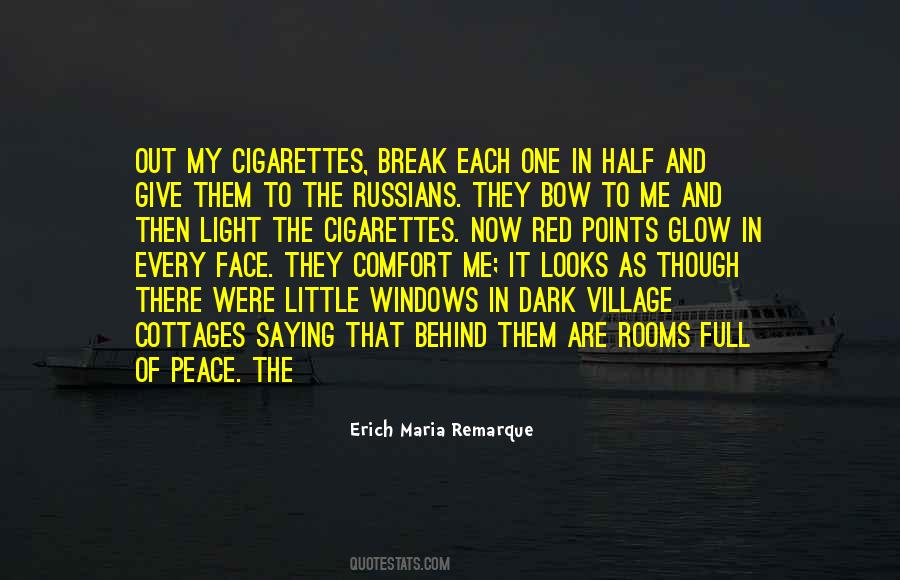 #79. When you are feeling attacked, offended, wounded, or overwhelmed, God's truth is the only comfort that will bring you healing and peace. - Author: Jennifer Smith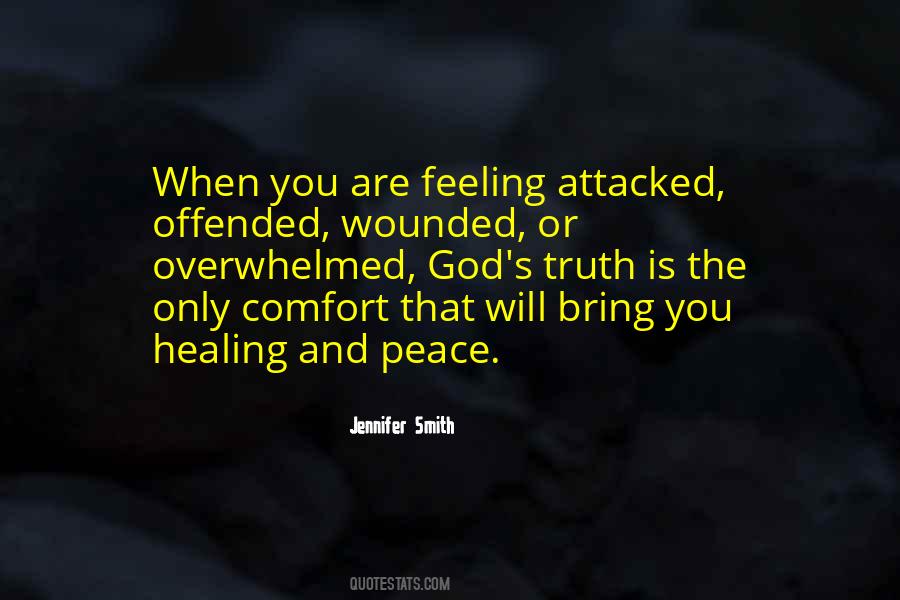 #80. Or else she stayed in and nursed a mood with which she was becoming too familiar for her own comfort and peace of mind. It was not despair; but it seemed to her as if life were passing by, leaving its promise broken and unfulfilled. - Author: Kate Chopin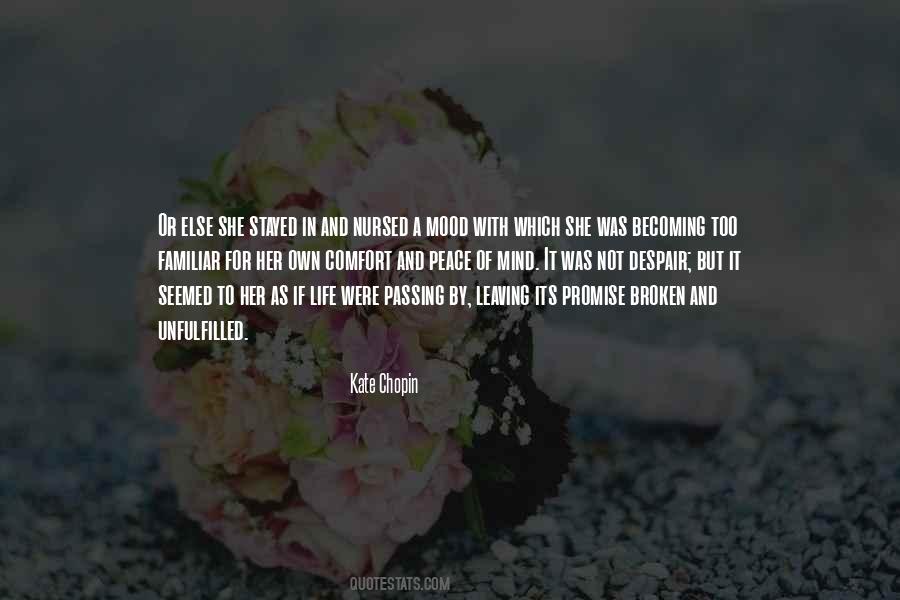 #81. Even the smallest tender mercy can bring peace when recognized and appreciated. - Author: Richelle E. Goodrich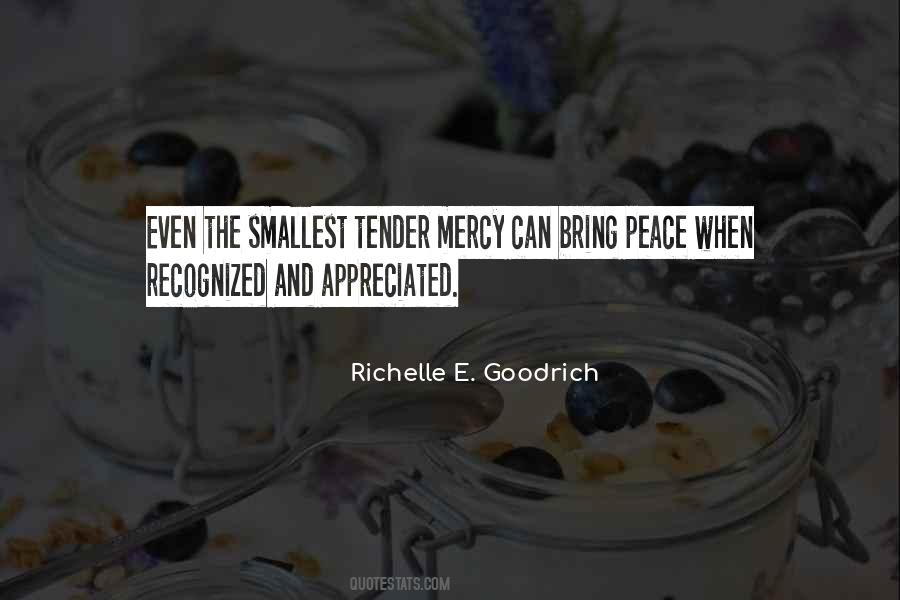 #82. Man ... need not stand alone. Prayer will open doors; prayer will remove barriers; prayer will ease pressures; prayer will give inner peace and comfort during times of strain and stress and difficulty. - Author: Ezra Taft Benson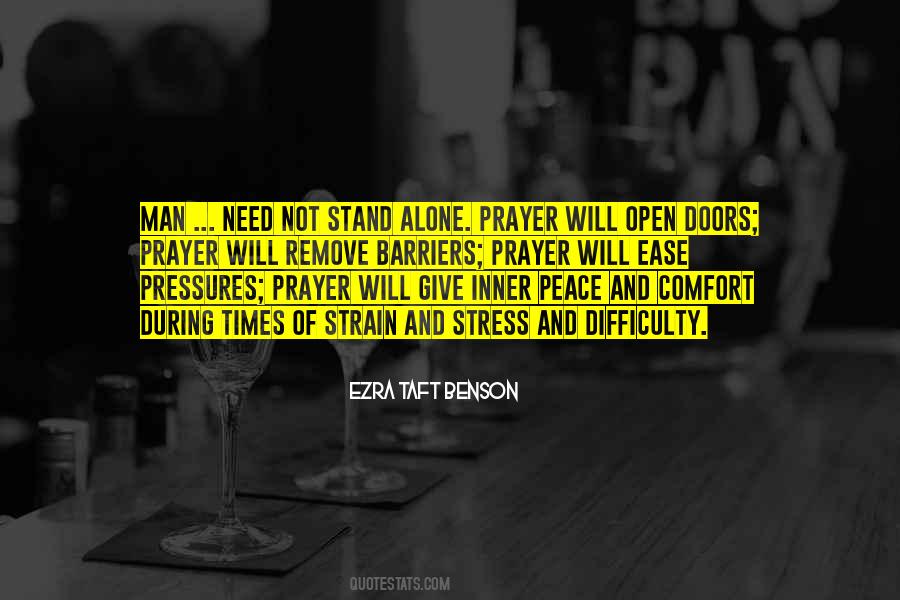 #83. Idolatry, like all sin, is devastating to the soul. It cuts us off from the comforts of grace, the peace of conscience, and the joy that is to be our strength. - Author: Elyse M. Fitzpatrick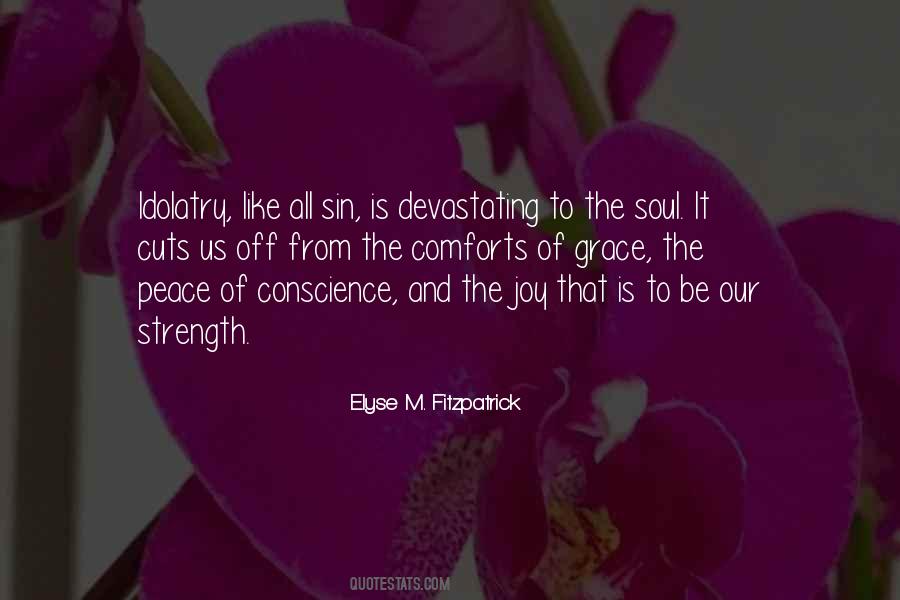 #84. You have it in your power greatly to promote my happiness by your good conduct, and greatly to destroy my comfort and peace by ill conduct. - Author: Salmon P. Chase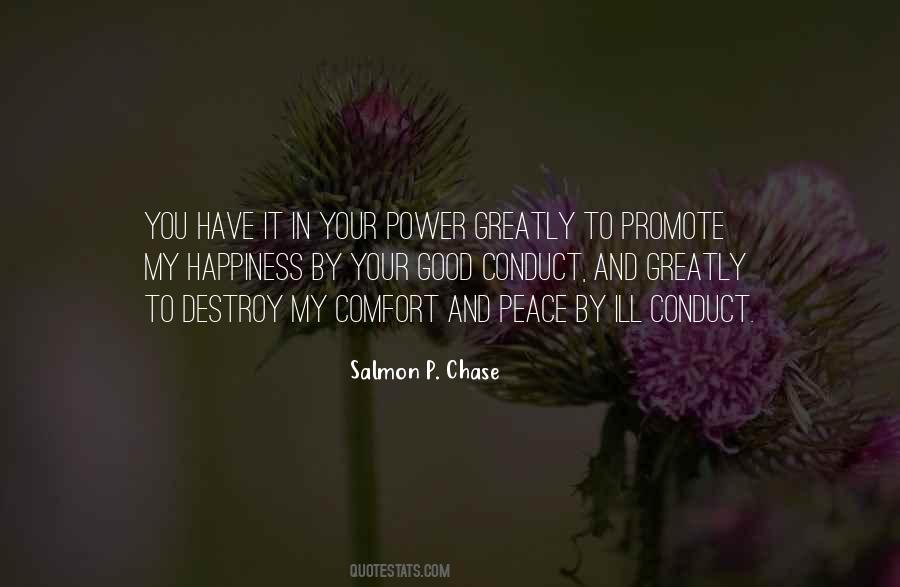 #85. In the scriptures, 'peace' means either freedom from strife, contention, conflict, or war, or an inner calm and comfort born of the Spirit that is a gift of God to all of his children, an assurance and serenity within a person's heart. - Author: Joseph B. Wirthlin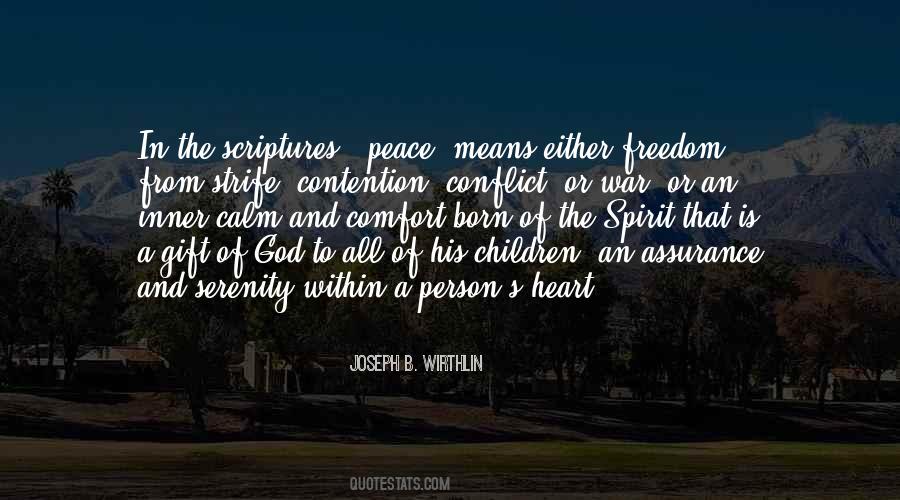 #86. That I might always be a little bit vicious and restless. That I might crave peace, but never a cage of comfort. - Author: Sarah J. Maas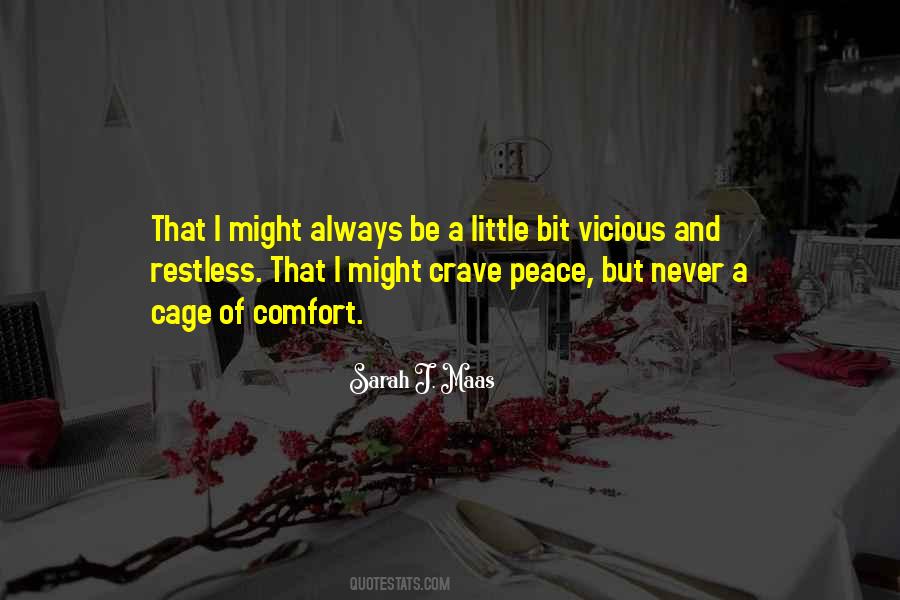 #87. May God welcome the dead into his peace, comfort the families and convert the hearts of the violent ones, who do not even stop before children. - Author: Pope Francis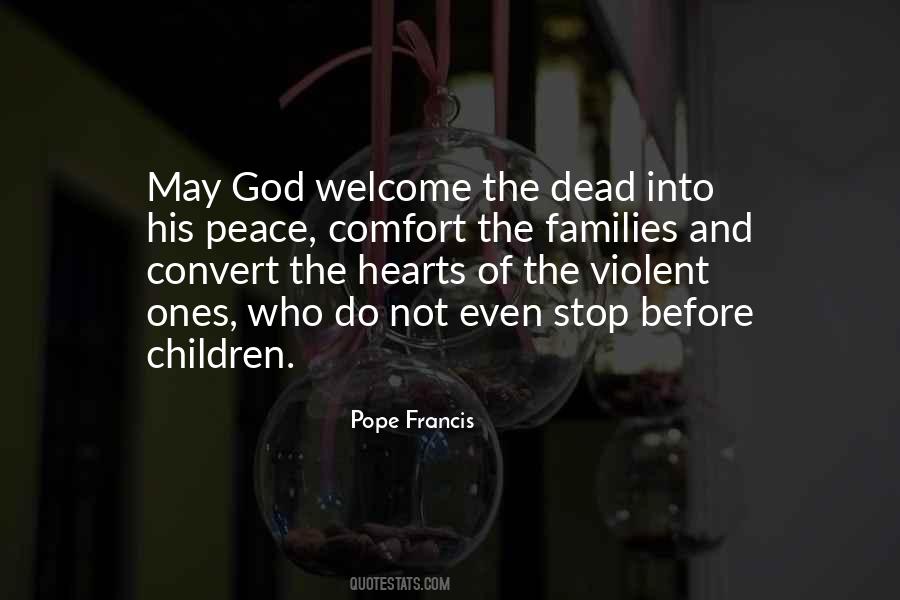 #88. Peace, a commodity purchased with friendship and safety and anything comfortable and all things familiar; peace that was a pleasant melody playing through the moments of their day; a chord striking only the notes of security and agreement and understanding and order. - Author: Dan Groat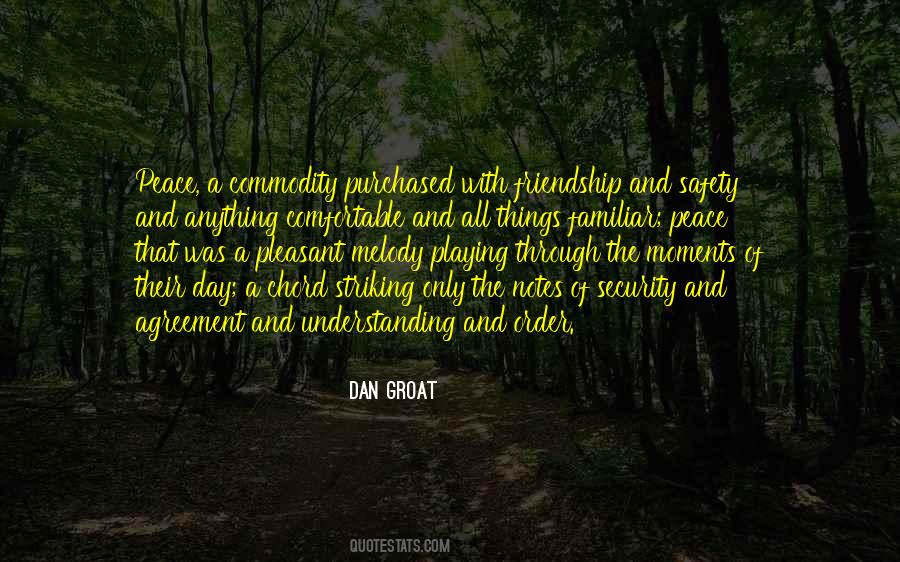 #89. Sleep is still most perfect, in spite of hygienists, when it is shared with a beloved. The warmth, the security and peace of soul, the utter comfort from the touch of the other, knits the sleep, so that it takes the body and soul completely in its healing. - Author: D.H. Lawrence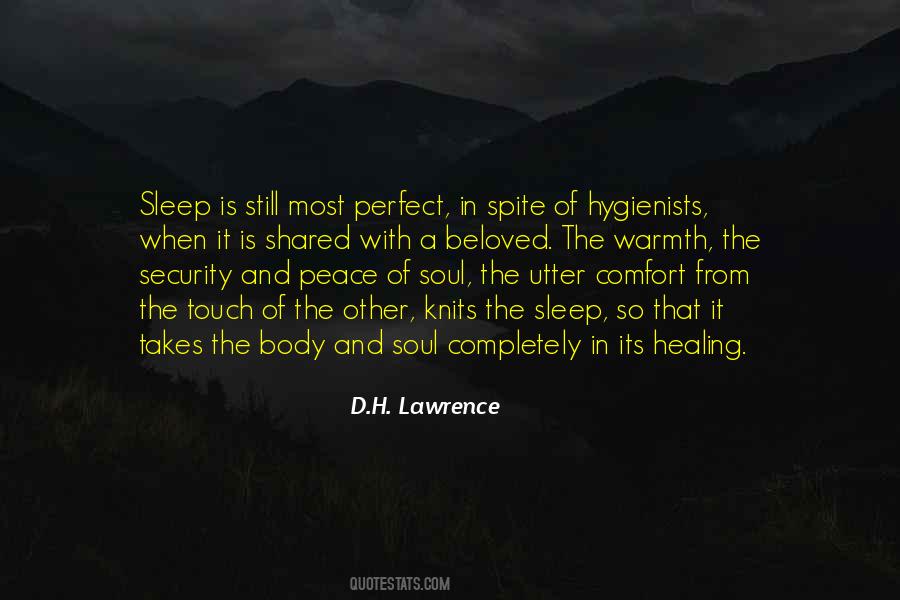 #90. Hold me in your arms, lava lamp! Let me seek magma comfort and peace in the warmth of your kryptonite embrace. - Author: Isabel Yosito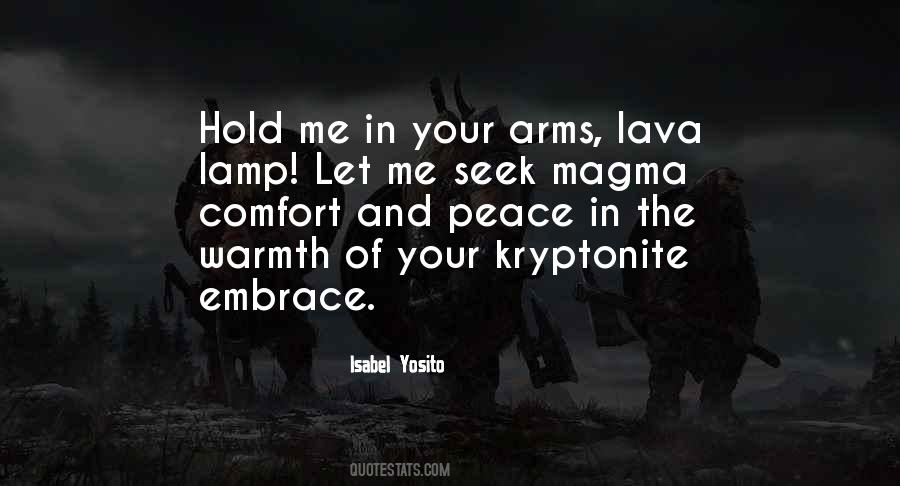 #91. I testify that one cannot come to full faith in this latter-day work - and thereby find the fullest measure of peace and comfort in these, our times - until he or she embraces the divinity of the Book of Mormon and the Lord Jesus Christ, of whom it testifies. - Author: Jeffrey R. Holland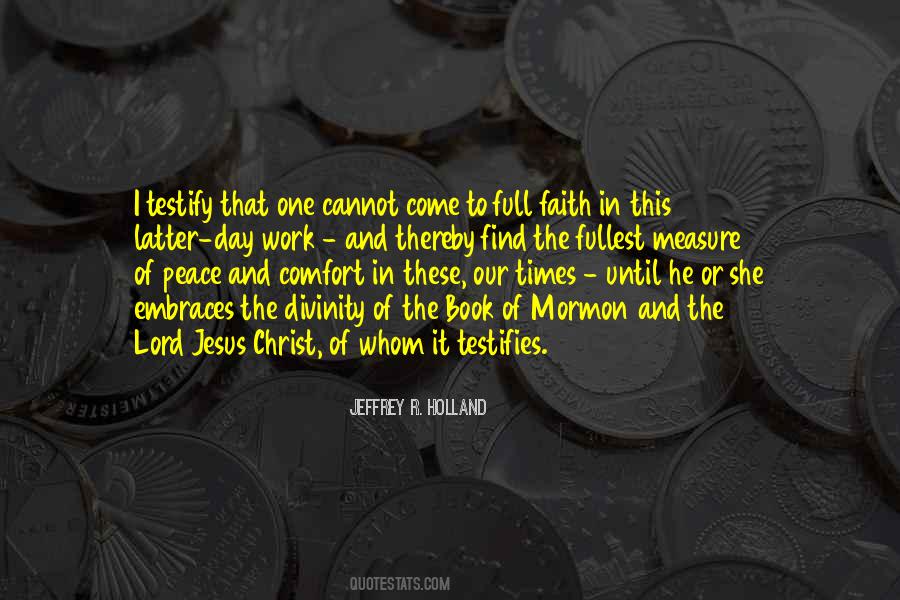 #92. But take comfort in that I die at peace with the world and myself - not afraid. - Author: Robert Falcon Scott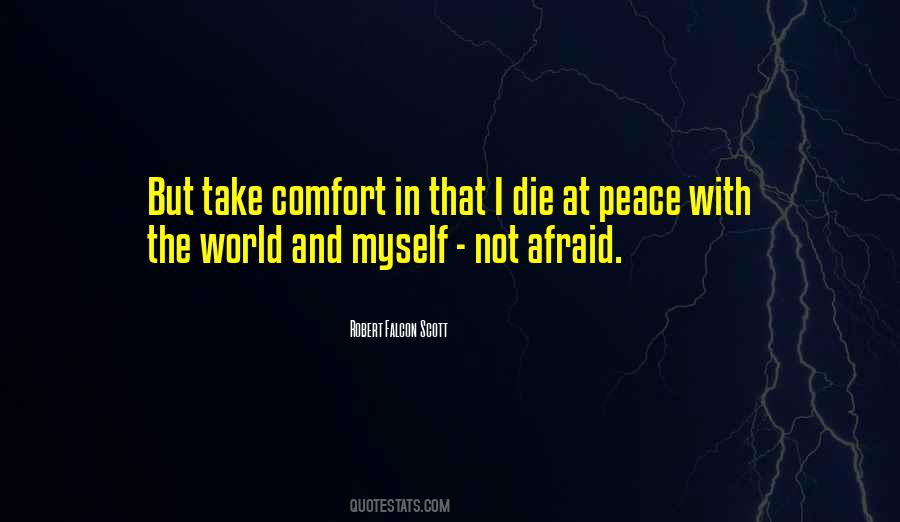 #93. Without validation we will not be comforted. Comfort follows validation and gives us peace. When we validate how big or hard our experiences were, we can then calm our brain. - Author: E. Wilder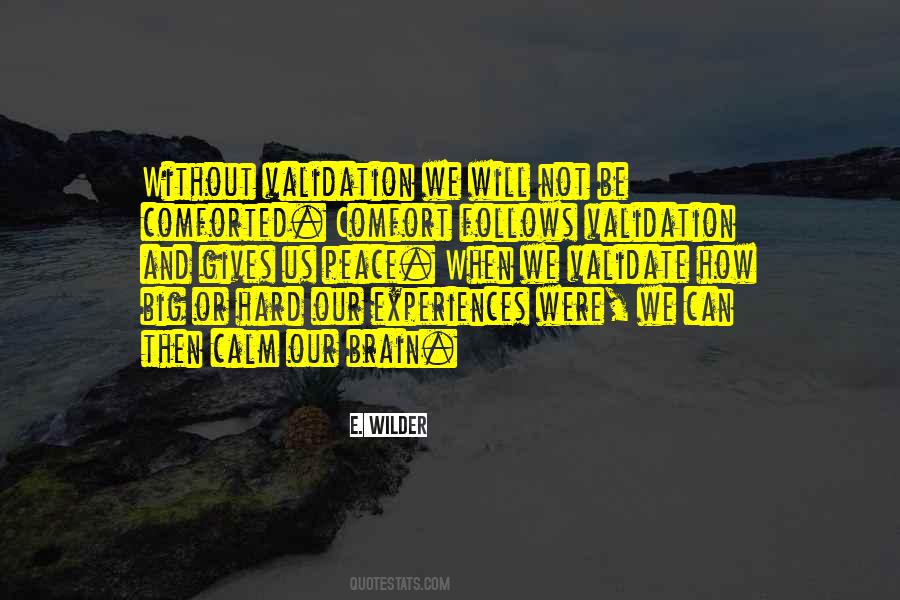 #94. There is no comfort in change But also no learning in the Steady drone of peace. There will be no greater sorrow Than watching you go - Except for watching you grow old And tired here - Clarity awaits Elsewhere - Author: S.D. Perry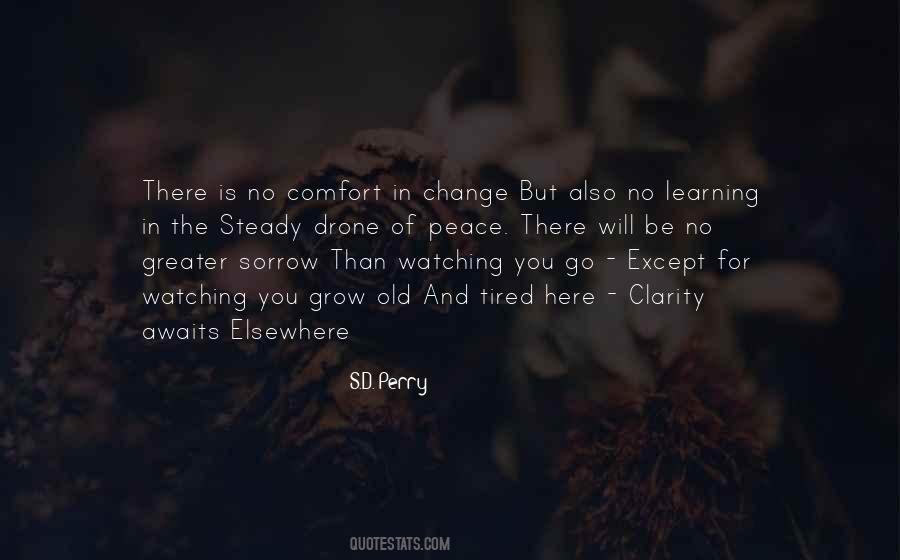 Famous Authors
Popular Topics