Church Members Famous Quotes & Sayings
List of top 100 famous quotes and sayings about church members to read and share with friends on your Facebook, Twitter, blogs.
Top 100 Quotes About Church Members
#1. Despite the slowness, the infidelity, the errors and sins it committed and might still commit against its members, the Church, trust me, has no other meaning and goal but to live and witness Jesus. - Author: Pope Francis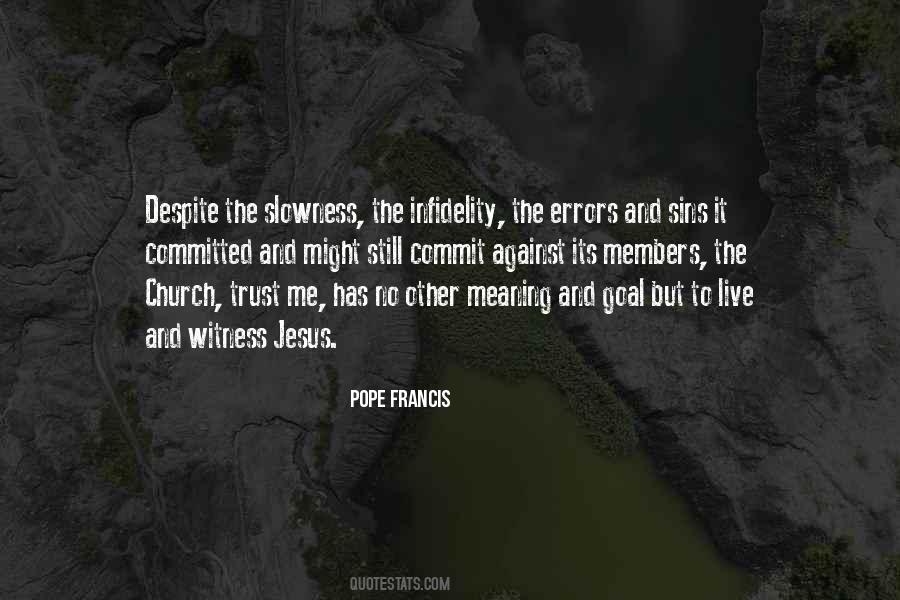 #2. When a leader in the Church inspires council members with vision, he helps them focus on their real mission so that they are ministering to people rather than merely administering programs. - Author: M. Russell Ballard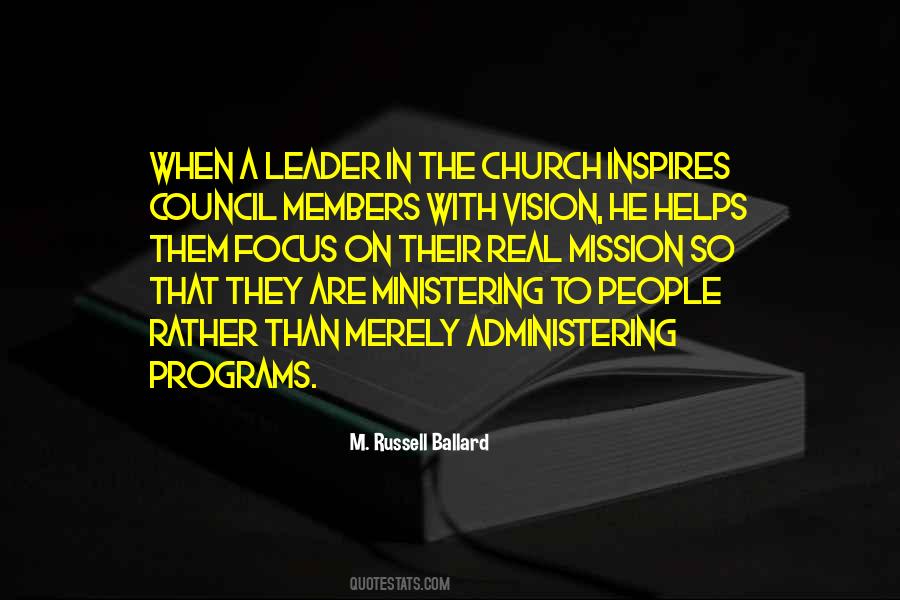 #3. If the Church has no the authority to tell its members that they may not engage in homosexual practices, then it has no authority at all. And if we accept the argument of the hypocrites of homosexuality that their sin is not a sin, we have destroyed ourselves. - Author: Orson Scott Card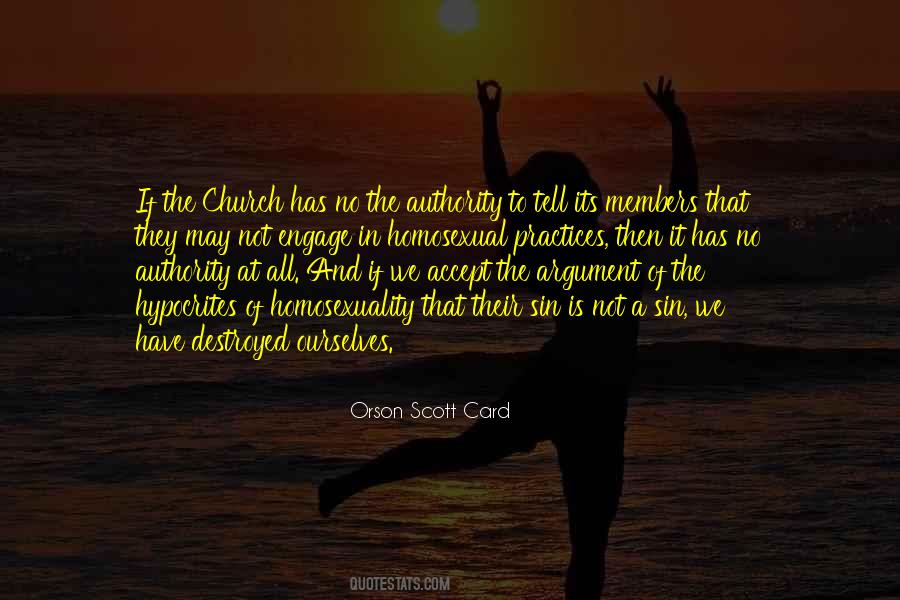 #4. Those who are the most devout, outstanding Unification Church members are they the most beautiful people externally or just so-so? Very often, those who have the features of an Idaho potato are the most loyal members of the Unification Church. - Author: Sun Myung Moon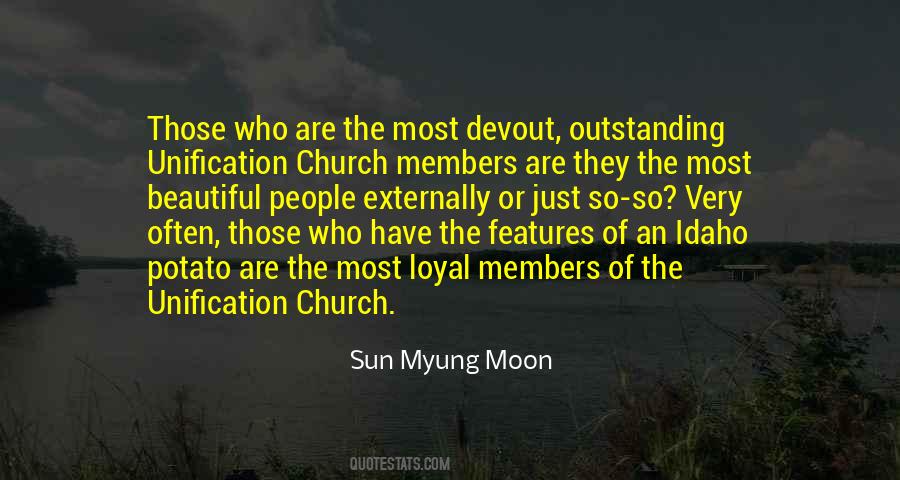 #5. Bad people? What kind of bad people? Members of the Church of Satan? Insurance salesmen? People who don't speak English? - Author: Wayne Gerard Trotman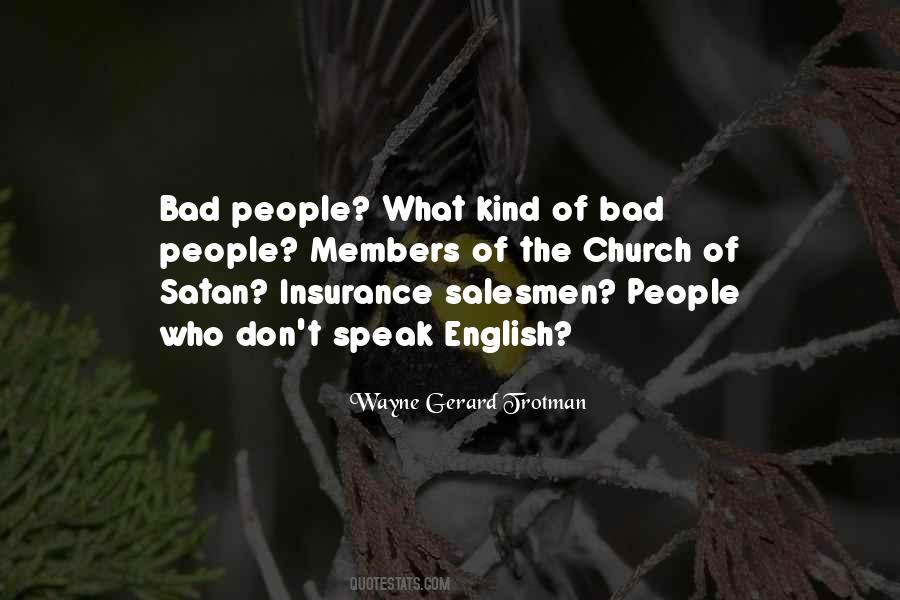 #6. The audience that I try to reach are members of what I call the church alumni association. Now they are people who have not found in institutional religion a God big enough to be God for their world. - Author: John Shelby Spong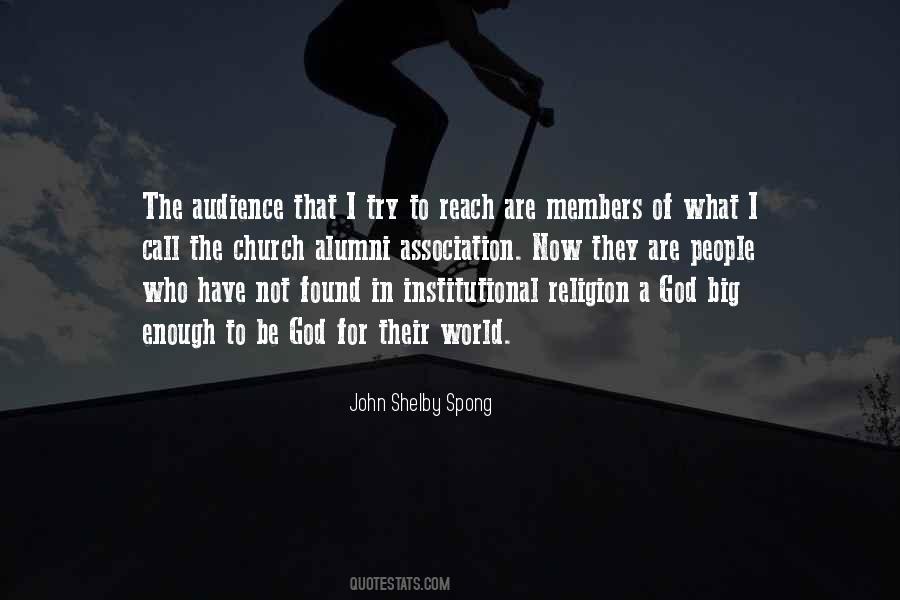 #7. America and Western Europe are on a moneymaking, pleasure-mad spree unparalleled in the history of the world. God is generally ignored or ridiculed. Church members in many cases are only halfhearted Christians. Judgment is coming. - Author: Billy Graham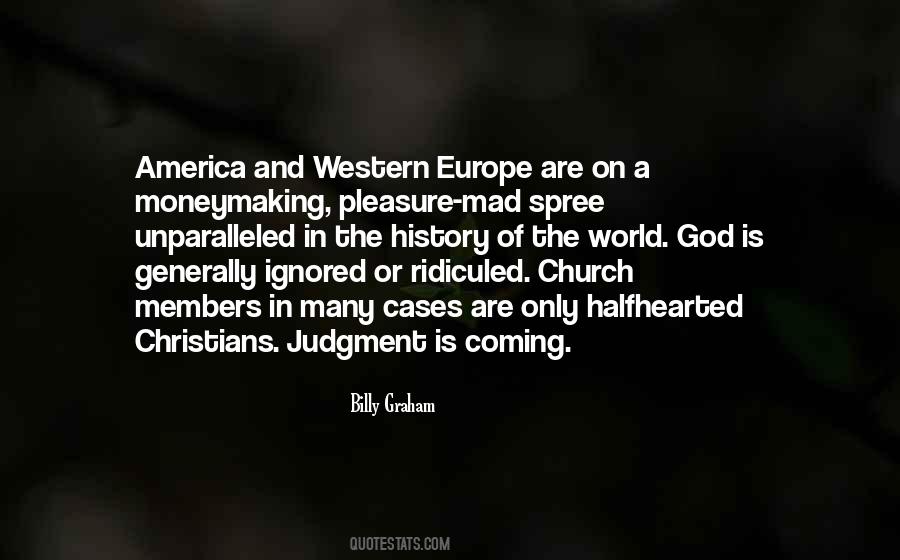 #8. Fools despise wisdom and instruction" (Prov. 1:7), but it is the nature of true godliness, maturity, and health in church members to accept the loving instruction and rebuke of others. - Author: Thabiti M. Anyabwile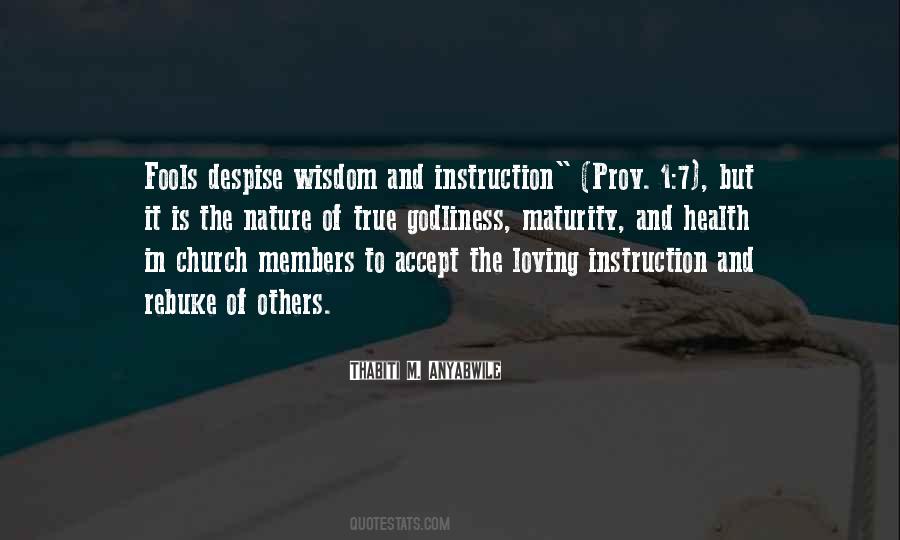 #9. However, twelve former Sea Org members told me that Miscavige had assaulted them; twenty-one have told me or testified in court that they have witnessed one or more assaults on other church staff members by their leader. - Author: Lawrence Wright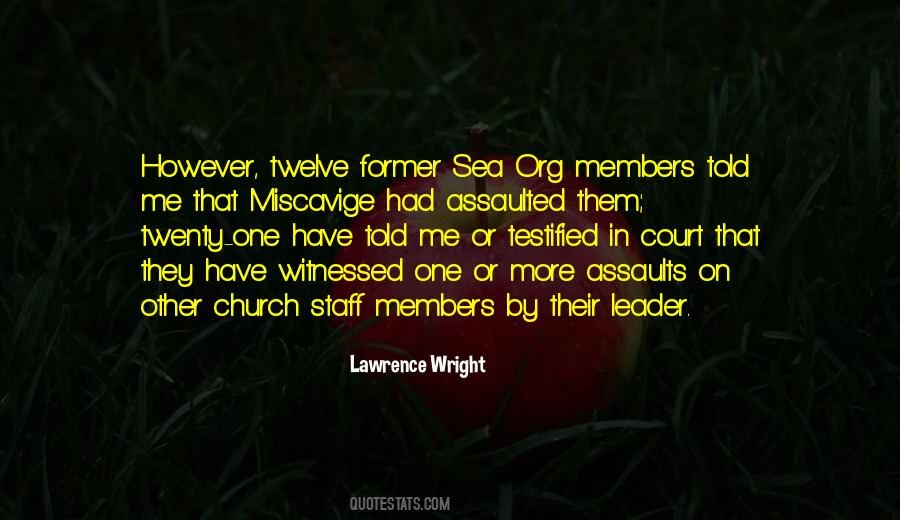 #10. All faithful members of the Lord's Church are equally blessed by priesthood ordinances. - Author: Julie B. Beck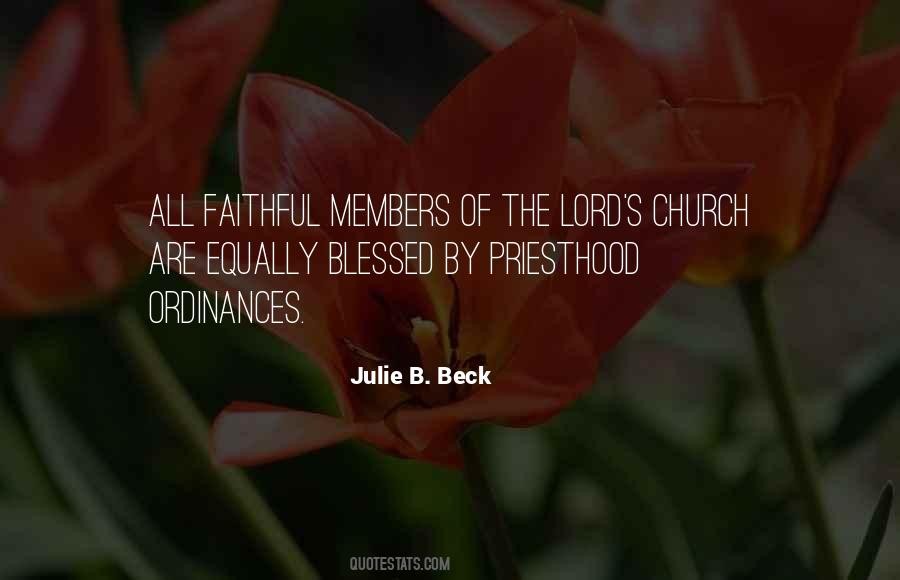 #11. The church is to help its members mature in Christ's calling - Author: Sunday Adelaja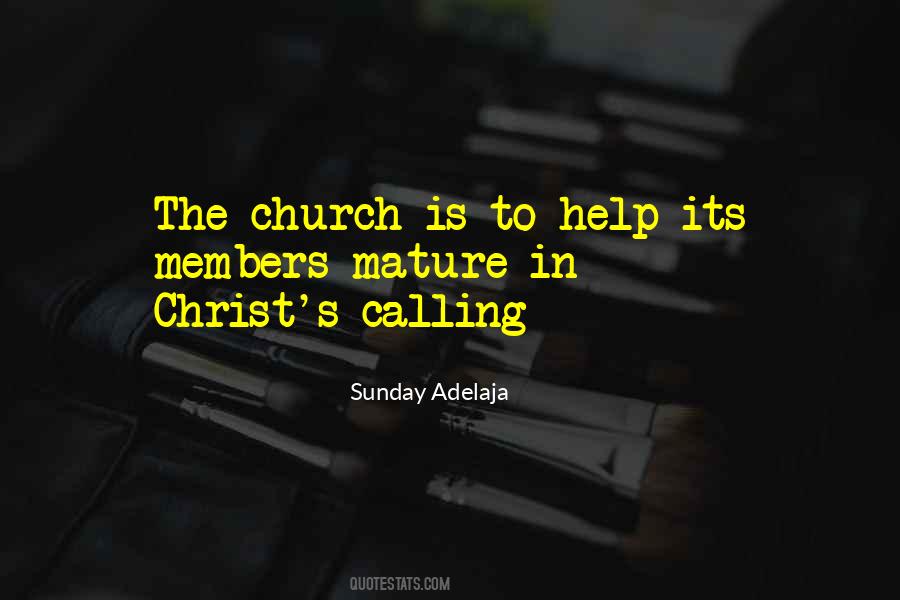 #12. The history of the Church of Rome is a constant leakage of members into such breakaway cults, which go on splitting. - Author: Mary Douglas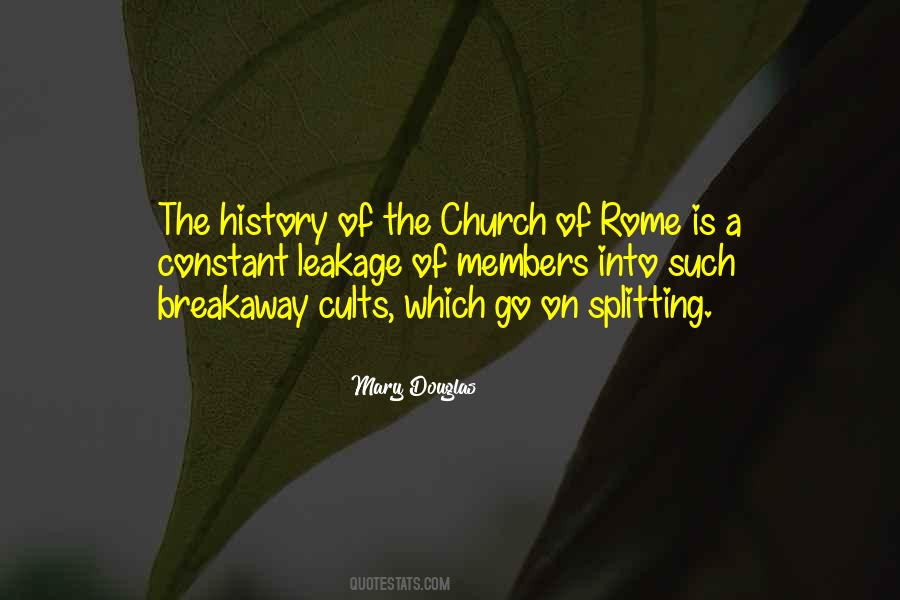 #13. A lie is no less a lie because it is a thousand years old. Your undivided church has liked nothing better than persecuting its own members, burning them and hacking them apart when they stood by their own conscience, slashing their bellies open and feeding their guts to dogs. - Author: Hilary Mantel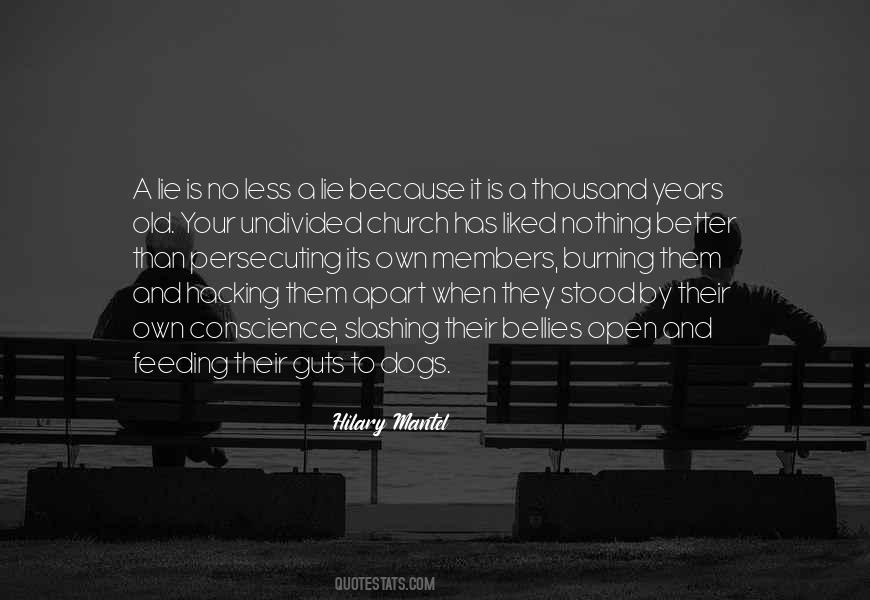 #14. Any church that emphasizes on miracles is simply telling His members that they don't need to qualify but depend on the supernatural power. - Author: Sunday Adelaja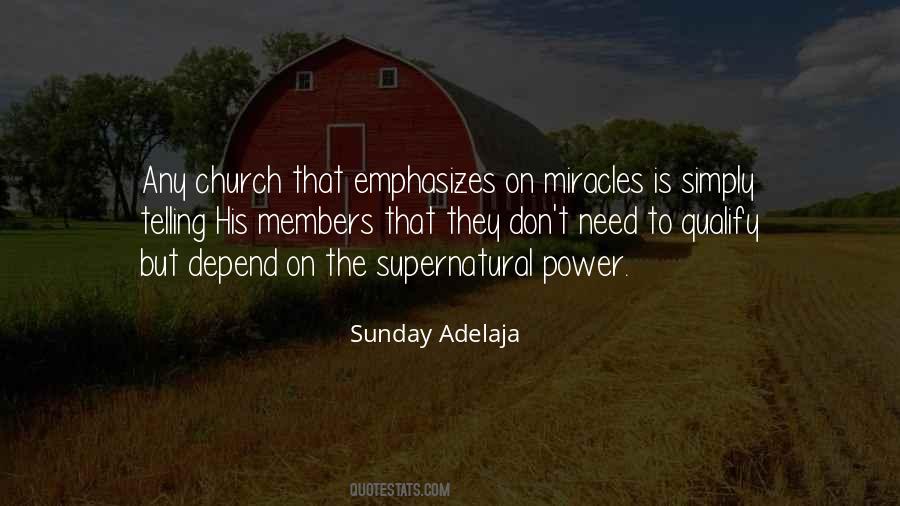 #15. We are not called to love our church members only - we are called to love the whole world - Author: Sunday Adelaja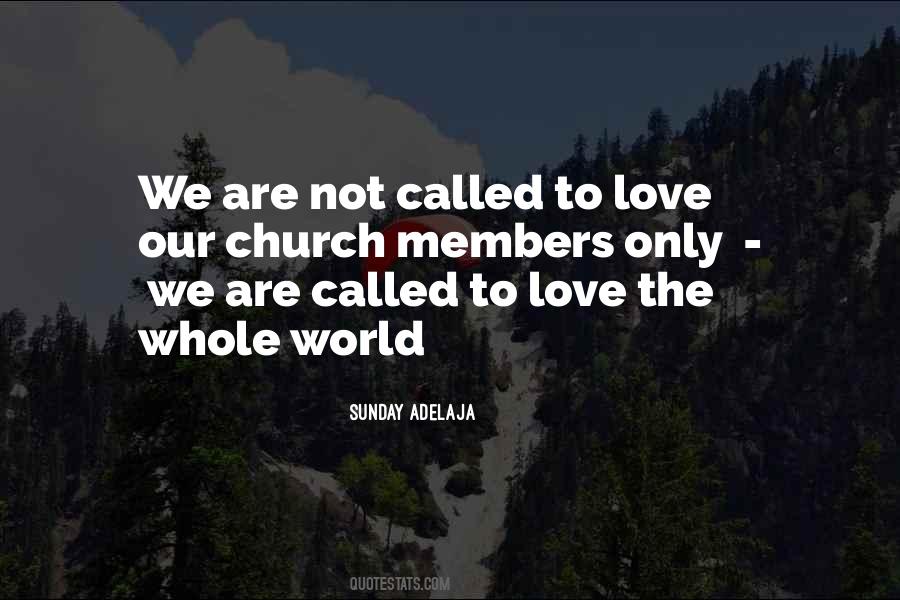 #16. The first obligation for every church is to teach their members the value of hard work. - Author: Sunday Adelaja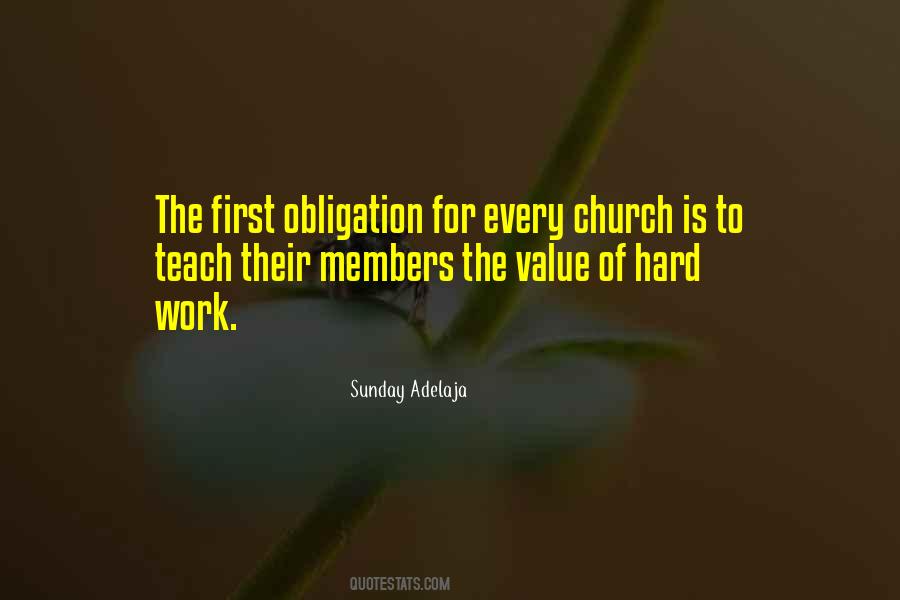 #17. We have heard that we are all missionaries. Every member ... is or ought to be a missionary; ... as members of the Church, having pledged ourselves to the advancement of the gospel of Jesus Christ we become missionaries. That is part of the responsibility of every member of the Church - Author: Joseph Fielding Smith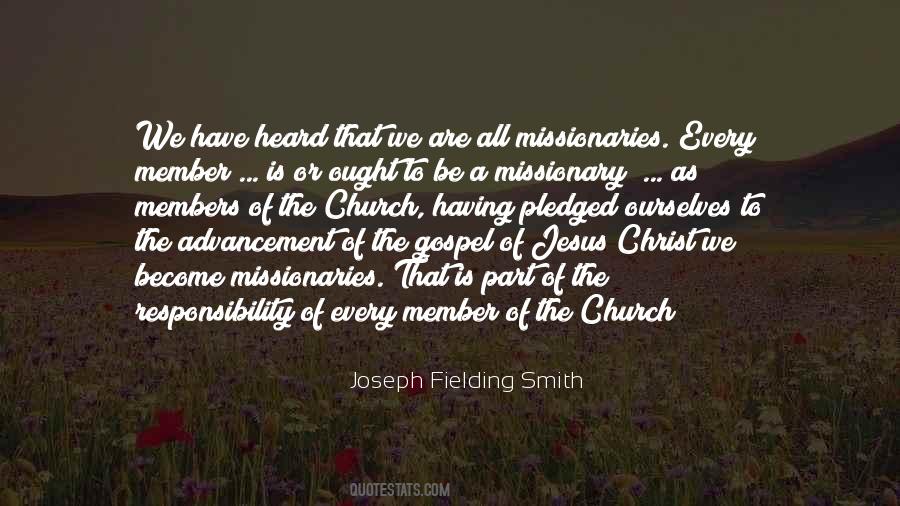 #18. Our spiritual immutarity never shows up more than in our lack of praying, be it alone or in a church prayer meeting. Let 20% of the chior members fail to turn up for rehearsal and the chior master is offended. Let 20% of the church members turn up for a prayer meeting, and the pastor is elated. - Author: Leonard Ravenhill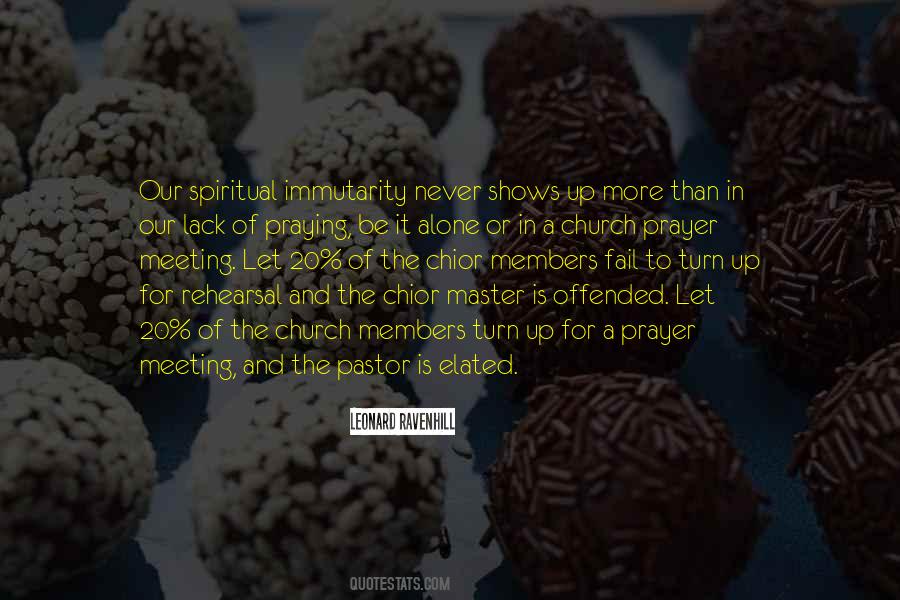 #19. I did a concert at five years old in the garden of one of the church members, and we raised some money to buy a new piano in our little church. - Author: Al Jarreau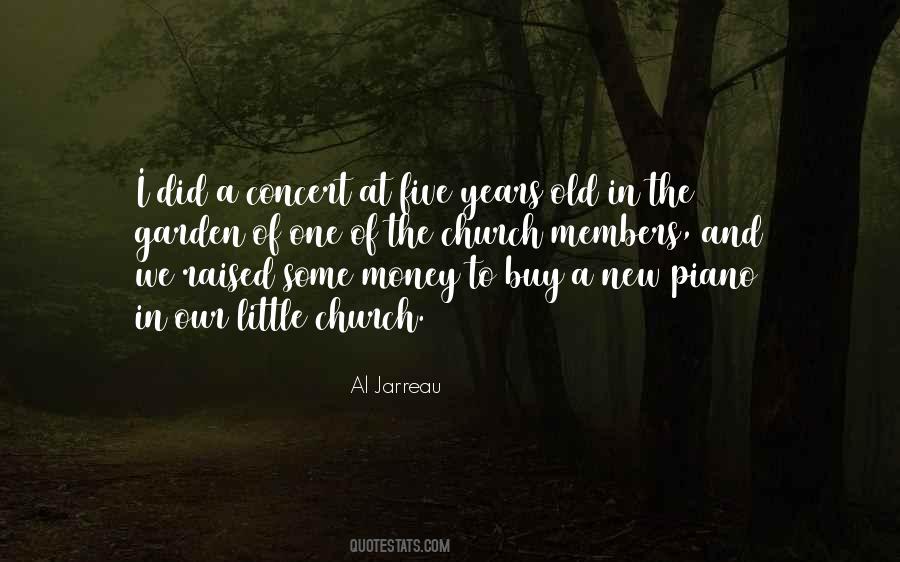 #20. Any church that is overly emphasizing the role of miracles is encouraging his members to be indolent. - Author: Sunday Adelaja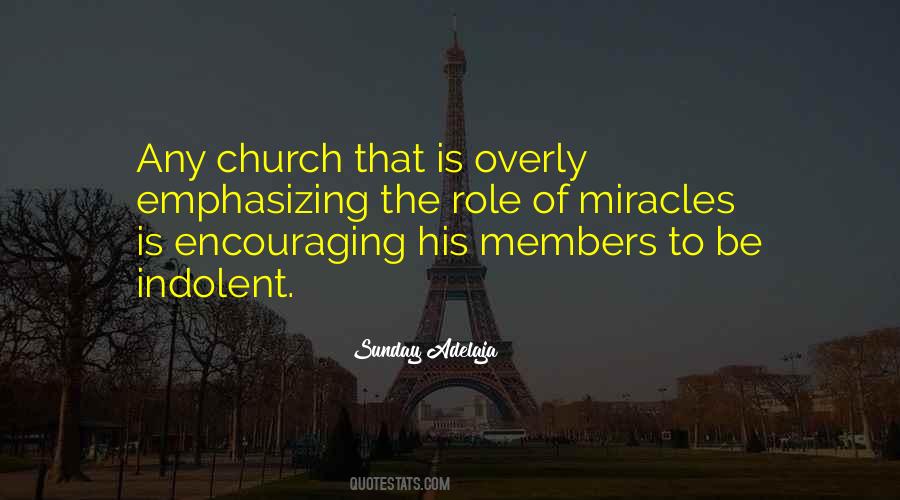 #21. The church can have light only as it is full of the Spirit, and it can be full only as the members that compose it are filled individually. - Author: Aiden Wilson Tozer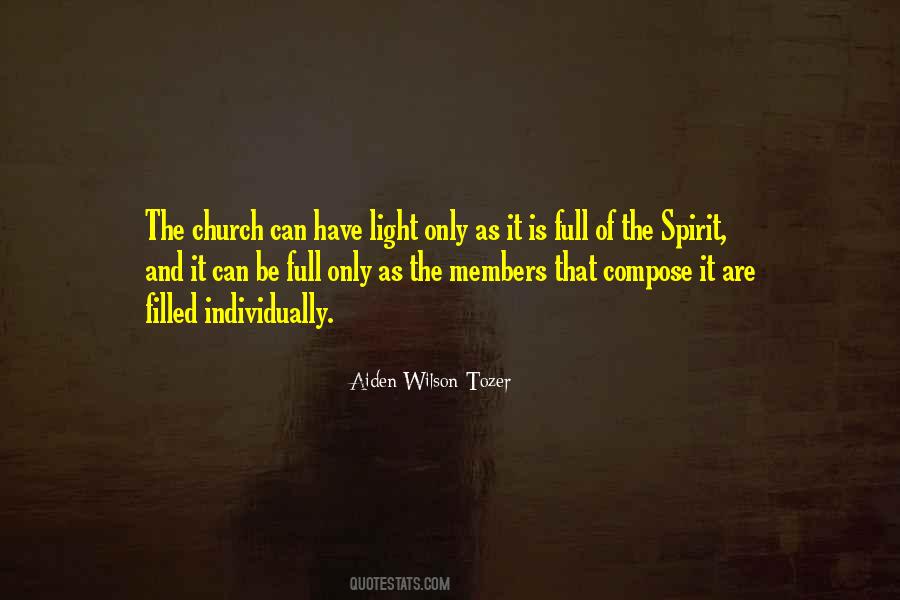 #22. King not only encouraged church members to become registered voters and NAACP leaders but also to see the Southern Jim Crow system as part of a passing global order of colonialism and imperialism. - Author: Troy Jackson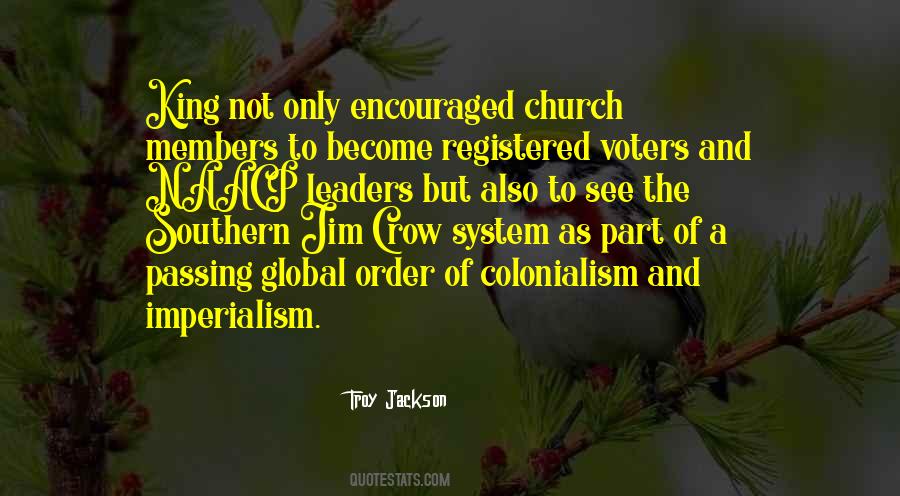 #23. The Eucharistic sacrifice of the body and blood of Christ embraces in turn the mystery of our Lord's continuing passion in the members of his mystical body, the church in every age. - Author: Pope Benedict XVI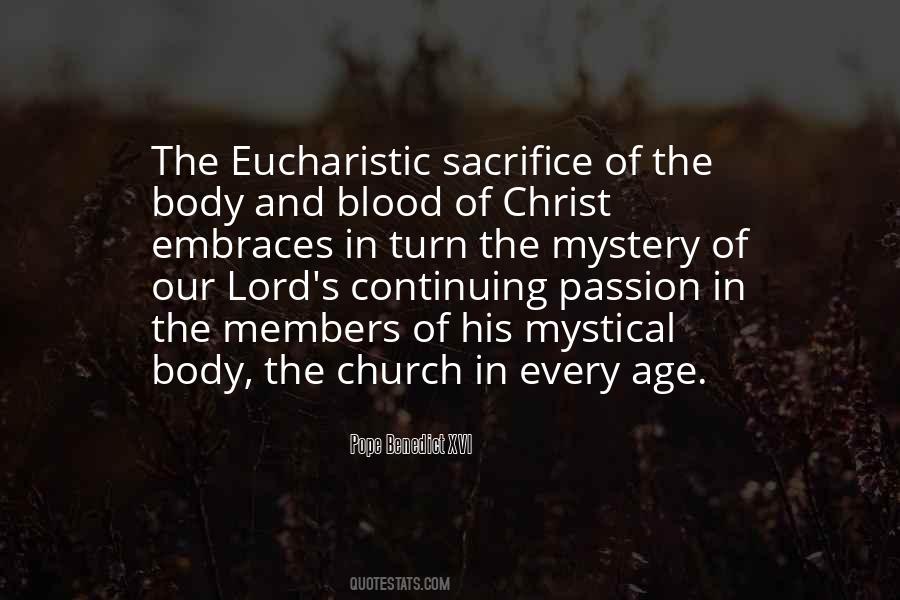 #24. The concept of an inactive church member is an oxymoron. Biblically, no such church member really exists. - Author: Thom S. Rainer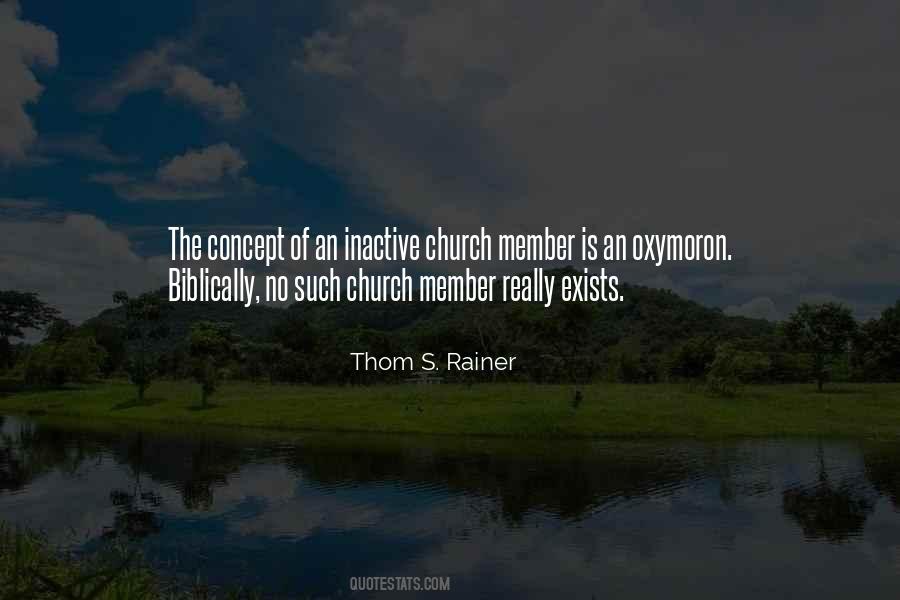 #25. Pastors, elders, and members often misinterpret the church through business and organizational lenses. - Author: Jeramie Rinne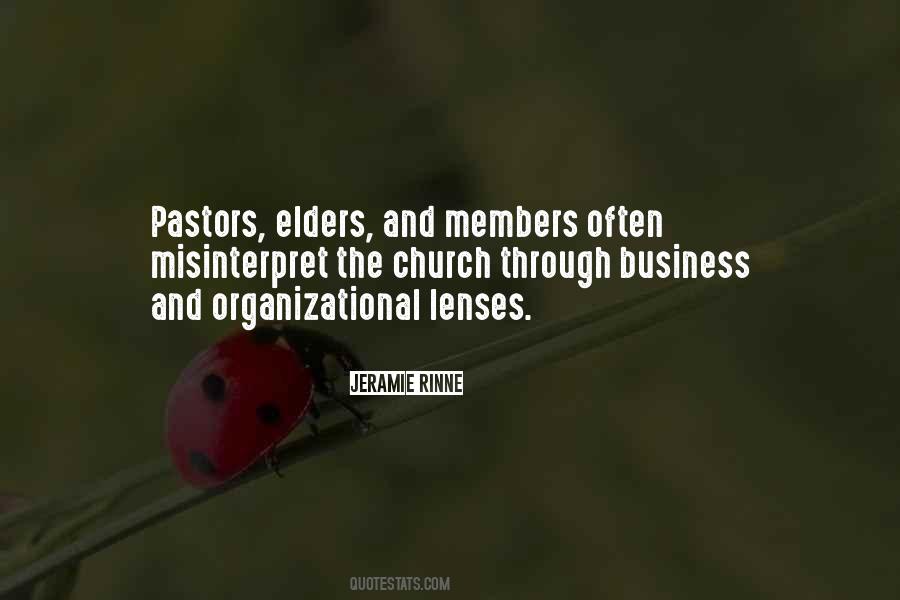 #26. Increasing church membership is not the ultimate goal of Christians - Author: Sunday Adelaja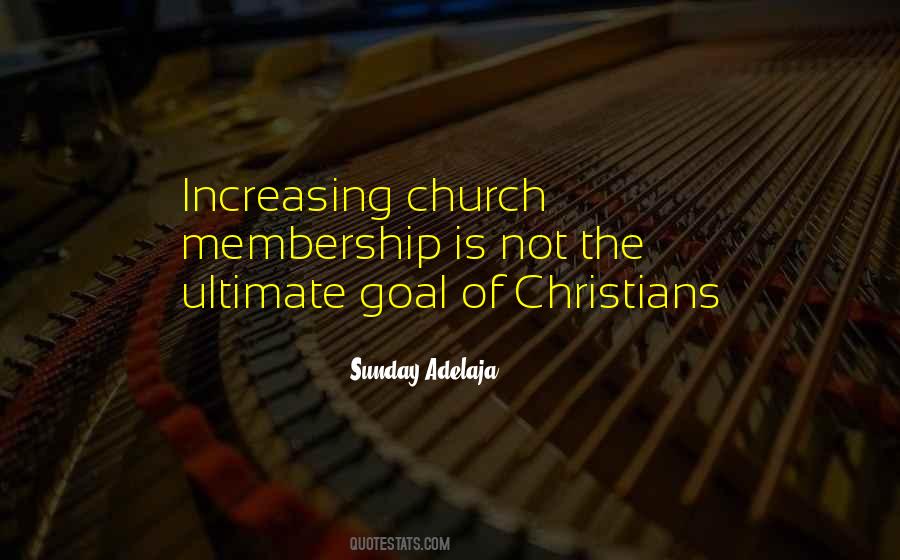 #27. There are so many battles worth fighting for. The ones not worth fighting are the insecure battles that rage in another person's mind. - Author: Shannon L. Alder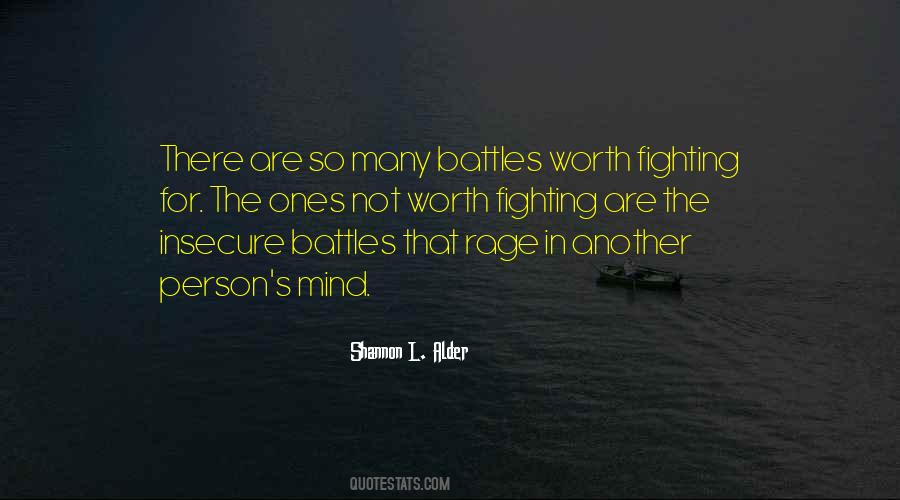 #28. Churches are healthier and stronger if they assume responsibility both for financing their own programs and for stimulating their members to accept that responsibility. - Author: John M Swomley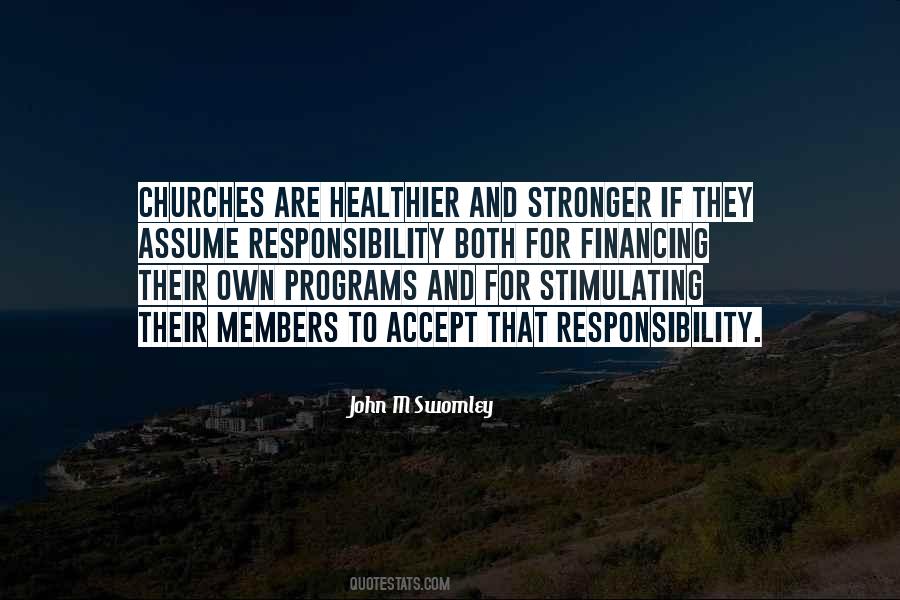 #29. When Jesus Christ comes back, it is not the liberal politicians who ought to be trembling, it's the pastors ... because so many men have built their 'ministries' on the dry dead bones of
unconverted church members. - Author: Paul Washer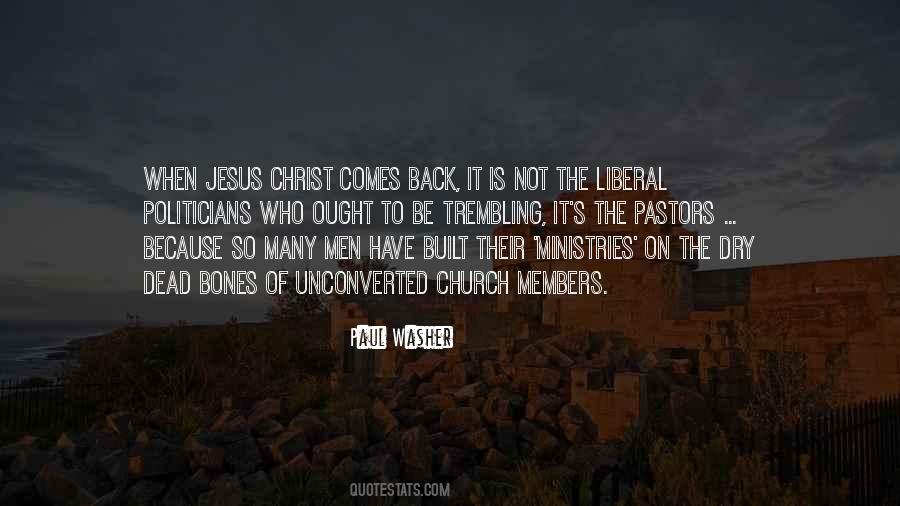 #30. Some wag remarked that the worst dust storm in history would happen if all church members who were neglecting their Bibles dusted them off simultaneously. - Author: Donald S. Whitney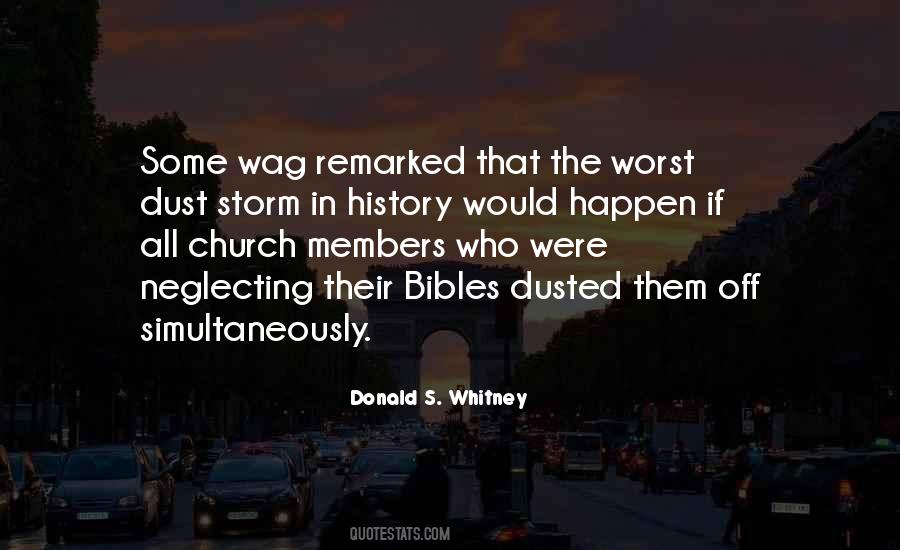 #31. Hospitality is the practice that keeps the church from becoming a club, a members-only society. - Author: Diana Butler Bass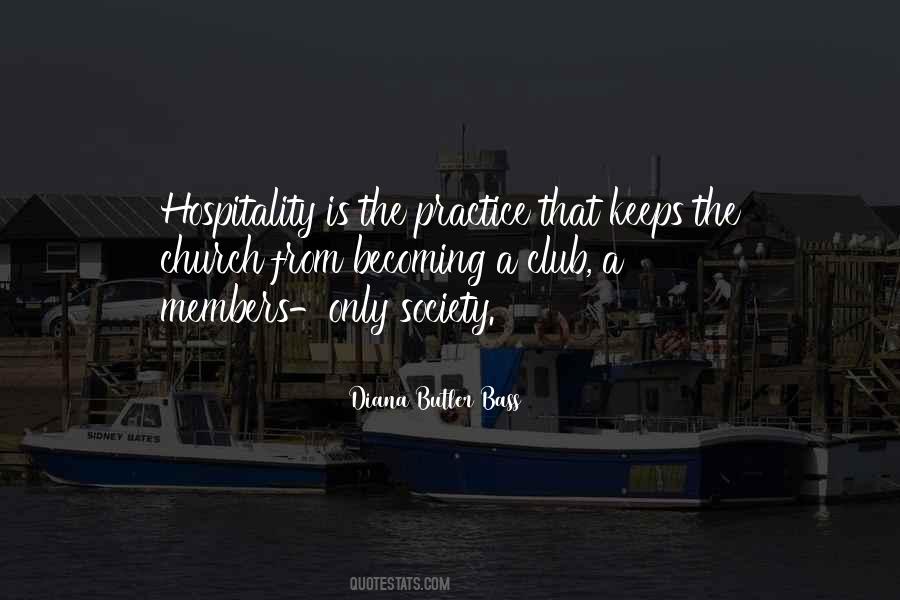 #32. Life is an 'open-book' exam, but the problem is that most of the students don't have the 'book', or refuse to open it-a fact that ought to spur us on as Church members to share the gospel more widely so that life would be meaningful for more people. - Author: Neal A. Maxwell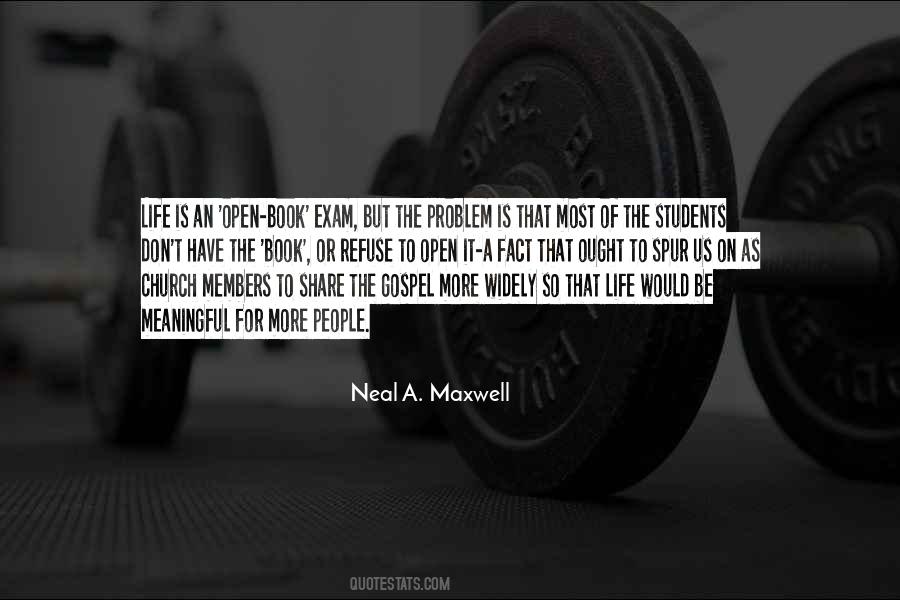 #33. The idea that the Man Christ Jesus has absolute and final authority over the whole church and over all of its members in every detail of their lives is simply not now accepted as true by the rank and file of evangelical Christians - Author: Aiden Wilson Tozer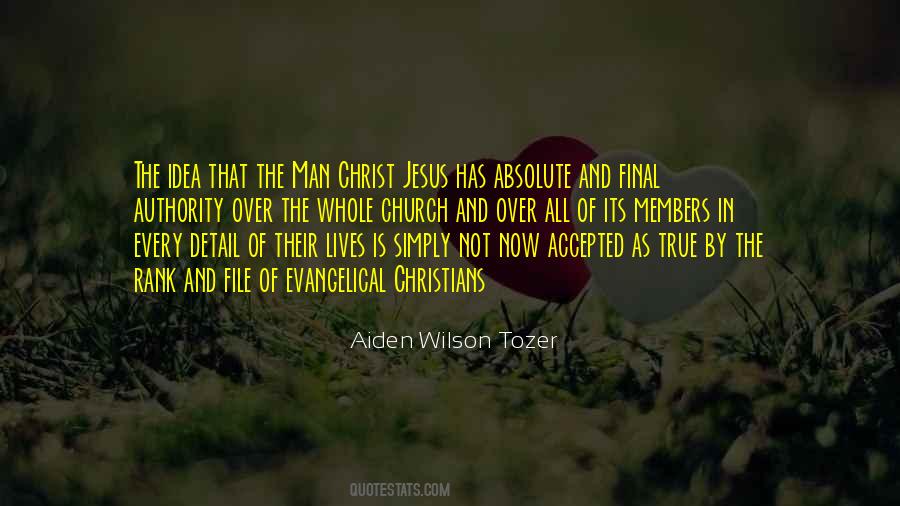 #34. I think a reading group should have a snappy name to attract members, don't you?'
Mr Peterson didn't ask about my snappy name, but I could tell his curiosity was piqued.
'The Secular Church of Kurt Vonnegut,' I said.
'Jesus F Christ,' said Mr Peterson. - Author: Gavin Extence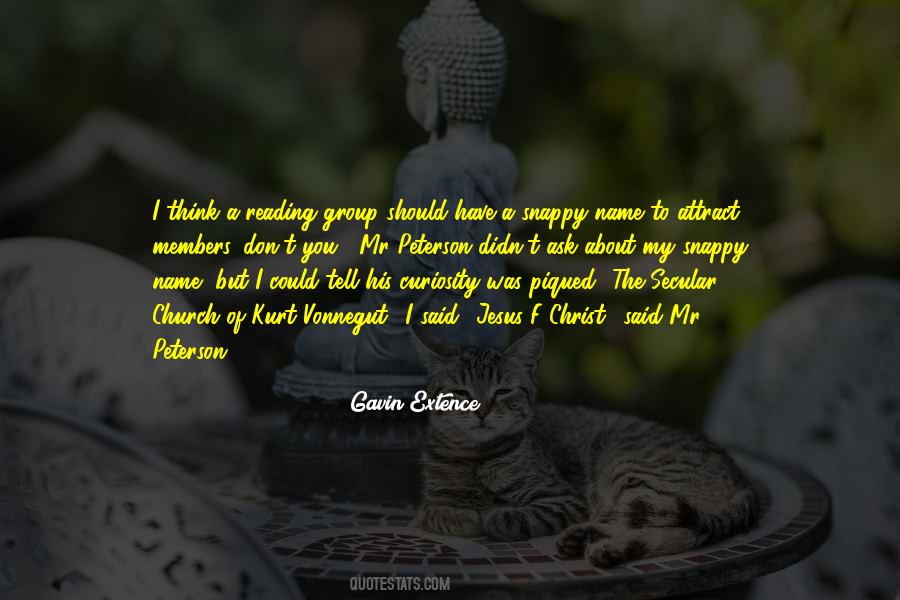 #35. Because people understand that the diocese is trying to help the members of that group feel more connected to their church, the church they belong to by virtue of their baptism. - Author: James Martin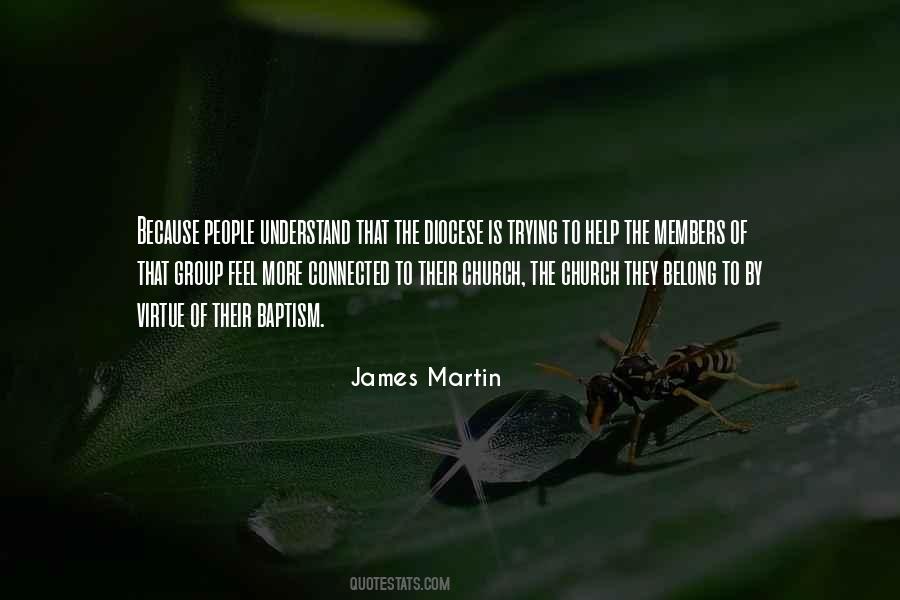 #36. Every church throughout history whose members were willing to surrender their lives for the sake of Christ witnessed dramatic and spontaneous growth. - Author: Neil Cole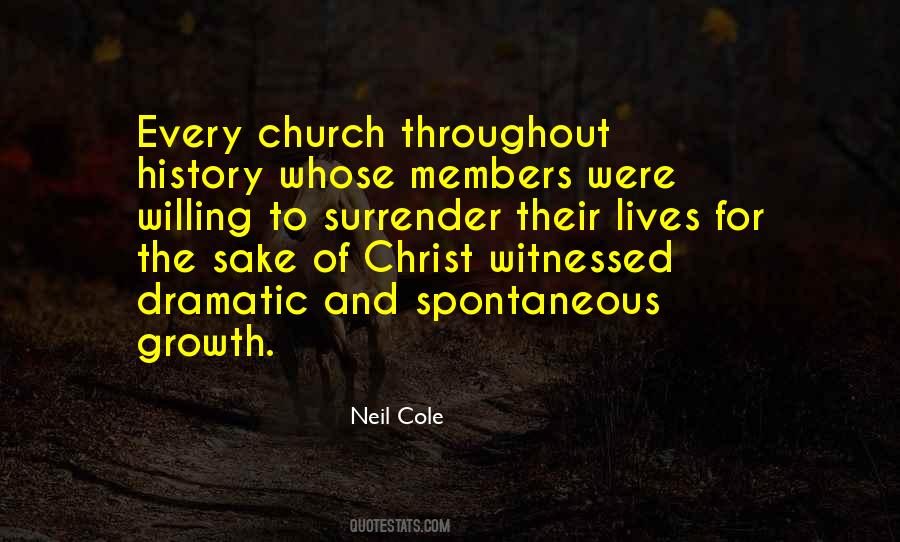 #37. Just as the divine Redeemer, dying on the Cross, offered Himself as Head of the whole human race to the eternal Father, so also in this "clean oblation" (Mal 1:2), He, as Head of the Church, offers not only Himself but, in Himself, all His mystical members. - Author: Pope Pius XII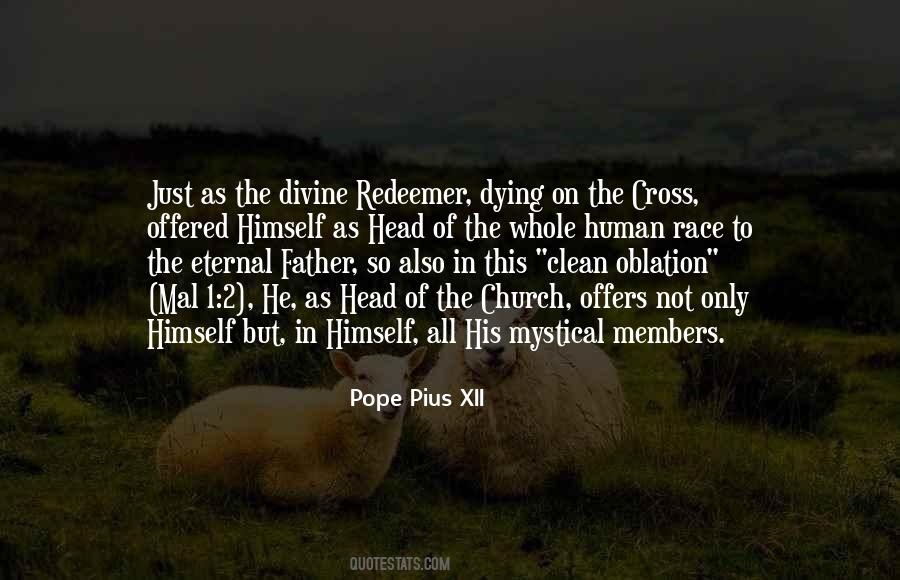 #38. We are forbidden to neglect the assembling of ourselves together. Christianity is already institutional in the earliest of its documents. The Church is the Bride of Christ. We are members of one another. - Author: C.S. Lewis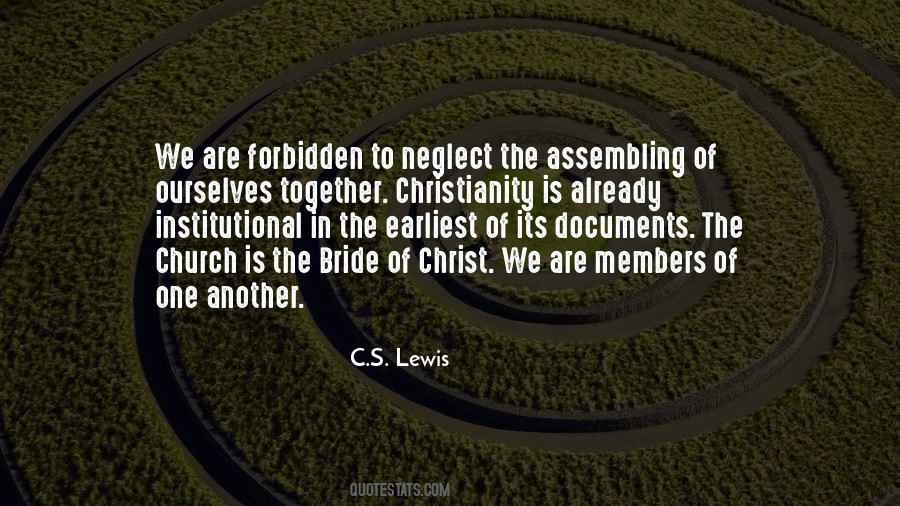 #39. One of my favorite activities as a priesthood leader is visiting members of the Church in their homes. I especially enjoy calling upon and talking with members who commonly are described as 'less active.' - Author: David A. Bednar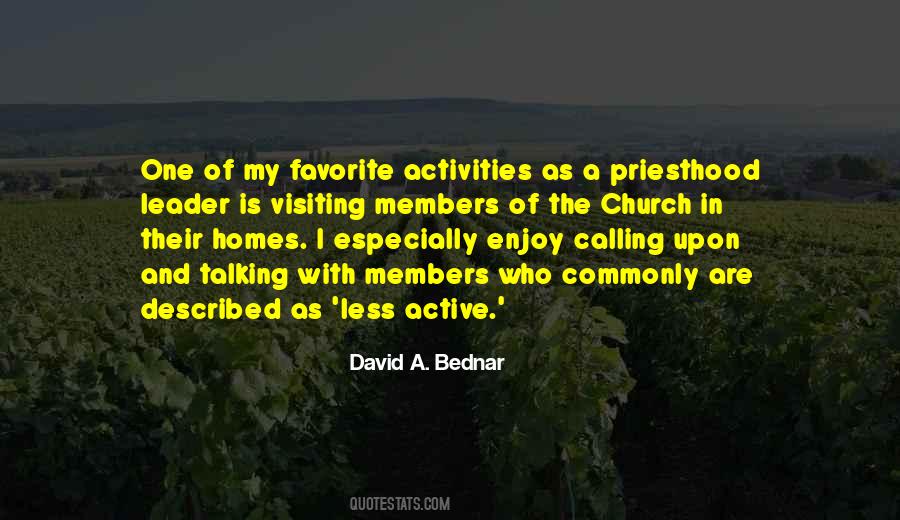 #40. If added power attends the united prayer of two or three, what mighty triumphs there will be when hundreds of thousands of consistent members of the Church are with one accord day by day making intercession for the extension of Christ's Kingdom. - Author: John Mott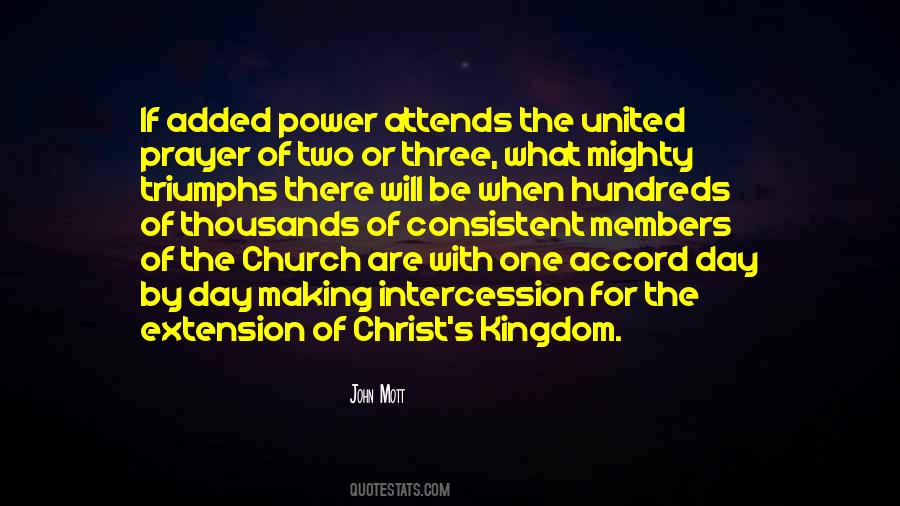 #41. The fact is, most people come to faith through the influence of family members, small-group Bible studies, or a conversation with a friend after a church service: Christians intentionally talking about the gospel. - Author: J. Mack Stiles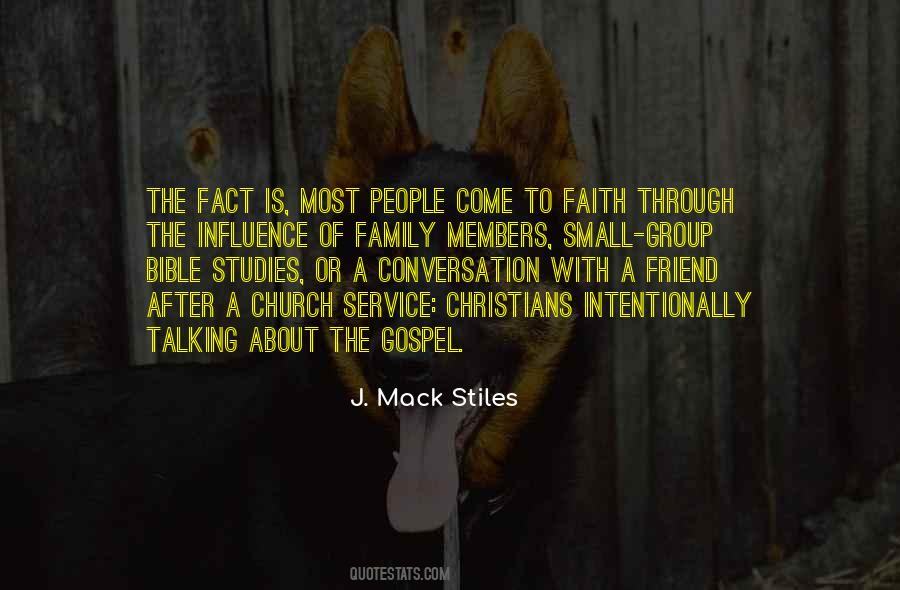 #42. In the first century A.D., members of the growing Church in Corinth were enthusiastic about the gospel. Almost all were recent converts to the Church. Many were attracted to it through the preaching of the Apostle Paul and others. - Author: Joseph B. Wirthlin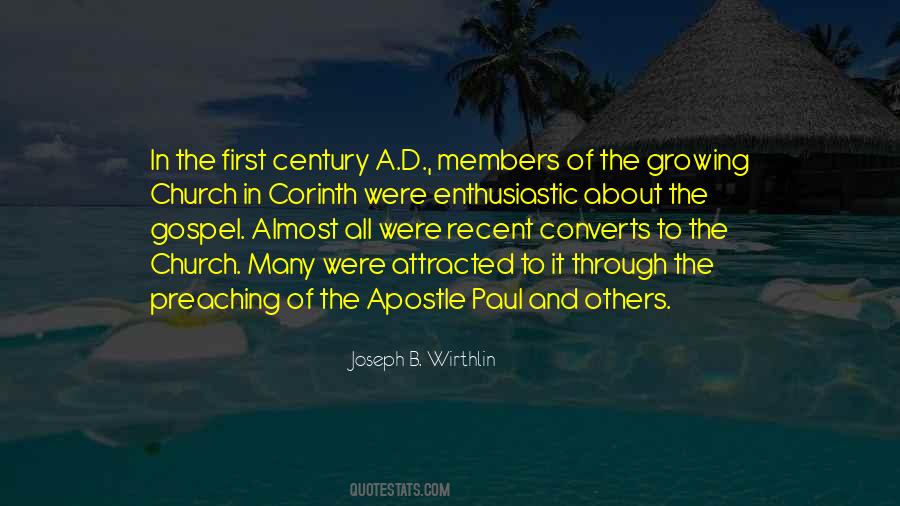 #43. When the church finds its members falling into gross and scandalous sins, then it is time for the church to awake and cry to God for a Revival of Religion. - Author: Charles Grandison Finney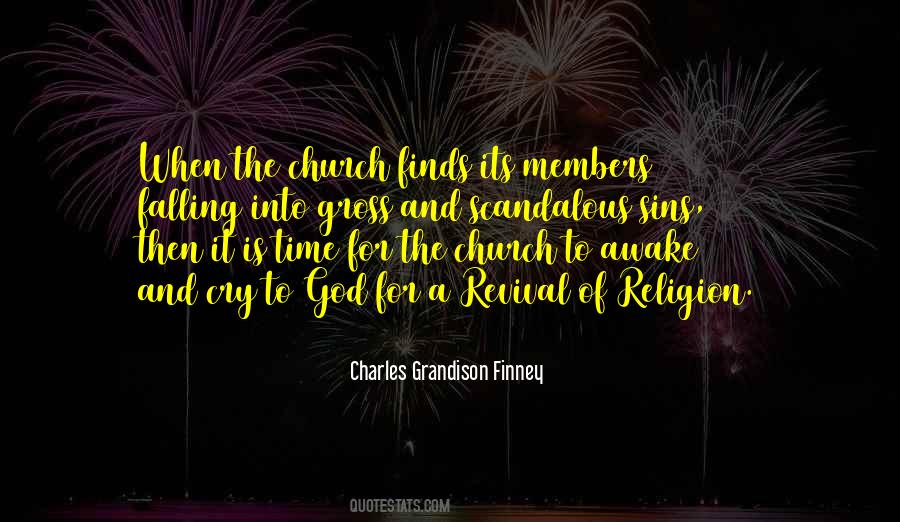 #44. By operating independently of government aid, the churches ... avoid the resentment of those who do not want to be forced to contribute to churches to which they do not belong and of their own members who do not welcome being forced to contribute through government taxation. - Author: John M Swomley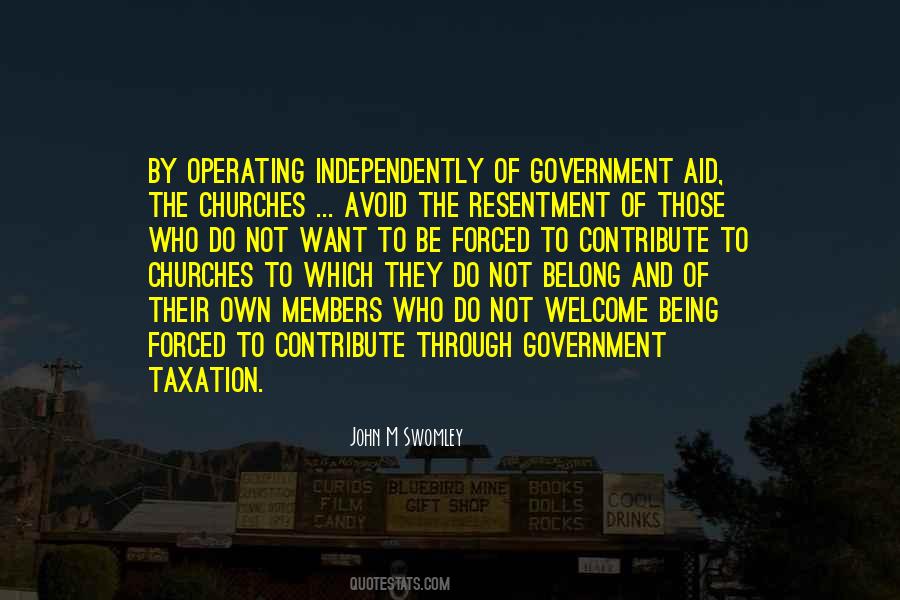 #45. Just as the church needs members with different skills, our world must have various forms of labor, interdependent and thus valuable. A world full of ministers would be without churches, bread for the Lord's Supper, and printed Bibles to read. - Author: R.C. Sproul Jr.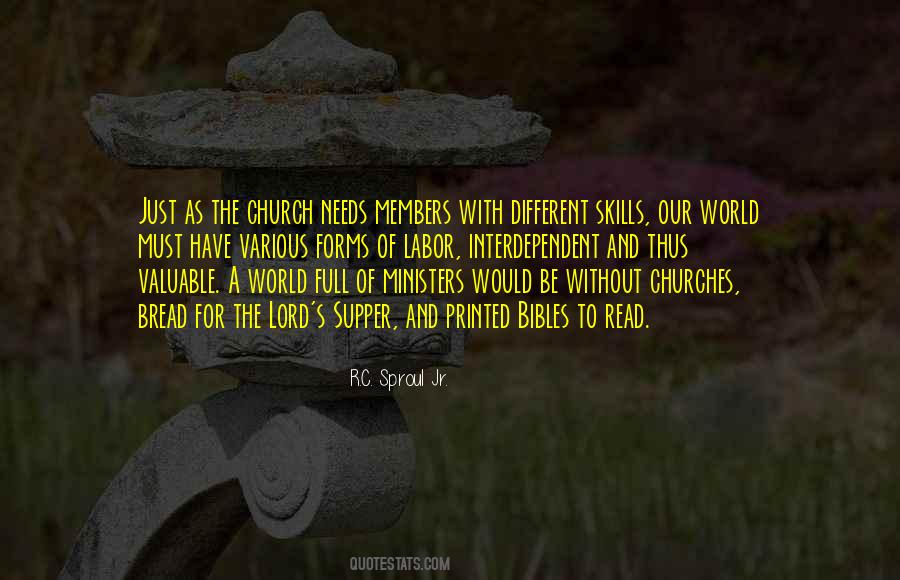 #46. Pastors started killing their church members and church members killed pastors. Husbands killed wives. It's a situation no one can describe. - Author: Paul Rusesabagina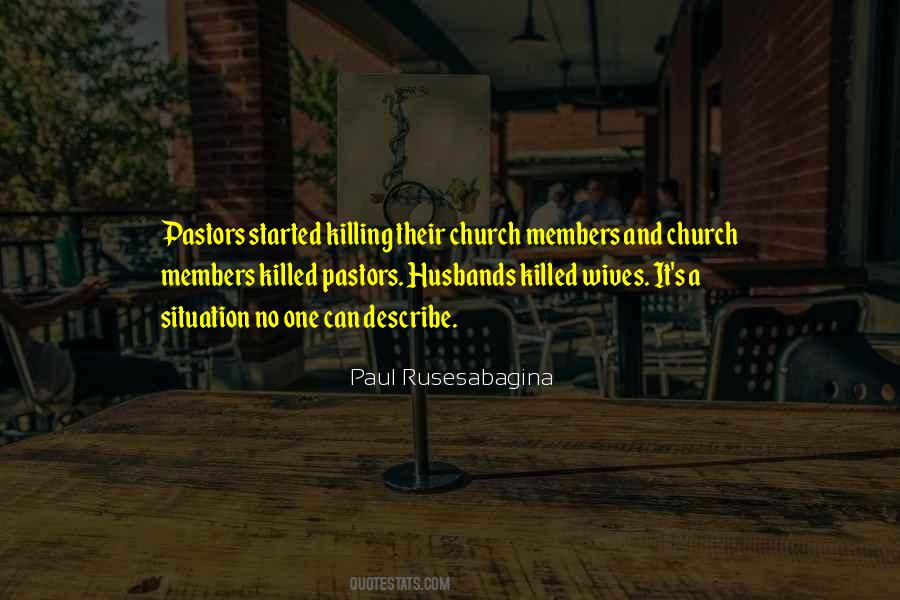 #47. We are members of the Church of Christ - Author: Sunday Adelaja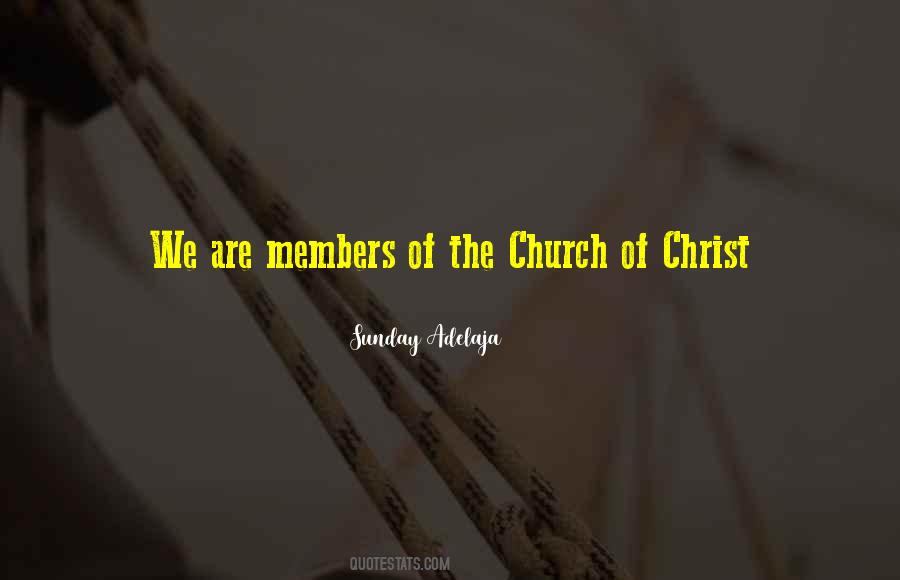 #48. Church members are either pillars or caterpillars. The pillars hold up the church, and the caterpillars just crawl in and out. - Author: Grenville Kleiser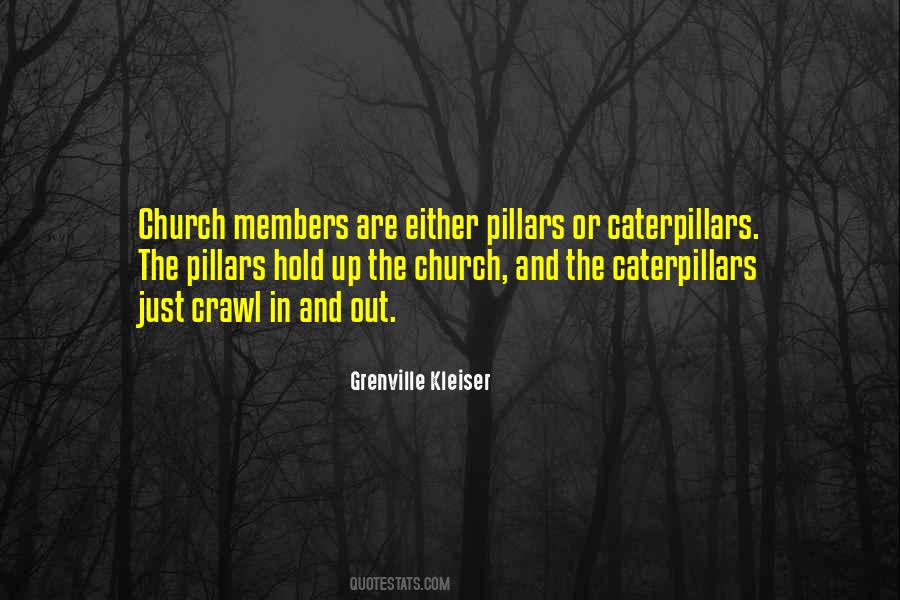 #49. Who does not see that Paul descends from a general to a particular adoption, in order to teach us, that not all who occupy a place in the Church are to be accounted as true members of the Church? - Author: John Calvin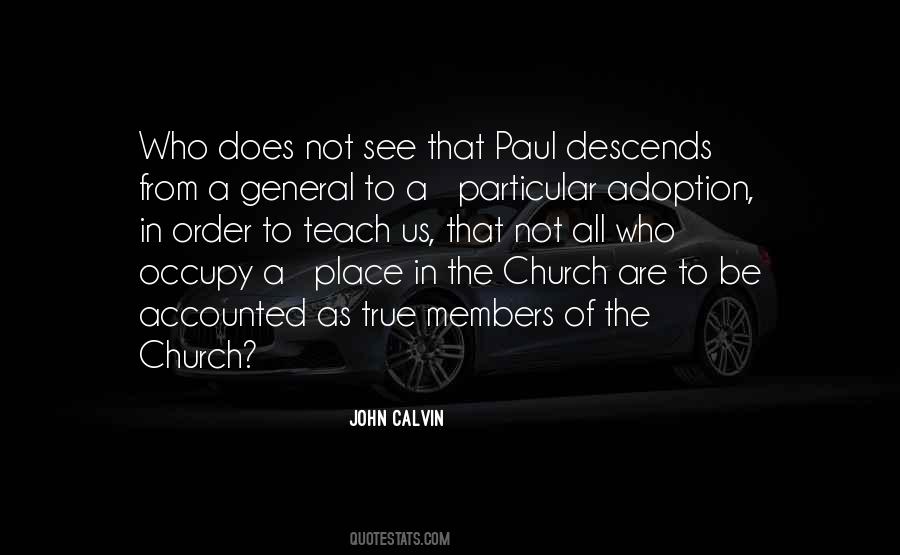 #50. Generally, elders are among the more reverent members of the Church, but there is no law prescribing their age. - Author: William Brewster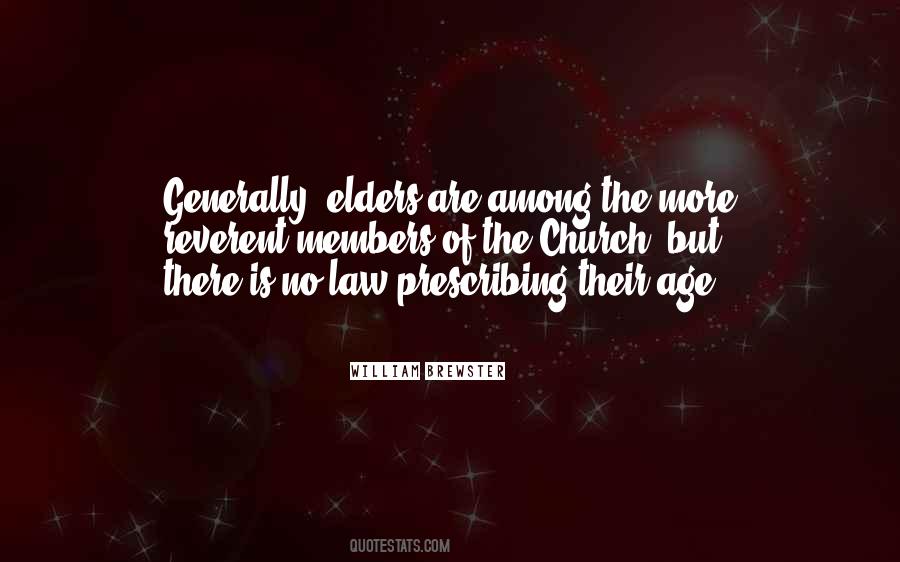 #51. Recent surveys of Church members have shown a serious erosion in the number of families who have a year's supply of life's necessities. Most members plan to do it. Too few have begun ... It is our sacred duty to care for our families, including our extended families. - Author: Thomas S. Monson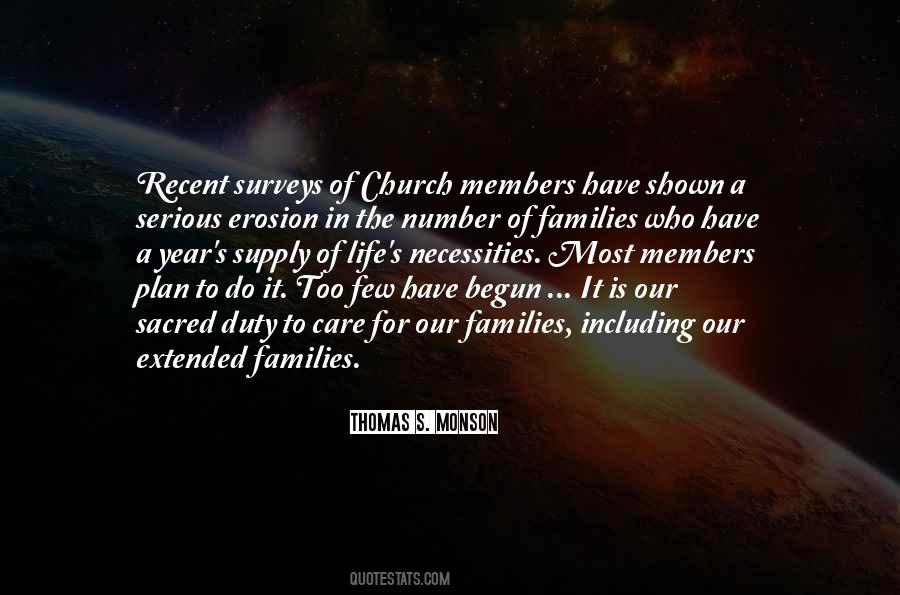 #52. The church is not to be judged by how useful we are as a "supportive institution" and our clergy as members of a "helping profession". The church has its own reason for being, hid within its own mandate and not found in the world. We are not chartered by the Emperor. - Author: Stanley Hauerwas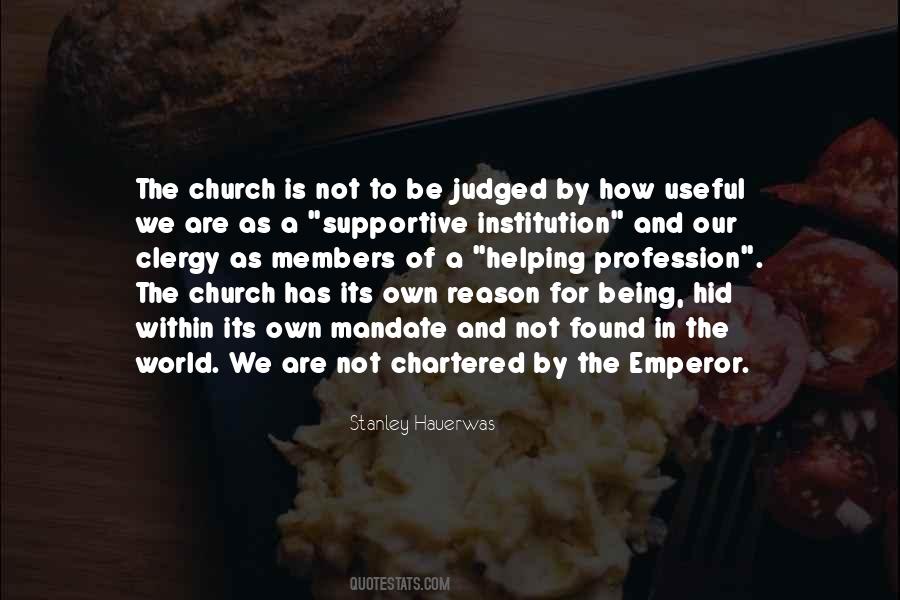 #53. If all you are doing is spending time with the struggling members of your church and you are not building proactively into your church's culture, and you are being shortsighted and limiting the effectiveness of your ministry. - Author: James MacDonald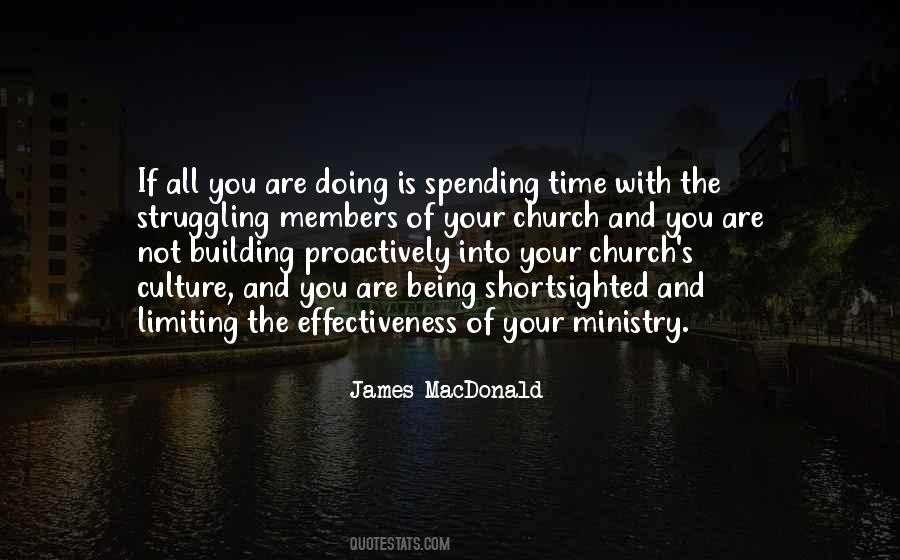 #54. The Church is the Body of Christ, and as such it is both heavenly and earthly. The Church is the communion of saints, and it includes as members both angels and shepherds - cherubim and seraphim, and you, and me. - Author: Scott Hahn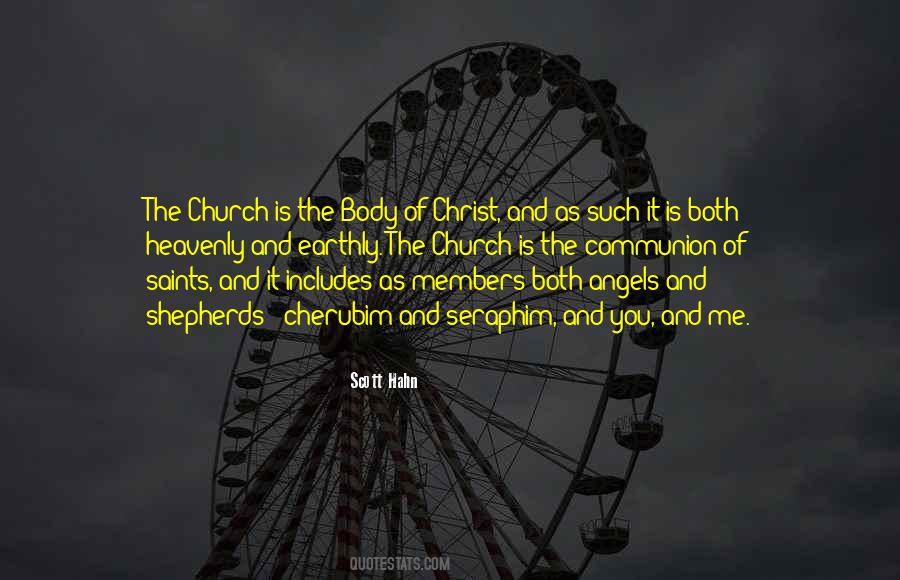 #55. I am suggesting that congregations across America are weak because many of us church members have lost the biblical understanding of what it means to be a part of the body of Christ. - Author: Thom S. Rainer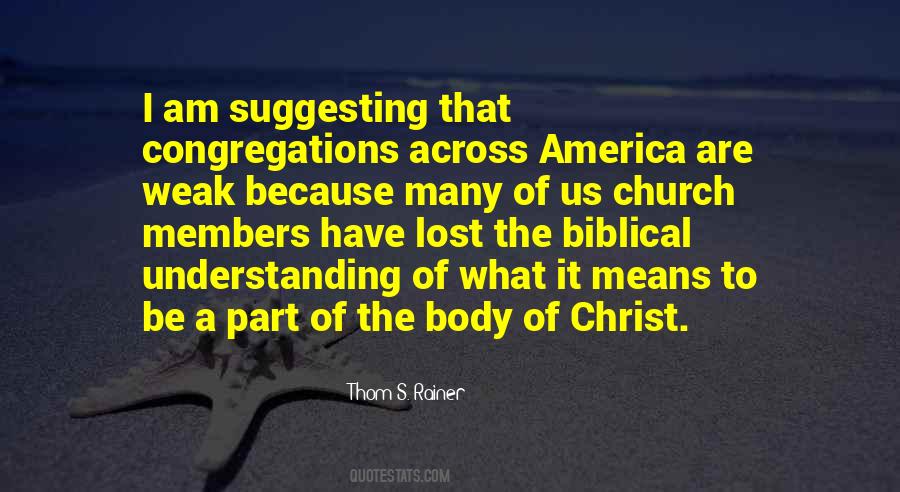 #56. For the most part, the church doesn't know what to do with singles, largely because the visible majority of church members have moved beyond singleness and lost touch with the needs, attitudes, and aspirations of single adults. - Author: Lisa Anderson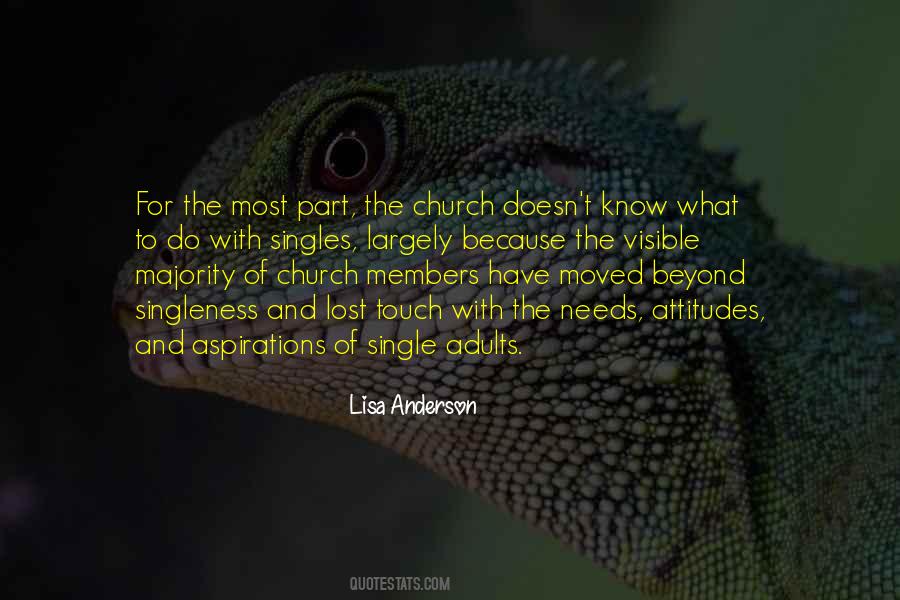 #57. We must trust in him as our Saviour and submit to him as our Lord; and then go on to take our place as loyal members of the church and responsible citizens in the community. - Author: John R.W. Stott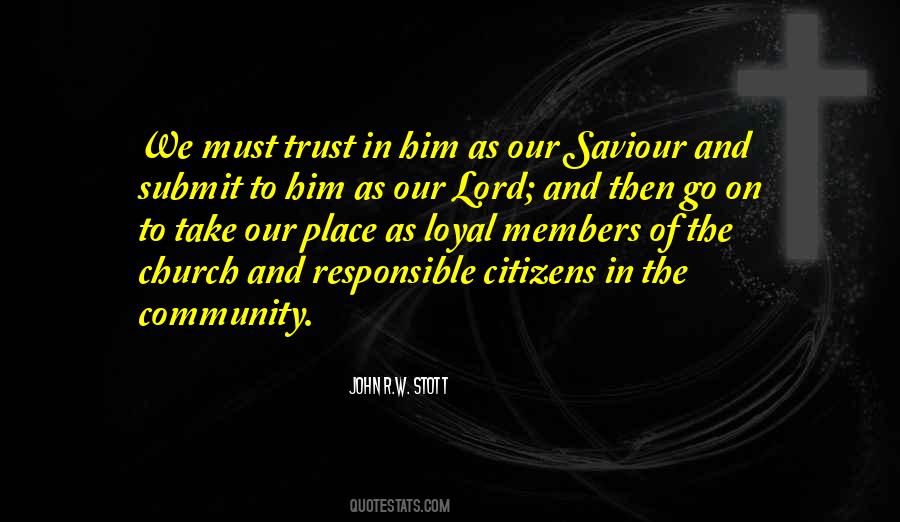 #58. Our ultimate aim in this welfare work is to help Church members to become self-supporting, and to obtain work they can do best. The Church, with its members independent and free from debt, with time to labor in the ministry, can then successfully carry on the work of the Lord here on earth. - Author: Henry D. Moyle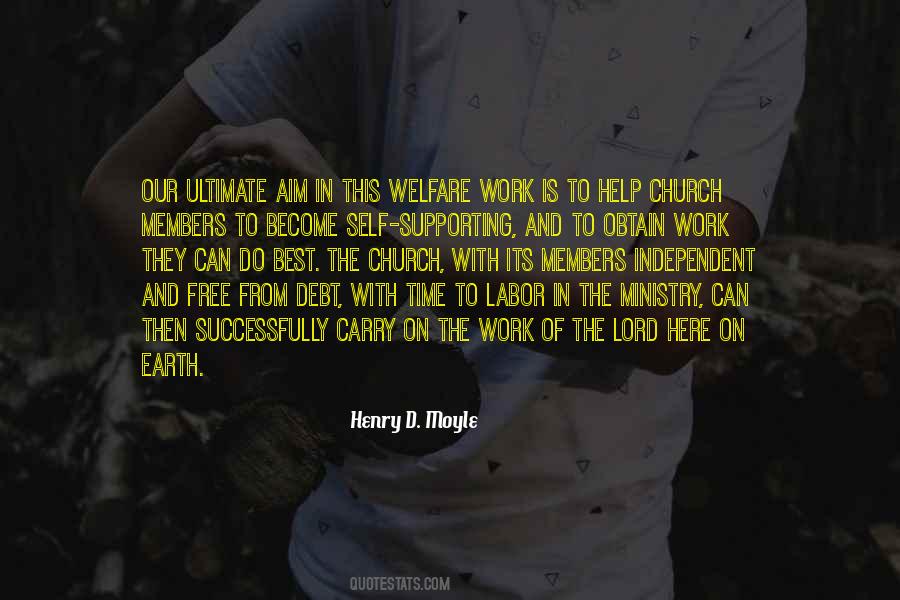 #59. One of the most violent attacks on the Church in the Soviet Union was under Kruschev when, during a period of economic and political liberalization, he attacked the Church to demonstrate to old Party members that he hadn't lost it. - Author: George Pattison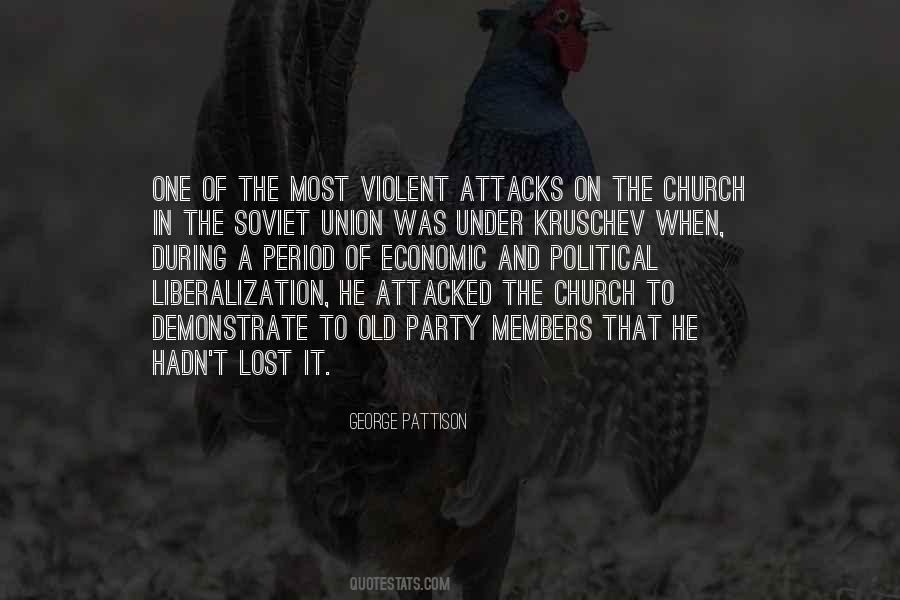 #60. Most church members live so far below the standard, you would have to backslide to be in fellowship with them. - Author: Vance Havner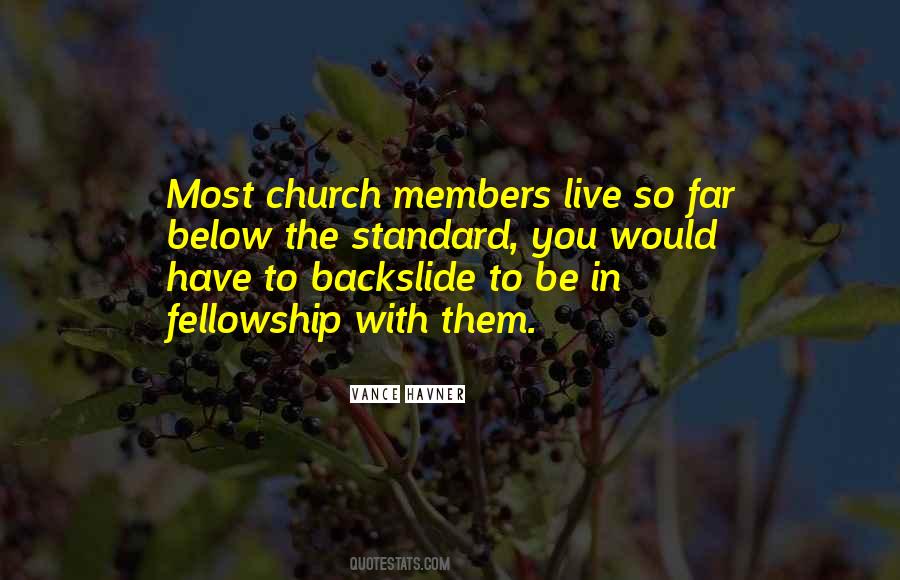 #61. For some Church members the Book of Mormon remains unread. Others use it occasionally as if it were merely a handy book of quotations. Still others accept and read it but do not really explore and ponder it. The book is to be feasted upon, not nibbled (see 2 Nephi 31:20). - Author: Neal A. Maxwell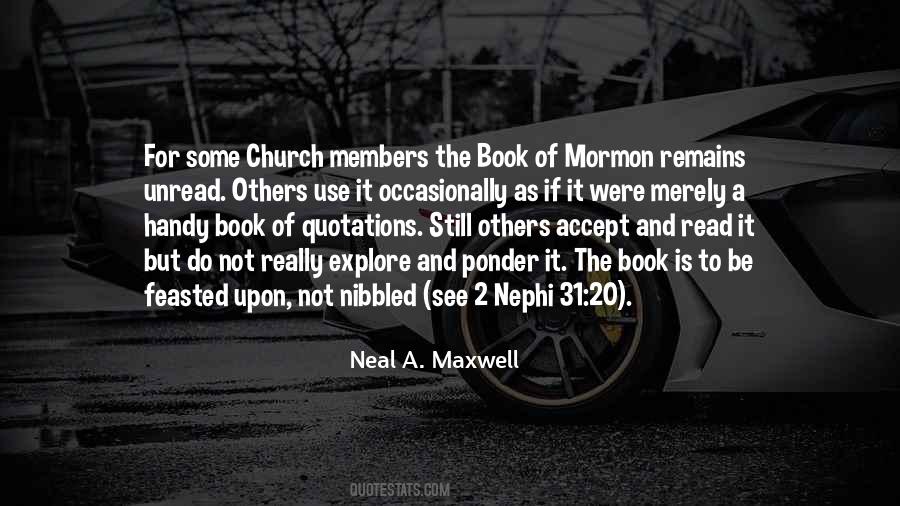 #62. Evangelism is essential in the kingdom-focused church. It is a sign that the church leaders and members are spiritually sound. It is a sign the church is alive and healthy. It produces new converts, a new generation of believers to carry God's message forward. - Author: Gene Mims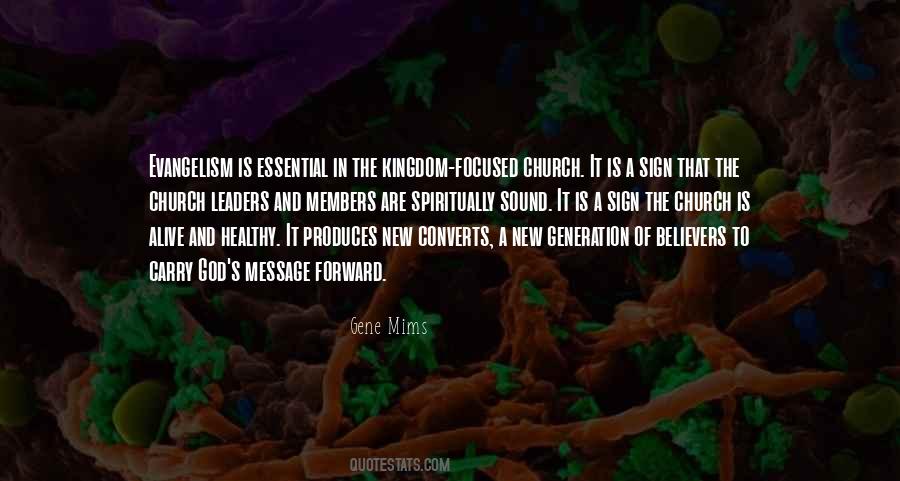 #63. Centers of influence are wholistic ministry centers, which connect church members with their communities and "place [them] where they will come in direct contact with those needing help."4 - Author: May Ellen Colon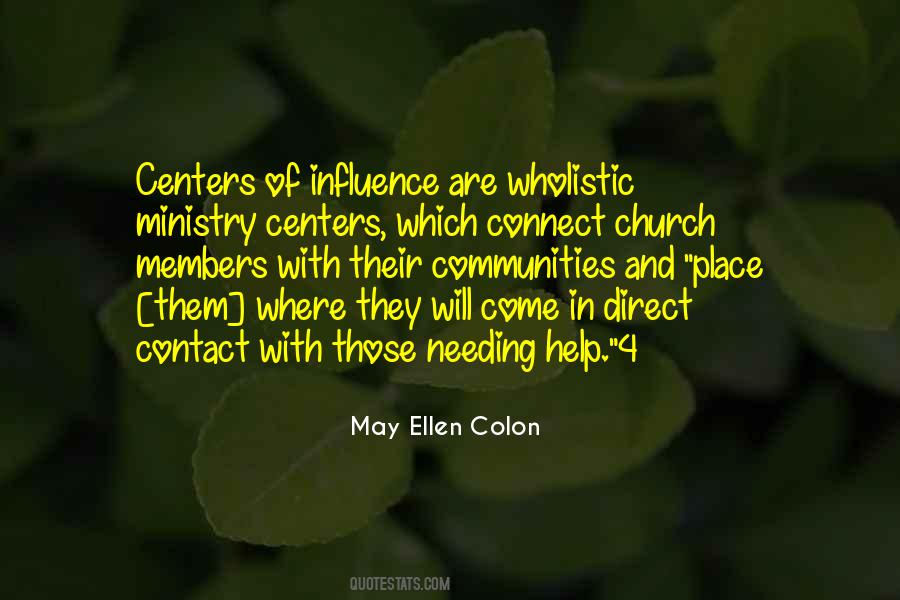 #64. President David O. McKay declared: "No greater immediate responsibility rests upon members of the Church, upon all citizens of this Republic and of neighboring Republics than to protect the freedom vouchsafed by the Constitution of the United States." (Conference Report, April 1950, p. 37.) - Author: Ezra Taft Benson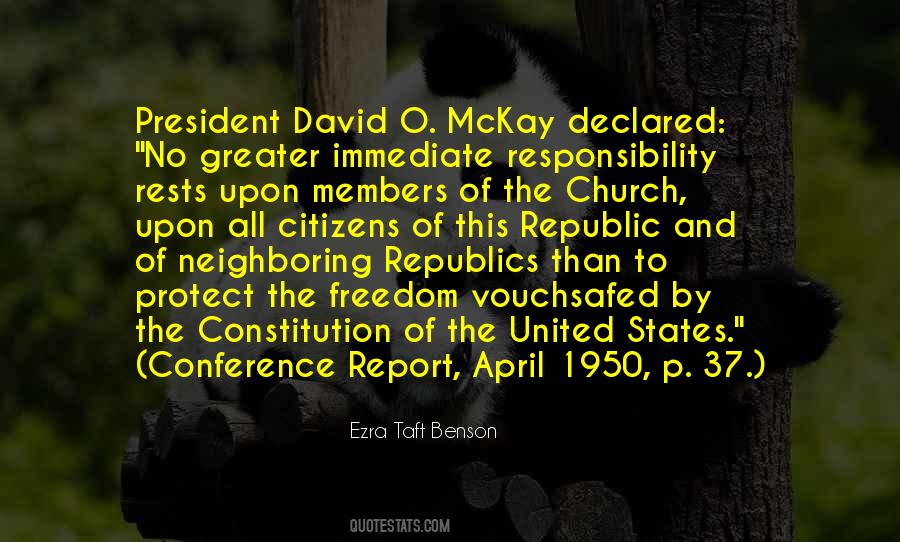 #65. Plenty of church members are shaky about what they believe, while not many are shaken by what they believe. - Author: Vance Havner
#66. Even if the church began to grow on its own, the members of the dying church would only accept the growth if the new members were like them and if the church would continue to "do church" the way they wanted it. - Author: Thom S. Rainer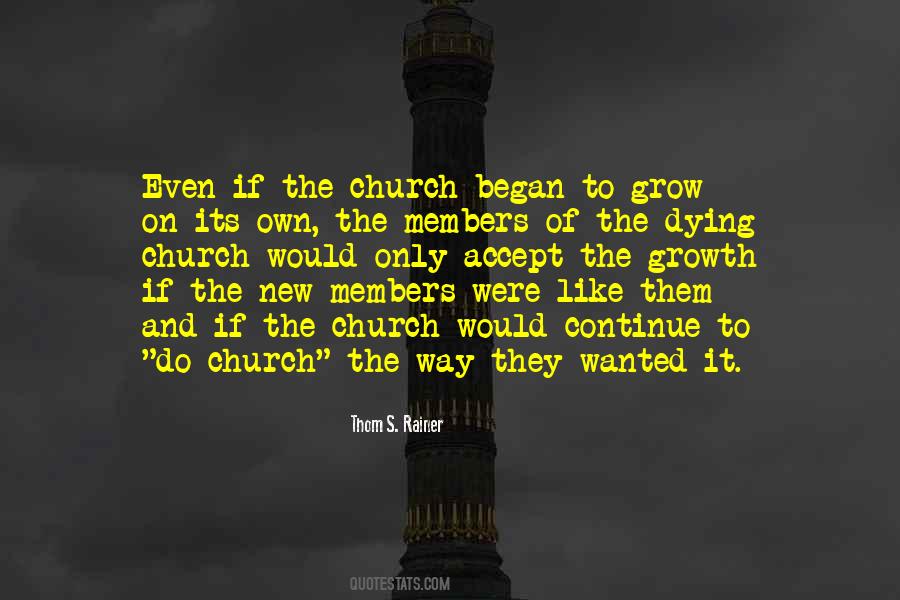 #67. ...God is already out there in the world ahead of us. In our teaching, therefore, we must do more than merely help people learn how to be good church members. We are directors preparing people for roles in a drama that encompasses every part of their lives. - Author: Richard Robert Osmer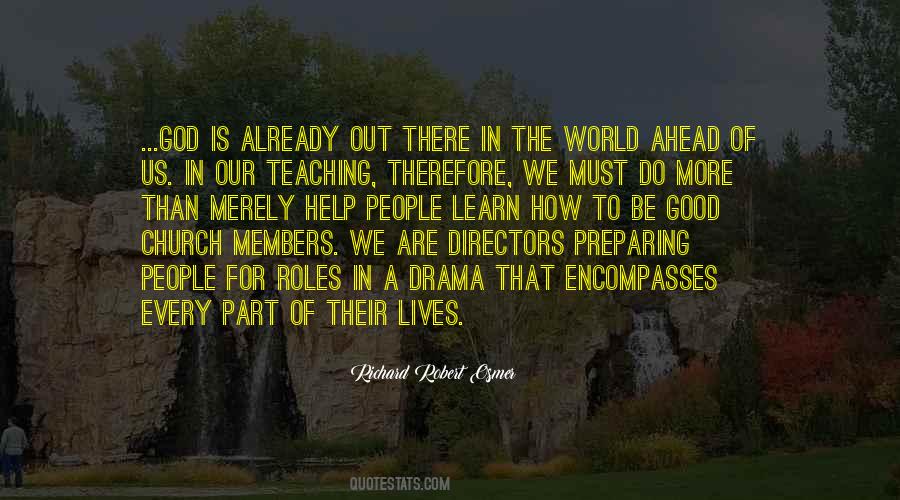 #68. The most important task that every pastor has is to get all his church members involved in some kind of ministry. That should be one of his main priorities. 3 - Author: Sunday Adelaja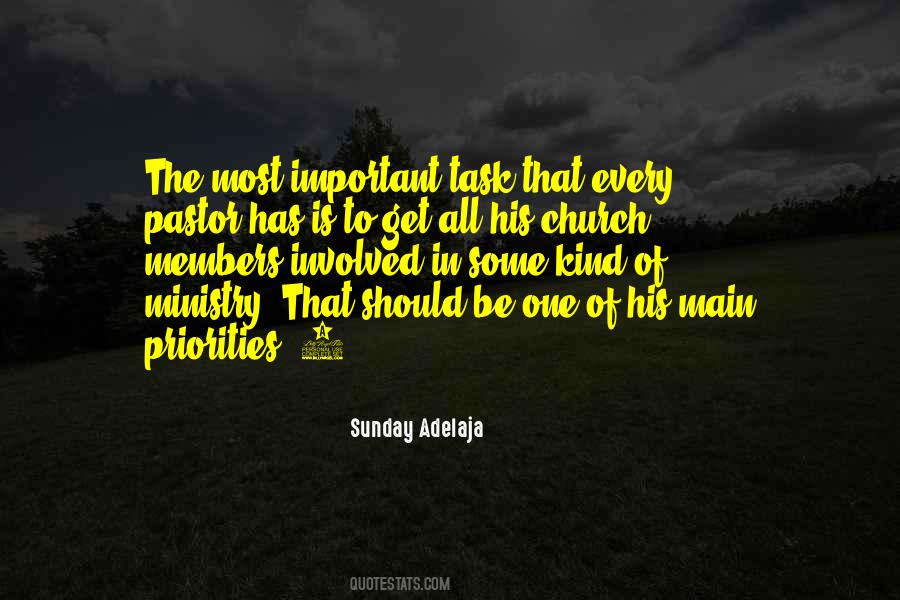 #69. research on churches shows that the greater the percentage of engaged members, the more likely the church is to be vital, thriving, and spiritually healthy. This - Author: Scott Thumma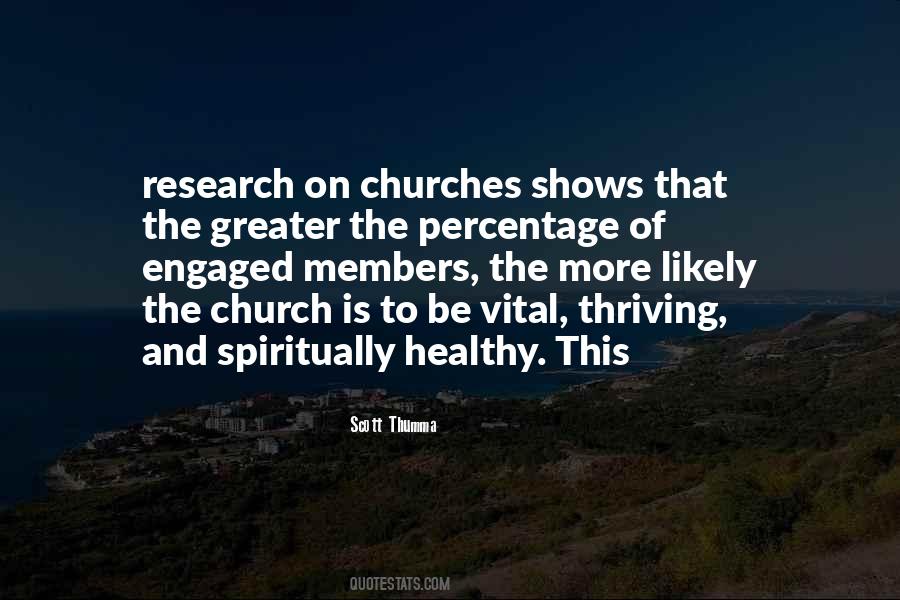 #70. Now they always accuse me of carrying around a sledge hammer with which to pound the church members. Yes sir, I do pound them, every time I come down, I knock one of the halfway fellows out of the doorway, and every time I knock one out I get a sinner in. - Author: Mordecai Ham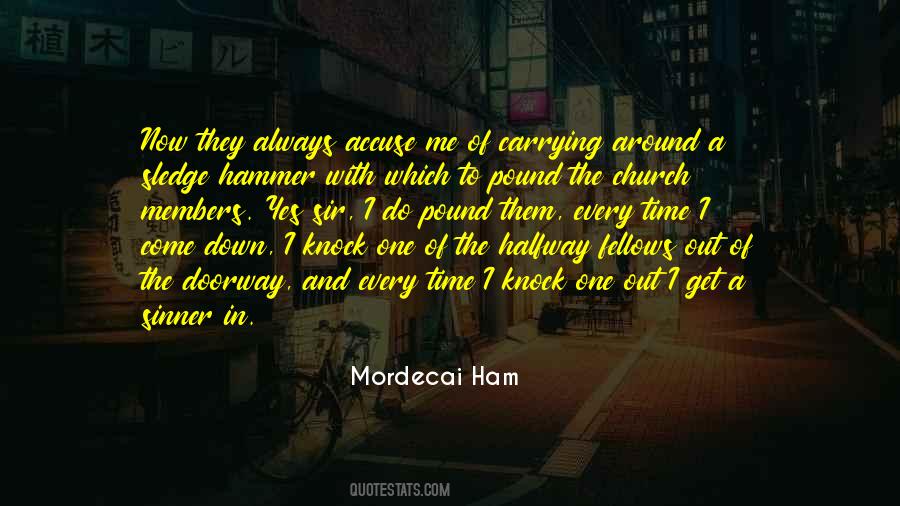 #71. Under the sacred and compelling trust we have as members of the Church of Jesus Christ, ours is a work of redemption, of lifting and saving those who need help. Ours is a task of raising the sights of those of our people who fail to realize the great potential that lies within them. - Author: Gordon B. Hinckley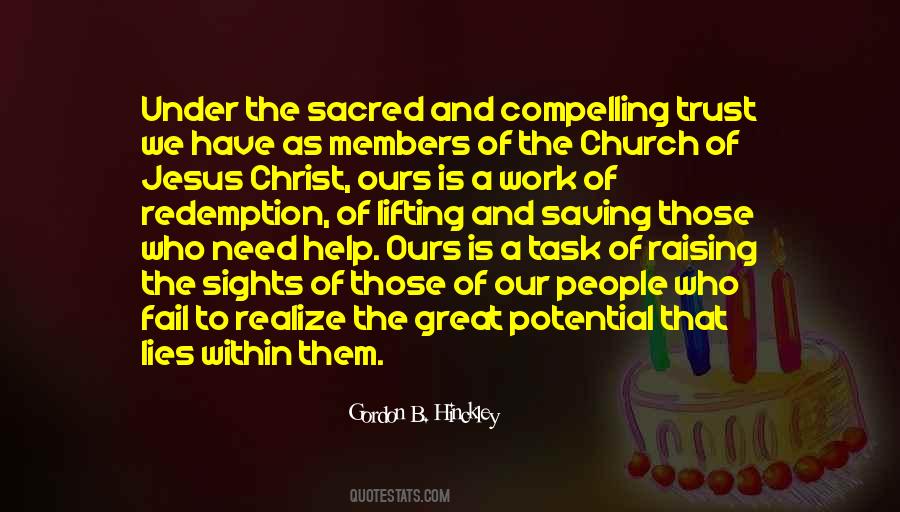 #72. Churches don't need new members half so much as they need the old bunch made over. - Author: Billy Sunday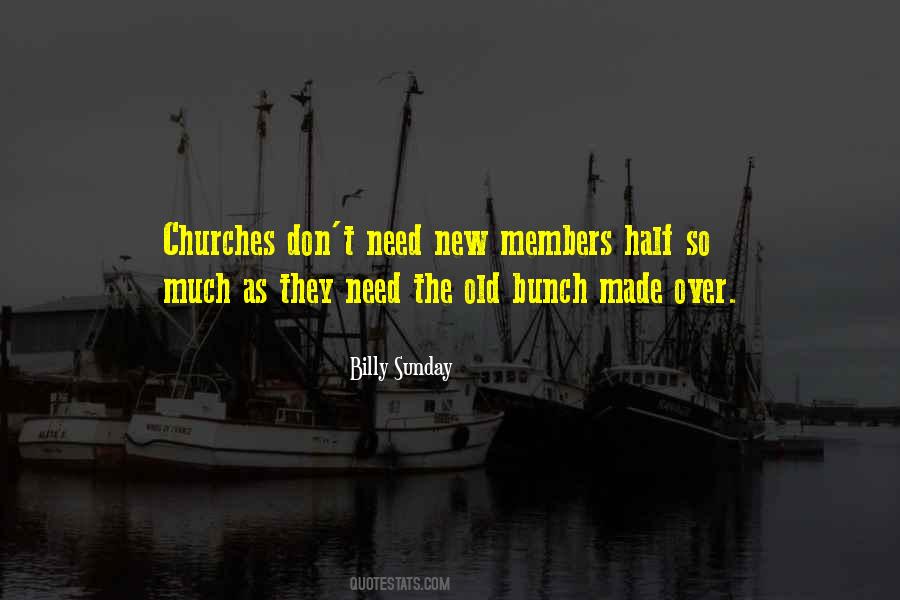 #73. Word-centered people who enter counseling will be more likely follow the guidance set out in Scripture. Because they know more of the depth of their sin, they are more willing to allow other church members to help them stay on that right path. - Author: James MacDonald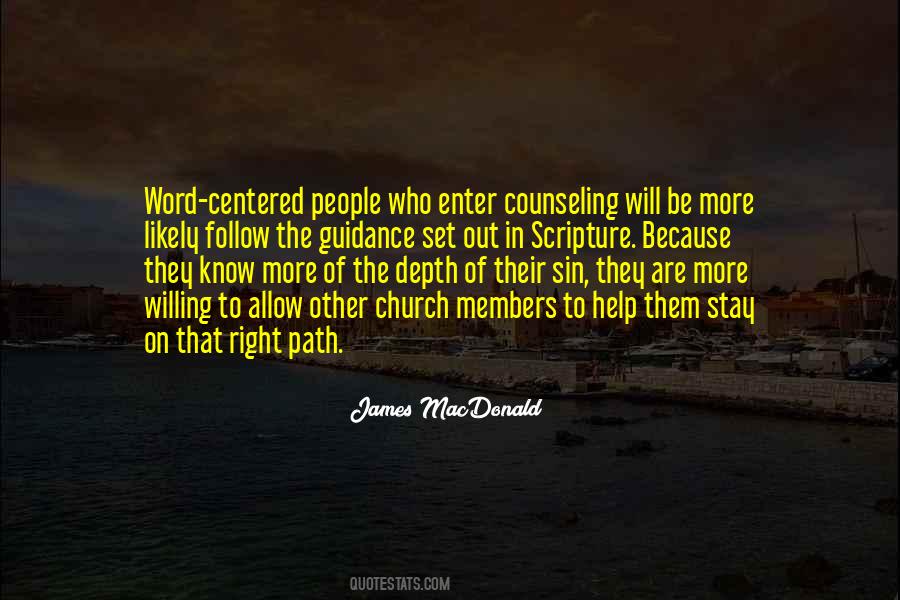 #74. The key to successful missionary work is a close relationship between the missionaries and the members. Creating an environment in working with members that will bring more into the Church. - Author: Richard G. Scott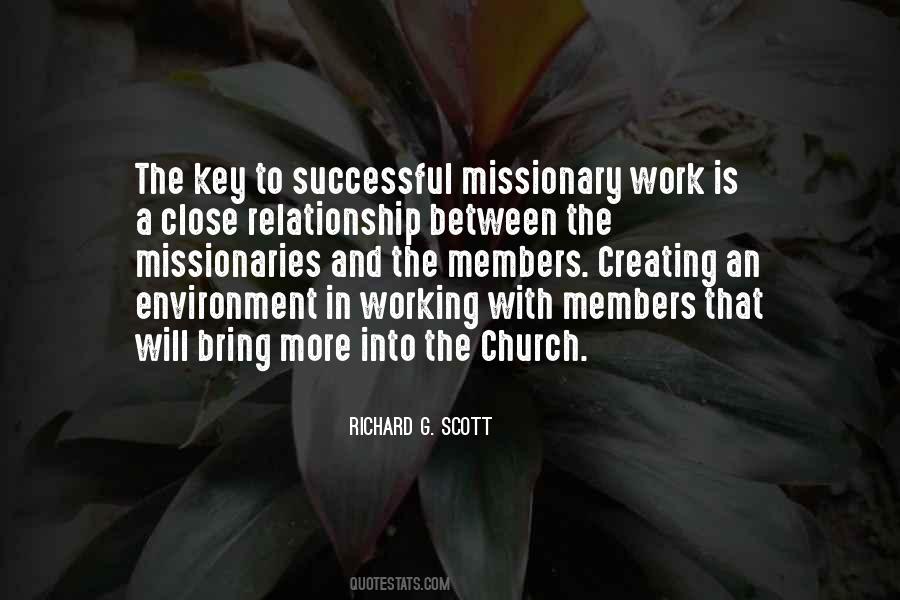 #75. It is a very rare church indeed that encourages its members to think for themselves in religious matters, or even tolerates this, and in most of them the clergy are quite ready to lay down the law in other fields too. - Author: Anne Roe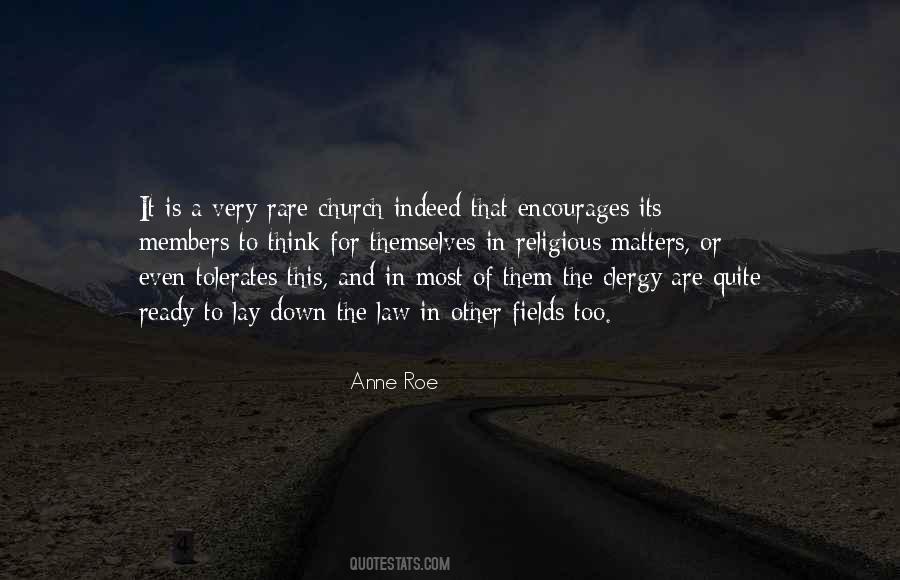 #76. Ministers should impress upon the people the necessity of individual effort. No church can flourish unless its members are workers. The people must lift where the ministers lift. - Author: Ellen G. White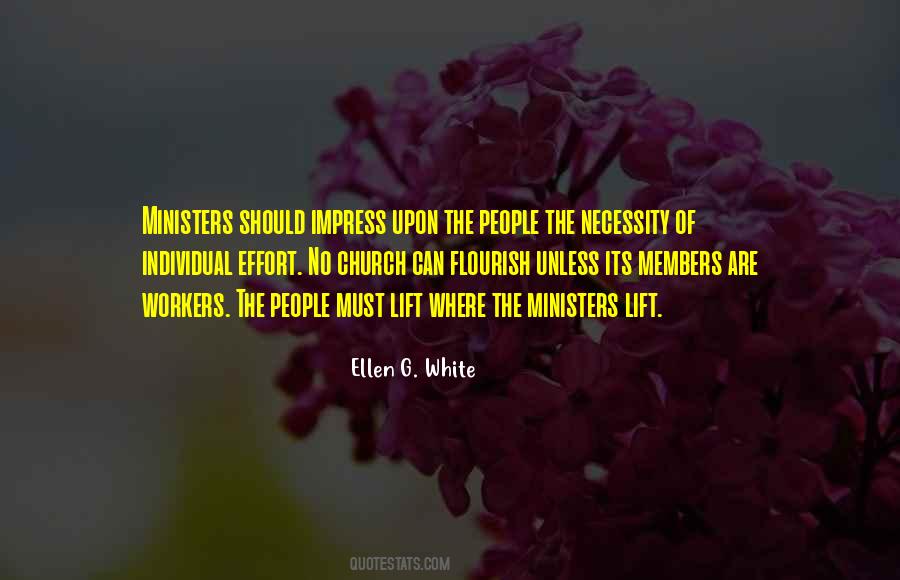 #77. Why does the Church grow and flourish? It does so because of divine direction to the leaders and members. - Author: James E. Faust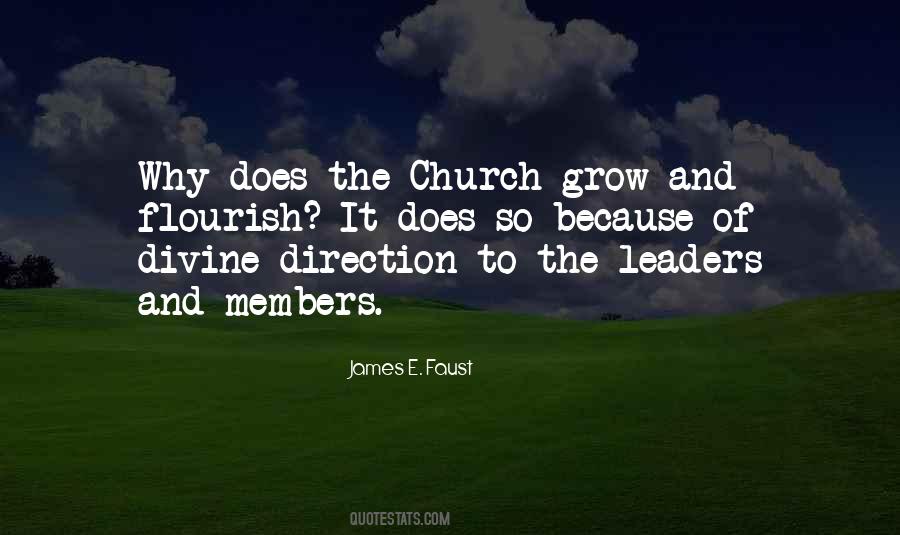 #78. God wants every member of the Body of Christ to be a blessing one to another; that's why, everyone has to be involved in a ministry. - Author: Sunday Adelaja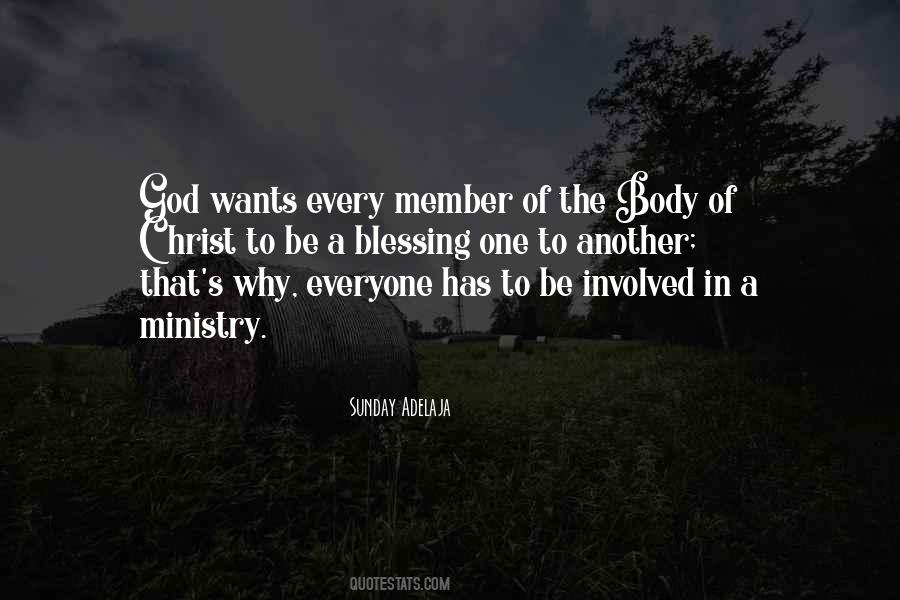 #79. While the official church was moribund, the house churches kept alight the flame of Christian witness. The church survived as a lay movement, often led by poorly educated Bible women who memorized Scripture and passed on the faith to family members and (if they dared) to neighbors and friends. - Author: Kim-Kwong Chan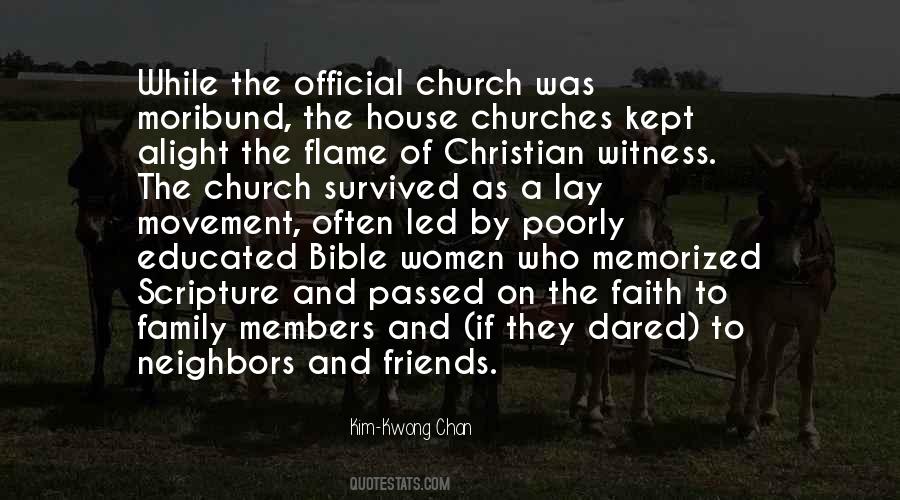 #80. I am, I think the only surviving member of the original Battle Creek church. The church was disbanded, with the exception of thirteen members, in 1870. - Author: John Harvey Kellogg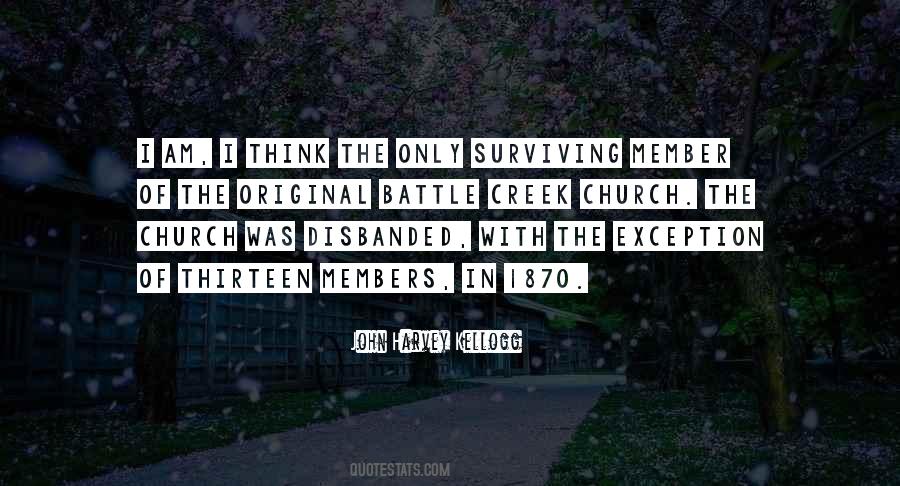 #81. But they're dying. The church, I mean," she added as I met her eyes. "No new members. It's sad, really. The - Author: Kim Harrison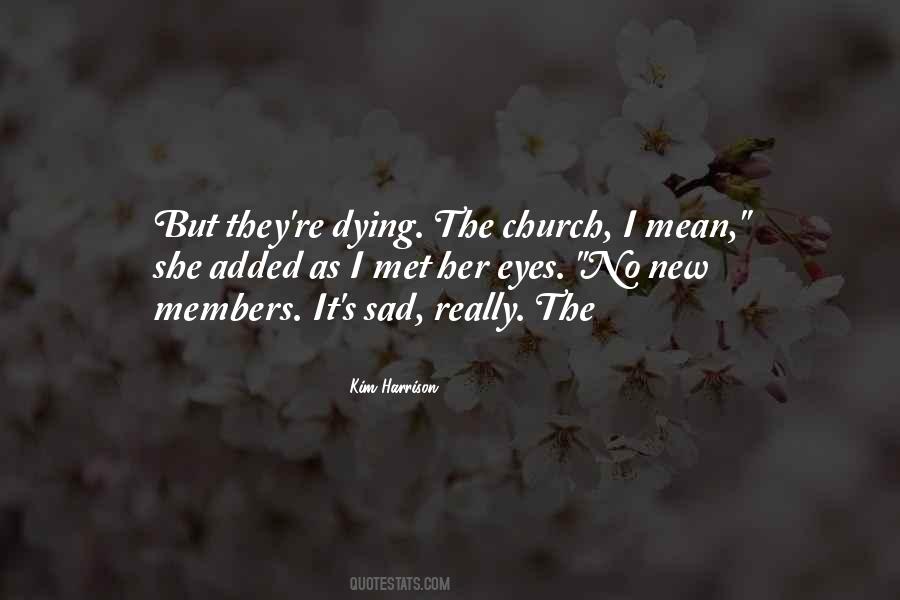 #82. When I was a child, Mama had the best voice of all the members of the church. She had loved to sing. Her words had soared like an angel's over the swells of the organ. In fact, I now suspected, her entire theology had been taken from the hymnal. - Author: Siri Mitchell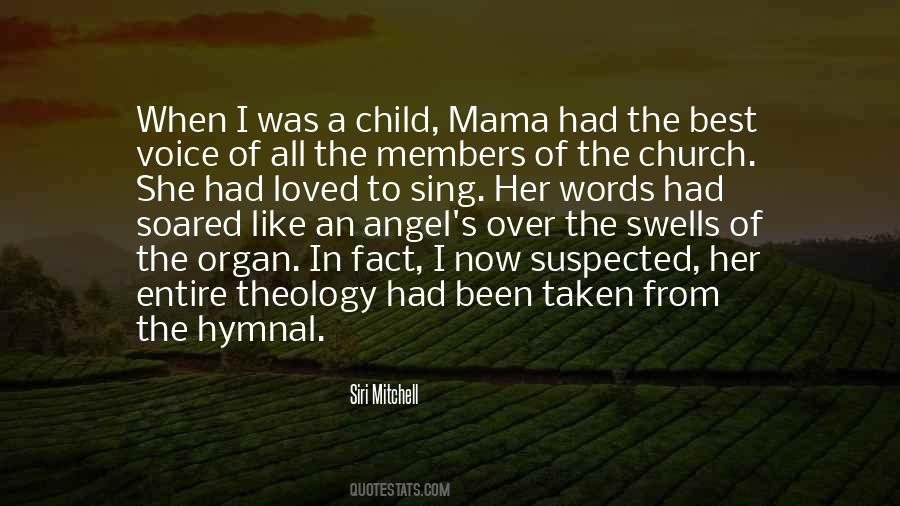 #83. I made up my mind that not only would I become a millionaire, but that I would also raise up millionaires from members of my church - Author: Sunday Adelaja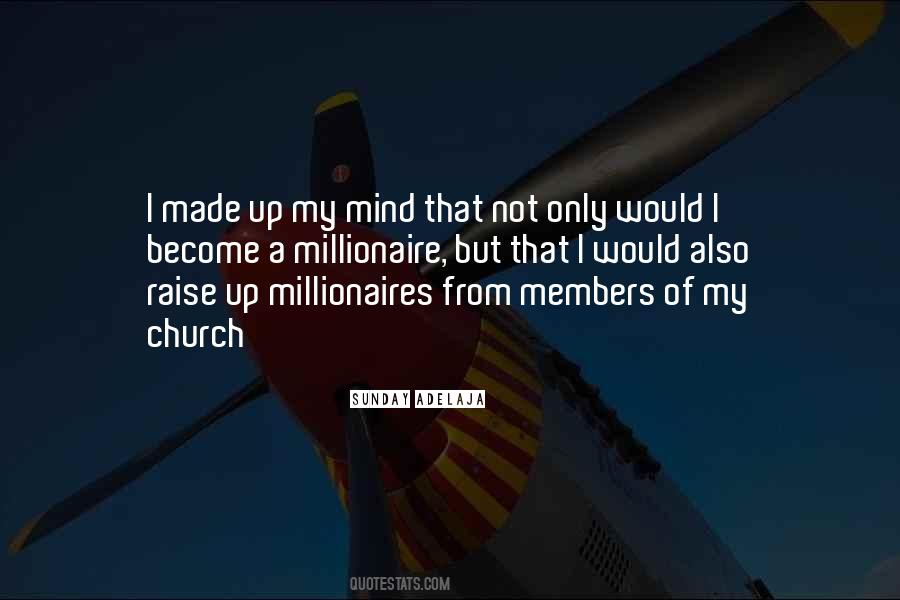 #84. The health of a church depends not merely on the creed which it professes, not even on the wisdom and holiness of a few great ecclesiastics, but on the faith and virtue of its individual members. - Author: Charles Kingsley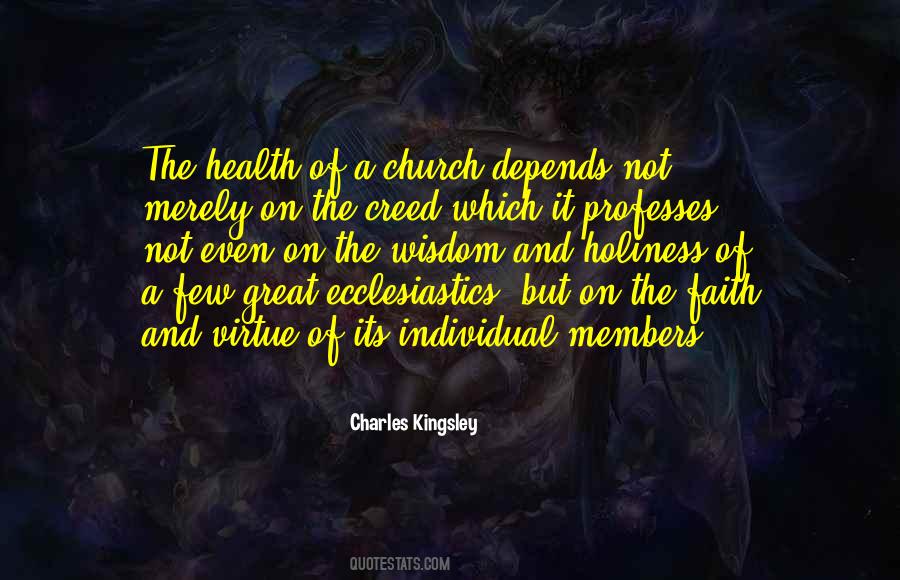 #85. The real church is comprised of a long list of "formers" who collectively work together for world reform. - Author: Johnnie Dent Jr.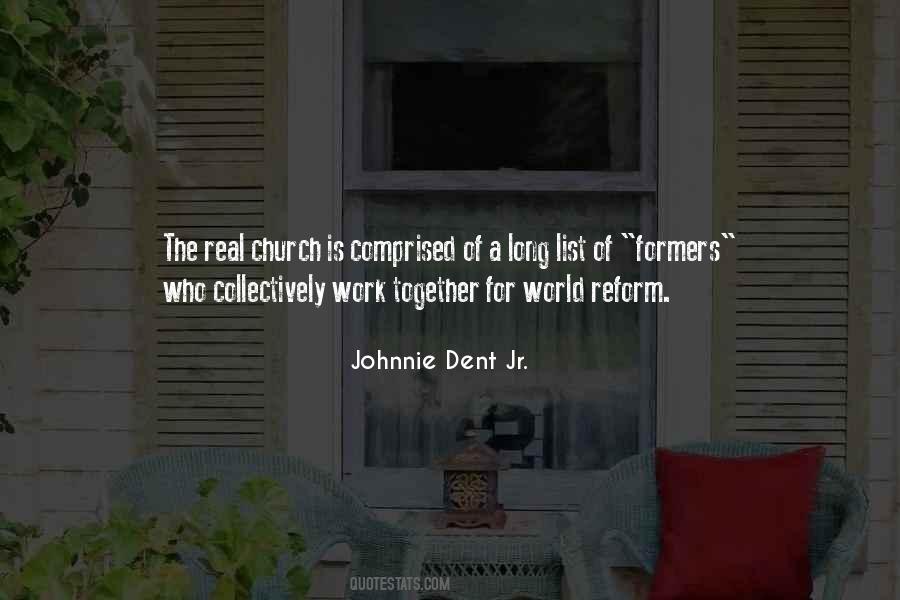 #86. [G]overnment endorsement ... of religion ... sends a message to nonadherents that they are outsiders, not full members of the political community, and an accompanying message to adherents that they are insiders, favored members of the political community. - Author: Sandra Day O'Connor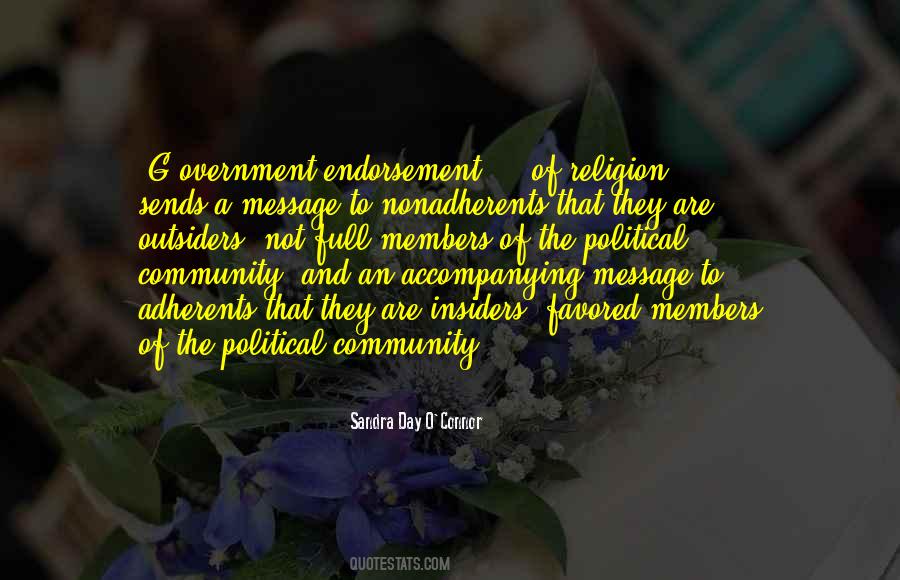 #87. The recognition of a distinct 'national identity' among members of the Body of Christ can keep before us our ties with Christians who live under different secular governments, with whom we have bonds that transcend and override our commitments to governments and groups outside the church. - Author: Richard J. Mouw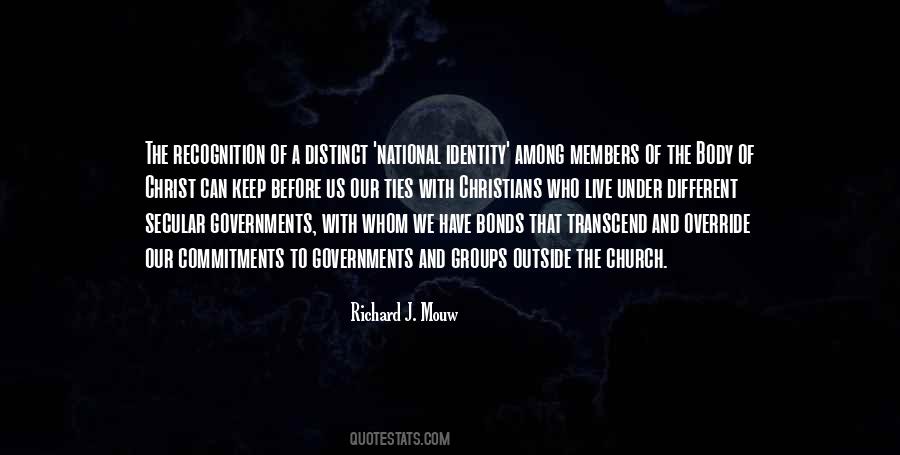 #88. In fact, I've met countless believers who have said, "The church is an organism, not an organization." Yet as they formed those very words, they continued to be devout members of churches that were organized along the lines of General Motors and Microsoft. - Author: Frank Viola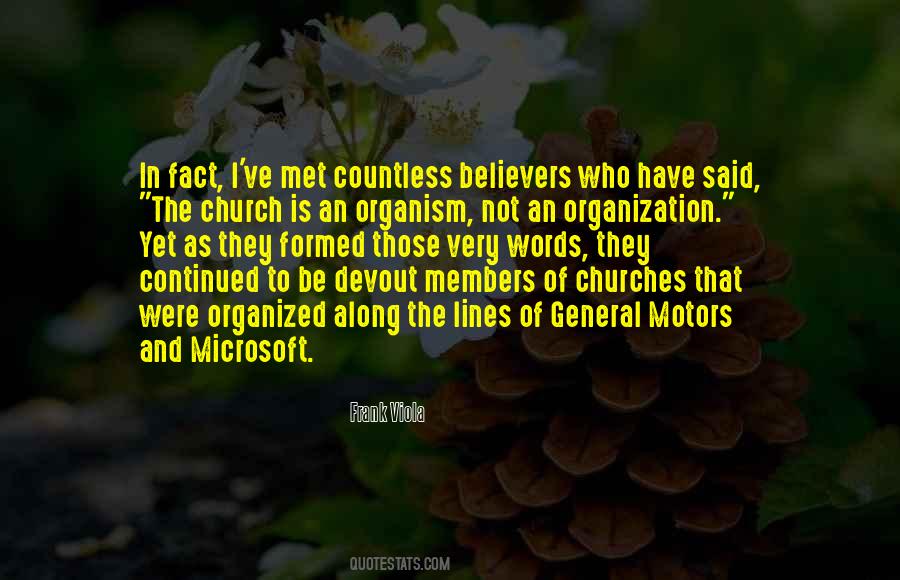 #89. During my first year as a pastor I performed funerals for 50 church members - and they were the wrong ones. - Author: Roy Bell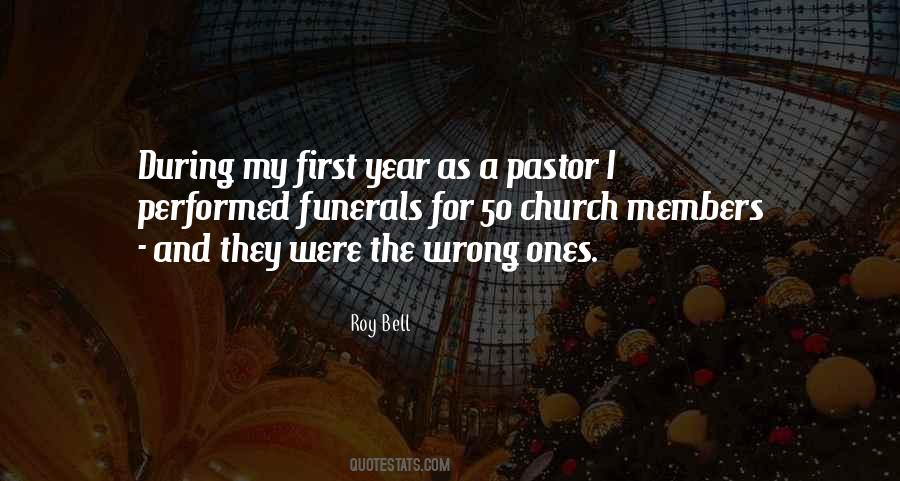 #90. The body becomes stronger as its members become healthier. The whole church of God gains when the members that compose it begin to seek a better and a higher life. - Author: Aiden Wilson Tozer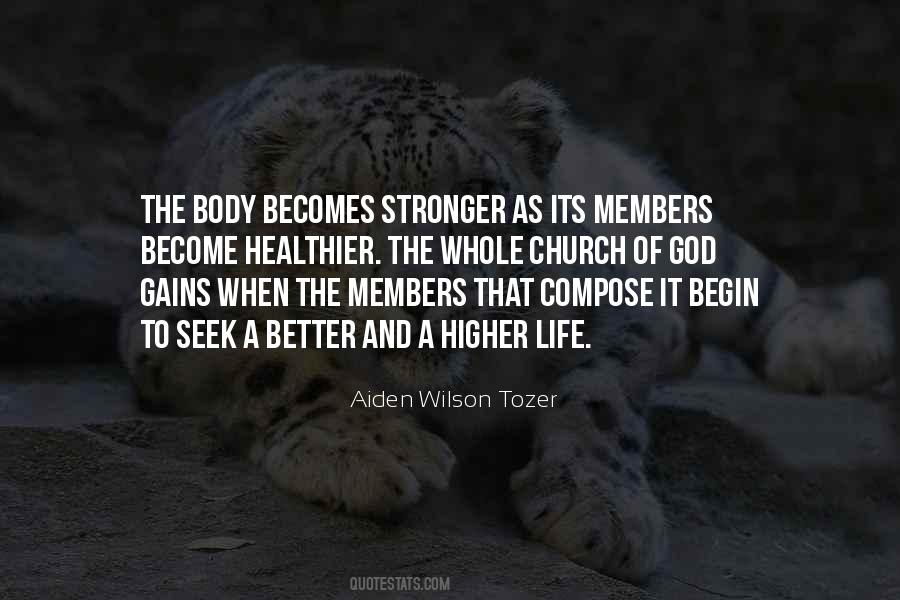 #91. The witness of the Holy Ghost is even more compelling than the witness of sight. As members of the Church, we become witnesses of the Savior and the truthfulness of this work not only in word but also in keeping our covenants and in how we treat others and in how we live our everyday lives. - Author: Loren C. Dunn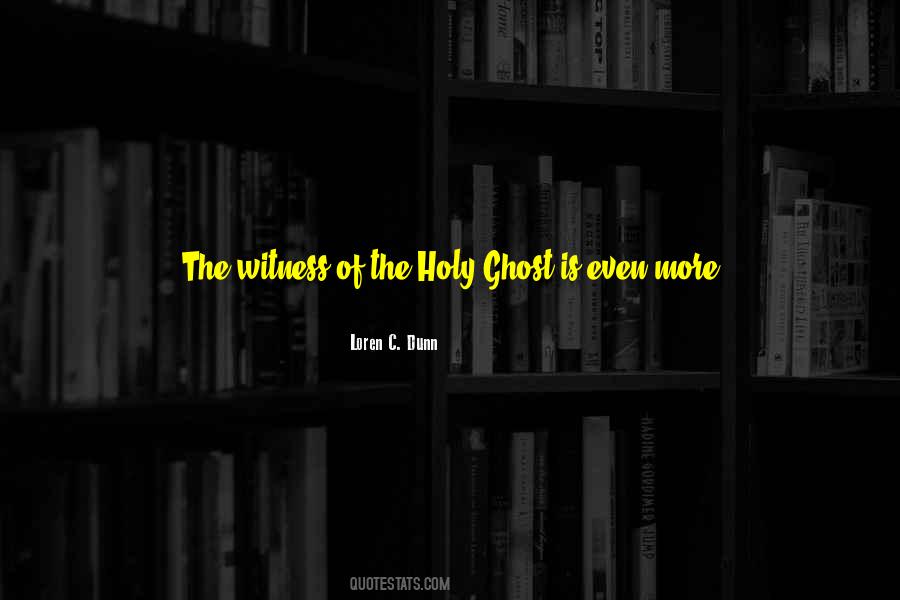 #92. Our task is not multiplying the number of our church members but making people happy - Author: Sunday Adelaja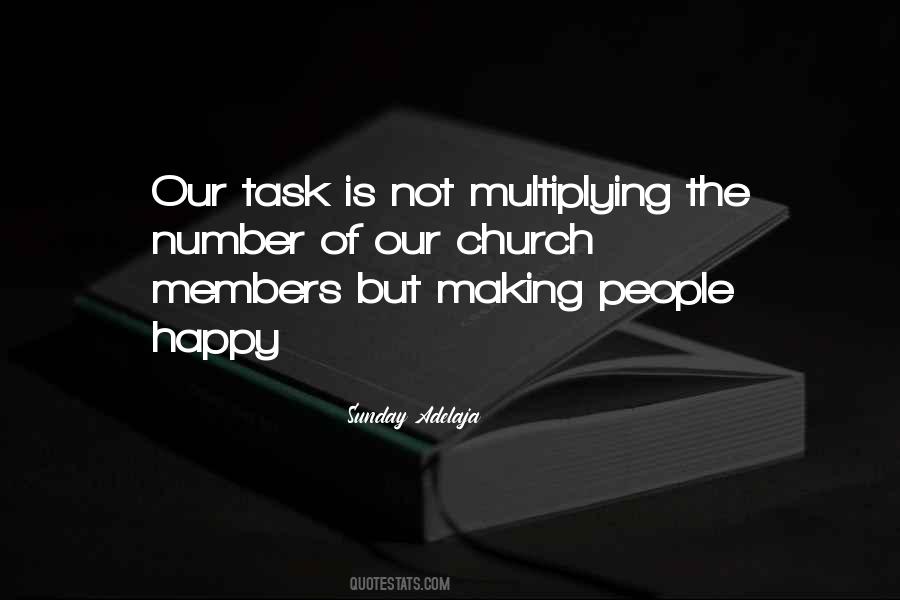 #93. Any man who takes Jesus Christ seriously becomes the target of the devil. Most church members do not give Satan enough trouble to arouse his opposition - Author: Vance Havner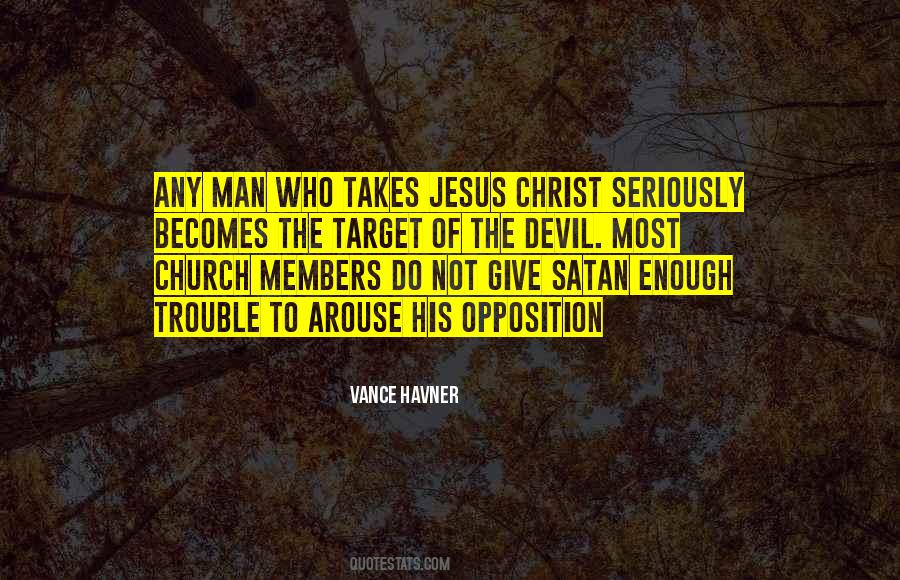 #94. For church buildings not to be enough is to build and equip church members to send them out - Author: Sunday Adelaja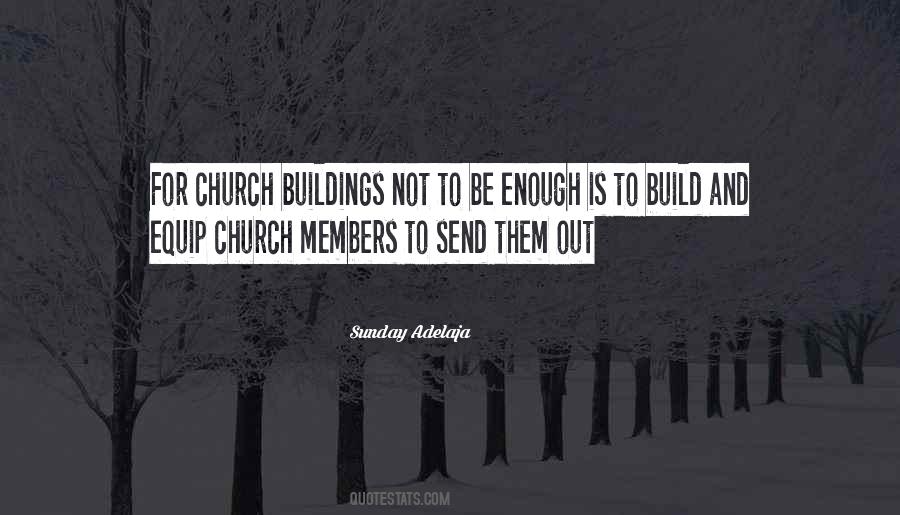 #95. The church acknowledges some Scientologists choose to sever communications with family members who leave. The church says it is a fundamental human right to cease communication with someone. It adds disconnection is used against expelled members and those who attack the church. - Author: John Sweeney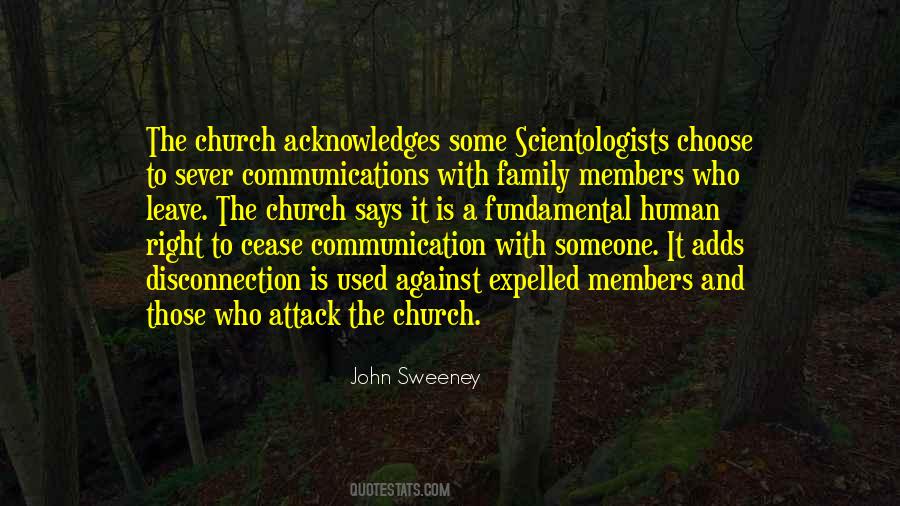 #96. Every local church is only as good as the individual members are, not one bit better. If - Author: A.W. Tozer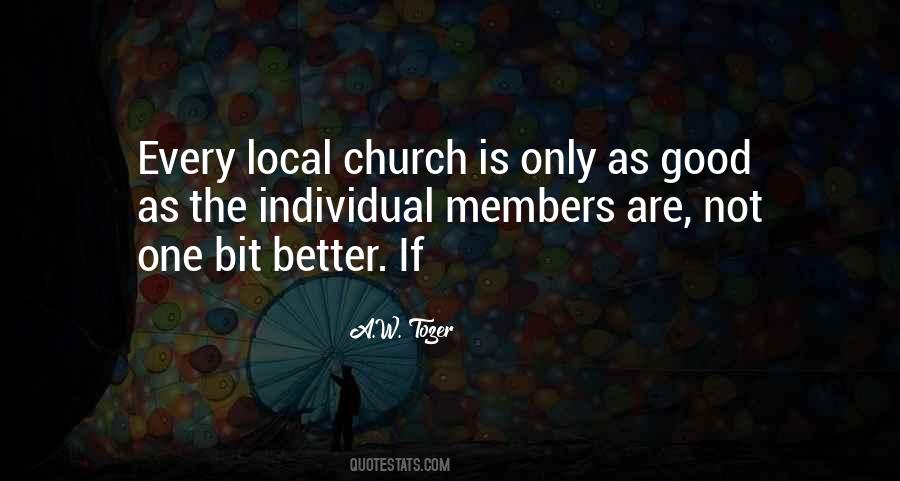 #97. Some people erroneously believe that The Church of Jesus Christ of Latter-day Saints and its members are not Christian. We have difficulty understanding why anyone could accept and promote an idea that is so far from the truth. - Author: Joseph B. Wirthlin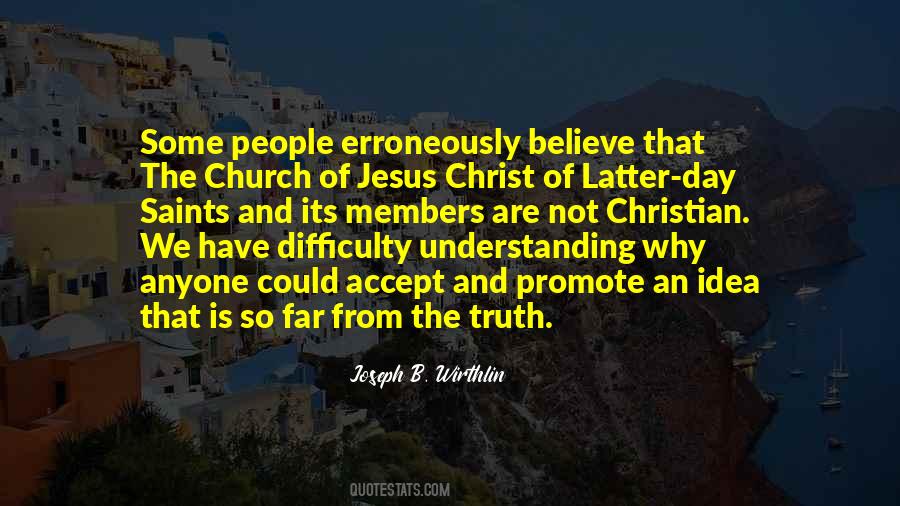 #98. Don't waste your time trying to explain yourself to people that are committed to misunderstanding you. Instead, commit your time to explaining who they are to them. When you get a person to see the positive similarities you share, it begins to restore the loss of respect between you. - Author: Shannon L. Alder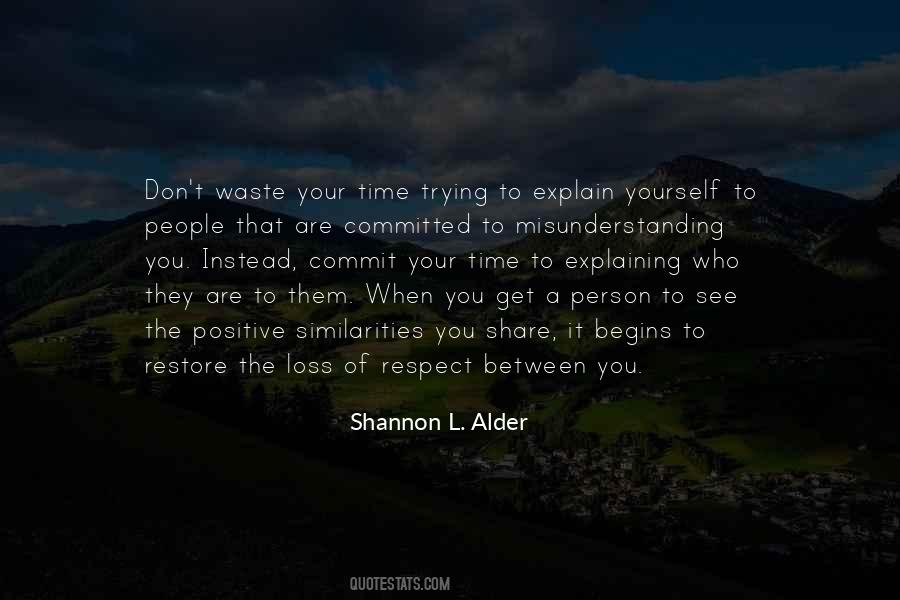 #99. I do think that if the Church can see its way to greater tolerance, Church members will have greater exposure to gay people, and the lives of those gay people will be better. - Author: Andrew Solomon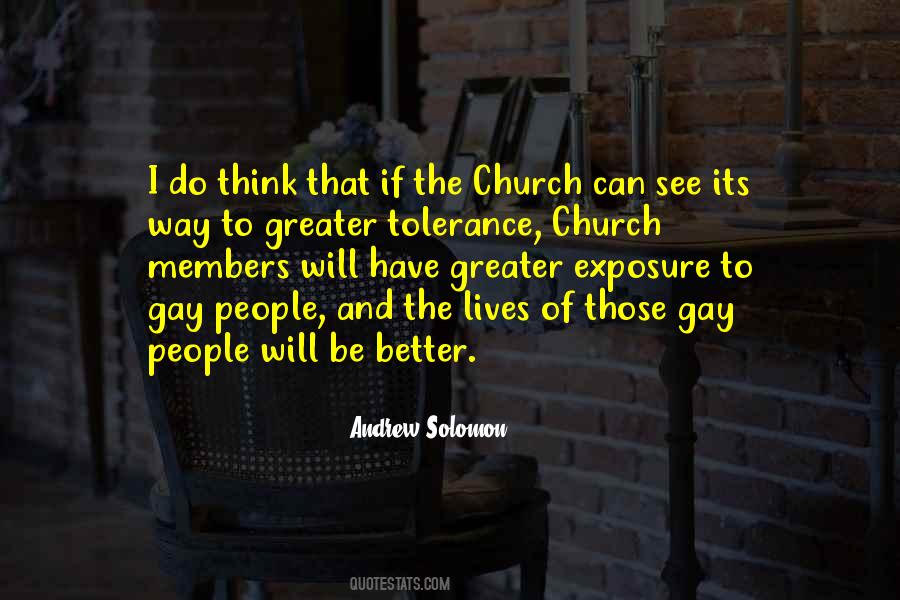 #100. Don't water your testimony with your righteous expectations of church members. Their imperfection will disappoint you every time and cause you to leave every church you try to join. - Author: Shannon L. Alder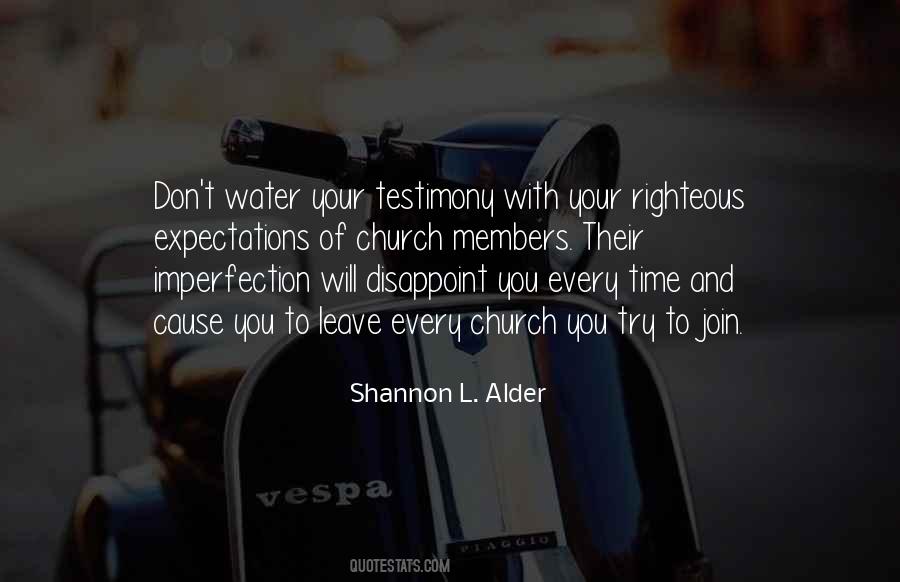 Famous Authors
Popular Topics