Birds And Nature Famous Quotes & Sayings
List of top 85 famous quotes and sayings about birds and nature to read and share with friends on your Facebook, Twitter, blogs.
Top 85 Quotes About Birds And Nature
#1. To the Indians it seemed that these Europeans hated everything in nature - the living forests and their birds and beasts, the grassy grades, the water, the soil, the air itself. - Author: Dee Brown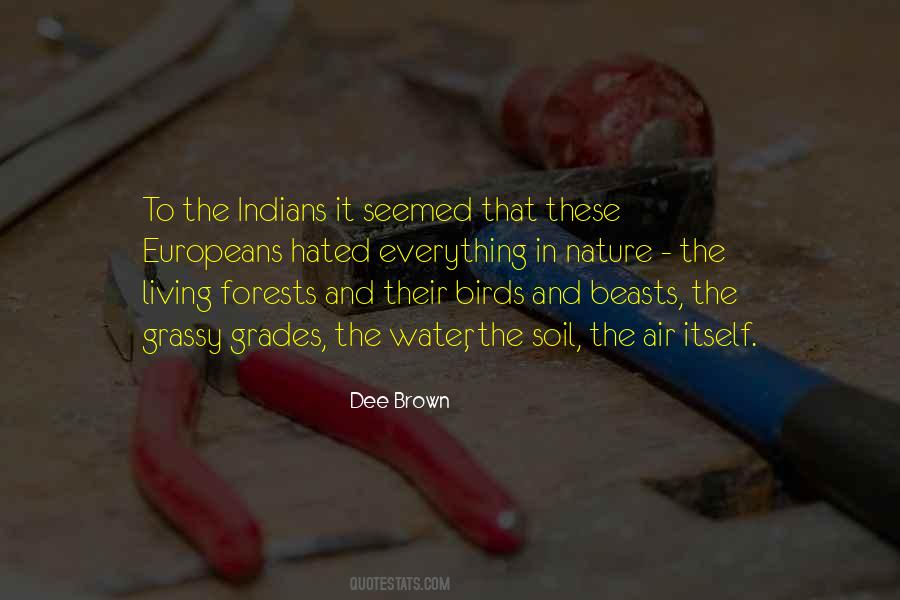 #2. The sloshing of their hooves in the paddy field that I heard thirty yards away, my car door open for the breeze, the haunting sound I was caught within as if creatures of magnificence were undressing and removing their wings - Author: Michael Ondaatje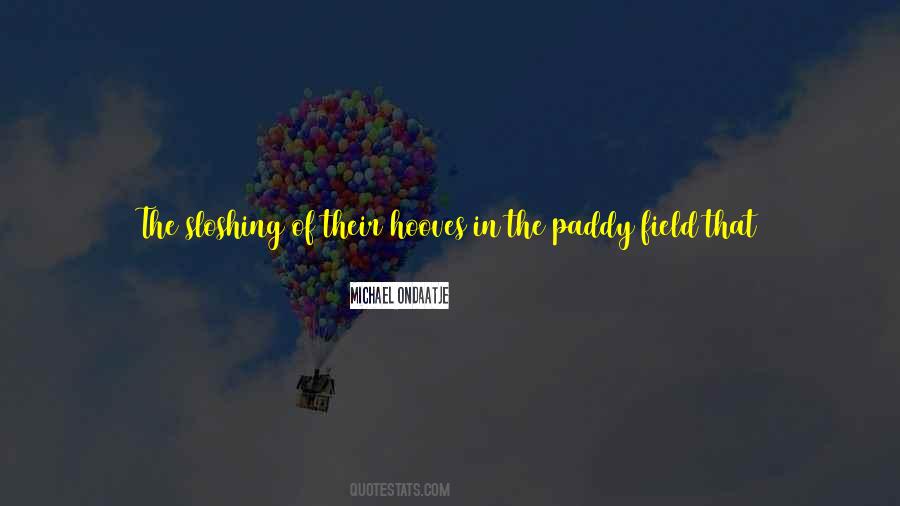 #3. I found myself wishing that we could live like the birds and move through nature without hurting it ourselves. - Author: Ross Macdonald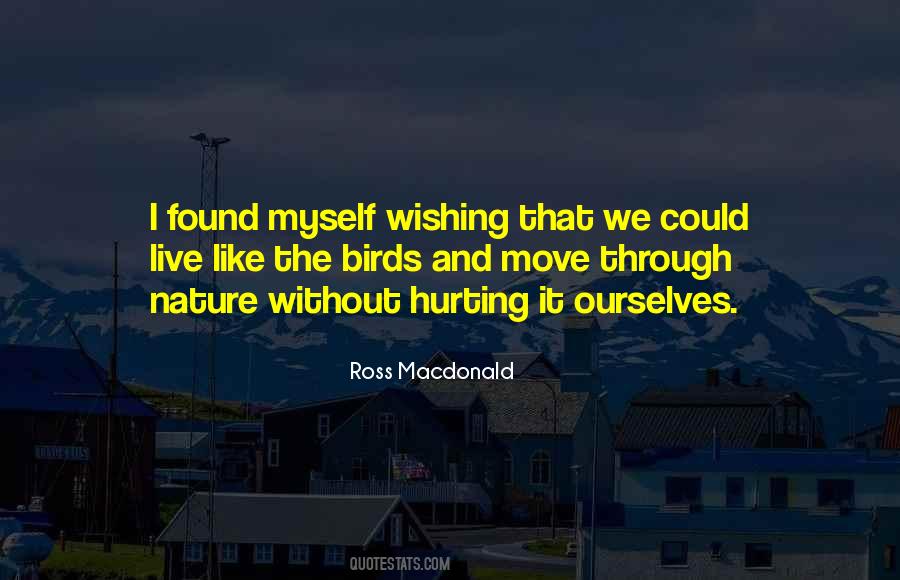 #4. As a human being it is just my nature to enjoy and share philosophy. I do this in the same way that some birds are eagles and some doves, some flowers lilies and some roses. - Author: Alan Watts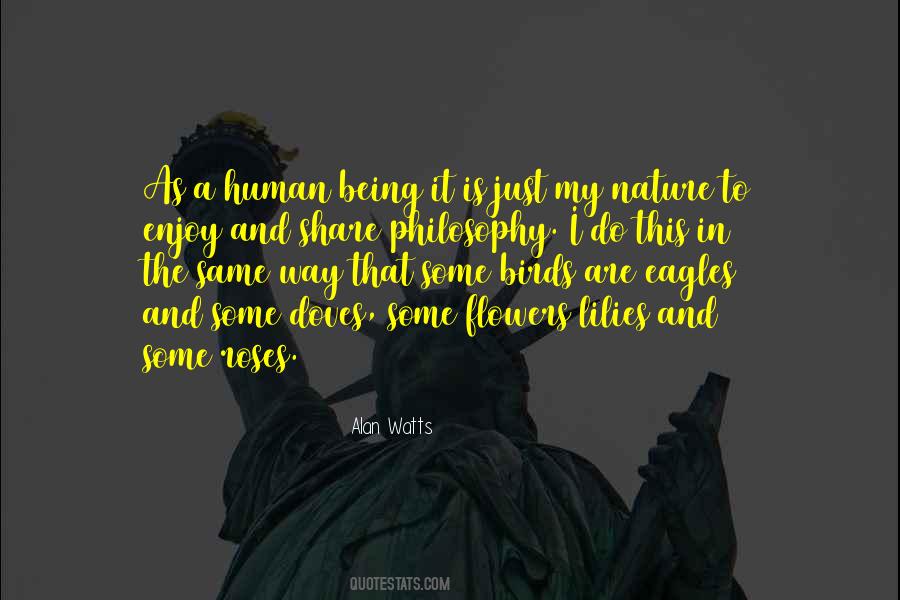 #5. I do love one-upmanship sometimes, like when you see kids breakdancing and who can do the best tricks. It's common, it's in our nature as animals, like the birds of paradise who've got the best feathers and that sort of stuff. But it's fun when it's impulsive and it's about fun. - Author: Bjork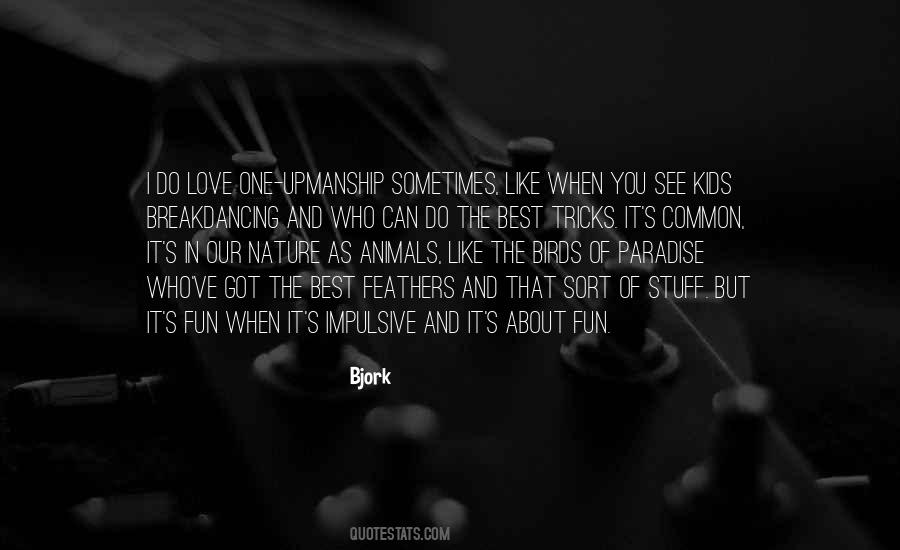 #6. For nature does things in good order:
And birds and butterflies recognize
No man-made border - Author: Ruskin Bond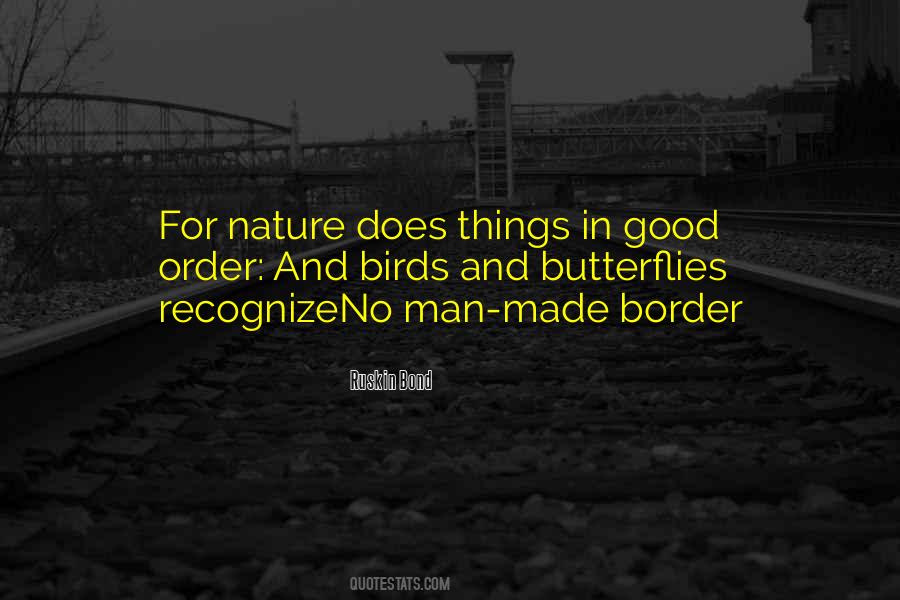 #7. As a kid in Africa, you were so connected to nature itself because you went farming, watched the moon out at night, observed how the sky was different, and how the birds chanted different songs in the evening and the morning. - Author: Ishmael Beah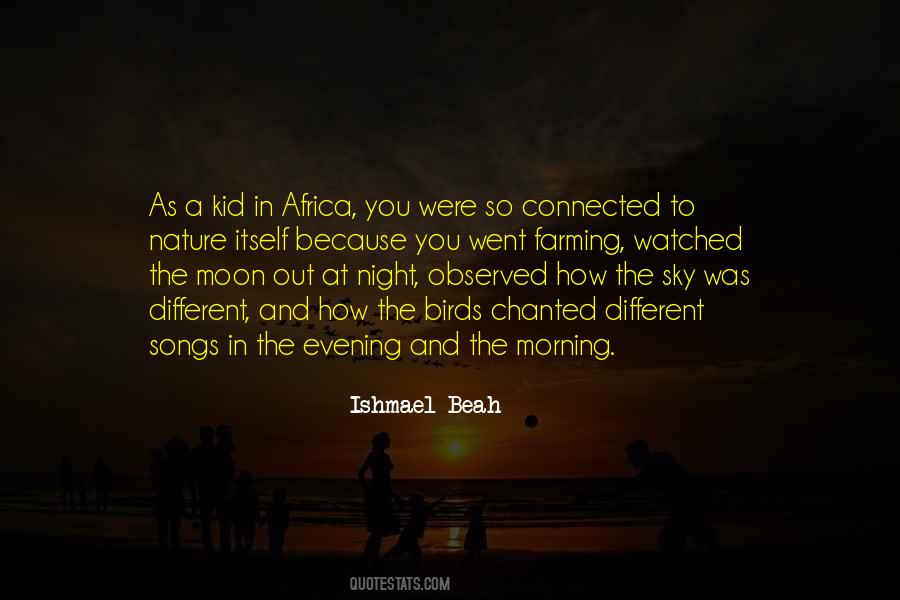 #8. Another thing I like to do is sit back and take in nature. To look at the birds, listen to their singing, go hiking, camping and jogging and running, walking along the beach, playing games and sometimes being alone with the great outdoors. It's very special to me. - Author: Larry Wilcox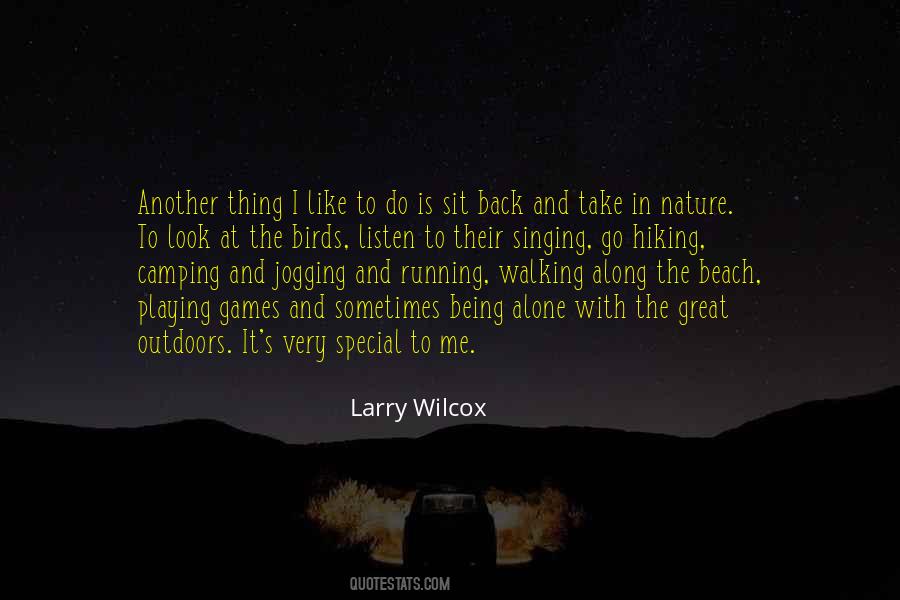 #9. With every passing year we discover more evidence to support Darwin's revolutionary hypothesis that the cognitive and emotional lives of animals differ only by degree, from the fishes to the birds to the monkeys to humans. - Author: Roger Fouts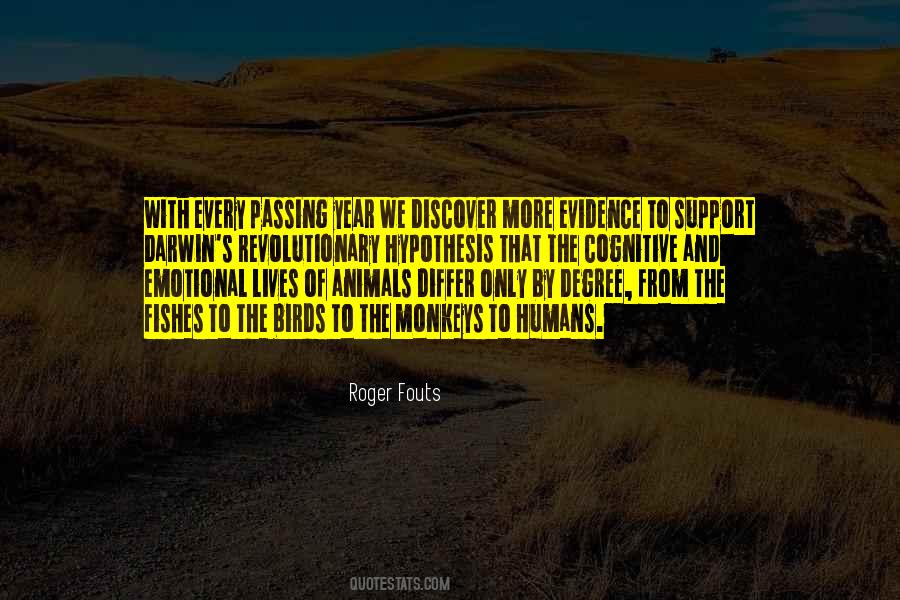 #10. Birds themselves are so interesting and intelligent, and they give so many cues without being verbal, so they say such great things. Feathers are superior to fur, even. They're so beautiful, and nature uses such amazing colors. - Author: Bibhu Mohapatra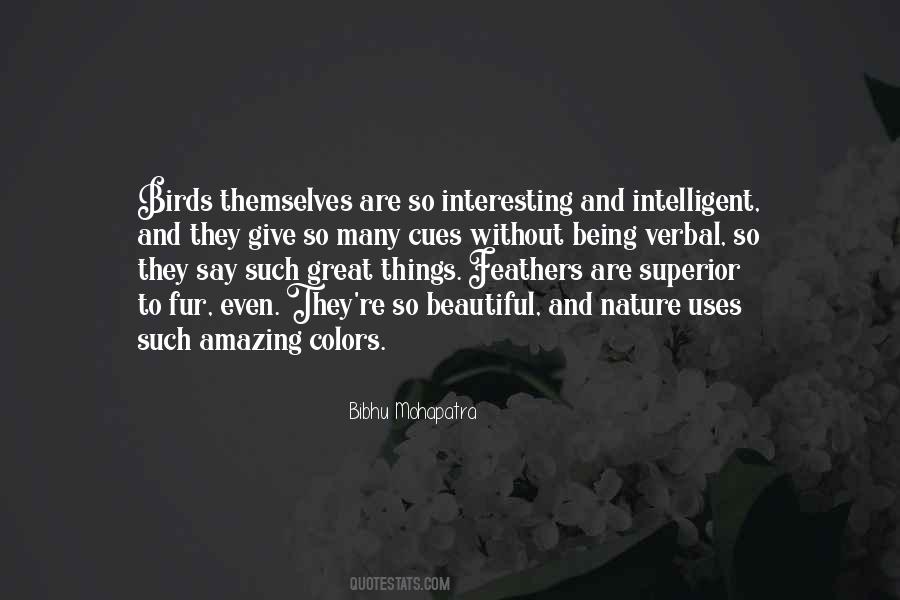 #11. Nature is my temple; trees are my priests; birds, my rabbis; rains, my imams! Nature is my only true and eternal religion. - Author: Mehmet Murat Ildan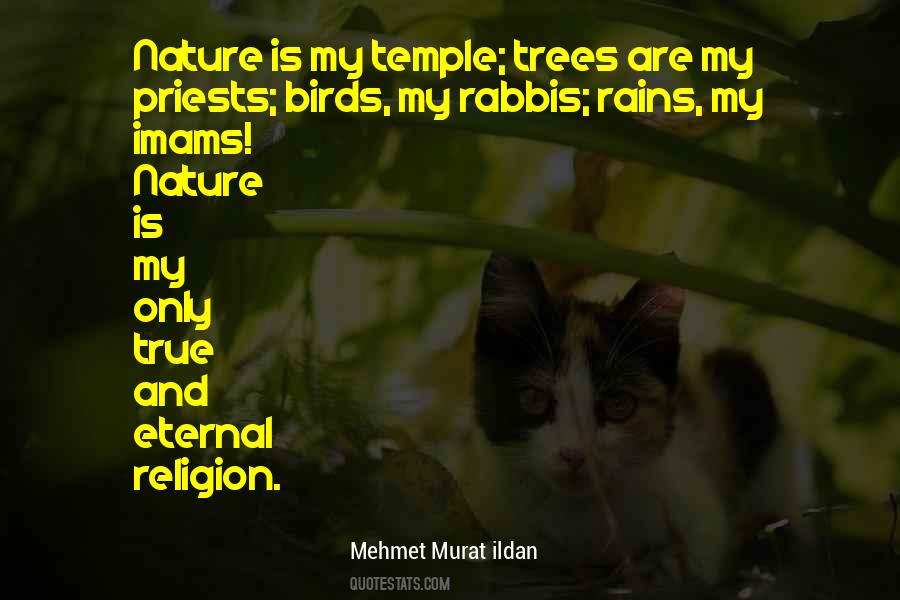 #12. Novelists do not write as birds sing, by the push of nature. It is part of the job that there should be much routine and some daily stuff on the level of carpentry. - Author: William Golding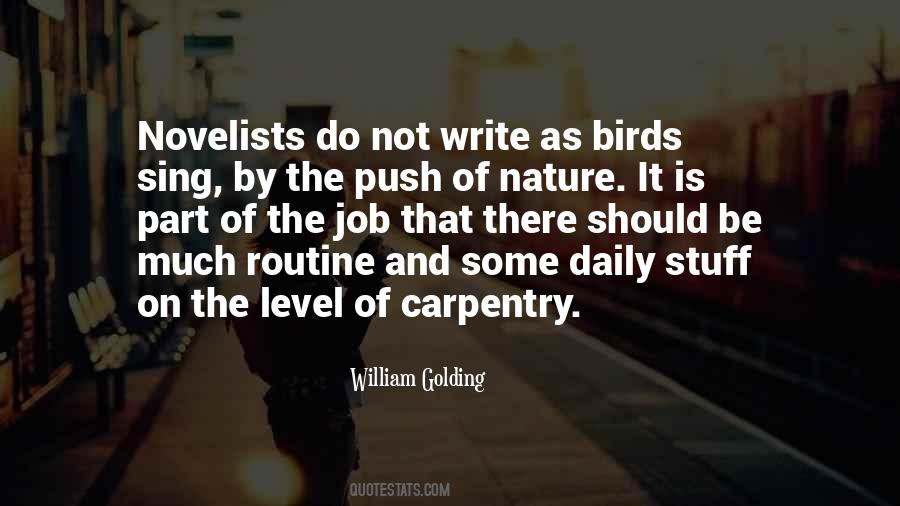 #13. Furthermore, man is, by his instincts and his inherited dispositions, predestined to a social existence beyond the intimate family circle. Society must be conceived, therefore, as a part of nature, like a beaver's dam or the nests of birds. - Author: Ernest Watson Burgess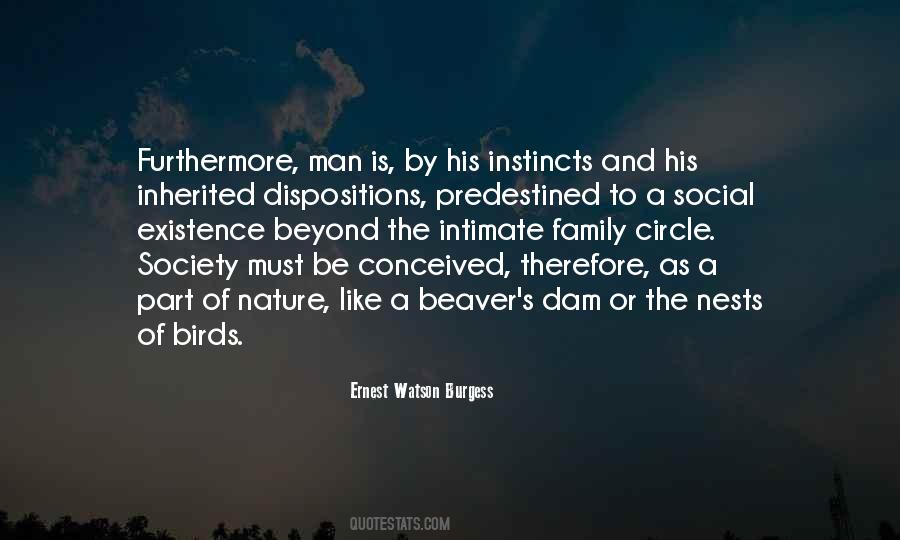 #14. We need to walk, just as birds need to fly. We need to be around other people. We need beauty. We need contact with nature. And most of all, we need not to be excluded. We need to feel some sort of equality. - Author: Enrique Penalosa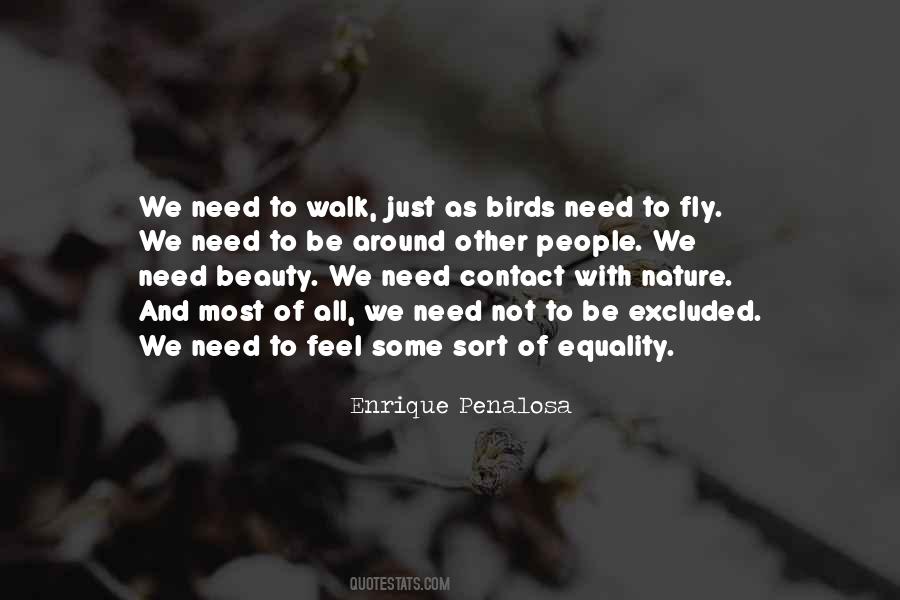 #15. You are the sun and the rain, the water and the plants, the birds and the animals. There is no such thing as 'nature,' apart from you and me. You are nature, I am nature, just as you are me and I am you. - Author: John Lundin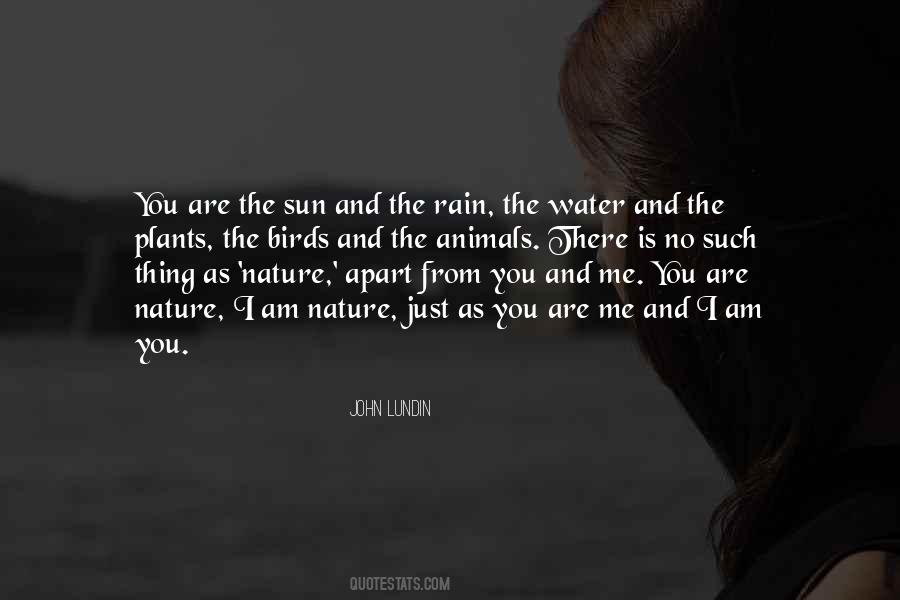 #16. Go to bed when summers ends, what a good idea; wake up bright and early when birds announce its spring. - Author: Francis Norris, 1st Earl Of Berkshire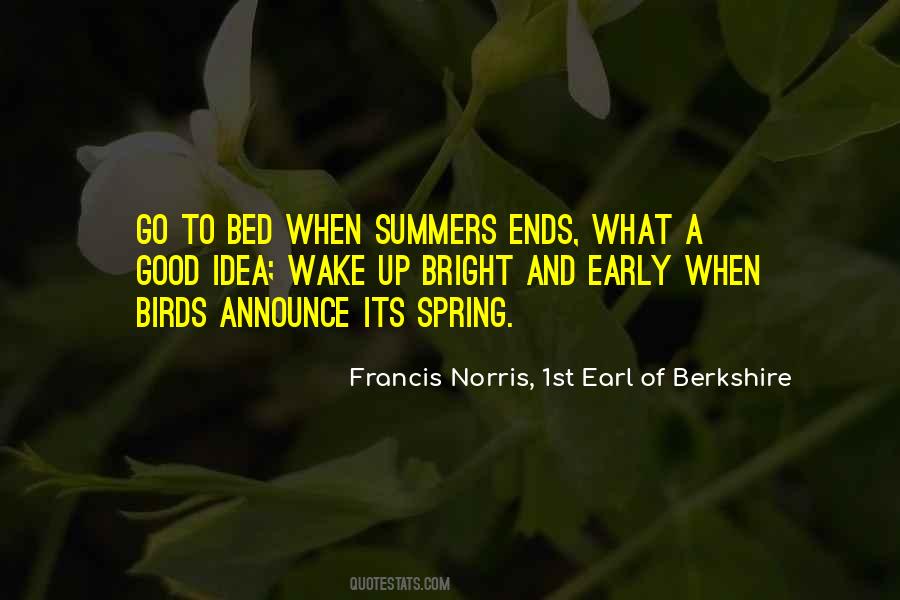 #17. The sun rises, the sun falls, the wind blows and the birds sing no matter where you are. These are experiences that unite us all... something we can all enjoy together - Author: Melanie Charlene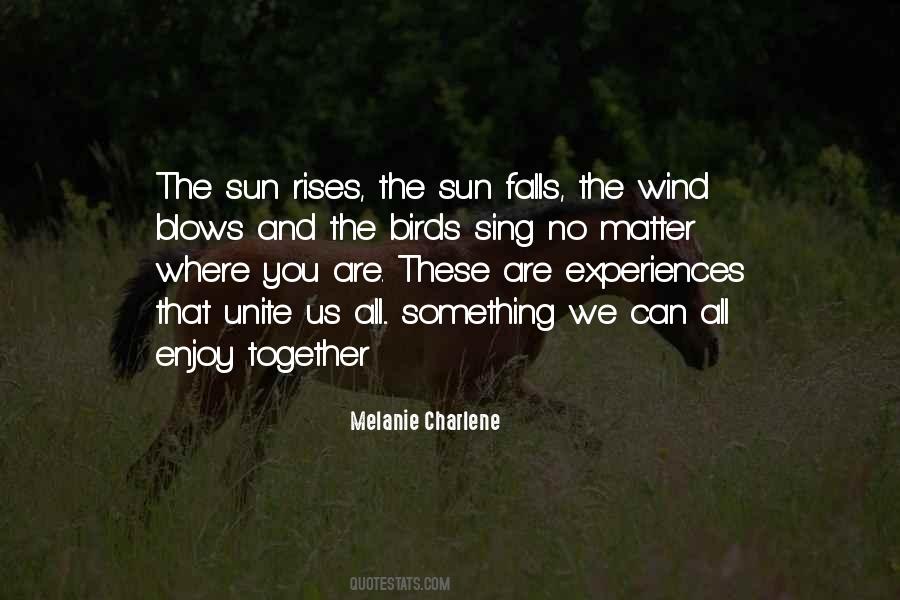 #18. Isn't it amazing how we always have to put our mark on things? And how, from the natural world, we find evidence over and over again that reminds us, not so much of the birds, but of our own stories and our own kinds of art? - Author: Rosamond Purcell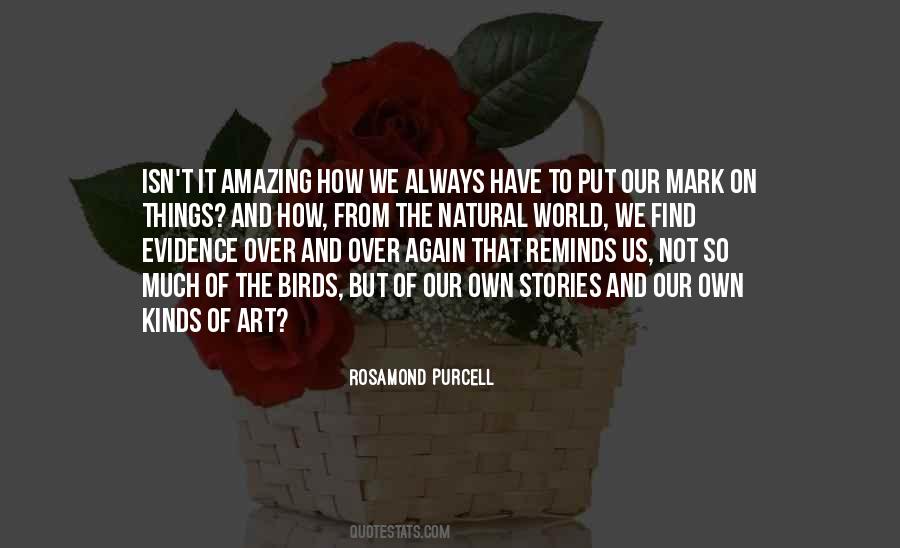 #19. One by one and then together the birds chanted, warbled, whistled, and cooed, like a rare desert plant bursting into life after the rain. - Author: Mike Bond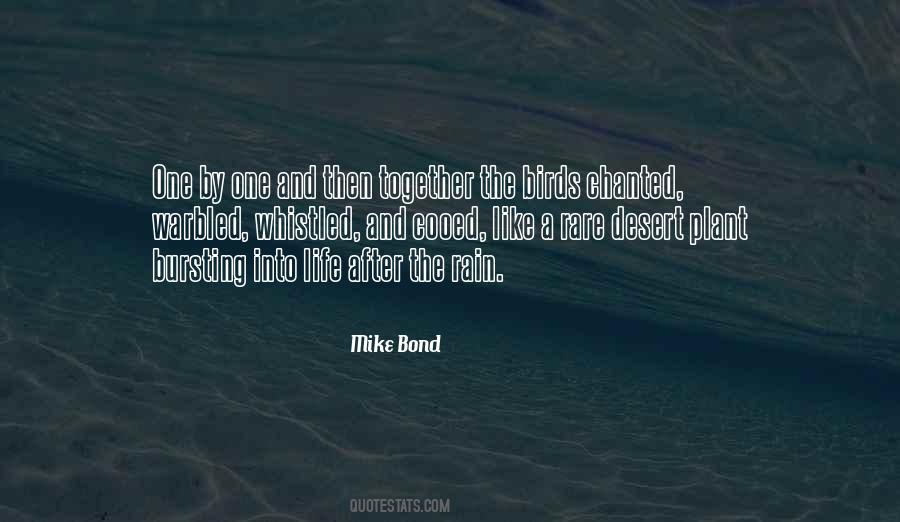 #20. We both loved the birds and animals and plants. We both felt far happier out of doors. I felt a peace in nature that I could never find in the human world, as you know. - Author: Tracy Rees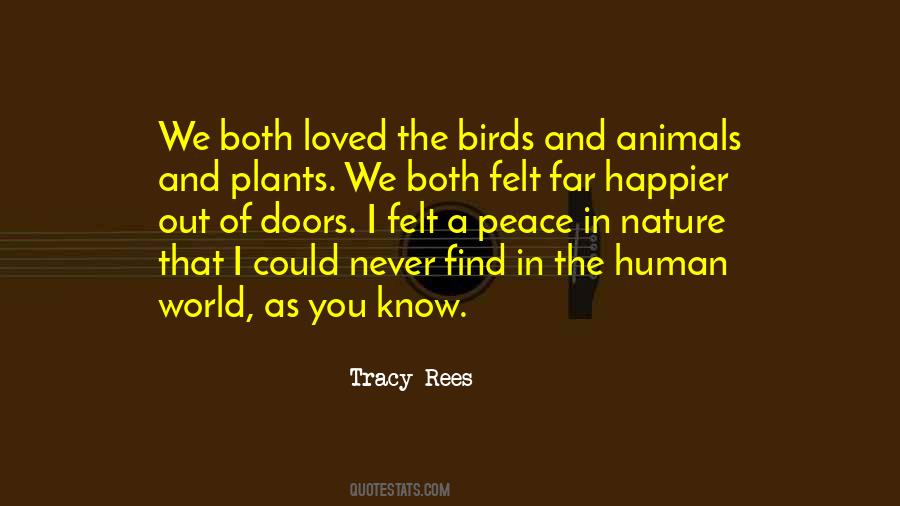 #21. The eggers destroy all the eggs that are sat upon, to force the birds to lay fresh eggs, and by robbing them regularly compel them to lay until nature is exhausted, and so but few young ones are raised. - Author: John James Audubon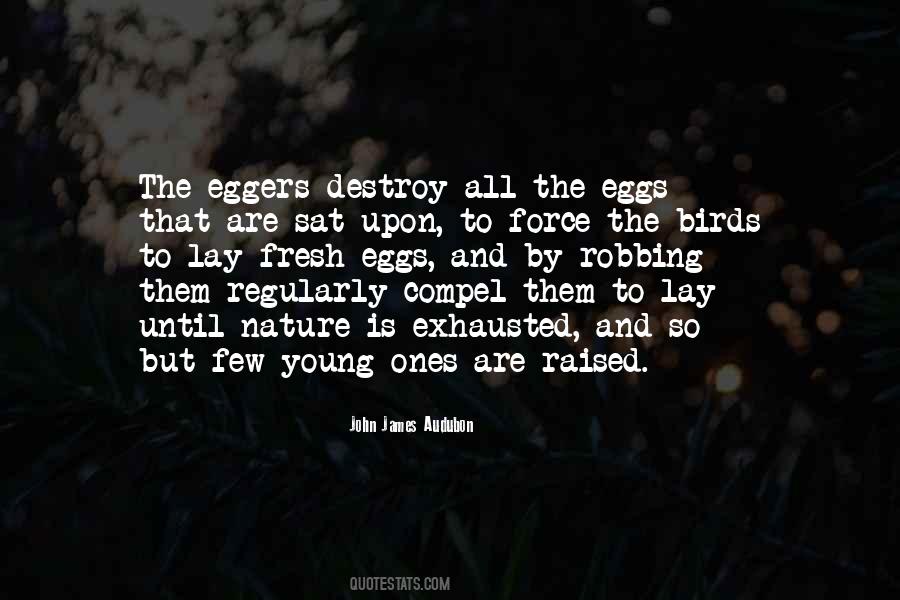 #22. The birds looked upon me as nothing but a man, quite a trifling creature without wings - and they would have nothing to do with me. Were it not so I would build a small cabin for myself among their crowd of nests and pass my days counting the sea waves. - Author: Rabindranath Tagore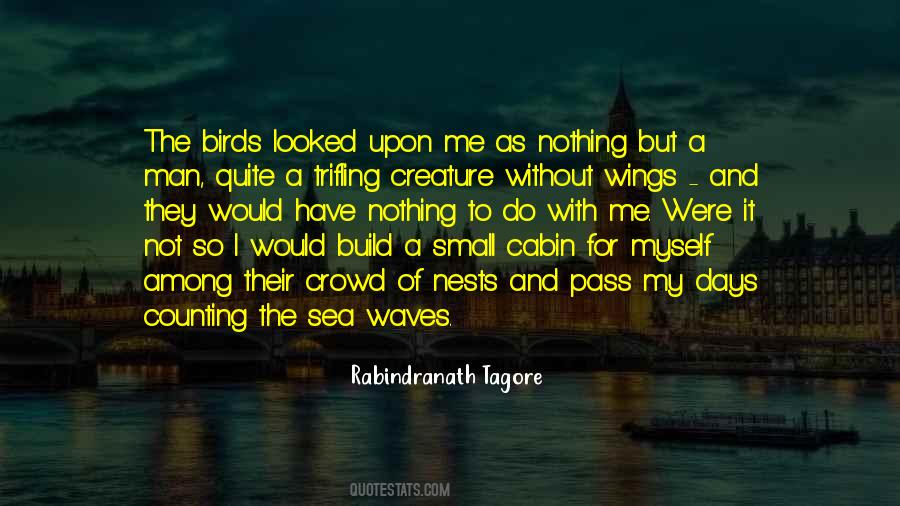 #23. At last came the golden month of the wild folk-- honey-sweet May, when the birds come back, and the flowers come out, and the air is full of the sunrise scents and songs of the dawning year. - Author: Samuel Scoville Jr.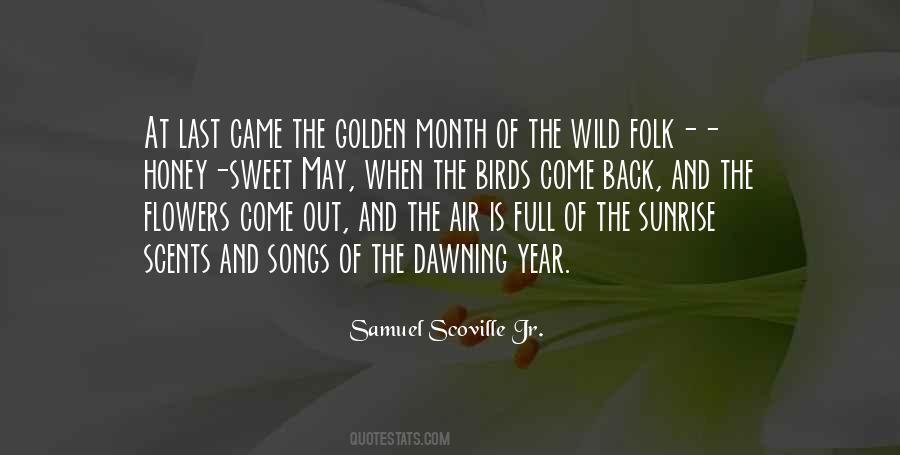 #24. Gaea?" Leo shook his head. "Isn't that Mother Nature? She's supposed to have, like, flowers in her hair and birds singing around her and dear and rabbits doing her laundry."
"Leo, that's Snow White," Piper said. - Author: Rick Riordan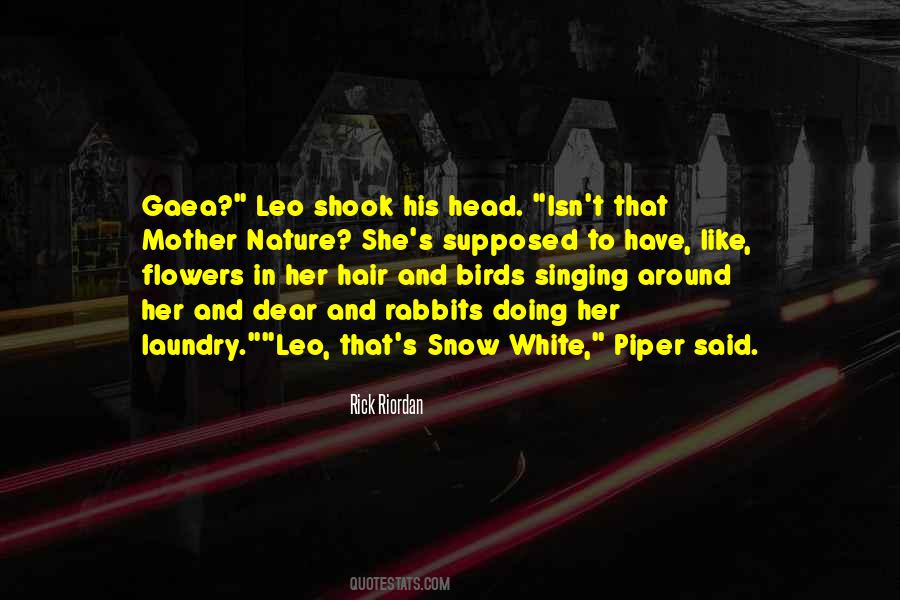 #25. I want them to whisper my stories of enchanted birds, ancestral traditions,and smooth brown turtles as if they were incantations. - Author: Autumn Morning Star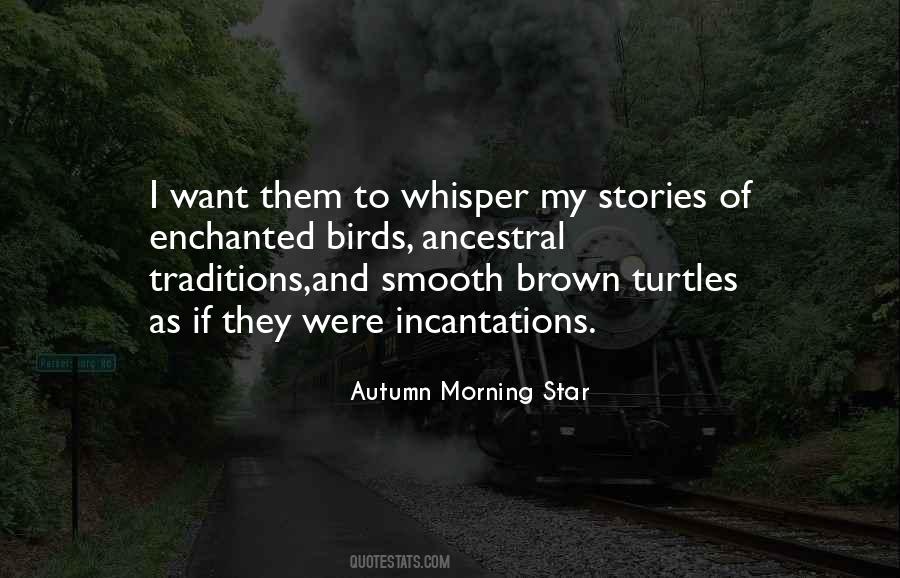 #26. Everything in life is built on principles - plants, seas, birds, all of the natural elements of nature, they all follow and obey certain basic fundamental principles. - Author: Myles Munroe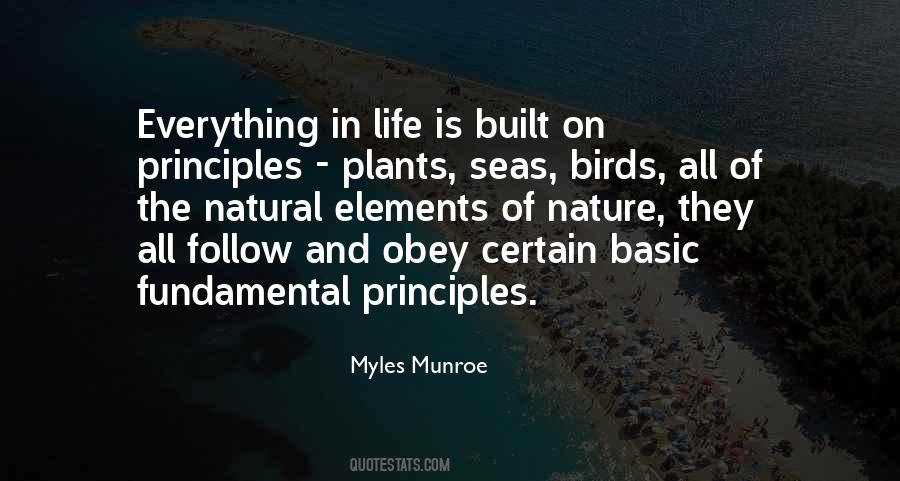 #27. Long before the stars died the birds began to sing - cool rippling doves, loud cheery starlings, the long lilting trills of warblers and thrushes. - Author: Mike Bond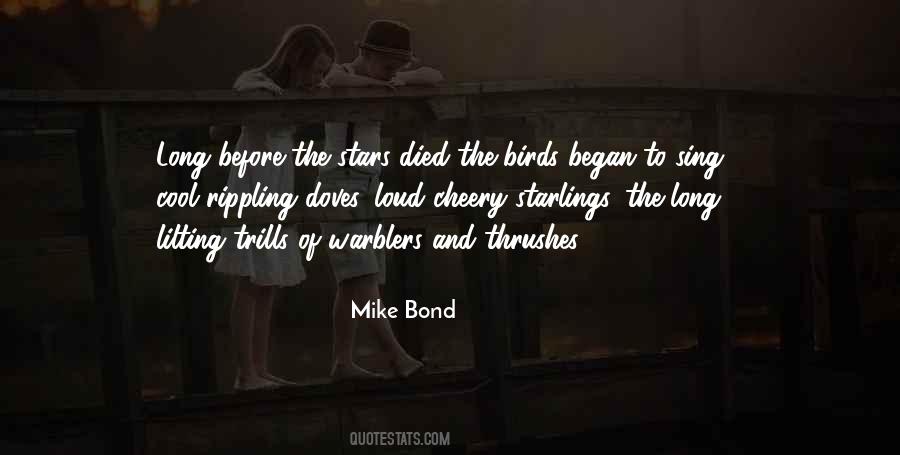 #28. To be standing together in a frosty field, looking up into the sky, marvelling at birds and revelling in the natural world around us, was a simple miracle. And I wondered why we were so rarely able to appreciate it. - Author: Lynn Thomson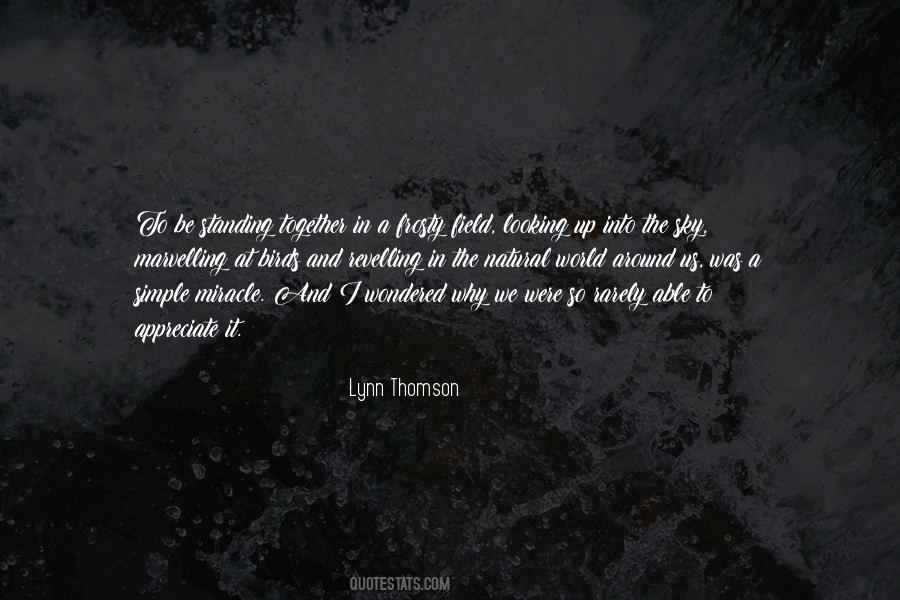 #29. The ocean is 20 minutes away. Nature surrounds me 24/7. I wake up to the sounds of birds chirping. I also love that I can go out to dinner in jeans and flip-flops. - Author: Jordana Brewster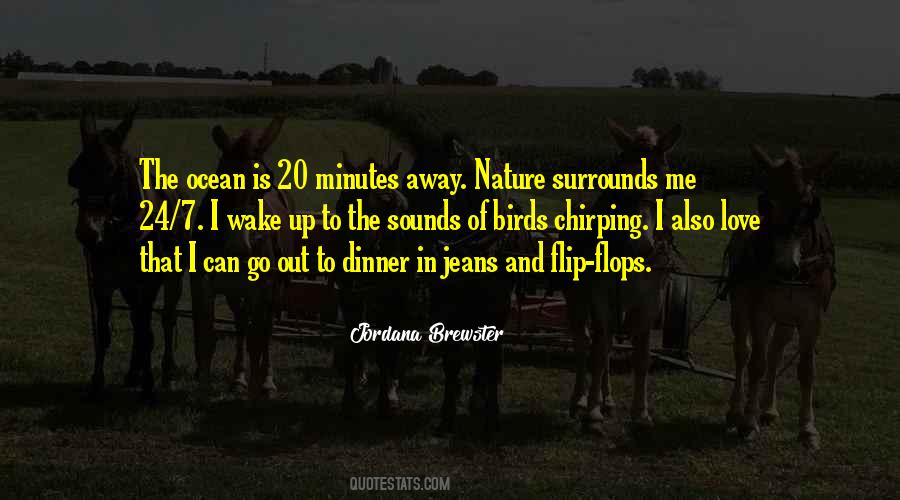 #30. Feeding birds means feeding yourself! Birds are part of nature and feeding nature is nothing but feeding yourself! - Author: Mehmet Murat Ildan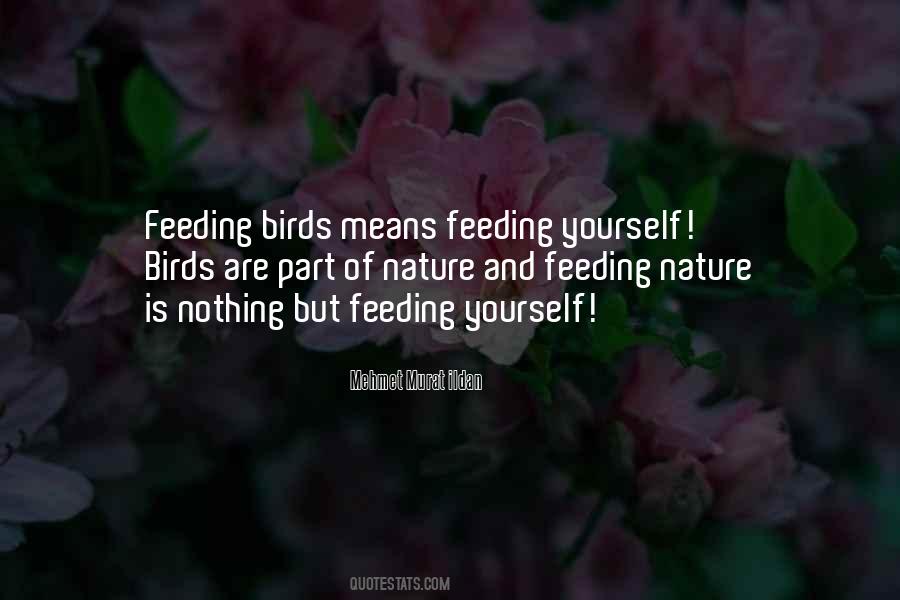 #31. I can find God in nature, in animals, in birds and the environment. - Author: Pat Buckley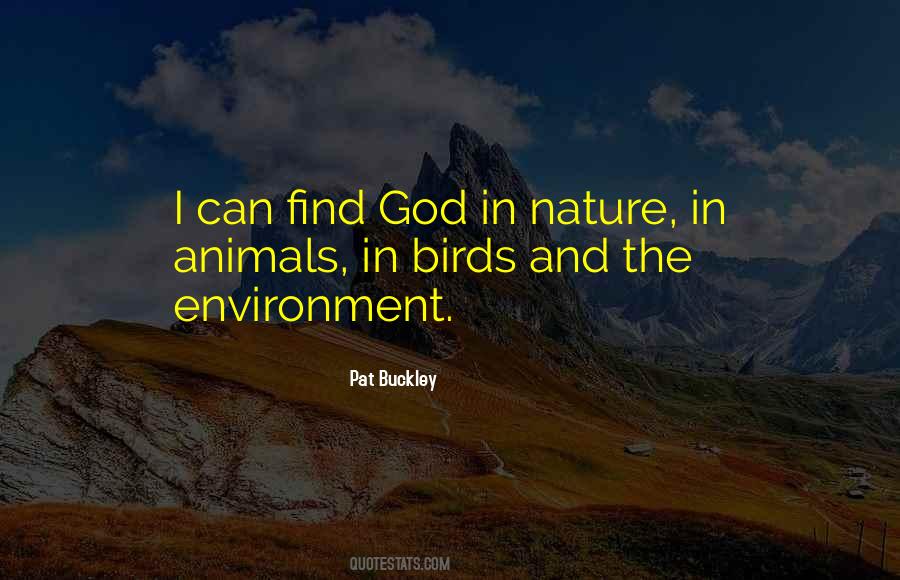 #32. The cool wind blew in my face and all at once I felt as if I had shed dullness from myself. Before me lay a long gray line with a black mark down the center. The birds were singing. It was spring. - Author: Burl Ives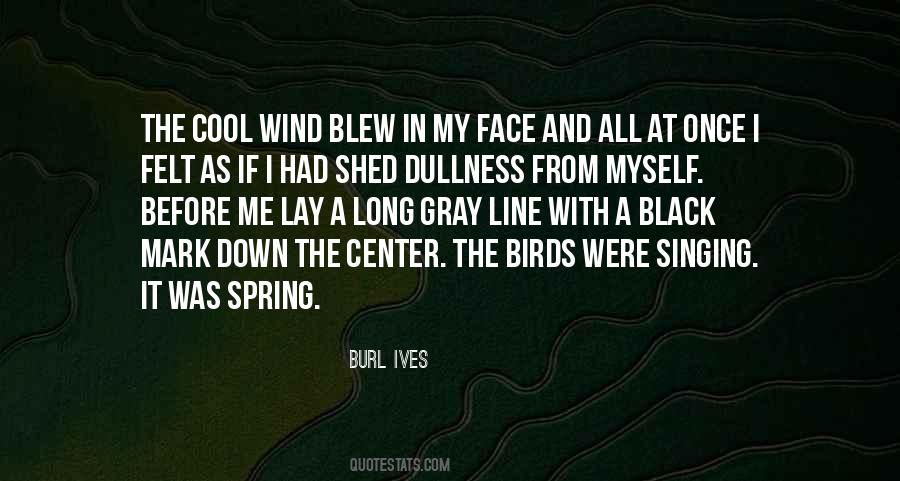 #33. One Divine Moment In The Sweet Sanctuary Of this shade We heard the birds The leaves in the breeze And waves as they played And in one divine moment We felt our hearts melt Suddenly we knew How nature Prayed - Author: Silent Lotus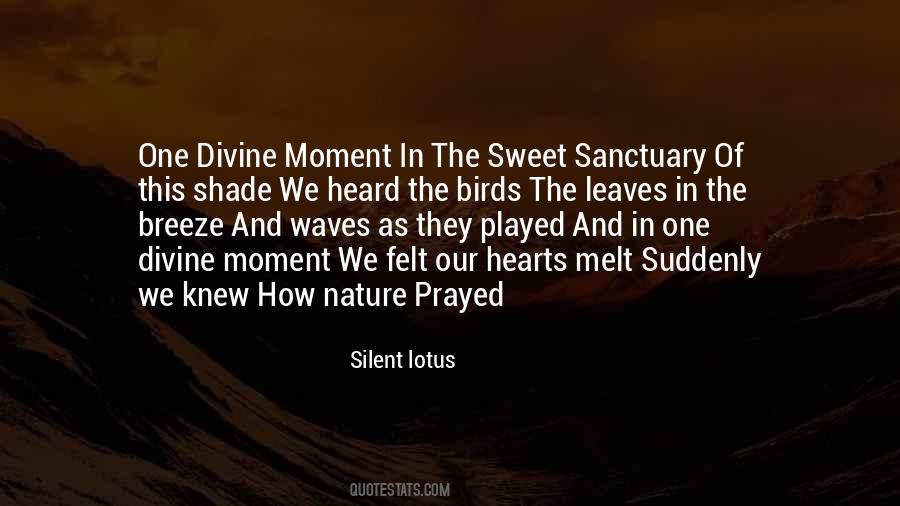 #34. People should relate to nature as birds do. Birds don't run around carefully preparing fields, planting seeds, and harvesting food. They don't create anything ... they just receive what is there for them with a humble and grateful heart. - Author: Masanobu Fukuoka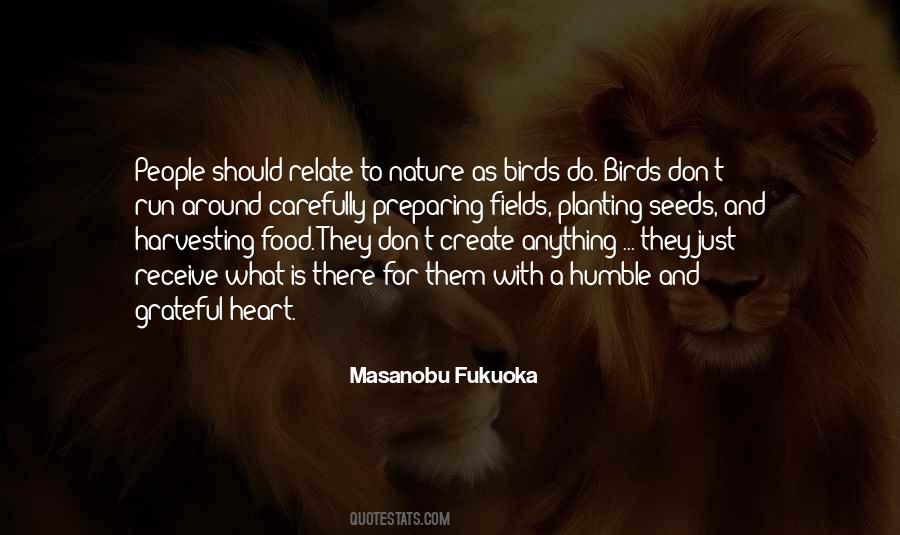 #35. Fish cannot drown in water. Birds cannot sink in air. This has God given to all creatures, to foster and seek their own nature. How then can I withstand mine? - Author: Mechthild Of Magdeburg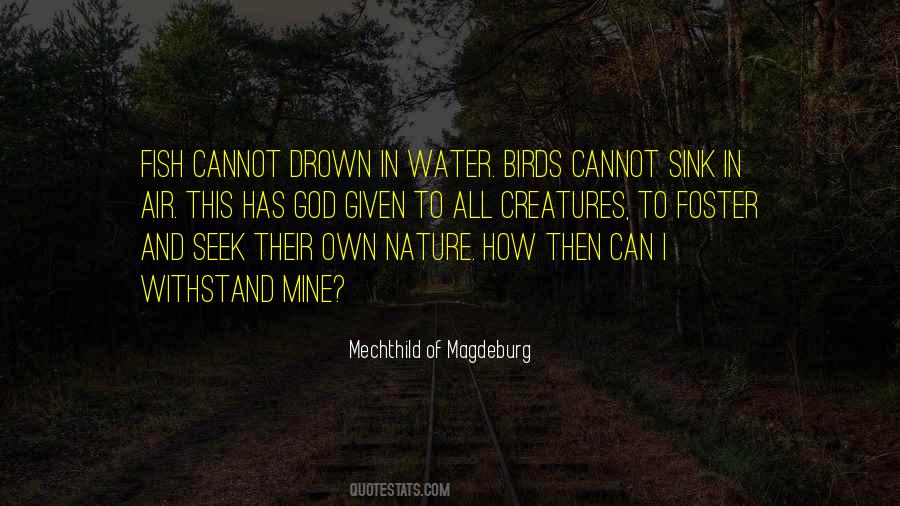 #36. We are told that the trouble with modern man is that he has been trying to detach himself from nature ... In this scenario, Man comes on as a stupendous lethal force, and the Earth is pictured as something delicate, like rising bubbles at the surface of a country pond, or flights of fragile birds. - Author: Lewis Thomas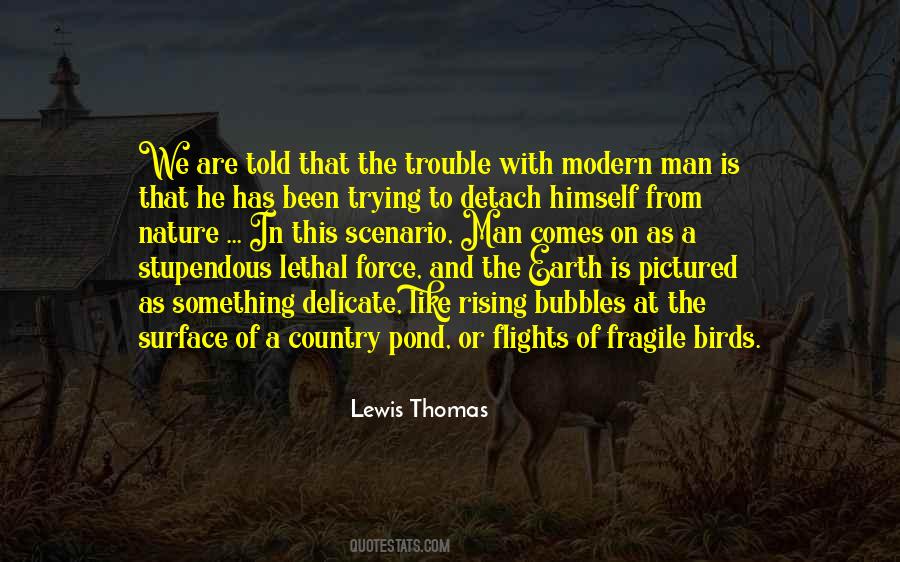 #37. I consider myself to have been the bridge between the shotgun and the binoculars in bird watching. Before I came along, the primary way to observe birds was to shoot them and stuff them. - Author: Roger Tory Peterson
#38. Nature with her wealth of birds and flowers, Has in her heart a place for every weed; For her quick eyes require no microscope To note the varied wonders and delights That the Creator's humblest works possess. - Author: Kobo Abe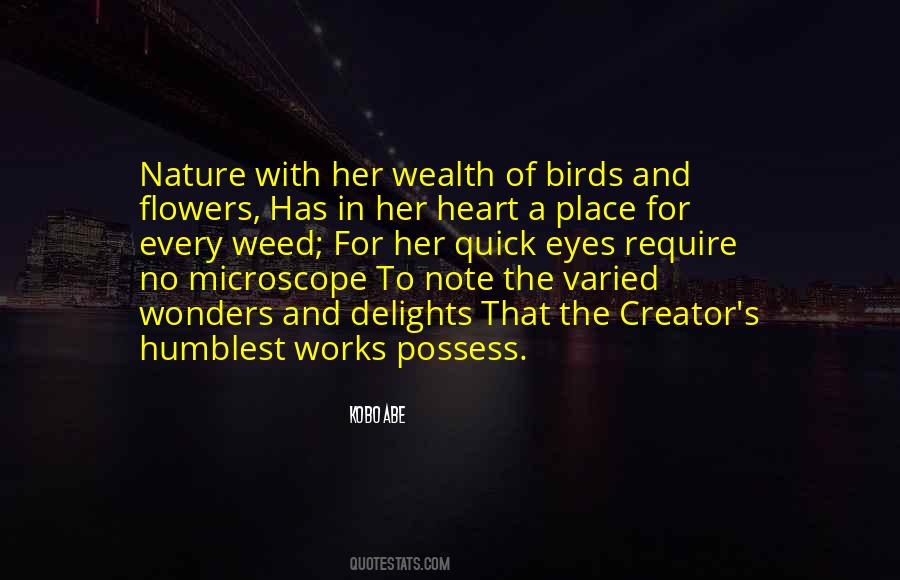 #39. Give me spots on my apples, but leave me the birds and the bees, please. - Author: Joni Mitchell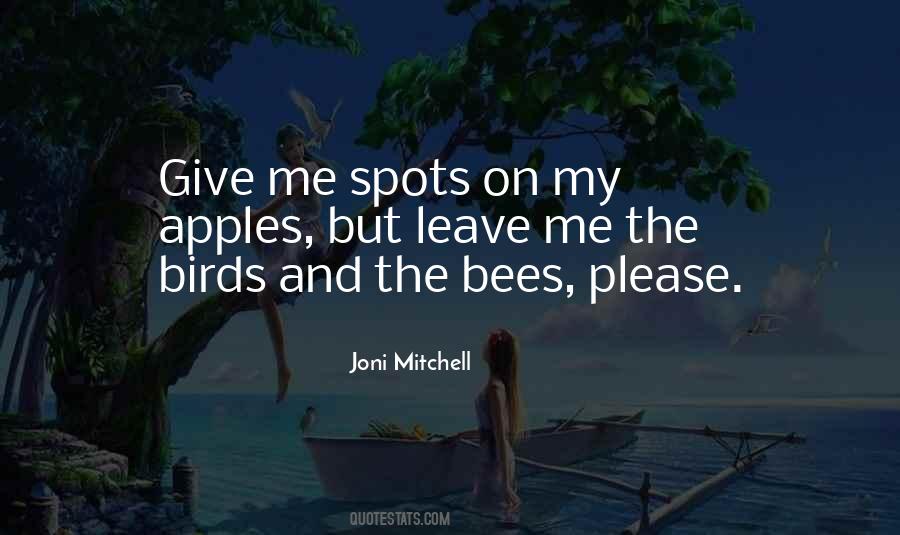 #40. Nature, or at least birds and women, abhorred the invisible man. - Author: Jonathan Lethem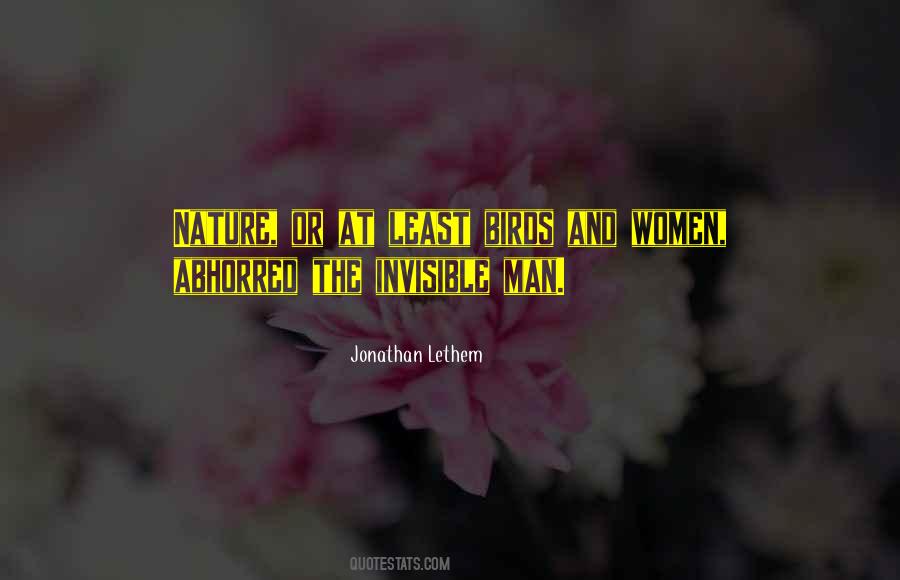 #41. And do you see how beautiful and graceful the birds are when they are flying and soaring? The ground has many comforts for them to enjoy... But in the sky they are truly what a bird is meant to be. So it is with the human heart. - Author: Aleksandra Layland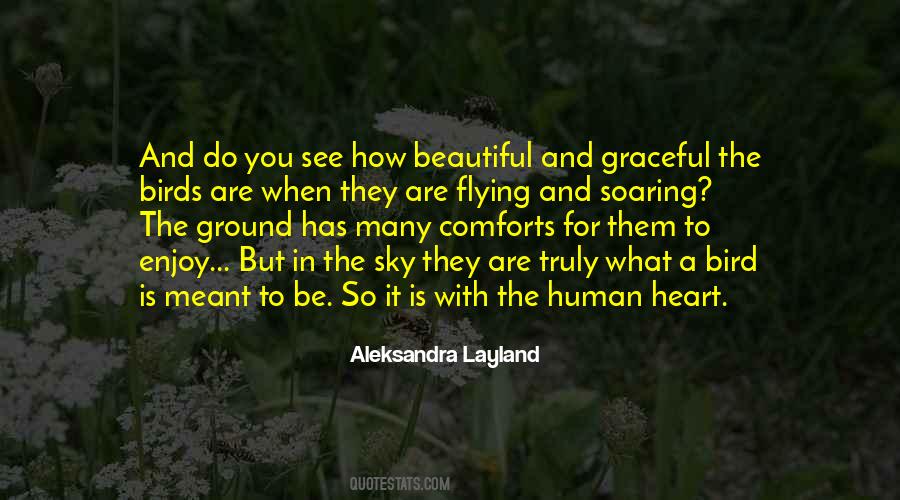 #42. A voice of greeting from the wind was sent; The mists enfolded me with soft white arms; The birds did sing to lap me in content, The rivers wove their charms, And every little daisy in the grass Did look up in my face, and smile to see me pass! - Author: Richard Henry Stoddard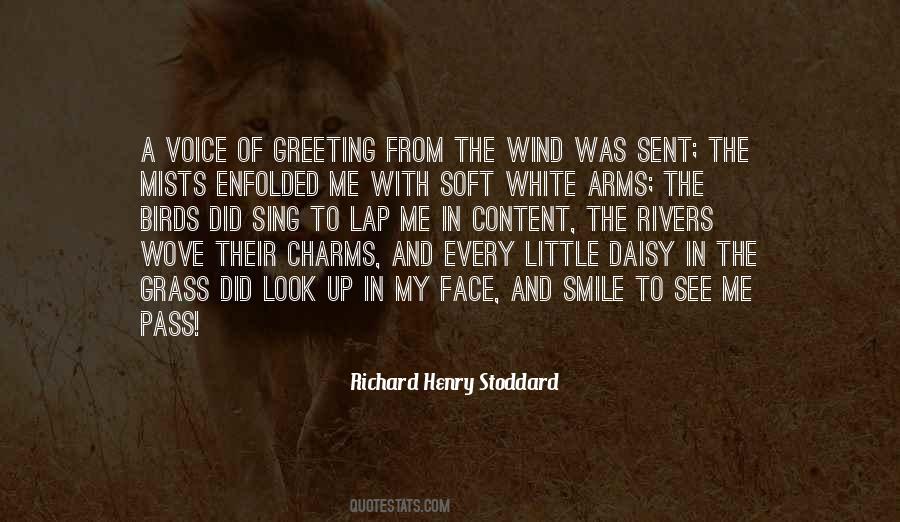 #43. Look around you ... Feel the wind, smell the air. Listen to the birds and watch the sky. Tell me what's happening in the wide world. - Author: Nancy Farmer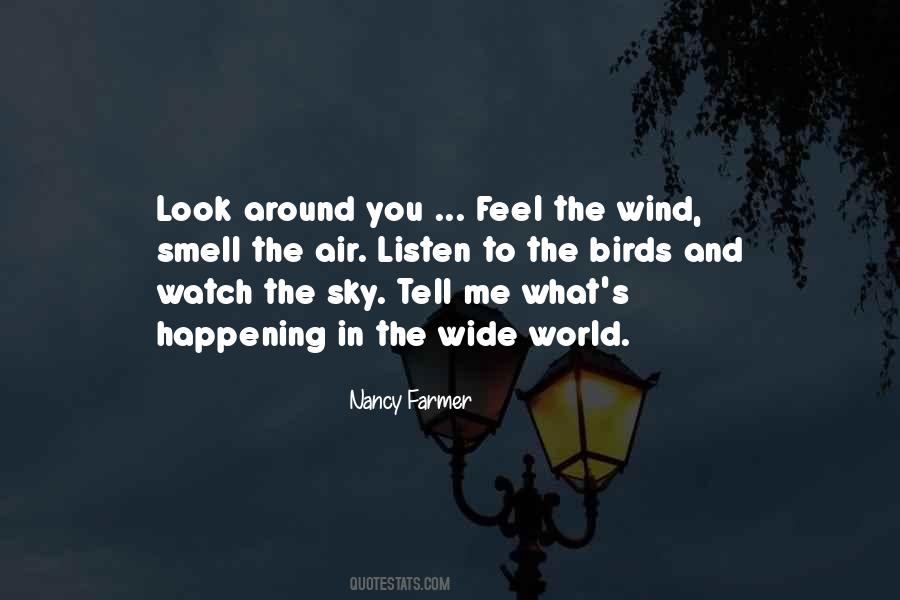 #44. I'm in agony: I want the colorful, confused and mysterious mixture of nature. All the plants and algae, bacteria, invertebrates, fish, amphibians, reptiles, birds, mammals concluding man with his secrets. - Author: Clarice Lispector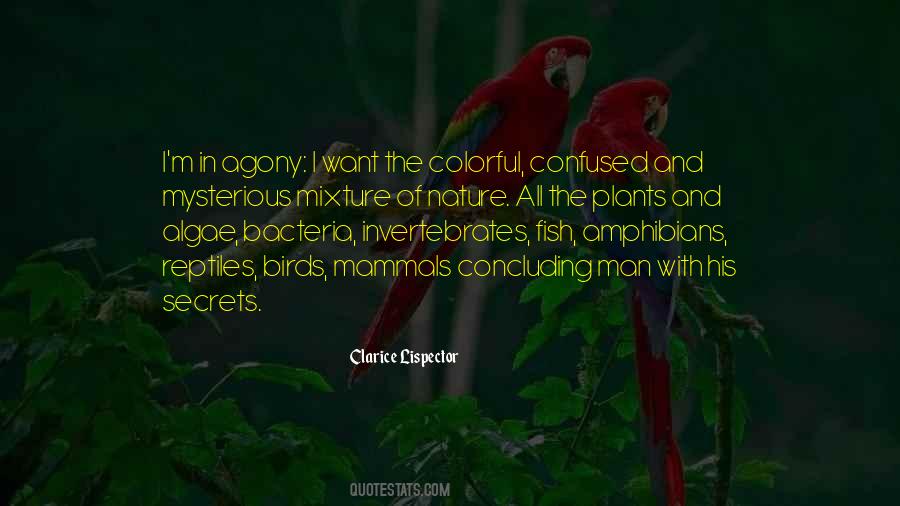 #45. All nature mourns, the skies relent in showers; hushed are the birds, and closed the drooping flowers. - Author: Alexander Pope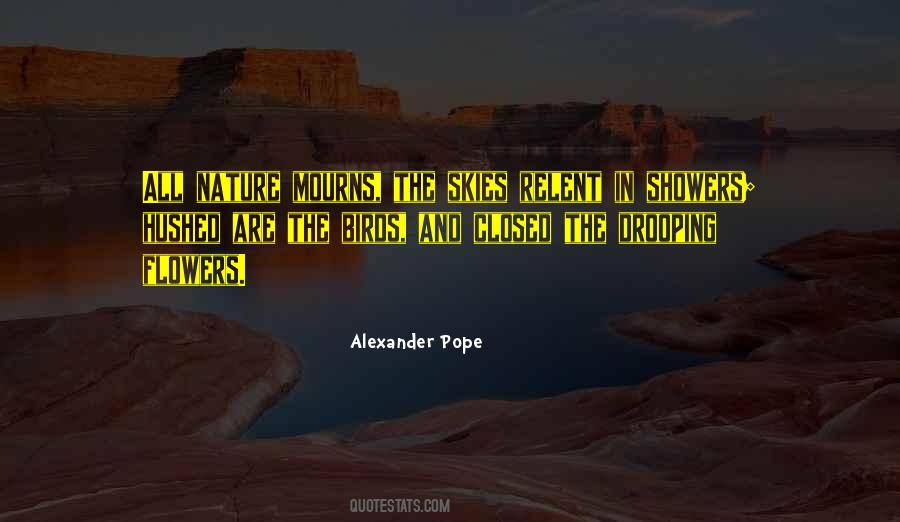 #46. But look around at this world, how perfectly it's made. Flowers can't move, yet the insects come to them and spread their pollen. Trees can't move either, but birds and animals eat their fruit and carry their seeds far and wide. - Author: Nahoko Uehashi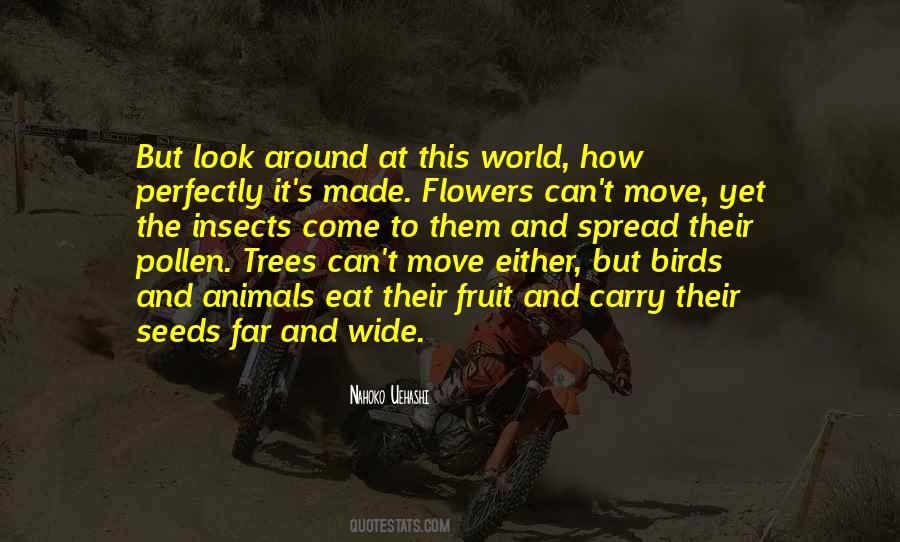 #47. Because there is no meaning to be found in the arbitrary nature of things., It's all random. Just as space is blue. And birds fly through it. - Author: Douglas Kennedy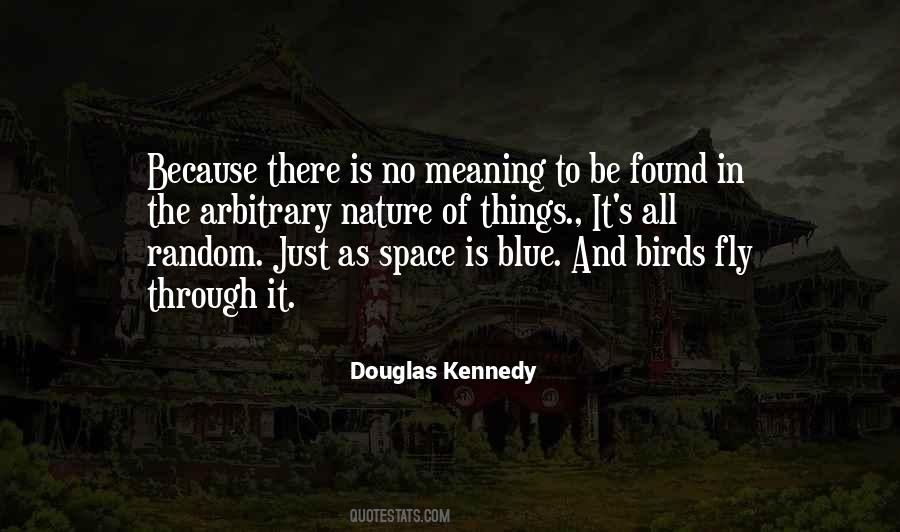 #48. Human beings to me are as much a part of nature as trees or birds, and the unclothed body expresses this belongingness directly and powerfully. - Author: Wynn Bullock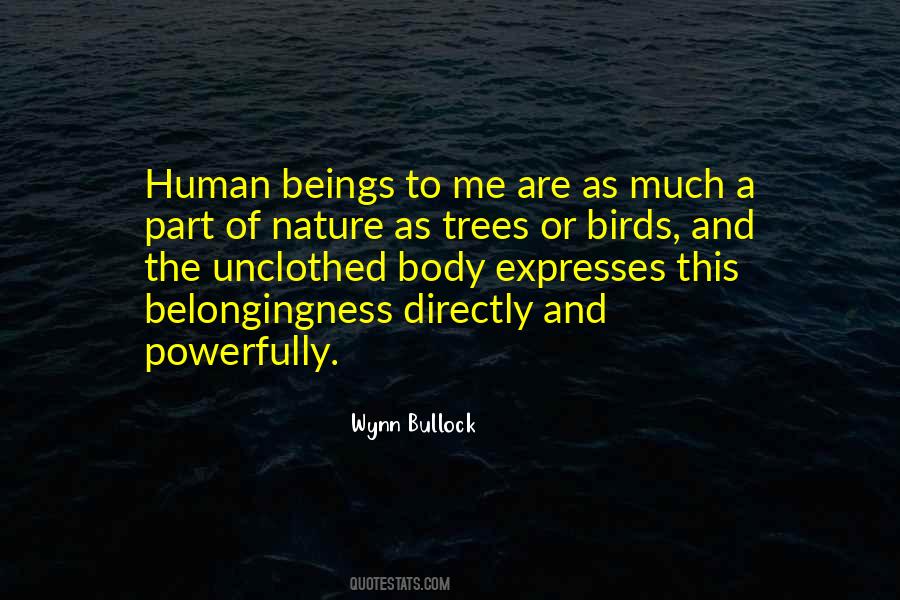 #49. The flowers of Spring may wither, the hope of Summer fade, The Autumn droop in Winter, the birds forsake the shade; The winds be lull'd - the Sun and Moon forget their old decree, But we in Nature's latest hour, O Lord! will cling to Thee. - Author: Reginald Heber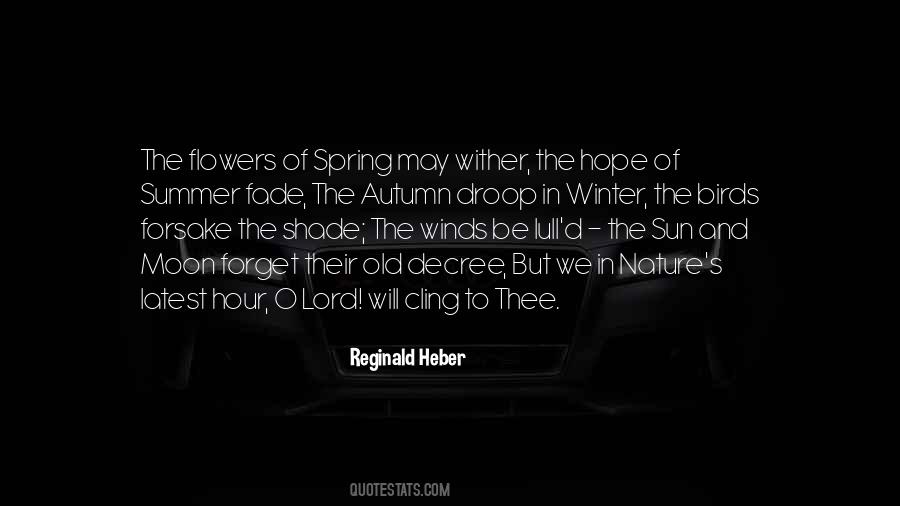 #50. So extraordinary is Nature with her choicest treasures, spending plant beauty as she spends sunshine, pouring it forth into land and sea, garden and desert. And so the beauty of lilies falls on angels and men, bears and squirrels, wolves and sheep, birds and bees ... - Author: John Muir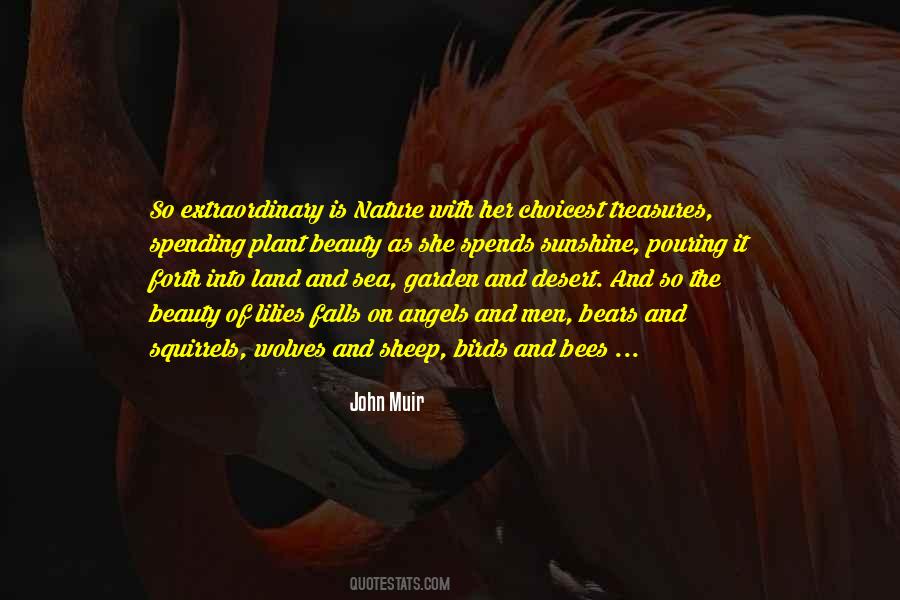 #51. All is going on as it was wont. The waves are hoarse with repetition of their mystery; the dust lies piled upon the shore; the sea-birds soar and hover; the winds and clouds go forth upon their trackless flight; the white arms beckon, in the moonlight, to the invisible country far away. - Author: Charles Dickens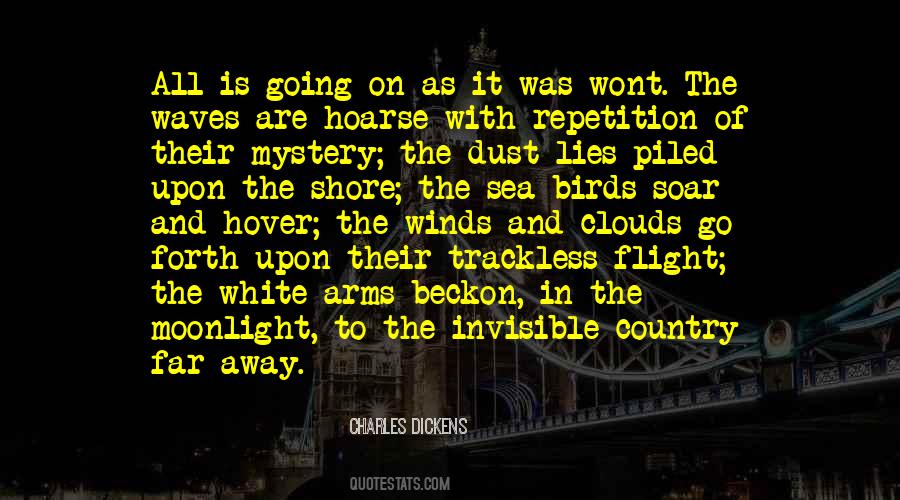 #52. These people have learned not from books, but in the fields, in the wood, on the river bank. Their teachers have been the birds themselves, when they sang to them, the sun when it left a glow of crimson behind it at setting, the very trees, and wild herbs. - Author: Anton Chekhov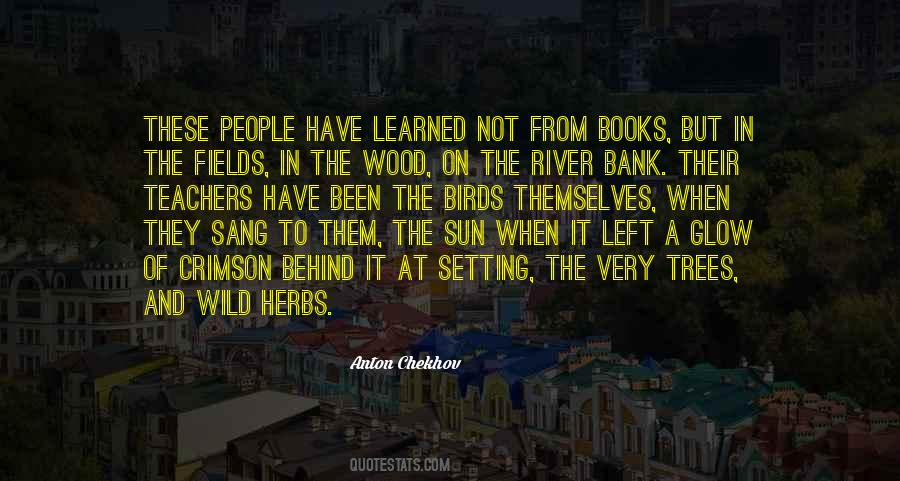 #53. Ah! the year is slowly dying,
And the wind in tree-top sighing,
Chant his requiem.
Thick and fast the leaves are falling,
High in air wild birds are calling,
Nature's solemn hymn. - Author: Mary Weston Fordham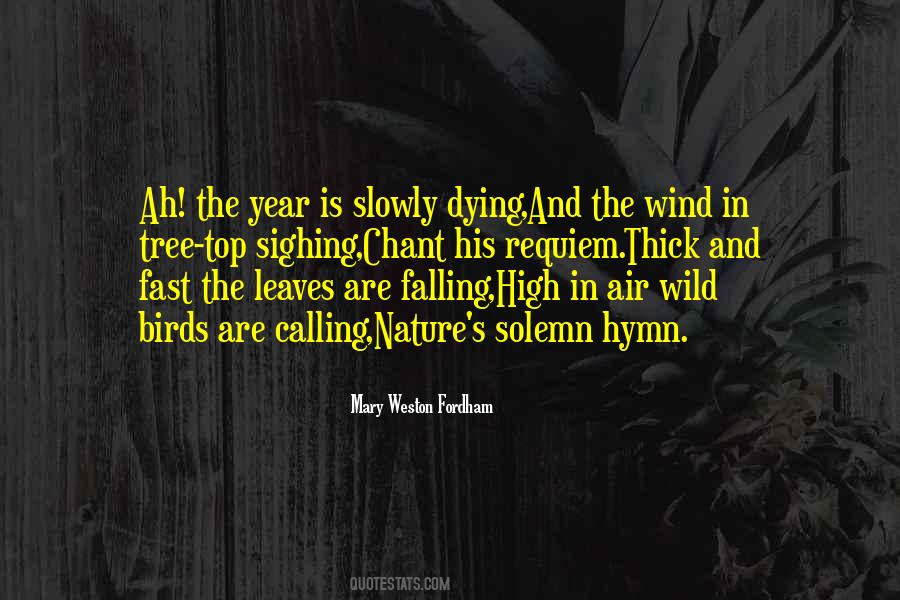 #54. Enlightenment comes when you understand the language of heart - the language of tree, birds and the nature. - Author: Amit Ray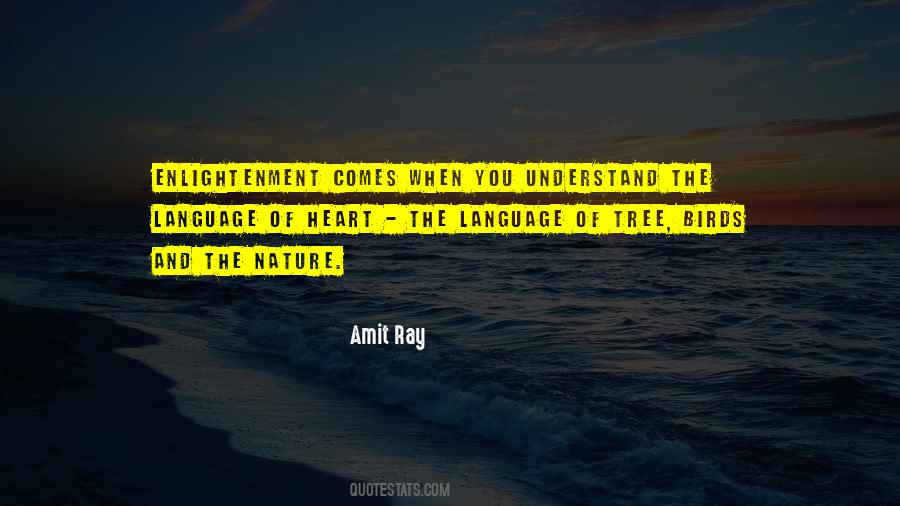 #55. We are developing all sorts of technologies based on what we have learnt from birds, animals and soils. Pollination is worth £billions. But it also highlights how nature is so interconnected. - Author: Tony Juniper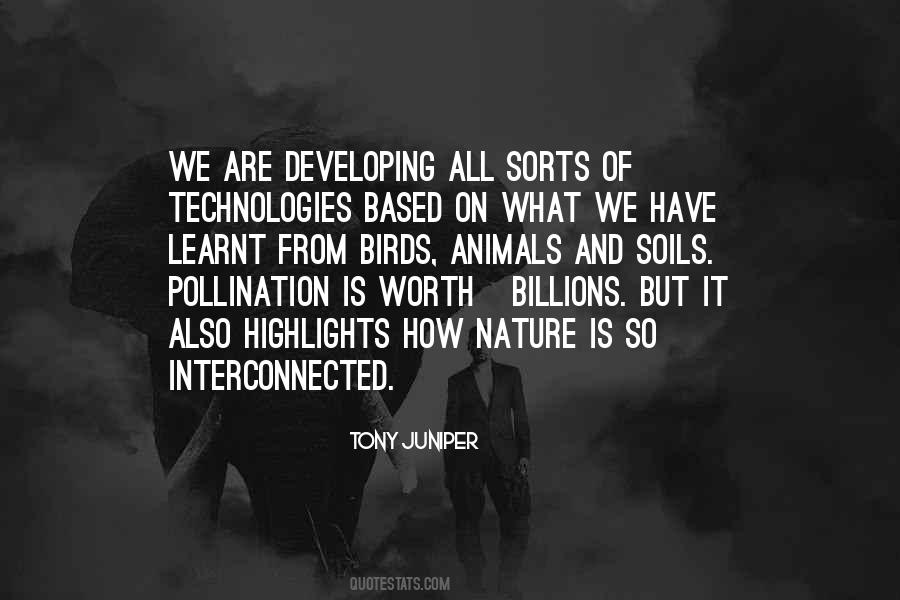 #56. And now the birds were singing overhead, and there was a soft rustling in the undergrowth, and all the sounds of the forest that showed that life was still being lived blended with the souls of the dead in a woodland requiem.
The whole forest now sang for Granny Weatherwax. - Author: Terry Pratchett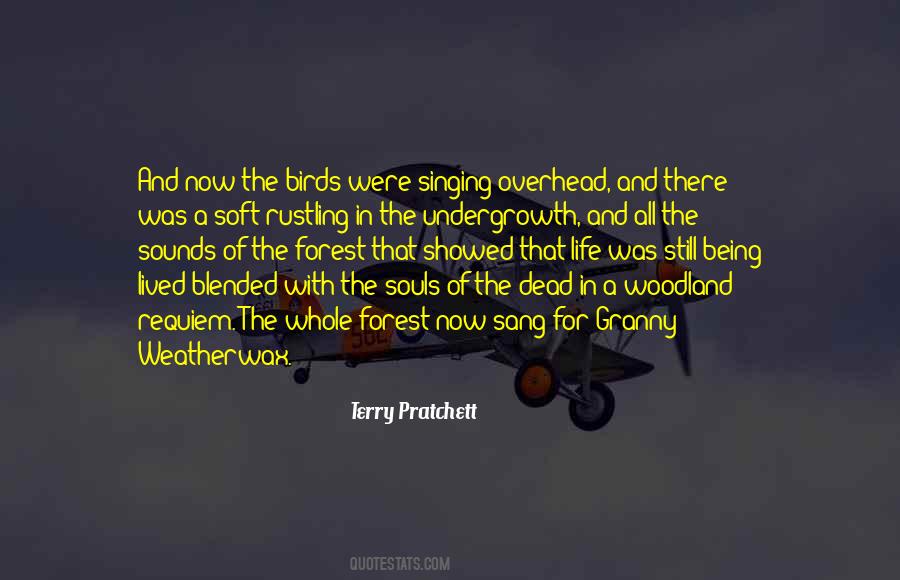 #57. I look out this window and think this is a cosmos, this is a huge creation, this is one small corner of it. The trees and the birds and everything else and I am part of it. I didn't ask to be put here. I've been lucky finding myself here. - Author: Morris West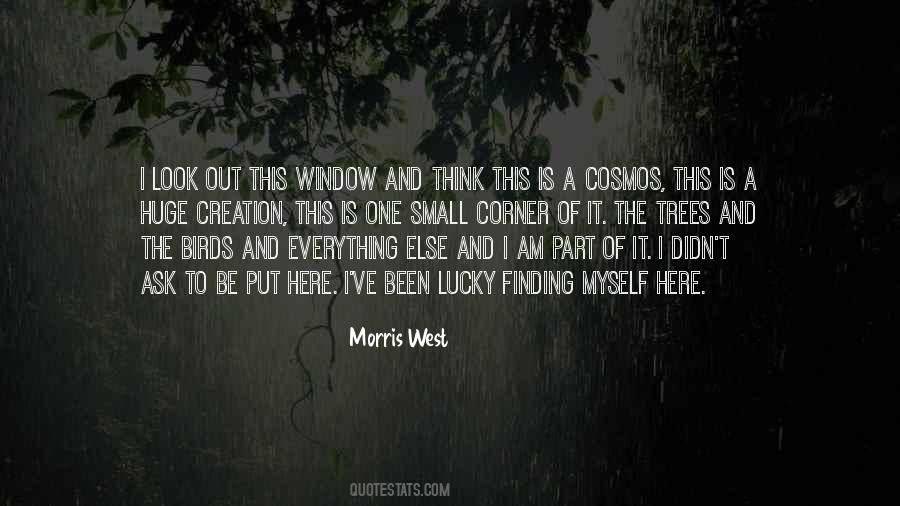 #58. The birds that wake the morning, and those that love the shade; The winds that sweep the mountain or lull the drowsy glade; The Sun that from his amber bower rejoiceth on his way, The Moon and Stars, their Master's name in silent pomp display. - Author: Reginald Heber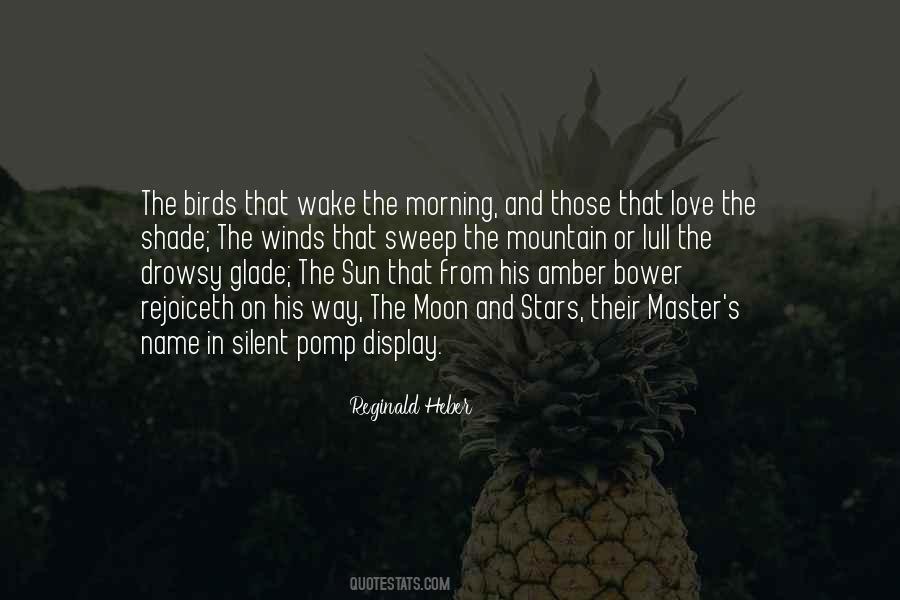 #59. I [Music] was born in the open air, in the breaks of waves and the whistling of sandstorms, the hoots of owls and the cackles of tui birds. I travel in echoes. I ride the breeze. I was forged in nature, rugged and raw. Only man shapes my edges to make me beautiful. [Chapter 2] - Author: Mitch Albom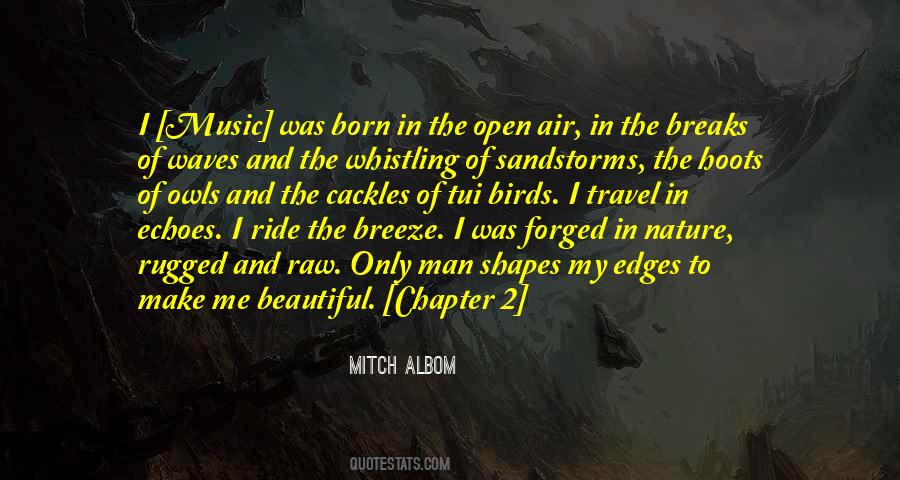 #60. One must ask children and birds how cherries and strawberries taste. - Author: Johann Wolfgang Von Goethe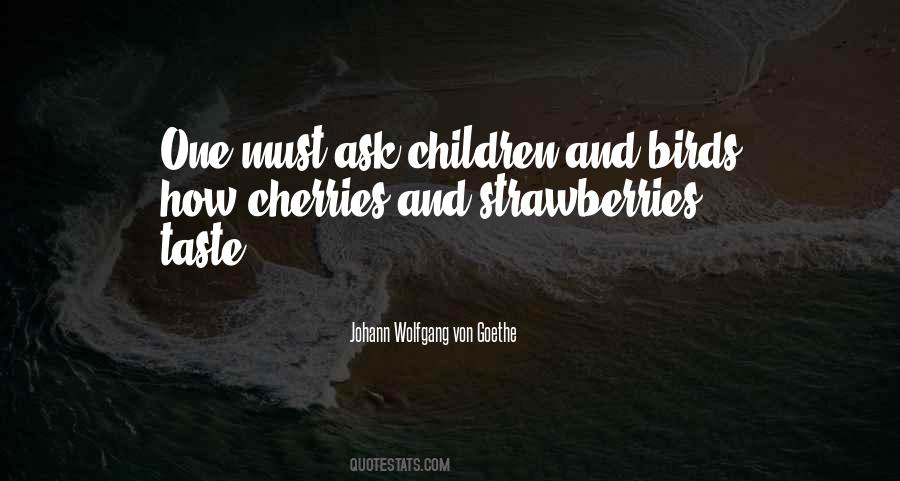 #61. And this sensitivity will create new friendships for you - friendships with trees, with birds, with animals, with mountains, with rivers, with oceans, with stars. Life becomes richer as love grows. - Author: Rajneesh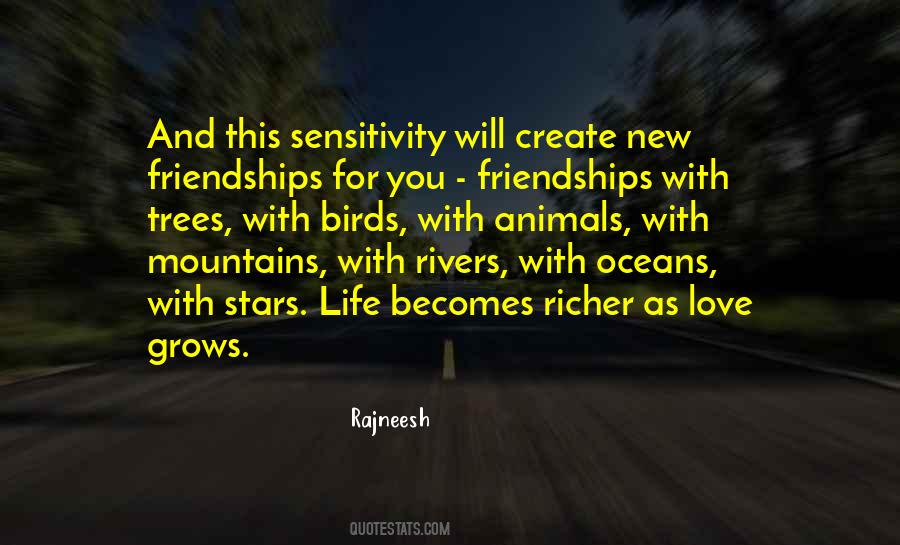 #62. Nature is also God's way of communicating with us. Jesus himself used nature to teach us about God. He used birds and flowers, the weather, precious stones ... Looking at nature, we can come to understand God himself. - Author: Adelina St. Clair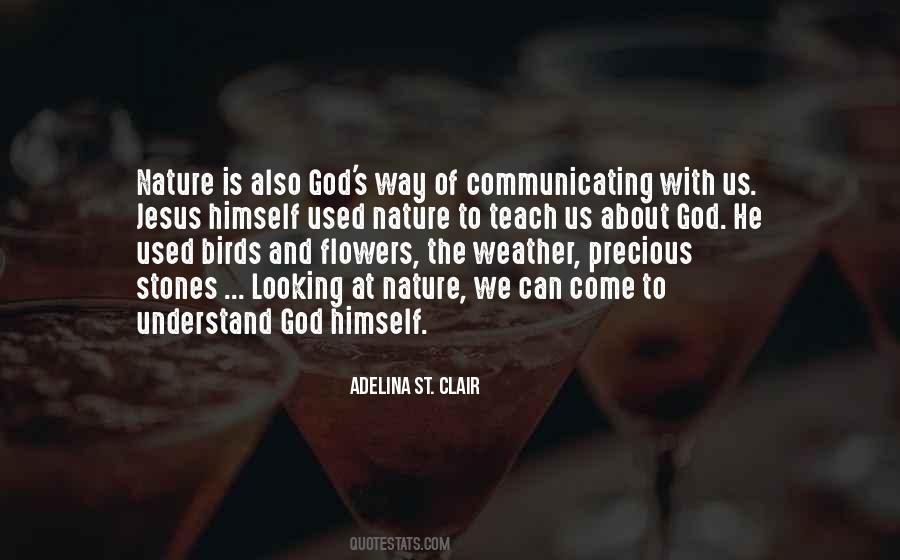 #63. I'm like Albert Schweitzer and Bertrand Russell and Albert Einstein in that I have a respect for life - in any form. I believe in nature, in the birds, the sea, the sky, in everything I can see or that there is real evidence for. If these things are what you mean by God, then I believe in God. - Author: Frank Sinatra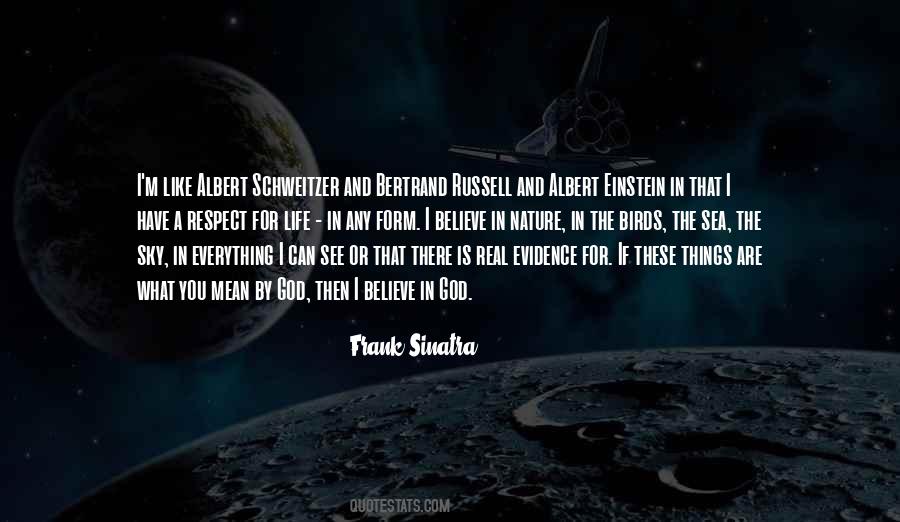 #64. I'm always aware that under the spritely twitter of birds, bones are being crunched and ribbons of flesh are being stripped away, all of it the work of bright-eyed creatures without feeling or conscience. I don't look to nature for comfort or serenity. - Author: Sue Grafton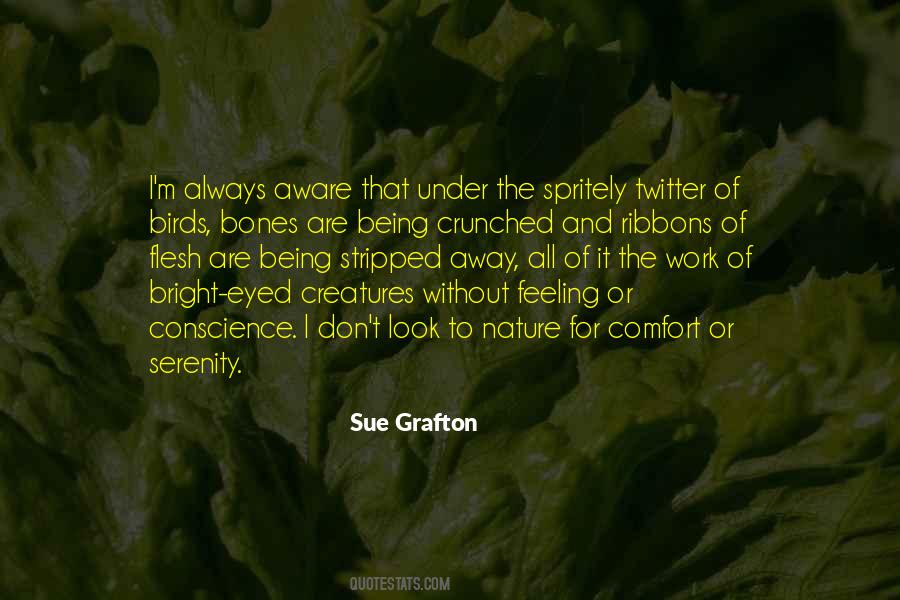 #65. Hinduism comes closest to being a nature religion. Rivers, rocks, trees, plants, animals, and birds all play their part, both in mythology and everyday worship. This harmony is most evident in remote places like this, and I hope it does not loose its unique character in the ruthless urban advance. - Author: Ruskin Bond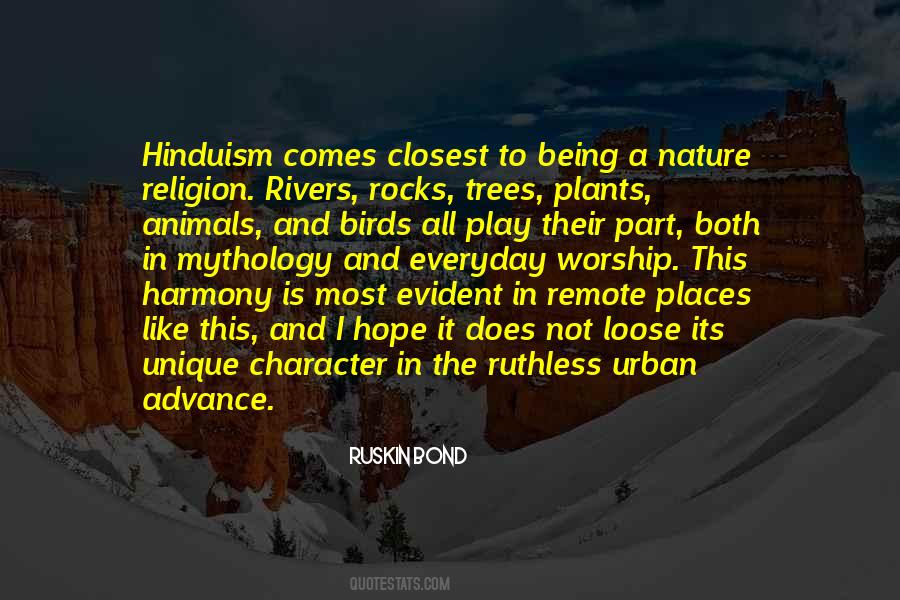 #66. First came him, then came I, then he came again and then I was lost forever. - Author: Alok Jagawat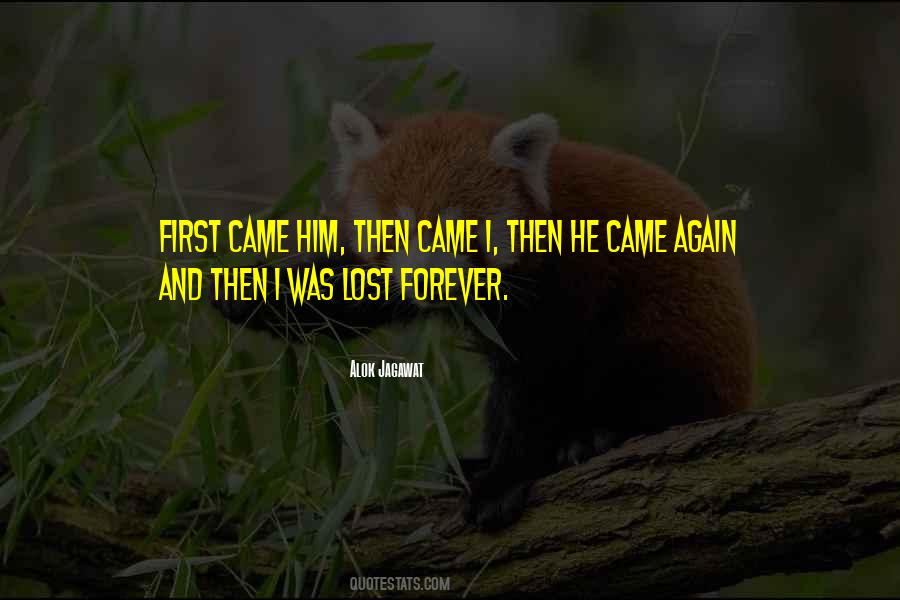 #67. This was sheer idleness to my fellow-townsmen, no doubt; but if the birds and flowers had tried me by their standard, I should not have been found wanting. A man must find his occasions in himself, it is true. The natural day is very calm, and will hardly reprove his indolence. - Author: Henry David Thoreau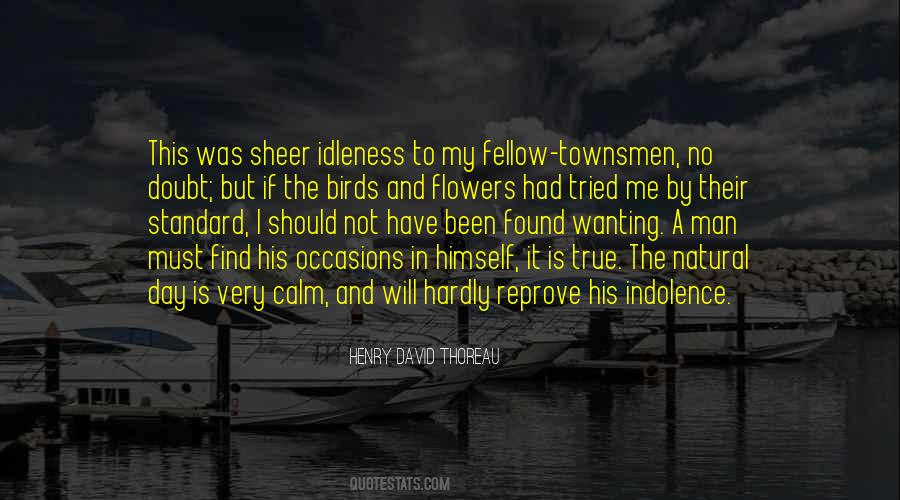 #68. Birds are the magicians of the nature! They are here, they are there and they are everywhere! - Author: Mehmet Murat Ildan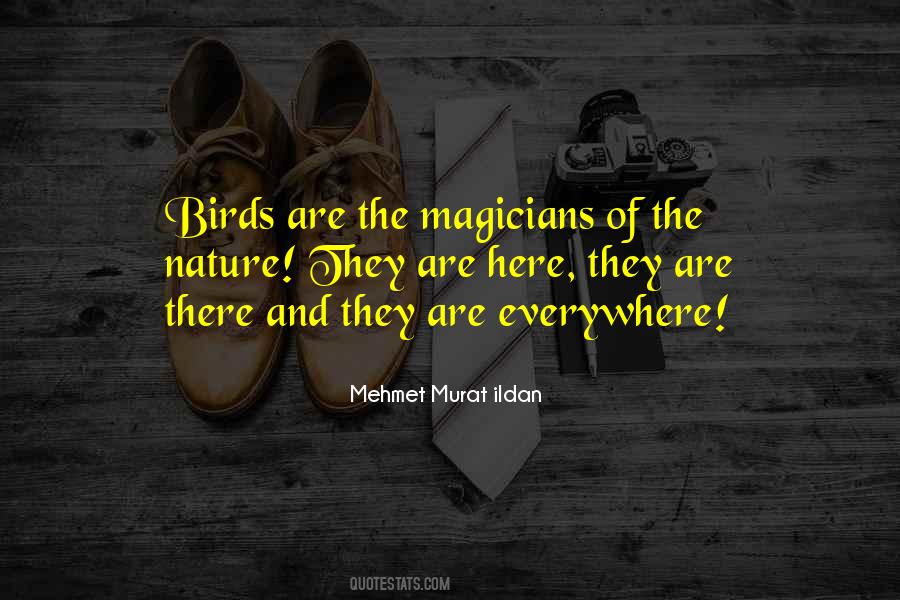 #69. In a world where thrushes sing and willow trees are golden in the spring, boredom should have been included among the seven deadly sins. - Author: Elizabeth Goudge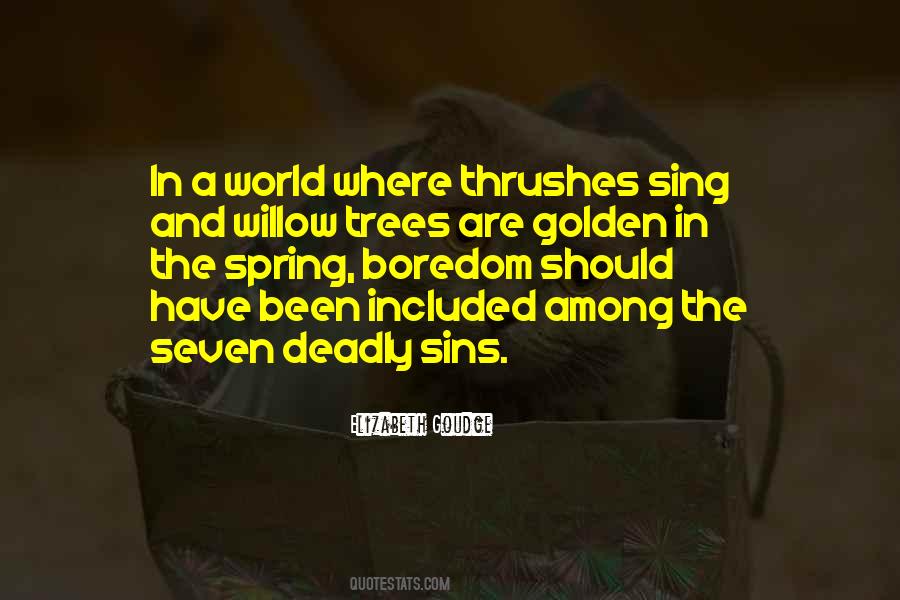 #70. 'Tis always morning somewhere, and aboveThe awakening continents, from shore to shore,Somewhere the birds are singing evermore. - Author: Henry Wadsworth Longfellow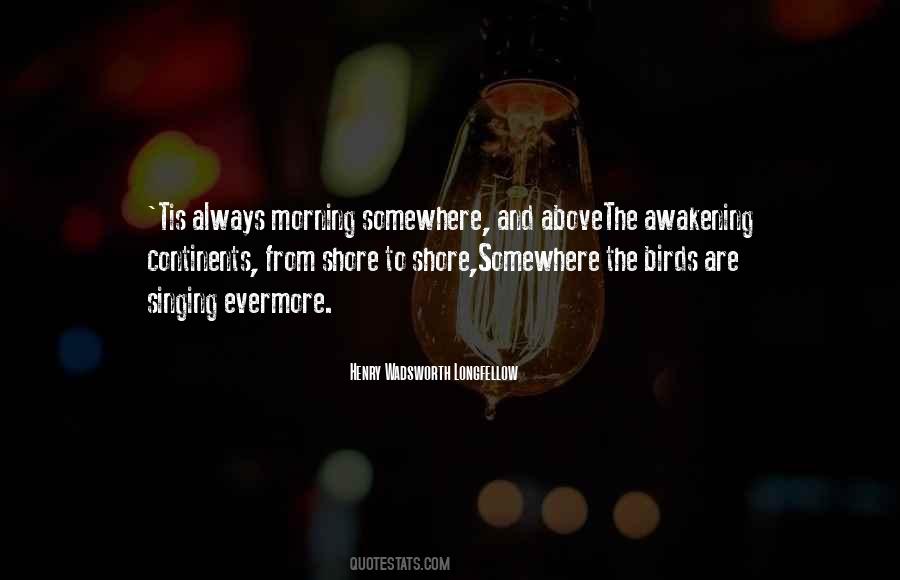 #71. In a broader sense, the rhythms of nature, large and small - the sounds of wind and water, the sounds of birds and insects - must inevitably find their analogues in music. - Author: George Crumb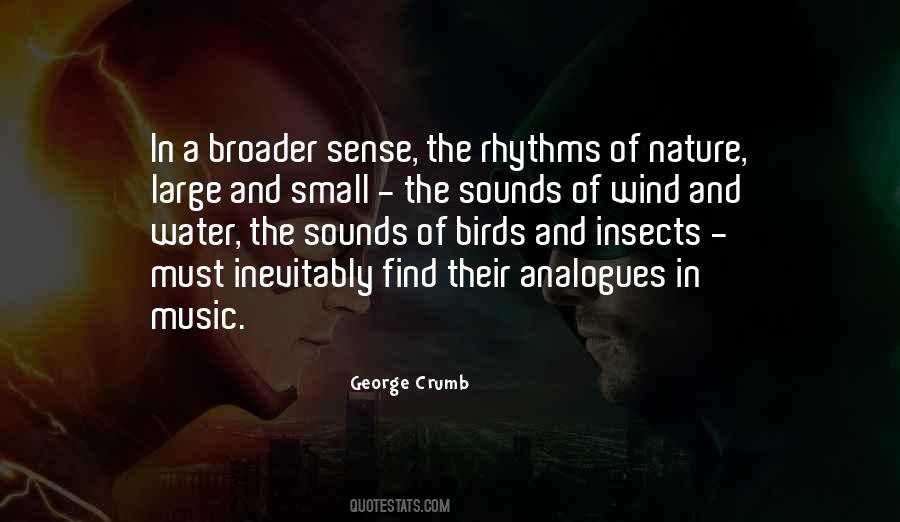 #72. Birds and beasts have in fact our own nature, flattened a semi-tone. - Author: Lydia M. Child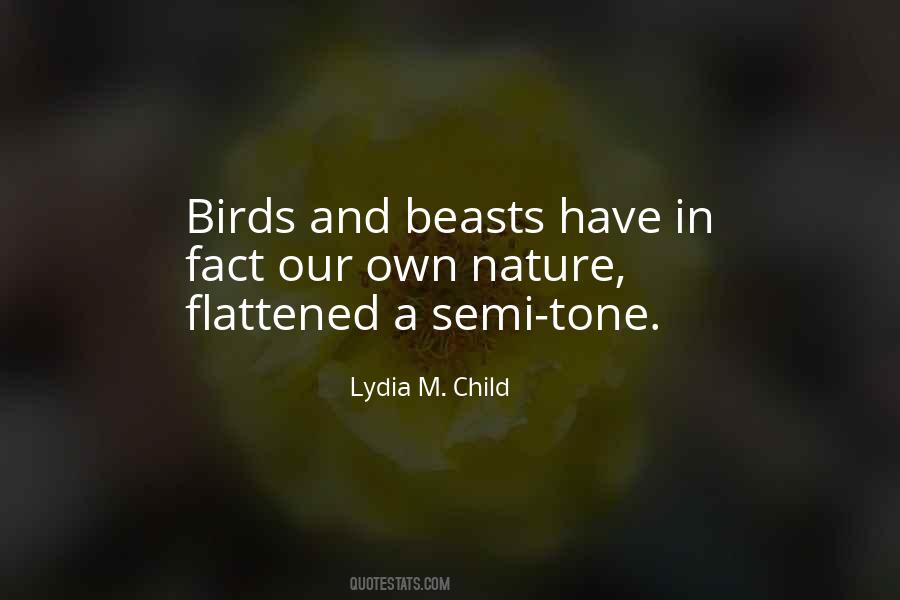 #73. I took a deep breath of the syrupy sweetness of summer, suffused with bees and birds, and I thought to myself how beautiful this world can be. How lucky we are to be here, to be part of it, for however long we have. - Author: Jennifer Ryan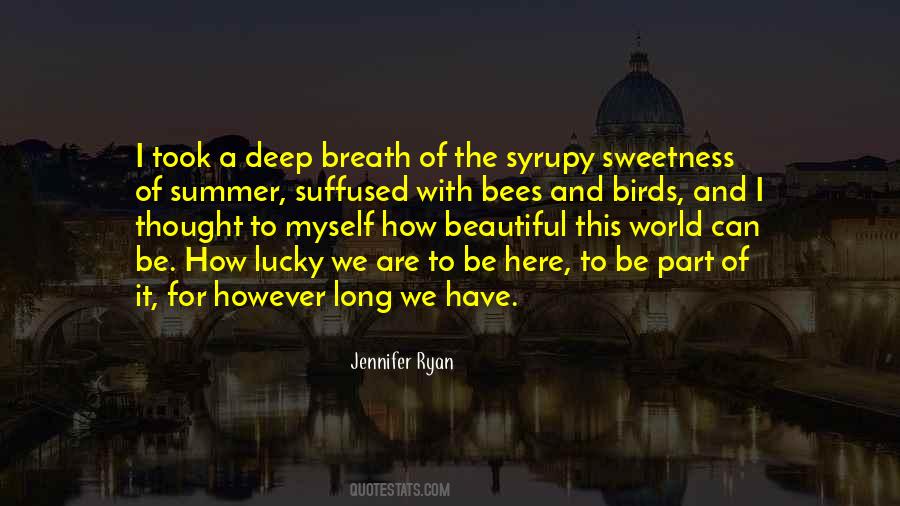 #74. Birds needs trees and mankind needs both of them! Protecting the nature and environment is not only a matter of ethics but also a matter of existence. - Author: Mehmet Murat Ildan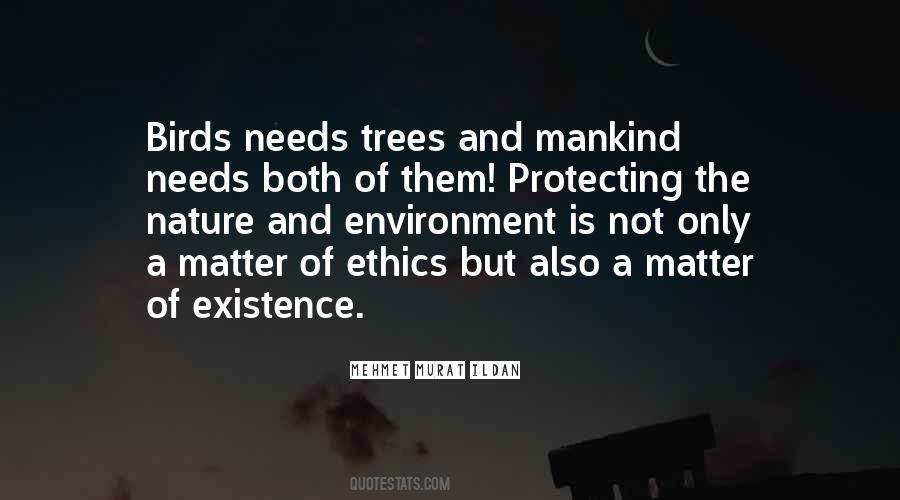 #75. When the sunlight hit the trees, all the beauty and wonder come together. Soul unfolds its petals. Flowering and fruiting of plants starts. The birds song light up the spinal column and harmonize the hippocampal functioning. - Author: Amit Ray
#76. She wandered out for a walk. It was the kind of day that pretends spring has come, even though it hasn't. The air smelled sweet, and the sun was shining. A blackthorn tree in the garden had already bloomed and was scattering seeds everywhere, like a child feeding birds in a dizzying circle. - Author: Eloisa James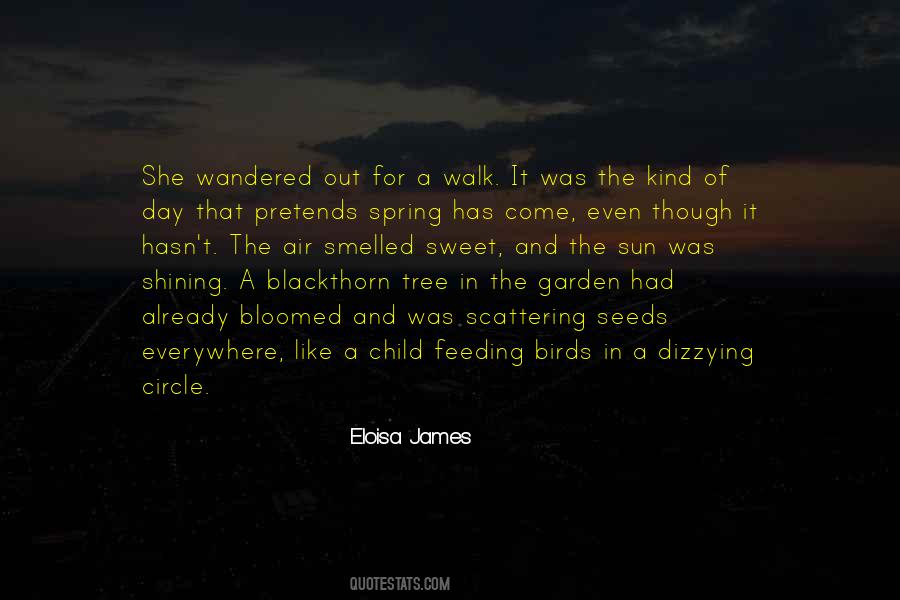 #77. If you manifest your true self through nature and your normal surroundings, I find that the most eerie. Like when you see birds suddenly start flying in a different direction or when you see moths forming weird shapes, I think that's the weirdest way to let yourself be known. - Author: Holland Roden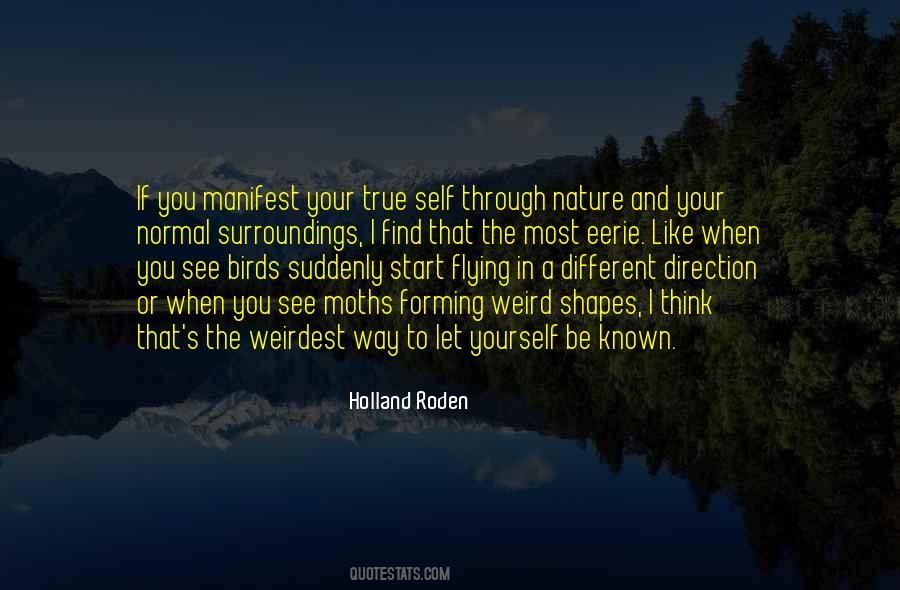 #78. Futurity is impregnable to mortal ken: no prayer pierces through heaven's adamantine walls. Whether the birds fly right or left, whatever be the aspect of the stars, the book of nature is a maze, dreams are a lie, and every sign a falsehood. - Author: Friedrich Schiller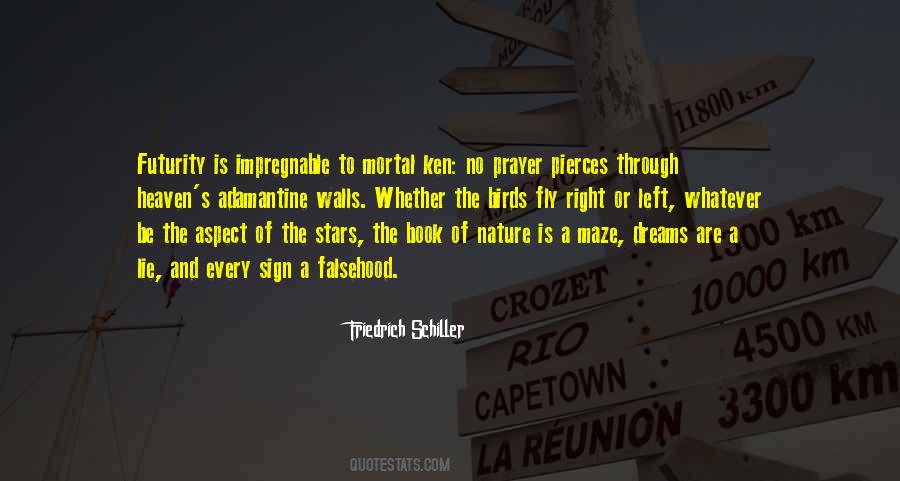 #79. To the birds and trees he talks:
Caesar of his leafy Rome,
There the poet is at home. - Author: Ralph Waldo Emerson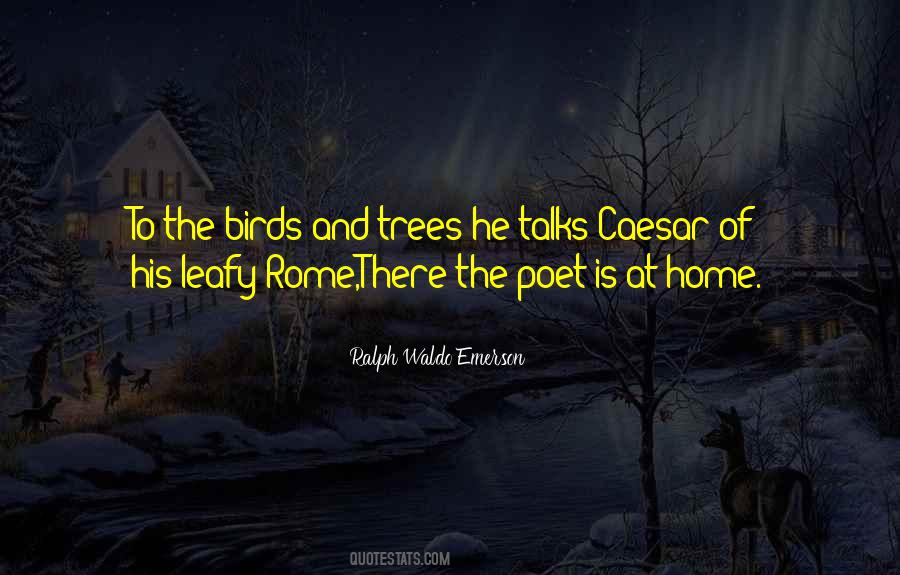 #80. Away from the tumult of motor and mill I want to be care-free; I want to be still! I'm weary of doing things; weary of words I want to be one with the blossoms and birds. - Author: Edgar Guest
#81. Learn from nature. Stuff lives and stuff dies all the time, you know. Animals and birds and flowers. Trees come and go, and we come and go. That's it. So we should all seize life and make the most of what we have while we can. - Author: Joanna Lumley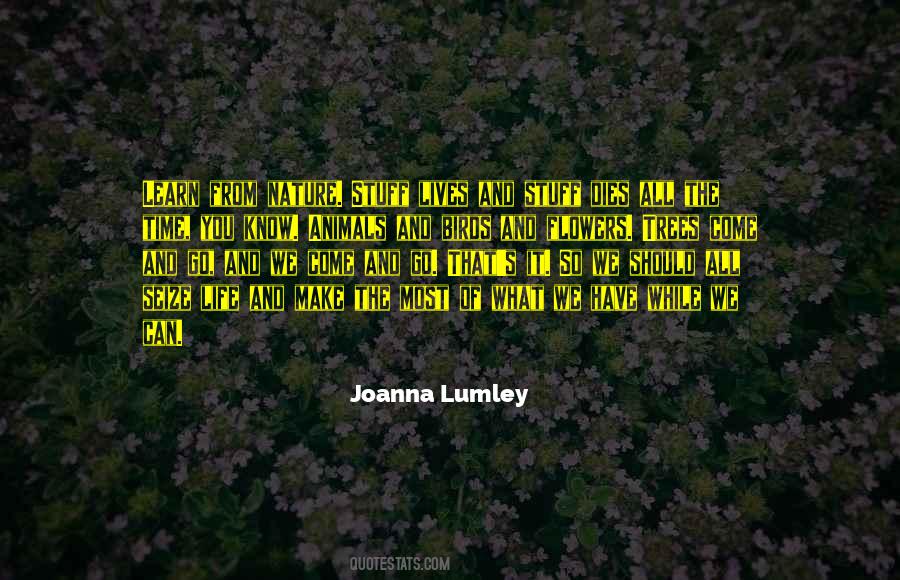 #82. In nature, disease-causing strains of avian influenza rarely spread far because the birds sicken and die before they can fly to spread it to others. - Author: Michael Greger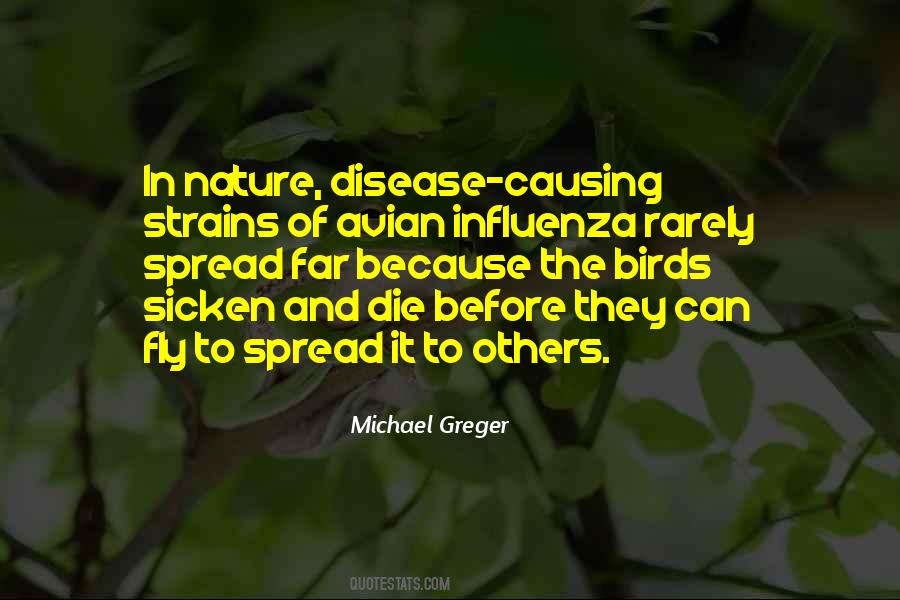 #83. Nature is a tropical swamp in sunshine, on whose purlieus we hear the song of summer birds, and see prismatic dewdrops, - but her interiors are terrific, full of hydras and crocodiles. - Author: Ralph Waldo Emerson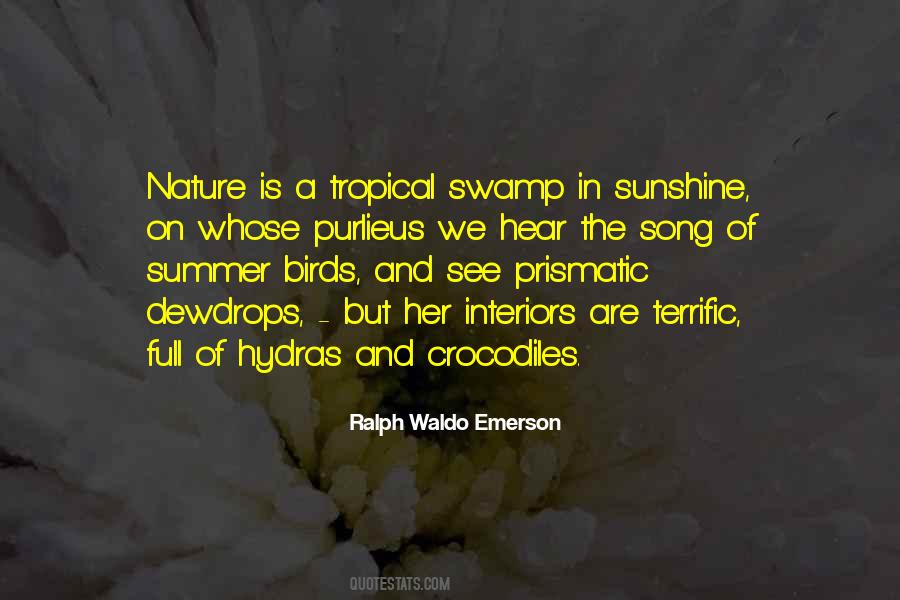 #84. Pray look upon the plants and birds, the ants, spiders, and bees, and you will see them all exerting their nature, and busy in their station. Pray, shall not a man act like a man? - Author: Marcus Aurelius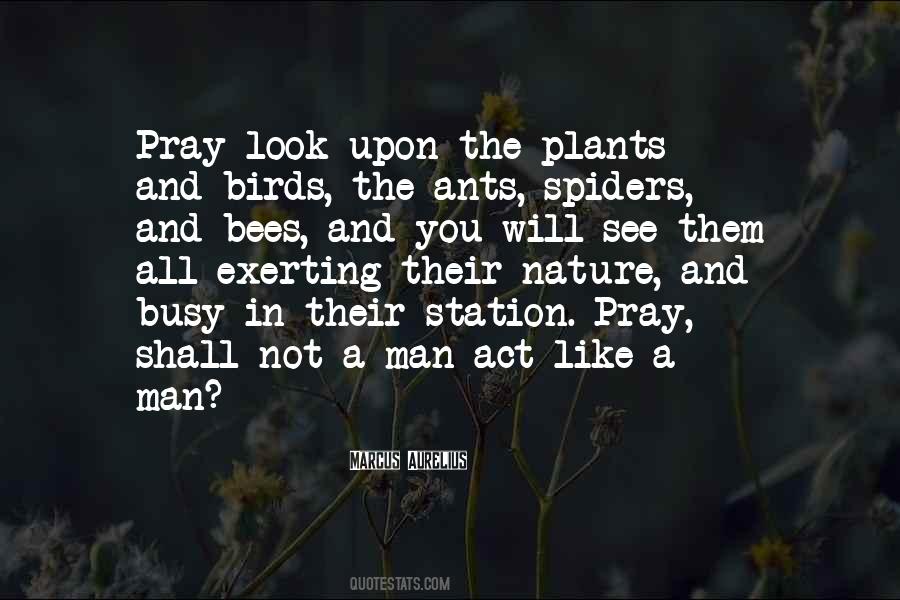 #85. God spoke: "Let us make human beings in our image, make them reflecting our nature So they can be responsible for the fish in the sea, the birds in the air, the cattle, And, yes, Earth itself, and every animal that moves on the face of Earth. - Author: Anonymous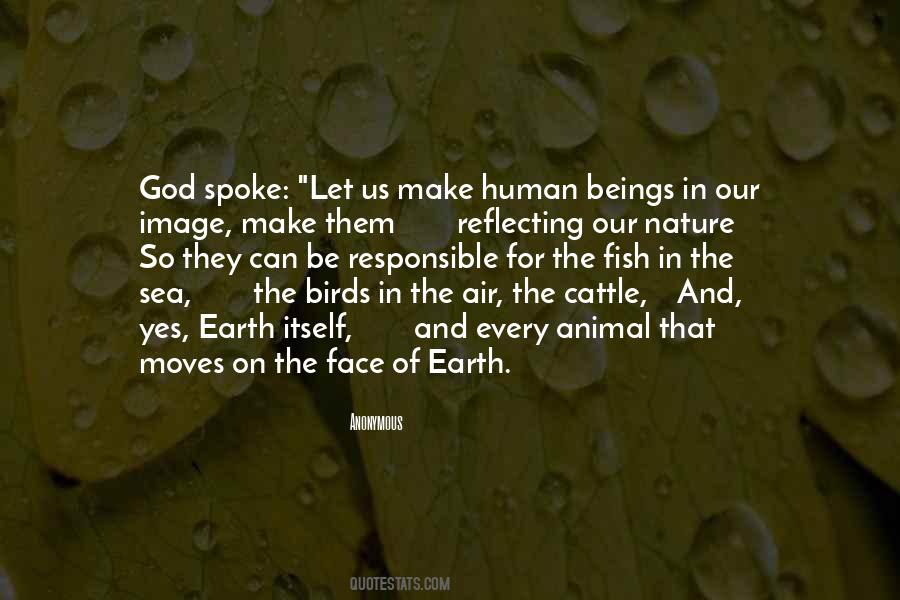 Famous Authors
Popular Topics