Aggressive Love Famous Quotes & Sayings
List of top 30 famous quotes and sayings about aggressive love to read and share with friends on your Facebook, Twitter, blogs.
Top 30 Quotes About Aggressive Love
#1. I love the dog. She comes for drives with me in the back of my car. Darby is not aggressive or judgmental. She just is. That's what I love about her. She sits there and watches 'The Fugitive' with me. - Author: Sarah Bolger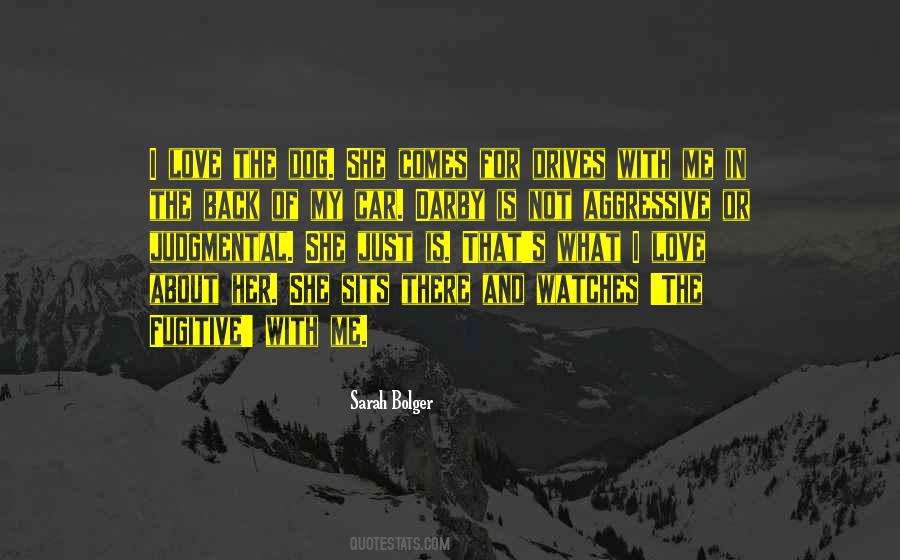 #2. To allow your Spirit to manifest, you have to understand Its nature. Spirit can never be aggressive, can never dominate. It respects the freedom of another person because It's a free being. - Author: Nirmala Srivastava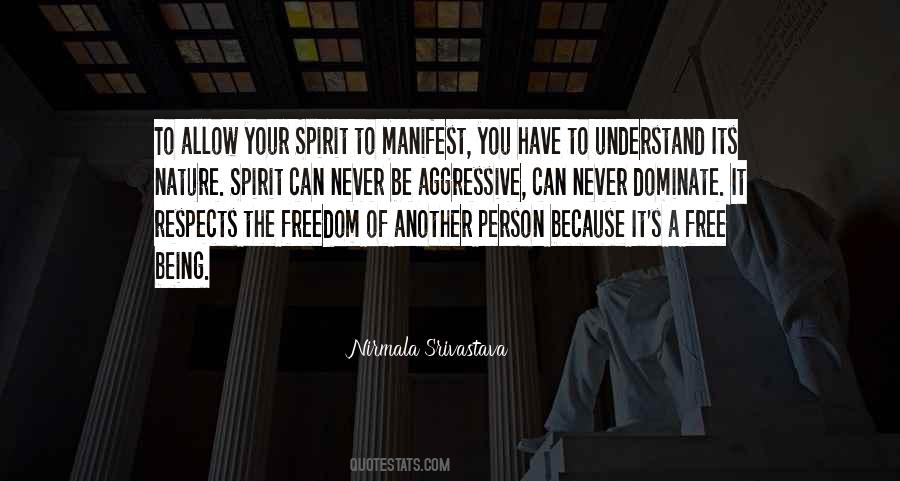 #3. He could not name precisely the special quality she possessed. A glow. An exuberance. An aggressive and determined joy that gave her the courage to push past his defenses, to confront him with unflinching courage, to look into his heart and to see something there worth fighting for. - Author: Susan Wiggs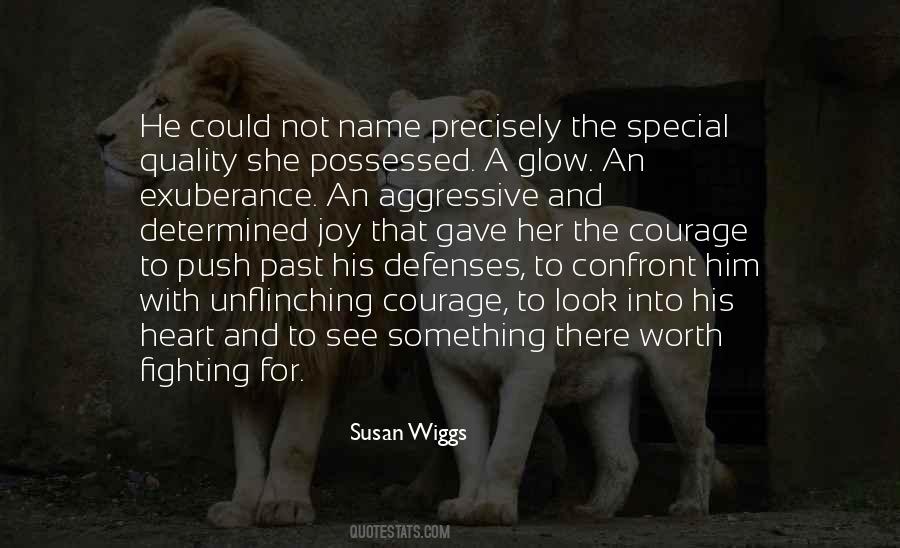 #4. With aggressive come-ons, at least you knew where you stood. Holding hands, you got - hopeful. - Author: Laura Florand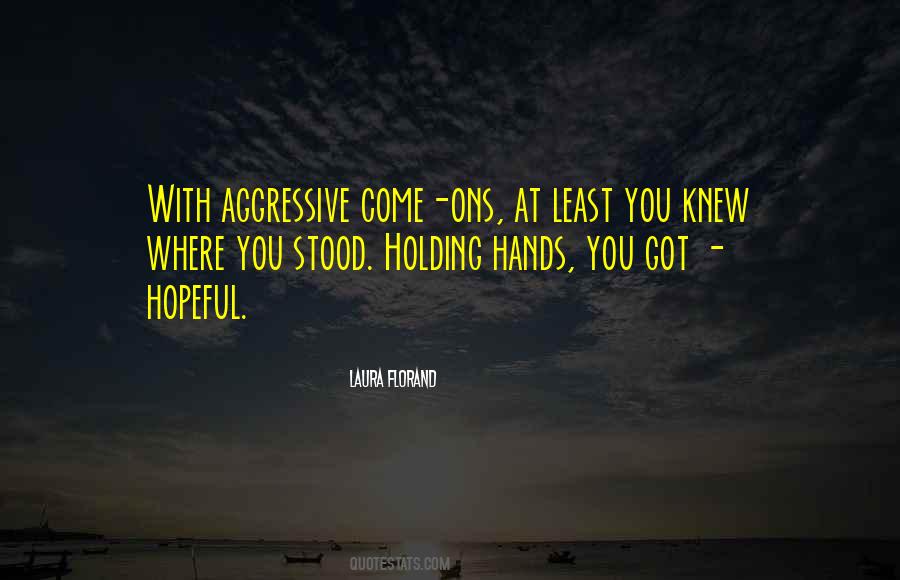 #5. I like the sprints so much because it's very explosive, very aggressive, and quite physical sometimes as well. On top of that you've got the speed, so it's a big adrenaline rush coming into the sprints all the time. I love that bit! - Author: Magnus Backstedt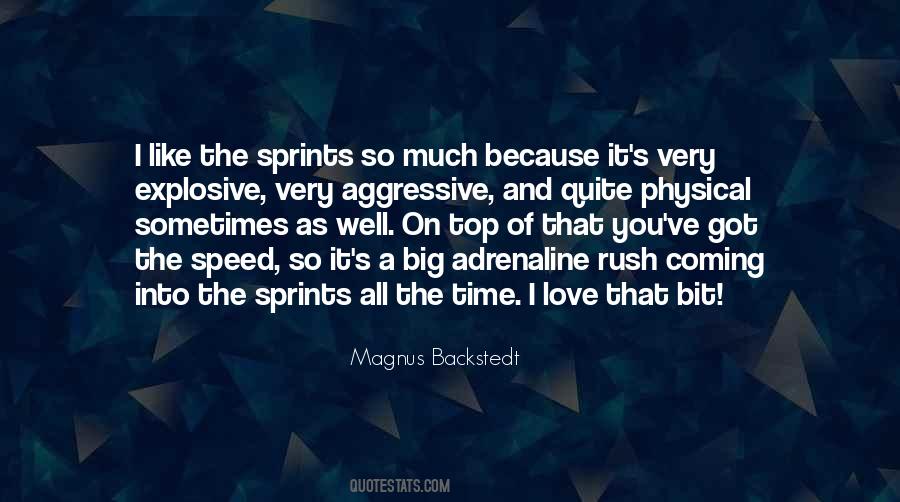 #6. A woman has to demonstrate in every moment to be thirty times better than a man, to gain trust and to be considered. So, she has to be tenacious, combattative but not aggressive, she has to love her work a lot and not let herself be discouraged by the daily discriminiation she encounters. - Author: Dacia Maraini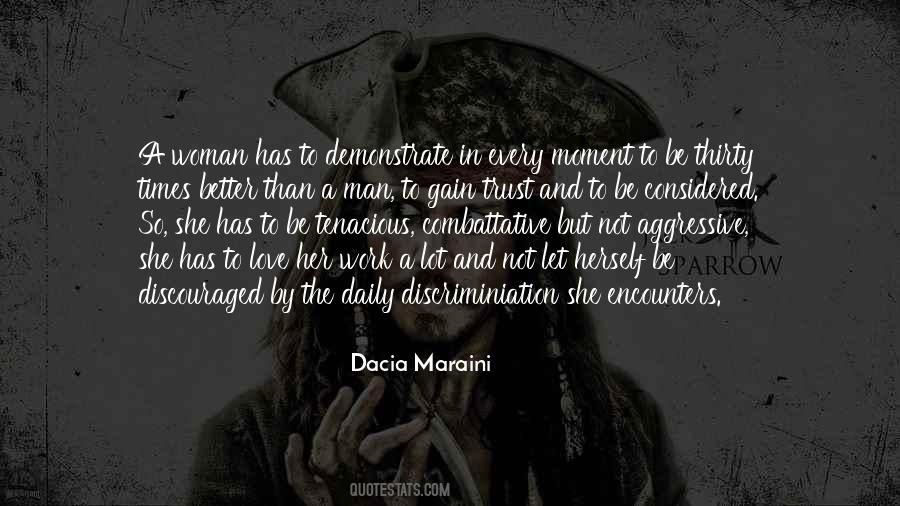 #7. I love anyone who breaks the rules, and musicians always break the rules - in an aggressive way. - Author: Donatella Versace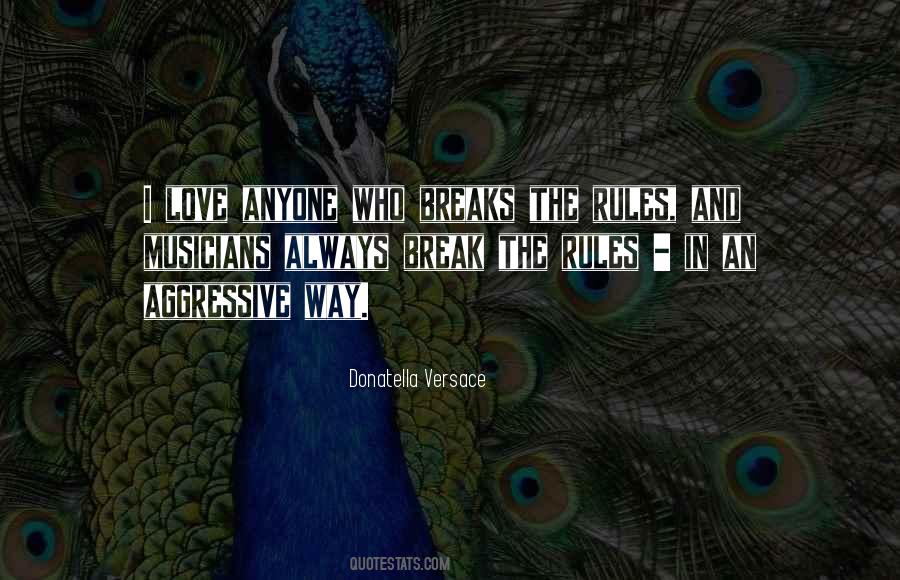 #8. You don't even have a cat or a dog or anything?"
"You think I should?" George asks, a bit aggressive. The poor old guy doesn't have anything to love, he thinks Kenny is thinking.
"Hell, no! Didn't Baudelaire say they're liable to turn into demons and take over your life? - Author: Christopher Isherwood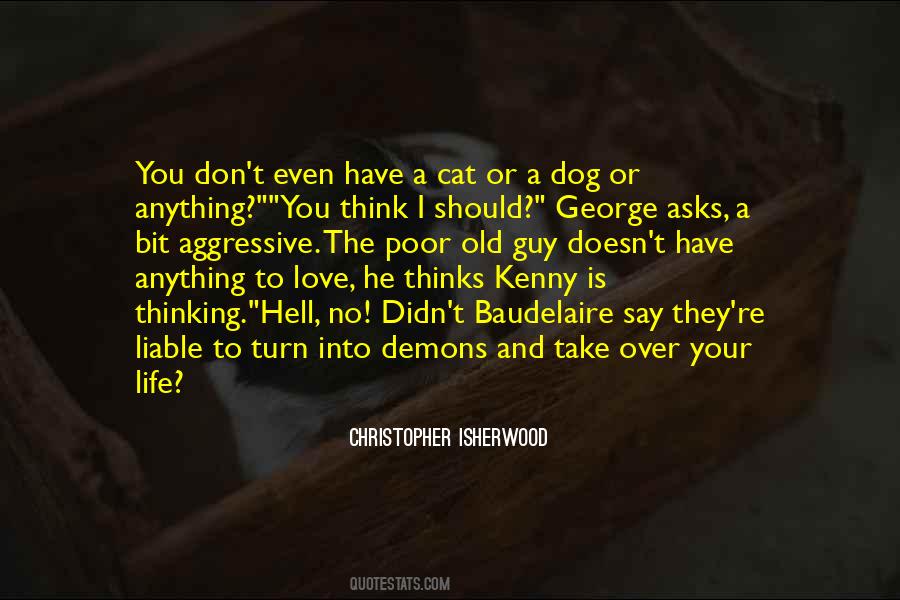 #9. I'm very Southern in the way I walk in the world. I love to laugh. I love to eat. I love to hug people. But if somebody makes me mad, my neck may roll. I can be aggressive with a Southern twang. - Author: Katori Hall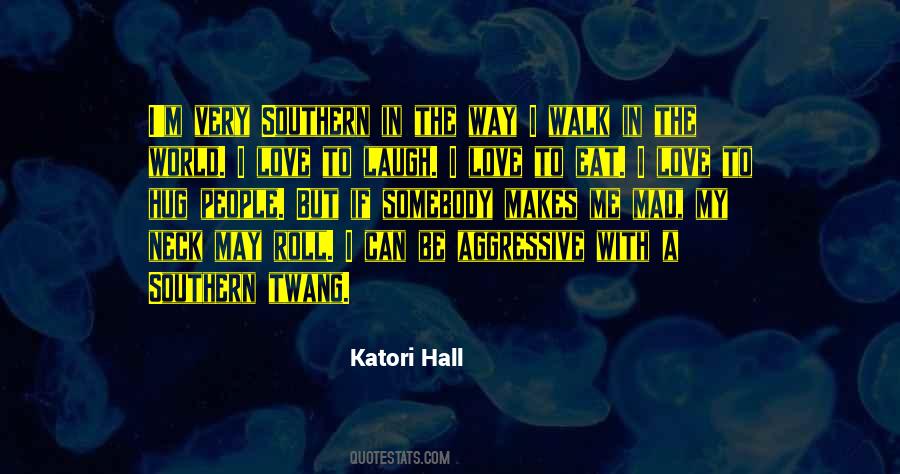 #10. I love playing sports. I'm overly eager and aggressive and not very skilled, so it leads to many small injuries. - Author: Rachel Platten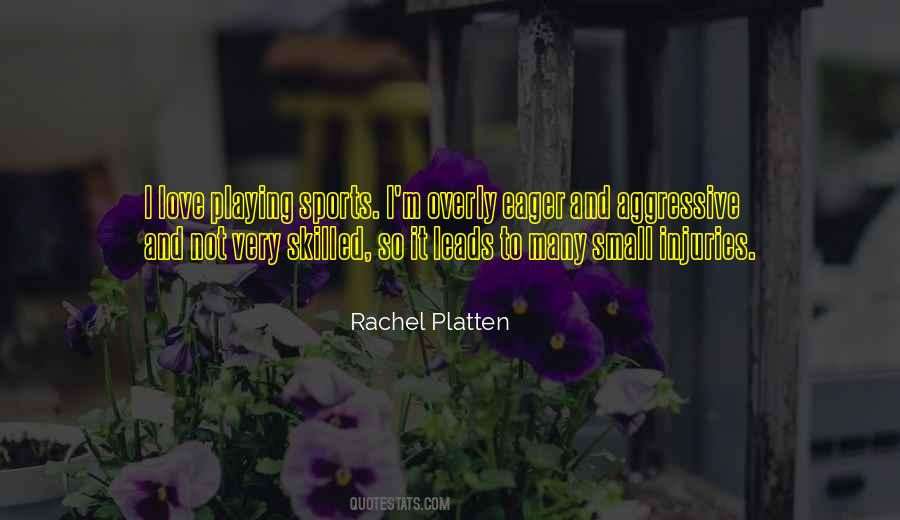 #11. When you are in anger, in passion, violent, aggressive, you feel a crystallized ego within you. Whenever you are in love, in compassion, it is not there. - Author: Rajneesh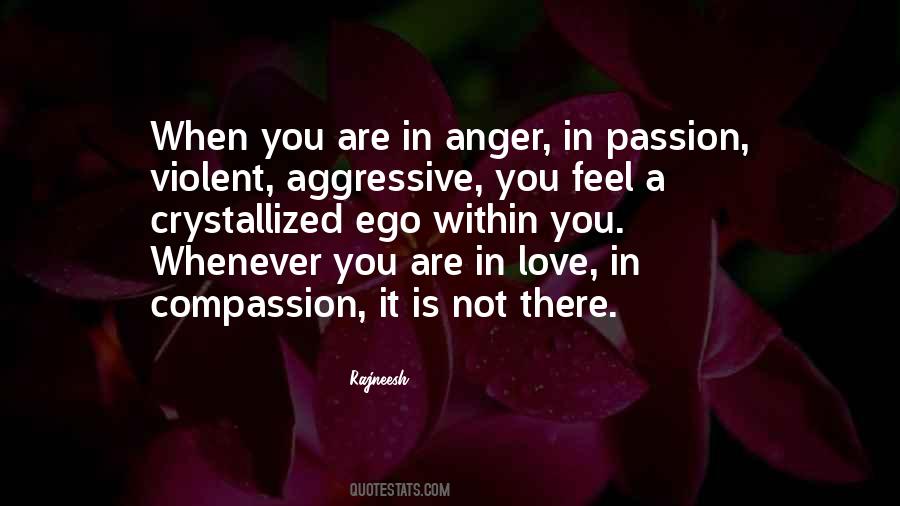 #12. Well that's actually happened to me a couple of times ... but I really think that men, when it comes to falling in love, are less ... I guess you could say less aggressive. - Author: Alicia Machado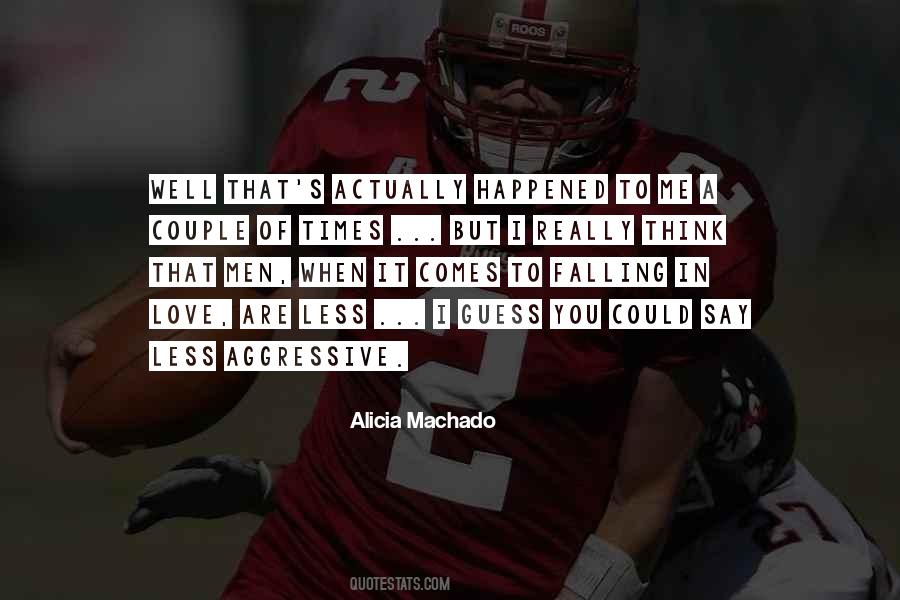 #13. I believe that feminists of the more aggressive persuasion are frustrated women unable to find the proper male leadership. If a woman were receiving the right kind of love and attention and leadership, she would not want to be liberated from that. - Author: Tony Evans
#14. Pure Love is detached, self-assured, self-poised, non-possessive and non-aggressive in nature. Yet, it is tremendously powerful to move the whole universe. - Author: Banani Ray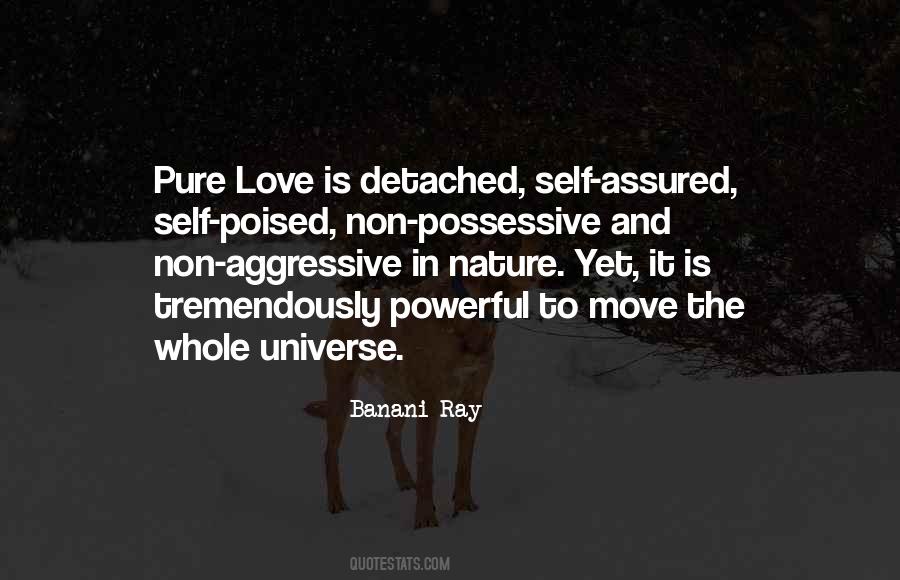 #15. She frowned. "I did nothing to arouse you."
He clenched his jaw, his stare growing more aggressive. "You breathed. - Author: Shayla Black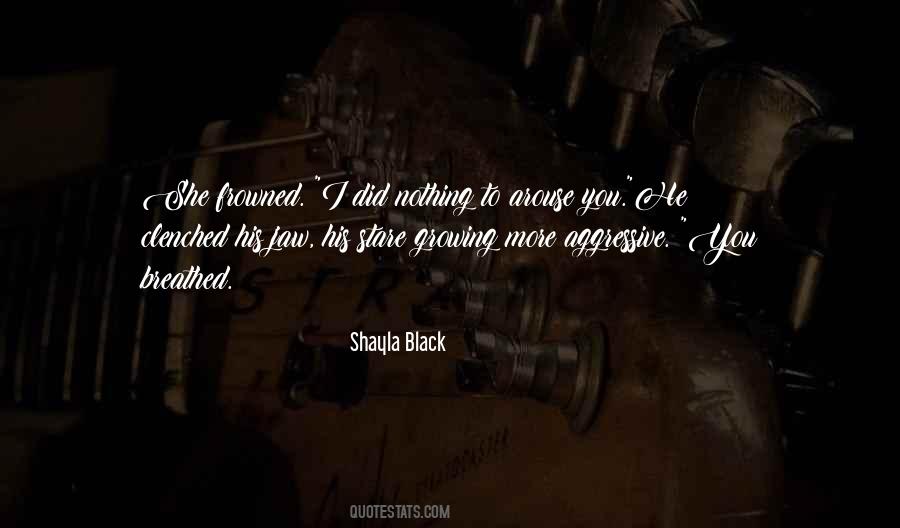 #16. I realize I love crazy ladies. Of course I don't like to think of myself as one, but maybe I am, too. I dunno. I'm always drawn to them; I think it's because I'm attracted to people who aren't in the business of people-pleasing: saying what they really think, not passive-aggressive at all. - Author: Michaela Watkins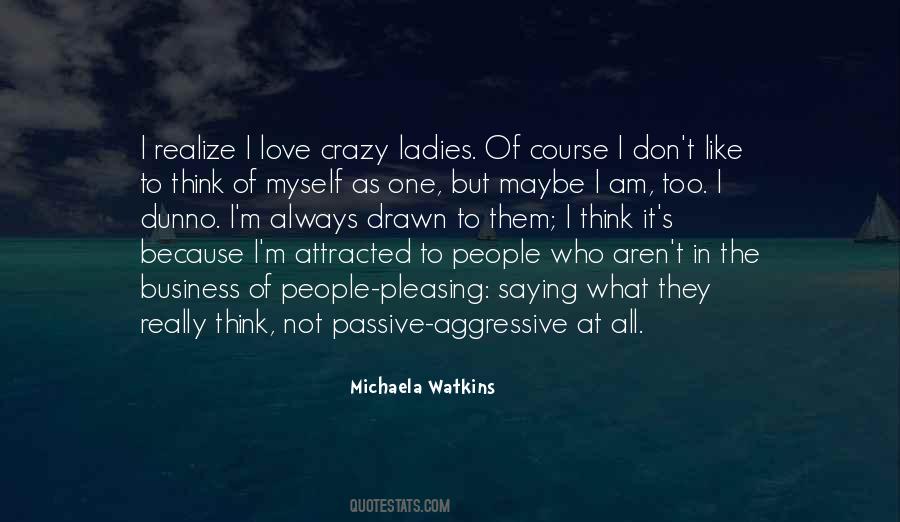 #17. He (Jesus) knew that the old eye-for-eye philosophy would leave everyone blind. He did not seek to overcome evil with evil. He overcame evil with good. Although crucified by hate, he responded with aggressive love. - Author: Martin Luther King Jr.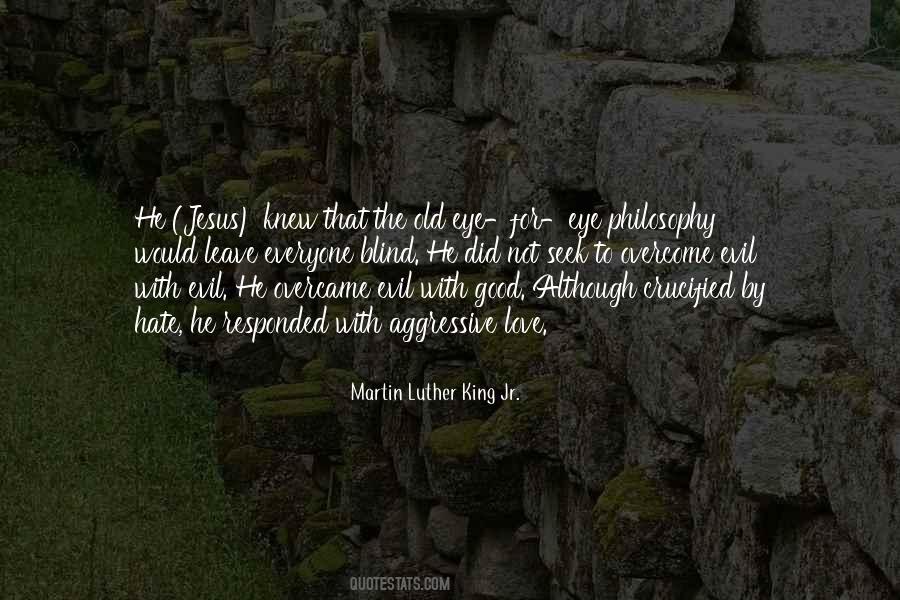 #18. Fine! He is being passive aggressive with me, and it's gonna backfire; I'm gonna be active friendly. - Author: Natalya Vorobyova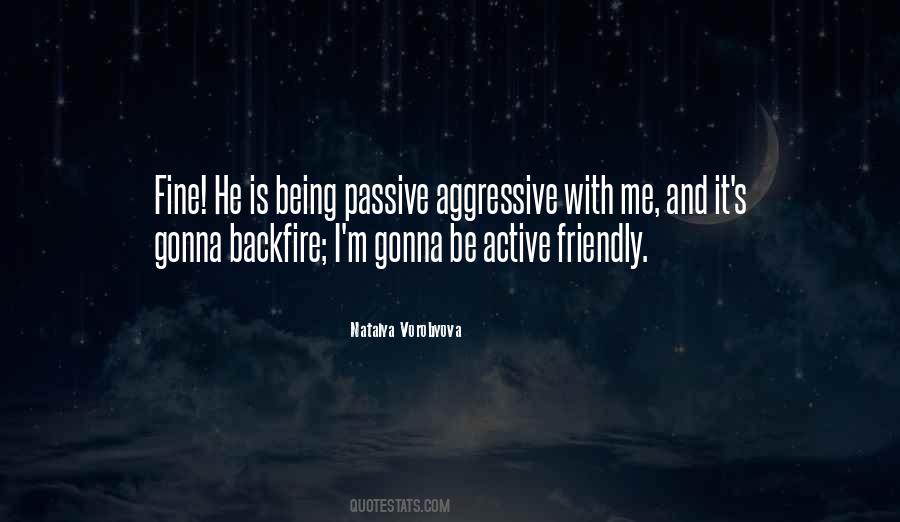 #19. Obviously I want to support women, and I believe in women, and I think we should support each other, but we shouldn't go into extremes. Some women can get very aggressive towards men, but we need men and love men, so keeping the right balance is the most important thing. - Author: Anja Rubik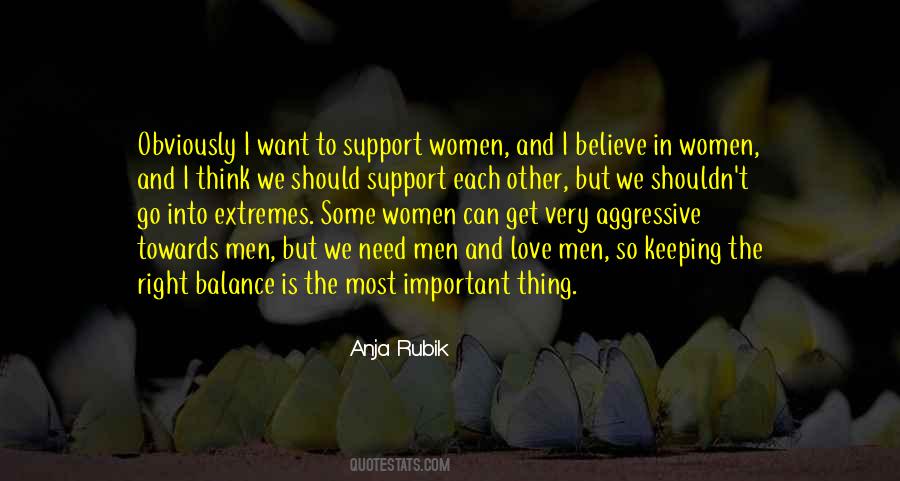 #20. Owners lavish love on their pets, which is why so many go from non-aggressive pups to being out of control when they're older. People just don't realise their dog must respect them as leader of the pack. - Author: Cesar Millan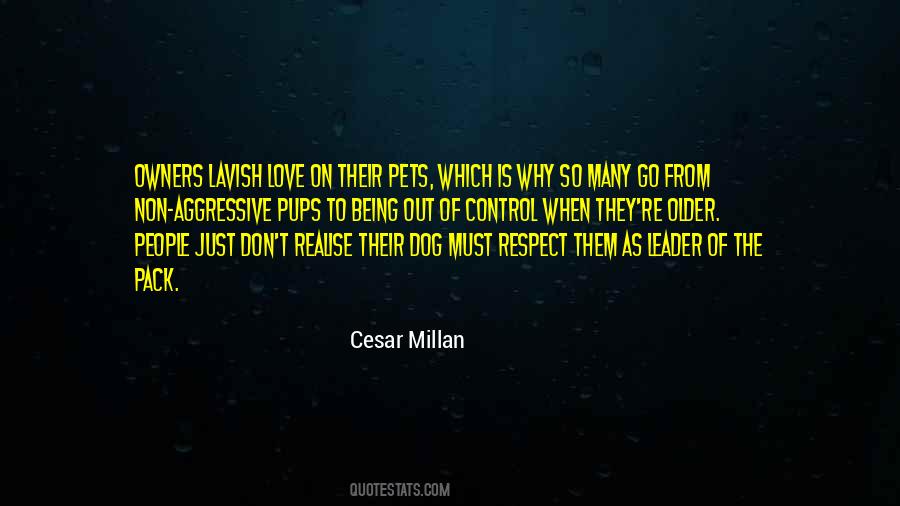 #21. We need to imagine the turmoil, disappointment, worry and sheer confusion in people who may outwardly appear merely aggressive. - Author: The School Of Life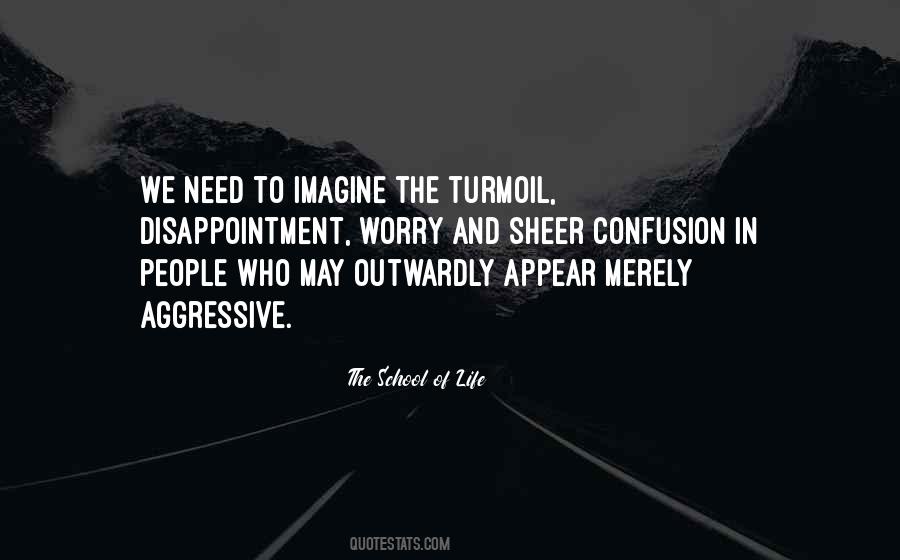 #22. As a child, the family that I had and the love I had from my two parents allowed me to go ahead and be more aggressive, to search and to take risks knowing that, if I failed, I could always come home to a family of love and support. - Author: Tiger Woods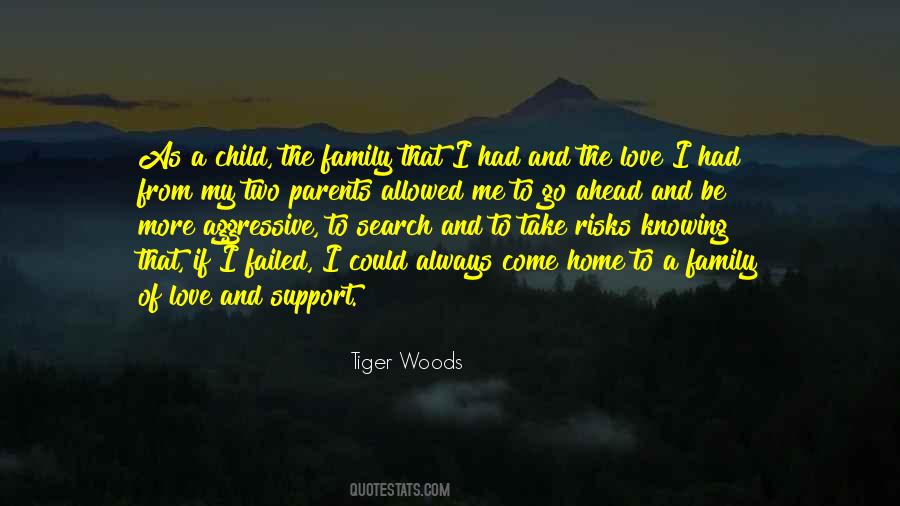 #23. When I really love someone, I can only show it by making aggressive and bad-taste remarks. - Author: Slavoj Zizek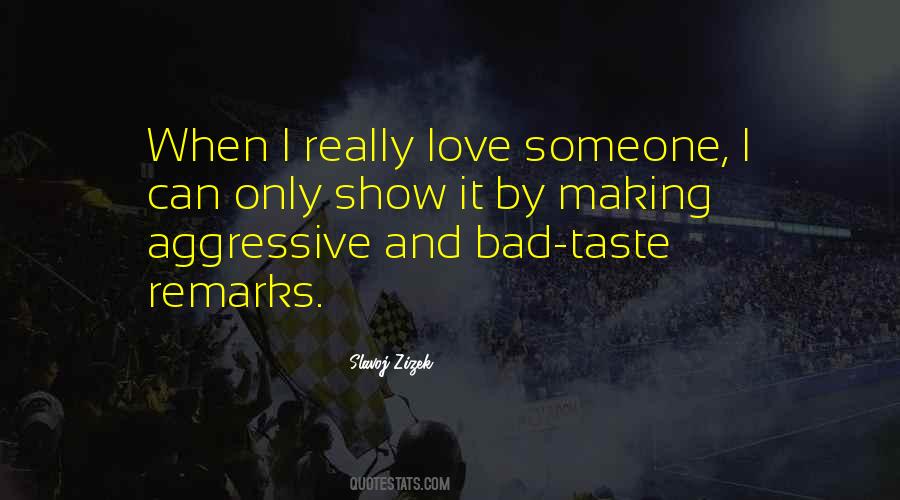 #24. Love is a flicker. It's that hidden desire. It's the words you're afraid to say. It's stolen glances. It's the passive-aggressive hints. It's the mixed signal. It's the first brush against his hand. It's the first time you daydream about her. - Author: Nessie Q.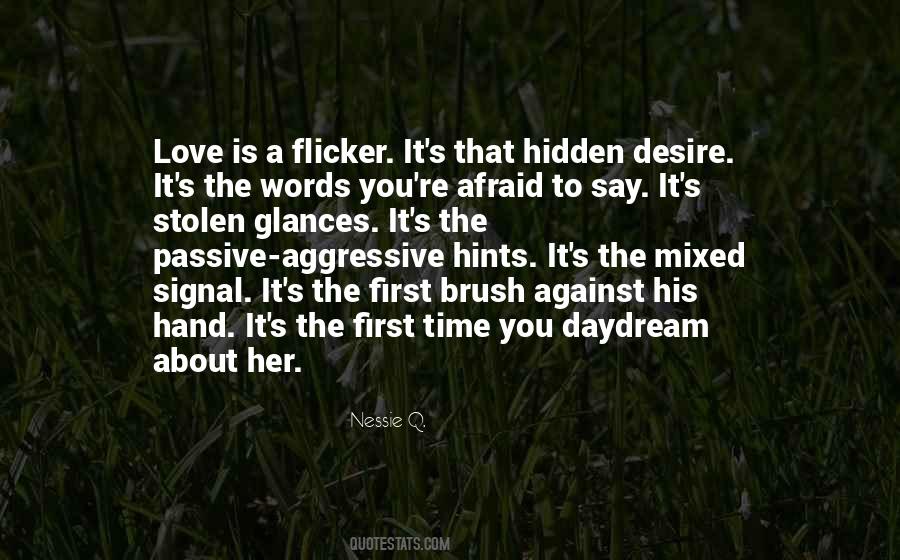 #25. Music should be like making love. Sometimes you want it soft and tender, another time you want it hard and aggressive. - Author: Jeff Buckley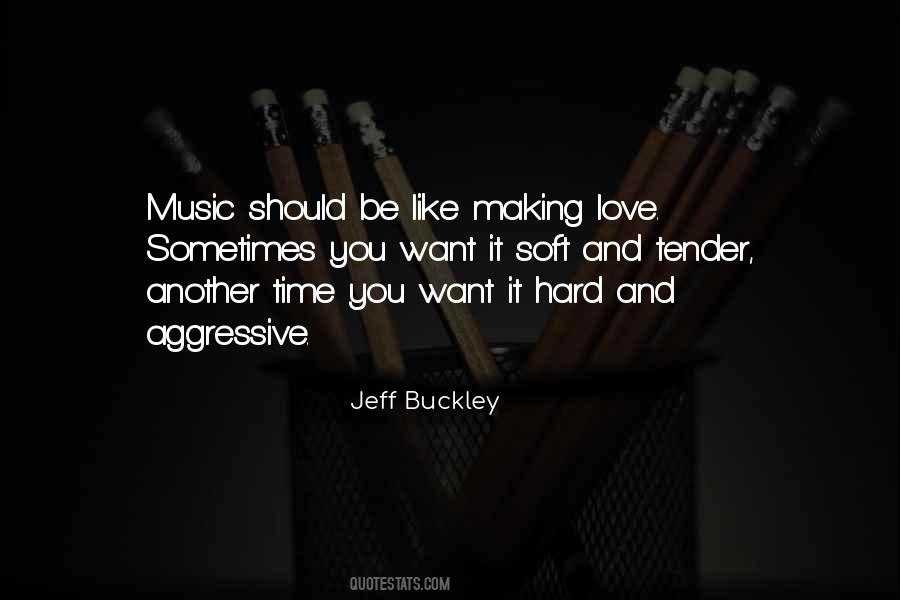 #26. I play hard and aggressive. I don't lay out the huge body checks because it's not really the style I play. But I love to be around the net and love battling corners and trying to dish pucks out. - Author: Eric Staal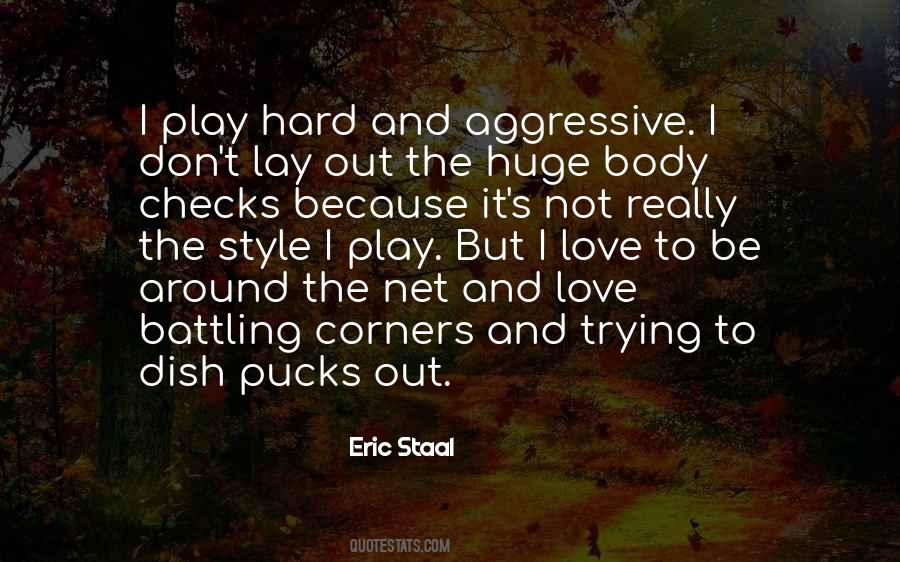 #27. Love without sacrifice is like theft - Author: Nassim Nicholas Taleb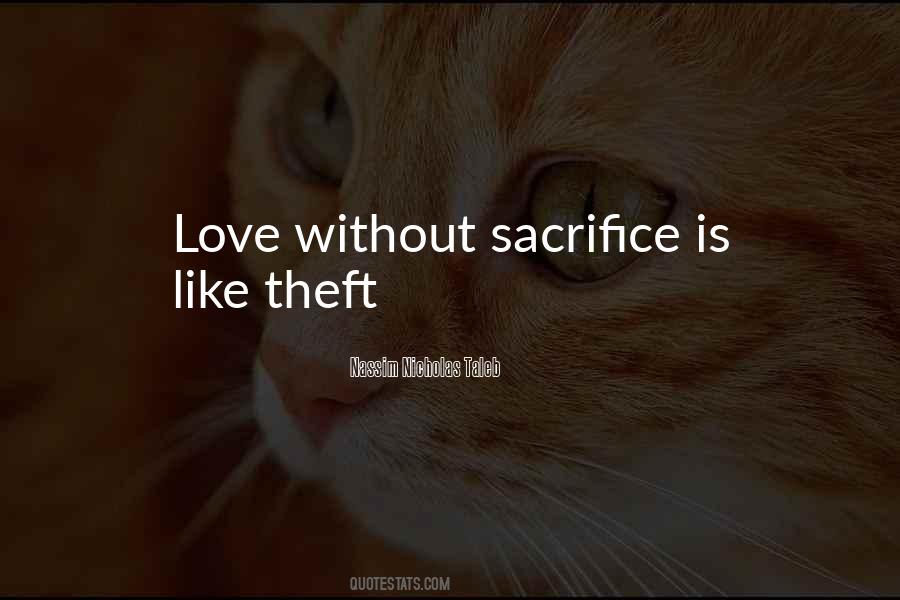 #28. If you believe in yourself, if you are without fear, you will also be tolerant, non-aggressive and find love. - Author: Rollo Armstrong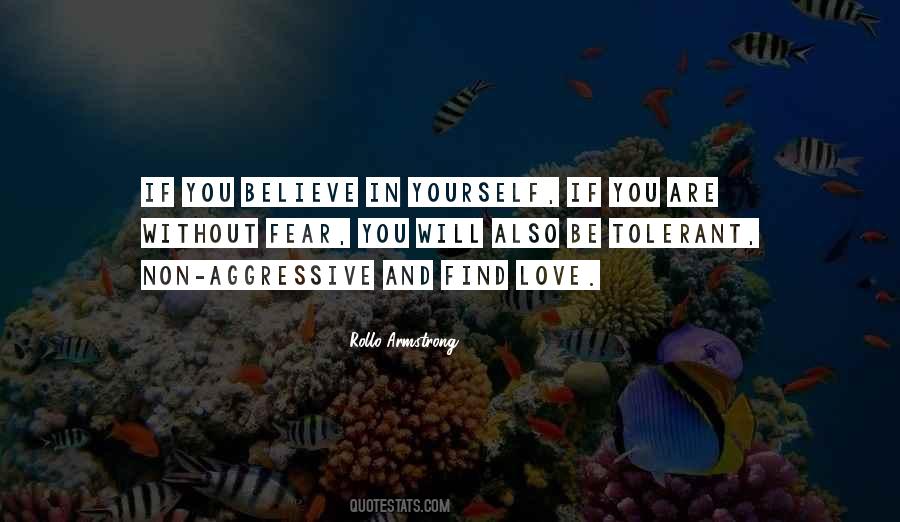 #29. There is an unspoken feminist layer to Katana. She's an aggressive modern woman with traditional Japanese roots. She was in love with her sword because she believed it contained her husband. - Author: Ann Nocenti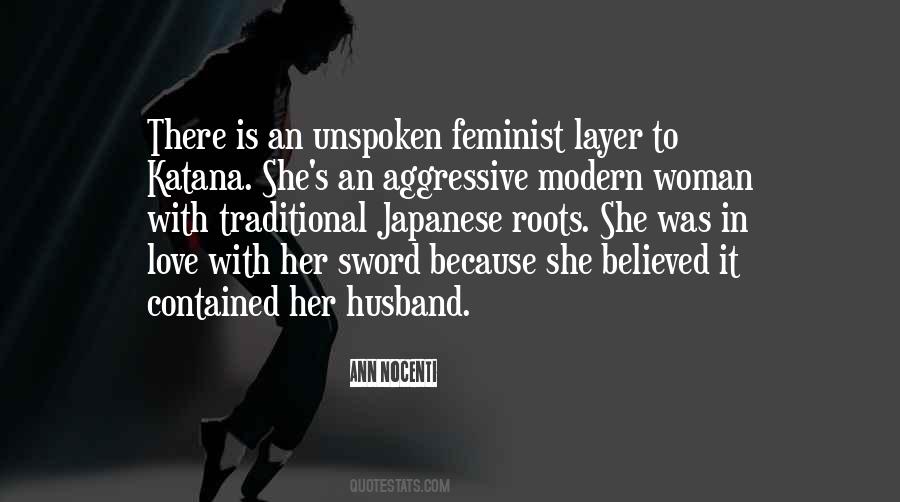 #30. I'm more attracted to a stronger man rather than a feminine man. Someone who would just throw me down and take control. I love feeling helpless. I definitely like a man who is aggressive and confident. - Author: Carmen Electra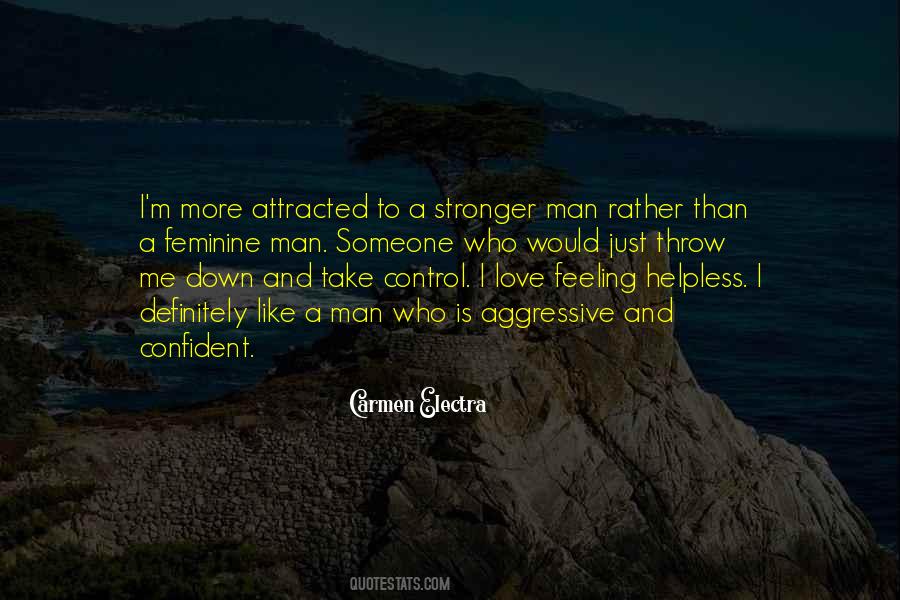 Famous Authors
Popular Topics