Acting Different Famous Quotes & Sayings
List of top 100 famous quotes and sayings about acting different to read and share with friends on your Facebook, Twitter, blogs.
Top 100 Quotes About Acting Different
#1. Acting is an imaginative leap, really, isn't it? And imaginations prosper in different circumstances. - Author: John Hurt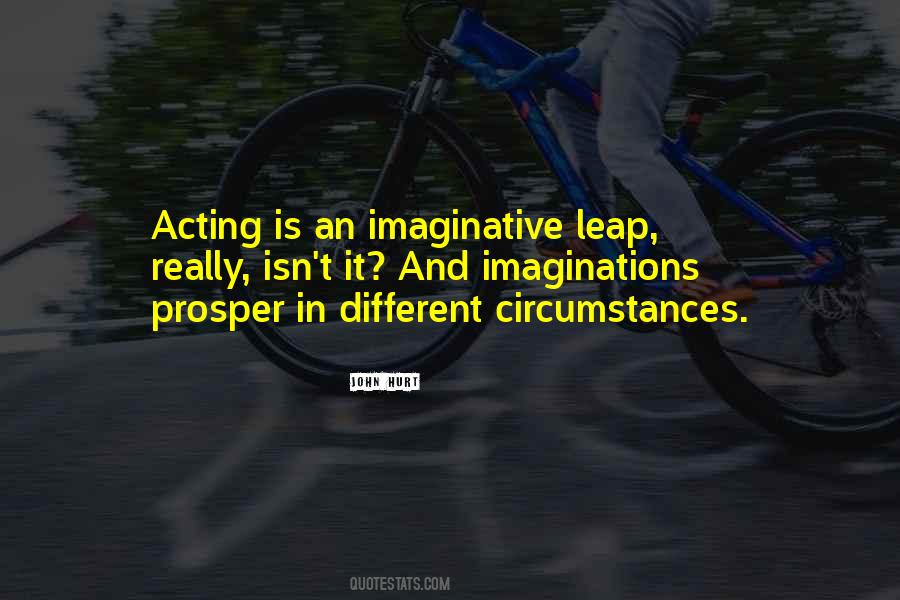 #2. I liked to explore different arts. But when I started acting, I knew this was the medium I want to be in for the rest of my life. Stories onscreen affect me the most. - Author: Moran Atias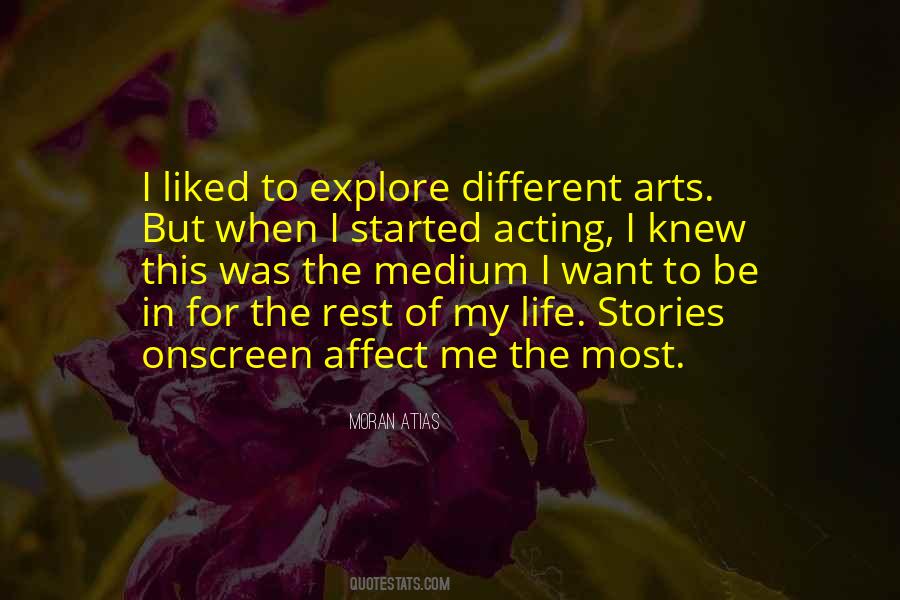 #3. I feel like I'm always being challenged by my voice acting roles, for multiple different reasons. I still get nervous every time I book a gig. - Author: Ashly Burch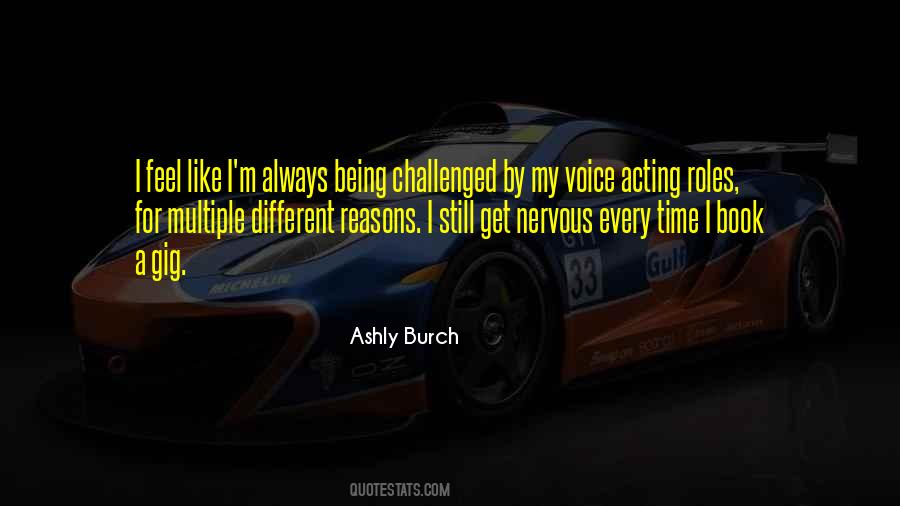 #4. I like the fact that I can go away and lose myself so I don't have to live in the world of courage that everyone else does. I like creating, it's what I do, and acting allows me to stretch all those different muscles in all kinds of ways. That's pretty cool. - Author: Roddy Piper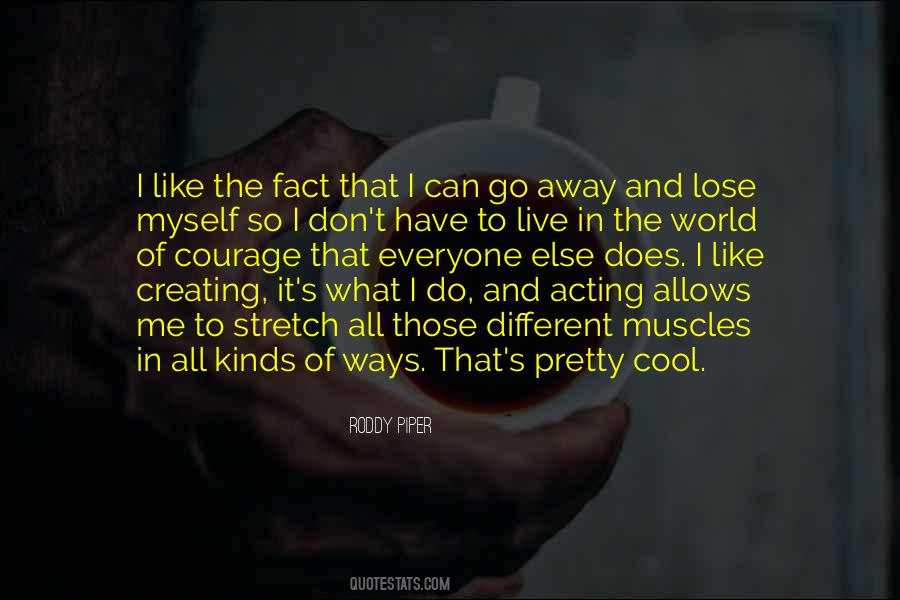 #5. That's what acting is about - for me, at least - tackling different personas and characters. - Author: Joanne Whalley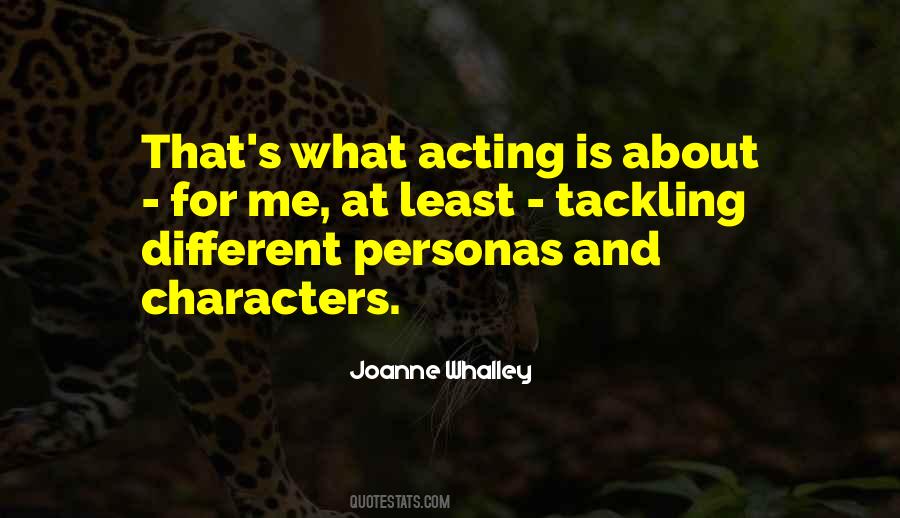 #6. I'll keep on acting 'til they wipe the drool. I like the business. I like to do different parts and diverse characters. I haven't lost my enthusiasm yet! - Author: Robert Duvall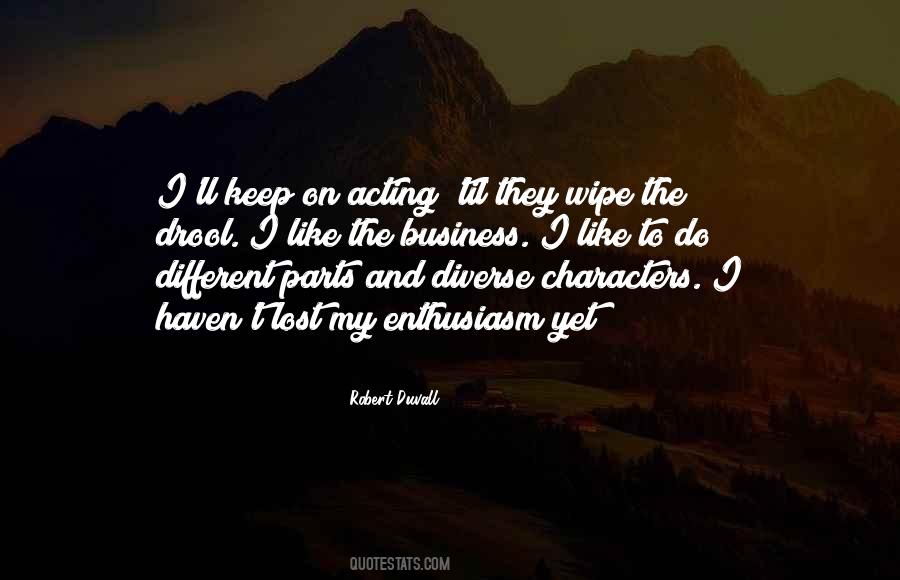 #7. The funny thing is that making a pilot is sort of an audition, at least for me. There's something psychological there, where you're sort of asking for the job while you're acting. And then when it's been picked up, it's a completely different psychological dynamic. - Author: Justin Kirk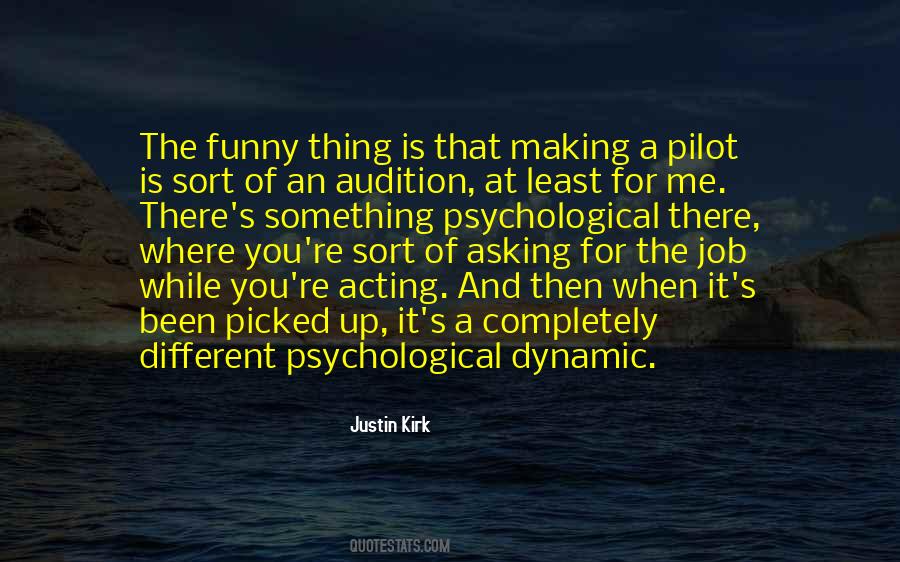 #8. I think singing and acting go hand in hand. Take an R&B singer: one song says, 'I love you,' the next is, 'Baby, don't leave me', the next is, 'If you leave me I don't care.' You have to drop in and out of different perspectives. - Author: Ice-T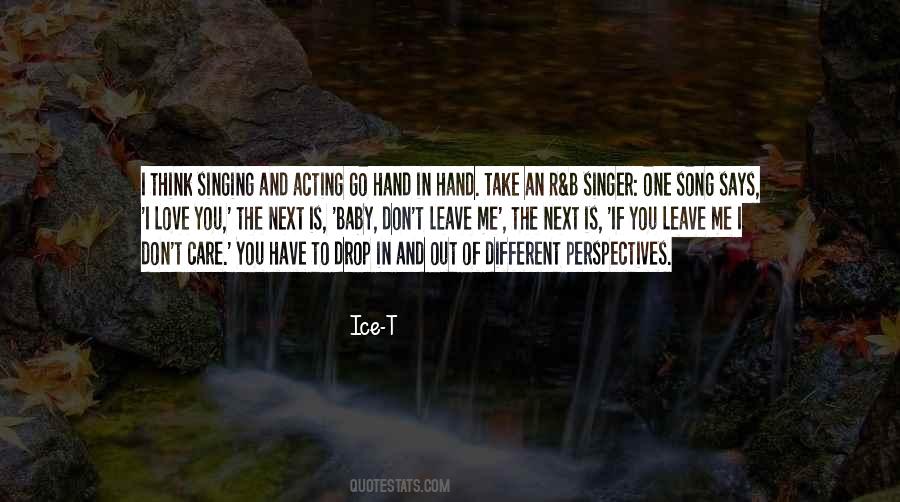 #9. I think acting is a fun thing because you get to have so many lifetimes in one lifetime, being all these different people. - Author: Riley Keough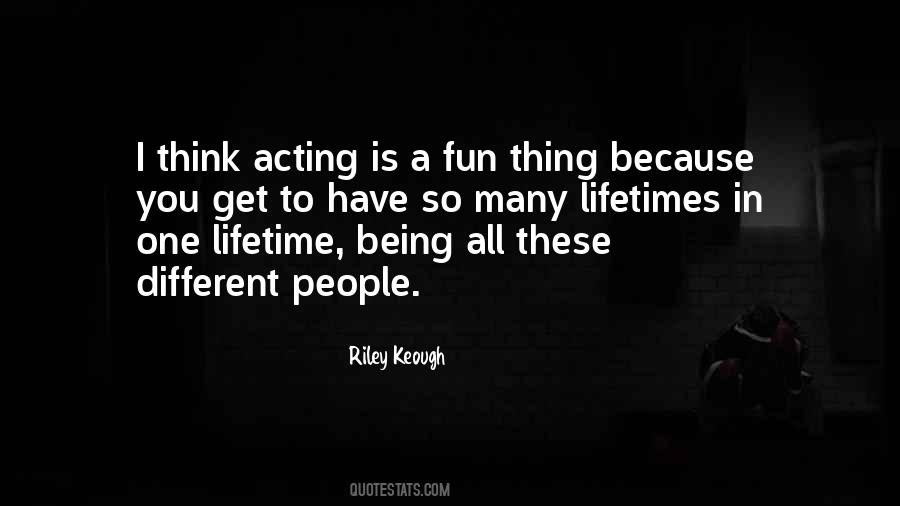 #10. In a funny way, acting, to me, is all make-believe, even if the film has unicorns in it or is a normal movie that can be set in real-life time. I'm still imagining that I'm a different character, so it's all, in a funny way, like fantasy. - Author: Elle Fanning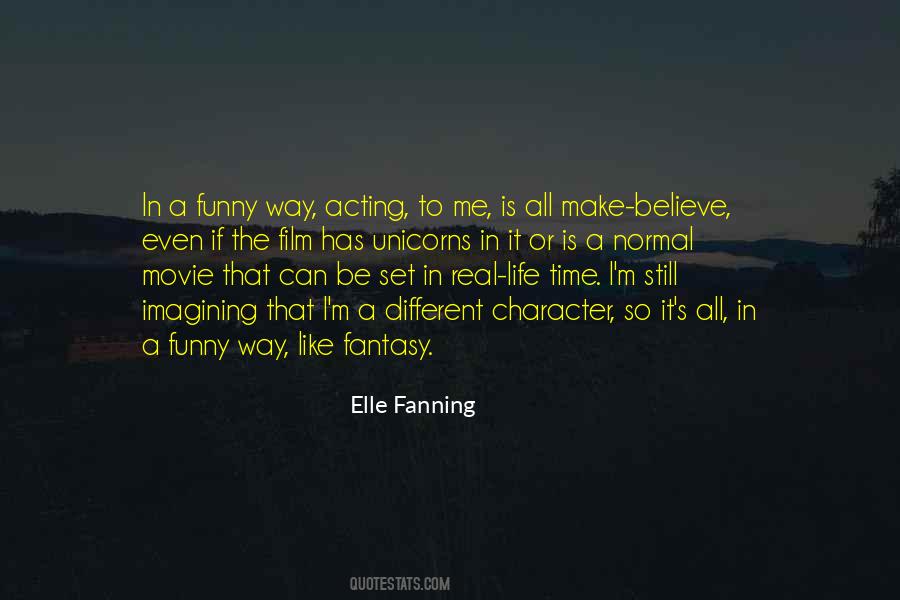 #11. I did theatre a lot when I was a kid. Then I went to acting school in New York. I did a lot of behind the scenes in college. I wanted to learn while I had the time. I studied theatre and film in different capacities. - Author: Justin Bartha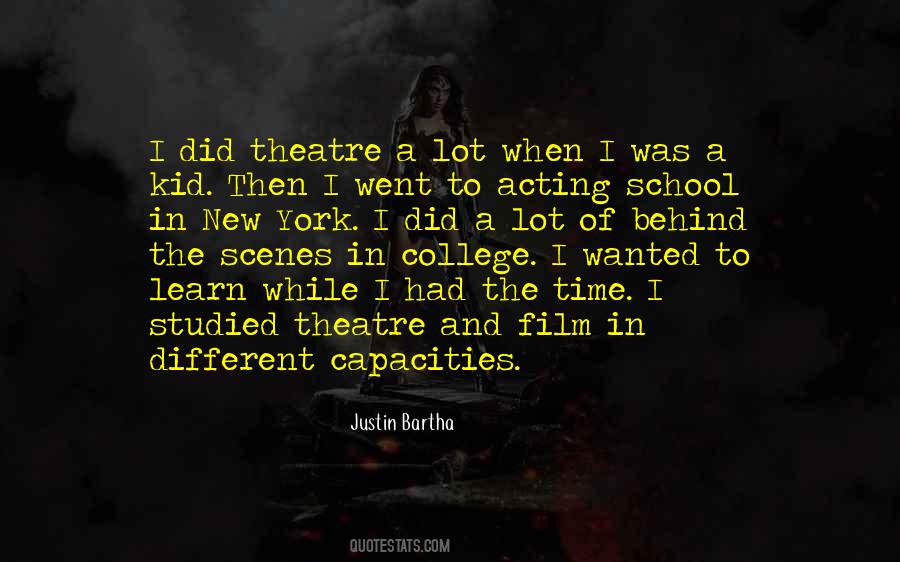 #12. The great thing about acting is that you get to be a lot of different things in one lifetime. You get to explore different personalities and characters. - Author: Eva Amurri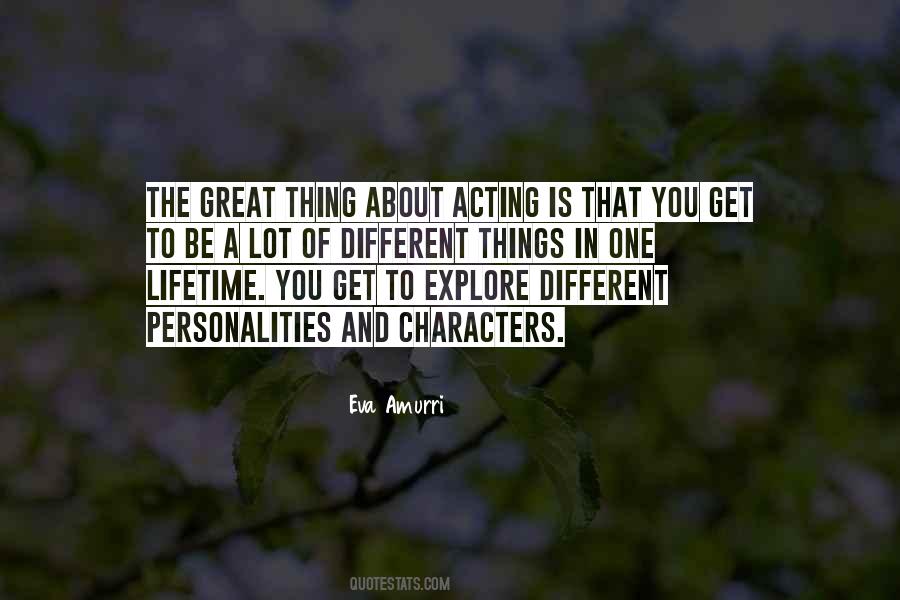 #13. Some people are instantly brilliant. The Kenneth Branaghs of this world are ready-formed actors at 23 - he has used his success in lots of different ways - but there are people out there for whom acting is: 'Ooh, I can get on the telly and be famous.' - Author: Harriet Walter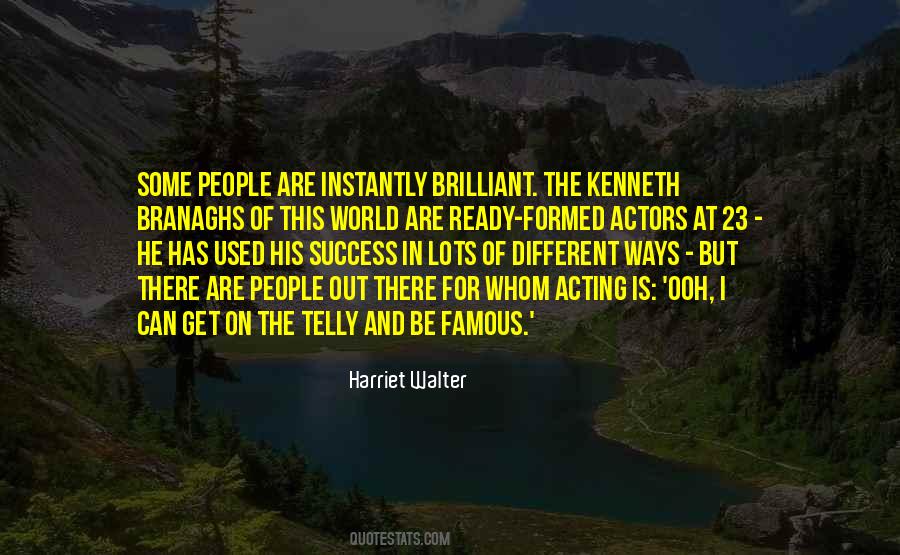 #14. I think the buzz of acting is playing people different to you, and for me, that means traversing all genres. - Author: Martin Henderson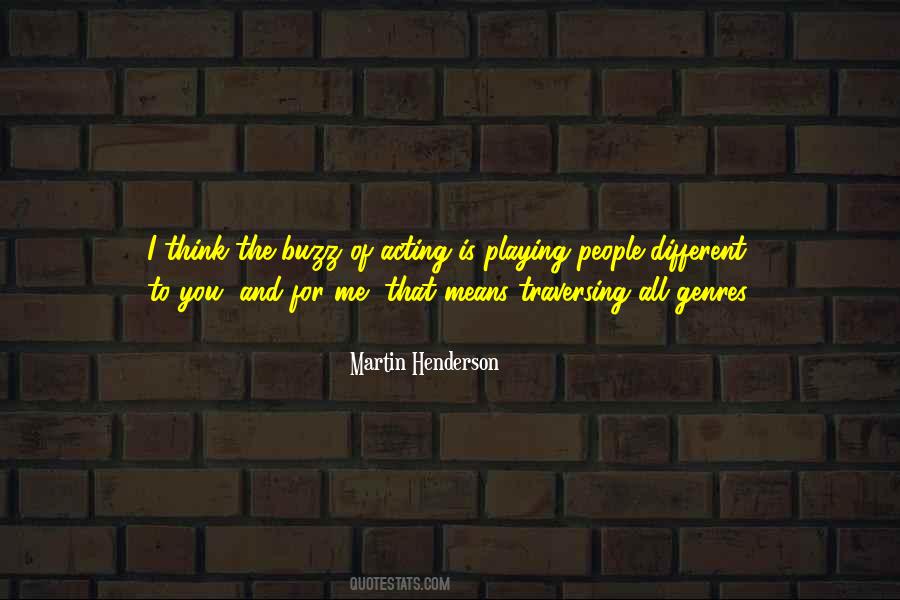 #15. My approach to acting now is so different
I'm fearless because I have nothing to lose. Before [children] my identity was wrapped up in every decision
now, I don't care. - Author: Jessica Alba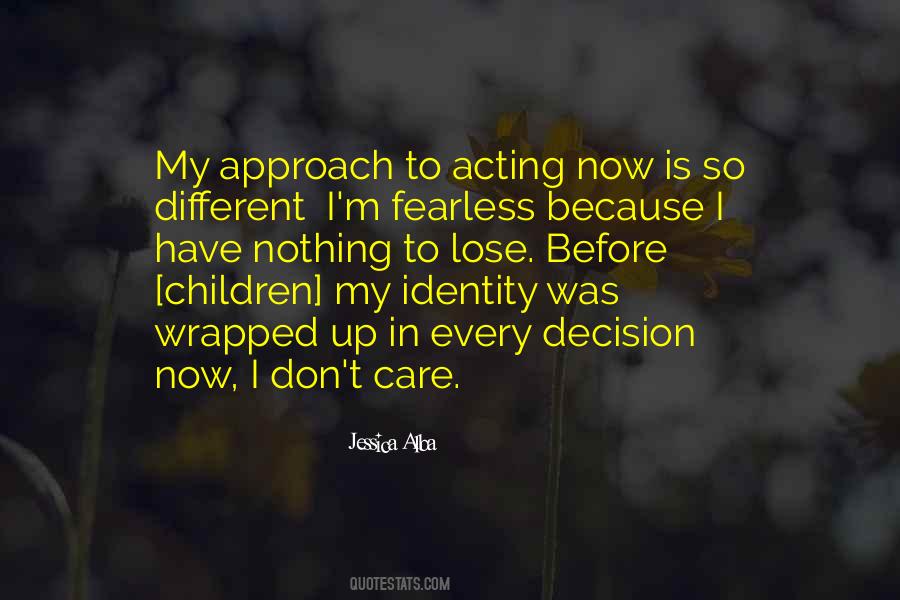 #16. The music industry is such a different world from the acting world. Everything is really last minute, but I love the challenge, and I love owning my material and being able to put out what I want. - Author: Hayley Kiyoko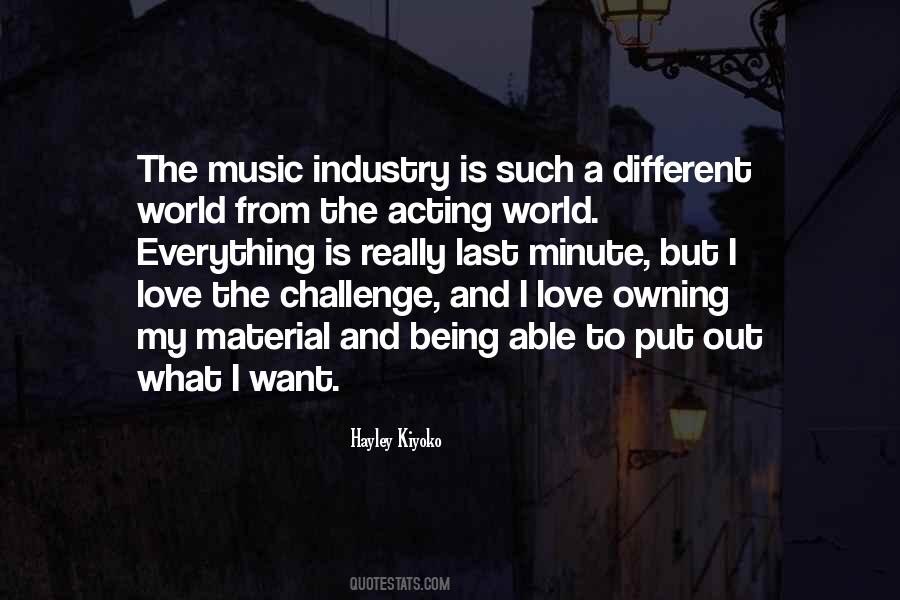 #17. I did this TV show, which was my first job ever. It wasn't a real acting part. It was like this promo for this sitcom and the main actress was meeting three different real people and then she was going to decide who was going to be on the episode. - Author: Seann William Scott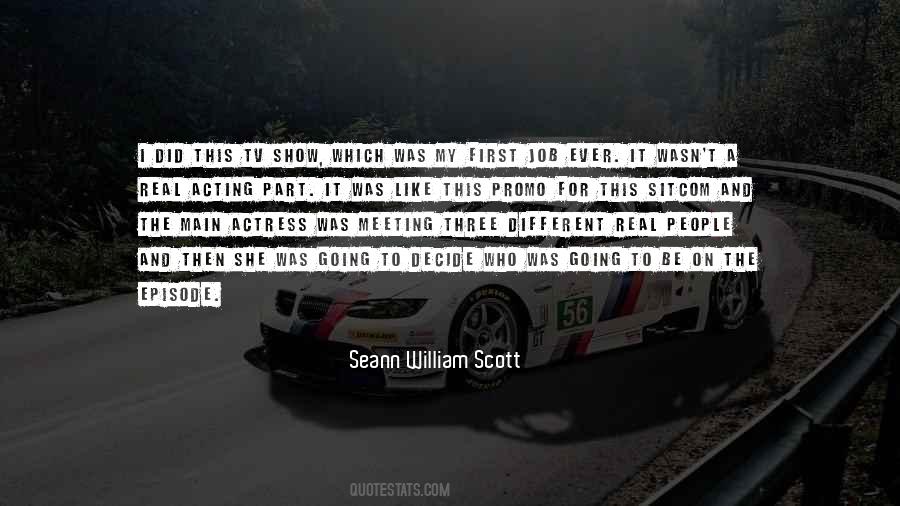 #18. William Atherton has a very different acting style to Bonnie Bedelia; she has a very different style than Bruce Willis. - Author: James Gray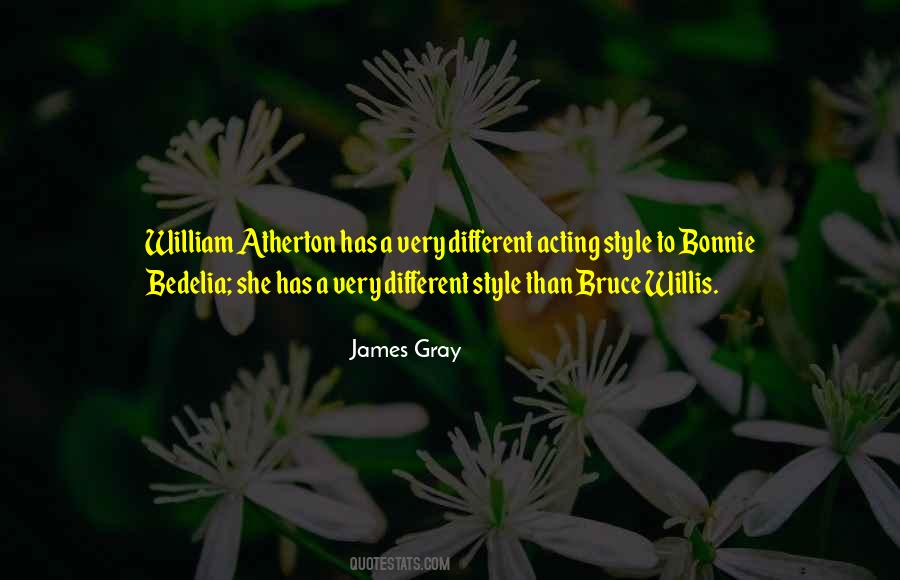 #19. The more that I can work in different mediums, the more I can grow, and learn from different actors and different types of actors and directors and different styles of acting and build a tool box. - Author: Christina Ricci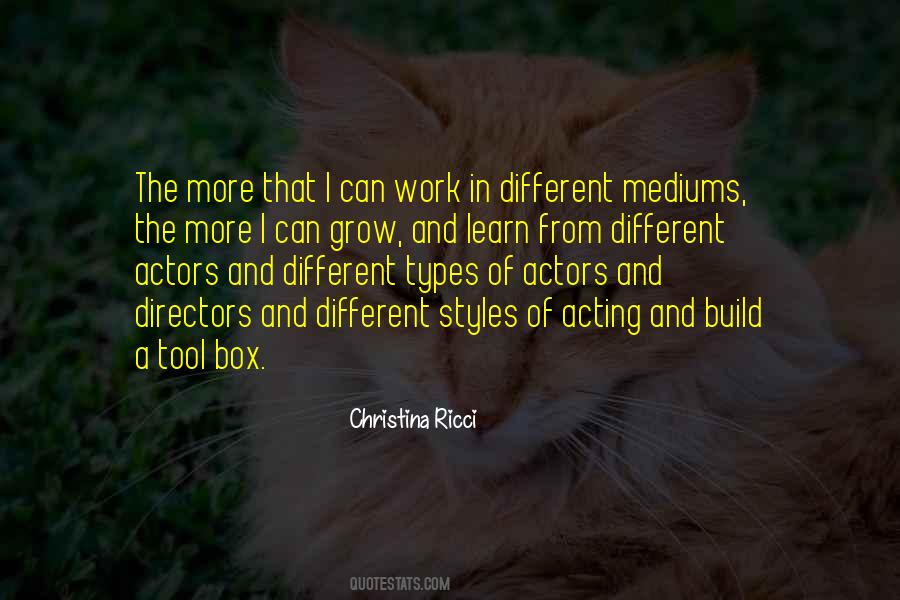 #20. The basic laws of good acting are the same, but everything about the experience is different-your job responsibility, the time you spend on it. - Author: Laura Linney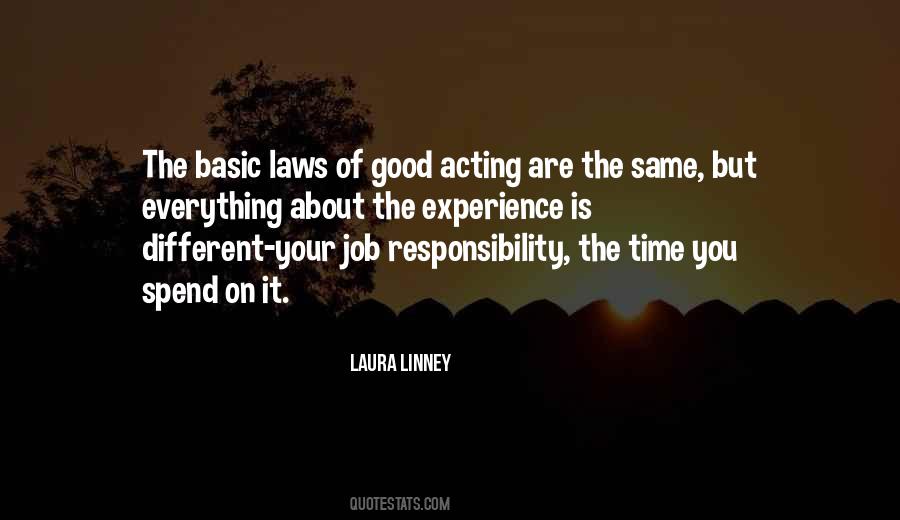 #21. Potentially, you do inhabit different worlds. And while there are no specific roles I'm burning to play, as far as acting in the future goes, I'd really like to have done searing work. - Author: Raquel Cassidy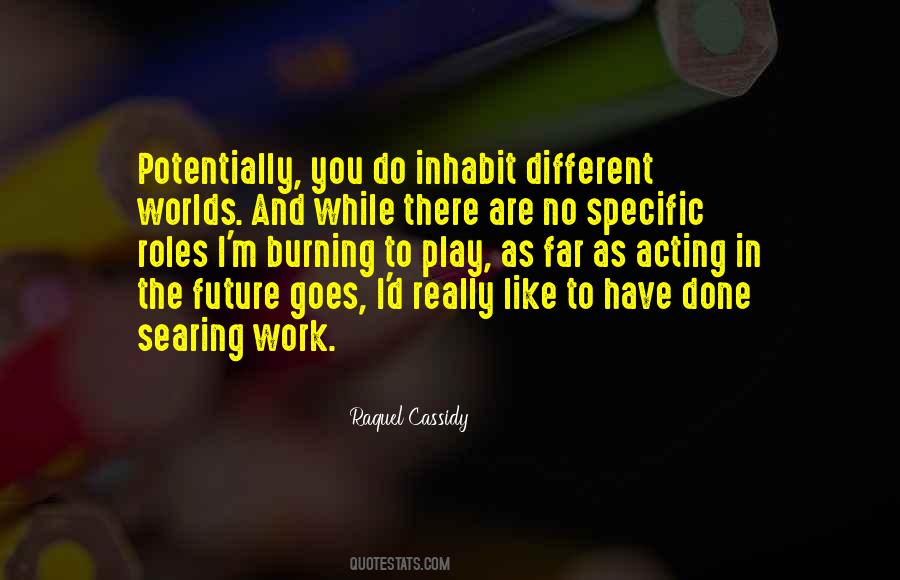 #22. Maybe if the death had occurred on the other side of the street, I'd be watching from here with different kids, acting as foolish. Maybe the difference between horror and holiday was just the width of an ordinary street. - Author: Dean Koontz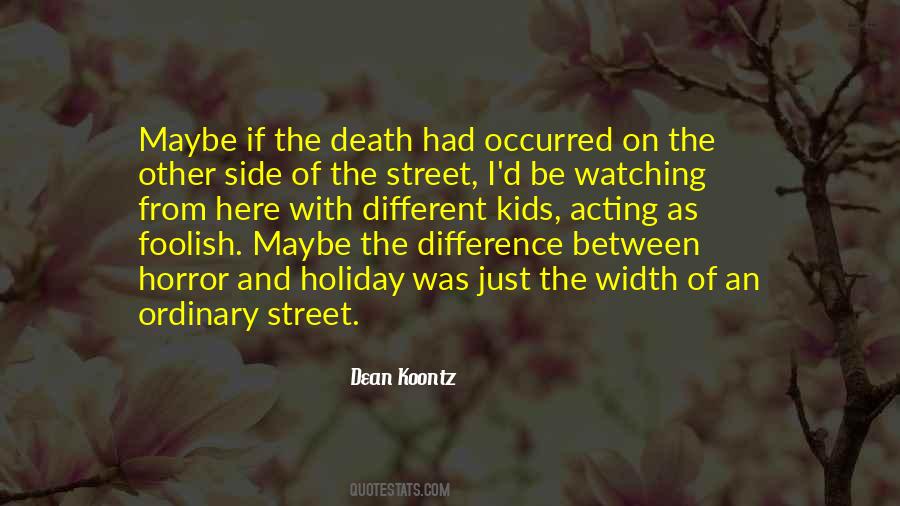 #23. I love music. That's my first love. I'm actually going to start working on that full-time very soon, but I love acting as well. It satisfies a different part of who I am. I love to pretend, to imagine, try new things, work with different people, and just see how far I can go. - Author: Brandy Norwood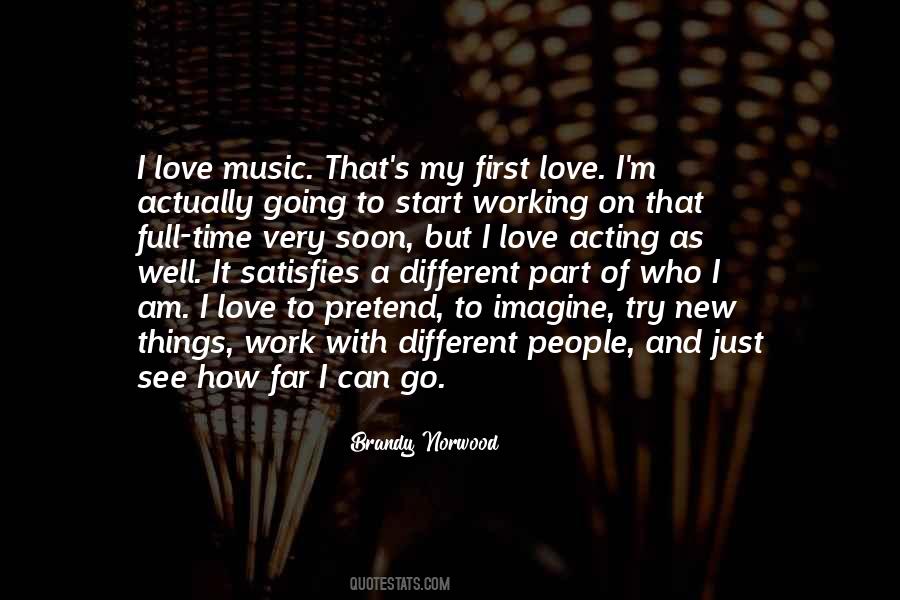 #24. Making a film or doing a play are completely different experiences and entirely fulfilling, but completely unique. I also think one complements the other. People often say that theater is about flexing your muscles, and is actually real acting, whereas I sort of disagree. - Author: Eddie Redmayne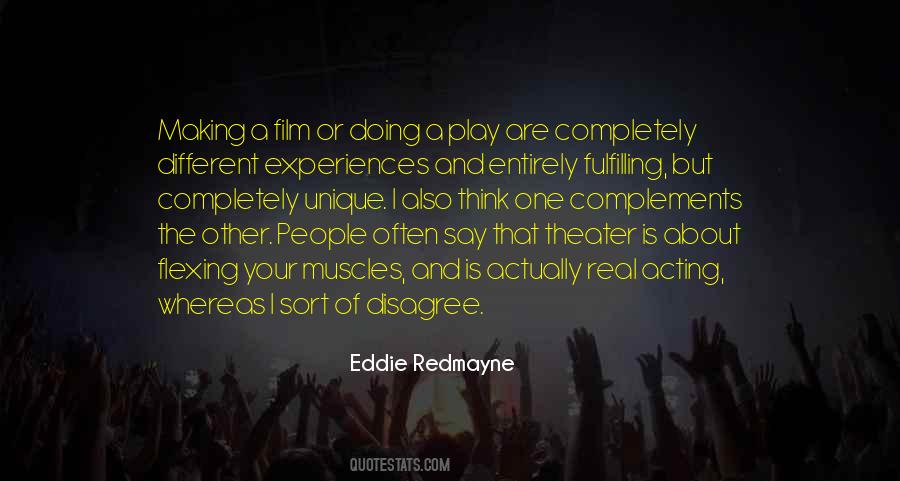 #25. When I started acting, my whole focus and intention was to work as a stage actor in a company where you're asked to different roles - do a comedy, do a tragedy, etc. I haven't had any reservations about jumping from one type of genre to another. - Author: Kyle MacLachlan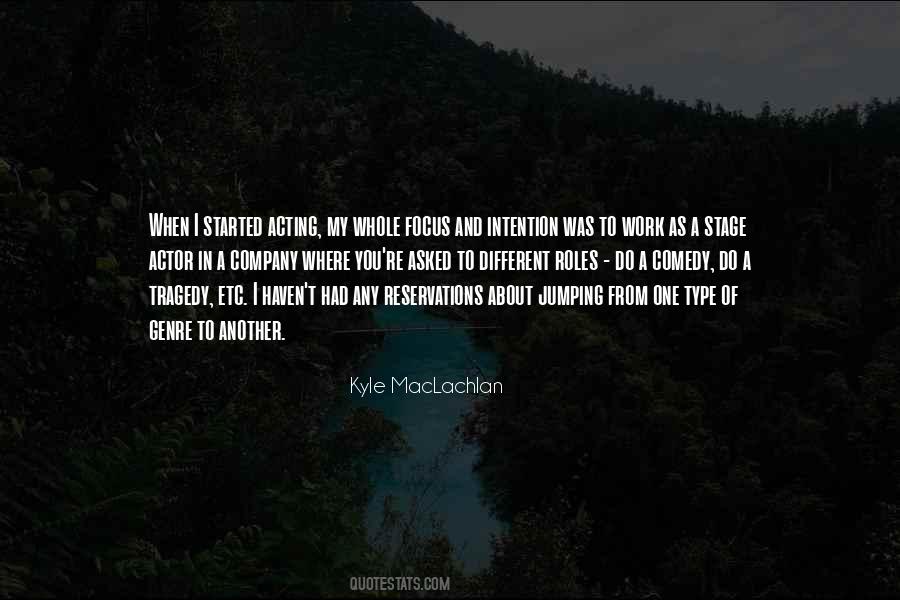 #26. I got so far away from what they told you in acting class: Do something different. Producers kept offering me the 'Sister Act' movie, but I said, 'My fans don't want to see me in a wimple.' I literally said, 'My fans don't want to see me in a wimple.' - Author: Bette Midler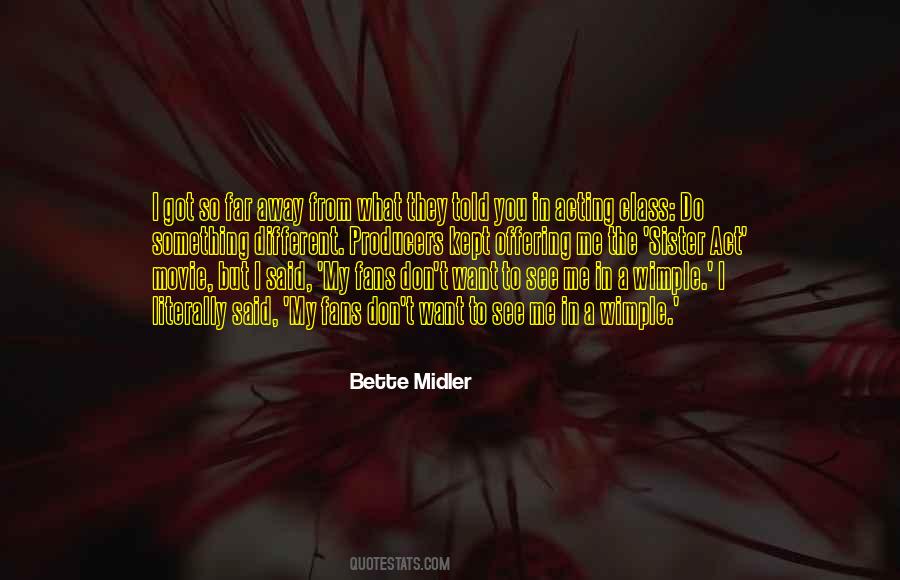 #27. I went to elementary like any other kid, but I was just always a little different. I had that sparkle, and everyone told my mom, 'She needs to be on TV, acting.' - Author: Raven Goodwin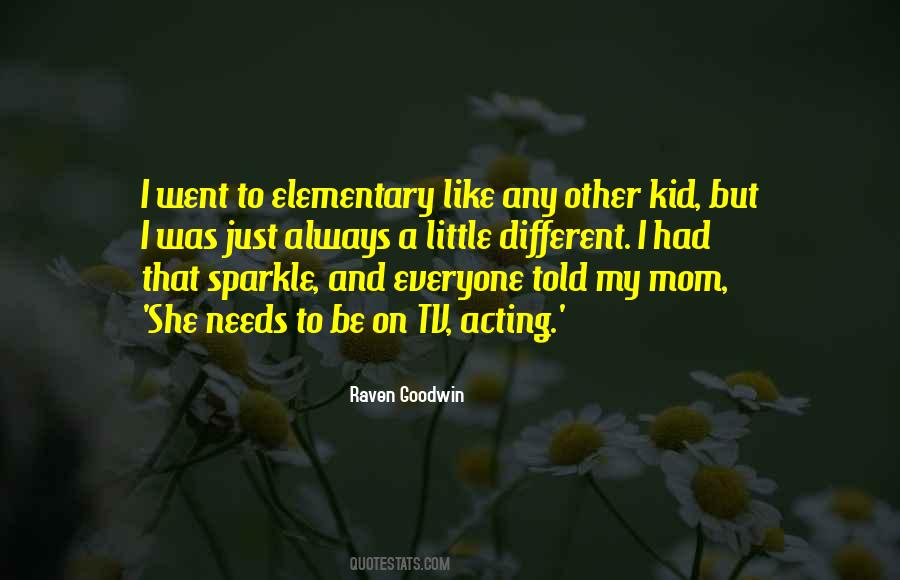 #28. It's different being a director. I suppose, especially if it's a story you've written and you feel compelled to tell, in some ways it's a lot easier than acting because you're orchestrating the piece. As an actor, sometimes you're trying to second-guess what people want. - Author: Paddy Considine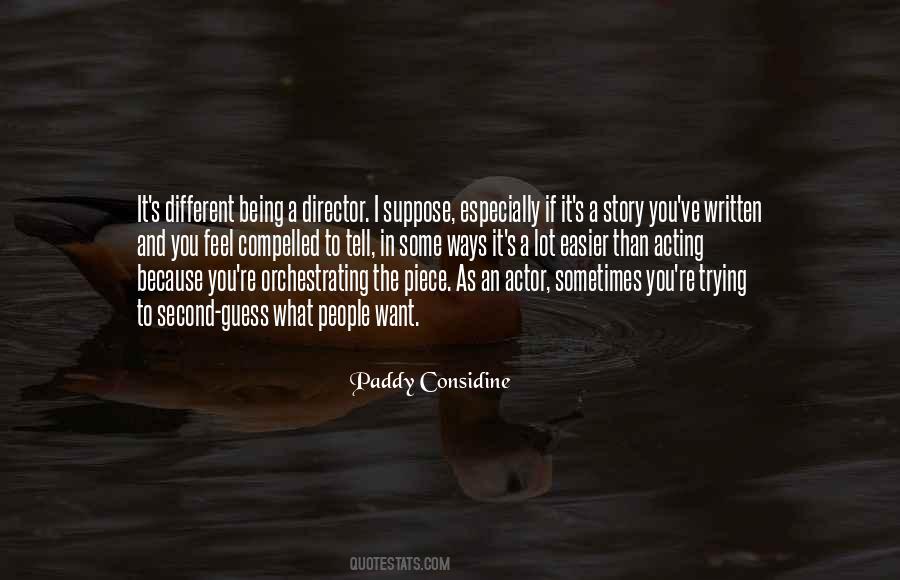 #29. It's a really unique acting opportunity to play two roles who are not only interacting with each other, but vastly different. - Author: Jesse Eisenberg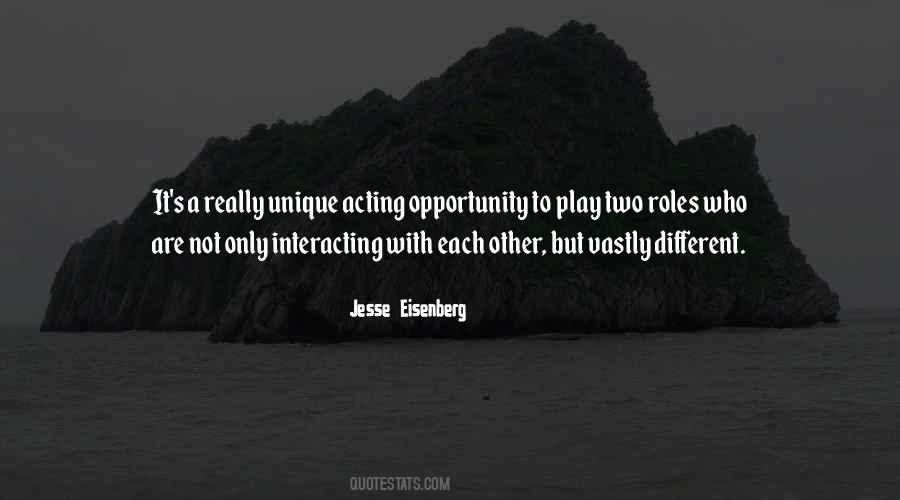 #30. I couldn't function if I weren't allowed to stretch and do really different characters where I can change the whole "beingness" of that person. That's my pleasure in acting and has been since I was a kid. That's always been my pleasure to create complete characters. - Author: John Travolta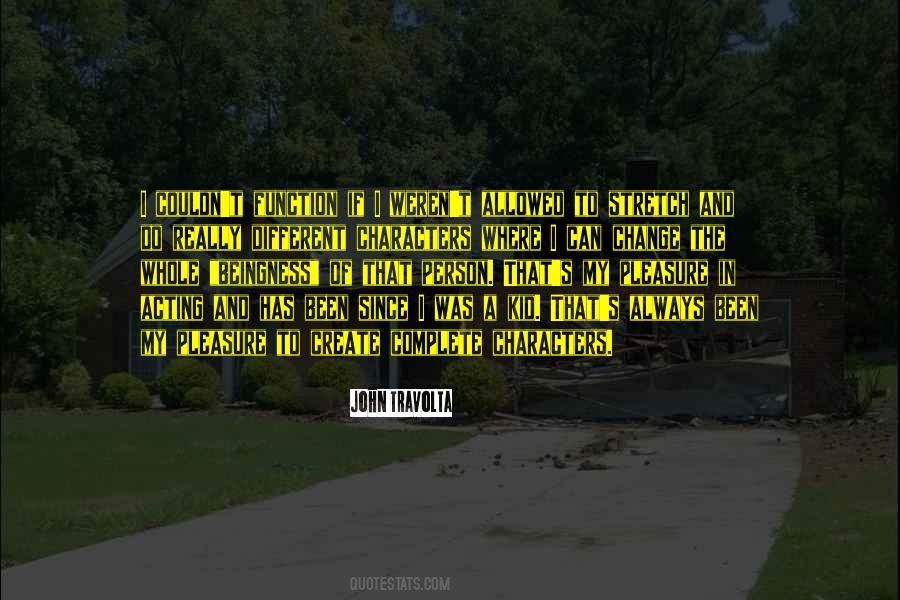 #31. The whole acting thing is a buffet. One, in terms of role choice and movie choice, I like to do lots of different things, and I think that's the whole fun of it. But I also see it as a buffet in terms of the character. - Author: Topher Grace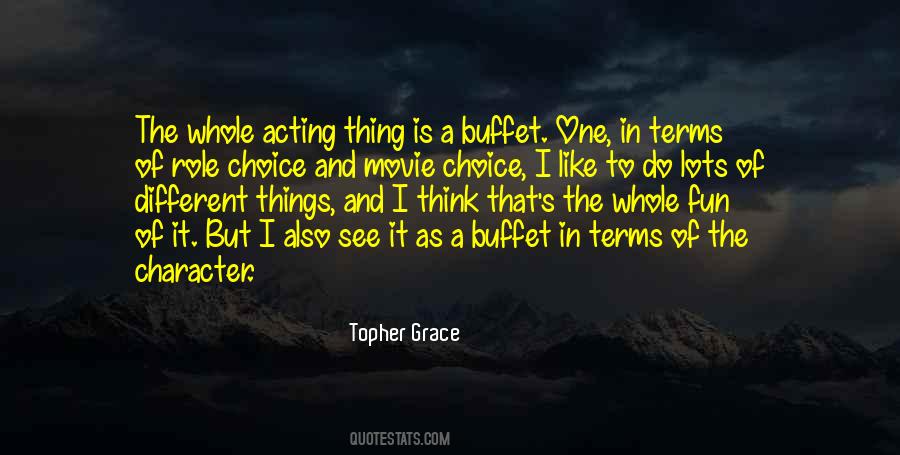 #32. What I love most about acting is being able to play different types of personalities without being considered crazy. - Author: Tyler James Williams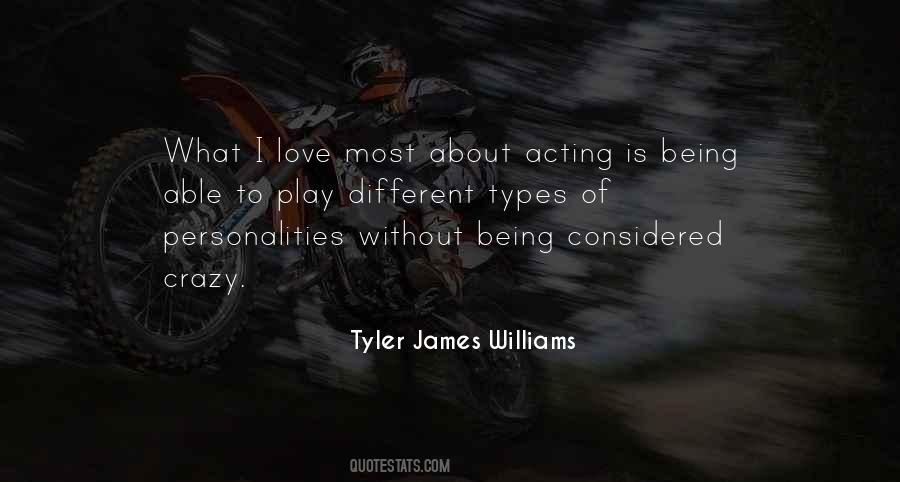 #33. Wrestling and acting couldn't be anymore different in terms of what it takes to entertain. Wrestling is explosion, acting is implosion. One really screws up the other. - Author: Roddy Piper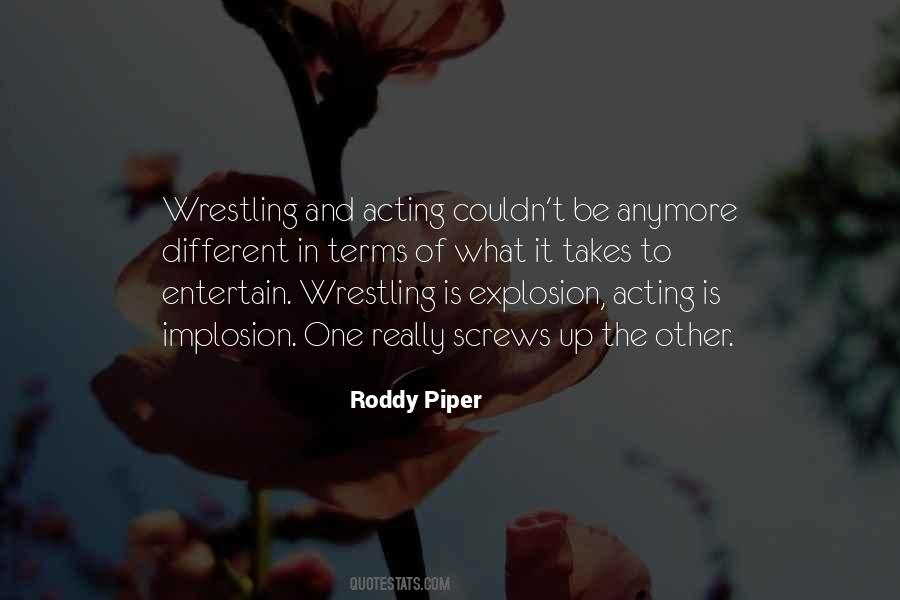 #34. My favorite thing about acting is that I can play all kinds of different people. Frankly, I don't consider myself a very interesting person, so the characters I play are usually much more fun. - Author: Nathan Kress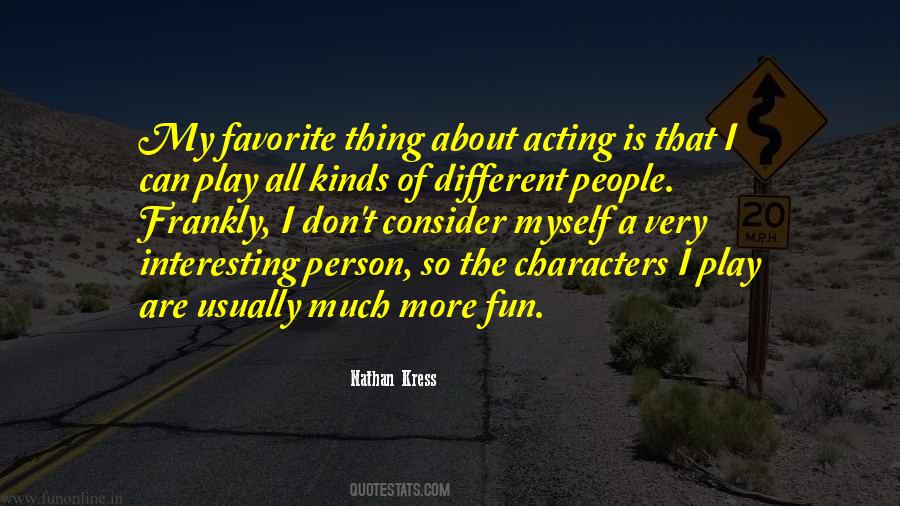 #35. Acting is something different to everybody. I just know that if you watch an actor or actress getting better and better, I think that's them just understanding themselves better and better. - Author: Cameron Diaz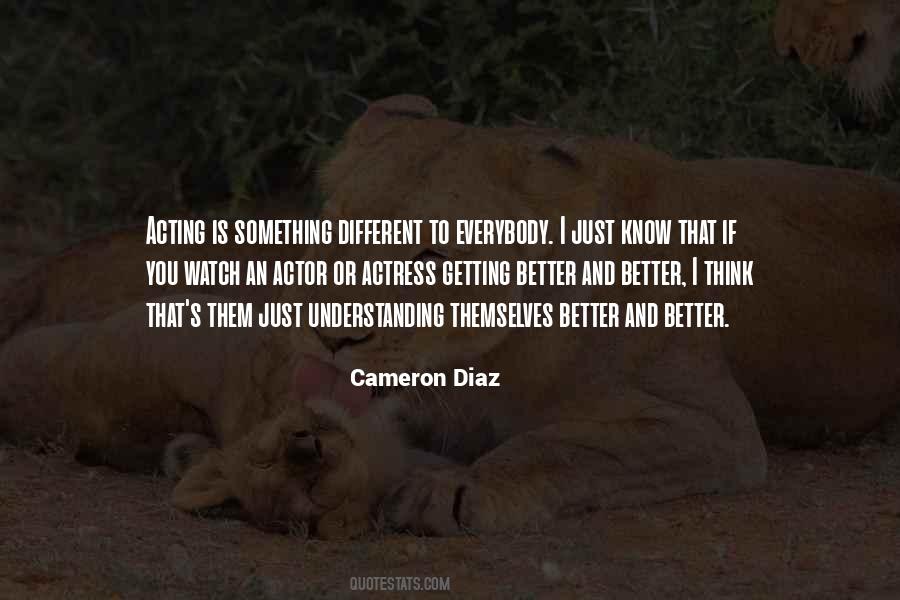 #36. Sometimes I'm doing a big movie, or sometimes I'm doing a TV show, but as an actor, it's almost the same thing for me. If I'm doing action, or comedy, or something more heartfelt, it's a different approach, but it's all acting for me. - Author: Hiroyuki Sanada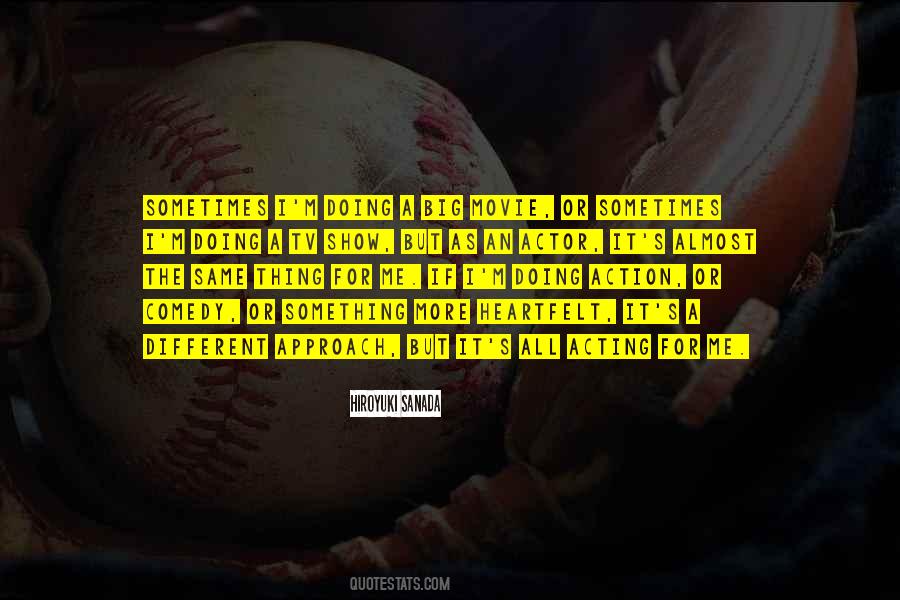 #37. I wouldnt call acting a job - its a pleasure. I love getting to play different characters, getting to play dress up, and getting paid for it. - Author: Rooney Mara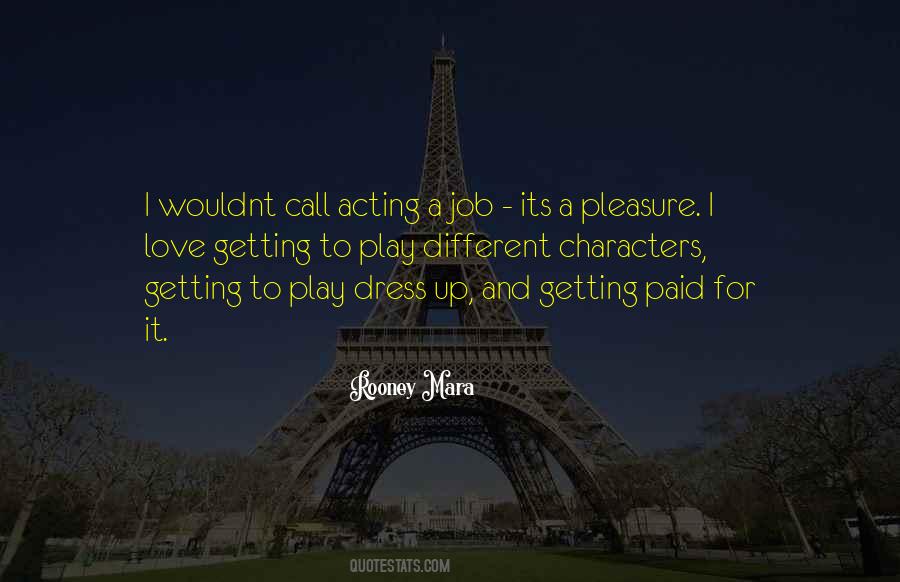 #38. The thing that's very close in the process is writing and acting, not directing. Directing's very different. - Author: Sean Penn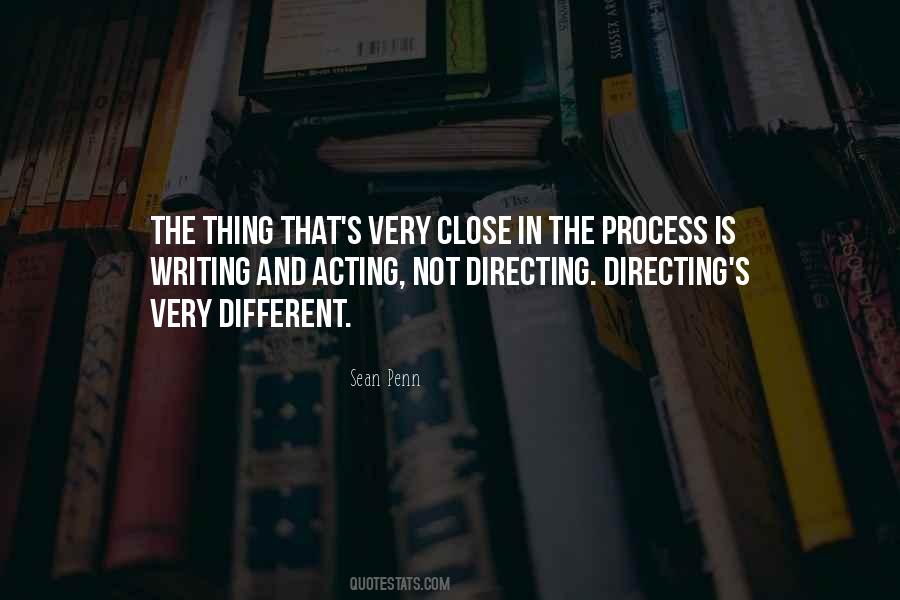 #39. I was very close to my father. At the age of ten I wanted to do plays, and my father was very encouraging. When I applied to different acting schools, he was right there and very supportive. - Author: Kim Cattrall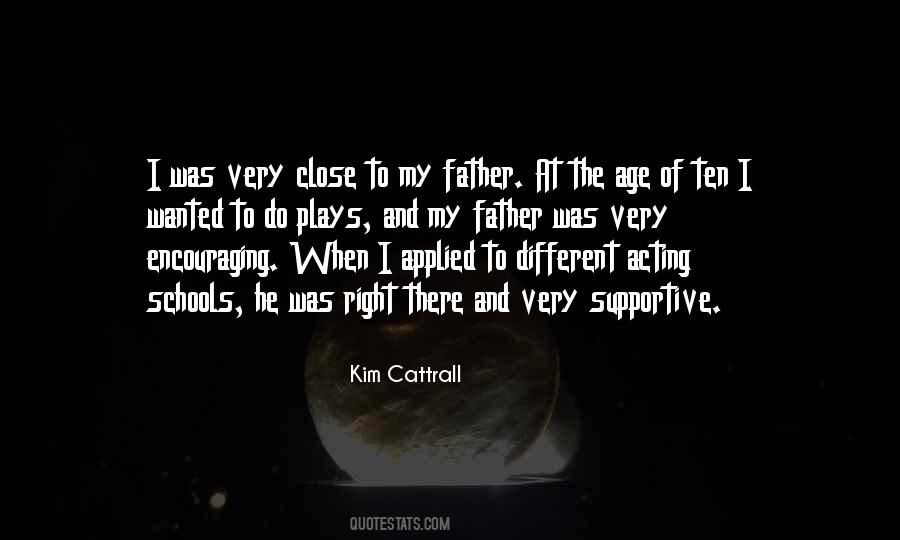 #40. I think doing different accents is part of the job of acting really. It's something else that I quite enjoy the challenge of, to be honest. - Author: David Tennant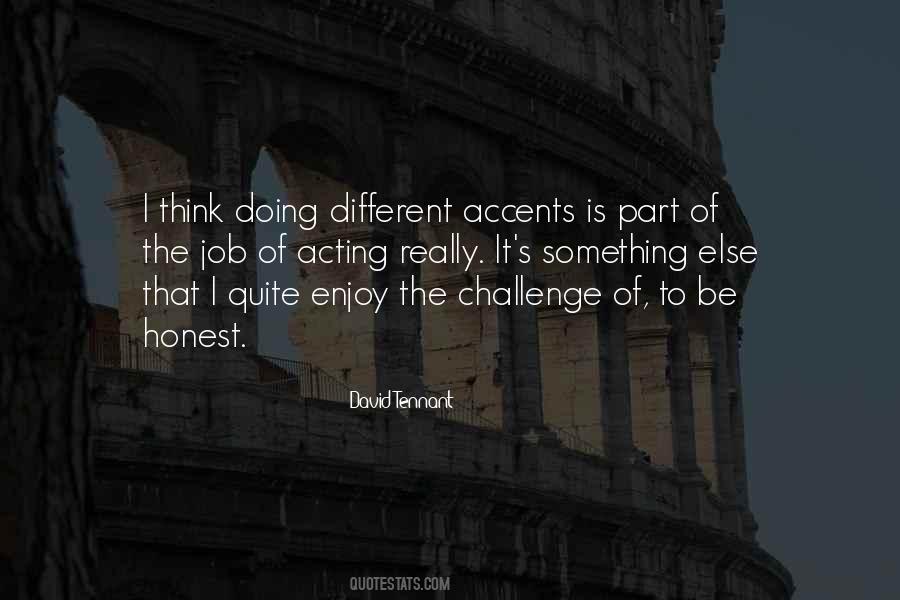 #41. I like to do a lot of different things in acting. - Author: Max Charles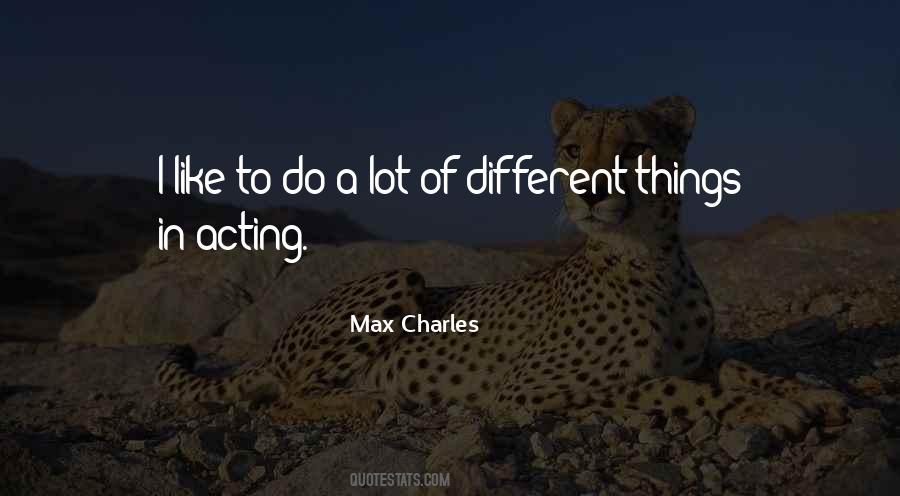 #42. What I enjoy most is travelling to different places and meeting new people. For me, it's all about life experiences, and I'm very grateful that acting allows me so many interesting and fulfilling ones. - Author: Jensen Ackles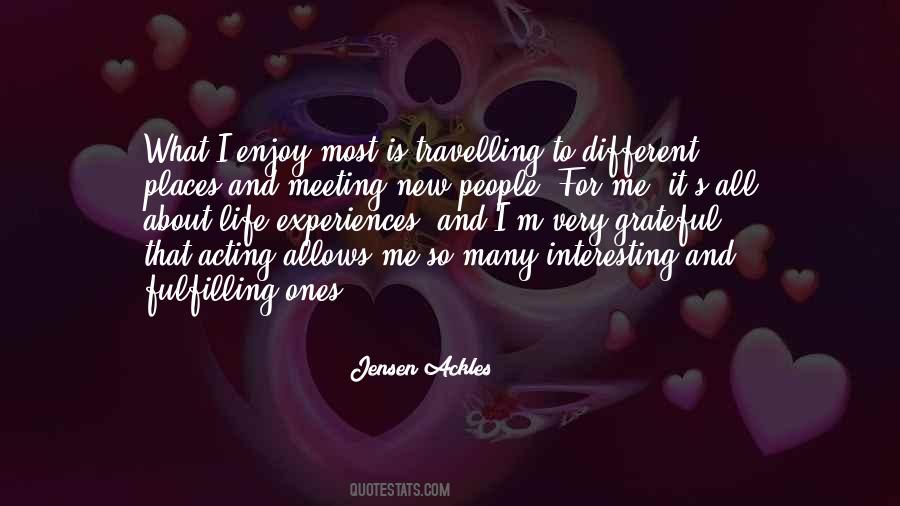 #43. You want to mix acting styles correctly. People approach the work in different ways. You want to make sure no one wants to kill each other because the approach is different. - Author: John Wells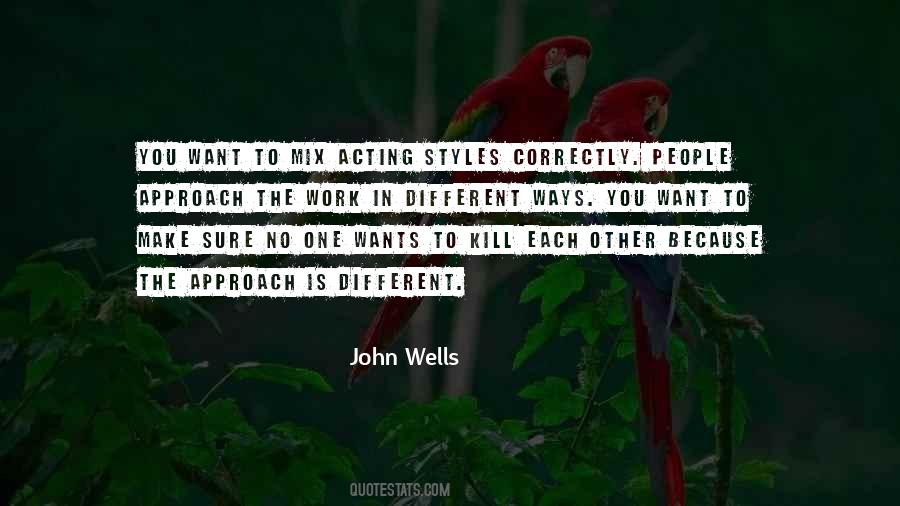 #44. Acting is so much fun. It is a different ball game and I want to concentrate on that at the moment. I'm really passionate about what I do. I love entertainment and telling stories to people and I am very lucky that I am doing what I want to do. - Author: Britney Spears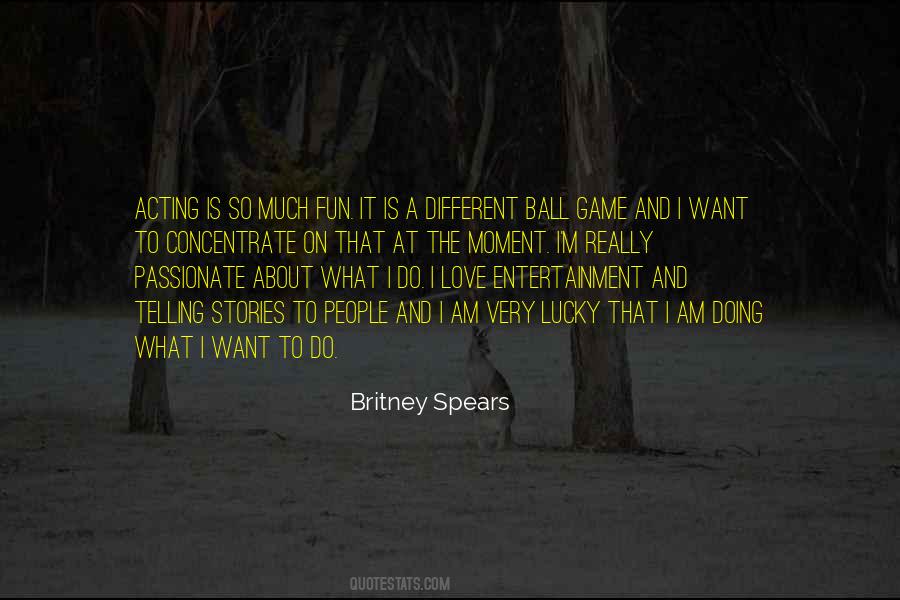 #45. (The) process of acting is no different to conventional screen acting, in that it's providing a perfect interface between the director and the performer. So there's no sort of long way around a viral committee of animators. - Author: Andy Serkis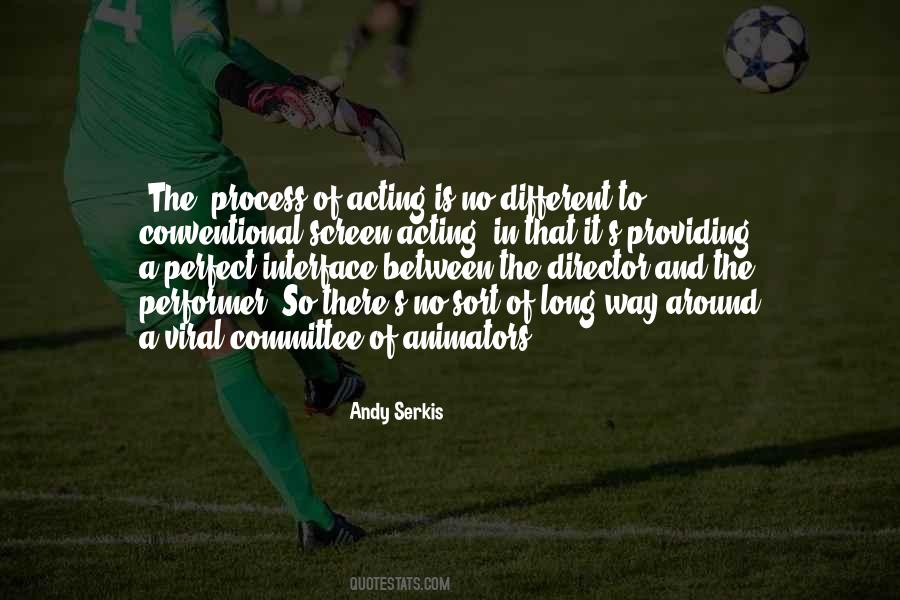 #46. I think that different actors go about their preparation differently, but when it comes to acting, I use my imagination. - Author: Edi Gathegi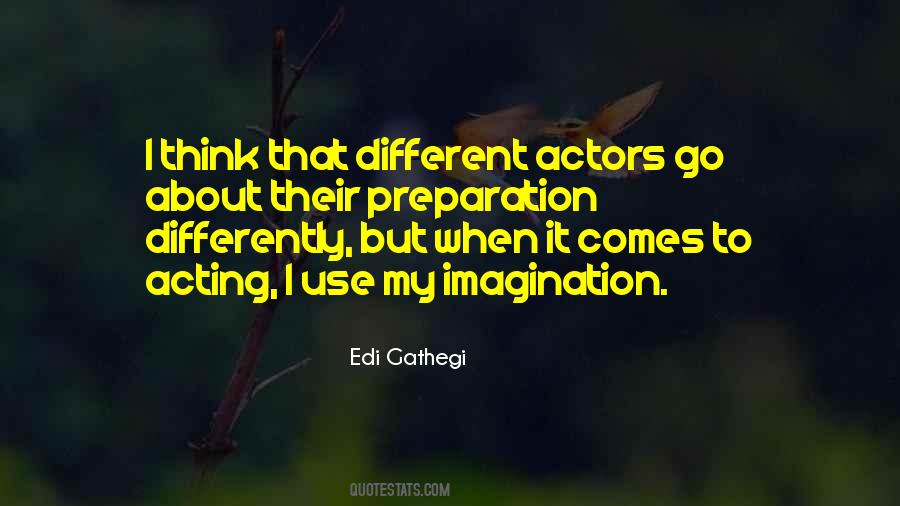 #47. What I love about acting is that you are exposed to so many different things. Horse-riding, sailing, travelling to amazing places. - Author: Nikolaj Coster-Waldau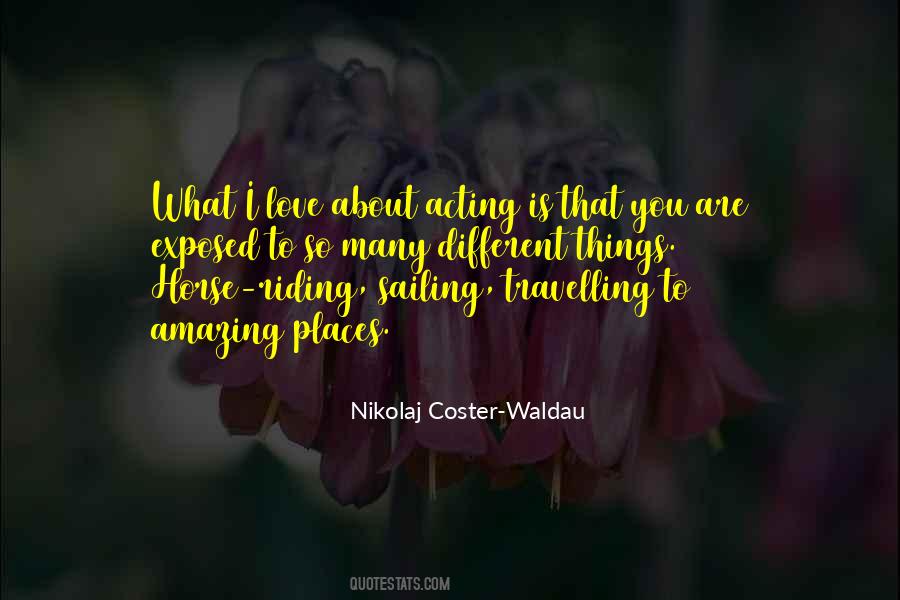 #48. I read. It's also nice for me to get involved in schoolwork, which is a totally different world than acting. It makes me feel like I am doing things that normal people are doing at my age. - Author: Monica Keena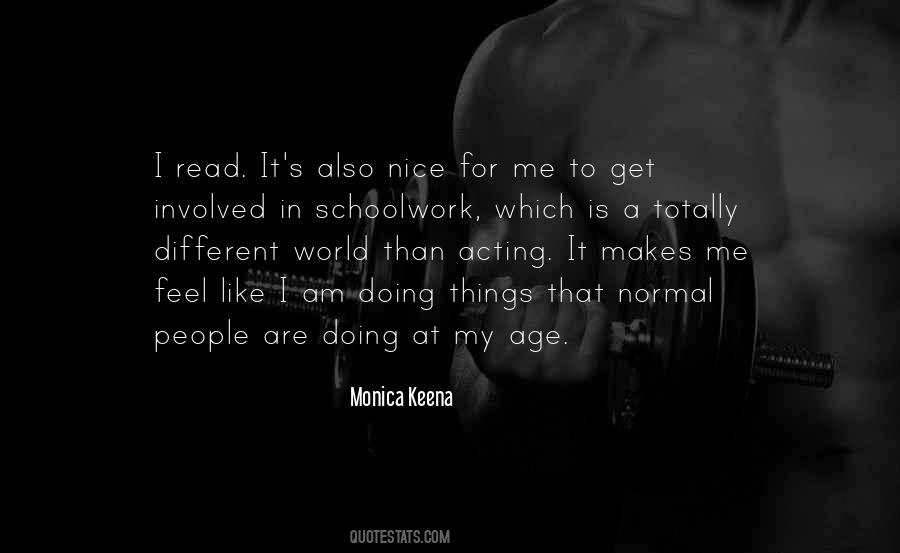 #49. Acting in film, you know, I hear all the time, people say 'You did so much better than I thought you would.' So there's an added element of surprise in film, different than in music. - Author: T.I.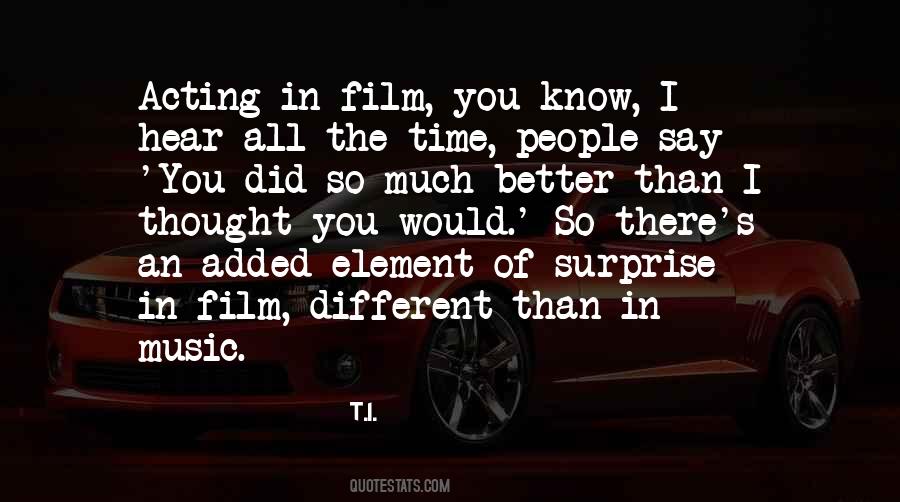 #50. I still don't know what I'm going to be. I love acting. I would love to be an English teacher. I would love to be a housewife and have a chateau in the South of France, I would love to be a singer that travels to cafes around different towns. - Author: Bethany Joy Lenz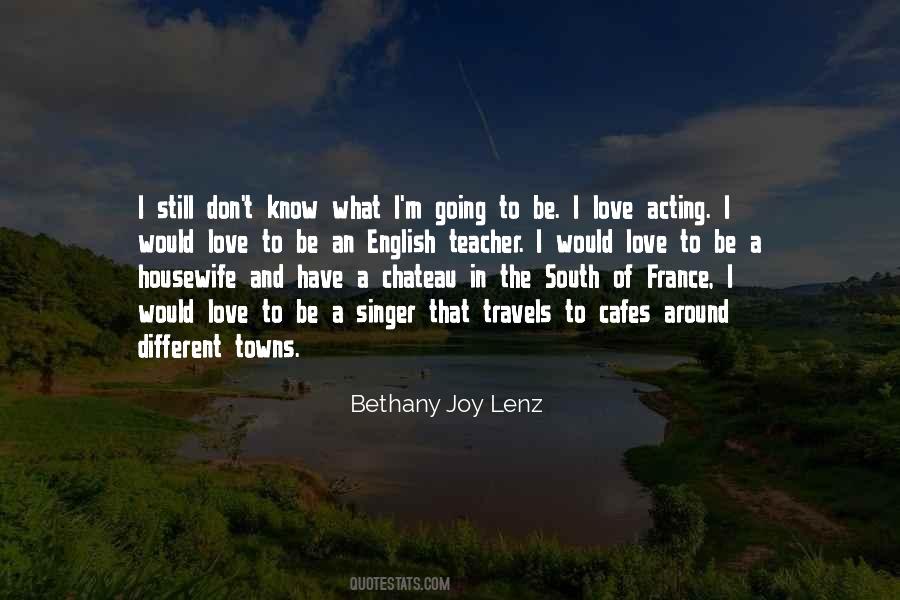 #51. I put my friends and family first. I'm really just a normal thirteen-year-old girl who has a different hobby than most girls my age. Acting is kind of an extracurricular activity. - Author: Natasha Calis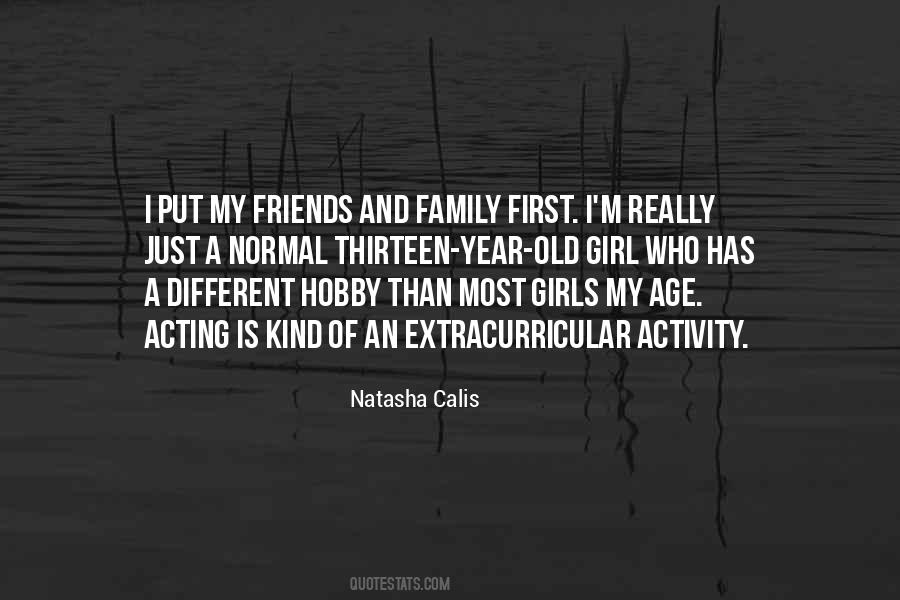 #52. My thinking is lot more different with many actresses in the industry. I don't understand why people in showbiz put their profession of acting in the back seat after marriage. - Author: Kareena Kapoor Khan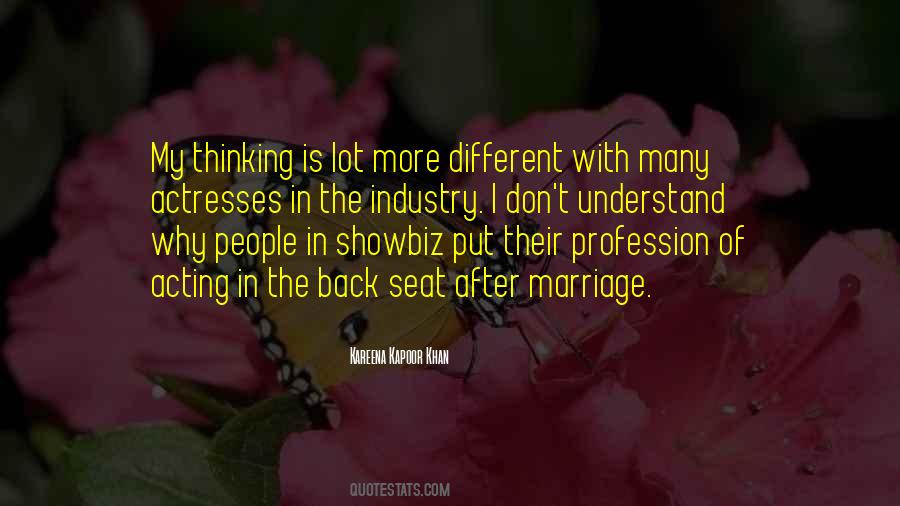 #53. Acting is mostly interpretive. They use different parts of you, and different sides of you, and different so-called talents. - Author: Mick Jagger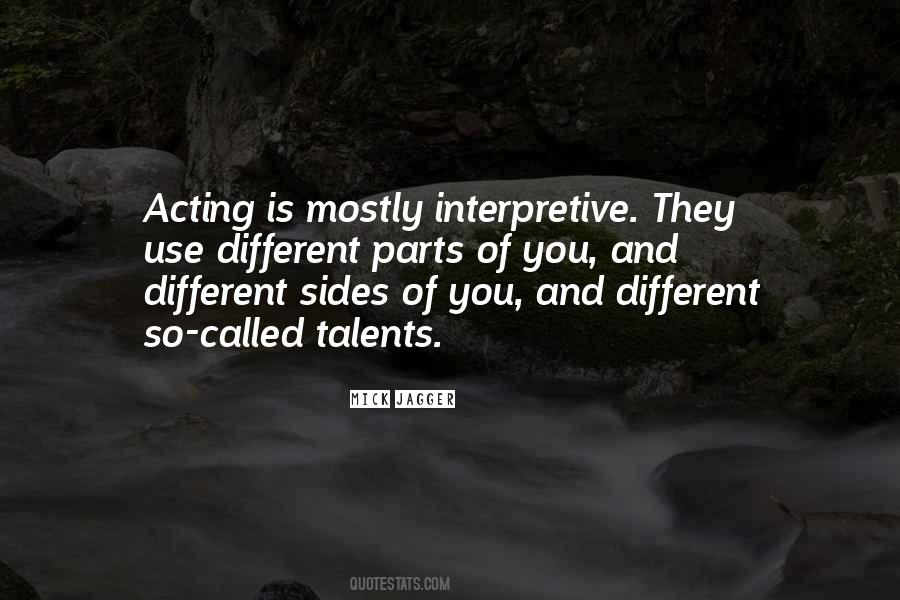 #54. I really like scripted dramas. My favorite show of all time would have to be 'Lost': I loved how the writers and producers were able to weave the different storylines together; and the acting in that show was incredible. - Author: Nick Jonas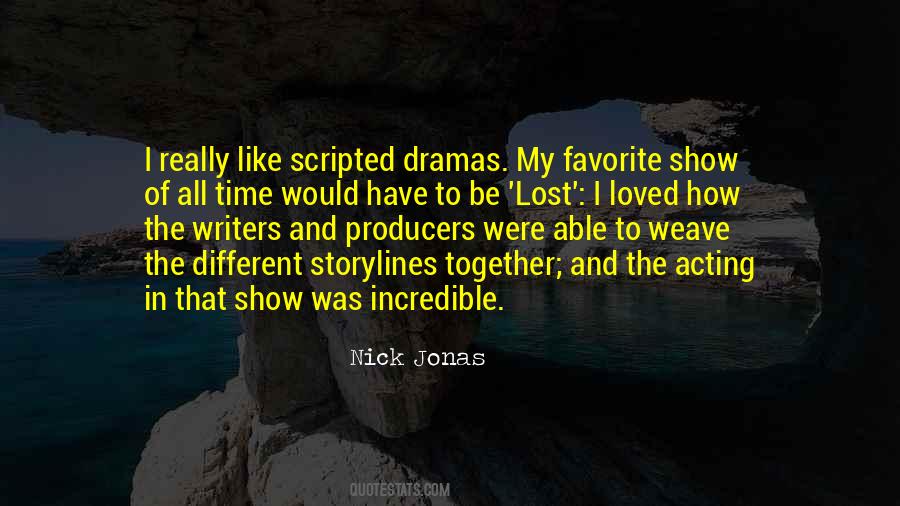 #55. I went to a lot of theatre schools, got a lot of training, did a lot of repertory where you do a different play every night. I took a lot of voice, movement, and acting classes. - Author: Jeffrey Combs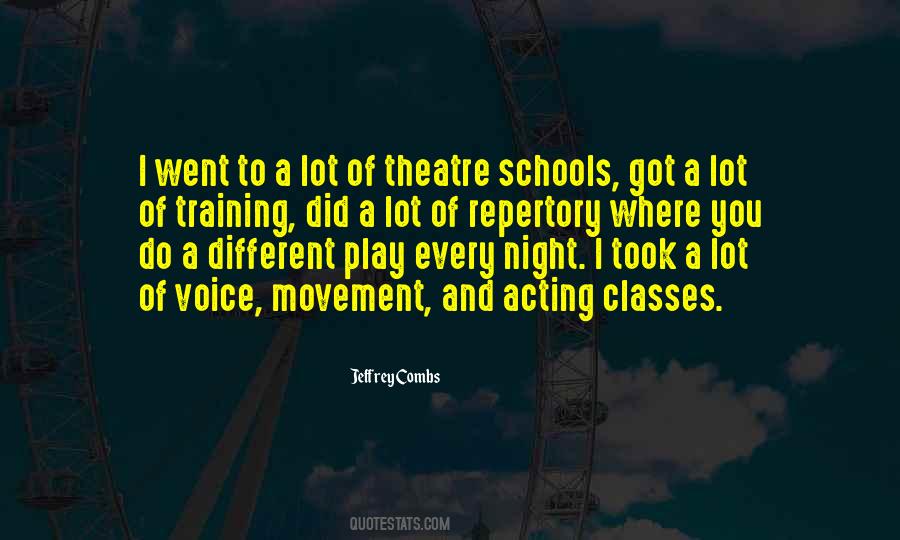 #56. I'm less needy about needing to express myself through acting. I have many different lives outside of this that are extremely fulfilling. - Author: Richard Gere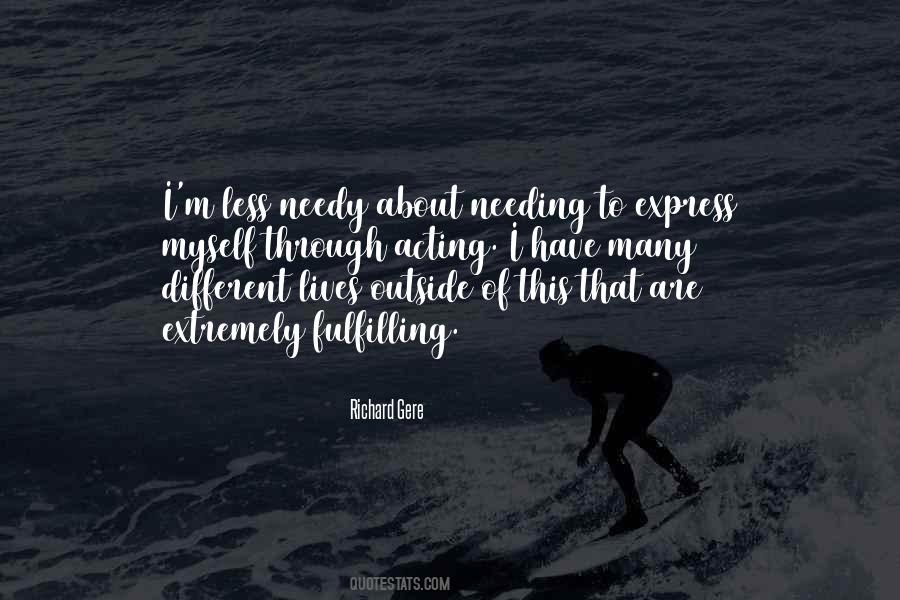 #57. Acting is reacting ... there's a magic when you're working with another actor. With voice acting, you're doing it alone, all in your head. So, you have to re-create that essence by yourself. It's not necessarily more difficult. It's just a different set of skills. - Author: Josh Keaton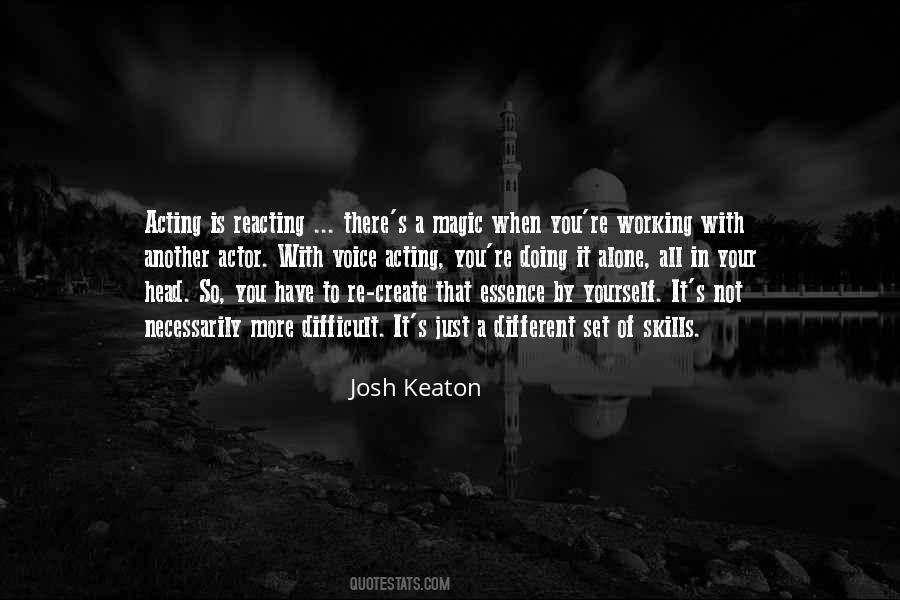 #58. It's fun being able to suit up and go and kick butt and not have to worry about memorizing dialogue. It's a whole different way of acting because you're not depending on the words at all, you're really depending on everything else that you have. - Author: Kelly Hu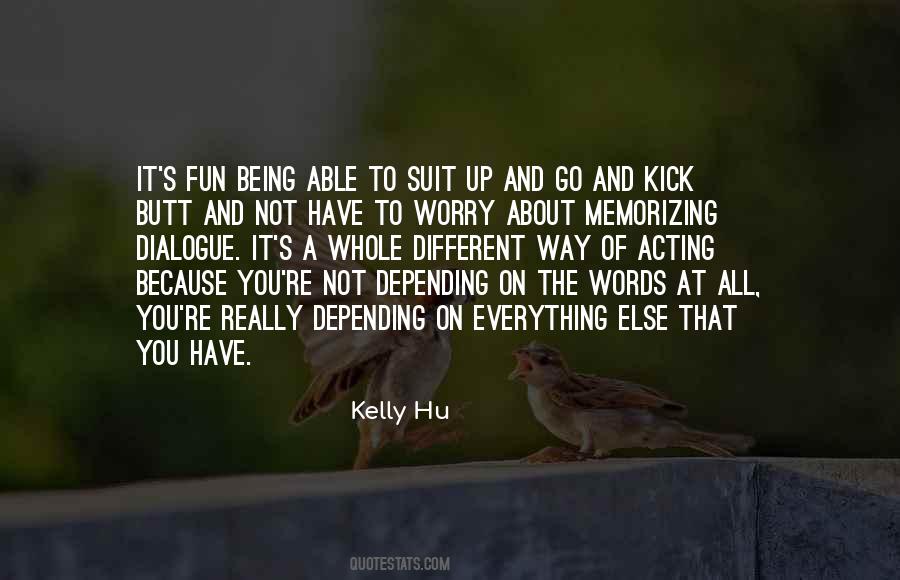 #59. What attracted me to acting, from the start, was playing different characters. I'm not a massive fan of just playing myself on screen. - Author: Freddie Stroma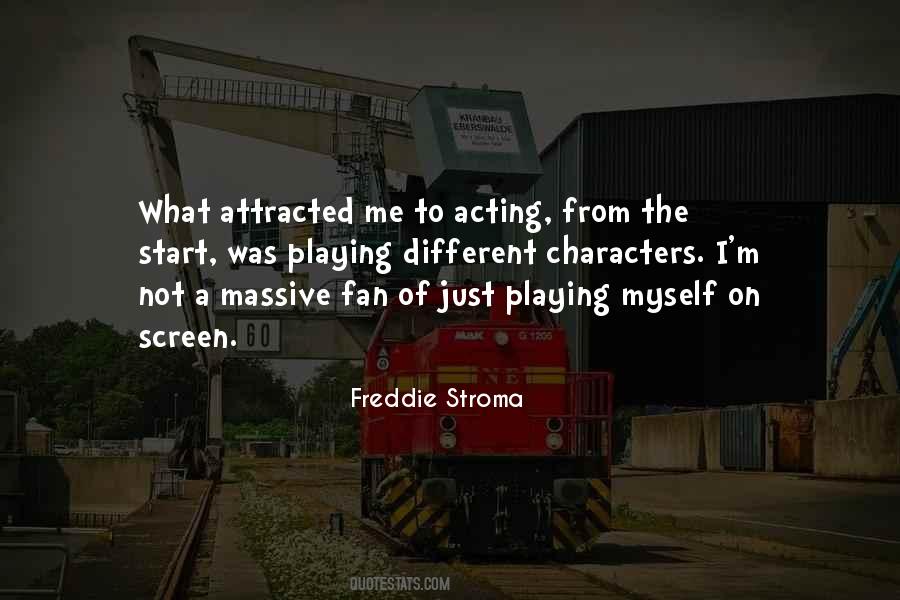 #60. It's like a kitchen, acting. Put a chef in a kitchen and they will have different recipes. Whatever your recipe, what works for you won't work for another. - Author: Carole Bouquet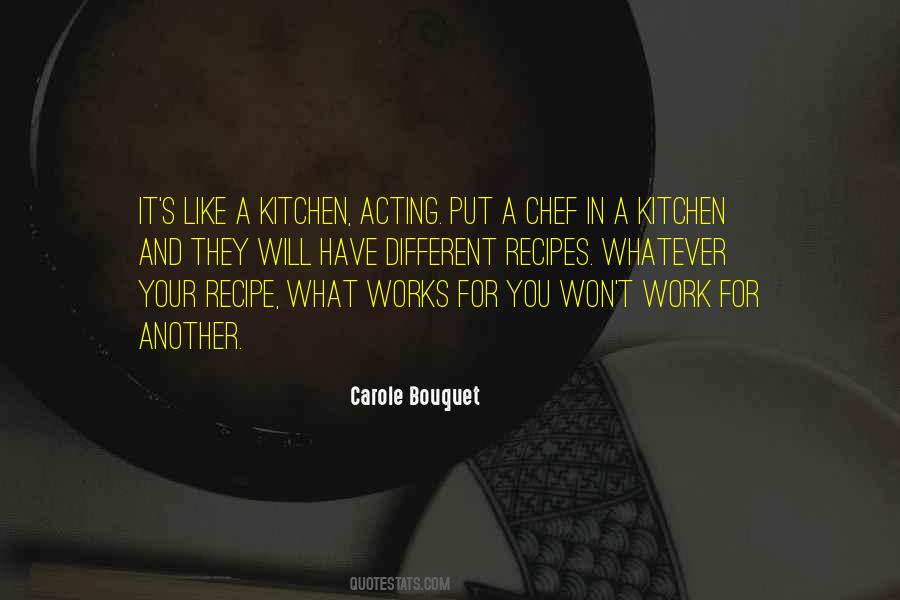 #61. We don't think of them as acting, but we take on certain characteristics based on where we function, and those relationships draw out aspects of who we are as people. And that's what acting is. Different parts draw out different parts of your nature. - Author: Peter Riegert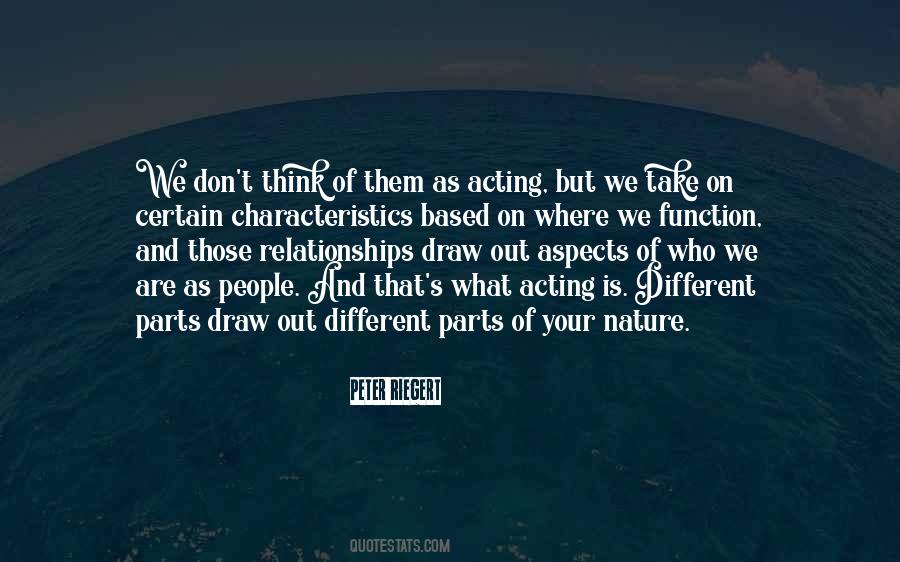 #62. I can only live my life in this way. I don't think I would be living it a different way if I wasn't acting. - Author: Dakota Fanning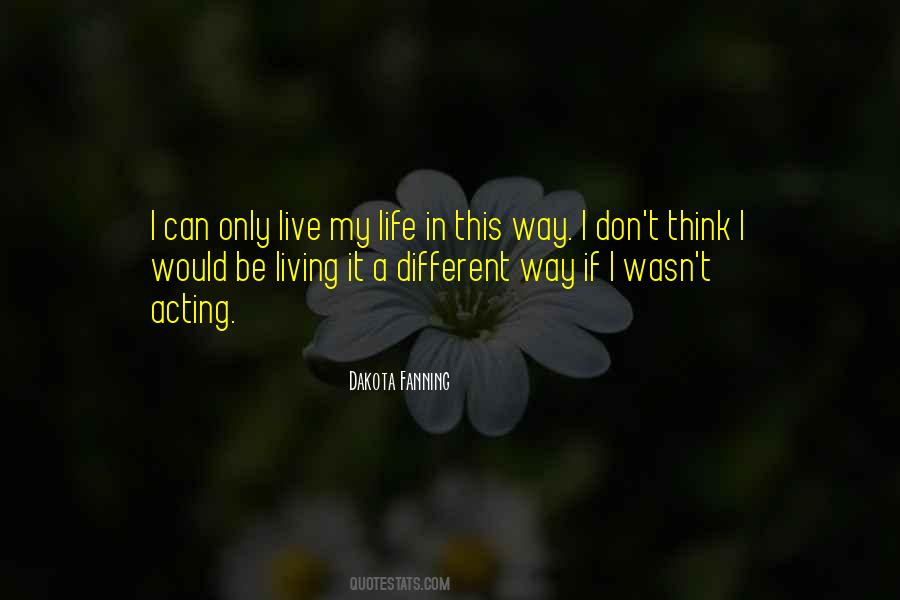 #63. Acting is what I love to do.I understand the differences between the different formats. But I enjoy whether it be film, TV or in the theater. - Author: Carter Jenkins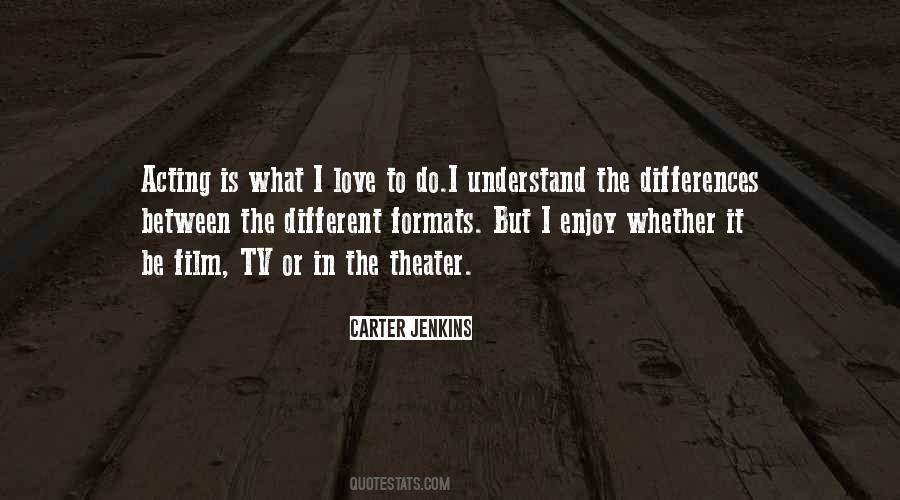 #64. When I came into the industry I started with acting and I did drama during junior high and high school. I fell into dancing as a hobby, but whenever you need work, you try out different things. So I booked a lot of jobs for dancing and it kept rolling and rolling. - Author: Harry Shum Jr.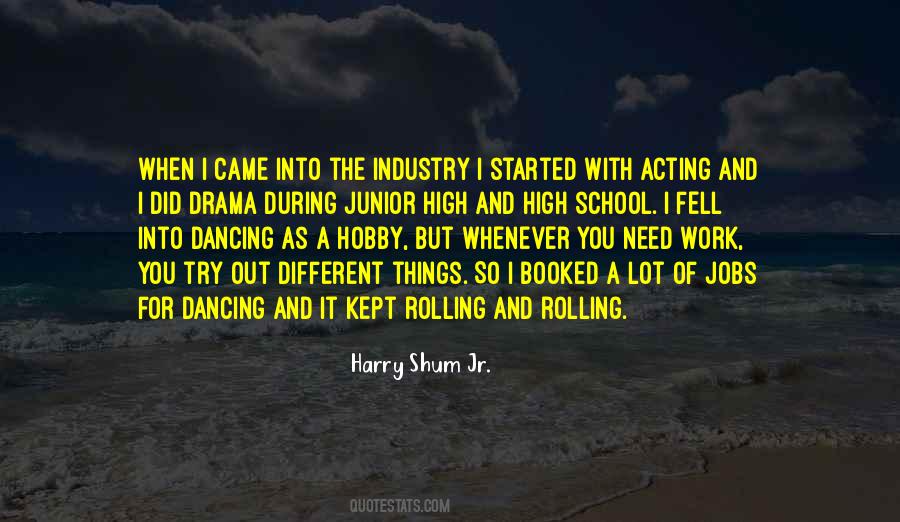 #65. I'm so not a performer, my drive to do [acting] is so different to other people - and I'm not discrediting that, they're born performers, they're people that you love to watch just be themselves. I like to be a little bit more in control. I like to make something. - Author: Kristen Stewart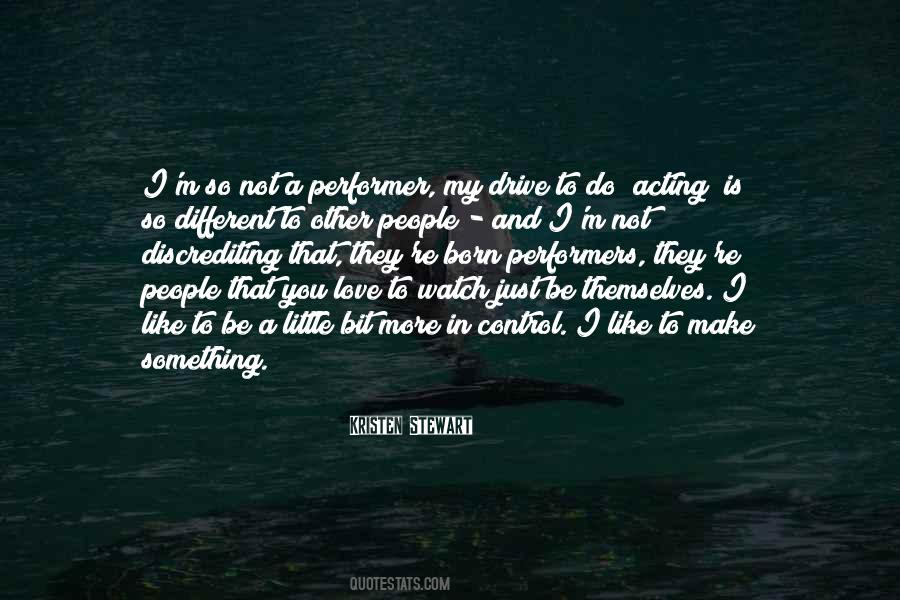 #66. It's funny because I'm so used to acting in English that any time I have these moments where I have to speak Russian, it definitely takes a different part of my brain to pull it off, but it's always nice and fun. - Author: Ksenia Solo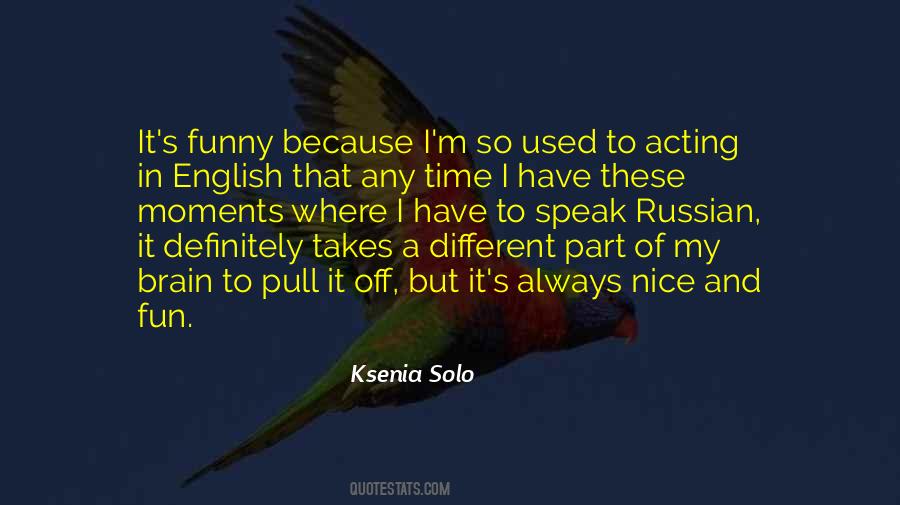 #67. Acting is not about being someone different. It's finding the similarity in what is apparently different, then finding myself in there. - Author: Meryl Streep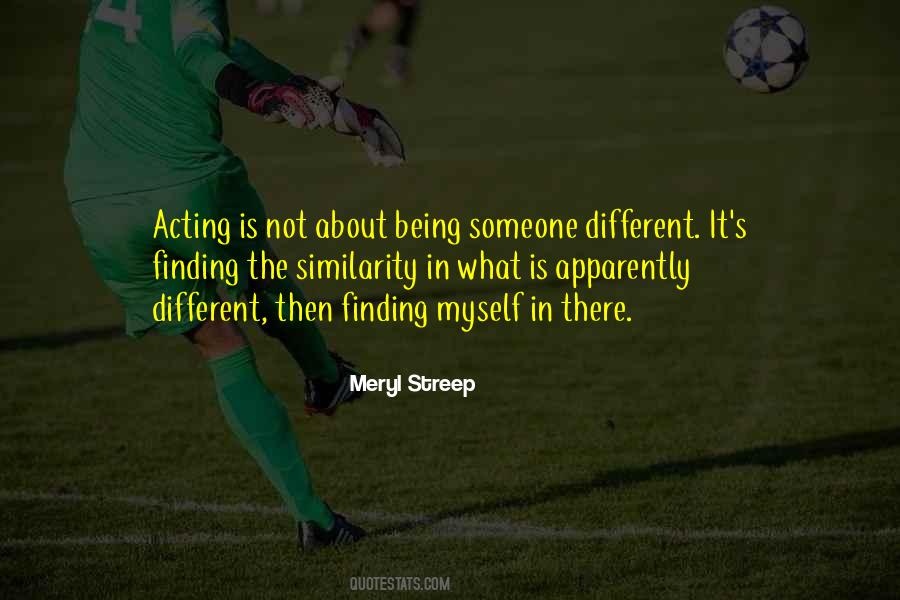 #68. I generally like grey roles. My interpretation of drama is different from the popular perception. Acting, for me, is not about overplaying, it is about concealing. I like flawed characters that people relate to. I would never do a romcom. - Author: Emraan Hashmi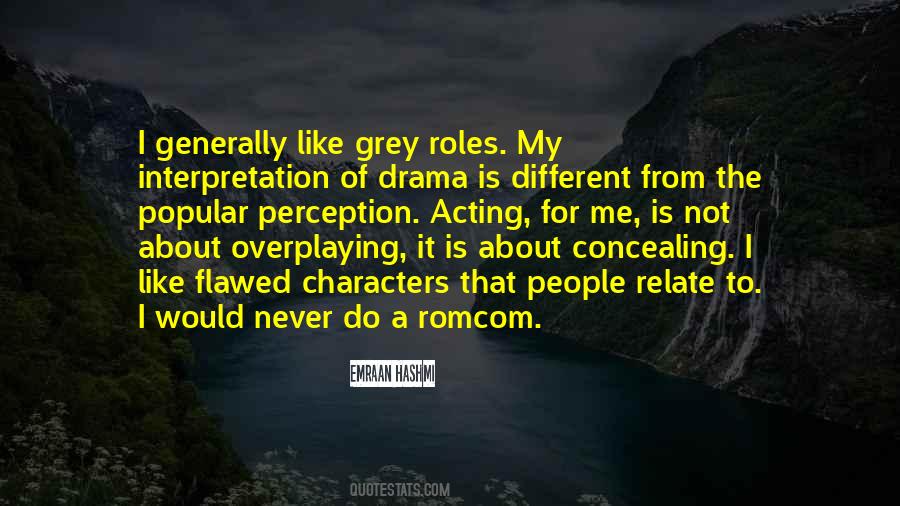 #69. I like going in to different styles of acting and exploring stuff I haven't done before. - Author: Mel Gibson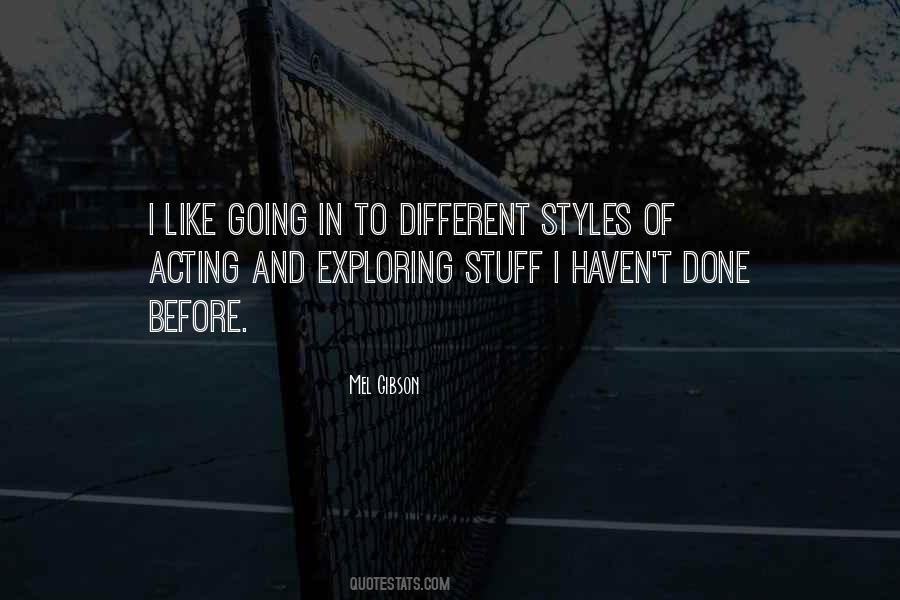 #70. Acting gets into your blood, after so many years, and I just always like revisiting it. It's fun to meet new people and watch them coming along, at different stages of their careers. - Author: Clint Eastwood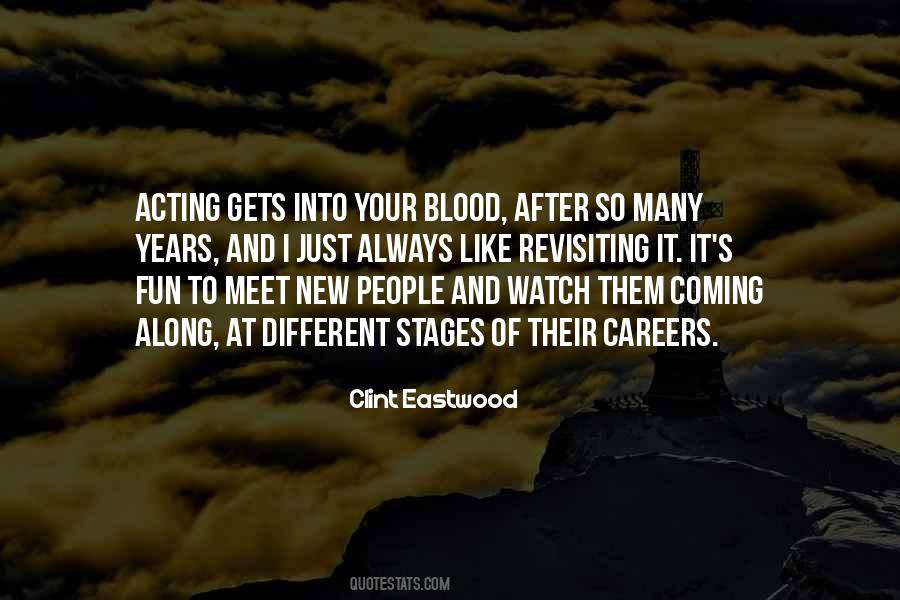 #71. One of the reasons I love acting is because I'm so interested in other people's lives, and I often incorporate things I hear or observe into my work. I've become a bit of a 'person addict,' and so I like brushing up against lots of different characters. - Author: Jason Alexander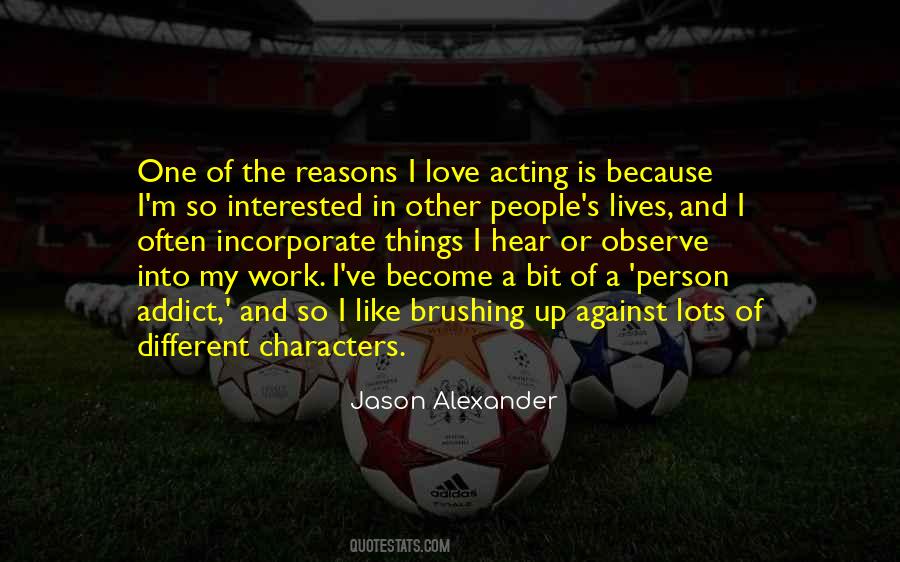 #72. This city can be kind of brutal, so you see your dreams from every different angle, but ultimately it's about acting and if you enjoy acting, you will always enjoy acting. - Author: Radha Mitchell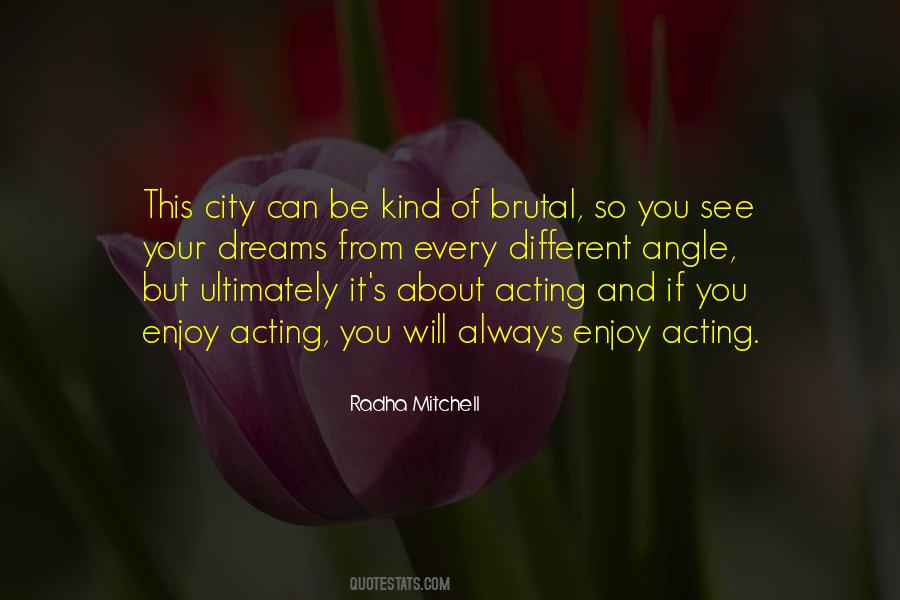 #73. Every movie is different. Sometimes with movies, there are roles you should just leave alone and relax with and keep it light. And there are other ones where you want to work with an acting coach and really delve in there. - Author: Scott Speedman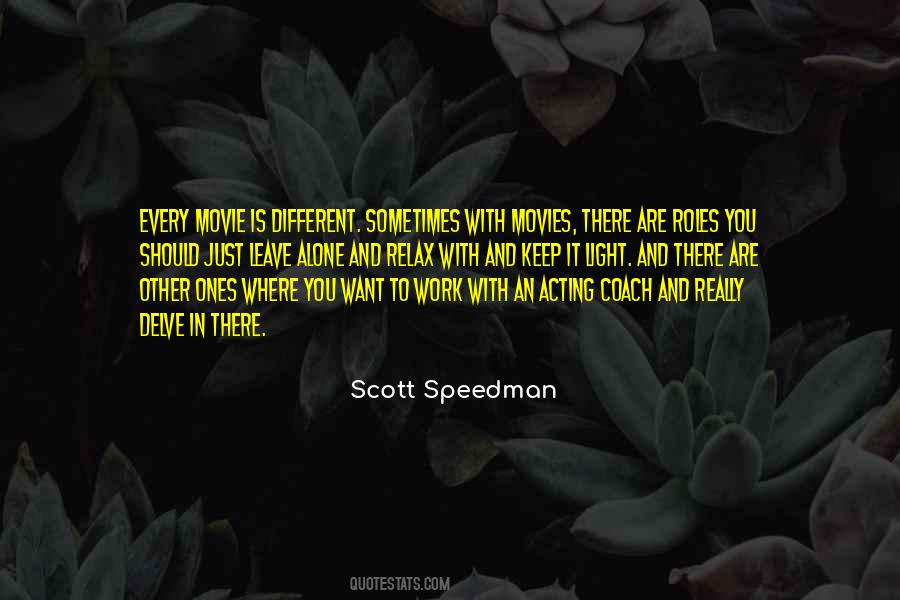 #74. But a quick-acting poison, that's different. It strikes with blind swiftness. You can be bit by temptation anytime. It is a thought, a direction, a noise in your brain, a hunch, an intuition that leads you to darker places than you've ever imagined. I - Author: Louise Erdrich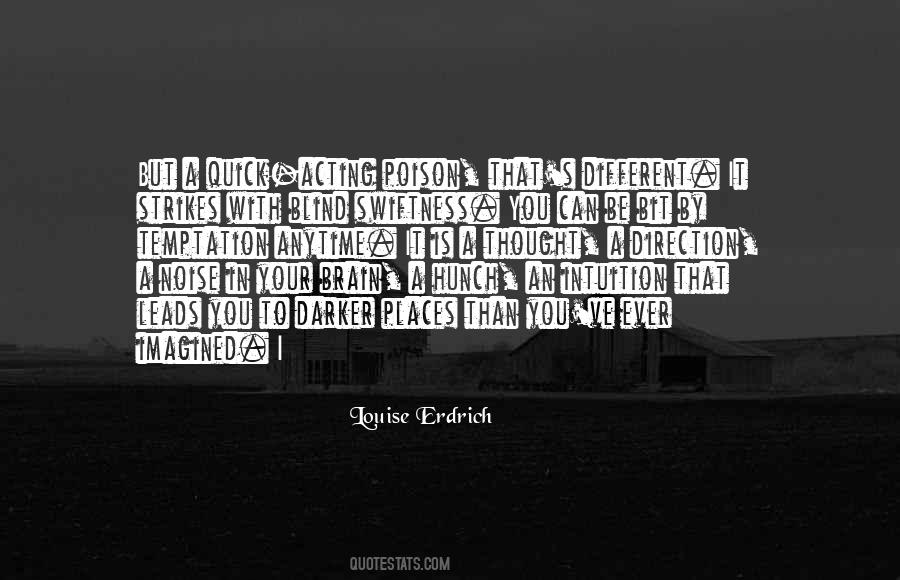 #75. There is a perfect rout of characters in every man - and every man is like an actor's trunk, full of strange creatures, new & old. But an actor and his trunk are two different things - Author: Wallace Stevens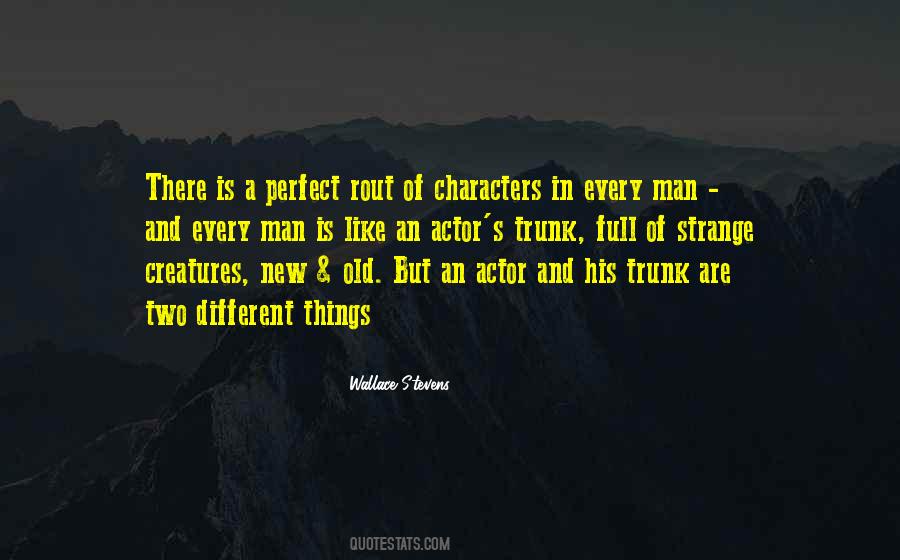 #76. That's what's so satisfying about acting. You can come as prepared as you like, but there's no accounting for what's going to come at you from the other actor. That's part of the joy and the play of it. If you don't have that it's a different kind of performance. - Author: David Oyelowo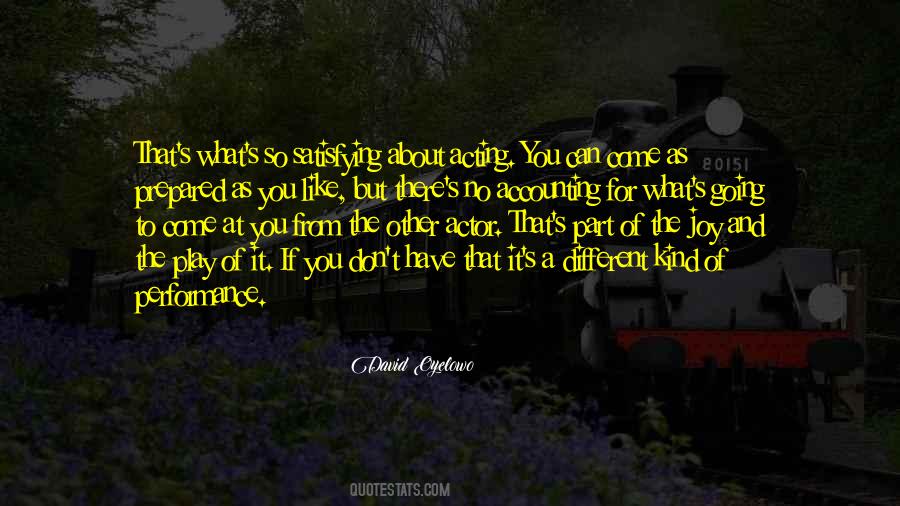 #77. I just want to keep working, really. I just want to keep acting. Playing one part for a very long time builds up in you a desire to play as many different things as you can. - Author: Daniel Radcliffe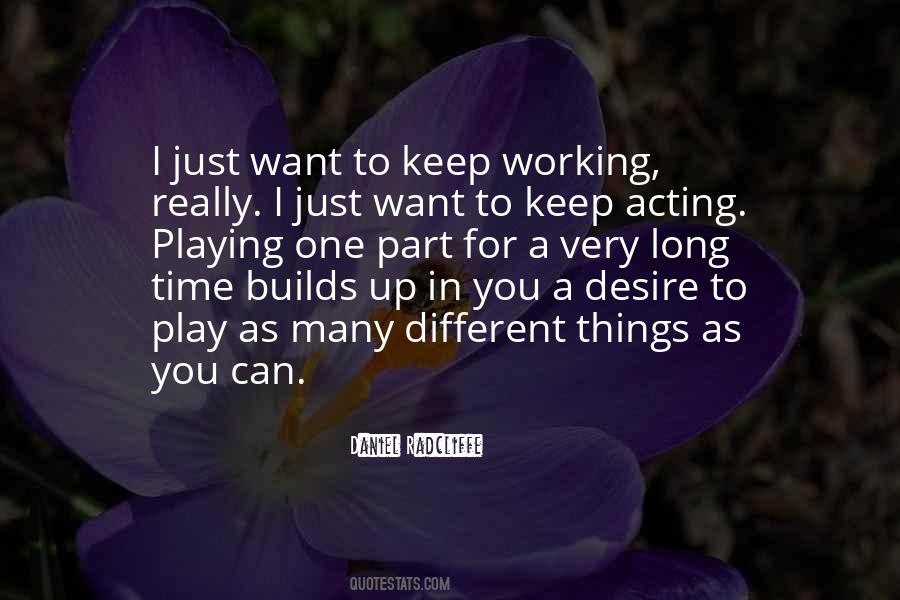 #78. I loved doing 'Teachers.' I don't know if it's set me on a road, but it certainly got me out of financial penury for two years. But as much as I love it - and it's a huge sacrifice - as much as I love it, I'm in acting because I'm searching to do lots of different things. - Author: Raquel Cassidy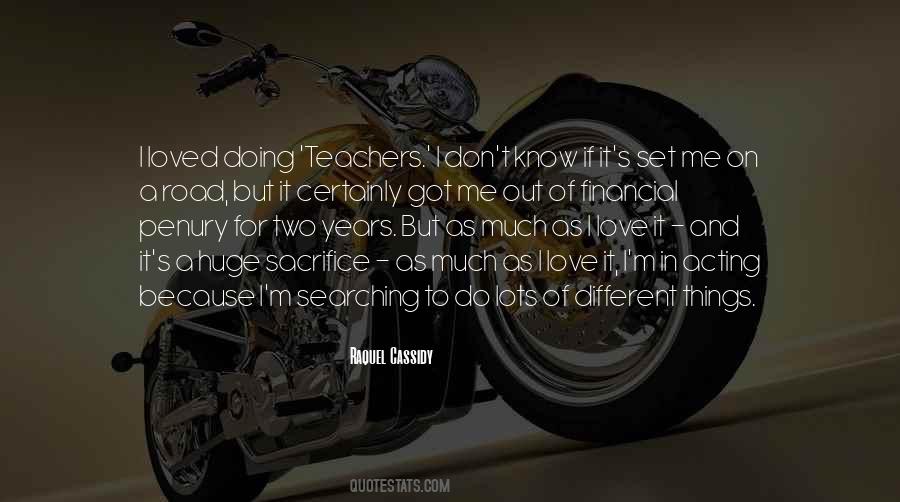 #79. When you read a script, you don't want to be the same guy all the time, you want to change, you're a different person. That's why acting is a wonderful career. You're not the same guy all the time. - Author: Robert Loggia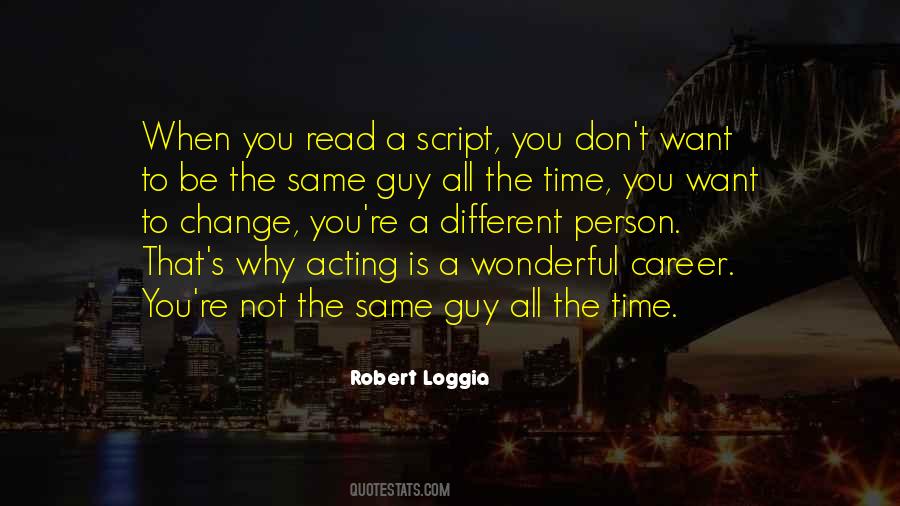 #80. I'm all about working. I'm a really hard worker, and I'm taking advantage of all those different opportunities, on the music and acting side, because I love both. - Author: Diego Boneta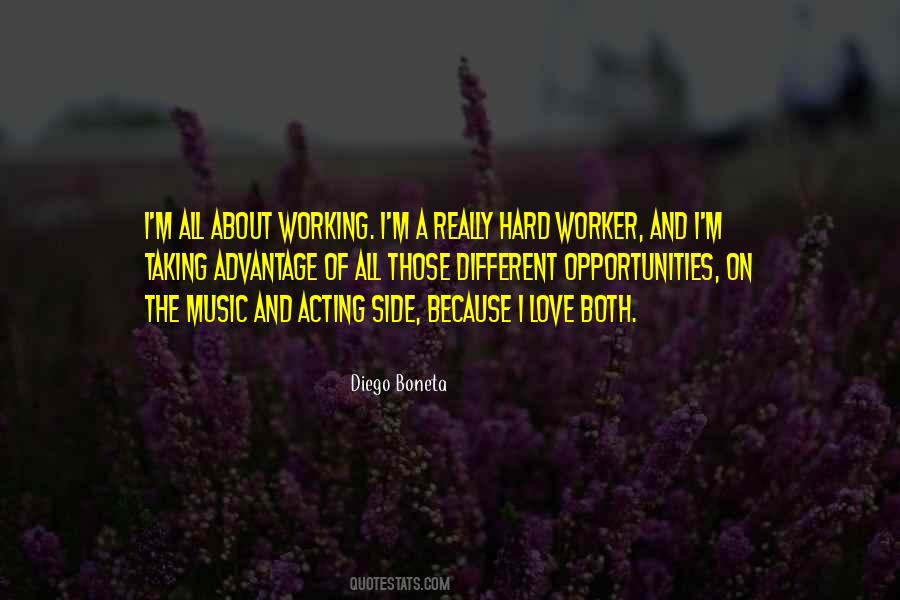 #81. I find acting conservatories really important. I've gone to four different ones, and all of them provided totally different tools for me. - Author: Elizabeth Olsen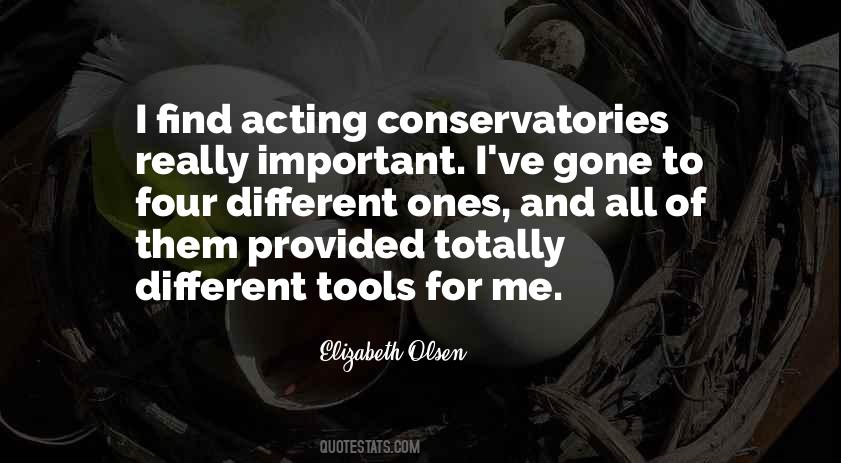 #82. I looked for acting classes in Paris just to do something different than modeling. And then one day I just thought, 'Okay, that's enough, I have to start doing something.' I went to the acting agency and I just told them I wanted to act and asked them if they would give me a chance, and they did. - Author: Olga Kurylenko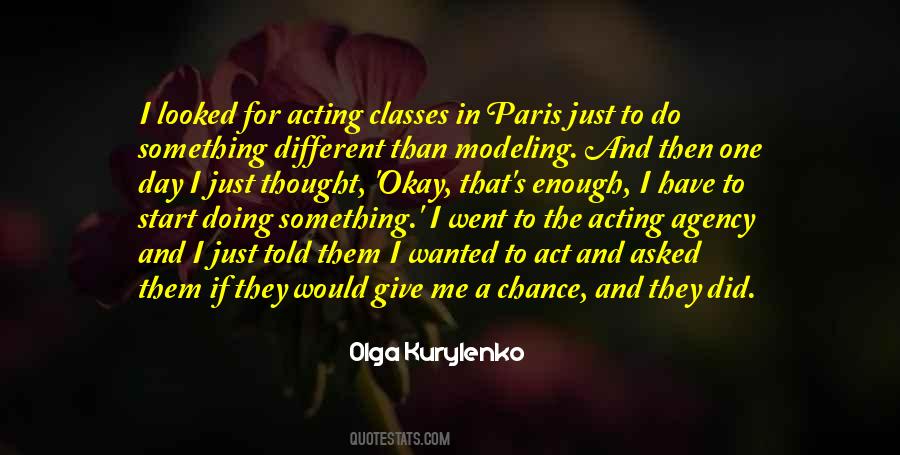 #83. Religious life ought to promote growth in the Church by way of attraction. The Church must be attractive. Wake up the world! Be witnesses of a different way of doing things, of acting, of living! It is possible to live differently in this world. - Author: Pope Francis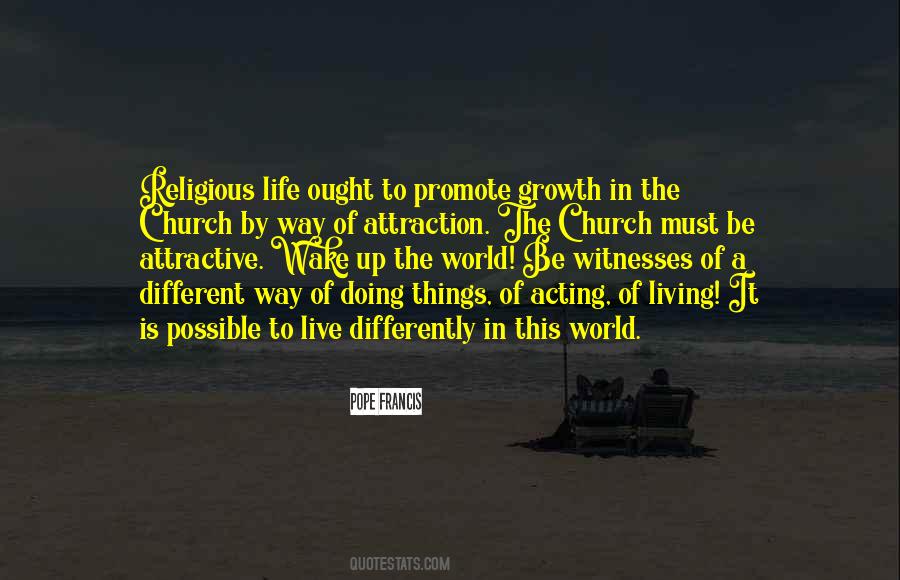 #84. Well every moment, every project is different. I took a very slow approach to acting, trying to really work with people I could learn from. And I got something different out of each experience. - Author: Mark Wahlberg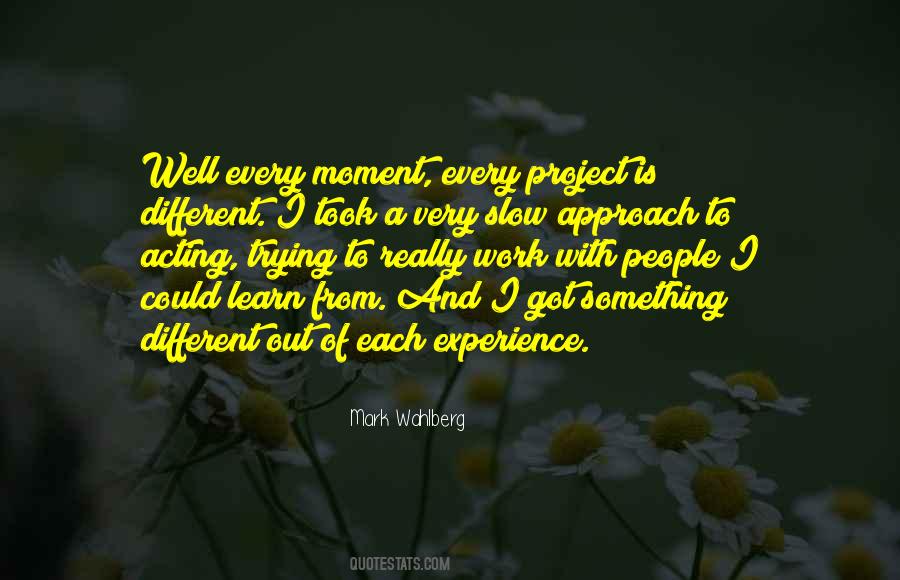 #85. Animation is a fascinating area from an acting point of view because it's not really like anything else because you are only providing a portion of the performance. That's very inspiring and it forces you to do things in a different way - to tell stories through your voice. - Author: David Tennant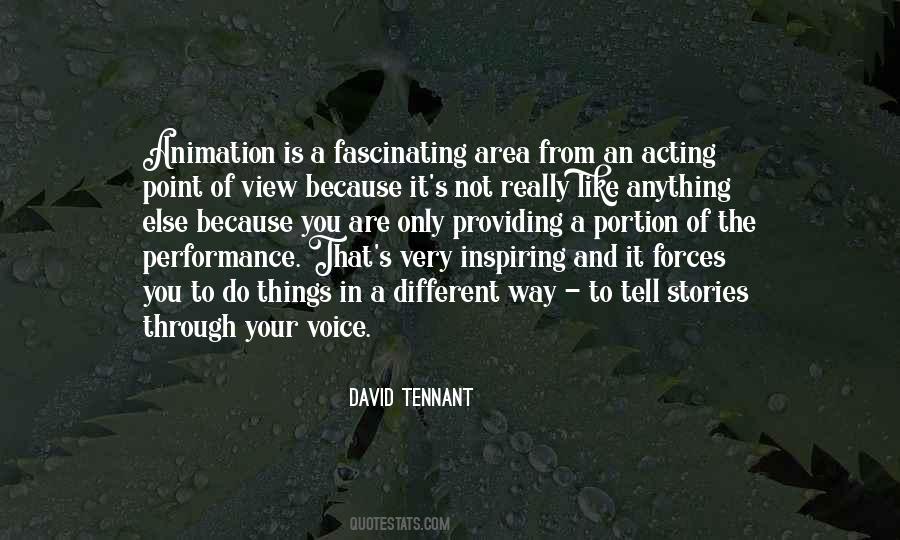 #86. In the theater, you act more of the time. In the movies, you get to act maybe 20 or 30 minutes of the day. I love acting in movies. It's just different. - Author: Alec Baldwin
#87. It kind of varies. I don't have a method yet. It depends on the script and the character I think I need. I've worked with acting coaches, researched roles, and channeled different parts of myself. It's on a case-by-case for me, right now. - Author: Zoe Kravitz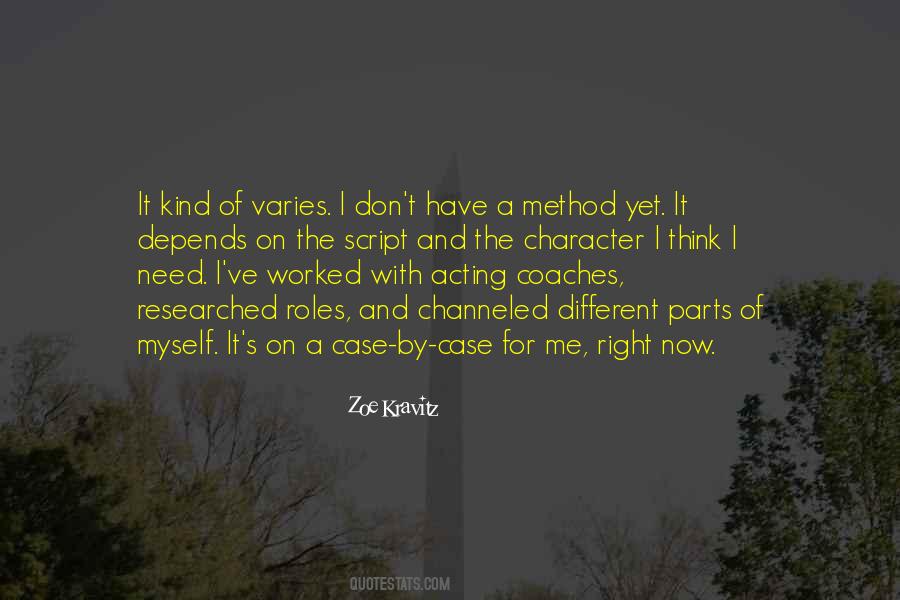 #88. I grew up around horses, but acting and riding on camera is a whole different thing. - Author: Emilia Clarke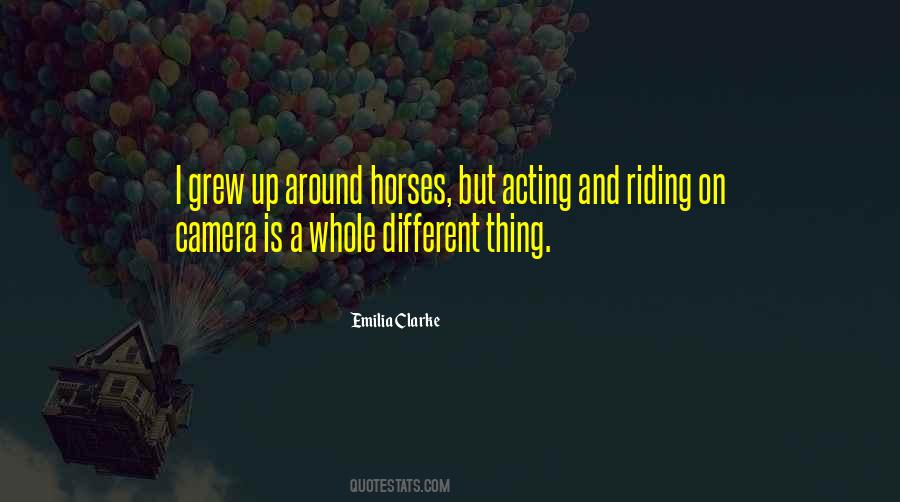 #89. It's very different. You do so many things in this play. You can't just focus on acting or singing. You have to be good at both. I'm very glad I did this play. - Author: Will Davis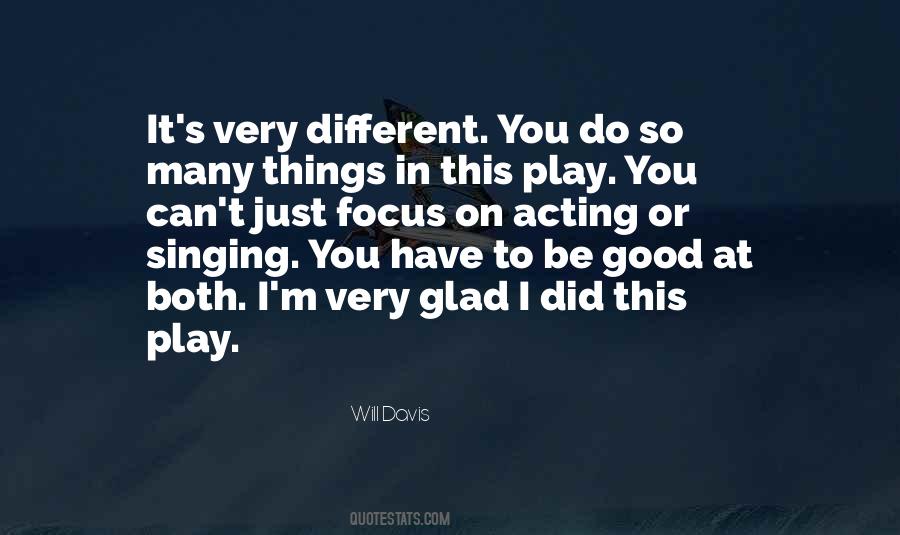 #90. I got into acting for the different scenarios and roles and meeting different people. - Author: Rob James-Collier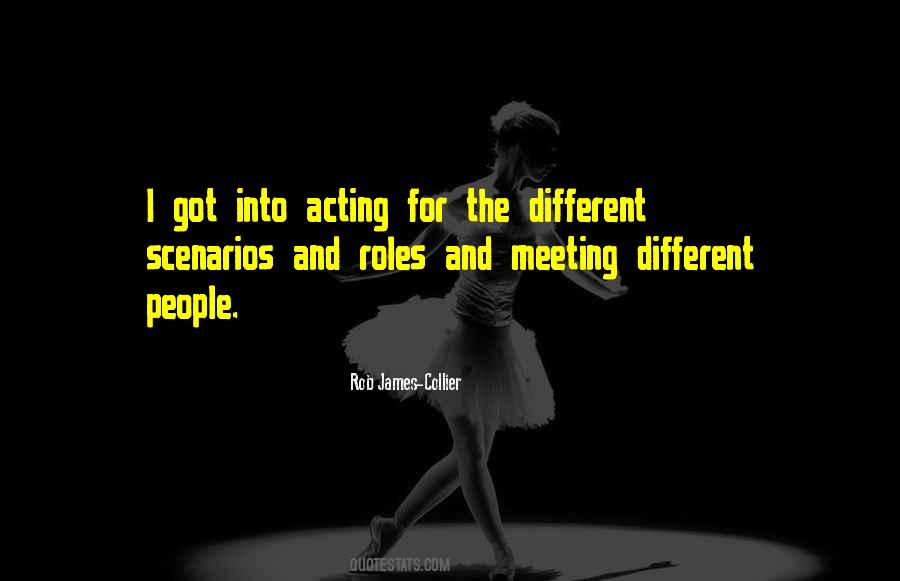 #91. In the acting world, you can really only become good by practicing and doing it, and I just think every time you walk onto a set you just become better and better. I think I'm in a totally different space than I was back then on that first movie set. - Author: Terrence J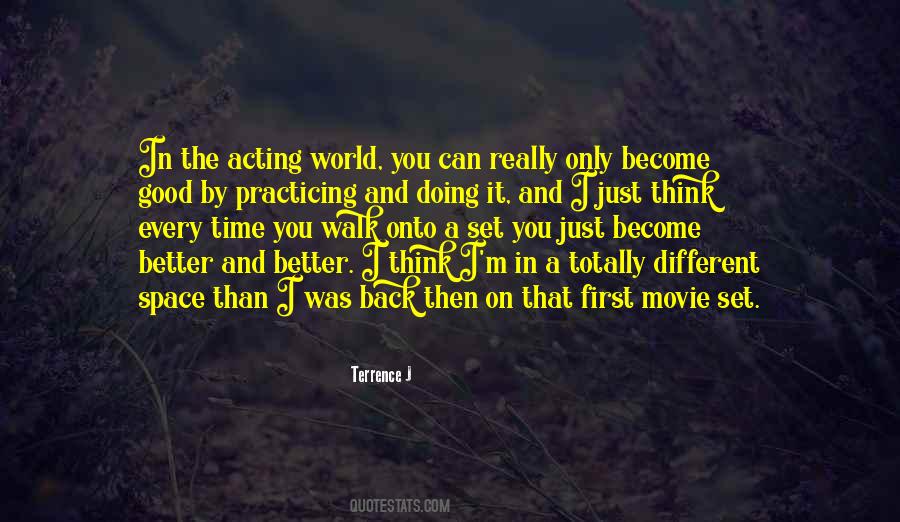 #92. I did a lot of acting, funnily enough, unprofessionally, as a kid. From when I was 10 years old until I was about 19, I was always doing little sketches with my friends, and doing different accents and voices. - Author: Sharlto Copley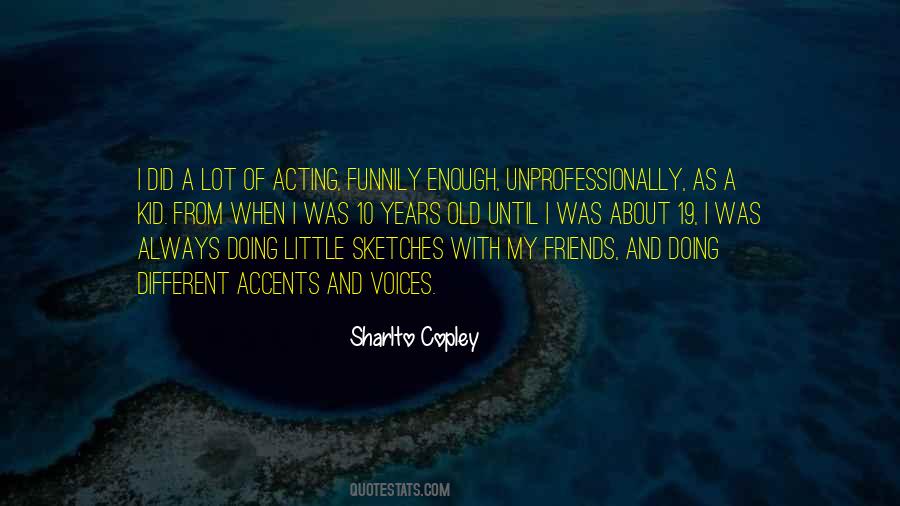 #93. Acting is acting, but acting is different in almost always every project, and very, very different in this context. - Author: Helen Mirren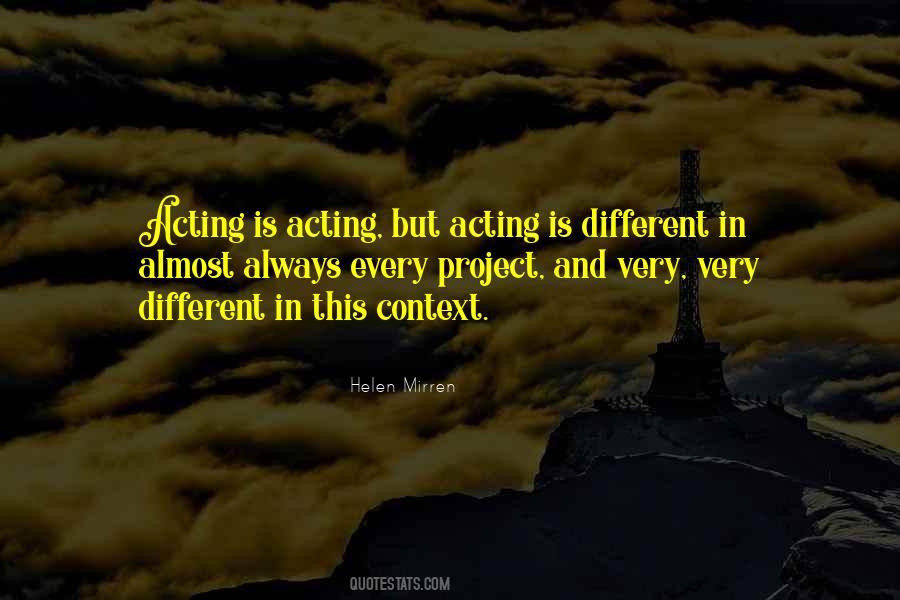 #94. I've been acting for a while, but theater is pretty different. I've never been in a play. - Author: Miranda Cosgrove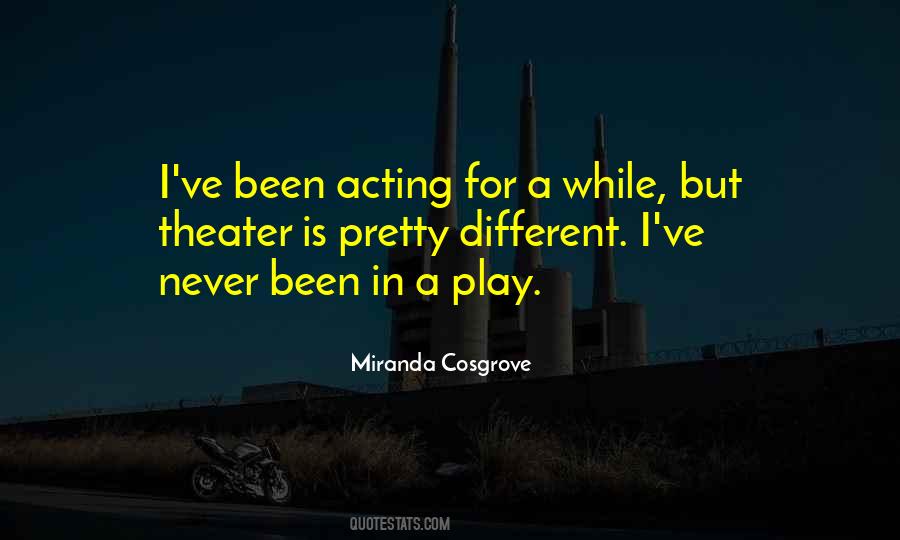 #95. In acting, every day is different, and I guess it appeals to my storytelling imagination. But I've been very fortunate to get the chance to do what I want to do and earn a living from it to pay the mortgage. - Author: Emilia Fox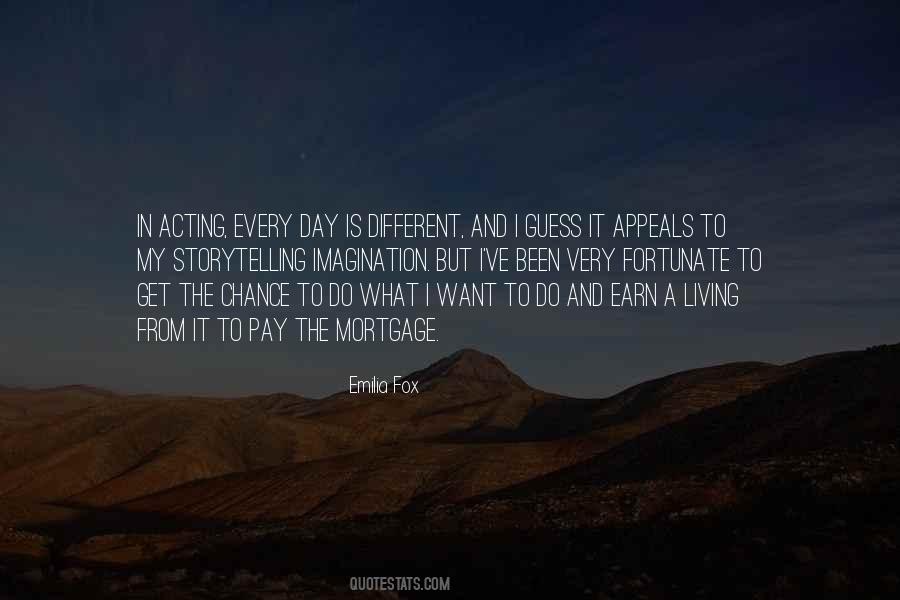 #96. The acting life is different than I thought it would be. I love it - it's actually a lot less pressure than I thought it would be. - Author: Melanie Lynskey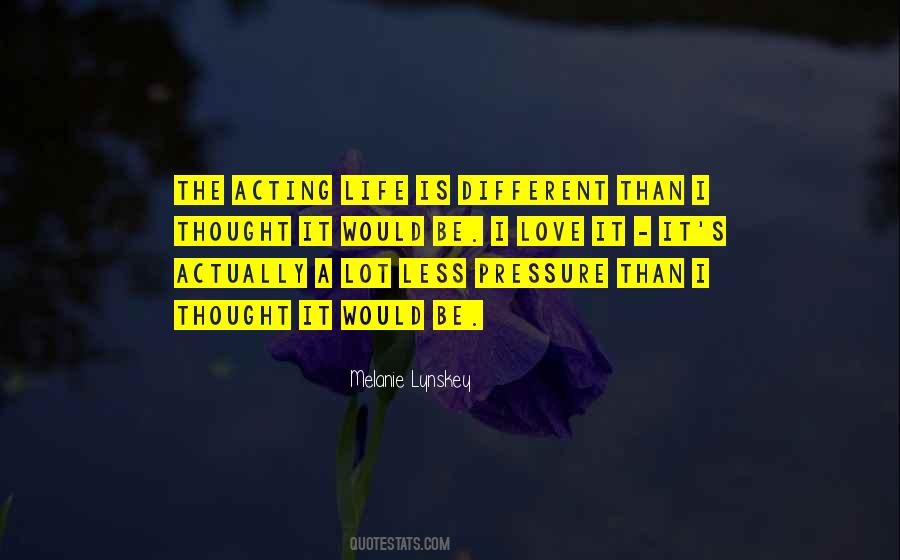 #97. Puberty was the main culprit in ending my acting career. I went from being kind of this chunky little kid to looking different, and I was really bummed because I loved acting. - Author: Jeff Cohen
#98. I've been in the studio experimenting on making a CD of my own. I'm trying out different producers, styles, sounds. With music, as opposed to acting, you are not playing a character. You are showing people who you are. I really want to have my spirit in it. - Author: Emmy Rossum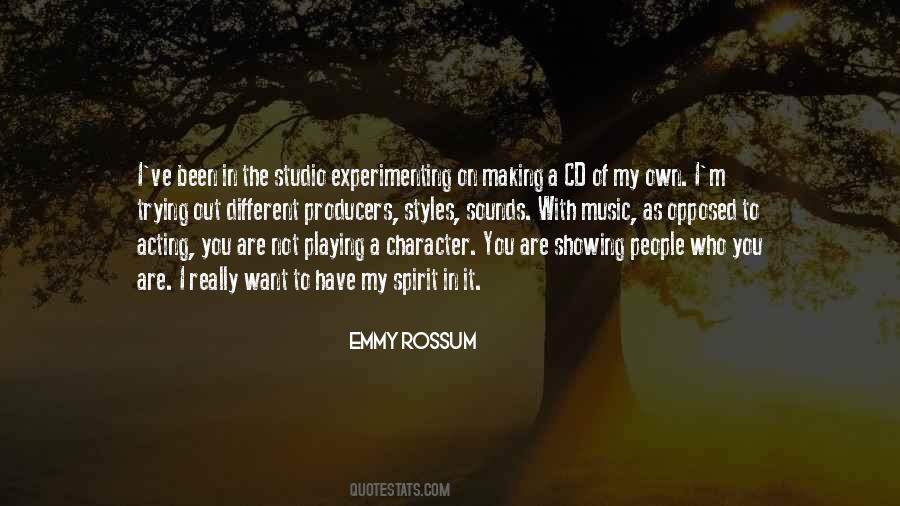 #99. I always think of the character as being me. But me wearing a 'coat', which may be a different way of speaking, moving or regarding other people. To me, acting is pretending, just like kids playing, only you pretend as if it were really, really real. - Author: Fred Melamed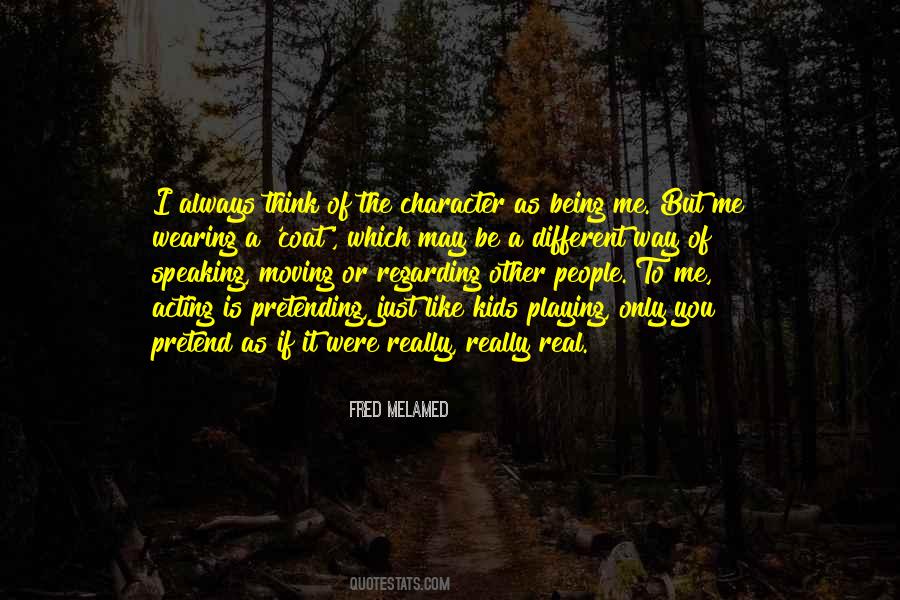 #100. Not just as an actress, but on a human-being level, I've experienced frustration on many different levels. [With my] career, it would be more the frustration of not always finding challenging material or inspiring material ... [Acting is] therapeutic for me. I'm pretty accommodating. - Author: Vera Farmiga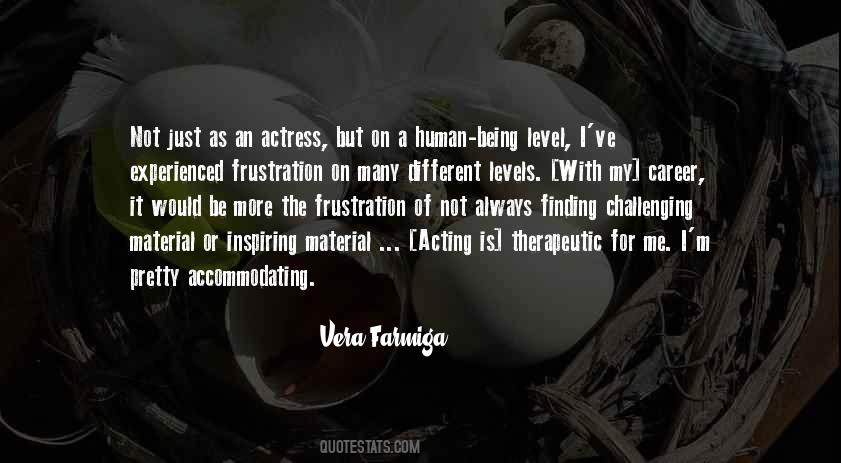 Famous Authors
Popular Topics