A Teammates Famous Quotes & Sayings
List of top 100 famous quotes and sayings about a teammates to read and share with friends on your Facebook, Twitter, blogs.
Top 100 Quotes About A Teammates
#1. There were two very distinct voices going on in my head and I moved easily between them. One had to do with sports, street life and establishing myself as a male ... The other voice, the one I had from my street friends and teammates, was increasingly dealing with the vocabulary of literature. - Author: Walter Dean Myers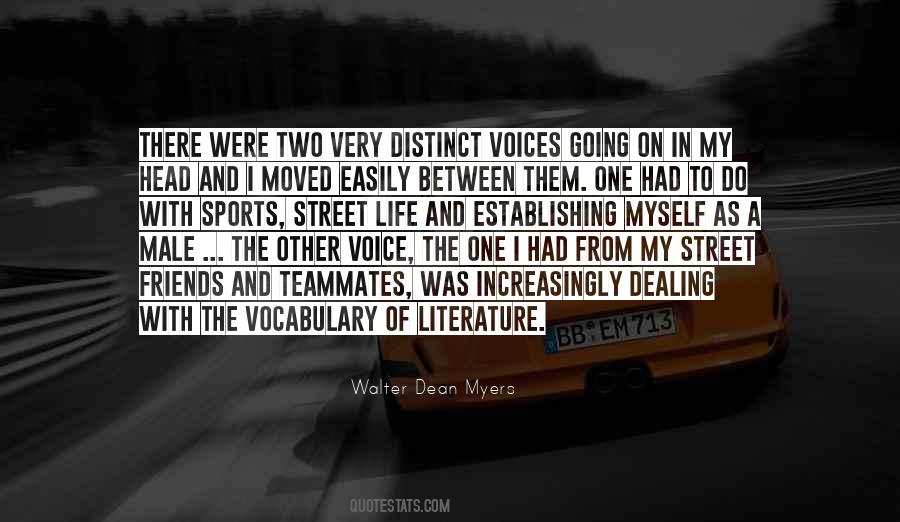 #2. I came in the league as not a shooter, not a scorer. My game was to play defense and make my teammates better. The most important stat to me was that left column - winning. Nothing else matters. - Author: Jason Kidd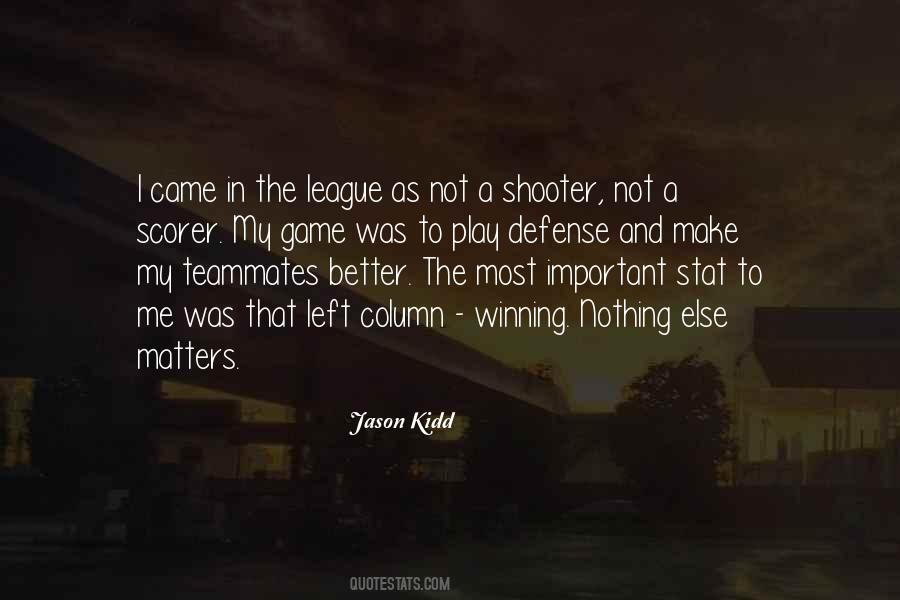 #3. I knew at a young age, whether I was playing baseball or hockey or lacrosse, that my teammates were counting on me, whether it be to strike the last batter out in a baseball game or score a big goal in a hockey game. - Author: Wayne Gretzky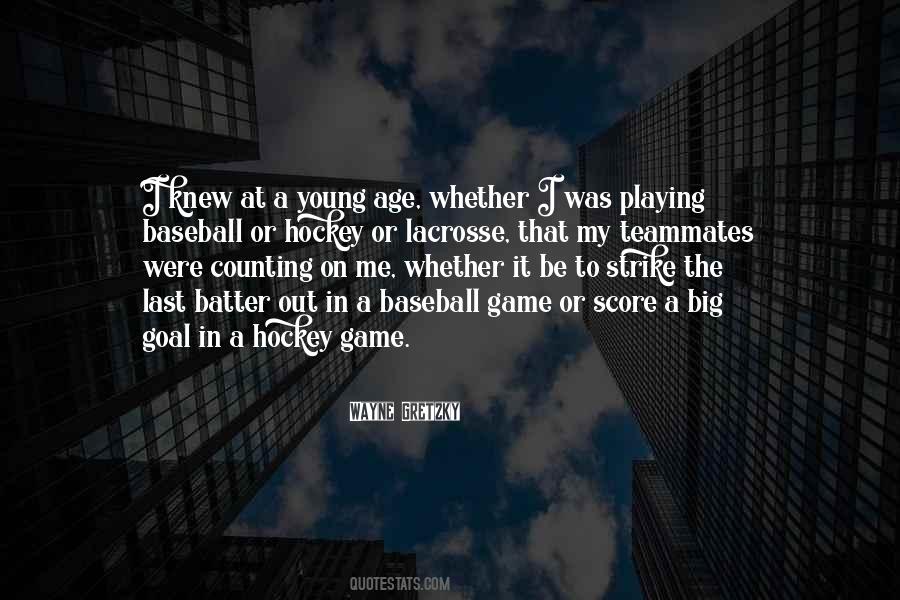 #4. Nothing makes a pitcher feel more secure than the sight of his teammates circling the bases during a ball game. - Author: Jim Brosnan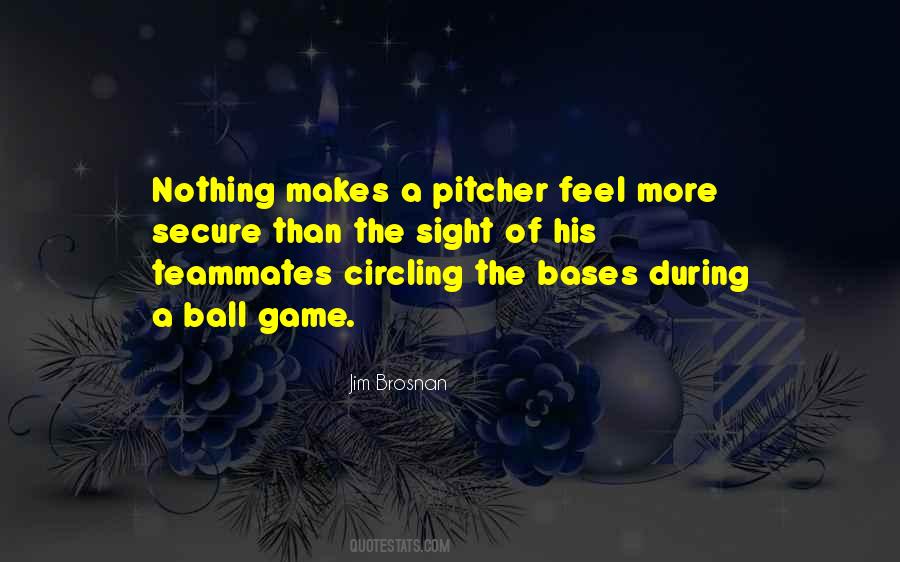 #5. When you have that respect from your teammates, it makes it a lot more comfortable. - Author: LeBron James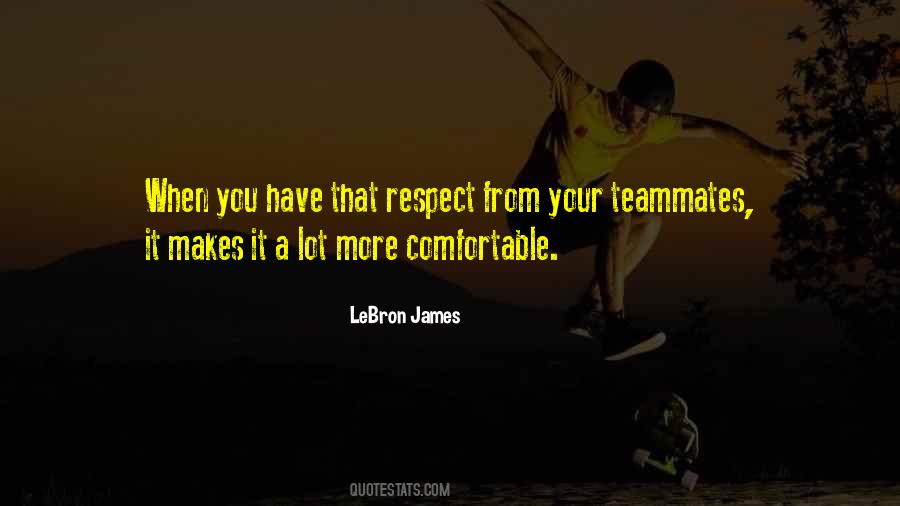 #6. I've always wanted to shoot a good percentage for my team, because I'm the point guard, and I can take fewer shots, still score more, so that I can get my teammates feeling good about themselves. That was always my feeling - that if I shoot a high percentage, I don't have to shoot a ton. - Author: Steve Nash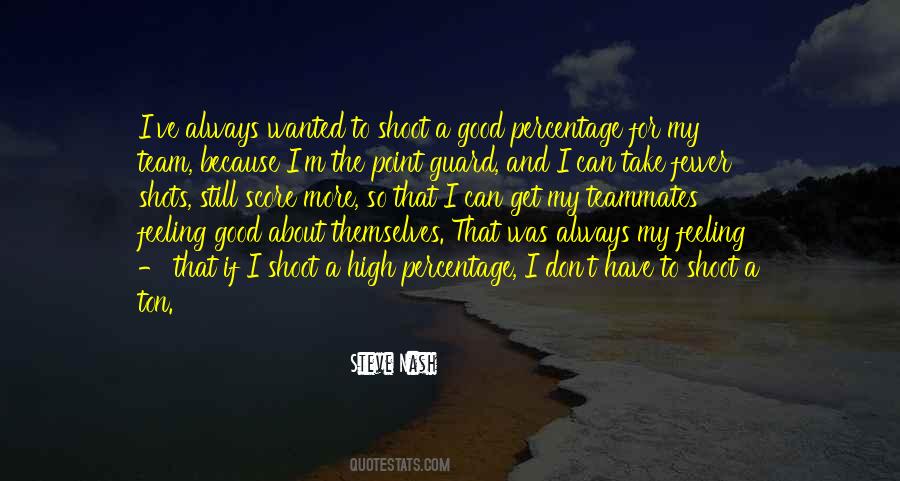 #7. The Oakland A's, I loved all my teammates there. I loved all the coaches. They gave me the opportunity to play in the big leagues. And for that, I thank them. I mean it was a dream come true for me. - Author: Tim Hudson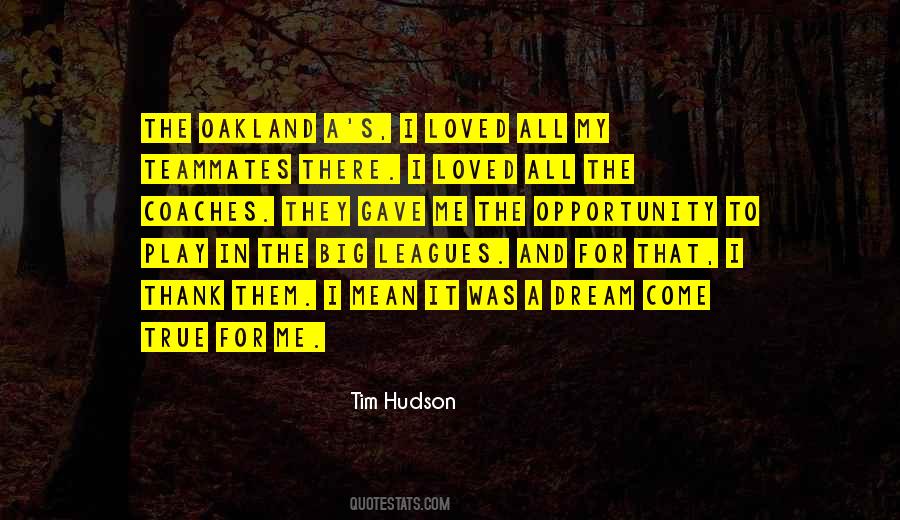 #8. I've never been a fan of individual awards because football is such a team sport. There's so many things that goes into making plays. It's about teammates trusting one another and working together. - Author: Troy Polamalu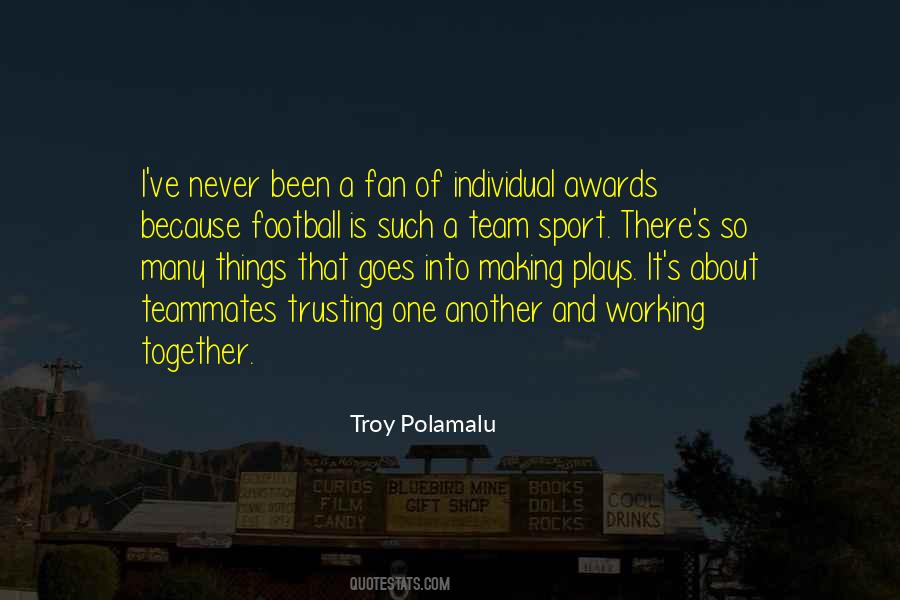 #9. I'm busy working on every aspect of my game - defense, shooting, rebounding - but I really want to become a better overall team player. Help my teammates become better players out on the court in order to win more ball games. - Author: Kevin Durant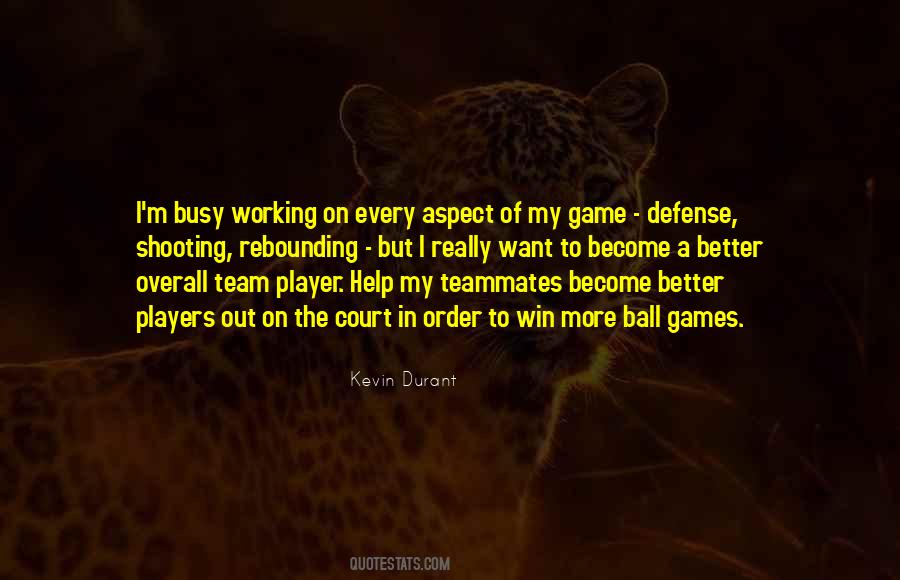 #10. I have always been a very passionate player and person. I often wear my emotions on my sleeve, sometimes for better, sometimes for worse. I hope that my teammates always respect that of me, as I trust they know my commitment to winning.? - Author: A. J. Burnett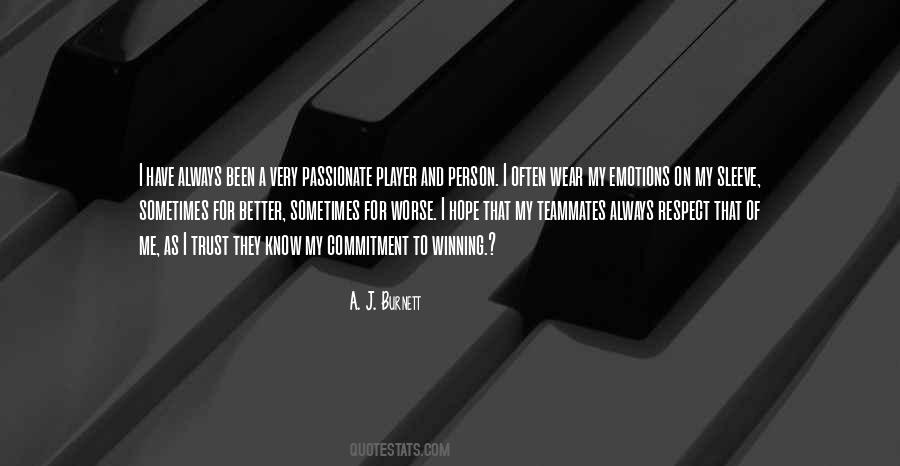 #11. If I score a goal on the road, I come home, and that's probably the first thing I'm doing, pullin' up the laptop and watching. Can't watch it in front of the teammates, or else I'll get made fun of. - Author: Patrick Kane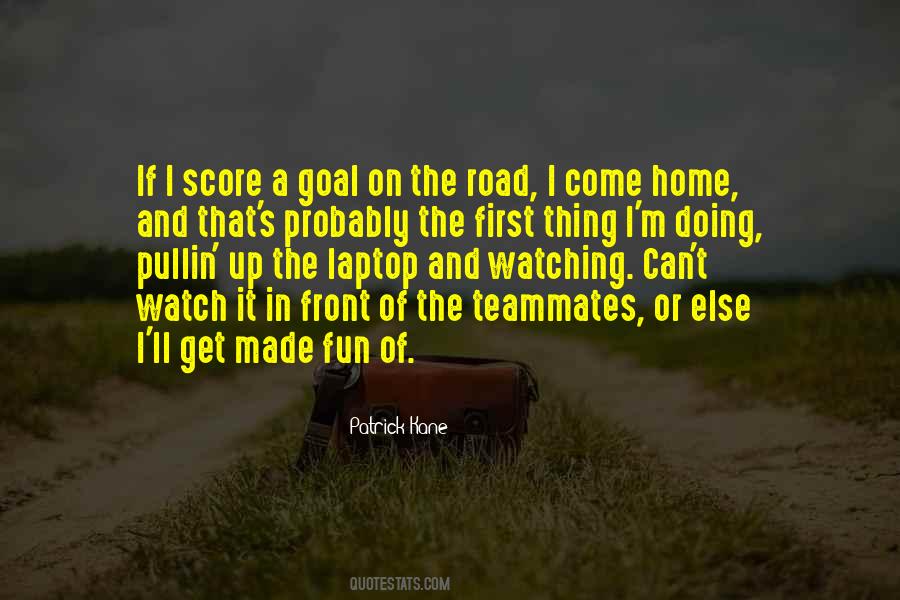 #12. I've already developed trust in my teammates -as a player and as a person. - Author: Philip Rivers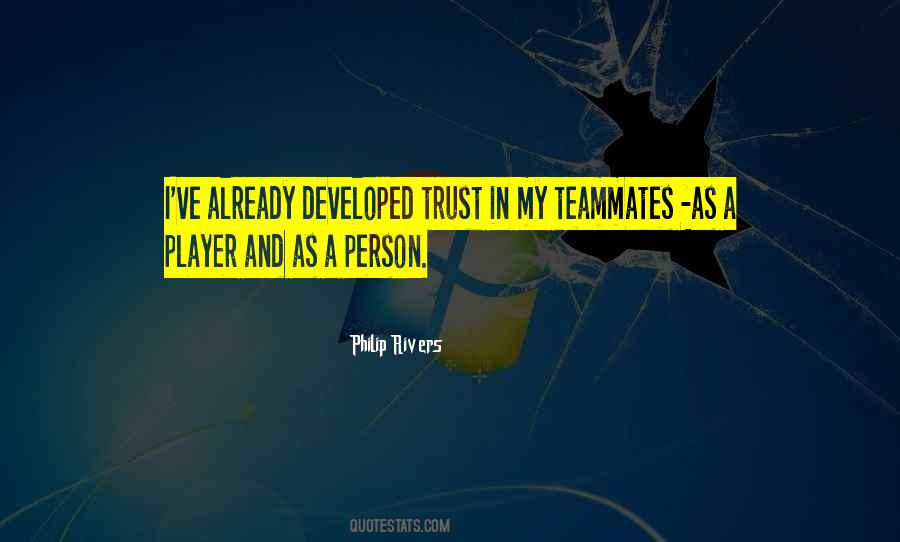 #13. I've gotten to watch a lot of football games. Growing up, watching sports, watching people compete, whether it's my brothers or teammates. I grew up observing and taking it all in. It's kind of my attitude. - Author: Eli Manning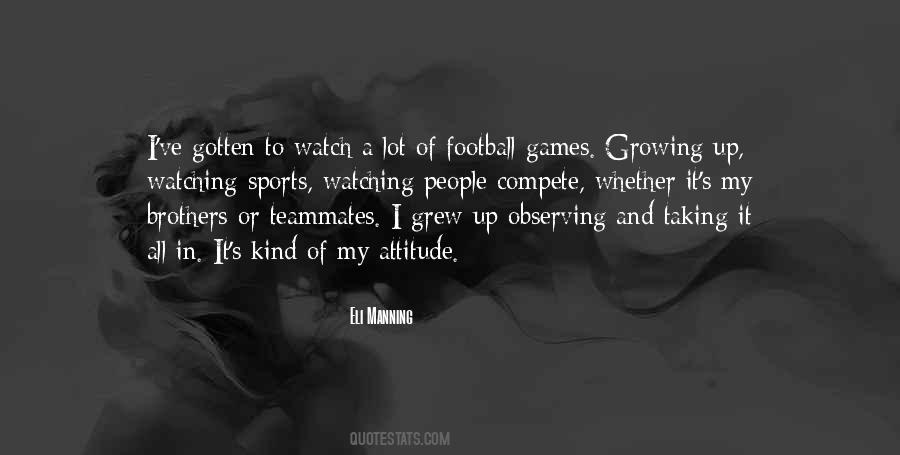 #14. I'm reverent toward my sources. History is a team sport, and references are how you support your teammates. - Author: Rick Perlstein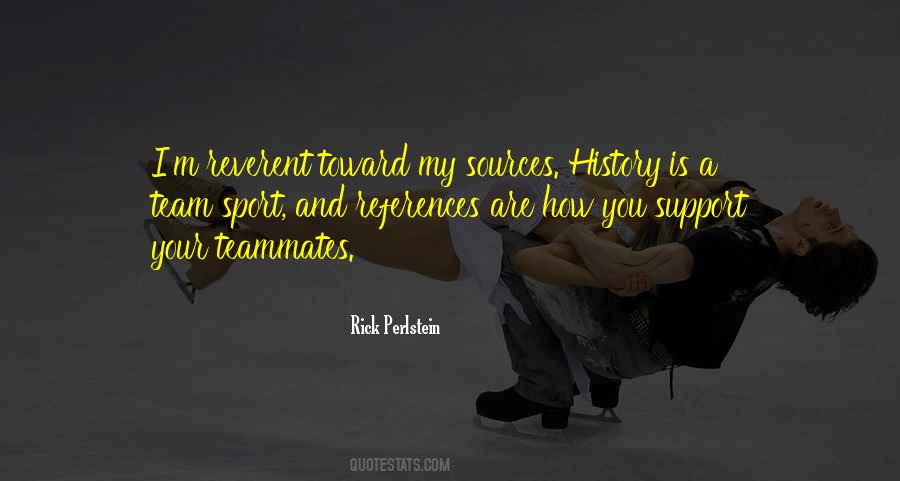 #15. I want to be that good. I want to be Barry Bonds. I want when I pitch to be 'Win Day.' I want my teammates to relax on the days I pitch because they know they only have to get us a couple of runs. I'm totally prepared for that. - Author: Josh Beckett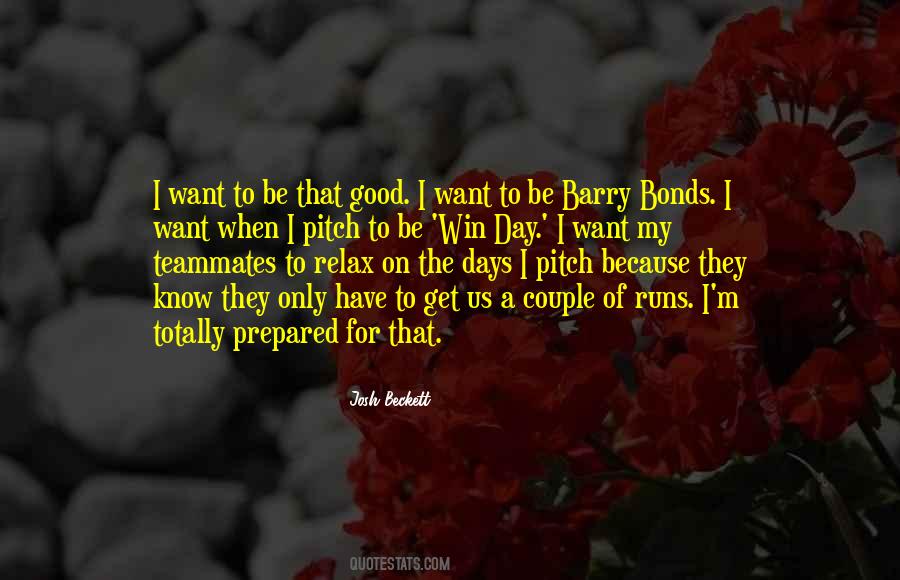 #16. However, more important to all of that: the players played the game as a true team. There are many teams in baseball, but not all play as a team. Many merely play as a group of talented athletes, which is a huge difference over the course of a long season. - Author: Michael Delaware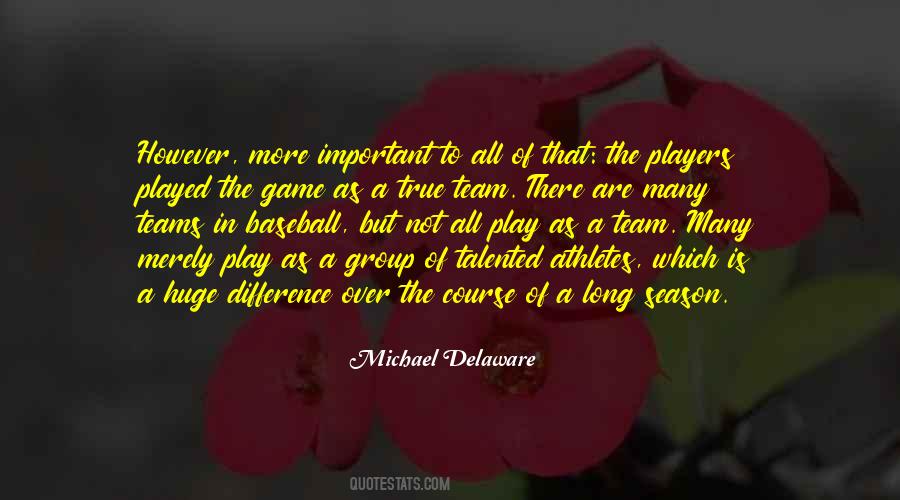 #17. I may be 5 ft. 3 in., but my team makes me feel like I'm 10 feet tall, and it's a beautiful relationship. My teammates rely on me to lead and unite them with my words, and I love that my words make the boat go fast. - Author: Mary Whipple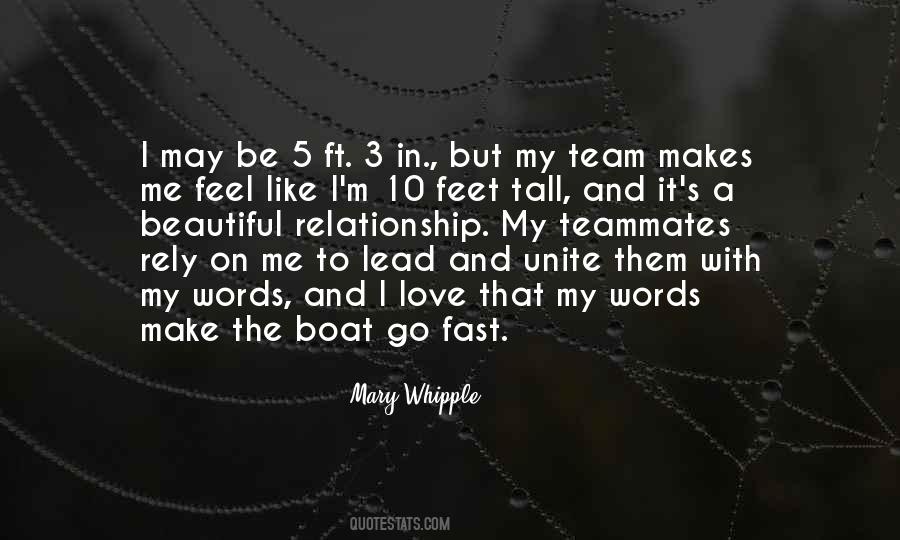 #18. I really enjoyed working with New Zealanders as crew members, as teammates. They're great, and it's a beautiful country. It's one of the most beautiful places I've ever been, and I've traveled quite a bit. - Author: Viggo Mortensen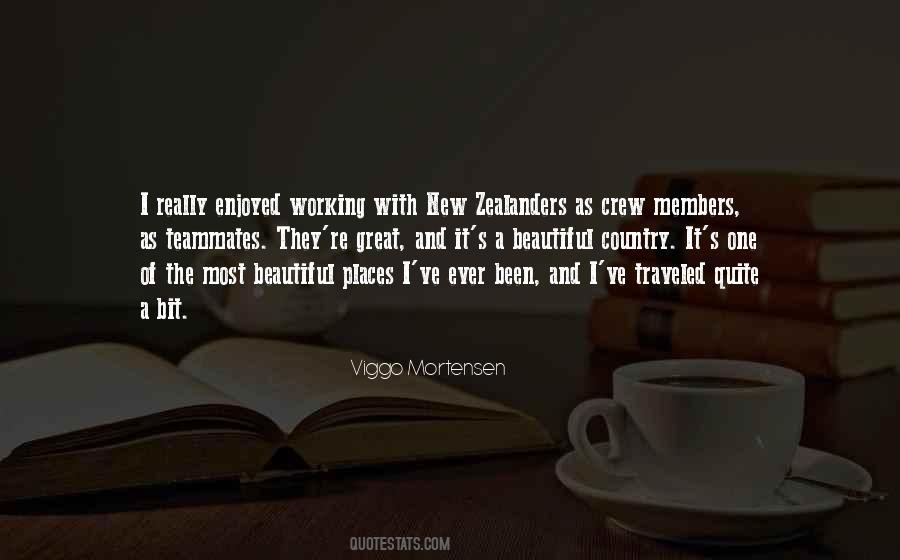 #19. I've seen elbows that broke eye sockets. I've seen a German goalkeeper just level a French guy. His teammates thought he was dead lying on the ground. This was in 1982 at my first World Cup. But a bite is outside any kind of contact collision: dirty foul play. A bite is a bite. - Author: George Vecsey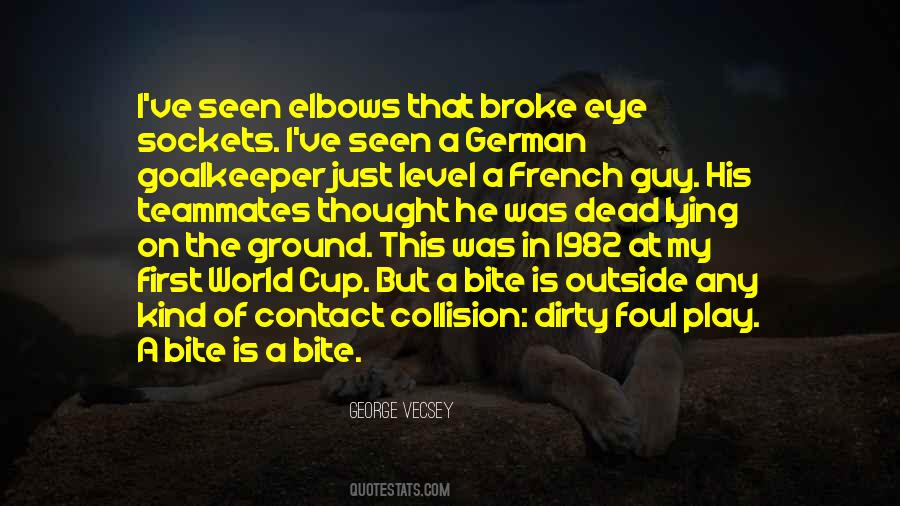 #20. You do remember how dangerous I am with those?"
"Aye, that's the point. Everyone will duck and cover if they see you wielding these."
"Even my teammates?"
"Especially your teammates. - Author: Melissa A. Craven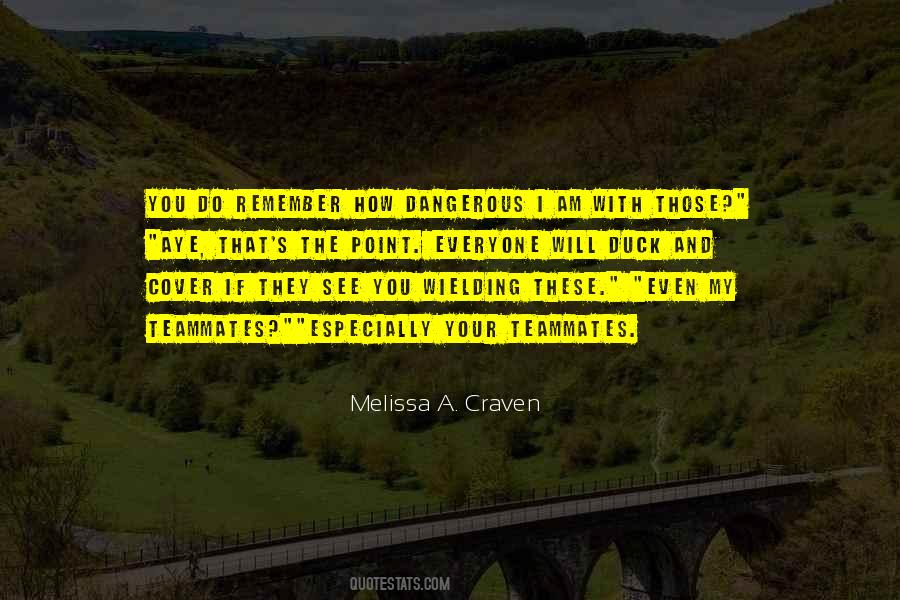 #21. Obviously it's more fun having my teammates there and having all that camaraderie, but individual workouts are not a loss. - Author: D'Brickashaw Ferguson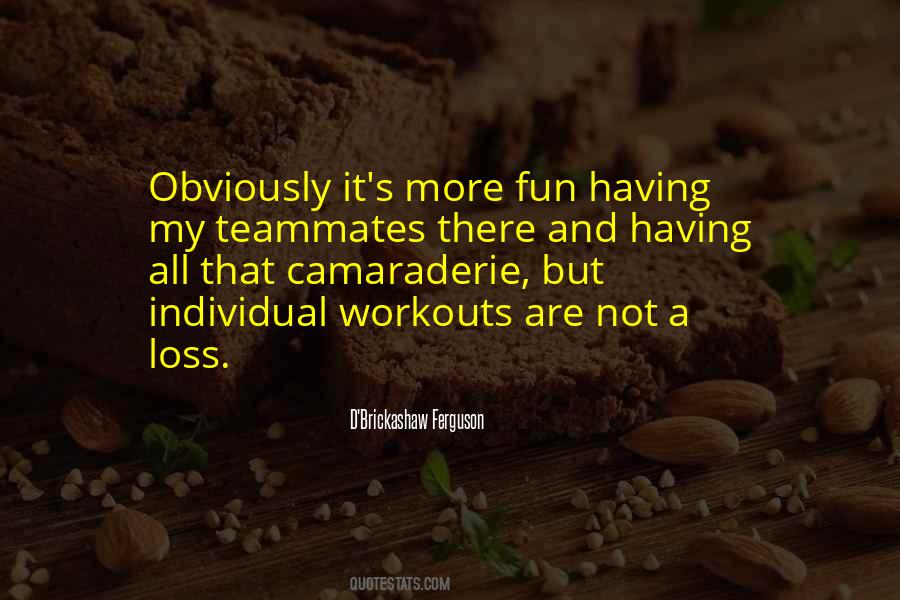 #22. I had a couple friends from all the different cliques in school, but my true friends were my gymnastics teammates. I grew up competing with them for ten years. - Author: Nicole Anderson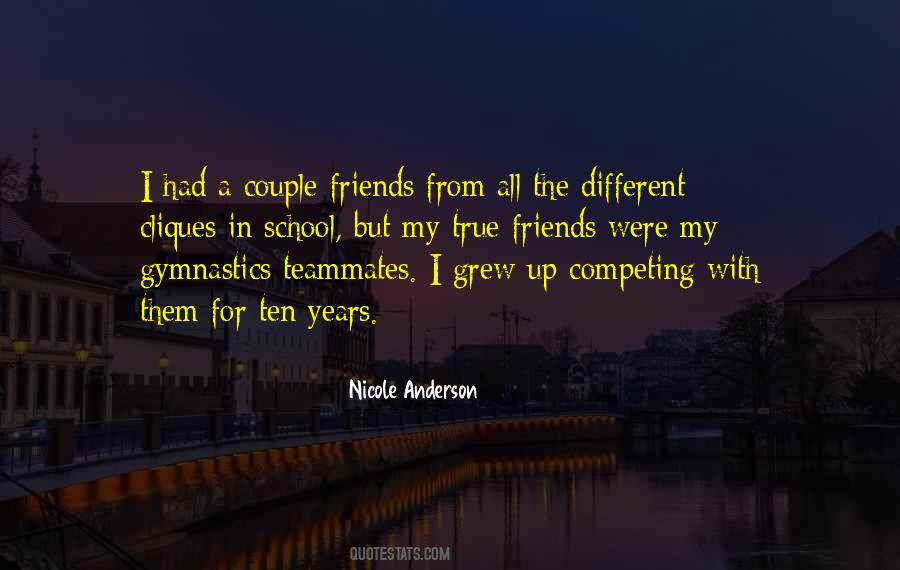 #23. Hopefully, my teammates will say that I was important and that I gave it everything and I didn't leave anything to chance my whole career. To be mentioned as Hall-worthy is a great thing. - Author: Curtis Joseph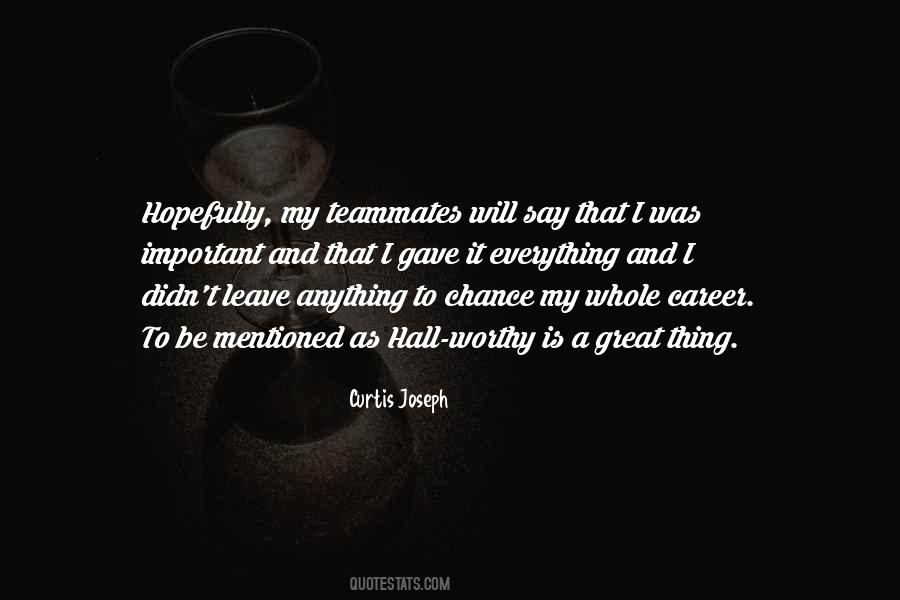 #24. We spend 8 hours a day, for 10 months a year, for nearly 17 years sending our kids to school to prepare them for life.
In all of that time there is never a course in overcoming adversity, goal setting, sacrifice, perseverance, teammates, or family.
I guess that's what wrestling is for. - Author: JohnA Passaro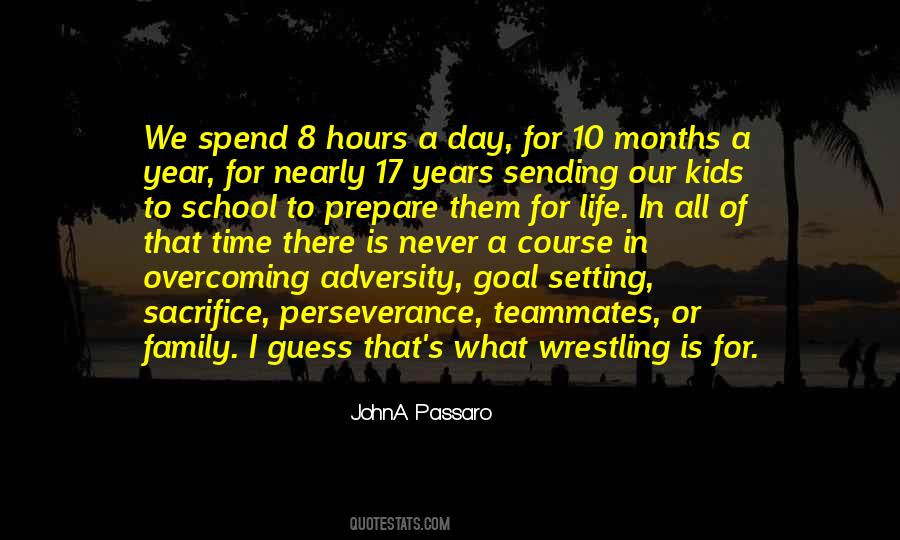 #25. One of the biggest fears of players in a shootout is letting your teammates down. - Author: Alan Shearer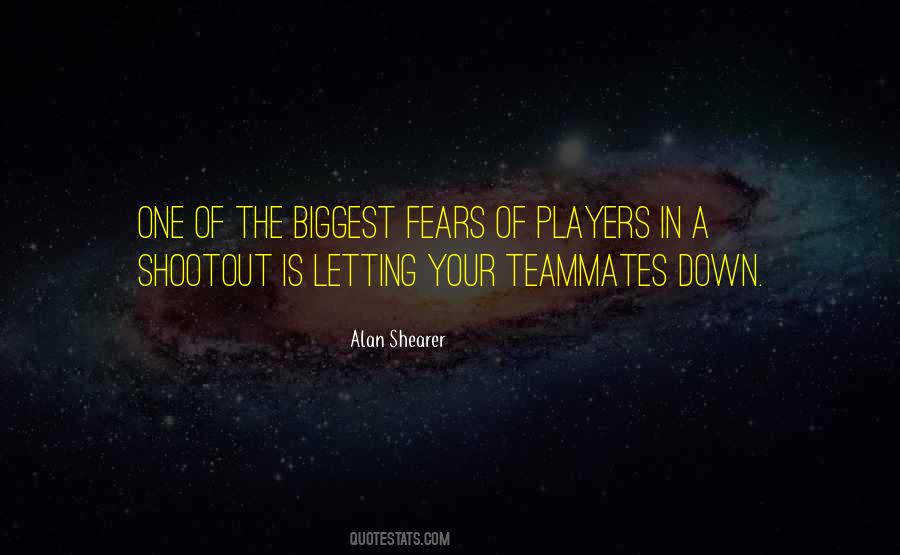 #26. I think my teammates make me look a lot better than I am. - Author: Tim Tebow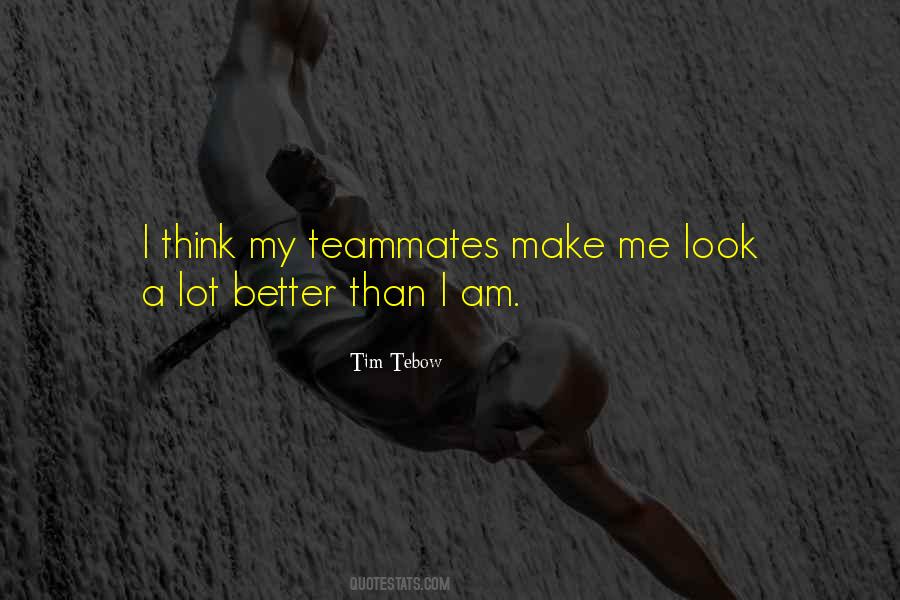 #27. When I was a player, I didn't expect my teammates to play the way I did. I did expect them to work hard hard every day and get better. And I never learned anything by losing. - Author: Larry Bird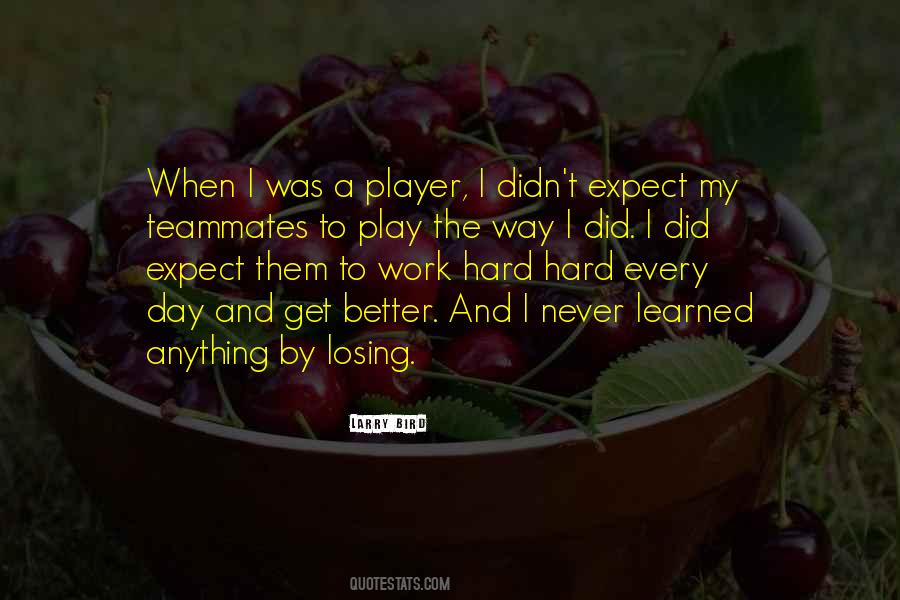 #28. I can't stand it when a player whines to me or his teammates or his wife or the writers or anyone else. A whiner is almost always wrong. A winner never whines. - Author: Paul Brown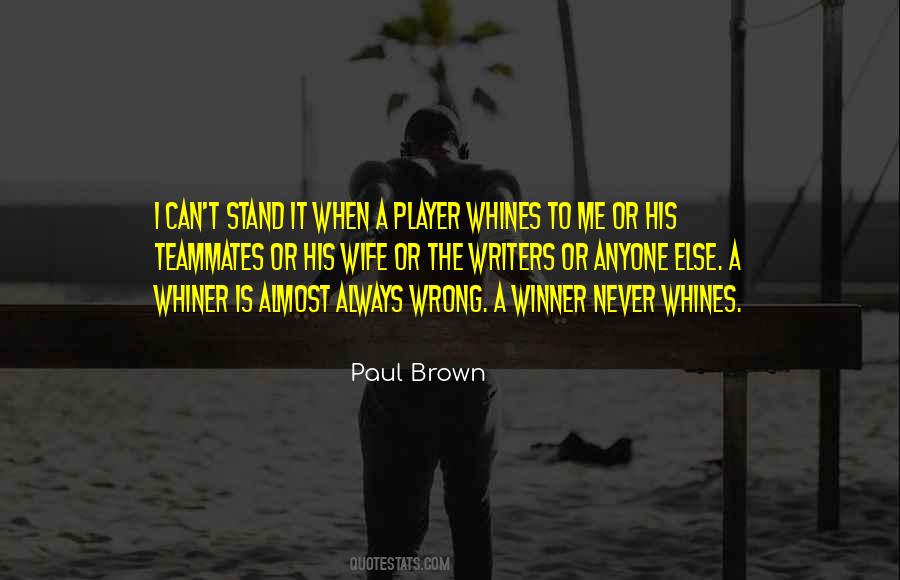 #29. Just a huge credit goes to the GM Goodwrench team and all my teammates that went before me. It's been a good weekend for us so far and hopefully we can put it all together tomorrow night. - Author: Kevin Harvick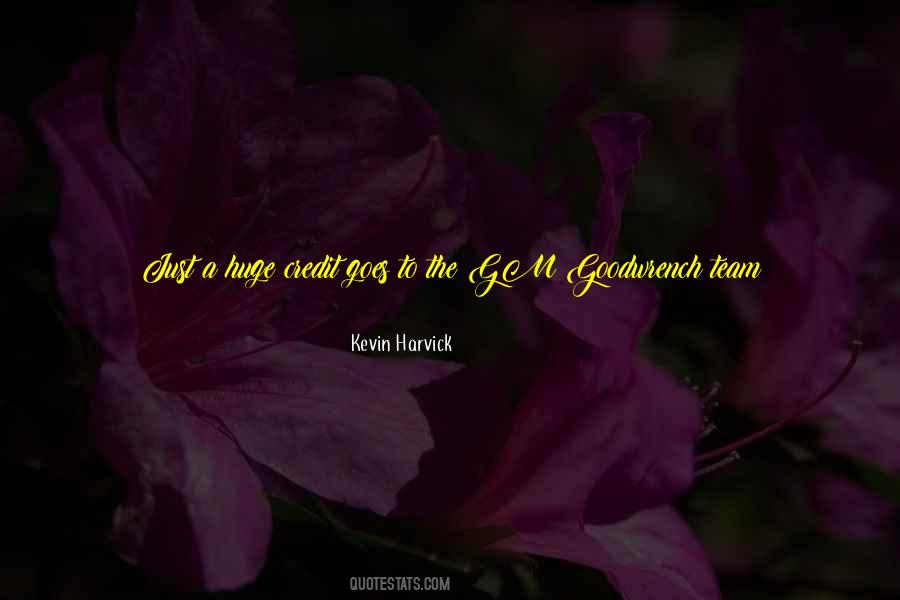 #30. It's important to respect both your teammates and your opponents. Friendships can make a victory last forever. - Author: James Koven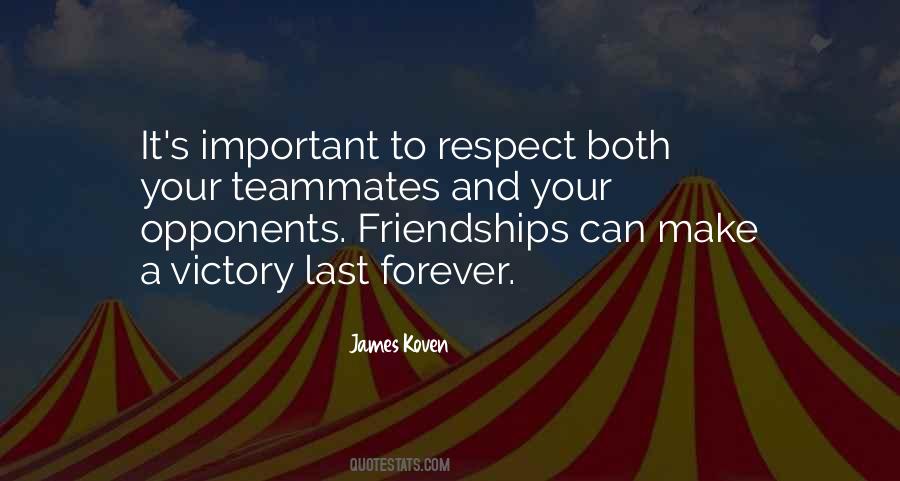 #31. Every team requires unity. A team has to move as one unit, one force, with each person understanding and assisting the roles of his teammates. If the team doesn't do this, whatever the reason, it goes down in defeat. You win or lose as a team, as a family. - Author: Jack Kemp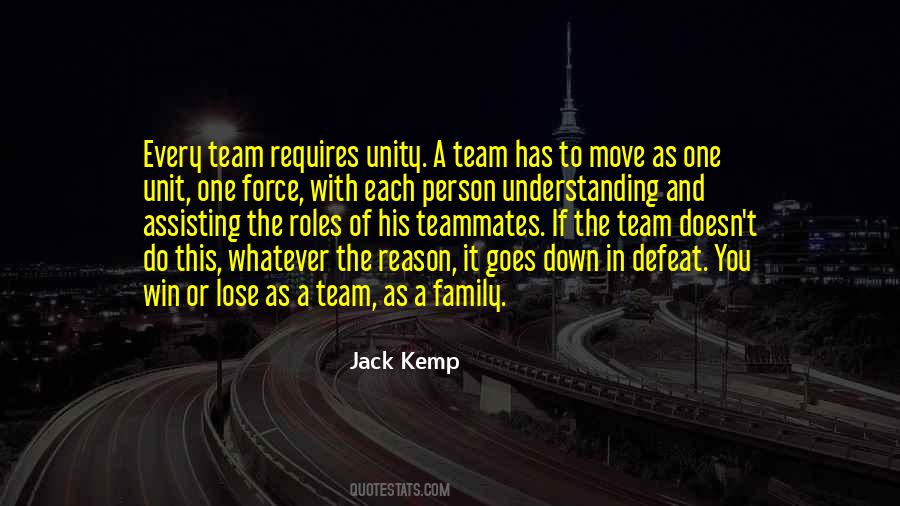 #32. I'M HOPEFUL, because I know that while we still have race issues in America, we enjoy a much different normal than those of our parents and grandparents. I see it in my personal relationships with teammates, friends and mentors. And it's a beautiful thing. - Author: Benjamin Watson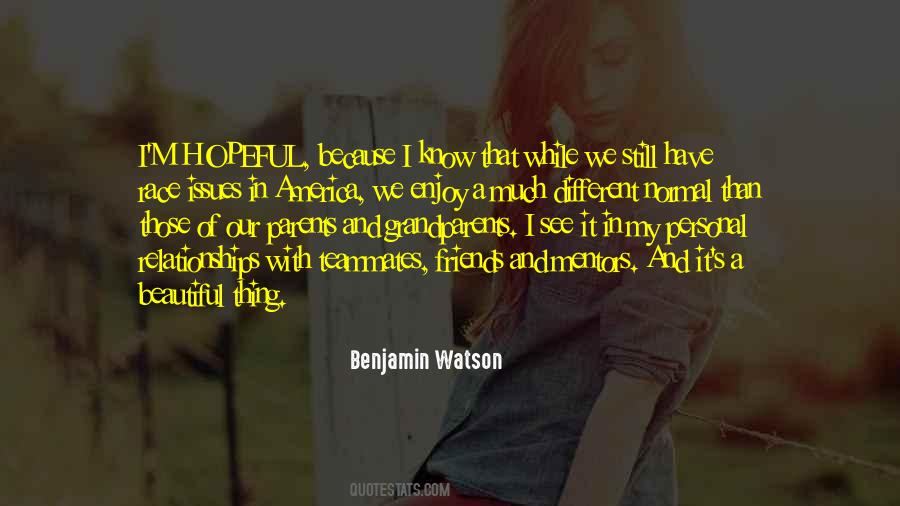 #33. I got a lot of grief from my teammates about that. It might backfire on my mom. Hopefully, my brother will have another chance somewhere down the road. - Author: Scott Niedermayer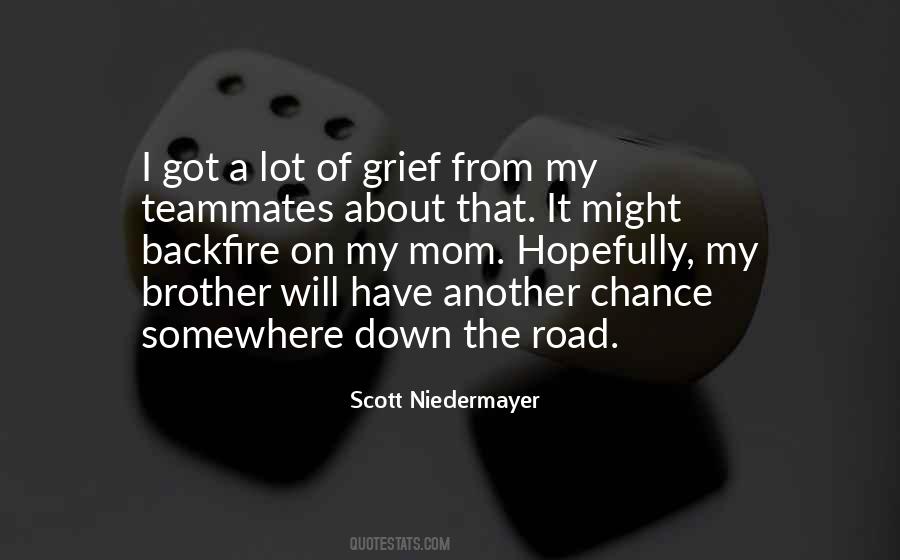 #34. I just try to just roll with the punches. I mean, once the team pretty much starts closing out, just try to get in attack mode, and at the same time, try to find my teammates. It's kind of hard, hitting the shots I was hitting, to try and pass the ball, but you've got to figure out a way. - Author: J. R. Smith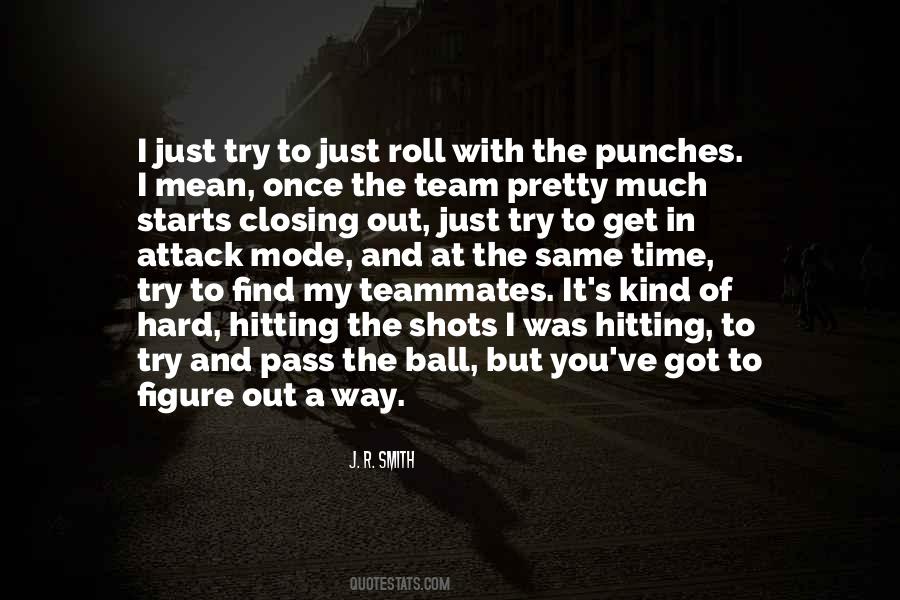 #35. I would never recruit a player who yells at his teammates, disrespected his high school coach, or scores 33 points a game and his team goes 10-10. - Author: Dean Smith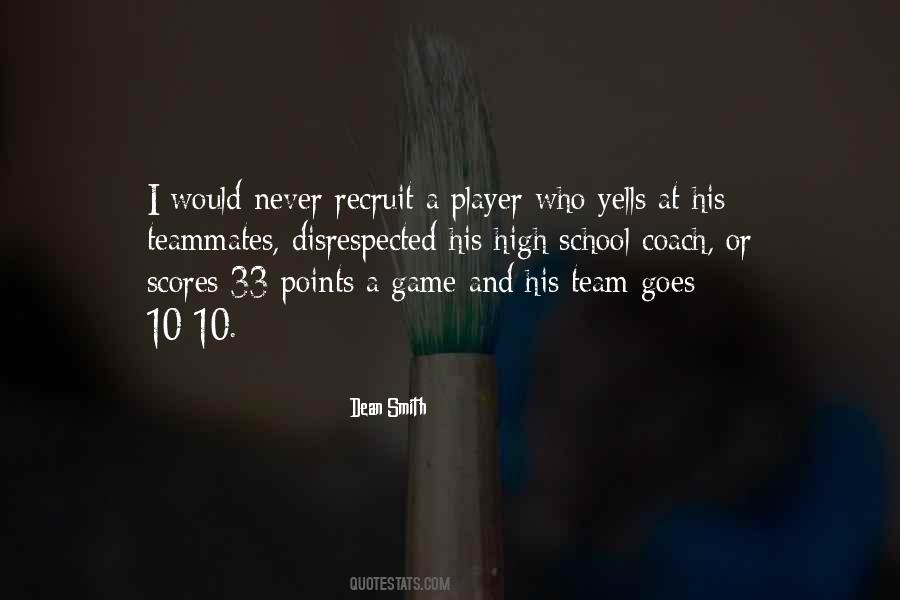 #36. I'm familiar with a lot of guys, hang out with those guys. A couple of my teammates actually went to Florida, so I'm familiar with a lot of those guys. It's going to be fun walking out with a victory and rubbing it in their faces. - Author: Joanna Noelle Levesque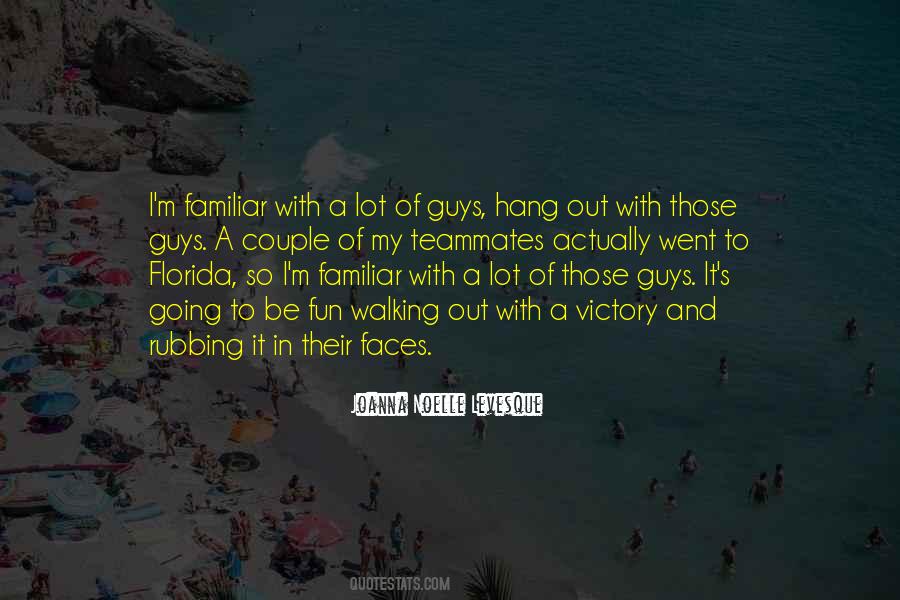 #37. They are always telling us that Carolina Blue is not a color, that it is really Columbia blue or sky blue. But there is no bad blood amongst the teammates. All of our kidding is in good fun. - Author: Lorrie Fair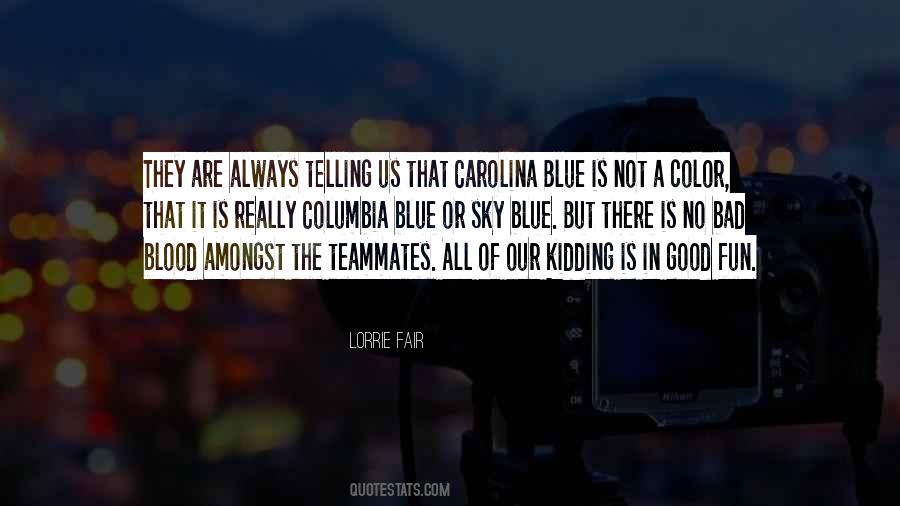 #38. The only problem is getting comfortable with myself. It's different for me, a different team. I have to try to do the best I can, working, trying to get comfortable in the left field and with my teammates, too. - Author: Alfonso Soriano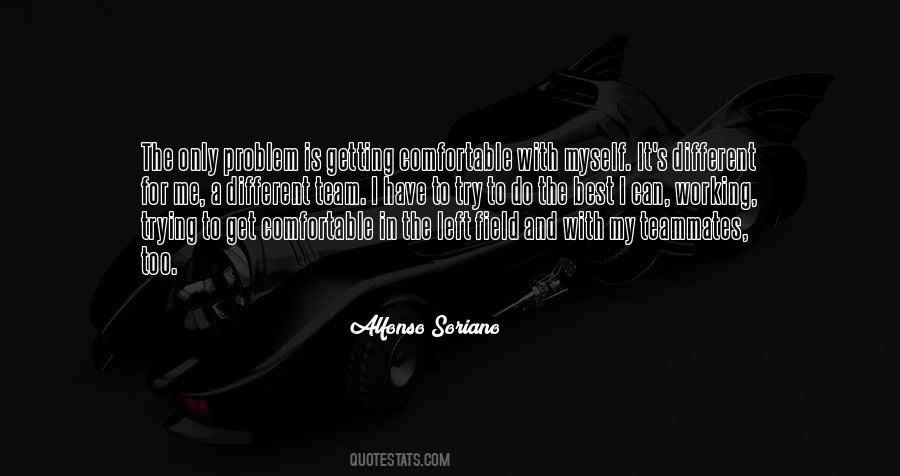 #39. good ScrumMaster will hold team members to account if needed. A great ScrumMaster will hold the team to account for not holding their teammates to account. - Author: Geoff Watts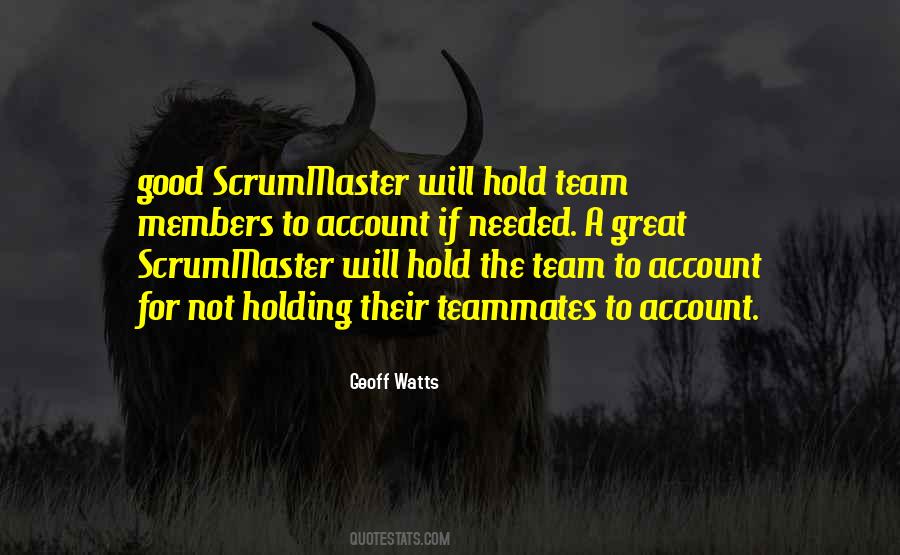 #40. Are you one of his teammates?"
"Yeah," Adam said, and it wasn't a lie because according to some people, both he and Tony were playing for the other team. Which made them teammates of a sort. - Author: Suzanne Brockmann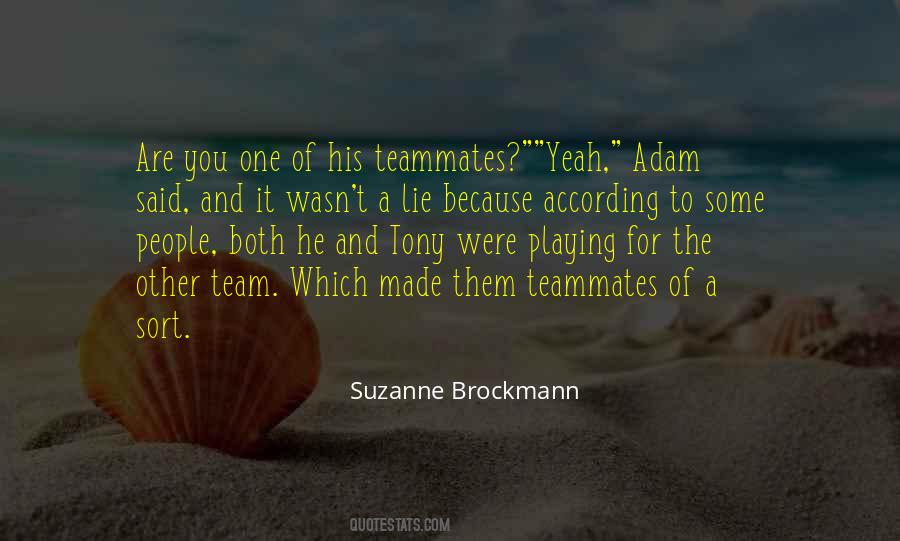 #41. I think we've bounced back and really been resilient. Even after a bad period, we take over and we seem like we're on a mission. That comes with leadership and experience and a lot of things. A lot of it is mental toughness and resiliency in the situation you're at, just trusting in your teammates. - Author: Mike Fisher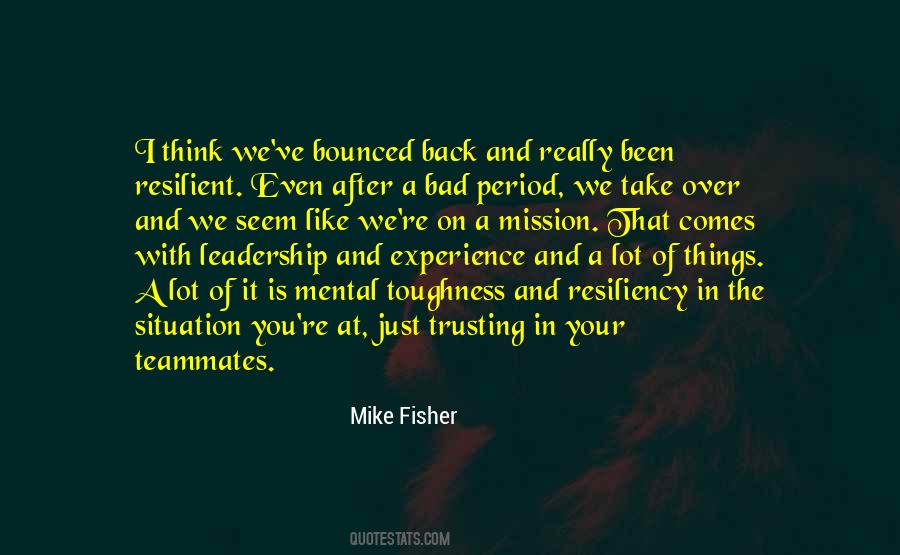 #42. Even with my non-believing teammates, there is a great amount of unity and I truly believe that's God working. It's really cool in team sports when you're united around a belief or something you want to accomplish. - Author: Tobin Heath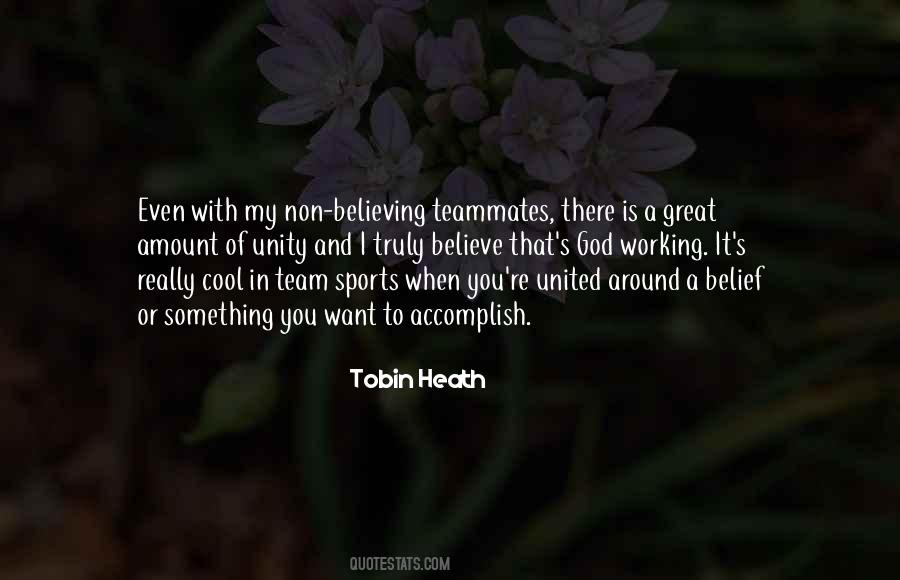 #43. People always think women meet us in the hotel lobby, but it's the opposite. The majority of the time, you go out to eat with your teammates, then rest for the next day's game. It's not a vacation - most guys view the road as a business trip. - Author: Kevin Durant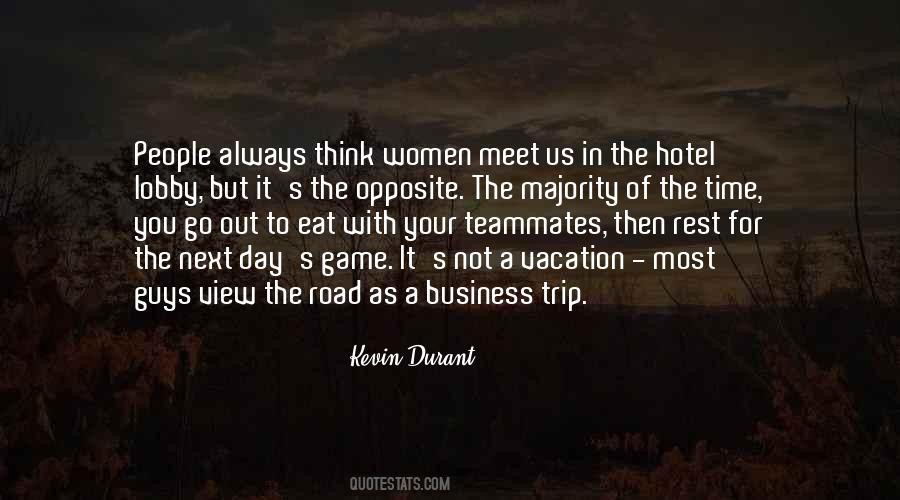 #44. A couple of my teammates have the rare Ford F650 Super Truck, and they're kitted out with everything - even flat-screen TVs for movies and video-game systems in the back. - Author: Ndamukong Suh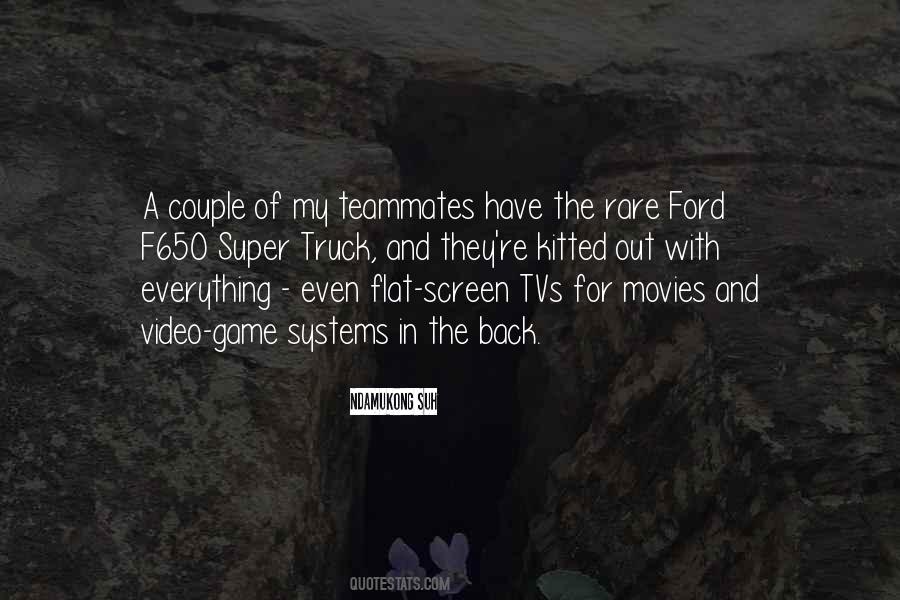 #45. I've made a lot of friends over the years through racing, but we weren't necessarily teammates. - Author: Juan Pablo Montoya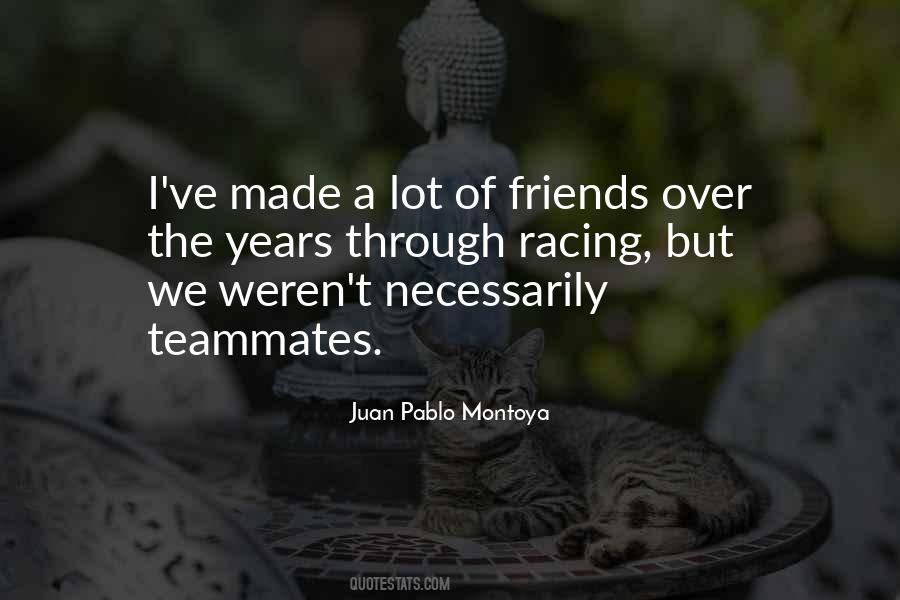 #46. James also revealed he and his teammates smoked marijuana one night after getting access to a hotel room in Akron. - Author: LeBron James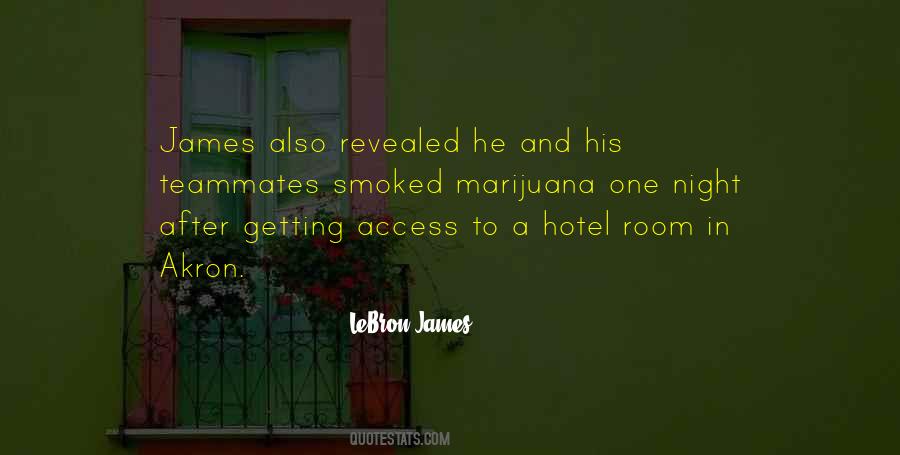 #47. Once practice starts, we work hard, and that's the best conditioning there is. Everything counts. Every little thing counts. Run hard, play hard, go after the ball hard, guard hard. If you play soft (what I call signing a 'non-aggression pact' with your teammates), you won't ever get into shape. - Author: Pete Carril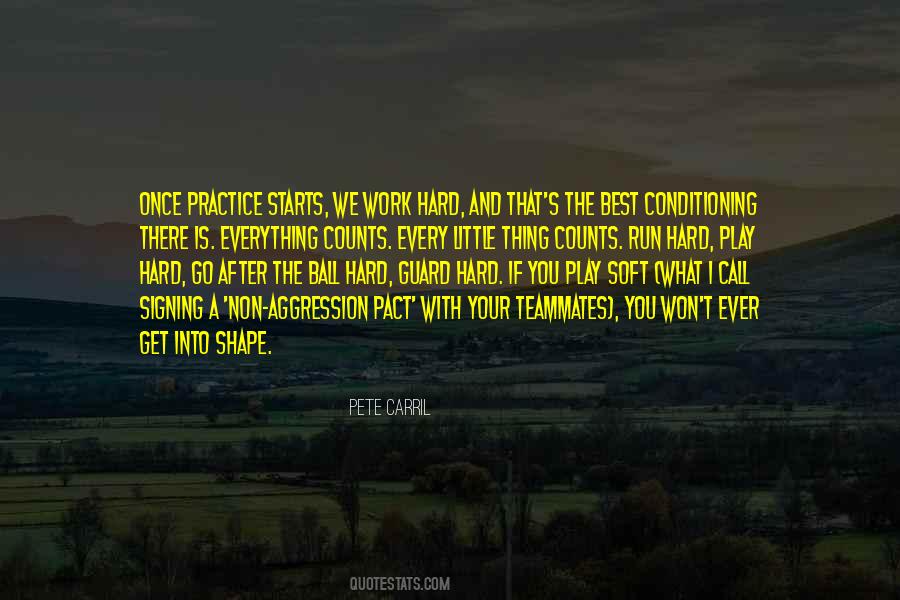 #48. The author relates that Mickey Mantle did not expect to play one day and showed up extremely hung over. He was nevertheless called on to pitch and smashed a towering home run to an enthusiastic ovation. He related to his teammates, Those people don't know how tough that was. - Author: Jim Bouton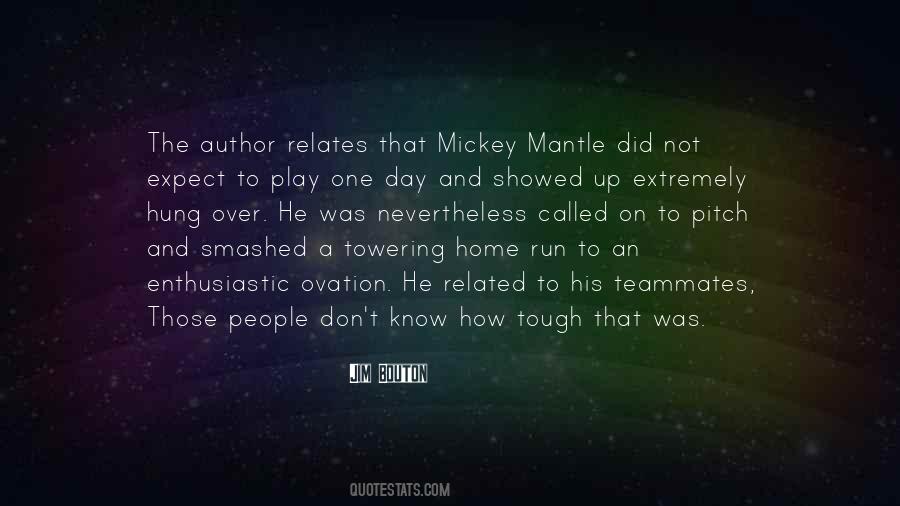 #49. Spring training is for getting to know your teammates and forming a chemistry. I dont like it. - Author: Torii Hunter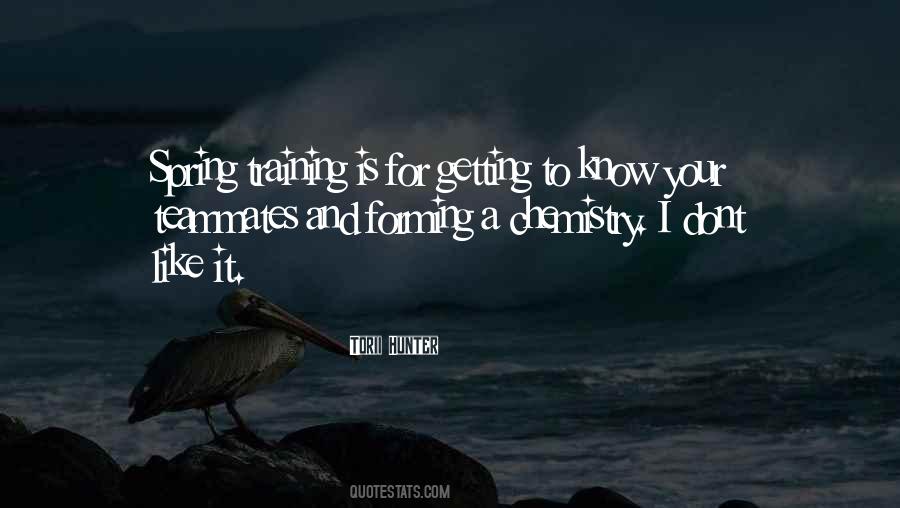 #50. I've turned down a lot of trades where I might have gotten a better player, but I wasn't totally sure of the chemistry of that new player coming in. Even though he might possess golden ability, his personality and the way he gets along with teammates might be things you just don't want to cope with. - Author: Red Auerbach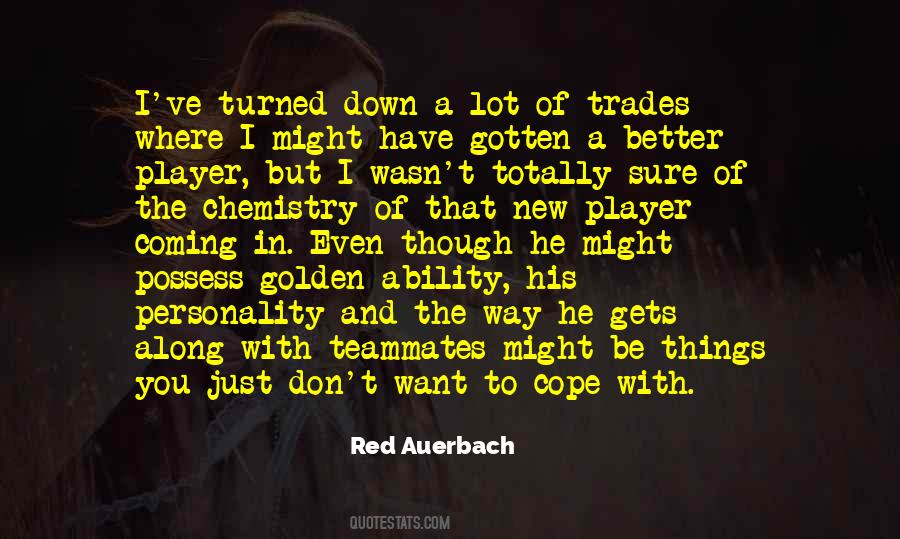 #51. Growing up, Magic Johnson was my idol. He was a good example. He could always pass the ball extremely well and get his teammates involved. - Author: Jason Kidd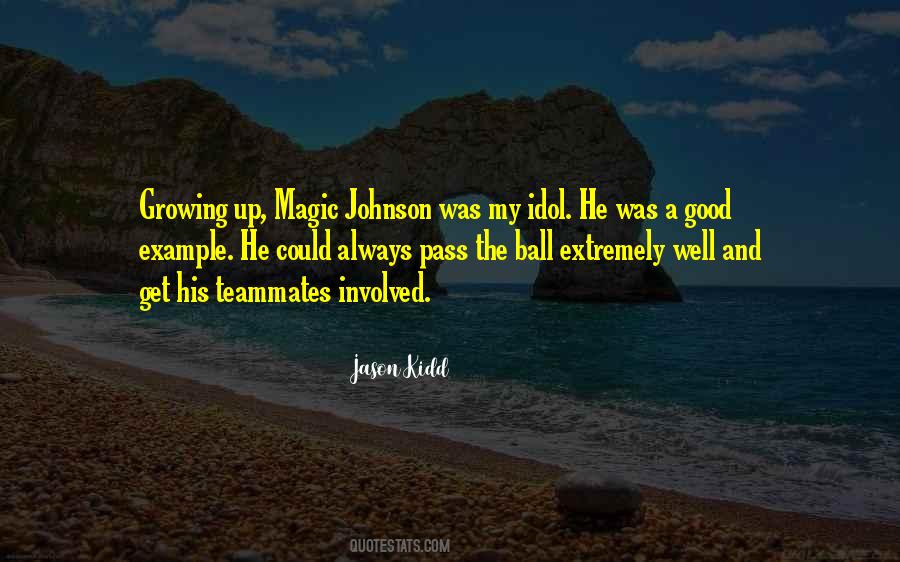 #52. When I got traded to the California Angels, I really wasn't that excited about going to the Angels because it meant changing leagues and also a whole new set of teammates. But shortly after I got there I realized that it was one of the best things that ever happened to me. - Author: Nolan Ryan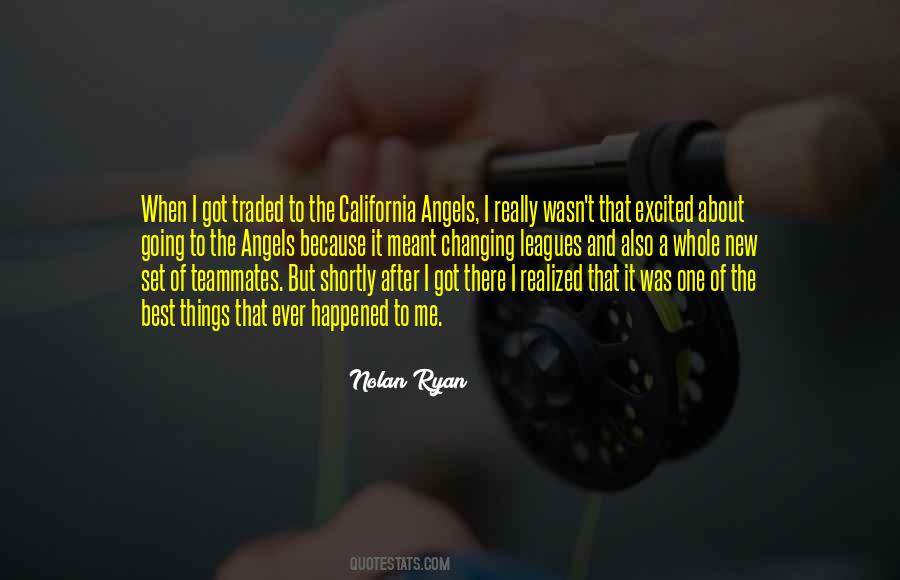 #53. People have to understand what my game is. It's not all about numbers. There's a bigger picture here. I don't create off the dribble. I rely on my teammates; my role is to set screens and get rebounds. - Author: Rebecca Lobo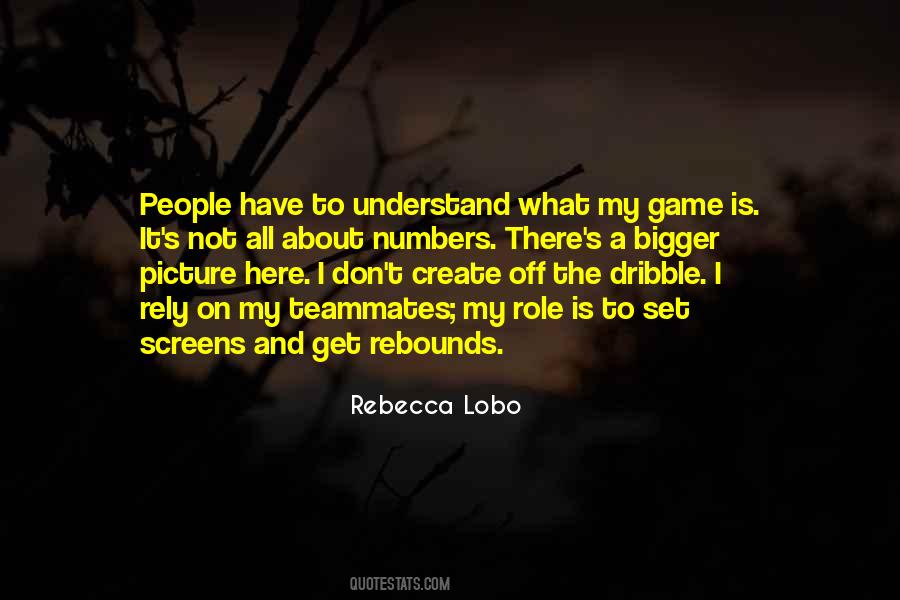 #54. I love the atmosphere football brings; I love being around my teammates; I love the struggle in football. I love the fact that it is a part of my life. I don't look at it as any more important or less important as any other part of my life. - Author: Troy Polamalu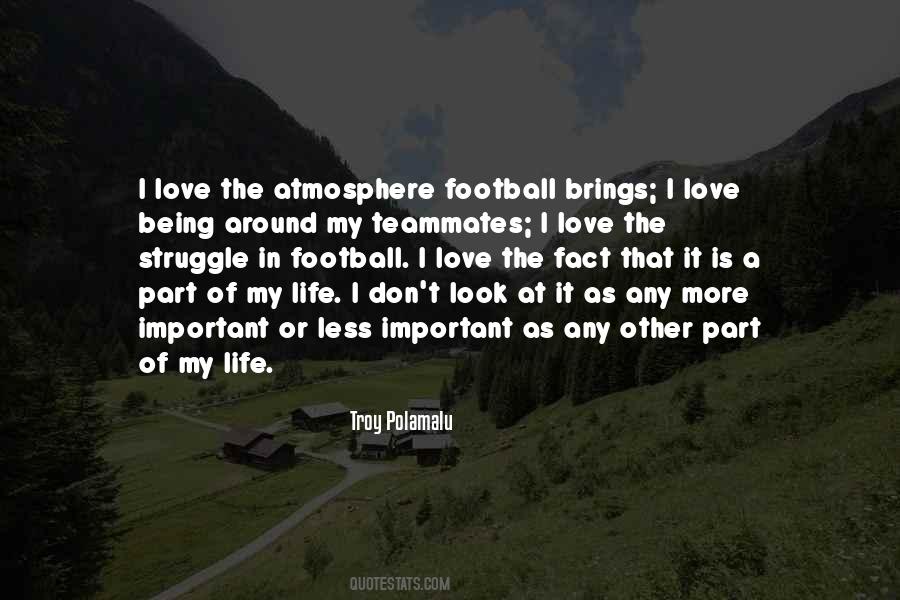 #55. I just go out there and try to help my teammates any way I can. They are on me a lot to be in the lineup and do stuff for the team, but sometimes it's just ... frustrating. - Author: Andruw Jones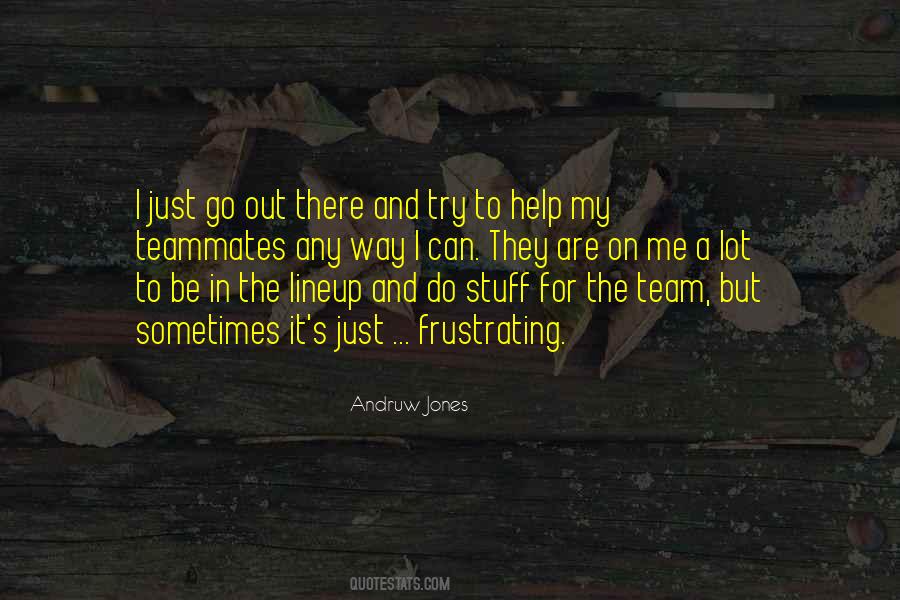 #56. The World Cup only comes around once every four years and is the absolute pinnacle of our sport. It is something we dream about as players. It is a reason why many of us started playing this game. I know myself, my teammates will be focused on what's ahead and what's at stake. - Author: Jozy Altidore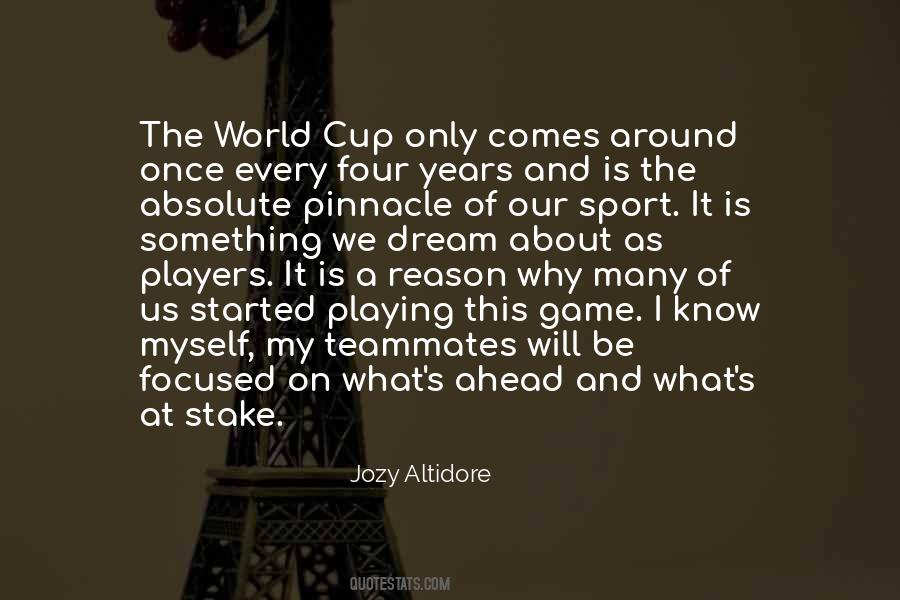 #57. Gaylord Perry and Willie McCovey should know each other like a book. They've been ex-teammates for years now. - Author: Jerry Coleman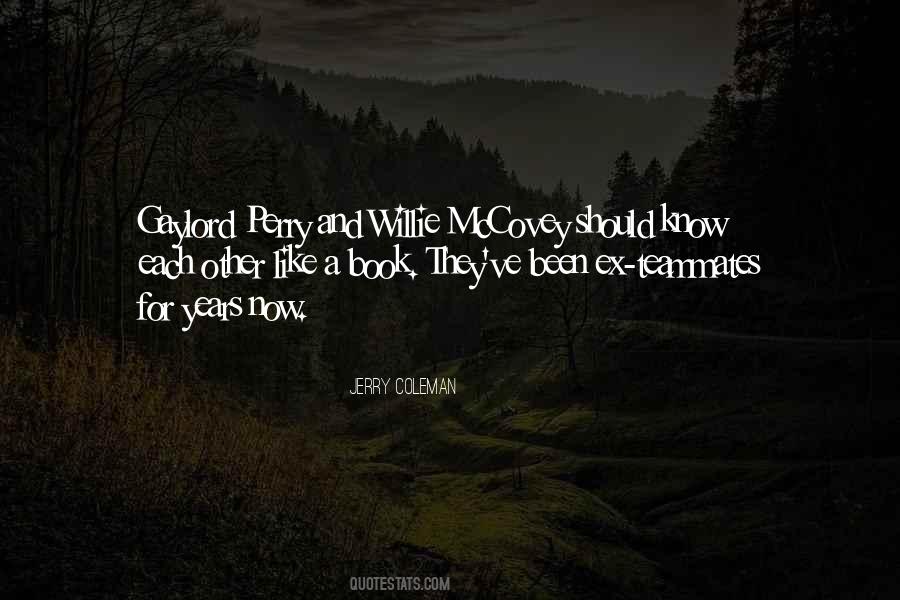 #58. The greatest compliment to any player is he is a great teammate. We can't all be great players, but we can all be great teammates - Author: Jay Bilas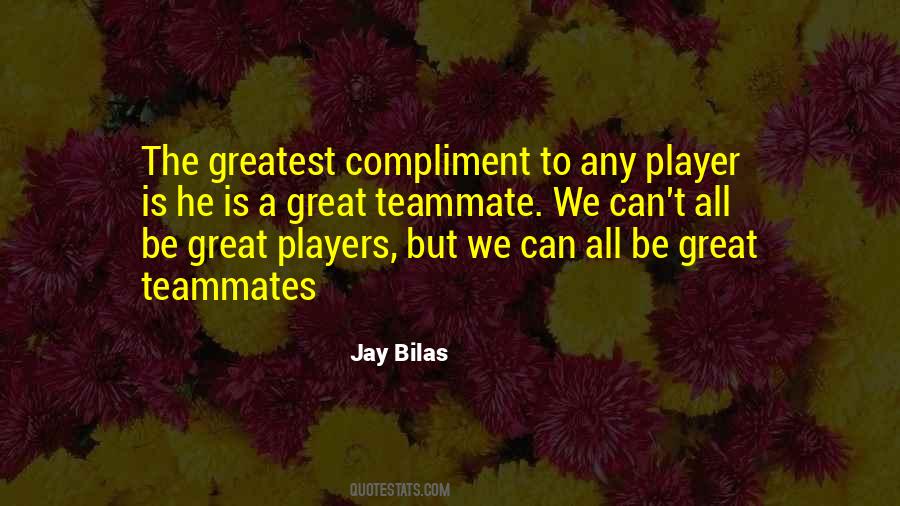 #59. I don't know, scene stealing is something I see as, people look at it, it could be a positive thing, but I really like to think of myself as a team player. It's kind of like one player can make the other teammates better, kind of like Larry Byrd dishing off. - Author: Kevin Dillon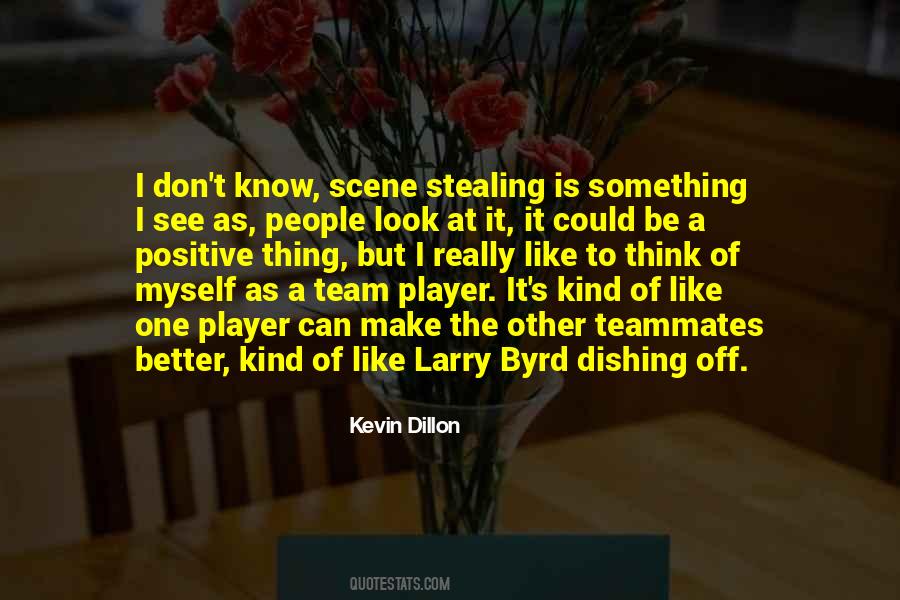 #60. I want my teammates to understand that when No. 5 says something to you, that means it's very important because he doesn't talk a lot. If I'm saying something to you, it's going to help you. - Author: Manti Te'o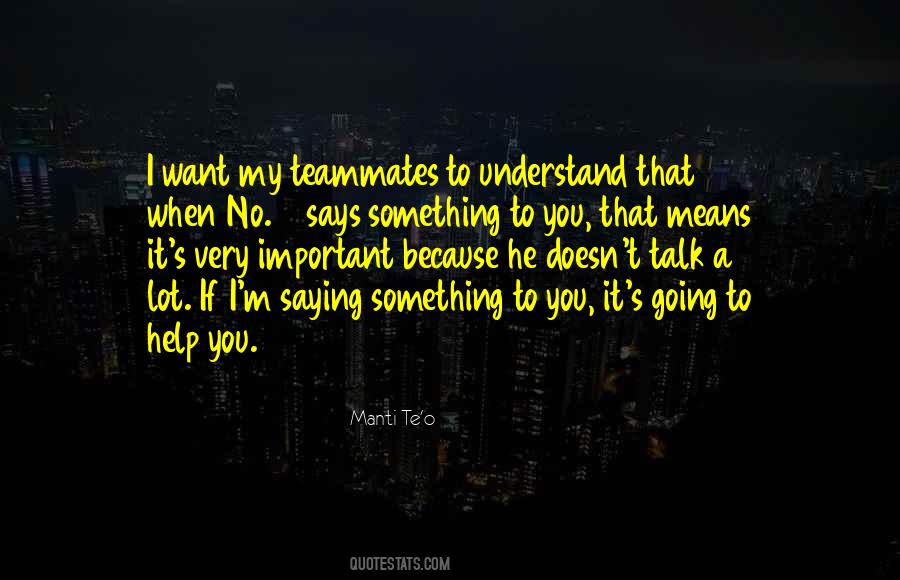 #61. Once you've done the mental work, there comes a point you have to throw yourself into the action and put your heart on the line. That means not only being brave, but being compassionate towards yourself, your teammates and your opponents. - Author: Phil Jackson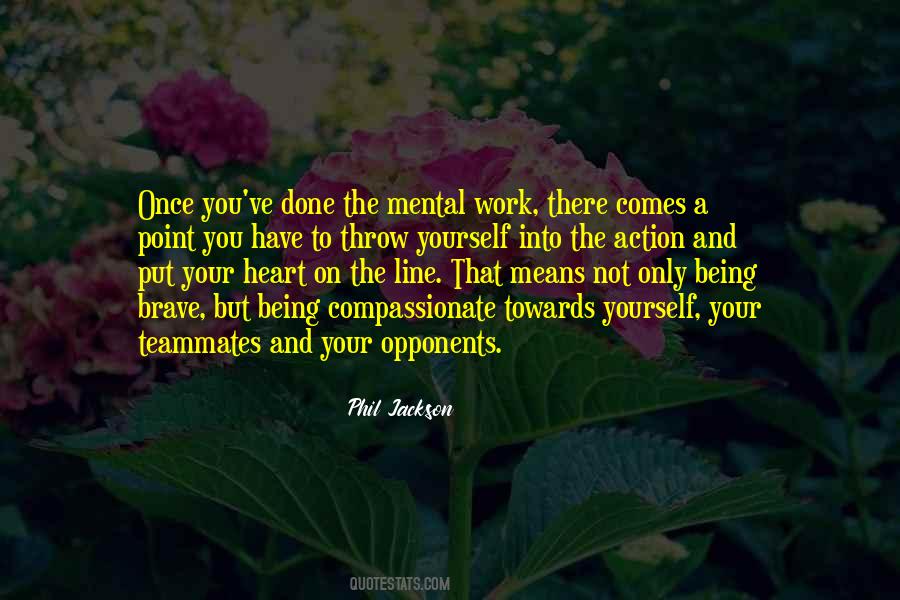 #62. A champion, he said, wins a World Series or an Olympic and is hoisted on the shoulders of teammates and fans. A hero carries the people on his shoulders. Champions live for the moment- heroes, like Jackie Robinson, transcend time. - Author: Sharon Robinson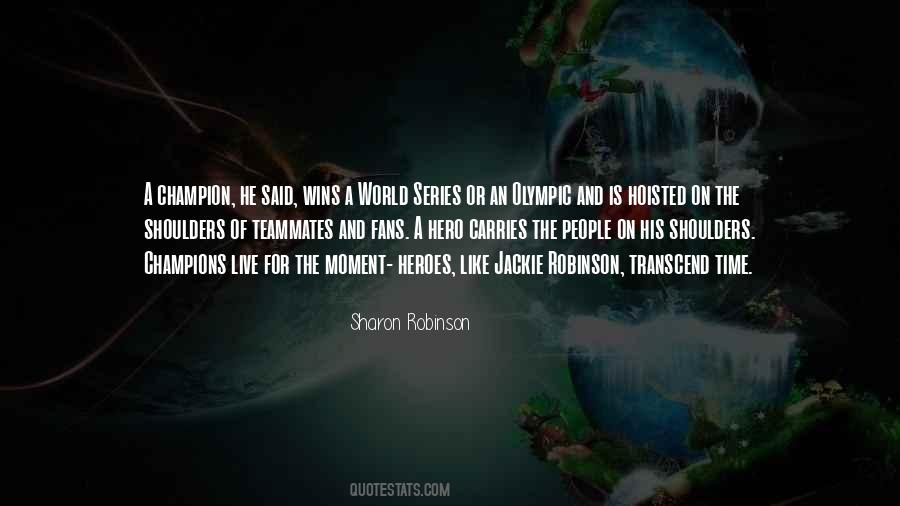 #63. I know Penny Toler and coach Ross have worked hard to put together a strong team this year, and I am ready to start the season with my teammates. - Author: Candace Parker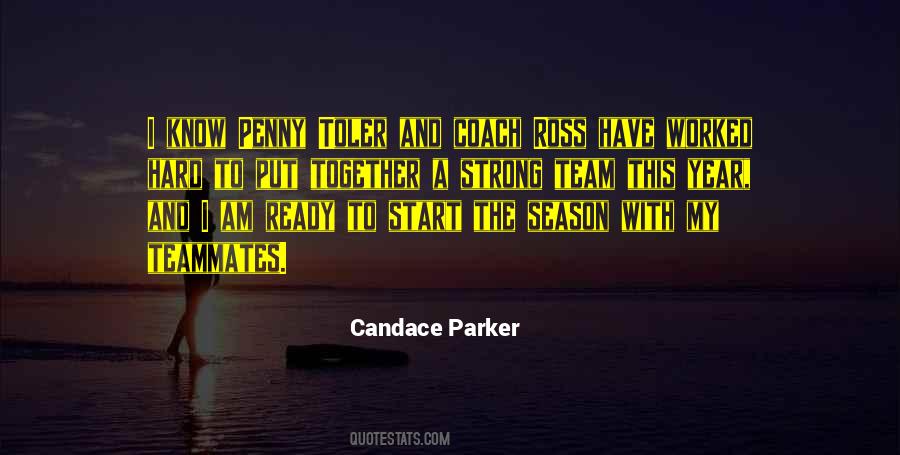 #64. When one of my teammates botches a shot, the coach tells him to stop being a girl. I wish I could tell him that I was a girl two days ago, and two days before that. Nothing is different. A shot is a shot. - Author: David Levithan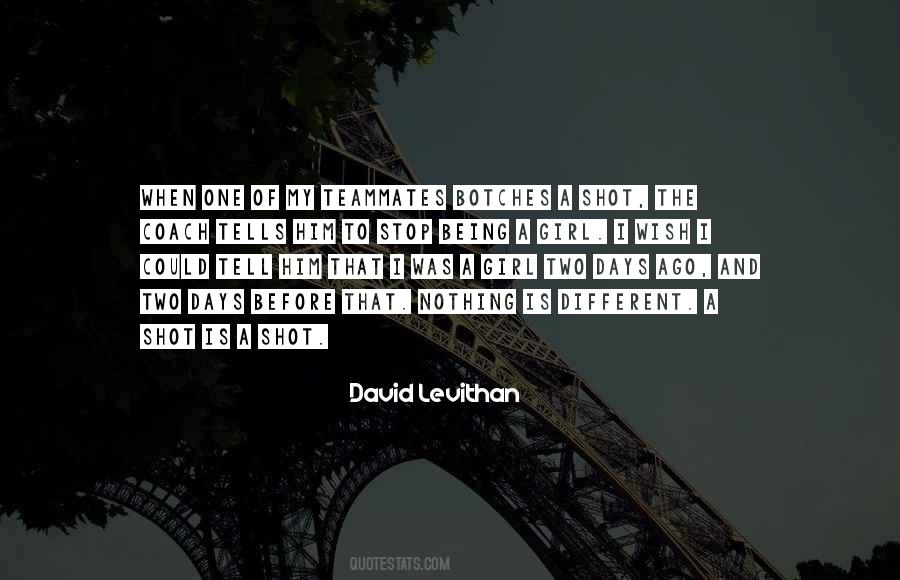 #65. I'm definitely looking to put together a full season. I know what I'm capable of doing. I want to be the kind of player my teammates can depend on. - Author: Khalil Greene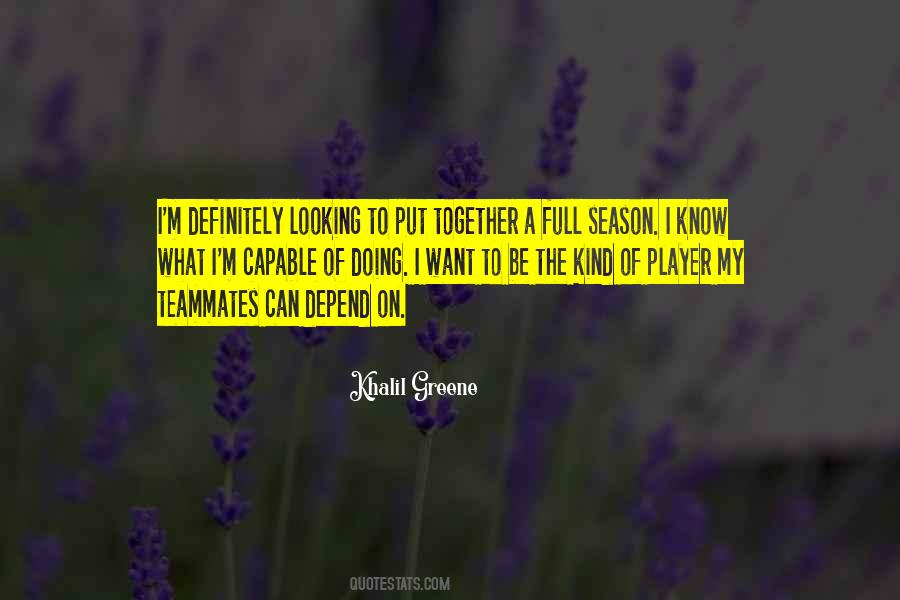 #66. My success is the team's success. It's one of those things to a certain degree that it's effort and ability but also how I benefit from what my teammates do, and then it is up to me to perform. - Author: Jason Babin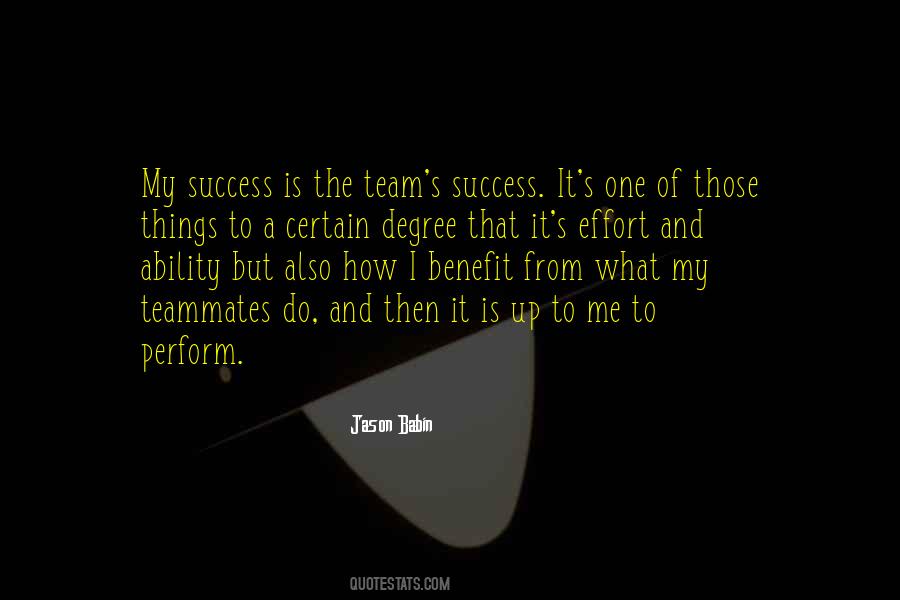 #67. Accept a loss as a learning experience, and never point fingers at your teammates - Author: Michael Jordan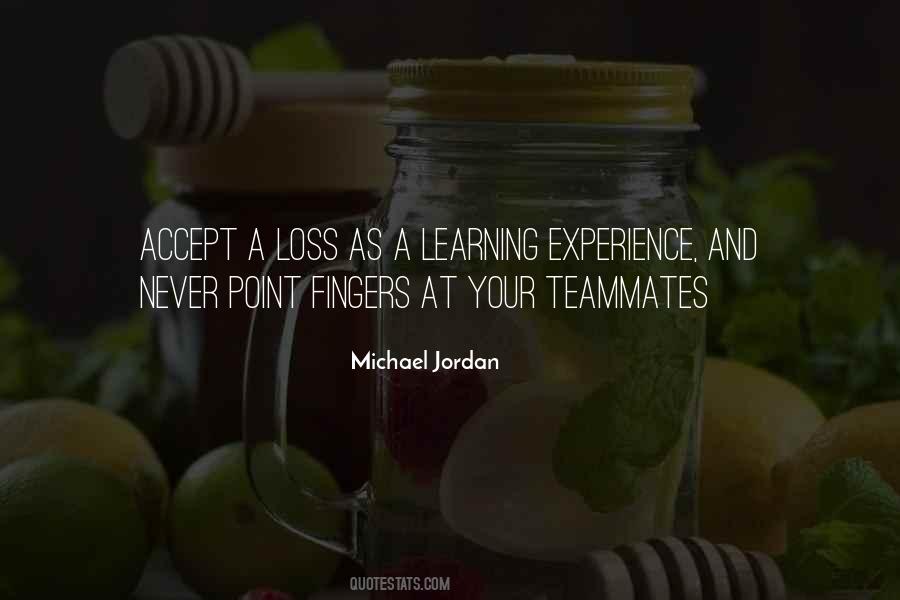 #68. I hate divers, like Cristiano Ronaldo, who might be the greatest athlete in the sport, but he's a big baby. If things are going well he's great, but when things are going badly it's the ref's fault, it's his teammates' fault. - Author: Viggo Mortensen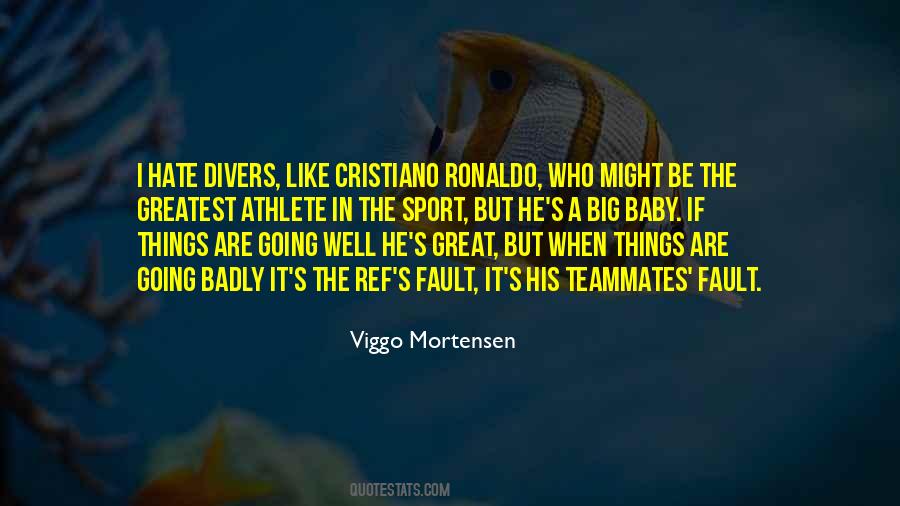 #69. There's a certain - there's a different pressure with playing in a Ryder Cup. You know, you're not just playing for yourself. You're playing for your teammates. You're playing for your country. - Author: Rory McIlroy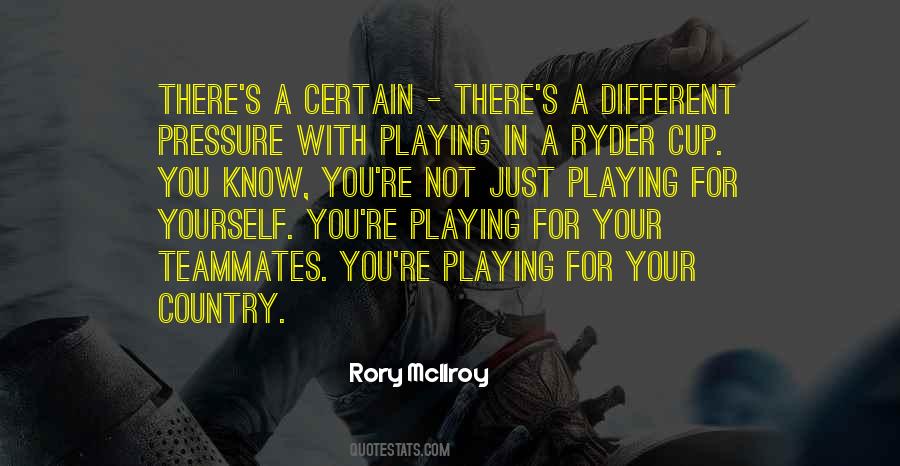 #70. Profile of a winning team - They play to win. They have a winning attitude. They keep improving. They make their teammates more successful. - Author: John C. Maxwell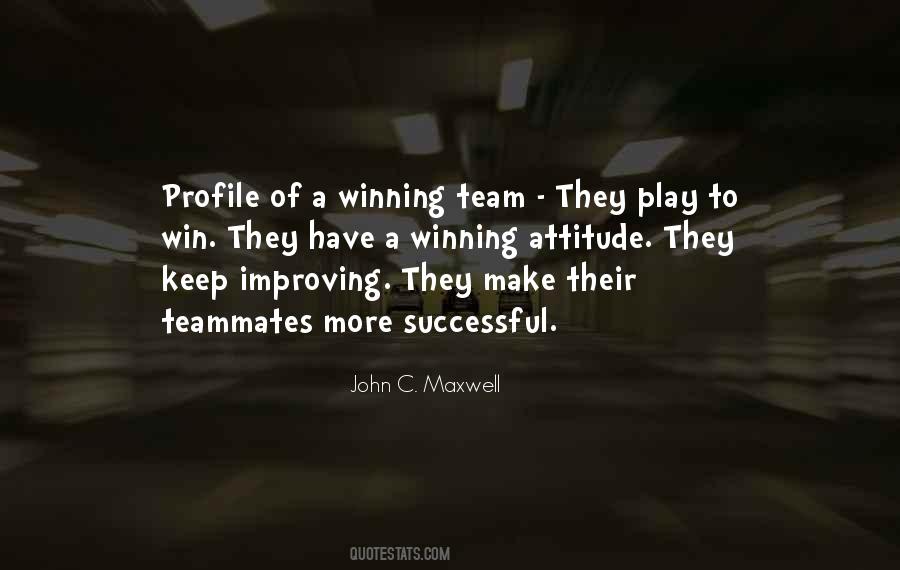 #71. I always thought being a gamer and someone who had a sense of responsibility to the game and to my teammates was the honorable thing. - Author: Cal Ripken Jr.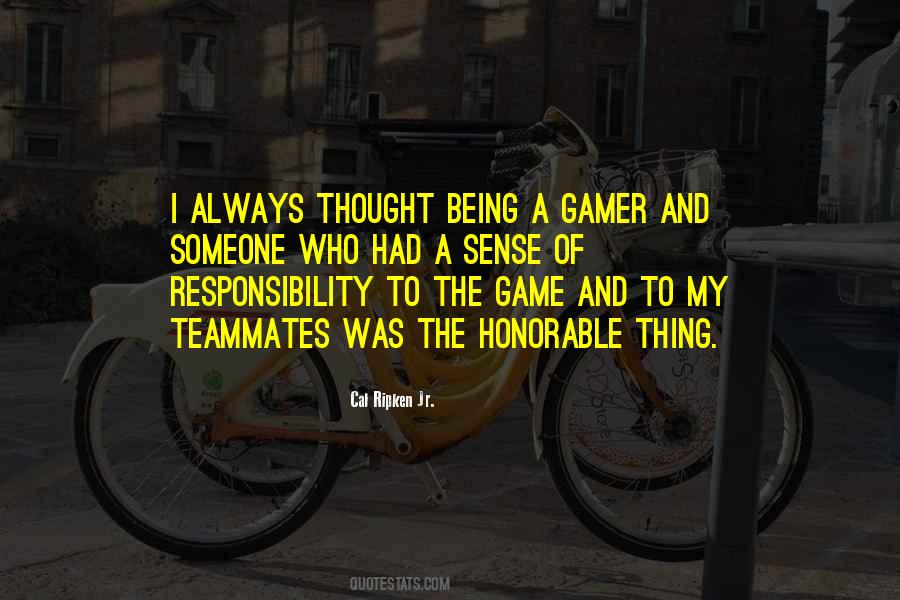 #72. If I want to win a title I have to beat the champion myself, I don't have teammates inside the ring. - Author: Travis Browne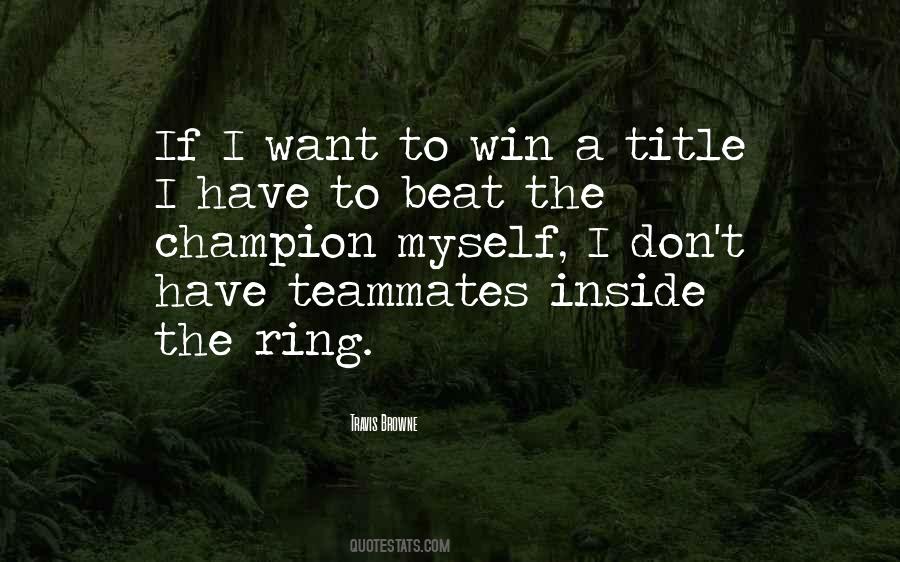 #73. I just haven't really had a chance to allow to sink in. I'm sure there is going to come a time when reality is going to hit me and I'm going to know that it's going to be a while before I help my teammates, and that's going to be hard for me. - Author: Gabe Kapler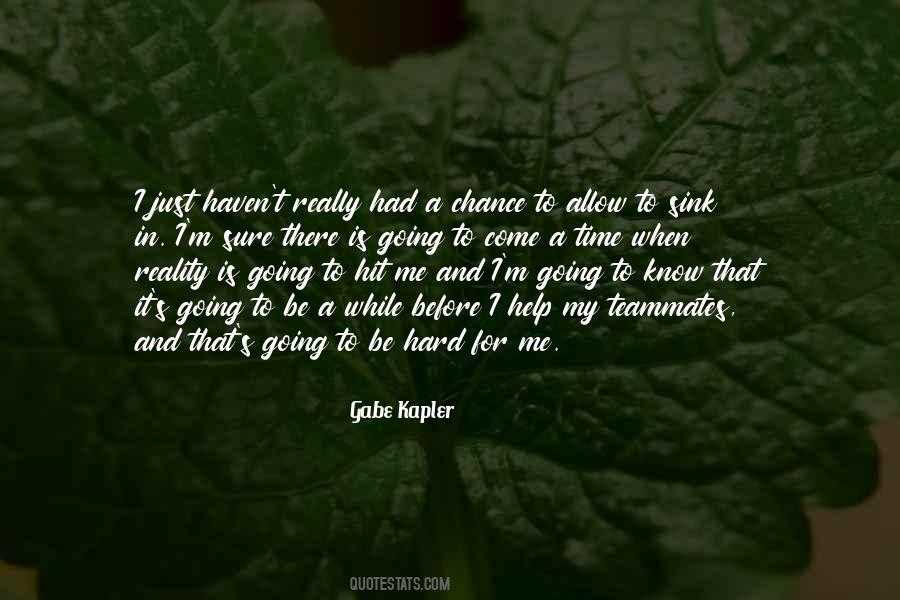 #74. I have a unique ability to predict the flight of the ball, and my teammates have a unique ability to find me. - Author: Abby Wambach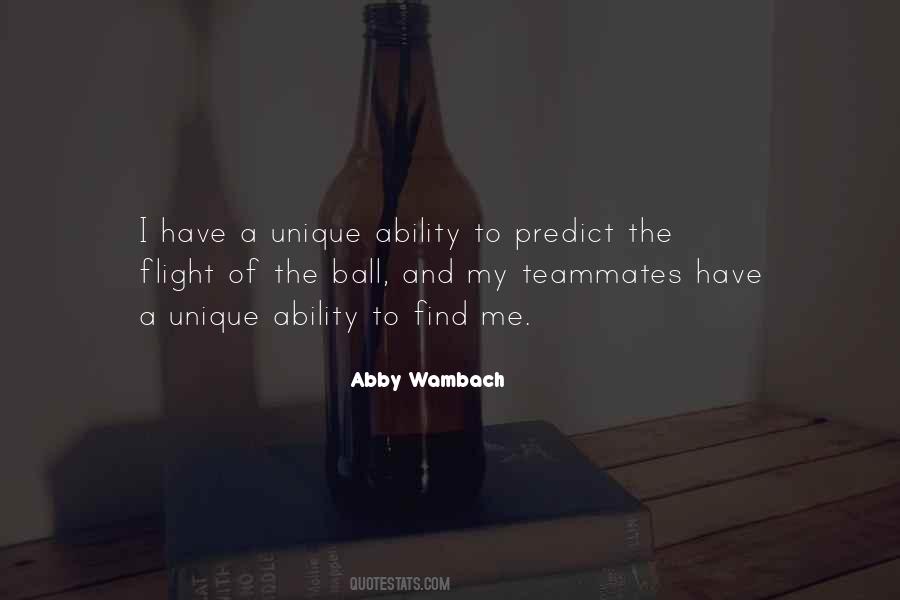 #75. He credited his teammates, who he thanked in turn, with challenging him every day and driving him forward and making him a better player. - Author: Stephen Curry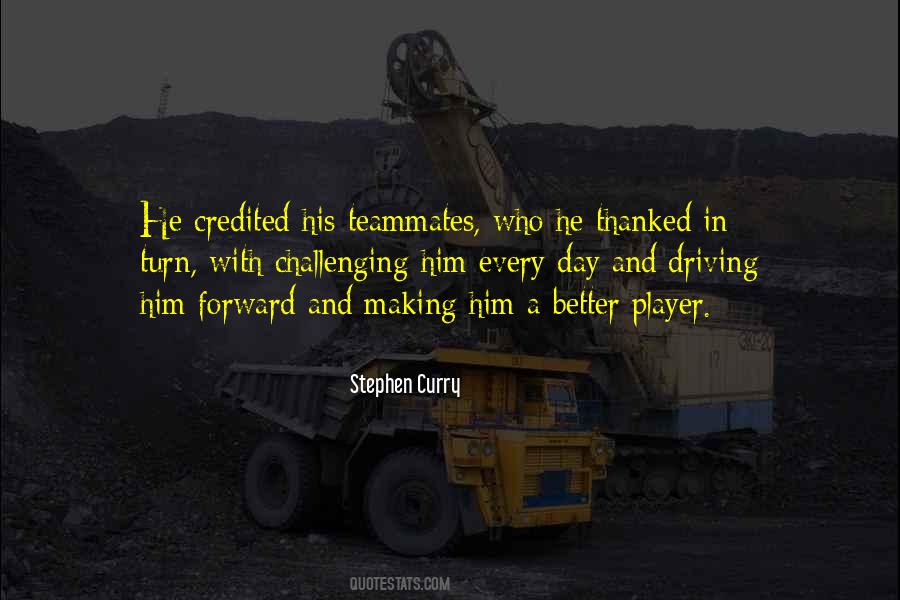 #76. When I grew up, my father taught us the value of hard work. He wanted us to enjoy ourselves, but he also wanted to know what it took to be successful. He coached a lot of our sports teams growing up. We weren't very good, but we learned about hard work and enjoying life and your teammates. - Author: Andrew Luck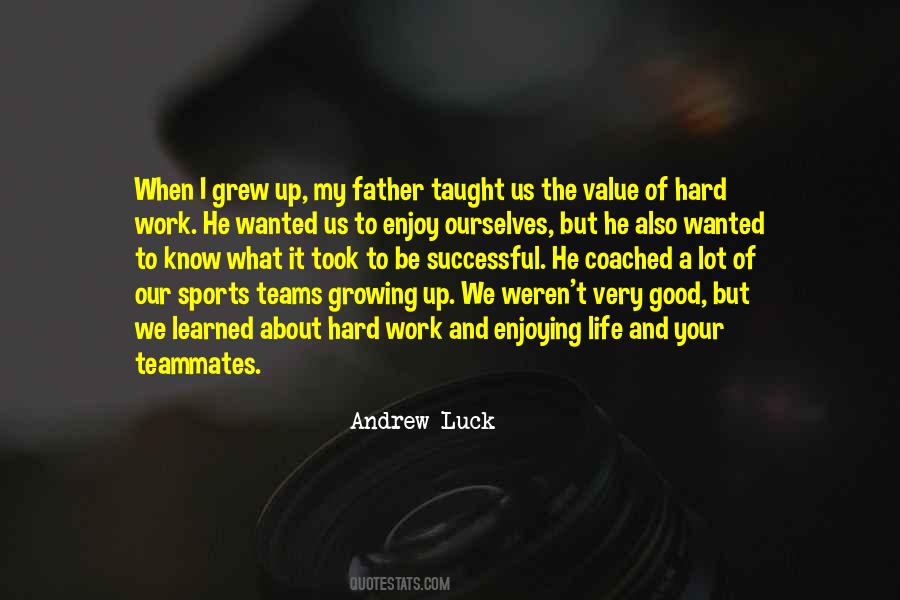 #77. Keep being aggressive, that's what my teammates and my coaches ask me to do. If I see things are going well, I know there's more of a comfort level for me to continue to do that. - Author: Chris Copeland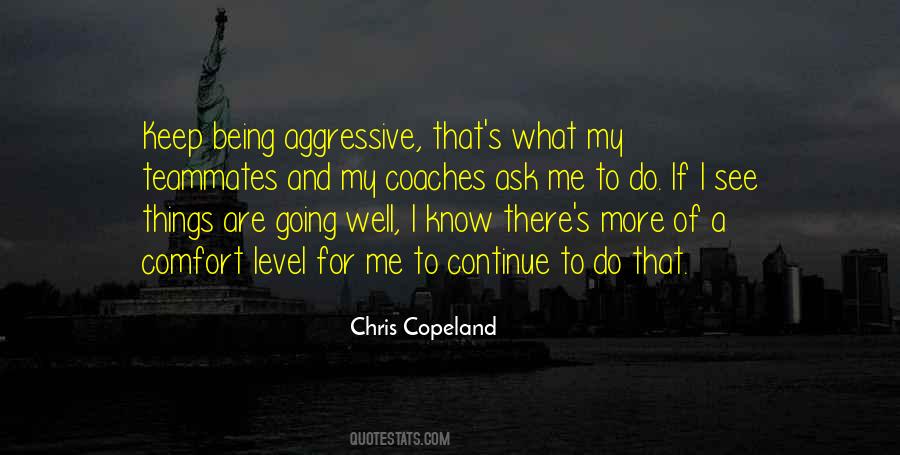 #78. Four years ago, I felt the importance of the Olympics and how it is different from other events. It's a completely different atmosphere. The main advice I can give my teammates is to try to enjoy the experience. - Author: Kohei Uchimura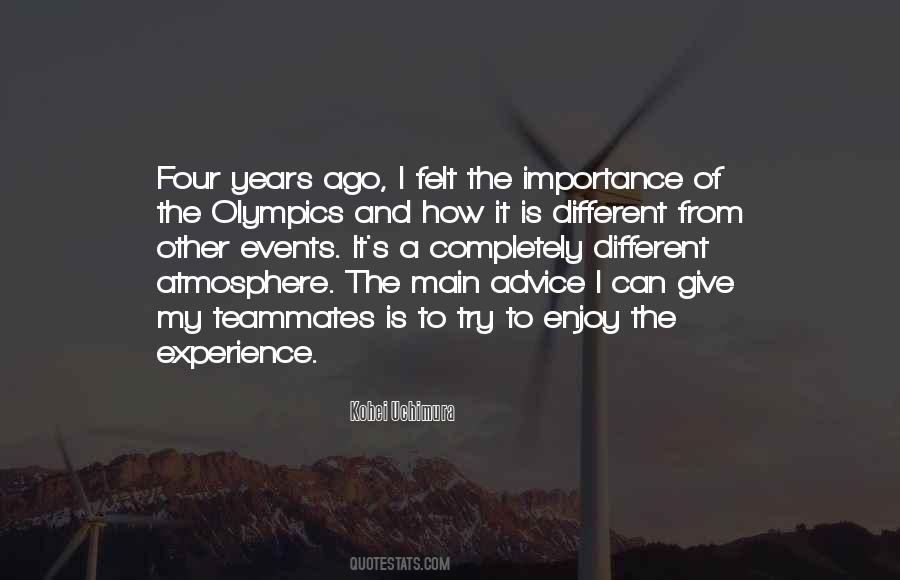 #79. Those days were very tough. All my teammates are white, and it was a different time. I couldn't go out to eat with the white players; I had to wait until someone brought something out to the bus. We couldn't stay in the same hotels. - Author: Juan Marichal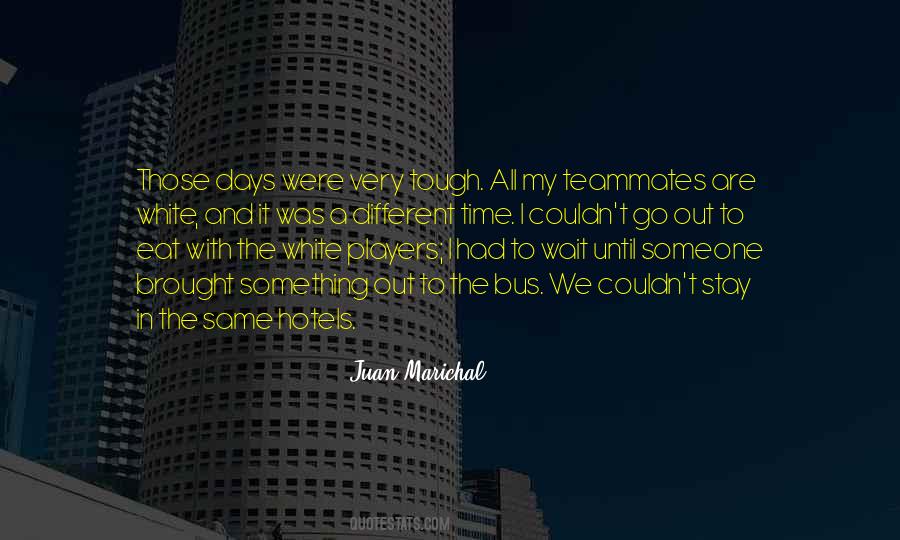 #80. I'm not someone who goes around the locker room before a game trying to motivate my teammates. I don't say a lot before the game. I don't say a lot in general. It takes too much energy to do that. - Author: Mia Hamm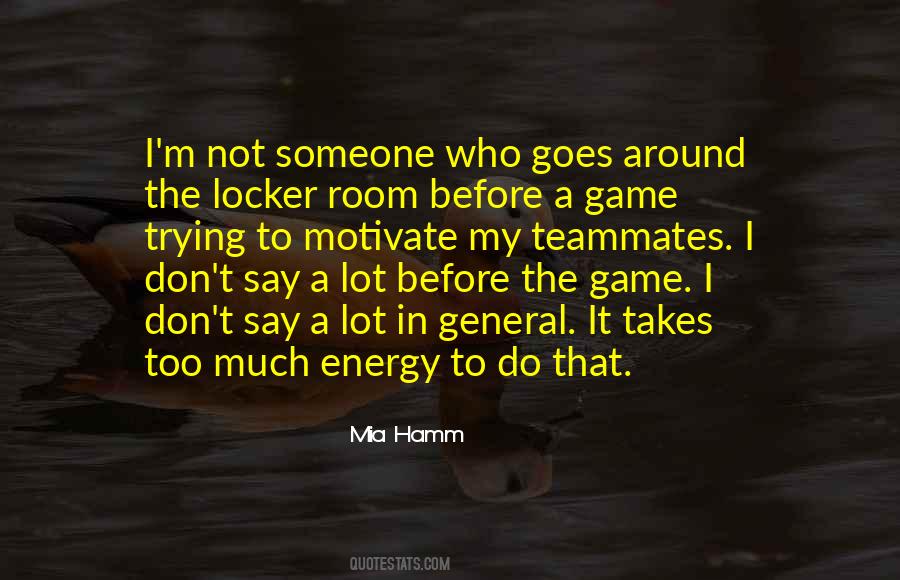 #81. World Series MVP is a unique individual honor because with one exception - Bobby Richardson won 1960 World Series MVP honors for the Yankees, but the Pittsburgh Pirates won the Series that year - by virtue of winning the award you guarantee your teammates have won a ring. - Author: Tucker Elliot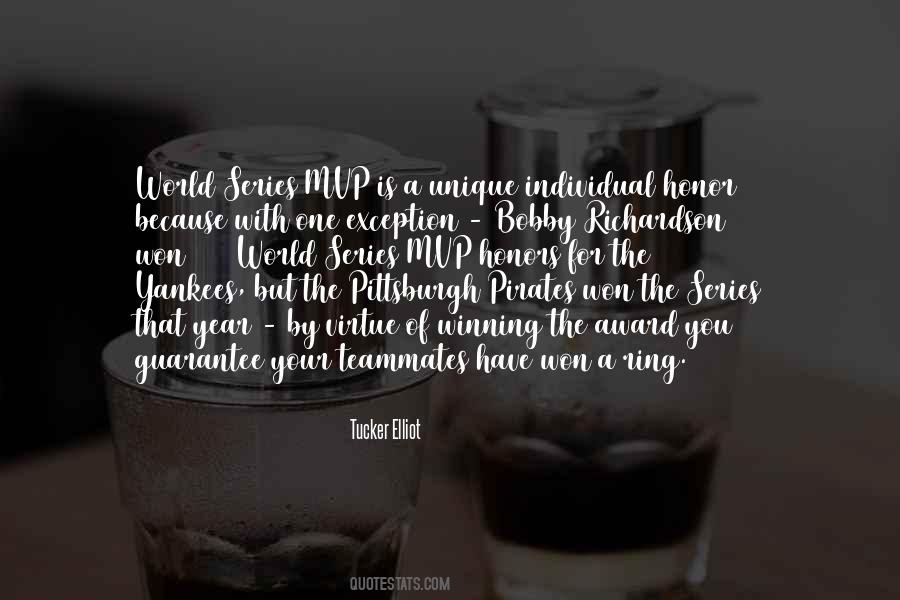 #82. It was a challenge to my teammates to help me. - Author: Wilt Chamberlain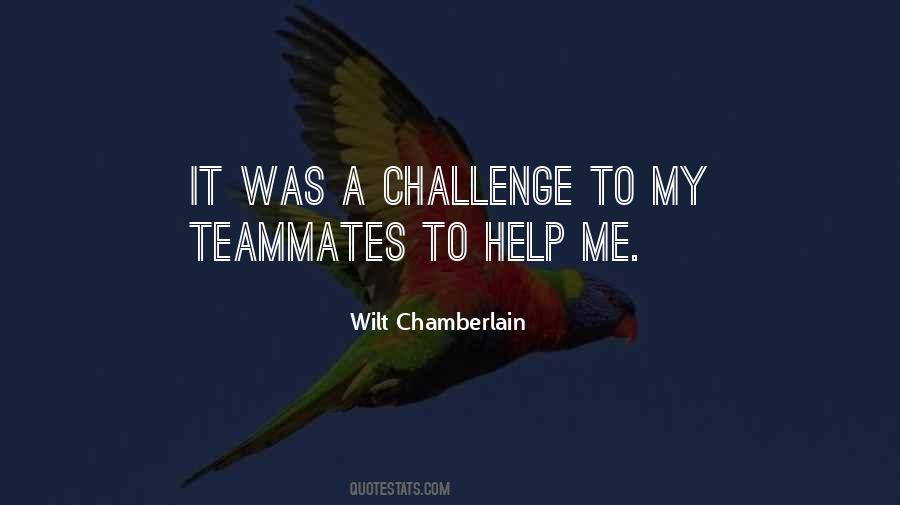 #83. I got to experience a world championship with some great teammates. - Author: Kirk Gibson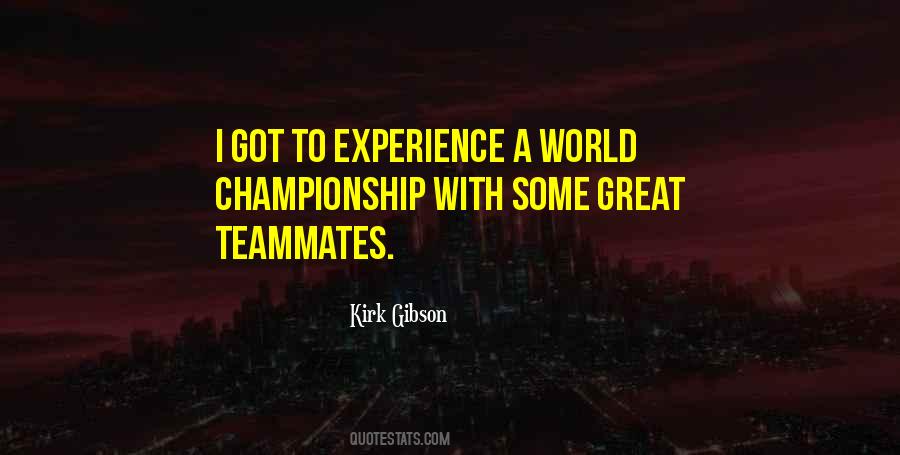 #84. My teammates at Duke - all of them, black and white - were a band of brothers who came together to play at the highest level for the best coach in basketball. - Author: Grant Hill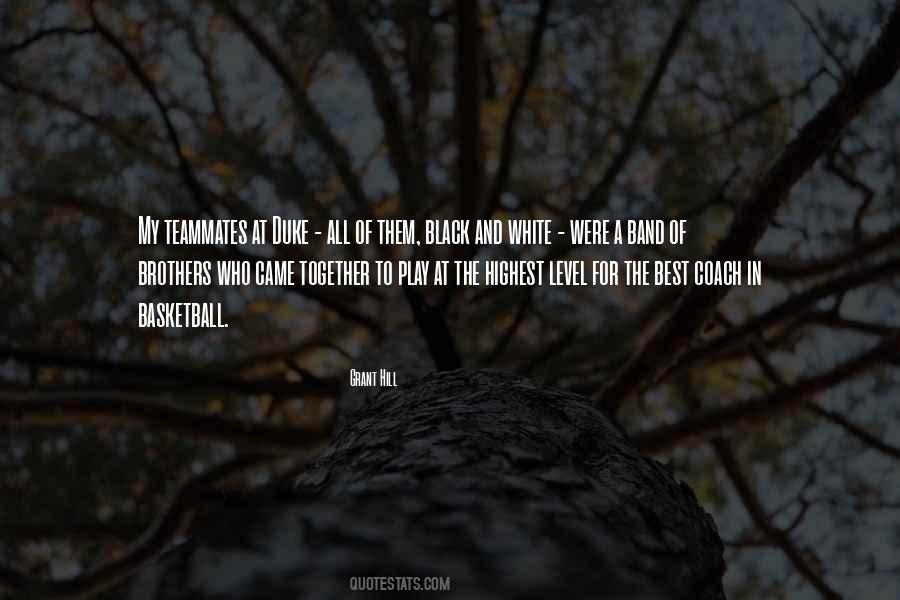 #85. It's been a dream to play in the NFL and hopefully after next year that becomes a reality, but I wouldn't pass up being here with my teammates and coaches for anything. - Author: Denard Robinson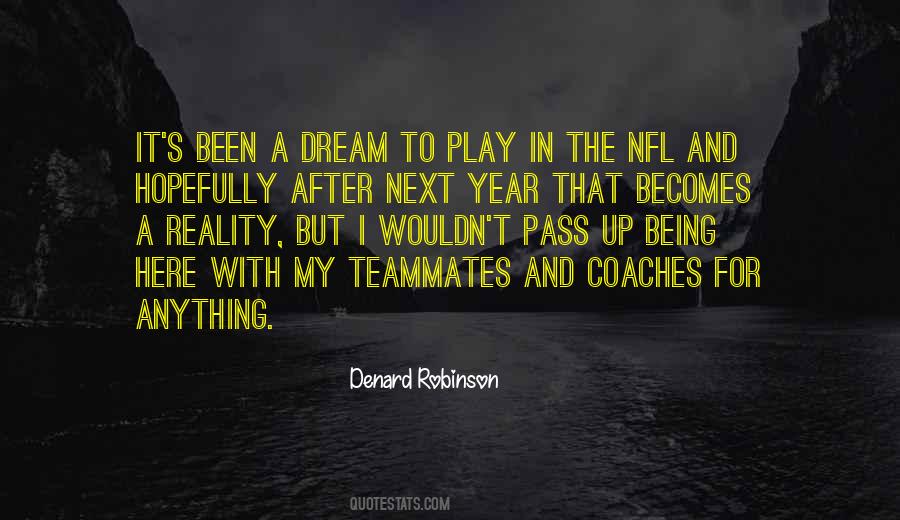 #86. You know, I never looked down the road and said, 'Hey look, one day, the Hall of Fame.' It's always about playing each and every game 100 percent and I thank my teammates for getting me into the Hall because football is a team sport, not an individual sport. - Author: Jerry Rice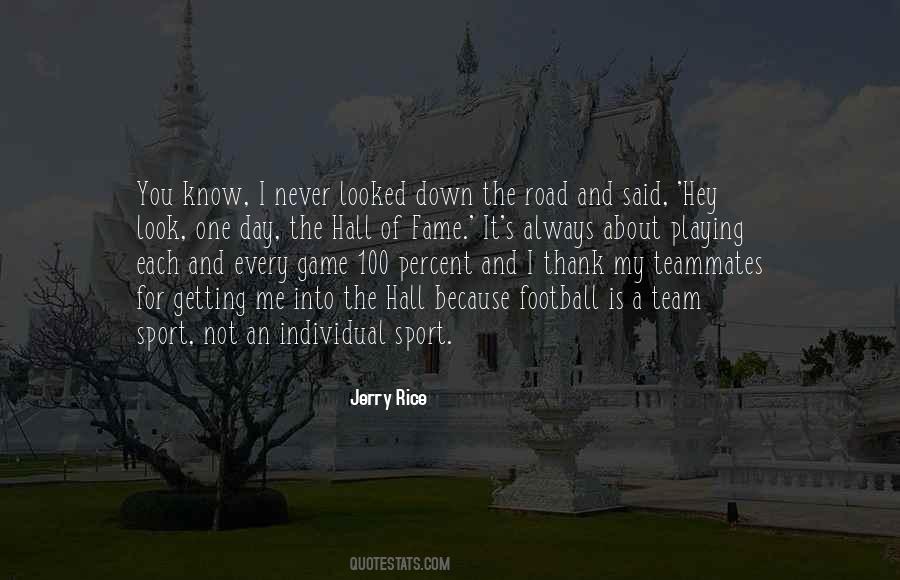 #87. The stereotype of a leader is one who talks and peps people up and things like that, but in actuality you have to listen to your teammates. - Author: Chris Bosh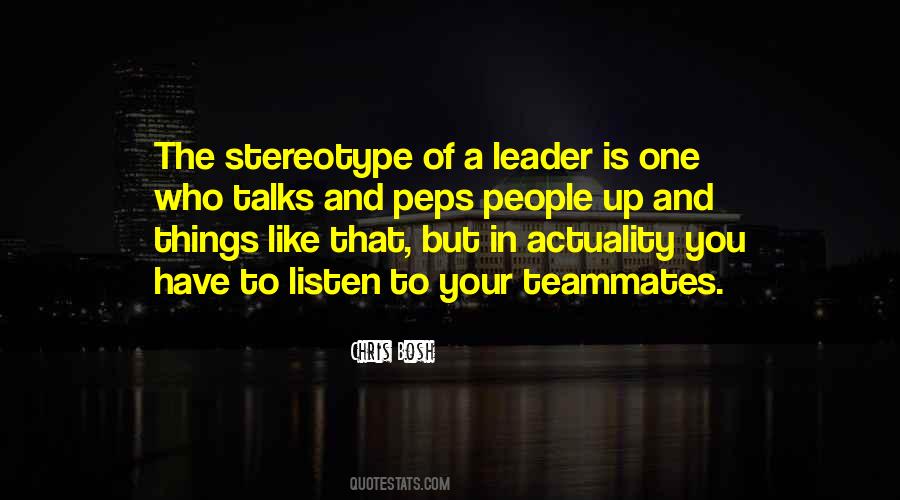 #88. A father-son relationship is strong, like no other teammates. You could be straightforward with one another. - Author: Mario Andretti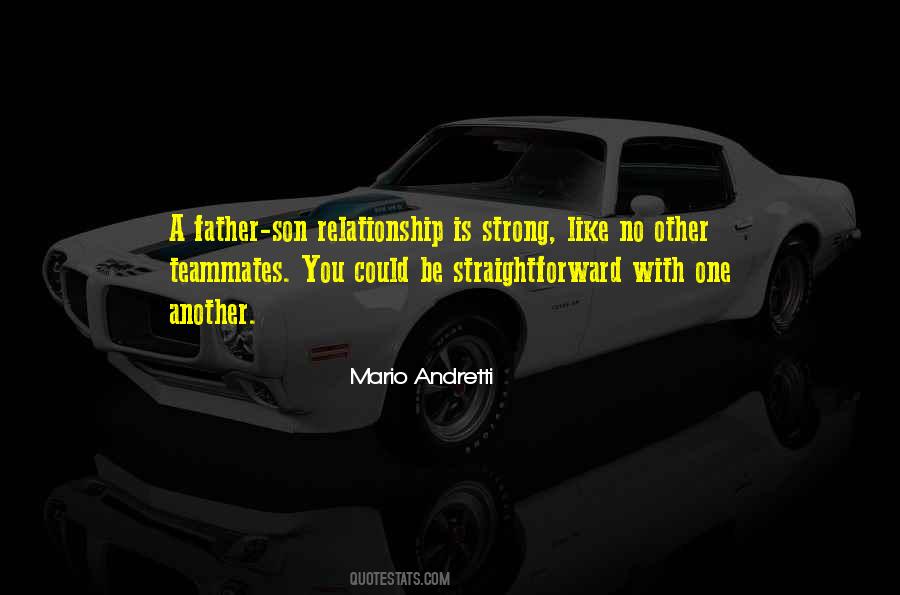 #89. The most important measure of how good a game I played was how much better I'd made my teammates play. - Author: Bill Russell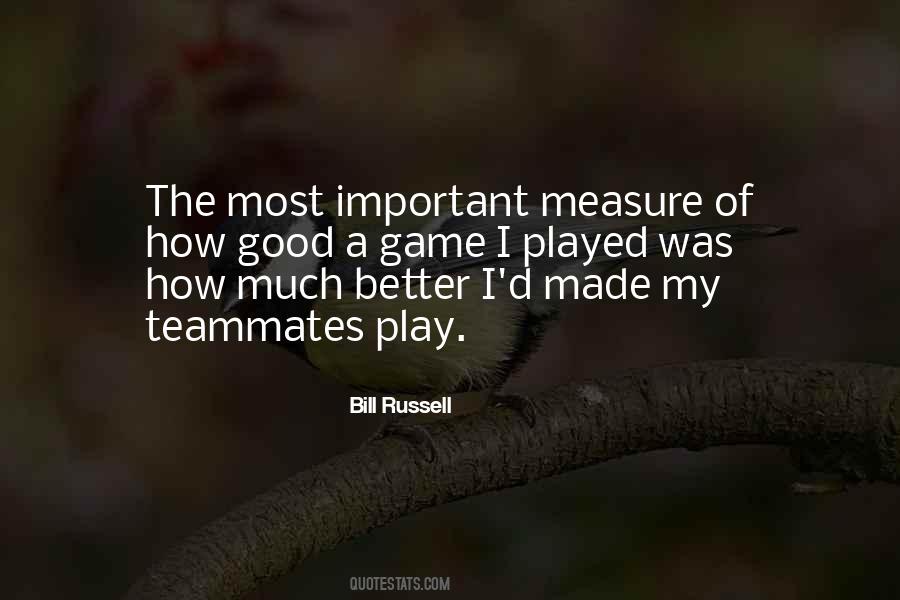 #90. Fraternizing with your teammates is not permitted." Dex gave him a sly grin. "Who said I wanted to fraternize? I was thinking more along the lines of having hot, sweaty man sex." Tony rolled his eyes. "Same thing." "No. - Author: Charlie Cochet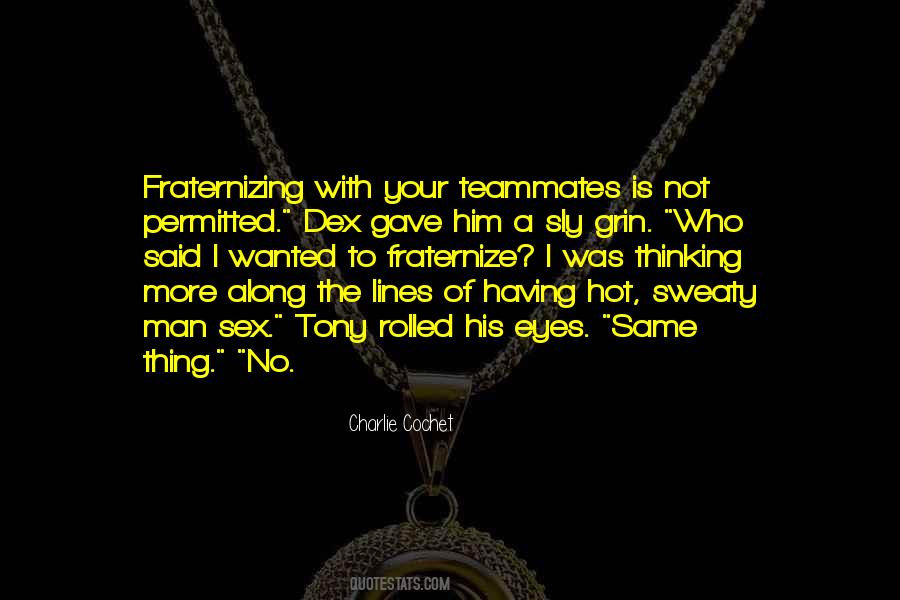 #91. I've had teammates I didn't get along with, who hasn't? I've never had a teammate call me a bad guy, while he was my teammate, and if he did when I was gone what kind of teammate was he anyway? - Author: Curt Schilling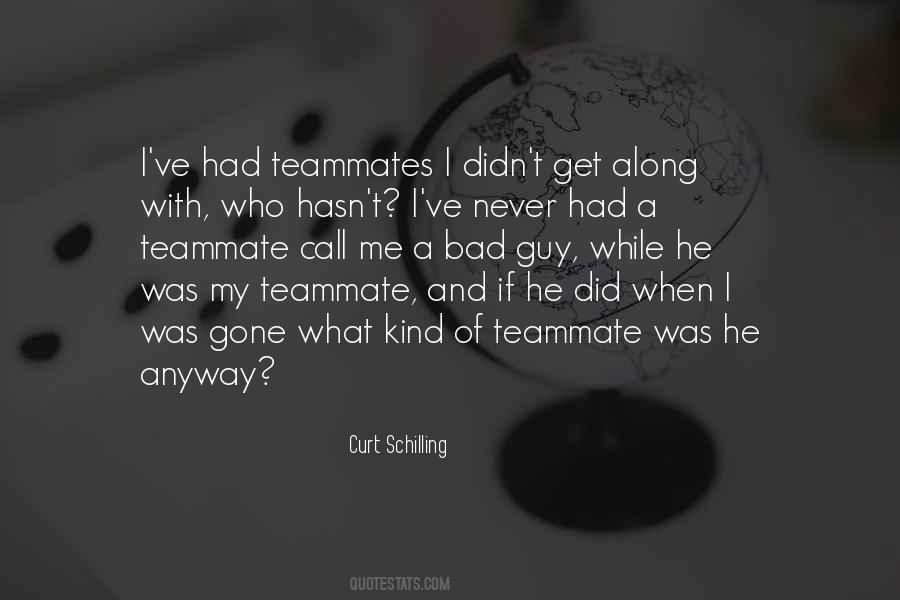 #92. People do not get married planning to divorce. Divorce is the result of a lack of preparation for marriage and the failure to learn the skills of working together as teammates in an intimate relationship. - Author: Gary Chapman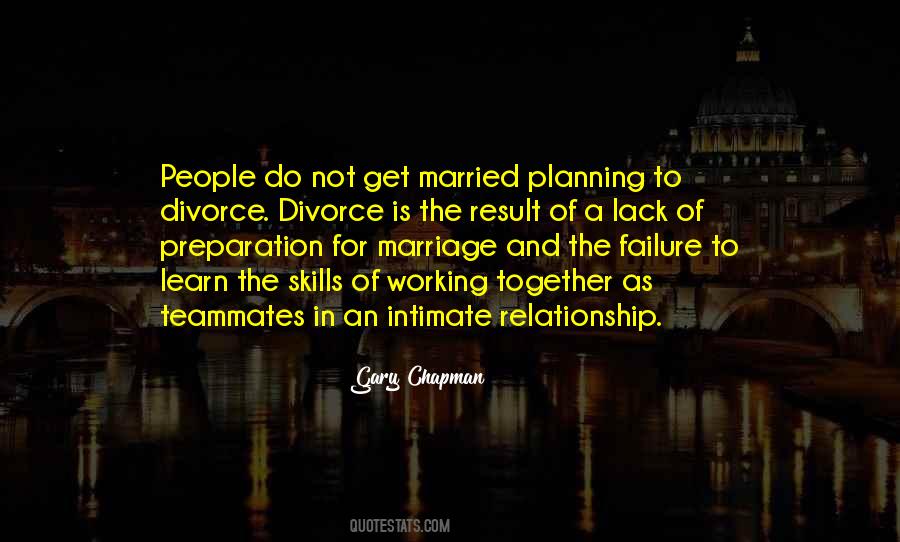 #93. I'm expecting a lot from myself, I have set the bar high and I want to do really well for my teammates. I love working out and preparing so I have spent a lot of time doing that. - Author: Giovani Bernard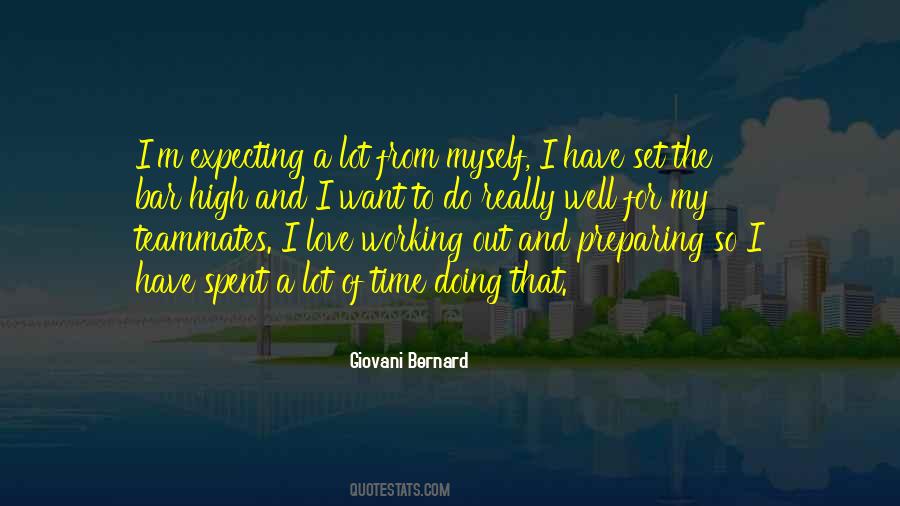 #94. I really believe the only thing you can control in those situations is what you do as a player but also how you interact with your teammates, which is critical. - Author: Brian Griese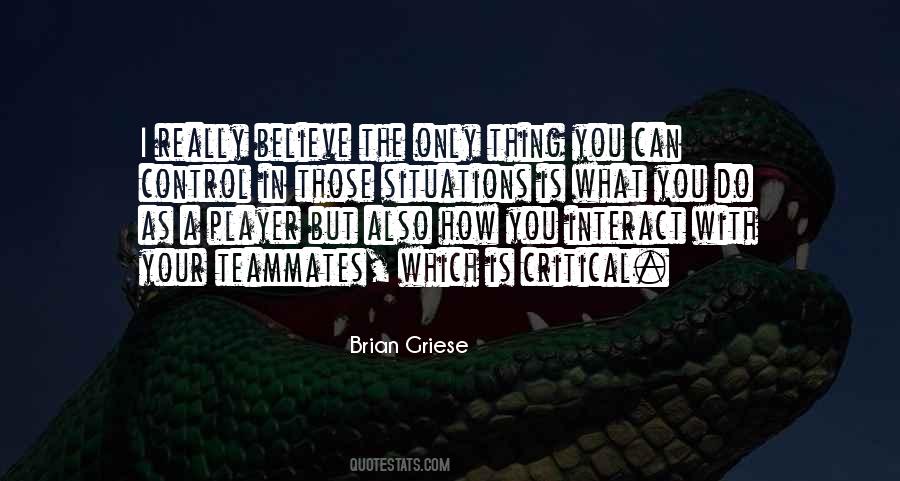 #95. It's the most pleasurable experience in the world! When you're on a great team and you get hot, your teammates milk you dry - they wear you out and there's nothing like being on a great team. - Author: Bill Walton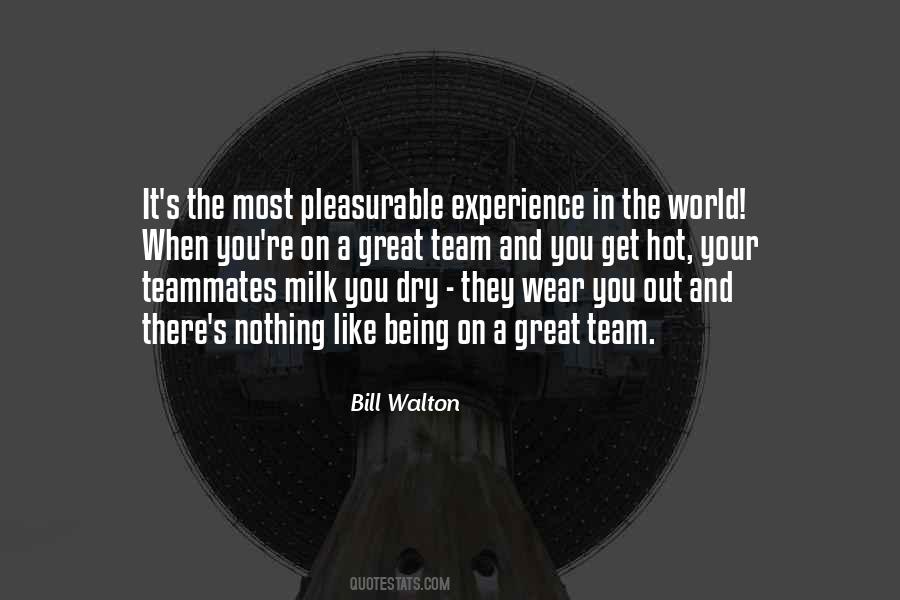 #96. I was fortunate to play for Pete Rose and have teammates like Ken Griffey Sr., Tony Perez and Dave Concepcion. I grew up in the game with a mature attitude. I've always known it was better to be seen and not heard. - Author: Eric Davis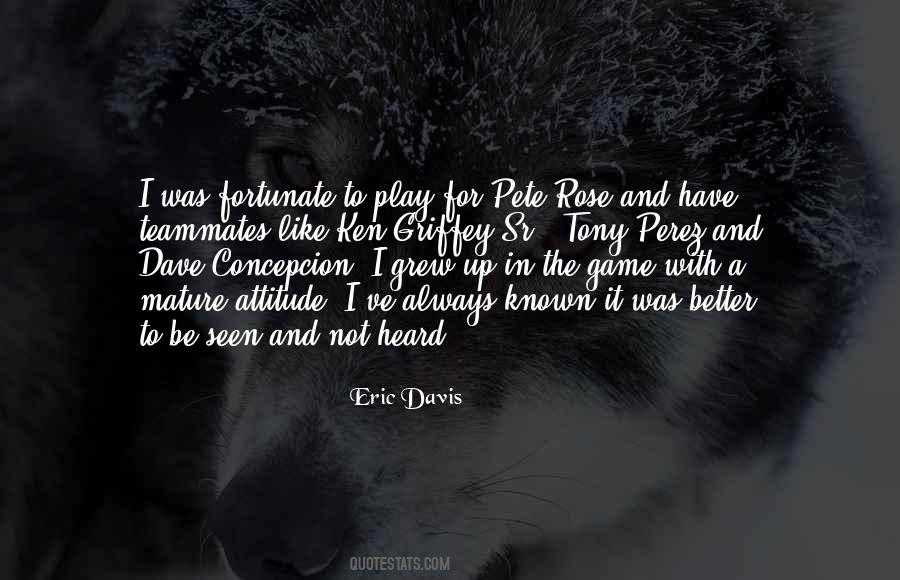 #97. Must we vampires always resort to violence so quickly? Could we not just all sit down over a "refreshing Bud Light" and "just chill," as my television and my teammates relentlessly urge me to do? - Author: Beth Fantaskey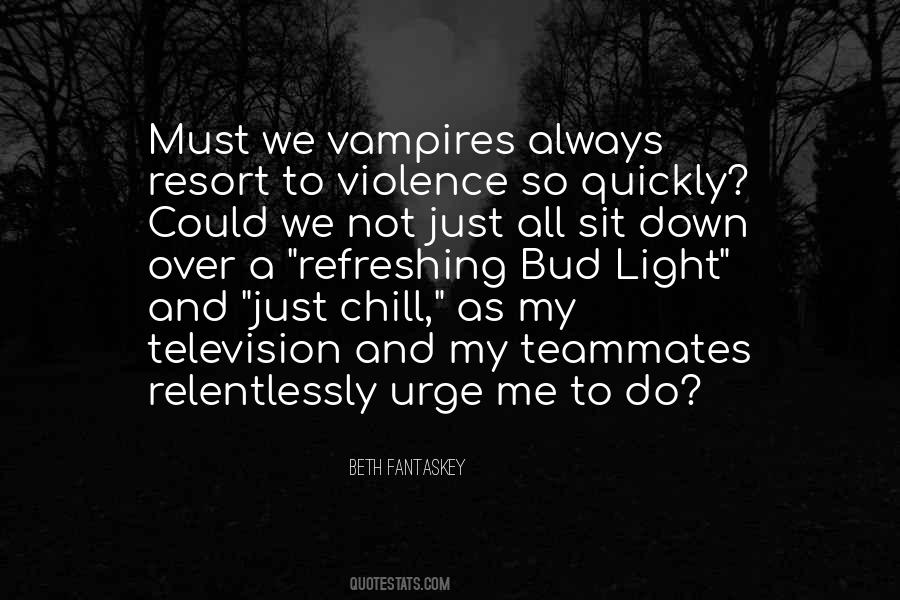 #98. I see more now. As far as concepts, I know where teammates are going, linemen are going. I can read defensive fronts. I can read the body language of linebackers. I study film to see who's a bull rusher and who's a finesse rusher. I think I've learned. - Author: Brandon Jacobs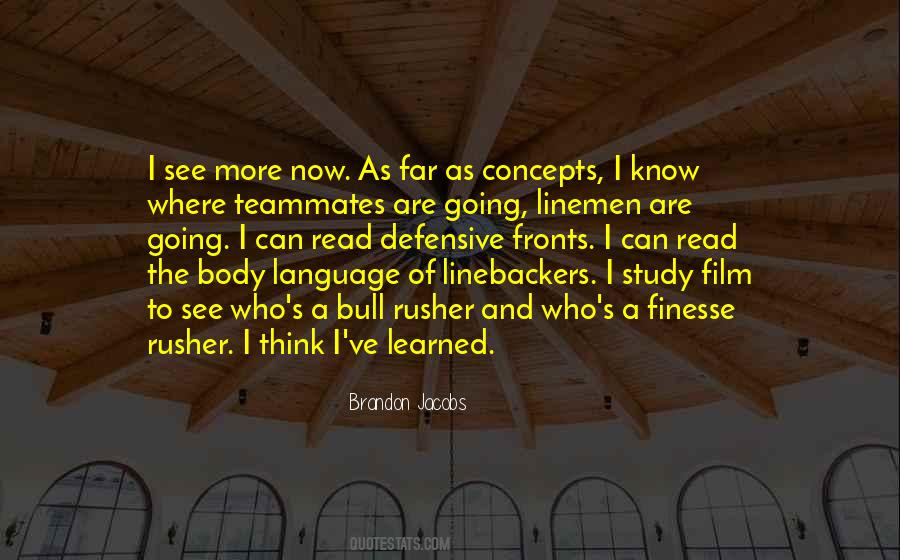 #99. If you lead a team, start asking questions and really listening. Start valuing the contributions of your teammates ahead of your own. And remember that when the best idea wins, so does the entire team. - Author: John C. Maxwell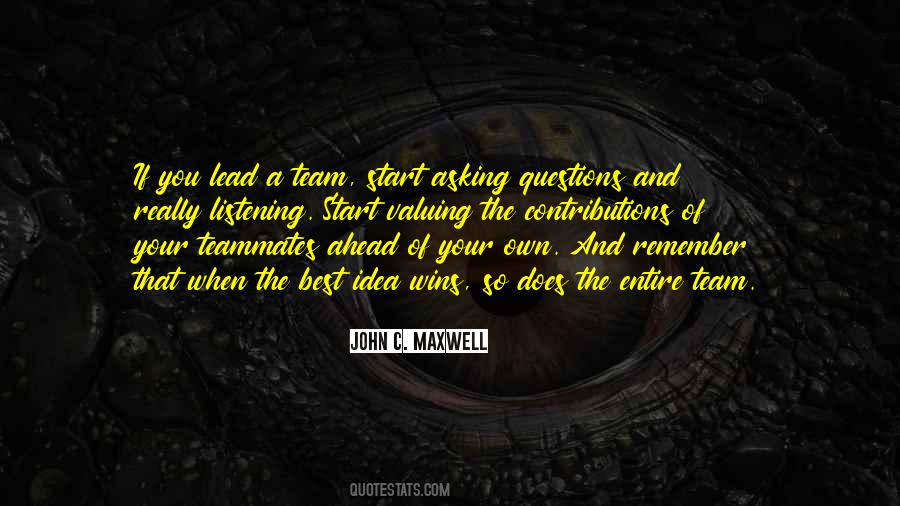 #100. And it is likely that Rudy had teammates for whom the inverse was true - they were a 5 on talent and just a 2 on time invested, which is clearly a waste of talent. - Author: Tom Rath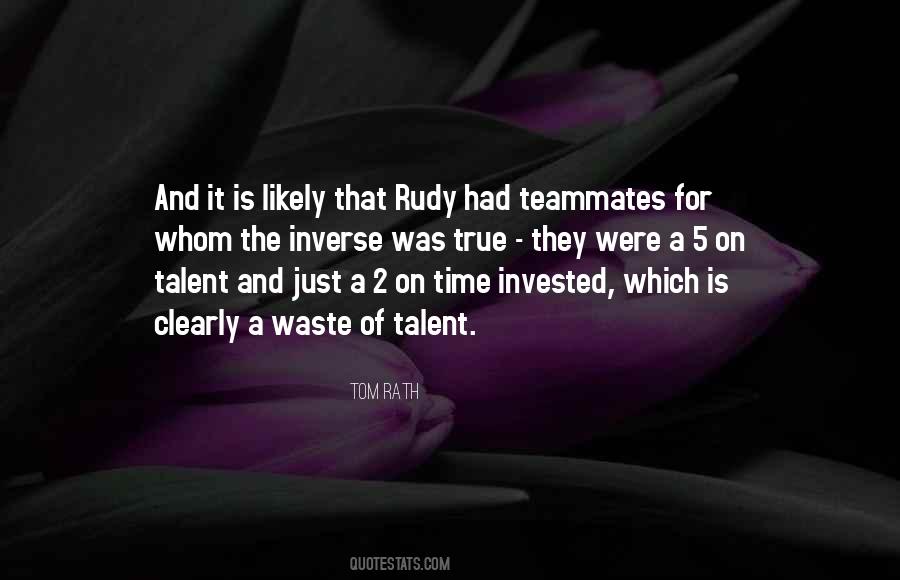 Famous Authors
Popular Topics