A Photograph Famous Quotes & Sayings
List of top 100 famous quotes and sayings about a photograph to read and share with friends on your Facebook, Twitter, blogs.
Top 100 Quotes About A Photograph
#1. You'll reach into your wallet to brandish a photograph of a new puppy, and a friend will say, 'Oh, no - not pictures.' - Author: Caroline Knapp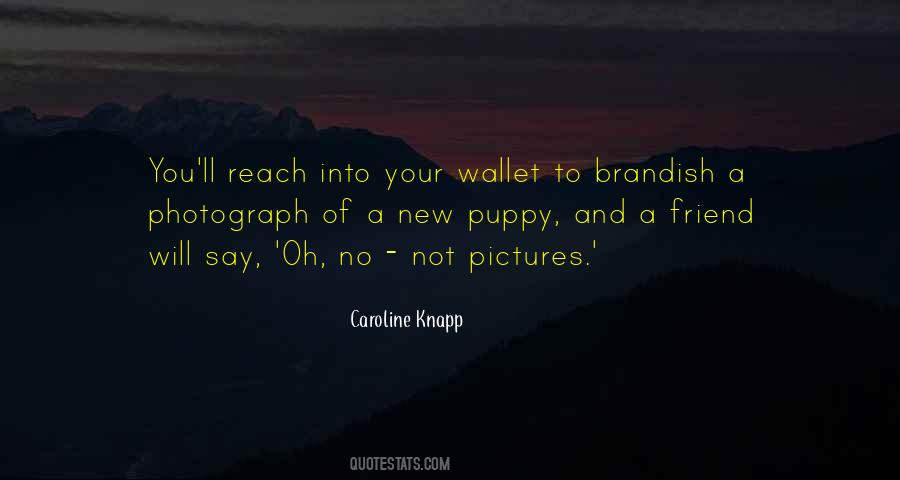 #2. I prefer a taken to a made photograph. - Author: Wright Morris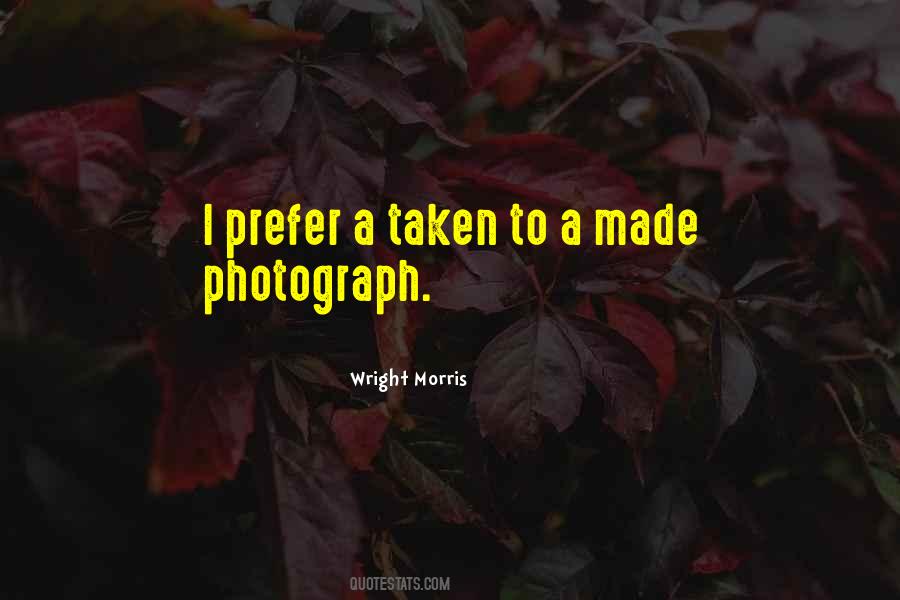 #3. For a photographer, it's a necessity that you can shoot stuff magically. Accidents are necessary, but after I take the photograph, it's not over. I work on it more. - Author: Rinko Kawauchi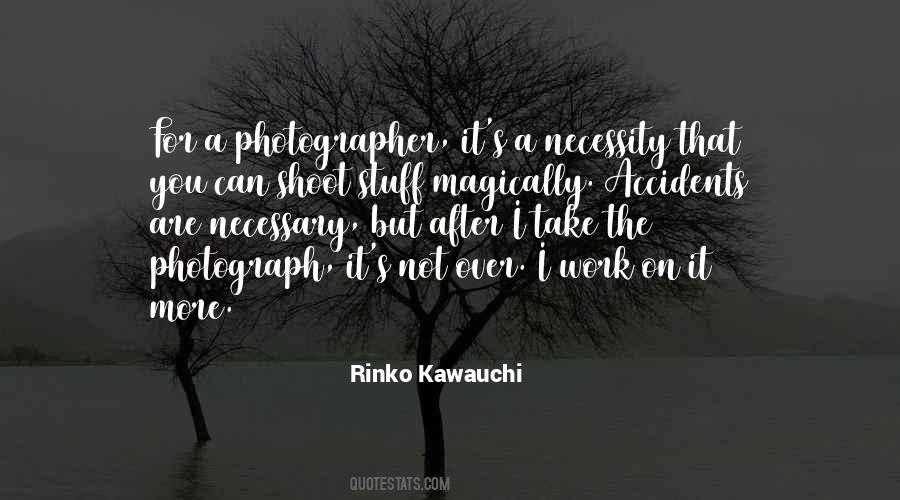 #4. My first reaction to finding Robert Smithson's Spiral Jetty in a book was, Wow, what a great photograph! I could not believe that someone had gone to so much trouble just to end up with a picture. - Author: Vik Muniz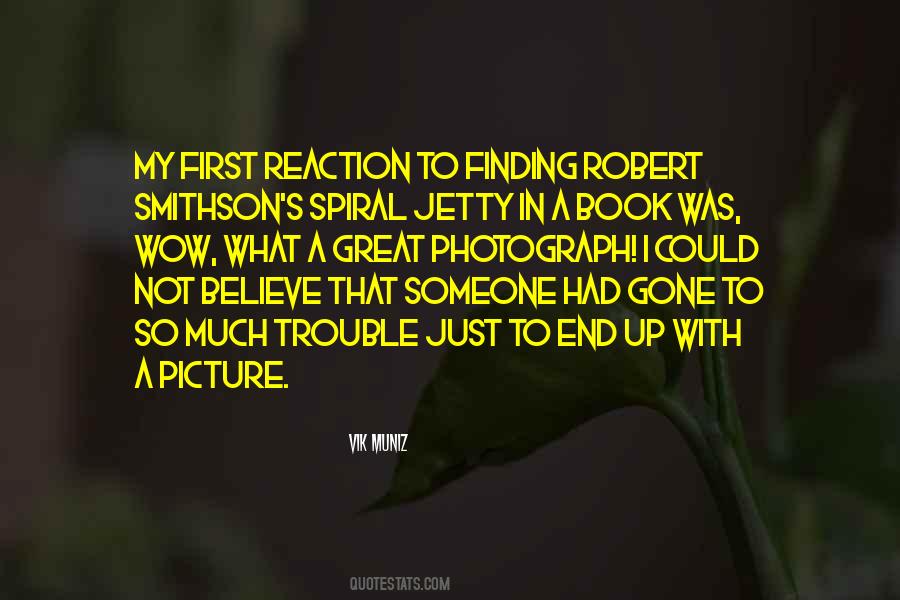 #5. You think you photograph a particular scene for the pleasure it gives. In fact it's the scene that wants to be photographed. You're merely an extra in the production. - Author: Jean Baudrillard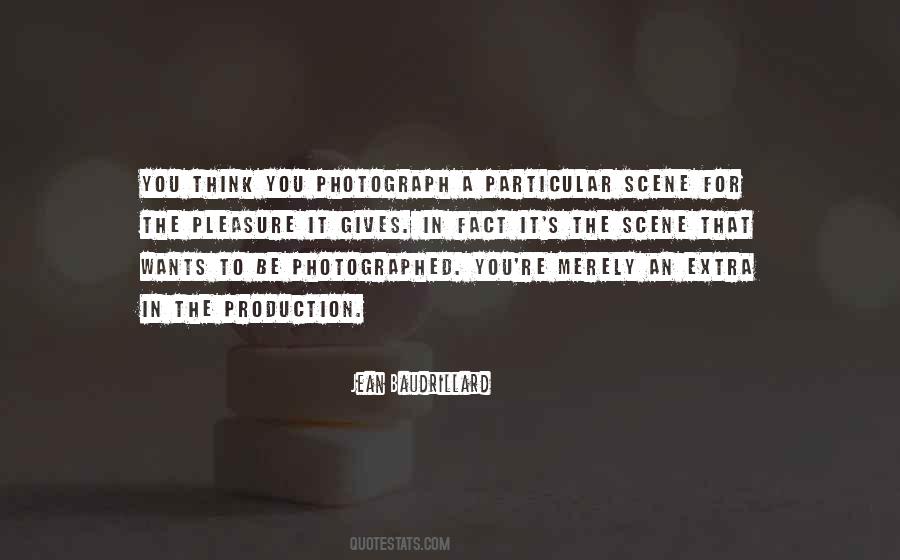 #6. He couldn't help but wonder if Moses Levy had experienced this same heat, if true images burned their maker. He wondered, too, if the hermit at that riverside was right, if there wasn't some element of capturing a soul in each photograph, if he wasn't responsible for those whose images he caught. - Author: Alice Hoffman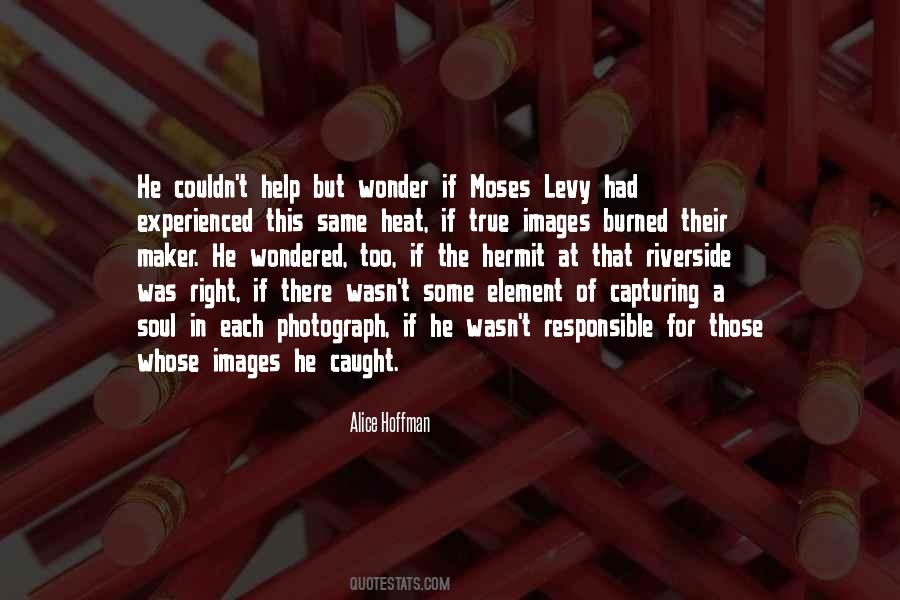 #7. As I progressed further with my project, it became obvious that it was really unimportant where I chose to photograph. The particular place simply provided an excuse to produce work ... you can only see what you are ready to see - what mirrors your mind at that particular time. - Author: George A Tice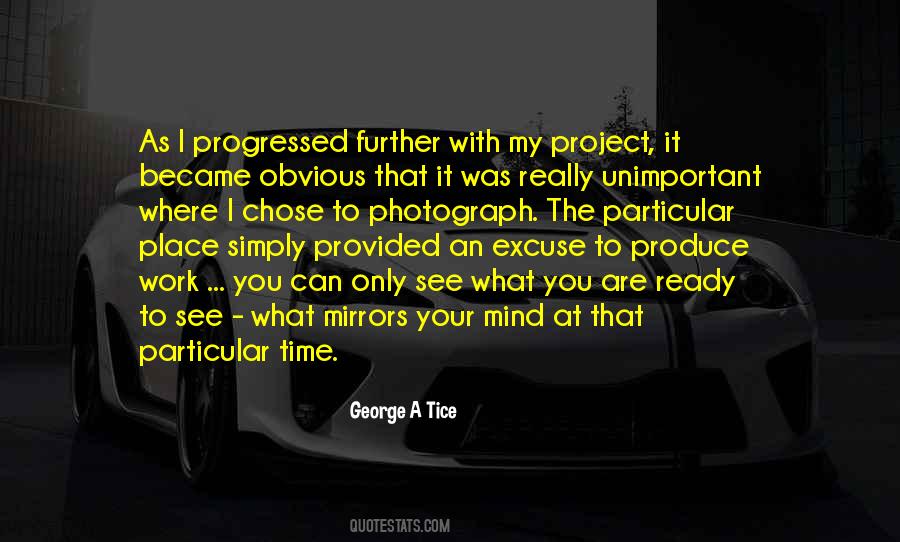 #8. That's what makes it a good photograph. You think you know what's going on in her head. but the truth? No matter how good a photograph is, you can never tell what's going on in the person's mind. There's no way to get from here to there. - Author: David Levithan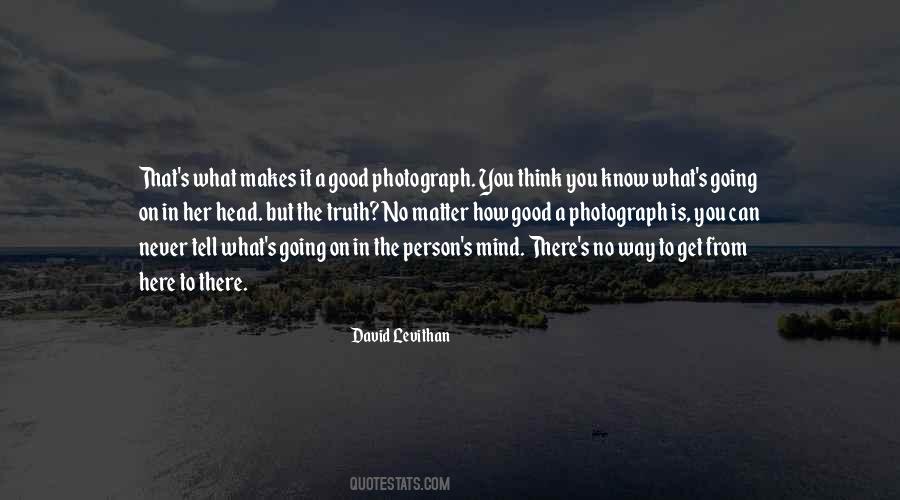 #9. A photograph is a picture and no more true or false than any other depiction; why is that so hard to comprehend? - Author: Bill Jay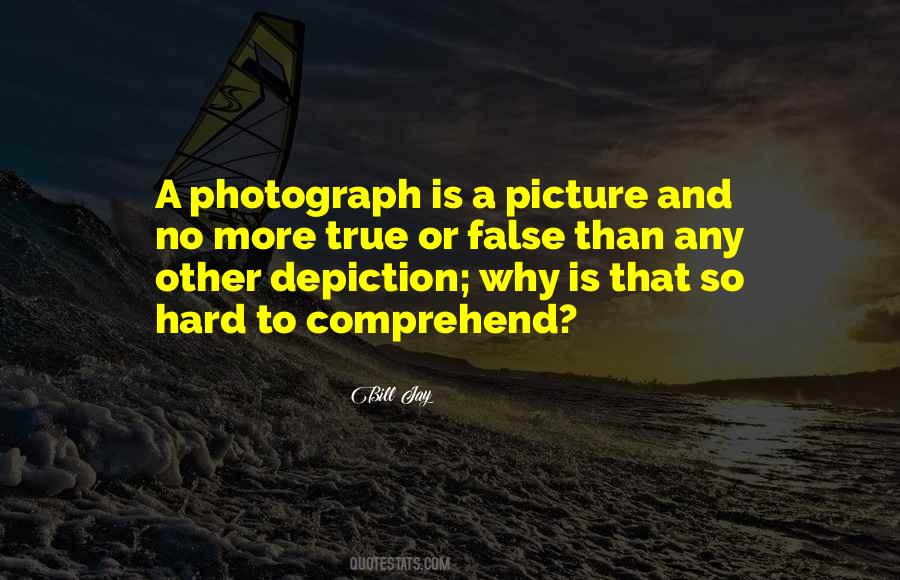 #10. A photograph offers us a glimpse into the abyss of time. - Author: John Updike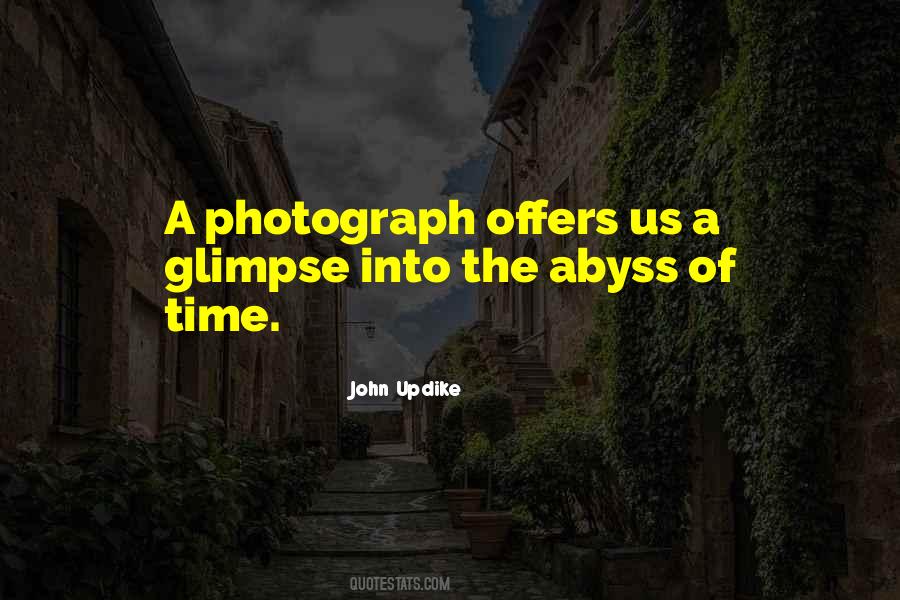 #11. Some presentation authors justify this by saying, "The photographer already knew it was going to be an uncredited effort and it really isn't that hard to take a good photograph. - Author: Neal Ford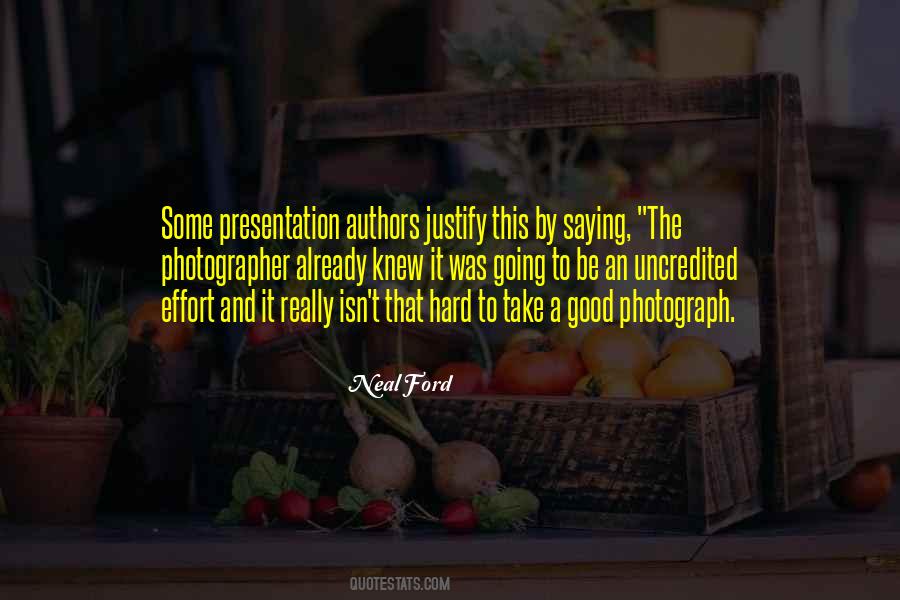 #12. My original idea was to photograph Princess Diana in her tiara. But then I thought, am I interested in seeing another picture of her as a royal person, or would I rather see what she is actually about? And that's why I decided to do her without jewels, without shoes, without trimmings. - Author: Mario Testino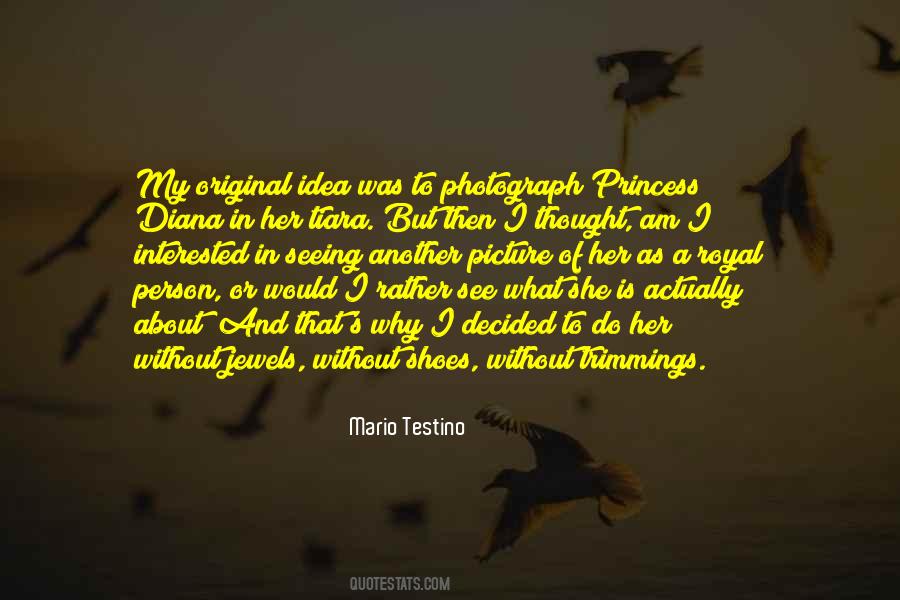 #13. Every photograph that is made whether by one who considers himself a professional, or by the tourist who points his snapshot camera and pushes a button, is a response to the exterior world, to something perceived outside himself by the person who operates the camera. - Author: Eliot Porter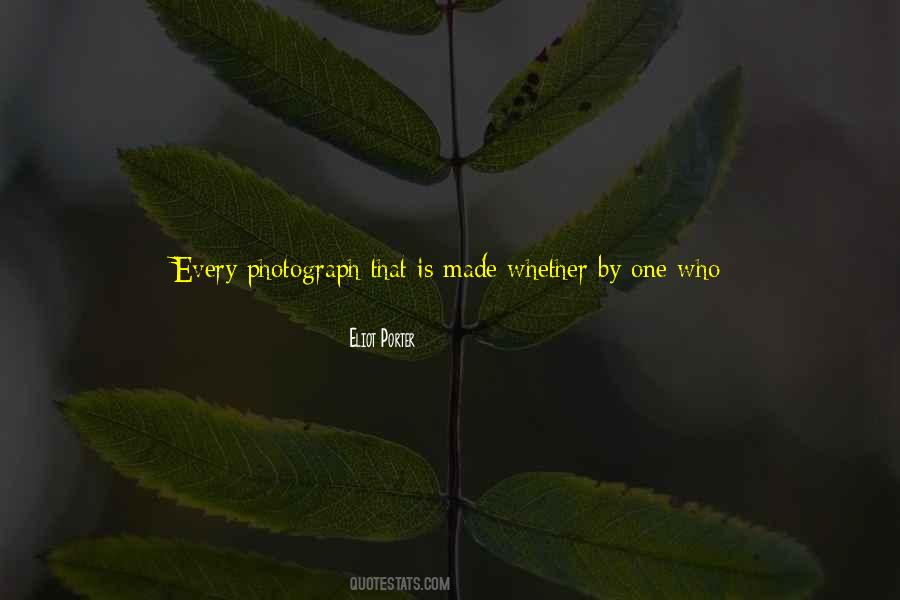 #14. The simple fact is this: There are no neutral photographs. - Author: A. D. Coleman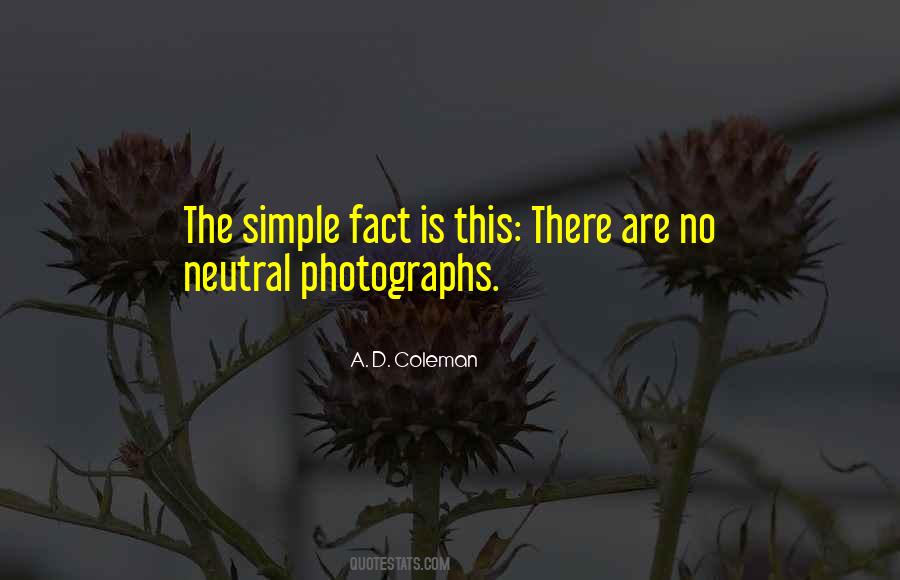 #15. I crave to be able to photograph the way a painter paints - in a loose, expressive way. - Author: Chris Jordan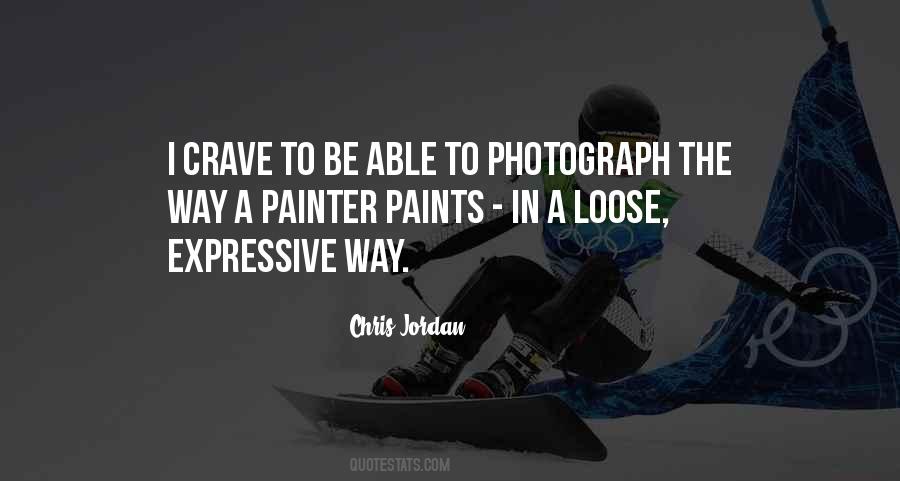 #16. I contend that one is likely to find more truth in fiction. A good painting after all is more truthful than a photograph. Remember that, Young Messenger, for all your days. - Author: Vince Vawter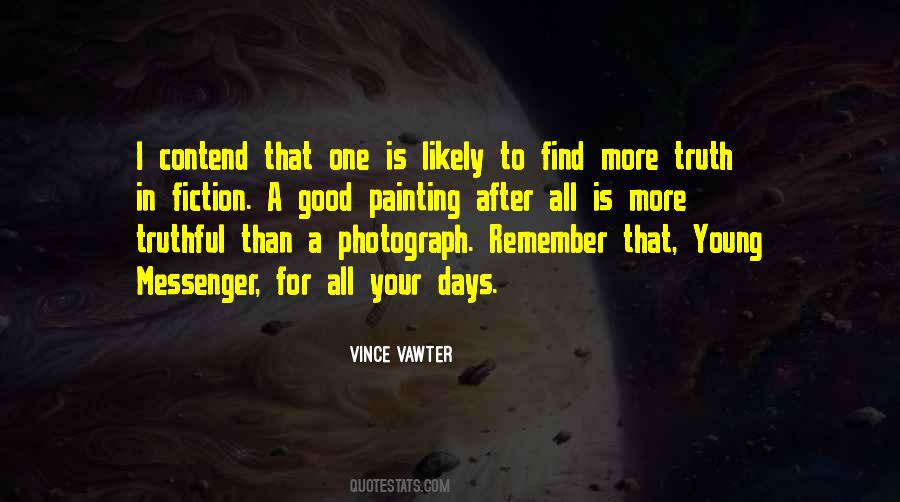 #17. I think you have to have a real point of view that's your own. You have to tell it your way. And, I think that it's a mistake to shoot for a specific magazine's point of view because it's never going to be as good. You have to shoot for yourself and photograph [ the way] you believe it.. - Author: Mary Ellen Mark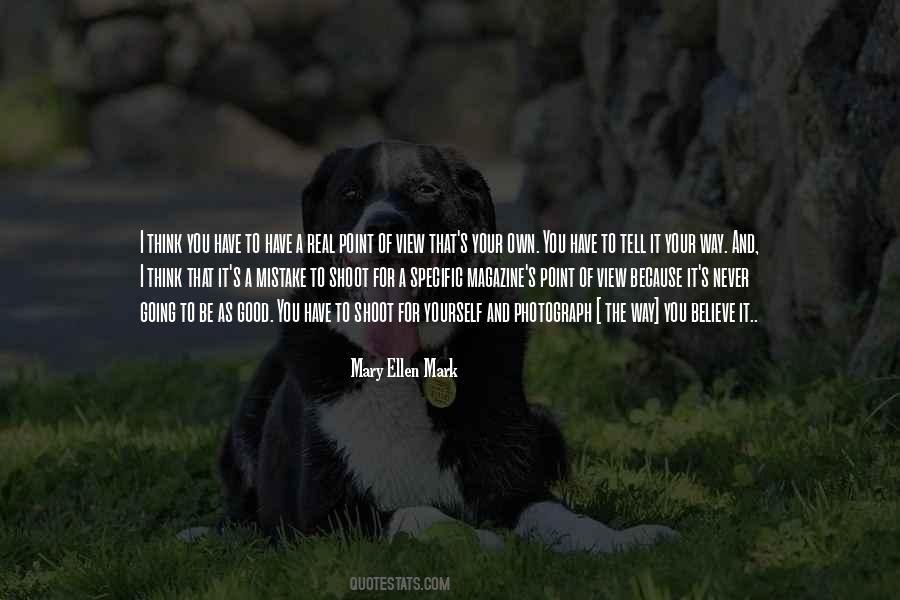 #18. In the summer, it's short greens and tall greens and sometimes a smudge of other colors. In winter, it's squinty white,and sometimes deep when it looks flat. In early spring and late fall, the town gets brown and black, like an old photograph. - Author: Blue Balliett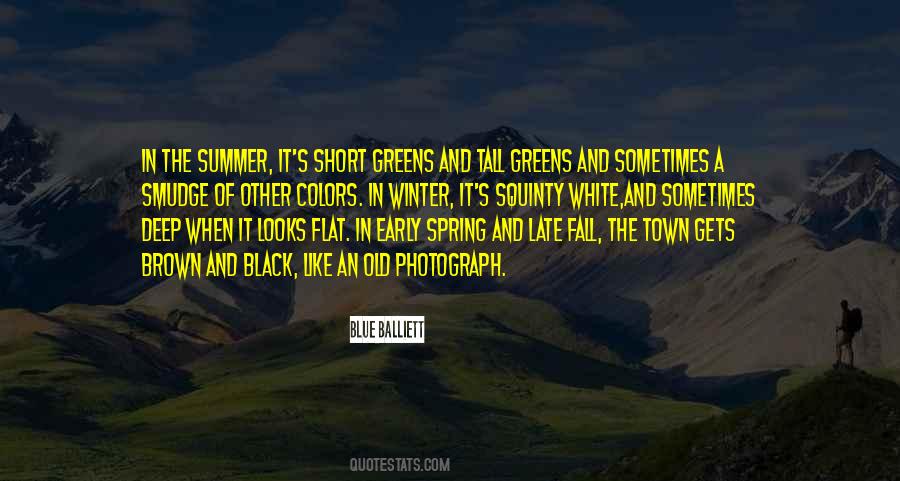 #19. Photoghraphic projects can be as short as an afternoon or as long as a lifetime. - Author: George Barr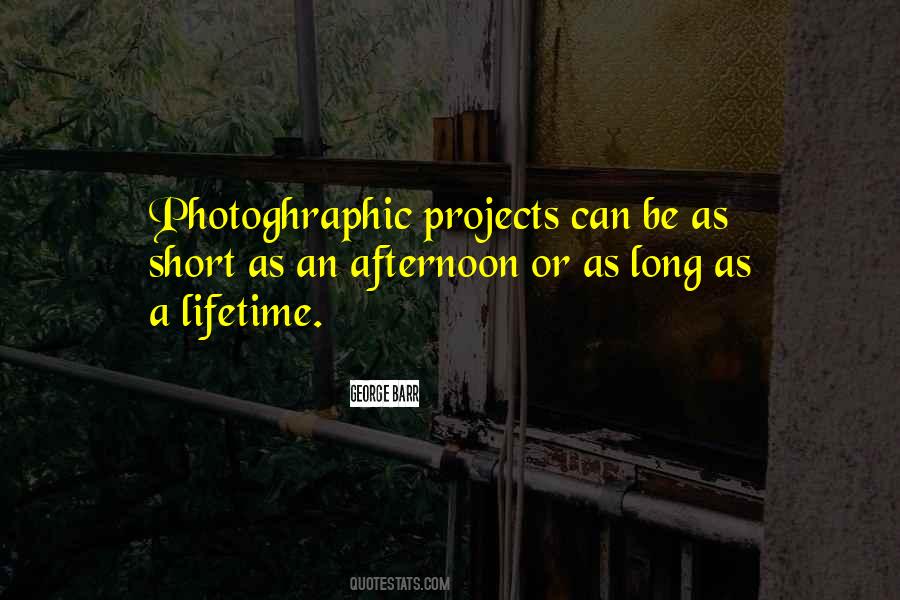 #20. We feel more emotion ... before an amateur photograph linked to our own life history than before the work of a Great Photographer, because his domain partakes of art, and the intent of the souvenir-object remains at the lower level of personal history. - Author: Chris Marker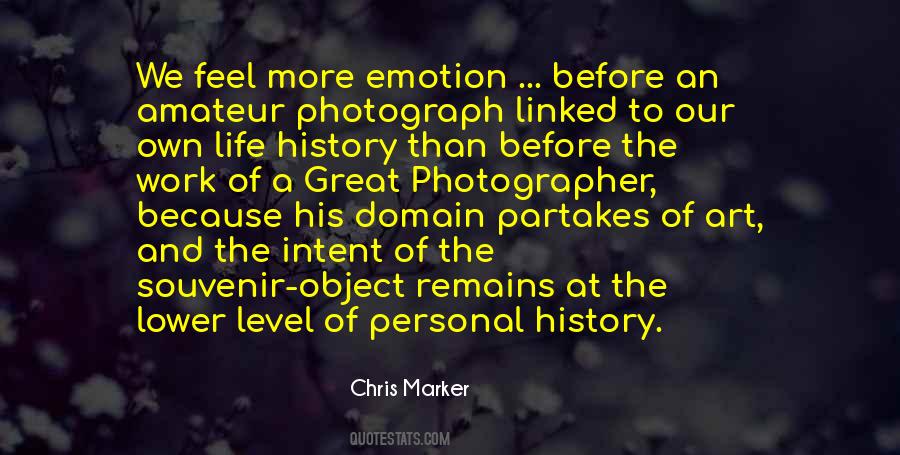 #21. Whether a watercolor is inferior to an oil [painting], or whether a drawing, an etching, or a photograph is not as important as either, is inconsequent. To have to despise something in order to respect something else is a sign of impotence. - Author: Paul Strand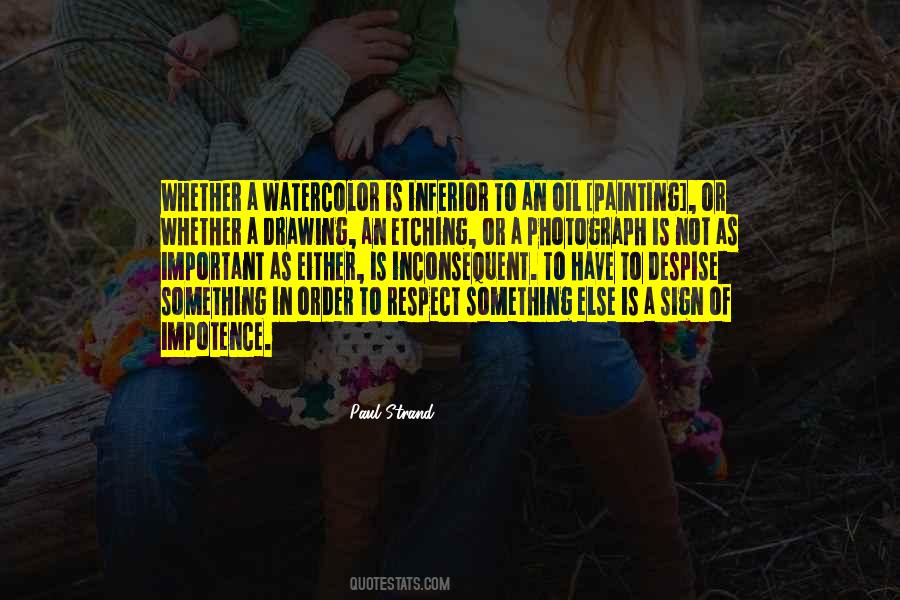 #22. Authenticity is too big a subject to just toss in with the question about the photographs! - Author: Rachel Kushner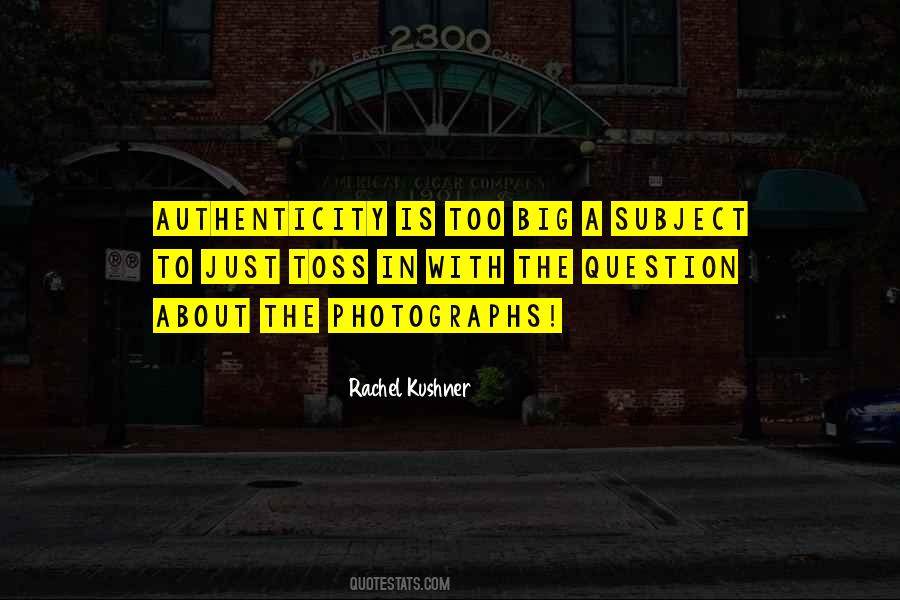 #23. A photograph can show a physical image in which time is static, and a mirror can show a physical image in which time is dynamic, but I think that what he saw on the mountain was another kind of image altogether which was not physical and did not exist in time at all. - Author: Robert M. Pirsig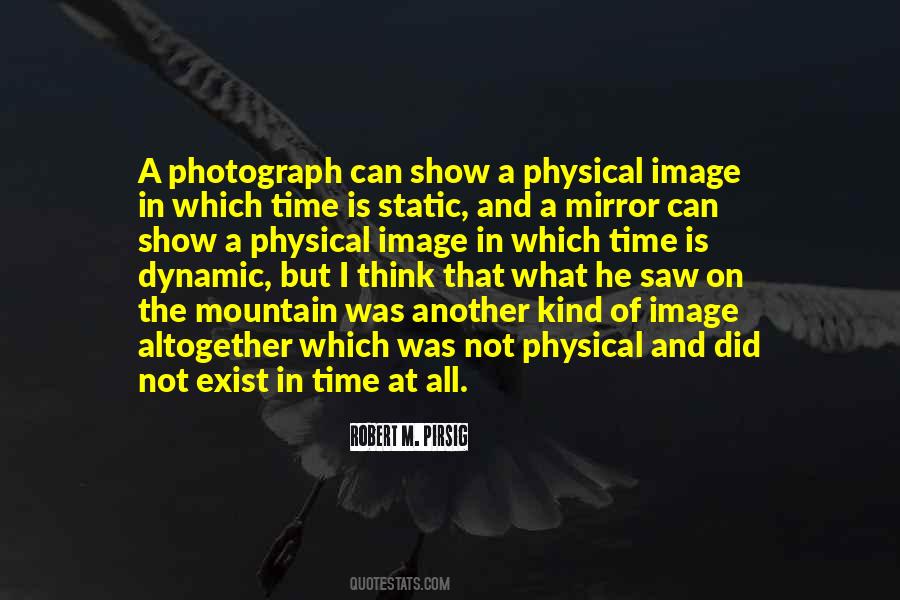 #24. One thing I would never photograph is a dog lying in the mud. - Author: Diane Arbus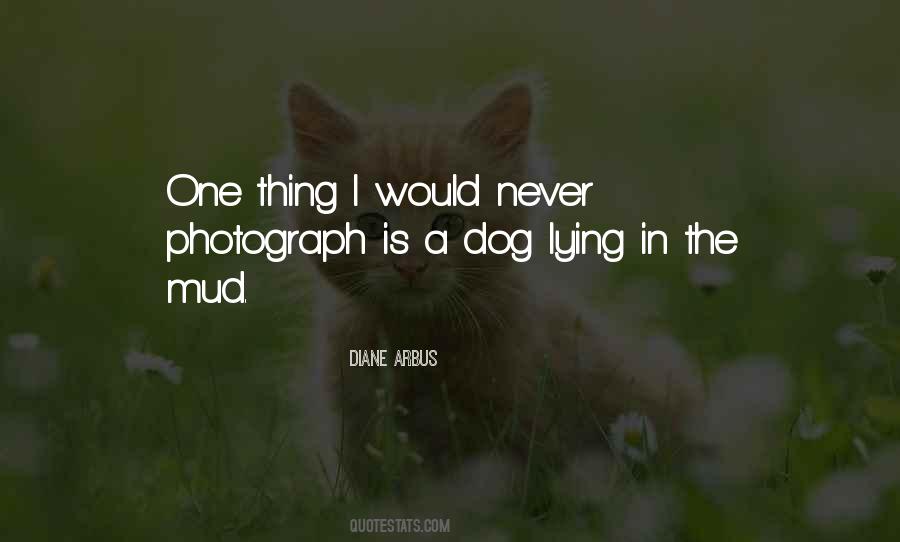 #25. A photograph doesn't gain weight or lose weight, or change from being happy to being sad. It's frozen. You can use it, then recycle it. - Author: Chuck Close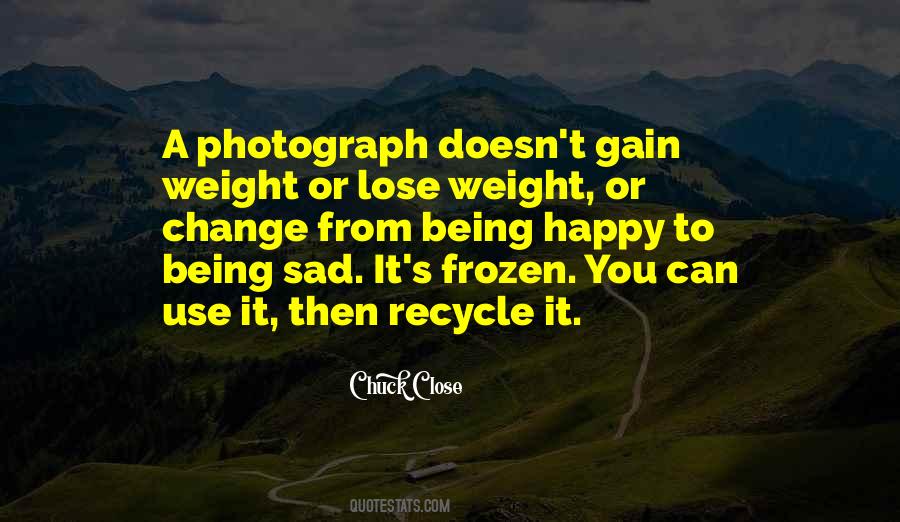 #26. A photograph for me does not have a sense of spiritual seduction, it does not have an essence, that this is something that permeates and which is eternal through time. - Author: Jeff Koons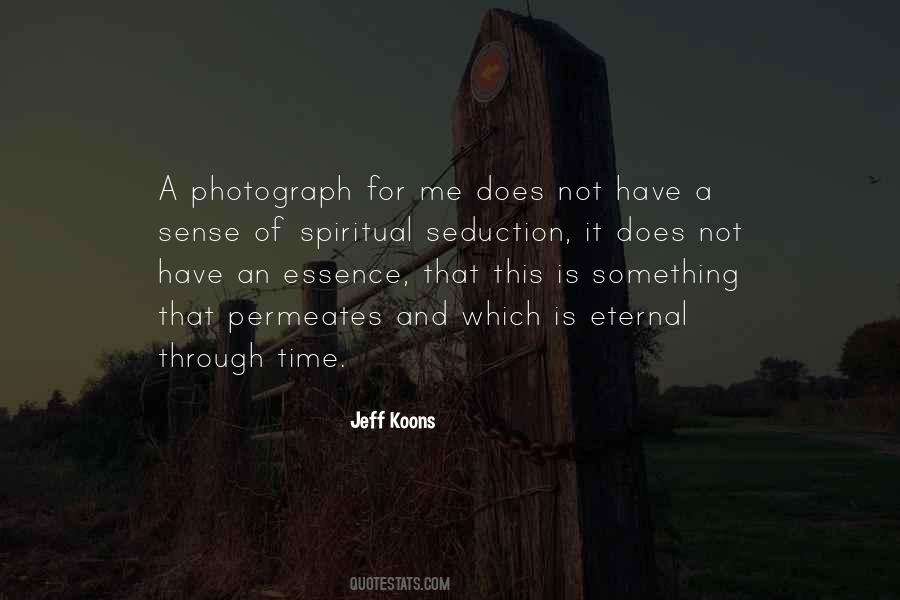 #27. Father Sams, a mirthful shaman, looked at a nighted photograph of actress Lar Park Lincoln beneath his glass of bourbon con hielo. - Author: Jarrett McCall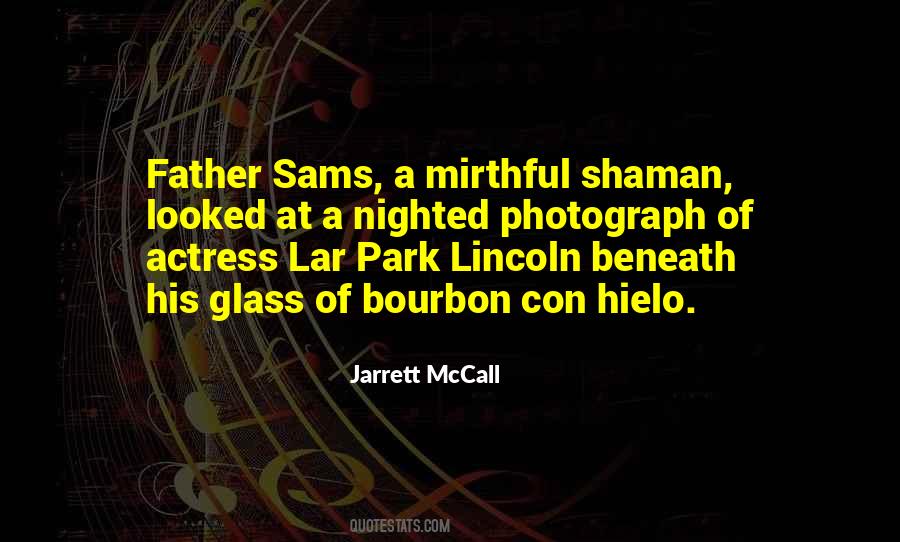 #28. A man aboard one of the warships took a photograph, believed to be the last ever taken of the Lusitania, - Author: Anonymous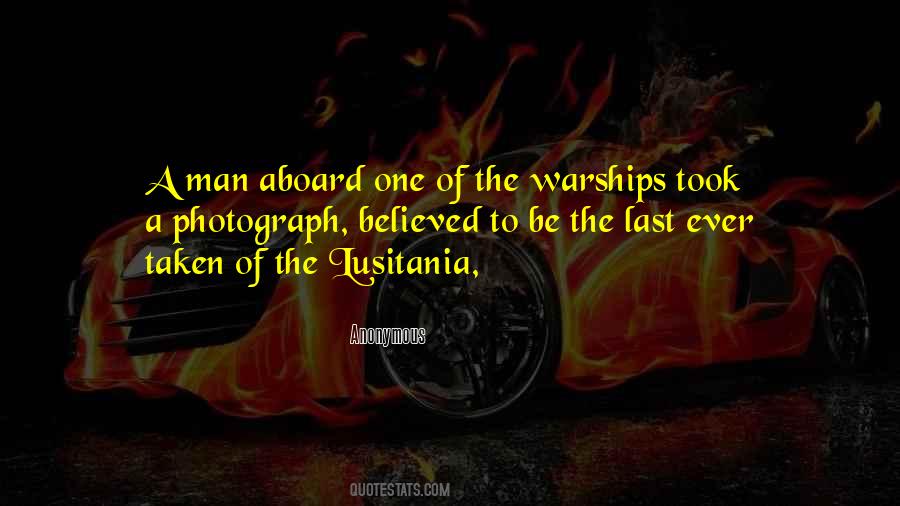 #29. A photograph is a mirror; mostly it reflects the prejudices of the viewer. - Author: Bill Jay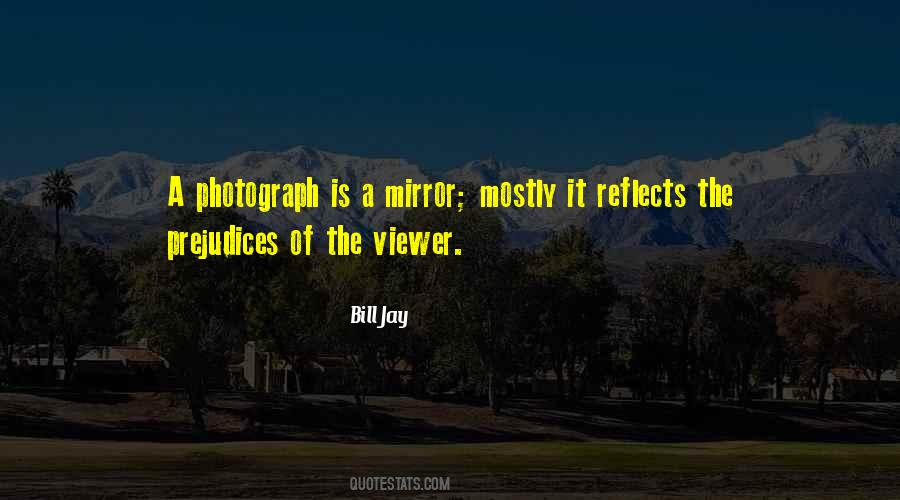 #30. A short story is a love affair, a novel is a marriage. A short story is a photograph; a novel is a film. - Author: Lorrie Moore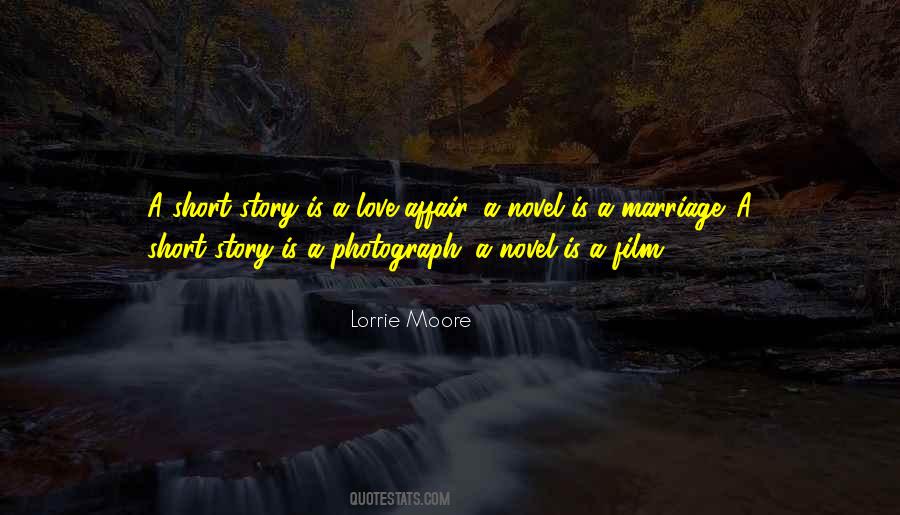 #31. If it is practiced by a man of taste, the photograph will have the appearance of art (but) the photographer must ... intervene as little as possible, so as not to lose the objective charm which it naturally possesses. - Author: Henri Matisse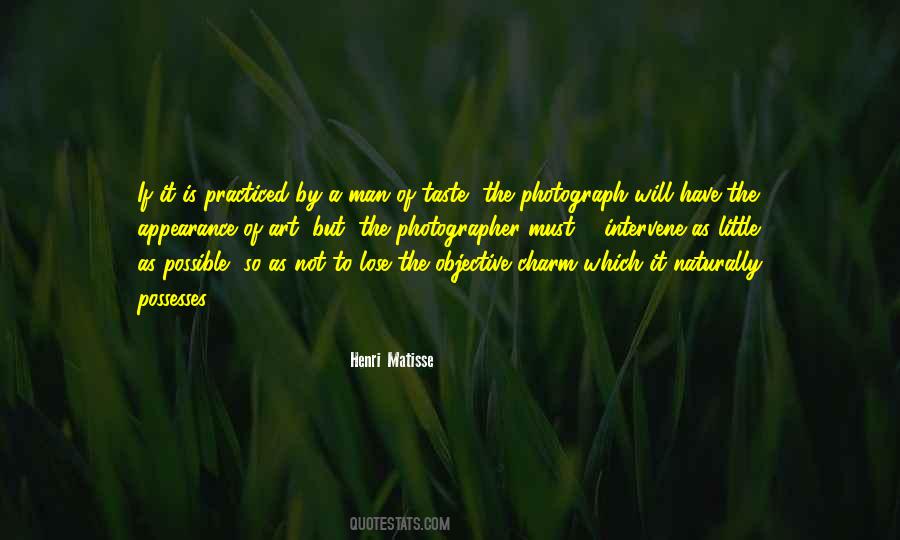 #32. Art has no place in modern life. It will continue to exist as long as there is a mania for the romantic and so long as there are people who love beautiful lies and deception ... Every modern cultured man must wage war against art, as against opium ... Photograph and be photographed. - Author: Alexander Rodchenko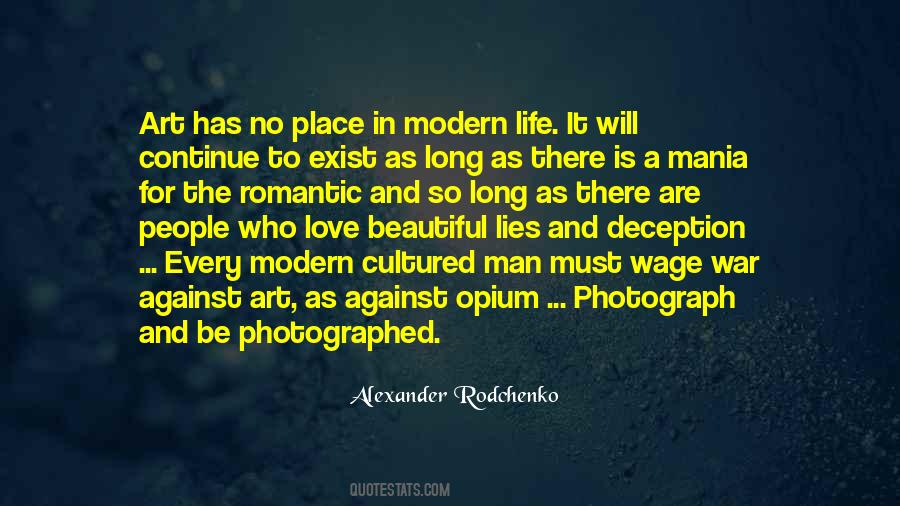 #33. One knows that frontal and/or profile photography is torn to pieces ... Inversely, what remains of the photograph must be seen as a fragment coming to fill a gap in the drawing. - Author: Jean-Francois Lyotard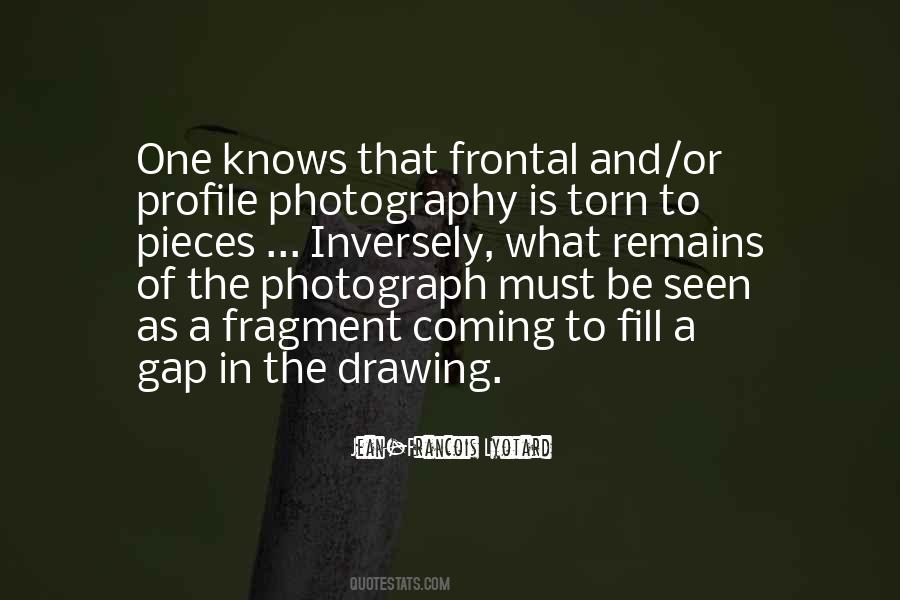 #34. A photograph presents itself not only as a visual representation, but as evidence, more convincing than a painting because of the unimpeachable mechanical means whereby it was made. We do not trust the artist's flattering hand; but we do trust film, and shadows, and light. - Author: John Updike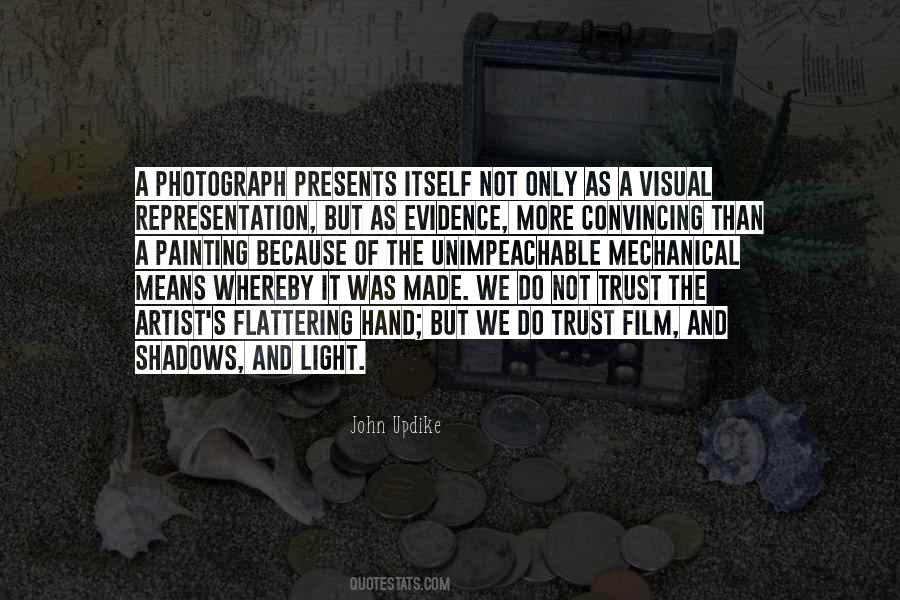 #35. My pictures are not really about the children that I photograph. They're more like actors in a film. I think you can always recognize the children, but they are alienated from their real appearance and become more like metaphors. - Author: Loretta Lux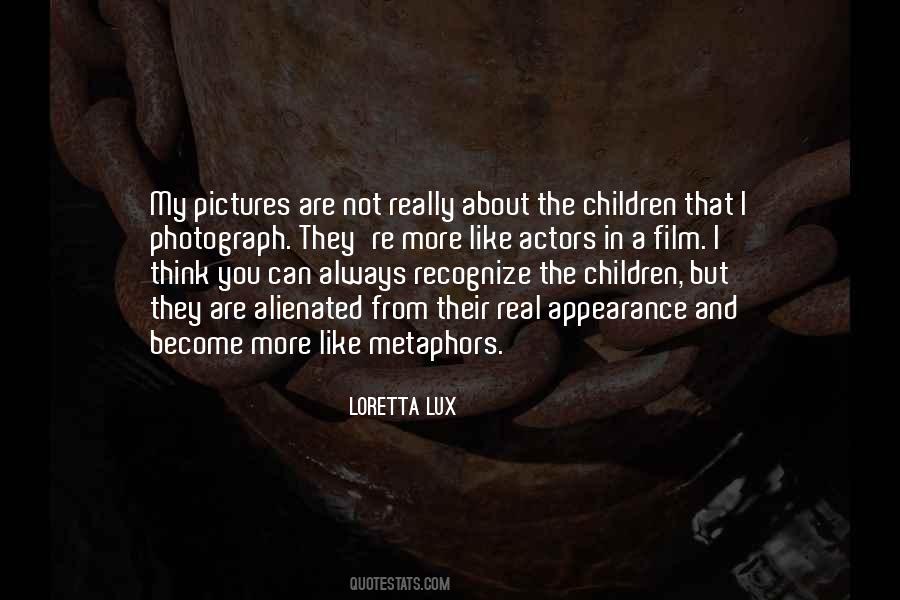 #36. My mother's favorite photograph was one of herself at twenty-four years old, unbearably beautiful, utterly glamorous, in a black-straw cartwheel hat, dark-red lipstick, and a smart black suit, her notepad on a cocktail table. I know nothing about that woman. - Author: Amy Bloom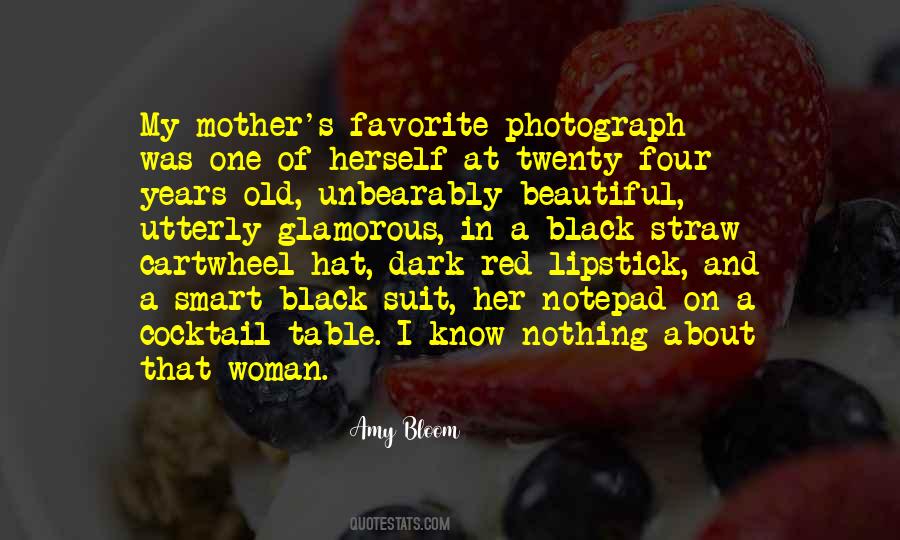 #37. All seeing, I think, is painful. Every photograph is a little sting, a hurt inflicted in its subject, but even more: every glance hurts in some way, freezing and condensing what's seen into something that it is not. - Author: James Elkins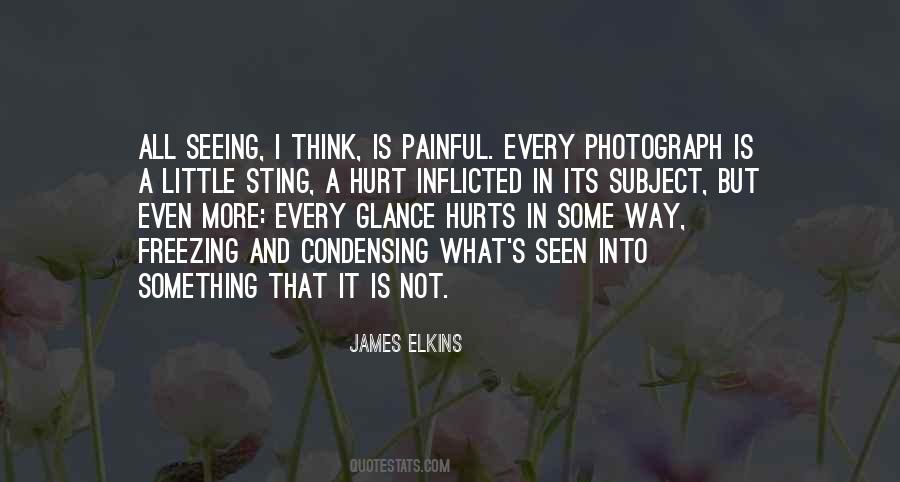 #38. Fantasy isn't something I put into the pictures; I don't try and inject them with a sense of play. But it's about being an honest photographer; a photograph is as much of a mirror of the photographer as it is the subject. - Author: Tim Walker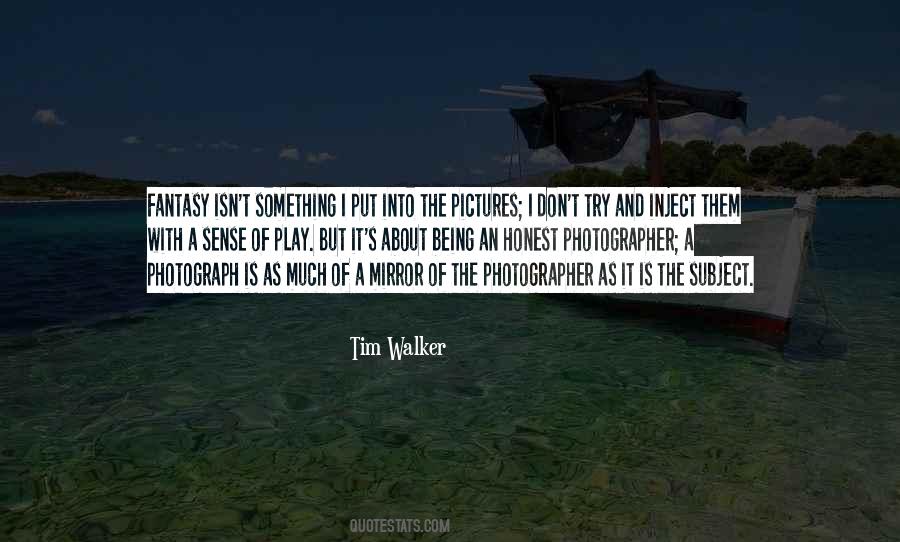 #39. Dialectical thought is related to vulgar thinking in the same way that a motion picture is related to a still photograph. The motion picture does not outlaw the still photograph but combines a series of them according to the laws of motion. - Author: Leon Trotsky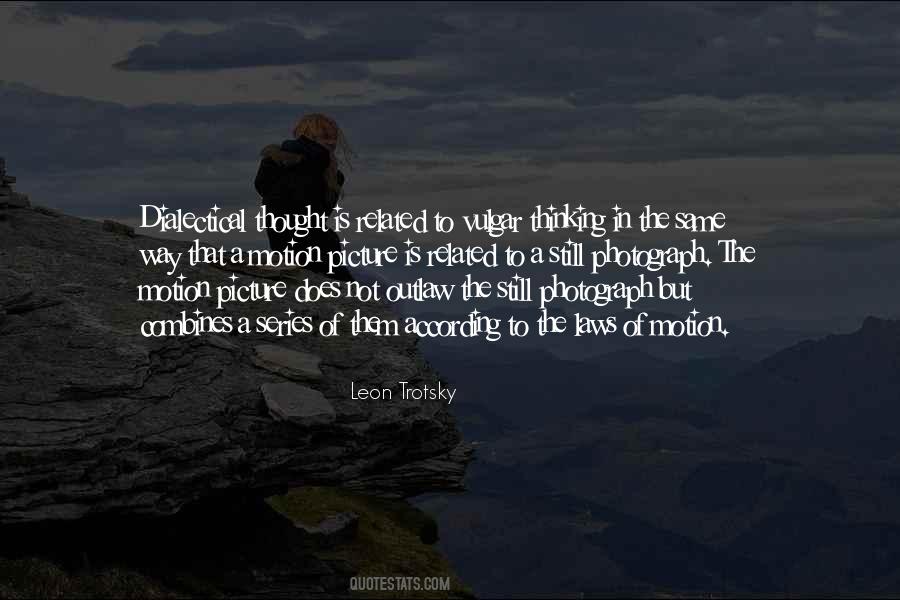 #40. A camera alone does not make a picture. To make a picture you need a camera, a photographer and above all a subject. It is the subject that determines the interest of the photograph. - Author: Man Ray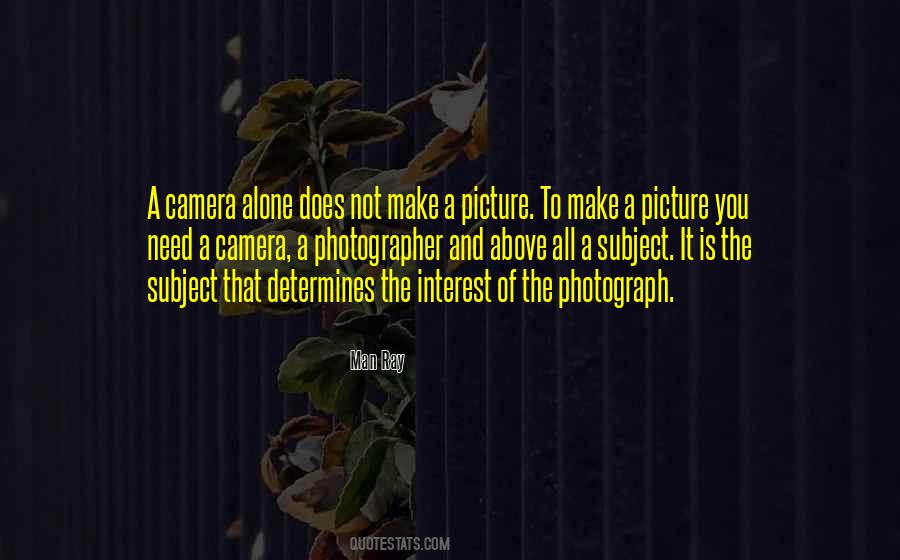 #41. I became kind of a drop-out in science after I came back to America. I wanted to photograph. - Author: Imogen Cunningham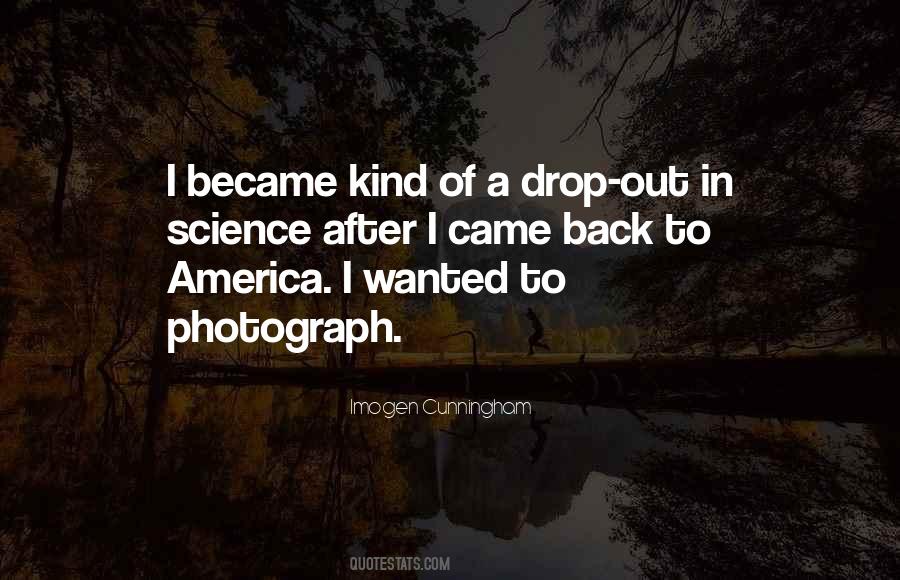 #42. A photograph is not an accident - is a concept. It exists at, or before, the moment of exposure of the negative. - Author: Ansel Adams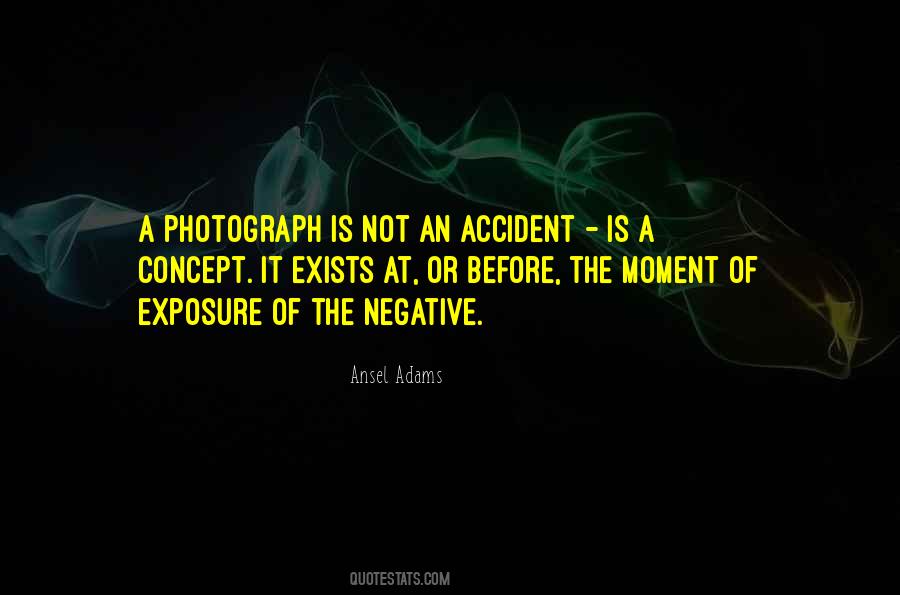 #43. This stupid celebrity thing is just a consequence of being good at what you do. I mean, no one would photograph David Beckham if he wasn't the best attacking midfielder in the country - much as I hate Man. U! - Author: Nick Moran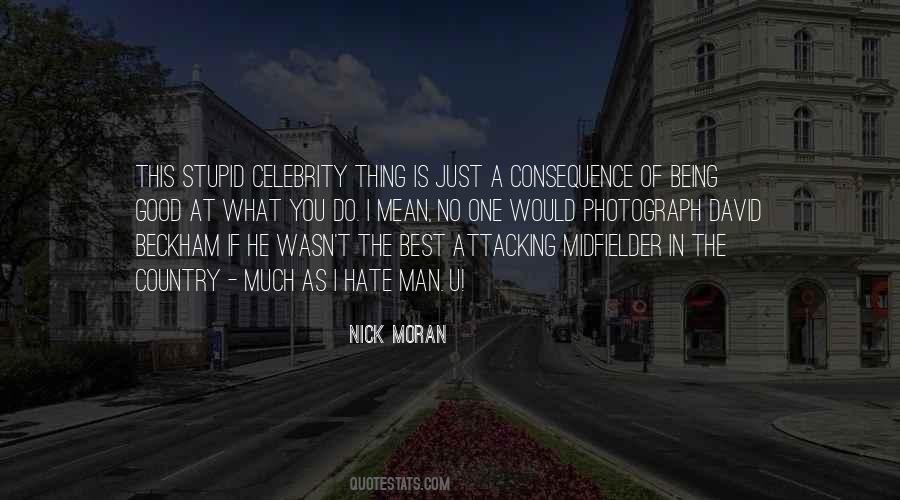 #44. The field of action of a photograph should be that chessboard of the heart and mind upon which poetry and art have always operated - Author: Frederick Sommer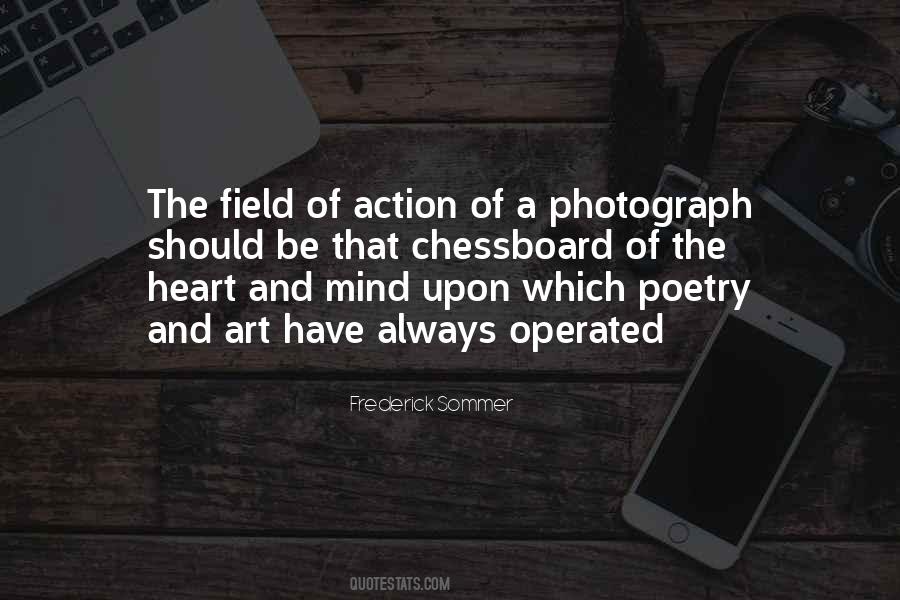 #45. There are no absolute truths, and the best historians know that. You strive to capture a moment of time, and if your work is done properly, history becomes a written photograph. - Author: Gloria Naylor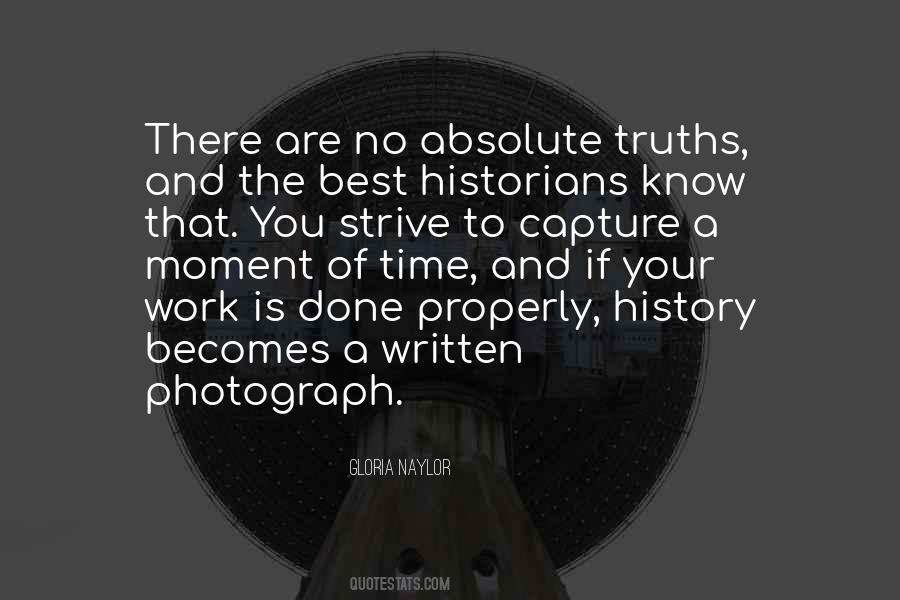 #46. The logic of the photograph is neither verbal nor syntactical, a condition which renders literary culture quite helpless to cope with the photograph. - Author: Marshall McLuhan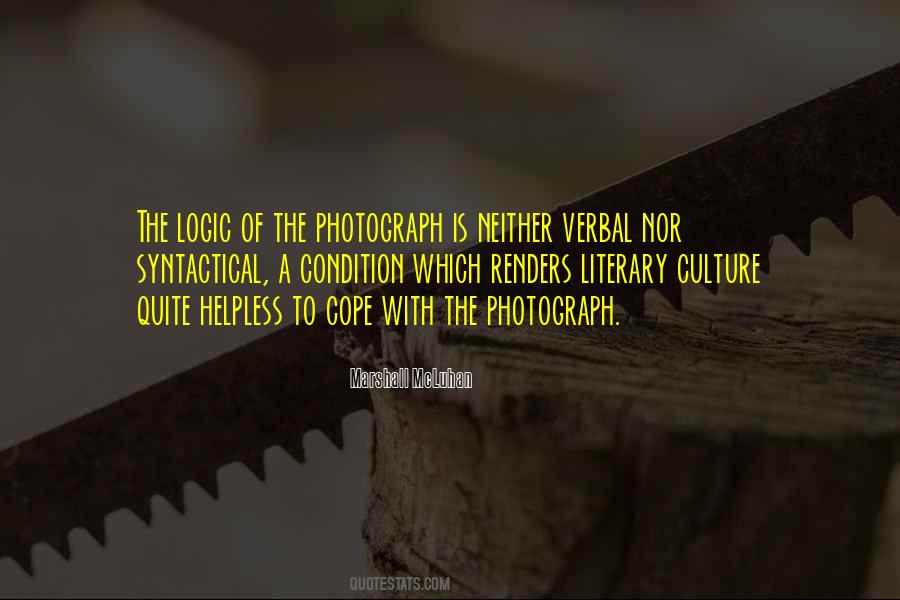 #47. He could still see his parents beaming up at him from the tattered old photograph, unaware that their lives, like so many of those around them, were drawing to a close. The - Author: J.K. Rowling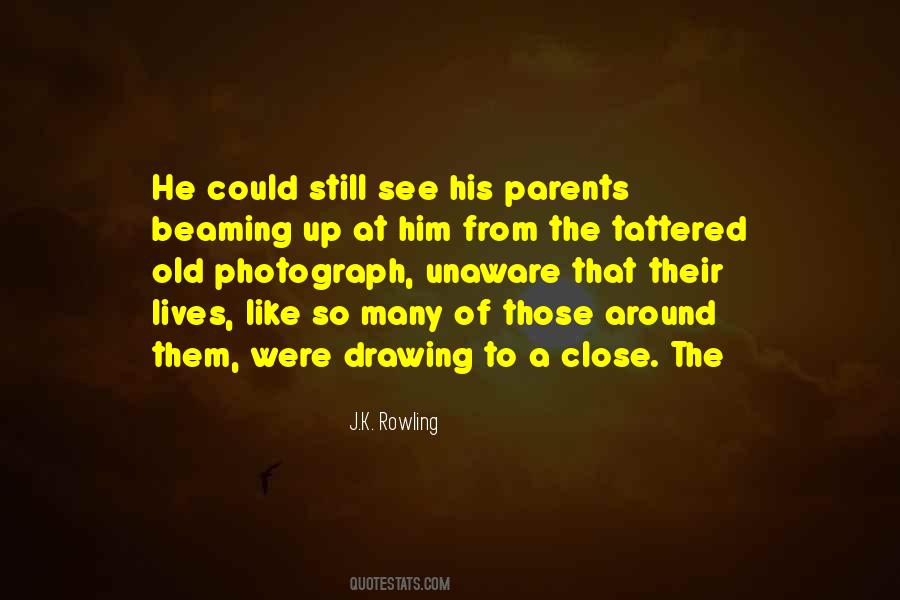 #48. Perhaps, all these years, the historiographers had been unwilling to recognize history as a spiral, perhaps because a spiral was so difficult to describe. Easier to photograph the spiral from the top, easier to flatten the spring into a coil. - Author: Anthony Burgess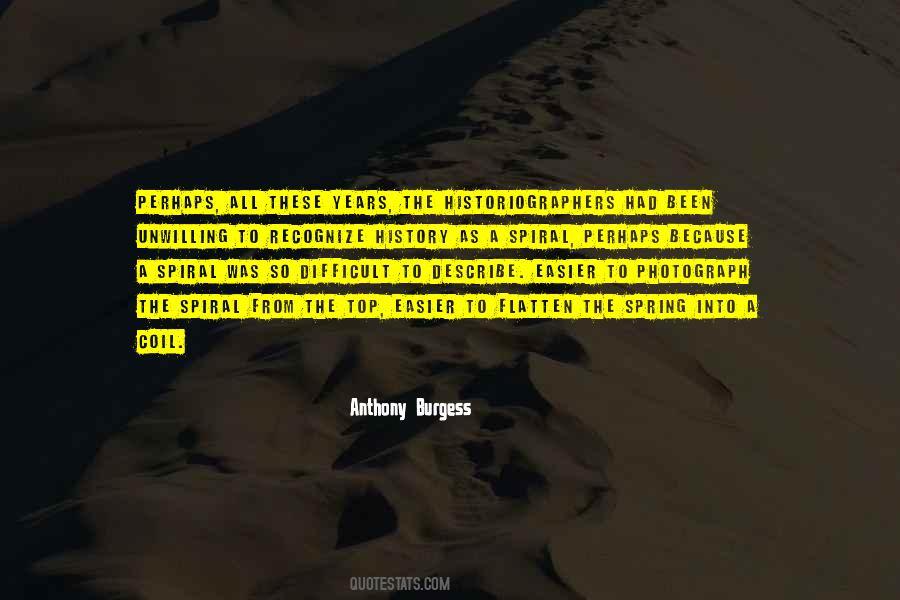 #49. Obviously, we can see what was in front of the camera, but if a photograph is honestly made, it's a bit of a self-portrait. I think it's impossible for a photographer who is working honestly to keep this from happening. - Author: John Sexton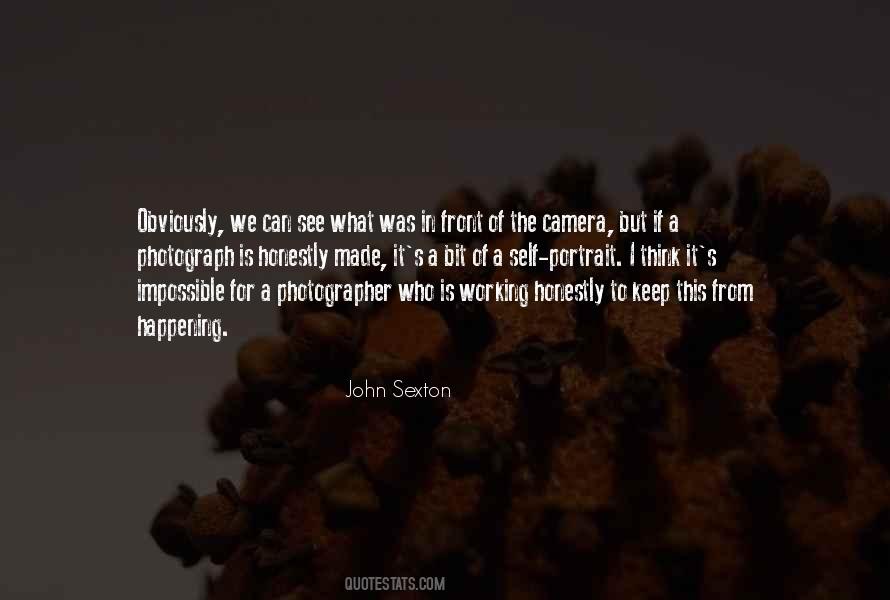 #50. It's important to me to have what I photograph undergo a certain transformation - to become a thing different from what we are used to, to be another version of itself. - Author: Abelardo Morell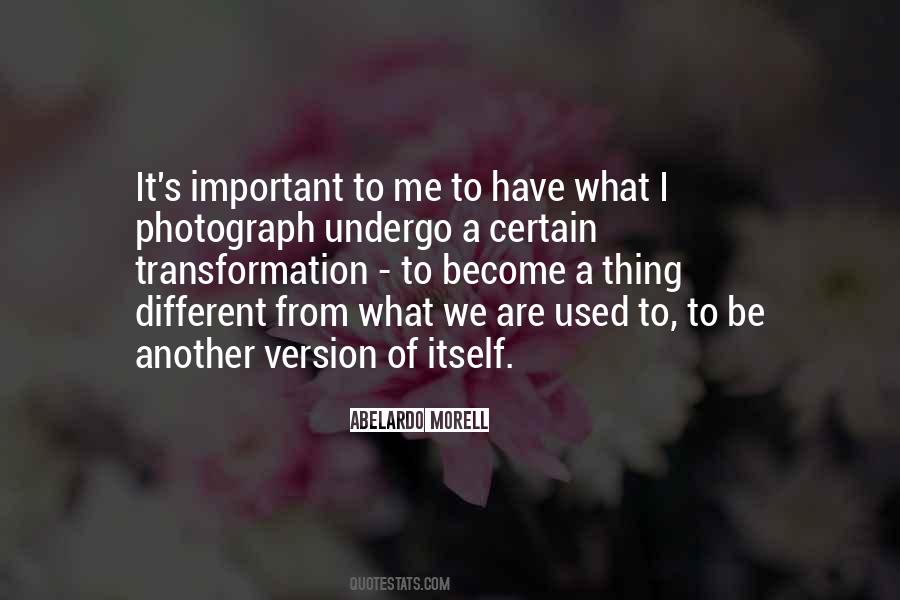 #51. I like to photograph miniature constructed scenes - I'll buy a very sad cake decoration like a plastic computer for a dreary office birthday party and construct a wildly colorful scene to put on its screen, or do a series of dollhouse chairs frozen in ice cubes. - Author: Matthea Harvey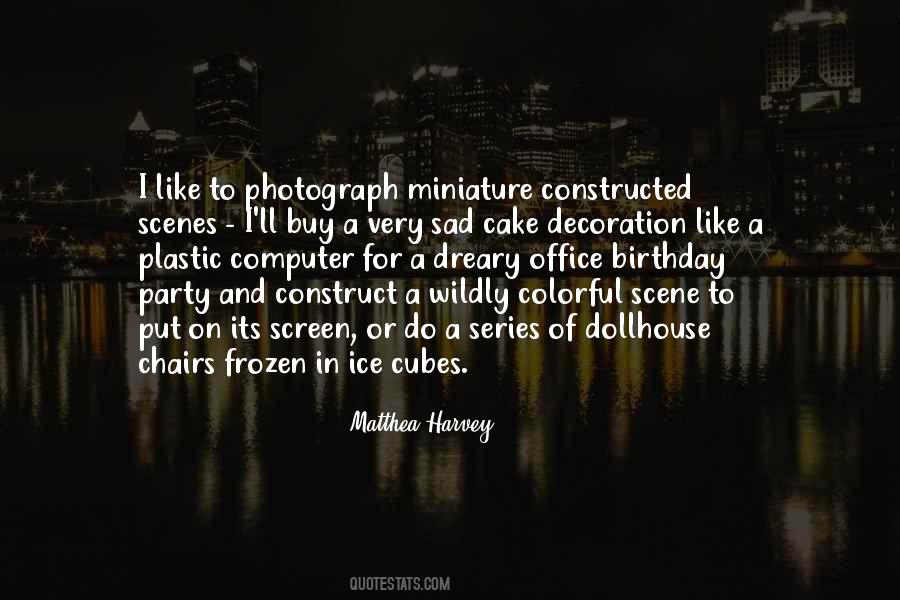 #52. About shadows: do we see shadows? Loads of people don't. A camera will notice a shadow, but how many people have got a shadow in front of them when they take a picture and don't notice it, and then they see it in the photograph because the photograph will catch the shadow. - Author: David Hockney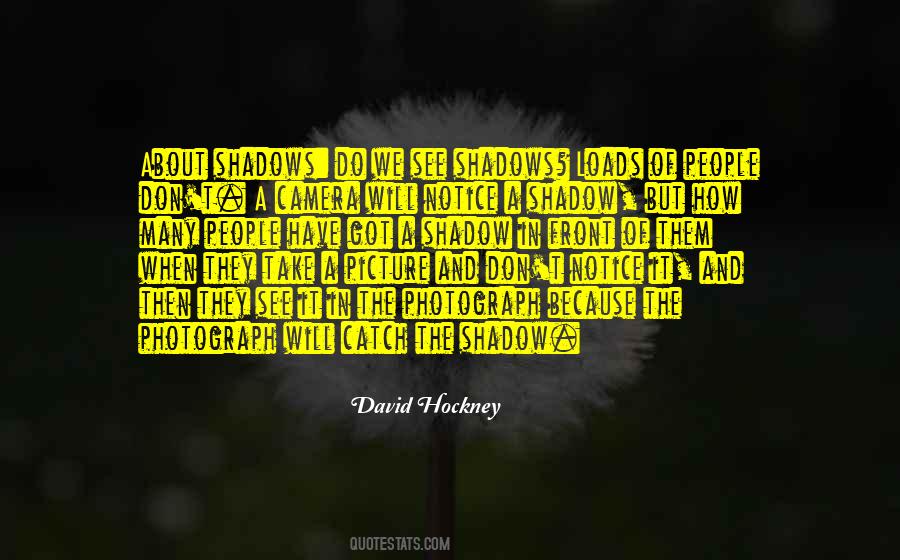 #53. I tend to always carry a camera with me. I live next to a fire station, and I've got lots of photos of the hook and ladder coming out of the house. And I like food, so I tend to photograph wonderfully presented food all the time. To me those are very pleasant memories. - Author: Gordon Bell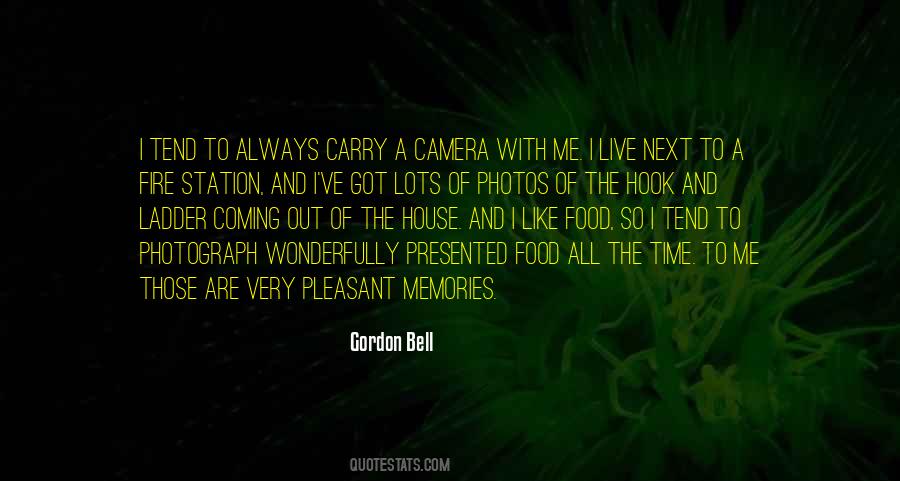 #54. The moment an emotion or fact is transformed into a photograph it is no longer a fact but an opinion. - Author: Richard Avedon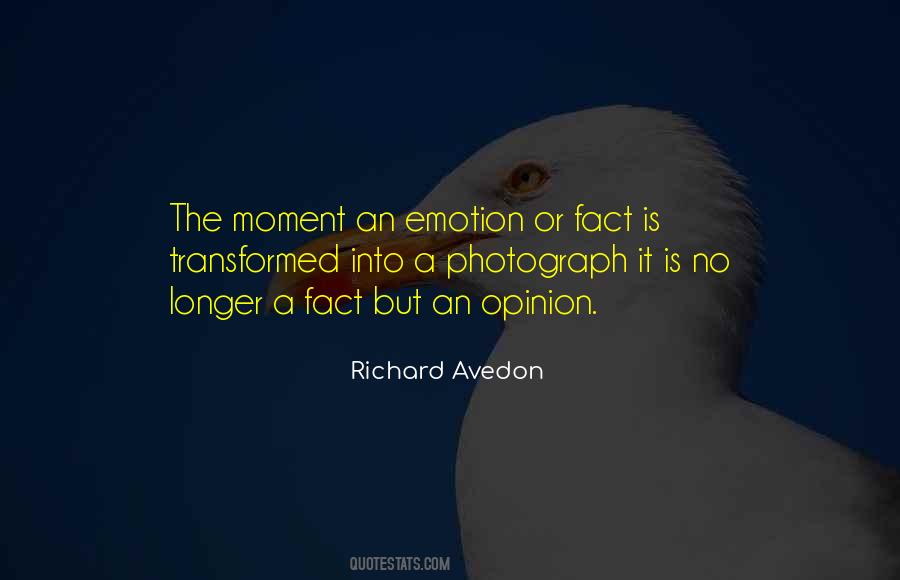 #55. A photograph is a most important document, and there is nothing more damning to go down to posterity than a silly, foolish smile caught and fixed forever. - Author: Mark Twain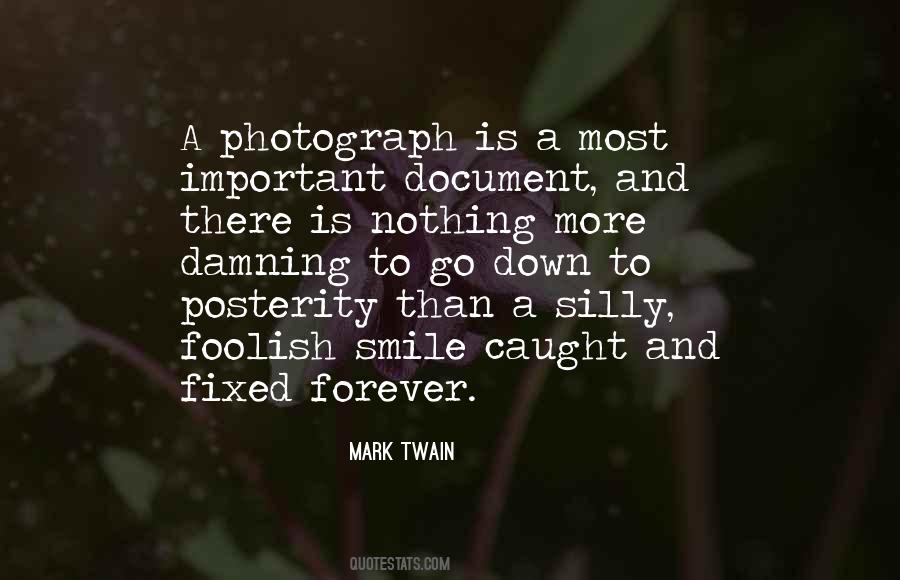 #56. If you were to ask me to define a photograph in a few words, I would say it is a fossil of light and time. - Author: Daido Moriyama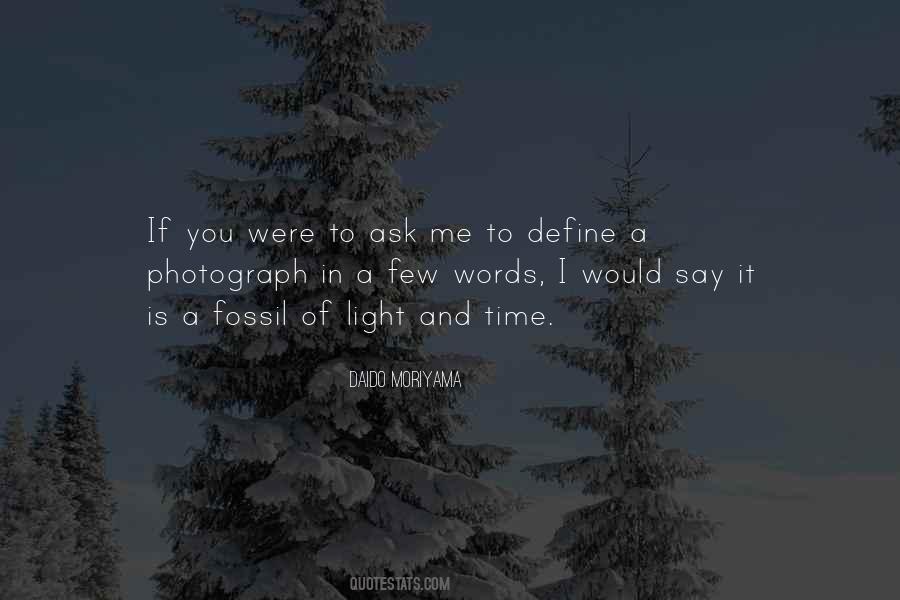 #57. If you reduce sculpture to the flat plane of the photograph, you're passing on only a residue of your concerns ... You're not only reducing the sculpture to a different scale for the purposes of consumption, but you're denying the real content of the work. - Author: Richard Serra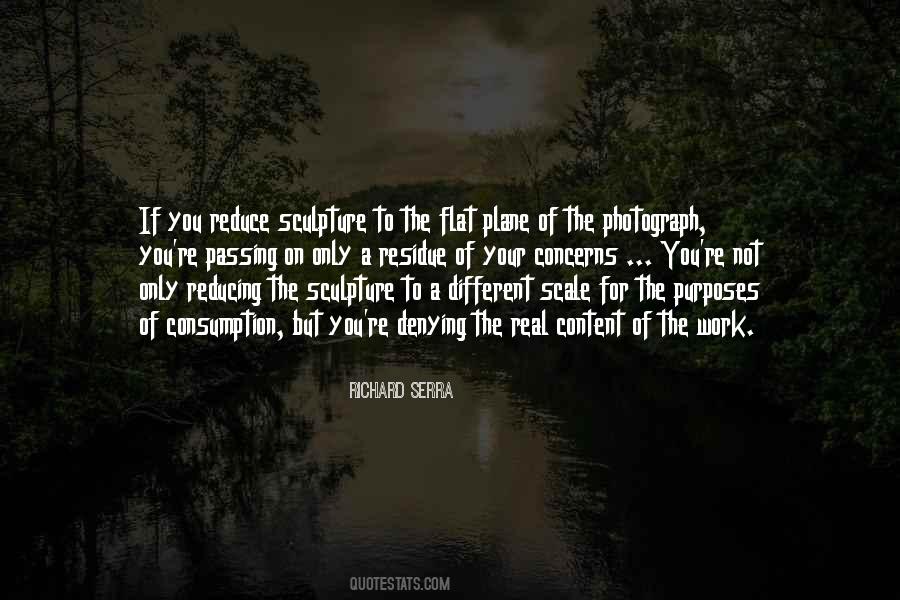 #58. There comes a moment when it is no longer you who takes the photograph, but receives the way to do it quite naturally and fully. - Author: Sebastiao Salgado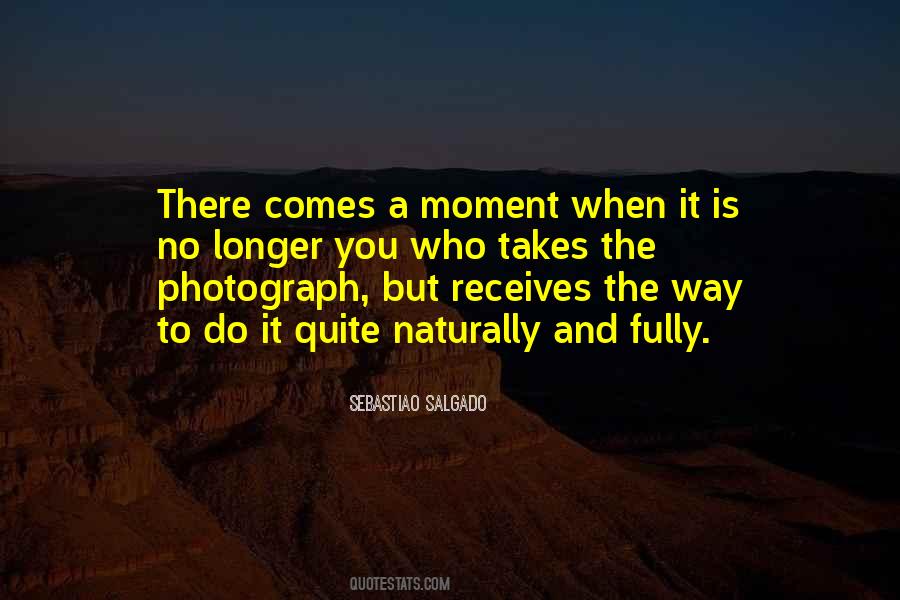 #59. In a still photograph you basically have two variables, where you stand and when you press the shutter. That's all you have. - Author: Henry Wessel Jr.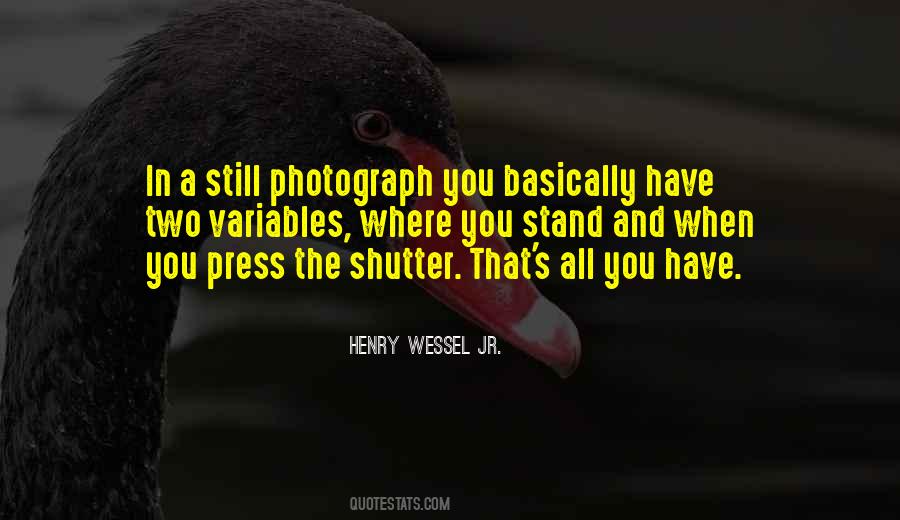 #60. One thing that struck me early is that you don't put into a photograph what's going to come out. Or, vice versa, what comes out is not what you put in. - Author: Diane Arbus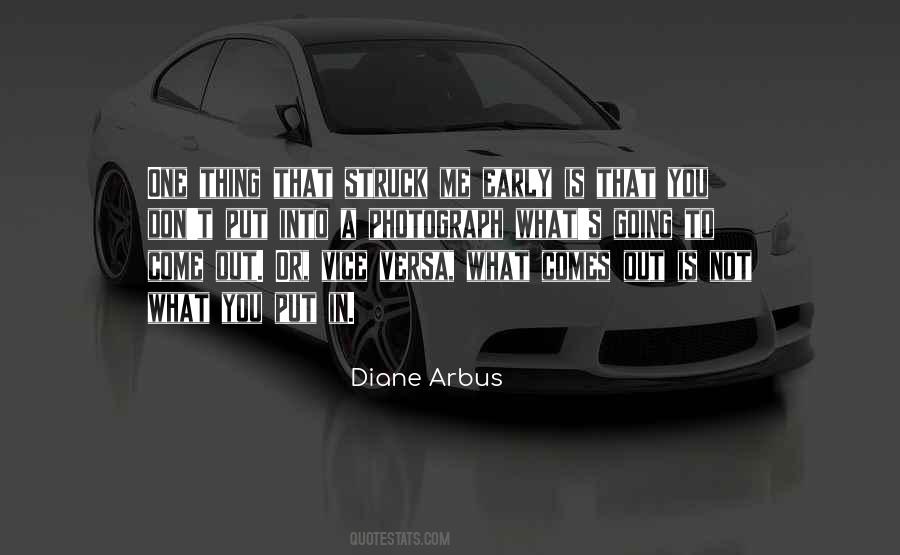 #61. In every form of art, you really want the experience of the images to transcend the medium, for the medium to disappear into the greater experience of viewing the work. So that you forget you are looking at a painting, or a photograph. - Author: Bill Henson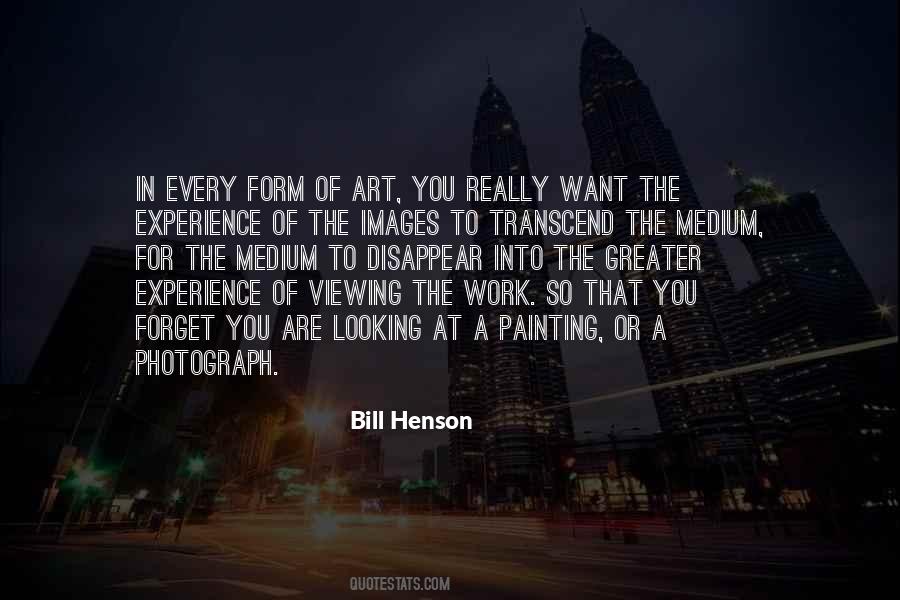 #62. I tried to keep both arts alive, but the camera won. I found that while the camera does not express the soul, perhaps a photograph can! - Author: Ansel Adams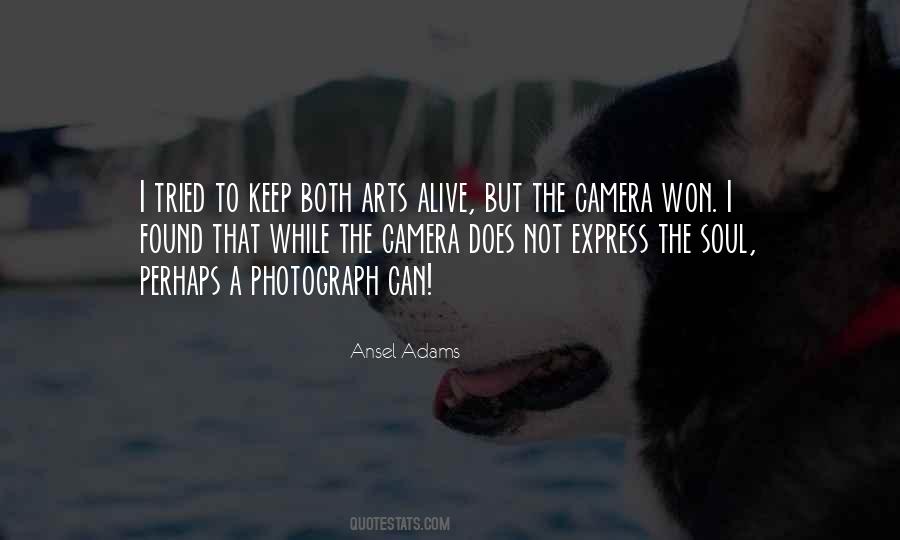 #63. A photograph is a moment - when you press the button, it will never come back. - Author: Rene Burri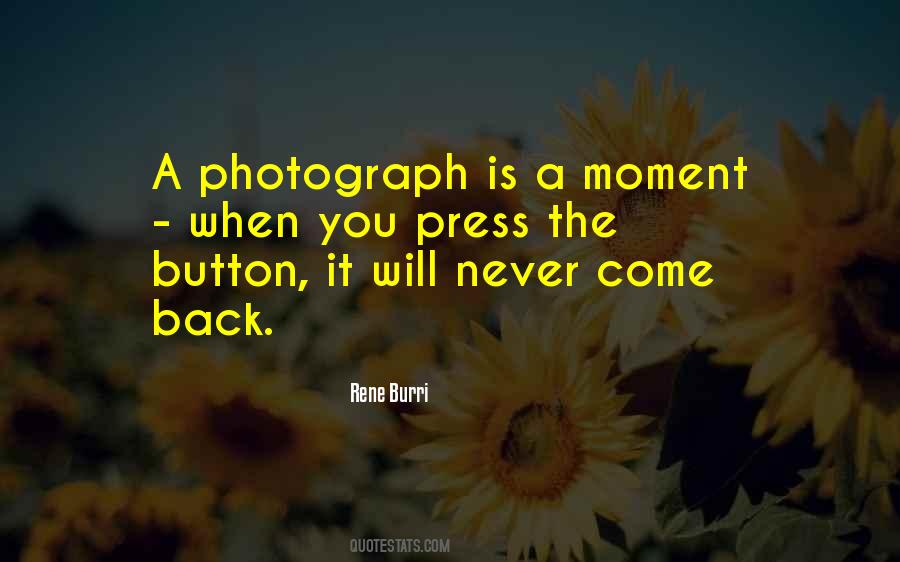 #64. Doesn't the world inside a black and white photograph seem more real? It's because the real world is losing its color - Author: Tablo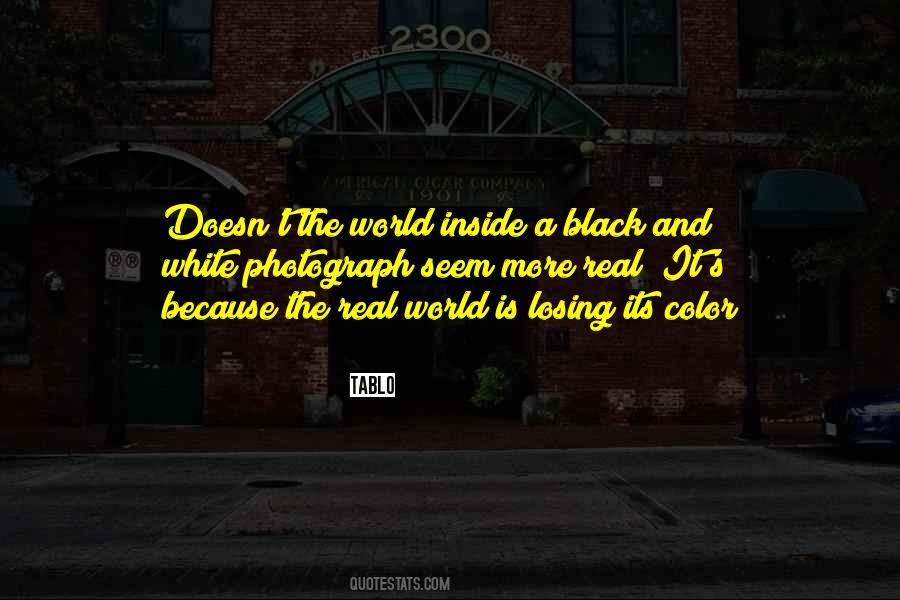 #65. Now that's a sight for sore eyes, Sebastian. Maybe I should just leave you here: the hotel maids might appreciate that. Or, better still, maybe I'll take a photograph of you on my phone. Dont worry, I wont post it on the internet, it'll just be my screen saver. - Author: Jane Harvey-Berrick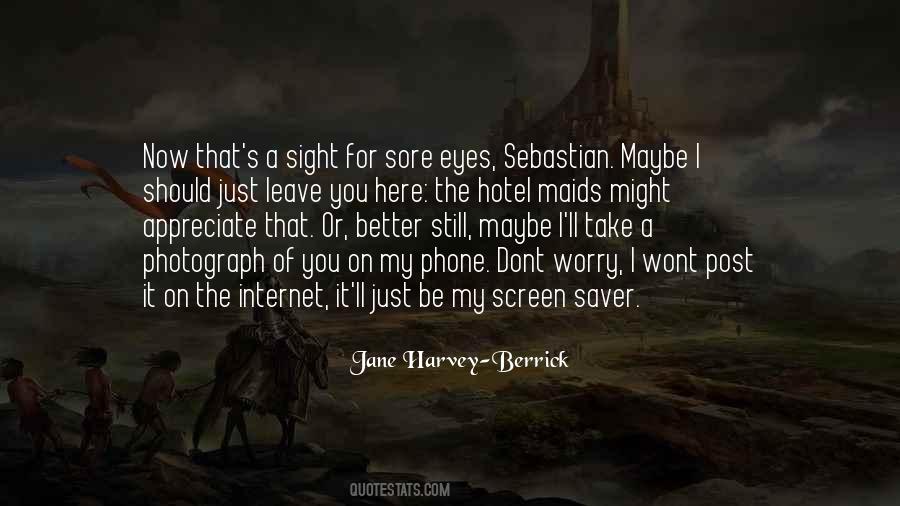 #66. I have always done the opposite of what I was trained to do ... Having little technical background, I became a photographer. Adopting a machine, I do my utmost to make it malfunction. For me, to make a photograph is to make an anti-photograph. - Author: William Klein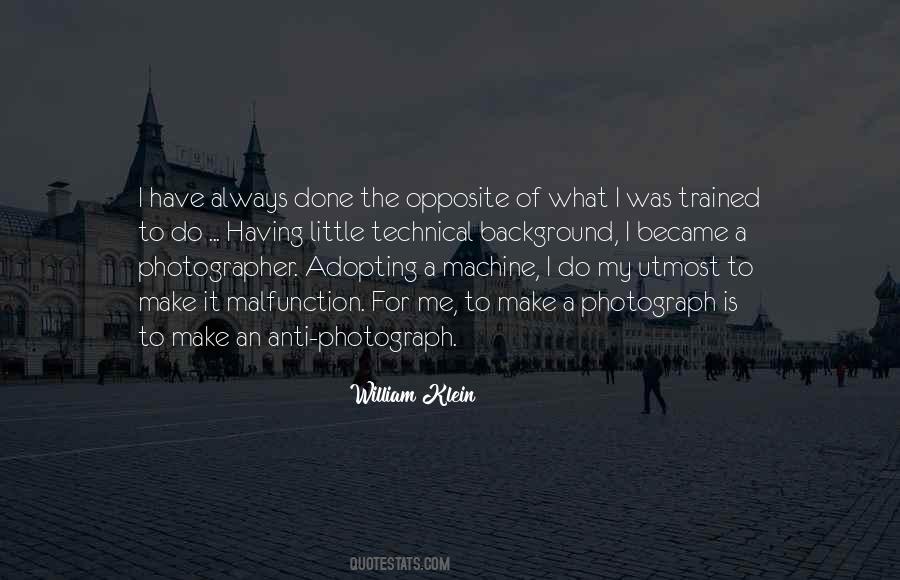 #67. There was no question about it- the girl in the photograph was staggeringly beautiful. She was Miss Canal Zone, a runner-up in the Miss Universe Contest
and in fact far more beautiful than the winner of the contests. Her beauty had frightened the judges. - Author: Kurt Vonnegut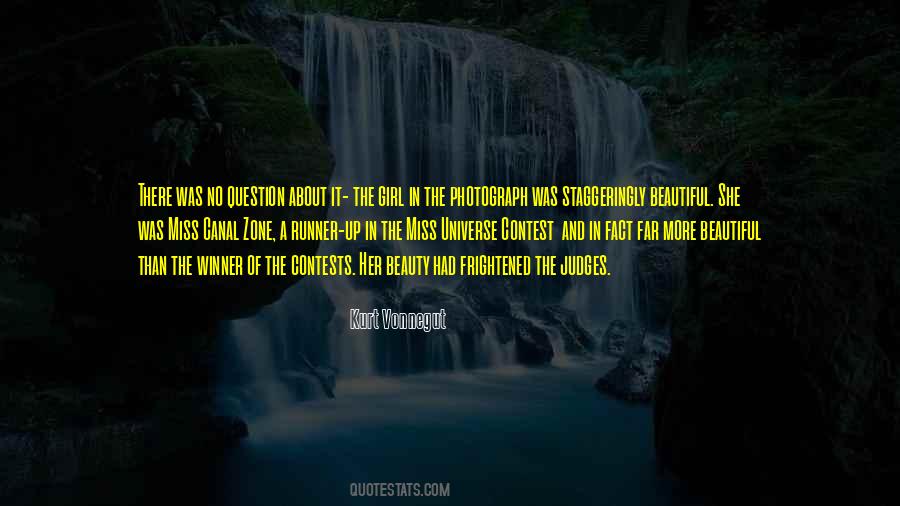 #68. A photograph gives us the naked truth,which has to be clothed by the imagination. - Author: Francis Meadow Sutcliffe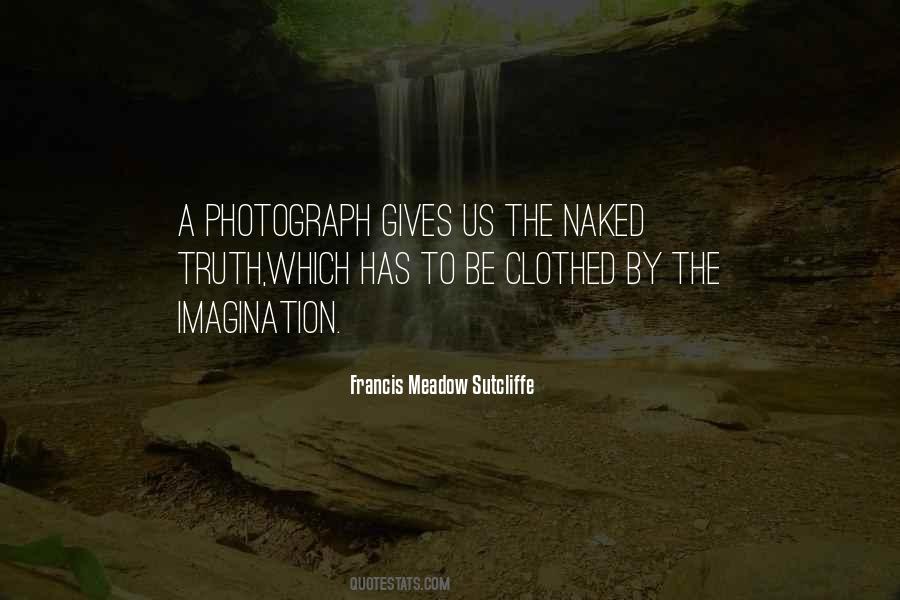 #69. I often think we do not take this business of photography in a sufficiently serious spirit. Issuing a photograph is like marriage: you can only undo the mischief with infinite woe ... - Author: H.G.Wells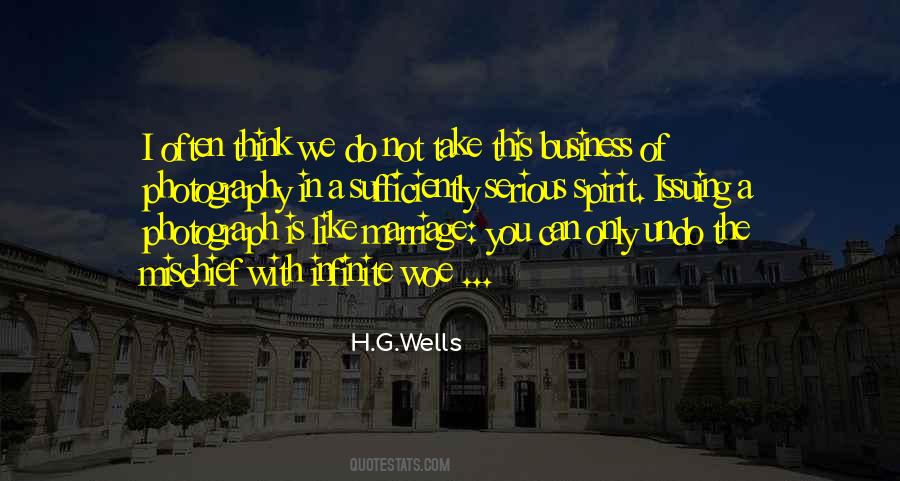 #70. When you find yourself beginning to feel a bond between yourself and the people you photograph, when you laugh and cry with their laughter and tears, you will know you are on the right track. - Author: Weegee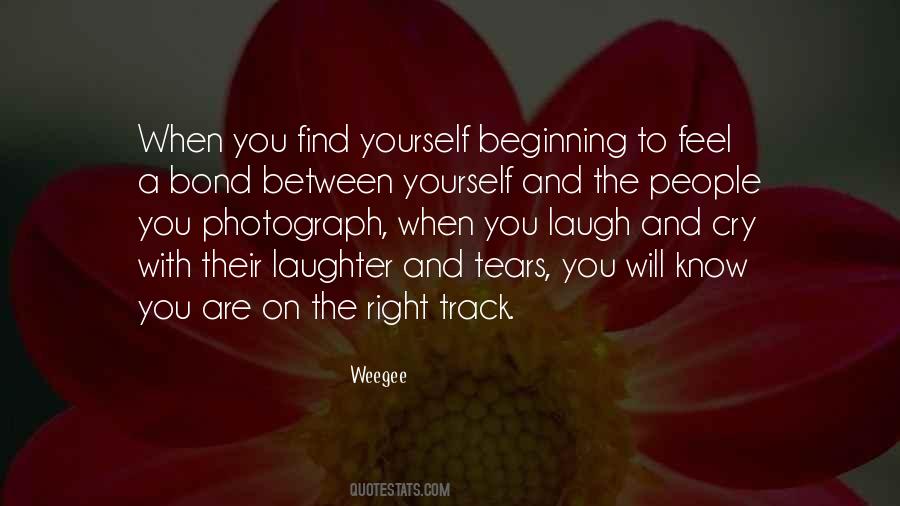 #71. I've always felt like an artistic person. I can't draw or paint or sculpt. I never really had technical skills, but I've always felt like I appreciate really beautiful things, and part of taking a good photograph is being able to recognize beauty. - Author: Brandon Stanton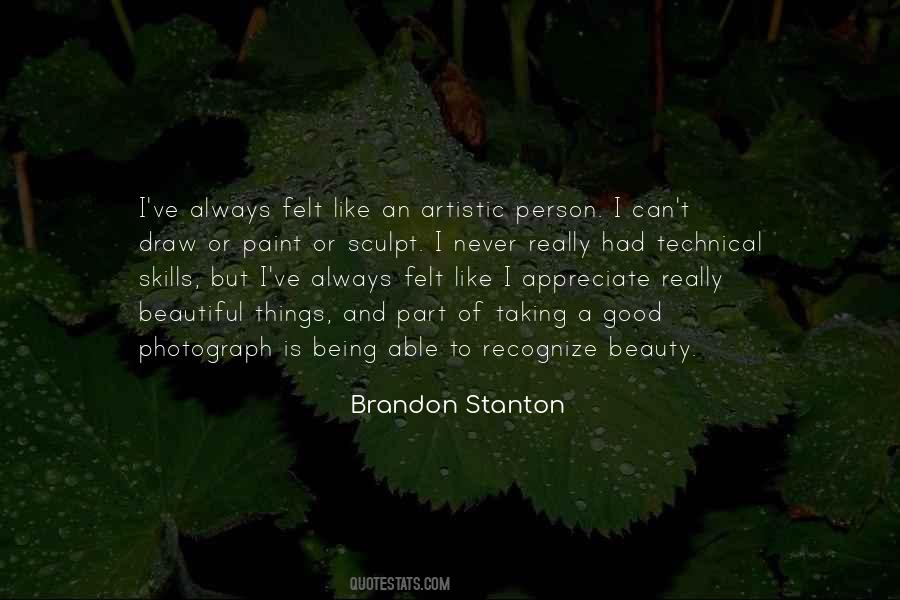 #72. The subject gives you the best idea of how to make a photograph. So I just wait for something to happen. - Author: Mary Ellen Mark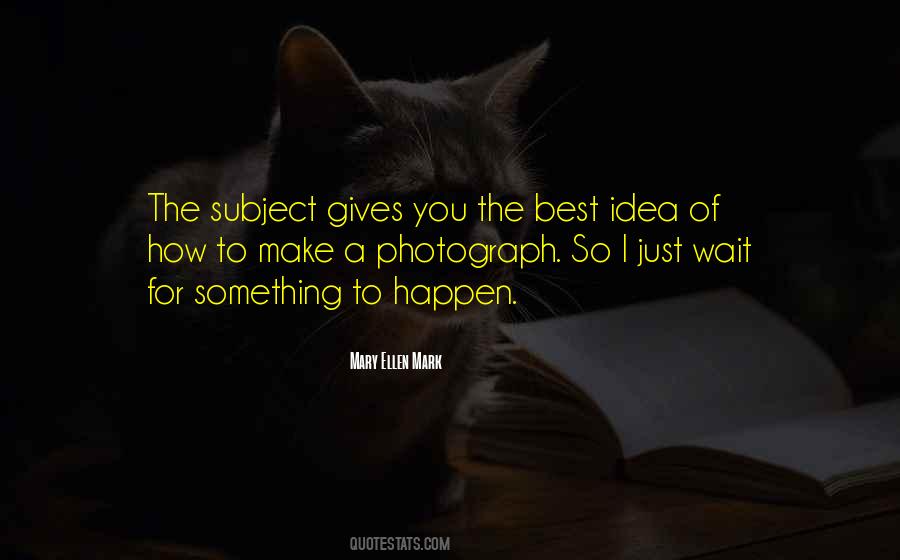 #73. Two factors thus emerge as requisites of success in the field of creative photography. First, the subject must be photogenic. Second, its re-creation in a photograph must be based upon technical knowledge, guided and supported by artsitic inspiration. - Author: Andreas Feininger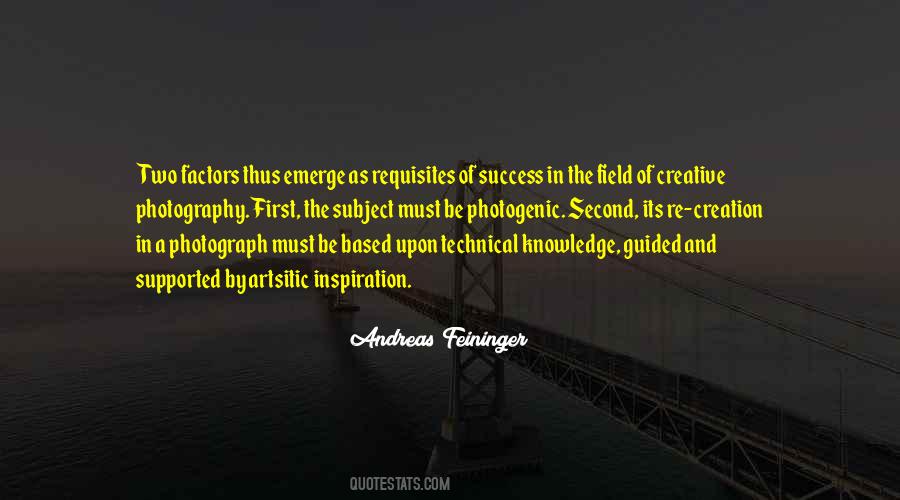 #74. Photograph because you love doing it, because you absolutely have to do it, because the chief reward is going to be the process of doing it. Other rewards - recognition, financial remuneration - come to so few and are so fleeting ... Take photography on as a passion, not a career. - Author: Alex Webb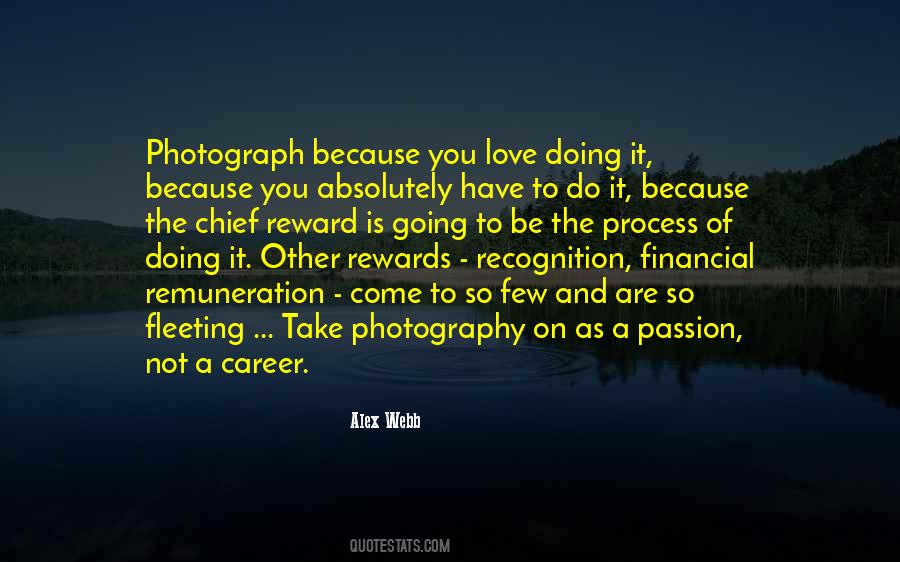 #75. Perishability in a photograph is important in a picture. If a photograph looks perishable we say, "Gee, I'm glad I have that moment." - Author: John Loengard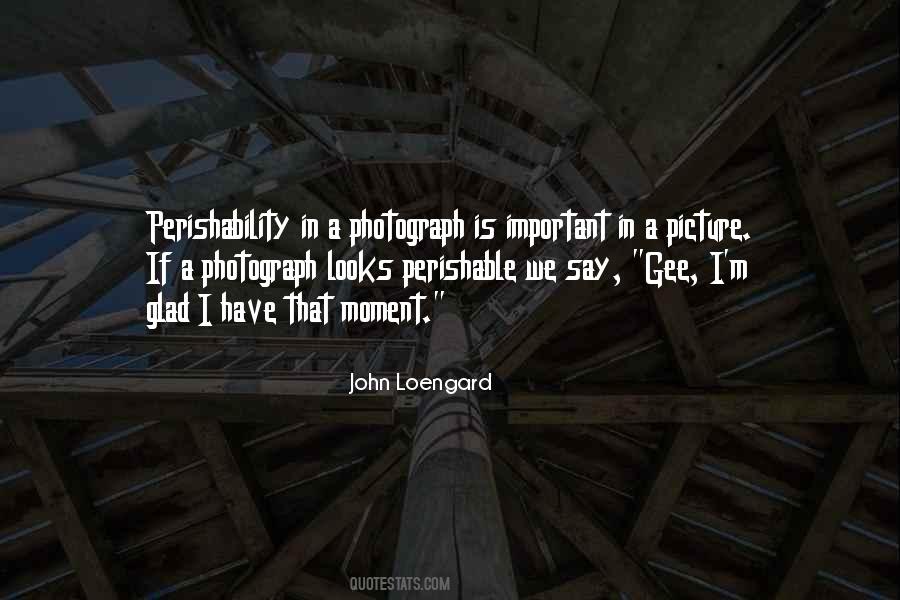 #76. I have the instinctive reaction of a Western man when confronted with sublimely incomprehensible. I grab my camera and start to photograph it - Author: Douglas Adams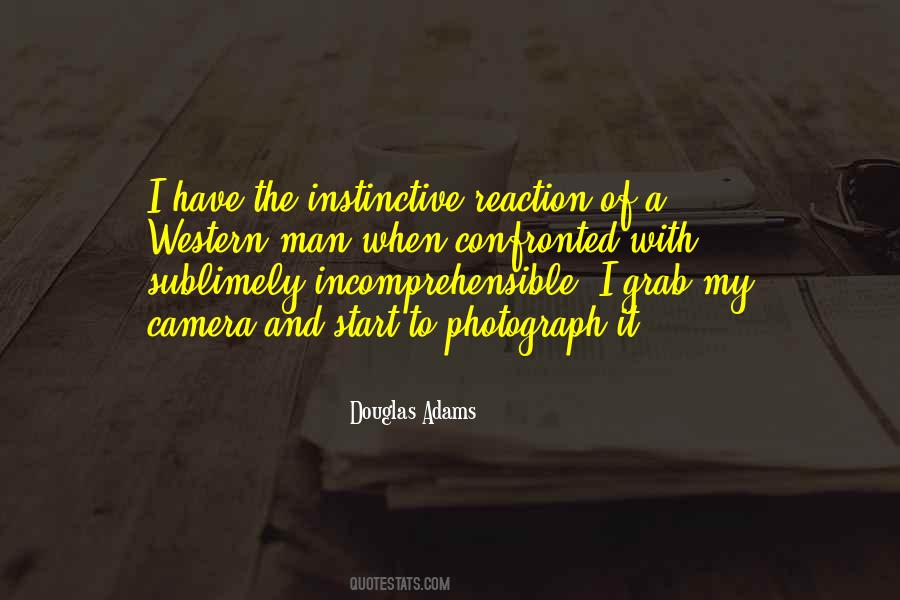 #77. A photograph comes into being, as it is seen, all at once. - Author: Susan Sontag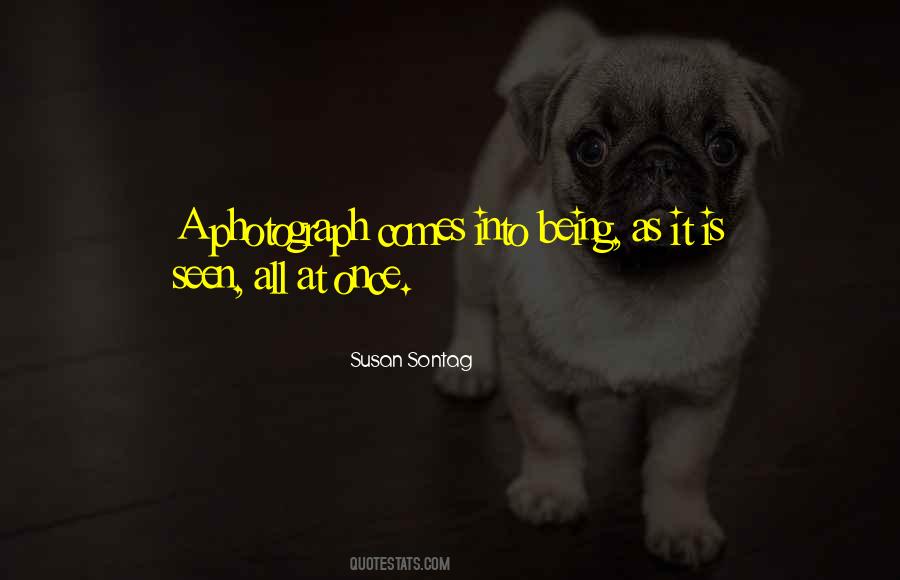 #78. A photograph can, by the addition of an unimportant spot of color, become a photomontage, a work of art of a special kind. - Author: John Heartfield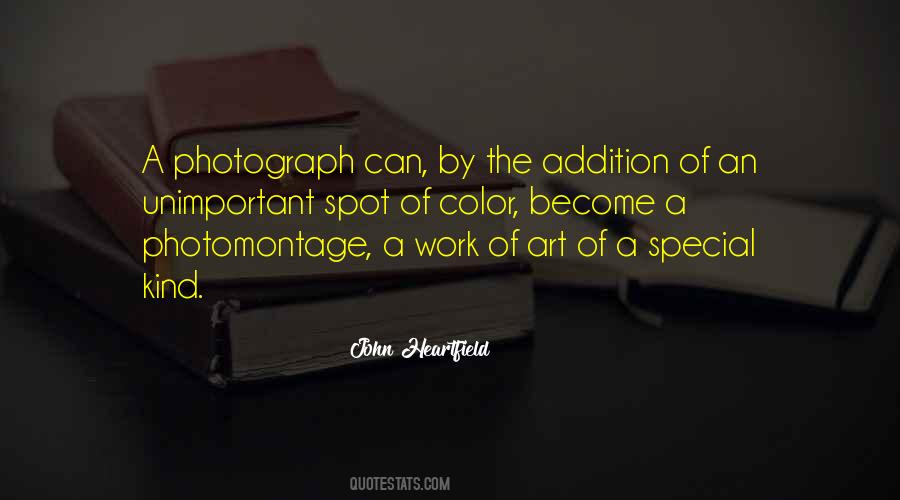 #79. This sense of eagerness, of hope and of secret excitement. It was as if normal existence were a photograph of shapeless things in badly printed colors, but this was a sketch done in a few sharp strokes that made things seem clean, important - and worth doing. - Author: Ayn Rand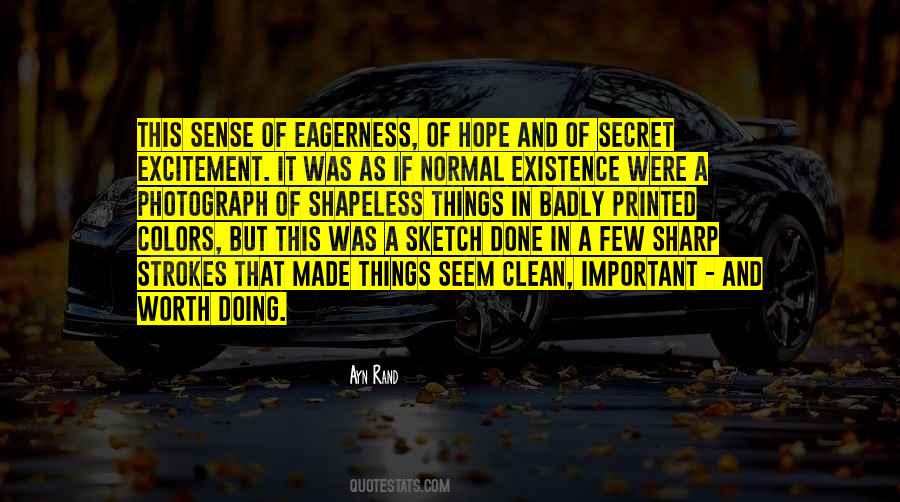 #80. It must be hard to be a model, because you'd want to be like the photograph of you, and you can't ever look that way. - Author: Andy Warhol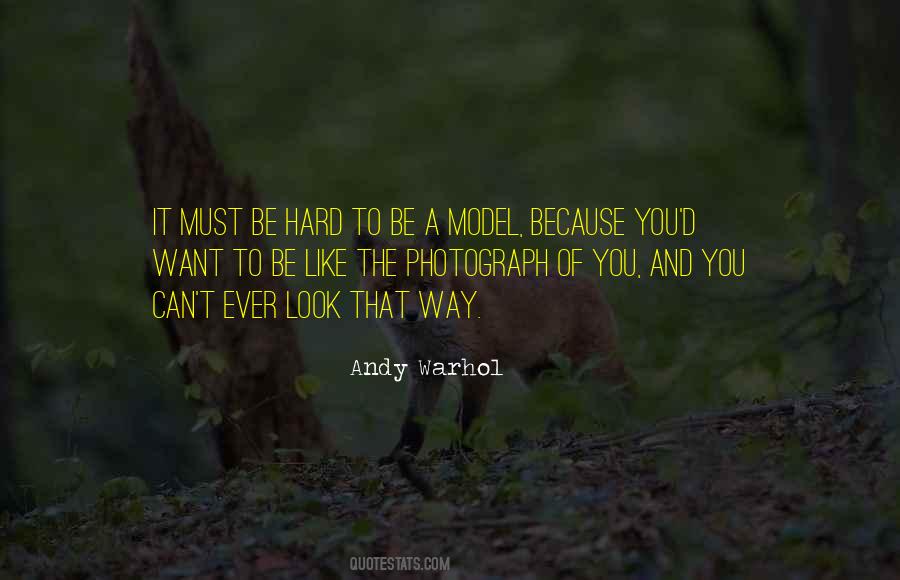 #81. I want to photograph what I see and put it in a dramatic context. I'm an actor and a writer, and I want to tell these stories and present these shapes, colors and movements as I see them, as I see them serve a narrative. As I see that narrative serve an audience. That's what I want to do. - Author: Tommy Lee Jones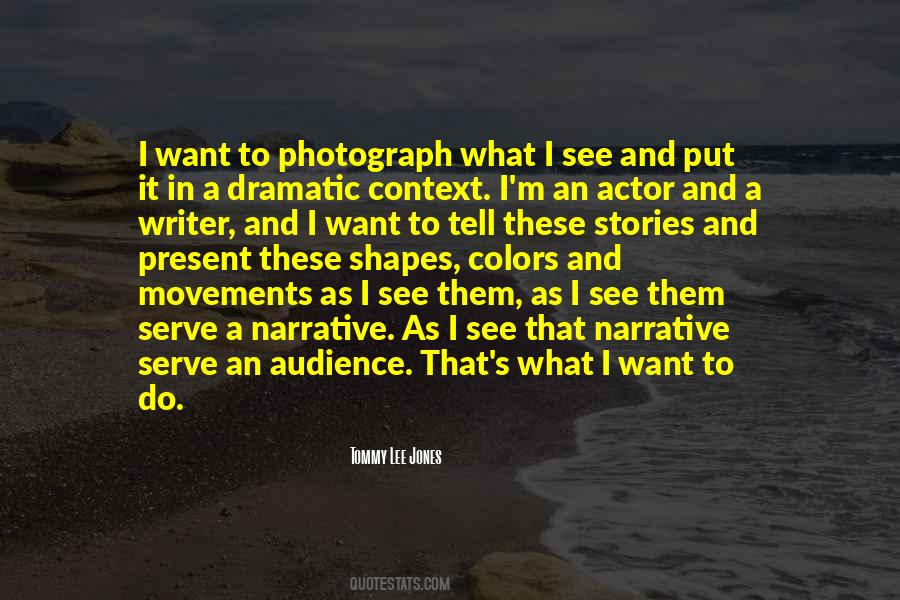 #82. As time passes by and you look at portraits, the people come back to you like a silent echo. A photograph is a vestige of a face, a face in transit. Photography has something to do with death. It's a trace. - Author: Henri Cartier-Bresson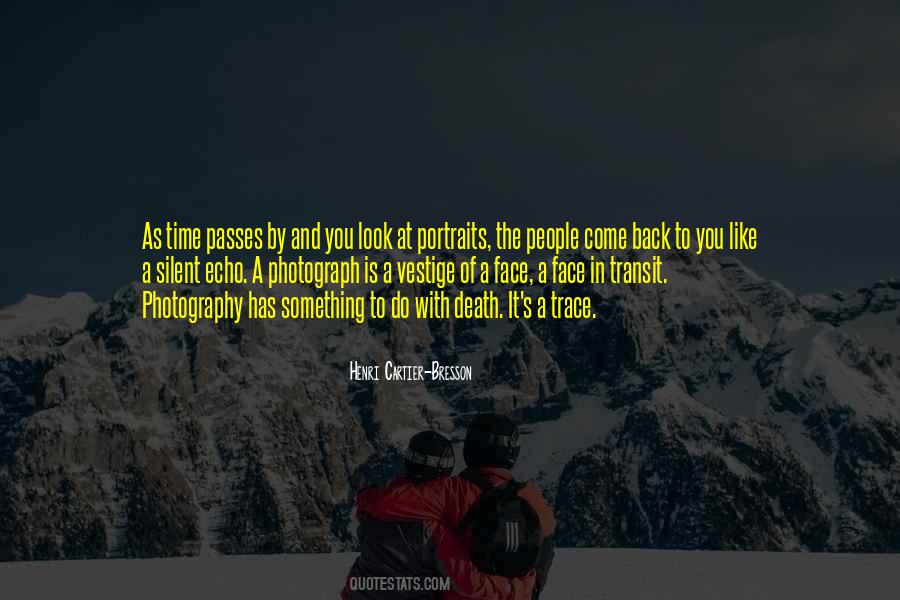 #83. You have to bring to the photograph a prejudice about something, and I'm prejudiced against farmers who tie dead animals on fences. Therefore, I can make a meaningful photograph. - Author: Rondal Partridge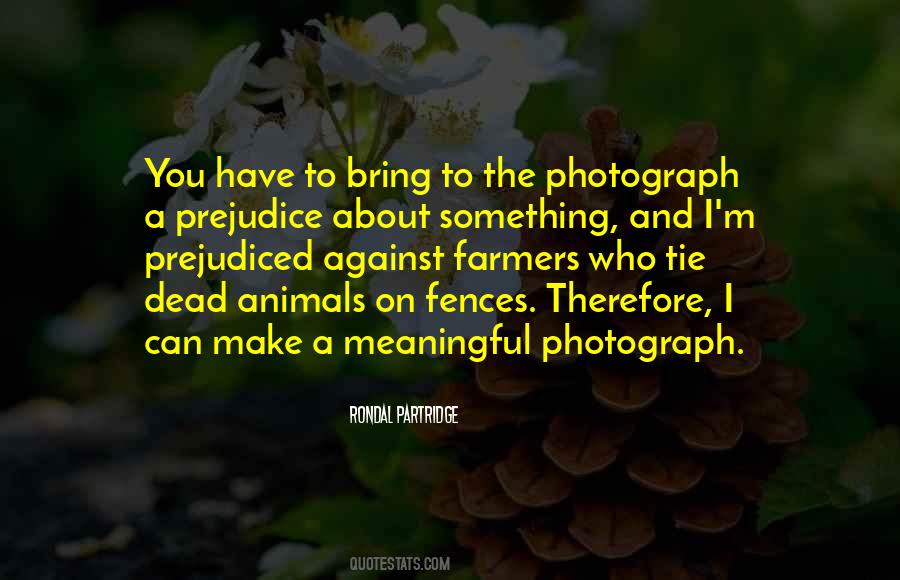 #84. I took to photography like a duck to water. I never wanted to do anything else. Excitement about the subject is the voltage which pushes me over the mountain of drudgery necessary to produce the final photograph. - Author: Berenice Abbott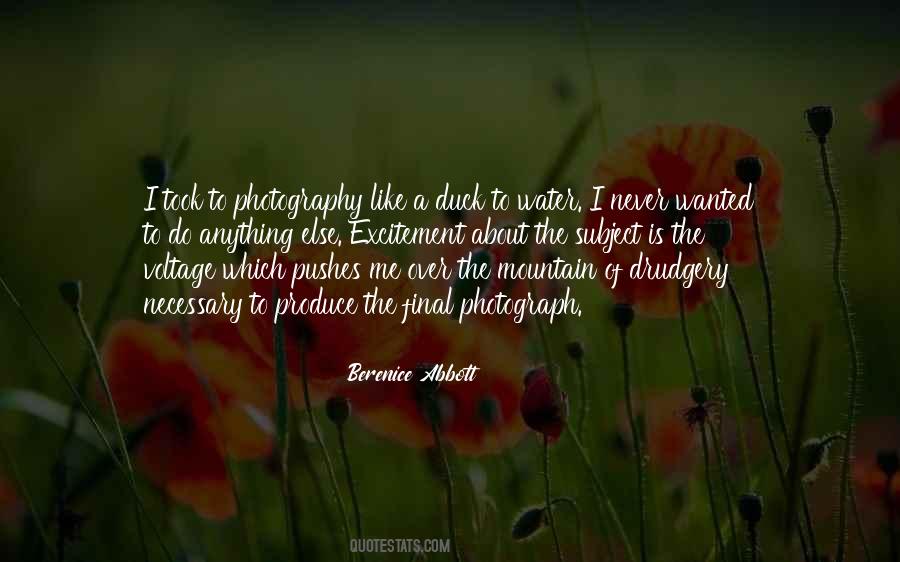 #85. We can't just pay attention to women who look fantastic in a photograph, because there are a lot of people that have fantastic things to say that don't look like 25-year-old white models. - Author: Cameron Russell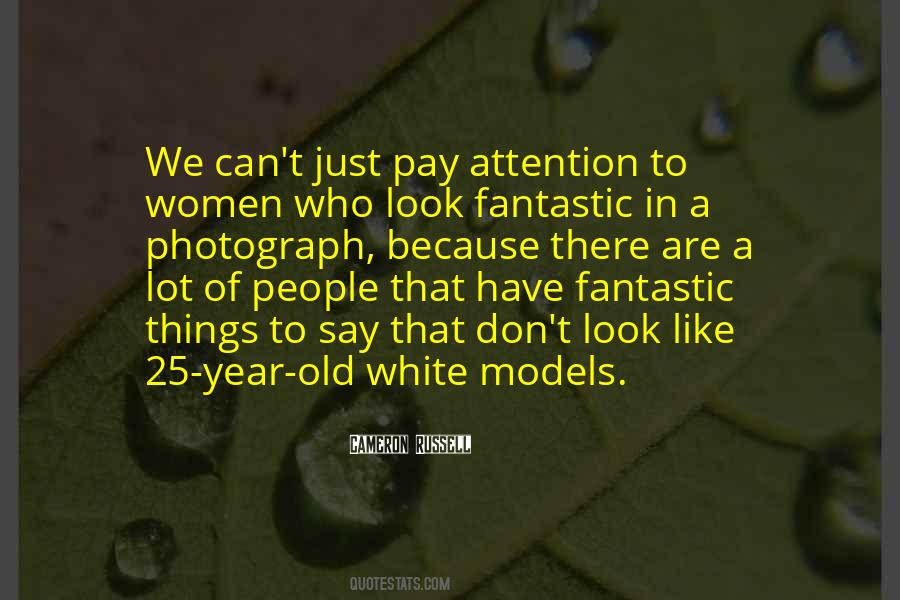 #86. Your photograph is all I have: it is with me from the morning when I wake up with a frantic half dream about you to the last moment when I think of you and of death at night. - Author: F Scott Fitzgerald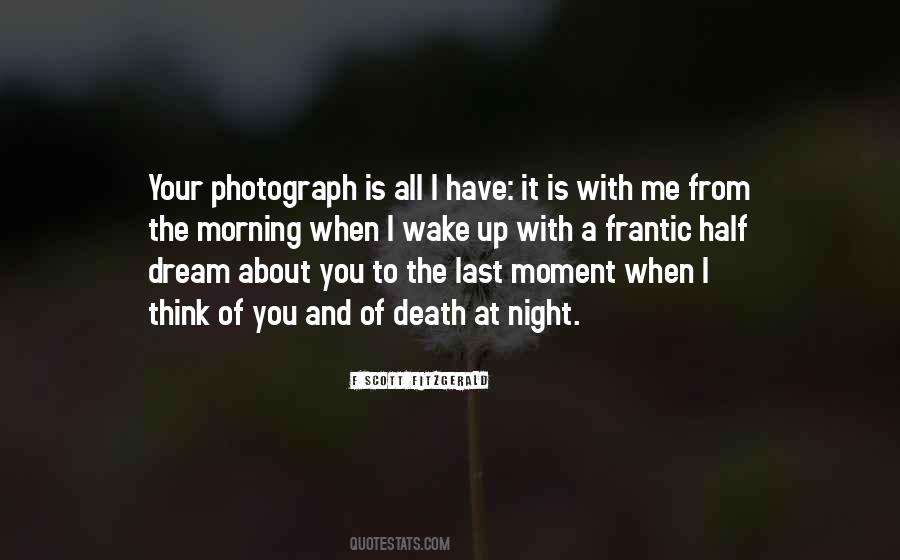 #87. We must remember that a photograph can hold just as much as we put into it, and no one has ever approached the full possibilities of the medium. - Author: Ansel Adams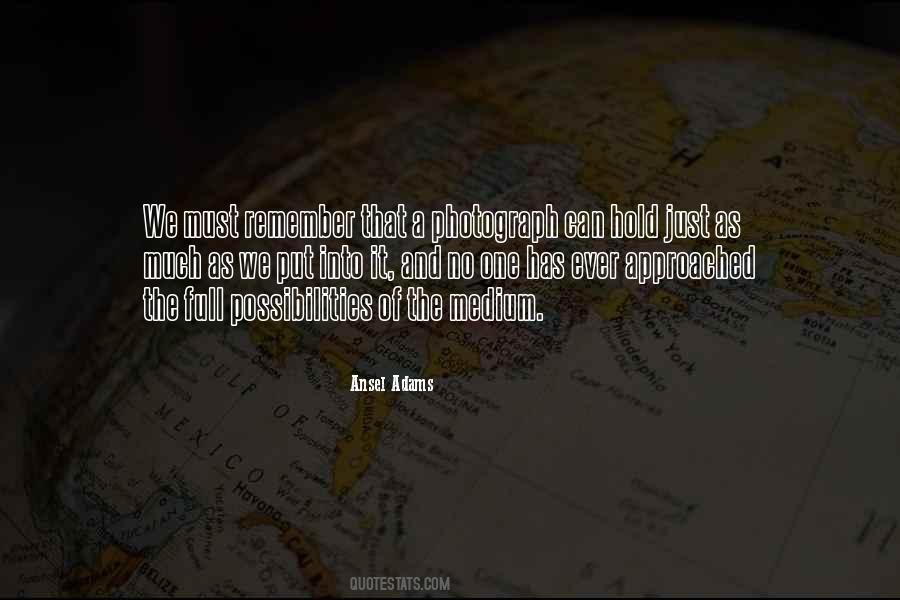 #88. People say: But photographs are all lies. That's not the point. The lie is a truth, too. How the hell are we going to know what Kissinger looks like? Well, the photograph tells us one version; I'm trying to tell it also, but differently. - Author: Leon Golub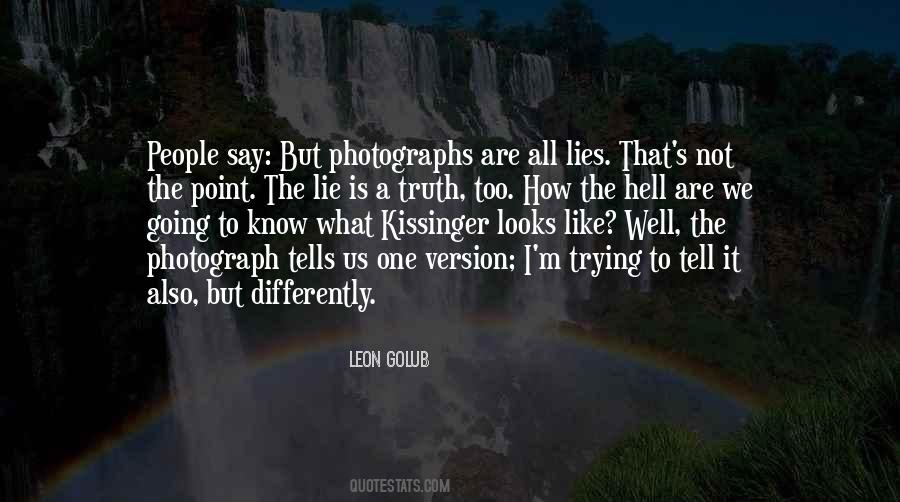 #89. In almost every photograph I have ever made, there is something I would do to complete it. I take that to be the spirit hole or the deliberate mistake that's in a Navajo rug to not be godlike, but to be human. - Author: Sam Abell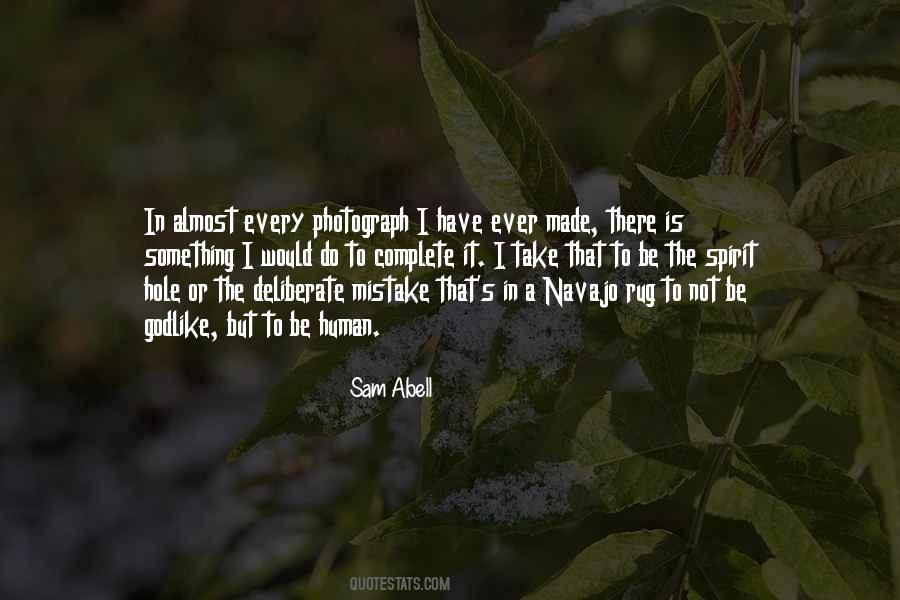 #90. Artists with the lack of proper education and experience of working from life will copy whatever is visible on the photograph, without knowing what's underneath. As a result, instead of creating the in-depth and full of character portrait, they draw a mask with no soul. - Author: Igor Babailov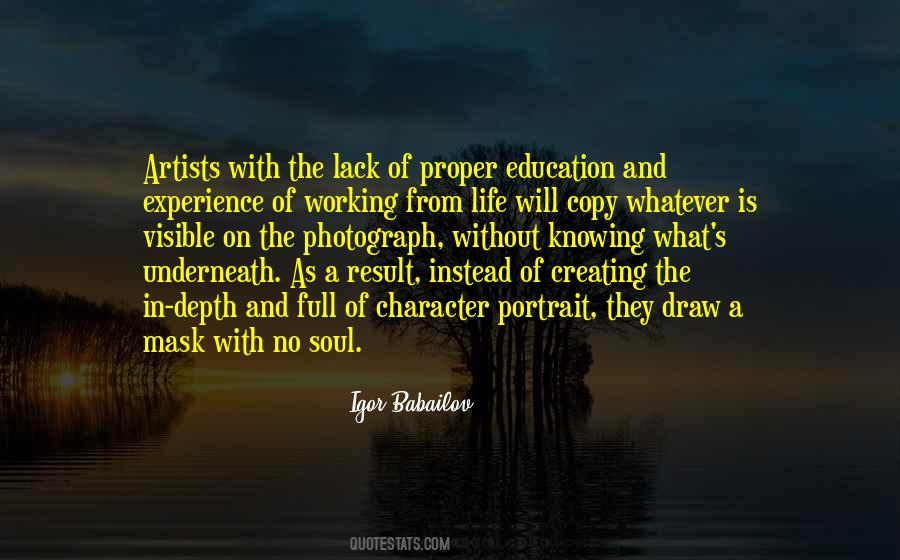 #91. Emailing a meaningful photograph to someone who is not expecting it can change a relationship forever. - Author: Nick Kelsh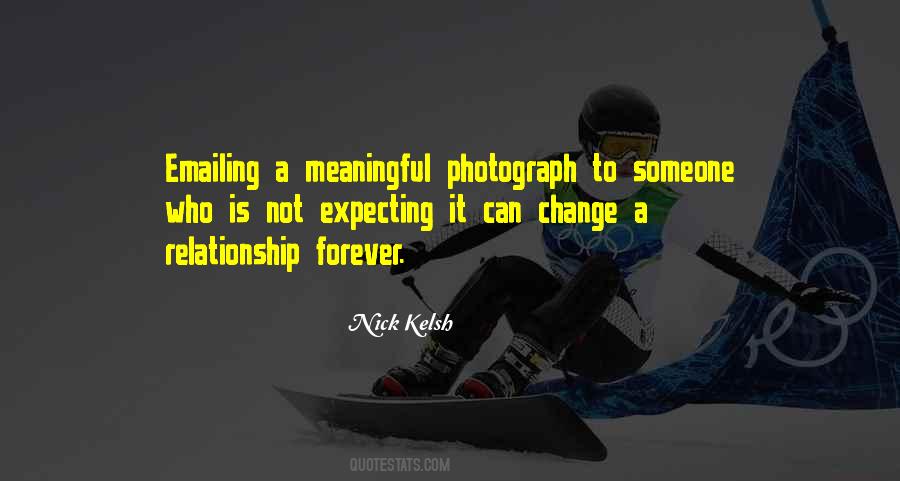 #92. I treat the photograph as a work of great complexity in which you can find drama. Add to that a careful composition of landscapes, live photography, the right music and interviews with people, and it becomes a style. - Author: Ken Burns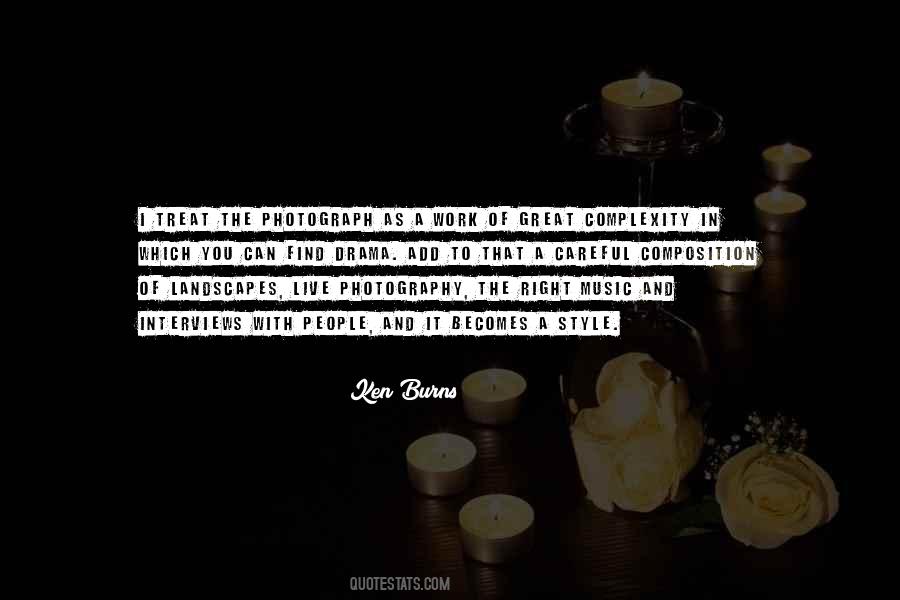 #93. This is the gift of the landscape photograph, that the heart finds a place to stand. - Author: Emmet Gowin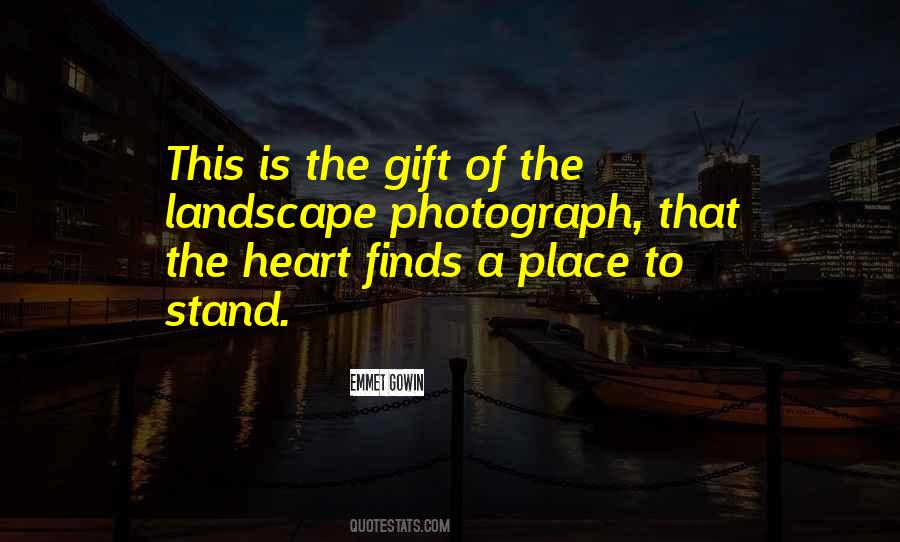 #94. But sometimes it takes only a photograph and a sentence to make an author cry himself to sleep even years after the photograph was taken. - Author: Lemony Snicket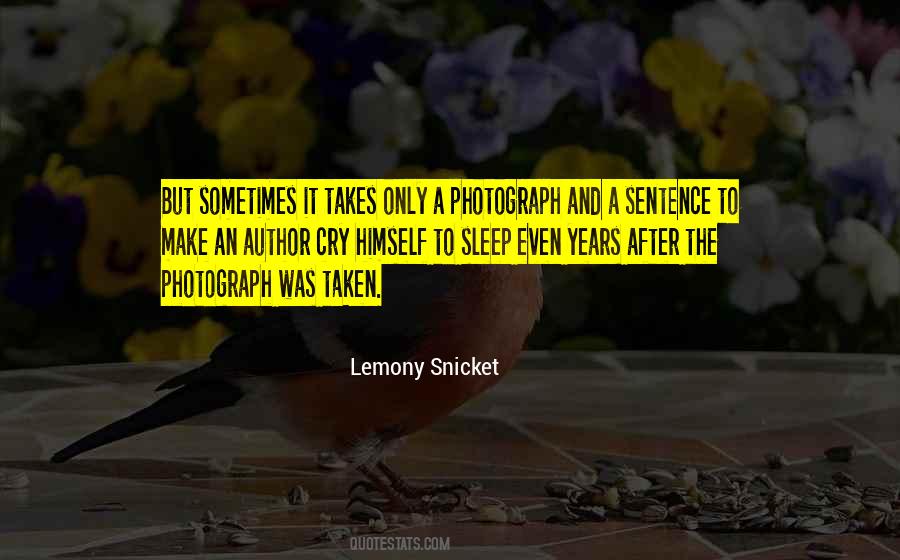 #95. Many claim I am a photographer of tragedy. In the greater sense I am not, for though I often photograph where the tragic emotion is present, the result is almost invariably affirmative. - Author: W. Eugene Smith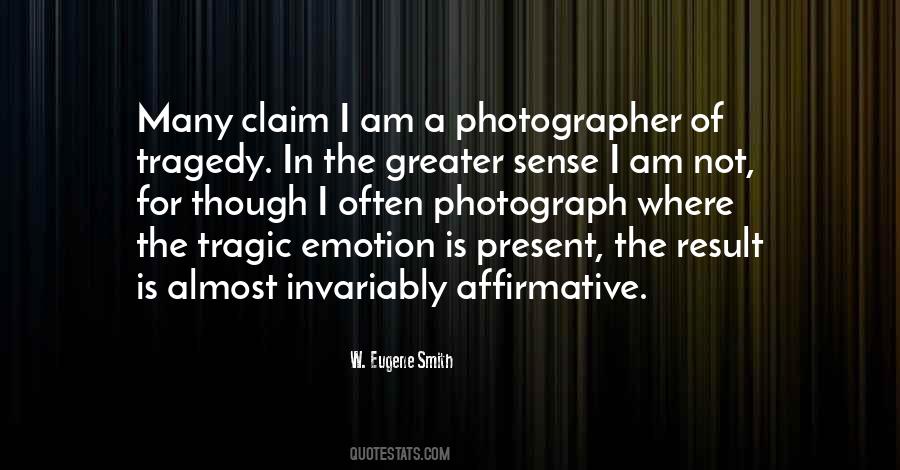 #96. When we look at a photograph of ourselves or of others, we are really looking at the return of the dead. - Author: Roland Barthes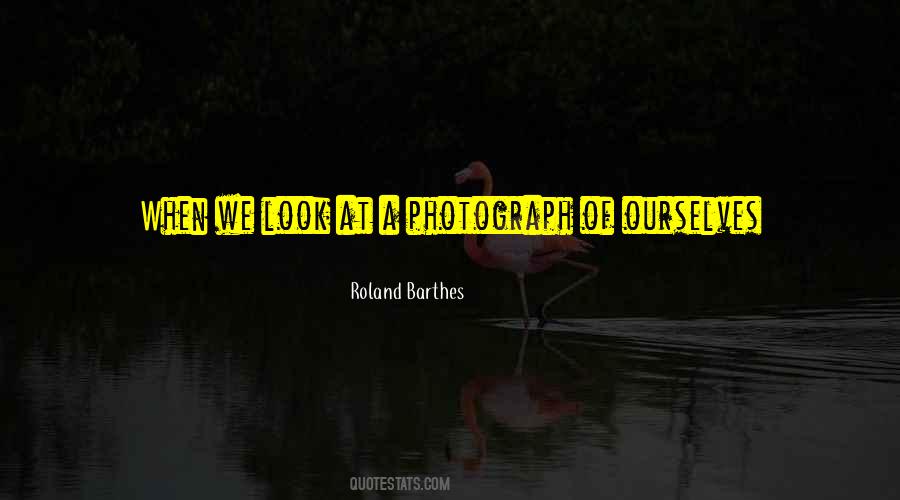 #97. A skillful photographer can photograph anything well. - Author: John Szarkowski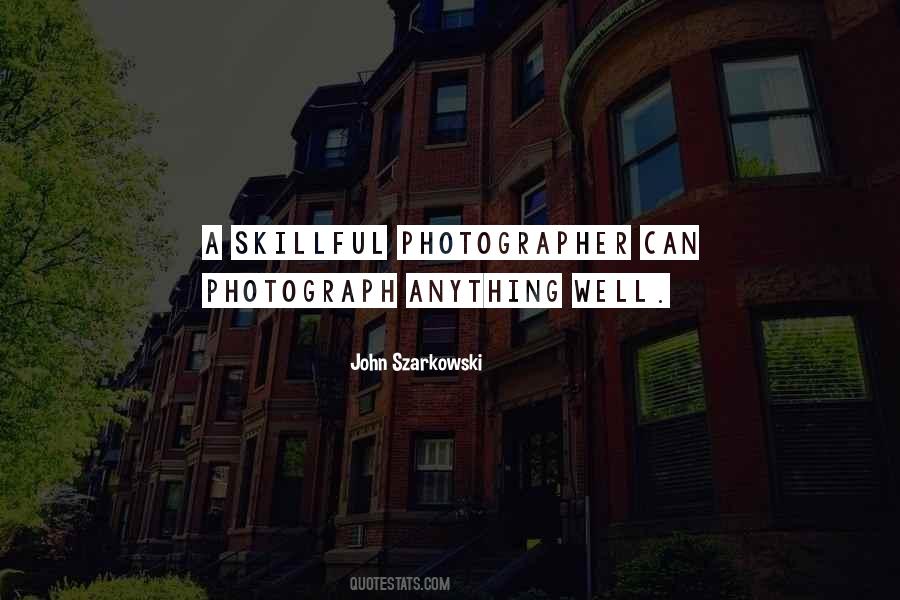 #98. She [Jo Spence] appeared in a photograph, taken for a series entitled Class Shame, holding a placard on which was written: 'Middle class values make me sick'. - Author: John A. Walker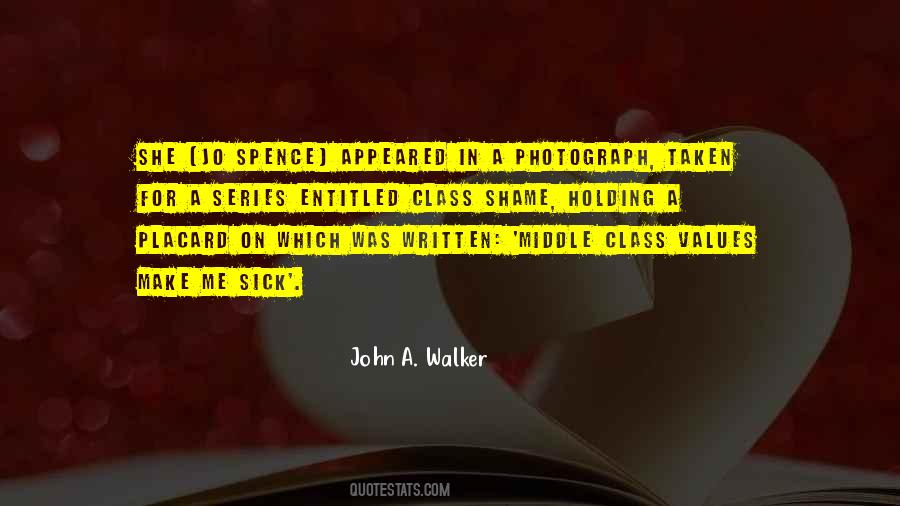 #99. I was an amateur - I am an amateur - and I intend to stay an amateur. To me an amateur photographer is one who is in love with taking pictures, a free soul who can photograph what he likes and who likes what he photographs. - Author: Erwin Blumenfeld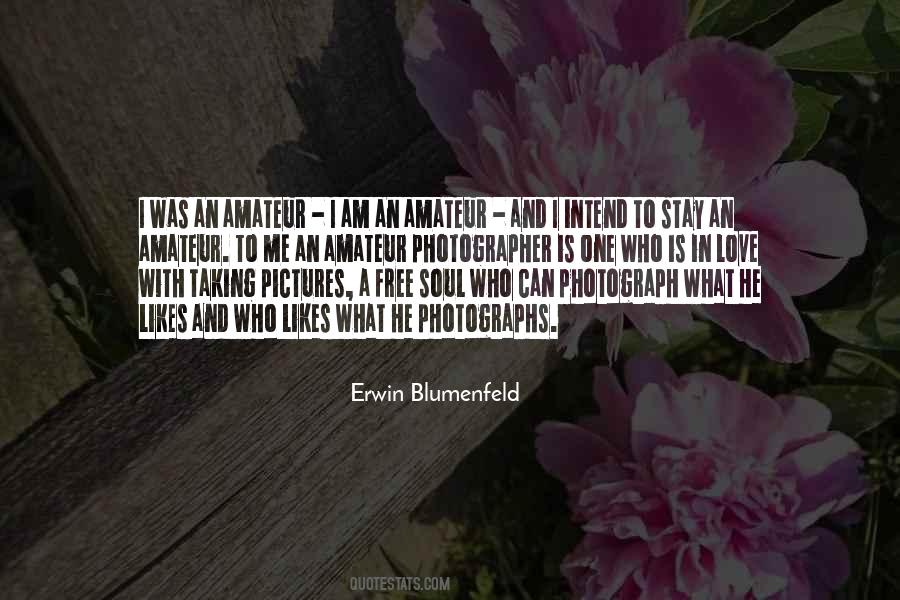 #100. Anybody can direct a picture once they know the fundamentals. Directing is not a mystery, it's not an art. The main thing about directing is: photograph the people's eyes. - Author: John Ford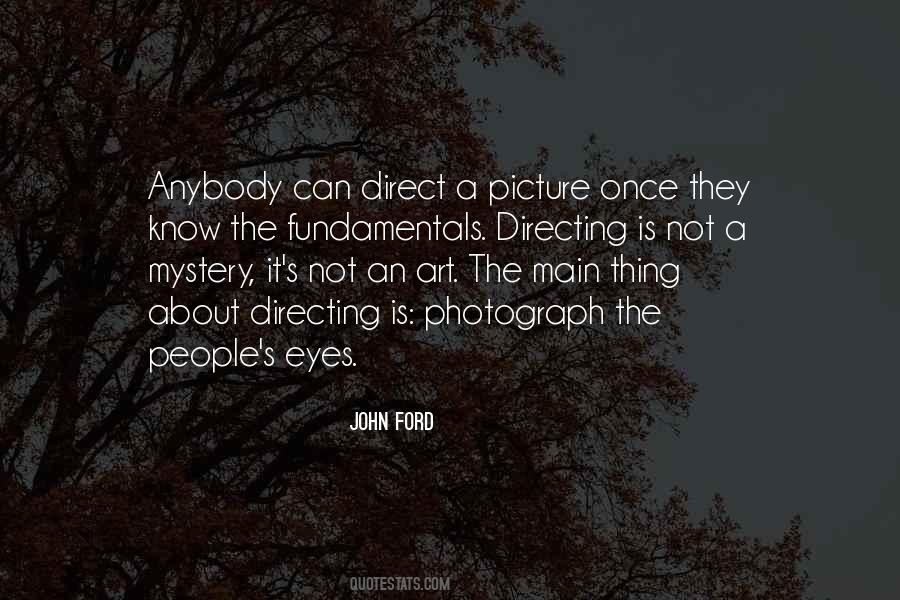 Famous Authors
Popular Topics