A Great Life Famous Quotes & Sayings
List of top 100 famous quotes and sayings about a great life to read and share with friends on your Facebook, Twitter, blogs.
Top 100 Quotes About A Great Life
#1. Redeemed humanity is still young, it has hardly come to its full strength. But already there is joy enough in the little finger of a great saint such as yonder lady to waken all the dead things of the universe into life. - Author: C.S. Lewis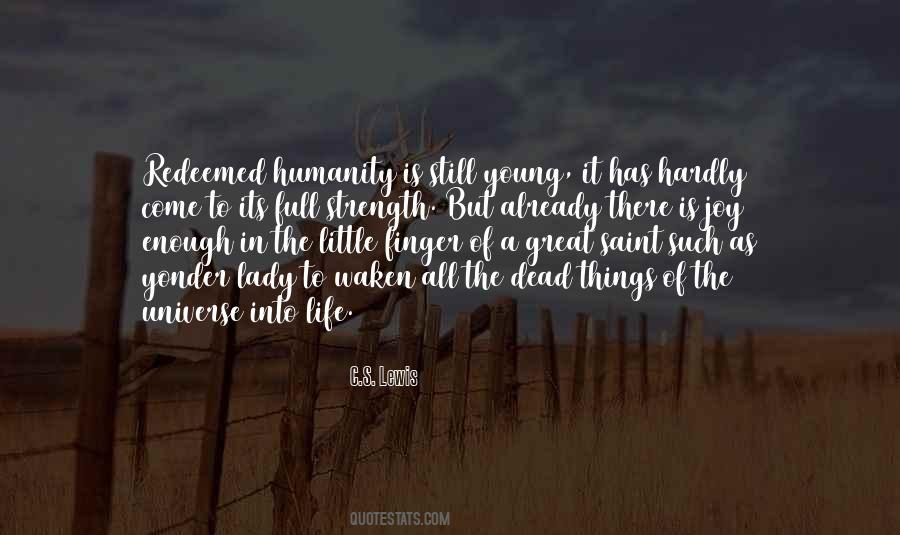 #2. Soap is another article in great demand
the Continental allowance is too small, and dear, as every necessary of life is now got, a soldier's pay will not enable him to purchase, by which means his consequent dirtiness adds not a little to the disease of the Army. - Author: George Washington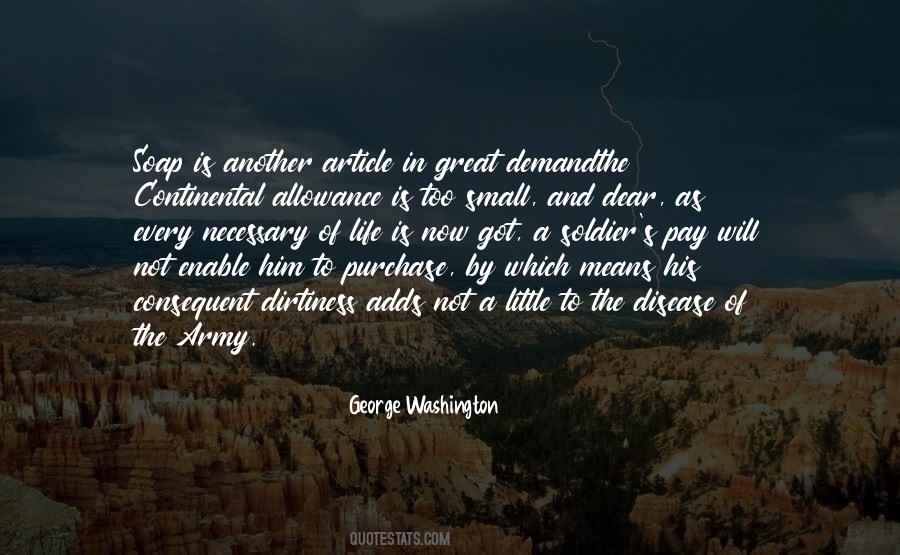 #3. Being the new guy's always great because you get to go in fresh with your own choices and you get to bring new life and breath and a new energy into something that's already established. - Author: Dustin Clare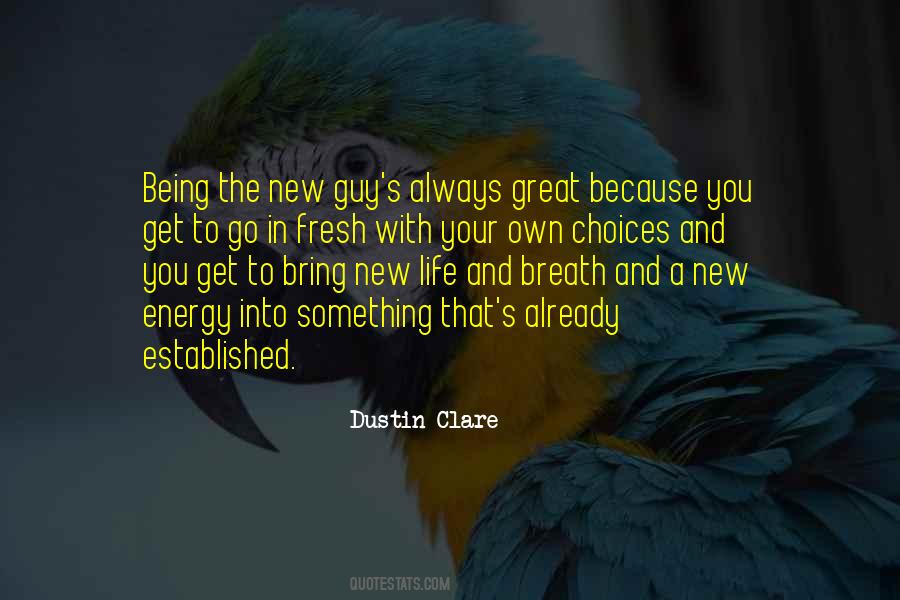 #4. The great mistake of the reformers is to believe that life begins and ends with health, and that happiness begins and ends with a full stomach and the power to enjoy physical pleasures, even of the finer kind. - Author: Katharine Fullerton Gerould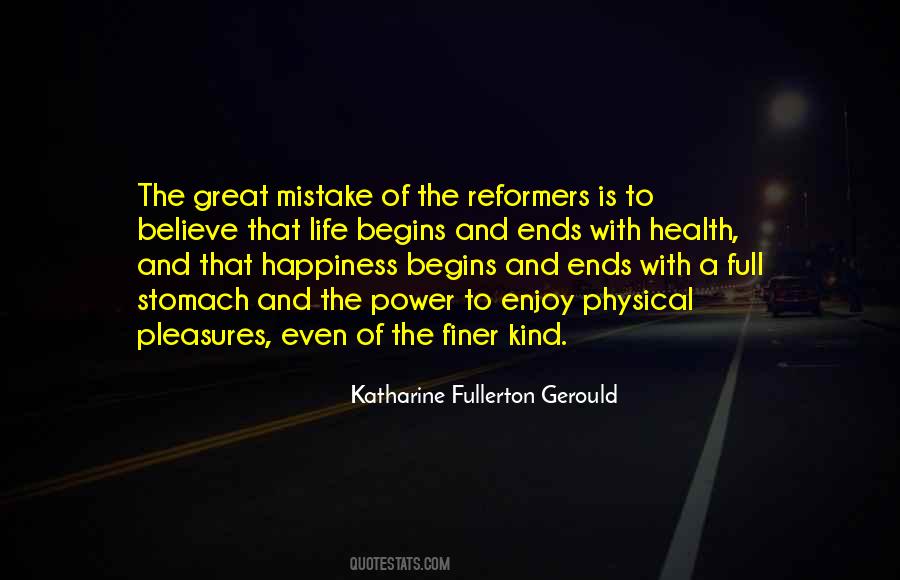 #5. I often ask the question: Is it impossible to have a simple life?
The world is not simple, Claire said.
The world is not simple. Joe repeated the phrase like the line of a great poem. - Author: Elizabeth Brundage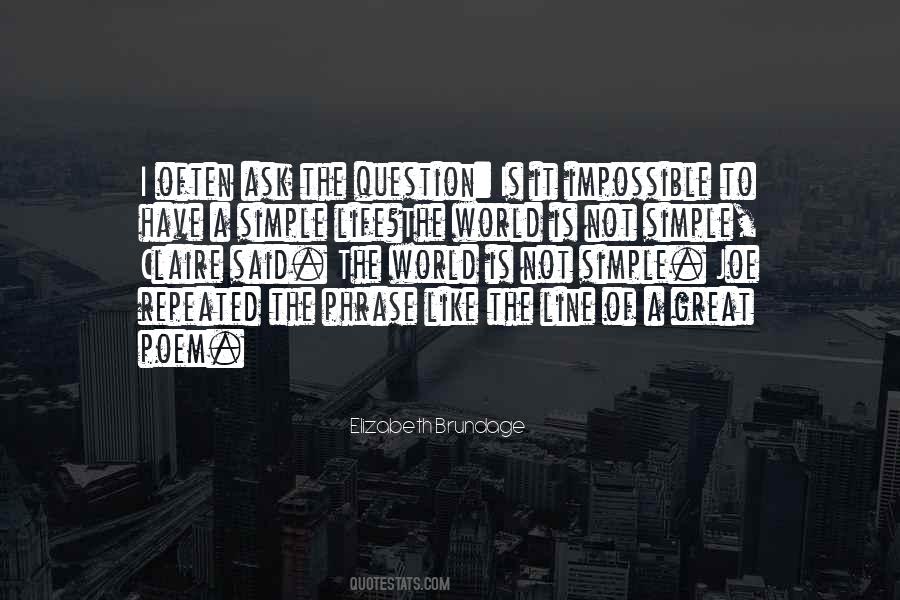 #6. Your vision at a leadership level needs to be more global and selfless, it needs to go beyond you. Reflect and project your dream for a perfect world, even if you can only make it a great world. - Author: Archibald Marwizi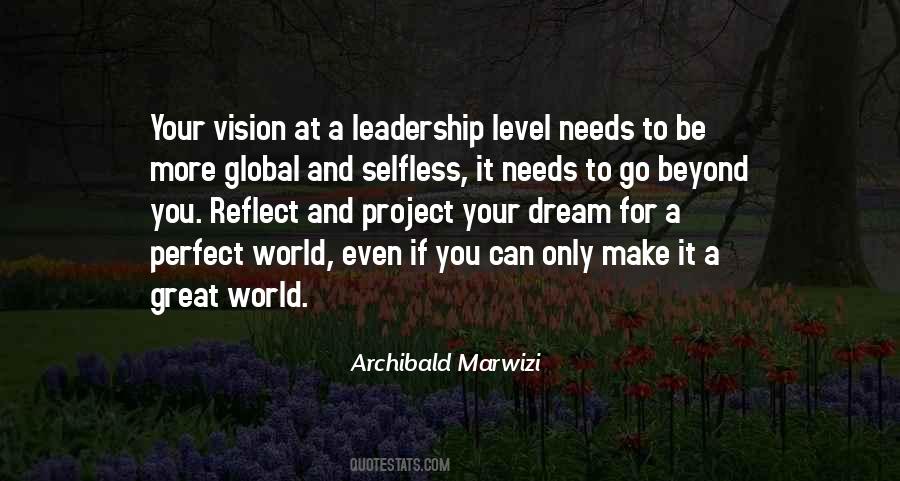 #7. I am a gate for God to accomplish great things. Through me and with me, new Life enters the world. - Author: Julia Cameron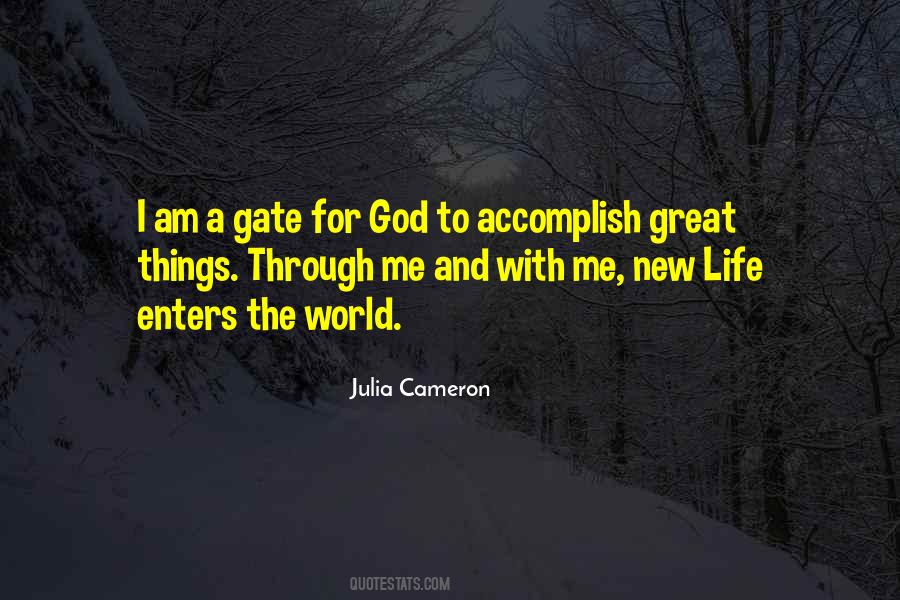 #8. I don't want to be a great leader; I want to be a man who goes around with a little oil can and when he sees a breakdown, offers his help. To me, the man who does that is greater than any holy man in saffron-colored robes. The mechanic with the oil can: that is my ideal in life. - Author: Baba Amte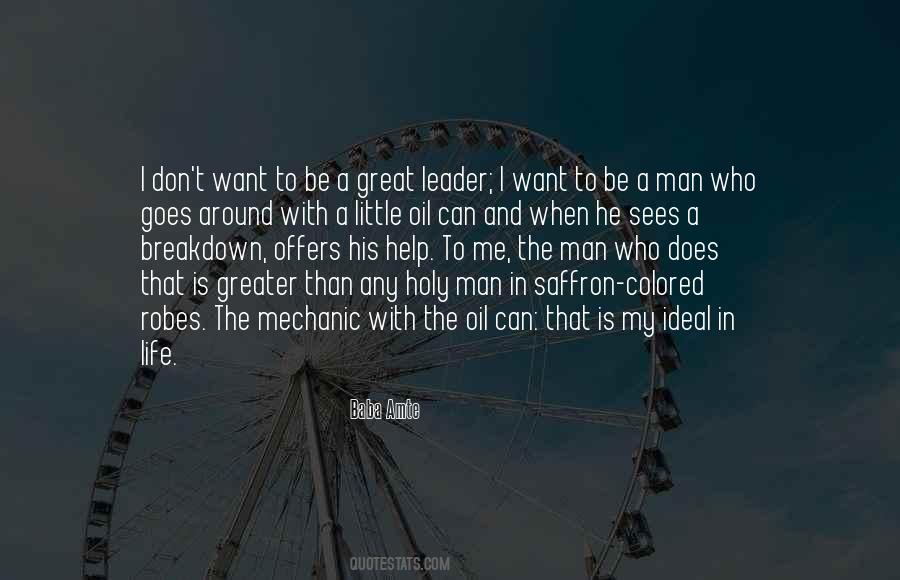 #9. When you realise that money doesn't actually make you happy, it's a quick fix to have things you've always wanted, but then when you have it, you realise that's not what actually makes you happy. It's more about having a great marriage and happy children; that's what life's all about. - Author: Shane Filan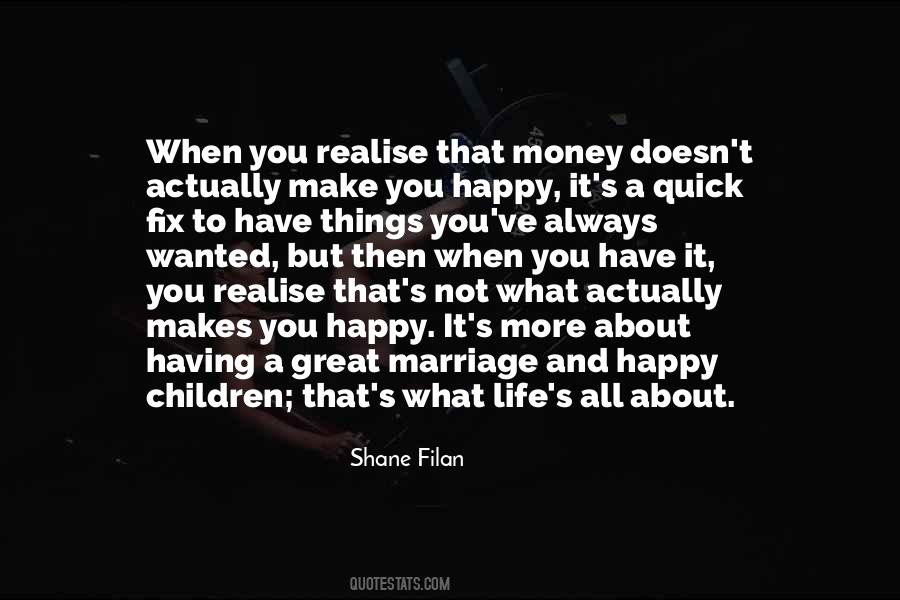 #10. Everything that surrounds us becomes part of us, it seeps into us with every experience of the flesh and of life and, like the web of a great Spider, binds us subtly to what is near, ensnares us in a fragile cradle of slow death, where we lie rocking in the wind. - Author: Fernando Pessoa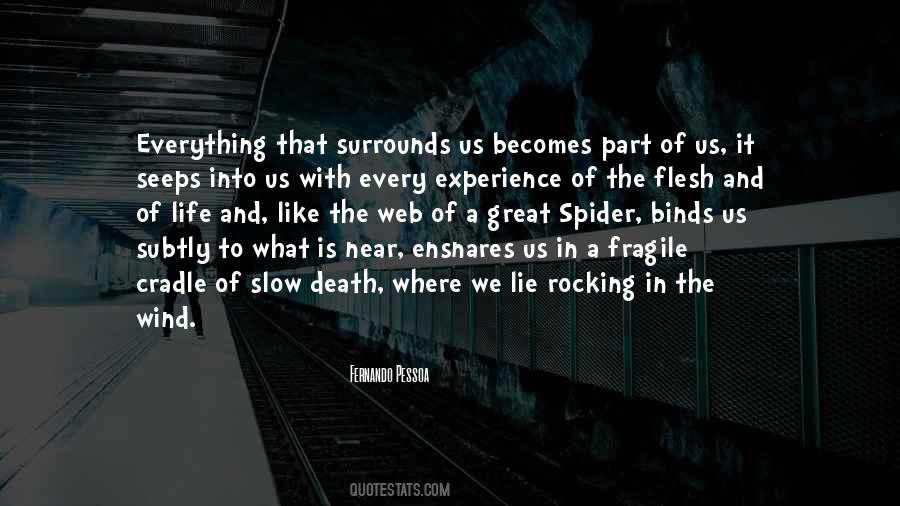 #11. The sin of pride may be a small or a great thing in someone's life, and hurt vanity a passing pinprick, or a self-destroying or ever murderous obsession. - Author: Iris Murdoch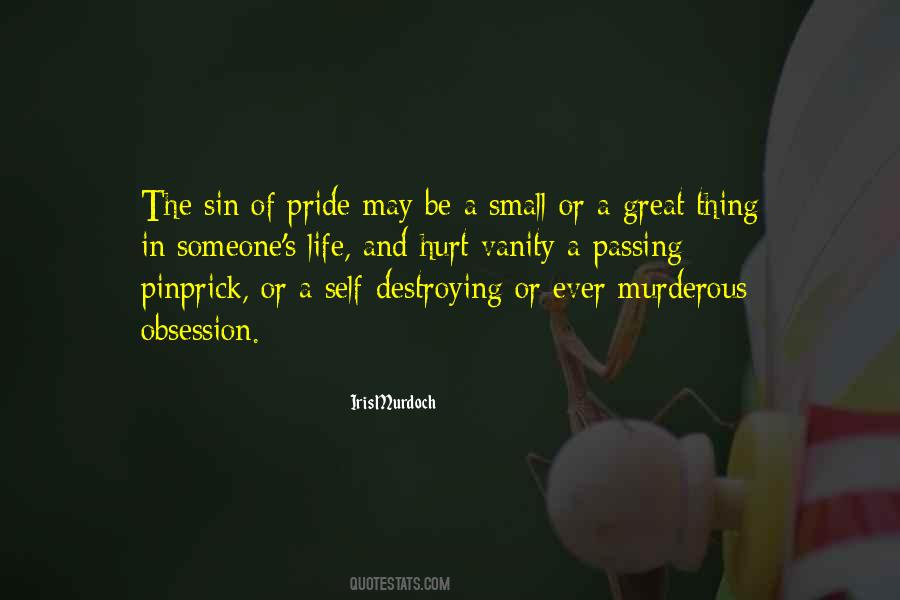 #12. I was just a screw or cog in the great machine I called life, and when I dropped out of it I found I was of no use anywhere else. - Author: Edith Wharton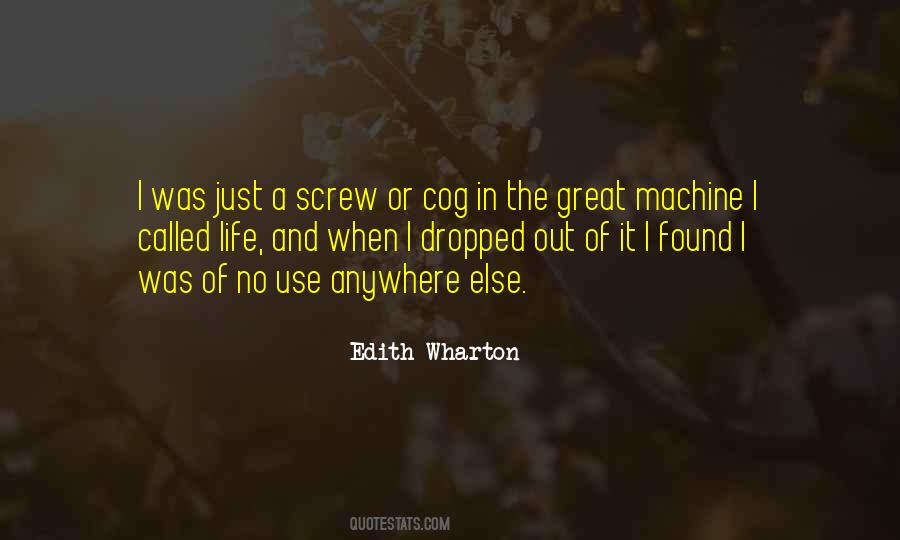 #13. Enduring great companies don't exist merely to deliver returns to shareholders. Indeed, in a truly great company, profits and cash flow become like blood and water to a healthy body: They are absolutely essential for life, but they are not the very point of life. - Author: James C. Collins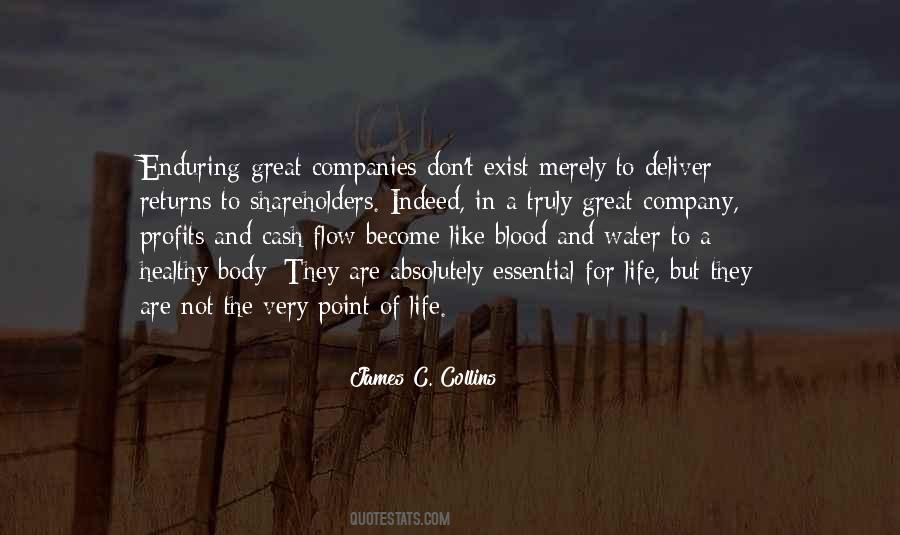 #14. Take a great adventure to a place, learn the rich history and make your own observation about the place. - Author: Lailah Gifty Akita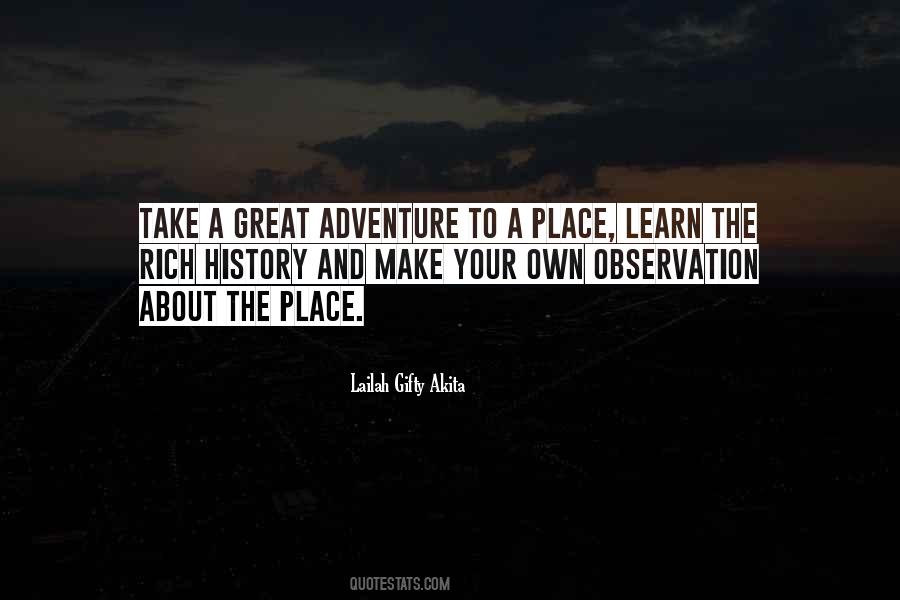 #15. A susceptible child is capable of great hero worship, and a young mind can easily be obsessed by an idea which persists into adult life. - Author: Agatha Christie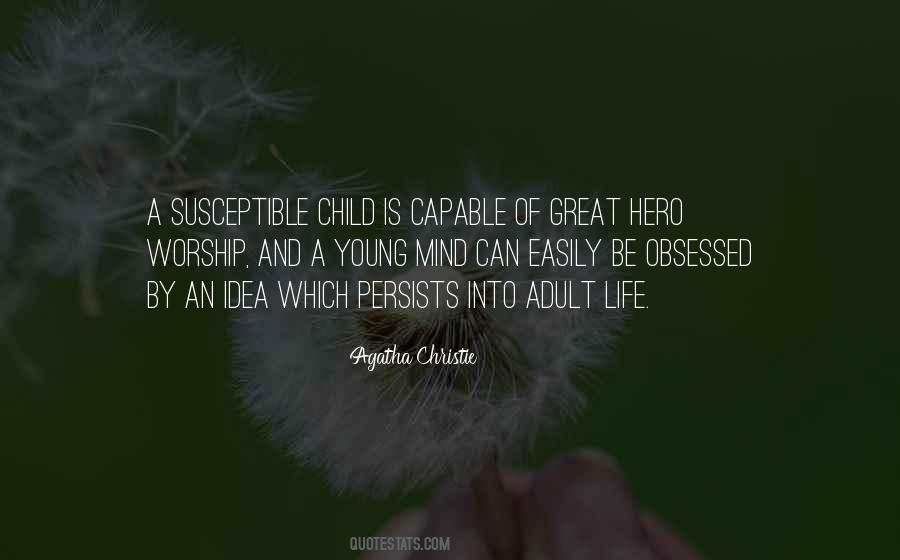 #16. Sausage is a great deal like life. You get out of it about what you put into it. - Author: Jimmy Dean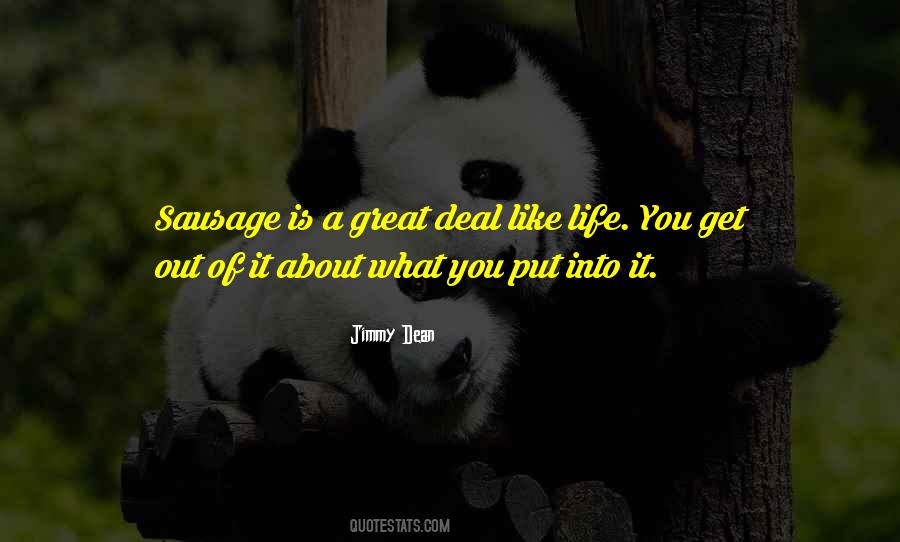 #17. Three films a day, three books a week and records of great music would be enough to make me happy to the day I die. - Author: Francois Truffaut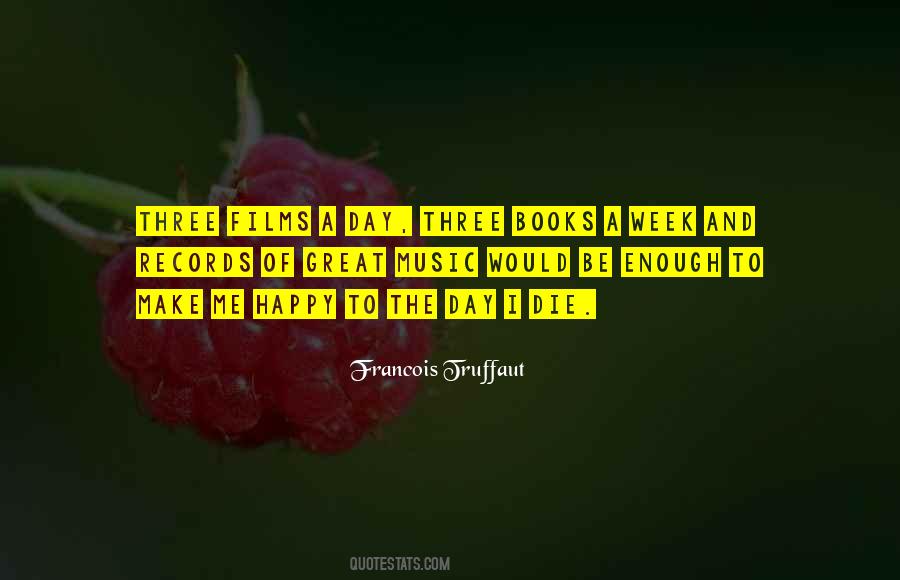 #18. I was hoping my life might make more sense from a great height. - Author: Chris Cleave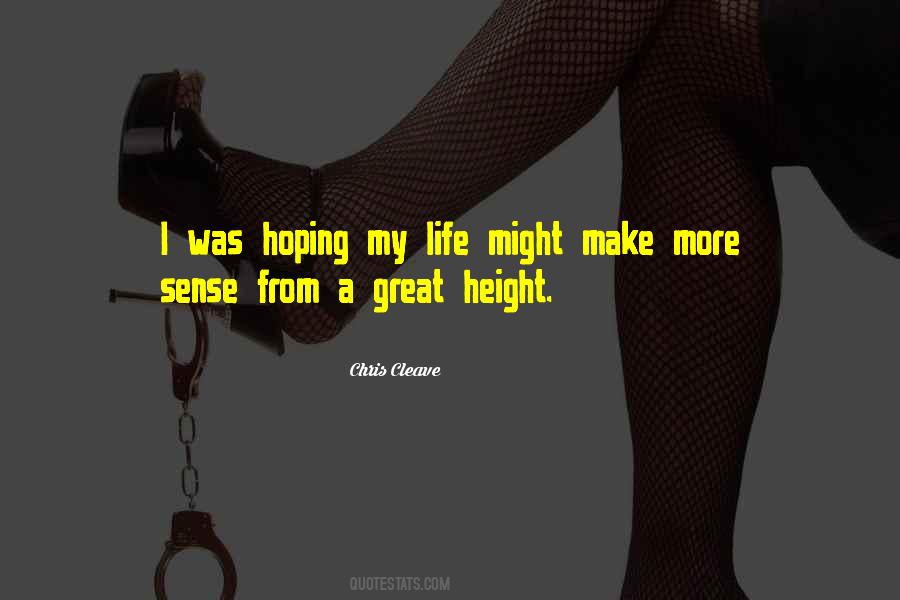 #19. So I came here looking for a Great Perharps - Author: John Green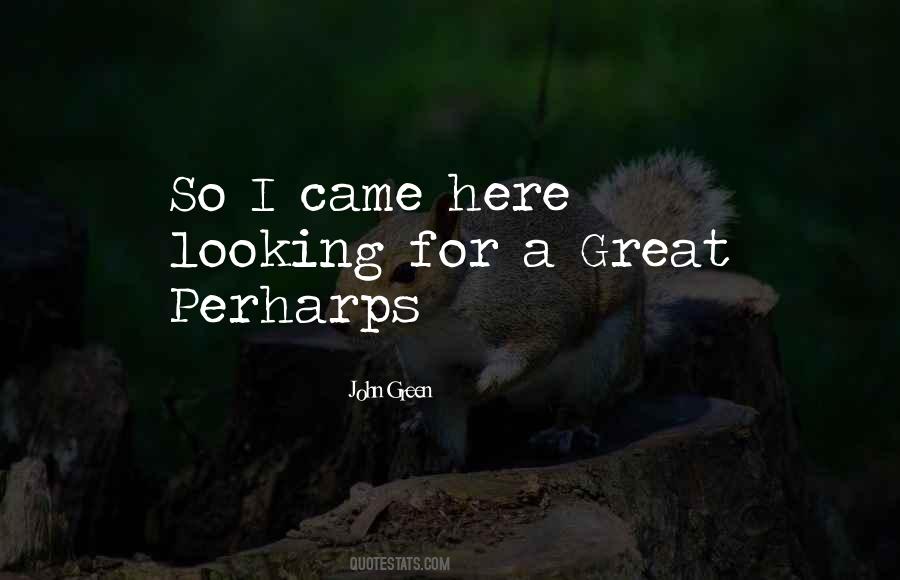 #20. As a child, I dreamed that my bed could fly and glide and swoop and hover high over the countryside near my home while, snug and secure, I looked down in wonder at the great carpet of life that seemed so perfect beneath me. - Author: Michael Leunig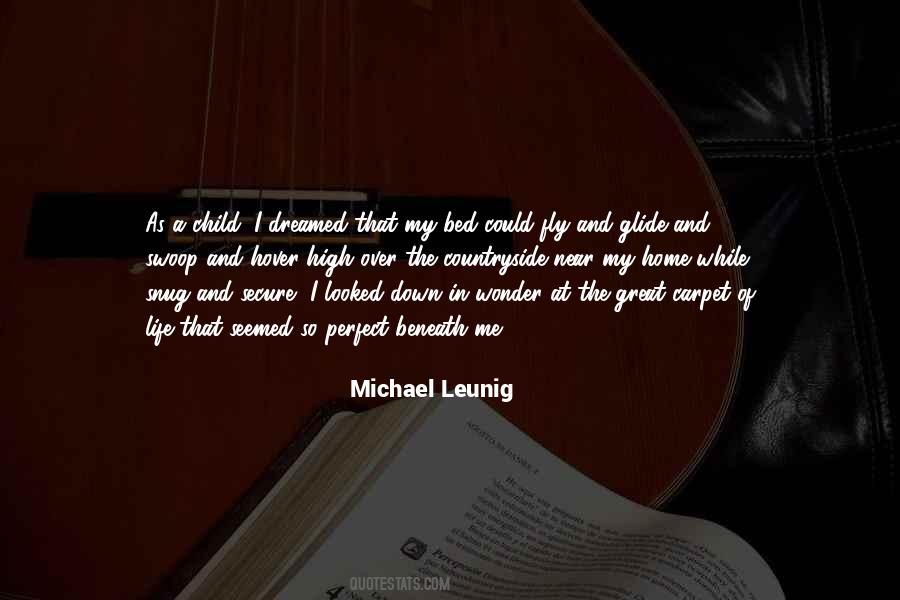 #21. My life is great because I made it that way. Anything other than happiness doesn't get a pass key. - Author: Keshia Chante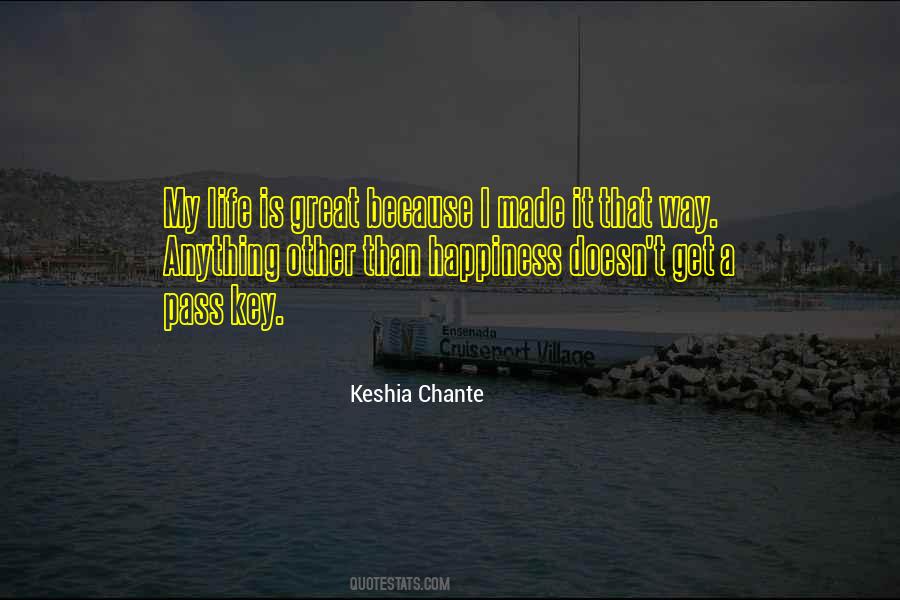 #22. I'm a great admirer of Primo Levi's work. It's always mind-boggling, the idea of how much pain people can endure and still come back from the edge with a sense of humor, with this tremendous animal desire we have to get on with life. - Author: Allan Gurganus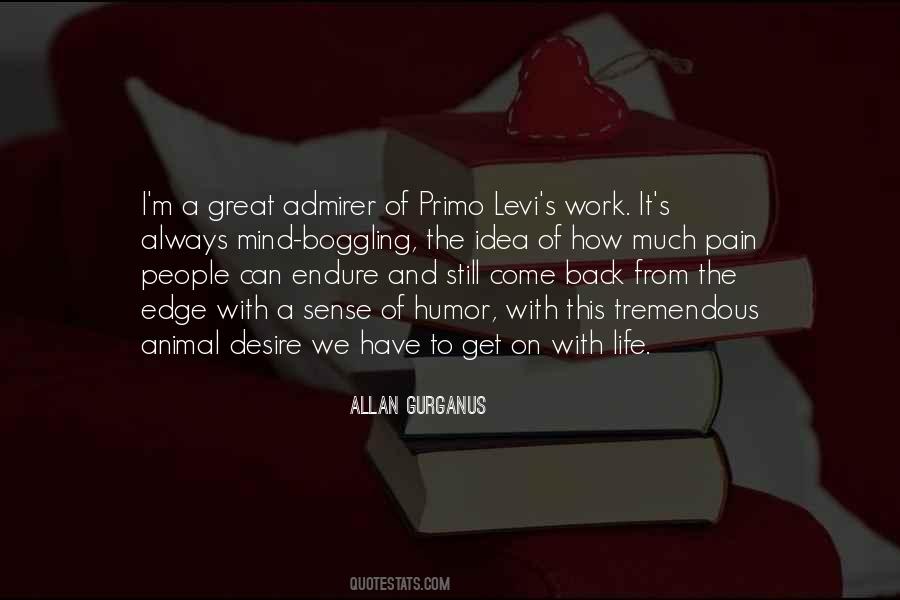 #23. I have a really, really great girl in my life right now. - Author: Chad Michael Murray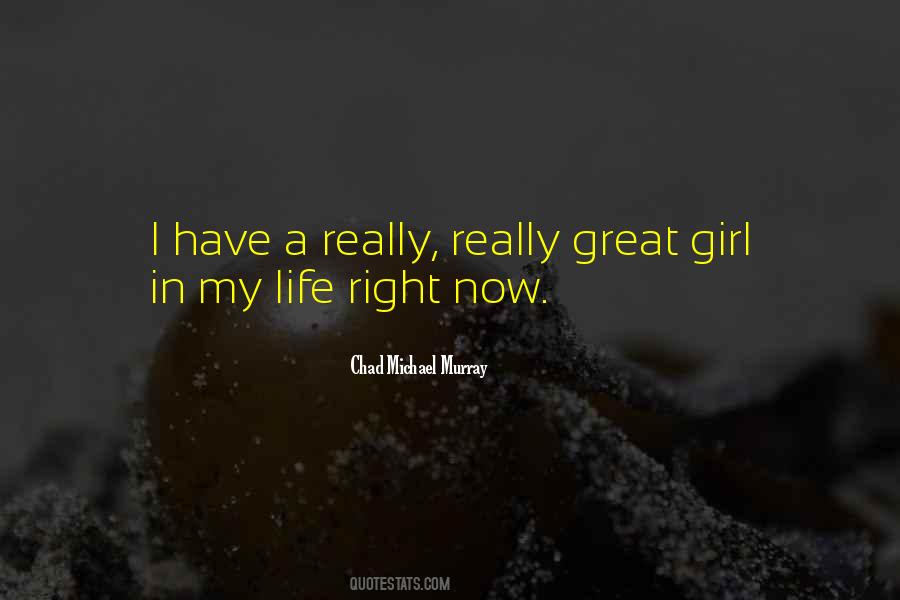 #24. Running has always been a relief and a sanctuary - something that makes me feel good, both physically and mentally. For me it's not so much about the health benefits. Those are great, but I believe that the best thing about running is the joy it brings to life. - Author: Kara Goucher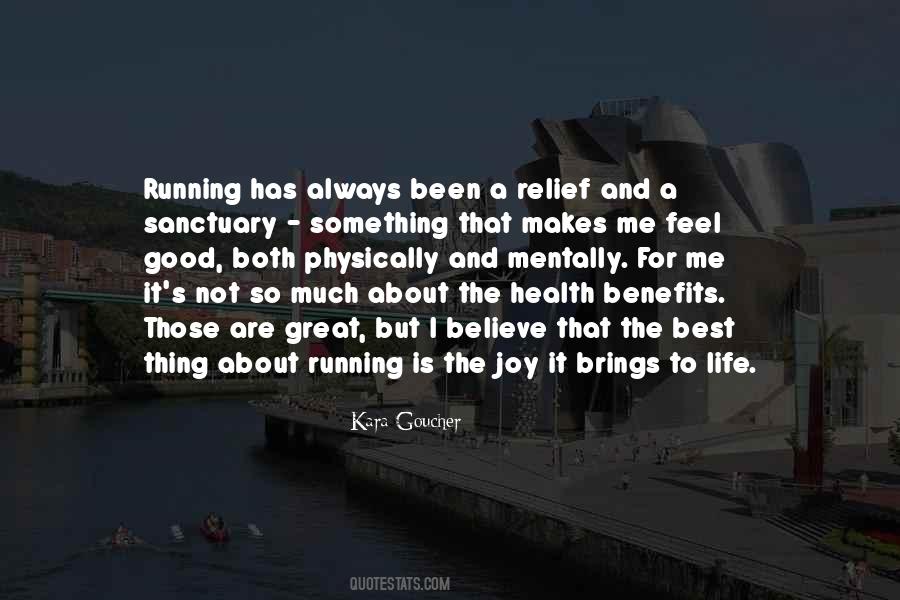 #25. I am seriously interested in the psychology of childhood. And I've given a lot of my life to trying to see questions of personal development, as well as the great issues of the day, from a child's point of view. - Author: Kevin Crossley-Holland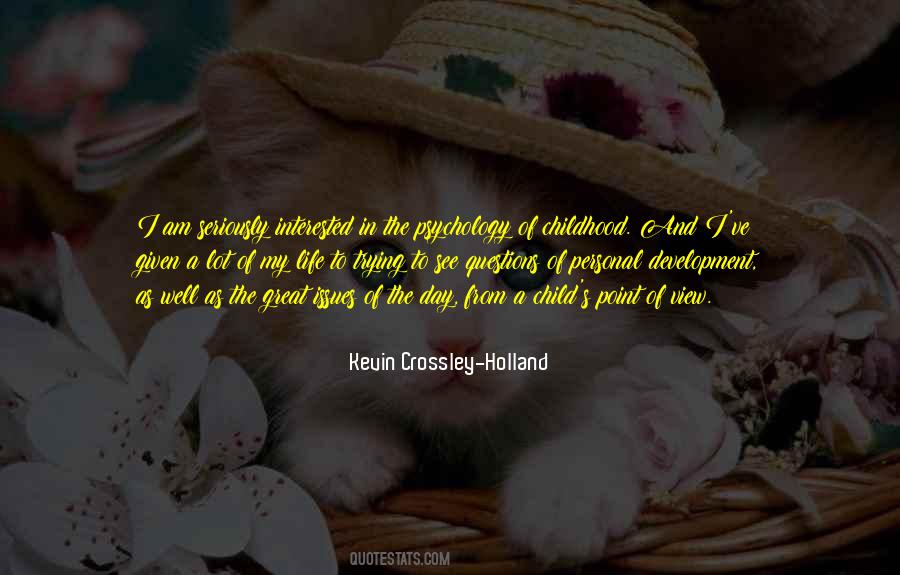 #26. Great drama is great questions or it is nothing but technique. I could not imagine a theater worth my time that did not want to change the world. - Author: Arthur Miller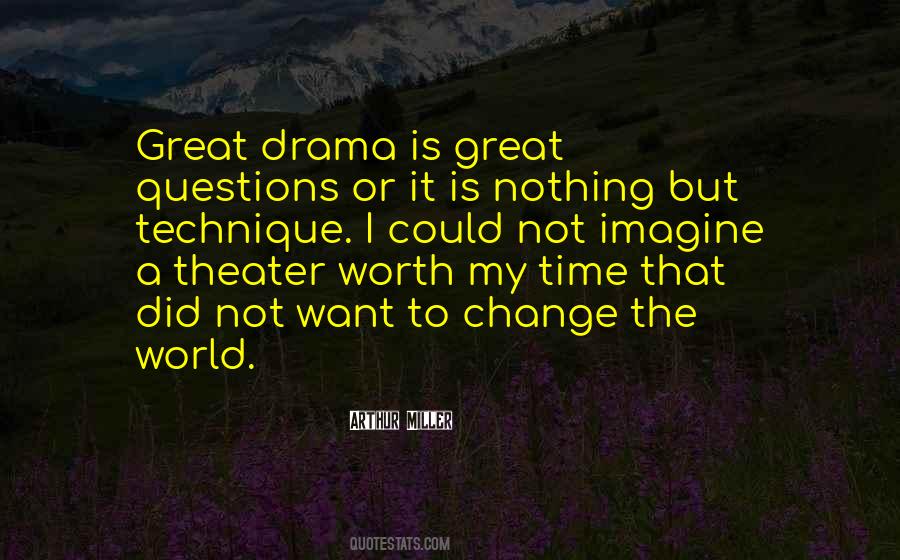 #27. John Green has written a powerful novel - one that plunges headlong into the labyrinth of life, love, and the mysteries of being human. This is a book that will touch your life, so don't read it sitting down. Stand up, and take a step into the Great Perhaps. - Author: KL Going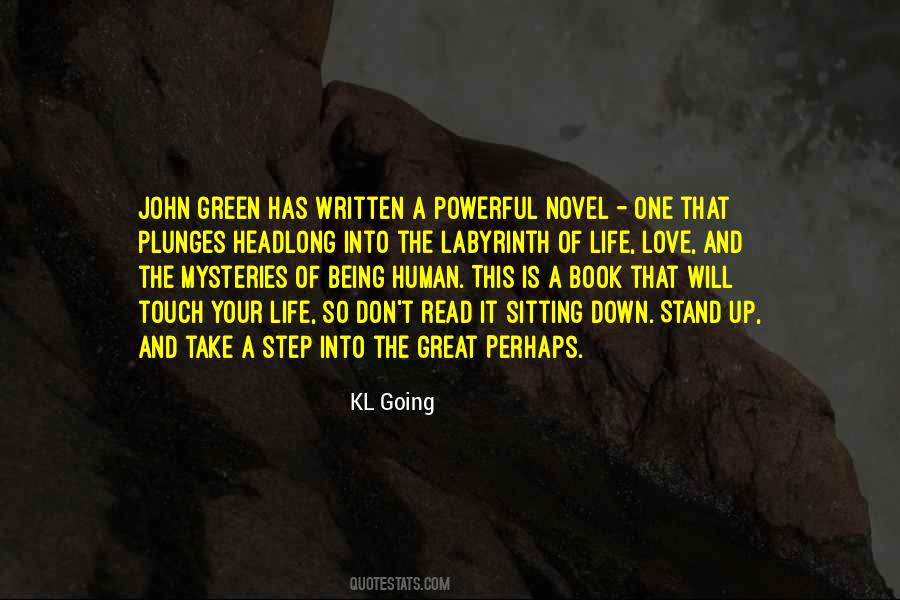 #28. There is no great companion like a book. - Author: Lailah Gifty Akita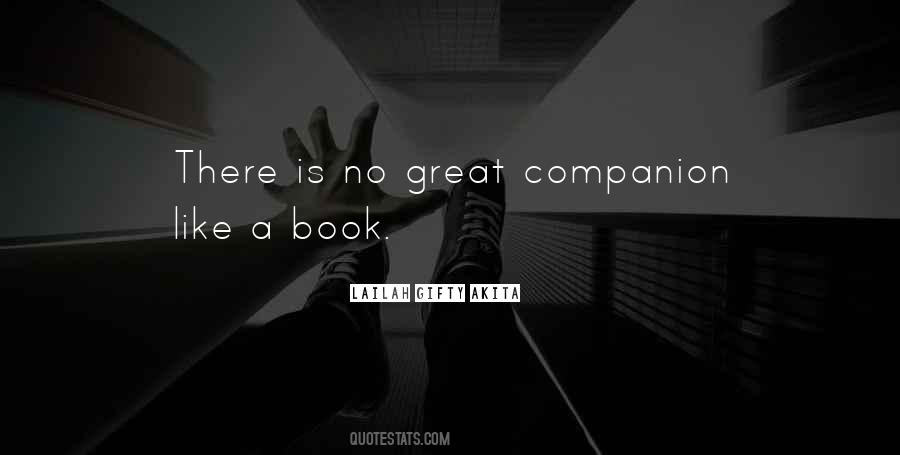 #29. Let us show, not merely in great crises, but in every day of life, qualities of practical intelligence, of hardihood and endurance, and above all, the power of devotion to a lofty ideal. - Author: Theodore Roosevelt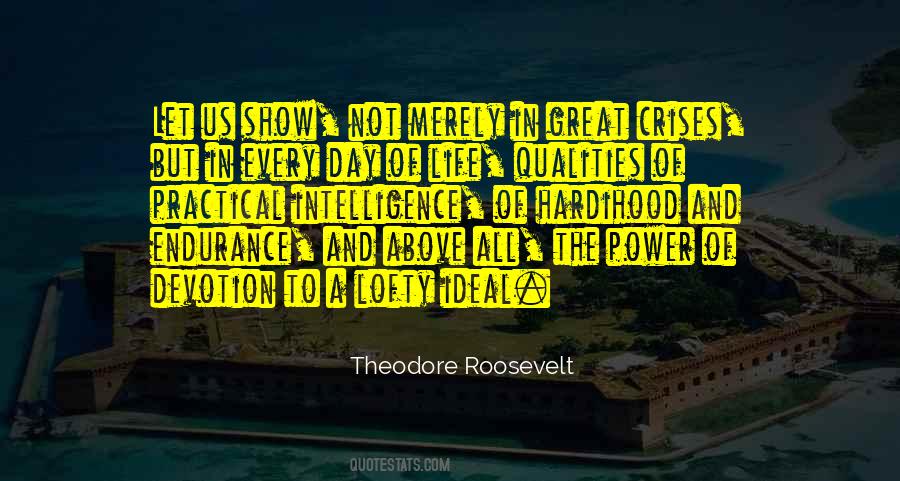 #30. Courage, kindness and a great determination to succeed in life with a smile were hallmarks of my wonderful wife. And why her story deserves to be told. - Author: Paul Roberts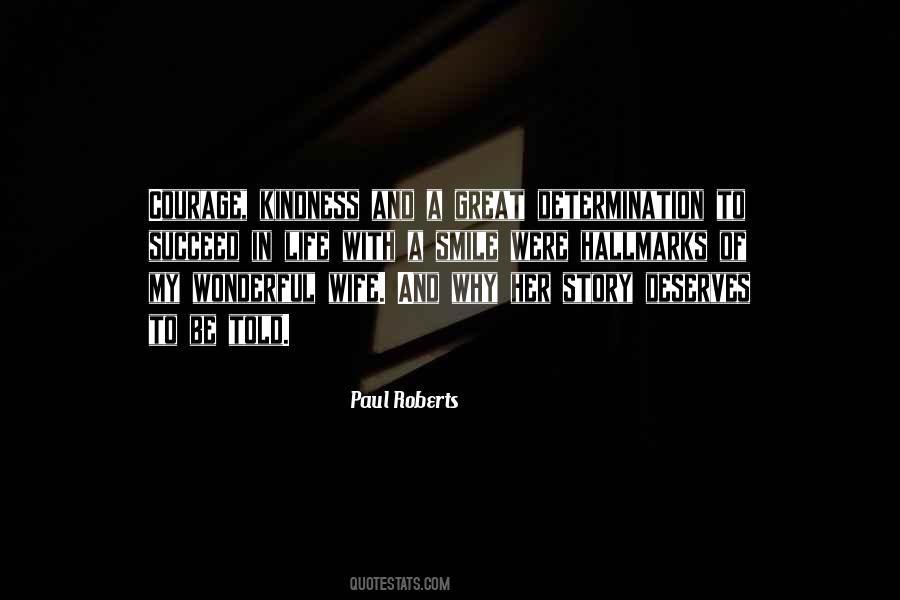 #31. Great love, like great genius, can never be a duty: both are life's gracious gifts to its elect. - Author: Ellen Key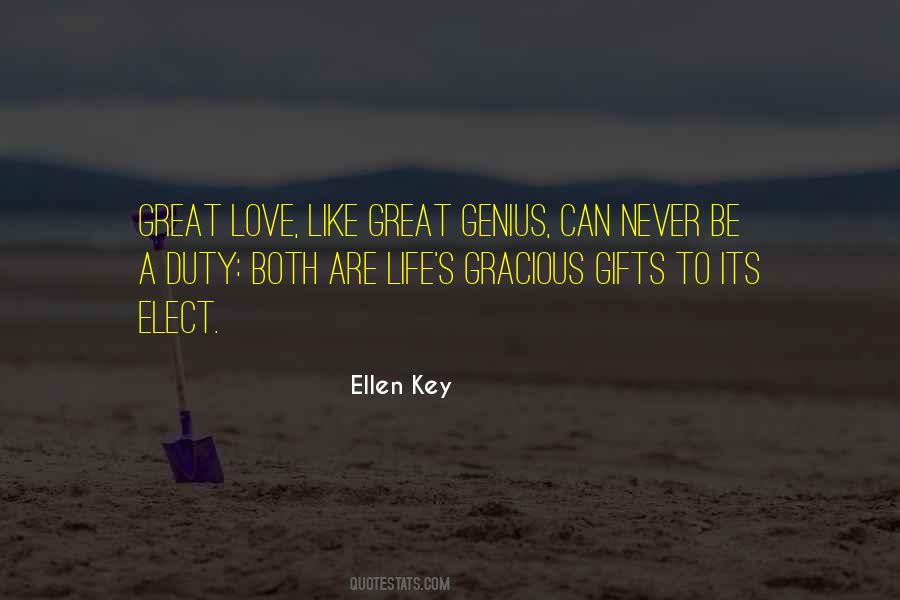 #32. Age is a terrible avenger. The lessons of life you give so much to work with, but by the time you've got all this great wisdom, you don't get to be young anymore. - Author: Elizabeth Wurtzel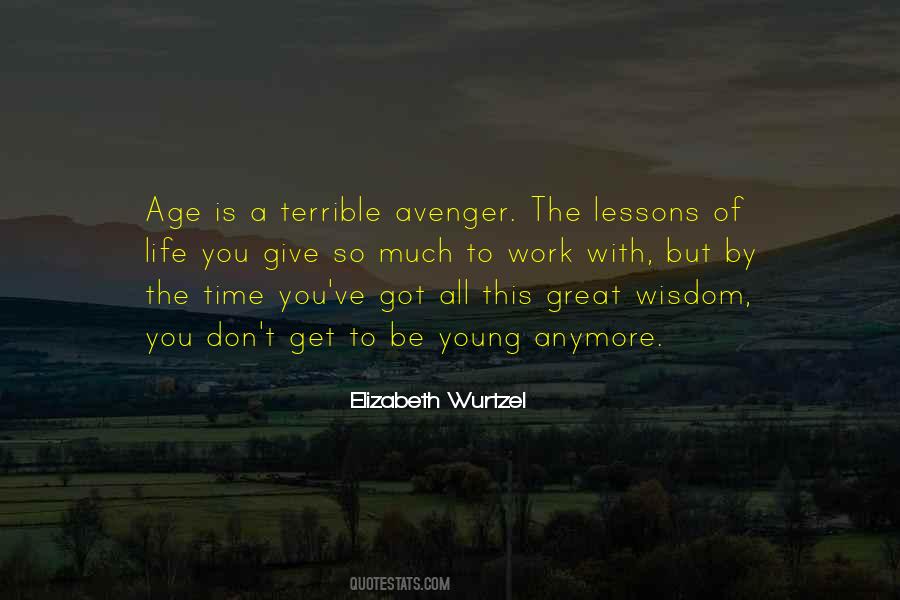 #33. New York is a great place to be fed in the arts. The arts in general are a large part of my life. The city was my postgraduate course. - Author: Kathleen Battle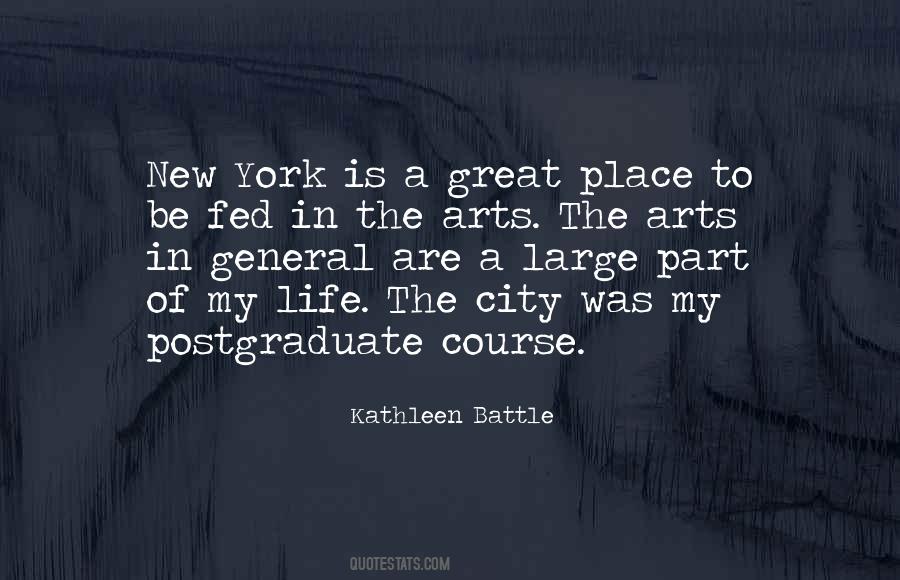 #34. Life is rather like a long train ride; you may encounter a great many people, but looking out from your own small compartment of self you catch only a glimpse of other people's joy or despair. - Author: Faith Baldwin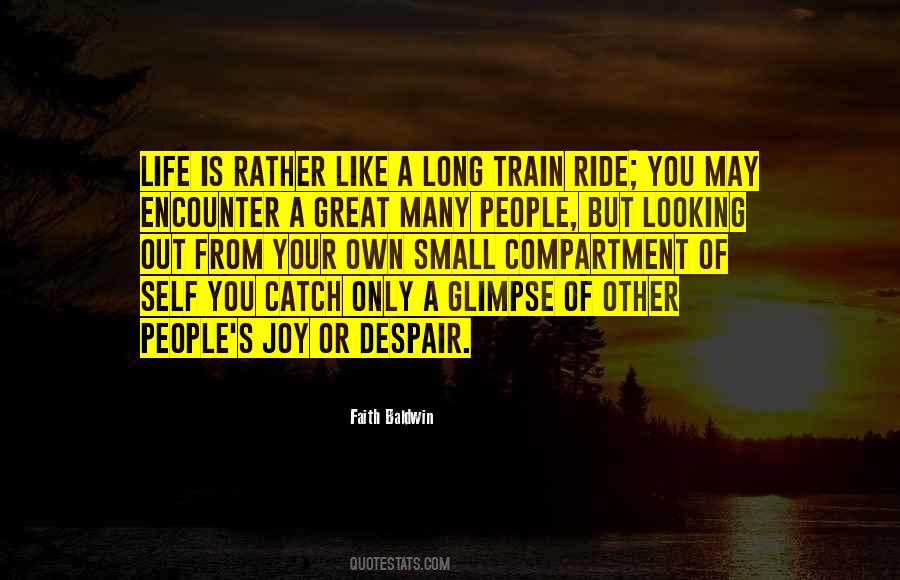 #35. The only way you can talk about this great tide in which you're a participant is as Schopenhauer did: the universe is a dream dreamed by a single dreamer where all the dream characters dream too. - Author: Joseph Campbell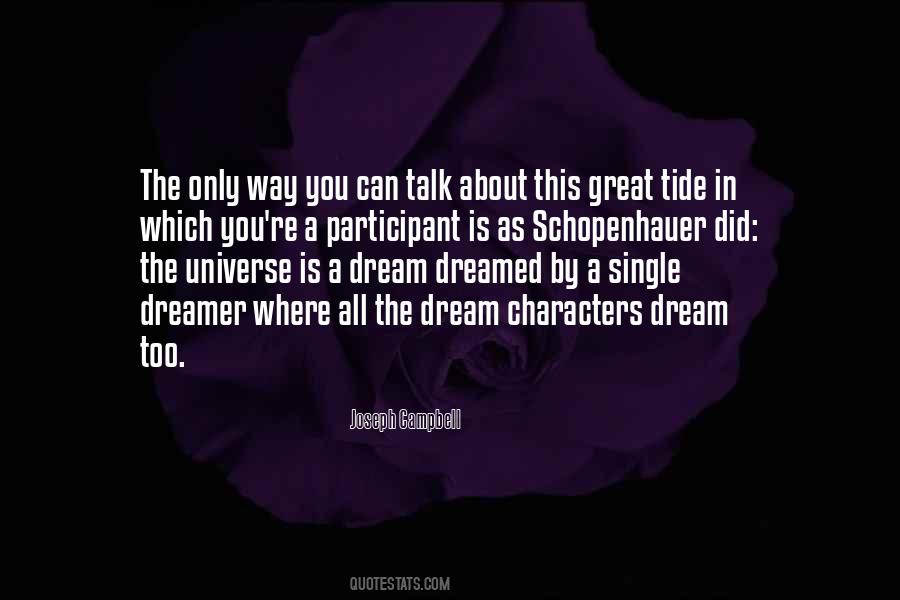 #36. I am sure when Cinderella went to that ball, she took a great deal more pleasure in outsmarting her stepmother than in the carriage and the ball dress and the glass slippers. - Author: Gita V. Reddy
#37. I'm really, really enjoying myself, I seem to have a lot of purpose in my life. I'm enjoying what I'm doing, you know, and people are liking it. So, it's great, you know. - Author: Robbie Williams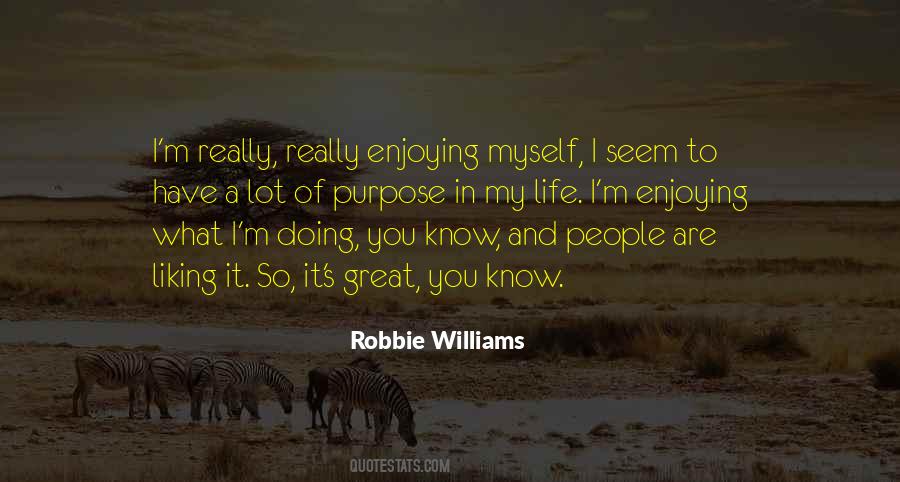 #38. Gandhi became my role model. I have always been interested in Eastern philosophy. Since early in my life I've been fascinated by India, and I have spent a great deal of time traveling in that country. - Author: Bianca Jagger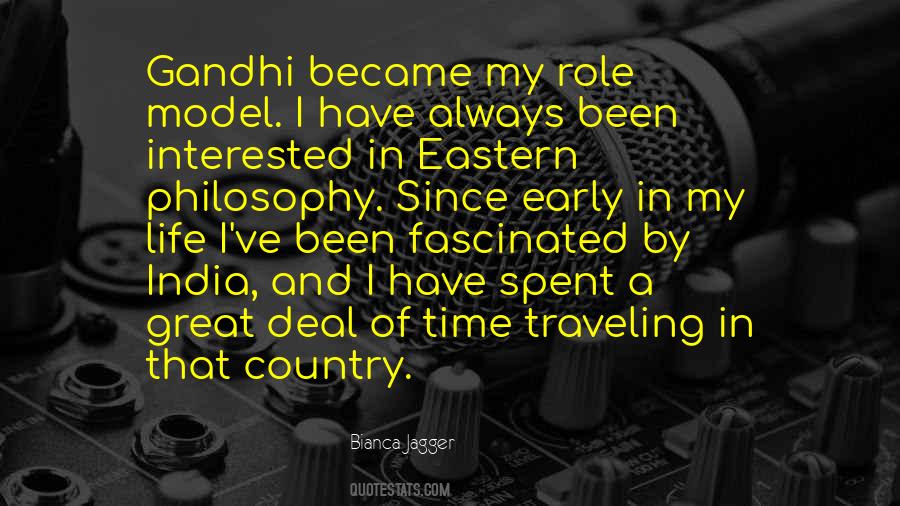 #39. A new love came into my life, a most beautiful one, one which will, I believe, stand the test of time ... Perhaps C. will be remembered as the great love of my life. Already I have achieved certain heights reached with no other love. - Author: Edward Weston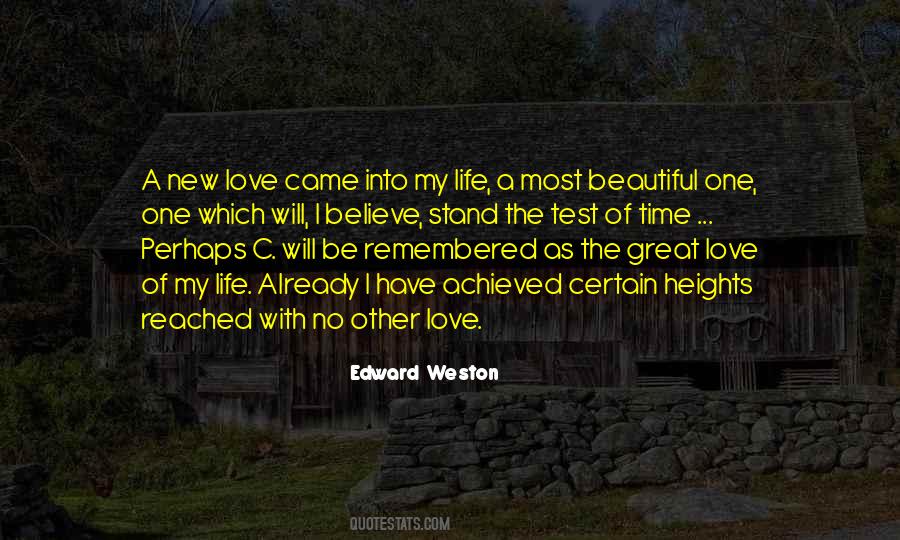 #40. Maybe I was great in the ring, but outside of boxing, I'm just a brother like other people. I want to live a good life, serve God, help everybody I can. And one more thing. I'm still gonna find out who stole my bike when I was 12 years old in Louisville and I'm gonna whup him. That was a good bike. - Author: Muhammad Ali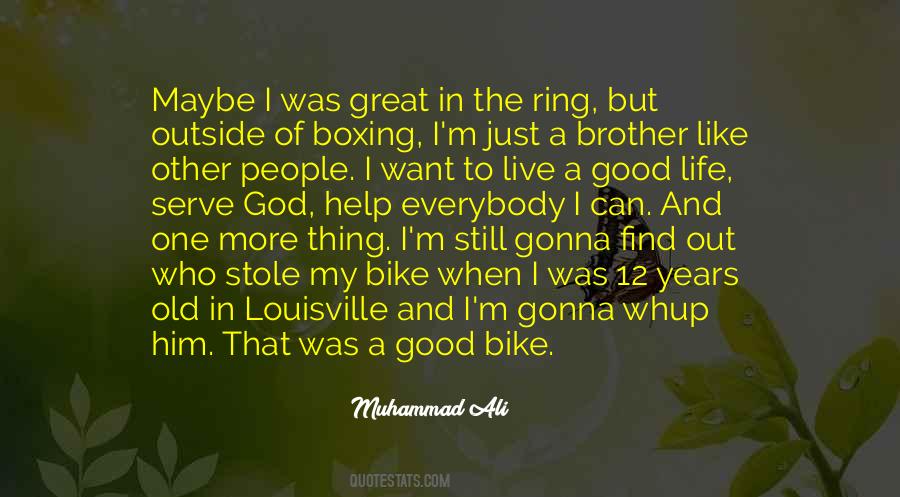 #41. Getting doctrine right is a matter of life and death, but holding that doctrine in the right spirit is essential too. A great deal of damage is done by those who hold the truth of Christ with the spirit of Satan. - Author: J.D. Greear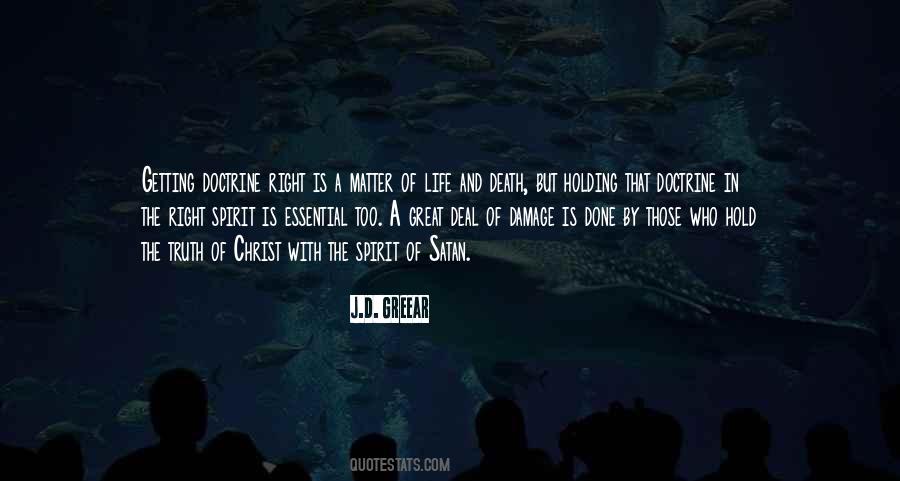 #42. The images of the unconscious place a great responsibility upon a man. Failure to understand them, or a shirking of ethical responsibility, deprives him of his wholeness and imposes a painful fragmentariness on his life. - Author: Carl Jung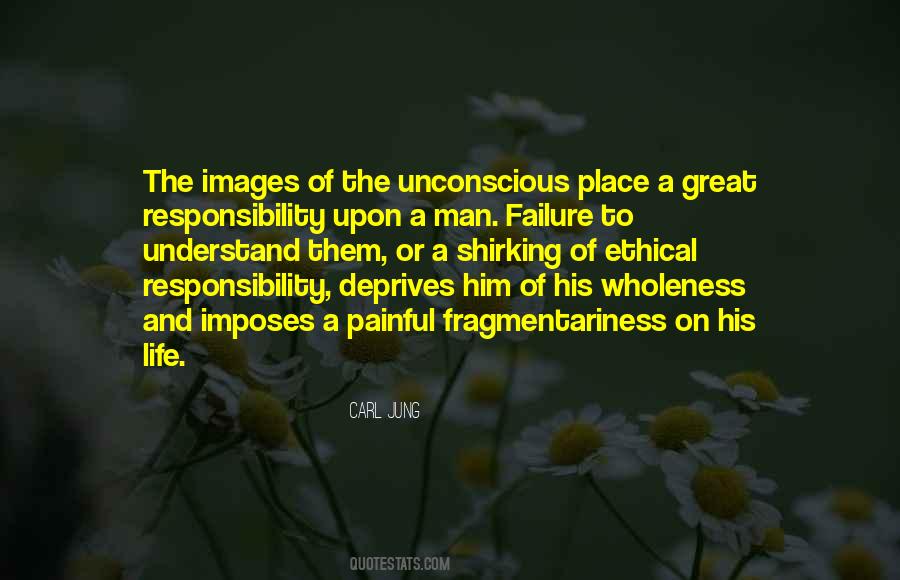 #43. I'm one of those people who was meant to have a very ordinary life. I have no special talent, no great beauty, nothing that distinguishes me from a hundred, thousand other girls. But I can't go through an entire lifetime without at least one night of magic. - Author: Lisa Kleypas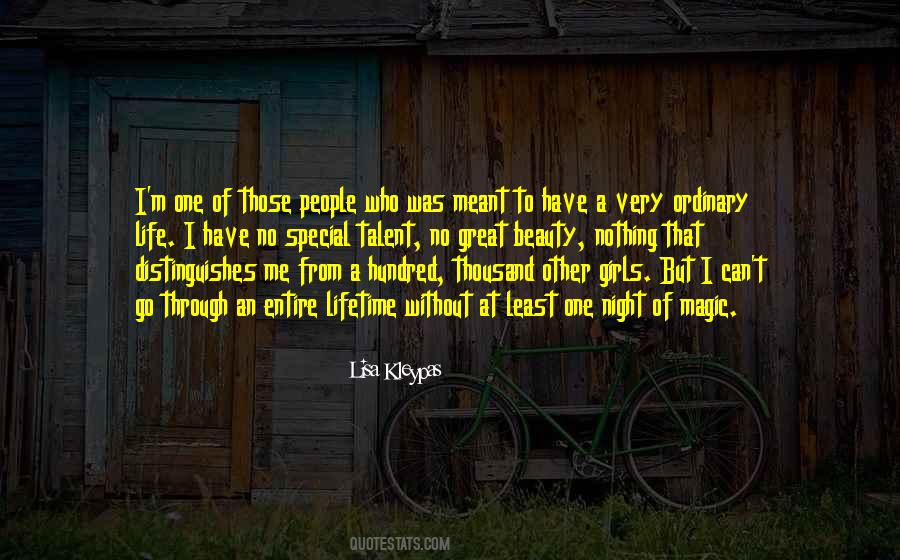 #44. DUEL, n. A formal ceremony preliminary to reconciliation of two enemies. Great skill is necessary to its satisfactory observance; if awkwardly performed ... deplorable consequences sometimes ensue. A long time ago a man lost his life. - Author: Ambrose Bierce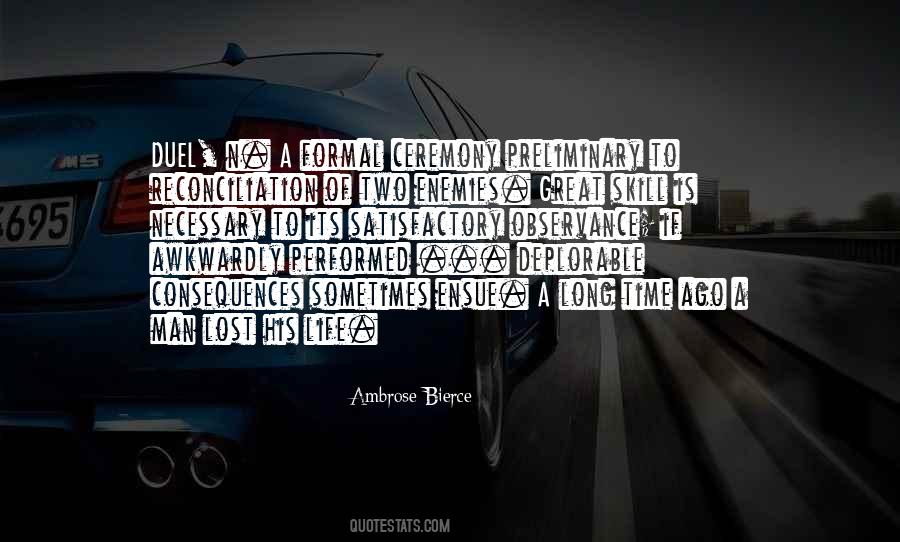 #45. I really feel that my life story is a continuation of the Great American Dream - the immigrant who comes to this country and is allowed to excel. How many other countries would let me do that? - Author: Friedrich St. Florian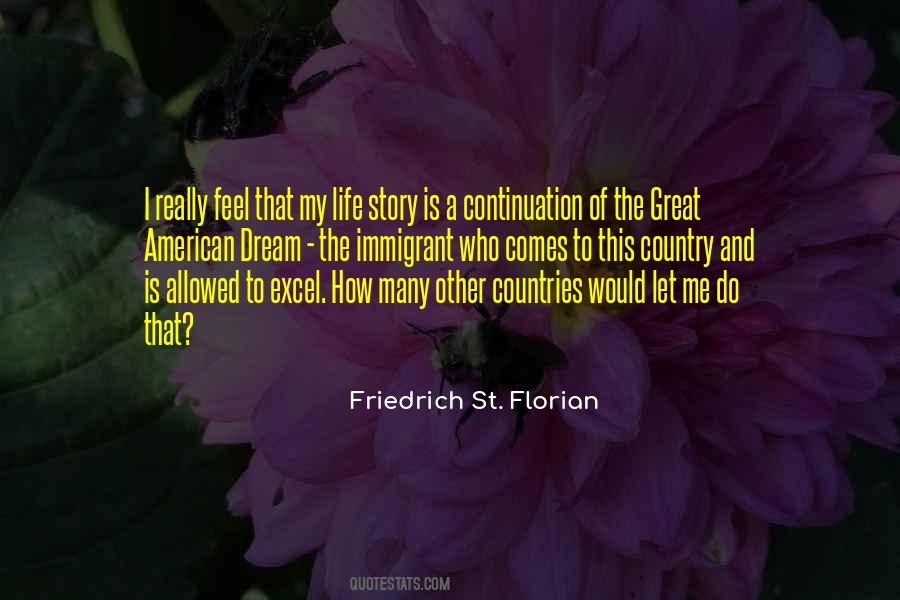 #46. There is a great deal of pain in life and perhaps the only pain that can be avoided is the pain that comes from trying to avoid pain. - Author: R.D. Laing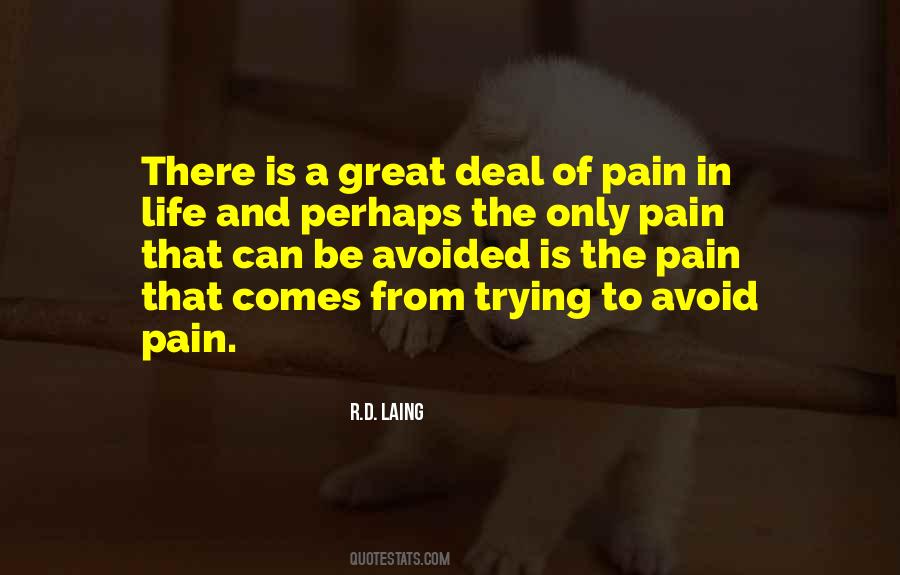 #47. I received Christ into my heart and my life began to change. But it was a gradual change. And I didn't see any flashing bulbs. I didn't hear any thunder. There was no great emotional experience. It was just saying: Yes, Lord Jesus, I want you to be the lord of my life. - Author: Billy Graham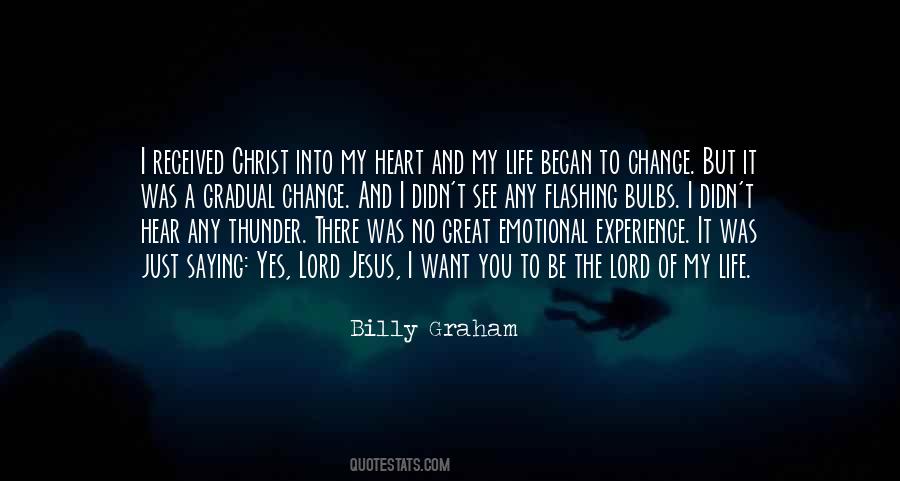 #48. A novel is a great act of passion and intellect, carpentry and largess. From the very beginning, I wrote to explain my own life to myself, and I invited readers who chose to make the journey with me to join me on the high wire. - Author: Pat Conroy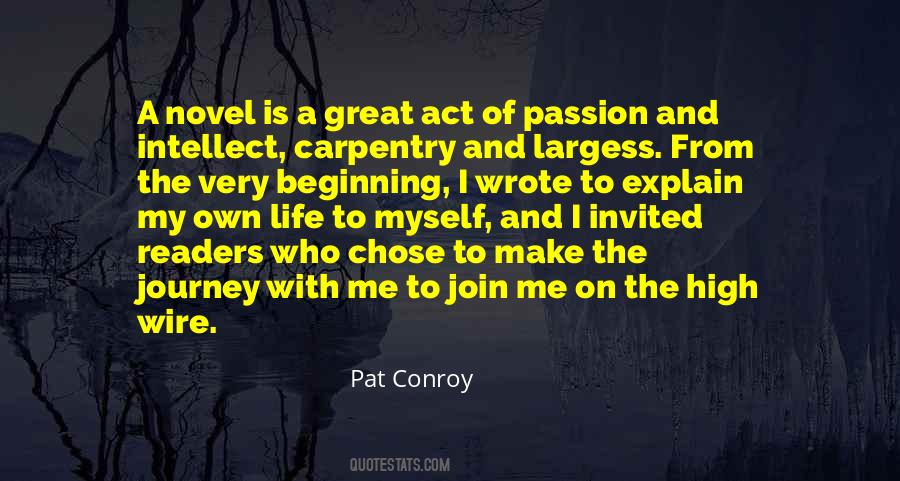 #49. Artists must be men of wit, consciously or unconsciously philosophers; read, study and think a great deal of life ... - Author: Robert Henri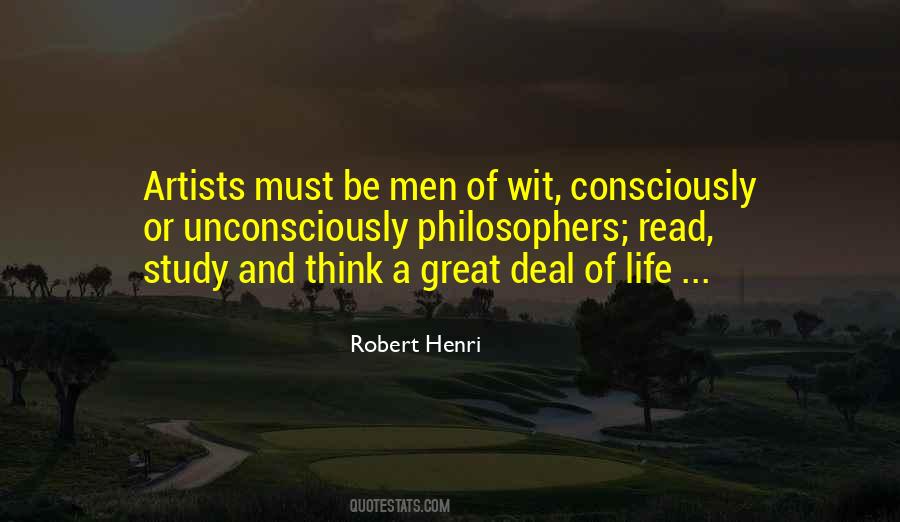 #50. Go forward in life with a smile on your face, a sparkle in your eyes, and with great and strong purpose in your heart. The best things in life are the people in your life, the moments we live, and memories we made along the way. - Author: Gordon B. Hinckley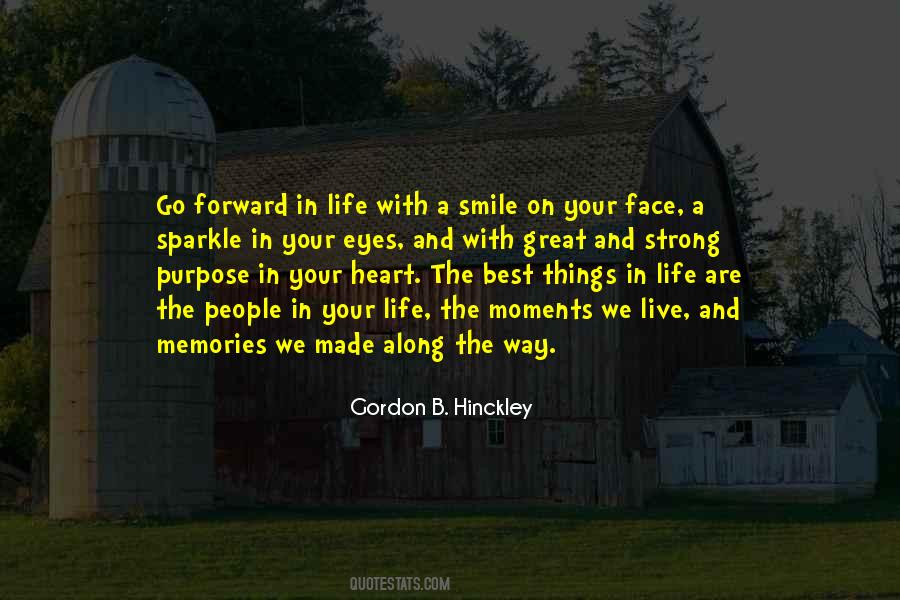 #51. When writing a book what is more important? Grammar and spelling or telling a great story? I know which I would choose. - Author: Samuel Colbran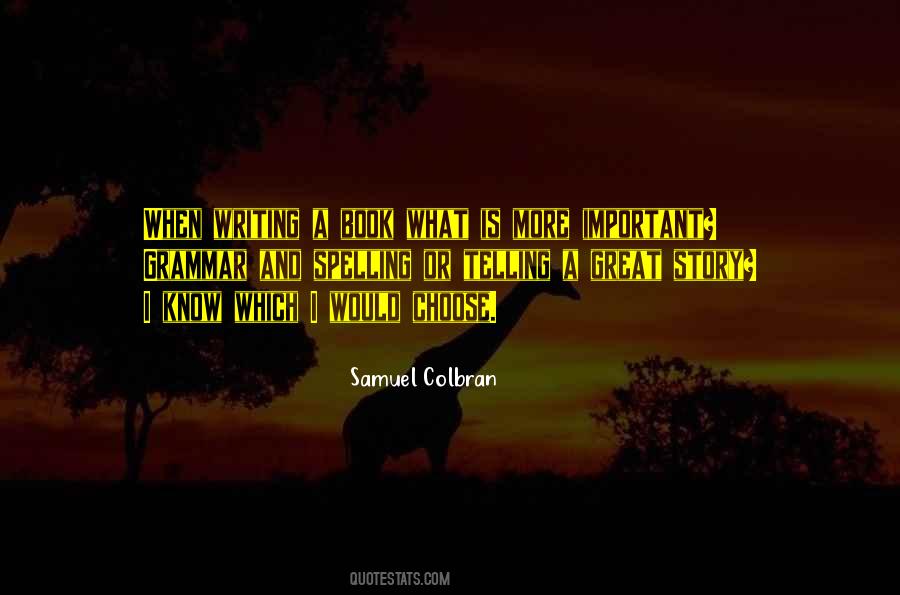 #52. He (life) got to his feet with a sudden jerk,
collected his blanket
and then darted away in such a great haste
that till this date, I've not seen him again. - Author: Suman Pokhrel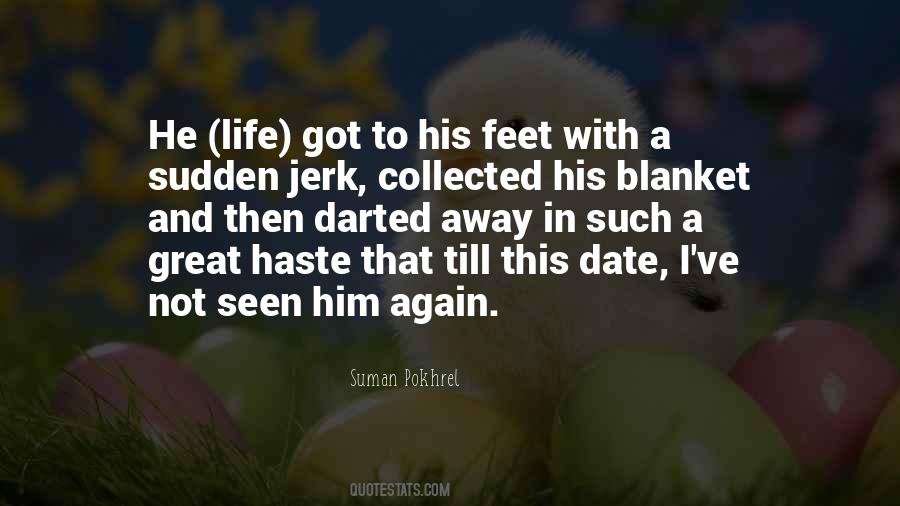 #53. He already couldn't remember what it'd been like before her. He'd thought everything was great in his life but then he'd been thrown a curve ball in the form of this gorgeous, passionate woman who he suddenly couldn't get enough of. Which made it official. He was hers, completely. - Author: Jill Shalvis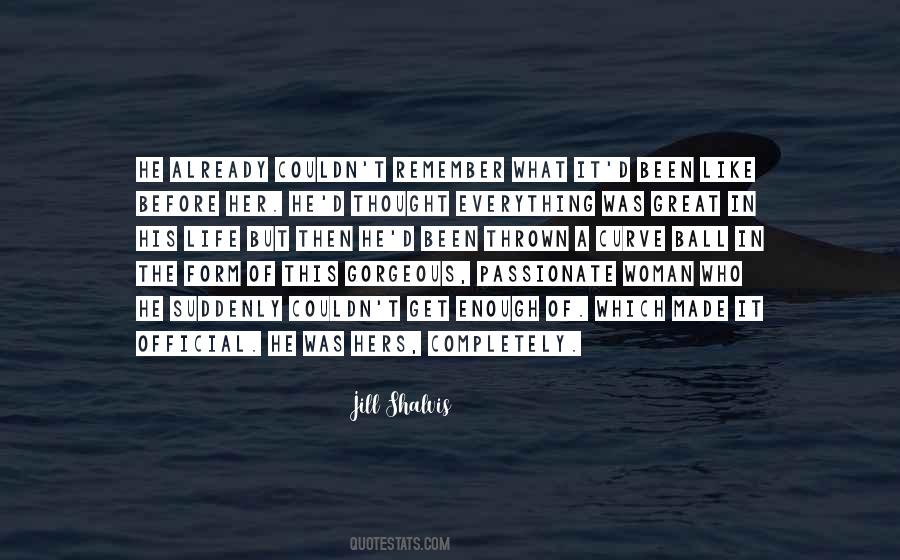 #54. The big relationships you make in your life are with those that you love and if things do go wrong then it's a source of great pain and that lasts. - Author: Michael Morpurgo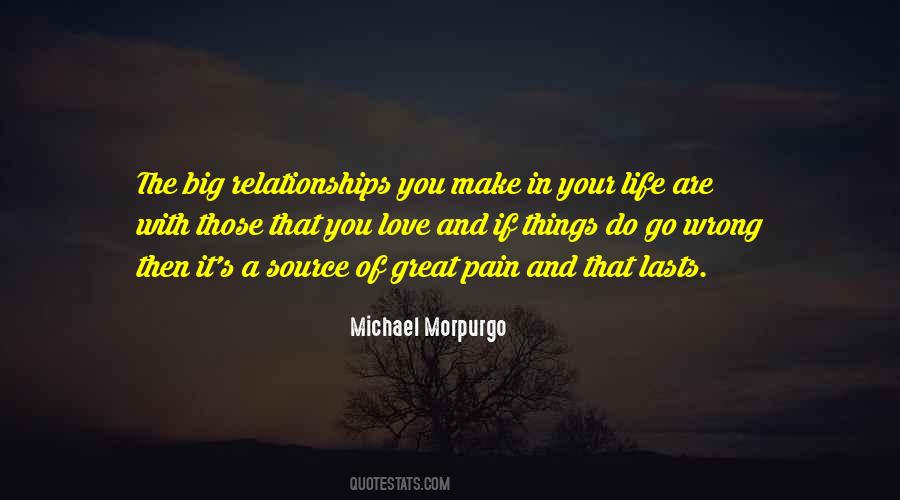 #55. Unless you have a life of great importance, regrets are stupid, crumpled-up tickets to a circus that has already left town. - Author: Lorrie Moore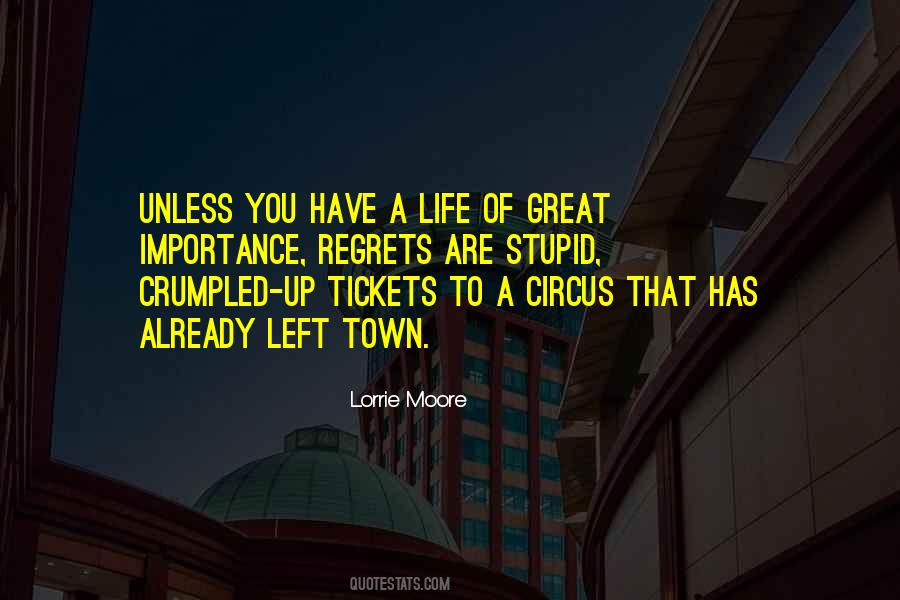 #56. You can find that life - if you are willing to embark on a great adventure. - Author: John Eldredge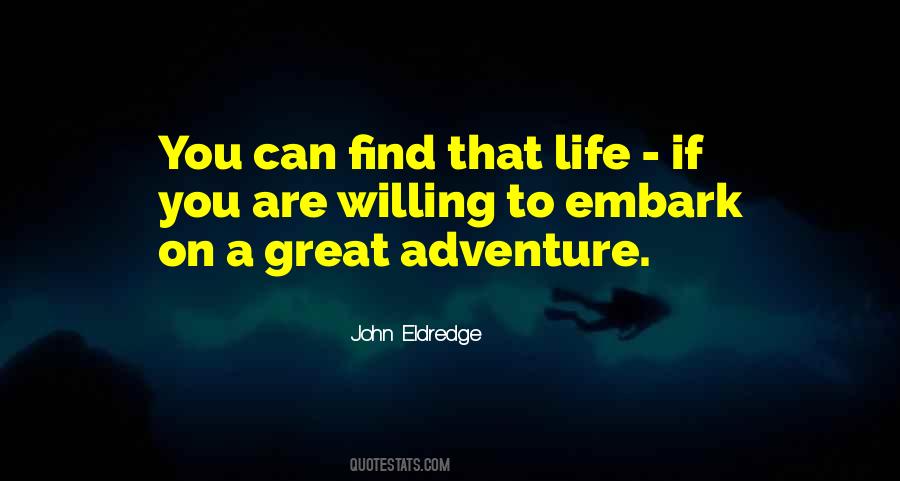 #57. If your Life is full of Sorrow, then beg, steal, or borrow ENTHUSIASM from a great soul to make your Life whole.-RVM - Author: R.v.m.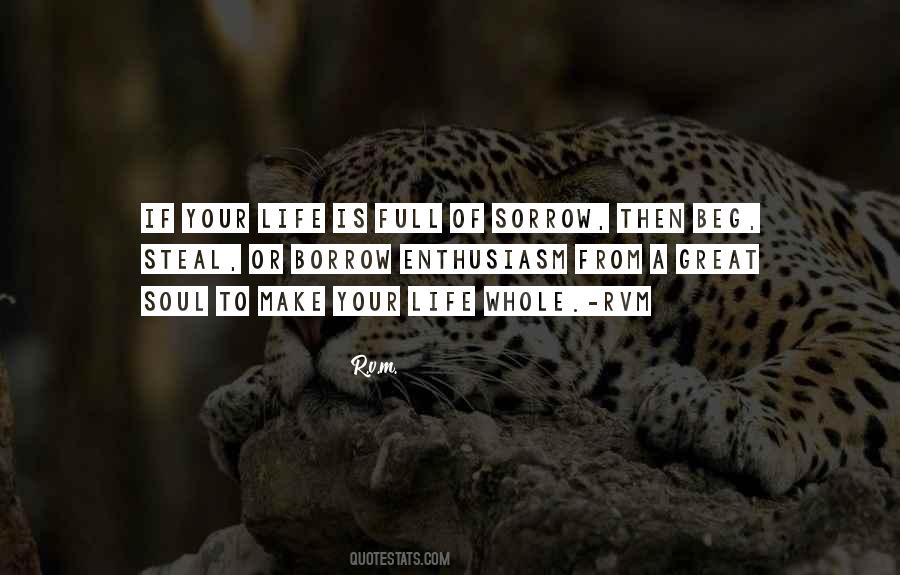 #58. As to war, I am and always was a great enemy, at the same time a warrior the greater part of my life and were I young again, should still be a warrior while ever this country should be invaded and I lived. - Author: Daniel Morgan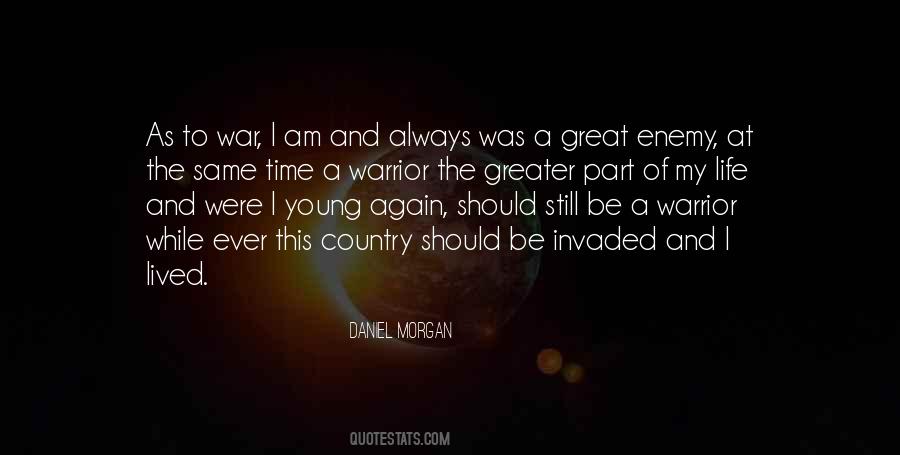 #59. A profession is like a great snake that wraps itself around you. Once you are enwrapped, you are in a slow fight for the rest of your life, and the lightness of youth leaves you. - Author: Mark Helprin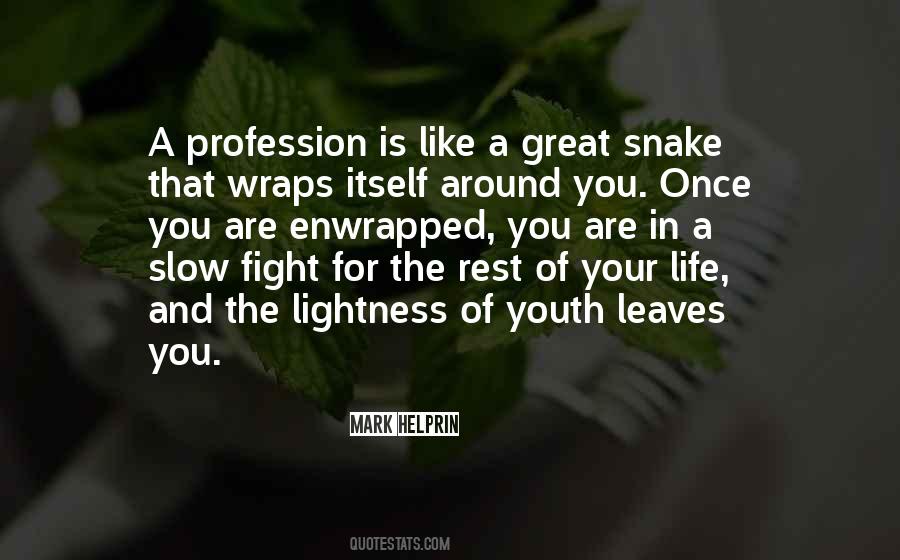 #60. As a professional athlete and someone who has spent almost his entire life in boxing, not a day goes by when I don't think about coming back, but I am retired, and after speaking to my family and following a great deal of introspection, I have decided to stay retired. - Author: Oscar De La Hoya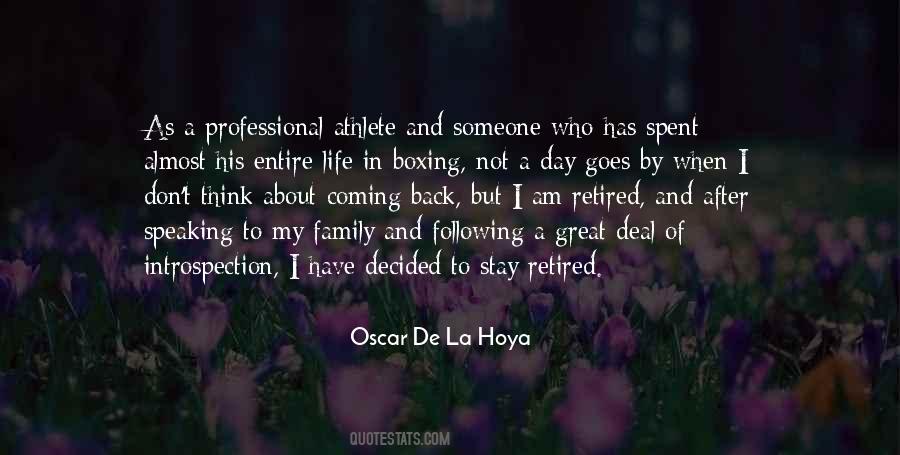 #61. A great writer has a high respect for values. His essential function is to raise life to the dignity of thought, and this he does by giving it a shape. - Author: Andre Maurois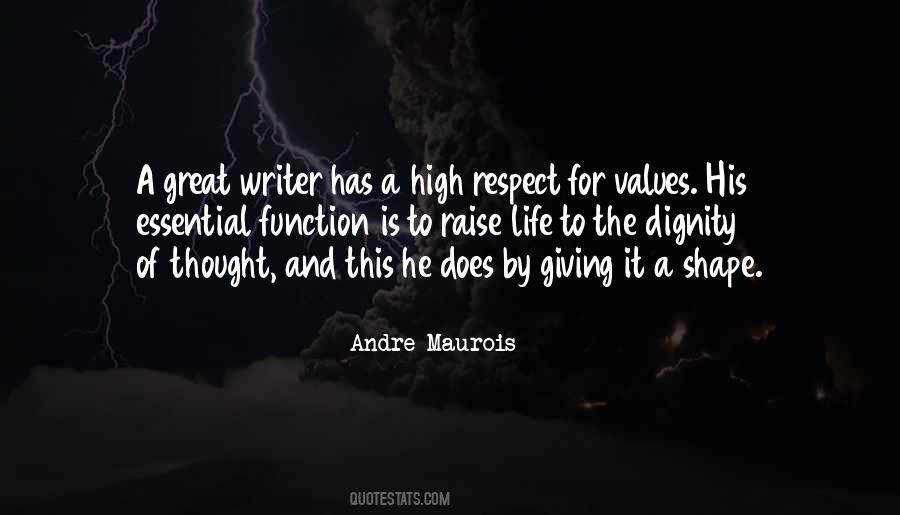 #62. The discovery of her life was that she herself didn't actually need money, apart from a little cash for those relationships with taxi drivers and officials of the Great Western Railway which can only be expressed financially. - Author: Elizabeth Ironside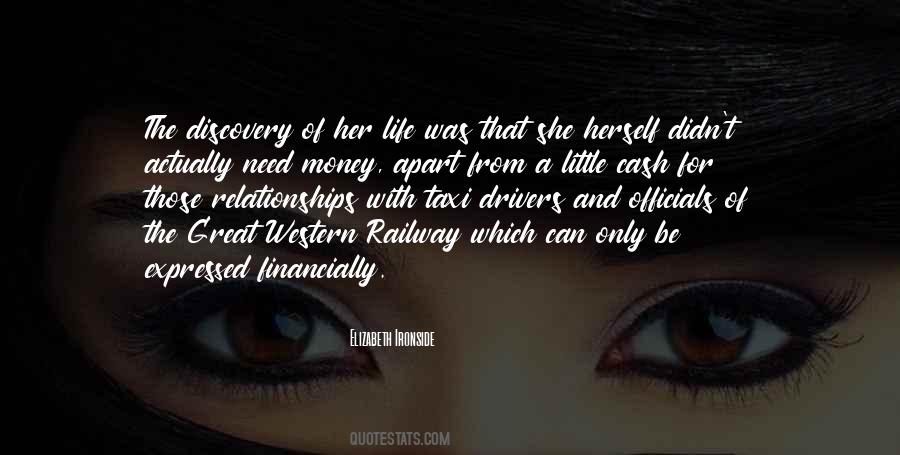 #63. I had a great life even before 'The Memory Keeper's Daughter' took off. I really enjoy teaching. - Author: Kim Edwards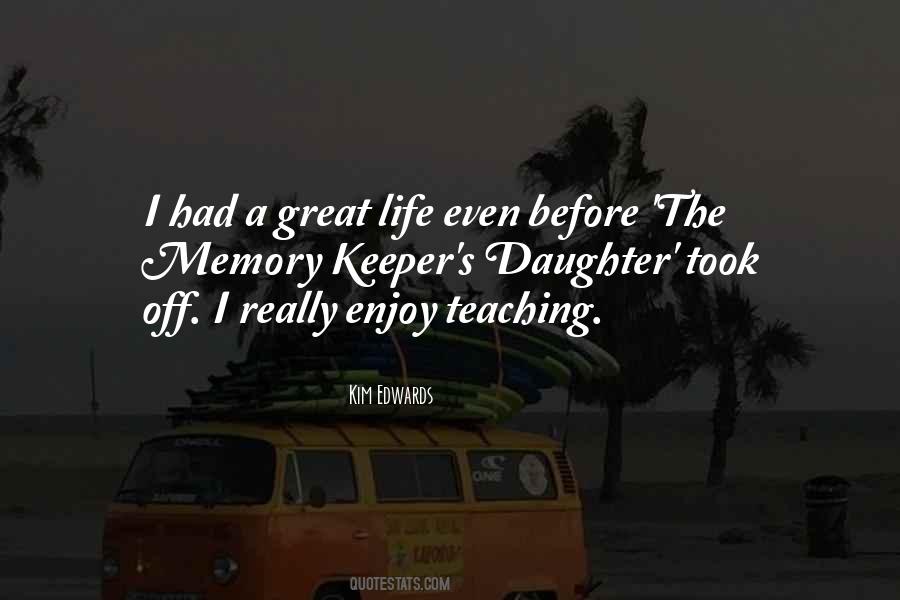 #64. I come from a great family. I've seen family life and I know how wonderful, how nurturing, and how wonderful it can be. - Author: Sidney Poitier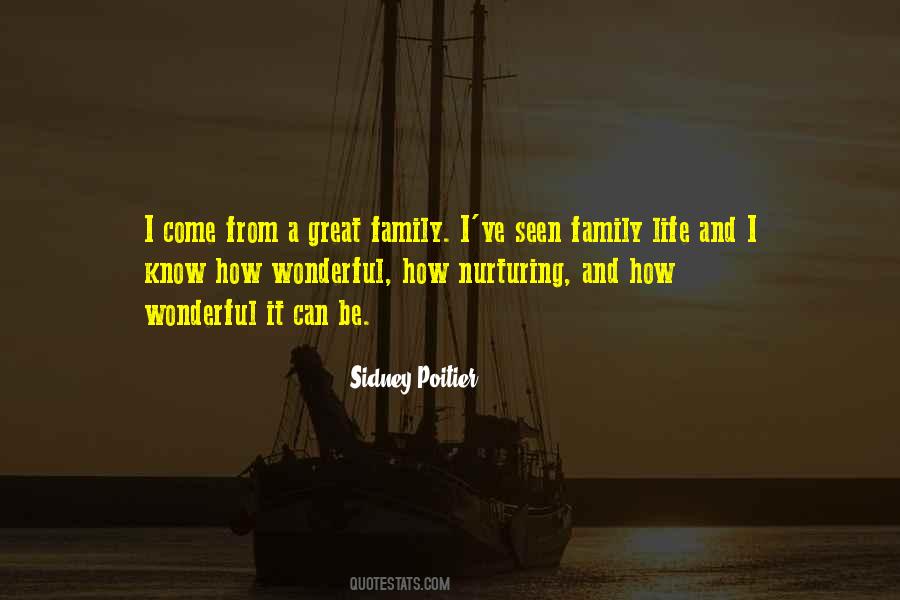 #65. Good art and a good life answers questions. Great art and a great life asks questions. - Author: Richard Blanco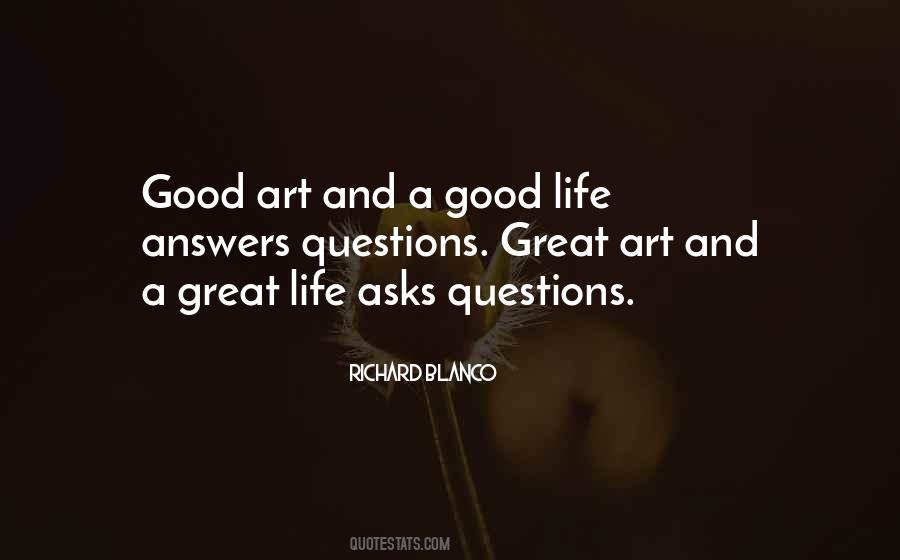 #66. My life is great. It's just not exceptional. And there was a time when it could have been." "You killed your ambition, didn't you?" "It died of natural causes. Of neglect. - Author: Blake Crouch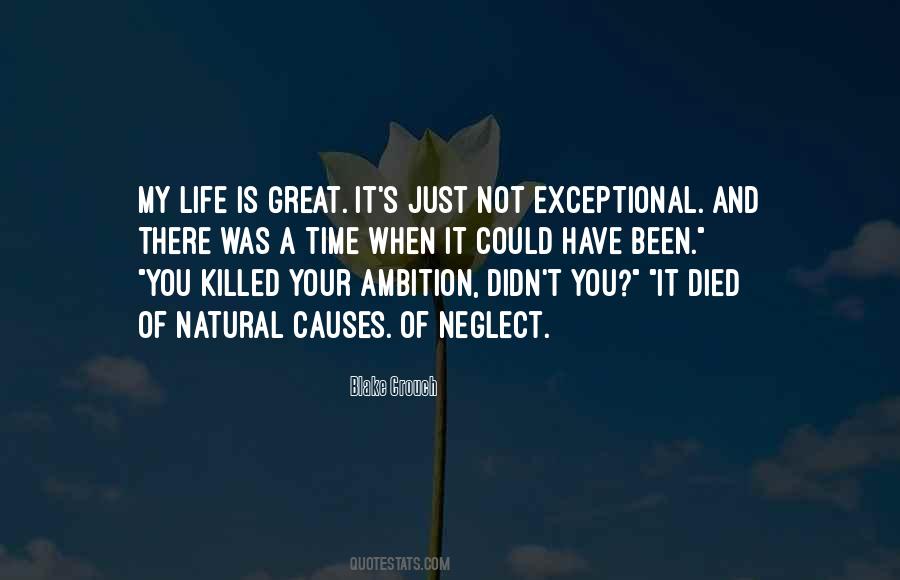 #67. Once you get the kids raised and the mortgage paid off and accomplish what you wanted to do in life, there's a great feeling of: 'Hey, I'm free as a bird.' - Author: Dick Van Dyke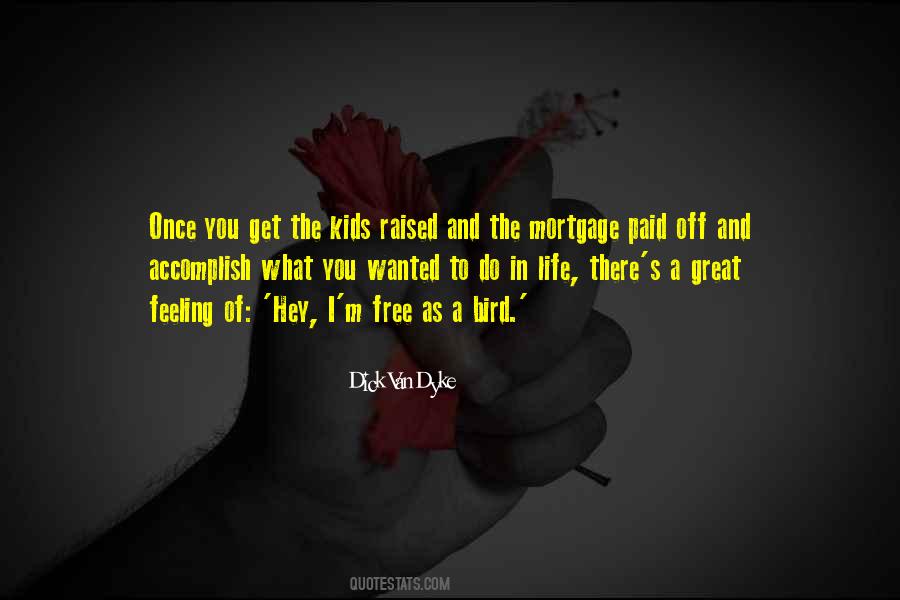 #68. I knew a kid who stuck a knife in the toaster on a few occasions. He learned it hurt. He grew up to be a great electrician. - Author: Travis J. Dahnke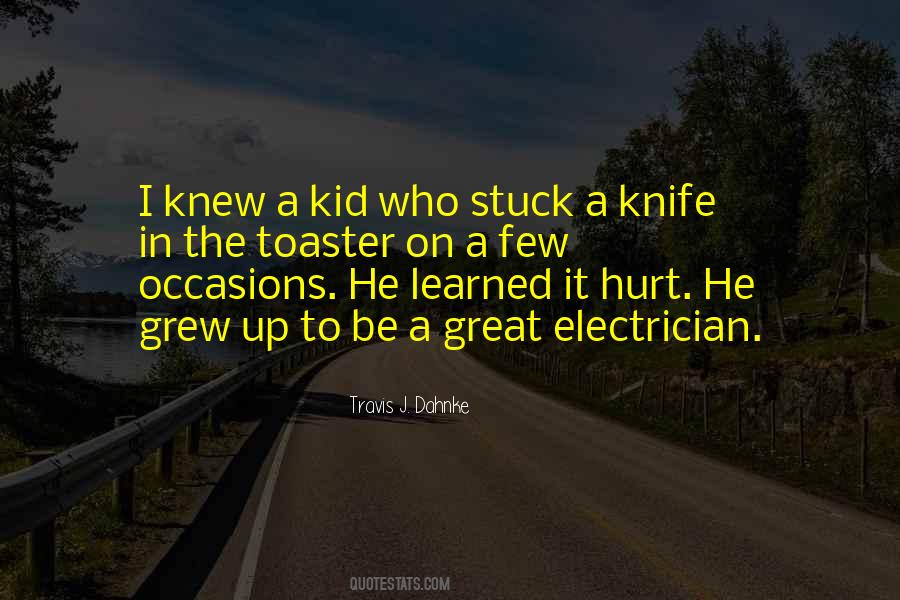 #69. To be a good writer, you not only have to write a great deal but you have to care. You do not have to have a complicated moral philosophy. But a writer always tries, I think, to be a part of a solution, to understand a little about life and to pass this on. - Author: Anne Lamott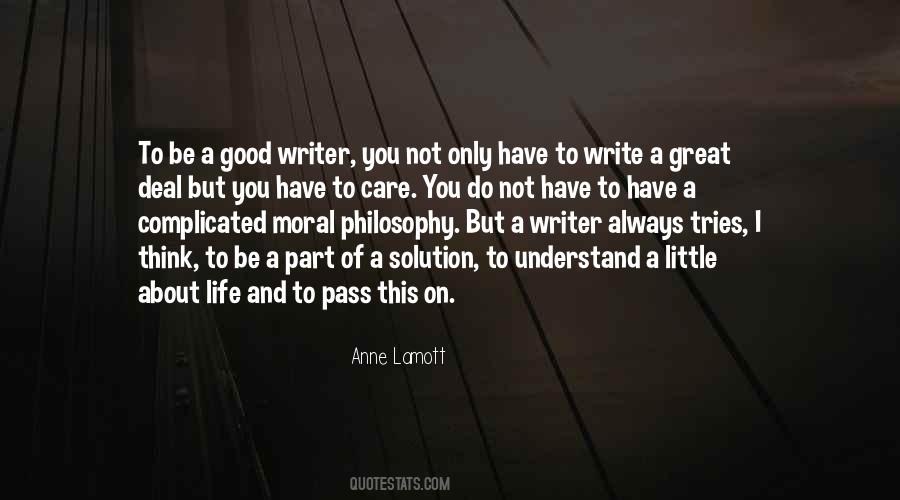 #70. I think there's nothing better than laughing in life, so that's nice, to be thought of as someone who can make someone laugh. It's 'cause I think life is hard. You know, my dad was a really silly man. A great Irish silly man. And that's fine. - Author: Joan Cusack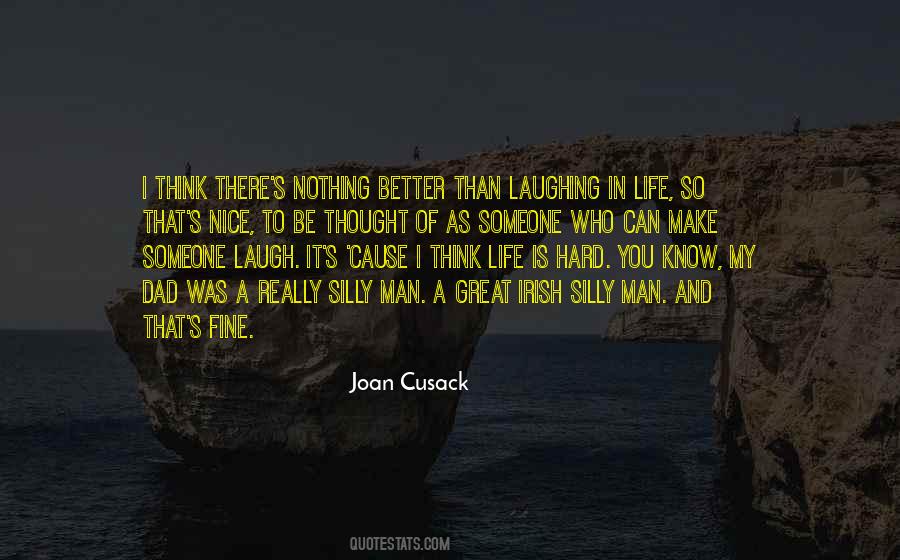 #71. We believe that this human life is a great gift, that every part of it is designed by God and therefore means something, that every part of it is blessed by God and therefore to be enjoyed, that every part is accompanied by God and therefore workable. - Author: Eugene H. Peterson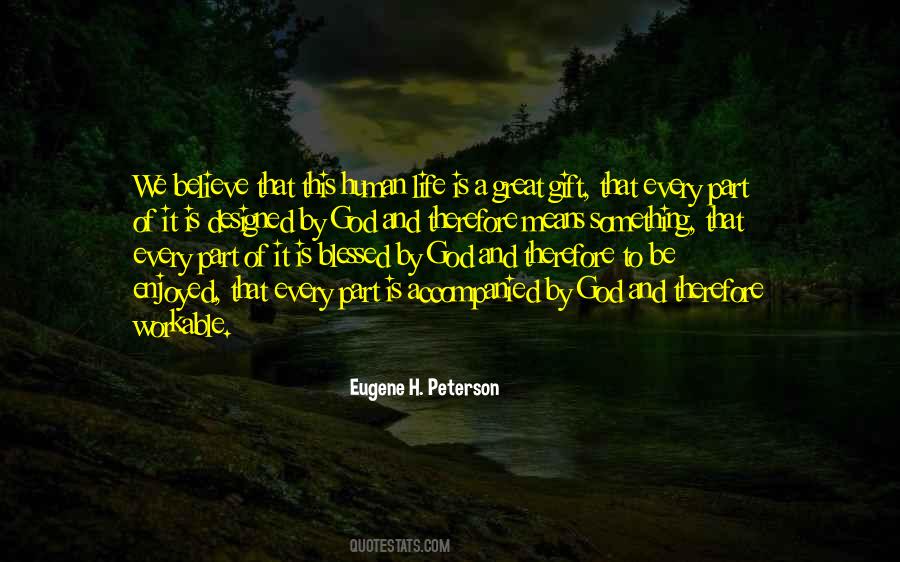 #72. My mother was a Bloomsbury figure: a great friend of TS Eliot, Duncan Grant, Vanessa Bell. My grandmother, Mary Hutchinson, gave her life to works of art, being an admirer of Matisse and Giaometti, whom I collected as a young man because of her. - Author: Jacob Rothschild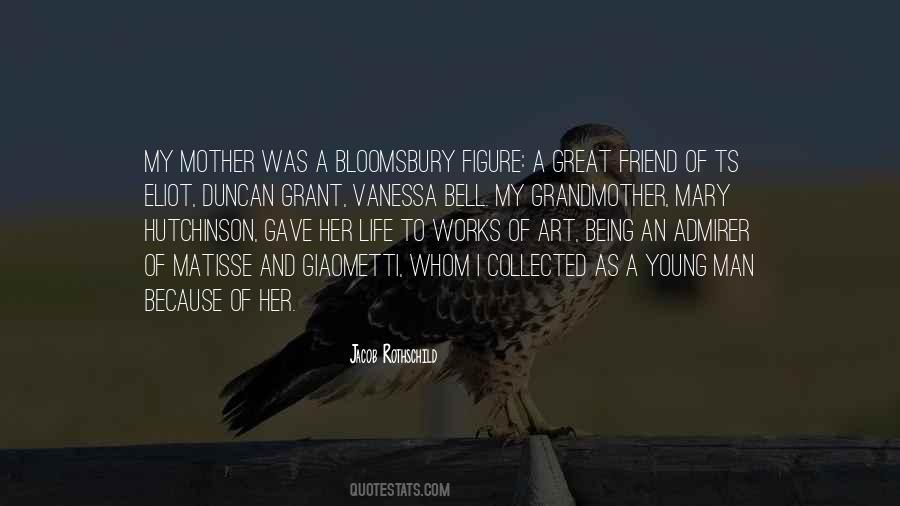 #73. A great leader must serve the best interests of the people first, not those of multinational corporations. Human life should never be sacrificed for monetary profit. There are no exceptions. - Author: Suzy Kassem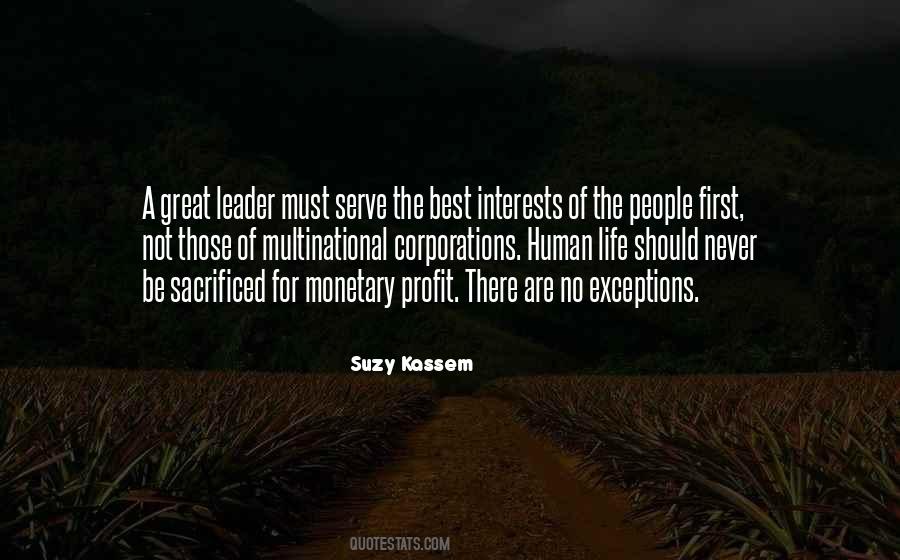 #74. If you know how to read, you have a complete education about life, then you know how to vote within a democracy. But if you don't know how to read, you don't know how to decide. That's the great thing about our country - we're a democracy of readers, and we should keep it that way. - Author: Ray Bradbury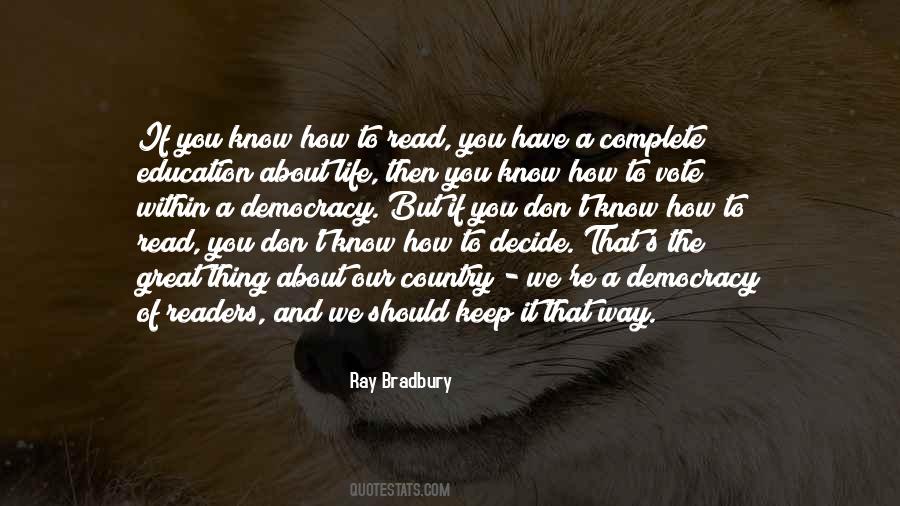 #75. Evils in the journey of life are like the hills which alarm travelers upon their road; they both appear great at a distance, but when we approach them we find that they are far less insurmountable than we had conceived. - Author: Charles Caleb Colton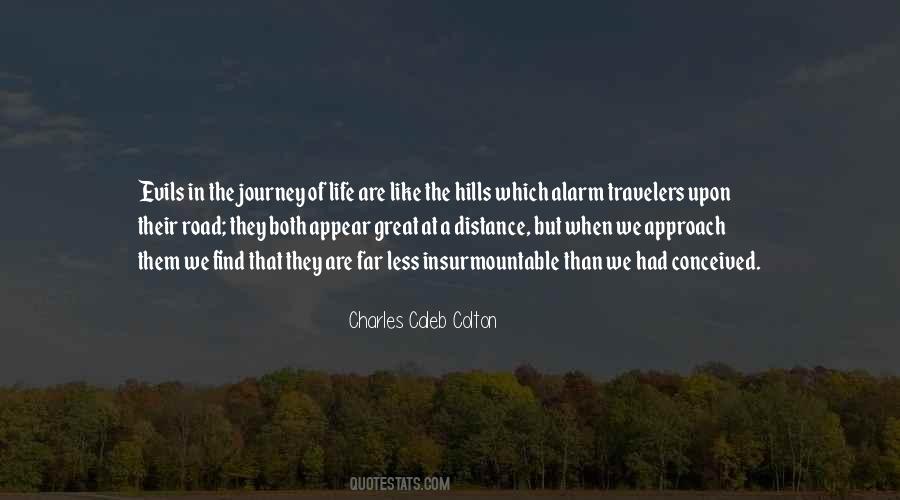 #76. Peace is a new father
Searching for a job
With courage and vigor
With a smile and rigor
But with a great need for money. - Author: Debasish Mridha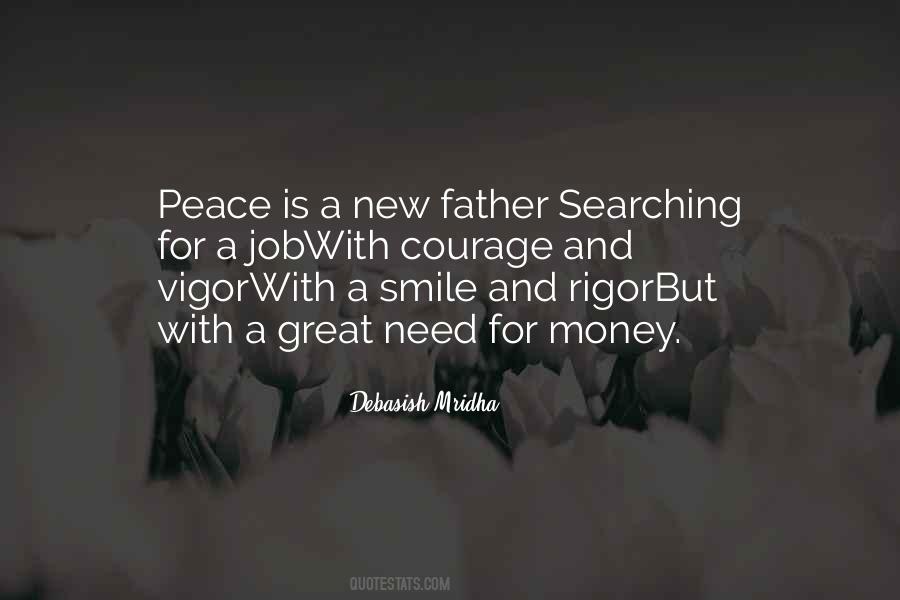 #77. lost a great innocence when I understood that I and my mind were not going to be on good terms for the rest of my life. I can't tell you how tired I am of character-building experiences. But I treasure this part of me; whoever loves me loves me with this in it. - Author: Kay Redfield Jamison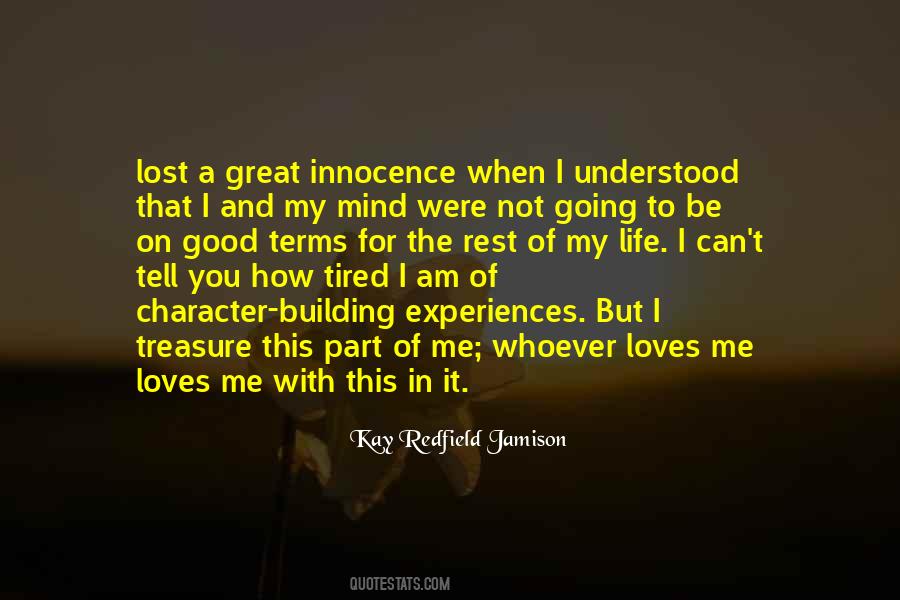 #78. Each moment of my life I was dreaming of how great I could be, and continued working hard. Each time I closed my eyes I could see me shining bright like a sun. - Author: Kobe Bryant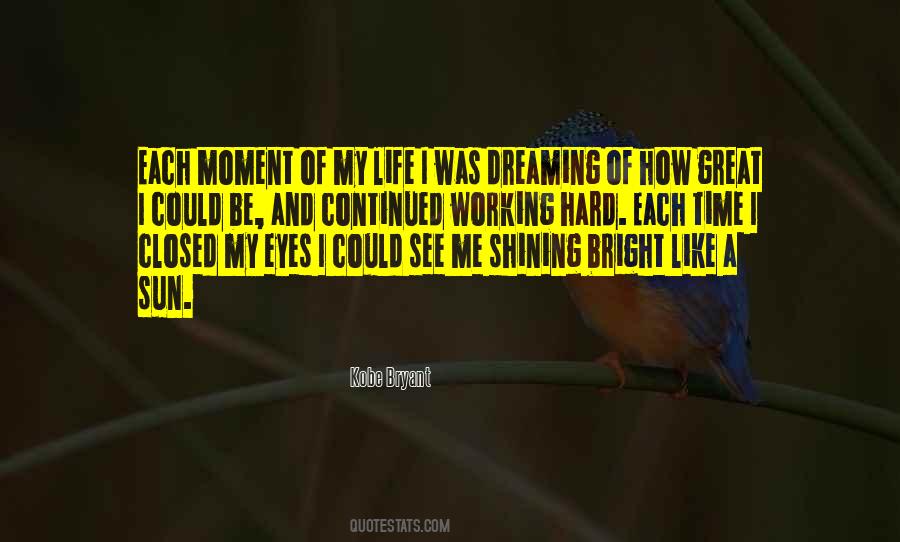 #79. I am a great realist in all aspects of life. Whatever I can do ... here it is. - Author: Olga Korbut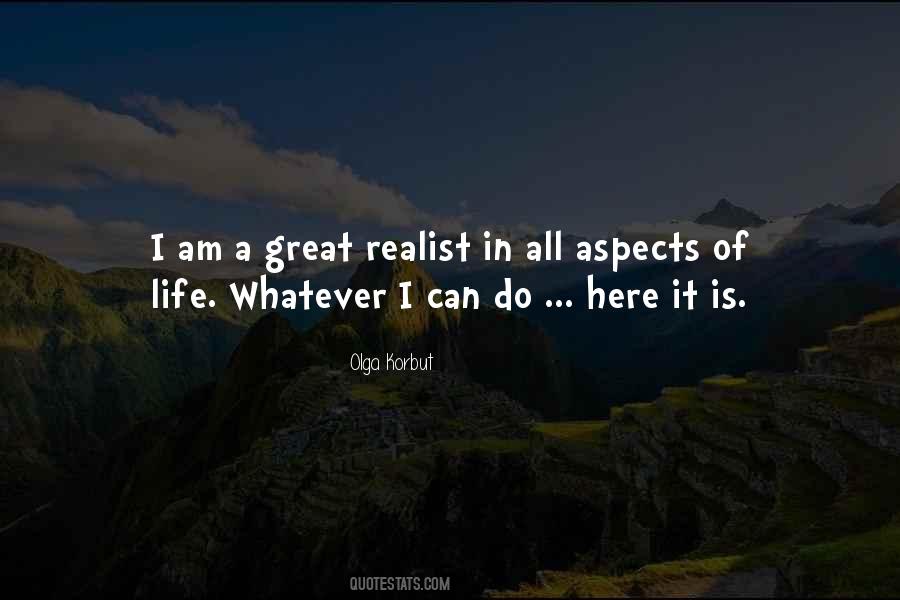 #80. God sovereignly controls every detail of your life, which should be a great comfort to you. - Author: Jim George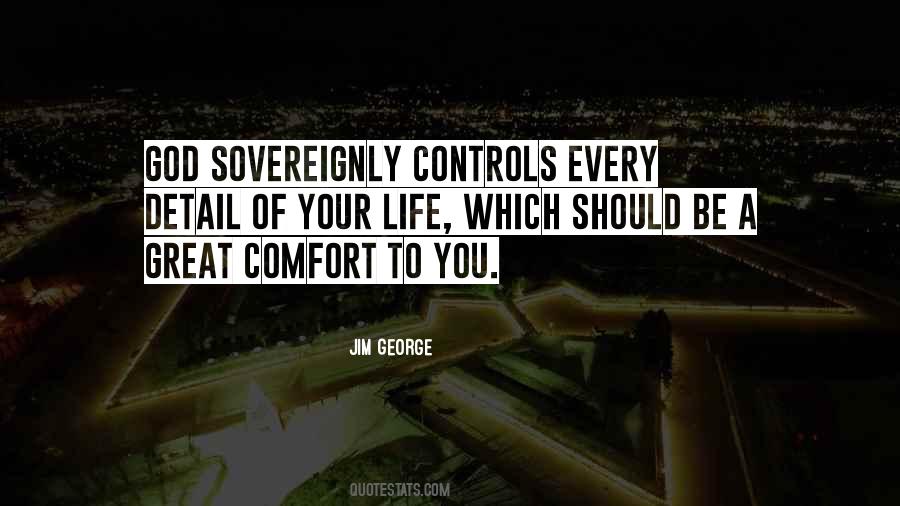 #81. Reading is a choice. The will to do depends the reader. We may or may not do it but when we kill reading, we kill a purposeful mind. Reading a page of a purposeful book per day is not only a great medicine to the mind but also a powerful antidote to ignorance and mediocrity - Author: Ernest Agyemang Yeboah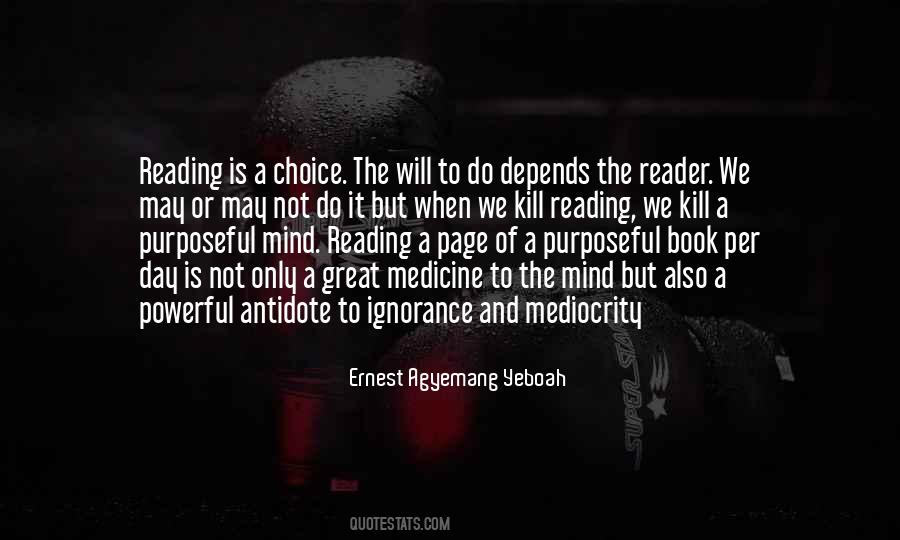 #82. I do my best to limit the amount of compromise in my life so I have more time to do what I want. Not hanging out with many people really helps. I am not a people person and I spend a great deal of time on my own and in this environment, I get a lot done. - Author: Henry Rollins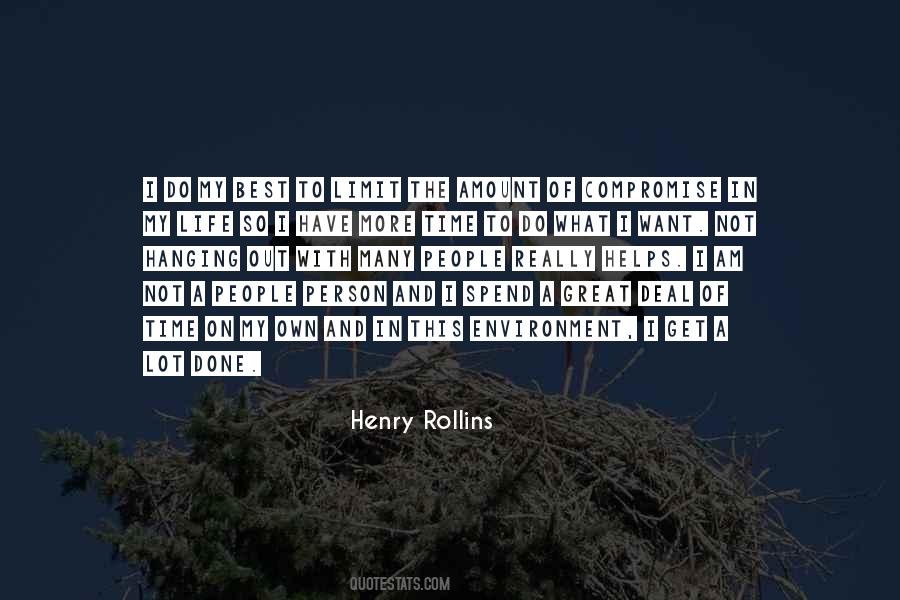 #83. I am extraordinarily lucky, I was born in a family of strong moral values, and in my life I was able to do what I liked best: debuts, great theatres, but above all, inner and deep satisfaction. - Author: Jose Carreras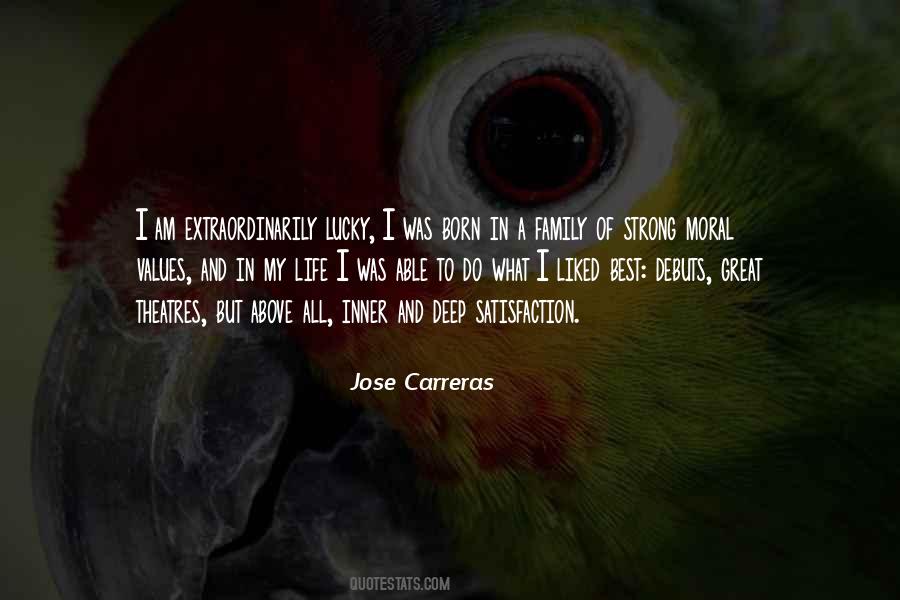 #84. As you live your day so you craft your life. Just take care of your days and a great life will take care of itself. - Author: Robin S. Sharma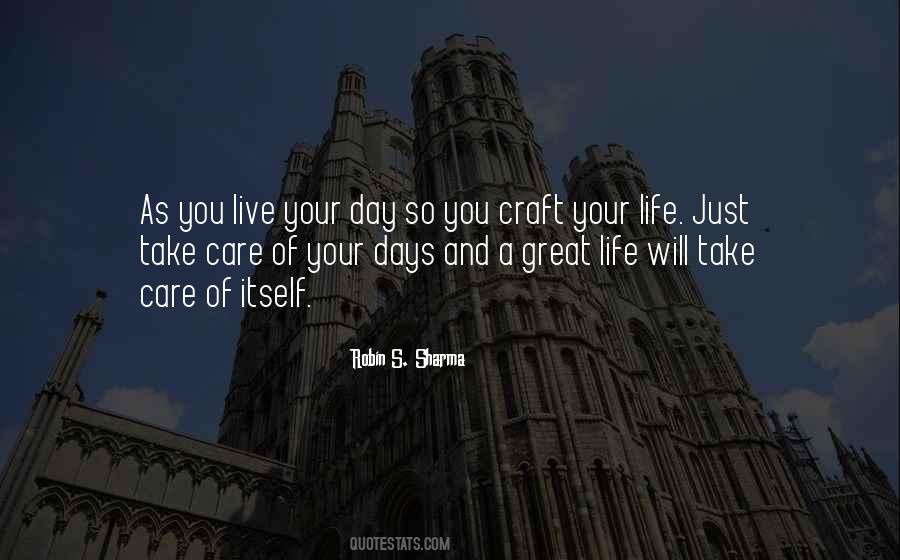 #85. I've had a great life following my faith and my instincts. - Author: Evander Holyfield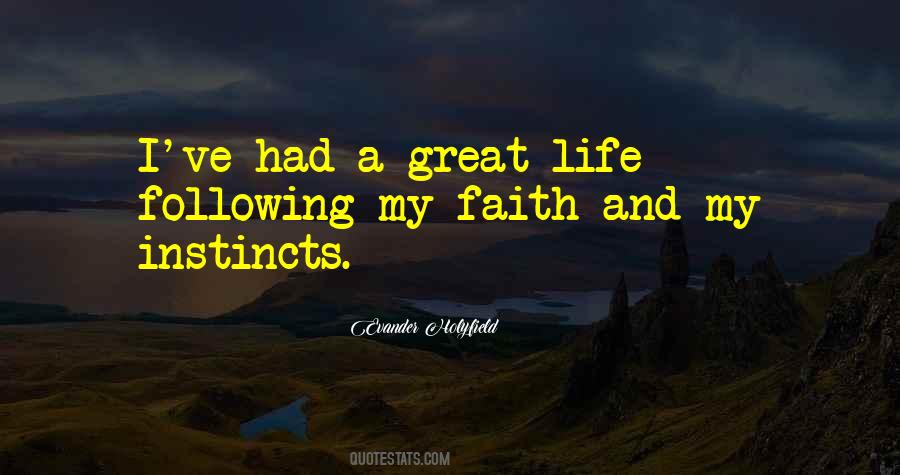 #86. Learning is a great experience of life". - Author: Abdulazeez Henry Musa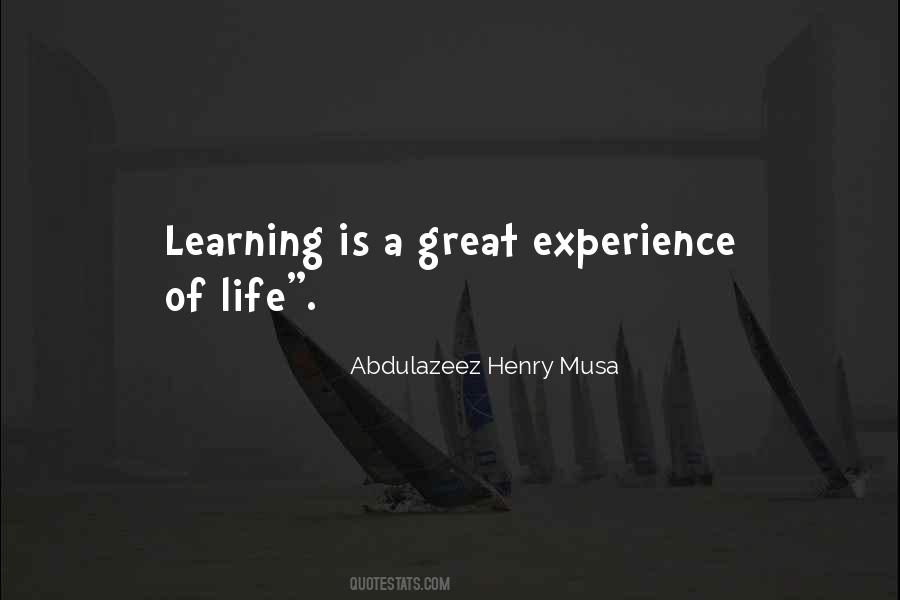 #87. Everybody has a public life, and they have their own private life. Everybody has their secrets. Everybody has their own private, you know, agonies as well as joys. And that's what great drama, whether it's the movies or the theater, that's what it shows. - Author: Annette Bening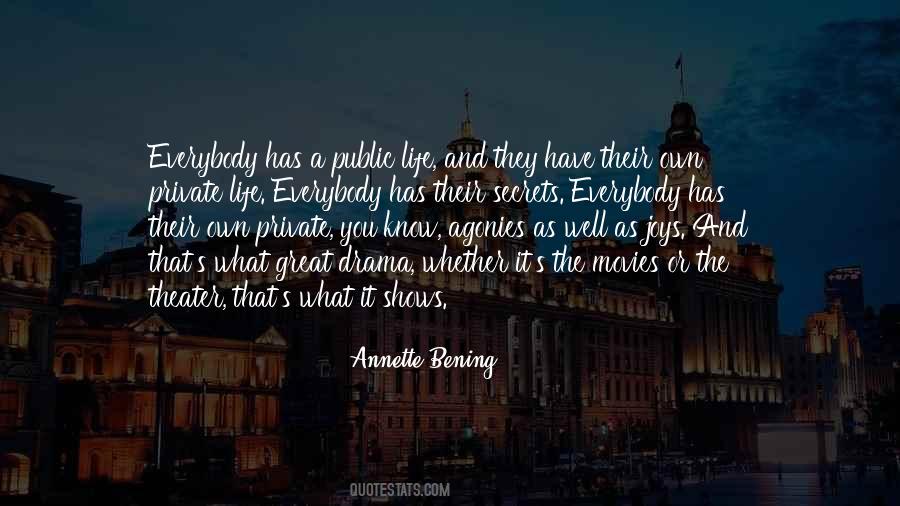 #88. Never stop being a kid, Richard. Never stop feeling and seeing and being excited with great things like air and engines and sounds of sunlight within you. Wear your little mask if you must to protect you from the world but if you let that kid disappear you are grown up and you are dead. - Author: Richard Bach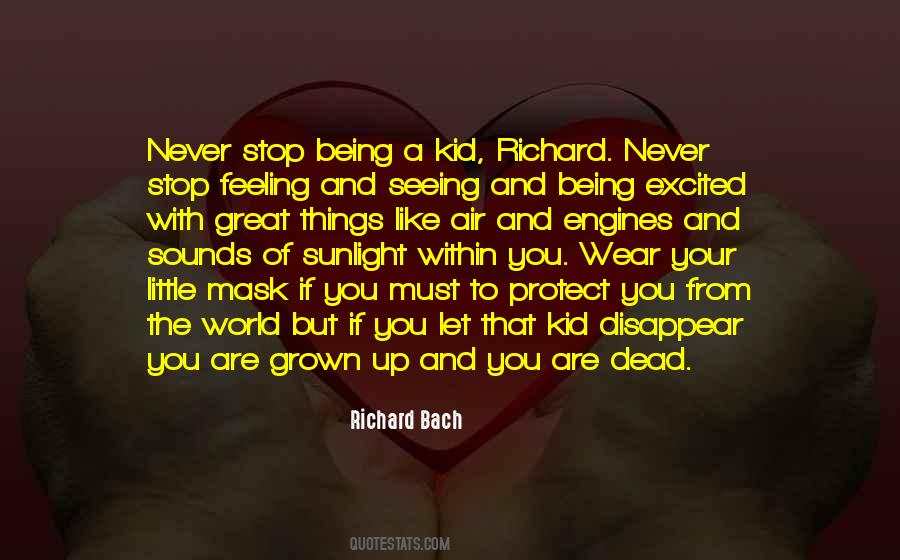 #89. As I have encountered difficult moments in my own life, I have been privileged to learn from the great men I have come to know as a writer. - Author: Candice Millard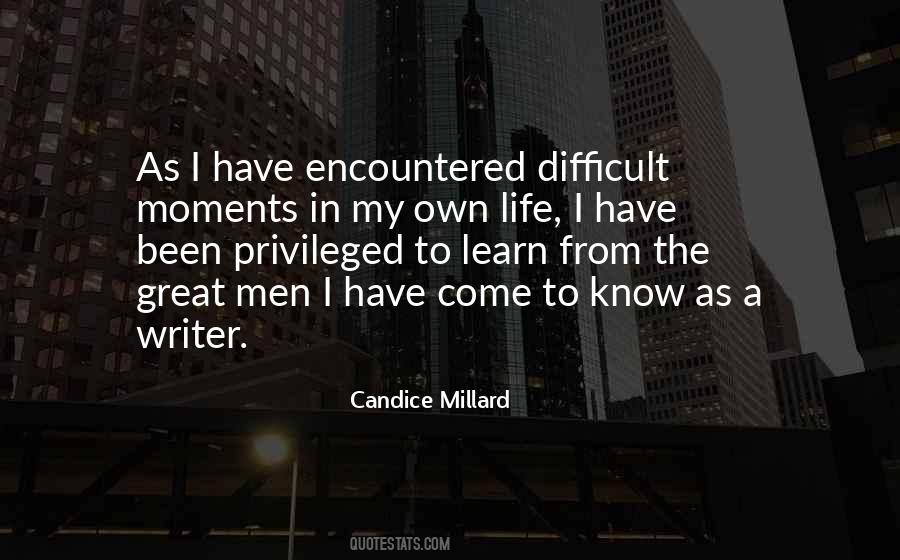 #90. I need a challenge. I need the intellectual stimulation. I'm a member of a community on each film, working in concert to try to bring an idea to life. It's a great job. - Author: Harrison Ford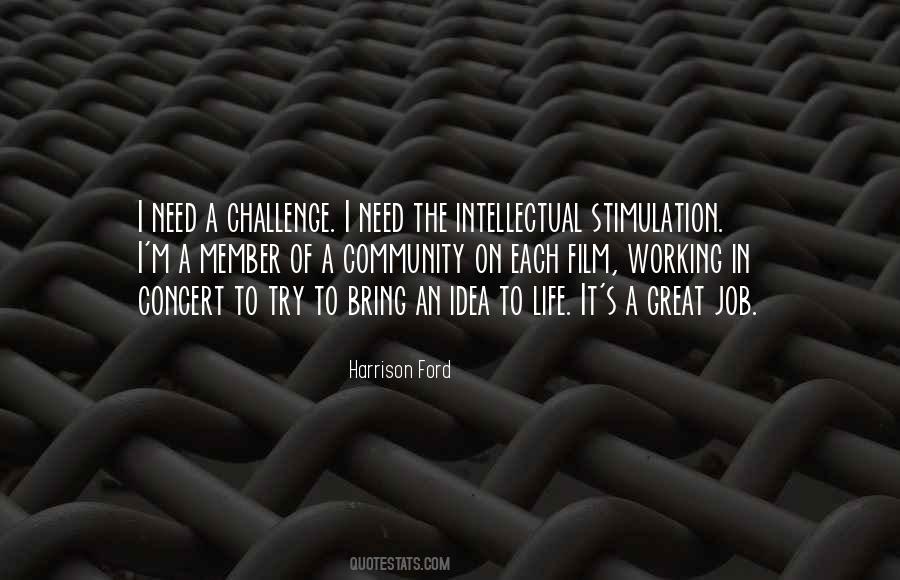 #91. Although we may come from vastly different stories and very different walks of life, we are one people who possess common values and common ideals; who celebrate individual excellence but also share a recognition that together, we can accomplish great and wonderful things we can't accomplish alone. - Author: Barack Obama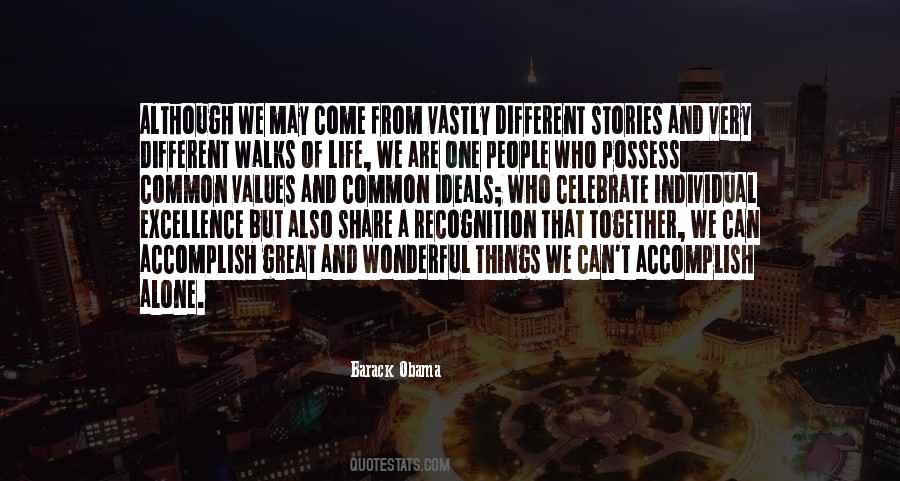 #92. When I was 17, I had an experience that I later learned could be called a 'mystical experience.' It was almost violent. No faces, voices, nothing like that. It is like the world burst and flamed into life all around me. That is not a great image, but it is as good as I will ever do. - Author: Barbara Ehrenreich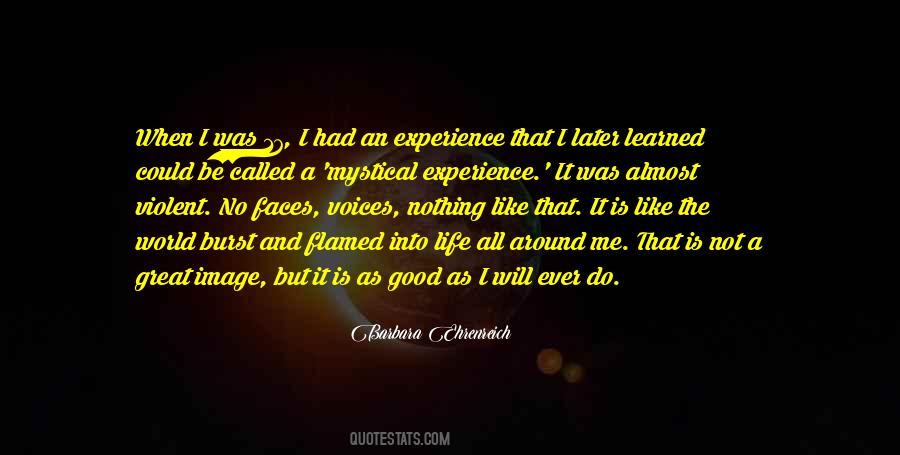 #93. I'm going to end a life that I thought could contain every kind of greatness but that in fact consisted only of my incapacity to really want to be great. Whenever I arrived at a certainty, I remembered that those with the greatest certainties are lunatics. - Author: Fernando Pessoa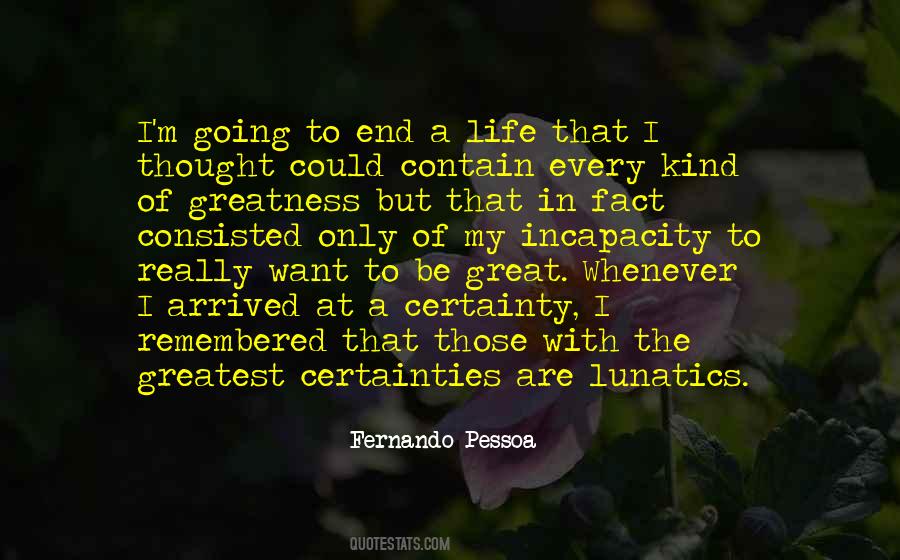 #94. All life is linked together in such a way that no part of the chain is unimportant. Frequently, upon the action of some of these minute beings depends the material success or failure of a great commonwealth. - Author: John Henry Comstock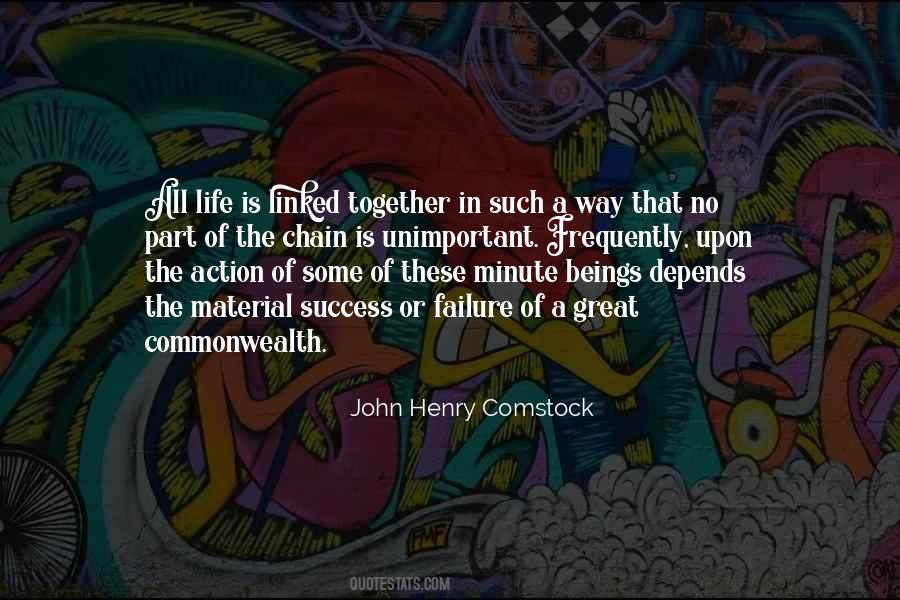 #95. Give yourself to a great cause, not only your possessions. - Author: Debasish Mridha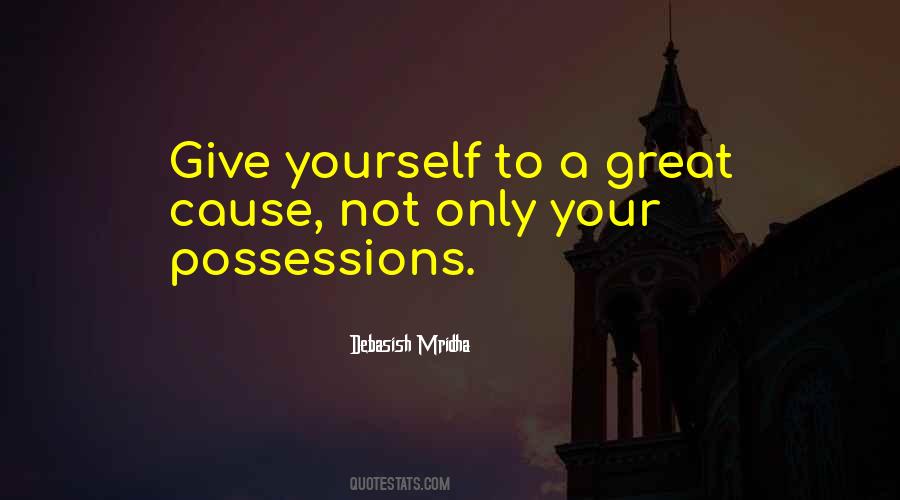 #96. Life involves effort and growth. You won't grow by watching a situation comedy, though you can grow by reading a book. I hope we aren't becoming a nation of watchers, because what made us great is that we've always been a nation of doers. - Author: Ronald Reagan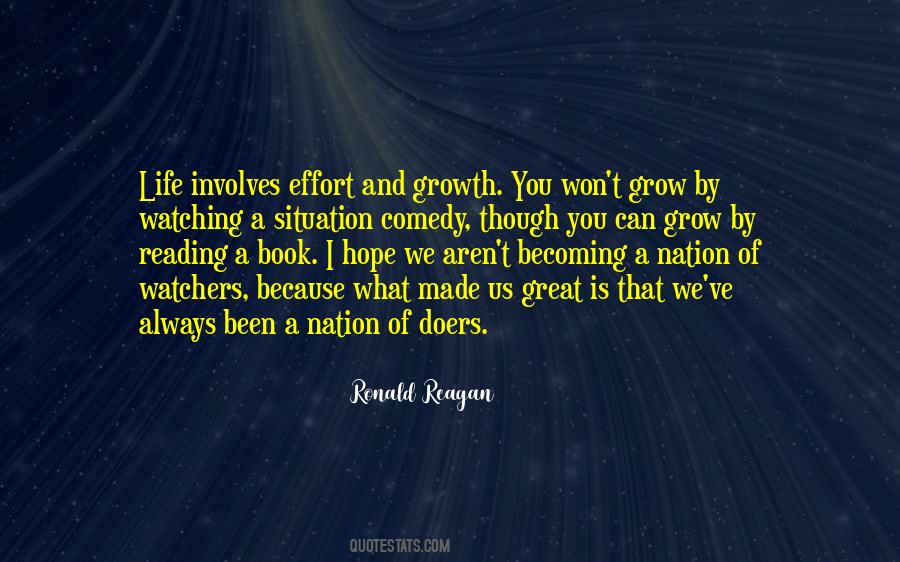 #97. People dislike Ronaldo because he's a great player, good-looking and has sex with all the ladies. They get jealous. The only bad thing about Ronaldo's life is Messi. But for him, he would've been the best player in the world for five years in a row. - Author: Luiz Felipe Scolari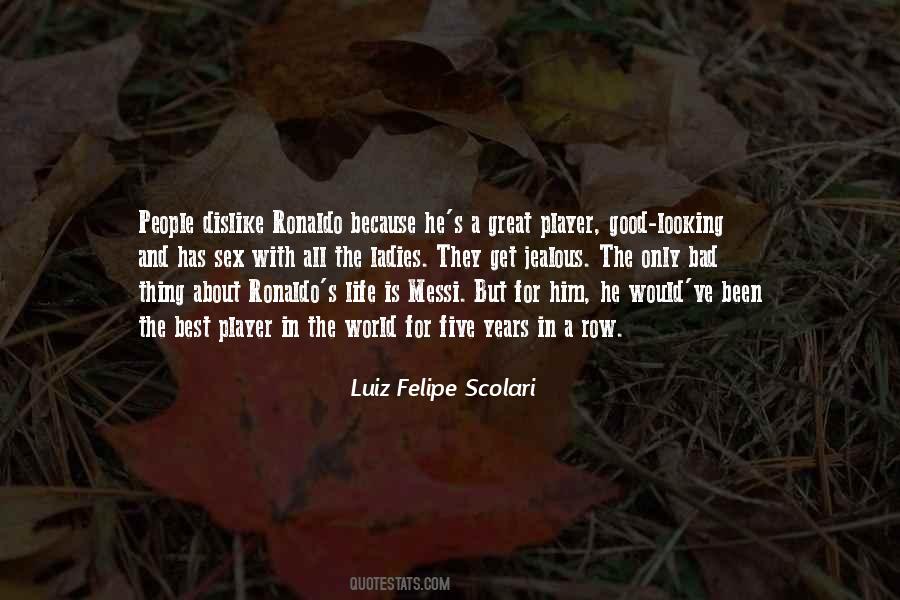 #98. My imagination was a great place to escape from all the anxiety and disapproval of my life ... I had to live in my head ... art was a way of making myself feel better. - Author: Philip Schultz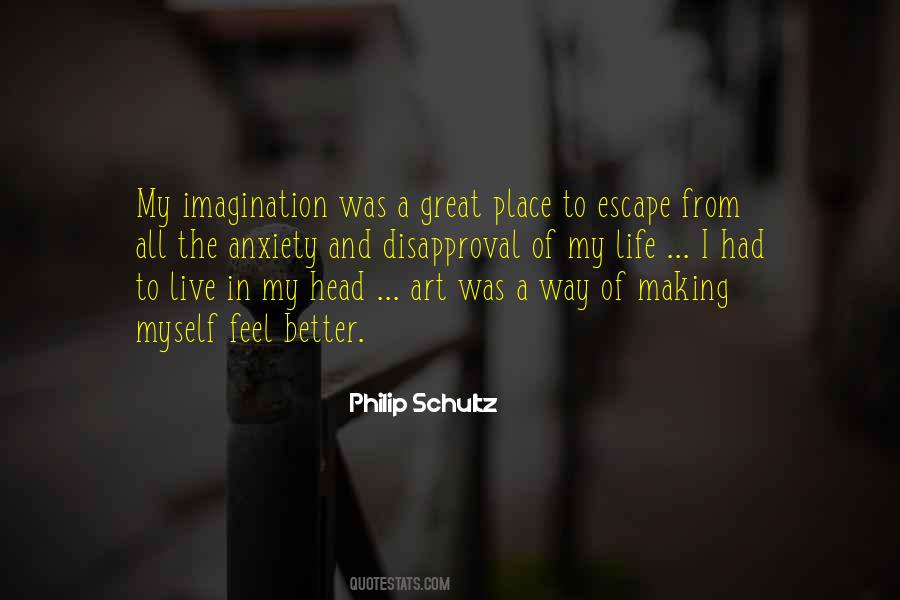 #99. Beauty is common but what's rare is a great energy and outlook on life. - Author: Neil Strauss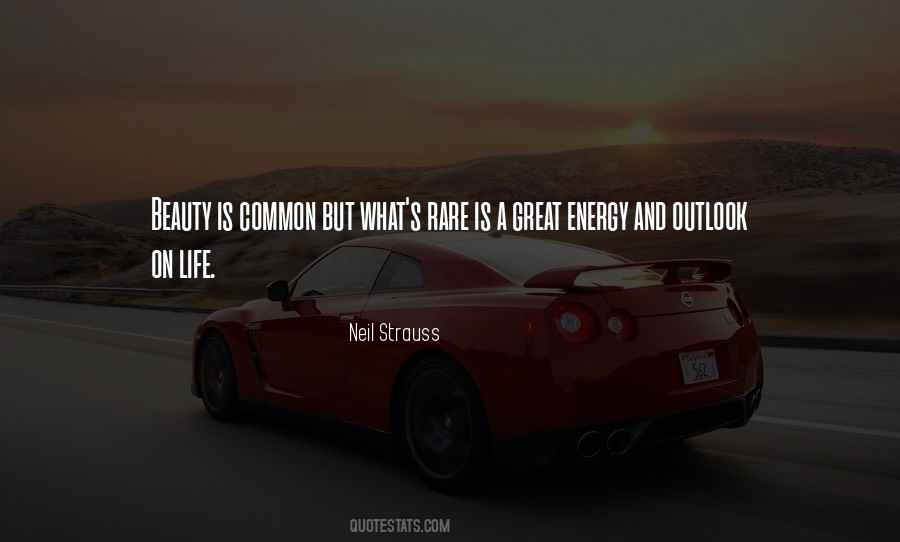 #100. When you have a great attitude, life will have a great destination. - Author: Debasish Mridha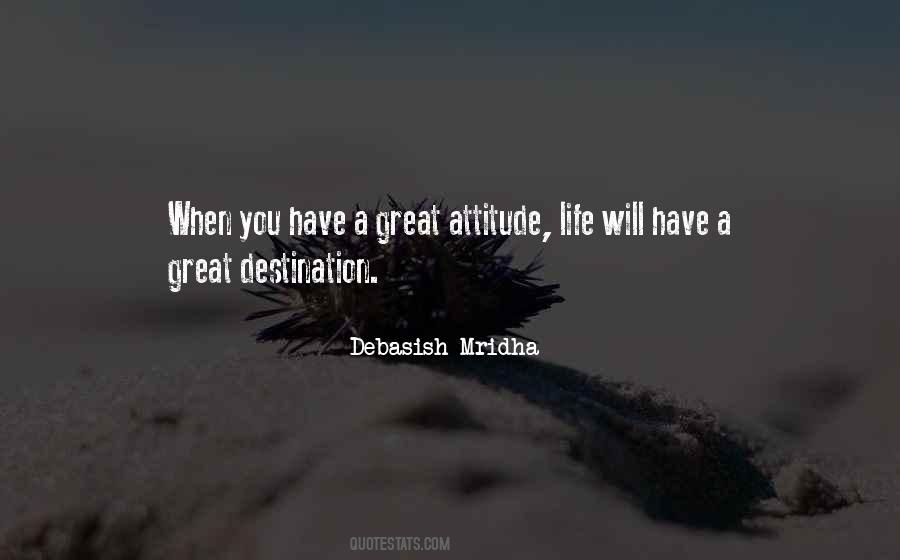 Famous Authors
Popular Topics