A Difficult Time In Life Famous Quotes & Sayings
List of top 69 famous quotes and sayings about a difficult time in life to read and share with friends on your Facebook, Twitter, blogs.
Top 69 Quotes About A Difficult Time In Life
#1. We all have to start with ourselves. It is time to walk the talk. Take the journey of making very difficult decisions. Start removing things from your life that are not filling your cup and adding things that bring joy in to your life. - Author: Lisa Hammond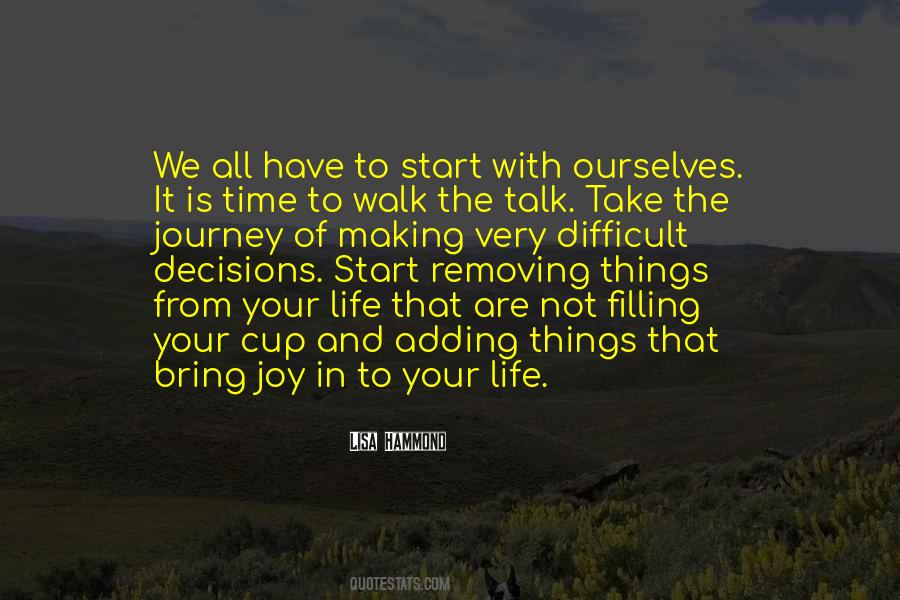 #2. My dear, I'm seldom sure of anything. Life at best is a precarious business, and we aren't told that difficult or painful things won't happen, just that it matters. It matters not just to us but to the entire universe. - Author: Madeleine L'Engle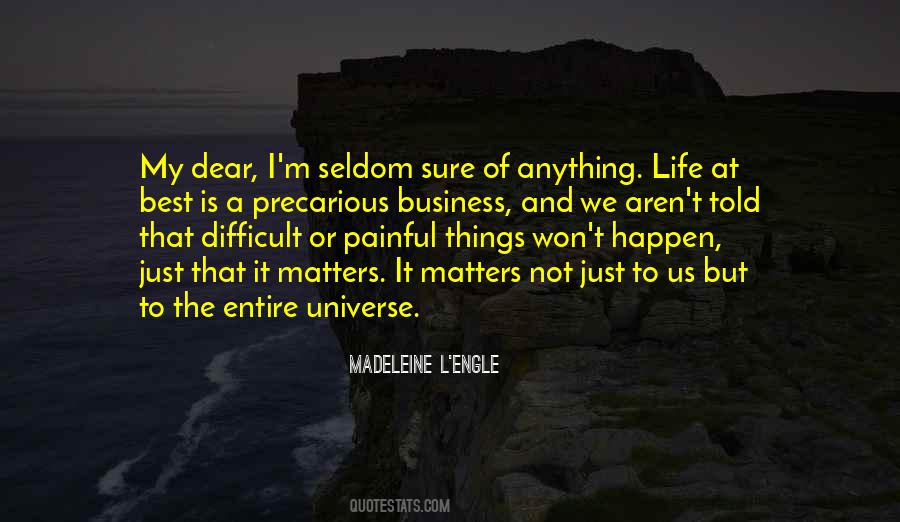 #3. They cannot understand that the figure of a laborer - some furrows in a plowed field, a bit of sand, sea and sky - are serious objects, so difficult but at the same time so beautiful, that it is indeed worth while to devote one's life to the task of expressing the poetry hidden in them. - Author: Brenda Ueland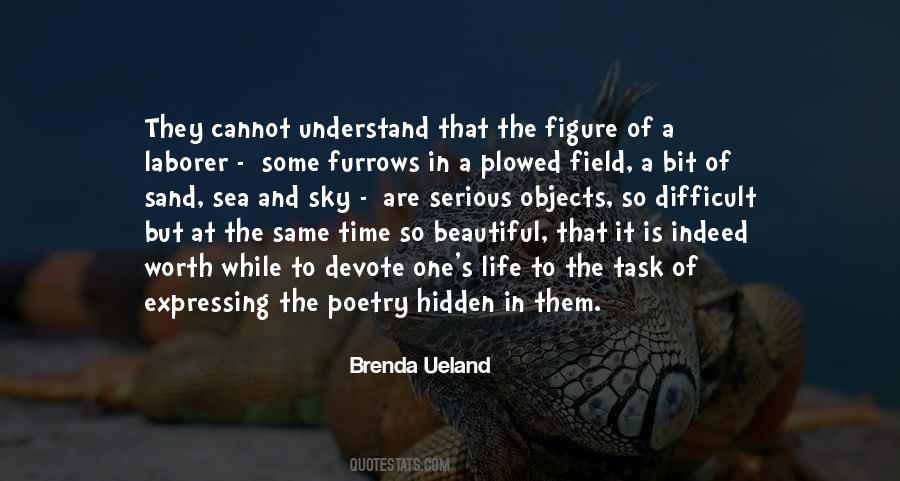 #4. Human beings weren't designed to handle the amount of stress our modern life loads on us, which makes it difficult to hear our natural parenting instincts. It's almost as if we're forced to parent in our spare time, after meeting the demands of work, commuting and household responsibilities. - Author: Laura Markham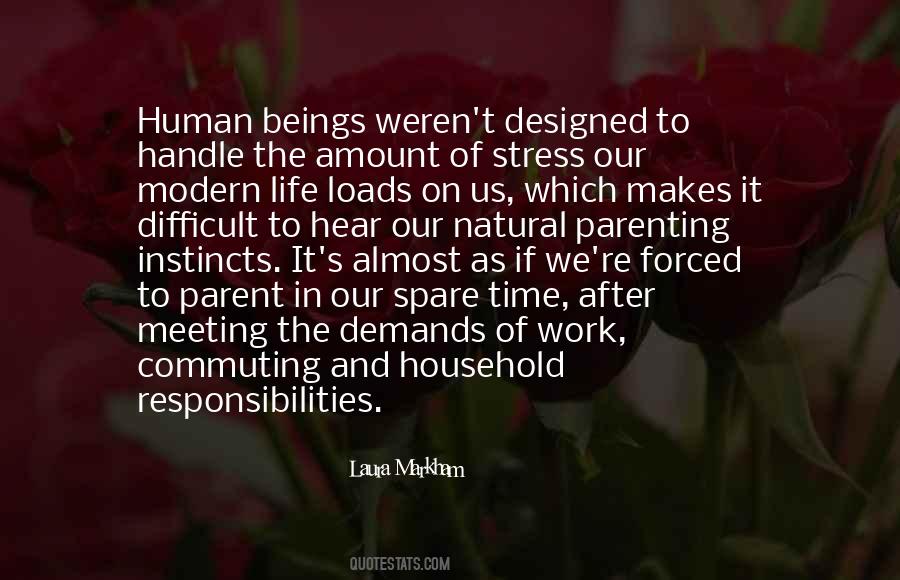 #5. God will never leave nor forsake you even at the time of the most difficult trials - Author: Sunday Adelaja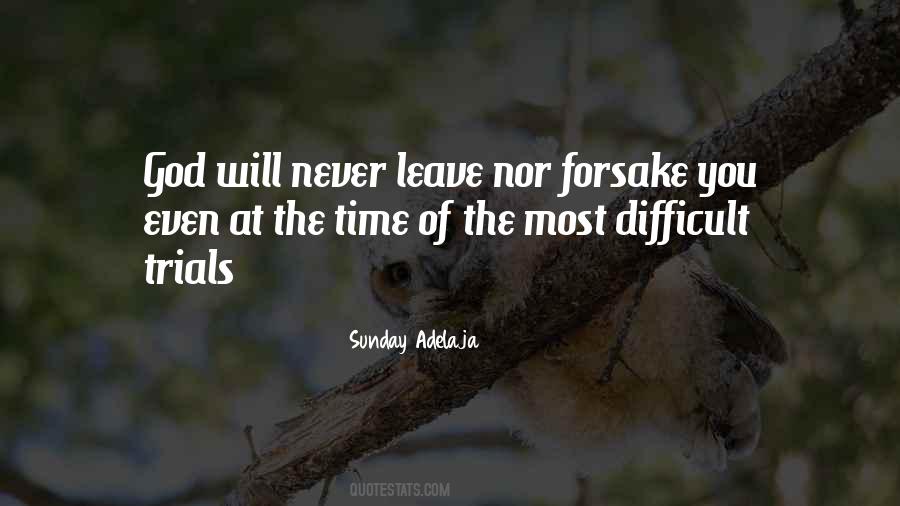 #6. As the CEO running my life, running Meghan Trainor, I have to say 'no' to things all the time, and it's been very uncomfortable and very difficult. I've said 'no' and it's actually worked - even when I never thought it would work. - Author: Meghan Trainor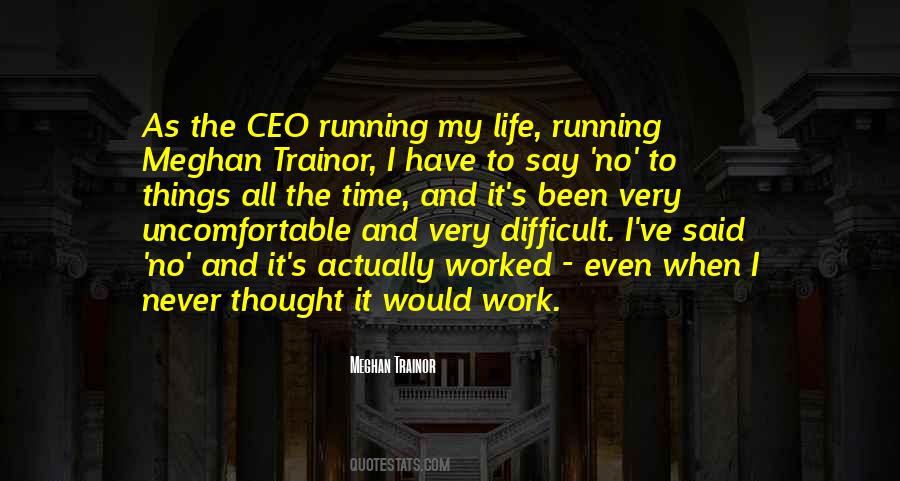 #7. It is difficult to feel things very strongly in a world wherein most of the time, the majority seem to be intoxicated and often senseless. - Author: C. JoyBell C.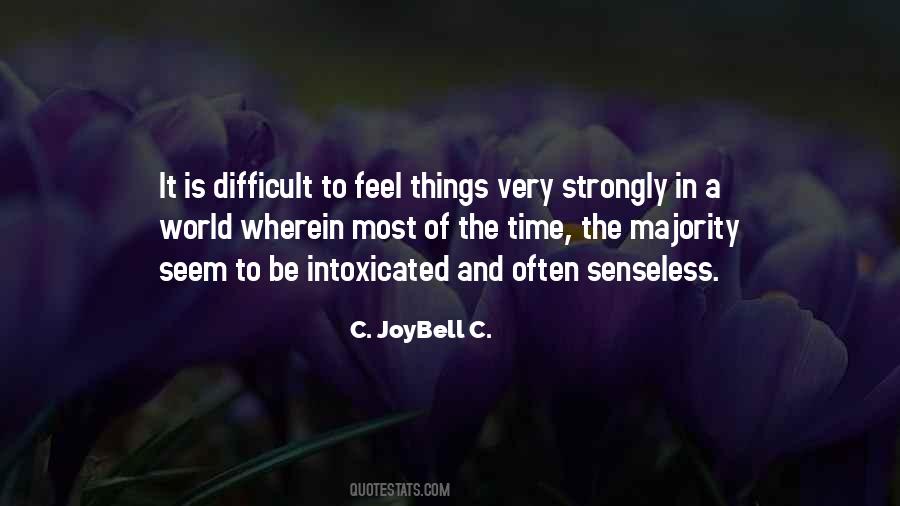 #8. You have to find ways of integrating what you like into your business life. And it's difficult at times, but I think over time with experience, you learn how to do it. - Author: Anousheh Ansari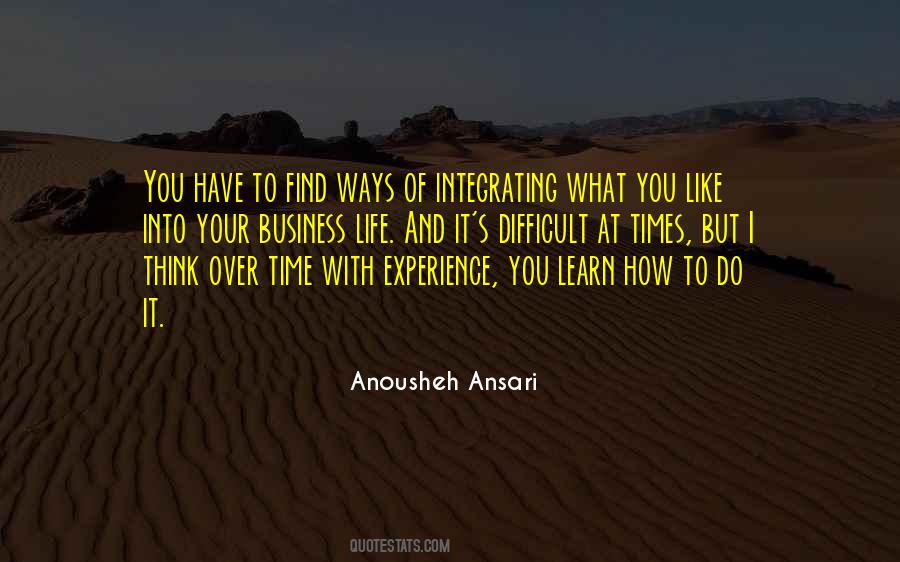 #9. There are things in my life that are hard to reconcile, like divorce. Sometimes it is very difficult to make sense of how it could possibly happen. Laying blame is so easy. I don't have time for hate or negativity in my life. There's no room for it. - Author: Reese Witherspoon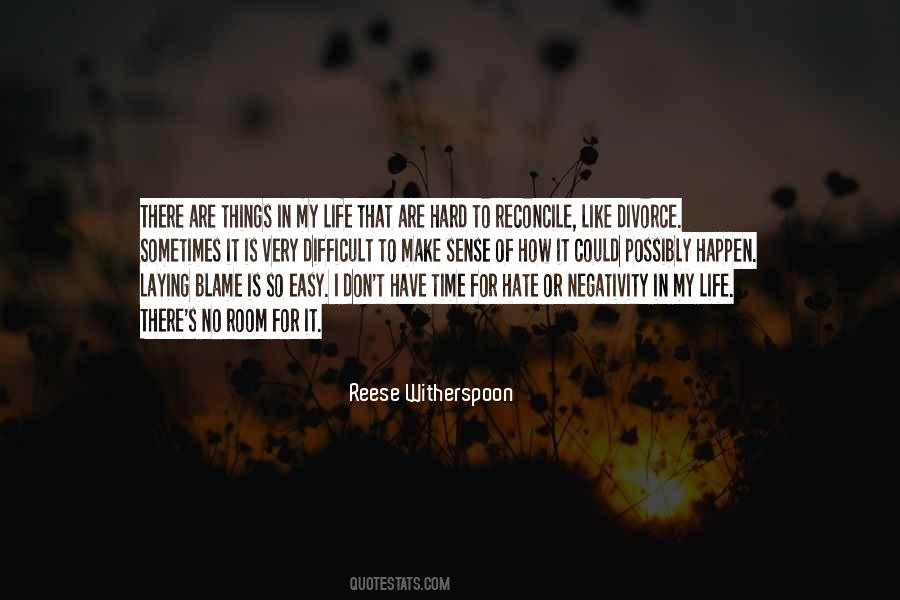 #10. Life Lesson 1: Every time we do something new, only the first few days are difficult. - Author: Apoorv Vishnoi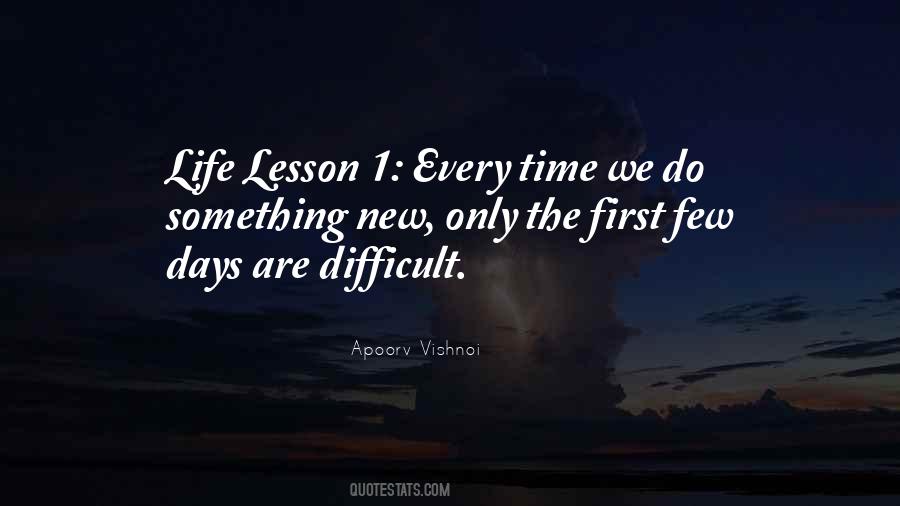 #11. Learn to be difficult when it counts. In school as in life, having a reputation for being assertive will help you receive preferential treatment without having to beg or fight for it every time. - Author: Timothy Ferriss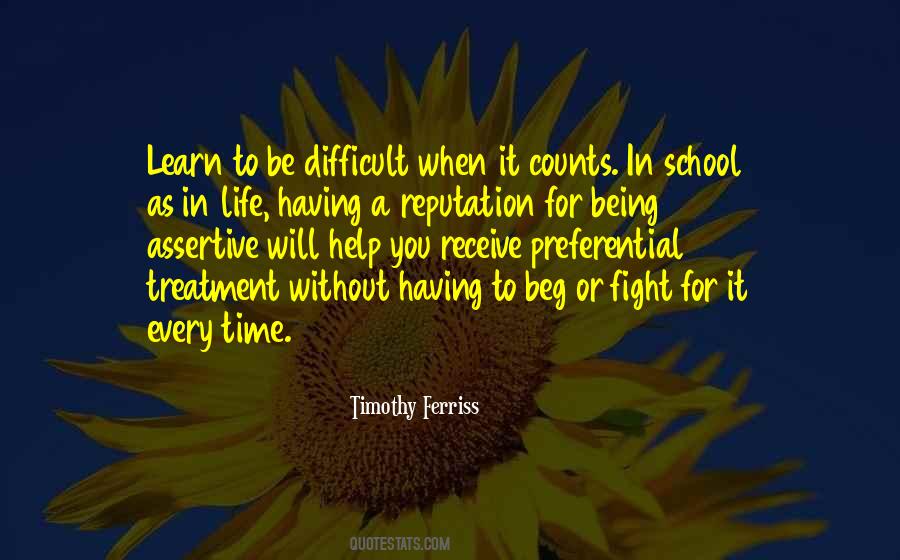 #12. When I have a difficult decision to make, I imagine myself as a 90-year-old guy looking back on his life. I imagine what I'll think about myself at that point in time, and it always makes it really easy to go for it. You're only going to regret that you wimped out. - Author: Nick Woodman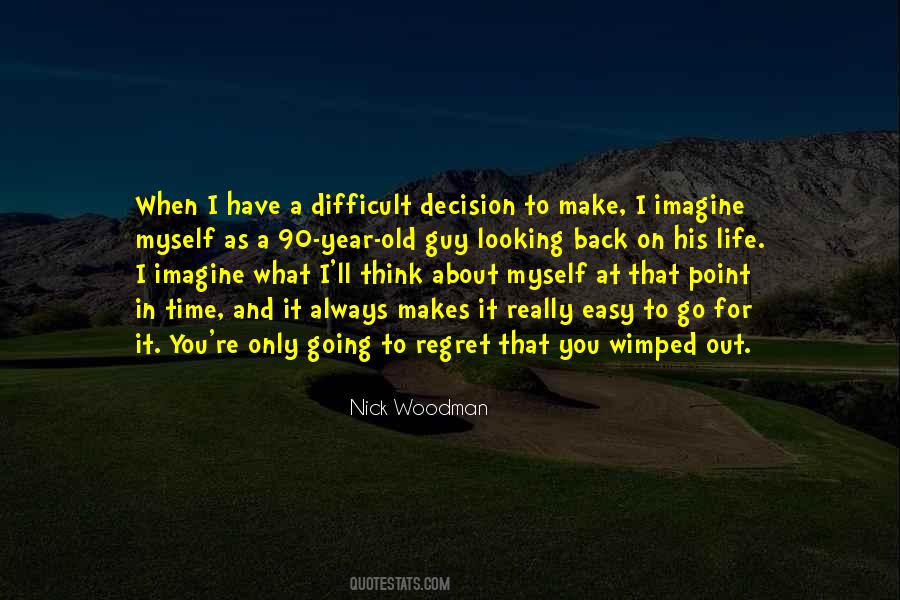 #13. I have learned that bitterness, resentment and self-pity do nothing to lift the gloomy clouds of a spiritual February in my life. If anything, these sins only harden the soil of my heart, making it difficult for new growth to spring forth at God's appointed time. - Author: Katherine J. Walden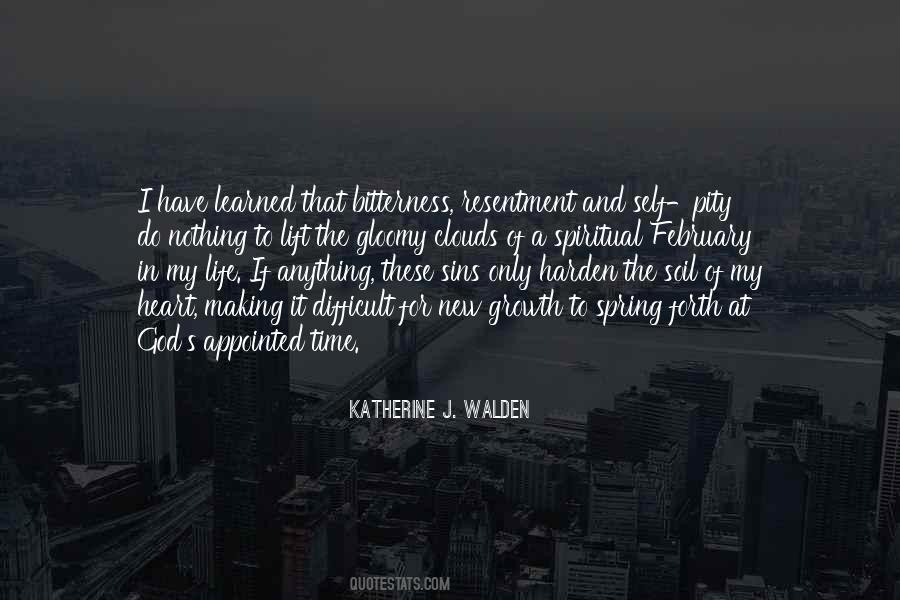 #14. They say that life is tough enough. But I guess I like to make things difficult on myself, because I do that all the time. Every day and on purpose. That's because I believe in disrupting my comfort zone. - Author: Brian Grazer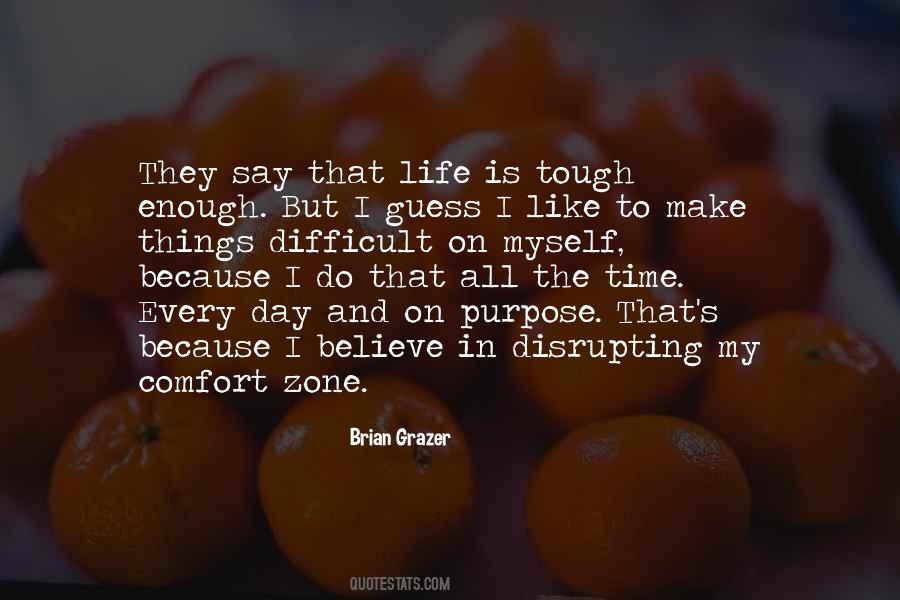 #15. If life and its rushed pace and many stresses have made it difficult for you to feel like rejoicing, then perhaps now is a good time to refocus on what matters most. - Author: Dieter F. Uchtdorf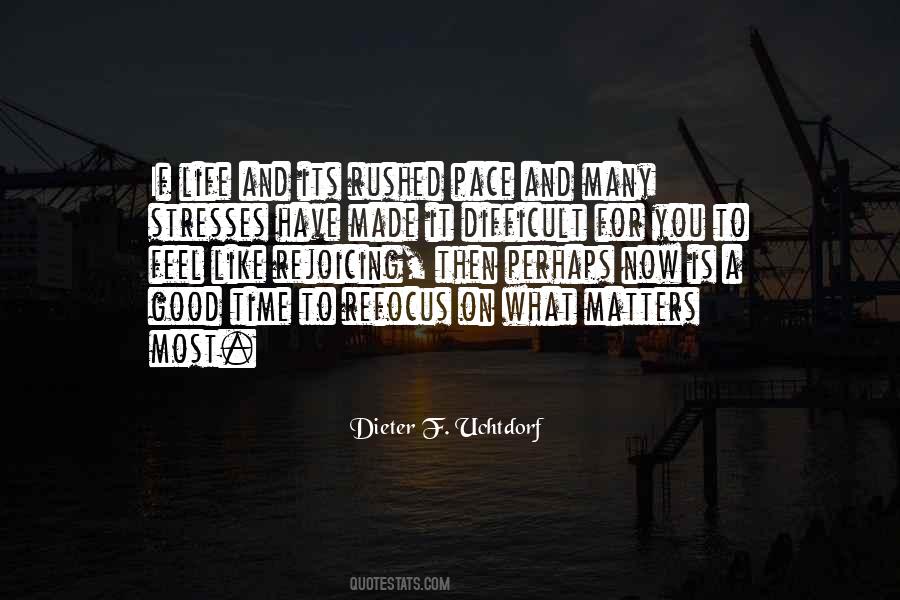 #16. If you can't enjoy the time between golf shots, then you are going to have a pretty difficult life because most of you life is the time spent in-between. - Author: Peter Jacobsen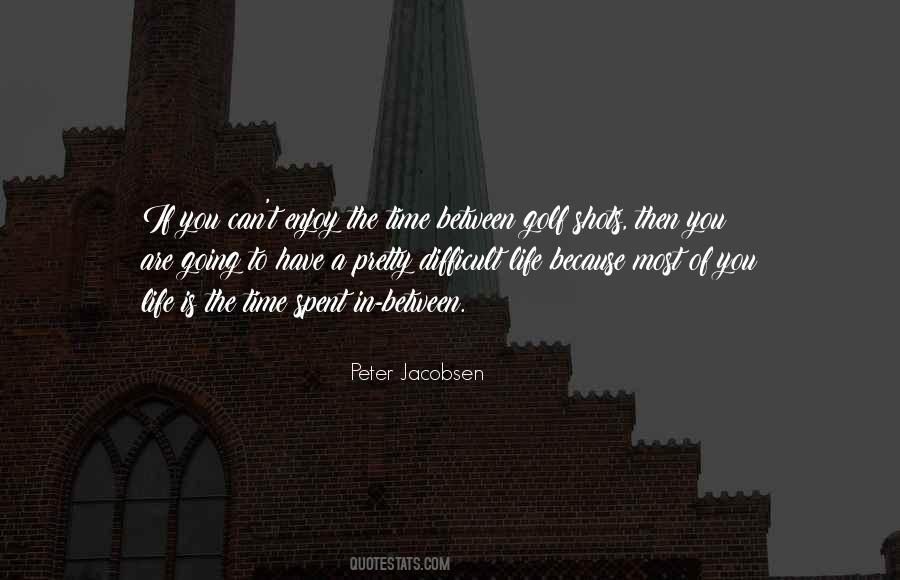 #17. Certainly it's very difficult to keep momentum going through a film which has as many characters as this does, and the piece took on a life of its own to try and shape it. That took all the time we had in editing. - Author: John Crowley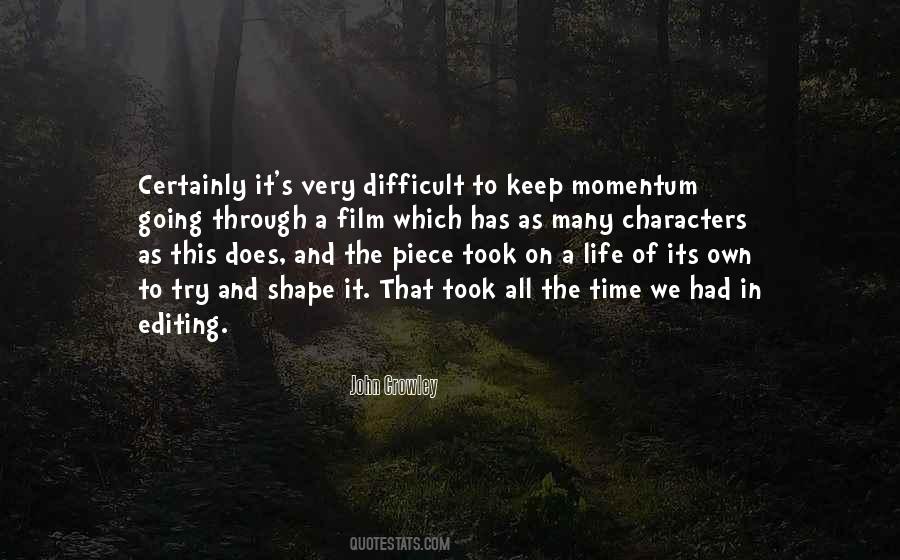 #18. Life is difficult, you know. It's bloody hard telling the truth all the time. Sometimes it's impossible. - Author: Mark Haddon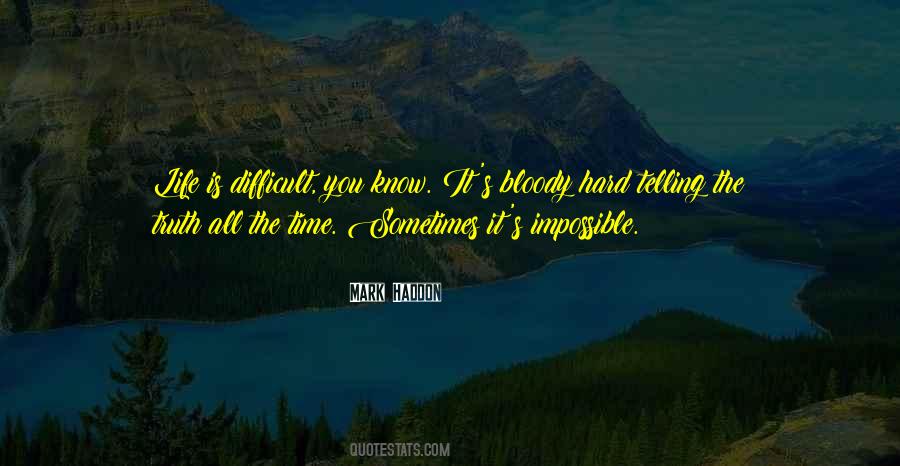 #19. It is the misfortune of contemporary leaders, across the whole spectrum of Australian life, that the community's demand for strong leadership is growing in direct proportion to our lack of confidence in ourselves. The end of this century is an unusually difficult time to be a leader in Australia. - Author: Hugh Mackay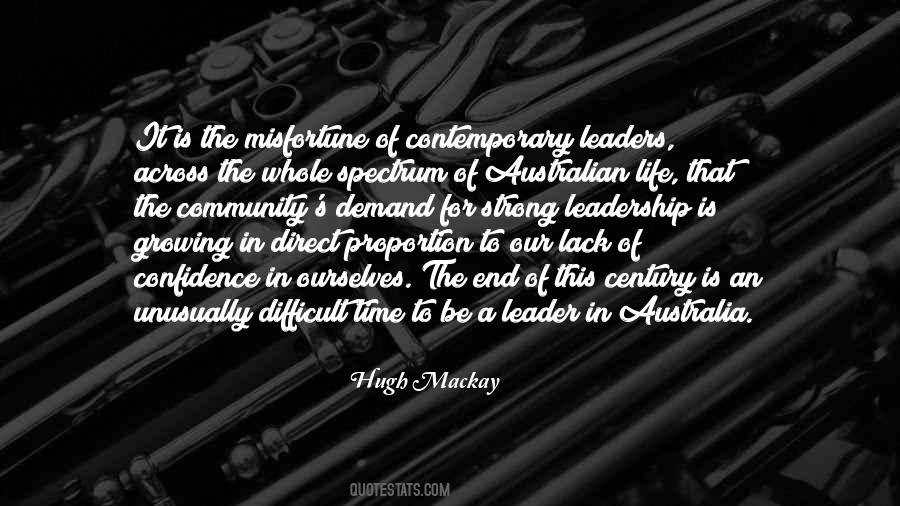 #20. It's very difficult to look at the World
and into your heart at the same time.
In between, a life has passed. - Author: Jim Harrison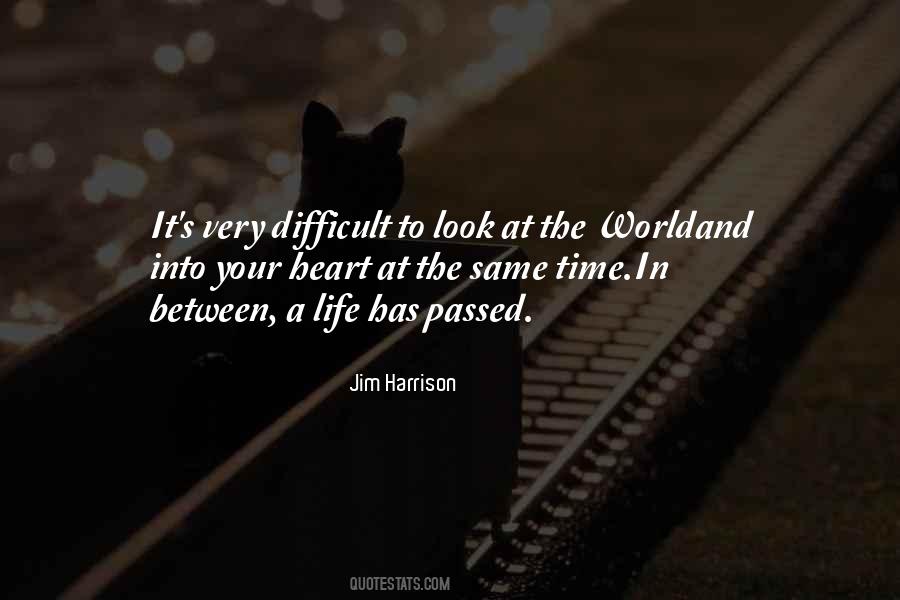 #21. Why is this happening to me? Why am I having such a difficult time? One answer is that life is supposed to be difficult! It's what enables us to grow. Remember, earth is not heaven! - Author: Rick Warren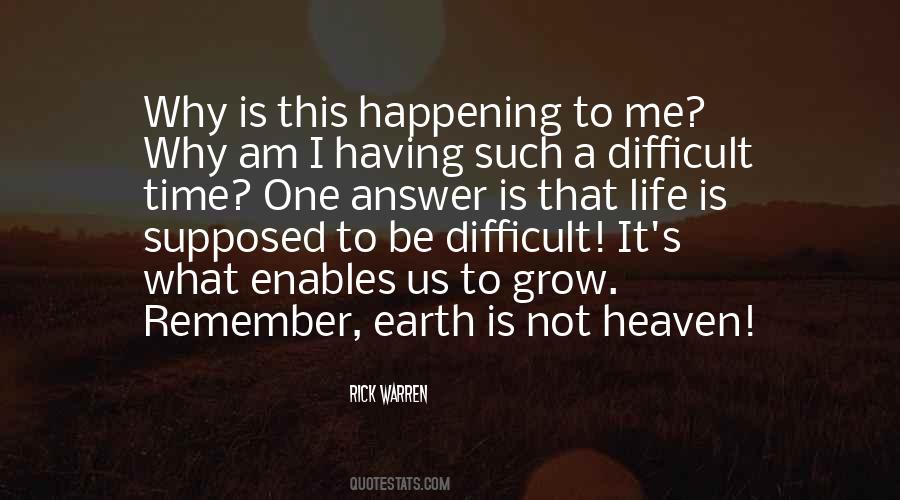 #22. Going through a divorce after twenty-five years of marriage was the most difficult time for me. It was challenging to reorient my life from being centered around family, a family home, and a long-term relationship. - Author: Tim Matheson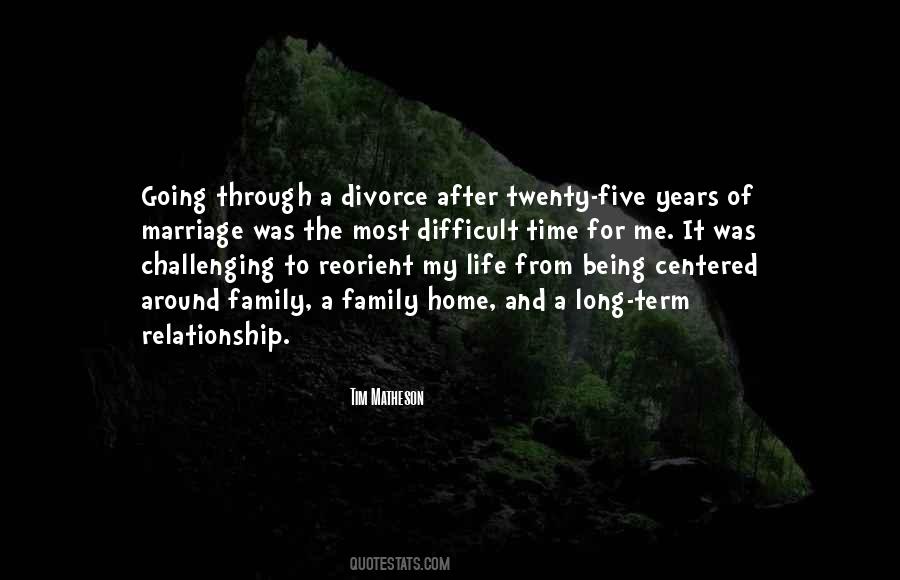 #23. There is no doubt about it that it is more difficult for a woman to follow a career than for a man. Through the centuries his time has been considered more valuable, and he has consequently been excused from wrestling with many of 'life's minor damnabilities. - Author: Alice Hegan Rice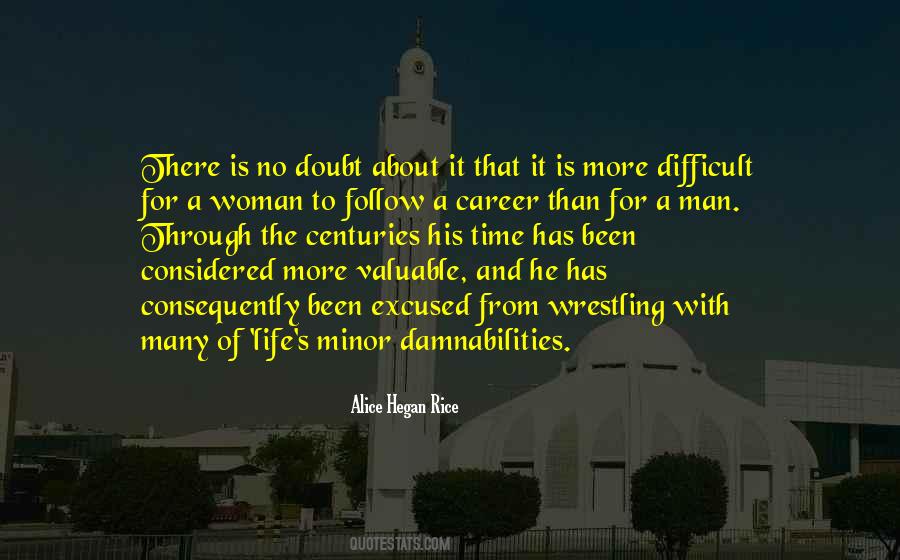 #24. However difficult death is for us to accept, we must... how would we learn to appreciate each moment if it were not precious? If life were forever? - Author: Michelle Harrison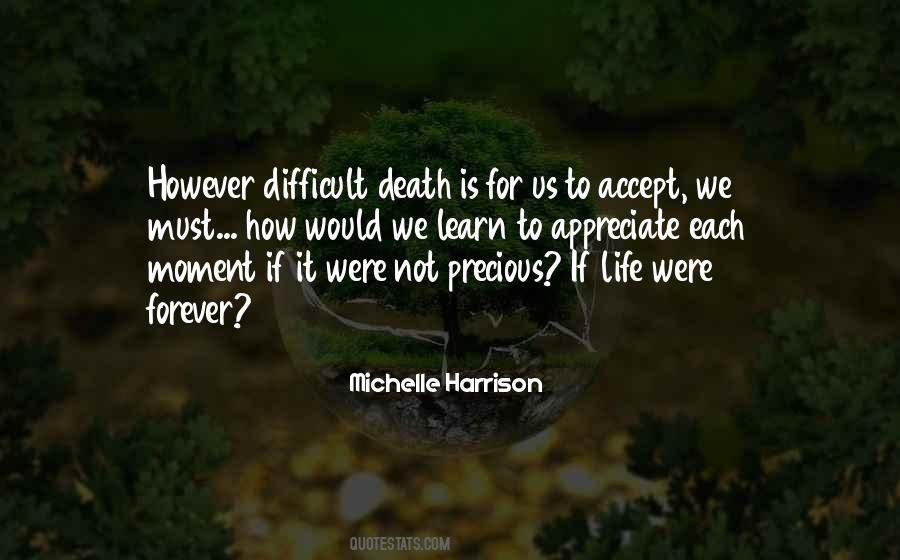 #25. We live in a time where the media is a very difficult thing to navigate because it's everywhere, and I tend to want to be a lot more private with my life. - Author: Emily VanCamp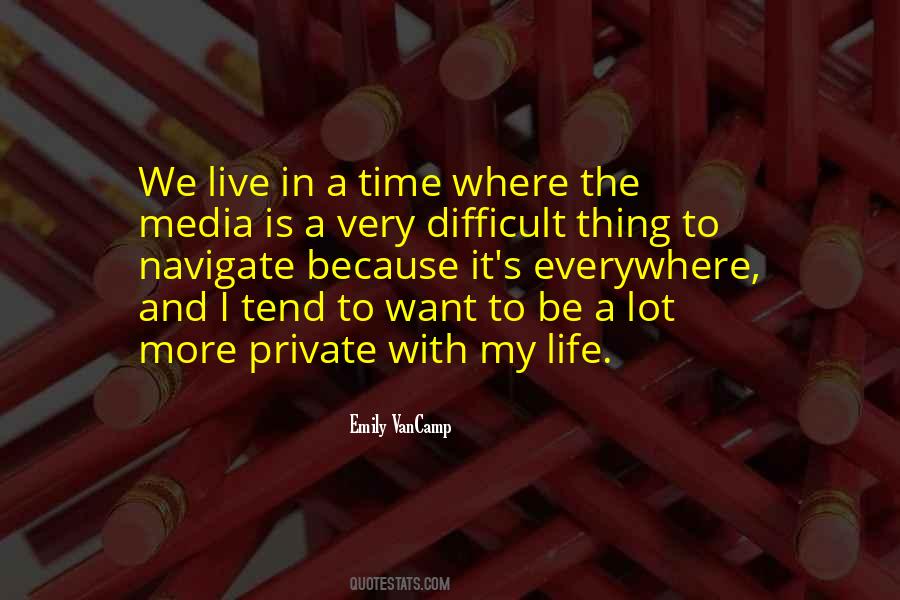 #26. The war years were the most difficult time of my life. There was real famine in Moscow. The water froze inside the houses. There was no heat. - Author: Mstislav Rostropovich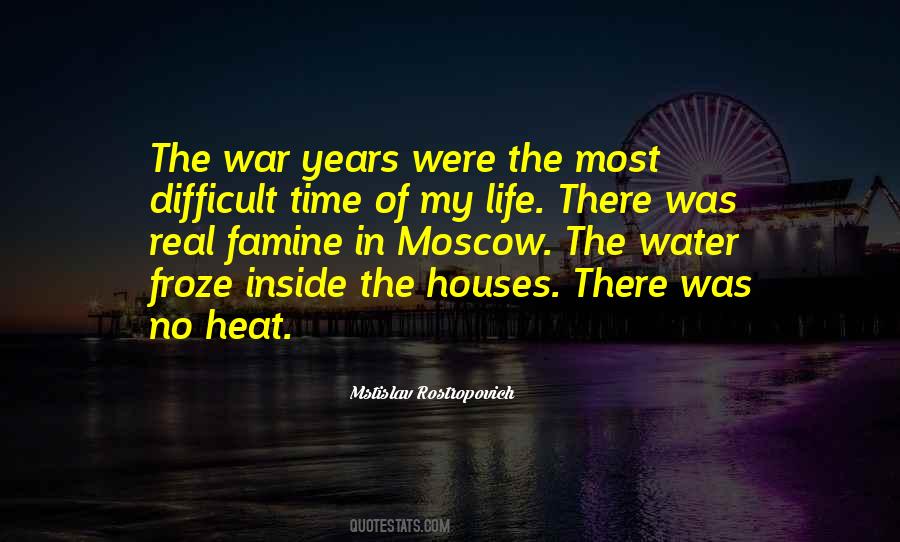 #27. My dad had a very difficult life, a hard struggle all the time at work. I've always felt like I'm seeking his revenge. - Author: Bruce Springsteen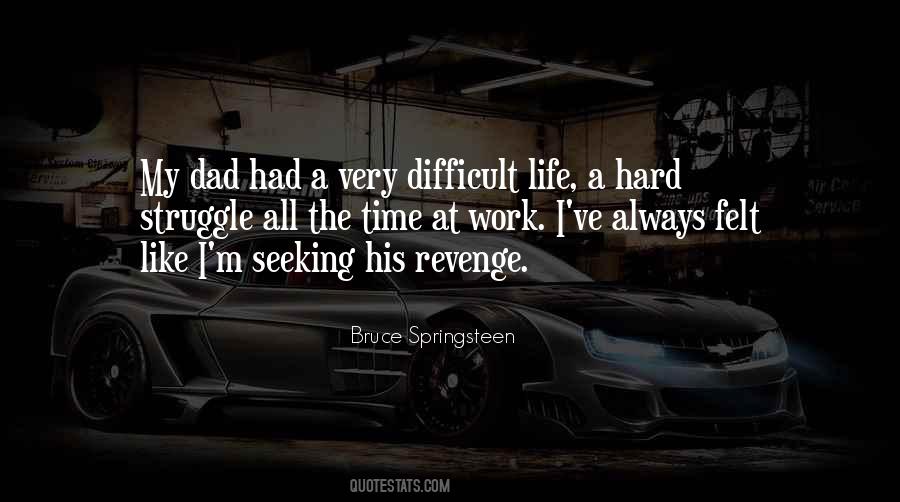 #28. It never stops, accepting that fact is difficult.
I took some time out for life. - Author: James L. Brooks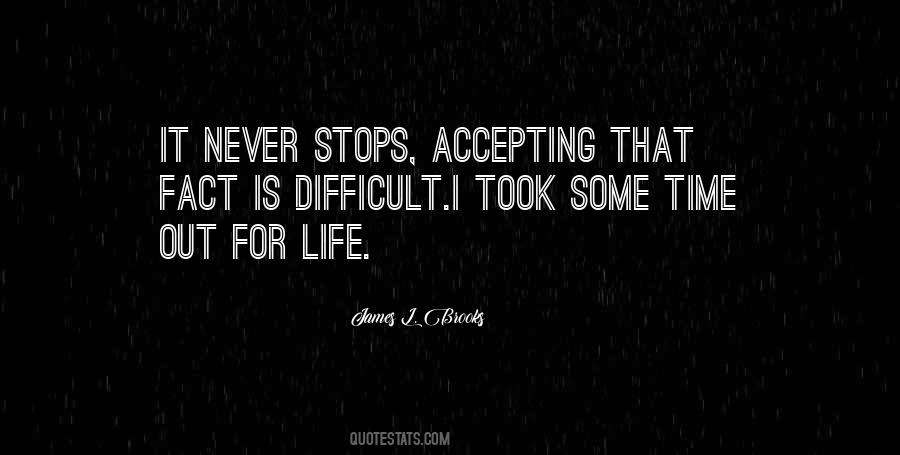 #29. Soon I worked during twelve years in theater works of the prestigious Theatre National Populaire. It was the best time of my life, the most difficult, the most interesting, the most exciting. - Author: Maurice Jarre
#30. Every time you overcome a difficult challenge you will have a story and that story is what changes lives. - Author: Farshad Asl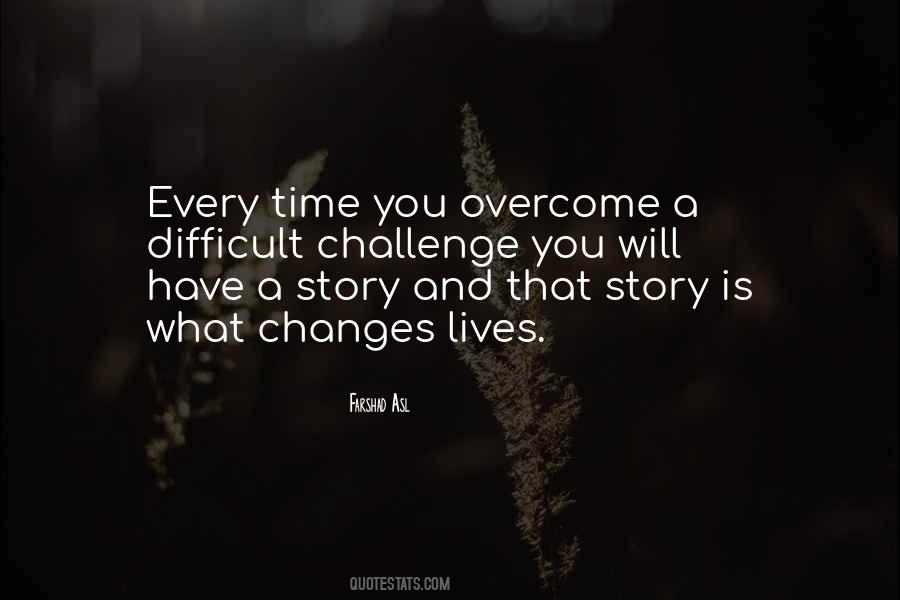 #31. Individuals somehow are led to find my books at times that are important to them. The mail that I get very, very often will say, "I was at a difficult time in my life, and someone gave me a copy." - Author: Richard Bach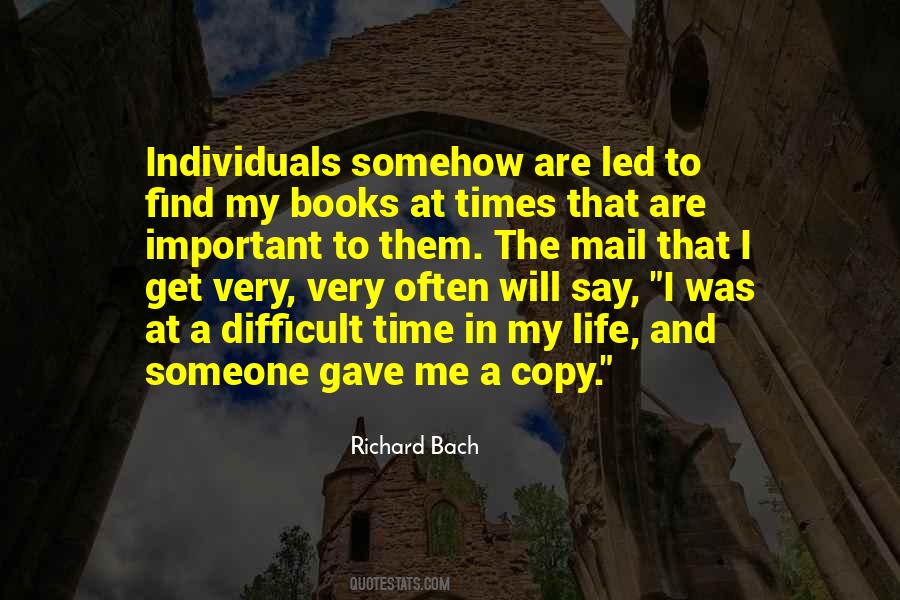 #32. But not only medicine, engineering, and painting are arts; living itself is an art in fact, the most important and at the same time the most difficult and complex art to be practiced by man. - Author: Erich Fromm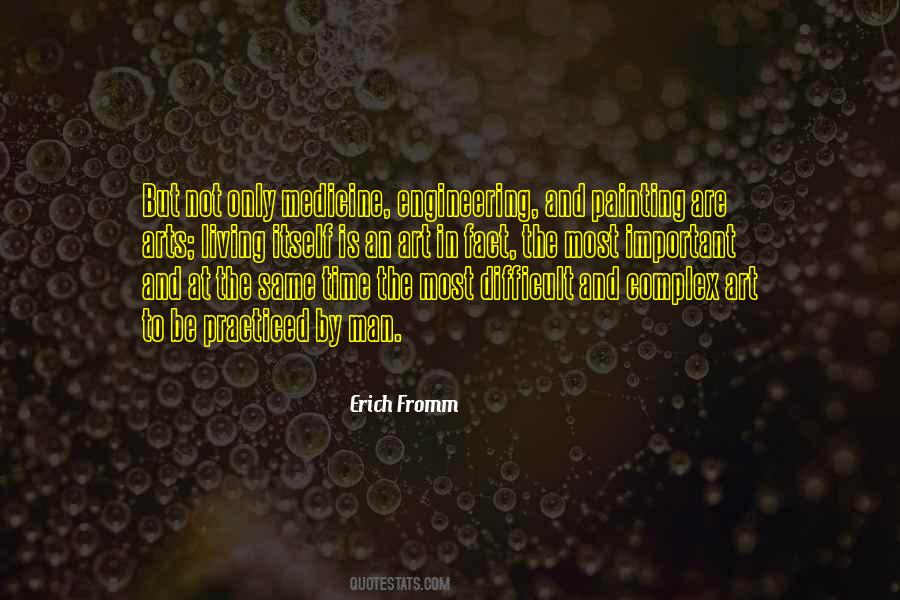 #33. This I know of life's difficult times: there is always a time for them to begin and a time for them to end, and the man who knows this knows he must thank God for each day he has suffered because that is always one day closer to the sun, the real sun. - Author: Andre Dubus III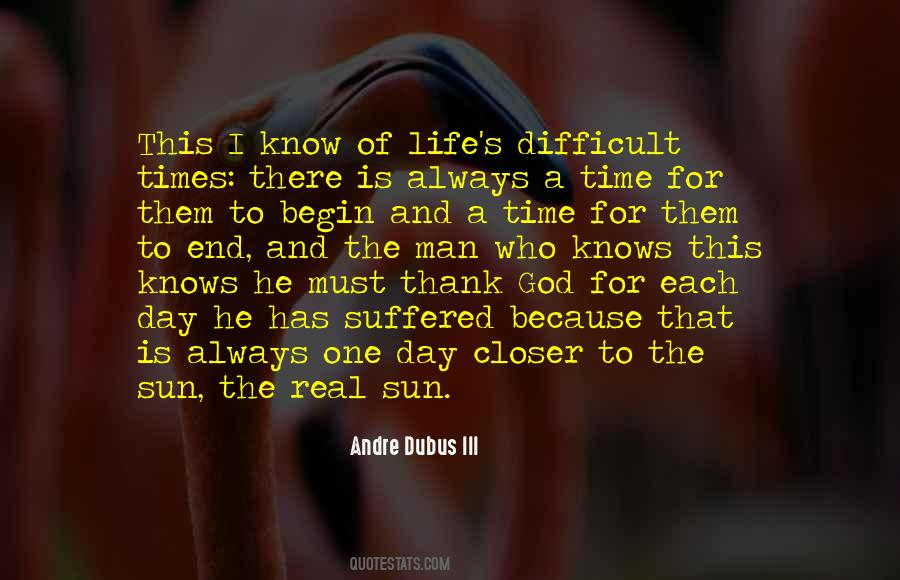 #34. I started sharpening pencils at the census and how that was a difficult time in my life because my marriage was ending and I had quit cartooning and I didn't know what to do with myself. - Author: David Rees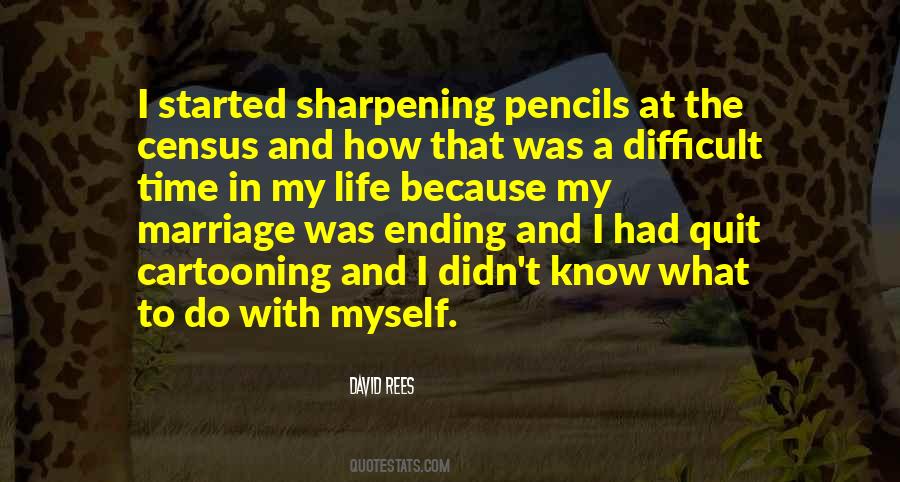 #35. It is difficult to make the right choices in life, so it's better to take it one step at a time". - Author: Abdulazeez Henry Musa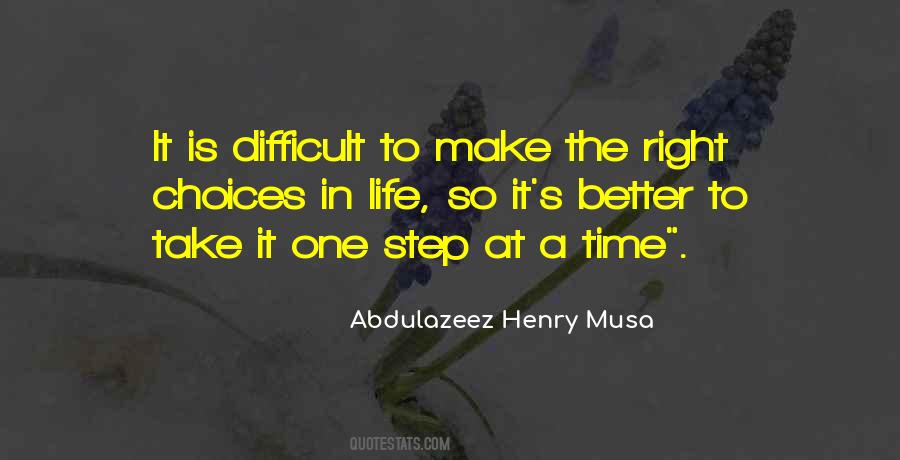 #36. There was a time when no difficult subjects were ever aired in the 'Lady', and sadly, life isn't like that. - Author: Rachel Johnson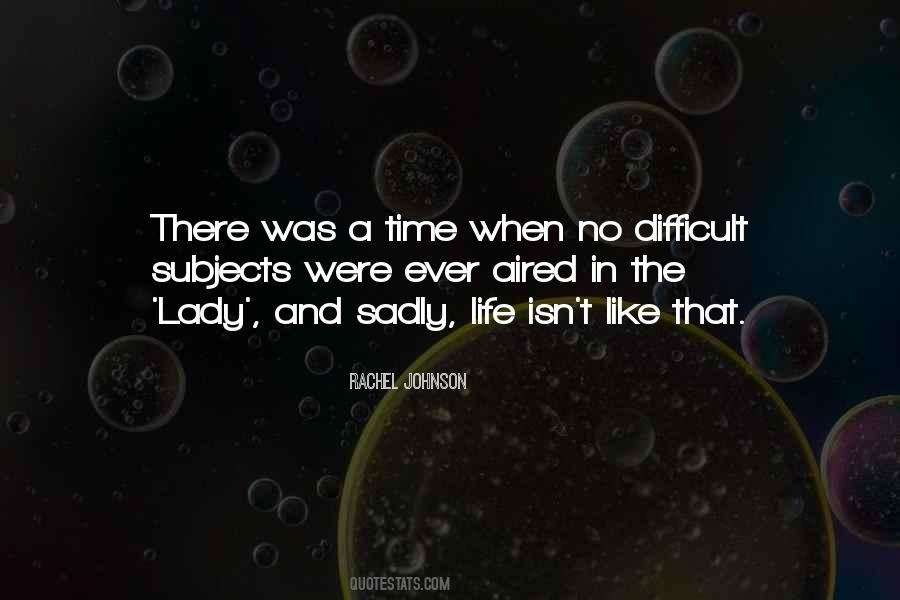 #37. The biggest problem is that stress is above my life, as much I have more stress as more masturbate commmands me. I see it's pointless, it loses time, it's useless and so on and so on... but some how it's difficult to stop it! - Author: Deyth Banger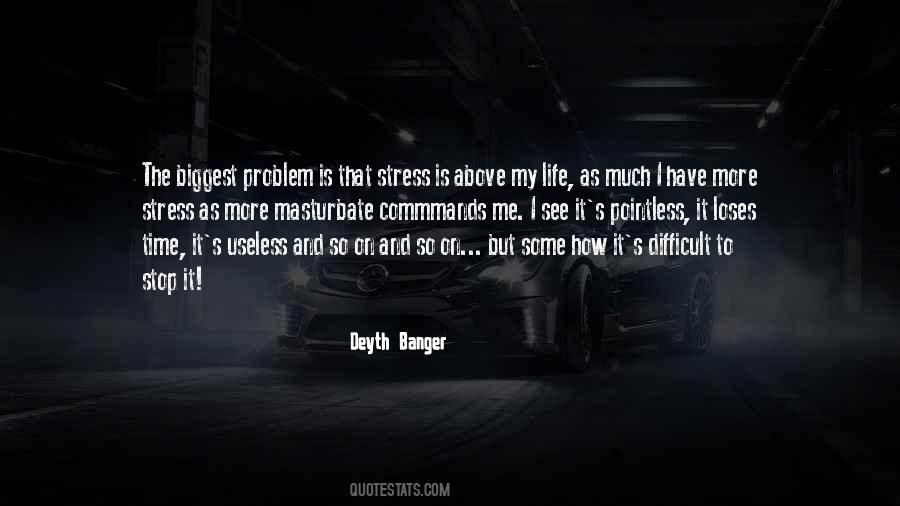 #38. The life of an Essentialist is a life lived without regret. If you have correctly identified what really matters, if you invest your time and energy in it, then it is difficult to regret the choices you make. You become proud of the life you have chosen to live. - Author: Greg McKeown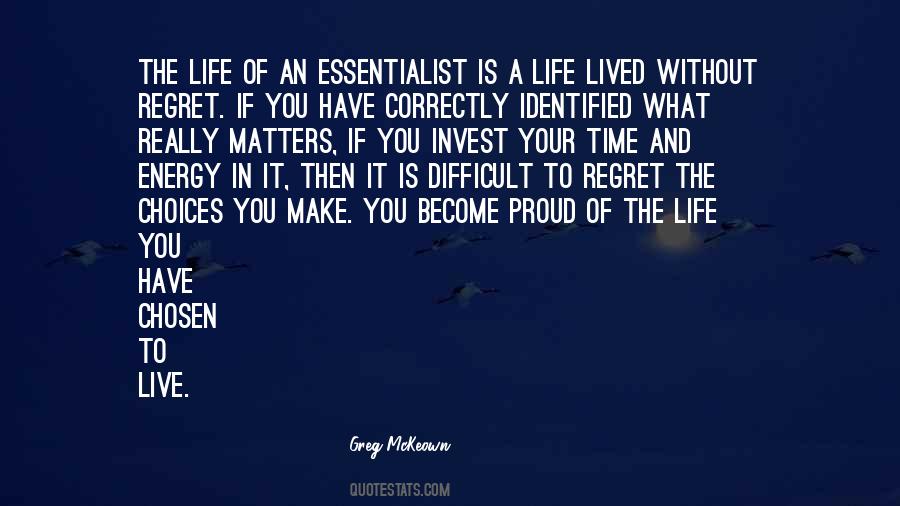 #39. Life at any time can become difficult: life at any time can become easy. It all depends upon how one adjusts oneself to life. - Author: Morarji Desai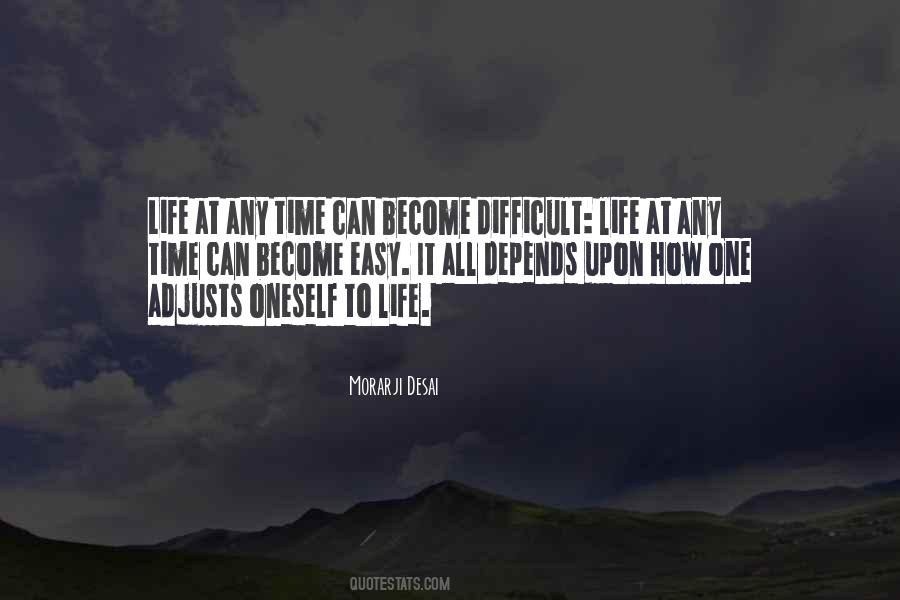 #40. Well, that was life. It was an old tree, and the old passed on. Probably they did not mind. There came a time when all sap ran slowly, and the peace of age with all things behind it merged easily into the peace of death. The difficult thing was to be young. - Author: Mary Roberts Rinehart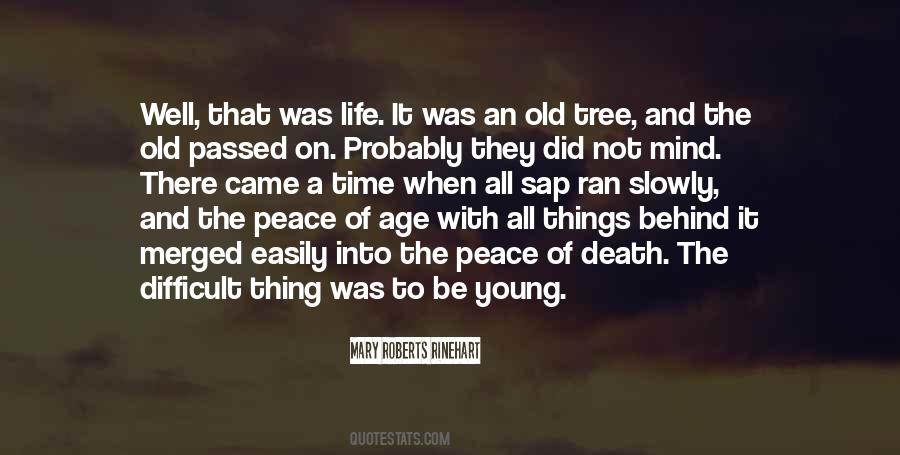 #41. It's difficult to write a really good short story because it must be a complete and finished reflection of life with only a few words to use as tools. There isn't time for bad writing in a short story. - Author: Edna Ferber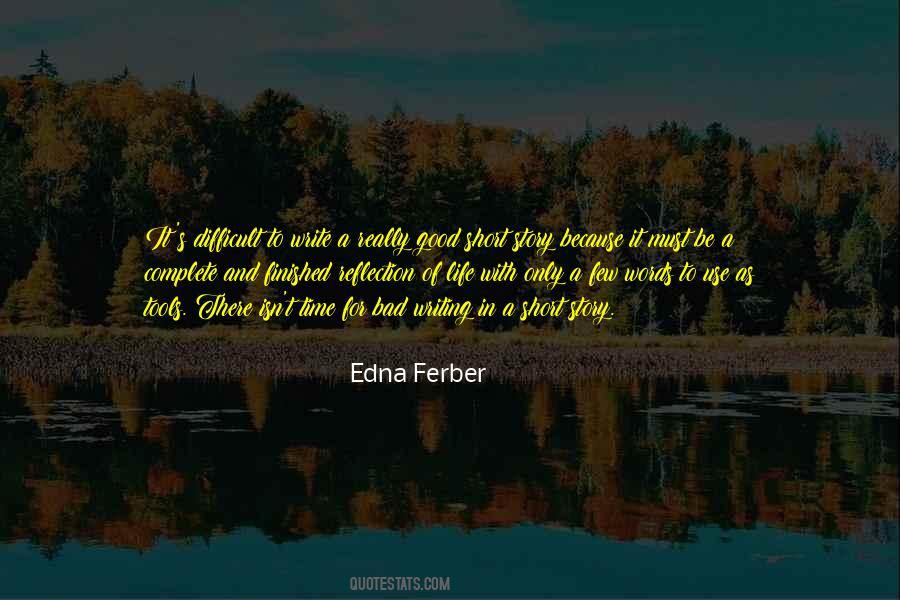 #42. Even if your difficult time comes at you out of the blue - like cancer - even those times, opens your heart to the magic and power of life, and gives you this inner commitment to live every moment. - Author: Elizabeth Lesser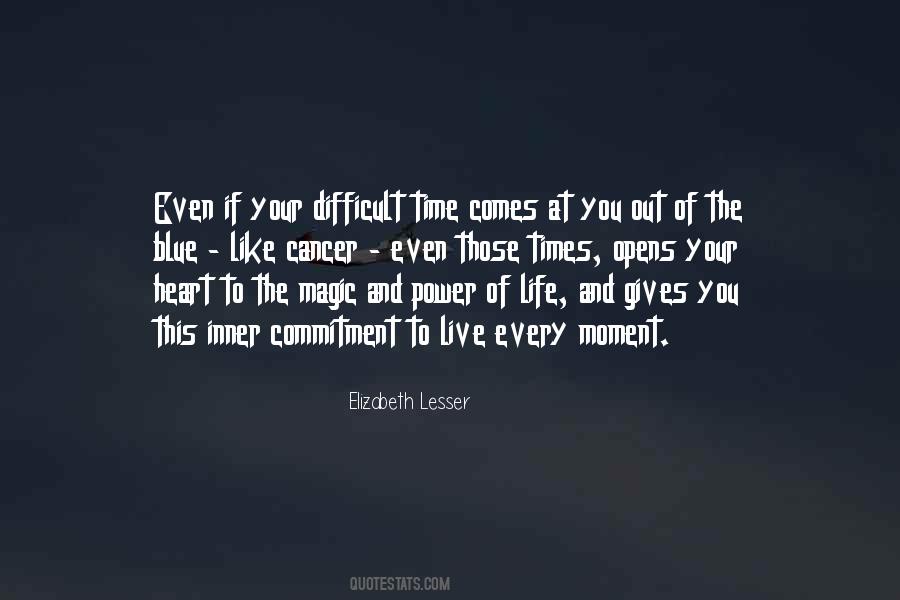 #43. It gave him the same odd sense of dislocation, though; that sense of losing some valuable part of himself that could not survive the passage back to daily life. Each time, the passage became more difficult. - Author: Diana Gabaldon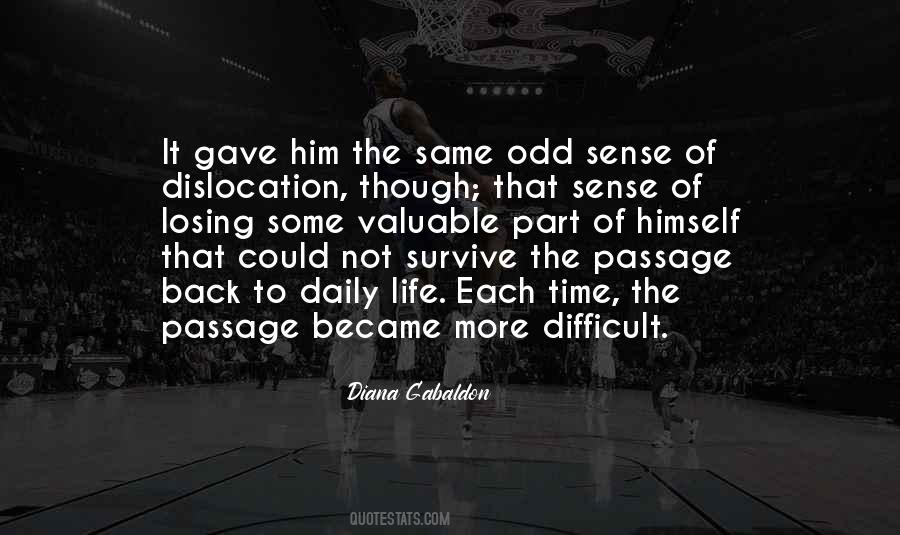 #44. Men made life far too difficult when they insisted on neatly categorizing their emotions. When emotions became complicated, they brooded and struggled so mightily in an attempt to simplify them again - when, given time, everything would sort itself out and slide into its place. - Author: Meljean Brook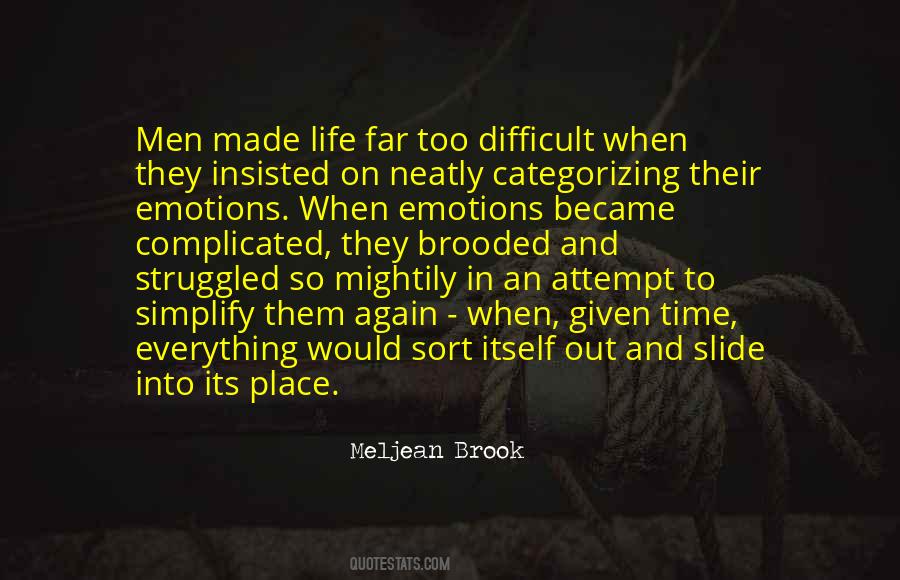 #45. They that know their God shall not be disappointed. They will stand the test of time. - Author: Lailah Gifty Akita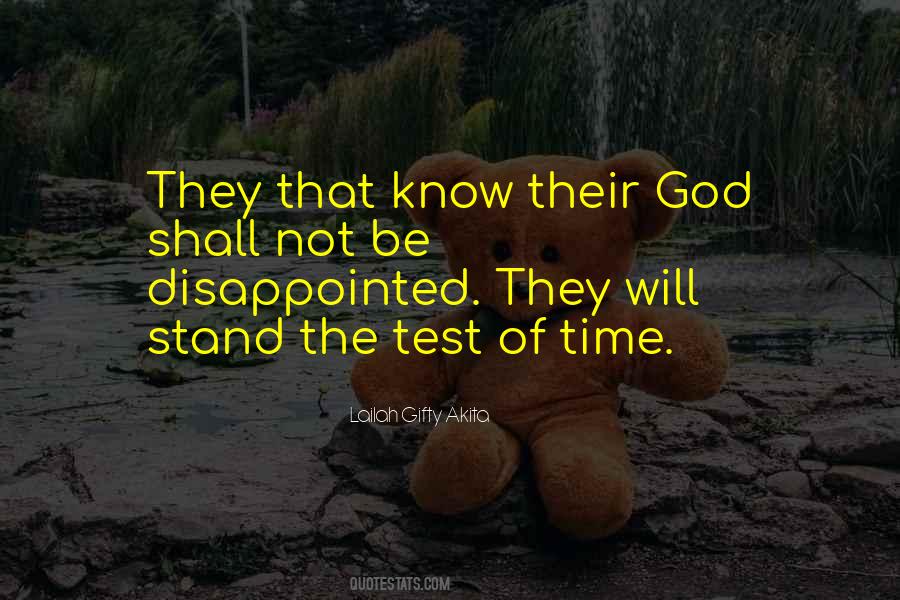 #46. It is difficult to walk at one and the same time many paths of life. - Author: Pythagoras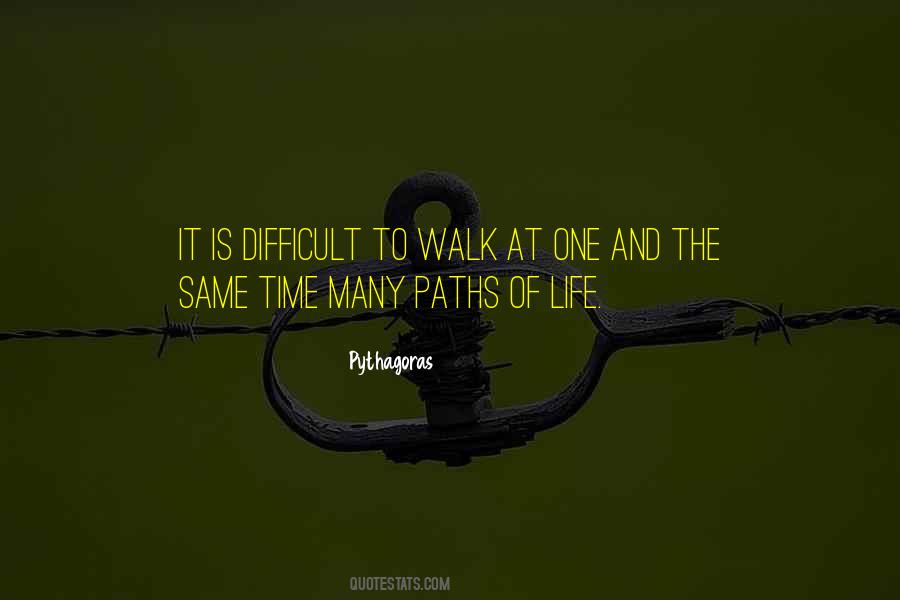 #47. I'm still trying to decide. It's a really difficult one because I really enjoy my time in the Air Force. And I'd love to continue it. But the pressures of my other life are building. And fighting them off or balancing the two of them has proven quite difficult. - Author: Prince William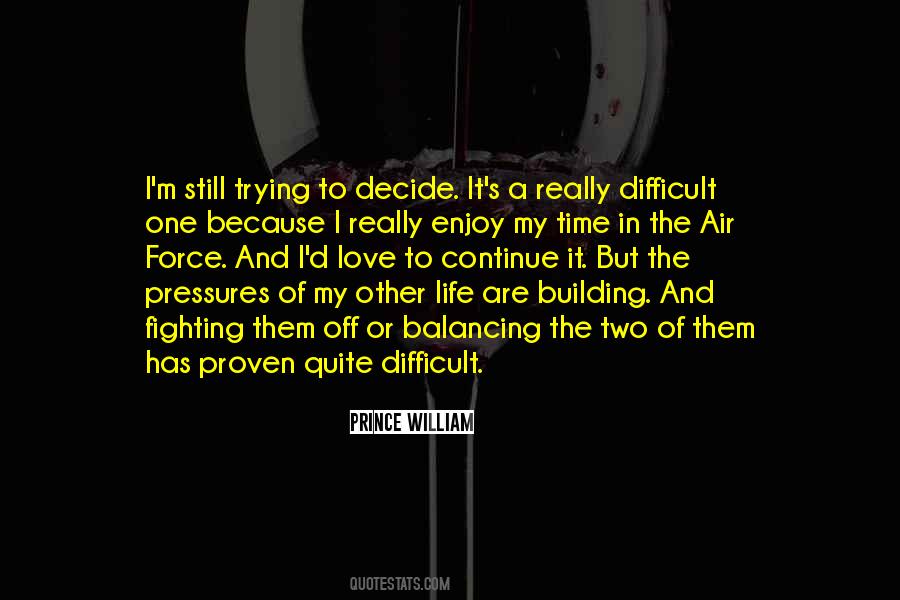 #48. It is difficult when reading the description of certain fictional characters not at the same time to imagine the real-life acquaintances who they most closely, if often unexpectedly, resemble. - Author: Alain De Botton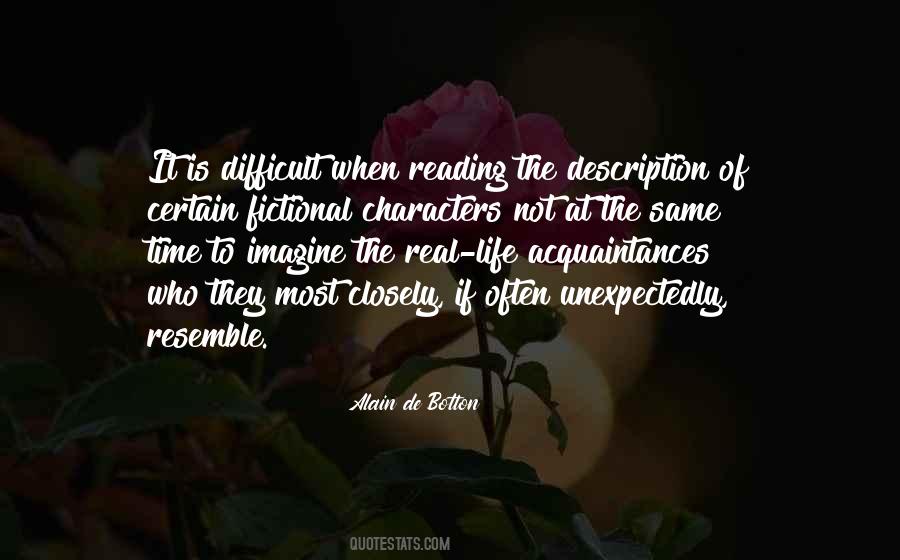 #49. It is of no concern to me if one is rich or poor, healthy or sick, at some time or another life will be pretty difficult for everyone. That is one of the reasons why my figures do not smile. - Author: Duane Hanson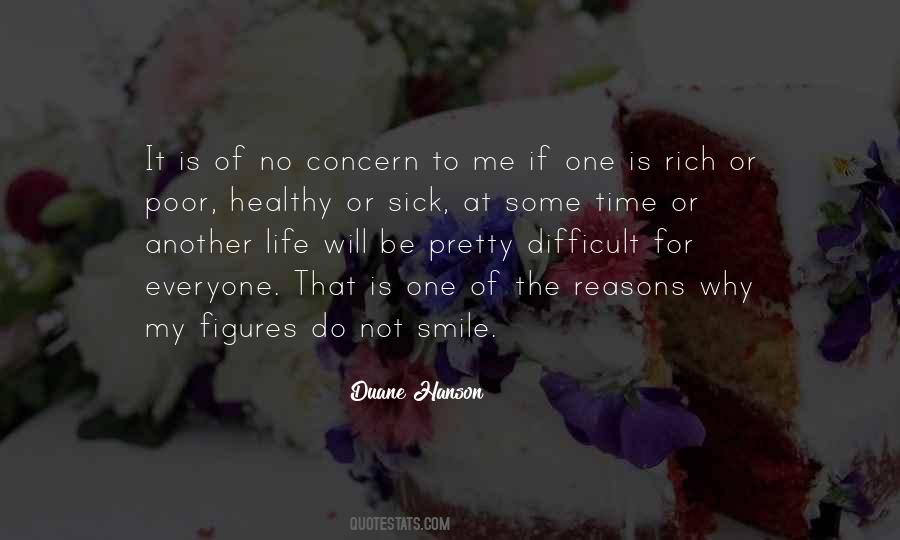 #50. Friends are life's ingredient that makes every sad moment sweeter, every difficult time easier, and every normal moment extraordinary. - Author: Johnathan Jena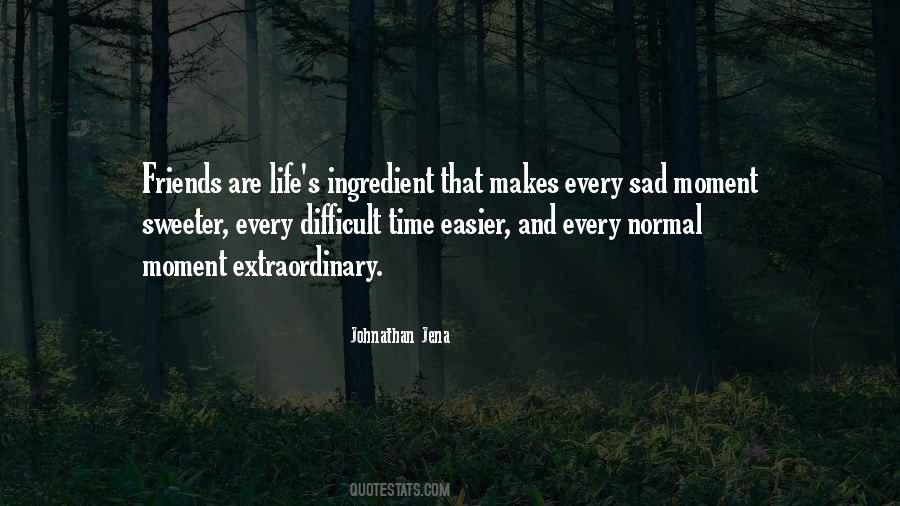 #51. The setting of the sun is a difficult time for all fish. - Author: Ernest Hemingway,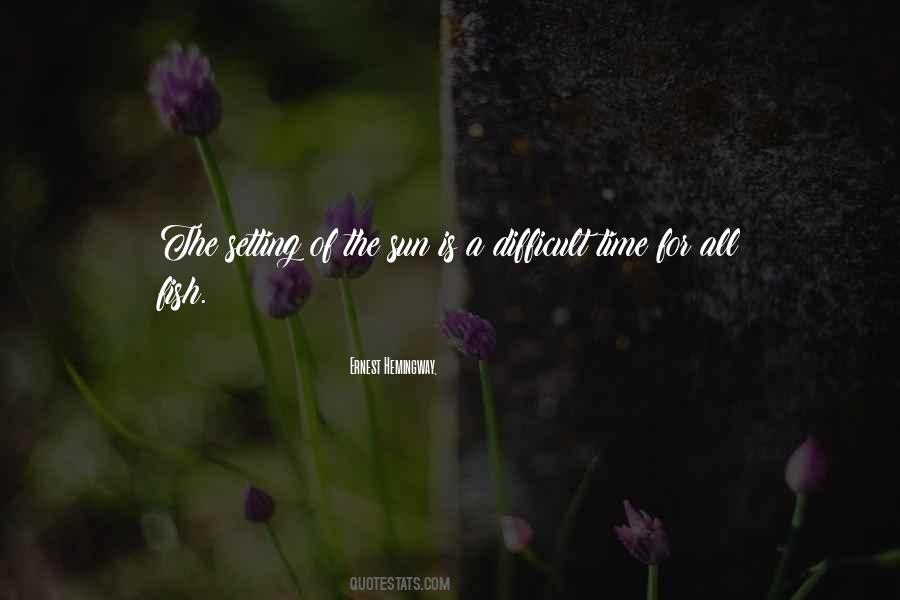 #52. Pleasure alone makes existence worthwhile. A pleasure-seeker has a difficult time parting from life. - Author: Leopold Von Sacher-Masoch
#53. To some degree we all find life difficult, perplexing, and oppressive. Even when it goes well, as it may for a time, we worry that it probably won't keep on that way. - Author: Joko Beck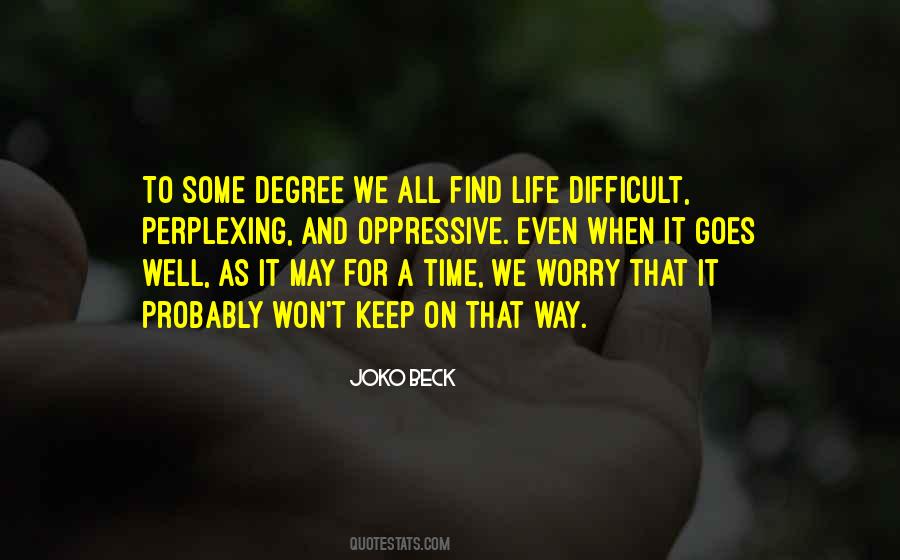 #54. No matter how difficult life is, never give up. Be happy and keep your head up with joy and smiles. One day your time will come. - Author: Auliq Ice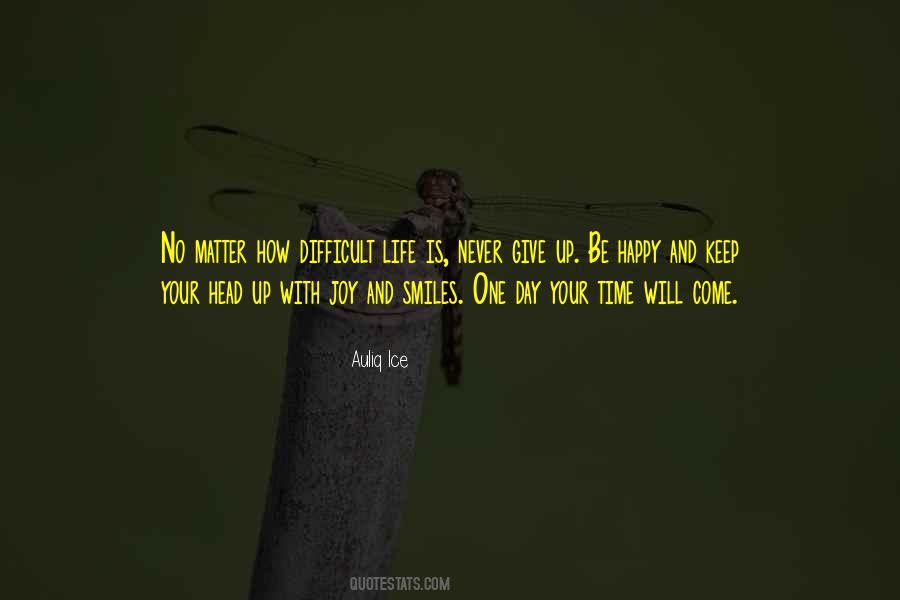 #55. I've had to make the difficult decision to follow my intuition, and allow myself the space and time to explore my true purpose in life. - Author: Larry Sanders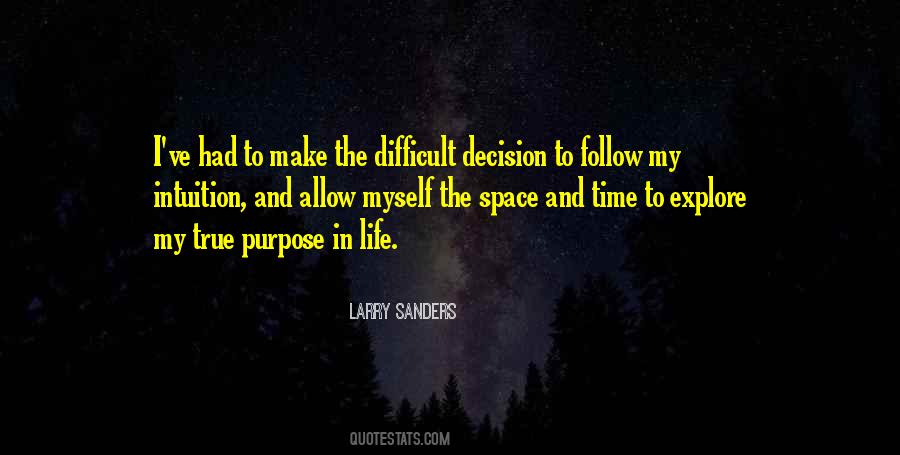 #56. I had a difficult time hearing my own inner voice about what I wanted to be in this life, because there were all these perfect examples of what a man actually does. The notion is that he goes to college, gets married and provides. That's what a man does. - Author: Kevin Costner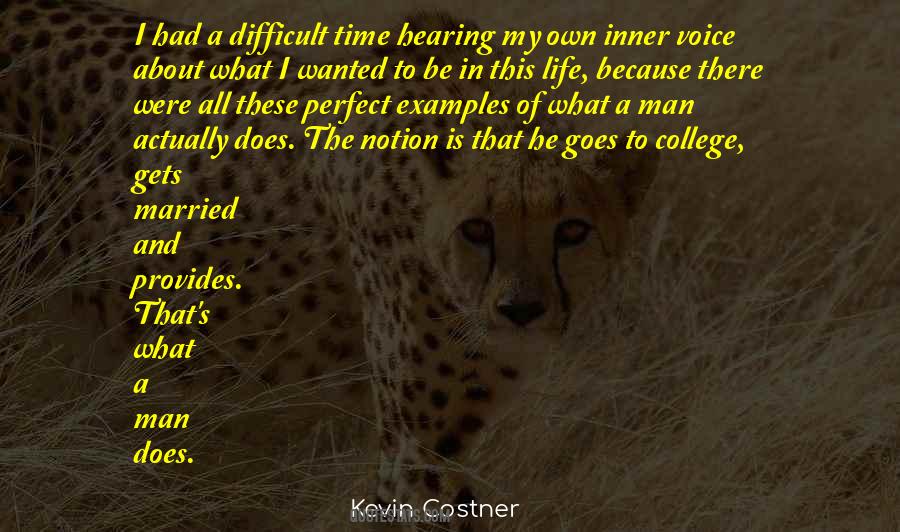 #57. People say I've had a difficult time in life. I think I've had an exciting time in life. - Author: Iyanla Vanzant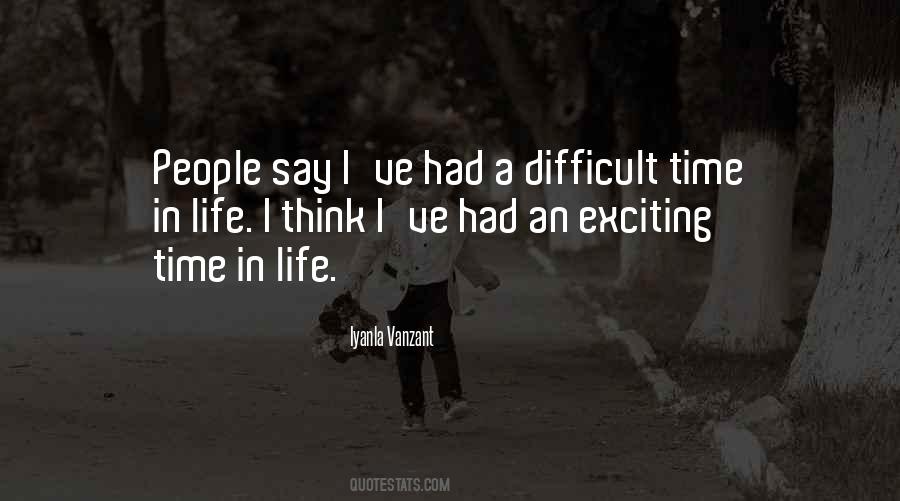 #58. Life is difficult. Not just for me or other ALS patients. Life is difficult for everyone. Finding ways to make life meaningful and purposeful and rewarding, doing the activities that you love and spending time with the people that you love - I think that's the meaning of this human experience. - Author: Steve Gleason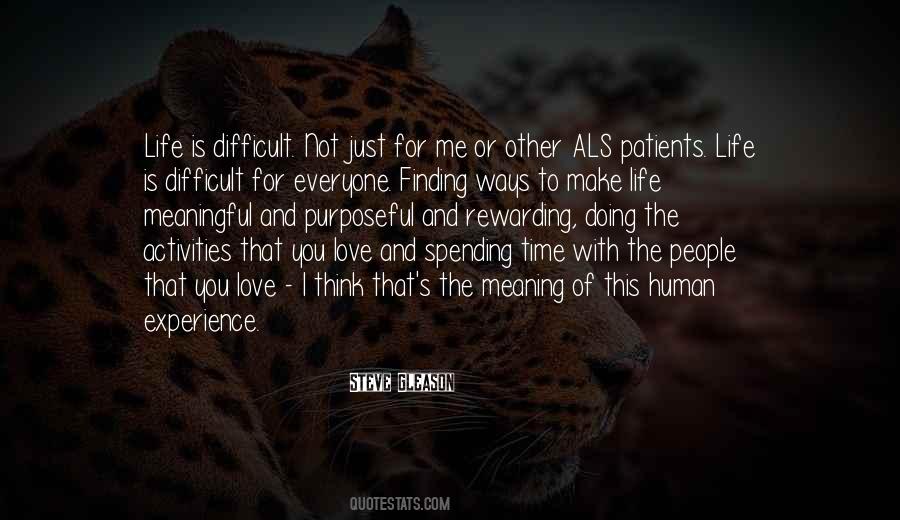 #59. Life is difficult for those who have the daring to first set out on an unknown road. The avant-garde always has a bad time of it. - Author: Anton Chekhov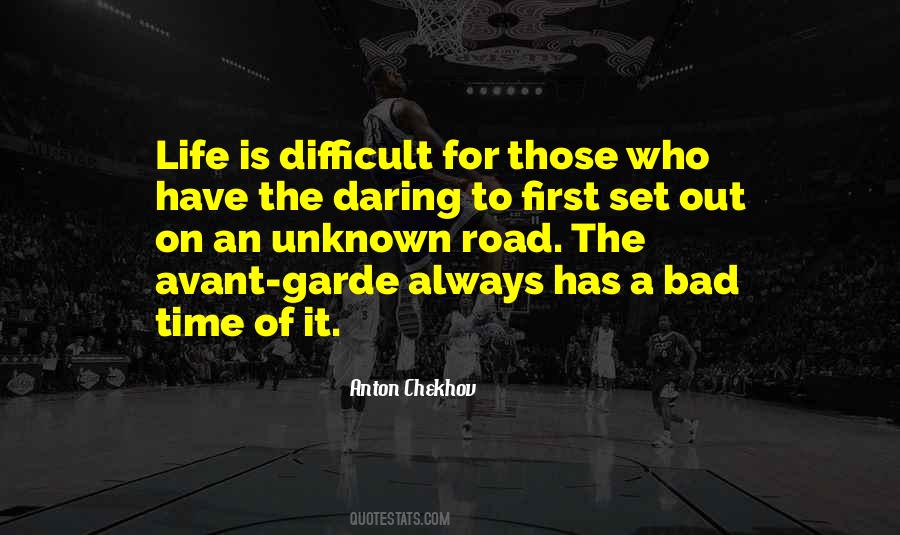 #60. Sometimes in life you have to make difficult choices. The best time to make those choices is before you're confronted with them. - Author: Perry Morris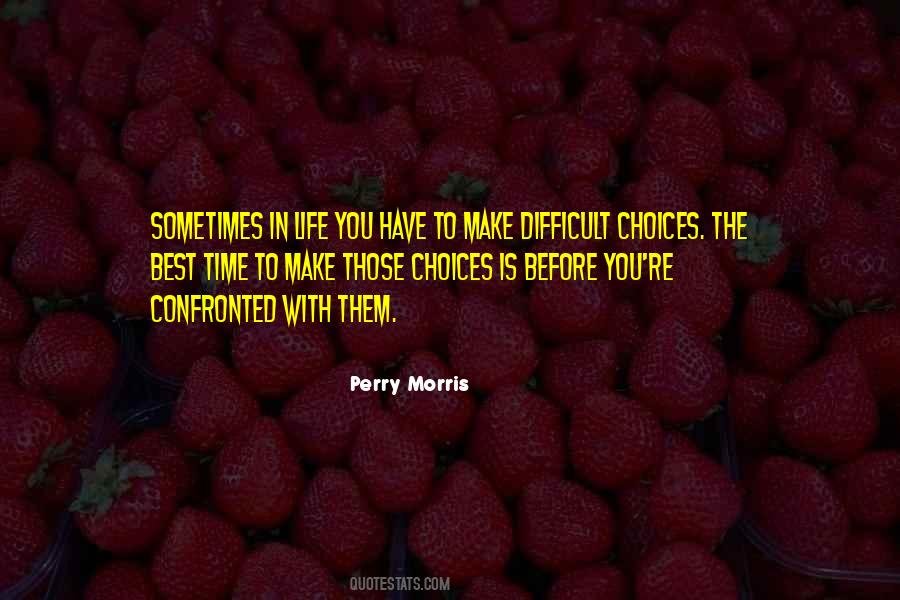 #61. On a deeper level, there's a level of privacy that I need in order to work, and if there's been a time when there's been a lot of publicness in my life, it can be a little bit difficult to sort of rebuild that private space. - Author: Stacey D'Erasmo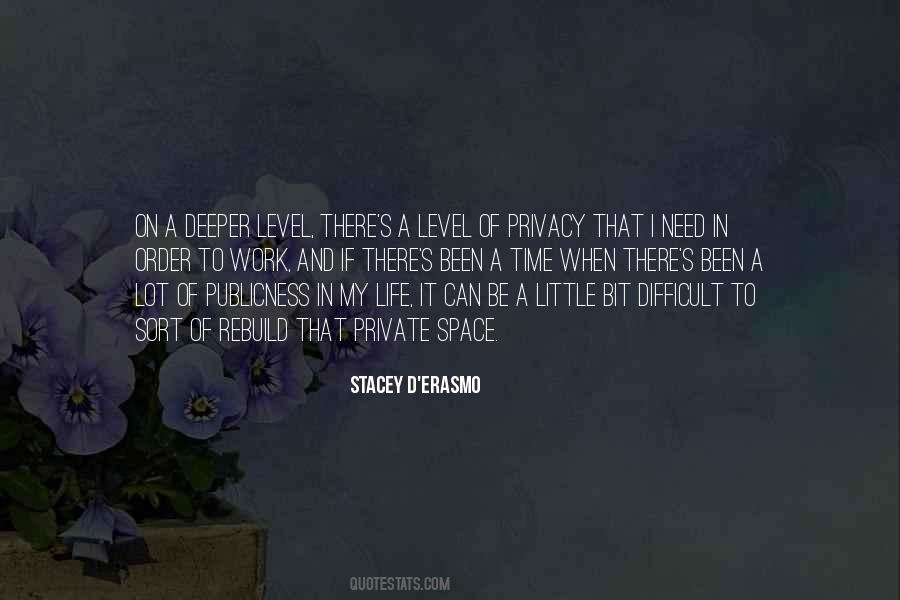 #62. We have to acknowledge that adolescence is that time of transition where we begin to introduce to children that life isn't pretty, that there are difficult things, there are hard situations, it's not fair. Bad things happen to good people. - Author: Laurie Halse Anderson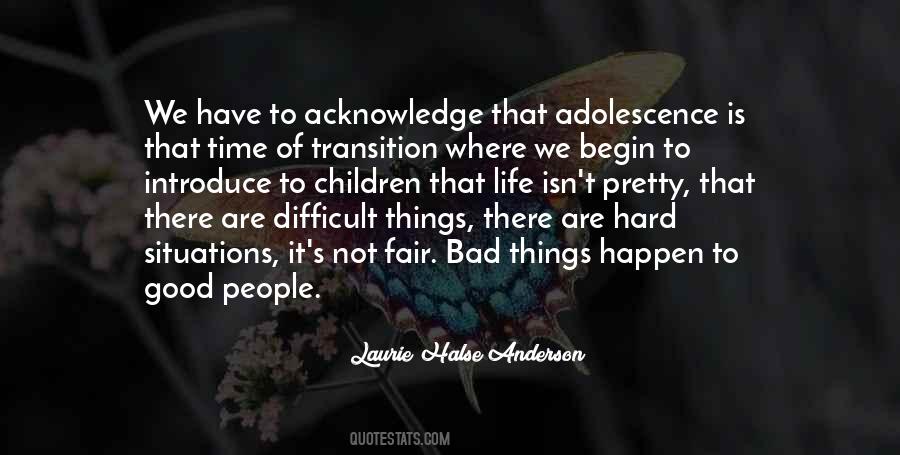 #63. It is easy to make stuff up - and easy to dig up information and repeat it or report it to others. But to find a real life story with real people in real life situations is quite difficult and time-consuming. Yet, the rewards are worth the effort. - Author: Lee Gutkind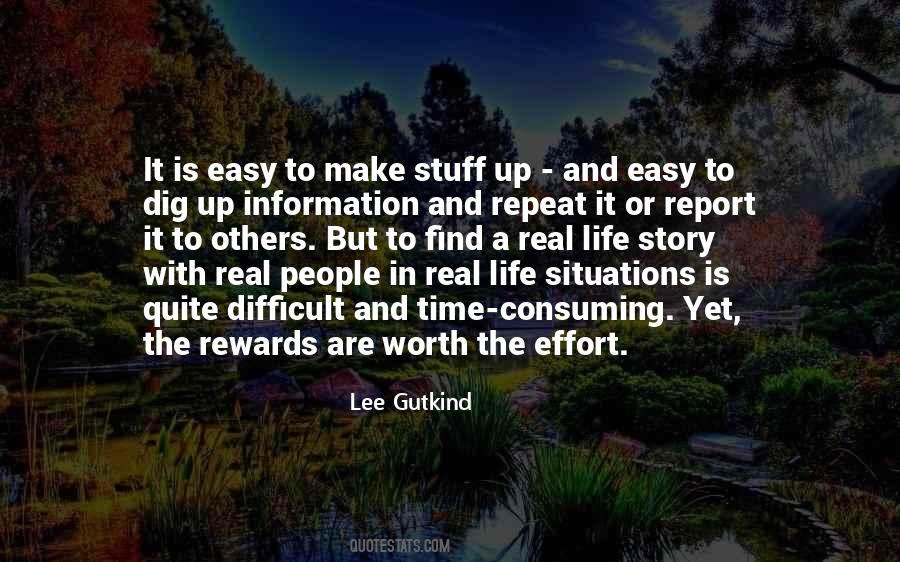 #64. It is my goal to win every time I play. But on the other hand, I also seek a balance of compassion and respect for the other players. I understand that everyone goes through difficult times, either mentally or physically, to cope with their life, to live the sport. - Author: Novak Djokovic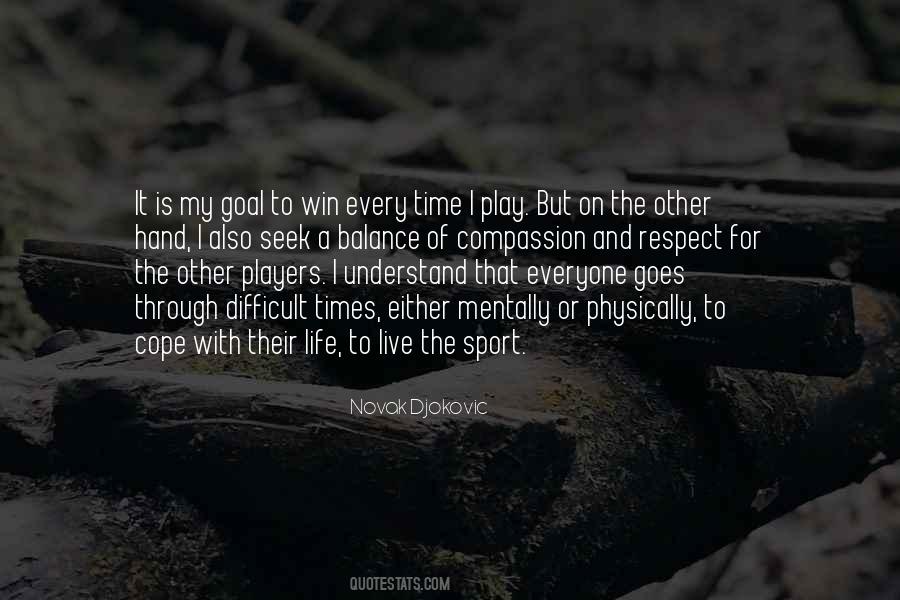 #65. I got married at a very young age, and of course, for all the wrong reasons, and ended up divorced and lost everything. It was a very difficult time in my life. - Author: Willie Aames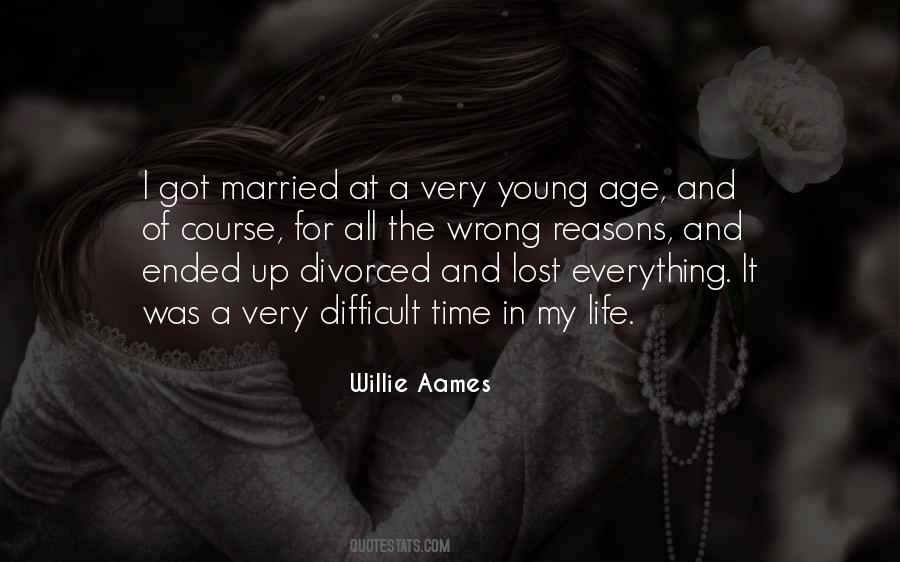 #66. If you love helping people, and you love trying to bring comfort and peace to their life at a very, very difficult time, you're going to have to look pretty hard to find a profession that gives you more opportunities than the funeral business. - Author: Steve Southerland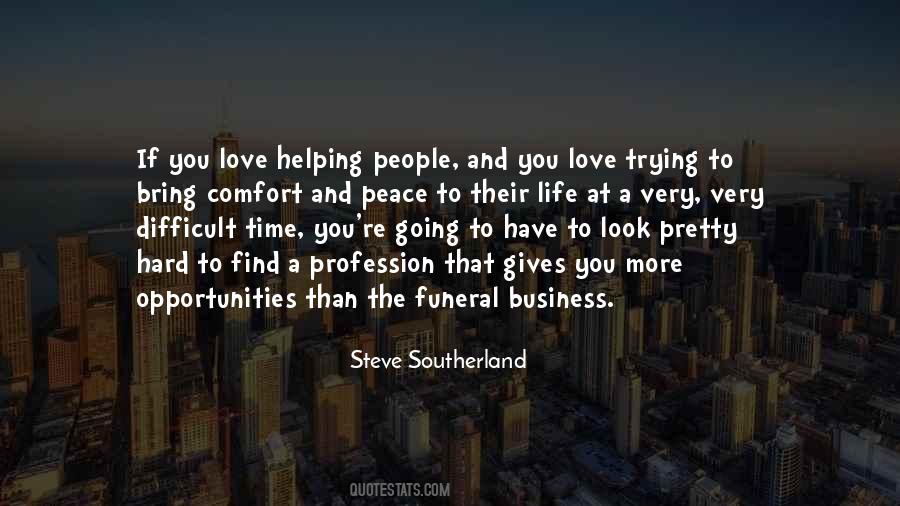 #67. You know that doctrine matters, but it's difficult to know how much time to devote to it among the demands of everyday life. - Author: Anonymous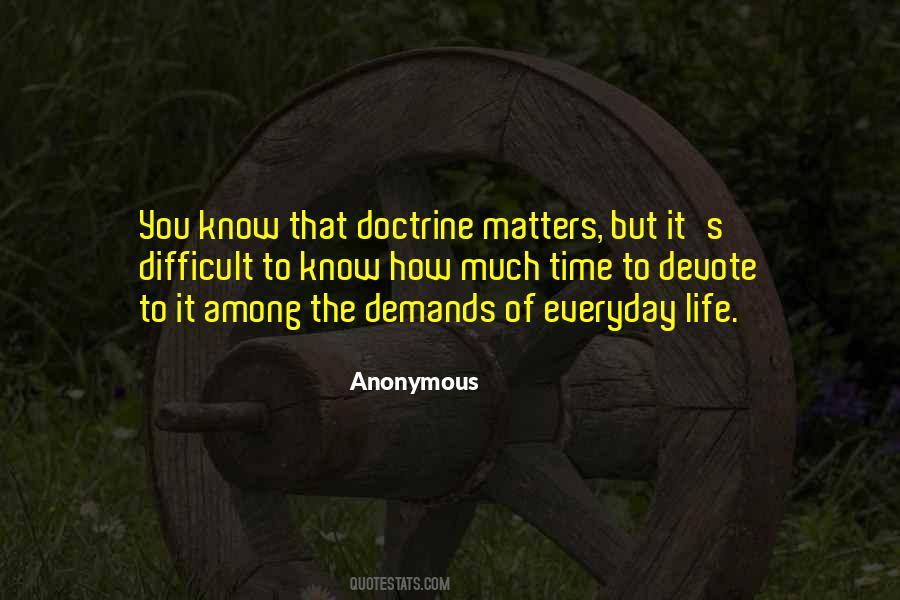 #68. We're all here for a limited amount of time, and life is difficult - not unfair, but difficult. The key is to really confront our fears because when we do, and when we look at them, we really begin to realize that we are capable of handling them. - Author: Bernie Siegel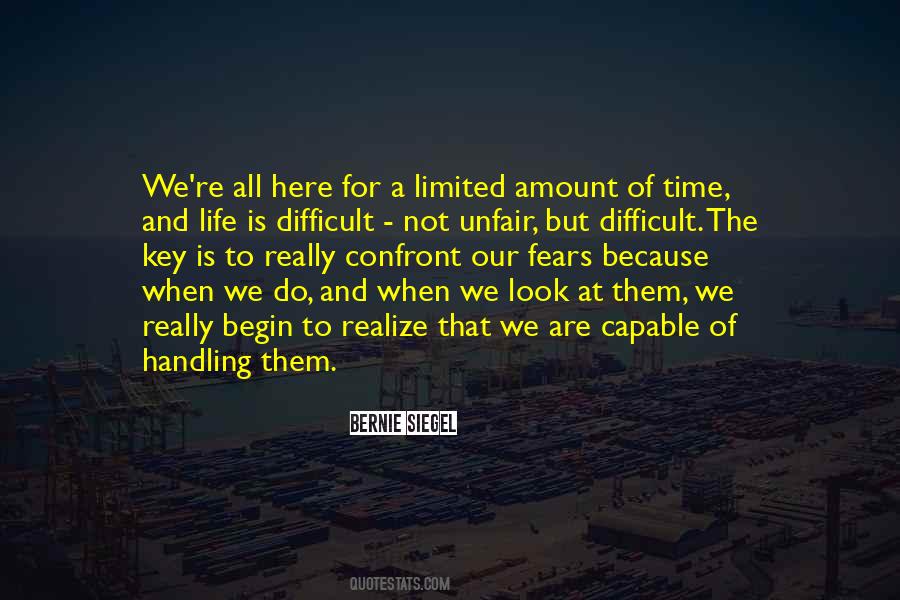 #69. We forget when we're all grown up. 16 was a long time ago. It's hard to remember how freakin' difficult it is as 16! Life is not easy, and you're trying to figure stuff out. - Author: Greg Rucka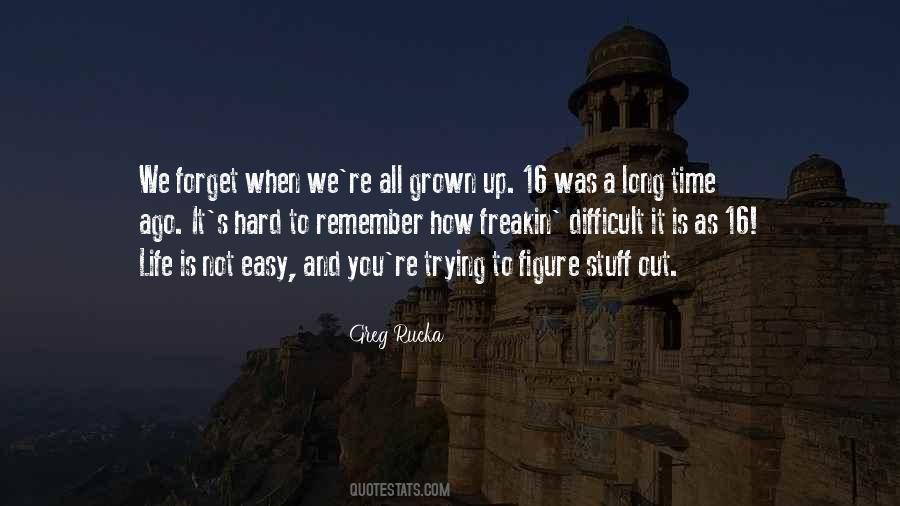 Famous Authors
Popular Topics