A Better Change Famous Quotes & Sayings
List of top 100 famous quotes and sayings about a better change to read and share with friends on your Facebook, Twitter, blogs.
Top 100 Quotes About A Better Change
#1. If the world is to change for the better it must start with a change in human consciousness, in the very humanness of modern man. - Author: Vaclav Havel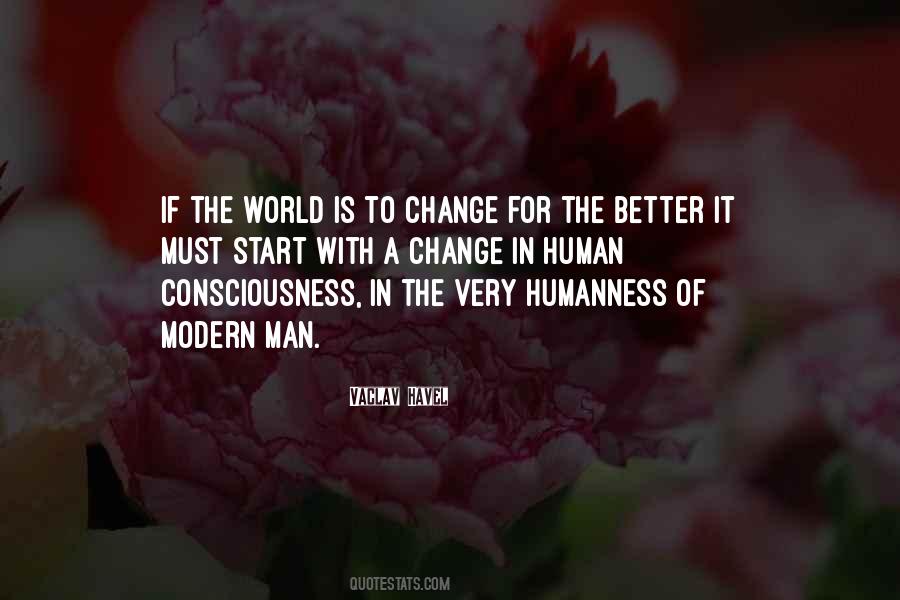 #2. Having cancer does make you try to be better at everything you do and enjoy every moment. It changes you forever. But it can be a positive change. - Author: Jaclyn Smith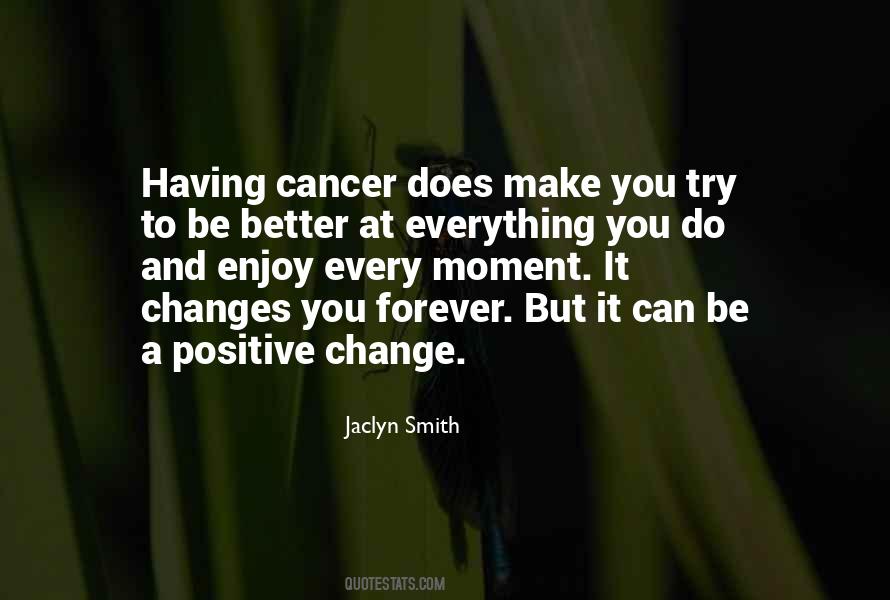 #3. One of the Great Truths of human experience is that we will achieve only what we conceive. Life cannot get better than the picture of life we habitually carry around with us. But if we want to, there is a practical way to look at that picture and change it. Here is the way of the Treasure Map. - Author: Lisa Hoffman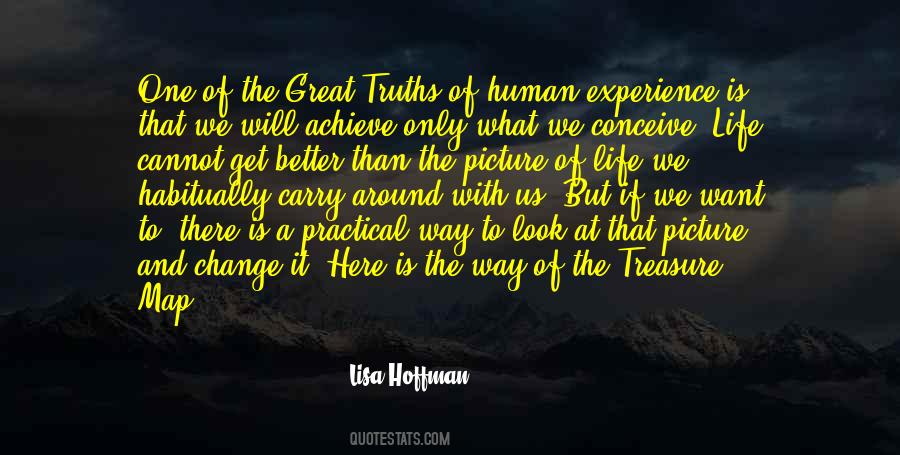 #4. Don't measure anything unless the data helps you make a better decision or change your actions.
If you're not prepared to change your diet or your workouts, don't get on the scale. - Author: Seth Godin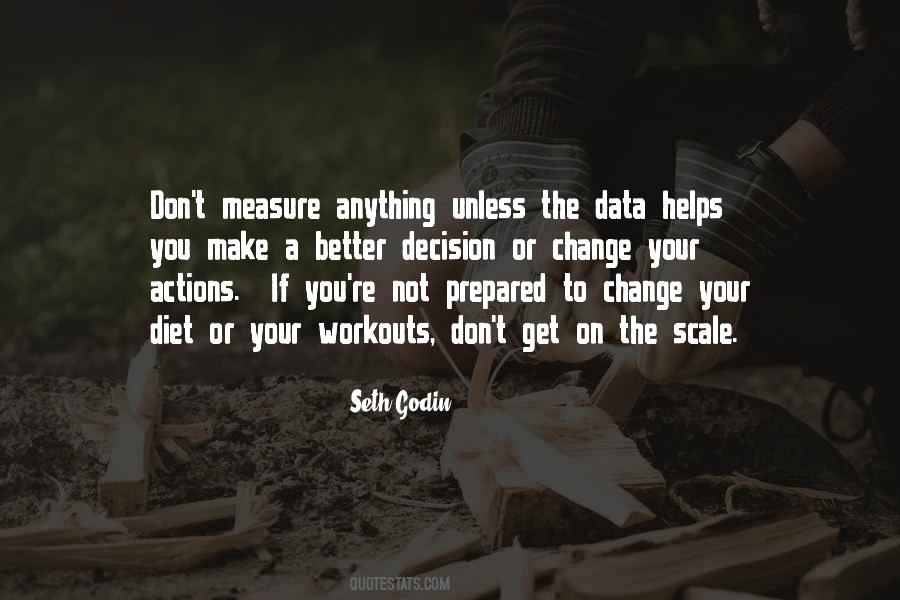 #5. Gratitude is a choice which can change our lives for the better. - Author: Debasish Mridha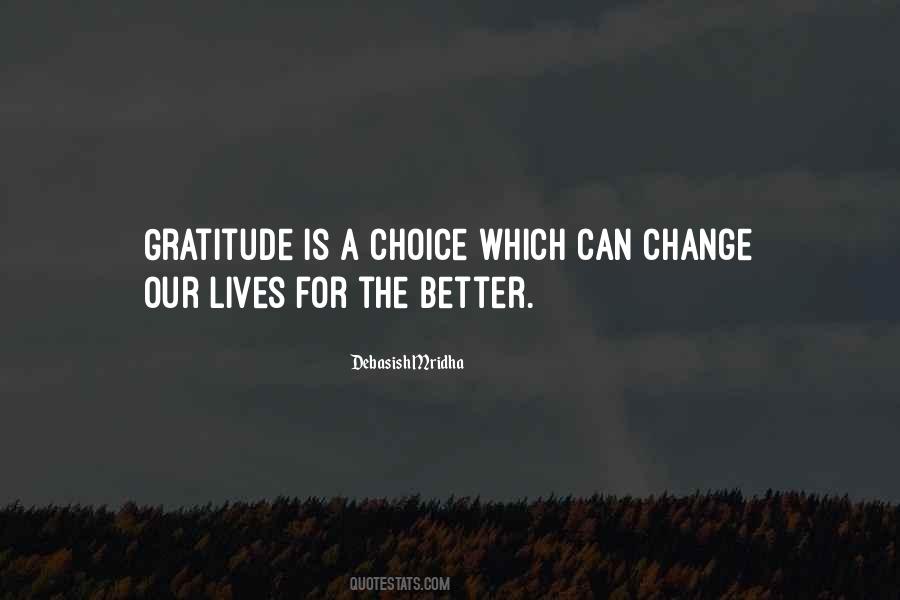 #6. Life's journey is but a series of steps. It only takes one step in a different direction to change that from good to bad, or from good to even better. Make sure your next step takes you in the right directions. - Author: Jean Williams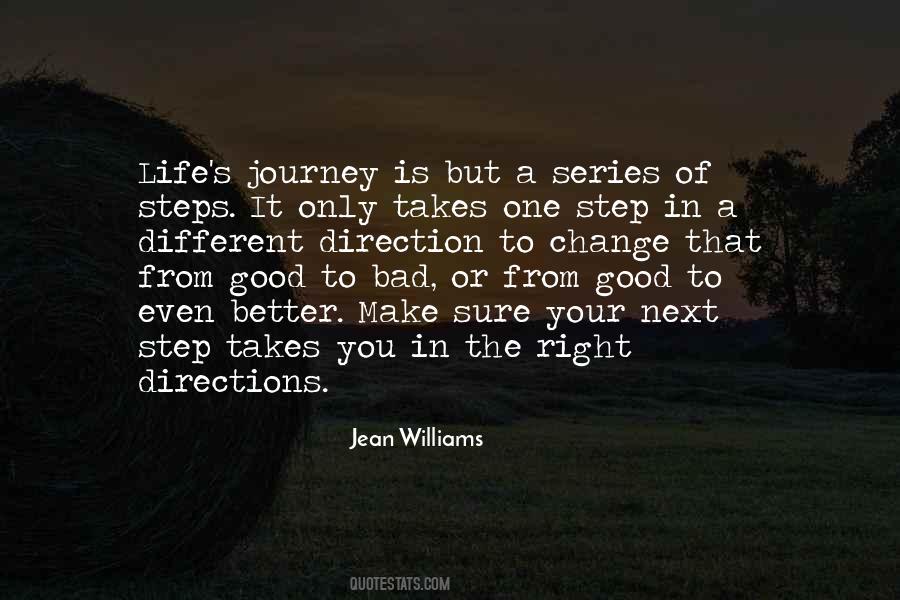 #7. A REAL RockStar does their part, to
change the world for the better" (c)
Chanele TheRockStar
TheRockStar Books Etc - Author: Chanele TheRockStar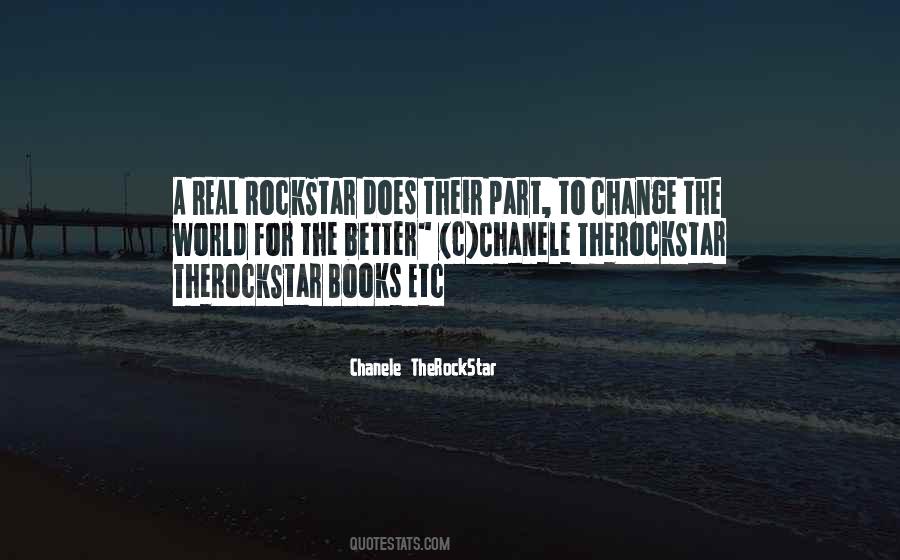 #8. Factory farming is terrible for the environment - not to mention that it's gross. The best thing you can do, if you think about it, is to become a vegetarian and just spread the word. The world would change for the better for animals, humans, and the planet if everyone took that step. - Author: Christofer Drew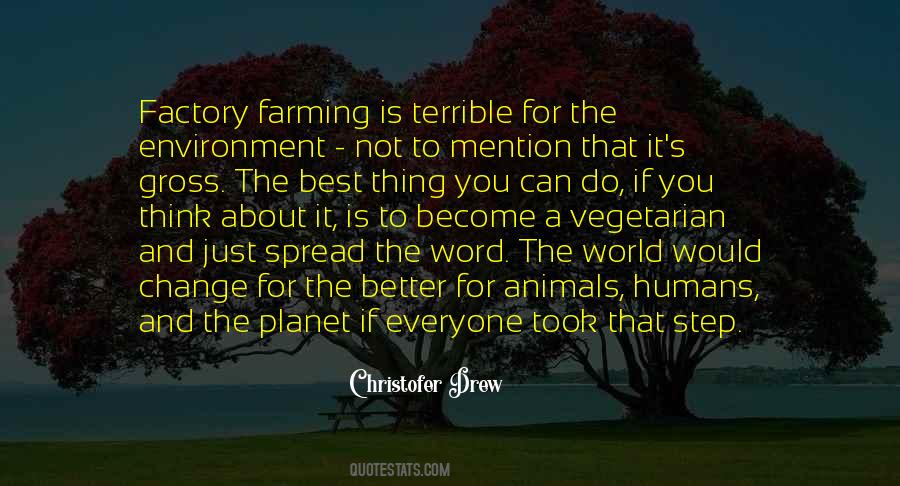 #9. Five is for five heartbeats, the length of time it takes to breathe in or out. For that is how quickly a life may change, for better or for ill. The time it takes to make up, or change, your mind. - Author: Cameron Dokey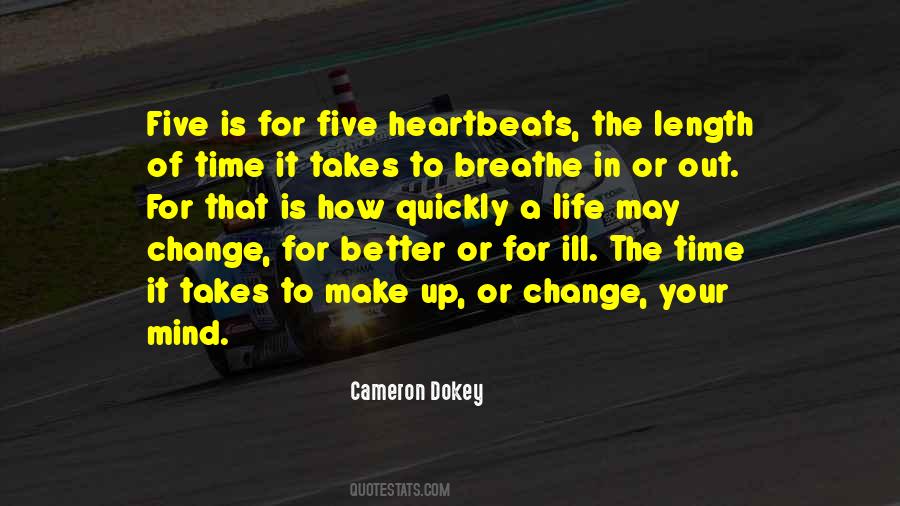 #10. These are my politics: to change what we can; to better what we can; but still to bear in mind that man is but a devil weakly fettered by some generous beliefs and impositions; and for no word however sounding, and no cause however just and pious, to relax the stricture on these bonds. - Author: Robert Louis Stevenson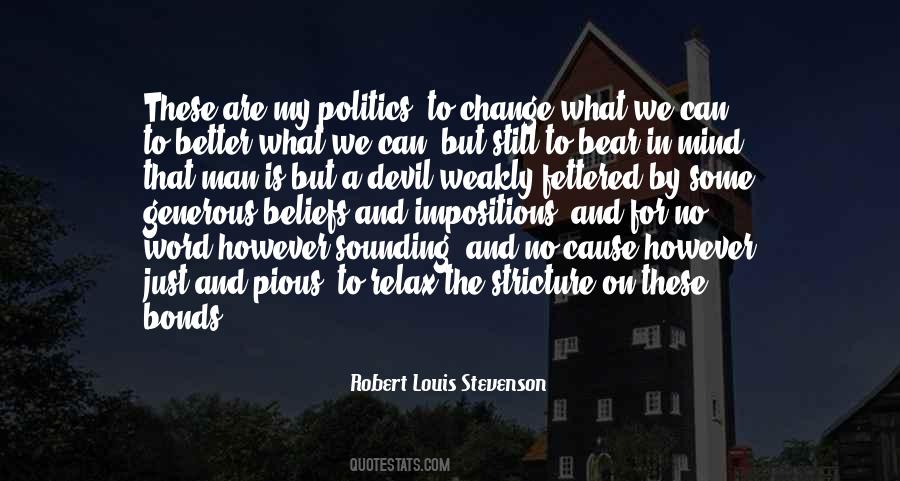 #11. For me to be pompous is the most horrible thing in the world. It's like putting a wall around you. It screws you up. You'd better be willing to change your views or adapt and be modern. - Author: Jean Pigozzi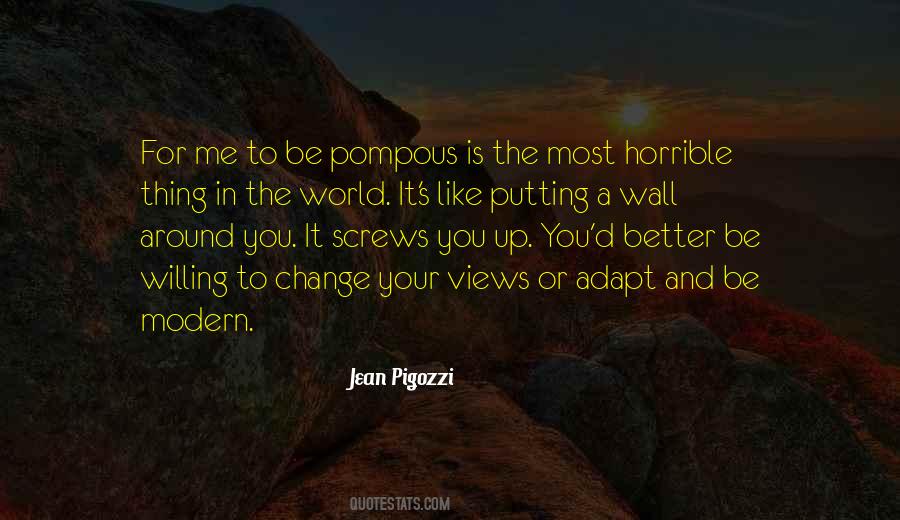 #12. I explain at the parties that I believe knitting is a transformative and intriguing act that can change the life and brain of the person doing it, and that knitting is a perfect metaphor for life and insight into some better ways through it. - Author: Stephanie Pearl-McPhee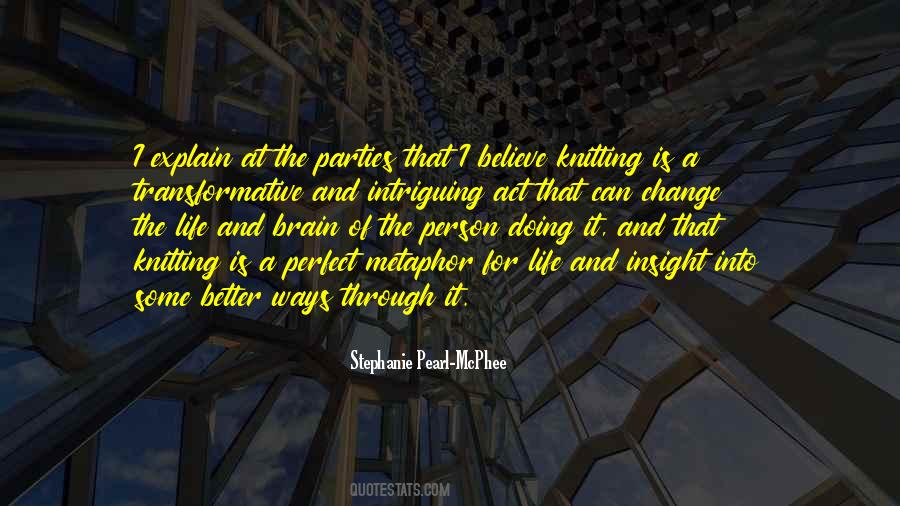 #13. The one's who want to make a difference, the people who can change the world for the better, are laughed out of the game by the players. - Author: Joshua Grisham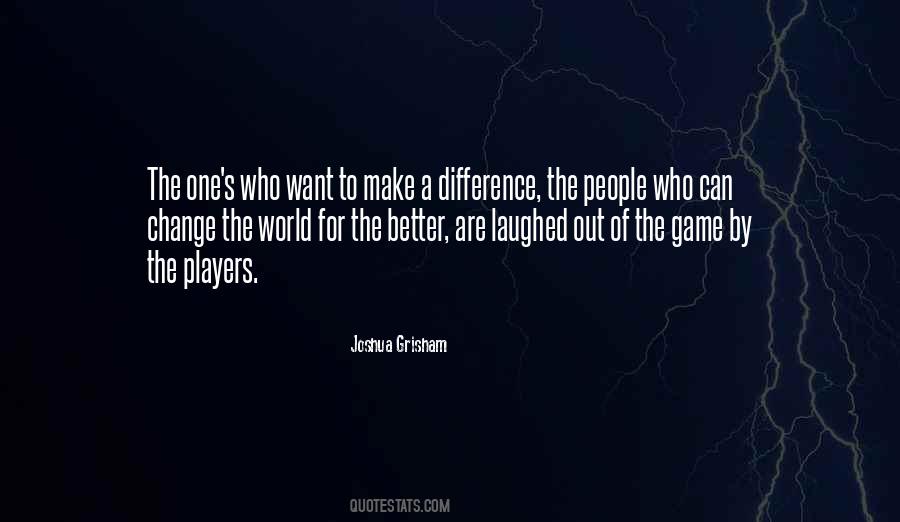 #14. Any change, even a change for the better is always accompanied by drawbacks and discomforts. - Author: Arnold Bennett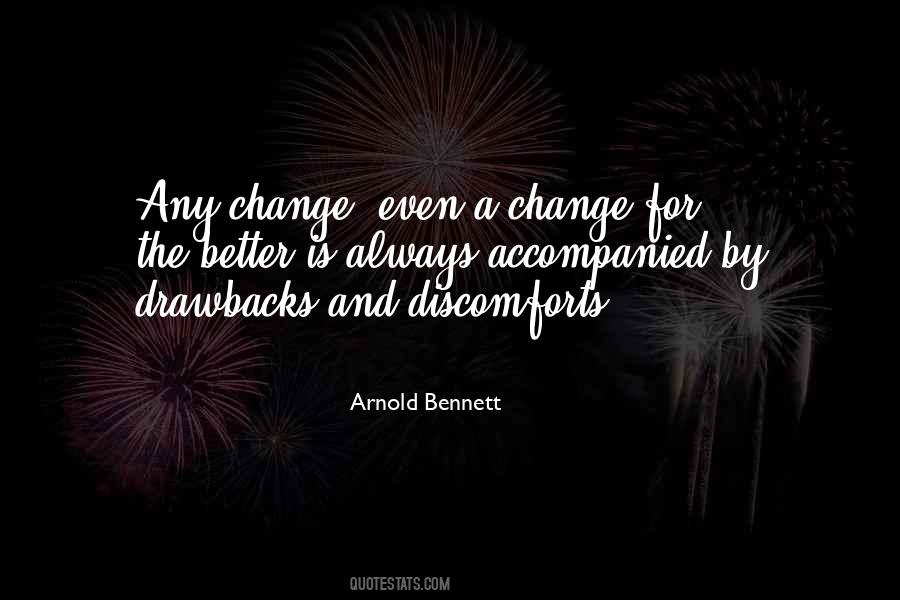 #15. A better educated electorate might change the reason many persons vote. - Author: Lyn Nofziger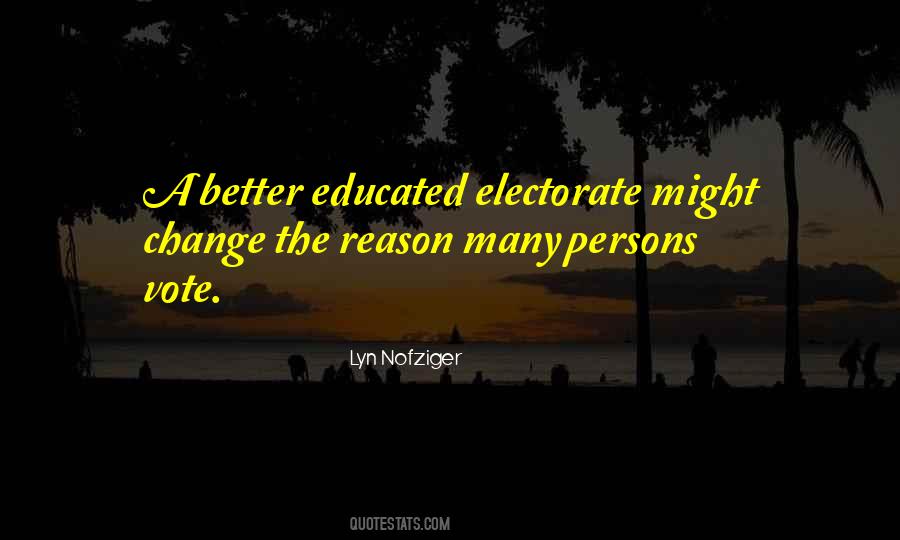 #16. It is better to change an opinion than to persist in a wrong one. - Author: Socrates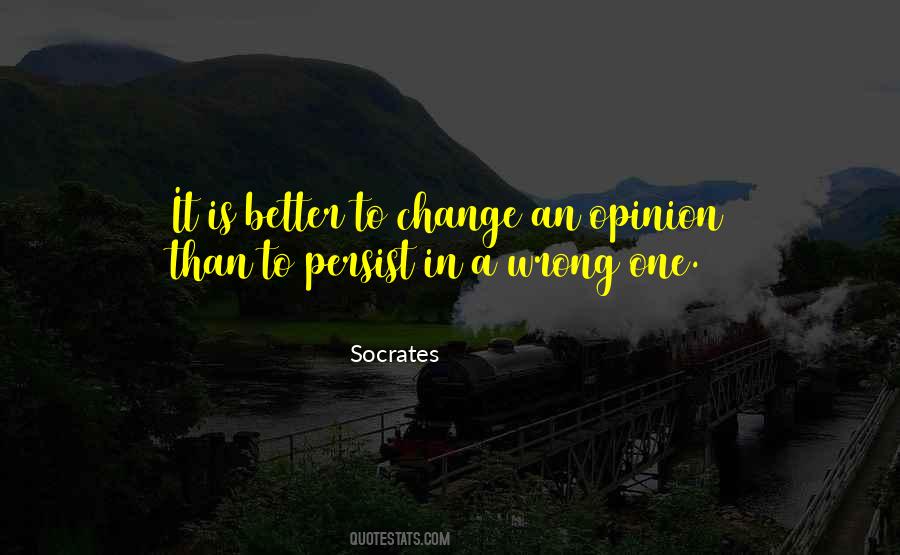 #17. Fashion is a very ongoing, renewing thing, about change and reaching for the next thing. You are permanently dissatisfied, and it's always got to get better. - Author: Mary Quant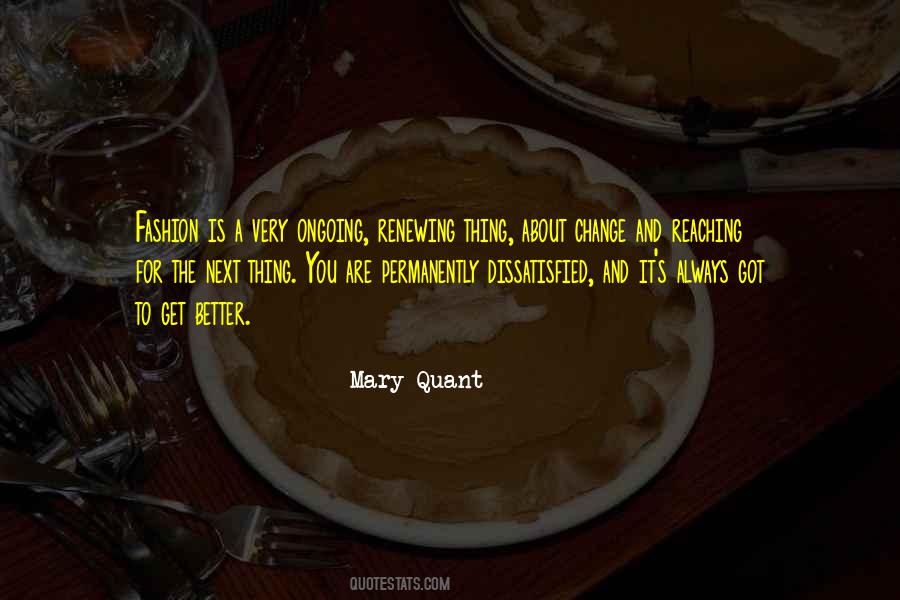 #18. Human beings, as I know better than most, can get used to anything. Over time, even the unthinkable gradually wears a little niche for itself in your mind and becomes just something that happened. - Author: Tana French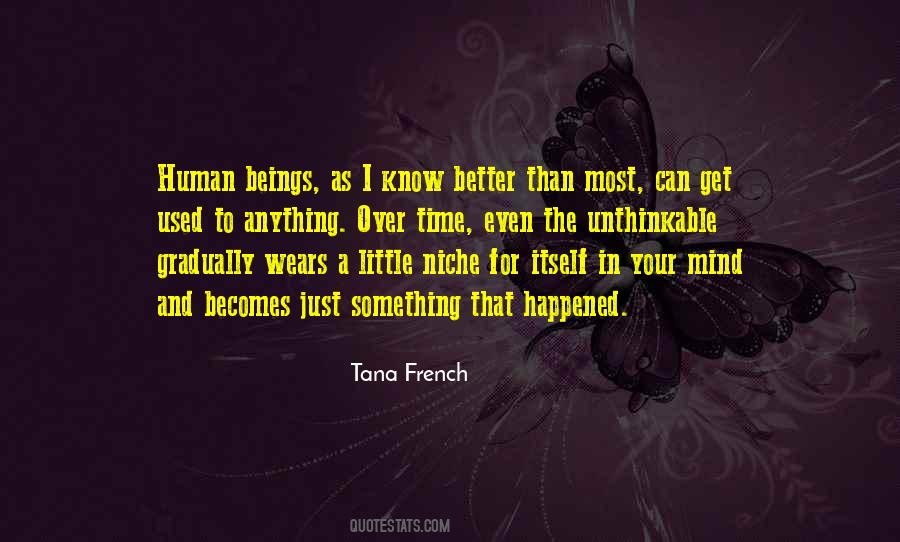 #19. Sure all life's highways at some point must end,
so I plan to ride it in style and plummet in a swan dive
when the pavement runs out ...
And hopefully leave behind artistically
that which may make other roads
an even better ride ... - Author: Tom Althouse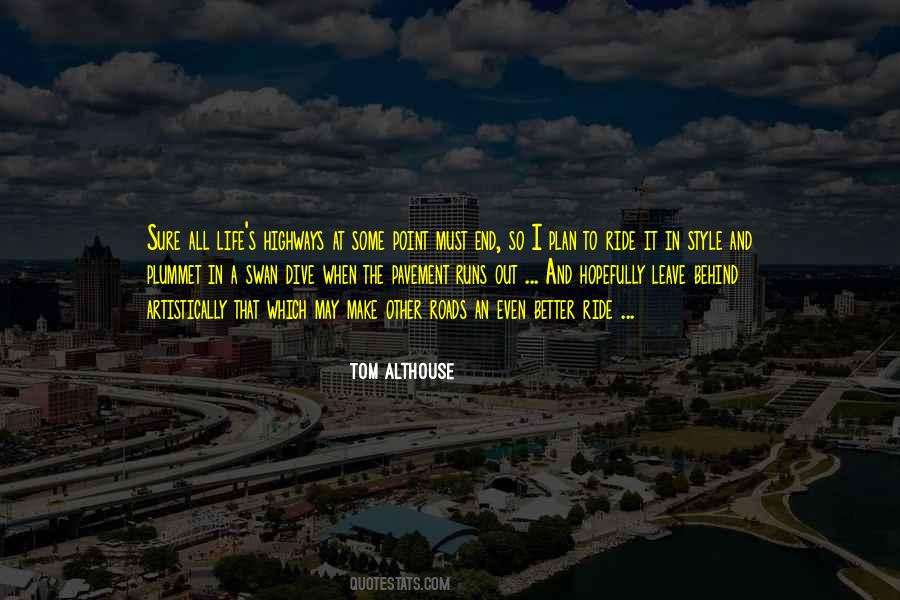 #20. We're gonna be using American produced, American energy that will create jobs in the United States, will create a far more secure source of energy for us and will make us better environmental stewards because we will be contributing less to climate change and burning much cleaner fuel. - Author: Ray Mabus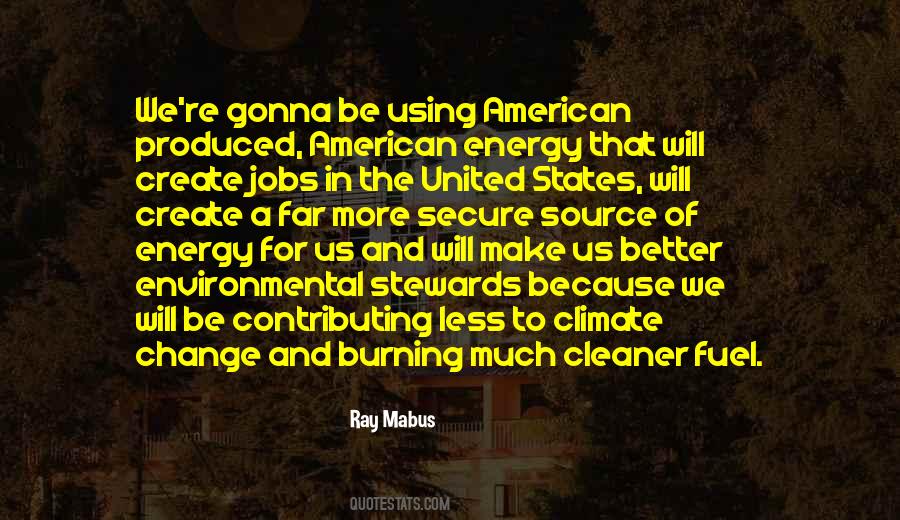 #21. If Germany won it would change the course of our civilization and make the United States a military nation [and] it would check his policy for a better international ethical code - Author: Woodrow Wilson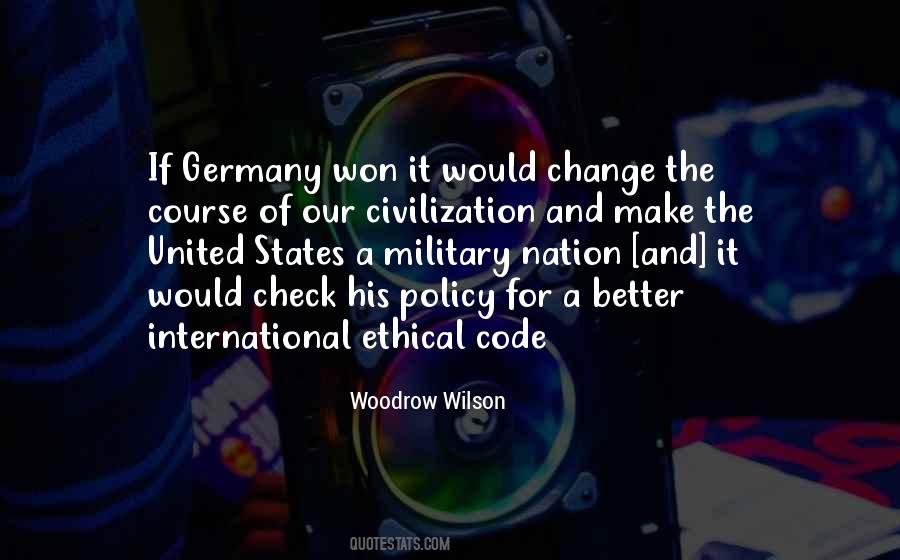 #22. That is why I came to conclusion that the election must take place, so that the republic can have a government. If I were to say that everything will change for the better immediately, that would not be true. The struggle will continue for a long time. - Author: Akhmad Kadyrov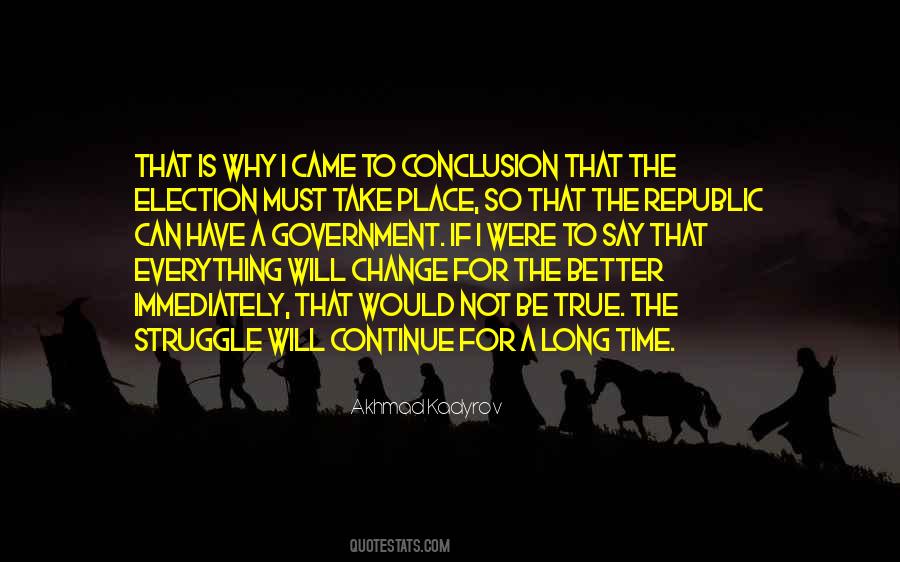 #23. You'd have a better chance persuading someone to change their sexual orientation than reaching people who have rendered themselves so deaf and blind. - Author: Epictetus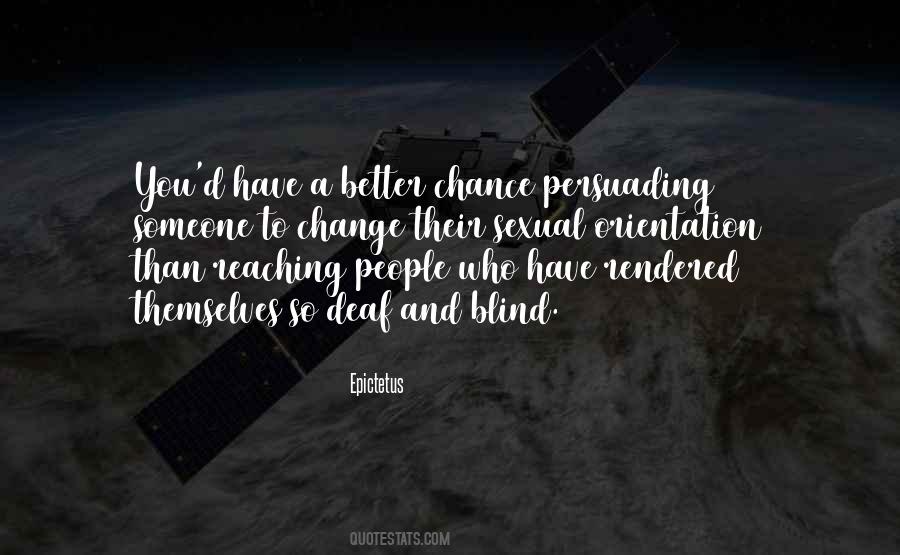 #24. We can't be afraid to change. You may fell secure in the pond that you are in, but if you never venture out of it, you will never know there is a such a thing as an ocean, a sea. Holding onto something that is good for you now, maybe the very reason you don't have something better. - Author: C. JoyBell C.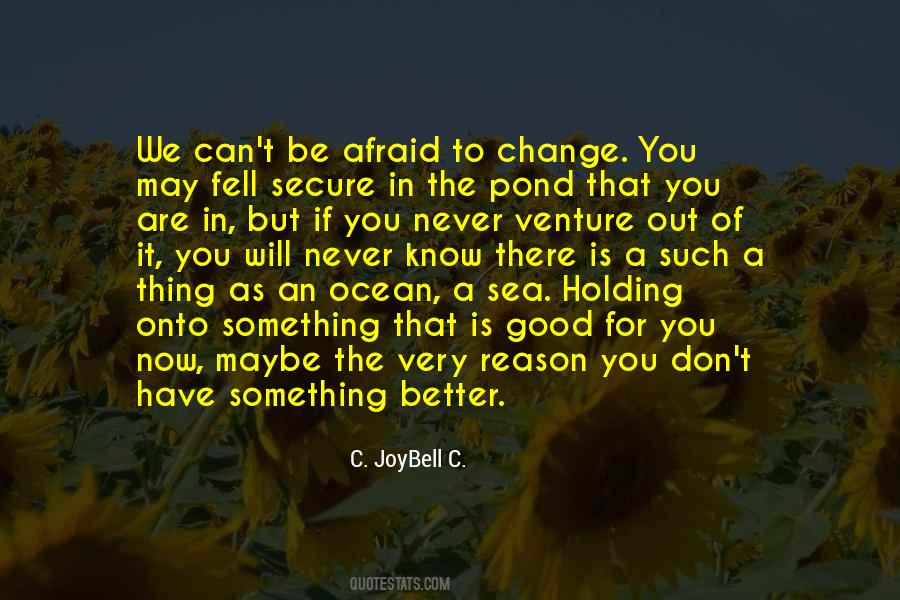 #25. I do not need a friend who changes when I change and who nods when I nod; my shadow does that much better. - Author: Jeff Wheeler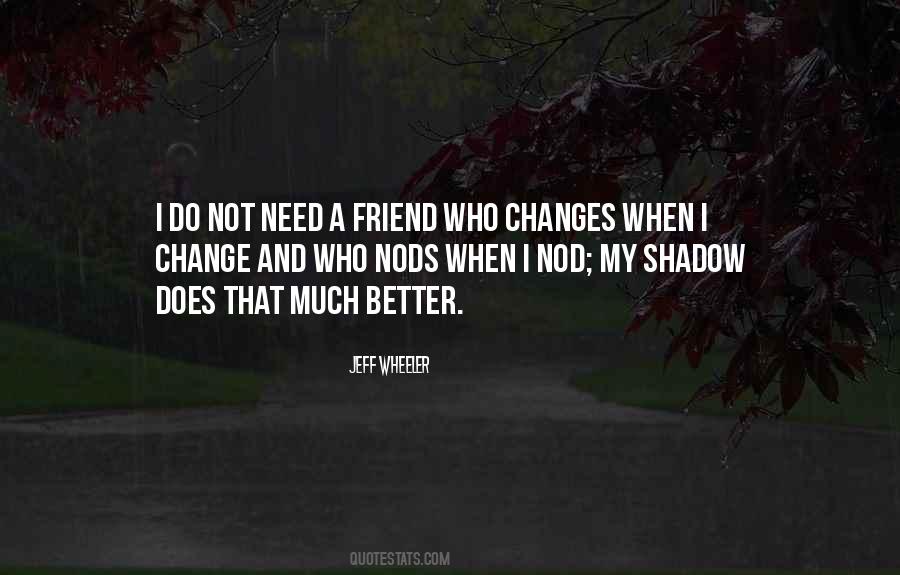 #26. There is a growing scientific consensus that animals have emotions and feel pain. This awareness is going to effect change: better treatment of animals in agribusiness, research and our general interaction with them. It will change the way we eat, live and preserve the planet. - Author: April Gornik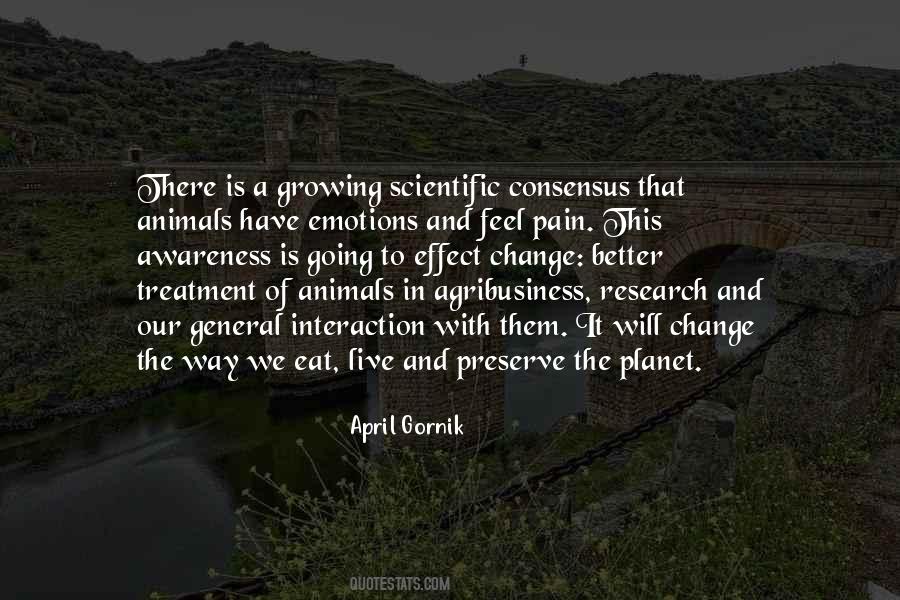 #27. Why it is that life can change so quickly?"
"How it's possible for a heart to stop beating so suddenly, instantly breaking all the hearts that were ever connected to it? But the truth is there is no sense in what happened to Jarrod. None that I can see. I wish I had a better answer, but I don't. - Author: Samantha Young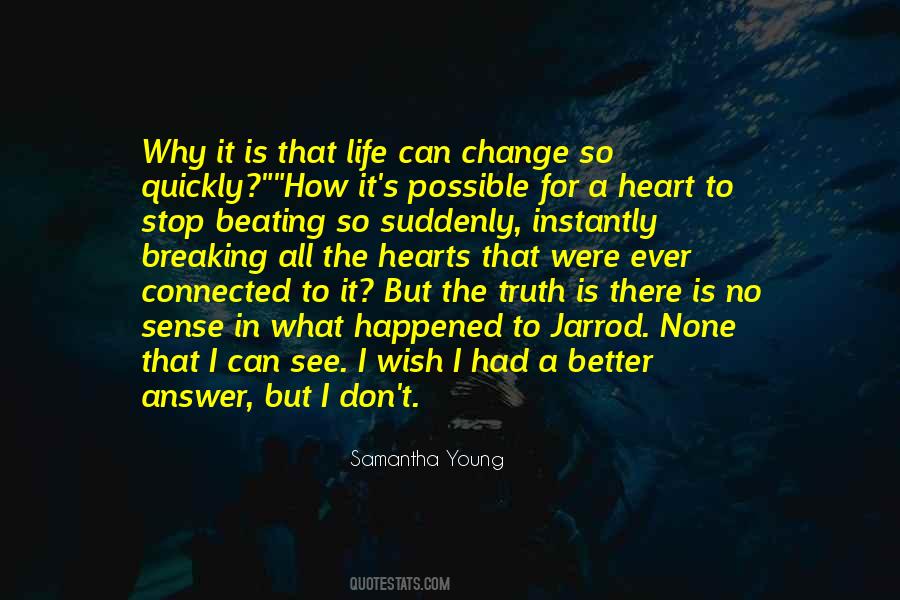 #28. If all of us carried a positive attitude, and we focused our efforts on striving for something positive in our own lives and in life all around us, everything would take a turn for the better. Yes, I really do believe that a positive mindset can change the world. Don't you? - Author: Logan Seelye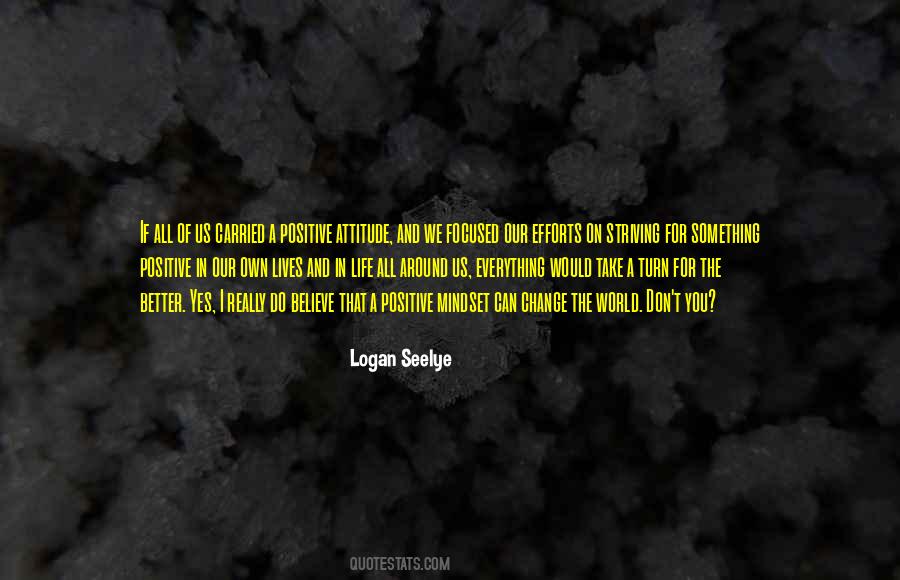 #29. Sometimes the media gives us the impression that we are terminal patients, because of problems of global warmth or the ozone layer. And the people, they don't understand that they can could change this situation for the better if they could act locally in a city. - Author: Jaime Lerner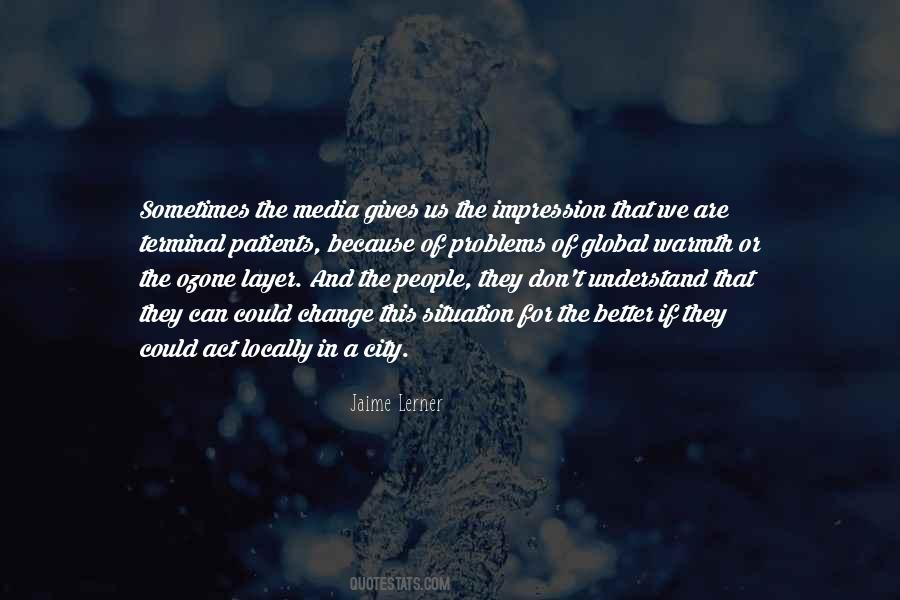 #30. If you're a psychologist, you can instrumentally change peoples' lives for the better. - Author: T. J. Miller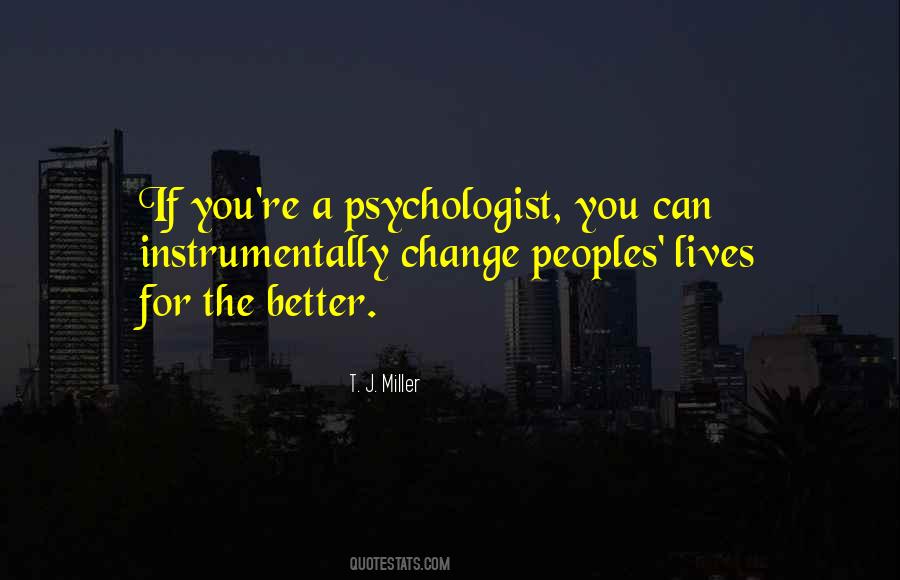 #31. In a time when society is drowning in tsunamis of misinformation, it is possible to change the world for the better if we repeat the truth often and loud enough. - Author: Alberto Cairo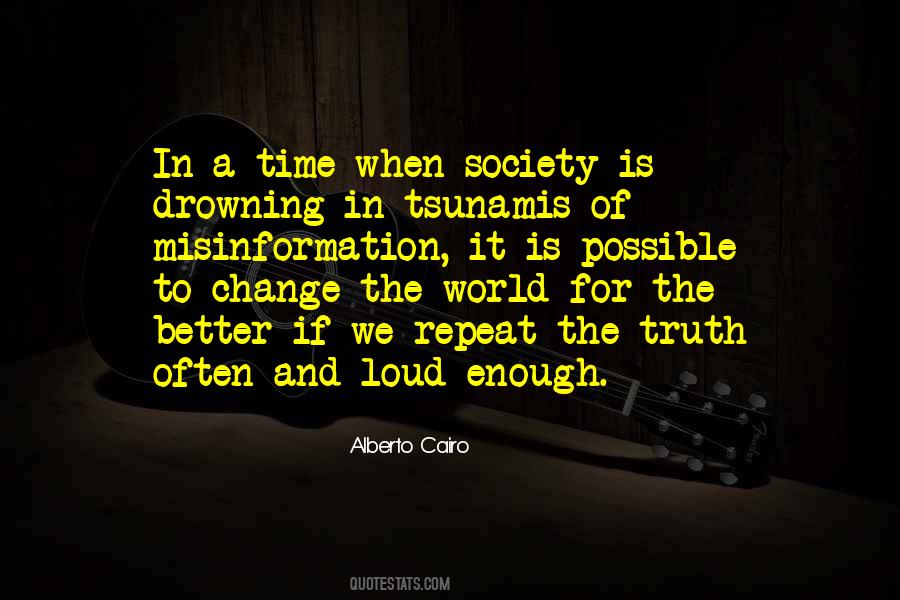 #32. It seems that in almost all societies, the attitudes that people have to language change is basically the same. People everywhere tend to say that the older form of a language is in some sense 'better' than the form that is being used today. - Author: Terry Crowley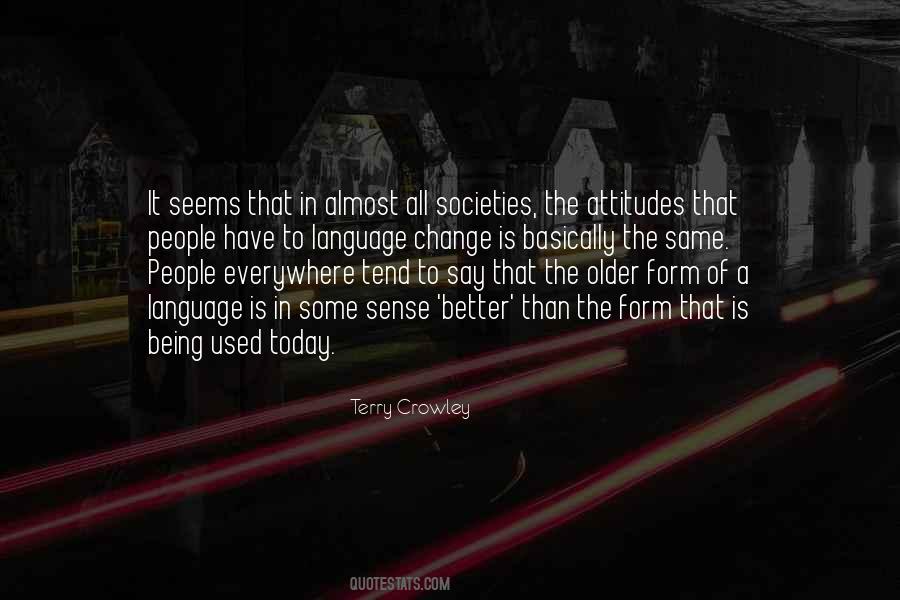 #33. Well I do think, when there are more women, that the tone of the conversation changes, and also the goals of the conversation change. But it doesn't mean that the whole world would be a lot better if it were totally run by women. If you think that, you've forgotten high school. - Author: Madeleine Albright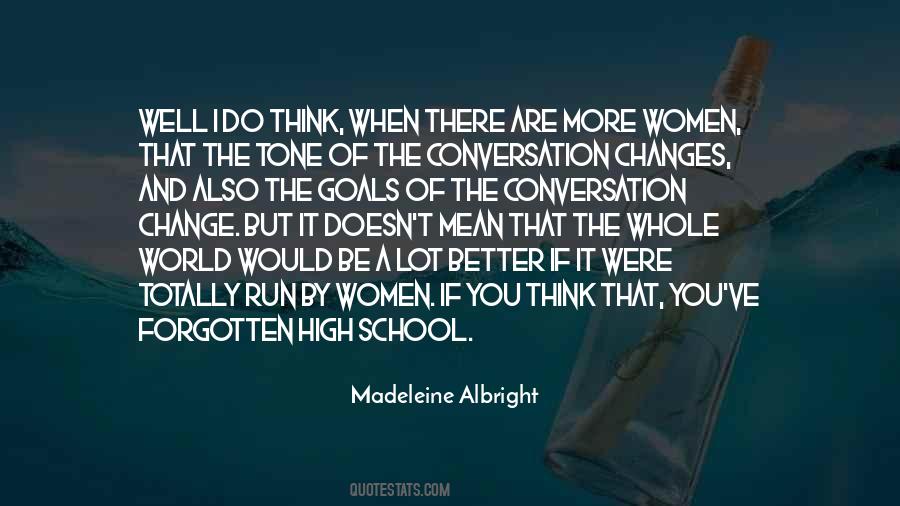 #34. The good inside of all of us is wrapped in a layer of apathy, and we forget how much potential we have within us, in each and every one of us, to change the world for the better for ourselves and our children, and thus to bring about oneness. - Author: Shari Arison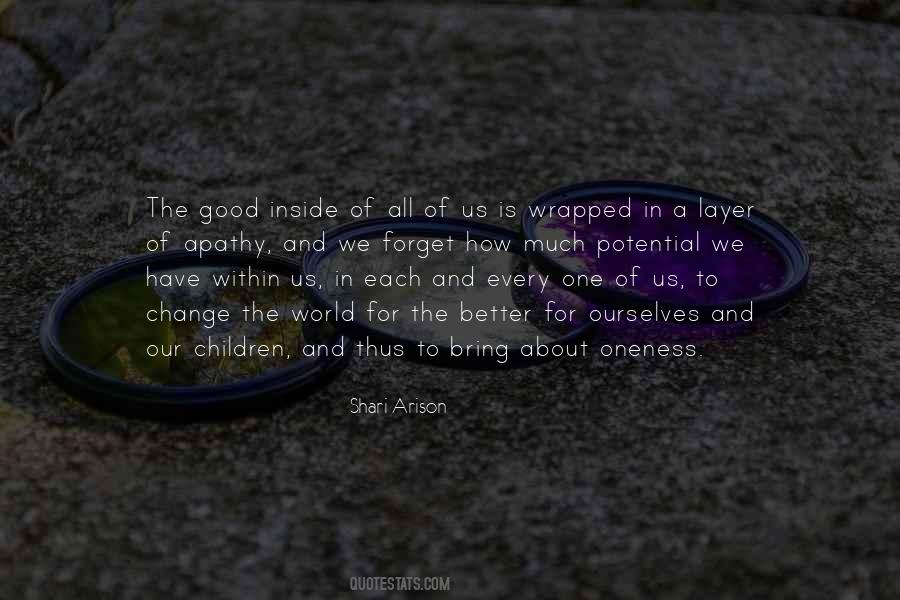 #35. RFK was a compelling figure because he was willing to challenge his audiences, and in turn connect with them in a unique way. Kennedy showed that our values define us and can inspire others to believe in the possibility of change and a better society. - Author: Frances O'Grady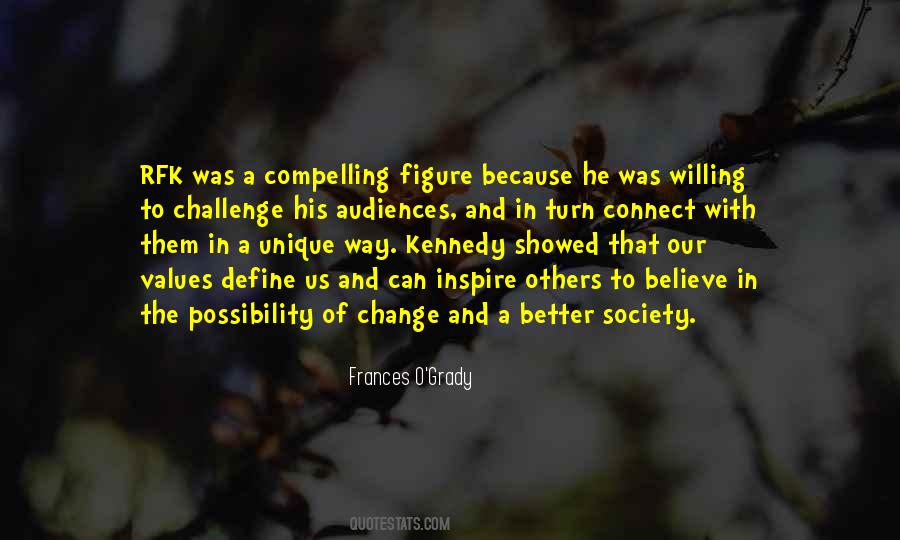 #36. All the best reasons for going into politics never really change: the desire for glory and fame and the chance to do something that really matters, that will make life better for a lot of people. - Author: Michael Ignatieff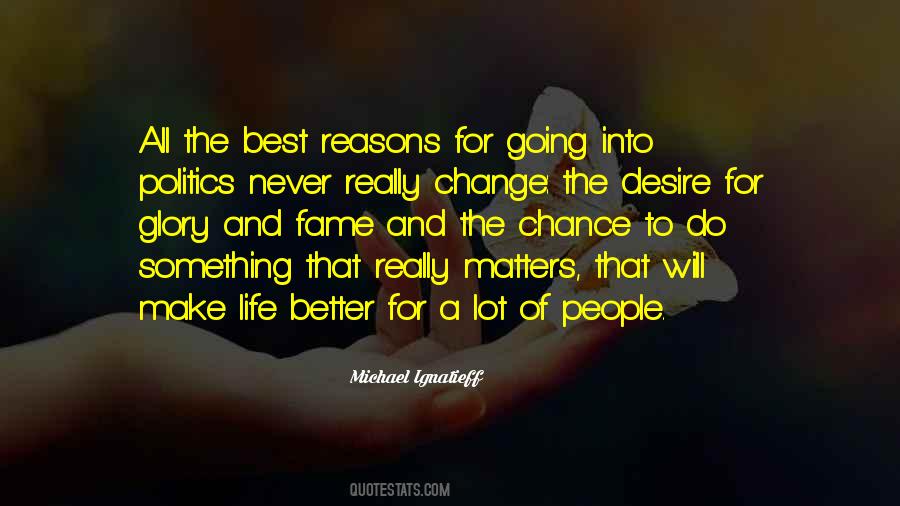 #37. Every film you're commissioned to write is all about an arc; usually, the arc is that the world creates a change in the character, usually for the better. To not have an arc, the messages and ideas in the film became more prominent. - Author: Dan Gilroy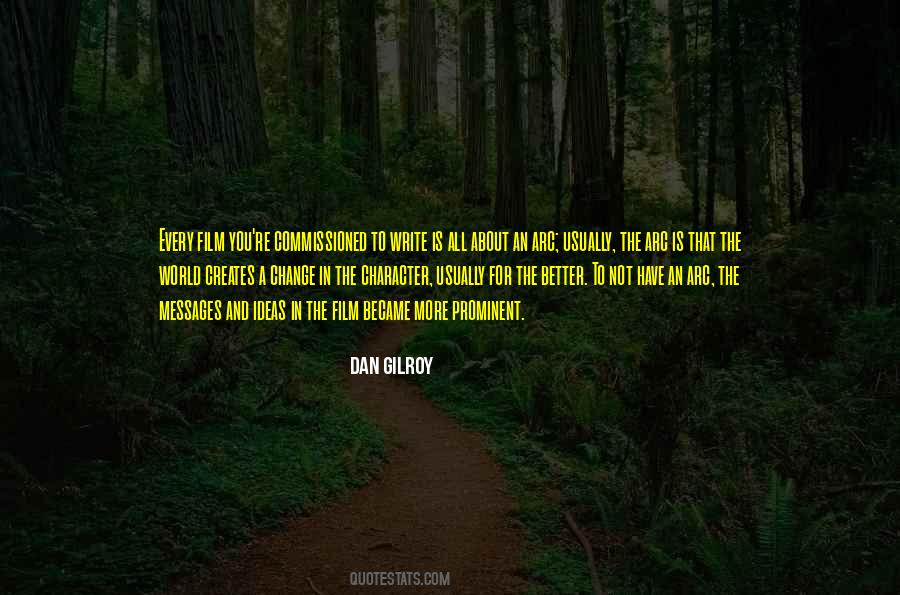 #38. If only it were God's will that printed and written materials have as much influence on the people as the princes and their censors fear! Considering the countless good books we have, the world would have changed for the better a long time ago. - Author: Franz Grillparzer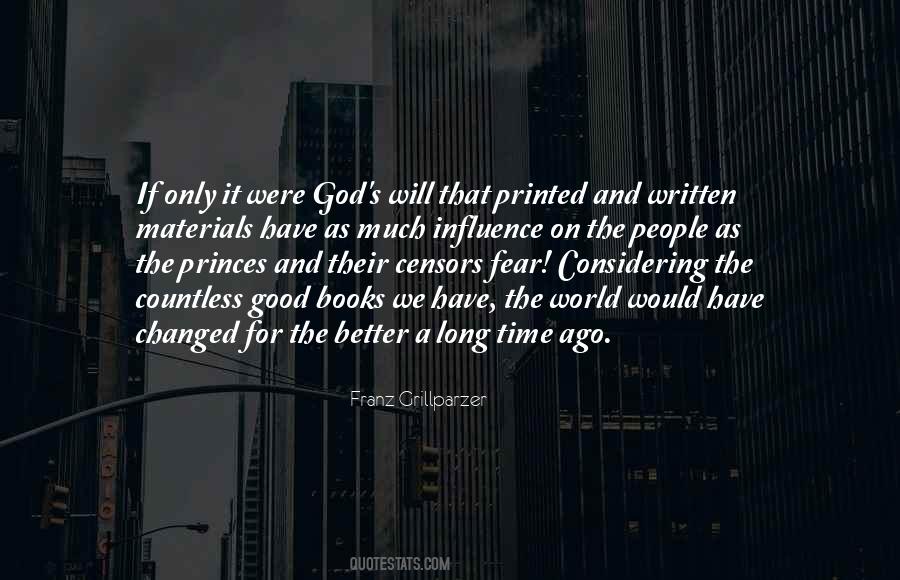 #39. I am a strong believer in the ability of human beings to change for the better. I am a strong believer in trying to change what we are dissatisfied with. - Author: Chimamanda Ngozi Adichie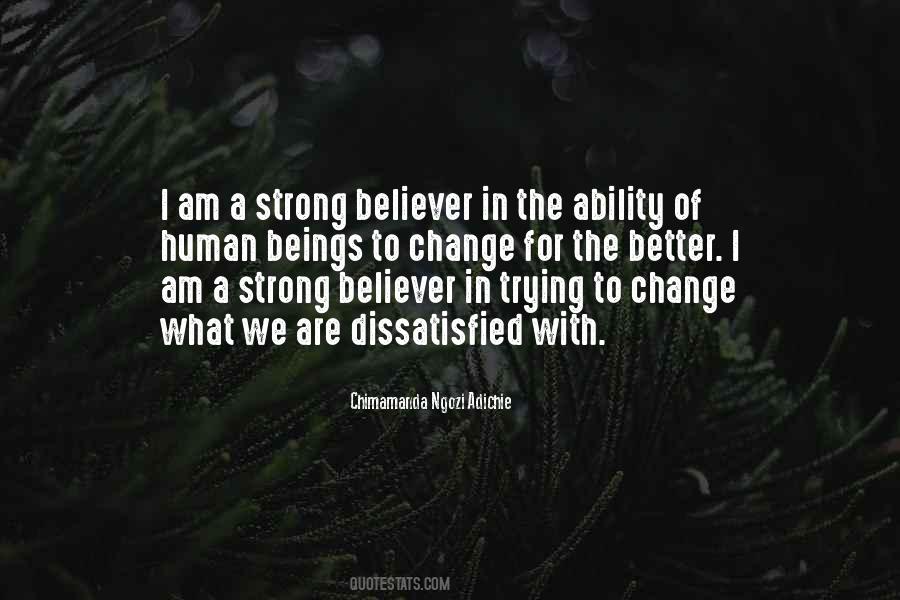 #40. A reformer exhorted children that they would succeed where he and his colleagues had failed with the charge: Live for that better day. - Author: Barbara W. Tuchman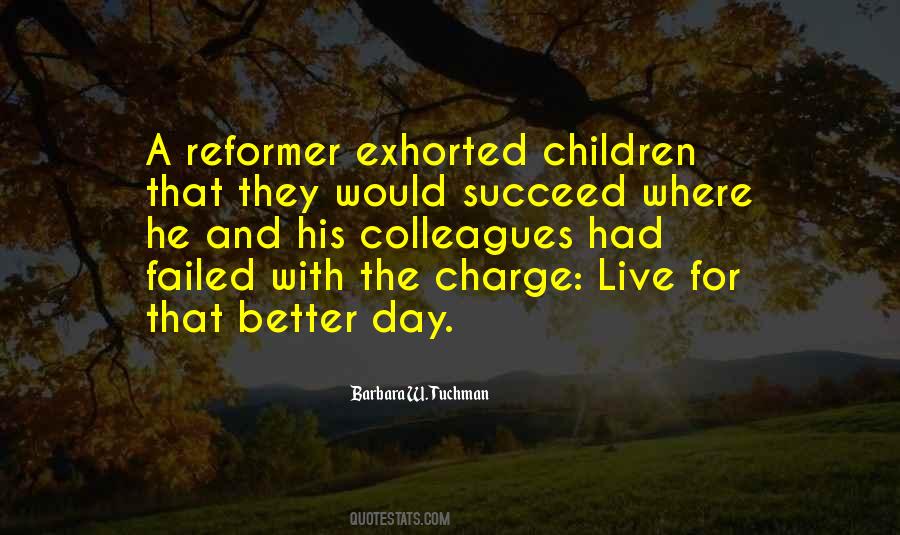 #41. He craved an idea, inspired yet concrete, that would show a clear path and change the world for the better, an idea as unmistakable to a child or an ignorant fool as lightning or a roll of thunder. He craved for something new. - Author: Boris Pasternak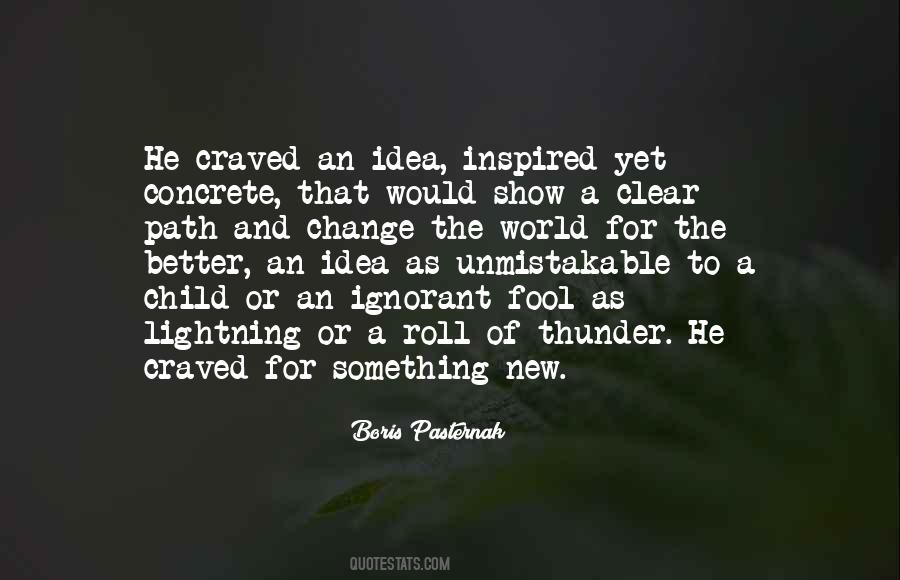 #42. It's when you see yourself as different rather than better, that you truly become a change that interferes with the world rather that allowing that world, in its different dynamics and forms of expression, to be interfering with you. - Author: Robin Sacredfire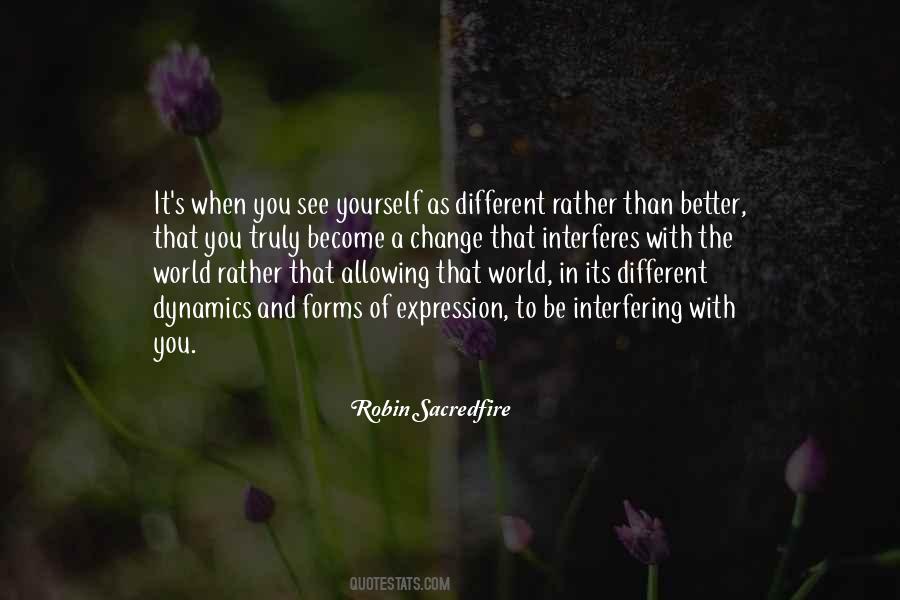 #43. The time has come, that man should change his ideas to respect the woman and woman should her to trust the man. Now social interactions need a better way to grow up. - Author: M.H. Rakib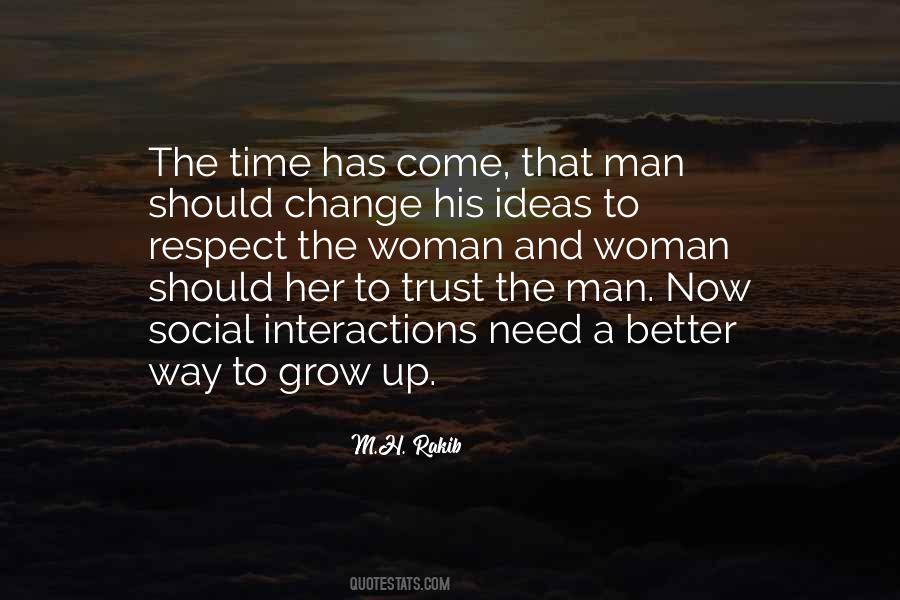 #44. We think we control our environment, but in fact, it's our environment that controls us. We can't change the world. The only thing we can change is ourselves, by trying to get a better understanding of our own messed-up wiring. - Author: Guy Spier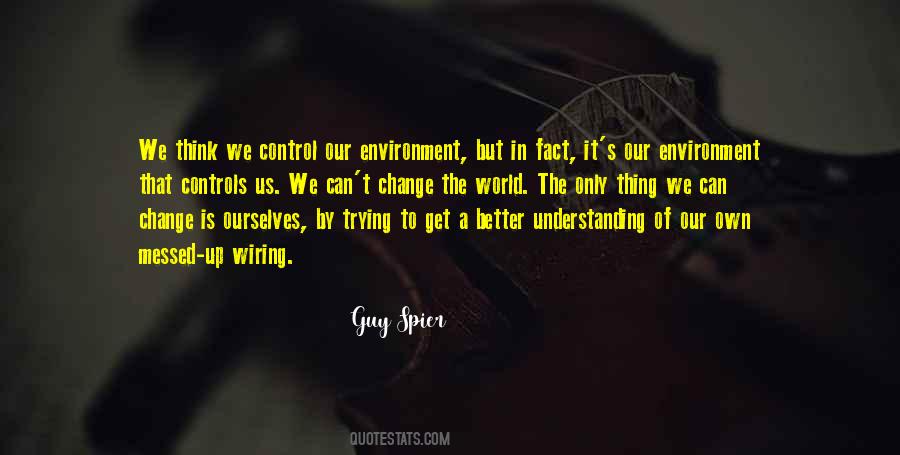 #45. Art isn't only a painting; it's anything that changes someone for the better, any nonanonymous interaction that leads to a human (not simply a commercial) conclusion. - Author: Seth Godin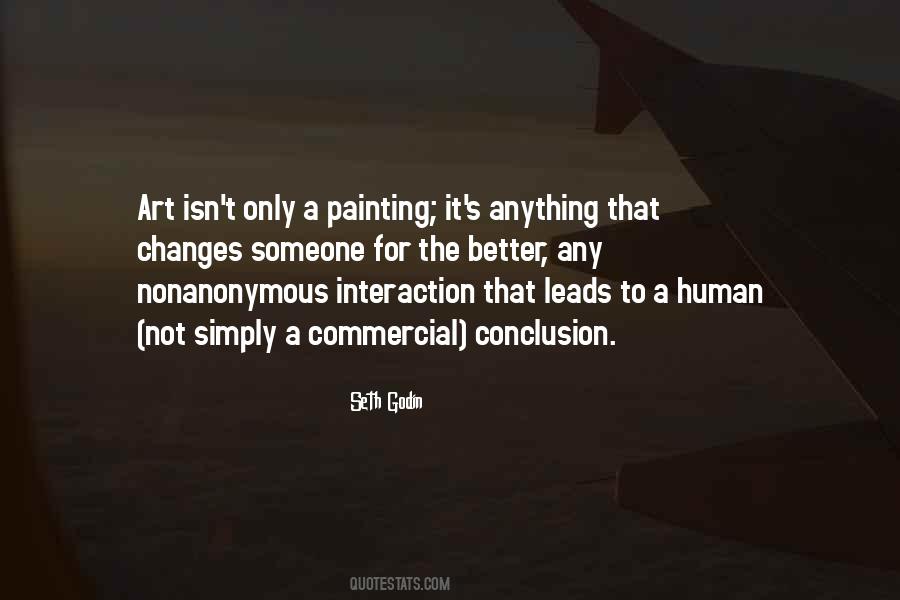 #46. I have this determination and drive to live a better life, change the world, and accomplish great things. Distractions are always there, but my purpose is so much greater that I'm always able to get back on focus. - Author: Jeet Banerjee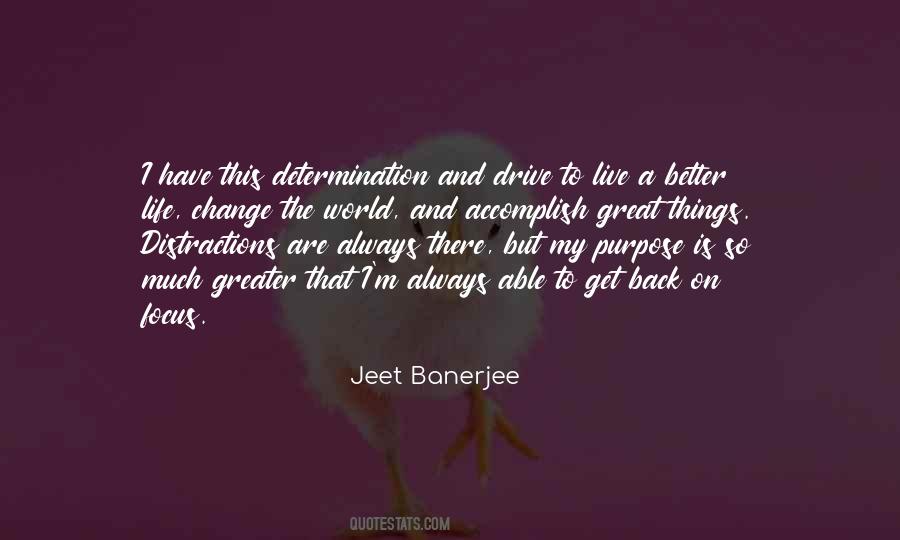 #47. And that is why we must answer her hatred with love. I can't say whether it will change her in her heart - it probably won't. But if it makes her feel even just a little bit better about herself, she will be less envious. - Author: Alexander McCall Smith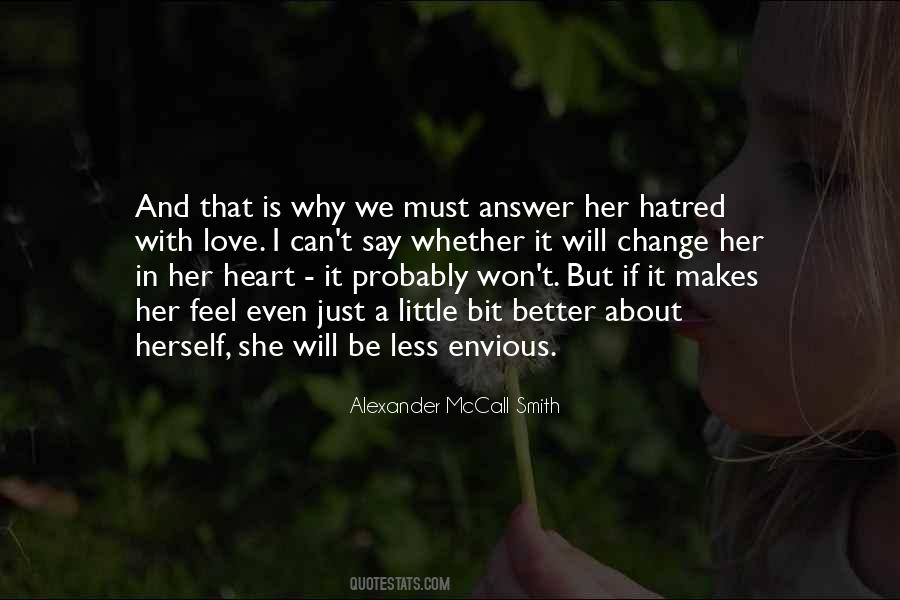 #48. If you want to make the world a better place, take a look at yourself, and make a change. - Author: Michael Jackson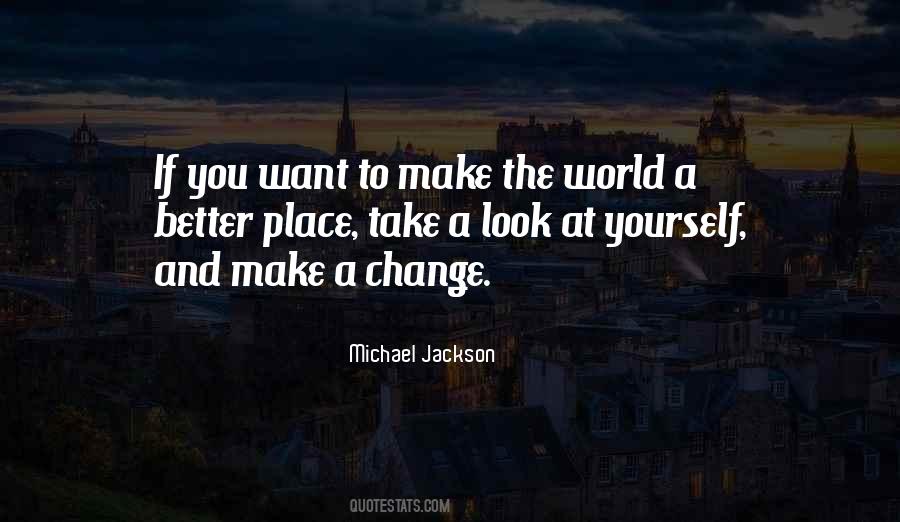 #49. Before any change for the better can take place, a level of understanding is always needed; because without understanding we tend to fall back on the automatic responses and reactions that we have built up over our lives. - Author: Gyalwa Dokhampa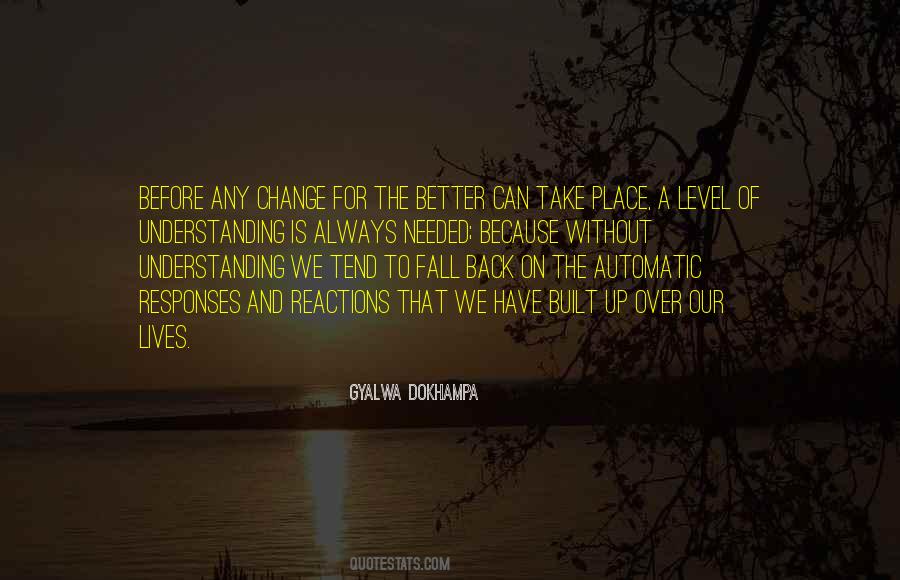 #50. A small change can make a big difference. You are the only one who can make our world a better place to inhabit. So, don't be afraid to take a stand . - Author: Ankita Singhal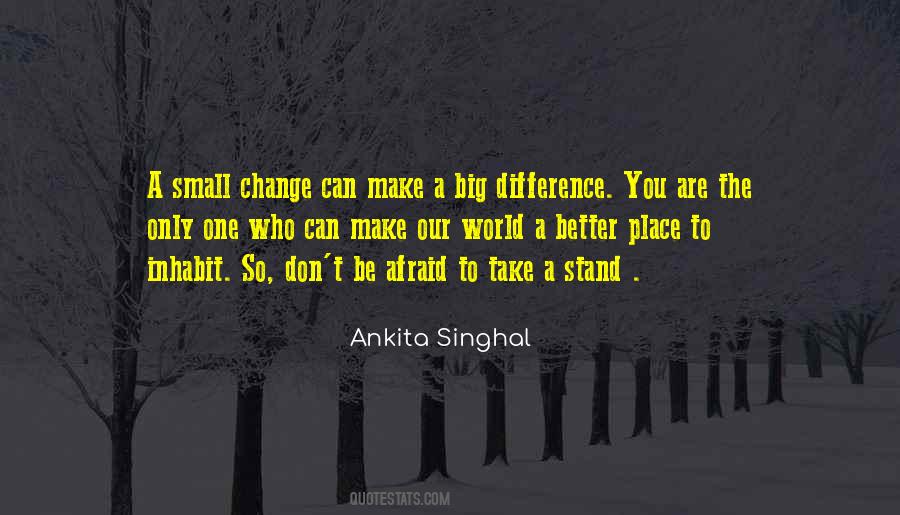 #51. The proper way to make policy changes is for you to convince your fellow citizens that there is a better policy outcome than the current one. And then in state legislatures, for those state legislatures to vote that change. - Author: Ted Cruz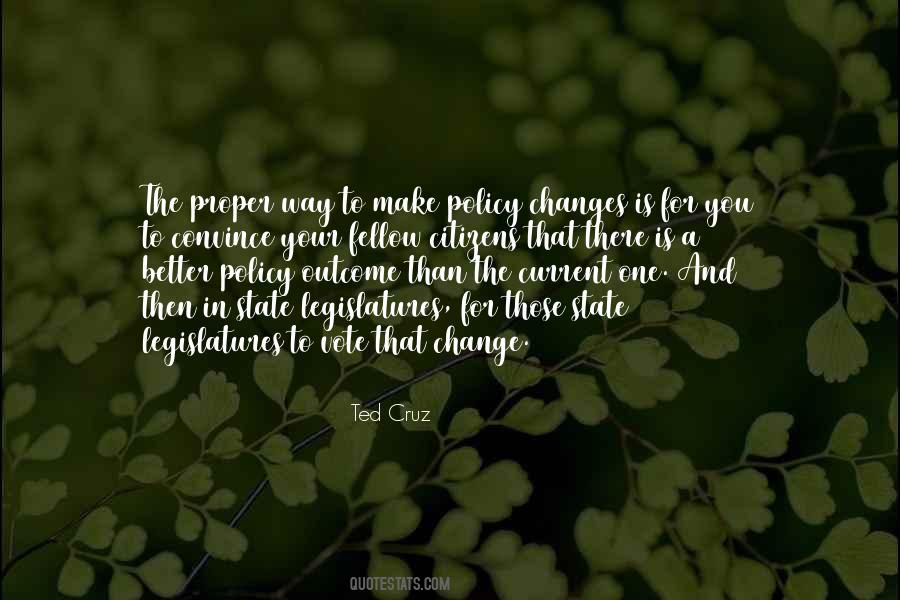 #52. Don't just fit in; make it a point to brighten your corner. Decide to resolve your challenges. - Author: Israelmore Ayivor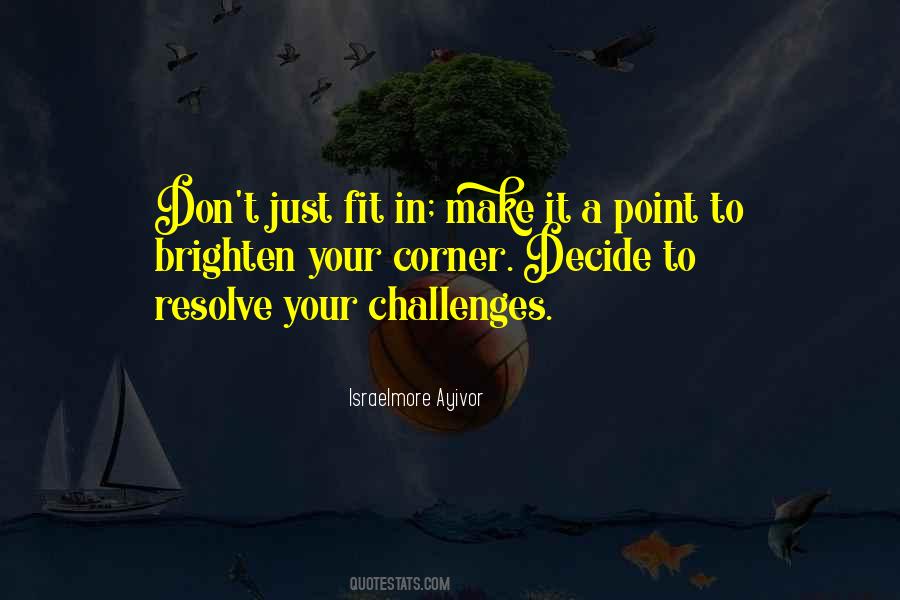 #53. I'm on a constant path of self-discovery and change. I'm trying to become a better person, a nicer person. I love therapy - it's brilliant. - Author: Julia Sawalha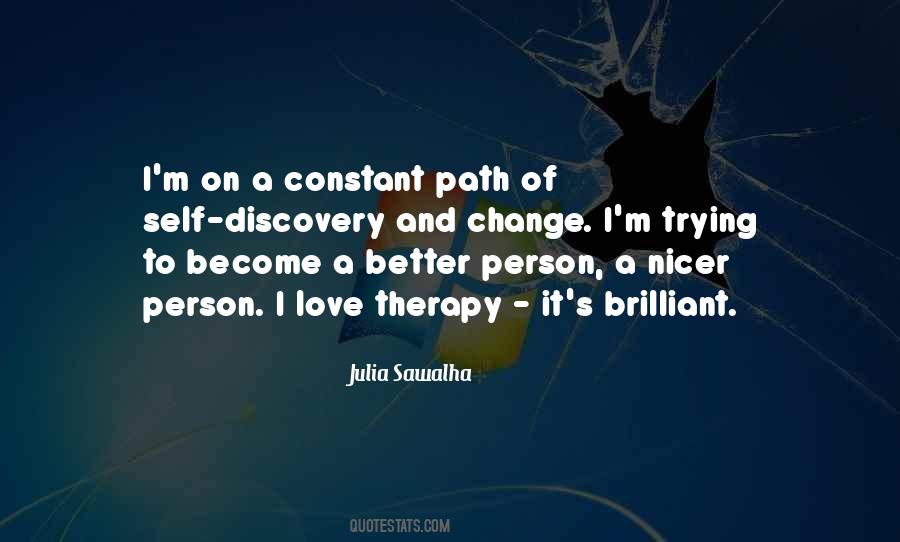 #54. most importantly, this prediction is less of a prophecy and more a way of discussing our present choices. If the discussion makes us choose differently, so that the prediction is proven wrong, all the better. What's the point of making predictions if they cannot change anything? - Author: Yuval Noah Harari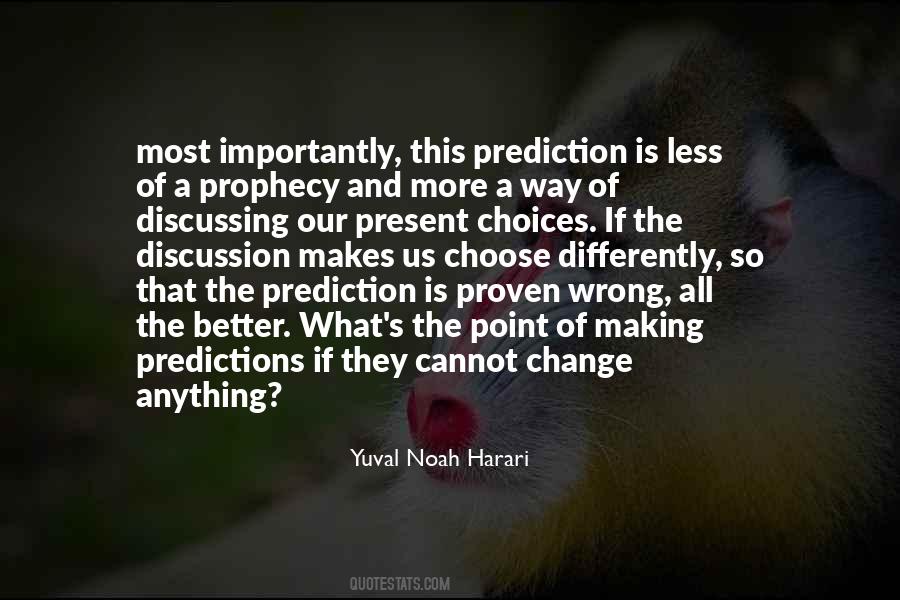 #55. At this very moment enormous numbers of intelligent men and women of goodwill are trying to build a better world. But problems are born faster than they can be solved. - Author: B.F. Skinner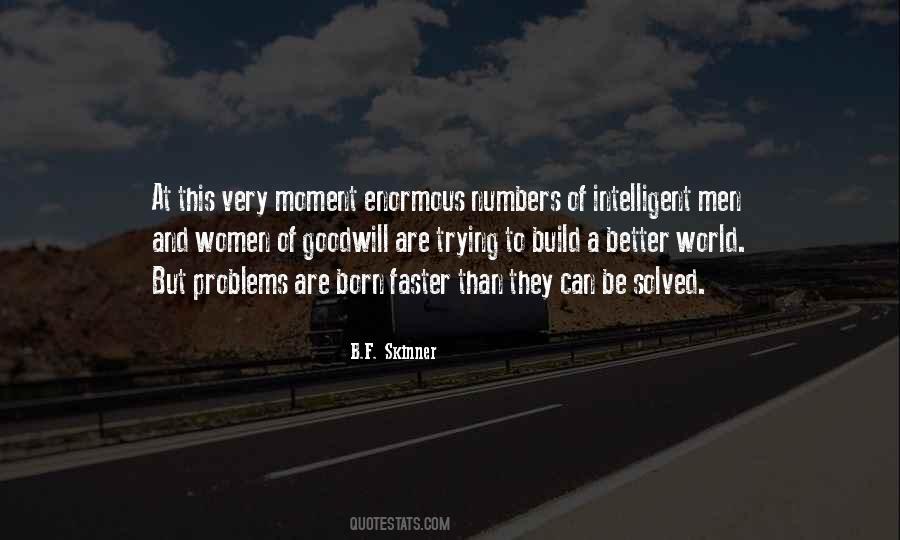 #56. For me the genre of romance is about the characters. It's about following a journey between two people and watching them grow and develop and have their lives change for the better because of their presence in each other's world. - Author: Samantha Young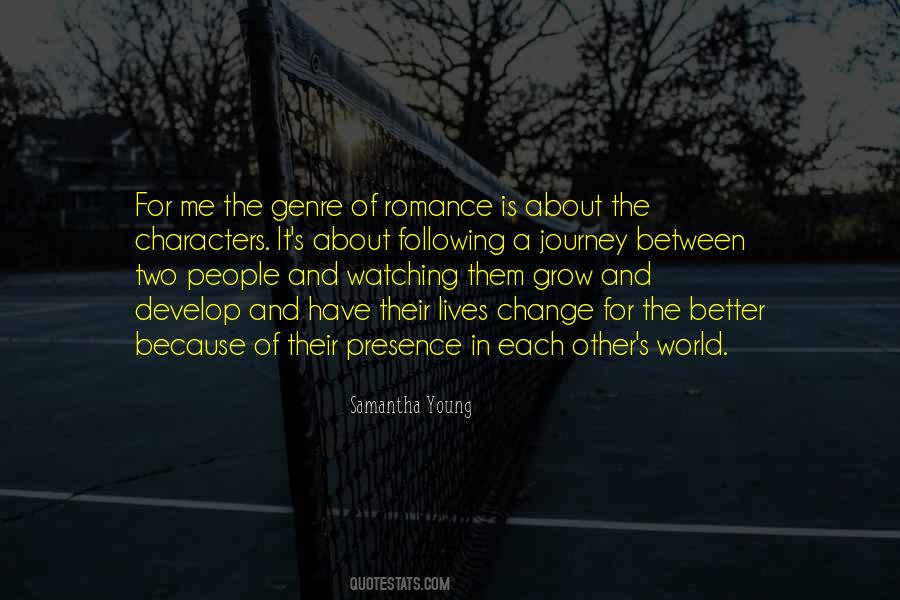 #57. Thoughts have power, influencing humanity's collective path. The difference between Mother Teresa and Adolf Hitler lies, ultimately, in how they thought. A thought can change the world for the better - or damn it forever. - Author: Diane Shauer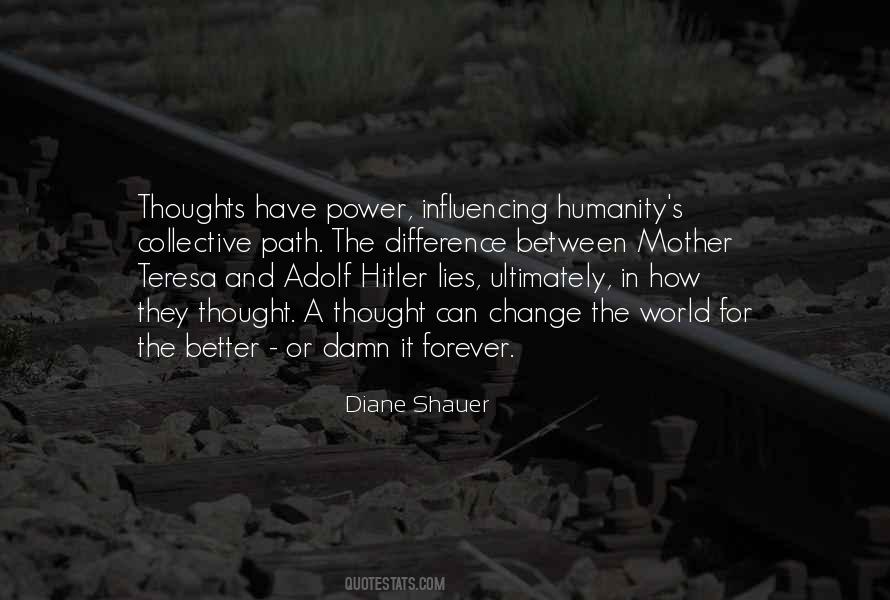 #58. Because you can't chart a course around anything you're afraid of. You can't run from any part of yourself, and it's better that you can't. Sometimes I've thought it's only our challenges that sharpen us, and change us, too - a - Author: Paula McLain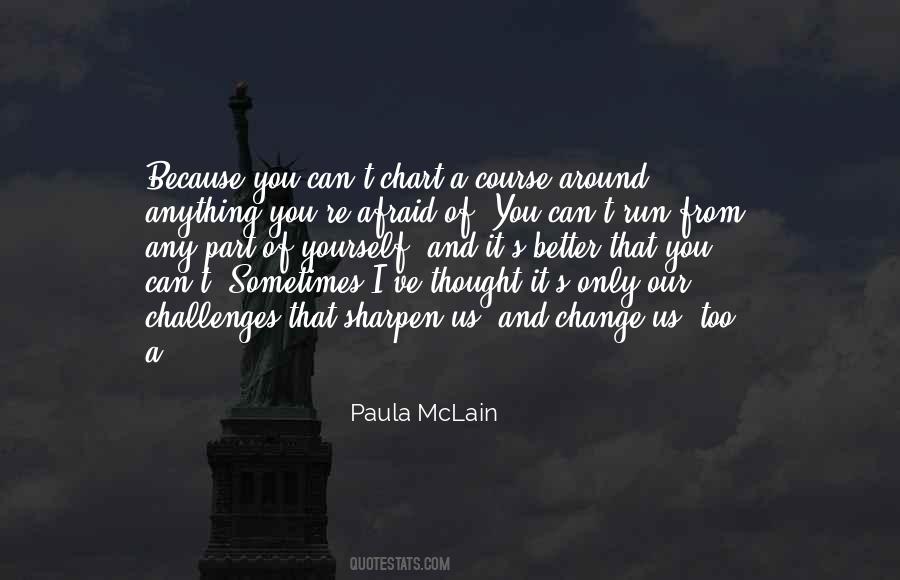 #59. The human society is the extension of the individual. Therefore, if we really want a radical change, if we want a better world, we need to change individually. - Author: Samael Aun Weor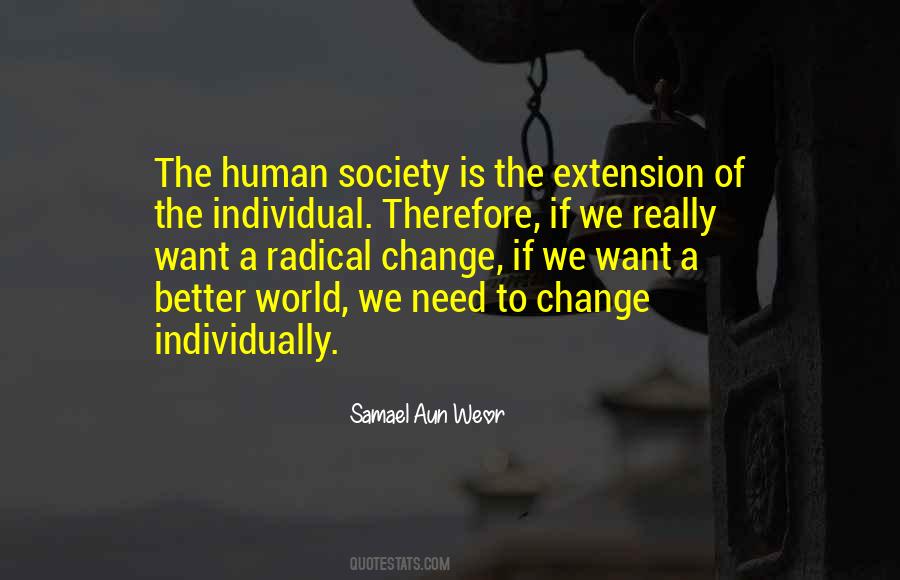 #60. I thought: If I was lucky enough to live, I'd change, myself-I realized I could have a new life-new energy, new endurance, and feel better about myself. - Author: Larry King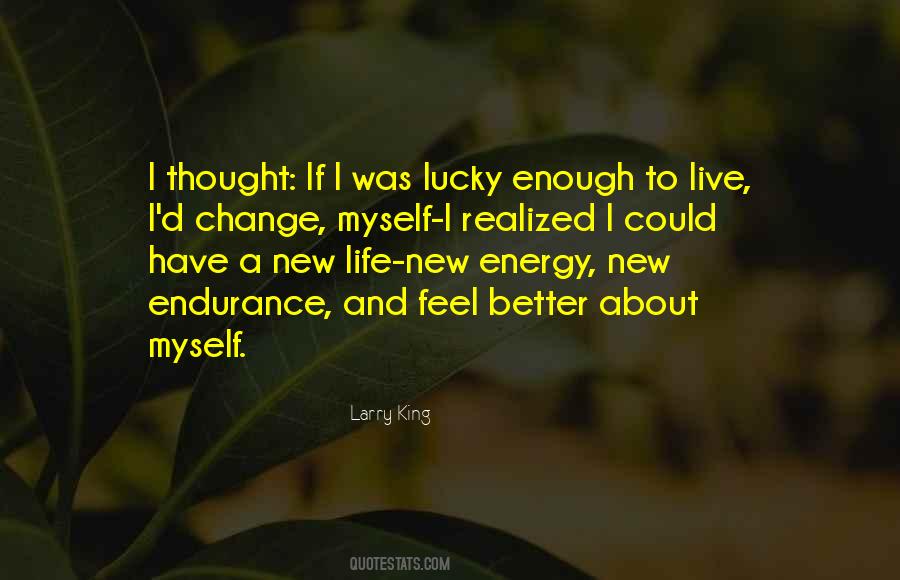 #61. Failure isn't a reason to give up. It's the price of progress. We learn from it, we grow from it, we become better for it. We're going to do amazing things, you and I. We will change the world. - Author: Jon Skovron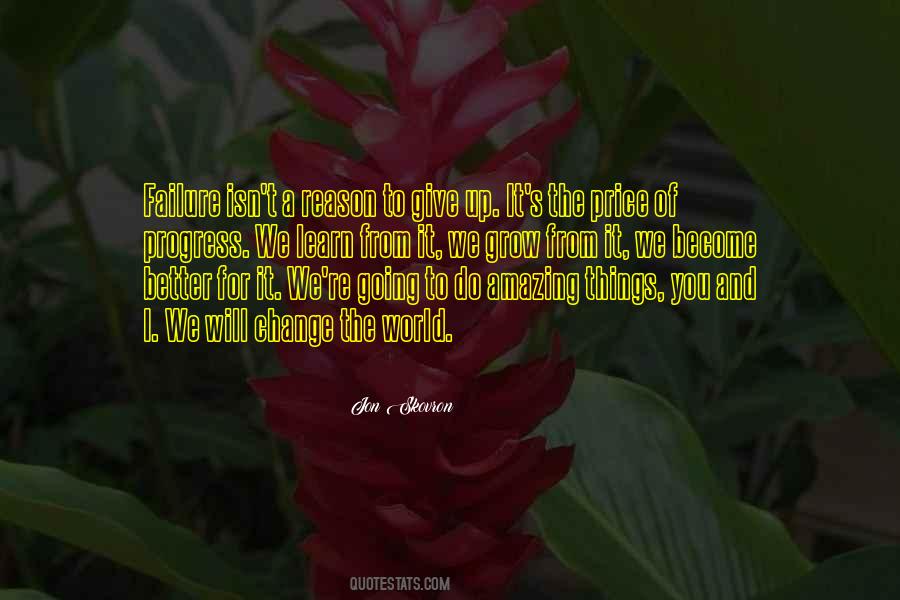 #62. I can't help but be a different person now that I've had kids. That really does change your whole perspective on life for the better. - Author: Jennifer Lopez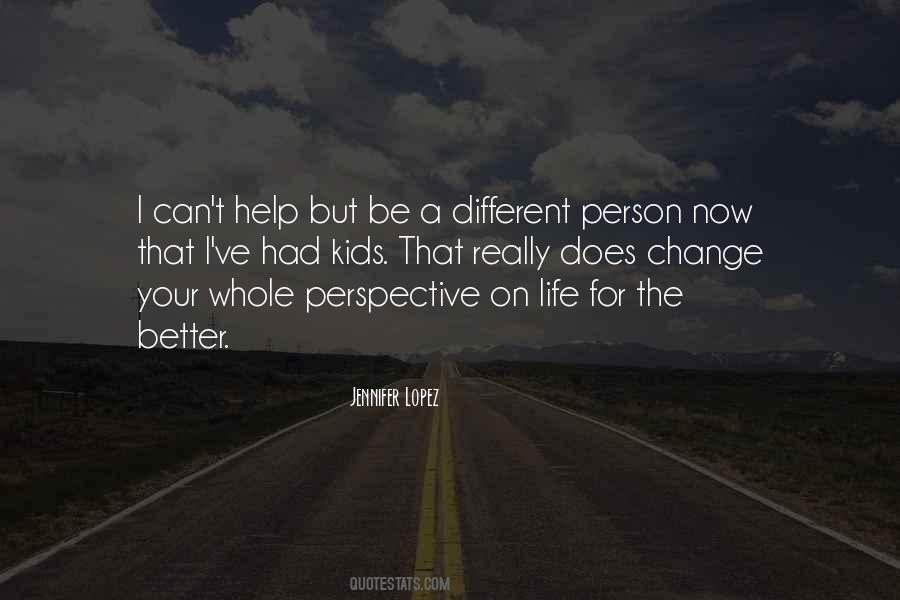 #63. Each day is a new opportunity to make ourselves better. Don't wait for things to change, become the change. - Author: Karen S. Shelton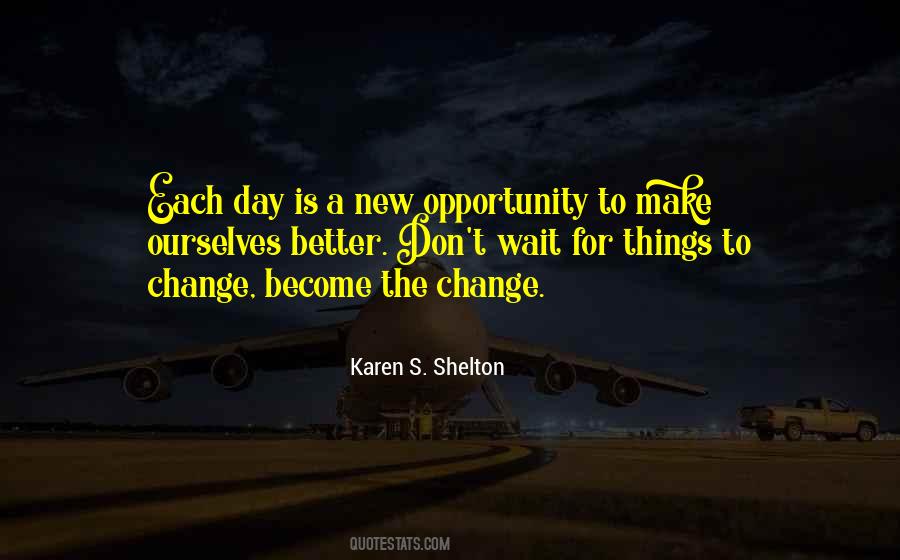 #64. Don't just be making a living; make a life and leave an indelible footstep wherever you step. - Author: Israelmore Ayivor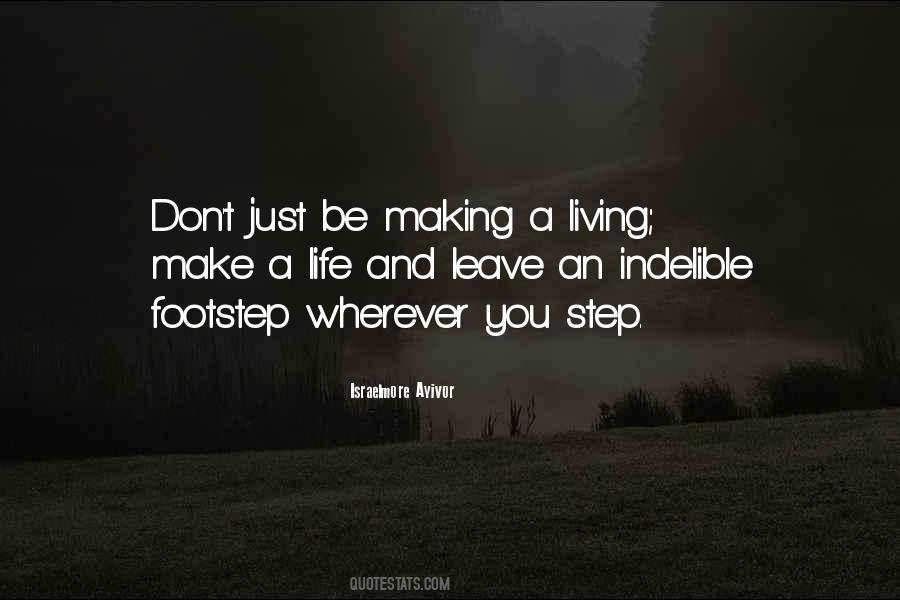 #65. A guarantee in this life: Change! Flexibility is better than predictability! - Author: Evinda Lepins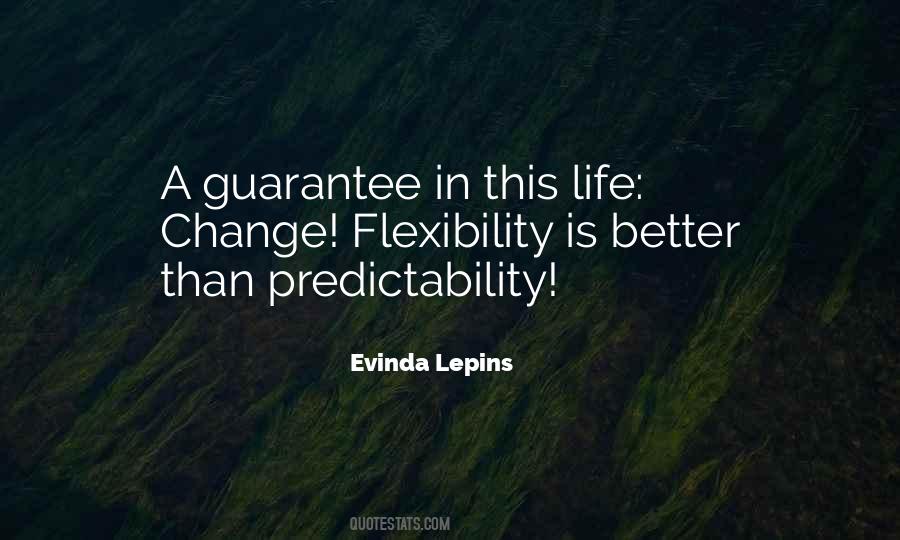 #66. I try to make a film that's very entertaining, very funny, but also gives you something to think about. And the strongest thing I have to offer is my point of view, to get across how I see the world in hopes that it can change the way other people see the world, hopefully for the better. - Author: Terry Zwigoff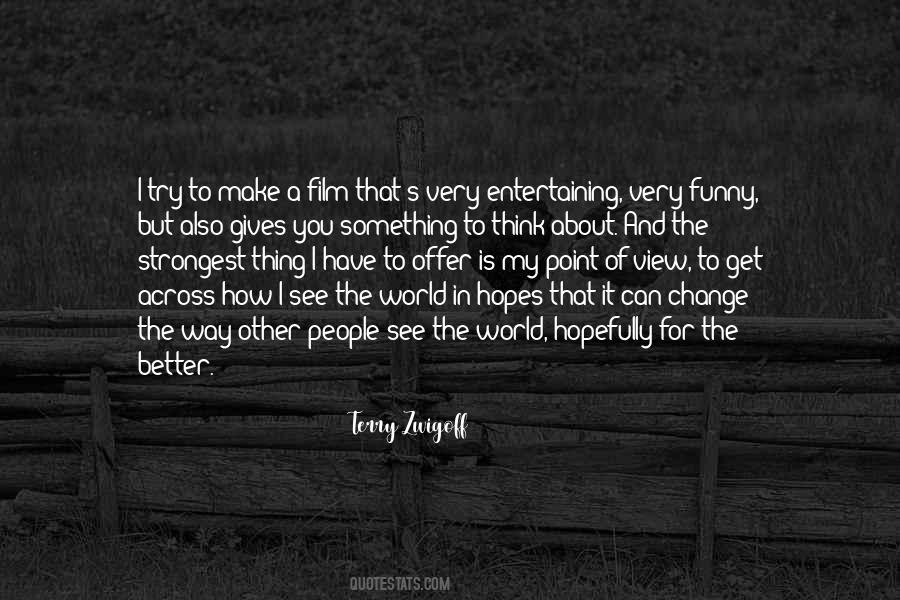 #67. Love was never enough, not without mutual respect and a great deal of drudgery and effort. And even then, it wasn't enough. Wanting each other, being open to change, pushing each other to improve and grow
for the better
working to deserve each other, was the key. - Author: Penny Reid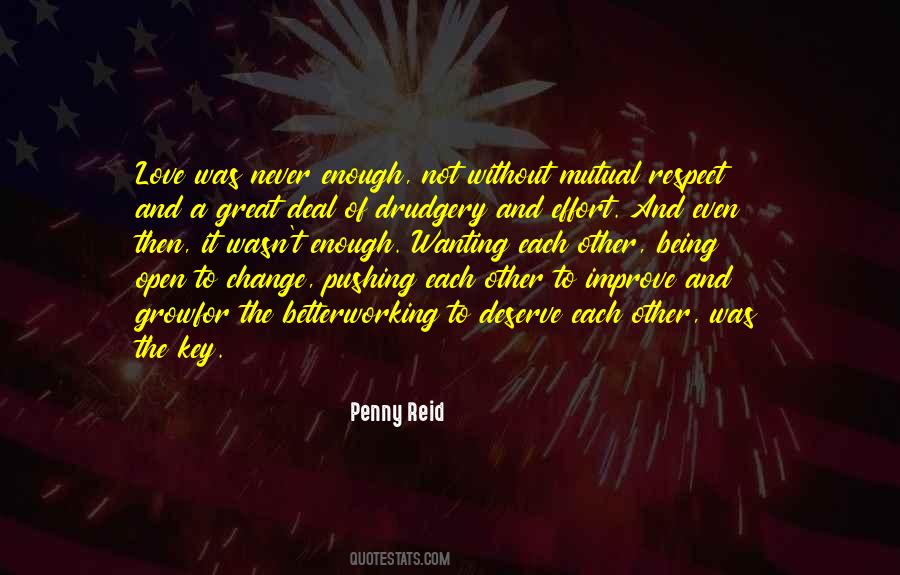 #68. Helping professionals, therapists, life coaches, healers can greatly assist you in changing your life for the better, but they pale in comparison to the power thats gained from developing a relationship with yourself. It's you that holds the power for change - Author: Renae A. Sauter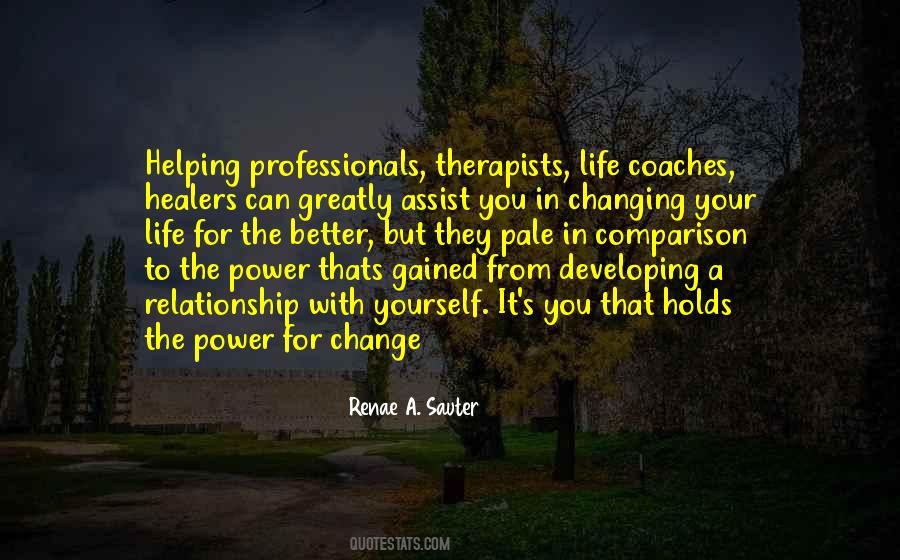 #69. You can't change the past. But with God's help you can change the future. No matter what your life has been like so far, God wants to put your feet on a new path ... a better path ... His path. - Author: Billy Graham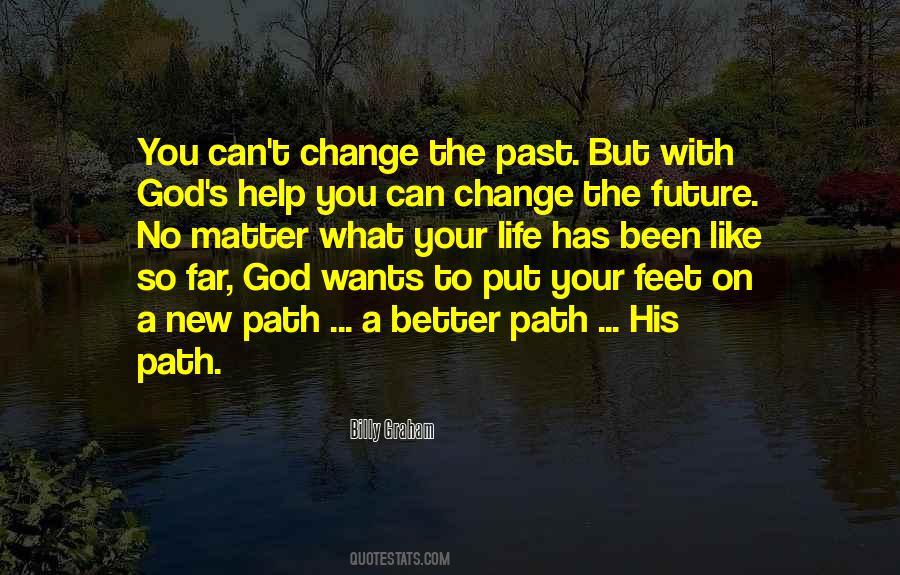 #70. Things changed, and they didn't change back. But sometimes they got better. - Author: James S.A. Corey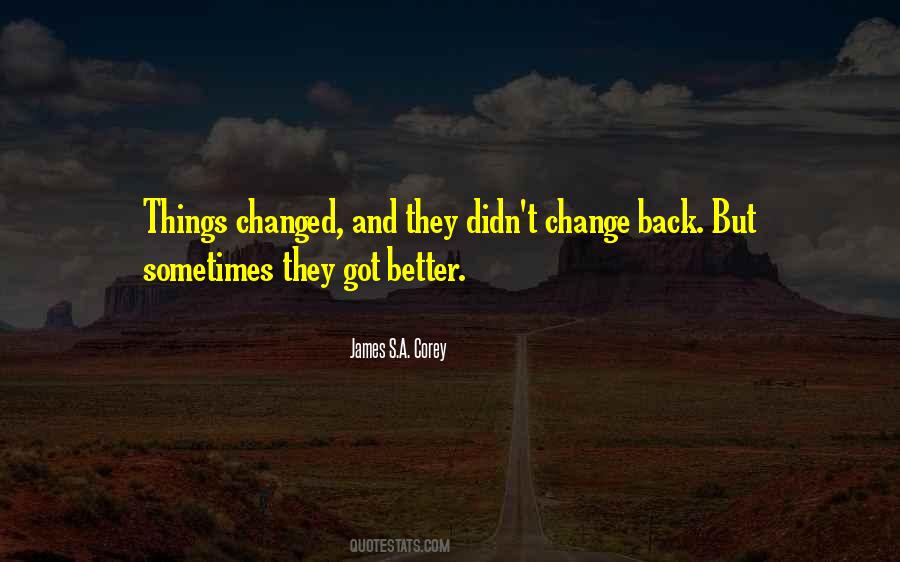 #71. But as a wise and great teacher once explained so patiently, all good stories - stories that touch your soul, stories that change your nature, stories that cause you to become a better person from their telling-these stories always contain truth. - Author: Camron Wright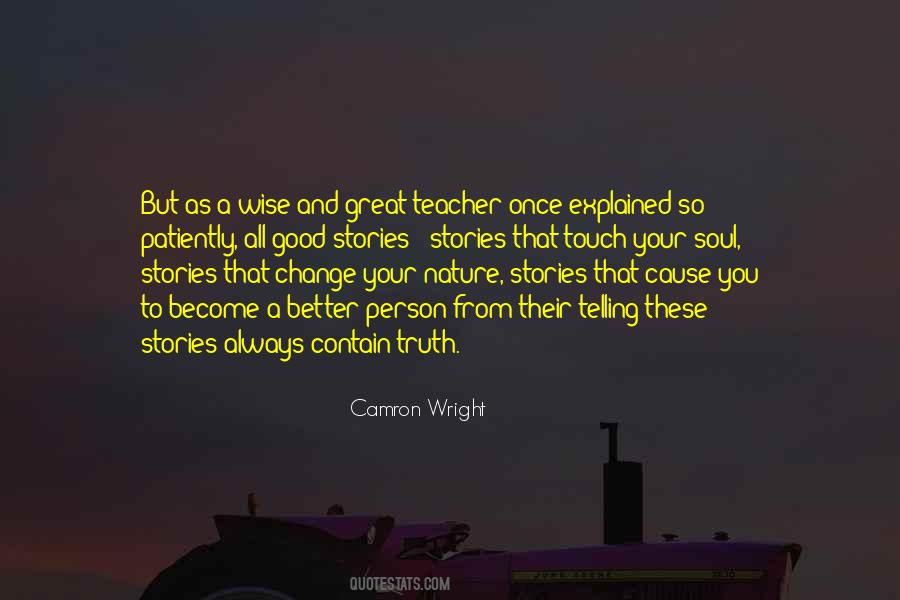 #72. It's never too late to start eating well. A good diet can reverse many of those conditions as well. In short: change the way you eat and you can transform your health for the better. - Author: T. Colin Campbell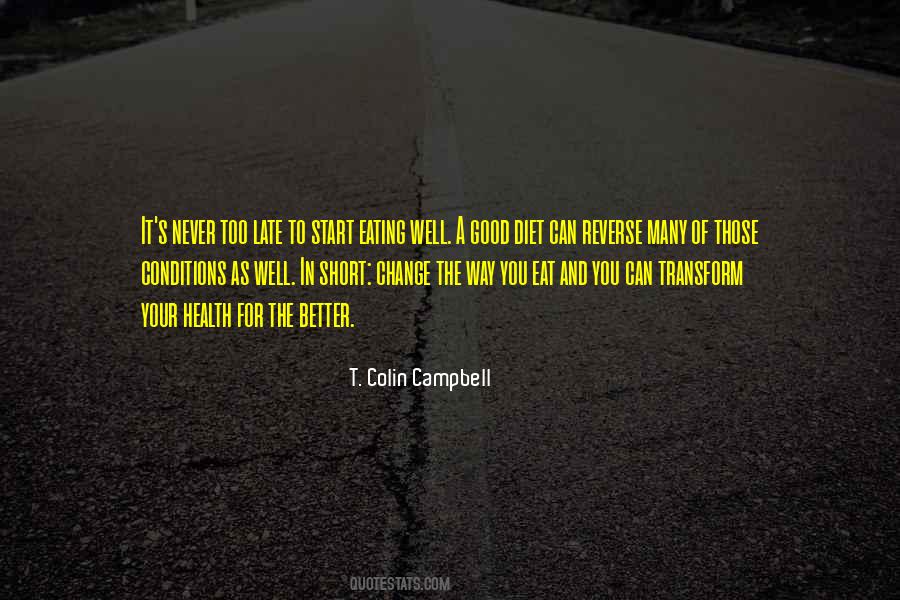 #73. If you don't use your new knowledge and skills within a relatively short space of time, then it may have been better never to have had the tantalising prospect of change for the better placed in front of you. - Author: Robin Hoyle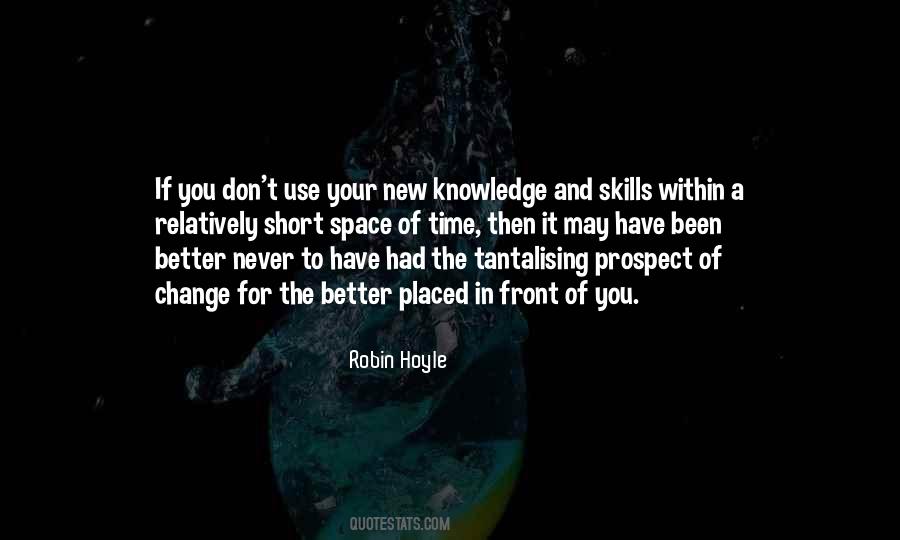 #74. Understanding is better than ignorance. Ignorance, unlike life, unlike narrative, is static. Understanding implies a forward motion, thus the possibility of change. - Author: Robert Charles Wilson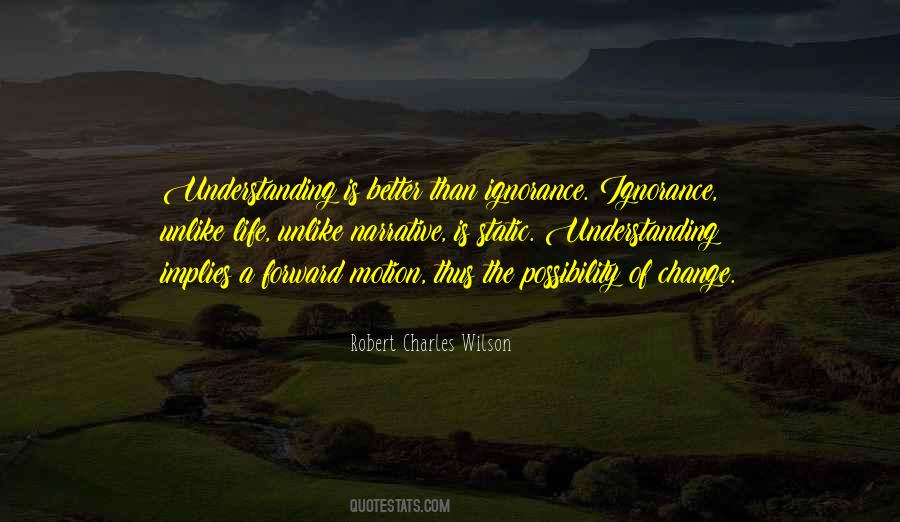 #75. Art inspires, produces an unwillingness to settle for what we have and a desire for something better. It is the product and producer of creative activity, change; it is essential for continuous development. - Author: Russell L. Ackoff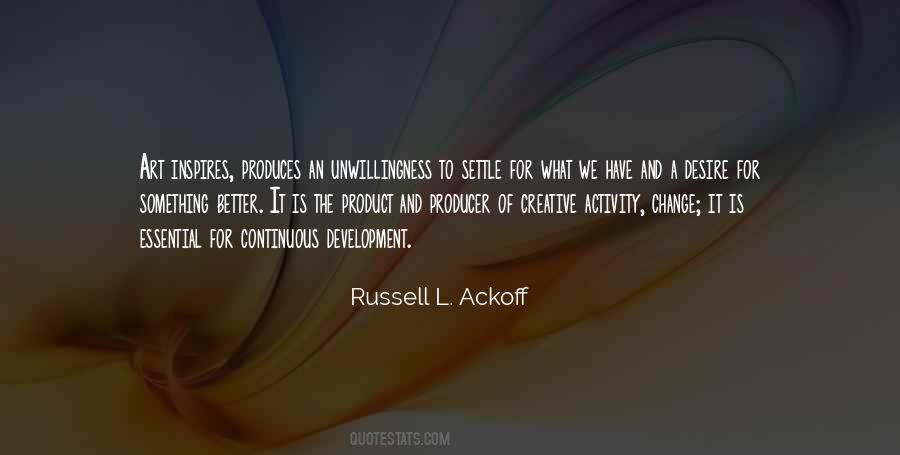 #76. But sometimes, things are better to just hear. Some questions better left unasked. Some words better left unsaid. Because saying them doesn't make you matter any less. - Author: A. Lynn
#77. What I'm asking for is hard. It's easier to be cynical; to accept that change isn't possible, and politics is hopeless, and to believe that our voices and actions don't matter. But if we give up now, then we forsake a better future. - Author: Barack Obama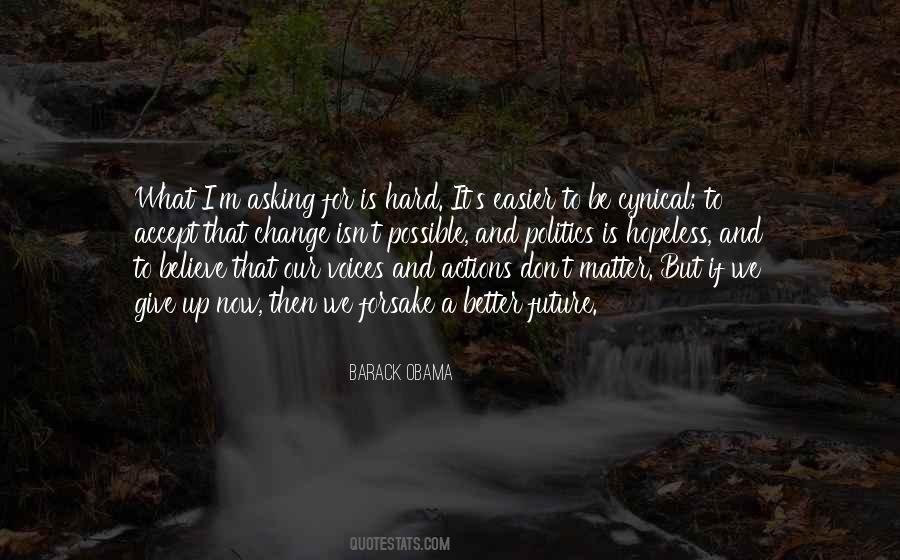 #78. What I used to do with a passion, foolishly and vainly imagining I would change the world for the better, I no longer tolerate in myself or anyone else. But draw, always draw - and WRITE. - Author: Ralph Steadman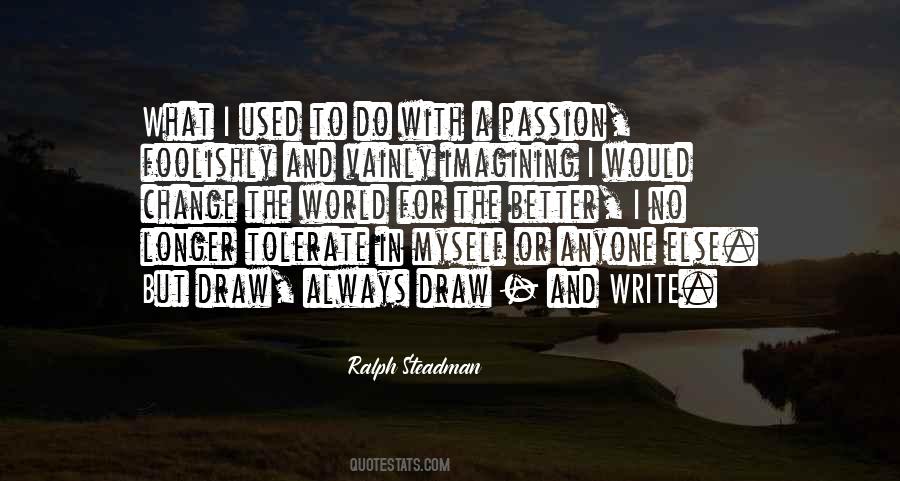 #79. I'm in politics to change things - if possible, for the better. I was a journalist for a long time, but I had a kind of midlife crisis, and I decided I needed to do something to get on the pitch and stop endlessly kicking over other peoples' sandcastles. - Author: Boris Johnson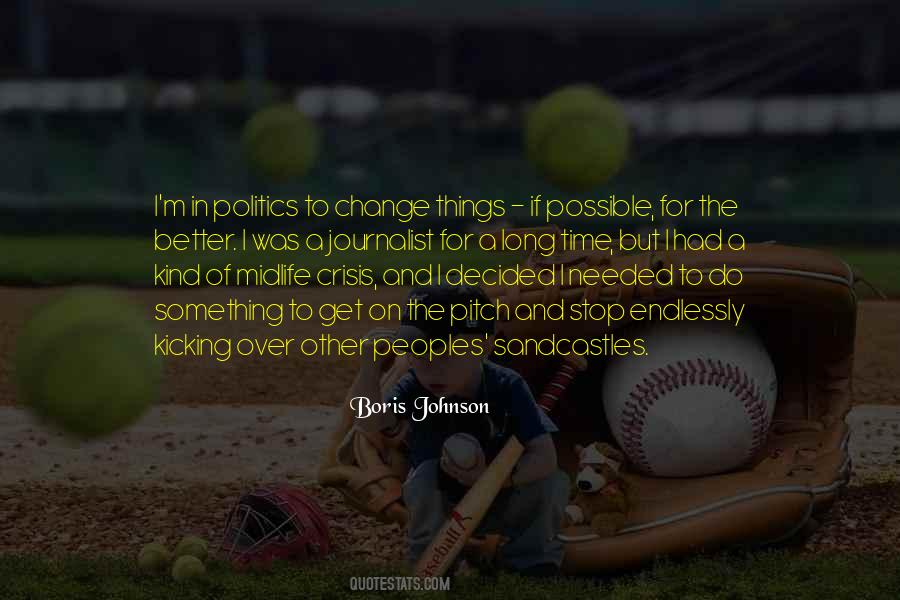 #80. The cause of making the world a better place for children unites us all - today HIV/AIDS is the biggest threat to this one universal objective. UNICEF needs us all to help them change the world for children - Author: Liam Neeson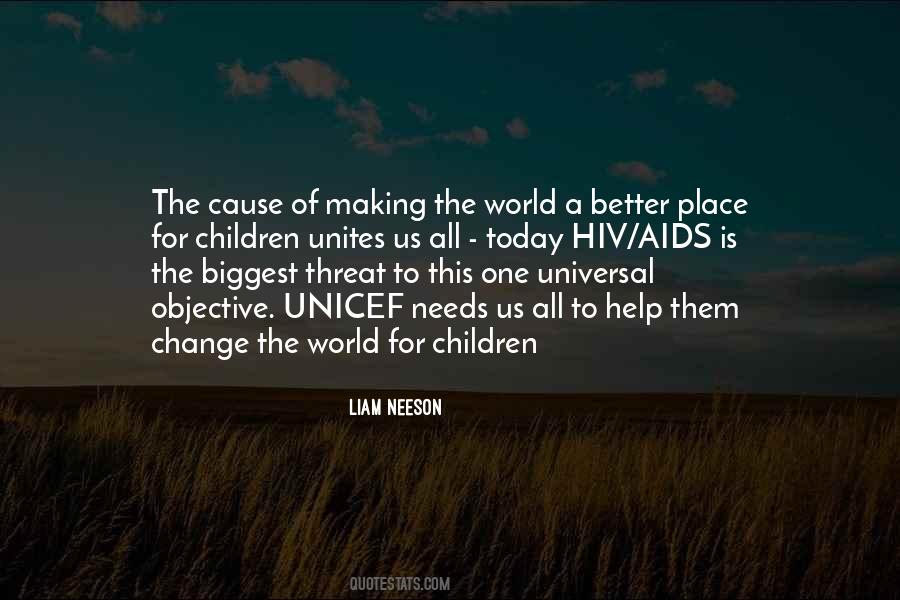 #81. I don't believe the old statement, "If it ain't broke, don't fix it." If that were the case, then Cadillacs and Jaguars and Mercedes would never make a change. I've always looked for ways to make things better. - Author: Vic Bubas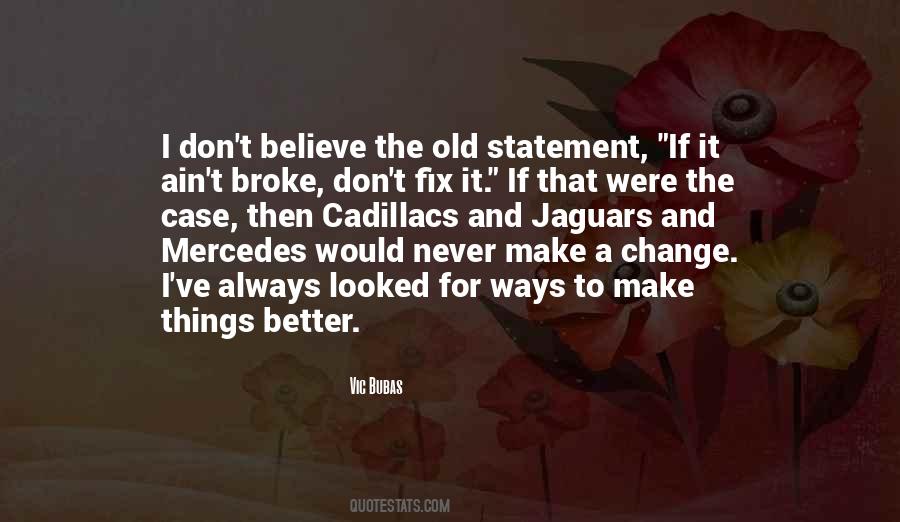 #82. To help others develop, start with yourself! When the boss acts like a little god and tells everyone else they need to improve, that behavior can be copied at every level of management. Every level then points out how the level below it needs to change. The end result: No one gets much better. - Author: Marshall Goldsmith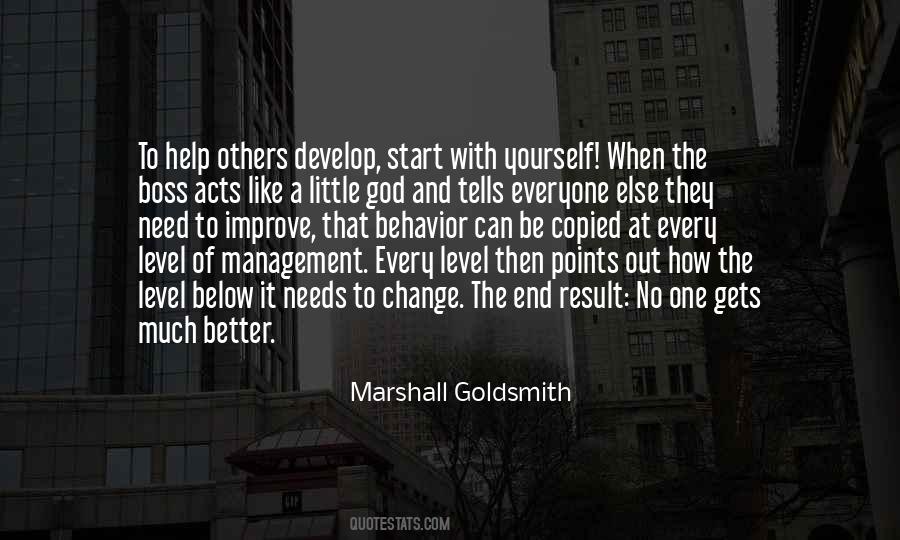 #83. I think the growth of the brain is a slow process. But you do change and the more you accept change and embrace change, the better. - Author: Diane Keaton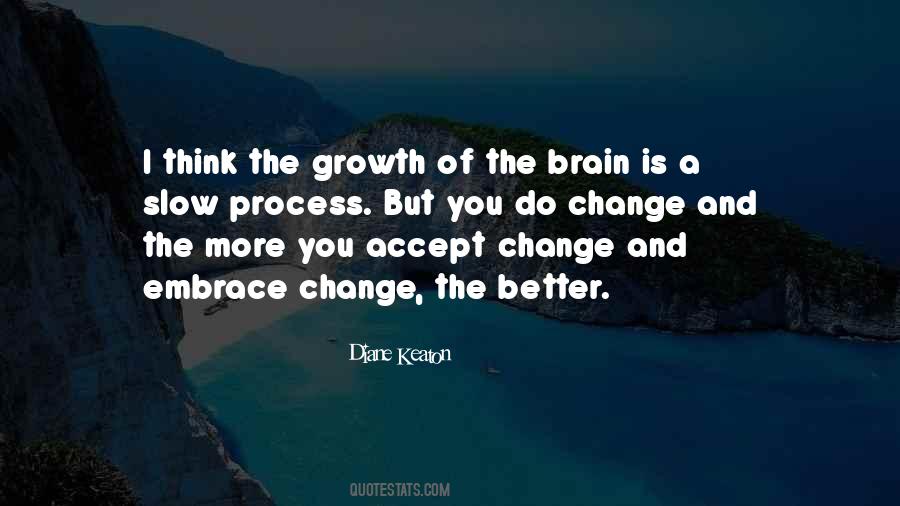 #84. An accident, a random change, in any delicate mechanism can hardly be expected to improve it. Poking a stick into the machinery of one's watch or one's radio set will seldom make it work better. - Author: Theodosius Dobzhansky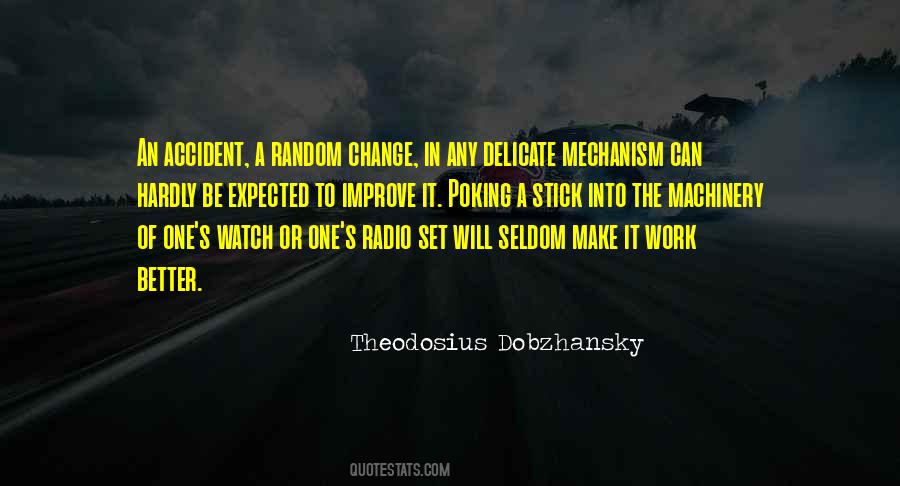 #85. If this generation doesn't end ...
then change towards a better one will be delayed. - Author: Toba Beta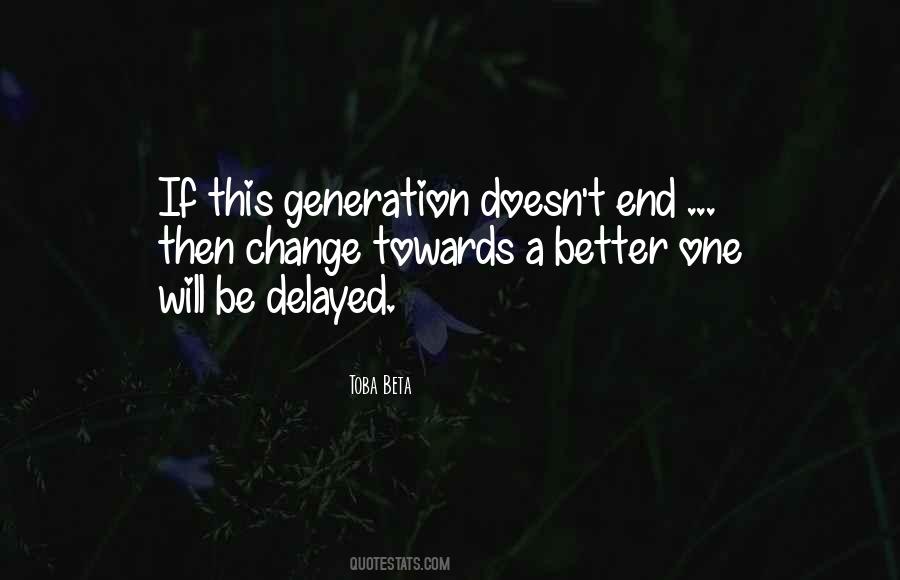 #86. Social networking is playing a huge role in creating awareness and mobilizing support for all kinds of common interests. What better way to use this remarkable tool than to change the world? - Author: Natalie Portman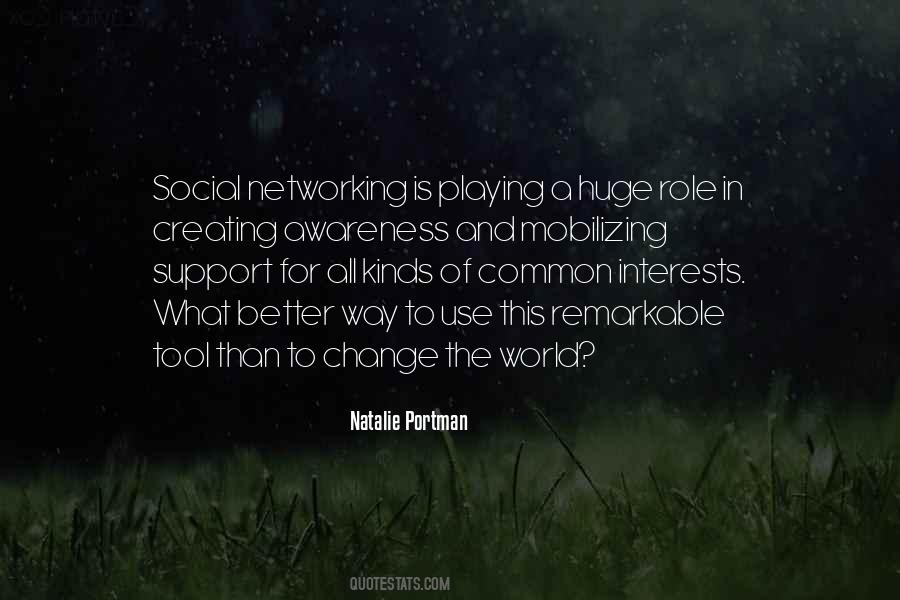 #87. A brave world, sir, full of religion, knavery, and change: we shall shortly see better days. - Author: Aphra Behn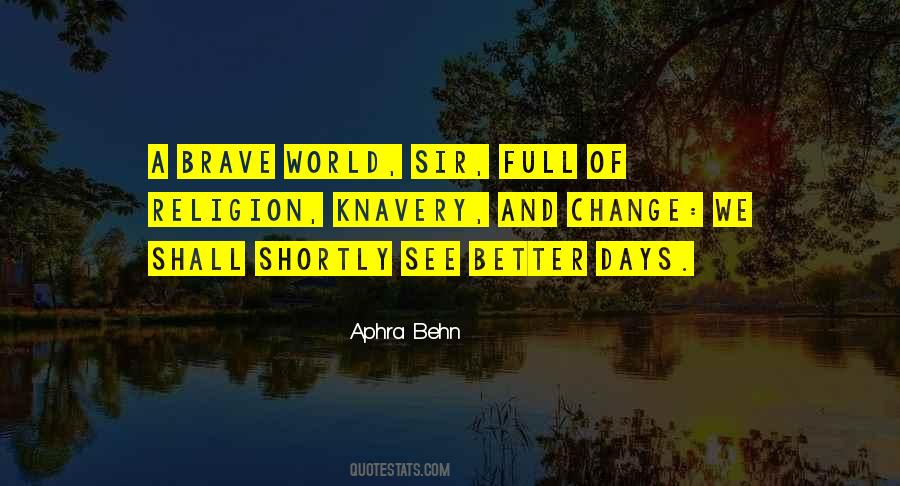 #88. Every day that we wake up is a good day. Every breath that we take is filled with hope for a better day. Every word that we speak is a chance to change what is bad into something good. - Author: Walter Mosley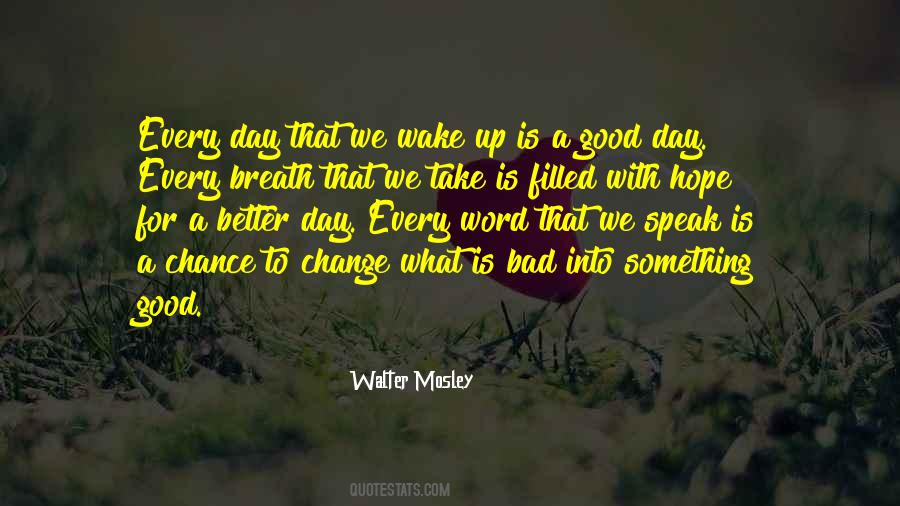 #89. Excessive drinking is not good for my health, my family or my game. There has definitely been a change, and I feel better for it. - Author: Ernie Els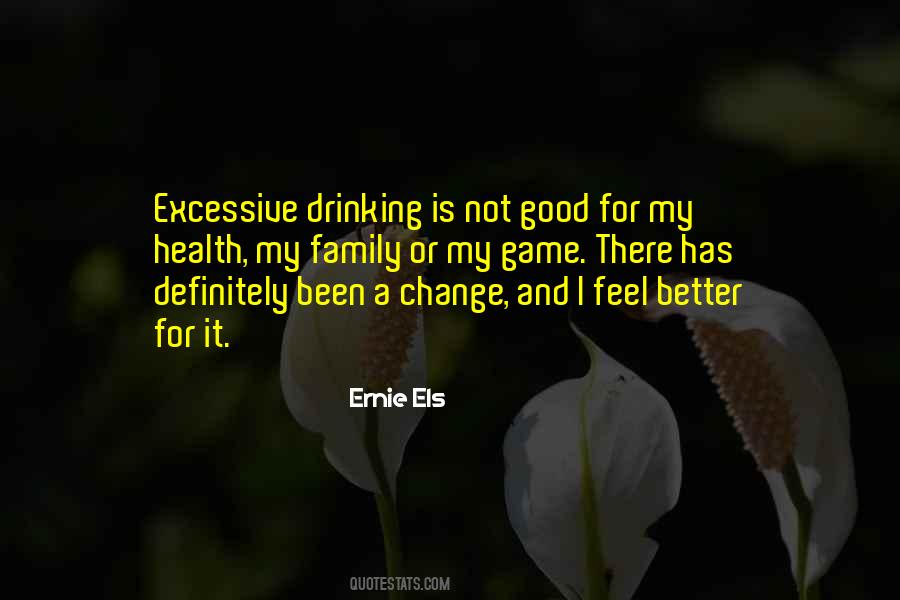 #90. A Change in life will not always be the Best, but a try to take a Chance for a Better life will be never a Loss in our Life. - Author: Jan Jansen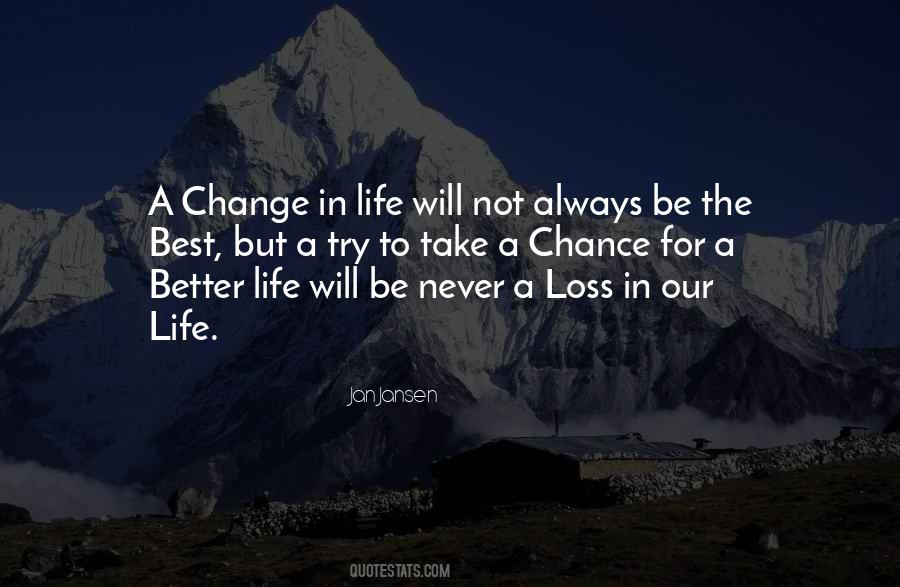 #91. Every new level of growth we hope to experience as leaders calls for a new level of change. You cannot have one without the other. If you want to be a better leader, get ready to make some trades. - Author: John C. Maxwell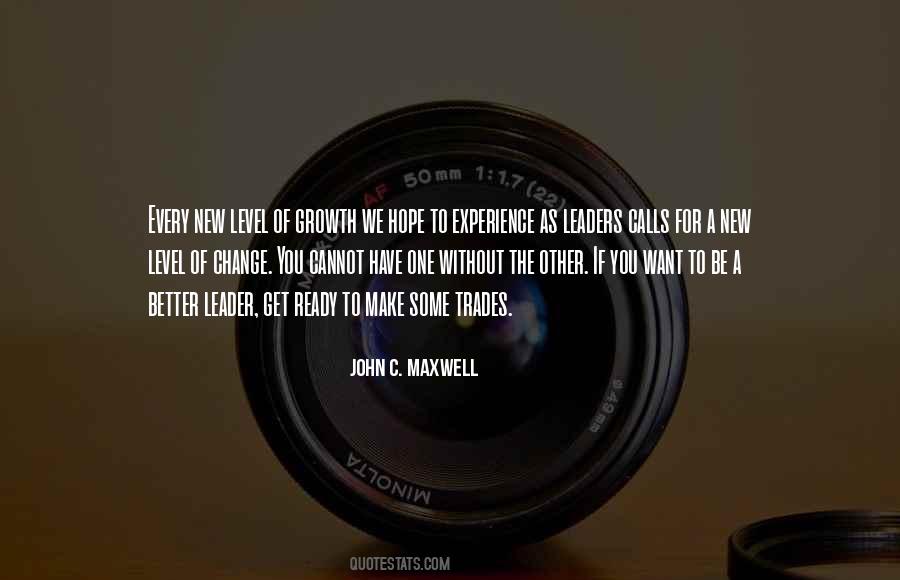 #92. You can't just decide to take the subject matter of The Bible and figure out you can just change what you want. I mean, the audience knows, and if you give them a Biblical story, you better get it right. - Author: Mark Burnett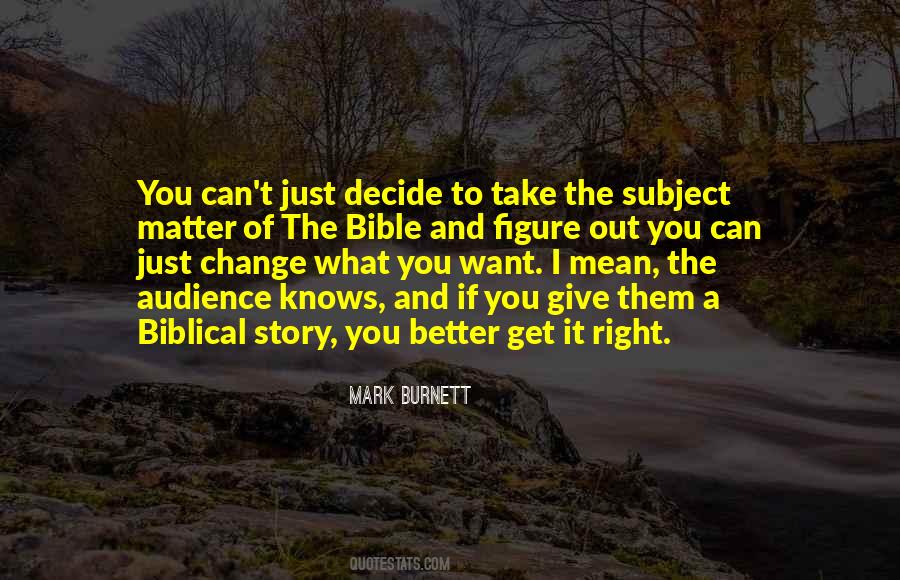 #93. We need to build change in to our systems and let these systems evolve as circumstances change. Change is inevitable, but we need to do a better job of dealing with it, because when we start building huge gleaming monoliths, I think we start getting into trouble. - Author: Daniel Suarez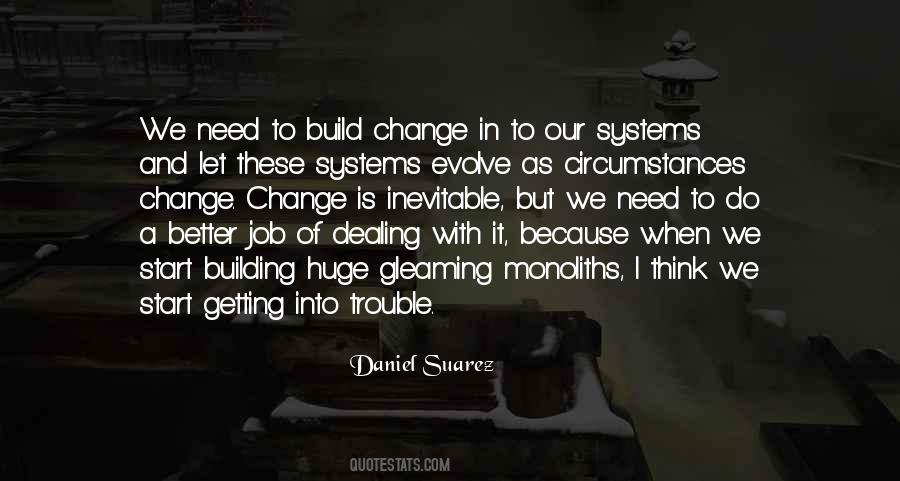 #94. A horse that has made a positive change in his behavior needs an opportunity to 'soak', to concentrate on & digest what he has learned. He needs his quiet time. Given this opportunity, his response will be better the next time you work with him. - Author: Buck Brannaman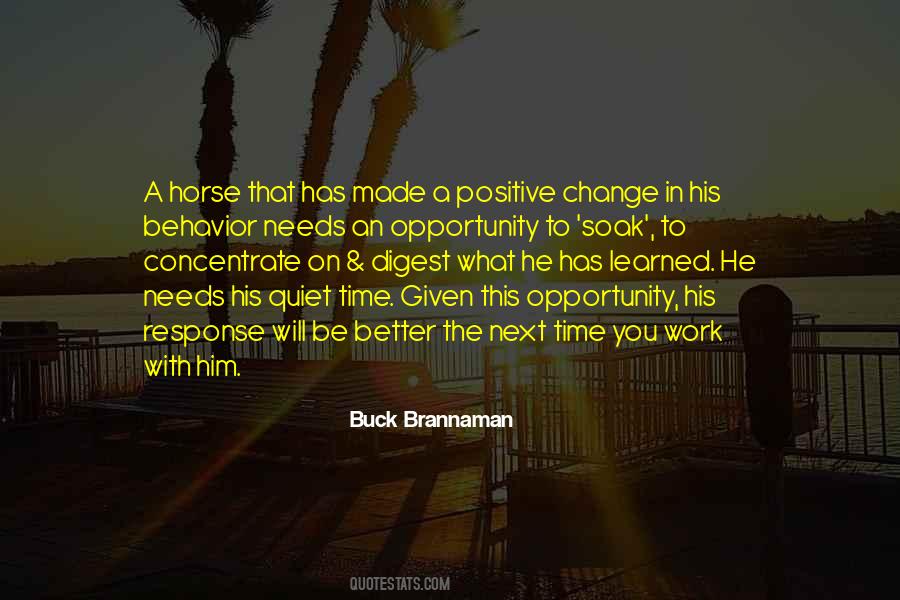 #95. The passion to change the world for the better is a more powerful force than defense to keep it the same. - Author: Simon Sinek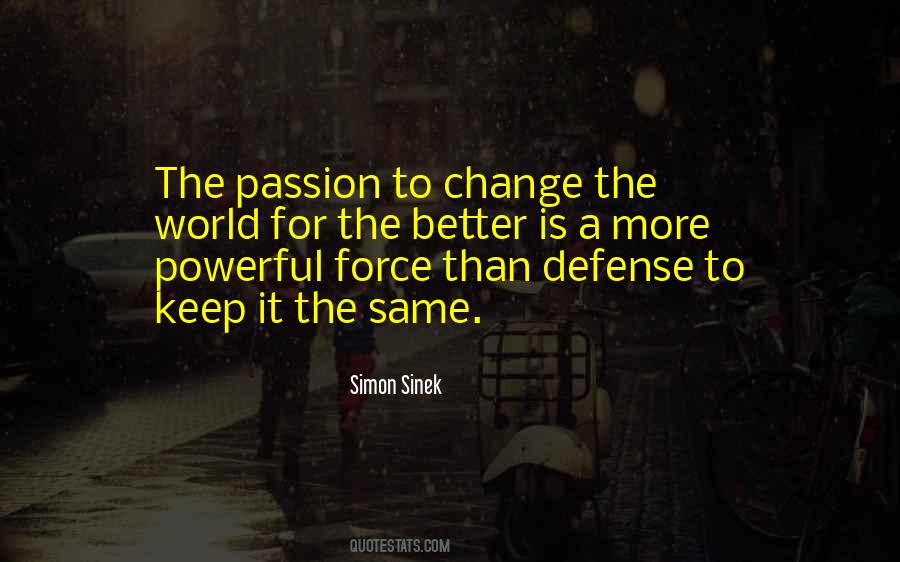 #96. Believe in better, which is a corporate phrase rather than a political phrase. We don't want more. We're not looking for quantity. We're looking for quality. Believe in better suggests intergenerational change. It suggests product innovation. It suggests something better for the future. - Author: Frank Luntz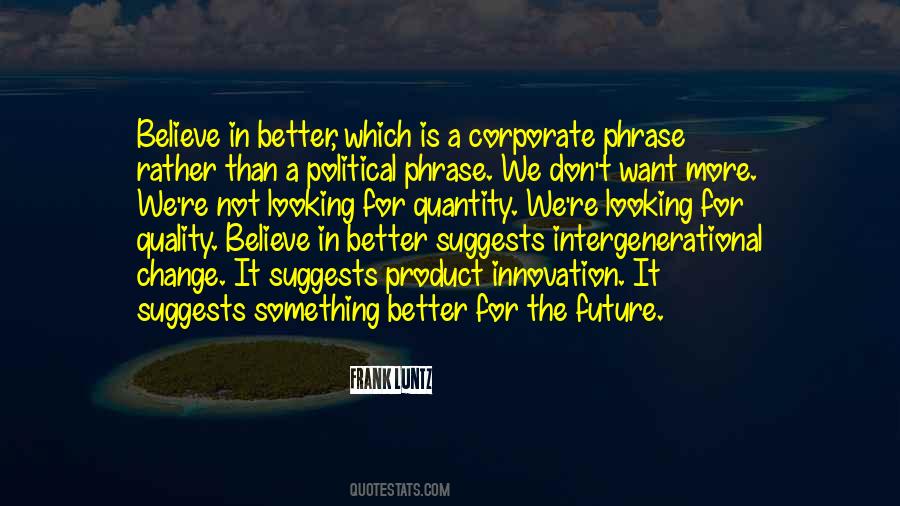 #97. An authentic faith-which is never comfortable or completely personal-always involves a deep desire to change the world, to transmit values, to leave this earth somehow better than we found it. - Author: Pope Francis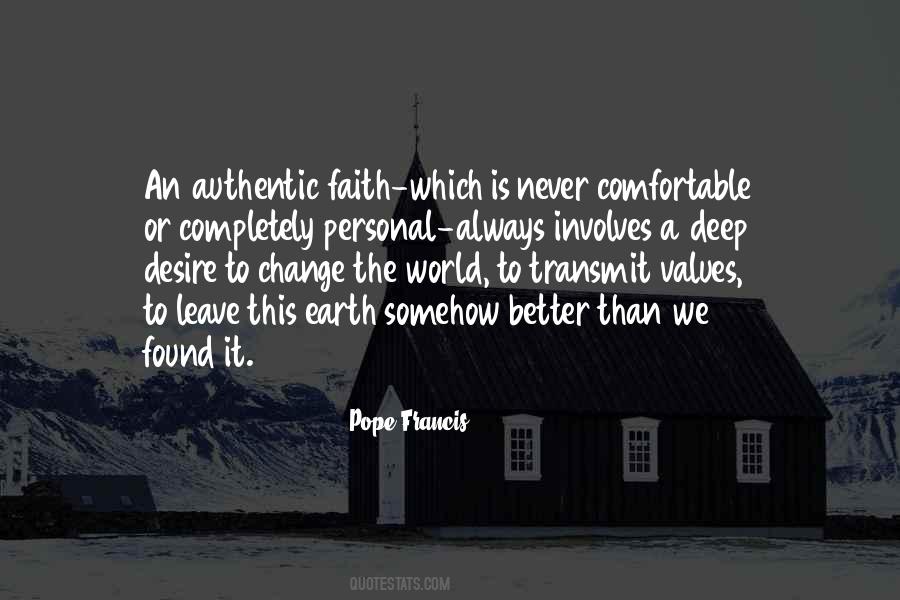 #98. Gender as it functions today is a grave injustice. I am angry. We should all be angry. Anger has a long history of bringing about positive change. But I am also hopeful, because I believe deeply in the ability of human beings to remake themselves for the better. - Author: Chimamanda Ngozi Adichie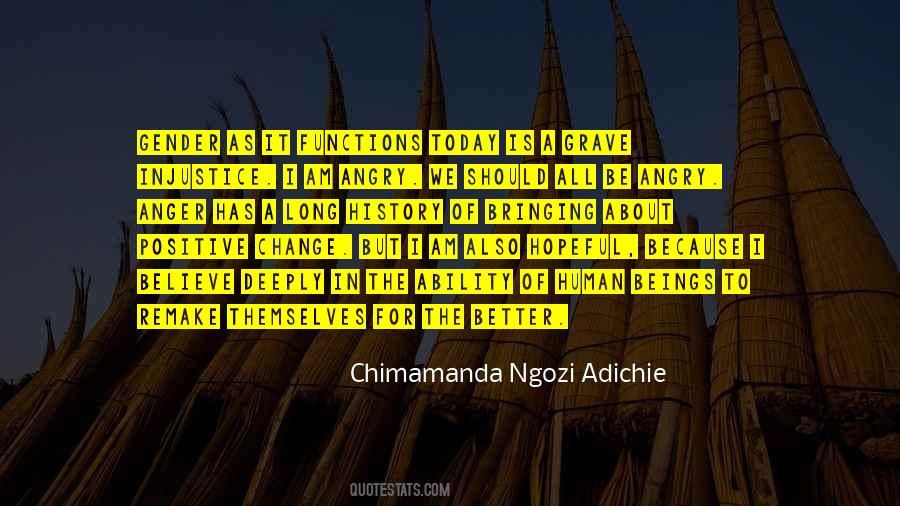 #99. We keep waiting for another Mahatma to make a difference in our society and nation. Well it is time to stop waiting. The mantra is "I change to change India". Which means each of us is the Mahatma and has the power to change this nation. Failing which we shall never change for the better. - Author: Jeroninio Almeida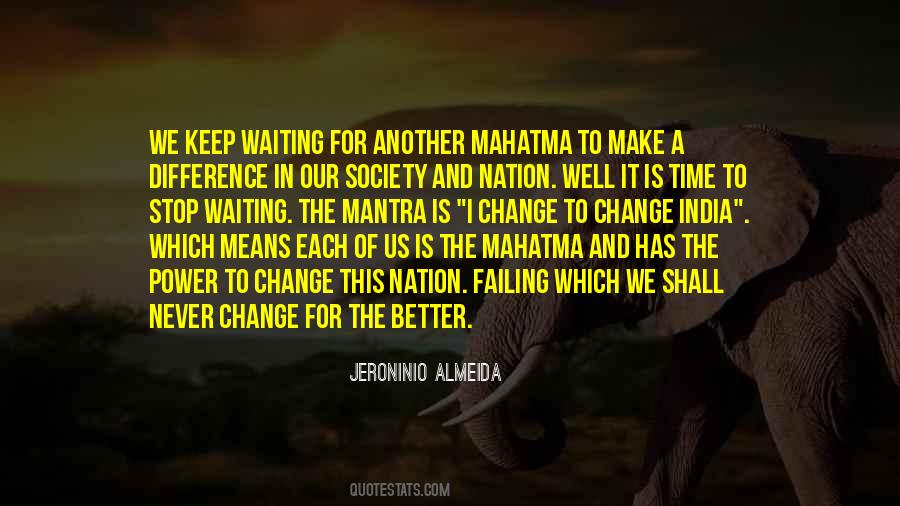 #100. When decisively a new direction has come about in your life, you better take it or else you'll regret when it's too late and you can not change anything after that and if try you'll spend more than what you would've used at the first time. - Author: Auliq Ice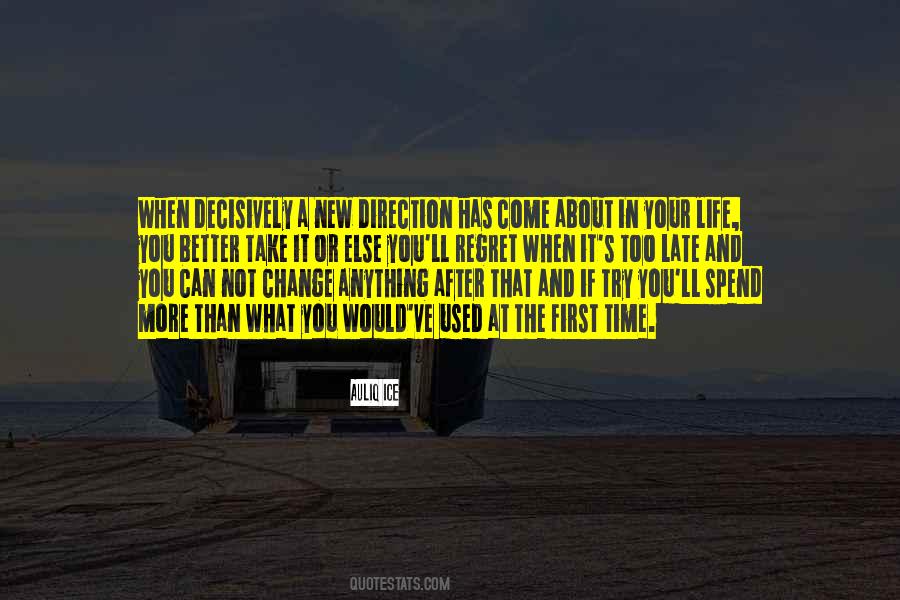 Famous Authors
Popular Topics