Our Love Forever Famous Quotes & Sayings
List of top 100 famous quotes and sayings about our love forever to read and share with friends on your Facebook, Twitter, blogs.
Top 100 Our Love Forever Quotes
#1. The relationship between book and reader is intimate, at best a kind of love affair, and first loves are famously tenacious. [ ... ] First love is a momentous step in our emotional education, and in many ways, it shapes us forever. - Author: Laura Miller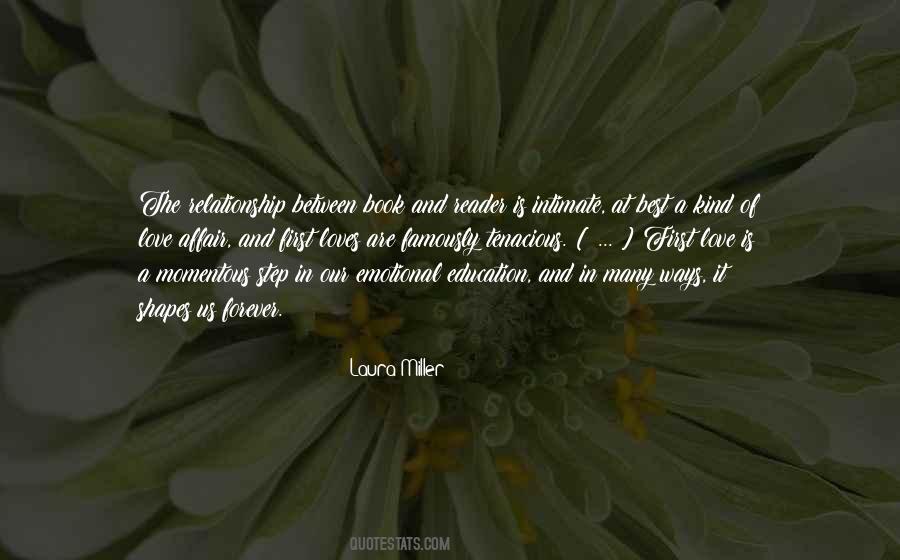 #2. Neither of us wanted to say it first. But our two souls had become one in a realm no one else could venture into. The immortal coil of passion had wrapped around us forever. It had begun with lust and attraction and blossomed into so much more. Fear of rejection kept us from declaring it. - Author: Sherry Soule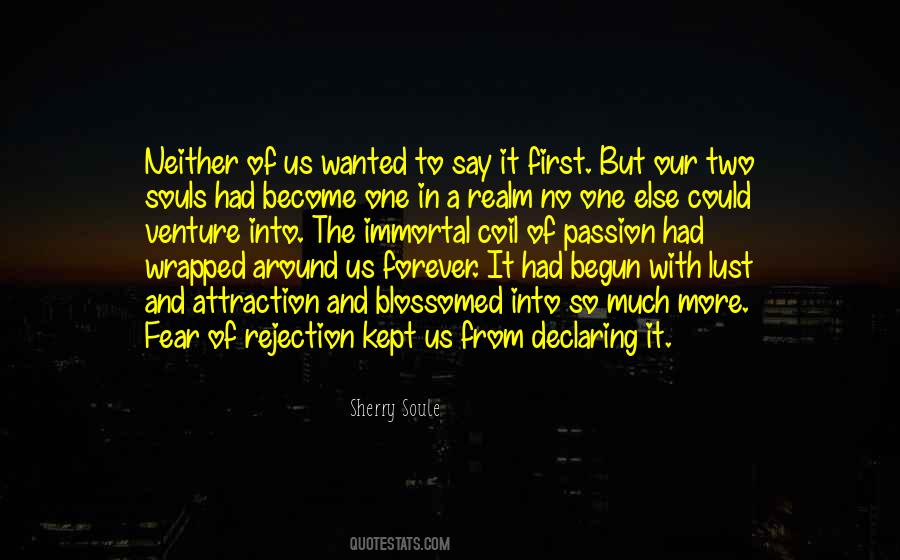 #3. Nothing lasts forever. But there is new life; new colours, fresh words, new tunes to compose. There is now; time present, time future. We build with new bricks and hope our voices are heard, our music is sung and our love cherished for as long as it is offered. - Author: Carol Drinkwater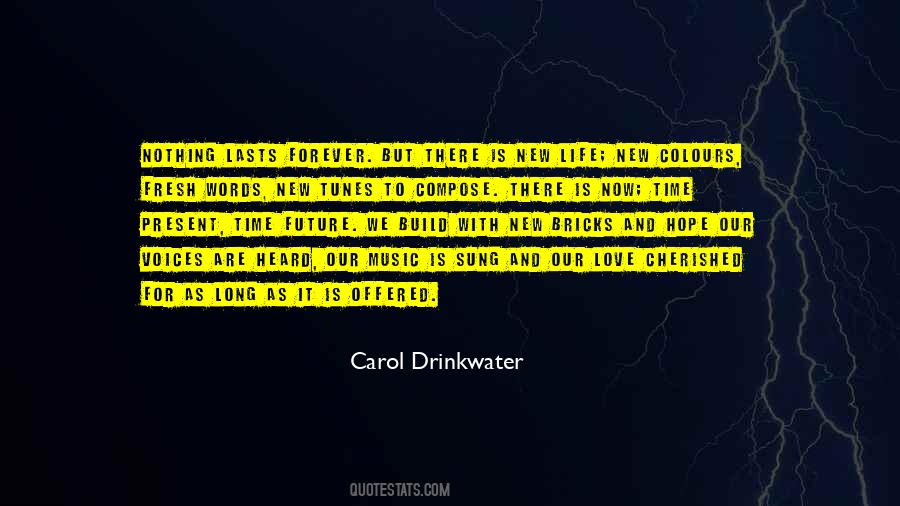 #4. Love, like life, is so insecure. It moves in our lives and occupies its sweet space in our hearts so easily. But it never guarantees that it will stay there forever. Probably that's why it is so precious. - Author: Ravinder Singh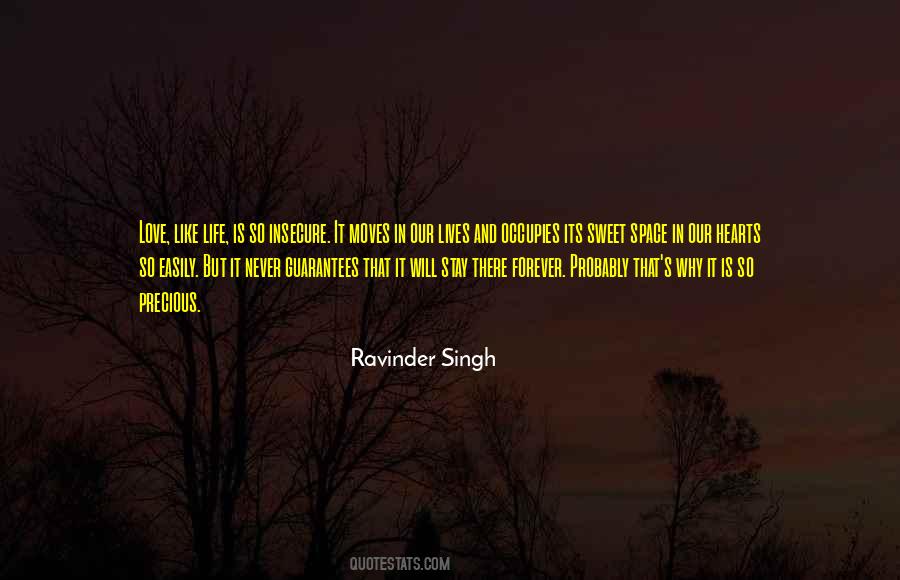 #5. An act of kindness may take only a moment of our time, but when captured in the heart the memory lives forever. - Author: Molly Friedenfeld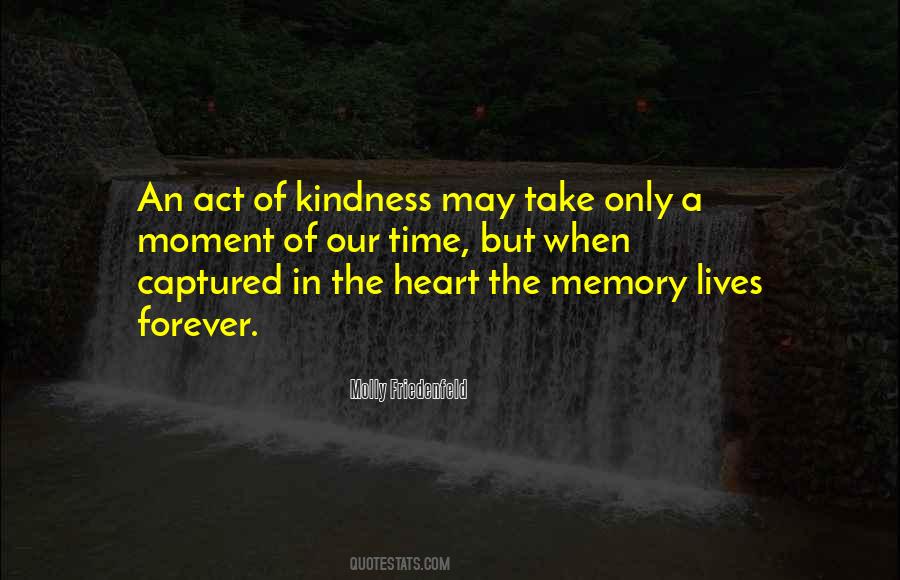 #6. Small child once you were a hope, a dream. Now you are a reality. Changing all that is to come. A love to hold our hearts forever. - Author: Charlotte Gray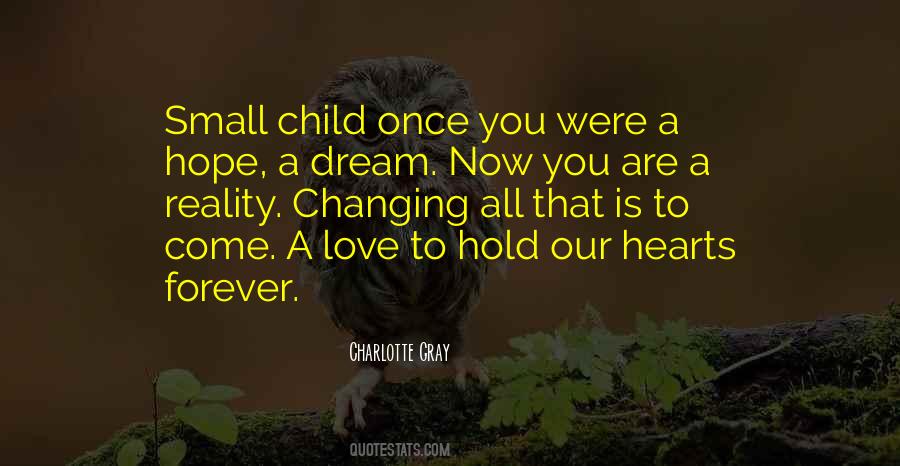 #7. What all of us long for in our hearts, at Christmastime and always, is to feel bound together in love with the sweet assurance that it can last forever. - Author: Henry B. Eyring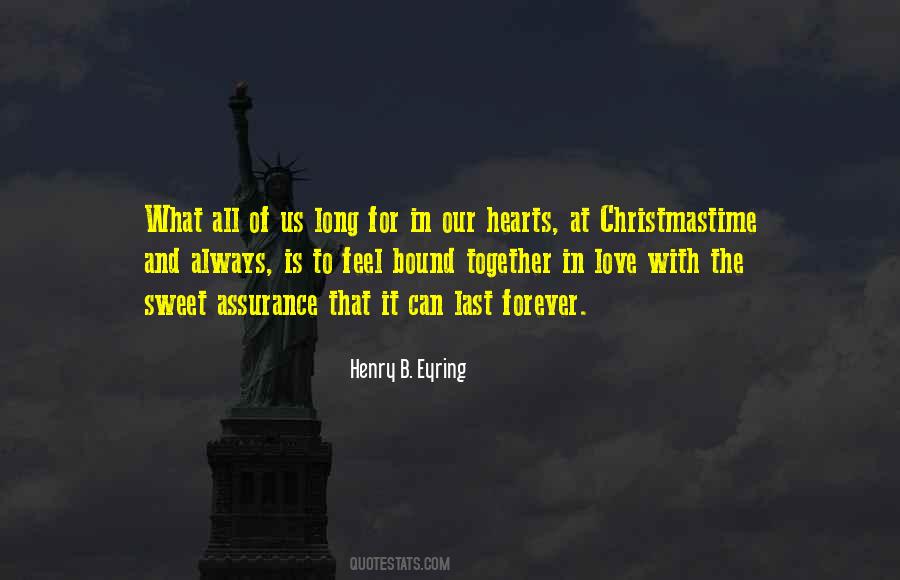 #8. We must be able to love other people or forever endure the stain of disgraceful loneliness. By recognizing and expressing empathy for other people, we come to accept our own fallibility. - Author: Kilroy J. Oldster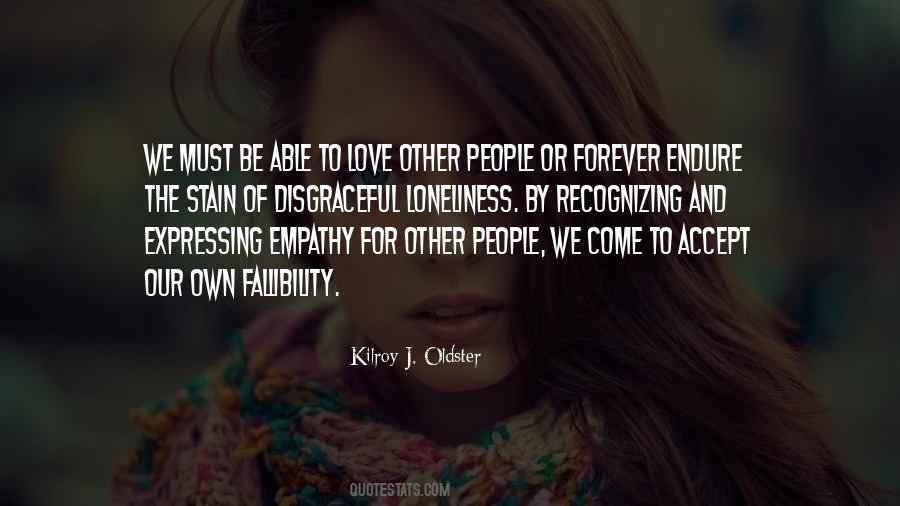 #9. It is one of the paradoxes of American literature that our writers are forever looking back with love and nostalgia at lives they couldn't wait to leave. - Author: Anatole Broyard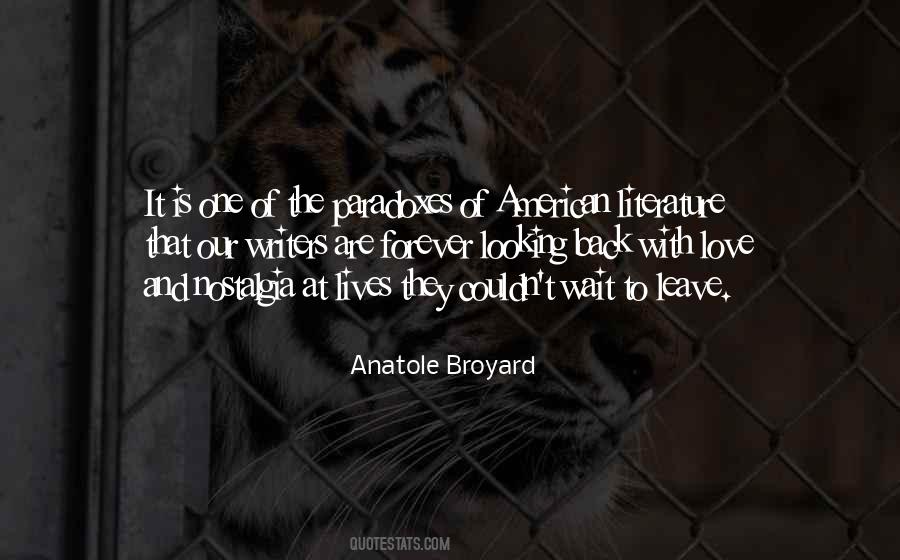 #10. We love, while knowing that someday our love might be lost forever. We laugh as we stride along, even while recognising that doom lies at the end of the road. We give, while comprehending that in the end 'twill all be taken away. we are nothing less then heroes. - Author: Cecilia Dart-Thornton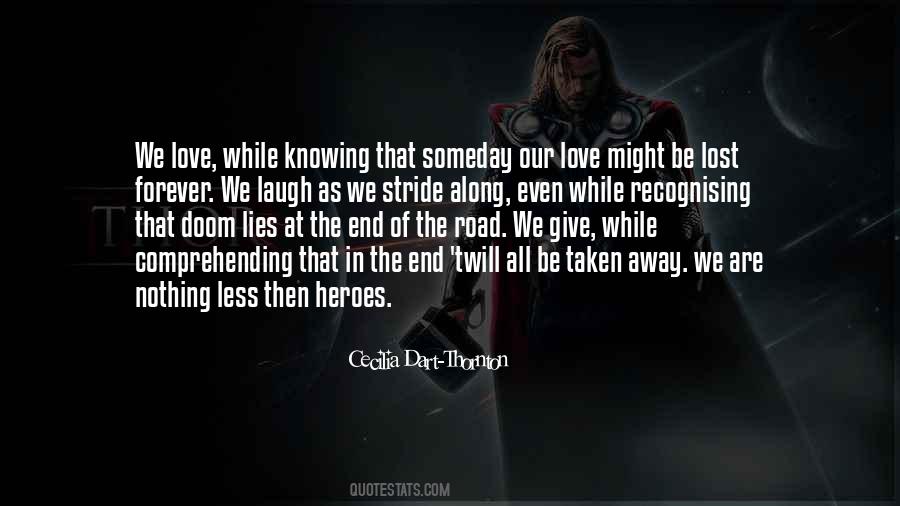 #11. We'll meet again in Lvov, my love and I ... Tatiana hums, eating her ice cream, in our Leningrad, in jasmine June, near Fontanka, the Neva, the Summer Garden, where we are forever young. - Author: Paullina Simons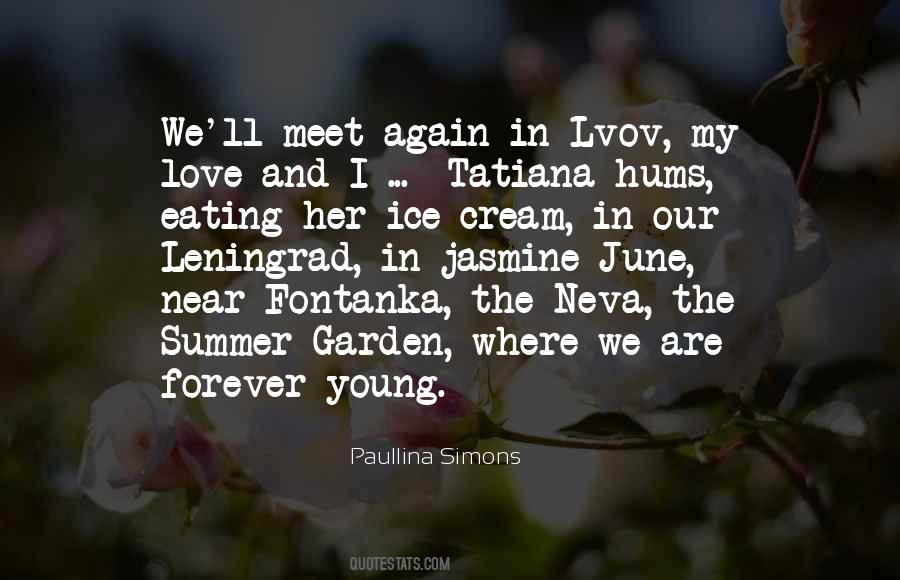 #12. In the words of Dr. Martin Luther King Jr., "No lie will last forever." We have to work at removing lies from our own hearts. And on the national level, we do this not because we blame our country, but because we love it. - Author: Marianne Williamson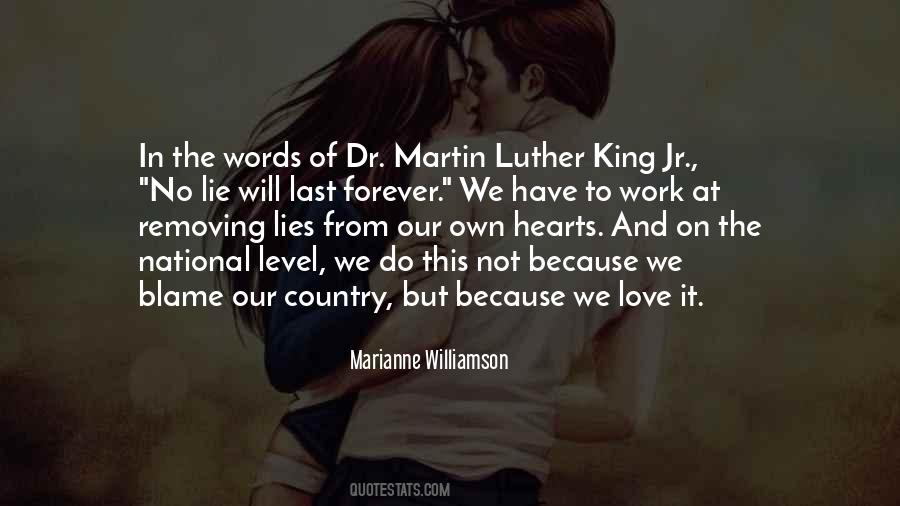 #13. I wonder whether my love would be divided up more between him and Mama if I'd had him for longer, but I don't think so. I think we stretch out forever in our hearts. - Author: Sarah Rubin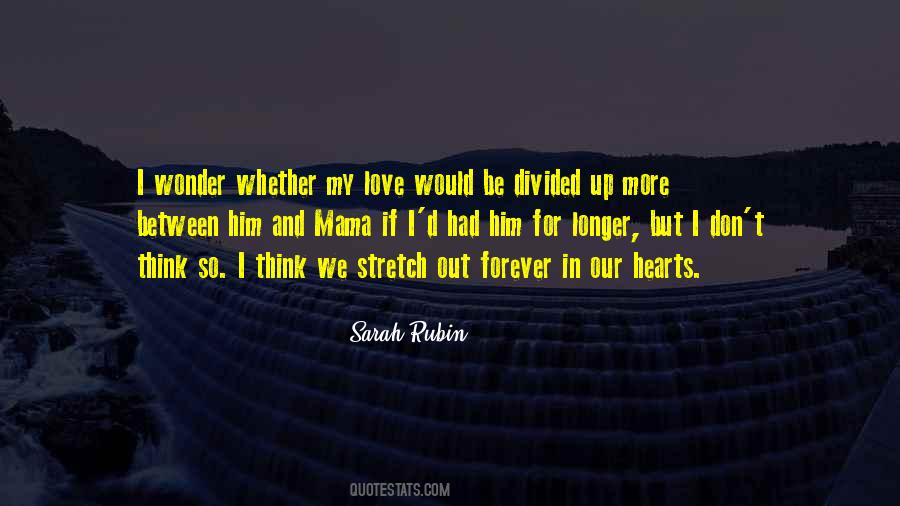 #14. Romance lasts forever, love don't fade away. They may take away our future, but they can't stop yesterday. - Author: John Denver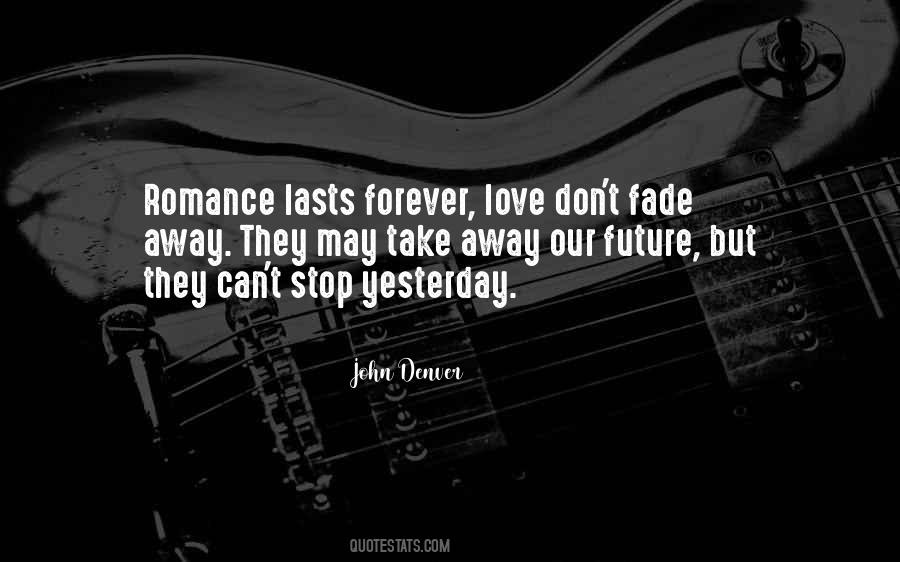 #15. The Reckoning
The time has come for Retribution
A time for Redemption, A time for Forgiveness
A time for Renewal, A time to prevail
My love will set you free my darling.
Our love, forever bound.
-SL Ross - Author: S.L. Ross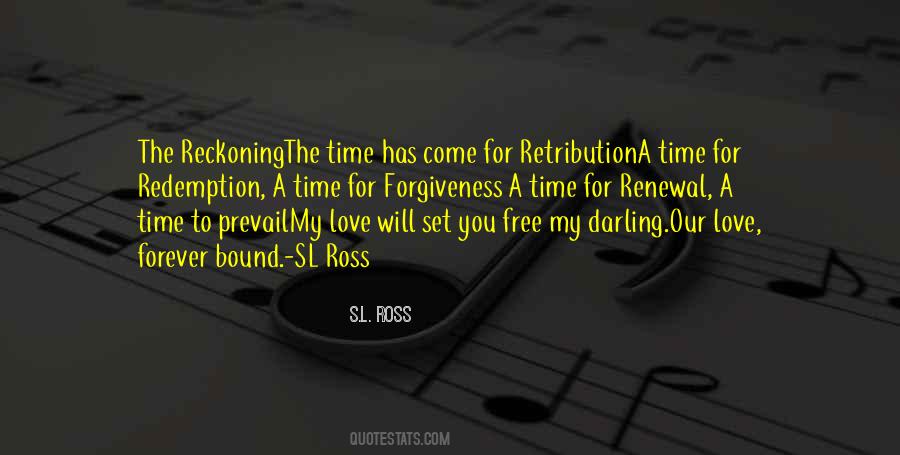 #16. The moment our lips met, I knew with pure and piercing certainty that I would have waited for him forever. - Author: Leigh Bardugo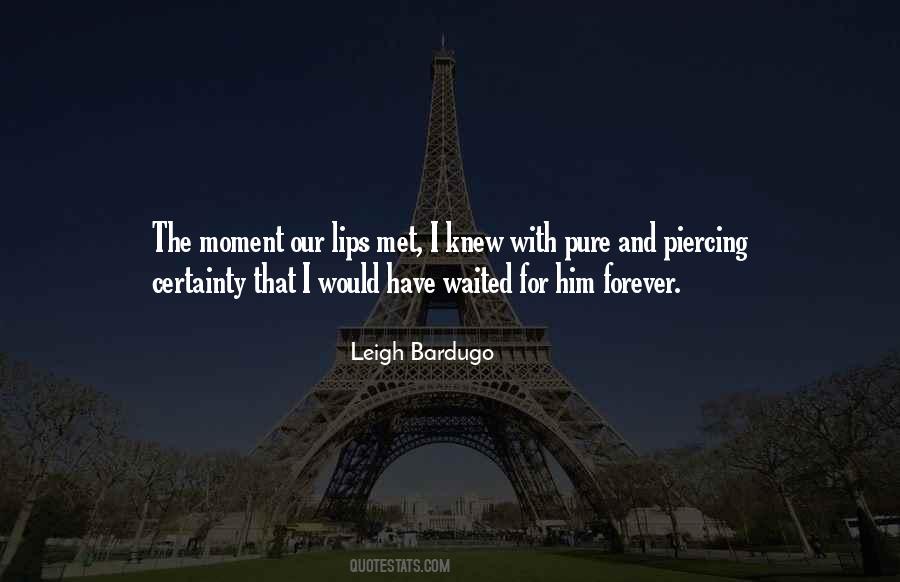 #17. Truth Is ... We All Search For LOVE In Our Lives That Will Last. Often It Doesn't And Send Us In Despair. Real Unfailing LOVE Comes From The Heavens Above. No Matter What Your religion Is ... We Are All Taught That God's LOVE Is Perfect, Undying And Last Forever! - Author: Timothy Pina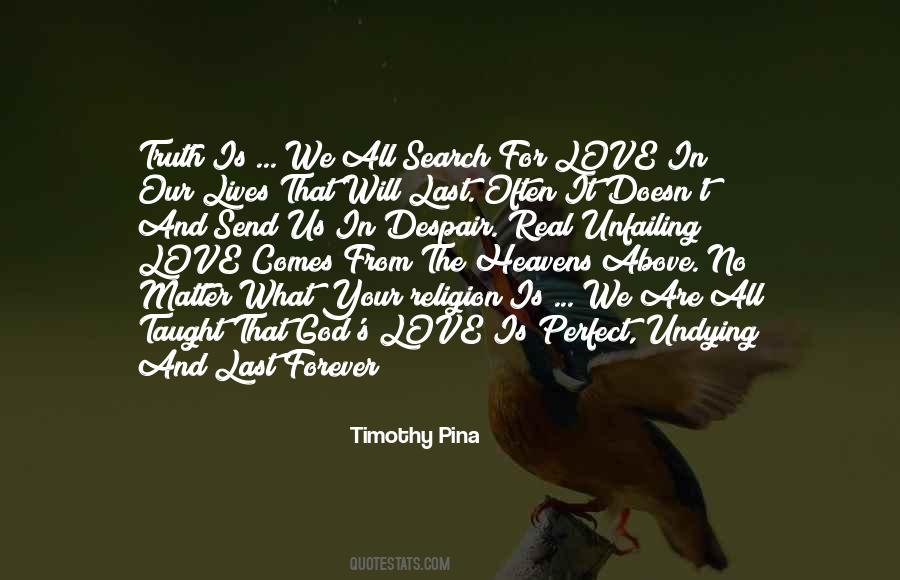 #18. Liv: Dean, how many things in the universe had to fit together for us to have met, let alone fallen in love? And how many of those things changed our lives forever?
Dean:Every one.
Liv: Exactly. Sometimes what if reminds you of what is you of what is. - Author: Nina Lane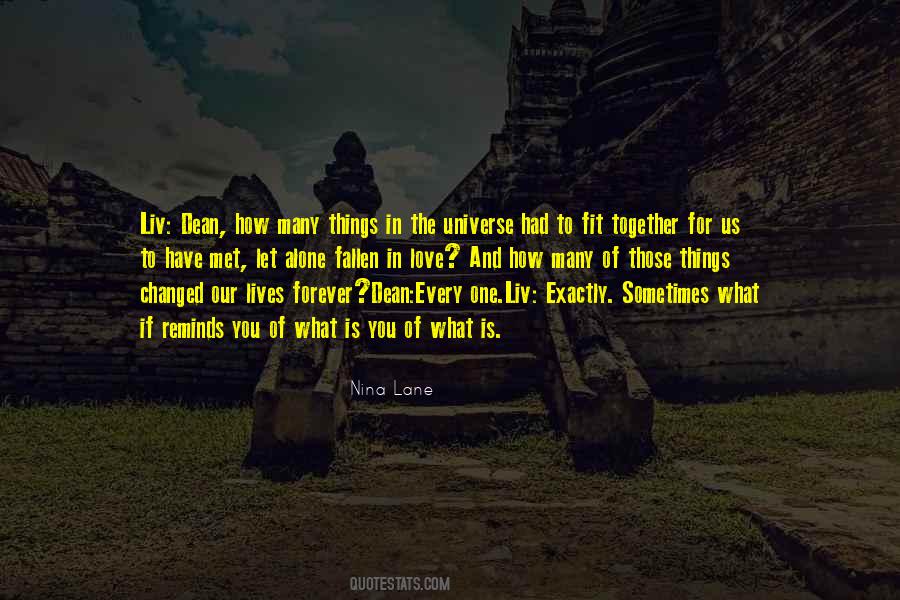 #19. We will never have an expiration date. Our love is destined to exist forever. - Author: Truth Devour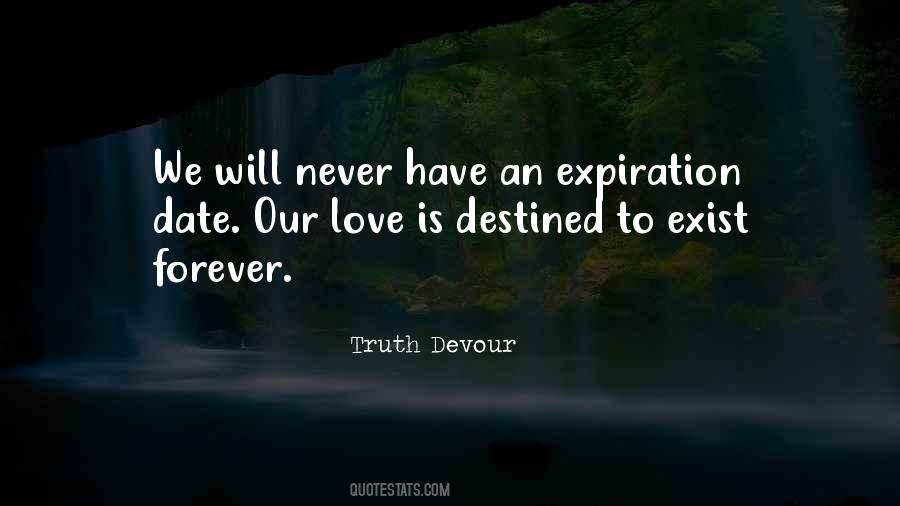 #20. Love is weird. Most find love in normal places. But some of us find it with our windows down and engines screaming, praying to God that the moment either lasts forever, or we end with it. - Author: Reddit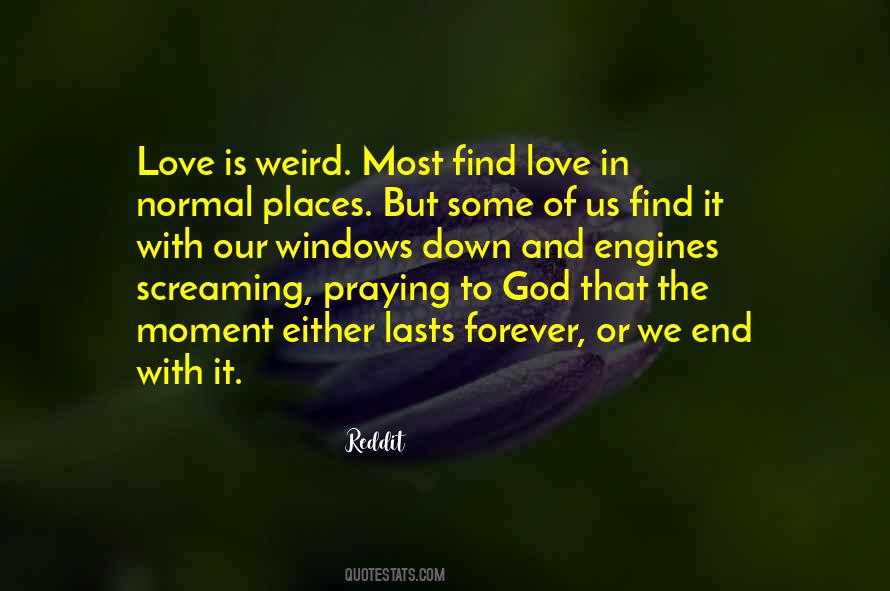 #21. Our love, our love will last forever. It's forever but it just doesn't work. That's why it will always be romantic because it can not be complete. - Author: Woody Allen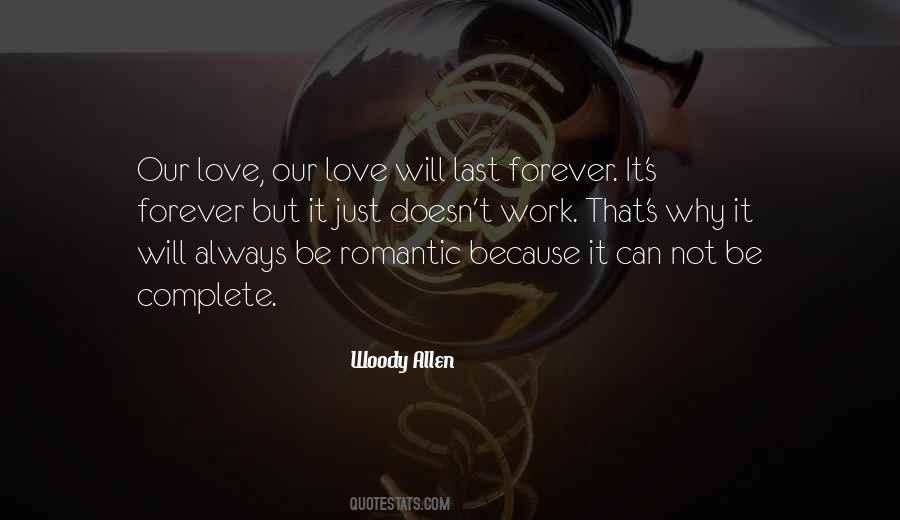 #22. We who live forever can know no courage, nor do we love enough to give our lives. - Author: Katherine Arden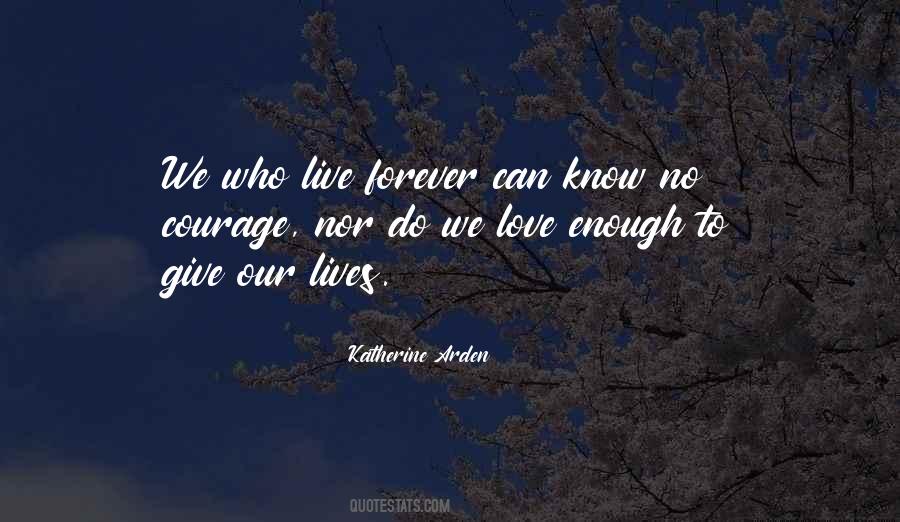 #23. [Our children] walk among us like mirrors, our X-rays. In them we see what we love but also what we'd like to forget about ourselves. Our shortcomings are forever enshrined. - Author: Anat Talshir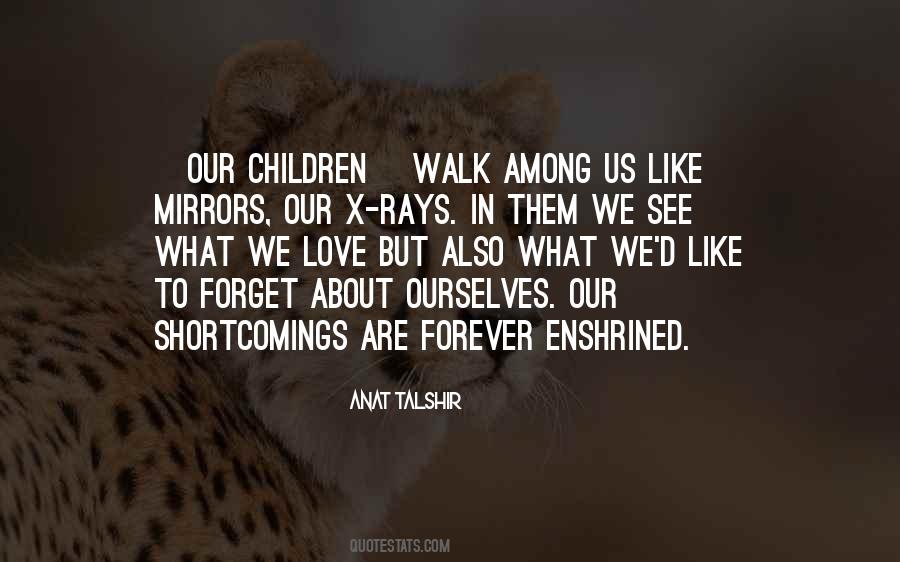 #24. No love, no friendship, can cross the path of our destiny without leaving some mark on it forever. - Author: Francois Mauriac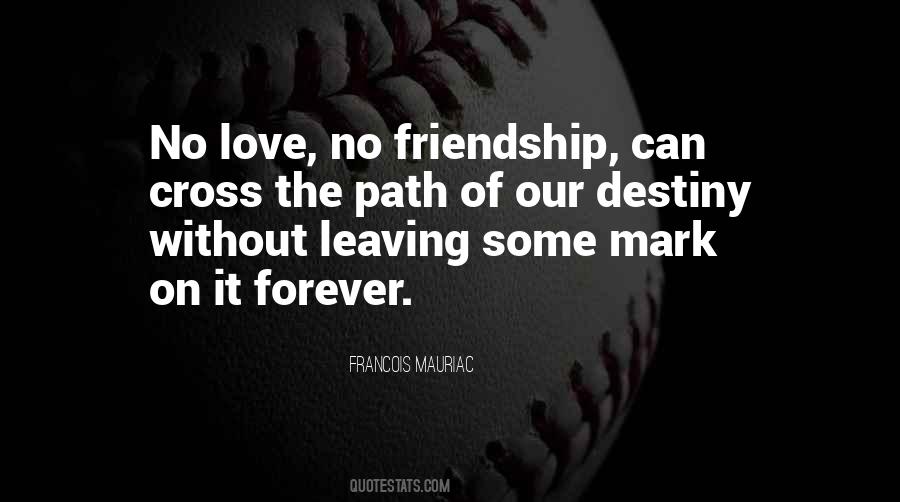 #25. Perhaps it's true that all men love their fathers, no matter how terrible the things they do to their sons: there is a part of us that remains forever in debt to those responsible for our existence. - Author: John Connolly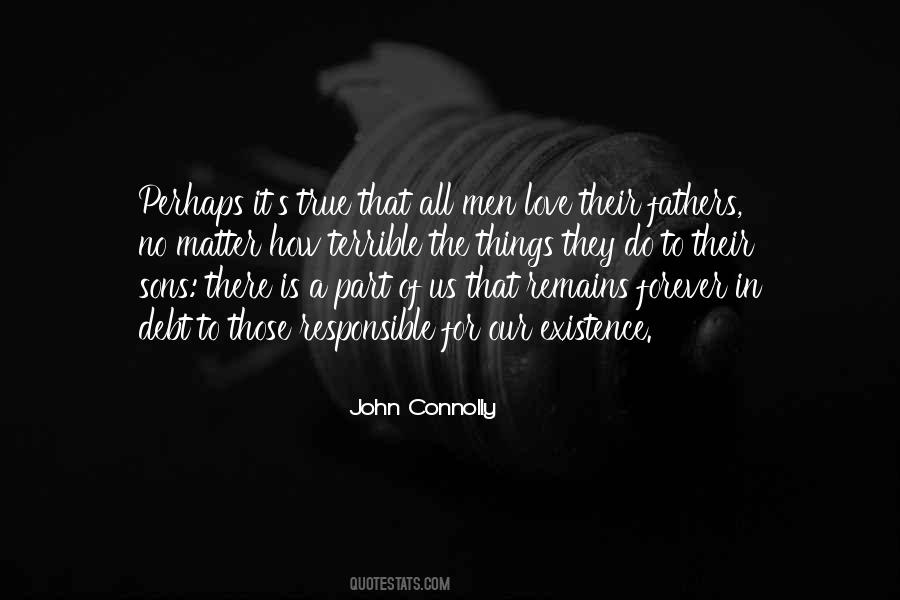 #26. Someday me and her, we'll come back here. Maybe she'll be an artist. Maybe she won't. Maybe I'll be an architect. Maybe I won't. What I know for sure is that Echo will be by my side, and that our love is forever. - Author: Katie McGarry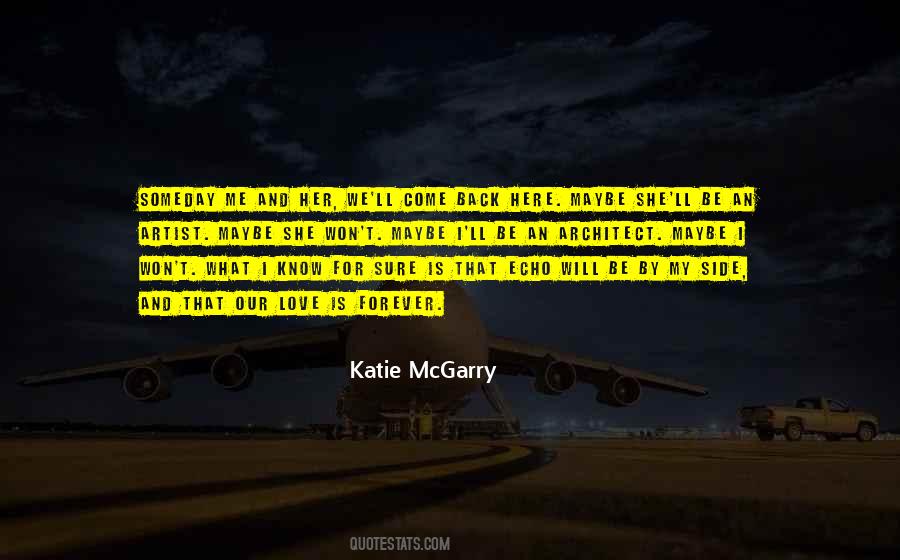 #27. How much better it would be if all could be more aware of God's providence and love and express that gratitude to him. Ammon taught, 'Let us give thanks to (God), for he doth work righteousness forever.' Our degree of gratitude is a measure of our love for him. - Author: Russell M. Nelson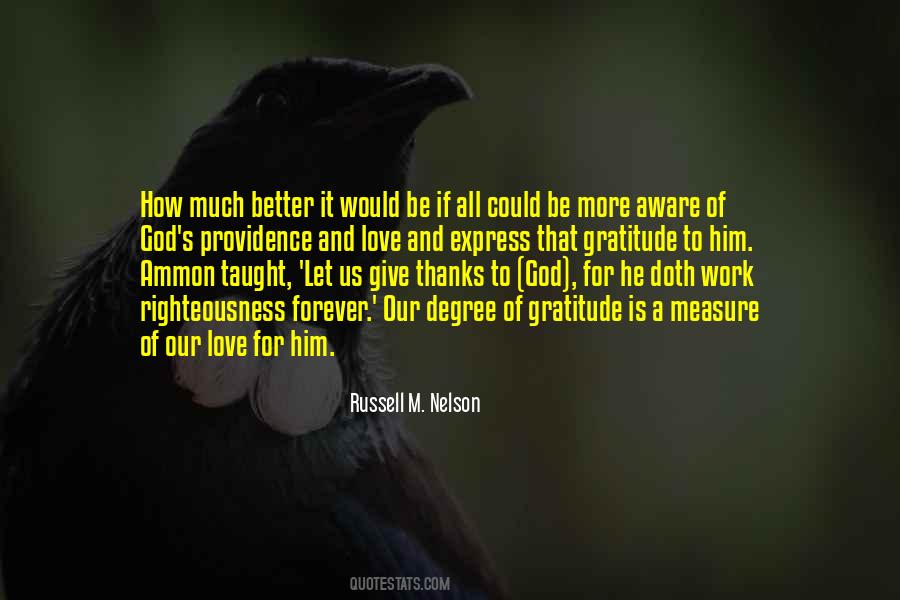 #28. It feels like forever, like he's lived through the same things as me, like our lives ran parallel for years until last week, when they finally intersected and fused. - Author: Barbara Delinsky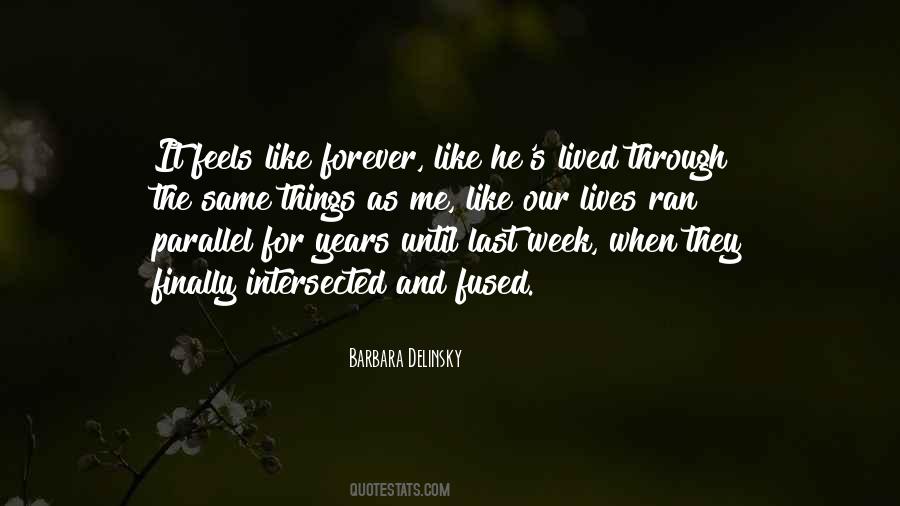 #29. The best love is the kind that awakens the soul and makes us reach for more, that plants a fire in our hearts and brings peace to our minds. And that's what you've given me. That's what I'd hoped to give you forever - Author: Nicholas Sparks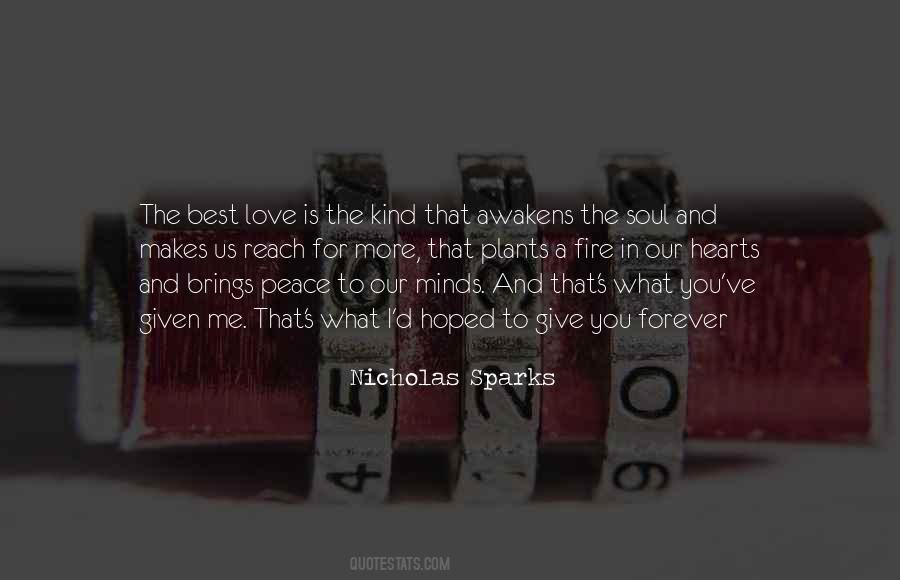 #30. Love lights our darkness. It is forever tries. - Author: Anna White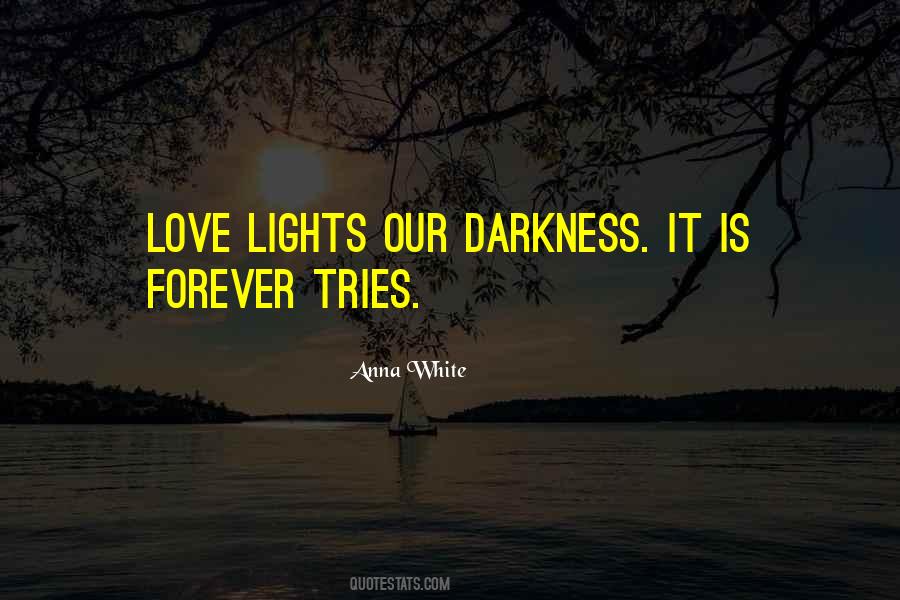 #31. First romance, first love, is something so special to all of us, both emotionally and physically, that it touches our lives and enriches them forever. - Author: Rosemary Rogers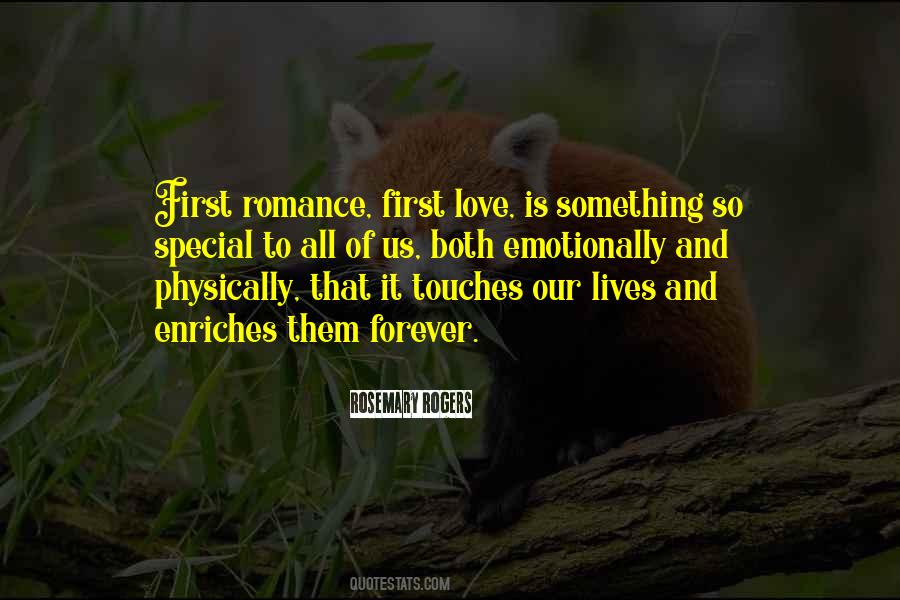 #32. I could stay here forever interrupting our talking with kissing, interrupting our kissing with talking. - Author: Nicola Yoon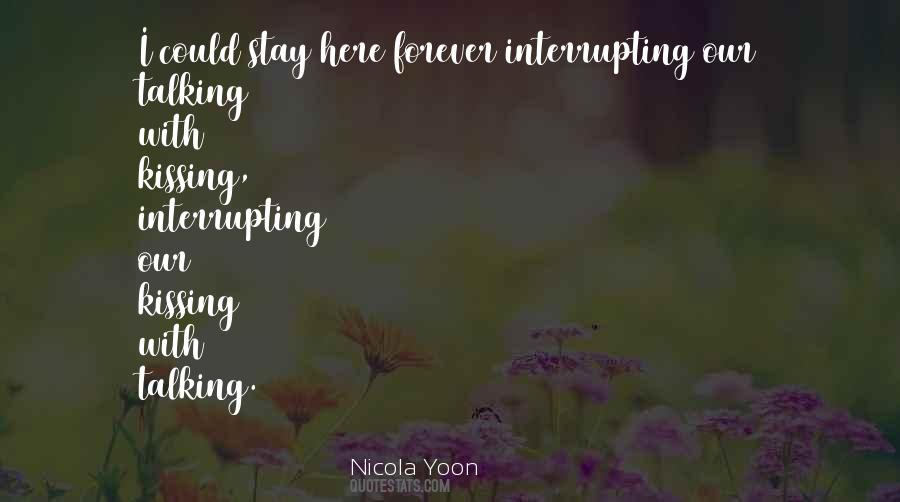 #33. Love's true nature remains forever beyond the grasp of all our faculties. It is far greater than any feeling or emotion and completely surpasses any act of human kindness ... The realization of love always remains mysterious. - Author: Gerald May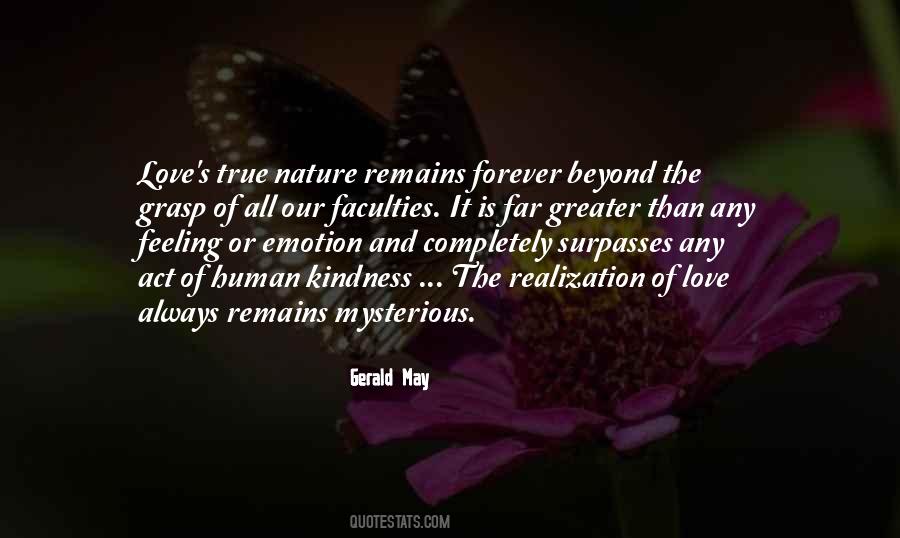 #34. Life is fragile and temporary. The faces of today quickly become the faces of the past. Sorrow, pain, and anger ... it all fades-
except love. Love is forever and there after, even when we've fallen to our graves. - Author: Lee Argus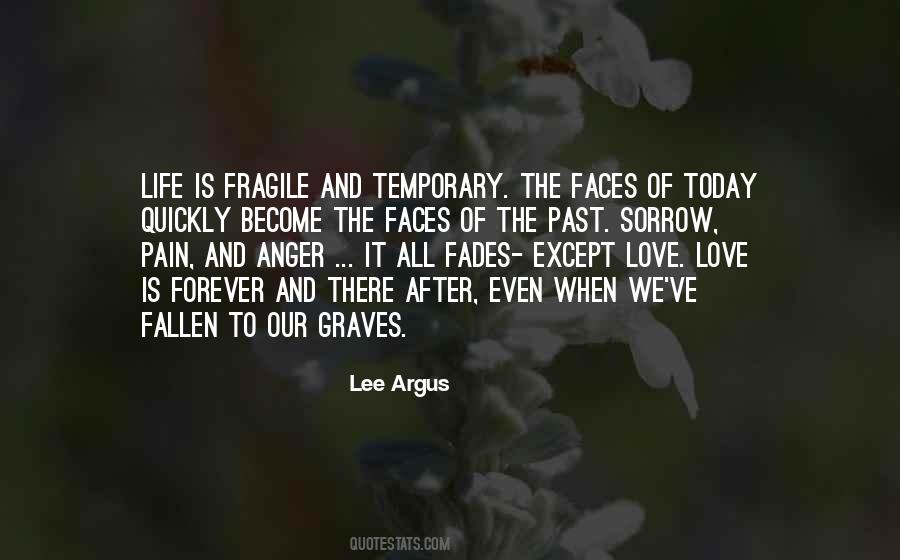 #35. We're soul mates," he says. "We are forever. Our kind of love cannot be destroyed. - Author: Stacey Jay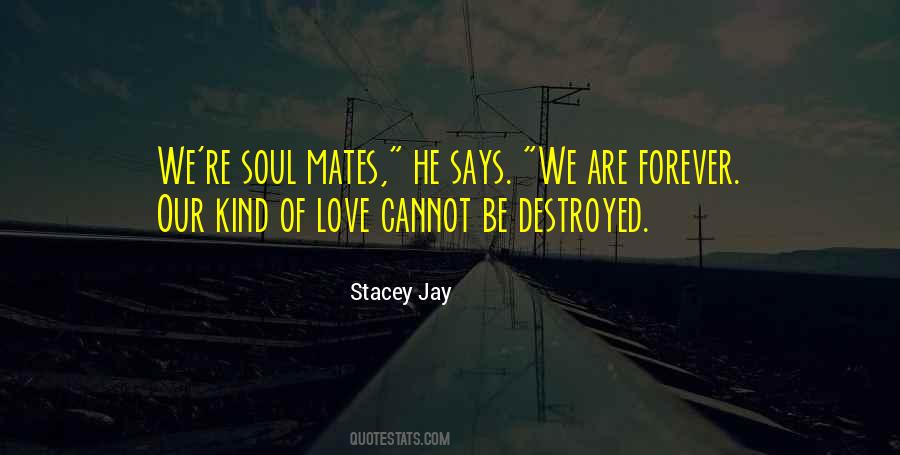 #36. This is not goodbye forever, my sweet girl, only for now. We love you with all of our hearts.... - Author: Kristen Day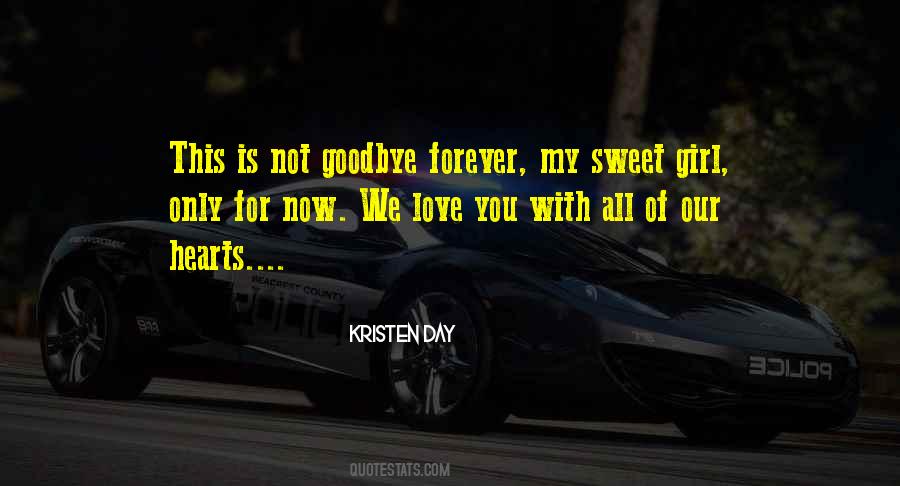 #37. The full flower of divine love and our greatest blessings from that love are conditional-predicated upon our obedience to eternal law. I pray that we may qualify for those blessings and rejoice forever. - Author: Russell M. Nelson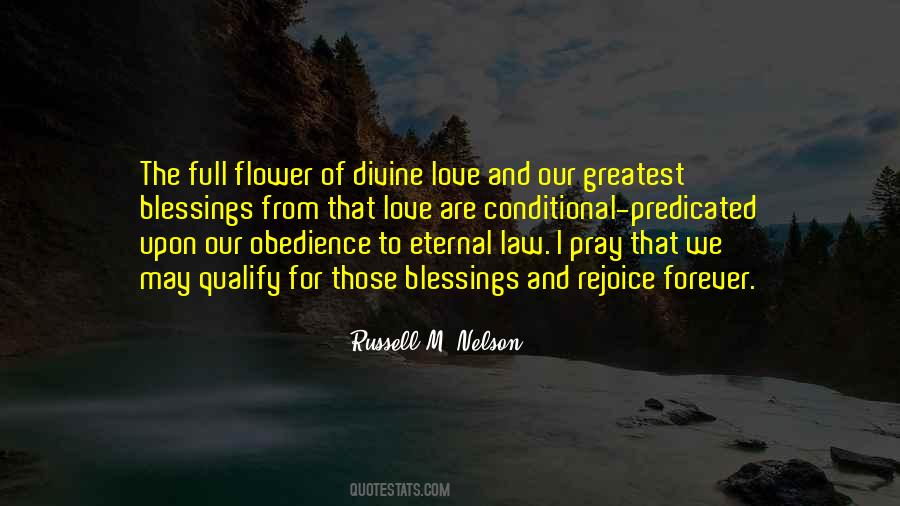 #38. Love is truly eternal and lasts forever. It is the core of our connection and expression of life. - Author: Kristine Carlson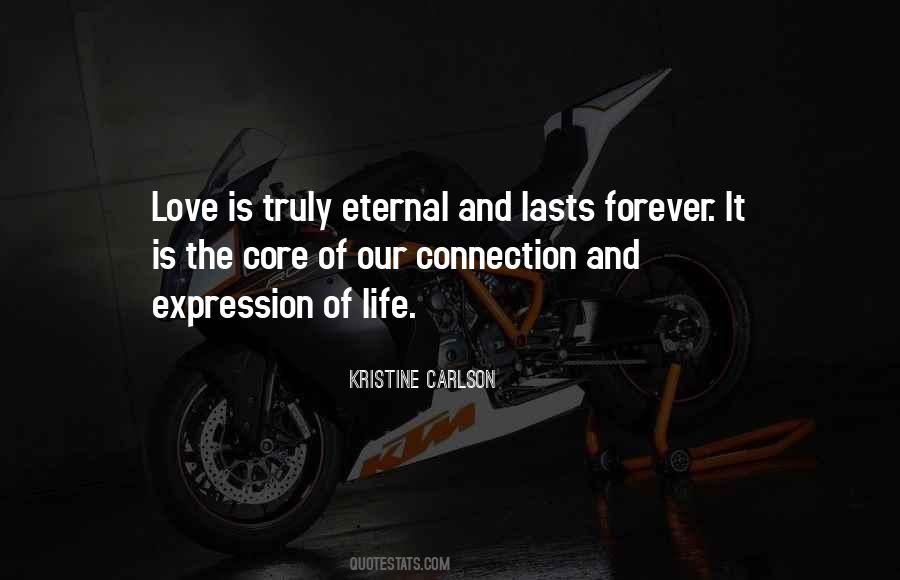 #39. The beautiful thing
about young love
is the truth
in our hearts
that it will last forever. - Author: Atticus Poetry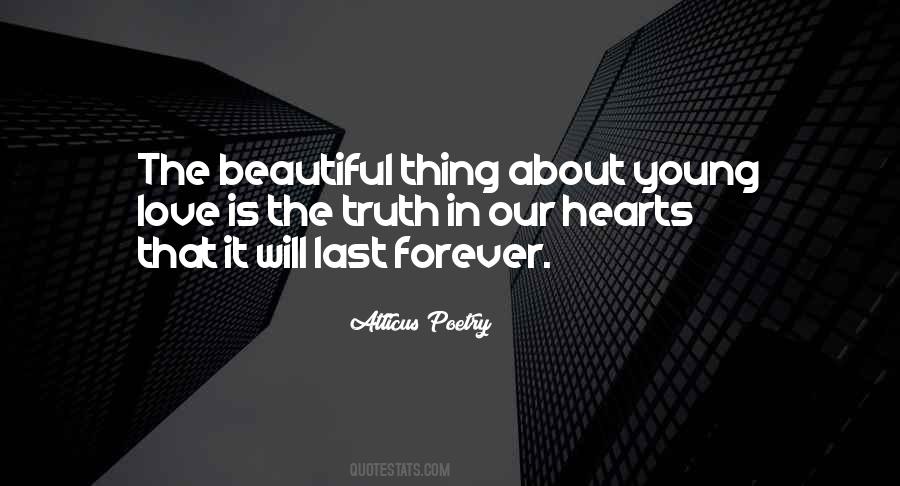 #40. Let us live and love, nor give a damn what sour old men say.
The sun that sets may rise again, but when our light has sunk into the earth it is gone forever. - Author: Catullus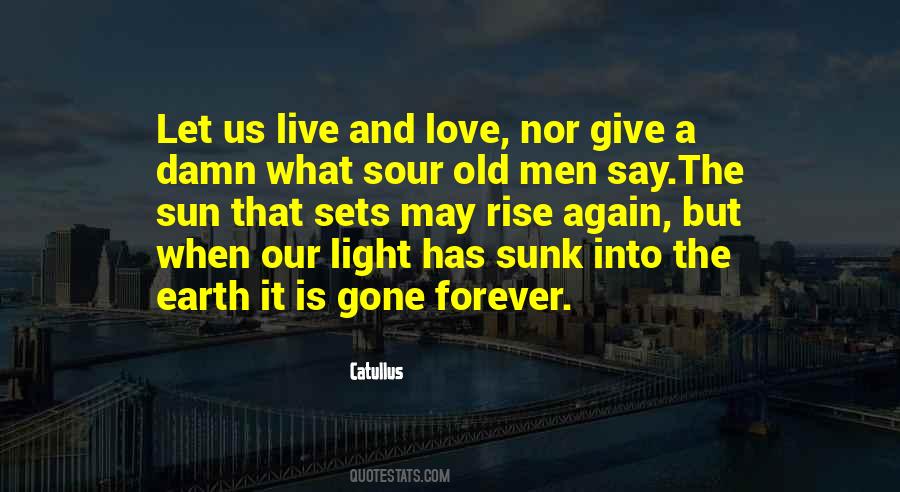 #41. I kissed her temple, and we continued through the doors. Our past was now and now was in the past. Just as she'd promised, we were together again, in a moment of no sickness or pain - only love. And when love was real, so was forever. - Author: Jamie McGuire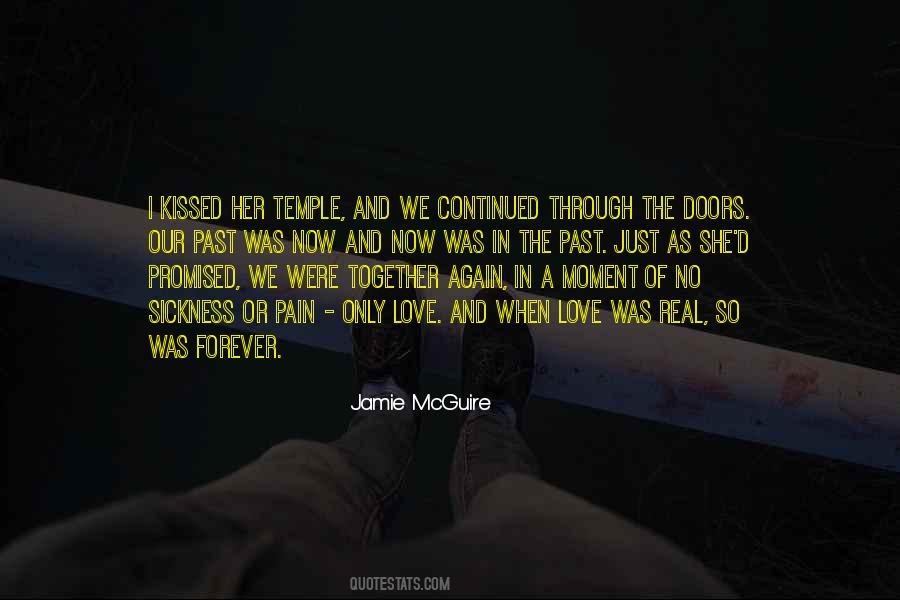 #42. I try to make as much time as I can for R5, because I love it so much. Ultimately, that's what's going to be around forever in my life. Because with 'Austin & Ally,' our season is going to end, and then that will be it. But R5 will always be there. - Author: Ross Lynch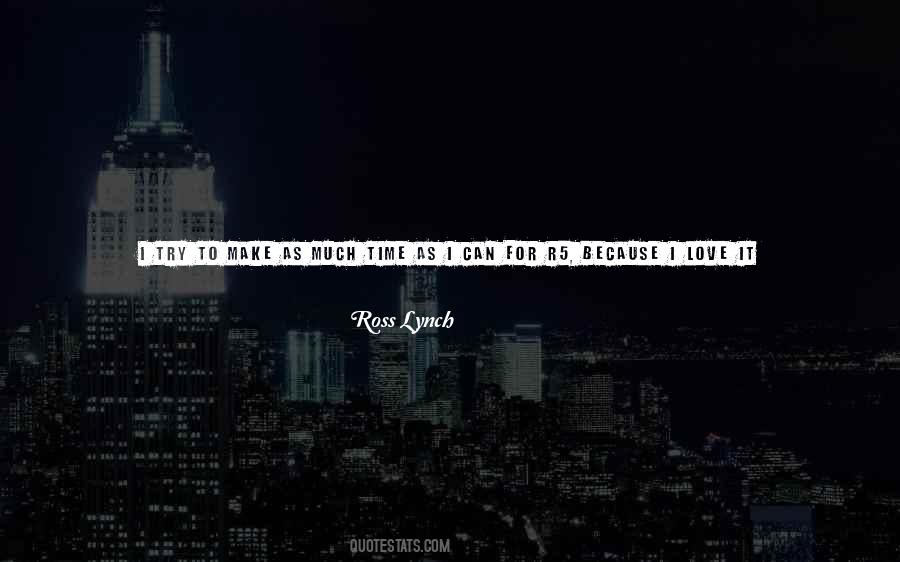 #43. Don't tell me love is not forever,
Mine will only die when we close our eyes,
one last time - Author: Serena Grey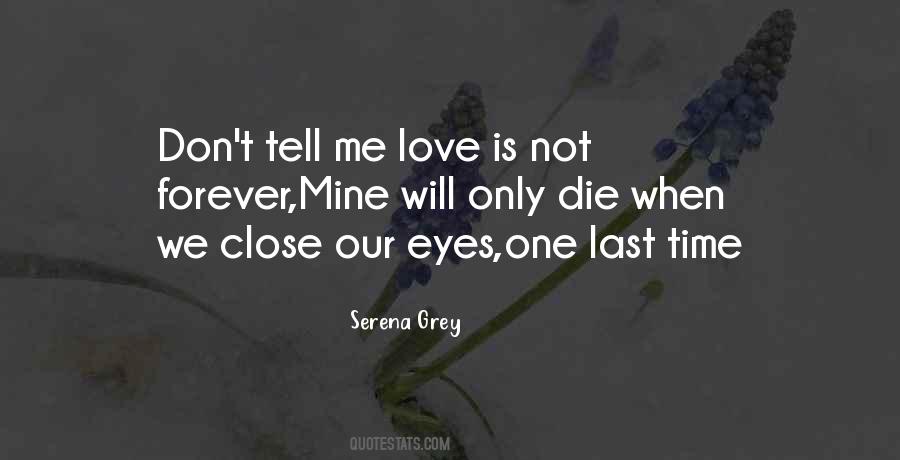 #44. If I read our story backwards, it's about how I un-broke your heart, and then we were happy until one day, you forgot about me forever. - Author: Joseph Gordon-Levitt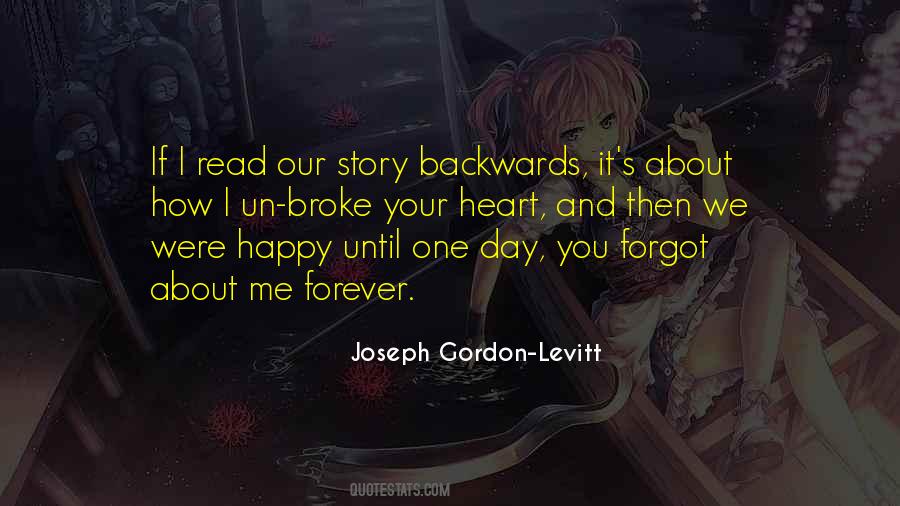 #45. Our hearts are bound together,' he said, 'and I am free to decide who I love. And what I want. Nothing - not the pressure of my family, or what anyone else thinks - matters. - Author: Lee Monroe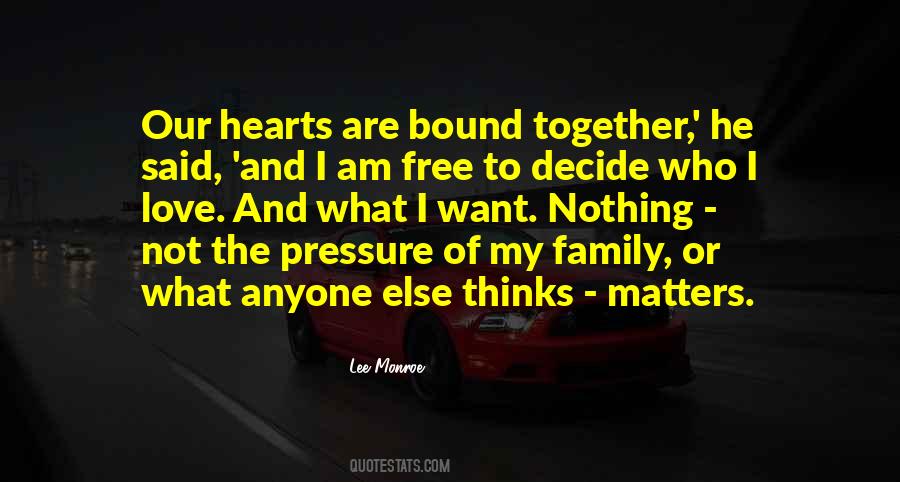 #46. In love be forged. In soul be bound. Forever, until the end of time. Our hearts and souls be united, for eternity in God's light - Author: Karen Swart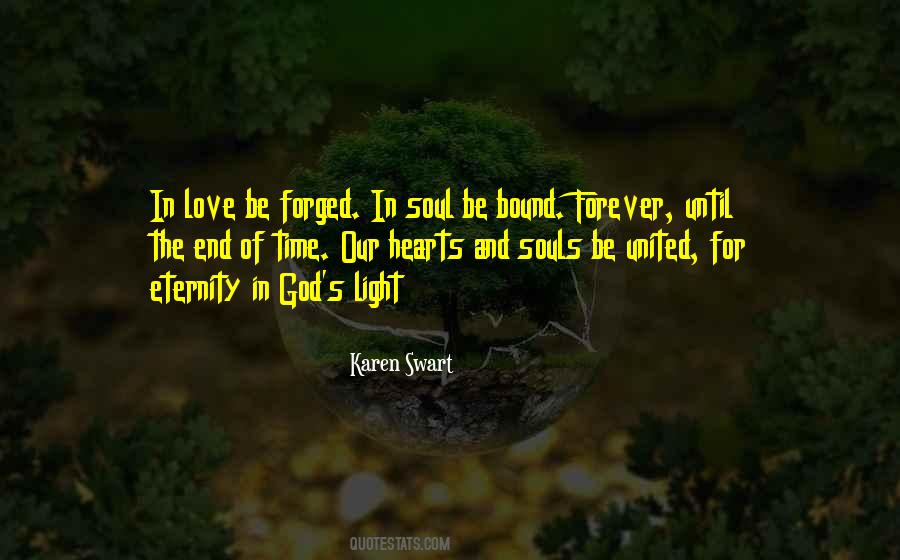 #47. Our spirit is always in peace but our ego is looking for war, so calm the ego and love the spirit forever. - Author: Debasish Mridha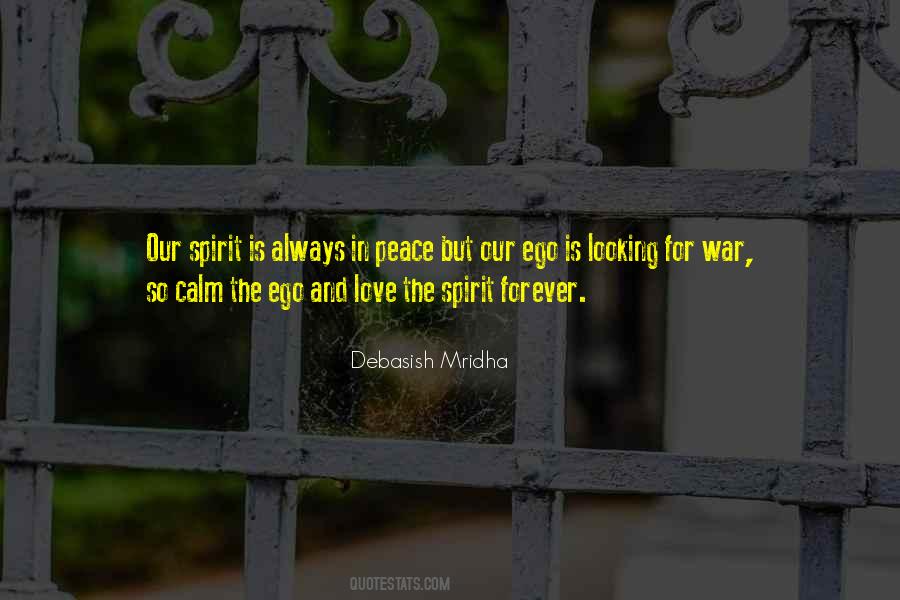 #48. Friendship is the most beautiful relation in ones life, It gives us the best part of our life, a reason to smile,some happy moments,sharing the worse feeling,Love you forever my dear friend,miss you every moment - Author: Debolina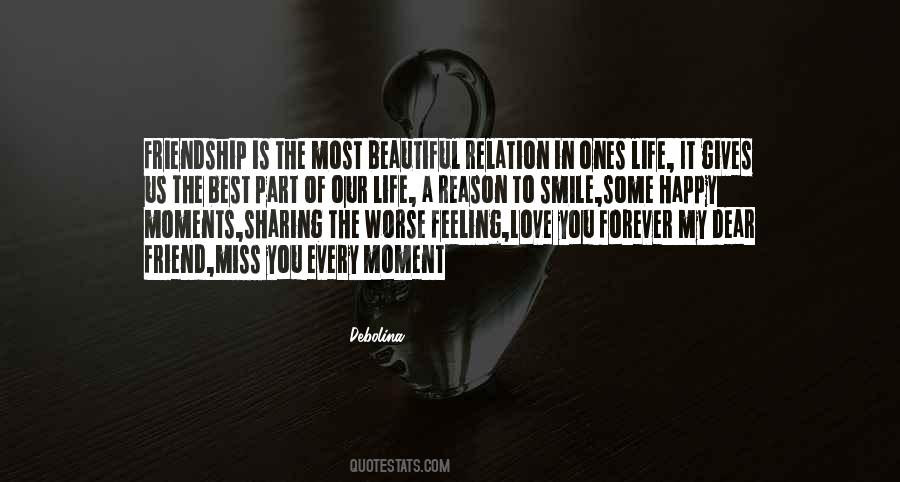 #49. Plato claimed that we were all joined to someone else once, we were humans with four arms and four legs, and a head of two faces, but we were so powerful we threatened to topple the Gods. So they split us from our sole mates down the middle, and doomed us to live forever without our counterparts - Author: Sarah Crossan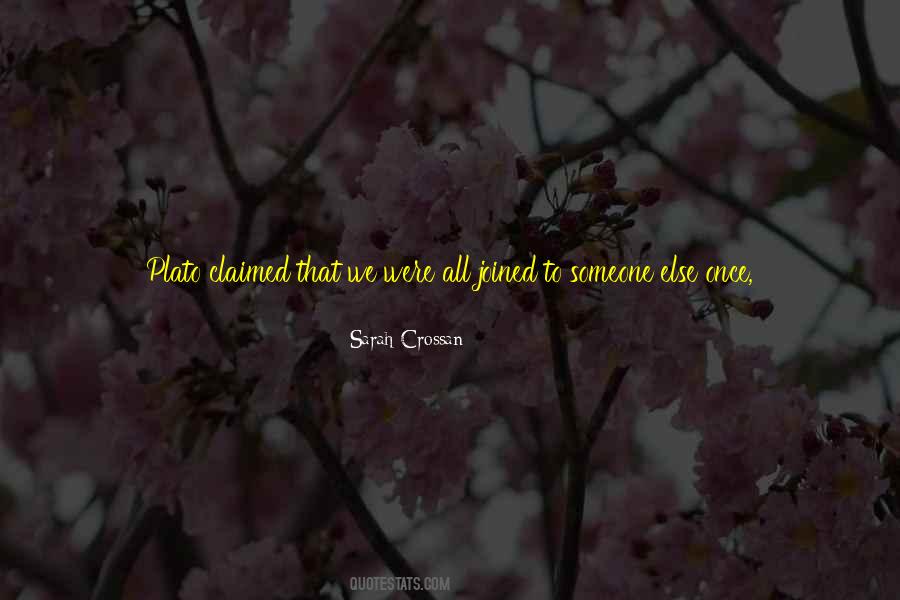 #50. Love on the Rocks with Love and Lots of Ice Cream
Michael Andreas Helmuth Ende and
Petra Cecilia Maria Hermans
Our One Neverending Story
Religion Of Blue Circle
Forever Young! - Author: Petra Hermans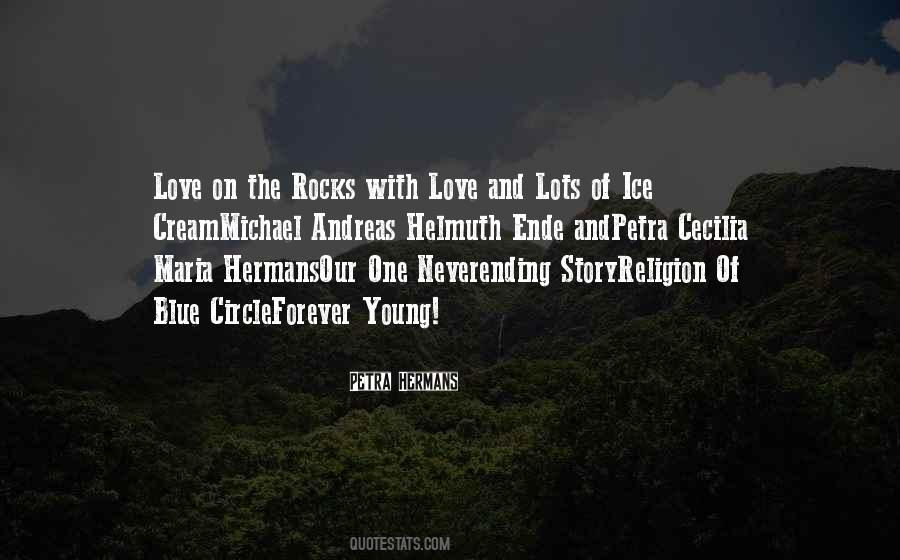 #51. We're the bridge across forever, arching above the sea, adventuring for our pleasure, living mysteries for the fun of it, choosing disasters triumphs challenges impossible odds, testing ourselves over and again, learning love and love and love! - Author: Richard Bach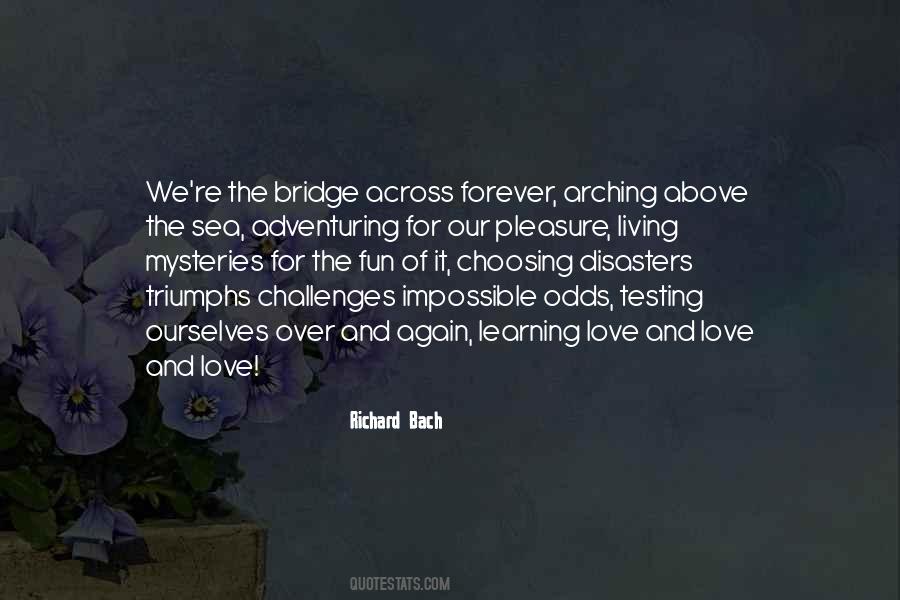 #52. But, Gus, my love, I cannot tell you how thankful I am for our little infinity. I wouldn't trade it for the world. You gave me a forever within the numbered days, and I'm grateful." - Hazel - Author: John Green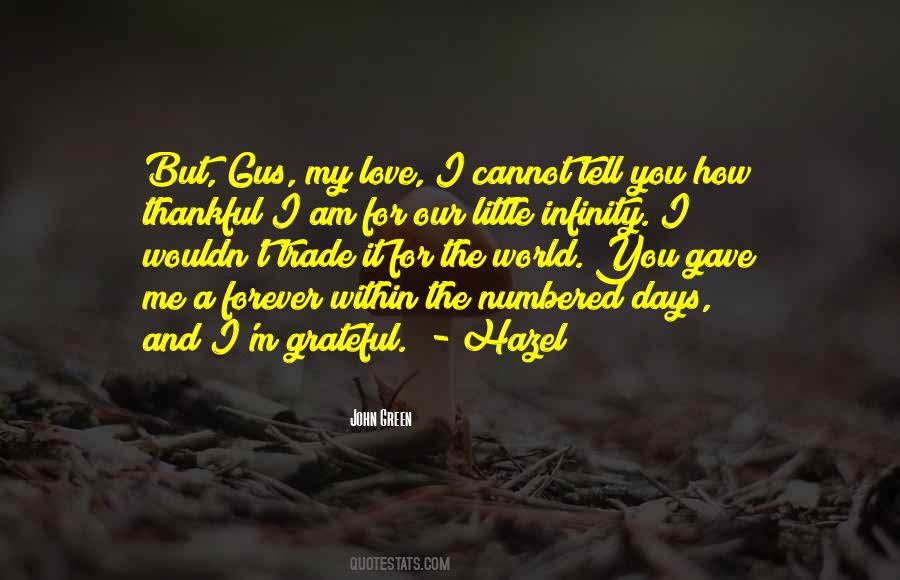 #53. And as this round (ring) is nowhere found to flaw, or else to sever. So let our love as endless prove and pure as gold forever. - Author: Robert Herrick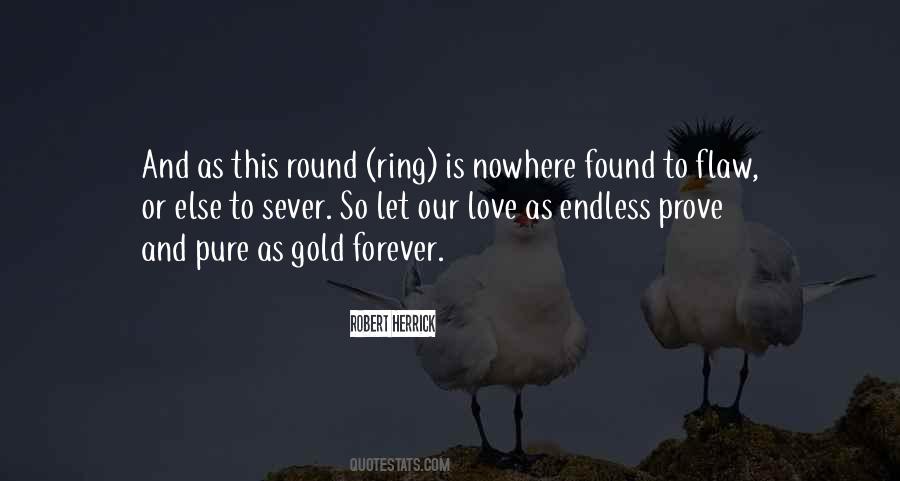 #54. The moment I close my eyes, I see you and sleep vanishes. I'm awake the entire night, revisiting our
memories together. The night seems to stretch on forever. - Author: Santonu Kumar Dhar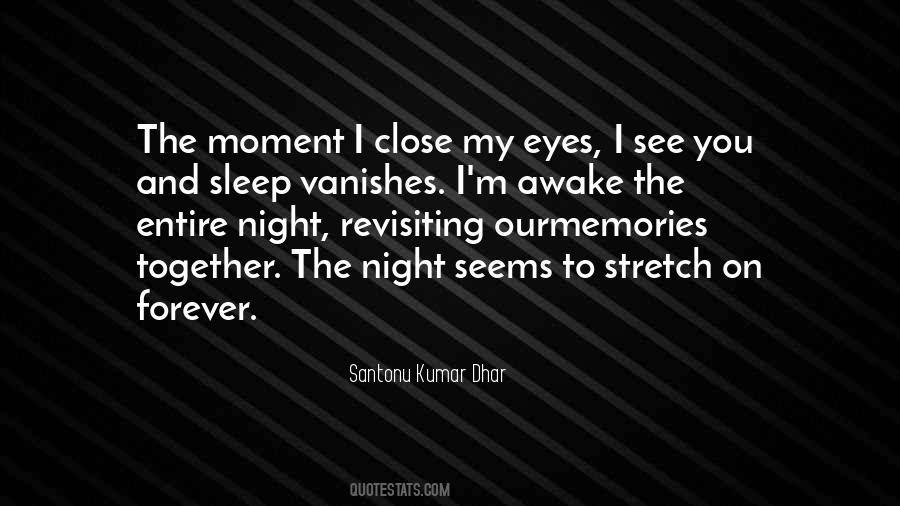 #55. I know not where we go from here. I do not think this is the end, but a new beginning, a new chapter in our tale. Told by minstrels who reveal not their sources. I know not if we have achieved victory this day. But I will forever know that I was honored to call each and everyone of you my brother. - Author: Guy T. Simpson Jr.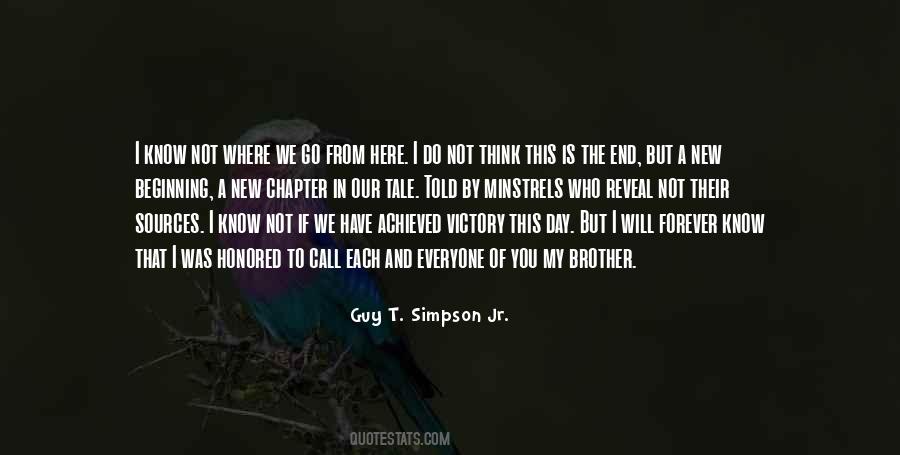 #56. Love came bearing love
A chalice of light
We bathed in love and drank it
Then our flesh
Seemed like the leaves
Enameled bright forever. - Author: May Swenson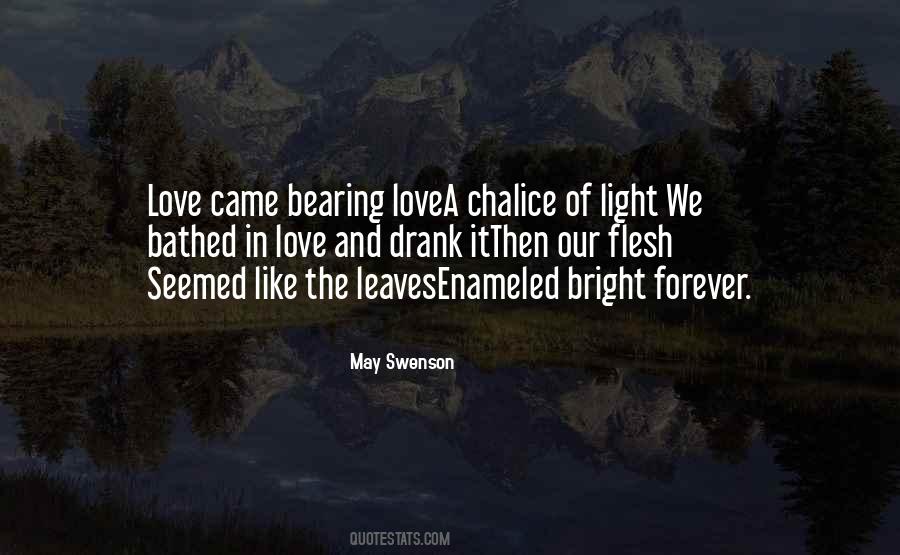 #57. And now," Eric yelled into his mircophone, "we're going to sing a new song-one we just wrote. This one's for my girlfriend. We've been going out for three weeks, and, damn, our love is true. We're gonna be together forever, baby. This one's called 'Bang You Like a Drum. - Author: Cassandra Clare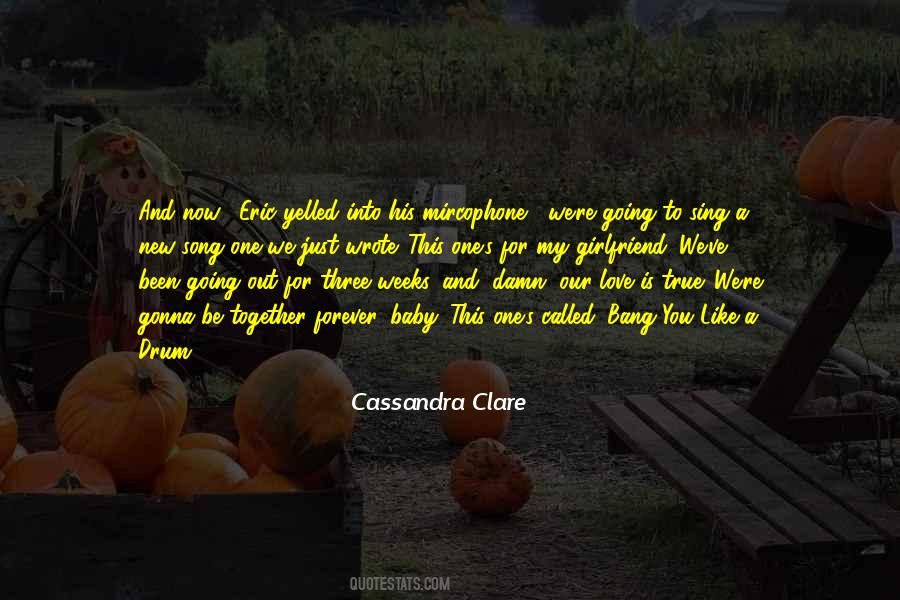 #58. O Love! they die in yon rich sky, They faint on hill or field or river: Our echoes roll from soul to soul, And grow forever and forever. Blow, bugle, blow! set the wild echoes flying! And answer, echoes, answer! dying, dying, dying. - Author: Alfred Lord Tennyson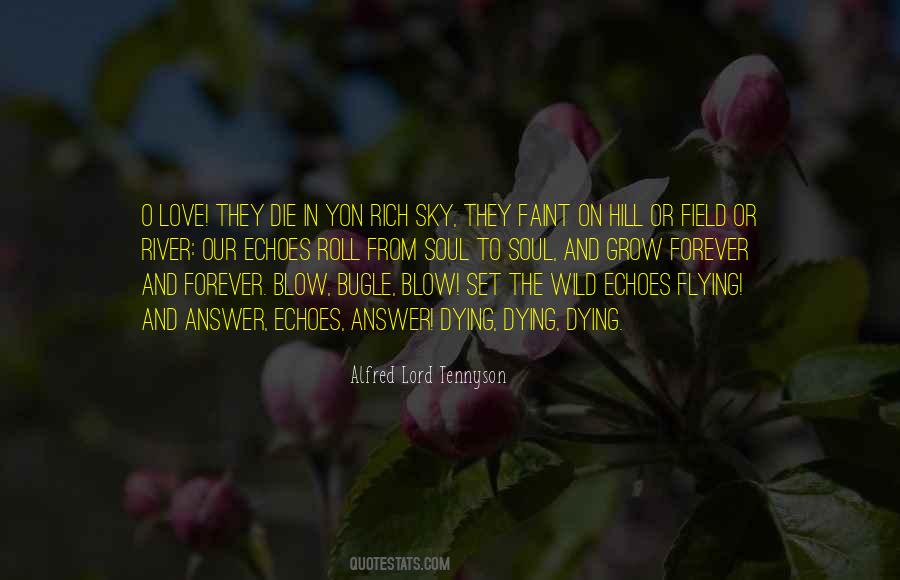 #59. Heaped up on the blankets, our bodies bound by weariness and her deep slumber, surrounded by sickness and hope, death and defiance, I touched the soft surrendered curl of Karla's sleeping fingers to my lips, and I pledged my heart to her forever. - Author: Gregory David Roberts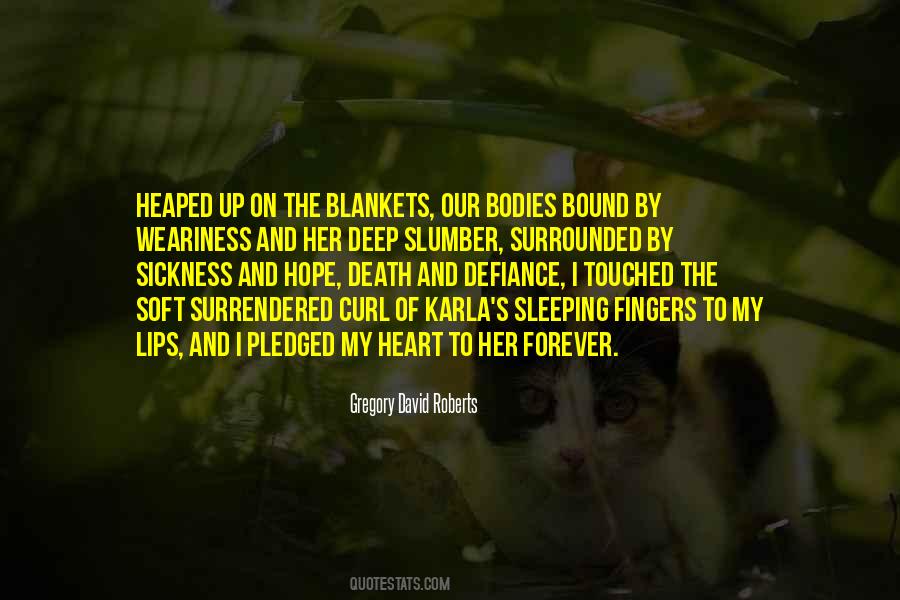 #60. Our first No. 1 was 'Why' and we waited two years to have another one. It felt like forever, and now I feel like I'm celebrating one every few months, which I love. - Author: Jason Aldean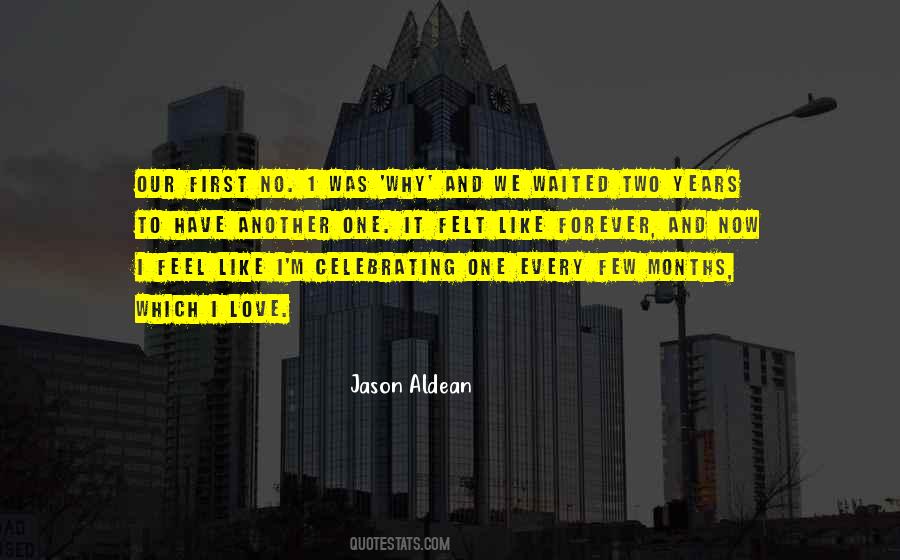 #61. The rivers flow long distances and their goodness spreads all over far and wide. We are far from each other but our love for each other is creating a story that will forever be remembered. - Author: Daran Norris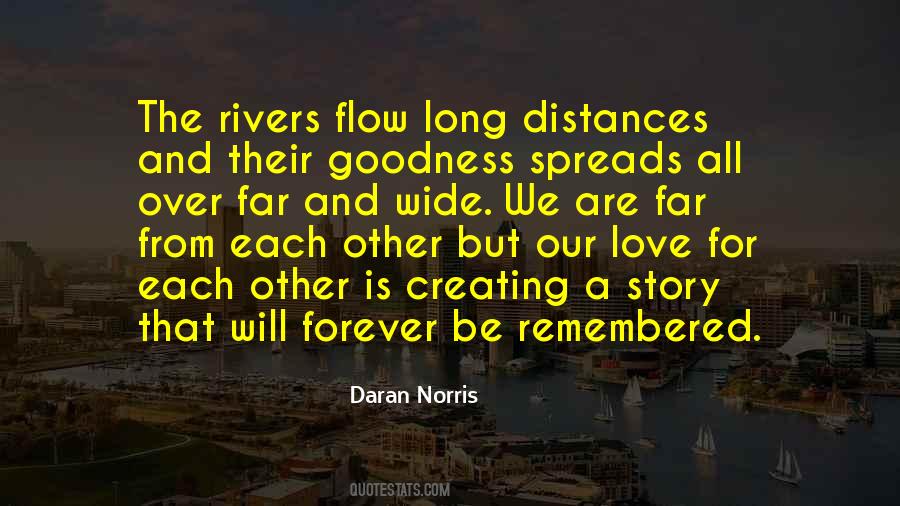 #62. I understand, Nate. I get the concept of infinity. It's like the two of us, like our friendship. No end, no limit. We're forever. That's infinity, right? - Author: Cardeno C.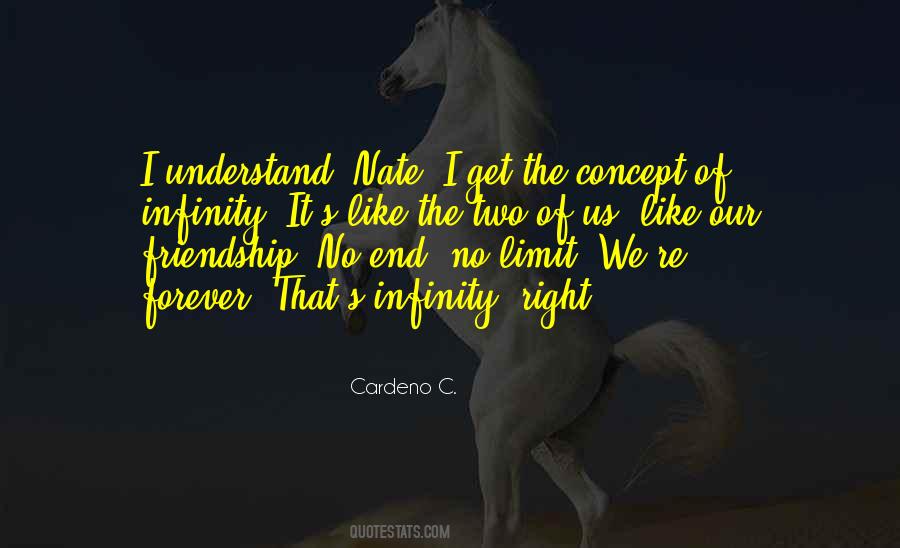 #63. K
Maybe one day when we're older and wiser, our paths will cross again and we can do it right. You're the love of my life. I can't believe I let that slip away. I hope one day it'll come back.
All of my love and apologies are forever yours, as am I.
S - Author: Emily Trunko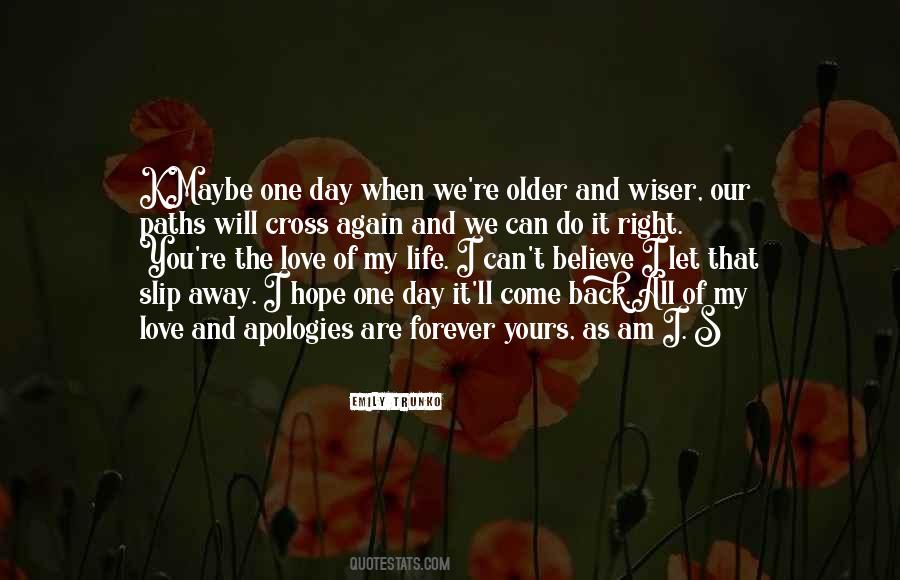 #64. I decided at that moment that we would find a way to be together. The future was terrifying, but we would face it together ... our pelts brushing,our tails twined. Our hearts in love,forever. -CrowfeatherXLeafpool. Secrets of the Clans pg.122 - Author: Erin Hunter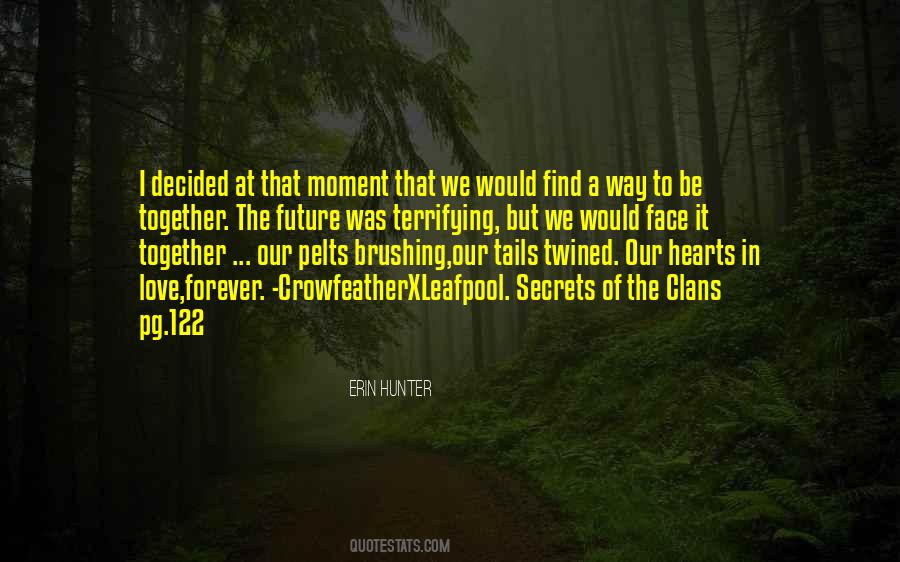 #65. That the Father and Son would love sinners that much is beyond our comprehension
but it ought to awaken a response of love and gratitude within our hearts that will change our lives forever! - Author: Dave Hunt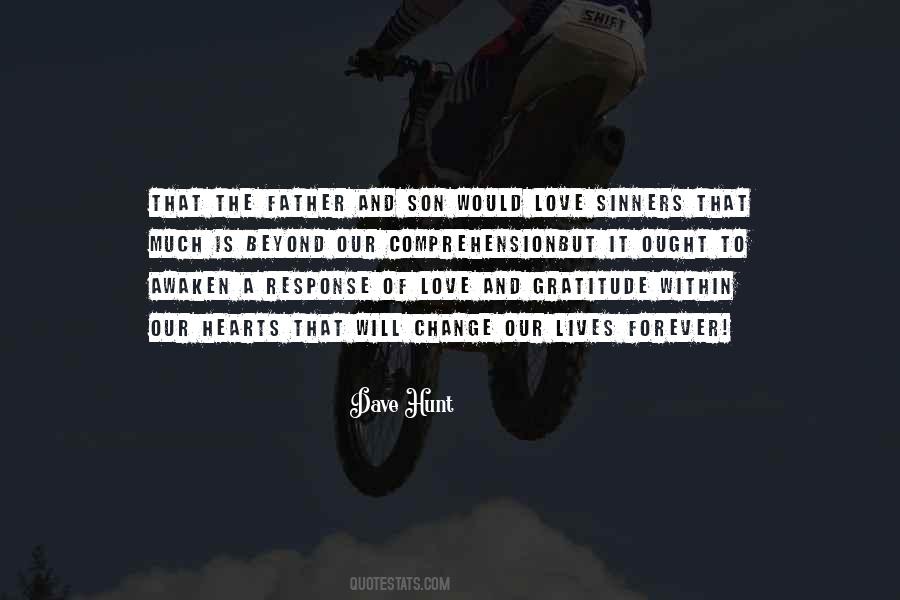 #66. Our children forever changed our relationships with our mothers. Pity replaced the mild contempt with which we had previously regarded them, and we loved them as we never had before, as we could only love ourselves, because despite our best intentions we had become them. - Author: Anthony Marra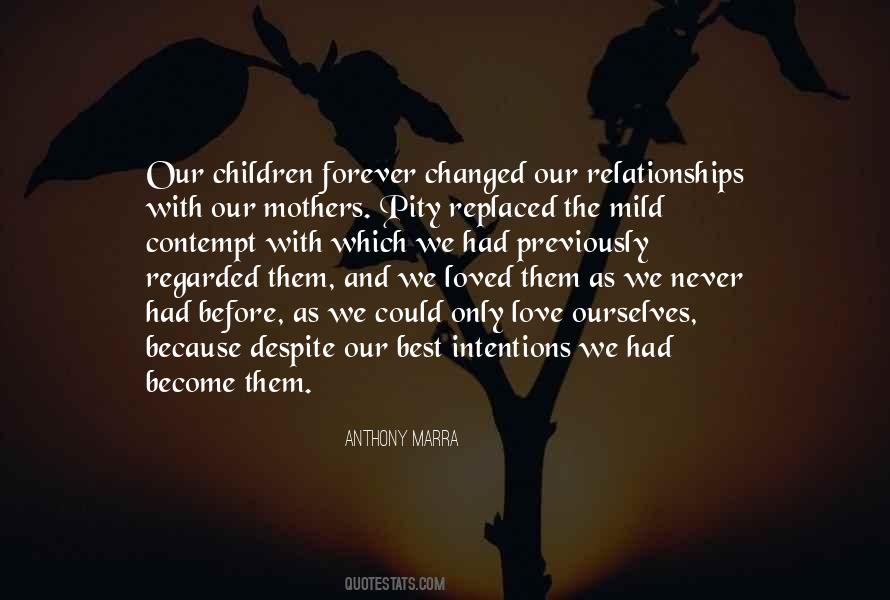 #67. we don't learn to love our lives and then check a box when it's done. We learn to love our lives every day, one day at a time, forever. - Author: Melanie Dale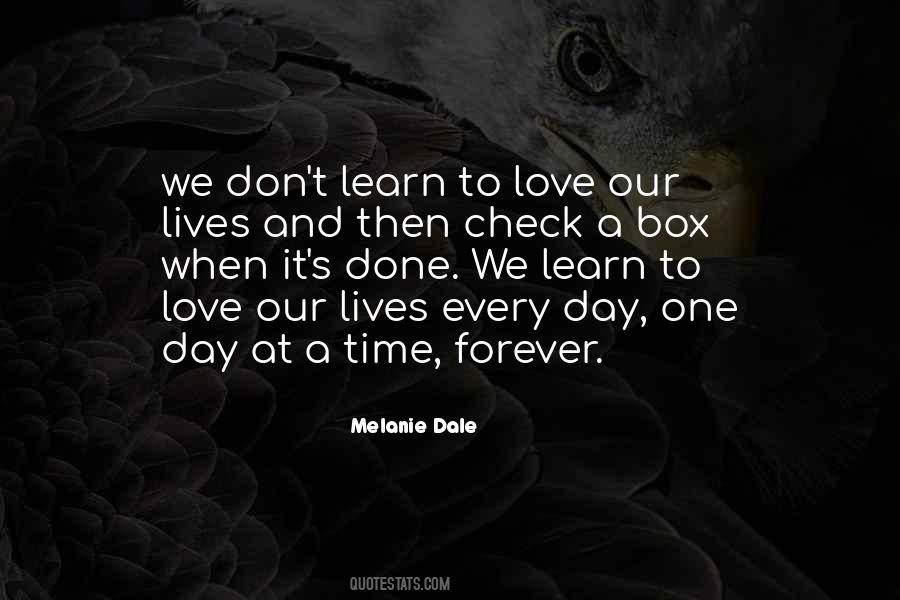 #68. Even though you weren't born to us, you grew in our hearts. We will be forever connected because love is what makes a family. - Author: Deanna Kahler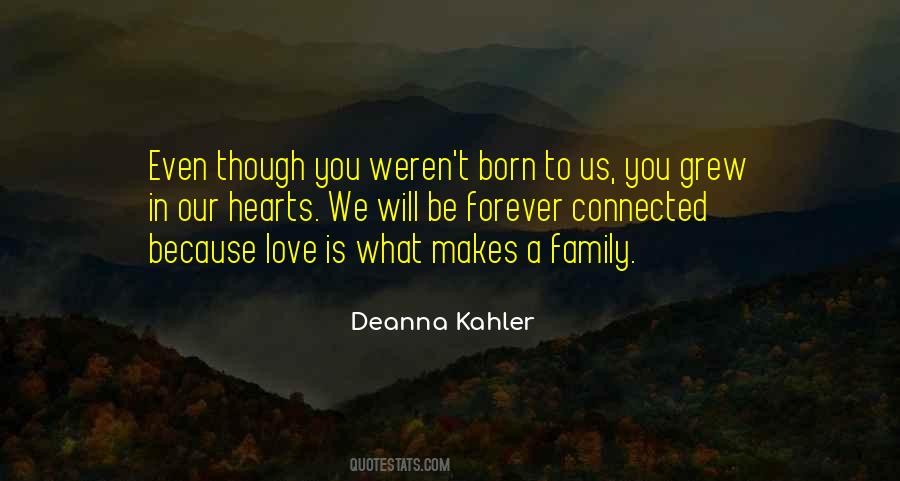 #69. Darkness never lasts forever. Morning always comes with the lights of love to brighten our future. - Author: Debasish Mridha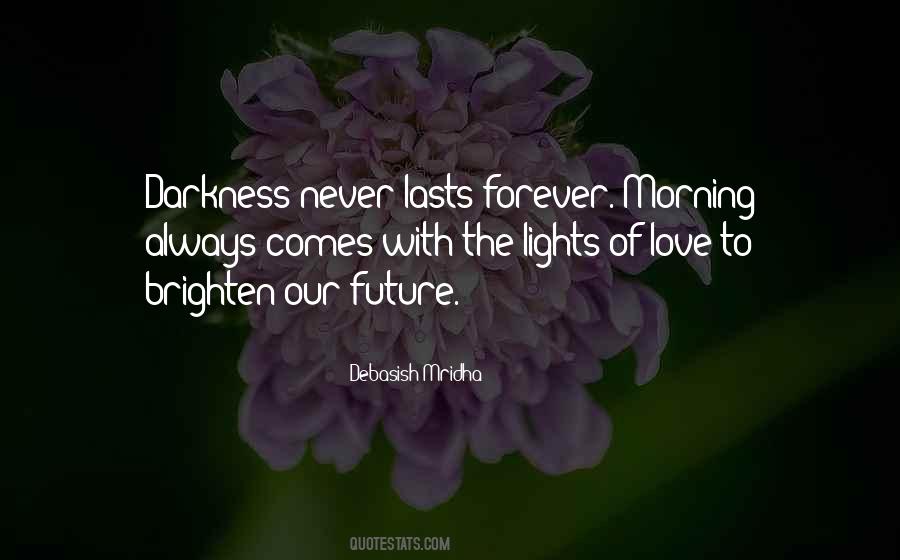 #70. Those we hold dear leave a part of themselves with us when they return to their eternal Home. As they move on to partake of the one Great Love that unites us all, the love they leave with us as they depart remains forever in our hearts. - Author: Joyce Hutchison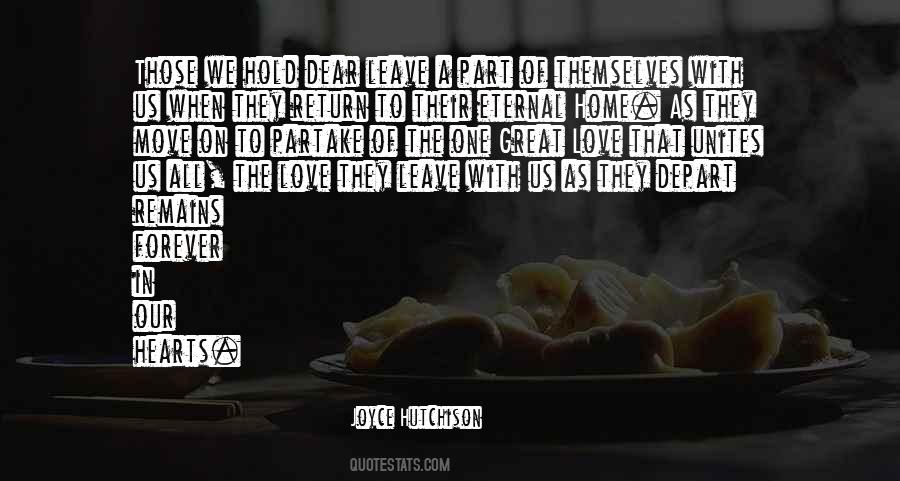 #71. And we step off the curb, all of us together, as if to say: Here we come. Through hard days and good ones, through despair and through exhilaration, in love and out of love, for just now or for forever. Here we come. It's our parade. - Author: Nina LaCour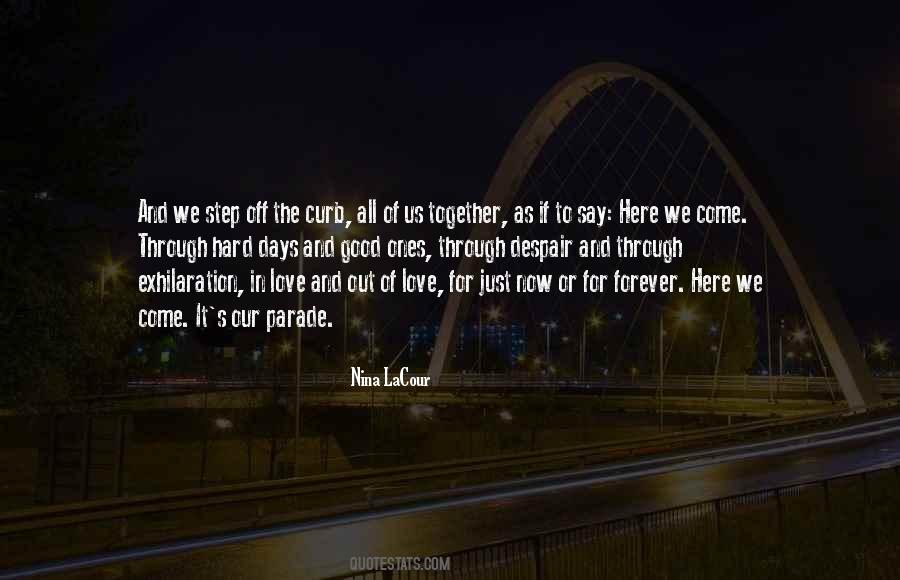 #72. I love you, Megan," he says, barely grazing my mouth with his.
"I love you too, Alex. This is it. This is our someday."
His gaze is filled with emotion. "No, Megan." His soft lips brush against mine. "This ... is our forever. - Author: Julie Prestsater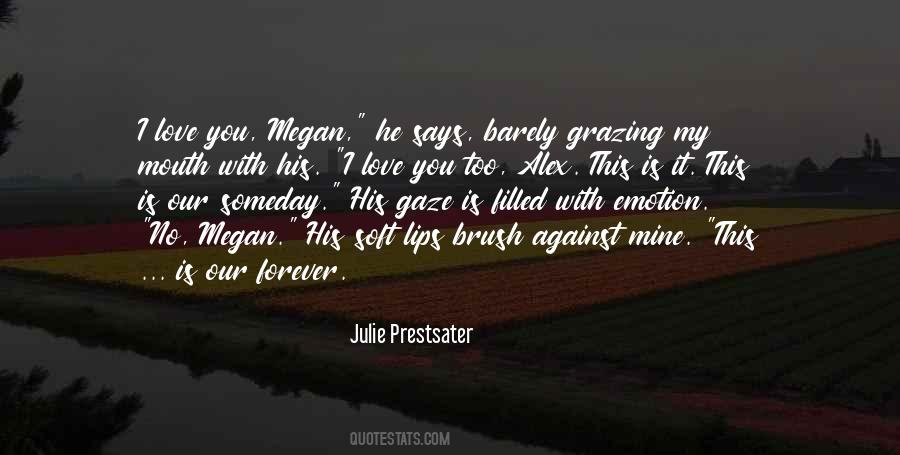 #73. I am offering you a real commitment - a place in my life forever. Even if our relationship ended, our tie to each other never would. Let me make you a vampire, Leila, and watch decades slide by like days while you're by my side. - Author: Jeaniene Frost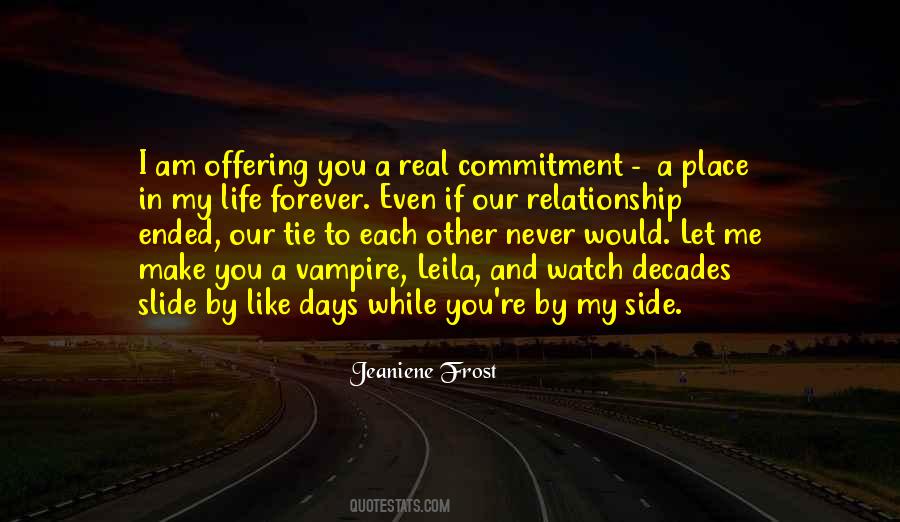 #74. Just bear a passing resemblance to a fictional romantic trope I like and I will love you forever. We're all just trying to find the Mark Darcy of our workplace, aren't we? - Author: Mindy Kaling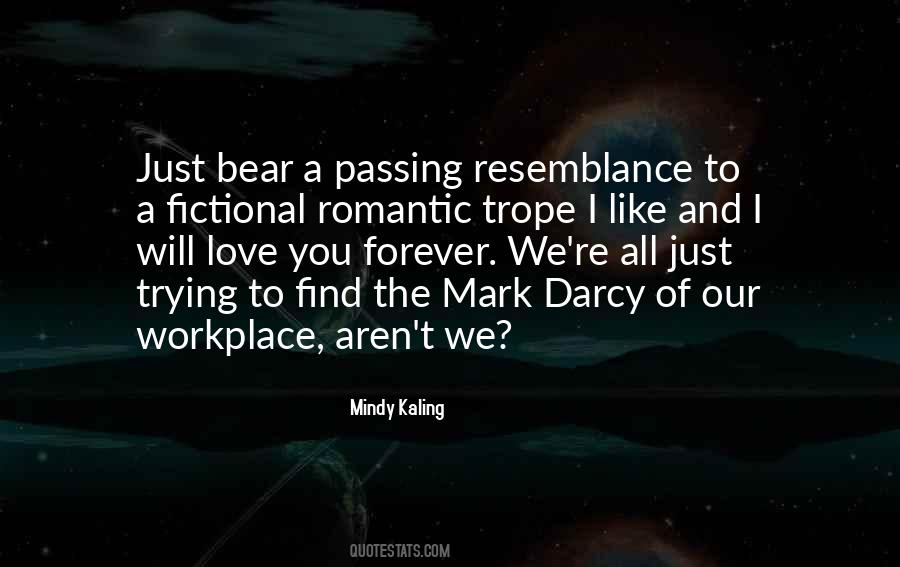 #75. Our love is an adventurous melody, our souls forever as one. - Author: Angela Richardson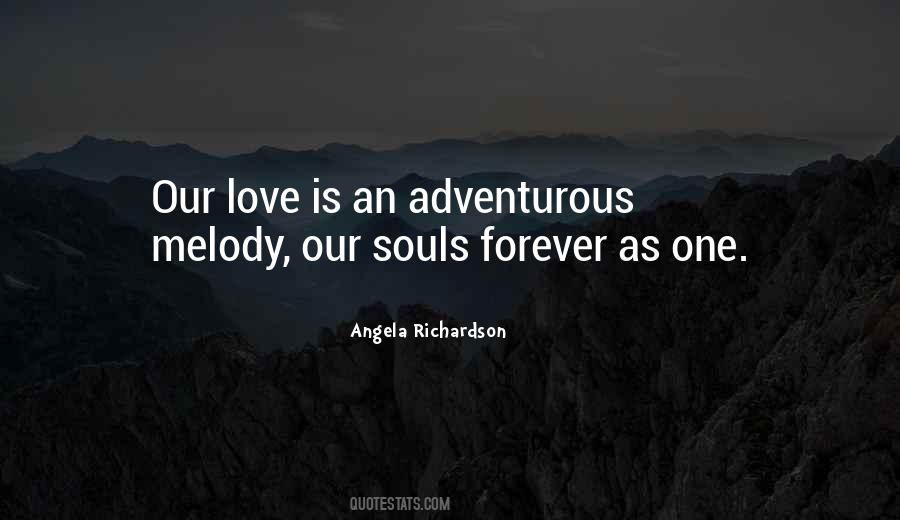 #76. Five words that were the hardest words I would ever have to say,
Five pillars of my faith that couldn't save him that day.
Five rivers, the Panj Aab, that didn't flow through his veins.
Five minutes that changed our world forever. - Author: Ruth Ahmed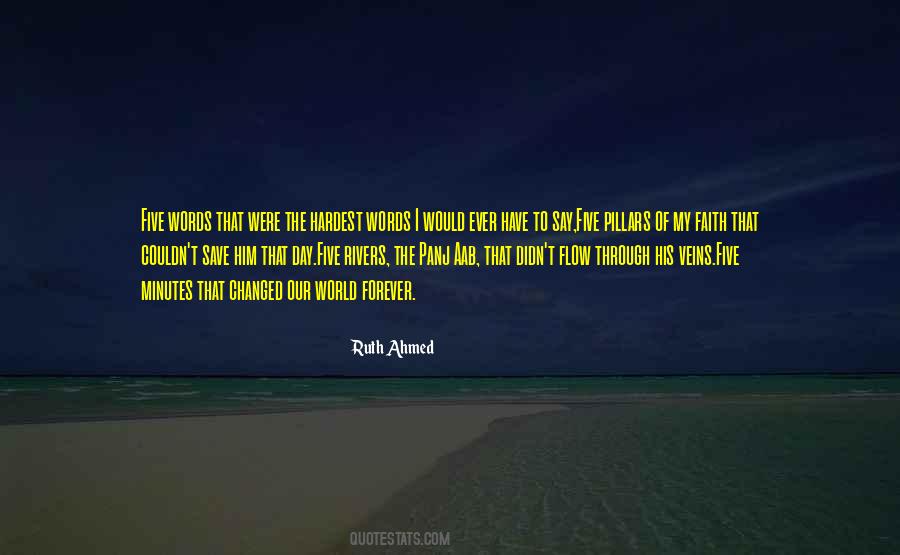 #77. Hurrah I awake from yesterday
Alive but the war is here to stay
So my love Caterina and me
Decide to take our last walk
Through the noise to the sea
Not to die but to be reborn
Away from a land so battered and torn ...
Forever ... - Author: Jimi Hendrix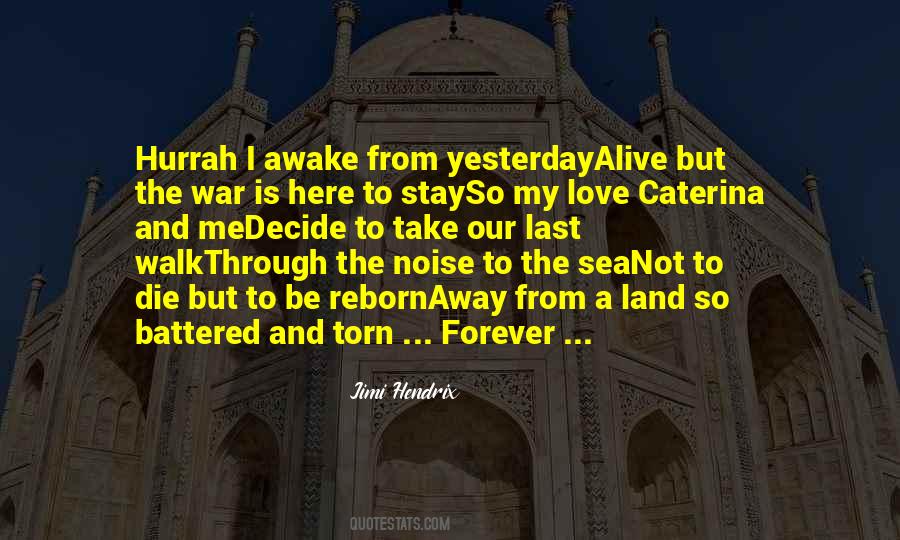 #78. And I'm thinking as our bodies meet that I'll remember this forever, and i just hope it's for all the right reasons. - Author: Steven Herrick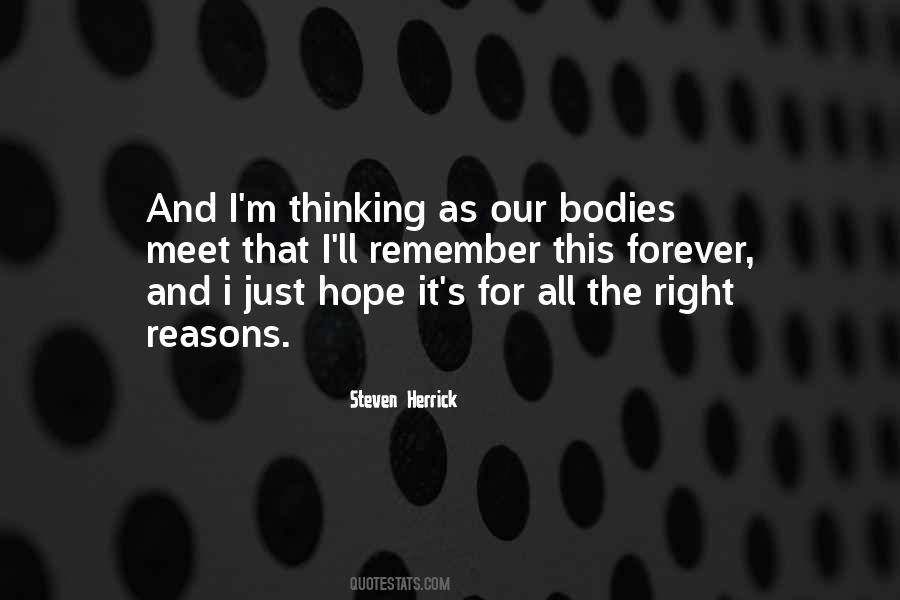 #79. I love you." I paused, taking a deep breath and our eyes locked. I saw the world in his gaze. I saw our future. "And that is forever. - Author: J. Lynn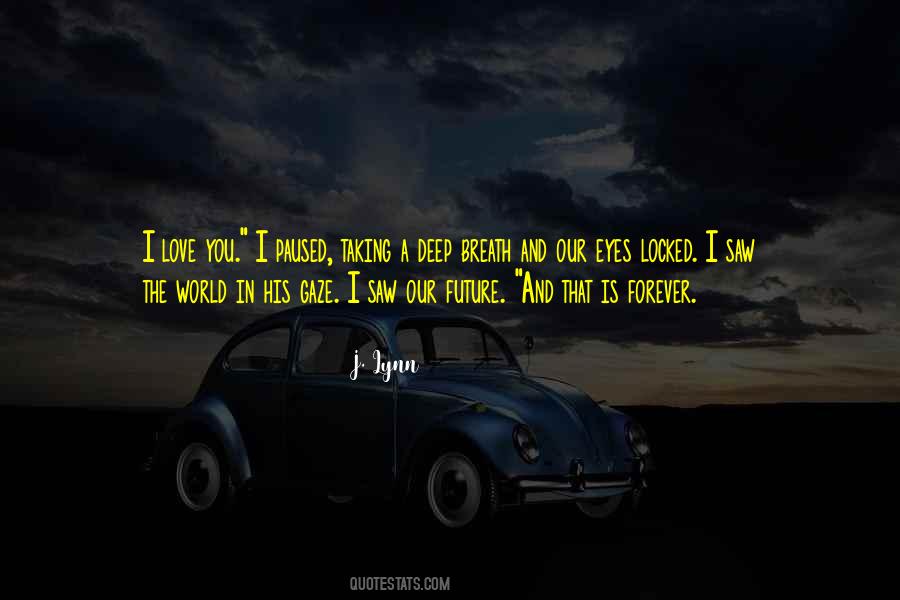 #80. It's not realistic to imagine that any poem will last forever. Our species won't last forever! We try to capture and preserve our impressions of reality because it's all going away: everything we think and remember, everything we've ever felt, everyone we love. - Author: James Arthur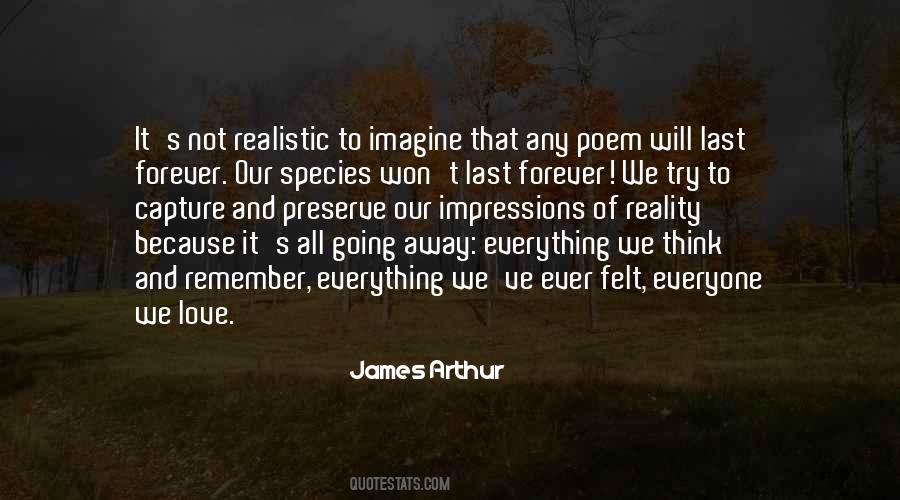 #81. please don't carry my love for you with you forever. but don't let that be all. our capacity to love is vast - all of us. my daughters taught me that. there is room. - Author: Elizabeth Noble
#82. We are forever looking outside ourselves, seeking approval and striving to impress others. But living to please others is a poor substitute for self-love, for no matter how family and friends may adore us, they can never satisfy our visceral need to love and honor ourselves. - Author: Susan L. Taylor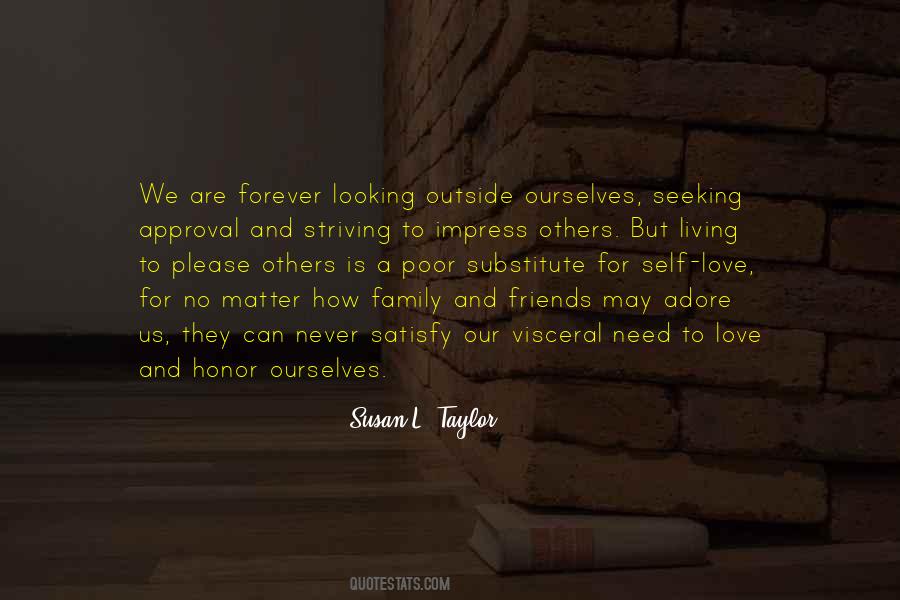 #83. We just keep making the shows that we love, and the good news is that we can never rest on our laurels, knowing that we're going to be on forever. We're constantly challenged to write the very best story that we can, week in and week out, hoping that that will allow us to keep telling more of them. - Author: Jeff Pinkner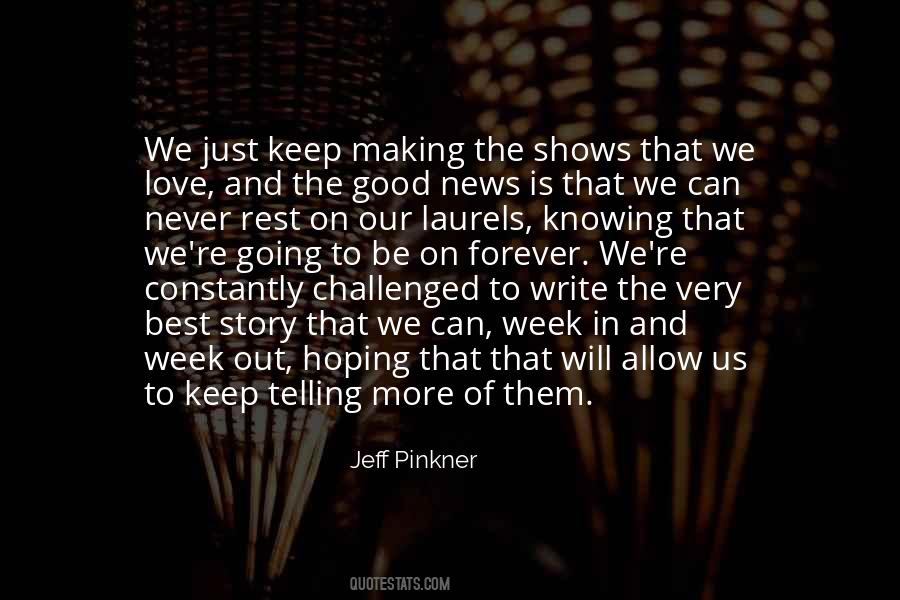 #84. I want to take all our best moments, put them in a jar, and take them out like cookies and savor each one of them forever. - Author: Crystal Woods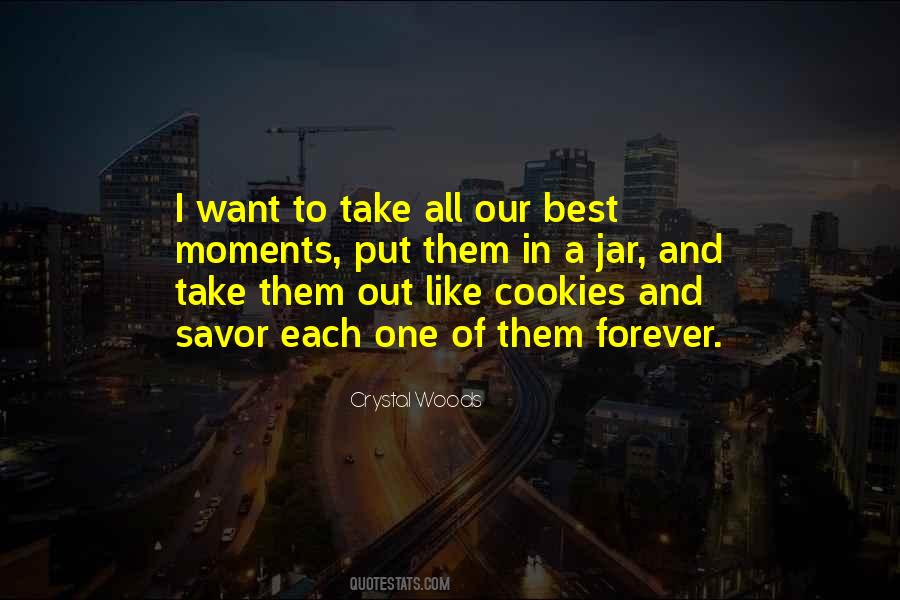 #85. Our mouths and bodies speak for us in a new language as the trees shake loose a rain of petals that stick to our slickness like skins we will wear forever. And just like that, I am changed. - Author: Libba Bray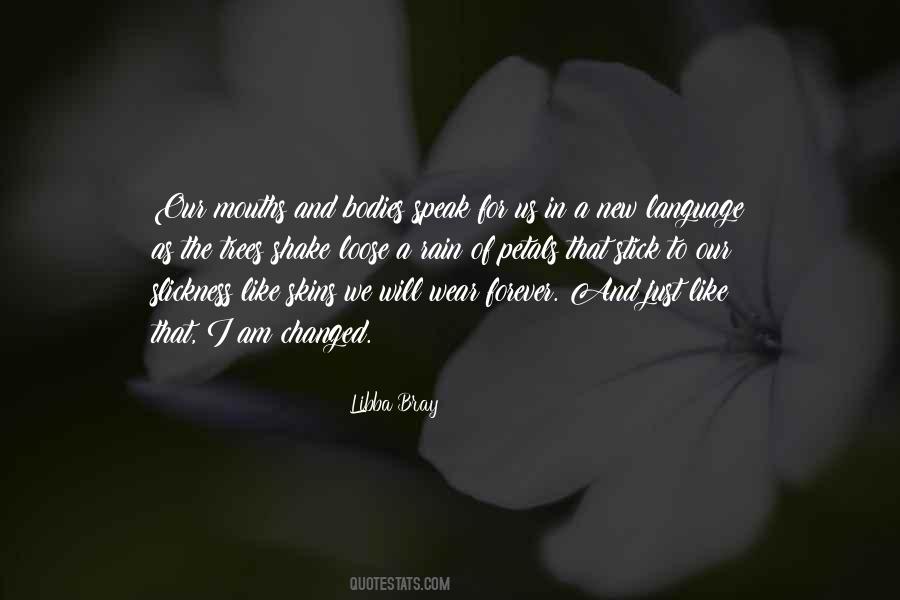 #86. This is your family ... If you learn to love us then you will forever have our love in return. - Author: Katie McGarry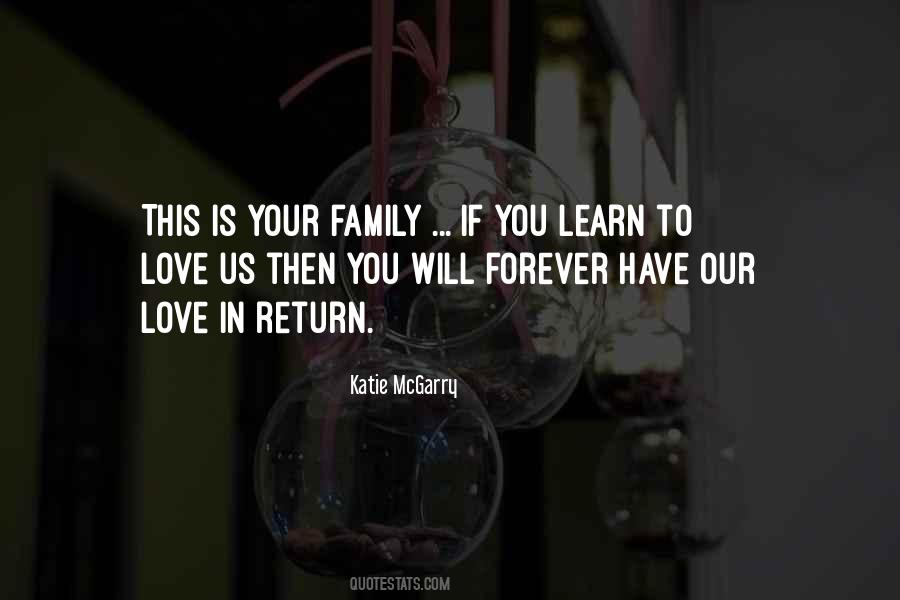 #87. Selfish little flower dancing beneath flames do you dare drift in this wind alongside me? Take my hand and let us see skies untouched by night. You are not alone. Never have, and never will be. Death is only the beginning, but our breath shall reign forever. - Author: H.S. Crow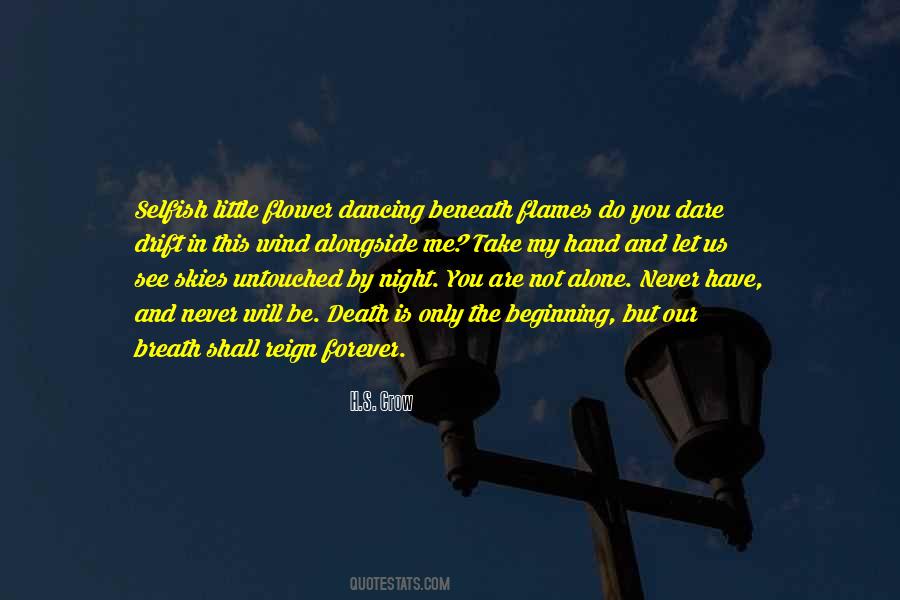 #88. My Flame, my tortured boy, had broken through the last of his defenses. He had found his voice. Flame, my always and forever, had found his song, like I had found mine. And through our love, he had finally found the courage to sing. - Author: Tillie Cole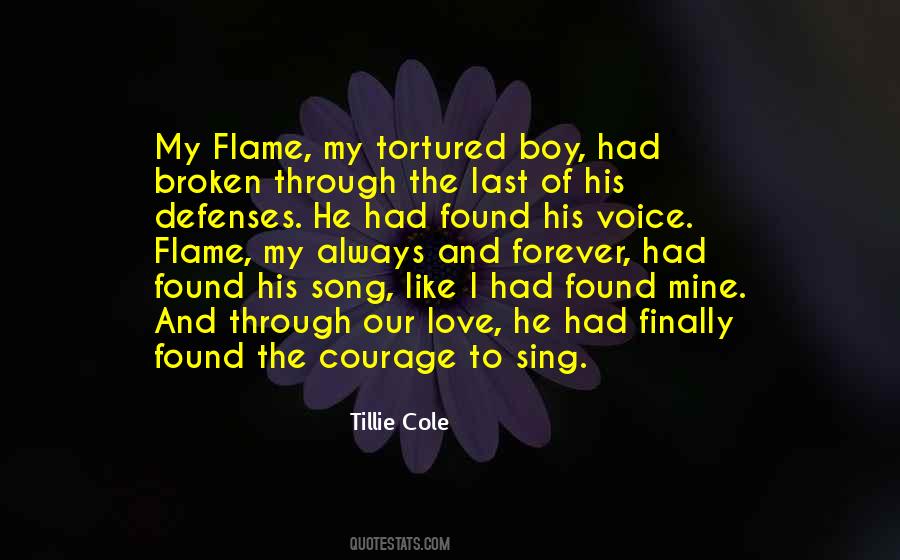 #89. Our "ego" or self-conception could be pictured as a leaking balloon, forever requiring the helium of external love to remain inflated, and ever vulnerable to the smallest pinpricks of neglect. - Author: Alain De Botton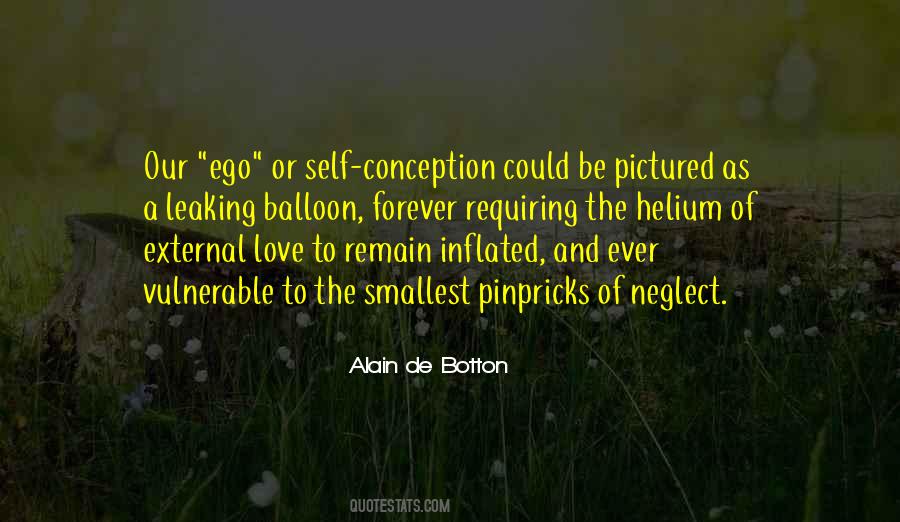 #90. Such Small Things:
For a long time there were only your footprints & laughter in our dreams & even from such small things, we knew we could not wait to love you forever. - Author: Brian Andreas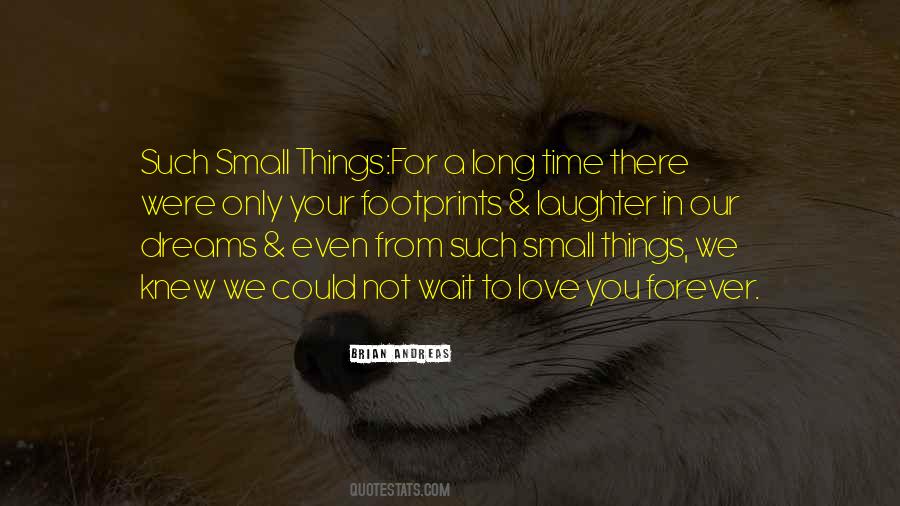 #91. Forever is a measure of time used by people who share an ordinary love. Our extraordinary love is immeasurable ... for us, forever just won't do. - Author: Steve Maraboli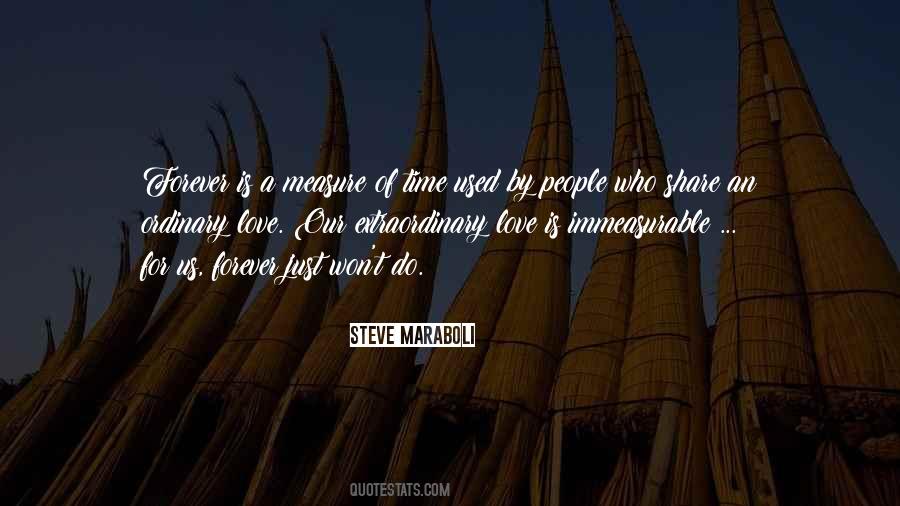 #92. Lord Jesus, you have called us to follow you. Grant that our love may not grow cold in your service, and that we may not fail or deny you in the time of trial, for you live and reign with the Father and the Holy Spirit, one God, now and forever. - Author: Dennis Bushkofsky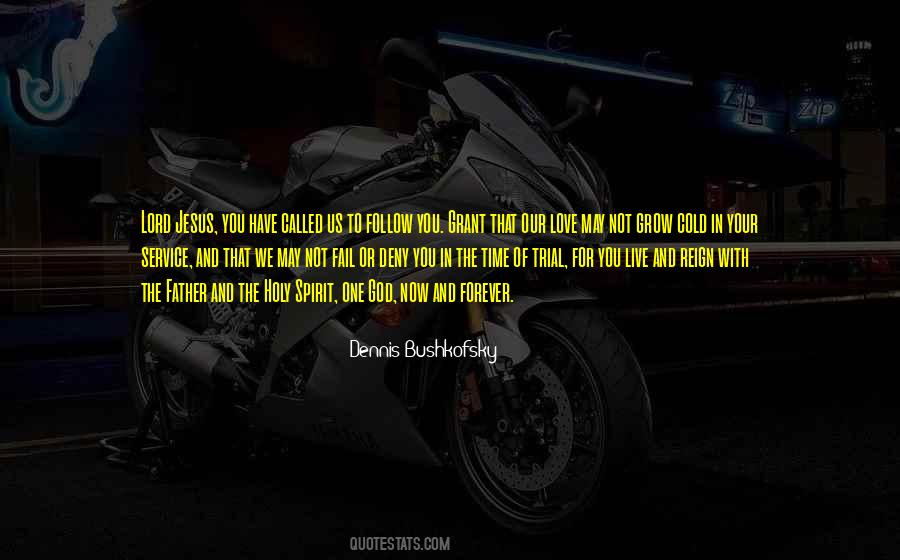 #93. Our joy now and forever is inextricably tied to our capacity to love. - Author: John H. Groberg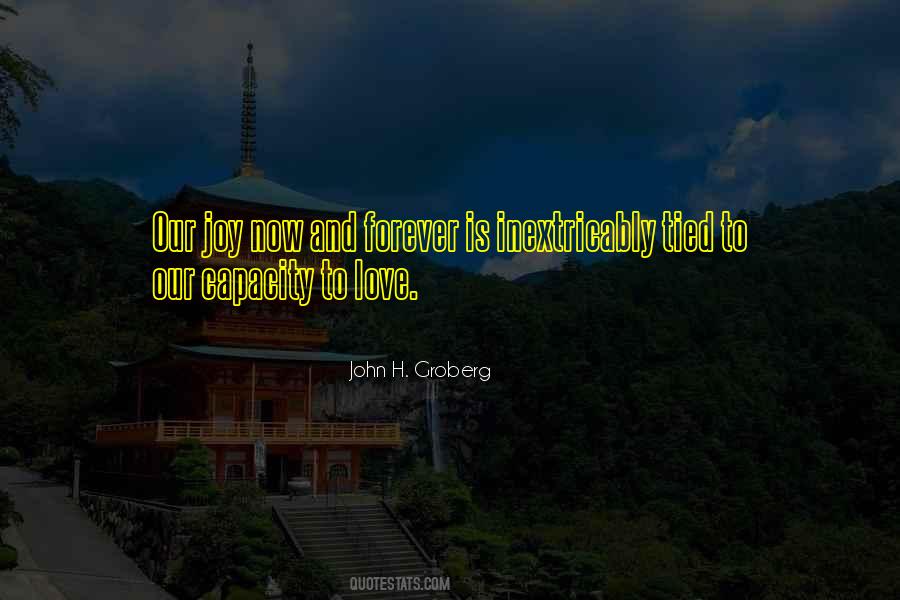 #94. There lies the image of our past and of our future," cried Alleyne, as they rode on upon their way. "Now, which is better, to till God's earth, to have happy faces round one's knee, and to love and be loved, or to sit forever moaning over one's own soul, like a mother over a sick babe?" "I - Author: Arthur Conan Doyle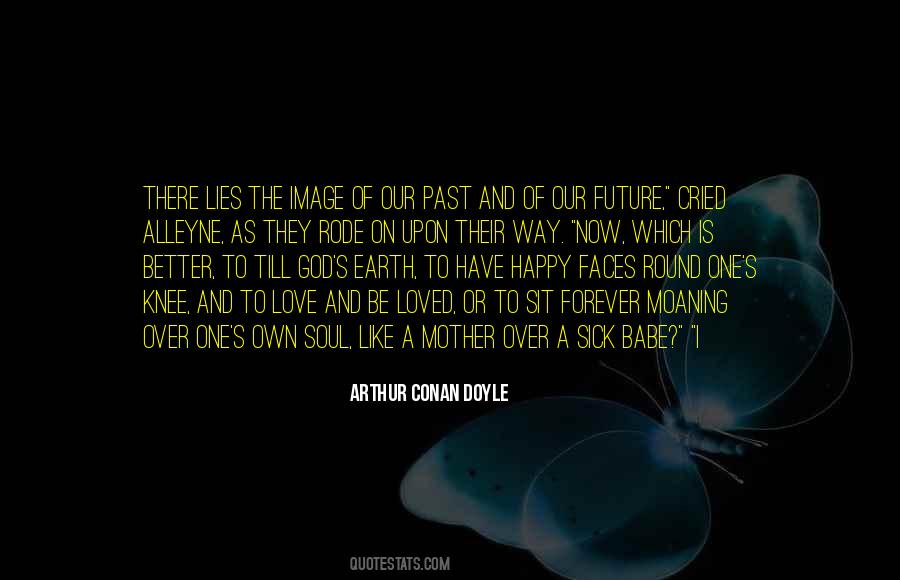 #95. My mother is my doctor
Caring for me when am ill
I will love her forever till
We are gone to our creator! - Author: Israelmore Ayivor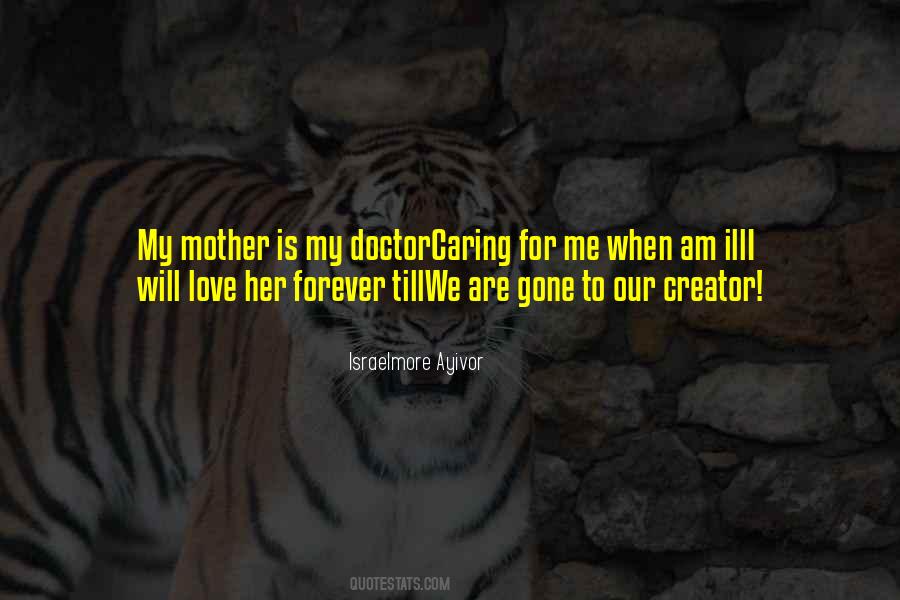 #96. And so we carried on in our little piece of forever. - Author: Stephenie Meyer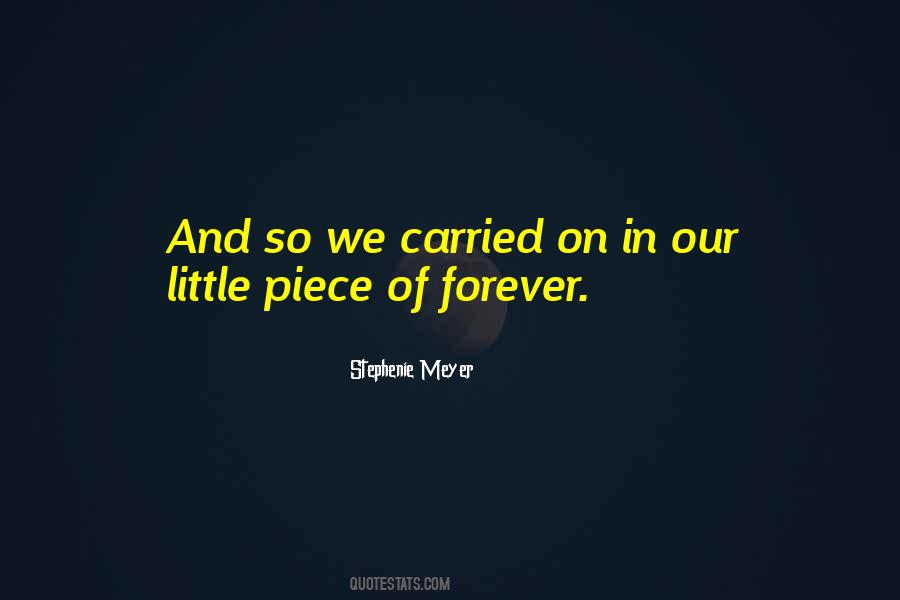 #97. Love is like a friendship caught on fire. In the beginning a flame, very pretty, often hot and fierce, but still only light and flickering. As love grows older, our hearts mature and our love becomes as coals, deep-burning and unquenchable. - Author: Bruce Lee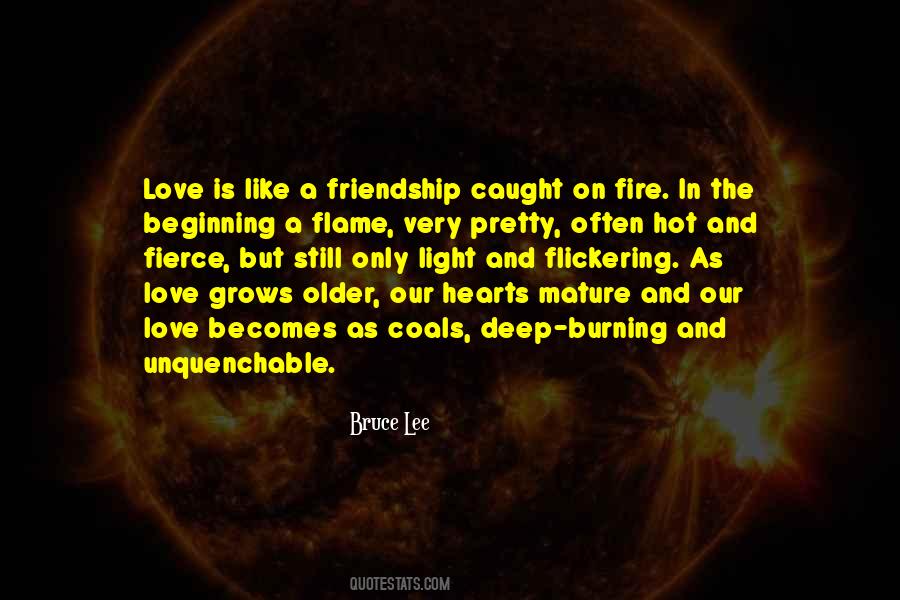 #98. The kind of person who listens to our music doesn't want to live a bit and die a little and find a friend. The kind of person who listens to our music wants to live forever and die a lot and fall in love. - Author: Ray Robertson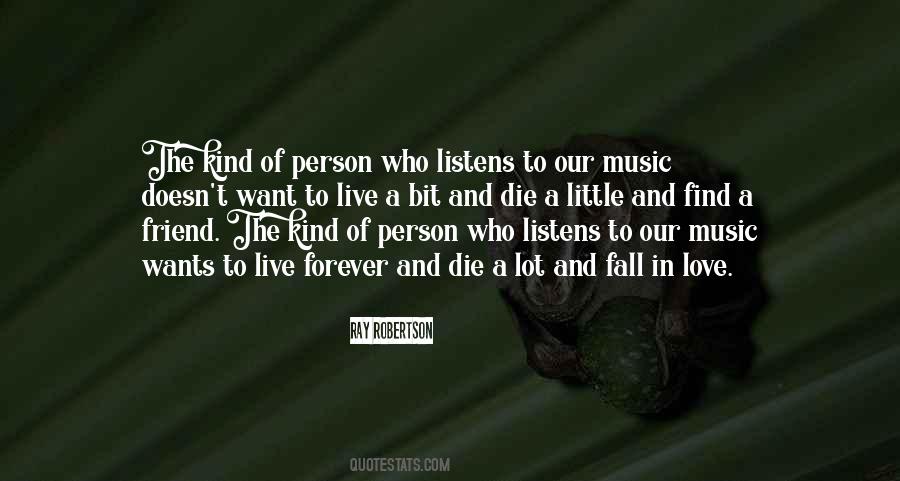 #99. Destroy us, land and forest takes forever from your children. Walk the circle of life. Have no fear. Together, let us love and protect our children, respect the land and forest, giving back what we have taken. - Author: Frederic M. Perrin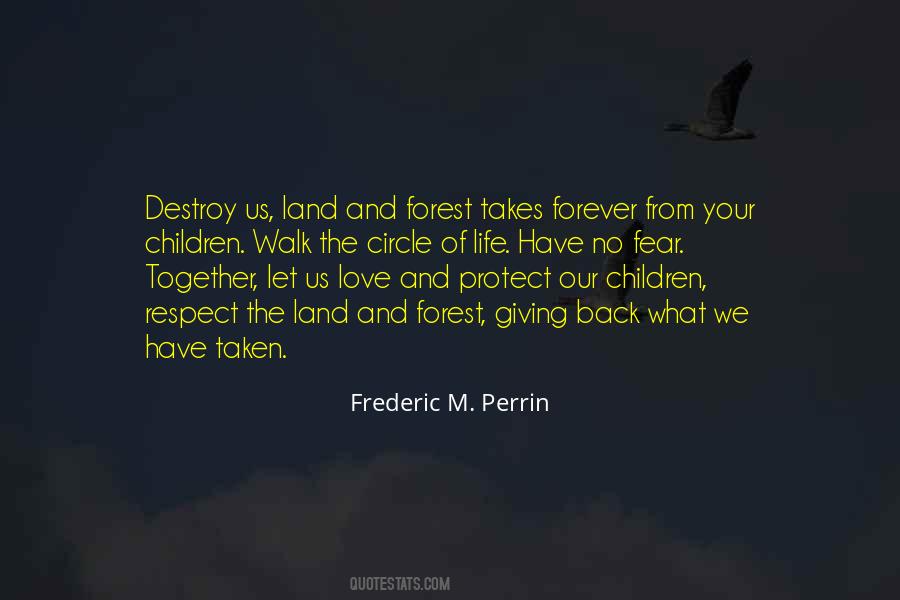 #100. They who say that we should love our fellow-citizens but not foreigners, destroy the universal brotherhood of mankind, with which benevolence and justice would perish forever - Author: Marcus Tullius Cicero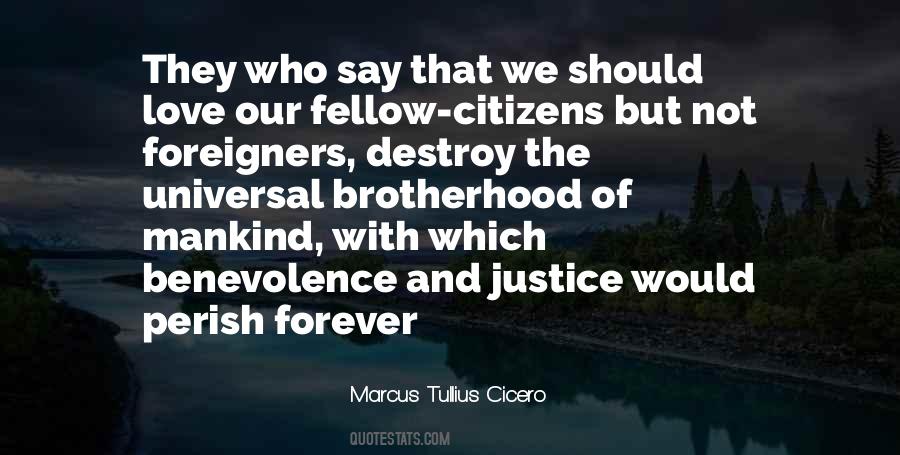 Famous Authors
Popular Topics