Opportunity To Help Others Famous Quotes & Sayings
List of top 62 famous quotes and sayings about opportunity to help others to read and share with friends on your Facebook, Twitter, blogs.
Top 62 Opportunity To Help Others Quotes
#1. To have the opportunity to work with Tiger Woods was just so awesome. I enjoyed it. I enjoyed the challenge. I enjoyed the good parts where he was winning. And I enjoyed the challenge to help him get better. But six years was enough. - Author: Hank Haney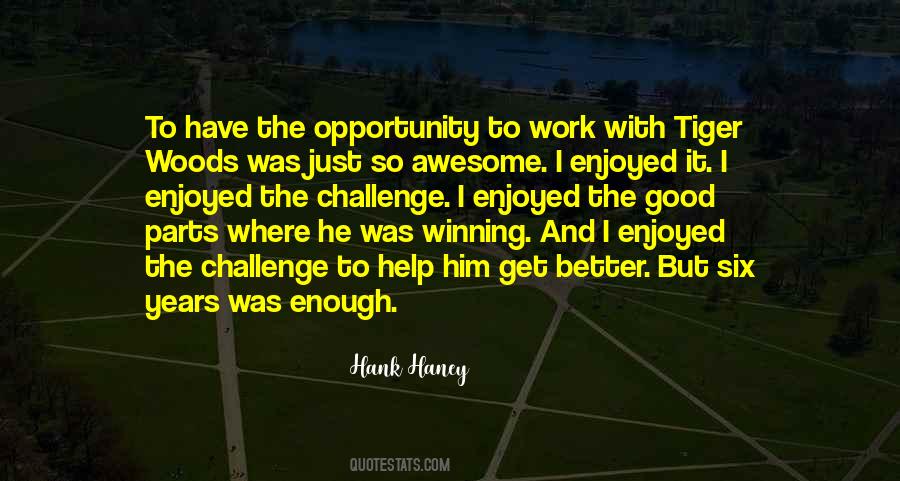 #2. Those times when you feel like quitting can be times of great opportunity, for God uses your troubles to help you grow. - Author: Warren W. Wiersbe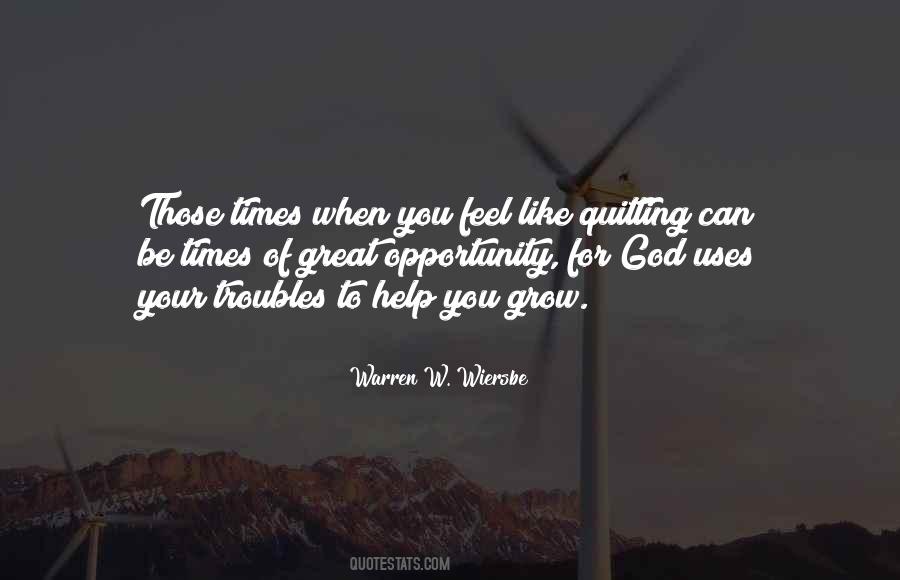 #3. We cannot hope to build the Church and to bring hearts and souls to Christ without using every resource the Lord has given to help us take advantage of our opportunities and address the obstacles standing in our way. - Author: M. Russell Ballard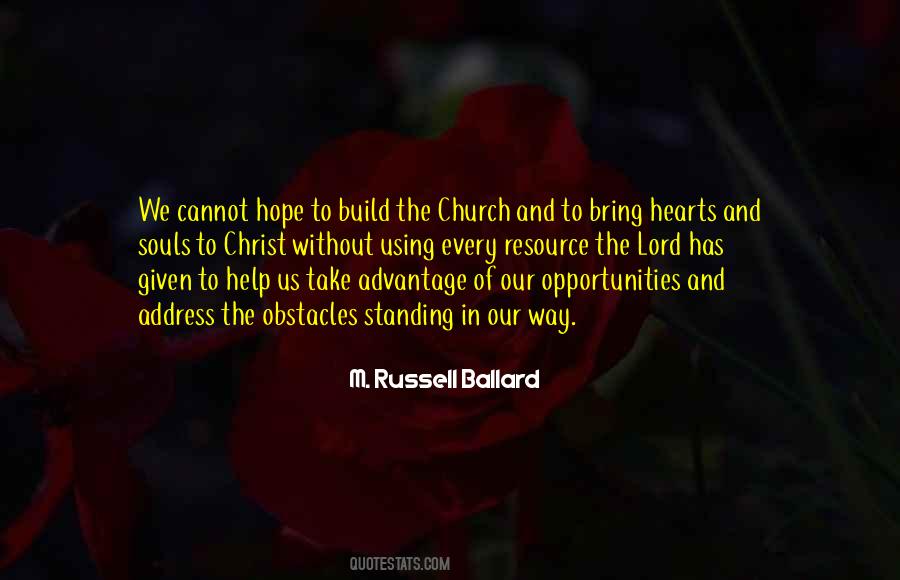 #4. As wonderful as charity is, that money runs out. It's not sustainable. It lasts for a certain period of time and it's gone. What i really think people need is the opportunity to help themselves. - Author: Emma Watson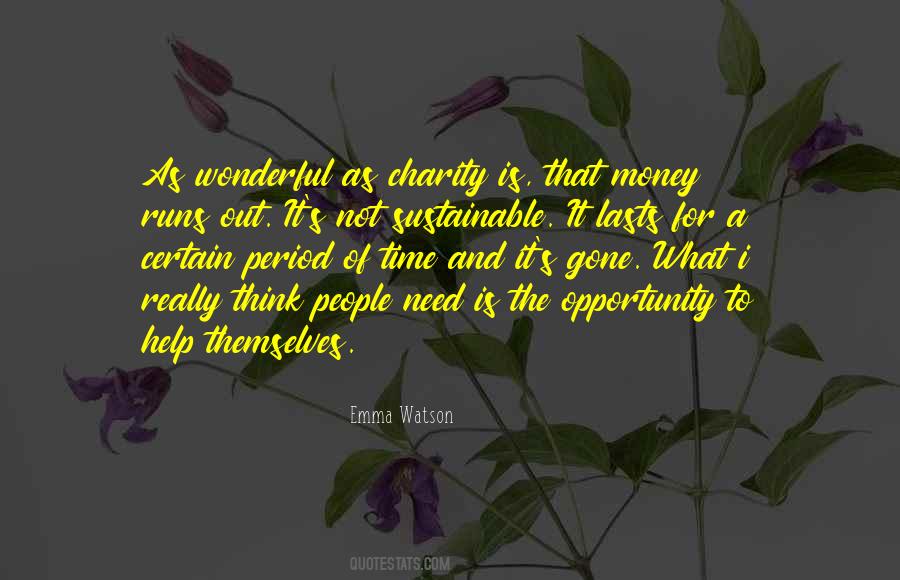 #5. I think we've learned that the S.B.A. plays a critical role in providing access and opportunity when the market is not providing that access. We help banks get that money out into the hands of important and viable businesses, particularly those owned by minorities, women, immigrants and veterans. - Author: Karen Mills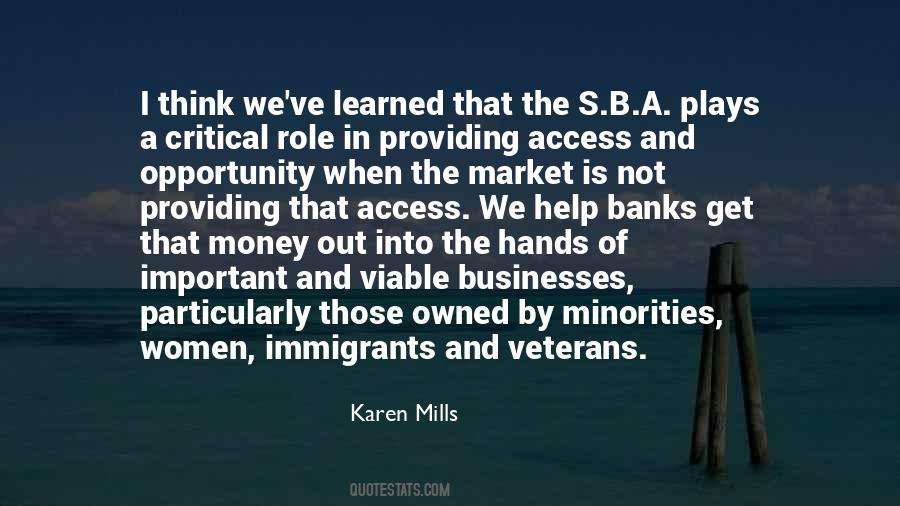 #6. The magic was in the Marshall Plan itself. It provided an opportunity for appealing and constructive work. In a sense, the mission chiefs were given the opportunity to help act as architects for the new Europe that was envisioned. - Author: Paul Hoffman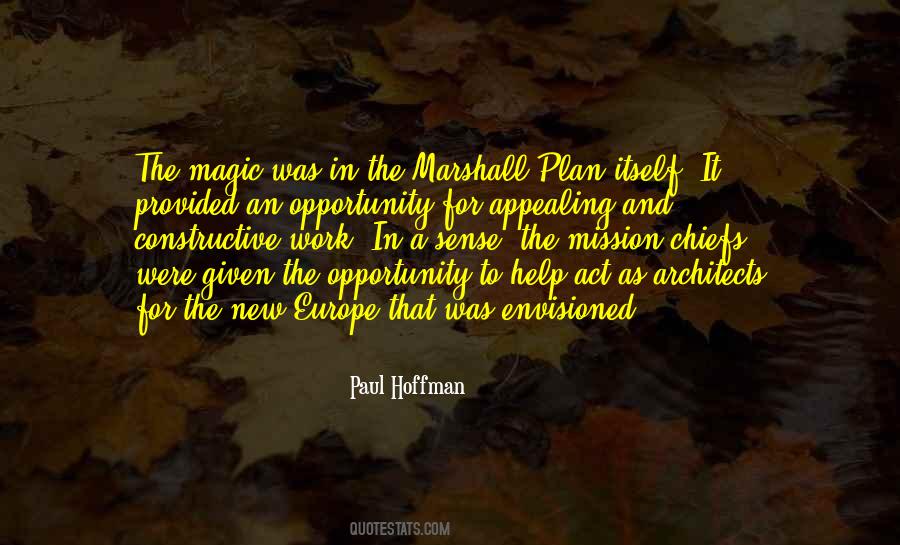 #7. Today, poor people the world over are seeking opportunity and choice to have greater dignity in their lives - and they want to do it themselves, even if they need a little help. Today we have the tools and technologies to bring real opportunities to people all across the world. - Author: Jacqueline Novogratz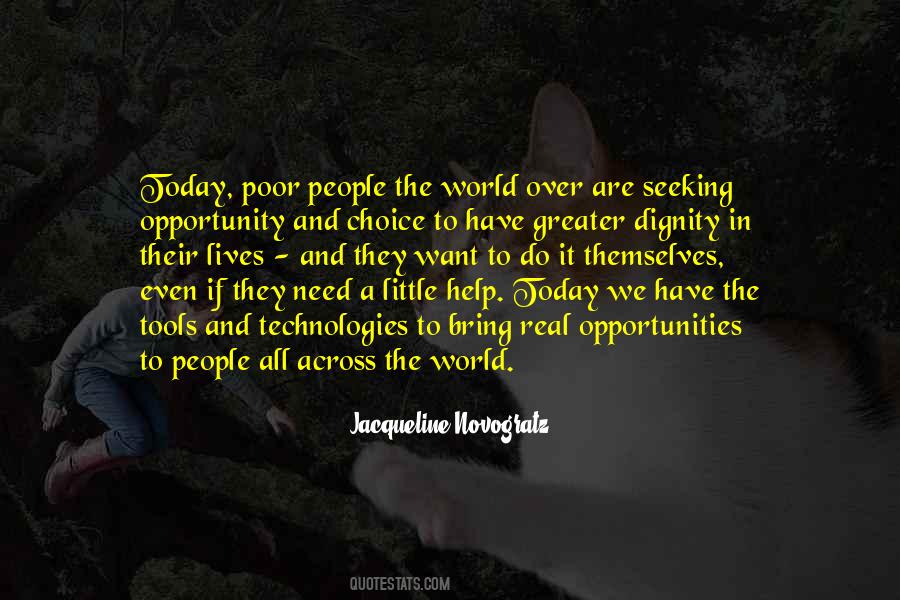 #8. What I know how to do is nurture and help people discover the best opportunities ... - Author: Lee Clow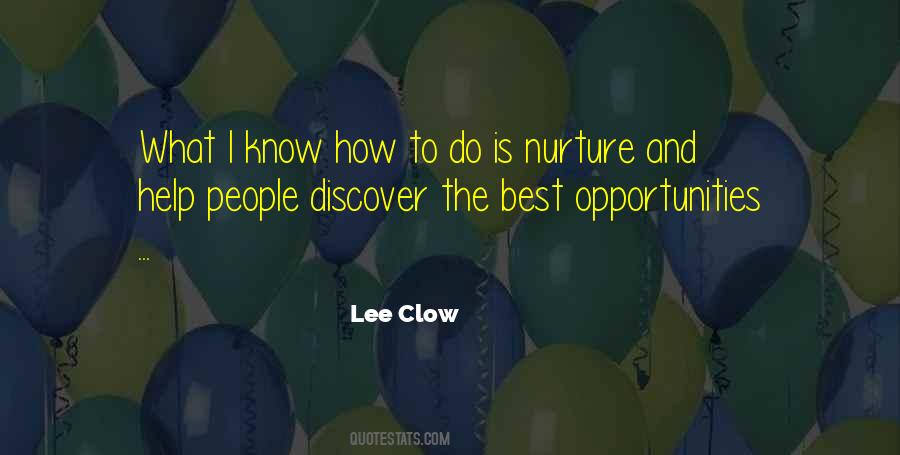 #9. Don't rebel, but give God the opportunity to change your life and help you over the problems of youth, for they are many. - Author: Billy Graham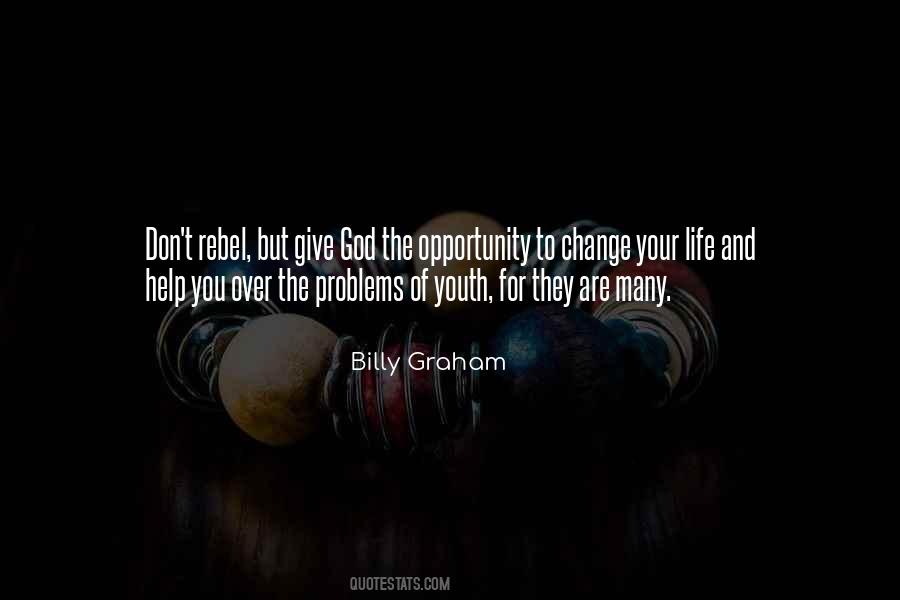 #10. I use game theory to help myself understand conflict situations and opportunities. - Author: Thomas Schelling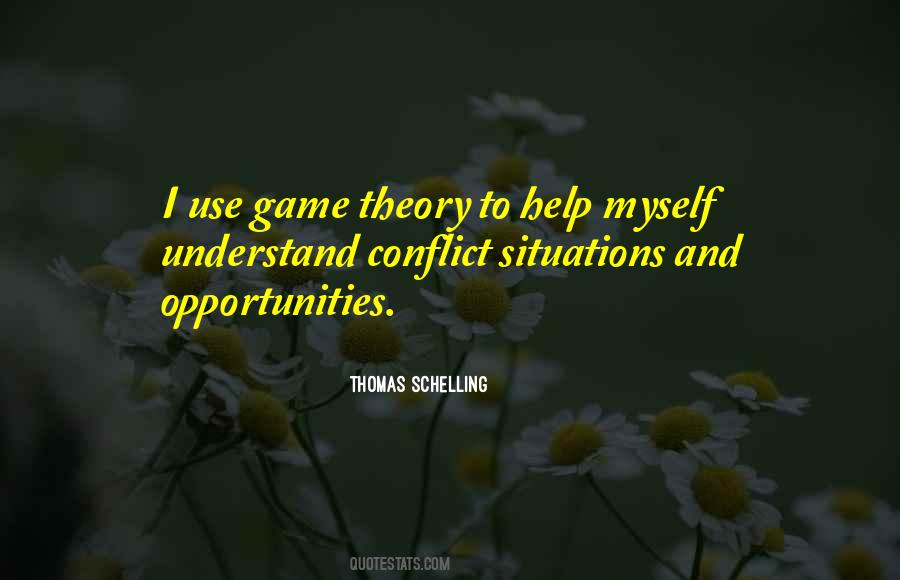 #11. If coal wants a place in a carbon-constrained future, they have to look at technology like this. And we think that our rule can help stimulate technology, growth, and innovation, bring those costs down, and allow coal a more stable opportunity to continue to be invested in. - Author: Gina McCarthy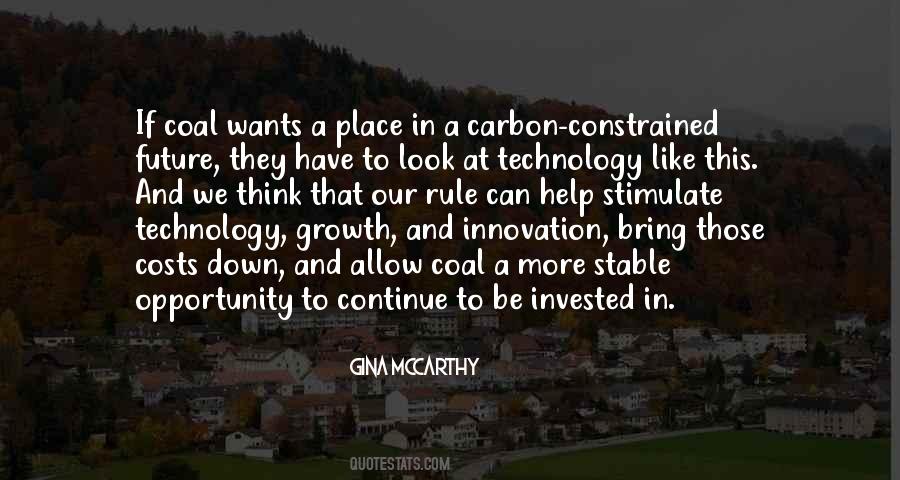 #12. I had seen my refusal as not wanting to impose; they saw my change as giving them an opportunity to help. - Author: Don Piper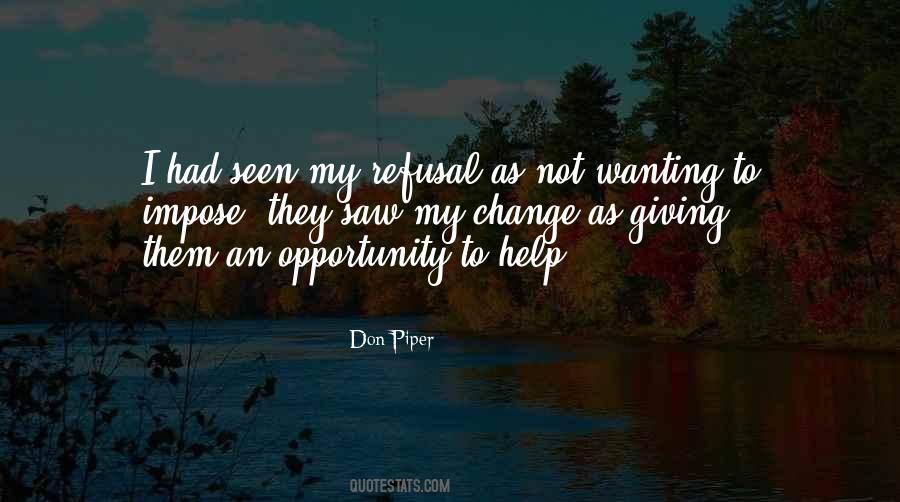 #13. True education should teach us how to think, how to see the beauty in the midst of ugliness, how to love without judging, how to find opportunity to help, and how to develop a peaceful and nonviolent society. - Author: Debasish Mridha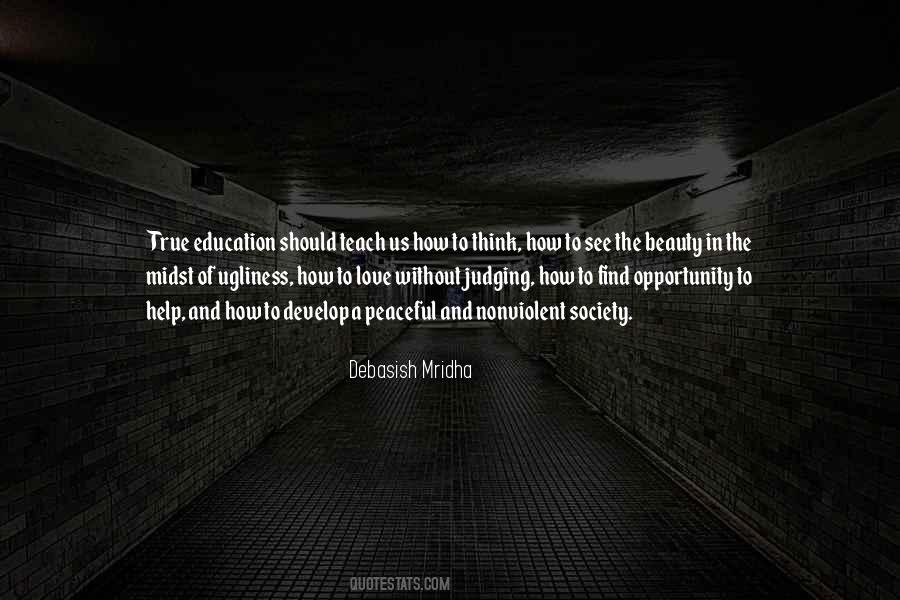 #14. If you want to help someone in a bad situation, you need to give them the opportunity to work their way out of it. - Author: Jervey Tervalon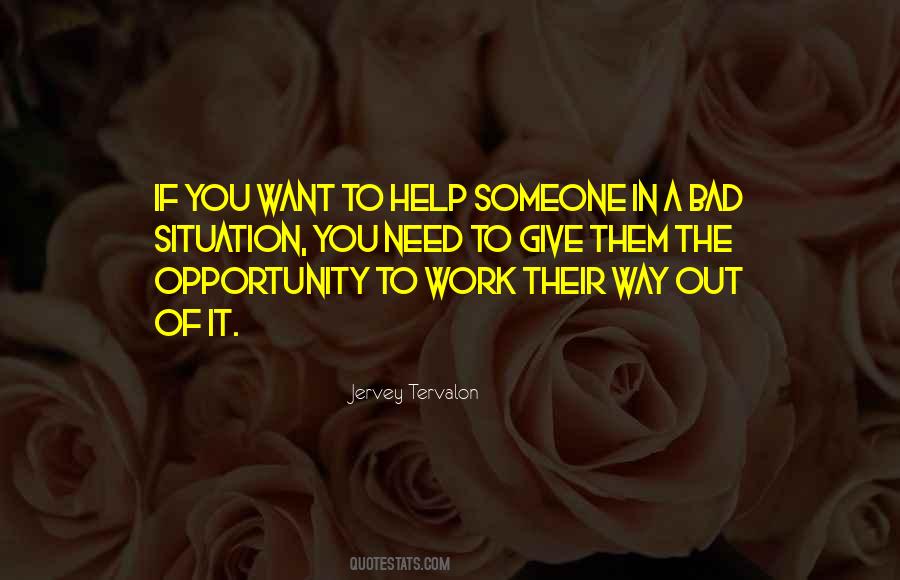 #15. Elevation Book Publishing drives each book to their highest peak and afford authors the opportunity to rise to their full potential. We create thriving partnerships. - Author: Rhonda Wilson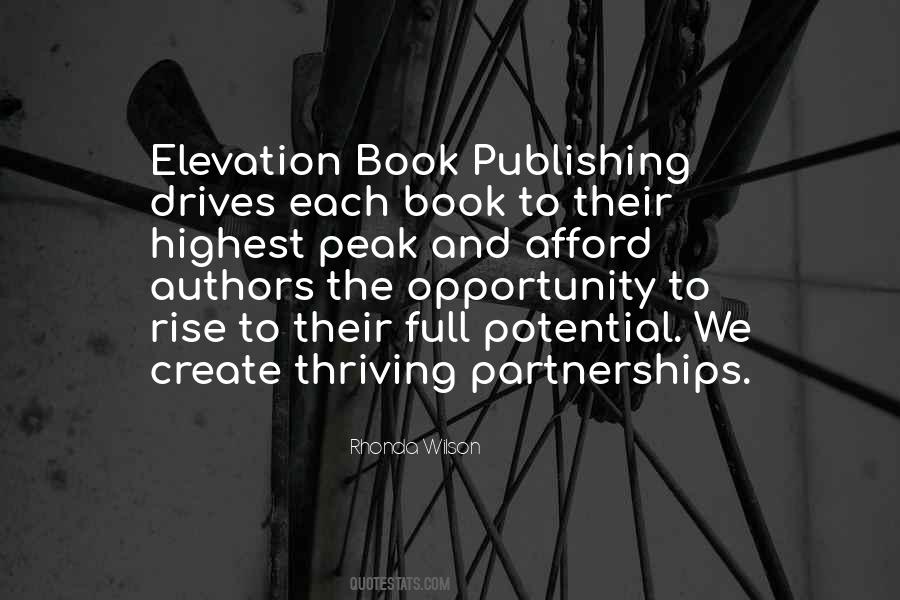 #16. Life provides ample opportunity to test our mettle. When circumstances call for it, let's give ourselves a break and ask for help. - Author: Gina Greenlee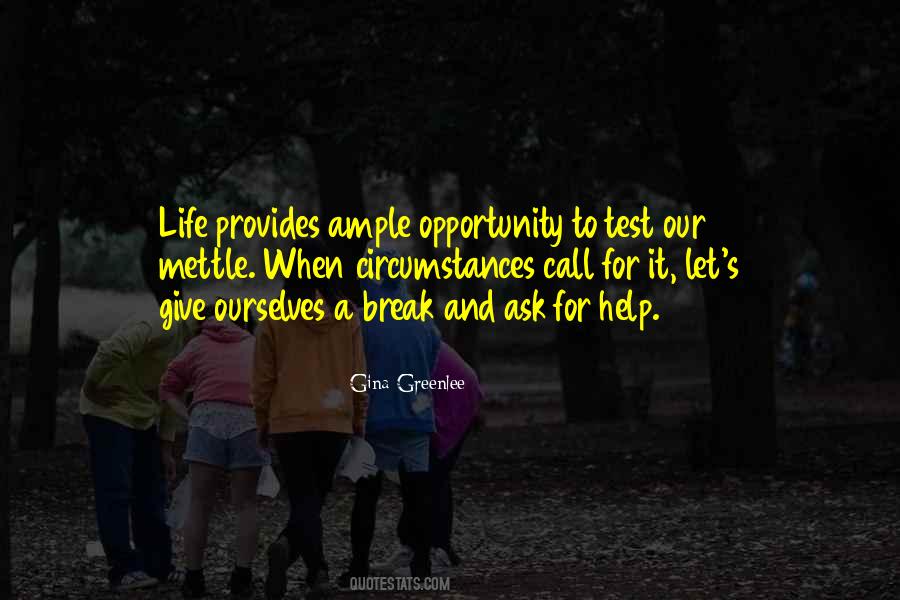 #17. Teach a child not to seek help but to seek the opportunity to help others. - Author: Debasish Mridha
#18. To be a superstar, you must do something exceptional. Not just survive the Dip, but use the Dip as an opportunity to create something so extraordinary that people can't help but talk about it, recommend it, and, yes, choose it. - Author: Seth Godin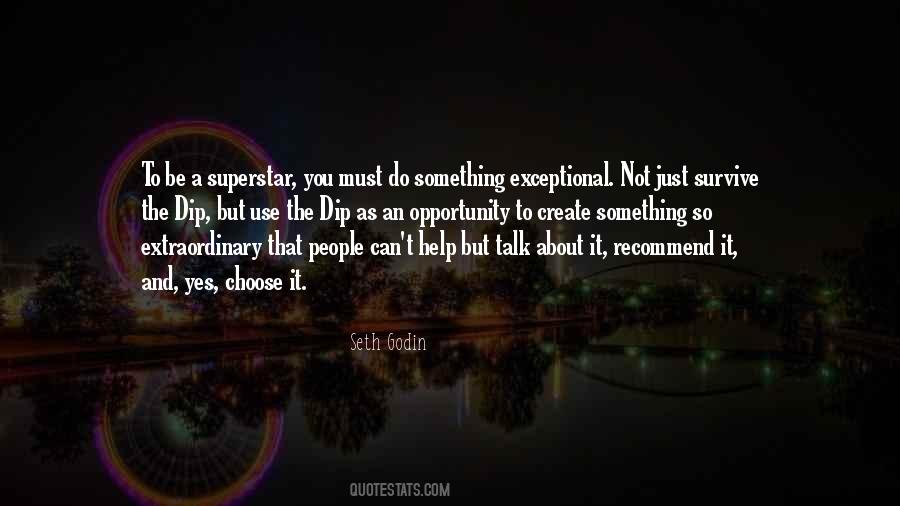 #19. ...True classical dropouts in society are those who avoid difficult challenges and cling to the first opportunity that comes their way. They never test their talents. These latent talents will only help to produce the next cycle of dropouts... - Author: Janvier Chouteu-Chando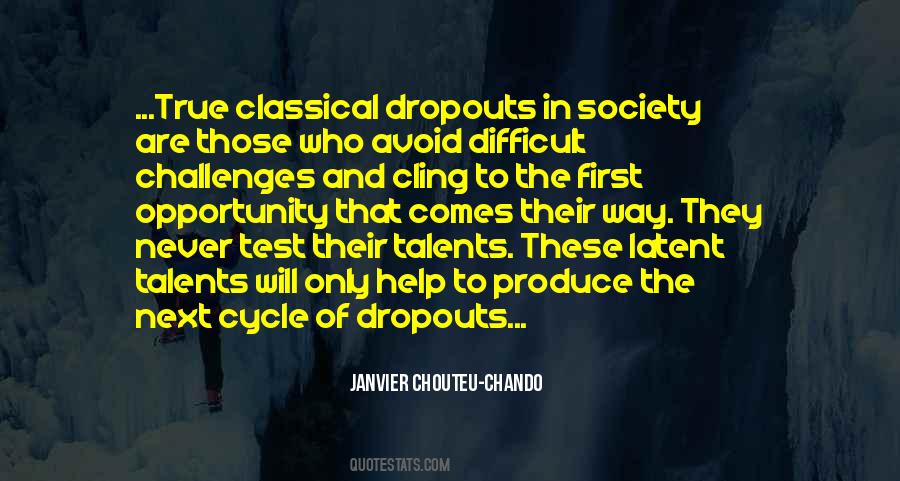 #20. One of the things that evangelicals do really, really well is to make giving a joyous, social enterprise. Too often, the world sees giving as a burden, a sacrifice, when in fact it's more like an opportunity to help others and oneself at the same time. - Author: Nicholas Kristof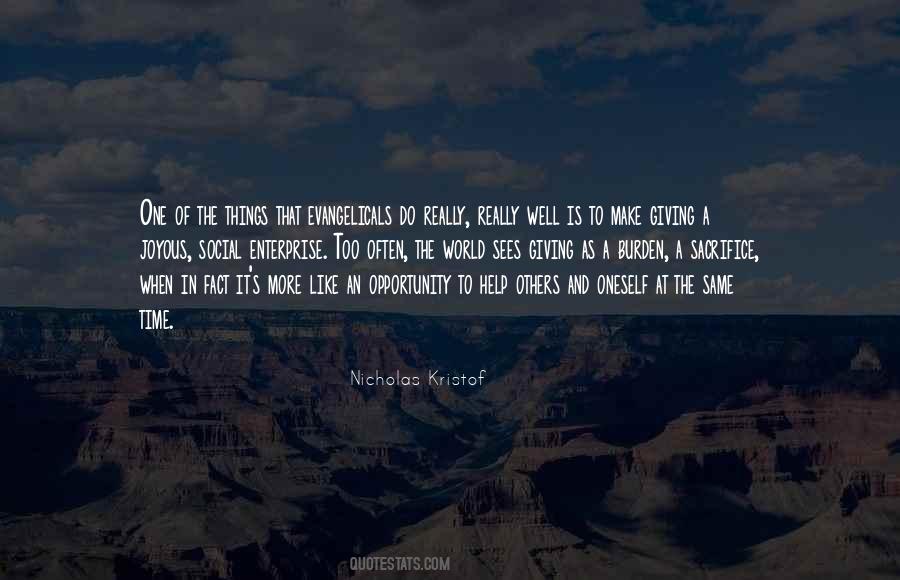 #21. Lord, help us to accept the pains and conflicts that come to us each day as opportunities to grow as people and become more like you. - Author: Mother Teresa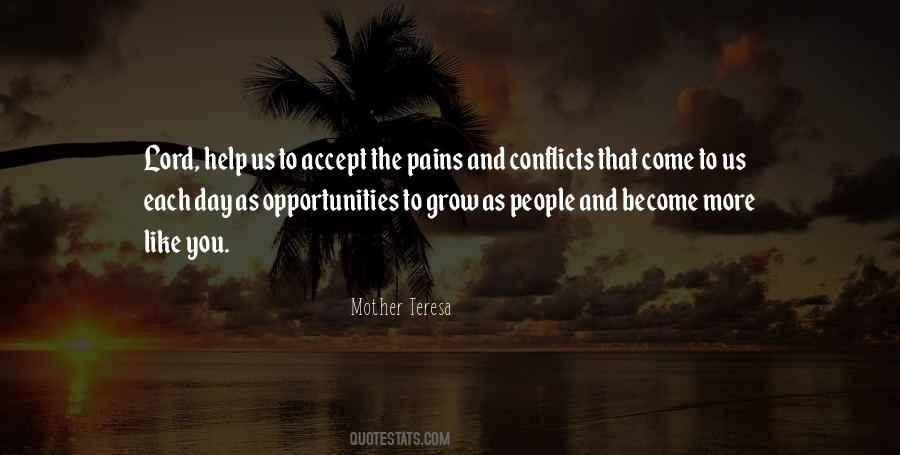 #22. I went to school for special education. I always assumed when I had the opportunity I would love to try and help kids with disabilities. - Author: Clay Aiken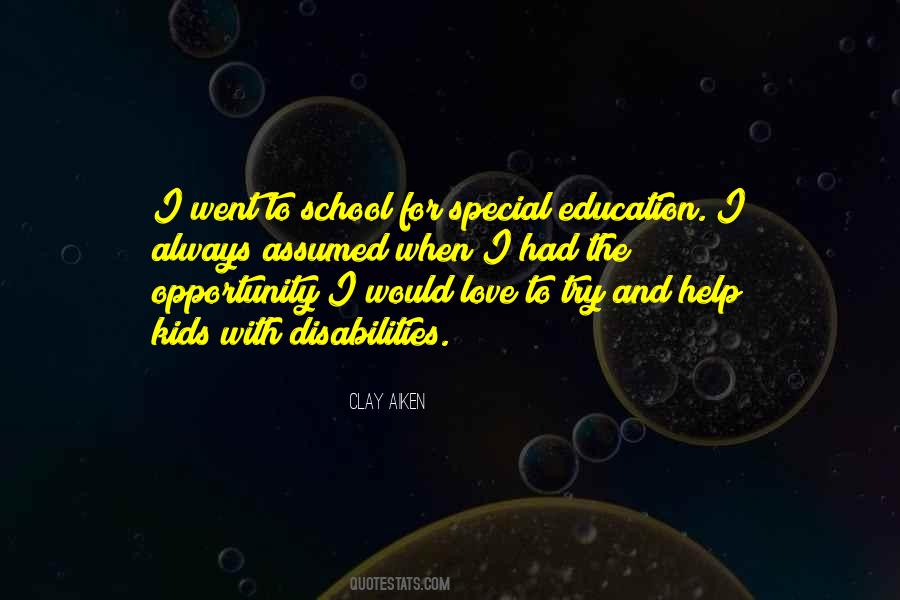 #23. If people start going to a desk, some one individual employees desk and they don't report to them ... it's a sign that they believe that person can help them. So if you see that consistently, those are your barrels. Just promote them, give them more opportunity as fast as you can. - Author: Keith Rabois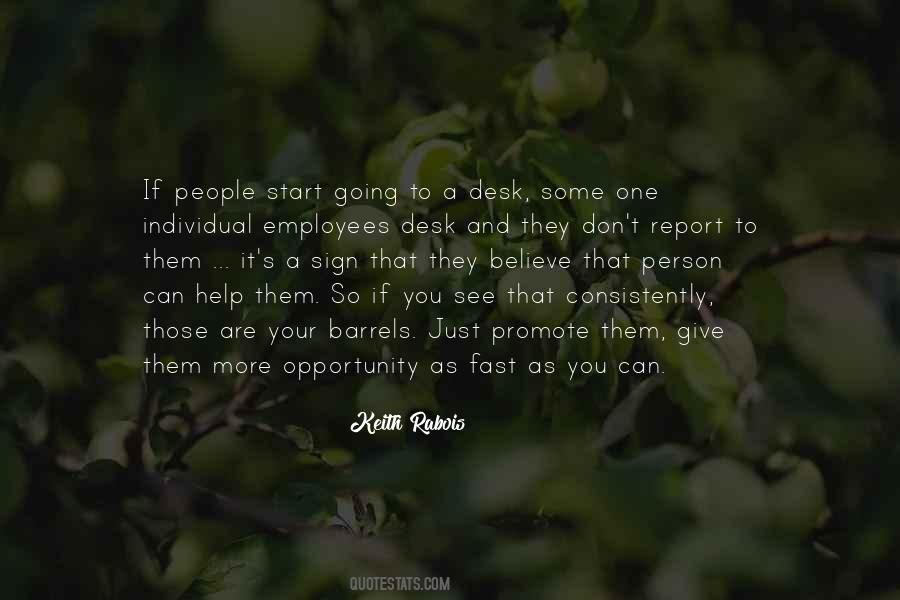 #24. How could any entrepreneur, confronted by such amazing opportunities to help transform the world and to do so with such extraordinary colleagues, be tempted to lose focus? Especially since the work involves such breadth that the boredom of routine or specialization does not exist. - Author: Bill Drayton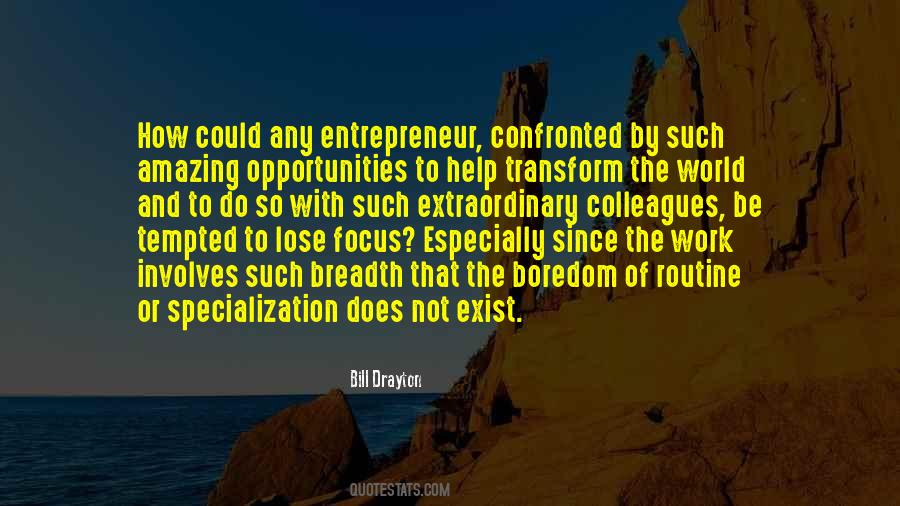 #25. There are as many ways to help another human being as there are people in need of help. For some, the urgent need is as basic as food and water. For others, it is an opportunity to develop a talent, realize an idea, and reach one's full potential. - Author: Naveen Jain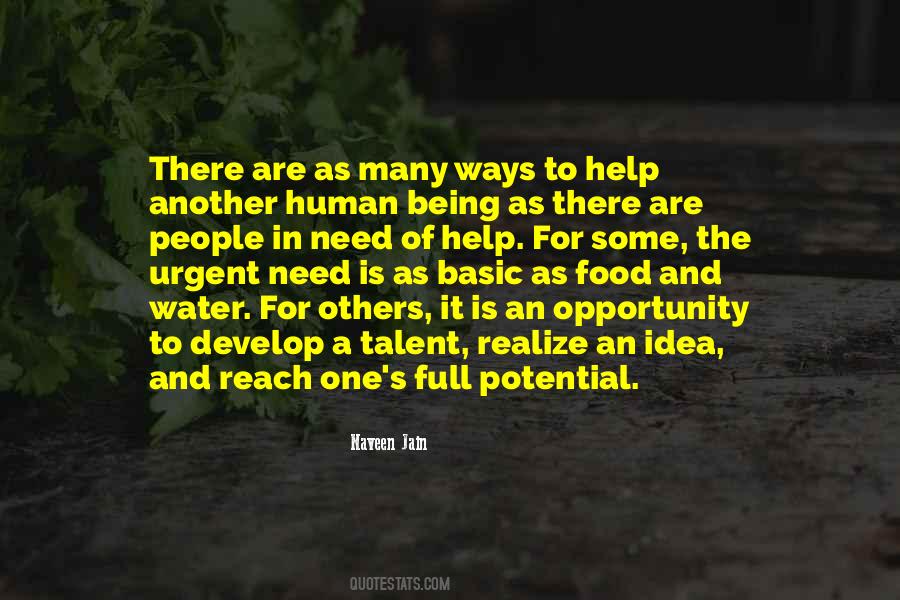 #26. Opportunity to help others is the opportunity to help yourself in disguise. - Author: Mayur Ramgir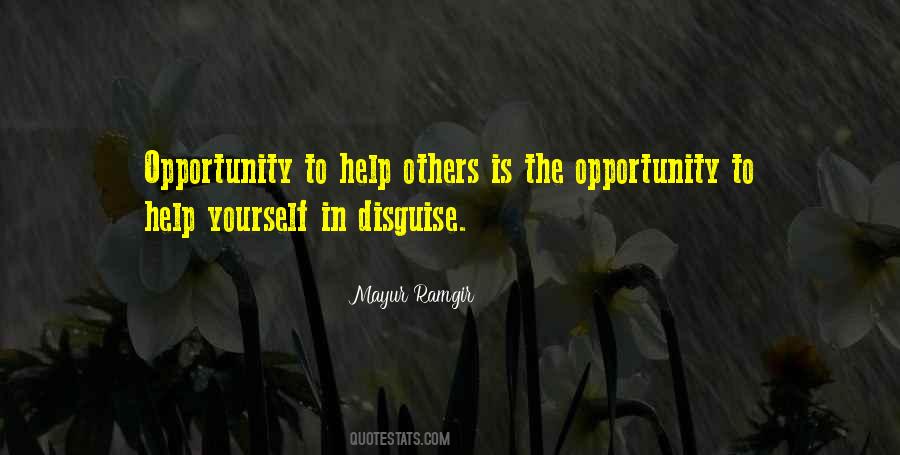 #27. I want to finish by saying that I intend to be an avid spokesperson for testicular cancer once I have beaten the disease ... I want this to be a positive experience and I want to take this opportunity to help others who might someday suffer from the same circumstance I face today. - Author: Lance Armstrong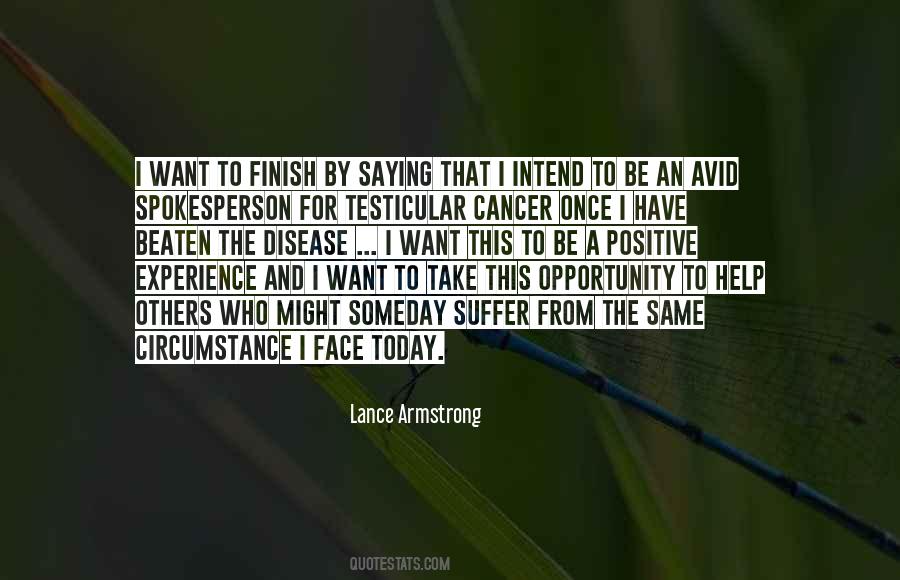 #28. We have a social responsibility, a constitutional opportunity and a moral obligation to help others. - Author: Janie Lewis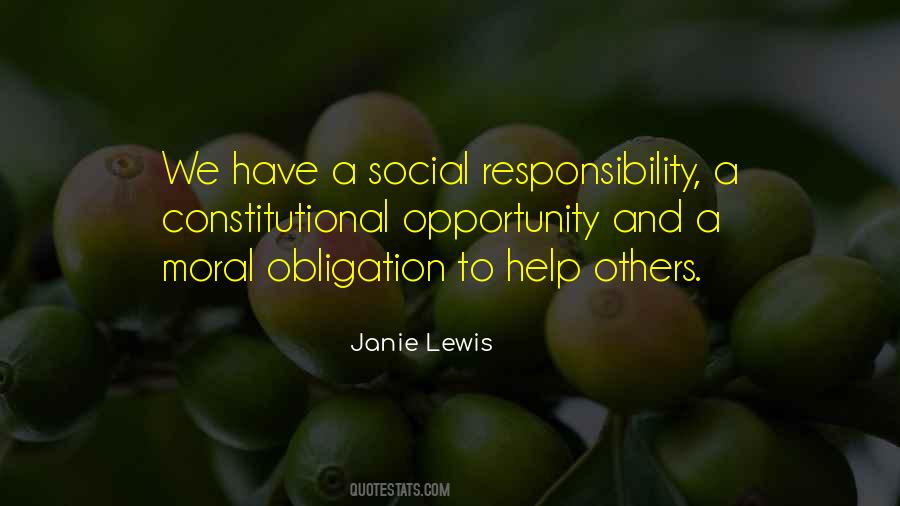 #29. Money doesn't give you any license to relax. It gives you an opportunity to use all your abilities, free of financial worries, to go forward, and to use your superior advantages and talents to help others. - Author: Rose Kennedy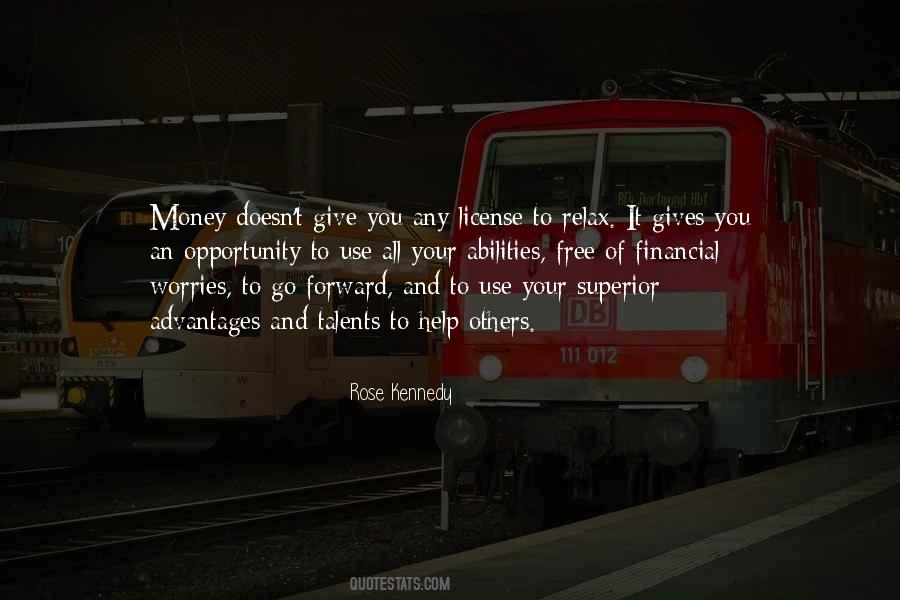 #30. Charity work is very important to me and gives me an opportunity to give back to my community. I've always been a big supporter of many different charities, have donated millions of dollars to them, and it just feels great to do and be able to help others, especially children. - Author: Richard MacDonald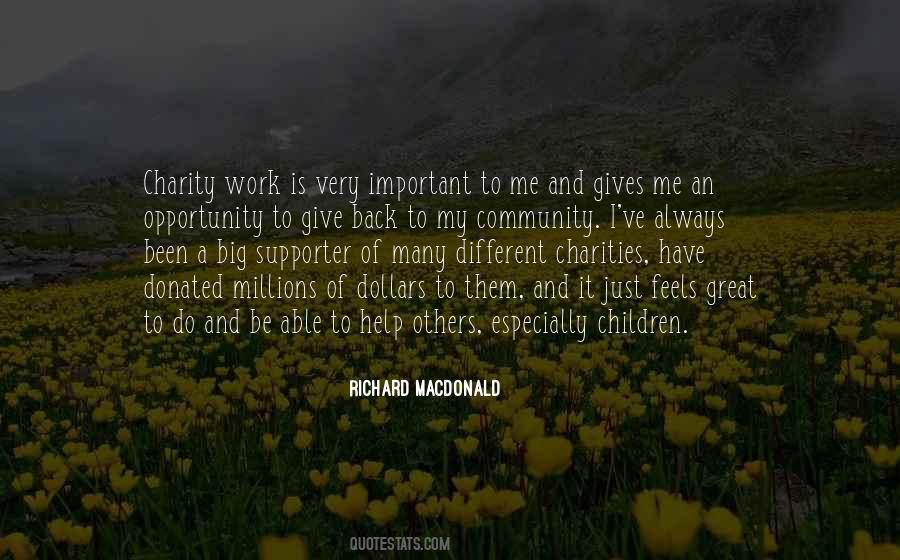 #31. Given love and opportunity, every child and adult can recover. All who know this and have the capacity to help others should assist as they can. - Author: Dallin H. Oaks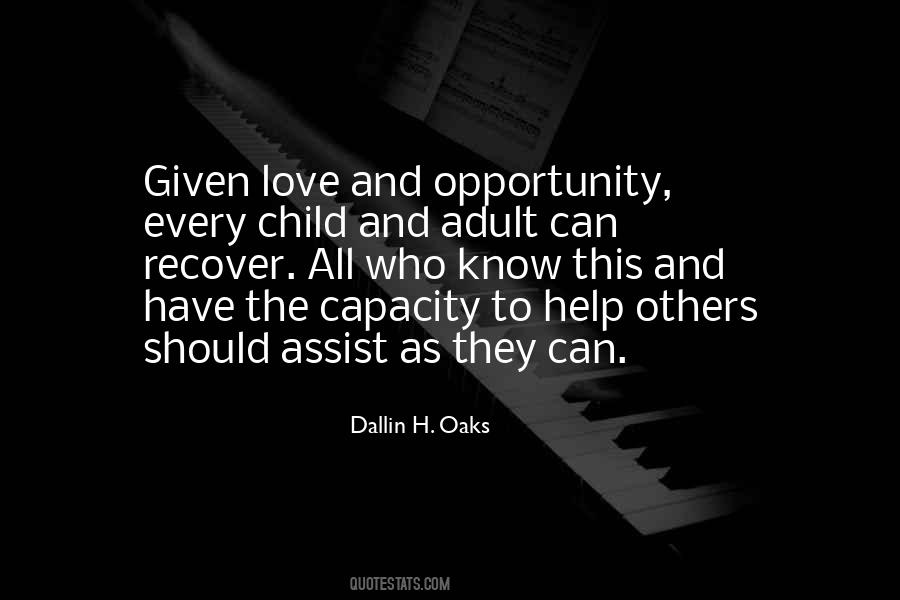 #32. There is an opportunity cost in every action. - Author: Lailah Gifty Akita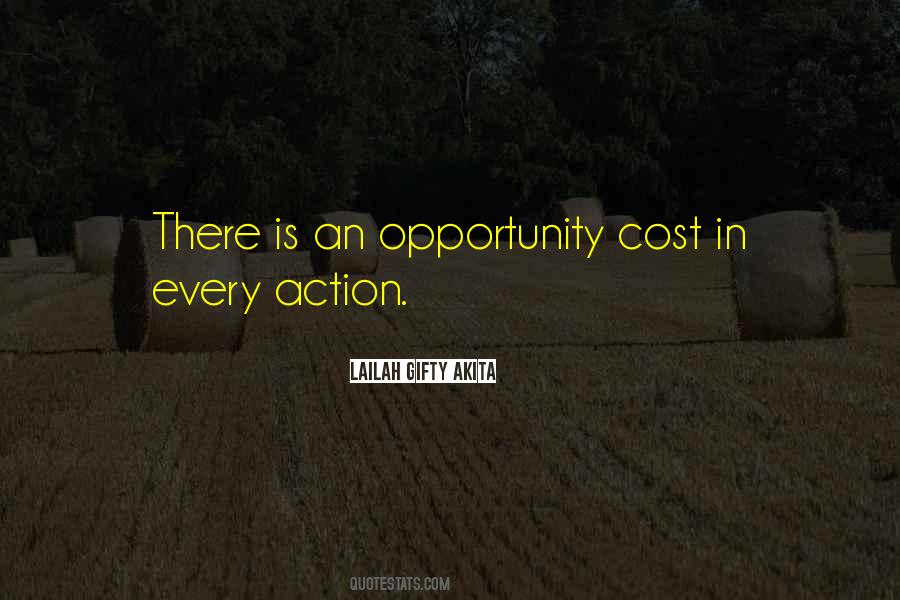 #33. Our challenge, our opportunity is to pass common-sense solutions ... that repeal ObamaCare and replace it with patient-centered reforms that will help our constituents have better access to high-quality health care in America. - Author: John Boehner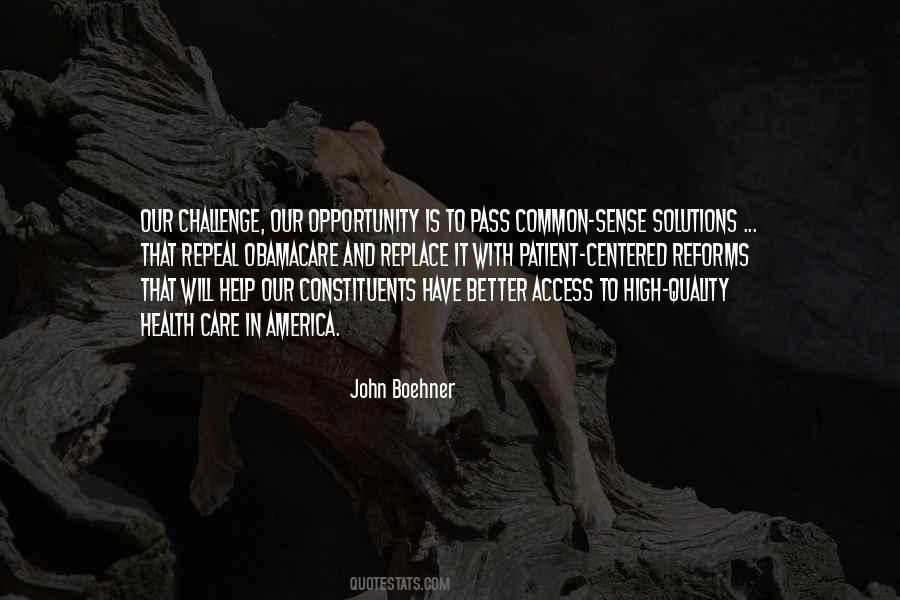 #34. Every challenge is an opportunity for spiritual growth. - Author: Lailah Gifty Akita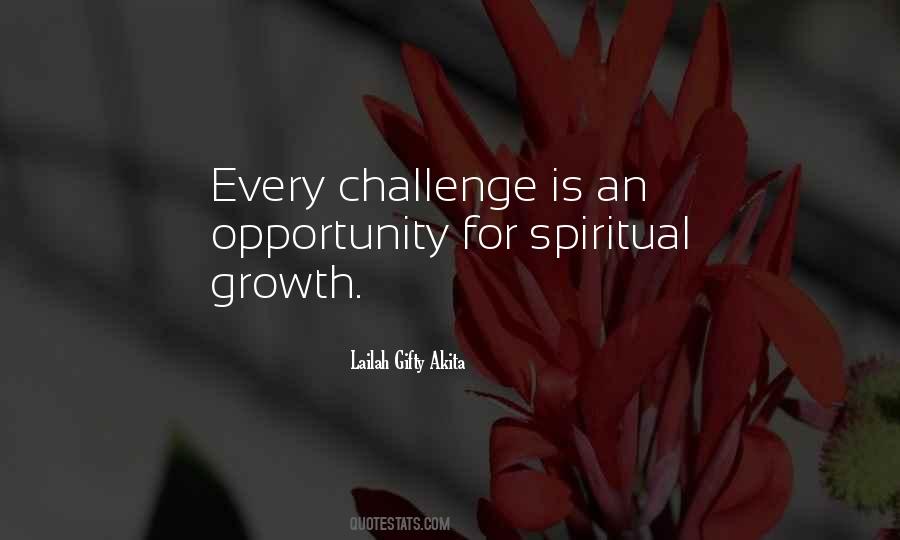 #35. Minister every day. Opportunities are all around you. Look for them. Ask the Lord to help you recognize them. You will find that most consist of small, sincere acts that help others become followers of Jesus Christ. - Author: David L. Beck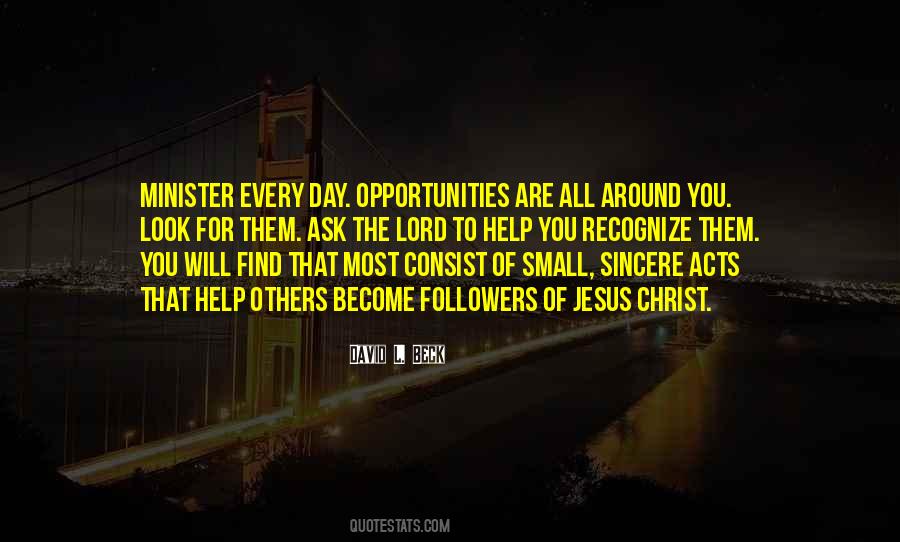 #36. The umbrella won't stop the rain, but it will help you to get out during rainfall. As well as confidence is not going to guarantee your success, but it will give you the opportunity to achieve it. - Author: Eyden I.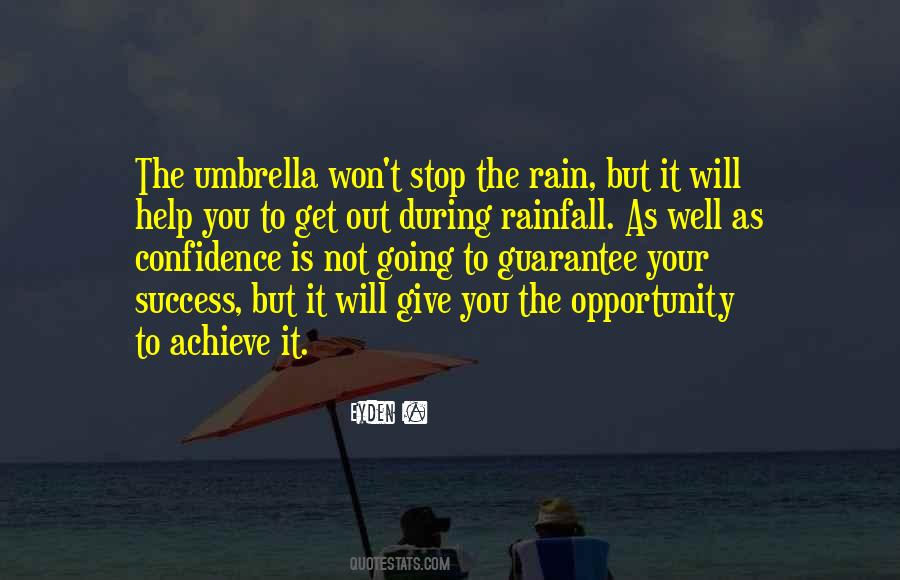 #37. I have always enjoyed do-it-yourself projects, .. Being in a position to actually help design and bring tools to market is an incredible opportunity. Being able to fund charities as a result is phenomenal. - Author: Tim Allen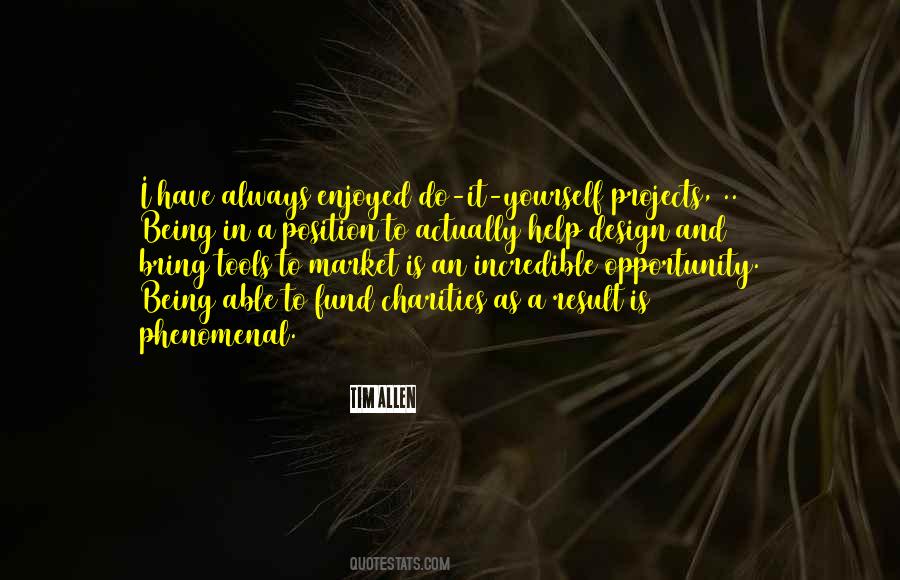 #38. Simply thinking creatively is not the same as being innovative, and only those who risk breaking out of their comfort zone by putting thought into action will discover the profusion of opportunity that exists. - Author: Michael Lum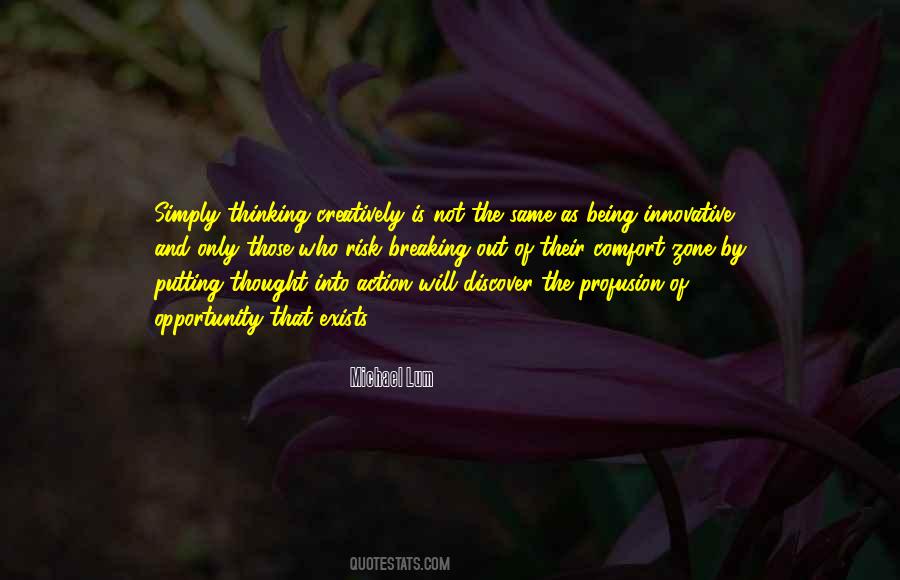 #39. We always get help we ask for.
"Knock and the door will open"
Make sure it's the right door. - Author: Aleksandra Ninkovic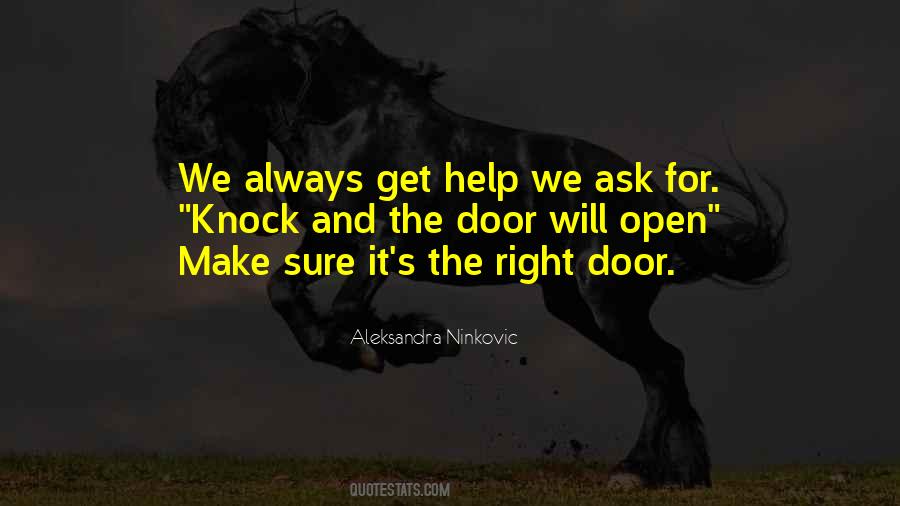 #40. There are many people abroad who want to help, who want to invest. We will give them the red-carpet treatment. We want them to realize that this is a land of opportunity. It always has been so, but we never allowed foreign investment to come into this country. - Author: Antonis Samaras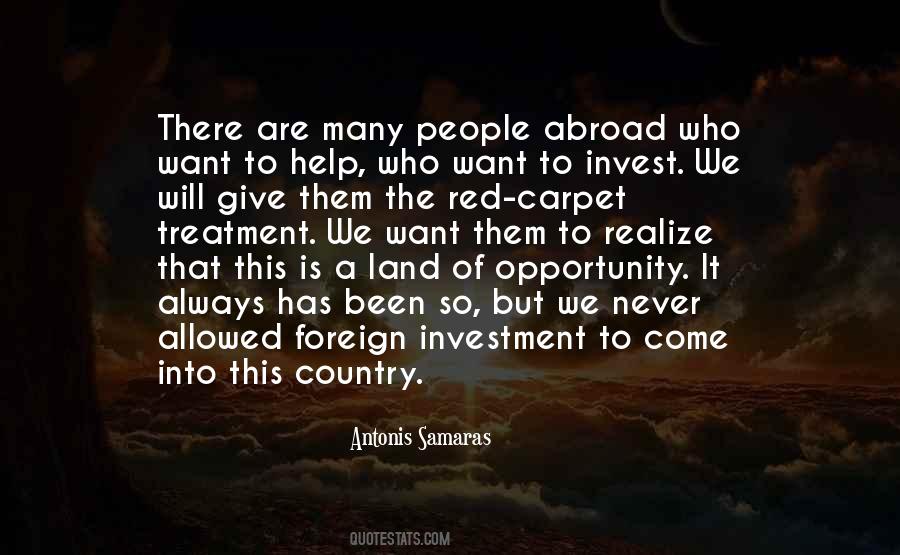 #41. The biggest enemies we have to overcome on the road to success are not lack of ability and lack of opportunity but fears of failure and rejection and the doubts that they trigger. - Author: Brian Tracy
#42. To get pregnant, I have resorted to artificial insemination. I want to openly talk about it because this is an opportunity to show my gratitude to all those anonymous donors who help many women to meet, like me, the dream of their life. - Author: Monica Cruz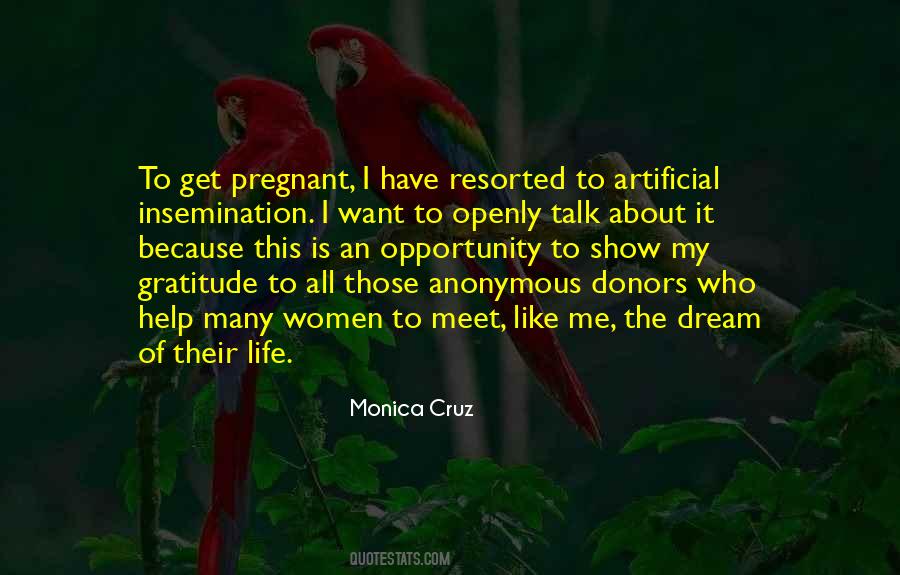 #43. I just want to help other women achieve as much as they can in society without restraints being imposed on us. It's the most natural and normal thing to want to defend your rights to equal opportunities, equal pay for equal work, and everything that comes with that. - Author: Amy Poehler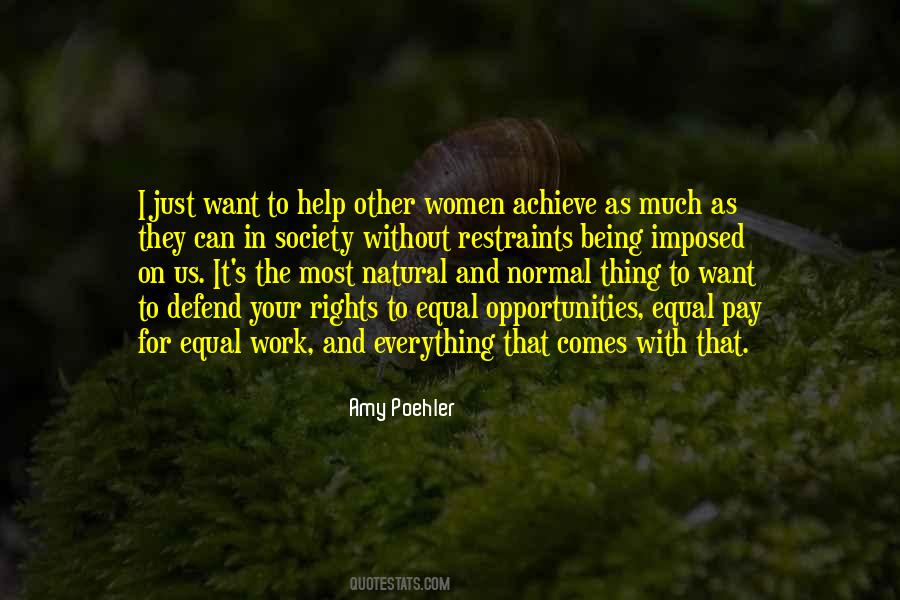 #44. Patience will benefit you in every hour, every time and every opportunity. It helps you to overcome your opponent, howsoever strong he may be. It will help you in times of distress and hardships, in battles and in war and peace. - Author: Abd Al-Karim Qasim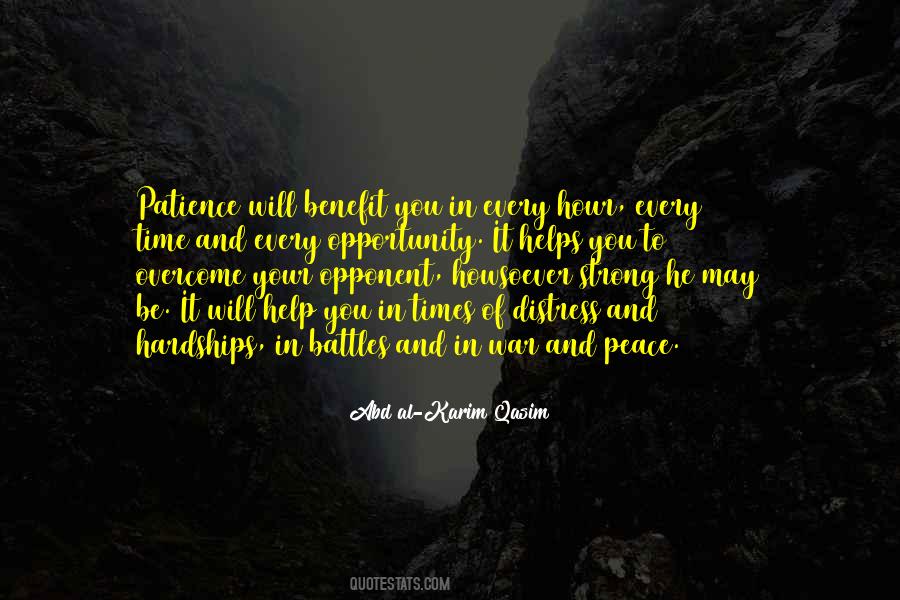 #45. You're always learning on different avenues and this is an opportunity for me to start on a fresh plate and start learning some other things that can really help me, that I need, and I want, to progress forward. - Author: Elvis Stojko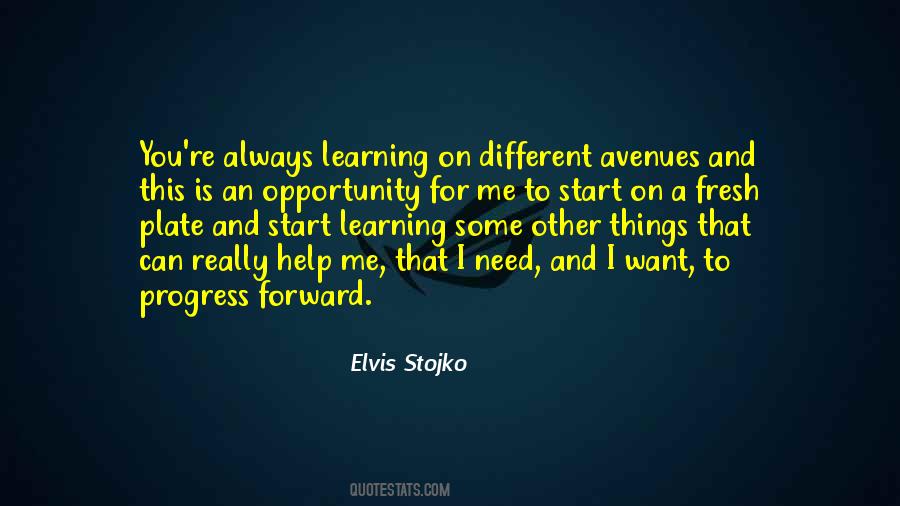 #46. As people grow older, some of the ways they have contributed in the past may no longer be possible, but the challenge to society is not only to provide help and care where these are needed but also to offer the opportunity to contribute and care for others [p. 8] - Author: Mary Catherine Bateson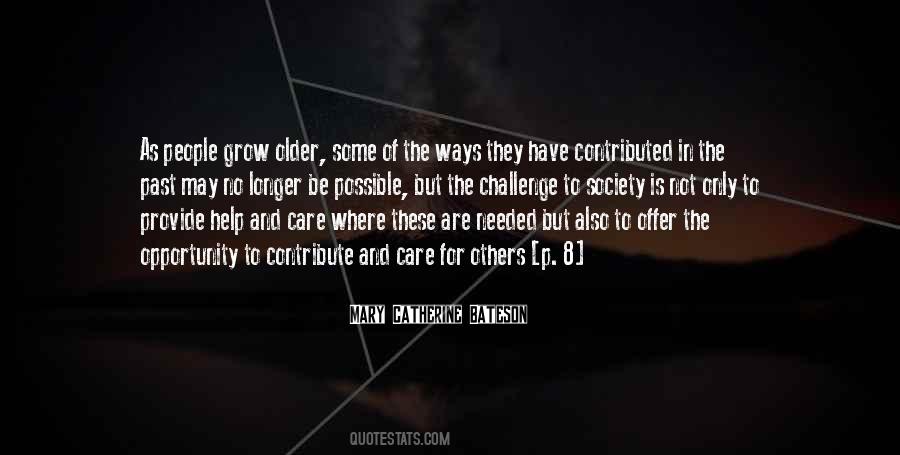 #47. I'm passionate about restoring the efficacy of American democracy, making capitalism sustainable, prioritizing advances in technology, and seizing the opportunities to use that kind of innovation to help usher in a new economy that doesn't rely on carbon-spewing fossil fuels. - Author: Al Gore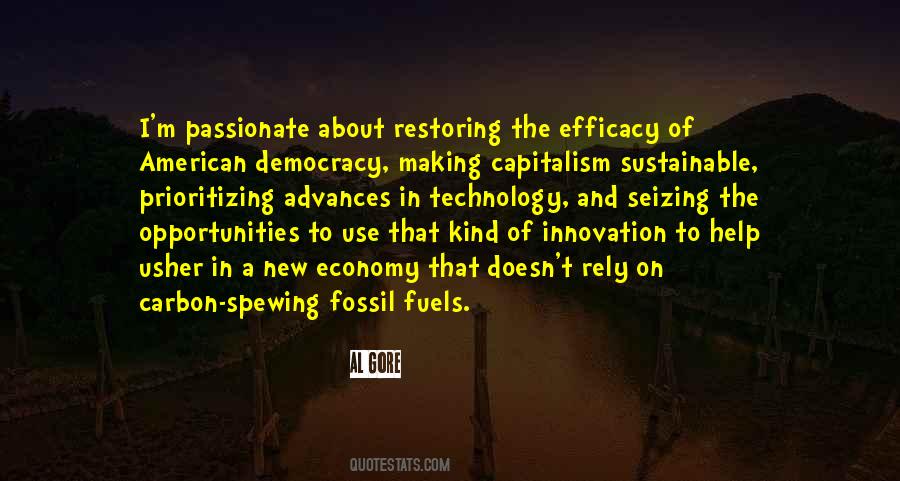 #48. What if you can't, Austin? You can't help everyone."
"At least I'll know I tried. - Author: Megan Bostic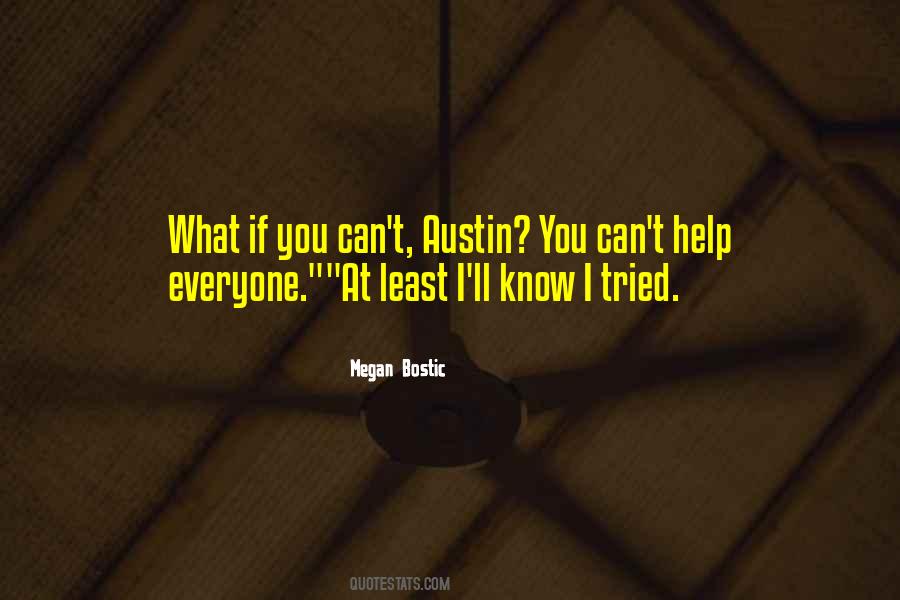 #49. It's so good to have the opportunity to help others who have helped you.
It's not about "tit for tat," it's about "I love you, too. - Author: Karen E. Quinones Miller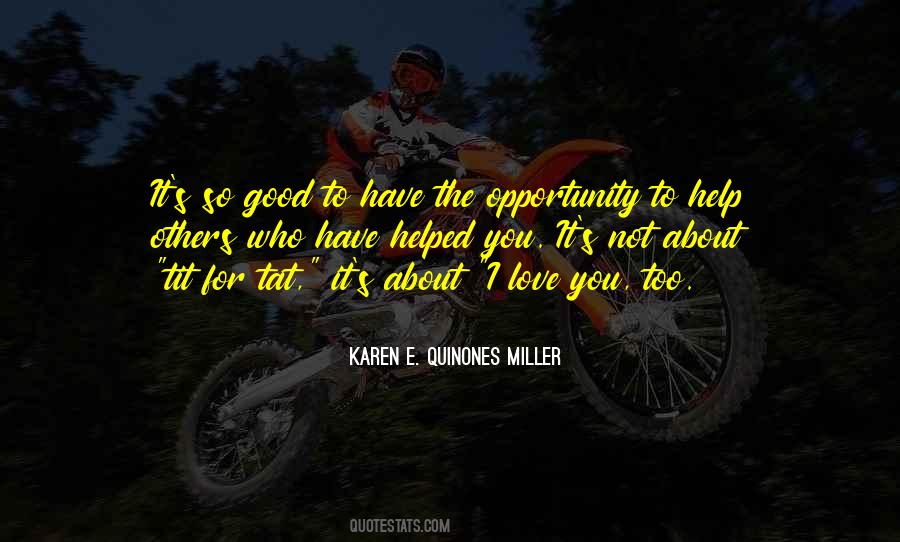 #50. Rather than being afraid to ask for help, remember this: When you ask someone to help you, you are actually doing them a tremendous favor by giving them an opportunity to feel needed. - Author: Richard Carlson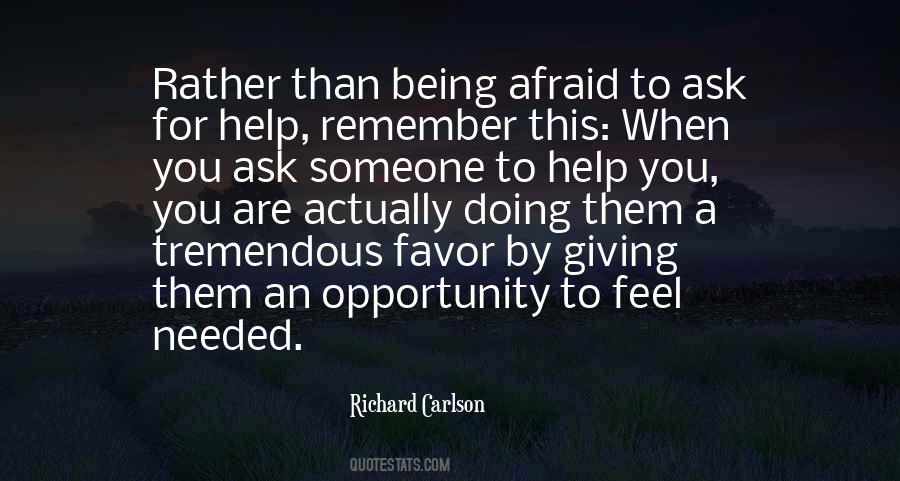 #51. The government needs to help those in need, but members of Congress shouldn't take advantage of the situation and use a national tragedy as an opportunity to spend taxpayer dollars on their pet projects. - Author: Chris Chocola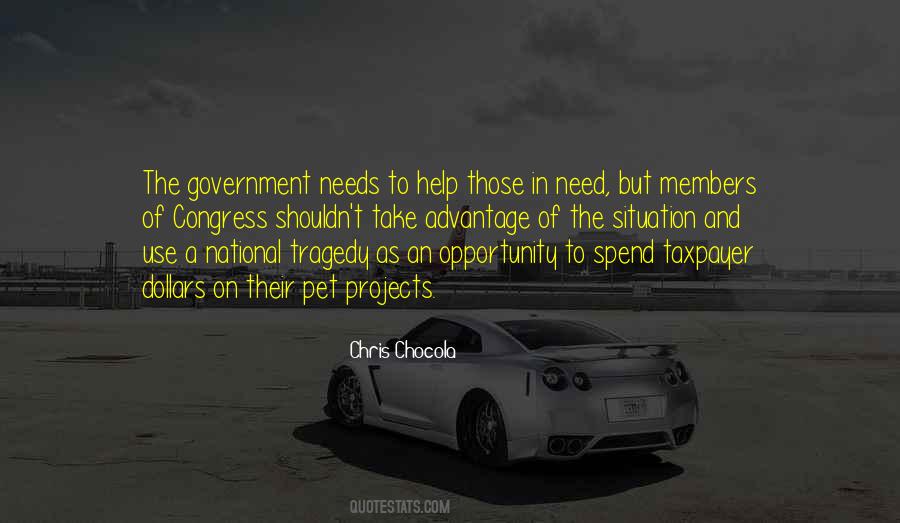 #52. What this is about is hopefully an opportunity for me to help pave the way for my future in terms of getting financially choosier. You have to plan the windfall as if it'll be your only one. - Author: Jim Parsons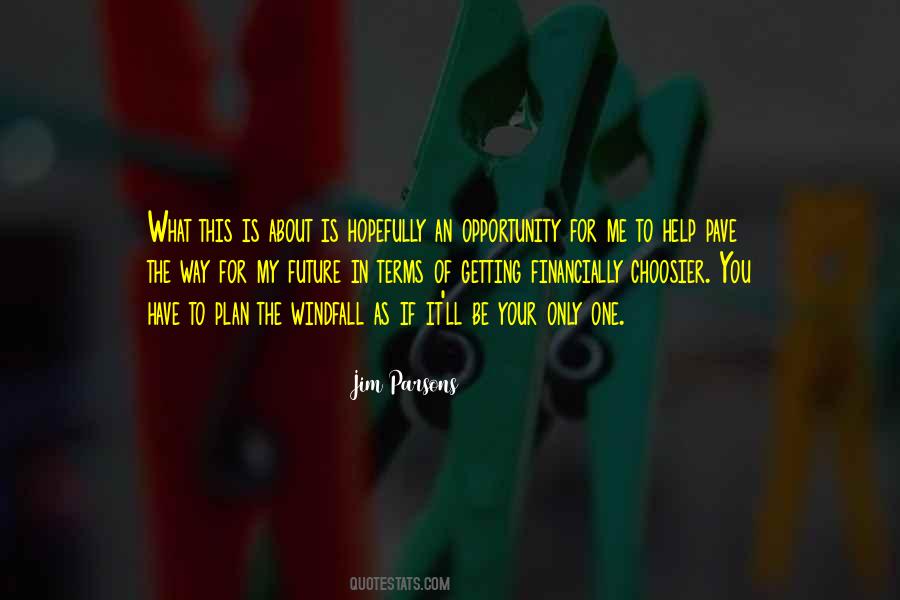 #53. Let me make it clear that the Youth Employment Opportunities Act of 1961 is not primarily concerned with delinquency prevention. Rather, it is designed to help all types of young men or women who suffer deficiencies of training or opportunity which keep them unemployed. - Author: Robert Kennedy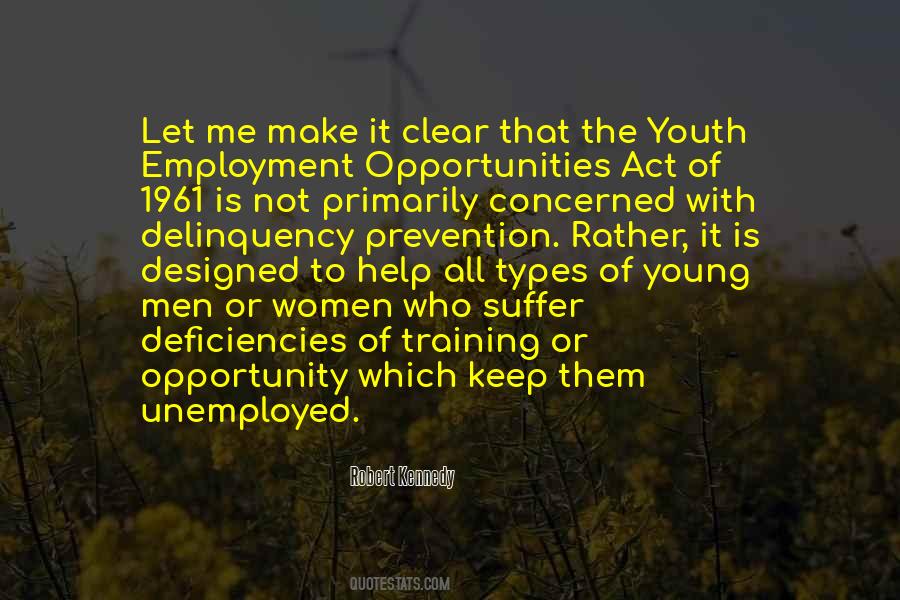 #54. We know that children need help to read, and the best time to start them reading is very young. We believe that when children see adults from all walks of life and from throughout the community reading to them, that is another opportunity for children to see the importance of reading. - Author: Jane Bown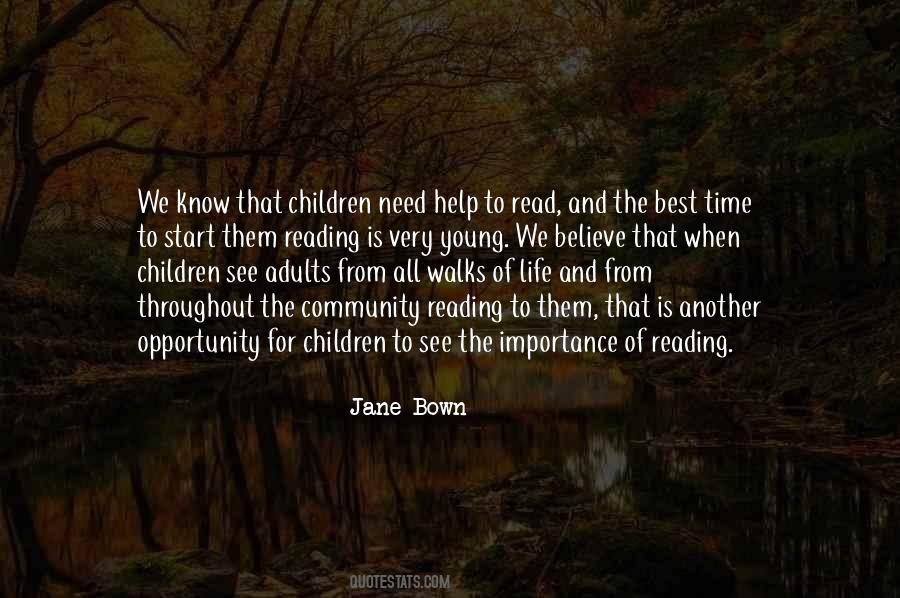 #55. Look for opportunities to help someone else, but don't give expecting something in return. Give knowing that if we give we receive. - Author: David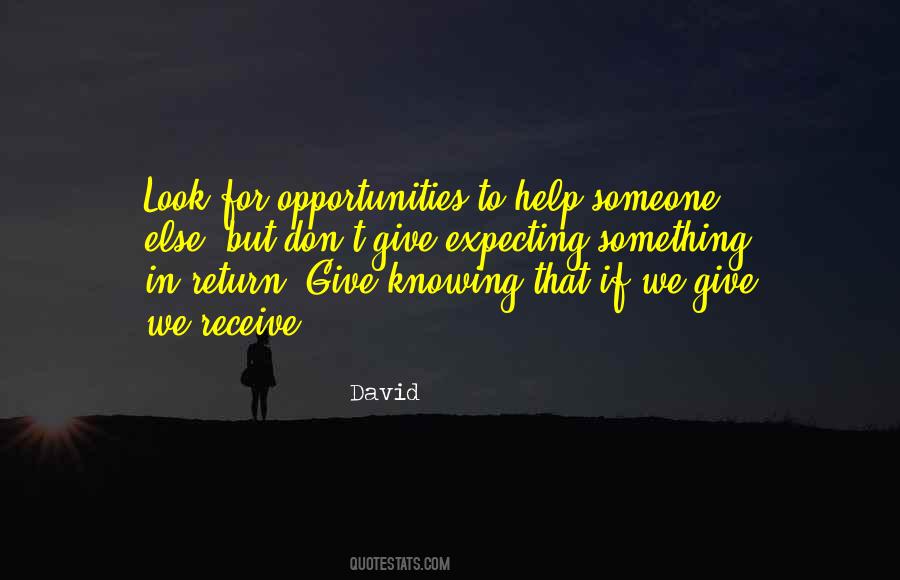 #56. To help U.S. workers, farmers and businesses, and America's long-term economic security, Congress should take decisive action to bring about fair trade with China, instead of squandering this opportunity on a weak Republican bill. - Author: Joe Baca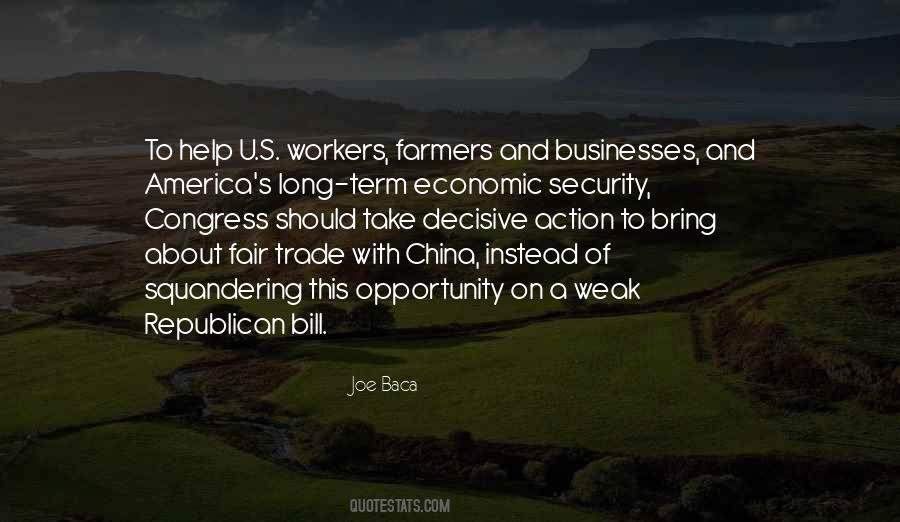 #57. A journey of 1000 miles begins with a single step - Successful people are always looking for opportunities to help others. - Author: Laozi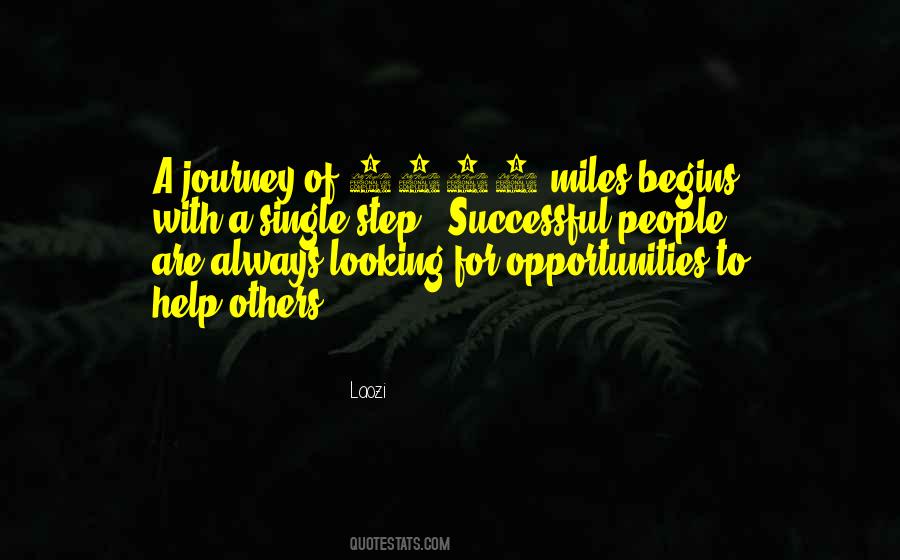 #58. Most often, those who've been in the well are those most likely to pull others out of the well ... When Jack Canaday was twelve years old he was once in the well ... Now, twenty-one years later, Jack has an opportunity to reach down and help others out of the well ... - Author: Randolph Randy Camp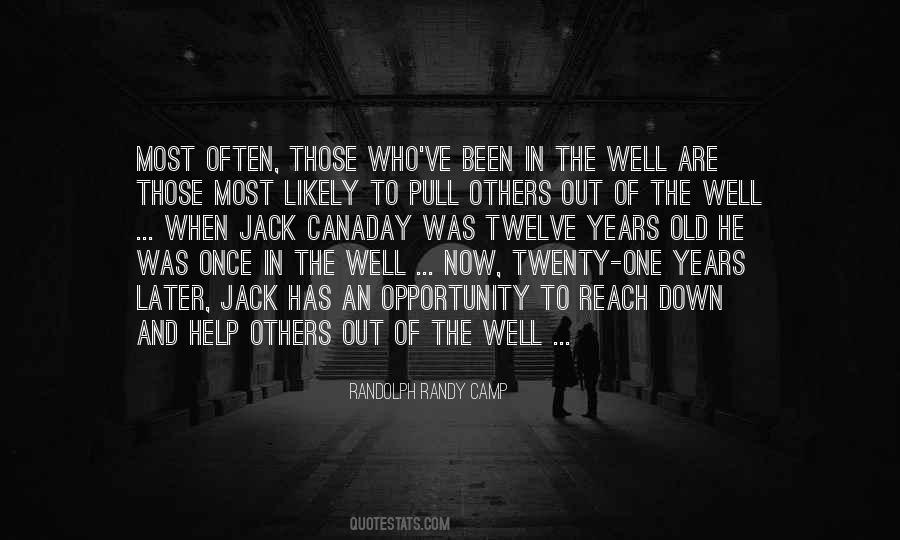 #59. Given the opportunity to help us with our dreams, the Universe does not disappoint. - Author: Maggie Denhearn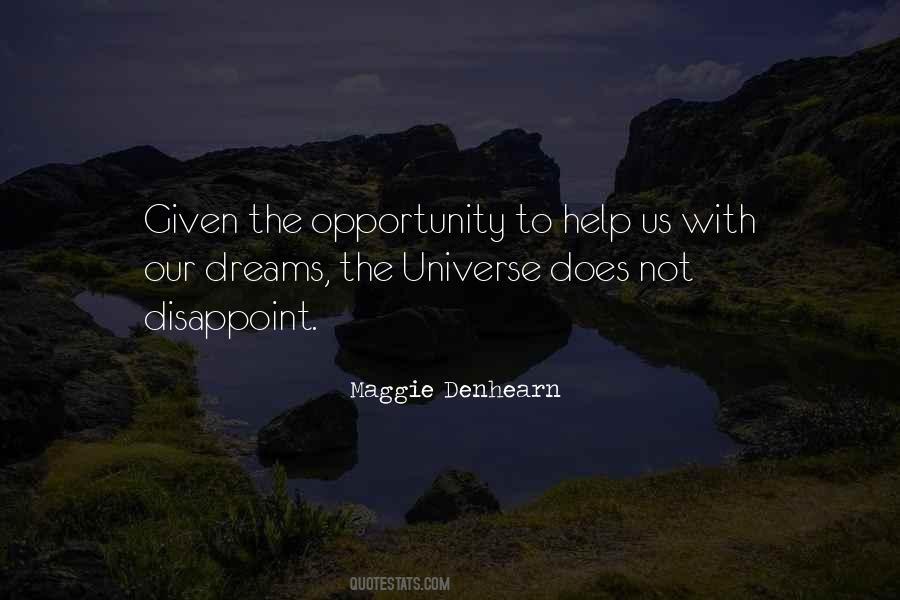 #60. Do not allow yourself to be pulled into the role of embracing victimship as some sort of badge of honor to wear or flash around at any opportunity. - Author: Stephen Richards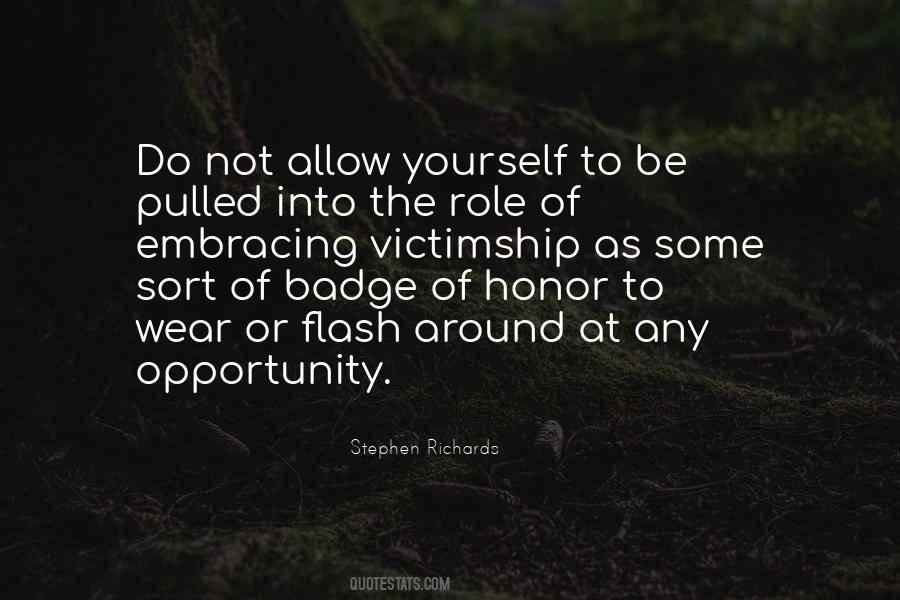 #61. Tennis legend Bjorn Borg appeared in a Swedish TV ad urging Swedes to have more sex to solve the country's falling birth rate. America can help. This is a perfect opportunity to name Jesse Jackson ambassador to Sweden. - Author: Argus Hamilton
#62. Ask yourself exactly what you want in your life - now and in the future. If you were given the opportunity to do or have anything, what would it be, and why? - Author: Beverly K. Bachel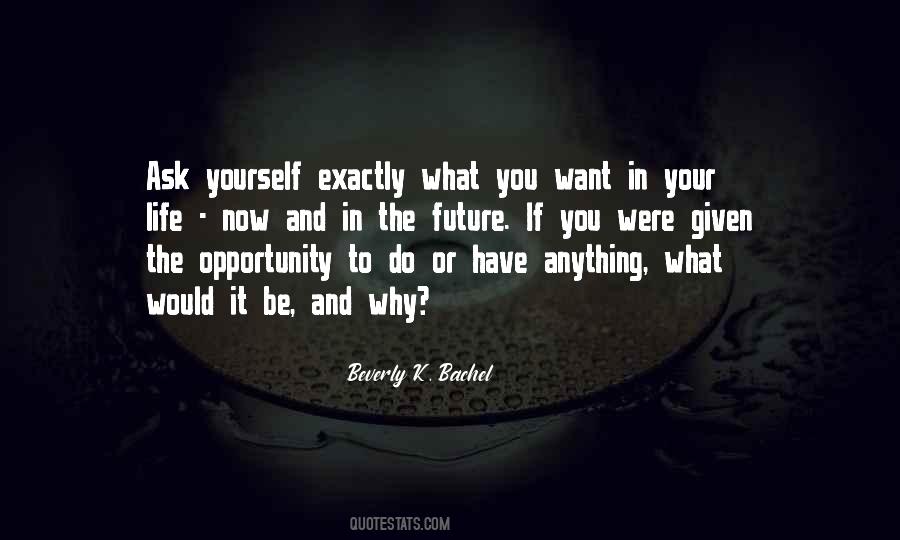 Famous Authors
Popular Topics