Never Want To Fall In Love Famous Quotes & Sayings
List of top 50 famous quotes and sayings about never want to fall in love to read and share with friends on your Facebook, Twitter, blogs.
Top 50 Never Want To Fall In Love Quotes
#1. There is no marriage, yet, for human beings and animals. I never thought that I would fall in love like this with a cat. - Author: Karl Lagerfeld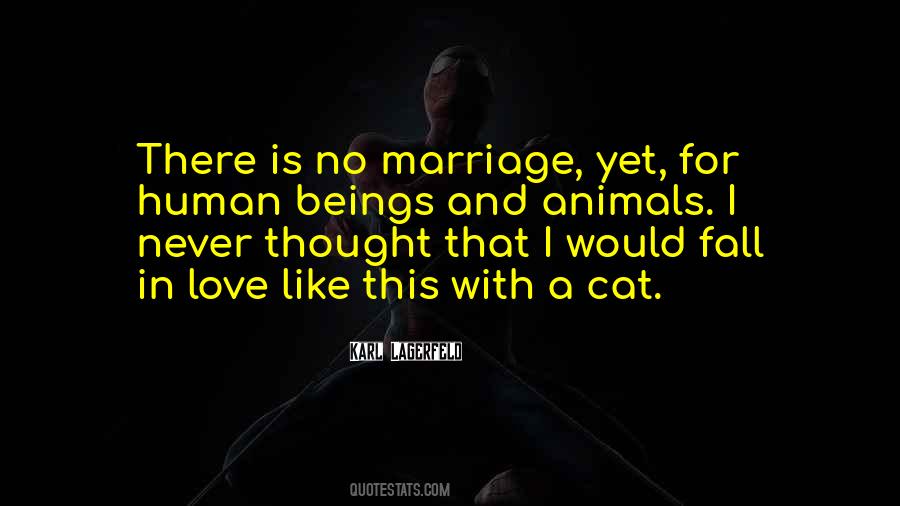 #2. There are certain levels of sadness that introduce you to parts of yourself you never knew existed, and it's always a much purer version of you that couldn't be any you-er than you. You fall in love with it and forget to move on. - Author: Ibraheem Hamdi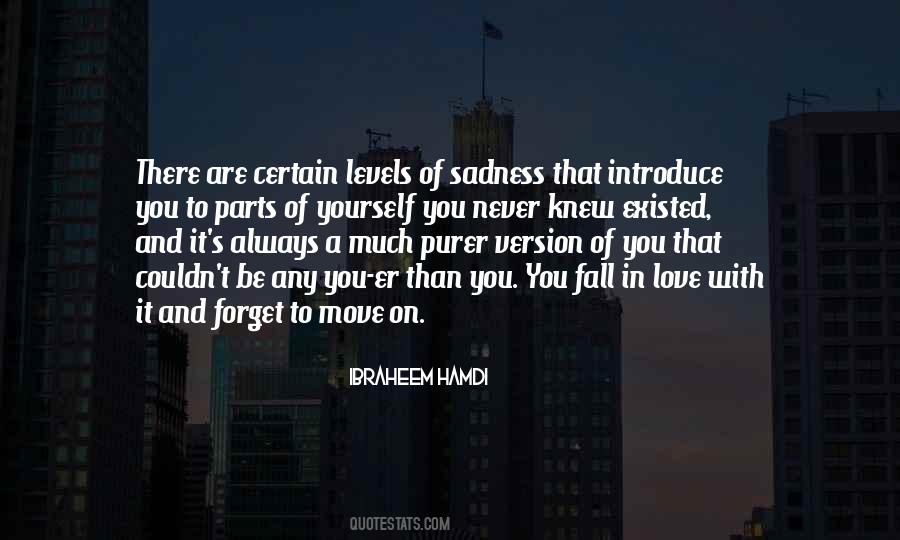 #3. A long time ago," said Michael, "I decided never to fall in love again. I have made of desire an anonymous activity." "But not to feel ... not to love ... is like dying within life, Michael. - Author: Anais Nin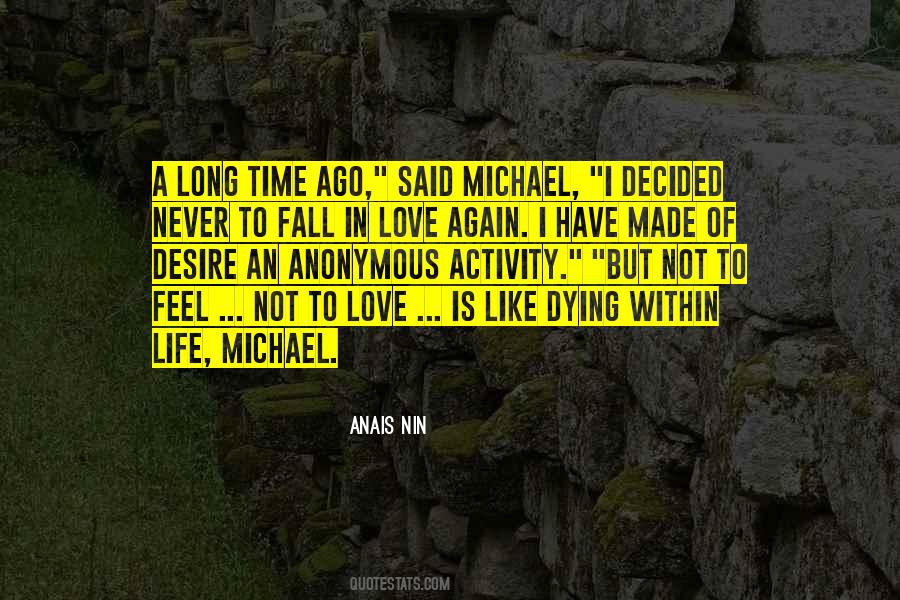 #4. I never want to fall in love again,
Loneliness is vastly under rated.
On and off causes so much pain,
Vanity is why I still waited.
Every time I try to get close,
You close yet another door.
Our story is a ridiculous prose,
Understand I won't take anymore. - Author: Ritoban Chakrabarti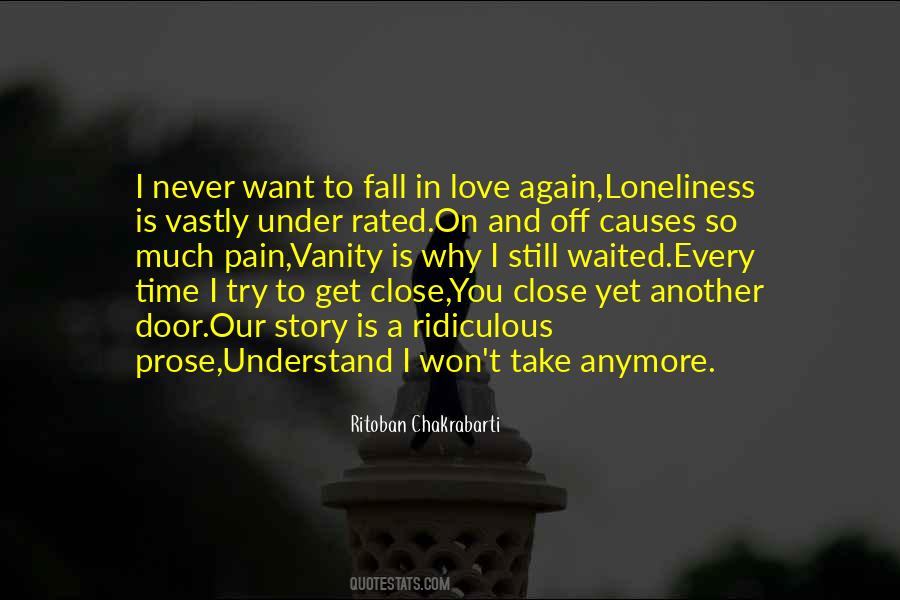 #5. Through the shake of an earthquake I will never fall. That's how strong my love is. - Author: Alicia Keys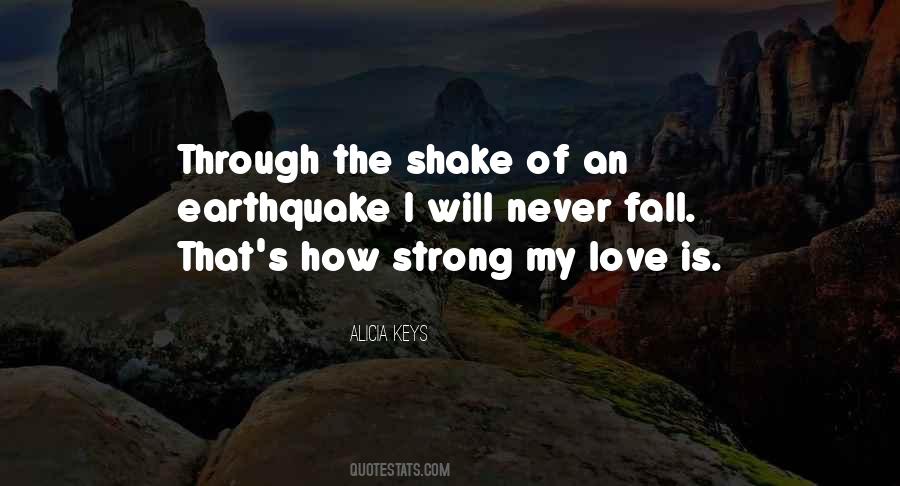 #6. ONE THING I AM NEVER GOING TO DO WHEN I GROW UP
Is fall in love, drop out of college, learn to subsist on water and air, have a species named after me, and ruin my life. - Author: Nicole Krauss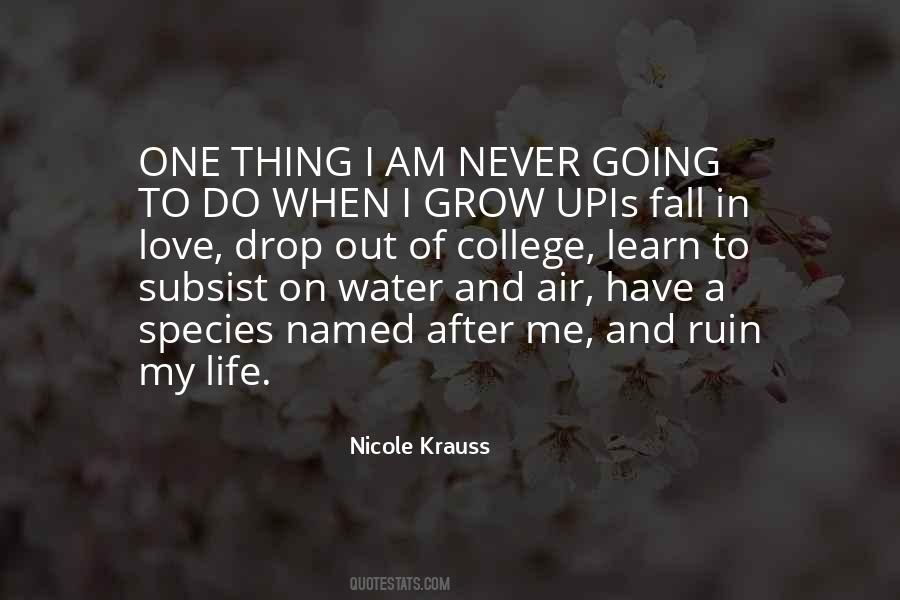 #7. I either eat too much or starve myself. Sleep for 14 hours or have insomniac nights. Fall in love very hard or hate passionately. I don't know what grey is. I never did. - Author: Anais Nin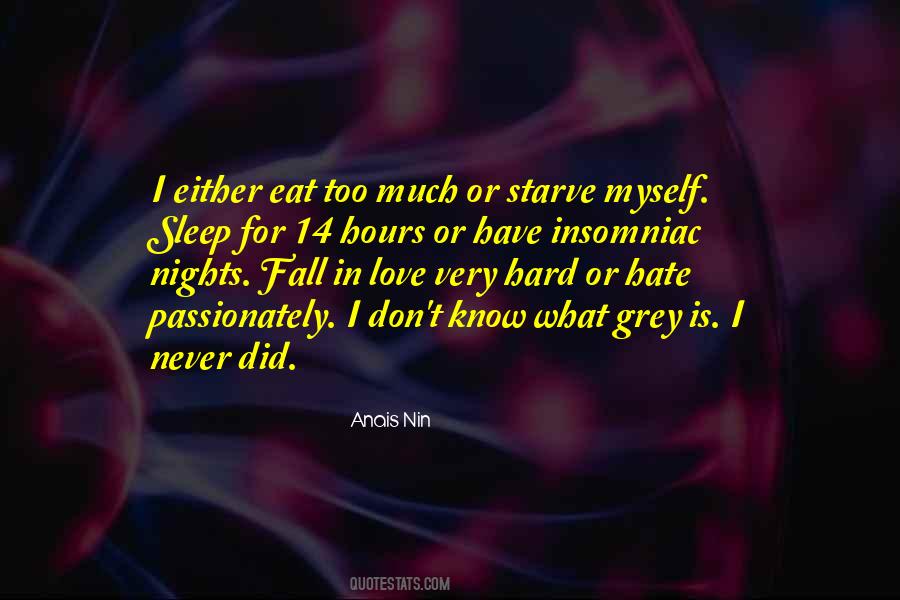 #8. Never fall for a person's image and status as the may serve as a false representation of character. Watch closely the character and you"ll know who a person really is. - Author: Kemi Sogunle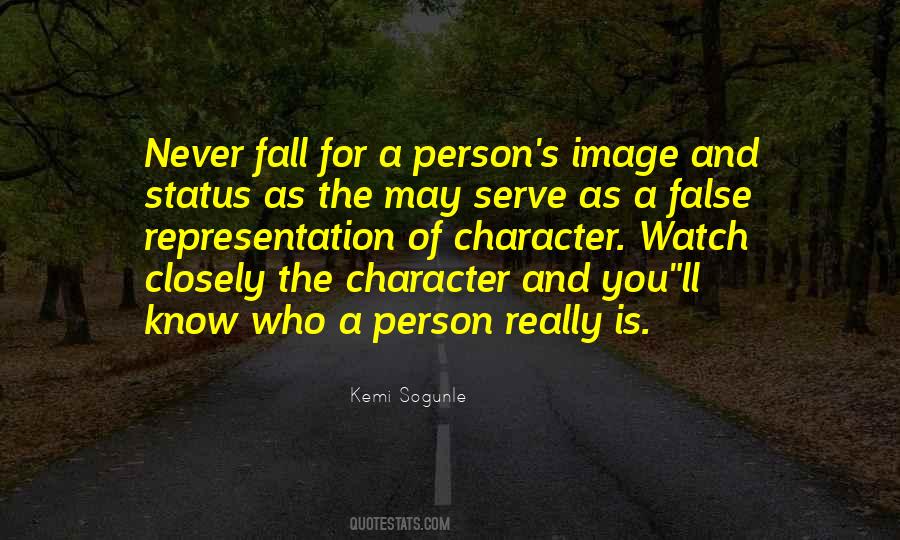 #9. The girl who never thought she would fall in love falls for the guy who can never love her back. - Author: Abbi Glines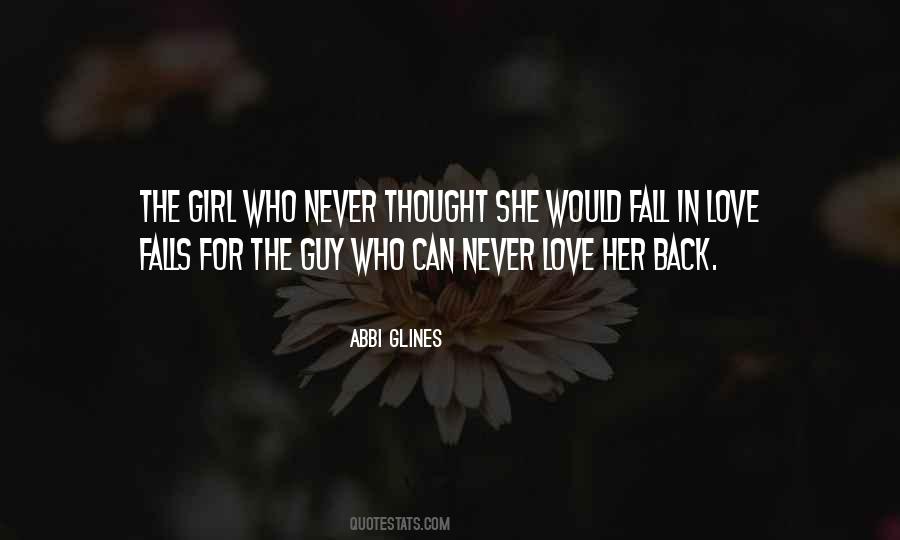 #10. I've never been afraid to fall in love, nor impatient to find it. - Author: Trevor Noah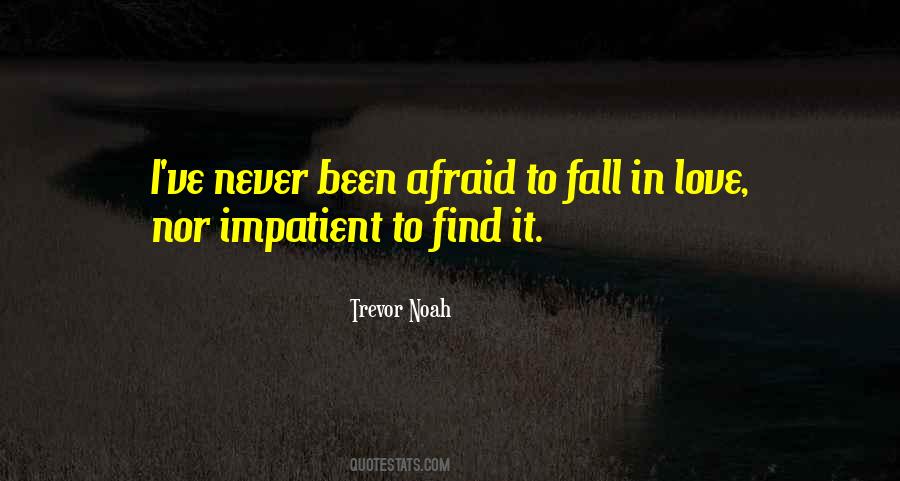 #11. She had fallen in love with a stranger in the course of a weekend, and she would never fall in love again. - Author: Nicholas Sparks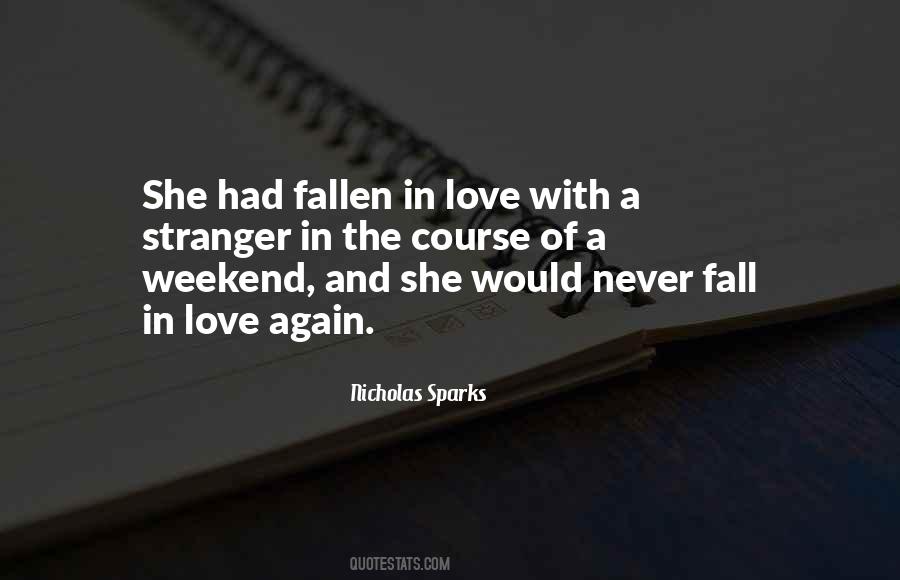 #12. Stop making me fall in love with you."
I smile now, taking her face in my hands. "I'll never stop that, babe, ever." I kiss her slowly, until I can no longer taste the tears on her lips. Until she knows that she owns every part of me. Forever. - Author: Jay McLean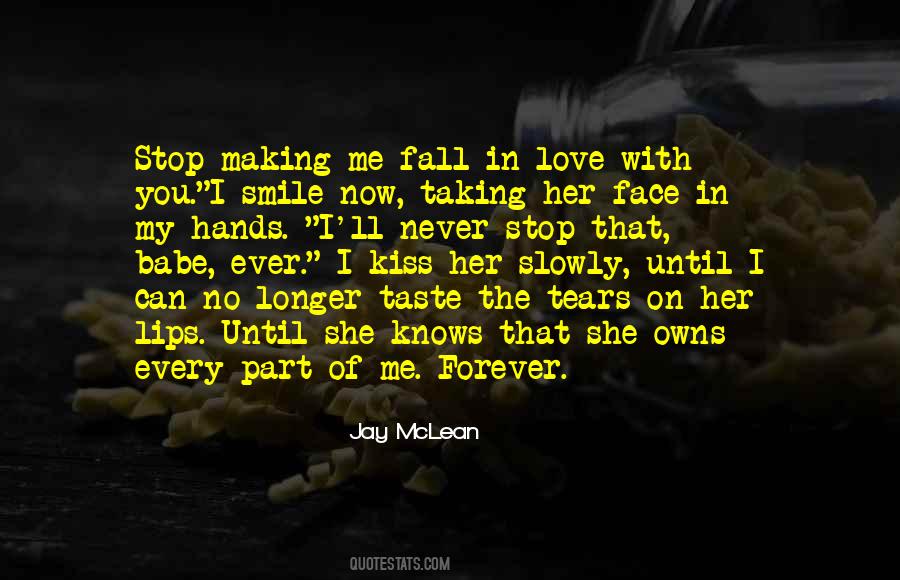 #13. For I love the empress of my soul. I love and I cannot but love. You yourself see the whole of me. I shall fly to her, fall down before her: you were right to walk past me.. farewell and forget your victim, never trouble yourself more! - Author: Fyodor Dostoyevsky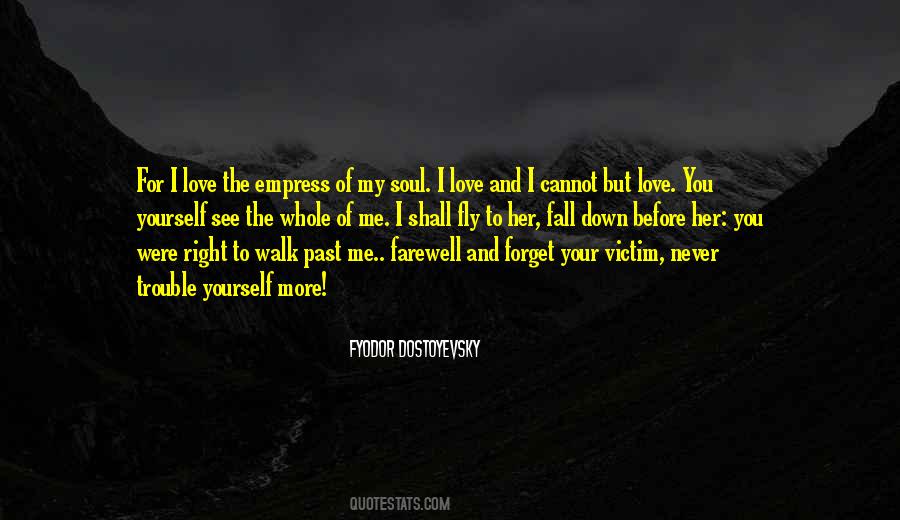 #14. It is superficial to fall in love with someone looking at their face. To me I need to discover the person. I would never look at someone and exclaim - He is the one! - Author: Preity Zinta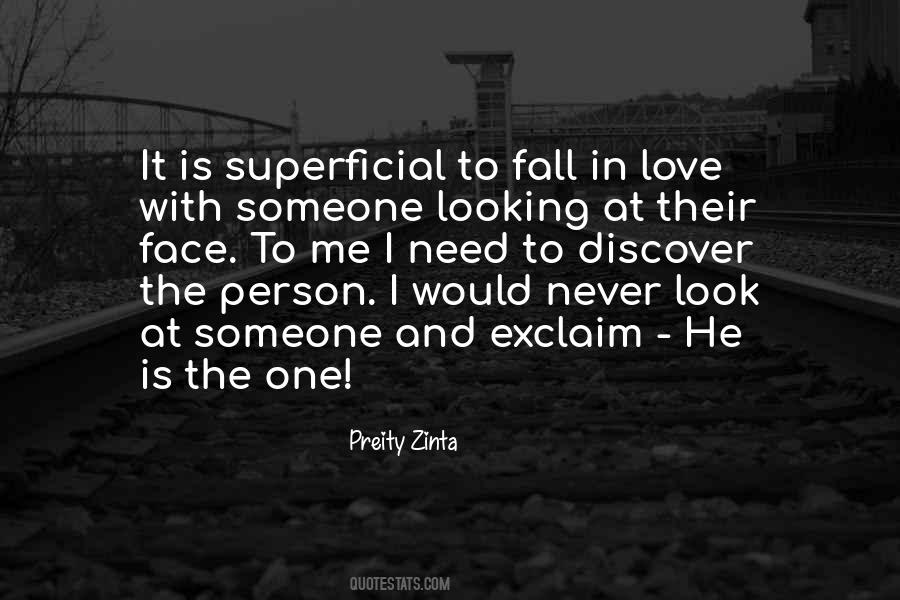 #15. Some people fall in love with their co-stars and feel things that they never thought they would feel for them because they are touching. - Author: Catherine Deneuve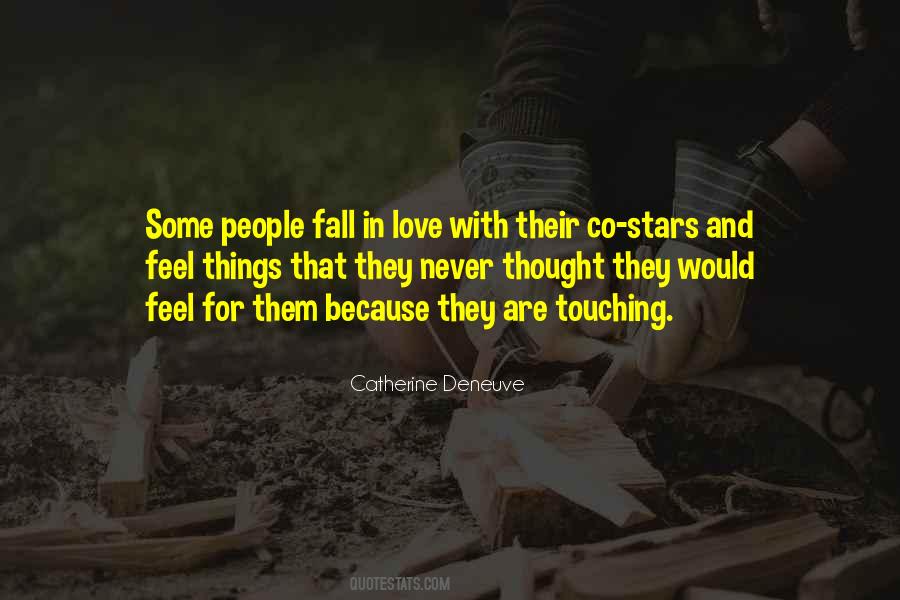 #16. True heroes and ideas never fall in the final sense of the word. They can only encounter temporary setbacks in their difficult journey to progress and success, - Author: Janvier Chouteu-Chando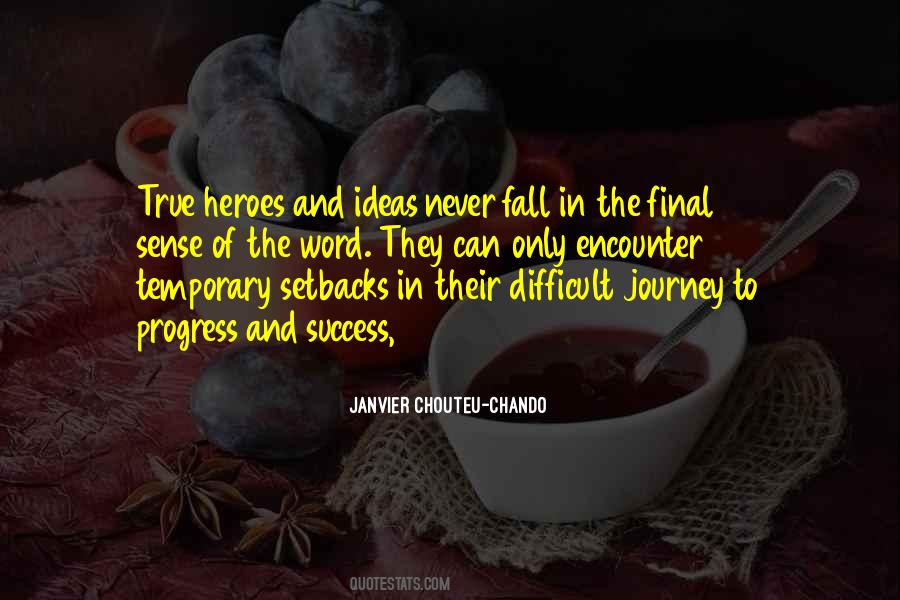 #17. I never fall in love. - Author: Karl Lagerfeld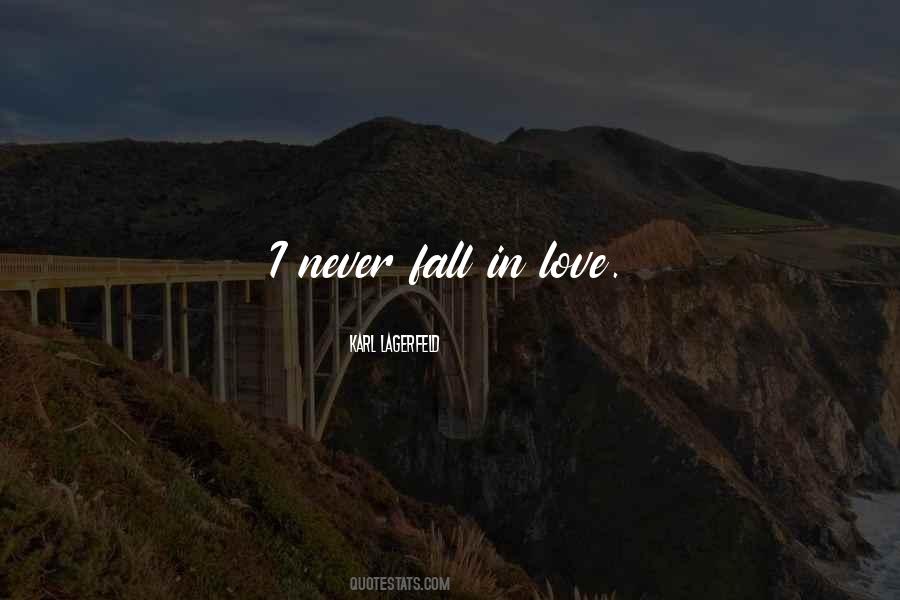 #18. I want you to know how happy you once made me and though you really did hurt me, in the end, I was better for it. I don't know if what we had was love, but if it wasn't, I hope never to fall in love. Because of you, I know I am too fragile to bear it. - Author: Lang Leav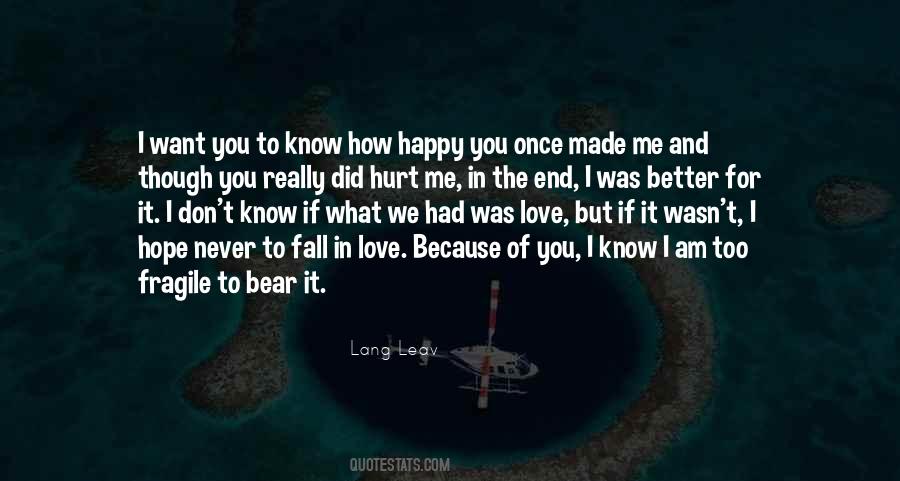 #19. Young ladies ... who fall in love, never consider whether there is sufficient "to make the pot boil" - probably because young ladies in love lose their appetites, and, not feeling inclined to eat at that time, they imagine that love will always supply the want of food. - Author: Frederick Marryat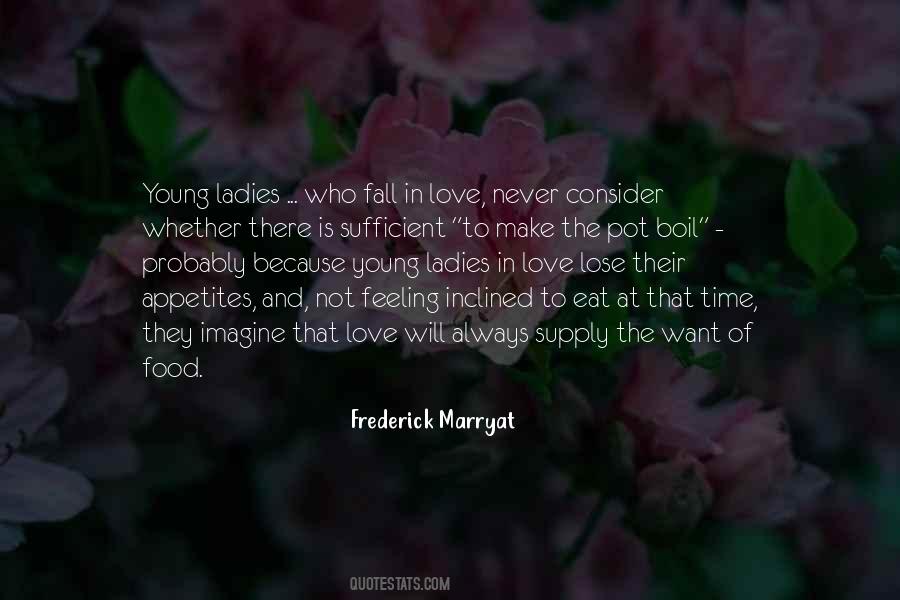 #20. I think it's never mono-causal why you fall in love with something that you want to do. - Author: Robert Schwentke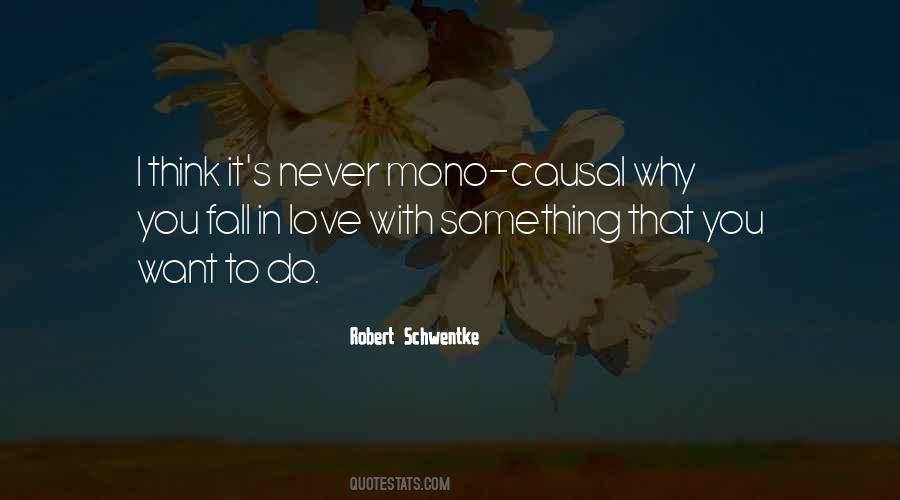 #21. Drawing up my knees, I fold in on myself. I want to make myself as small as possible. Perhaps this nonsensical pain will be smaller the smaller I am. Placing my head on my knees, I let the irrational tears fall unrestrained. I am crying over the loss of something I never had. How ridiculous. - Author: E.L. James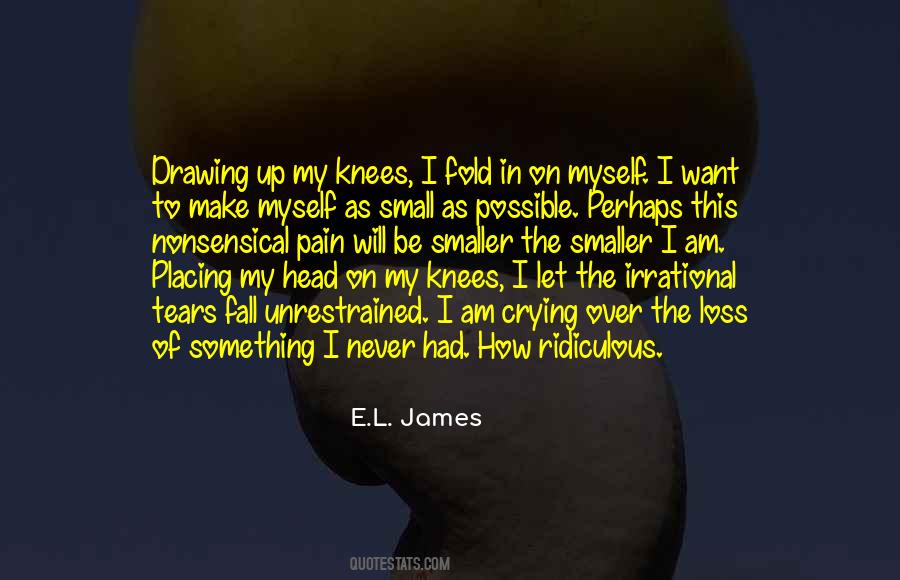 #22. I want to fall in love, I think. I've never. I know. Everyone I know's been in love or in relationships now and ... There's only ever been ... there's been people telling me they love me, but it freaks me out and I just run, run. I think I'm a bad girlfriend. - Author: Cara Delevingne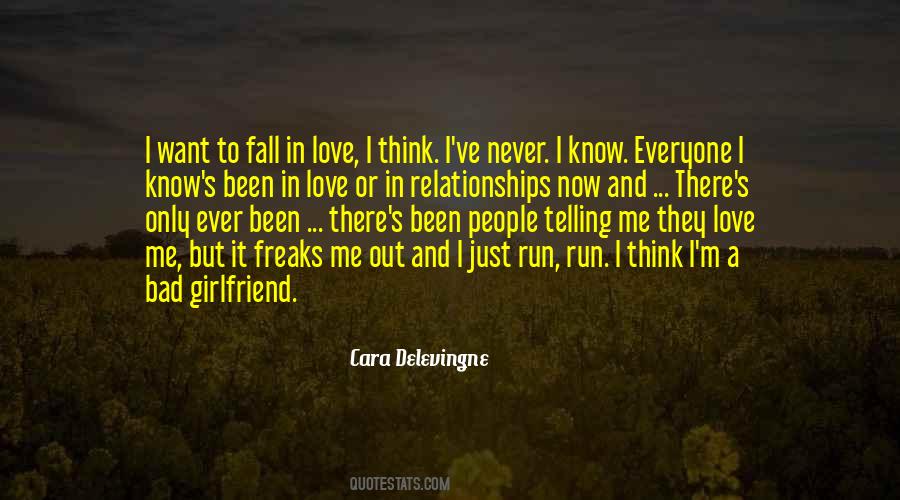 #23. I've lived with someone and probably will again, but I don't want children and I have known that since I was little. My parents thought I would change my mind. My boyfriends always think I'm going to change my mind, but it never happened. I fall in love with my businesses. - Author: Carmen Busquets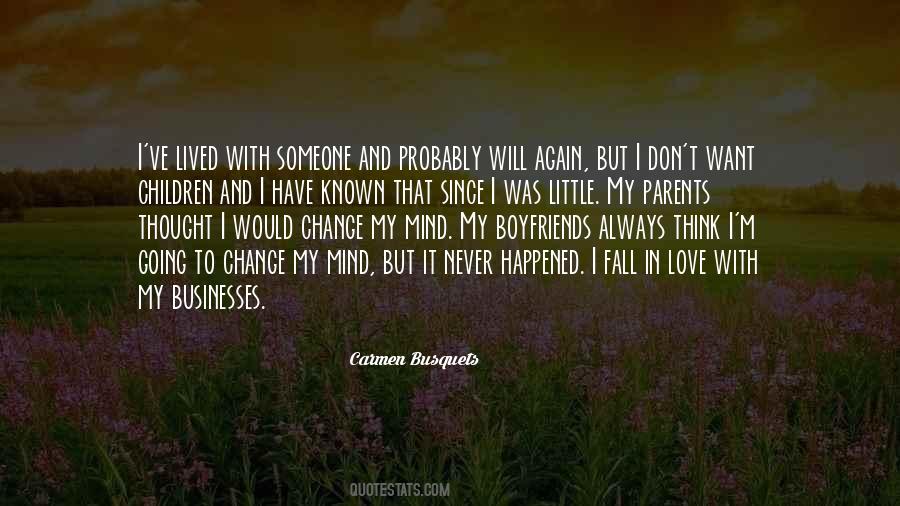 #24. Pornography won't be enough. Because it never is. Sooner or later, all niggers want to touch the real thing. All dogs want to smell and taste the true information. All artists want to make their fantasies reality. And everyone with a cock wants to use it to fall in love. - Author: Peter Sotos
#25. When you're growing up, your dad is your superhero. Once you've let yourself fall that in love with someone, once you put him on such a high pedestal and he lets you down, you never want to experience that pain again. - Author: Jay-Z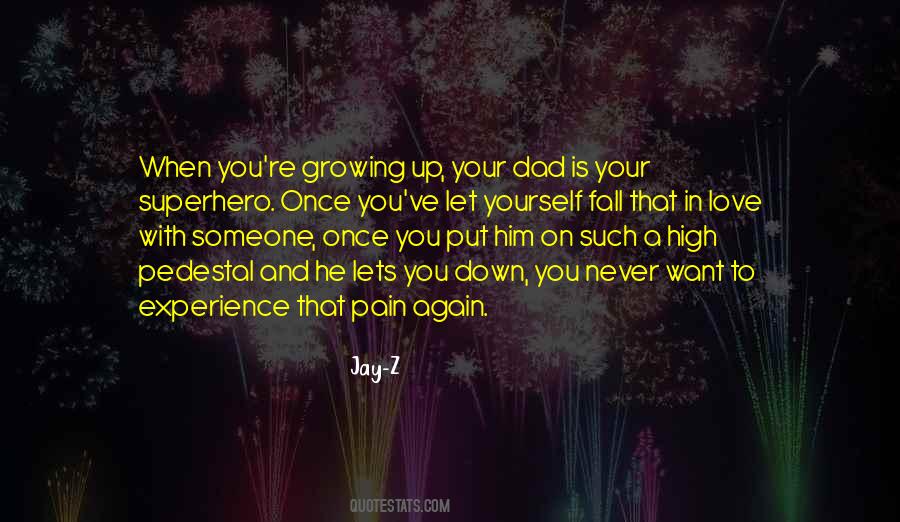 #26. If i would ever fall in love ... I'm sure I would want that person to belong to me. I'd make them all mine ... but I might ruin them in the process. So I'm never going to fall in love. I don't need love right now. I have friends with the same purpose as me. I have all of you. -Rei - Author: Naoko Takeuchi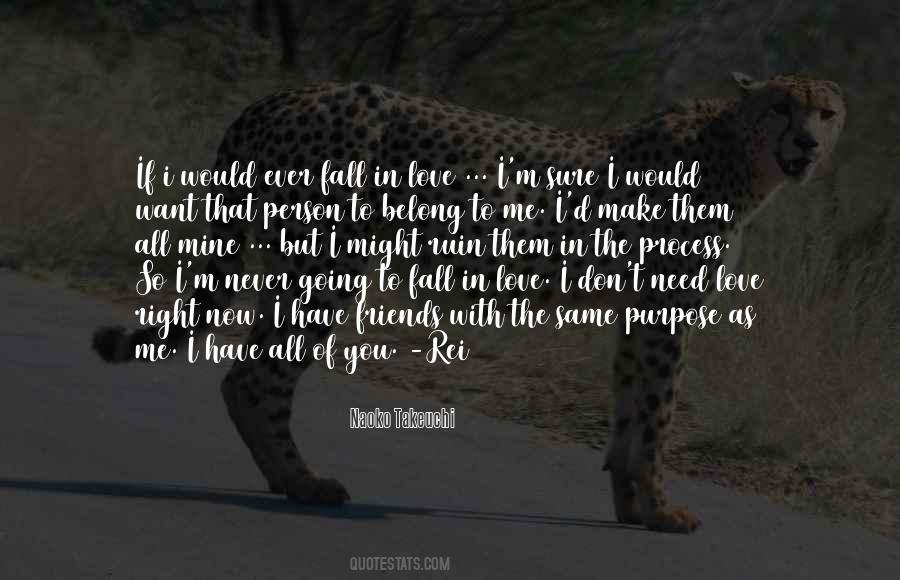 #27. If a boy ever says, you remind me of someone
don't fall in love with him. You will never be anything more than second best. - Author: Lang Leav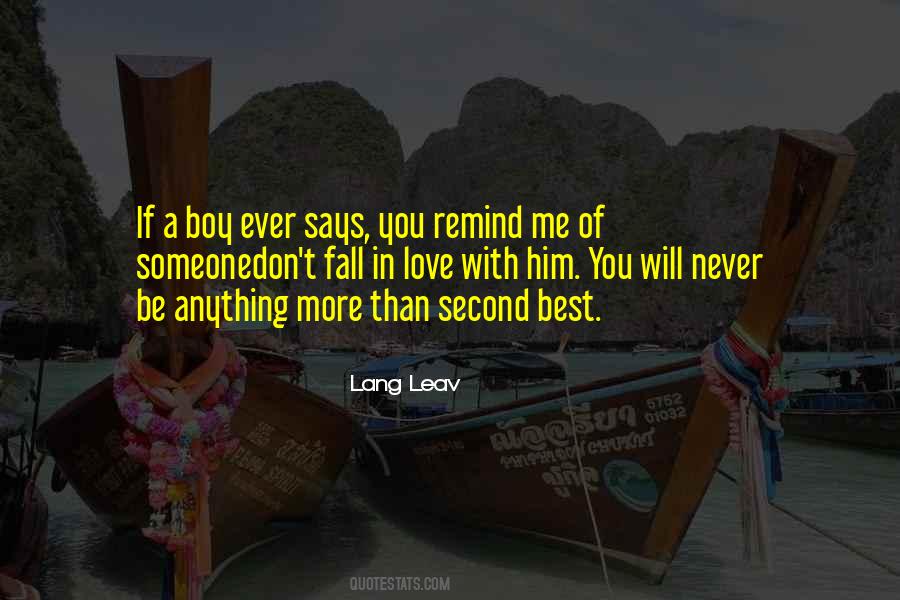 #28. Will had never wanted to fall in love. When it had happened to friends, it had always struck him as a peculiarly unpleasant-seeming experience, what with all the loss of sleep and weight, and the unhappiness when it was reciprocated, and the suspect, dippy happiness when it was working out. - Author: Nick Hornby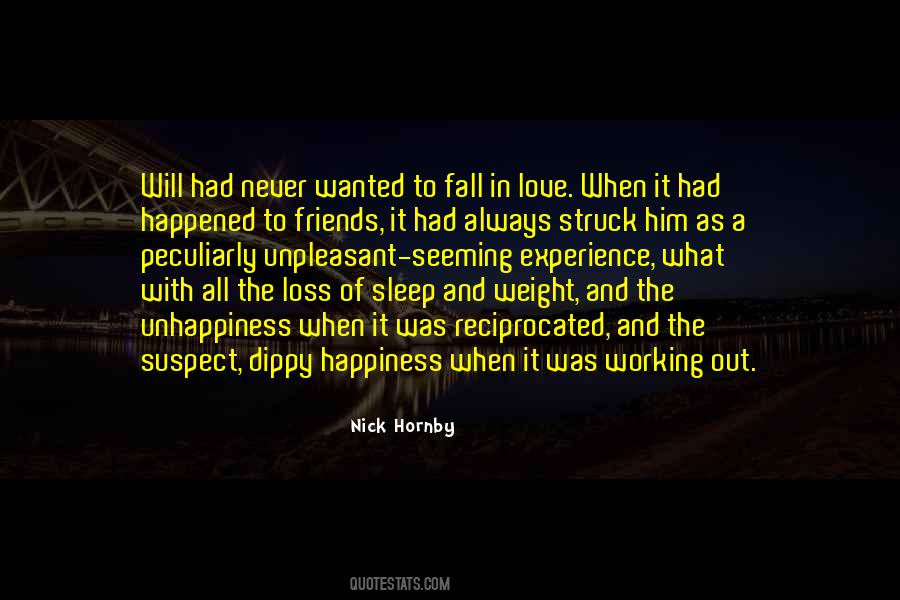 #29. He had never known a "kind woman friend" in his native parts. He had not had the time to fall in love. - Author: Victor Hugo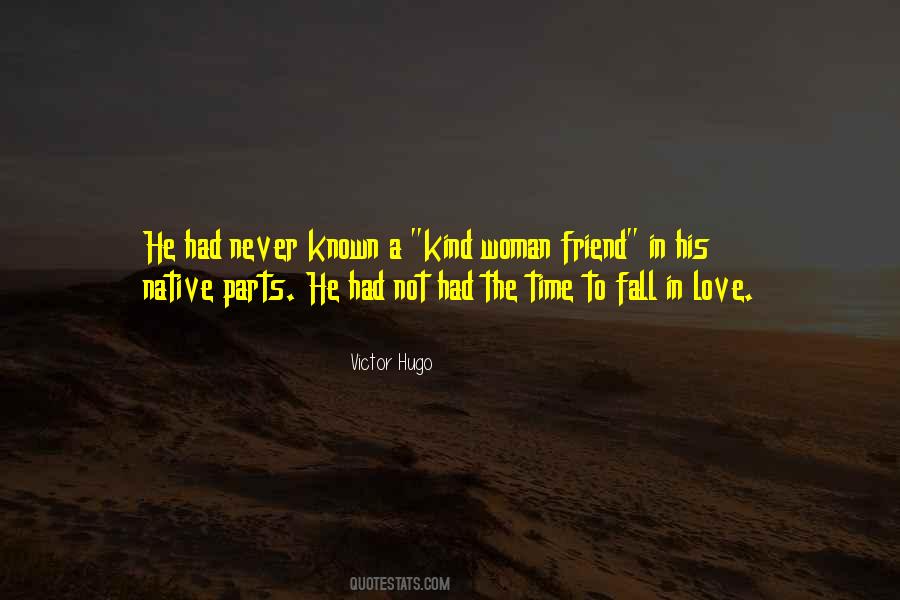 #30. You never imagine that when you say hello to someone and you fall in love, that some day you'll have to say goodbye. - Author: Taylor Swift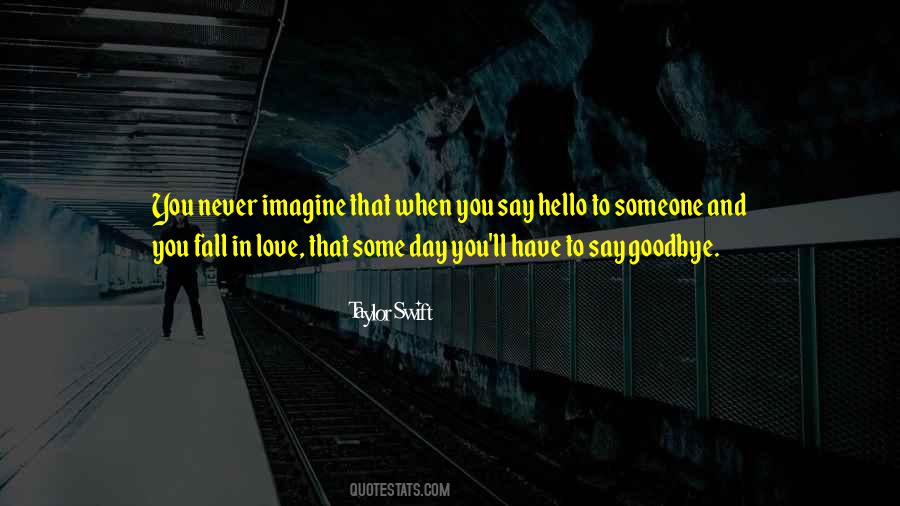 #31. The trees are a thousand times taller than me, and hundreds of years older, and the rocks and leaves and plants and animals never do anything silly like kill each other or fall in love or grow up. - Author: Ben Stephenson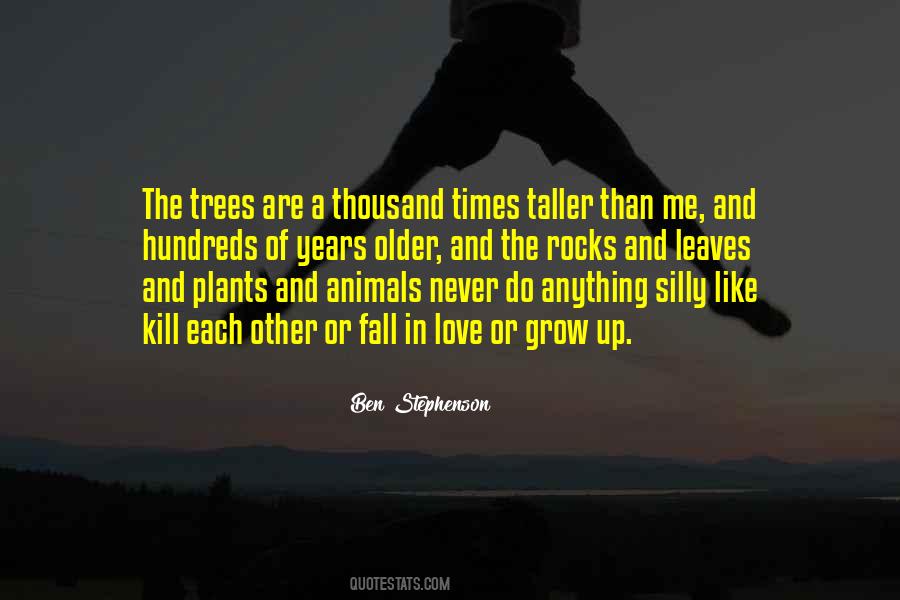 #32. Isn't it weird how you can fall in love with a place you've never even visited? - Author: Jacquelyn Middleton
#33. I knew from the start that I loved her and knew, as well, that I would never fall back from that love, never try, never want to. - Author: Scott Spencer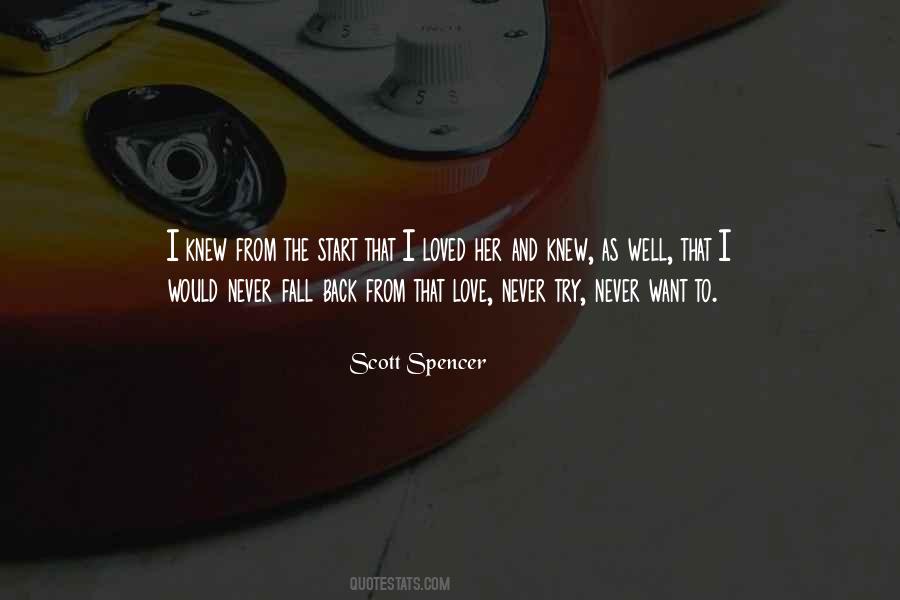 #34. Never fall for anyone. It's only sadness that is gifted by them to you in your rest of the life.Kills the loving person inside you. - Author: Debolina Bhawal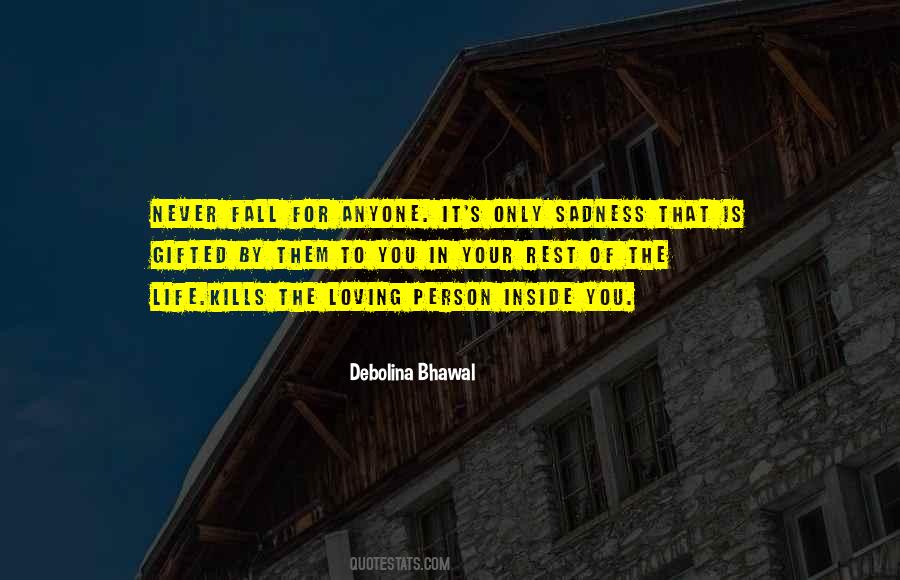 #35. If I could only make her fall in love with me. Pretend to be a writer and just fuck her and have her cook for me. I would never have to write I'd just pretend. - Author: Charles Bukowski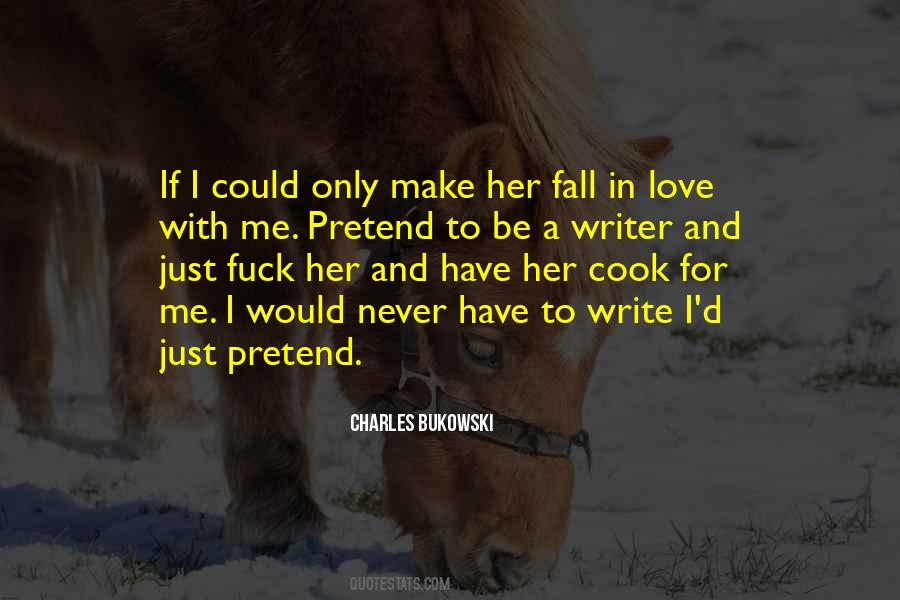 #36. Their story will never be over. She's married, you know? So, technically you have some time to make your husband fall in love with you. - Author: Tarryn Fisher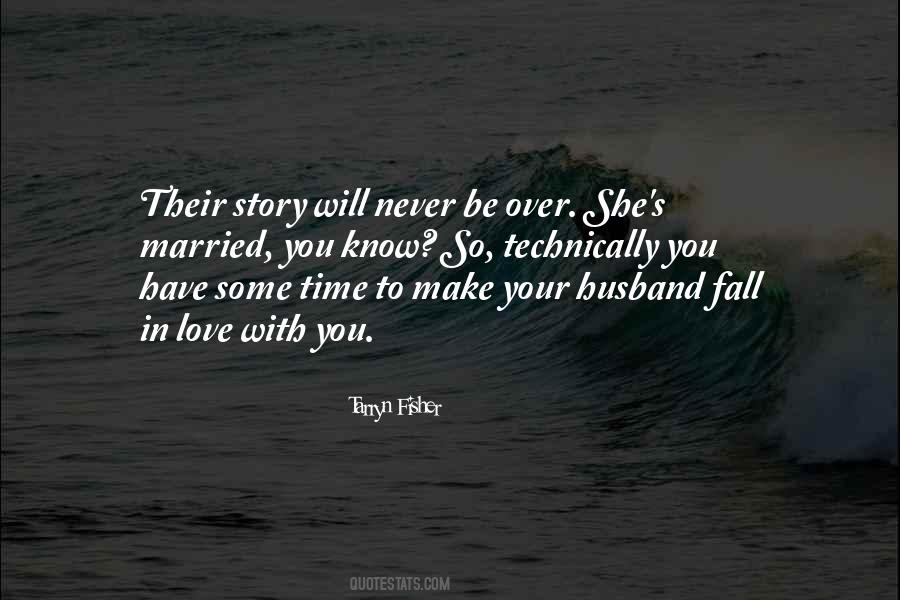 #37. True love, unlike popular sentimental substitutes, is willing to suffer. Love is not "luv." Love is the cross. Our problem at first, the sheer problem of suffering, was a cross without Christ. We must never fall into the opposite and equal trap of a Christ without a cross. - Author: Peter Kreeft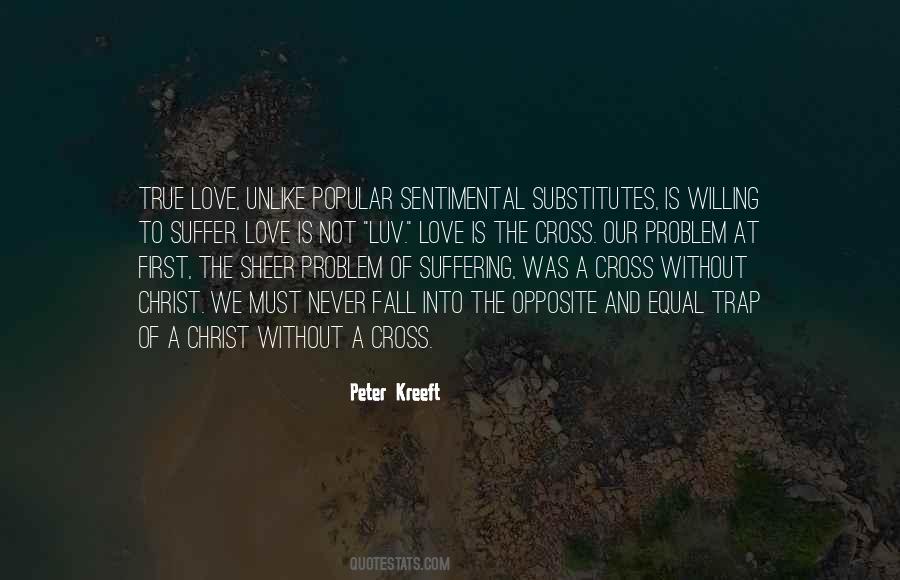 #38. I've never seen beauty
so devastating
as in the lines
that trace our hope
and fall from the stars. - Author: Jessica Kristie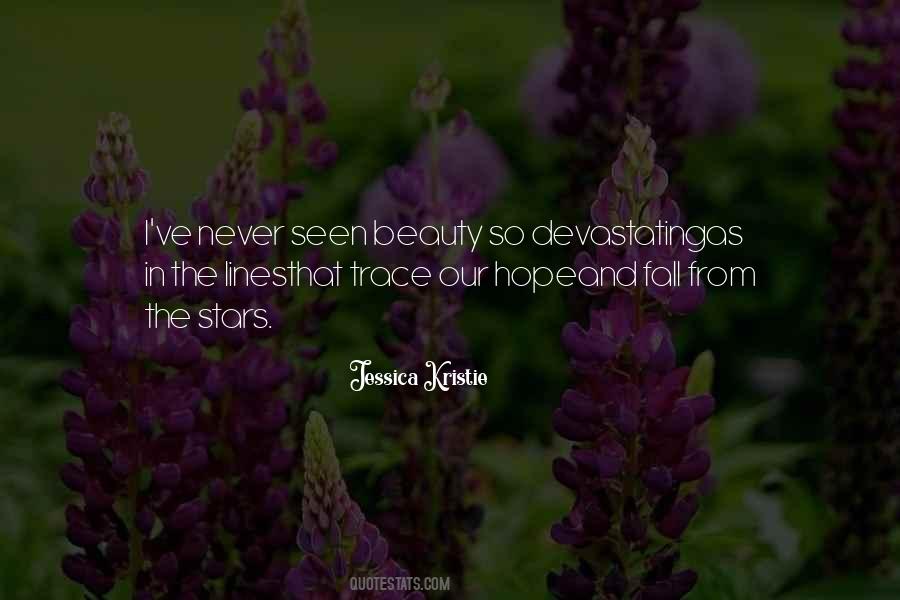 #39. Never mind. The self is the least of it. Let our scars fall in love - Author: Galway Kinnell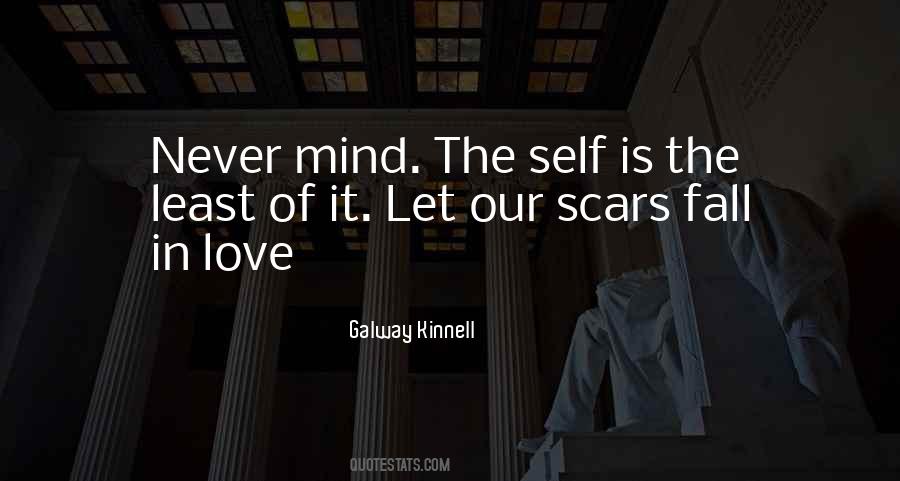 #40. All of what I told him was true - some people are just meant to break your heart, as if it were their sole mission here on earth to teach you not to fall in love with the wrong person.

Some people will break your heart over and over again, because some of us never learn - Author: Carmen Jenner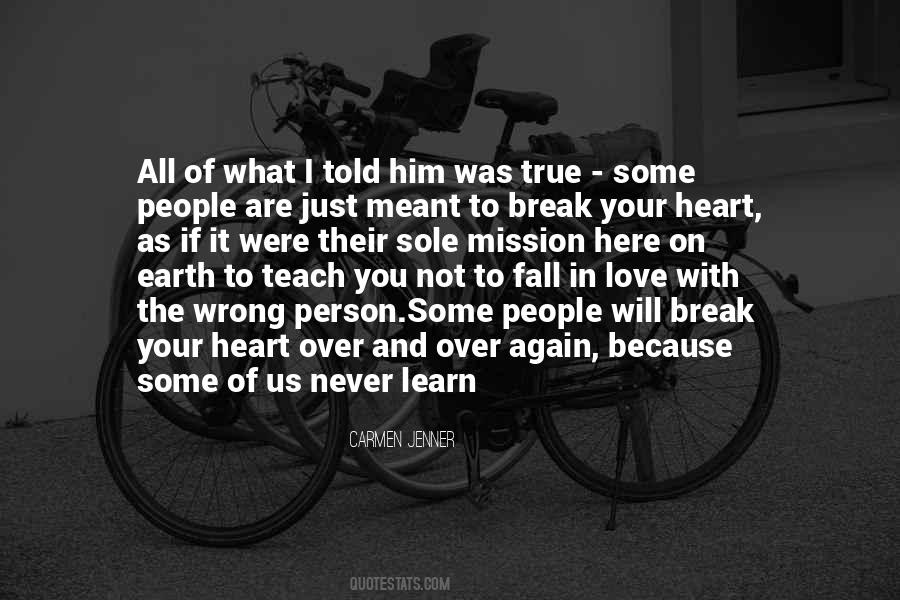 #41. I could fall in love with a cruel desert that kills without passion, a canyon full of scorpions, one thousand blinding arctic storms, a century sealed in a cave, a river of molten salt flowing down my throat. But never with you. - Author: Henry Rollins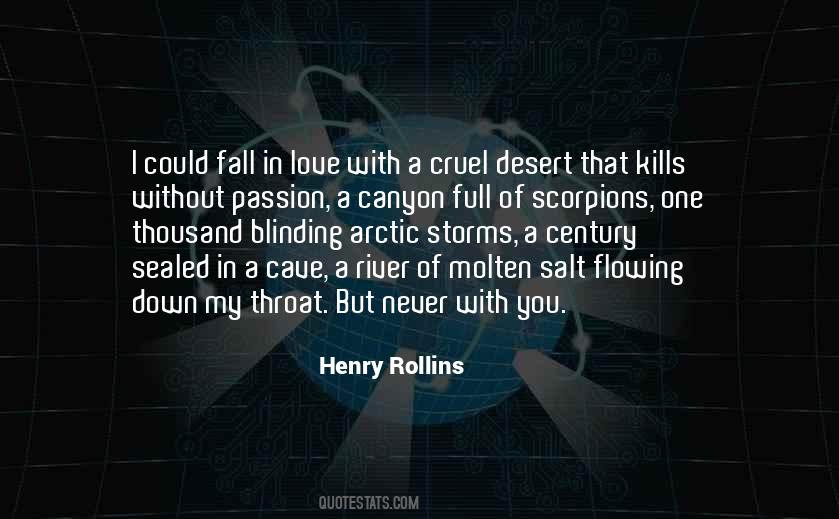 #42. I could never fall in love just for money. I like my co-stars, and they are a bunch of good-looking men. But I've dated an actor. My dream man has to be a lot more than just good looking and rich! - Author: Sonam Kapoor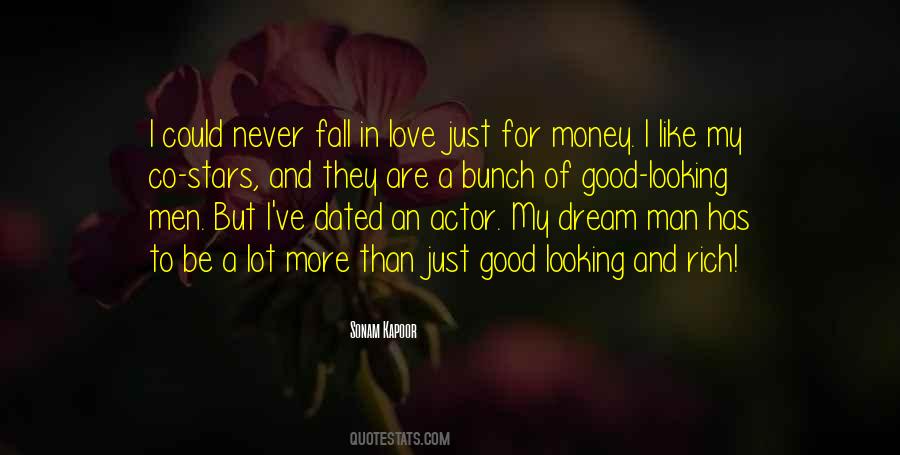 #43. Many people do not fall in love; they fall in love with the idea of themselves being in love. They never see the other person. I don't ask for much; I only ask to be seen. - Author: C. JoyBell C.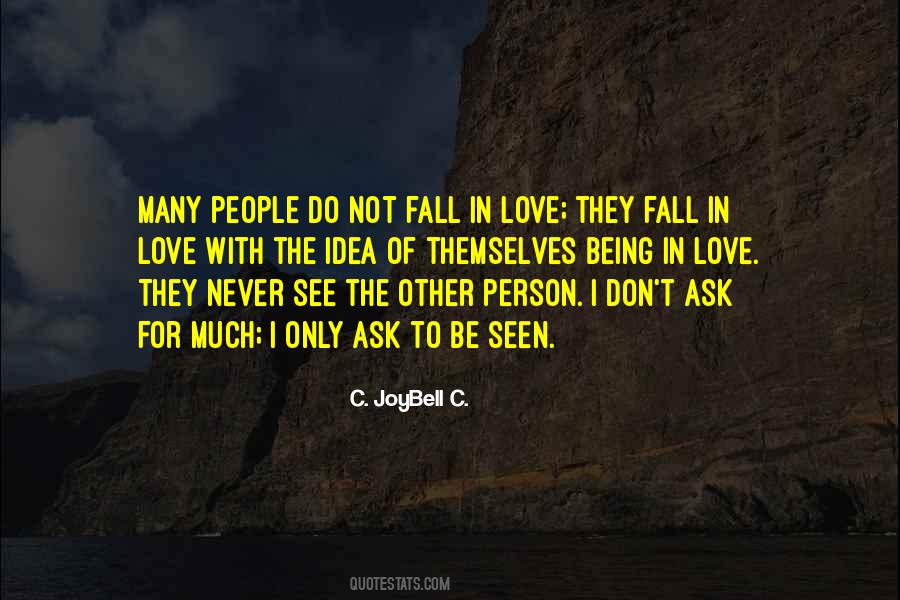 #44. I never fall in love because love is always inside me. - Author: Debasish Mridha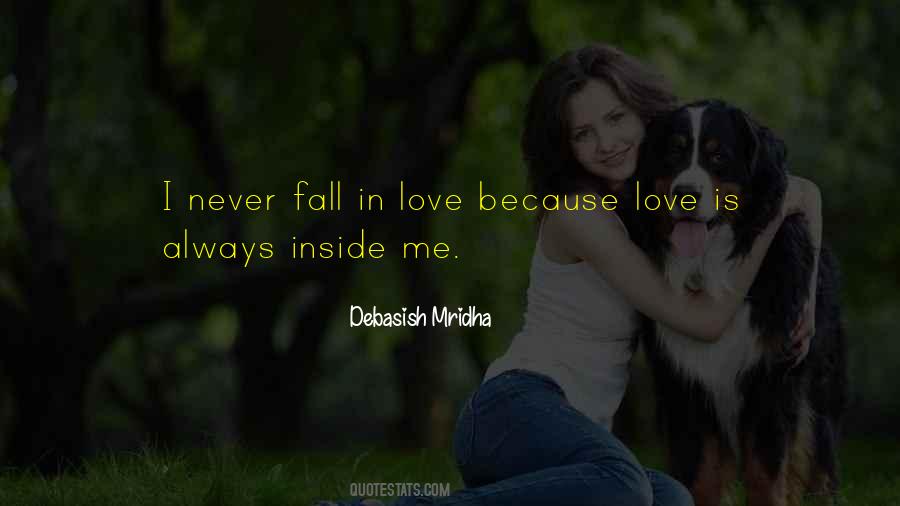 #45. These are the moments I fall deeper in love with him. When neither of us says anything, and we just ... stare. There's an understanding there that goes much deeper than words ever could. A connection so real I can't speak, because words could never say the things I feel. - Author: Amanda Grace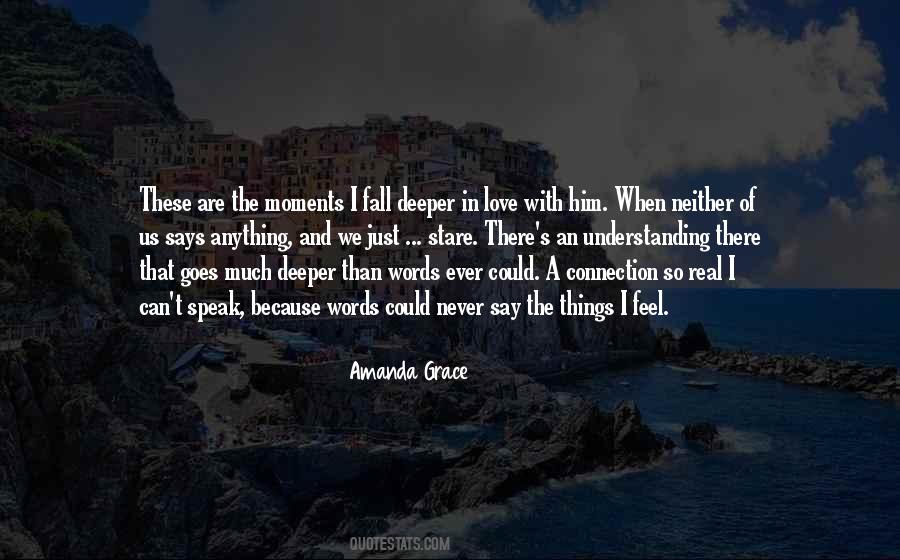 #46. We can finish a house, but never a home. Once you fall in love with a house, you find continual pleasures in fixing it up and making innovations that satisfy your creature's comforts. - Author: Alexandra Stoddard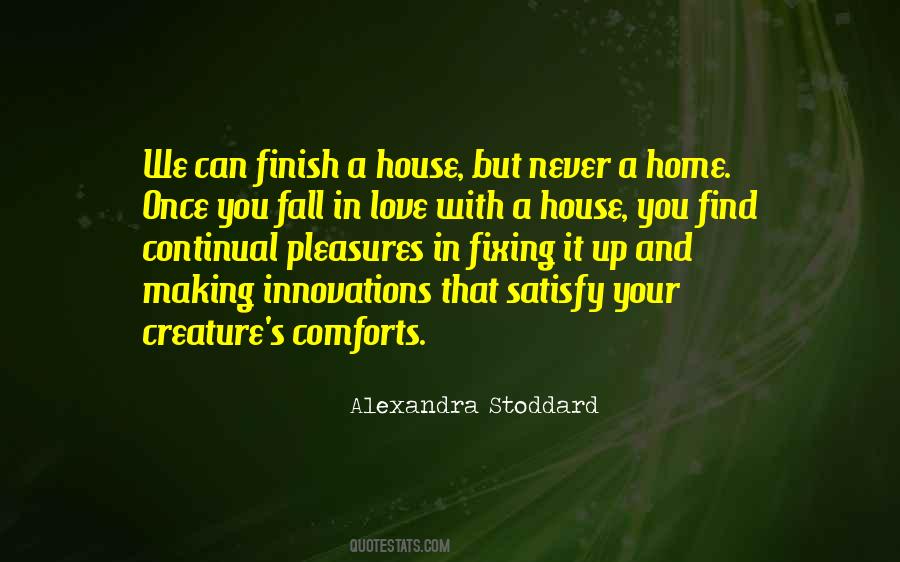 #47. And it was easier to have an unrequited love than to get all fussed and dressed and go out on dates every Saturday with men she was never going to fall in love with. So she'd quit dating, quit dressing up - and on the whole she was happier than she'd been before. - Author: Patricia Briggs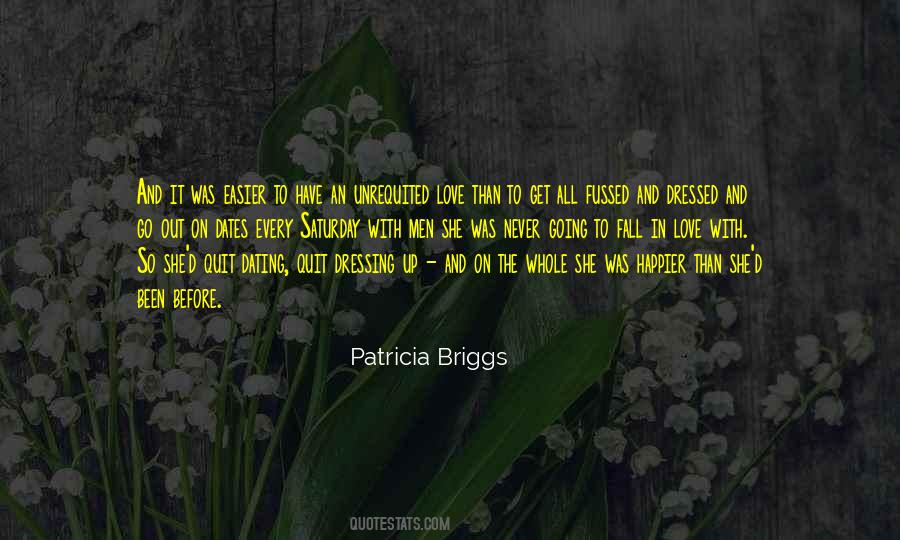 #48. Love is a rainbow curving down from the sky, falling crystals of color, shades of warm that never die. - Author: Phil Ochs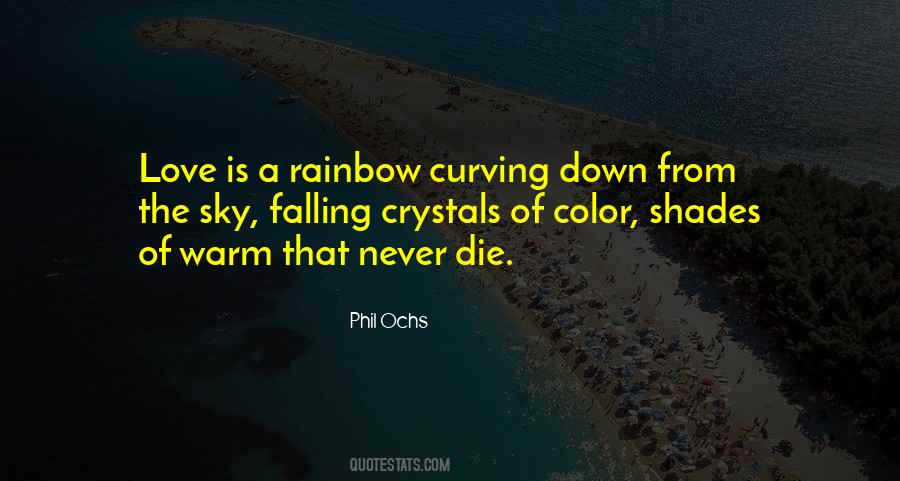 #49. Maybe someday, I'd find someone who'd prove he really loved me. Someone who'd hold me rather than let me fall. Someone who'd never lie to me. - Author: J.C. Reed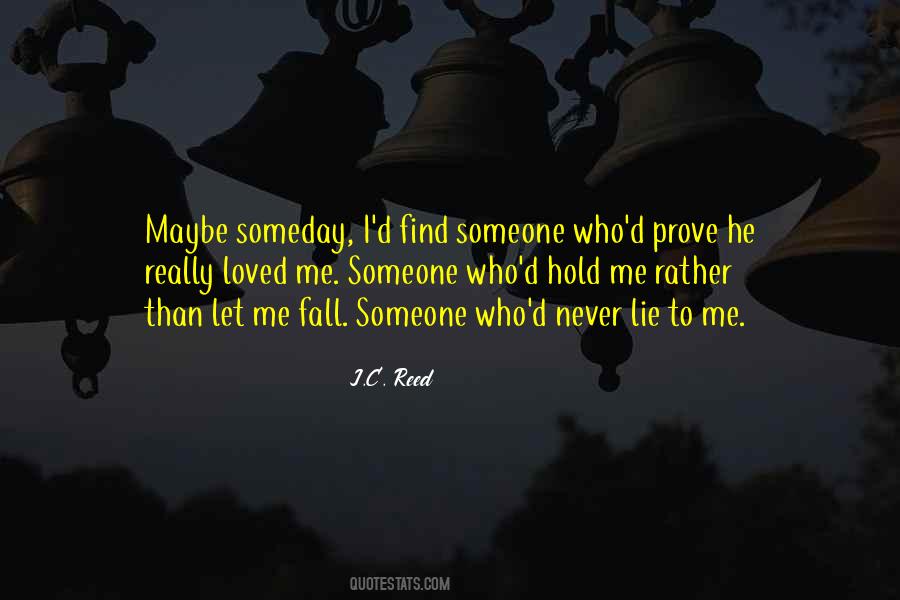 #50. I do think it's possible to go through life and never fall in love, or find someone who loves you. - Author: Morrissey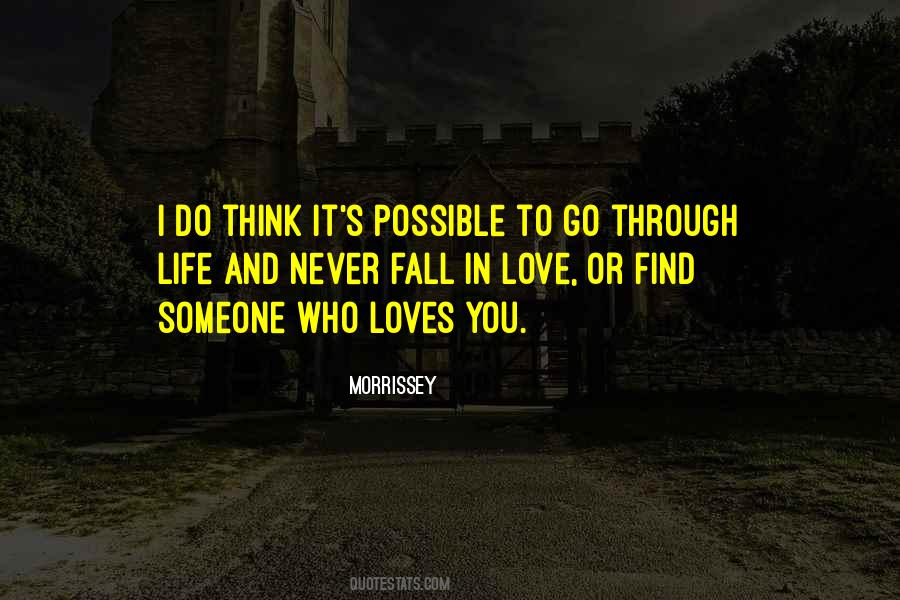 Famous Authors
Popular Topics