Missing The Memories Famous Quotes & Sayings
List of top 39 famous quotes and sayings about missing the memories to read and share with friends on your Facebook, Twitter, blogs.
Top 39 Missing The Memories Quotes
#1. And then I began to drift, fighting tears. I used to come here with Miriam. Miriam, my heart's desire. What was troubling her this morning? Maybe Kate had reproached her on the phone for leaving me? How dare Kate.
Oh yeah? Go for it, my darling. Remind her of what she's missing. No, don't. - Author: Mordecai Richler
#2. My world is a million shattered pieces put together, glued by my tears, where each piece is nothing but a reflection of YOU. - Author: Sanhita Baruah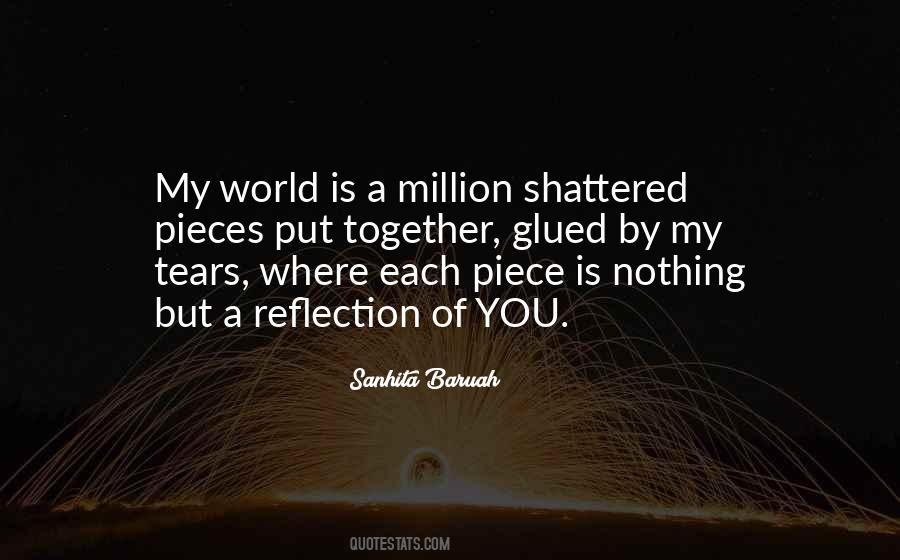 #3. If the portraits of our absent friends are pleasant to us, which renew our memory of them and relieve our regret for their absence by a false and empty consolation, how much more pleasant are letters which bring us the written characters of the absent friend. - Author: Heloise D'Argenteuil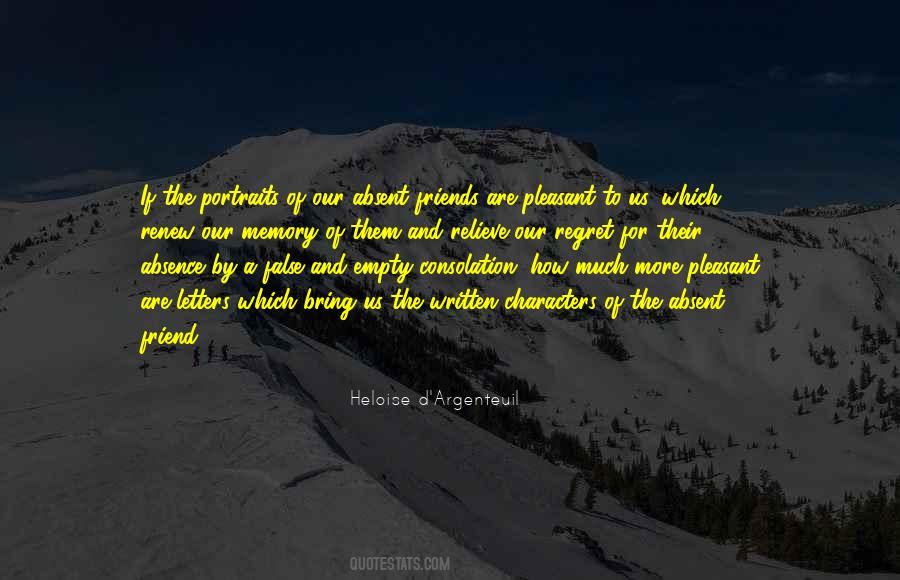 #4. The missing piece my breath my heart my memory me the other half the missing half - Author: Kami Garcia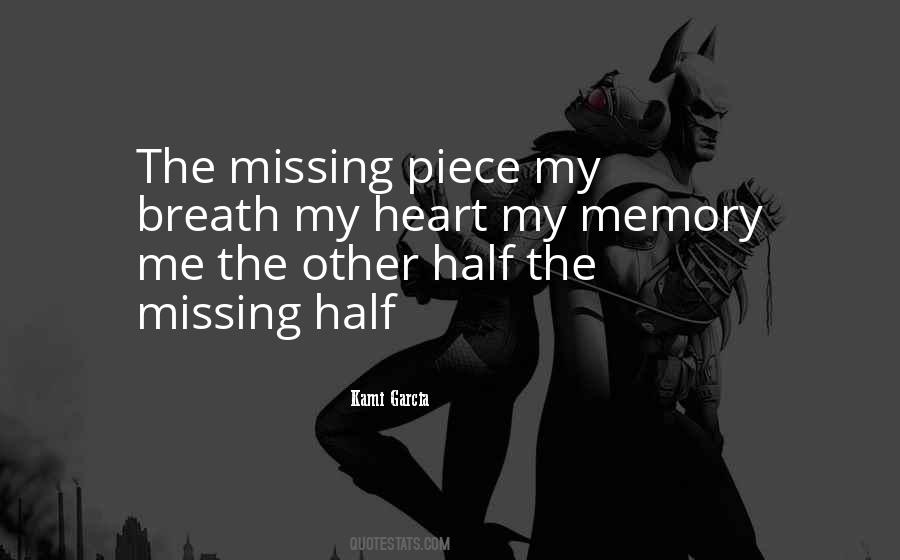 #5. The little babies are missing their families from their past lives. The babies have old souls and the old souls have to shrink to become little babies. The tears loosen their memories so they can slide away. They cry at the life they have lost, and then they cry at everything they'll forget. - Author: Akhil Sharma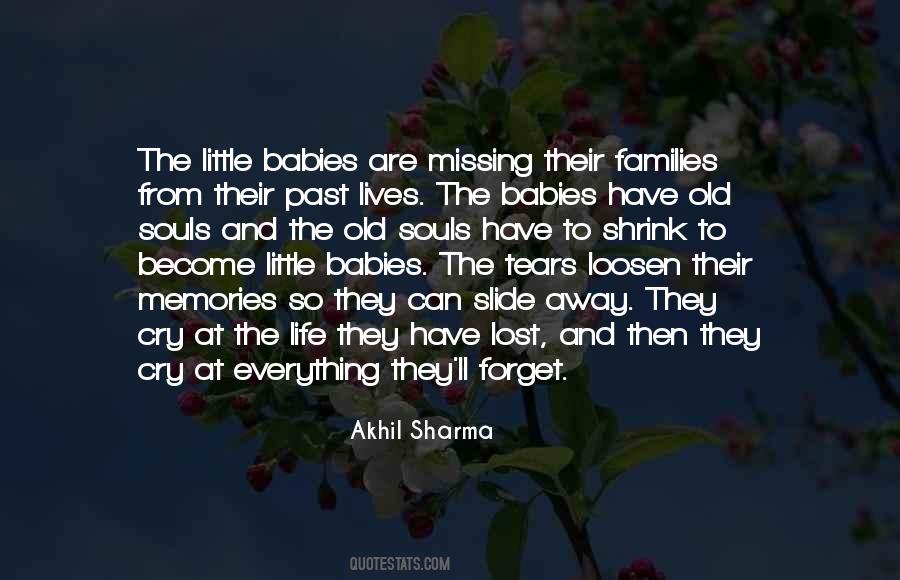 #6. Today's minor irritations may become tomorrow's treasured memories. We often don't know what we are missing, until it's missing. - Author: William P. Young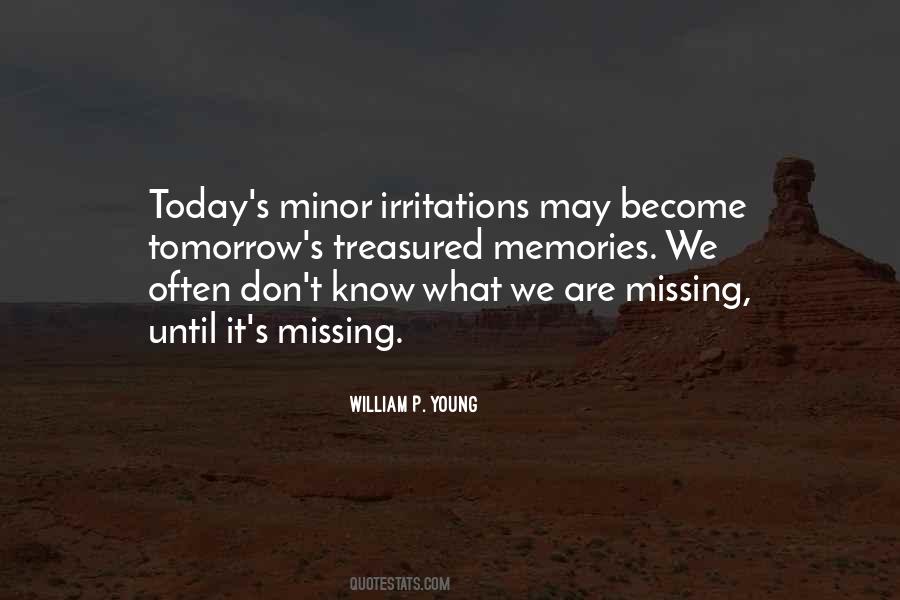 #7. A photo frame with many pictures is the best present ever for a long trip. I can almost feel all those moments.. - Author: W.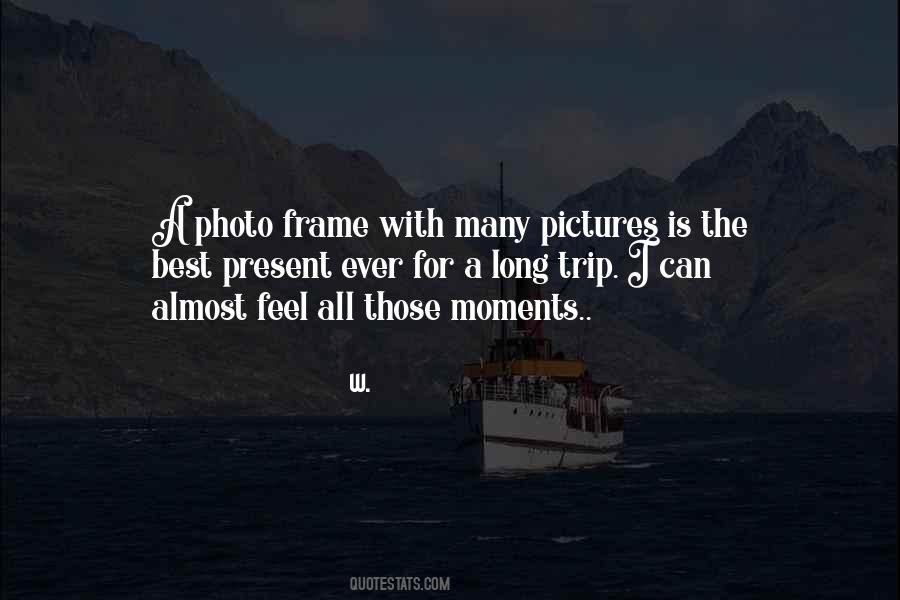 #8. When the mind is full of memories and preoccupied by the future, it misses the freshness of the present moment. In this way, we fail to recognize the luminous simplicity of mind that is always present behind the veils of thought. - Author: Matthieu Ricard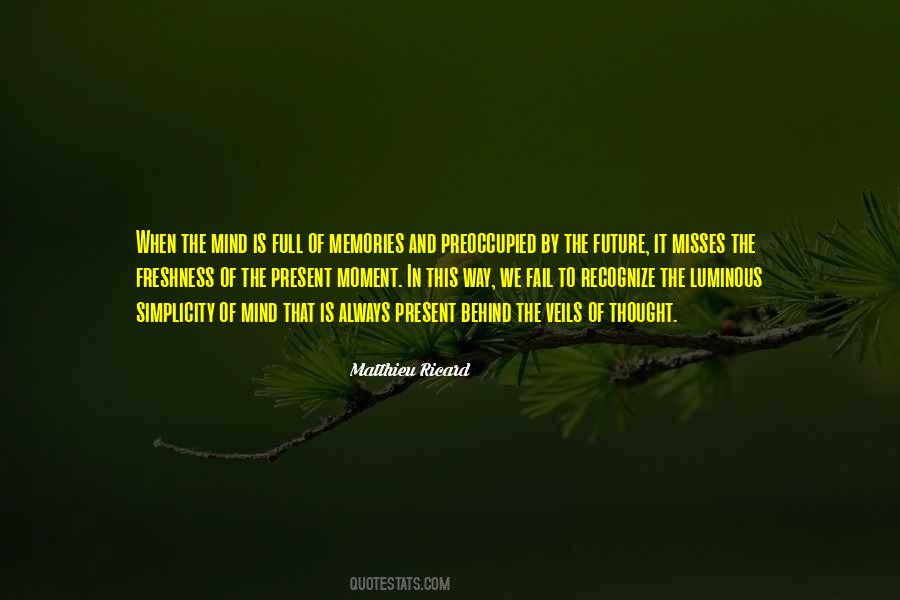 #9. There's not a day that goes by, without me thinking of you, dying, in someone else's arms. - Author: Anthony Liccione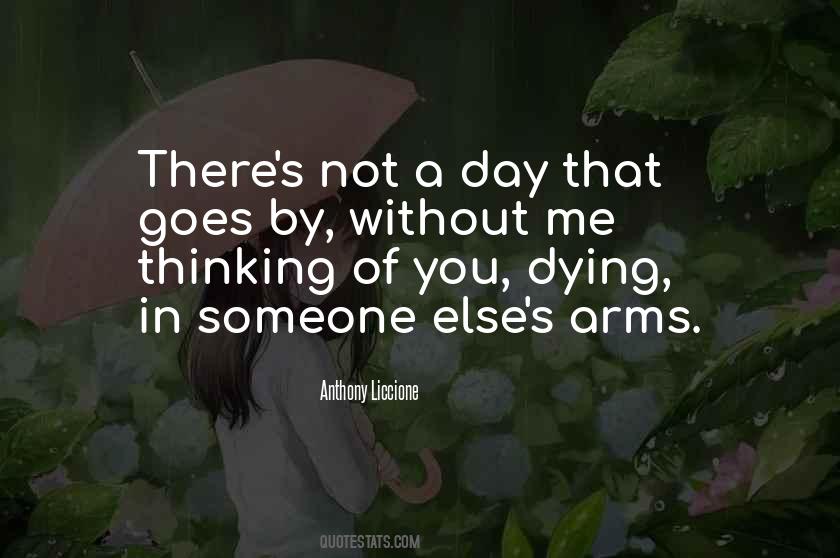 #10. Make it a principle for yourself to no longer accept negativity. - Author: Tosca Reno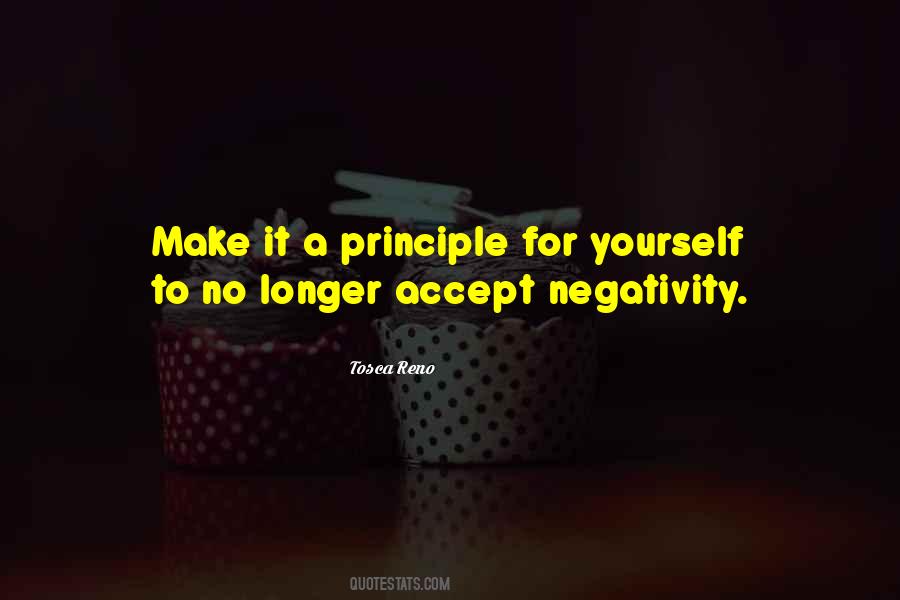 #11. Her memory was awful after she'd been drinking, like a broken film reel. Whole segments of time were missing, fuzzy, unsalvageable. In fact, her recollection of most her life seemed to be full of taunting gaps, so that she only had a handful of memories to look back on. - Author: Jack Jordan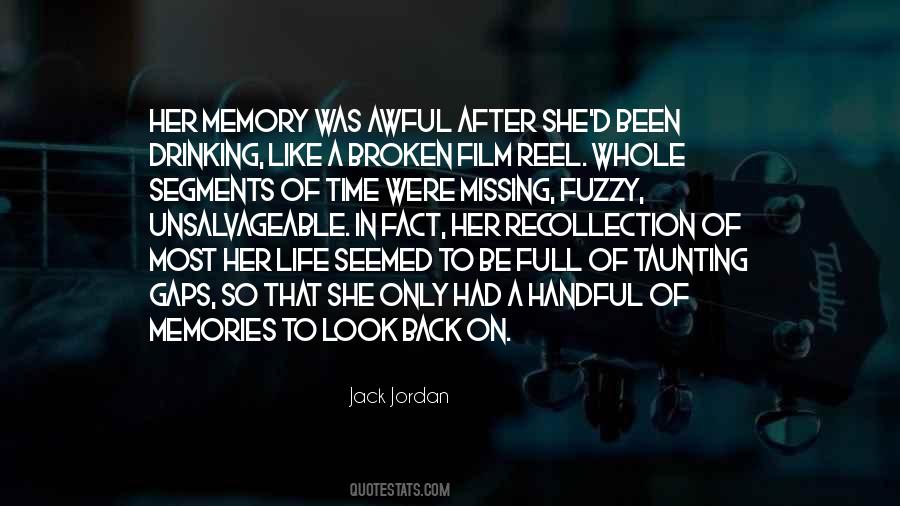 #12. It seems sometimes that we get so caught up in missing the past, or looking forward to the future, that we forget that this, right here and now, was once the days we longed for and will soon be the ones we miss. - Author: John A. Ashley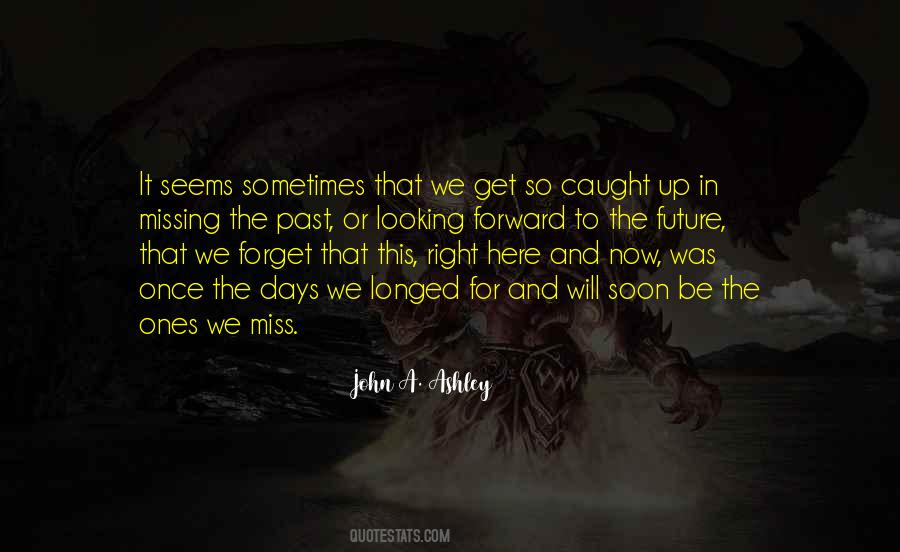 #13. You can't recover memories of a missing event. That's a fallacy. - Author: Betty Hill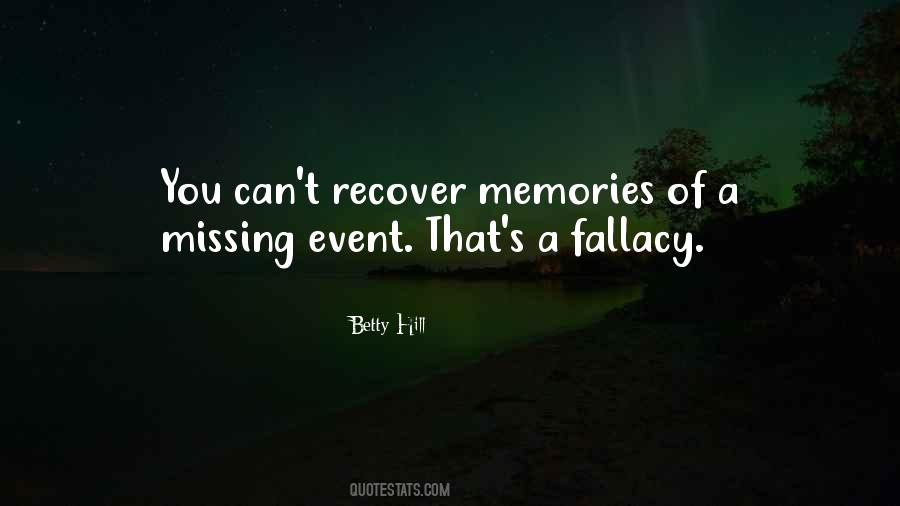 #14. Come to close?No one wants to come to close.If it's done for them,they accept it,even while they condemn it.Why not?But no one wants to know what it's like.Turn a blind eye.Maybe it will go away. - Author: Iris Johansen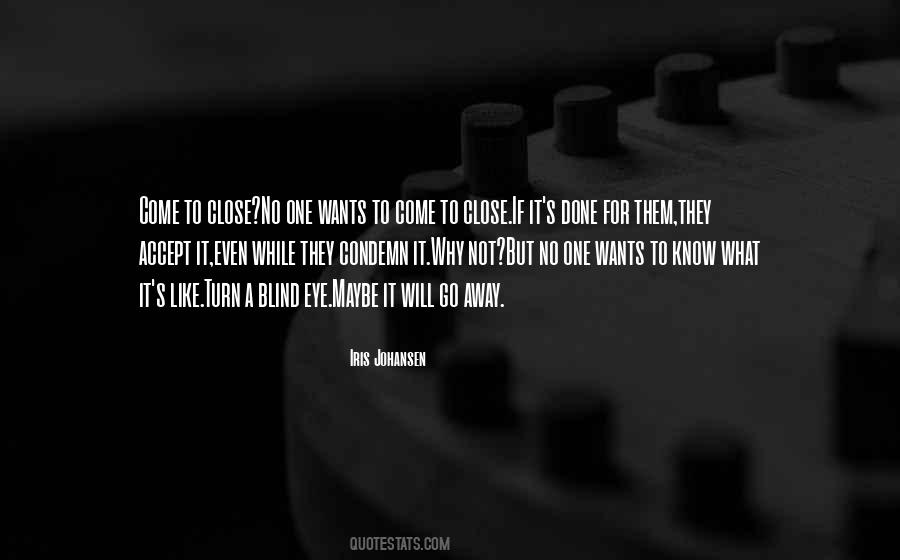 #15. Falling asleep with hopes and wishes that I rarely get to hold in my hand for long ... go me. All I've got are memories and secrets. - Author: Alyse M. Gardner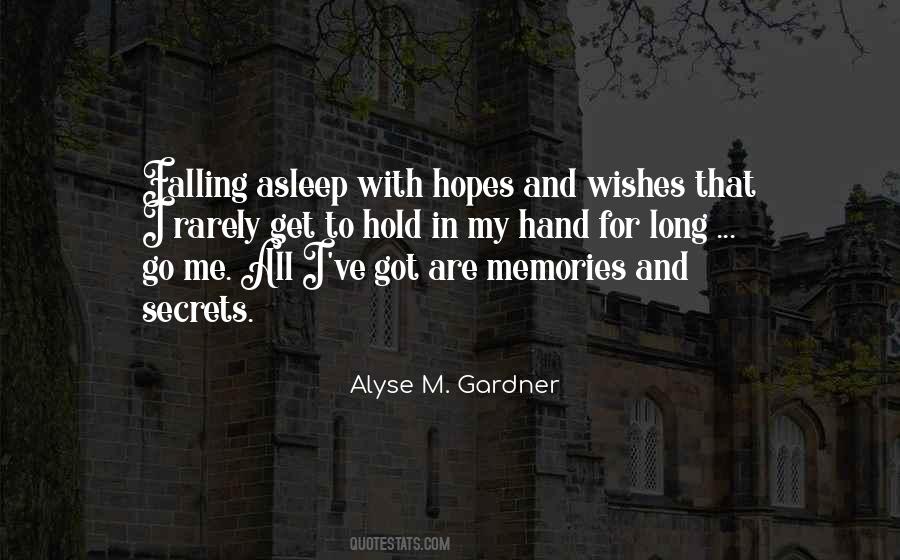 #16. Winning is always fun, but the car is more important. - Author: Teemu Selanne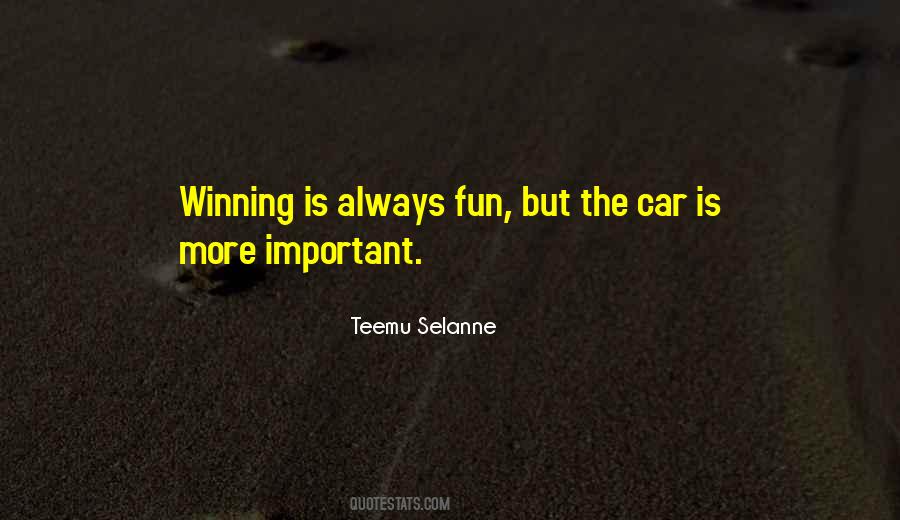 #17. Take me back into the time when I lost track of time! - Author: Jasleen Kaur Gumber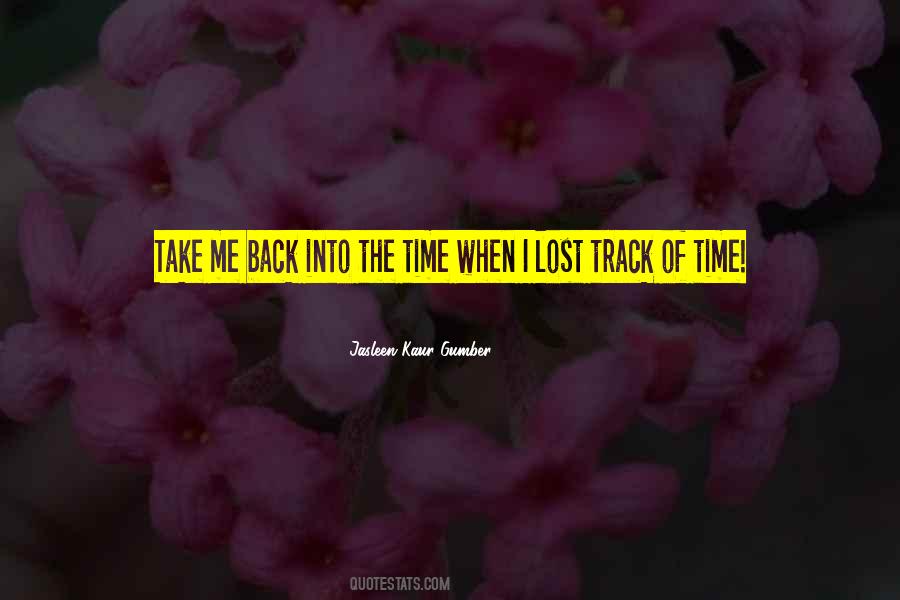 #18. Gone is gone. I never miss anything or anyone because it all becomes a lovely memory. I guard my memories and love them, but I don't get in them and lie down. - Author: Louise Fitzhugh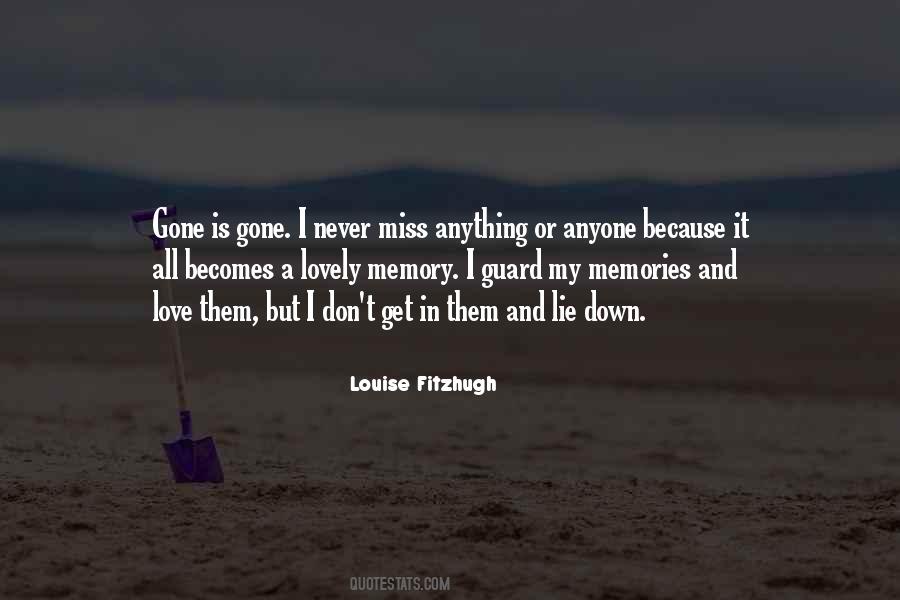 #19. The birth of love is always accompanied by the idea of solitude. A single being appears, and the rest of the world grows empty. - Author: Marthe Bibesco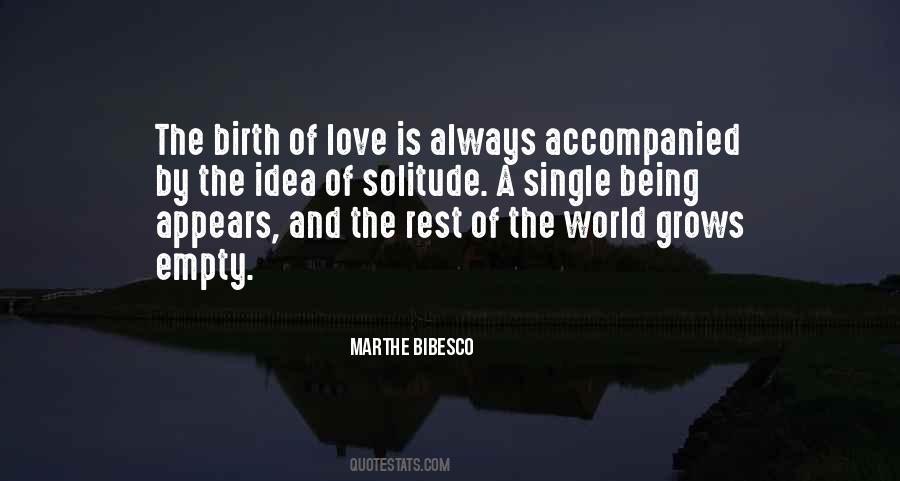 #20. Lately, I couldn't remember those years, as if childhood was a movie I'd only seen the previews to. - Author: Catherine Lacey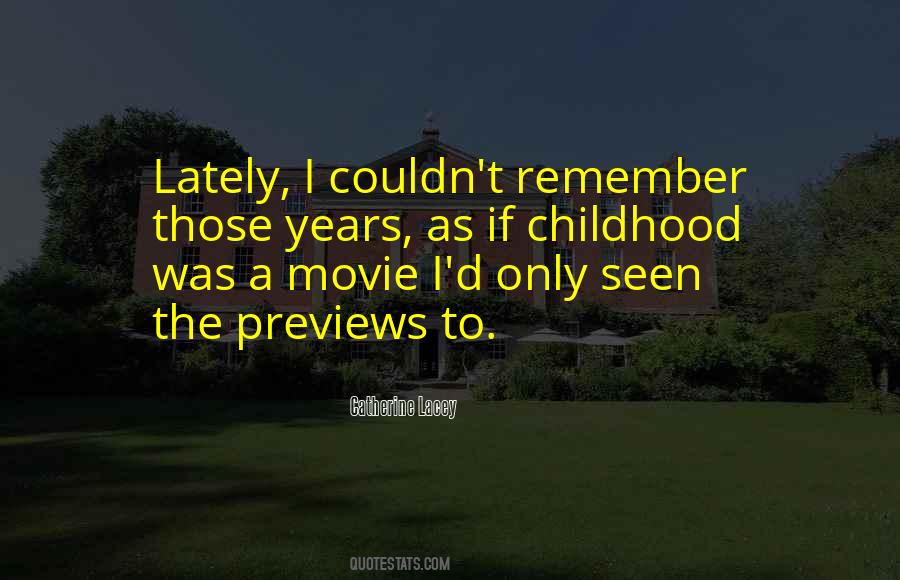 #21. The causing of the little ones to offend hangs a fearful woe about the neck of the causer. - Author: George MacDonald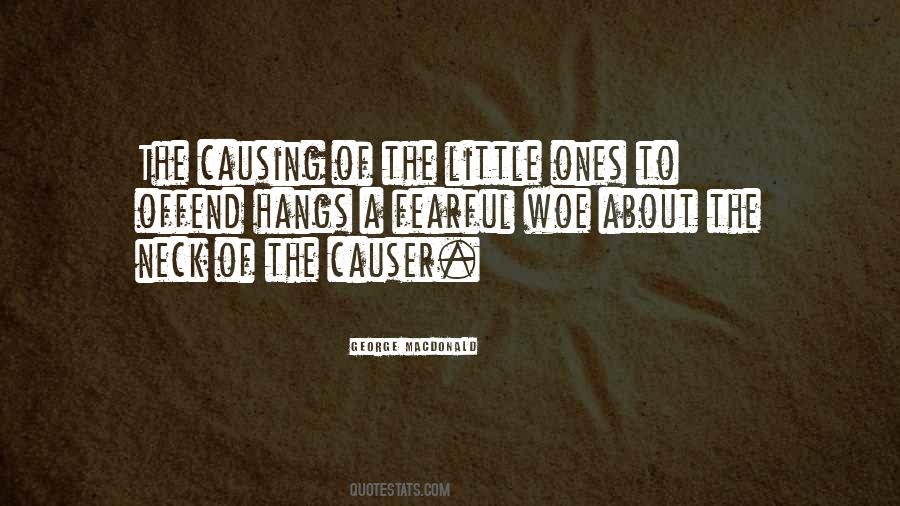 #22. I'll still be missing you as much as ever. I'l still smile at the memory of you. I'll still be - Okay, I'll say it again - loving you, but I won't abandon myseld for you. I cannot be faithful to you without being faithful to myself. - Author: Jerry Spinelli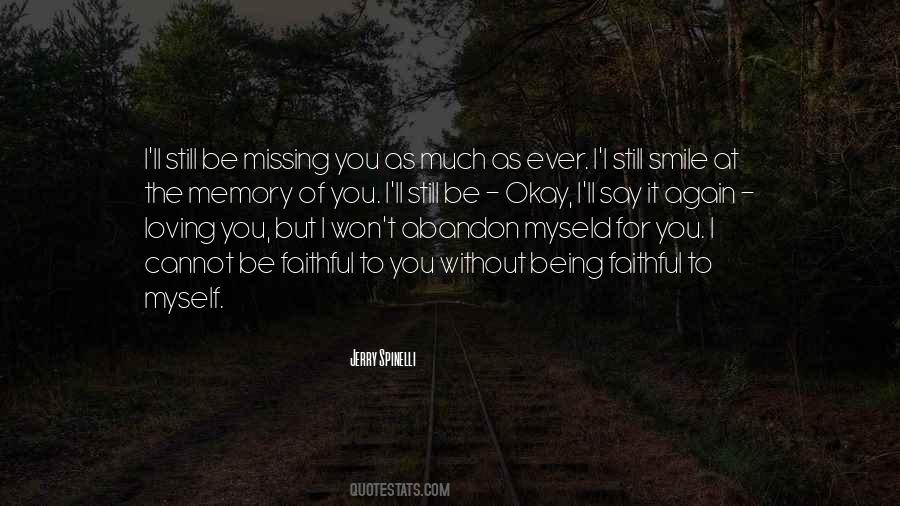 #23. You're the only girl that I want to be with. The only girl I look forward to seeing walk into a room. When I'm not with you, all I can think about is getting back to you. When you touch me, it's like fire running through my veins.-loc 1725 - Author: Nichole Chase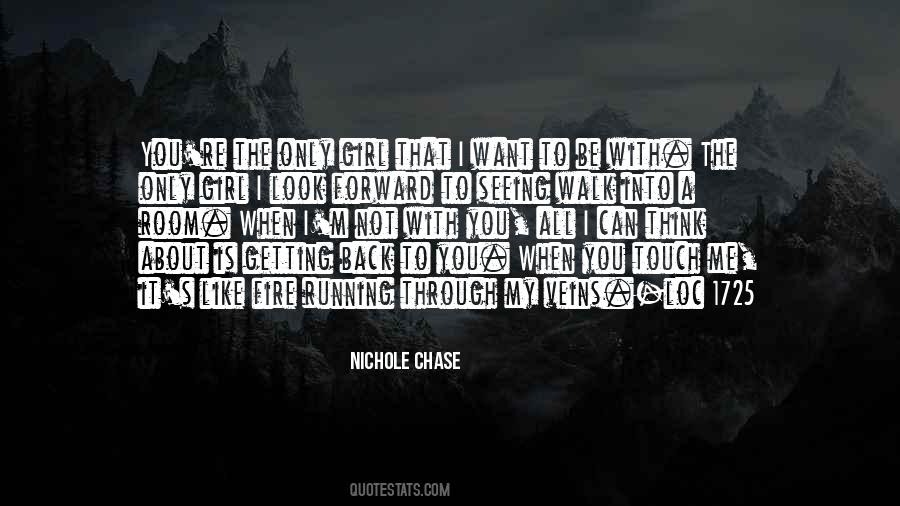 #24. Just as those who are deprived of light cannot walk straight, so also those who do not behold the ray of the Holy Scriptures must necessarily sin, since they walk in the deepest darkness. - Author: Saint John Chrysostom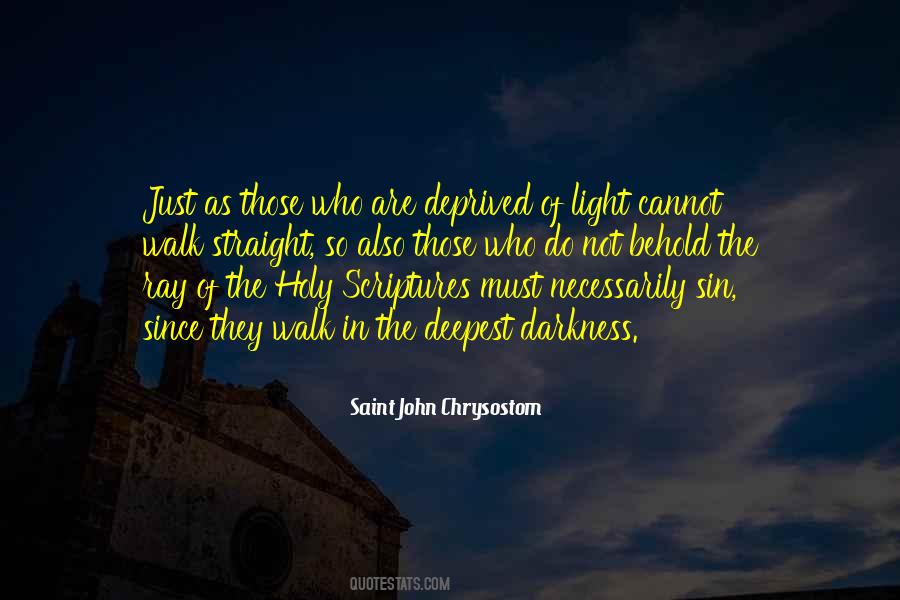 #25. Amnesia was a soldier's best friend, and luckily, it could be taught. Missing limbs still ache, but missing memories never do. - Author: Alex London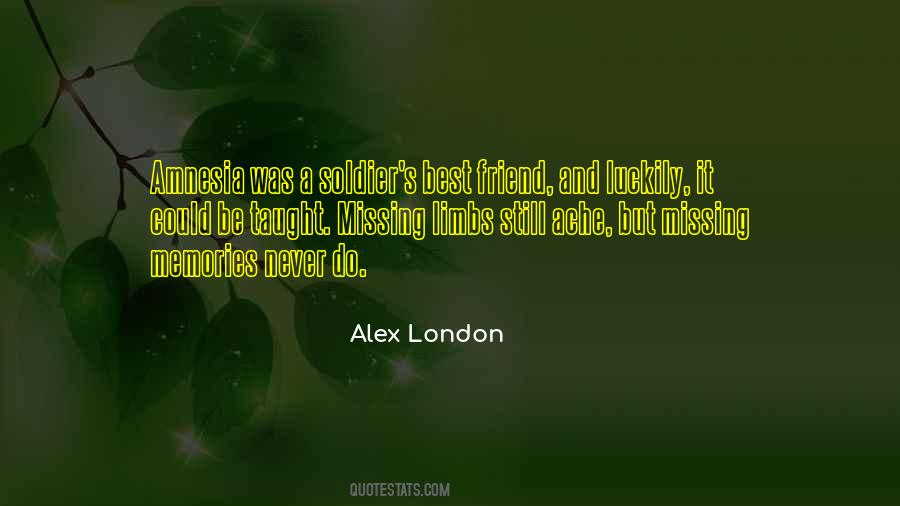 #26. Wouldn't it be surprising if a 911 caller actually did begin to describe the tragedy in alarming detail? And dwell on the details, swooning in their splendor? - Author: Michael A. Arnzen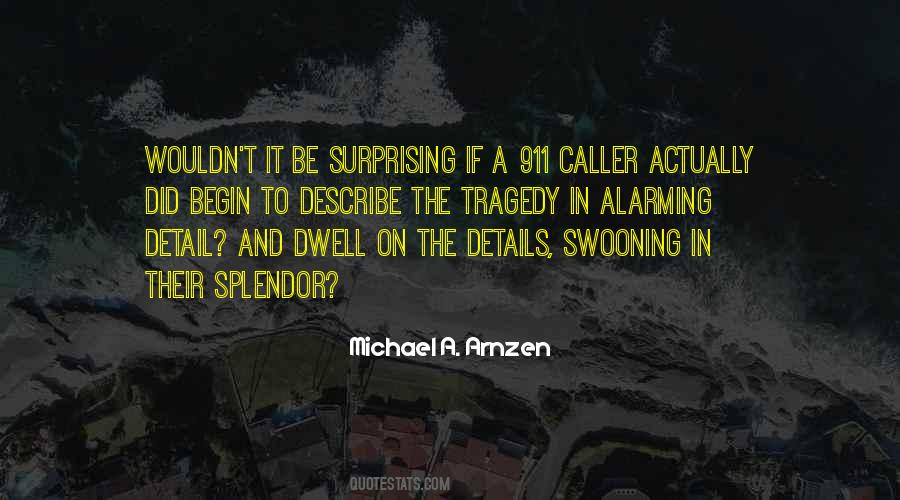 #27. Anyone who falls in love is searching for the missing pieces of themselves. So anyone who's in love gets sad when they think of their lover. It's like stepping back inside a room you have fond memories of, one you haven't seen in a long time. - Author: Haruki Murakami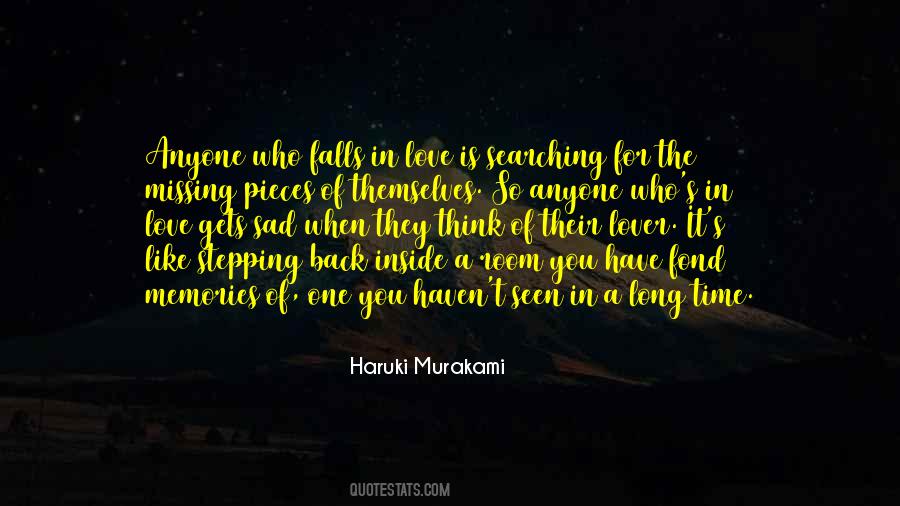 #28. Percy'd heard stories about amputees who had phantom pains where their missing legs
and arms used to be. That's how his mind
felt - like his missing memories were aching. - Author: Rick Riordan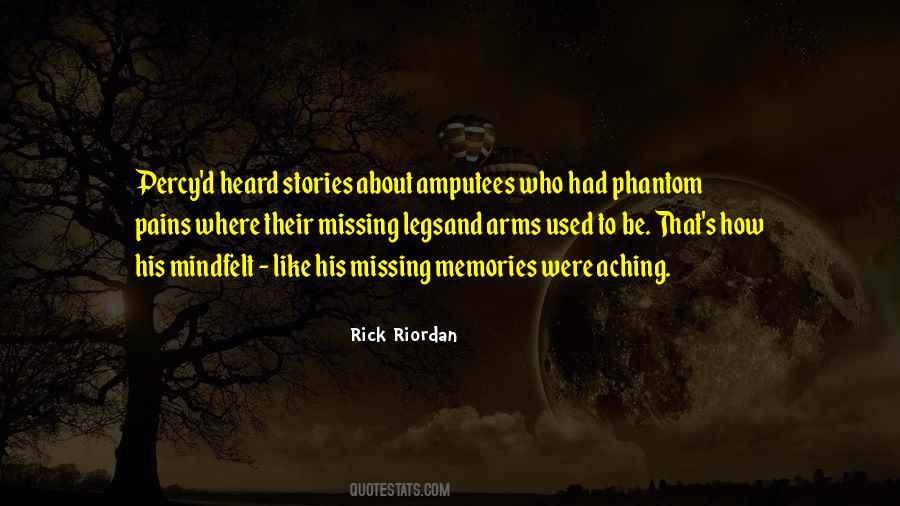 #29. Time is not an enemy as such, but a missing person, sending cryptic postcards from the past. - Author: Carla H. Krueger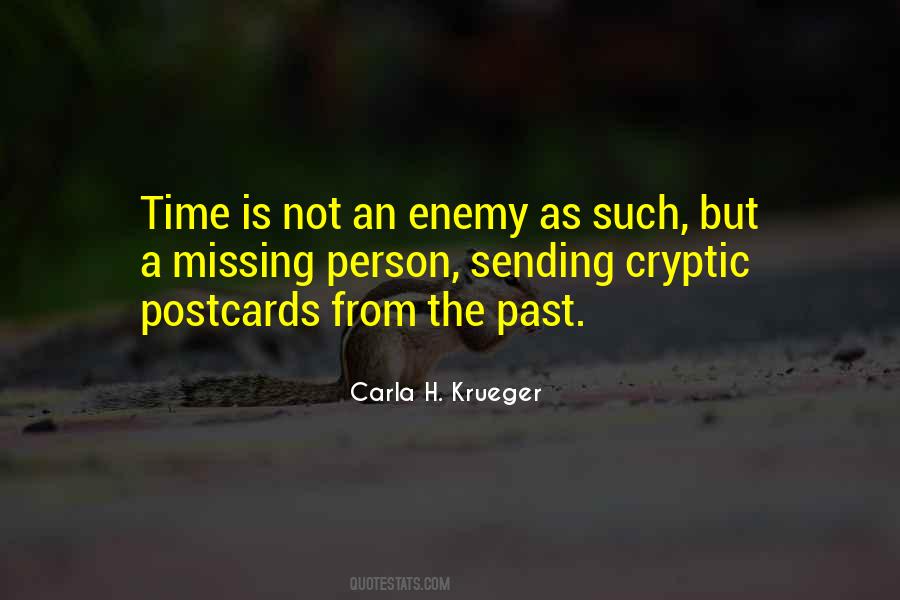 #30. How does it feel, whispered Faith, to come back to your memories and find yourself missing and a dead person in your place? - Author: Frances Hardinge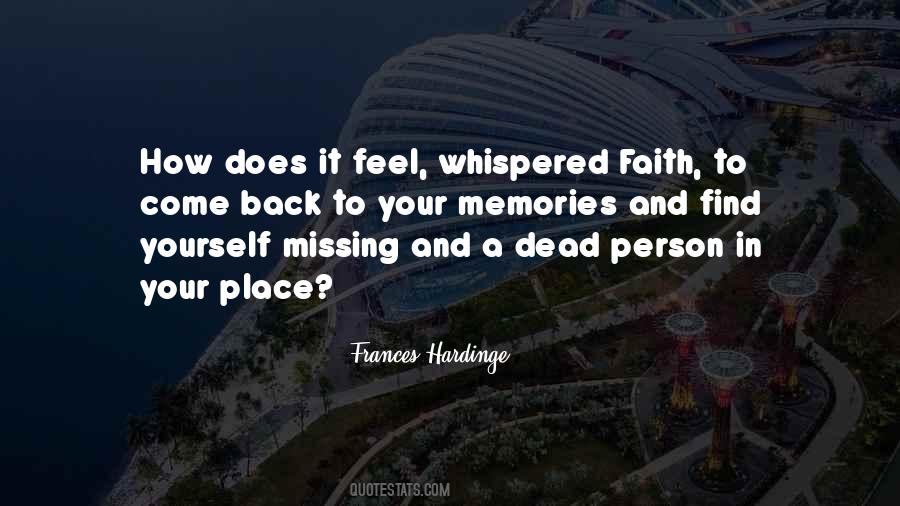 #31. I remember his eyes. They are just like mine. Every time I look in the mirror I see him. I try not to look at my self too much. - Author: Ida Lokas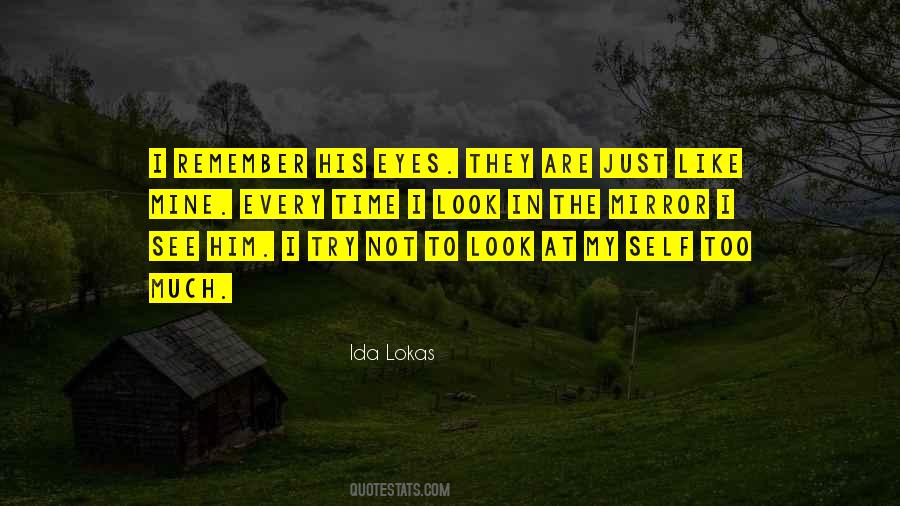 #32. If I never went home, what exactly would I be missing? I pictured my cold cavernous house, my friendless town full of bad memories, the utterly unremarkable life that had been mapped out for me. It had never once occurred to me, I realized, to refuse it. - Author: Ransom Riggs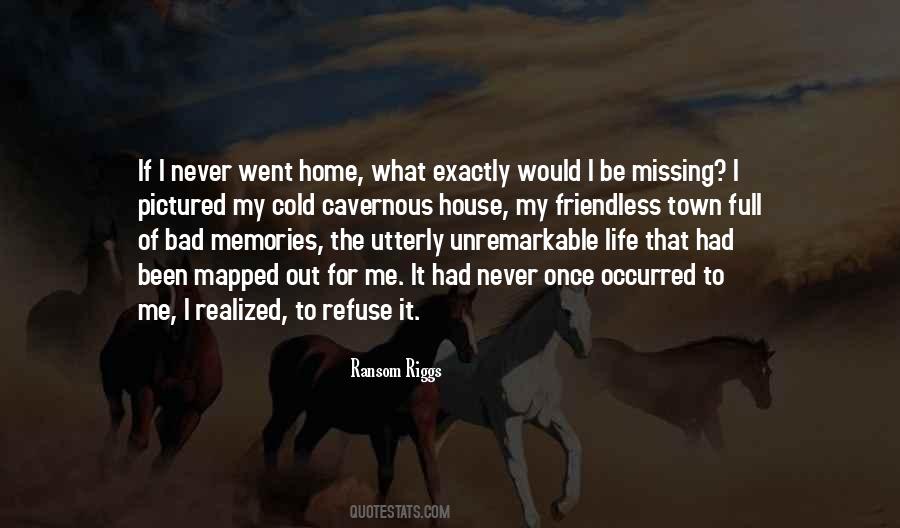 #33. Life is magical and I guess my thing is I wish that people wanted that magic. - Author: Billy Bob Thornton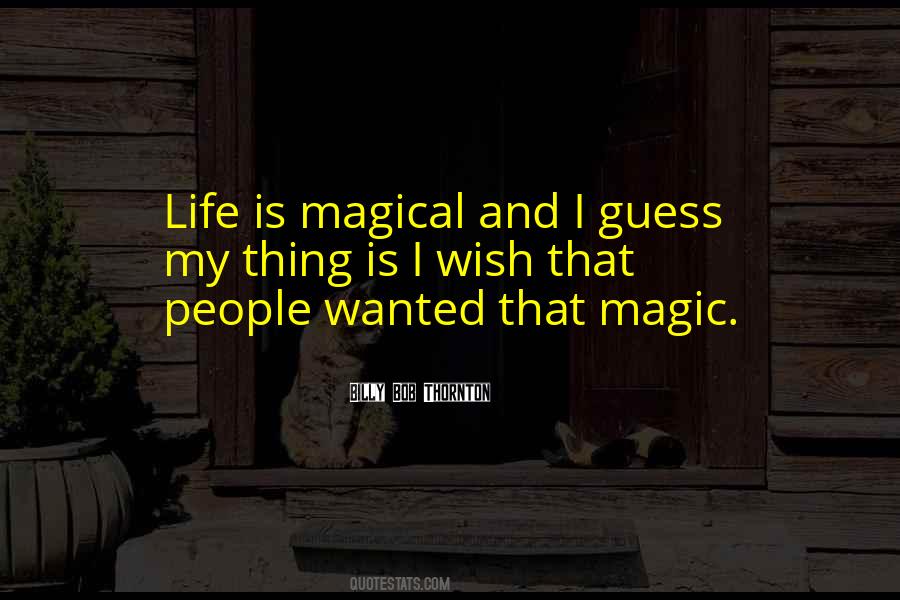 #34. War had rearranged my priorities. I now clung to memories more than goals or material things. But there were a few irreplaceable items that buoyed my spirit and fight for life. It was at that moment that I realized. Something was missing from my suitcase. - Author: Ruta Sepetys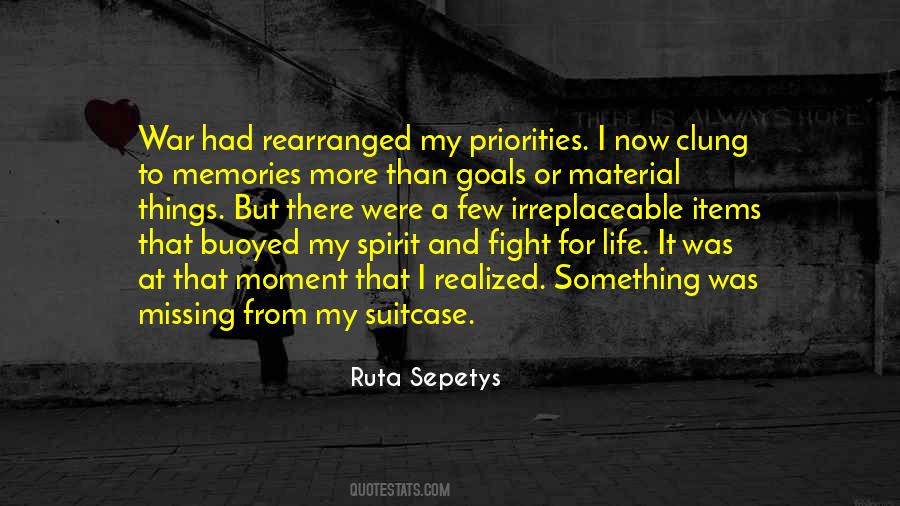 #35. Her tears still lay, unattended, on my bosom ... I wouldn't wipe them, for she might stop paying me visits. - Author: Aporva Kala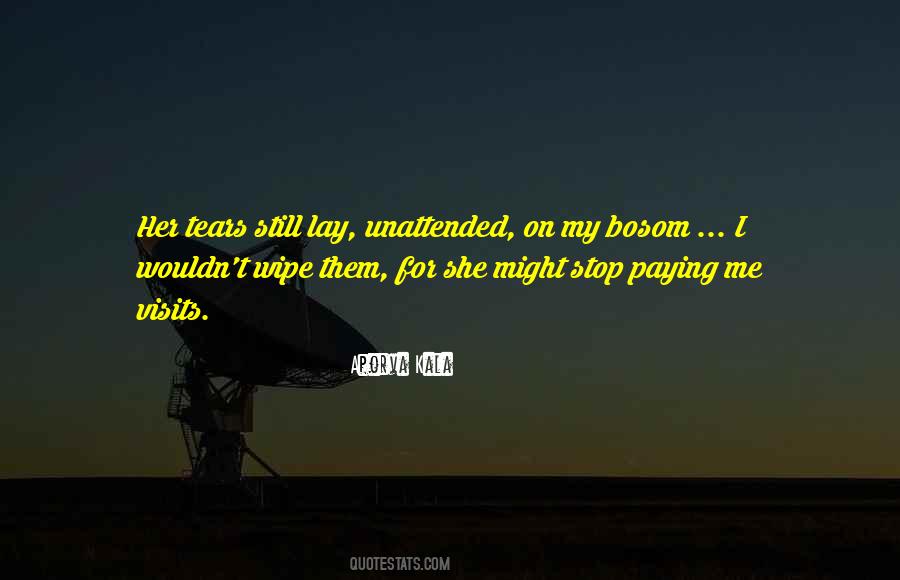 #36. I kiss her ghost, and sleep with the dust on her photograph, next to my bedside. - Author: Anthony Liccione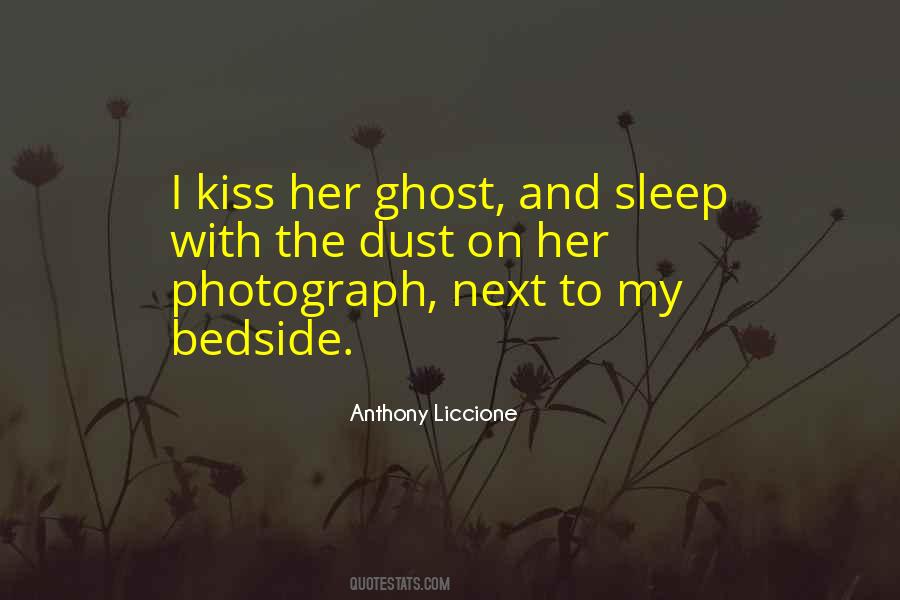 #37. When you don't make people accountable, it leads to a superstar mentality where not everyone on the team is important. - Author: Mike Babcock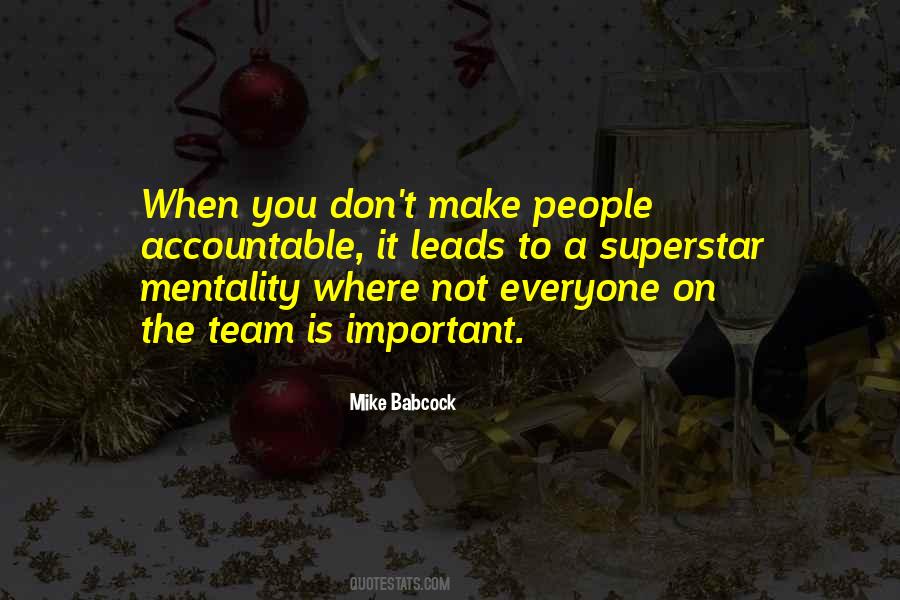 #38. There had been times when missing him had felt like someone had reached inside her and pulled out the part of her that remembered how to breathe. And times when she'd barely given the memories of him a second's worth of her time. - Author: Megan Hart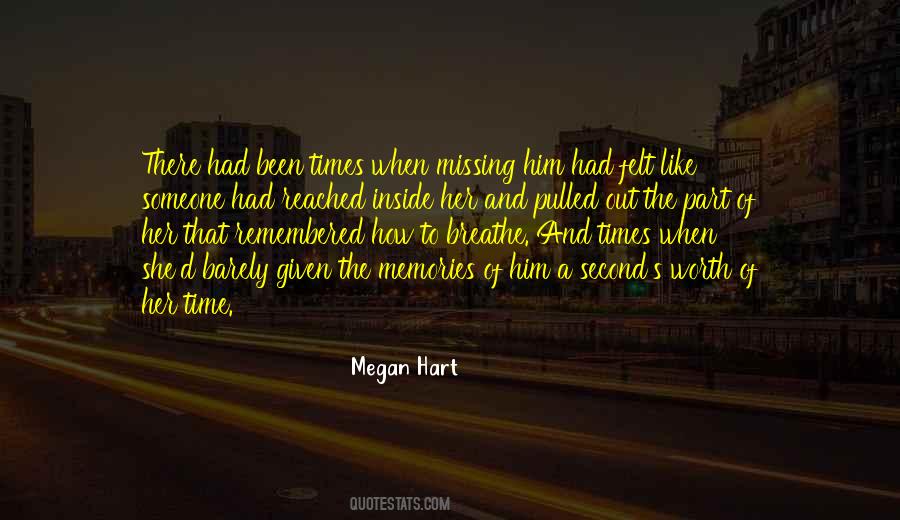 #39. What makes you think you can survive as a saint in this world, unless you make it your business to exploit the gullible and greedy? - Author: Anand Neelakantan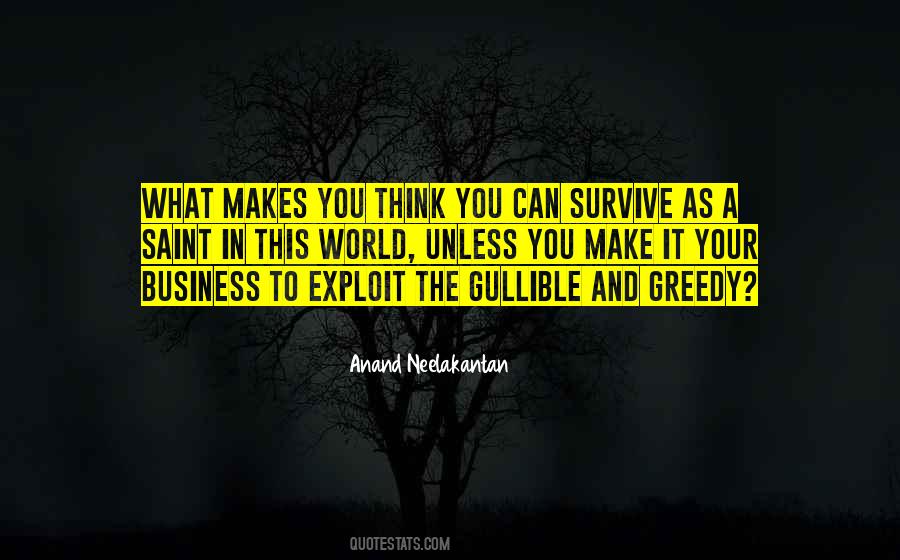 Famous Authors
Popular Topics