Martel Famous Quotes & Sayings
List of top 100 famous quotes and sayings about martel to read and share with friends on your Facebook, Twitter, blogs.
Top 100 Martel Quotes
#1. It's true, too, that I'm tired of using books as political bullets and grenades. Books are too precious and wonderful to be used for long in such a fashion. - Author: Yann Martel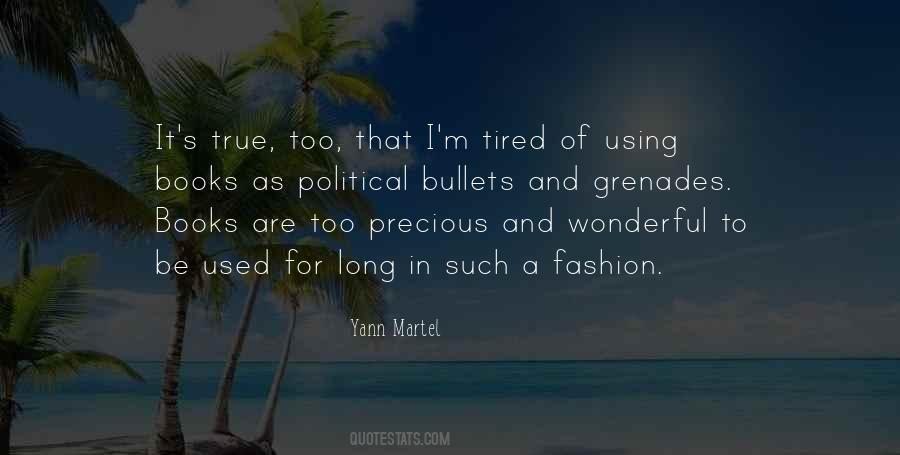 #2. Today, nobody cares about European culture. We have a tradition, a vision, a culture of the past, we have legacy, but we don't have a present culture and we don't have a future. - Author: Frederic Martel?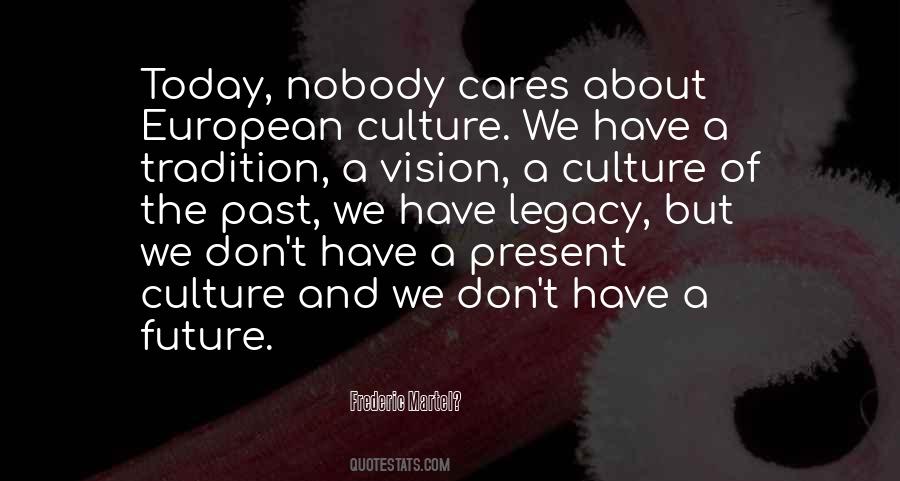 #3. I am magical: I can bleed for five days and not die. - Author: Yann Martel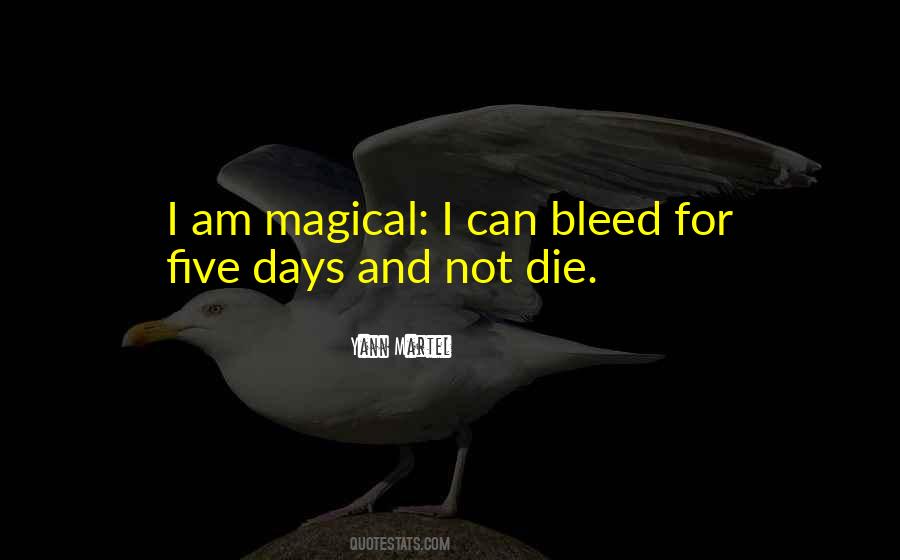 #4. In my youth, it was my good luck to have a few good teachers, men and women, who came into my head and lit a match. - Author: Yann Martel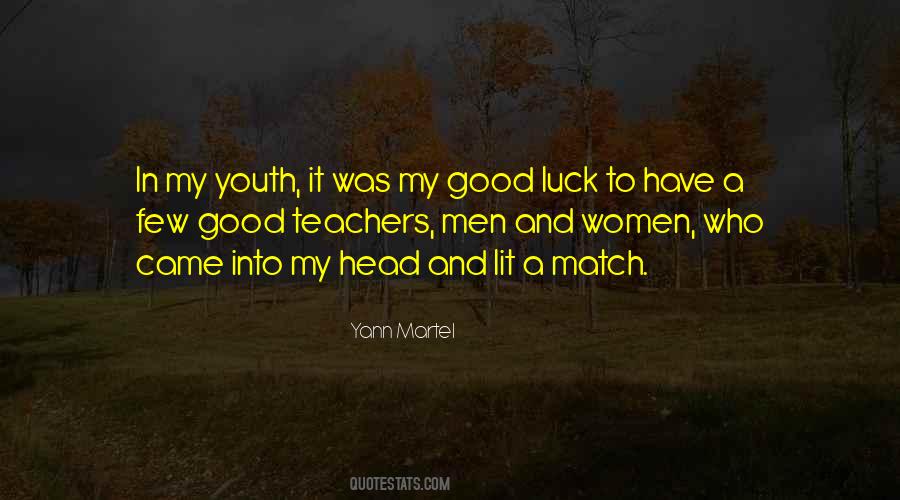 #5. What quantities evil - the amount of blood spilled the body count, the intentional destruction of innocent masses? Regardless of how evil is defined, there will always be those in power to discriminately judge it and their corrupt policing forces that enforce it. - Author: Mahima Martel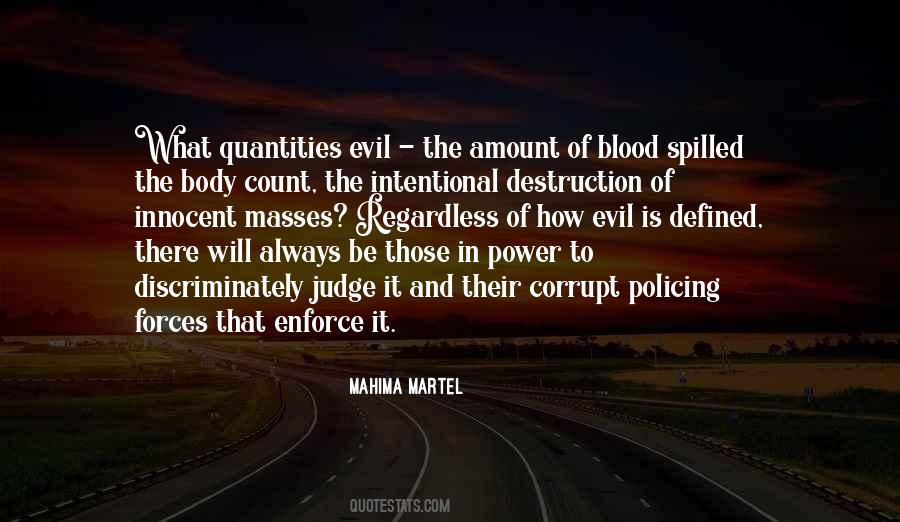 #6. I'll be honest about it. It is not atheists who get stuck in my craw, but agnostics. Doubt is useful for a while. - Author: Yann Martel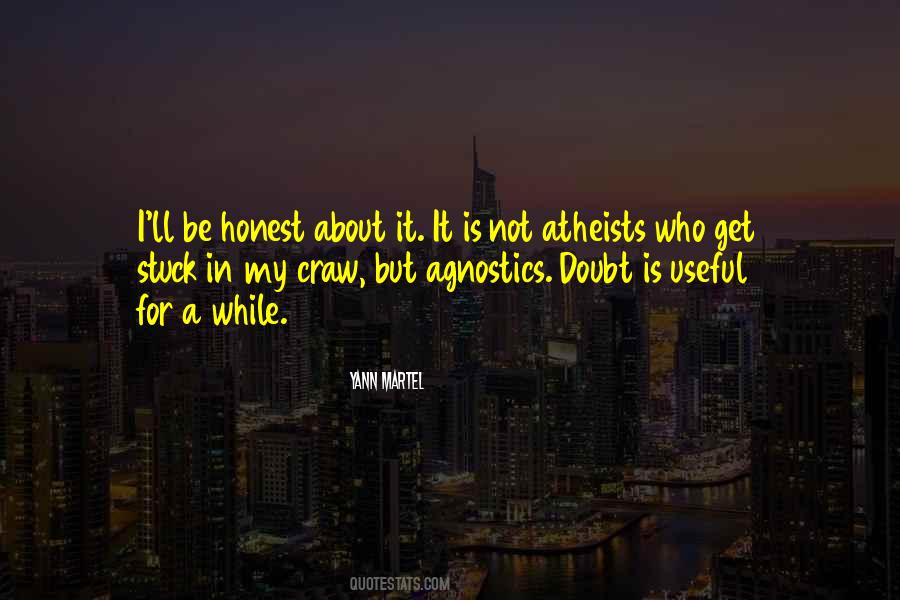 #7. One discovers weeping - one's weeping personality - only upon weeping. It is a strange discovery, not only to others but to oneself - Author: Yann Martel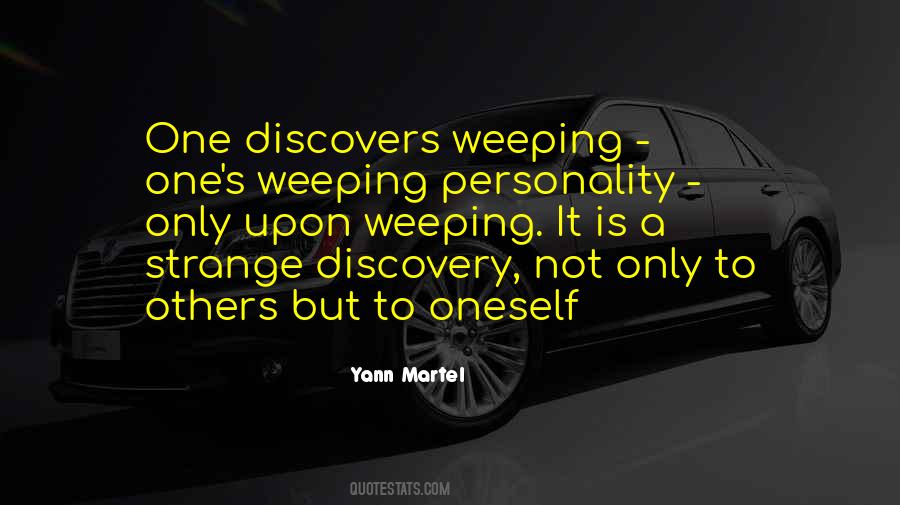 #8. The holy word is story, and story is the holy word. - Author: Yann Martel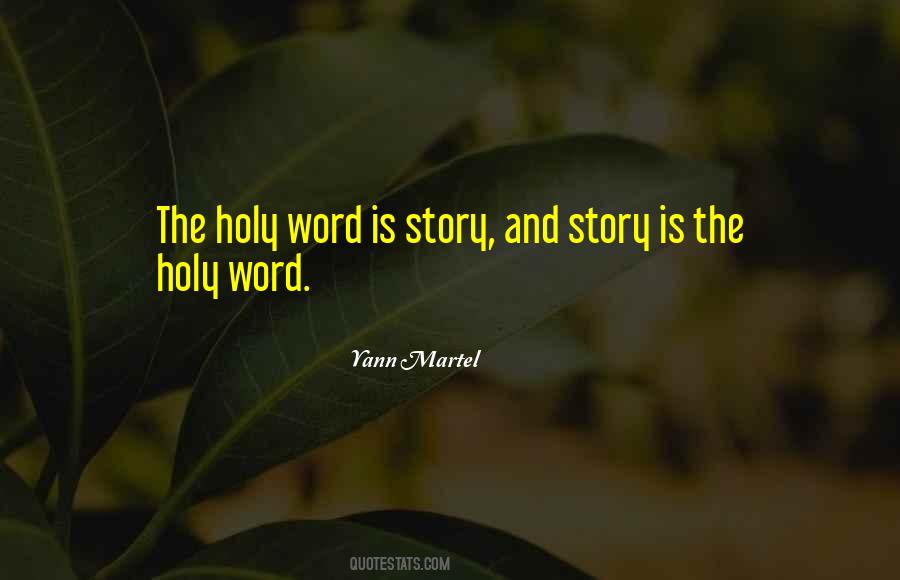 #9. I'm just trying to help"
"Do your uncle's bonsai eat meat?"
"I don't think so"
"Have you ever been bitten by one of his bonsai?"
"No."
"In that case, your uncle's bonsai are not helping us - Author: Yann Martel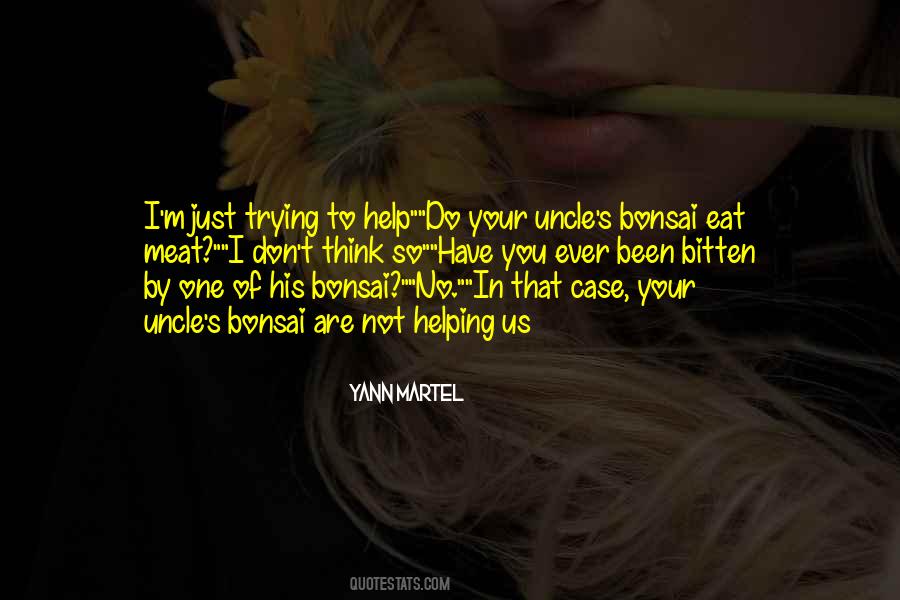 #10. The animals might embody certain traits. We think of tigers as being ferocious, etc. But to my mind, it was the other way around: the humans embodied certain animal traits. - Author: Yann Martel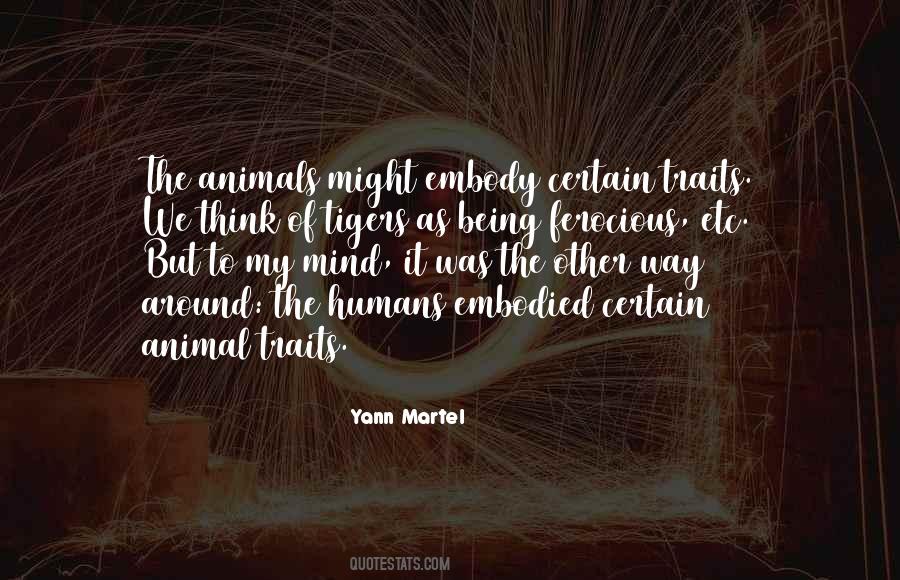 #11. Stories
individual stories, family stories, national stories
are what stitch together the disparate elements of human existence into a coherent whole. We are story animals. - Author: Yann Martel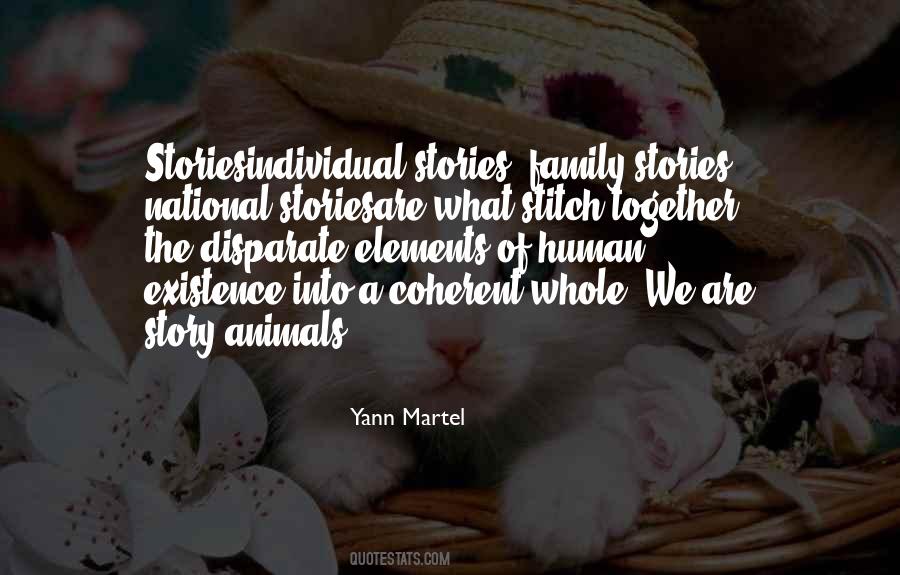 #12. A movie tends to box you in, at least as far as the aesthetics. You have an incredibly kinetic experience, which is the joy of cinema. - Author: Yann Martel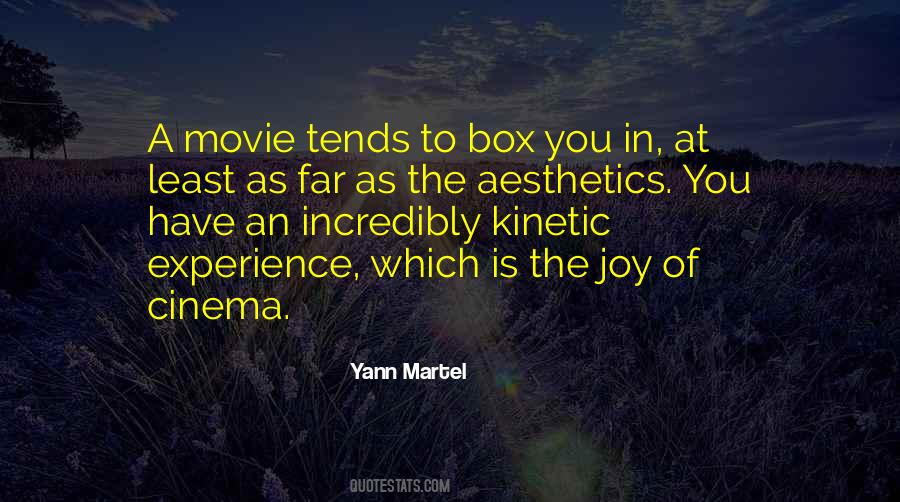 #13. I'm more preoccupied with furnishing my head than the place where I live. The most beautiful rooms I have entered have been empty ones. - Author: Yann Martel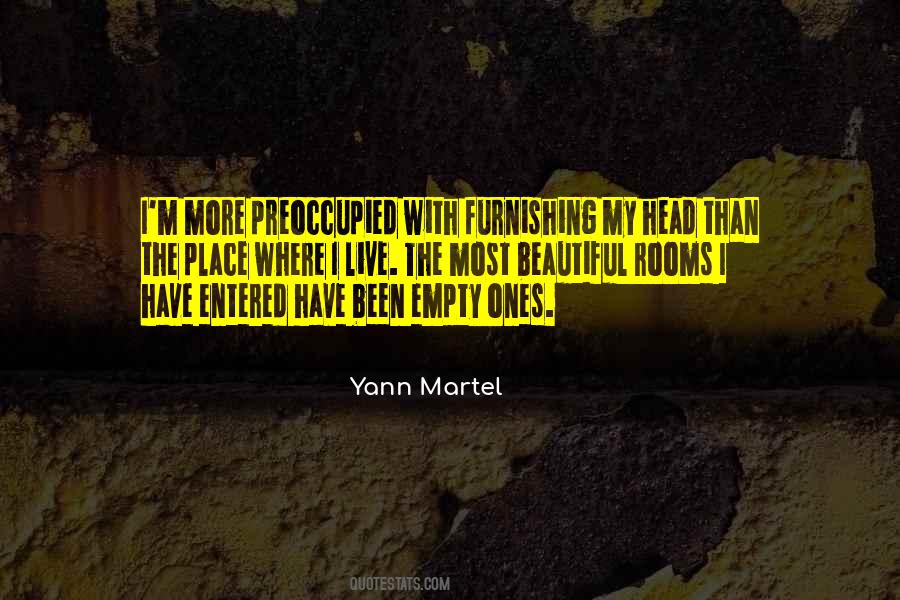 #14. I know what you want. You want a story that won't surprise you. That will confirm what you already know. That won't make you see higher or further or differently. You want a flat story. An immobile story. You want dry, yeastless factuality. - Author: Yann Martel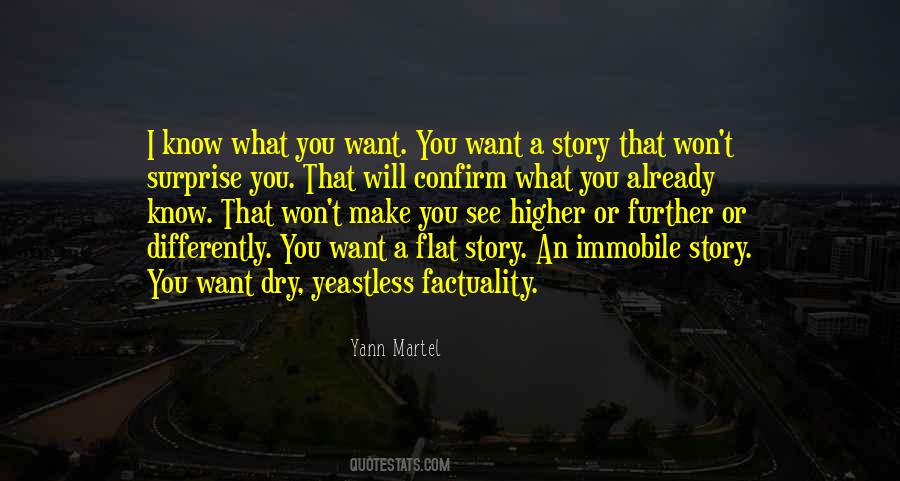 #15. Slice a pear and you will find that its flesh is incandescent white. It glows with inner light. Those who carry a knife and a pear are never afraid of the dark. - Author: Yann Martel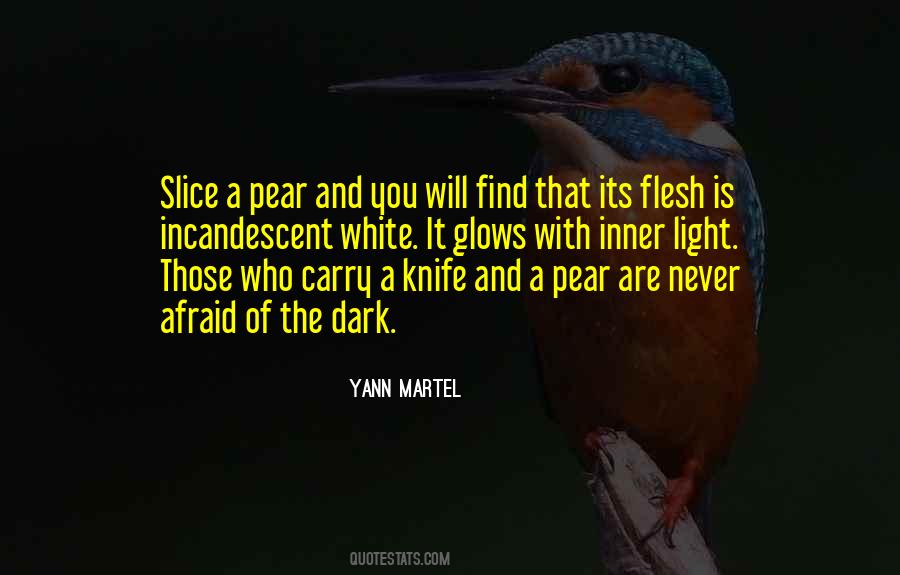 #16. To lose your father is to lose the one whose guidance and help you seek, who supports you like a tree trunk supports its branches. - Author: Yann Martel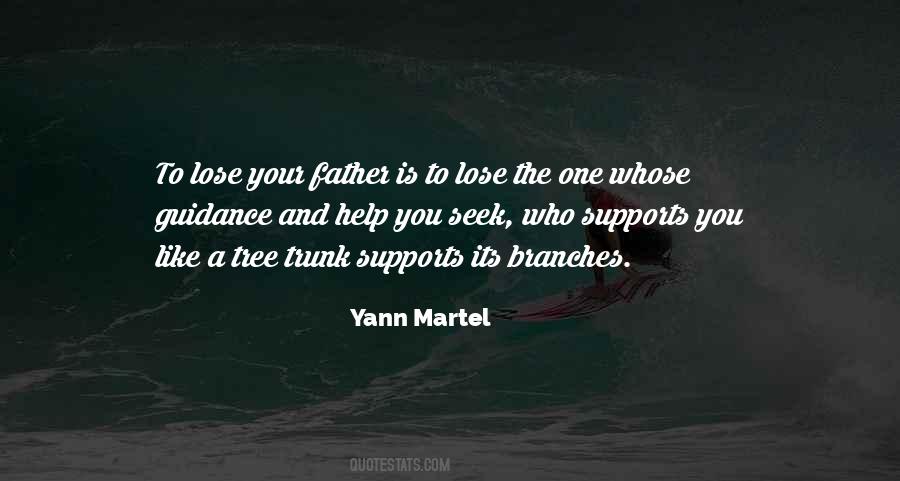 #17. Grief is a disease. We were riddled with its pockmarks, tormented by its fevers, broken by its blows. It ate at us like maggots, attacked us like lice- we scratched ourselves to the edge of madness. In the process we became as withered as crickets, as tired as old dogs. - Author: Yann Martel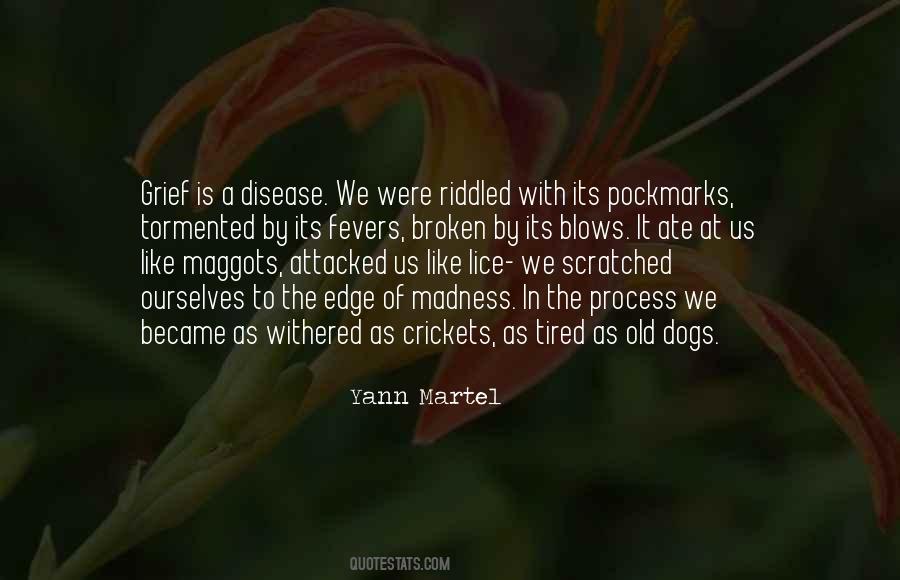 #18. Catholics have a reputation for severity, for judgment that comes down heavily. - Author: Yann Martel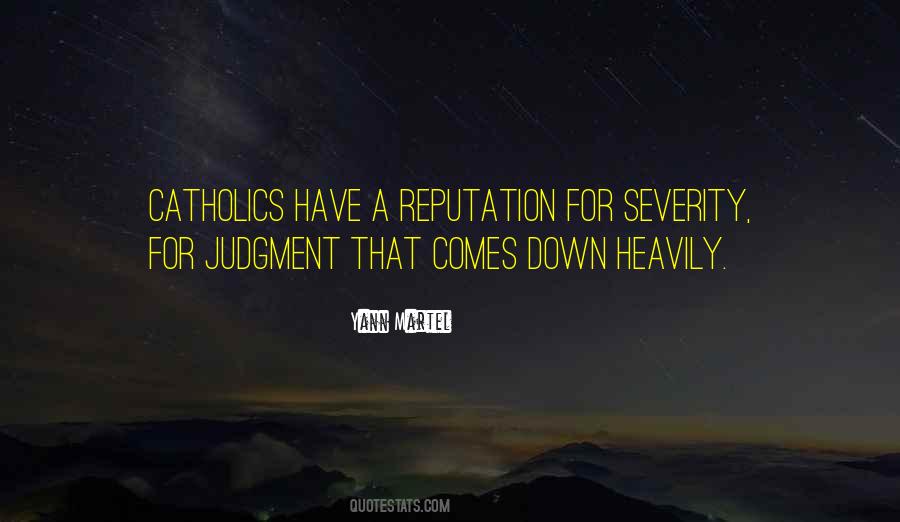 #19. I thought I would run out of paper. It was the pens that ran out. - Author: Yann Martel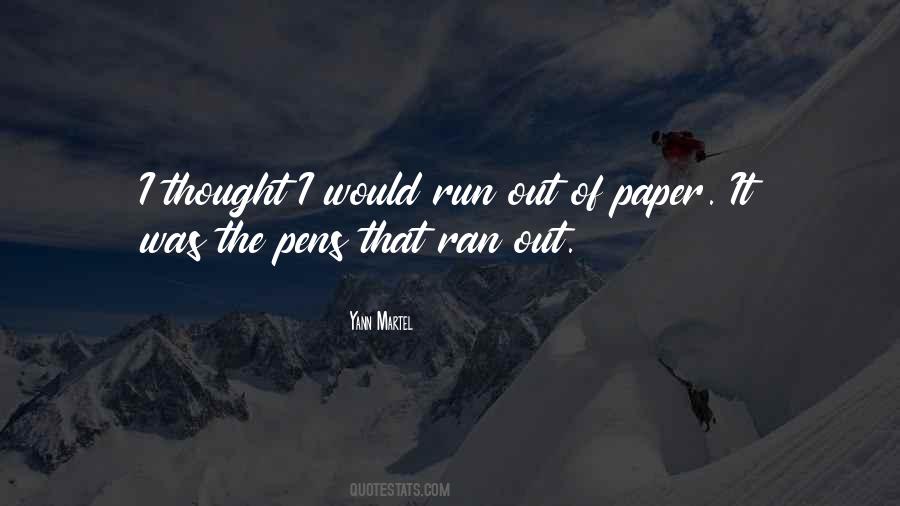 #20. It was a placid explosion of orange and red, a great chromatic symphony, a
colour canvas of supernatural proportions, truly a splendid Pacific sunset, quite wasted on me. - Author: Yann Martel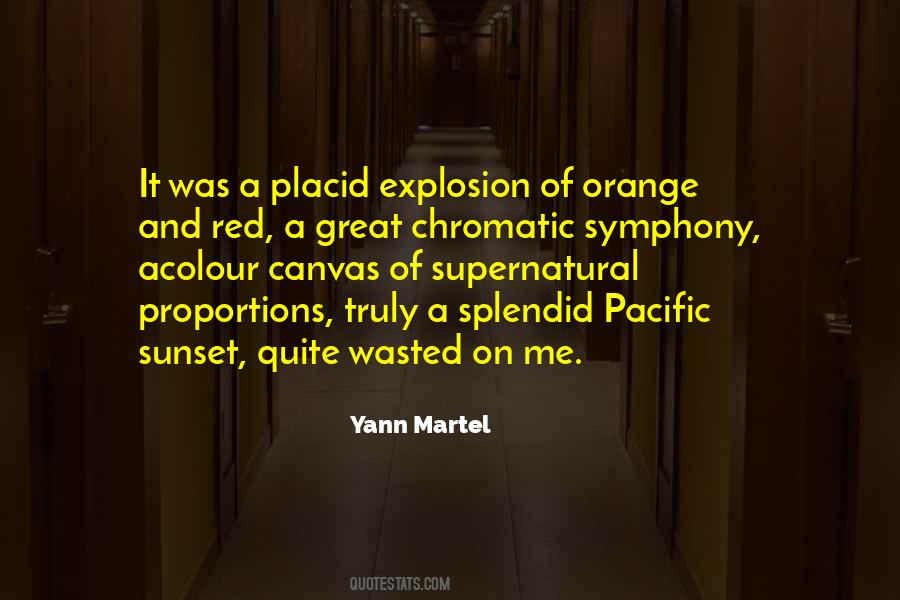 #21. I couldn't get Him out of my head. Still can't. I spent three solid days thinking about Him. The more He bothered me, the less I coul forget Him. And the more I learned about Him, the less I wanted to leave Him. - Author: Yann Martel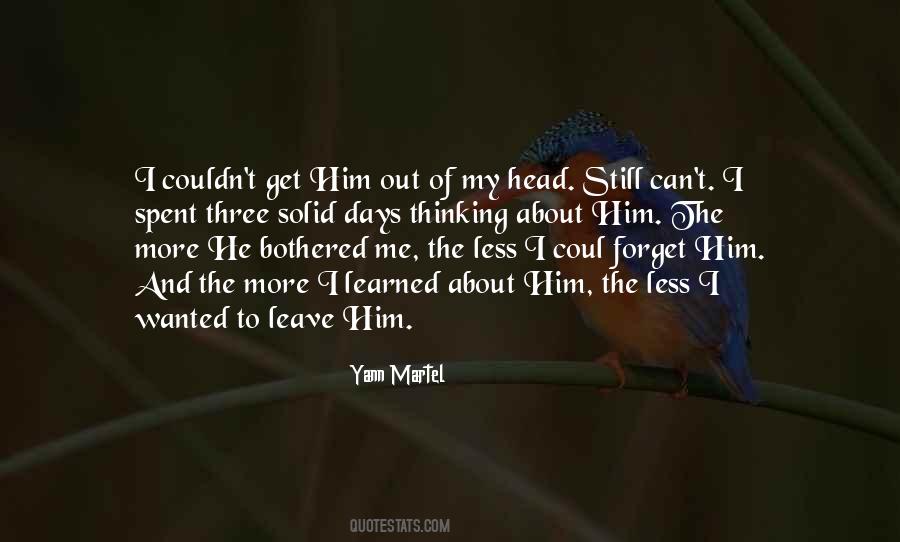 #22. [T]o be a castaway is to be caught up in grim and exhausting opposites. - Author: Yann Martel
#23. Without doubt, in animation each frame is important, every movement defines the character. - Author: Lucrecia Martel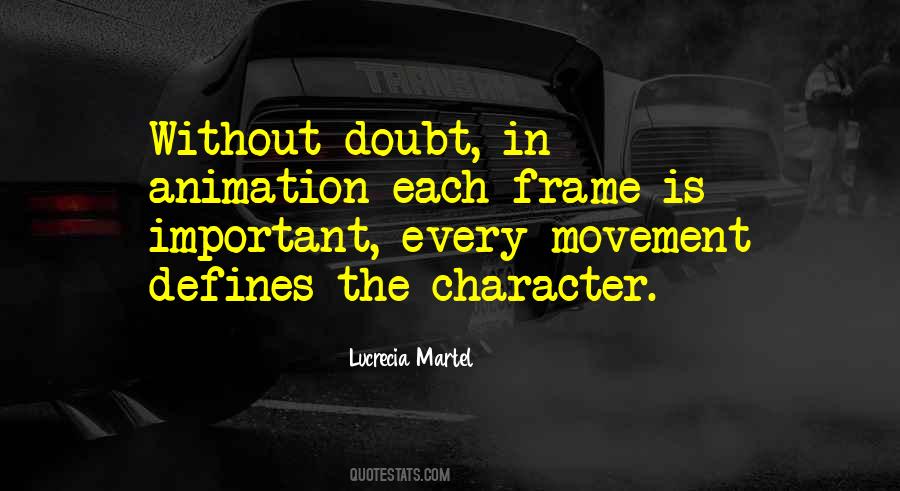 #24. I became aware of a voice inside my head. [ ... ] It was only later that I realized that this voice was my own thinking, that this moment of anguish was my first inkling that I was a ceaseless monologue trapped within myself. - Author: Yann Martel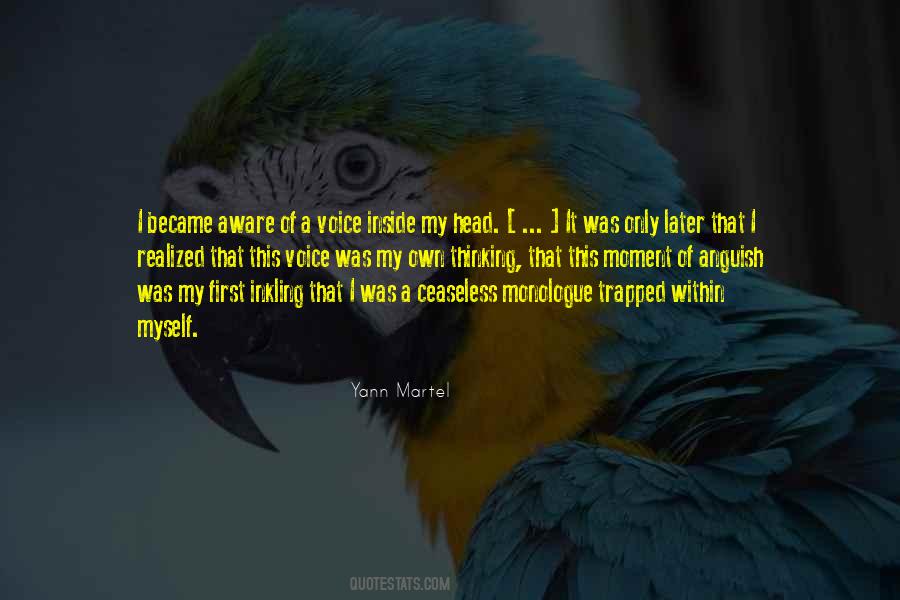 #25. Bapu Gandhi said, 'All religions are true.' I just want to love God. - Author: Yann Martel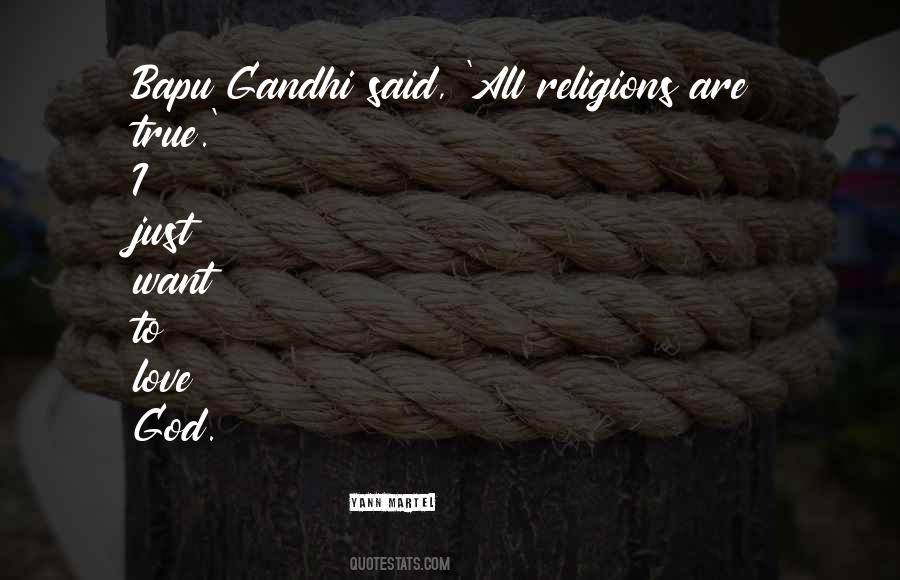 #26. Gloom is but a shadow of a cloud passing by - Author: Yann Martel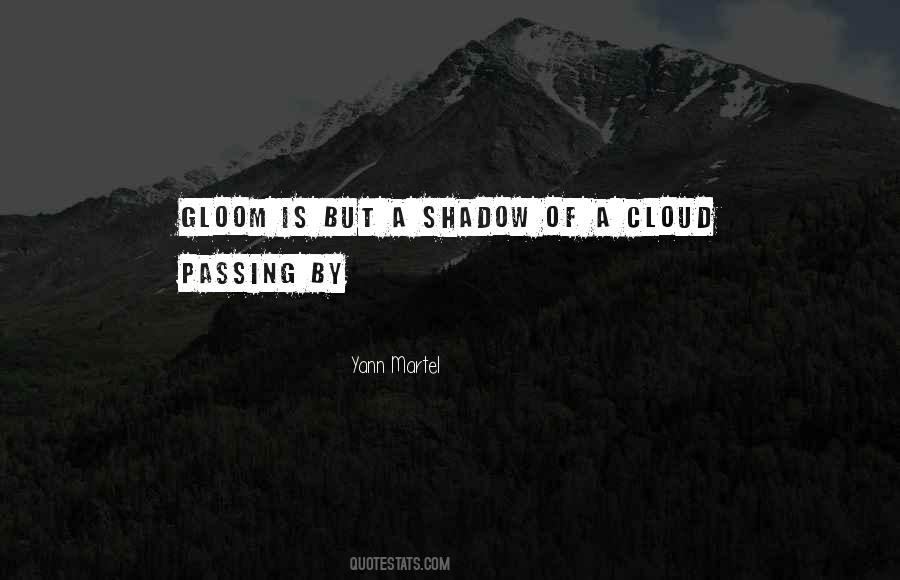 #27. It's amazing how willpower can build walls. - Author: Yann Martel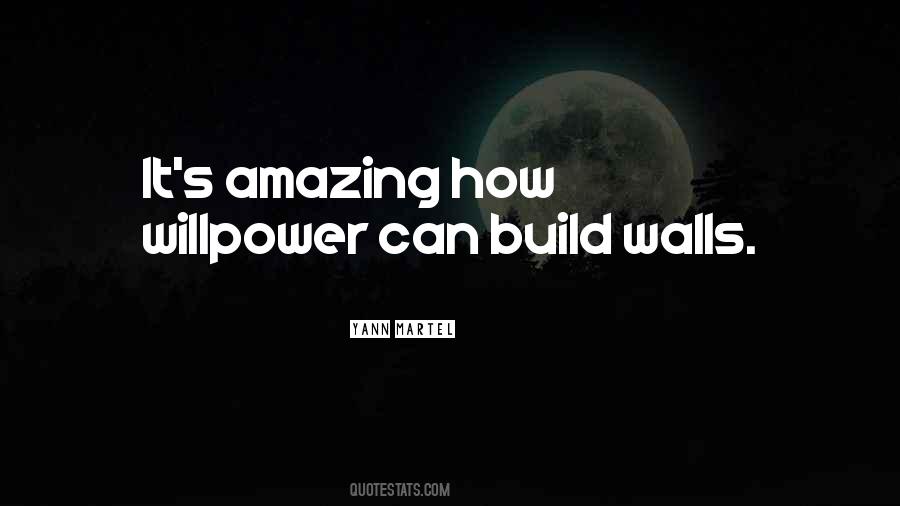 #28. My agency was pure and miraculous. It conferred power upon me. (pg. 223) - Author: Yann Martel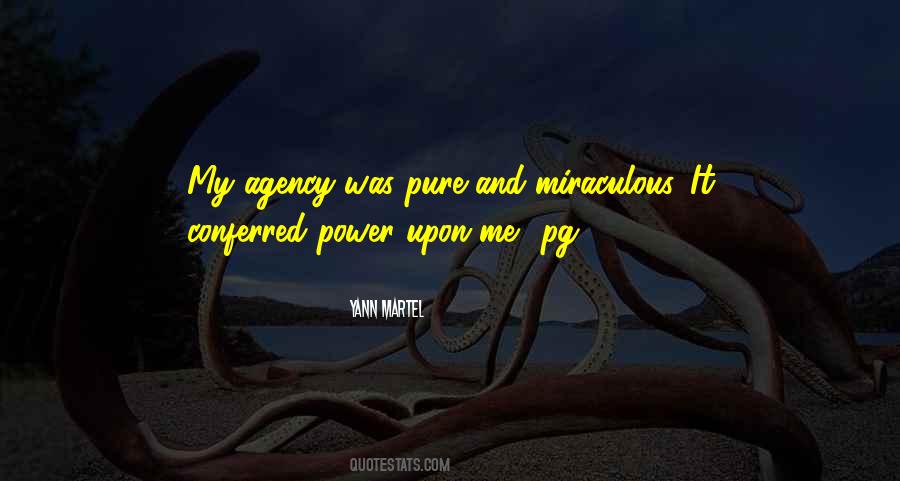 #29. The individual soul touches upon the world soul like a well reaches for the water table. That which sustains the universe beyond thought and language, and that which is at the core of us and struggles for expression, is the same thing. The finite within the infinite, the infinite within the finite. - Author: Yann Martel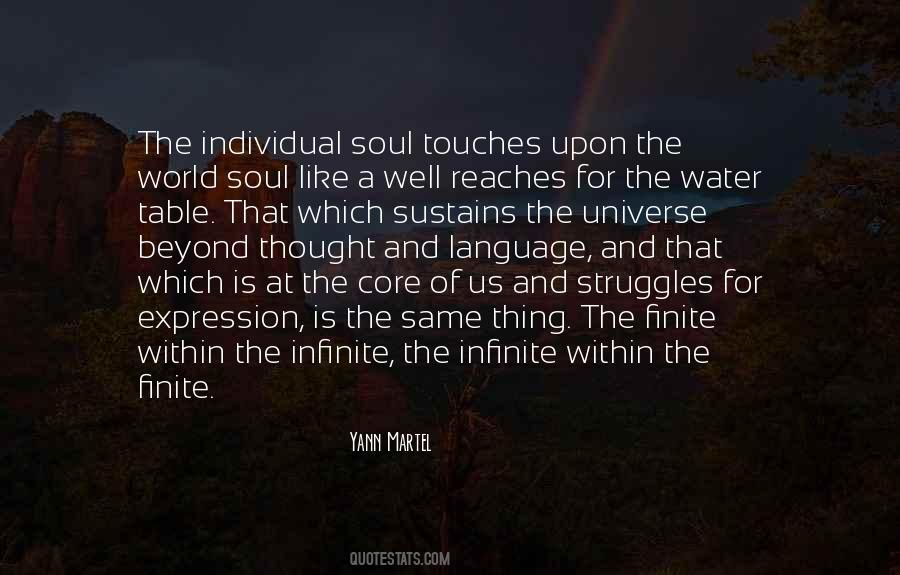 #30. Life is a peephole, a single tiny entry onto a vastness
how can I not dwell on this brief, cramped view of things? This peephole is all I've got! - Author: Yann Martel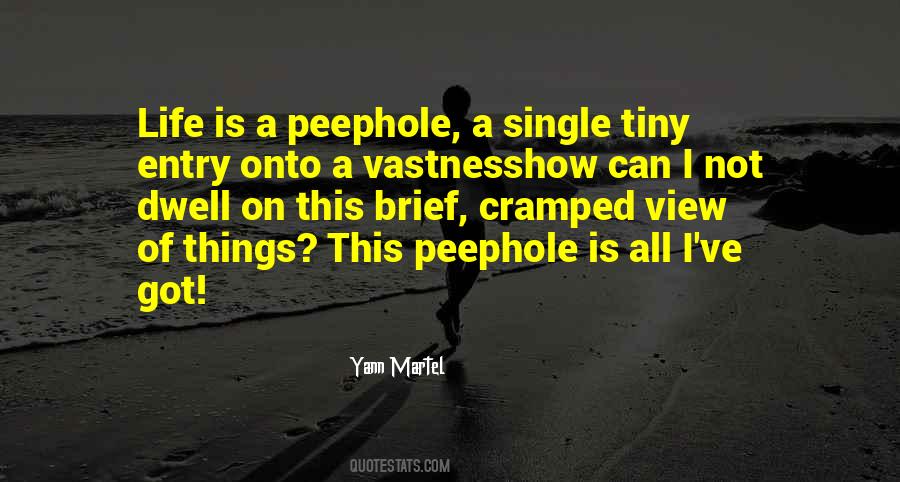 #31. Doesn't the telling of something always become a story? - Author: Yann Martel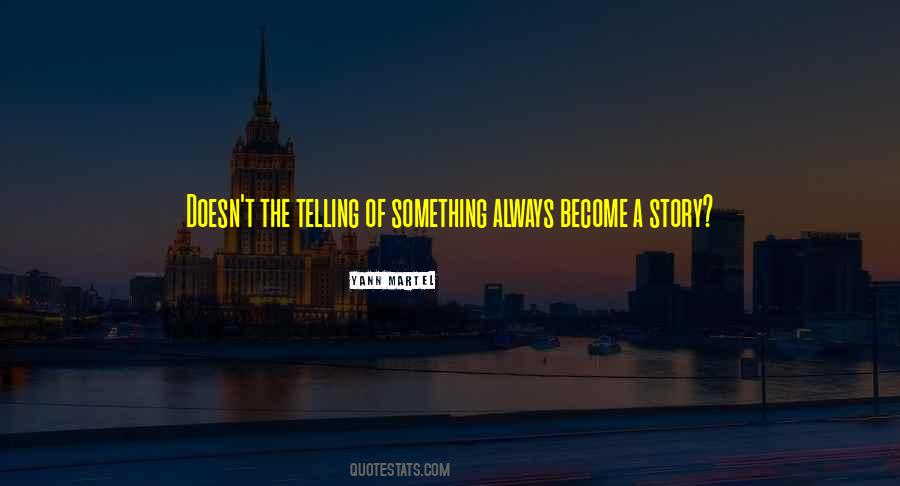 #32. How do you live with evil? Art is traditionally - certainly with my secular background - the answer, but art is very self-referential, whereas religion claims to go beyond the bounds of human existence. - Author: Yann Martel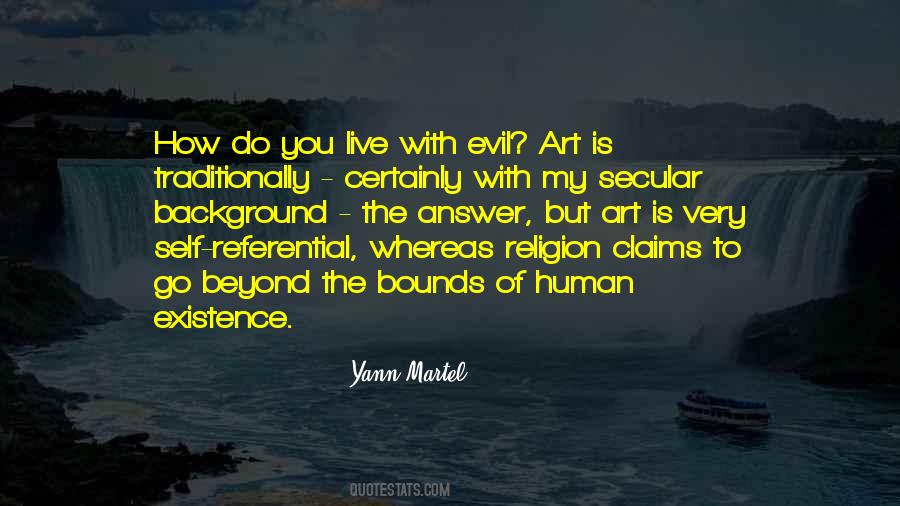 #33. Books are something social - a writer speaking to a reader - so I think making the reading of a book the center of a social event, the meeting of a book club, is a brilliant idea. - Author: Yann Martel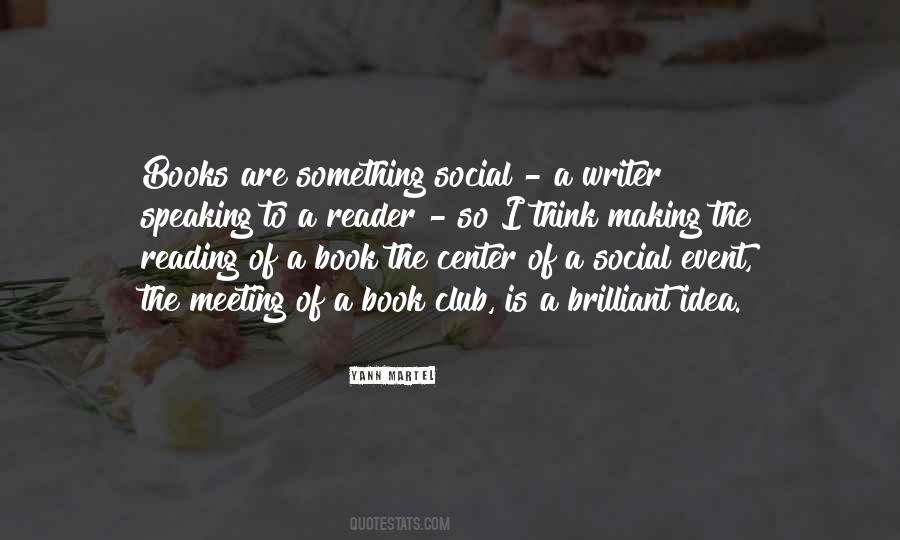 #34. India is a place where all stories are possible. You forget that the imagination can take hold of anything and contemplate it and love it and describe it. - Author: Yann Martel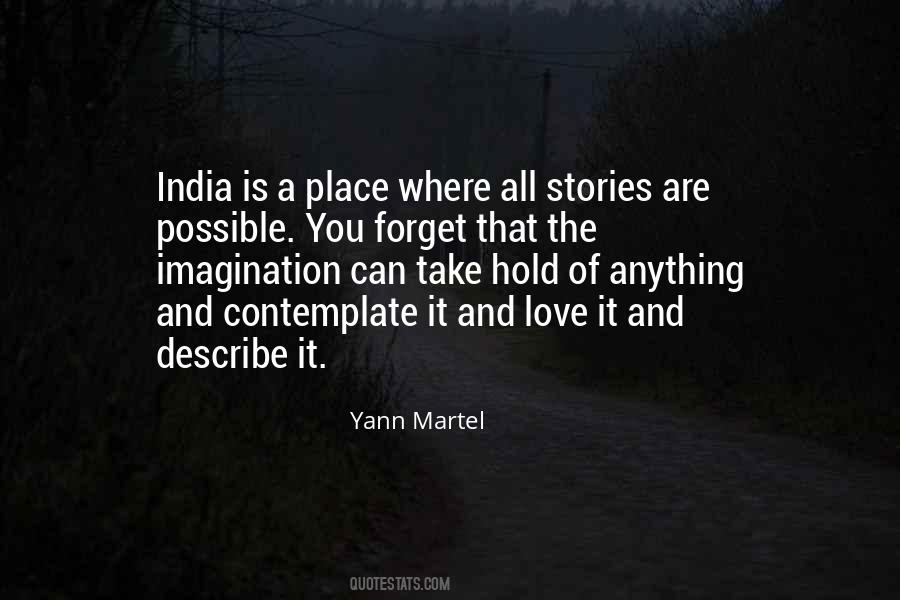 #35. Life on a lifeboat isn't much of a life. It is like an end game in chess, a game with few pieces. The elements couldn't be more simple, nor the stakes higher. - Author: Yann Martel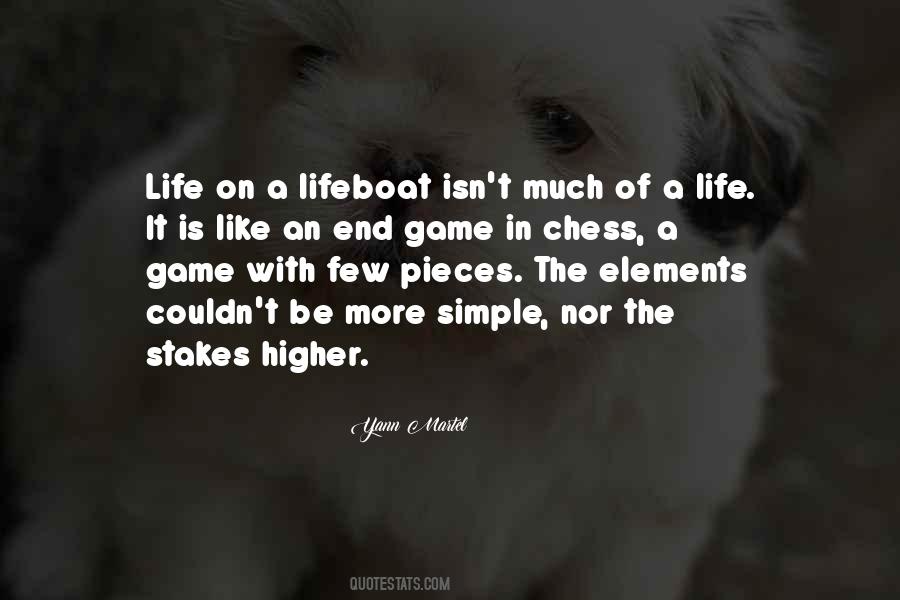 #36. What his uncle does not understand is that in walking backwards, his back to the world, his back to God, he is not grieving. He is objecting. Because when everything cherished by you in life has been taken away, what else is there to do but object? - Author: Yann Martel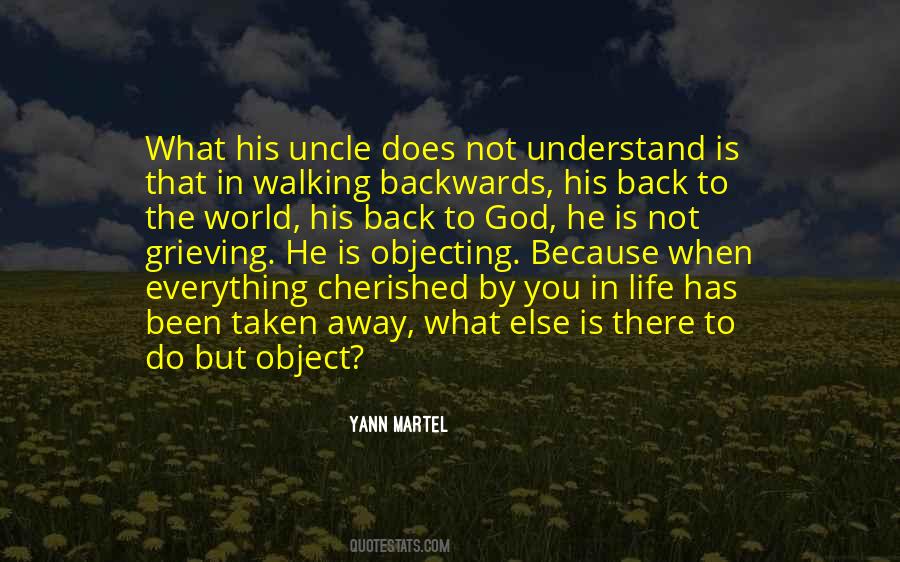 #37. Animals fight, it is with the intent to kill and with the understanding that they may be killed. A - Author: Yann Martel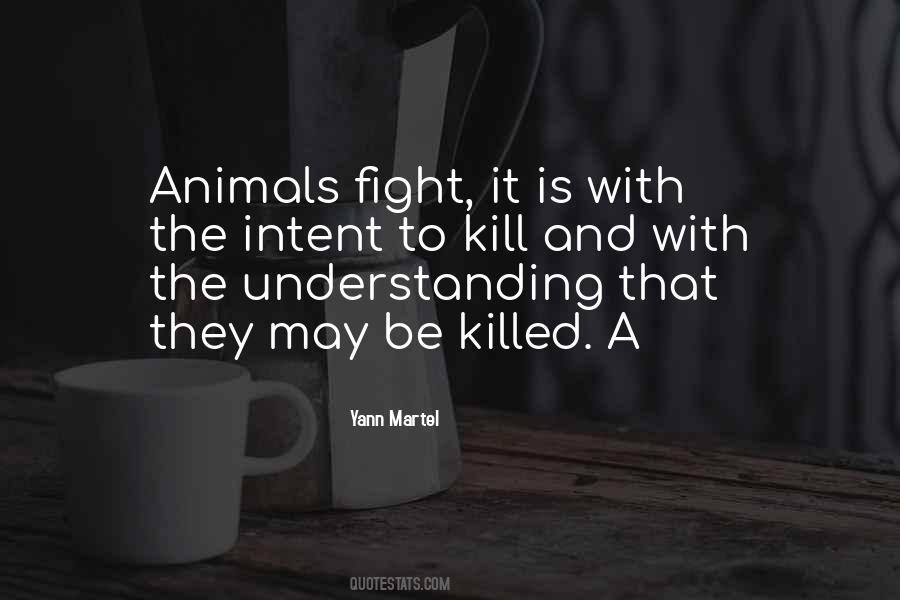 #38. She was the angel. My guardian angel disguised as the fucking grim reaper. - Author: Mary Martel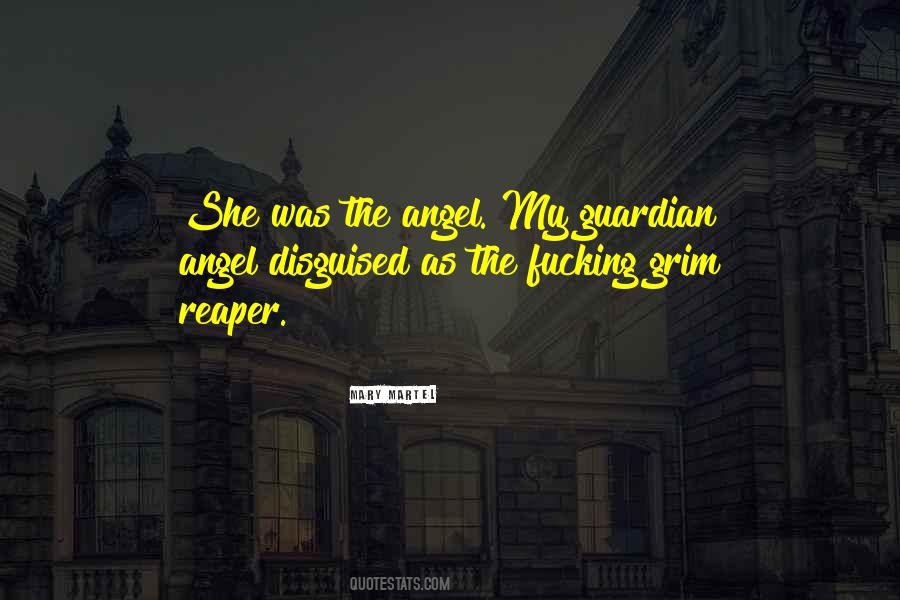 #39. Time is an illusion that makes us all pant. - Author: Yann Martel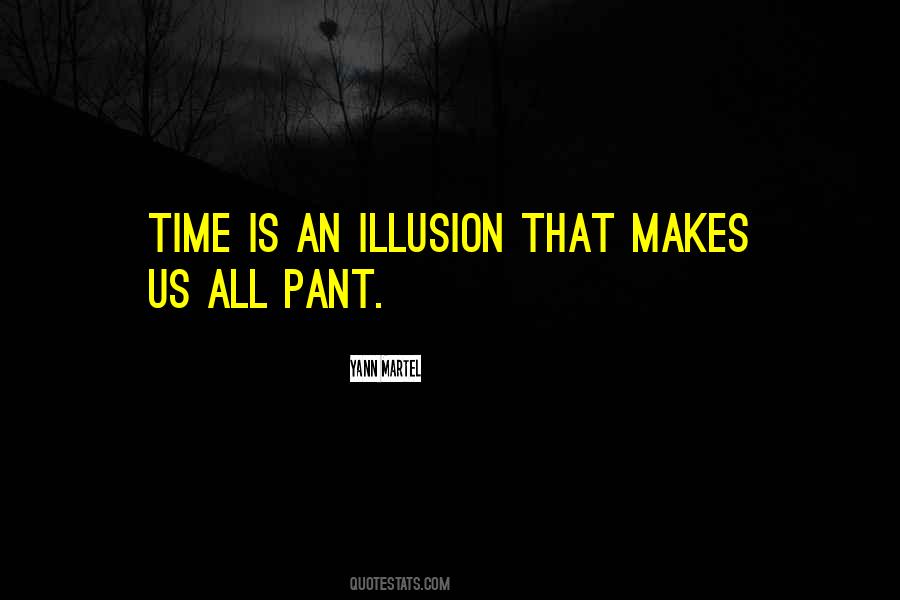 #40. Mamaji remembered, Father dreamed. - Author: Yann Martel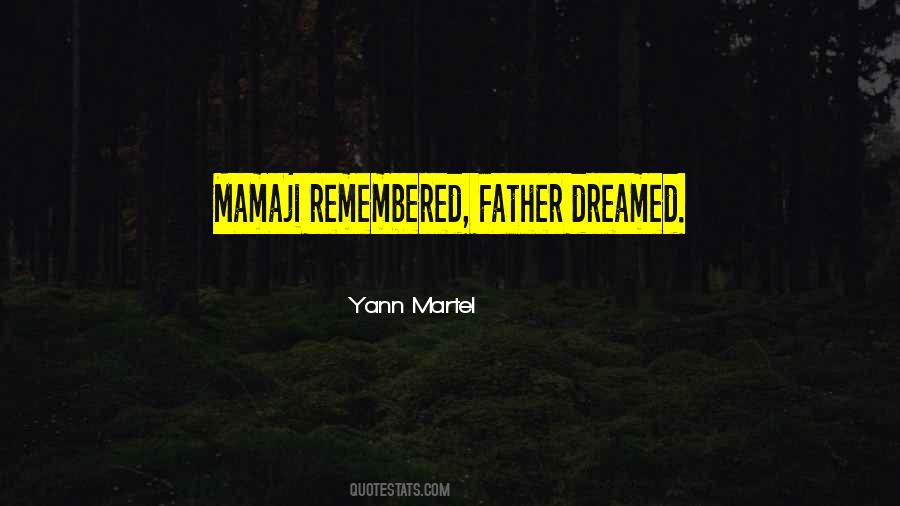 #41. I explore it now in the only place left for it, my memory. - Author: Yann Martel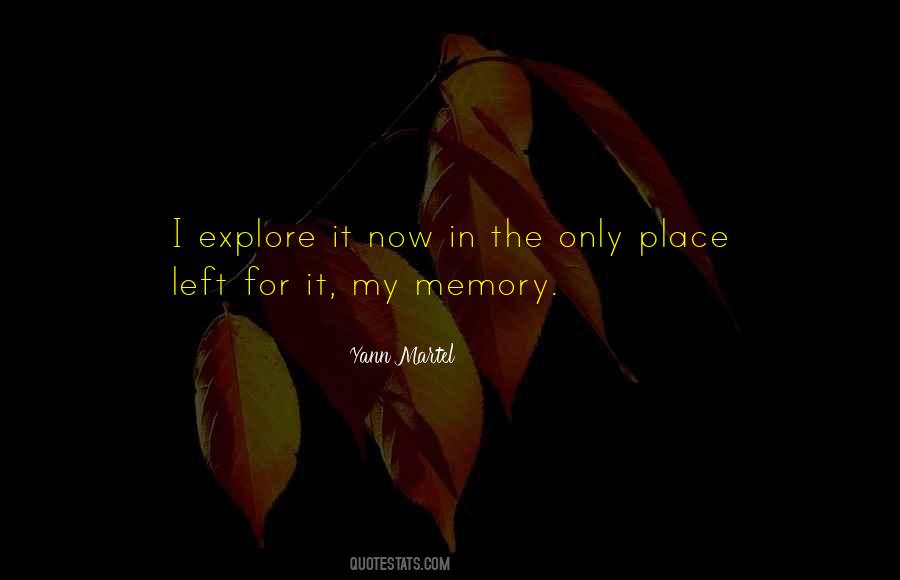 #42. communion with God in the middle of bags of flour - Author: Yann Martel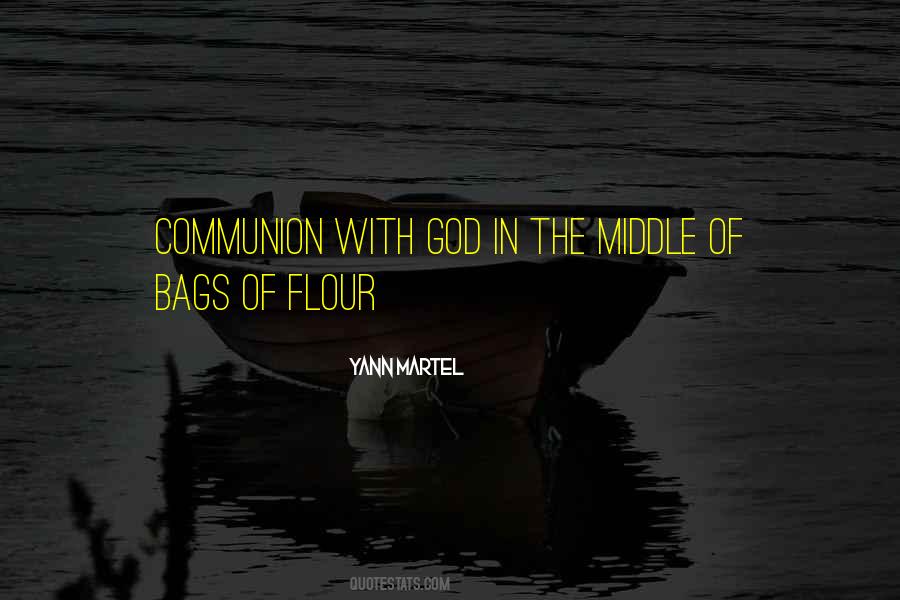 #43. I am careful never to talk about religion. Who am I to kick at people's crutches? - Author: Yann Martel
#44. My developing sense was that the foundation of a story is an emotional foundation. If a story does not work emotionally, it does not work at all. - Author: Yann Martel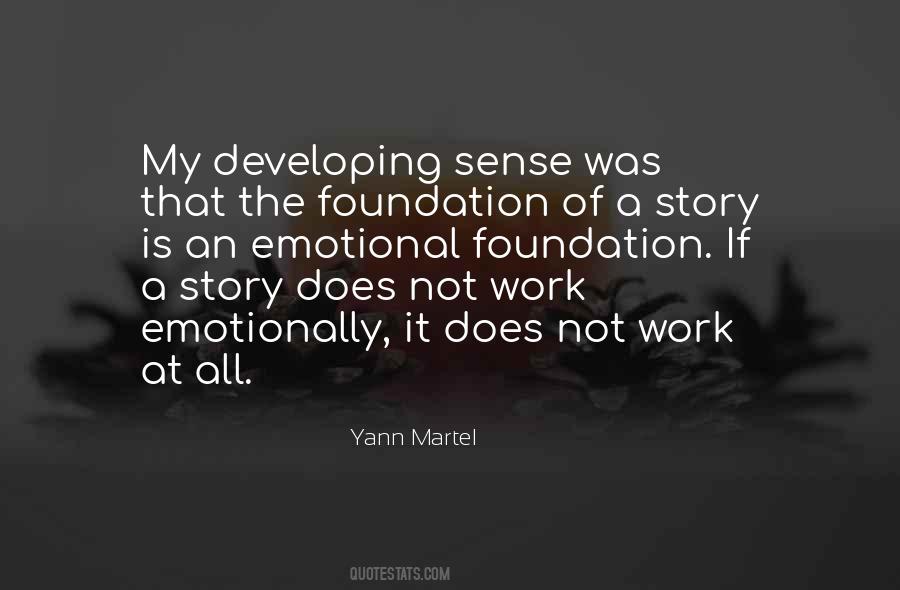 #45. Reality escapes us. It's beyond description, even a simple pear. Time eats everything. - Author: Yann Martel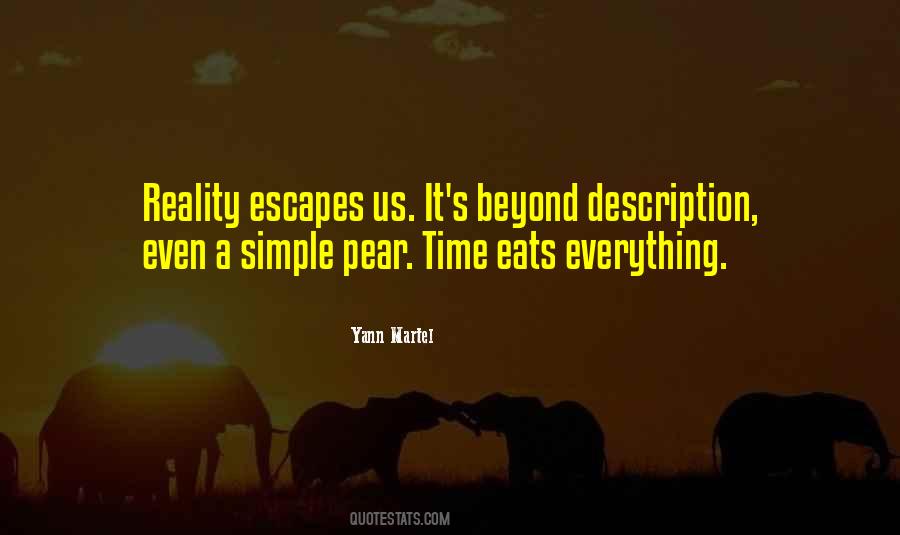 #46. That bungled goodbye hurts me to this day. - Author: Yann Martel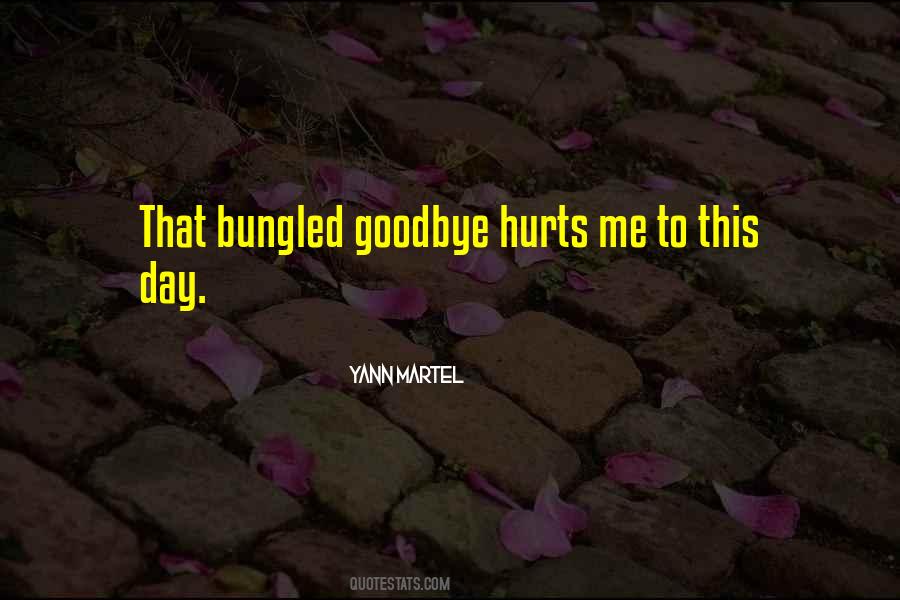 #47. Jesus, Mary, Muhammad and Vishnu, how good to see you Richard Parker! - Author: Yann Martel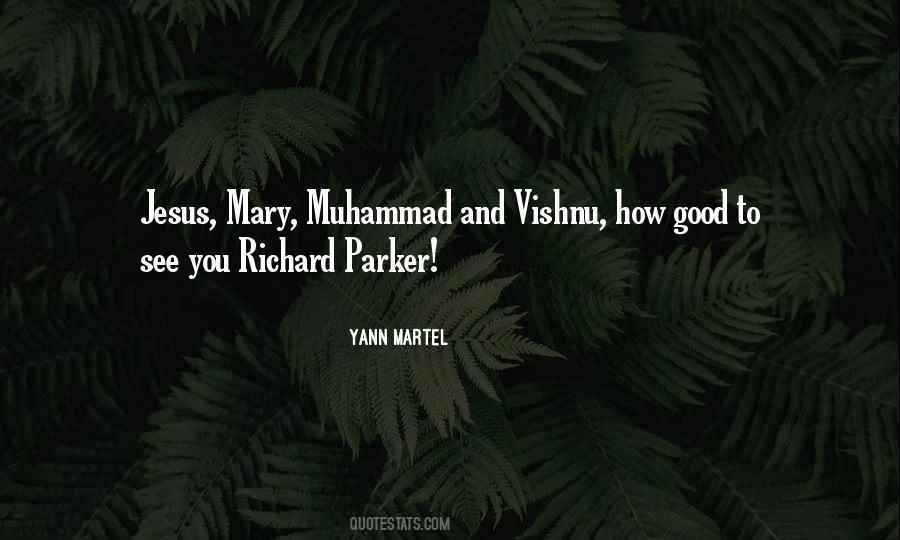 #48. If there's only one nation in the sky, shouldn't all passports be valid for it? - Author: Yann Martel
#49. When animals fight, it is with the intent to kill and with the understanding that they may be killed. - Author: Yann Martel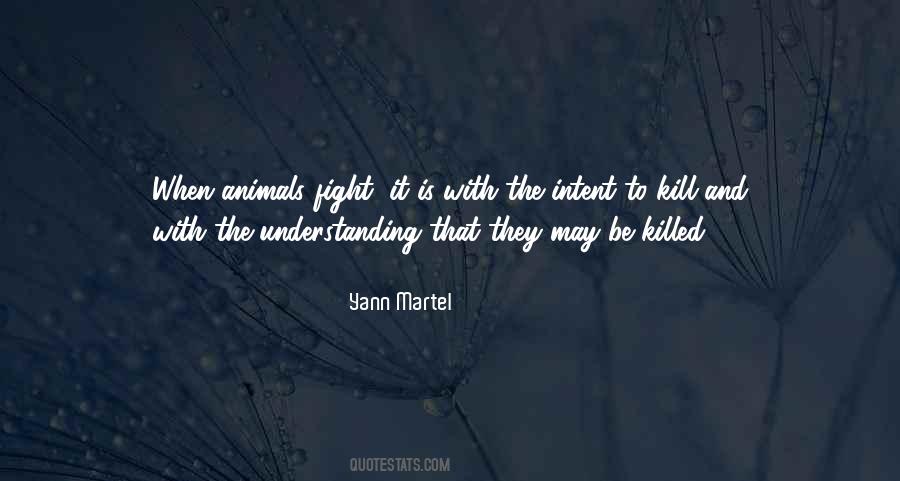 #50. The sky was black and spitting rain on my smiling face. - Author: Yann Martel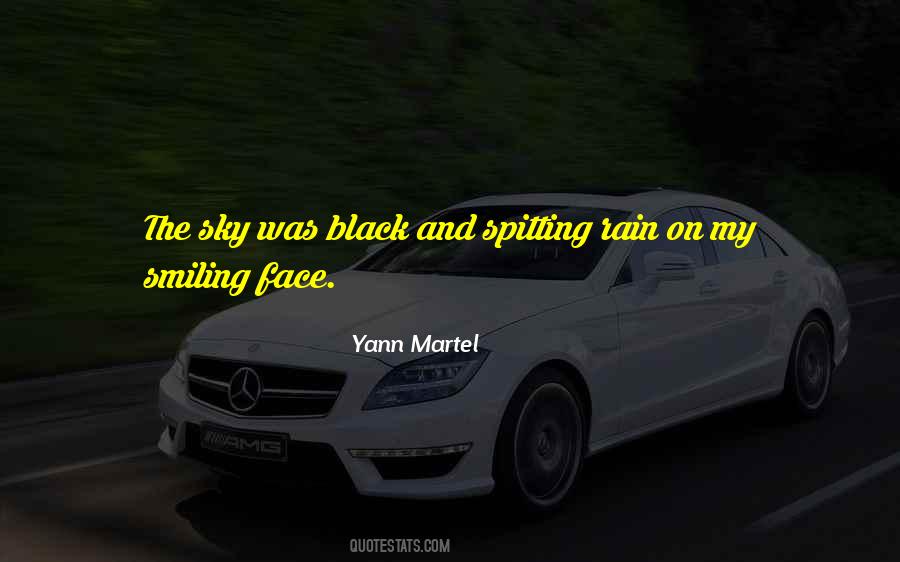 #51. I was determined to move forward. - Author: Yann Martel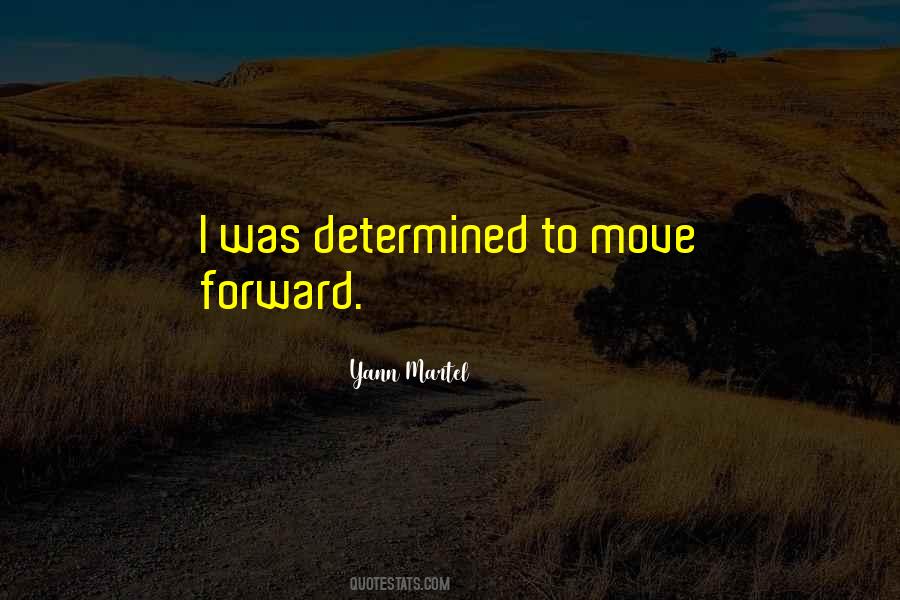 #52. Reality is how we interpret it. Imagination and volition play a part in that interpretation. Which means that all reality is to some extent a fiction. - Author: Yann Martel
#53. The system is religion, the law is spirituality. Take your pick. - Author: John Martel
#54. The sound would disappear, but the hurt would linger, like the smell of piss long after it has evaporated. - Author: Yann Martel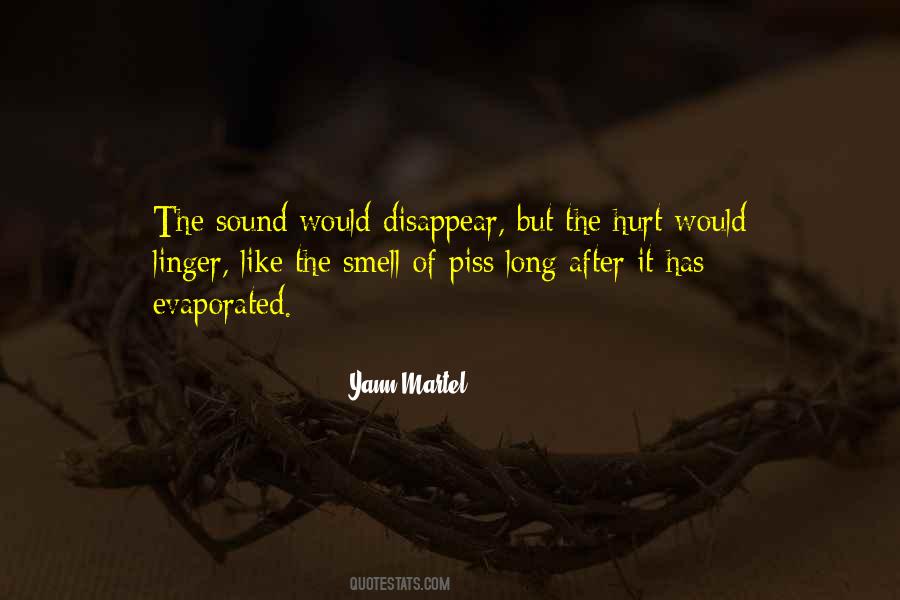 #55. I preferred to set off and perish in search of my own kind than to live a lonely half-life of physical comfort and spiritual death on this murderous island. - Author: Yann Martel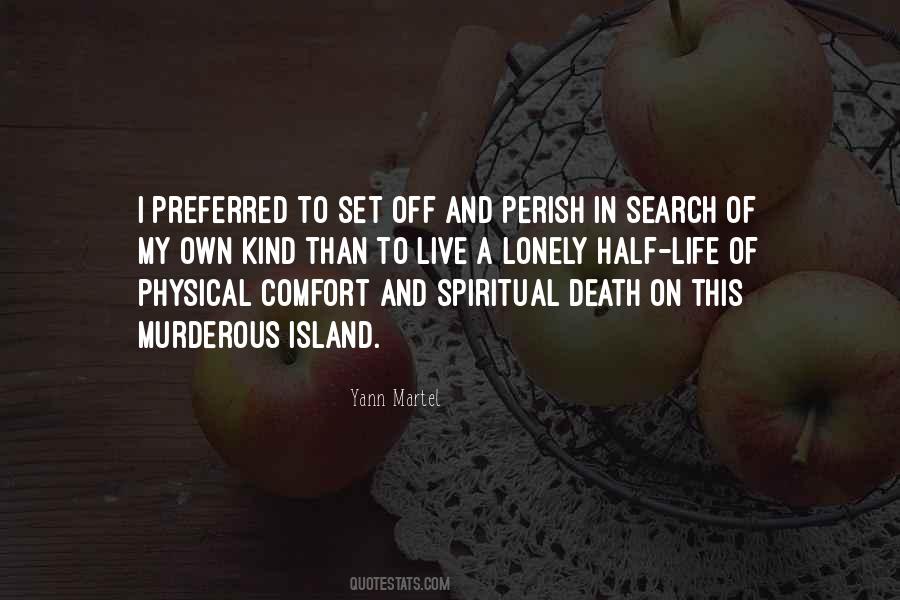 #56. Blessed be shock. Blessed be the part of us that protects us from too much pain and sorrow. At the heart of life is a fusebox. - Author: Yann Martel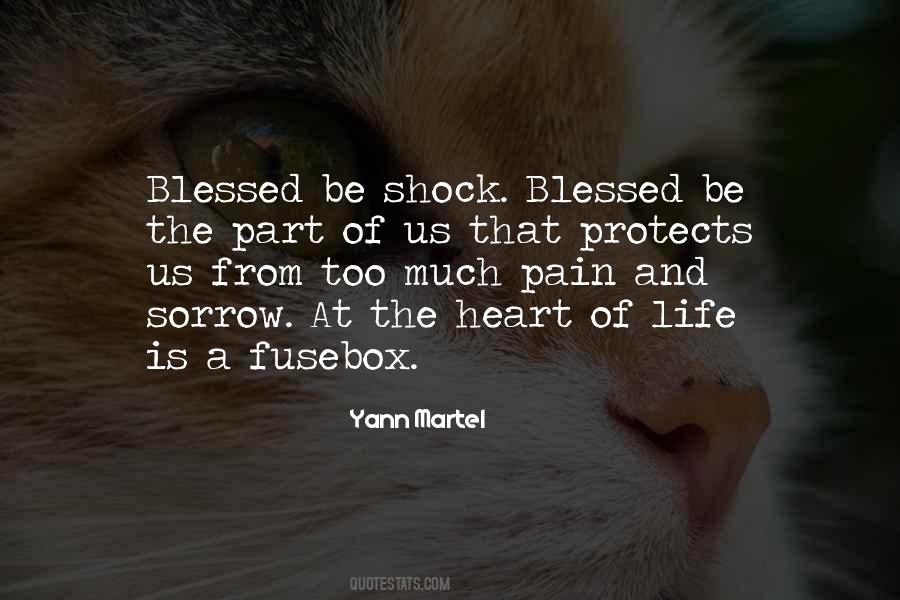 #57. The consumption of information, films, music has been changing in recent decades. It's hard to know what will become the film that can not easily reach [audiences]. - Author: Lucrecia Martel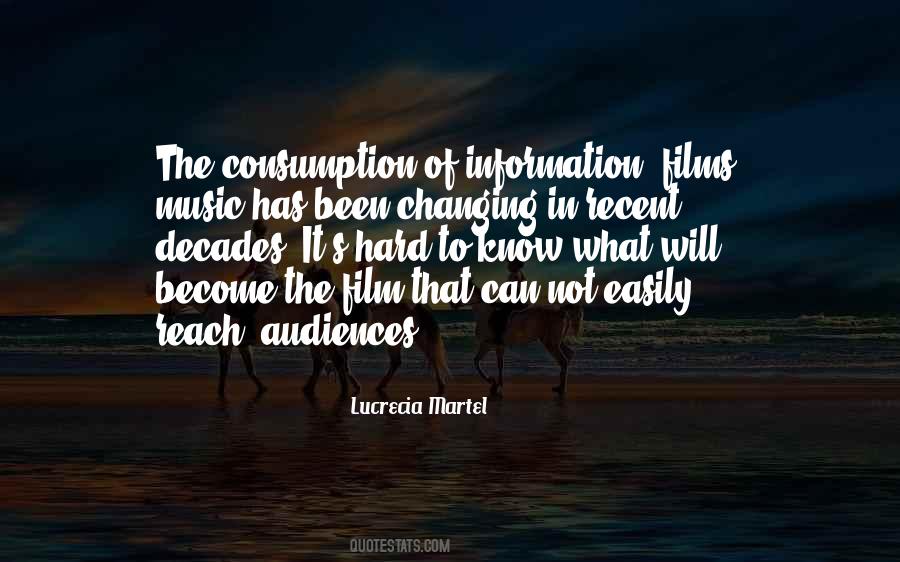 #58. Roetown, of mixed economy, neither boom nor bust, just ordinary times - that is, hard - had a slightly run-down aspect, I suppose. But in a pleasing way, like a man you love who has buttoned his coat up wrong. - Author: Yann Martel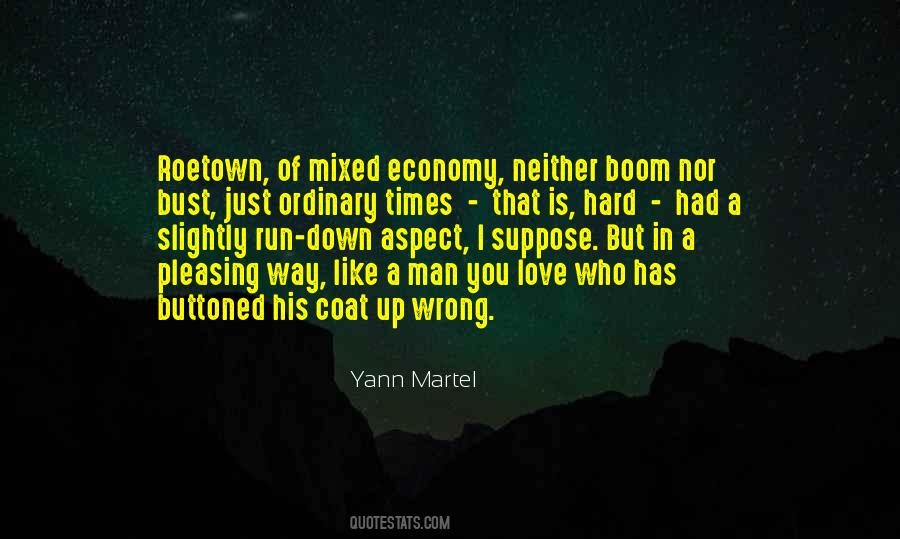 #59. There's no peace like the peace of an inner courtyard on a sunny day. - Author: Yann Martel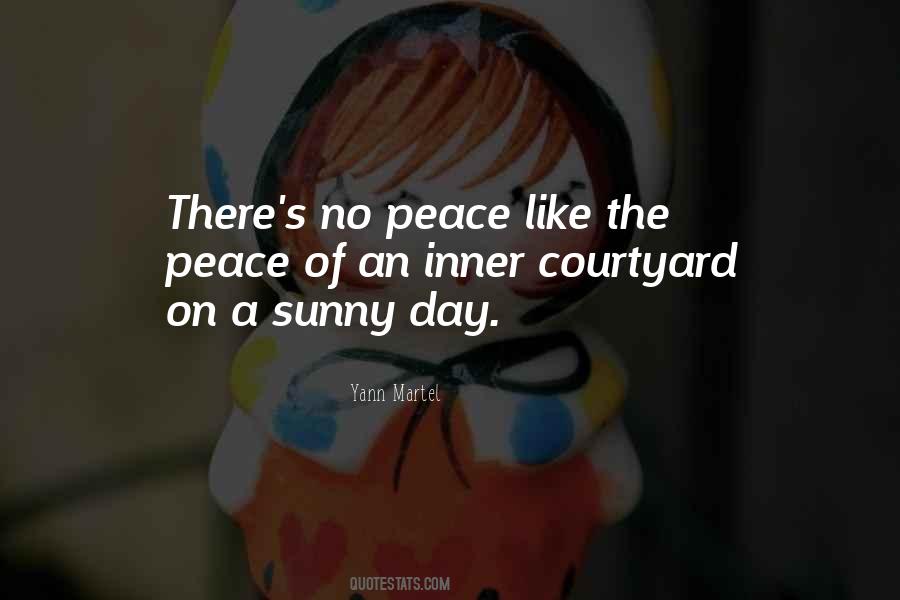 #60. He seems to be attracting religions the way a dog attracts fleas. - Author: Yann Martel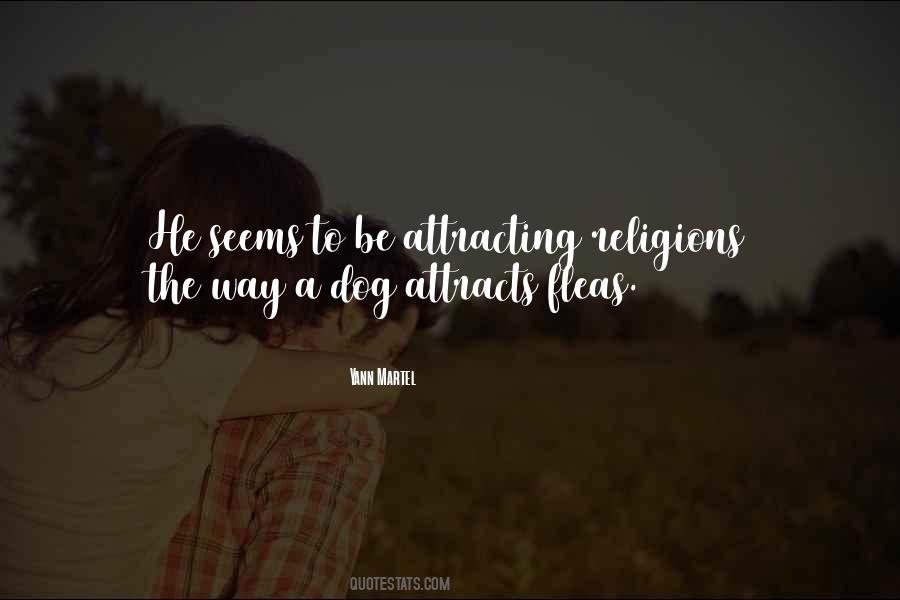 #61. The planet is populated by human beings, of which there are only two sexes, and the role of the writer is to explore otherness, other realities. So the idea of a man exploring what it's like to be a woman doesn't strike me as being that wild or crazy an idea. - Author: Yann Martel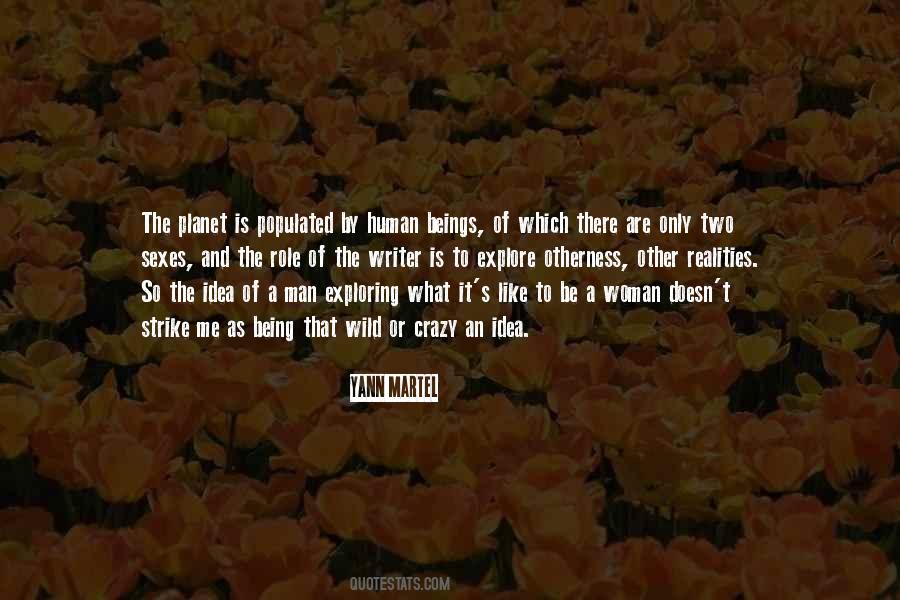 #62. I ask you, is it the fig tree's fault that it's not the season for figs? What kind of thing is that to do to an innocent tree, wither it instantly? - Author: Yann Martel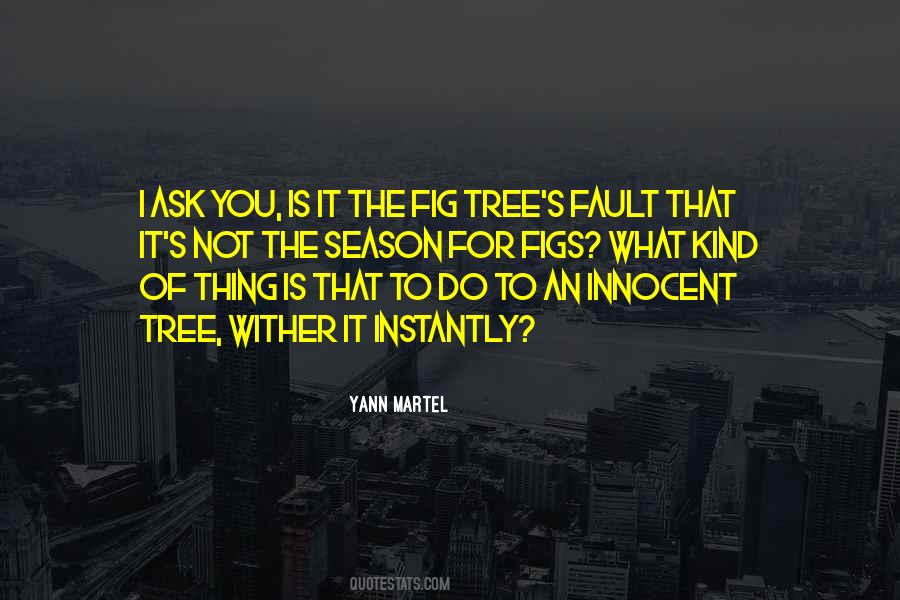 #63. Just do it. Get it down on the page. Work hard. And then let go. Ask yourself why you want to write. You have to be clear about that. - Author: Yann Martel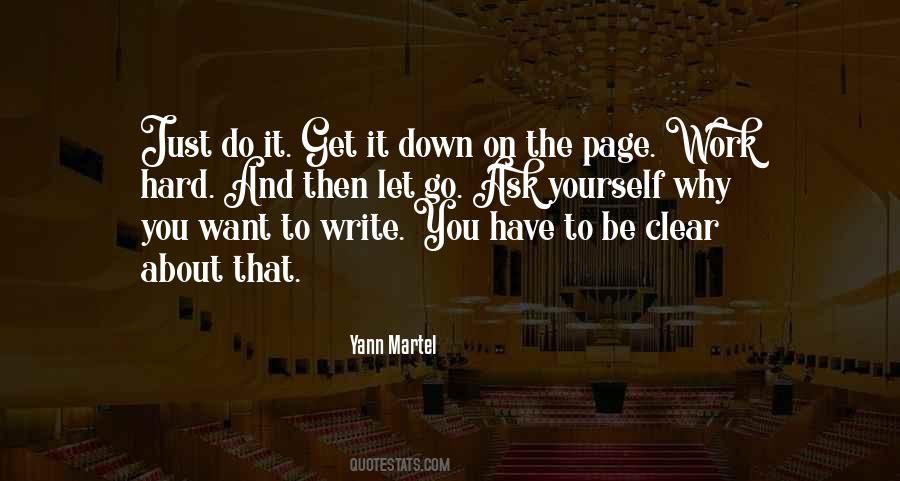 #64. Artists invent things as a way of telling the truth. - Author: Yann Martel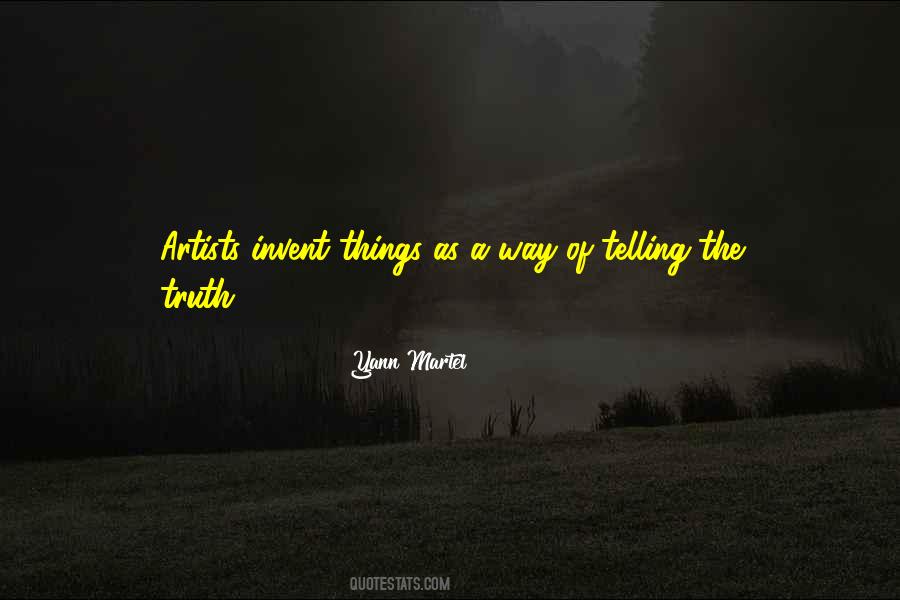 #65. Stories full of metaphors are by writers who play the language like a mandolin for our entertainment, novelists, - Author: Yann Martel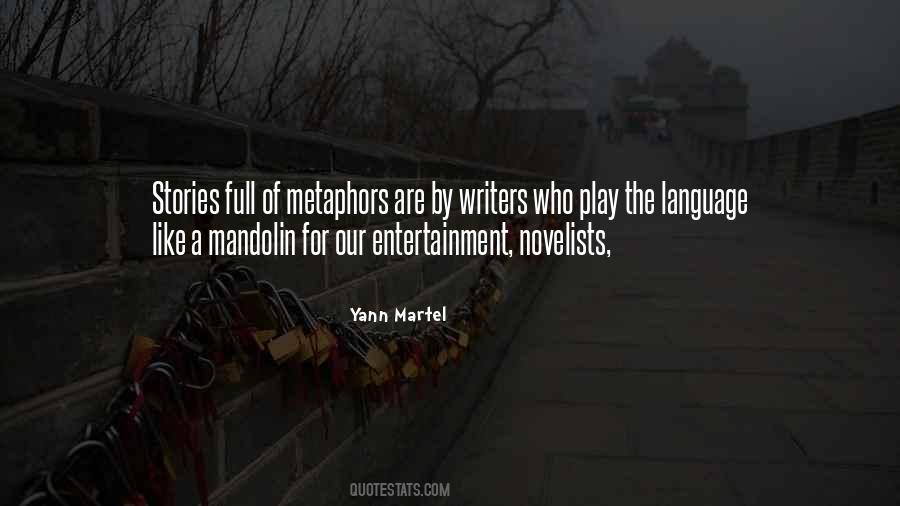 #66. What is the purpose of reason, Richard Parker? Is it no more than to shine at practicalities - the getting of food, clothing and shelter? Why can't reason give greater answers? Why can we throw a question further than we can pull in an answer? Why such a vast net of there's so little fish to catch? - Author: Yann Martel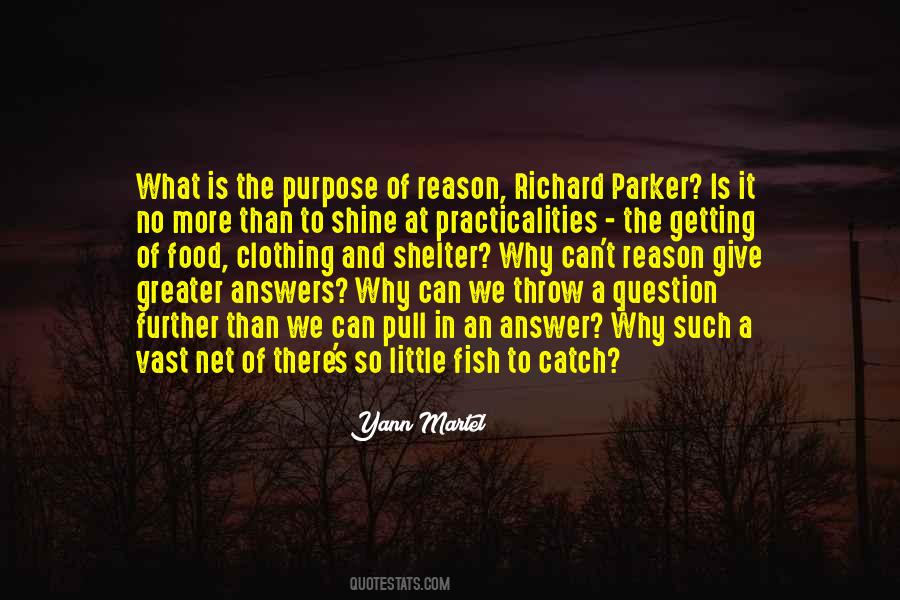 #67. Socially inferior animals are the ones that make the most strenuous, resourceful efforts to get to know their keepers. They prove to be the ones most faithful to them ... it is a fact commonly known in the trade. - Author: Yann Martel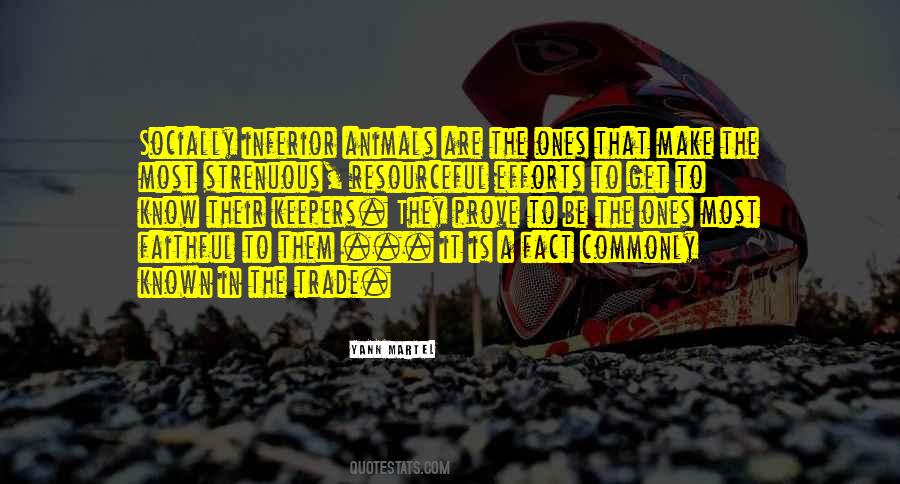 #68. I can only tell my story, what you believe is up to you. - Author: Yann Martel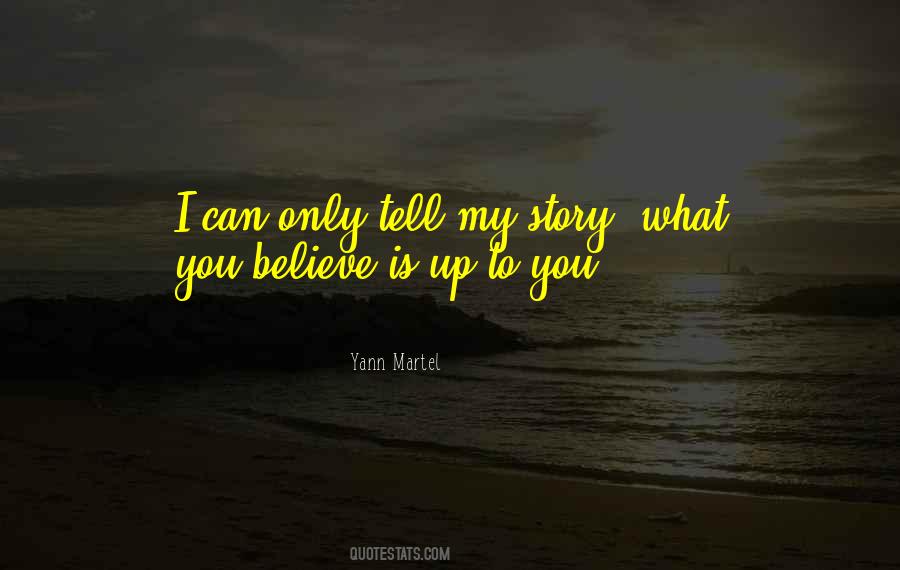 #69. Right away, death is word-eating. - Author: Yann Martel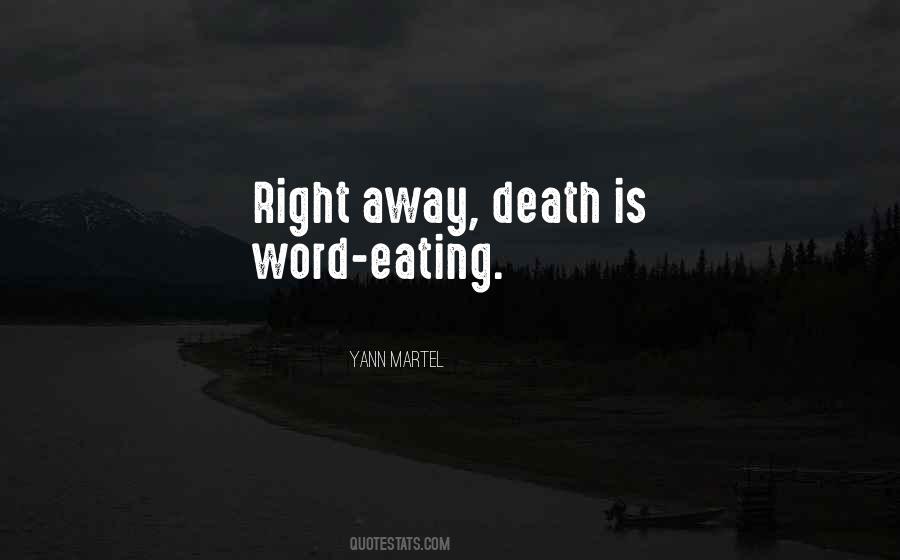 #70. My next book - each one while I'm working on it - dances in my mind and thrills me at every turn. If it didn't, why would I write it? - Author: Yann Martel
#71. If you fall into a lion's pit, the reason the lion will tear you to pieces is not because it's hungry-be assured, zoo animals are amply fed-or because it's bloodthirsty, but because you've invaded it's territory. - Author: Yann Martel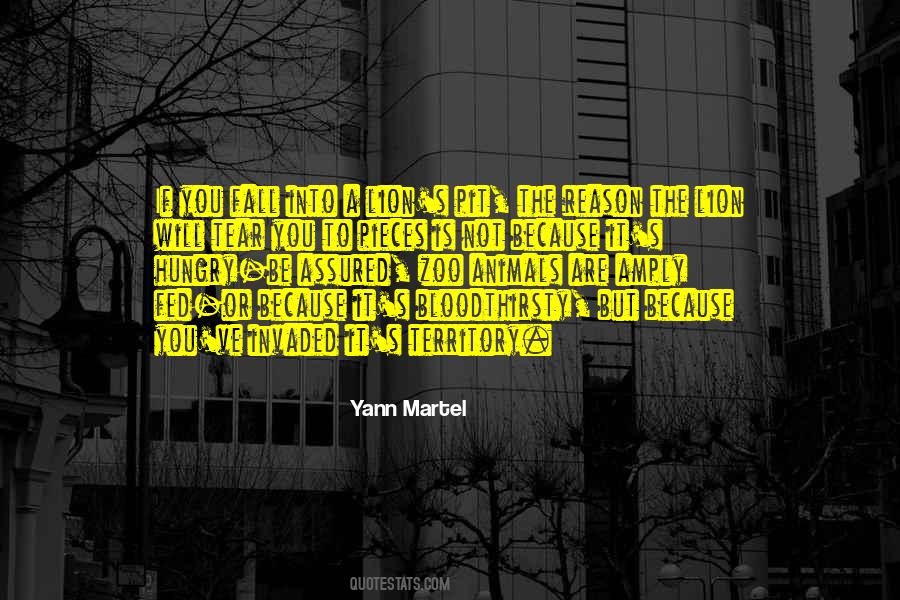 #72. Reason is my prophet and it tells me that as a watch stops, so we die. It's the end. If the watch doesn't work properly, it must be fixed here and now by us. - Author: Yann Martel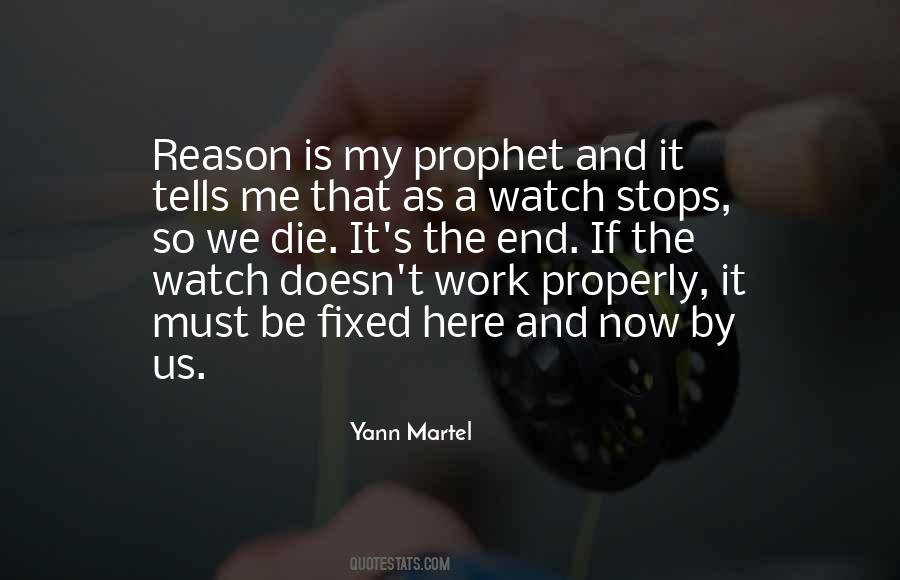 #73. Time and sunshine healed a sore, but the process was slow, and new boils appeared if I didn't stay dry. - Author: Yann Martel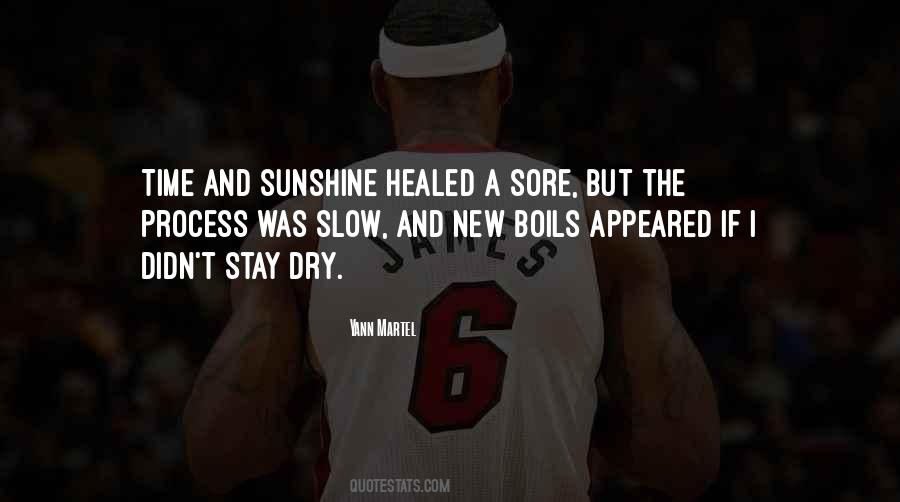 #74. I don't mean to defend zoos. Close them all down if you want (and let us hope that what wildlife remains can survive in what is left of the natural world). I know zoos are no longer in people's good graces. Religion faces the same problem. Certain illusion about freedom plague them both. - Author: Yann Martel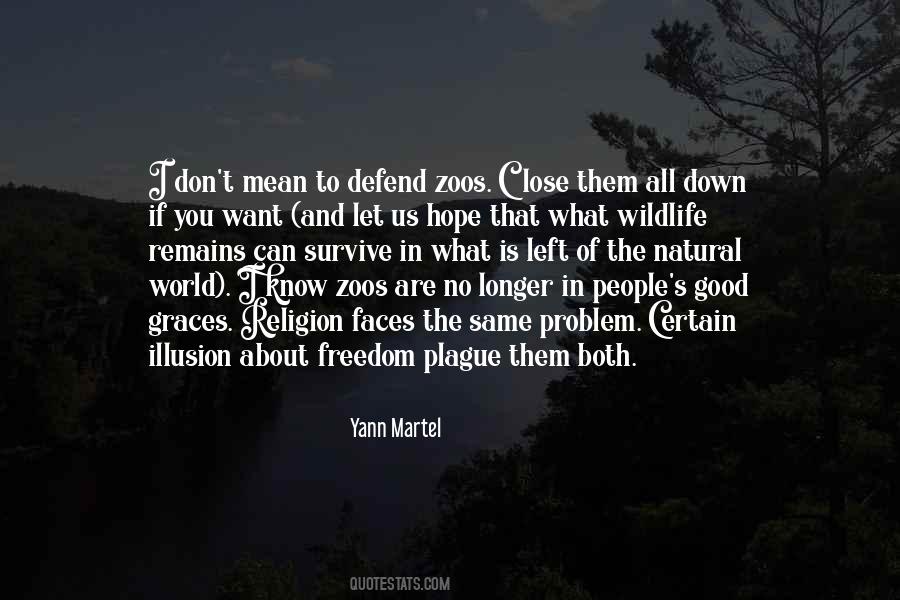 #75. I'm the worst critic about music myself. I hardly ever, every like something the first time I listen to it. So I've got to put myself in other people's shoes. - Author: Marc Martel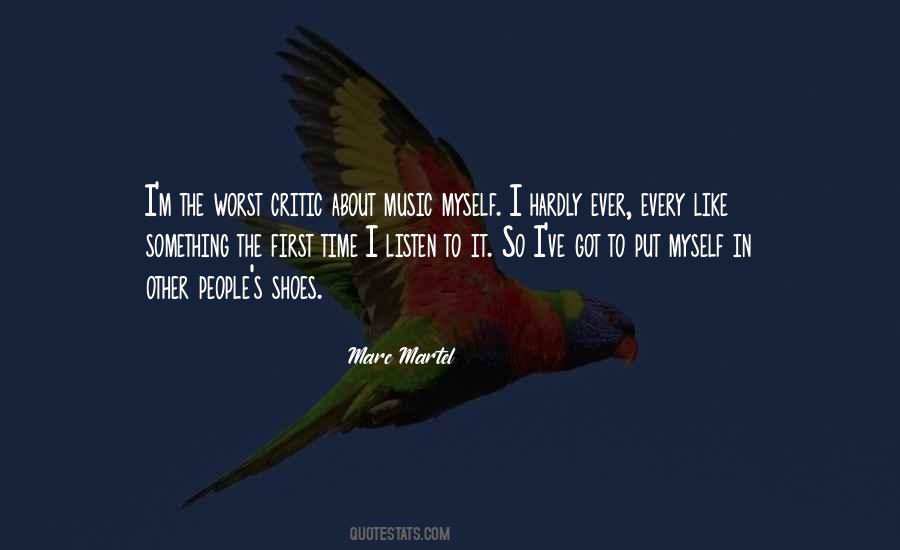 #76. Like punk rock, like Jackson Pollock, like Jack Kerouac, it was truly human, a mix of perfect beauty and cathartic error. - Author: Yann Martel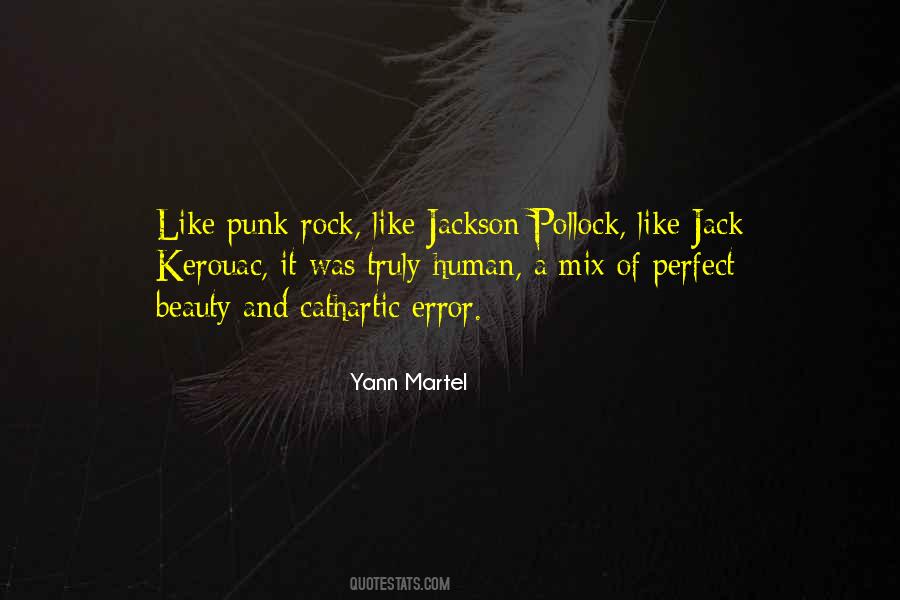 #77. As much as I love movies, it would be presumptuous of me to think that I know how to make one. - Author: Yann Martel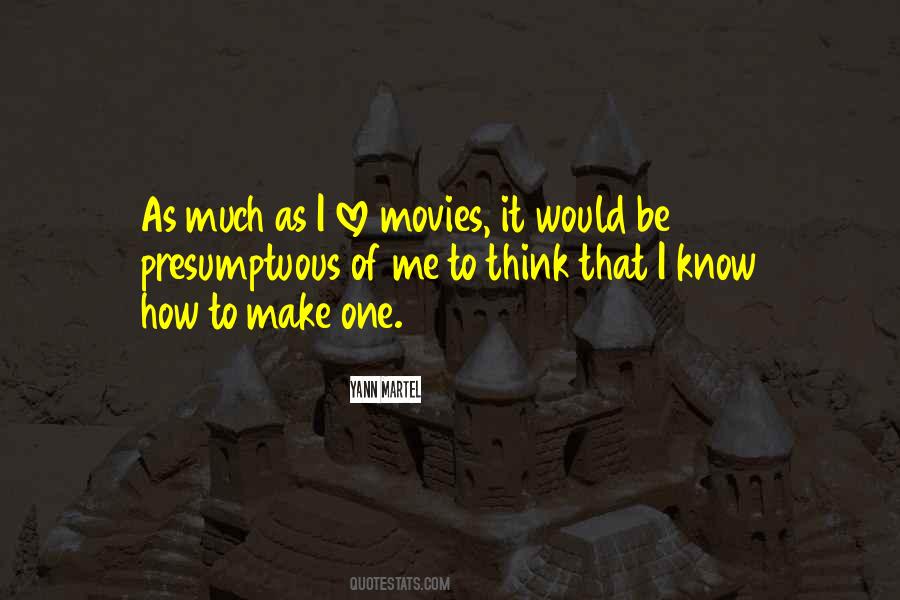 #78. At last I managed to haul it aboard. It was over three feet long. The bucket was useless. It would fit the dorado like a hat. - Author: Yann Martel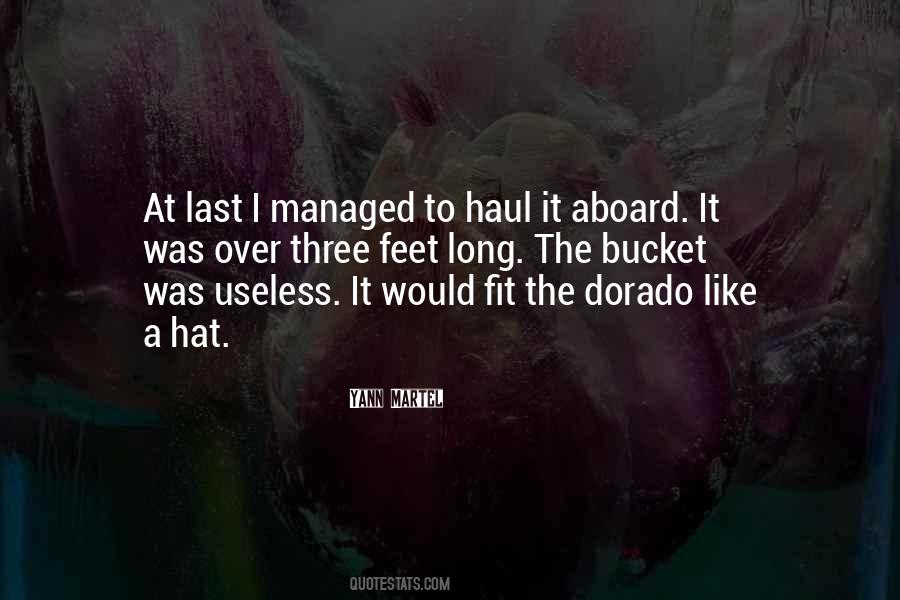 #79. Ageing is not easy, Senhora Castro. It's a terrible, incurable pathology. And great love is another pathology. - Author: Yann Martel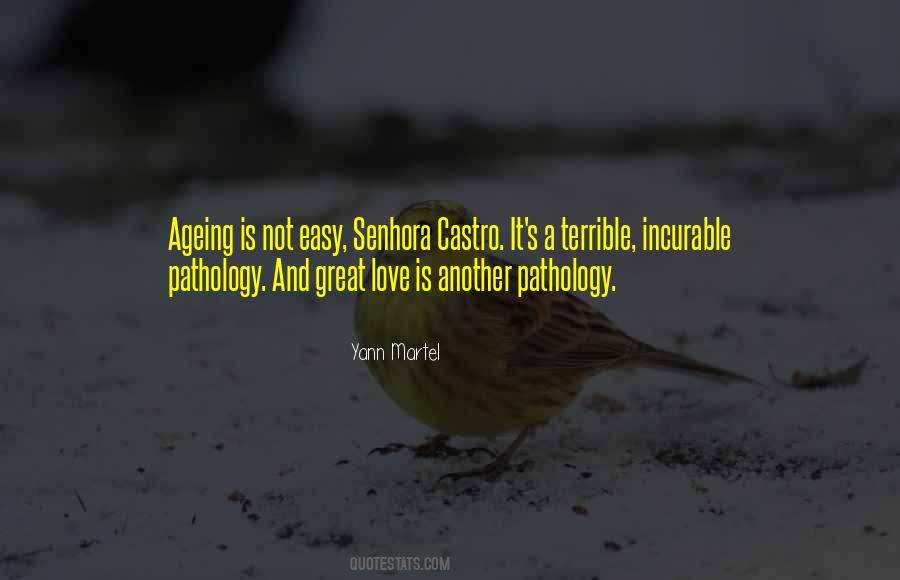 #80. Isn't it ironic, Richard Parker? We're in hell yet still we're afraid of immortality - Author: Yann Martel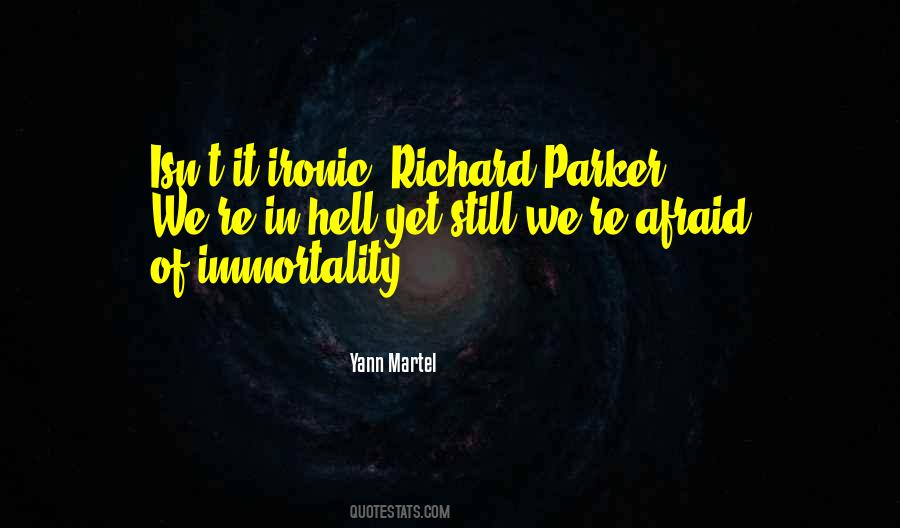 #81. Despite attending a nominally Christian school, I had not yet been inside a church - and I wasn't about to dare the deed now. I knew very little about the religion. It had a reputation for few gods and great violence. But good schools. - Author: Yann Martel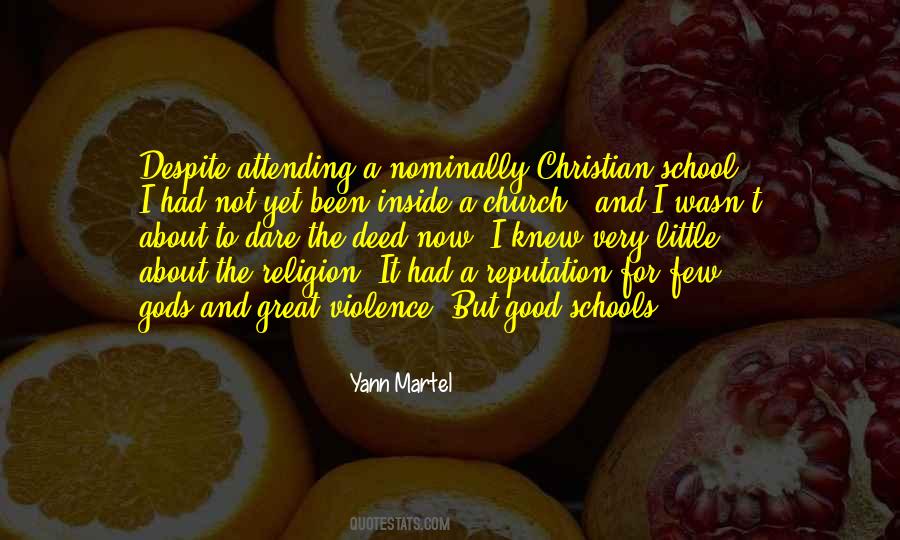 #82. I have read that there are two fears that cannot be trained out of us: the startle reaction upon hearing an unexpected noise, and vertigo. I would like to add a third, to wit, the rapid and direct approch of a known killer - Author: Yann Martel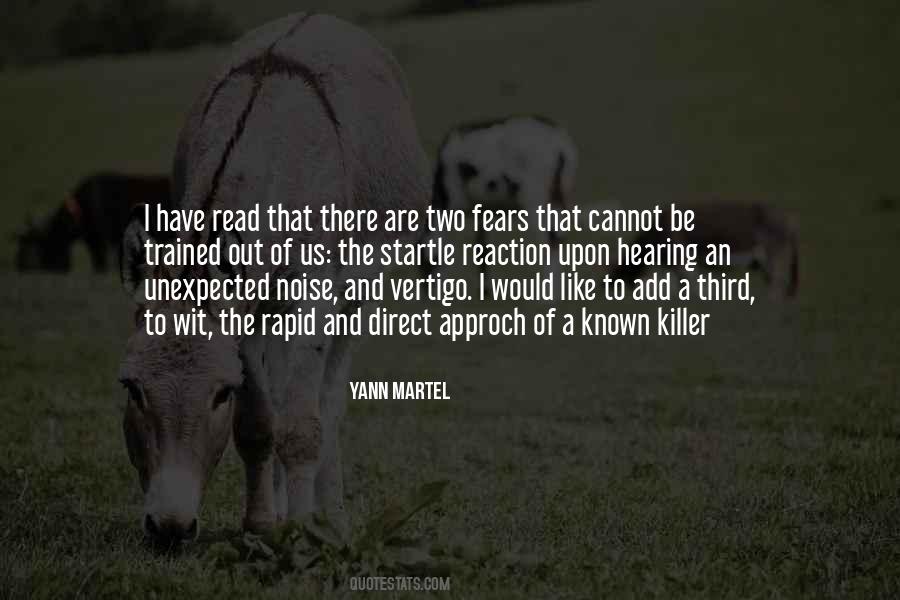 #83. My feelings can perhaps be imagined, but they can hardly be described. - Author: Yann Martel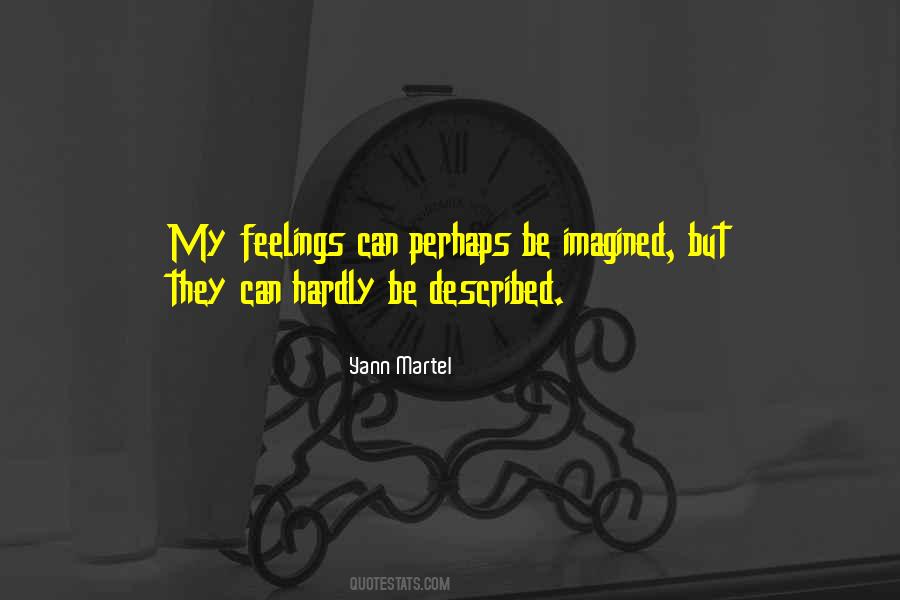 #84. The worst pair of opposites is boredom and terror. Sometimes your life is a pendulum swing from one to the other. - Author: Yann Martel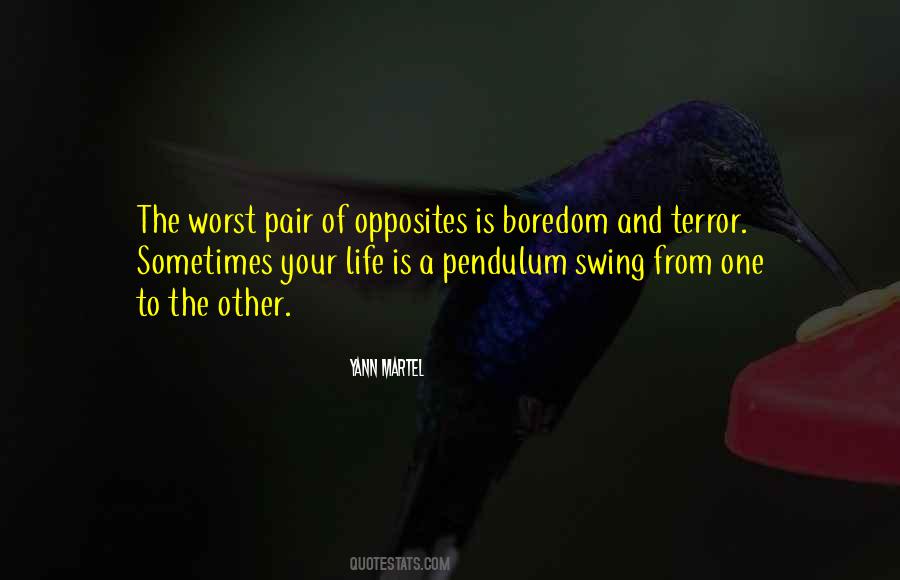 #85. You're a musician and you live and die by people responding to your music. It's a business just like anything else and if people don't like your music, that's kind of your problem. - Author: Marc Martel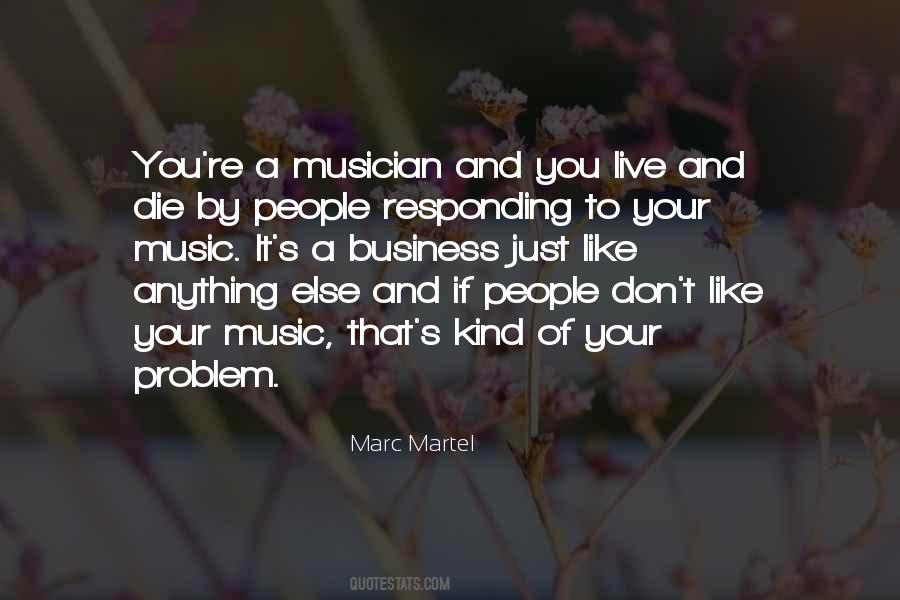 #86. Sparhawk grinned. "If Martel finds out that he's drinking again, he'll reach down his throat and pull his heart out." "Can you actually do that to a man?" "You can if your arm's long enough, and if you know what you're looking for.[ ... ] - Author: David Eddings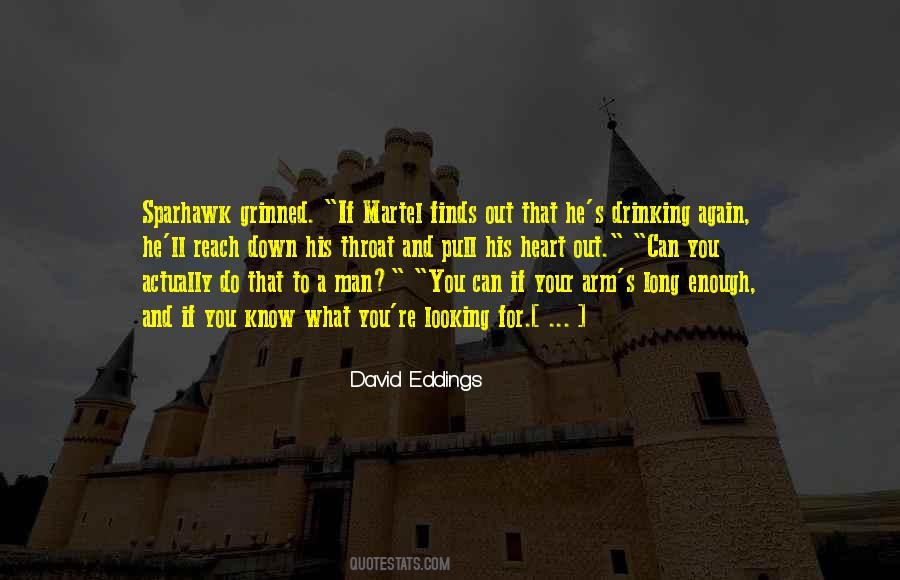 #87. The grand march of progress apparently includes the unfortunate necessity of chopping down every obstacle in its way. - Author: Yann Martel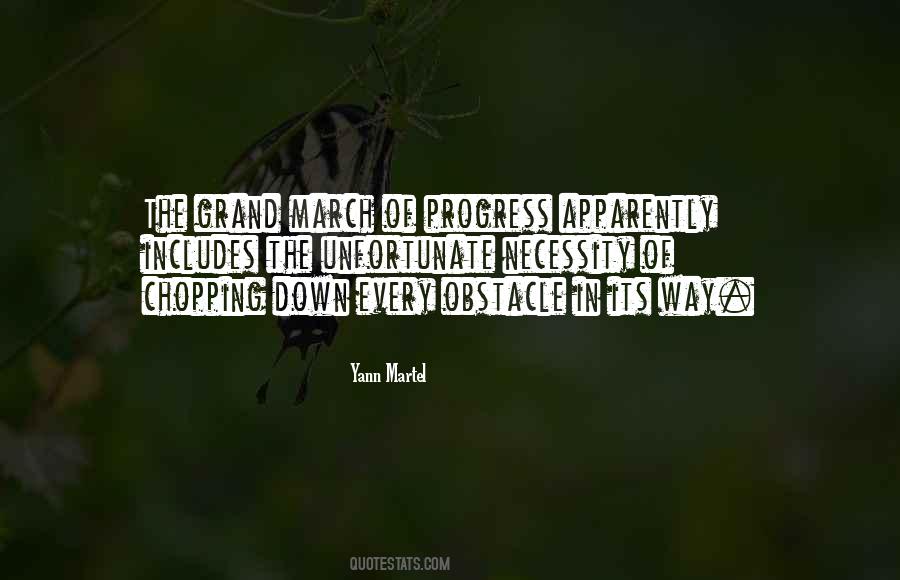 #88. As for hearing, the sloth is not so much deaf as uninterested in sound. - Author: Yann Martel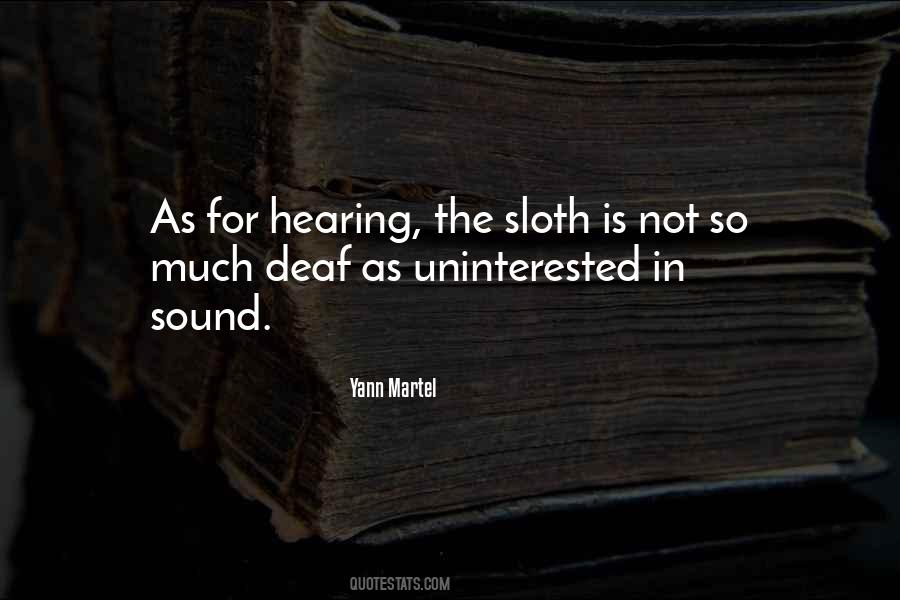 #89. Without a driver this bus is lost. - Author: Yann Martel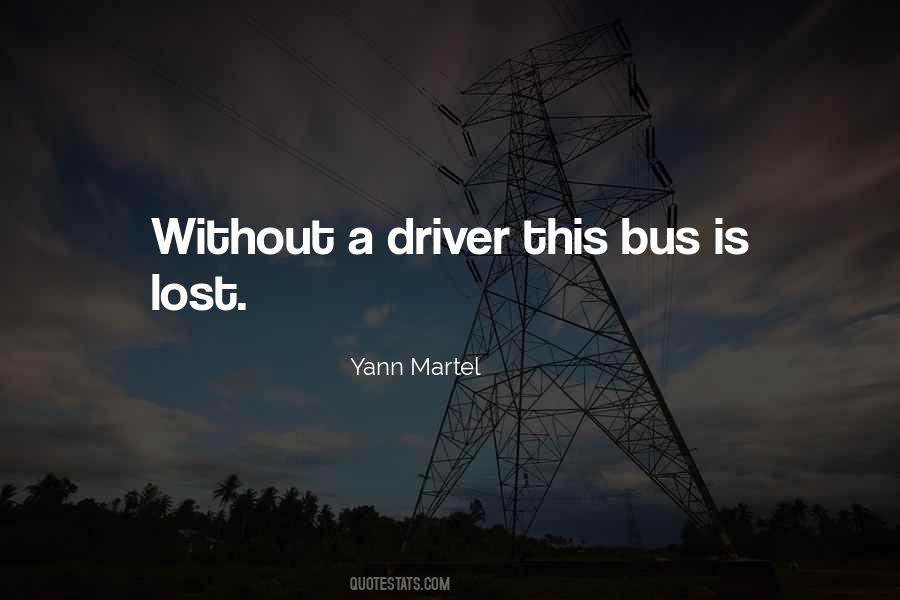 #90. On occasion we say to ourselves, panting, 'Gosh, life is racing by.' But that's not it at all, it's the contrary: life is still. It is we who are racing by. - Author: Yann Martel
#91. I blinked deliberately, expecting my eyelids to act like lumberjacks. But the trees would not fall. - Author: Yann Martel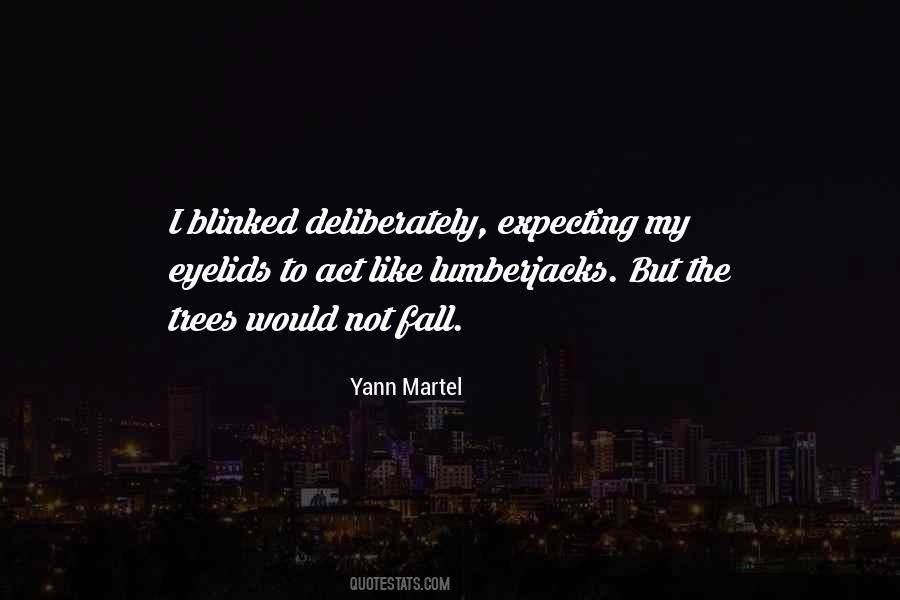 #92. Afterwards, when it's all over, you meet God. What do you say to God? - Author: Yann Martel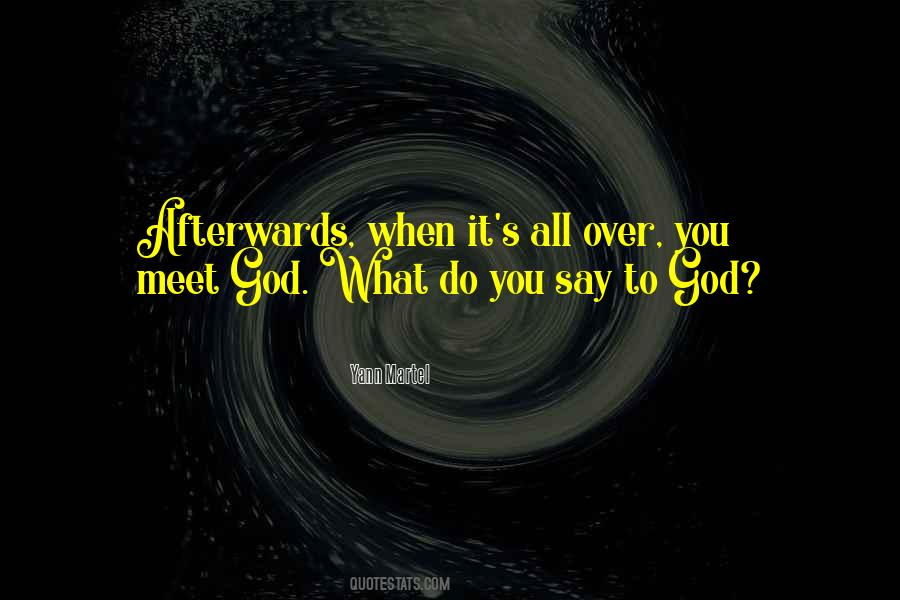 #93. Sitting in an office for TOO long is not natural, perhaps, so that's why we should change it. I didn't say that out-and-out capitalism, which reduces humanity to dollar figures, is natural. - Author: Yann Martel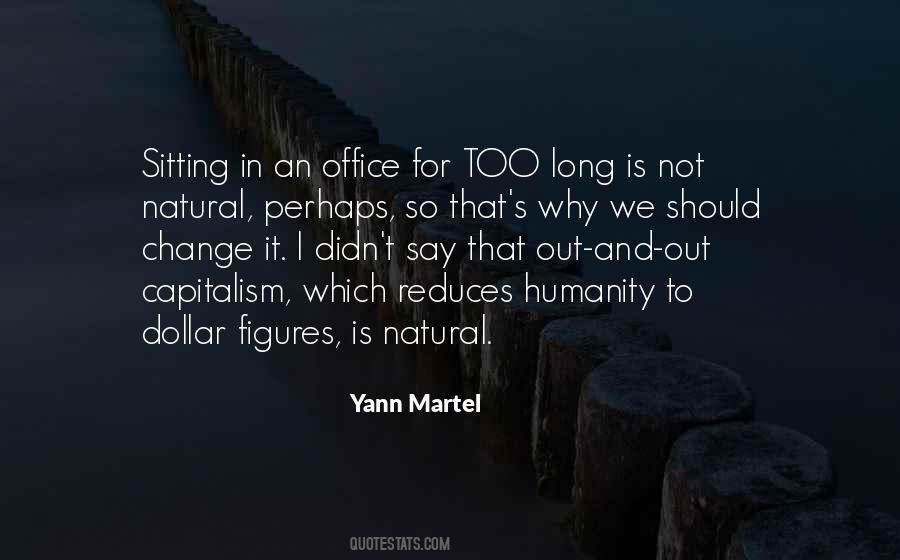 #94. Hindus, in their capacity for love, are indeed hairless Christians, just as Muslims, in the way they see God in everything, are bearded Hindus, and Christians, in their devotion to God, are hat wearing Muslims. - Author: Yann Martel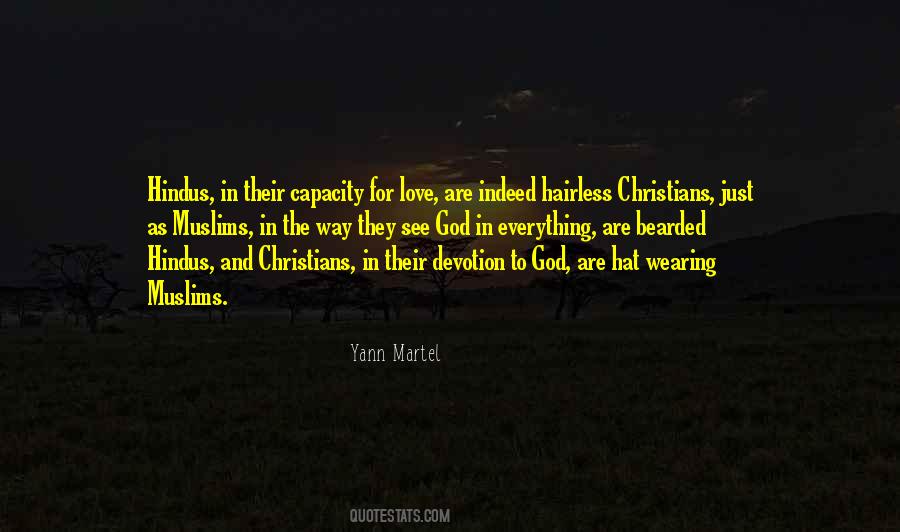 #95. If you don't let technology help you, if you resist good ideas, you condemn yourself to dinosaurhood. - Author: Yann Martel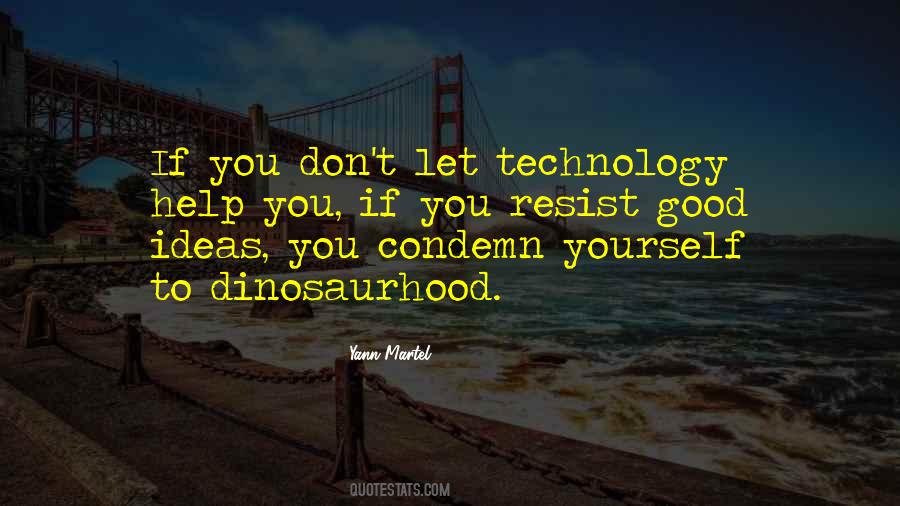 #96. You can't quantify human pain the way you can measure out sugar. Death comes one individual at a time. - Author: Yann Martel
#97. He often repeated something Father Abrahan said to him once, how faith is ever young, how faith, unlike the rest of us, does not age. - Author: Yann Martel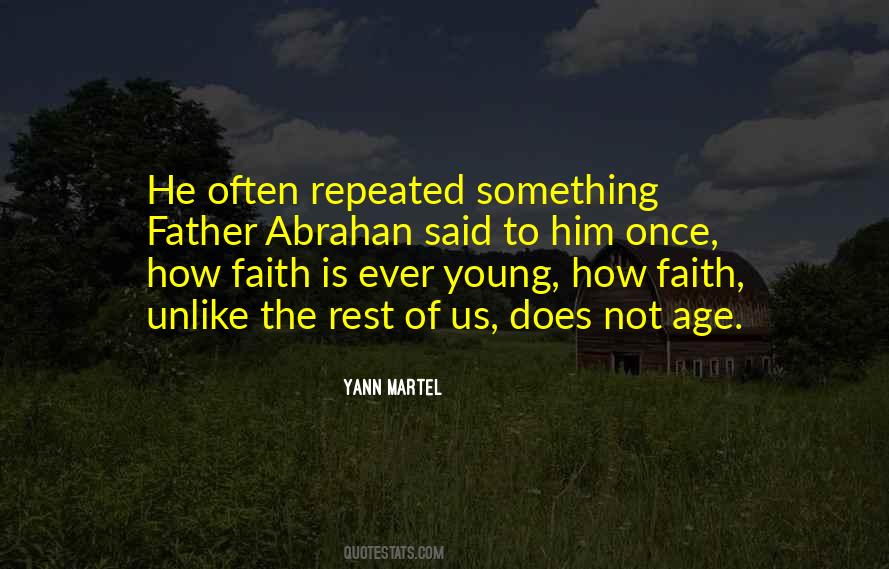 #98. I was alone and orphaned, in the middle of the Pacific, hanging on to an oar, an adult tiger in front of me, sharks beneath me, a storm raging about me. - Author: Yann Martel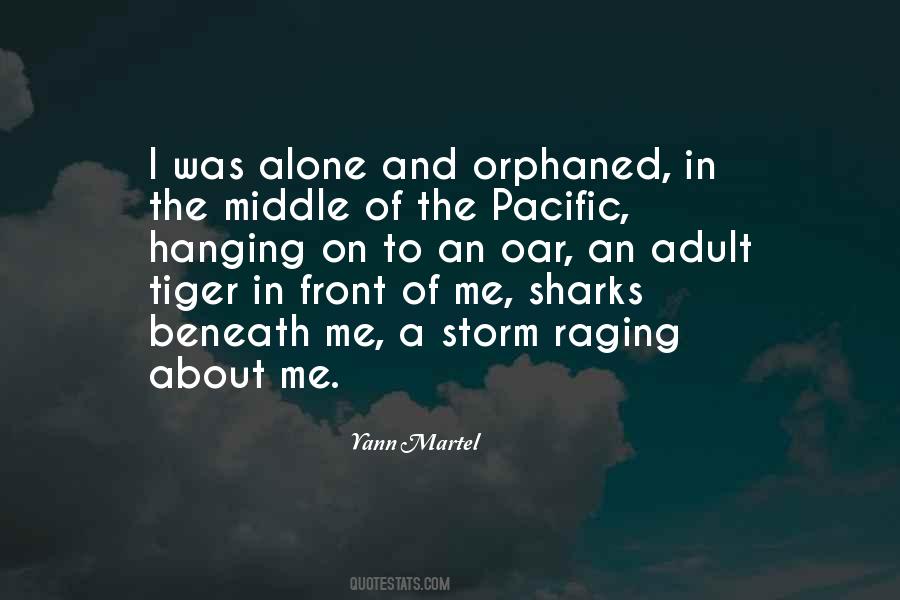 #99. I have a story that will make you believe in God. - Author: Yann Martel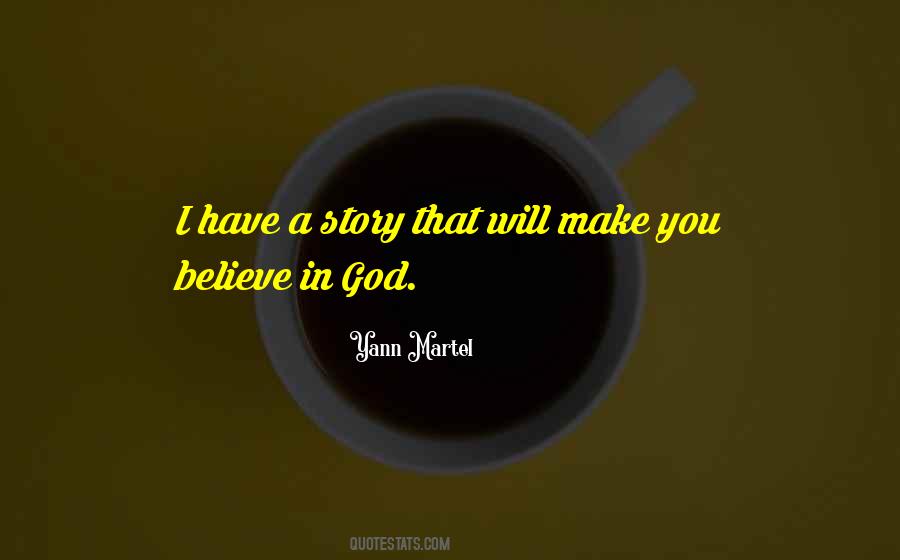 #100. Now he realized that this matter of faith was either radically to be taken seriously or radically not to be taken seriously. - Author: Yann Martel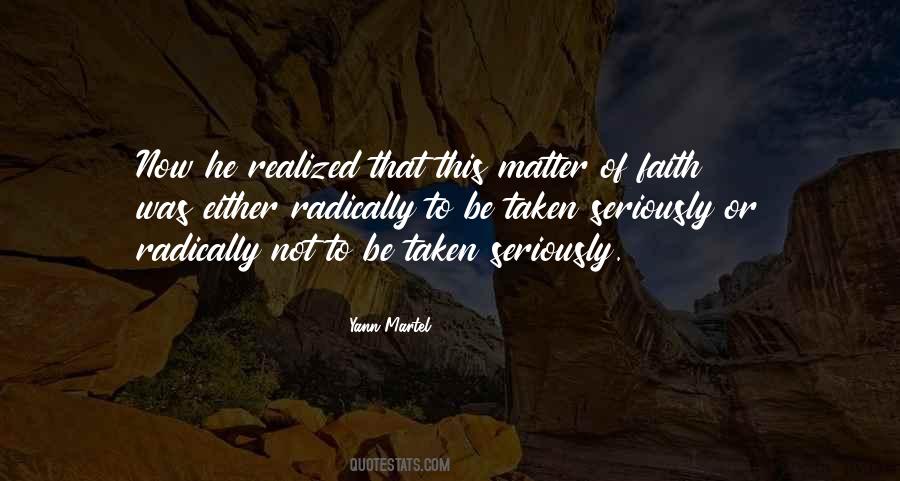 Famous Authors
Popular Topics