Love Yourself Love Life Famous Quotes & Sayings
List of top 100 famous quotes and sayings about love yourself love life to read and share with friends on your Facebook, Twitter, blogs.
Top 100 Love Yourself Love Life Quotes
#1. Whenever you get an appetite, you feed yourself. Therefore, fill your belly on wisdom of things old and new. Only swallow the truth, less you choke on the lies. - Author: Amaka Imani Nkosazana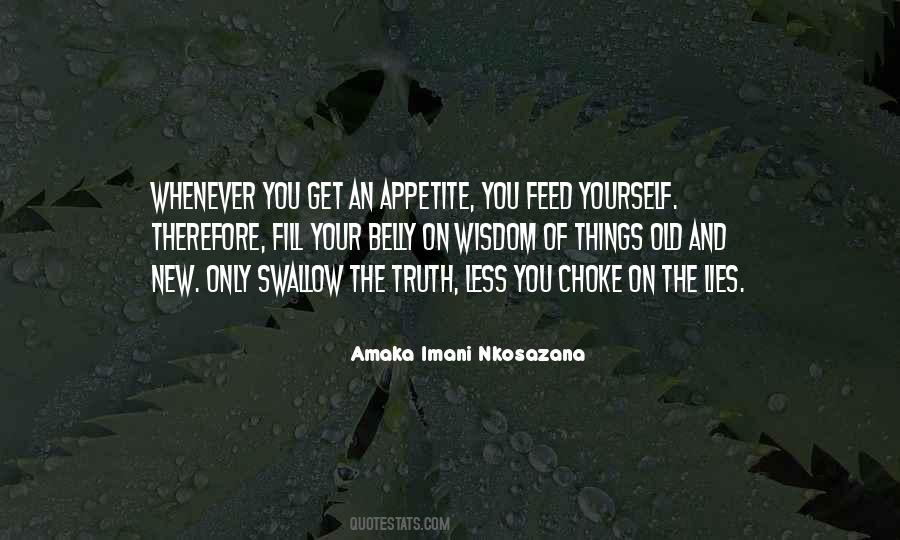 #2. Respect yourself is you would have others respect you. - Author: Baltasar Gracian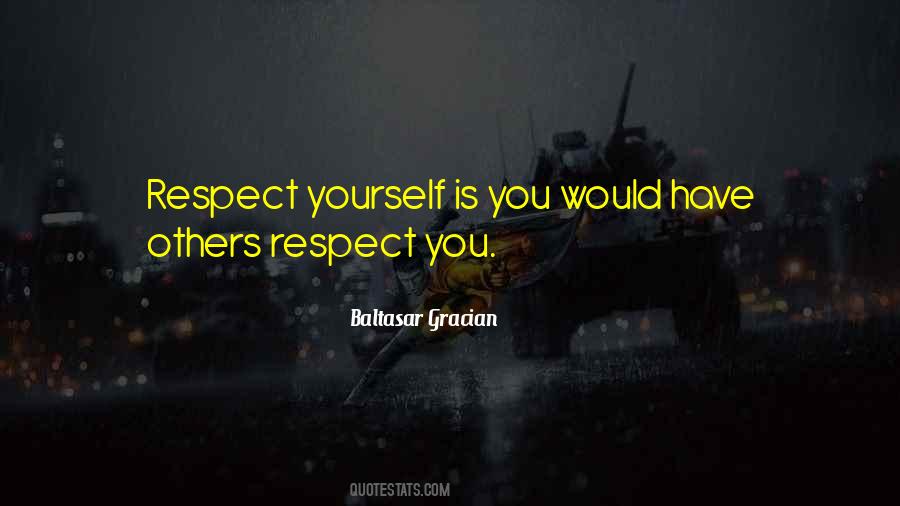 #3. Reading a stranger's words and finding yourself in them. - Author: Jenim Dibie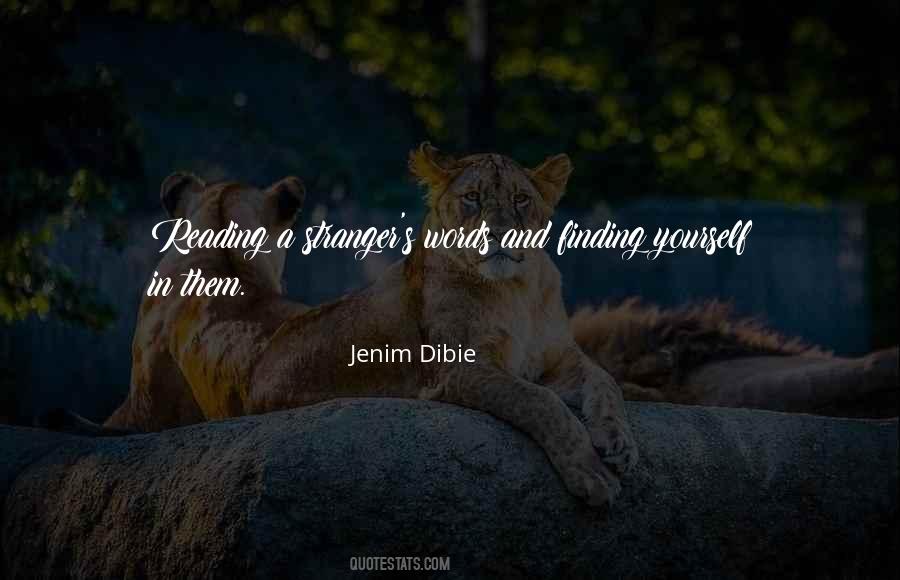 #4. Reflect and meditate on yourself and discover ways to multiply yourself - Author: Sunday Adelaja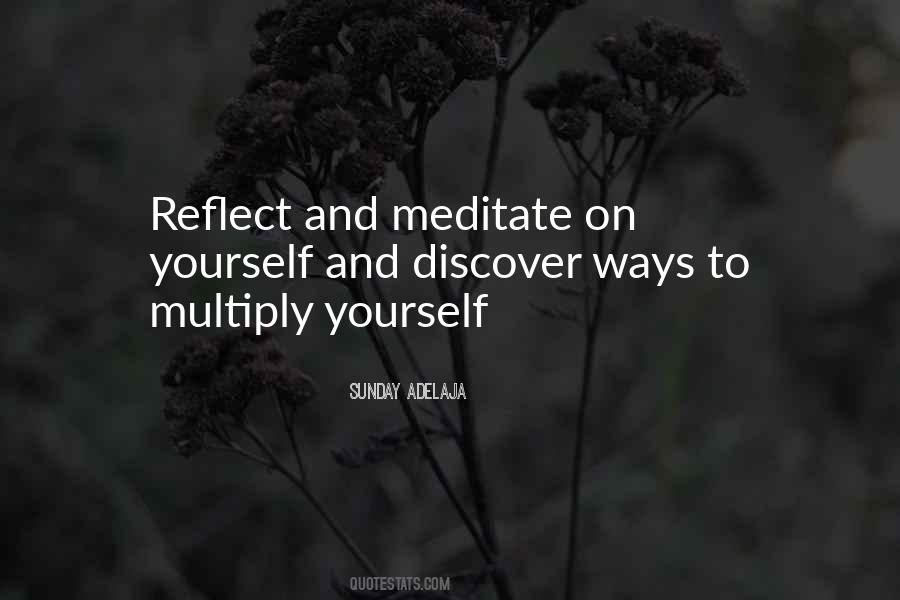 #5. The formula of life is simple. It is the formula of giving - giving courage, attention, peace, love and comfort to yourself and the society. - Author: Amit Ray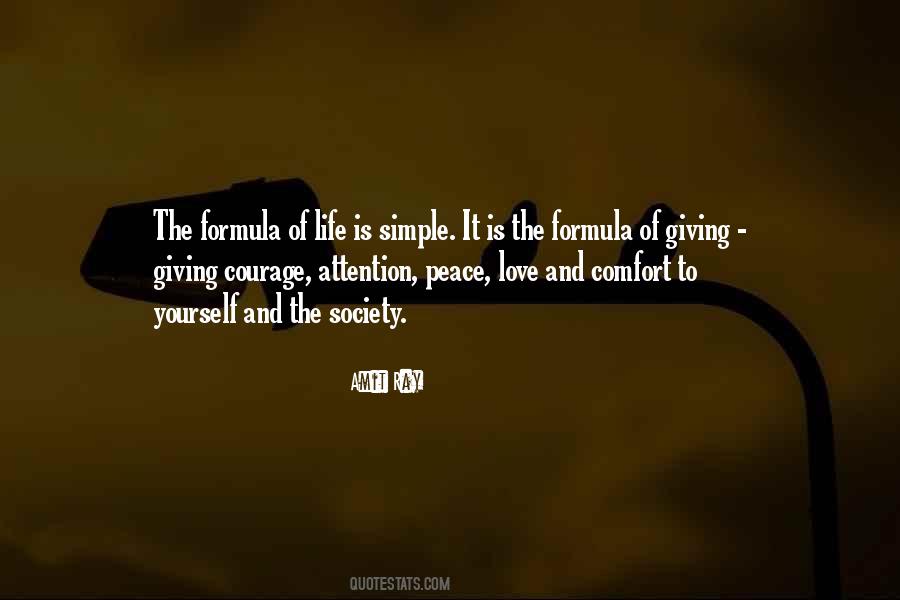 #6. When you wonder what is coming, tell yourself the best is coming, the very best life and love have to offer, the best God and His universe have to send. Then open your hands to receive it. It's yours. - Author: Melody Beattie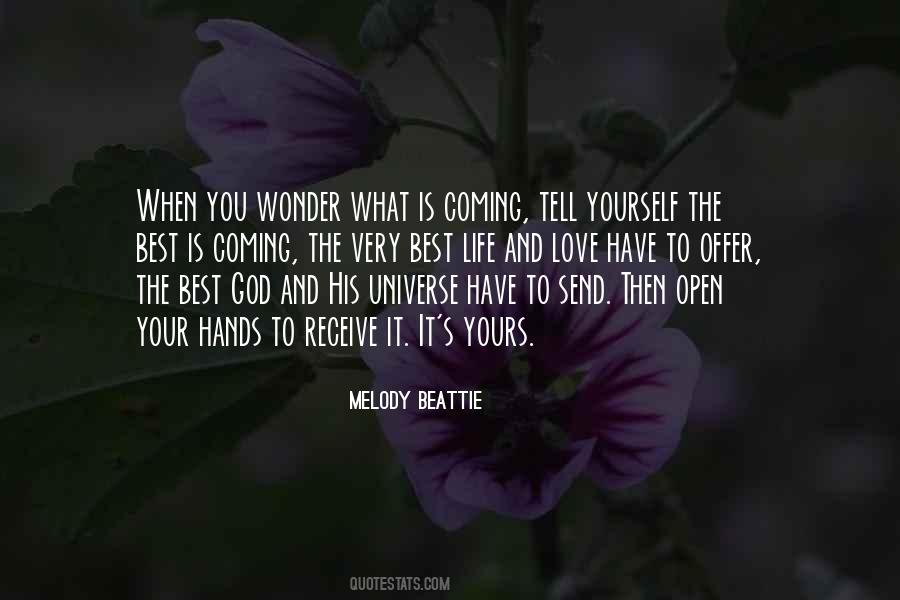 #7. People hate you for 1 of 3 reasons. 1) They hate themselves 2) They want to be you 3) They see you as a threat When you love yourself you are incapable of hating anyone no matter what they've done. - Author: Tony Gaskins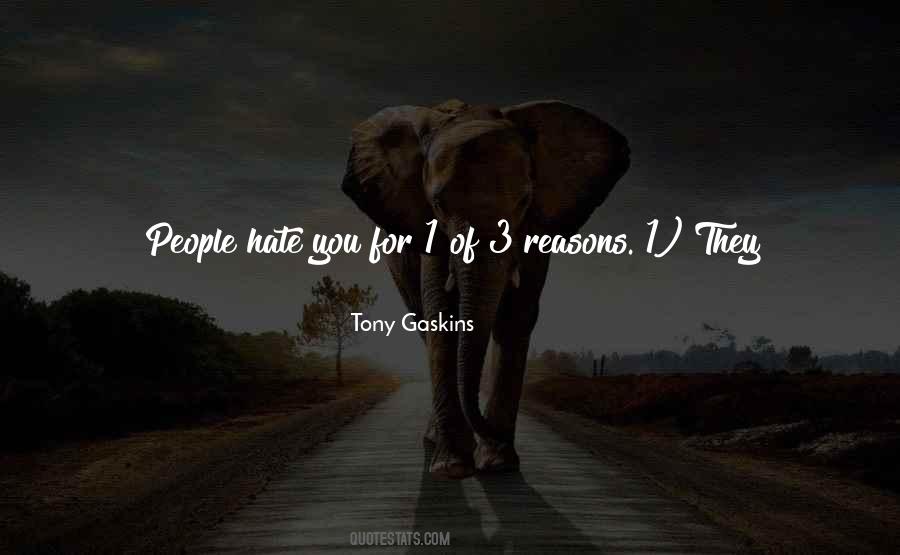 #8. Give yourself to a great cause, not only your possessions. - Author: Debasish Mridha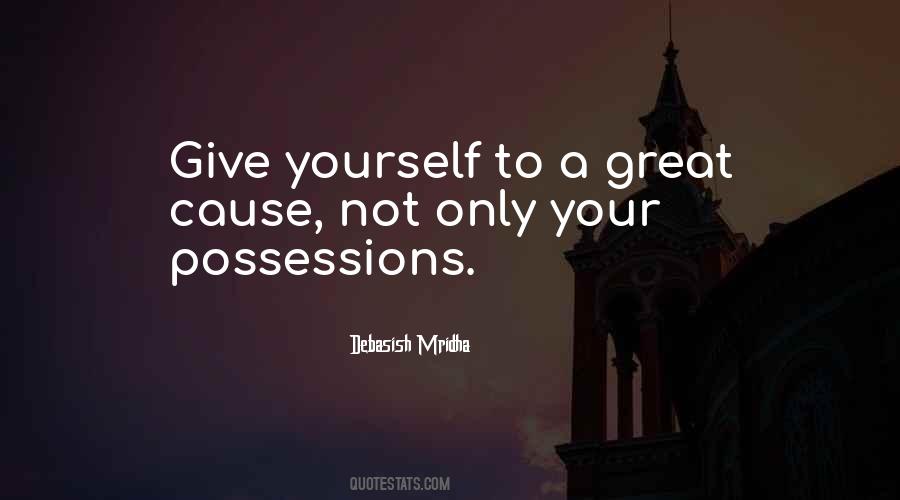 #9. And yet how simple it is: in one day, in one hour everything could be arranged at once! The chief thing is to love others like yourself, that's the chief thing, and that's everything; nothing else is wanted - you will find out at once how to arrange it all. - Author: Fyodor Dostoyevsky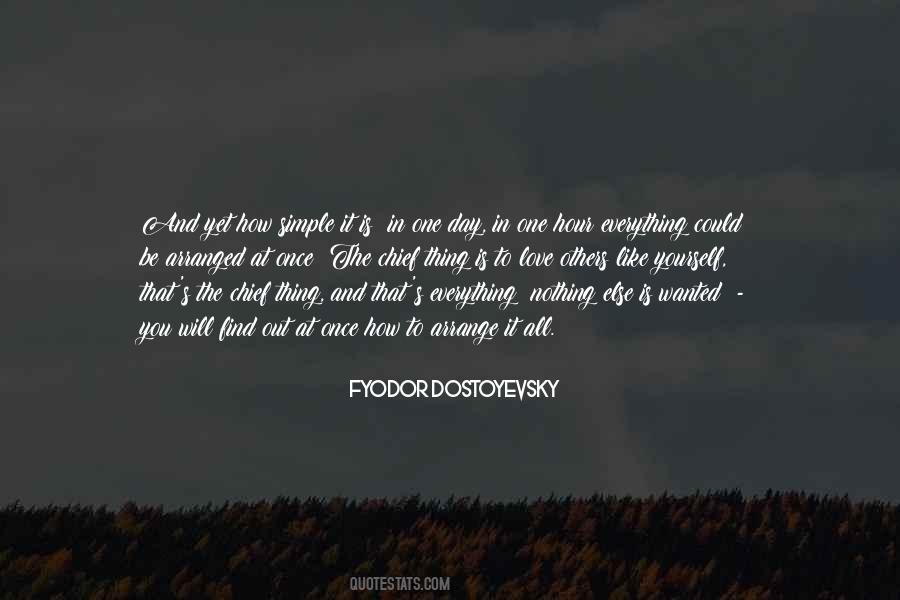 #10. The only person who can pull me down is myself, and I'm not going to let myself pull me down anymore. - Author: C. JoyBell C.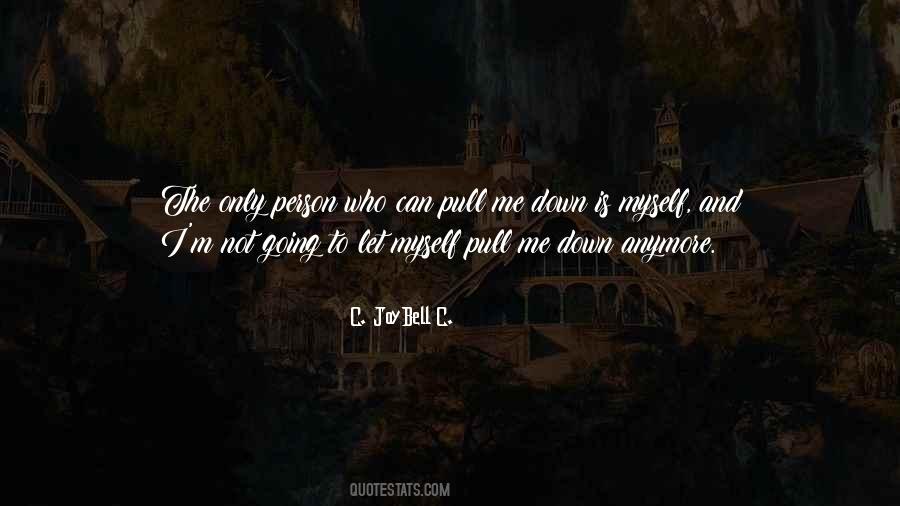 #11. All trials force the question, Who are you really? And you must trust yourself to answer - Author: Oprah Winfrey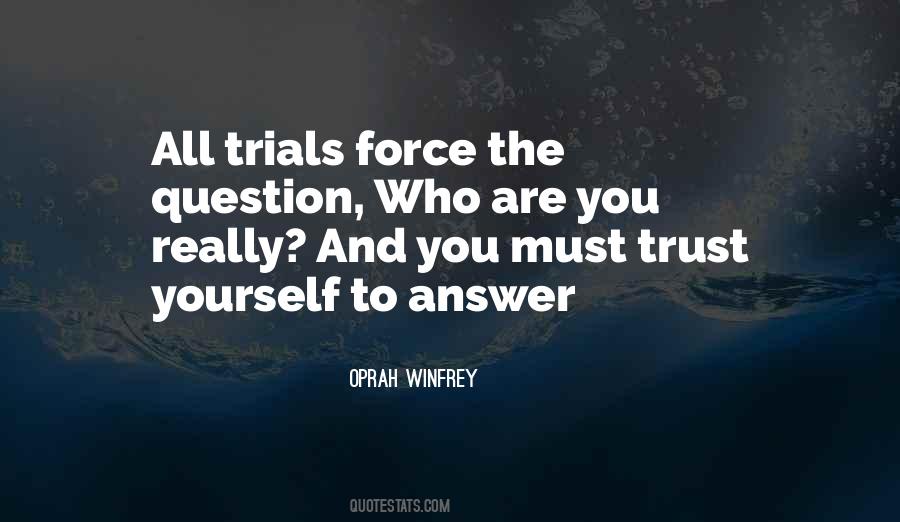 #12. Just because the rose died on the vine, doesn't mean it lied to you when it was in bloom. - Author: Michael Clifford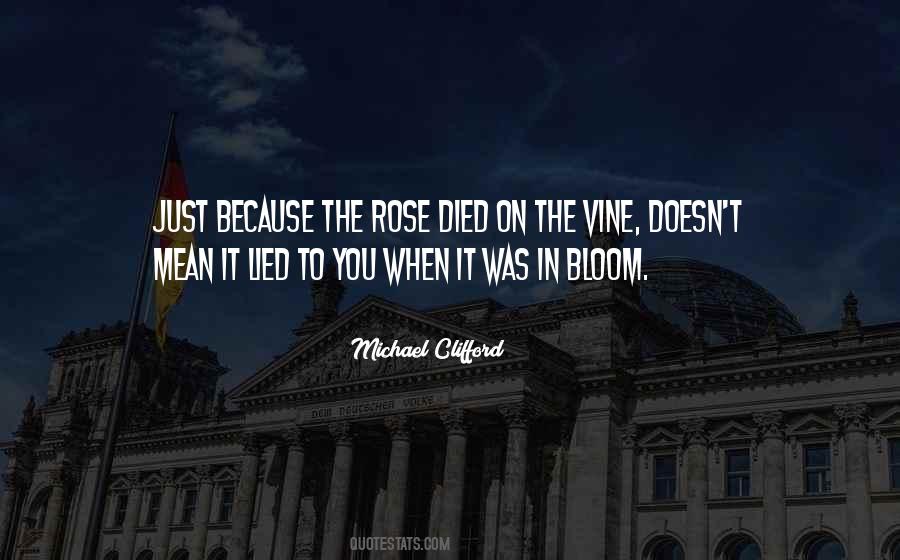 #13. Having difficult times and grief and brokenness, does not mean that life is over. These are just bumps in the road, obstacles to be overcome and made stepping stones into a long successful life. - Author: Teresa St. Frances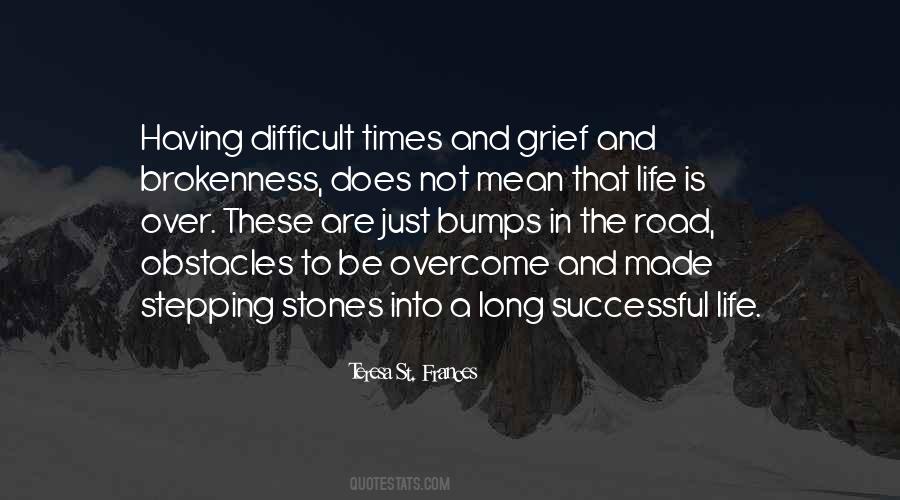 #14. To be a success, be yourself. - Author: Debasish Mridha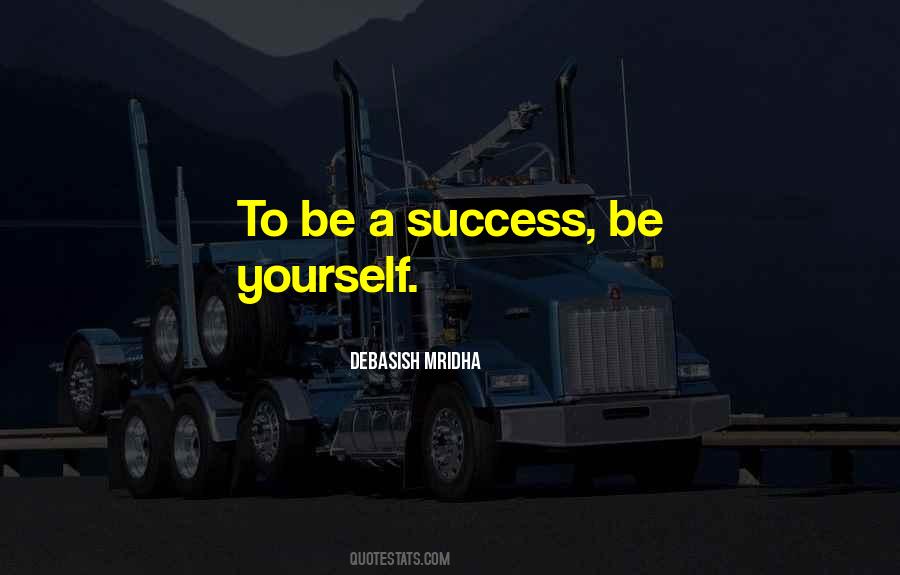 #15. love life and life will love you, love yourself and you shall feel loved. - Author: Sian Lavinia Anais Valeriana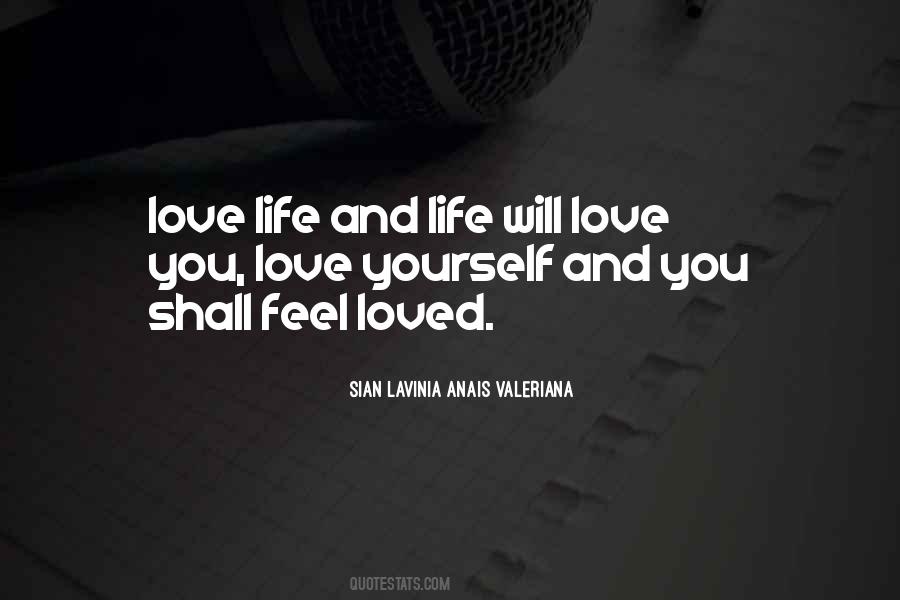 #16. You are a fine and talented woman, whose potential is yet to be realized given the love and support and luck we all need. Where you lost the will to fight for what is yours, where you gave away control of your life, is the mystery you are now unraveling. When you get it all back, hold on to it. - Author: Isabel Vincent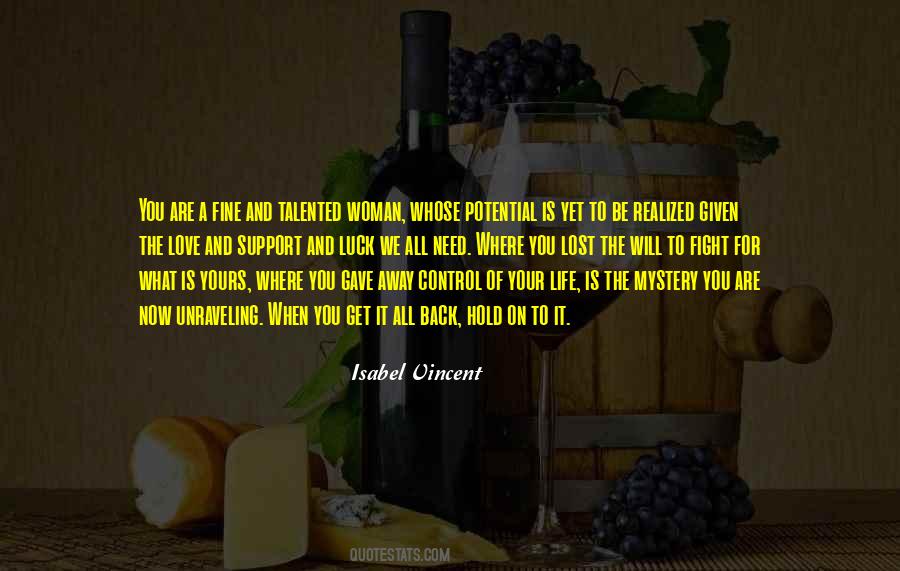 #17. What is one common thing every one craves for? It is love... Love others unconditionally, honestly and truthfully. When you fill your being with love, you make yourself healthier and happier. - Author: Sanchita Pandey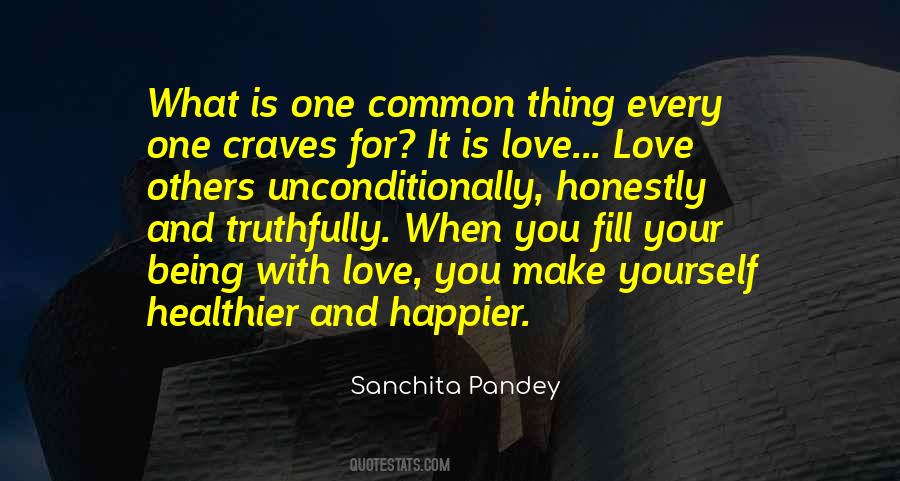 #18. When something flipping out to the worse, don't feel bad. But be strong and make yourself hard so that the situations stop taking chance to hurt you. - Author: Giridhar Alwar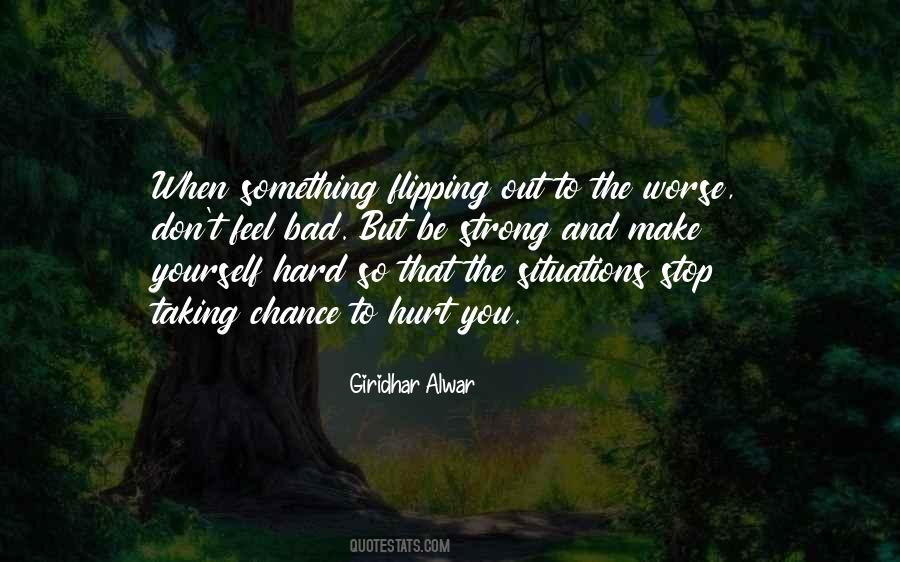 #19. Forgive yourself. The supreme act of forgiveness is when you can forgive yourself for all the wounds you've created in your own life. Forgiveness is an act of self-love. When you forgive yourself, self-acceptance begins and self-love grows. - Author: Miguel Angel Ruiz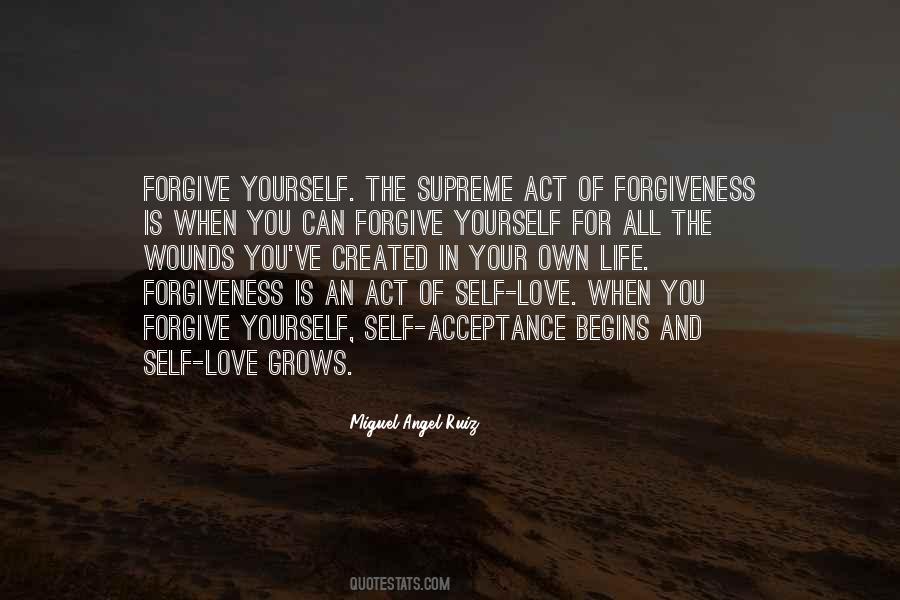 #20. Forgive yourself and welcome love back into your life. - Author: Wayne Dyer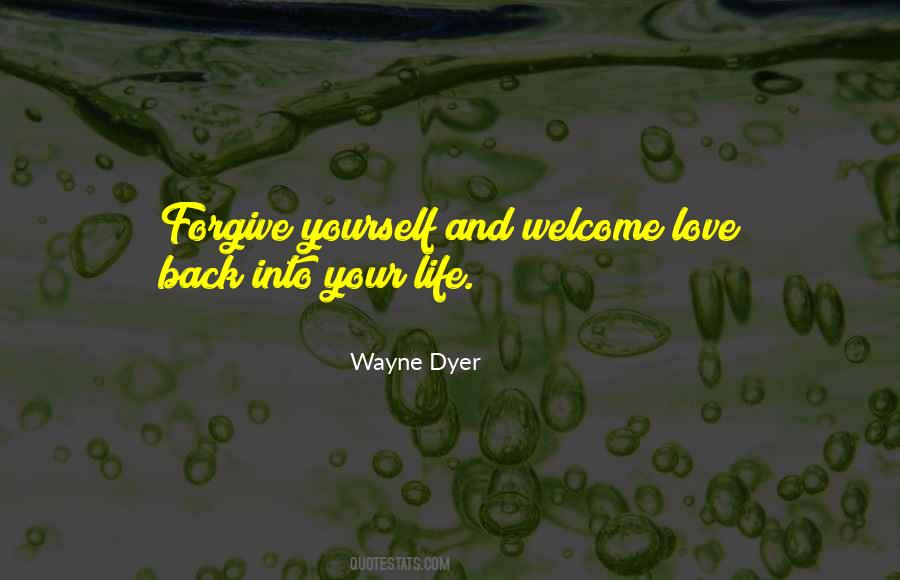 #21. The more you will able to trust yourself, the more joy and peace you will able to experience. - Author: Debasish Mridha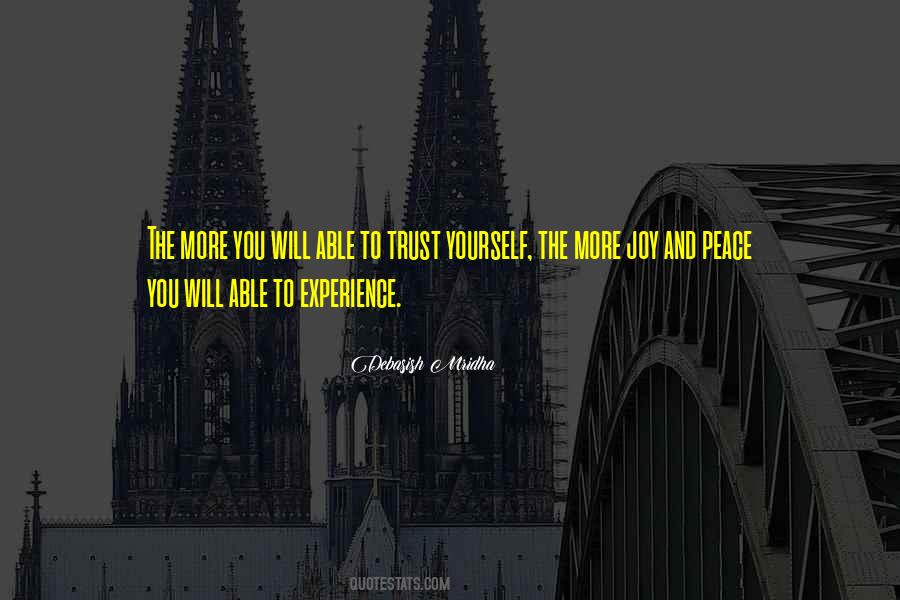 #22. If you're going to fall in love with anyone, fall in love with a writer. Allow yourself to become immortalised in words. - Author: Jamie L. Harding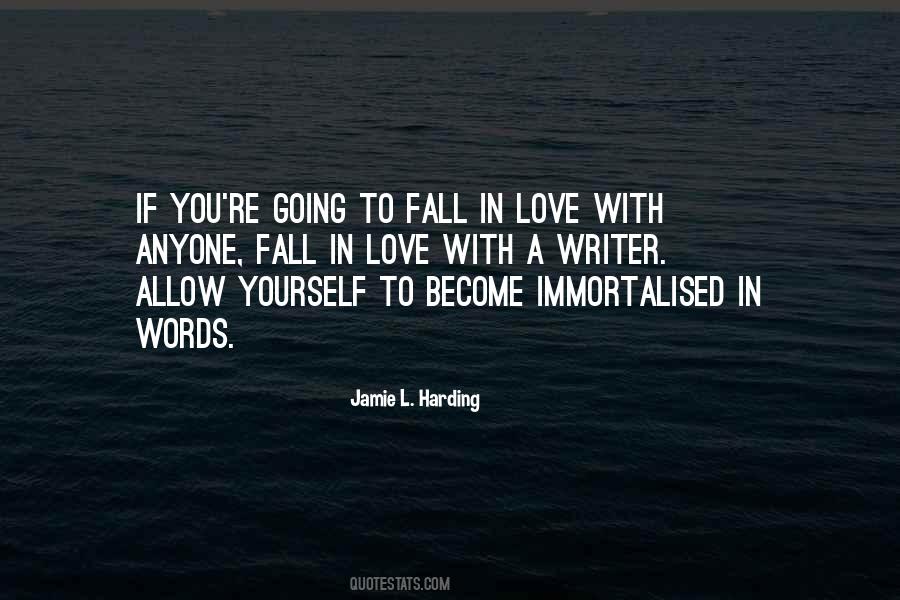 #23. Just be yourself to change everything. - Author: Debasish Mridha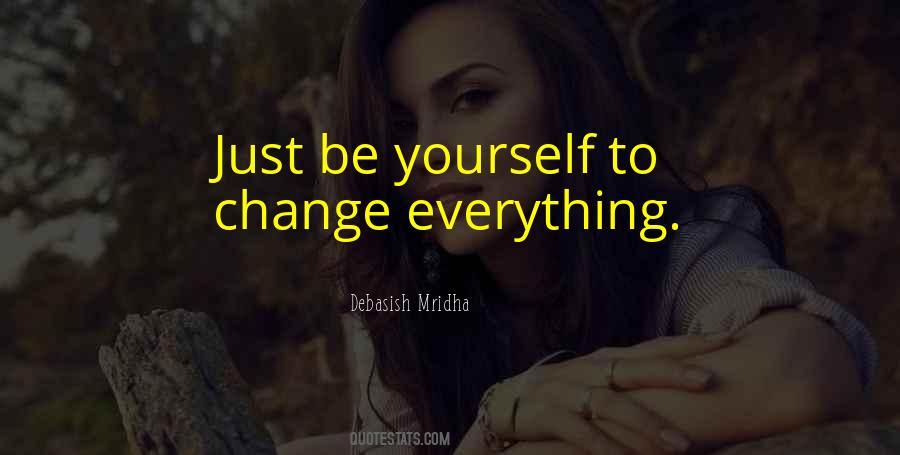 #24. The love you feel in life is a reflection of the love you feel in yourself. - Author: Deepak Chopra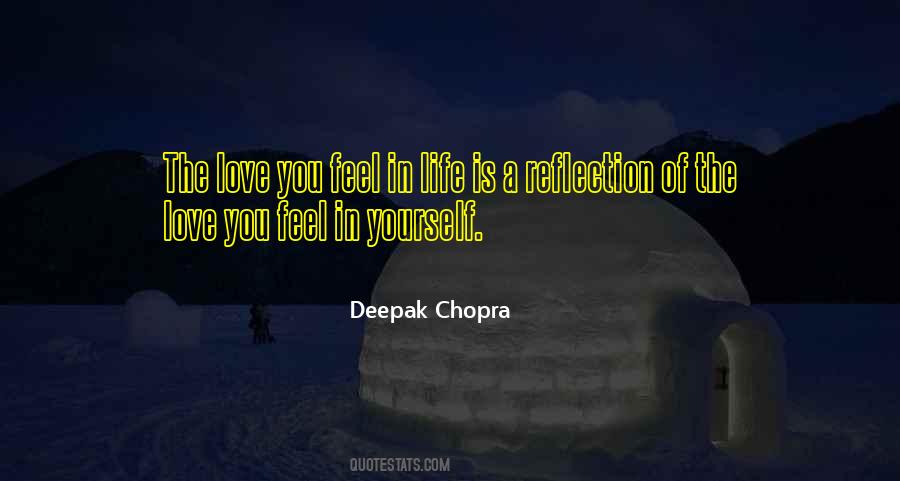 #25. Be yourself, love yourself,
be somebody then give yourself. - Author: Debasish Mridha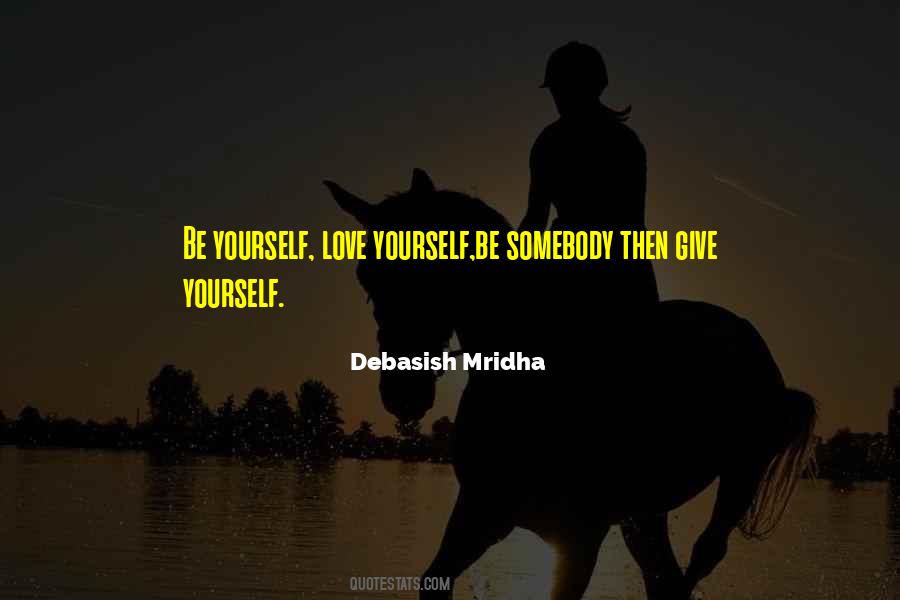 #26. Besides, men aren't worth your time anyway, Letti. If we women spent as much time on ourselves as we do fretting over men, we'd be invincible! Work on yourself because at the end of the day, you're the only person you can trust. - Author: S.R. Crawford
#27. Fill yourself with love. Then you will learn everything you ever need to know about God and life. - Author: Harold Klemp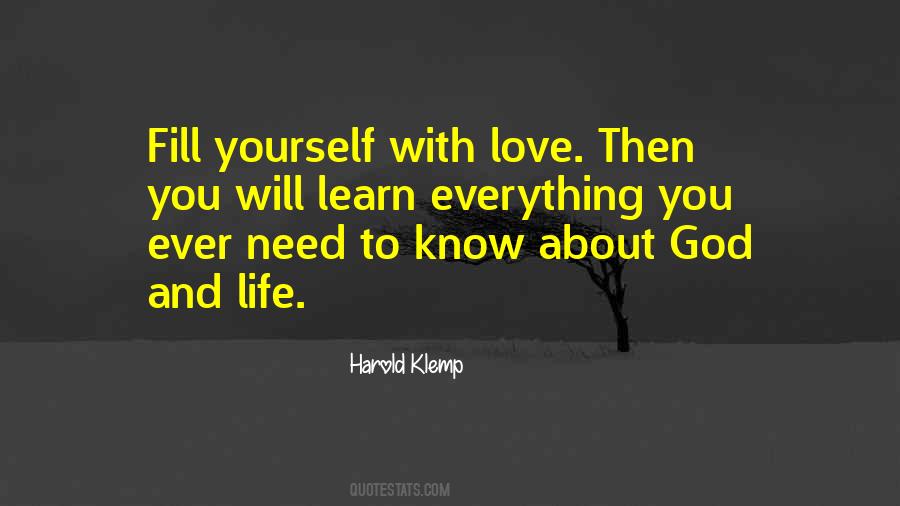 #28. Nothing can bring joy in your life except yourself. - Author: Debasish Mridha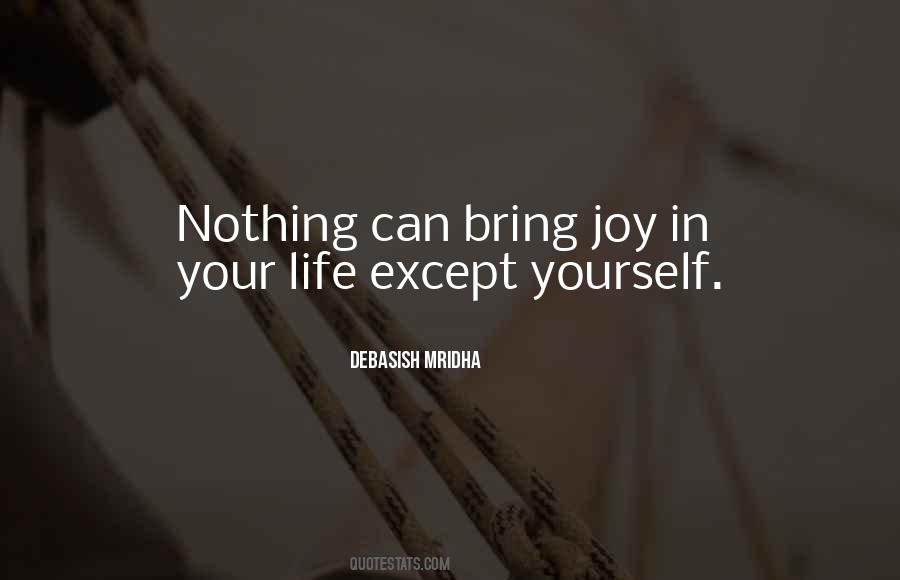 #29. Forcing yourself to see the world through love's gaze can be healthy. Love is an attitude to life. It can save us. - Author: Matt Haig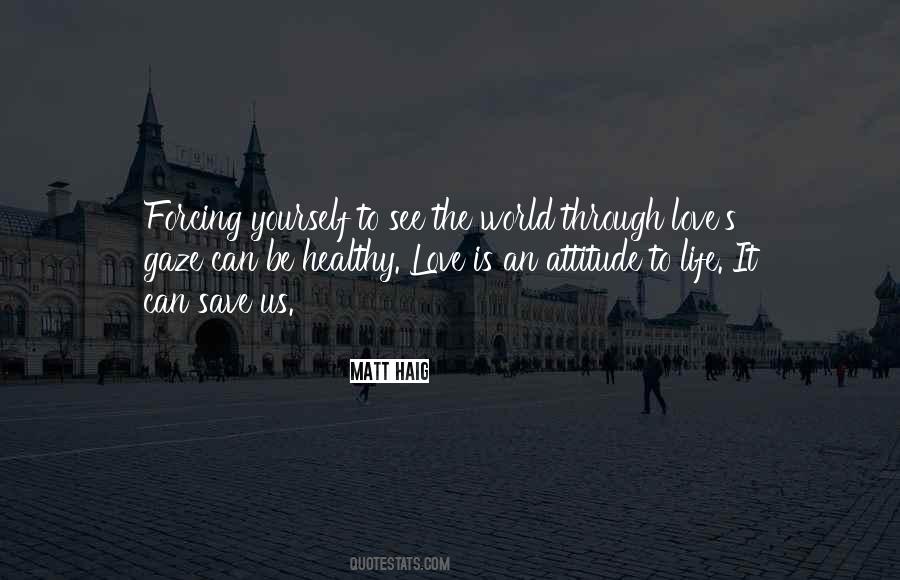 #30. Don't try and perfect yourself for one person. Wait for the one who loves your imperfections and make you feel perfect. - Author: Atul Purohit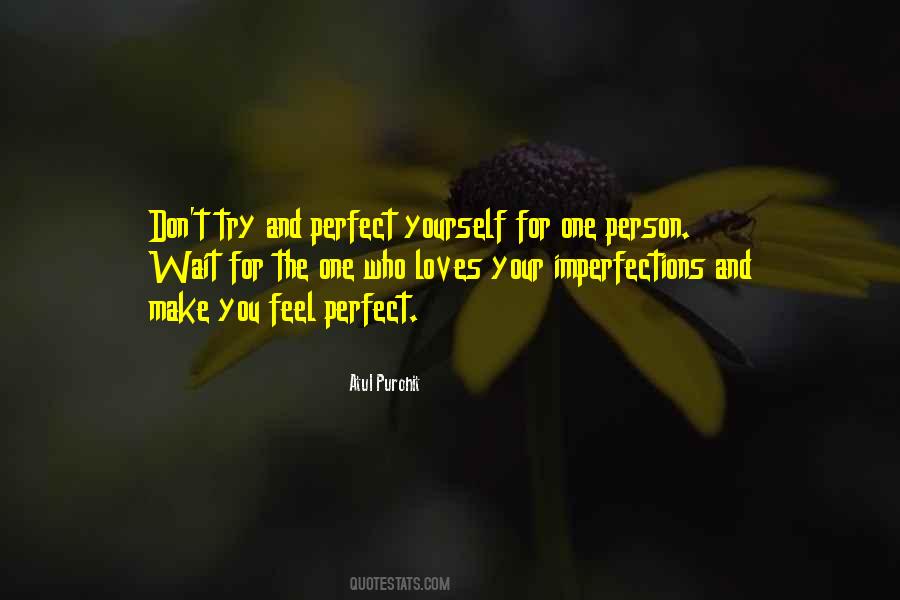 #31. If you give yourself in love, you will never loose yourself - Author: Jon Skovron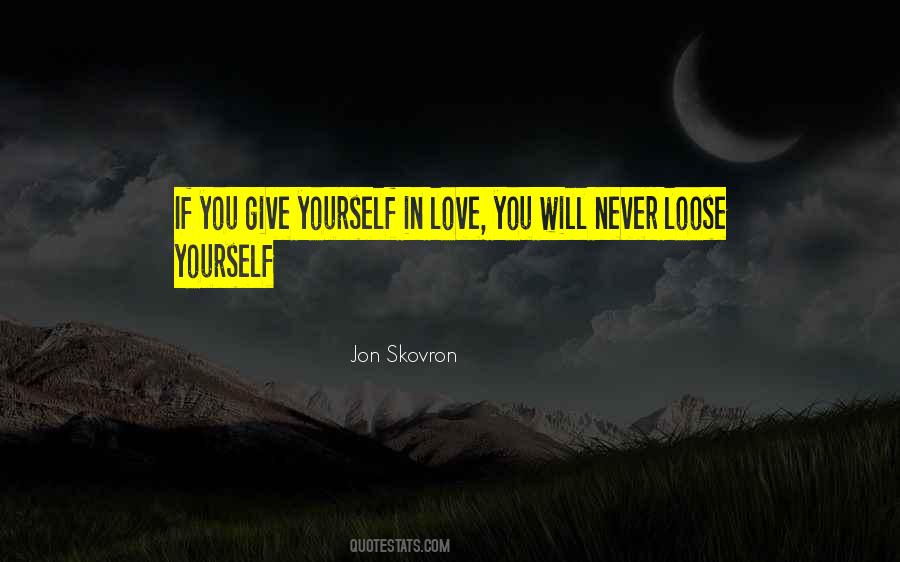 #32. Switch on and keep on in yourself the cheerful buttons ... Those marked Joy, Laughter, Happiness, Love, Passion for life, Gratitude for life. - Author: Robert Muller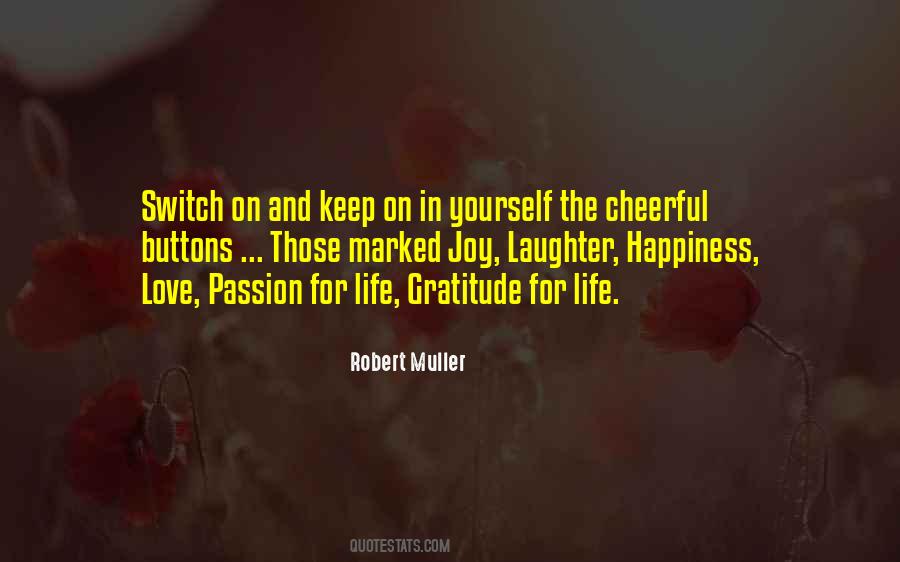 #33. To be romantic is quite simply to allow yourself to fall in love with life - all of life - and experience it fully, openly, passionately, and purposefully - Author: Thomas Kinkade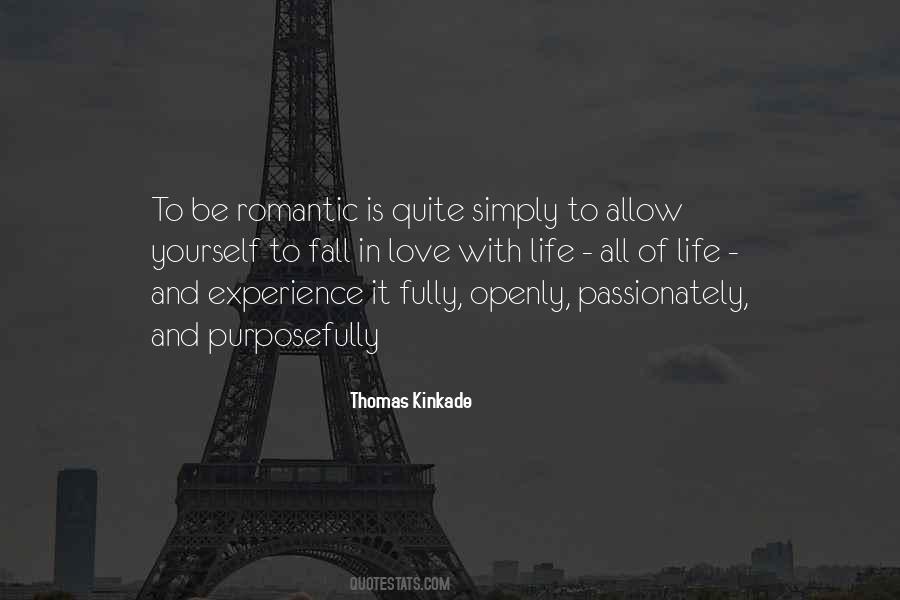 #34. All my life I have been haunted by the obsession that to desire a thing or to love a thing intensely is to place yourself in a vulnerable position, to be a possible, if not a probable, loser of what you most want. Let's leave it like that. - Author: Tennessee Williams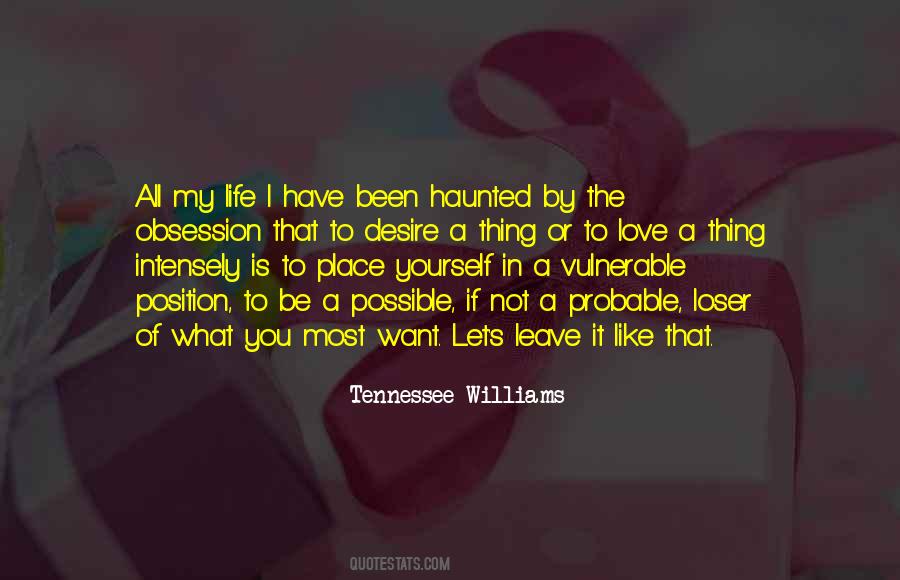 #35. Love yourself first to love everyone else. - Author: Debasish Mridha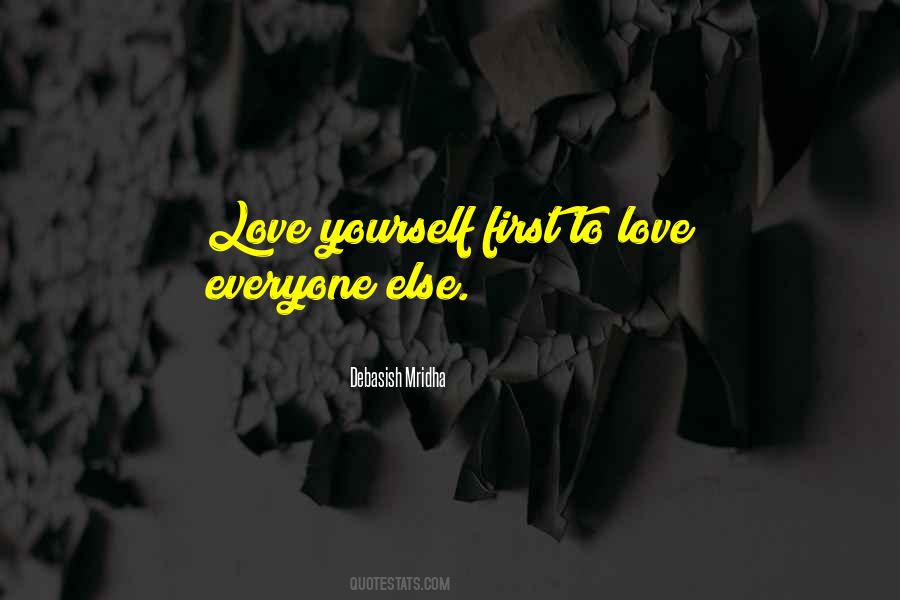 #36. You must always have great, secret, big fat hopes for yourself in love and in life. The bigger, the better. - Author: Gloria Vanderbilt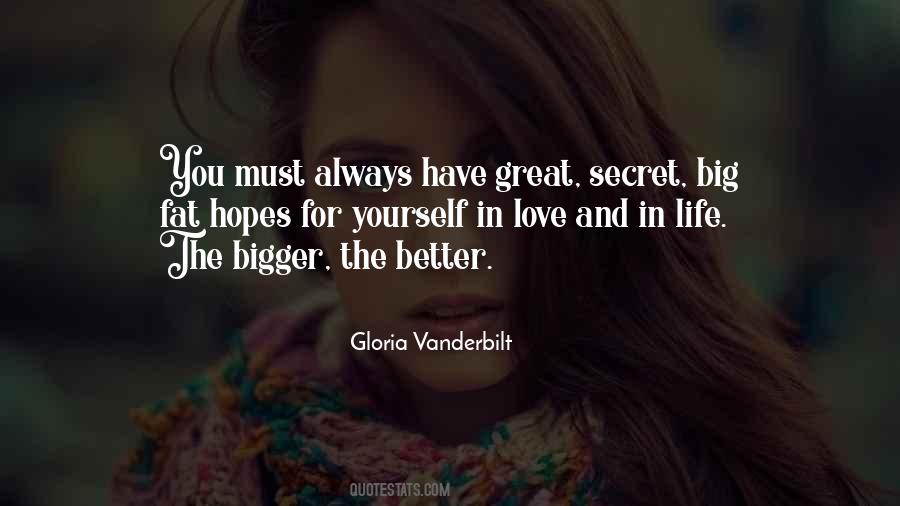 #37. Your words don't match your vibe,
& im trusting my gut this time. - Author: Nikki Rowe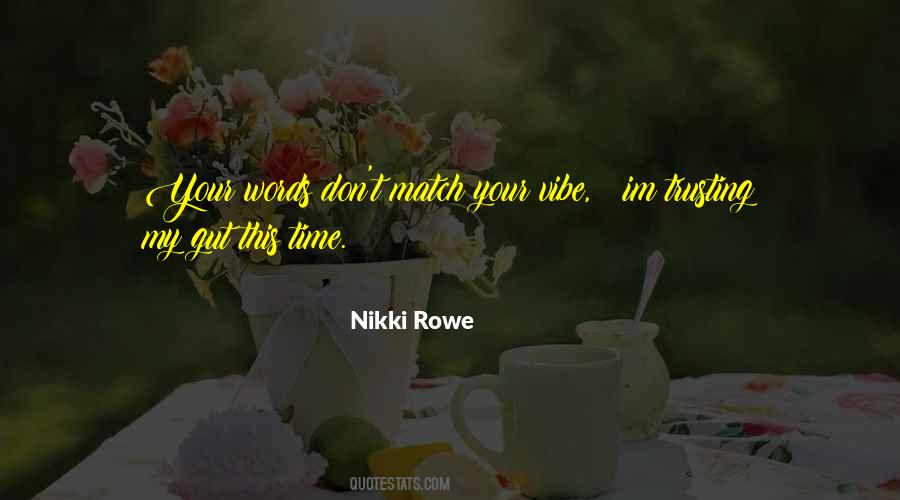 #38. You can only trust your emotions as you can lie to yourself with your brain but not your heart. - Author: Carl White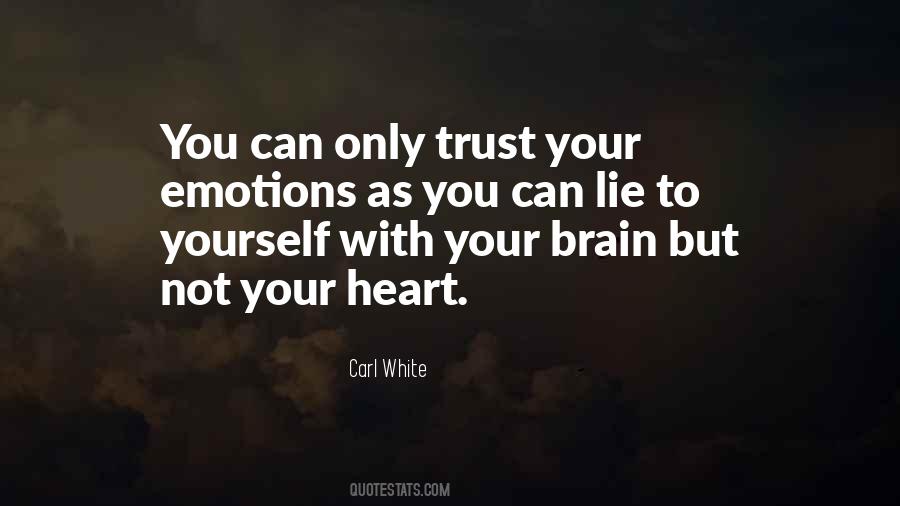 #39. If you love yourself, you will be surprised: others will love you. Nobody loves a person who does not love himself. - Author: Rajneesh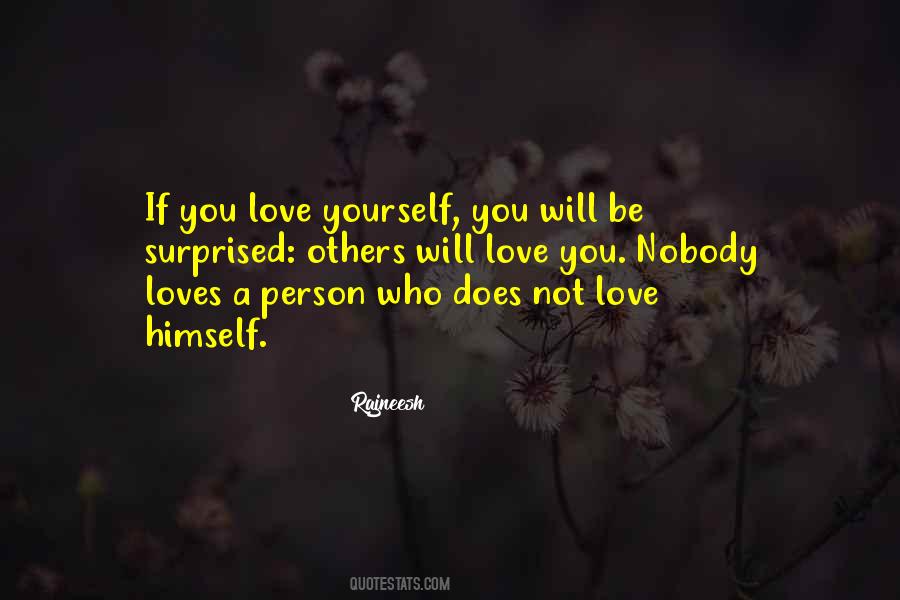 #40. Empty yourself by giving with kindness, to fill it with joy again and again. - Author: Debasish Mridha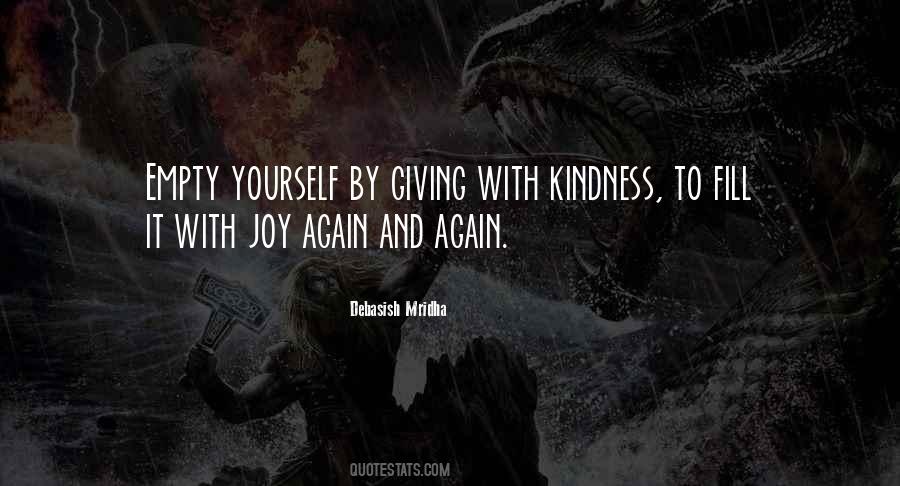 #41. I do believe that the single most important thing I could ever share with you with regard to maximizing the health, harmony, and happiness in your life can be summed up in just two words:
Love yourself. - Author: Mike Dooley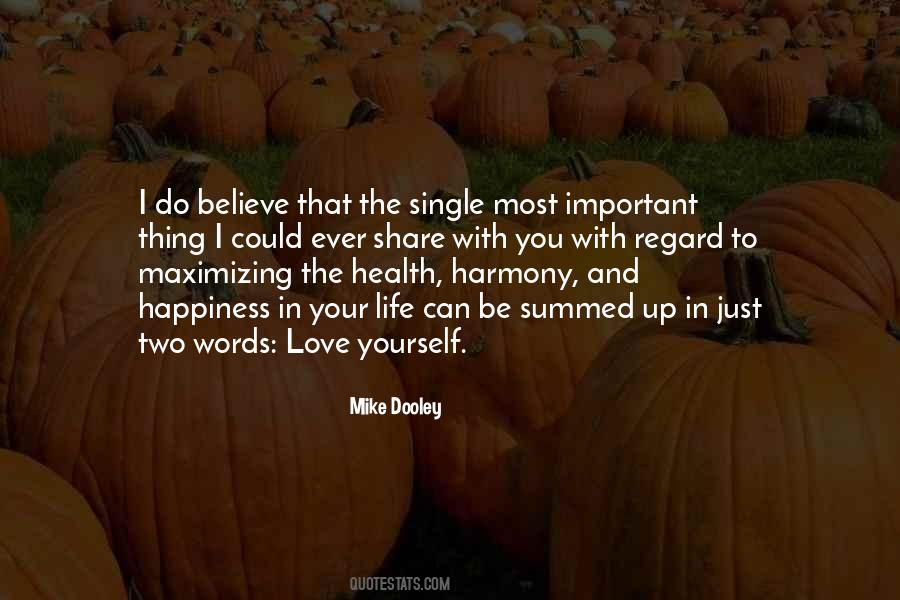 #42. Be confident. Don't seek permission to be yourself. - Author: Debasish Mridha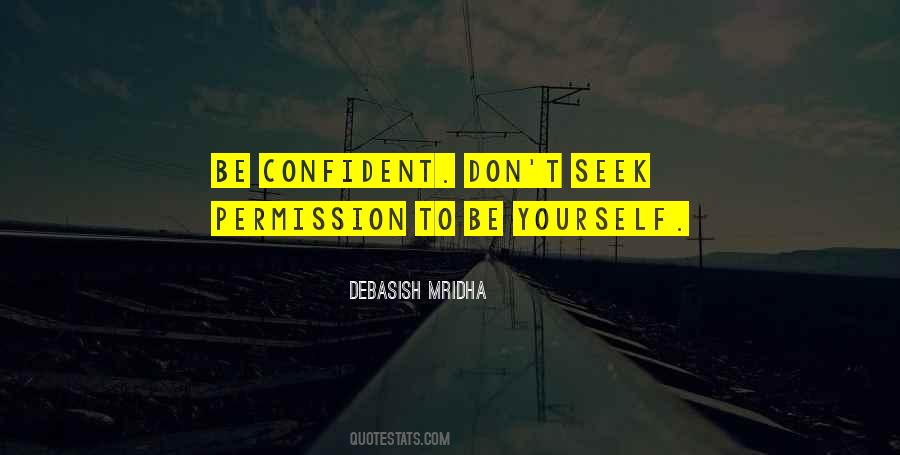 #43. The real mission you have in life is to make yourself happy, and in order to be happy, you have to look at what you believe, the way you judge yourself, the way you victimize yourself - Author: Miguel Ruiz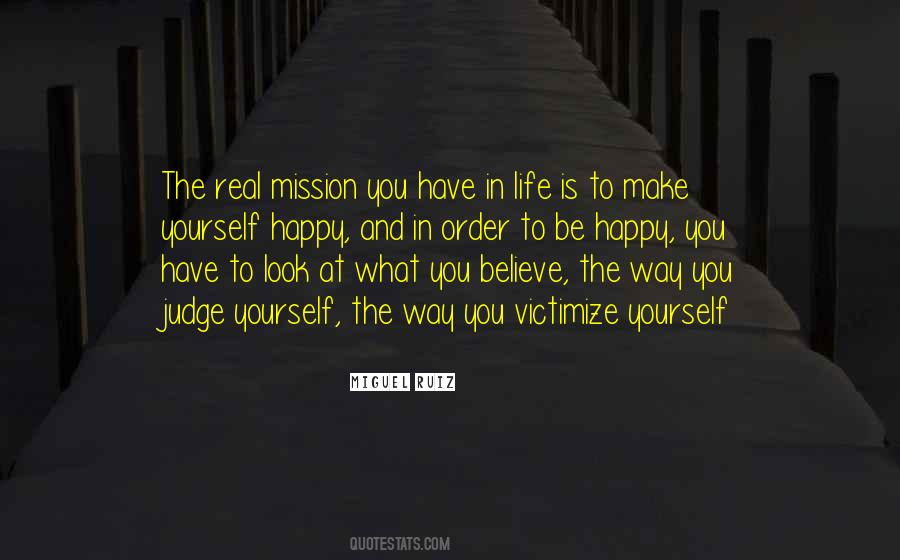 #44. How much others love you is not very important, but how much you love yourself will define your success. - Author: Debasish Mridha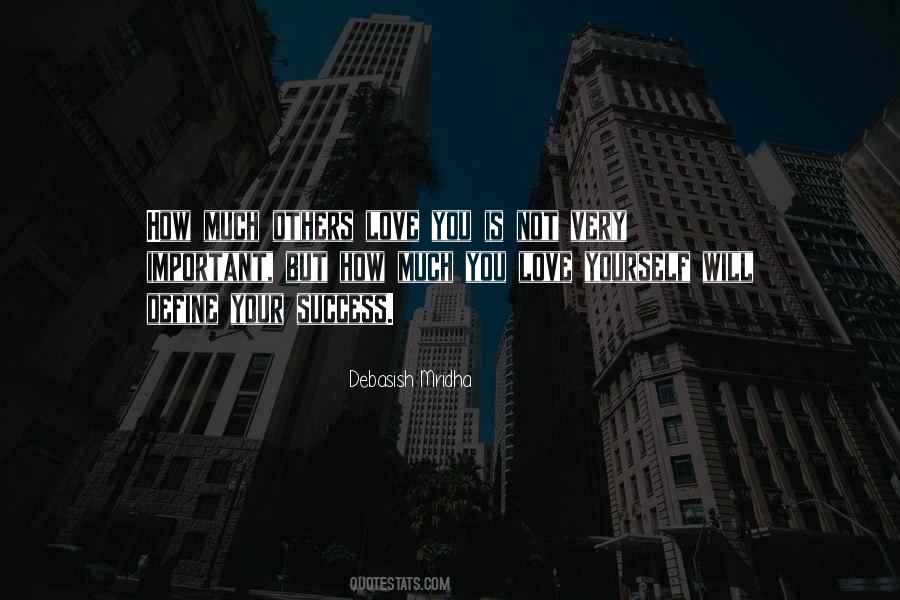 #45. Loving yourself is the most fulfilling and beautiful love that life has to offer.
Unfortunately, we're all looking to love someone else..
we're all looking to be loved by someone else, first. - Author: Reyna Mays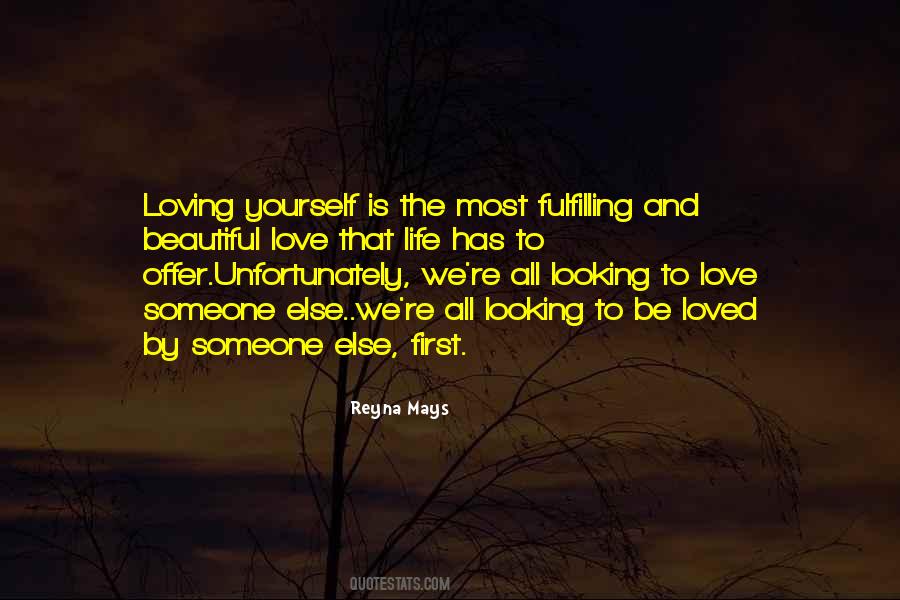 #46. [I]t doesn't matter whom you love or where you move from or to, you always take yourself with you. If you don't know who you are, or if you've forgotten or misplaced her, then you'll always feel as if you don't belong. Anywhere. (xiii) - Author: Sarah Ban Breathnach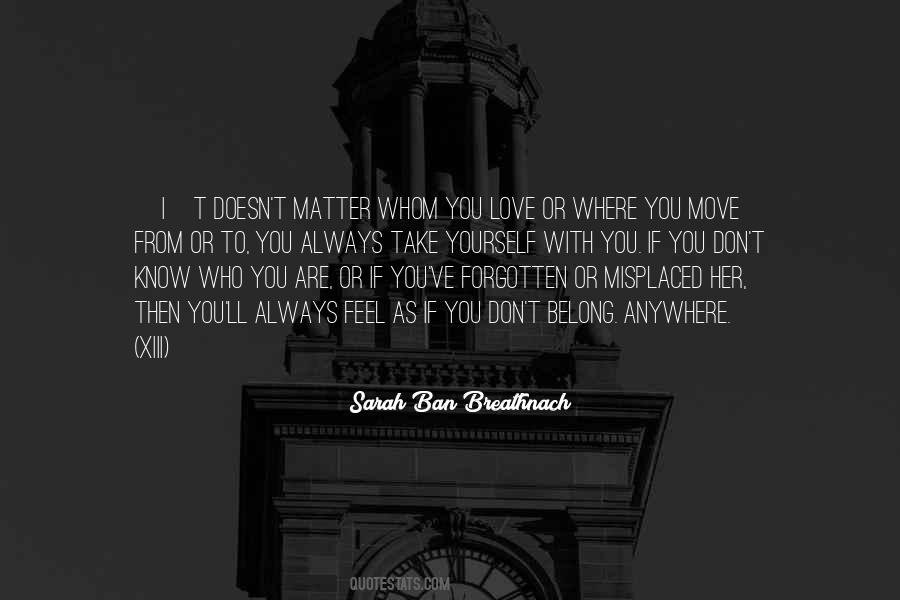 #47. Be strong, believe in freedom and in God, love yourself, understand your sexuality, have a sense of humor, masturbate, don't judge people by their religion, color or sexual habits, love life and your family. - Author: Madonna Ciccone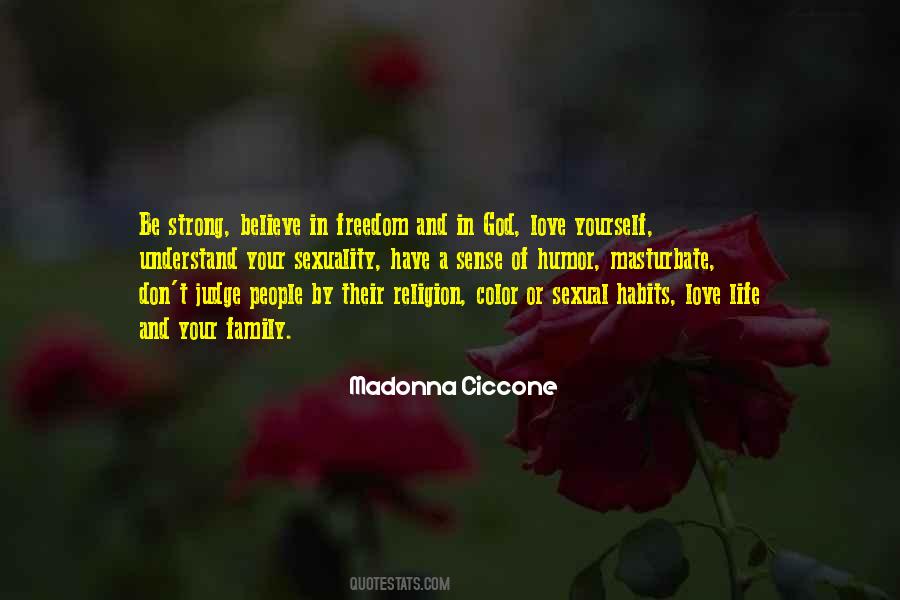 #48. You can't learn anything from losing someone you love. Any lesson you learn from that isn't a lesson. It's a compromise with life. A lie you tell yourself. - Author: Sonali Dev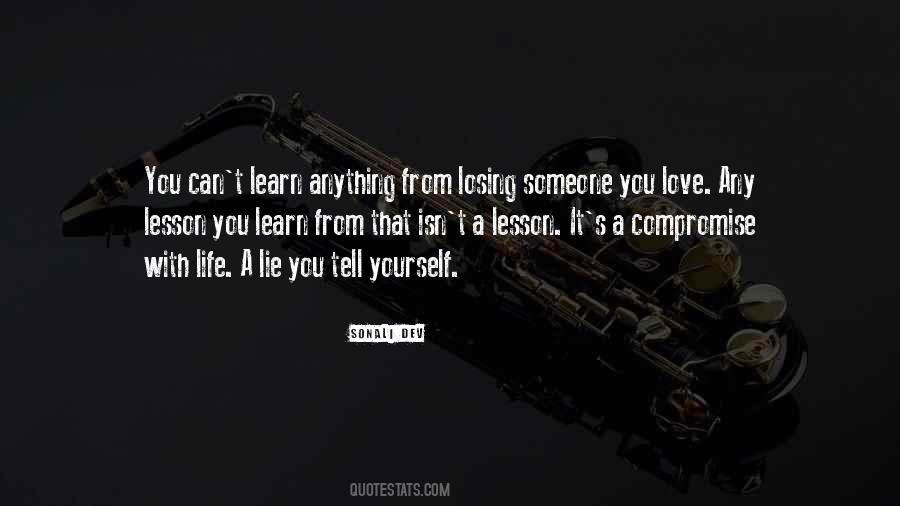 #49. You are here to remind me of someone I long for, and what is it you long for yourself? We must have been together in an earlier life, you and I. - Author: Murasaki Shikibu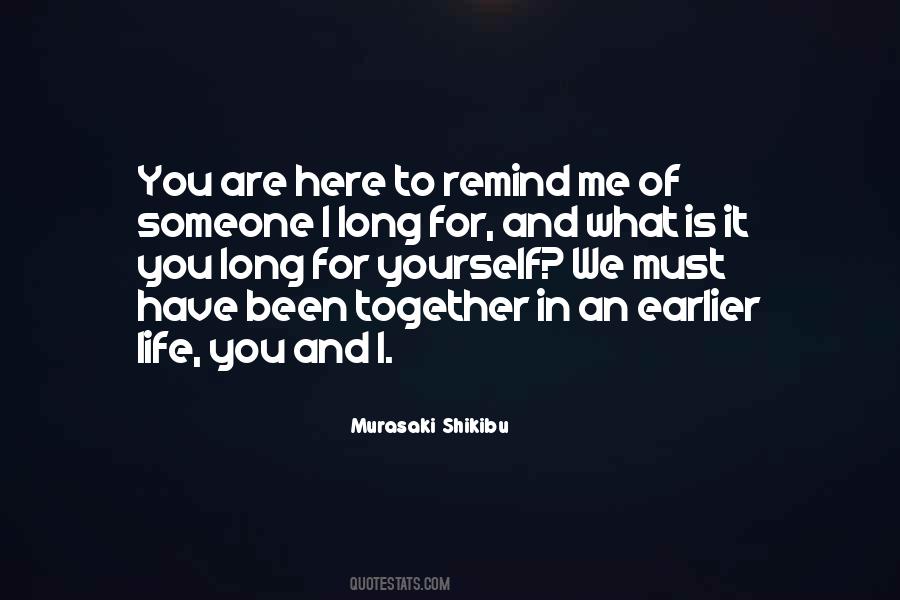 #50. If you ever find yourself presented with a fork in the road of life and you do not know the correct direction, close your eyes and listen to your heart. I have found more adventure, more love, more happiness, and more life by listening to who I am, rather than attempting to tell myself. - Author: Karen Hawkins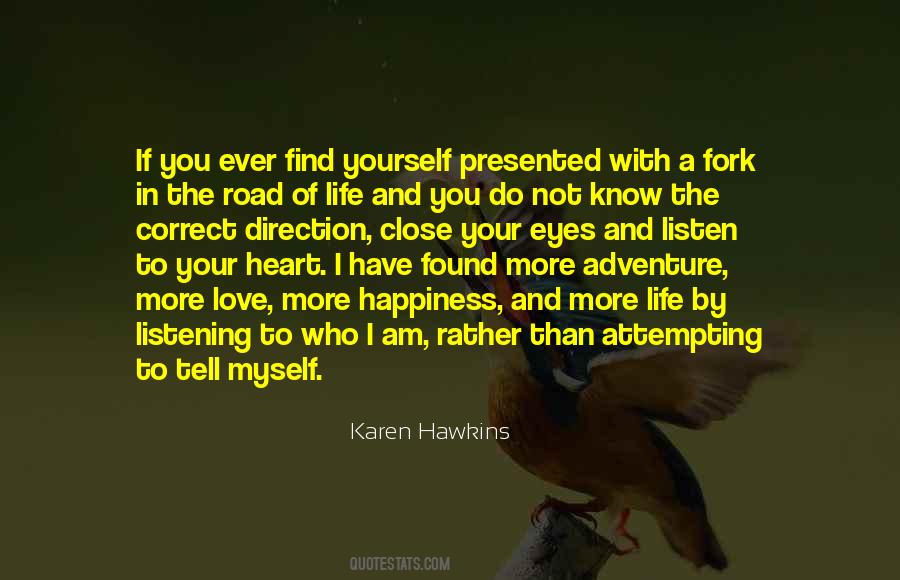 #51. Tonight, unhappy with your love, your job, your life, not enough money? Use your head. You can think yourself into a lot better you. Positive thoughts can transform, can attract the good things you know you want. Sound far-fetched? Think again. It's supported by science. - Author: Barbara Ehrenreich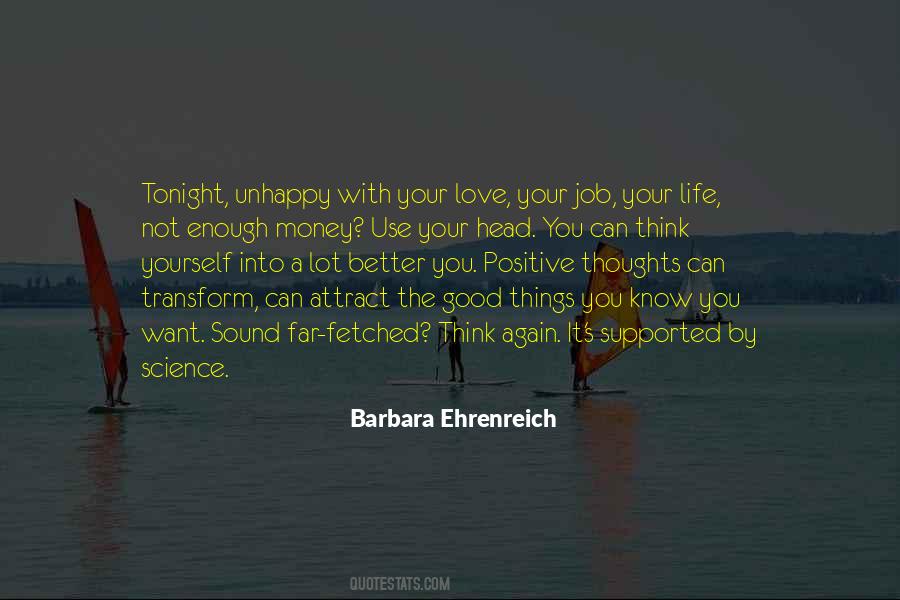 #52. Baby, you must dance to the music of your soul! - Author: Lailah Gifty Akita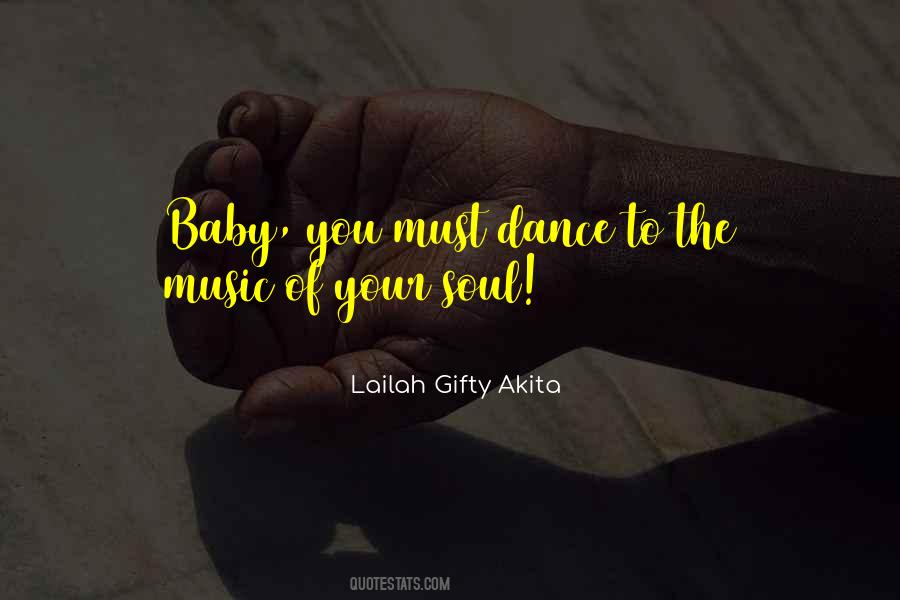 #53. In uniting yourself to God's will, you take on new life and gather great courage, willingly embracing the cross and kissing His hand even when it chastises you, a hand that reaches out to you in love and has no other intention but your greater spiritual well-being. - Author: Paul Of The Cross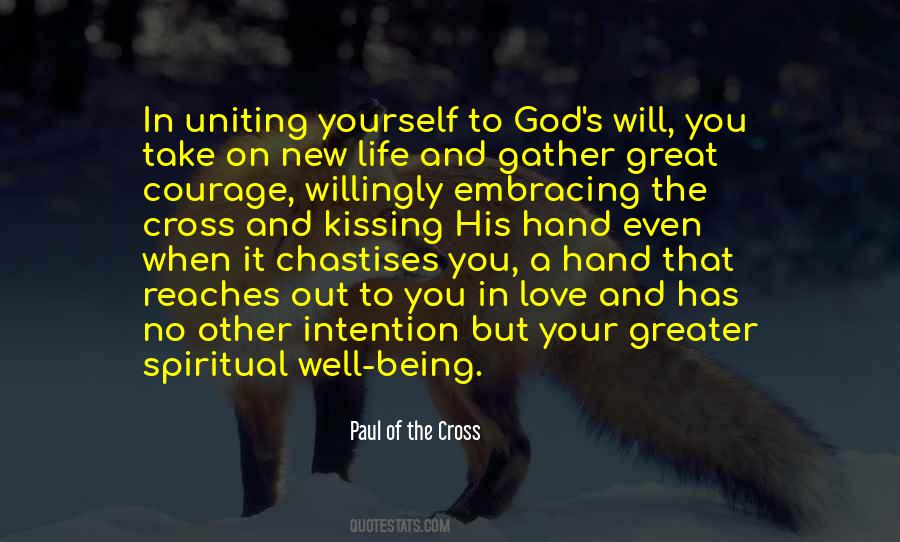 #54. I still believe that you truly find yourself
not in travel, but in other human souls. - Author: Emma Forrest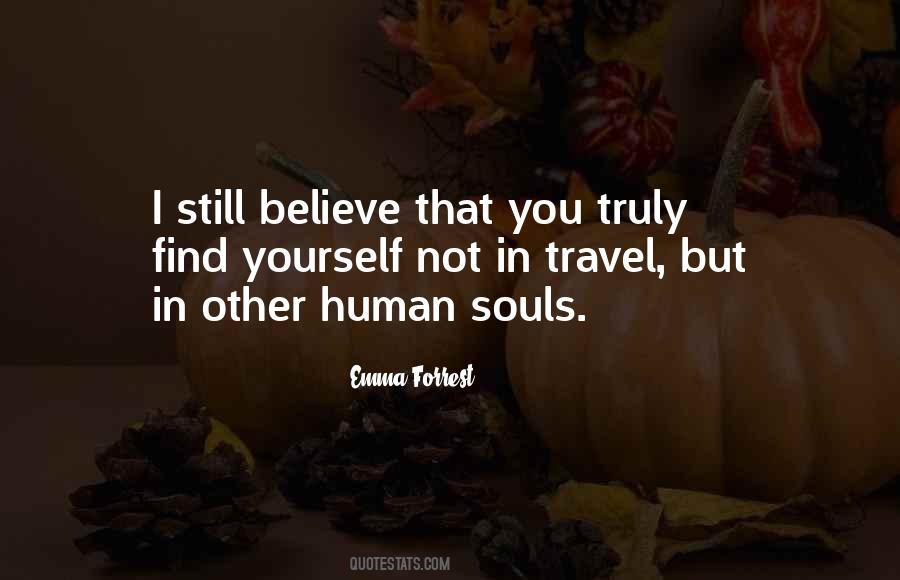 #55. At this moment, life is trying to love you and give to you in a million wonderful ways. When you say Yes, you allow love to flow, which is the greatest gift you can give yourself and the universe ... What do you want that you could be more open to receiving? - Author: Alan Cohen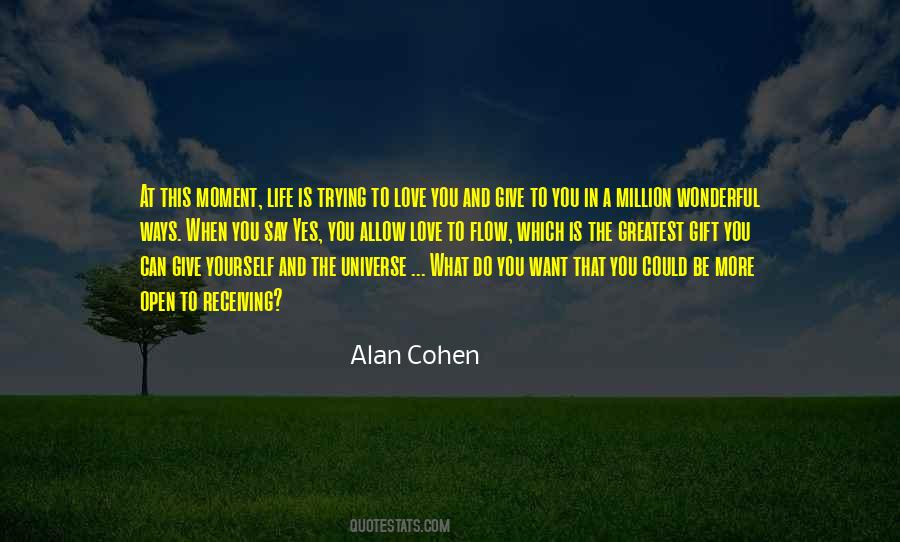 #56. Trust in yourself and trust in the future;
it will be bright and beautiful as nature. - Author: Debasish Mridha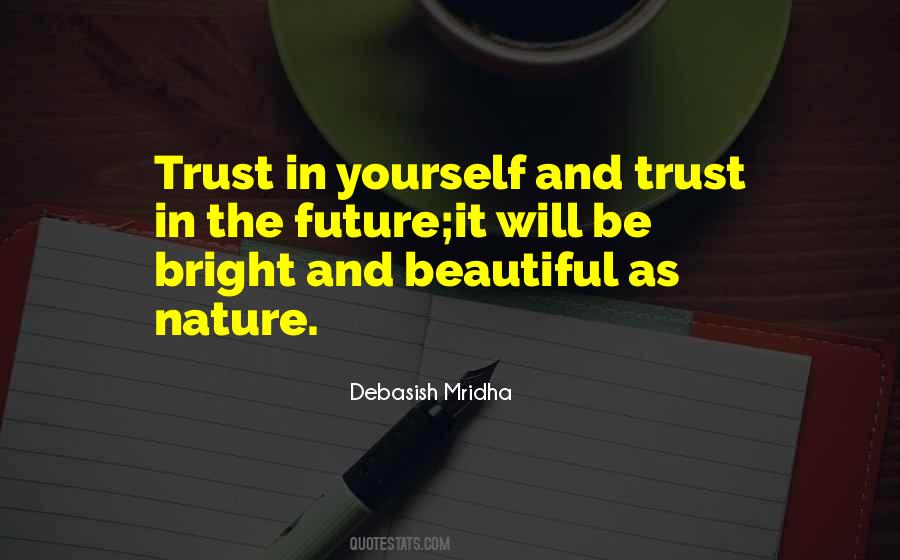 #57. I see when you doubt yourself, i feel your fear. please put down your burden and remember i am here. -your angels. - Author: Nikki Rowe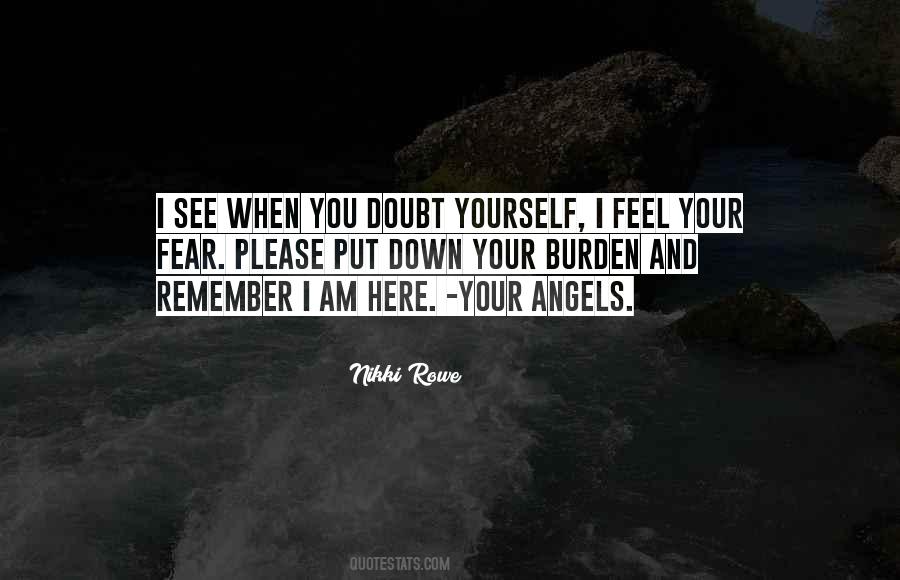 #58. Have a big enough heart to love unconditionally, and a broad enough mind to embrace the differences that make each of us unique. - Author: D.B. Harrop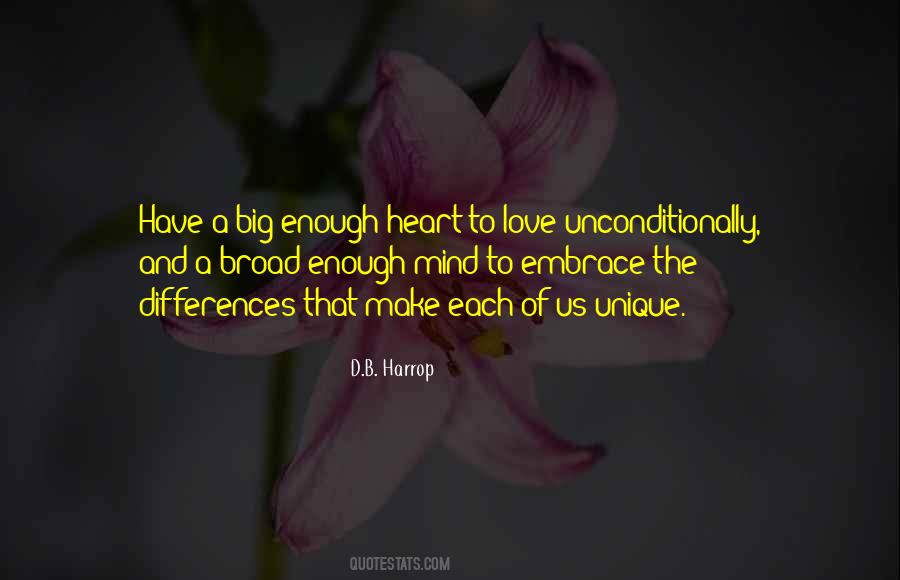 #59. Always re-invent yourself. Always try new things; new food, new hobbies, meet new people. That will keep your life from becoming stagnant and boring. And you will have a lot more fun! - Author: Lisa Bedrick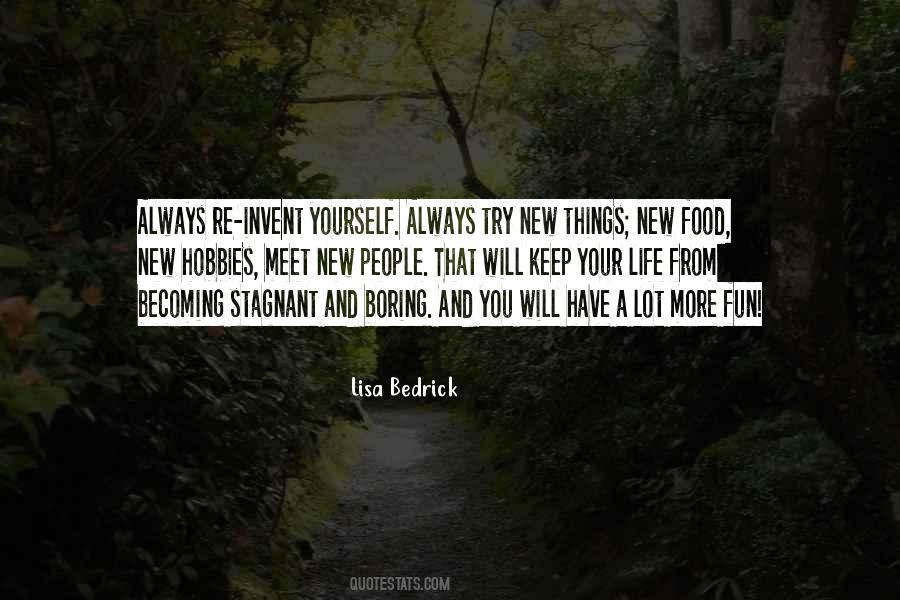 #60. When your demon was yourself, there really was no way to fight or get rid of it. - Author: Holly Hood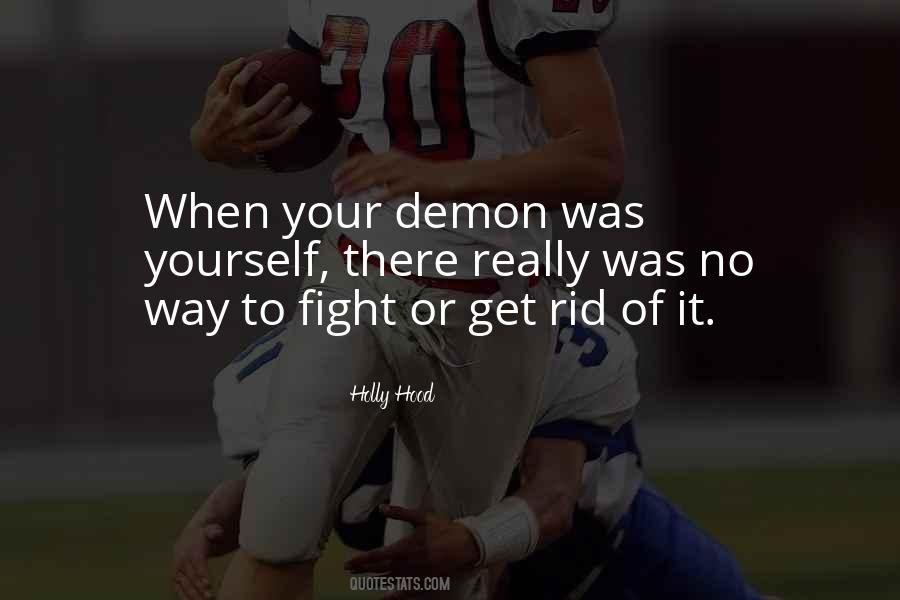 #61. I can't think of a better way to revenge someone who tried to break you,
Than to live and love life more without them. - Author: Innocent Mwatsikesimbe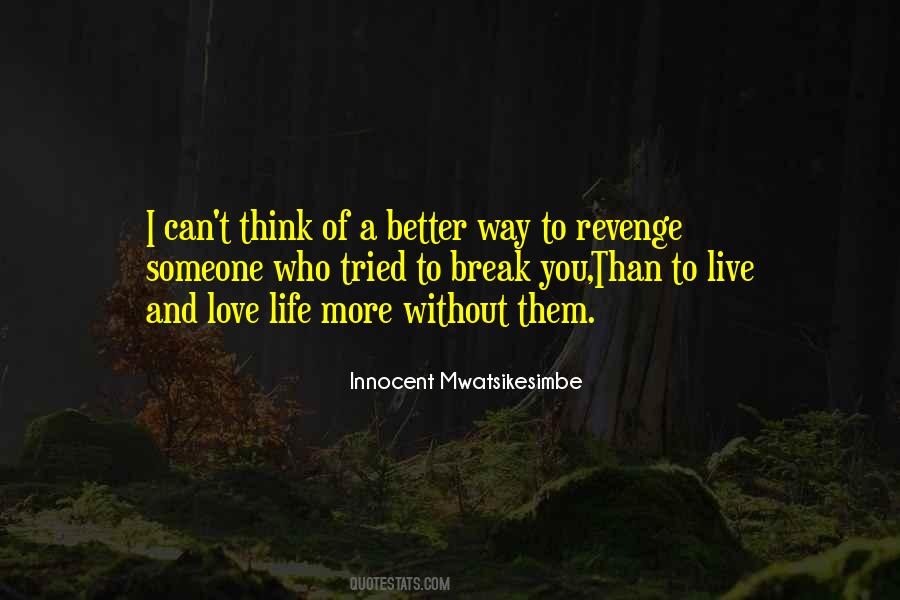 #62. The happiness you seek can be found within yourself. - Author: Lailah Gifty Akita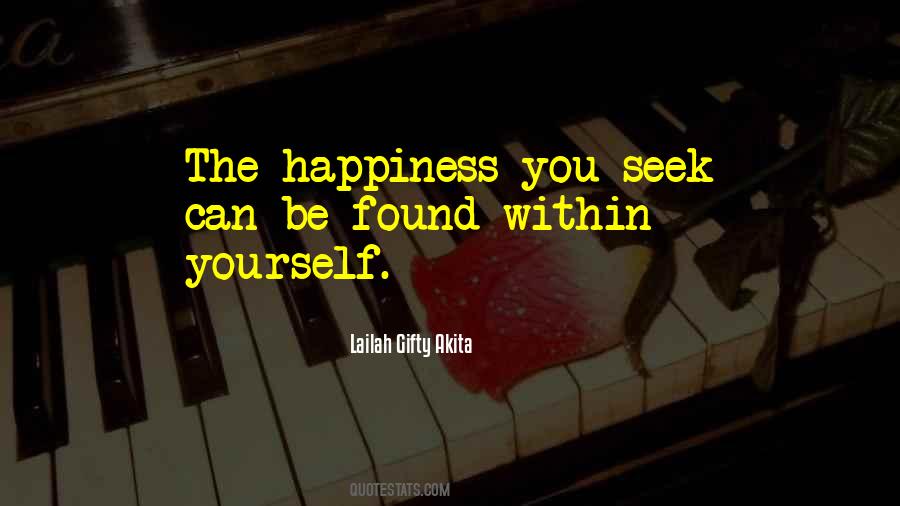 #63. Everybody dies, and everybody loses people they love-everybody-and that is not an excuse for you to fucking die. I love you, and I need you to be my mother, and I need you to have a life. So get over yourself. - Author: Cynthia Hand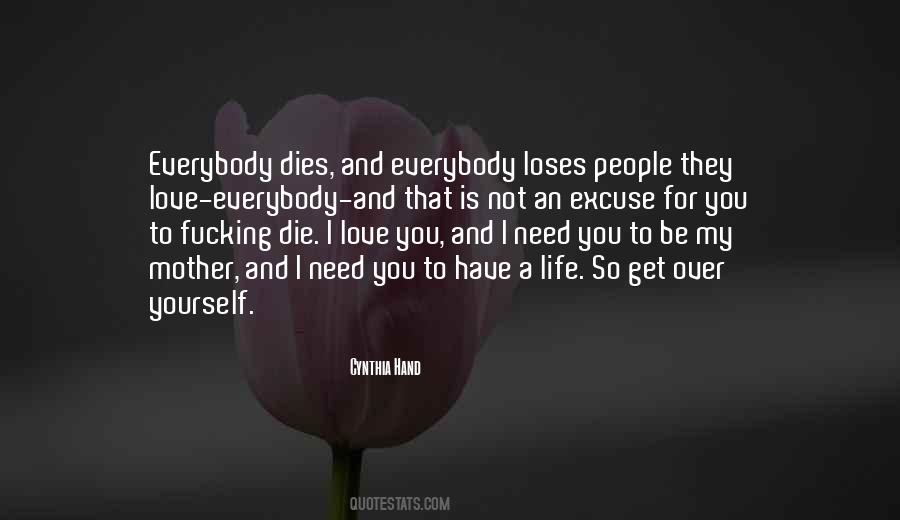 #64. Don't disguise your tears, don't hide your sadness, don't be afraid to find out who you really are. Because in those fleeting moments you'll summon such beauty and strength that, in no time at all, you'll fully grasp exactly why you're so gossiped about here in the unseen - Author: Mike Dooley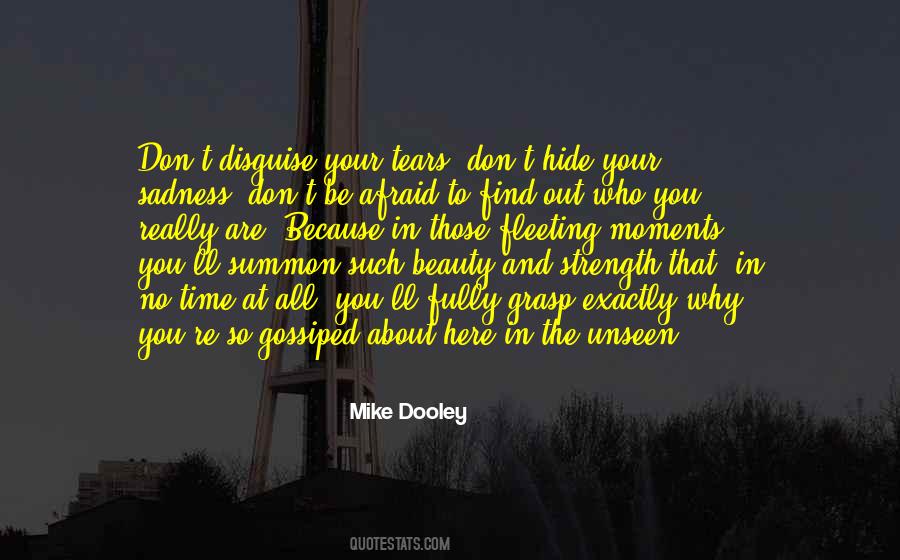 #65. Love and take care of yourself because you are your best friend, and you have to live with yourself rest of the life. - Author: Debasish Mridha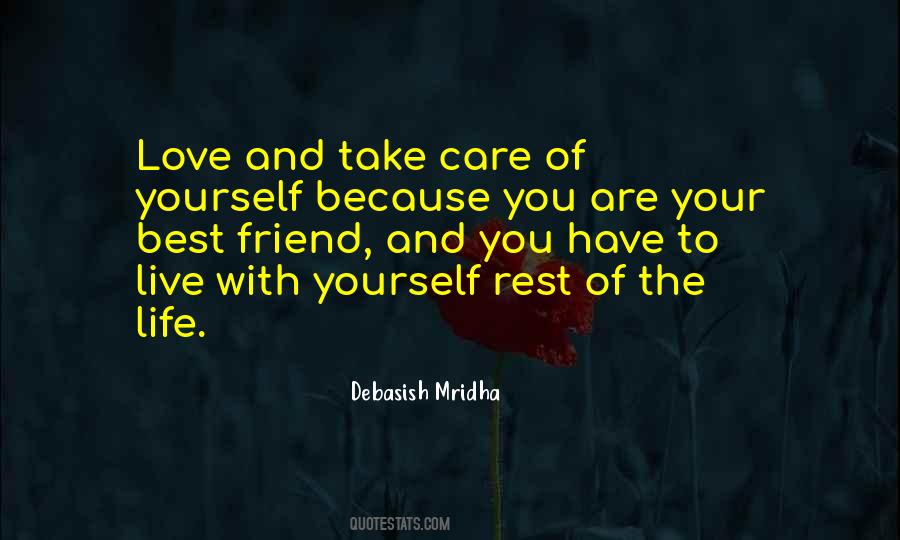 #66. You realize you've forgiven people, your past and yourself when you don't speak bad about them anymore, even if you're encouraged to do so, even if you remember you were once brutally broken because of them ...
you just move on, let go, let them be and let yourself be ... - Author: Sanhita Baruah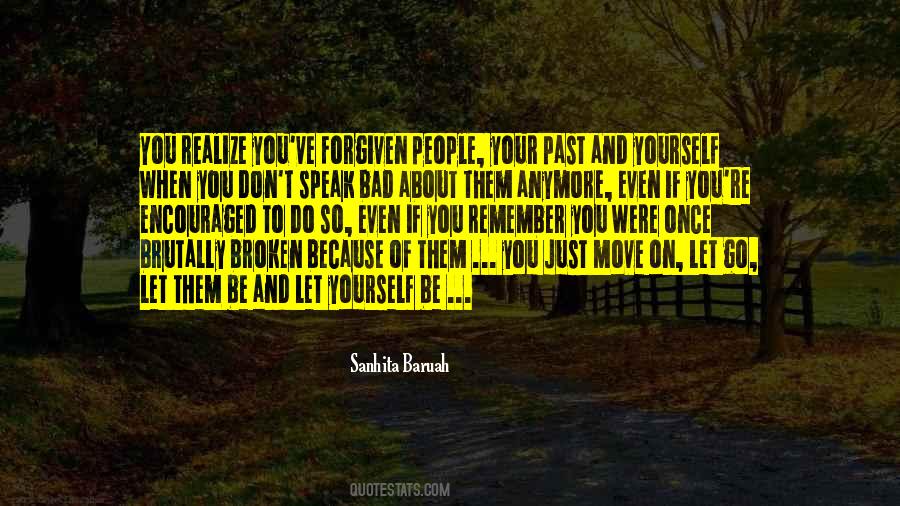 #67. We dance to rekindle the soul. - Author: Lailah Gifty Akita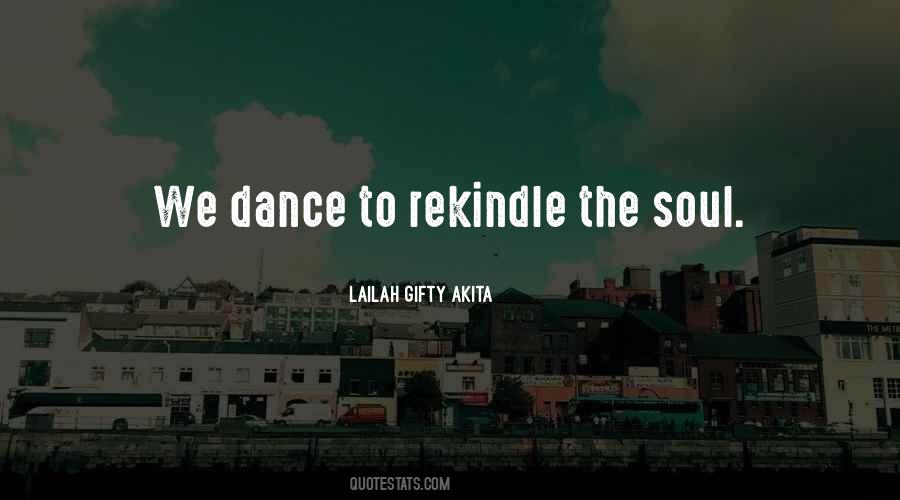 #68. Your ideal life is your real life. Be true to yourself and honor your preferences. - Author: Maria Erving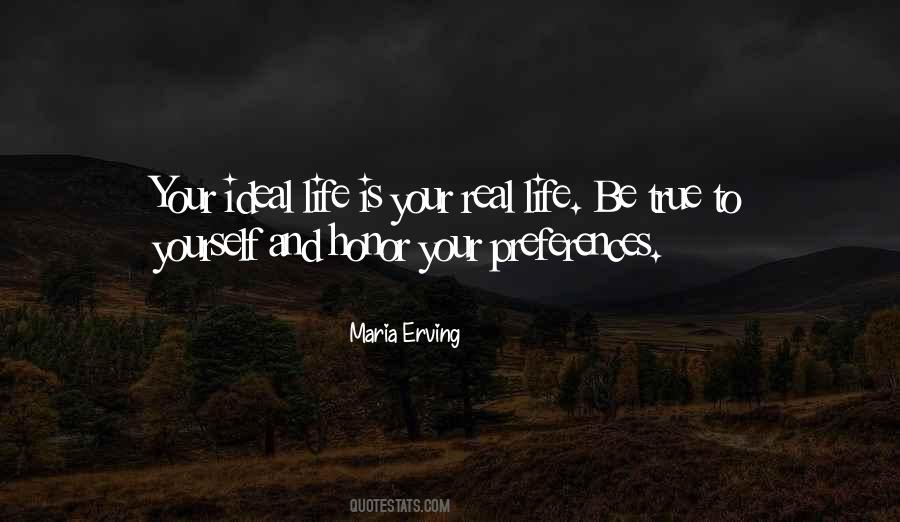 #69. She'd given it away once; she never would again. Life took things from you: mothers, friends, sometimes even choices. But that wasn't the same as giving parts of yourself away. It was her voice to use: to say no and yes and "I love you" with, to sing with, even to hold silent. - Author: Jennifer Mason-Black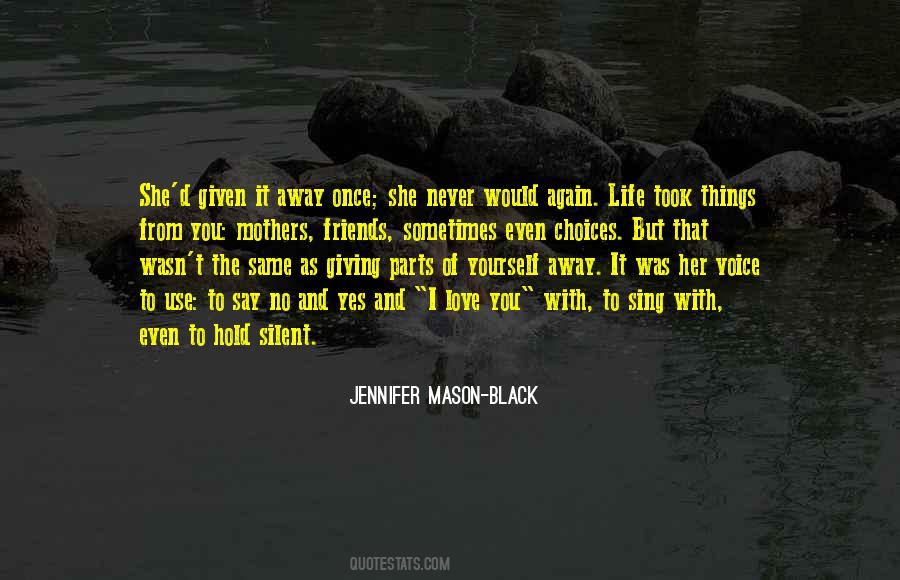 #70. Great calm, generous detachment, selfless love, disinterested effort: these are what make for success in life. If you can find peace in yourself and can spread comfort around you, you will be happier than an empress. - Author: Rabindranath Tagore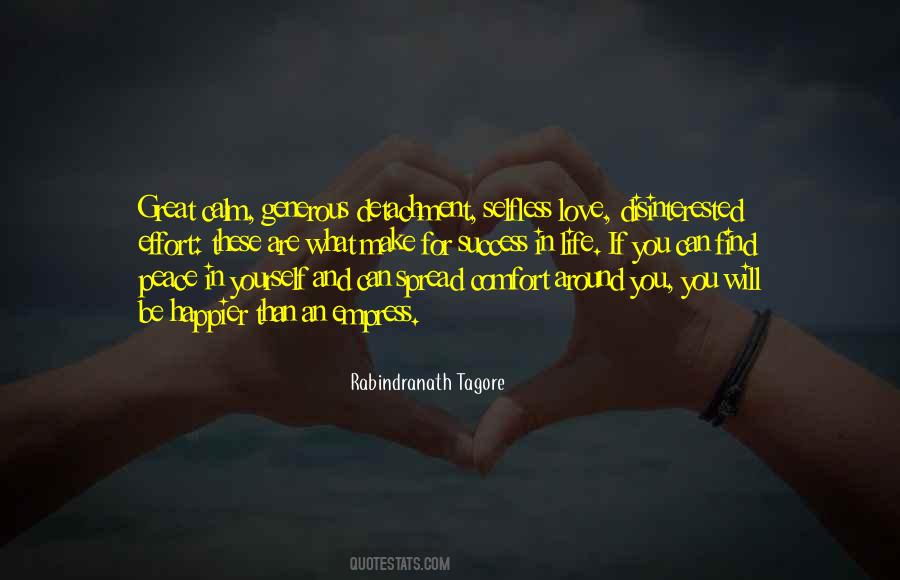 #71. To love playthings well as a child, to lead an adventurous and honorable youth, and to settle when the time arrives, into a green and smiling age, is to be a good artis en life and deserve well of yourself and your neighbor. - Author: Robert Louis Stevenson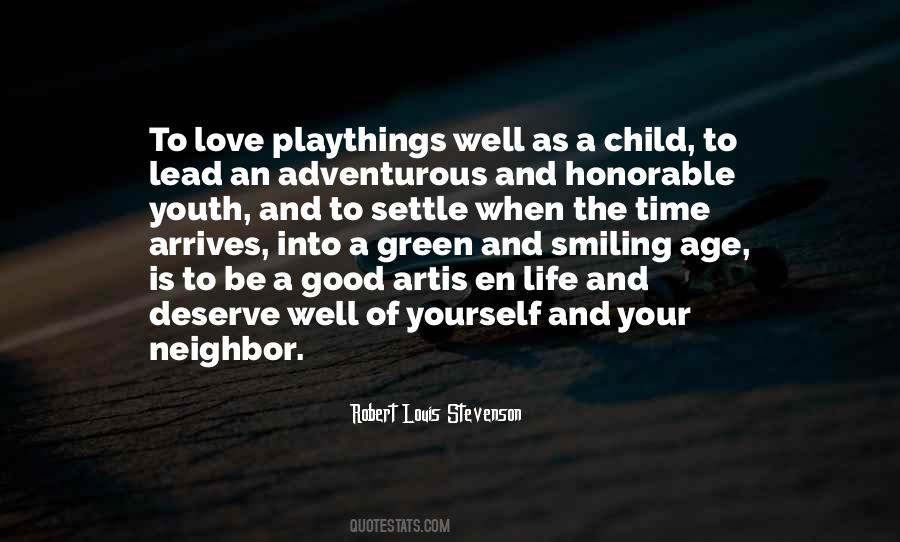 #72. Love yourself enough to have a meaningful life. - Author: Millen Livis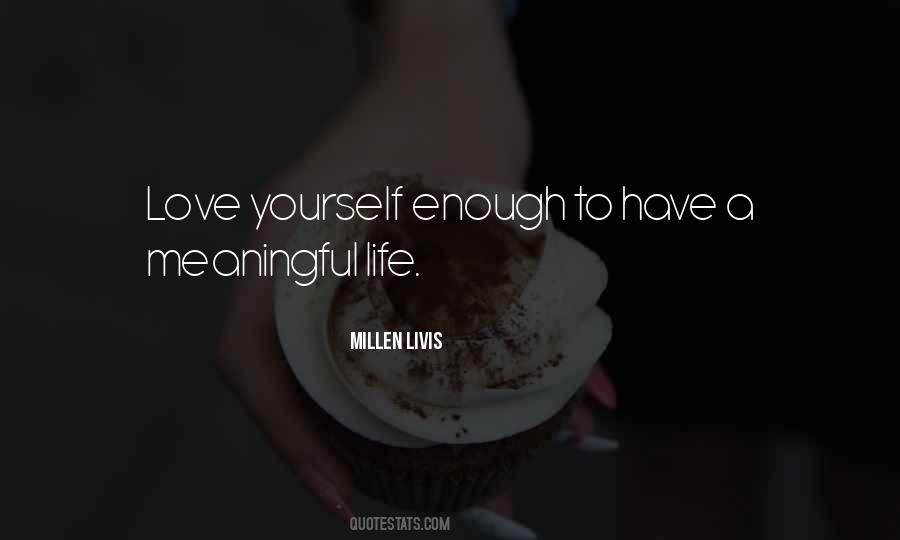 #73. A lot of people say if you can't love yourself, then you can't love others. It's always different, but I definitely have loved a lot in my life. - Author: Melanie Martinez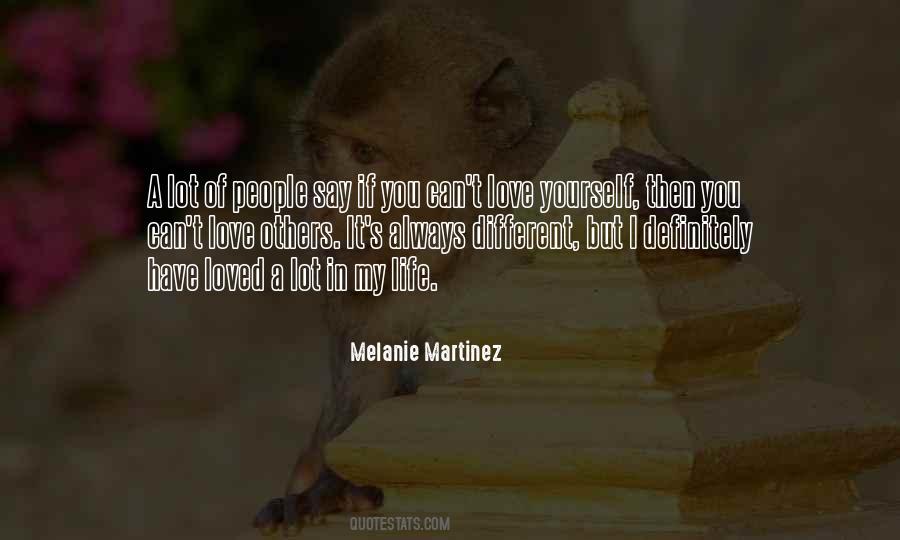 #74. Be joyful and expect a great future. - Author: Lailah Gifty Akita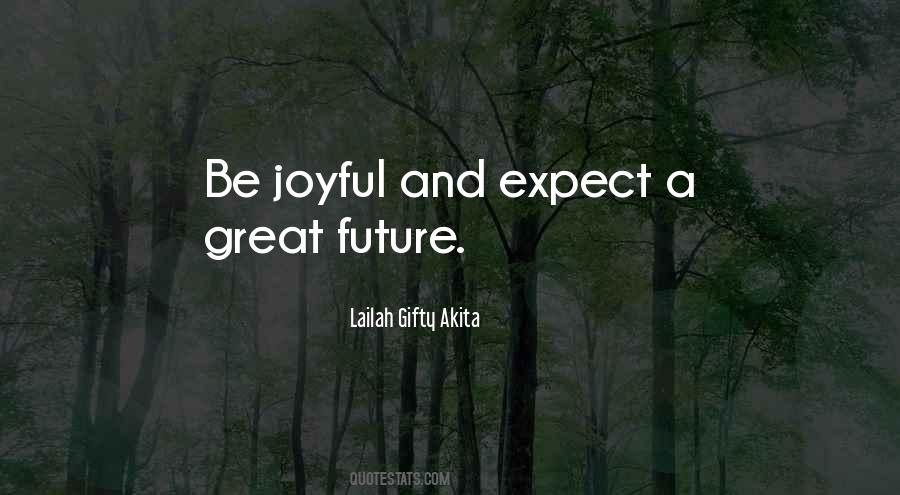 #75. ... when writing, always hook the reader with your first sentence ... in love, never settle ... value yourself first and this will help you to value others ... life is short, so enjoy it to the fullest ... everyone in the world is different, and that's ok ... - Author: Spider Robinson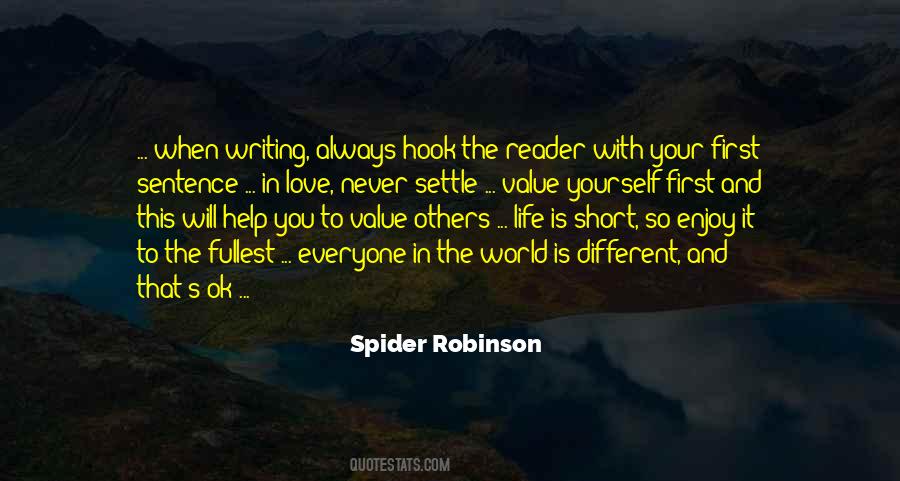 #76. When you honor your true inner desires, and don't become sexually involved when you don't really want it, you have the control of your love life and you are at peace
and harmony with yourself. - Author: Linda Alfiori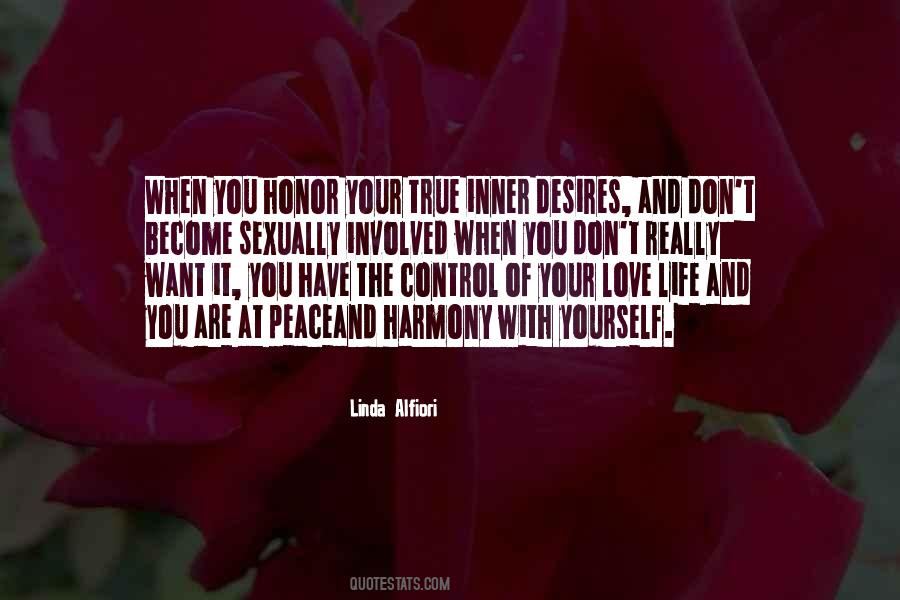 #77. I don't want to be alone my whole life. It is much more fun to share what you have than to have it to yourself. And it isn't like I don't have love in my life. I have a lot of friends who love me and who I love. - Author: Teri Hatcher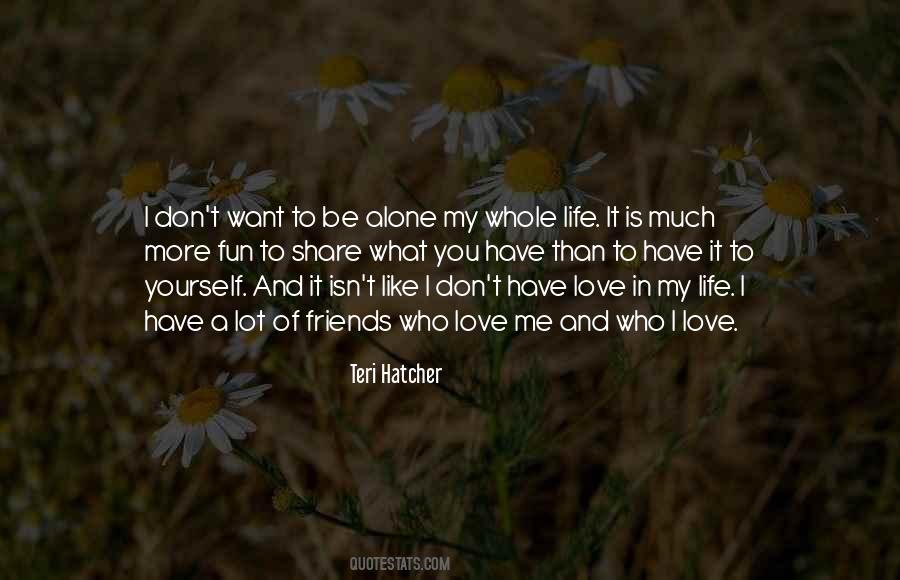 #78. The most easy and simple thing to do in world is to say someone I Love You.
And most difficult thing to do is keep on yourself on your these 3 words. - Author: Mohammed Zaki Ansari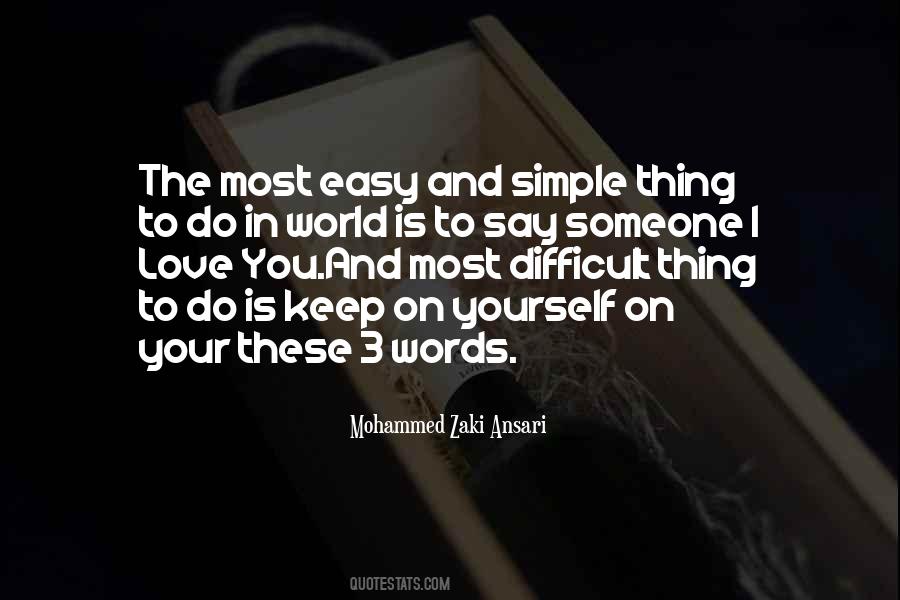 #79. The funny and the most beautiful thing about LOVE is..
you don't need any one else to fall in love with,, you can love yourself, the ambiance
around you, the things which belong to you, and even those which don't.. - Author: Sanhita Baruah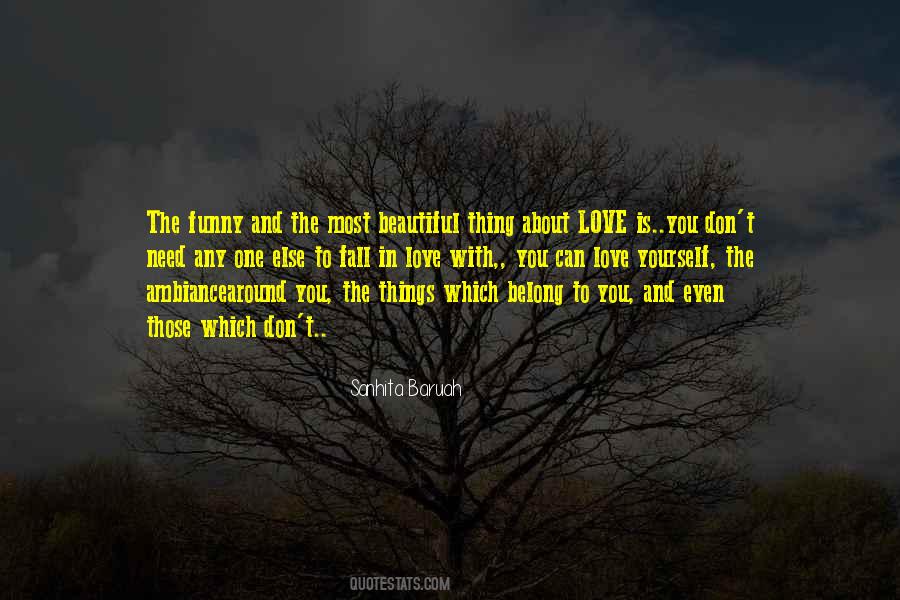 #80. We're a new generation of people. We need to be happy. We need to love each other. We need to accept each other for who we are and stop judging each other. Live life and love. Stop judging just to keep yourself secure. Look deeper. There's always something deeper than what it is. - Author: Lil B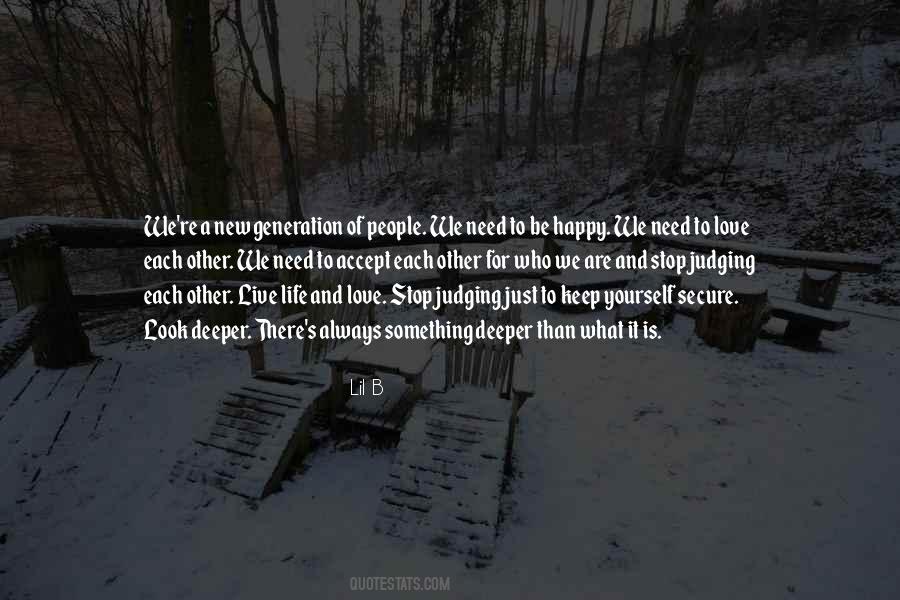 #81. If you are not personally free to be yourself in that most important of all human activities ... the expression of love ... then life itself loses its meaning. - Author: Harvey Milk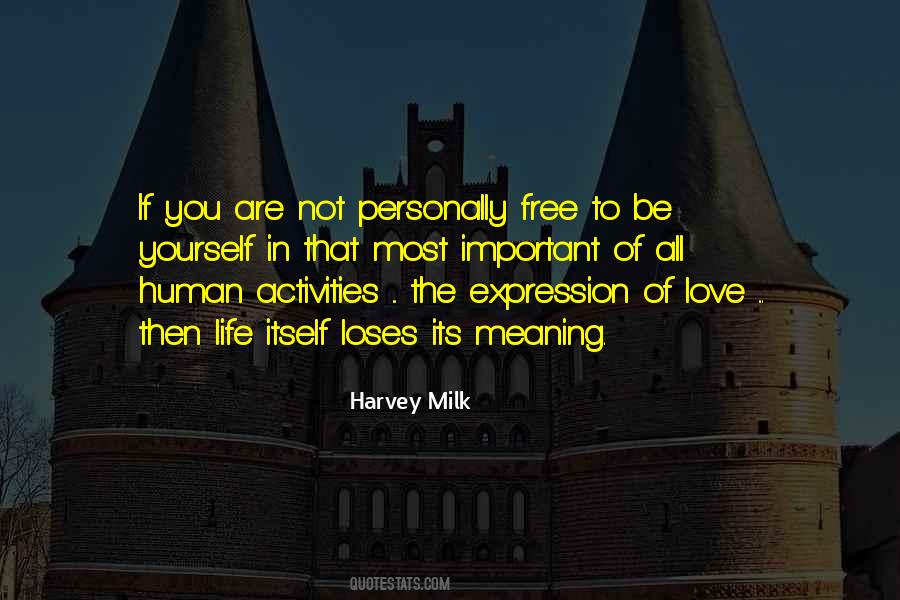 #82. Peace is not out there and no one can really give you peace. Most often than not you are at war with yourself. To find the peace create the inner calmness, tranquility and practice self love. - Author: Debasish Mridha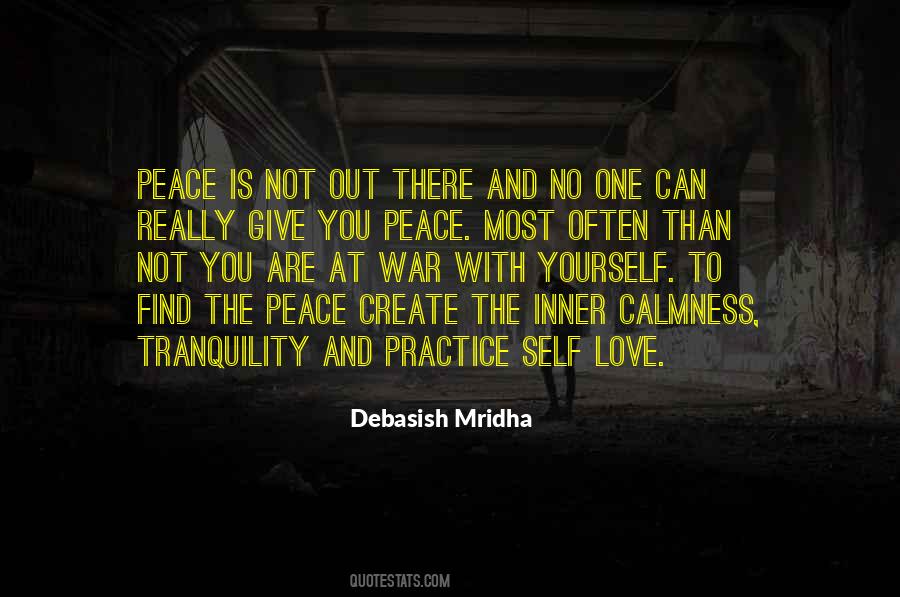 #83. When you are very simple, honest, and kind, people may take advantage of you and cheat you, but be loving and kind. Remember that no one can cheat you except you and yourself. - Author: Debasish Mridha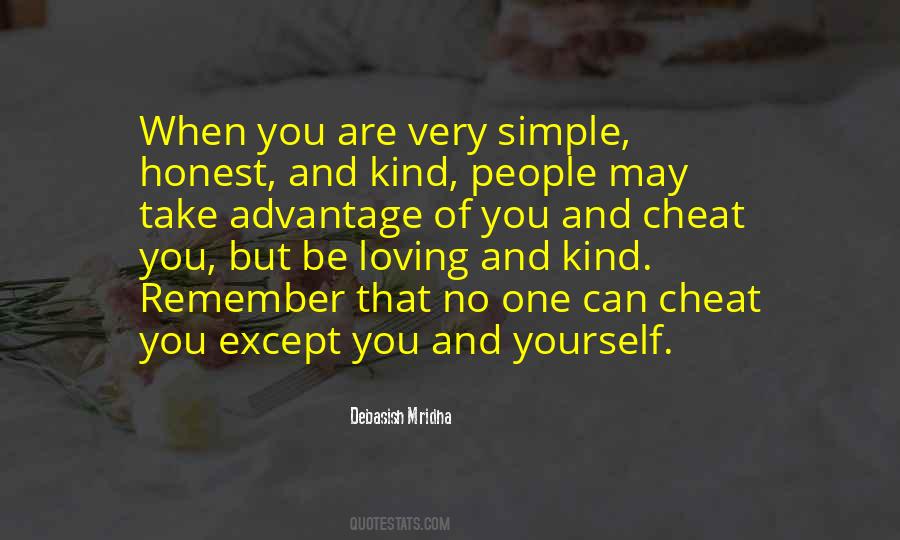 #84. When you imagine yourself as a failure or as having insurmountable problems in your relationships or any part of your life, you think failure, act failure, and produce failure. - Author: Chris Prentiss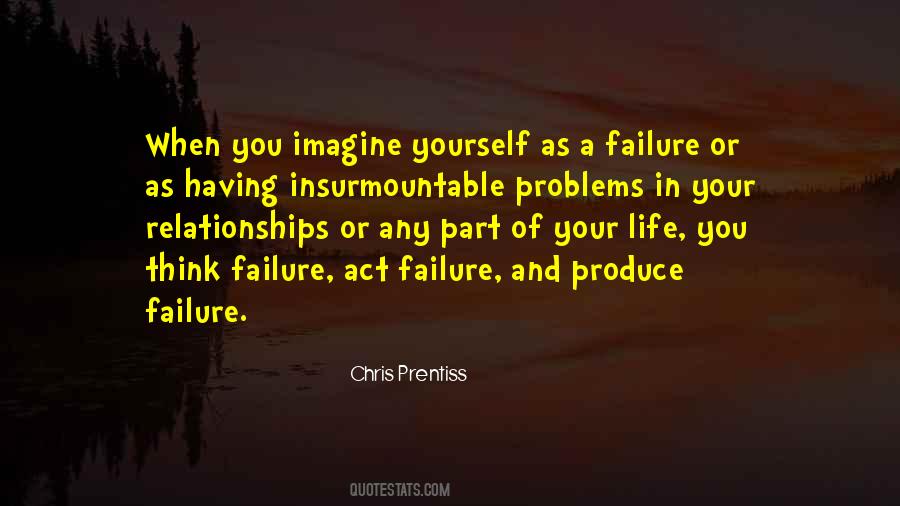 #85. Be yourself to find the uniqueness of the universe. - Author: Debasish Mridha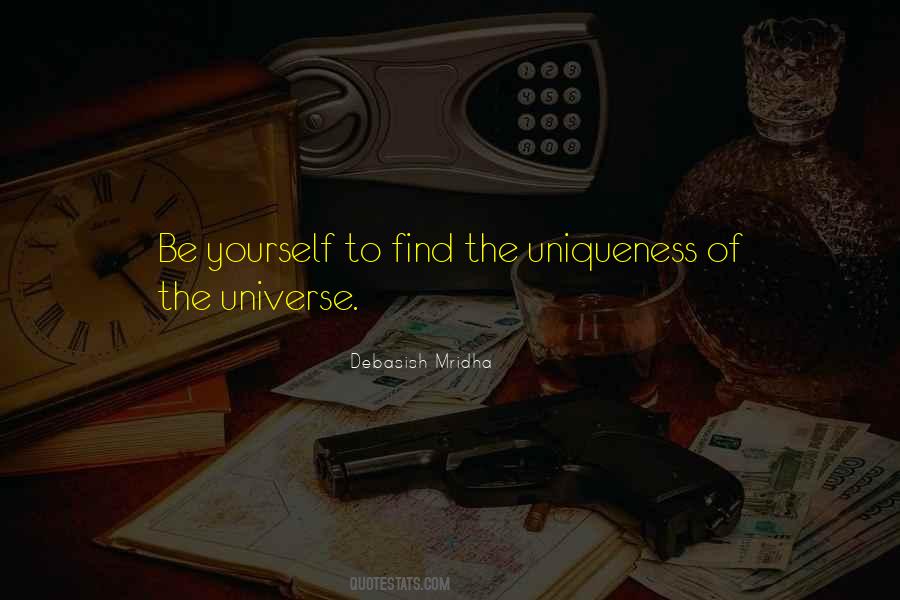 #86. It's not your business to decide if a woman you love should, or should not, marry you. It's her business. Tell her all about yourself and leave the decision to her. God knows it's trouble enough having to make one's own decisions in life without having to make other people's too. - Author: Elizabeth Goudge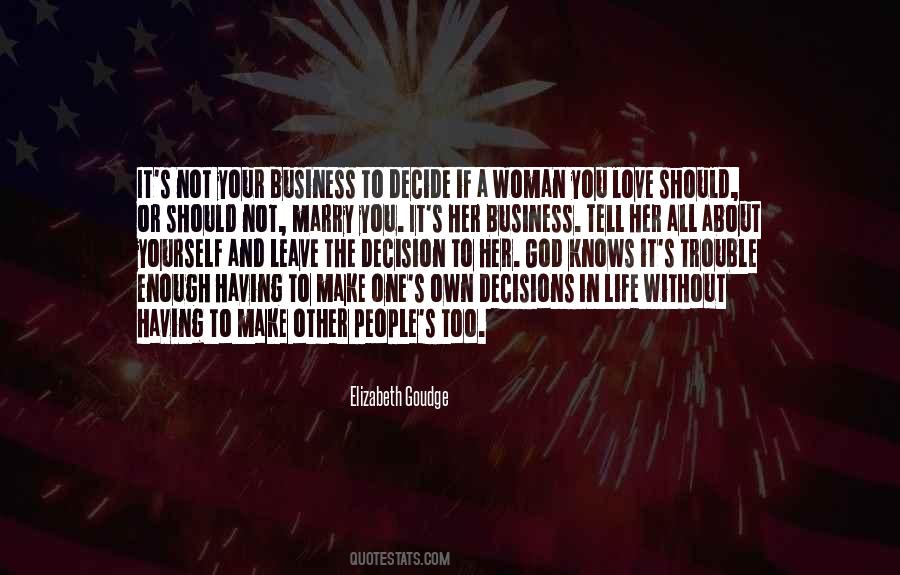 #87. Things will happen that you can't prevent, things will fall apart that you can't hold together, but ultimately you're shaping yourself and that final product speaks volumes about who you really are, not what people see you as or what you want to be. - Author: Erik Tomblin
#88. You can still make today the day you change yourself, love yourself, forgive yourself, respect yourself, honor yourself, cherish yourself, admire yourself, express yourself, be true to yourself ... It's never too late! - Author: Steve Maraboli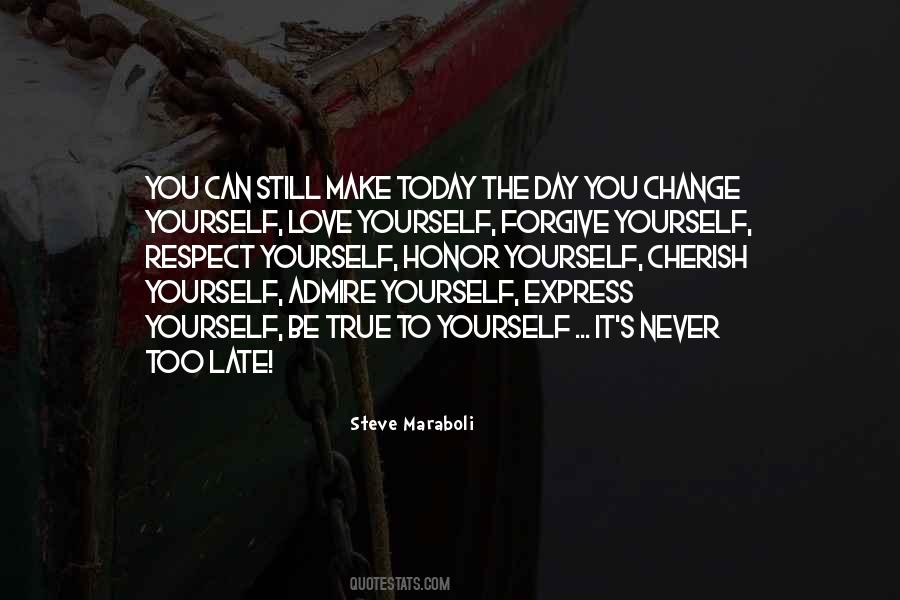 #89. Love only grows by sharing. You can only have more for yourself by giving it away to others. - Author: Brian Tracy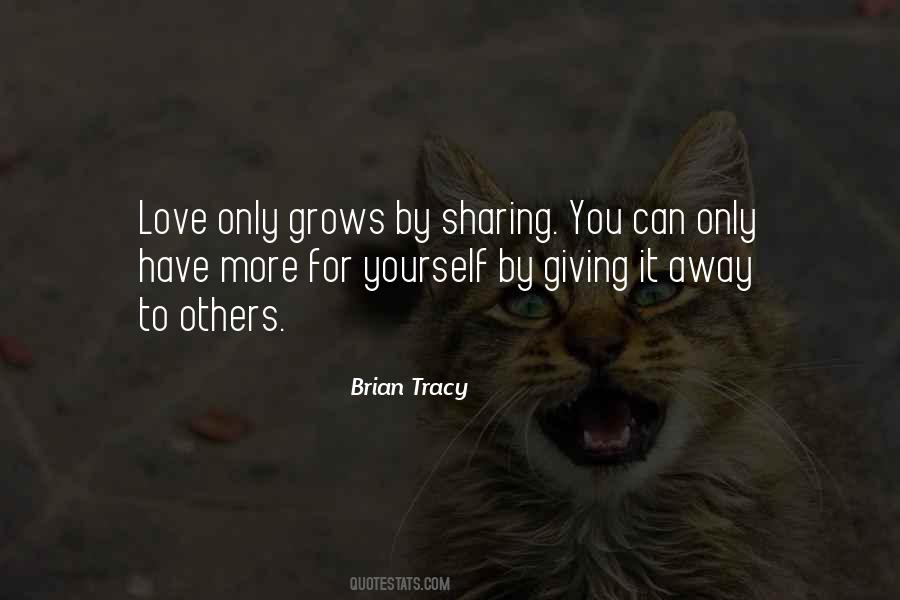 #90. To change the world, change yourself first. - Author: Debasish Mridha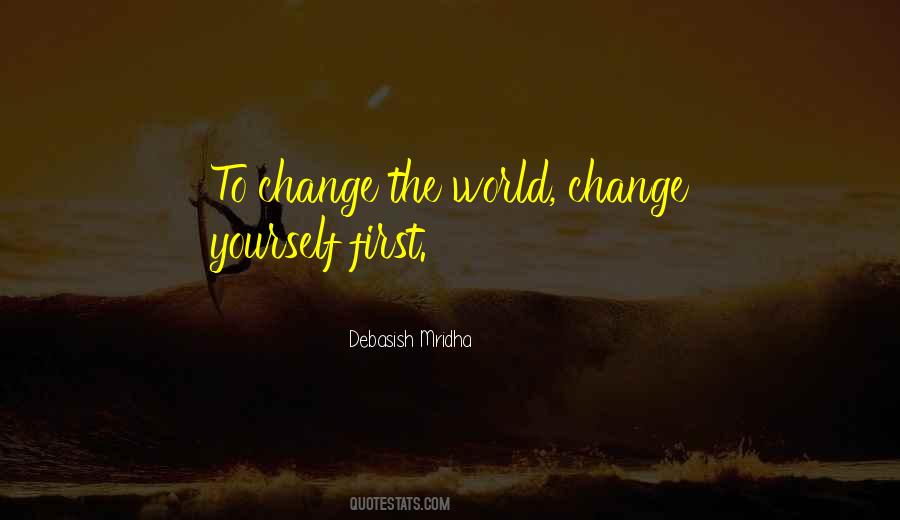 #91. All beings tremble before violence. All love life. All fear death. See yourself in others. Then whom can you hurt? What harm can you do? - Author: Gautama Buddha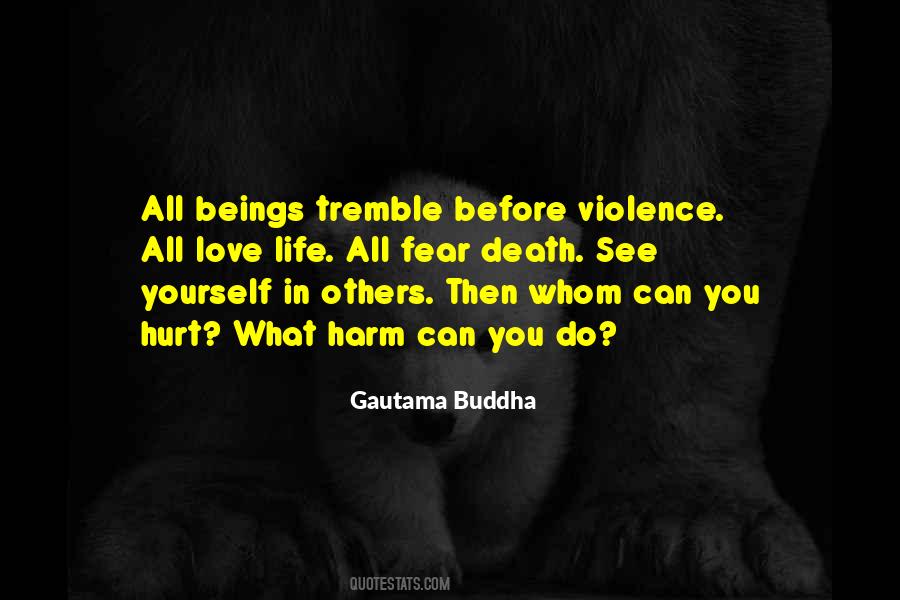 #92. You can love everyone, but you can never hurt anyone else without hurting yourself. You will burn yourself for the rest of your life with this fire and agony. - Author: Debasish Mridha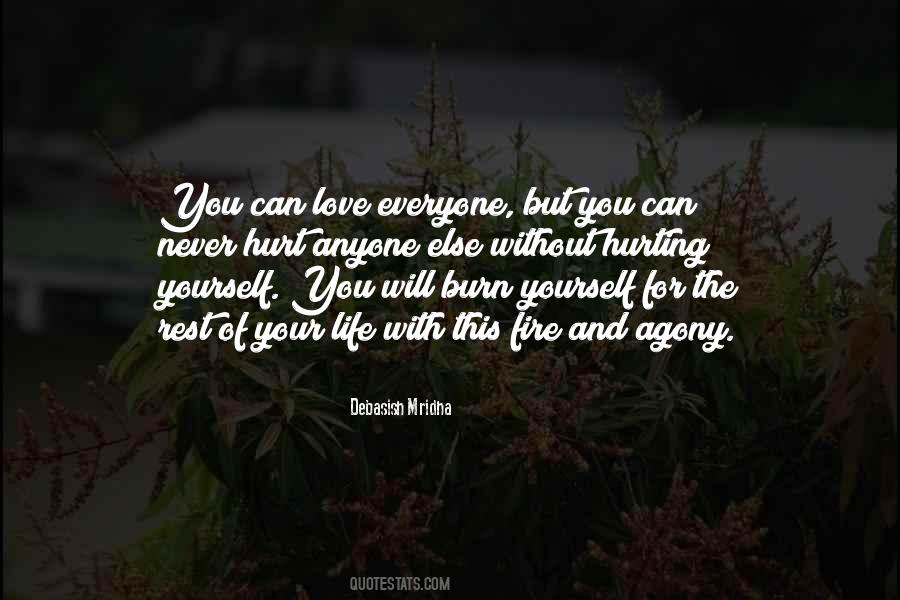 #93. To understand yourself, try to understand a flower and then emulate it. - Author: Debasish Mridha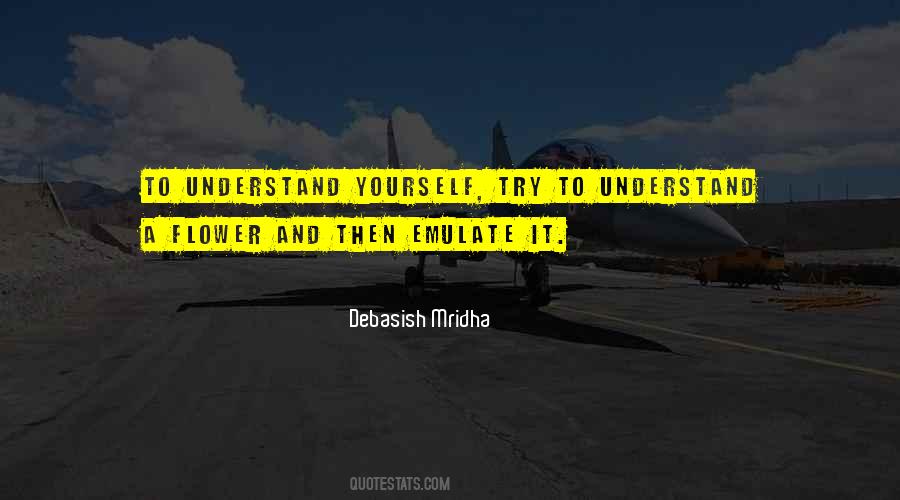 #94. Life is a daring adventure to find yourself in this vast universe. - Author: Debasish Mridha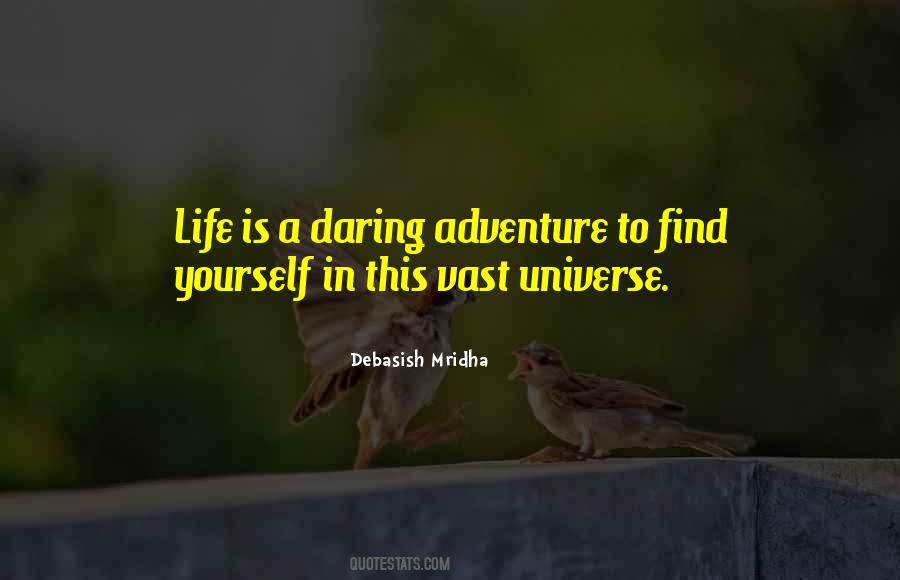 #95. Empower the future with love. Disgraceful men don't stand a place in the kingdom of god. - Author: Suchet Chaturvedi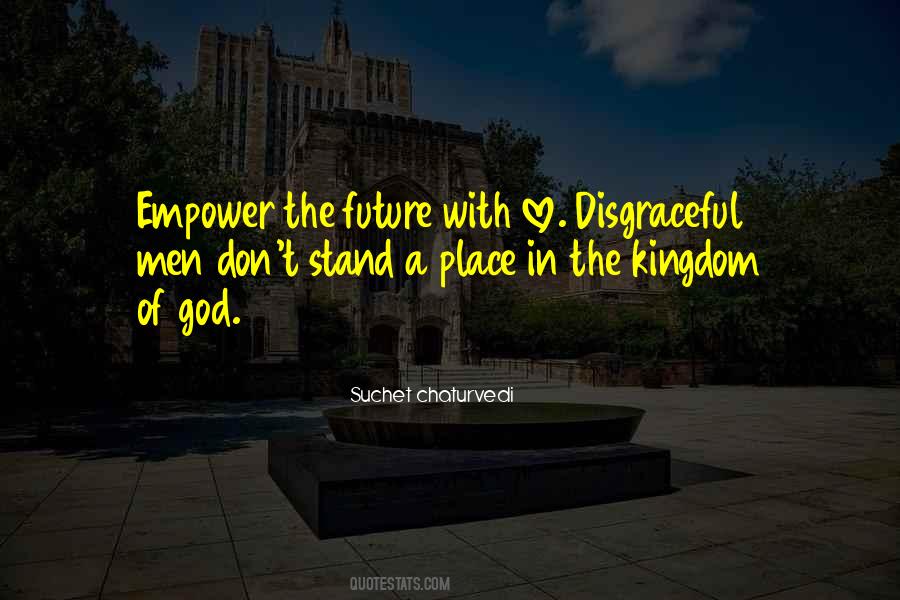 #96. Win over the fear and adversity and prove yourself wrong. - Author: Debasish Mridha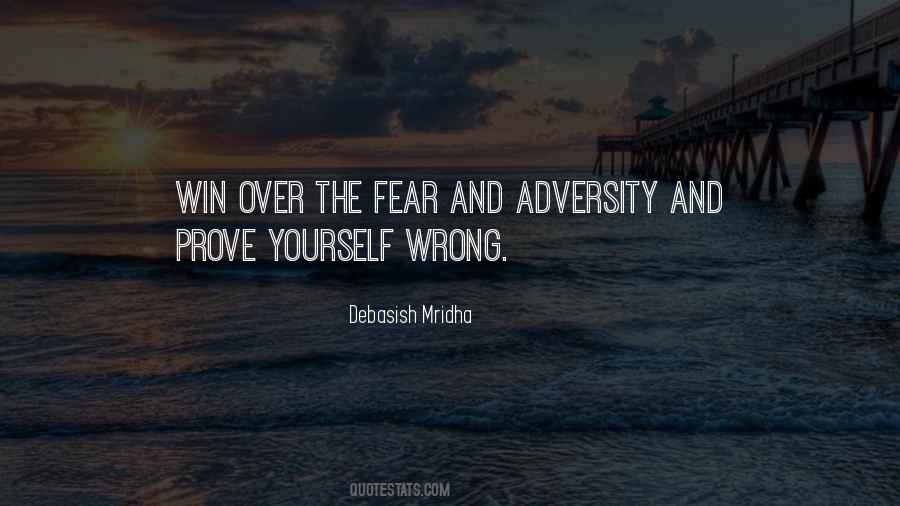 #97. When you don't give yourself the time and care you need, your body rebels in the form of sickness and exhaustion - Author: Oprah Winfrey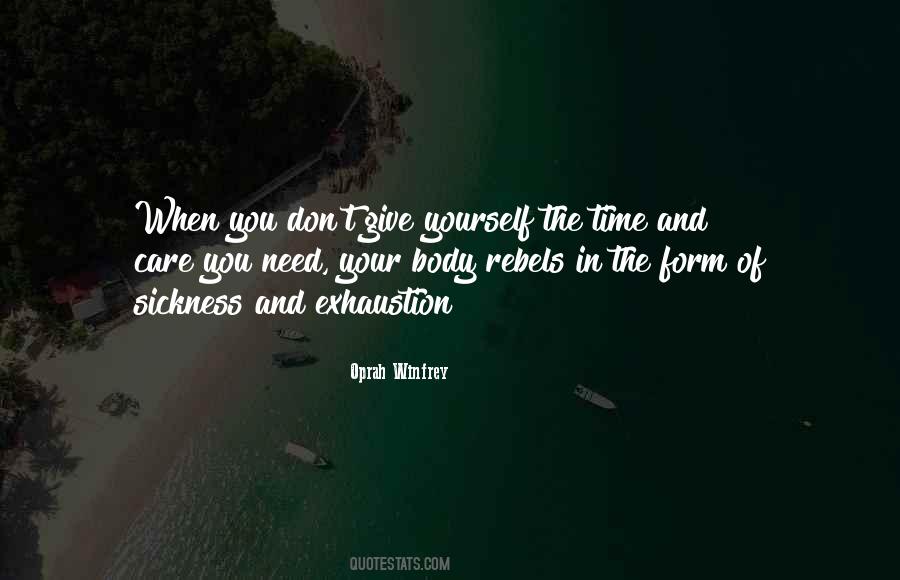 #98. Do not ever go out of yourself because you will get lost even from your life. - Author: Sorin Cerin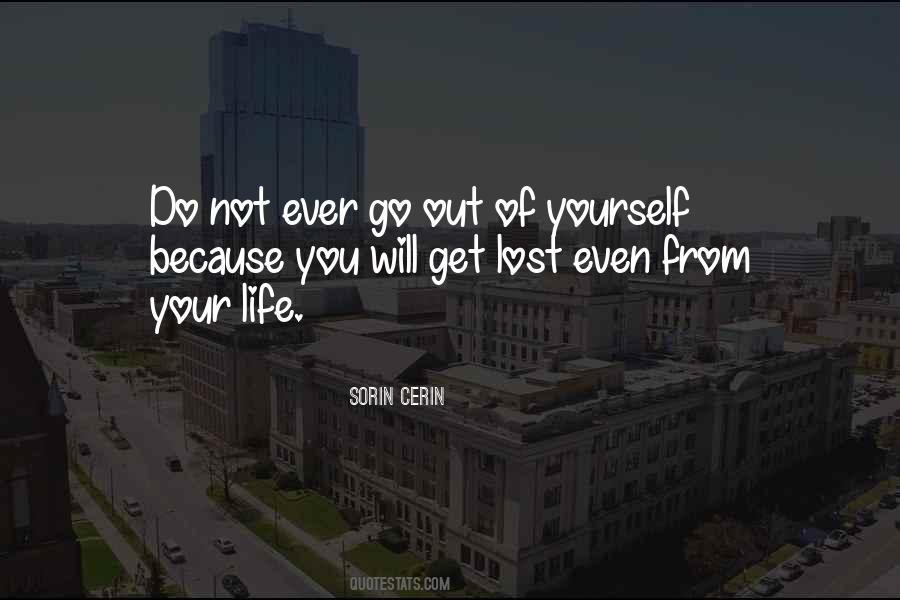 #99. Define yourself, don't be an imitation. - Author: Debasish Mridha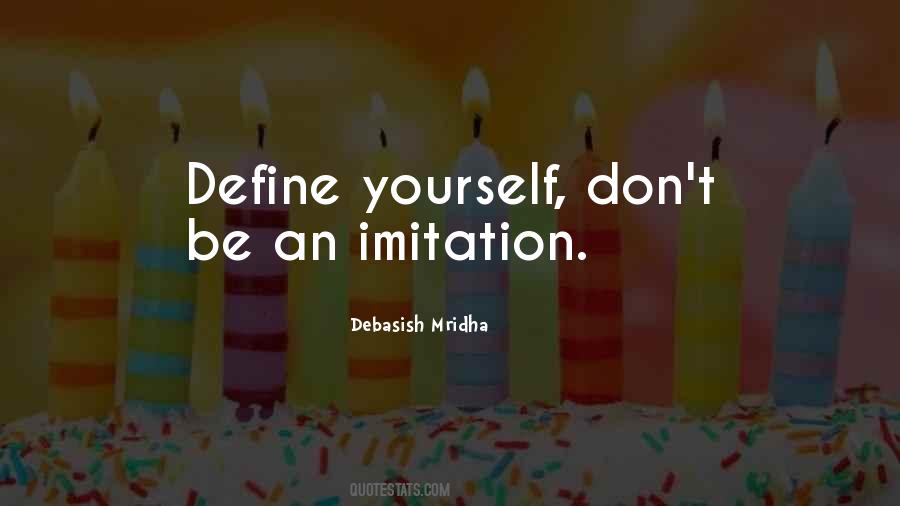 #100. Think that today is the best day of your life and, with love and kindness, change yourself to begin the first day of the rest of your existing life. - Author: Debasish Mridha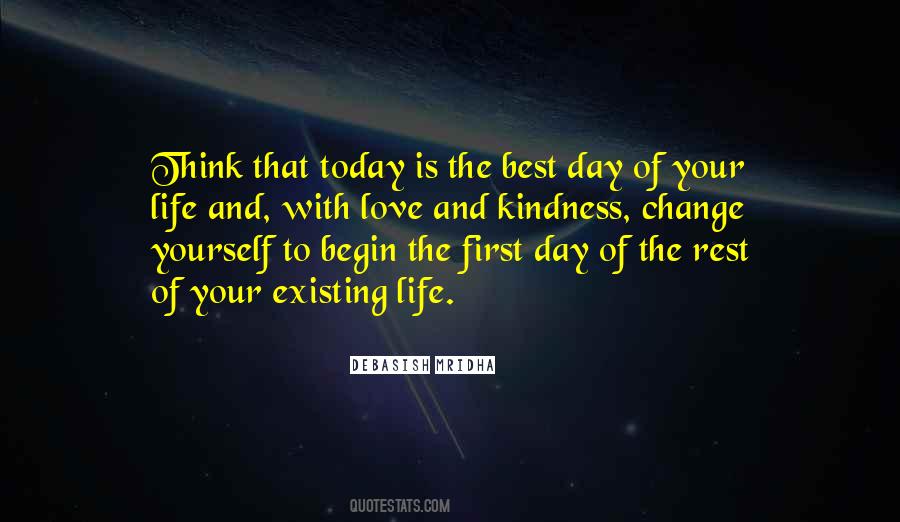 Famous Authors
Popular Topics