Love Out Of Reach Famous Quotes & Sayings
List of top 72 famous quotes and sayings about love out of reach to read and share with friends on your Facebook, Twitter, blogs.
Top 72 Love Out Of Reach Quotes
#1. I wanted to reach out and stroke her, to be gentle and tender towards her. Take care of her. - Author: James Lusarde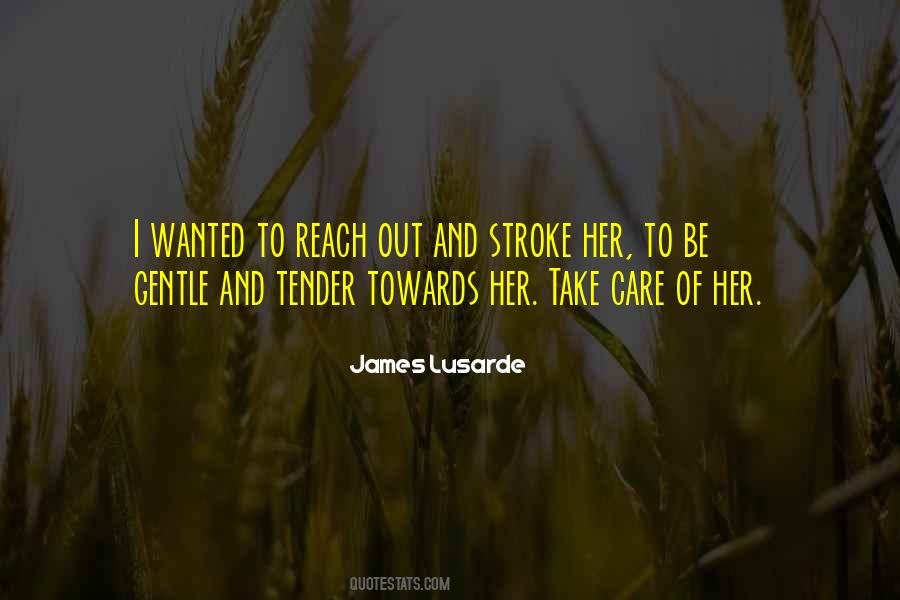 #2. At this time I would like to encourage everyone to reach out to the ones you love. Let them have no doubt of what they mean to you. - Author: Madylin Sweeten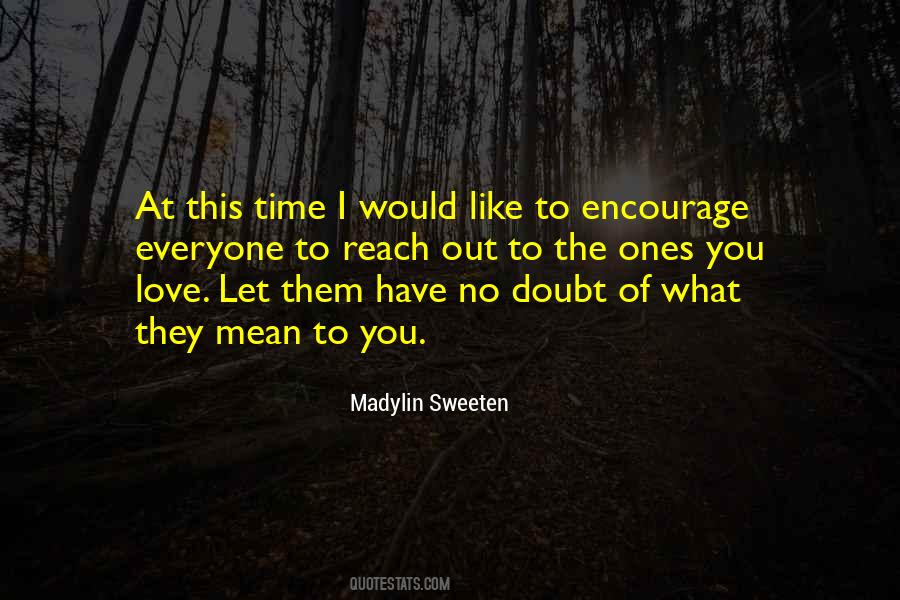 #3. Many messages are just thanking a stranger for a kindness ... I love those ones, because I imagine everyone else reading them feels encouraged by such examples of humanity and generosity and tenderness. And if they encourage us to reach out to strangers more often, that's a good thing. - Author: Sophie Blackall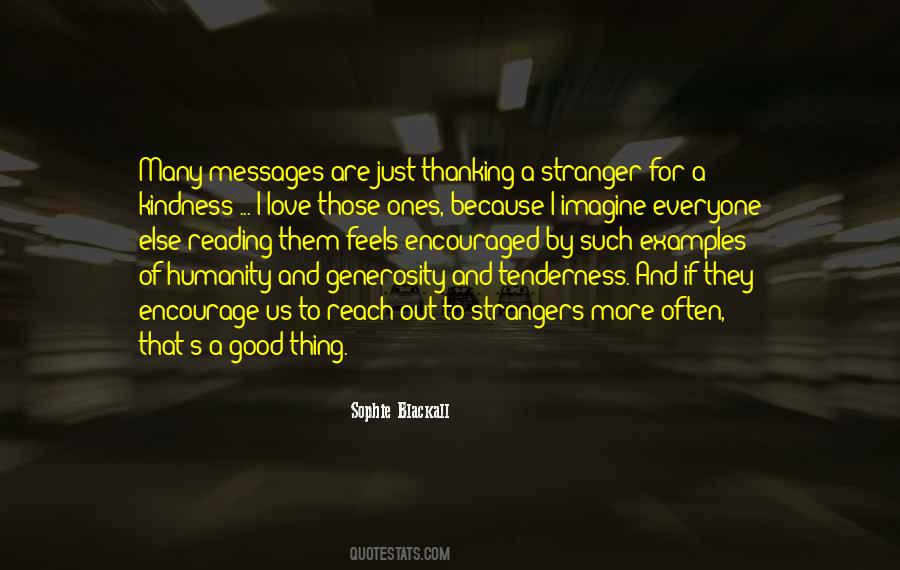 #4. And on bad days when you feel like you're stuck on a rock in the middle of nowhere, with no earth beneath you to sink your roots in, and no breeze to push your life forward, reach out to all those who ever gave you love, and believe with the faith of a child. - Author: Sandra Kring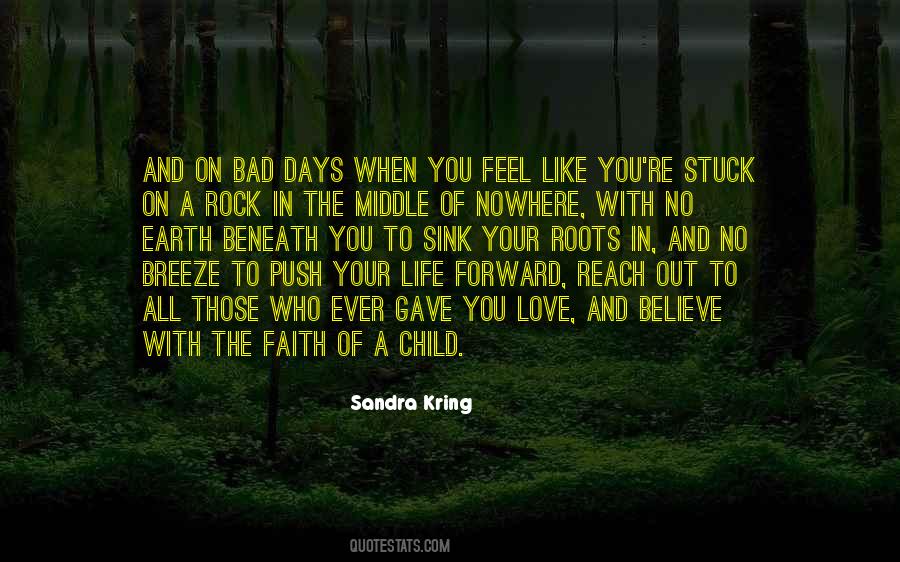 #5. When you are in the midst of suffering you are looking for someone to be Jesus to you. You are looking for someone to love you and help take care of you, and reach out to you. - Author: Lee Strobel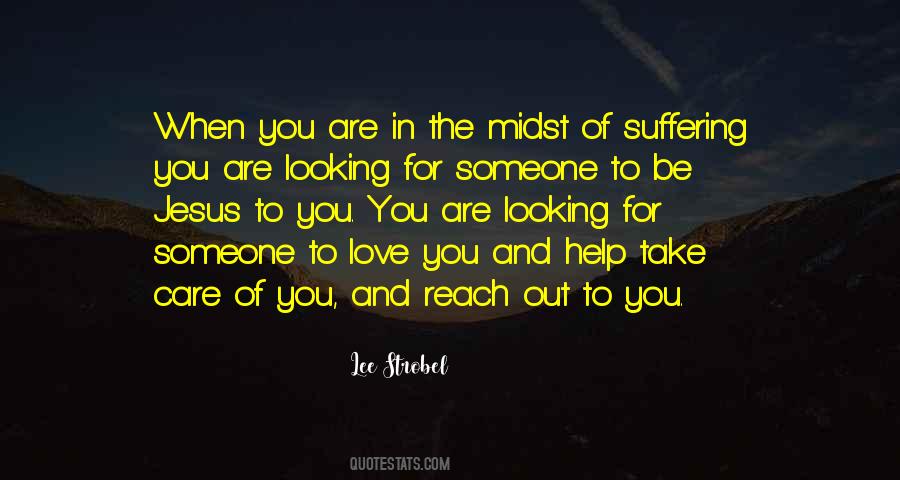 #6. How I wish, how fervently I ache, to take my mother's hand, kiss her check,tell her I love her, and watch her smile. For me it was not, nor can ever be. But for you, reach out now. Reach out for your mother's hand-the hands of those you love. Say I love you.
Don't wait. - Author: M.J. Burke Sr.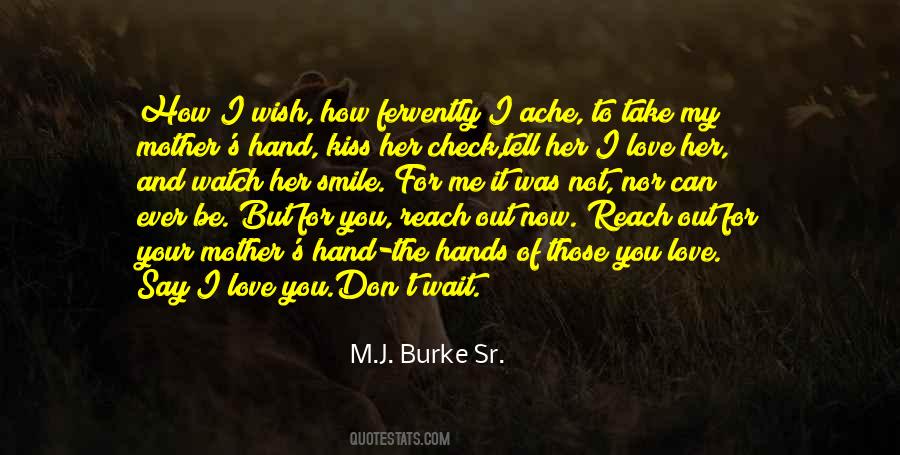 #7. If you have someone you think is the one, take them and travel around the world. Buy a plane ticket for the two of you to travel all over the world, to places that are hard to reach and hard to get out of. And when you land at JFK and you're still in love with that person, get married. - Author: Bill Murray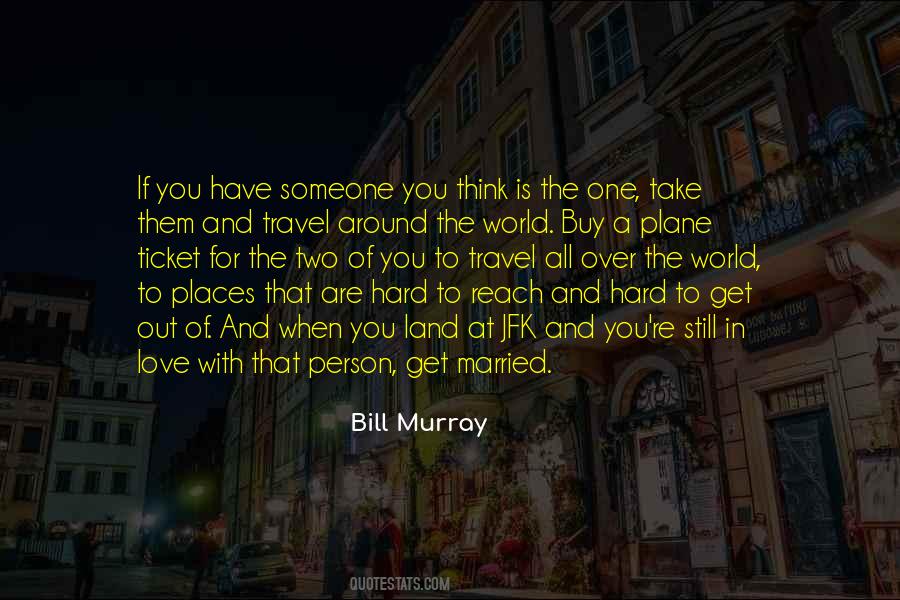 #8. No one is perfect. We all need a Savior. The more honest we become about our flaws, the more we'll reach out for the grace and love of Jesus. - Author: Alisa Hope Wagner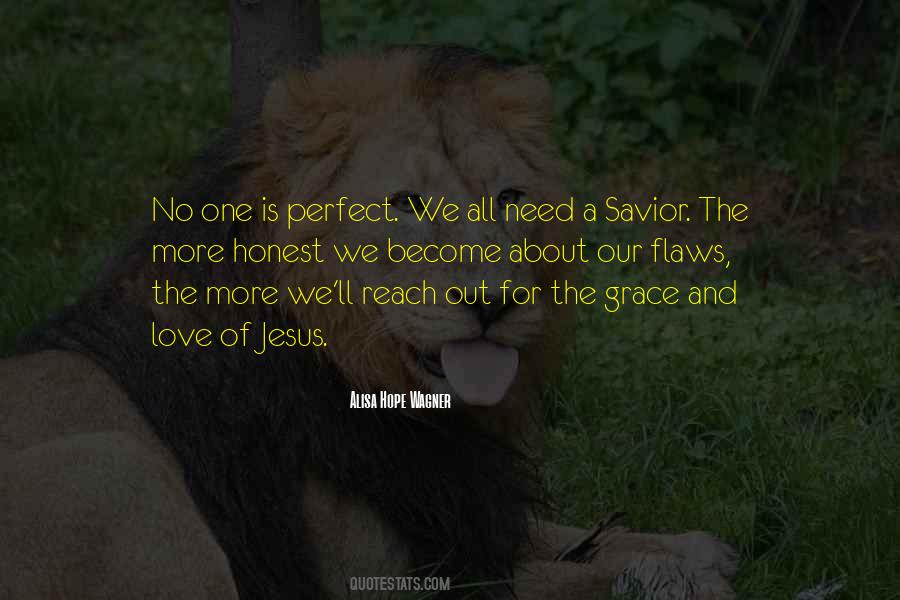 #9. She stepped out of reach. "Go put on a shirt and get your mind out of bed."
"Impossible with you around."
"Pretend I'm holding a rifle. In fact, pretend I have you in the crosshairs."
Janvier sighed, rubbing at a jaw shadowed by morning stubble. "I love it when you talk dirty. - Author: Nalini Singh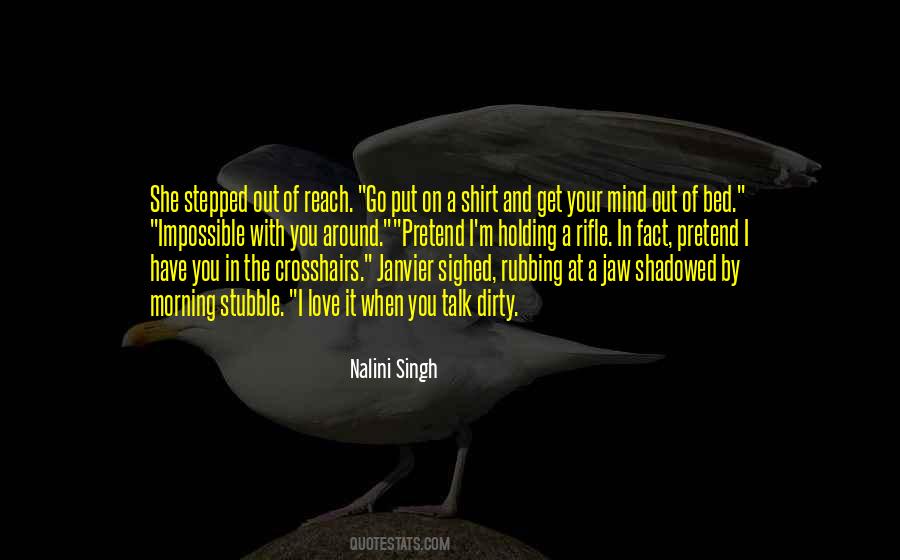 #10. It's one thing if you live in London and you're rooting for Chelsea or you're in New York and you love the Giants or Jets and no matter who's on the team you're into it. It's different in tennis; you're sort of your own guy, so you have to reach out and grab a person in a different way. - Author: John McEnroe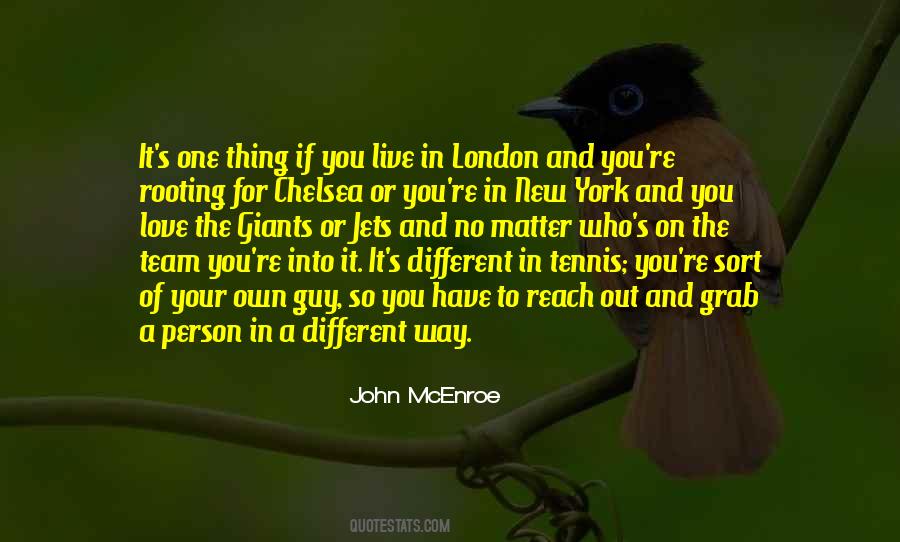 #11. I believe as we work, God will always give us opportunities to tell others about his Son ... We are there to reach out to love them and to save them, and as a Christian, I do this in the name of Jesus Christ. - Author: Franklin Graham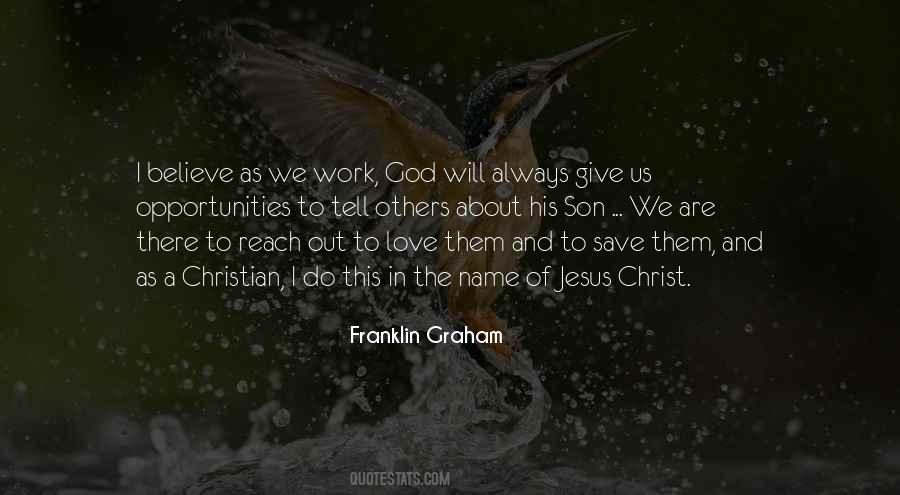 #12. You can't imagine the joy I feel when I hear that something I've said or done or written has helped others to regain their sense of dignity, to motivate them to develop their unique
potential, to encourage them to reach out to others in love. - Author: Leo Buscaglia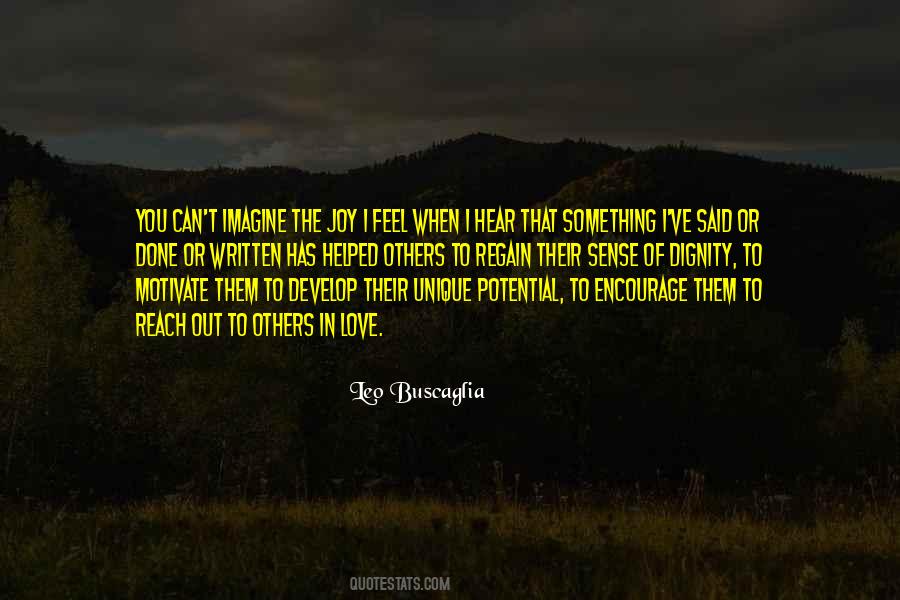 #13. Five simple practices offered by Thich Nhat Hanh: Make time for love. Be there for the one you love. Recognize the presence of the other. Reach out to your loved one when they are suffering. Let go of your pride. - Author: David Mezzapelle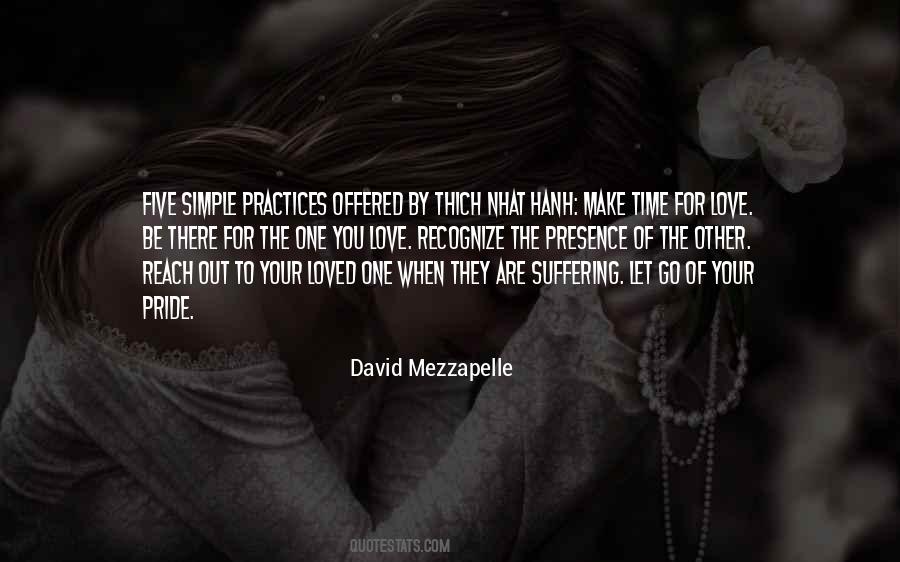 #14. I haven't been able to stop thinking of you. One way or another you were always out of reach ... I think I'm in love with you ... Actually no, that's not true. I know I am. - Author: Jill Mansell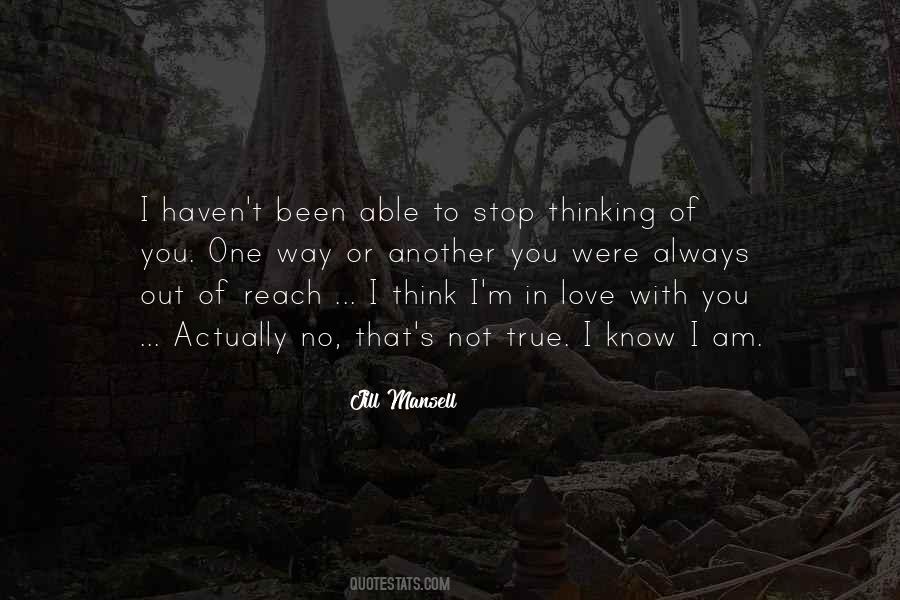 #15. I like to think of myself as the people's pop star a little bit. I respect Lady Gaga so much, and I love what she does, but she has this kind of mysterious, out-of-reach thing. I'm just not that - as much as I'd love to have that sort of mystique, I think I'm kind of an open book. - Author: Bonnie McKee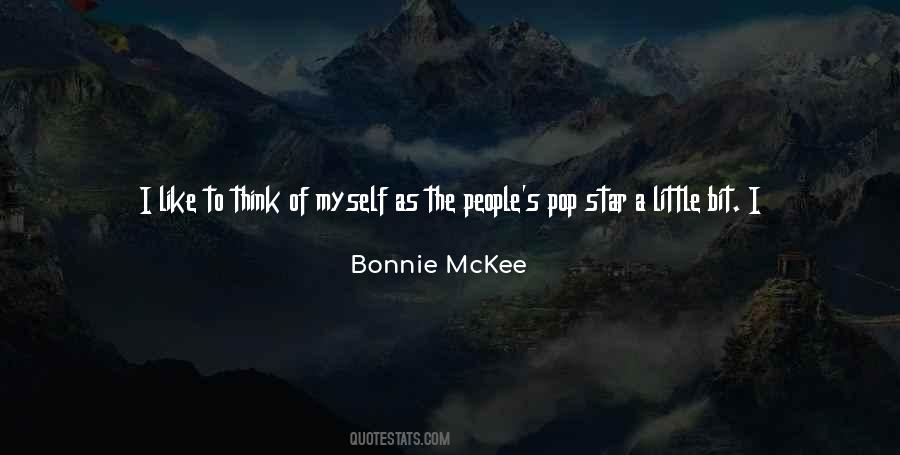 #16. Turns out, hell's not so much a burning, scalding pit of fire and misery. It's actually much, much worse than that. Hell is when the people you love the most reach right into your soul and rip it out of you. And they do it because they can. - Author: Jess Rothenberg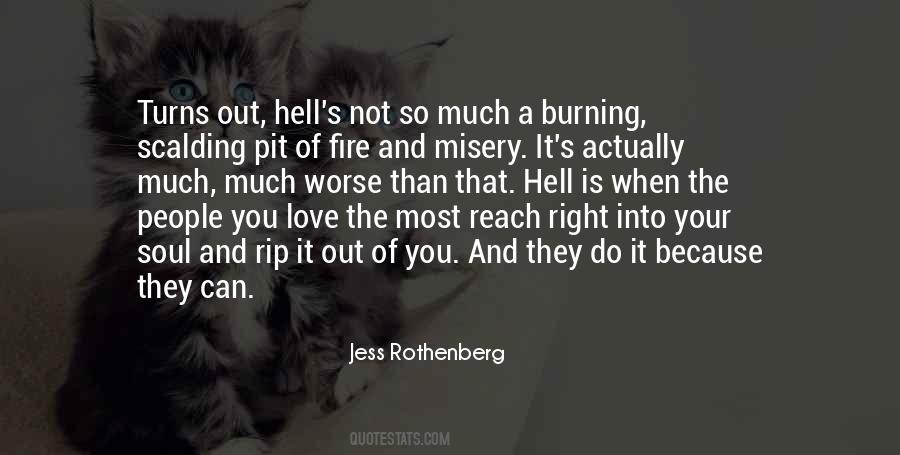 #17. We live in a small world. Not a leaf falls that doesn't affect a myriad of things. When we reach out to someone in love and the effect is made - everyone, everything which comes in contact
with the person we've effected is better for it. Of course, the converse is true, too. - Author: Leo Buscaglia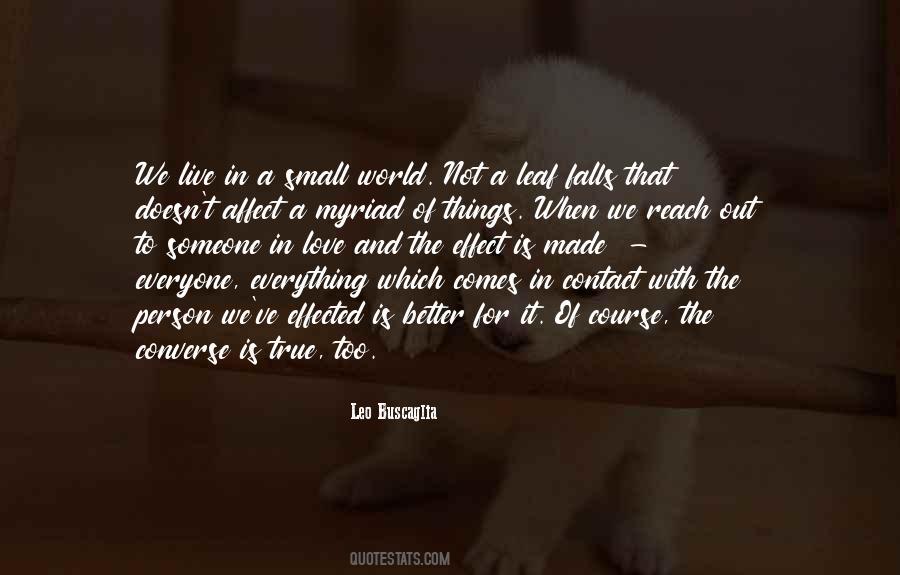 #18. I hate that my life is teaching me that I can only be loved if I put my love out of reach and just drift above people until they love my remoteness. - Author: Helen Oyeyemi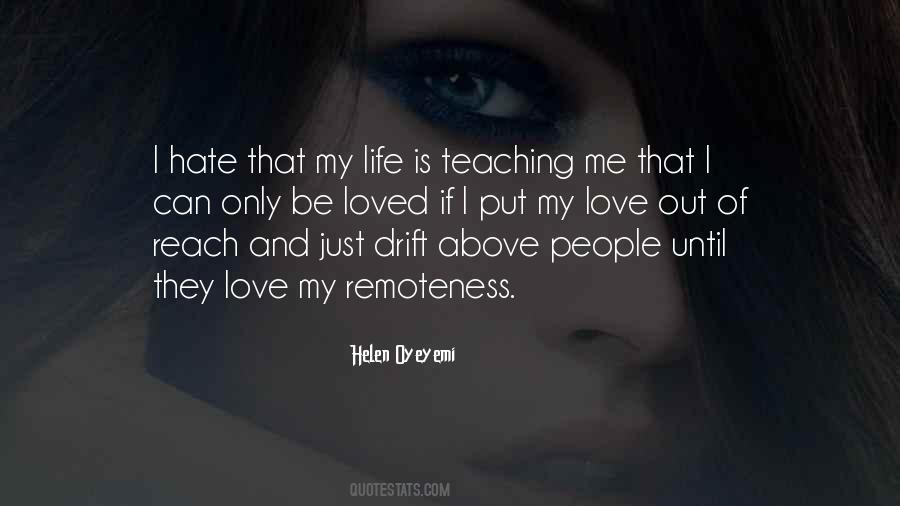 #19. If you're in a relationship with someone who does not honor or respect you, I want you to know you are worthy of love. Please reach out for help. - Author: Brooke Axtell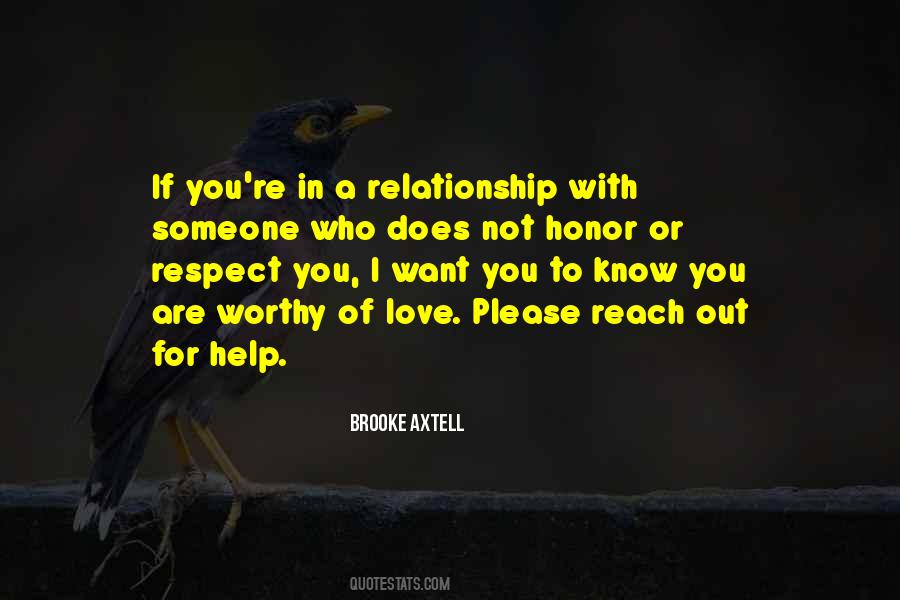 #20. Love permeated every nook and cranny, every corner and crevice of that little house. You could feel it as soon as you entered the front door, like a presence so tangible you could almost reach out and touch it. - Author: Jennifer Worth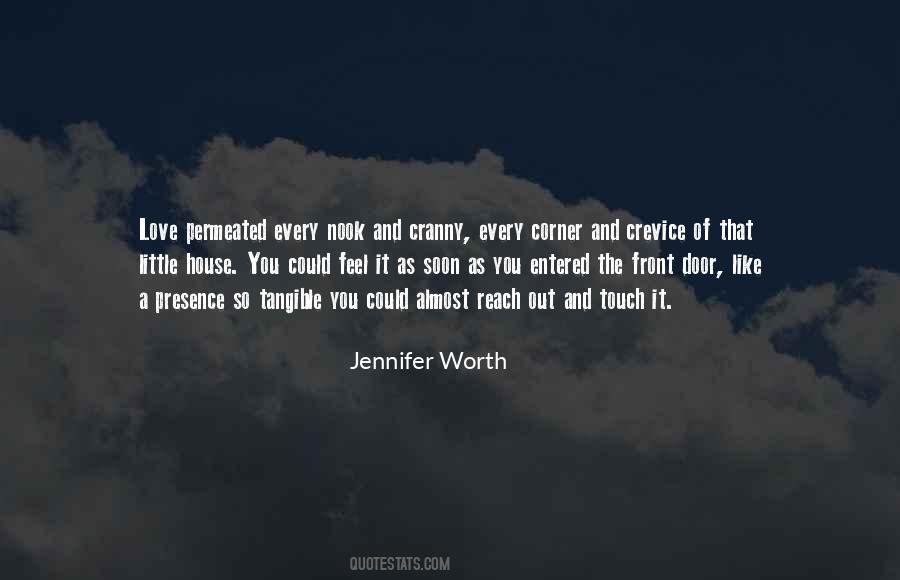 #21. My thoughts reach out like prayers to you - and if you are quiet, you can hear ... - Author: John Geddes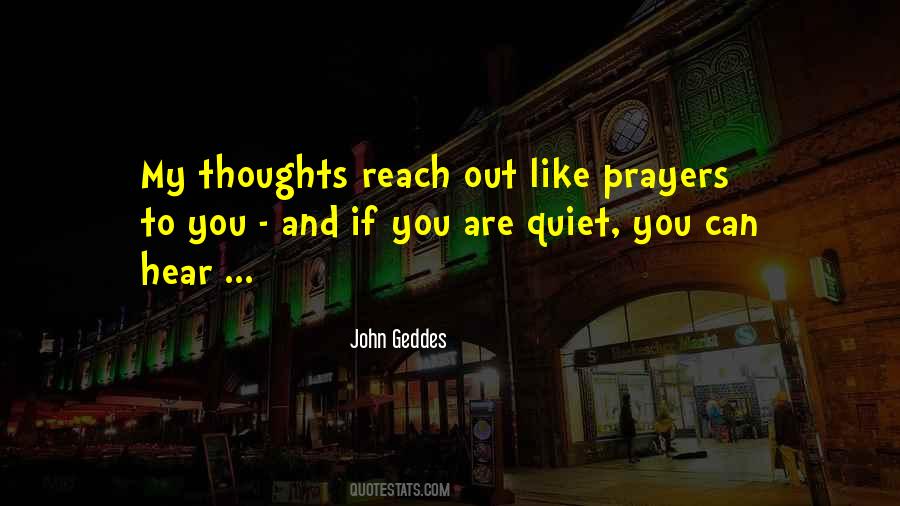 #22. Her gaze traveled across the western sky that was dotted with clouds and was held by the wintry looking sun, so pure, so lovely, and so impossible to touch. Sheila felt that that was how her love was - Out of reach, unquestionably warm, and as certain as the celestial ball. - Author: Shampa Sharma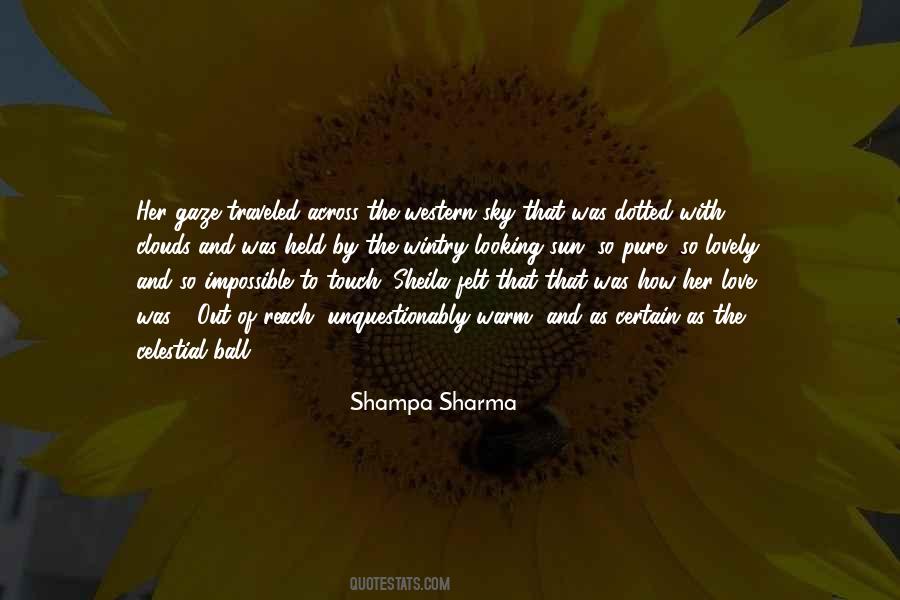 #23. True lovers may never know what love means. A man may love a woman out of his reach. She does not know he loves her, and he will never speak of it. - Author: Rosalind Miles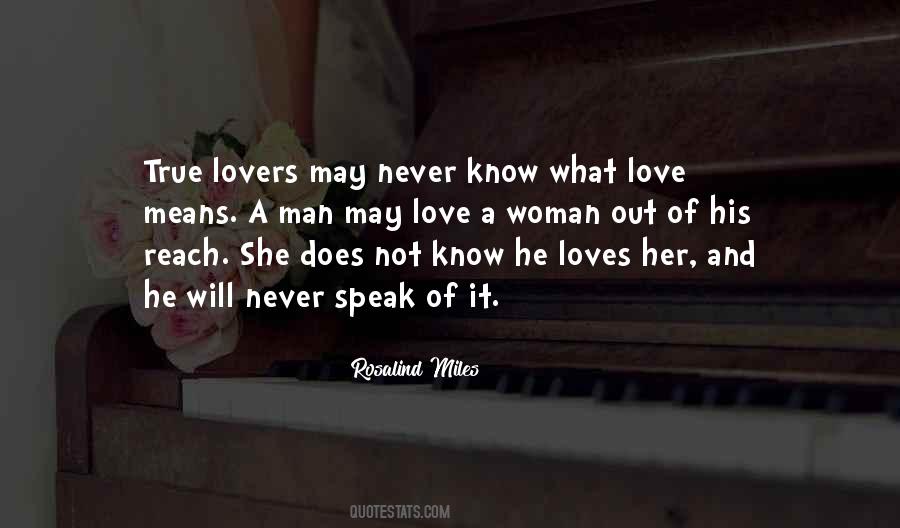 #24. It's weird because I am accessible to people on Twitter, and I can choose to read good things or mean things, and people can reach out to me directly and tell me how much they hate me or love the song. It's a very strange new paradigm as an artist to find yourself among this kind of connectivity. - Author: Jenny Lewis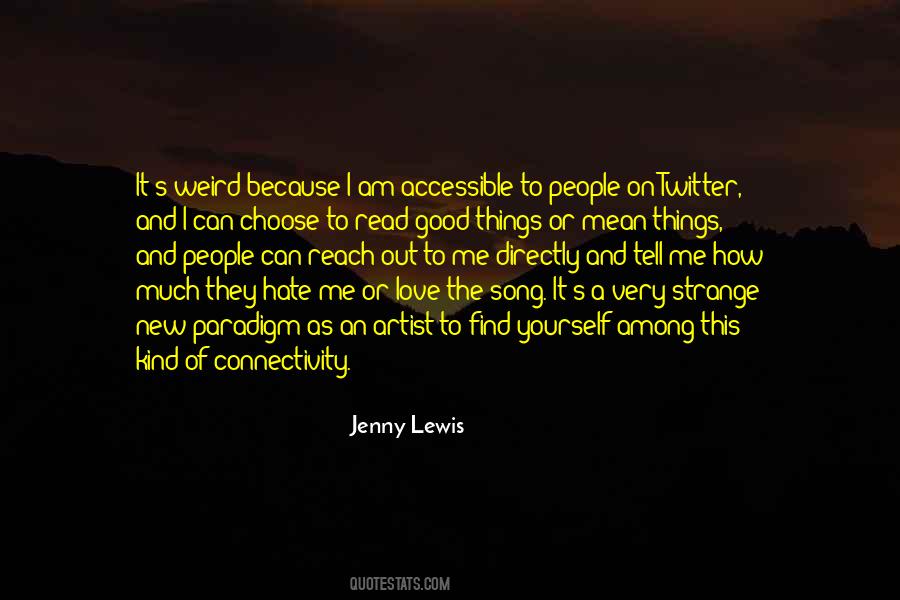 #25. I reach out to the sun that blinds me to feel a warmth that reminds me of the love that unbinds me. - Author: Robert Turk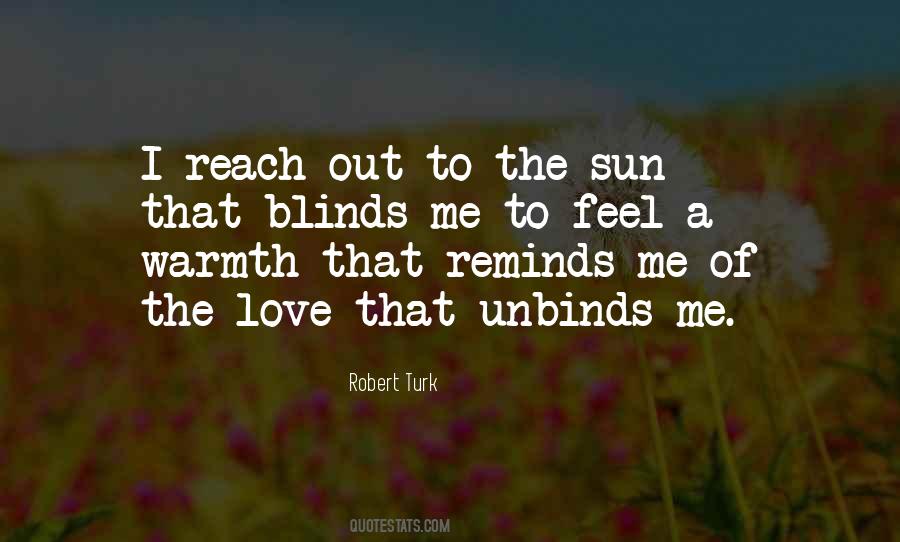 #26. We are not asking everyone to do everything. We are simply asking all members to pray, knowing that if every member, young and old, will reach out to just "one" between now and Christmas, millions will feel the love of the Lord Jesus Christ. And what a wonderful gift to the Savior. - Author: M. Russell Ballard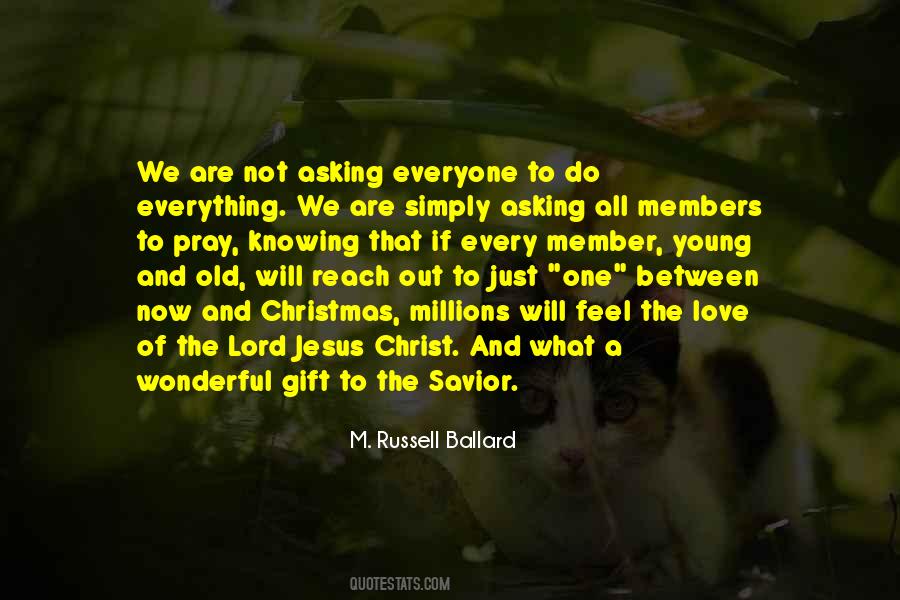 #27. One must love humanity in order to reach out into the unique essence of each individual: no one can be too low or too ugly. - Author: Georg Buchner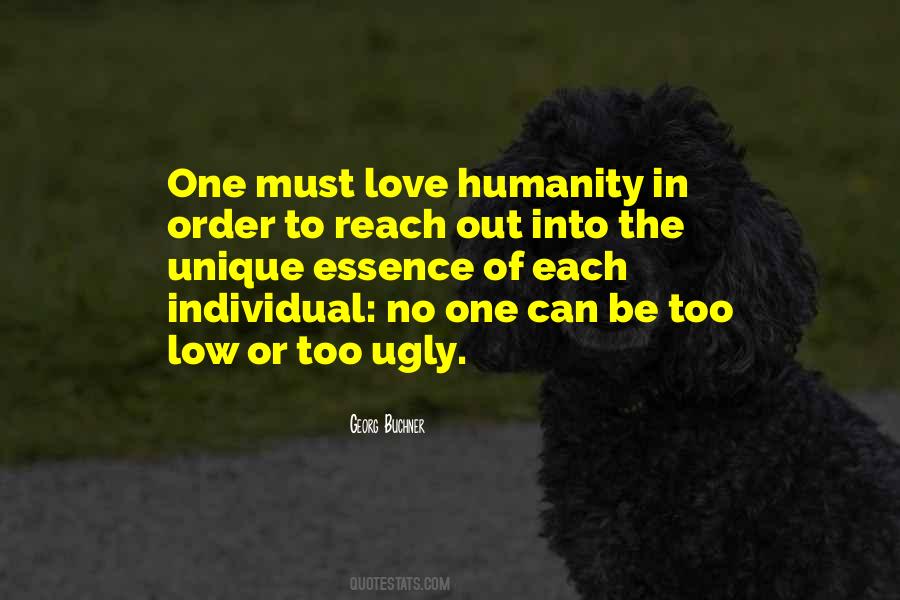 #28. Today, look at the blue sky, hear the grass growing beneath your feet, inhale the scent of spring, let the fruits of the earth linger on your tongue, reach out and embrace those you love. Ask Spirit to awaken your awareness to the sacredness of your sensory perceptions. - Author: Sarah Ban Breathnach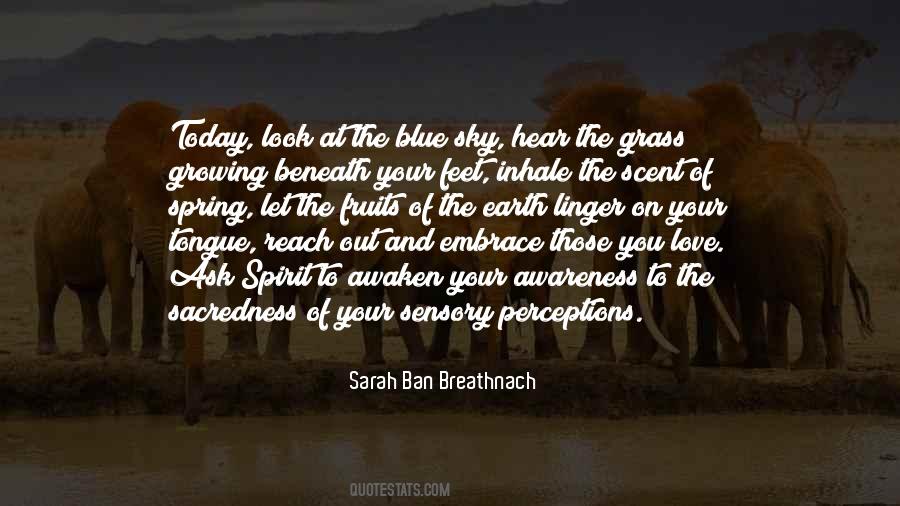 #29. Feelings of worth come when a woman follows the example of the Master. Her sense of infinite worth comes from her own Christlike yearning to reach out with love, as He does. - Author: Russell M. Nelson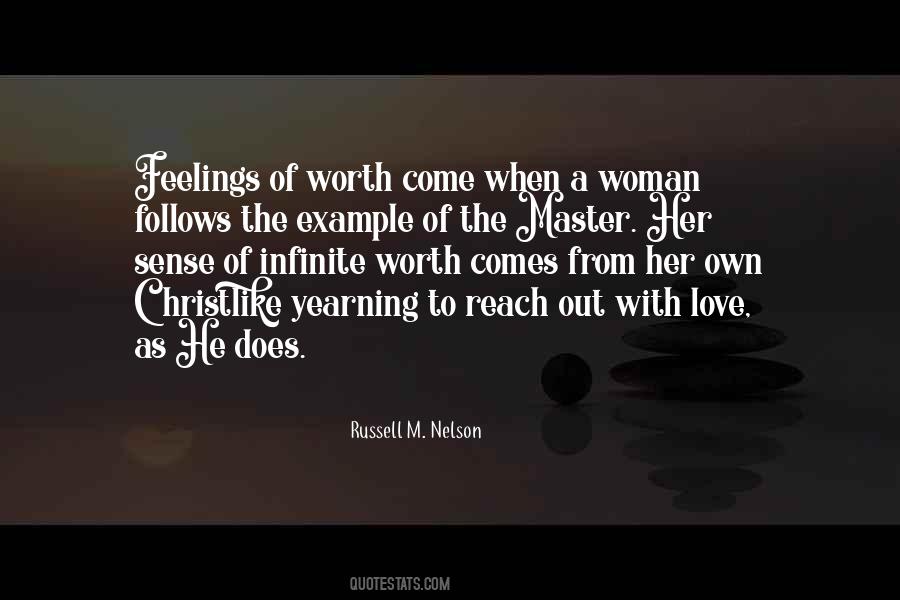 #30. How many of us have had our hearts broken for whatever reason yet find the courage to continue to reach out for love. Emotional vulnerability is true strength to me. - Author: Michelle J. Howard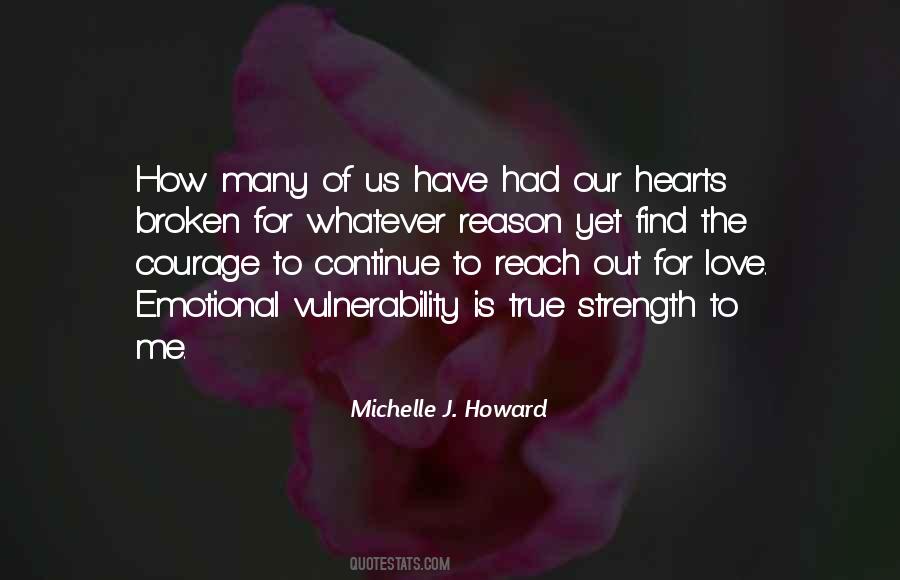 #31. Nothing can separate us from the love of Christ, not even our own disobedience or our failure to love Him as we should. We can be thankful for His love which is unending and will reach out to recover us. - Author: John F. MacArthur Jr.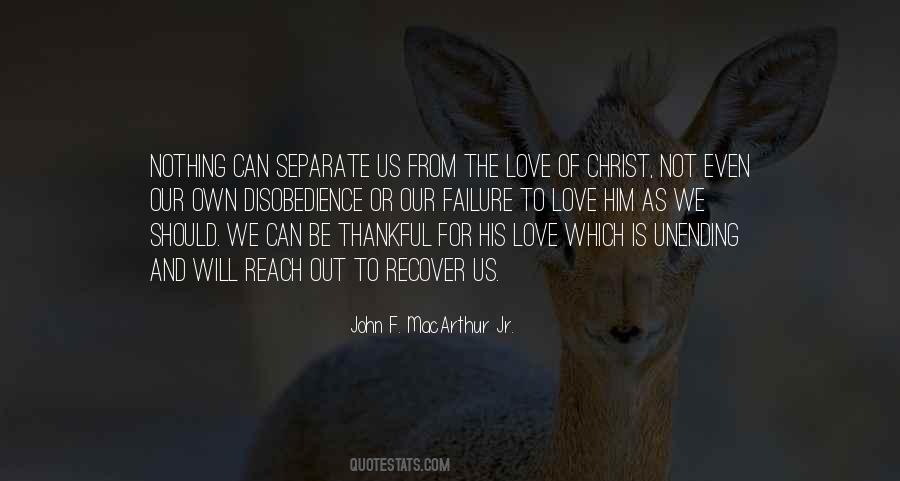 #32. Like my loved one, I am convinced that we all have critical conditions. Battles that we undertake behind the hospitals, in lonely alleys, secret locations and sometimes public places that are out of reach to those who seem to care. - Author: Phindiwe Nkosi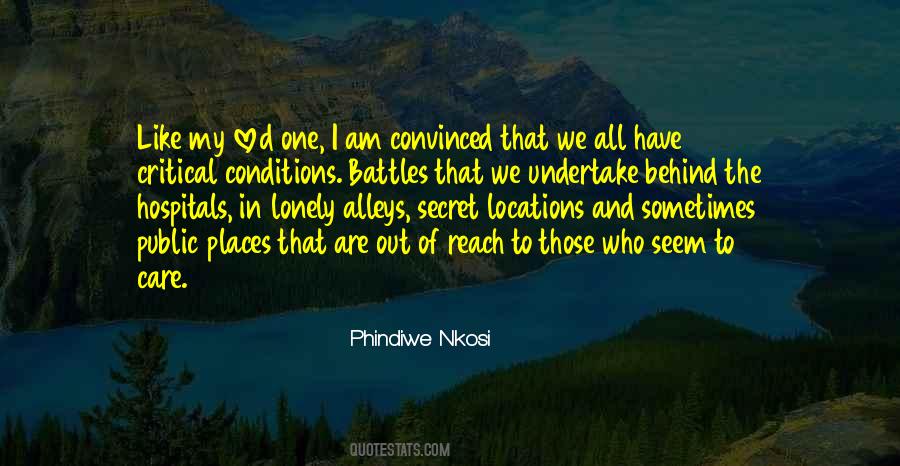 #33. We, who have so much, need to reach out to the orphans of this world and show them the care, hope, and love they deserve. - Author: Kim De Blecourt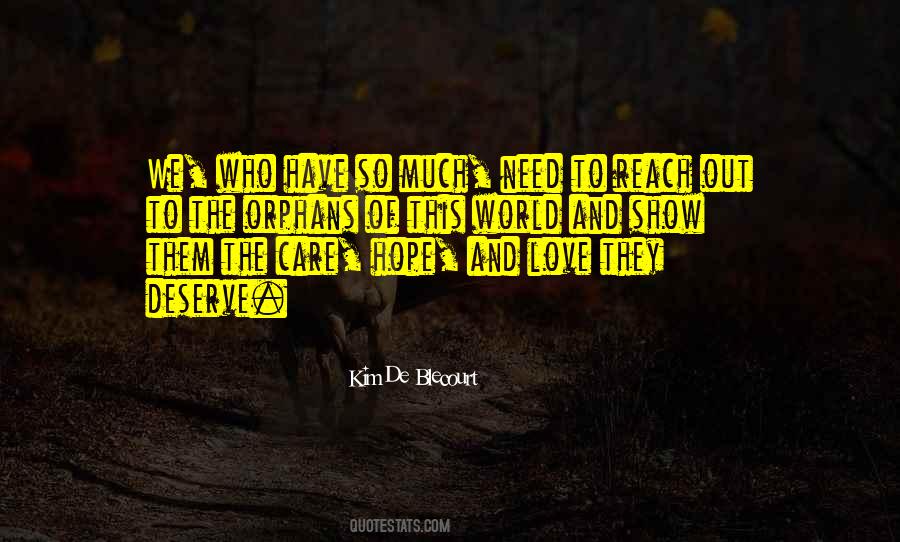 #34. When he woke in the woods in the dark and the cold of the night he'd reach out to touch the child sleeping beside him. Nights dark beyond darkness and the days more gray each one than what had gone before. Like the onset of some cold glaucoma dimming away the world. - Author: Cormac McCarthy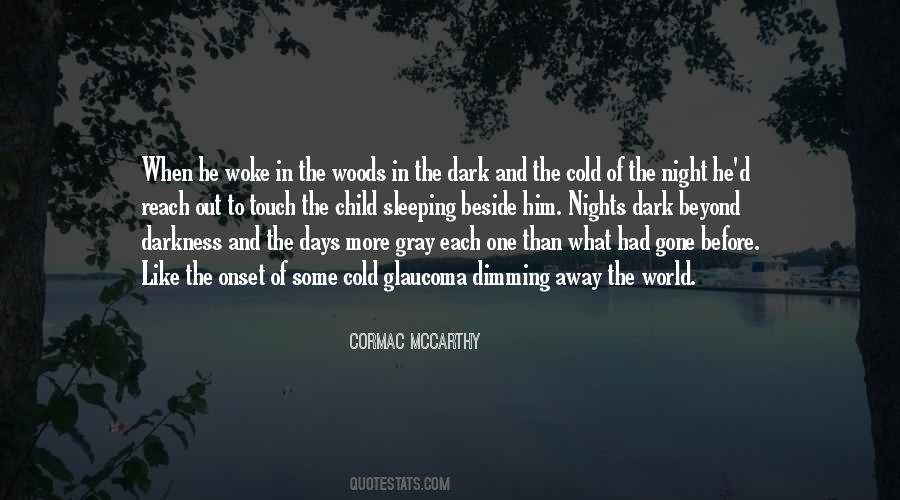 #35. Anyone can make a positive impact on the lives of other people. All we have to do is live our ordinary lives extraordinarily well. Be happy and positive. Do what you love and love your work. Reach out not only by using your hands, but with your heart as well. Life is lived wonderfully that way. - Author: Kcat Yarza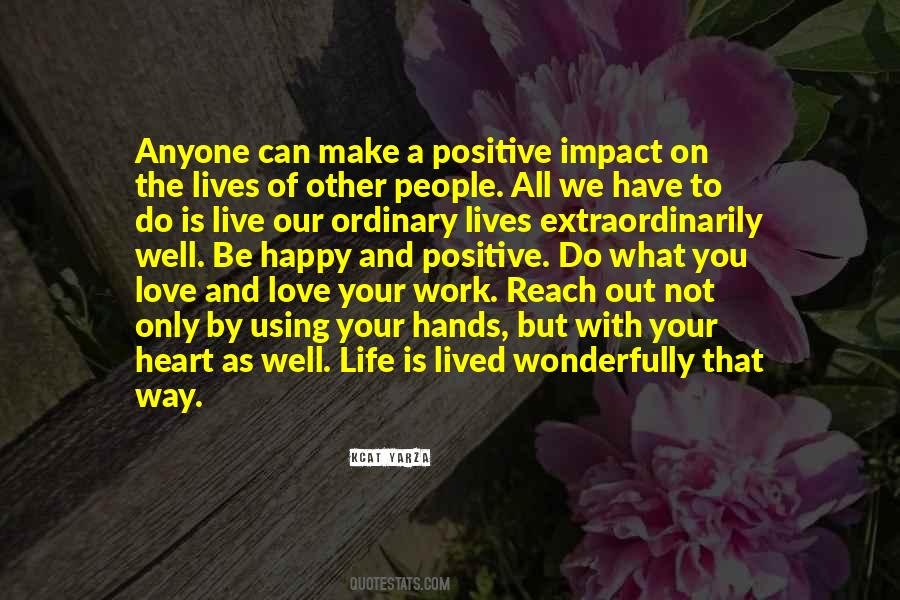 #36. With the increase of missionary work throughout the world, there must be a comparable increase in the effort to make every convert feel at home in his or her ward or branch ... I invite every member to reach out in friendship and love for those who come into the Church as converts. - Author: Gordon B. Hinckley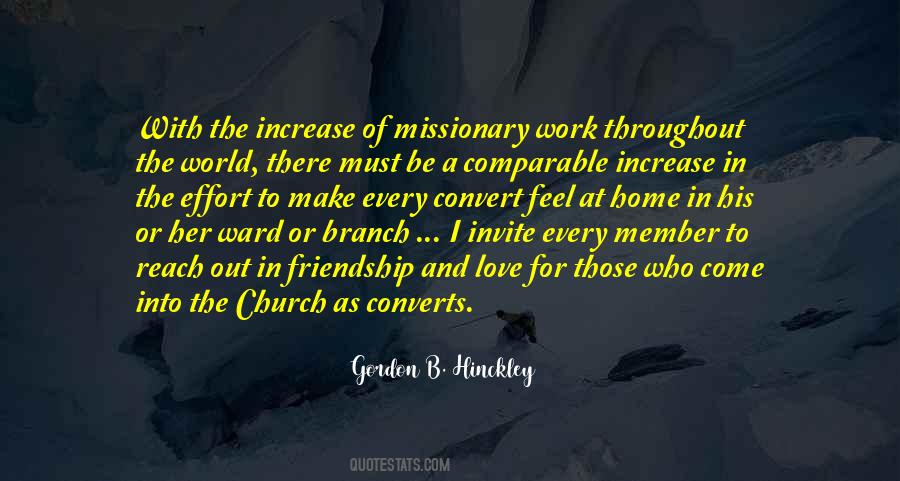 #37. Are you hurting? Reach beyond yourself for comfort. Beyond the scope of your visual perimeter. Are you sad? Reach beyond yourself for joy. Beyond the limitations of the temporal. Beyond the boundaries of your five physical senses.
Reach out to Jesus. Reach out by faith and be made whole. - Author: Calvin W. Allison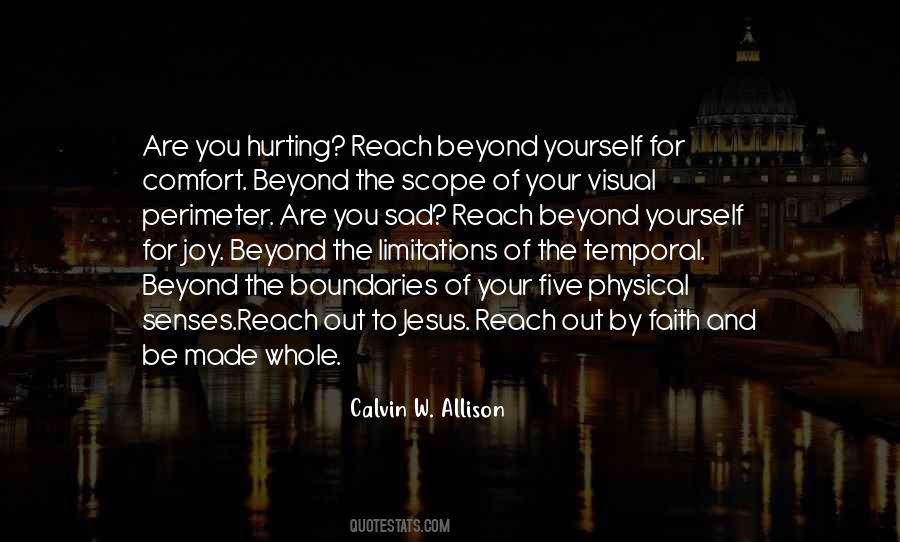 #38. There is no salvation for the soul but to fall in Love. Only lovers can escape out of these two worlds. This was ordained in creation. Only from the heart can you reach the sky: The Rose of Glory can grow only from the heart. - Author: Rumi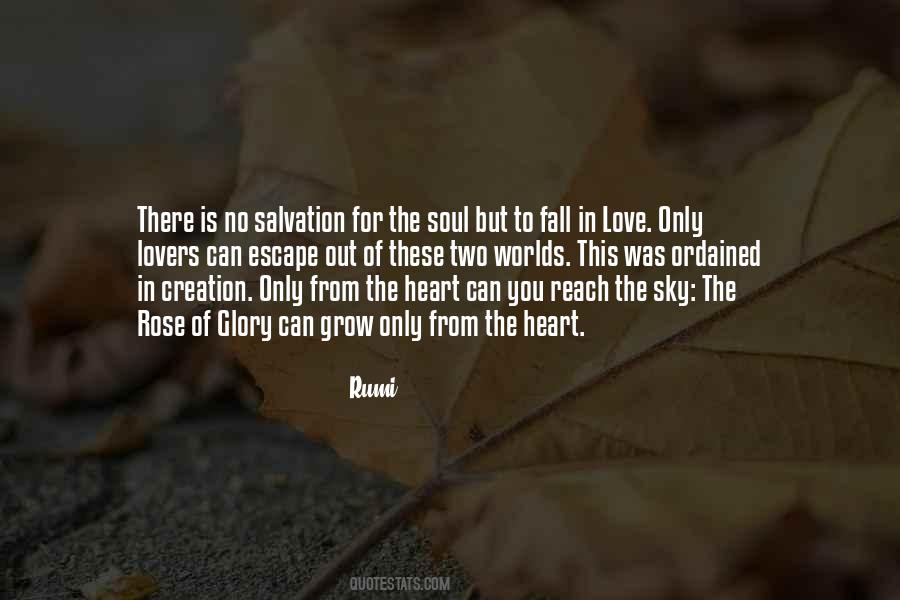 #39. The smell of her hair lingered just out of reach of his memory and left him with a nervous hum resonating throughout his body like a child forced to sit in church while the sun was shining outside on a perfectly good summer's day. - Author: Erik Tomblin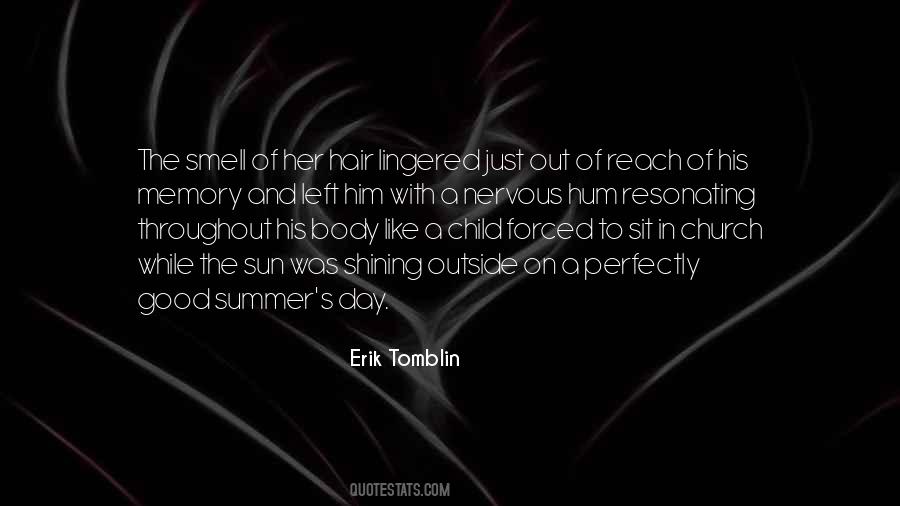 #40. I love vocal music, but I've had a hard time understanding myself through the English language. So it just seemed to me that if I relied solely on creating a voice out of the music, then I might be able to reach something more profound. - Author: Arca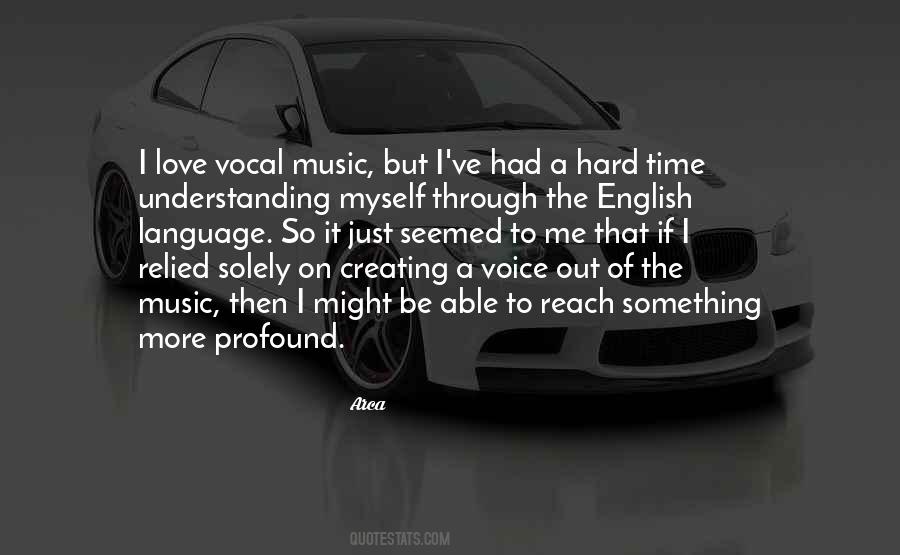 #41. If you're truly friends, then you don't just offer a little whisp of your love. You unzip your chest, reach in and pull your heart out and says, "It's all yours - please keep it beating. - Author: Toni Sorenson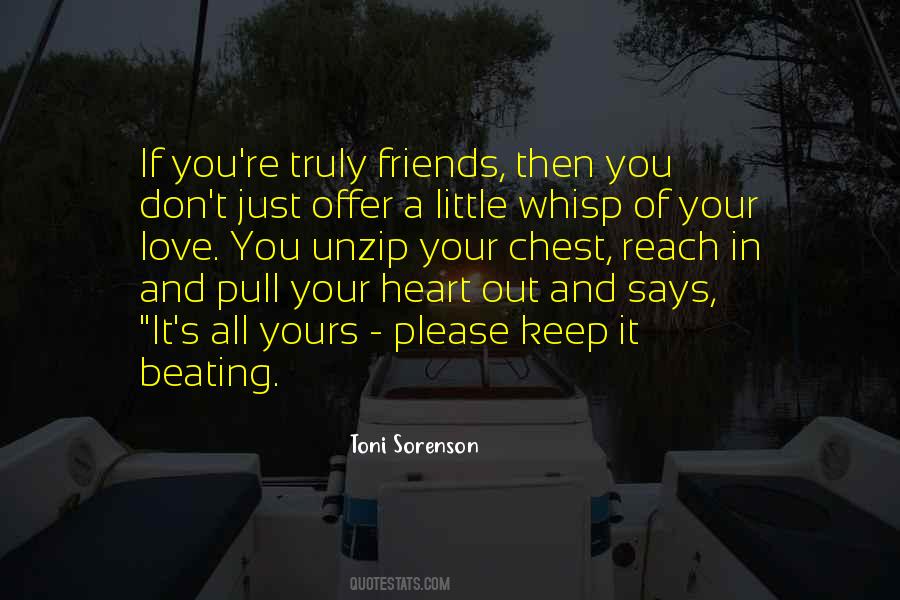 #42. Now, no matter what they told themselves or each other, it would always be different. After all, no first love goes away overnight, especially one that's always right in front of you, but just out of your reach. - Author: John Corey Whaley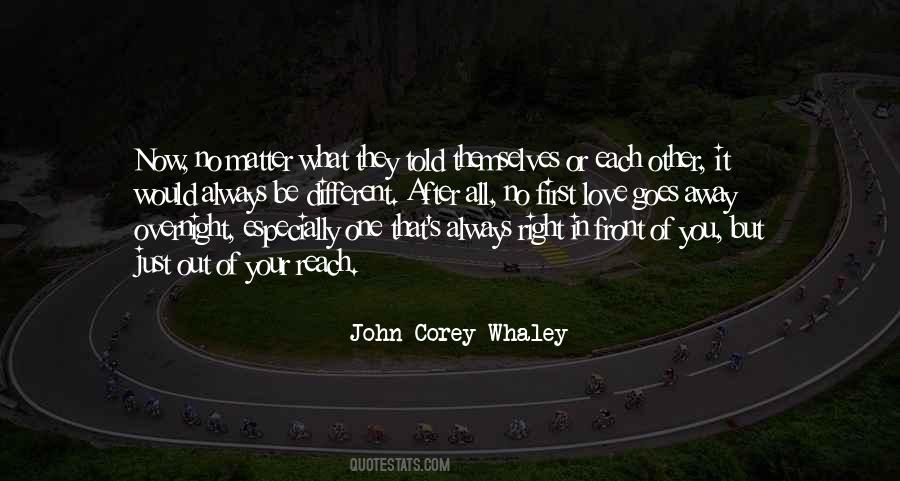 #43. "I'm in love with you. I love you so much it eclipses everything else around me. You're the star I can never reach. I can wish and dream, stretch and strain, but you're always just out of my grasp. I need something I can hold, I can count on. I need something tangible. - Author: Genna Rulon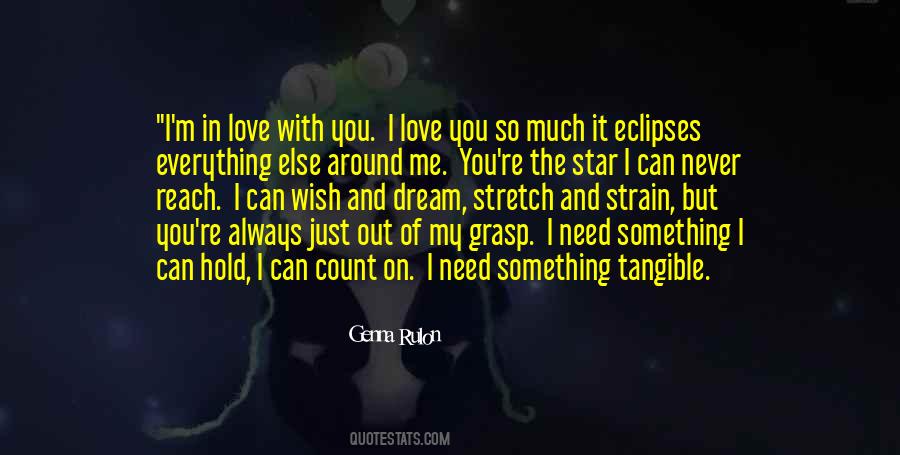 #44. You can't simply turn off love. It's part of life, and it's everywhere. You have to reach out and try to take it. - Author: Lauren Morrill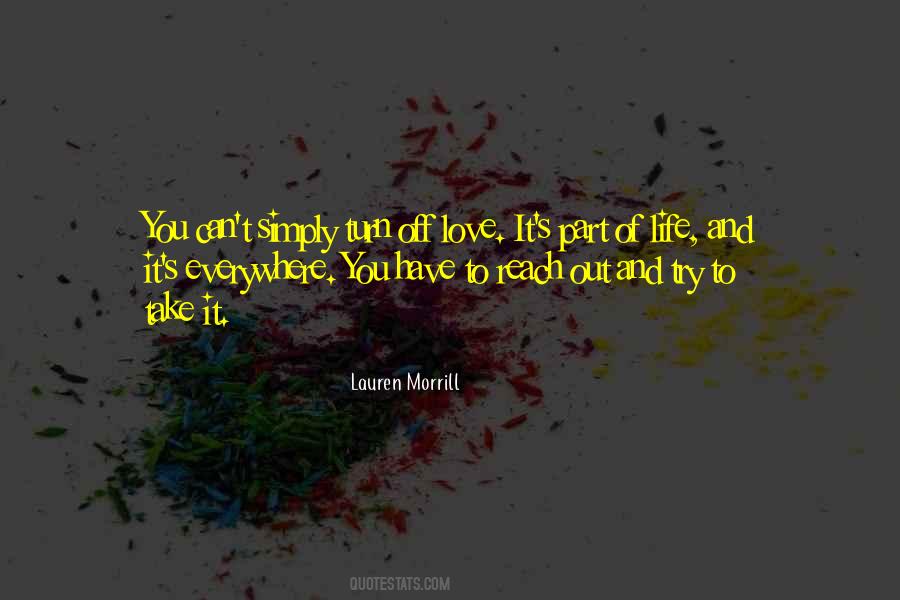 #45. You were on the other side of the world, but I often woke with the scent of you surrounding me. I ached for you, Kells. No matter how much Kishan thrashed me, it couldn't diminish the pain of losing you. I'd dream of you and reach out to touch you, but you were always just out of reach. - Author: Colleen Houck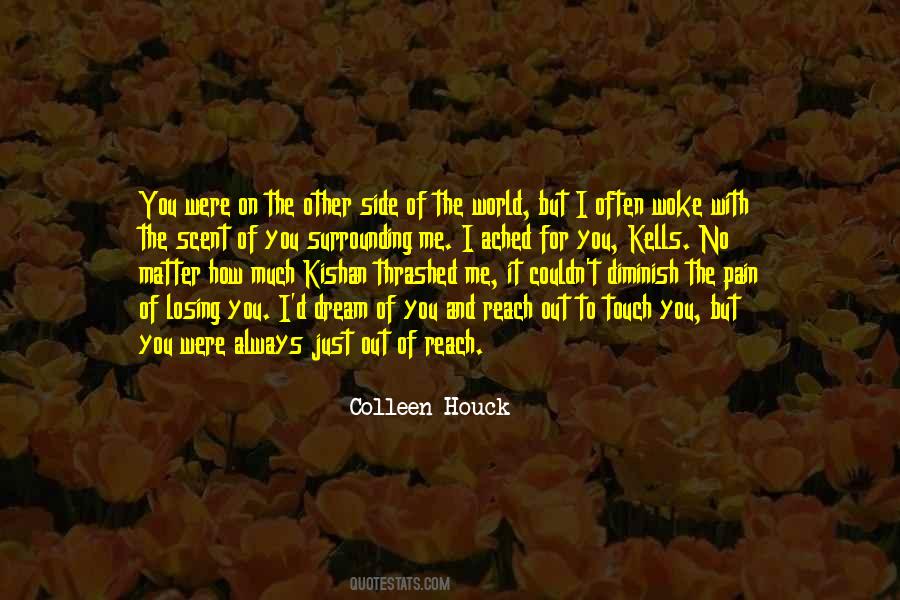 #46. The lesson of the way of love is that evil can only be overcome by good. We don't need to reach out and tear down the things that are evil because nothing which is contrary to the law of love can endure. - Author: Peace Pilgrim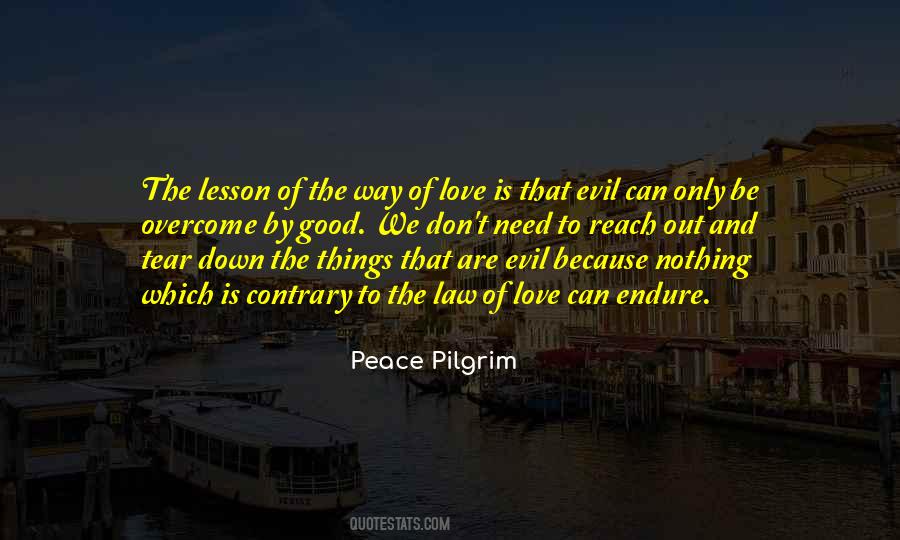 #47. Love to love, connection to connection, you carve your complicated path through life; leave one love behind, and the next one always seems out of reach. What can buoy you up in the meantime. What can underlie love, but love. - Author: Michael Davidow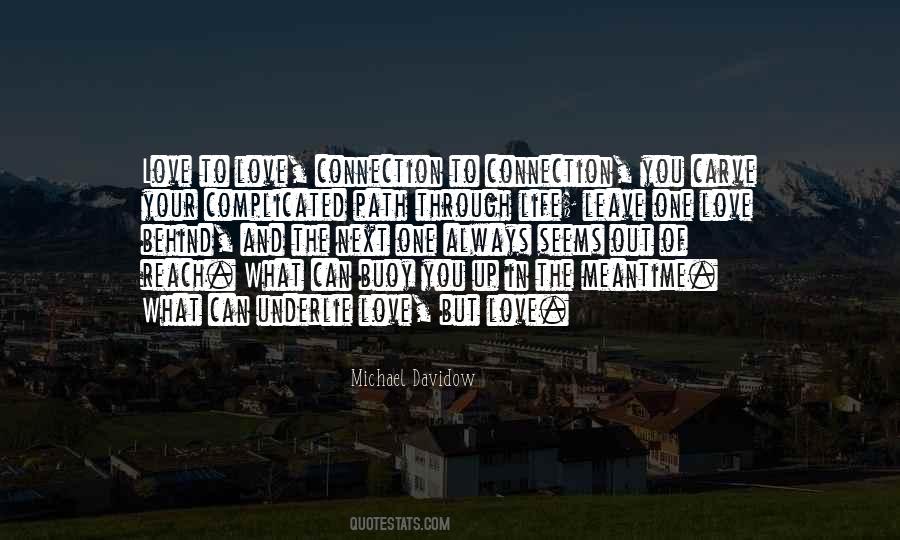 #48. Your ability to love, to reach out, and to experience life is limitless. The limitation is only of the body and mind. - Author: Jaggi Vasudev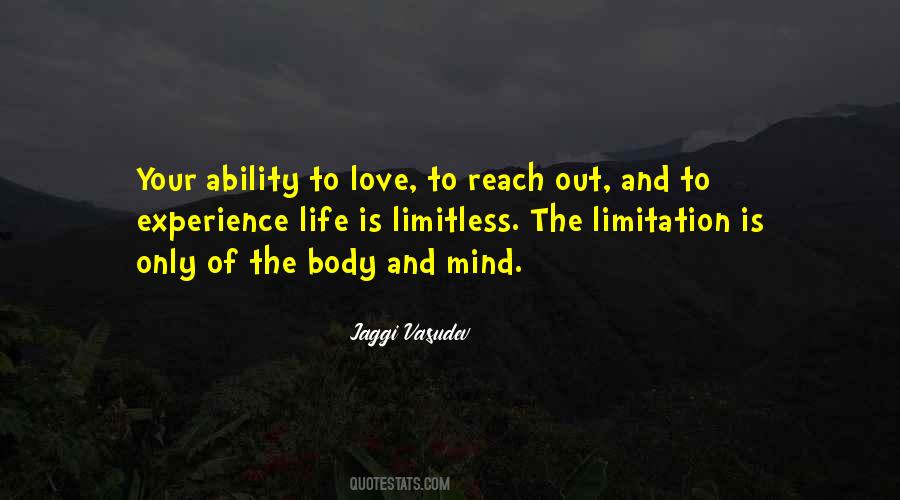 #49. God looked through eternity past and He saw you and He chose to reach out and redeem you by His own grace. It's hard to imagine that kind of love. - Author: James MacDonald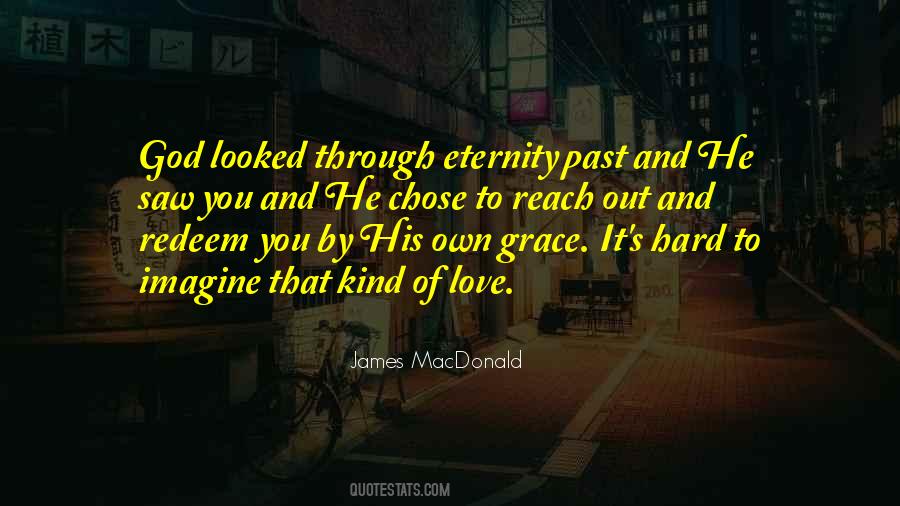 #50. It costs so much to be a full human being that there are very few who have the Love and the courage to pay the price. One has to abandon altogether the search for security and reach out to the risks of living with both arms. One has to embrace life. - Author: Morris West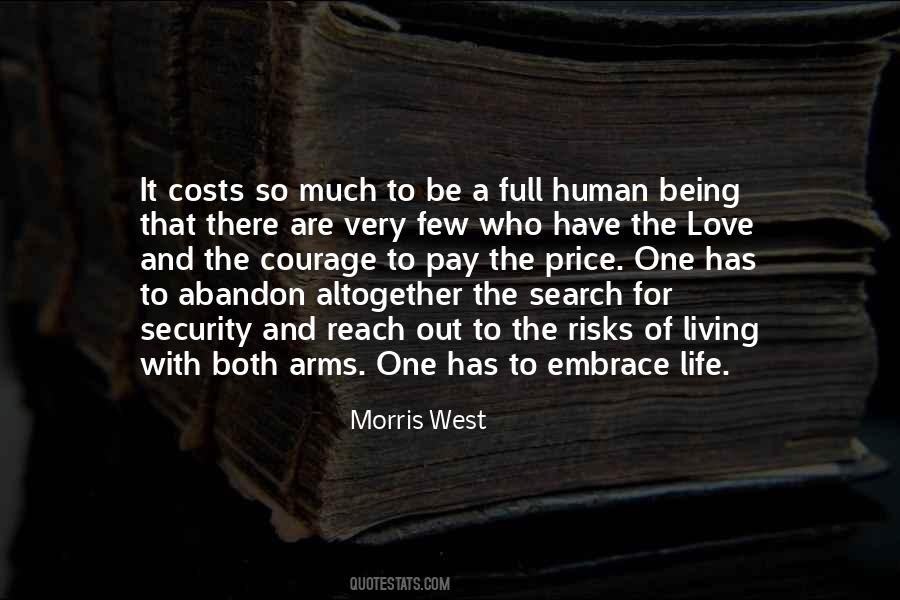 #51. And said with the softness of repressed violence, 'I am not one to stick his neck out; it is a bit of a reach. I was waiting for the smallest sign that you could love me ... I never got it.'
Laertes, Count of Samothrace - Author: Rebecca Ashe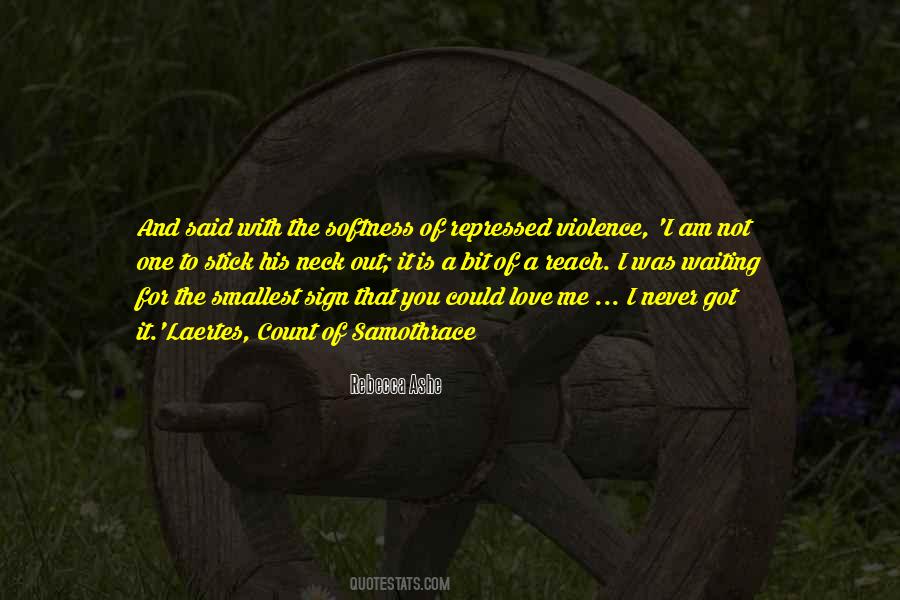 #52. A perfect balance is possible to imagine, but impossible to reach, so one is always trembling along an arc from too excited to too bored and back again. Everything we love most - be it sweetheart or flower - looks majestic because it seems to be trembling out of balance. While - Author: Diane Ackerman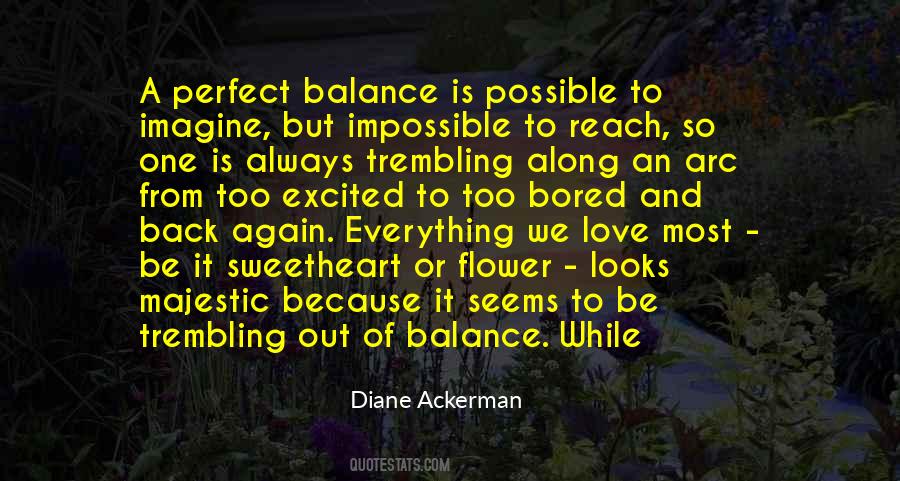 #53. Because (grandparents) are usually free to love and guide and befriend the young without having to take daily responsibility for them, they can often reach out past pride and fear of failure and close the space between generations. - Author: Jimmy Carter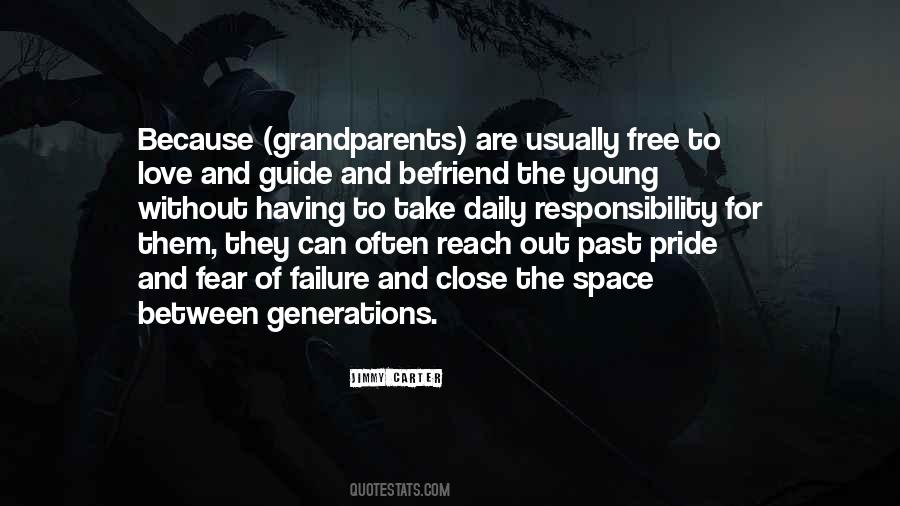 #54. It is the tenderness that breaks our hearts. The loveliness that leaves us stranded on the shore, watching the boats sail away. It is the sweetness that makes us want to reach out and touch the soft skin of another person. And it is the grace that comes to us, undeserving though we may be. - Author: Robert Goolrick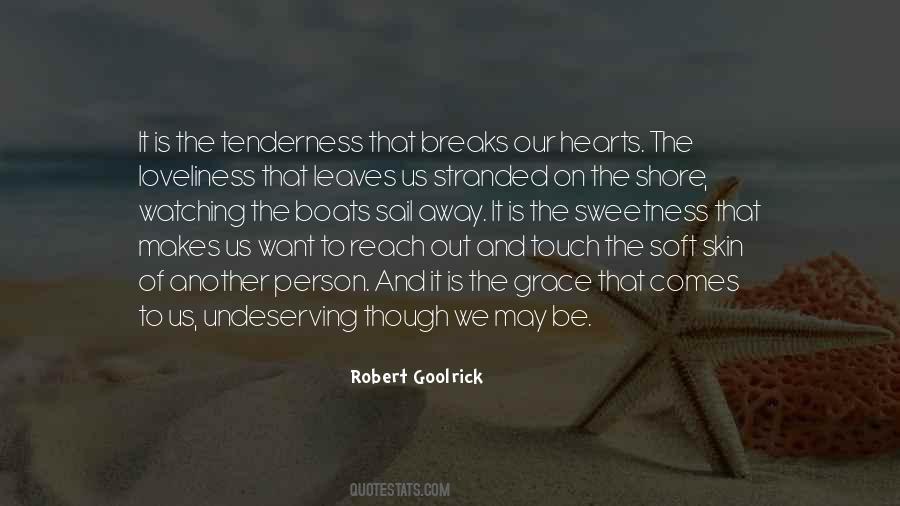 #55. Broken hearts show us we've grown out of one stage, by ripping us wide open for the next.
We're forced to choose what we do with all that pain: turn it against ourselves, aim it at someone else, or tap all that power and reach higher. - Author: Edward Fahey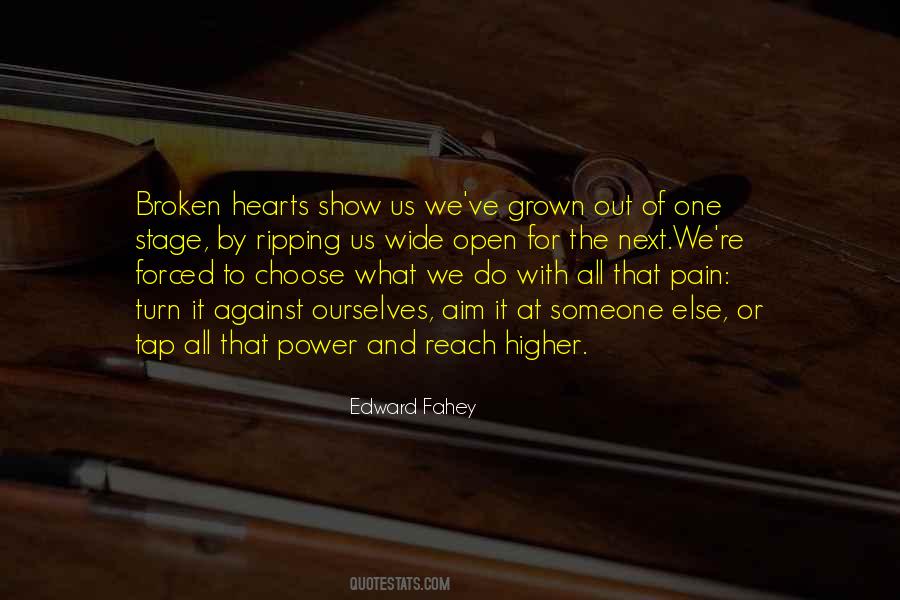 #56. If we are truly disciples of the Lord Jesus Christ, we will reach out with love and understanding to all of our neighbors at all times. - Author: M. Russell Ballard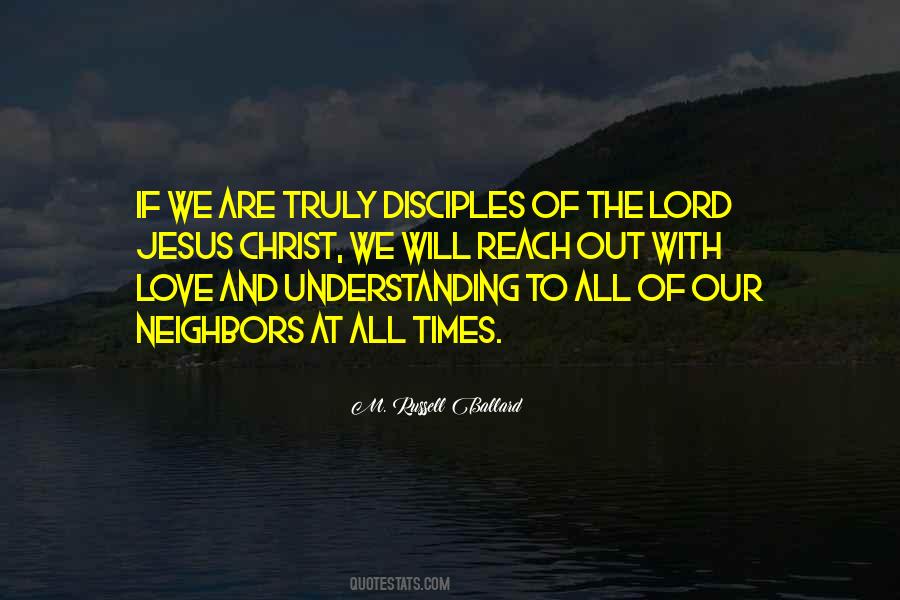 #57. I believe, as followers of Christ, we are commanded to reach out to the least of these in the name of Jesus and show them they matter a great deal to God, who sacrificed His only Son to reach them with His love. - Author: K.P. Yohannan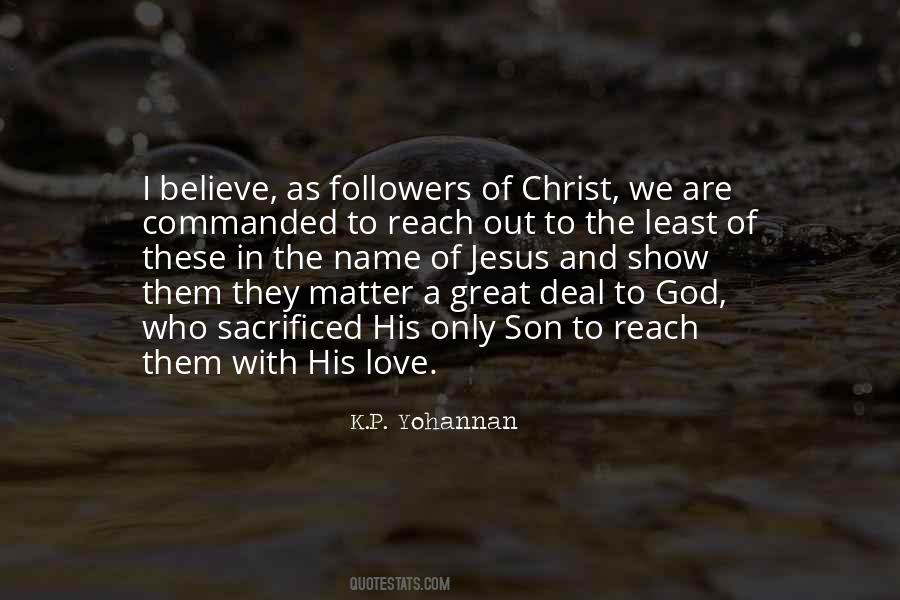 #58. I love the relationship that anyone has with music ... because there's something in us that is beyond the reach of words, something that eludes and defies our best attempts to spit it out ... It's the best part of us probably ... - Author: Nick Hornby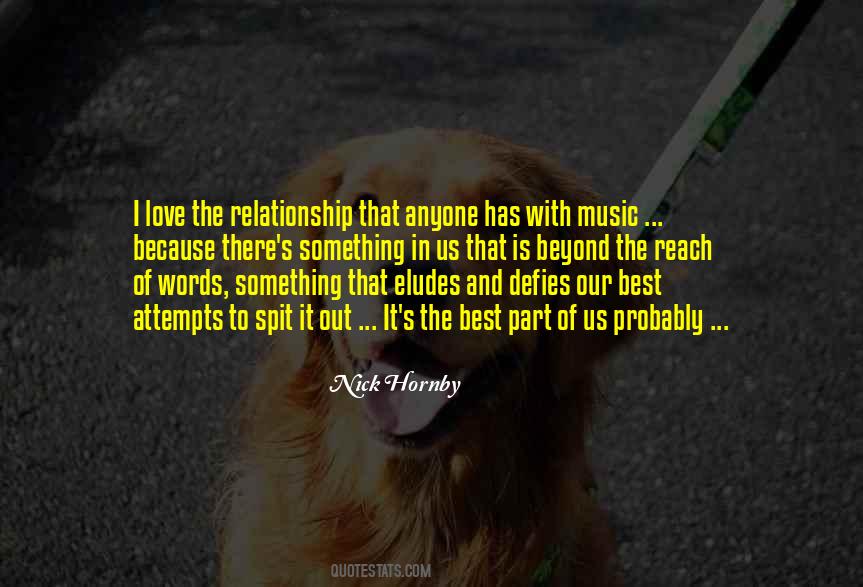 #59. Reaching out to rescue one another under ANY condition is an eternal measure of love. - Author: Ronald A. Rasband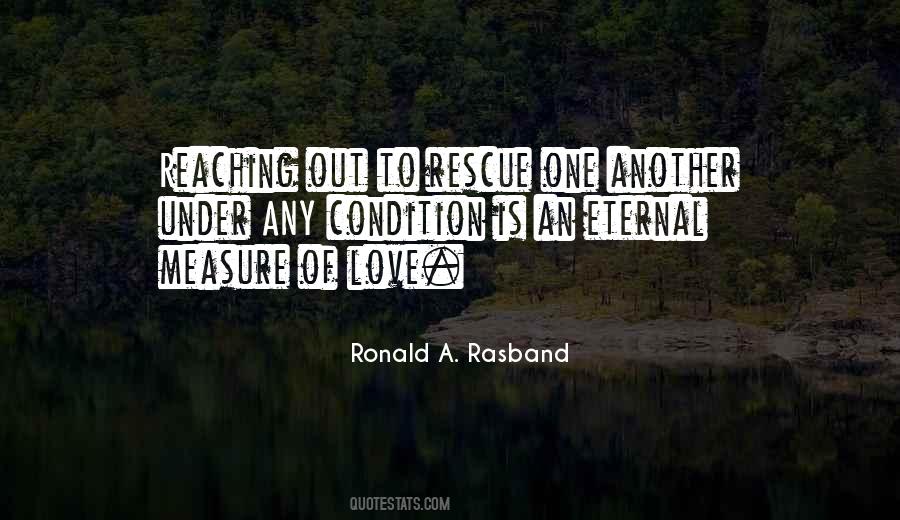 #60. Go beyond yourself and reach out to other people with a sincere love, respect, caring, and understanding of their needs. - Author: Susan Polis Schutz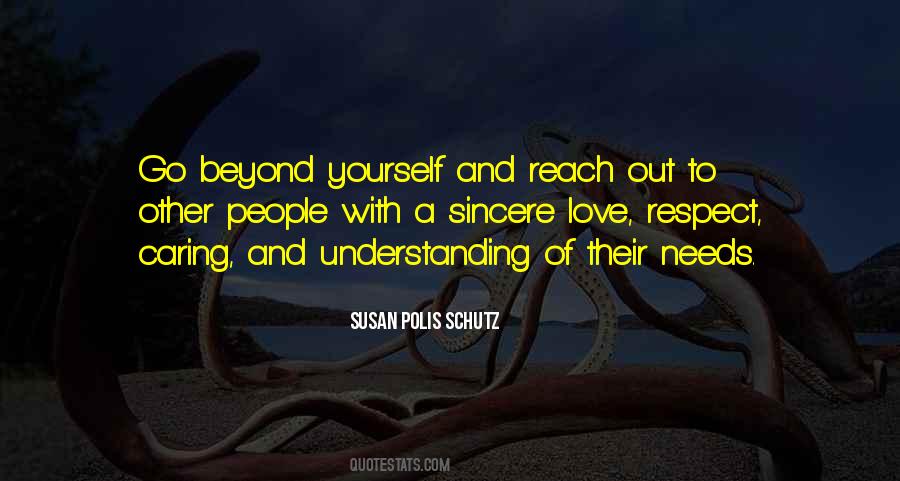 #61. In the end, maybe love just meant longing for something impossibly bright and forever out of reach. - Author: Leigh Bardugo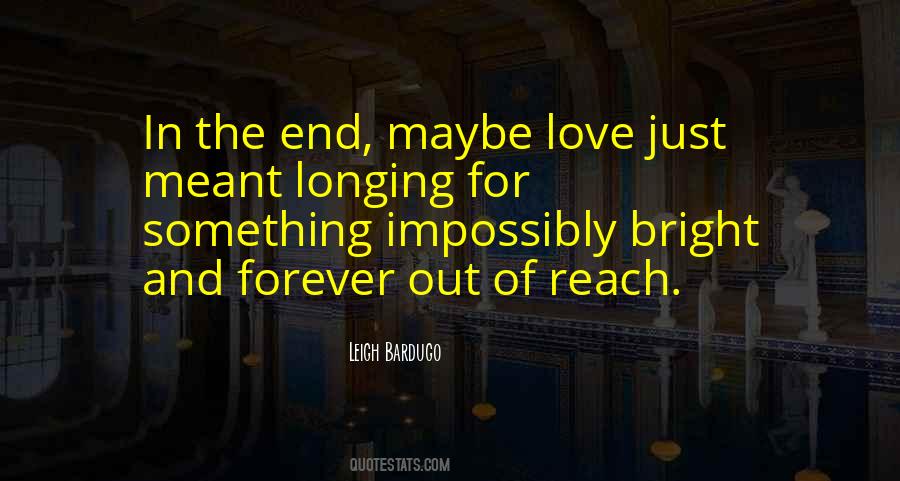 #62. Conducting an investigation is the result of a crime that has taken place. Sometimes you have to accept the facts, make peace, and move on with love still in your heart. Fate is out of our reach. - Author: Marxxha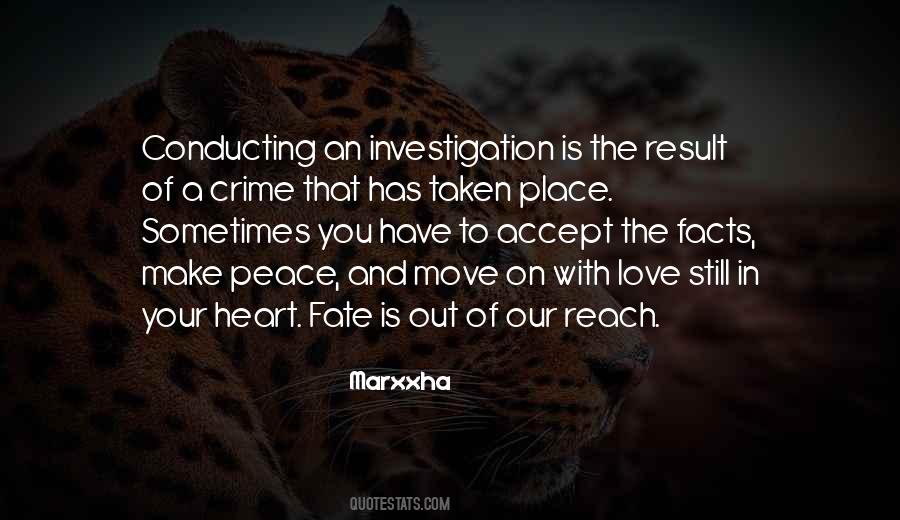 #63. I was famously in love with a woman who had no time to spare, not even a breath, for she dwelled in a place beyond time or the reach of anyone's Rolodex, her every breath measured out of pressurized tanks. - Author: Jonathan Lethem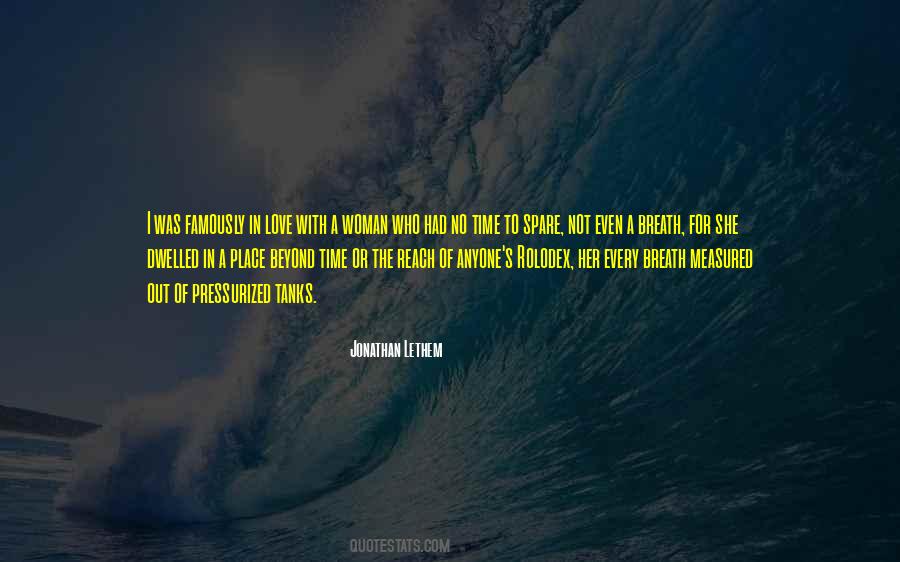 #64. Do you stick with the position you've mastered? Or do you push yourself to master the position that seems out of reach? Do you listen to what everyone else thinks is best for you? Or do you listen to your own voice? Do you settle? Or do you dream? - Author: Reggie Love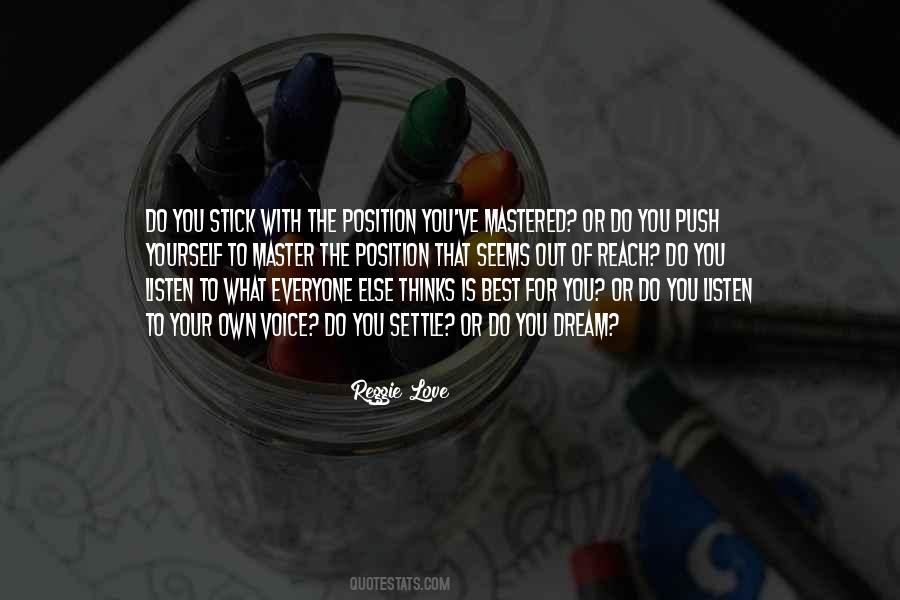 #65. Outwardly one's life may suffer every kind of limitation, from bodily paralysis to miserable surroundings, but inwardly it is free in meditation to reach out to a sphere of light, beauty, truth, love, and power. - Author: Paul Brunton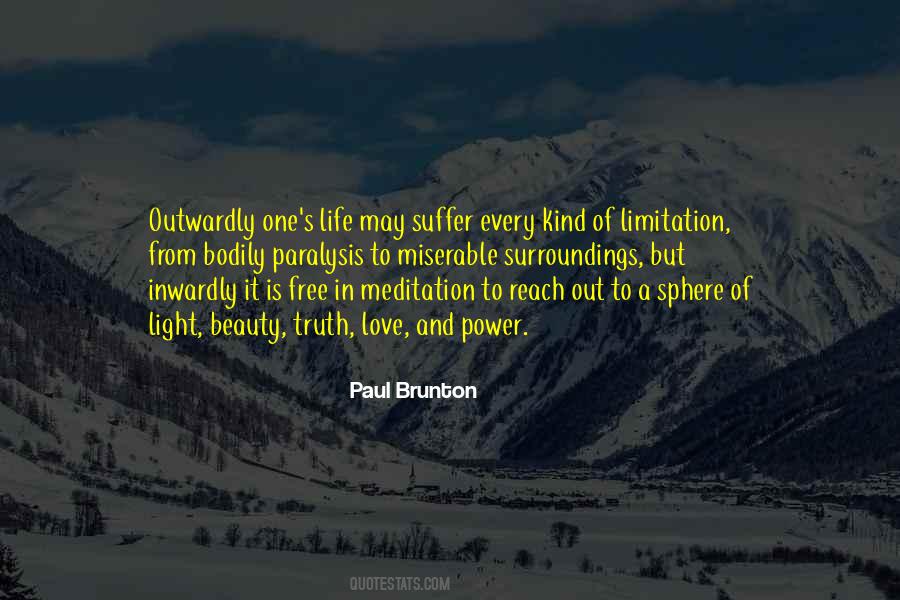 #66. You've ruined me," she repeats, her voice quieting a little as it catches. "You've ruined me - you made me wake up. And now I can't get rid of you." Her voice surges again as I reach out, curling my hand around her arm, her skin flushed hot under my fingers. "You won't leave me alone. - Author: Amie Kaufman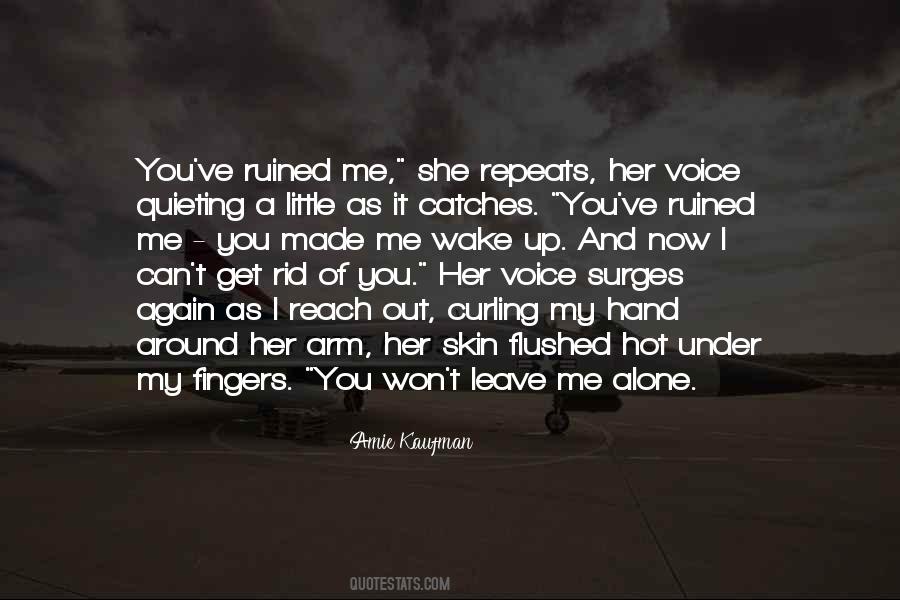 #67. All of the tir e e'lintes are full of potential, always moving, always restless, always looking for possibilities to reach out and be somewhere else, be something else. This tree, that tree, that forest, that forest. But more than anything, we love the stars. - Author: Maggie Stiefvater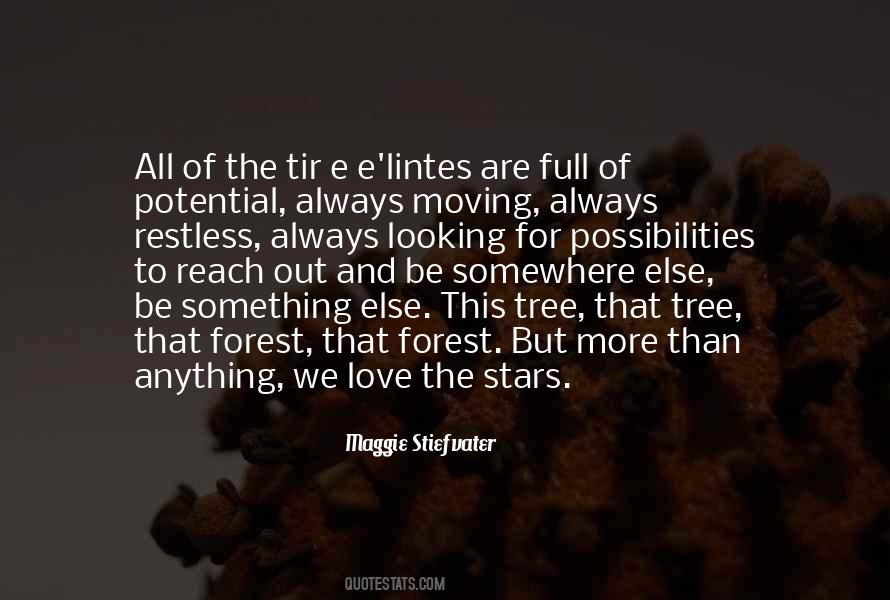 #68. When it comes to the crunch, coming out is the greatest of all confessions. Nothing is more difficult to acknowledge. When we become ourselves we reach right back to the time when we were conceived out of our parents' passion.
We murder their lives. There can never be any forgiveness. - Author: Witi Ihimaera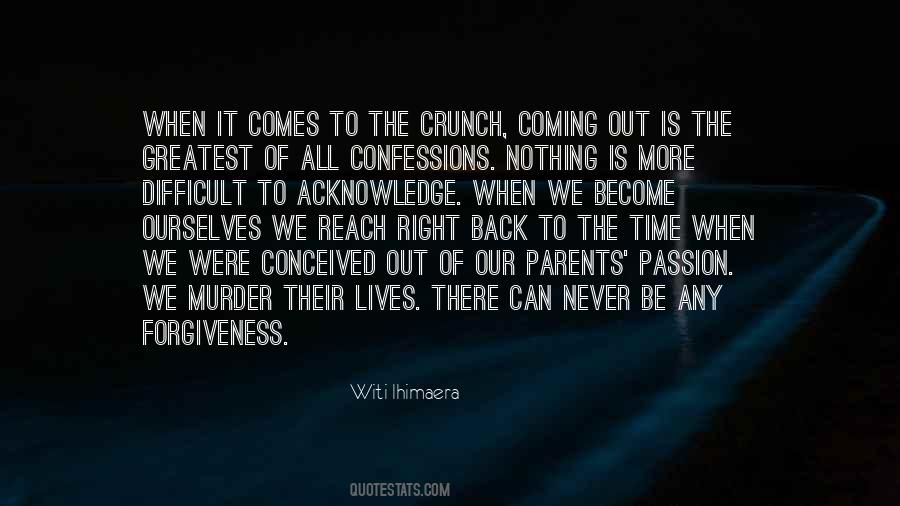 #69. The central tenet of Christianity as it has come down to us is that we are to reach out when our instinct is to pull inward; to give when we want to take; to love when we are inclined to hate; to include when are tempted to exclude. - Author: Jon Meacham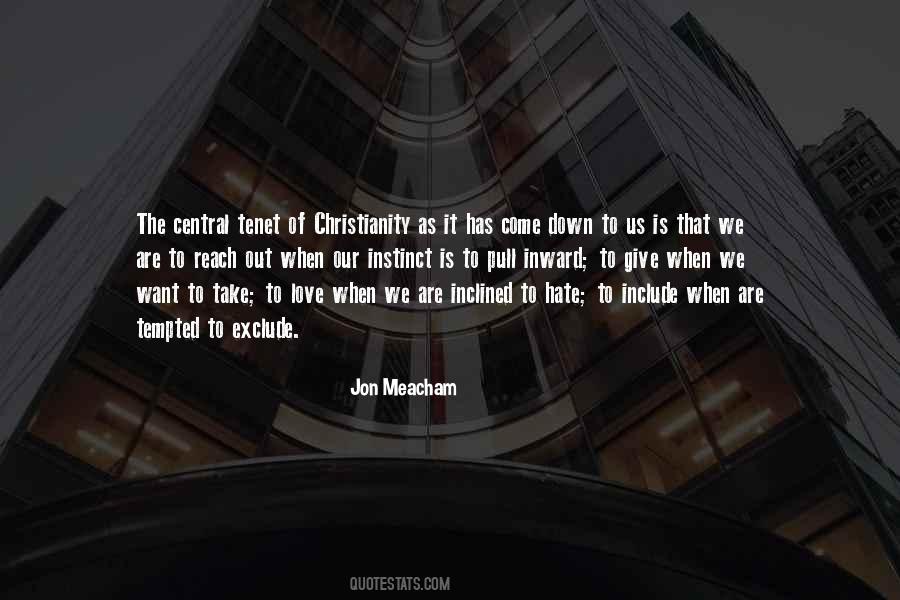 #70. We measure our days out in steps of uncertainty not turning to see how far we've come. And peer down the highway from here to eternity and reach out for love on the run. - Author: Al Stewart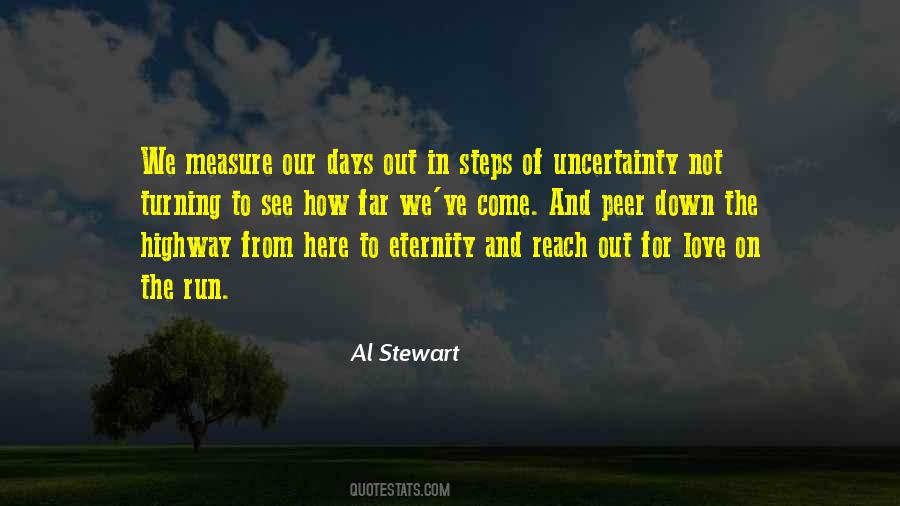 #71. That's why I've kept you out of reach. It's like putting something you love away from everything so its beauty won't be tarnished. I want to be with you more, and them less. I want my life to change. - Author: Lucy De Barbin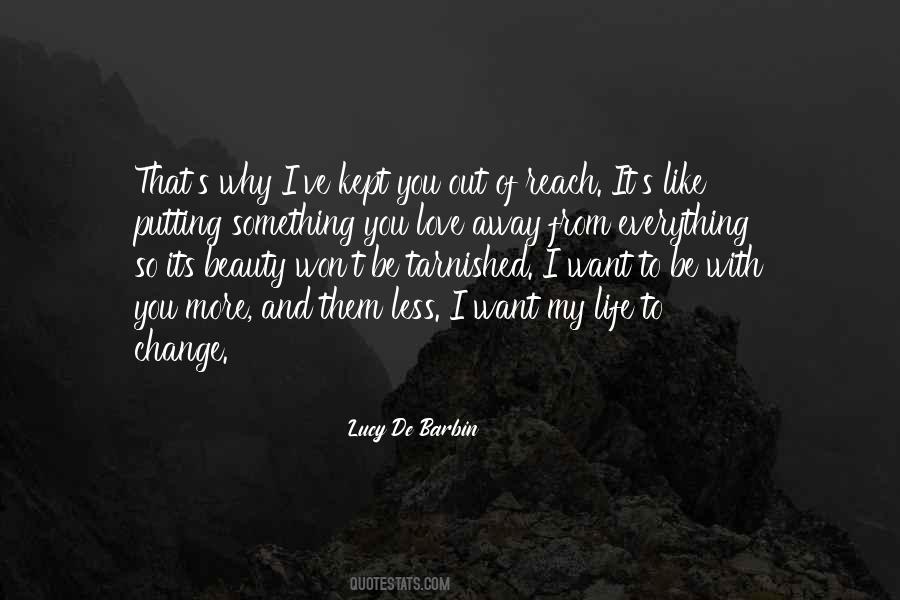 #72. My fear of being real, of being seen, paralyzes me into silence. I crave the touch and the connection, but I'm not always brave enough to open my hand and reach out. This is the great challenge: to be seen, accepted, and loved, I must first reveal, offer, and surrender. - Author: Anna White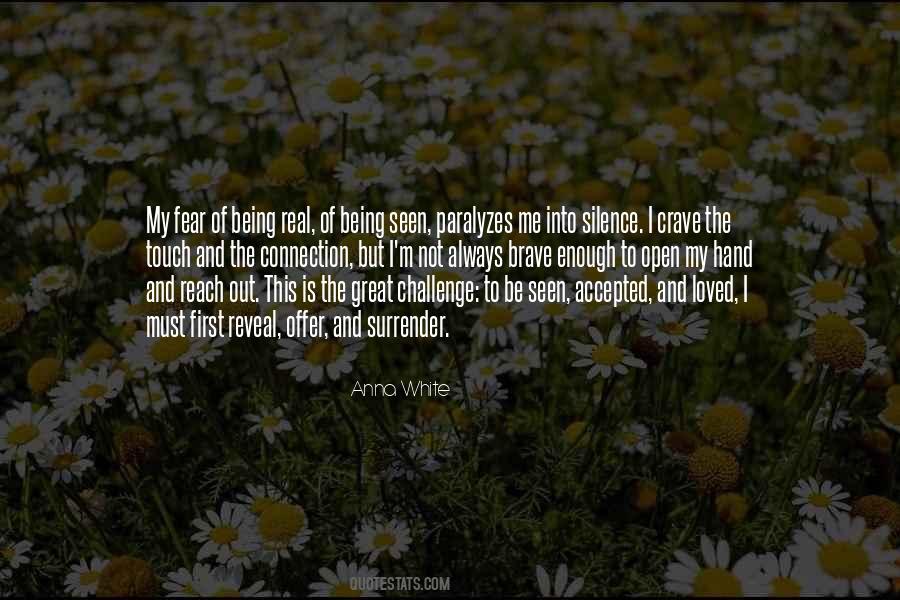 Famous Authors
Popular Topics