Look Into The Past To See The Future Famous Quotes & Sayings
List of top 36 famous quotes and sayings about look into the past to see the future to read and share with friends on your Facebook, Twitter, blogs.
Top 36 Look Into The Past To See The Future Quotes
#1. Whether you see the world as emergent or, deteriorating. We have long known that some people favor innovation and look positively toward the future while others are frightened of change and want to halt innovation. - Author: Michael Crichton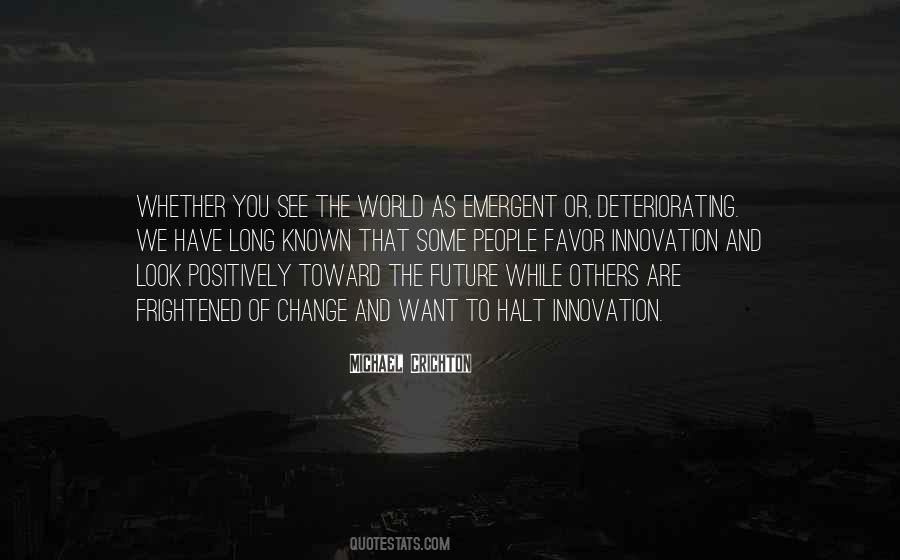 #2. You look boldly ahead; isn't it only that you don't see or divine anything terrible in the future; because life is still hidden from your young eyes. - Author: Anton Chekhov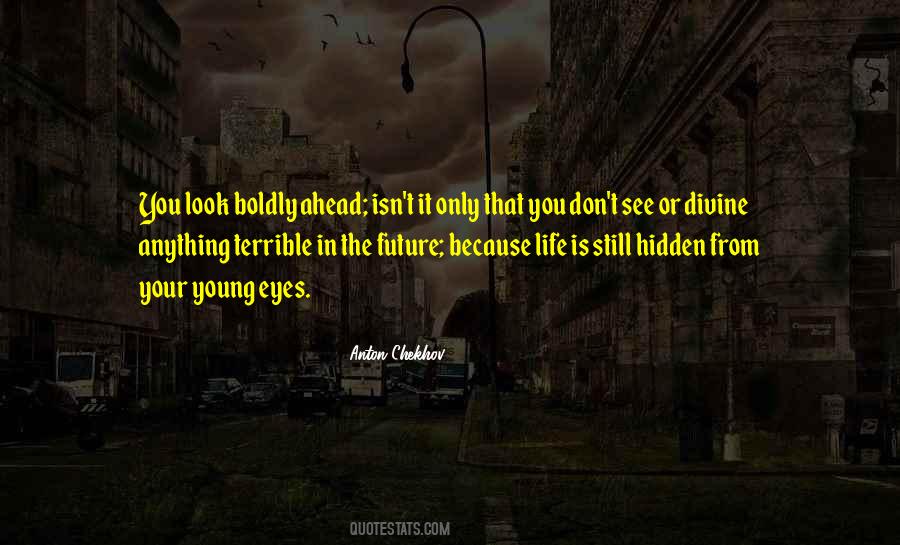 #3. If we stop and look over the past and then into the future, we can see that the possibilities are growing greater and greater every day; that we have scarcely begun to reach the proper results from the field we have before us. - Author: David H. McConnell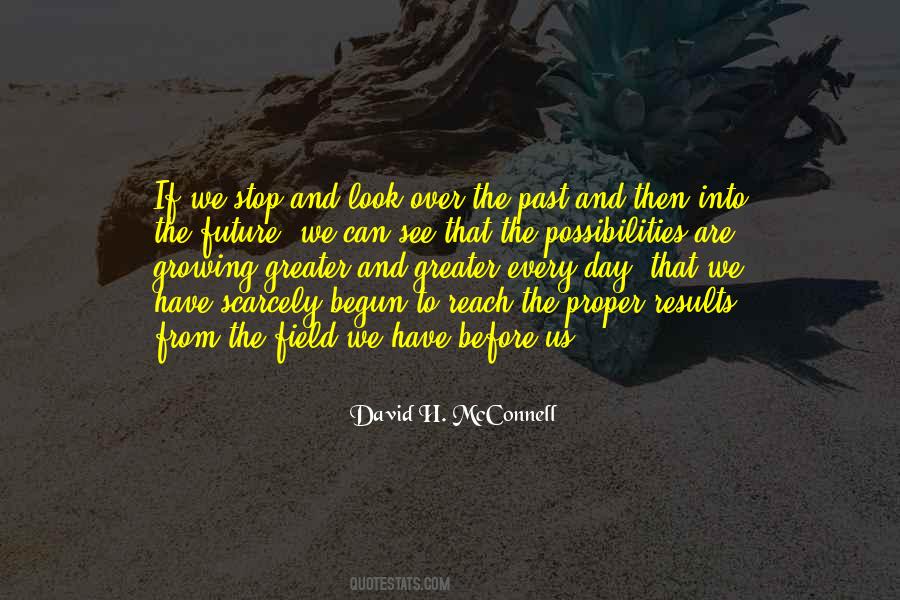 #4. I was cast in 'Thor' and I'm cast as a Nordic god. If you know anything about the Nords, they don't look like me but there you go. I think that's a sign of the times for the future. I think we will see multi-level casting. I think we will see that, and I think that's good. - Author: Idris Elba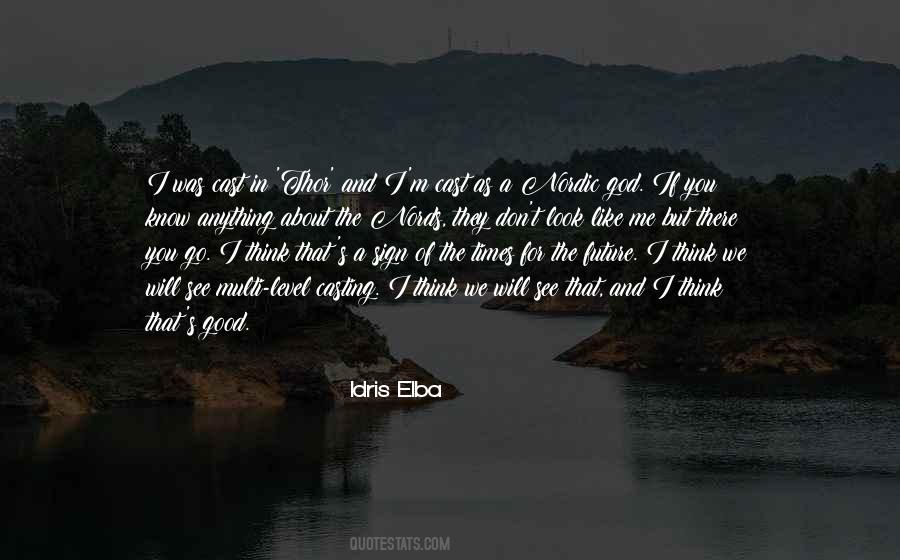 #5. If you wanted to see into the future, you just had to look to the past. Reaching - Author: Matthew Mather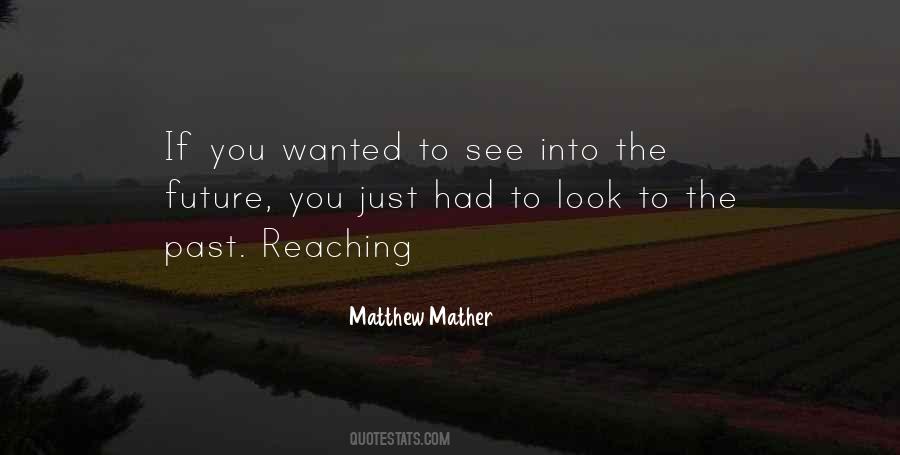 #6. Look to the past to see what the future holds. - Author: Celia Conrad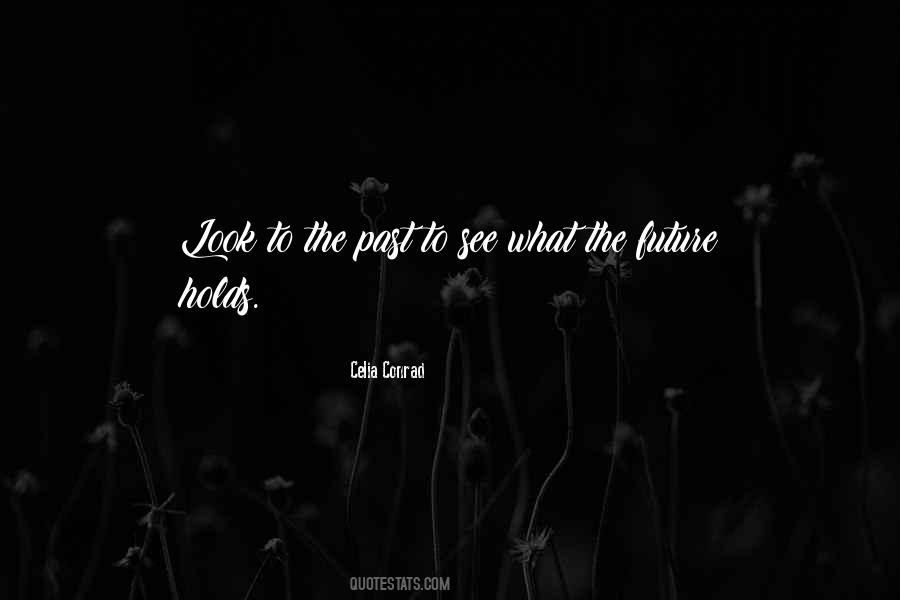 #7. In the light of our culture, these are not unreasonable questions and tactics, but if once again, we try to see the lens through which we look, we can see that there is far too great an emphasis placed on the future. - Author: Alan Dundes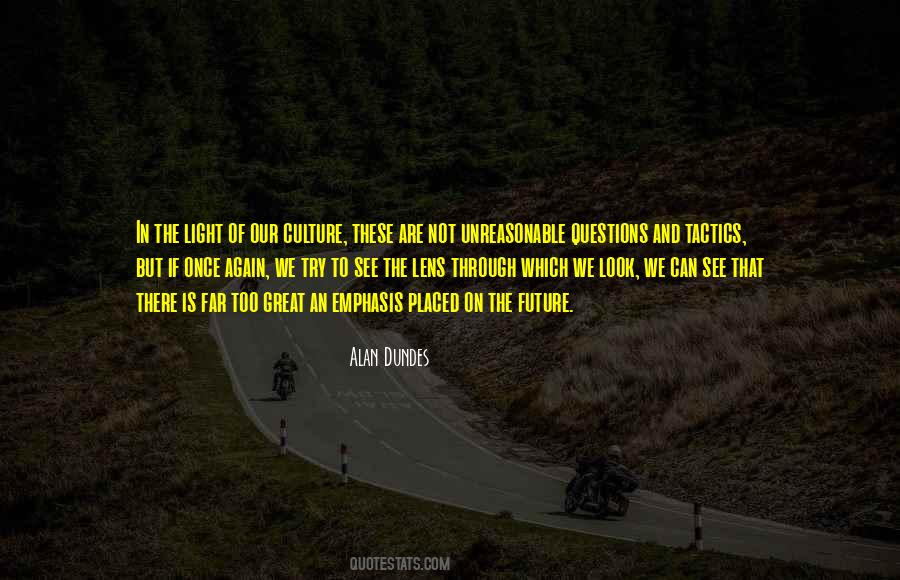 #8. He'd stop and lean on the cart and the boy would go on and then stop and look back and he would raise his weeping eyes and see him standing there in the road looking back at him from some unimaginable future, glowing in that waste like a tabernacle. - Author: Cormac McCarthy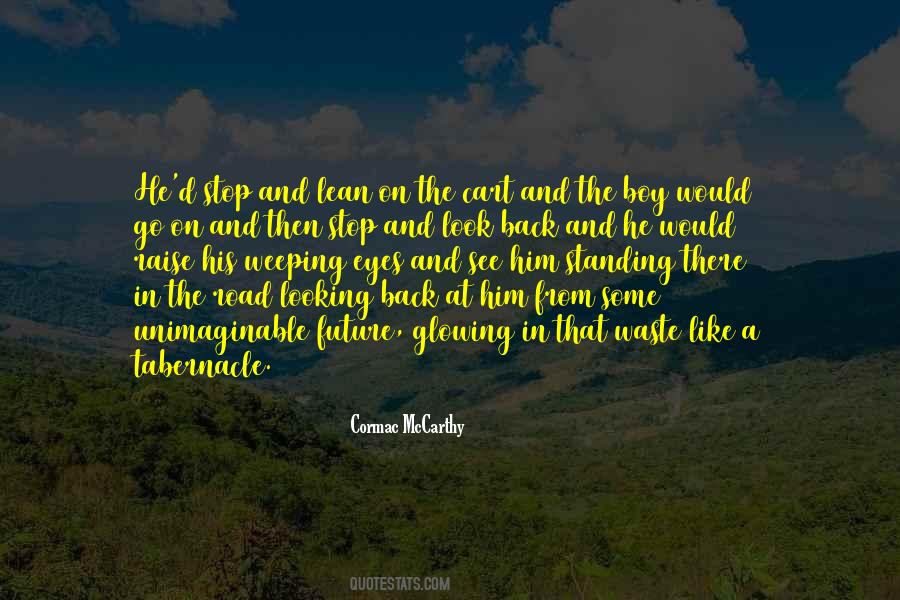 #9. If we would see the color of our future, we must look for it in our present; if we would gaze on the star of our destiny, we must look for it in our hearts. - Author: Frederic Farrar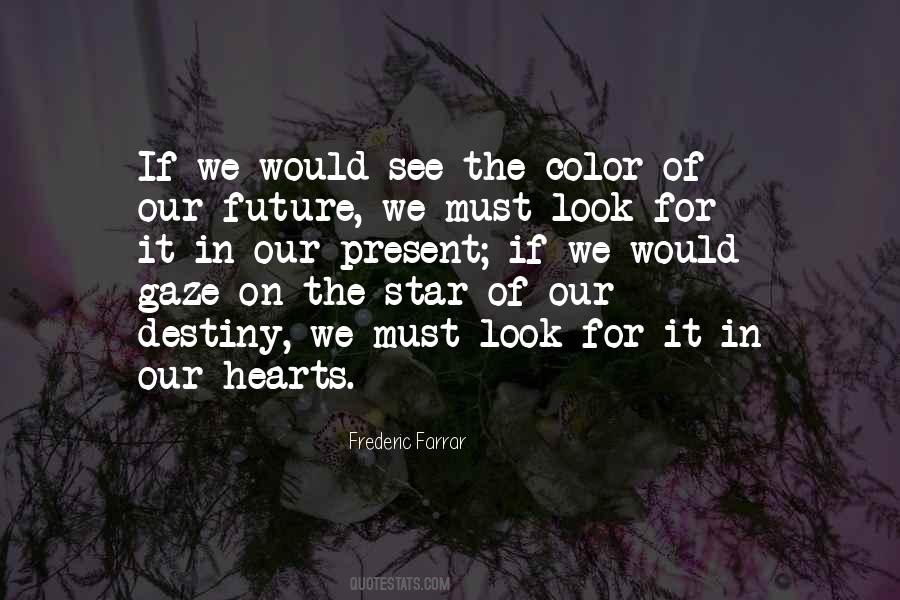 #10. If it was scandalous for girls in the 1960s to wear pants to school, what else will we look back on & shake our heads at? What else can't we see in the future? And at that, what else can we dream up? - Author: Lisa Factora-Borchers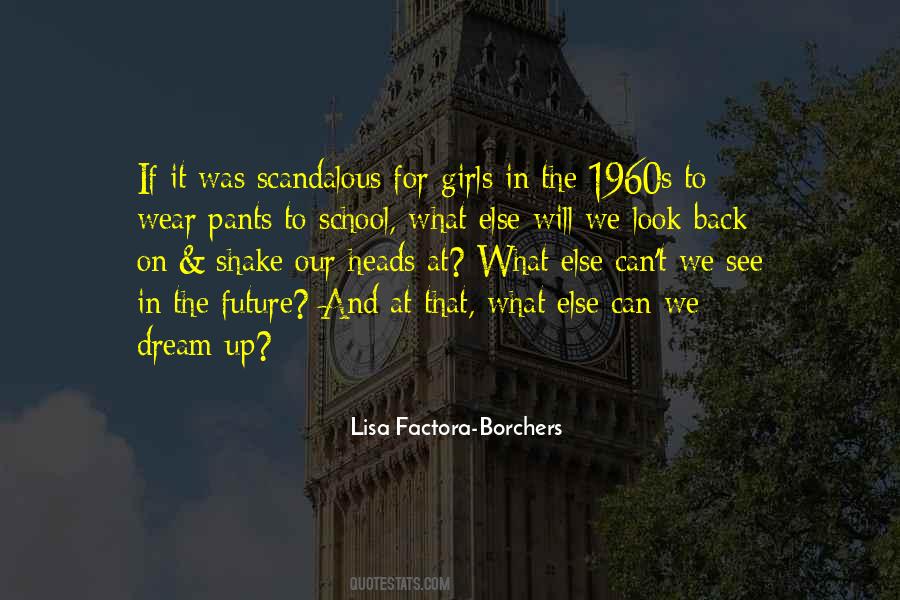 #11. I don't know," he said softly. "I look into the future and I don't see anything else. It's like it's this big blank space where I should be. - Author: Jacqueline Woodson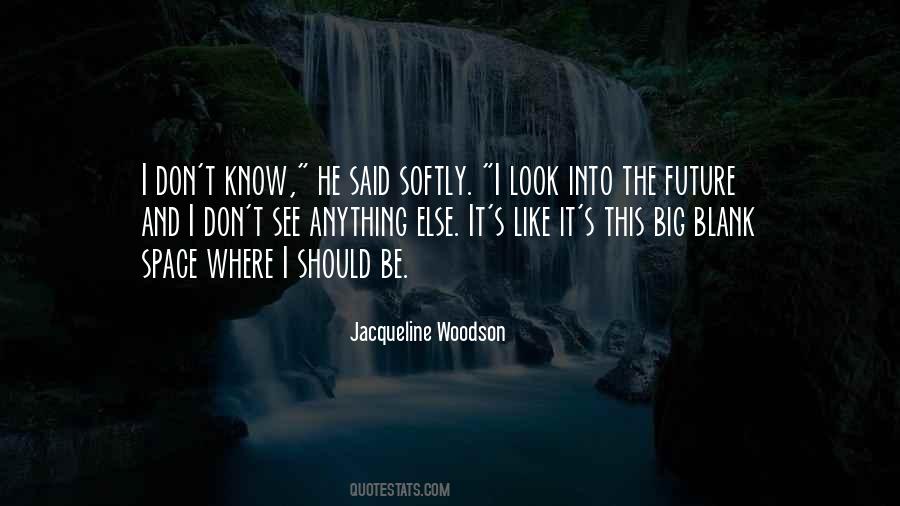 #12. Look at towards the future! If you see something, it is your imagination only! Because the future is not there yet, it has not born yet! - Author: Mehmet Murat Ildan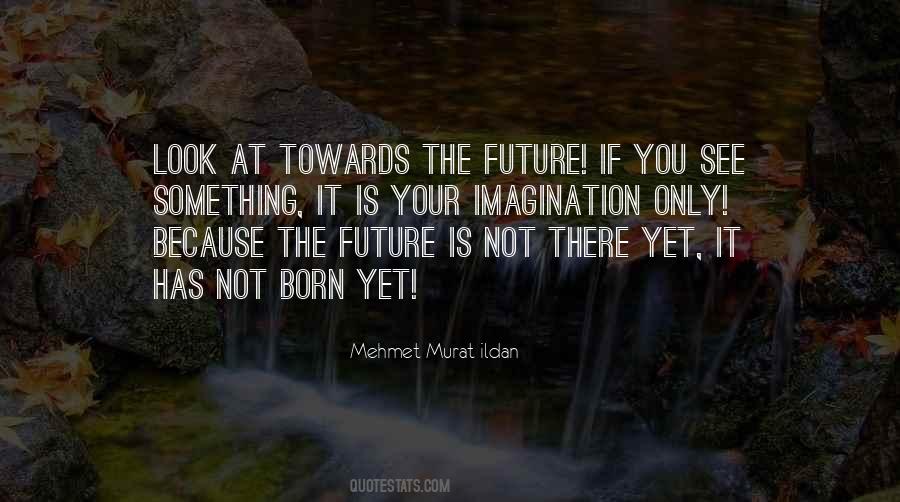 #13. As I look into the future, I see radical changes in both how people 'attain beauty,' and how the world perceives beauty. In general, I believe traditional beauty will be less valuable - and more uniqueness will be heralded. - Author: Tyra Banks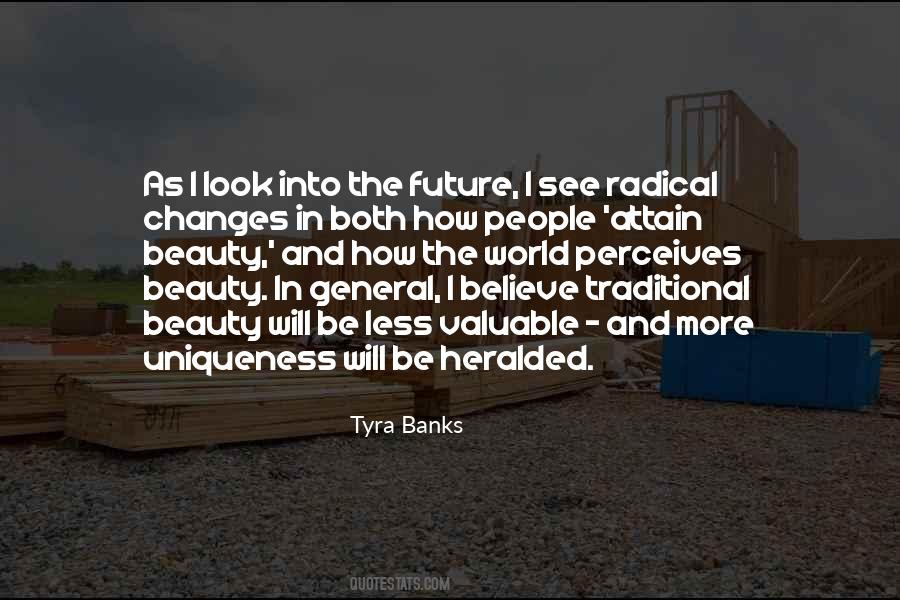 #14. We are on a perilous margin when we begin to look passively at our future selves, and see our own figures led with dull consent into insipid misdoing and shabby achievement. - Author: George Eliot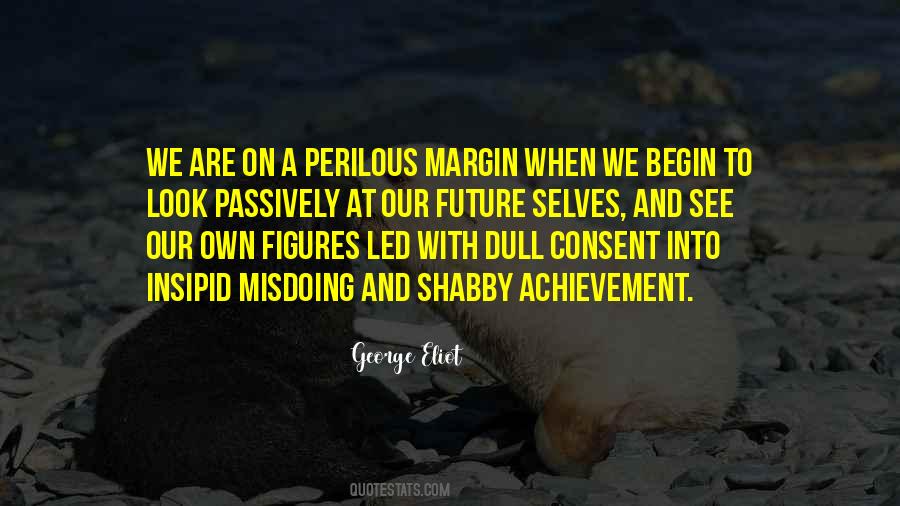 #15. Our ability to look back on the past, our need or desire to make sense of it, is both a blessing and a curse; and our inability to see into the future with any degree of accuracy is, simultaneously, the thing that saves us and the thing that condemns us. - Author: James Robertson
#16. What do great artists do when you see a world around you that's in turmoil? Some of the best artists make you feel good (hah), they look to the future. - Author: Nile Rodgers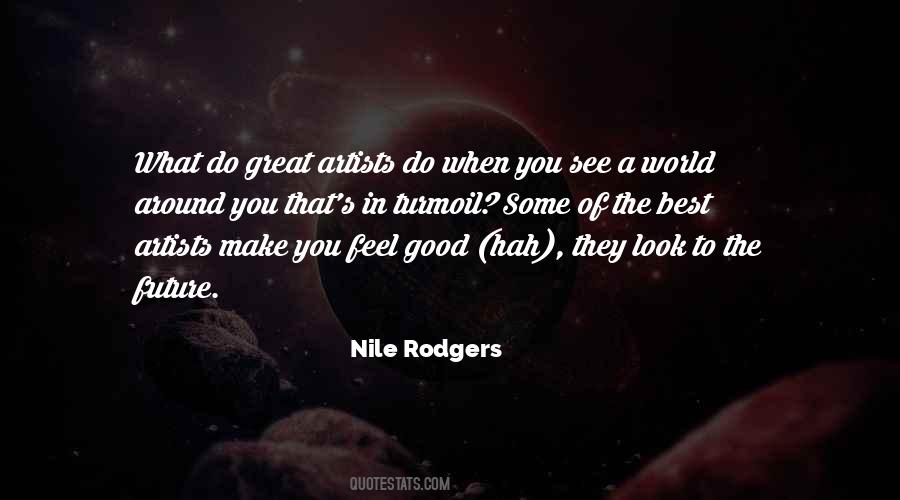 #17. Something wrong?"
"No." David's voice was low and full of emotion. "I just wanted to look at you."
"What do you see?"
"My future. - Author: Shira Anthony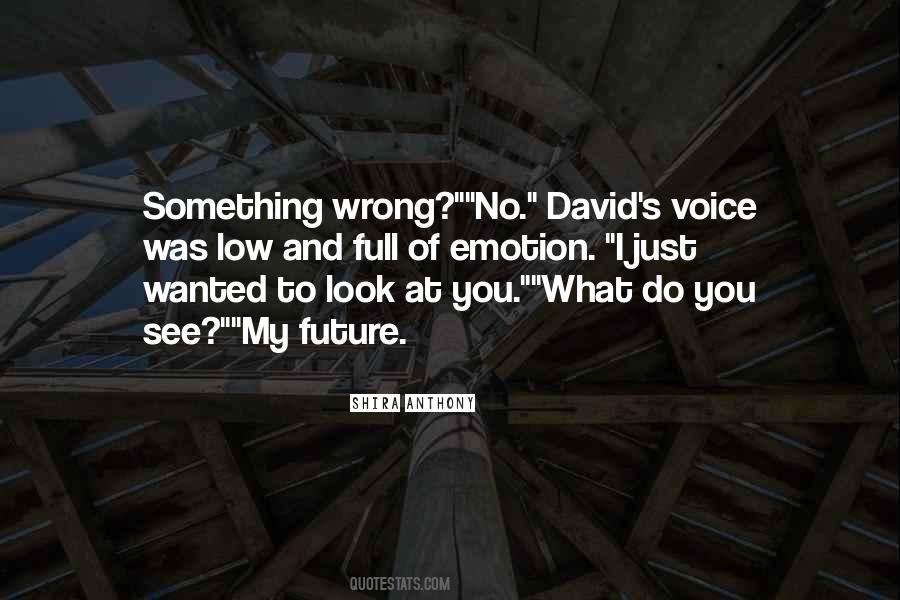 #18. When you have city eyes you cannot see the invisible people, the men with elephantiasis of the balls and the beggars in boxcars don't impinge on you, and the concrete sections of future drainpipes don't look like dormitories. - Author: Salman Rushdie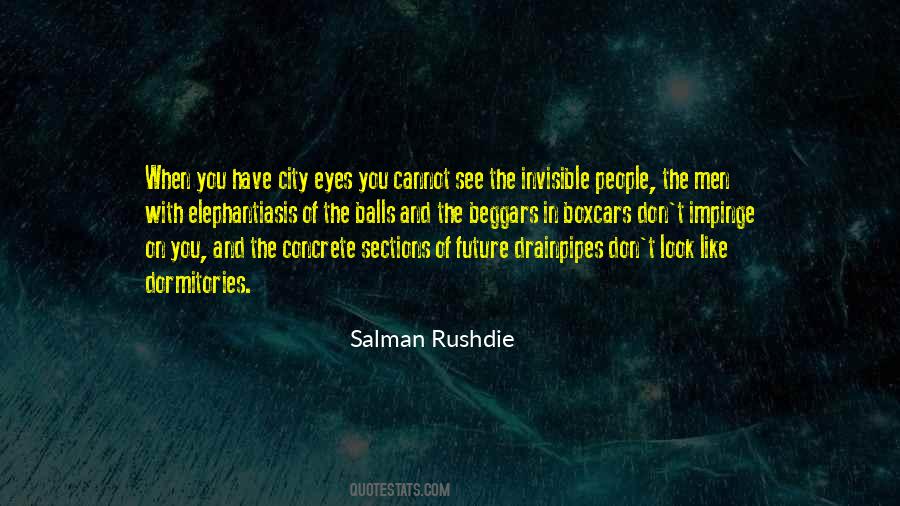 #19. And I suddenly think, as I look across the table at him, that these are the days as they will be. This is the future as we see it. The swerve and the static. The confidence and the doubt. - Author: Colum McCann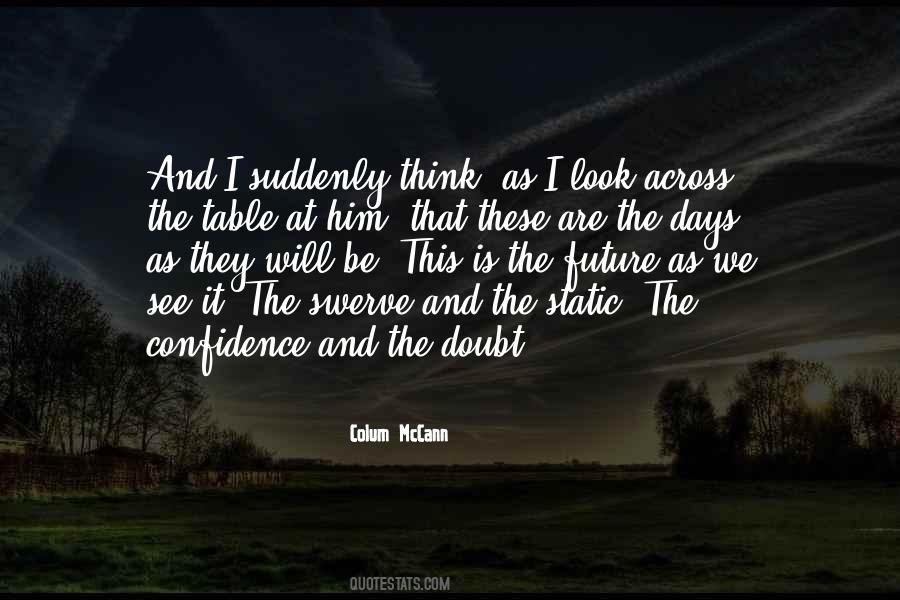 #20. As we look into the future, it's as far as we can see. So let's make each tomorrow be the best that it can be. - Author: George Strait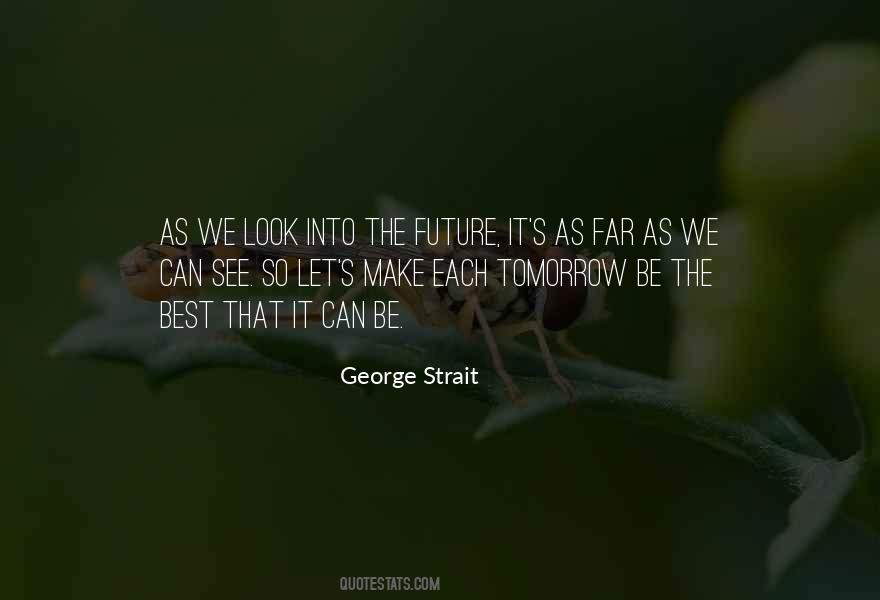 #21. I look at my future and all I see is you. - Author: Mari Carr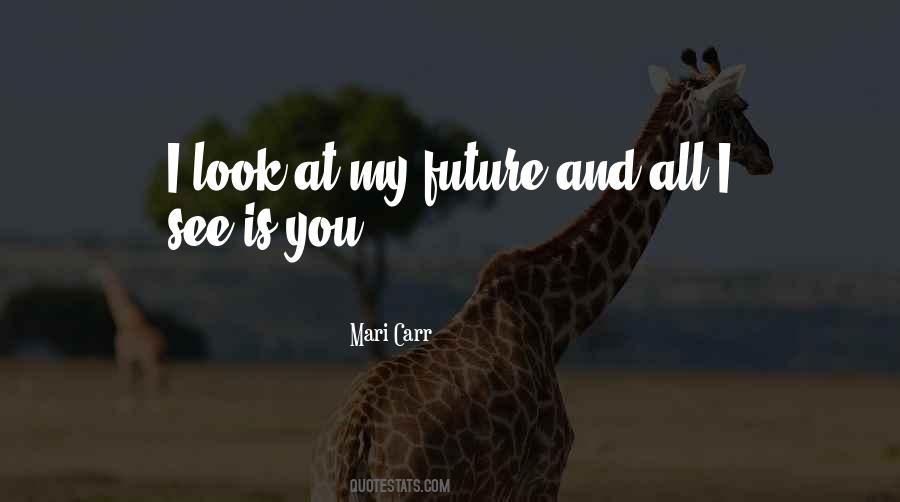 #22. If you want to see the greatest threat to your financial future, go home and take a look in the mirror. - Author: Jonathan Clements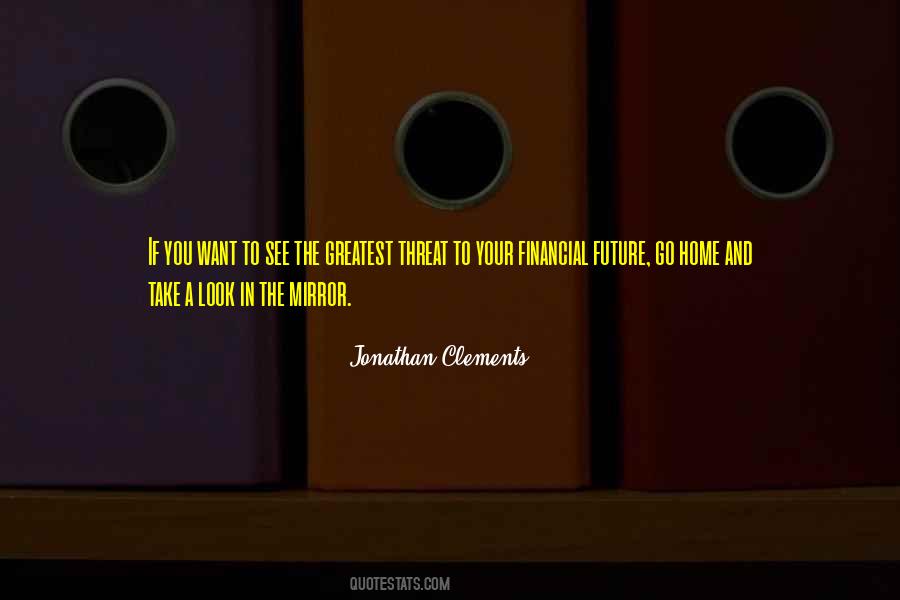 #23. We frequently look into the future of mankind and see dangers. We see if we carry on doing what we are doing in 20 years' time there will be no rainforests left, just to use one example. Looking into the future may be one of the reasons that brains evolved in the first place. - Author: Richard Dawkins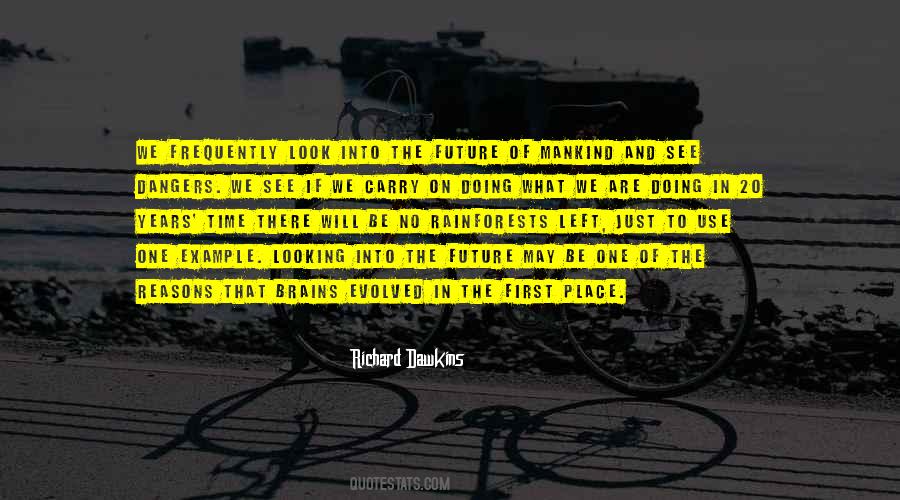 #24. I am in awe of the things you've been put through and the fact you can still light up a room when you walk in. When I look at you I see life. I see joy. I see my future. - Author: Abbi Glines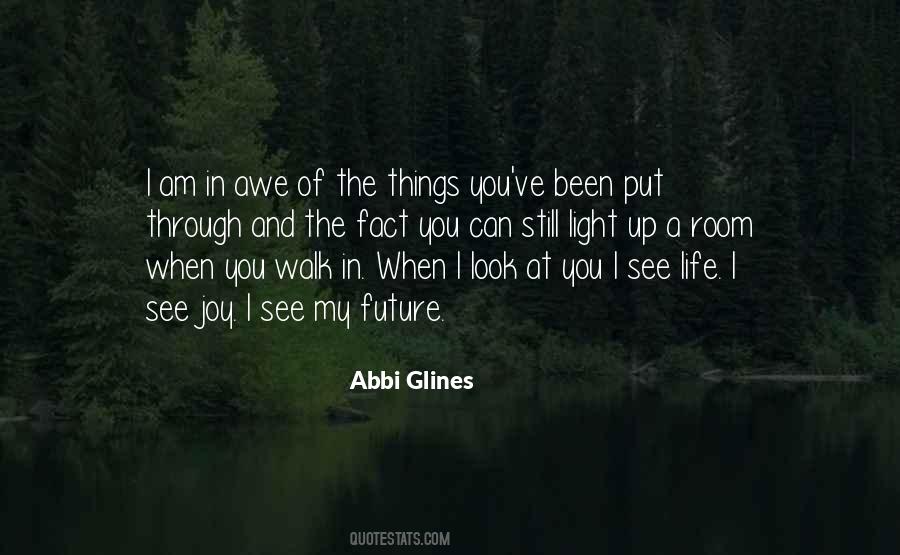 #25. People want to look at you and see your whole future laid out the way they know it, and I was saying that didn't happen. People aren't born with I'M GREAT! flashing on their foreheads. - Author: Walter Dean Myers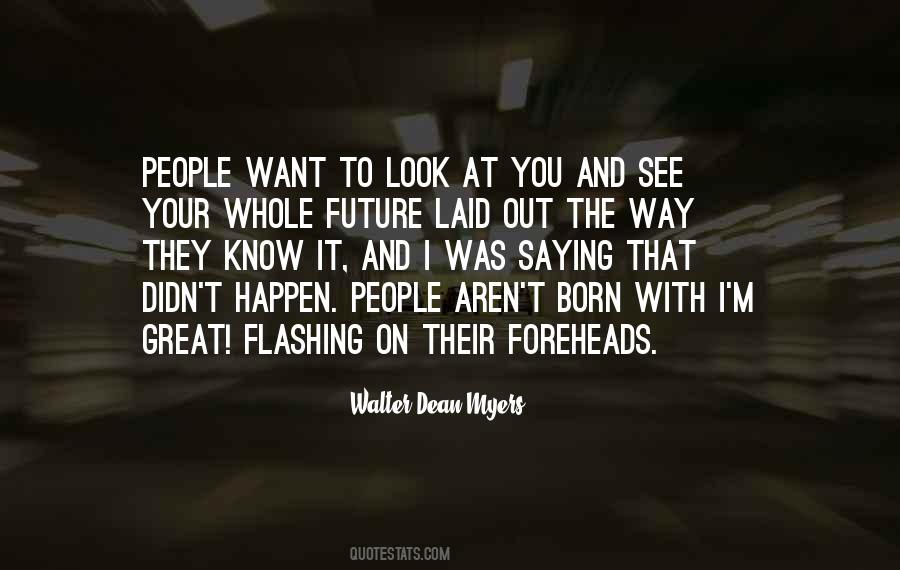 #26. When we look in to the long avenue of the future, and see the good there is for each one of us to do, we realize, after all, what a beautiful thing it is to work, and to live, and to be happy. - Author: Robert Louis Stevenson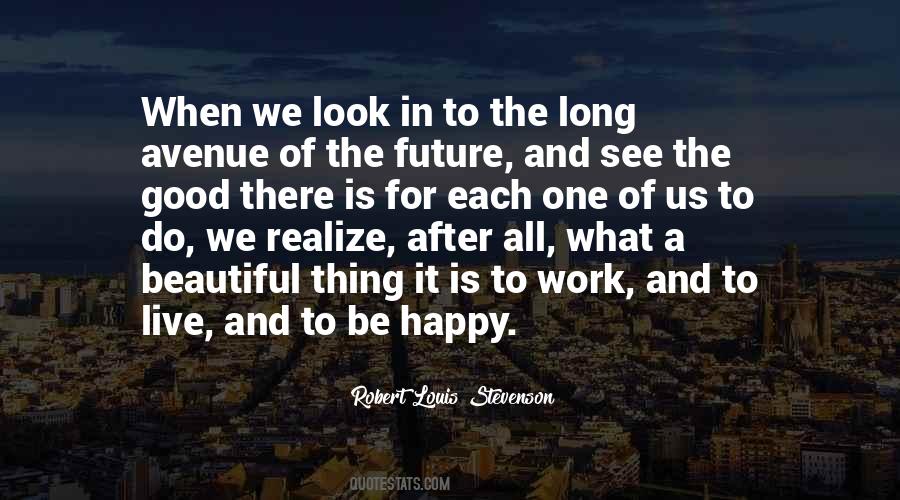 #27. When I met your father, it was magic. Not for him - not then - but for me. Sometimes, if you're lucky, you can look into a pair of eyes and see your whole future. - Author: Kristin Hannah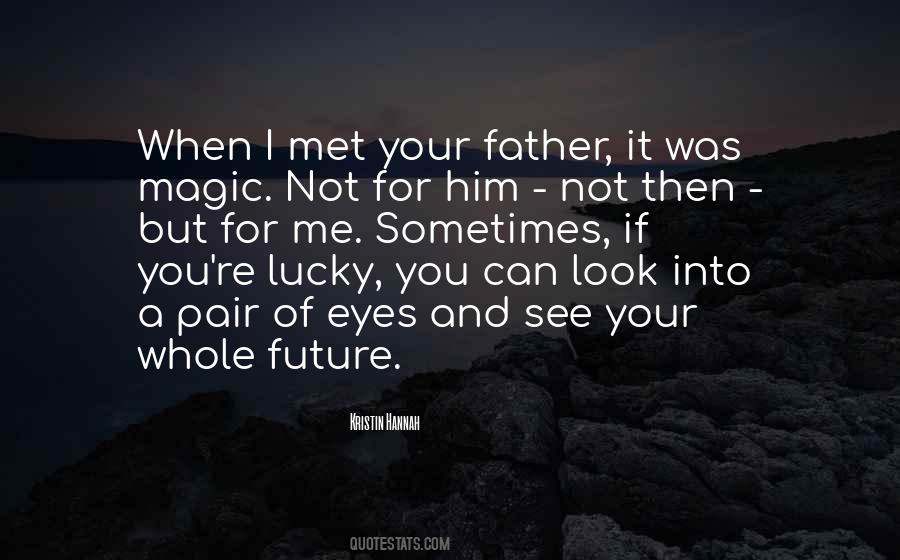 #28. Okay, so you can manipulate the way you look, and you can read minds, and you can see the future?" I really hoped she couldn't see everything. Like private moments and, well, basically that exactly. - Author: Angela McPherson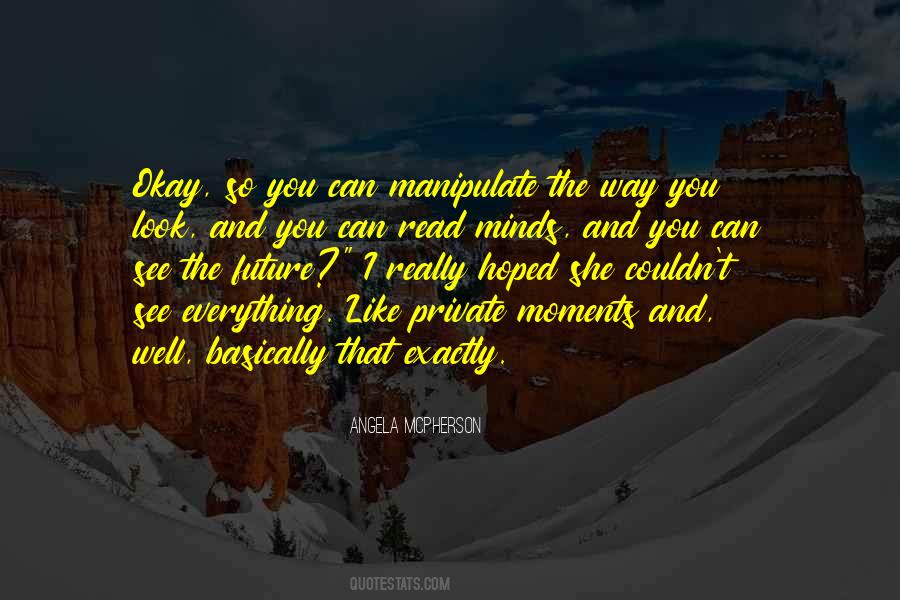 #29. An artist has to look at the future, to see what we can do better. - Author: Marina Abramovic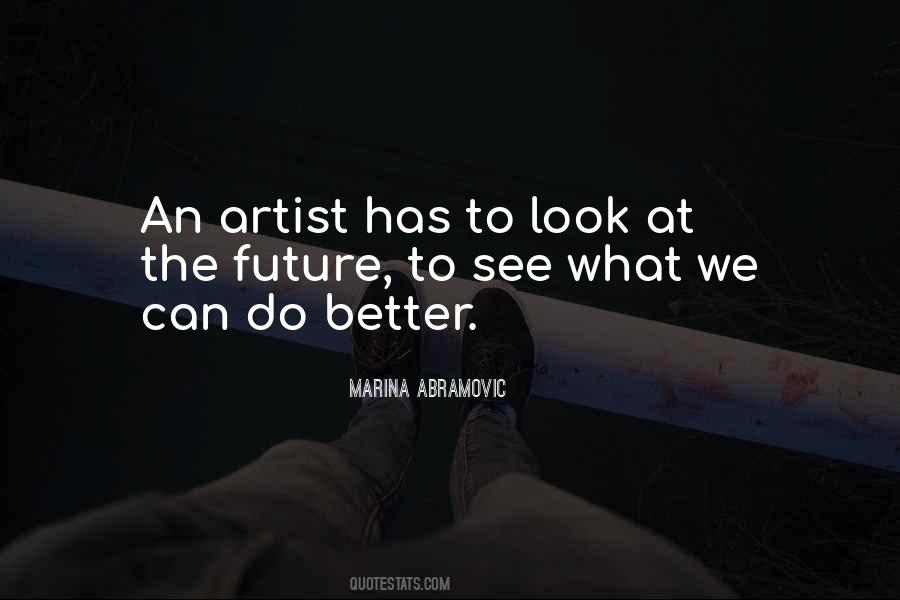 #30. Don't waste your time lookin' over your shoulder; those loves from the past ain't getting' no closer. When I look in my future, you're all I can see, so honey, don't go lovin' on nobody but me. - Author: Blake Shelton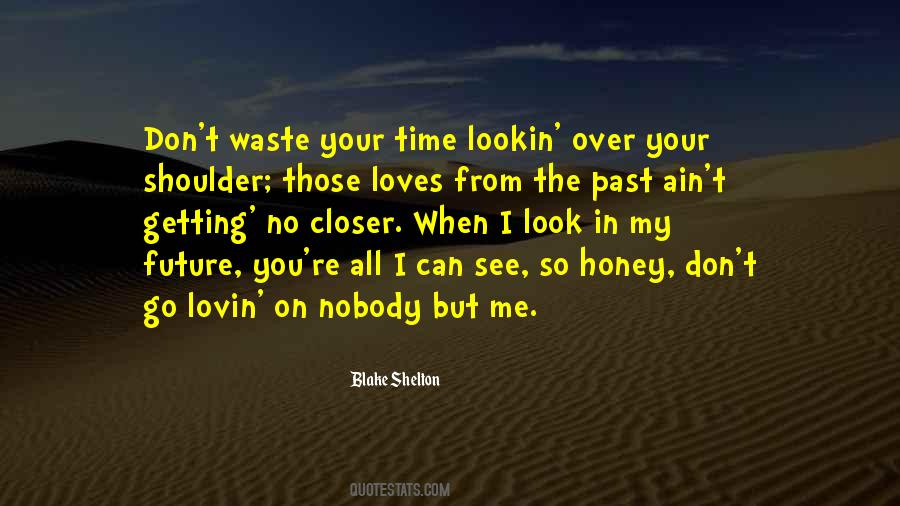 #31. To look into the mirror is to see the future, in blood and rubies. - Author: Gregory Maguire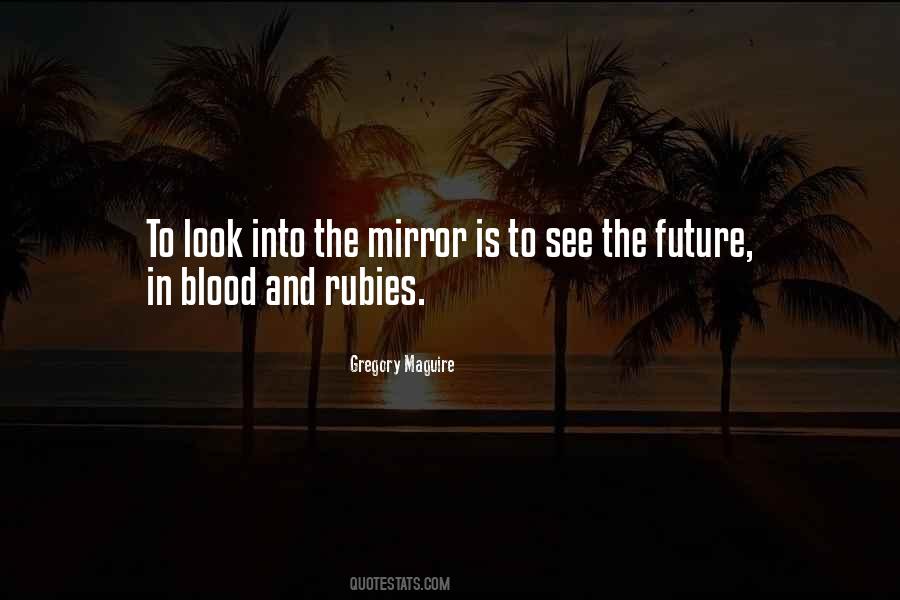 #32. I can see the future. Oh look! I see us! There we are. We look great. - Author: Kate Scelsa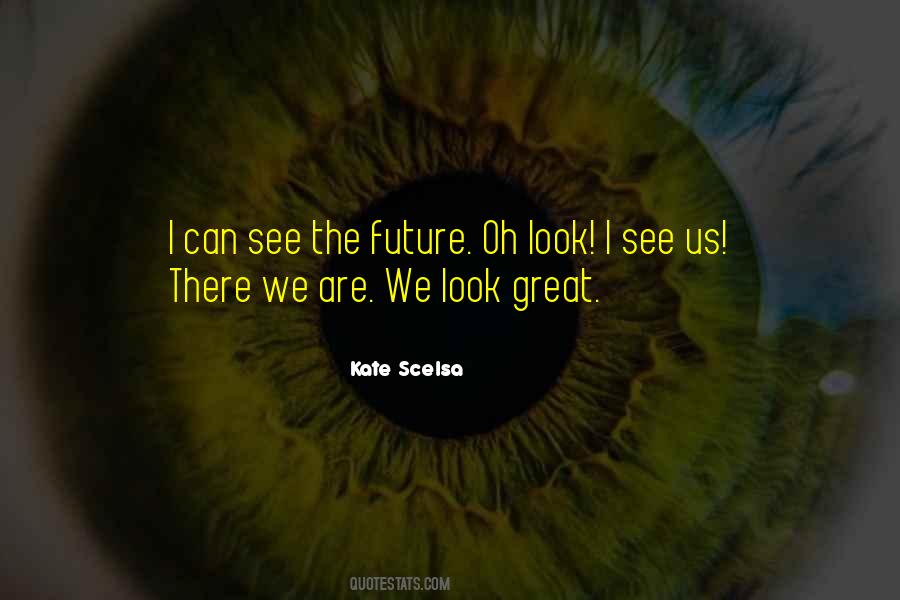 #33. When I turned 25, something changed in me. I see children in my future 100%. Soon. I started thinking I want my kids to look back and say, 'Wasn't Mummy amazing?' I've really started thinking about what I'm leaving for them. - Author: Jessie J.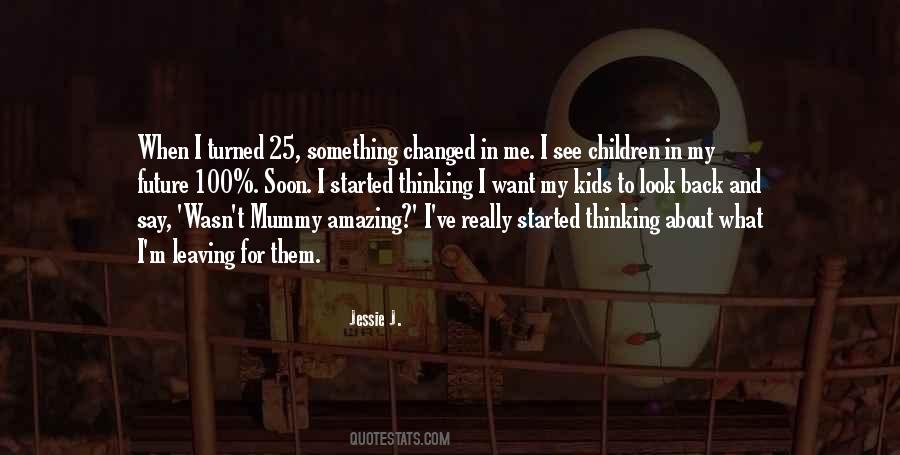 #34. I look at you and everything just makes sense. And I can't see another day in my future without you in it. - Author: Samantha Towle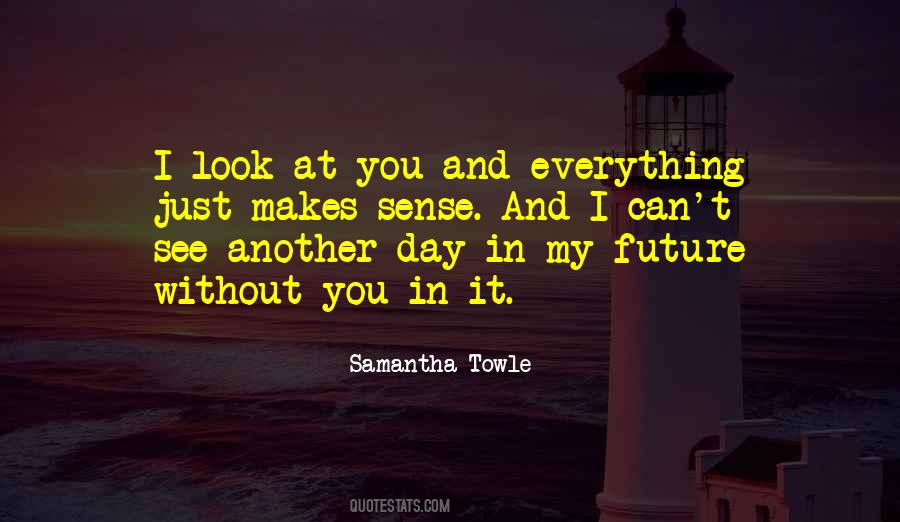 #35. Today, I look forward and I see a future in which games once again are explicitly designed to improve quality of life, to prevent suffering, and to create real, widespread happiness. - Author: Jane McGonigal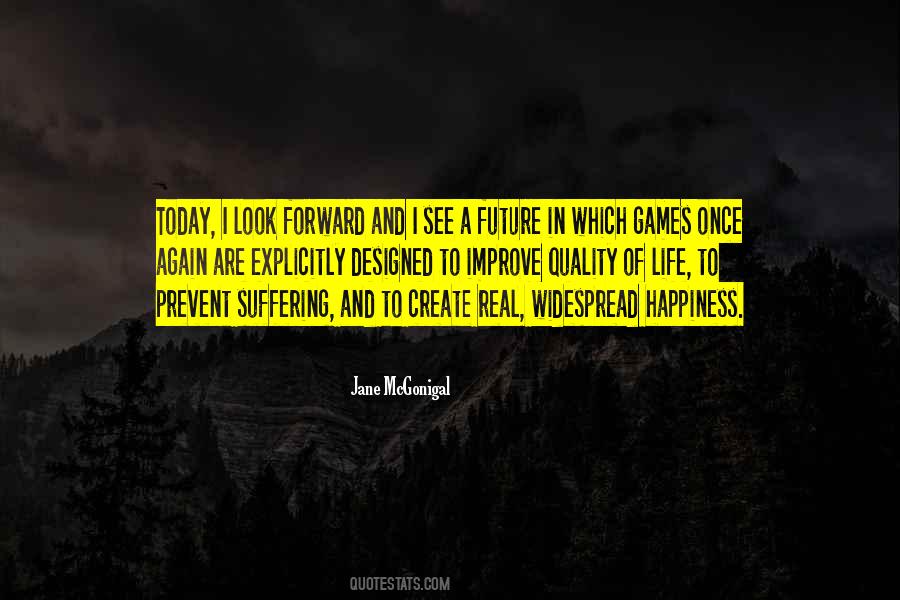 #36. Every time I look at you, I see my future. Every time I touch you, I feel your love. Every time I lick my lips, I taste you. Only you. - Author: Brooke Cumberland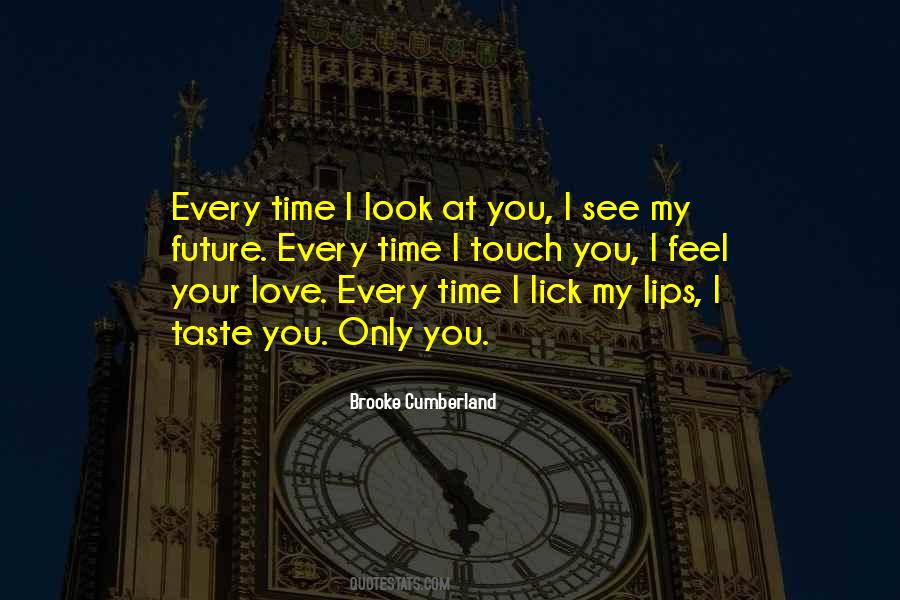 Famous Authors
Popular Topics