Live Life Best Famous Quotes & Sayings
List of top 100 famous quotes and sayings about live life best to read and share with friends on your Facebook, Twitter, blogs.
Top 100 Live Life Best Quotes
#1. You couldn't control or changed anything that's happened. We just do the best we can at any given time, make the bedt choices possible, and learn to live with the rest - Author: Kirsten Beyer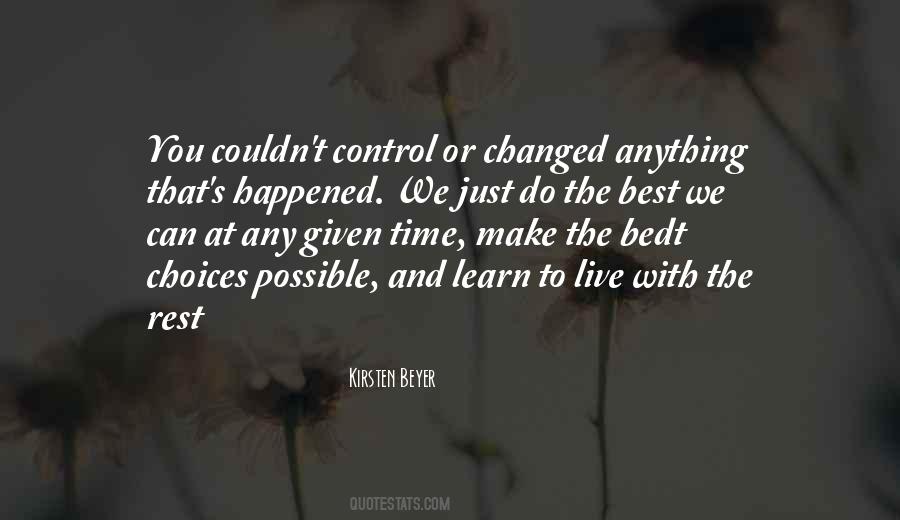 #2. I don't have best friends. I have soul sisters. - Author: Airicka Phoenix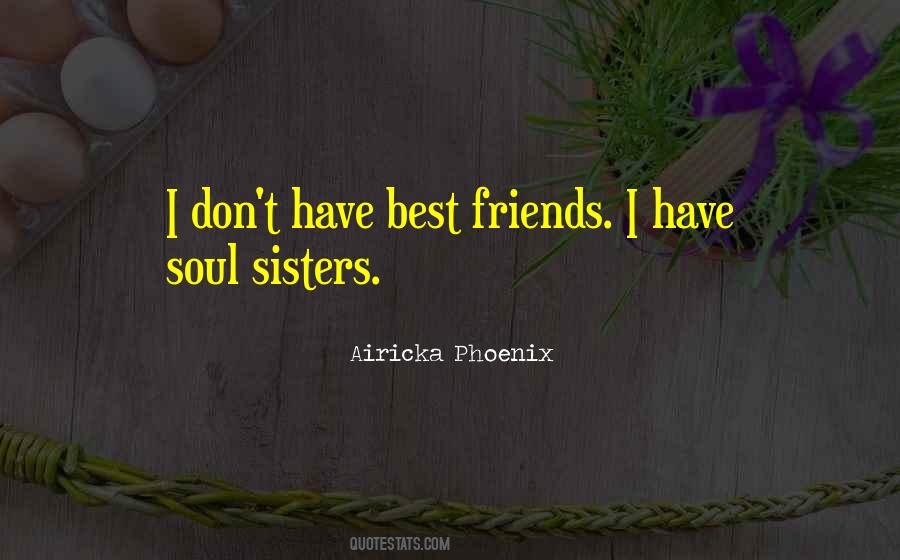 #3. Reading is the best return on investment. You have to live your entire life in order to know one life. But with reading you can know 1000s of people's lives for almost no cost. What a great return! - Author: James Altucher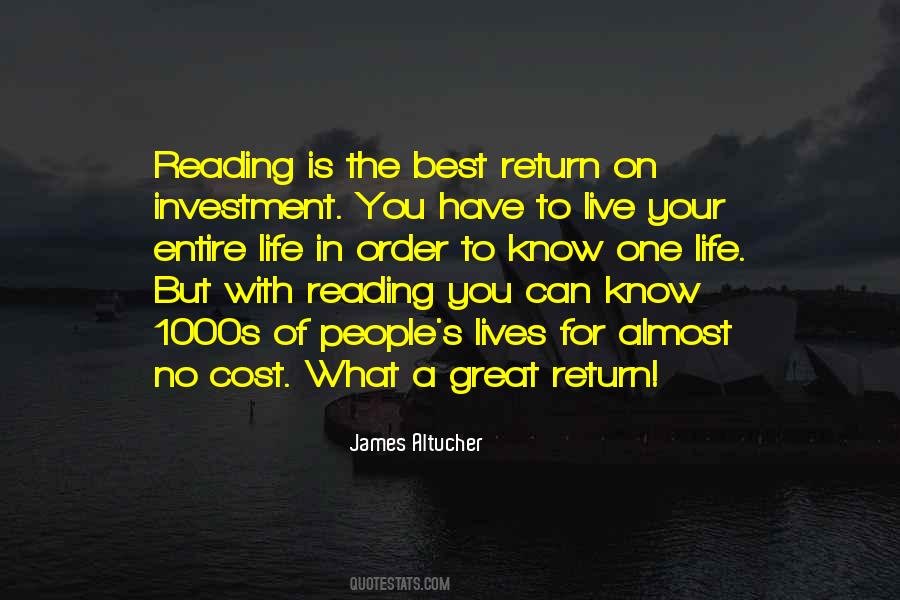 #4. You must live life in such a spirit that you make in every moment the best of possibilities. - Author: Carl Jung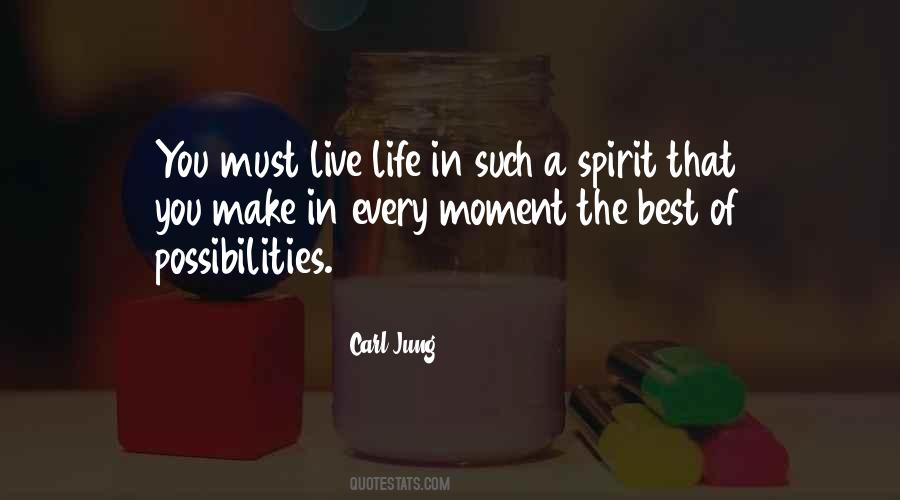 #5. Life has been dealt to us flawed; doesn't mean we have to like it all the time, but live it and make the best of it to our greatest ability. - Author: A.R. Voss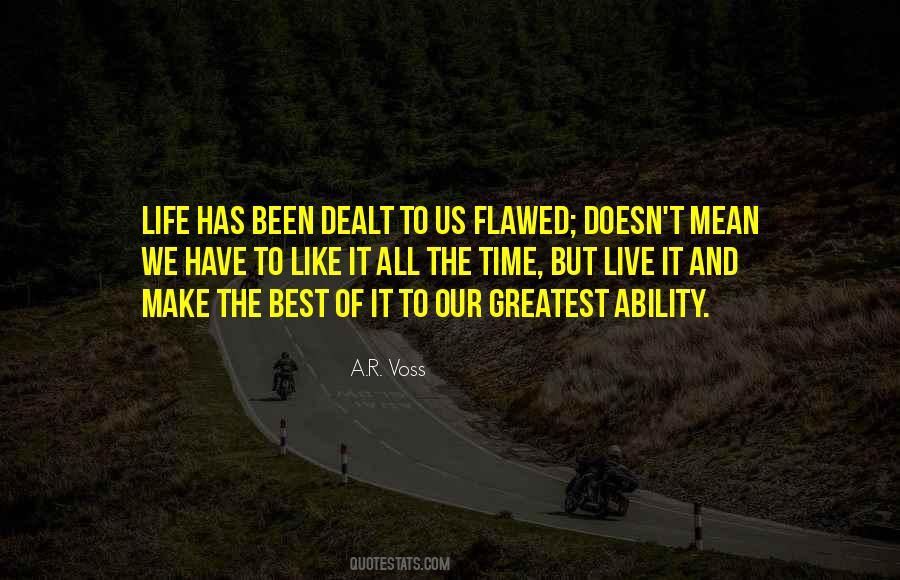 #6. I think the best thing for you to do is just live your life. Live a life that's worth living, one where you do what you want to do, pursue your passions. That way, if you meet someone, they'll be joining a life that's already really good. - Author: Dan Savage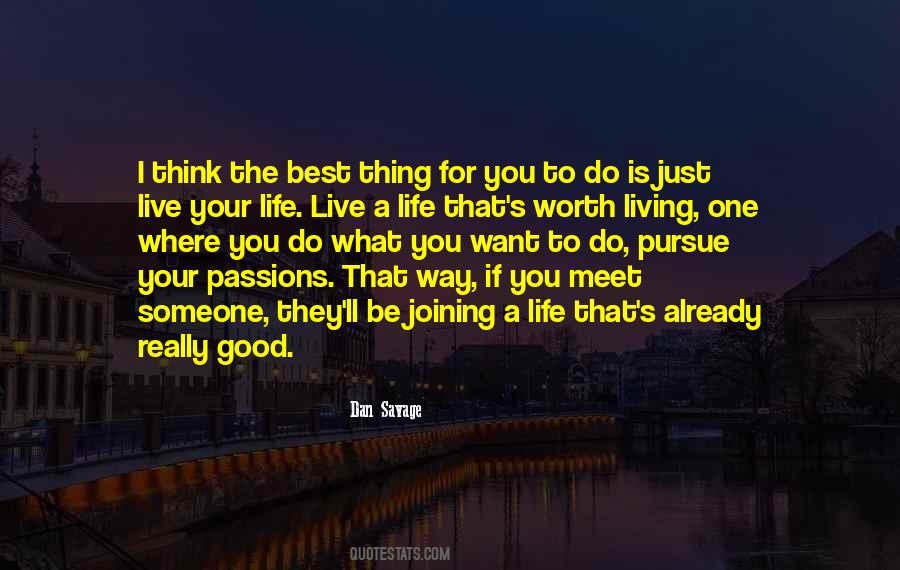 #7. Live your life, not wasting it on minor things of life, but rather investing it in the best possible ways - Author: Sunday Adelaja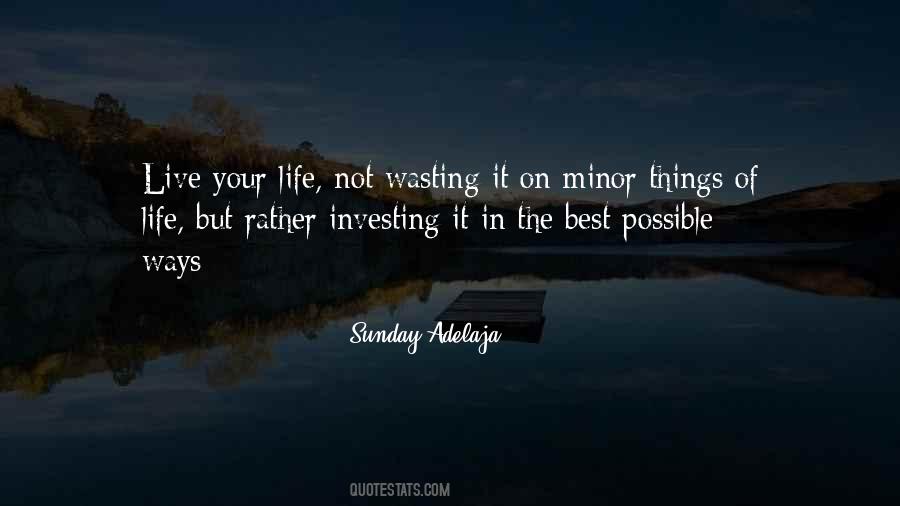 #8. I live by four words and I have it tattooed on my arms as well. It just says, 'Live, learn, love life'. So you live your life to the best way you can. Every situation is a learning one so take those lessons, learn from it and love your life. - Author: Chris Johnson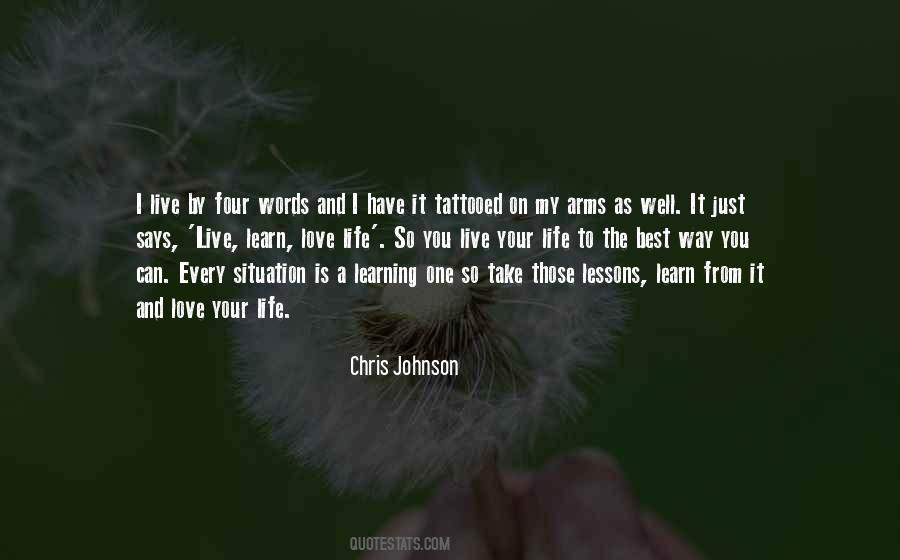 #9. Life certainly points it out to you - 'you can go this way or the other way.' You have to decide and it's a very strong decision because, would you sleep well knowing that you're living in the best place, but you're letting the place where you should live alone? - Author: Gael Garcia Bernal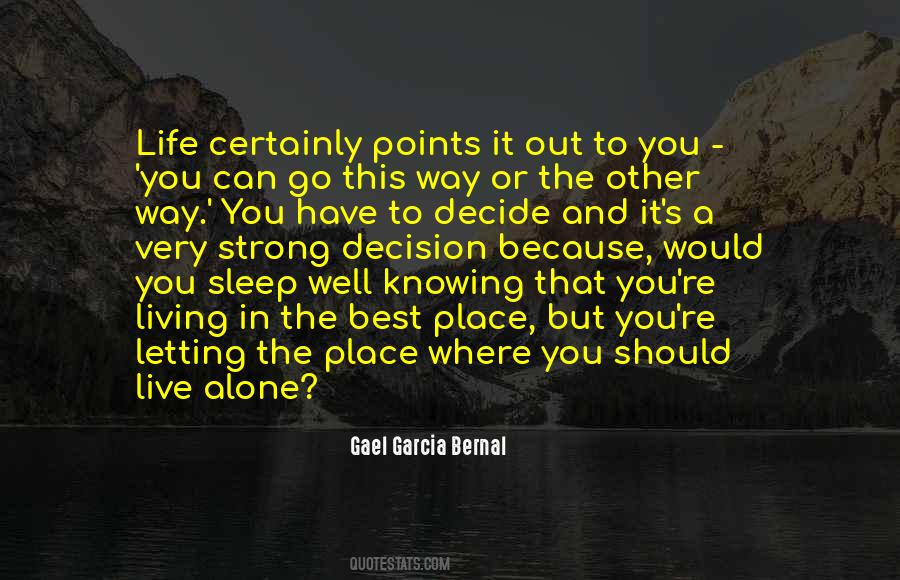 #10. May you live life to the fullness. - Author: Lailah Gifty Akita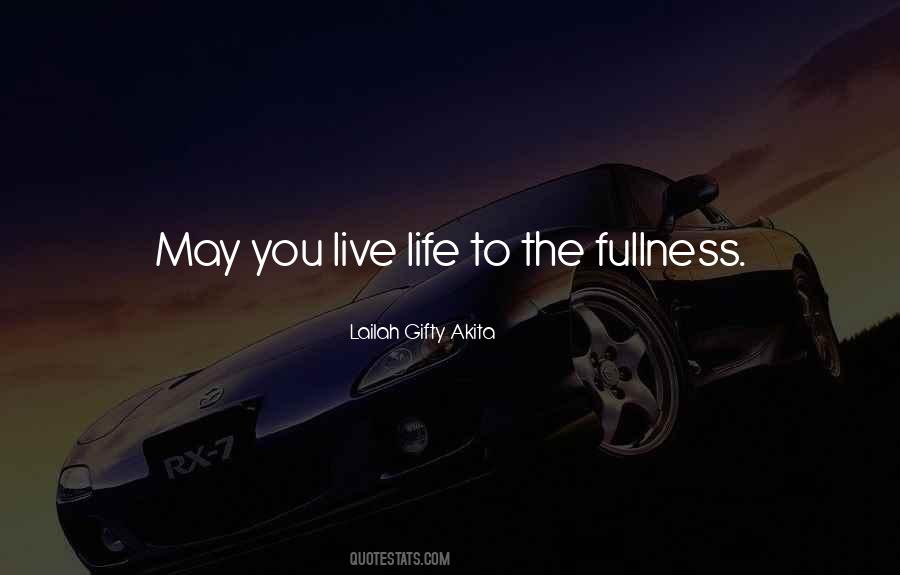 #11. I'm a pop enigma. I live and breathe every element in life. I rock a bespoke suit and I go to Harold's for fried chicken. It's all these things at once, because, as a taste maker, I find the best of everything. - Author: Kanye West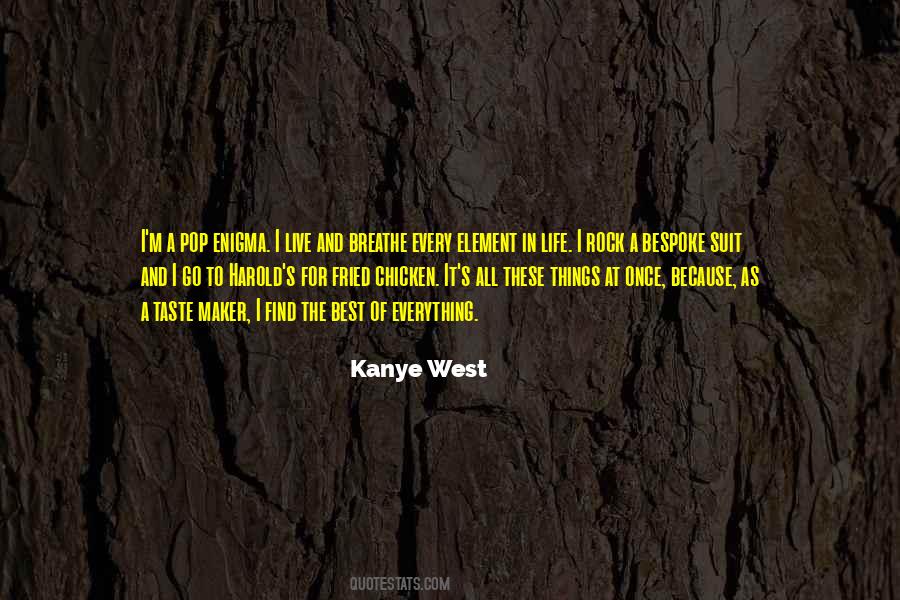 #12. I have a theory that those mutants retain some memory of what they were in life, and that draws them to where they used to live. That's probably bullshit, but since I seem to be the only man alive, my theories are the best in this part of the world. - Author: Manel Loureiro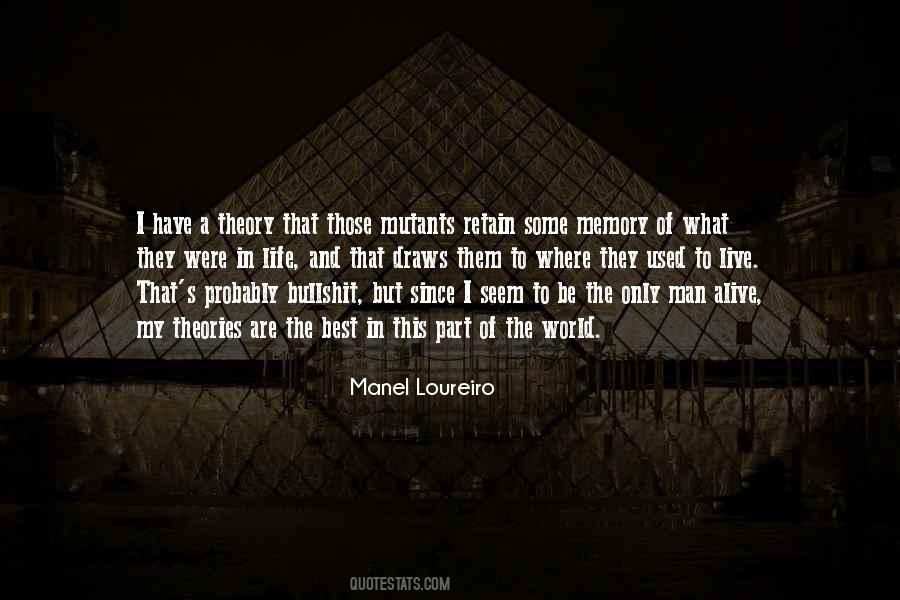 #13. We live and learn, and in between
we do the best we can. - Author: Jacqueline Simon Gunn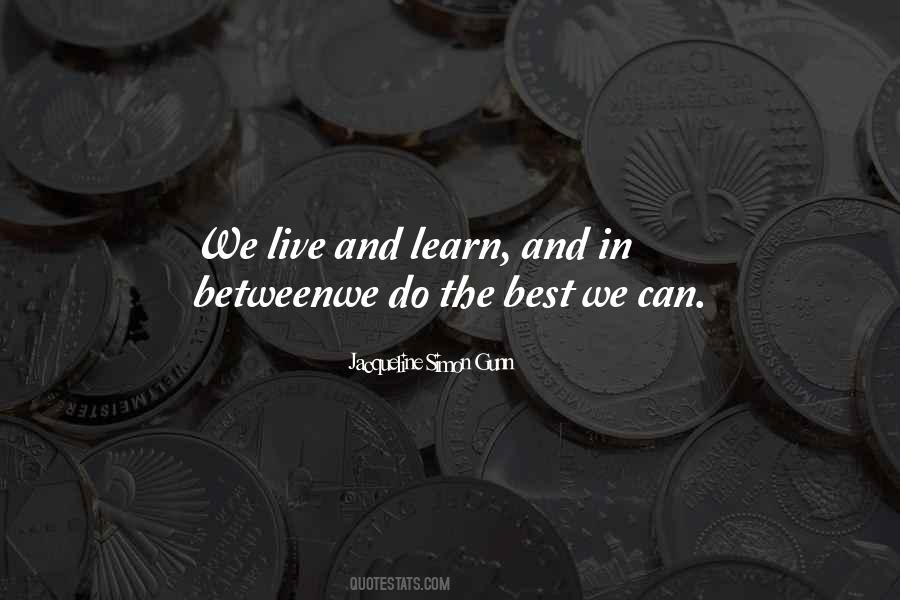 #14. If you listen to your soul you will know what is "best" for you, because what is best for you is what is true for you. - Author: Neale Donald Walsch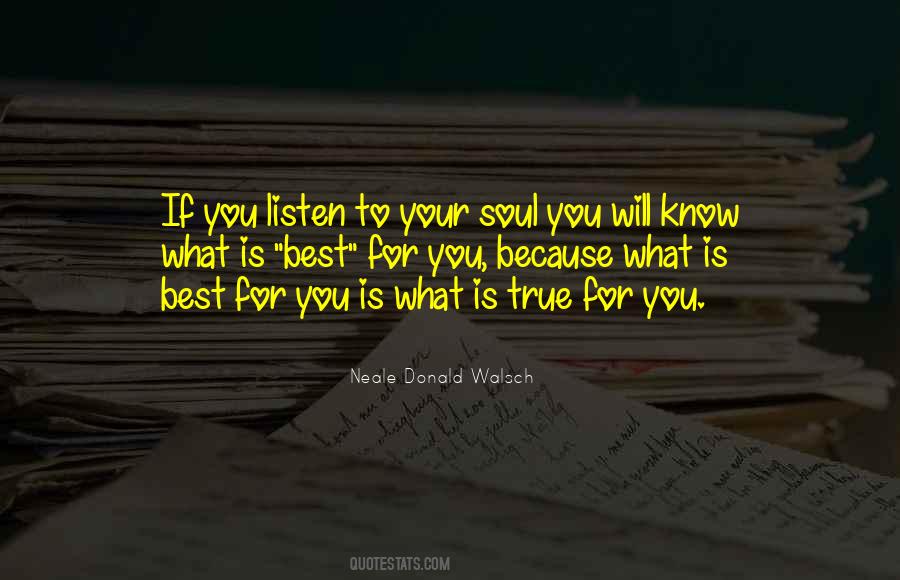 #15. Find your passion and live it. - Author: Lailah Gifty Akita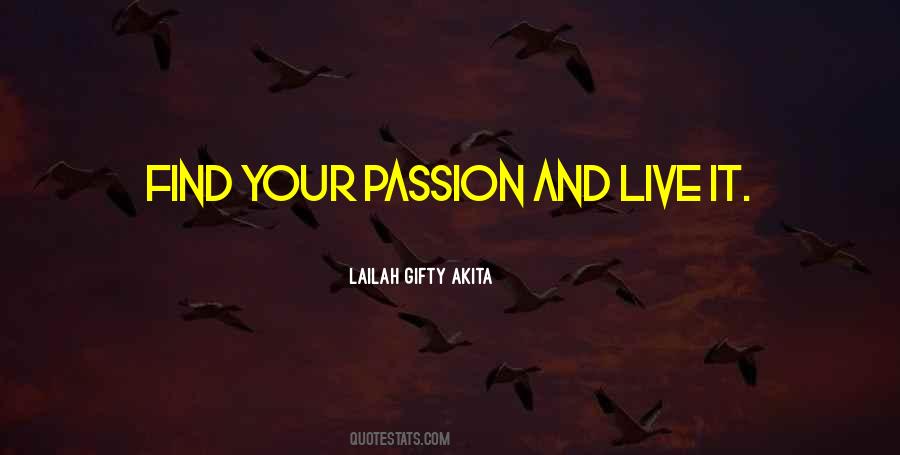 #16. To live in the moment is truly an art and is truly a talent, because when you live in the moment then you are truly the master of your whole life and you'll have the best times. - Author: Big Sean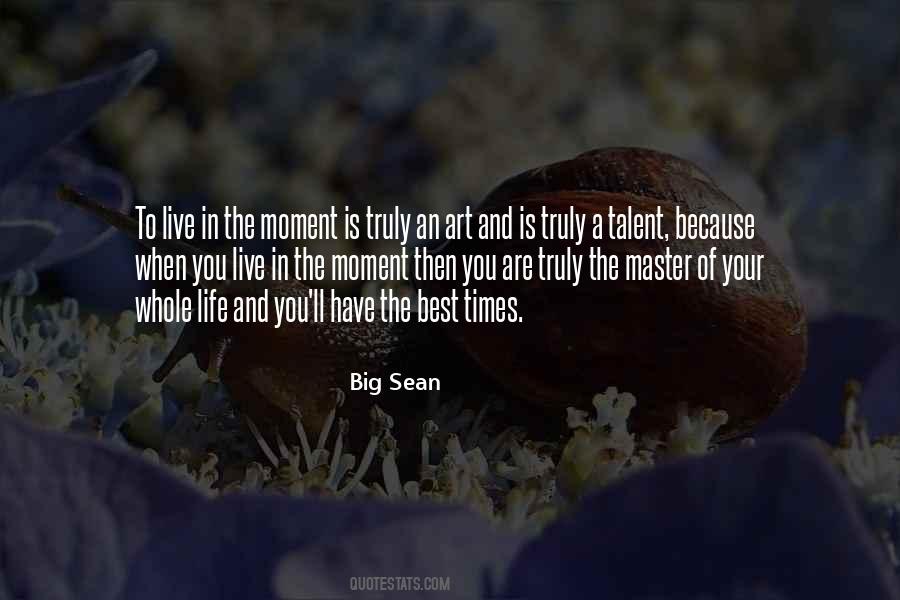 #17. I always knew I was different and that people had opinions about me. I guess I learned as best as I can to shield out a lot and live my life from within. - Author: Matisyahu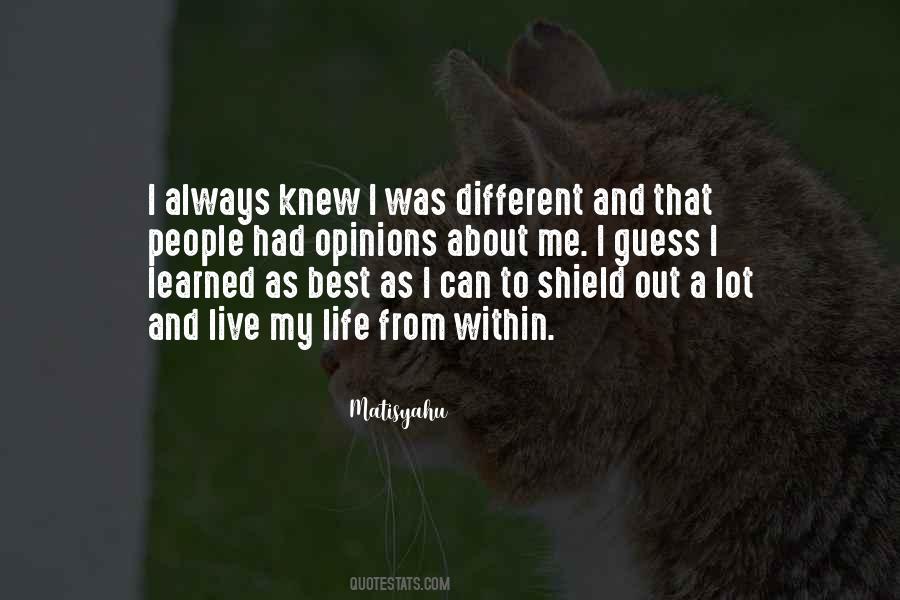 #18. We teach best by how we live life; who we are instructs with absolute clarity. - Author: Bryant McGill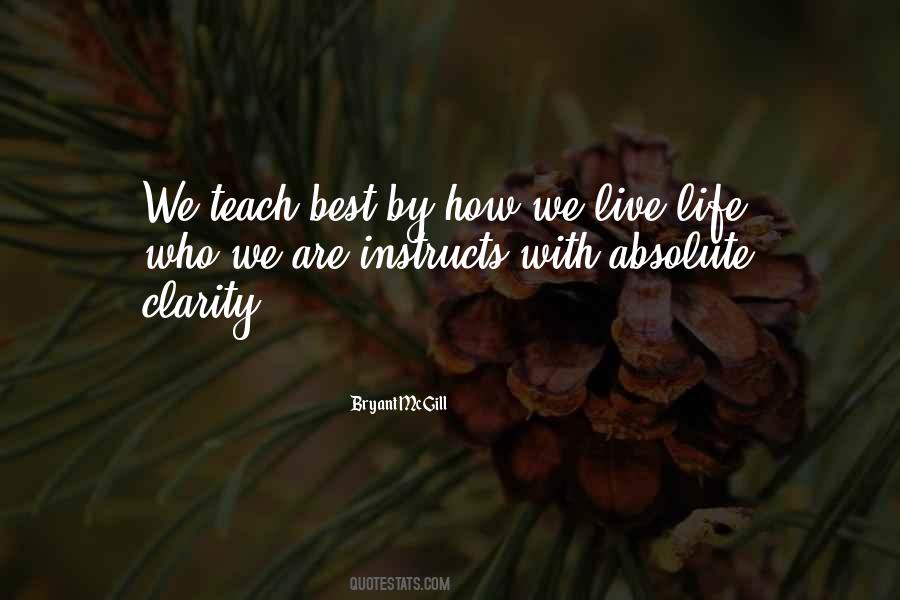 #19. My belief in God is personal, I do not need to browbeat anyone into agreeing with me, because I believe what I believe and I try to live by it. My belief in God is about trying to be the best person I can be in this life ... - Author: Dorothy Koomson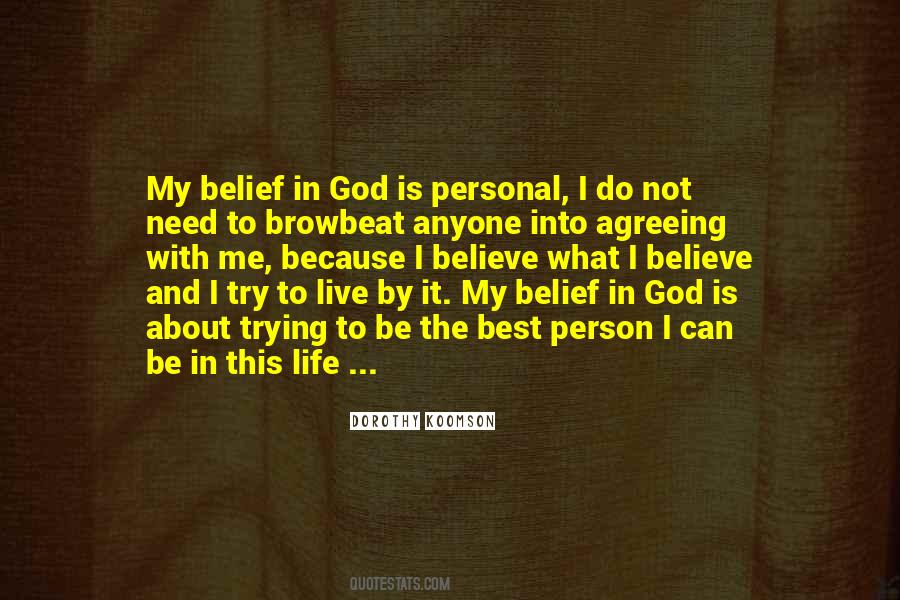 #20. She'd helped me see that the greatest way to honor them was to live the best life I could - to find happiness again. - Author: Sara B. Larson
#21. Its best to live as if it were the first and last day of my life. - Author: Paulo Coelho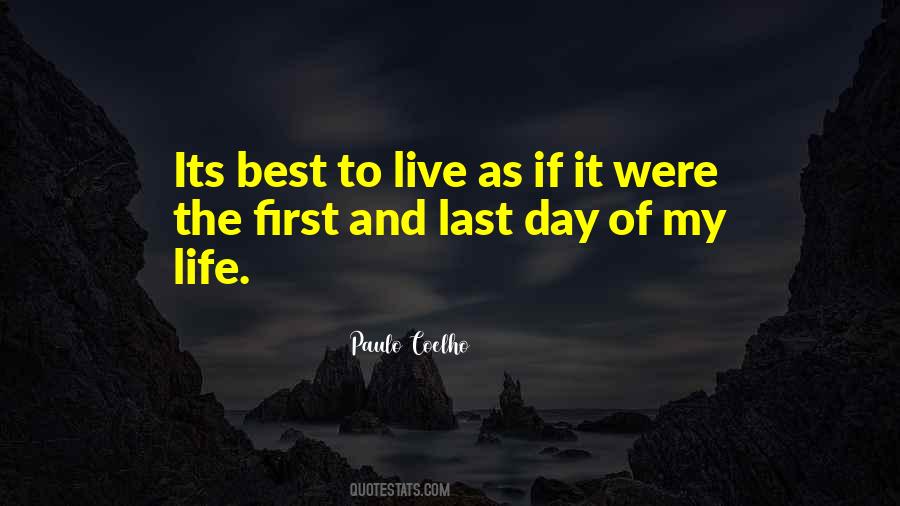 #22. I am on earth to live my very best life. - Author: Lailah Gifty Akita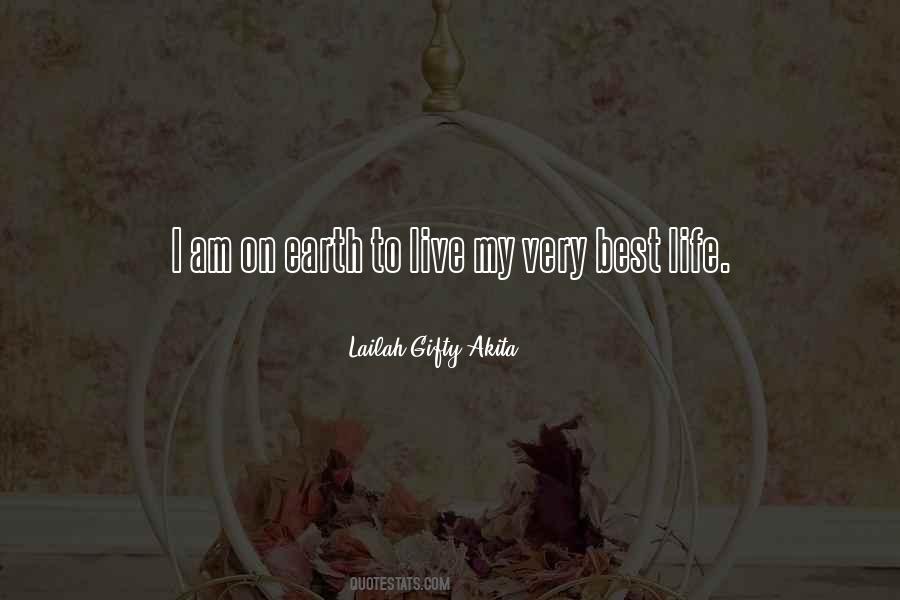 #23. Live simply", she said. "Don't expect so much out of life. You can only be disappointed when your expectations are not met so strive for the best but keep your expectations simple." I - Author: Donald Murray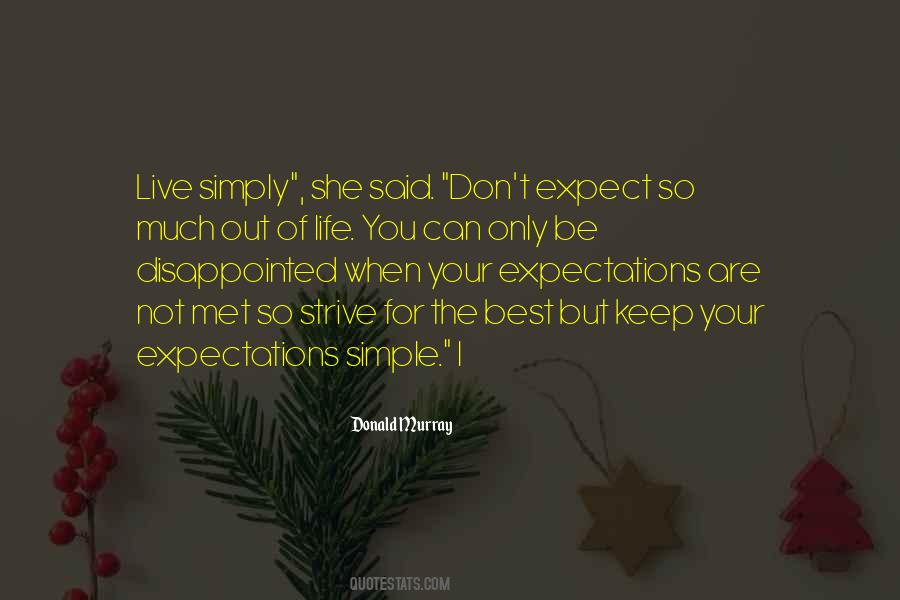 #24. Let's live to believe leaving all lies behind - Author: Munia Khan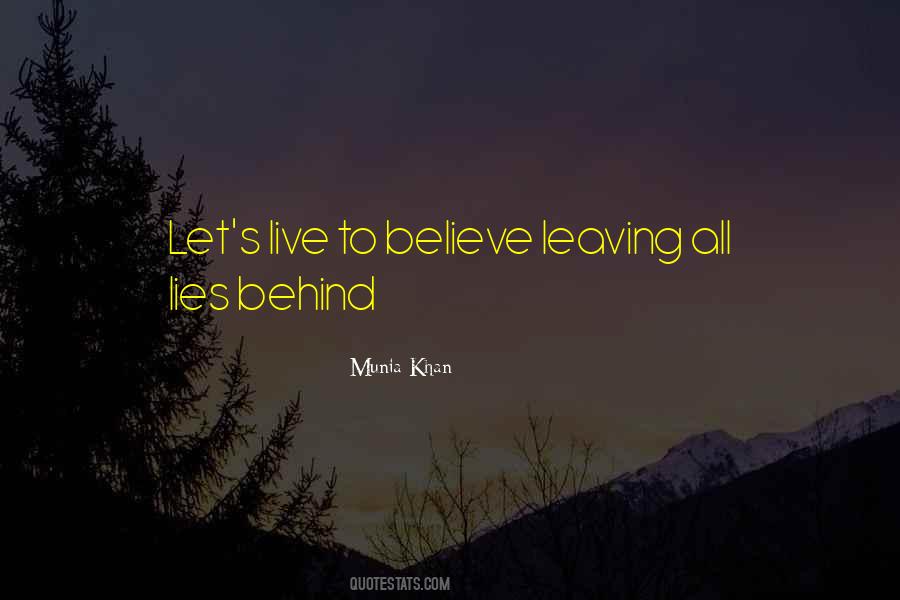 #25. Celebrate who you are and what you stand for. Give wings to your dreams and live your aspirations. You've got only one life- live it in the best way you possibly can. - Author: Roopleen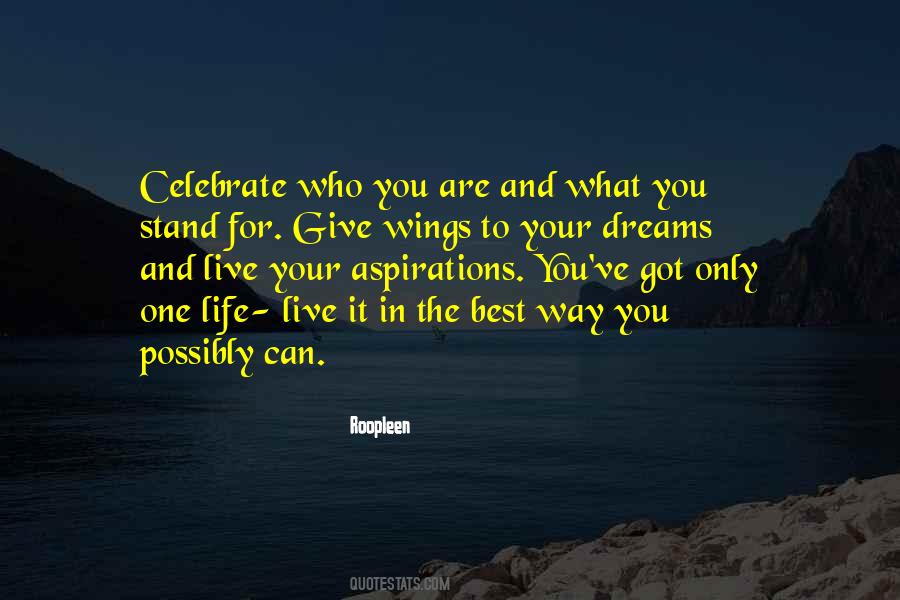 #26. Nothing touches the soul but leaves its impress, and thus, little by little, we are fashioned into the image of all we have seen and heard, known and meditated; and if we learn to live with all that is fairest and purest and best , the love of it all will in the end become our life. - Author: David B. Haight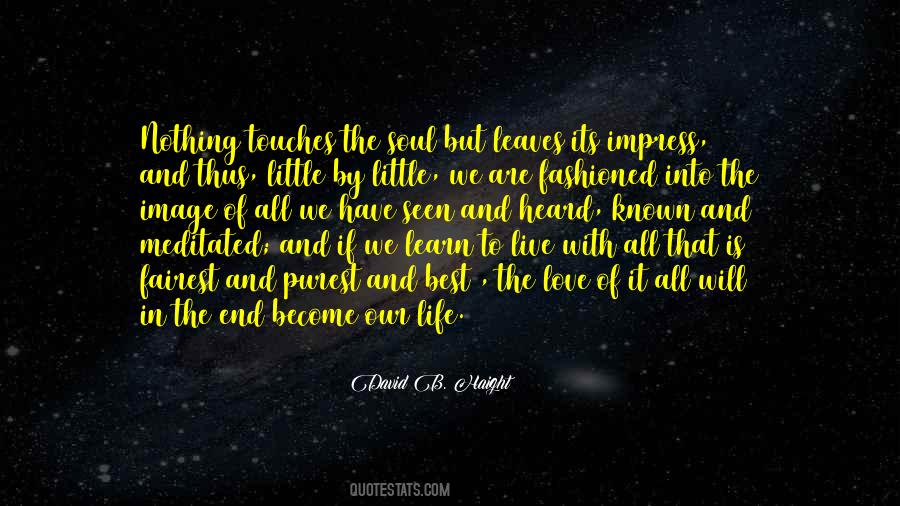 #27. I feel like that's why we're here on this earth; to manifest what we want, to live a life, to have the best sex, drink the best champagne and to live it up and control it. That's what it's all about. - Author: Big Sean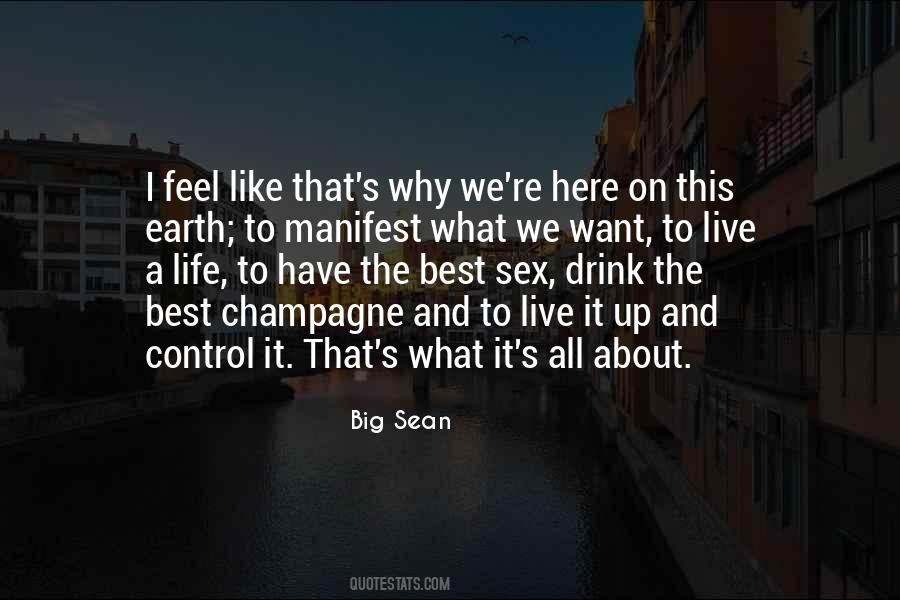 #28. Live a passionate life. - Author: Lailah Gifty Akita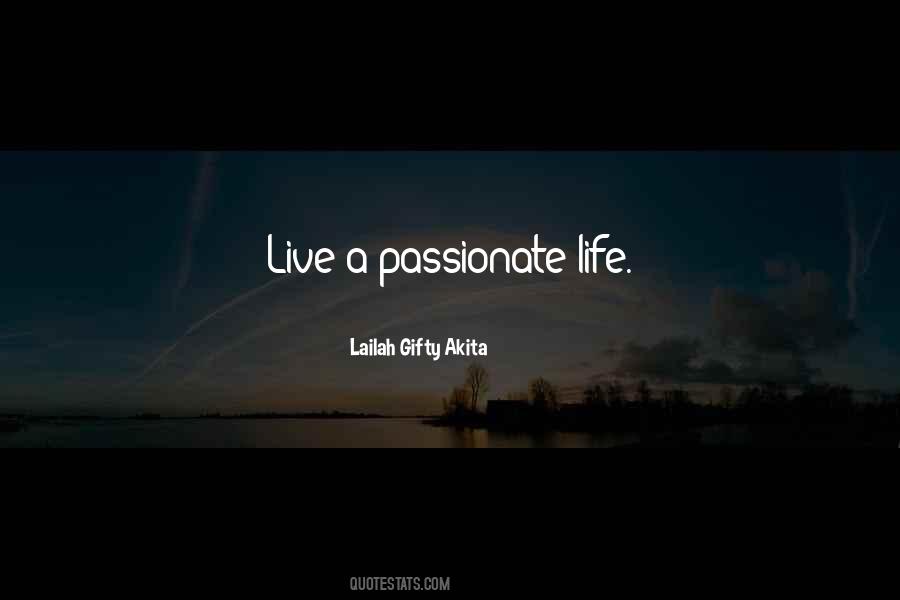 #29. We can't force life to do what we want when we want it. We can't change yesterday or control tomorrow. We can only live today as best we can. And it just might turn out better than expected - Author: Sarah McCoy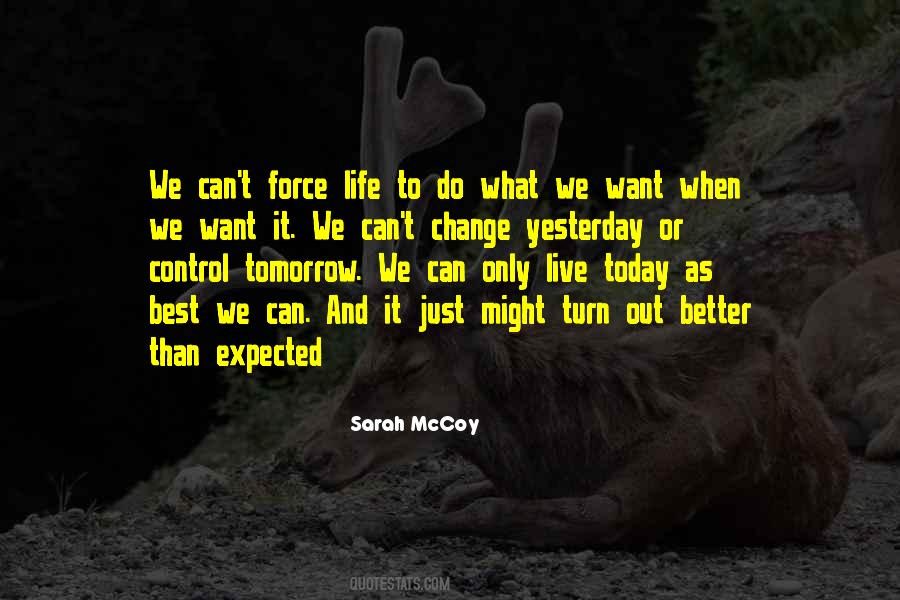 #30. I don't think it's a question of liking or disliking it," Tengo said ... "It was the one thing he was best at." "Hmm. I see," Kumi said. She pondered this. "But that might very well be the best way to live your life. - Author: Haruki Murakami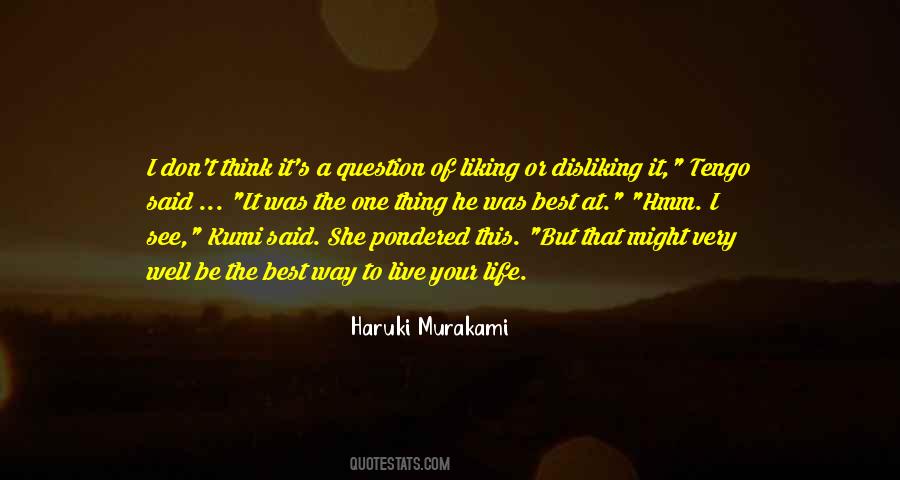 #31. I think people who truly can live a life in music are telling the world, 'You can have my love, you can have my smiles. Forget the bad parts, you don't need them. Just take the music, the goodness, because it's the very best, and it's the part I give most willingly - Author: George Harrison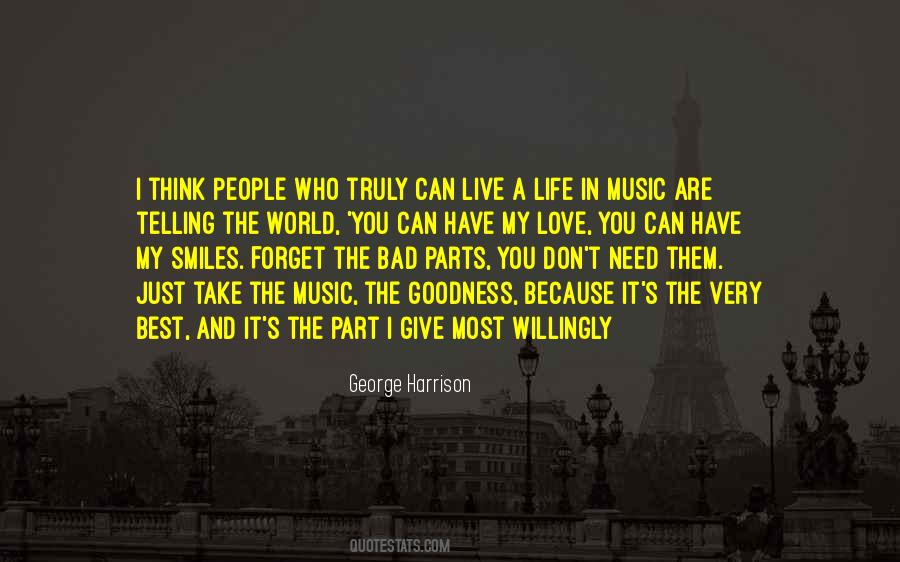 #32. I have a right to live my life and just be me with whoever I choose. We just do the best we can. - Author: Selena Gomez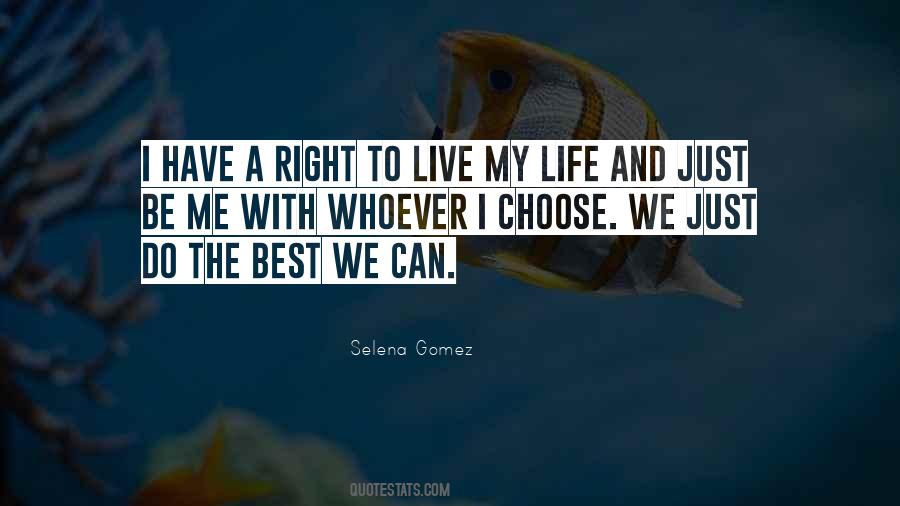 #33. I made a conscious decision to live my life the best way I could and that meant to publicise myself as little as possible. - Author: Keira Knightley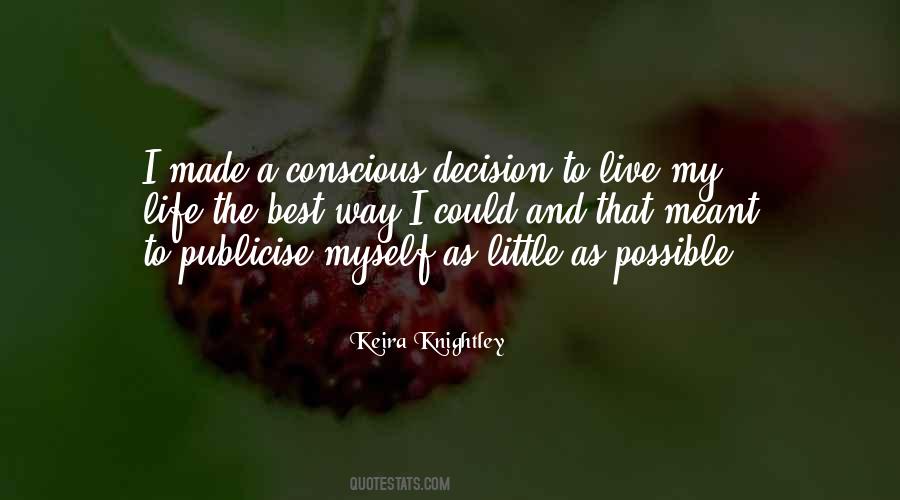 #34. In the eyes of many people, I may never live an extraordinary life. But I will love in extraordinary ways. And I hope I choose to always see the best in people - Author: Natalie Lloyd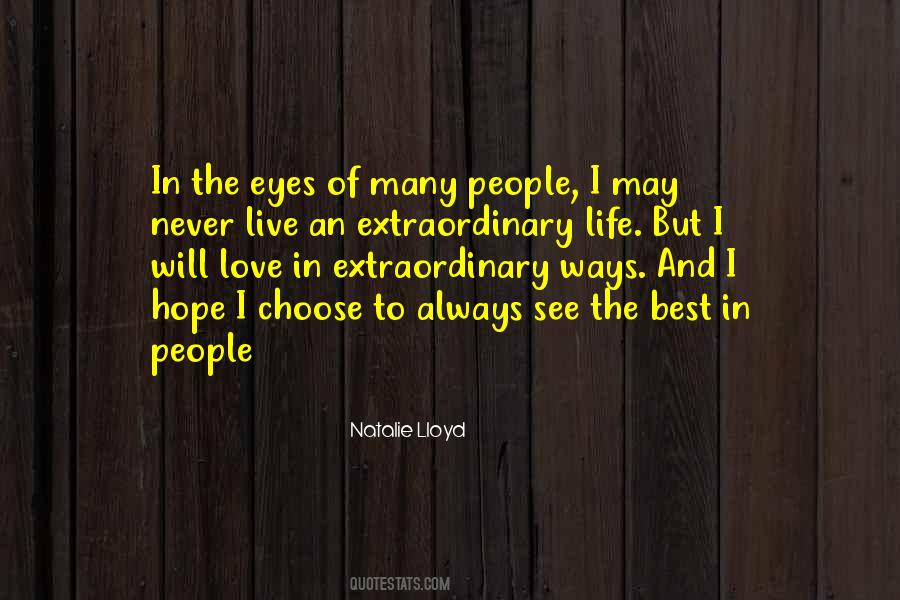 #35. I know what it is to live entirely for and with what I love best on earth. I hold myself supremely blest
blest beyond what language can express; because I am my husband's life as fully as he is mine. - Author: Charlotte Bronte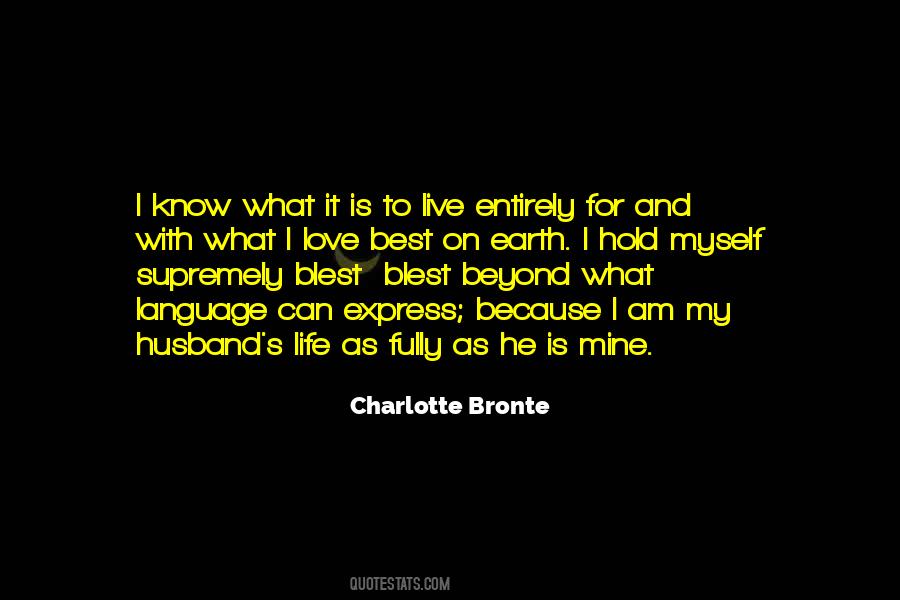 #36. I can honestly say [that writing] is the best life there is, because you get to live within the realm of your own mind, and that is a profoundly rare human privilege. - Author: Elizabeth Gilbert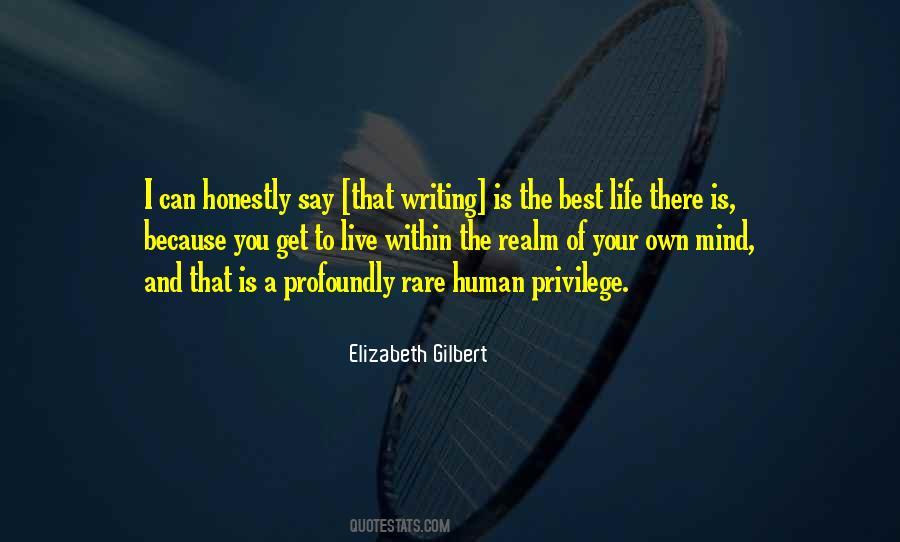 #37. It is far easier to live an excellent life among your friends, when you are putting your best foot forward and are conscious of public opinion, than it is to live for Christ in your home. - Author: Billy Graham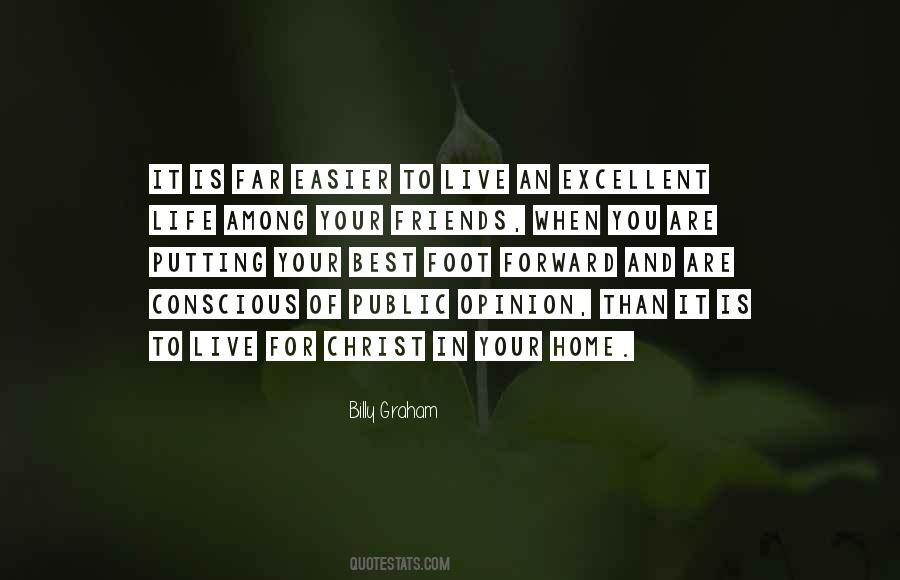 #38. I want to listen to Beethoven and Mozart. I want to read the best minds. I want to live with uplifting art. I don't want to live a grubby life. - Author: Alexandra Stoddard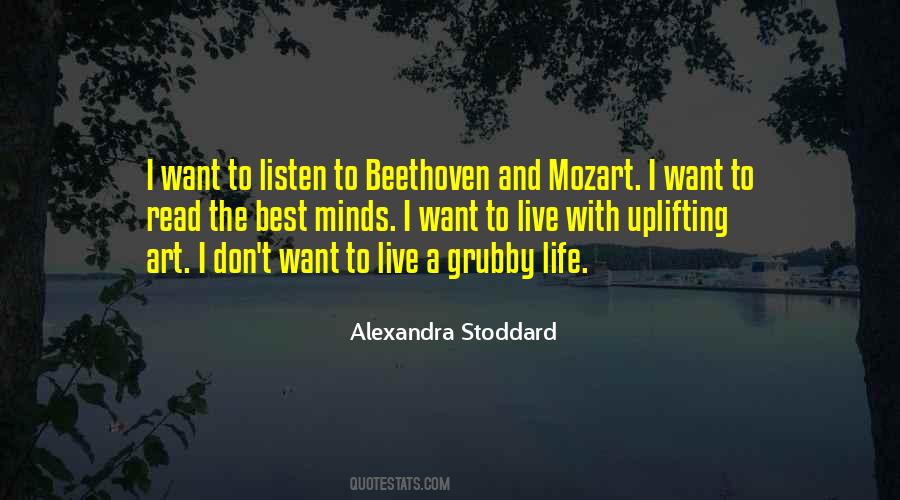 #39. I hope you take the courage to pursue your dreams. I wish that you will have the determination to start the best day of your life everyday. - Author: Diana Rose Morcilla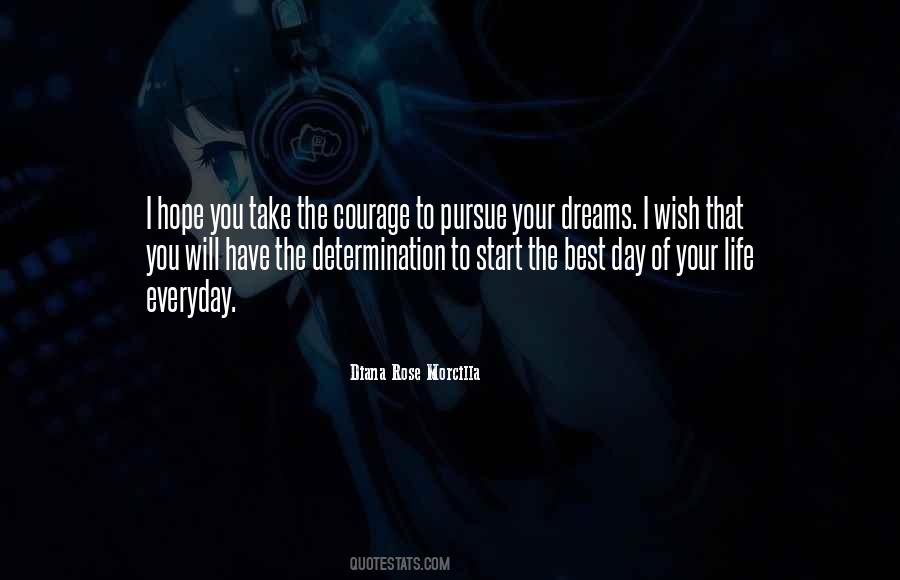 #40. Fortune will play her hand. And when she stands between us and flourishing, all we can do is live our best life. One - Author: Eric Greitens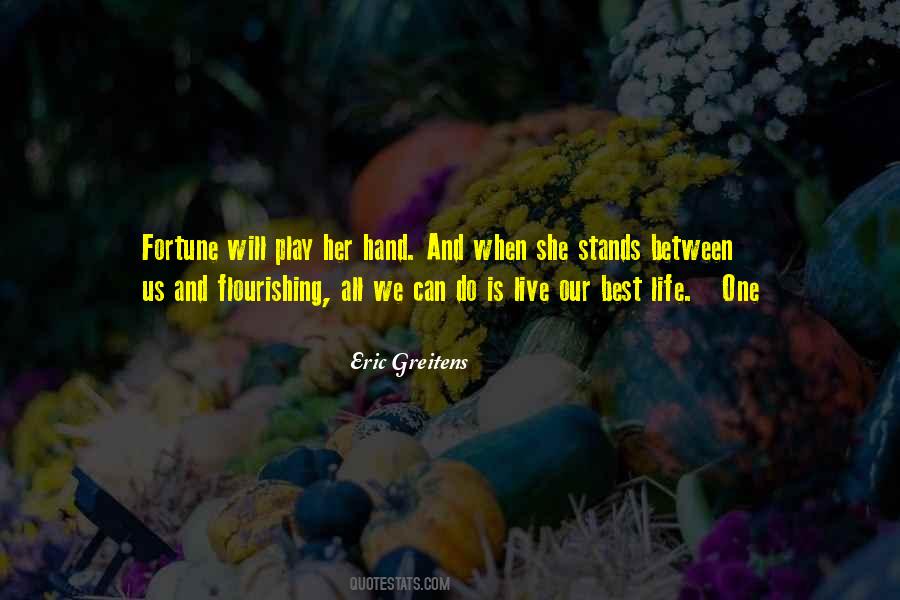 #41. A static action is never an action. A real action is an action in motion! Dare to do something! - Author: Ernest Agyemang Yeboah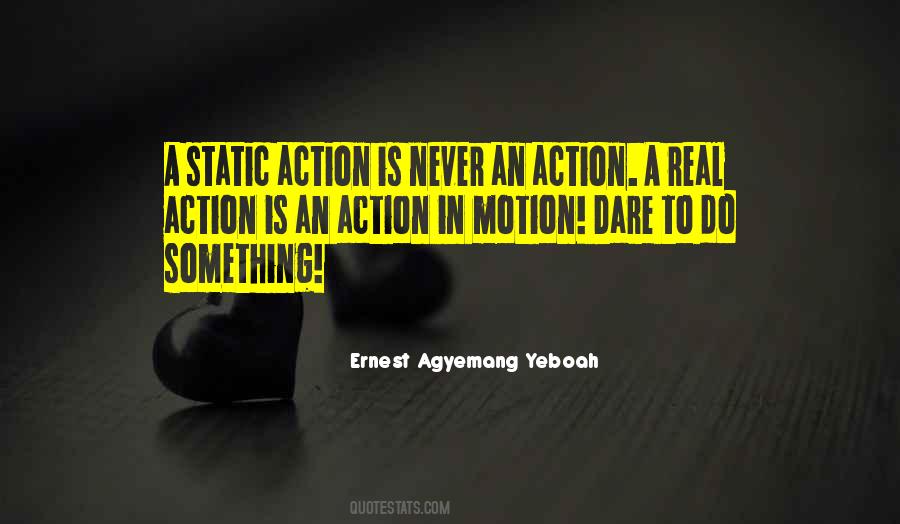 #42. Todd, I can only love you because of my heart. It's my broken heart that lets me love you. It's my broken heart that makes me want to live the best life I can. I only want to live that life with you, only you. If you're willing to teach me I'm ready and willing to learn. - Author: Sheila Bliss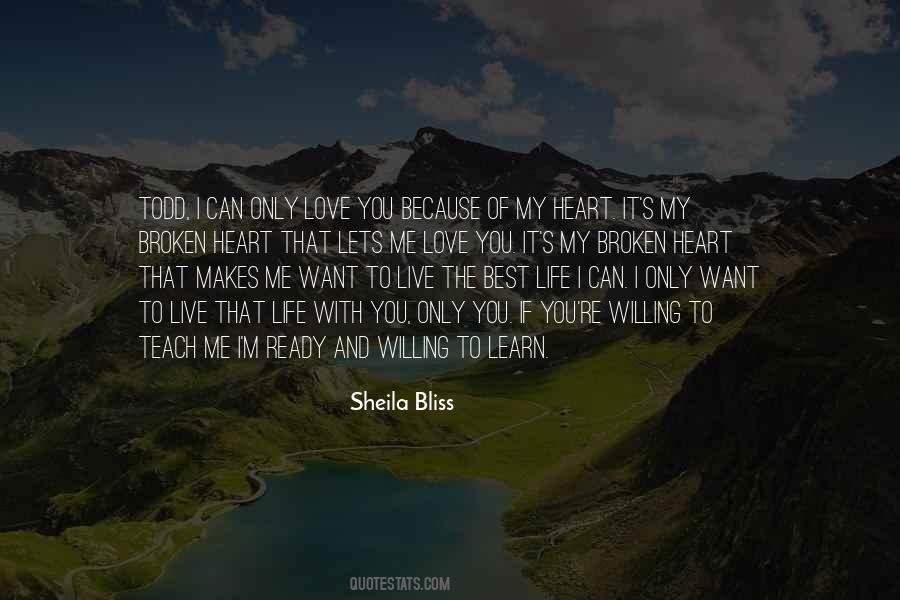 #43. We don't live with the community of yesteryear. And we don't enjoy the public services Europeans do. So we turn to the market. Once we do, we find that service providers raise the standards of personal life, so that we come to feel we need them to live our 'best' personal lives. - Author: Arlie Russell Hochschild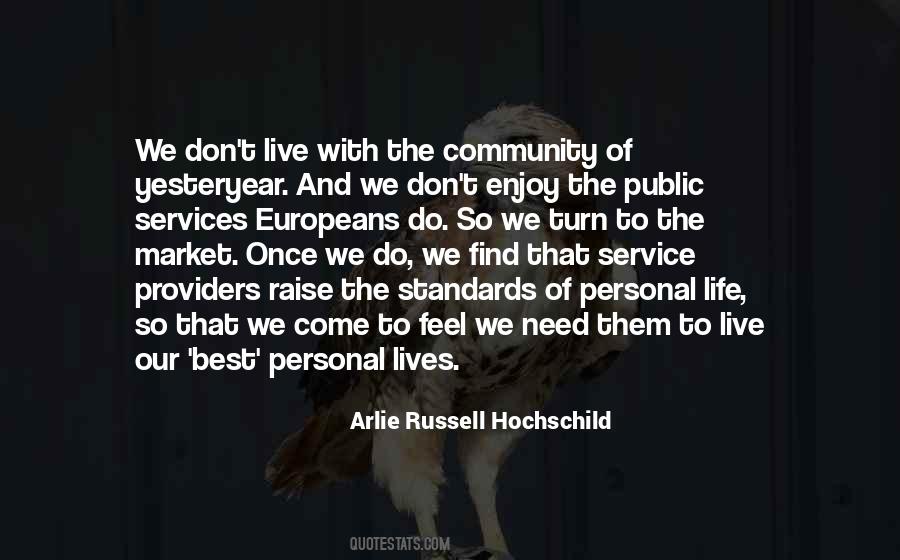 #44. A girl didn't live through sixteen years of life without any boy ever asking her out to suddenly having two best friends fighting over her. - Author: Linda Kage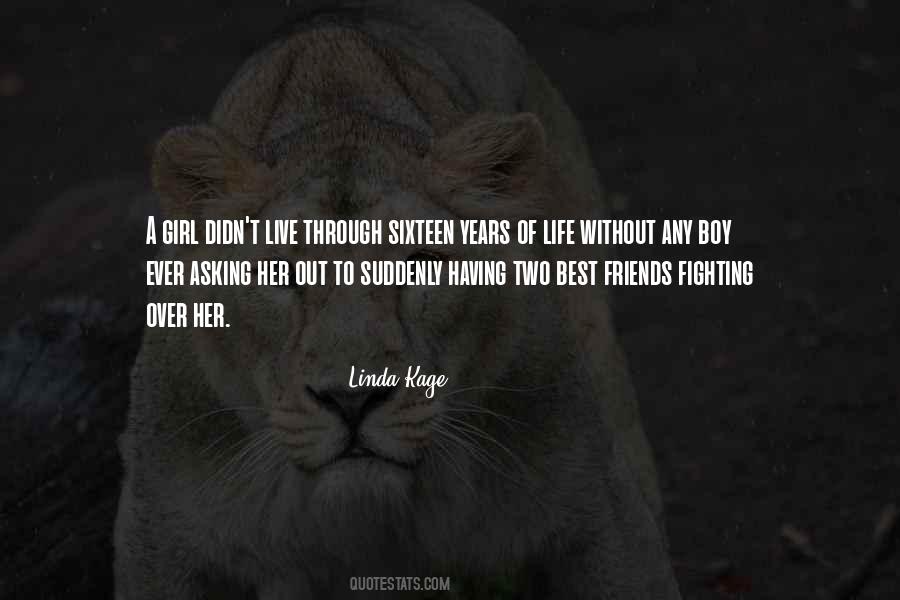 #45. I've got a reason for living. When I wake up, there are individuals who are counting on me to be my best and live my maximum life. - Author: Eric Thomas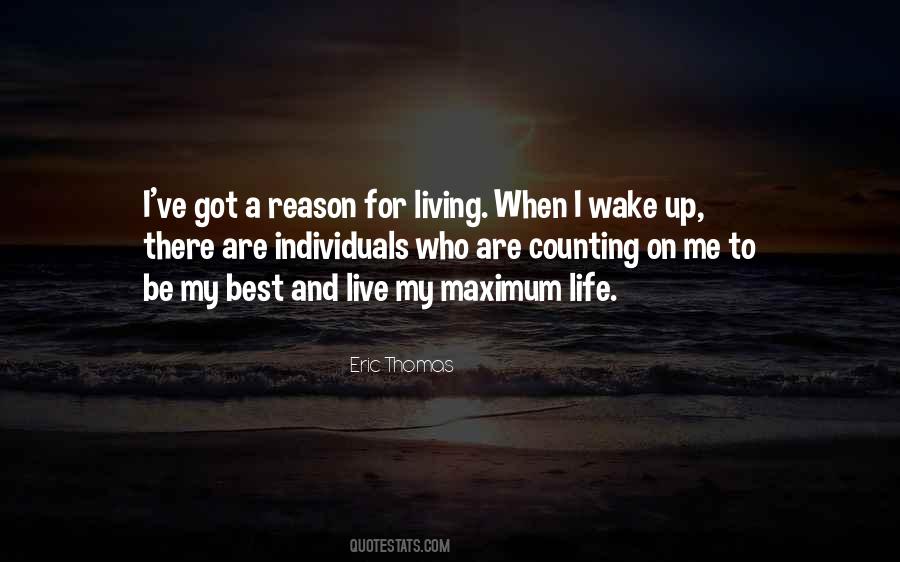 #46. Every choice you make today is the choice you're going to live with. So, make the best choices. - Author: Abdulazeez Henry Musa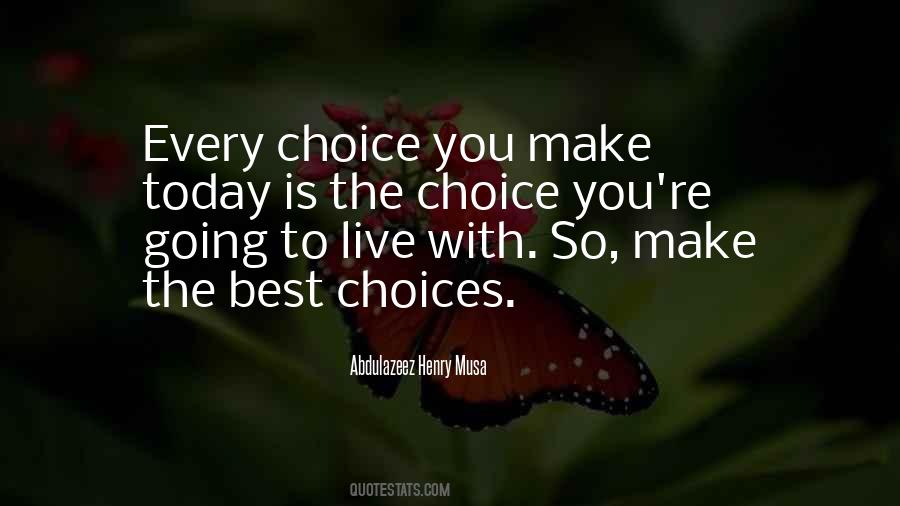 #47. The best way to live a stress-free life is to learn how to swim in the ocean of uncertainty. - Author: Debasish Mridha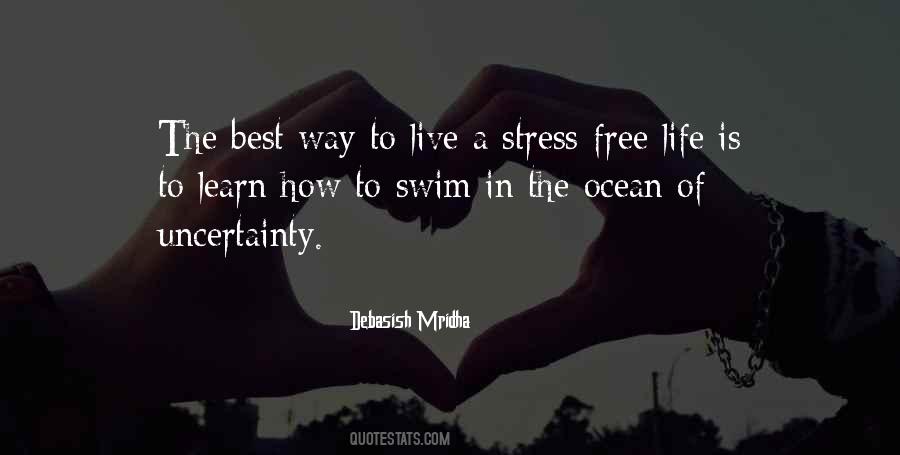 #48. Intelligence is the only indispensable commodity in life or in warfare. If you think otherwise, go live in a hut with a poet. The rest of us will do our best to defend you. - Author: Dorothy Dunnett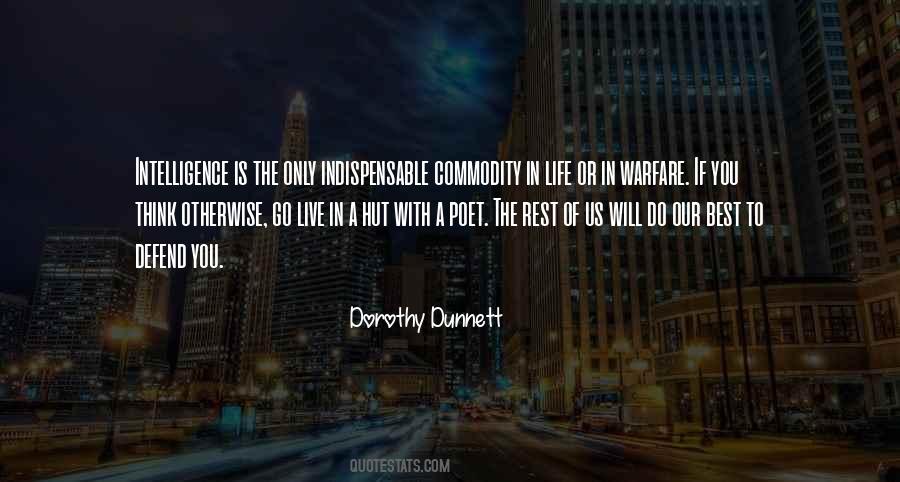 #49. I believe that the best way to prepare for a Future Life is to be kind, live one day at a time, and do the work you can do best, doing it as well as you can. - Author: Elbert Hubbard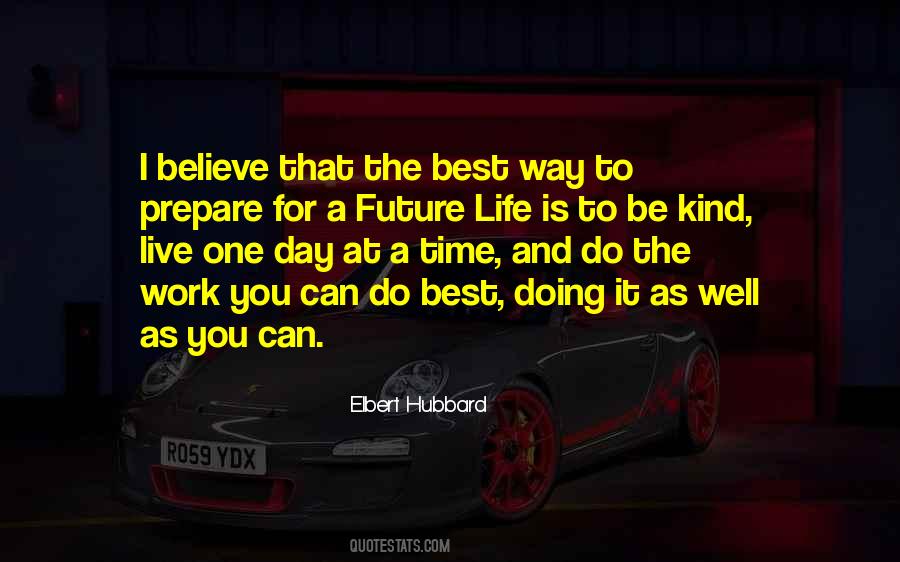 #50. In my opinion, the best way of showing someone the best way to live life is by living it. - Author: Jon Foreman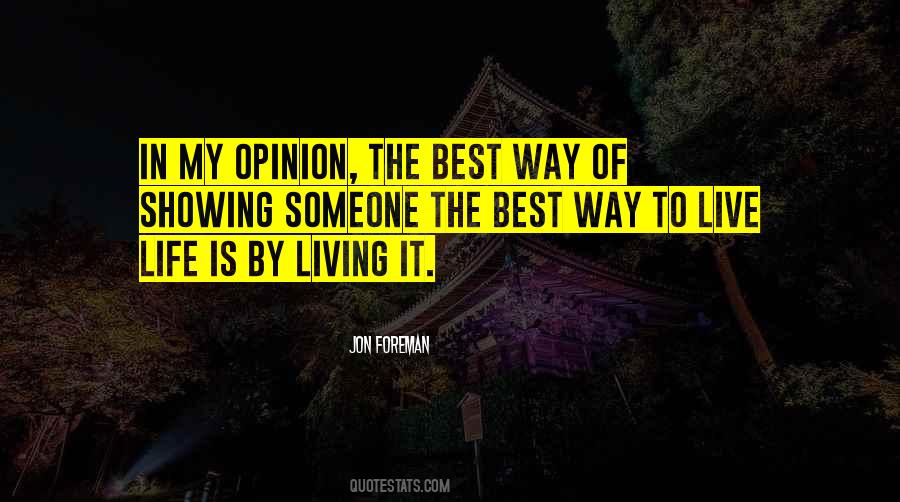 #51. When a caterpillar bursts from its cocoon and discovers it has wings, it does not sit idly, hoping to one day turn back. It flies. - Author: Kelseyleigh Reber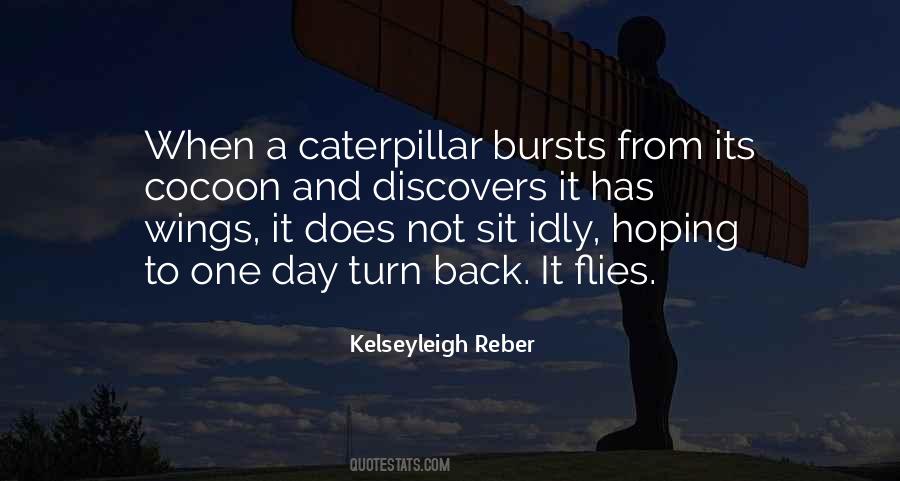 #52. With every decision you make in your life, you're going to have some regrets about the way it goes. You just have to chose which set of regrets you can live with the best, and try to minimize the amount of regrets you have. - Author: John Rzeznik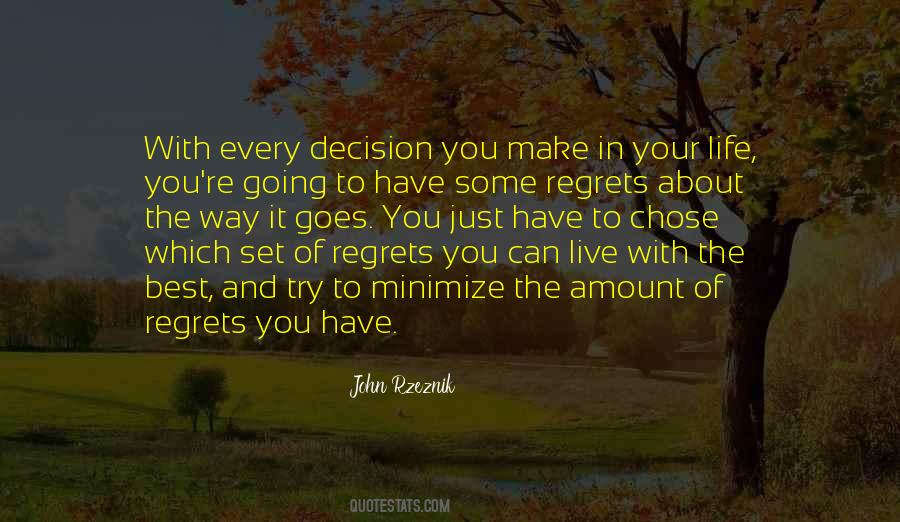 #53. Live life expecting the worst, hoping for the best, and living for the future! - Author: Jerry Garcia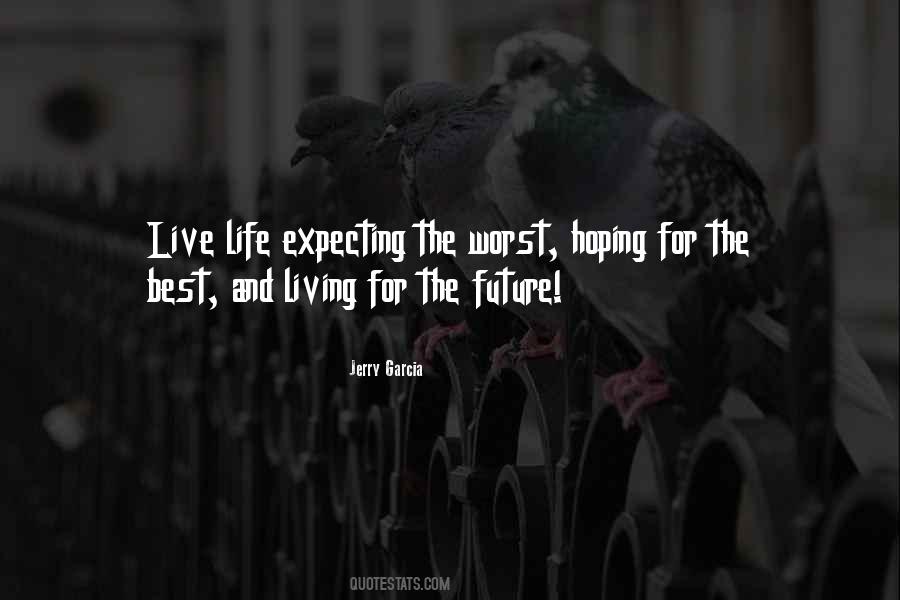 #54. Your gifted purpose here on earth is to live out your days being and bringing your best self... - Author: Bethanee Epifani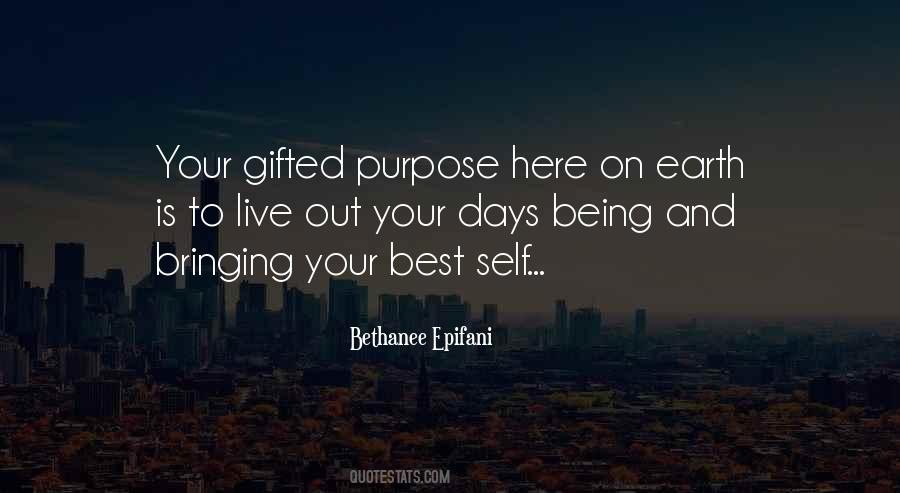 #55. Authenticity isn't just something to say to make people applaud; it is the life you have done your best to live. - Author: Bidemi Mark-Mordi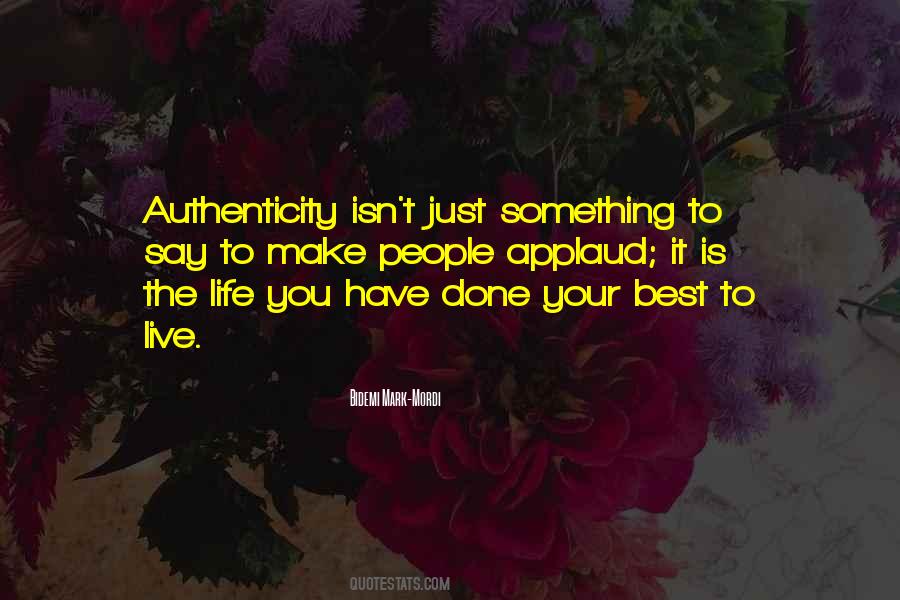 #56. To live your best life now, you must learn to trust God's timing, you may not think He's working, but you can be sure that right now, behind the scenes, God is arranging all the pieces to come together to work out His plan for your life. - Author: Joel Osteen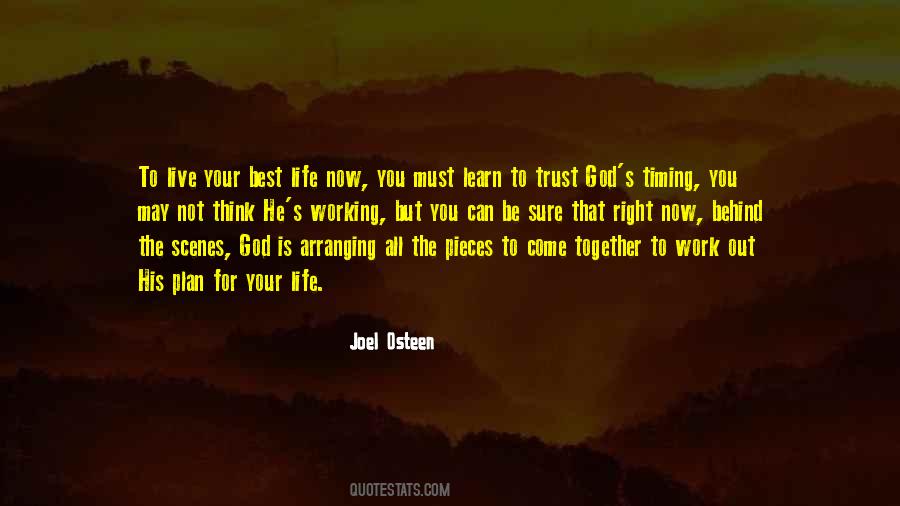 #57. I'm curious how people build up the codes that they live their life by, and how they come to think that that's the best way for them to function. - Author: Noah Baumbach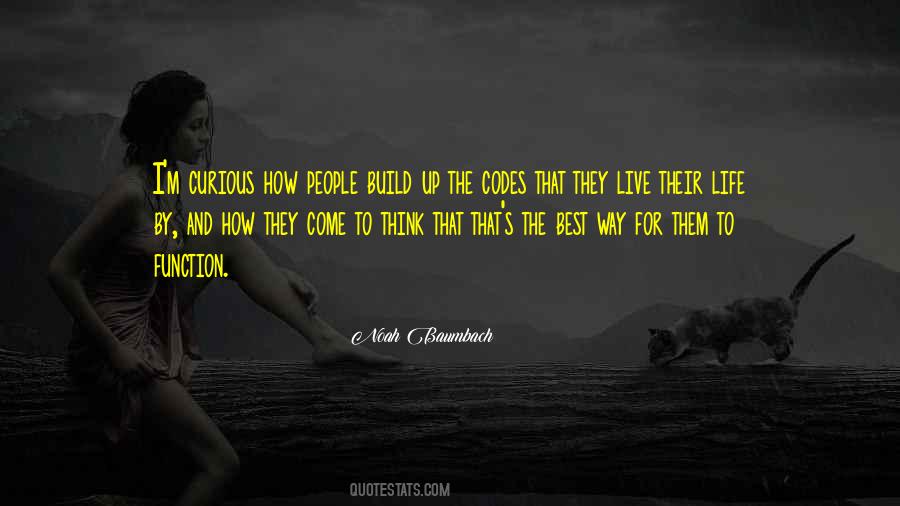 #58. I wanted her to see that the only life worth living is a life full of love; that loss is always part of the equation; that love and loss conjoined are the best opportunity we get to live fully, to be our strongest, our most compassionate, our most graceful selves. - Author: Pam Houston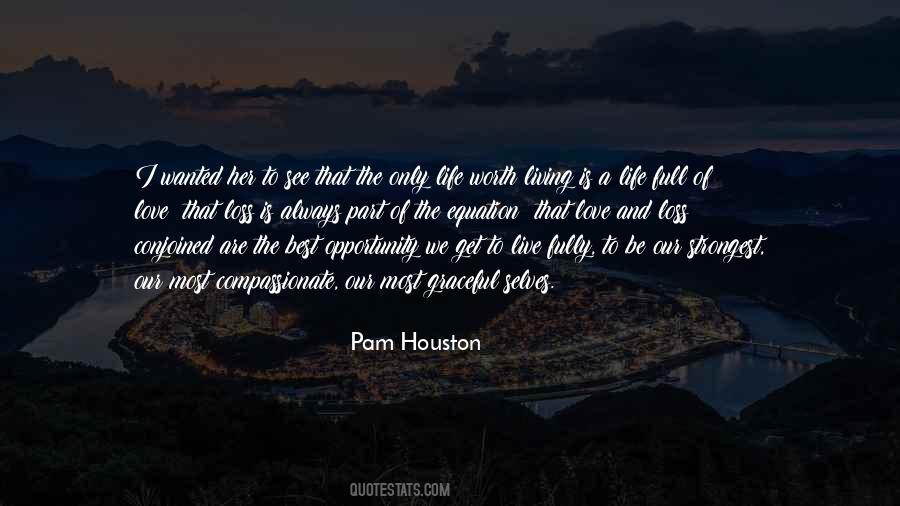 #59. Get in the habit of speaking positive, faith-filled words over your life, because a healthy self-image is one of the greatest assets you can have. It will not only cause you to rise higher, but it will inspire others around you to live at their best. - Author: Victoria Osteen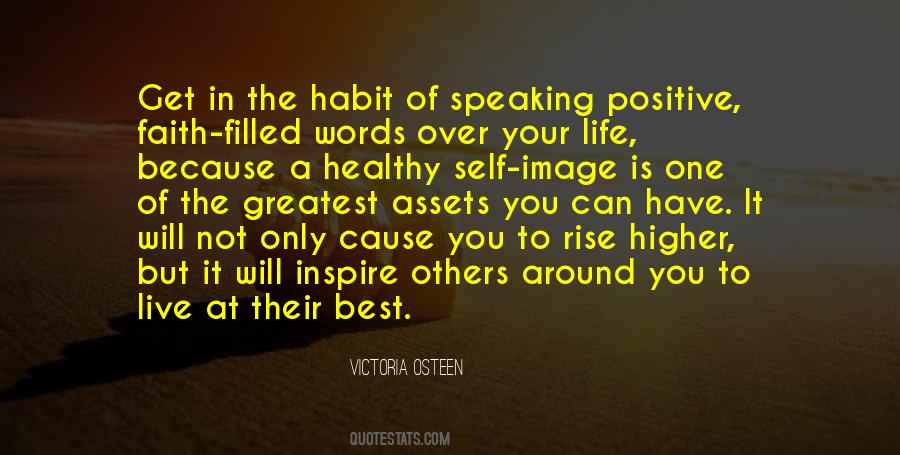 #60. Live your best life now; there's no time! - Author: Ifeanyi Enoch Onuoha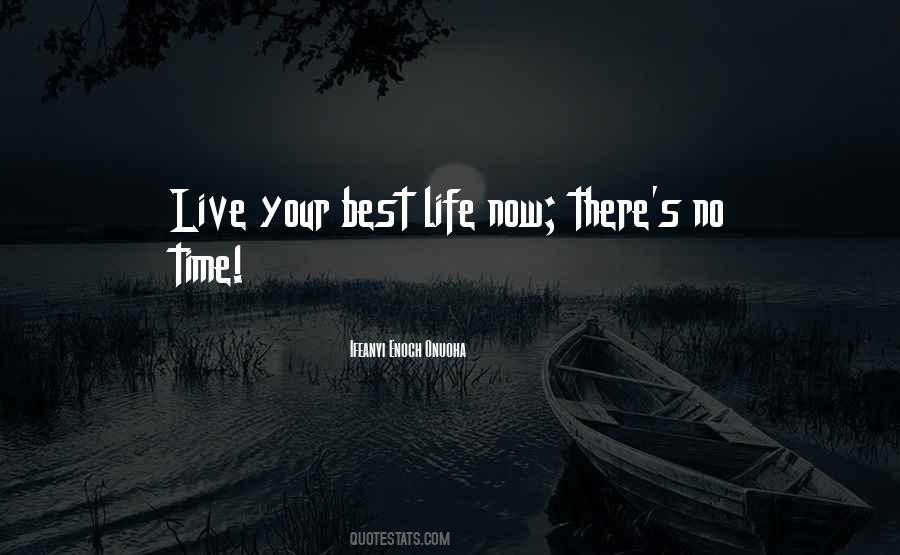 #61. Run faster, jump higher, reach farther, and you'll always win!
live life expecting the worst, hoping for the best, and living for the future!
Somebody has to do something, and it's just incredibly pathetic that it has to be us. - Author: Jerry Garcia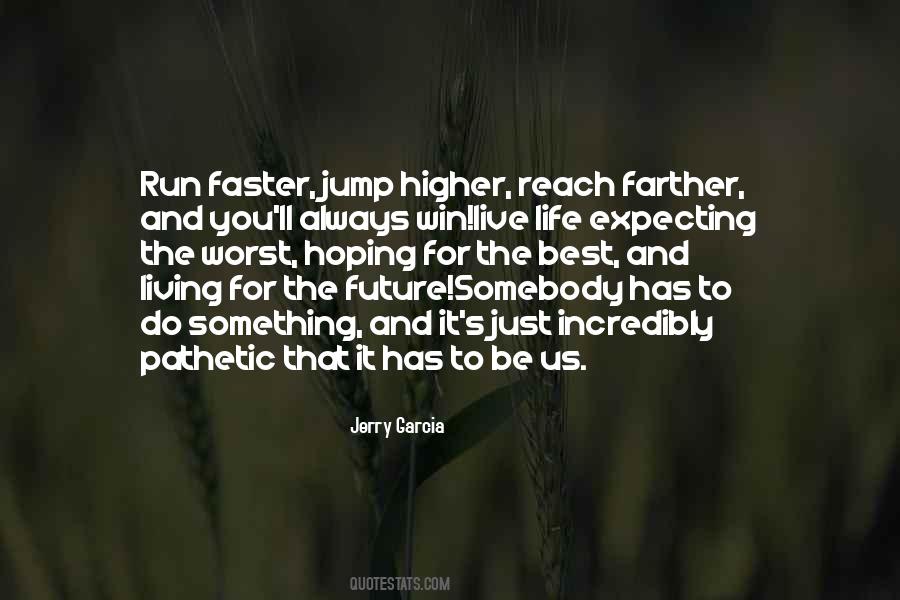 #62. The best life could be best live by you. - Author: Lailah Gifty Akita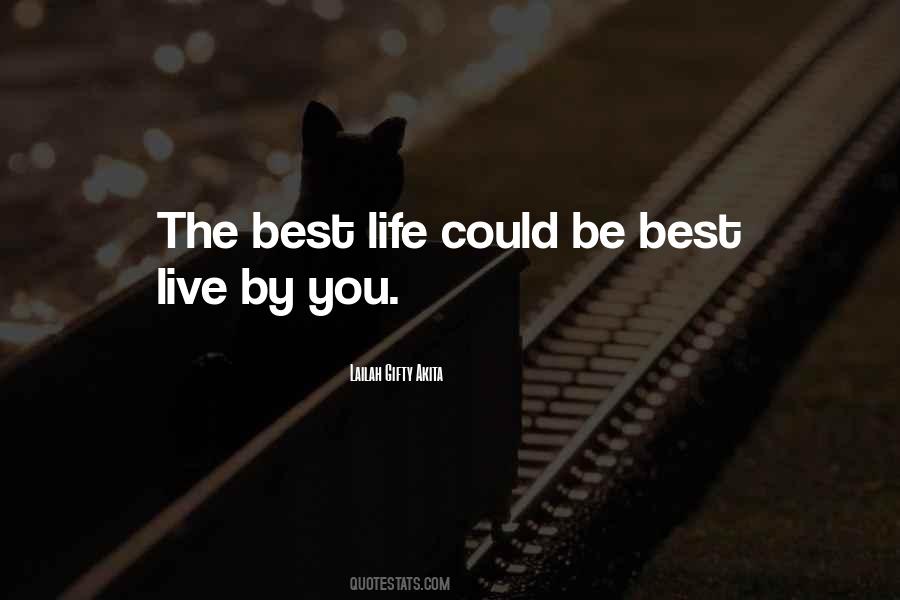 #63. What I do is about living. It's about living the best life you can and enjoying the fullness of the life around you- from what you wear, to the way you live, to the way you love. - Author: Ralph Lauren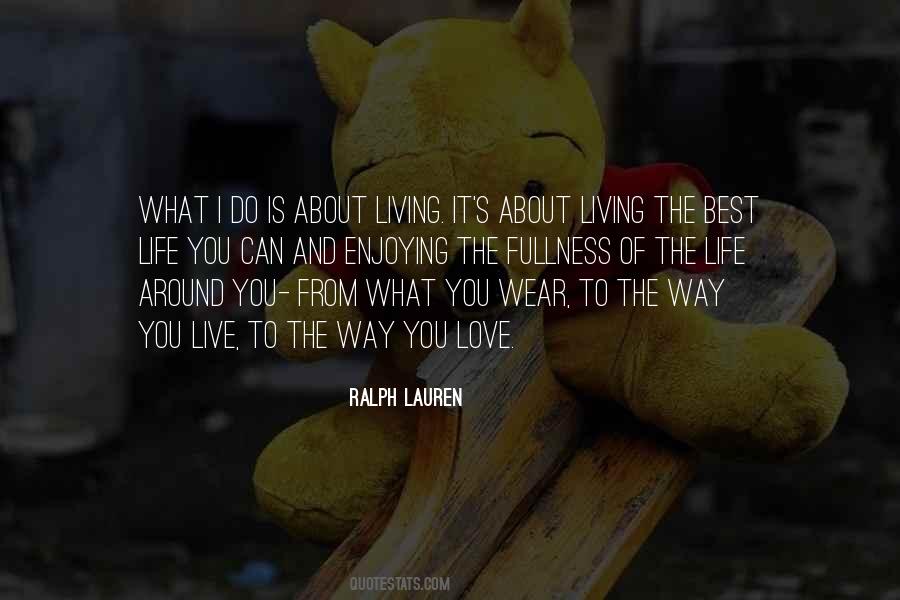 #64. I think perhaps a better thing to want is fulfillment. A deeper state, one that comes from within, from being your best self. From living life the way you really wish to live it. Then, happiness emanates from within as a byproduct. Naturally. - Author: Kamal Ravikant
#65. You live only once, so enjoy the life at its best and live it to the fullest. - Author: Debasish Mridha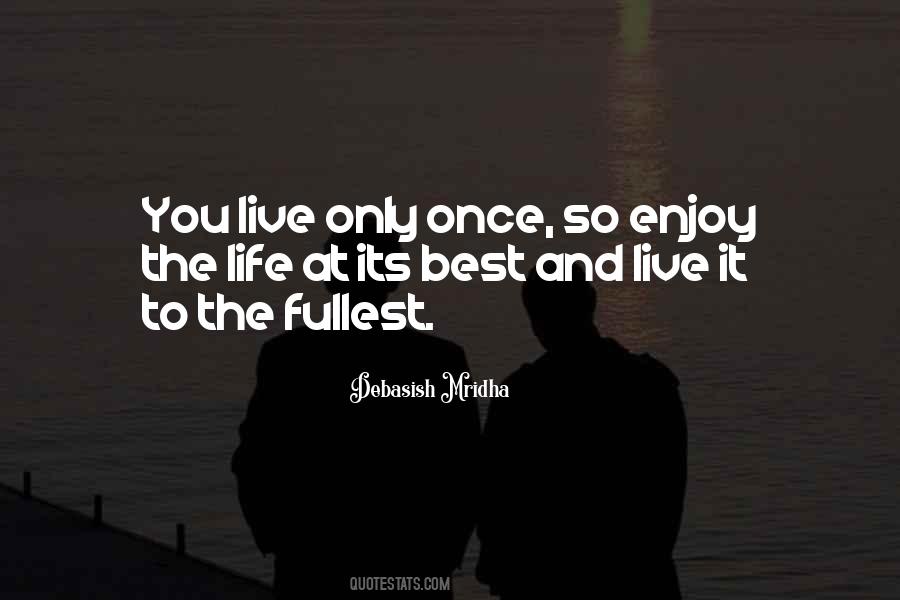 #66. Go forward in life with a smile on your face, a sparkle in your eyes, and with great and strong purpose in your heart. The best things in life are the people in your life, the moments we live, and memories we made along the way. - Author: Gordon B. Hinckley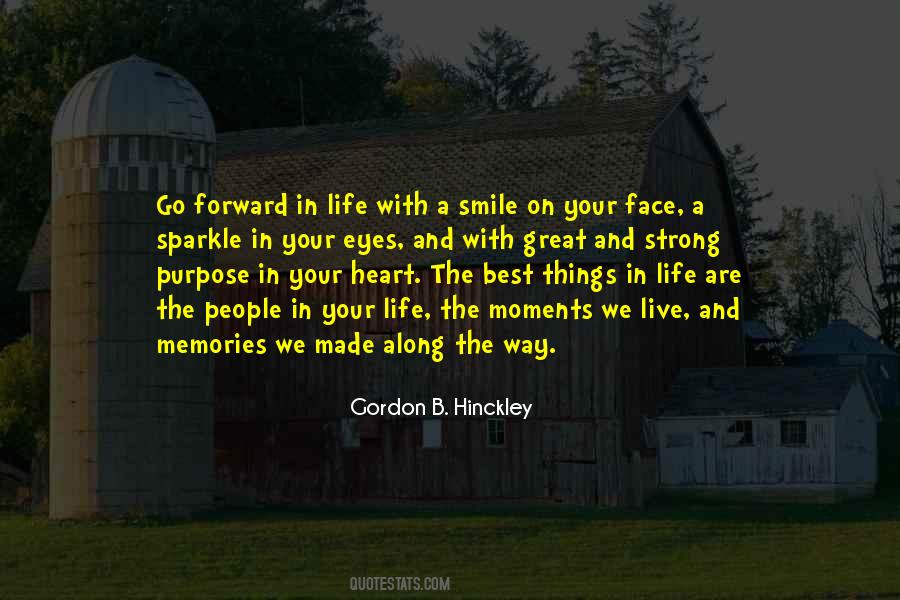 #67. The best way to prepare for death is to live life to its fullest. - Author: John Bytheway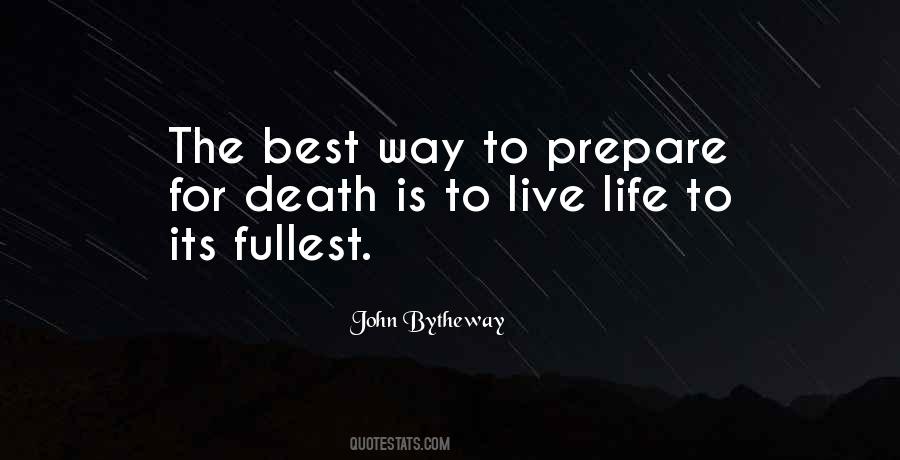 #68. I've seen the ocean lapping lovingly at his muscles. And now I look at the sun stroking his skin like a possessive lover.
My best friend doesn't live life, he devours it. - Author: Petra F. Bagnardi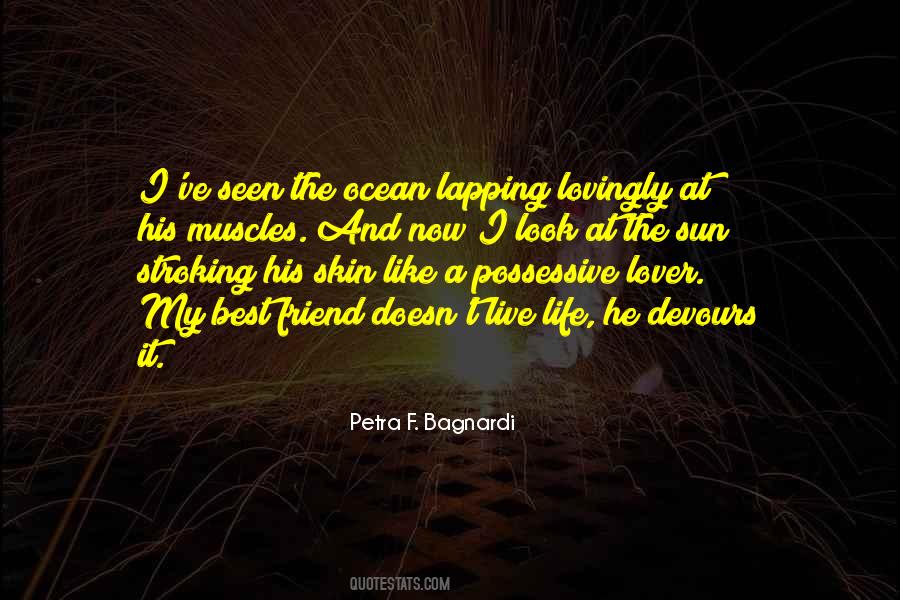 #69. Learn from the past, but don't live there. Build on what you know so that you don't repeat mistakes. Resolve to learn something new every day. Because every 24 hours, you have the opportunity to have the best day of your company's life. - Author: Harvey MacKay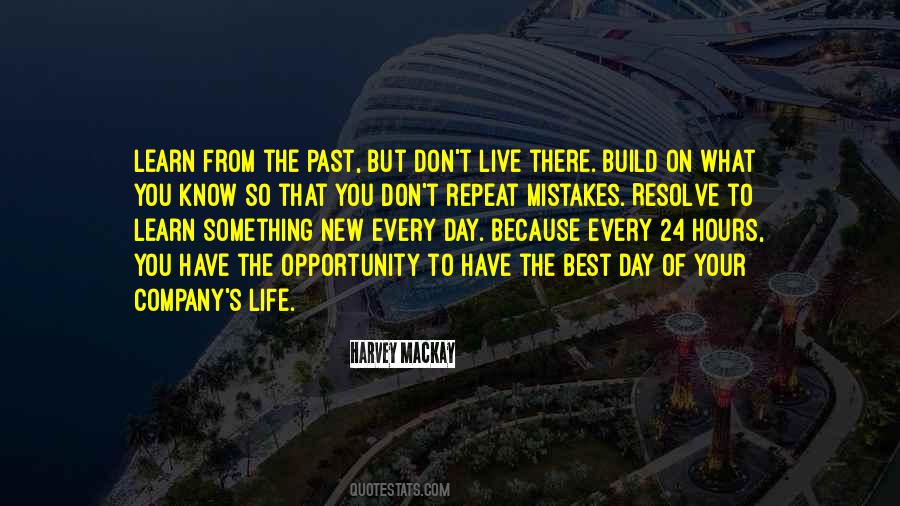 #70. Just live life. That's the best way to learn how to act. Just live. - Author: Rory Culkin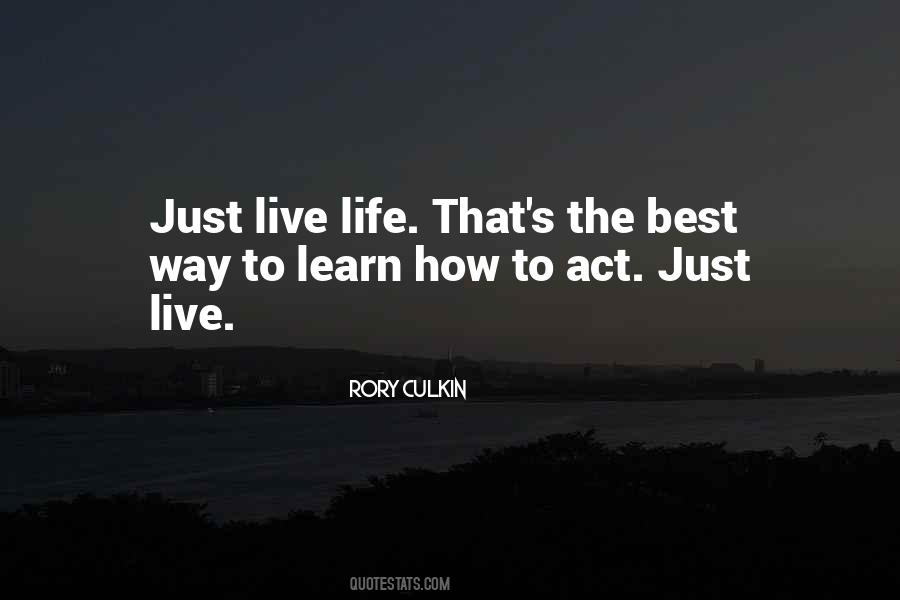 #71. Work hard, do your best, live the truth, trust yourself, have some fun ... and you'll have no regrets. - Author: Byrd Baggett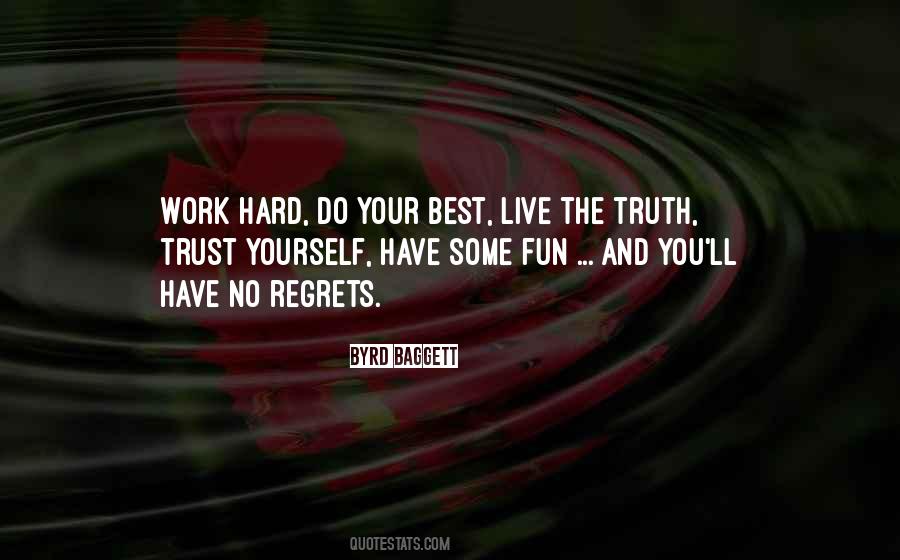 #72. Women call me all the time and tell me, 'You inspired me to get out of a bad situation,' or 'You inspired me to take the reigns for myself and go and do this.' I try to tell people to live their best life, and do what you know you need to do for yourself and your family. You need to be supported. - Author: Kimora Lee Simmons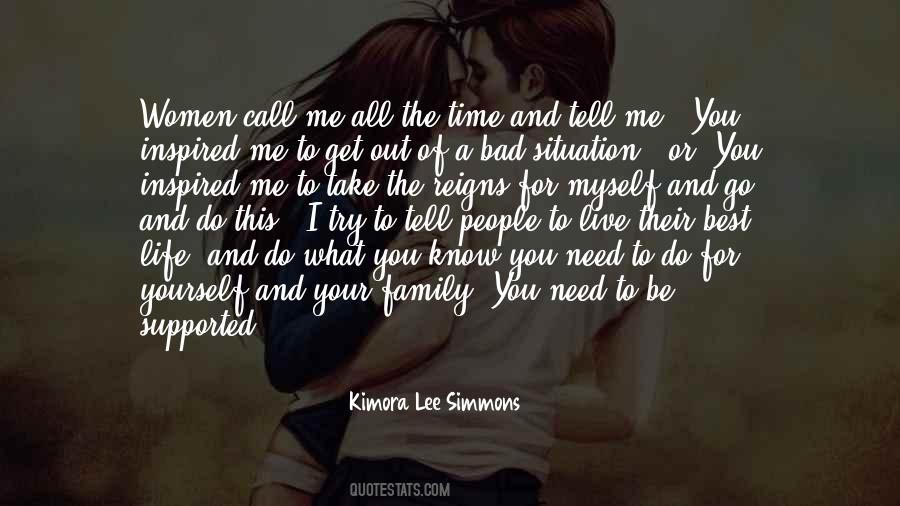 #73. You own the first day of your life. You own the last. And you own everything in between. - Author: Kevin Abdulrahman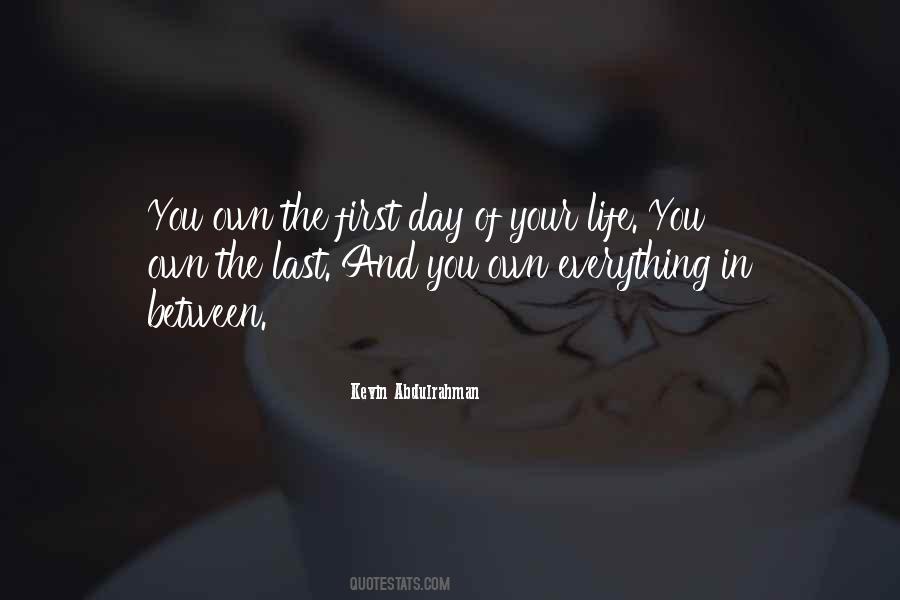 #74. The ultimate act of heroism shouldn't be death. You're always saying you want to give Baz the stories he deserves ... So you're going to kill him off? Isn't the best revenge supposed to be a life well-lived? The punk-rock way to end it would be to let them live happily ever after. - Author: Rainbow Rowell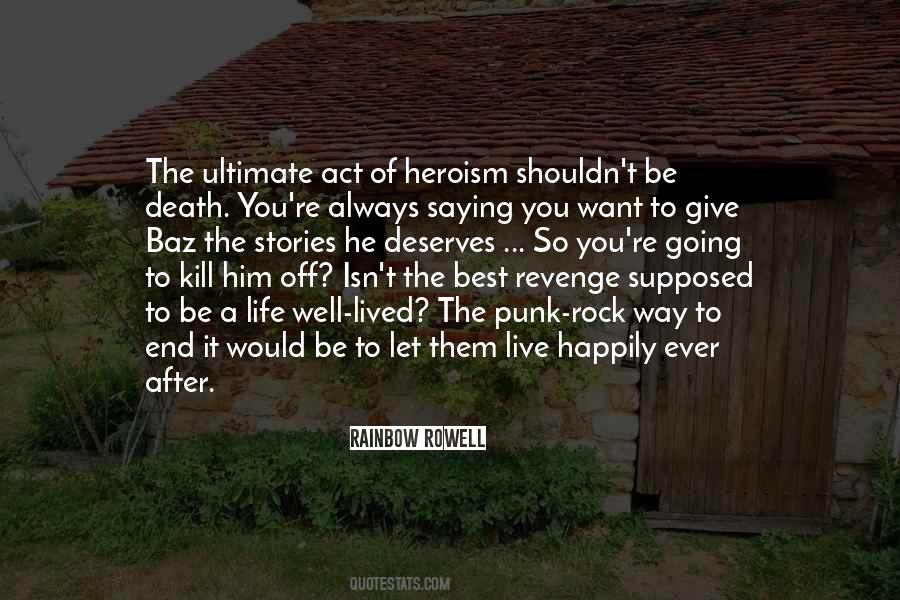 #75. Asked how a man should best grieve his enemy, Epictetus replied, By setting himself to live the noblest life himself. - Author: Epictetus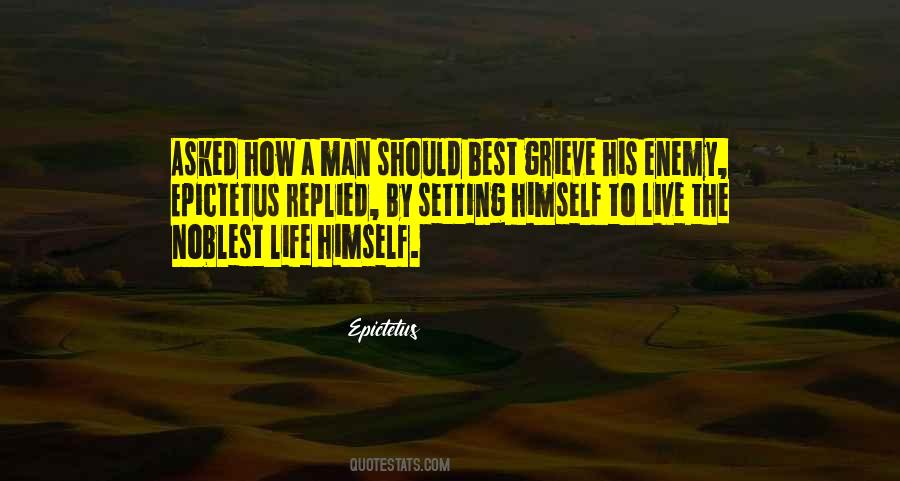 #76. Money cannot buy life. - Author: Lailah Gifty Akita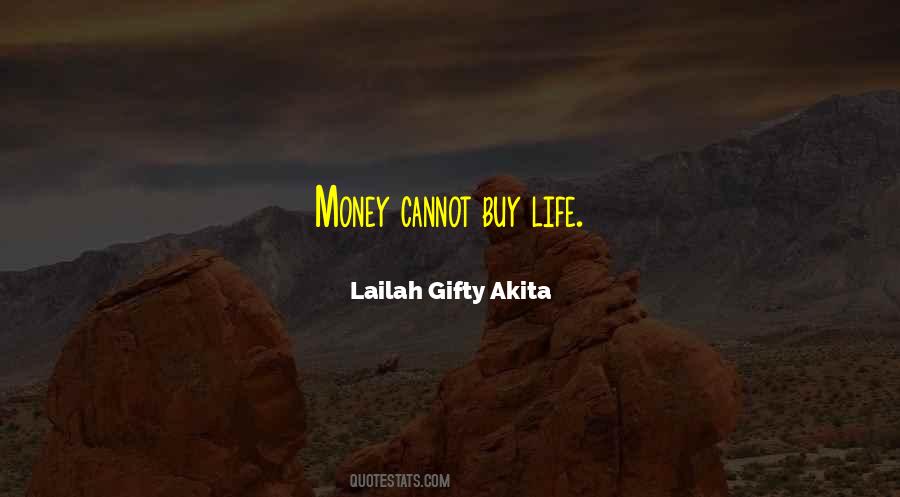 #77. When you are living the best version of yourself, you inspire others to live the best versions of themselves. - Author: Steve Maraboli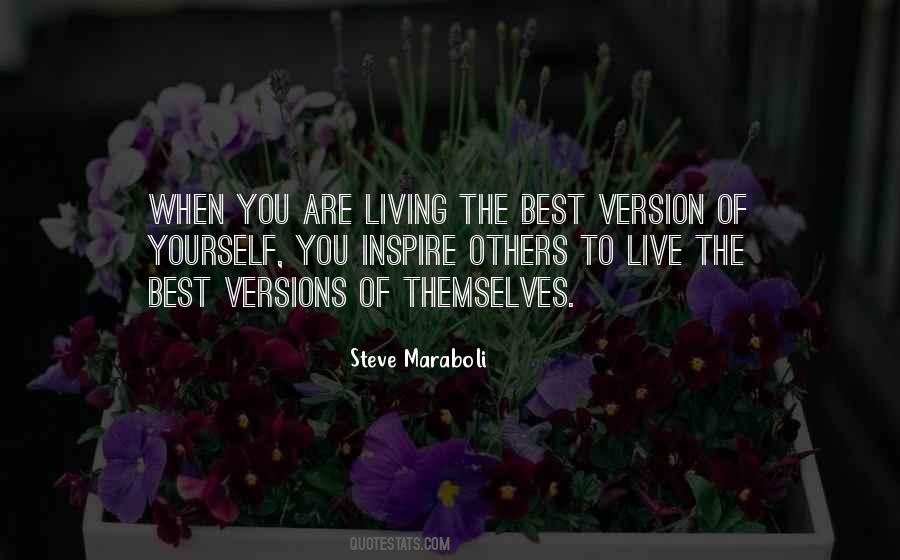 #78. I want to die living. And I want to be remembered as one who lived with purpose, joy and feeling. I want to spend my time learning what goes into a whole and happy life, then building that life the best I can. - Author: Steve Goodier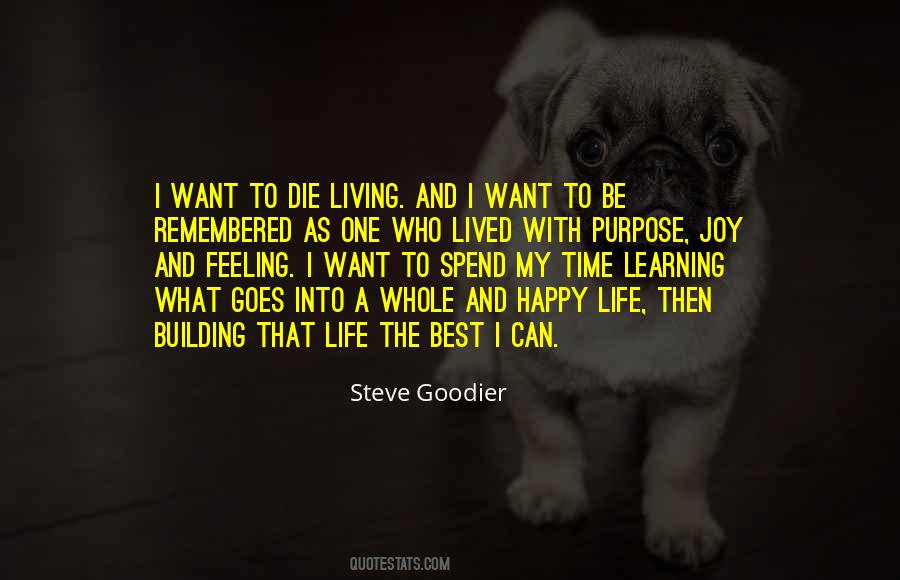 #79. Creativity and intelligence, rather than violence, are the best problem solvers. - Author: Don Roff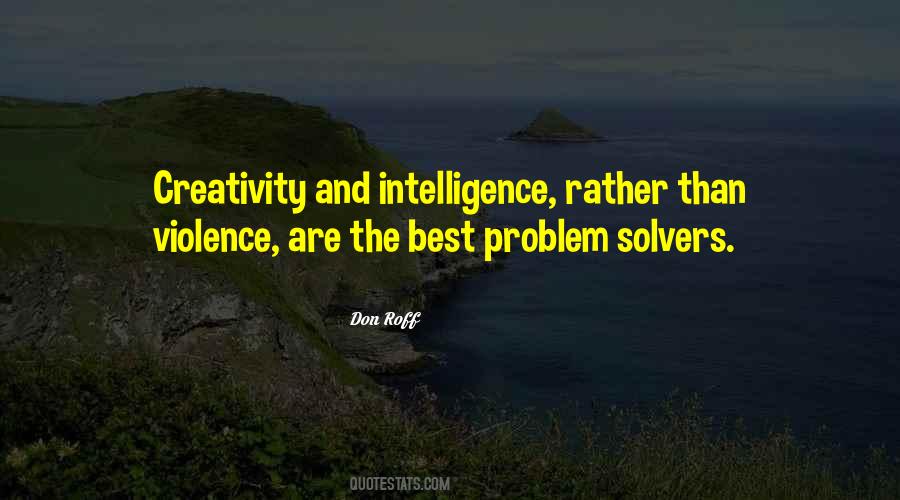 #80. The life and love we create is the life and love we live. - Author: Leo Buscaglia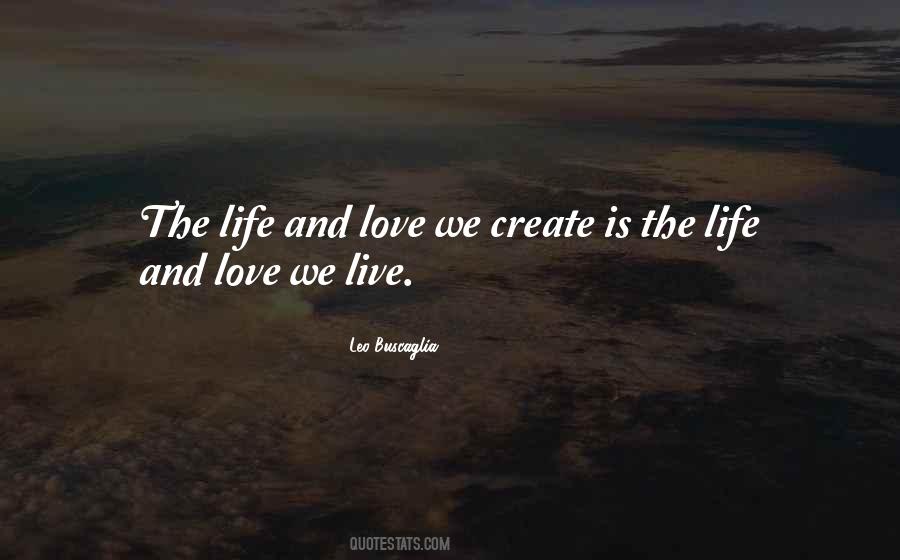 #81. Epictetus being asked how a man should give pain to his enemy answered, By preparing himself to live the best life that he can. - Author: Epictetus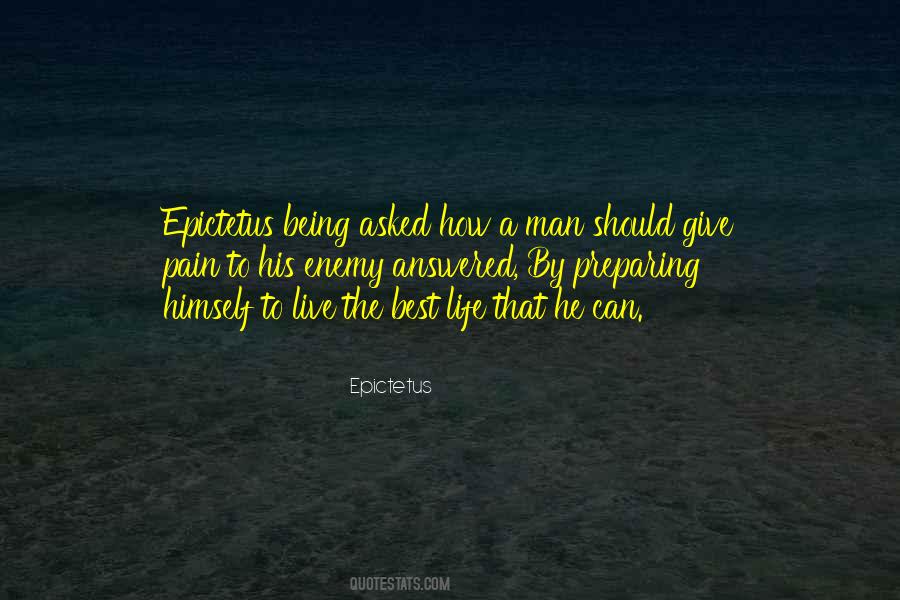 #82. To live, to TRULY live, we must be willing to RISK. To be nothing in order to find everything. To leap before we look. - Author: Mandy Hale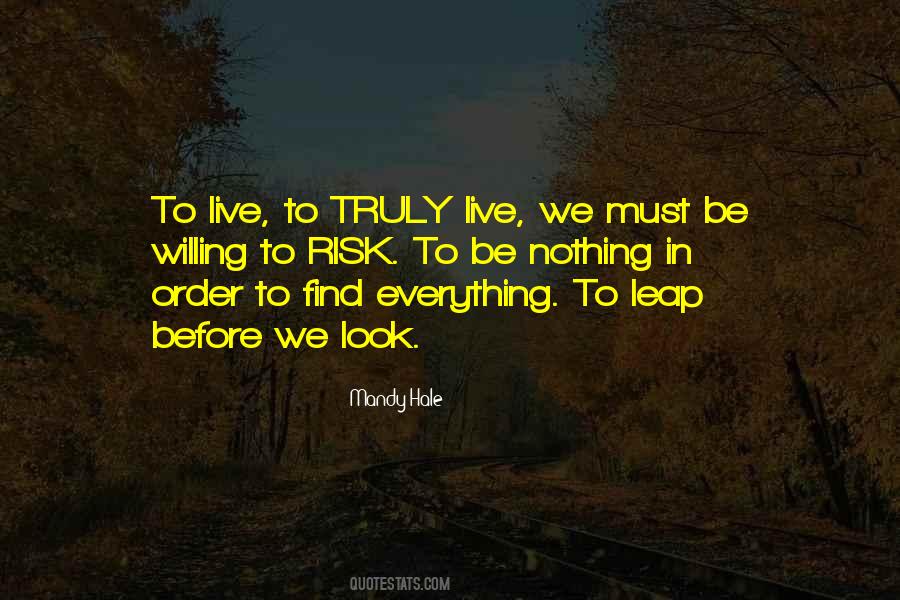 #83. Life is always easier when lived for others, and living for others is the best way I know to live for yourself. - Author: Chris Matakas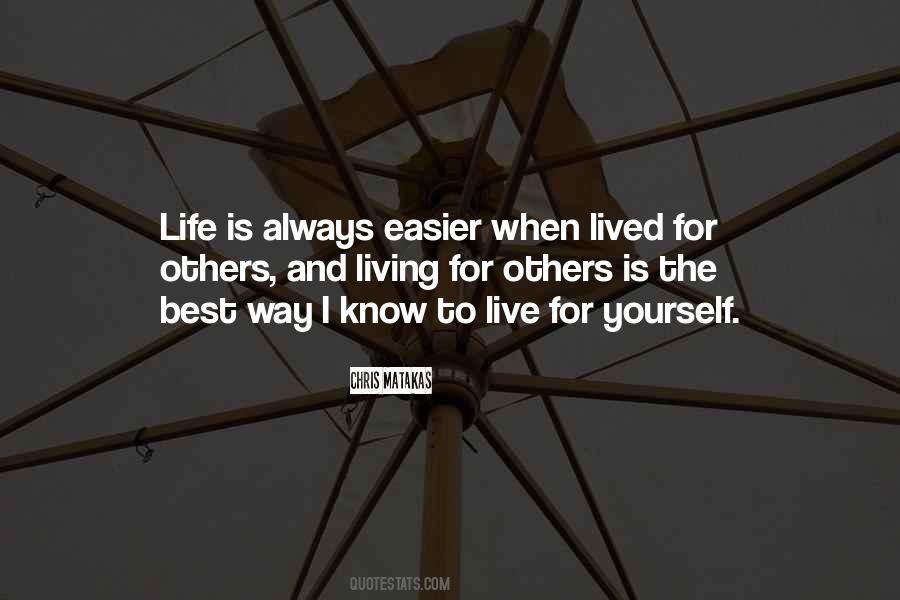 #84. We have to be extremely careful in the manner which we live life. - Author: Lailah Gifty Akita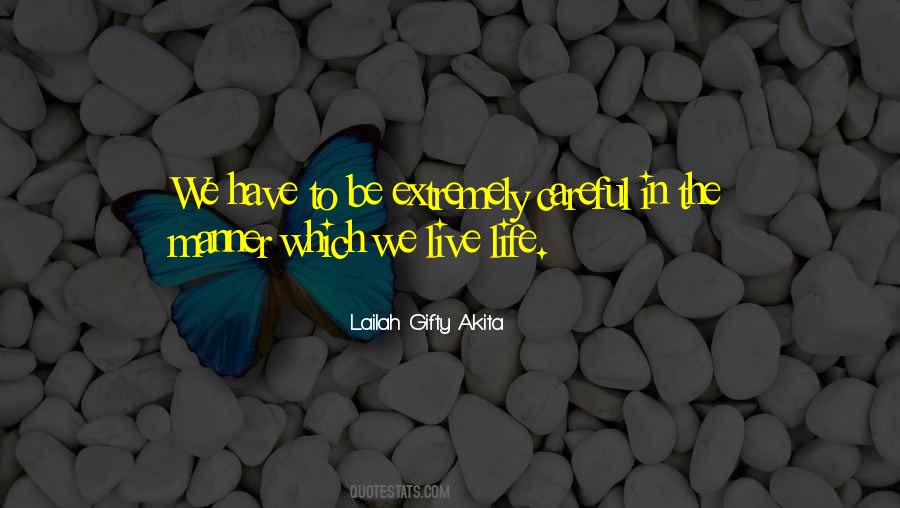 #85. Your journey is completely yours. It is unique. Others may try to steal part of it, tell it in their words or shape it to suit them. Reality is no one can live it or own it but you. Take charge of your journey, it's yours and yours alone! - Author: Kemi Sogunle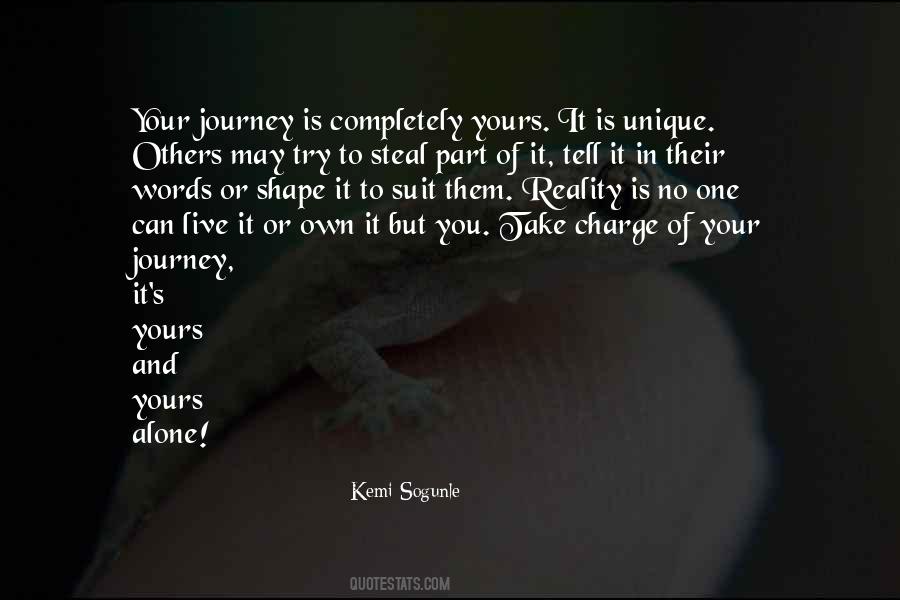 #86. Simply put, the best revenge is to live an awesome life. - Author: Ramon Bautista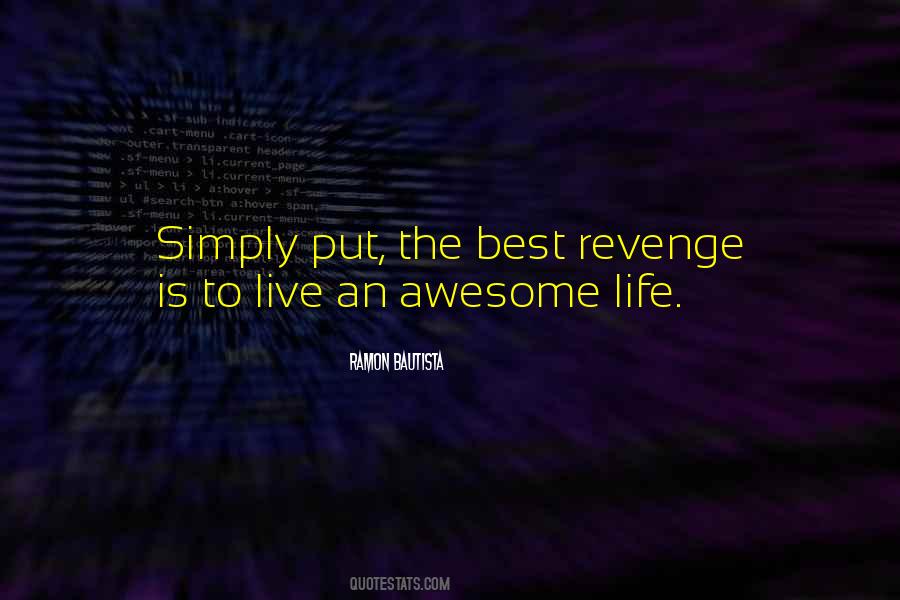 #87. According to the fortune-cookie logic most people live by, the best things in life are free. That's crap. I have a gold-plated robot that scratches the exact part of my back where my hands can't reach, and it certainly wasn't free. - Author: Josh Lieb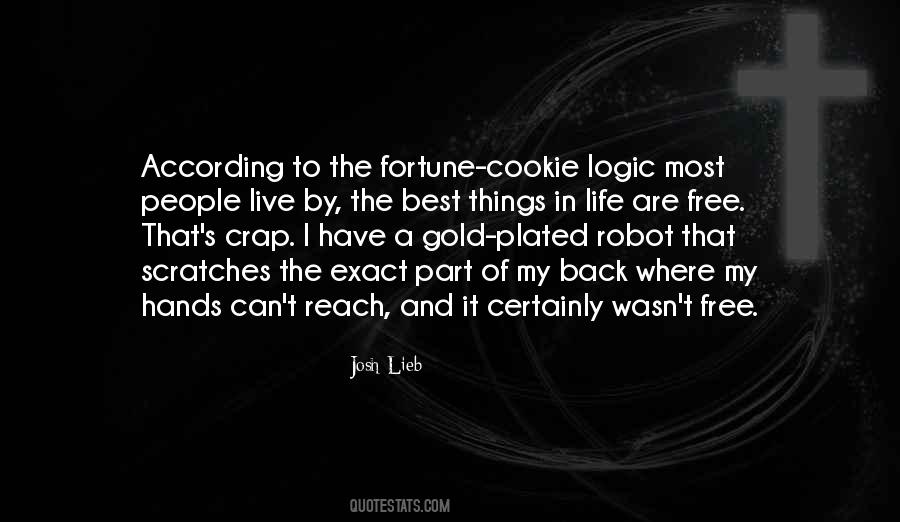 #88. This is the great reward of service, to live, far out and on, in the life of others; this is the mystery of Christ, - to give life's best for such high sake that it shall be found again unto life eternal. - Author: Joshua Chamberlain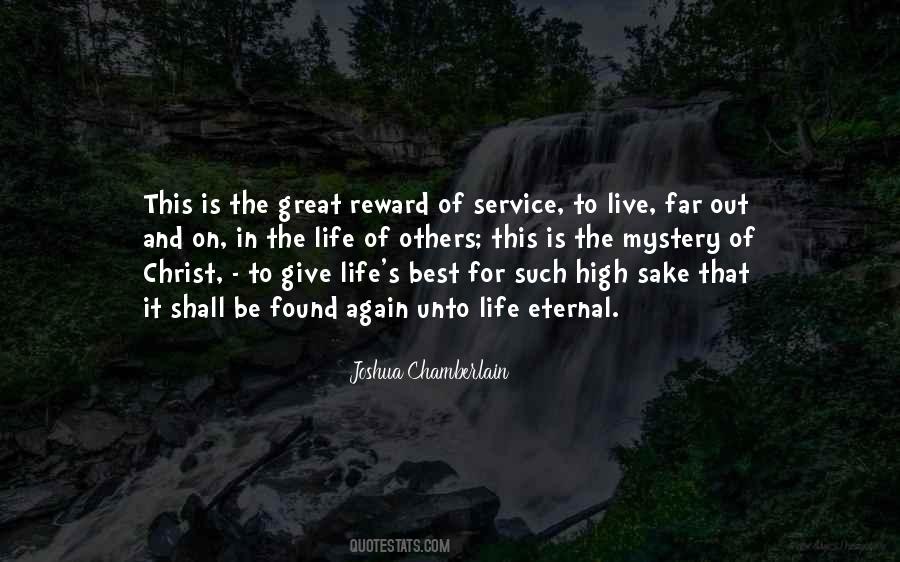 #89. We make a living by what we give; and live a life by what we have yet to give. - Author: George Alexiou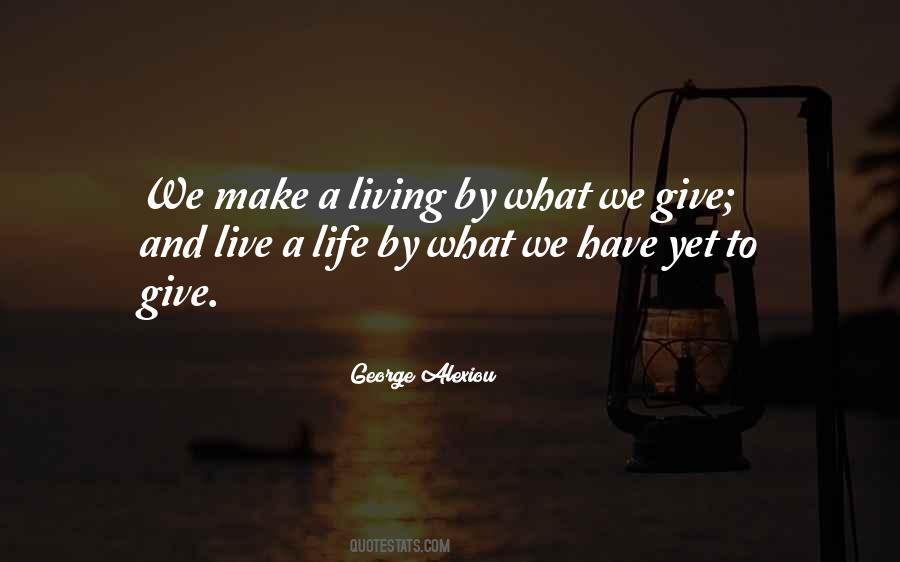 #90. Everybody should be able to enjoy their life, because you only live once. So I just want to get it all out there and be the best role model that I can be, if people want to put me in that kind of predicament. I mean, I didn't ask to be a role model, because I'm not perfect. - Author: ASAP Rocky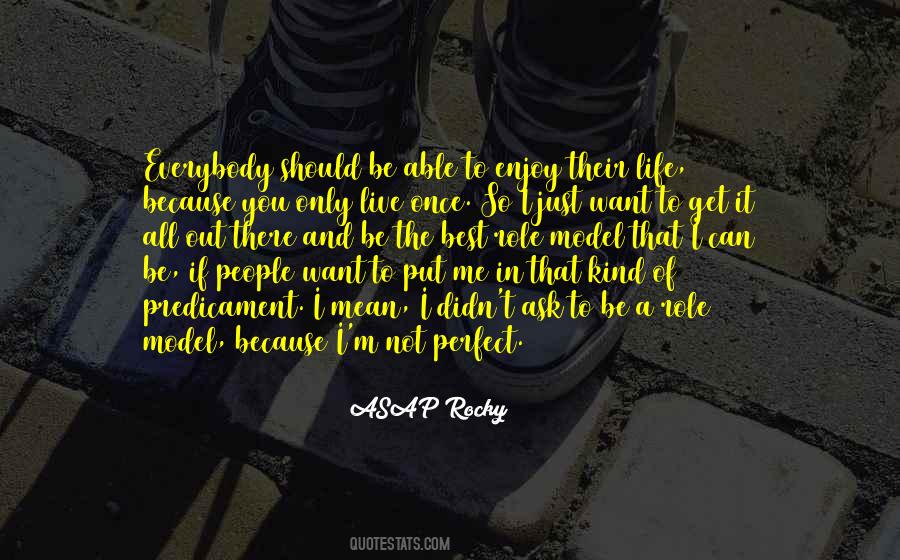 #91. I don't think anybody is anybody else's moral compass. Maybe listening to my music is not the best idea if you live a very constricted life. Or maybe it is. - Author: Lou Reed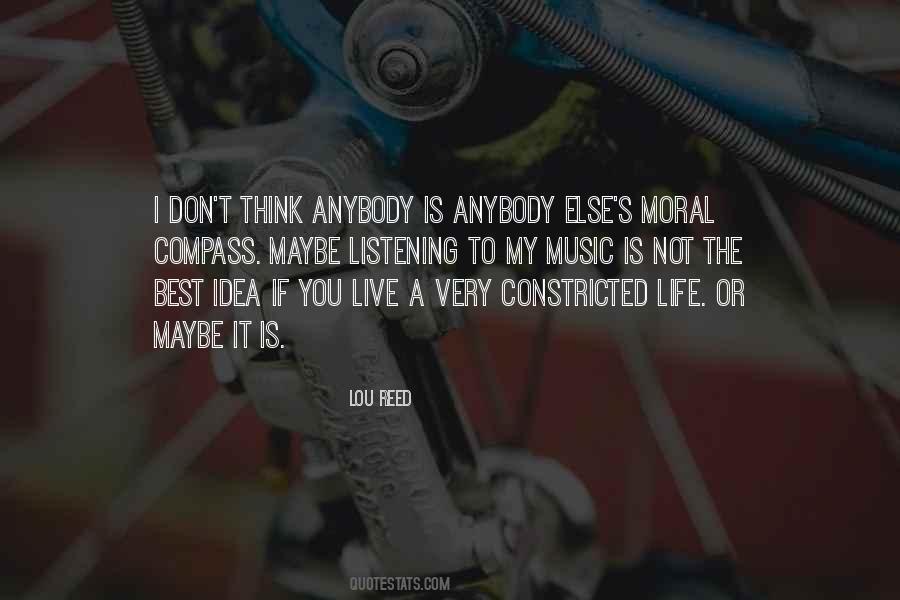 #92. When you learn what you can live without, you are able to ask life for the very best because you possess the gift of discernment. You are able to create an authentic life because you are able to make conscious choices. - Author: Sarah Ban Breathnach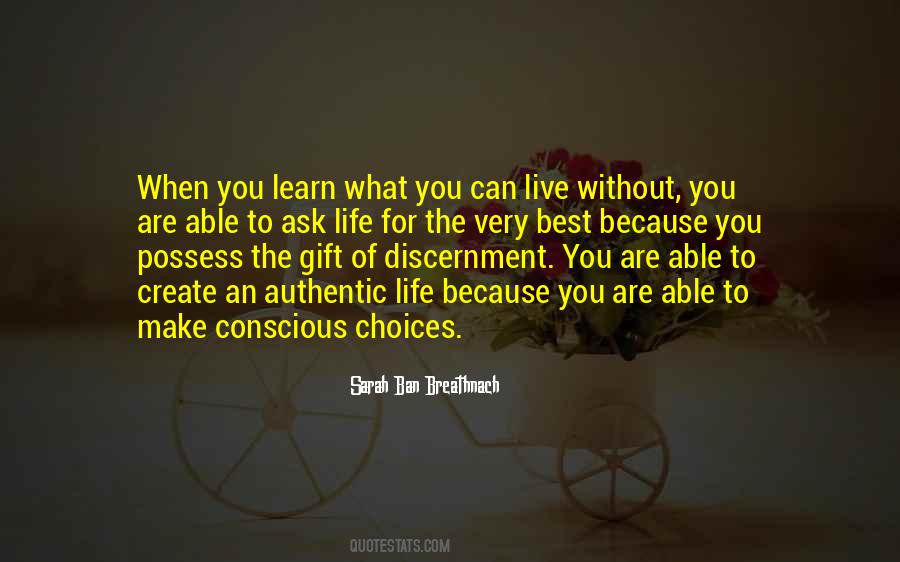 #93. The problem with thinking that you are the absolute best, is that it leaves no room for you to become any better and while you live life thinking that you're the best, truth is a lot of people around you are already better and becoming even more better. - Author: C. JoyBell C.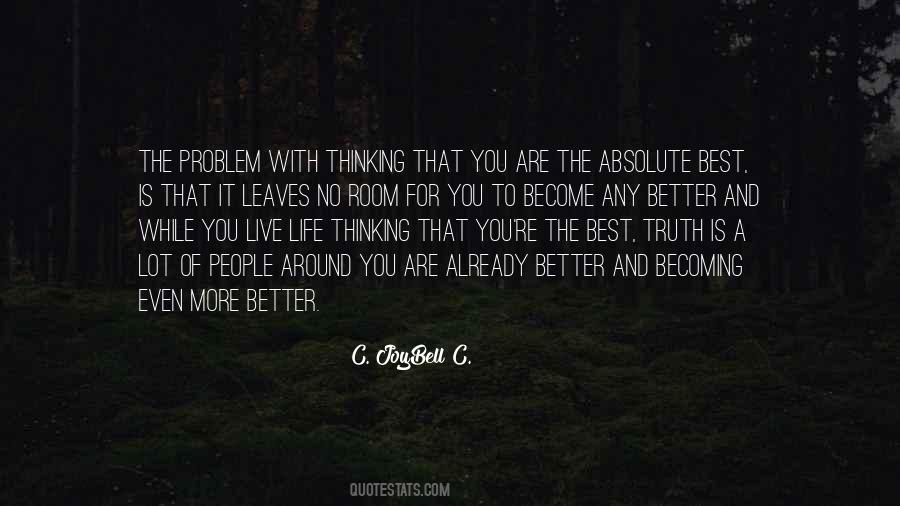 #94. So this is what I've decided: In the eyes of many people, I may never live an extraordinary life. But I will love in extraordinary ways. And I hope I choose to always see the best in people" -Emma - Author: Natalie Lloyd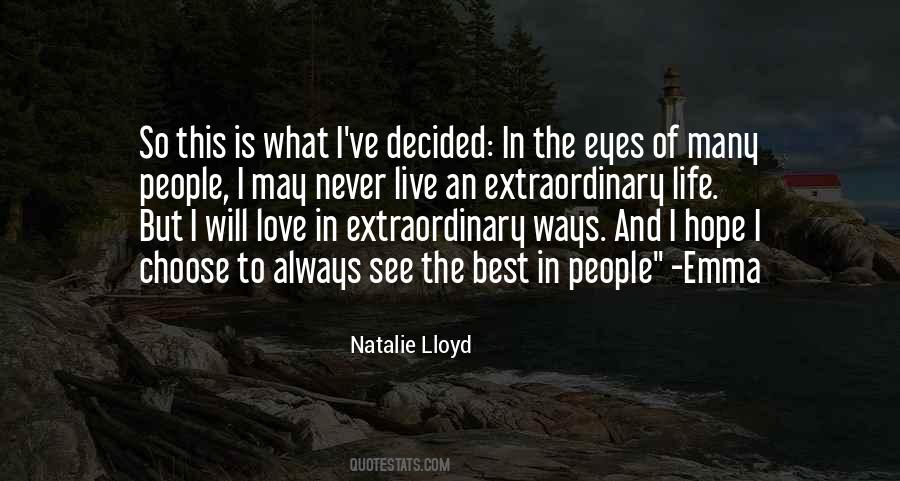 #95. Love and take care of yourself because you are your best friend, and you have to live with yourself rest of the life. - Author: Debasish Mridha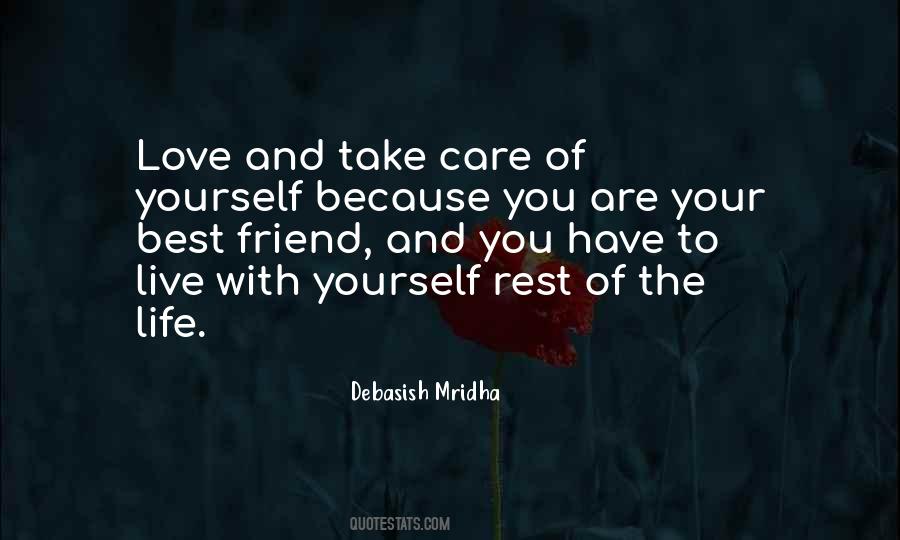 #96. I am just like you and everyone else. I am trying to live my life as best I can. - Author: Liz Phair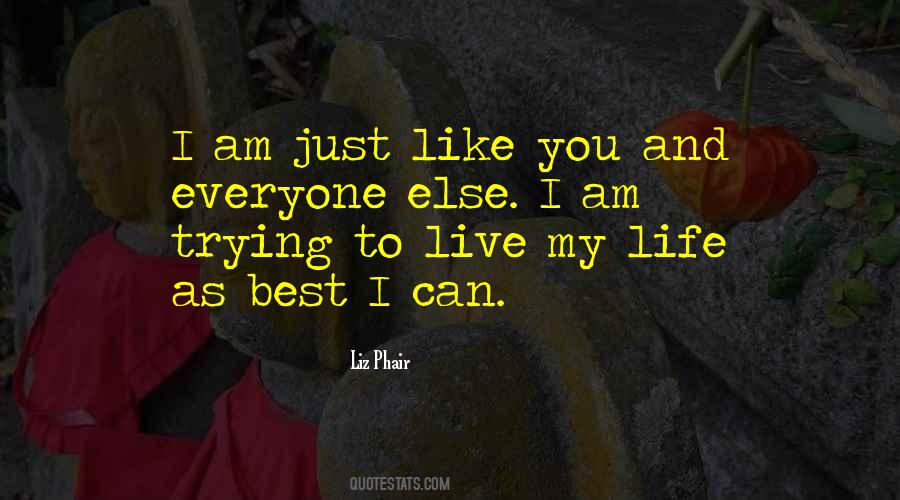 #97. It seems to me that it's every man's obligation to make what contribution he can. You live each day as best you can. That, to me, is what makes life interesting. - Author: Rod McKuen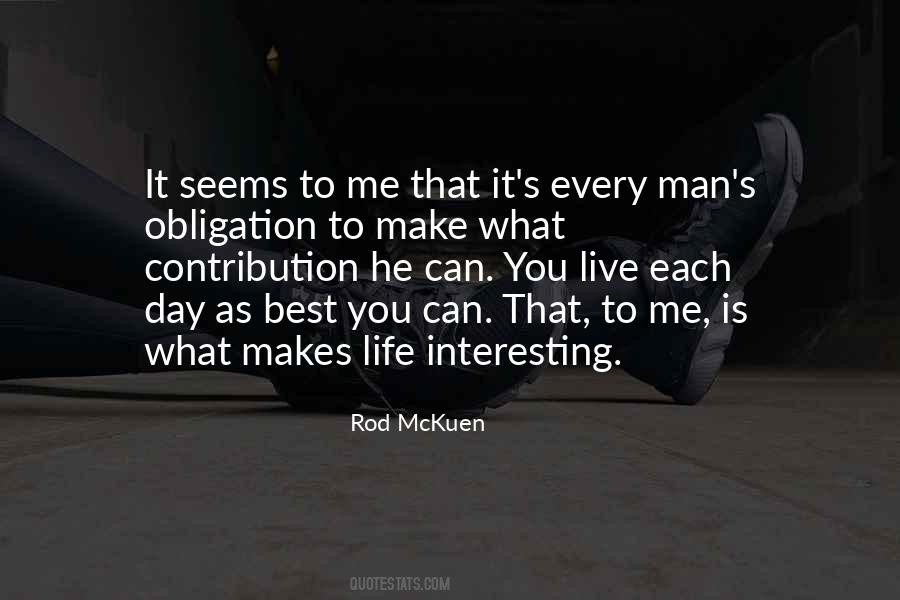 #98. It's the same in real life: Notorious murderers get off scot-free and live happily all their lives, while good people die - sometimes the very best people. That's the way of the world. - Author: Cornelia Funke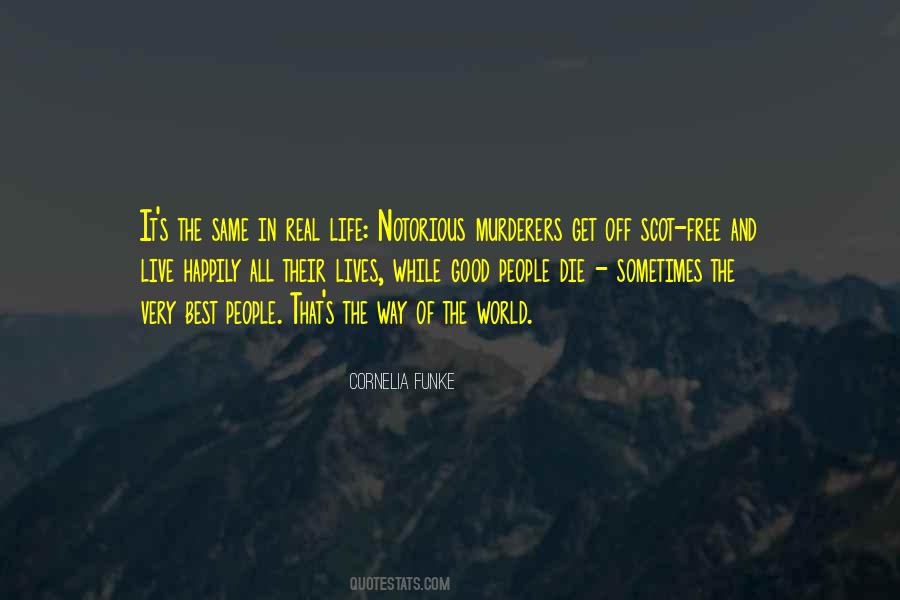 #99. the best use of one's life is to spend it for something that will outlast it. Life's value is not its duration but its donation - not how long we live but how fully and how well.1 - Author: J. Oswald Sanders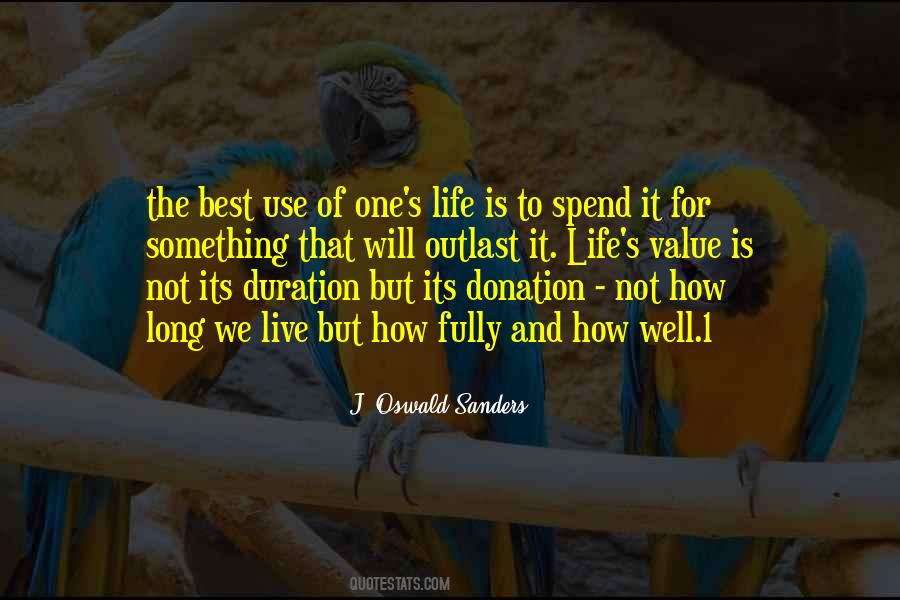 #100. Life is a sacred journey. - Author: Lailah Gifty Akita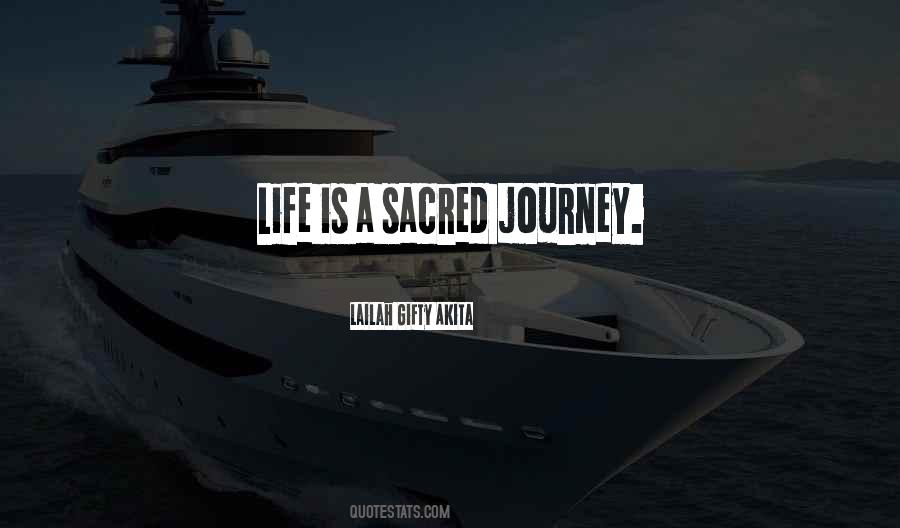 Famous Authors
Popular Topics