Little Things Life Famous Quotes & Sayings
List of top 100 famous quotes and sayings about little things life to read and share with friends on your Facebook, Twitter, blogs.
Top 100 Little Things Life Quotes
#1. All the games were selected for them by supervisors and had to have some useful, educational purpose. The children learned these new games but unlearned something else in the process: they forgot to be happy, how to take pleasure in little things and last, but not least, how to dream - Author: Michael Ende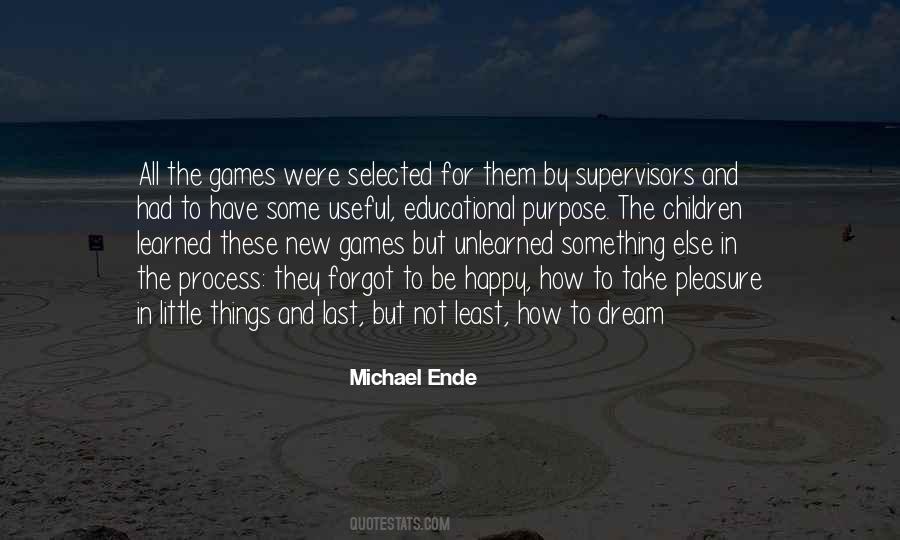 #2. Everyone expects us to have a sense of urgency for life's big things. Life measures us by how we engage ourselves in the little things. - Author: Bob Proctor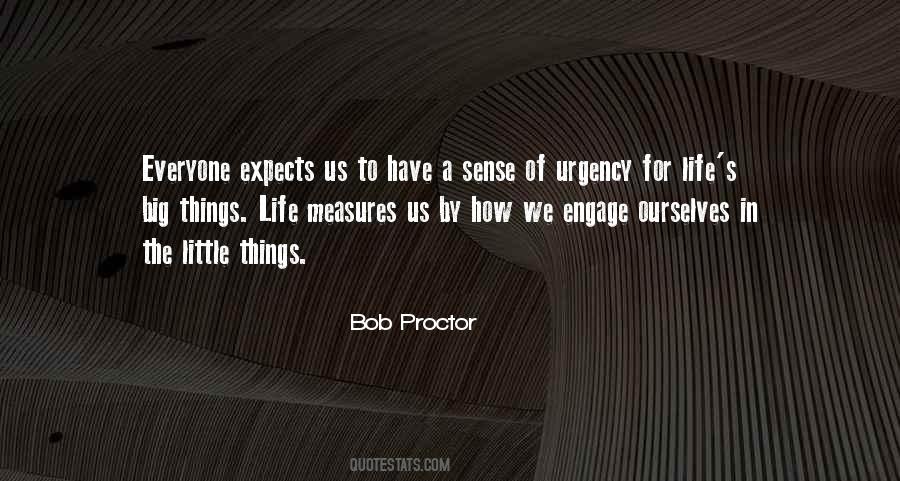 #3. Ever since I was a little girl, I've worried too much. It always bothers me because sometimes you end up worrying more about the worry and you are not resolving things that are right there in front of you. I have been like that all my life, and it's hard to change. - Author: Penelope Cruz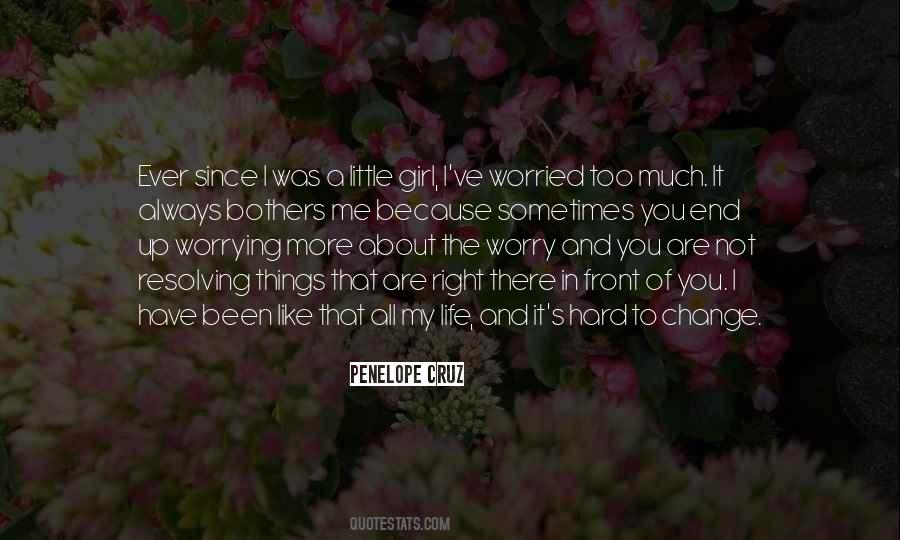 #4. I'm a big believer that your word is your wand. You know how people say things like, 'Oh my gosh, I'm such an idiot.' I don't say things like that anymore. Those put-downs, even if they're in jest, are little bullets of negativity that you don't need in your life. - Author: Mariska Hargitay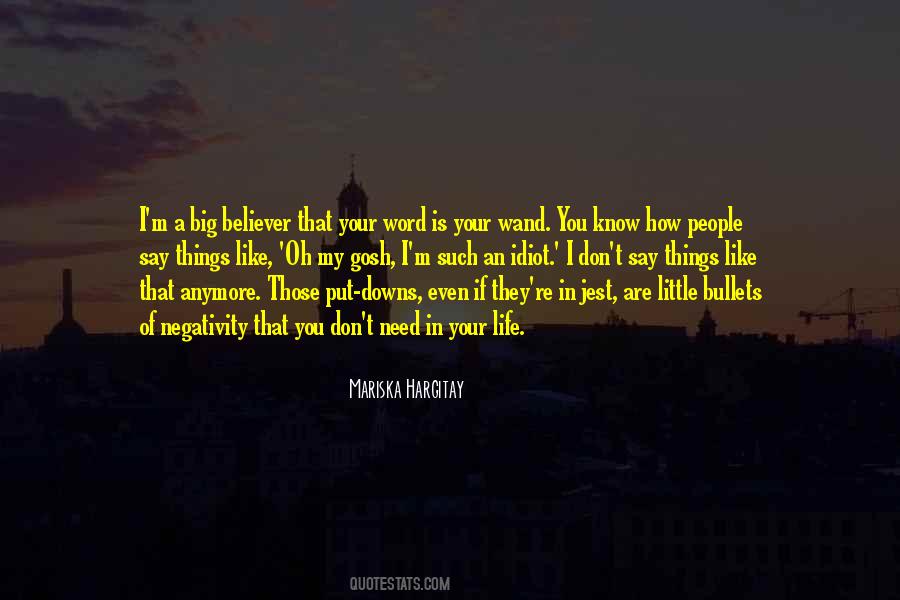 #5. The little things in life frequently make the difference in success and failure. - Author: Zig Ziglar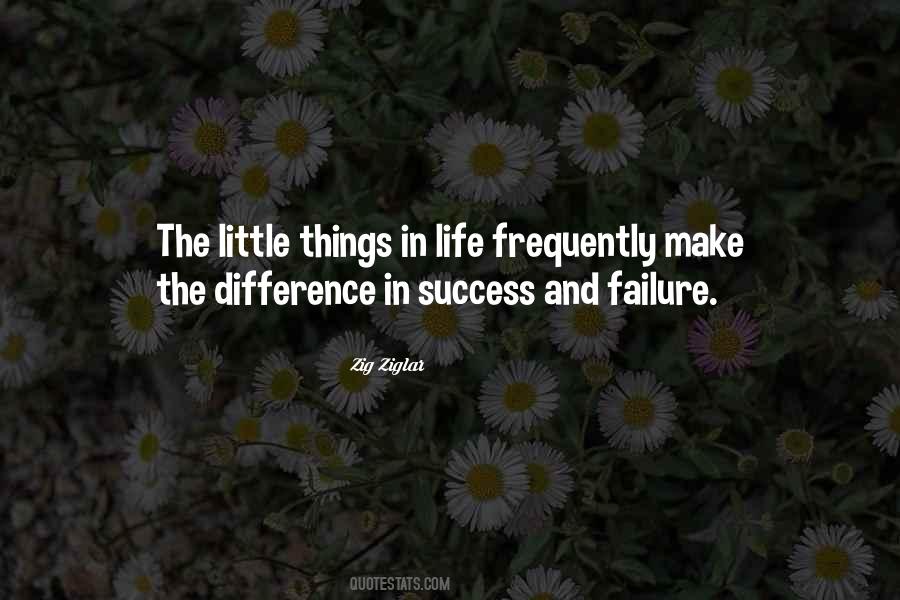 #6. He tried to give his wife pleasure in little ways, because he had come to realize, after nearly two decades together, how often he disappointed her in the big things. It was never intentional. They simply had very different notions of what ought to take up most space in life. - Author: J.K. Rowling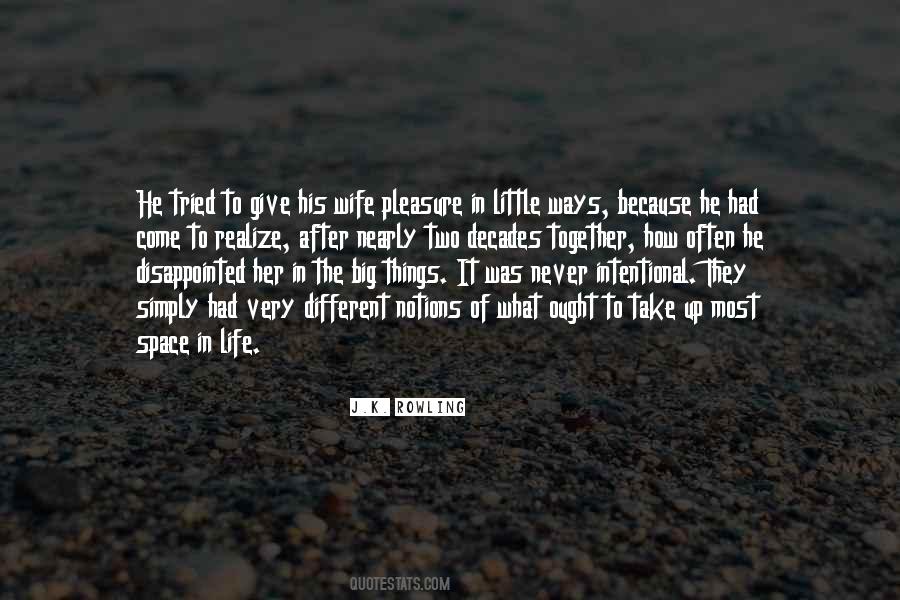 #7. What silly little things sometimes take on meaning in life, suddenly, out of nowhere. And you know they're little nothings, and you laugh at them, but all the same, you go on feeling them, you can't stop ... - Author: Sarah Ruhl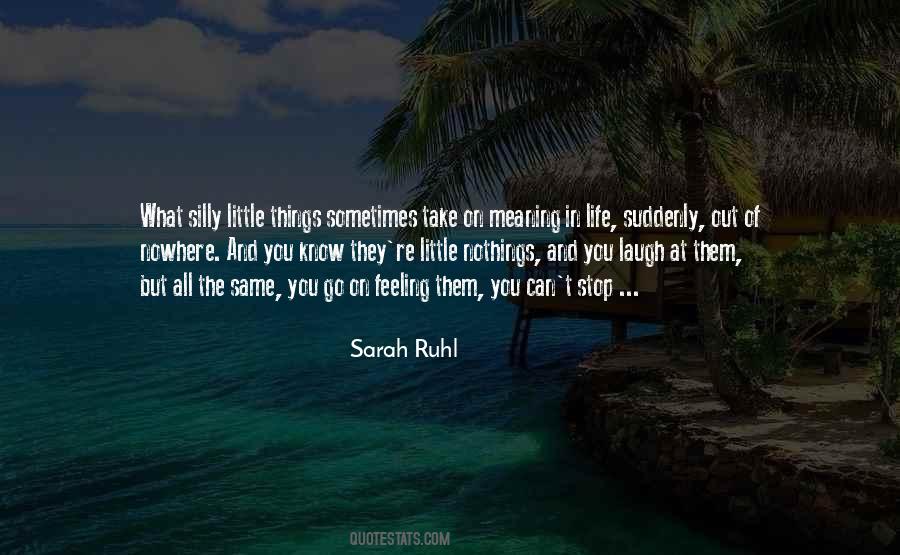 #8. The past is like a handful of dust. It filters through your fingers, disappearing little by little. I wish, for one day, I could go back. In another life I would do things differently. - Author: Katy Perry
#9. I have been married to my wife, Paula, for 25 years. We have wonderful kids. Things are - it's been a really rich life, so I started thinking, is there a way to get valence a little more into the stories, the idea that, yes, things can go wrong, but also they can go right. - Author: George Saunders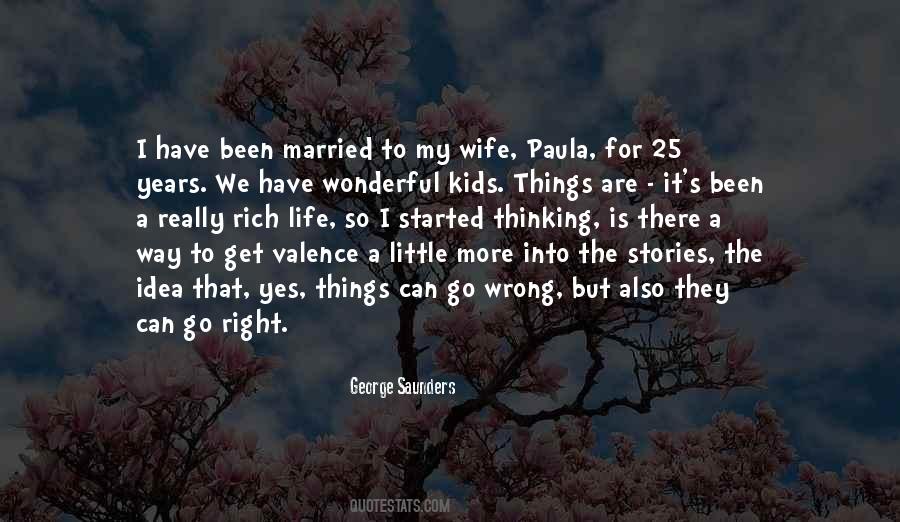 #10. I'm not the kind of person who would throw himself into some exciting or dangerous situation just to get material. So I tend to go about my normal, boring life and just try to look at things a little more closely. - Author: Adrian Tomine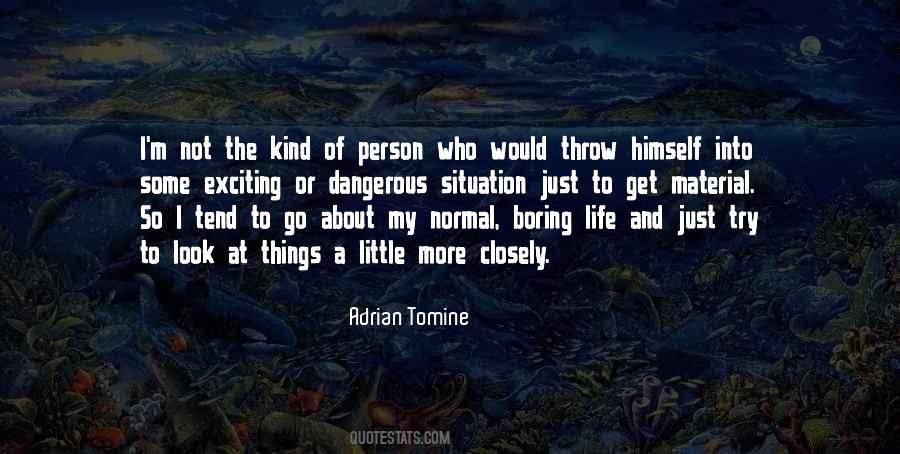 #11. I don't care about the little guy. I just hate the big guy. I hate big smug people who think they can get away with things. - Author: Lee Child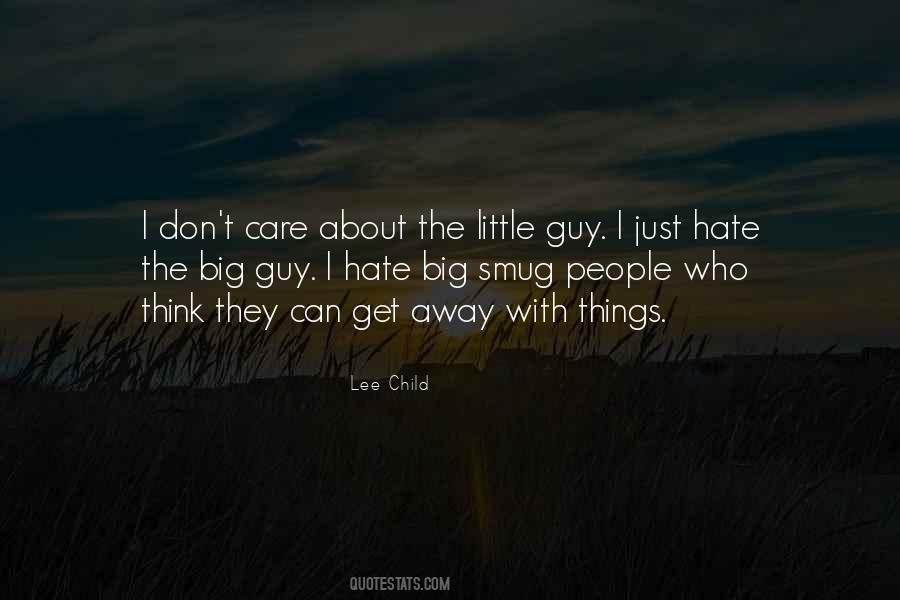 #12. Noronha's Laws

1. No man works harder than he must.
2. The joy of living, lies in making little things big.
3. Try never to do what you do not want to do. The secret of a happy old age is in never doing what you do not want to do. - Author: R.P. Noronha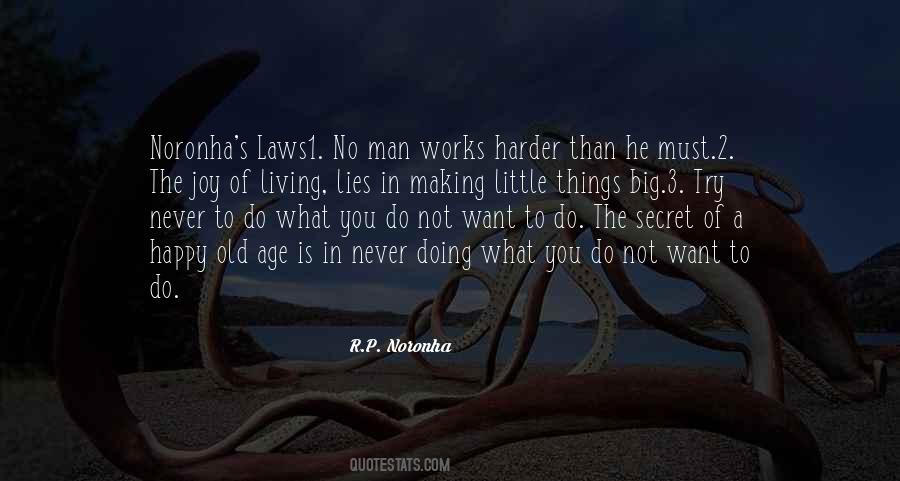 #13. I don't blame the average seventeen-year-old punk-rock kid for calling me a sellout. I understand that. And maybe when they grow up a little bit, they'll realize there's more things to life than living out your rock & roll identity so righteously. - Author: Kurt Cobain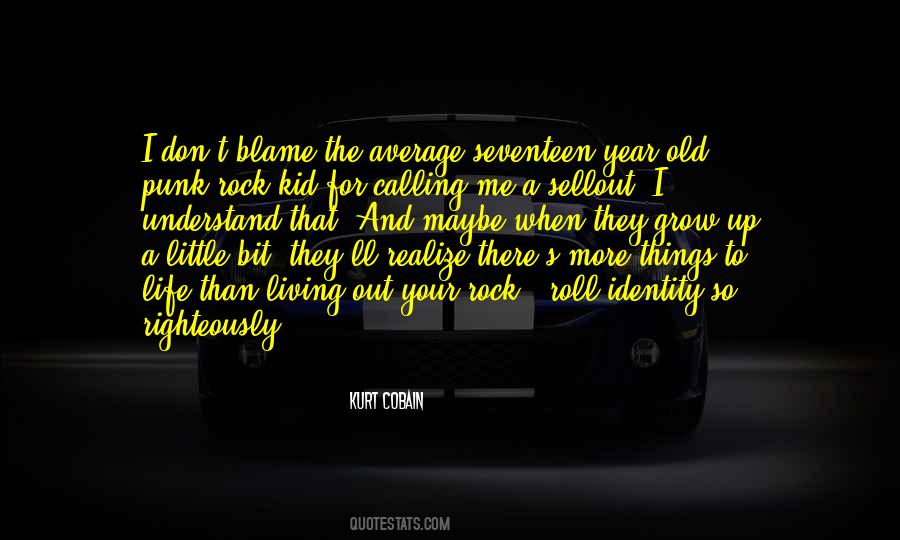 #14. Like so many things Henry had wanted in life
like his father, his marriage, his life
it had arrived a little damaged. Imperfect. But he didn't care, this was all he'd wanted. Something to hope for, and he'd found it. It didn't matter what condition it was in. - Author: Jamie Ford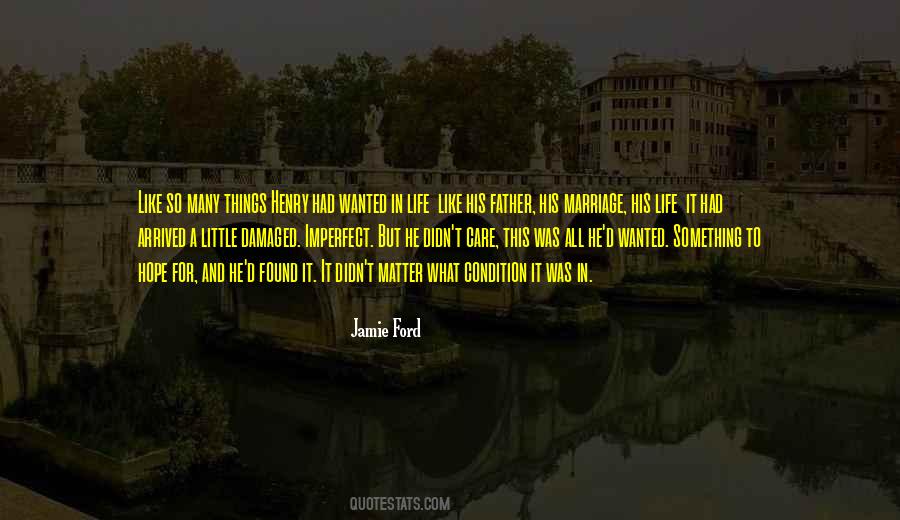 #15. In film, life-and-death struggles make you sit up, lean forward a little bit. They amplify things happening, in smaller ways, in all of us. These things show up in relationships. They show up in struggles and bring them to a critical point. - Author: David Lynch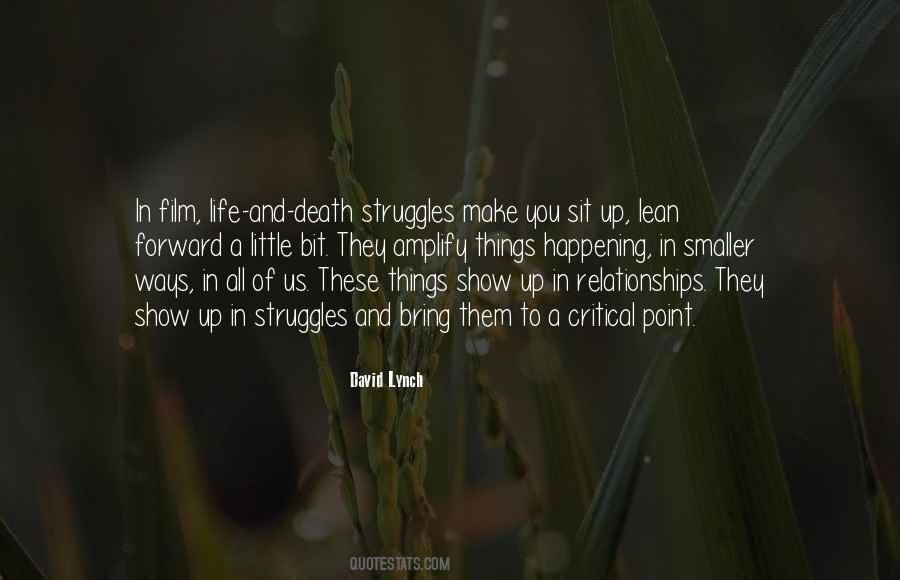 #16. When you know the impact of little expenses, you will realise that there is nothing little in this world. - Author: Manoj Arora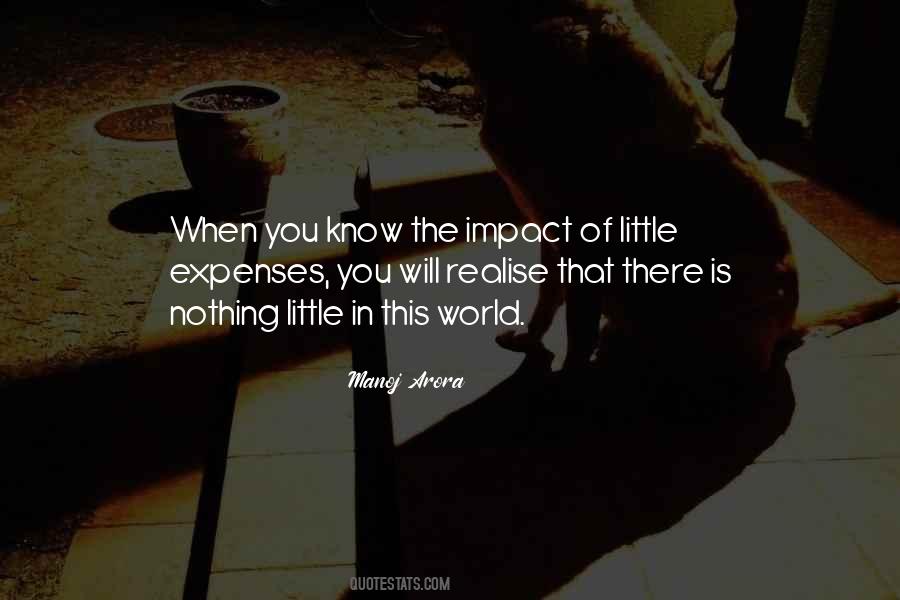 #17. Through out your life people will project many things onto you. The projections are not about you, they are about them. Most will actually have very little to do with who you actually are. Remember this instead of reacting. - Author: Renae A. Sauter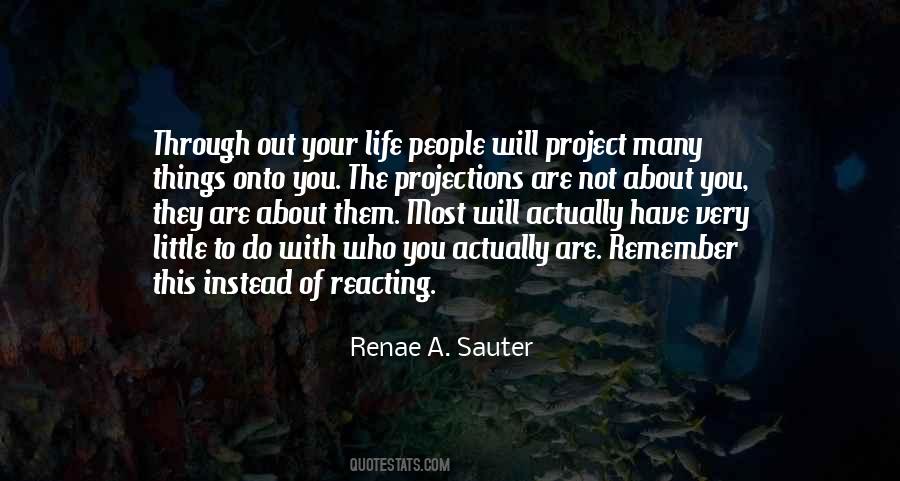 #18. You never know how the little things you do can make a big difference in someone's life. - Author: Jamie Larbi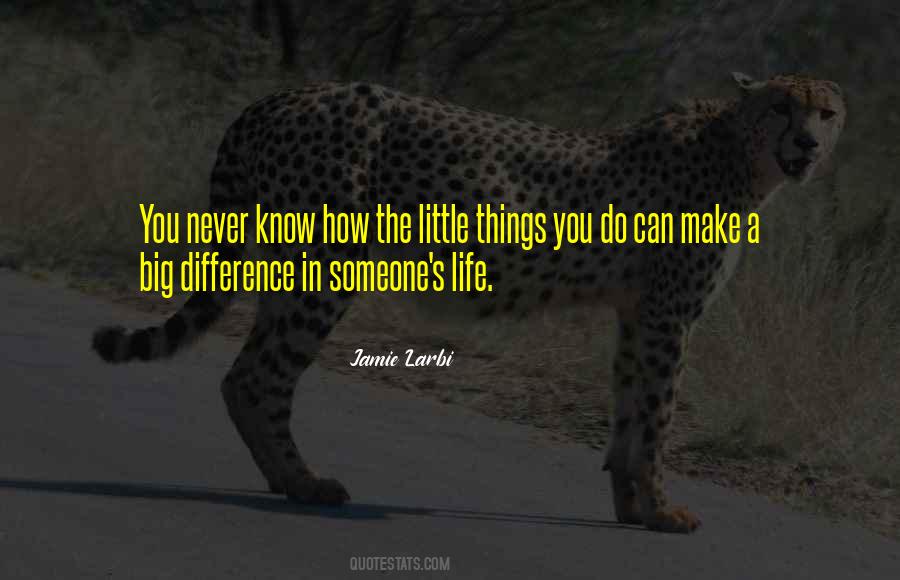 #19. Ah, on what little things does happiness depend! I have read all that the wise men have written, and all the secrets of philosophy are mine, yet for want of a red rose is my life made wretched. - Author: Oscar Wilde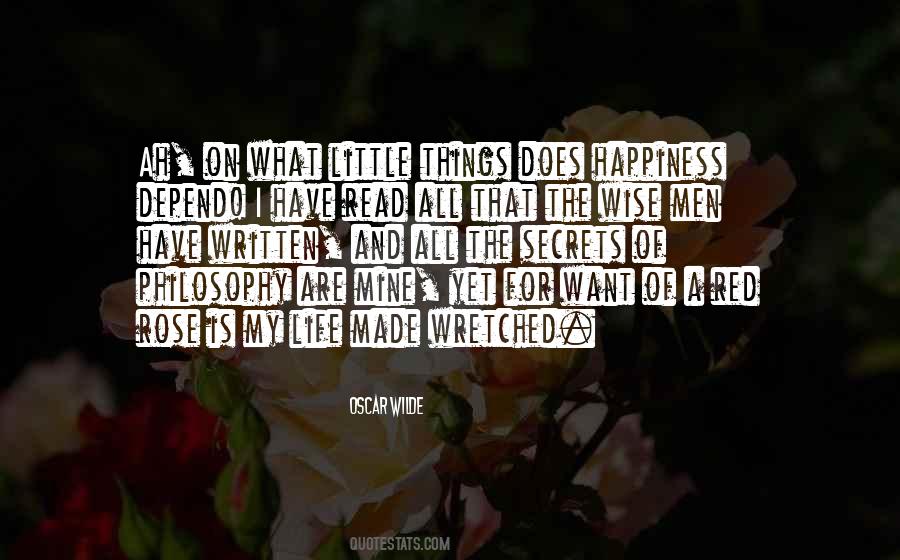 #20. The sense of tragedy is that the world is not a pleasant little nest made for our protection, but a vast and largely hostile environment, in which we can achieve great things only by defying the gods; and that this defiance inevitably brings its own punishment. - Author: Norbert Wiener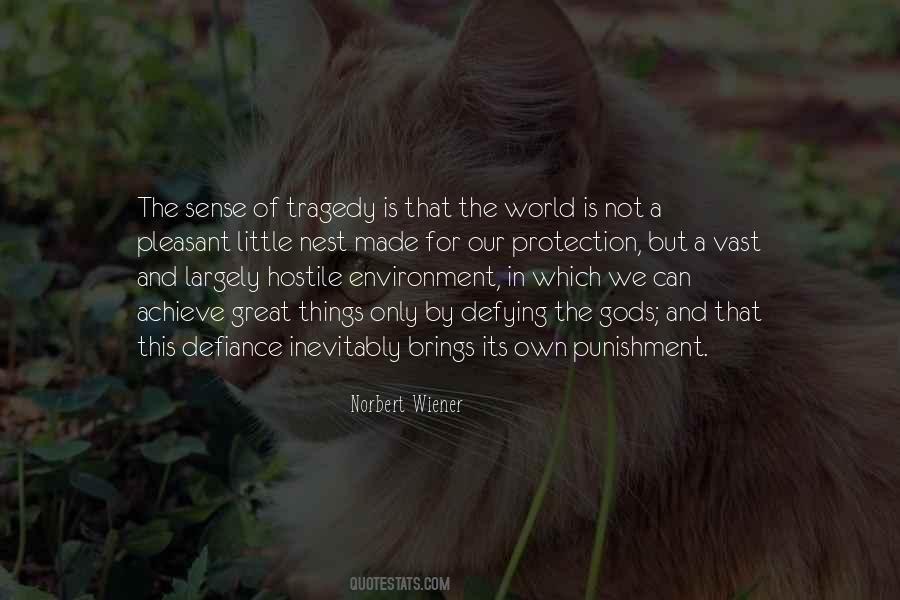 #21. The routine of life goes on, whatever happens, we do the same things, go through the little performance of eating, sleeping, washing. No crisis can break through the crust of habit. - Author: Daphne Du Maurier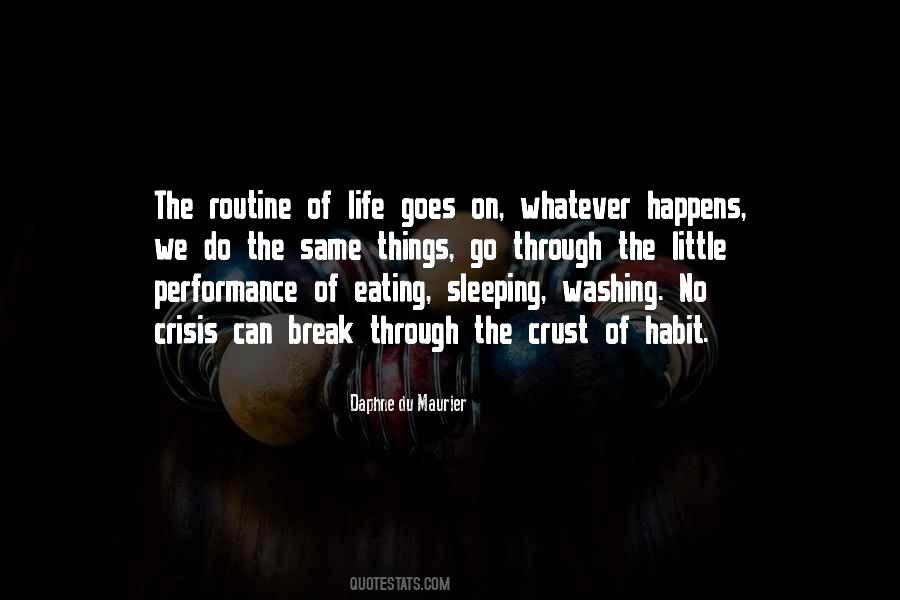 #22. Sometimes in life you have to count on the little things to keep you happy ... - Author: Rida Altaf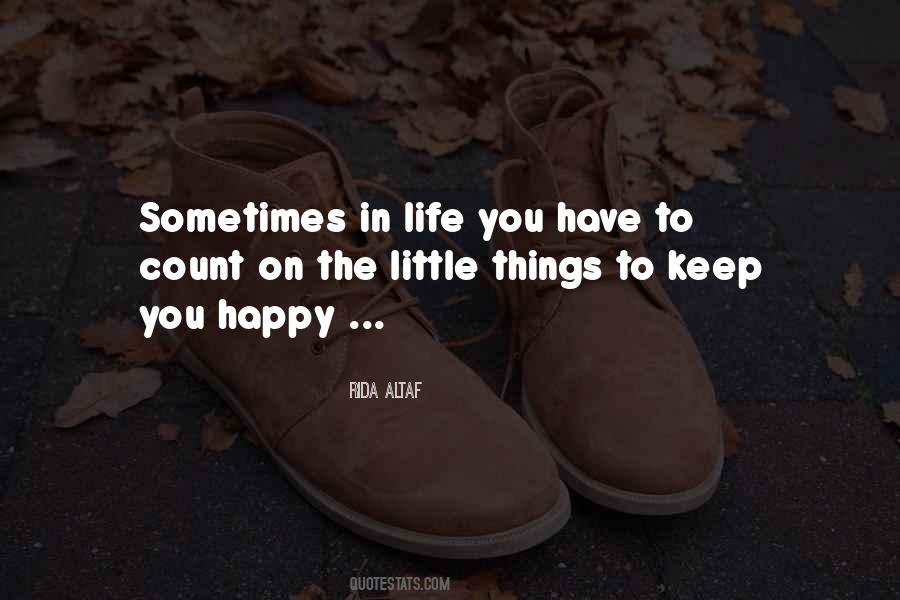 #23. The things she said seemed to have very little relation to the last thing she had said a minute before. She was the sort of person, Tommy thought, who might know a great deal more than she chose to reveal. - Author: Agatha Christie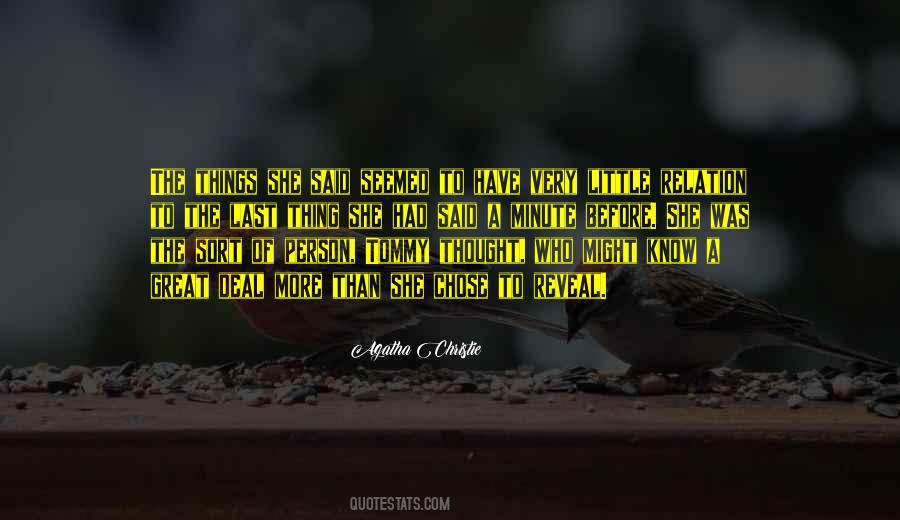 #24. Life is an admirable arrangement, isn't it, little mother. It is so clever of it to have June in every year and a morning in every day, let alone things like birds, and Shakespeare, and one's work. - Author: Elizabeth Von Arnim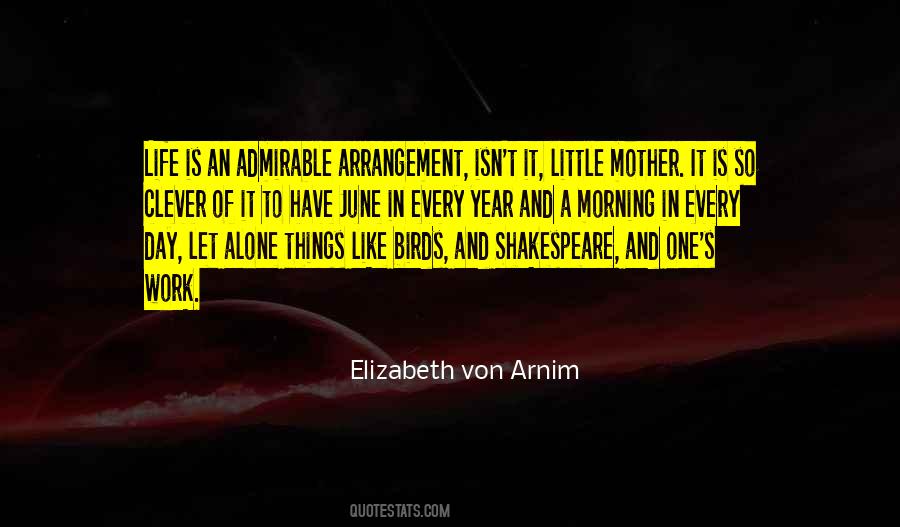 #25. I promise you this: at the end of your days, you will discover that the things you now perceive to be the big things in your life will be seen as little things, and all those things that you now believe to be the little things, you will realize were really the big things. - Author: Robin Sharma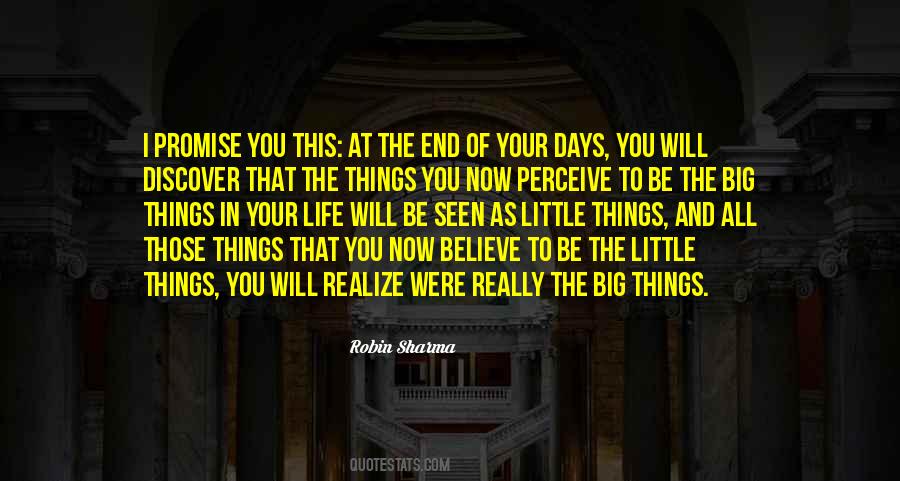 #26. The small things of life were often so much bigger than the great things ... the trivial pleasure like cooking, one's home, little poems especially sad ones, solitary walks, funny things seen and overheard. - Author: Barbara Pym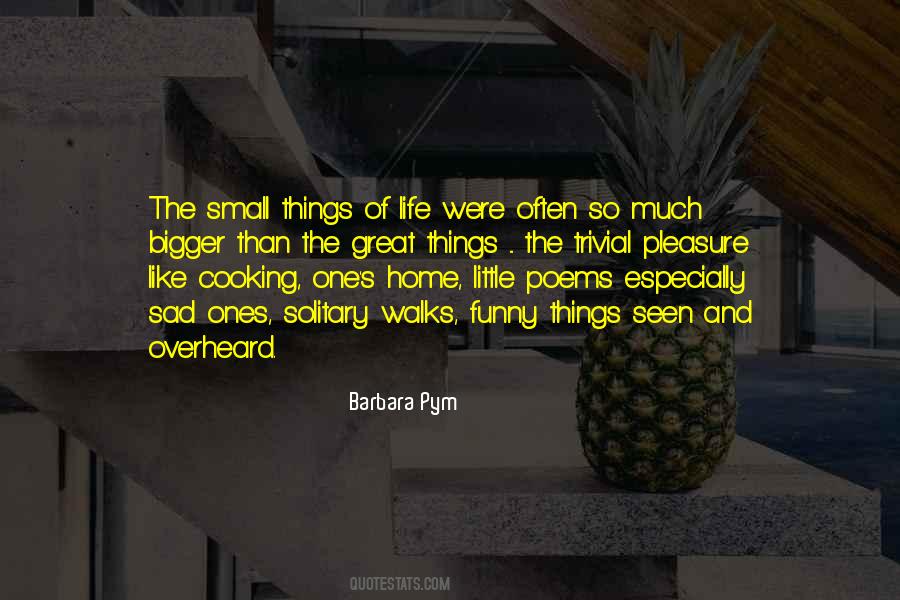 #27. Do the small things with a great and a clean heart, even out of your least, and you never did a small thing at all, for the heart defines it all! - Author: Ernest Agyemang Yeboah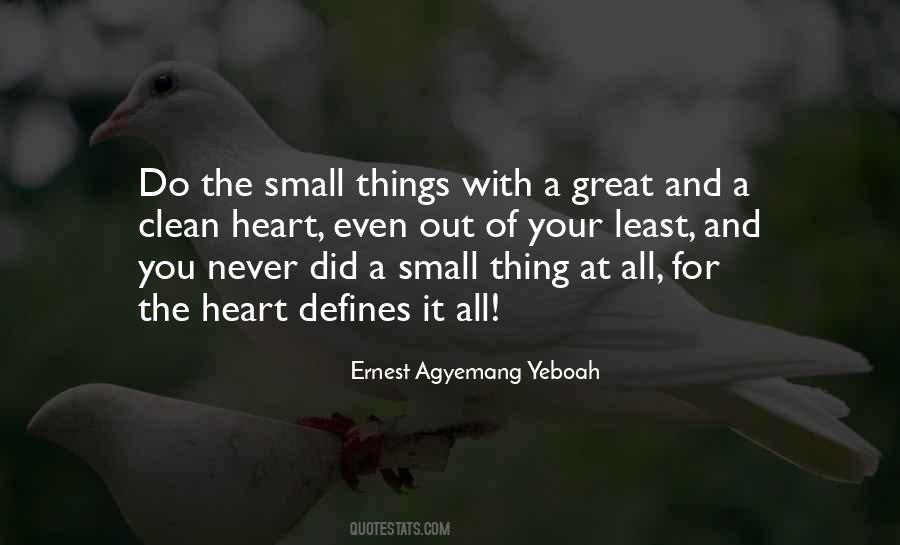 #28. What robs you from peace? Usually it's the so-called little things in life, like being late to work, or needing a parking place, or trying to find your glasses, your car keys when you are running out the door, those so called little stressors. - Author: Doreen Virtue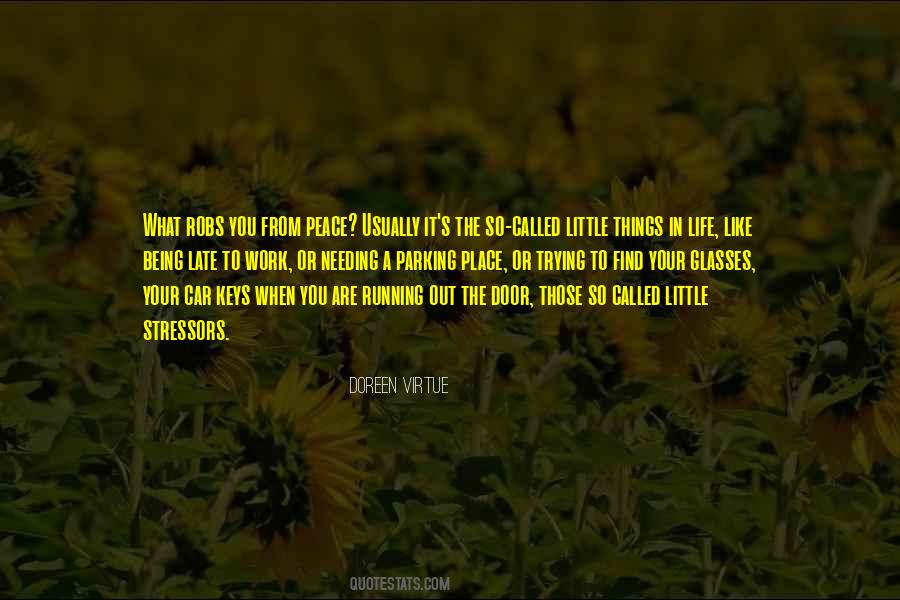 #29. I know I'm an acquired taste - I'm anchovies. And not everybody wants those hairy little things. - Author: Tori Amos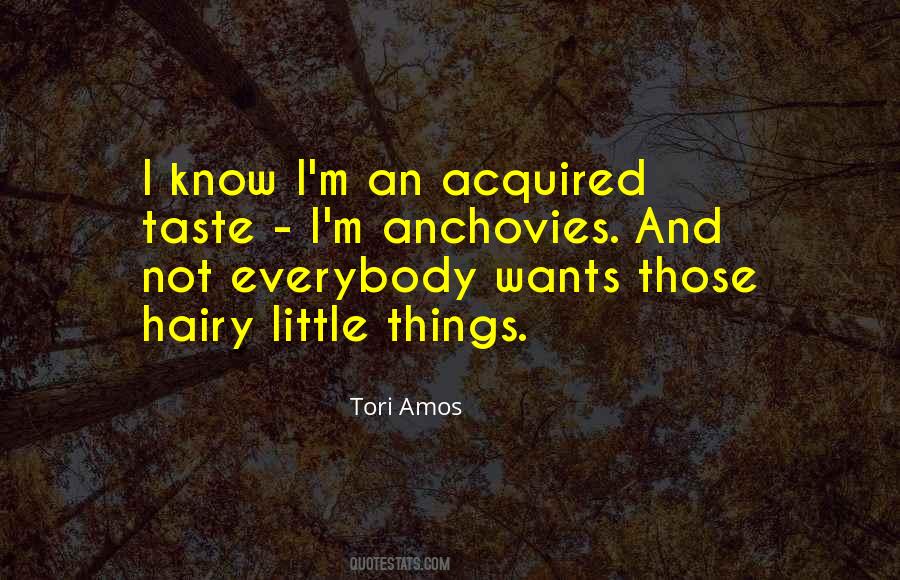 #30. Life's not fair. Life's often complicated, leaving us to deal with things that we shouldn't have to. Life can make you smile one day, only to leave you broken into tiny little pieces the next. - Author: Lisa De Jong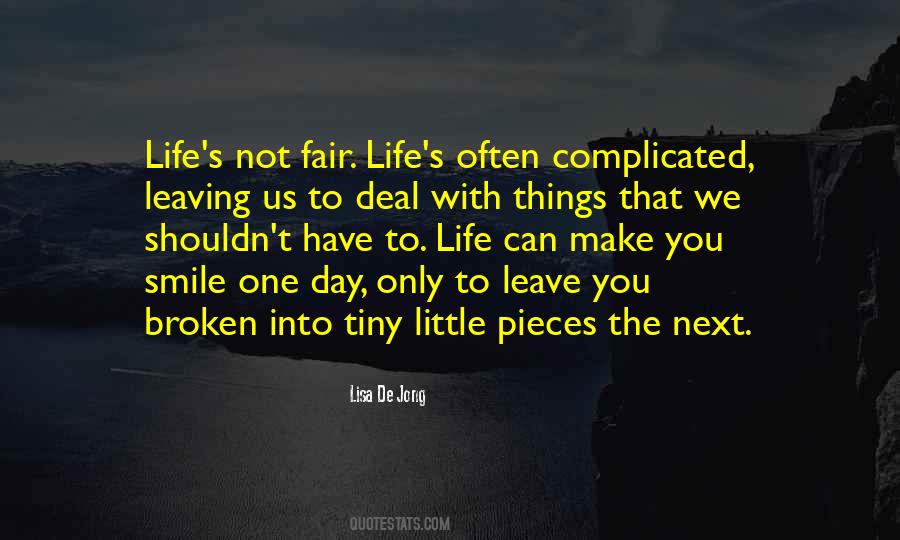 #31. Happy is the woman who has a man that shares the little things in life with her. - Author: Jean Williams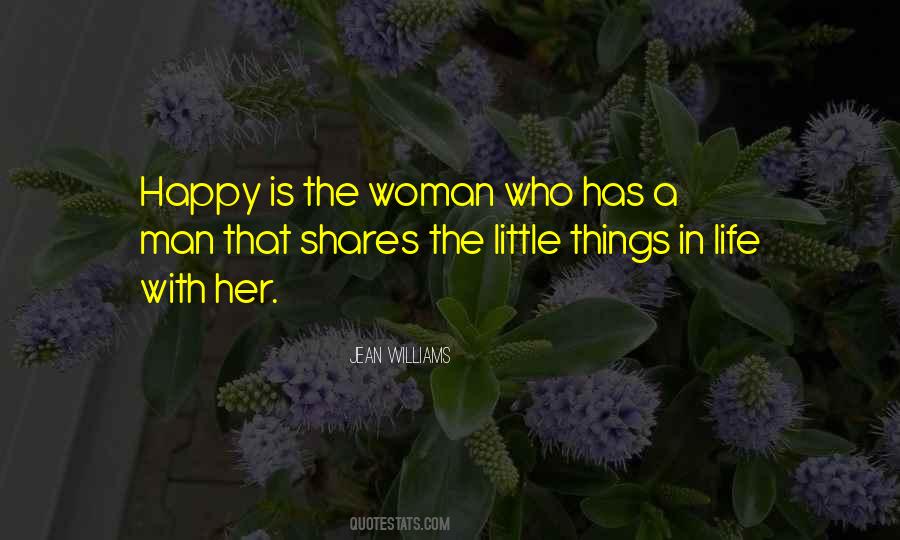 #32. Read as little as possible of literary criticism - such things are either partisan opinions, which have become petrified and meaningless, hardened and empty of life, or else they are just clever word-games, in which one view wins today, and tomorrow the opposite view. - Author: Rainer Maria Rilke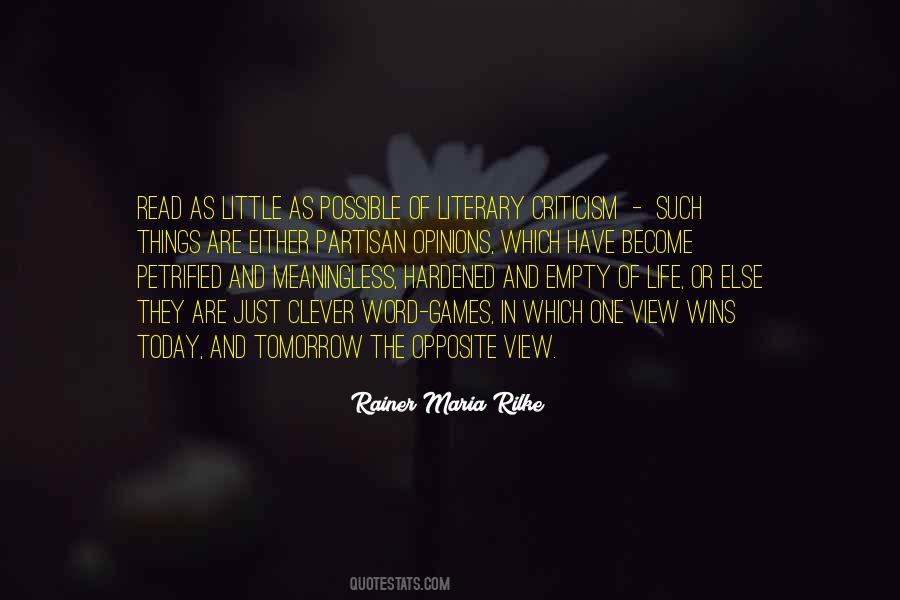 #33. When we come to the end of our days, the little things will seem so unimportant compared to how well we've loved, laughed and treasured our lives and loved ones. - Author: Charlotte Sophia Kasl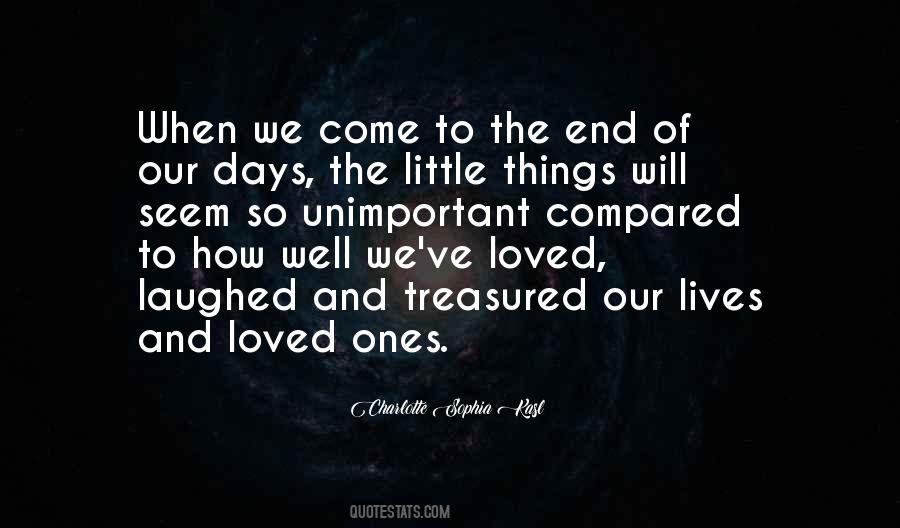 #34. But I believe good things happen everyday. I believe good things happen even when bad things happen. And I believe on a happy day like today, we can still feel a little sad. And that's life, isn't it? - Author: Gabrielle Zevin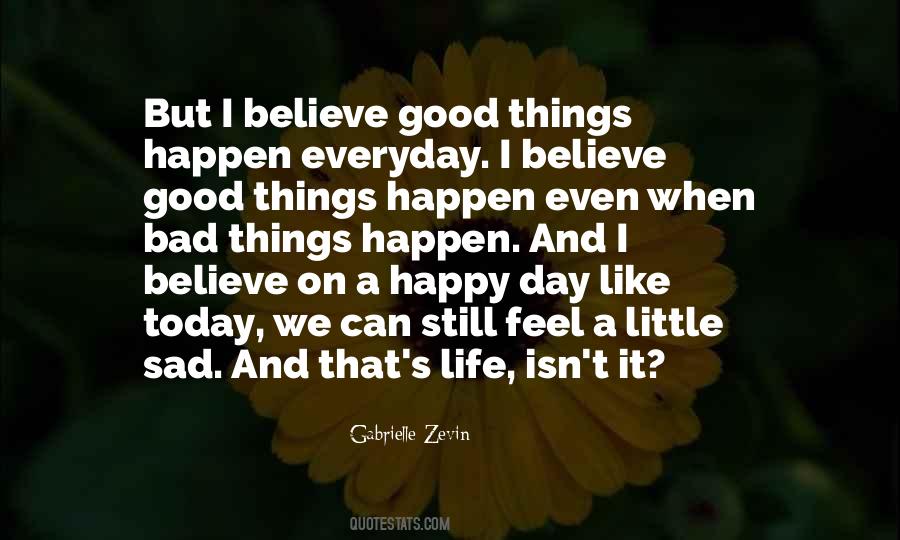 #35. Real life was messier than fiction, and in it you didn't always have time to do or say the right things. - Author: Bentley Little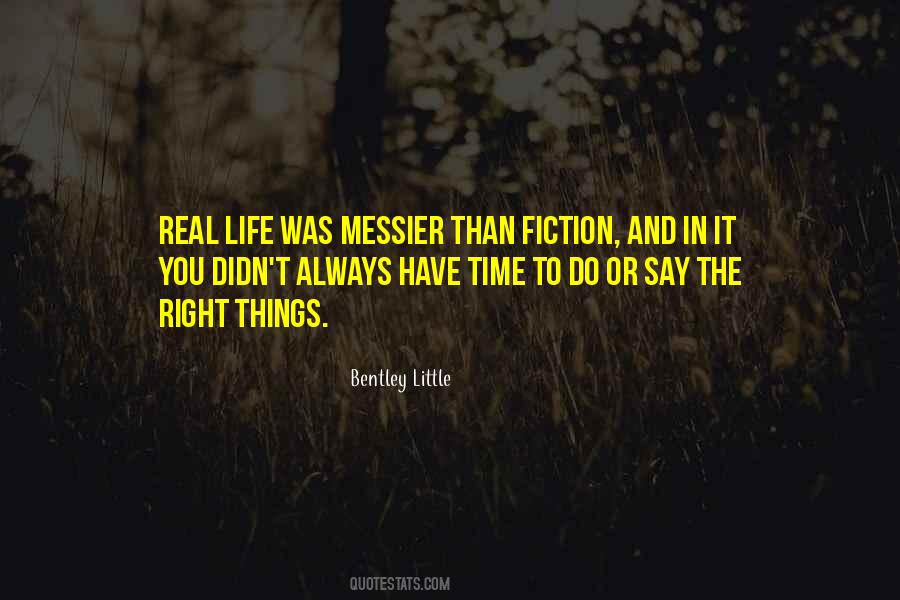 #36. The little things of life, sweet and excellent in their place, must not be the things lived for; the highest must be sought and followed; the life of heaven must be begun here on earth. - Author: L.M. Montgomery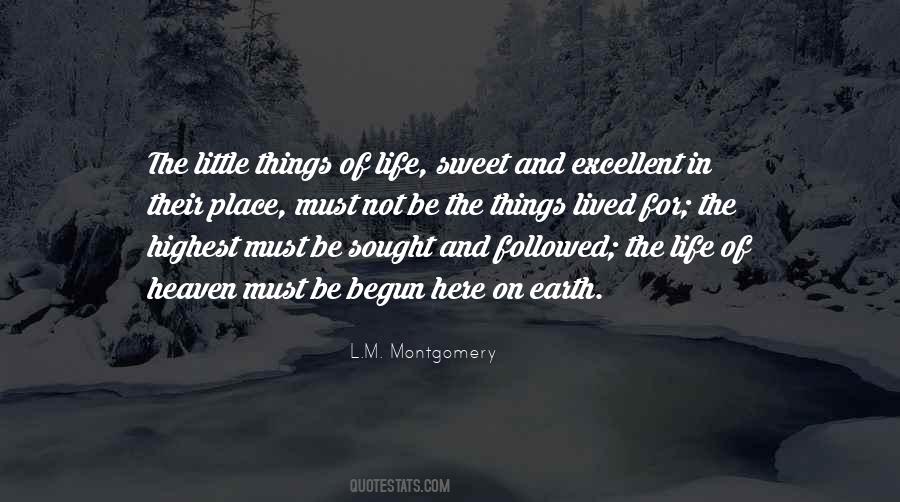 #37. One of the hard things in my life has been balancing my education with my acting career, because I've been acting since the age of seven, on and off, just doing little parts and things. I've always been very keen to stay in school. - Author: Anna Popplewell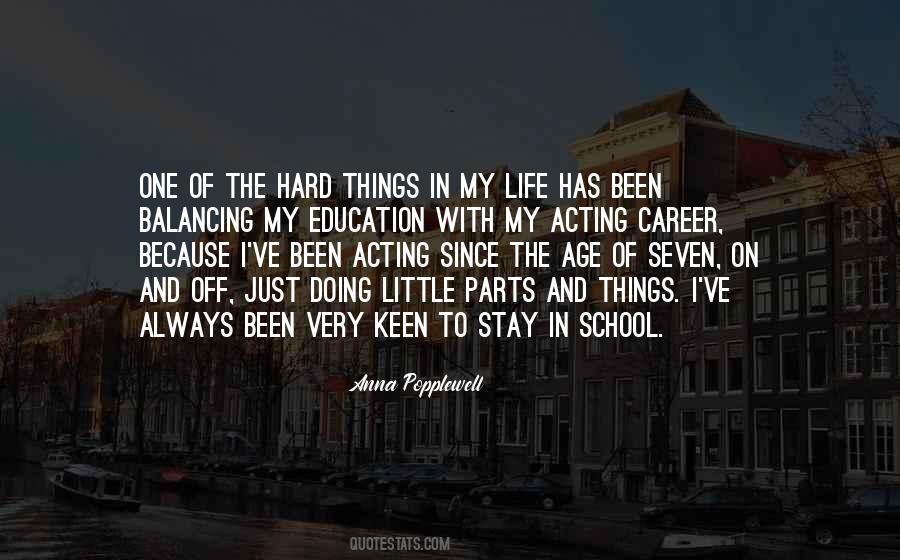 #38. To overlook the little things in life, is to overlook the biggest part of life itself! - Author: Myself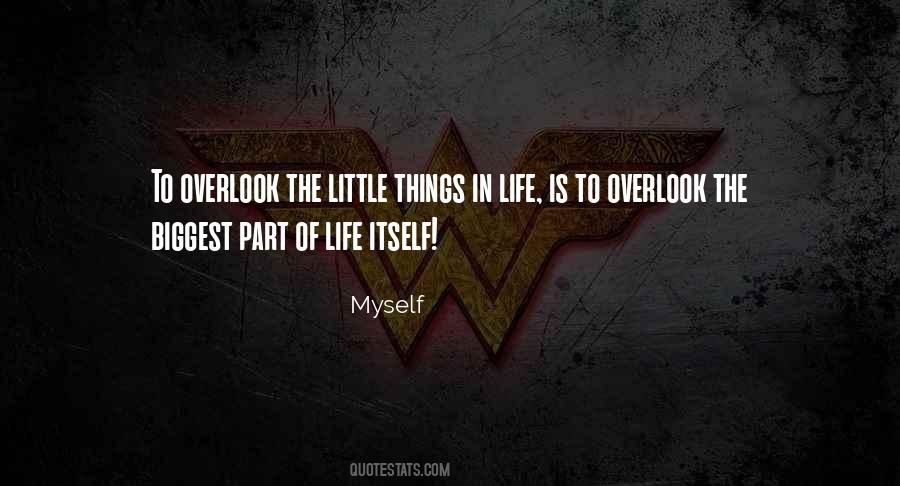 #39. But if everything was always smooth and perfect, you'd get too used to that, you know? You have to have a little bit of disorganization now and then. Otherwise, you'll never really enjoy it when things go right. - Author: Sarah Dessen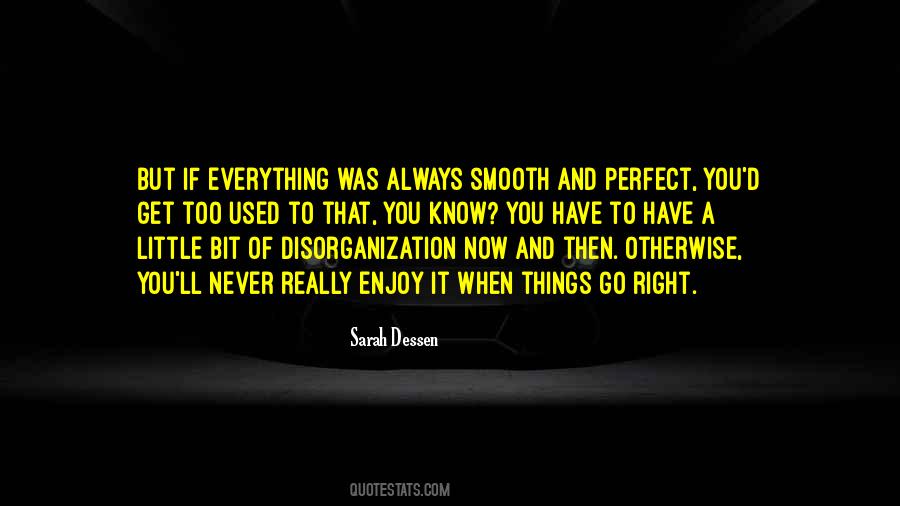 #40. It's a wisdom that comes from seeing how things work. Things you want to happen always take a long time.' She pointed one little finger at the meech dragon and shook it in his face. 'You may read books and know bunches, but I have lived life longer than you. - Author: Donita K. Paul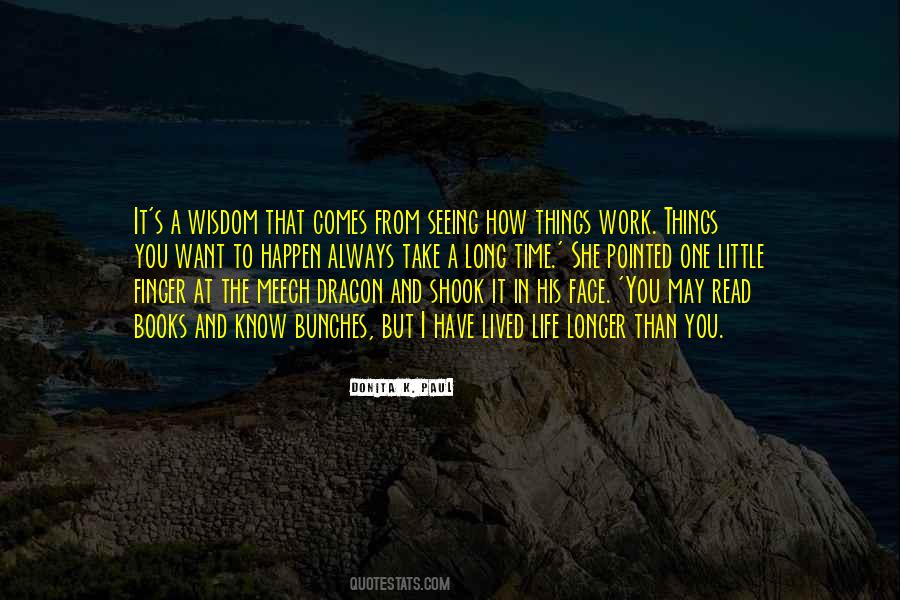 #41. Never rely on your little knowledge and understanding. There are always some things that you don't know. - Author: Maliheh Sadat Razavi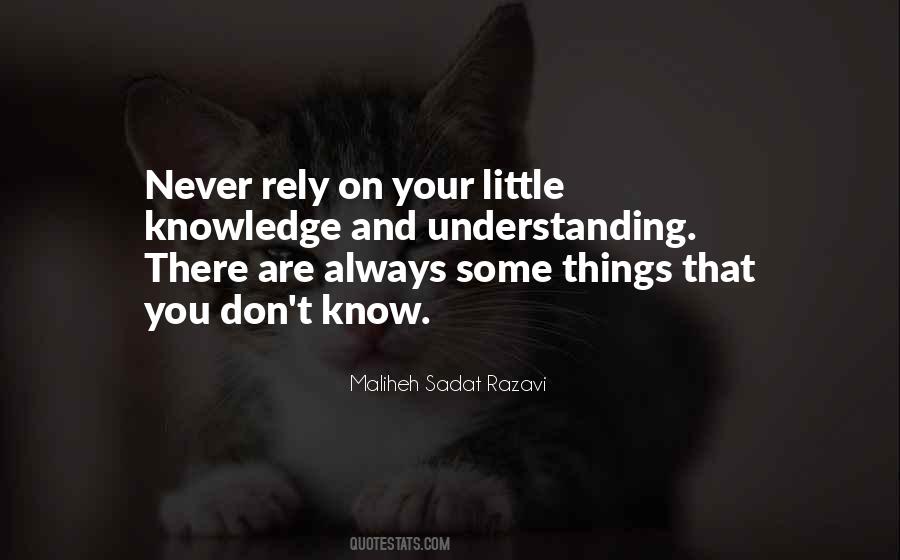 #42. The long-distance run of an early morning makes me think that every run like this is a life- a little life, I know- but a life as full of misery and happiness and things happening as you can ever get really around yourself - Author: Alan Sillitoe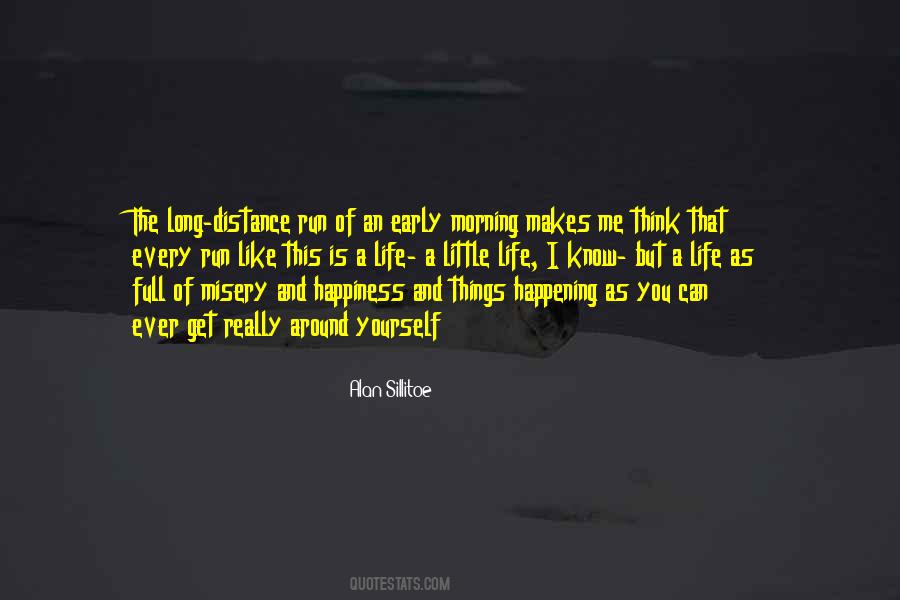 #43. A smoke, a book, a cup of coffee.
These are the little things that get us through this sometimes weary world and all the rainy days. - Author: R.M. Engelhardt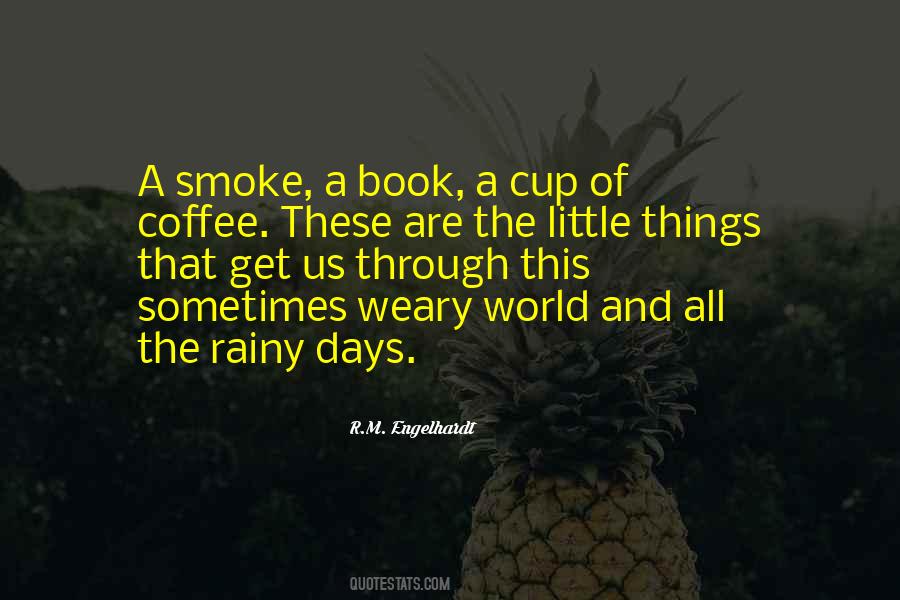 #44. Sometimes, you need different things in life, you need different challenges that will give you that little boost. - Author: Robbie Keane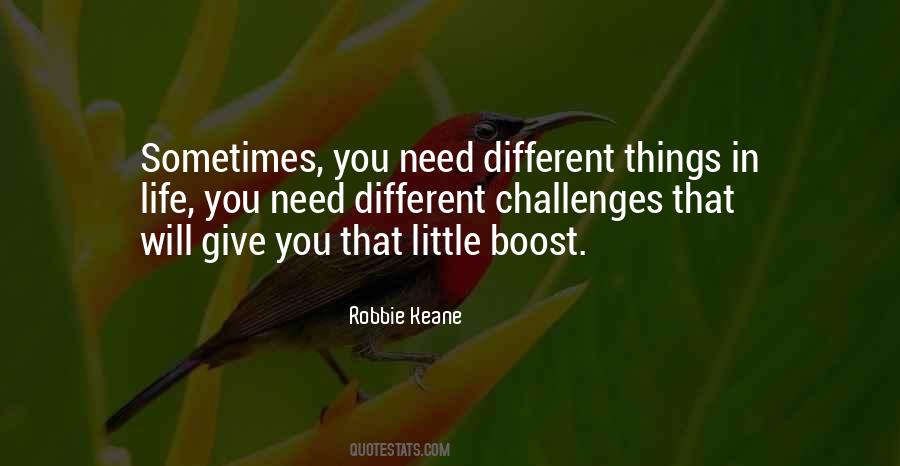 #45. ...he had impressed her as a man delightfully open to suggestion, with an imagination large enough to find time, even in the depths of despair, for the important things in life, those accidents without which our existence was little more than a schedule of dry routines. - Author: Matthew Thomas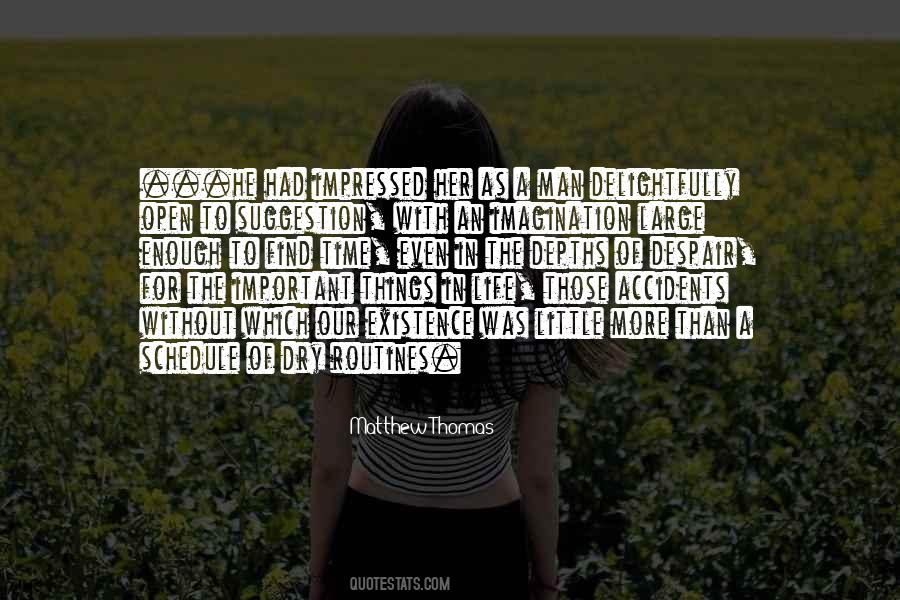 #46. Little, things, little things, are much more important than big things. Big things hit you in the face with their bigness and obscure the little, more important things that really define a life and provide it with delicacy. Page 113 - Author: Lauren Roedy Vaughn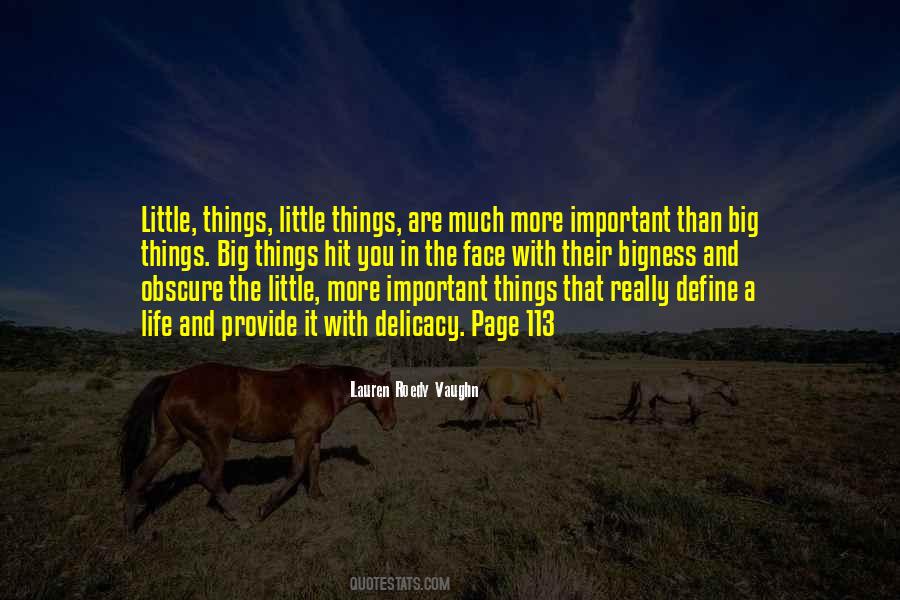 #47. Isn't it odd how the little things can change a man's entire life? - Author: David Eddings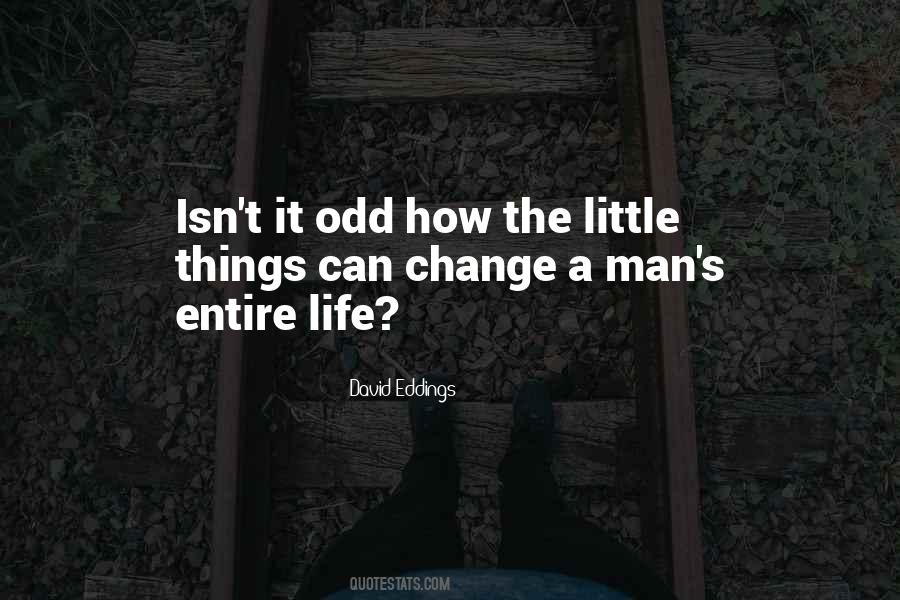 #48. There is little doubt that those who get the most from life are those who look for the wonder in even the smallest things they do. Cultivate this skill and you'll find peace and satisfaction as well. - Author: Paul Wilson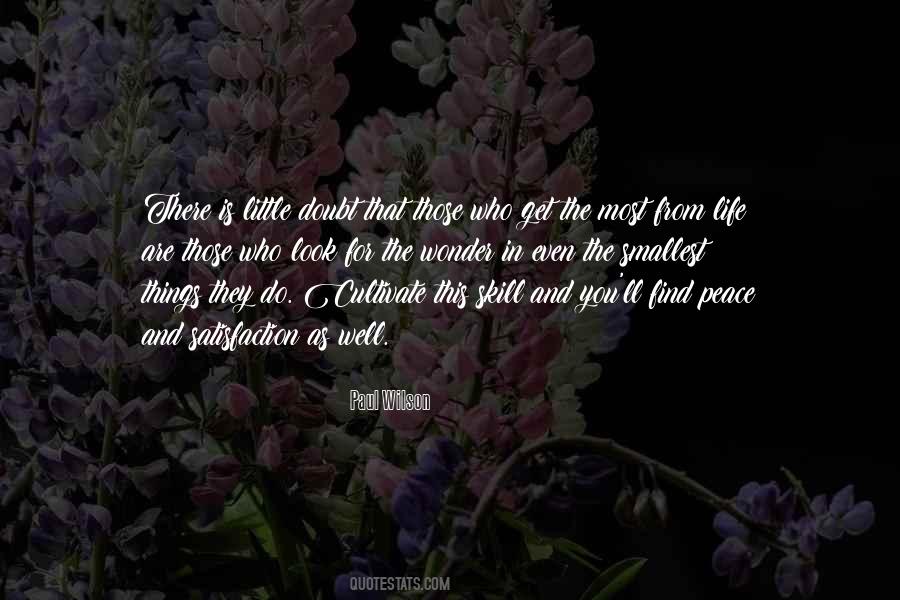 #49. Coach Wooden, when he speaks, you listen. I've taken a lot of things from him and his little blue book because to him, it's not just about basketball, it's about life as well. - Author: Kevin Love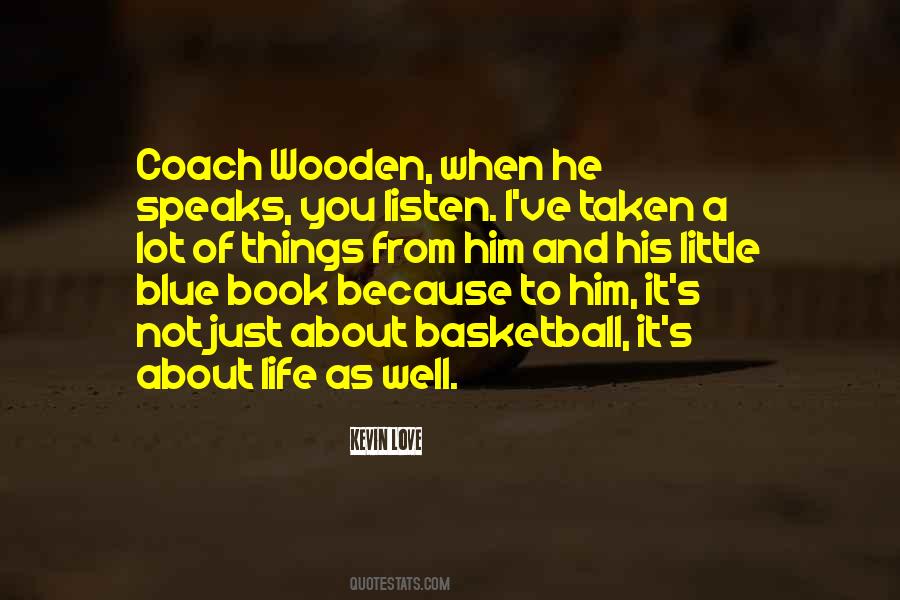 #50. Wealth brings with it refinement, the spirit of conservation, while poverty inspires adventurous ideas, the desire to change things, and has little care for life. - Author: Jose Rizal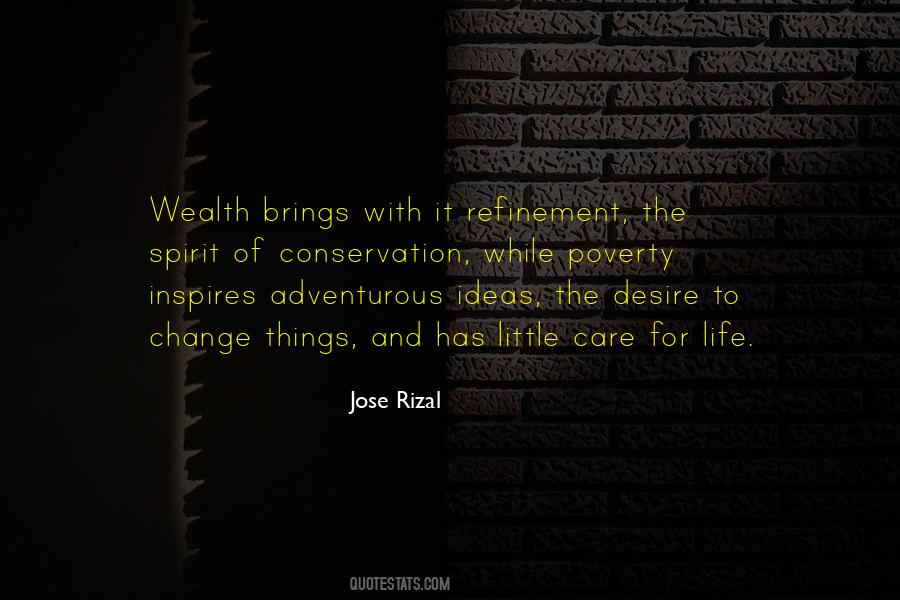 #51. Although socialism is widely held by the establishment to be outdated, the things that are most popular in British society today are little pockets of socialism, where areas of life have been excluded from the crude operation of market forces and are protected for the benefit of the community - Author: Tony Benn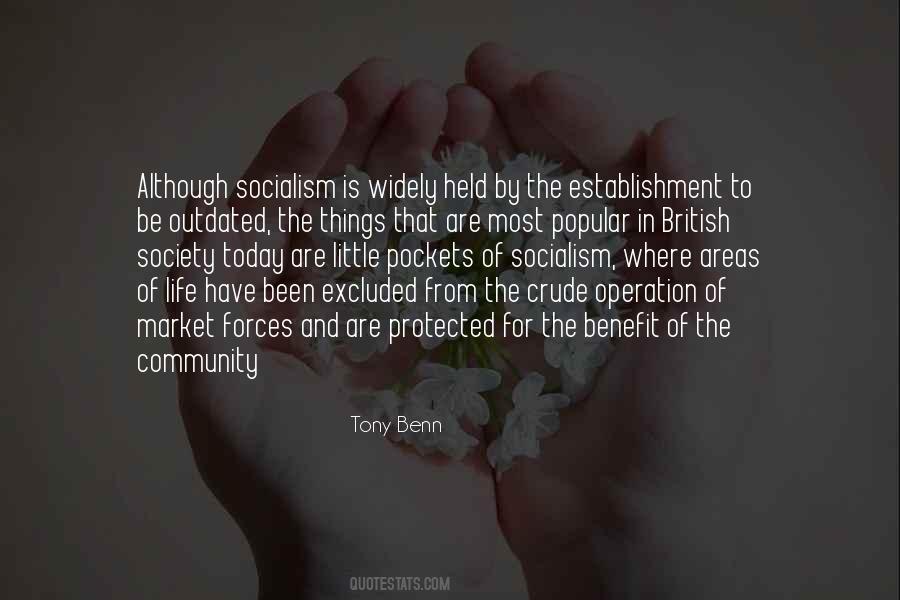 #52. The secret to life, she had said, was to find the little things, the unimportant ones that would nonetheless always remind you of the precious things they accompanied - and hold onto them. - Author: Karl Schroeder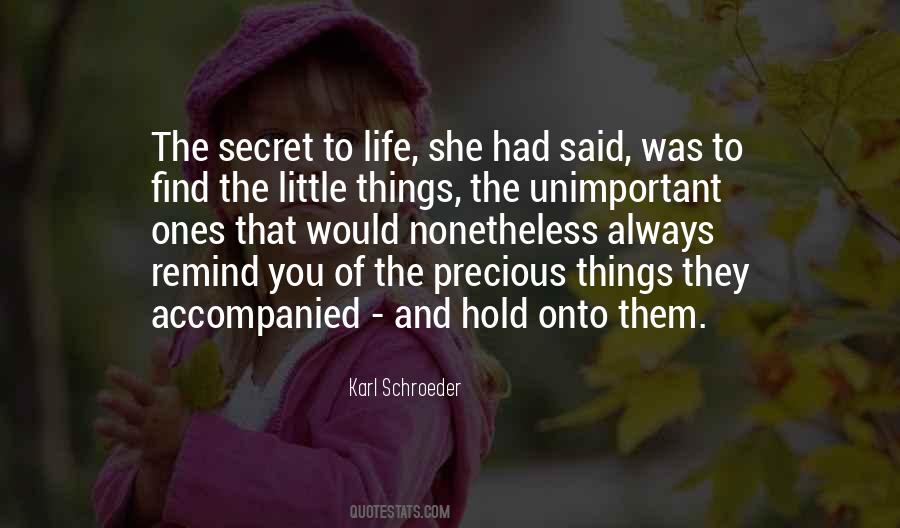 #53. I am helpless.
I am stupid, and all I do is want and need things.
My tiny life. My little shit job. My Swedish furniture. I never, no, never told anyone this, but before I met Tyler, I was planning to buy a dog and name it "Entourage."
This is how bad your life can get. - Author: Chuck Palahniuk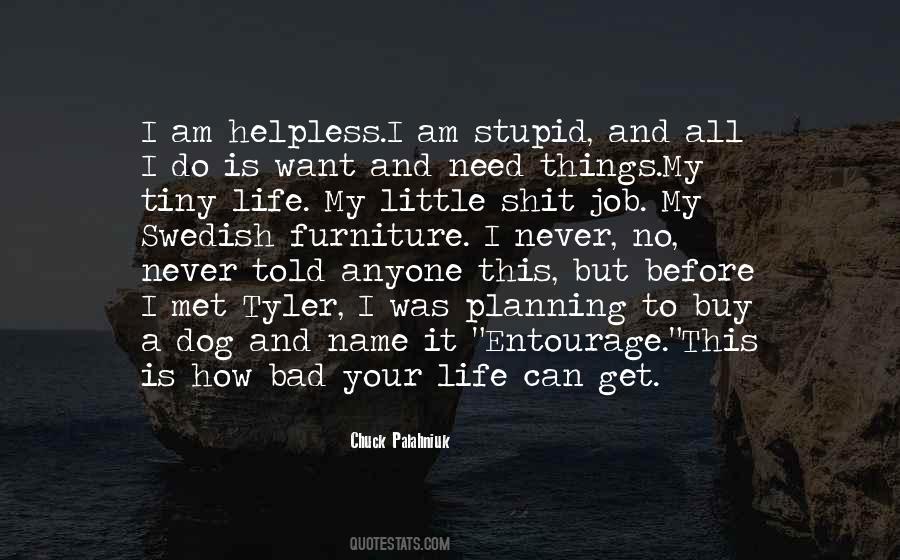 #54. It probably wouldn't last. It never does. But it would come back around again. That's how life works. And that's why it's important to treasure the peaceful times-so you can persevere through the other kind. - Author: Jean Ferris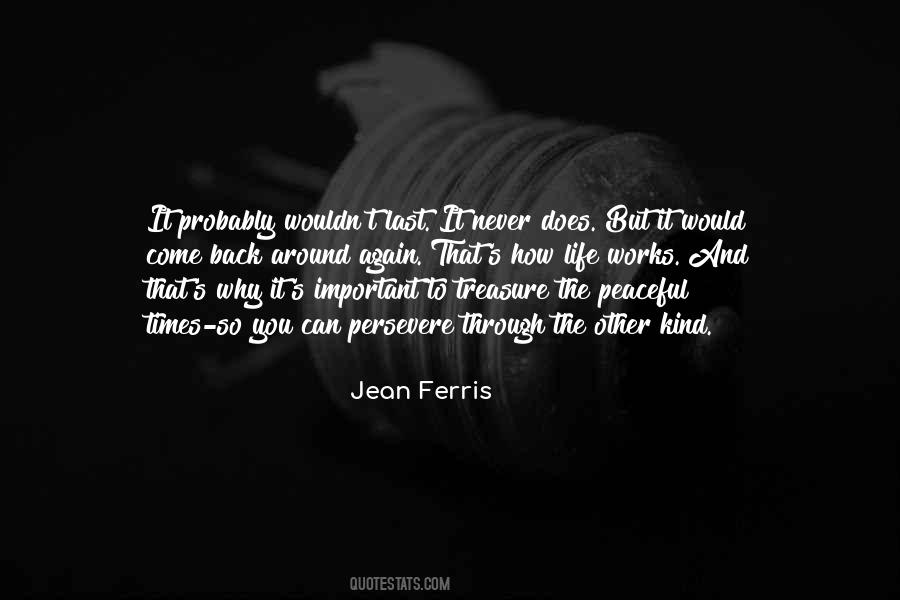 #55. But I remain'd, whose hopes were dim,
Whose life, whose thoughts were little worth,
To wander on a darken'd earth,
Where all things round me breathed of him. - Author: Alfred Tennyson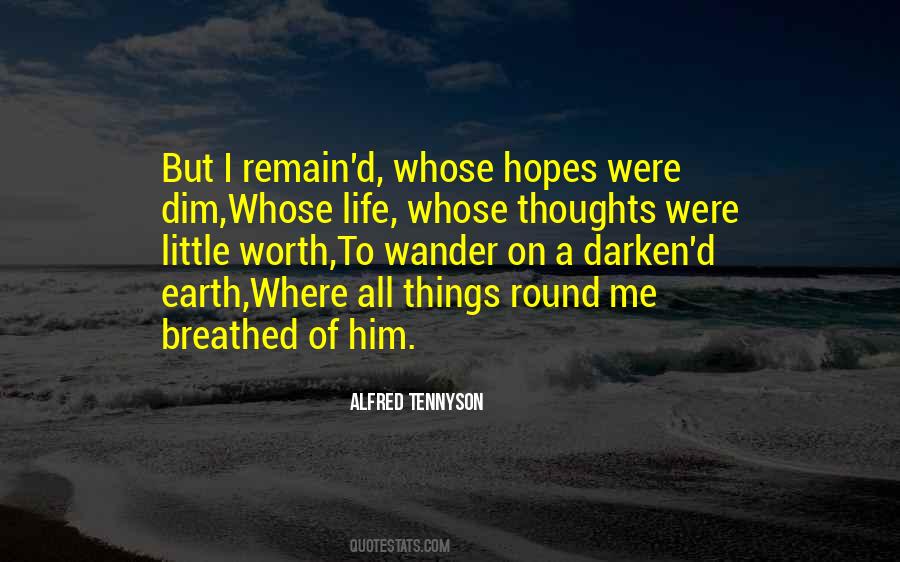 #56. The upsides of acting in things is mostly getting your hair done and having people give you clothes. So as long as you can have a little bit of that in your life, then it's just as delightful to be behind camera. - Author: Tina Fey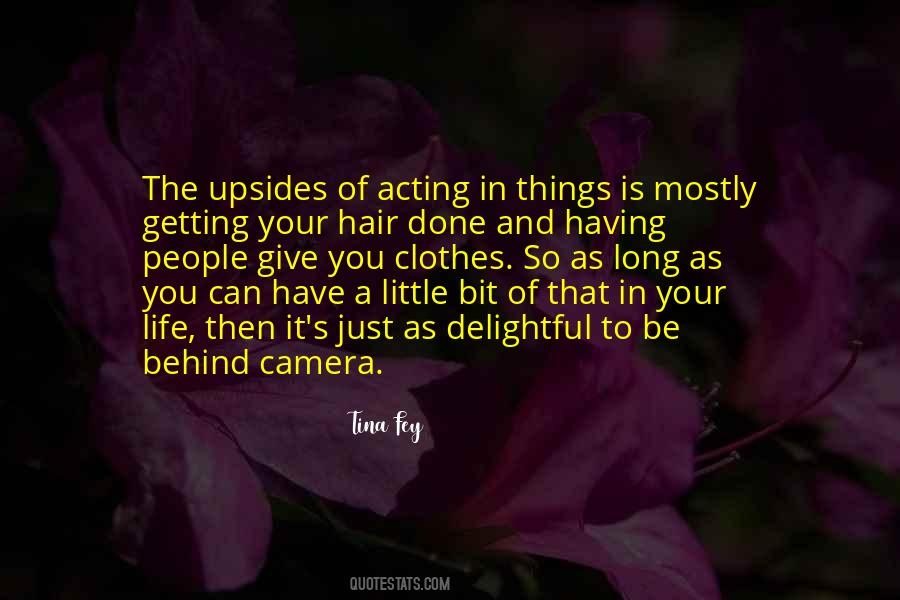 #57. I don't think anything I do in life is planned. Sometimes I regret that and I feel like I try to take ahold of the wheel, but I'm also always super excited when things pop up spontaneously and when I'm a little bit out of my depth. I just find that that thrills me. - Author: Liz Phair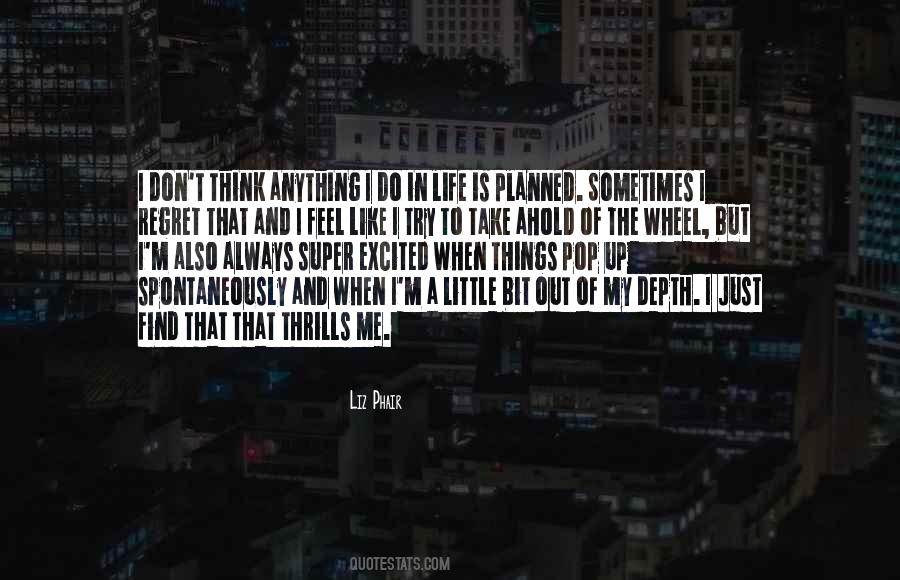 #58. The older I get the more mixed up life seems. When you're little, it's all so plain. It's all laid out like a game ready to play. You think you know exactly how it's going to go. But things happen ... - Author: Maud Hart Lovelace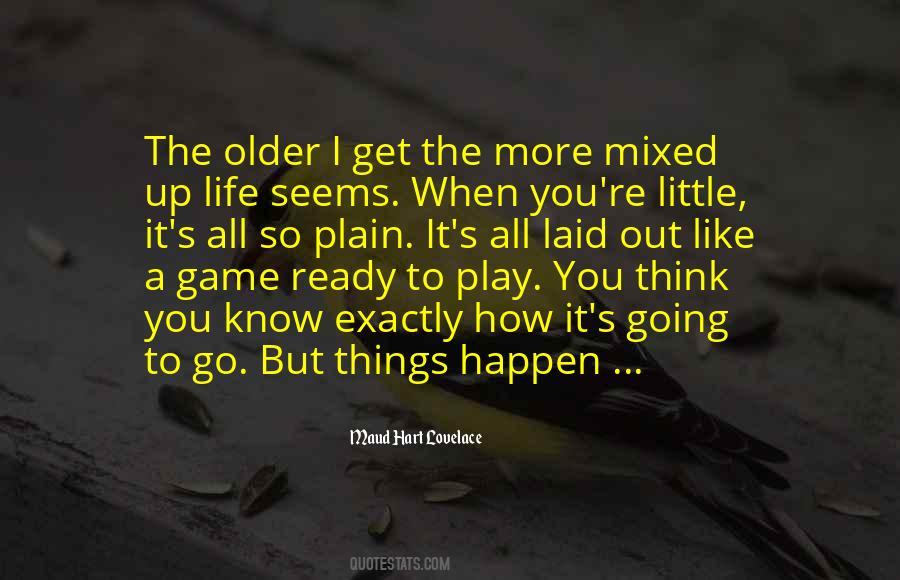 #59. I would challenge anybody in their darkest moment to write what they're grateful for, even stupid little things like the green grass that made them feel good, the friendly conversation they had with somebody on an alevator. You start to realize how rich you are. - Author: Jim Carrey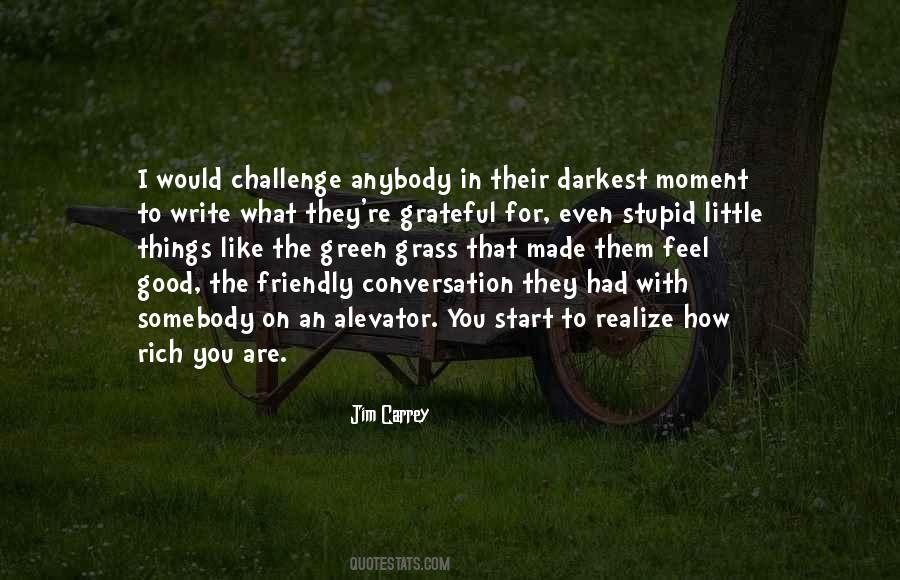 #60. When you live with beautiful things you stimulate your mind, you enjoy life a little bit more. - Author: Ralph Rucci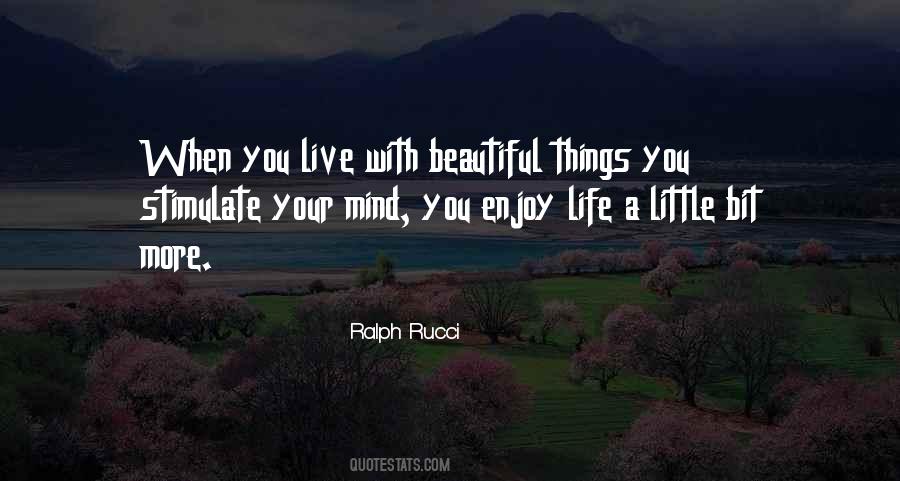 #61. Life excites me-just little, normal, everyday things. Getting out of bed. Getting dressed. Making food. I find it all exciting. - Author: Liv Tyler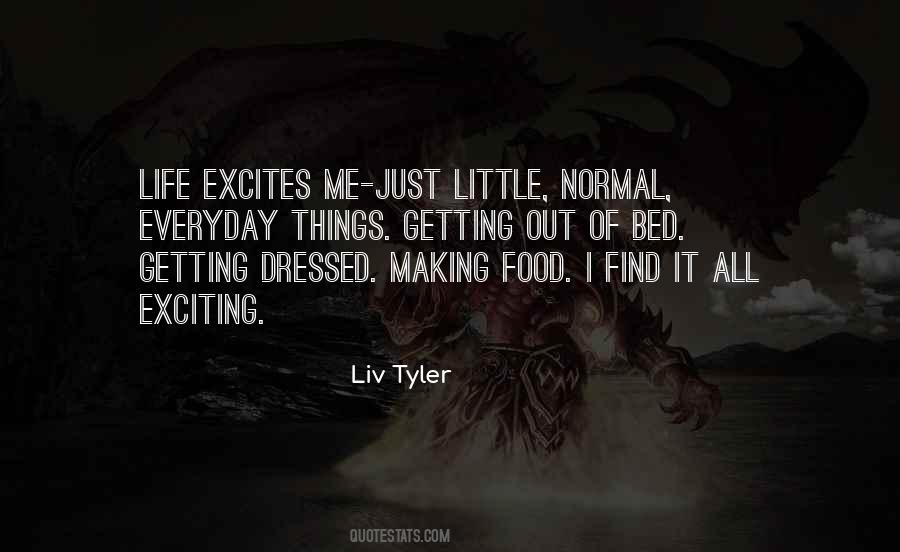 #62. It may be a Mountain or a Tree, a River or a Bee ... learn to enjoy the little things in Life.-RVM - Author: R.v.m.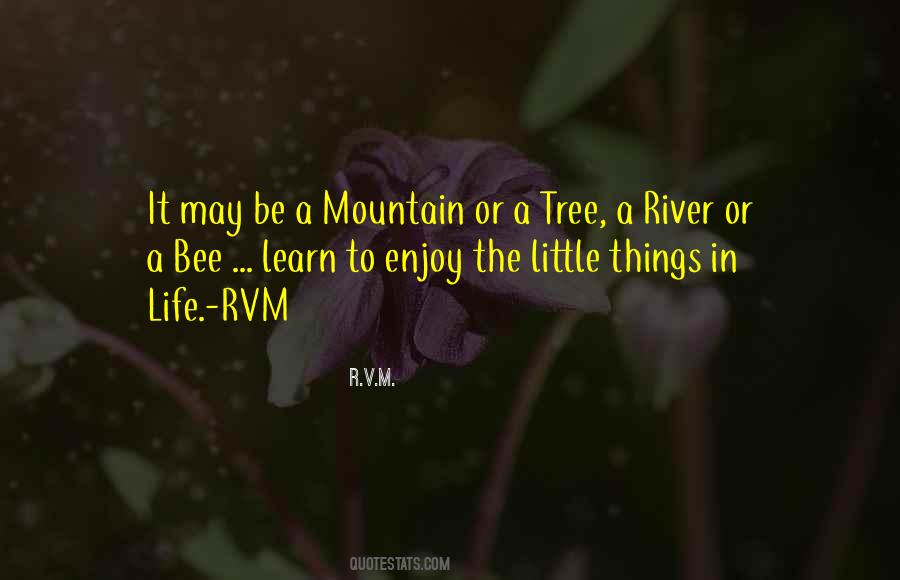 #63. Things like dating, family, and friends are just so valuable to me and I didn't want to put any strain on any of those relationships and you can see how the cameras around people can make people a little bit loopy. I didn't want to bring that into my life. - Author: Whitney Port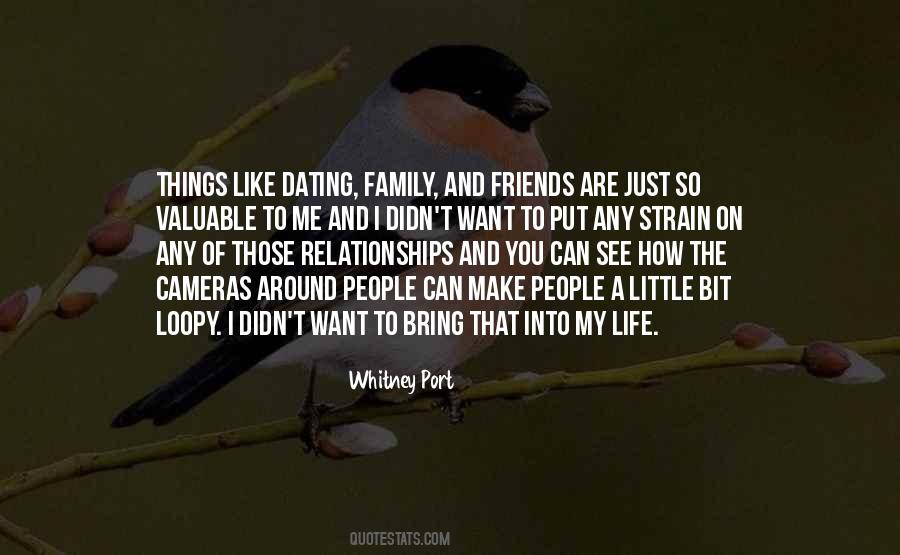 #64. There are people who live lives little different than the beasts,and I don't mean that badly. I mean that they accept whatever happens day to day without struggle or question or regret. To them things just are, like the earth and sky and seasons. - Author: Celeste De Blasis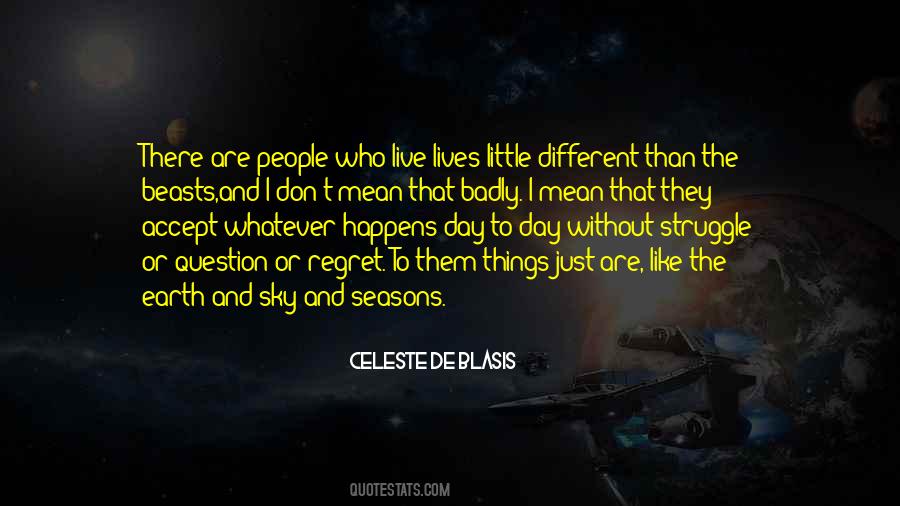 #65. Redeemed humanity is still young, it has hardly come to its full strength. But already there is joy enough in the little finger of a great saint such as yonder lady to waken all the dead things of the universe into life. - Author: C.S. Lewis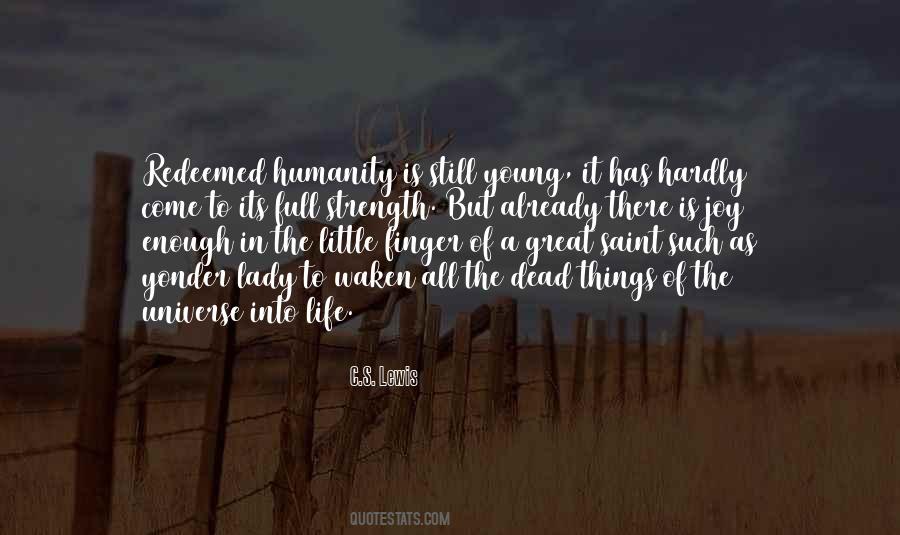 #66. Everyone deserves a sad day once in a while," Calista told me. "Sometimes things are too big for cheering up. Sometimes the best way to make things better is just to let yourself be sad for a little bit. - Author: Lisa Graff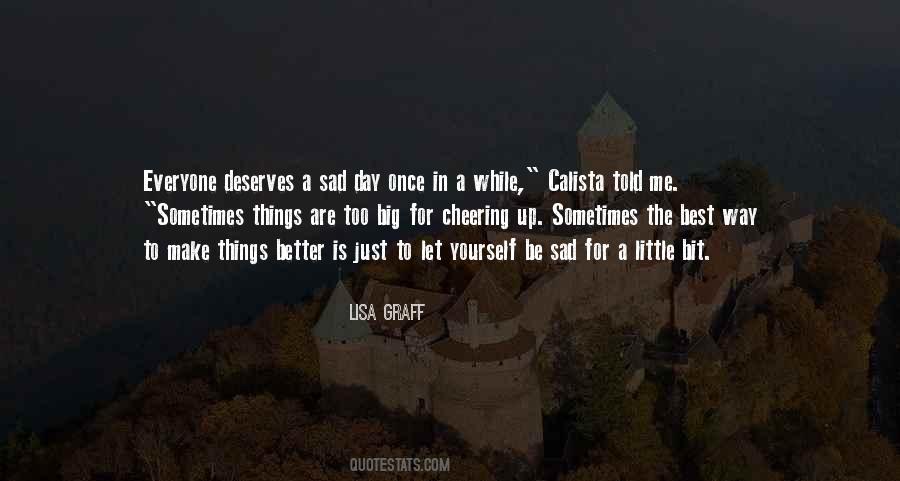 #67. Learning to stop sweating the small stuff involves deciding what things to engage in and what things to ignore. From a certain perspective, life can be described as a series of mistakes, one right after another with a little space in between. - Author: Richard Carlson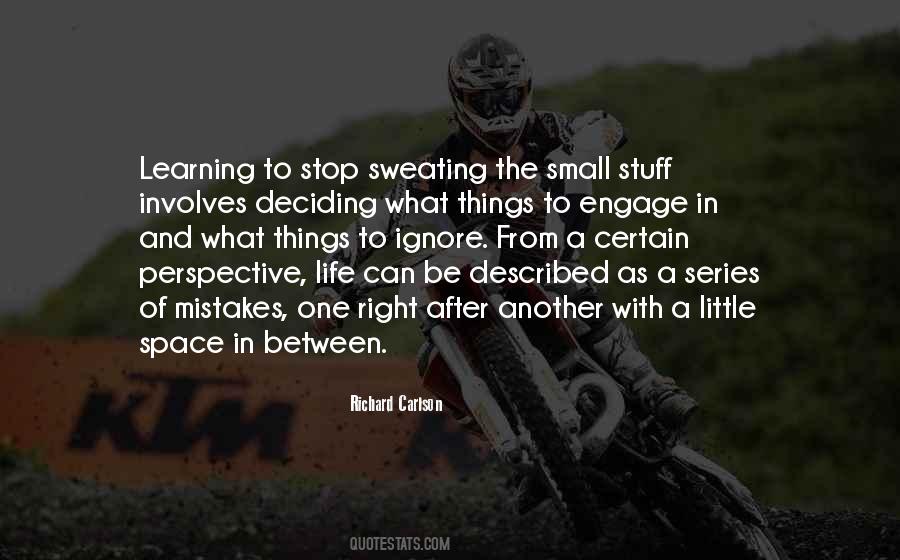 #68. In my life, I was always floating around the edge of the dark side and saying what if take it a little bit too far, and who says you have to stop there, and what's behind the next door. Maybe you gain a wisdom from examining those things. But after a while, you get too far down in the quicksand. - Author: Trent Reznor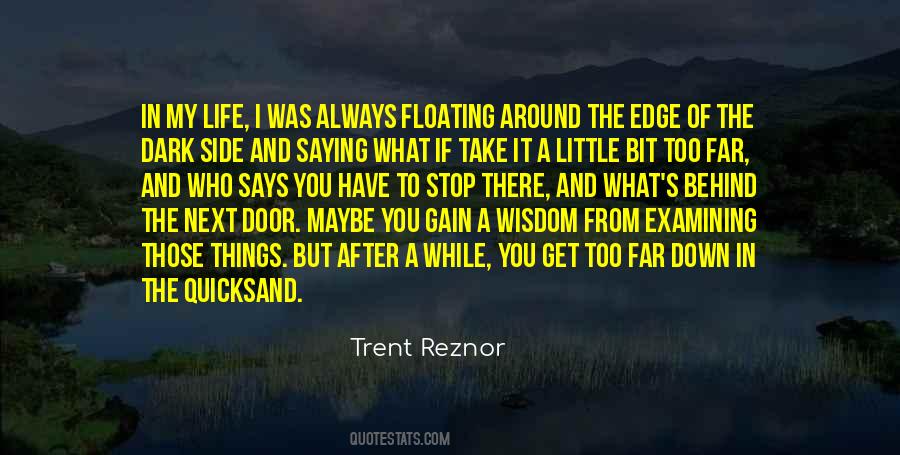 #69. Never stop being a kid, Richard. Never stop feeling and seeing and being excited with great things like air and engines and sounds of sunlight within you. Wear your little mask if you must to protect you from the world but if you let that kid disappear you are grown up and you are dead. - Author: Richard Bach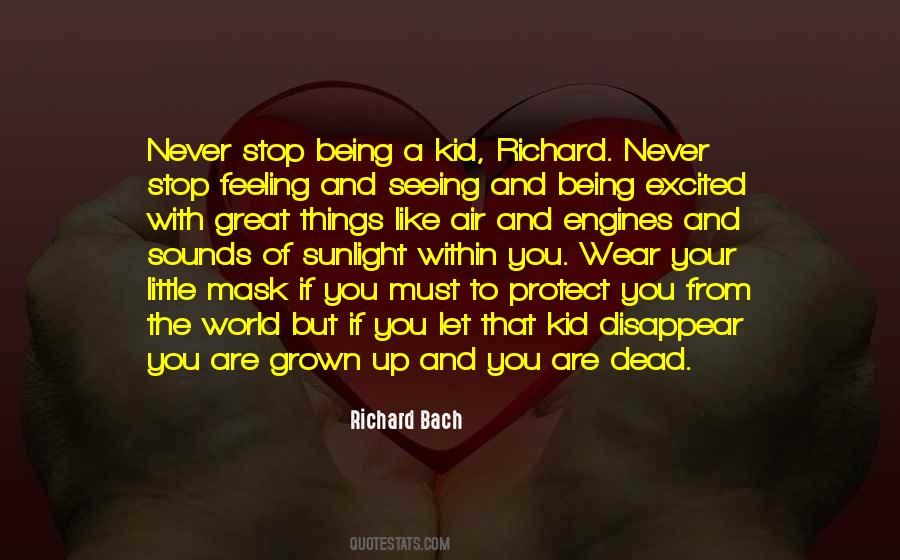 #70. But there's not enough time in life to go sit at a party, have a drink, and make idle conversation. There's too many important things to do. Just being together with my husband, spending time alone, which I have very little of. - Author: Pia Zadora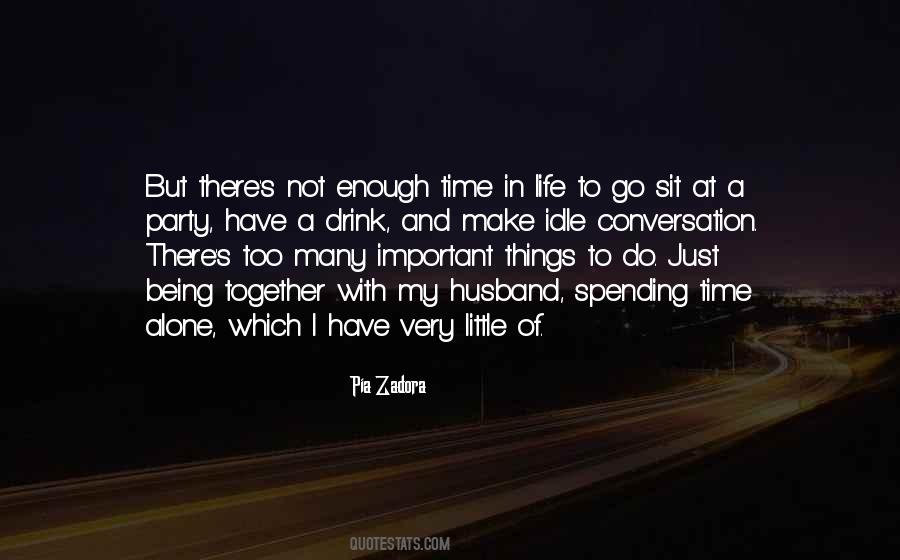 #71. Sadly, if we are not confident about our choices, we can easily let other peoples' comments make us feel guilty and ruin the joy we need to experience in life through doing the little things that mean a lot to us. - Author: Joyce Meyer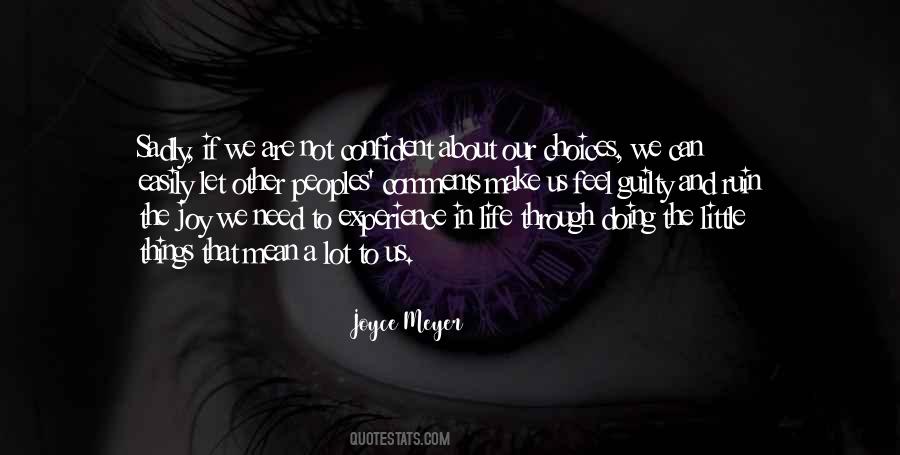 #72. How much better if life were more like books, if life lied a little more, and gave up its stubborn and boring adherence to the way things can be, and thought a little more imaginatively about the way things might be. - Author: Catherynne M Valente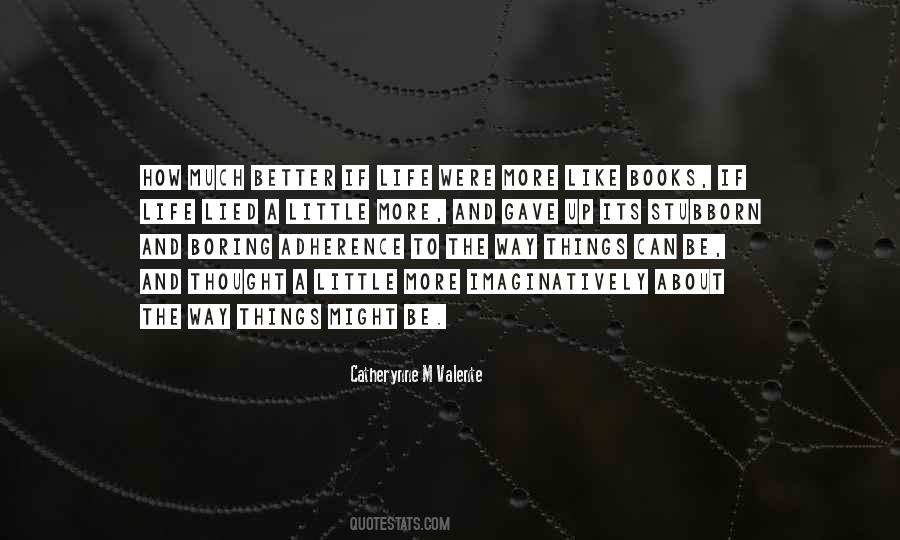 #73. I am deeply spiritual; I revel in those things that make for good - the things that we can do to shed a little light, to help place an oft-dissonant universe back in tune with itself ... Long live art, long live friendship, long live the joy of life! - Author: Jessye Norman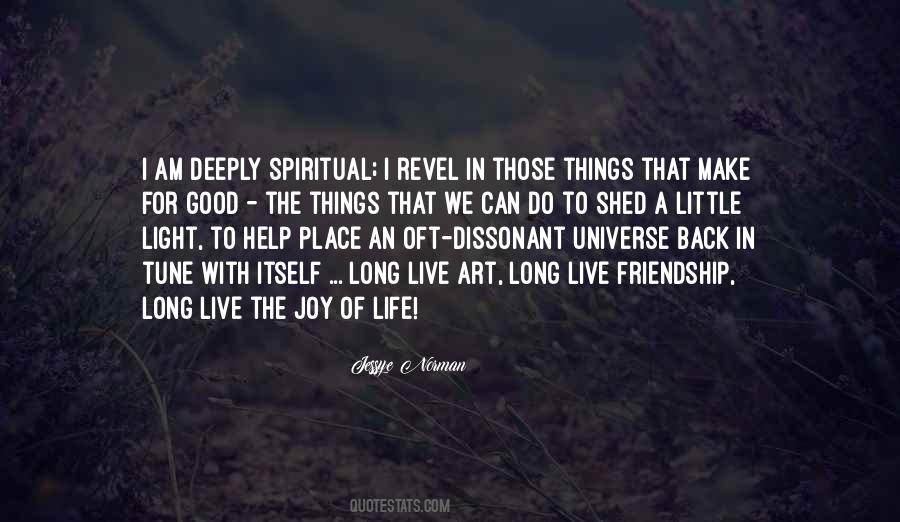 #74. There are two sides to being pigeonholed. There's, 'Oh, no, I'm going to be Chandler for the rest of my life,' but there's also the fact that getting to play Chandler opened up doors to me. It's now my job to find things that shake it up a little bit. - Author: Matthew Perry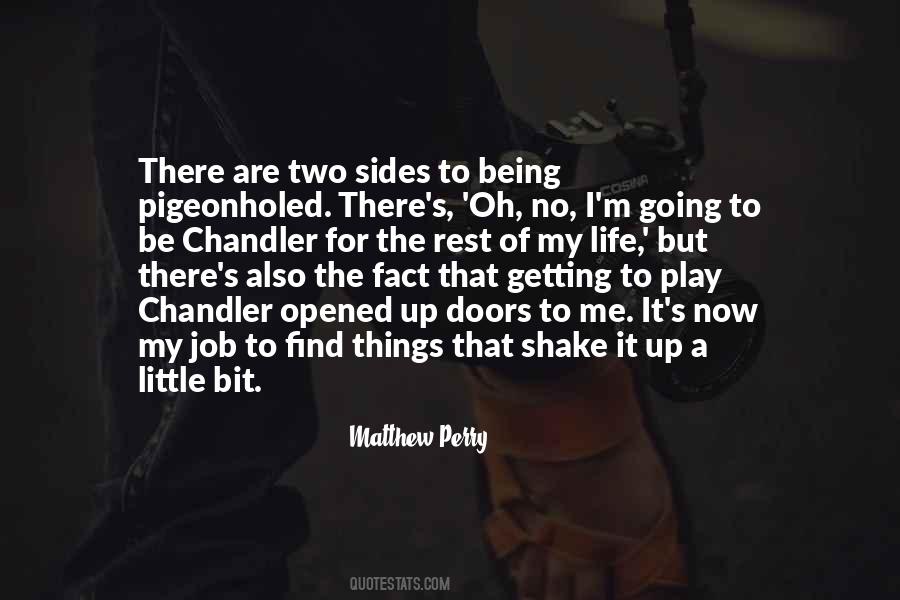 #75. Things were a little untidy, but what did that matter? It was possible to become the slave of things; possible to miss life in preparation for living. - Author: Elizabeth Von Arnim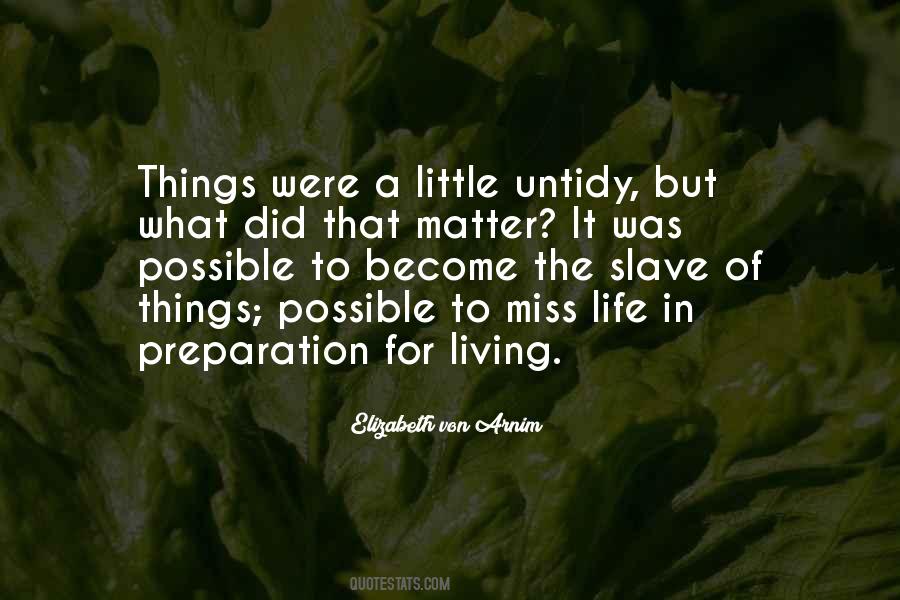 #76. Pretty mundane closet, but a lot of ties. And I tend not to throw anything out, so I have a lot of clothes from all times from my life. I can be a little sentimental with things like that. - Author: Jeff Koons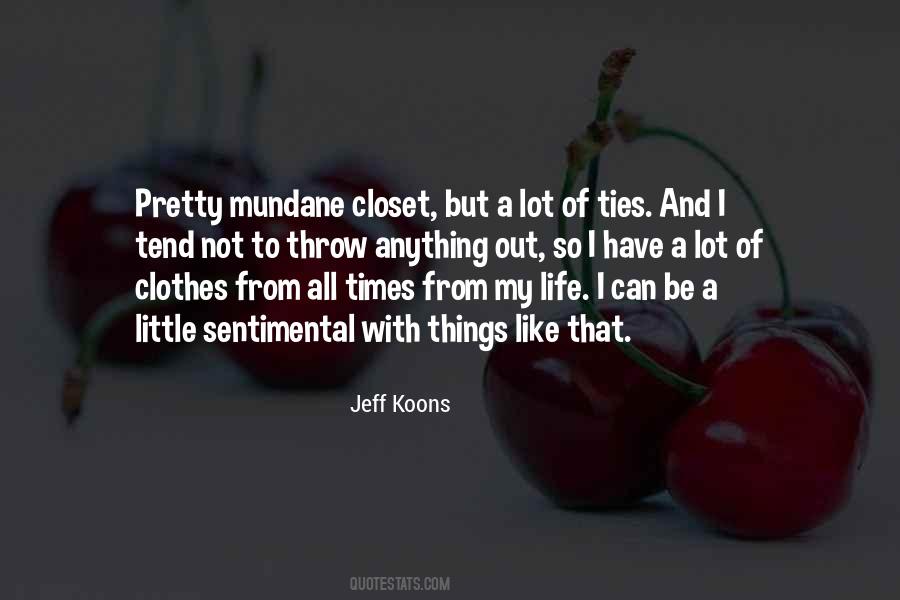 #77. Maybe we're standing like coins on the edge?"
Allie considered this. "Meaning?"
"Meaning, we might be able to shake things up a little, and find a way to come up heads."
"Or tails," suggested Allie.
"What are you talking about?" said Lief.
"Life and death. - Author: Neal Shusterman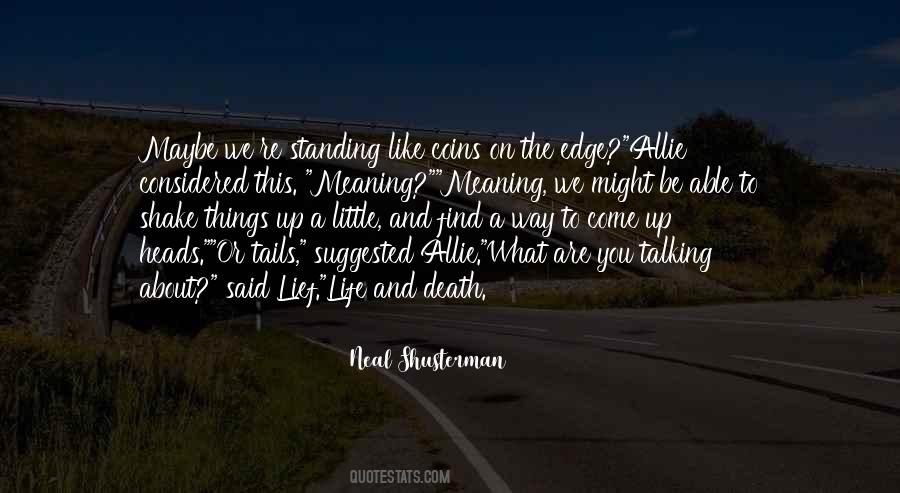 #78. Today I am devoted to addressing all the little things about me and in my life that I have not mastered! - Author: Iyanla Vanzant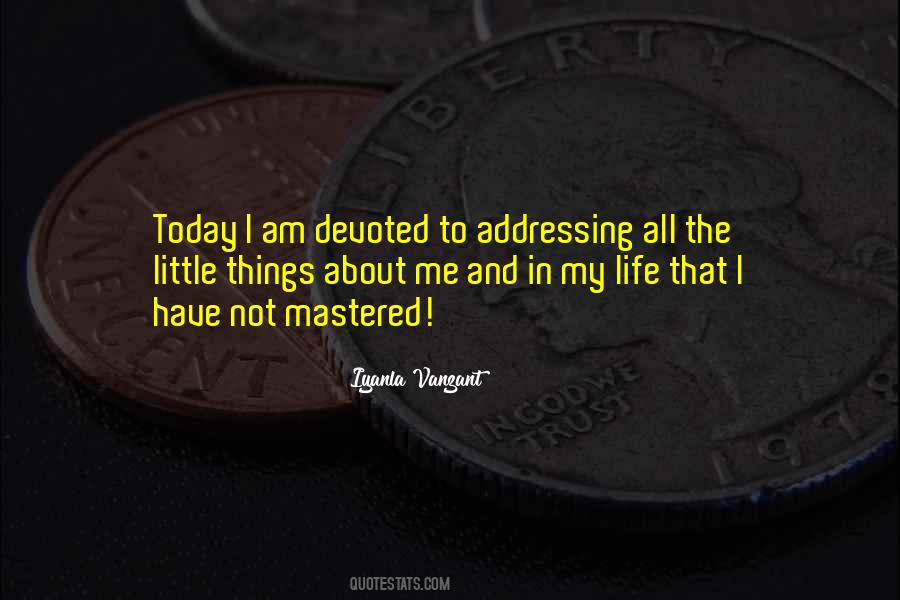 #79. I really would like to be involved in things and to understand things, and in some ways you've got to be careful what you wish for because I feel very, very blessed to have such an interesting life and to be able to have little snapshots of lives of people from many different parts of the world. - Author: Yo-Yo Ma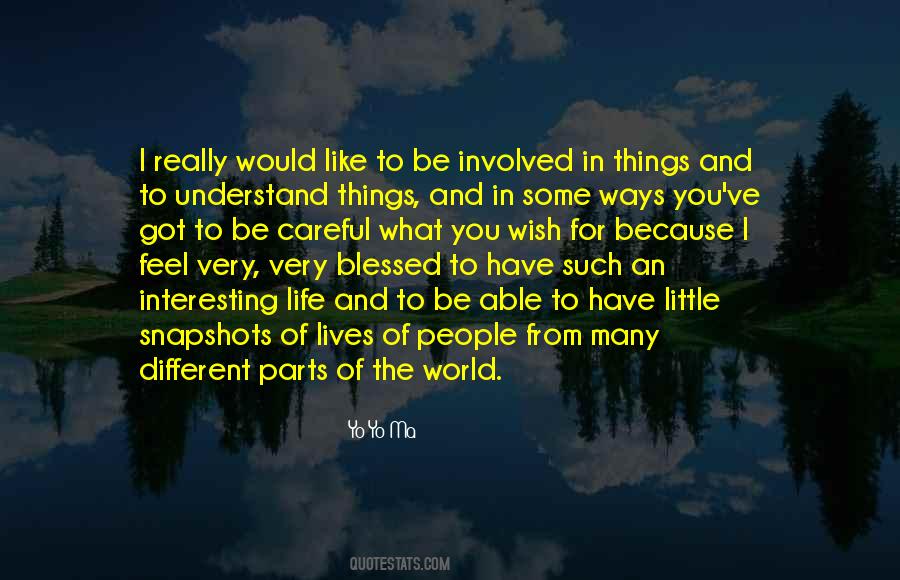 #80. We're here today, gone tomorrow and all we have in between are the little moments we can fill up with life, with love. It's not the big things we do, it's the energy we put into making special moments every day. That's what counts. - Author: Jan Hambright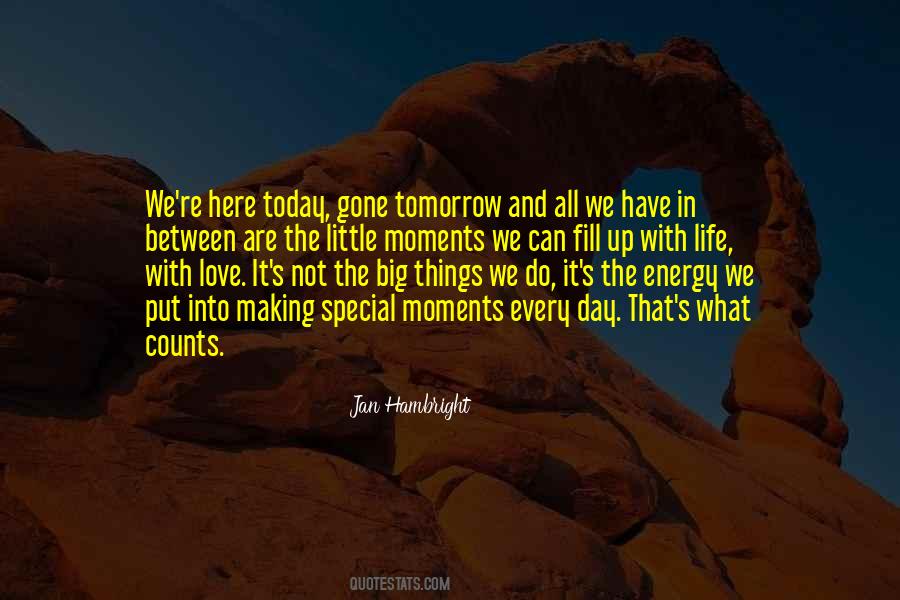 #81. The greatest of blessings can come from what appear to be the smallest and most insignificant of things. Don't discredit anything or anyone. One person, one tiny thing, one little shift can change your life in enormous ways. - Author: Patience W. Smith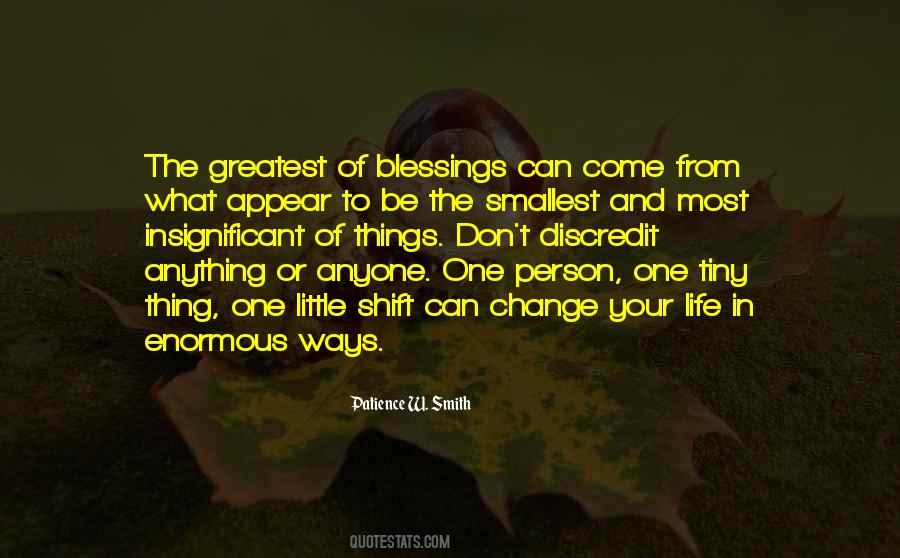 #82. There are two things that cannot be achieved in life unless you close your eyes a little bit. And that's love and peace. If you want perfection you won't obtain either of them. - Author: Shimon Peres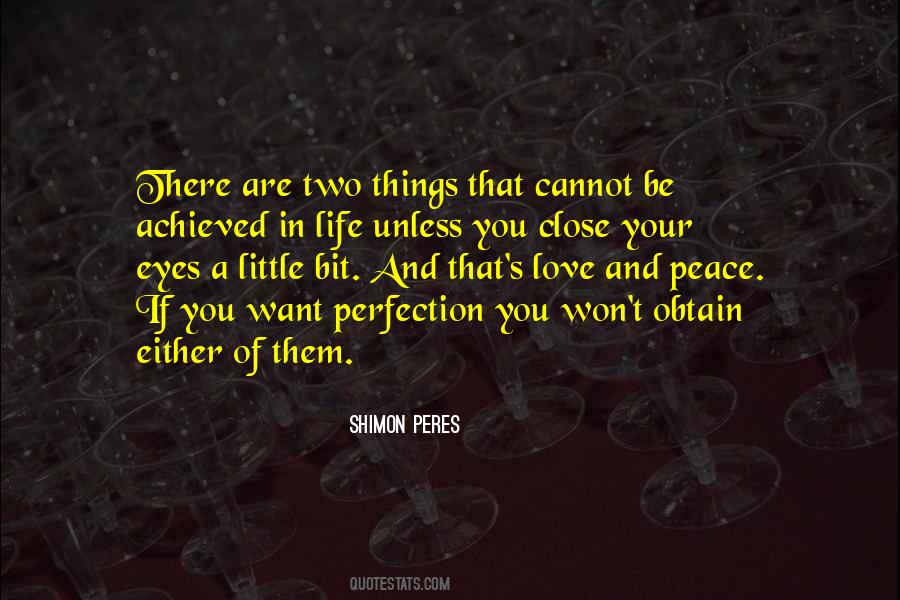 #83. I believe unless we have ambition to accomplish things and to do things that we amount to but very little in the battle of life. - Author: Heber J. Grant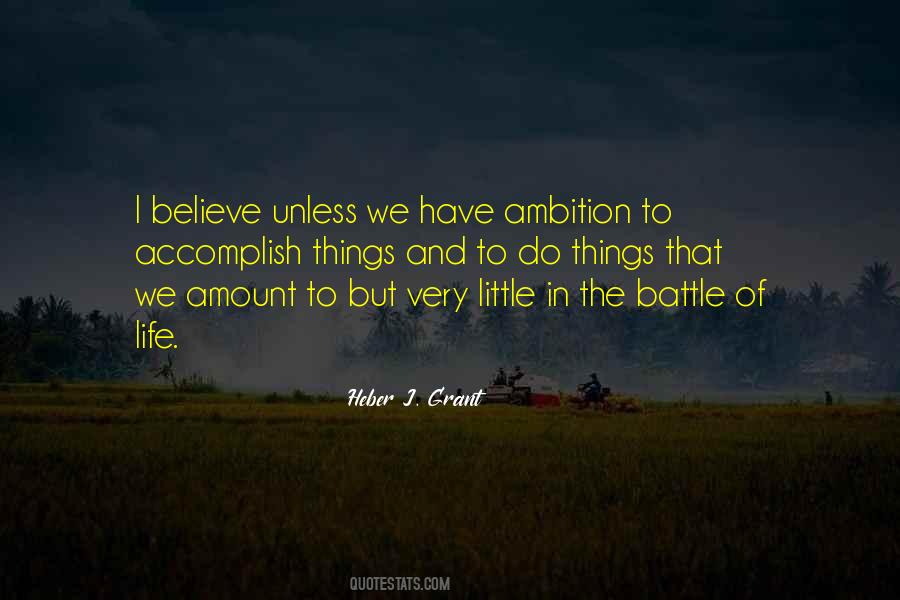 #84. My husband once said he'd never met anybody who walked so fast and ran so slowly. As I said, it's a little hard for me to try new things, and this was me facing a fear that I'd had my whole life. Since I had no experience running, I felt like a failure before I'd even begun. - Author: Jamie Lee Curtis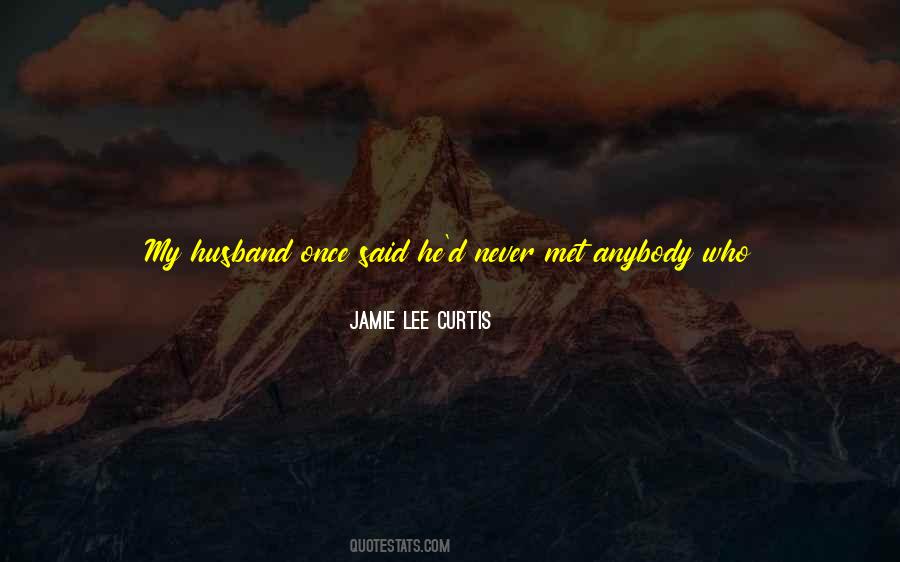 #85. Life is not all high emotion. Some of the most interesting things are when its not highly emotional: little details of relationships and body language. - Author: David Attenborough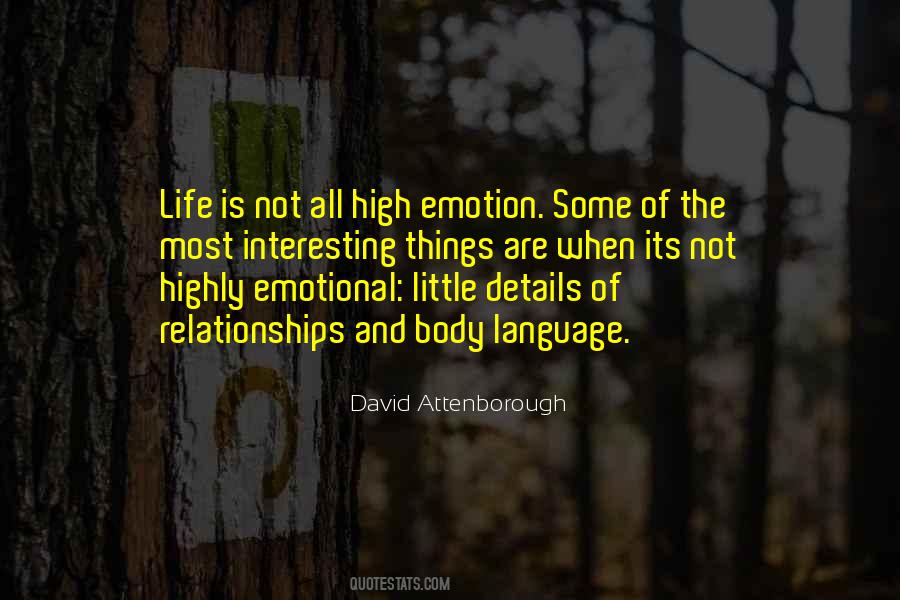 #86. Sometimes the little things in life mean the most. - Author: Ellen Hopkins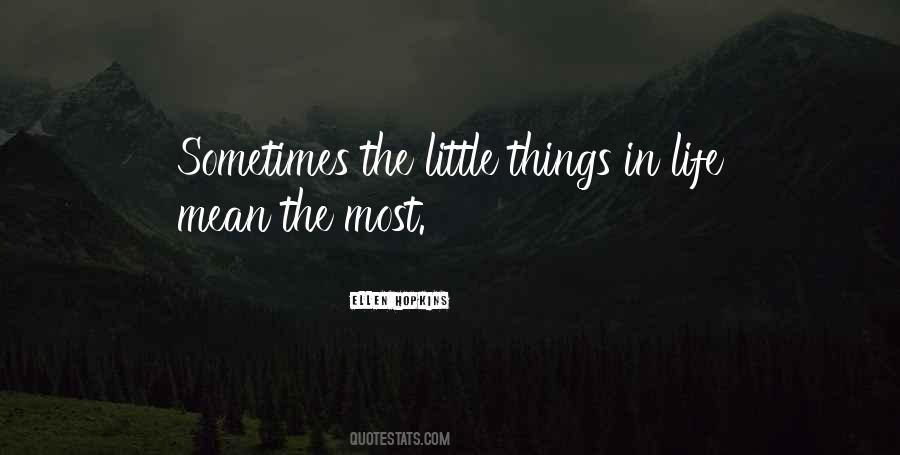 #87. The tranquility or agitation of our temper does not depend so much on the big things which happen to us in life, as on the pleasant or unpleasant arrangements of the little things which happen daily. - Author: Francois De La Rochefoucauld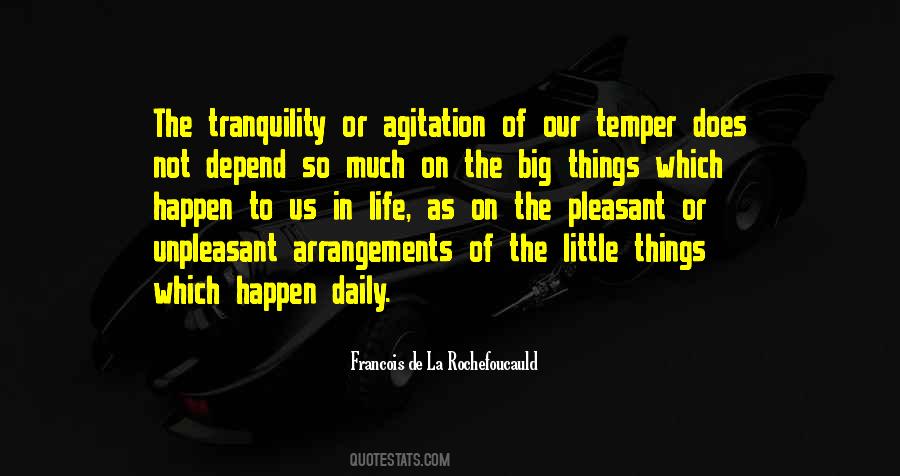 #88. Perhaps it was nothing very dreadful after all. I think the little things in life often make more trouble than the big things,' said Anne with one of those flashes of insight which experience could not have bettered. - Author: L.M. Montgomery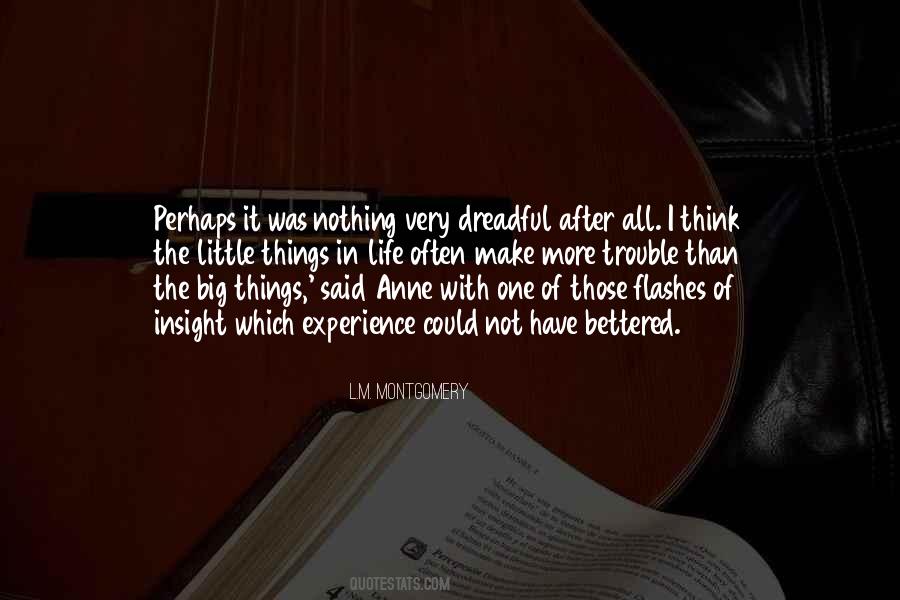 #89. You'll see, you'll come to understand. These big things, these terrible things, are not the important ones. If they were, how could one go on living? No, it is the small, little things that make up a day, that bring fullness and happiness to a life. - Author: Benedict Freedman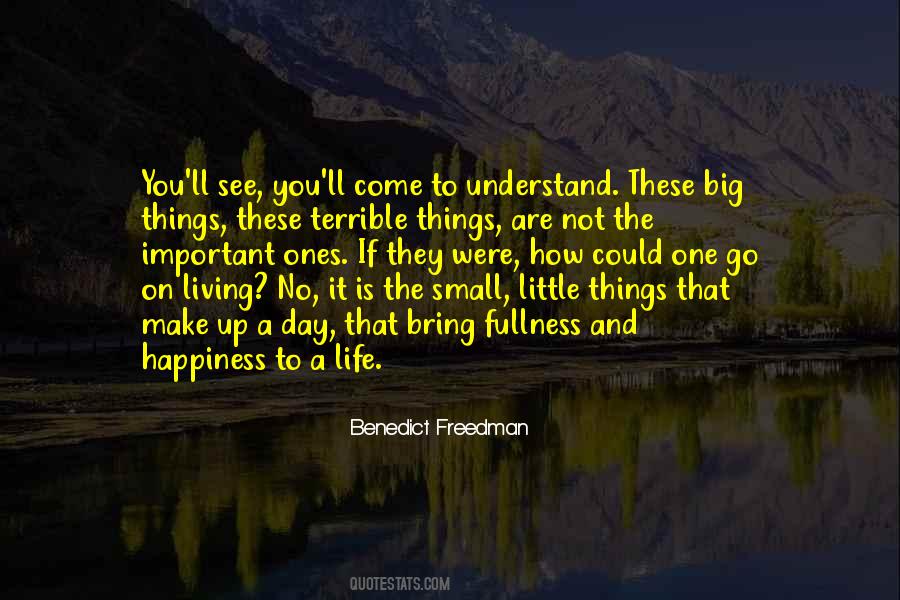 #90. When you go off in the world and make your life, and you come back to your home town, and you find your old high-school friends driving in the same circles, doing the same things, that's what Hollywood's like. It's a little block, little town. It doesn't really grow or change. - Author: Robert Rodriguez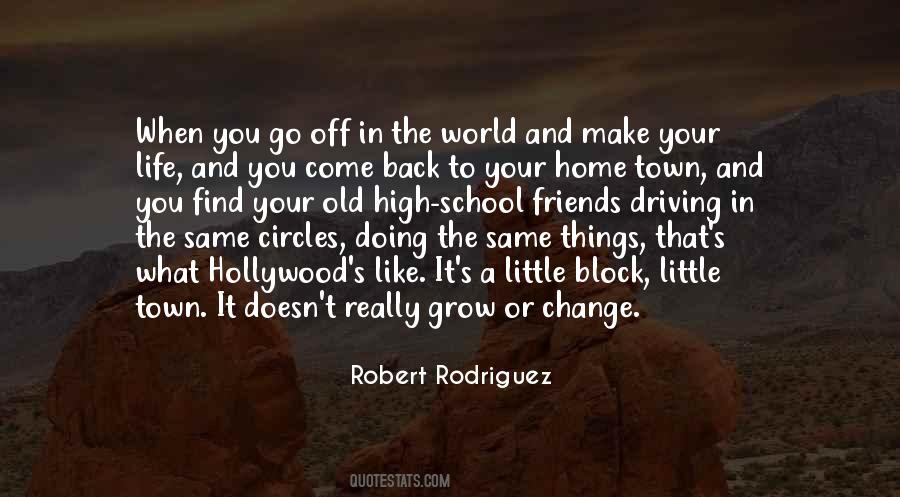 #91. Everything from a lifetime's worth of collecting things. You know as we go through life, and something stays and ends up on your shelf and lives there until you die? Just those little things. - Author: PJ Harvey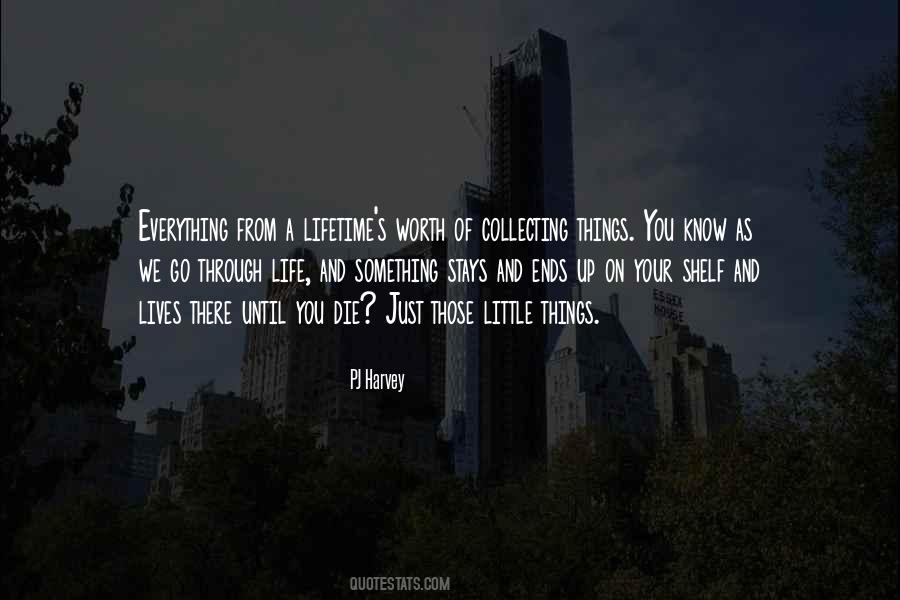 #92. If you mean a few little things - the exact sound of his voice, the shade of his hair, then okay, yeah. You're going to forget. But Ben isn't those things, you know? He's your brother. He's made up of every moment in his life. You'll never forget all of that. - Author: Victoria Schwab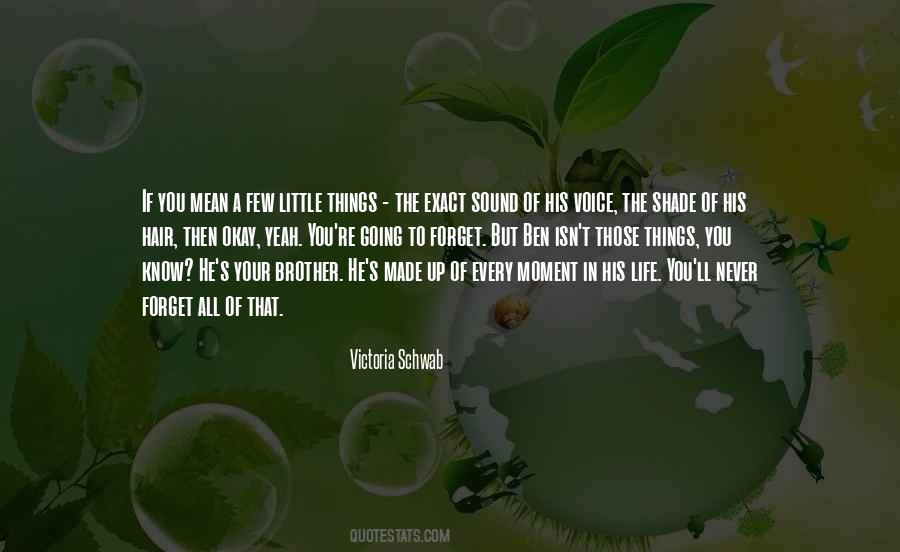 #93. The little things. Perhaps it is these trivialities I have been writing down in my book, these small hooks on which my whole life is hung. - Author: S.J. Watson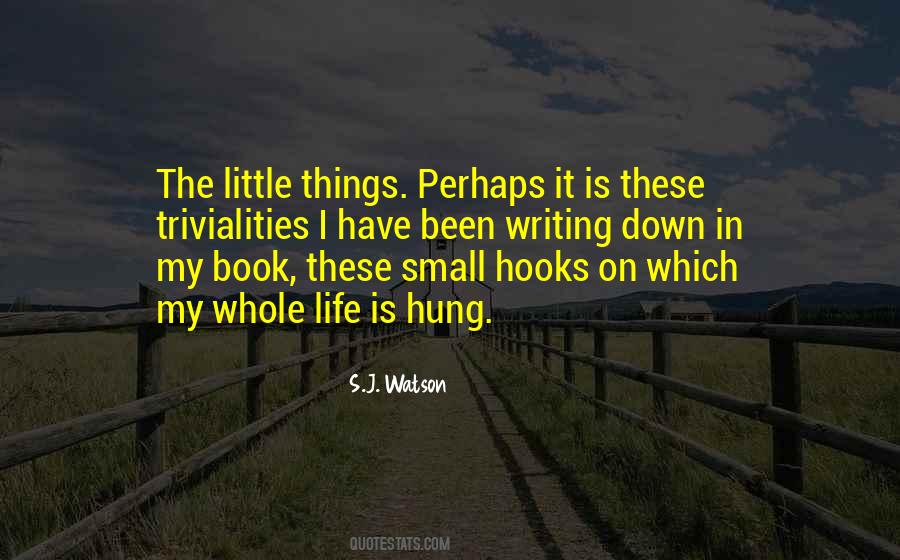 #94. You can't control everything. Sometimes you just need to relax and have faith that things will work out. Let go a little and just let life happen. - Author: Kody Keplinger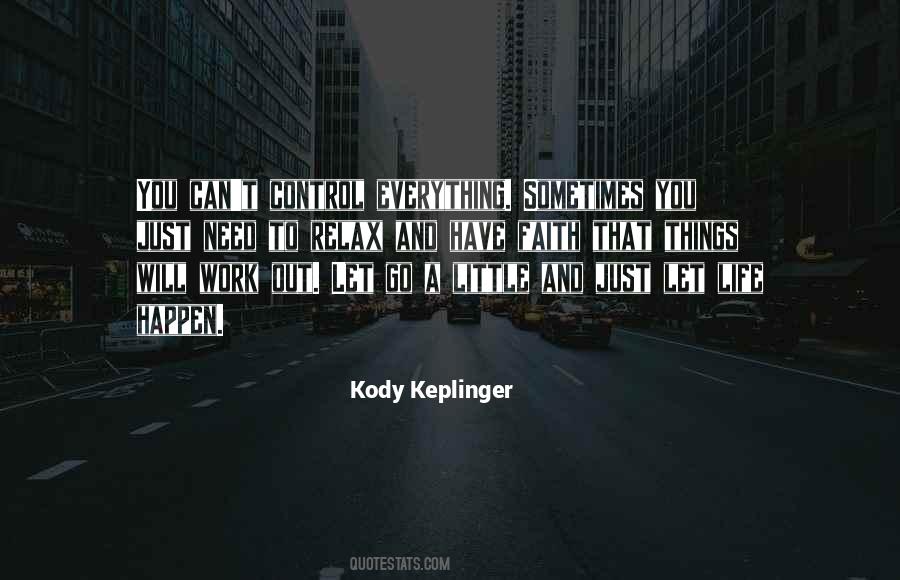 #95. We are so busy working on God, we forget He is trying to work on us. That is what this life is all about: God at work on us, trying to remake us into vessels of glory. We are so busy praying to change things that we have little time to allow prayer to change us. - Author: David Wilkerson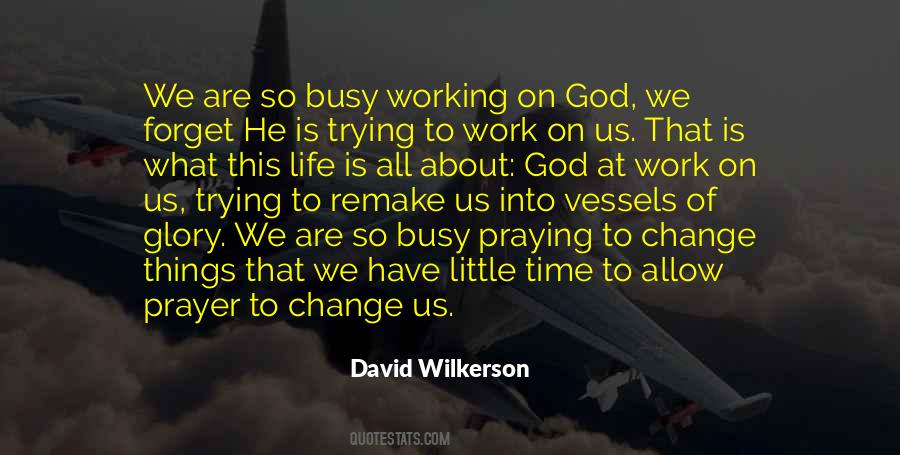 #96. It's not some big event that creates the drama, it's the little things of everyday life that bring about that drama. - Author: Asghar Farhadi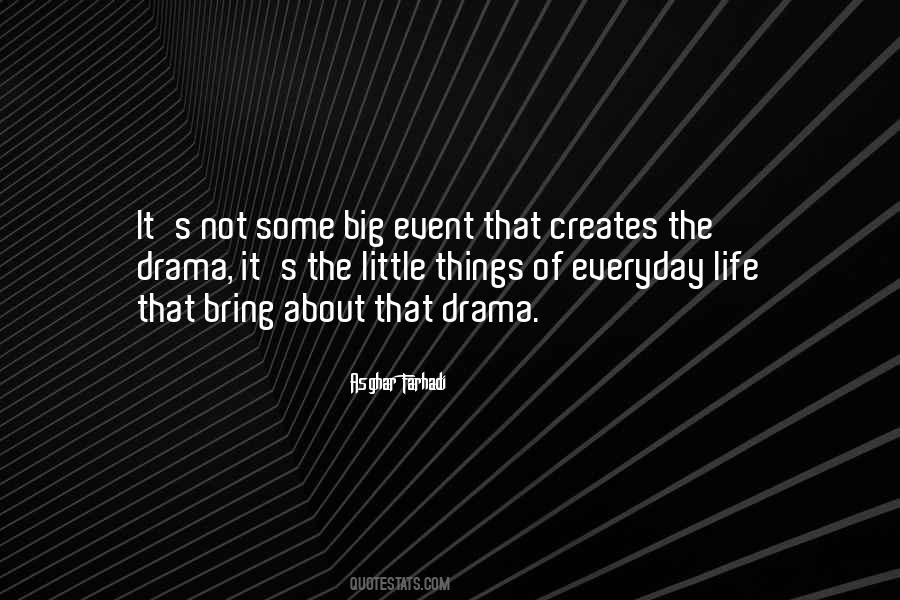 #97. Watch the little things in life, the ones you have control over. Keep your eyes glued to the peas and every speck of dust on the floor. - Author: Paul Zindel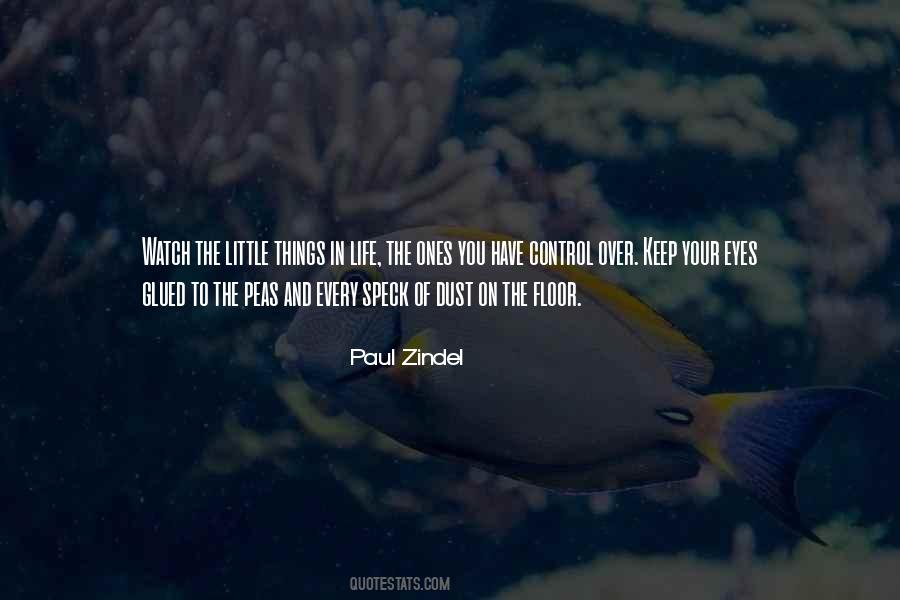 #98. As I near the end of my life...
I have determined that
Most of the things I have learned
Will be of little value to me
At the end of my Life". - Author: Stephen Wehunt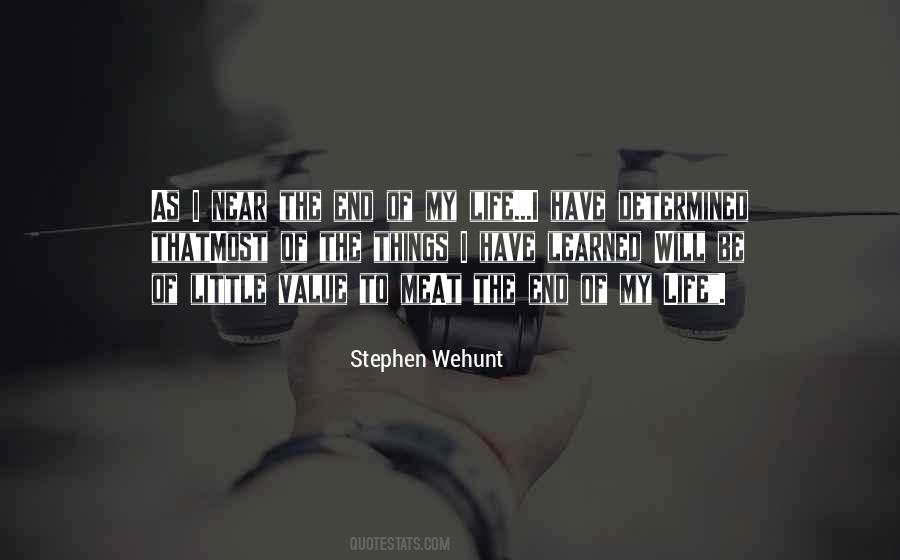 #99. The way you look for songs, you find yourself looking for little signals and clues about life and how things are. - Author: Tom T. Hall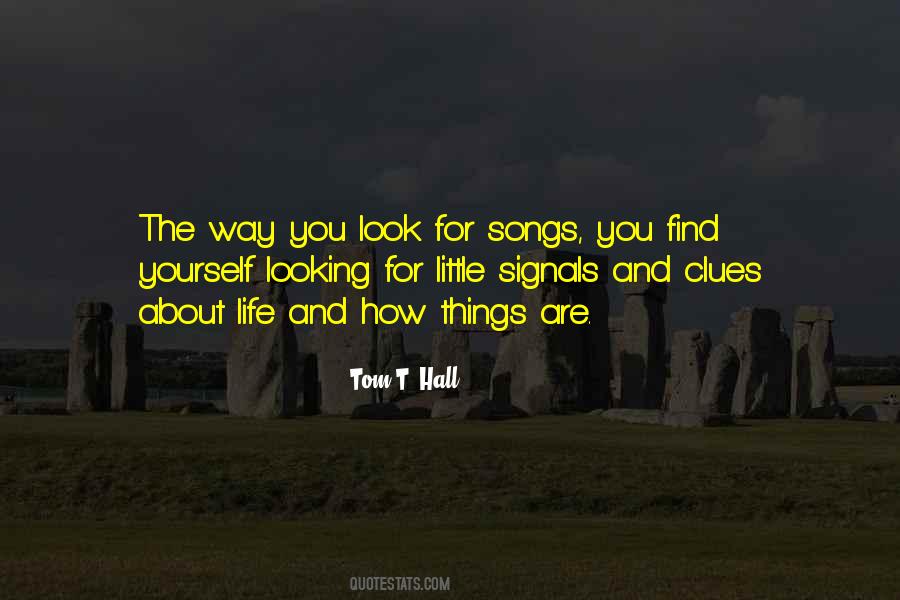 #100. Today we live in a world that judges its achievements by speed and busyness. ... We are so busy making things happen that we have little time left to think about the value of what is happening. We urgently need people who concentrate on the meaning of life rather than simply the speed. - Author: Joan D. Chittister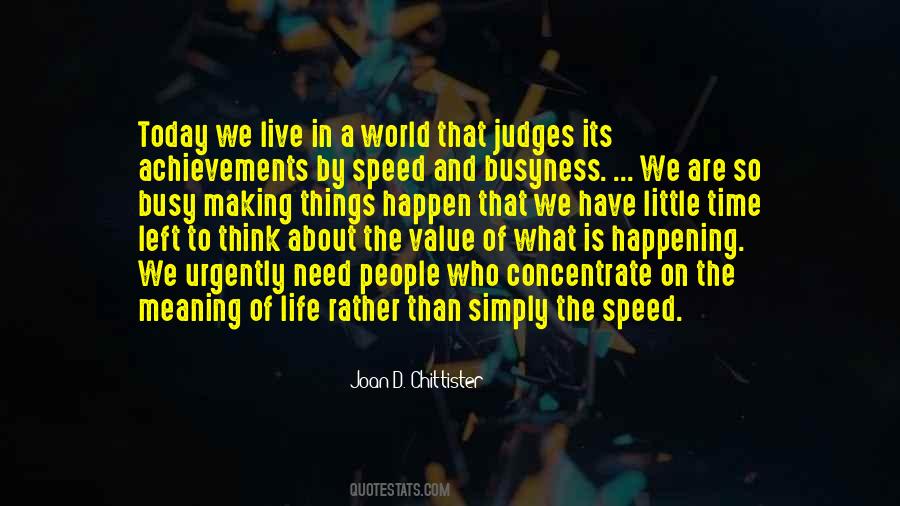 Famous Authors
Popular Topics