Leaving Family Famous Quotes & Sayings
List of top 39 famous quotes and sayings about leaving family to read and share with friends on your Facebook, Twitter, blogs.
Top 39 Leaving Family Quotes
#1. Most things in my life I had before leaving home. Values, support, great family. I was shaped at an early age. A musician playing guitar, I wanted to be a folk singer. - Author: Sissy Spacek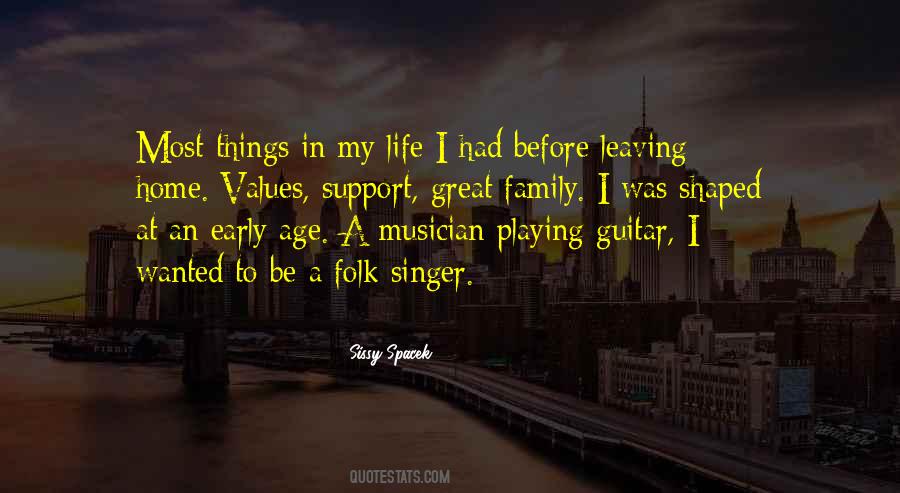 #2. Ask yourself if you are leaving a trail that others may want to follow. Are you leaving a legacy of accomplishment? What mark will you leave on your industry? Your friends and family? - Author: Les Brown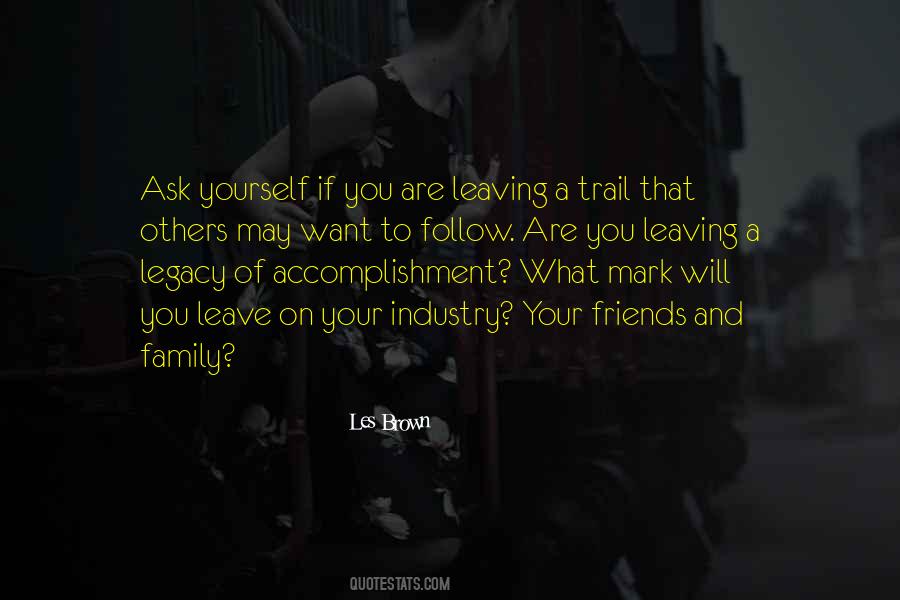 #3. When I was just about to leave, and when I realised that I wasn't going to wake up in the morning and do this again - that was probably the hardest thing for me. Leaving this family that I'd created on set, with all the cast and the crew was very sad for me. - Author: Jared Gilman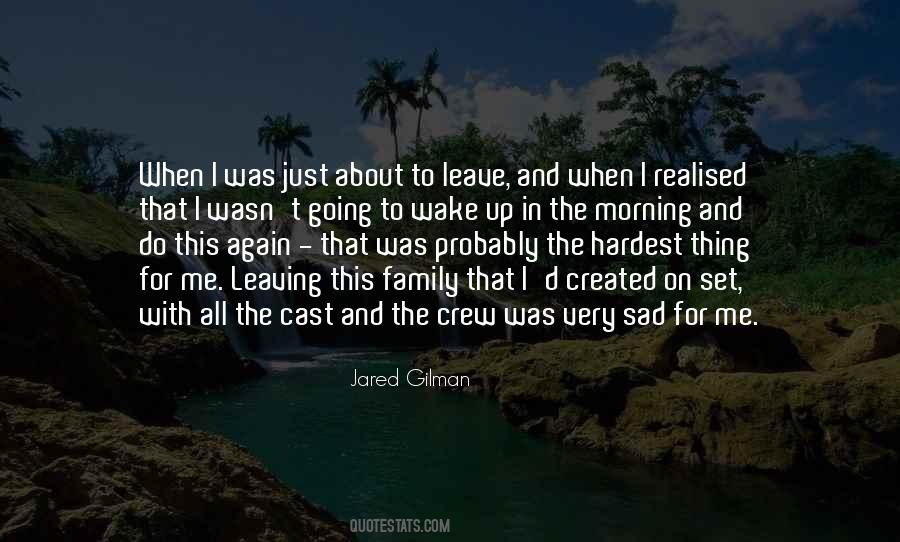 #4. It was sad leaving 'All Saints' because I was leaving a family that had nurtured me and looked after me for a couple of years, and at the same time that particular storyline wasn't a surprise to me. I knew I was going. It had been worked out very carefully over many months. - Author: Chris Vance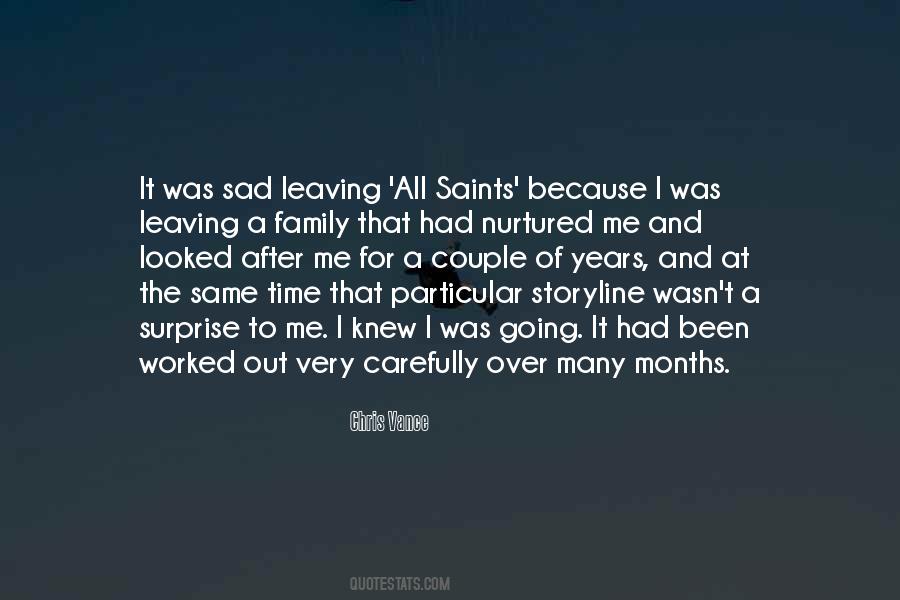 #5. My greatest accomplishment is succeeding in life, and I owe that to my family and twenty years in the military. I don't regret leaving the farm and ranch for the Army. Although I may have been a disappointment to my father, I achieved more than he could ever dream of in his short life. - Author: Tom Johnson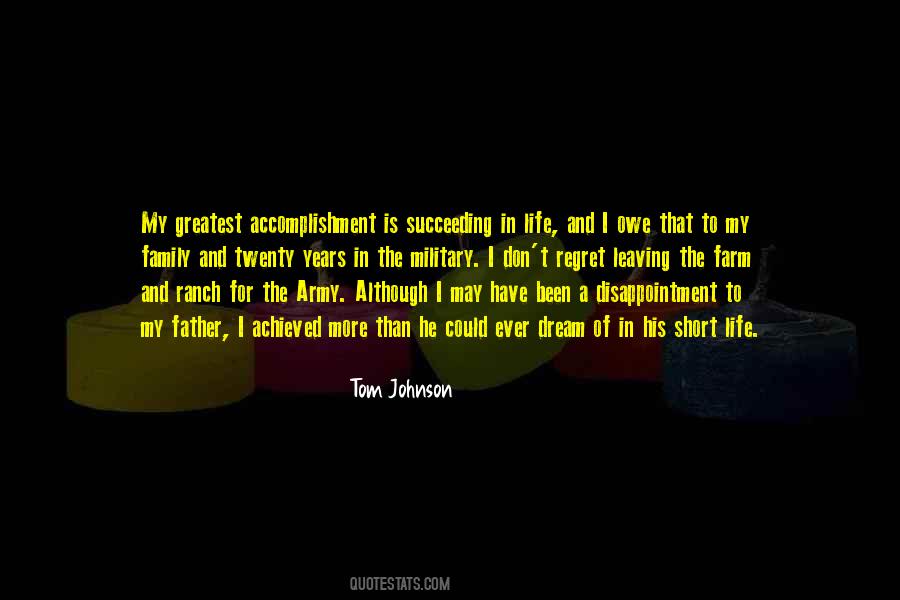 #6. He was feeling totally lost, leaving his family and country for a place where he knew nobody and didn't even speak the language. - Author: Patrick Mouratoglou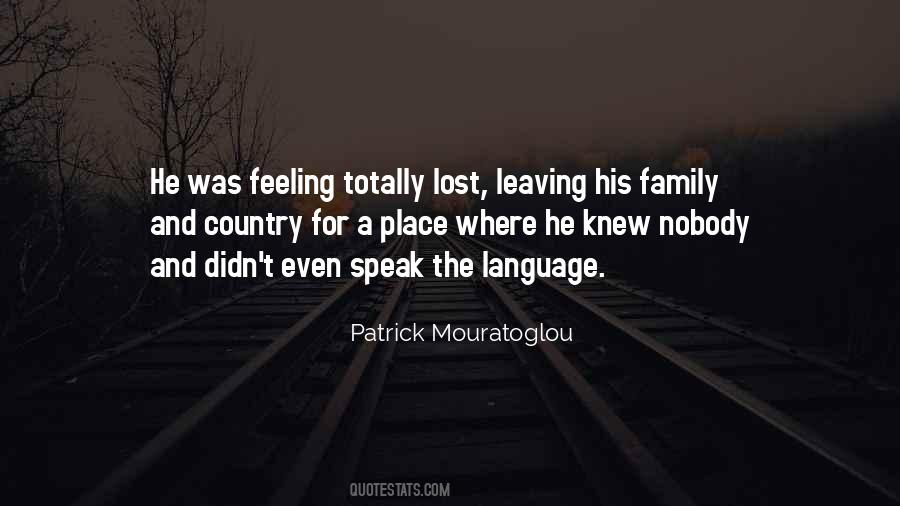 #7. A rescue mission doesn't involve going in and just taking a child and leaving. You can't just choose any child at random. Every kid has a case that is based on that child's original family. So, we made it over to a village, found the child; we were interacting with the child. - Author: Jason Mraz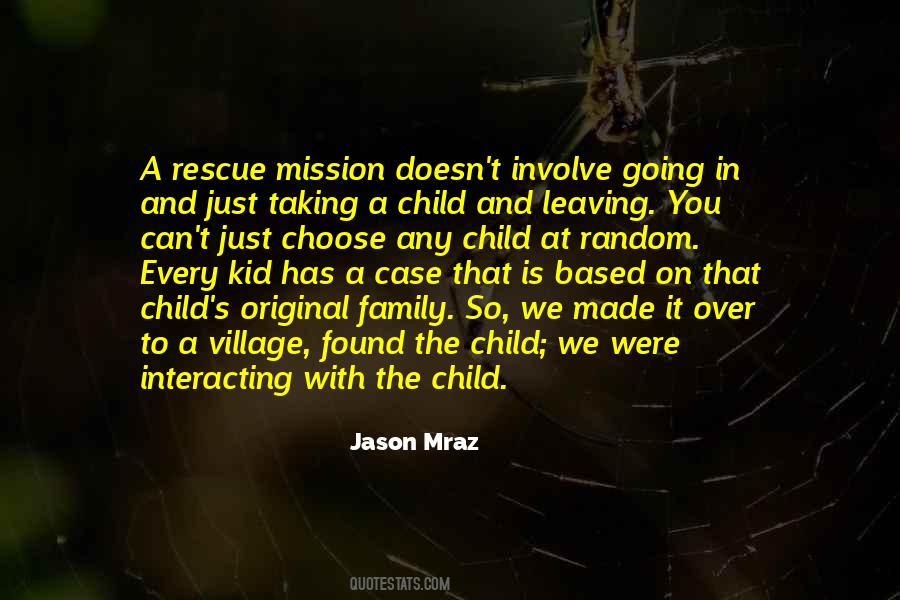 #8. Form the habit early in life of leaving your business at the store or wherever you may be employed. Never carry it home to mar the peace of your family; if you do, you will soon drive out the sunshine. - Author: Orison Swett Marden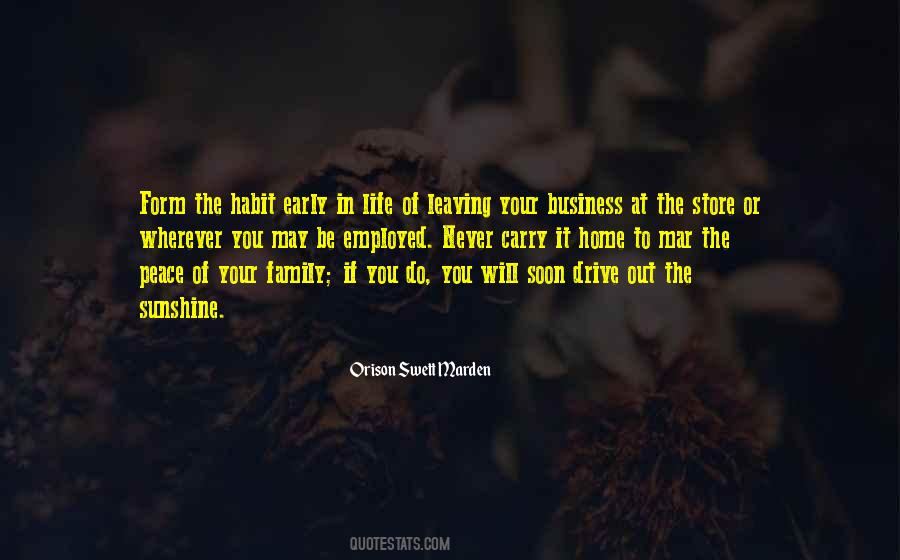 #9. If you're doing television, you get to be a character for a long time, and the cast around you becomes like family. You get attached to playing that one character, and it's hard leaving them behind. - Author: Sammi Hanratty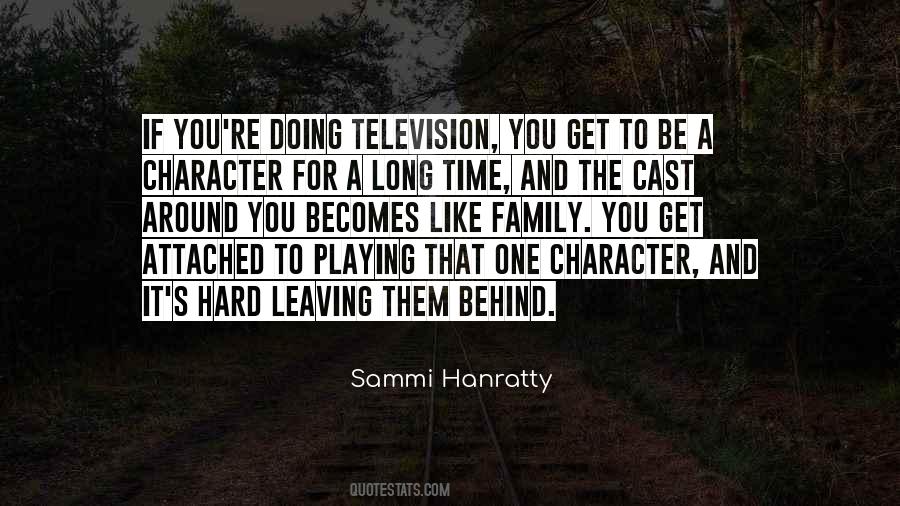 #10. Well, here were the ugly facts. She had no mad-ninja-skillz to rely on and her family didn't know where she was. She didn't know where she was. The only way she was leaving was if this creature allowed it. - Author: Danielle Monsch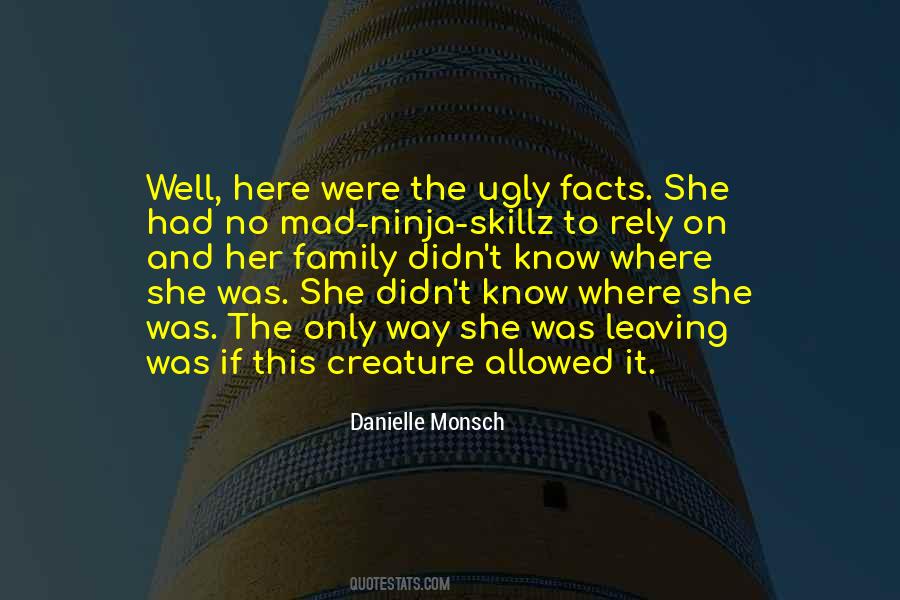 #11. I felt like I was betraying my family. But I knew that trying to explain my emotions in a movie like this was more important than leaving them unspoken. - Author: John Robinson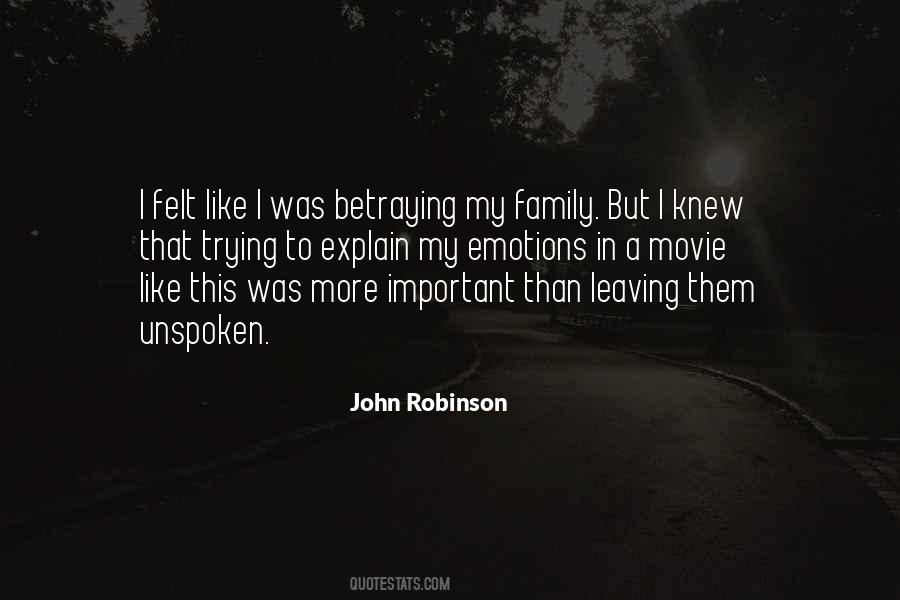 #12. Leave your mark on the world by leaving behind a child who grows up to love and serve the Lord. - Author: Elizabeth George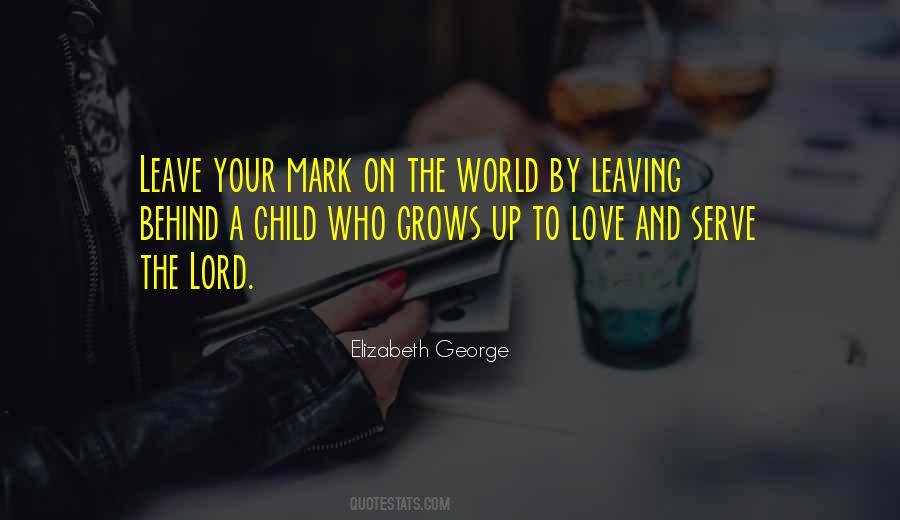 #13. What would you do?
Would you jump? Would you feel pity for yourself? Would you think about your family and your childhood and your dreams and all you're leaving behind? Would it hurt? Would it feel like dying? Would you cry, as I did? - Author: Tim O'Brien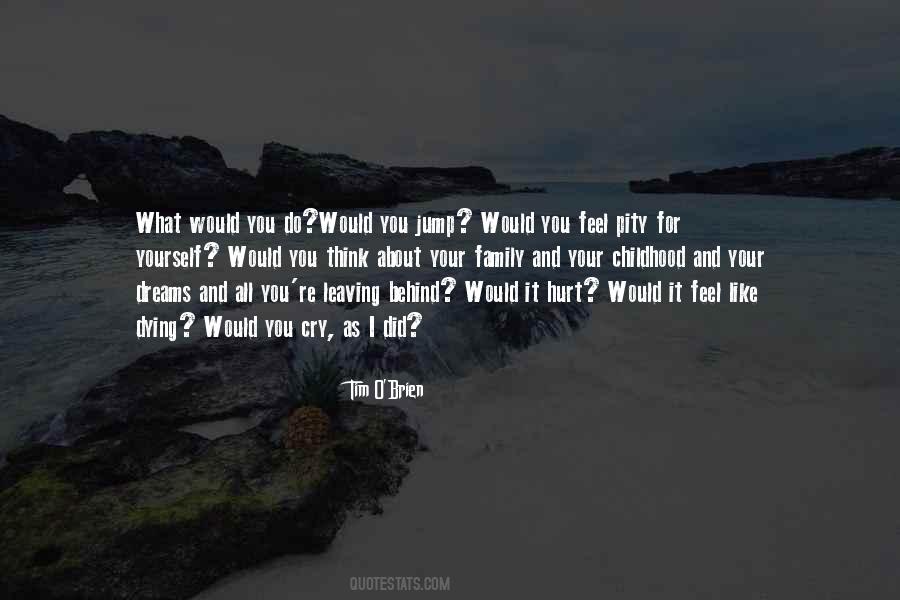 #14. The sickness of the mother runs on through the girl, leaving her small and helpless. Liquor flies through her brain with the force of a gun, leaving her running in circles. - Author: Lou Reed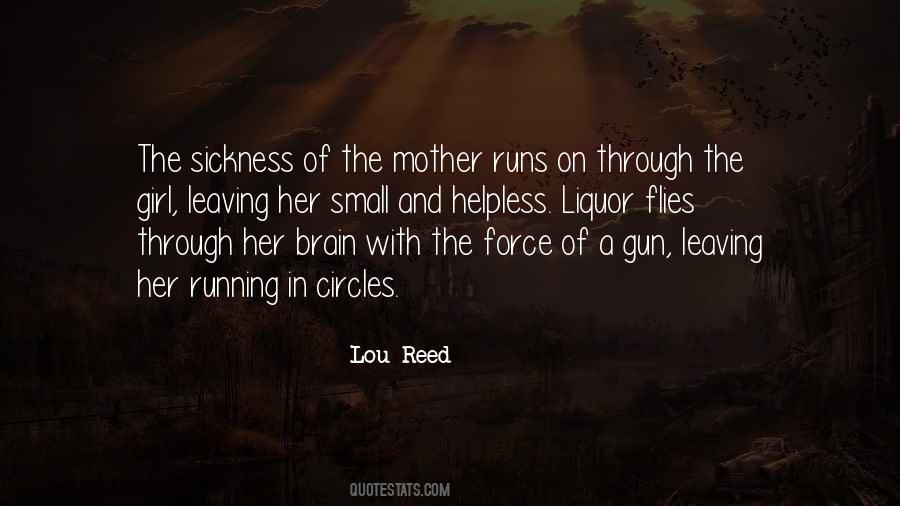 #15. Then Mattie journeyed away from her home toward freedom and her family, leaving behind the bones of generations of her ancestors and their captors - Author: Laila Ibrahim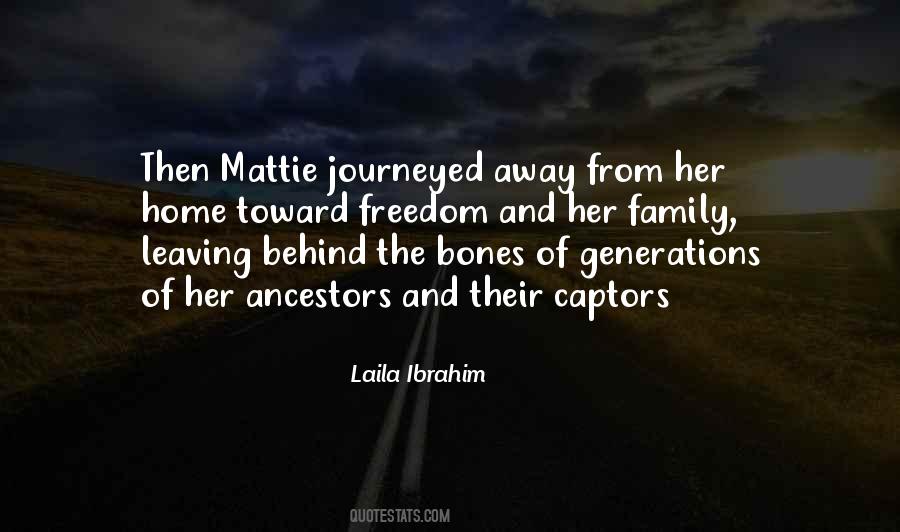 #16. This way of leaving your family for work had condemned them over several generations to have their hearts always in other places, their minds thinking about people elsewhere; they could never be in a single existence at one time. How wonderful it was going to be to have things otherwise. - Author: Kiran Desai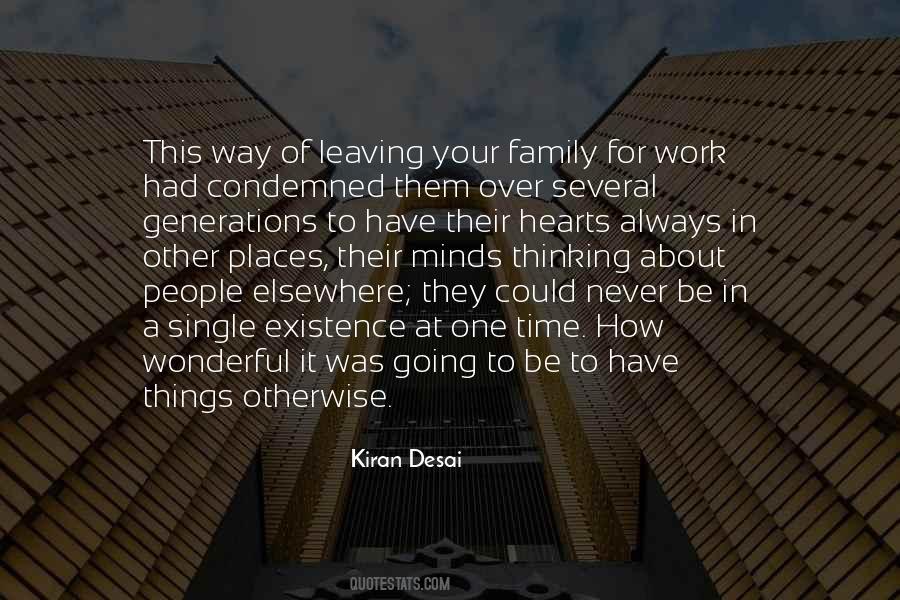 #17. I have always said to myself, 'I never want to say I'm leaving a job because I want to spend more time with my family.' I feel sorry for people when they say that. But my advice to them is that you shouldn't have taken the job in the first place. - Author: Louis Freeh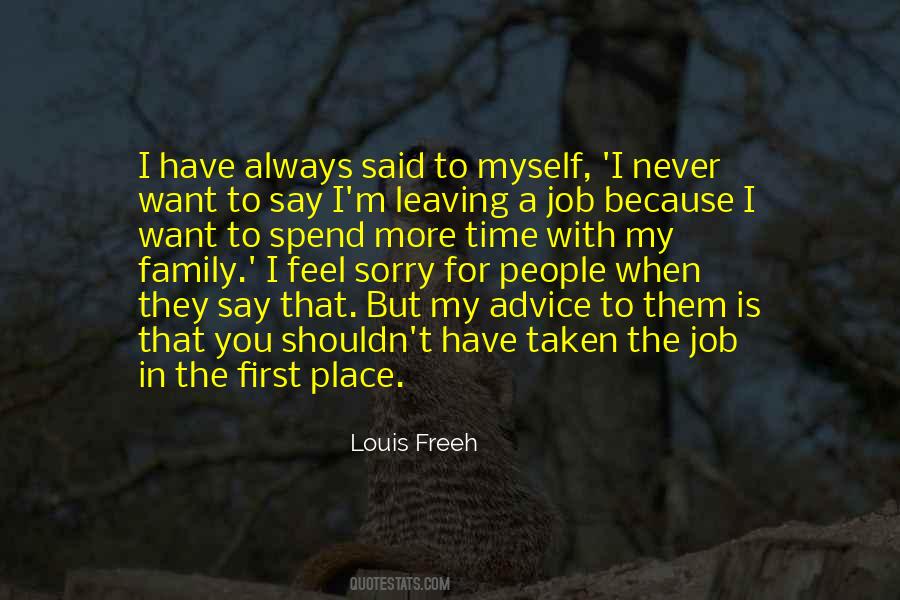 #18. Leaving the board will relieve me of formal duties and give me more flexibility, but I still expect to spend as much time as possible with the extended family of Ford people and will gladly help the company and the board in any way I can. - Author: William Clay Ford, Sr.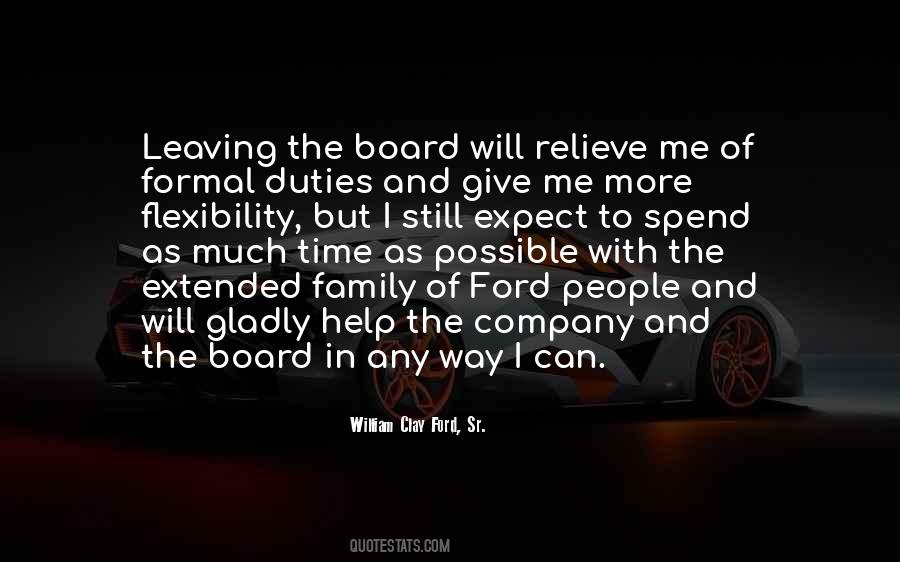 #19. My father leaving the family shaped who I was and how I looked at the world. By the same token, my father telling me fairy tales that he had made up shaped me profoundly, too. - Author: Kate DiCamillo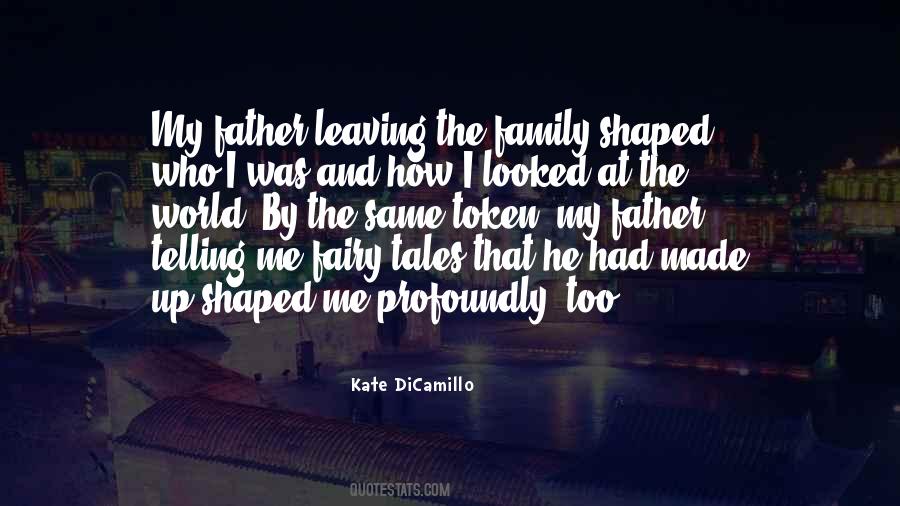 #20. Should we now explain to UK couples who plan a family that stopping at two children, or at least having one less than first intended, is the simplest and biggest contribution anyone can make to leaving a habitable planet for our grandchildren? - Author: John Guillebaud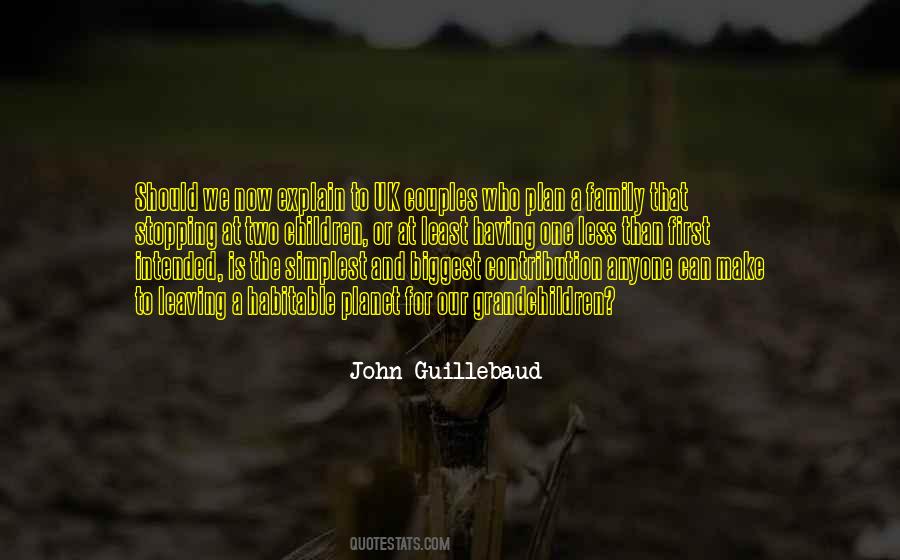 #21. I'm a teenager, but I'm independent - I have my own apartment, I have my own life. And I think I have learned more than any of those teenagers have in school. I learned to be responsible, leaving my family and coming here alone. - Author: Adriana Lima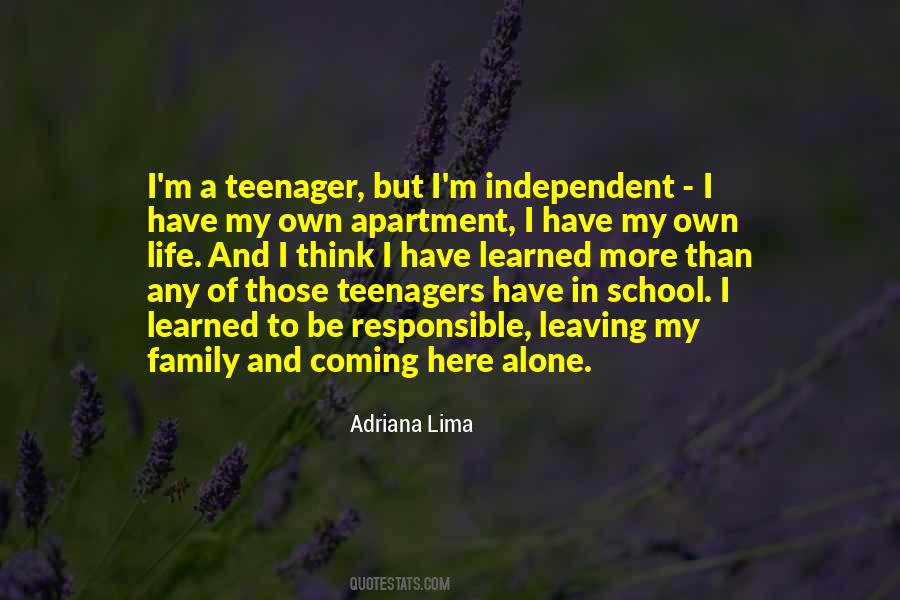 #22. I was not a good father in my first marriage. Although there are ways of deserting the family without leaving physically, I was deserted in my head. I was always out, always in the saloons, always drinking, always messing about. - Author: Malachy McCourt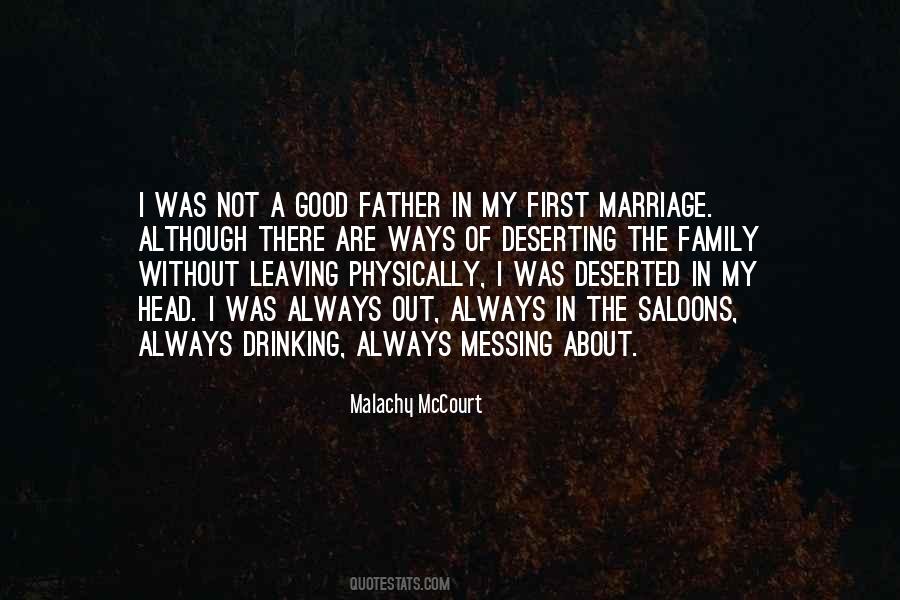 #23. I had never before considered leaving my religion, my family, my customs, and my beliefs behind. It was all that I had ever known. Would it be worth it to give it all up? I had no way of knowing. It was frightening even to contemplate a life beyond - Author: Carolyn Jessop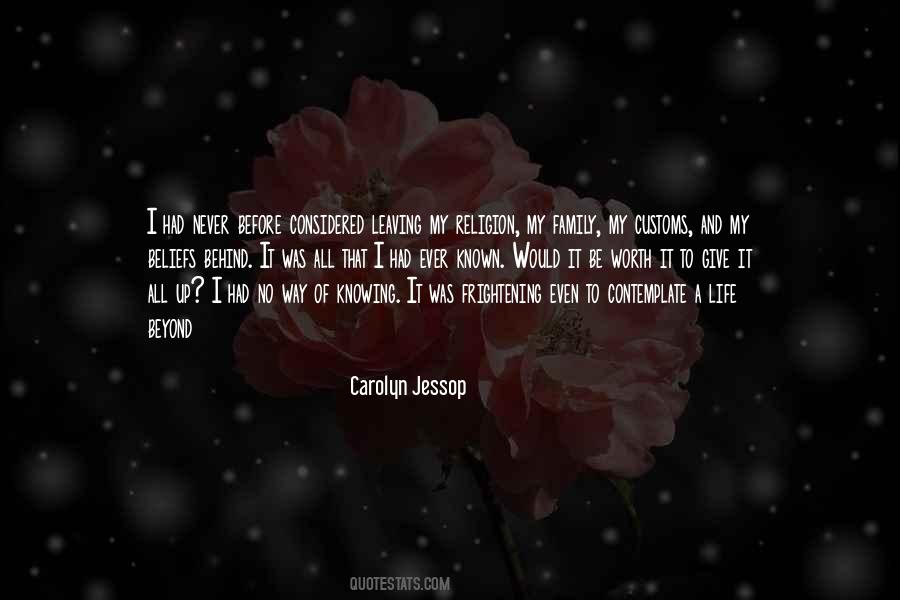 #24. Leaving my family behind was very scary. I had to grow up quick. But being so young and paying in this league [the WNBA], I'm glad I did it because it's been the best experience in my life. - Author: Lauren Jackson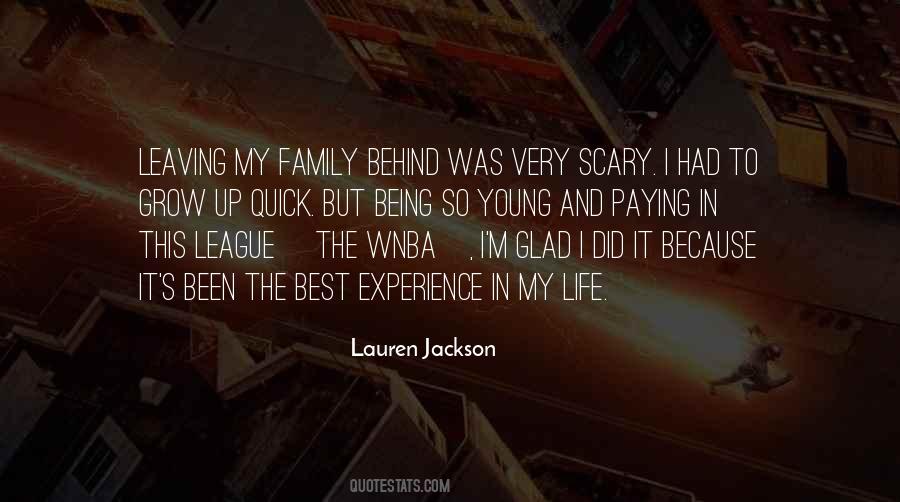 #25. Mainly, life experiences with my family or travelling as a young kid, I feel like I had a different lifestyle than a lot of people leaving on tour when I was fourteen and stuff, so I pull from that. - Author: Zac Farro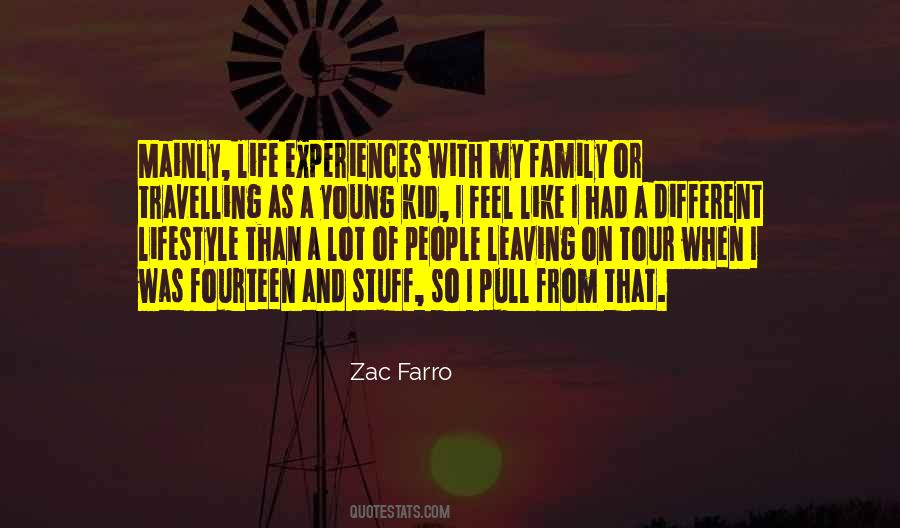 #26. If you're leaving your family behind, you better believe in what you're singing. - Author: Jon Foreman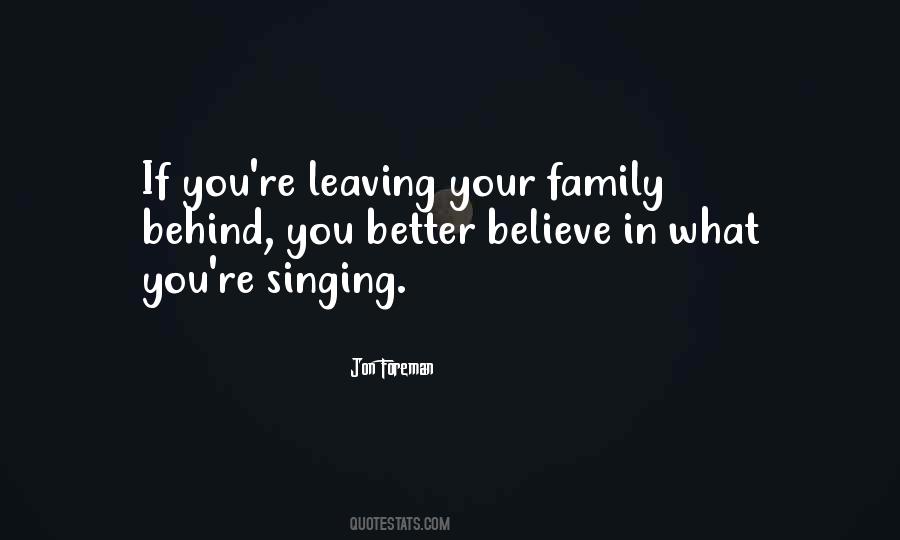 #27. Does your family play games, too?" She tries to sound off-hand.
"No. Just me - and my brother."
Which means her parents are in the casinos, then, leaving this kid in a collapsing mine. Okay, a virtual one, but still. - Author: Nenia Campbell
#28. When I remember my family, I always remember their backs. They were always indignantly leaving places. - Author: John Cheever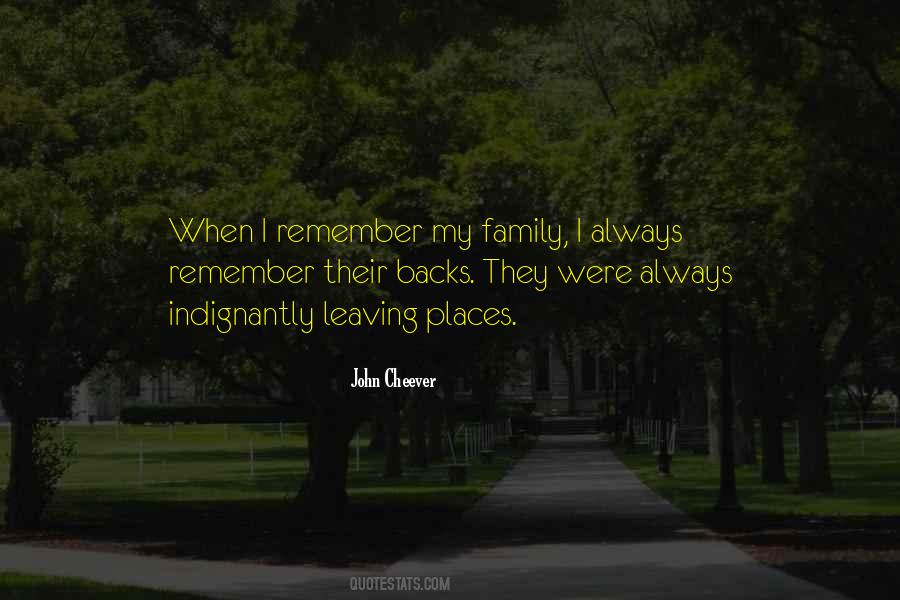 #29. What will life be like without her? I am dreadfully sad she is leaving. What if she just disappears; gets tired of all this trouble at home? What if she leaves me too? How heavy is a dresser when you're the only one pushing it against the door? I feel truly on my own. - Author: Mira Bartok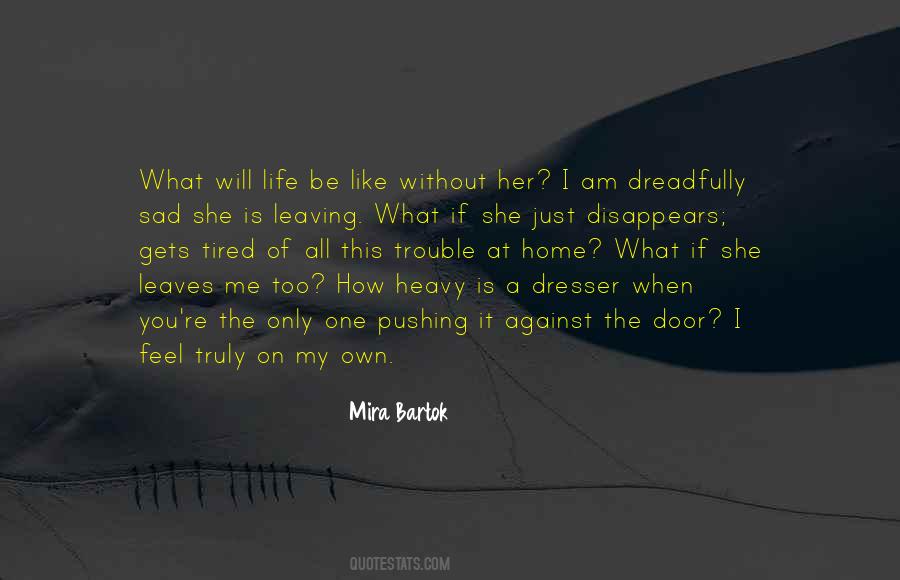 #30. By remaining constrained in one's environment or country or family, one has little chance of being other than the original prescription. By leaving, one gains a perspective, a distance of both space and time, which is essential for writing about family or home, in any case. - Author: Rabih Alameddine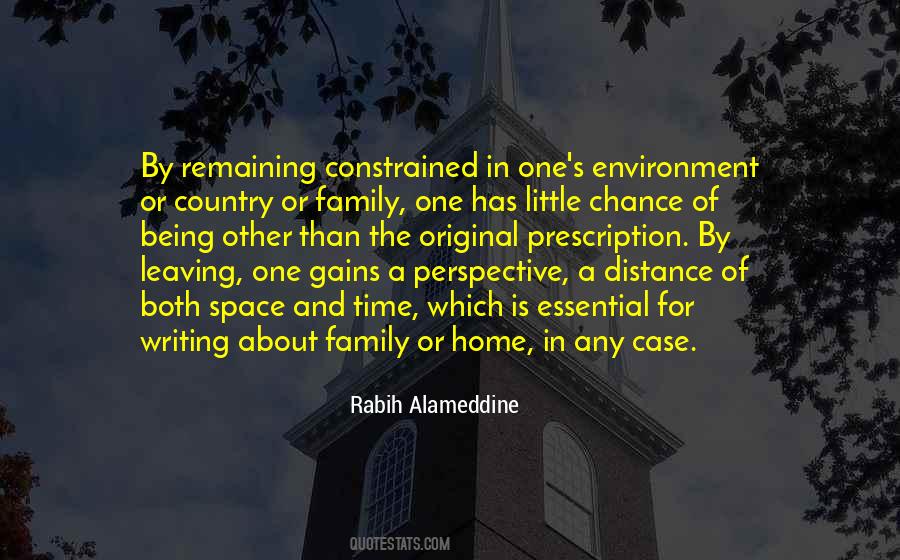 #31. How had I lost so much in such a short period of time? It would seem like leaving your family, living in some foreign place, and being separated from the person you love should be events that take years to roll into place, not just a day. - Author: Kiera Cass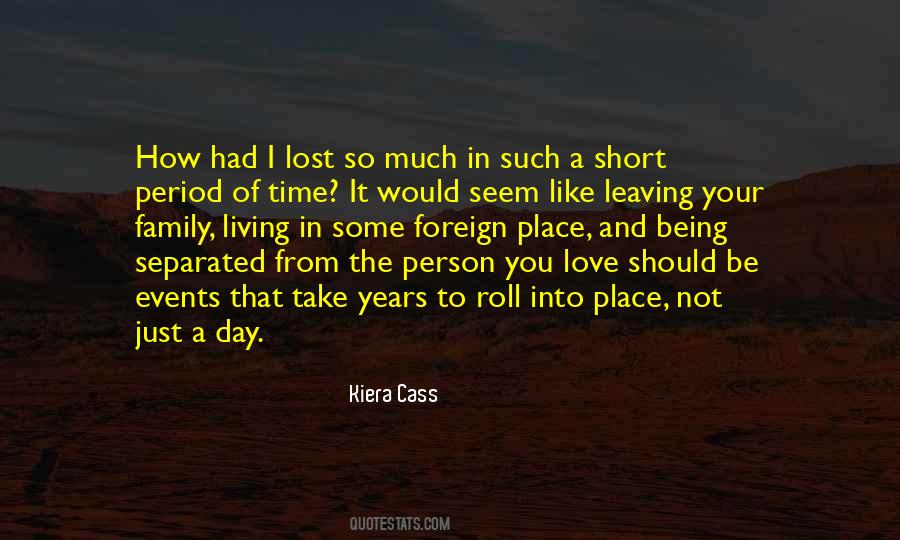 #32. Mama and I sat on a burping bus full of chickens in cages, and round-eyed babies on round mothers' laps. (The Pinata-Maker's Daughter) - Author: Eileen Granfors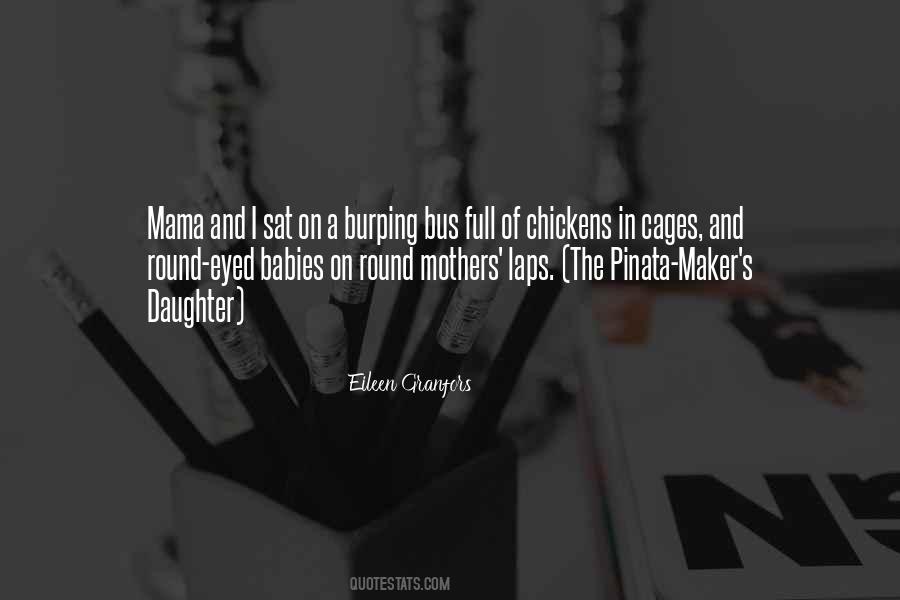 #33. If the widow of a man who died without leaving issue, raises up to him a son by a member of the family , she shall deliver to that ,son the whole property which belonged to the ,deceased . - Author: Guru Nanak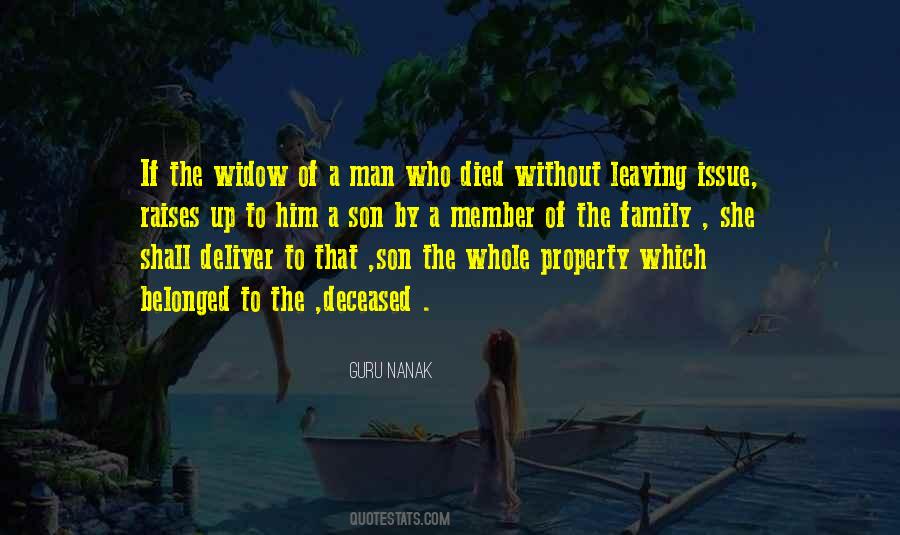 #34. She looked at him, his soft brown eyes and tall form, and contemplated raising herself on her toes and kissing his ear, or his cheek ...
Instead, impulsively before leaving, she reached up and smoothed his mussed hair.
Mr. Bradford beamed. - Author: Heather Dixon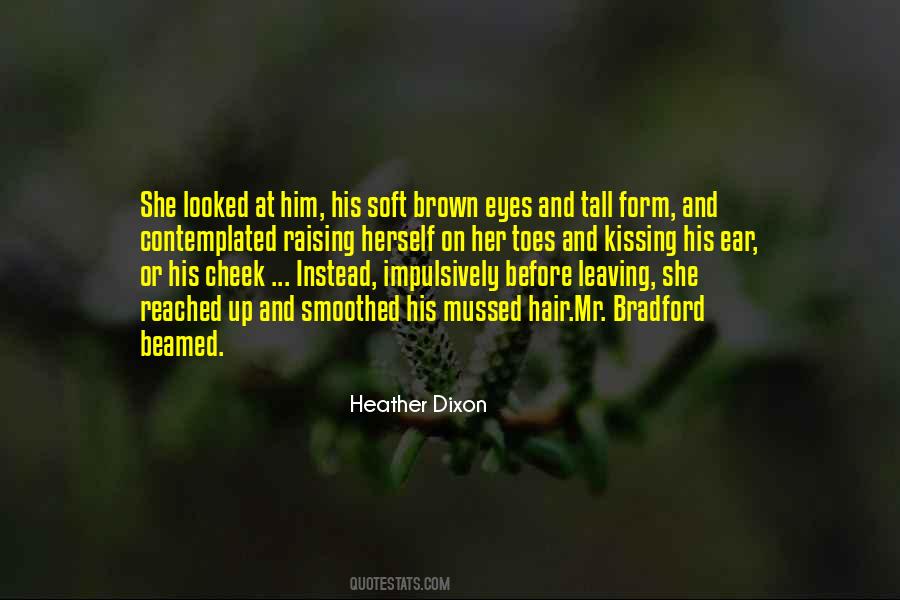 #35. Amma and i went to each house to tell them we were leaving. They all said, 'Don't forget us. Keep visiting.' At the age I was then, this seemed absurd. i had grown up among them - how was it even possible to forget these people? Now I see what they meant. - Author: Vivek Shanbhag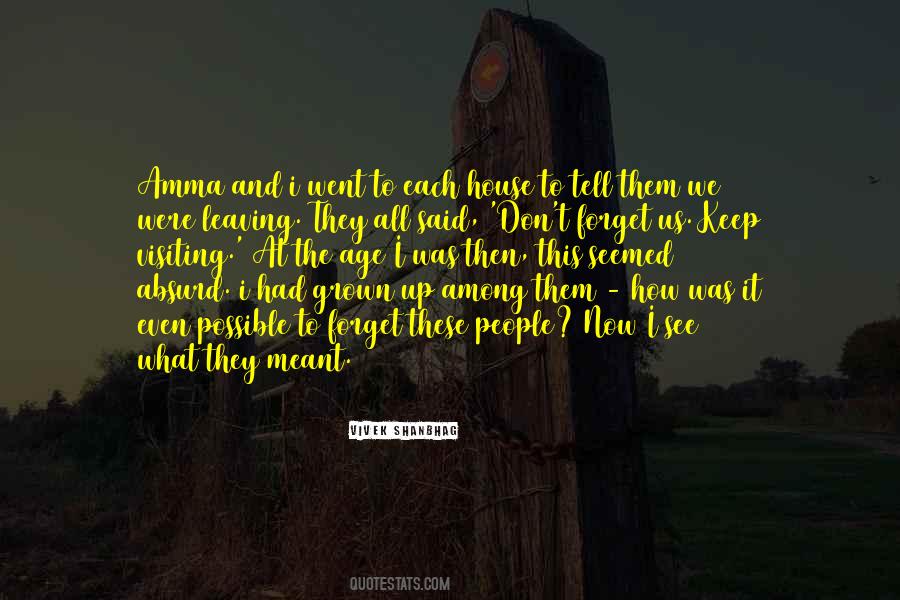 #36. She had not thought it would be so easy to slip into the old roles. Cambridge had changed her fundamentally and she thought she was immune. No one in her family, however, noticed the transformation in her, and she was not able to resist the power of their habitual expectations. - Author: Ian McEwan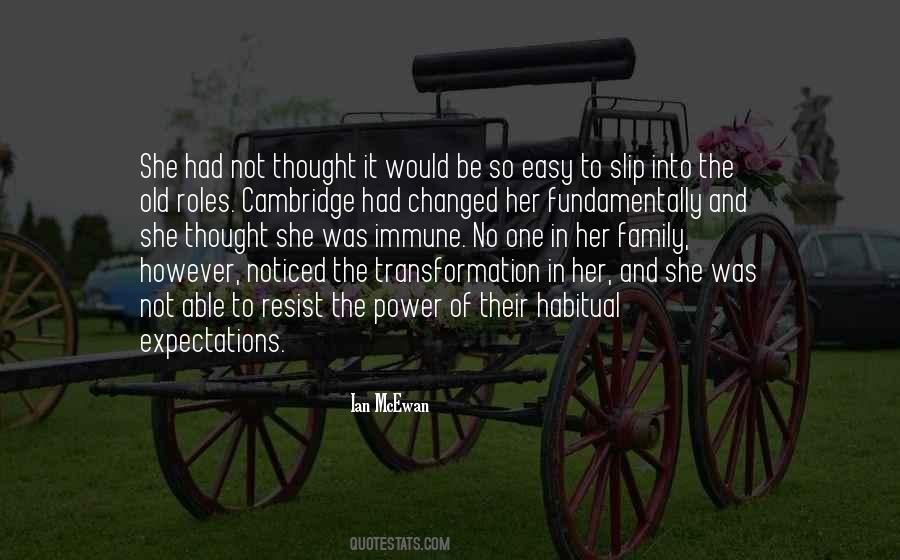 #37. It feels as though it were just yesterday Grandfather exited my life like a bullet, leaving a bleeding hole behind. - Author: Chitra Banerjee Divakaruni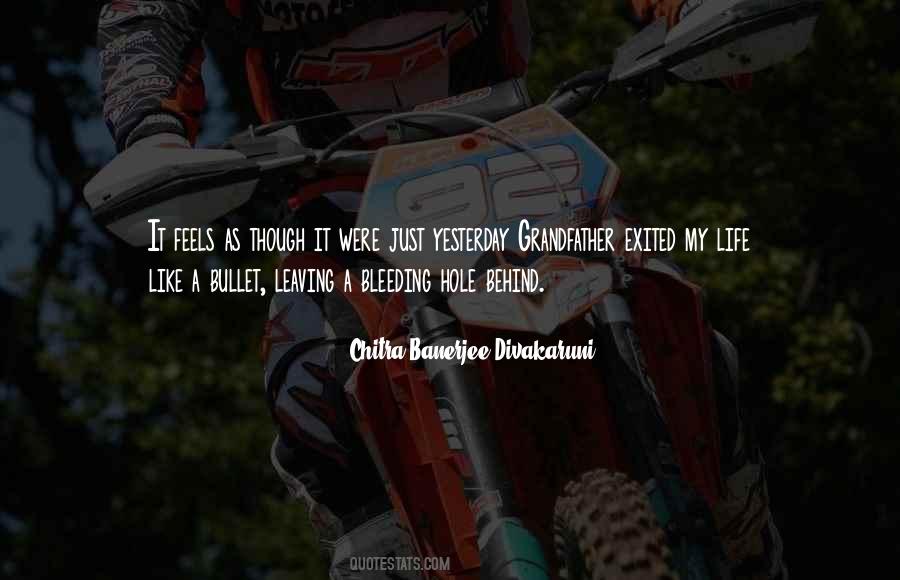 #38. To separate from my culture (as from my family) I had to feel competent enough on the outside and secure enough inside to live life on my own. Yet in leaving home I did not lose touch with my origins because lo mexicano is in my system. I am a turtle, wherever I go I carry 'home' on my back. - Author: Gloria E. Anzaldua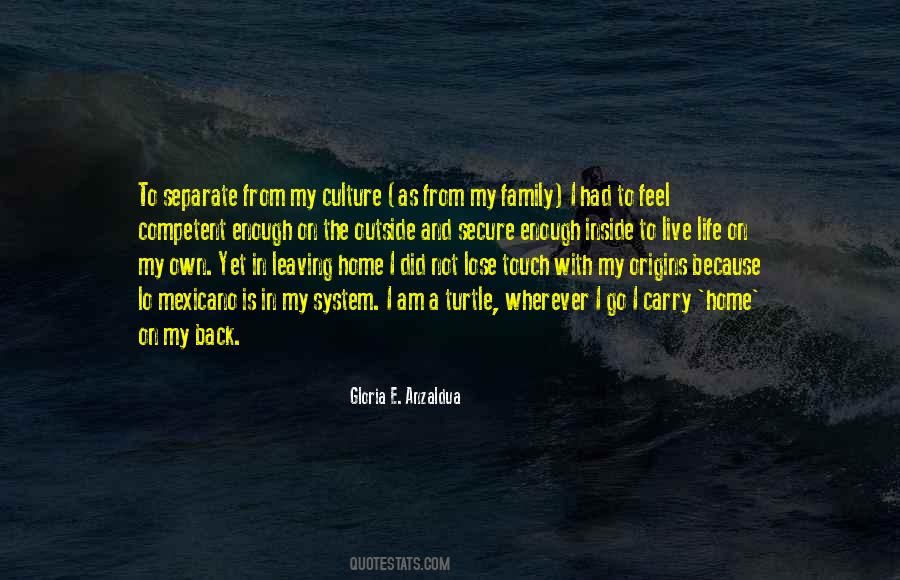 #39. All the trouble you will cause by not leaving a will. All the heartache! Family feuds are going to happen anyway, so be as clear as you can. And even if it's only to leave it to the cat's home, make a will. - Author: Joanna Lumley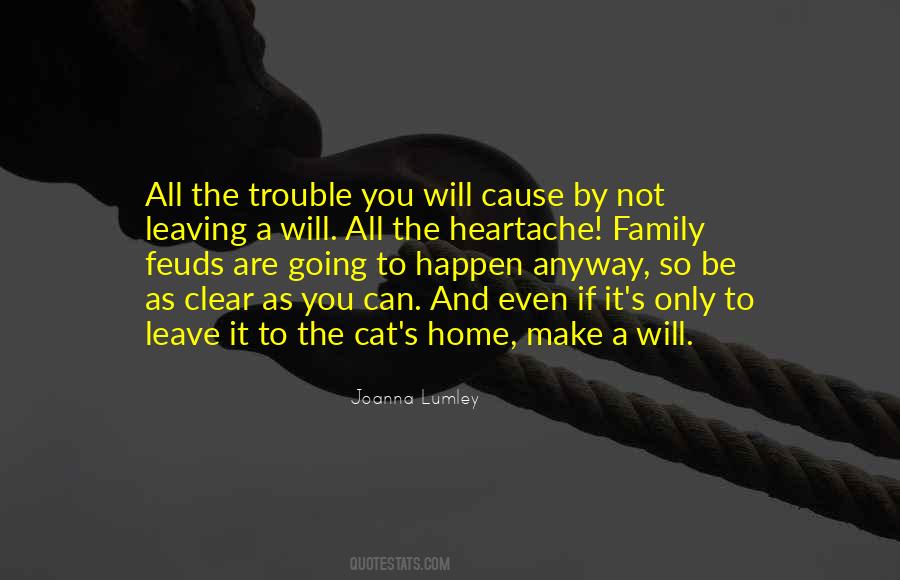 Famous Authors
Popular Topics