Leave Nothing Behind Famous Quotes & Sayings
List of top 70 famous quotes and sayings about leave nothing behind to read and share with friends on your Facebook, Twitter, blogs.
Top 70 Leave Nothing Behind Quotes
#1. The mist after rain, uninterrupted rainfall on rooftops, pitter-patter intellect. The thoughts I leave behind like footsteps. - Author: Chris Campanioni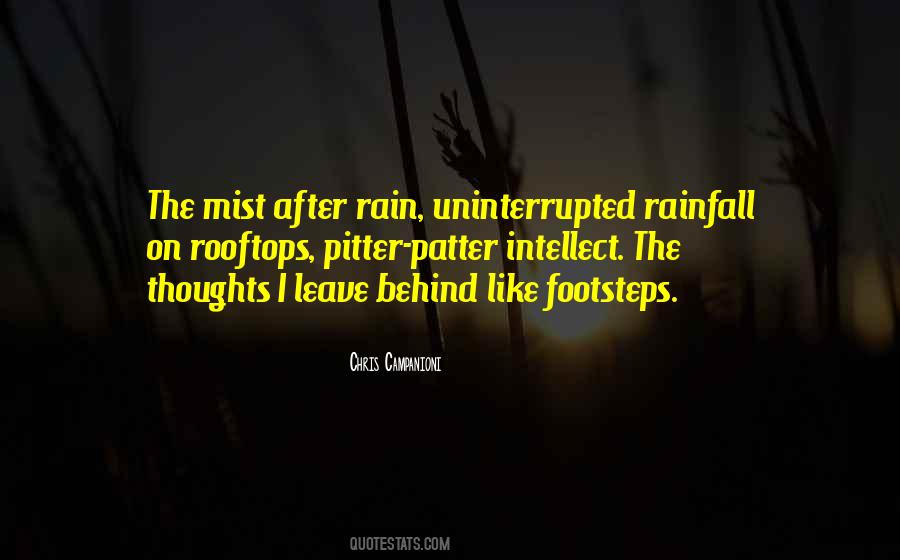 #2. How could a mother who boils water for pasta leave two little girls behind? - Author: Jandy Nelson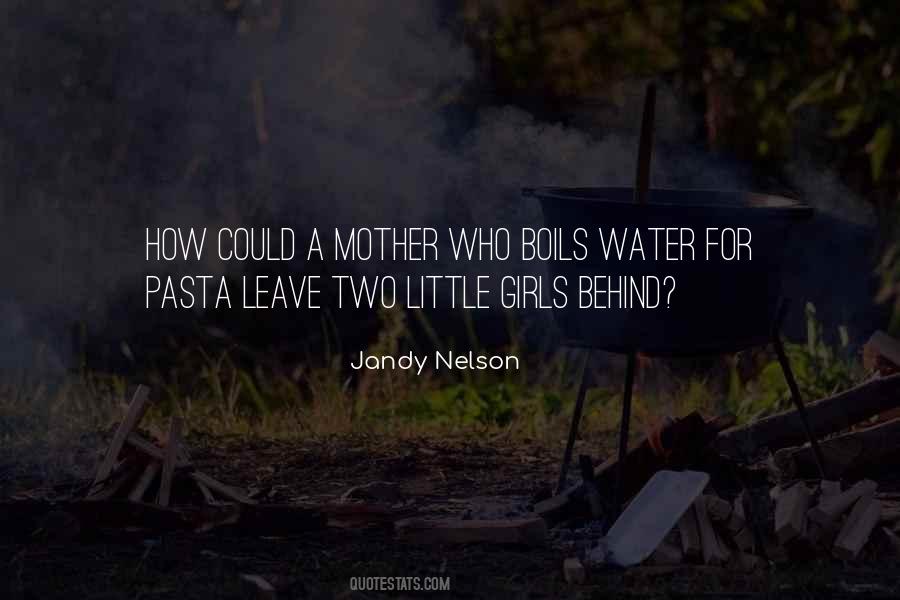 #3. When you move forward in life or move on with life..
Moving on from people is the most difficult and painful..
But probably the most 'necessary'..
One may have to leave behind many who's, what's, when's, where's and why's..
Imperative to maintaining forward momentum in life.. - Author: Abha Maryada Banerjee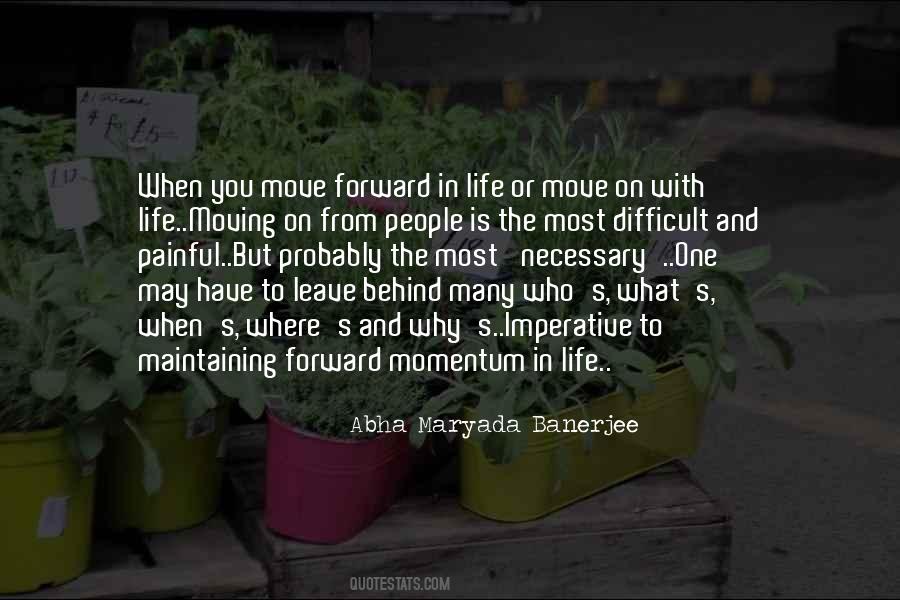 #4. At times, the repetition of the errors is what helps us to discover where do we mistake us the first time. And once we discover him, we can solve the problem and to leave it behind. - Author: Sherrilyn Kenyon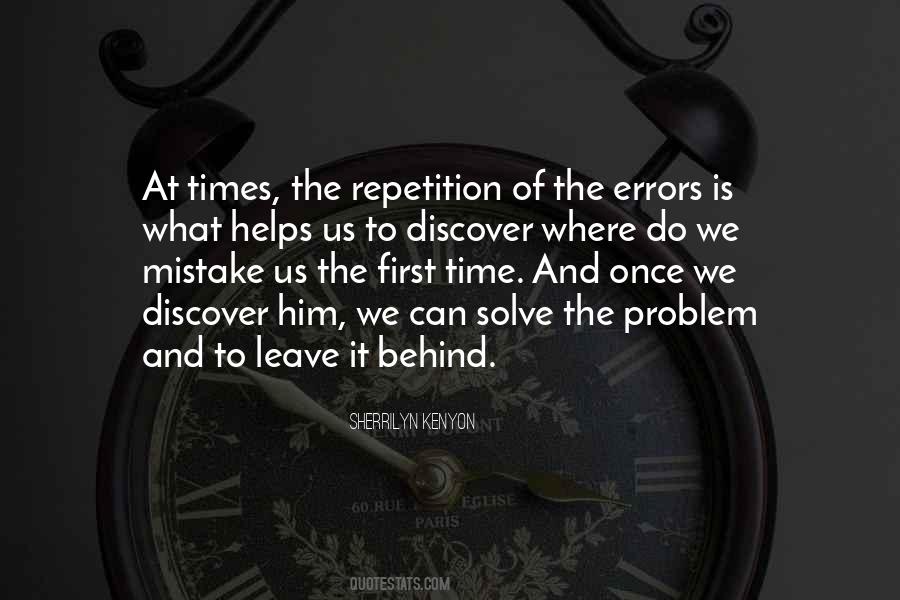 #5. Nobody will ever know I existed. Nothing to leave behind me. Nothing to pass on. Nobody to mourn me. That's the bitterest blow of all. - Author: Tony Hancock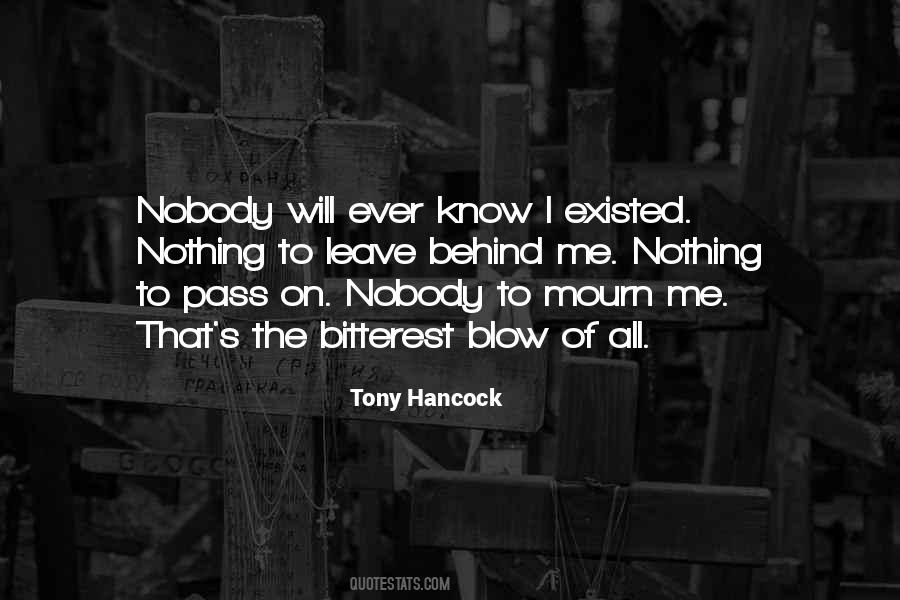 #6. Beware of biting jests; the more truth they carry with them, the greater wounds they give, the greater smarts they cause, and the greater scars they leave behind them. - Author: Johann Kaspar Lavater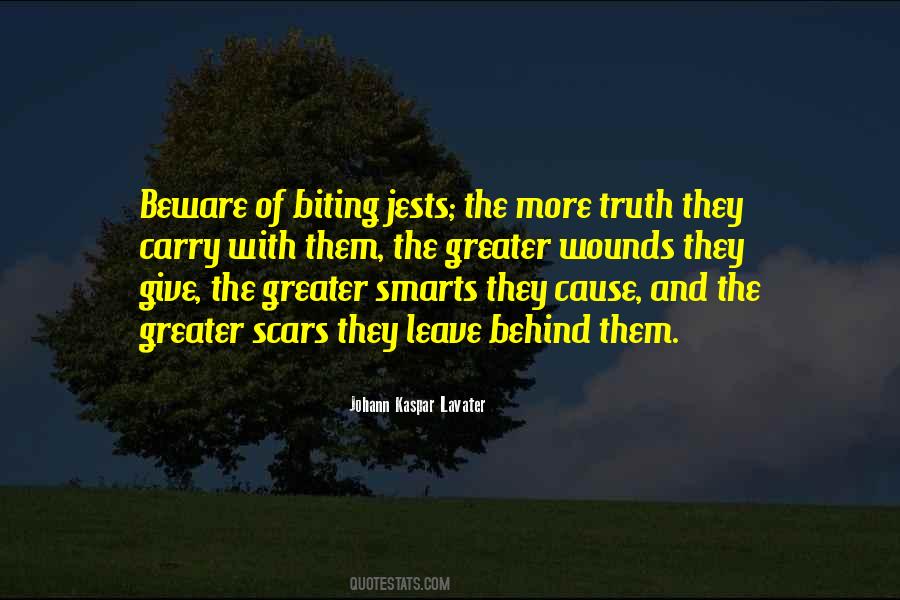 #7. Find something to believe in, Carter, other than your work. Because when you leave this life, you leave work behind. If that's all you have, then you have nothing. And eternity is a long time for nothing. - Author: David Baldacci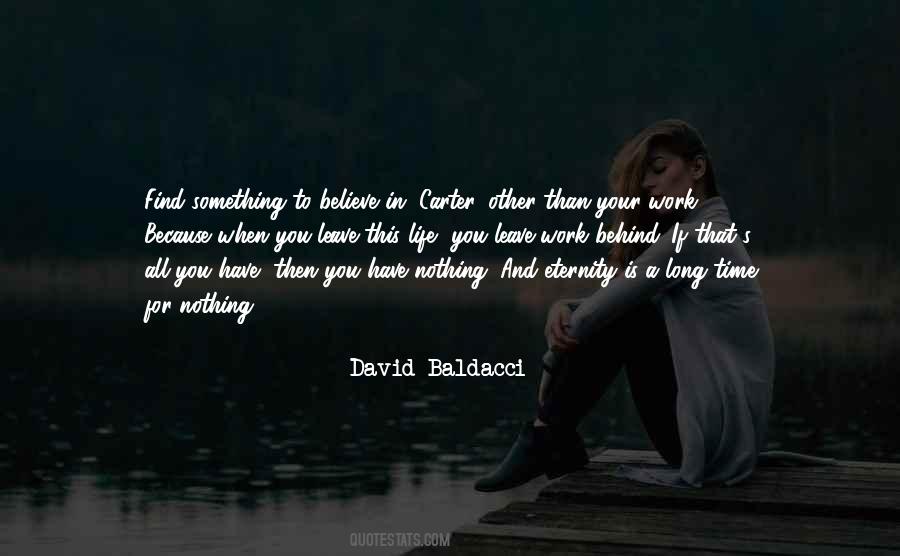 #8. I didn't know then that I would never be able to leave the sounds and smells of these sights behind me, but I was fiercely conscious of one thing-my ambition. - Author: Emanuel Celler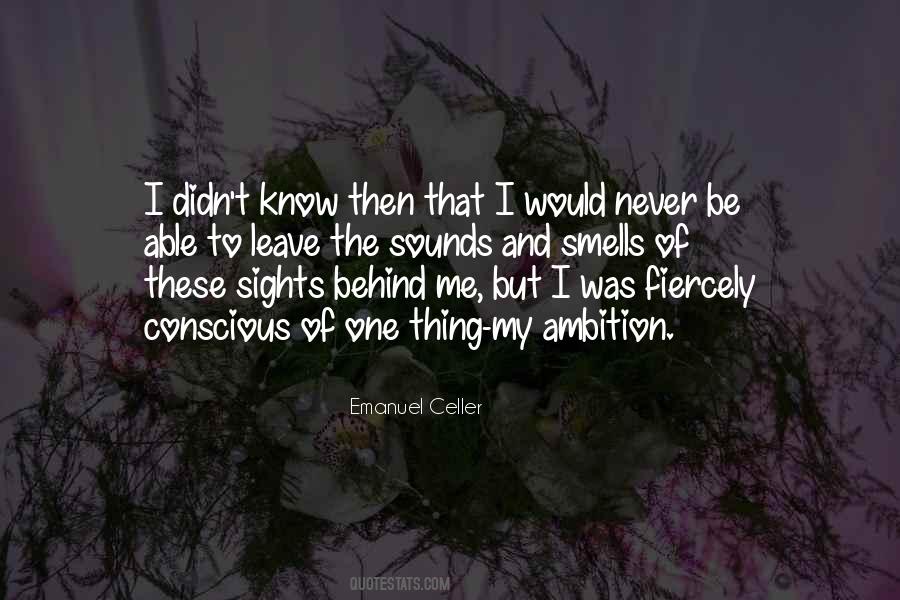 #9. At a time when the joy of living is more painful than imagining the beauty of eternal life, we leave our life behind. - Author: Debasish Mridha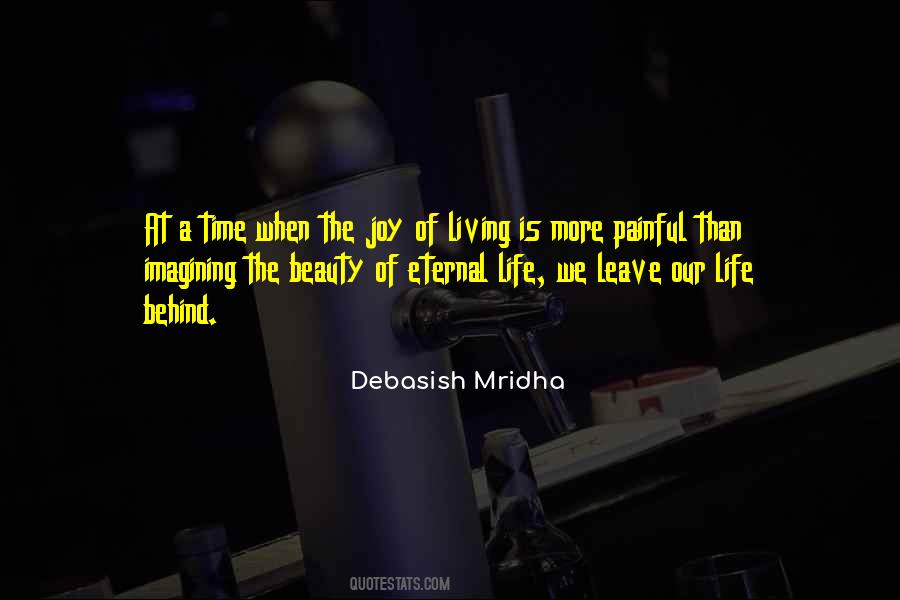 #10. There's a purity to the struggle to reach a peak. You leave your world behind and take only what you need. For a creature like me there is nothing closer to redemption. - Author: Mark Lawrence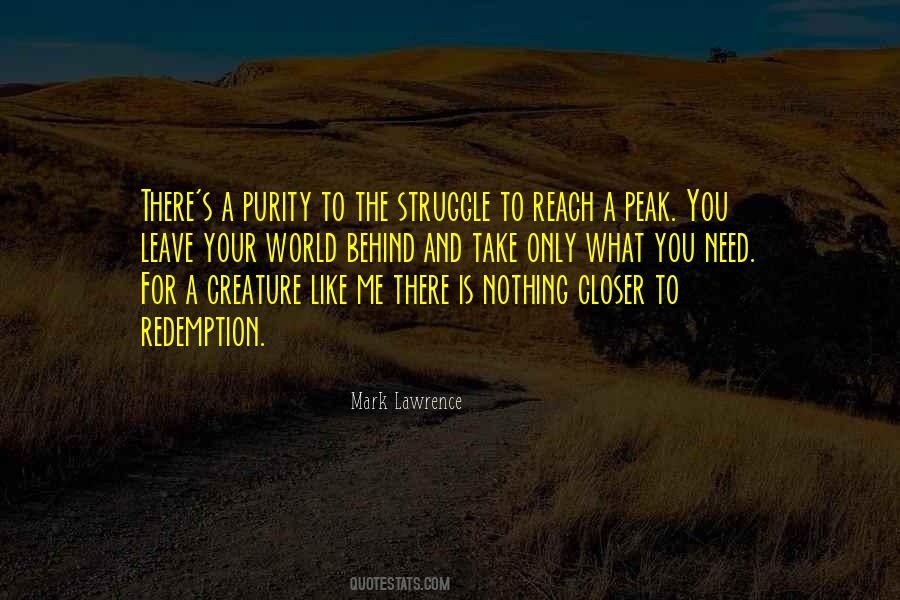 #11. You see an army running after you, every minute they become more and more you run as much faster as possible, you leave everything behind your back to safe your ass... and after all you are alone silence is with you. - Author: Deyth Banger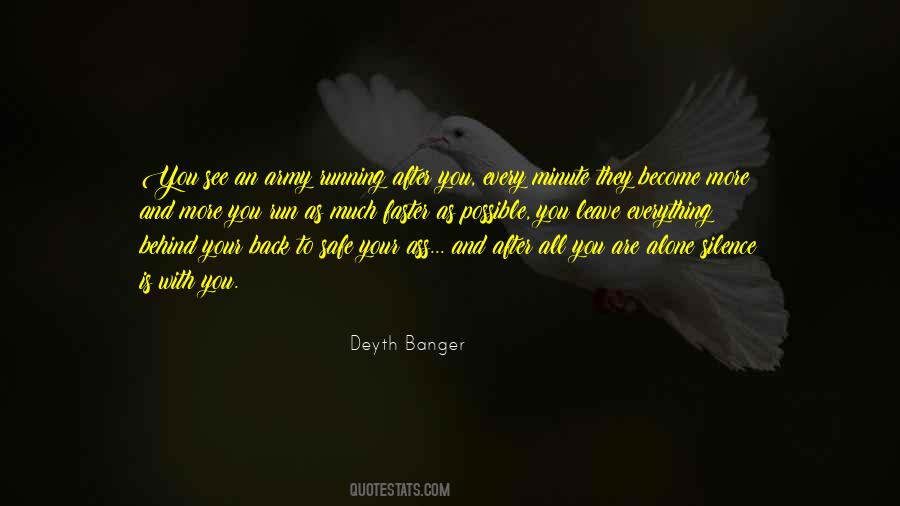 #12. I don't know which is more difficult: going on alone to an unknown destination, or having to remain behind to watch the one you love leave. Those of us who have had to remain behind, we know that it's a cut that never heals ... it just continues to bleed
to burn inside of you. - Author: Amy A. Bartol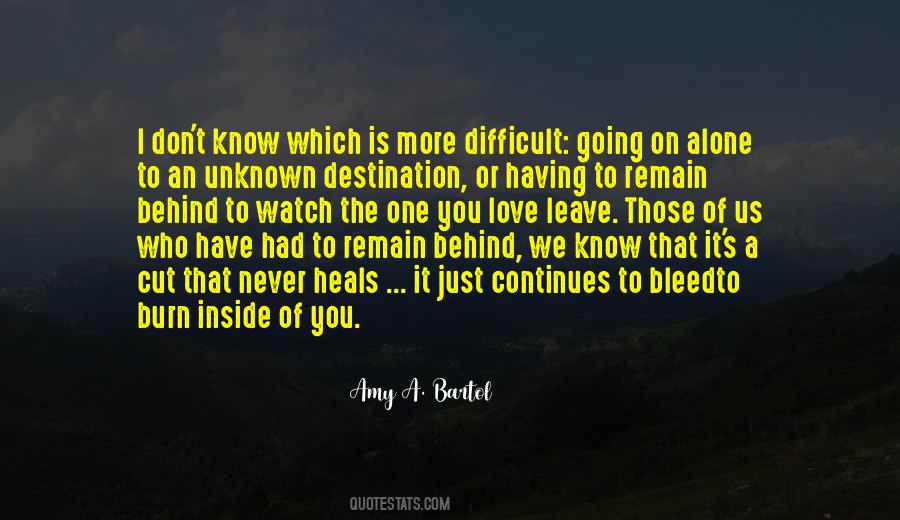 #13. Your salvation would be hollow if you don't help each other come home. Remember we are family, and families leave no one behind. - Author: Chris Stewart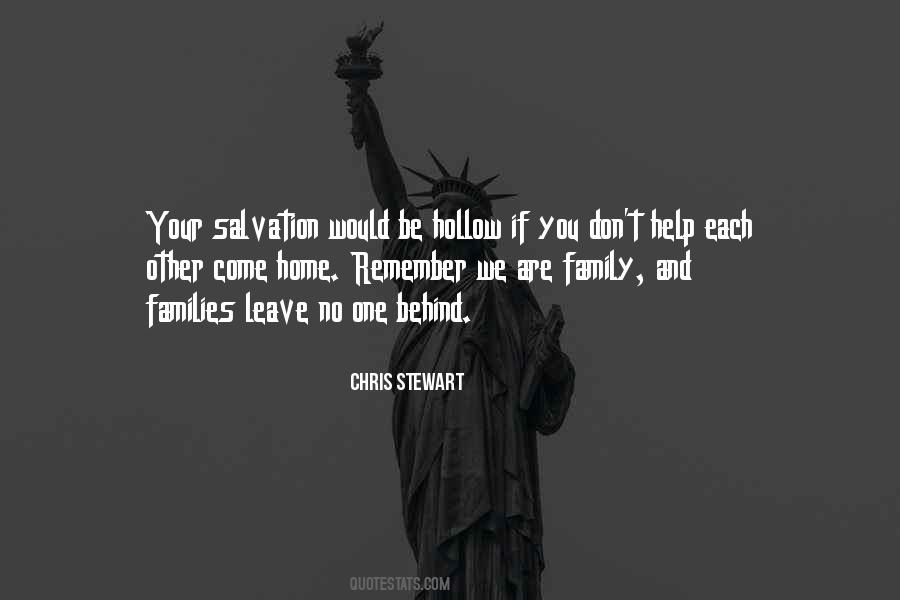 #14. She wished she had known back then. Known that happiness isn't a point in time you leave behind. It's what's ahead of you. Every single day. - Author: Sarah Addison Allen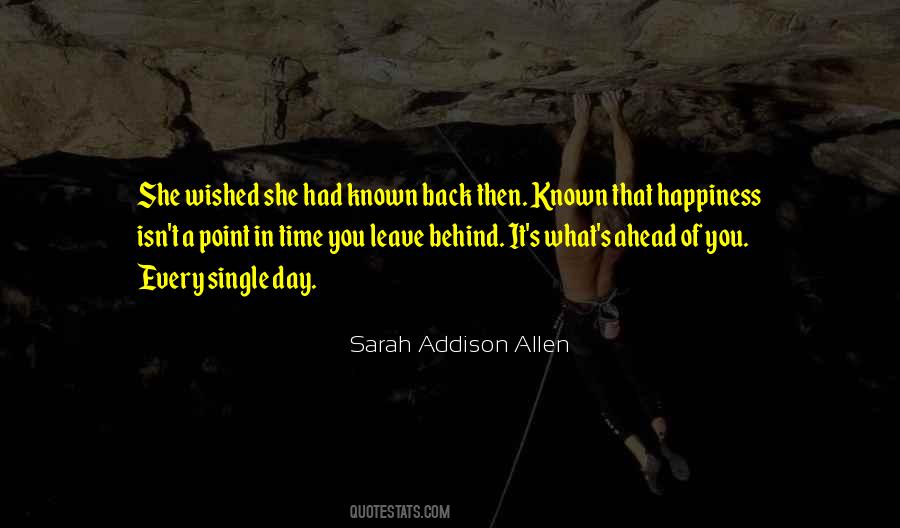 #15. The bible says that a good shepard, even if he has one hundred sheep, if he loses but one of them in the wilderness, he must leave the other ninety-nine behind to go looking for that one. - Author: Bree Despain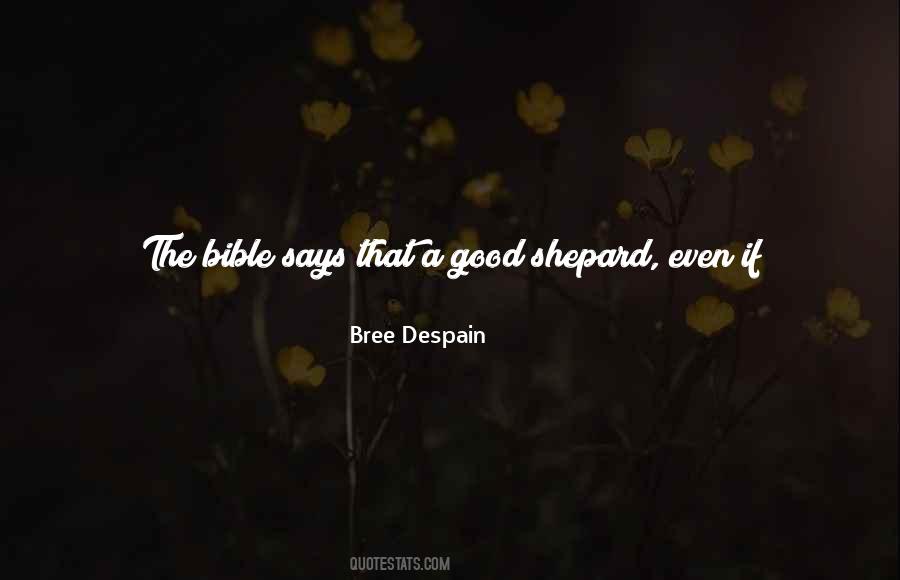 #16. In my experience, the biggest reason people struggle to get where they want to be is guilt. Guilt that they have let someone down, and also guilt that they are about to leave someone they love ...behind. - Author: Bethany Brookbank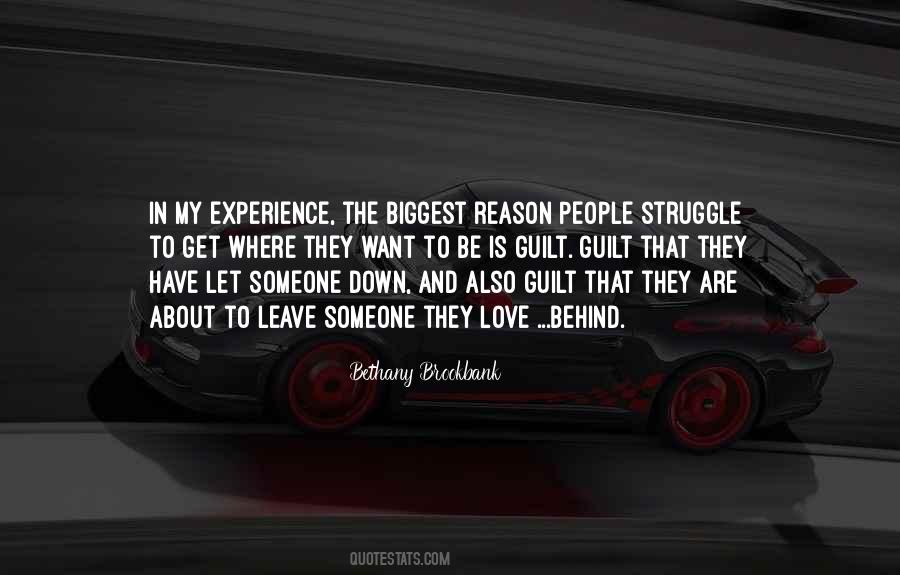 #17. Everyone plays a purpose, even fathers who lie to you or leave you behind. Time takes care of all that pain so if someone derails you, it'll be okay eventually. - Author: Adam Silvera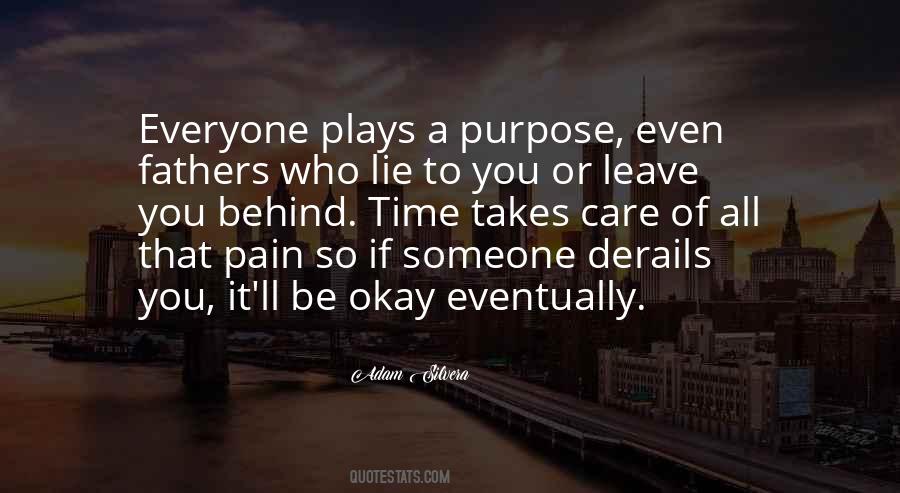 #18. Okay, okay, I can do this, Jane said to herself. Of course I can do this. I should be used to making a fool out of myself by now. This will be the last big one. Just three weeks and then I can leave this part of myself behind and get on with my life. And maybe it'll be fun. It might even be fun. - Author: Shannon Hale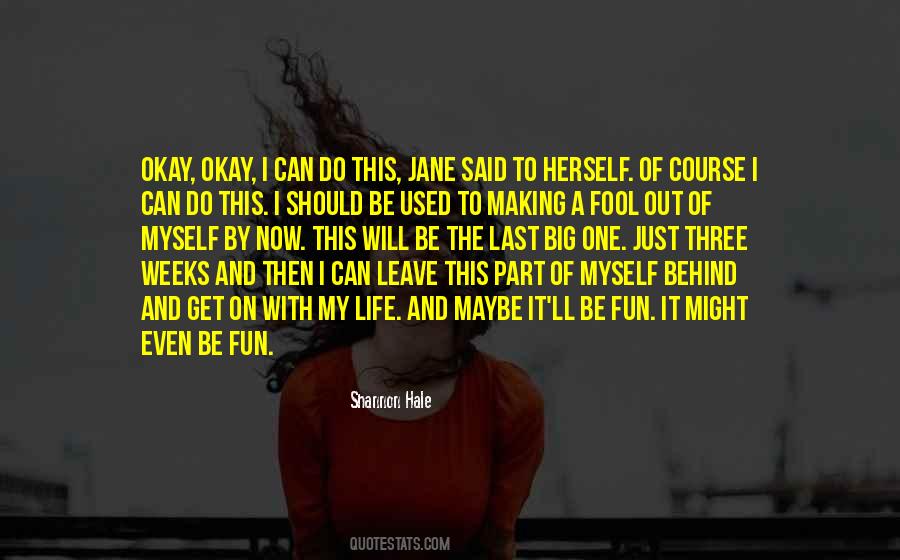 #19. What shall I take with me?
Will I let nothing behind me over the earth?
How shall my heart act?
Is it that we come in vain to live,
to sprout over the earth?
Let us leave at least flowers,
let us leave at least songs. - Author: Nezahualcoyotl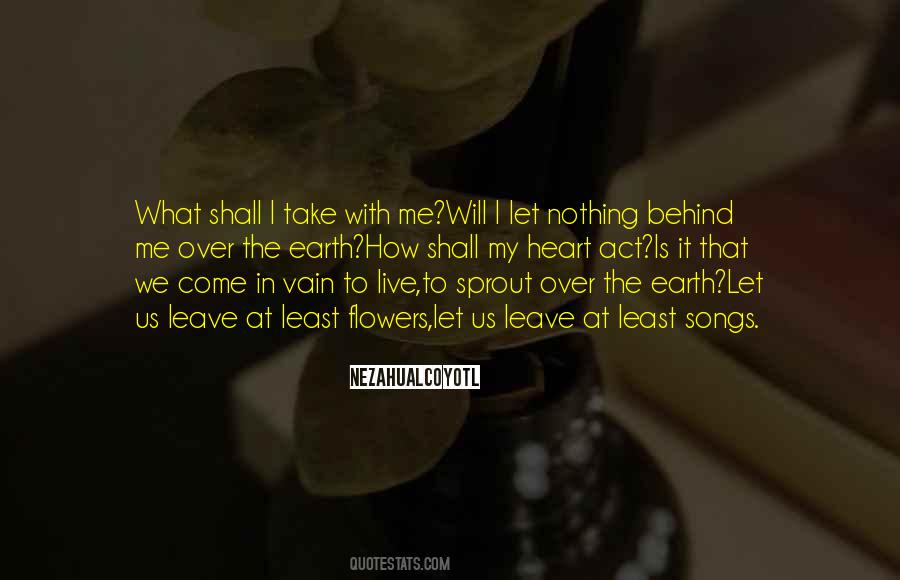 #20. Is there nothing I have done which will outlive me, other than the opprobrium of my first wife and sons and grandchildren?
Do I care?
Doesn't everybody?
Poor me. Poor practically everybody, with so little durable good to leave behind! - Author: Kurt Vonnegut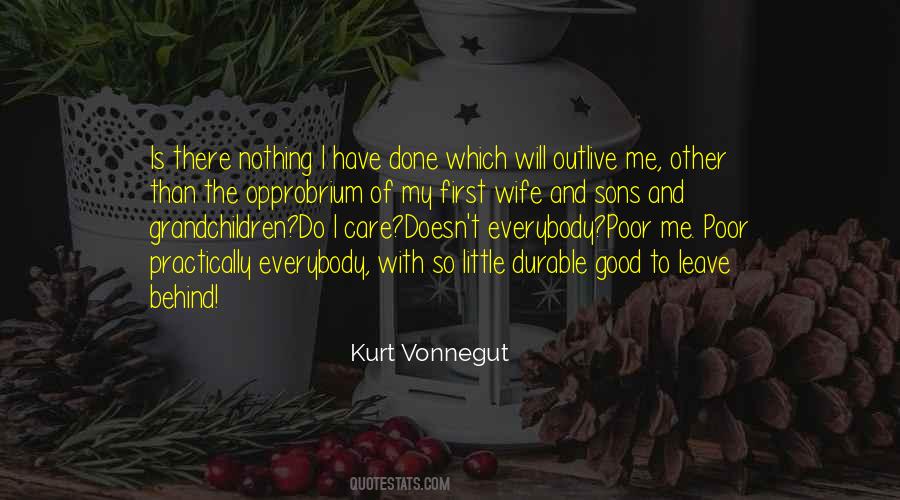 #21. Take nothing with you, leave nothing behind. - Author: Sarah J. Maas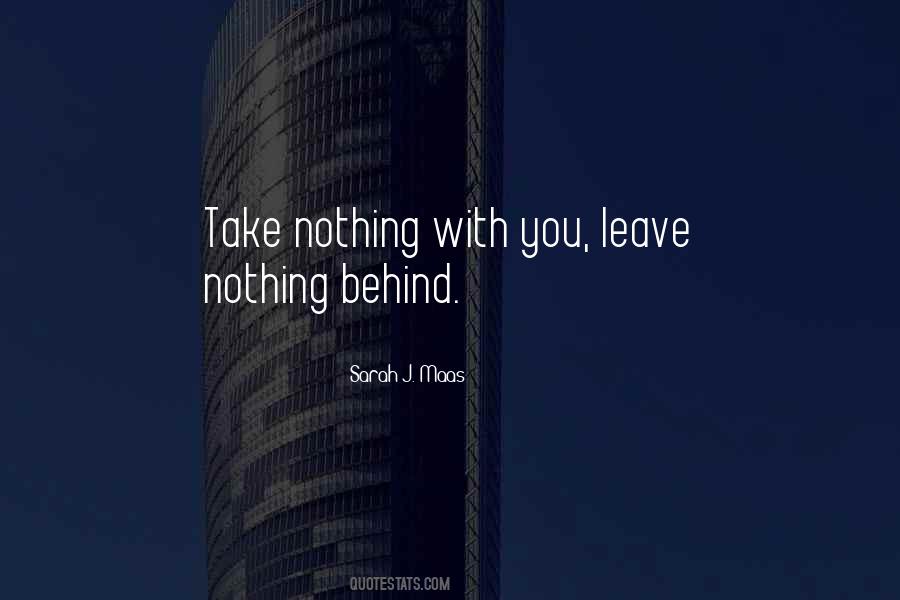 #22. Bliss, wait one second."
I took my time packing up my stuff, waiting for everyone else to leave the computer lab.
When we were alone I asked, "What's up?"
He smiled, "Nothing."
Then he pressed me into the computer table behind me and kissed me. - Author: Cora Carmack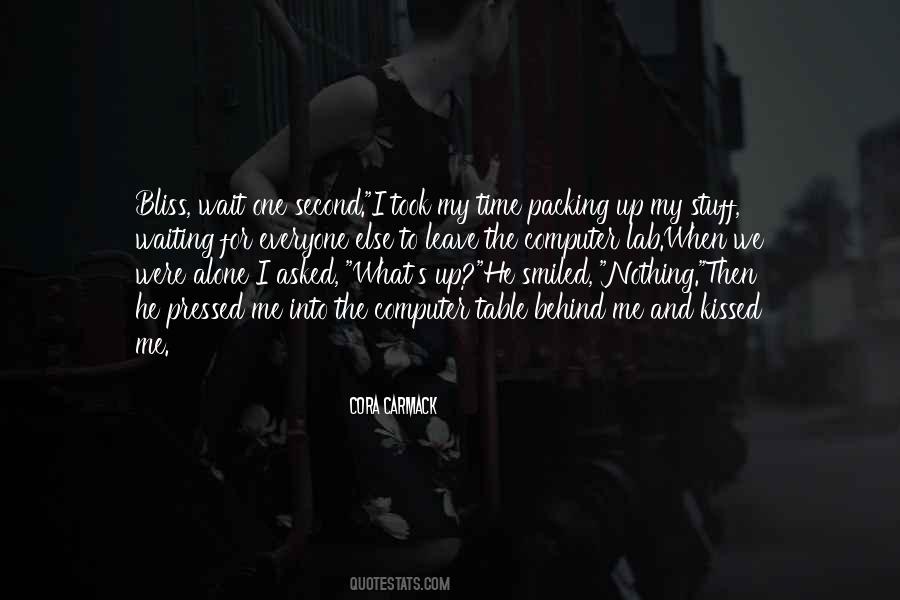 #23. To fall into it again in appearance was to leave it behind in reality! He had to do it! He would have done nothing if he didn't do that! His whole life would have been useless, all his penitence wasted, and there would be only one thing left to say: What is the point? - Author: Victor Hugo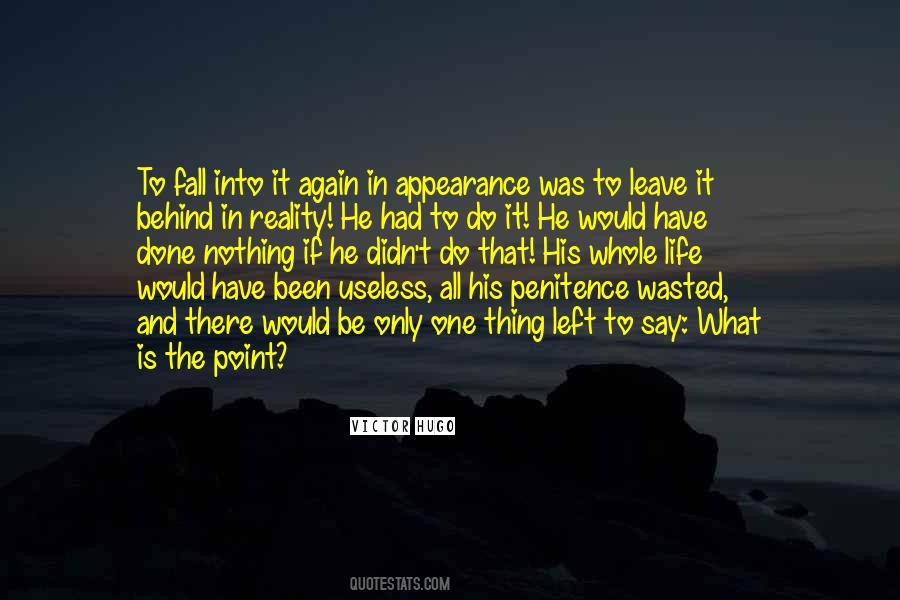 #24. I've never been able to understand the seriousness of it all, the seriousness of pride. People talk, act, live as if they're never going to die. And what do they leave behind? Nothing. Nothing but a mask. - Author: Bob Dylan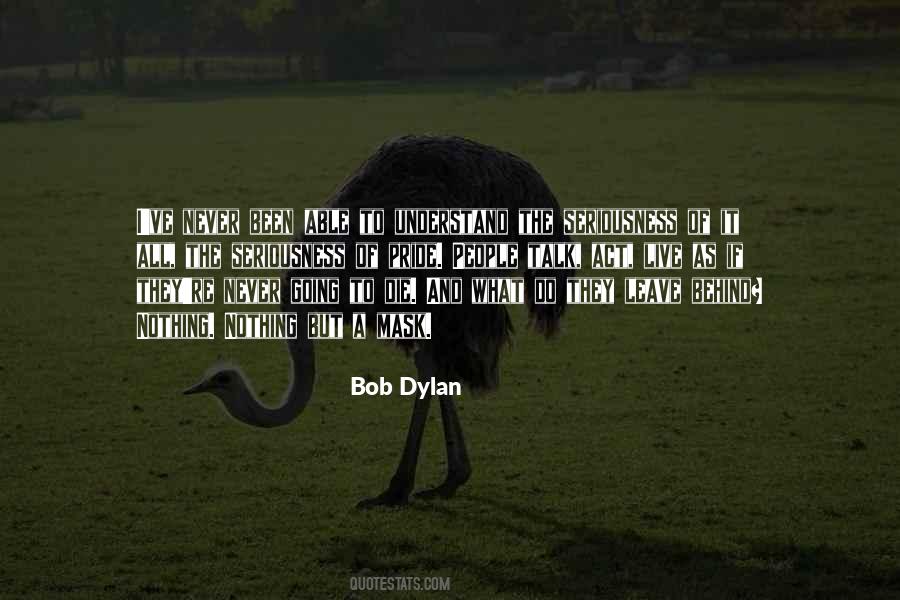 #25. Such an incredible waste of energy, to work your ass off for sixty years, then shrivel up, die, and be nothing more than a memory - if you're lucky enough to leave someone behind who will remember you. There must be more. Don't you think? - Author: Ellen Hopkins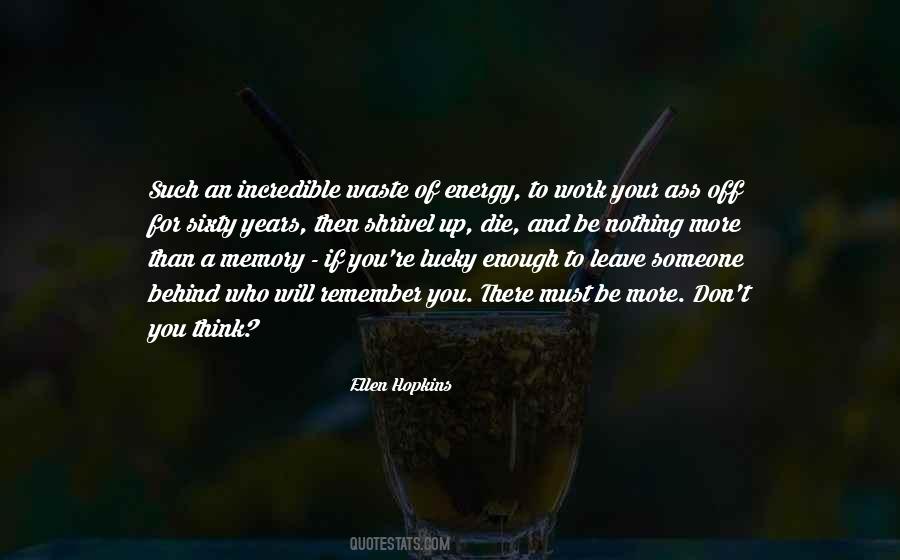 #26. If you have nothing to leave behind you, you can at least leave your dreams; someone else may use them! - Author: Mehmet Murat Ildan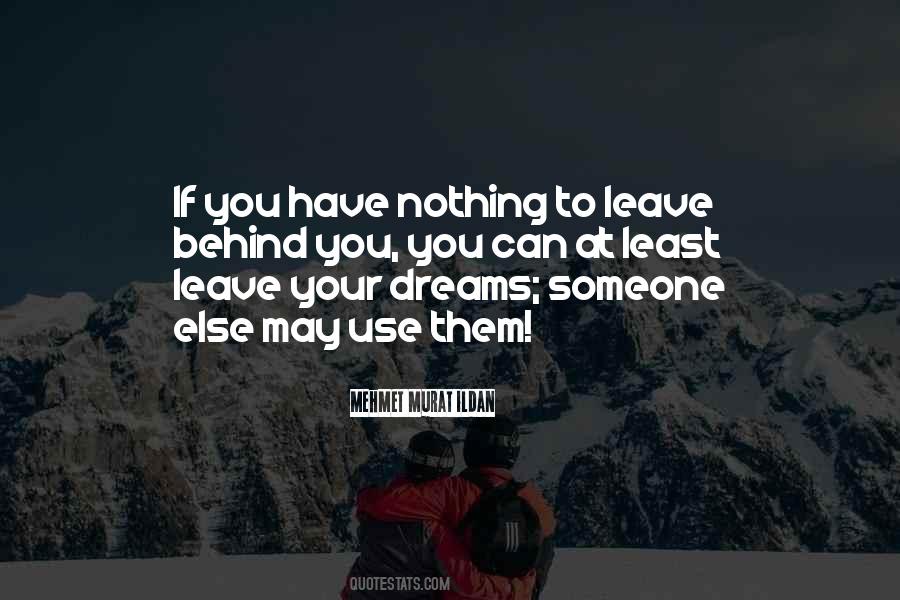 #27. I needed to go into that bare, with nothing from my own life on my body, the way woodcutters' children in fairy tales have to leave their protections behind to enter the enchanted castle; the way votaries in old religions used to go naked to their initiation rites. - Author: Tana French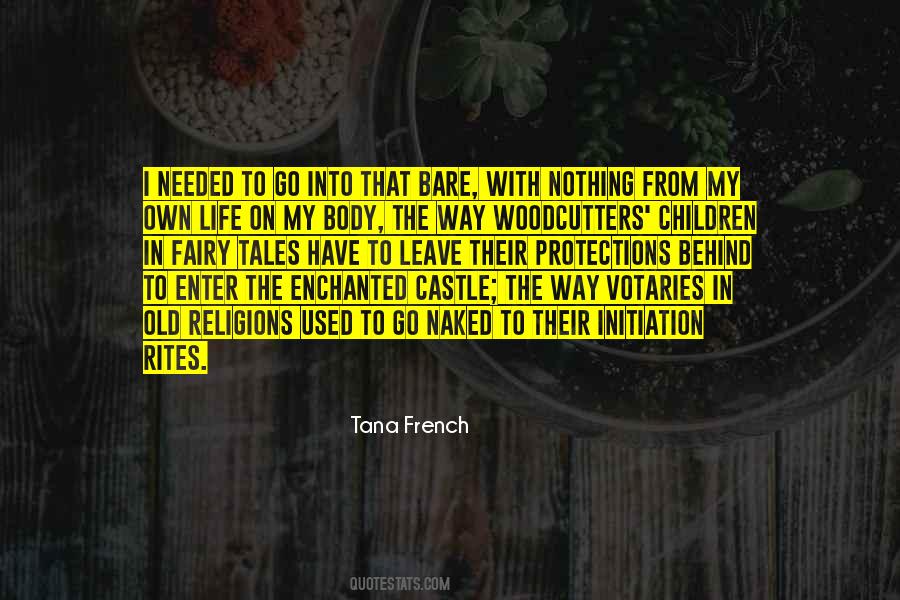 #28. Nothing is ever the same. Nothing is permanent. Nothing can be trusted to be there. Nothing is safe, including home. Why lie to yourself? Every day we leave something, someone, some observation behind. - Author: Diane Keaton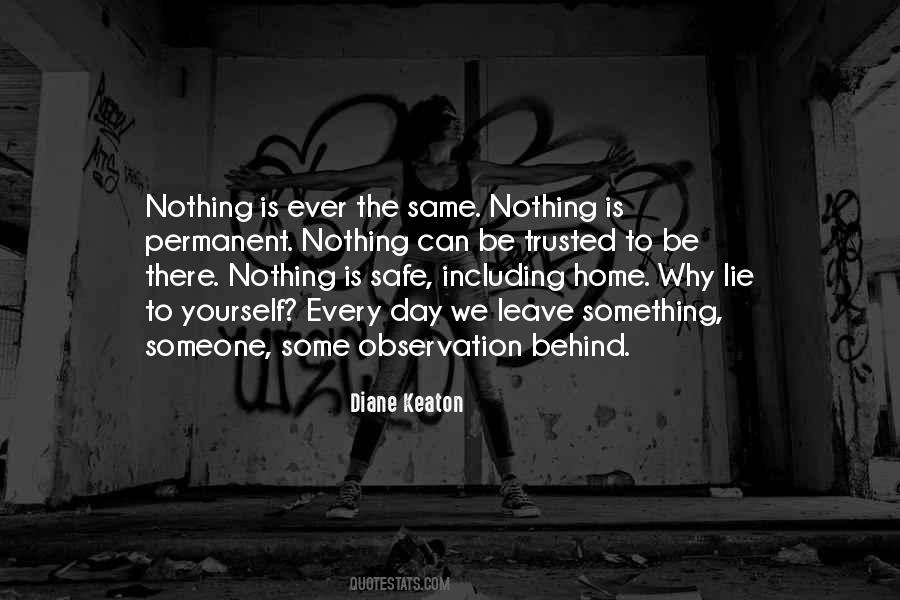 #29. Leave nothing white behind you. - Author: Jean-Jacques Dessalines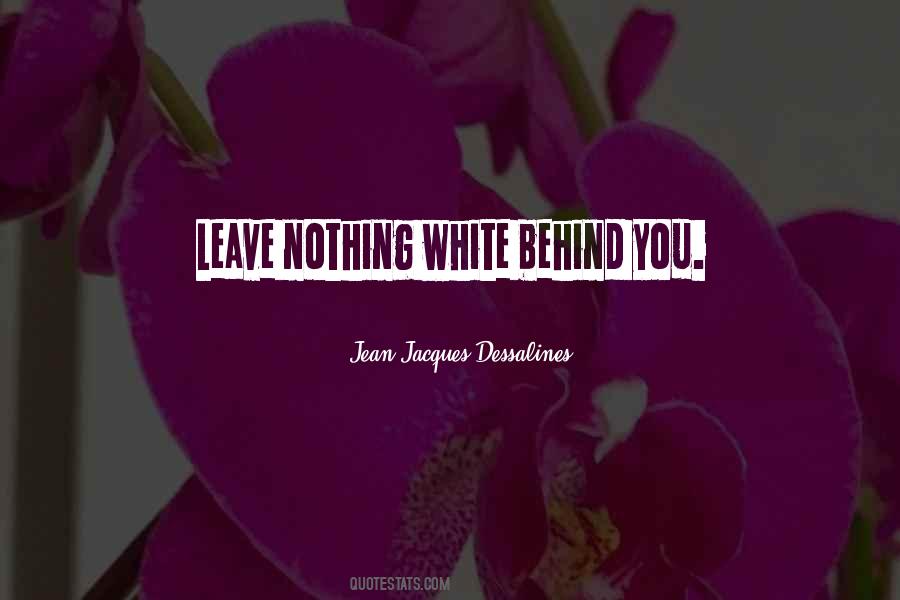 #30. Living is hard
dying is easy. You close your eyes and never open them again. What's so difficult about that? Nothing really
except it hurts like hell to those you leave behind. - Author: Rachel Van Dyken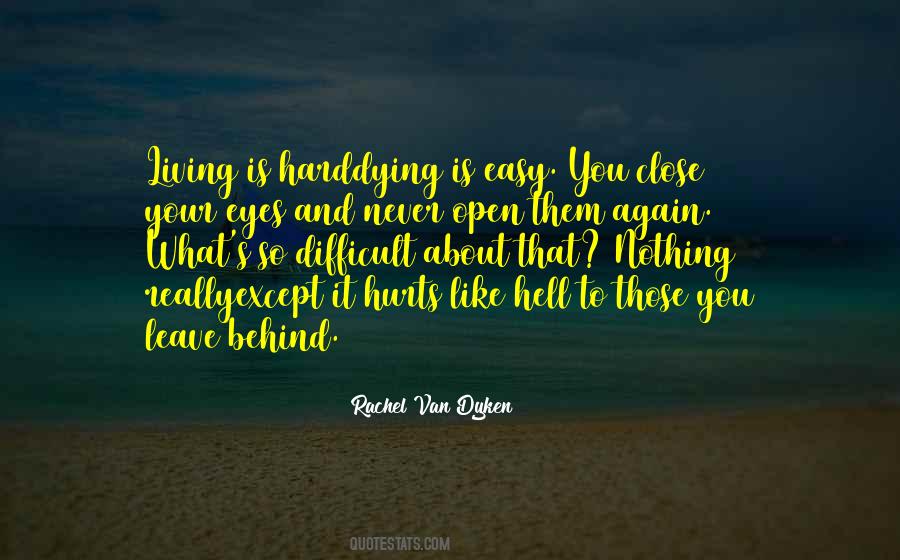 #31. There are times when the mind is dealt such a blow it hides itself in insanity. While this may not seem beneficial, it is. There are times when reality is nothing but pain, and to escape that pain the mind must leave reality behind. - Author: Patrick Rothfuss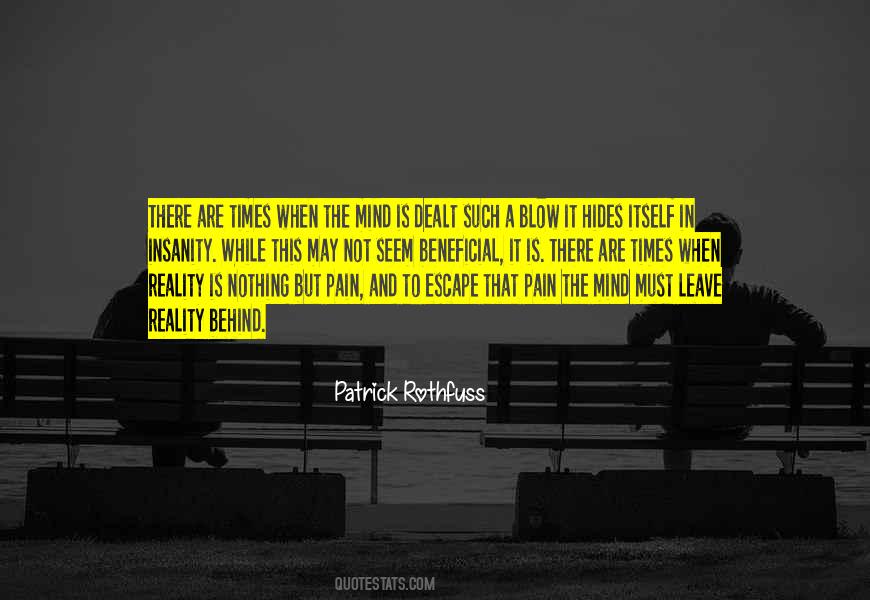 #32. When you miss someone, they leave a person-shaped hole behind in the world that nothing can ever fill. If you don't keep thinking about them, the edges of the hole shrink and fade. You can't let go or the last of them disappears. - Author: Martha Brockenbrough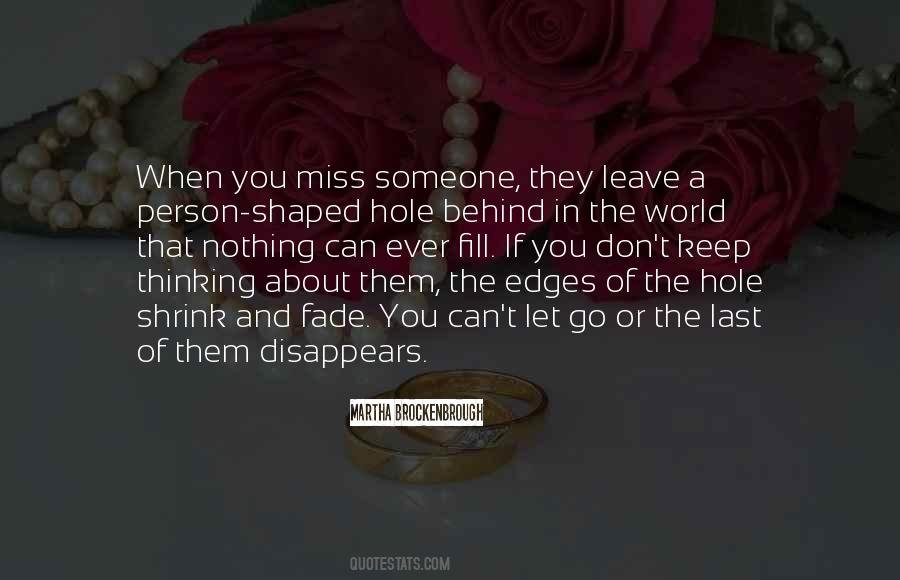 #33. If your world is out there and you are in here then the only things that will gather within these walls are time and bitterness. Eventually, that bitterness will eat away at you and leave nothing behind but resentment and hate. - Author: R.D. Ronald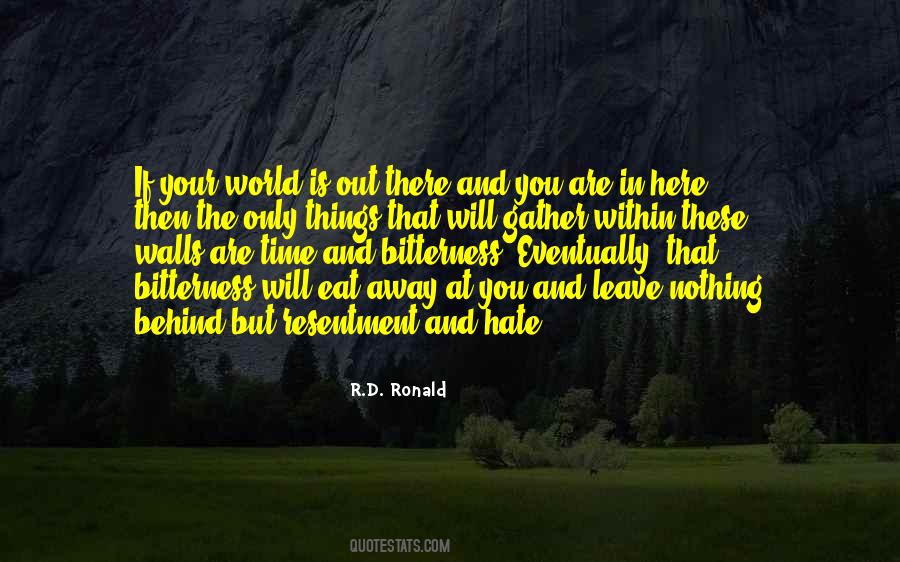 #34. You get an astronaut's life whether you want it or not. Leave it all behind for a world you know nothing about. That's just the deal. - Author: Joe Hill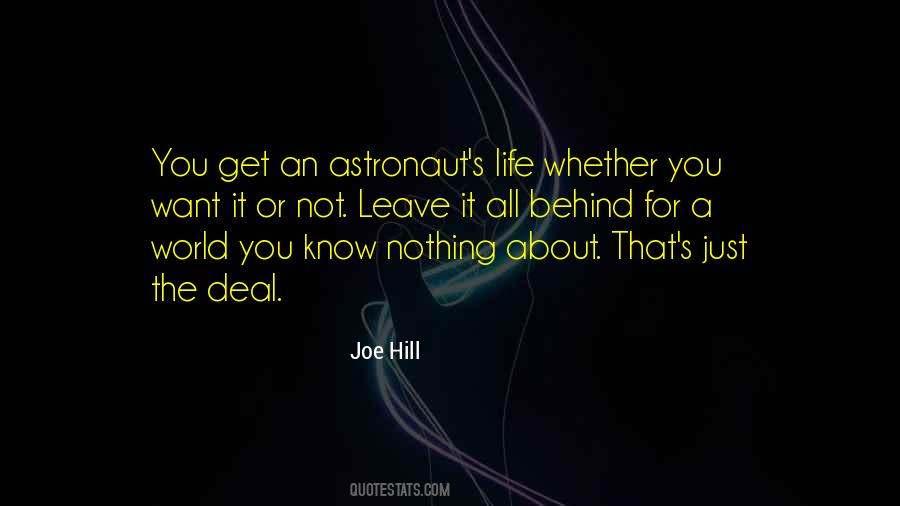 #35. Nothing matters more than the love we leave behind. - Author: Kate Lord Brown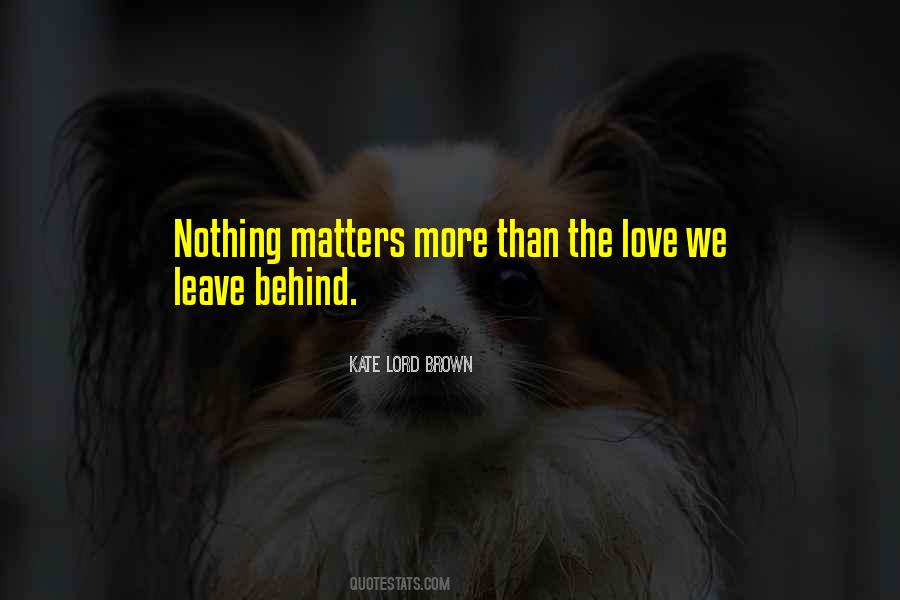 #36. It must be instilled in man that 'peace' is the best legacy we would leave behind for the generations to come, as we practice and follow the edicts of human rights. - Author: Henrietta Newton Martin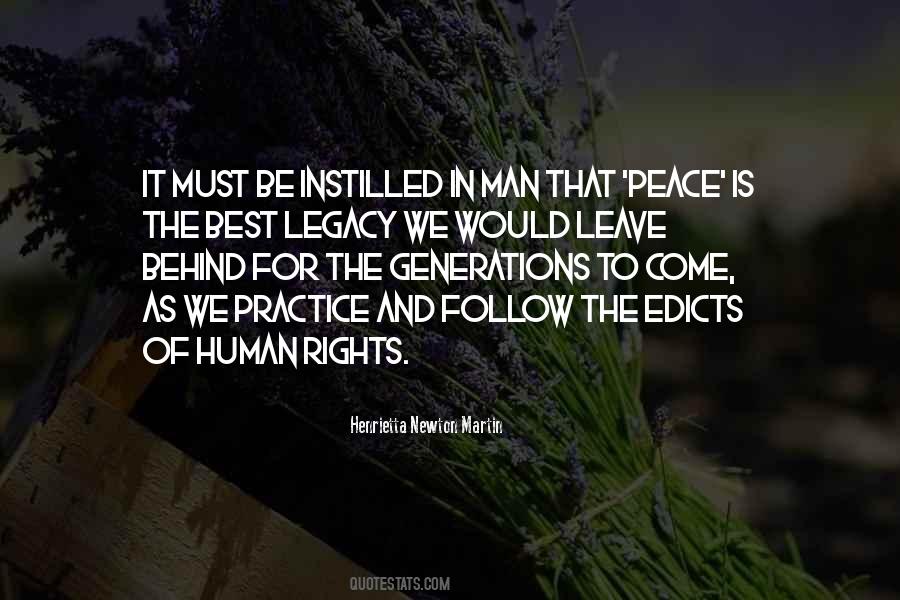 #37. Children leave ... and parents stay behind. Still, some things are deeper than time and distance. And your father will always be your father ... And he will always leave a light on for you. - Author: Fred Savage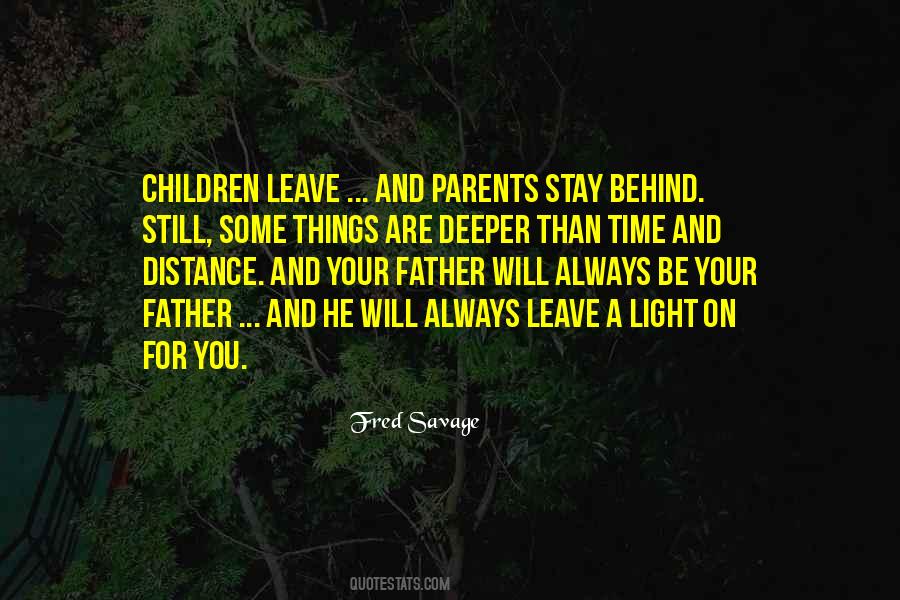 #38. It is well, I think, for us to learn to tell evil from good; but it has its price, as everything does. We leave our evil friend behind. - Author: Gene Wolfe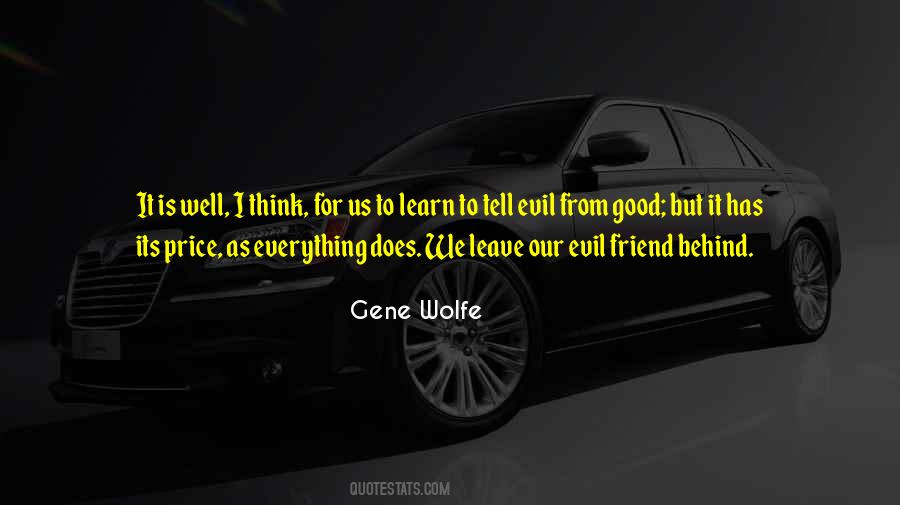 #39. We leave Pippa behind, standing in the dark, teeming bowels of the camp, while the sun begins to stain the sky electric, and from all sides the guns draw closer. - Author: Lauren Oliver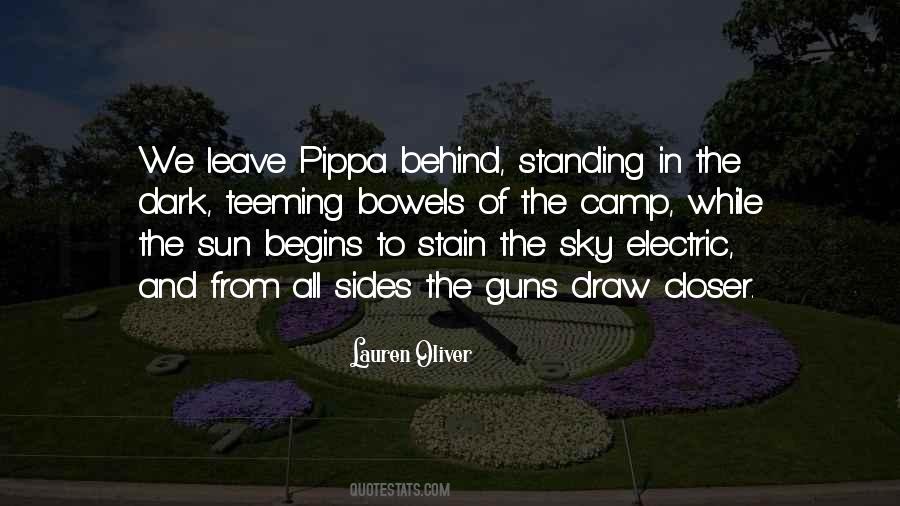 #40. Thus Dante's motto over Inferno applies with equal force to marriage. Ye who enter here leave all hope behind. - Author: Emma Goldman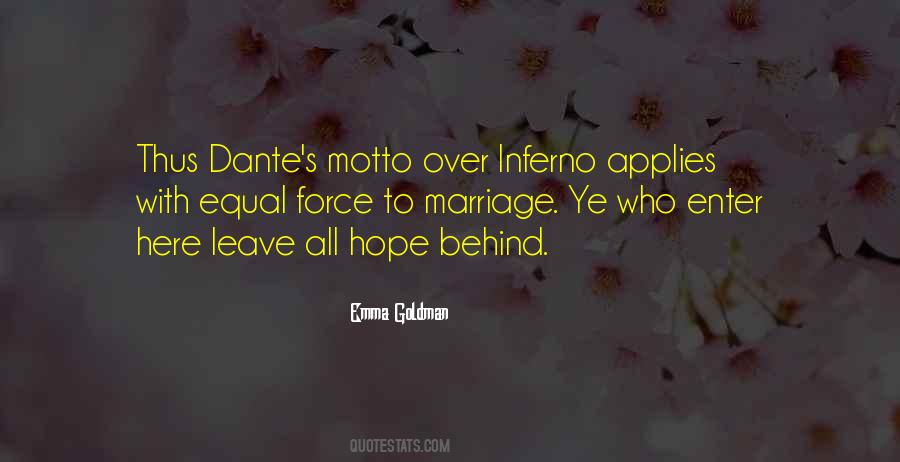 #41. Many people never reach greater because they don't leave good enough behind. - Author: Steven Furtick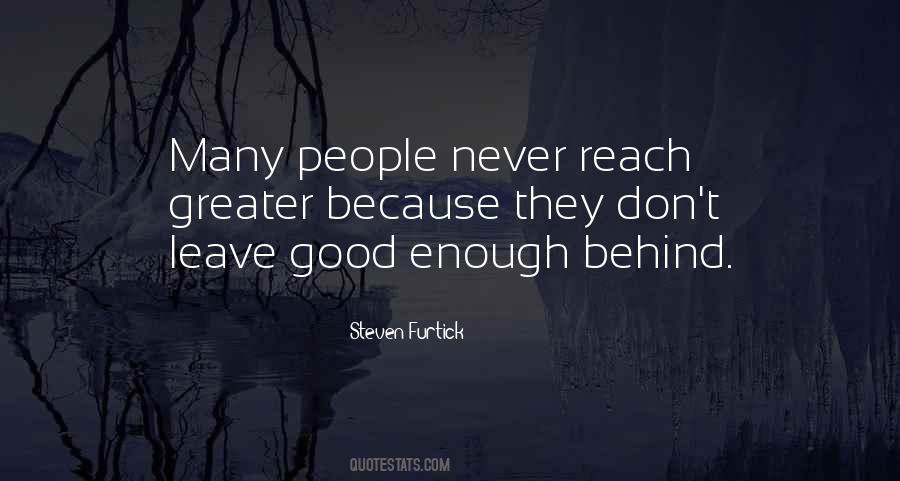 #42. I get up and pace the room, as if I can leave my guilt behind me. But it tracks me as I walk, an ugly shadow made by myself. - Author: Rosamund Lupton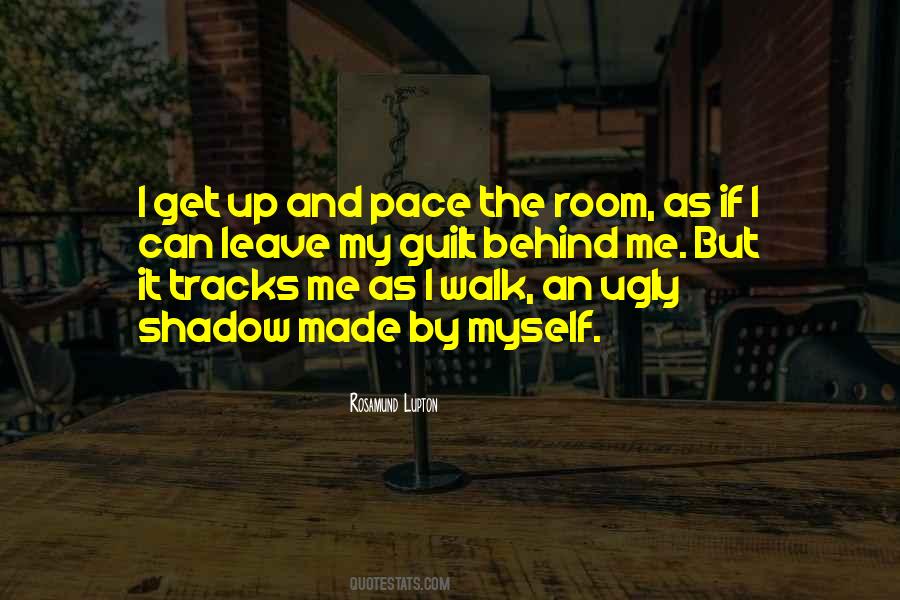 #43. He knew exactly what he intended to leave behind when he was gone.

Damage. - Author: Leigh Bardugo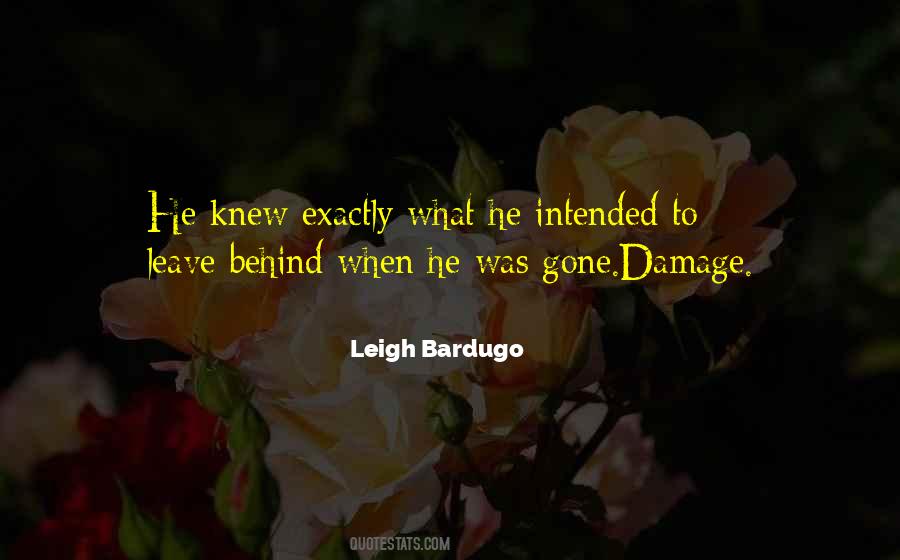 #44. The things a man will wish for are harder to leave behind than all his wants ... - Author: Louis L'Amour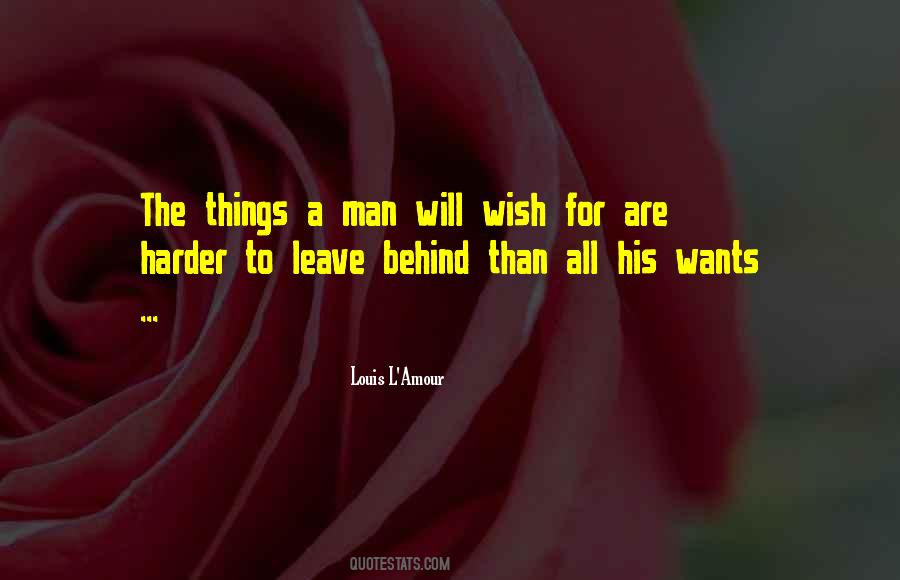 #45. Ah,' said Zultan. 'I, too. I keep many books at my home.' He gestured to the books in the tent. 'These are only a few. Those I think might need on this trip, and those I have yet to read and might want, and those old friends that I cannot bear to leave behind. - Author: T. Kingfisher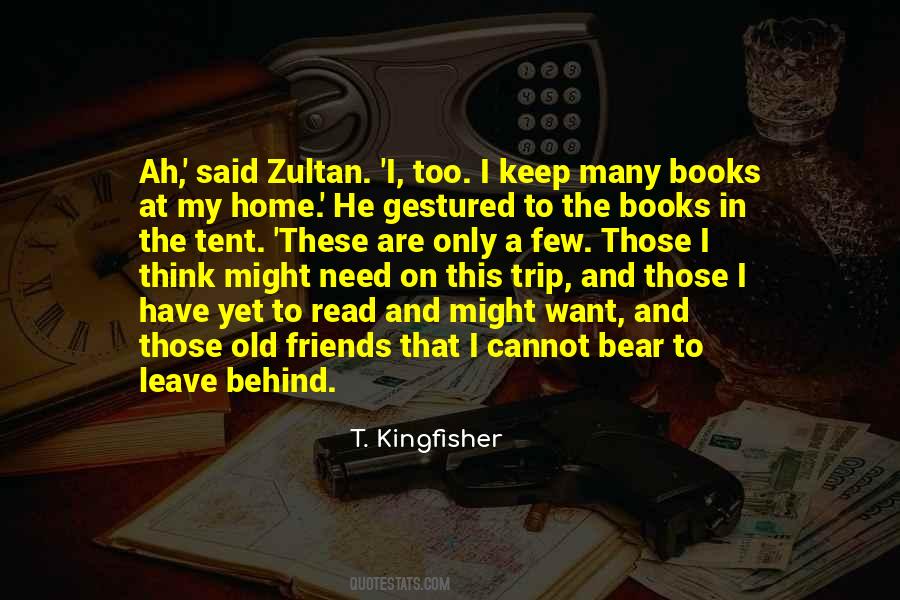 #46. Dive deep into the ocean, Sita, and you will find that the greatest treasures you find are the illusions you leave behind. - Author: Christopher Pike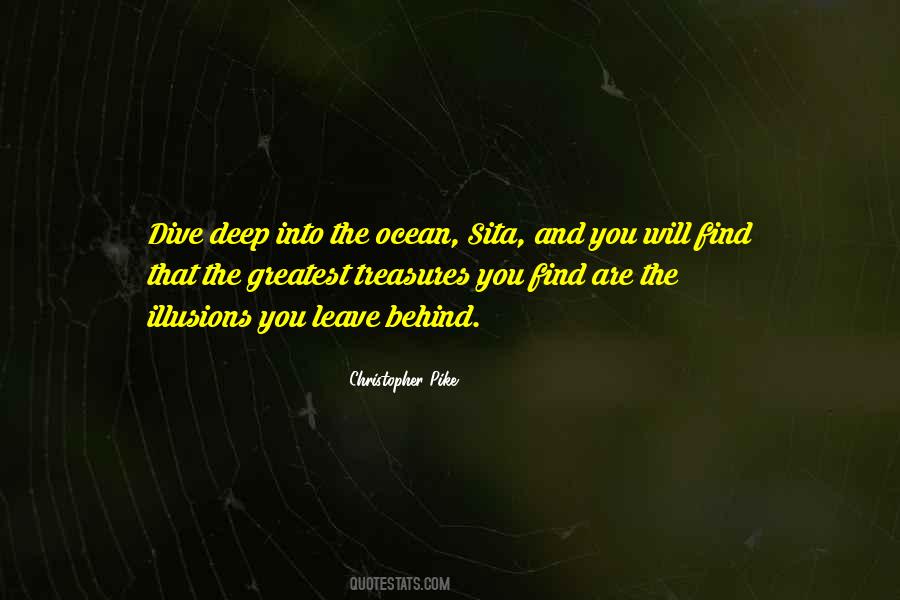 #47. Sometimes being brave means having to leave things behind and taking that step forward without looking back. - Author: Tanya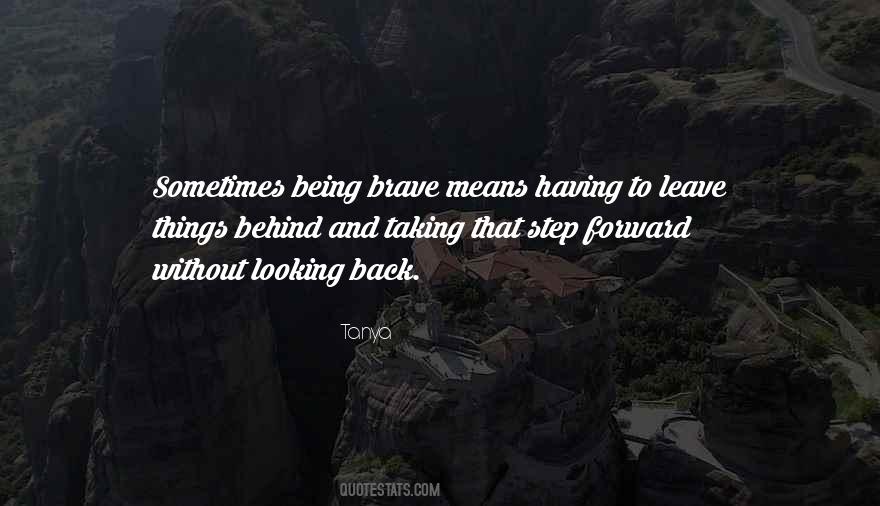 #48. I feel you. Inside. In the parts of me I crushed the night my mother died. No matter how I tried to keep you out, you got in and I couldn't let you leave me behind. So listen to me when I say this. My life is yours. You're the reason I'll stay alive. The only goddamn reason. - Author: Dee Tenorio
#49. If we would follow the Lord wholly, we must go right away into the wilderness of separation, and leave the Egypt of the carnal world behind us. - Author: Charles Haddon Spurgeon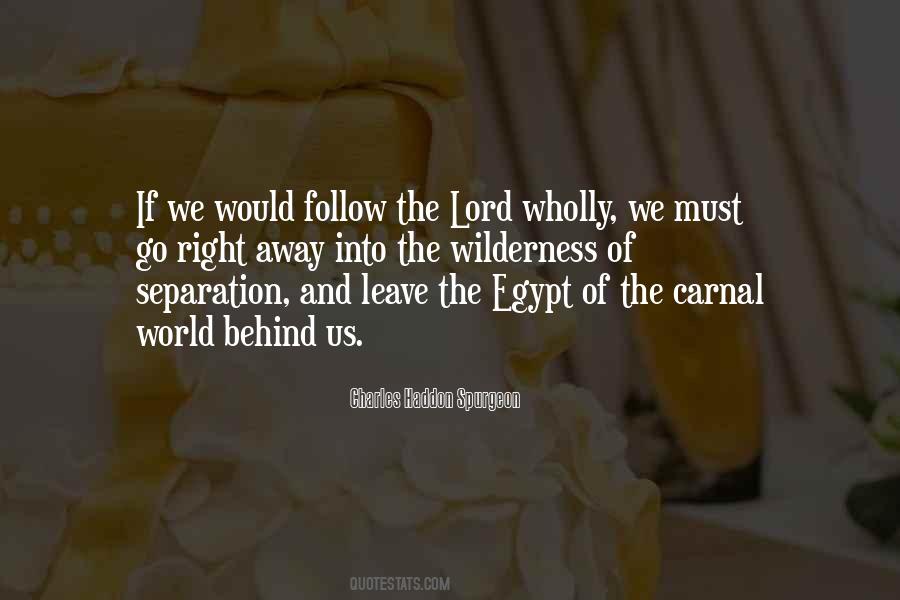 #50. When you leave the planet, you leave music behind. - Author: Alex Van Halen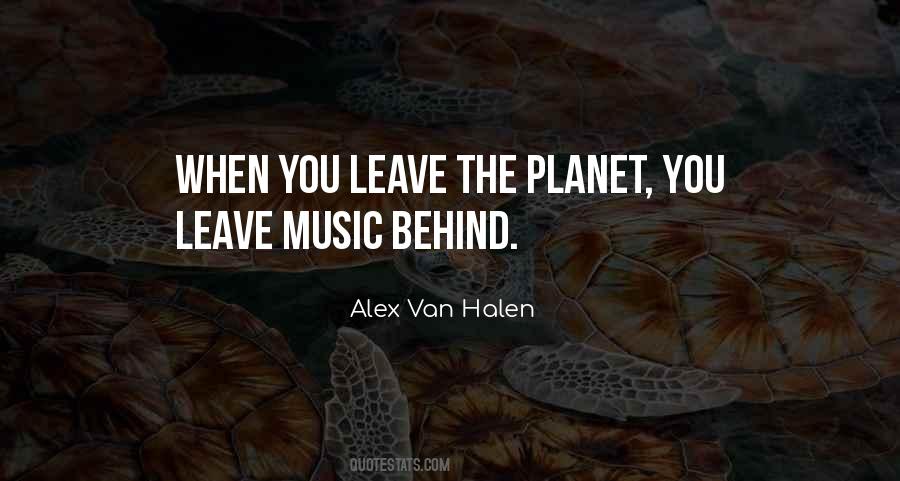 #51. Acquaintances we meet, enjoy, and can easily leave behind; but friendship grows deep roots. - Author: H. Jackson Brown Jr.
#52. It is well to be attentive to successive ambitions that flood the growing boy's and girl's imagination. They leave profound traces behind them. During those years when the first sap is rising the future tree is foreshadowing its contour. We are shaped by the promises of imagination. - Author: Thornton Wilder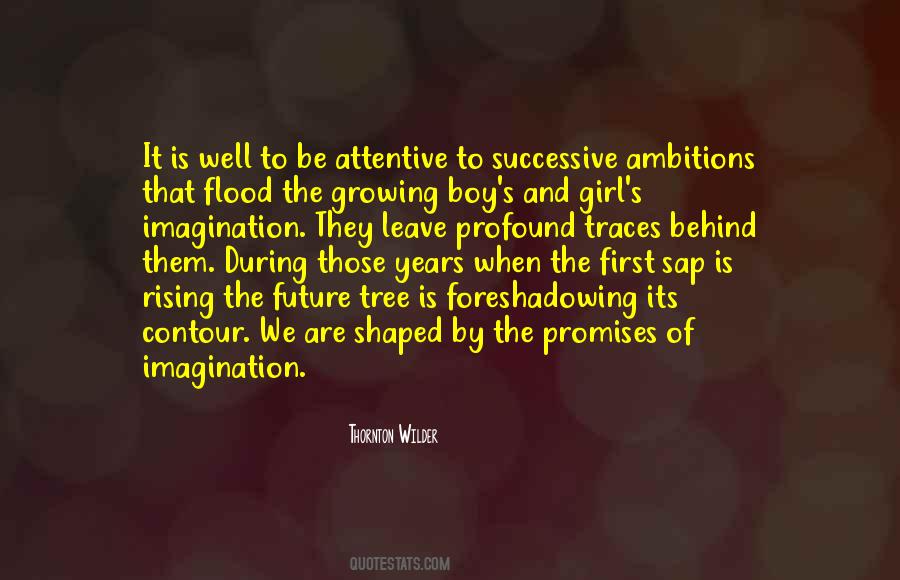 #53. So one aspect of becoming a Christian is having to leave behind what everyone else thinks and wants, the prevailing standards, in order to enter the light of the truth of our being, and aided by that light to find the right path. Mary - Author: Pope Benedict XVI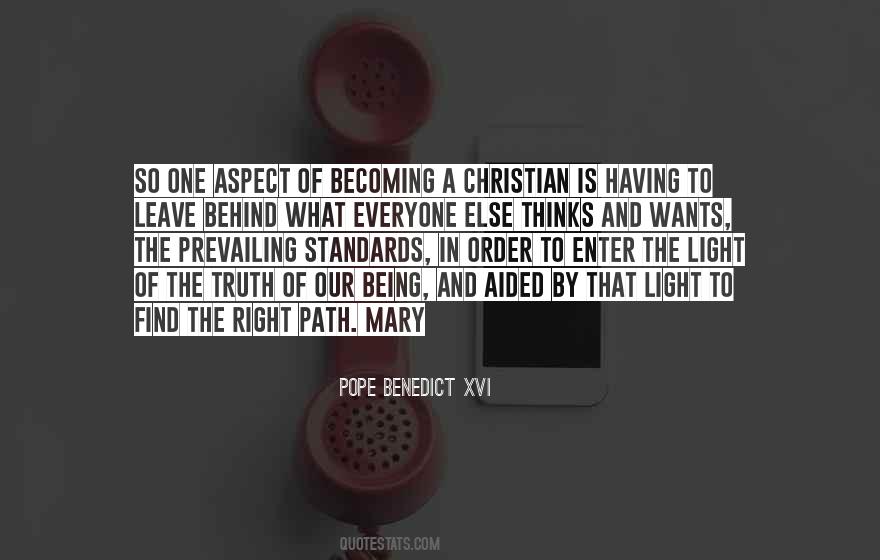 #54. I wanted to leave my decision-making behind, along with my responsibility for all future ones. - Author: Hugh Howey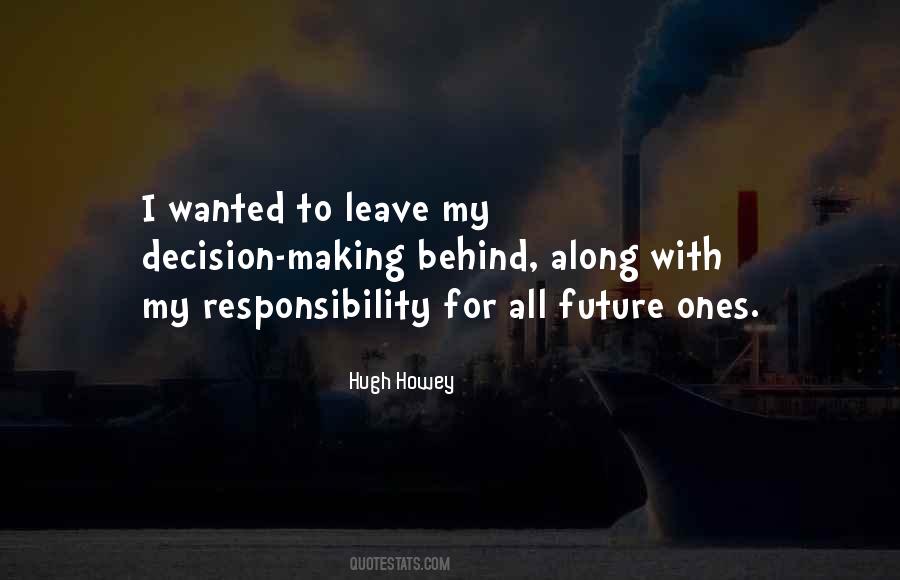 #55. Philosophy teaches a man that he can't take it with him; taxes teach him he can't leave it behind either. - Author: Mignon McLaughlin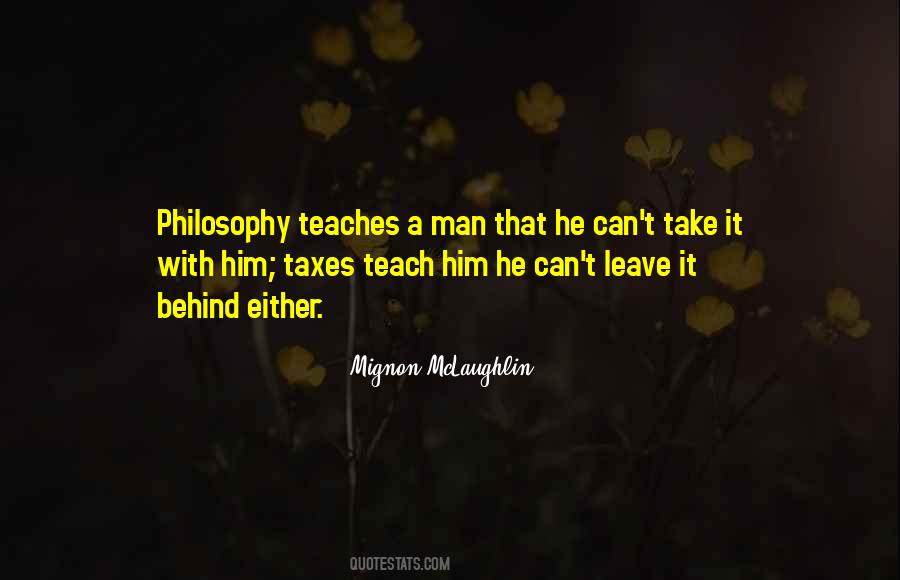 #56. Too many of us leave our lives - and, in fact, our souls - behind when we go to work. - Author: Arianna Huffington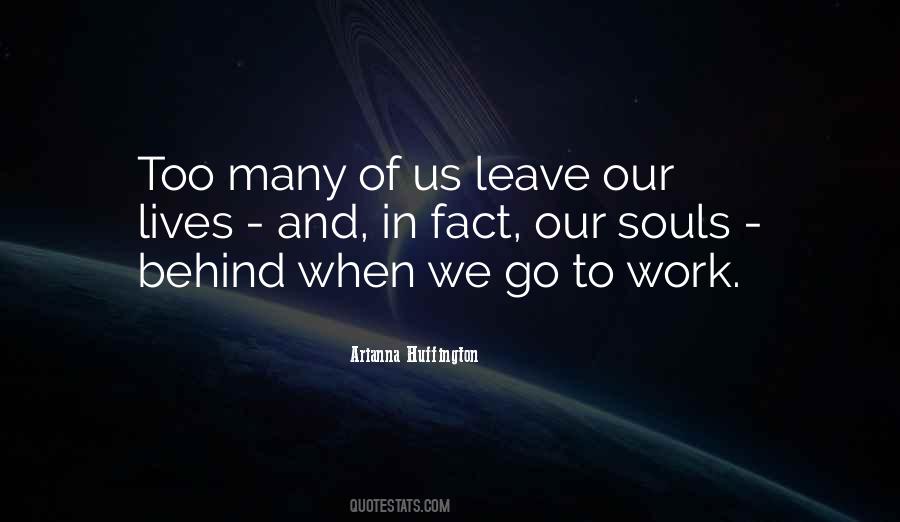 #57. One comes, and one goes. Basically, what you leave behind is the record. - Author: Asif Ali Zardari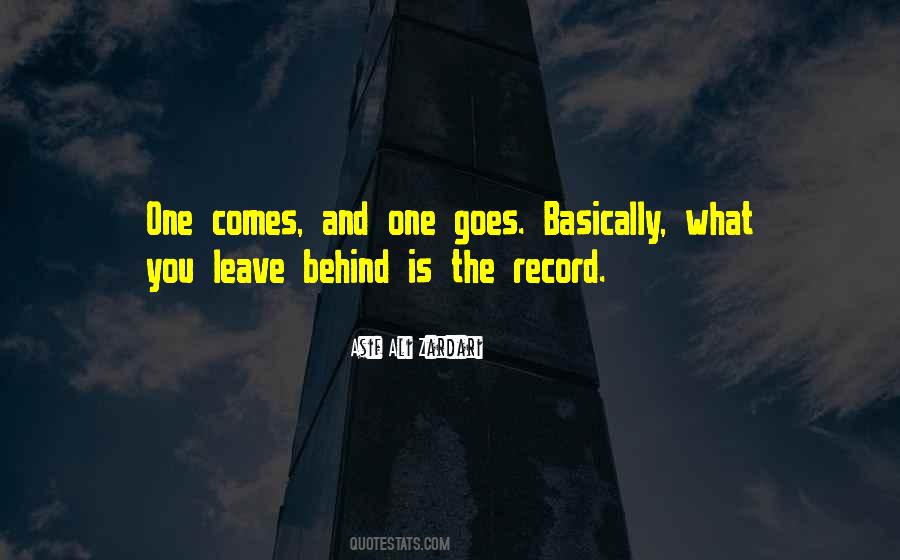 #58. We all profess that we are bound for heaven, immortality, and glory: but is it any evidence that we really design it if all our thoughts are consumed about the trifles of this world, which we must leave behind us, and have only occasional thoughts of things above? - Author: John Owen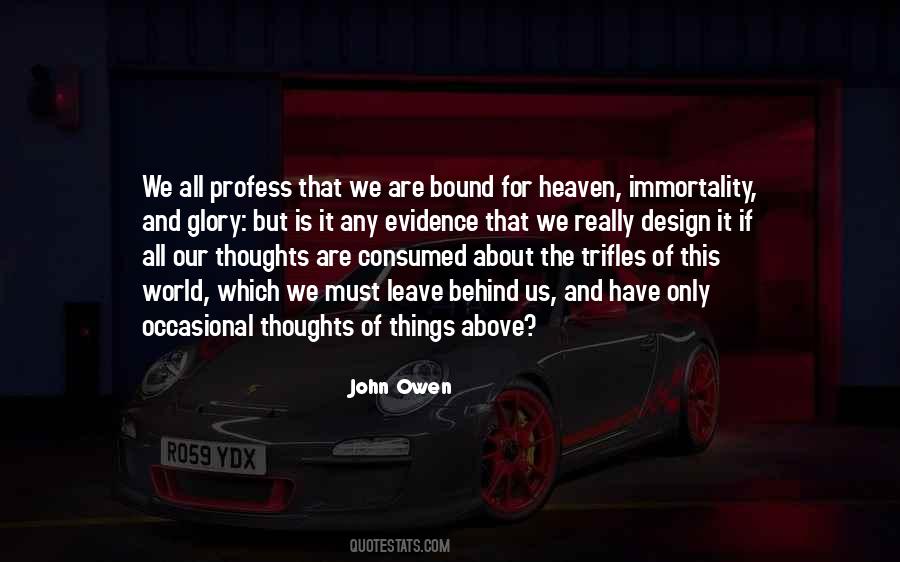 #59. As long as I leave my frustration behind, I know I am moving toward my goal again. - Author: Tara Lipinski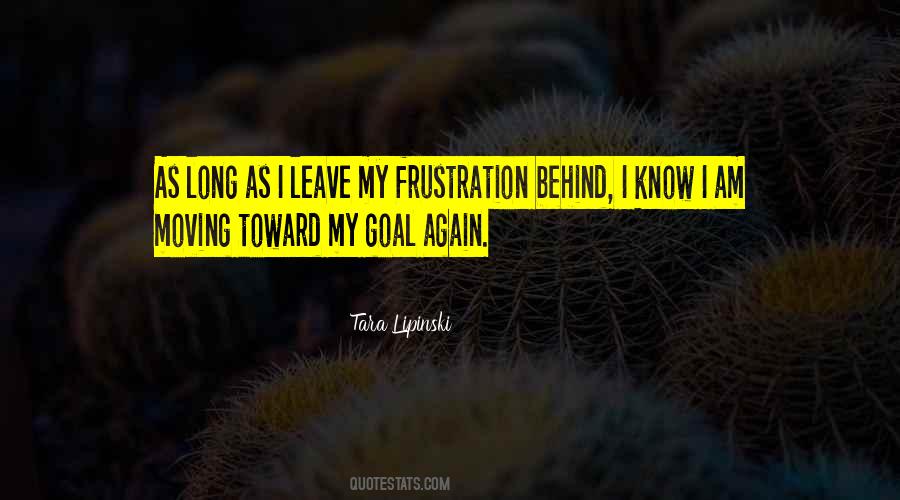 #60. Your life on earth will be graded by the effect of the footprints you leave behind - Author: Olufemi Olumide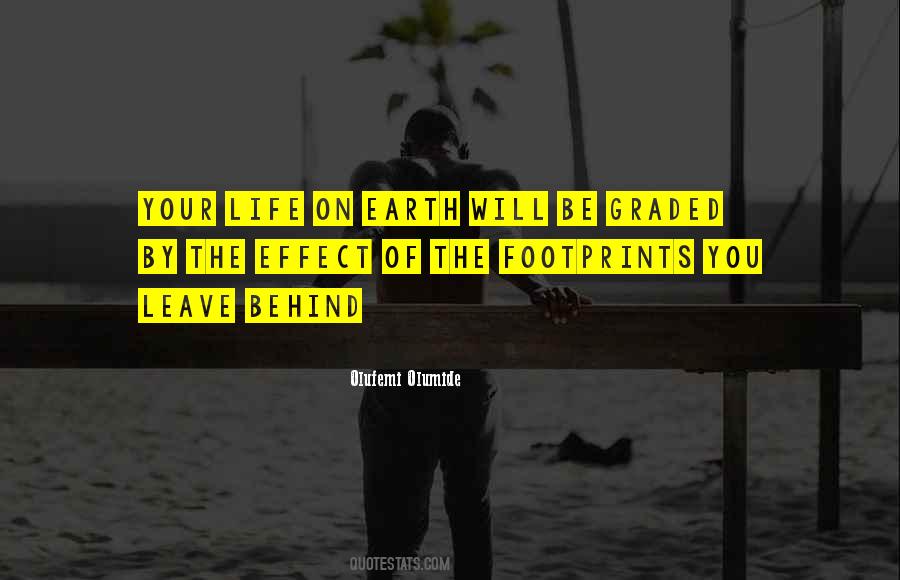 #61. You think the worst is behind you, but it's never behind you. In fact, saying something is the worst does not leave room for all the bad stuff that can follow it. You say the pain is nine, but you mean ten. You leave room. - Author: Jennifer Gilmore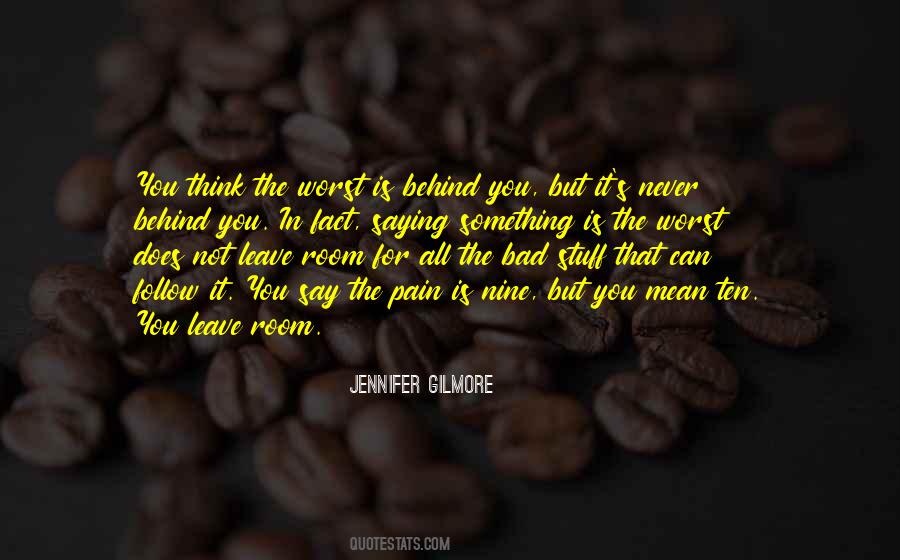 #62. Travel doesn't become adventure until you leave yourself behind. - Author: Marty Rubin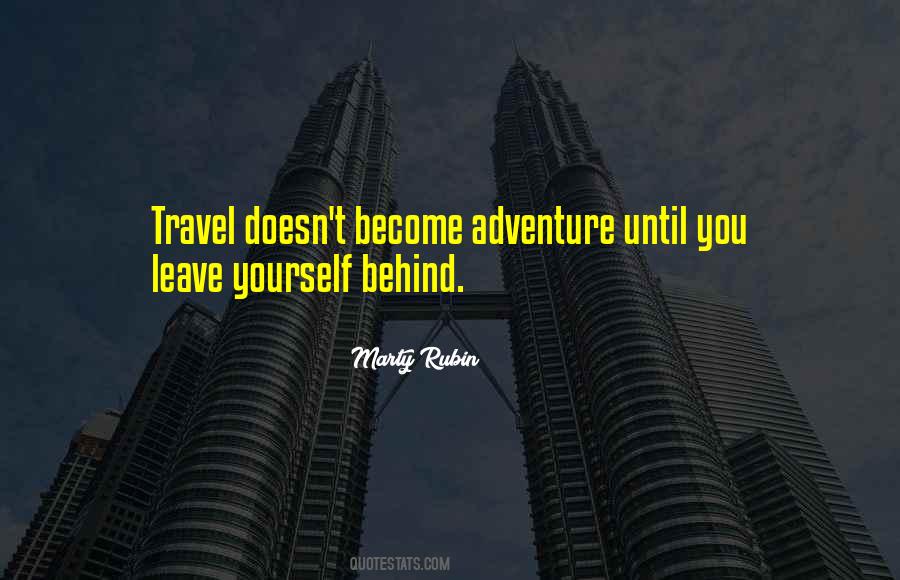 #63. Television happens very quickly. It was like a shot of adrenaline into me, as a filmmaker, and my career. You can hit town, do the show, and leave with this incredible energy behind you. - Author: Michael J. Bassett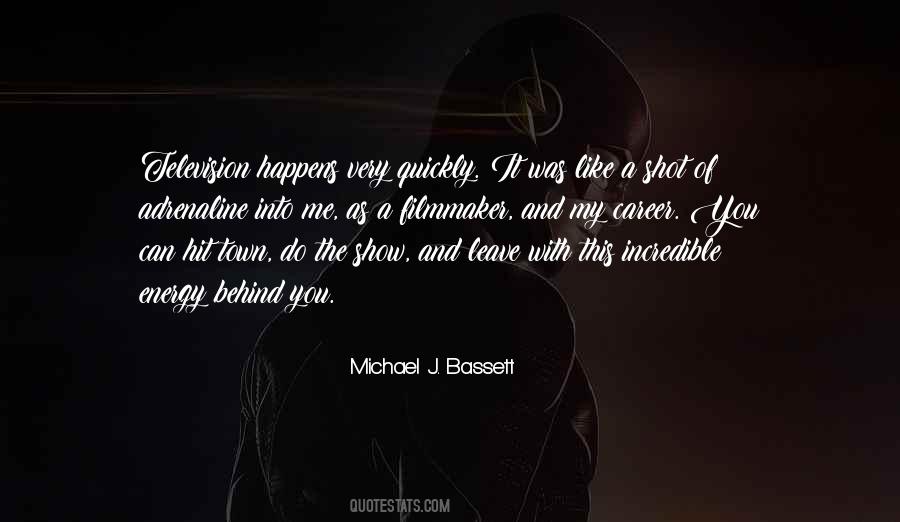 #64. The only way the dead live on is through the people they leave behind. - Author: Brian K. Vaughan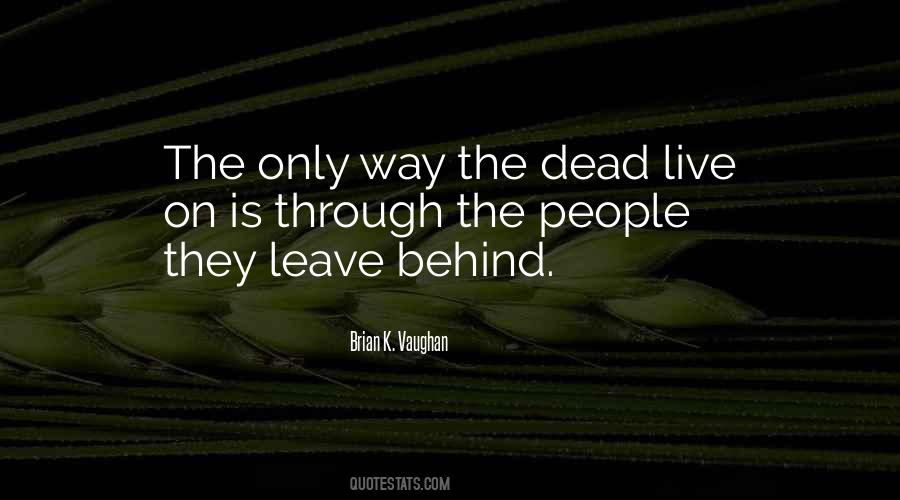 #65. Thomas looked around and tried not to let his duty turn him bitter. These were good men, and he would not leave them behind. He had chosen this, an unselfish life. - Author: Jessica Fortunato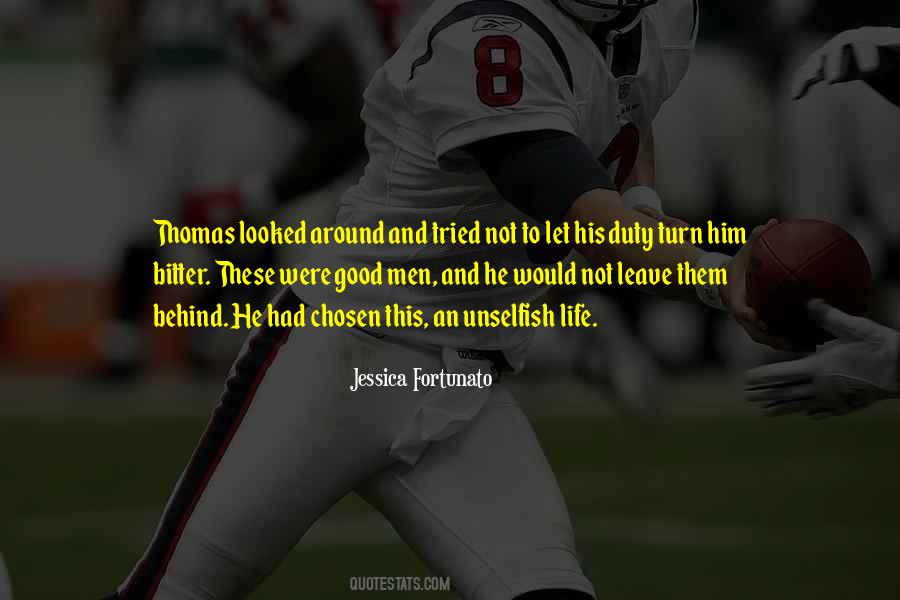 #66. Just as we leave the effects of our work behind in results, we leave the effects of our interactions with people in their hearts, minds, and souls. - Author: Henry Cloud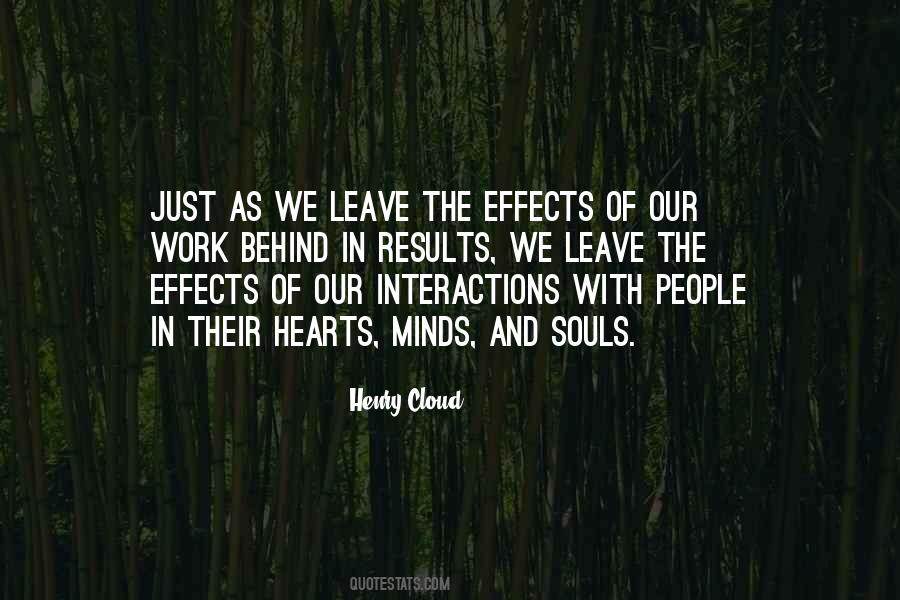 #67. but there will be other things, new things. That's how it is with change. You leave one thing behind, and there's something else to take it's place. - Author: Deborah Ellis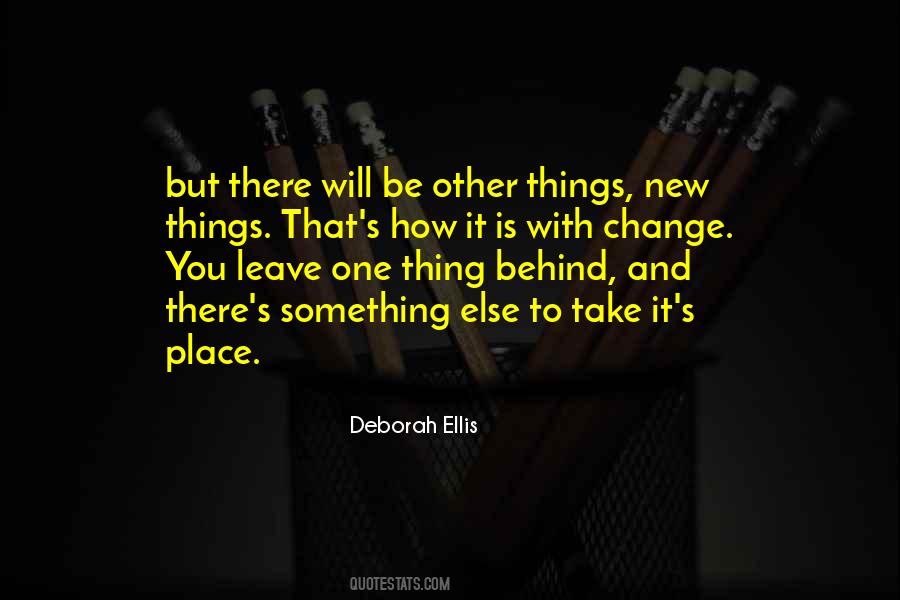 #68. "In life you can never be too kind or too fair; everyone you meet is carrying a heavy load. When you go through your day expressing kindness and courtesy to all you meet, you leave behind a feeling of warmth and good cheer, and you help alleviate the burdens everyone is struggling with." - Author: Brian Tracy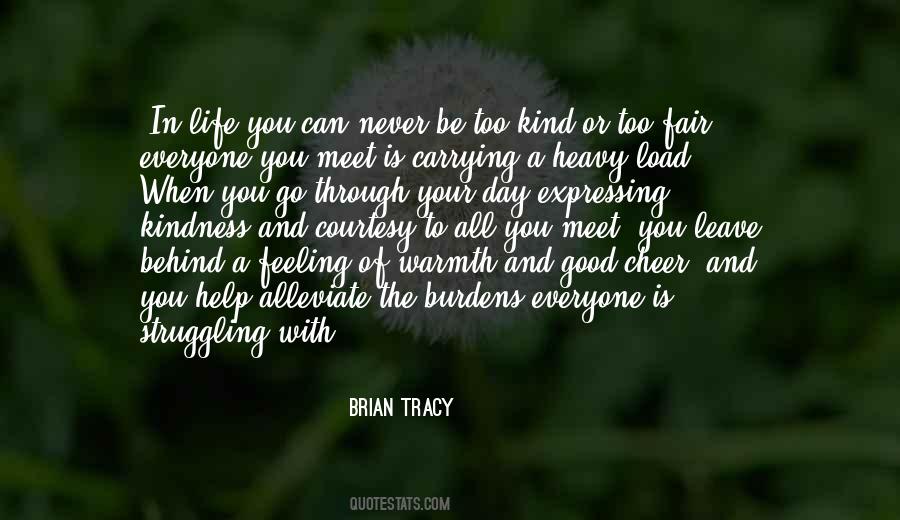 #69. Better to leave dreams behind and go forward with purpose. - Author: Anne Mallory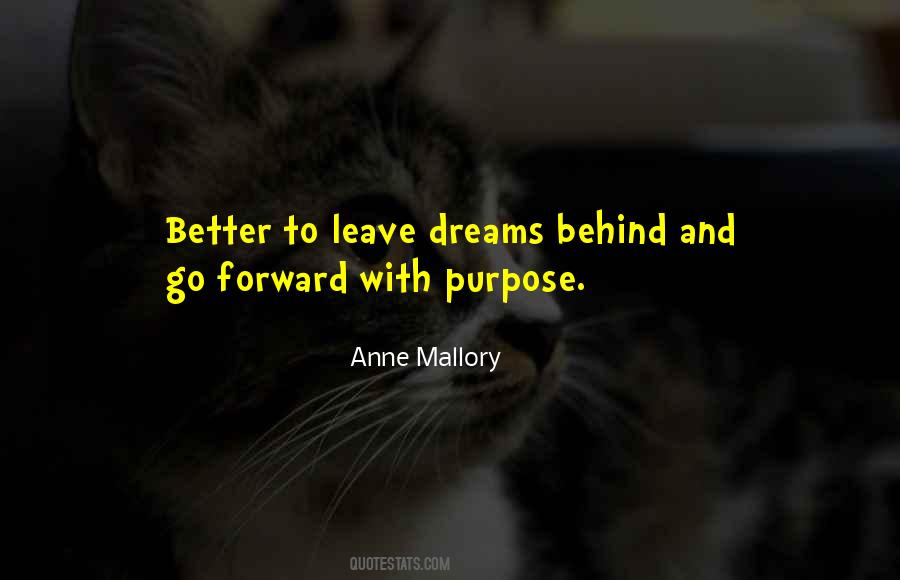 #70. We're all going to die. Most of us will leave no mark of our existence behind what-so-ever. Not a stain or a smudge or a smear on the face of history. I think that's sad." It made Romney horribly regretful to think that the fat man was right. - Author: Oliver Tidy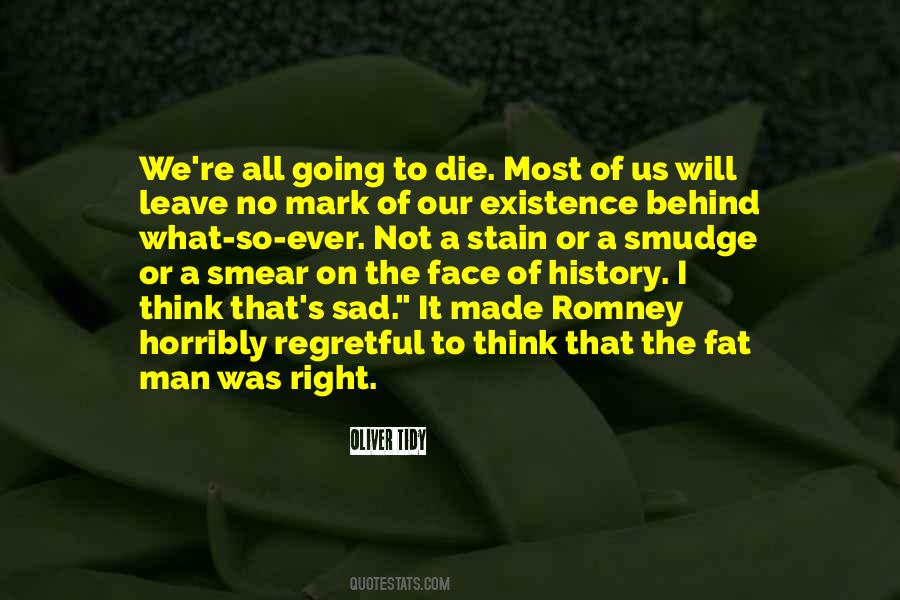 Famous Authors
Popular Topics