Julie Otsuka Famous Quotes & Sayings
List of top 32 famous quotes and sayings about julie otsuka to read and share with friends on your Facebook, Twitter, blogs.
Top 32 Julie Otsuka Quotes
#1. Women have come a long way over the past 20 years, but in substance abuse and addiction, women have come the wrong way. - Author: Joseph A. Califano Jr.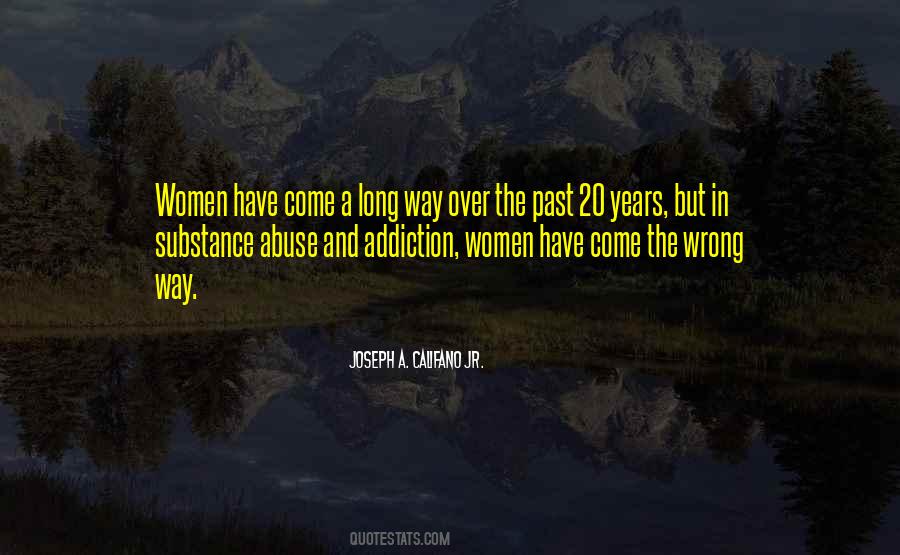 #2. To be honest, I was Mum's boy. Always was, always will be. - Author: Frank Lampard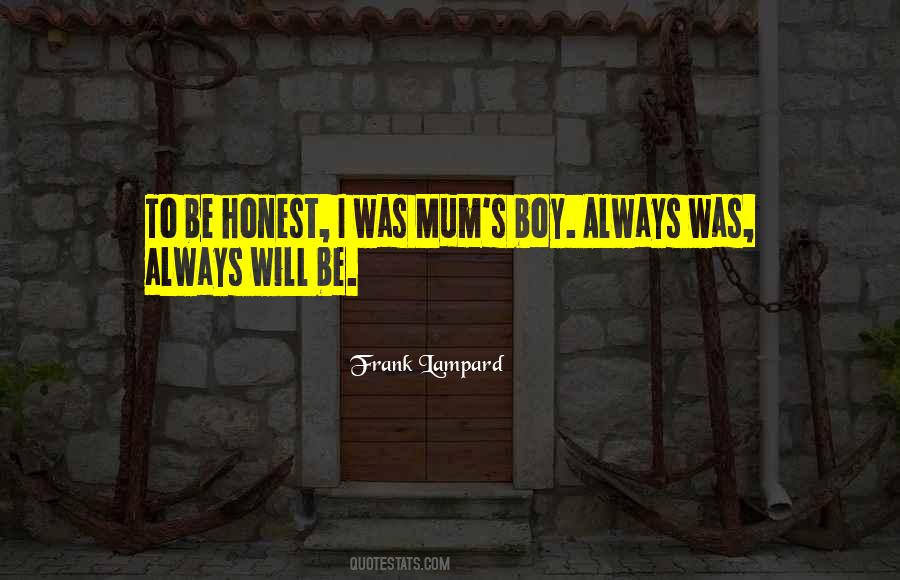 #3. Women are weak, but mothers are strong. - Author: Julie Otsuka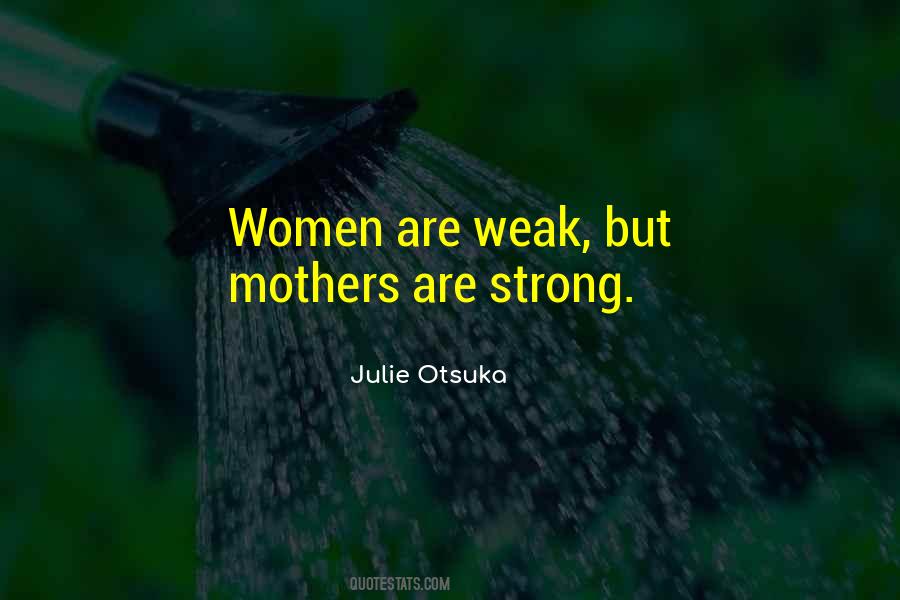 #4. Soon we could barely recognize them. They were taller than we were, and heavier. They were loud beyond belief. I feel like a duck that's hatched goose's eggs. - Author: Julie Otsuka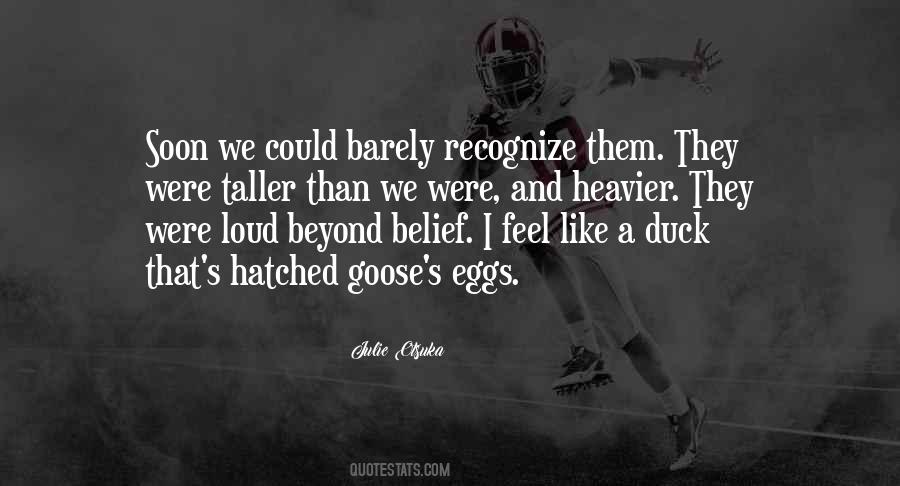 #5. A Japanese can live on a teaspoonful of rice a day. We were the best breed of worker they had ever hired in their lives. - Author: Julie Otsuka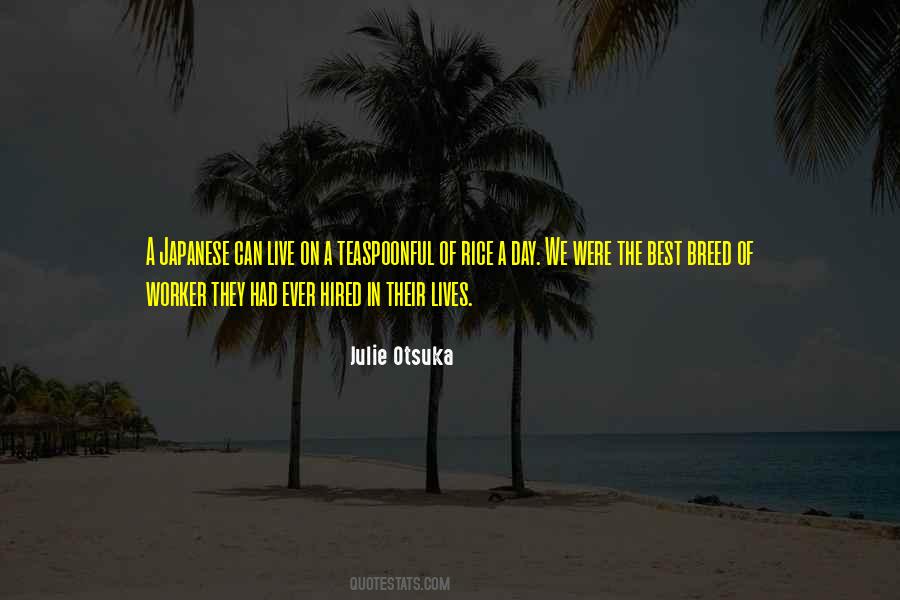 #6. There was a man of the cloth - Reverend Shibata of the First Baptist Church - who left urging everyone to forgive and forget. There was a man in a shiny brown suit - fry cook Kanda of Yabu Noodle - who left urging Reverend Shibata to give it a rest. - Author: Julie Otsuka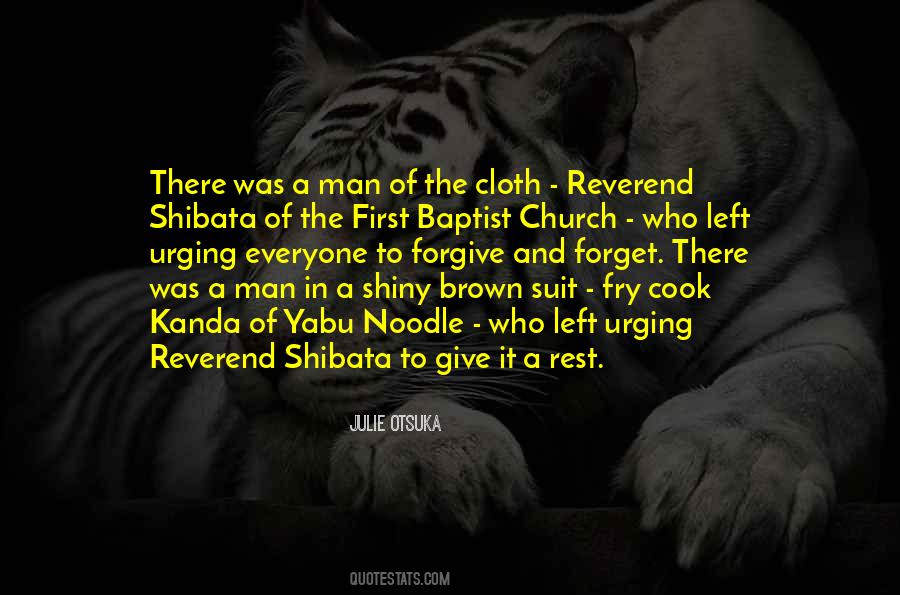 #7. You keep it, he said. - Author: Julie Otsuka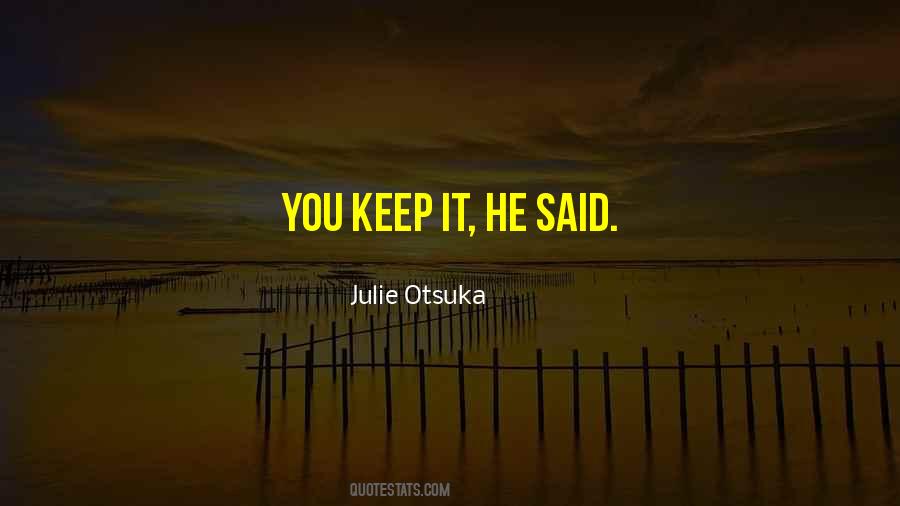 #8. Many of us had lost everything and left saying nothing at all. All of us left wearing white numbered identification tags tied to our collars and lapels. - Author: Julie Otsuka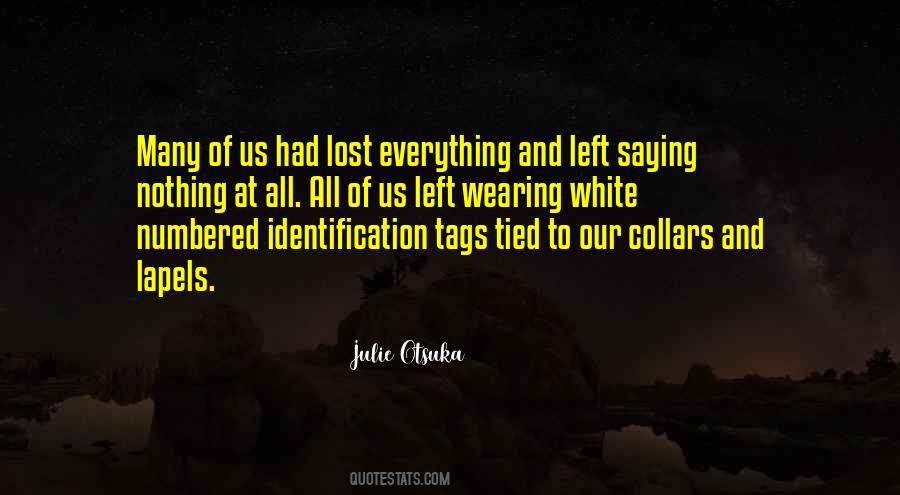 #9. Summer was a long hot dream. - Author: Julie Otsuka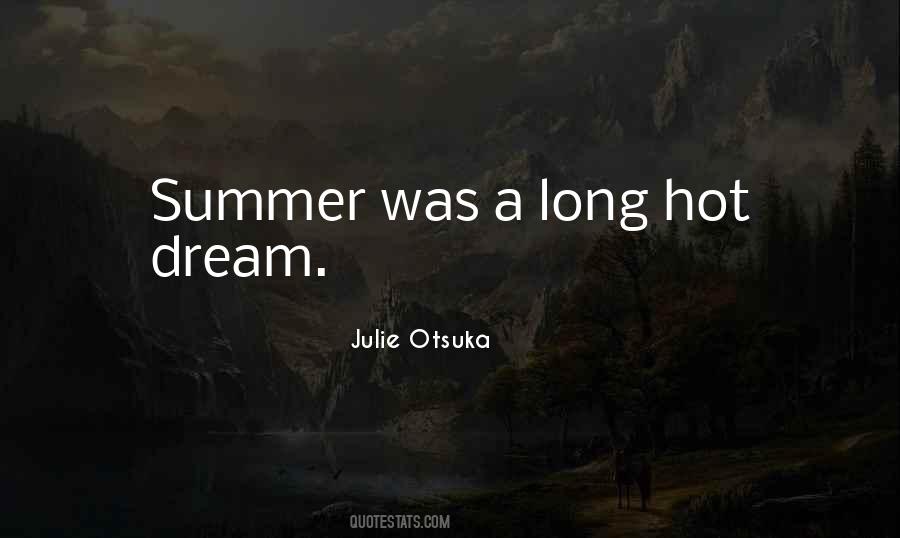 #10. Surely there must be something they had said, or done, surely there must be some mistake they had made, surely they must be guilty of something, some obscure crime, perhaps, of which they were not even aware. - Author: Julie Otsuka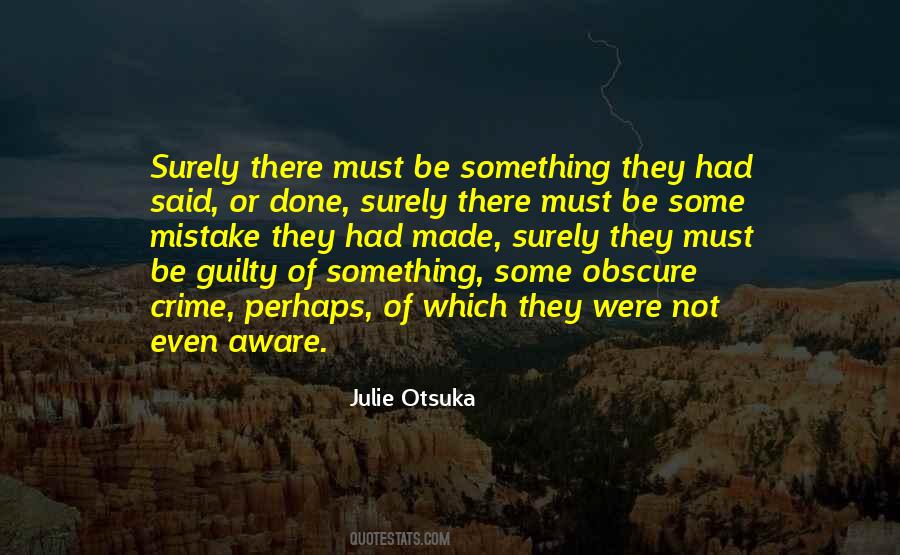 #11. Don't touch me," said the girl. "I want to be sick by myself."
"That's impossible," said her mother. She continued to rub her back and the girl did not push her away - Author: Julie Otsuka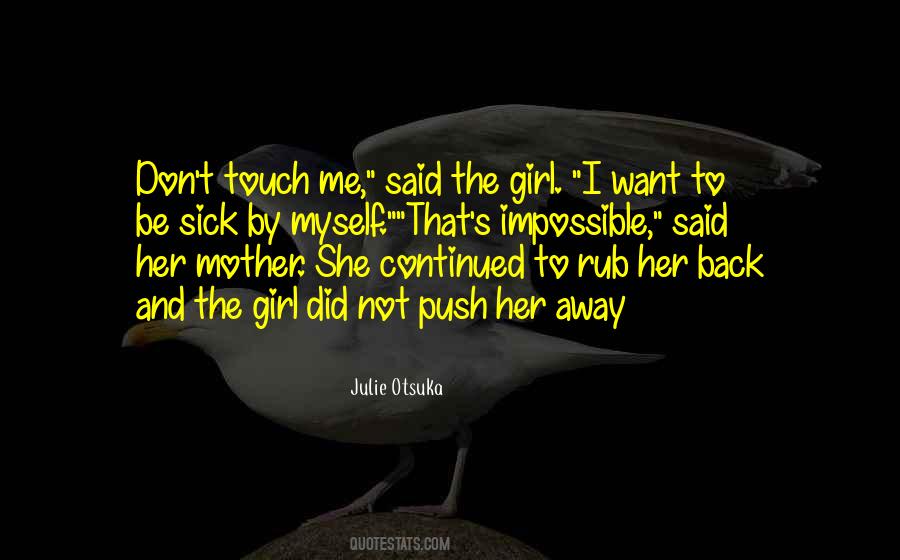 #12. One must not get too attached to the things of this world. AS - Author: Julie Otsuka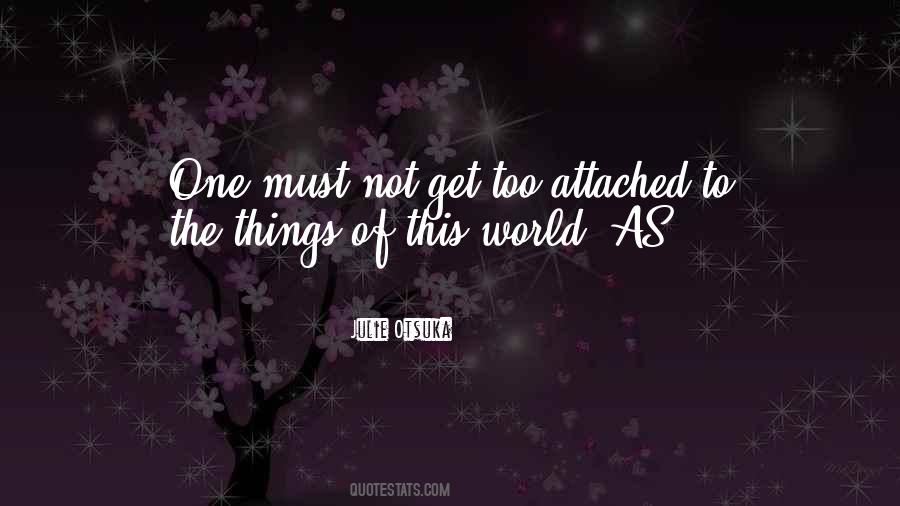 #13. Etsuko was given the name Esther by her teacher, Mr. Slater, on her first day of school. "It's his mother's name," she explained. To which we replied, "So is yours. - Author: Julie Otsuka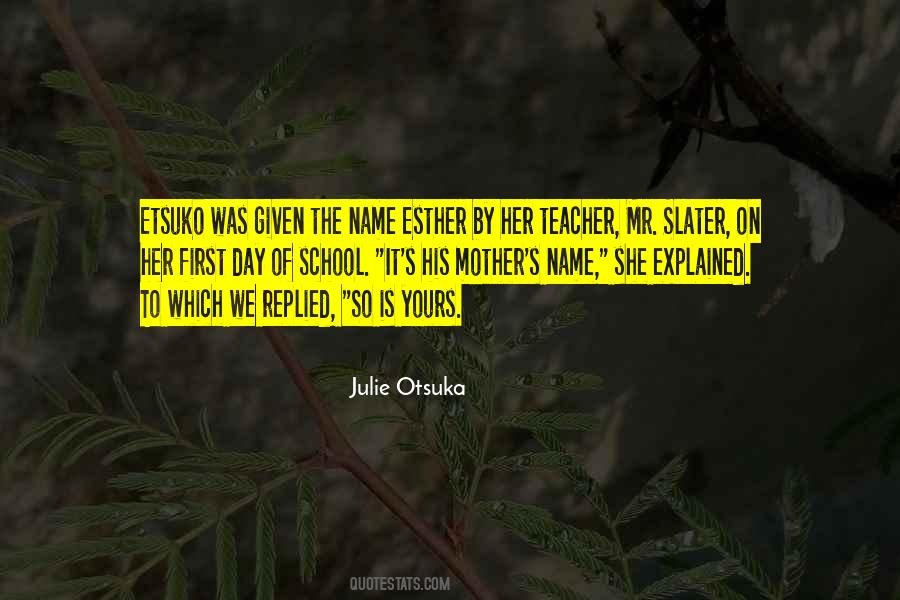 #14. And what physicians say about consumptive illnesses is applicable here: that at the beginning, such an illness is easy to cure but difficult to diagnose; but as time passes, not having been recognized or treated at the outset, it becomes easy to diagnose but difficult to cure. - Author: Niccolo Machiavelli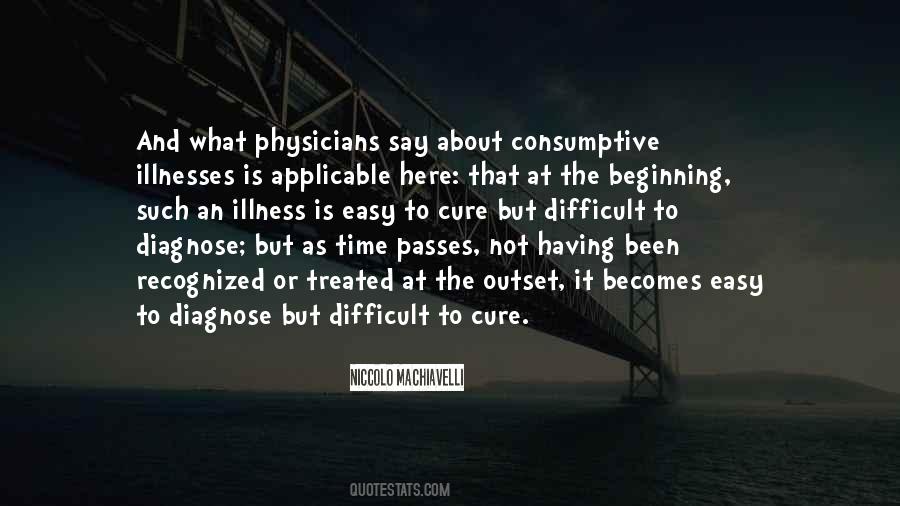 #15. We praised them when they were kind to others but told them not to expect to be rewarded for their good deeds. We scolded them whenever they tried to talk back. We taught them never to accept a handout. We taught them never to brag. We taught them everything we knew. - Author: Julie Otsuka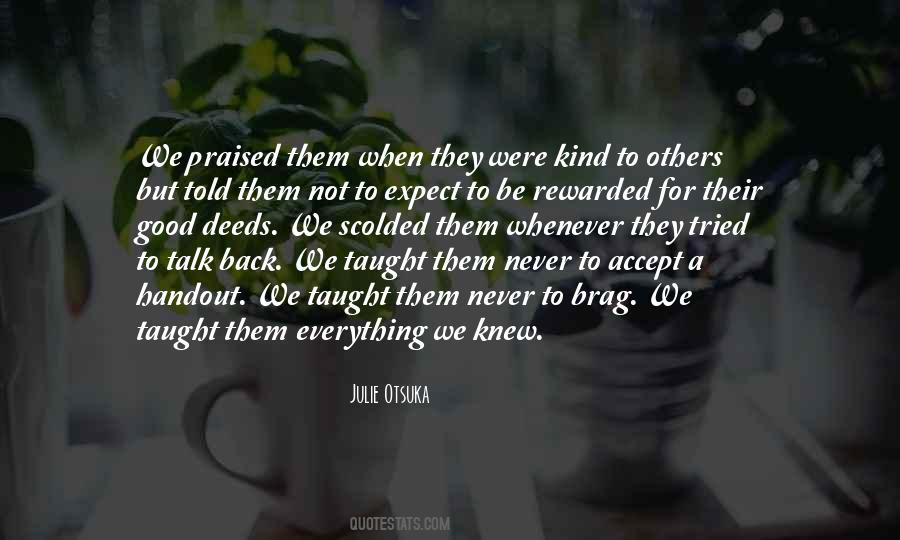 #16. BEYOND THE FARM, they'd heard, there were strange pale children who grew up entirely indoors and knew nothing of the fields and streams. Some of these children, they'd heard, had never even seen a tree. - Author: Julie Otsuka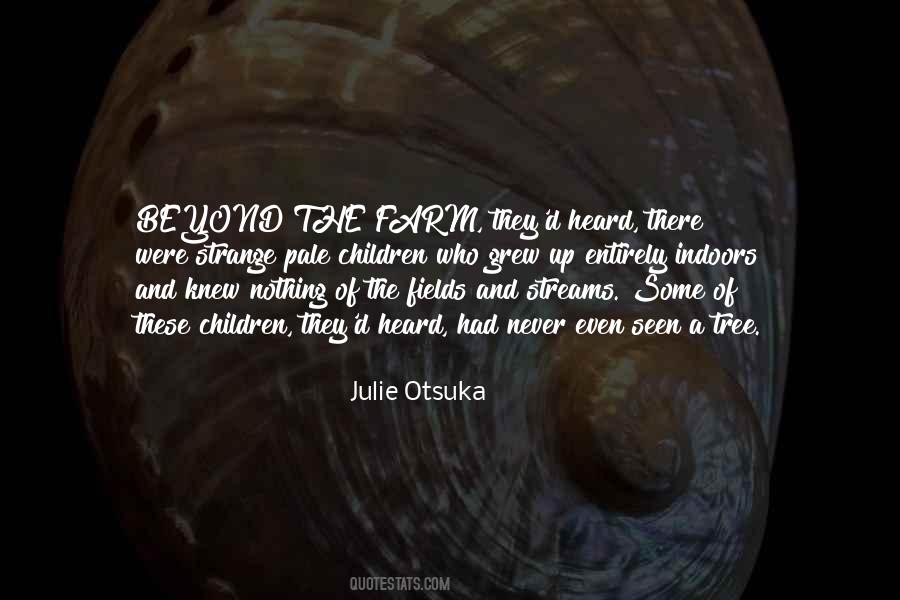 #17. But we never stopped believing that somewhere out there, in some stranger's backyard, our mother's rosebush was blossoming madly, wildly, pressing one perfect red flower after another out into the late afternoon light. - Author: Julie Otsuka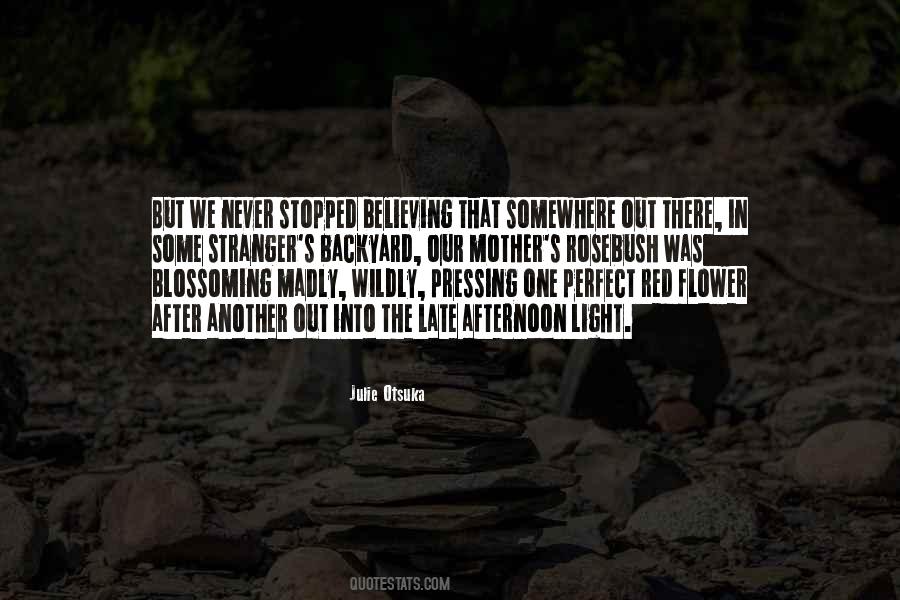 #18. Christ's resurrection not only gives you hope for the future; it gives you hope to handle your scars right now. - Author: Timothy Keller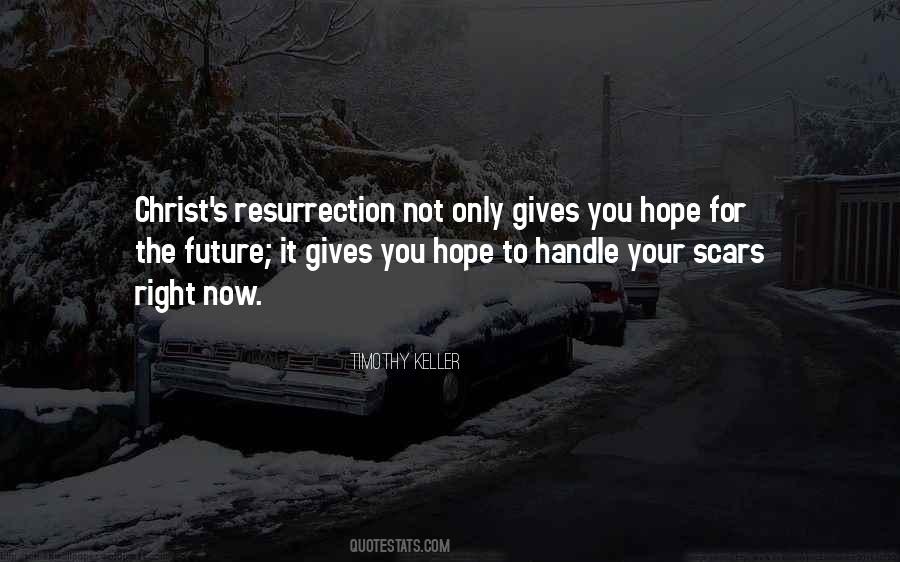 #19. Was it their face, in fact, for which they were guilty? Did it fail to please in some way? Worse yet, did it offend? IN - Author: Julie Otsuka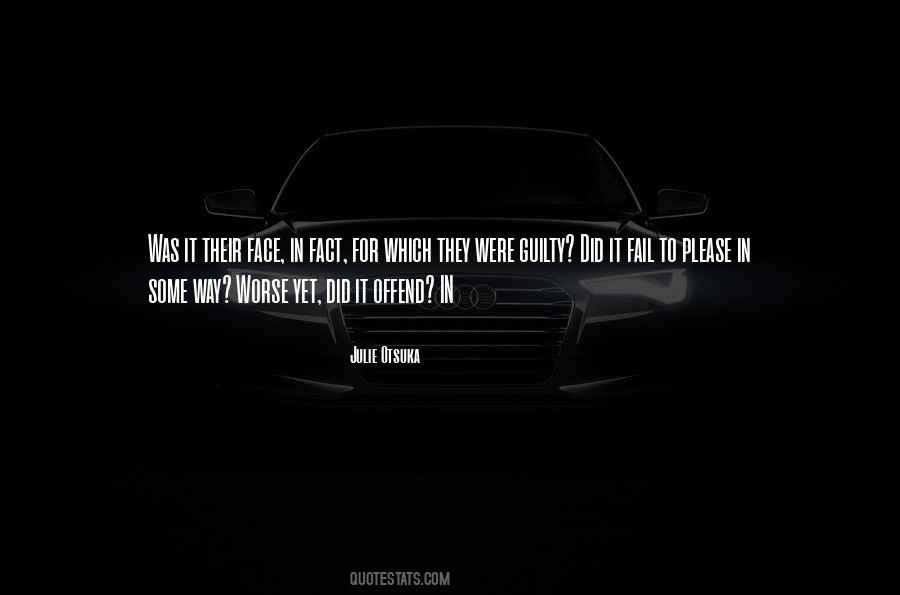 #20. Motivation will keep
you
going forwards,
Hesitation will only
drag you
backwards. - Author: Mouloud Benzadi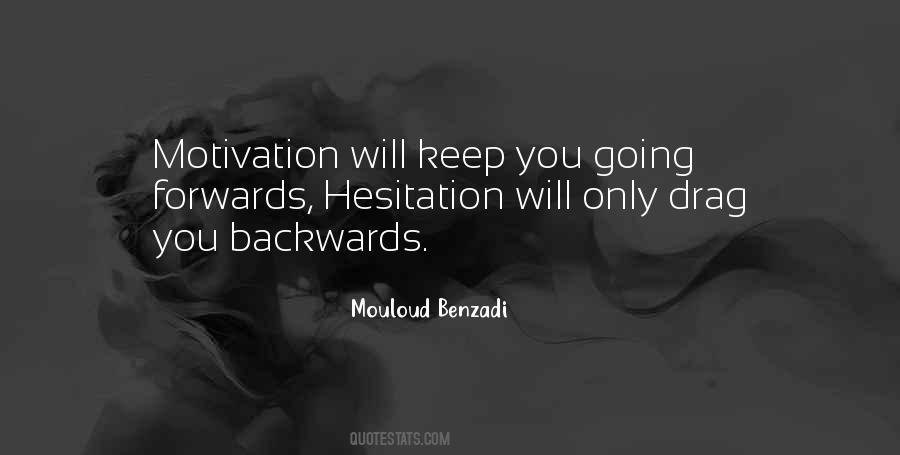 #21. A fortune begins with a penny. - Author: Julie Otsuka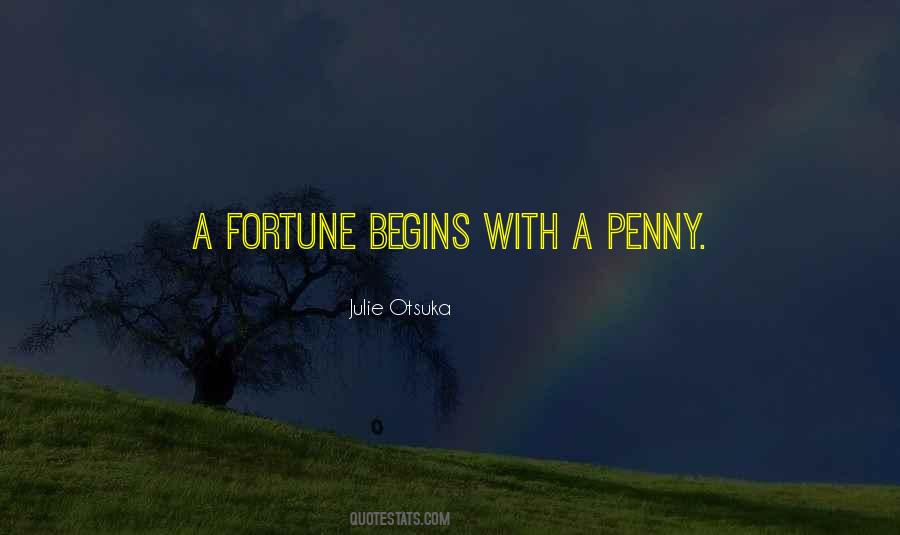 #22. It's all in the way you breathe. - Author: Julie Otsuka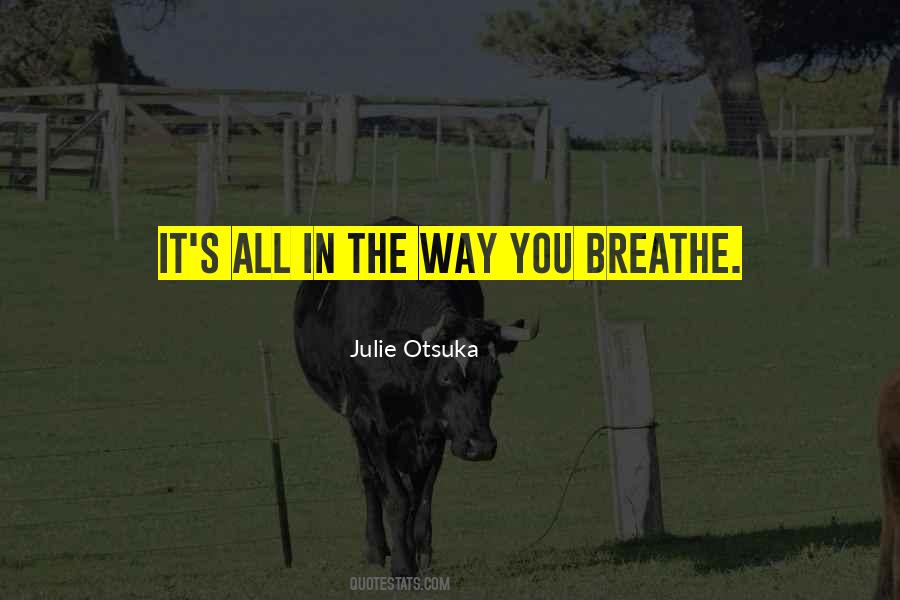 #23. We lost weight and grew thin. We stopped bleeding. We stopped dreaming. We stopped wanting. - Author: Julie Otsuka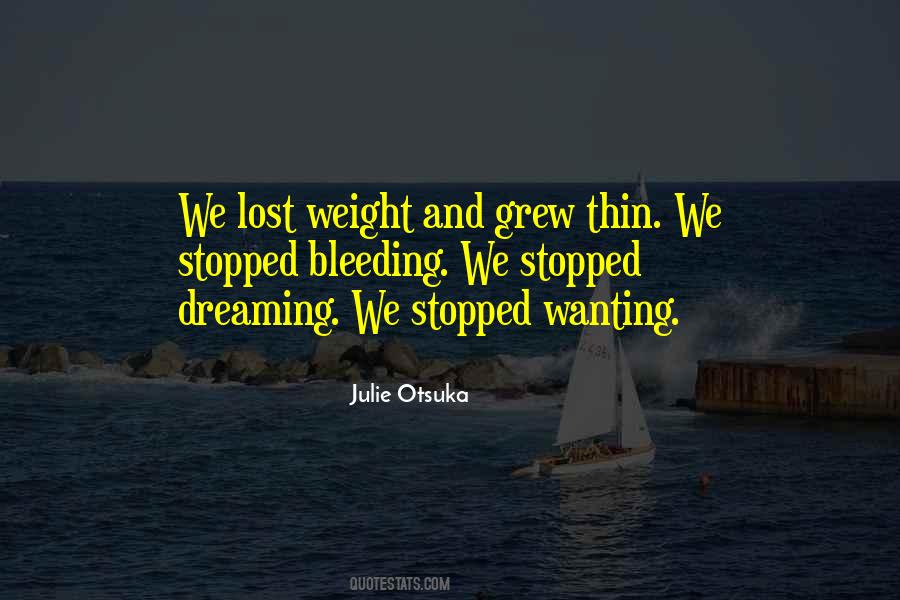 #24. MOSTLY, they were ashamed of us. - Author: Julie Otsuka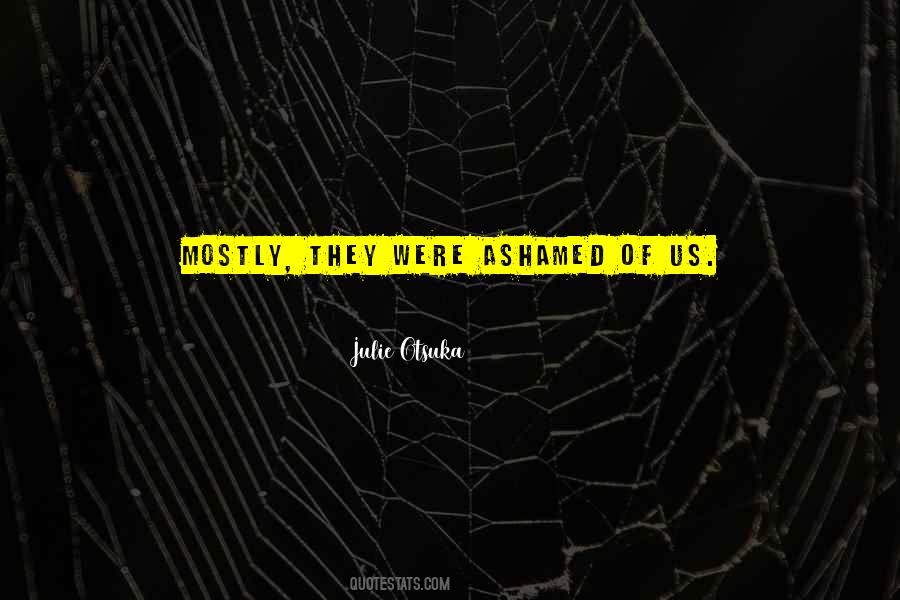 #25. Mostly though, they waited. For the mail. For the news. For the bells. For breakfast and lunch and dinner. For one day to be over and the next day to begin. - Author: Julie Otsuka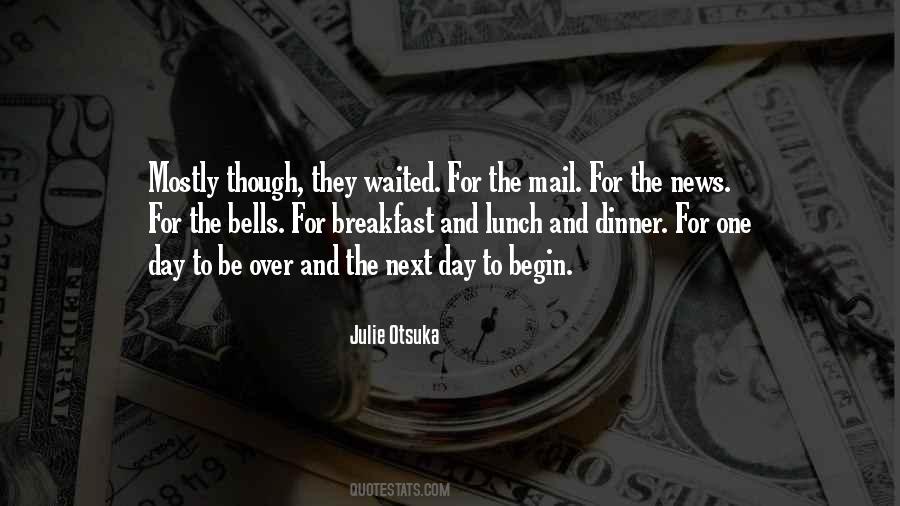 #26. Or was their guilt written plainly, and for all the world to see, across their face? Was it their face, in fact, for which they were guilty? - Author: Julie Otsuka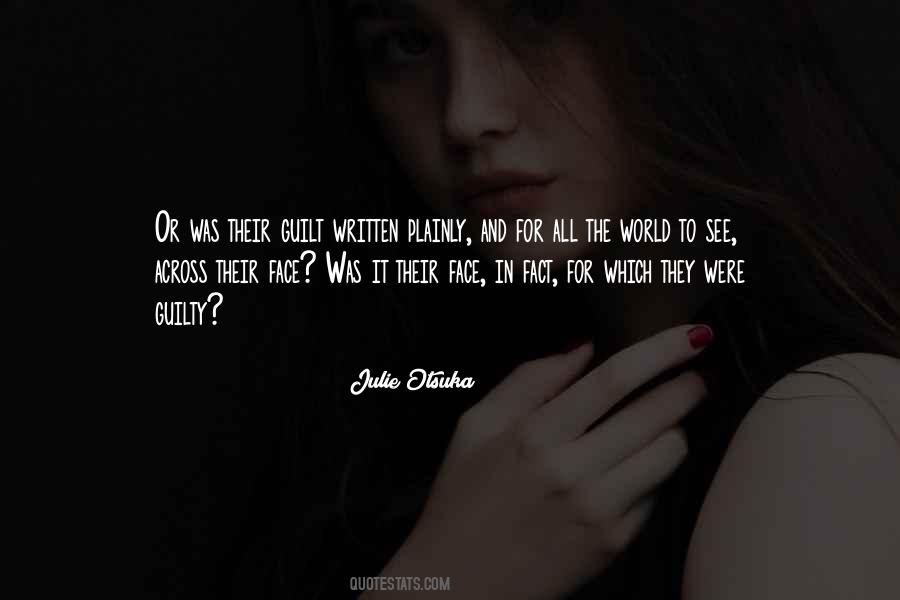 #27. Not once did we ever have the money to buy them a single toy. AND - Author: Julie Otsuka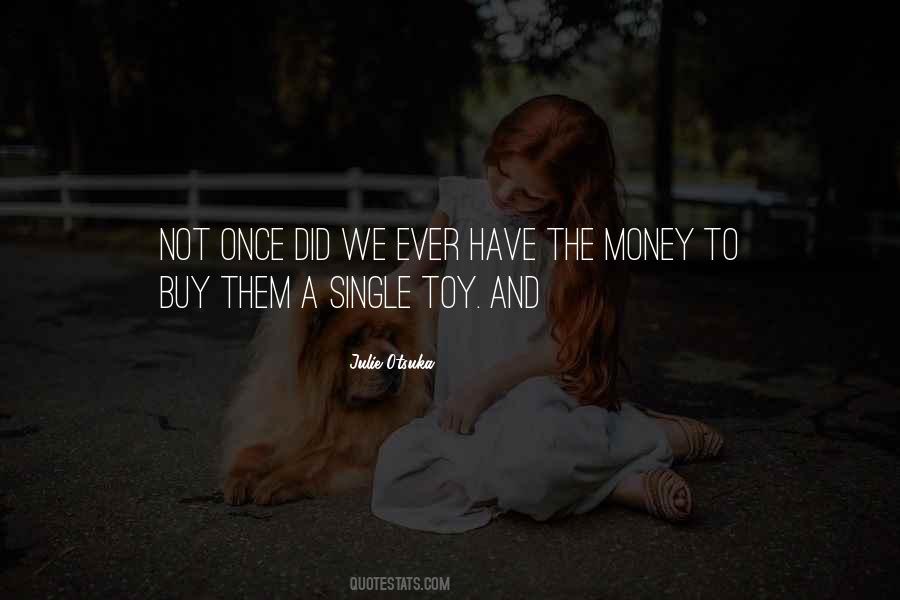 #28. I didn't really want to inject myself into anything political. A lot of people were asking me at the time about Jay and Conan, and I hate doing anything serious. - Author: Norm MacDonald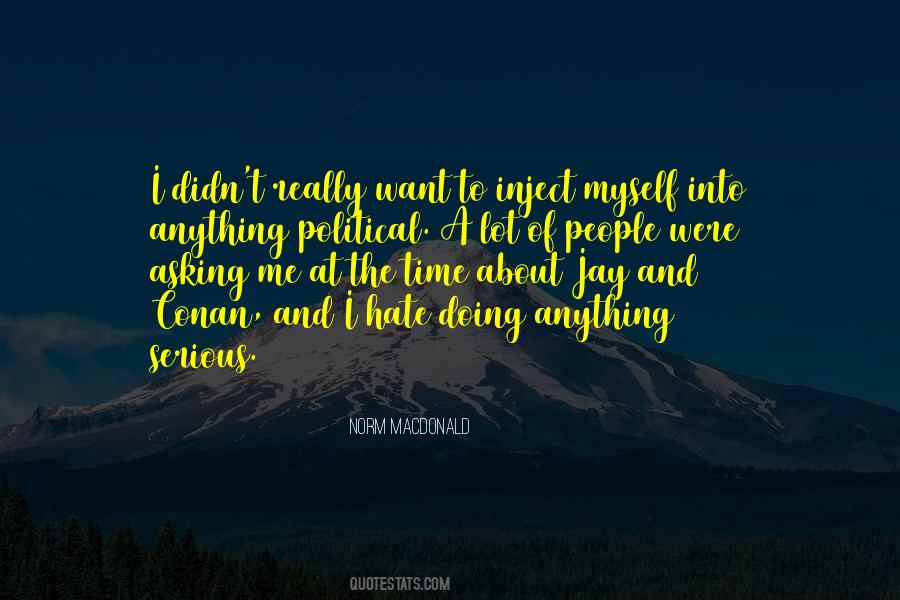 #29. A girl on North Fremont is discouraged by the postman, who tells her that only a traitor would dare exchange letters with the Japanese. NEW - Author: Julie Otsuka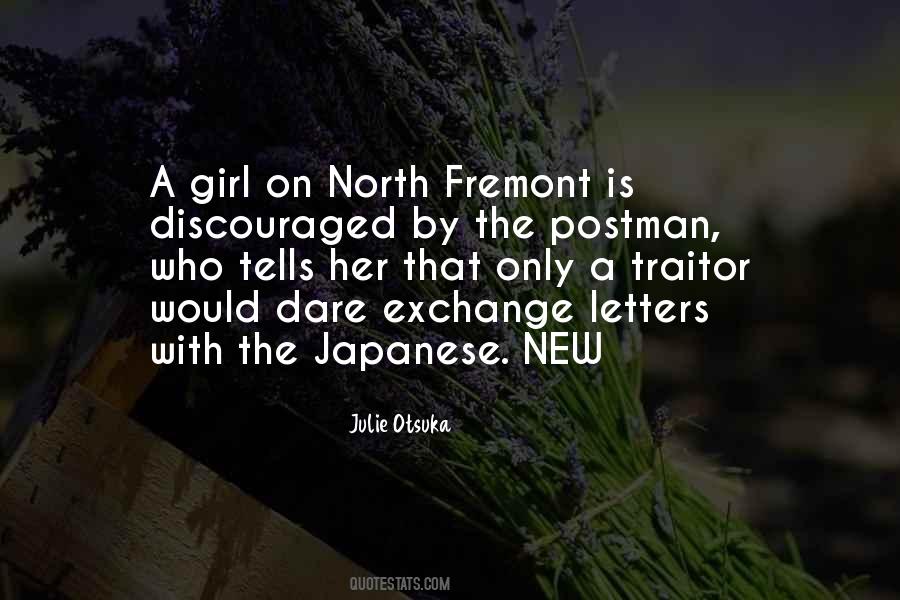 #30. And if anyone asks, you're Chinese. The boy had nodded. "Chinese," he whispered. "I'm Chinese." "And I," said the girl, "am the Queen of Spain." "In your dreams," said the boy. "In my dreams," said the girl, "I'm the King. - Author: Julie Otsuka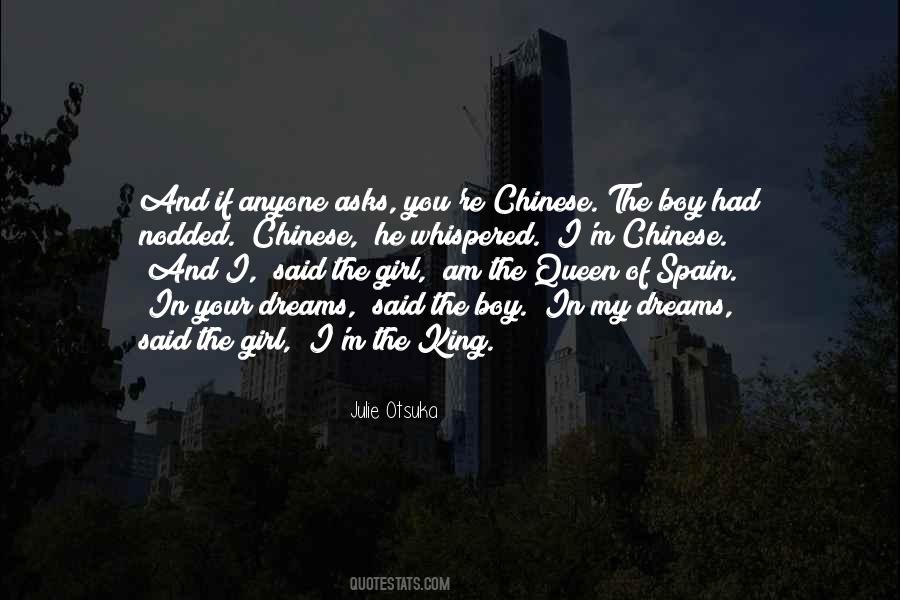 #31. They learned that they should always call the restaurant first. Do you serve Japanese? - Author: Julie Otsuka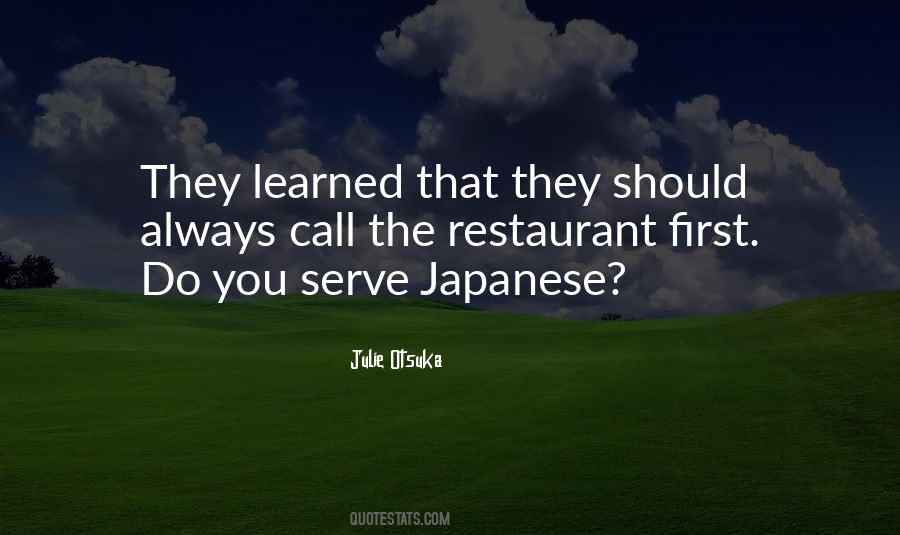 #32. They learned that some people are born luckier than others and that things in this world do not always go as you plan. STILL - Author: Julie Otsuka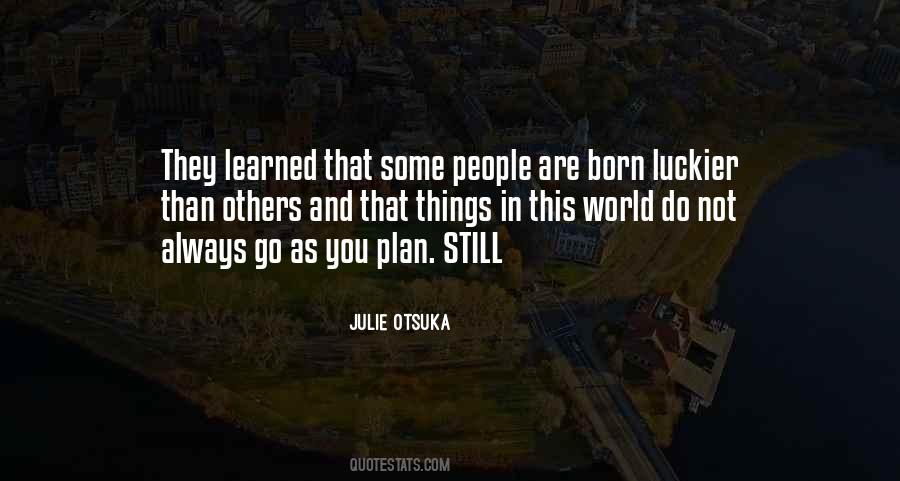 Famous Authors
Popular Topics