Joy In Nature Famous Quotes & Sayings
List of top 75 famous quotes and sayings about joy in nature to read and share with friends on your Facebook, Twitter, blogs.
Top 75 Joy In Nature Quotes
#1. Joy, in Nature's wide dominion, Mightiest cause of all is found; And 'tis joy that moves the pinion When the wheel of time goes round. - Author: Friedrich Schiller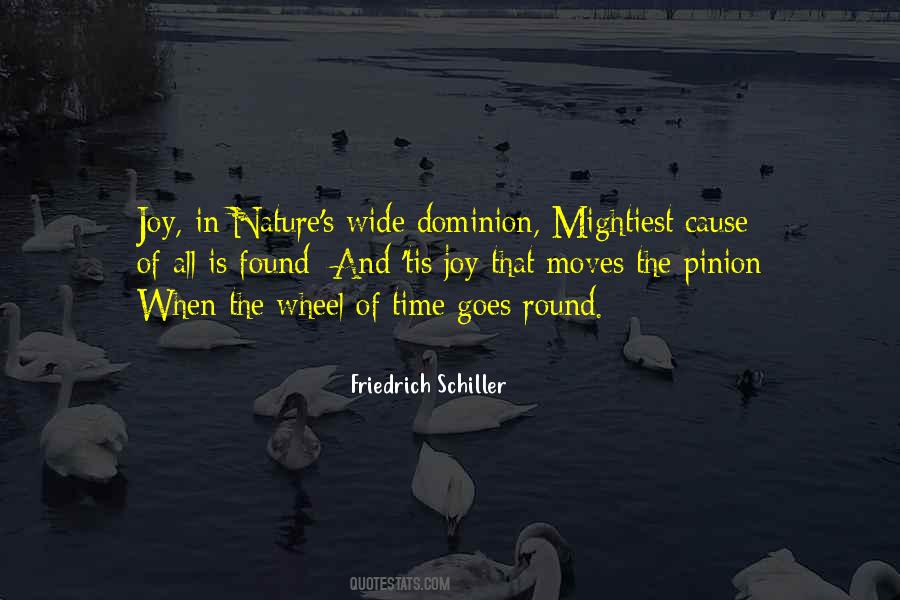 #2. The lack of power to take joy in outdoor nature is as real a misfortune as the lack of power to take joy in books - Author: Theodore Roosevelt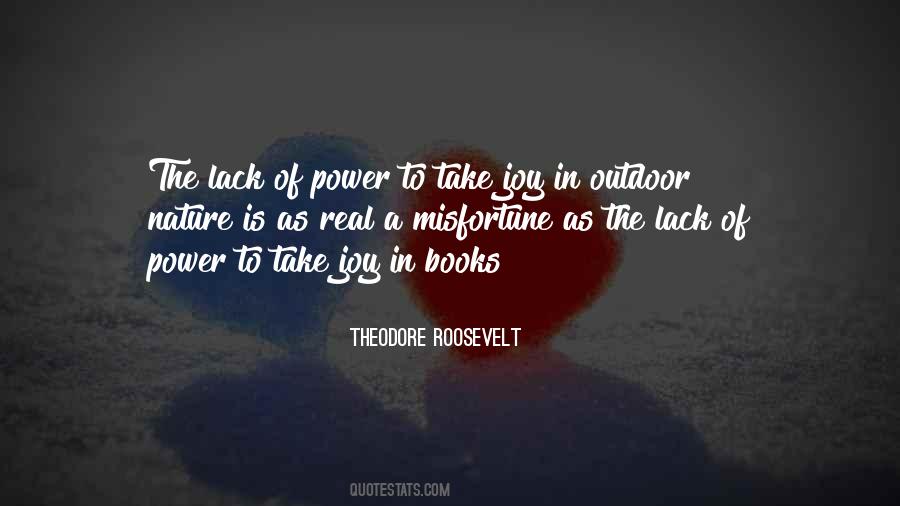 #3. He was mastered by the sheer surging of life, the tidal wave of being, the perfect joy of each separate muscle, joint, and sinew in that it was everything that was not death, that it was aglow and rampant, expressing itself in movement, flying exultantly under the stars. - Author: Jack London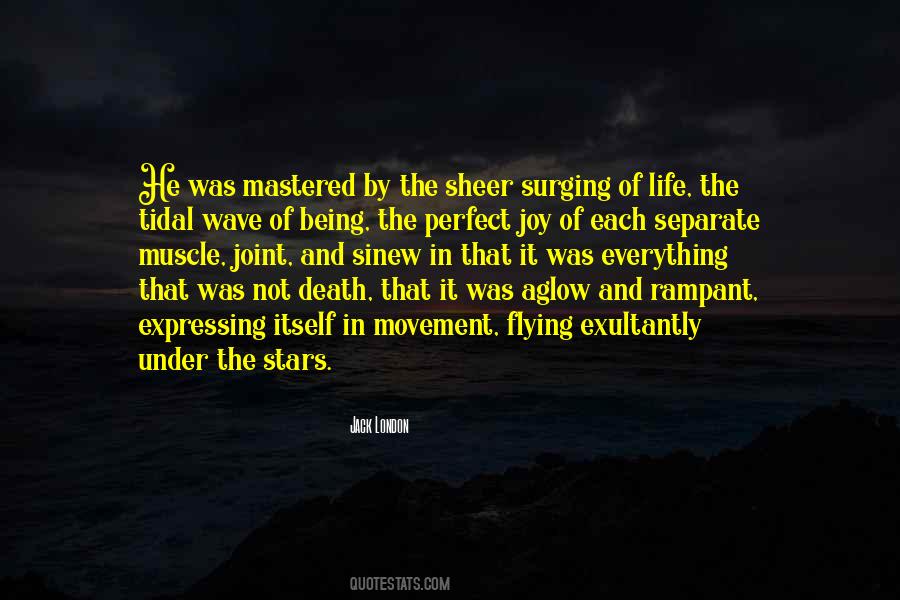 #4. The world does not yield to changing. By its very nature it is painful and transient. See it as it is and divest yourself of all desire and fear. When the world does not hold and bind you, it becomes an abode of joy and beauty. You can be happy in the world only when you are free of it. - Author: Sri Nisargadatta Maharaj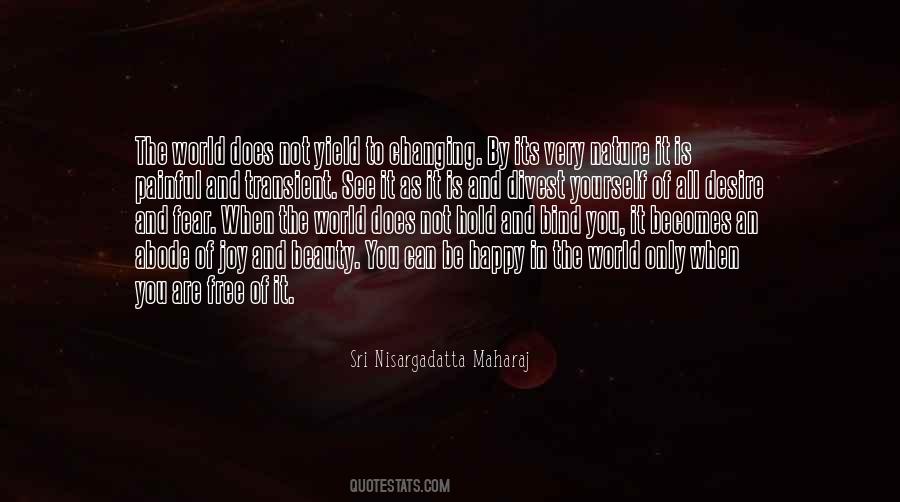 #5. In nature there is beauty, breathtaking beauty of love, joy, and happiness to fill our heart with joy. - Author: Debasish Mridha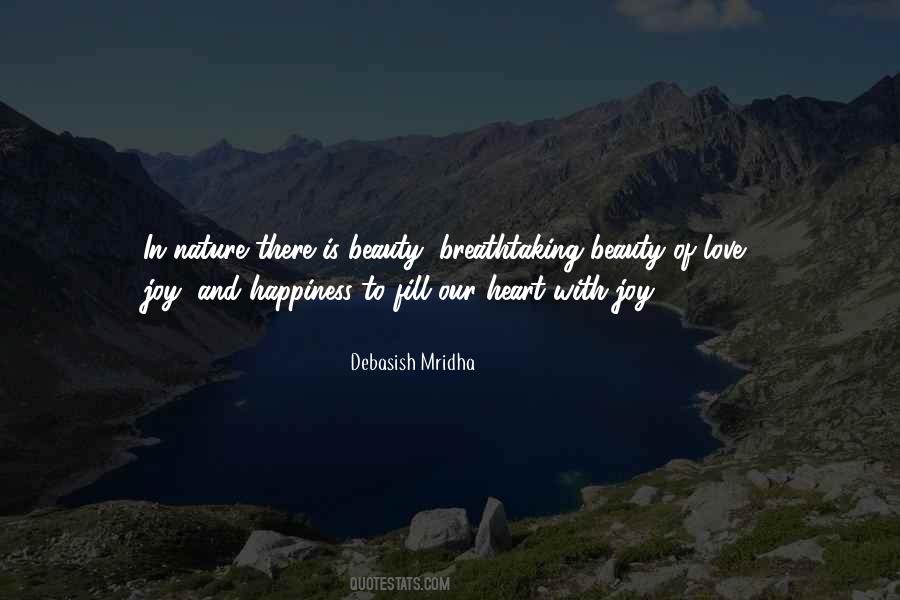 #6. I don't know if nature is a direct literary influence on my writing, but it is certainly important to me. I take great joy in writing about it. It is something I have taken with me from my childhood; the body exposed to the threat of the physical world and at the same time being at home in it. - Author: Per Petterson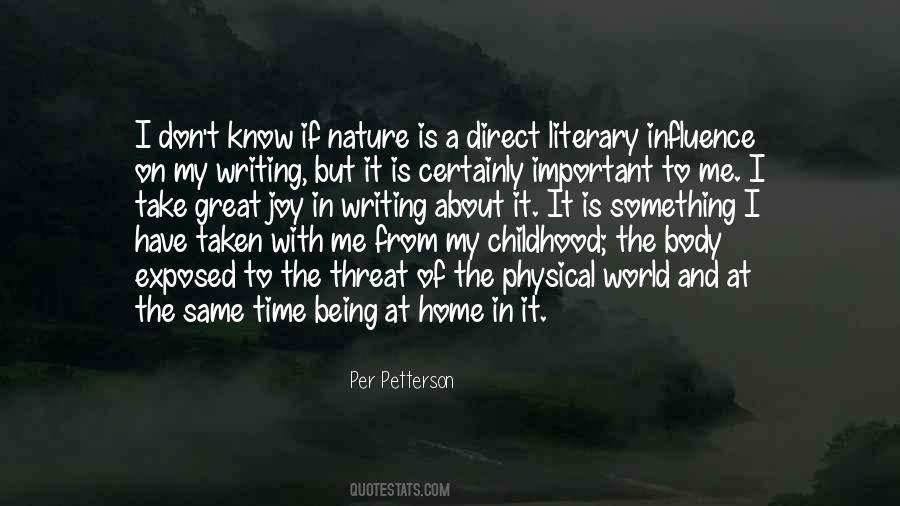 #7. If the sight of the blue skies fills you with joy, if a blade of grass springing up in the fields has power to move you, if the simple things of nature have a message that you understand, rejoice, for your soul is alive. - Author: Eleonora Duse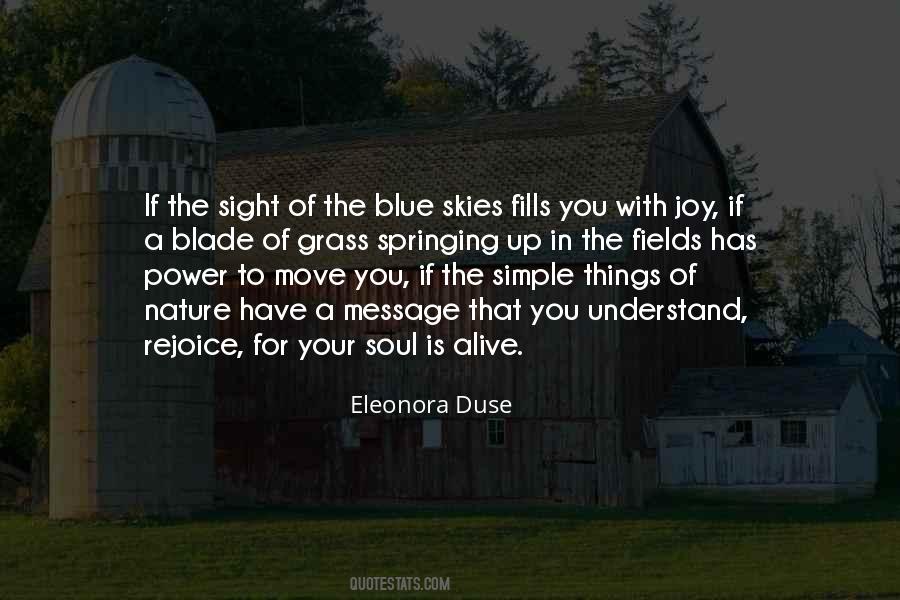 #8. Grace is what picks me up and lifts my wings high above and I fly! Grace always conquers! Be graceful in everything; in anger, in sadness, in joy, in kindness, in unkindness, retain grace with you! - Author: C. JoyBell C.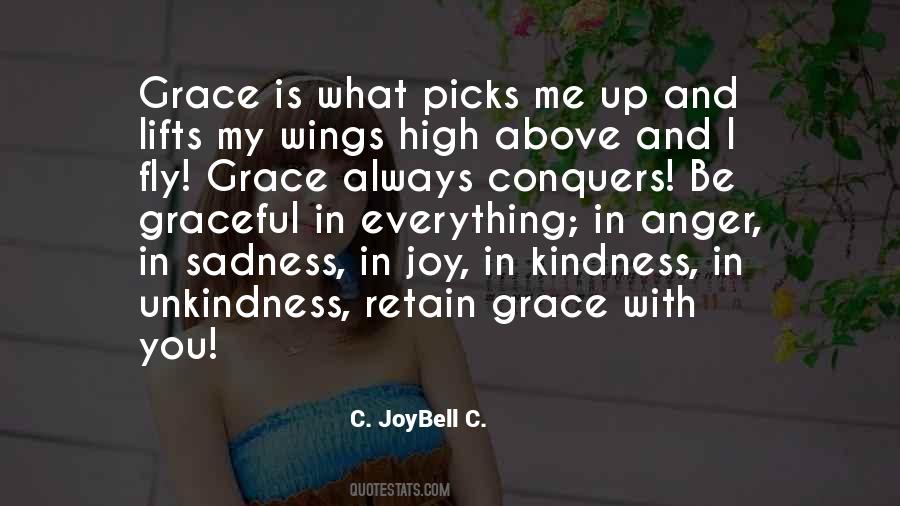 #9. Civilization is the mastery of violence, the triumph, constantly challenged, over the aggressive nature of the primate. For primates we have been and primates we shall remain, however often we learn to find joy in a camellia on moss. This is the very purpose of education. - Author: Muriel Barbery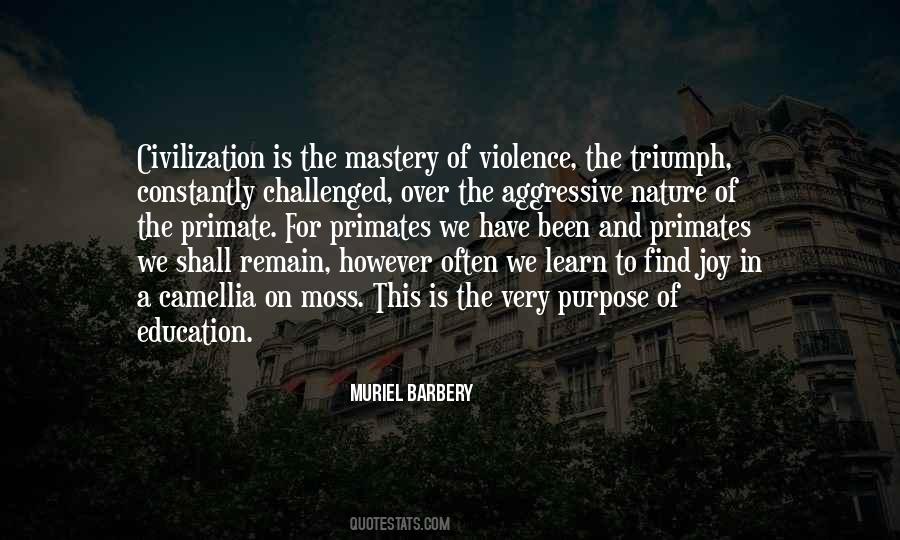 #10. Once we recognize that all things are impermanent, we have no problem enjoying them. In fact, real peace and joy are only possible when we see clearly into the nature of impermanence. - Author: Thich Nhat Hanh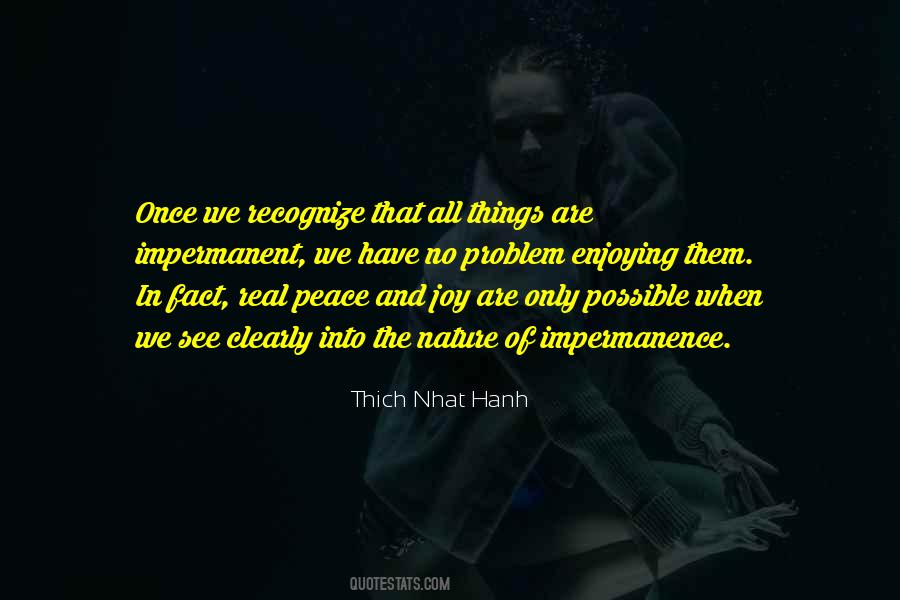 #11. Bread may not always nourish us; but it always does us good, it even takes stiffness out of our joints, and makes us supple and buoyant, when we knew not what ailed us, to recognize any generosity in man or Nature, to share any unmixed and heroic joy. - Author: Henry David Thoreau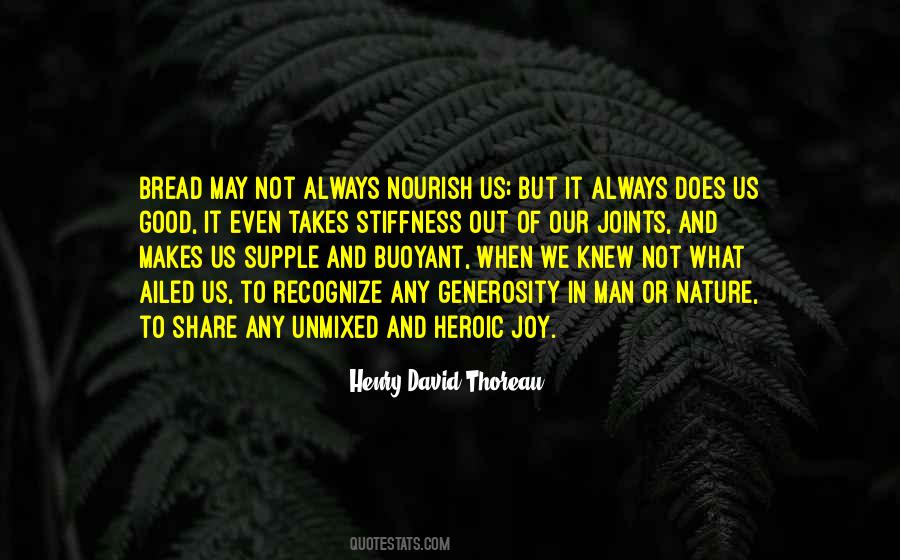 #12. The true joy of humankind is in doing that which is most proper to our nature; and the first property of people is to be kindly affected towards them that are of one kind with ourselves. - Author: Marcus Aurelius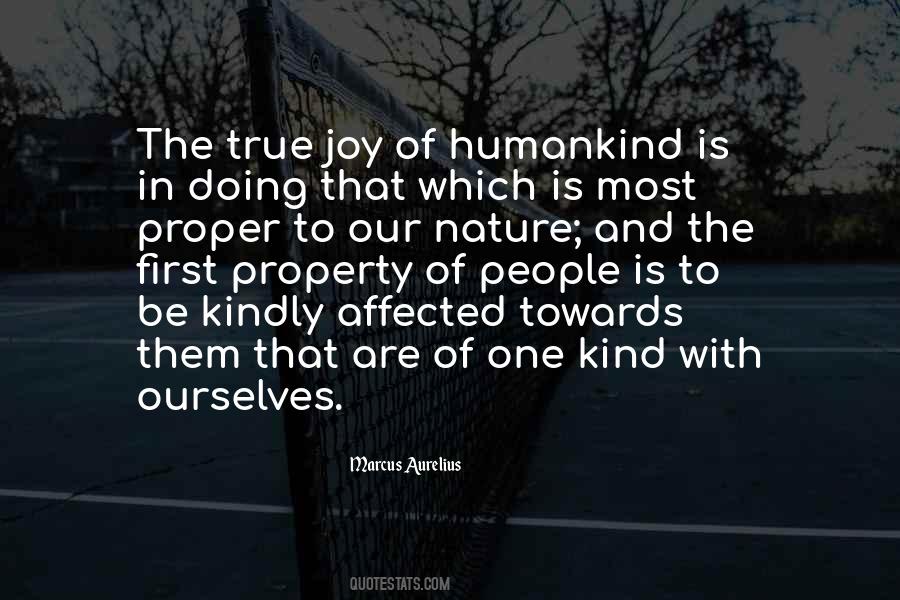 #13. The greatest joy in nature is the absence of man. - Author: Bliss Carman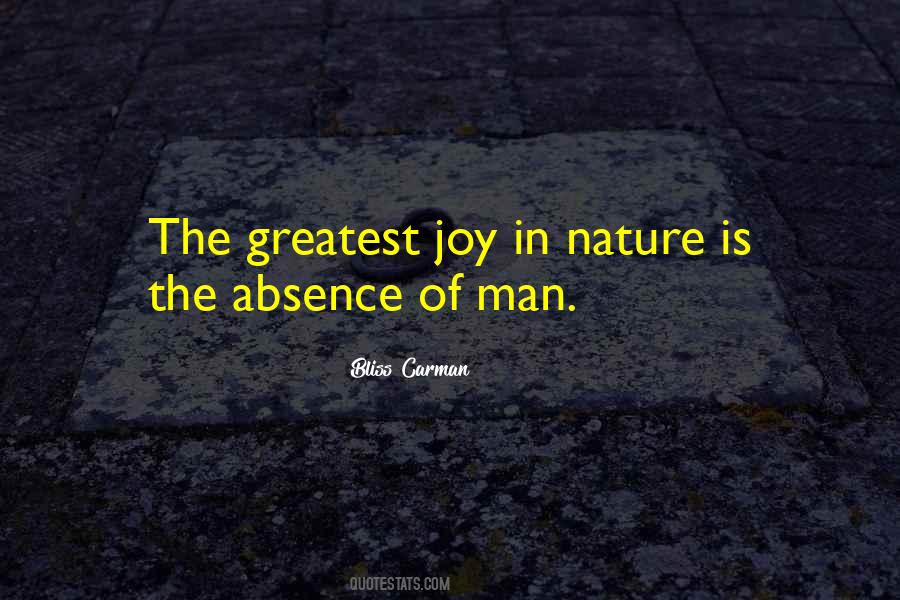 #14. Our true nature is bliss. That bliss is like the sun that always shines. It remains ever present, but the events in life and clouds of worry and even emotions like happiness may obscure it like storm clouds obscure the sun. - Author: Debra Moffitt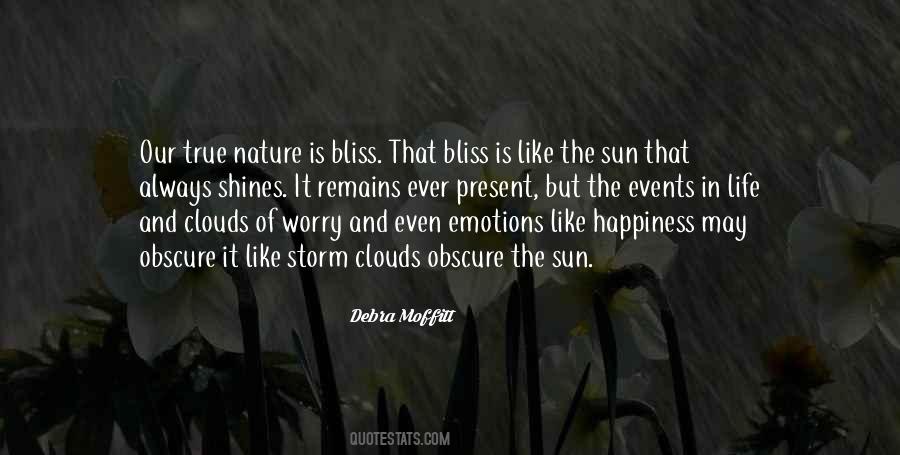 #15. There are so many unsung heroines and heroes at this broken moment in our collective story, so many courageous persons who, unbeknownst to themselves, are holding together the world by their resolute love or contagious joy. Although I do not know your names, I can feel you out there. - Author: David Abram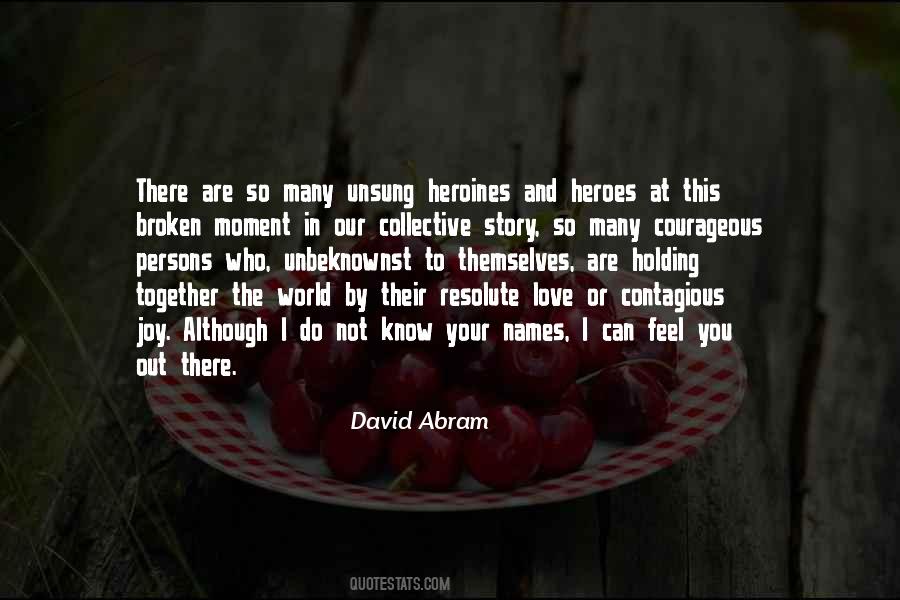 #16. The greatest need in the world is the transformation of human nature. We need a new heart that will not have lust and greed and hate in it. We need a heart filled with love and peace and joy, and that is why Jesus came into the world. - Author: Billy Graham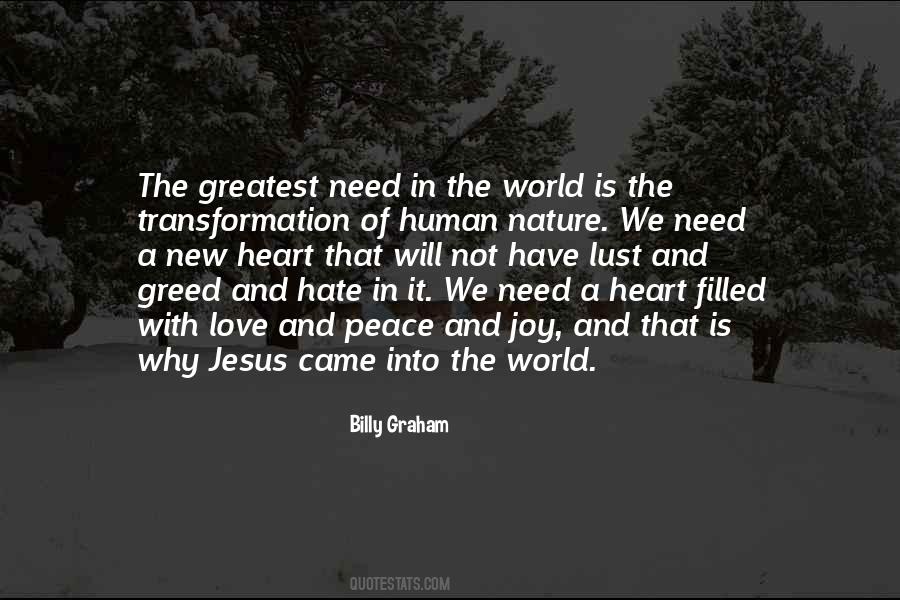 #17. May you find the beauty in every moment. - Author: Lailah Gifty Akita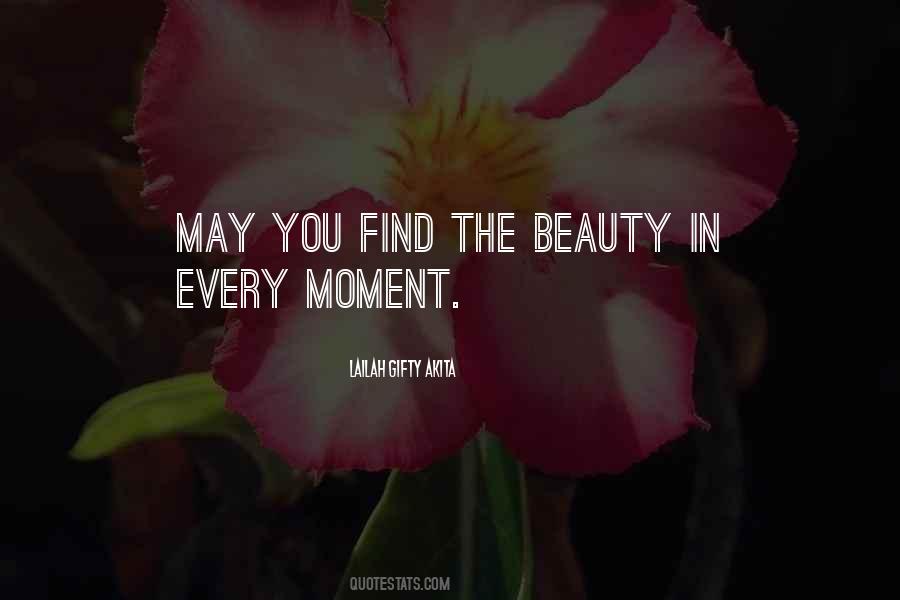 #18. Arrange photographs of nature scenes, animals and expressions of joy and love in your environment and let their energy radiate into your heart and provide you with their higher frequency. - Author: Wayne Dyer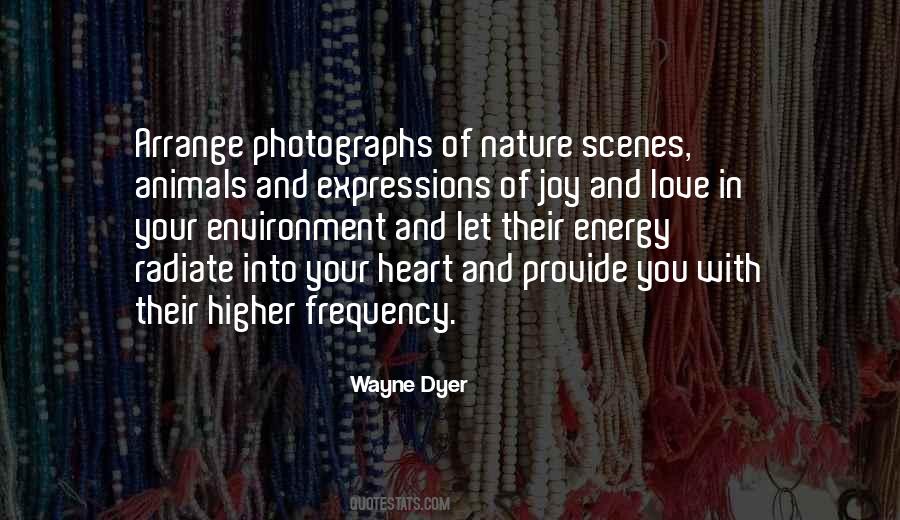 #19. Nothing from outside can stop a man from enjoying lasting peace and permanent joy in life, for it is the essential nature of his own soul. - Author: Maharishi Mahesh Yogi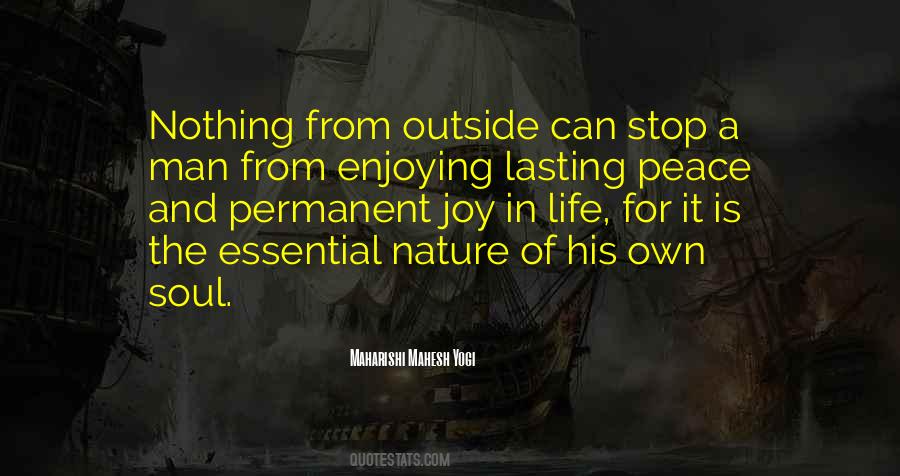 #20. All the love of the high, wild places, all the amazing joy in being alive sounded in his voice - Author: Elyne Mitchell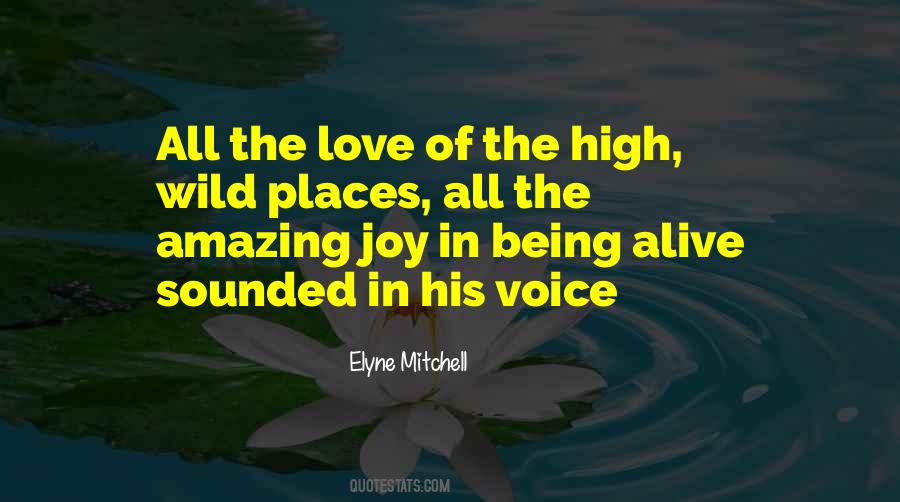 #21. But my biggest joy and best education and proudest achievement has been being able to show up for work and life and not cause too much trouble a day at a time in spite of my hysterical, somewhat dramatic, nature. - Author: Mark Vonnegut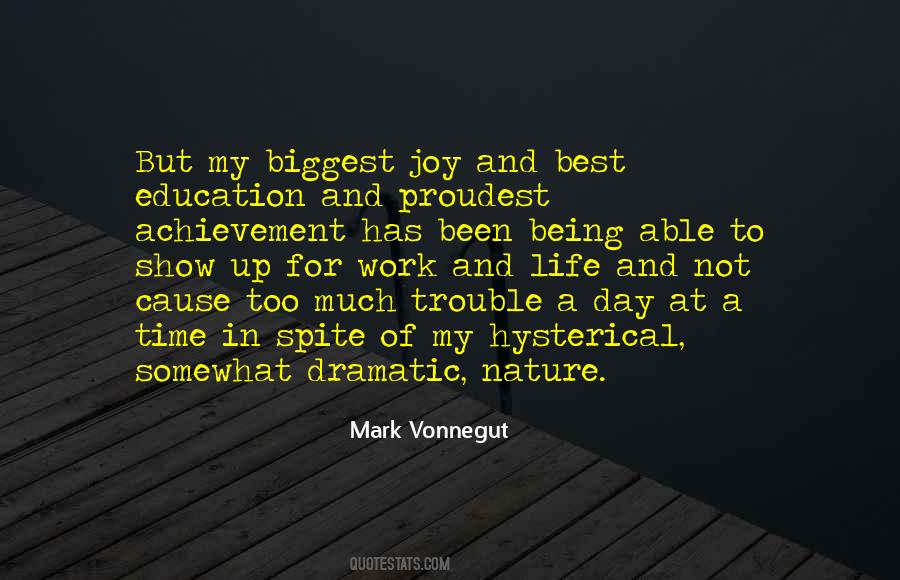 #22. As a rich man sees no reason for rejoicing in a meager gift of bread until a turn of events leaves him impoverished, so the sinner finds no joy in salvation until the horrid nature of his sin is revealed and he sees himself as wretched, miserable, poor, blind, and naked. - Author: Paul David Washer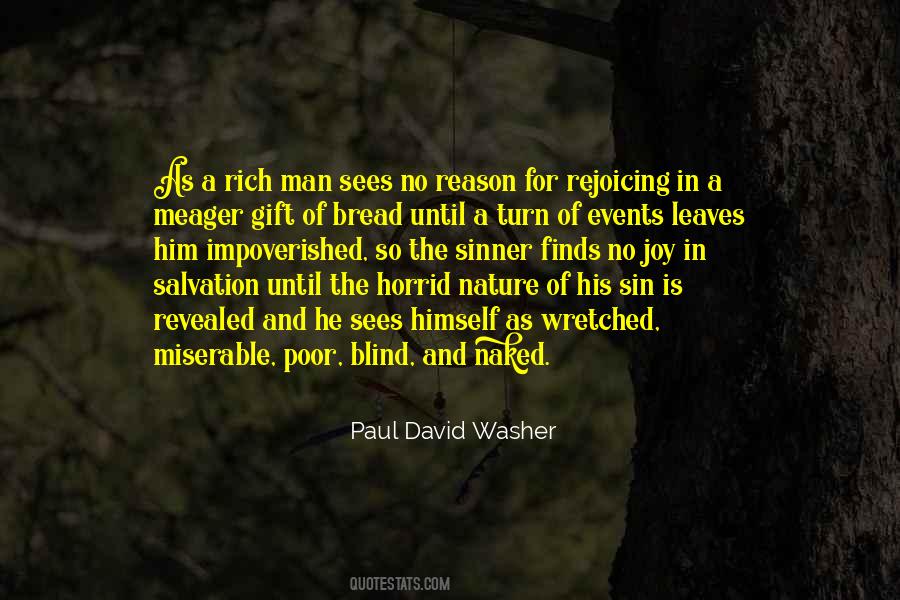 #23. Being alone in nature is another way to feel the joy of beauty - and oneness with a greater whole. - Author: Jude Bijou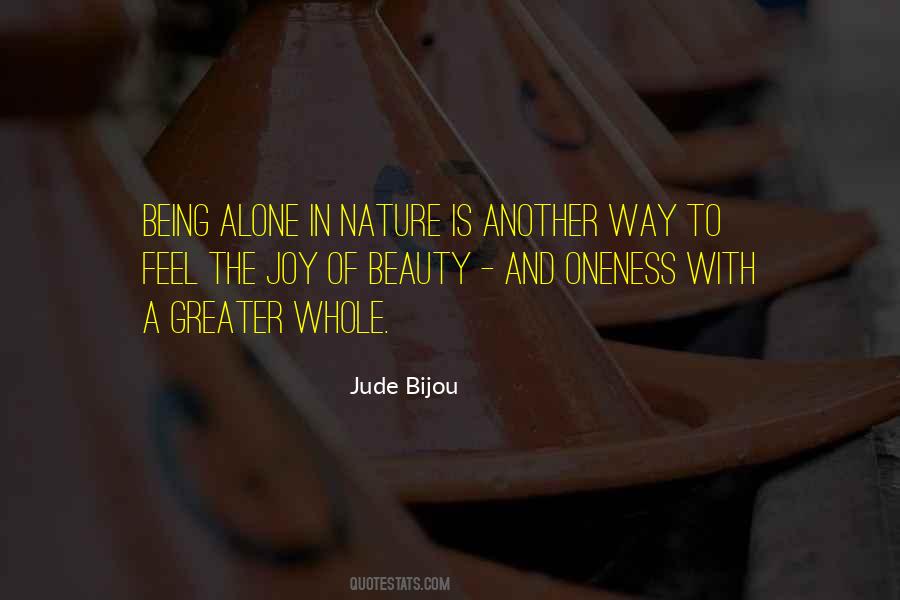 #24. Emotion is set in our genome and that we all have with a certain programmed nature that is modified by our experience so individually we have variations on the pattern. But in essence, your emotion of joy and mine are going to be extremely similar. - Author: Antonio Damasio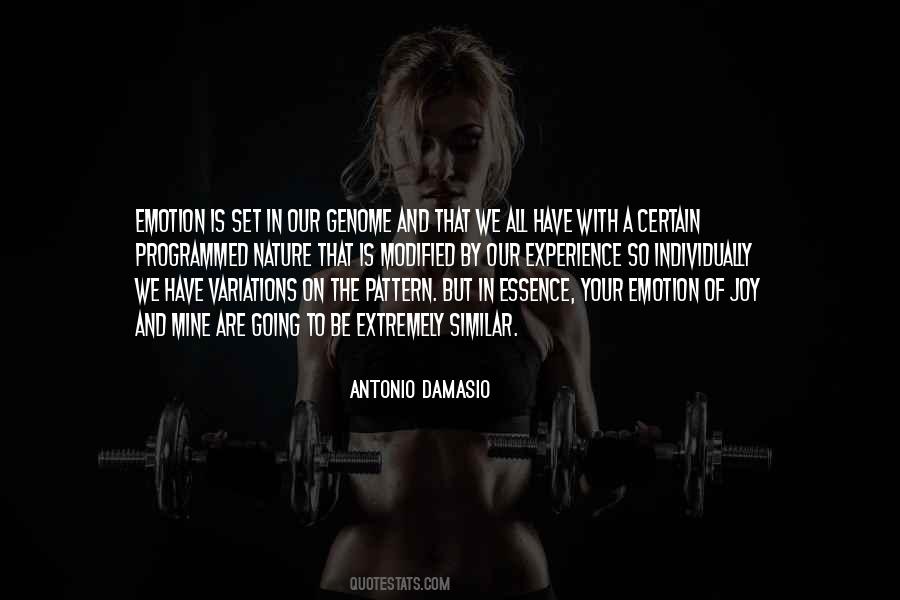 #25. Every time I stand before a beautiful beach, its waves seem to whisper to me:
If you choose the simple things and find joy in nature's simple treasures,
life and living need not be so hard. - Author: Psyche Roxas-Mendoza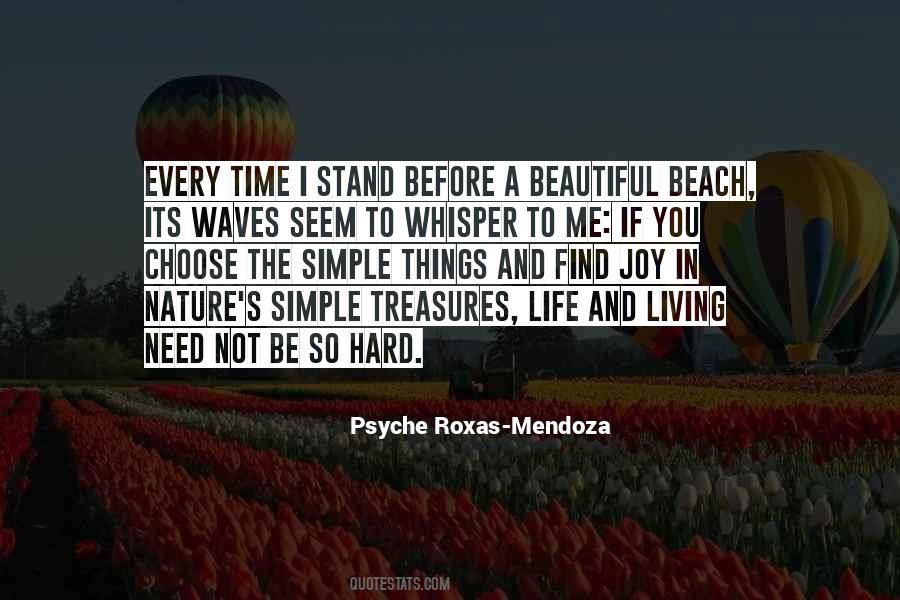 #26. In that sweet mood when pleasure loves to pay
Tribute to ease; and, of its joy secure,
The heart luxuriates with indifferent things,
Wasting its kindliness on stocks and stones,
And on the vacant air. - Author: William Wordsworth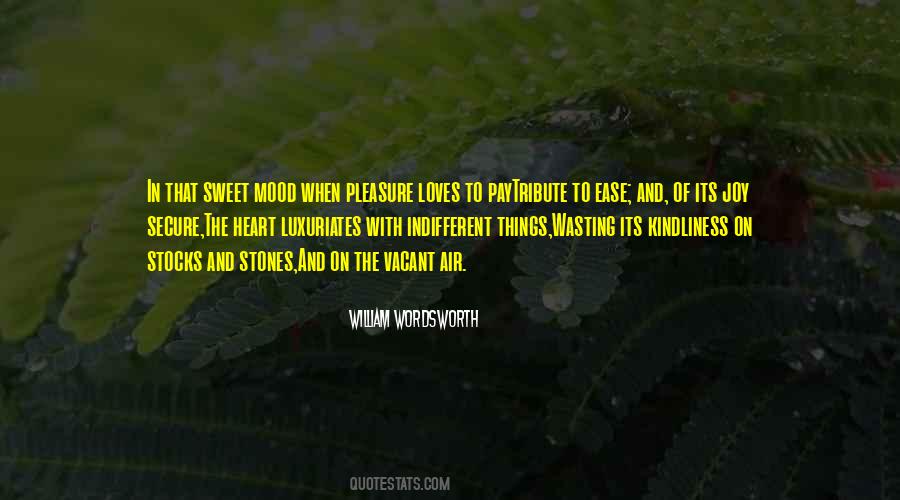 #27. People are part of my music. A lot of my songs are the result of emotional experiences, sadness, pain, joy, and exultation in nature and sunshine and so on ... like 'California Girls' which was a hymn to youth. - Author: Brian Wilson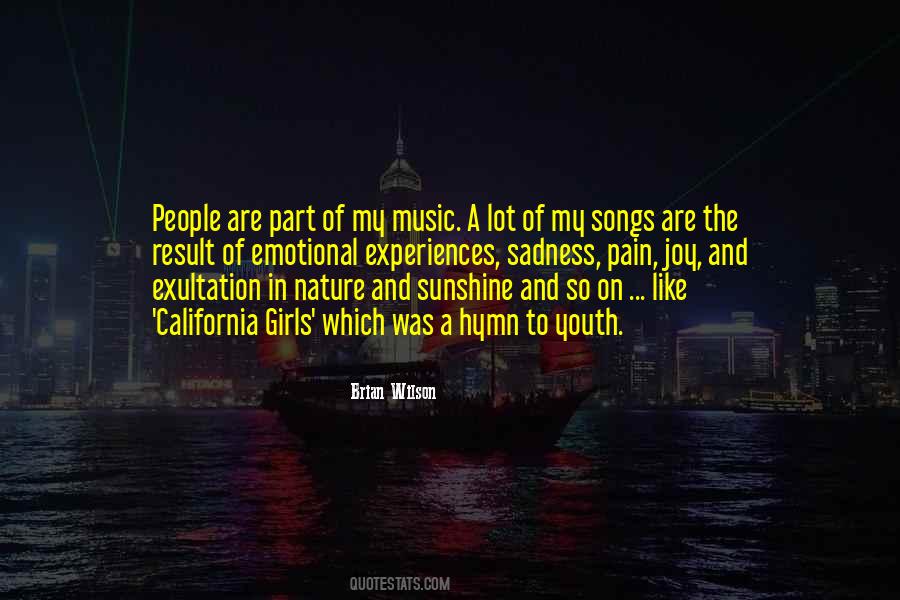 #28. I promise you that the same stuff galaxies are made of, you are. The same energy that swings planets around stars makes electrons dance in your heart. It is in you, outside you, you are it. It is beautiful. Trust in this. And you your life will be grand. - Author: Kamal Ravikant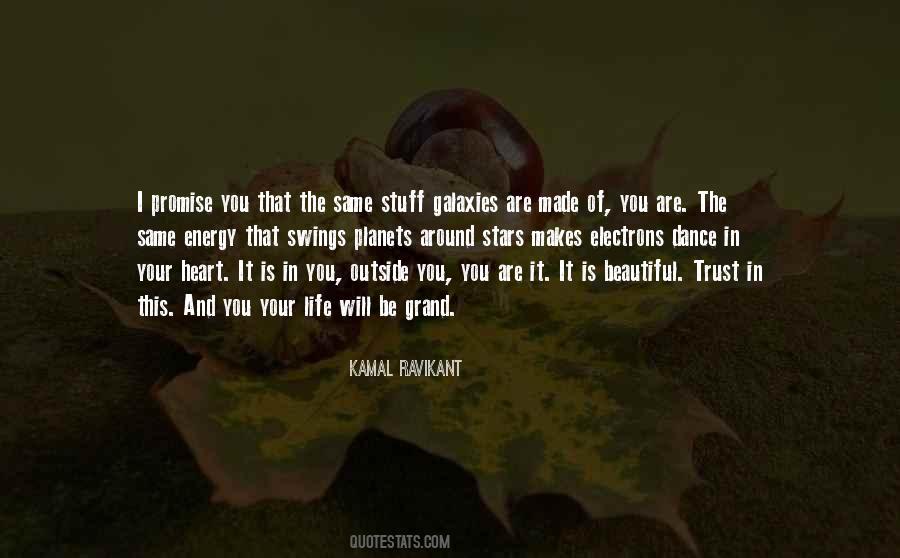 #29. Pleasure's a Moth, that sleeps by day And dances by false glare at night; But Joy's a Butterfly, that loves To spread its wings in Nature's light. - Author: W.H. Davies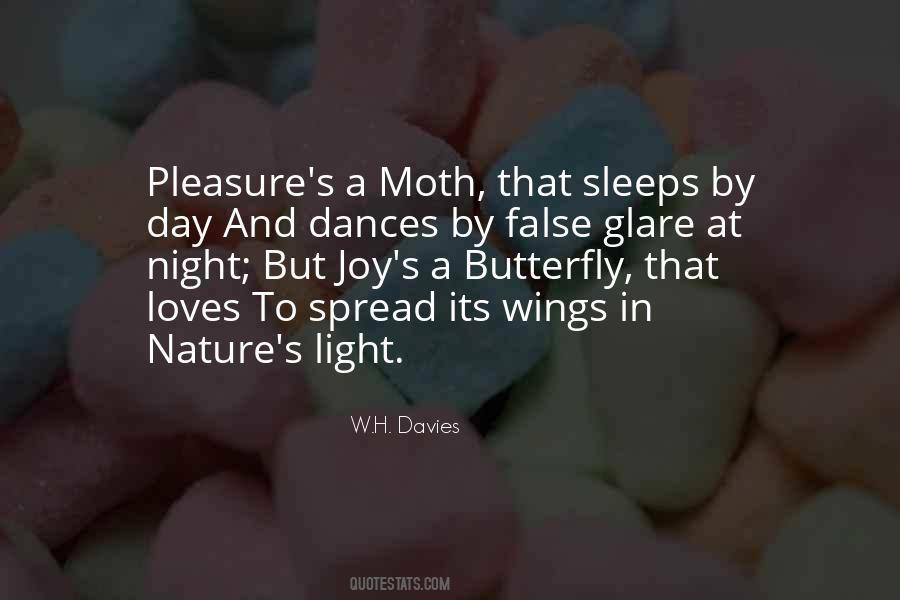 #30. For the time of towns is tolled from the world by funereal chimes, but in nature the universal hours are counted by succeeding tribes of animals and plants, and by growth of joy on joy. - Author: Ralph Waldo Emerson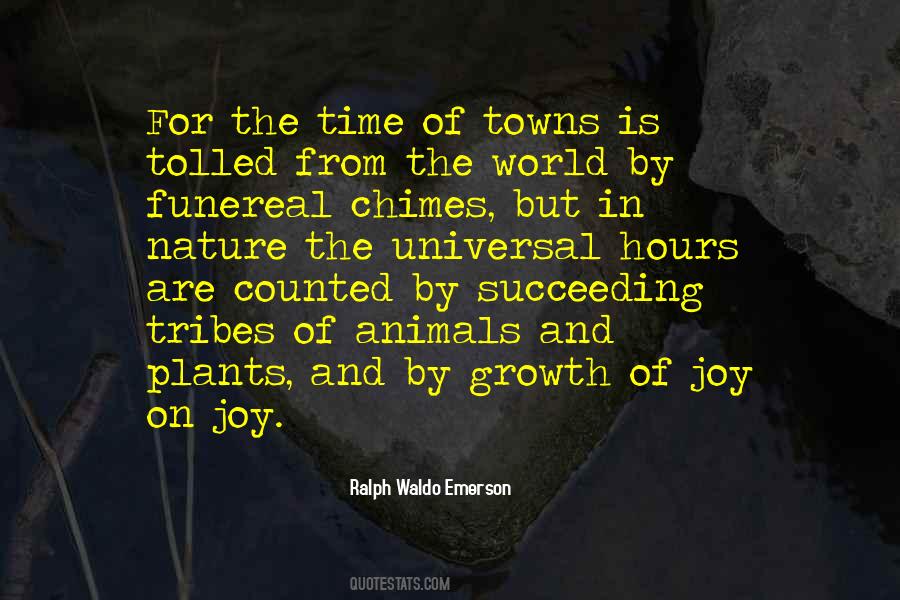 #31. Perfection is something we should all strive for. It's a duty and a joy to perfect one's nature ... The most difficult thing is love. A loveless, driving person that just competes in the rat race is far from perfection in my book. - Author: R.D. Laing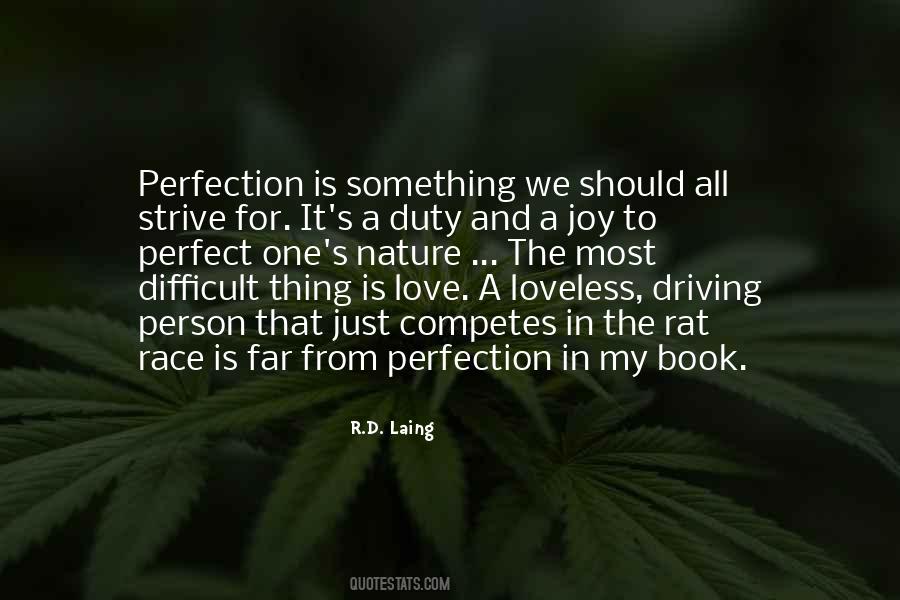 #32. Bright flower! whose home is everywhere Bold in maternal nature's care And all the long year through the heir Of joy or sorrow, Methinks that there abides in thee Some concord with humanity, Given to no other flower I see The forest through. - Author: William Wordsworth
#33. You don't believe in Nature anymore. It's too isolated from you. You've abstracted it. It's so messy and damaged and sad. Your eyes glaze as you travel life's highway past all the crushed animals and the Big Gulp cups. - Author: Joy Williams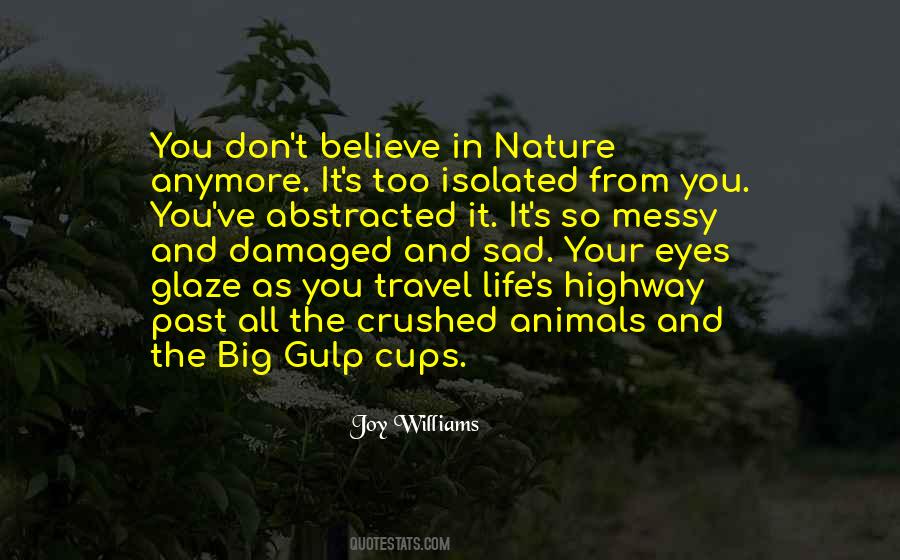 #34. I intended to portray the joy, anger, sorrow and pleasure of our lives through four seasons and through the life of a monk who lives in a temple on Jusan Pond surrounded only by nature. - Author: Kim Ki-duk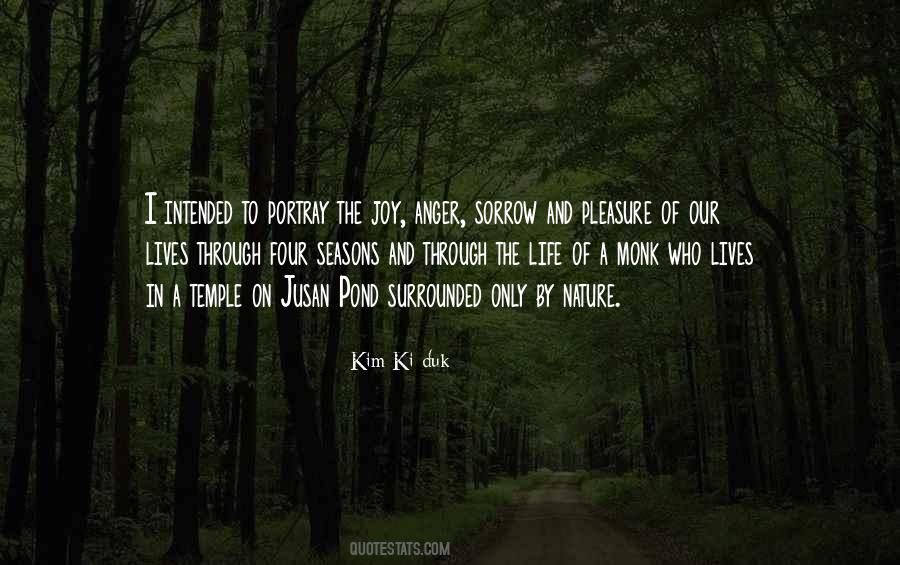 #35. That clever mind, that sharp tongue and droll wit. His love for Ella, manifested in sacrifice and secret smiles; his sense of honor and duty; his pride in the face of unceasing subjugation. His joy of nature, his respect for all things living, his skill with ... well, everything. - Author: Rachel Haimowitz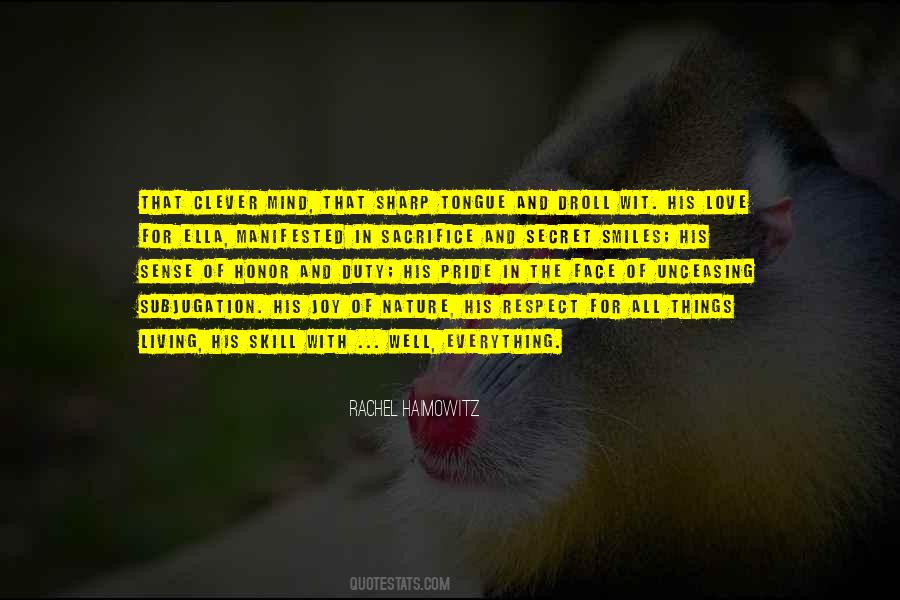 #36. Despite my solitary life, I have found infinite joy in books and writing, and am by far too much interested in the affairs of the world to quit the scene before Nature shall claim me. - Author: H.P. Lovecraft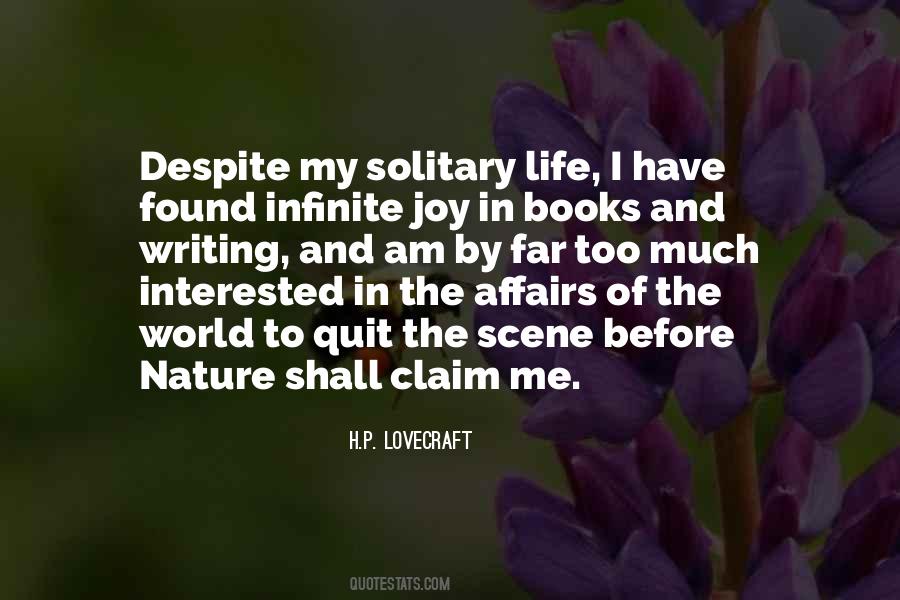 #37. Death. Life. They are in the air, the water, the earth, and the fire that surround us. They co-mingle like a dance of weeping and rejoicing. The joy and pain become one. We are of a dualistic nature." ---Jennifer Mills - Author: Dianne Bright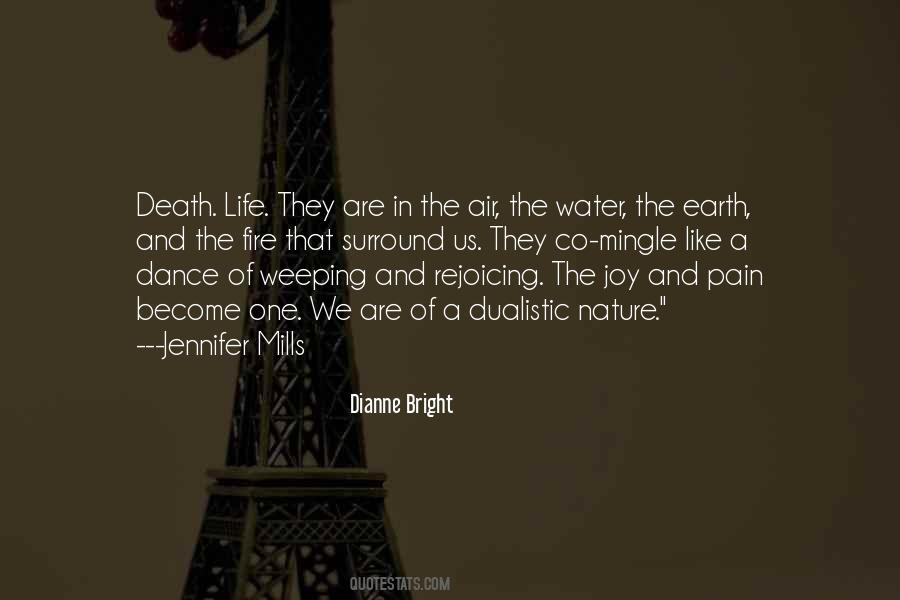 #38. There seems to be something in our human nature that draws us away from a life-giving relationship with Jesus because it feels more comfortable to focus on what to do and not do. That tendency robs us of real joy and peace. - Author: Chris Hodges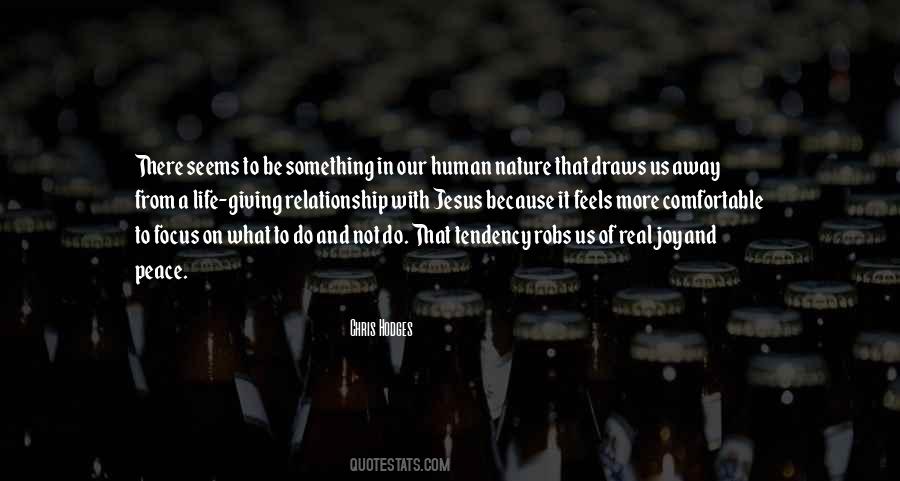 #39. Dance,' they told me, and I stood still,
and while I stood quiet in line at the gate of the Kingdom, I danced.
'Pray,' they said, and I laughed,
covering myself in the earth's brightnesses,
and then stole off gray into the midst of a revel,
and prayed like an orphan. - Author: Wendell Berry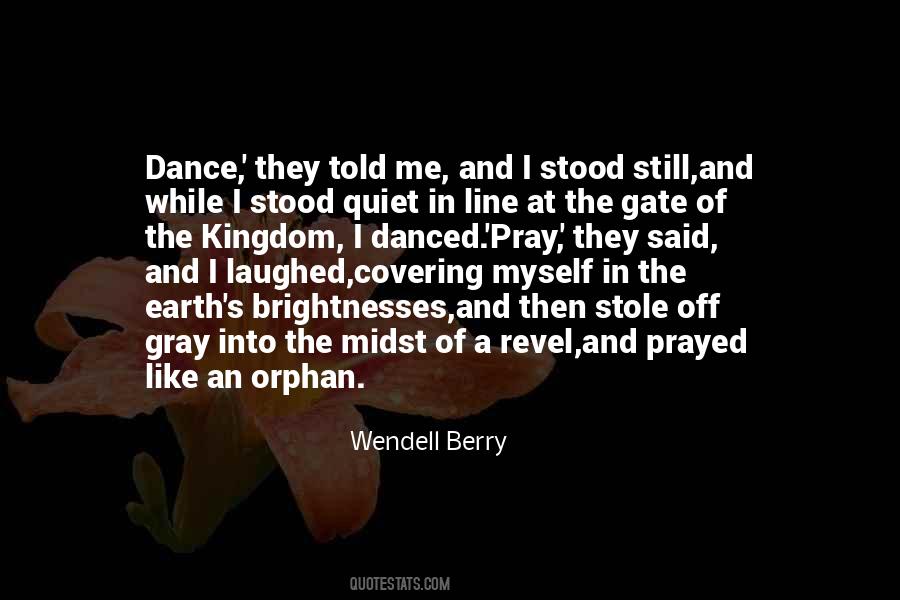 #40. We really need a new world order. I refuse to believe that nature takes joy and pleasure in sculpting the young and rich - Author: S.A. David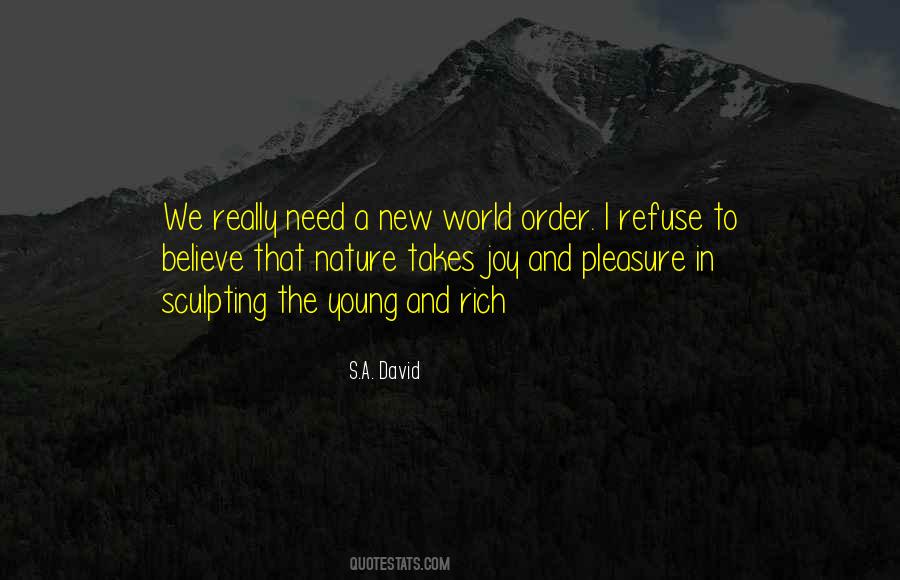 #41. The tree which moves some to tears of joy is in the eyes of others only a green thing that stands in the way. Some see nature all ridicule and deformity ... and some scarce see nature at all. But to the eyes of the man of imagination, nature is imagination itself. - Author: William Blake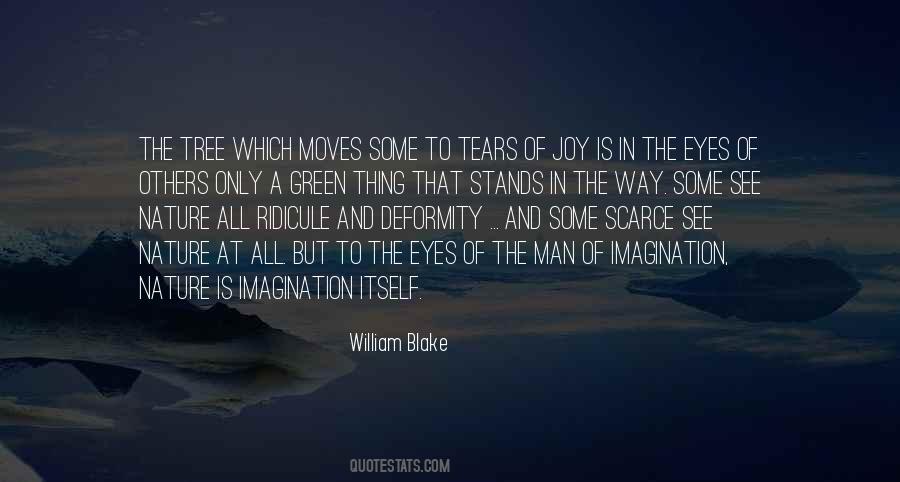 #42. Immerse yourself in nature's symphony
and let your senses burst with joy. - Author: Tom Brown Jr.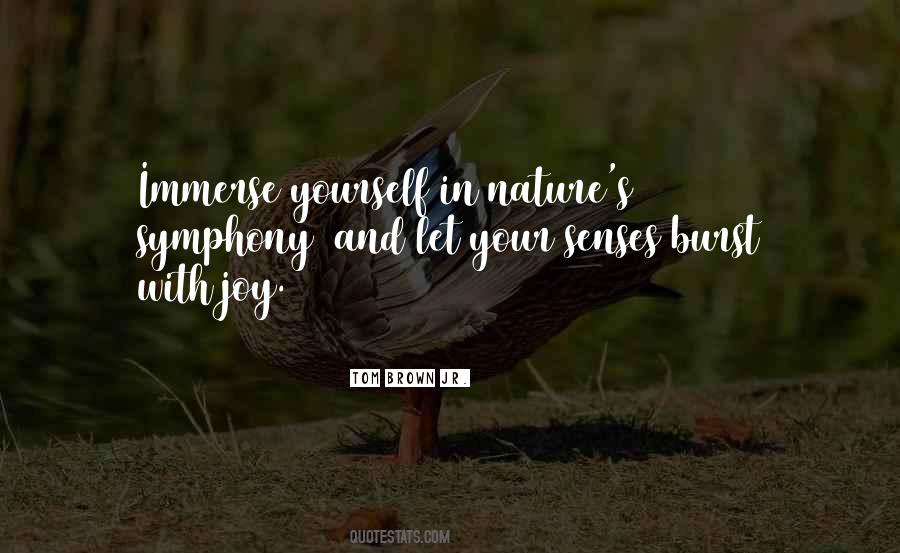 #43. If there is one thing clear about the centuries dominated by the factory and the wheel, it is that although the machine can make everything from a spoon to a landing-craft, a natural joy in earthly living is something it never has and never will be able to manufacture. - Author: Henry Beston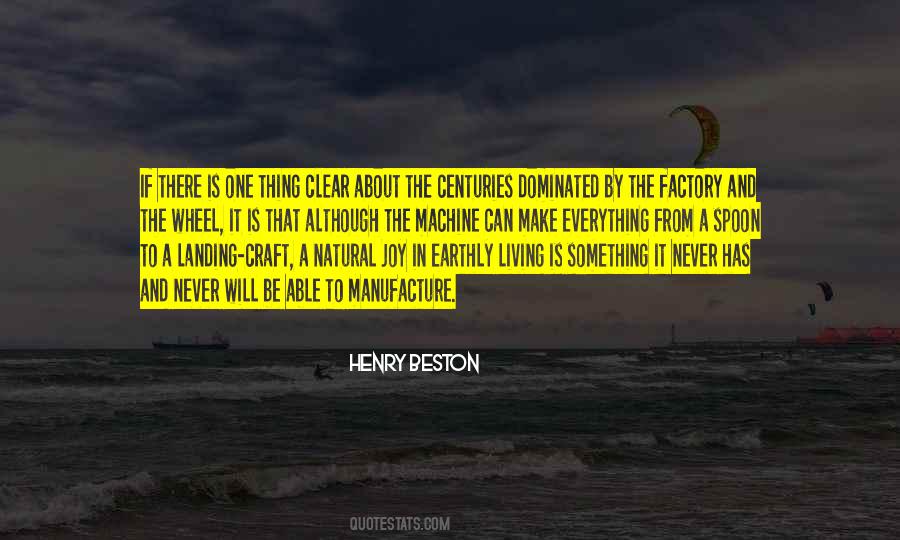 #44. For here the religion that languishes in crowded cities or steals shame-faced to hide itself in dim churches, flourishes greatly, filling the soul with a solemn joy. Face to face with Nature on the vast hills at eventide, who does not feel himself near to the Unseen? - Author: William Henry Hudson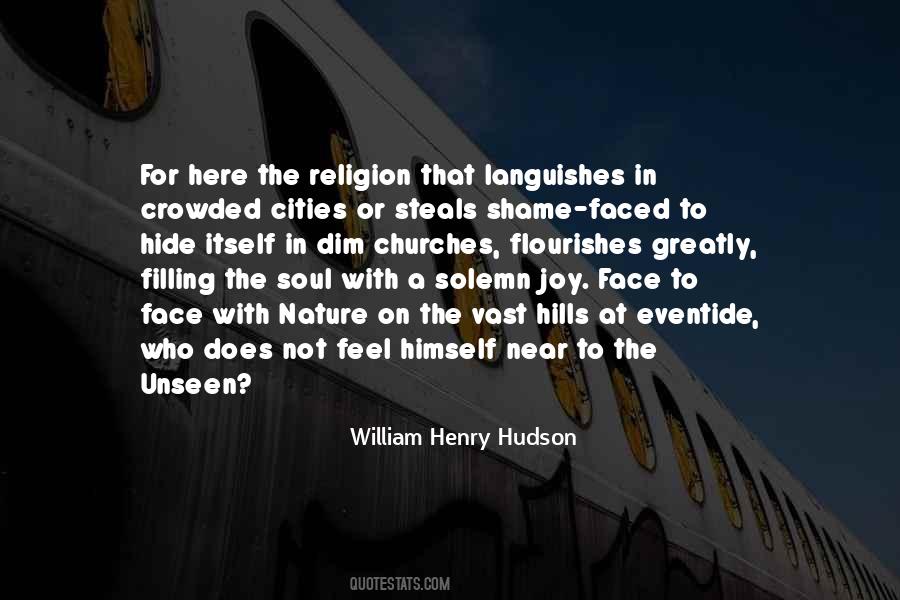 #45. Truthfully, there're only a handful of people in this world who really get joy from seeing you happy. Most won't care if you're happy, only if you're miserable like they are. They eat that shit up. - Author: Crystal Woods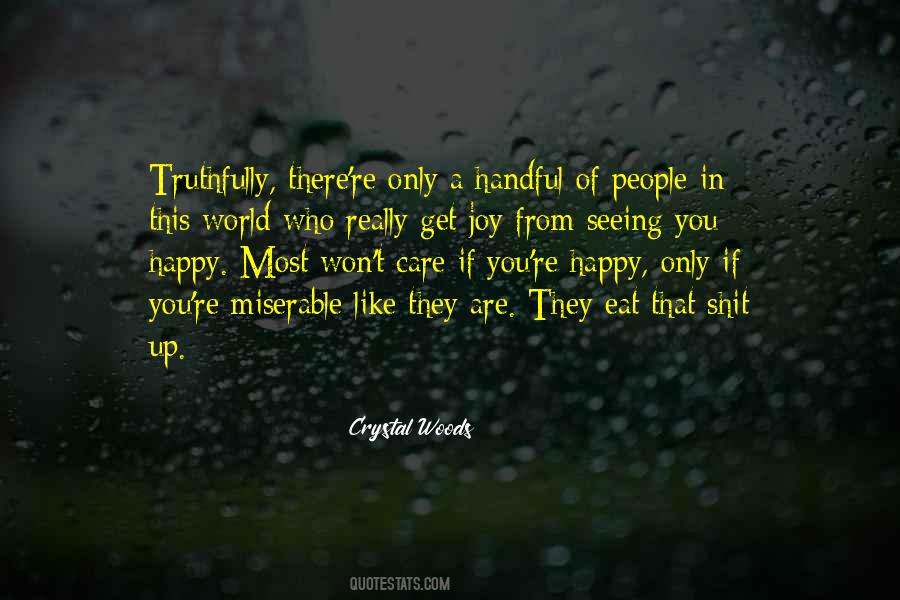 #46. Westminster Abbey is nature crystallized into a conventional form by man, with his sorrows, his joys, his failures, and his seeking for the Great Spirit. It is a frozen requiem, with a nation's prayer ever in dumb music ascending. - Author: M. E. W. Sherwood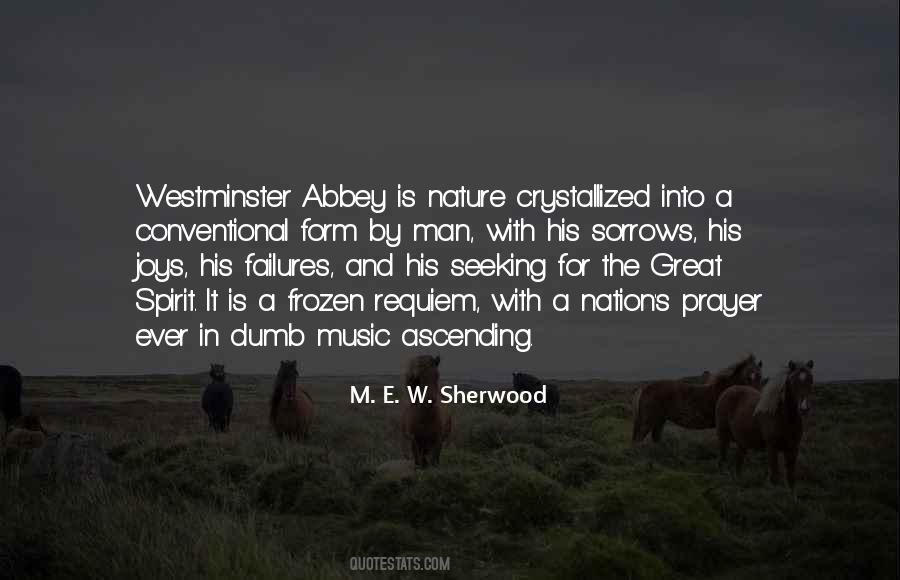 #47. Laughter almost ever cometh of things most disproportioned to ourselves and nature: delight hath a joy in it either permanent or present; laughter hath only a scornful tickling. - Author: Philip Sidney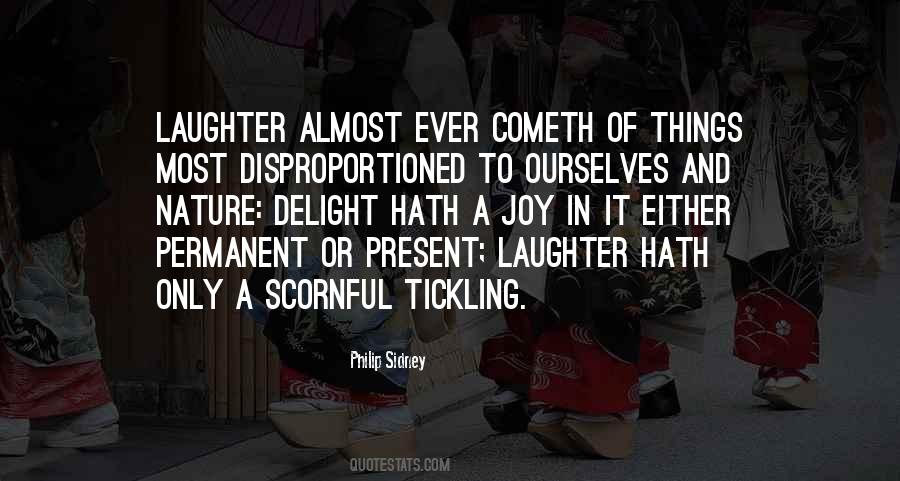 #48. In the process of meditation, fetters are undone; internal blocks of suffering such as resentment, fear, anger, despair, and hatred are transformed; relationships with humans and nature become easier; freedom and joy can penetrate us. We become aware of what is inside and around us; - Author: Thich Nhat Hanh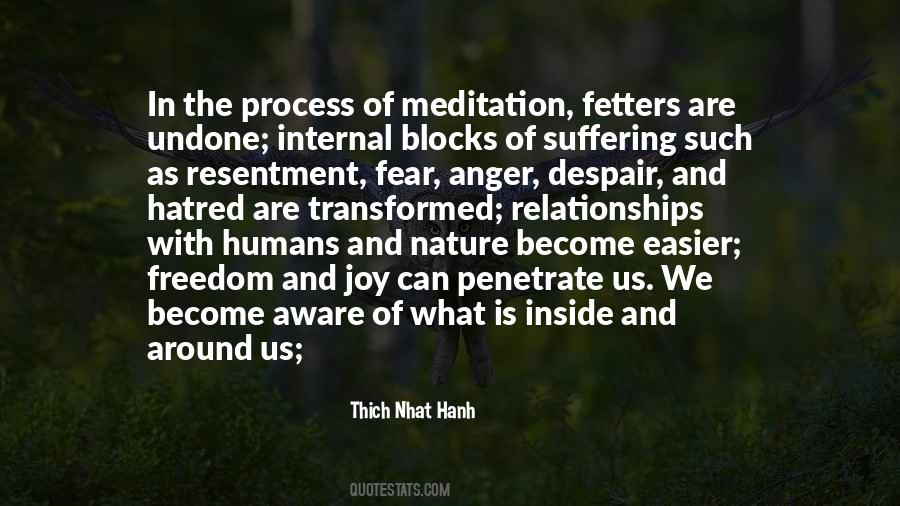 #49. My greatest joy comes from creativity: from feeling that I have been able to identify a certain aspect of human nature and crystallise a phenomenon in words. - Author: Alain De Botton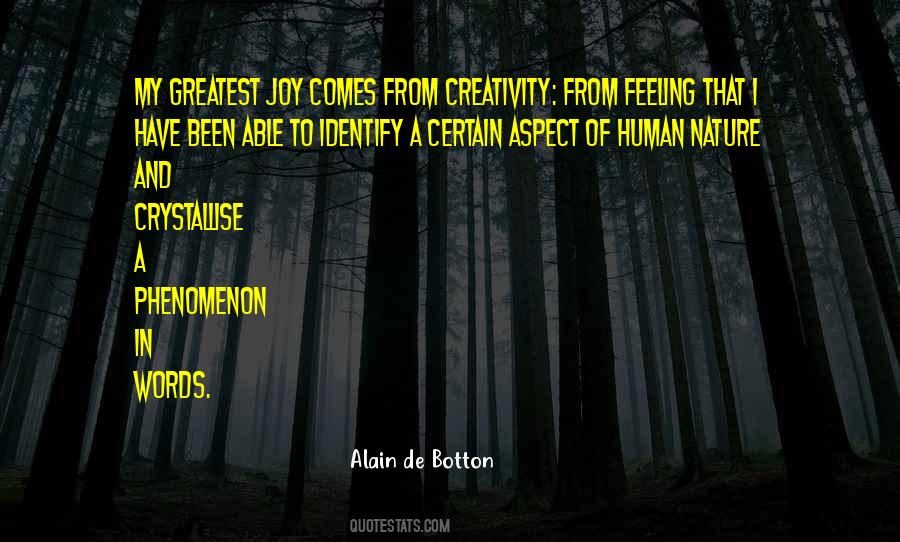 #50. The way to suffer well and be happy is to stay in touch with what is actually going on; in doing so, you will gain liberating insights into the true nature of suffering and of joy. NO - Author: Thich Nhat Hanh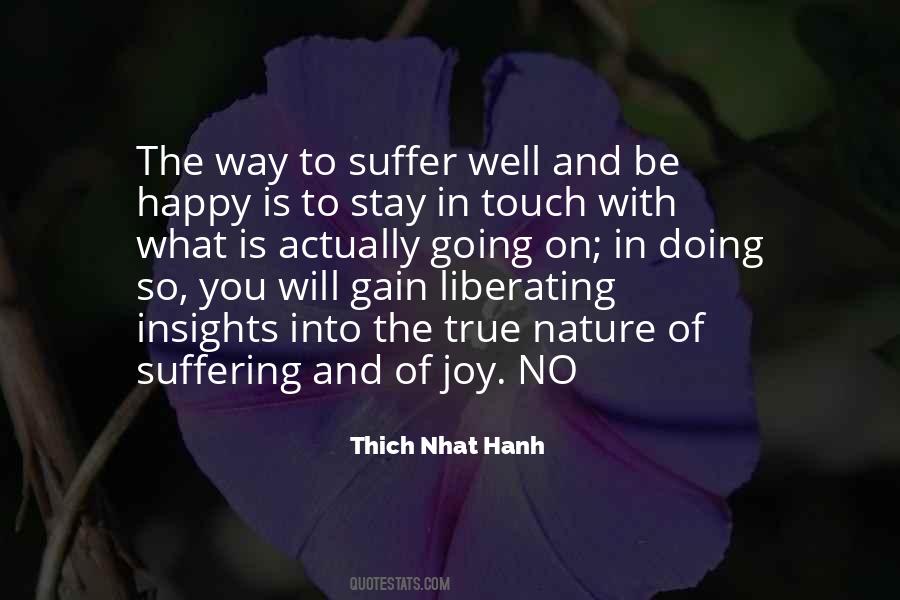 #51. there can be occasions when we suddenly and involuntarily find ourselves loving r=the natural world with a startling intensity, in a burst of emotion which we may not fully understand, and the only word that seems to me to be appropriate for this feeling is joy - Author: Michael McCarthy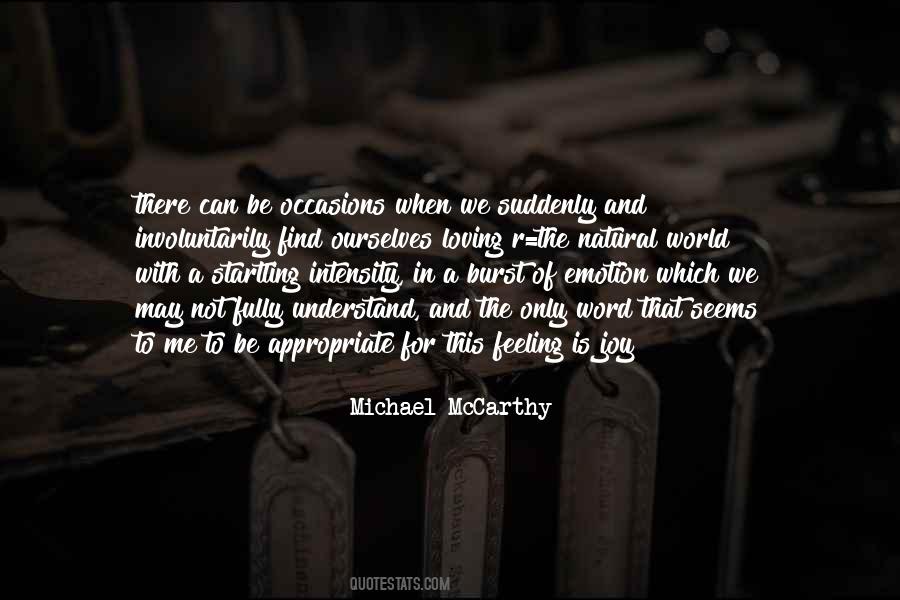 #52. Look in the perfumes of flowers and of nature for peace of mind and joy of life. - Author: Wang Wei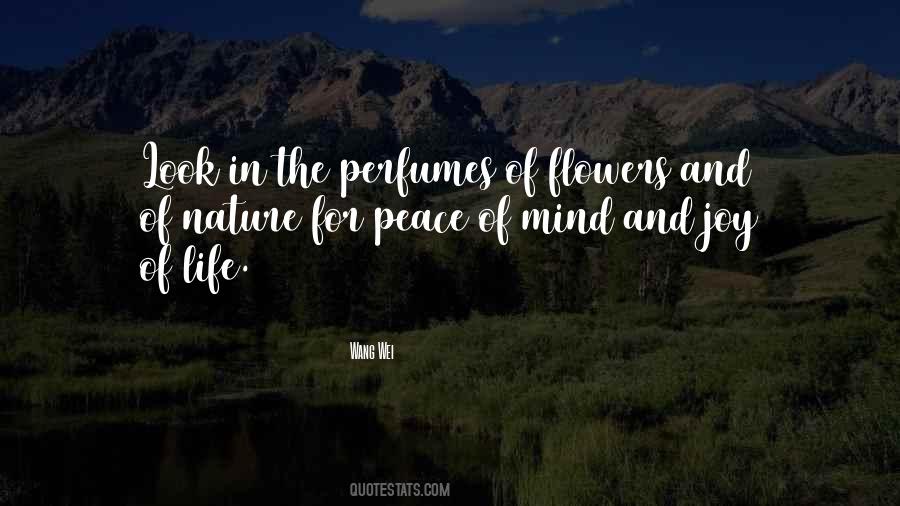 #53. I think that no matter how old or infirm I may become, I will always plant a large garden in the spring. Who can resist the feelings of hope and joy that one gets from participating in nature's rebirth? - Author: Edward Giobbi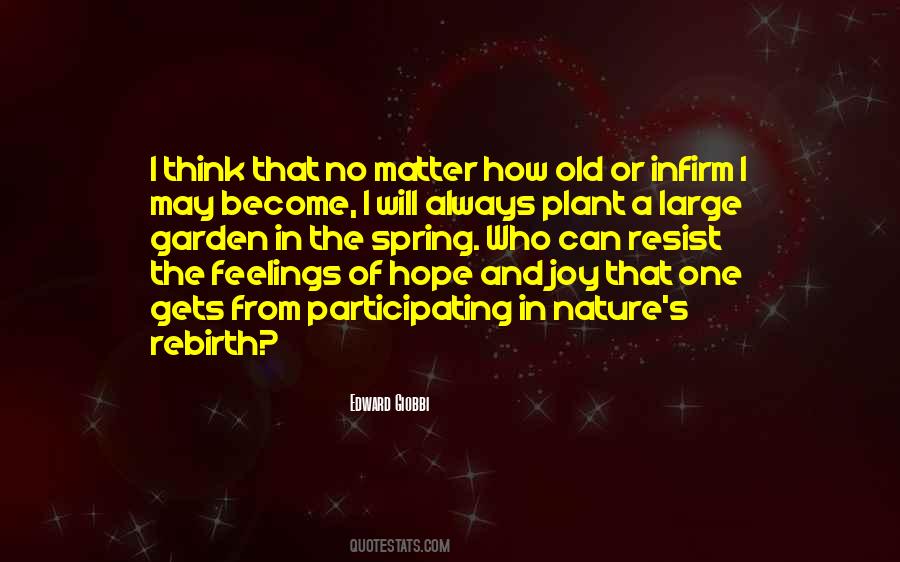 #54. The contemplation of beauty in nature, in art, in literature, in human character, diffuses through our being a soothing and subtle joy, by which the heart's anxious and aching cares are softly smiled away. - Author: Edwin Percy Whipple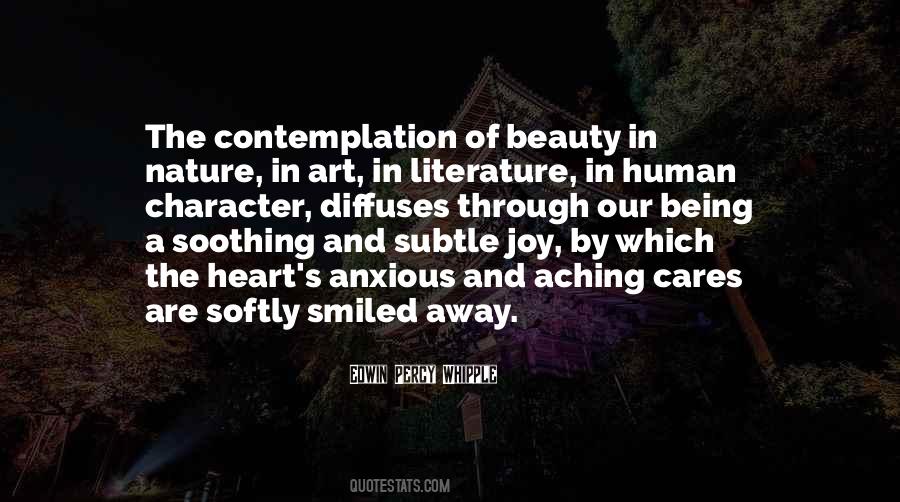 #55. Joy in looking and comprehending is nature's most beautiful gift. - Author: Albert Einstein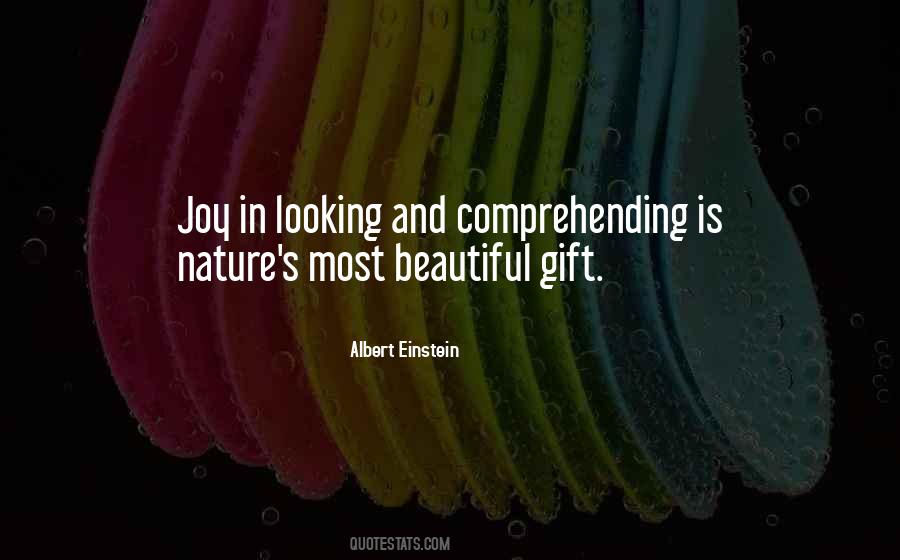 #56. Reflect on death as in Jesus Christ, not as without Jesus Christ. Without Jesus Christ it is dreadful, it is alarming, it is the terror of nature. In Jesus Christ it is fair and lovely, it is good and holy, it is the joy of saints. - Author: Blaise Pascal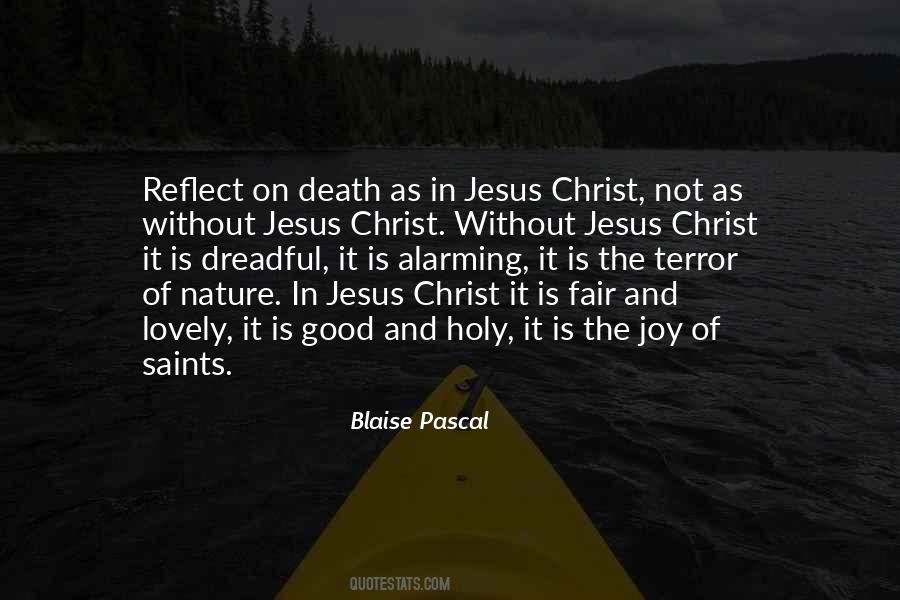 #57. Joy is the mainspring in the whole
Of endless Nature's calm rotation.
Joy moves the dazzling wheels that roll
In the great Time-piece of Creation. - Author: Friedrich Schiller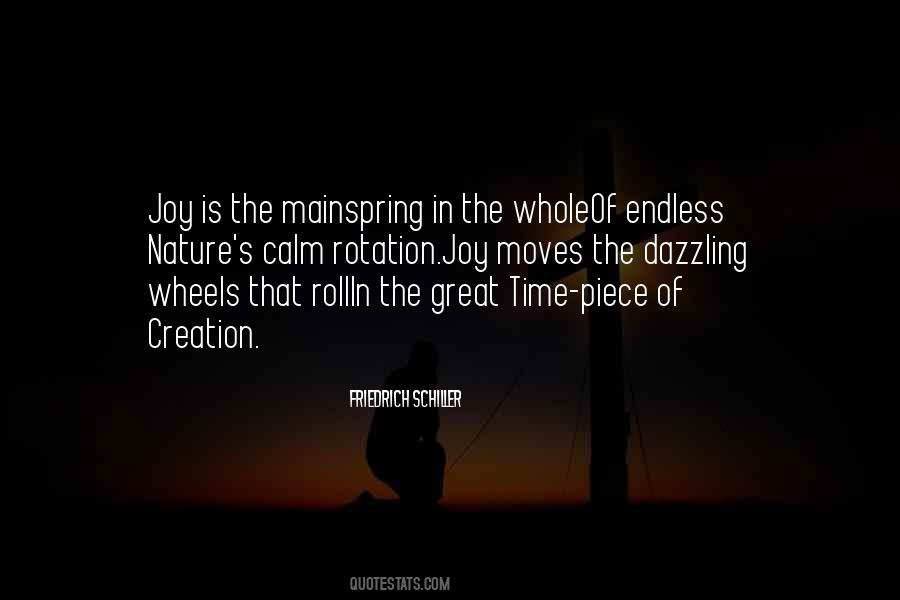 #58. Oh woman! lovely woman! nature made thee To temper man; we had been brutes without you; Angels are painted fair to look like you; There's in you all that we believe of heaven, Amazing brightness, purity, and truth, Eternal joy, and everlasting love. - Author: Thomas Otway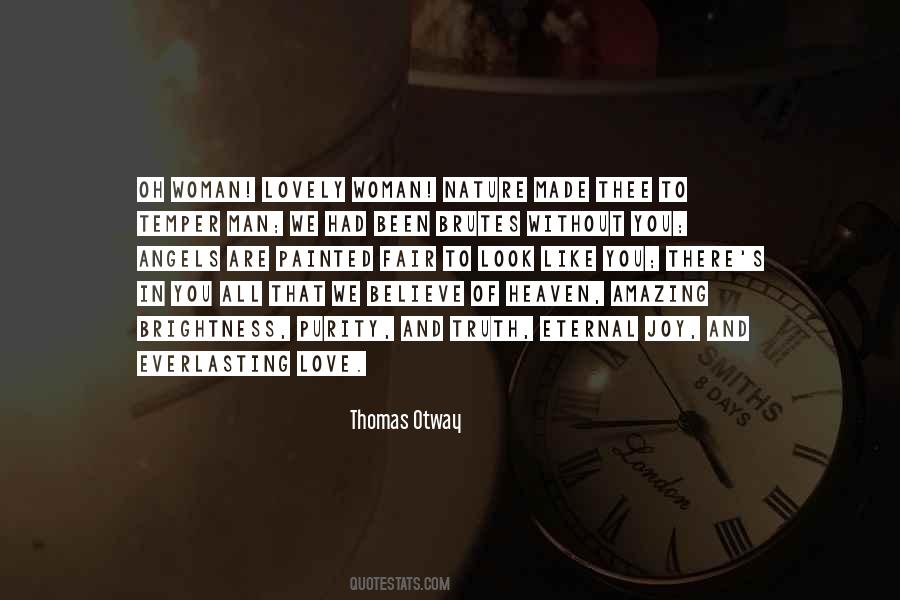 #59. The worst of misery
Is when a nature framed for noblest things
Condemns itself in youth to petty joys,
And, sore athirst for air, breathes scanty life
Gasping from out the shallows. - Author: George Eliot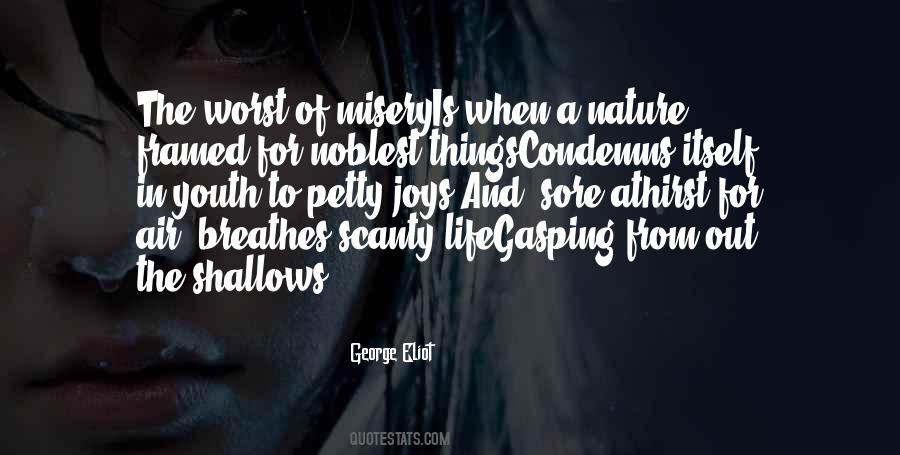 #60. No joy in nature is so sublimely affecting as the joy of a mother at the good fortune of a child. - Author: Charles Francis Richter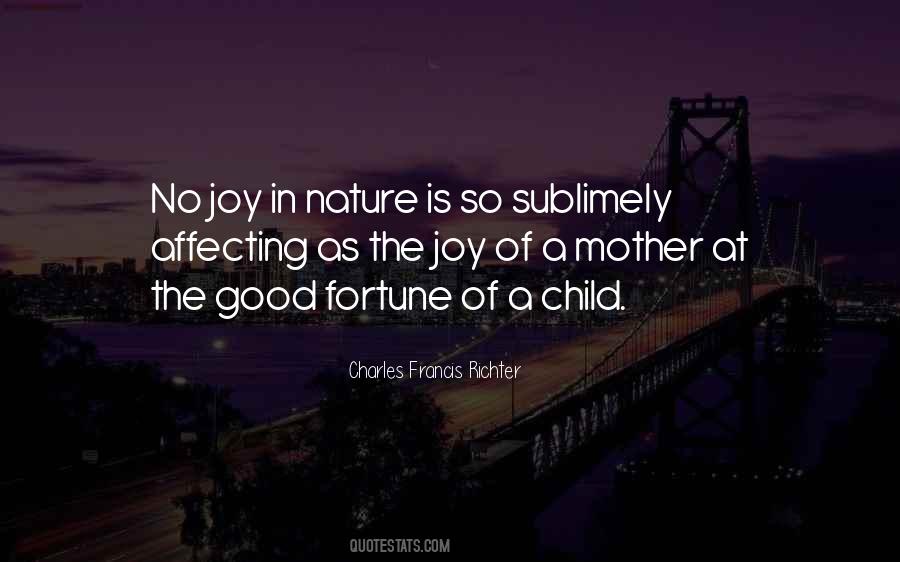 #61. There is something of the freshness of mind, of the lightness of spirit in Linne which for centuries has been linked in people's minds with the mountains of Sweden and Swedish joy in nature. - Author: Johannes Vilhelm Jensen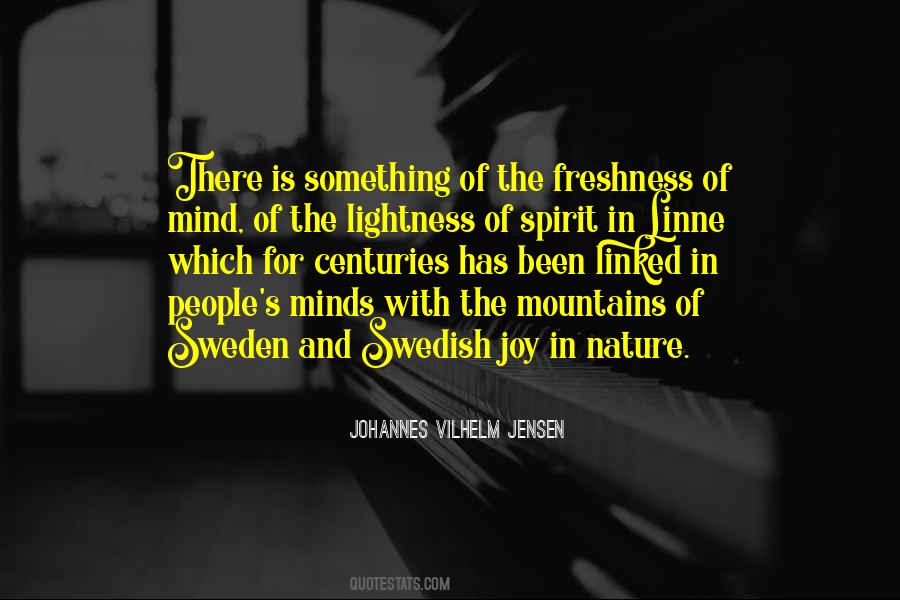 #62. How I would paint happiness
Something hidden, a windfall,
A meteor shower. No-
A flowering tree releasing
all its blossoms at once,
and the one standing beneath it
unexpectedly robed in bloom ... - Author: Lisel Mueller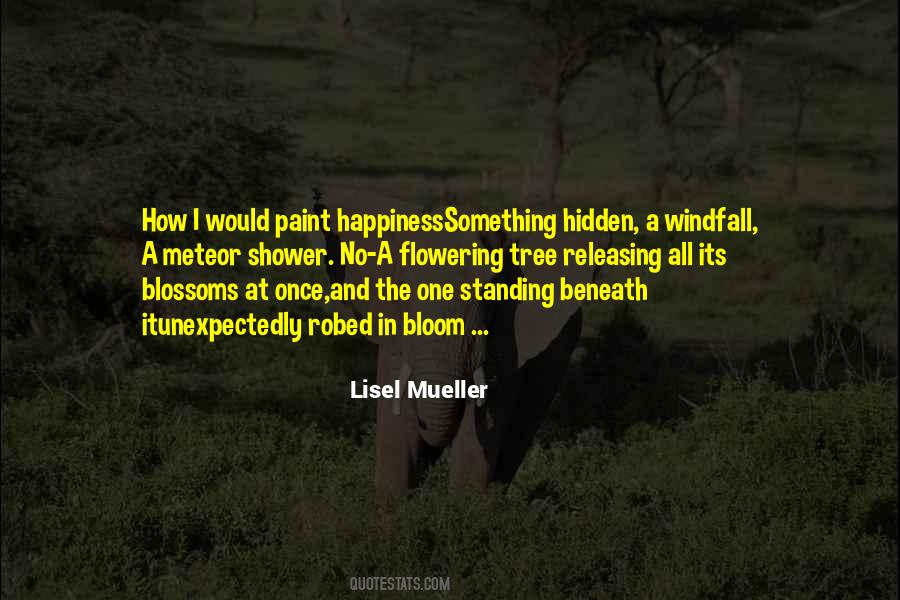 #63. Nature we have always with us, an in exhaustible store-house of that which moves the heart, appeals to the mind and fires the imagination -- health to the body, a stimulus to the intellect, and joy to the soul. - Author: John Burroughs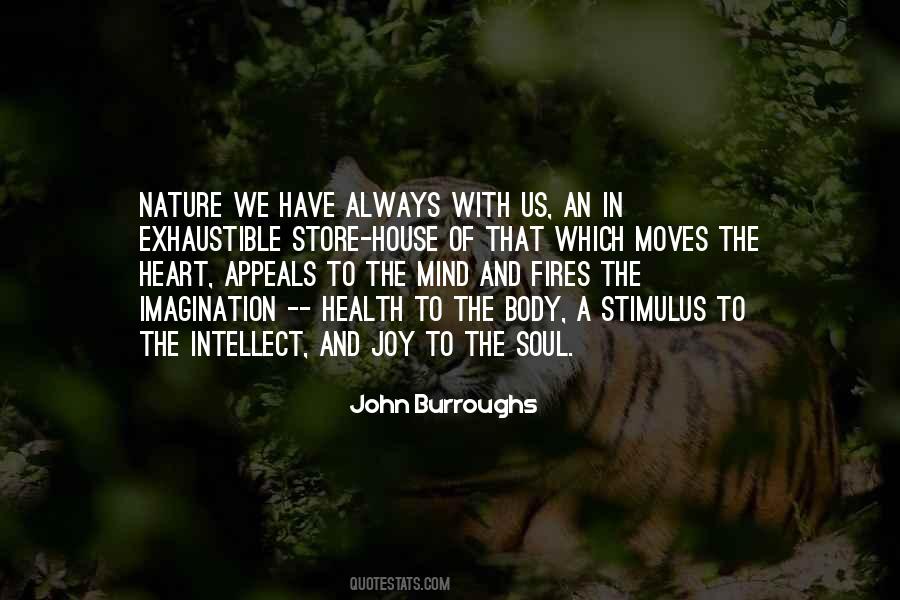 #64. There's a conflicted look in Day's eyes, a joy and a grief, that makes him so vulnerable. I realize how little defense he has against my words. He loves so wholly. It is his nature. - Author: Marie Lu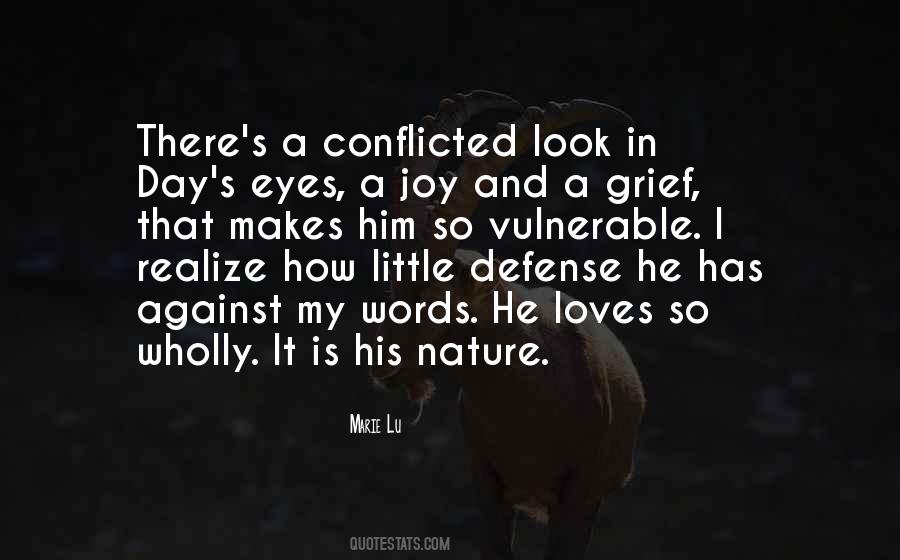 #65. The more you go within, the more you understand your true nature, and the more joy and happiness you feel in your life. - Author: Brian Weiss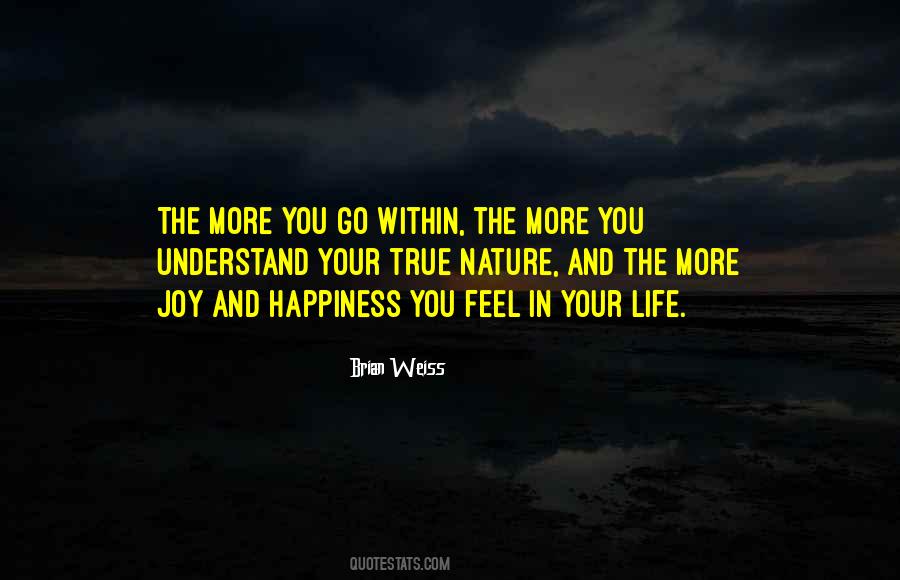 #66. There is no glory in star or blossom till looked upon by a loving eye; There is no fragrance in April breezes till breathed with joy as they wander by. - Author: William C. Bryant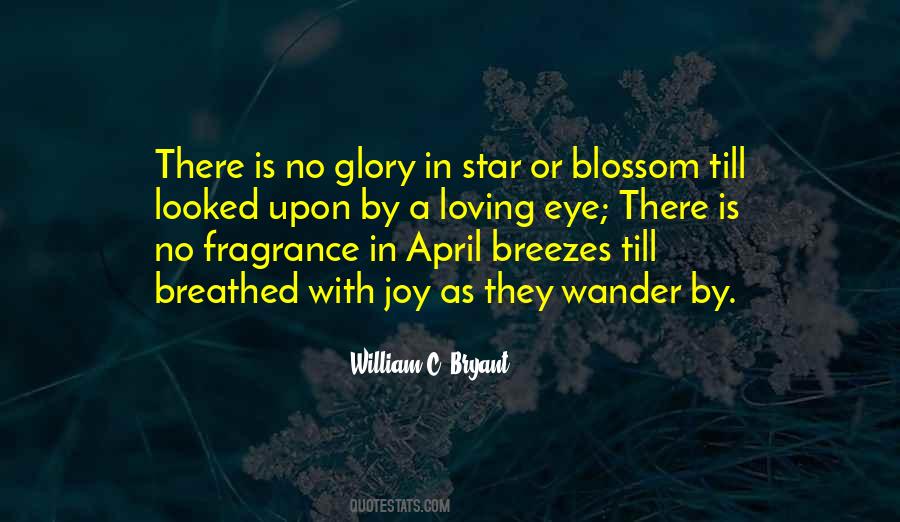 #67. In the garden of humanity there are tigers and lion, deer and doves. Deer and doves live carefully but with beauty and joy. - Author: Debasish Mridha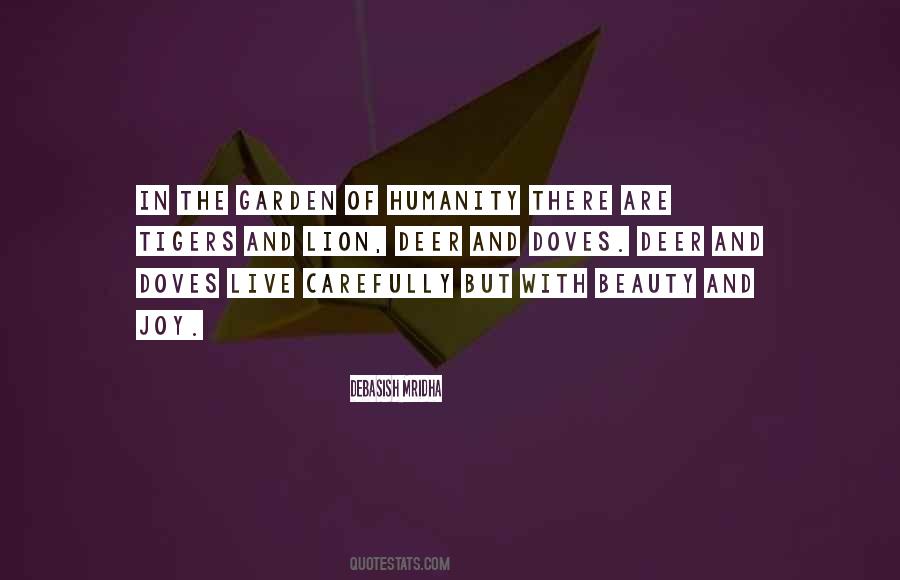 #68. Of the four things that were Possible in Human Nature, Rahel thought that Infinnate Joy sounded the saddest. - Author: Arundhati Roy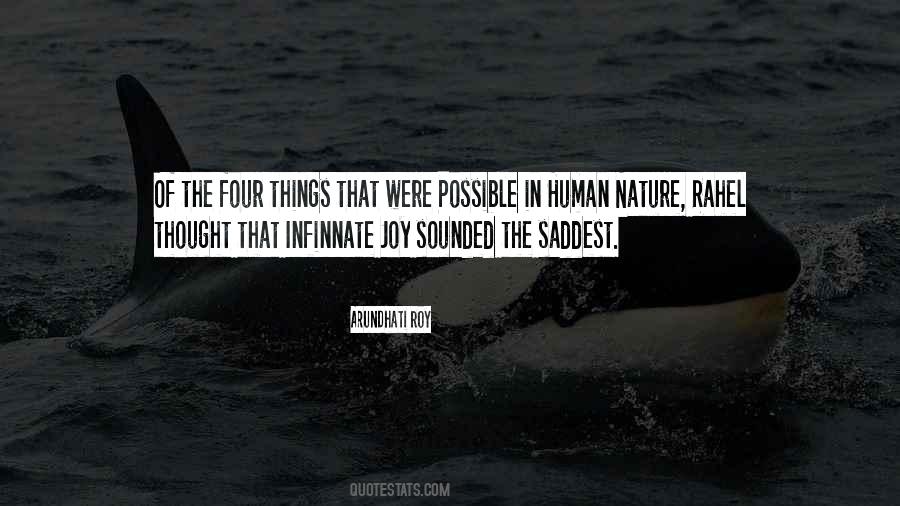 #69. I could see it on the faces of people as they passed. I would smile to share my joy, but it was AS IF I upset them with my happiness. In Confusion they would reply with a negative remark. Hoping it would spark a new chain of negative thoughts in me bringing me down to their level misery. - Author: Bethany Brookbank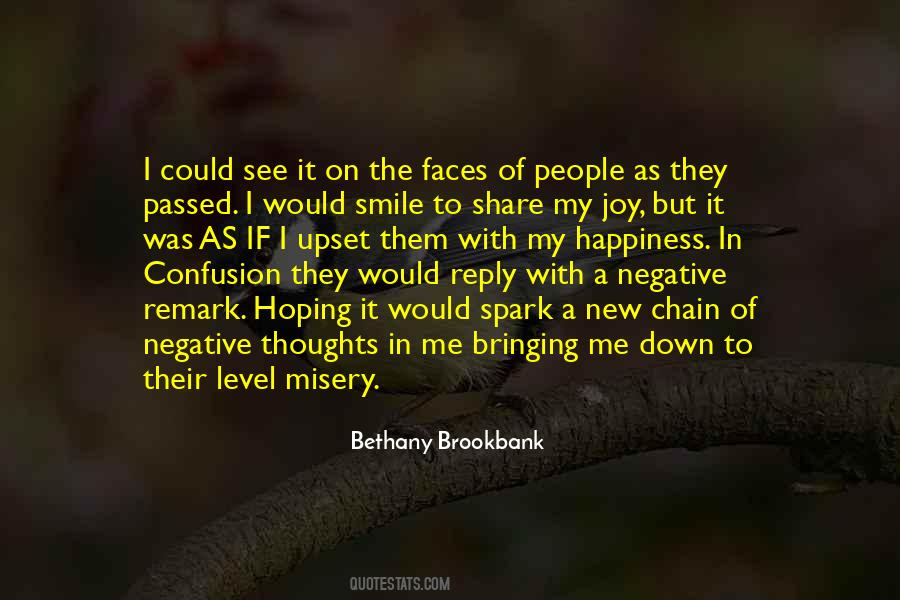 #70. The optimistic nature finds joy in the very feeling for life; the pessimistic nature finds a feeling for life only in joy. - Author: Lou Andreas-Salome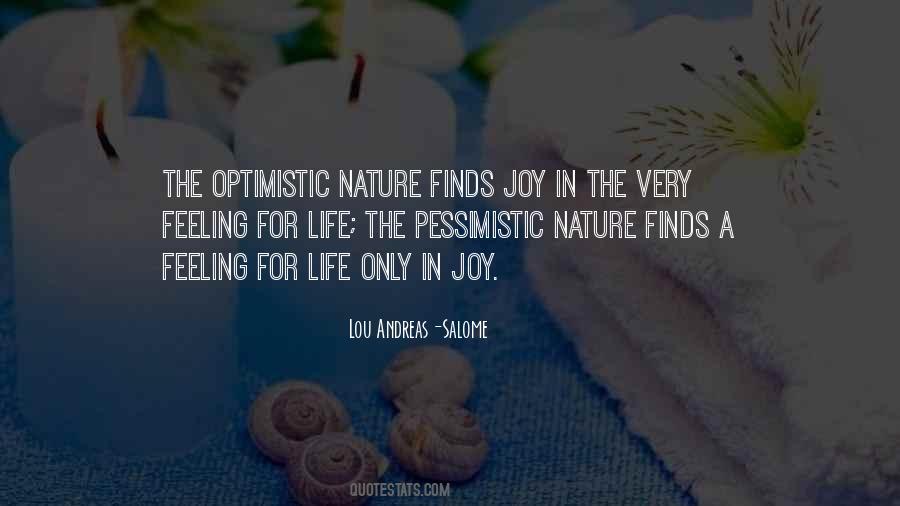 #71. The joy of a small town lies in its unchanging nature. - Author: Bryce Courtenay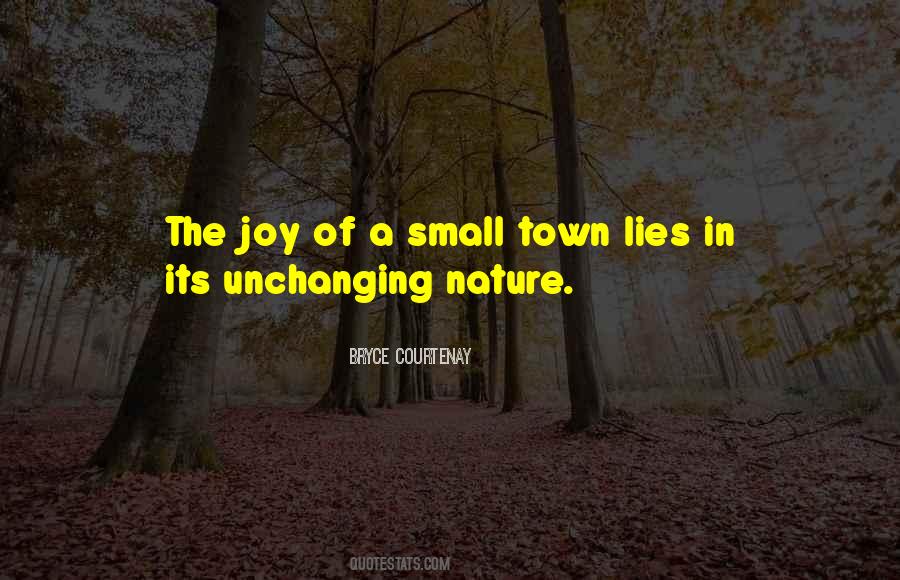 #72. Whenever I think of God I can only conceive of Him as a Being infinitely great and infinitely good. This last quality of the divine nature inspires me with such confidence and joy that I could have written even a miserere in tempo allegro. - Author: Joseph Haydn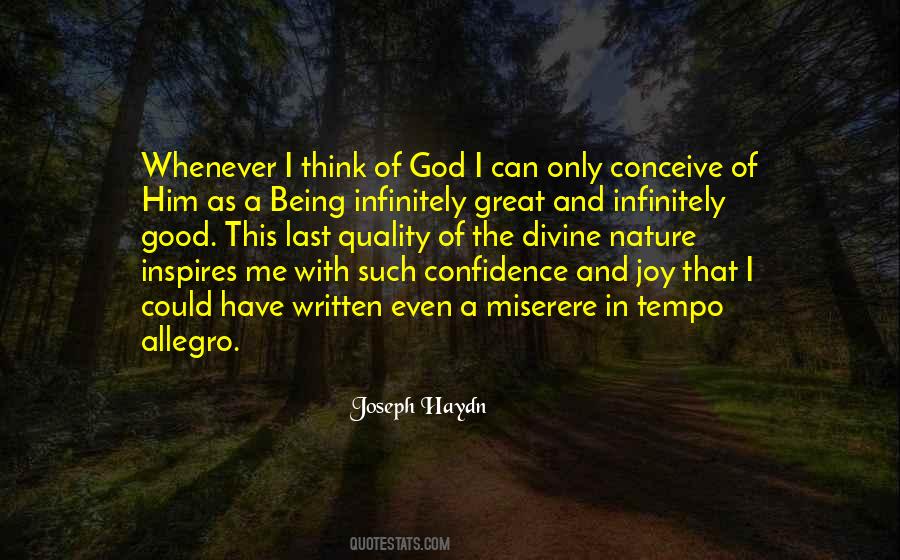 #73. I'm an actor, and part of my joy and my curiosity about the job that I do, is that actors have the privilege of exploring human nature in different ways. - Author: Tom Hiddleston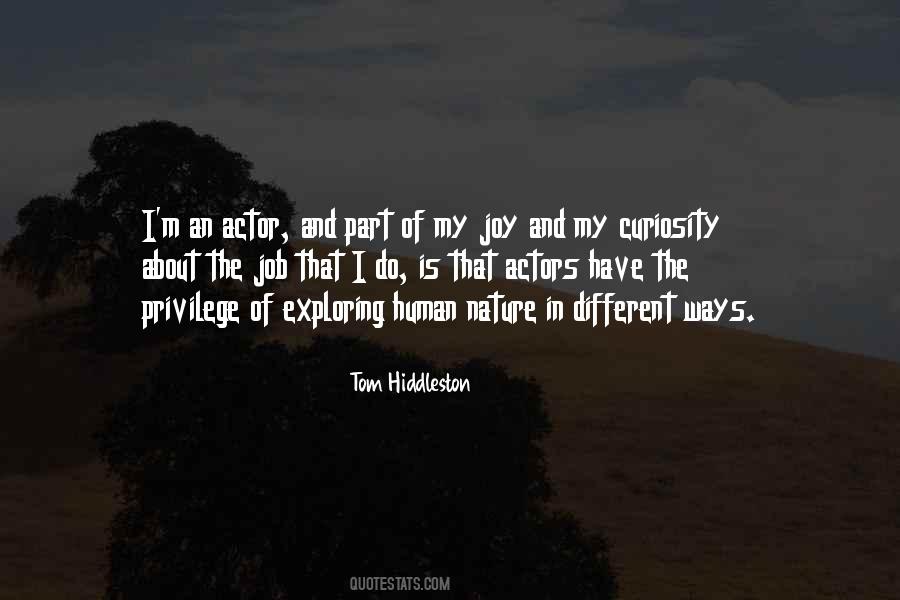 #74. True joy of nature is when every drop of water shines like a pearl. - Author: Anamika Mishra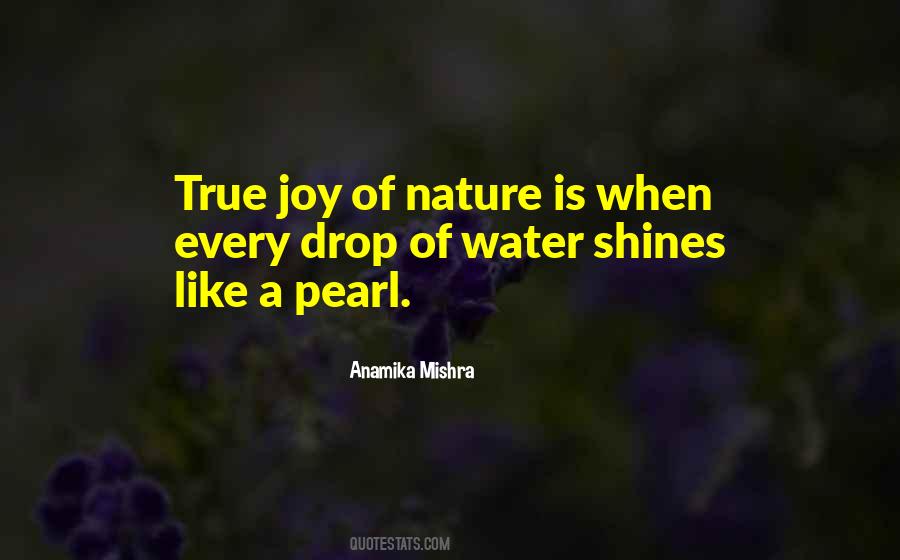 #75. One brain's blueprint may promote joy more readily than most; in another, pessimism reigns. Whether happiness infuses or eludes a person depends, in part, on the DNA he has chanced to receive. (152) - Author: Thomas Lewis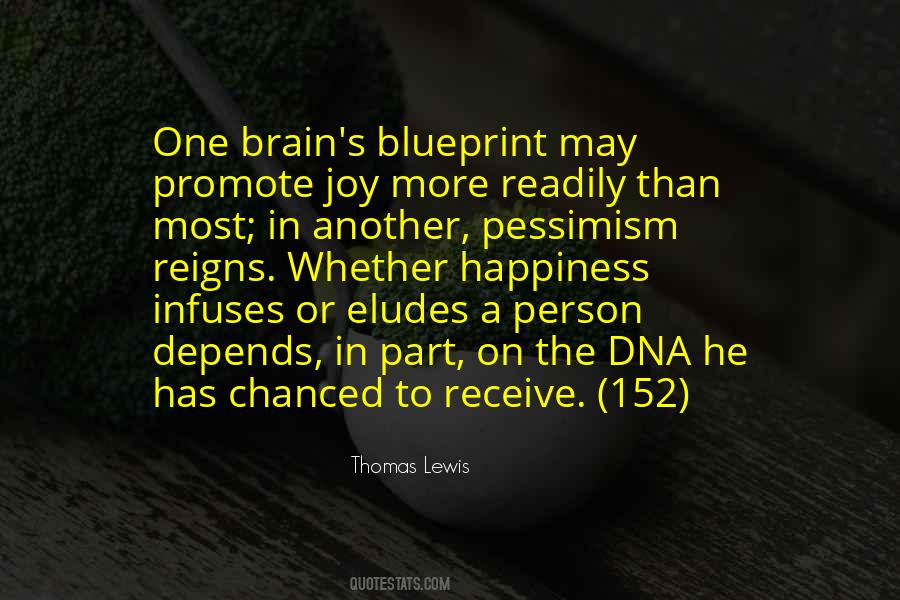 Famous Authors
Popular Topics