Jesus I Trust In You Famous Quotes & Sayings
List of top 52 famous quotes and sayings about jesus i trust in you to read and share with friends on your Facebook, Twitter, blogs.
Top 52 Jesus I Trust In You Quotes
#1. Trust in Jesus, wholeheartedly. Don't try to figure things out yourself. Just be intimate with Him! - Author: Gary Patton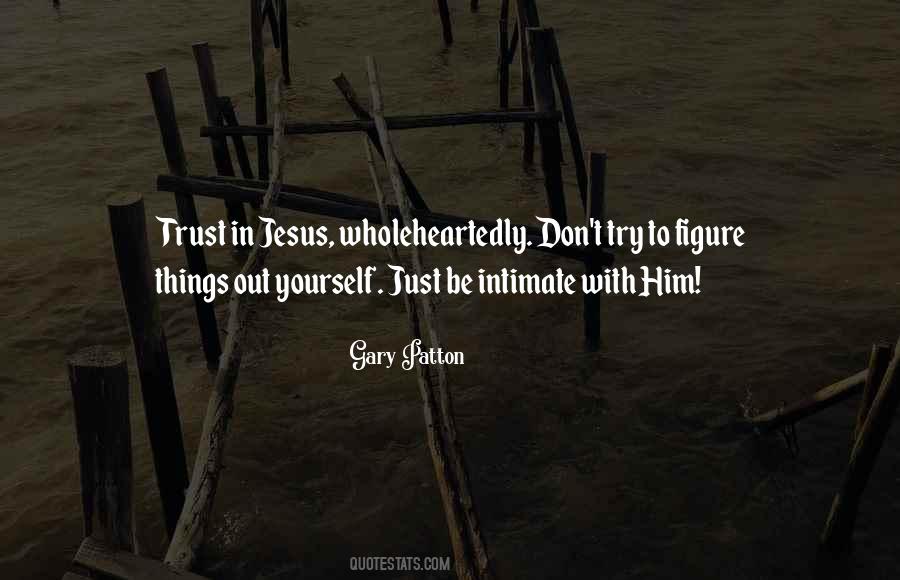 #2. God can save all souls. - Author: Lailah Gifty Akita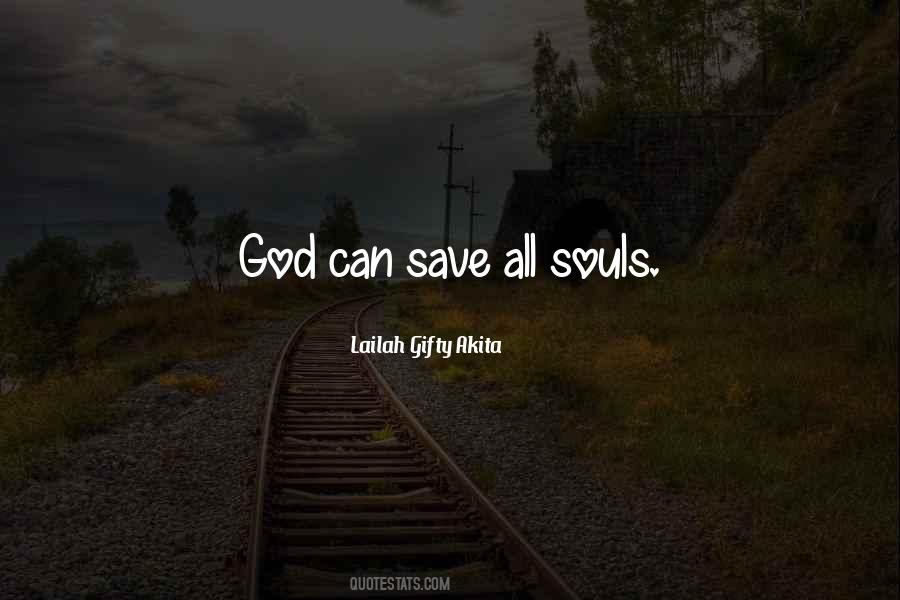 #3. It didn't matter to him, he realized, whether he had to swim the distance or walk on water, as wonderful as the latter was. What mattered was that Jesus was with him. Perhaps he was beginning to trust him after all, even if it was only in baby steps. - Author: Wm. Paul Young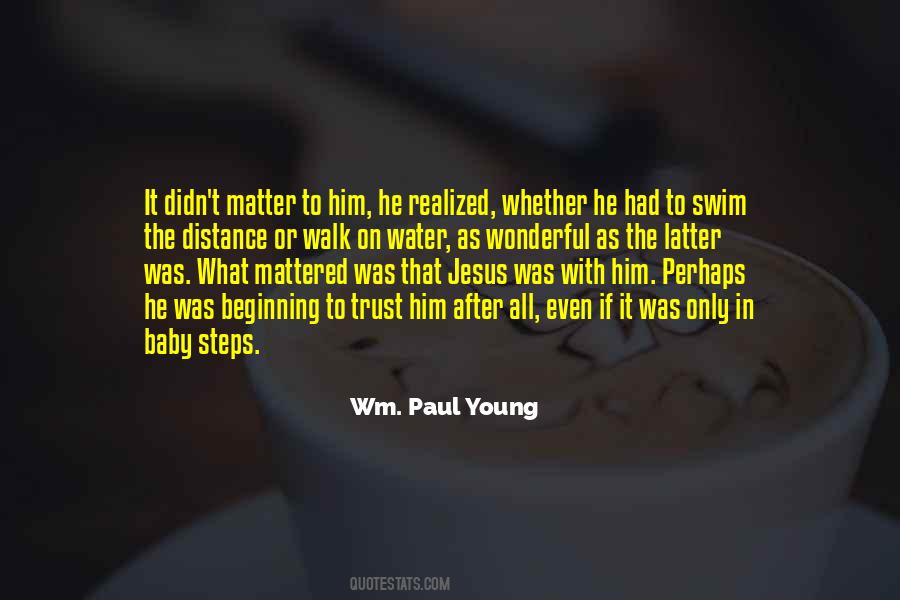 #4. When we have an understanding that the Lord is all powerful, then we know that we need to trust Him each and every day. This understanding allows us to lay our worries in the Lord's hands. In return, we can focus everything that we do into glorifying Jesus. - Author: Tim Salmon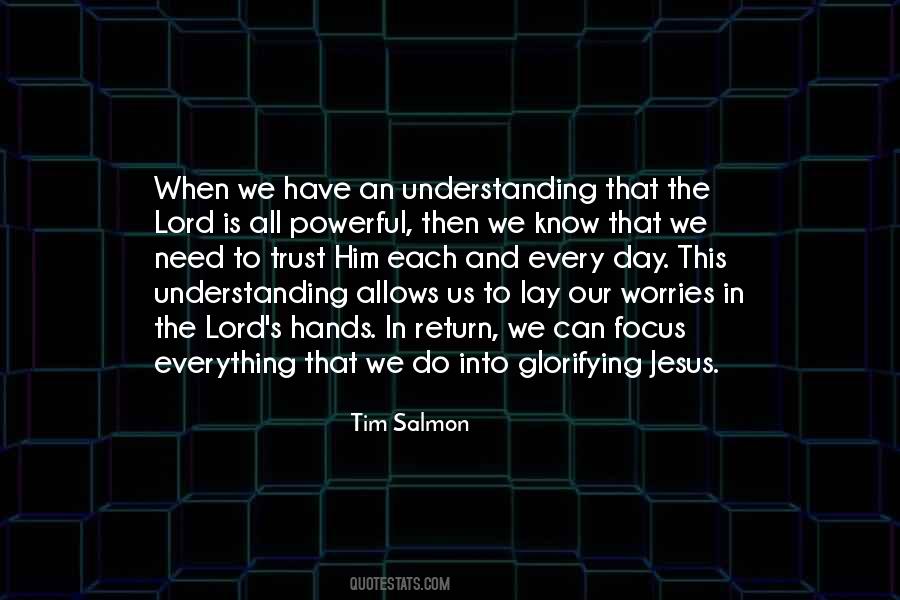 #5. Can you say the following? Jesus is my Prophet. I've taken His yoke of Truth upon me. Jesus is my Priest. I rely on His sacrifice for sin to give me forgiveness of sins... Jesus is my King. I trust Him to deliver me from evil I submit to His authority over me. - Author: Kenneth Mick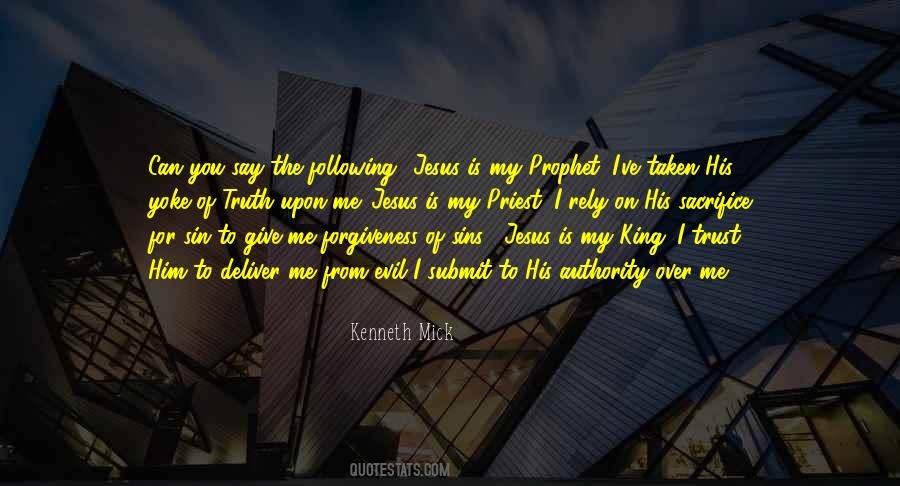 #6. Jesus cannot be in your heart's love except you have a firm hold of Him by your heart's faith; and, therefore, pray that you may always trust Christ in order that you may always love Him. If love be cold, be sure that faith is drooping. - Author: Charles Haddon Spurgeon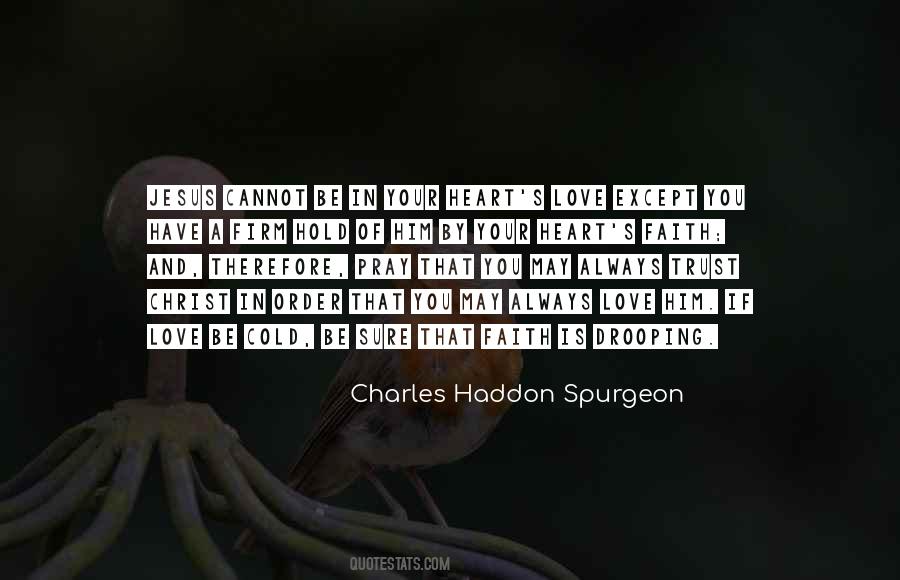 #7. I trust Jesus with all my tomorrows, knowing that He will solve the mystery of life beyond the grave. - Author: Billy Graham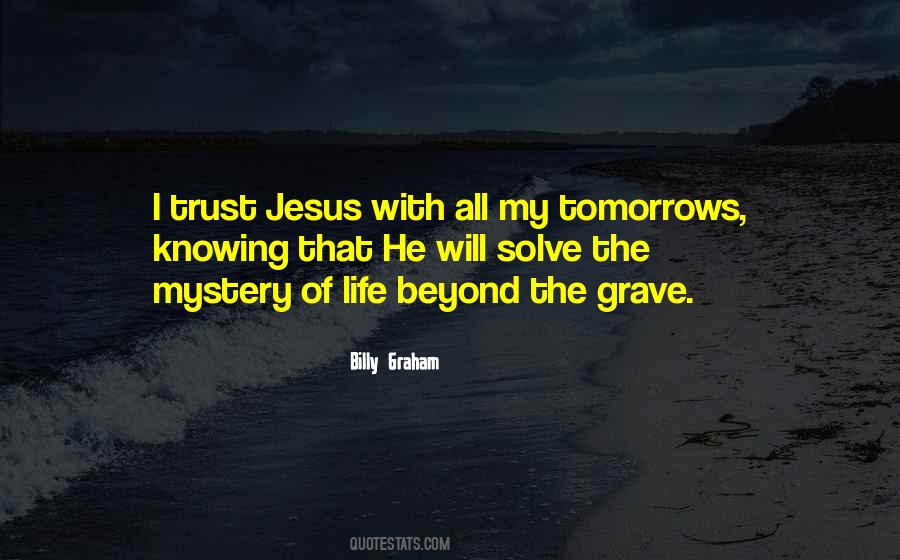 #8. I believe that Christians believe in salvation by grace through faith in Jesus Christ, not by works. And we believe that if you're saved, Jesus becomes your savior. He makes a promise to you. You can trust his promises. You can bank on that word. - Author: Robert H. Schuller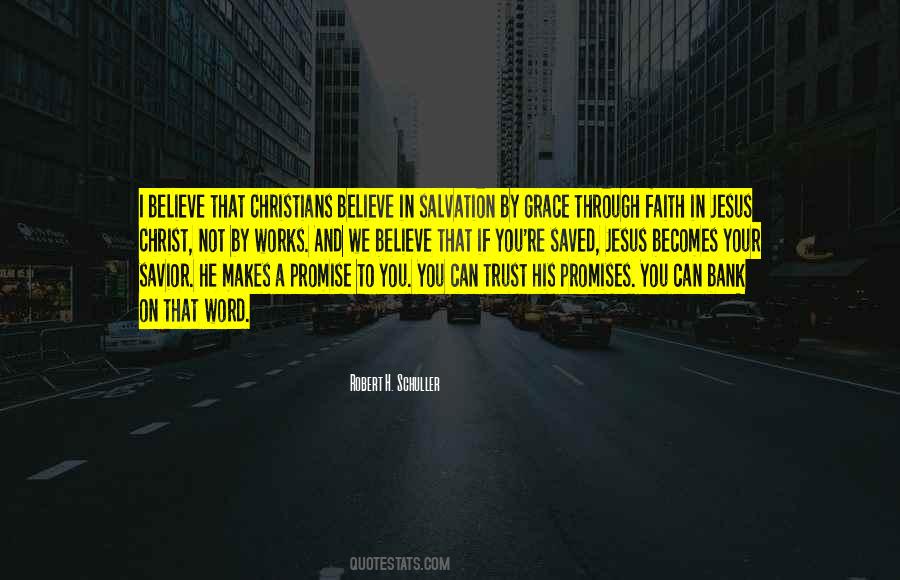 #9. I invite all to trust in the merits and in the power of the Atonement of Jesus Christ. Through His atoning sacrifice, we can gain the courage to win all the wars of our time, even in the midst of our difficulties, challenges, and temptations. Let us trust in His # love and power to save. - Author: Ulisses Soares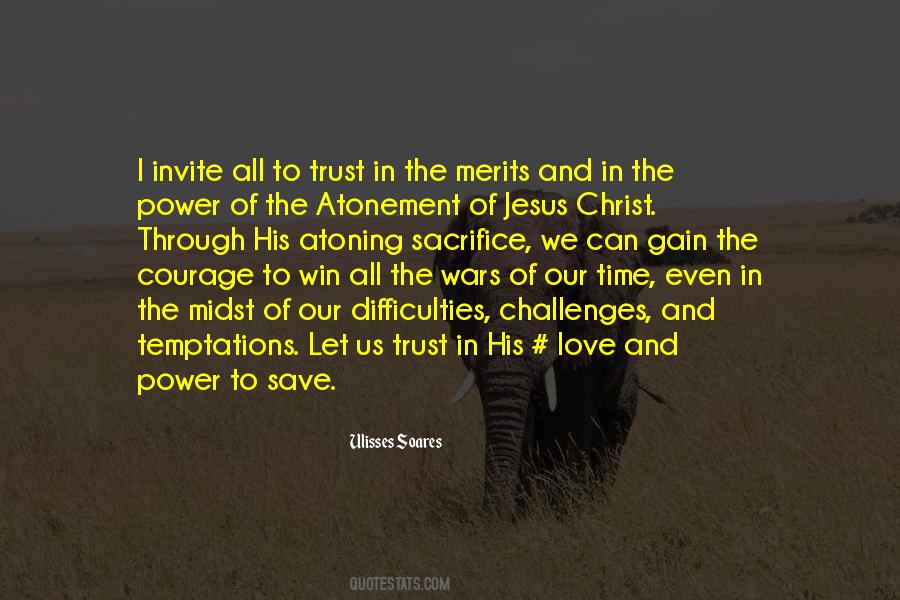 #10. Ultimately we have nothing to fear. Jesus loves us, and he invites us to be confident in that love. As we seek to obey Him, we are not called to assess the risk involved and determine whether or not obedience will be beneficial or safe for us. We are simply called to trust and obey. - Author: Dan Baumann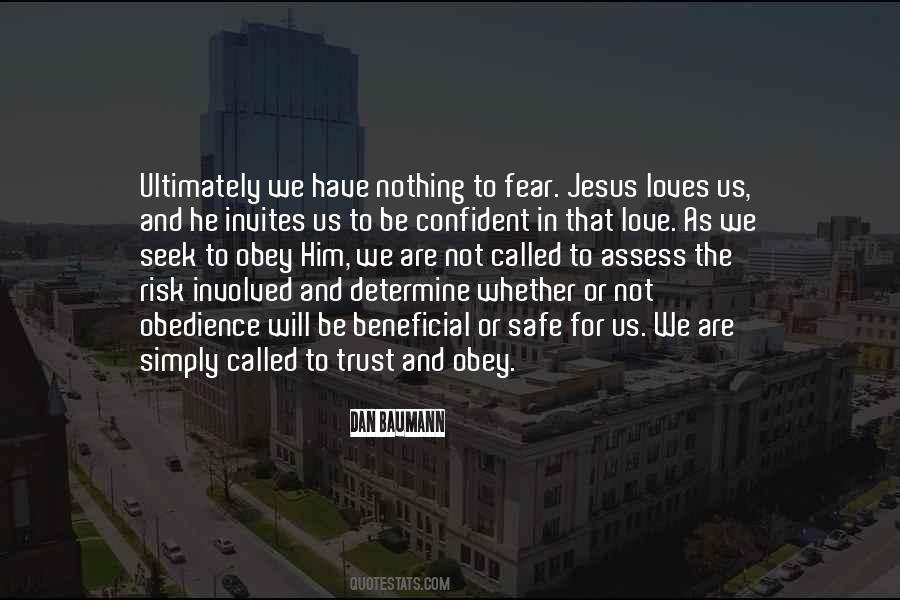 #11. That's all I'm doing, choosing to trust Jesus even if I don't understand what or why something is happening. Jesus wants you to choose to trust Him again. He won't take that trust you place in Him lightly. - Author: Dee Henderson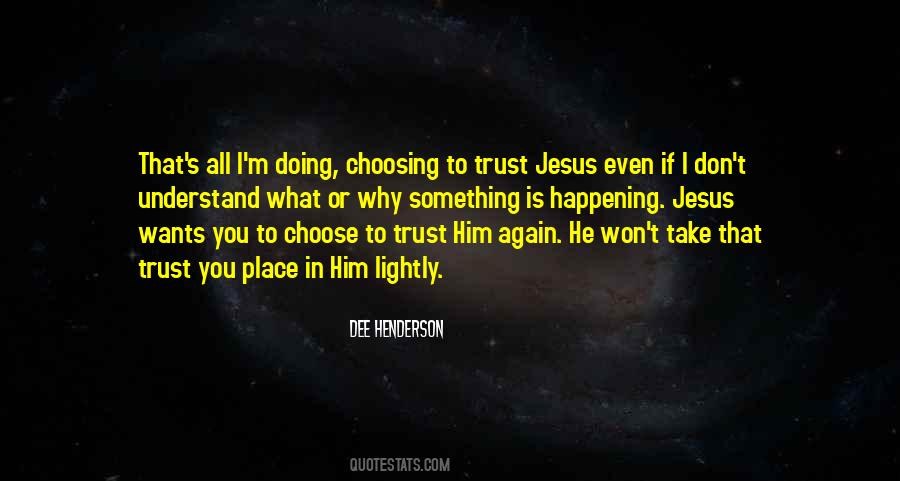 #12. I can suffer alone, or I can hold on to God in my pain. I can be meek and trust Him to make something good out of it. Only Jesus can heal the wounds, only Jesus can fill up those dark places with light, with understanding. Only He can quench our thirst for hope. - Author: Susan May Warren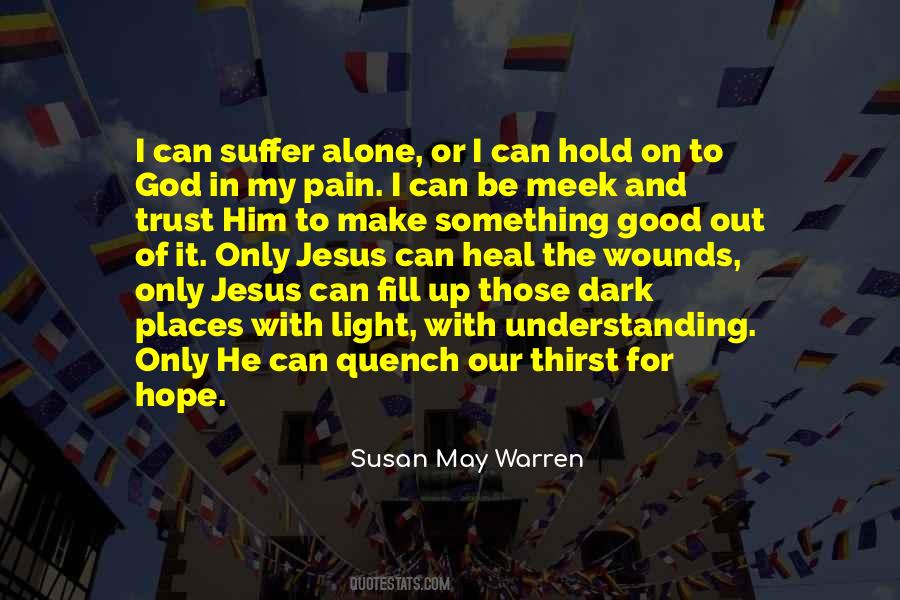 #13. Cling, therefore, to Jesus in life and death; trust yourself to the glory of Him who alone can help you when all others fail. - Author: Thomas A Kempis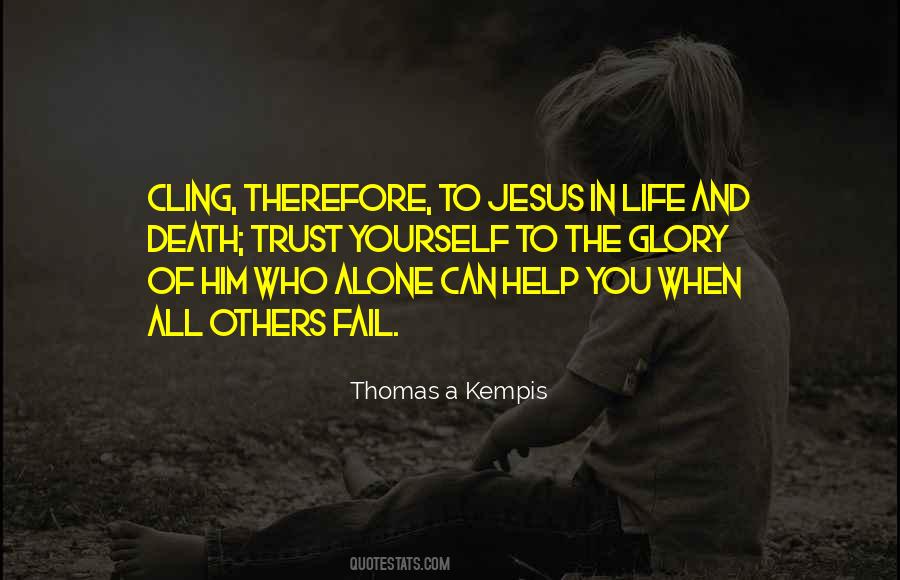 #14. Psalm 91
My Refuge and My Fortress
91:1 He who dwells in the shelter of the Most High will abide in the shadow of the Almighty.
2 I will say to the Lord, My refuge and my fortress, my God, in whom I trust. - Author: LaNina King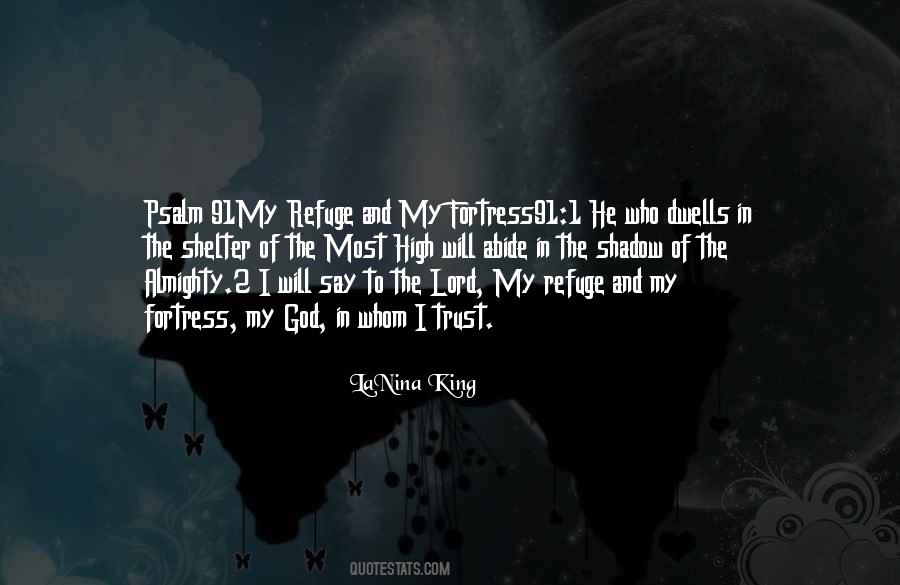 #15. While forgiveness is an important part of the gospel, the good news goes beyond that. It amounts to the claim that the kingdom of God - the direct availability of God himself and His rule - is now available to anyone who will enter it through trust in Jesus. - Author: J.P. Moreland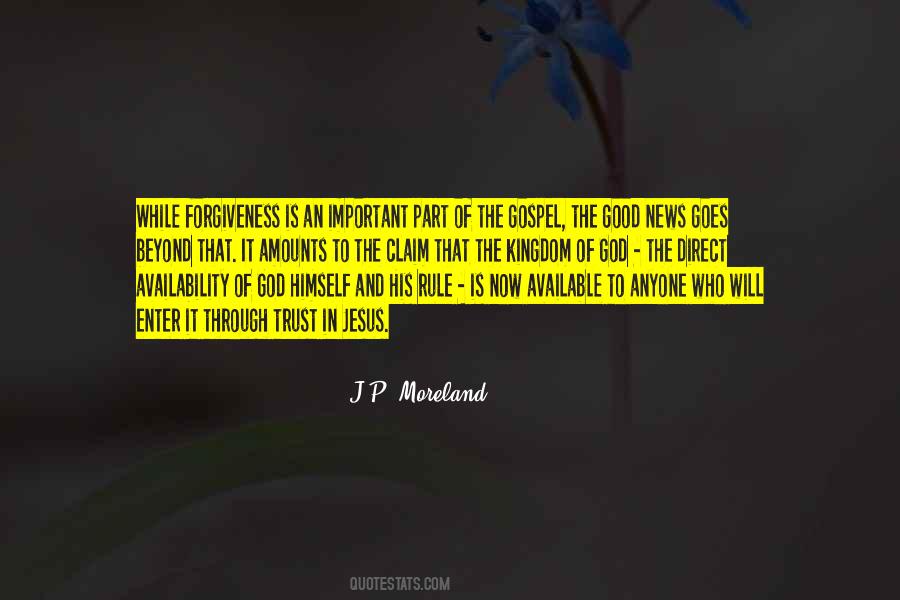 #16. If Jesus heals you instantly, praise him. If you are still waiting for healing, trust him. Your suffering is your sermon. - Author: Max Lucado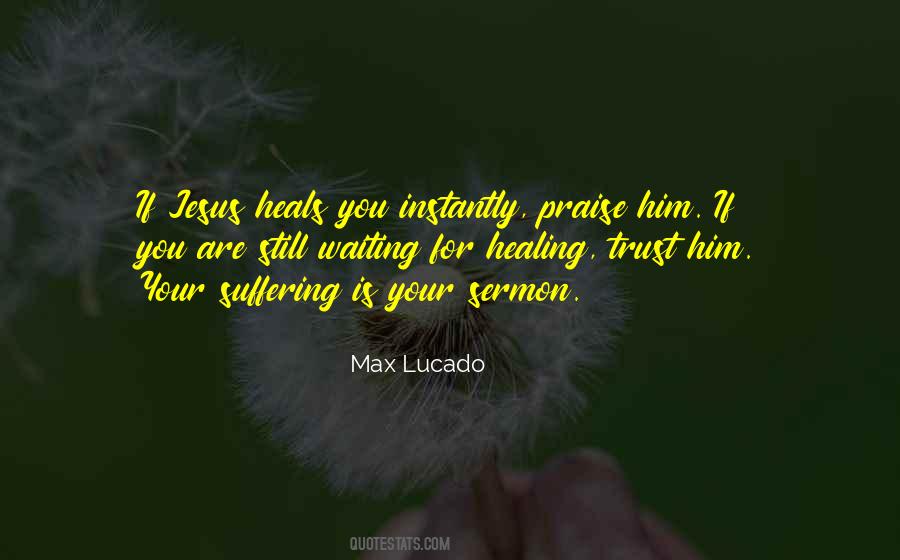 #17. Jesus doesn't participate in the rat race. He's into the slower rhythms of life, like abiding, delighting, and dwelling - all words that require us to trust Him with our place and our pace. Words used to describe us being with Him. - Author: Lysa TerKeurst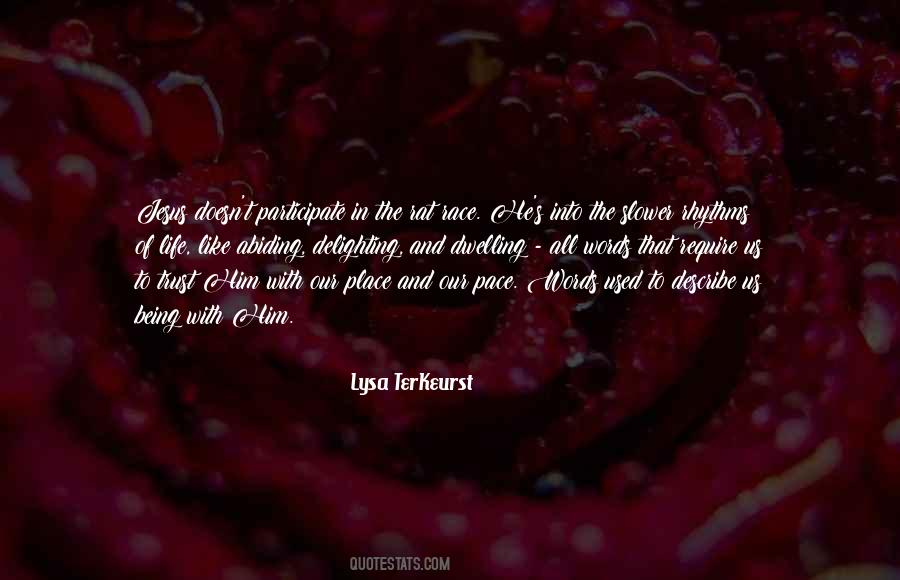 #18. The moment someone chooses to trust in Jesus Christ, his sins are wiped away, and he is adopted into God's family. That individual is set apart as a child of God, with a sacred purpose. - Author: Charles Stanley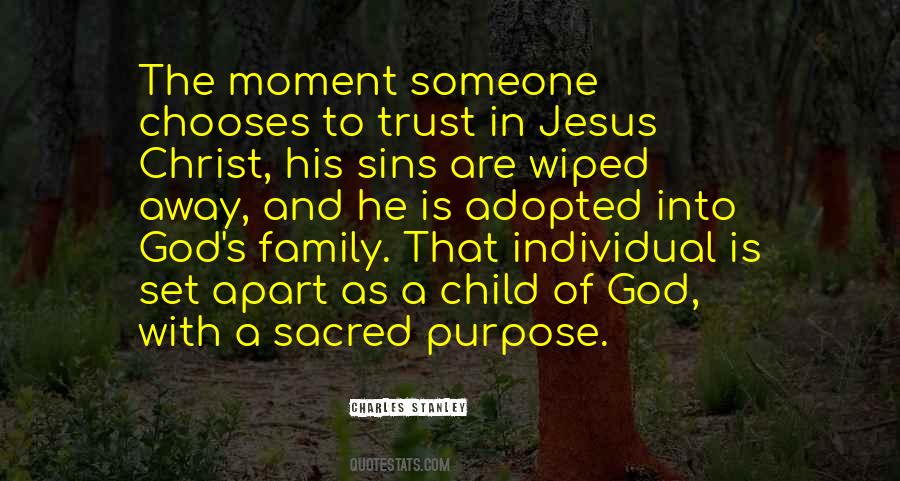 #19. God will never, never, never let us down if we have faith and put our trust in Him. He will always look after us. So we must cleave to Jesus. Our whole life must simply be woven into Jesus. - Author: Mother Teresa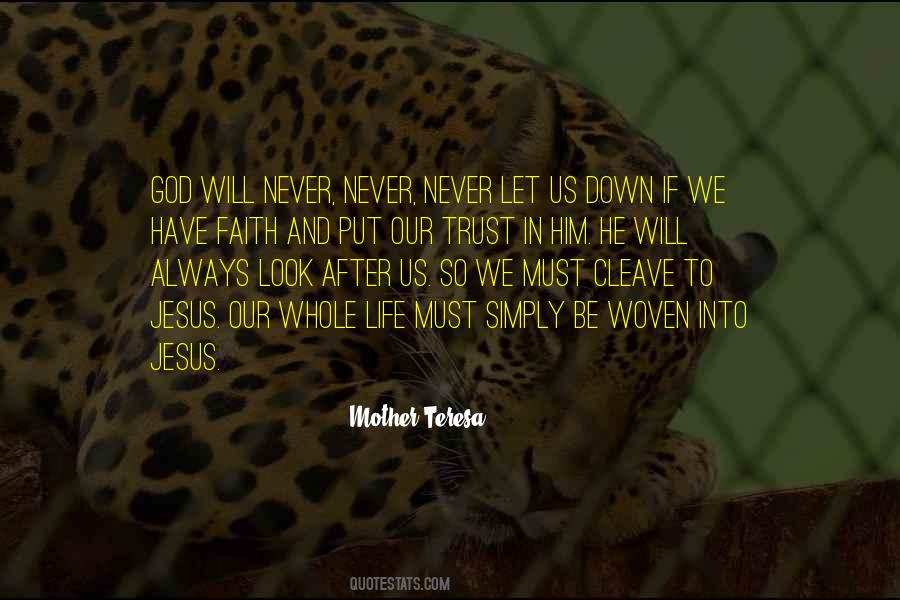 #20. Swallowing hard, he pushed on. "Show me how to trust in you, Lord. Show me how to give you all of me, and not just the parts I'm willing to give. I ask these things in the name of your Son, Jesus. Amen. - Author: JoAnn Durgin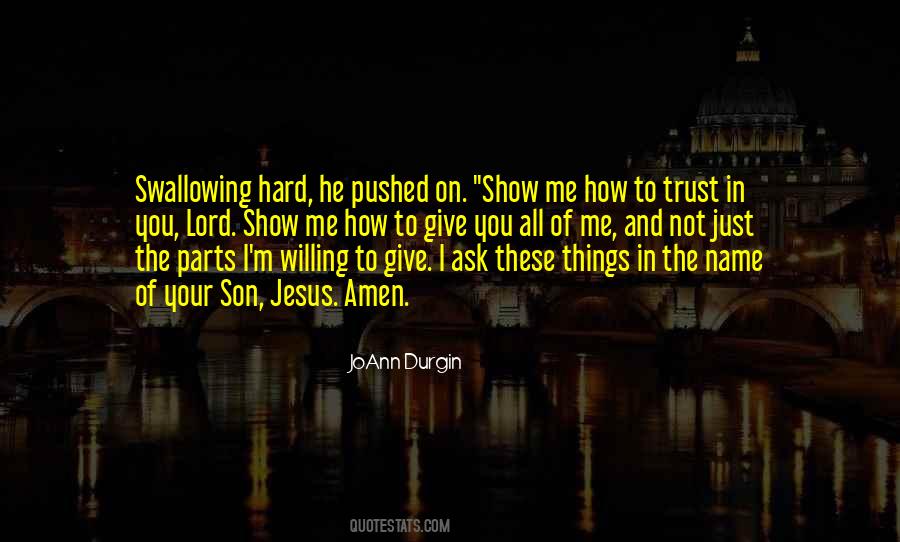 #21. Let the separation between you and the world be final and irreversible. Say, 'Here I go for Christ and His Cross, for the faith of the Bible, for the laws of God, for holiness, for trust in Jesus; and never will I go back, come what may. - Author: Charles Spurgeon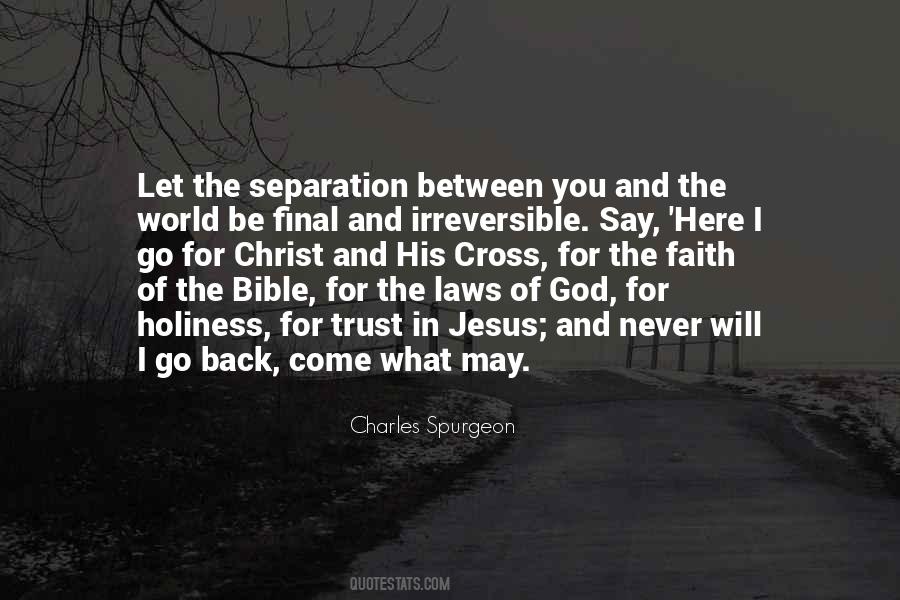 #22. Jesus kept it simple. The lesson wasn't complicated. 'I speak; you believe My word; your son will be fine.' We complicate what God has made simple by seeing the world through human eyes. We want to see in order to believe and presume that our limitations are His. - Author: Charles R. Swindoll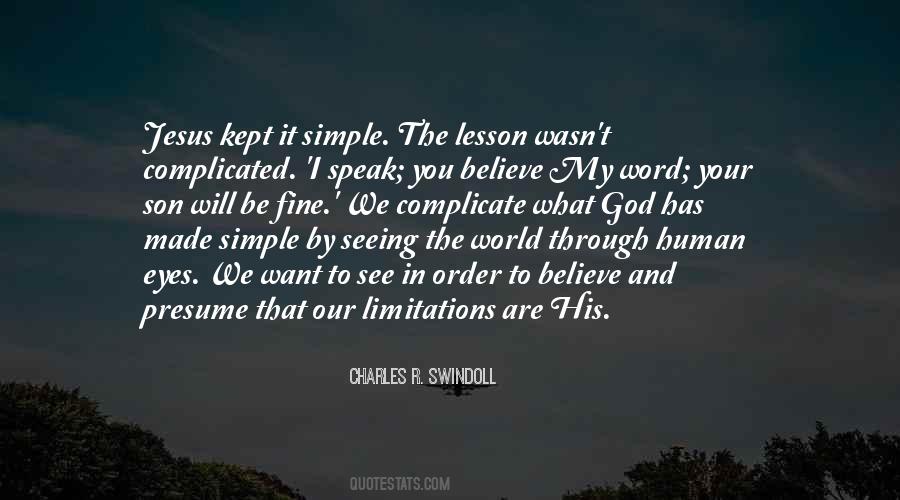 #23. Father, I desire to please You in everything I do. I declare that You are good and faithful. I trust You with my whole heart and believe that You are a rewarder of those who diligently seek You. I bless You and honor You today in Jesus' name. Amen. - Author: Joel Osteen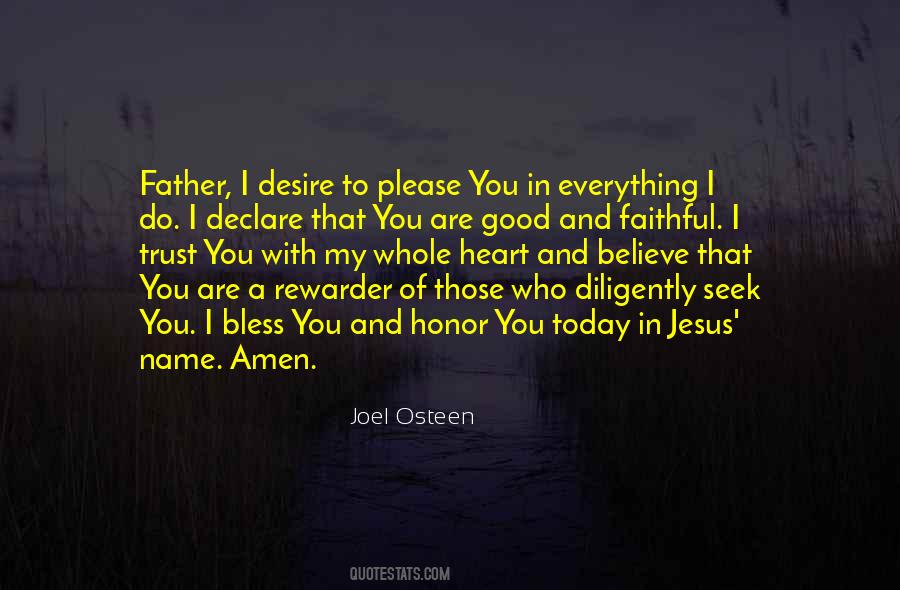 #24. There have been times where I've said, 'Jesus, I don't believe in you anymore, get out of here. I don't know. I don't even trust you.' And it's like, okay. And he's still hanging on. - Author: Mike Yaconelli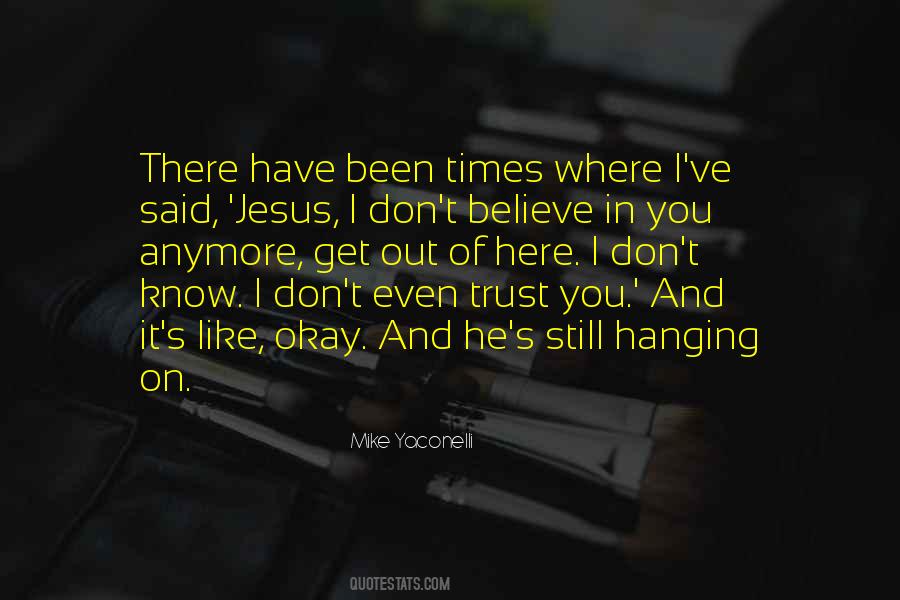 #25. Jesus, I trust in You. - Author: Mary Faustina Kowalska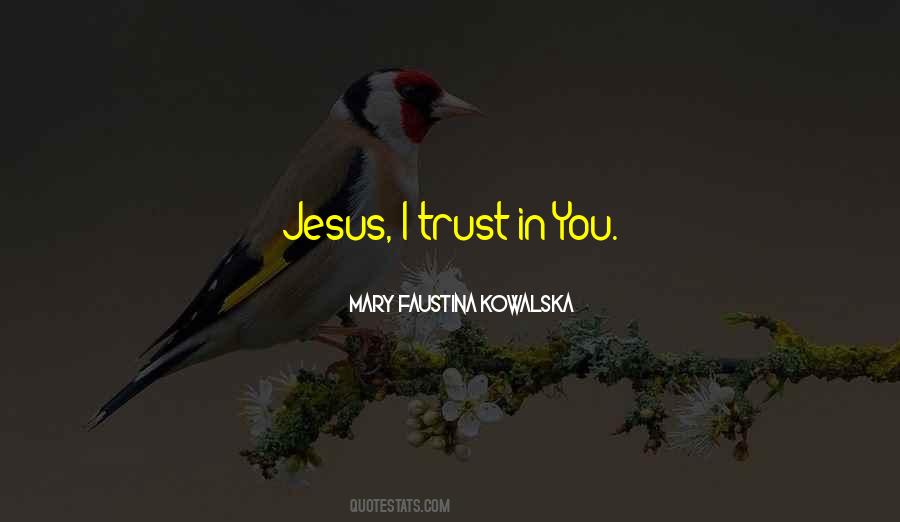 #26. O Blood and Water, which gushed forth from the Heart of Jesus as a fount of Mercy for us, I trust in you. - Author: Bob Lord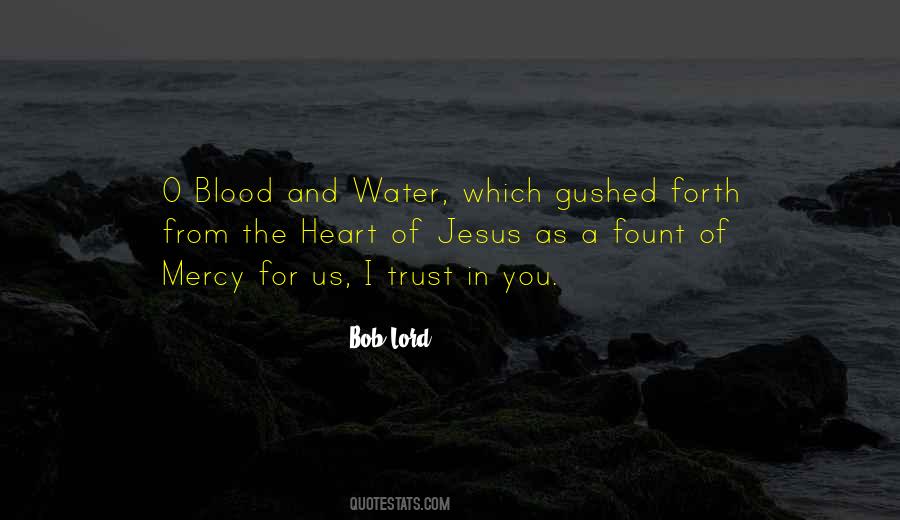 #27. God is always there to pick each time you fall. He's always there with a word of comfort in the midst of the storm. Trust Jesus! - Author: Shearon D. Hurst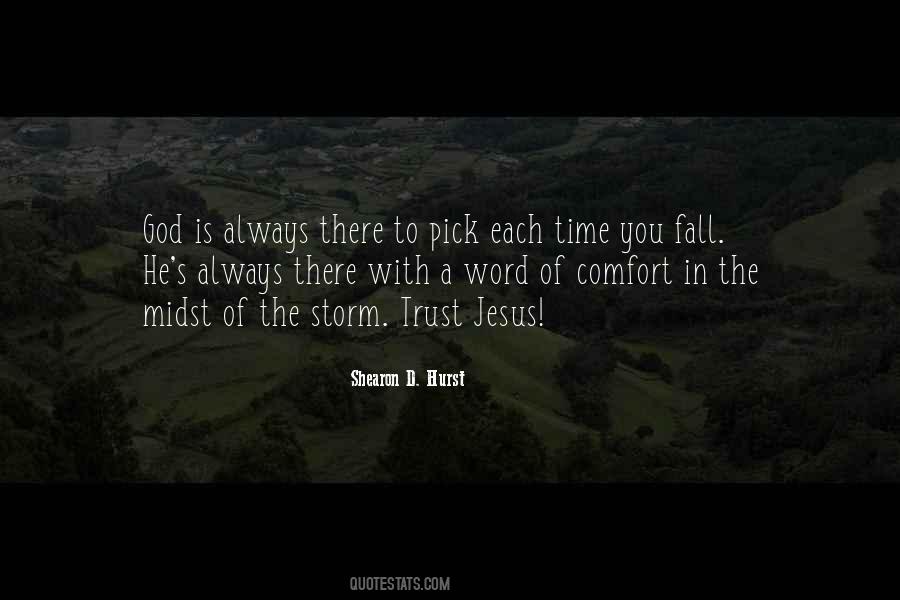 #28. Jesus teaches us to forgive and I've got to trust him on that one. - Author: Billy Corgan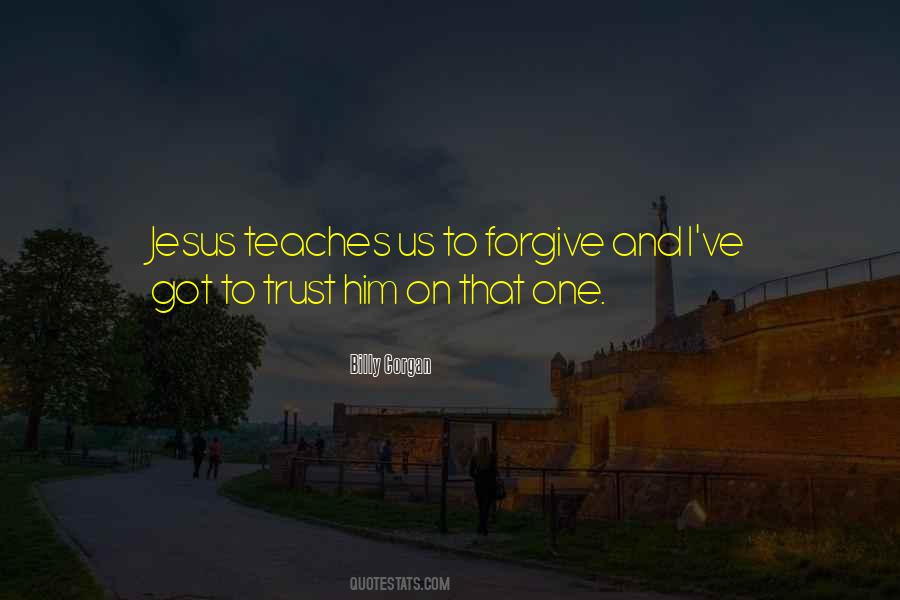 #29. I have tried to understand what crucifixion must feel like. I just know that the pain must be beyond what I have ever experienced. I respect, love, and trust the One who endured all this when He didn't have to. I understand Jesus with my heart, and the rest of the world can think of Him as it will. - Author: Marina Nemat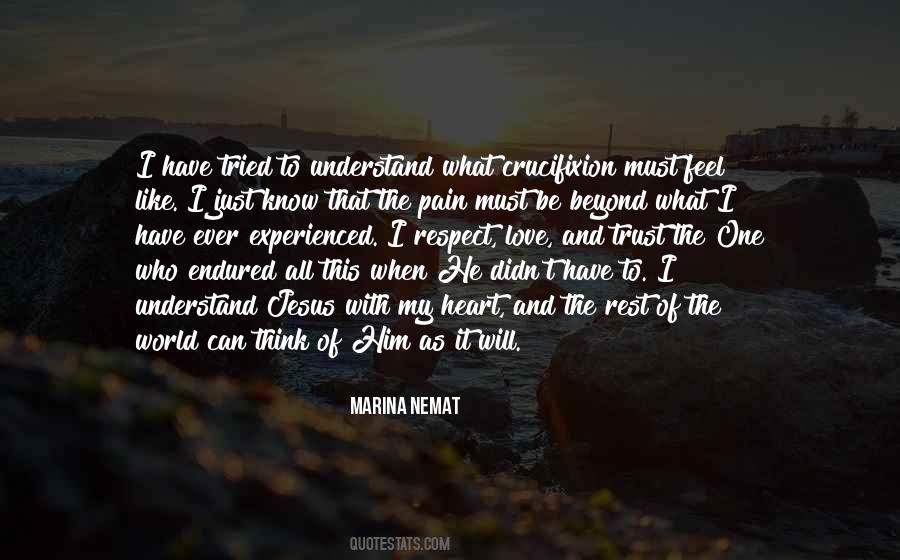 #30. There's a phrase we live by in America: "In God We Trust". It's right there where Jesus would want it: on our money. - Author: Bill Maher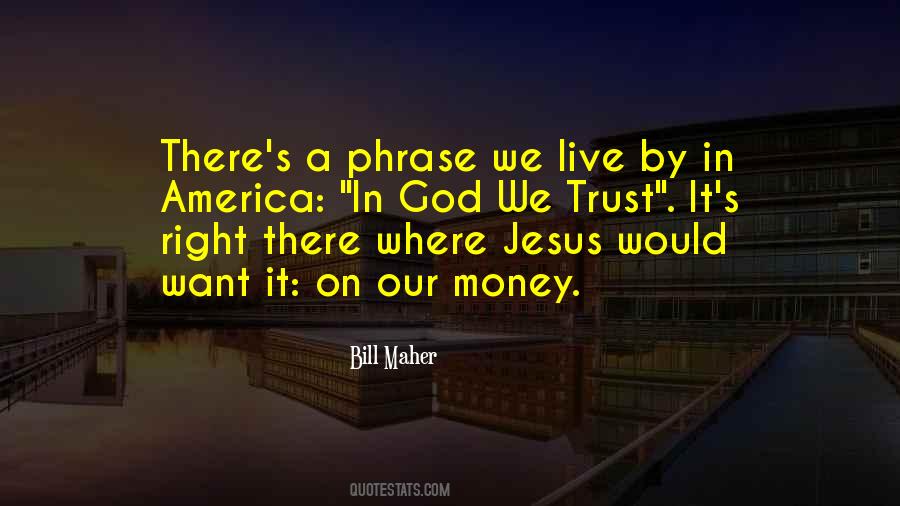 #31. I came all this way for a reason. Today is the day of salvation. Trust Jesus to save you. Then be sincere as God knows a pretender. - Author: Kirk Cameron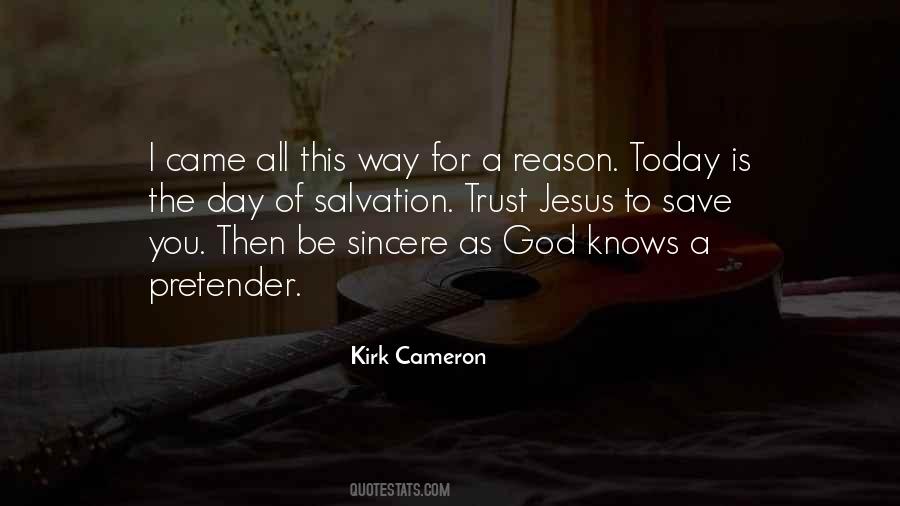 #32. no matter what you feel in your heart, no matter what situation you're put through, you can't make exceptions for God's Word. If Jesus tells us to forgive, we forgive. He never tells us to trust that person again or make ourselves vulnerable to their attacks. He only tells us to forgive. - Author: Ashley Williams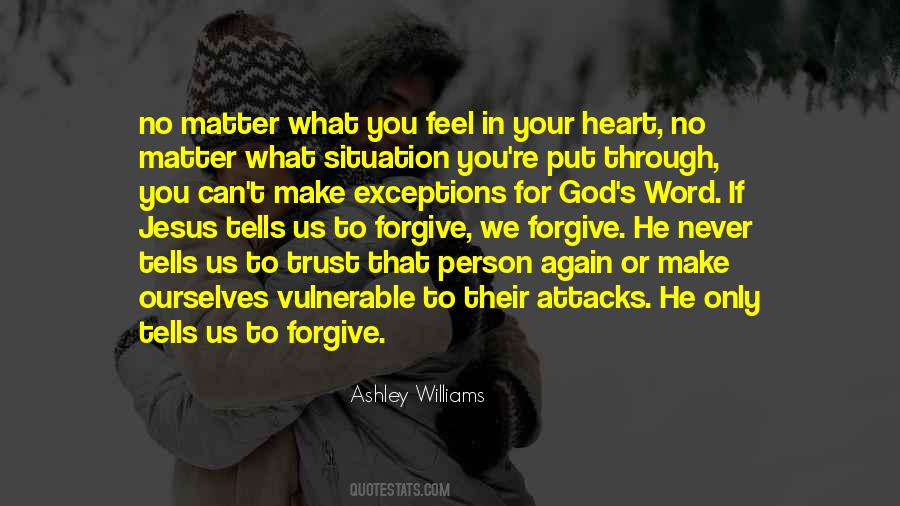 #33. We can receive Jesus Christ when we believe in His message and trust in Him alone to save us. - Author: Billy Graham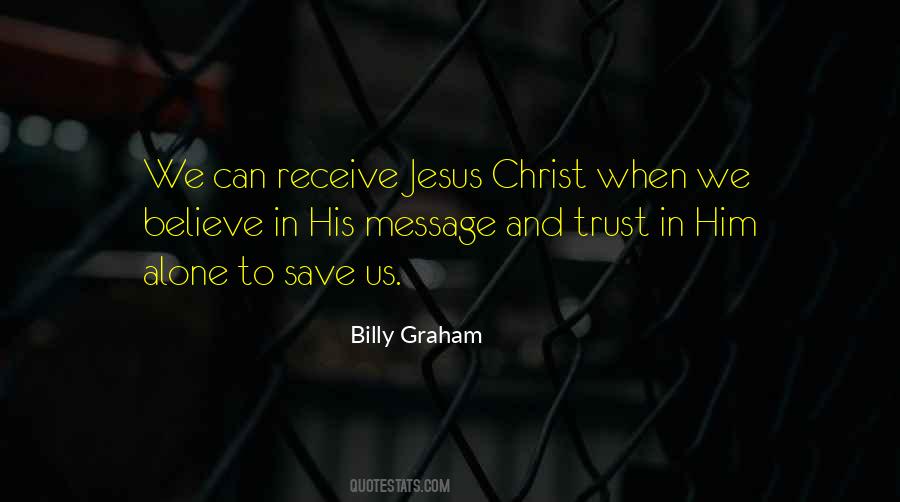 #34. Are you trying to be who Jesus wants you to be? Or do you trust him to bring out who he has already created you to be? It is vital to recognize the difference between these two questions because one leads to death, the other leads to life. - Author: Emily P. Freeman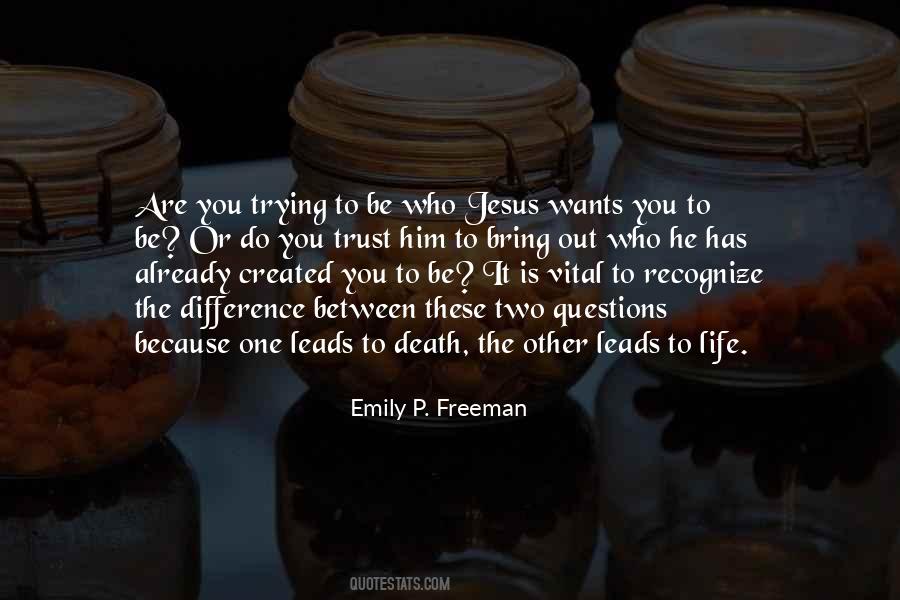 #35. We are not saved by feelings of sorrow over Jesus' death. We are saved when the Word of God 'pierces' our hearts (Hebrews 4:12), when we are convicted of our sins and trust Christ by faith. - Author: R. L. Hymers Jr.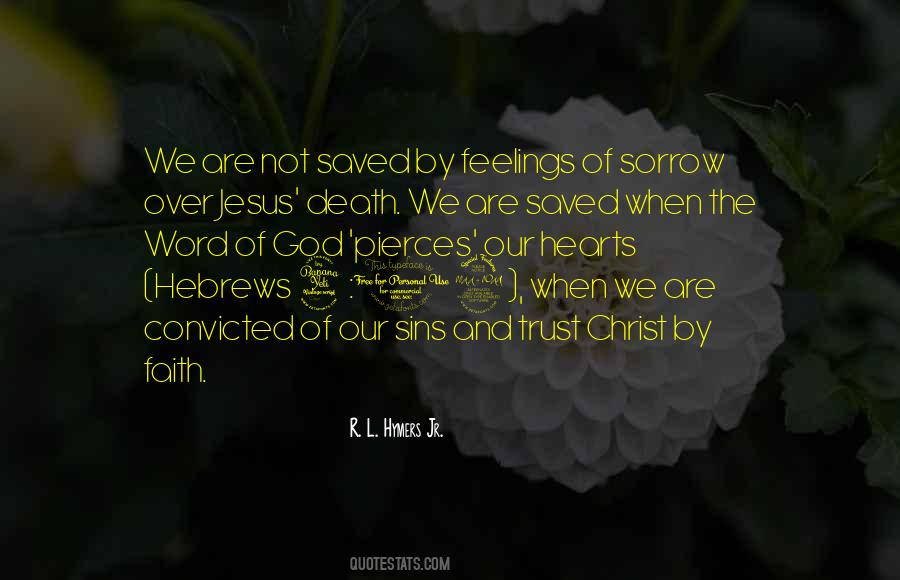 #36. When I say I trust Jesus, that is what I mean: I trust that the way of life leads through perishability, not around it. - Author: Barbara Brown Taylor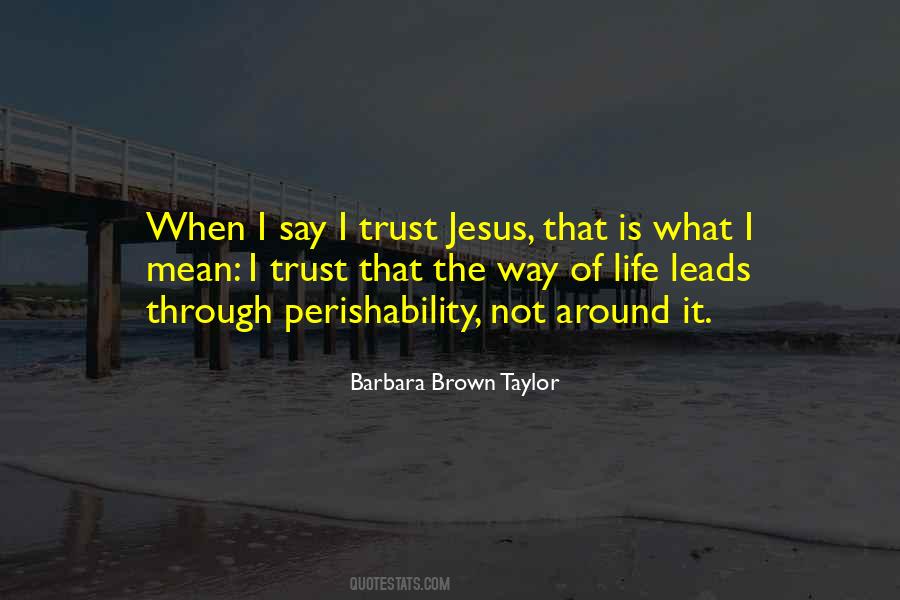 #37. Oh Jesus, thank You. It's only through You that I can fathom such grace. To be redeemed to You through a mercy I can't even begin to understand. But I believe in You. I trust in You. And I'm clinging to Your promises as if they truly are life rafts in a dark and stormy sea. - Author: Diane Moody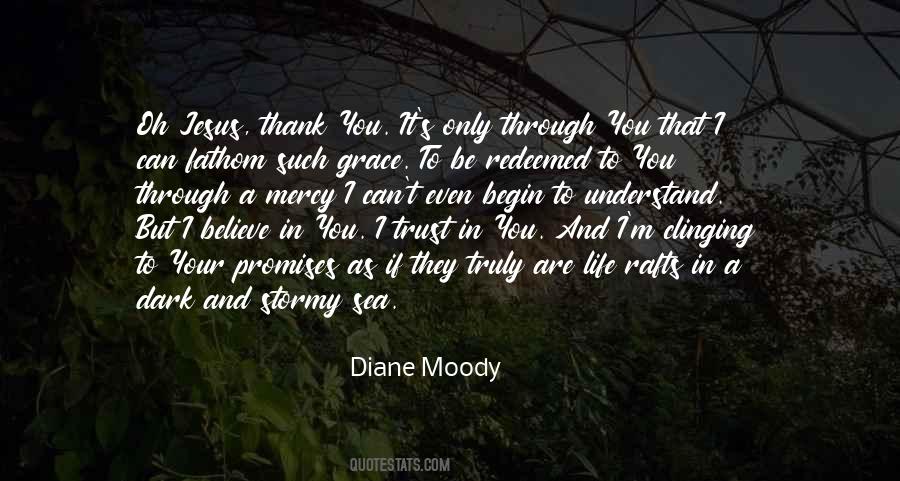 #38. I would stand there at times and remember how beautiful God created this world, and then I would be reassured that he would certainly take care of me and all of my loved ones. - Author: Diet Eman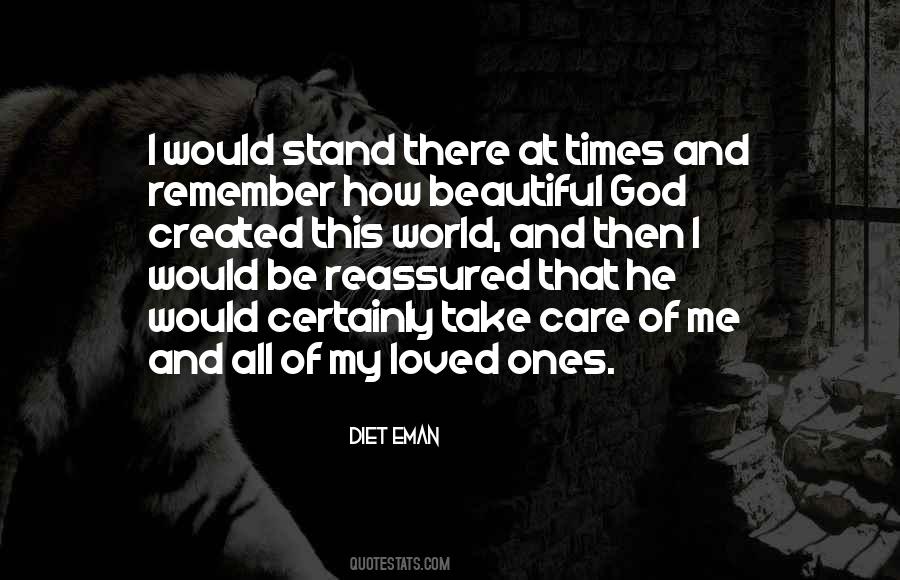 #39. Trying so hard to make things go our way in this world, doing so much leaning, is exhausting. I am convinced that is exactly what Jesus had in mind when he said, 'Come to me all you who are weary and heavy-laden and I will give you rest' (Matthew 11:28 NASB). - Author: Van Harden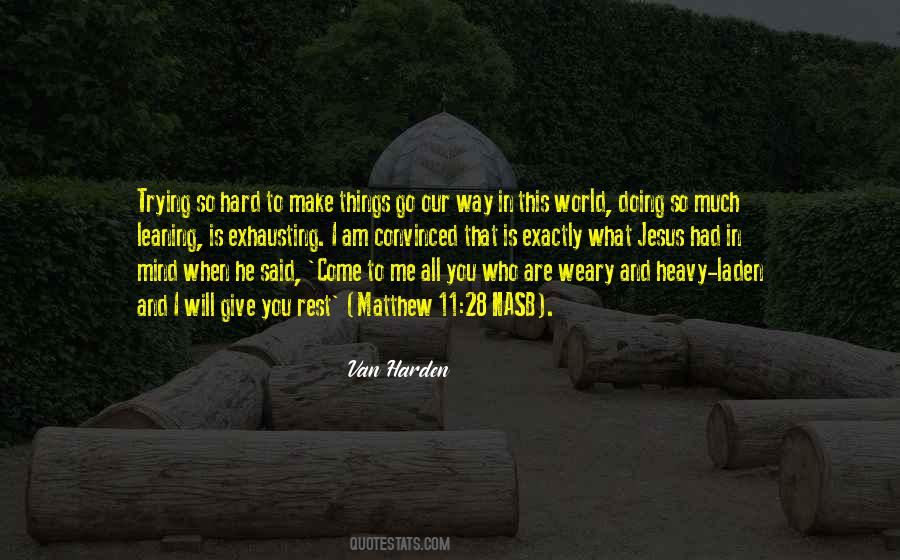 #40. Despite the slowness, the infidelity, the errors and sins it committed and might still commit against its members, the Church, trust me, has no other meaning and goal but to live and witness Jesus. - Author: Pope Francis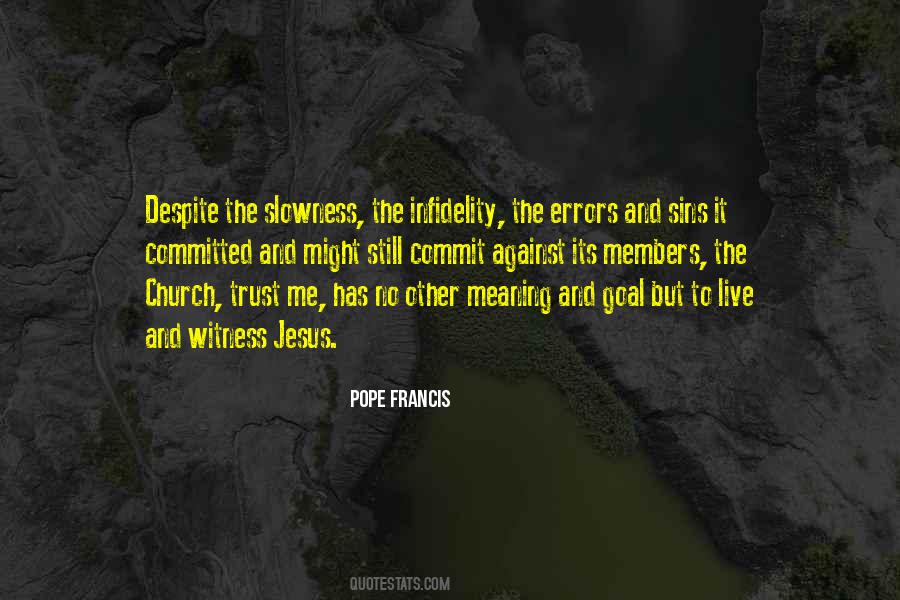 #41. If we will only surrender ourselves utterly to the Lord, and will trust Him perfectly, we shall find our souls "mounting up with wings as eagles" to the "heavenly places" in Christ Jesus, where earthly annoyances or sorrows have no power to disturb us. - Author: Hannah Whitall Smith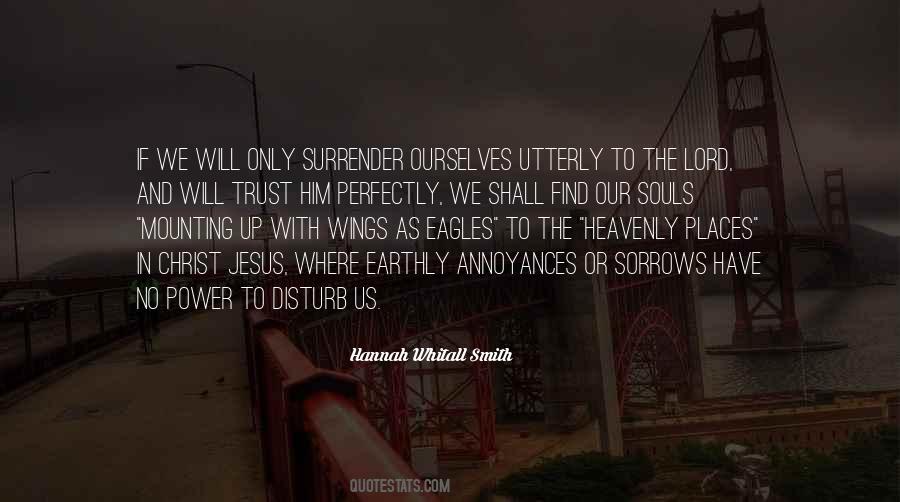 #42. The world doesn't give peace, for it doesn't have any peace to give. It fights for peace, it negotiates for peace, it maneuvers for peace, but there is no ultimate peace in the world. But Jesus gives peace to those who put their trust in Him. - Author: Billy Graham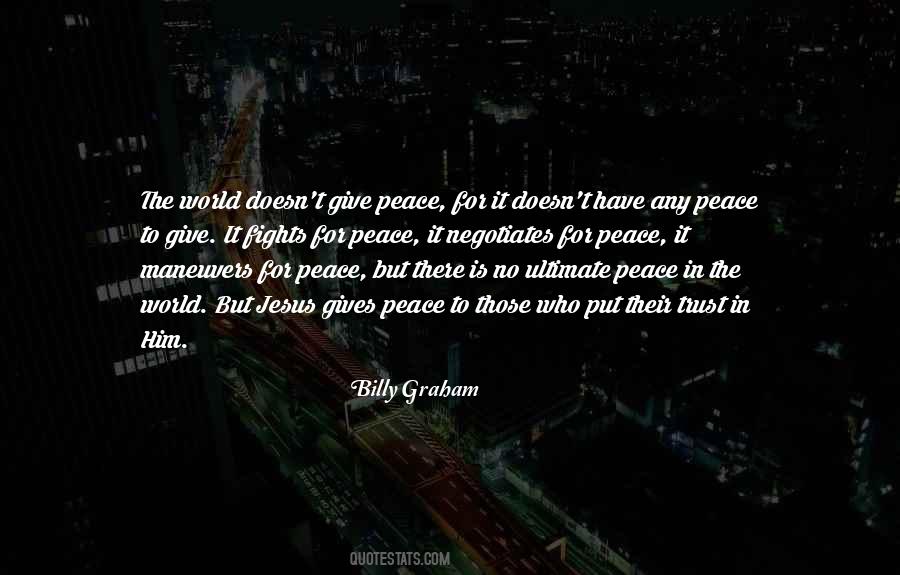 #43. Jesus knows the burdens we carry and the tears we shed, but He is the healer of broken hearts, broken dreams, and broken lives. Trust him. He never fails. - Author: John Hagee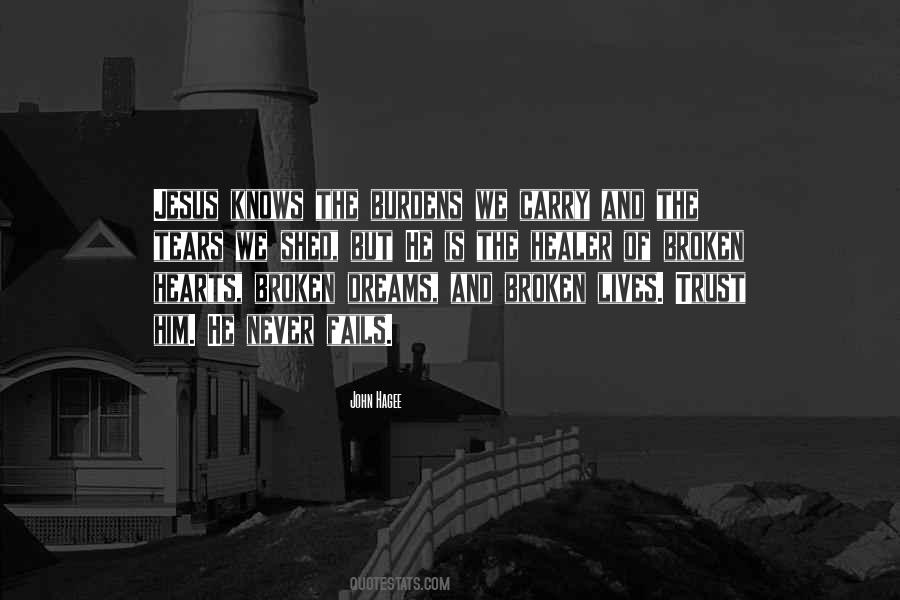 #44. The inevitable result of borrowed faith is lost faith. People born into a family anchored in Christendom tend to assume they're right with God, regardless of whether they personally turn from sin and trust in Jesus. - Author: Mark Driscoll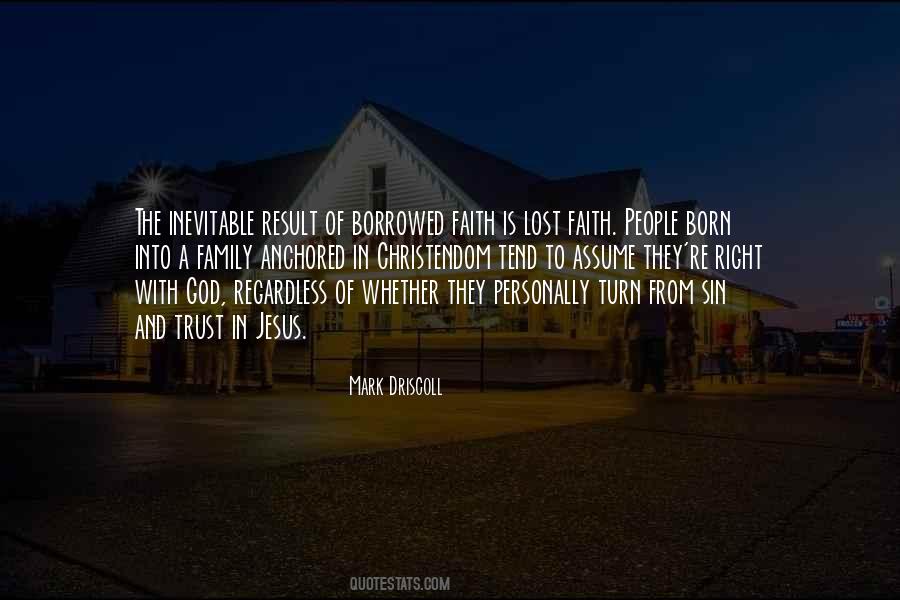 #45. We have very little faith in the Lord, very little trust. If we trusted the Lord as much as we trust a friend when we ask him to do something for us, neither we as individuals nor our whole country would suffer so much. - Author: Thaddeus Of Vitovnica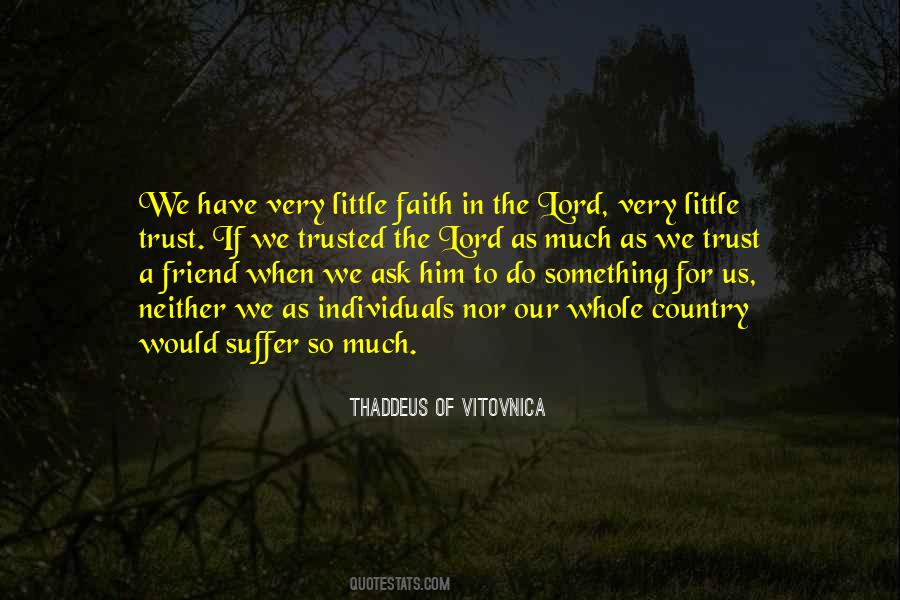 #46. Jesus faithfully and courageously represented the nonviolent and loving heart of God. Jesus and his way of nonviolent, self-giving love, the text suggests, will earn the trust of all humanity. We will ultimately migrate, in other words, toward the way of Jesus. - Author: Brian D. McLaren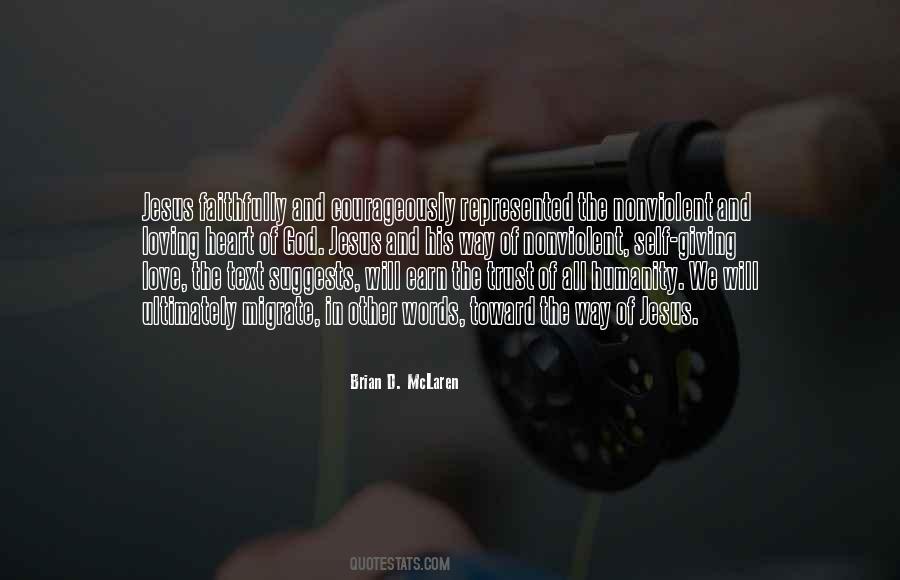 #47. Jesus wanted far more than to be accepted into one's life. He wanted to take over, and his essential call was to trust him enough to surrender one's entire being to him. - Author: Scot McKnight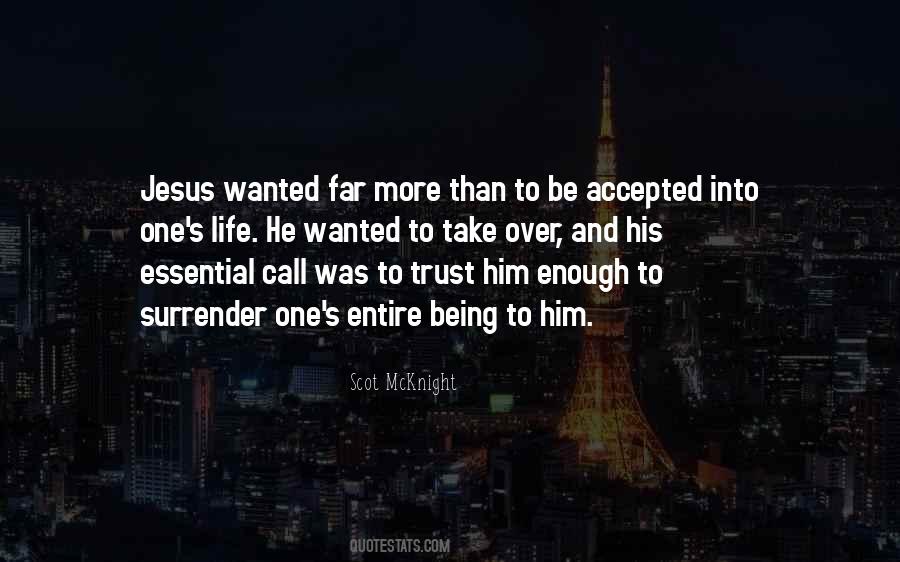 #48. We don't want to limit what God can do in our children by trying to parent them alone - Trust God to take care of them. - Author: Stormie O'martian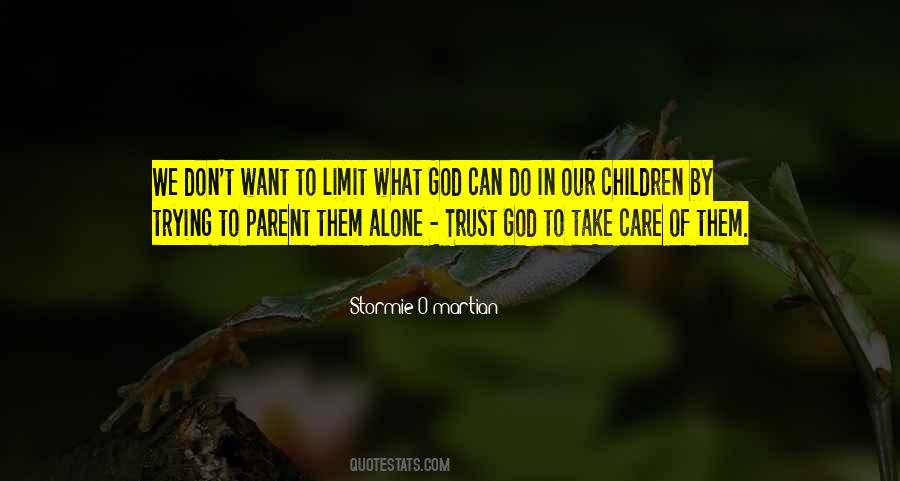 #49. Do not let your hearts be troubled. Trust in God; trust also in me. - Author: Jesus Christ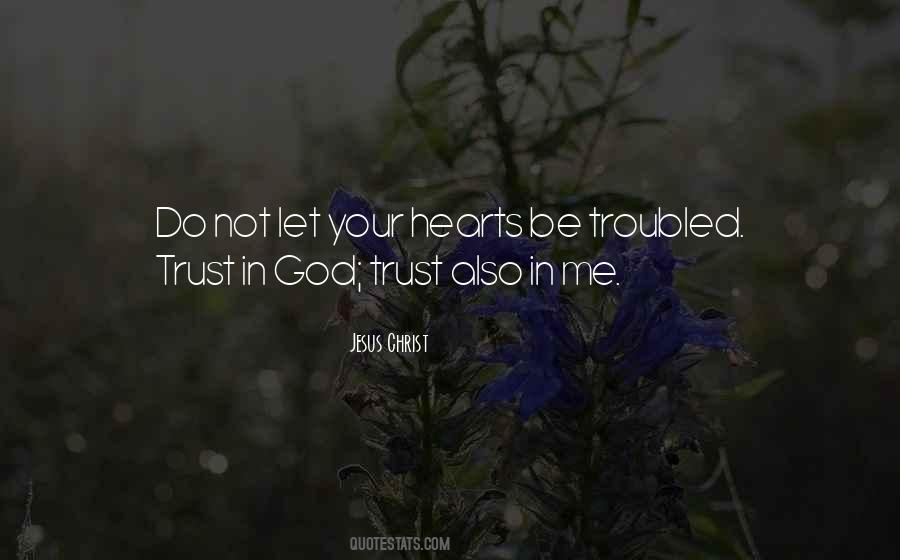 #50. Take the wold, but give me Jesus;
In His cross my trust shall be,
Till, with clearer, brighter vision
Face to face my Lord I see. - Author: Fanny Crosby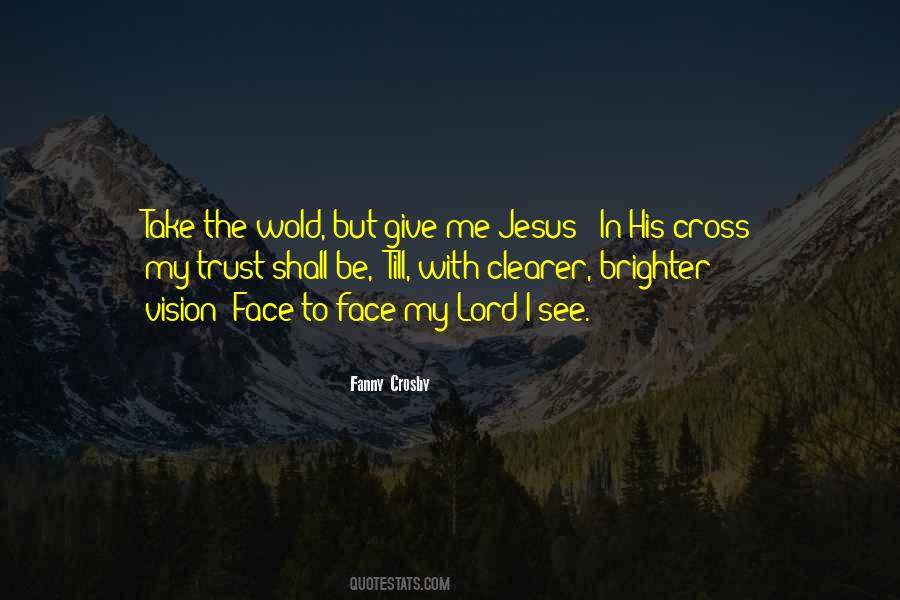 #51. Whatever is worrying you right now, give it to Jesus and trust Him to take care of it. Let His peace replace your worry. - Author: Billy Graham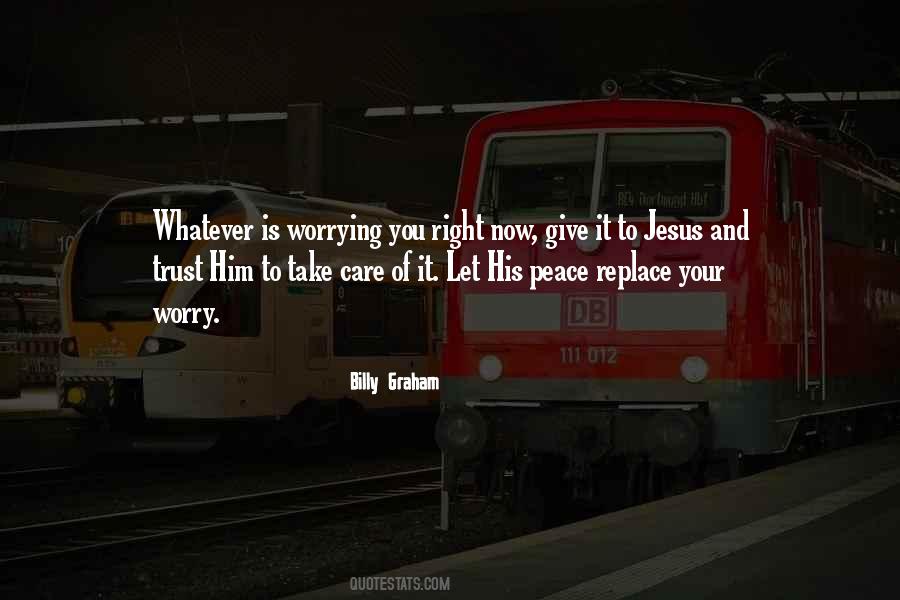 #52. My evidence that I am saved does not lie in the fact that I preach, or that I do this or that. All my hope lies in this: that Jesus Christ came to save sinners. I am a sinner, I trust Him, then He came to save me, and I am saved. - Author: Charles Spurgeon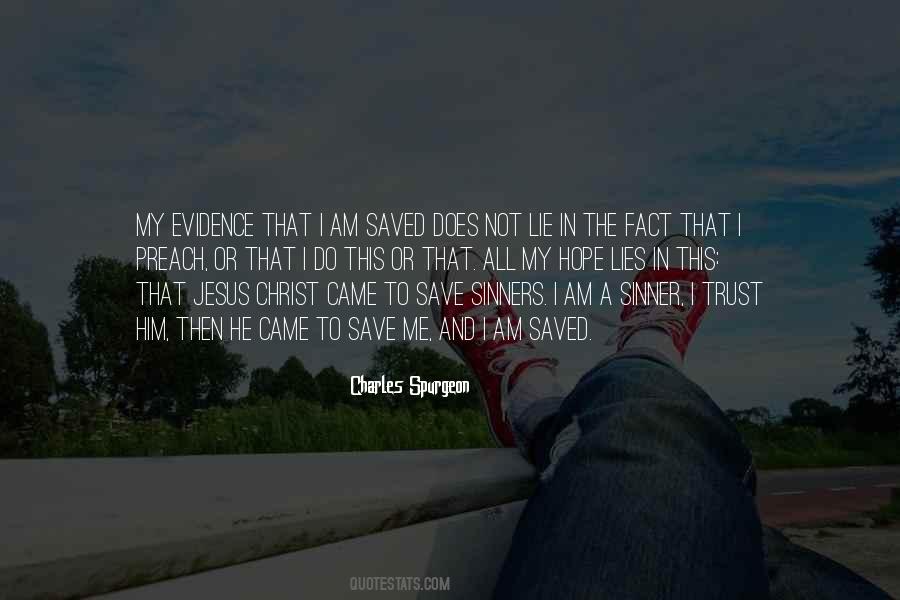 Famous Authors
Popular Topics