If You Can't Change It Famous Quotes & Sayings
List of top 100 famous quotes and sayings about if you can't change it to read and share with friends on your Facebook, Twitter, blogs.
Top 100 If You Can't Change It Quotes
#1. Go for it, while you can. I know you have it in you. And I can't promise you'll get everything you want, but I can promise nothing will change if you don't try. - Author: J.M. Darhower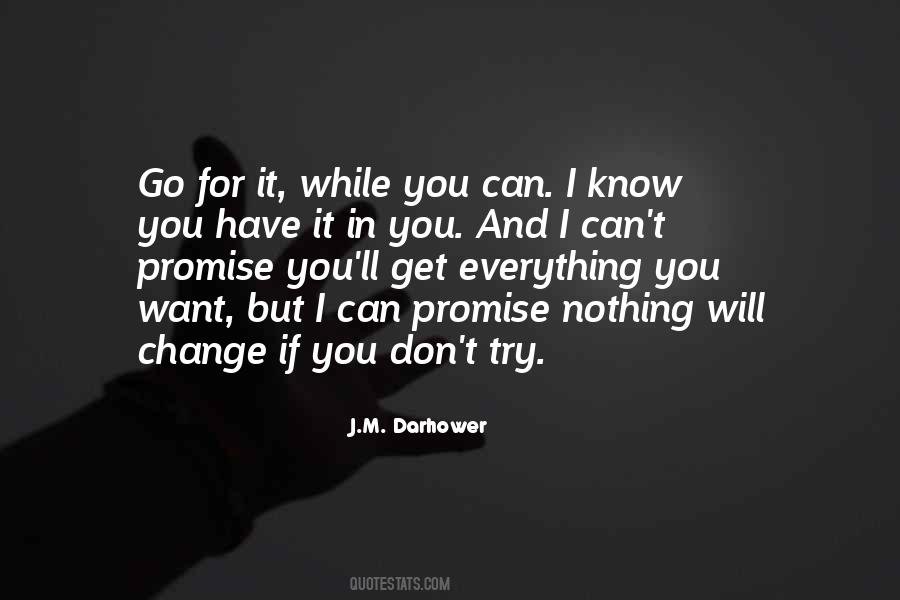 #2. Changing irrational beliefs can impact multiple areas of life. It doesn't matter how many times you repeat affirmations for success but if you don't change your core beliefs, the changes will be temporary. - Author: Hina Hashmi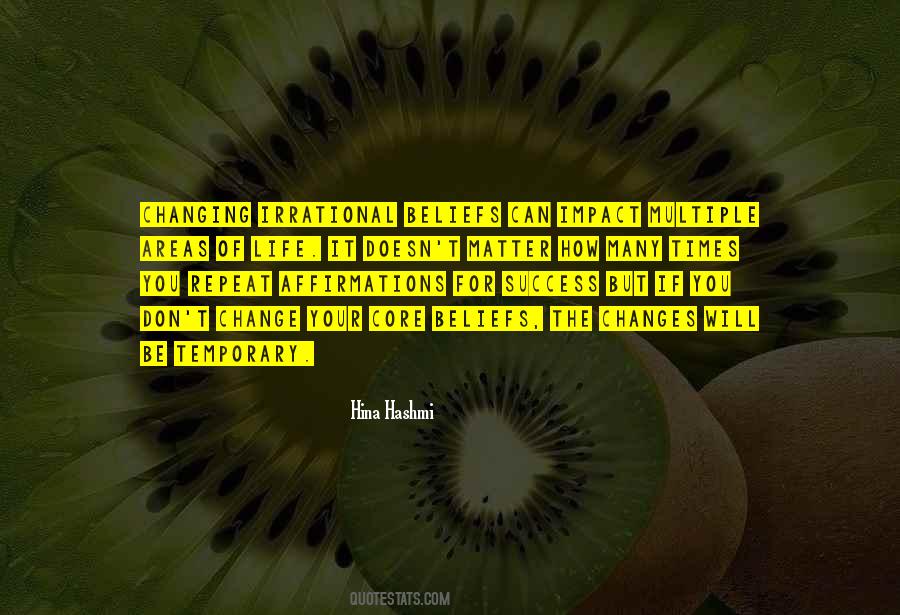 #3. It's important to understand that your no is always subject to you. You own your boundaries. They don't own you. If you set limits with someone, and she responds maturely and lovingly, you can renegotiate the boundary. In addition, you can change the boundary if you are in a safer place. - Author: Henry Cloud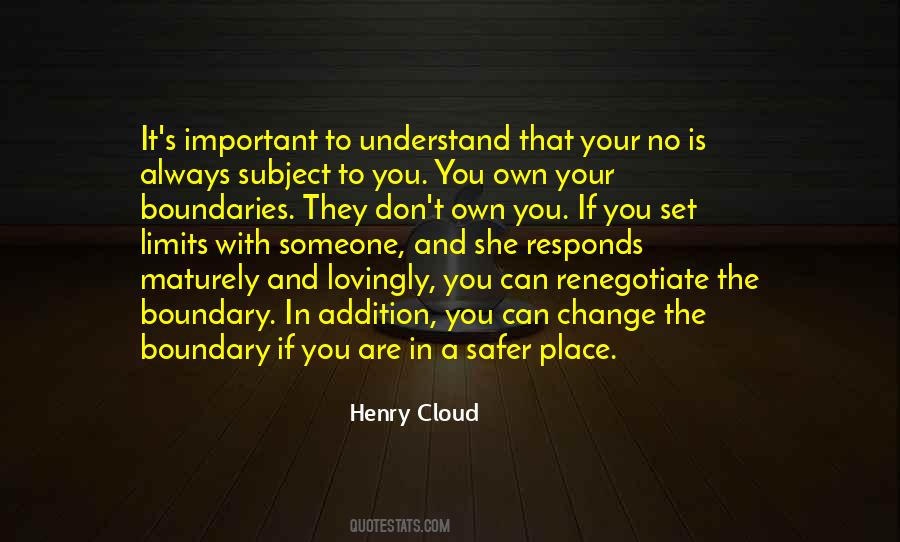 #4. When starting a new business, people get blinders on. They have an idea, they stick to the idea, but they don't test it or check with their potential audience to see if this is a good idea. It happens all the time. Talk to your customers, see what they like and what you can change or not change. - Author: JJ Ramberg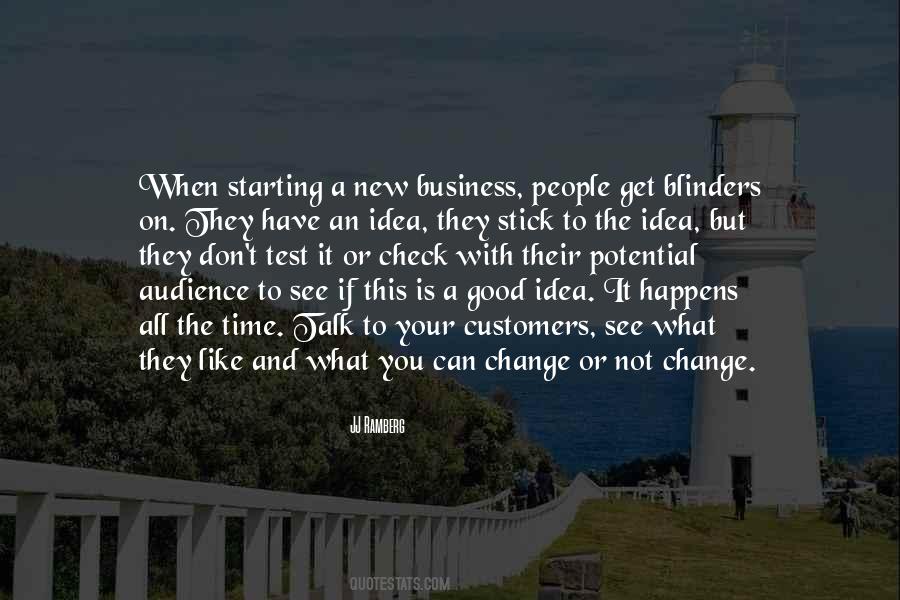 #5. You can't fundamentally change a person, and some actions are certainties, doomed to be repeated. If fate exists, then it pertains only to people. The fact that we are stubborn is often our undoing. - Author: Ryan Daff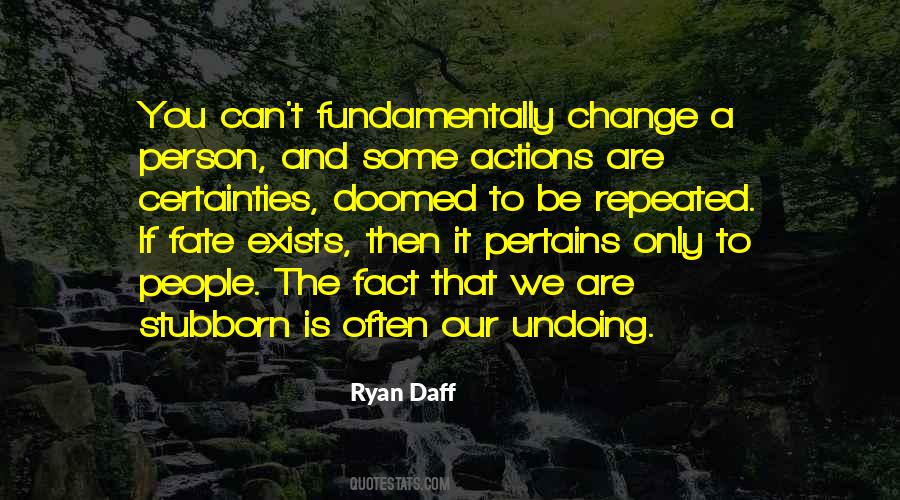 #6. I've often said that great things can happen to you and for you, but if it doesn't happen in you, then the way you view yourself won't change. - Author: Maria Durso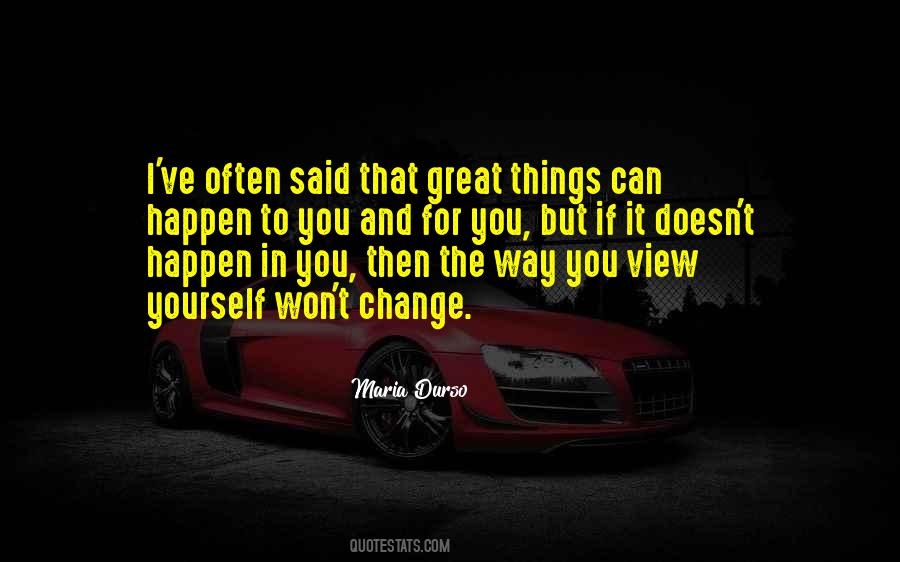 #7. Love is messy. If you really love someone, you can't avoid the pain. People die, people leave, things change, but sometimes it all works - Author: Danielle Steel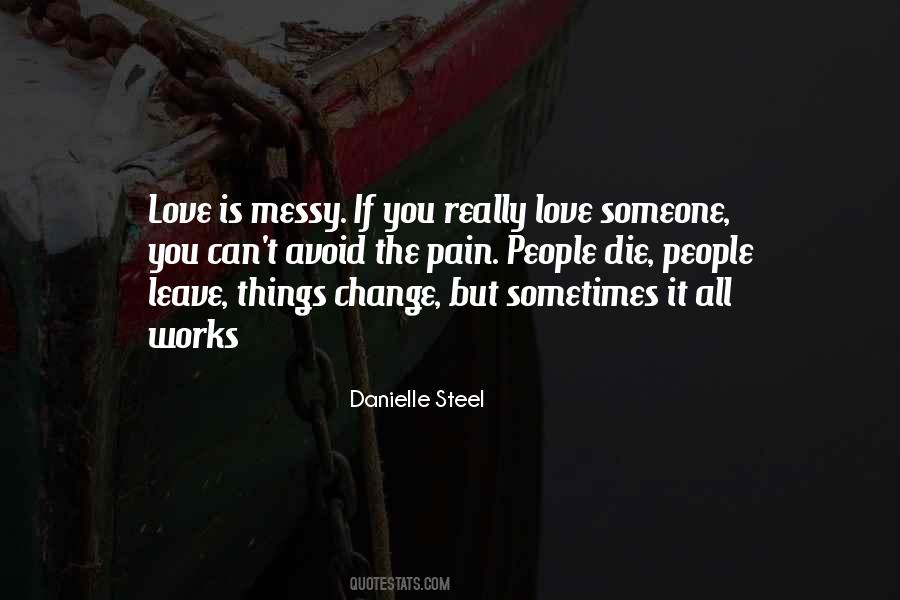 #8. Love is the biggest eraser there is. Love erases even the deepest imprinting because love goes deeper then anything. If you childhood imprinting was very strong, and you keep saying: "It's their fault. I can't change," you stay stuck. - Author: Louise Hay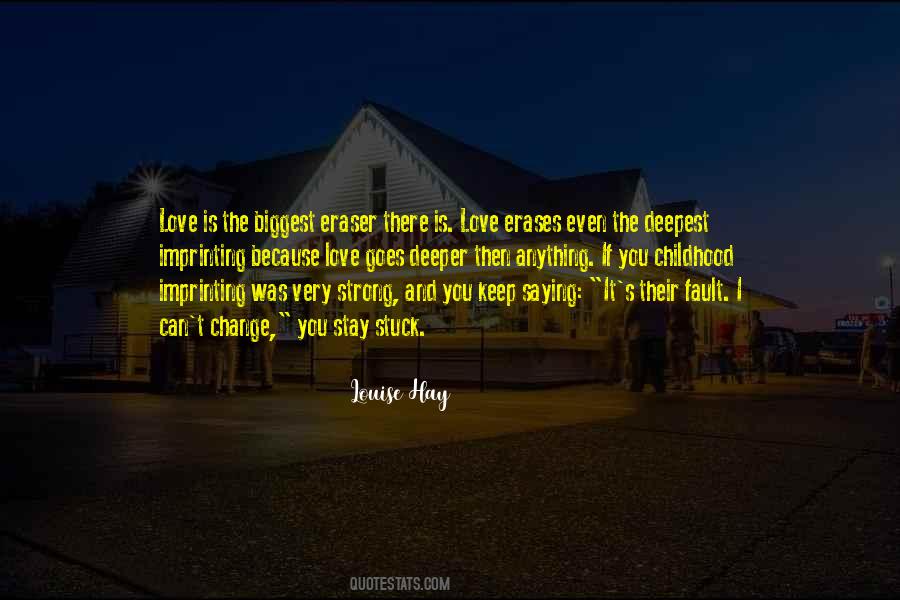 #9. I wanted to be a politician and a movie star. But I was born a writer. If you're born that, you can't change it. You're going to do it whether you want to or not. - Author: Gore Vidal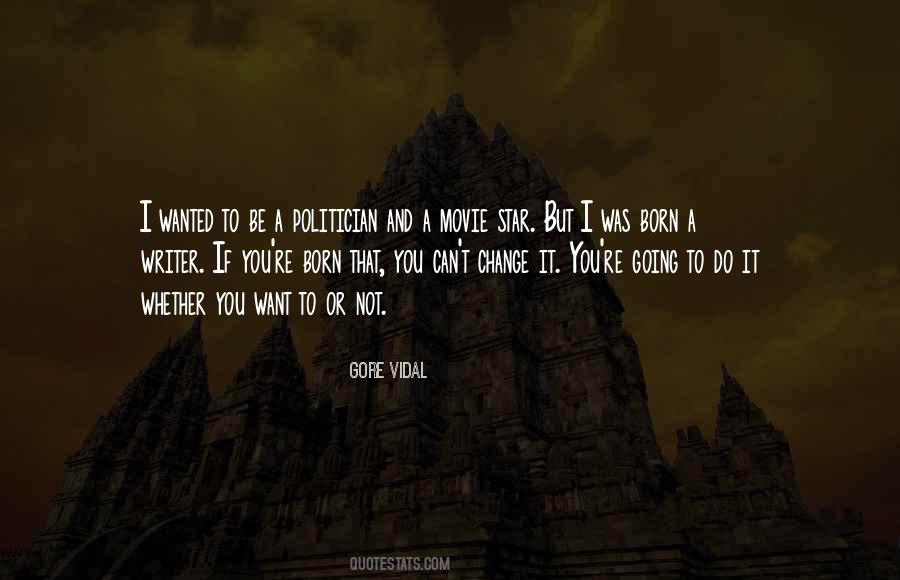 #10. It's complicated for me too. I know I'm not the man you might want me to be, for a serious relationship. But I want you so much, I don't care. I want you, Kelly, and I can try to change, if you need me to. All of me is yours. - Author: Claire Kent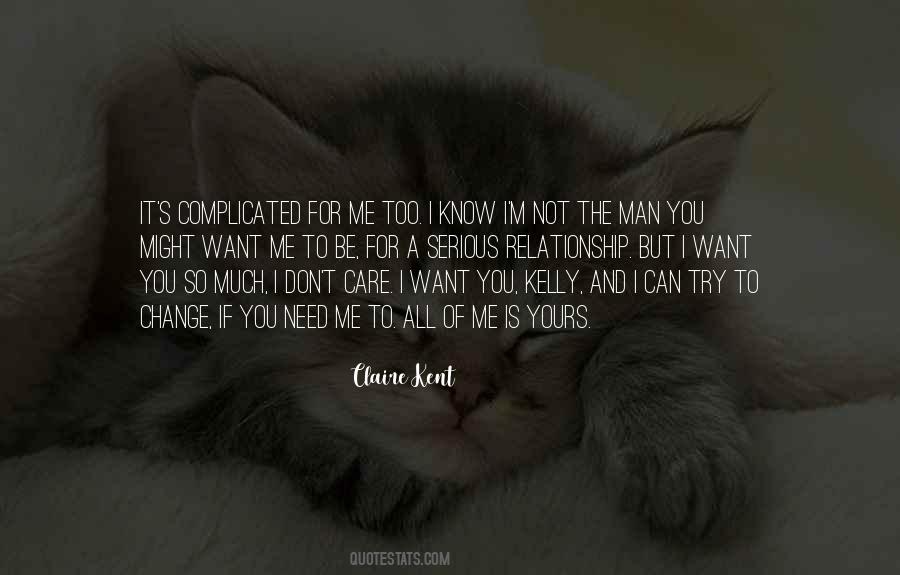 #11. We tend to think that it's up to others to respect our needs and fill them for us. But that doesn't ever work, and for the following reason:
If you have a hard time knowing what it is you really need, then how on earth can you logically expect someone else to know? - Author: Amanda Butterworth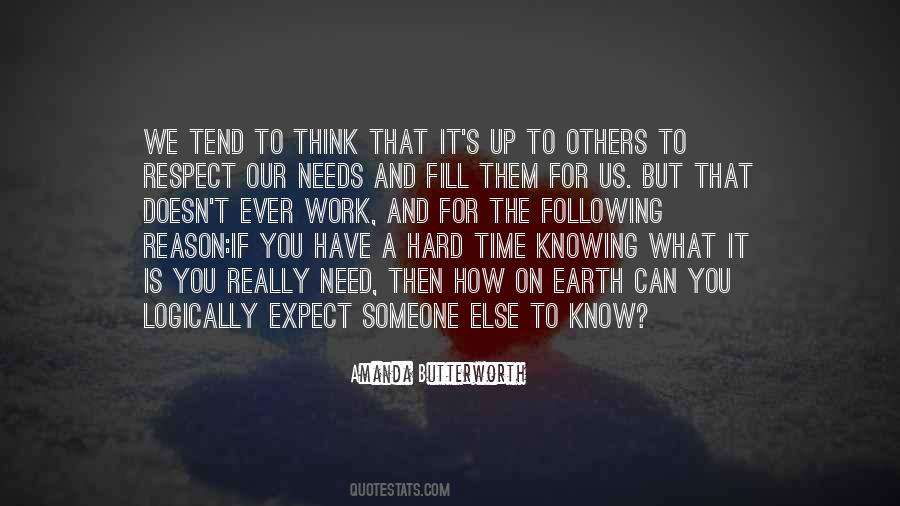 #12. It's so important for people in political groups to learn the difference between productive criticism and not. When it's about something you can change, it's productive. But if it's just like "You are an evil person", you can't change that. There's no way around that. - Author: Kathleen Hanna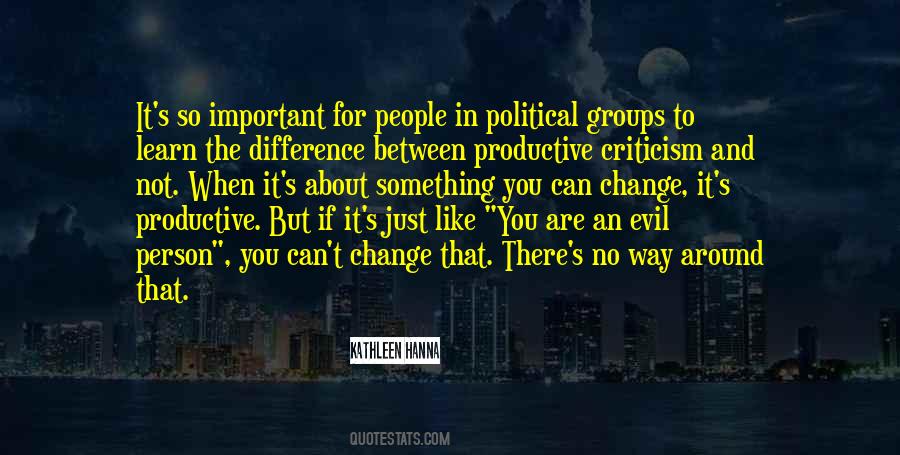 #13. In an interview with Univision, President Obama said if there's one thing he's learned, it's that you can't change Washington from within. So what is he saying - that if we want real change, we should throw him out? - Author: Jay Leno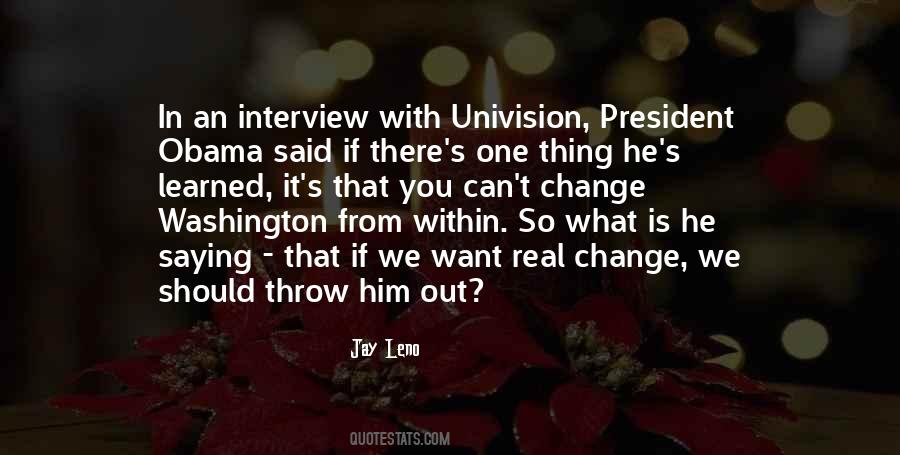 #14. It's true. In America, you can reinvent yourself at any turn. And, you know, if things aren't going well for you in life, everyone says, change, become someone different. - Author: Adam Johnson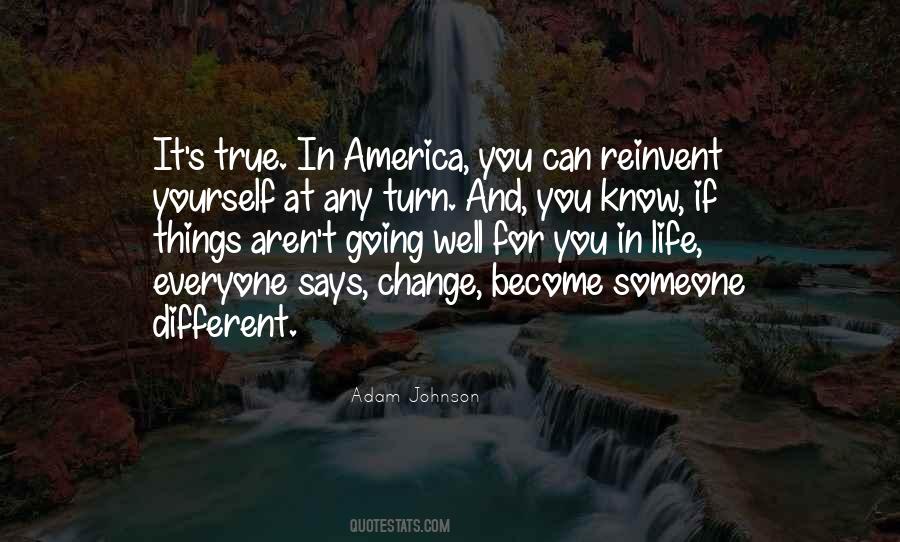 #15. If you can't look a line of dialogue in the face and say exactly why it's there - take it out or change it. - Author: Diana Gabaldon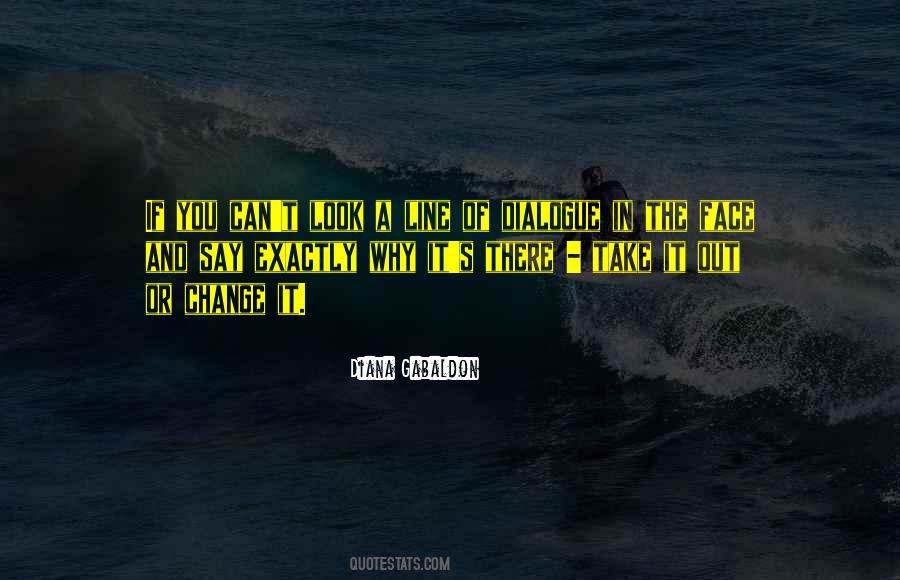 #16. If you can't change it don't worry about it. - Author: David Barrett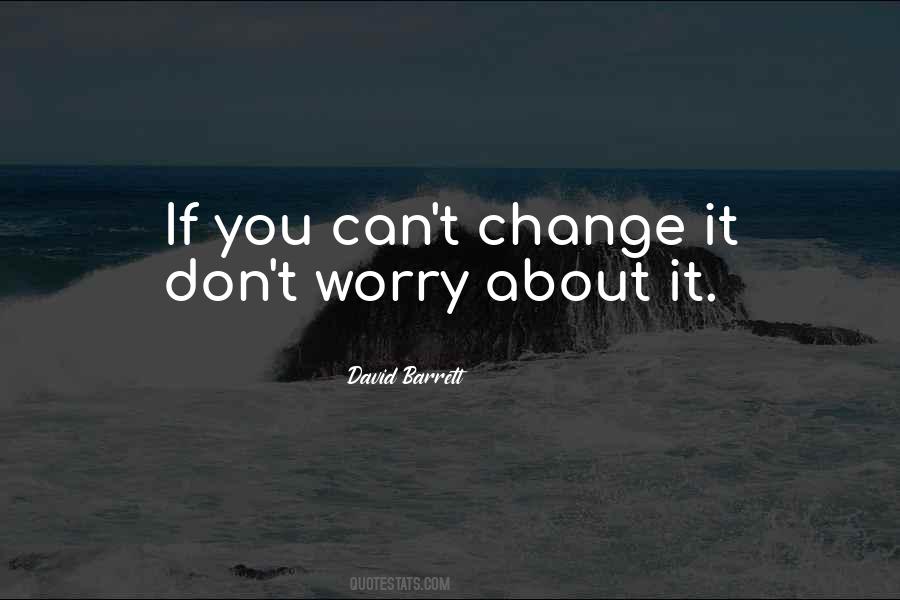 #17. I think if there's something one needs to change with oneself, it doesn't have to happen in the New Year. You can do that any time you please - not that it's not a good inspirational tactic for the people that it works for. - Author: Brittany Murphy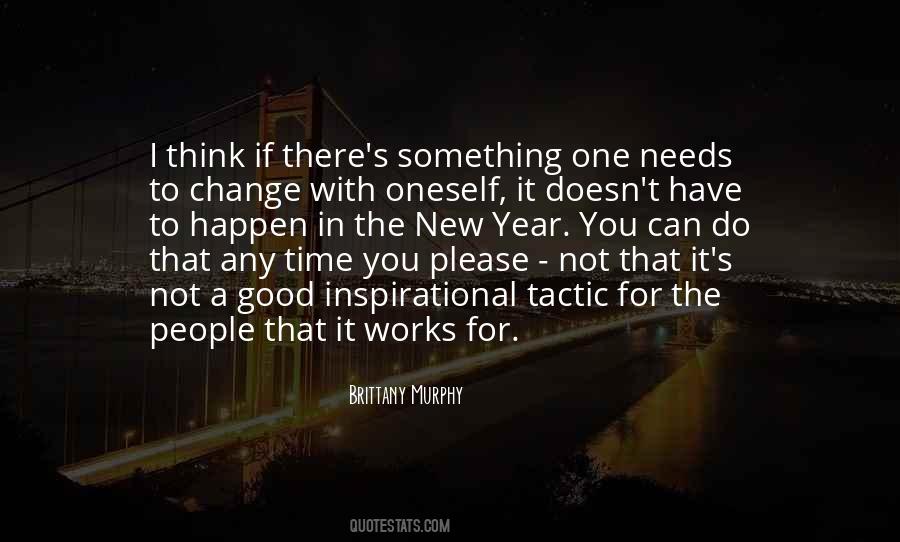 #18. You can't help but change when you have a kid, and for me it was just a sense of I didn't feel like anything was missing in my life and it wasn't. It all came at just the right time, and now if I am absent from my son, I do feel like something is missing. - Author: Chris Pratt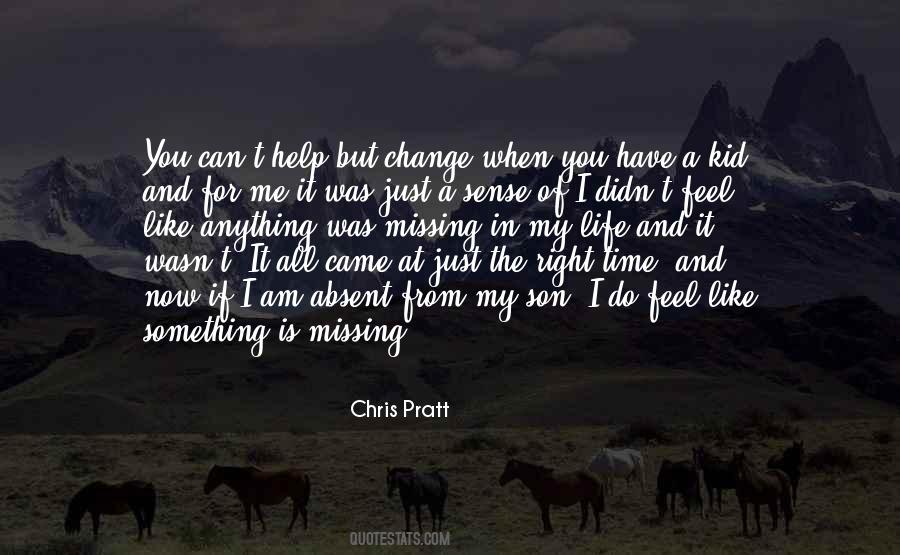 #19. If I've learned anything in life, it's that it doesn't help to sit and play a situation over and over again in your head. You can't change the past, but you can shape the future with the right now. - Author: Brittainy C. Cherry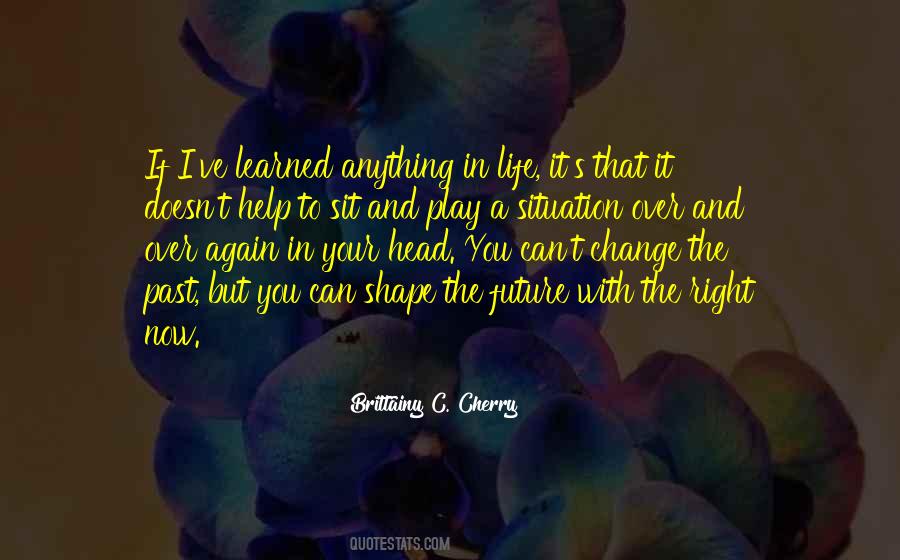 #20. One of the most predictable things in life is there will be change. You are better off if you can have a say in the change. But you are ignorant or naive if you don't think there will be change, whether you want it to or not. - Author: Julius Erving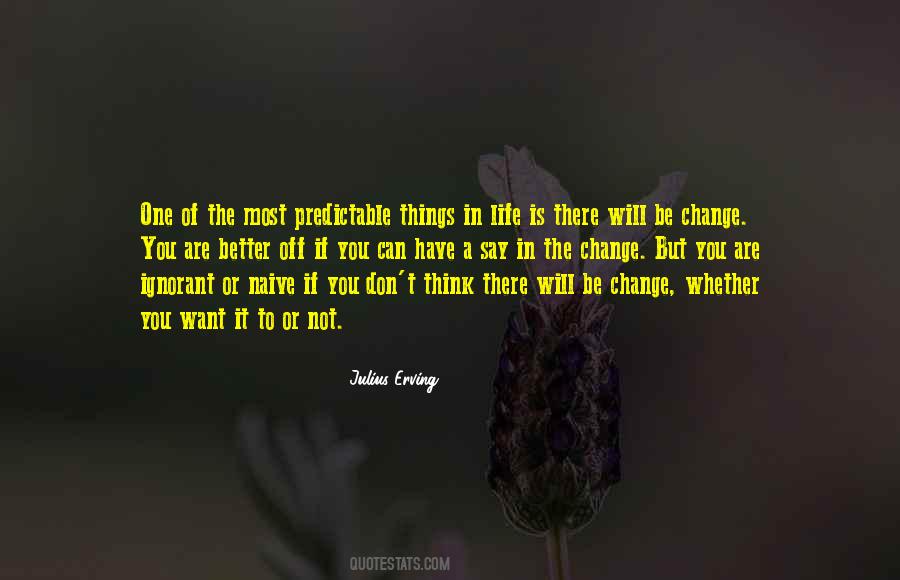 #21. If you can think it, then You Can Do It. Don't underestimate Your Power to change the world. - Author: Jeanette Coron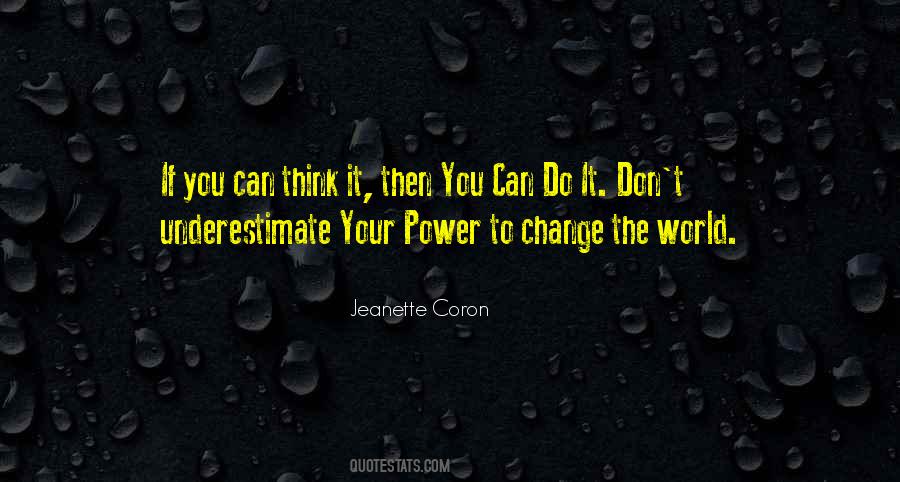 #22. If someone steals your password, you can change it. But if someone steals your thumbprint, you can't get a new thumb. The failure modes are very different. - Author: Bruce Schneier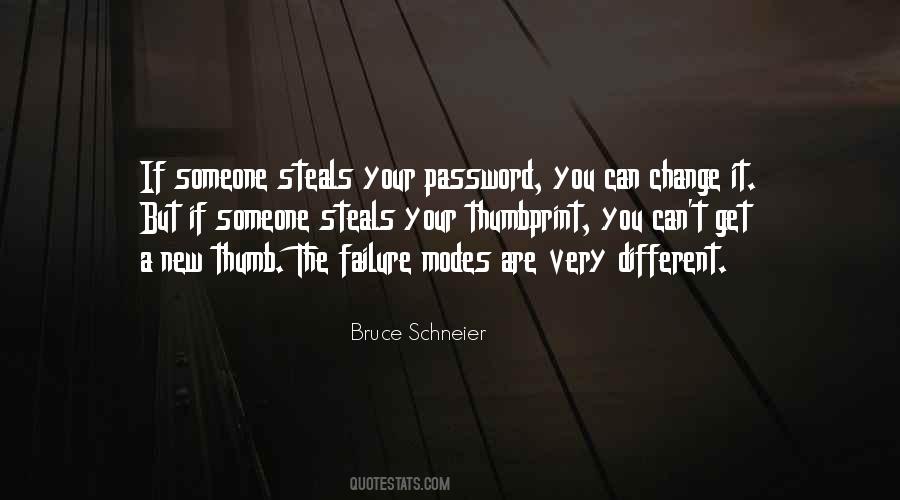 #23. If somebody steps on your shoes and ruins them, don't freak out.. get a new pair of shoes. If you miss something, don't freak out.. there's nothing you can do to change it.. just move on - Author: Usher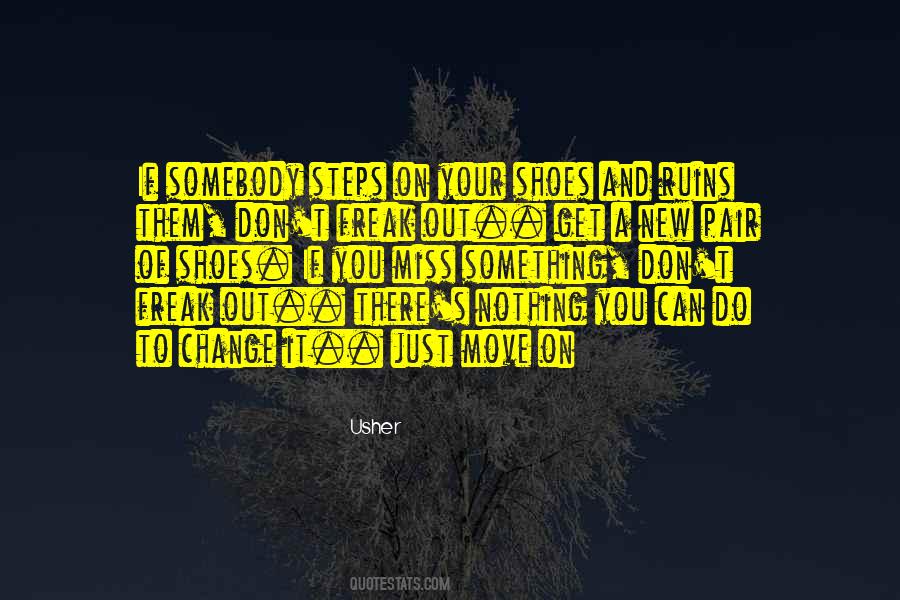 #24. You can't change what has already happened. But you choose what to do next. Which means that you only cross over to the dark side if you choose to do it. - Author: Jim Butcher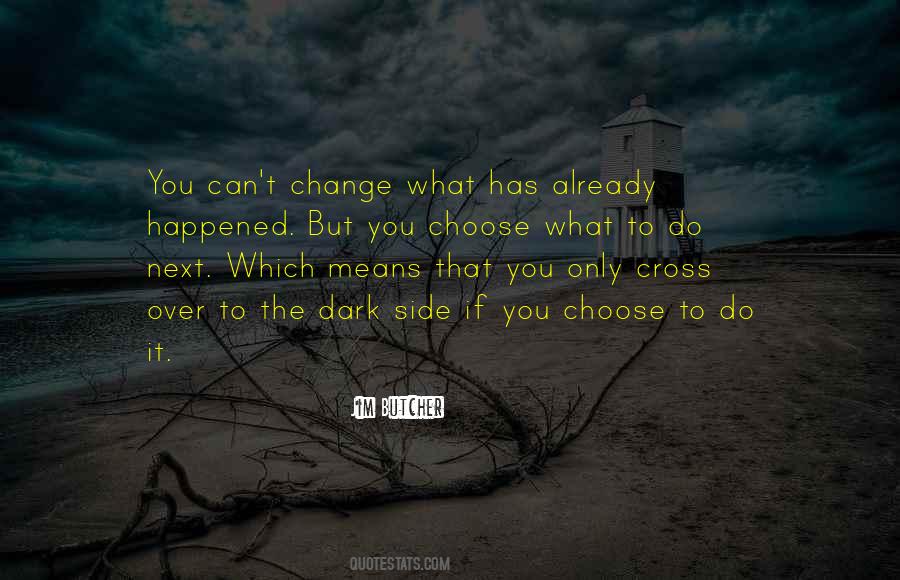 #25. In life, you can be unhappy, or you can change things. And even if there are things you can't change, you can often change your mind-set and question assumptions that are making life less goof than it could be. - Author: Laura Vanderkam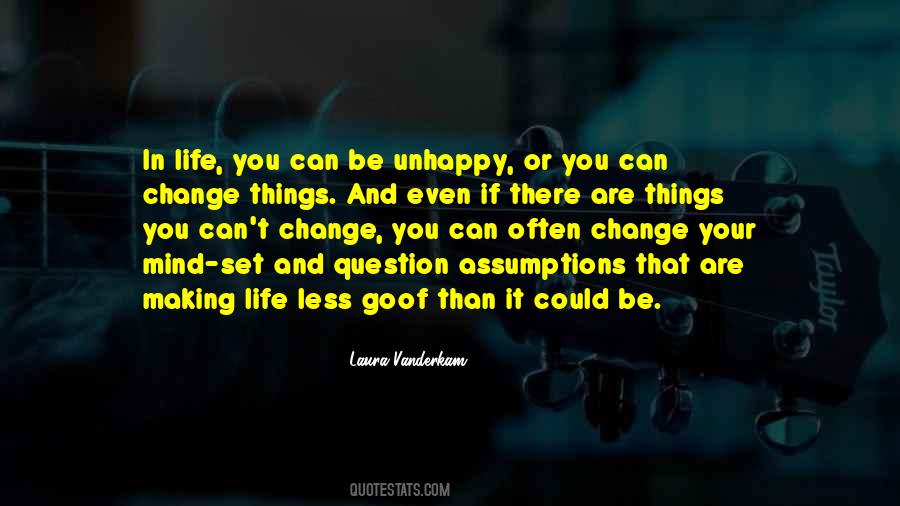 #26. If your goal is to change the world, you can't start by doing things the same old way because it sells better. - Author: Henry Spencer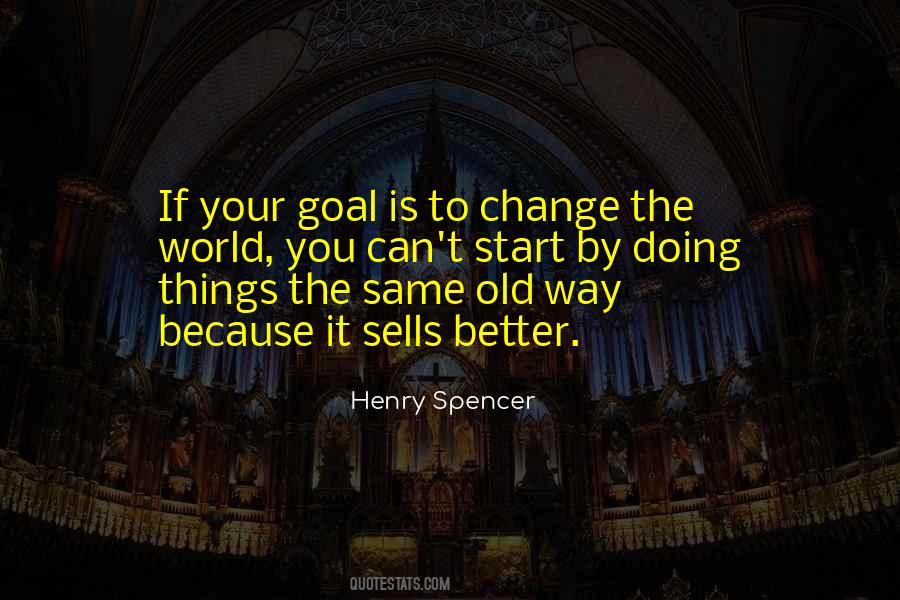 #27. Change is important, but if you can't really change it, just keep calm, understand the situation and go through it with a good heart! Time will surely speak with time! - Author: Ernest Agyemang Yeboah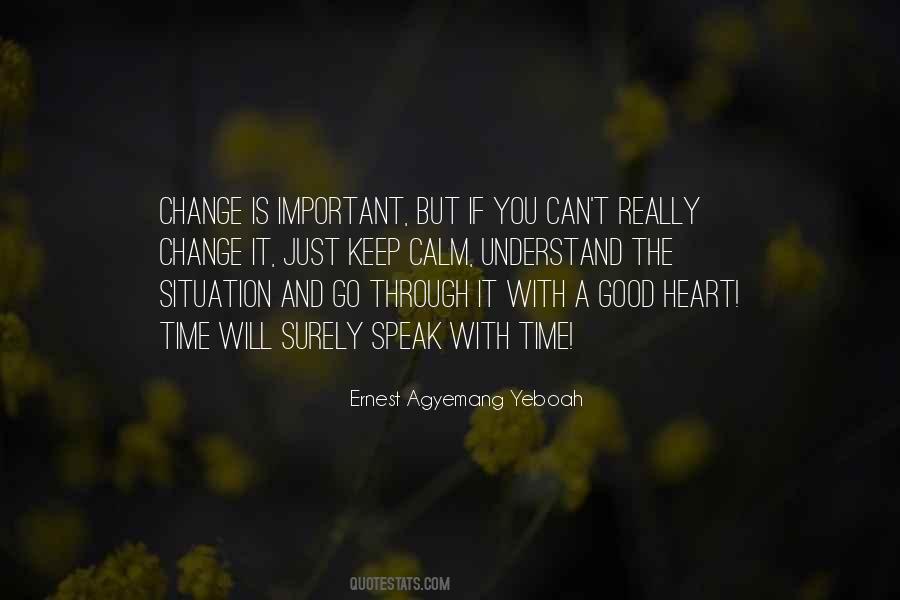 #28. When I saw how the European Union was developing, it was very obvious what they had in mind was not democratic. In Britain, you vote for a government so the government has to listen to you, and if you don't like it you can change it. - Author: Tony Benn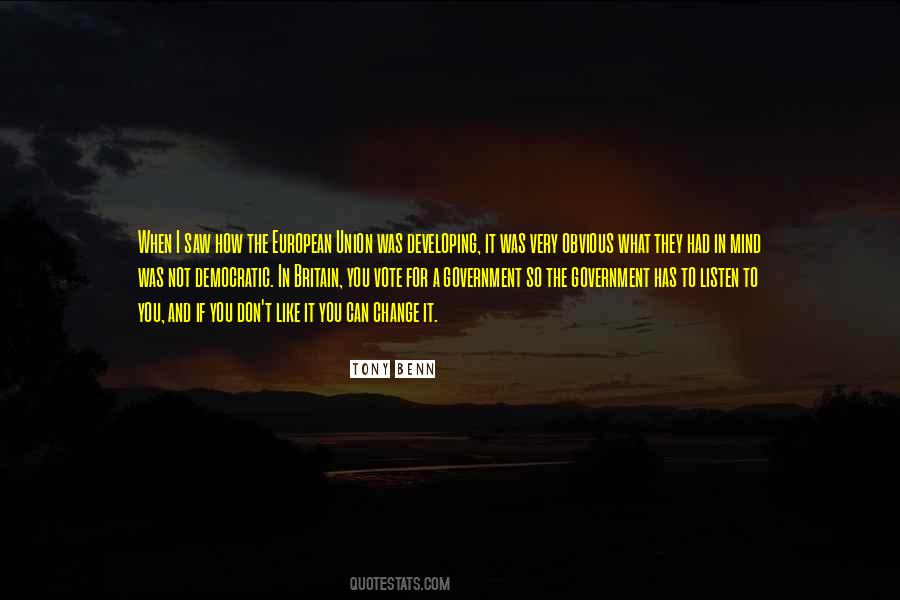 #29. Last words of wisdom.If your parents are screewed up, don't turn into them. Use them as an example of what not to be- be yourself instead. you can overcome your fears, you can change, you can make your life into what you've always wanted it to be. Maybr not tomorrow but soon. So hang in. - Author: Susane Colasanti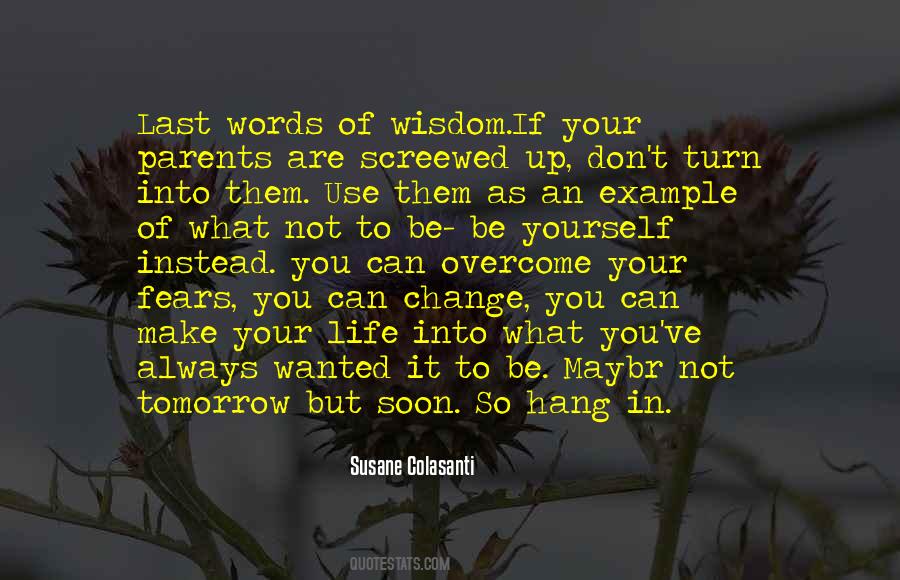 #30. forget about it; if today never becomes a yesterday, at least you can make peace with today. What already happened we can't change, but we can change what happens next! - Author: Aleta Williams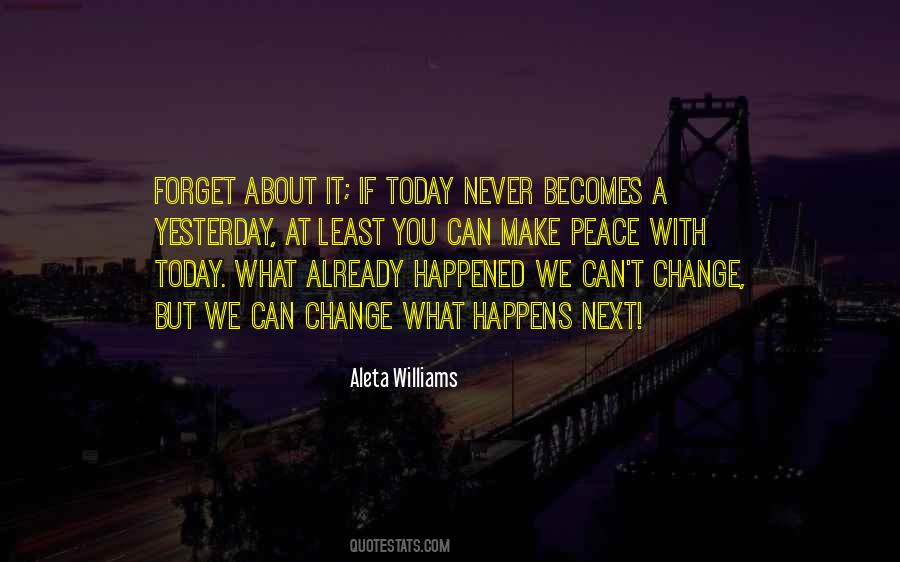 #31. If you leave your life to chance, you can't make a change. Chance may favour a prepared mind, but it doesn't create change! Will does so. - Author: Israelmore Ayivor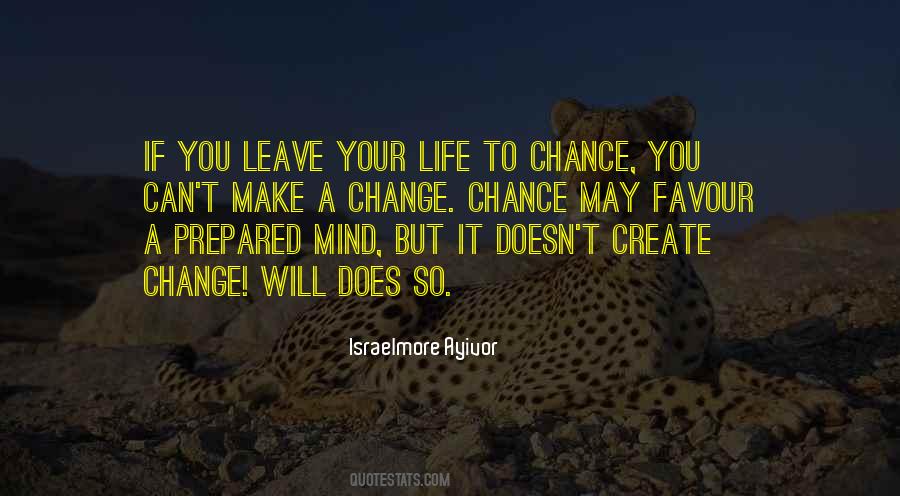 #32. Summary "If you don't like something, change it. If you can't change it, change the way you think about it." Mary Engelbreit - Author: Fred Juliusson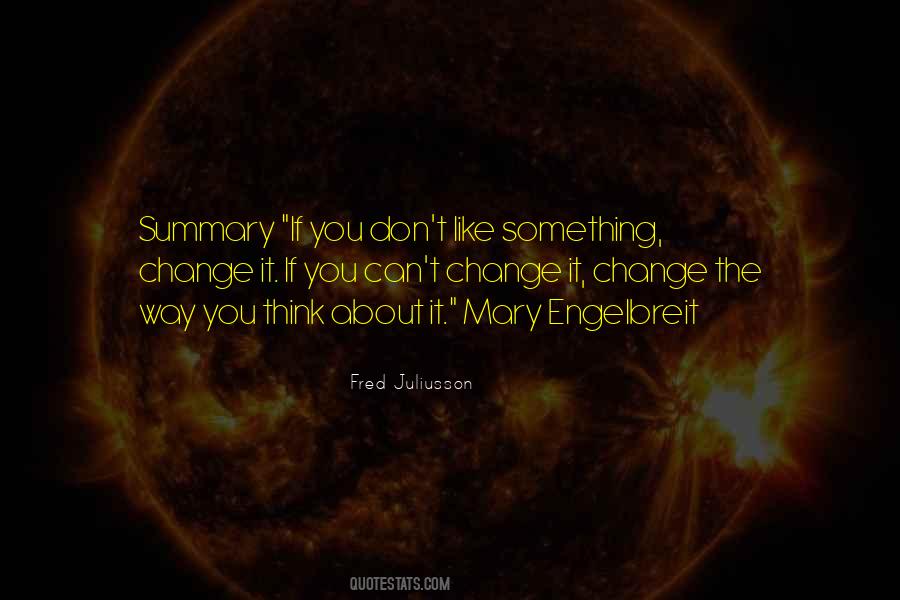 #33. People say, 'You have inspired me, you've given me courage ... ' They've gone so far as to say, 'You've changed my life!' And I would come back and say to my husband, 'I can't understand it - what kind of poor little life did she have if I had to come and change it?' - Author: Iris Apfel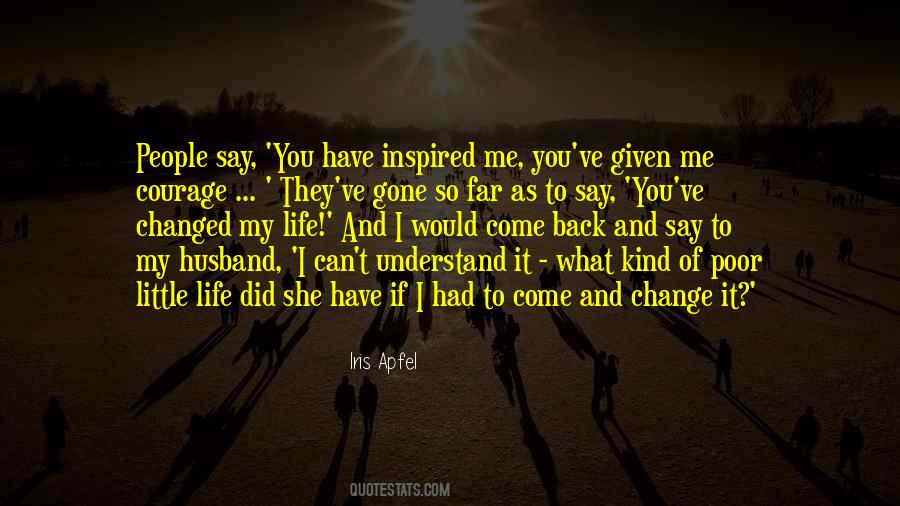 #34. I change lyrics to the songs all the time, too. I don't know if it matters in a lot of ways because you can take what you want from it. - Author: Matt Corby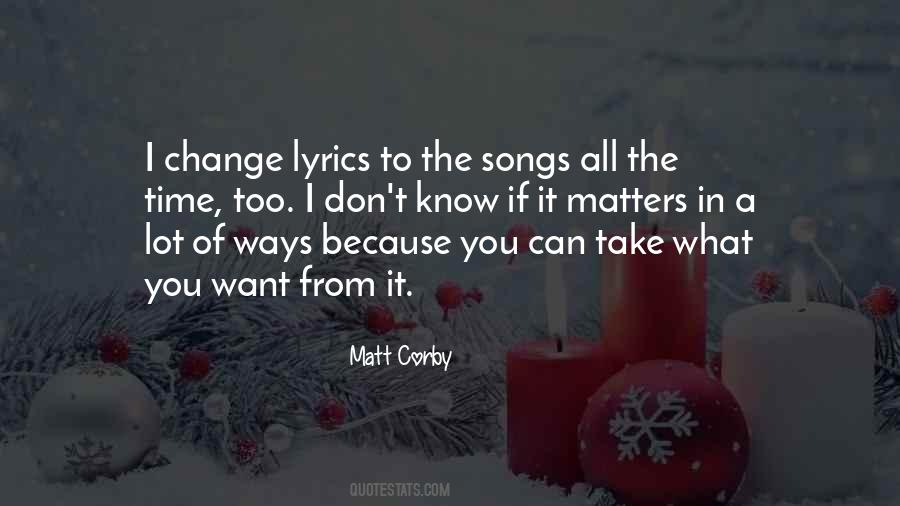 #35. You can be as earnest and ridiculous as you need to be, if you don't attempt it in isolation. The ridiculously earnest are known to travel in groups. And they are known to change the world. - Author: Barbara Kingsolver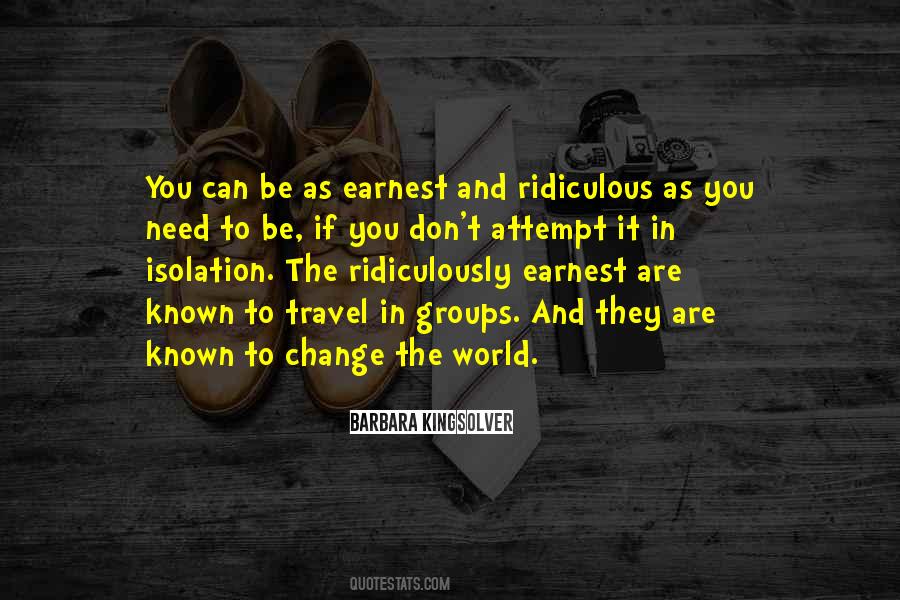 #36. If you have to change something about you to be in a part, I don't think it's easy to do. You should just pick the part where you can just be yourself. - Author: Lucas Black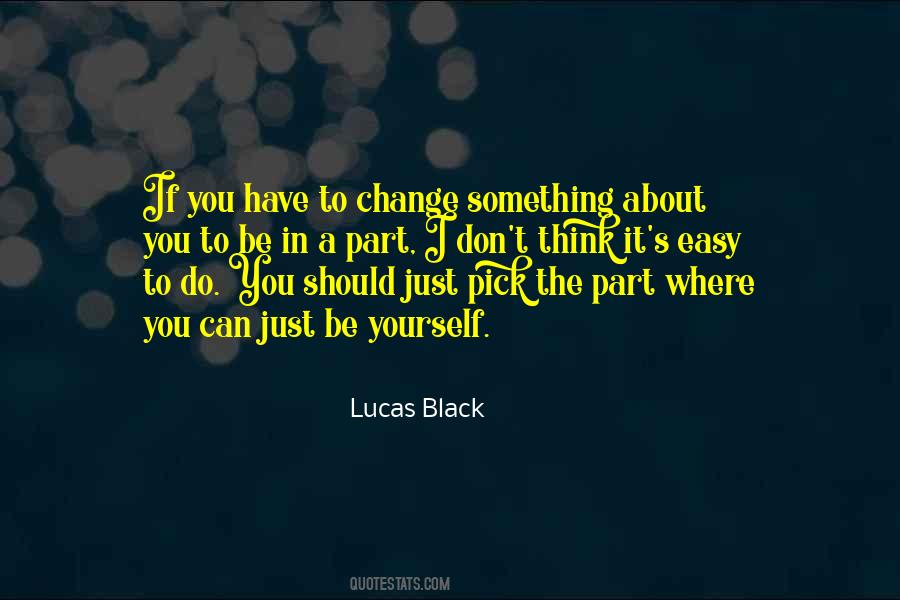 #37. Your lot in life? A lot is something you draw, like straws. It's chance. You didn't get this life by chance. You chose it on purpose. If you're dissatisfied from it, you can change it. - Author: Jennifer Echols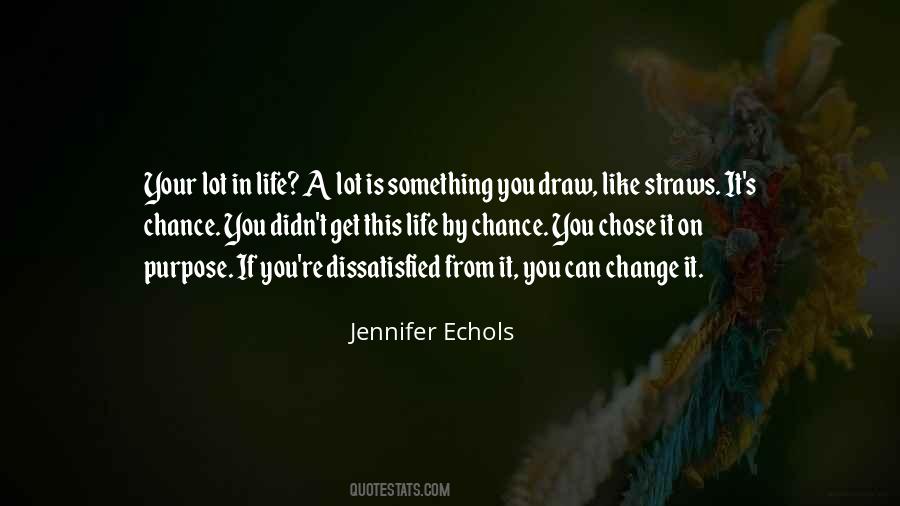 #38. You can't be a revolutionary, you can't want to change society if you don't love people, there's no point in it. - Author: Myles Horton
#39. Change hurts. It makes people insecure, confused, and angry. People want things to be the same as they've always been, because that makes life easier. But, if you're a leader, you can't let your people hang on to the past. - Author: Richard Marcinko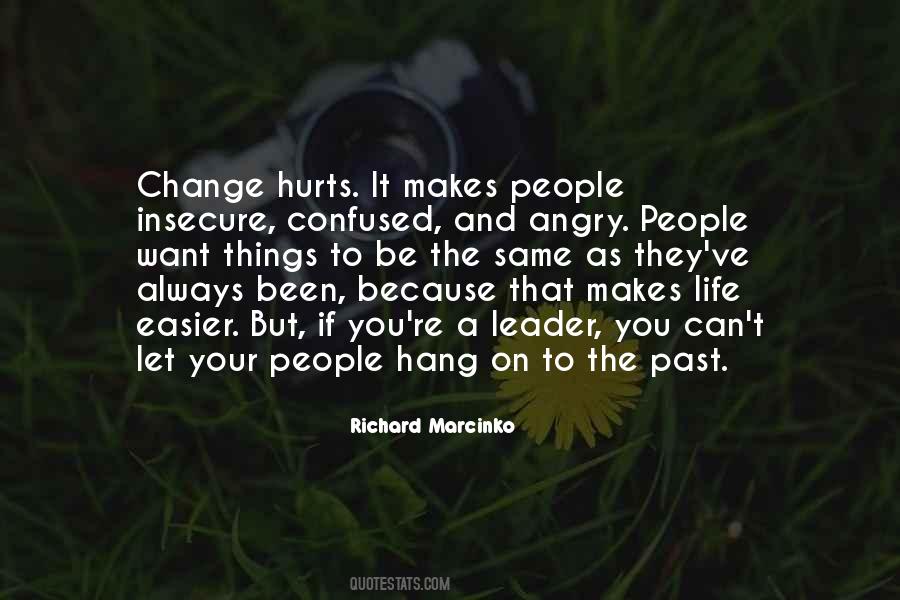 #40. Fuck waiting for the world to change you; you start by trying to change it. And if you are pure of heart and your intentions are good, you can't lose. Even if nothing happens, you can't lose. - Author: Ron Perlman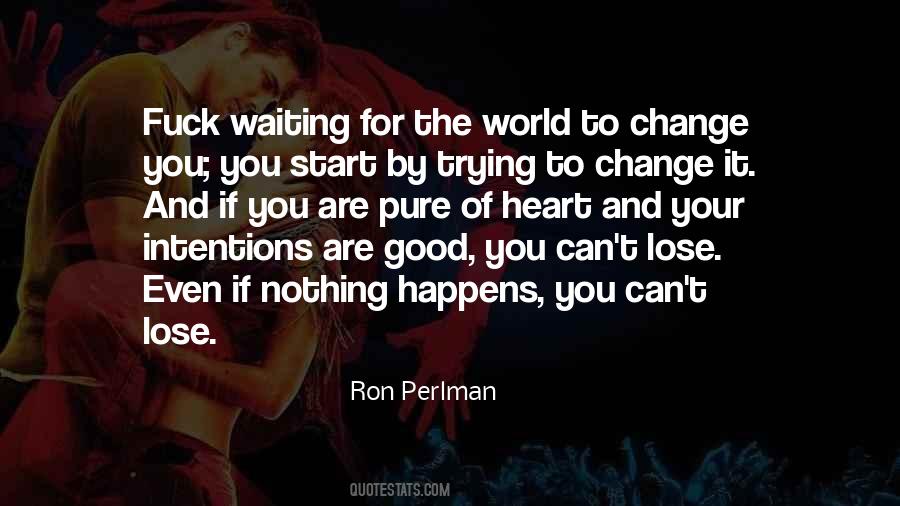 #41. You can't change the past. Even if it hasn't happened yet. - Author: Charlie Fletcher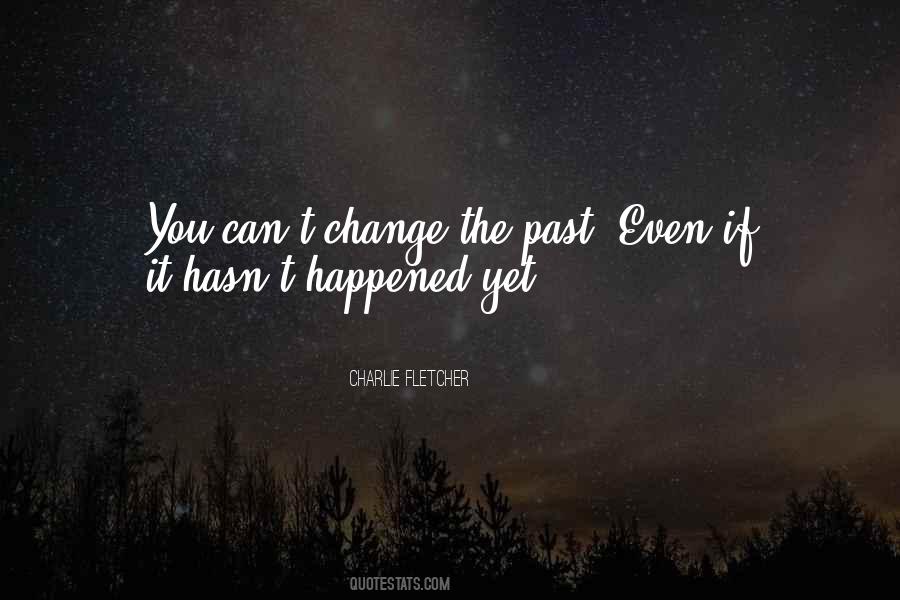 #42. If you choose the right people for the group, it goes a little bit differently. At the same time, you can't always predict what's going to happen. Success might change people. - Author: Paul Wall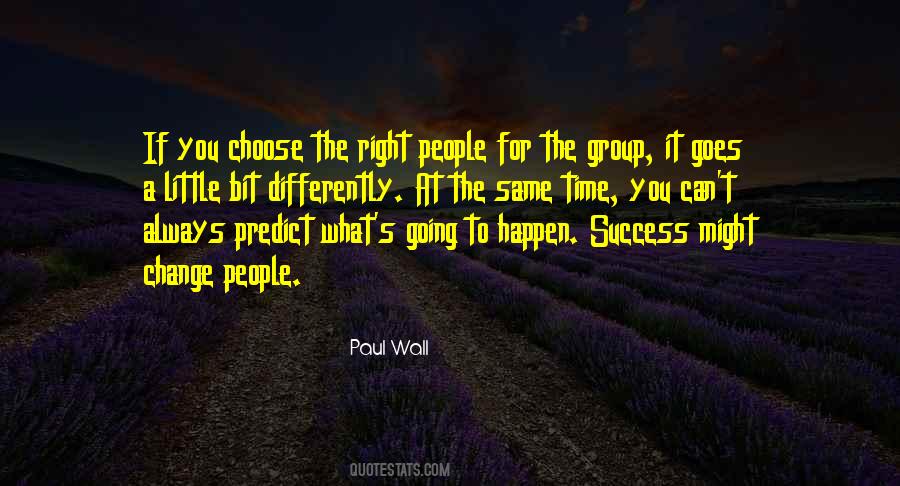 #43. Two things are not debatable: eroticism, and comedy. If you don't think it's sexy, or funny, there's no way I can change your mind. - Author: Gene Siskel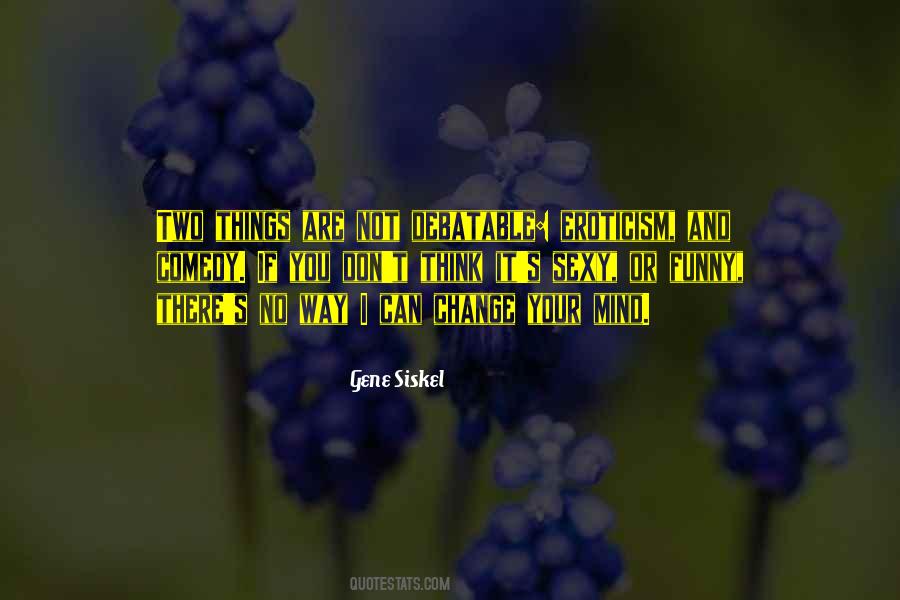 #44. If you refuse to change your job (if you don't like it), the only sensible thing you can do is practice loving it every day. - Author: Wayne Dyer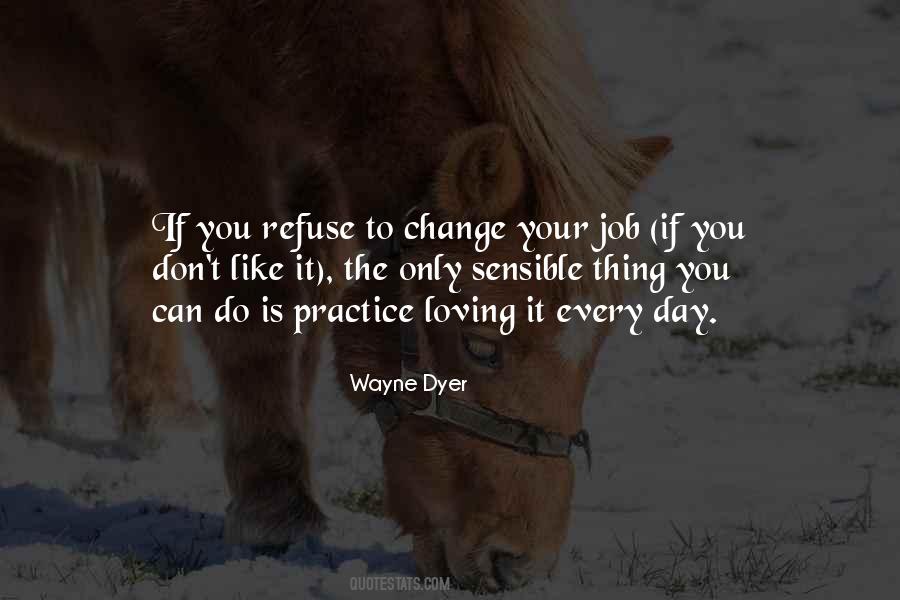 #45. If you're going to vote yes and change the law. You have to know what's in it. You can't depend on other people. - Author: Justin Amash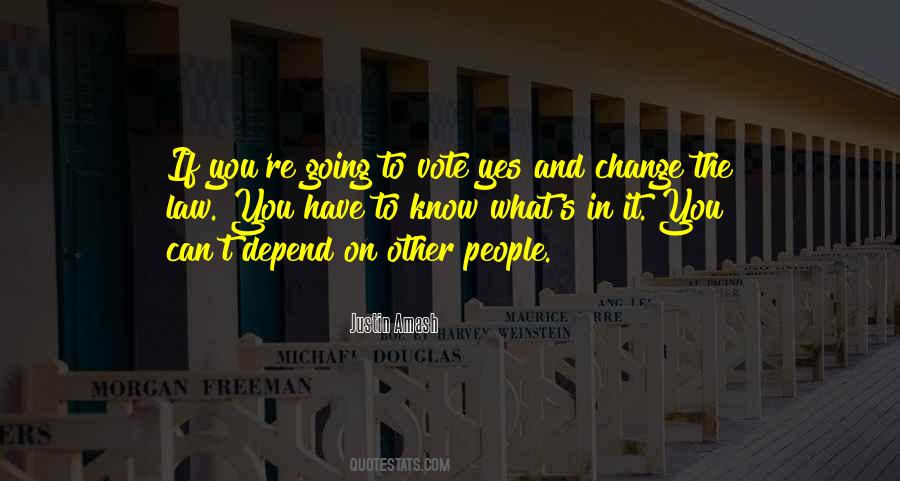 #46. I can't make you forgive me. I don't deserve your forgiveness. I can't change the past. All I can do is give you what you want. If this is what you want, I'll walk away, Blaire. It'll kill me but I'll do it. - Author: Abbi Glines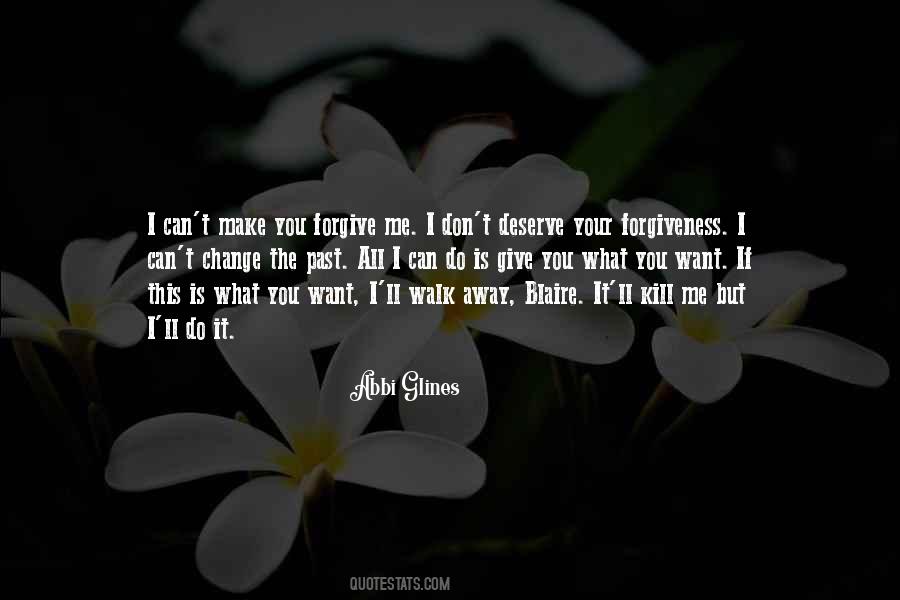 #47. My guess is that if they now choose to change of director for every other film, it's just because you can't really change the formula, you can merely try to film it your way. - Author: Guy Hamilton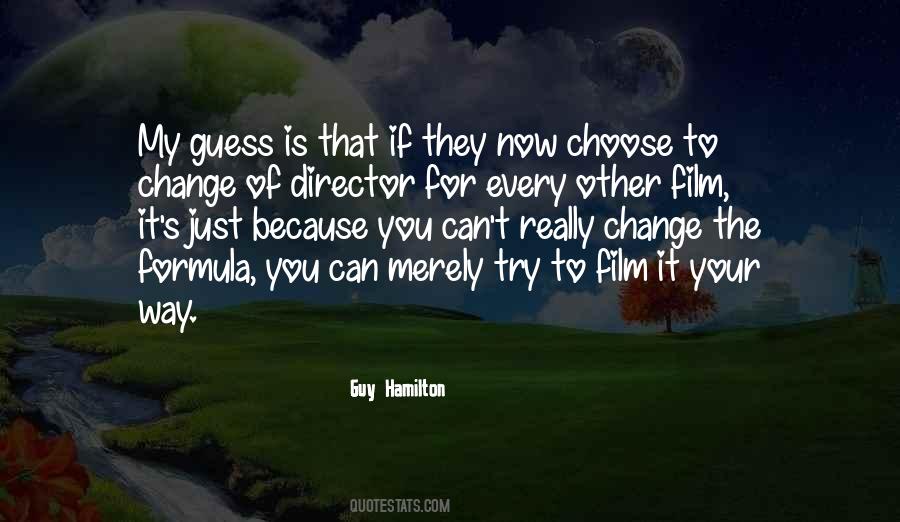 #48. Don't let yourself be. Find something new to try, something to change. Count how often it succeeds and how often it doesn't. Write about it. Ask a patient or a colleague what they think about it. See if you can keep the conversation going. - Author: Atul Gawande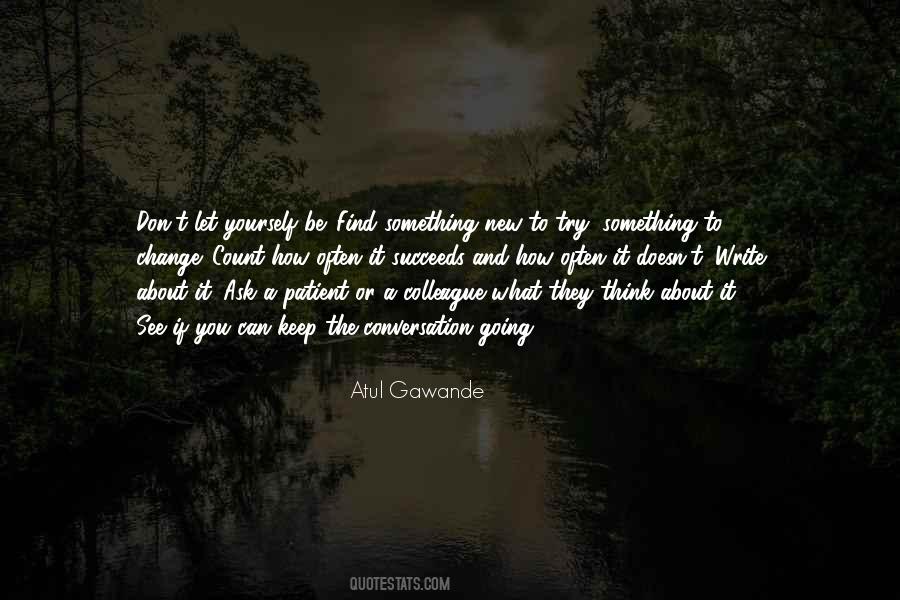 #49. With taxes, if they aren't working right, we can change them with a stroke of the pen. It's basically a market-type mechanism. People make their own choices. You run the taxes, and you get the results. - Author: Paul R. Ehrlich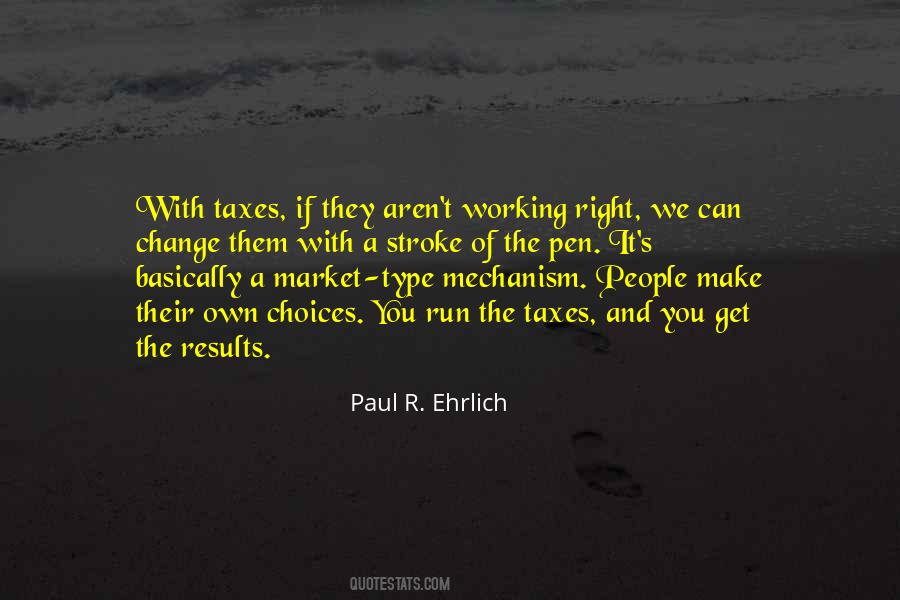 #50. Right now you can make a decision, ... If you truly decided to, you can do almost anything. So if you don't liike the current relationship you're in, make the decision now to change it. If you don't like your current job, change it. - Author: Tony Robbins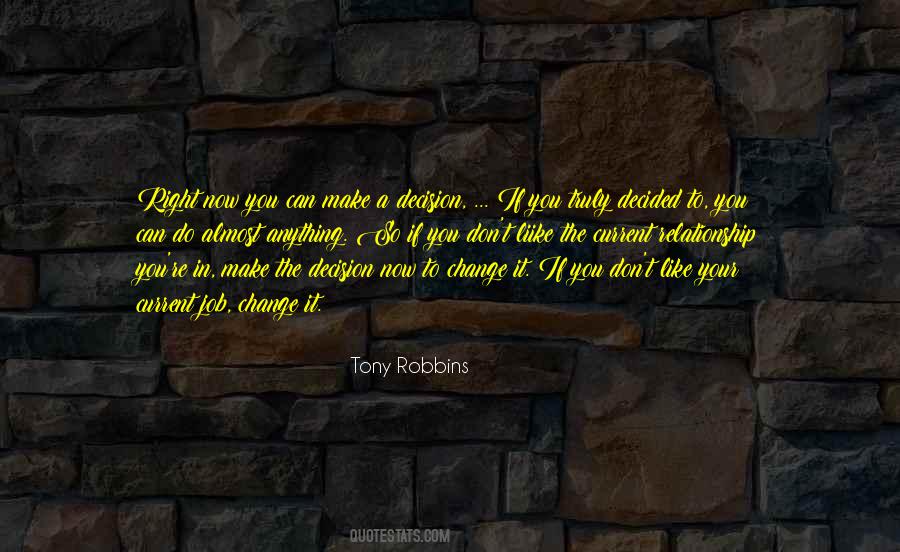 #51. Money can't change who we are. All it does is magnify our true natures. If you're mean and selfish, you have more to be mean and selfish with. If you're grateful and loving, you have more to appreciate and give. - Author: Anthony Robbins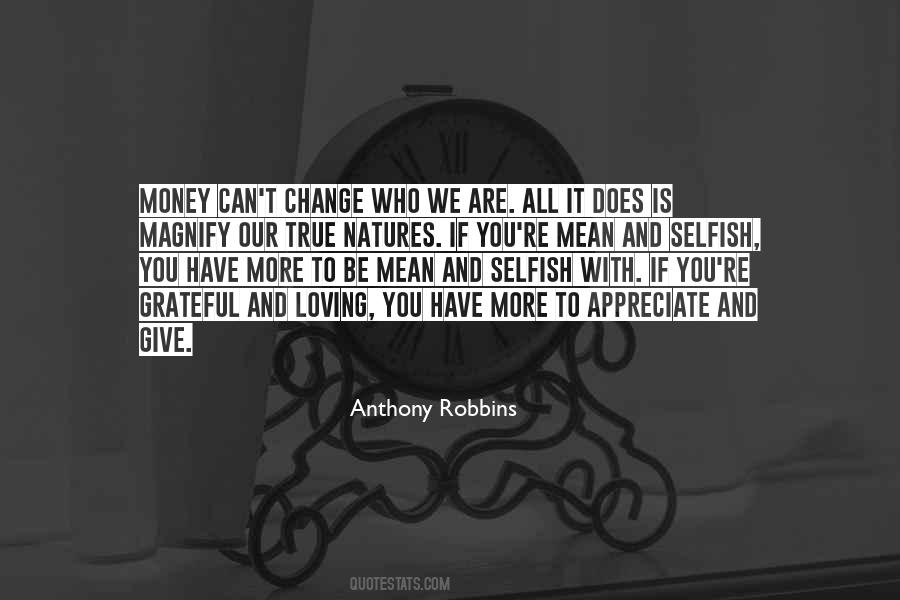 #52. Afghans think the burqa is a permanent part of culture. But, if you bring it to Europe, how would people react? Afghanistan doesn't want to change its culture, but it can change, all the time. So why are Afghans giving so much value to it? The burqa is not natural. It's not human nature. - Author: Malina Suliman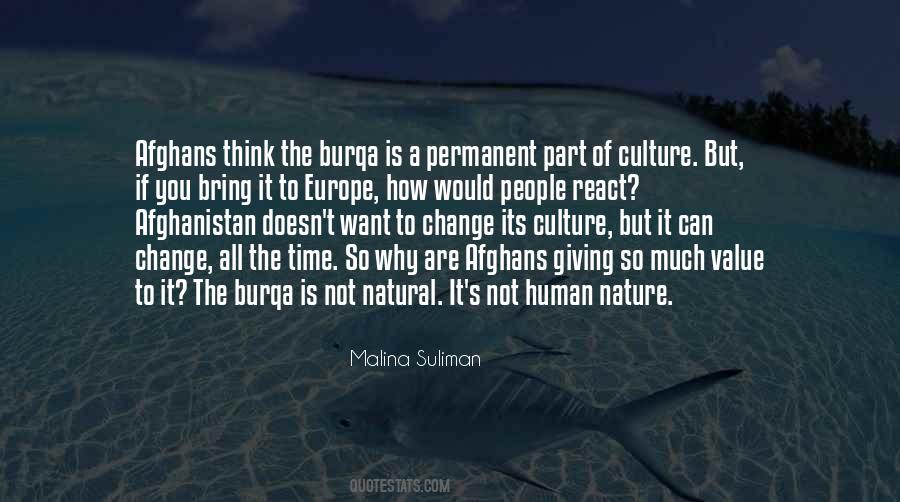 #53. You can't just decide to take the subject matter of The Bible and figure out you can just change what you want. I mean, the audience knows, and if you give them a Biblical story, you better get it right. - Author: Mark Burnett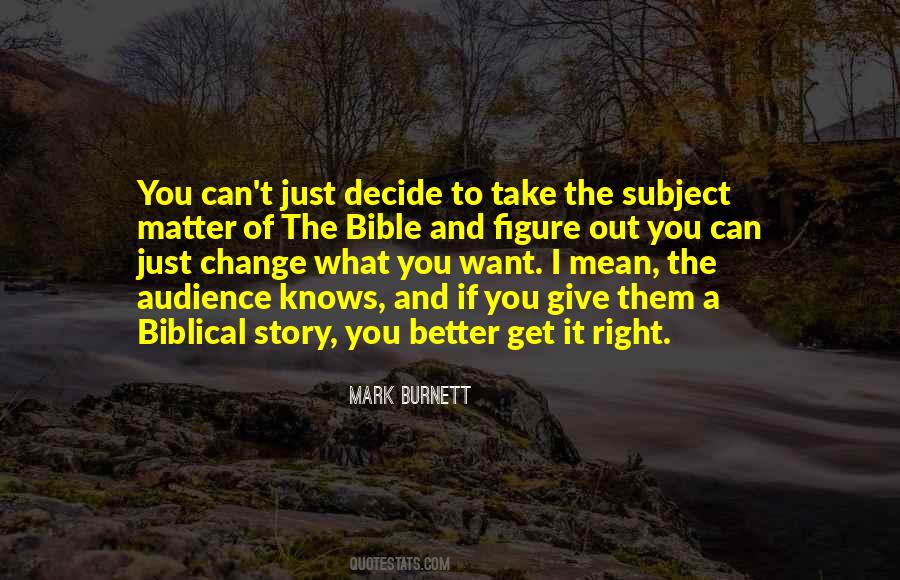 #54. Accepting a situation doesn't mean you have to be okay with it. You can take steps to change things, but then you need to detach from the outcome & accept how things turn out. You keep doing your best & accept reality. If you keep getting upset over things you have no control over, you have no peace - Author: Brenda Wilhelmson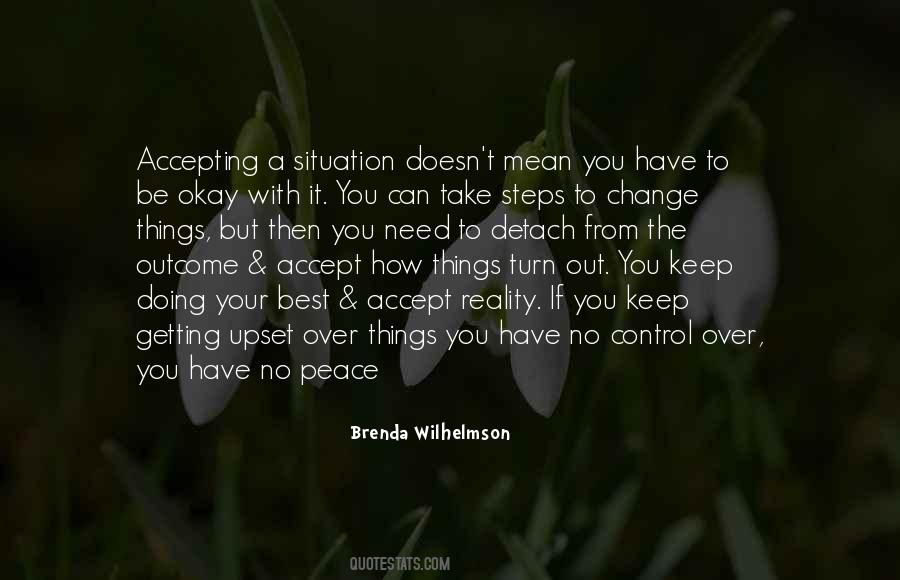 #55. I mean, if you didn't get it or if you didn't feel like you enjoyed it, sometimes that experience can change. - Author: Keanu Reeves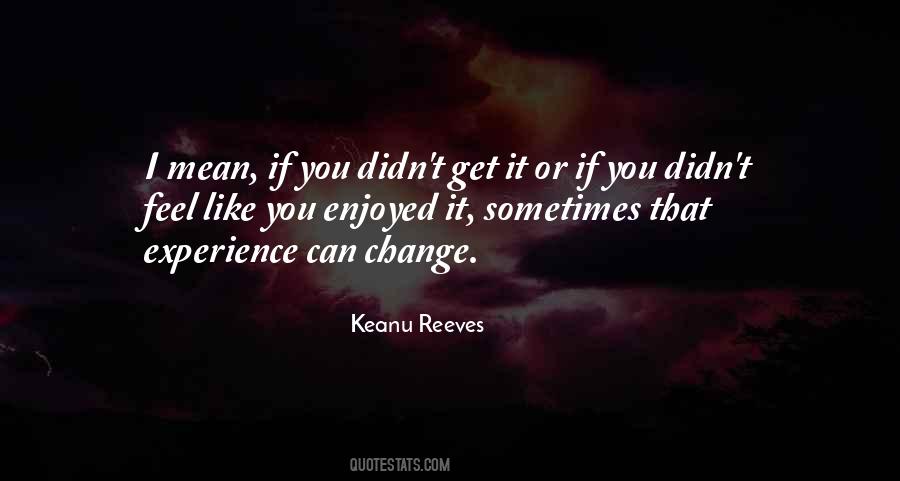 #56. I've never really worked out this thought, and I don't know if I'm really conscious of it, but I can see there's an attraction about writing about a period that's over and isn't going to change colour while you look at it. - Author: Tom Stoppard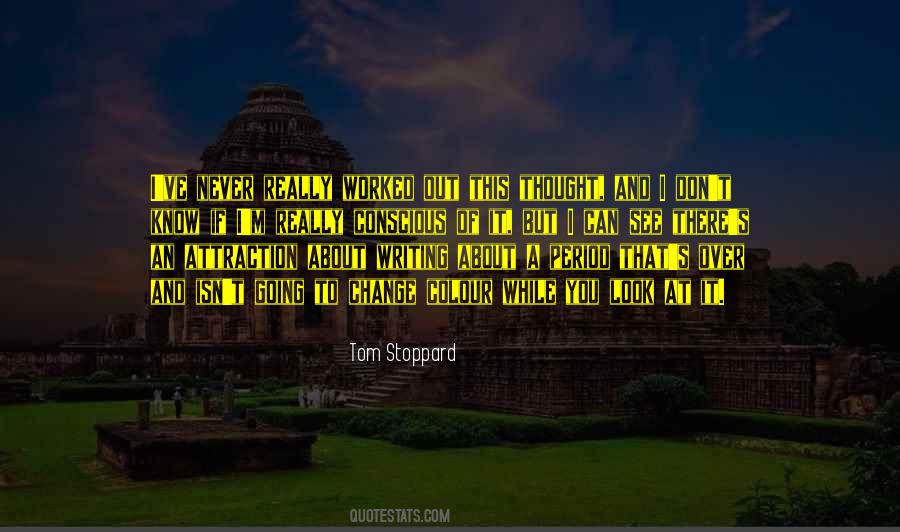 #57. If you can't change reality, change your perceptions of it. - Author: Audre Lorde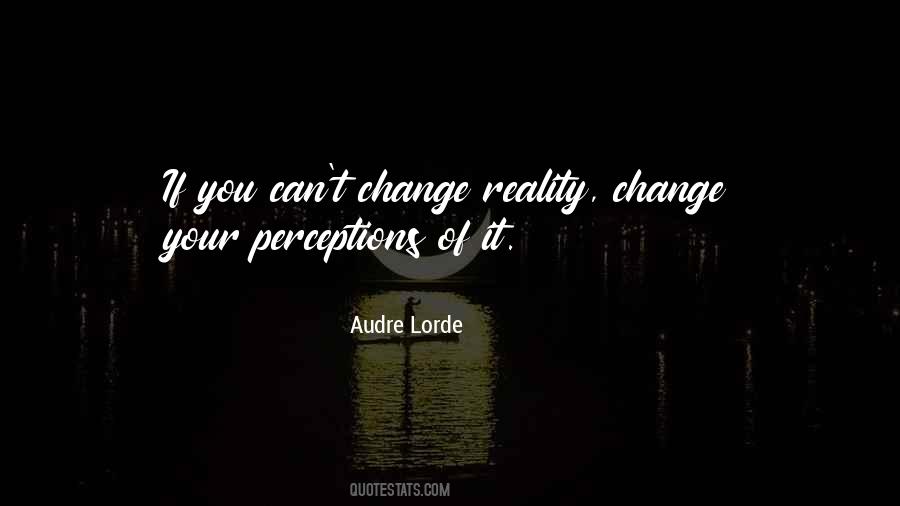 #58. I don't know if you can change things, but it's a drop in the ocean. - Author: Julie Walters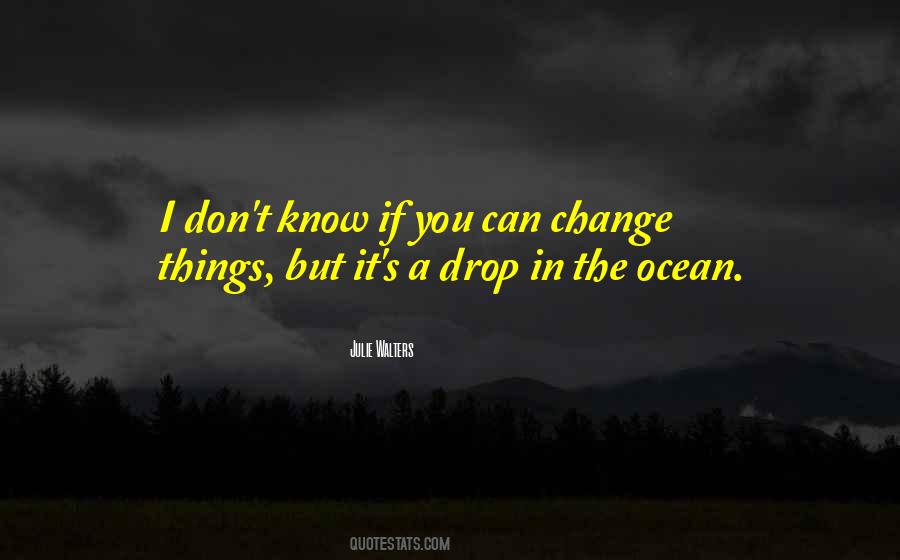 #59. No lake so still but it has its wave.
No circle so perfect but that it has its blur.
I would change things for you if I could; As I can't you must take them as they are. - Author: Confucius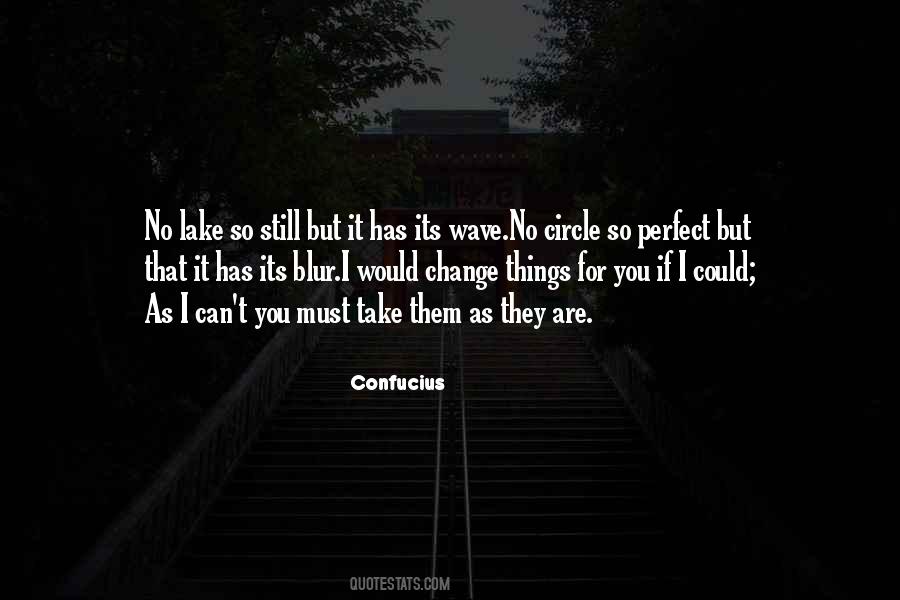 #60. Attention is love, what we must give
children, mothers, fathers, pets,
our friends, the news, the woes of others.
What we want to change we curse and then
pick up a tool. Bless whatever you can
with eyes and hands and tongue. If you
can't bless it, get ready to make it new. - Author: Marge Piercy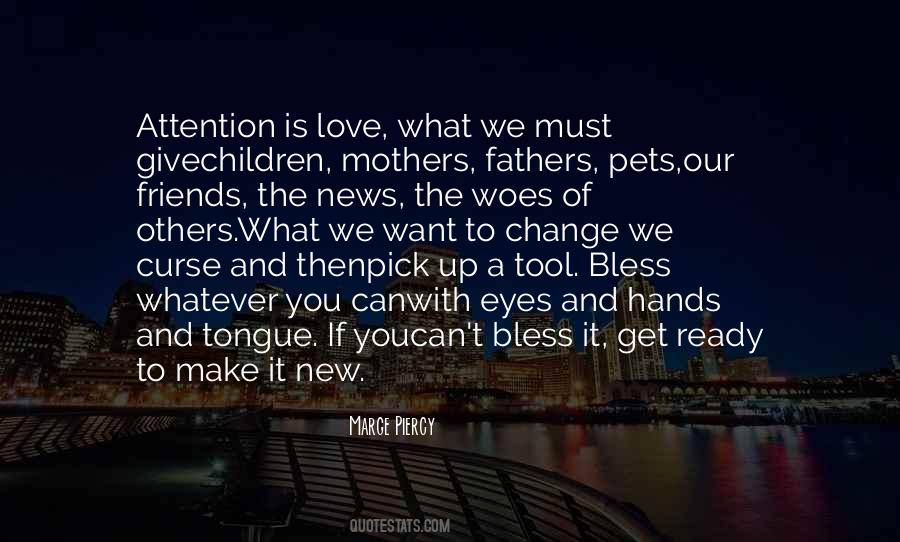 #61. I swear to God I can't remember when I had a handbag. I know for some woman it's like an eleventh finger and you don't even think about it, even if you change every day. But I can't remember the handbag either. Who can run with a handbag? - Author: Marlon James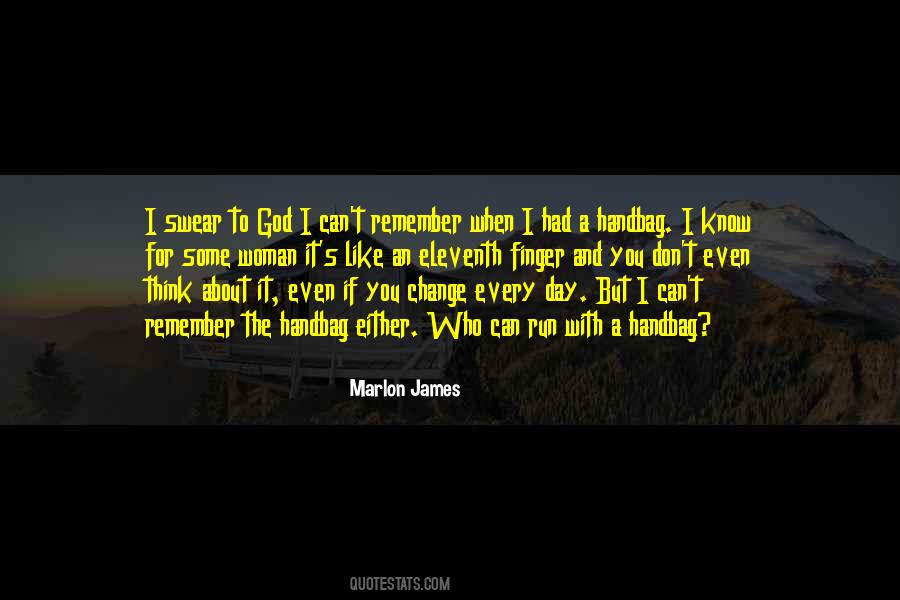 #62. If you can't measure it, you can't change it. - Author: Peter Drucker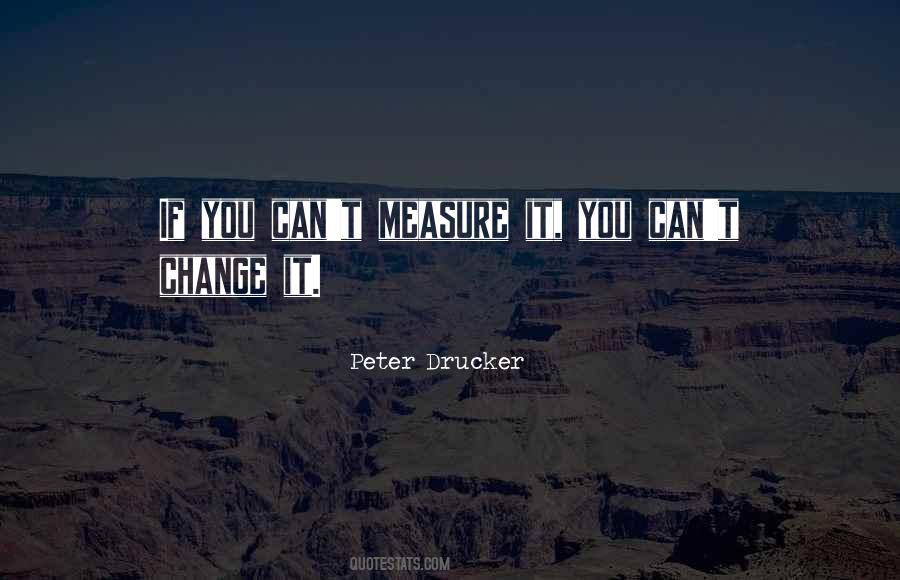 #63. If you're having a conversation with someone in speech, and it's not being tape-recorded, you can change your opinion, but on the Internet, it's not like that. On the Internet it's almost as if everything you say were being tape-recorded. You can't say, I changed my mind. - Author: Sherry Turkle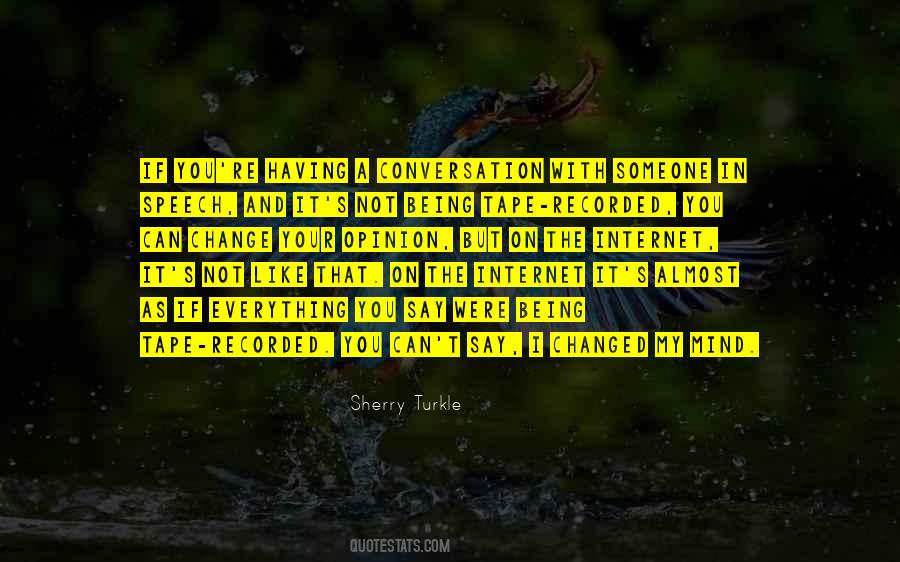 #64. I think that if you have a strong narrative, if the idea of the song can be boiled down to the basics, it won't change that much. - Author: Suzanne Vega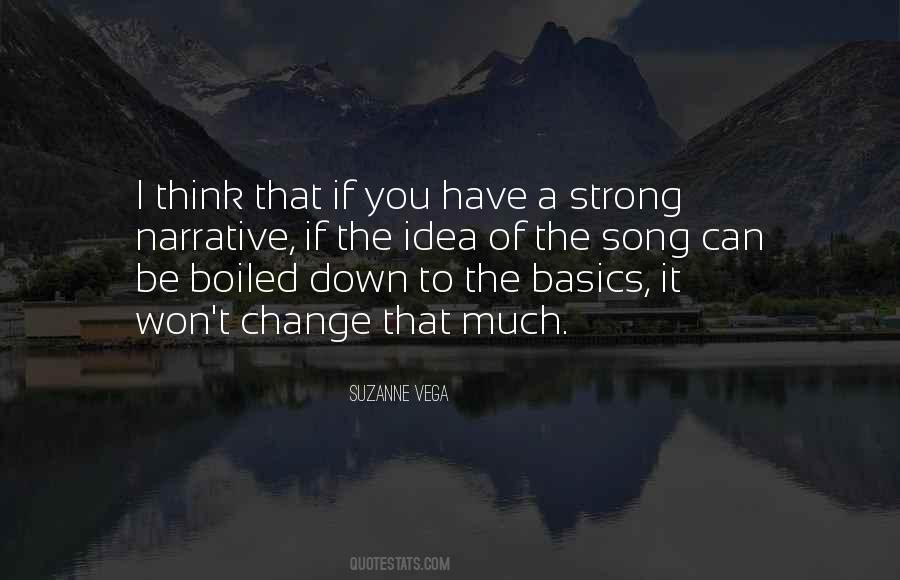 #65. If you don't have a narrative, just make one up. You can always change it when you have more clarity. Any narrative beats no narrative. - L. R. W. Lee - Author: L.R.W. Lee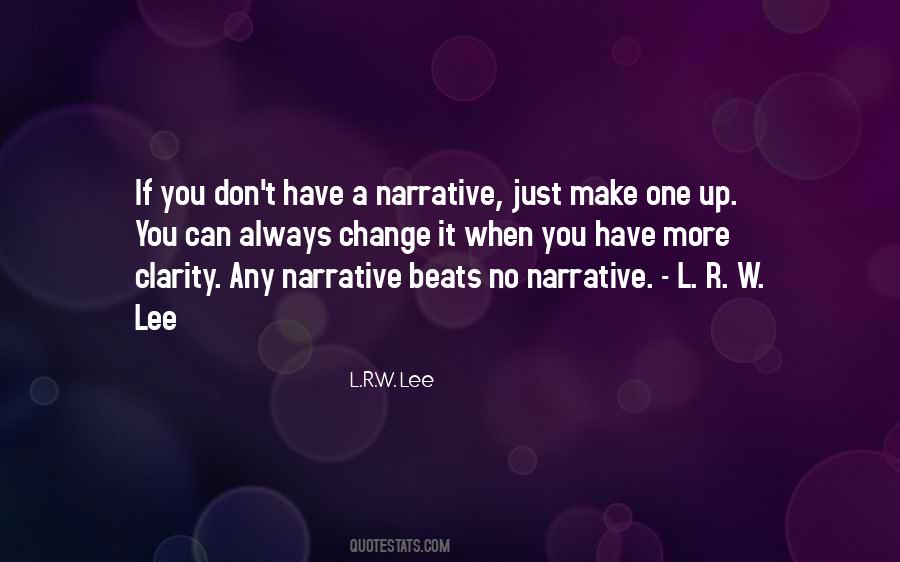 #66. Change what you can if it needs
changing, but learn to live with what you can't change. - Author: Robert Jordan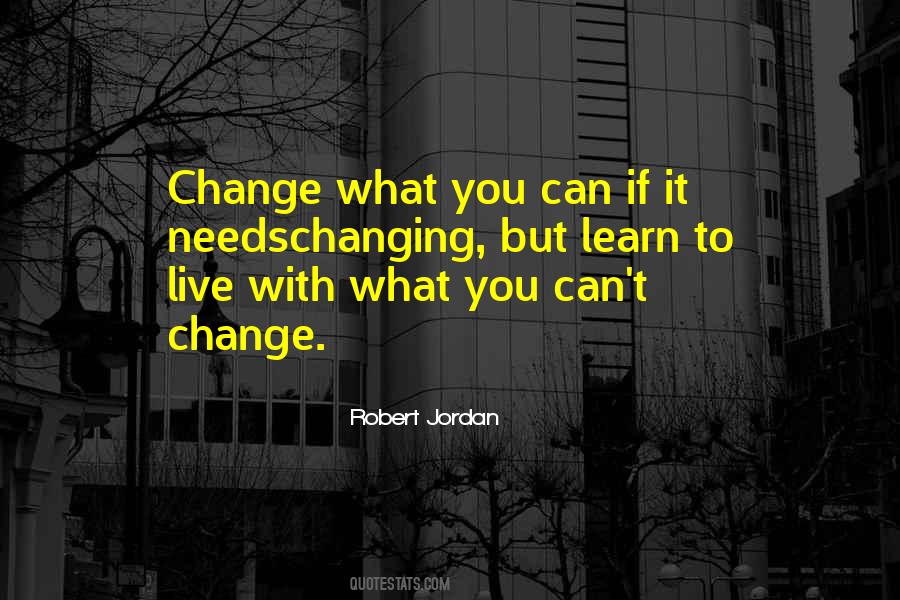 #67. So, on the whole, I'd have to say that no, people don't change, but they CAN learn to behave differently. I want to believe otherwise. If you have an argument that says I'm wrong, I'd be glad to hear it. - Author: Charlaine Harris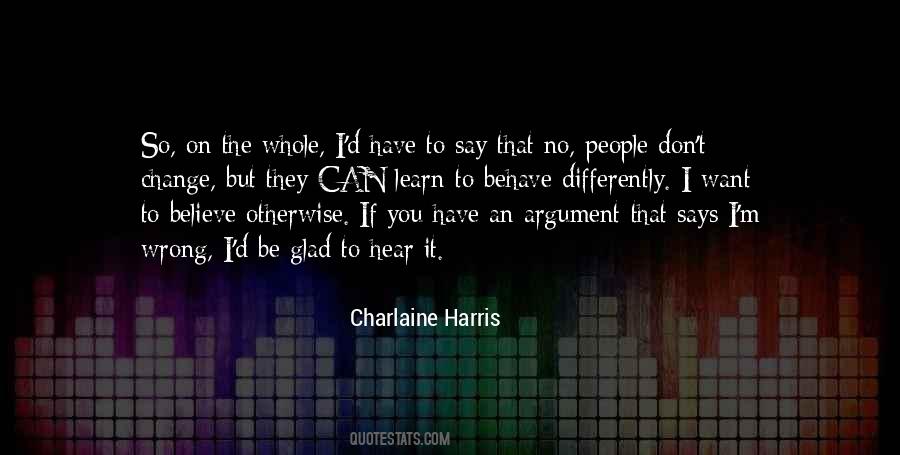 #68. Sometimes, it's like you know what people think: You know what they're thinking, and you know it's wrong. All you want to do if change their mind, but you can't. - Author: Jerry Stahl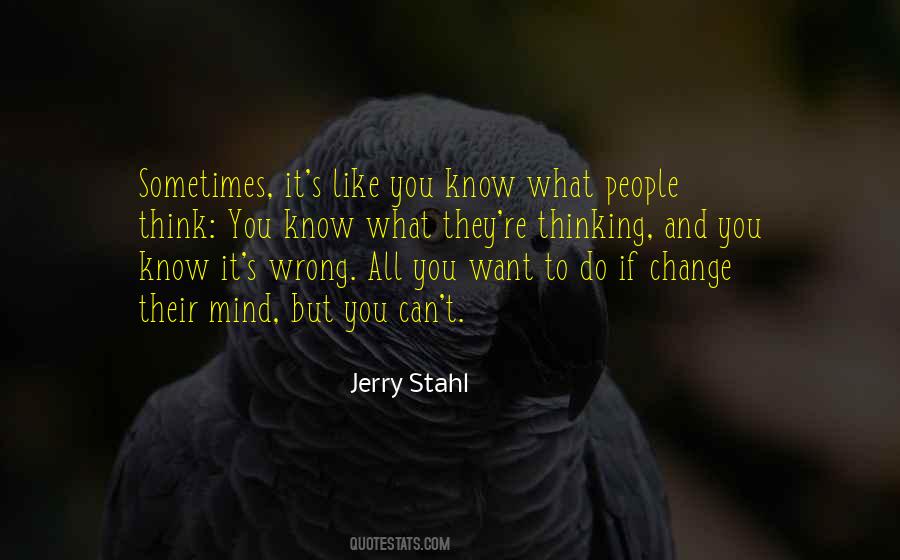 #69. Mel rolled her eyes. "You can't live your life based on 'what-ifs,' Liv. And change is inevitable. It's the one thing you can always count on. Stop worrying about what might or not happen and follow your heart. How can you expect to ever be happy if you don't? - Author: Alicia Kobishop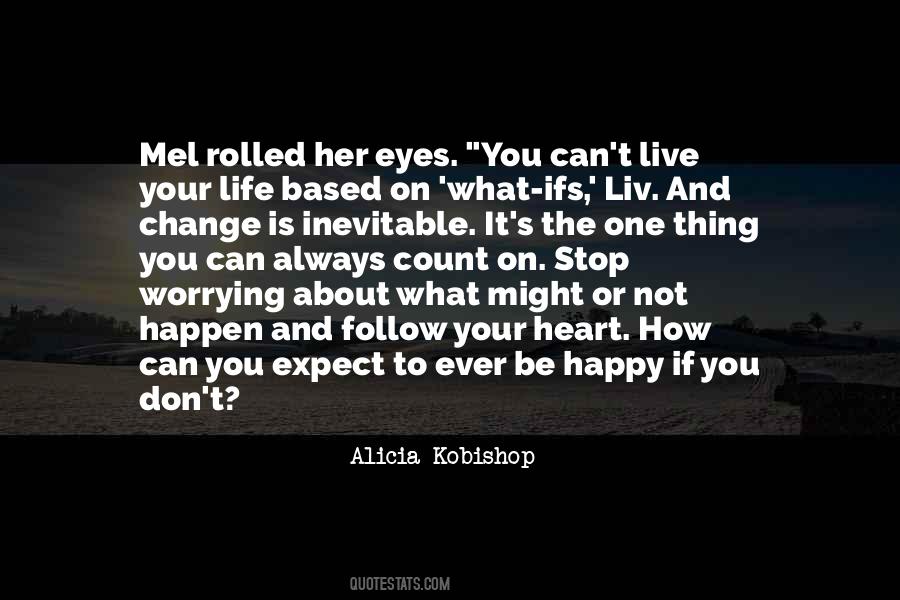 #70. Even if you time travel your past, it can't be changed, likewise you can't possibly change your future, it is always the present which matters. - Author: Pushpa Rana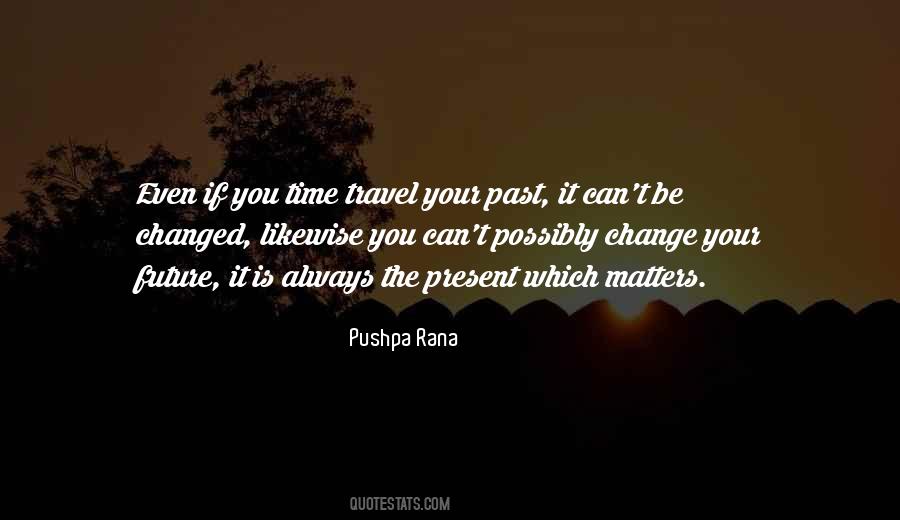 #71. Your life is the manifestation of your dream; it is an art. You can change your life anytime if you aren't enjoying the dream. - Author: Miguel Angel Ruiz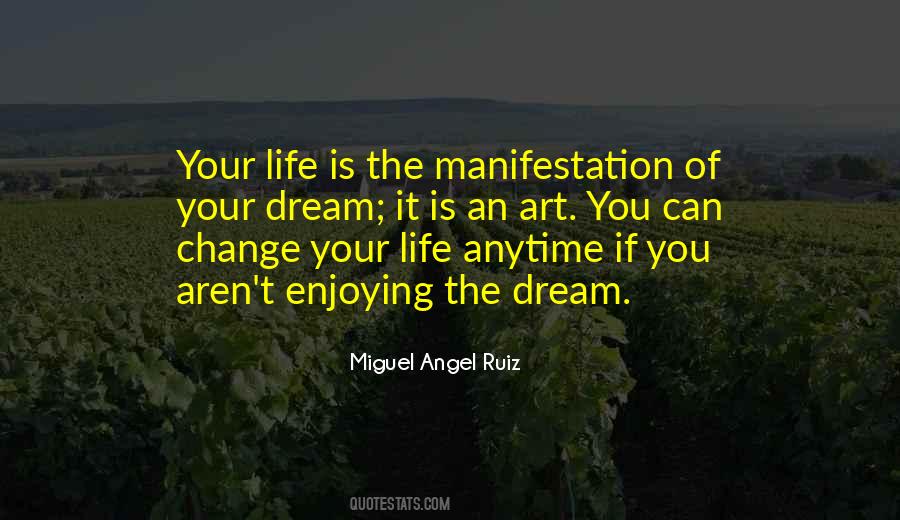 #72. We think of color as a thing that we're receiving. And if you go into one of the Skyspaces, you can see that it's possible to change the color of the sky. Now, I obviously don't change the color of the sky, but I changed the context of vision. - Author: James Turrell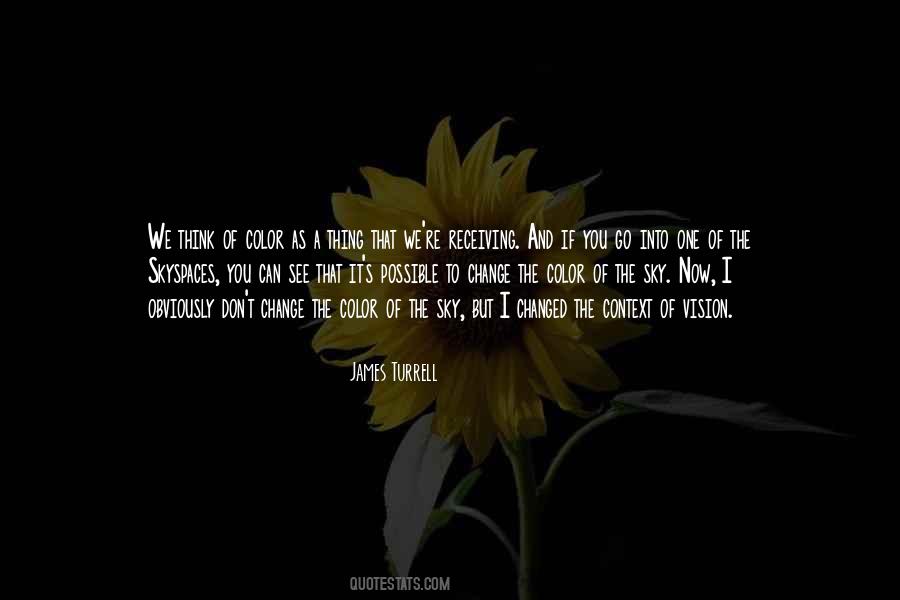 #73. It's better to fight because if you don't fight, you can't win. Besides, even when you don't win, you can change the game. - Author: Elizabeth Warren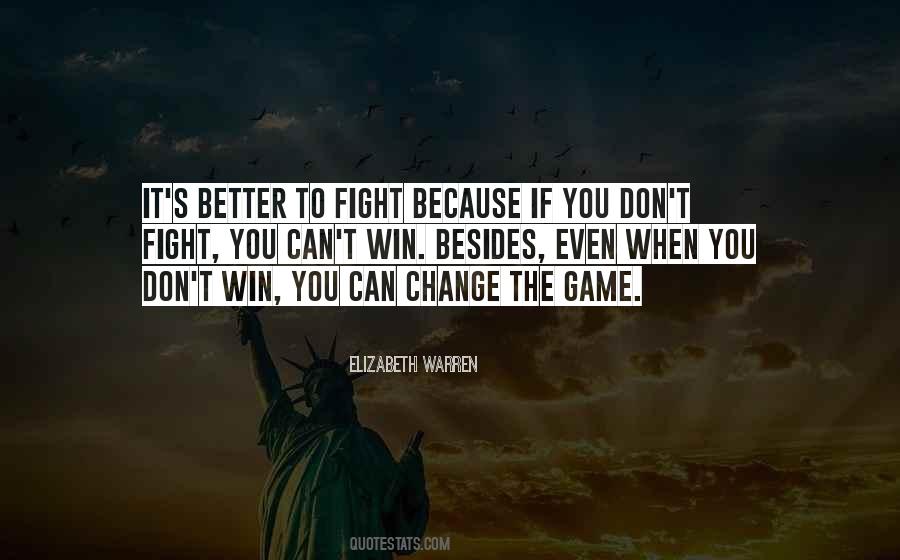 #74. I don't like definitions, but if there is a definition of freedom, it would be when you have control over your reality to transform it, to change it, rather than having it imposed upon you. You can't really ask for more than that. - Author: Mark Knopfler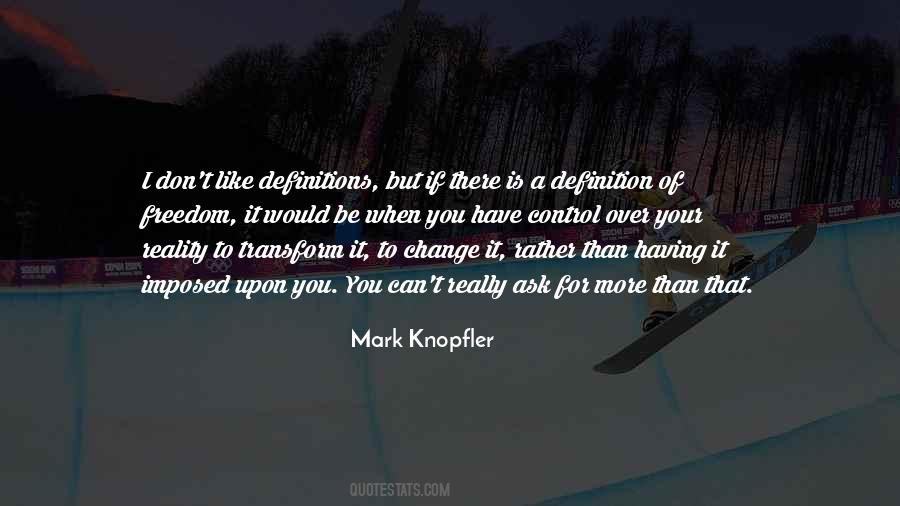 #75. It is not wrong to change in order to achieve certain goals in life. If you want a happy relationship, for example, you can't expect luck to bring it. You can't have something that implies you without being yourself there. - Author: Robin Sacredfire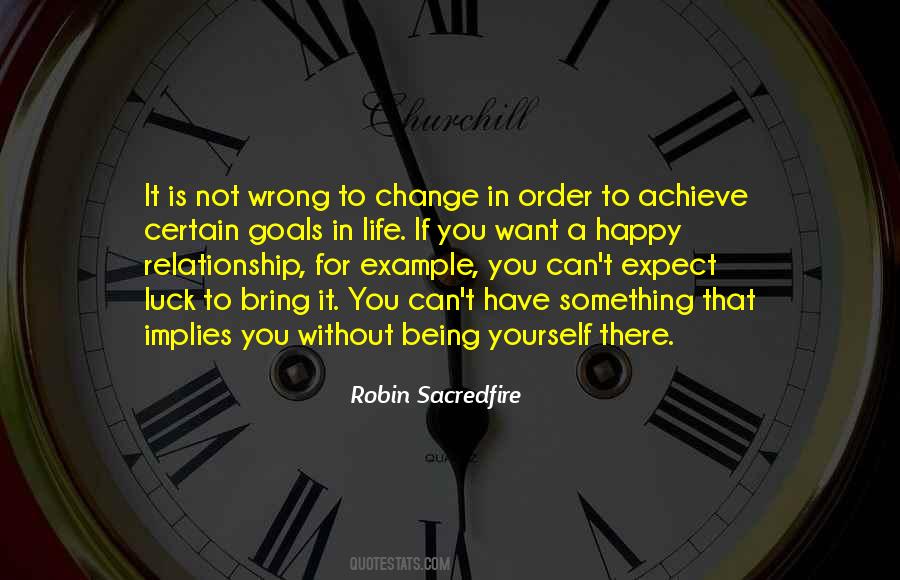 #76. If you're trying to change someone you love, you don't love them. It's the oddnesses, the most unique imperfections that you'd miss the most. That's the stuff you can't replace. Everything else is easy to come by. - Author: Crystal Woods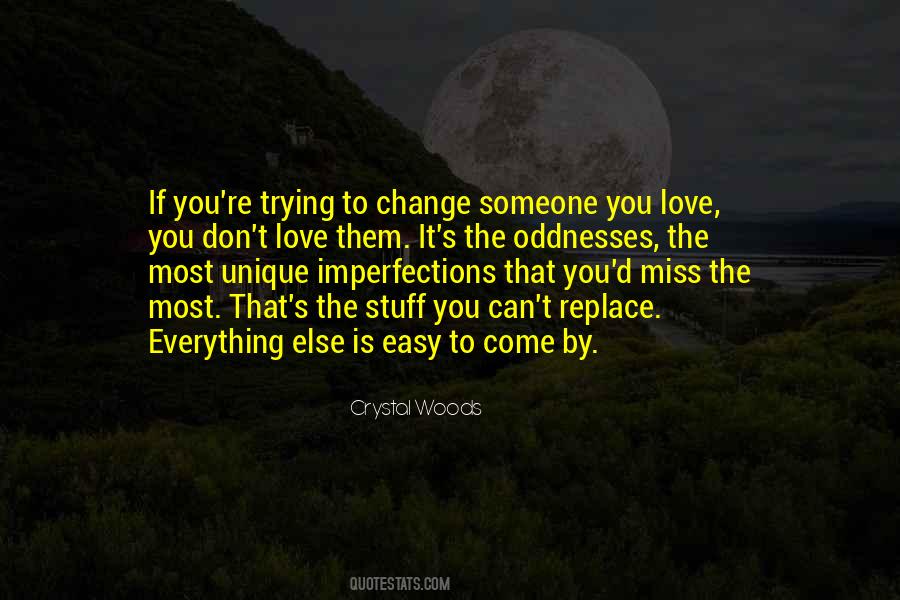 #77. In the past, if you did film, you couldn't do stage, and if you did film, you certainly didn't do television. You had to pick what you wanted to be. Now it seems like we can bounce around, not only between genres, but between mediums, and I like that. I like change and I like a good story. - Author: Garret Dillahunt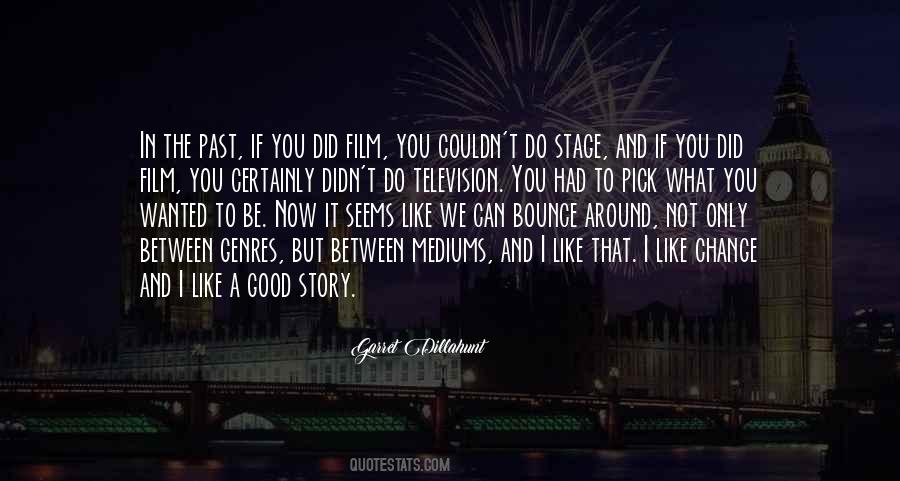 #78. On the whole," he continued, "I'd have to say no, people don't change, but they can learn to behave differently. I want to believe otherwise. If you have an argument that says I'm wrong, I'd be glad to hear it." We - Author: Charlaine Harris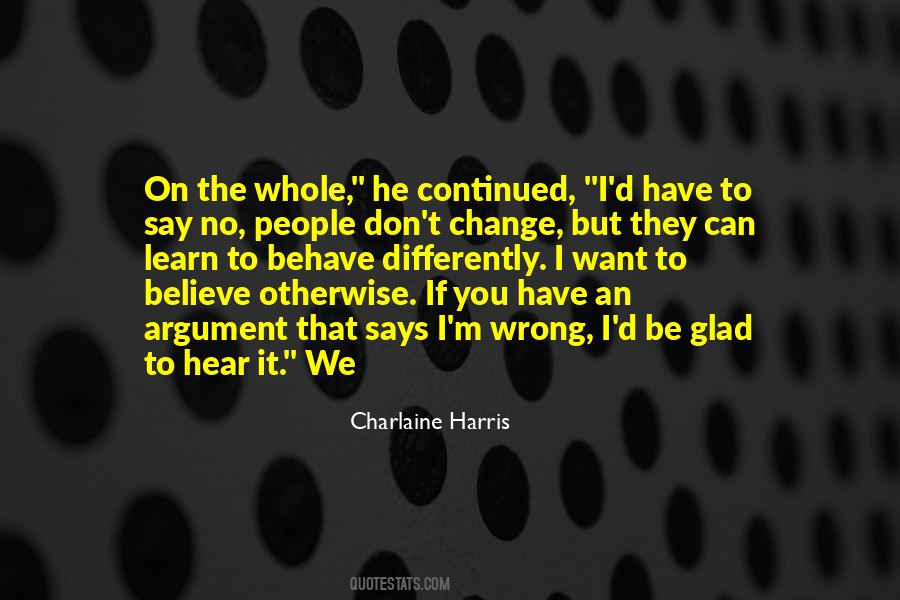 #79. I do think you can change the past and the present somehow. Even if something has already happened, it doesn't mean it's settled. - Author: Ellen Gallagher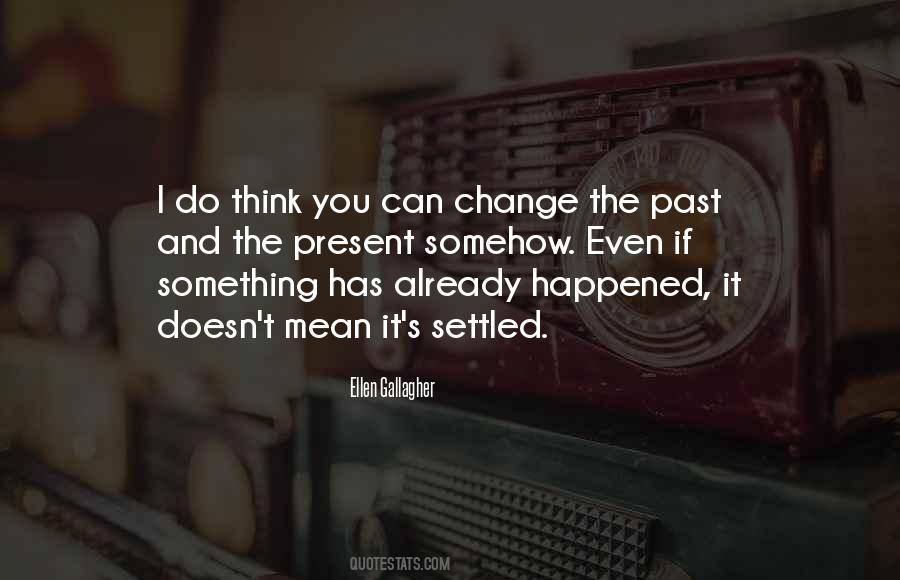 #80. Life is all about change. If it were static, think about how boring it would be. You can't be afraid of it, and you can't worry that you'll mess things up. You deserve good things, and I want to be one of them. - Author: Ellen Hopkins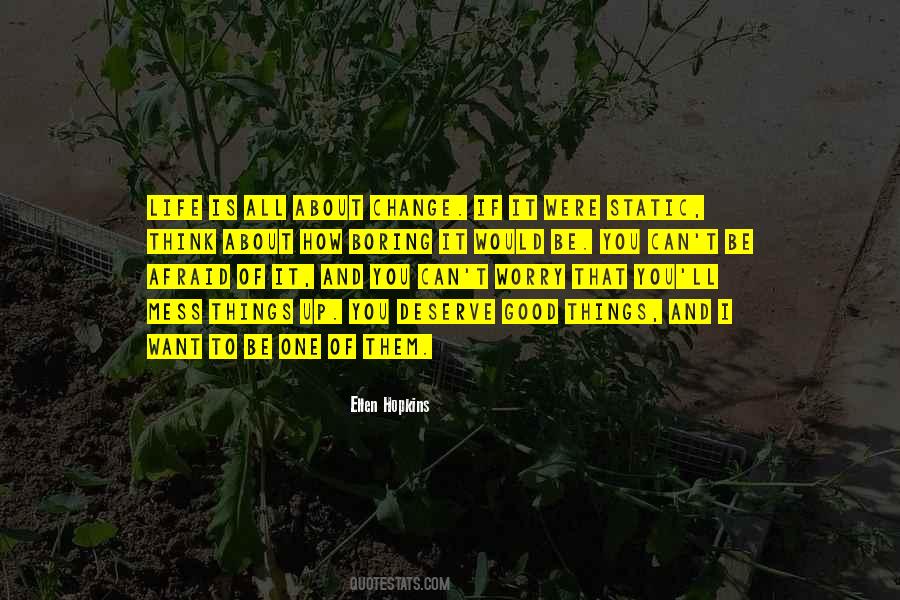 #81. You can't stay the same. If you're a musician and a singer, you have to change, that's the way it works. - Author: Van Morrison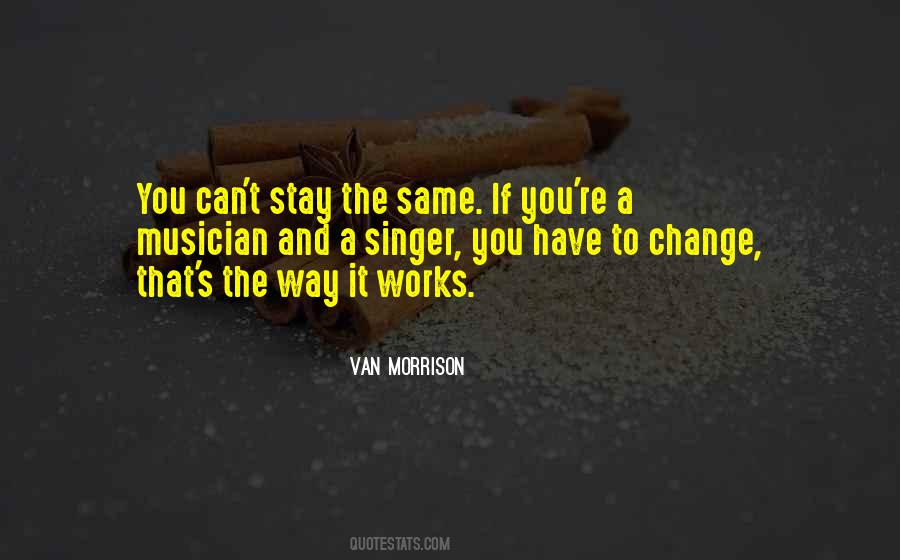 #82. He held the door shut with his hand. "I'll stop fighting the second I graduate. I won't drink a single drop again. I'll give you the happy ever after, Pigeon. If you just believe in me, can do it."
"I don't want you to change."
"Then tell me what to do. Tell me and I'll do it," he pleaded. - Author: Jamie McGuire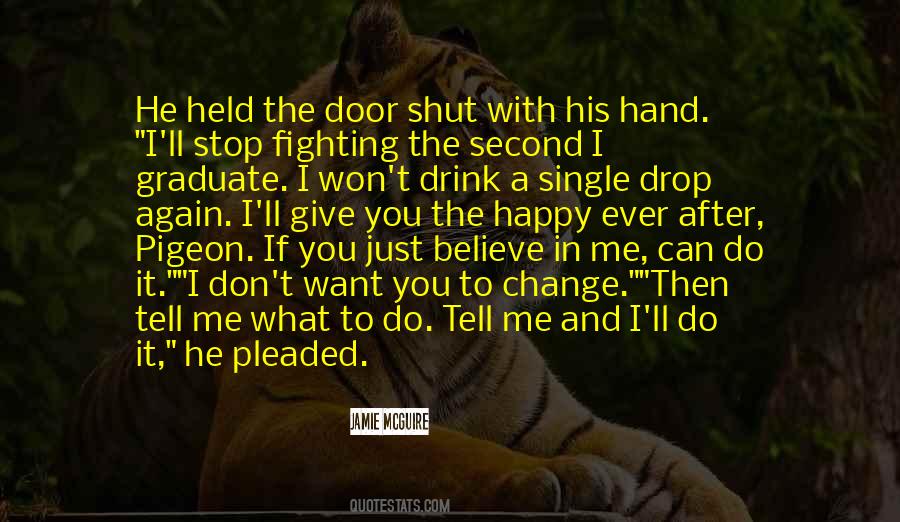 #83. If you're going to remember anything from your past, then do so fondly because you can't change a thing about it. - Author: Karyn Bosnak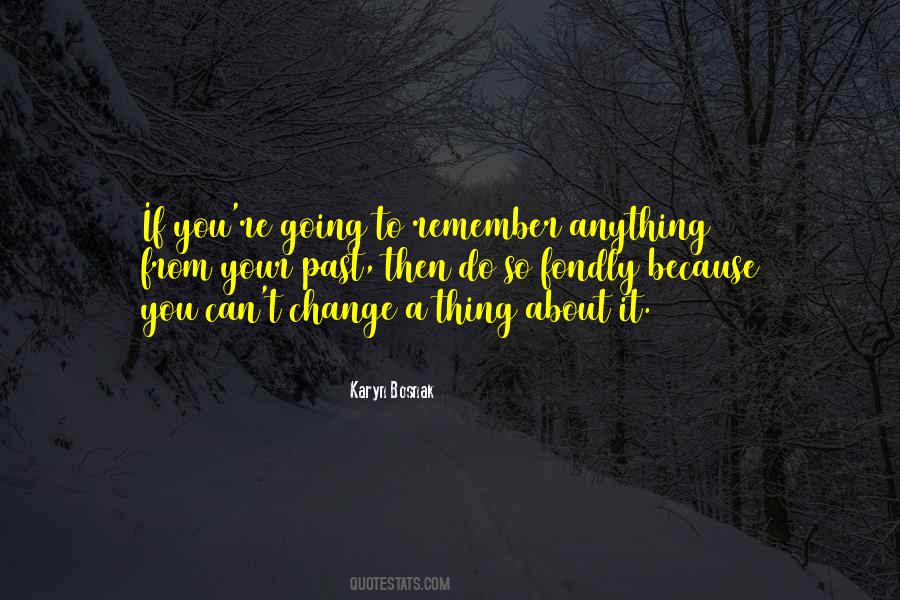 #84. If I have to sacrifice to give you everything you want, if I have to change who I am, whatever I have to do - tell me. It's done. I can't believe I thought I could live without you. - Author: Kendall Ryan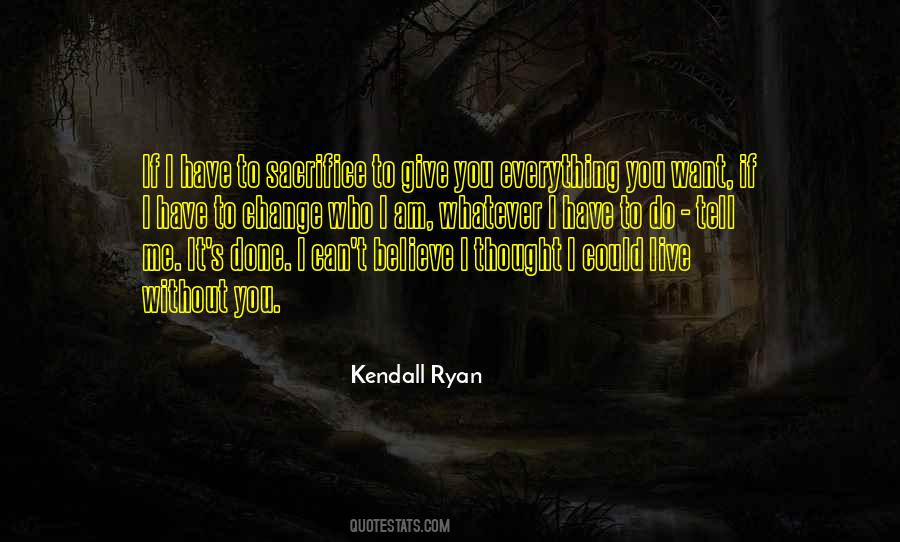 #85. I am old, Gandalf. I don't look it, but I am beginning to feel it in my heart of hearts. Well-preserved indeed! Why, I feel all thin, sort of stretched, if you know what I mean: like butter that has been scraped over too much bread. That can't be right. I need a change, or something. - Author: J.R.R. Tolkien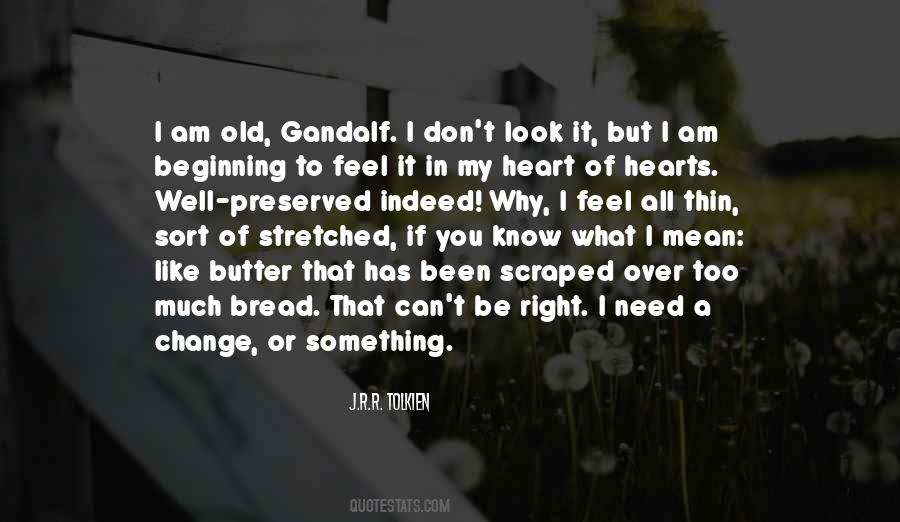 #86. I am what I am and I can't change it. I know how to cope and how to get by. I don't want or expect anyone to stand with me. I don't need anyone to. I've learned to accept my life just the way it is, and I don't give a damn if you or anyone else doesn't. - Author: Nora Roberts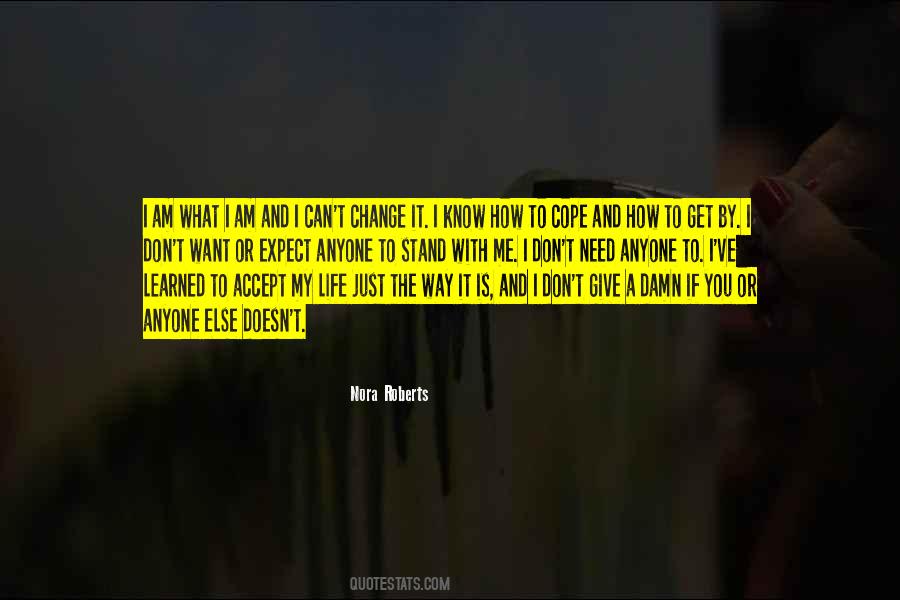 #87. That day, that one day, changed me forever. It taught me that everything you love, everyone you love, even if you love them and hate them at the same time, can be taken away in a moment and there isn't anything you can do to change it. - Author: Courtney Cole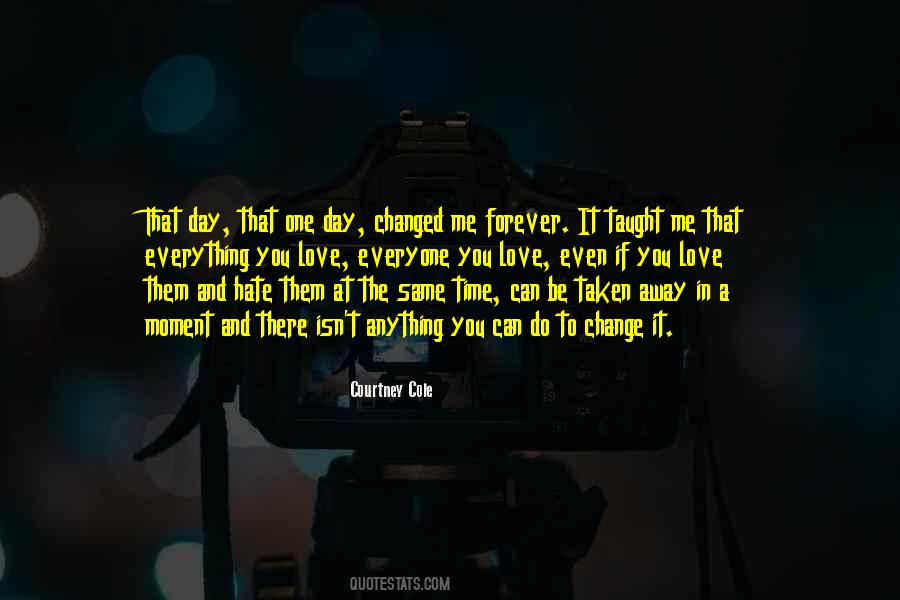 #88. If you think we can't change the world, it just means you're not one of those who will. - Author: Jacque Fresco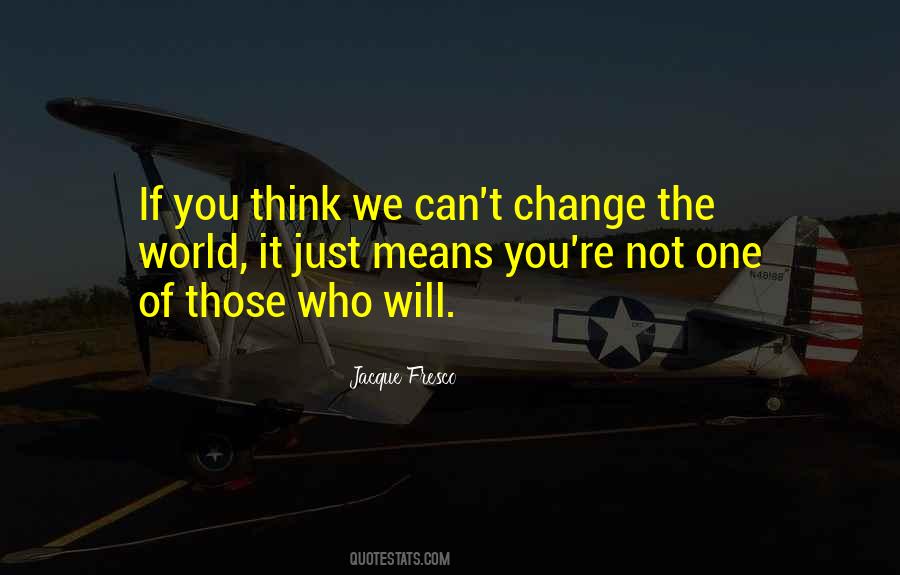 #89. Thank you Jonah."
He lowers his head at the break in my voice. I ignore the moisture in his eyes and pretend that mine don't sting.
"For what?" he whispers.
" For showing me that people can change. Even if it is one person out of a million. - Author: Katie McGarry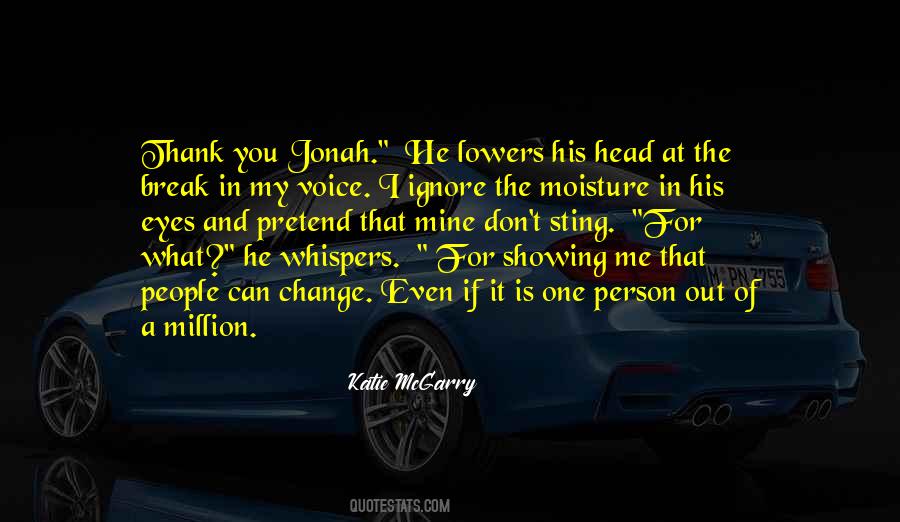 #90. I learned something very important early on: You accept what happens and move on. In other words, if I hit a bad shot, I can't change it. There is only the next shot. That was a big lesson. - Author: Billy Casper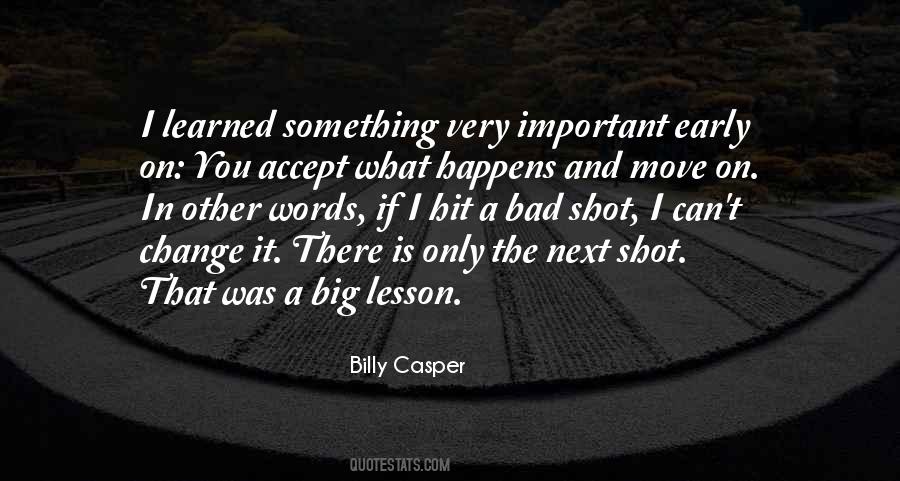 #91. If you can't change a situation, you can change your attitude toward it. - Author: Abraham Low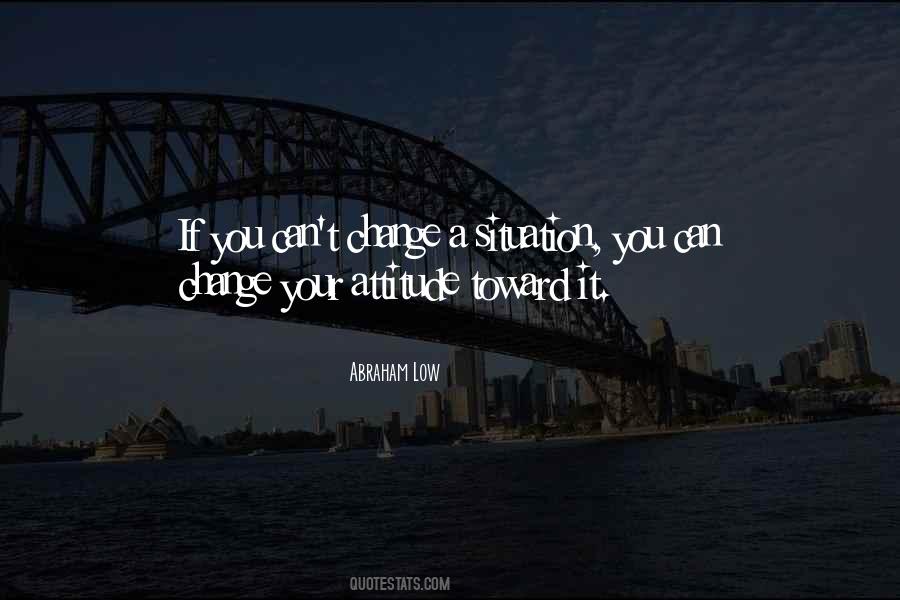 #92. I will be dictated to by nobody. I'm the man. And if anyone can prove me wrong, their chance is inside a boxing ring. You don't like it, change the station. - Author: Tyson Fury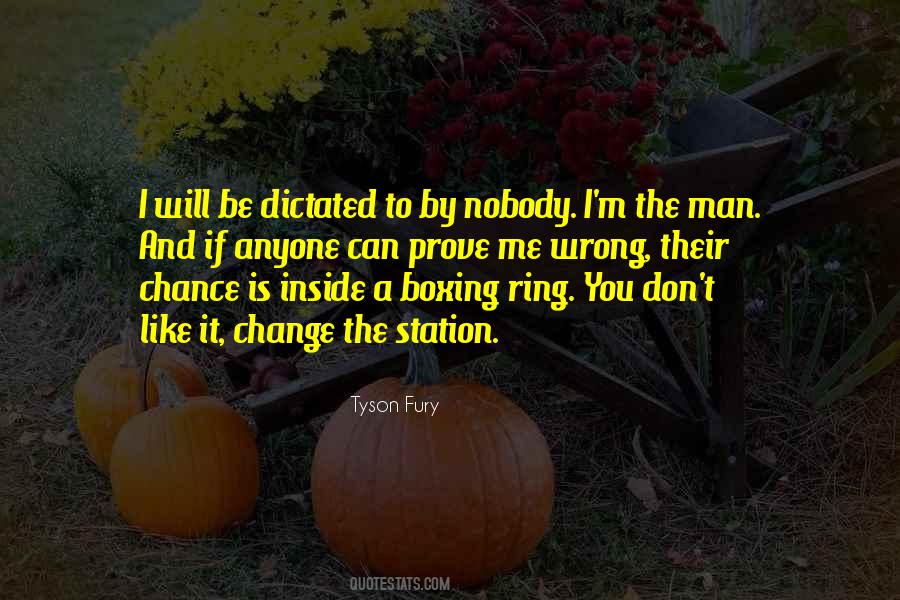 #93. Famine, poverty, abuse, you can't keep that all blocked out. If you let those things teach you, influence you, change you, those are the events that transition you without you even knowing it to become more compassionate. - Author: Richard Rohr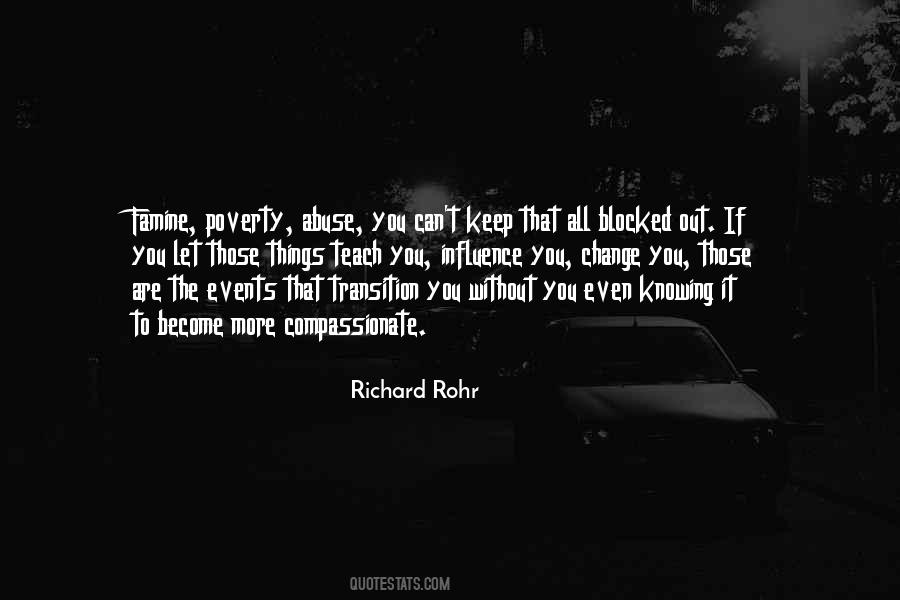 #94. We can't be afraid to change. You may fell secure in the pond that you are in, but if you never venture out of it, you will never know there is a such a thing as an ocean, a sea. Holding onto something that is good for you now, maybe the very reason you don't have something better. - Author: C. JoyBell C.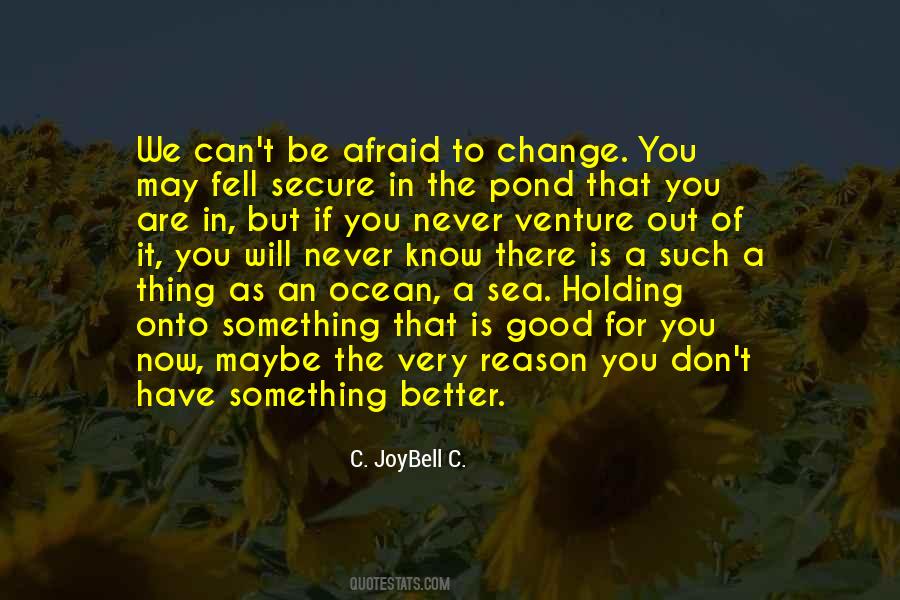 #95. There's nothing that says you can't change." "Not even if it changes everything else?" I shook my head. "Not even then. - Author: Megan Hart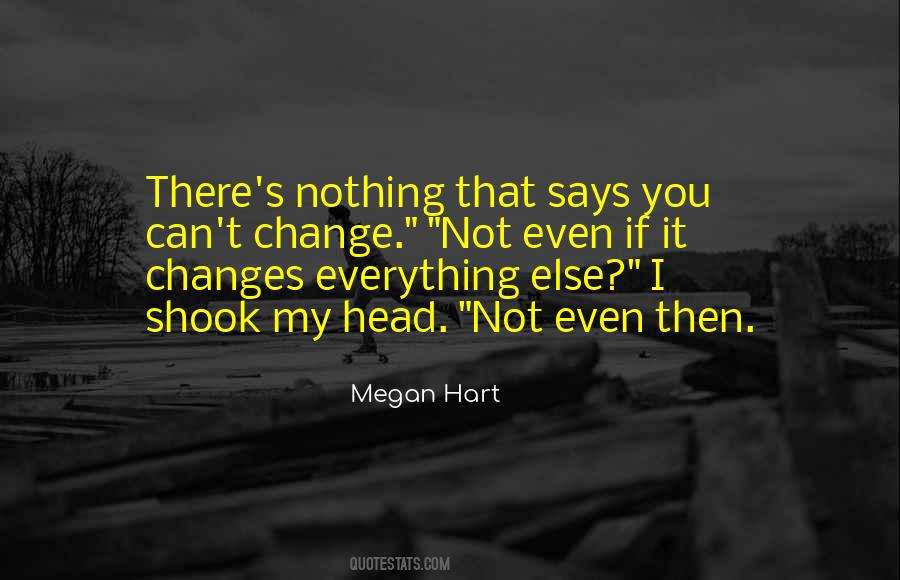 #96. Whatever happens, I will not let my cheerfulness be disturbed. Being unhappy won't get me anywhere and will dissipate all my goodness. Why be unhappy about something if you can change it? And if you can't, how will being unhappy help? - Author: Shantideva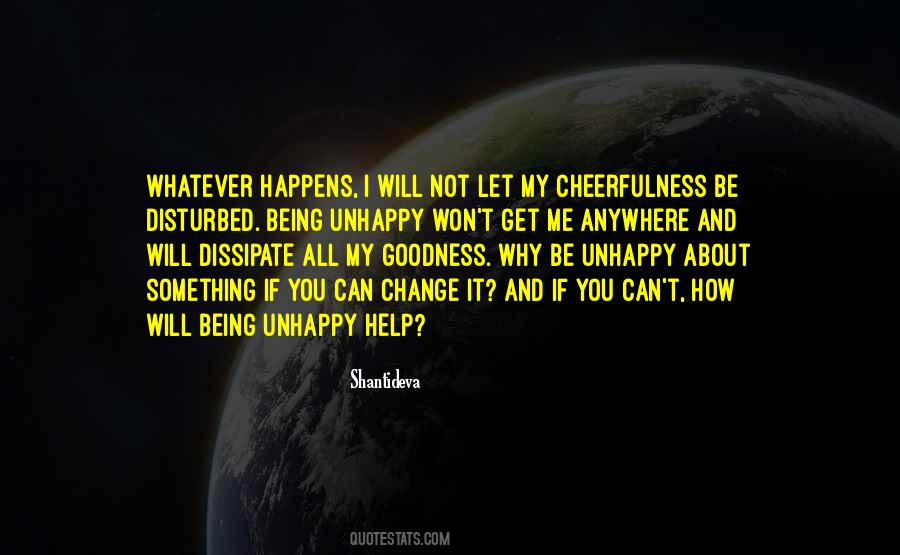 #97. When people are ready to, they change. They never do it before then, and sometimes they die before they get around to it. You can't make them change if they don't want to, just like when they do want to, you can't stop them. - Author: Andy Warhol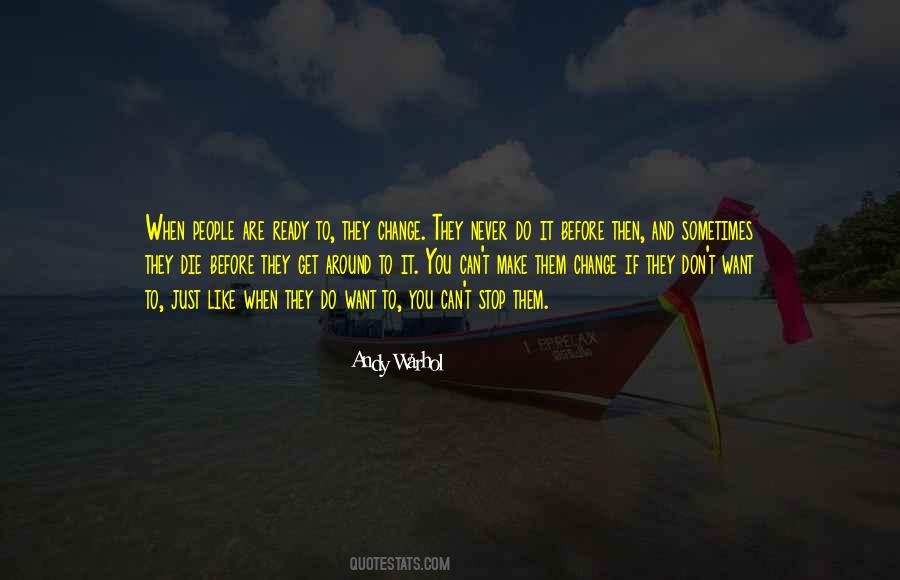 #98. Think about it if you must, but remember: If something is worth pursuing, you shouldn't waste time. Situations change faster than you can split an orcish skull, and a moment's hesitation could cost you your chance. - Author: Markus Heitz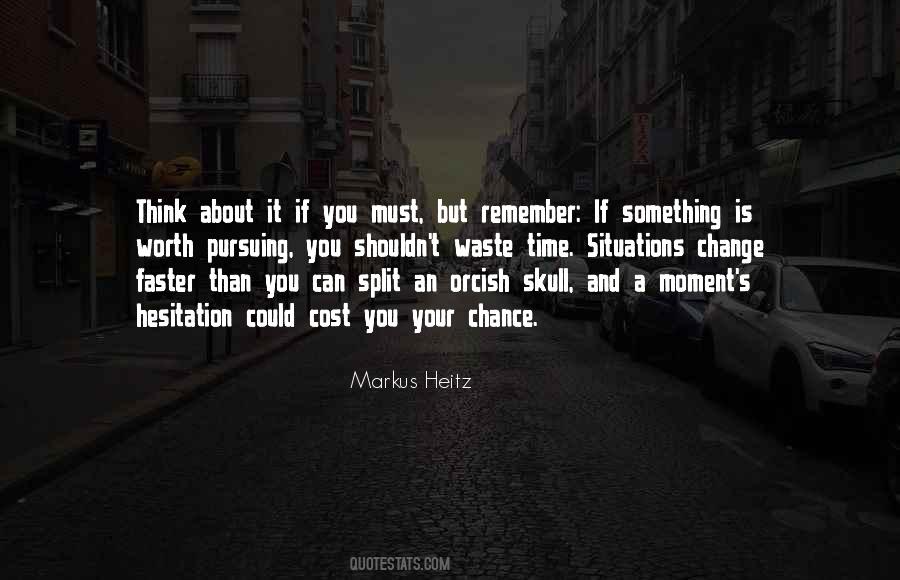 #99. It's strange because a lot of people are like, 'You can't change human nature-people are inherently negative.' I don't think that's true. If you expect the best from people, they'll step up. - Author: Zooey Deschanel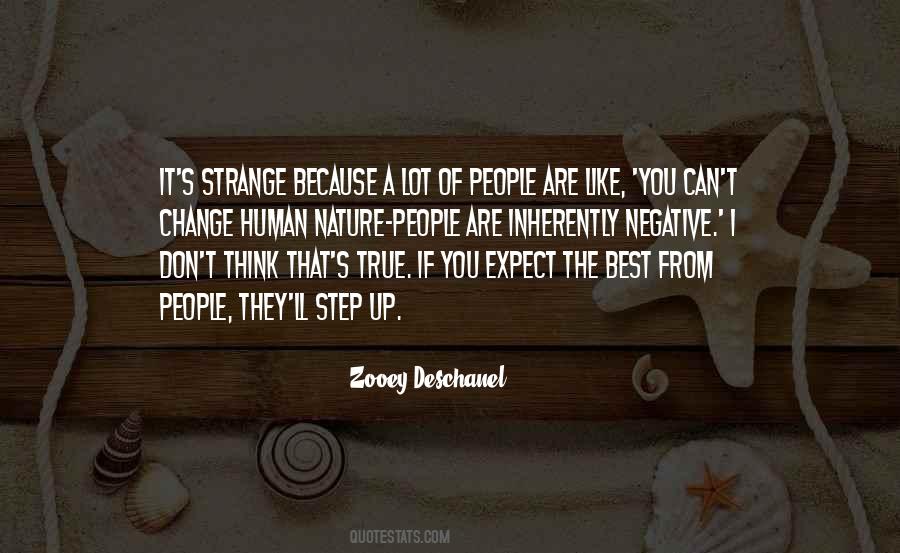 #100. If you don't like something, change it. If you can't change it, change your attitude. - Maya Angelou - Author: Aleatha Romig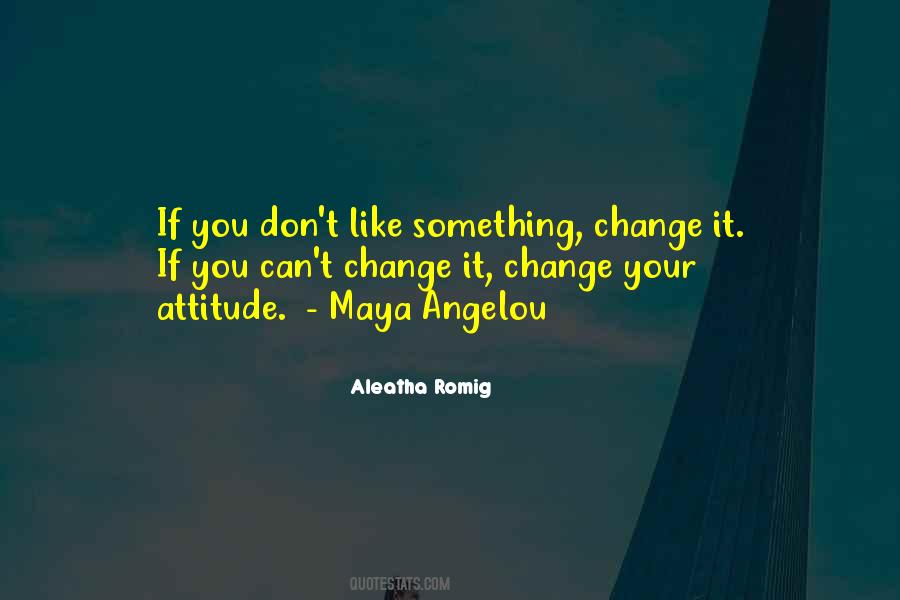 Famous Authors
Popular Topics