I Will Tell You Famous Quotes & Sayings
List of top 100 famous quotes and sayings about i will tell you to read and share with friends on your Facebook, Twitter, blogs.
Top 100 I Will Tell You Quotes
#1. I'm trying to tell you that there's a new wave on the continent. A new wave of openness and democratization in which, since 2000, more than two-thirds of African countries have had multi-party democratic elections. Not all of them have been perfect, or will be, but the trend is very clear. - Author: Ngozi Okonjo-Iweala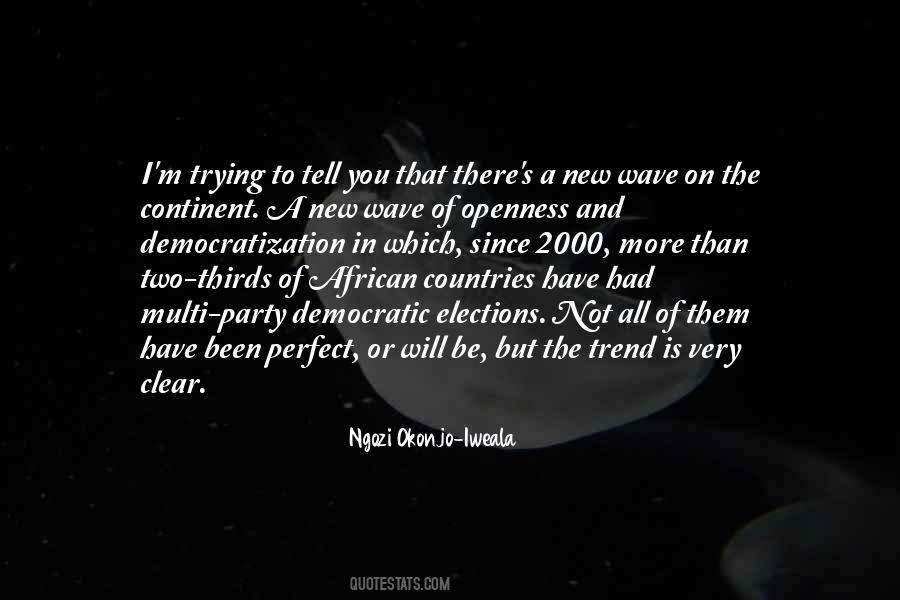 #2. Let me tell you, people go on and on about what a great idea electricity was, but I'm going to put toilet paper right next to the wheel and say those are the best ideas anyone's ever had. Scoff at it if you will, but try living for two millennia without it and then we'll talk. - Author: Kevin Hearne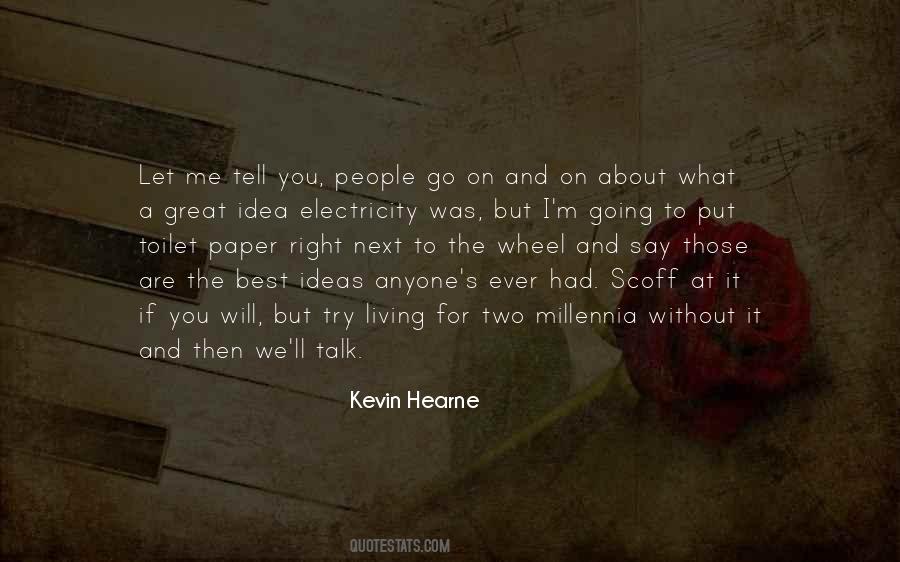 #3. Instant replay ought to be thrown out. Period. It's a game of imperfections. Why is that so bad for the game? Really, I think they are trying to make the game perfect. I'll tell you what: It will never, ever be perfect. - Author: Doug Harvey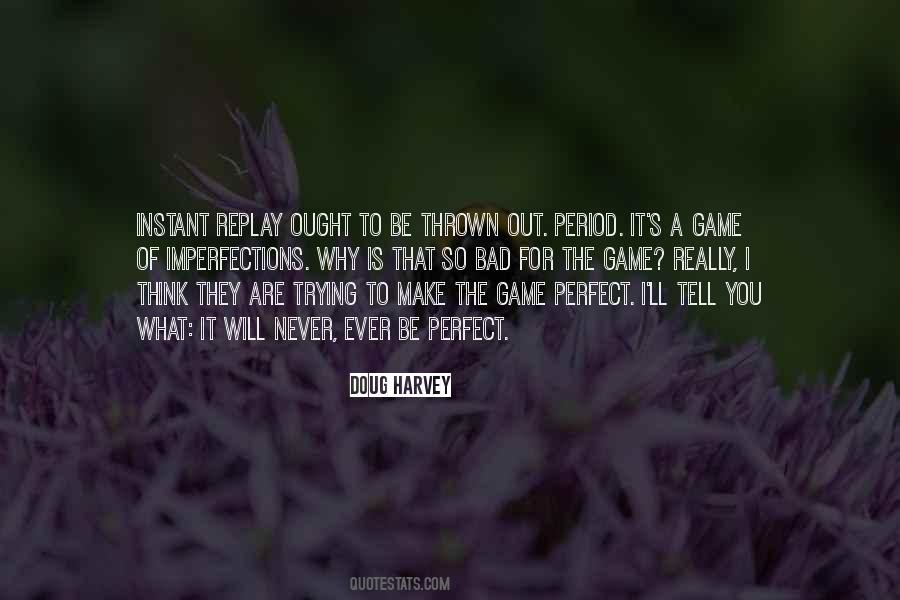 #4. If I had one last breath left, I would use it to tell you how much I love you, because I do, and I always will. - Author: Sandi Lynn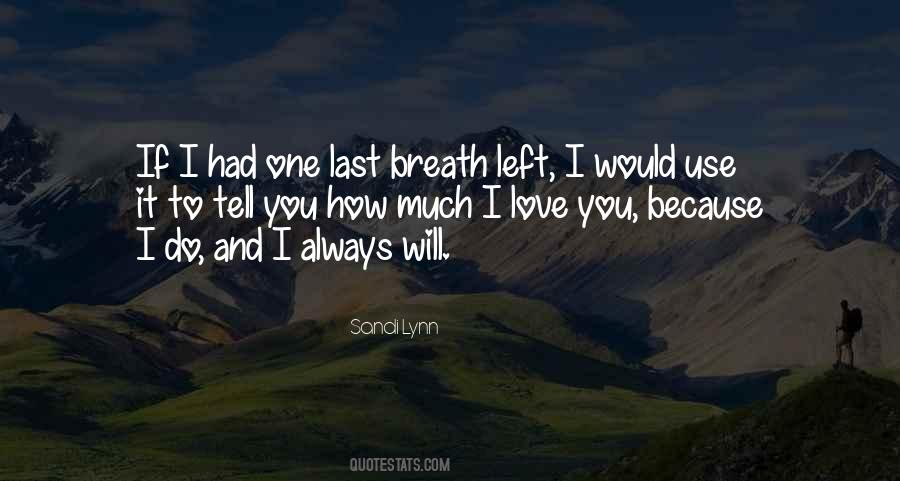 #5. I can't tell you what will happen over the next four years. But I can only stand here tonight, as a wife, a mother, a grandmother, an American, and make you this solemn commitment: This man will not fail. This man will not let us down. This man will lift up America! - Author: Ann Romney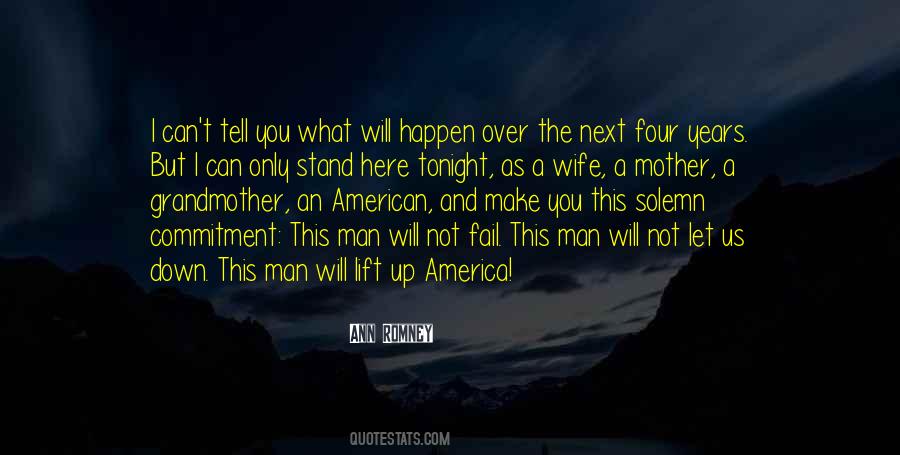 #6. My fans will tell you all day that I can rap. That's all I need. - Author: Kid Cudi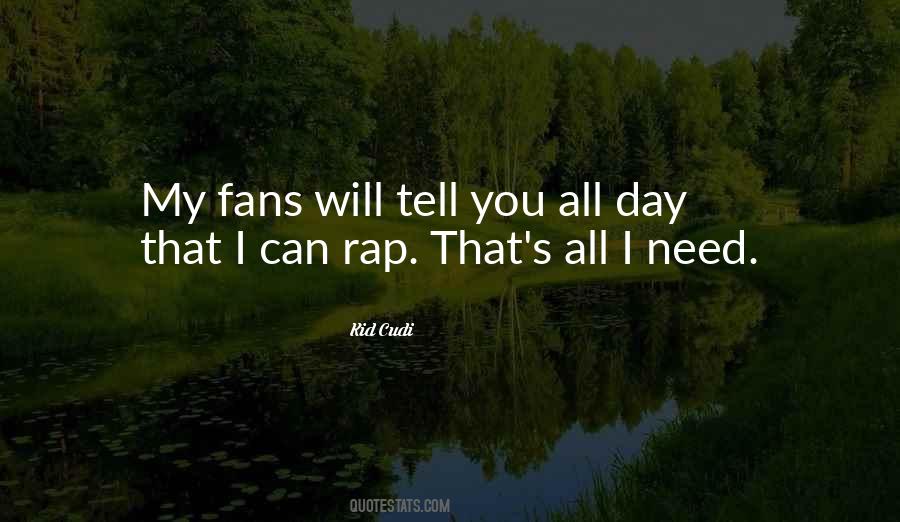 #7. I always tell Cristiano before training, 'If you do stepovers on me, I will break your legs and rip up your shirt.' I have no wish to have the mickey taken out of me all week. - Author: Patrice Evra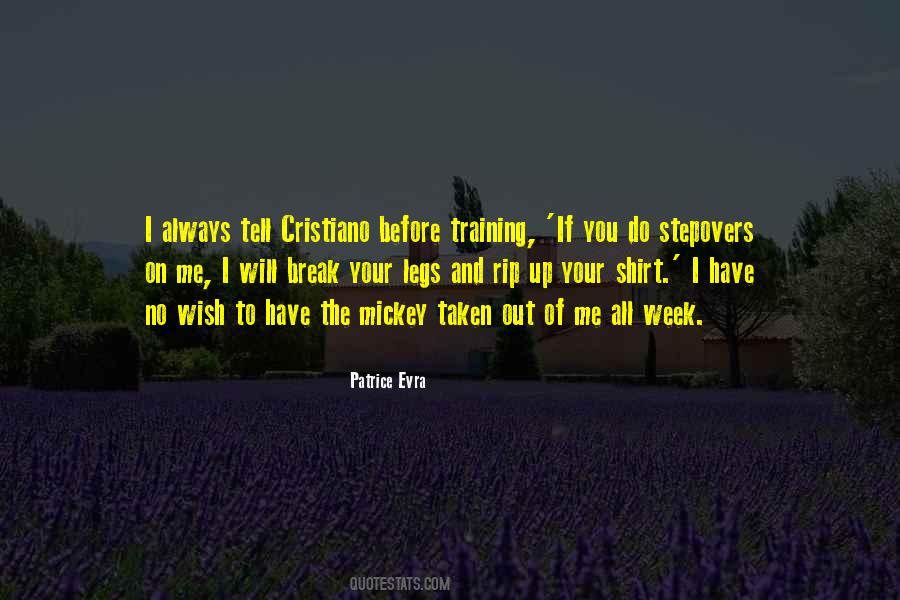 #8. The script will point you in certain directions and I go the opposite if I can. I try do do one thing and tell a different story with my eyes. I believe what's more interesting is always what's not being said. - Author: Robert Carlyle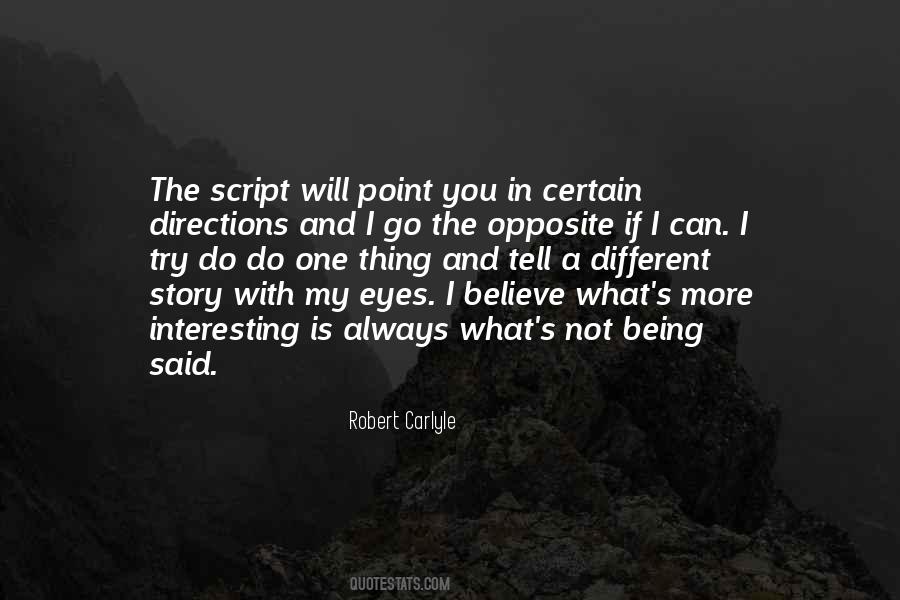 #9. Shall I tell you our secret? We are charming thieves who steal hearts and never fail because we are the friends of the One.
Blessed is the poem that comes through me but not of me because the sound of my own music will drown the song of Love. - Author: Rumi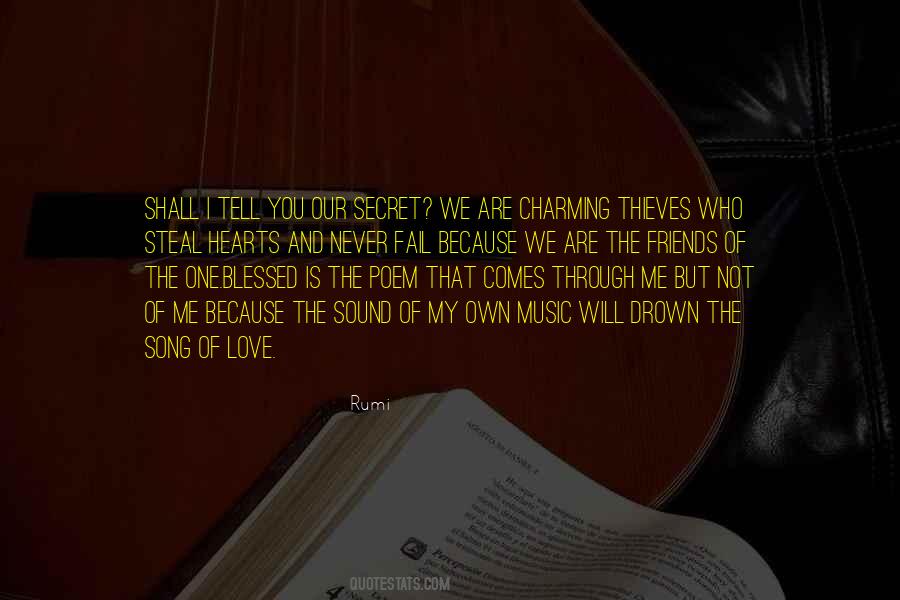 #10. I do not know how to thank you.'
'I can tell you,' said Obierika. 'Kill one of your sons for me.'
'That will not be enough,' said Okonkwo.
'Then kill yourself,' said Obierika. - Author: Chinua Achebe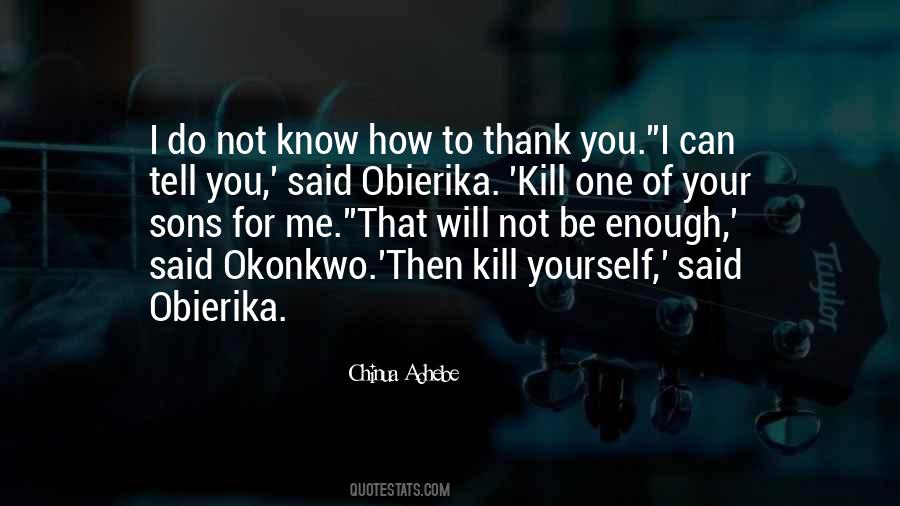 #11. I refuse to stand up in front of a rabbi and my friends and the woman I love - who I will tell you I can love with all my heart - and promise she will be the only one I will ever have until the day I die. That's a lie. - Author: Gene Simmons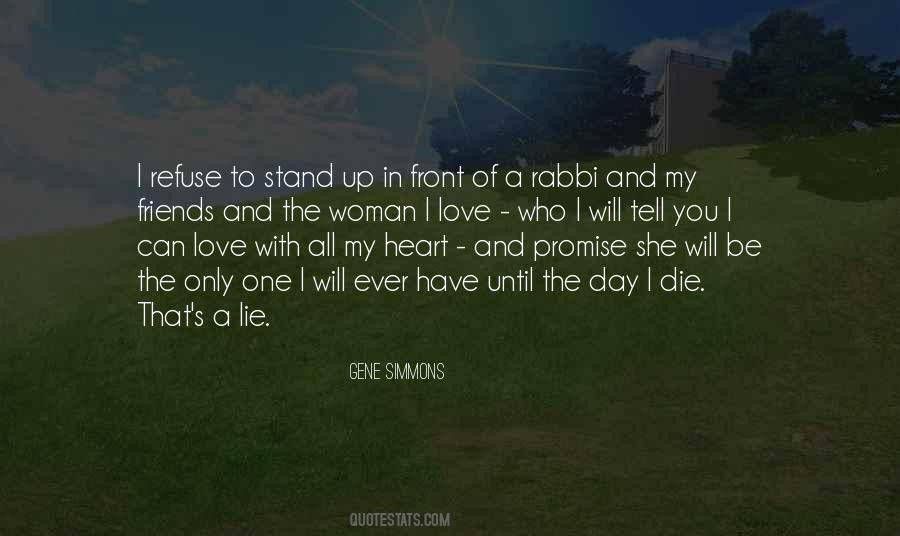 #12. I don't want my offer to be tempting. I want it to be irresistible, so tell me what it will take for you to say yes." She studies me and grins. "I need time, and I need to know you better. - Author: Georgia Cates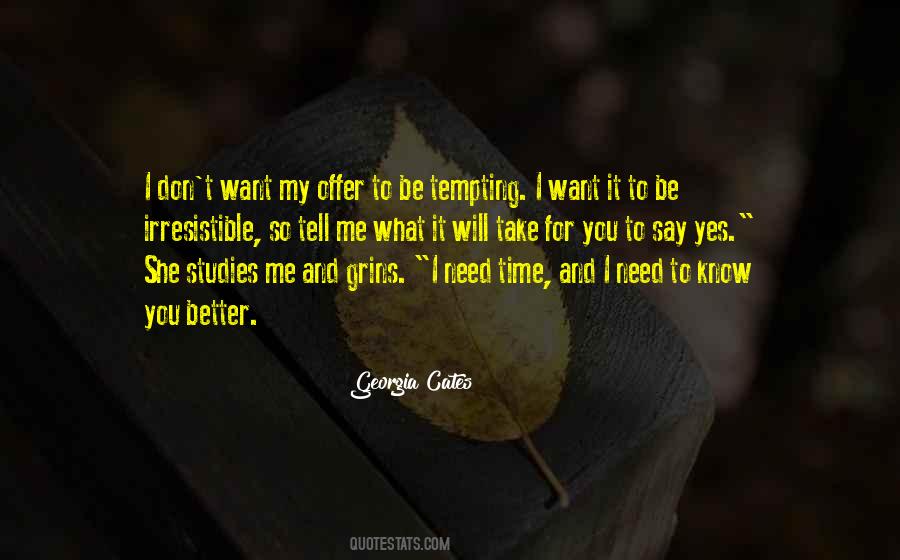 #13. Tom said, "Let me beg you never to tell that story to Will. He'd have you locked up." "But the house wasn't worth what I asked!" "I repeat what I said about Will. What's Adam want with your house?" "He's going to move there. Wants the twins to go to school in Salinas." "What'll - Author: John Steinbeck
#14. He will not, I think, find it logical to live with what he has done today. I have told him that you are his responsibility. While he believes that, he will continue to protect you. I tell you this, so that you will understand what is happening. He will measure his life by your helplessness. - Author: Dorothy Dunnett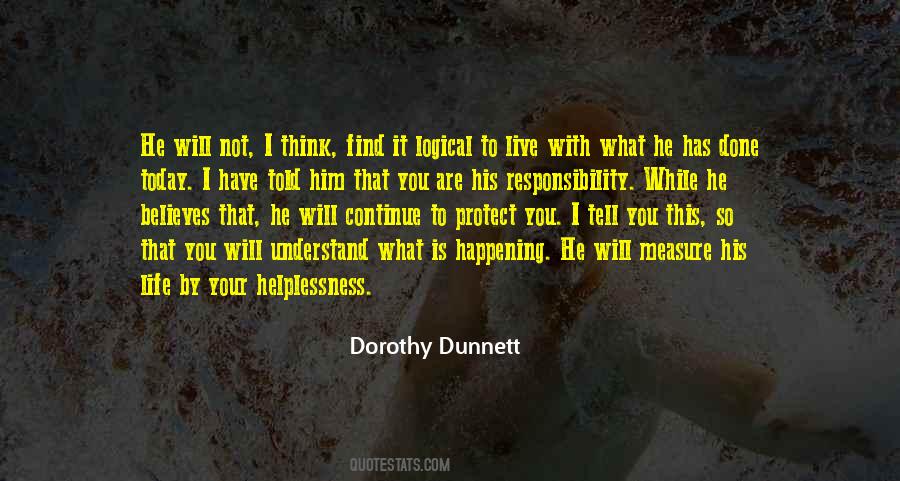 #15. Show me what a people admire, and I will tell you everything about them that matters. - Author: Jack McDevitt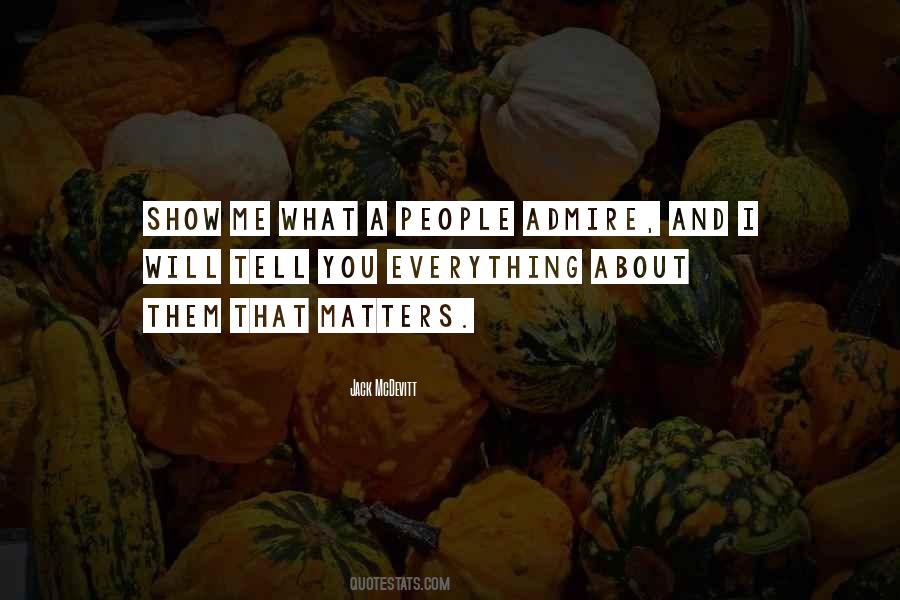 #16. I will frankly tell you that my experience in prolonged scientific investigations convinces me that a belief in God-a God who is behind and within the chaos of vanishing points of human knowledge-adds a wonderful stimulus to the man who attempts to penetrate into the regions of the unknown. - Author: Louis Agassiz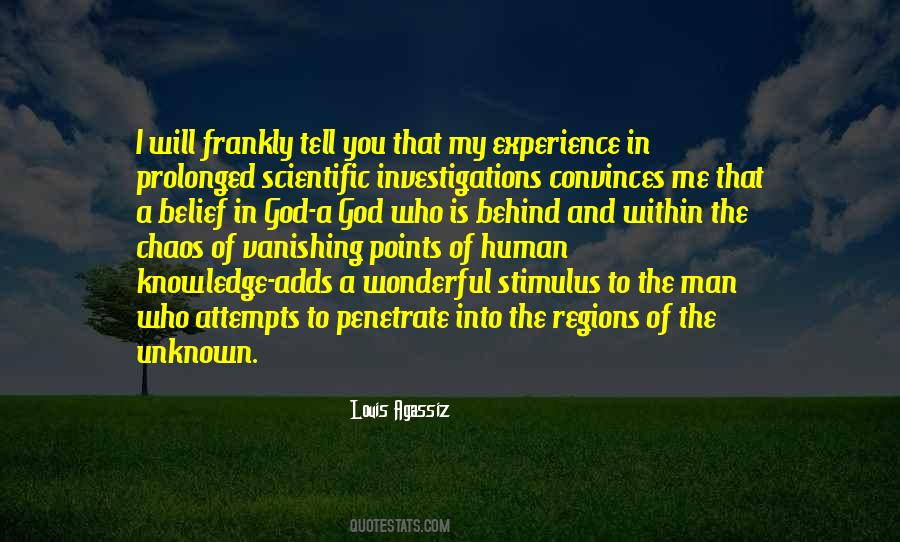 #17. As Mick Jagger will tell you, performing is an aerobic work-out. I've got the bass guitar, which is the heaviest of all the instruments, and I'm a little girl, in boiling-hot leather under the lights. You have to keep the fitness level up if you want to look good up there. - Author: Suzi Quatro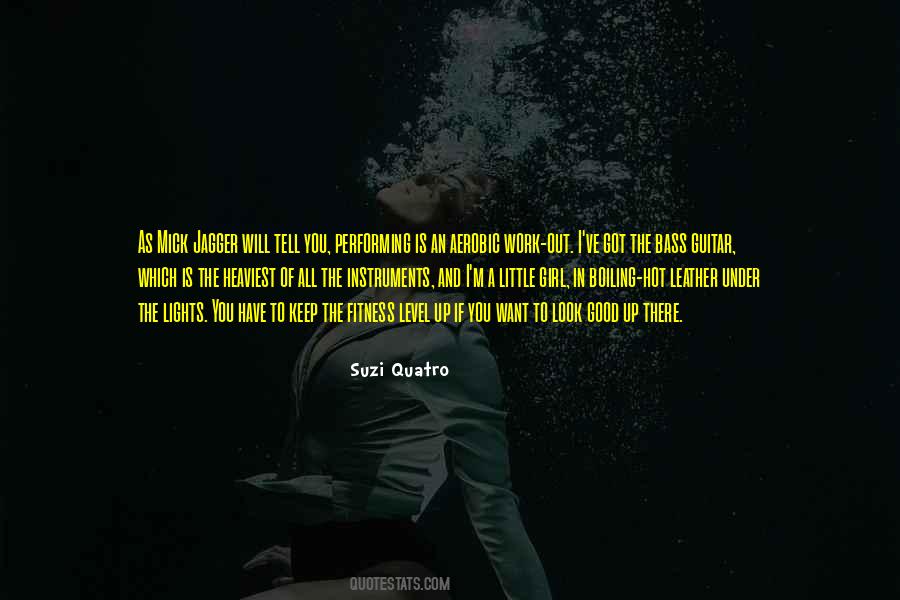 #18. If you give me your attention, I will tell you what I am:
I'm a genuine philanthropist
all other kinds are sham.
Each little fault of temper and each social defect
In my erring fellow creatures, I endeavor to correct. - Author: W.S. Gilbert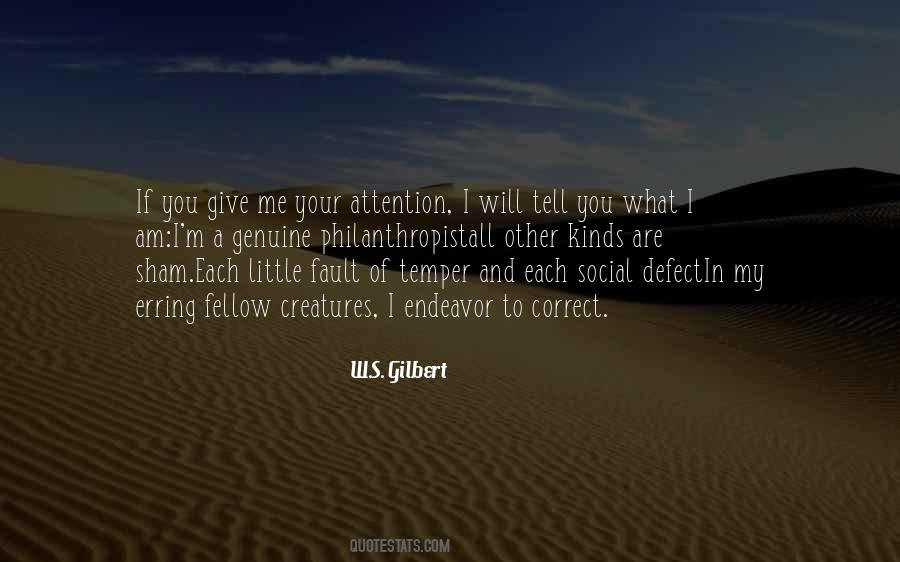 #19. Let me tell you something that I learned from my youth, from a sage called the Road Runner. You can walk off a cliff and the air will hold you. Only, don't look down. - Author: Erin Bow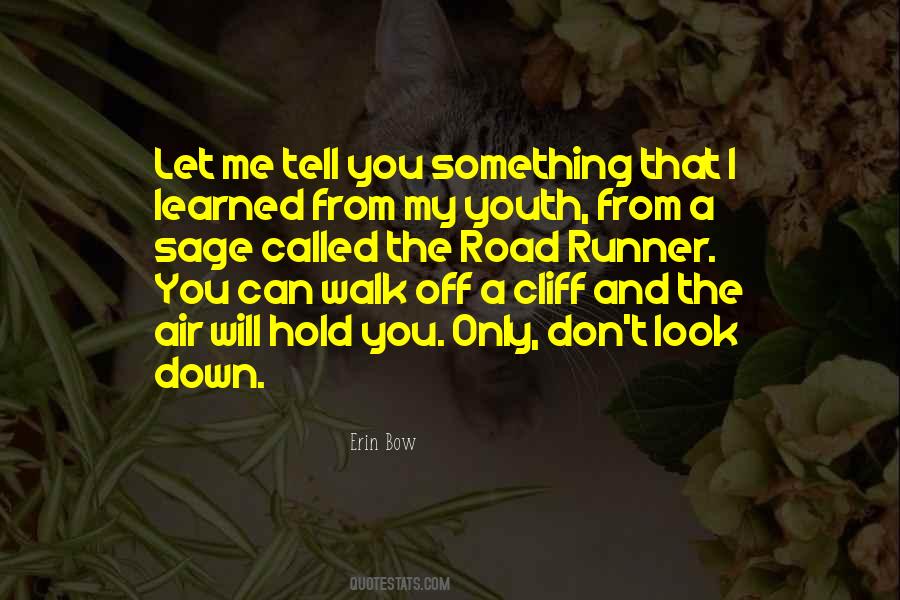 #20. Tell me why you care," I said.
He put his hands on the windowsill. "Because it's you. Despite what you think of me, your pain will always be my pain. - Author: Brodi Ashton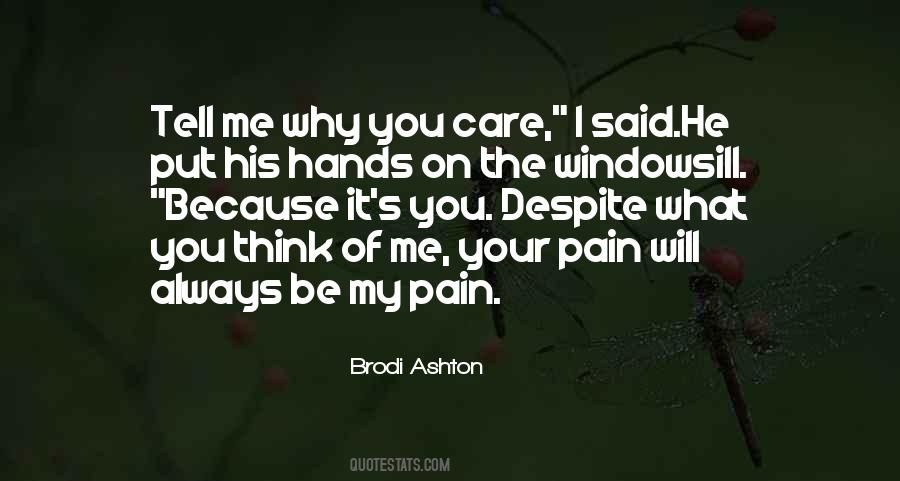 #21. I told you I'm not going to criticize my successor. I'll just tell you that there are people at Gitmo that will kill American people at a drop of a hat and I don't believe that persuasion isn't going to work. Therapy isn't going to cause terrorists to change their mind. - Author: George W. Bush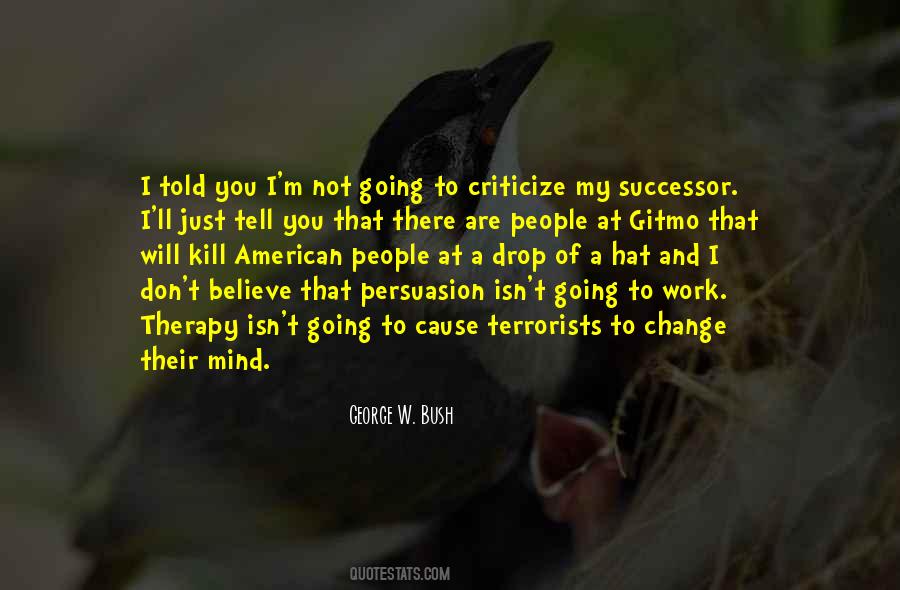 #22. I [Jesus] tell you the truth, those who listen to my message and believe in God who sent me have eternal life. They will never be condemned for their sins, but they have already passed from death into life. - Author: Anonymous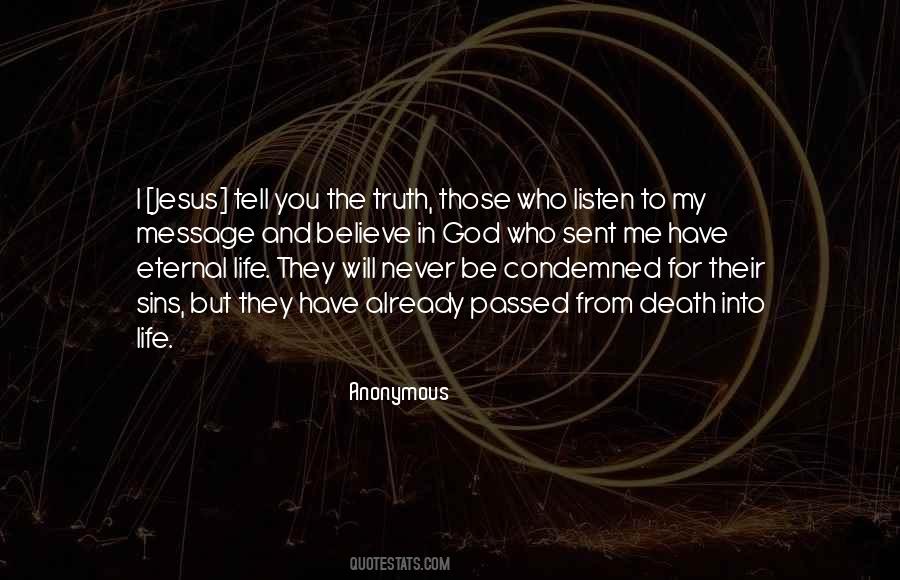 #23. Burning a bridge, as any tactician will tell you, sometimes saves more than it costs. I - Author: Kathleen Rooney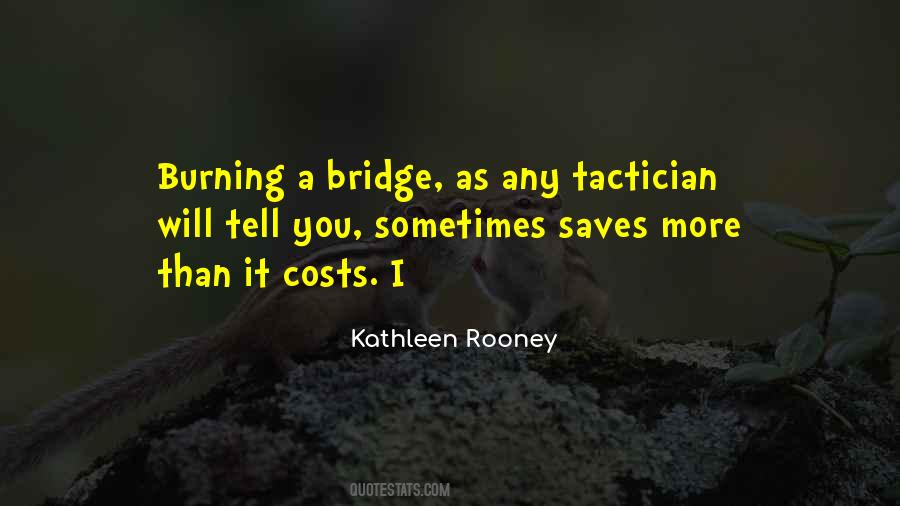 #24. God must bring us to a point--I cannot tell you how it will be, but He will do it--where, through a deep and dark experience, our natural power is touched and fundamentally weakened, so that we no longer dare trust ourselves. - Author: Watchman Nee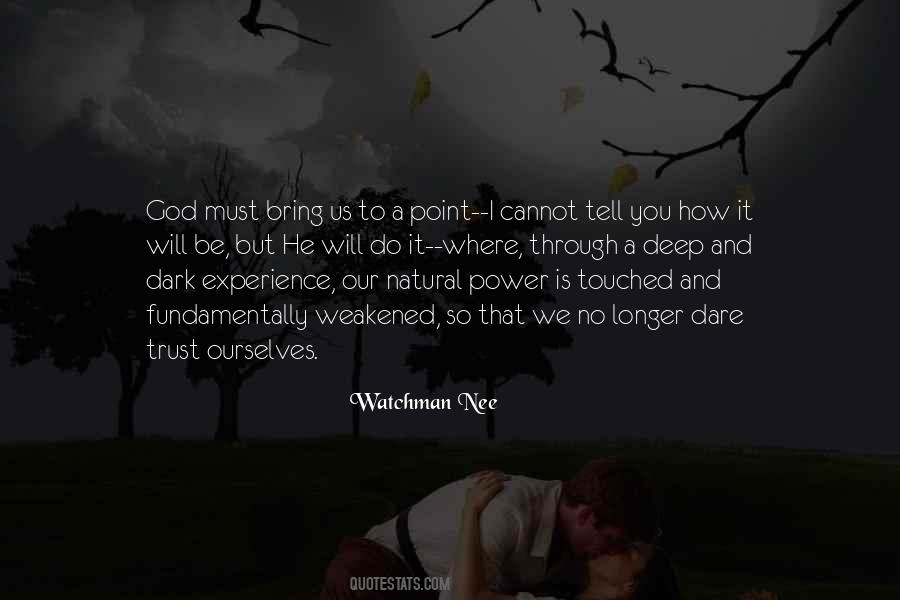 #25. In France you cannot not have lunch. If you stopped the French from having lunch, you will have a second revolution, I can tell you this. Not going to work - it is part of the French privilege. - Author: Christian Louboutin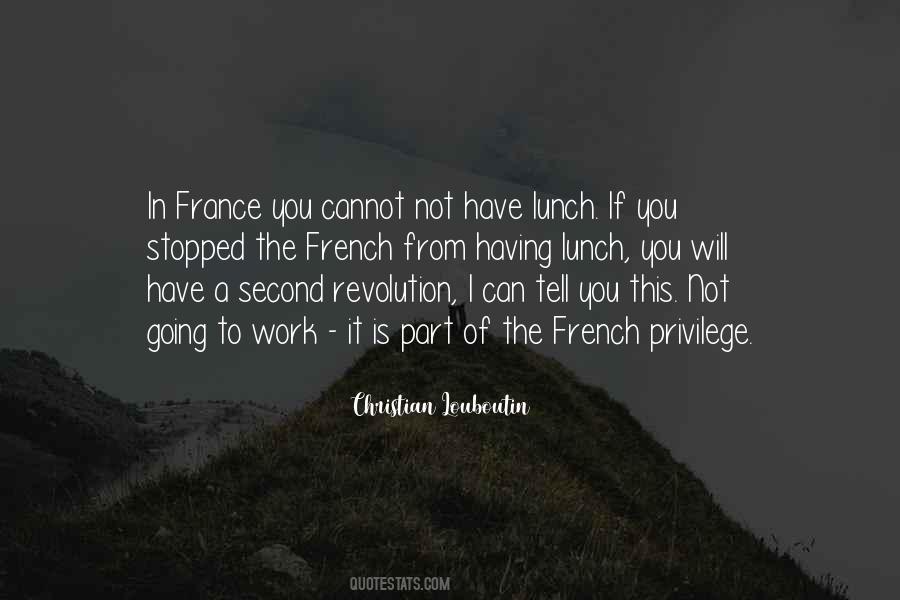 #26. No one will touch you." Not ever. Even after death he would protect his woman with the sheer force of his motherfucking will. "Tell me what scares you and I will eliminate it, no matter what it is."
. - Author: Shara Azod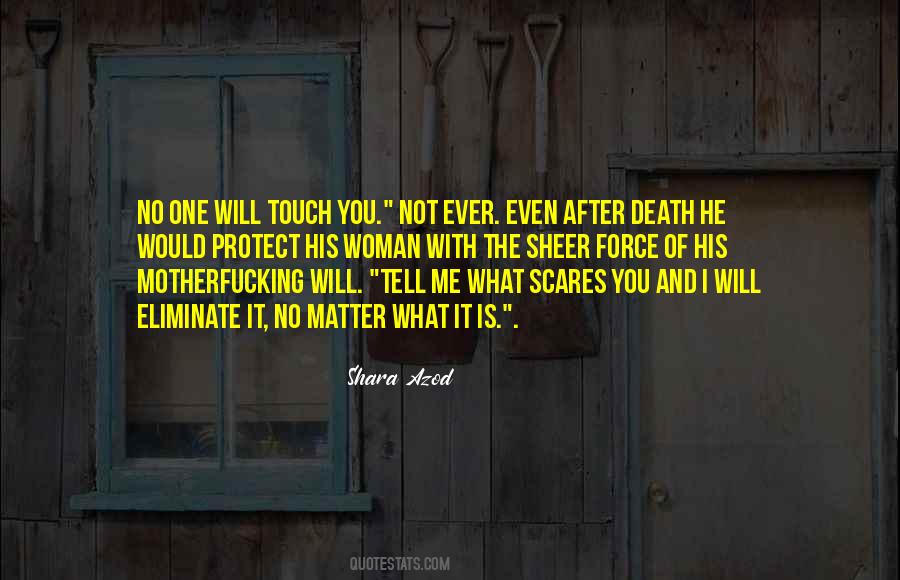 #27. I can tell you that you will have your hearts broken more by the people you love than by the people you hate. But you must still dare to love. The rewards are worth far more than the risks. - Author: Margaret Peterson Haddix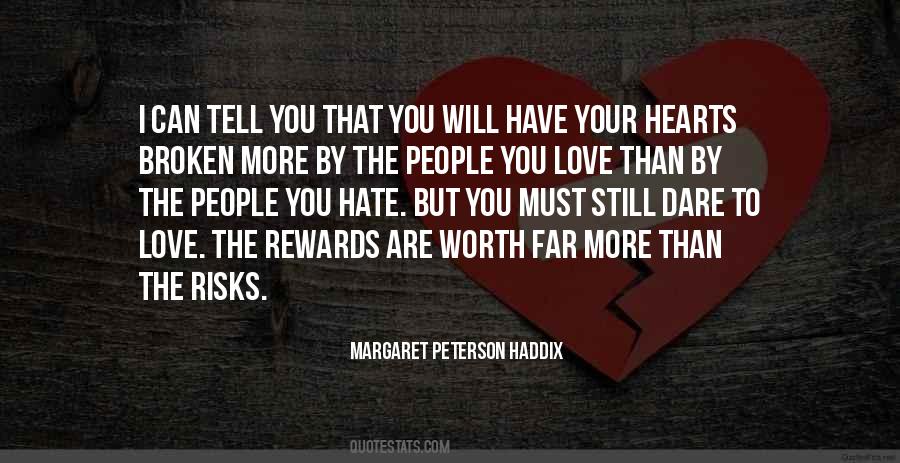 #28. We were happy. I know I ought to be able to tell you about it, yet I cannot, for while a nightmare will stay with you like hunger, when you awake from a happy dream, you have no memory of it. - Author: Erik Christian Haugaard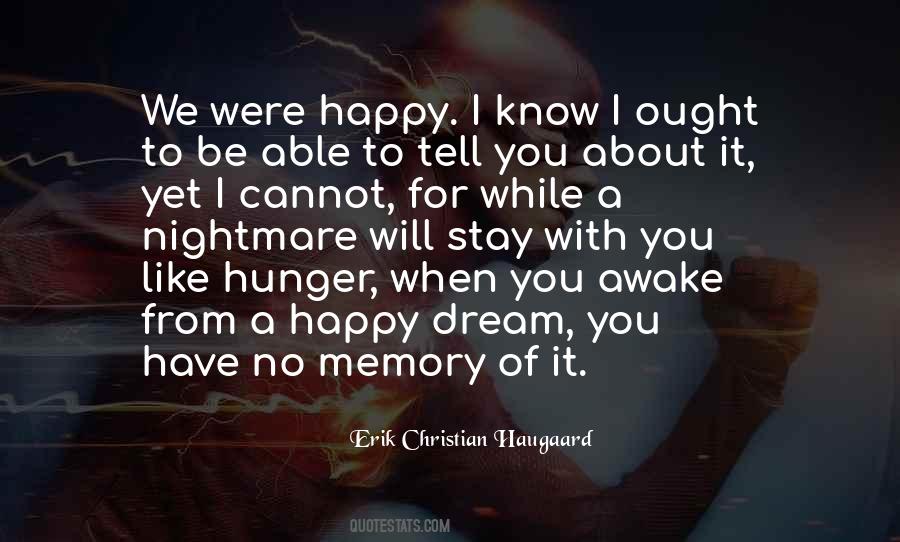 #29. O Perfect One, why do you do this thing? For though we find joy in it, we know not the celestial reason nor the correspondency of it'. And Sabbah answered: 'I will tell you first what I do; I will tell you the reasons afterward. - Author: W.W. Sawyer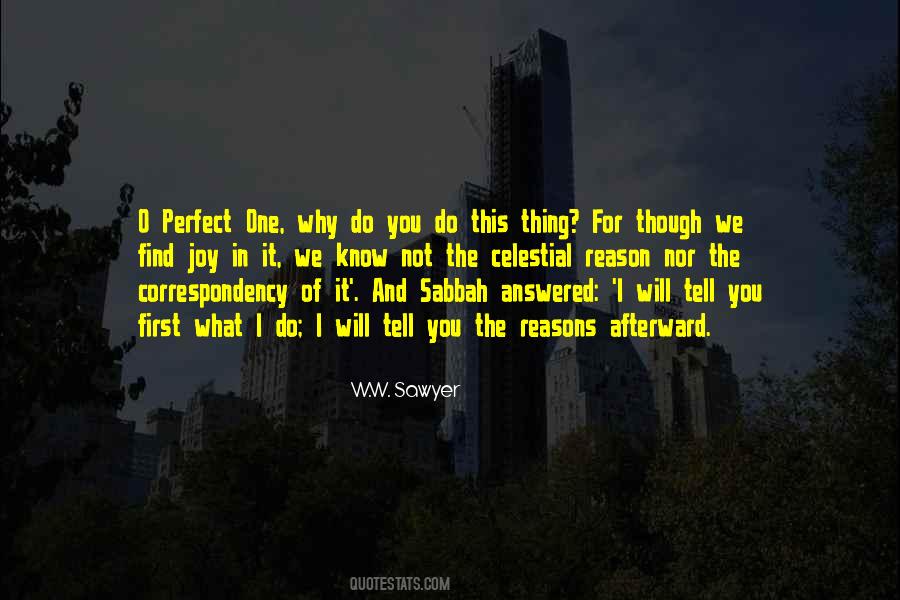 #30. I think acting is magic. If I tell you all about myself it will spoil it - Author: Patrick Troughton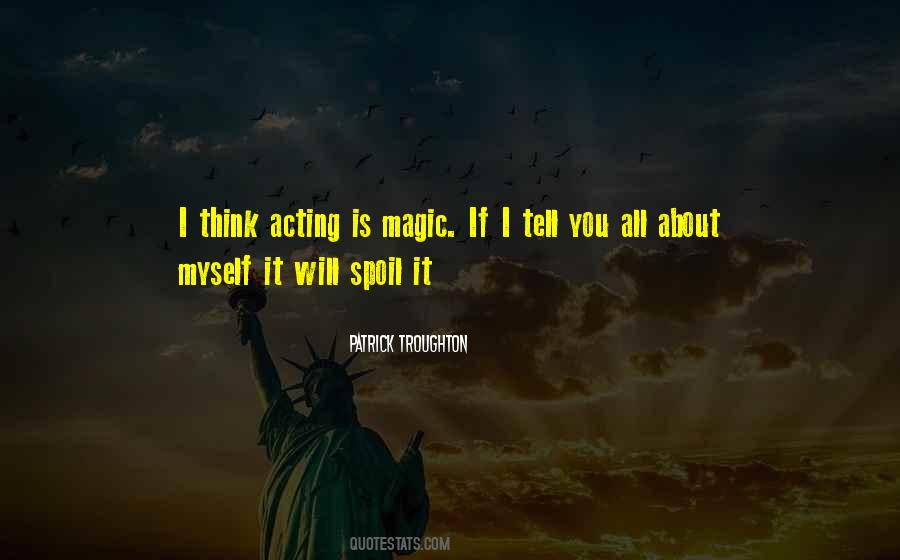 #31. If you tell me that the sky is red, I will look up. - Author: Monica Raymund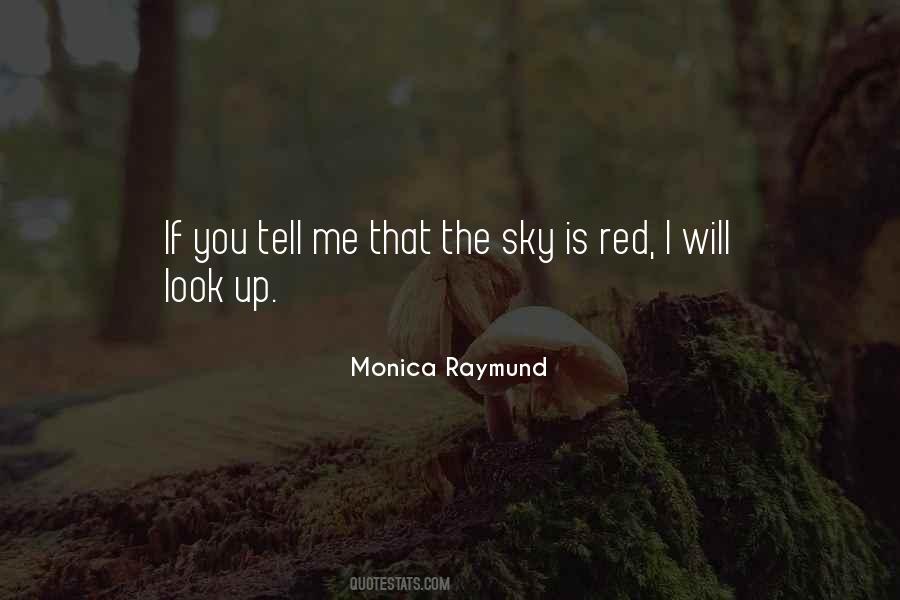 #32. I've learned that you can never predict what will happen to a film. You can never predict if people will love it, if they'll hate it. It's an act of ego if you're hoping for everyone to love the film and tell you how great you are. - Author: James Gray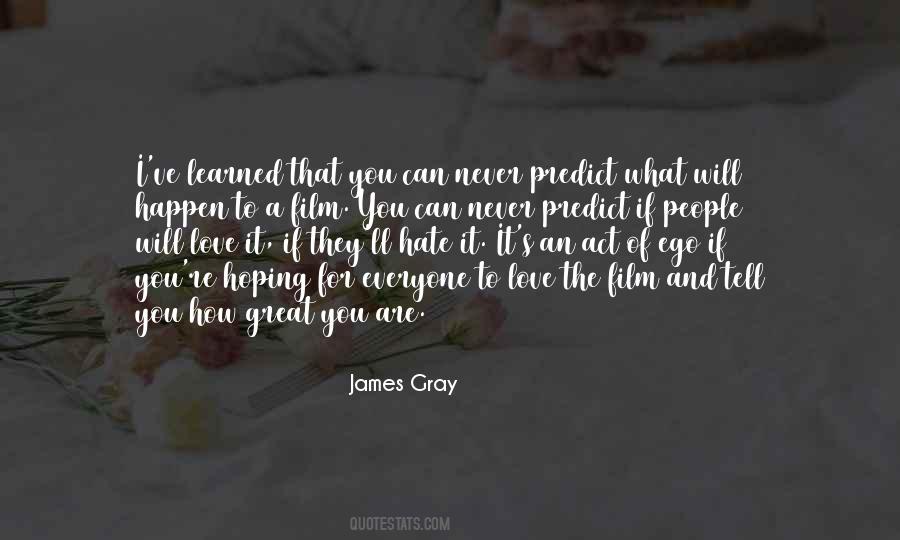 #33. I say, sir, you sir, who are hiding yourself behind that shutter - yes, you, sir, tell me what you are laughing at, and we will laugh together! - Author: Alexandre Dumas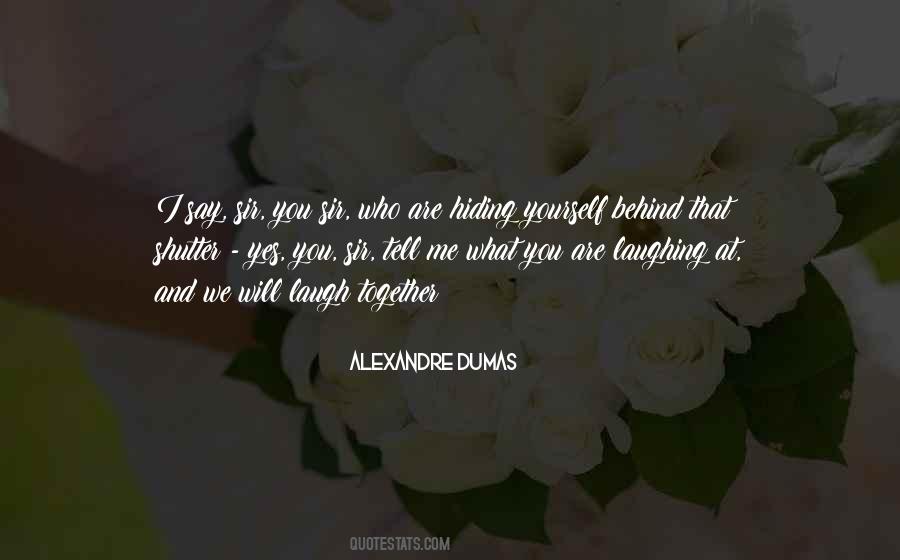 #34. I'll tell you one thing: I will always play the sh** out of my guitar. - Author: Joe Satriani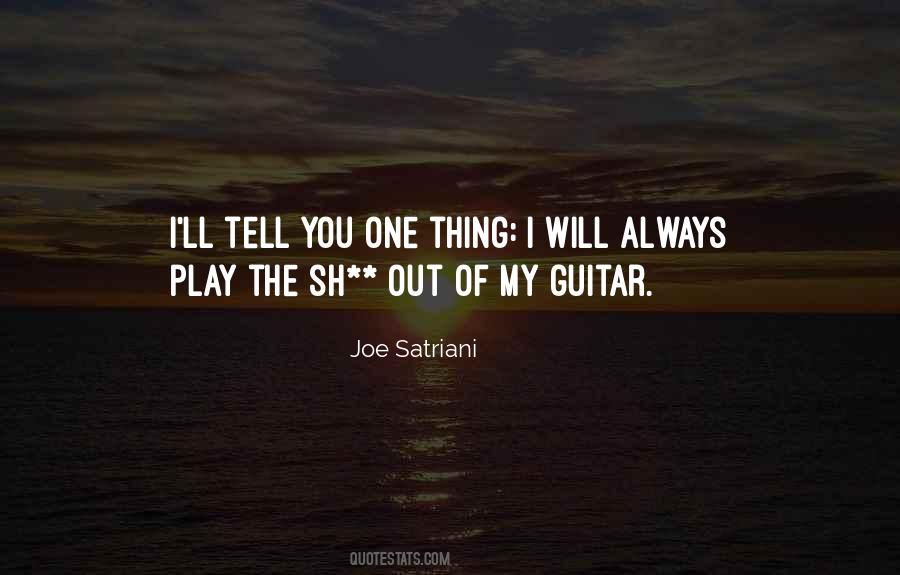 #35. I cannot stress enough that the answer to life's questions is often in people's faces. Try putting your iPhones down once in a while, and look in people's faces. People's faces will tell you amazing things. Like if they are angry, or nauseous or asleep. - Author: Amy Poehler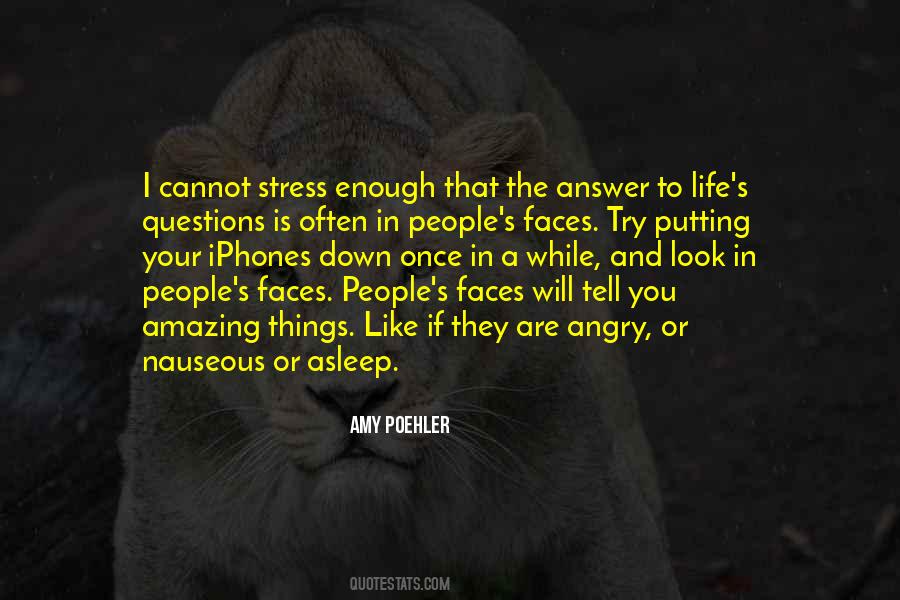 #36. There will be those who will tell you that you can't make it because of how you look, because of the way you talk. We all have heard that - I almost listened. - Author: Douglas Wilder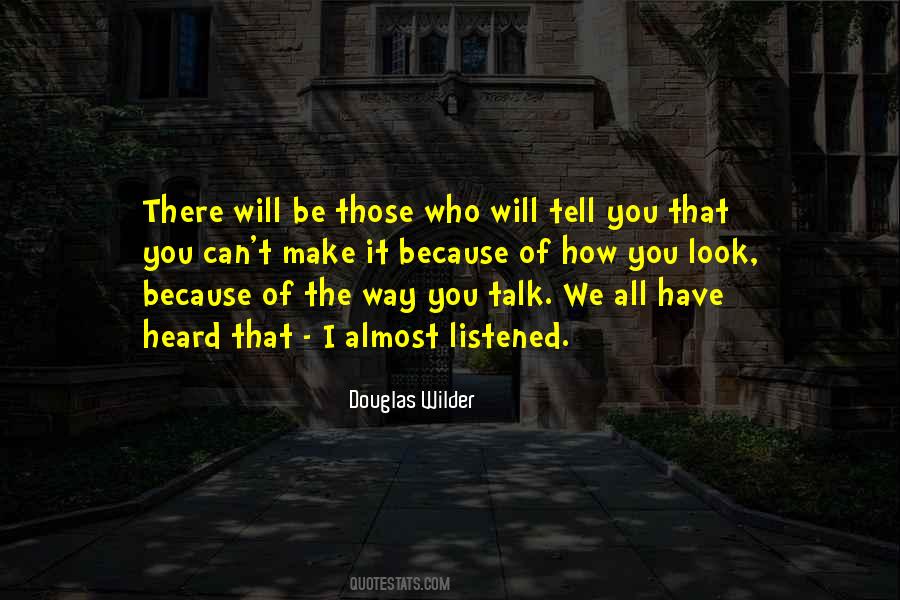 #37. You made me confess the fears that I have. But I will tell you also what I do not fear. I do not fear to be alone or to be spurned for another or to leave whatever I have to leave. And I am not afraid to make a mistake, even a great mistake, a lifelong mistake and perhaps as long as eternity too. - Author: James Joyce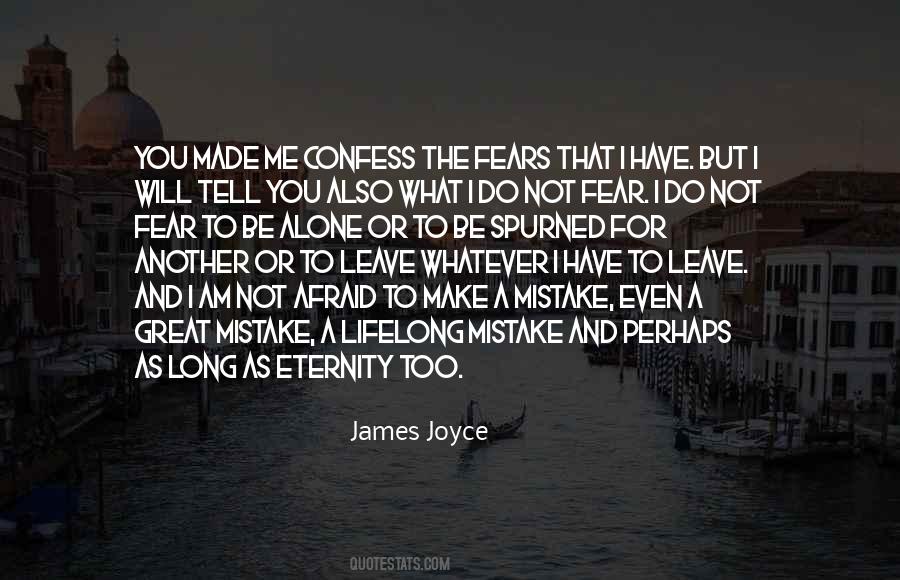 #38. What are you smiling at?" she smirks from under me. "You," I tell her, refusing to wipe the grin from my face. "The answer will always be you. - Author: Karina Halle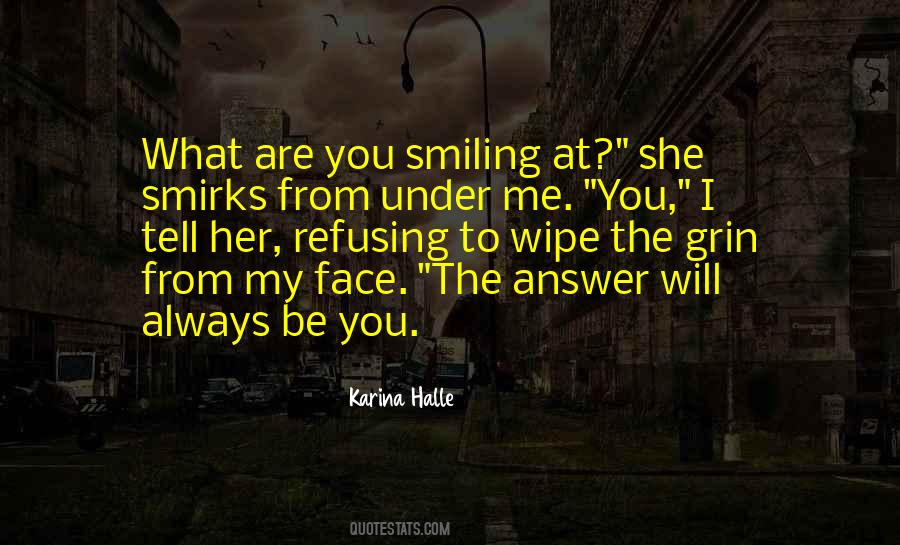 #39. If you will refrain from telling any lies about the Republican Party, I'lll promise not to tell the truth about the Democrats. - Author: Chauncey Depew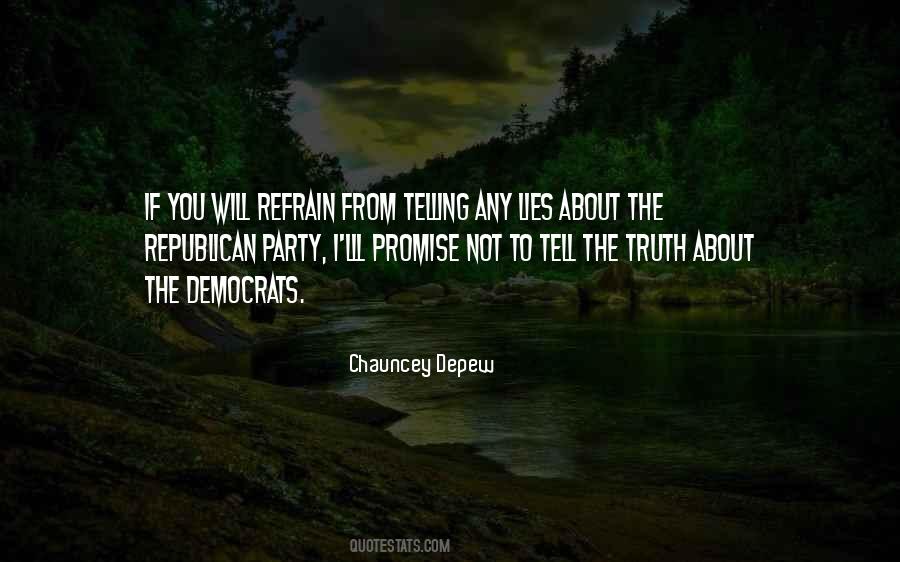 #40. I tell you we must have bodies. You cannot make doctors without them, and the public must understand it. If we can't get them any other way we will arm the students with Winchester rifles and send them to protect the body-snatchers on their raids. - Author: Erik Larson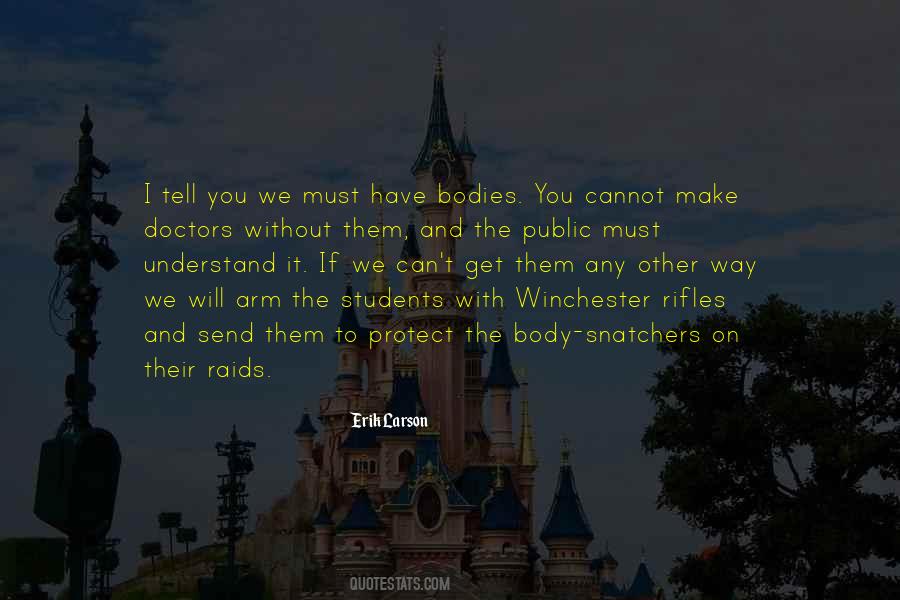 #41. The first great thing is to find yourself and for that you need solitude and contemplation - at least sometimes. I can tell you deliverance will not come from the rushing noisy centers of civilization. It will come from the lonely places. - Author: Fridtjof Nansen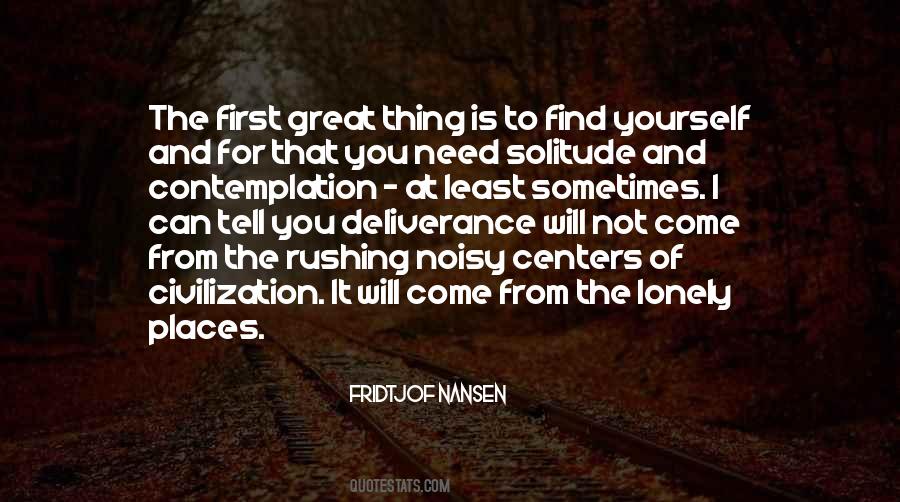 #42. And so I tell you, keep on asking, and you will receive what you ask for. Keep on seeking, and you will find. Keep on knocking, and the door will be opened to you. For everyone who asks, receives. Everyone who seeks, finds. And to everyone who knocks, the door will be opened. - Author: Luke The Evangelist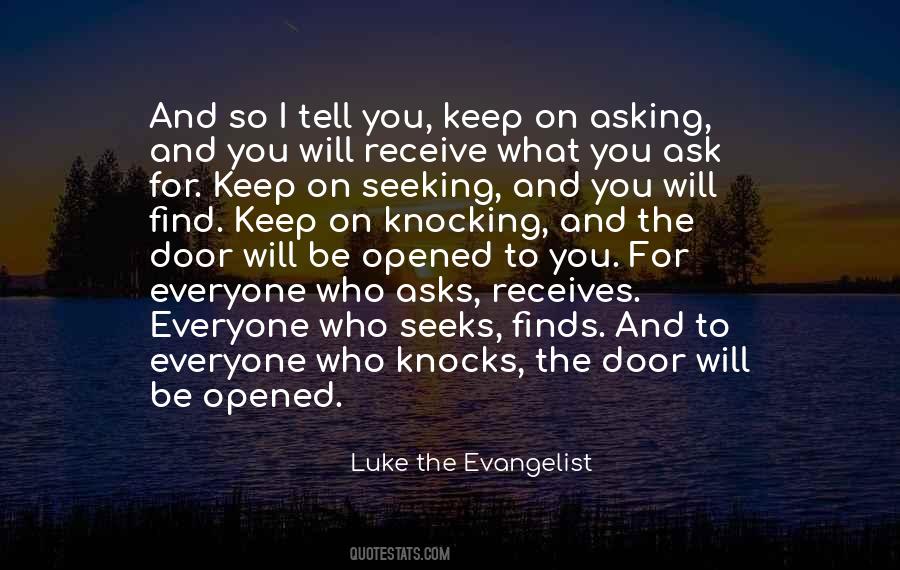 #43. I tell you, my friends, it's a sin to pray for the U.S.A. And nobody that's intelligent, and that fears God, will fly the American flag any way but upside-down, the international signal of distress ... It's too late to pray for the U.S.A. - Author: Fred Phelps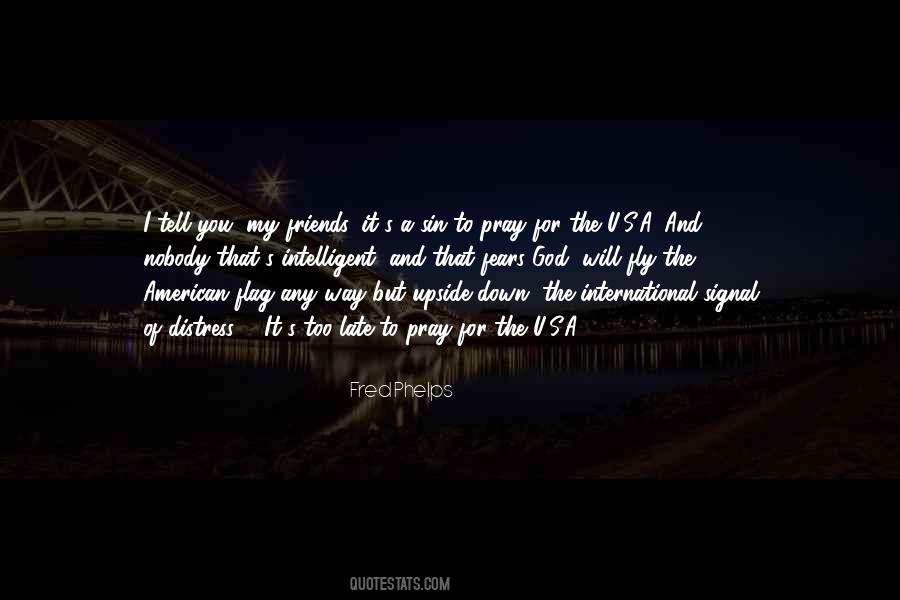 #44. I tell you, lad, that men will believe is one says, "The Gods say ... " They will believe if one says, "I had a Vision ... " They will believe if one says, "It was told me on a tablet of hidden gold ... " But, if one says, "History teaches," then they will not believe. - Author: Sheri S. Tepper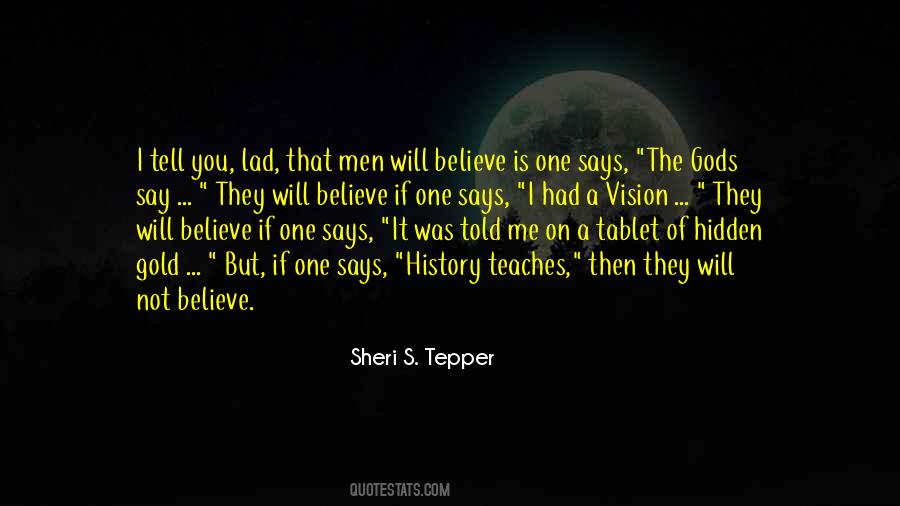 #45. Take our 20 best people away, and I will tell you that Microsoft will become an unimportant company - Author: Bill Gates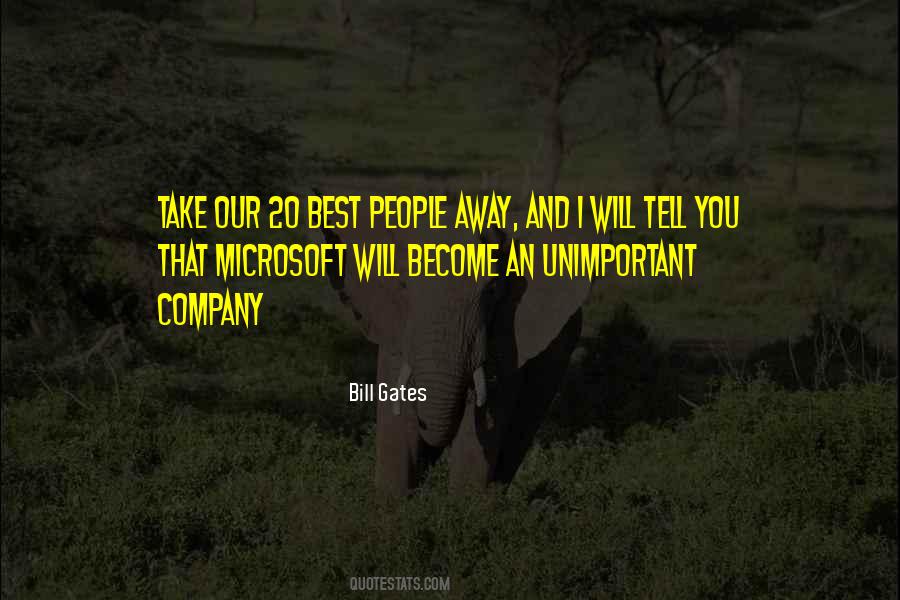 #46. Don't tell me anymore. You should have your dream, as the old woman told you to. I understand how you feel, but if you put those feelings into words they will turn into lies. (from Thailand) - Author: Haruki Murakami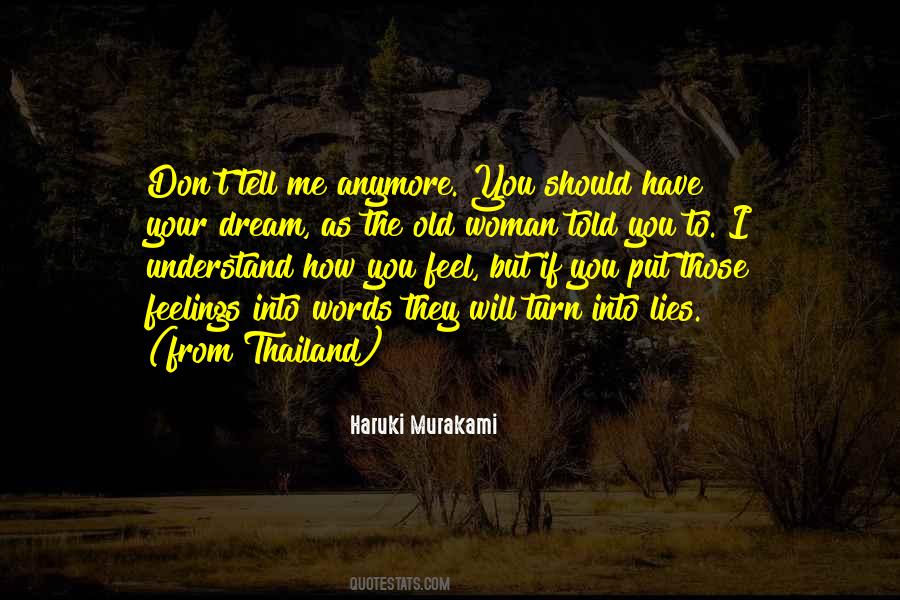 #47. BELINDA: People say you shouldn't speak ill of the dead. I say tell the truth. The dead will know what God will tell them. So start talking. - Author: Billy London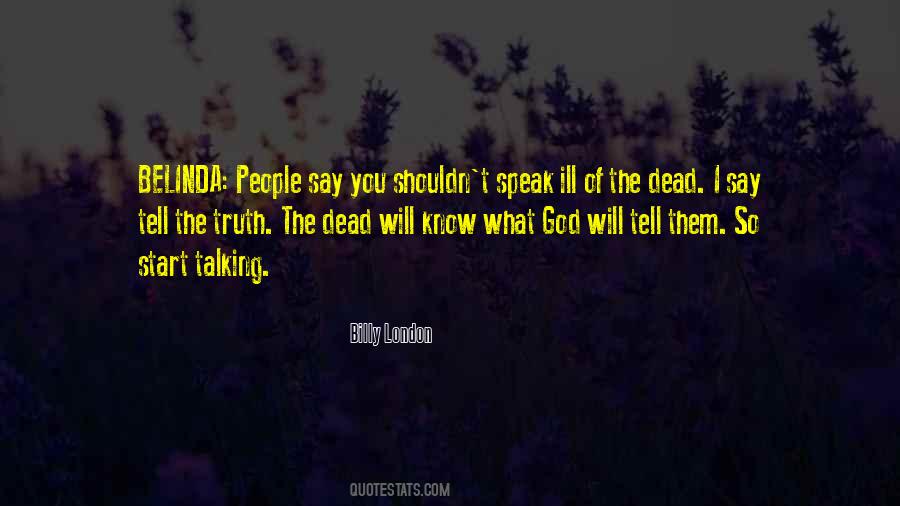 #48. There is much which I have left out; much which I have not dared to tell; but you will find the story of his second search for Dejah Thoris, Princess of Helium, even more remarkable than was his first - Author: Edgar Rice Burroughs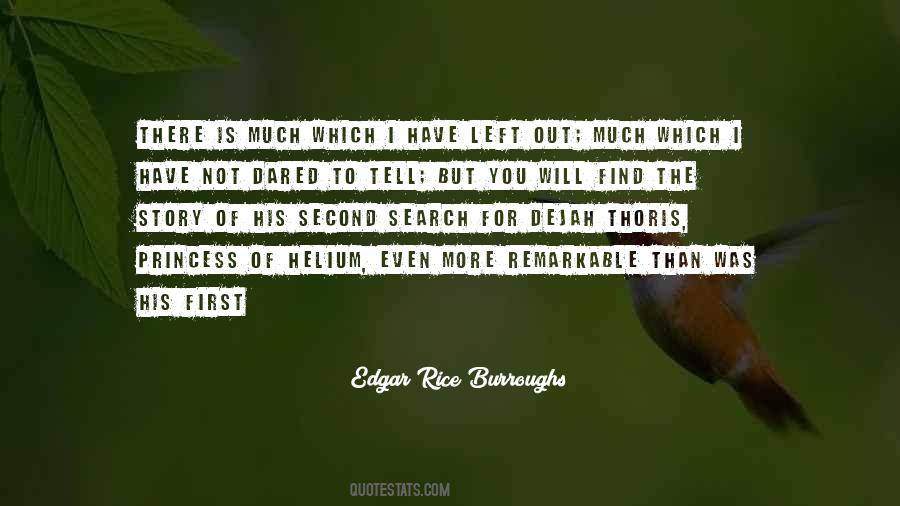 #49. I don't know why I told this story. I could just as well have told another. Perhaps some other time I'll be able to tell another. Living souls, you will see how alike they are. - Author: Samuel Beckett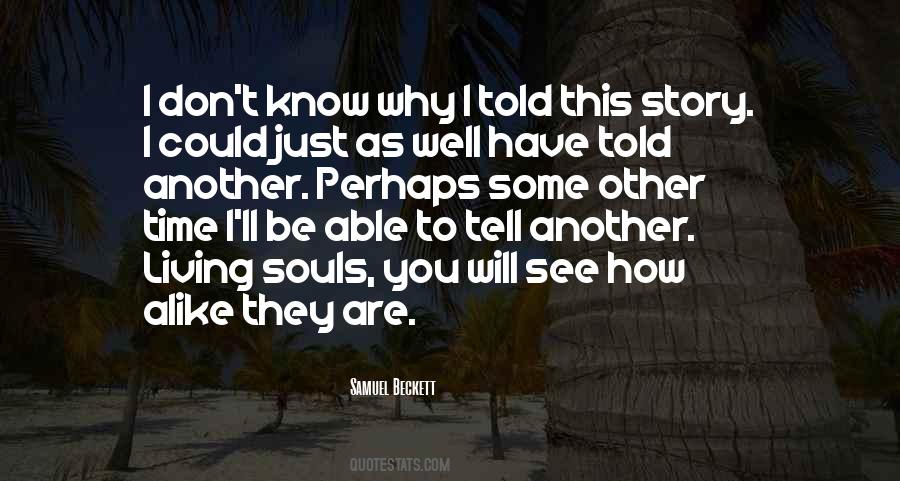 #50. Tell me about despair, yours, and I will tell you mine - Author: Mary Oliver
#51. As an addict who will read anything, I obeyed, but I am not saved, and return to tell you neither what to read nor how to read it, only what I have read and think worthy of rereading, which may be the only pragmatic test for the canonical. - Author: Harold Bloom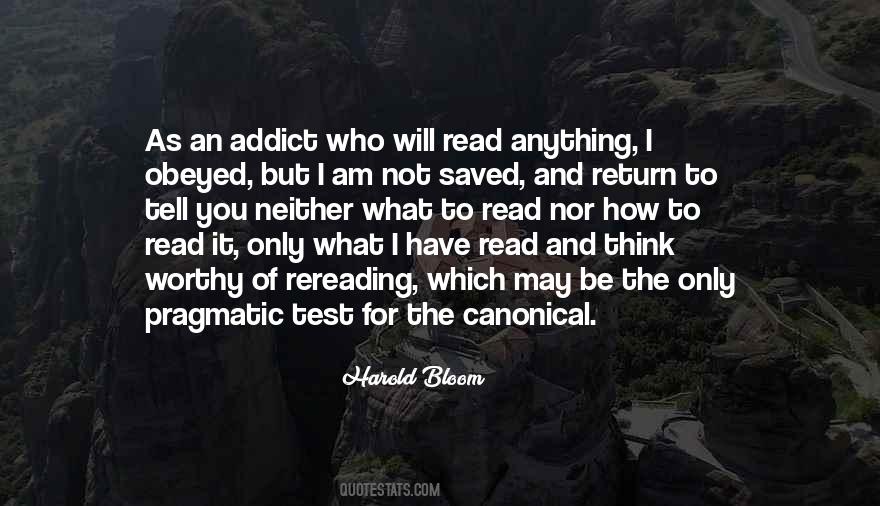 #52. I think the business of writing a great deal of it is the business of paying attention to your characters, to the world they live in, to the story you have to tell, but just a kind of deep attention and out of that if you pay attention properly the story will tell you what it needs. - Author: Salman Rushdie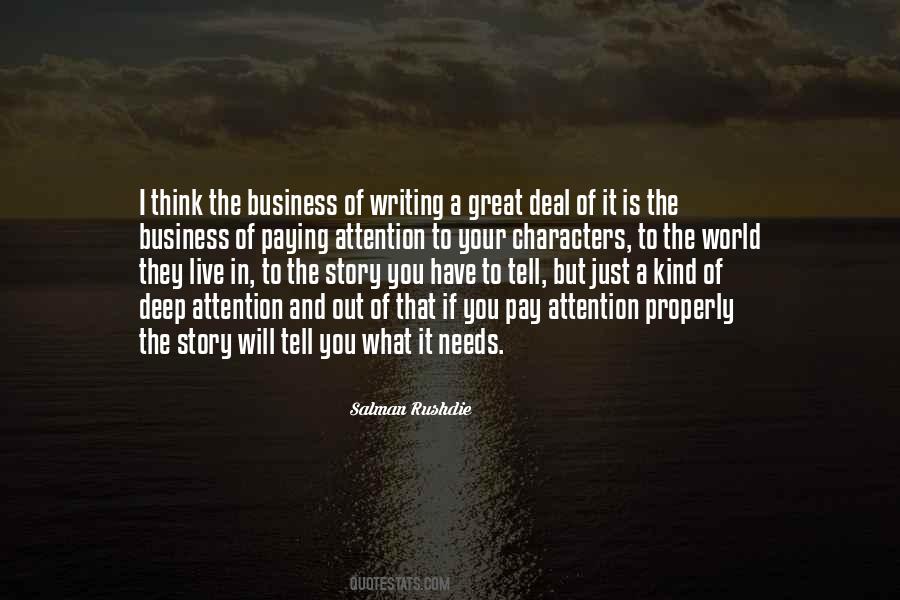 #53. She'll tell you this house is haunted, but I believe the truth of the matter is that people get haunted. Not places.' - Will Laughlin - Author: Brandy Heineman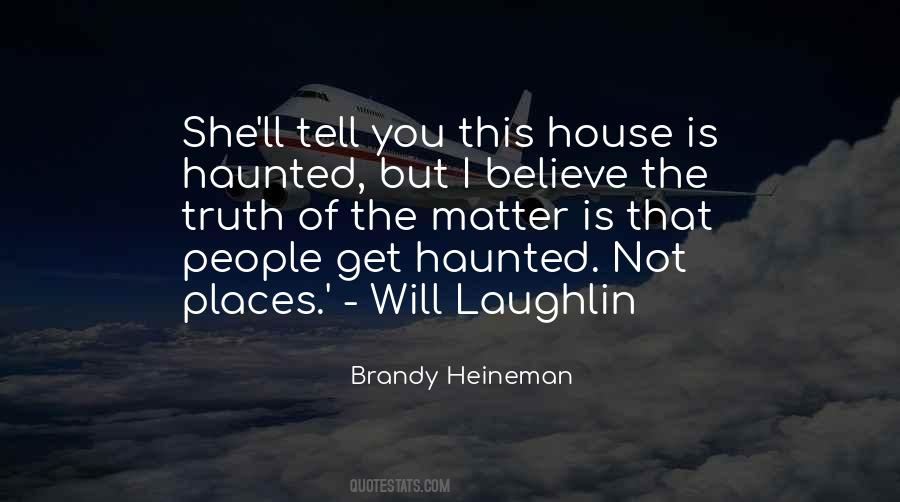 #54. But will he come I just want to know what you think the odds are. Tell me what you really think." "I think Tibby was a wise girl. I think she loved you. - Author: Ann Brashares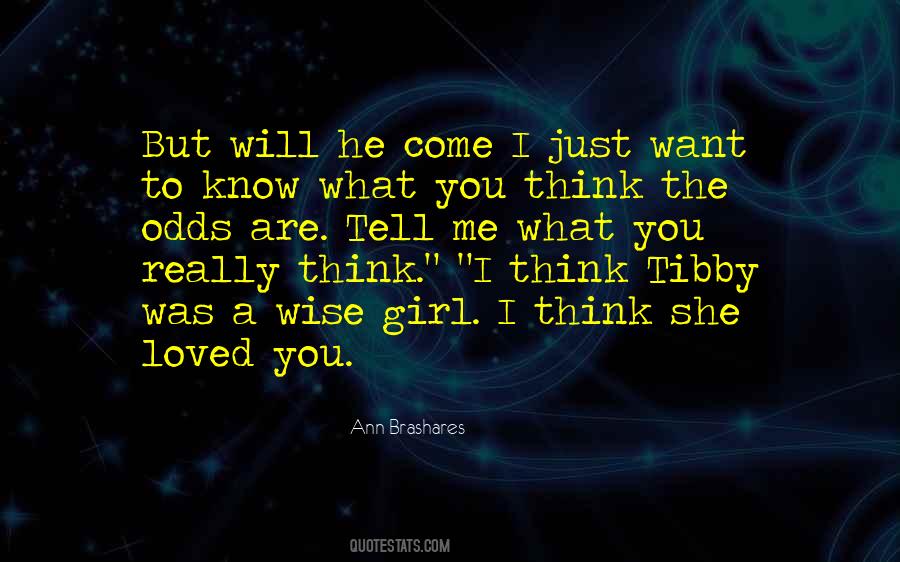 #55. One of the most important pieces of advice that I have learned is to listen to your customers. They will be able to tell you how your business is doing and what direction you need to go in. - Author: Bill Zanker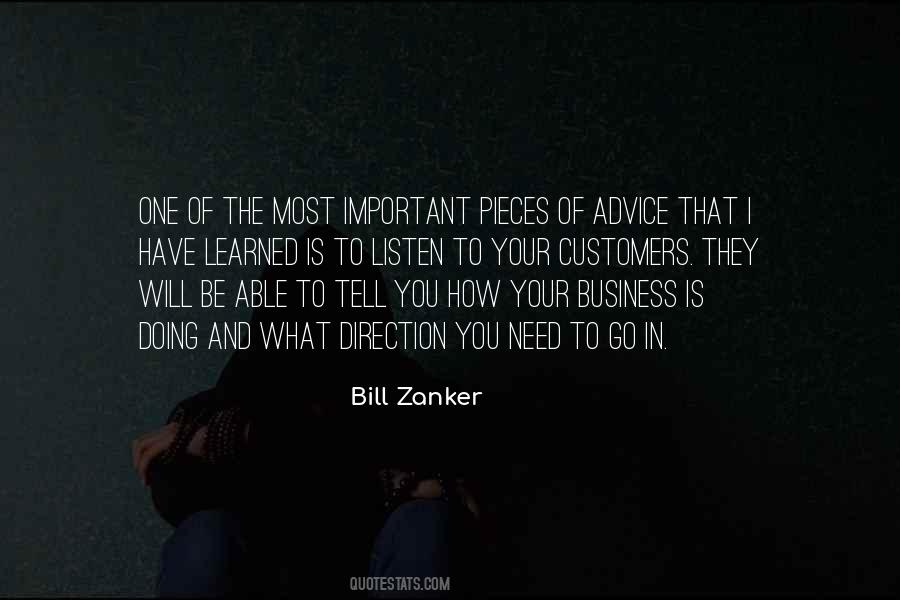 #56. Fine, you do that, and you tell them that at the very first opportunity, I'm coming down there and killing all of them. Mass murder. And after they're all dead, I'm going to kick the bodies around, dance on top of them, and sing a happy song. No jury will convict me. - Author: Nora Roberts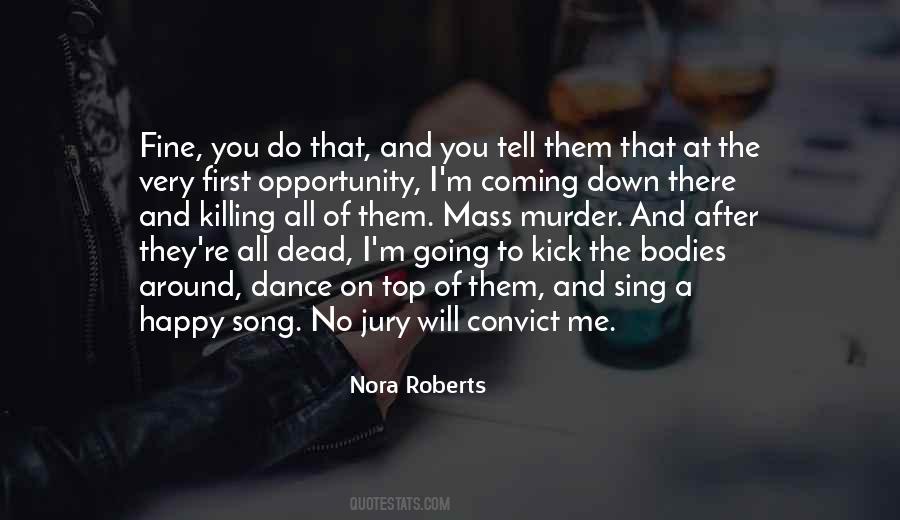 #57. No, the real American has not yet arrived. He is only in the Crucible, I tell you - he will be the fusion of all races, perhaps the coming superman. - Author: Israel Zangwill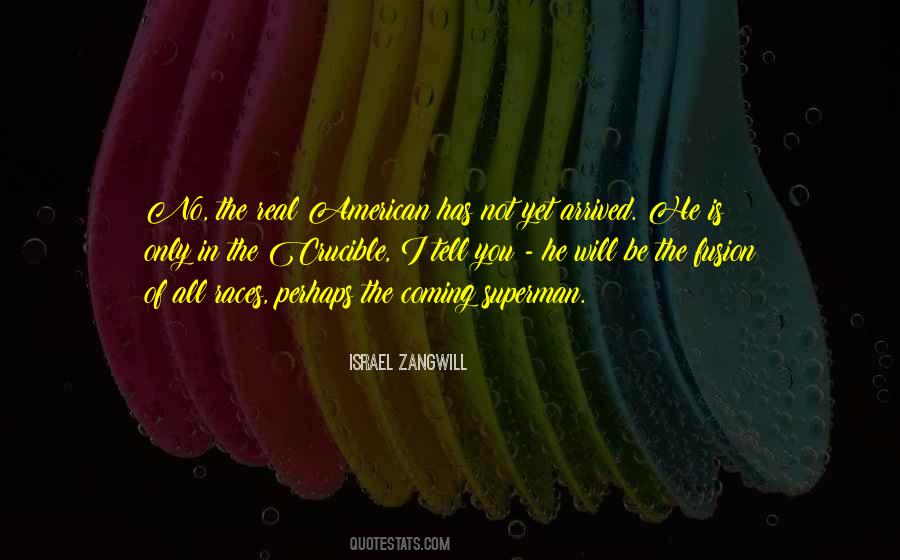 #58. One of the eternal truths of life - People who ask "do you know who I am?" will always, given half a chance, tell you. - Author: Christina Engela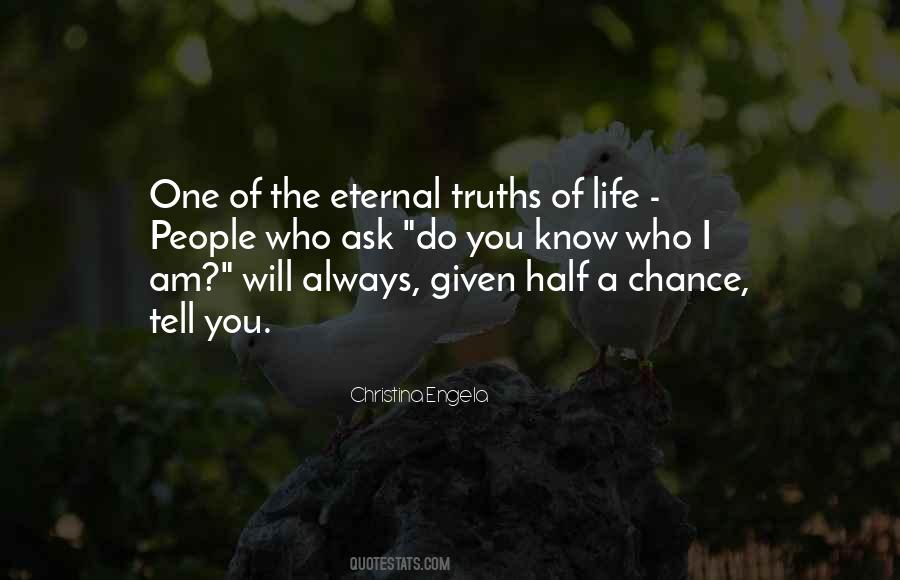 #59. And if we only have a guardian who has this knowledge our State will be perfectly ordered? Of course, he replied; but I wish that you would tell me whether you conceive this supreme principle of the good to be knowledge or pleasure, or different from either? Aye, - Author: Plato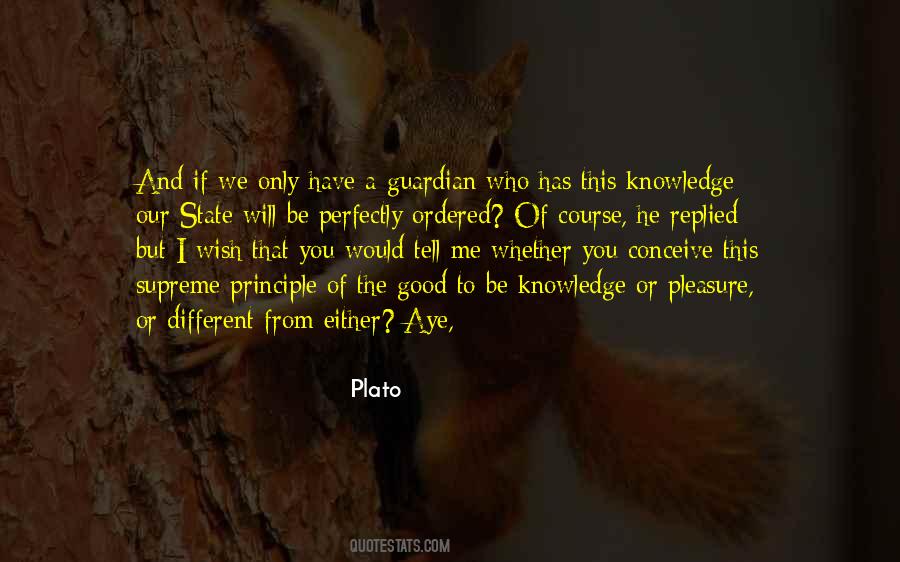 #60. Tell me what the world is saying today, and I'll tell you what the church will be saying in seven years. - Author: Francis Schaeffer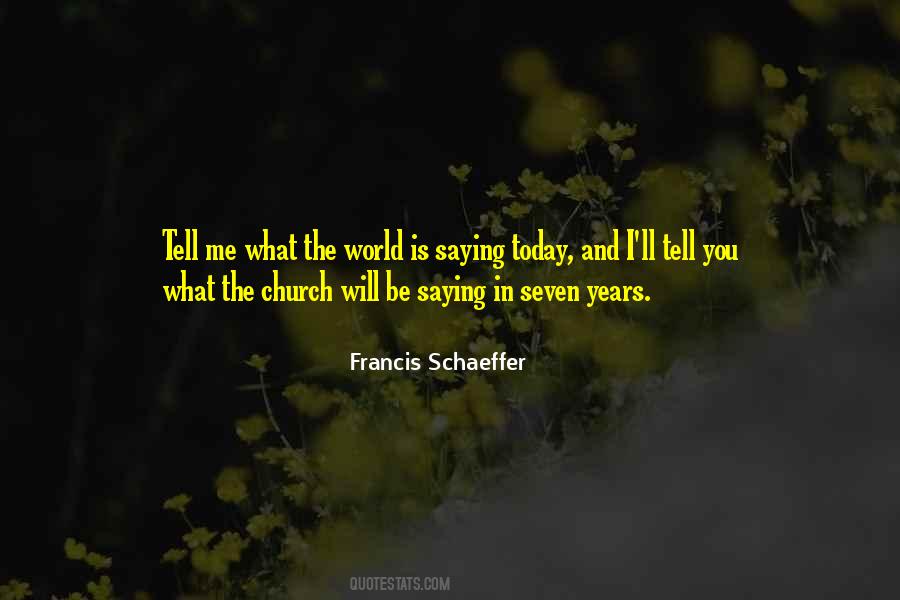 #61. Give me a used Bible and I will, I think, be able to tell you about a man by the places that are edged with the dirt of seeking fingers. - Author: John Steinbeck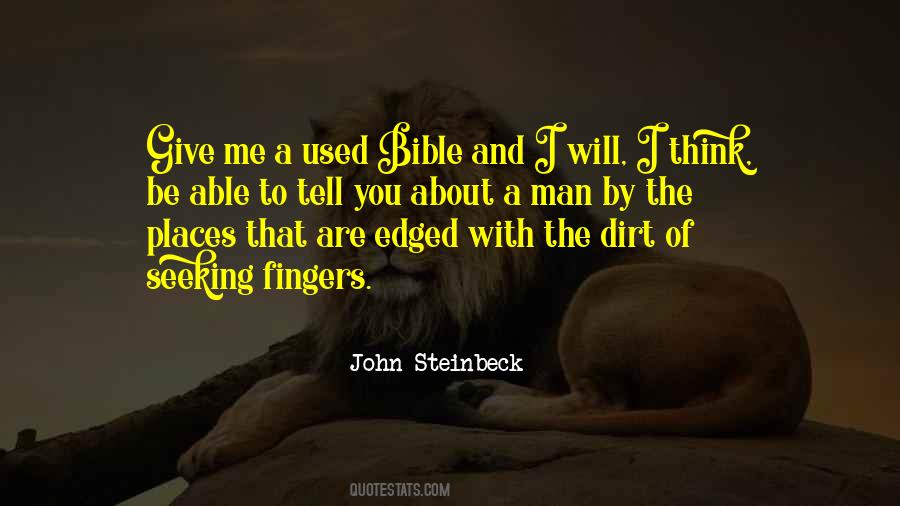 #62. Tell me what you wish for, and if it's any part of my body, your wish will come true at the Regency Hotel in forty minutes." She'd giggled and turned her face to the sunlight. "Free, Jonathan. I wish to be free. - Author: C.D. Reiss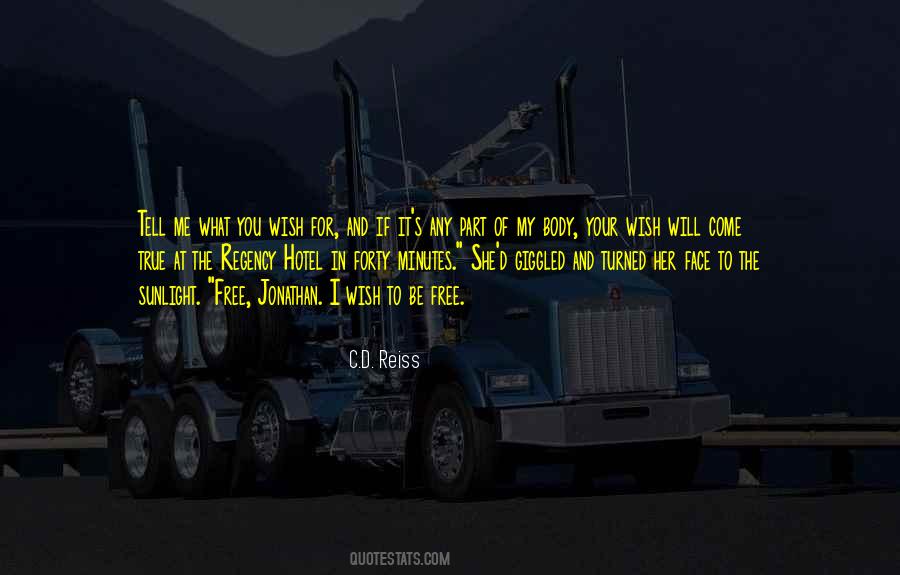 #63. What they don't tell you when you get sober is that if you manage to stay that way, you will bury your friends. Not everyone gets to have a whole new shiny-but-messy life like I have, and I've never come up with a satisfying explanation for why that is. - Author: Nadia Bolz-Weber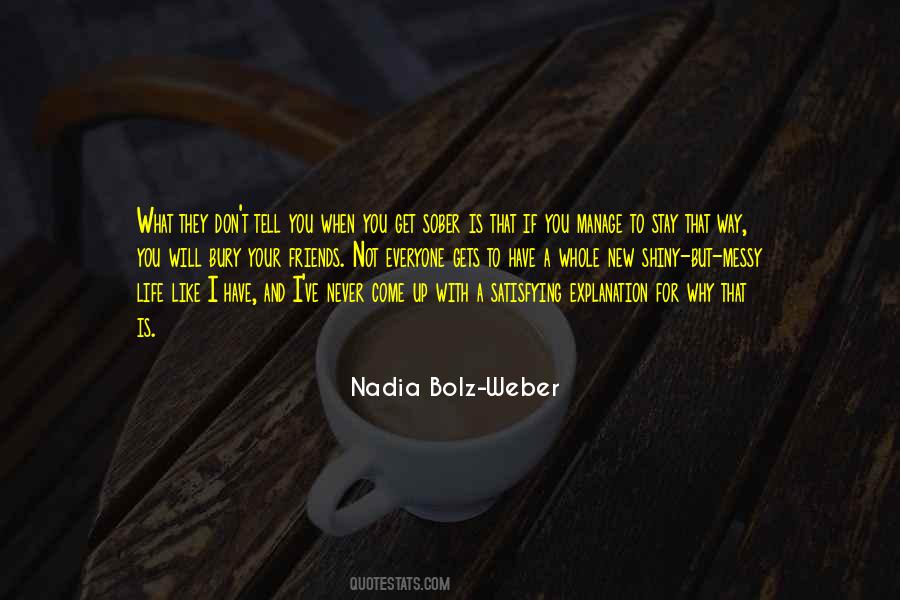 #64. Not that I have anything against dancing. Some guys will tell you it's effeminate but I'm not one of them. Today's dancing is practically sex with your clothes on, dry humping in a room full of people. And I'm definitely into that. - Author: Emma Chase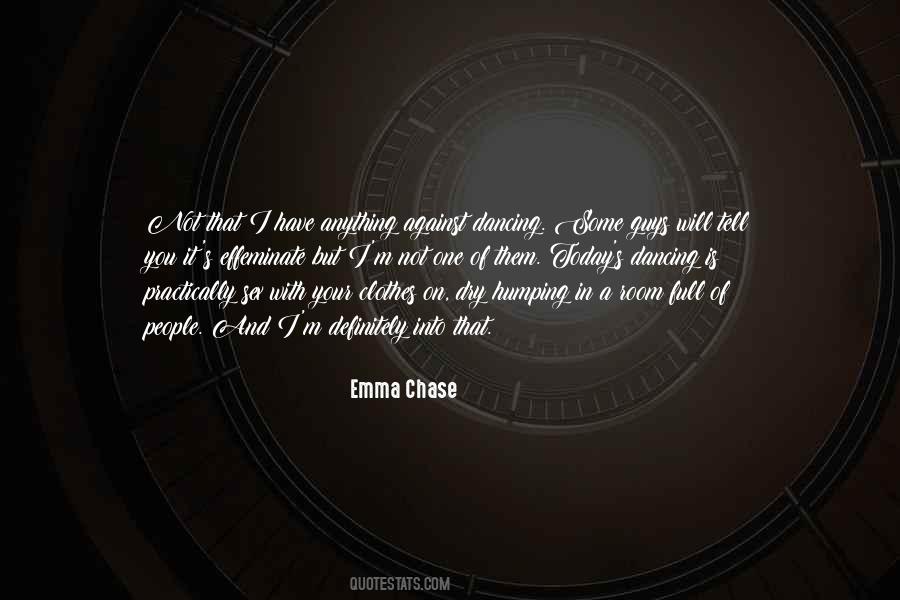 #65. Society tells me to follow my own truth, but I don't let society tell me what to do. If you need someone to tell you that, chances are you're part of the crowd that will move on to the next fashion that comes around. - Author: Criss Jami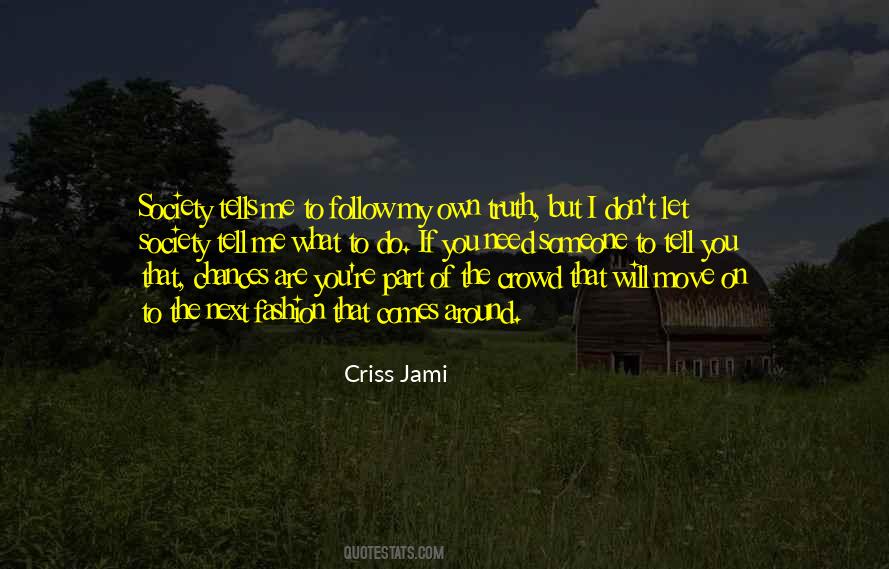 #66. People keep saying, How'd you get power? Nobody gives you power. I'll tell you what power is. Power in my estimation is if people will listen to you. That's it. - Author: David Miscavige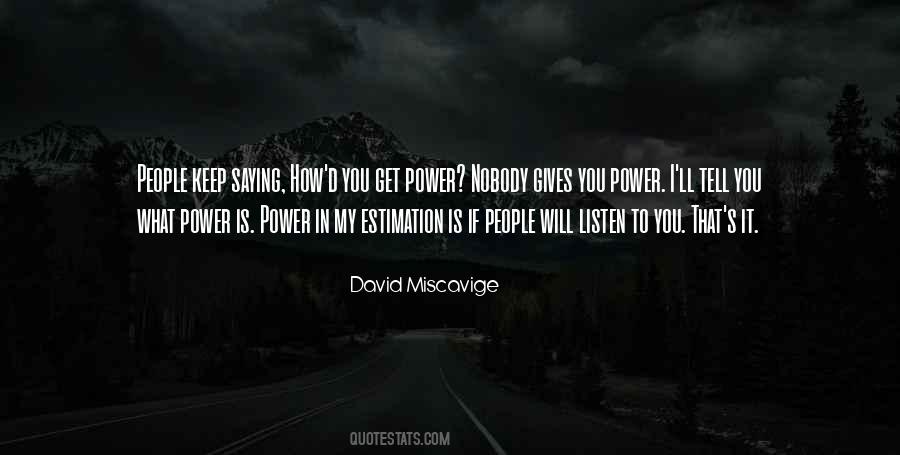 #67. I'll tell you what 20 years teaches you - is that if one thing doesn't last something else will come down the pipe and to go from that and to do these films now. - Author: Blair Underwood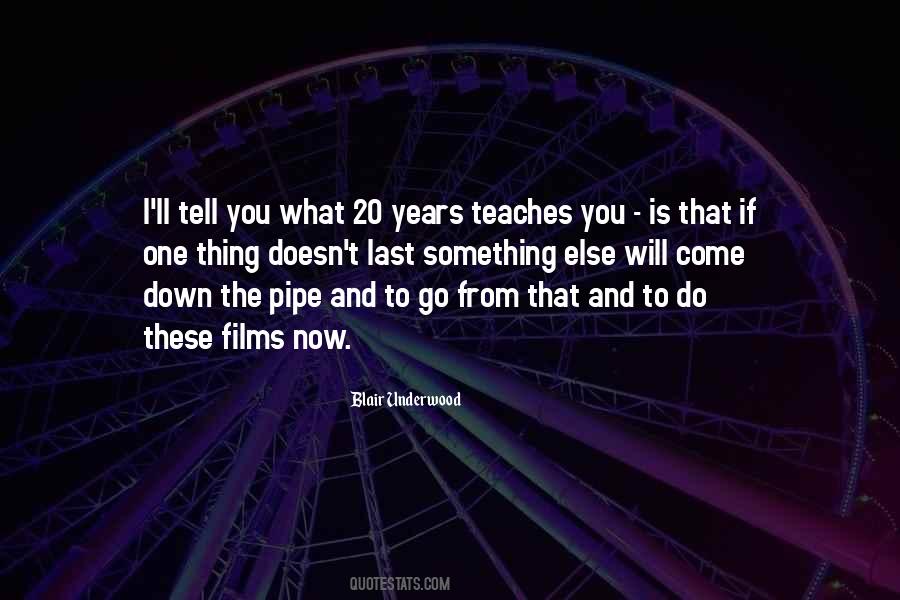 #68. I think first of the children. What the hell am I supposed to tell them? Then I think about money, the house, all those things no widow will tell you ever crossed her mind. - Author: Shannon Celebi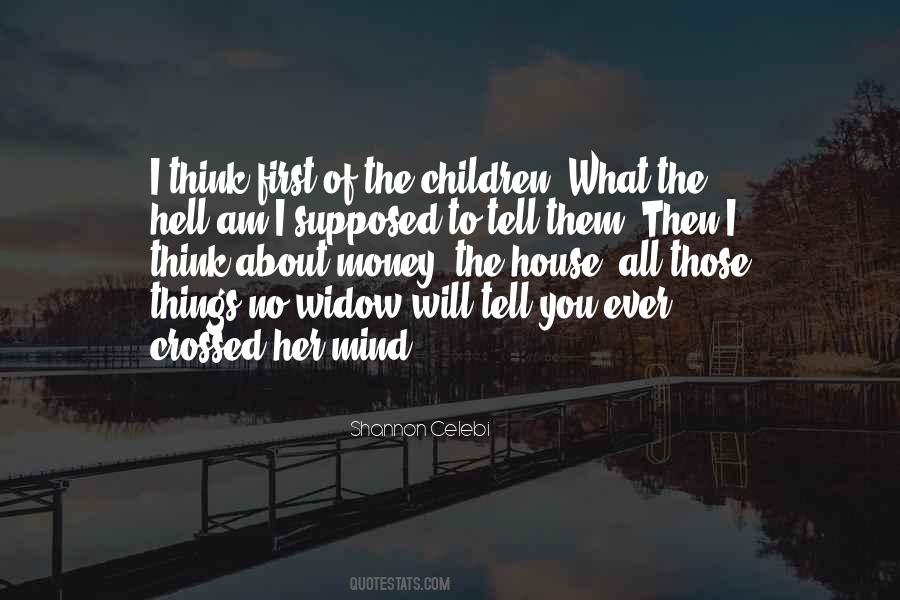 #69. I tell people that I'm not necessarily any good, it's just that there is nobody like me. I just promise you will not be bored. - Author: Andy Andrews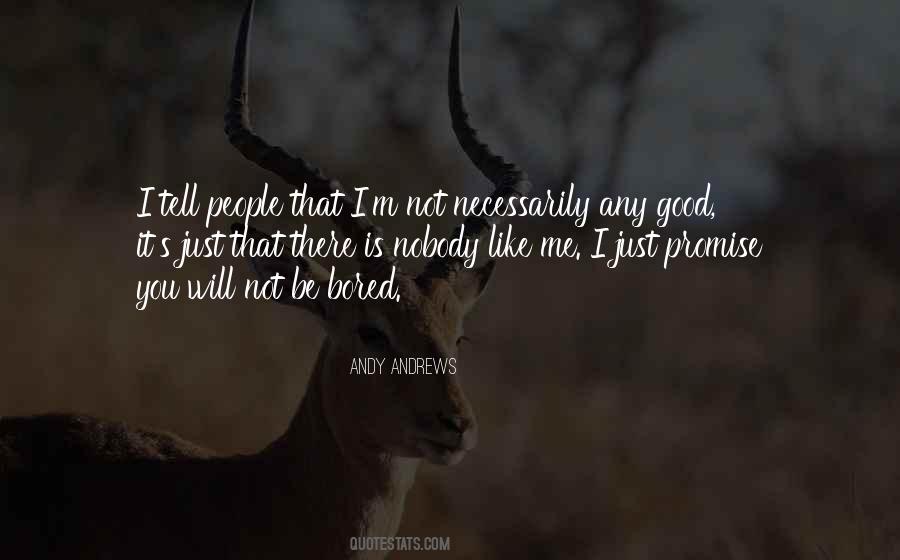 #70. I remembered a mantra that one of my teachers used to tell me at drama school, that every thought will pass across your face. Even if you're thinking about Shreddies the camera will read it. - Author: Ruth Wilson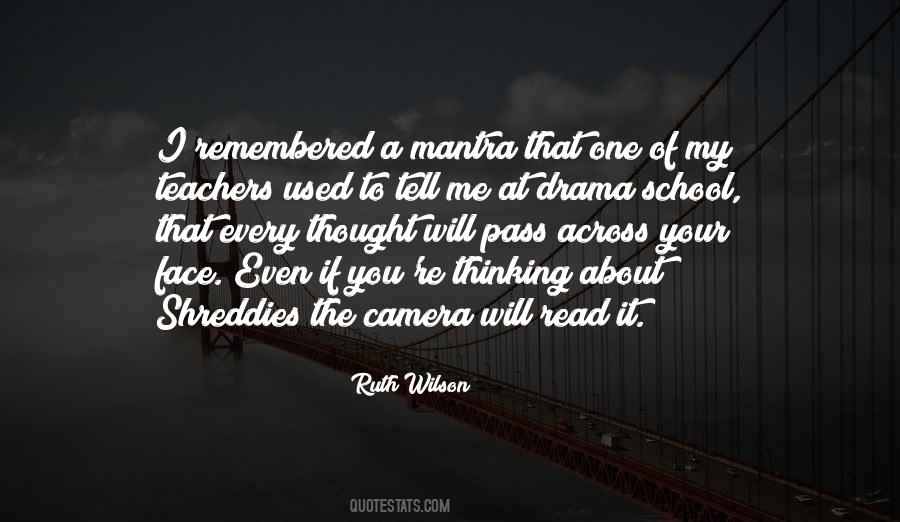 #71. I can't tell you what's in all of God's plans, but I do know part of them. He empowers you with reason and will. Those are your strengths. That's what gives you the chance to be great in his sight. He gave you a mind and codes to live by so you could be in charge of your own actions. - Author: Dan Groat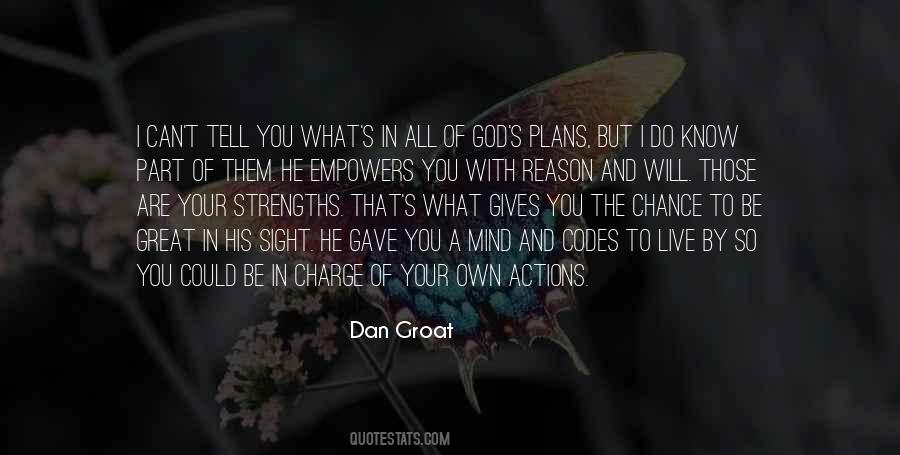 #72. The future belongs to you. Should anyone insult you, tell yourself this: I am a child of destiny who will unite East and West and change the world. - Author: Adeline Yen Mah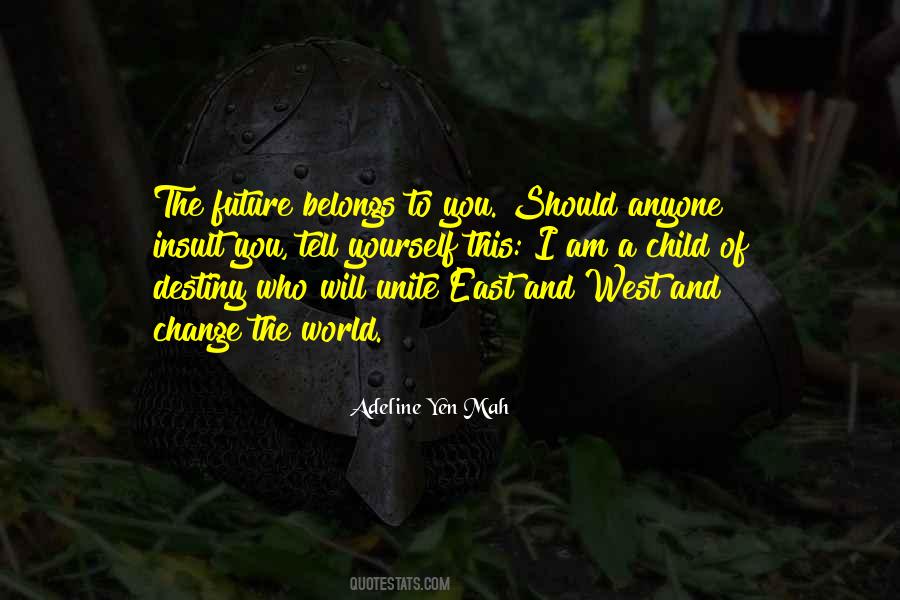 #73. Tell me why the gardener trims and prunes his rosebushes, sometimes cutting away productive branches, and I will tell you why God's people are afflicted. God's hand never slips. - Author: Billy Graham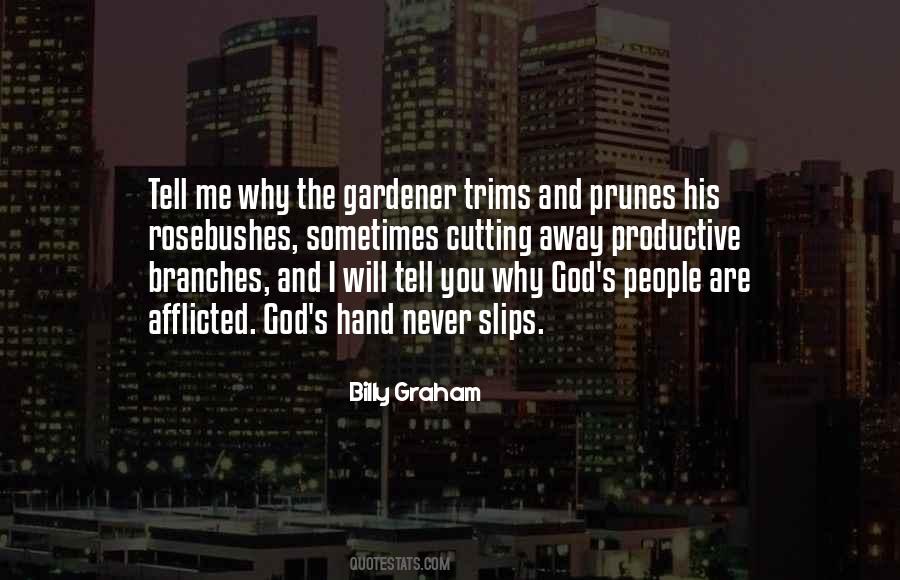 #74. Every human being makes mistakes, so why should you be afraid? Go to the One who can get rid of the mistakes and tell him, 'Sir, these are the kind of mistakes I make', so he will show you the solution. - Author: Dada Bhagwan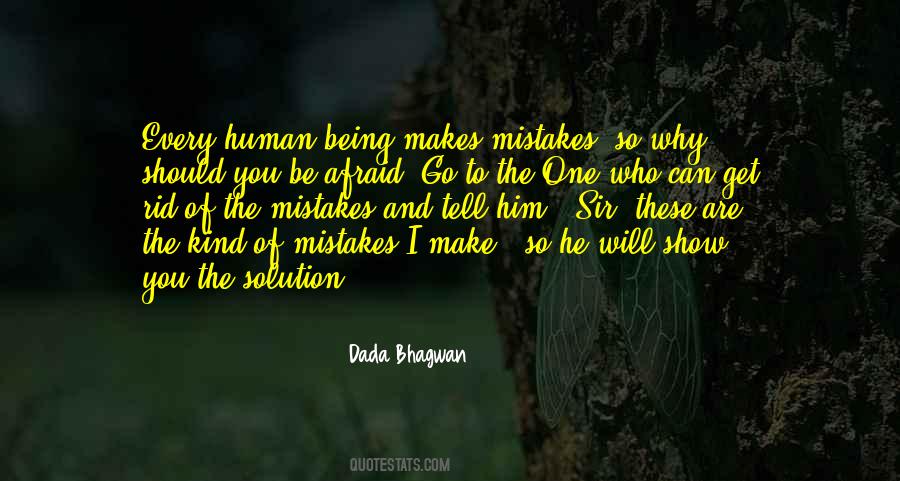 #75. No holy place existed without us then,
no woodland, no dance, no sound.
Beyond all hope, I prayed those timeless
days we spent might be made twice as long.
I prayed one word: I want.
Someone, I tell you, will remember us,
even in another time. - Author: Sappho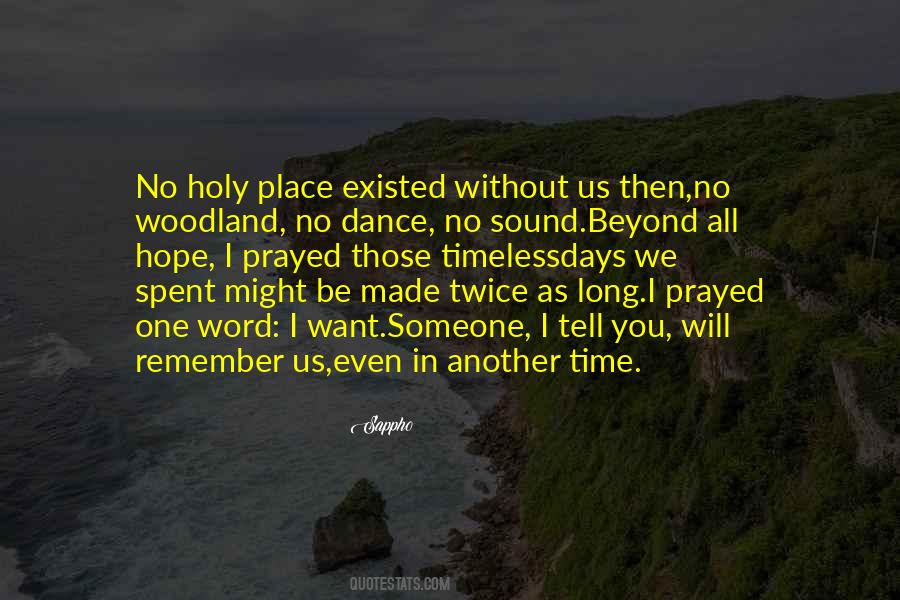 #76. I want you to choose me for me. I want you to say fuck Noah Scott and mean it. When you can do that, really do that, come tell me. It'll happen, I know it will. - Author: C.M. Stunich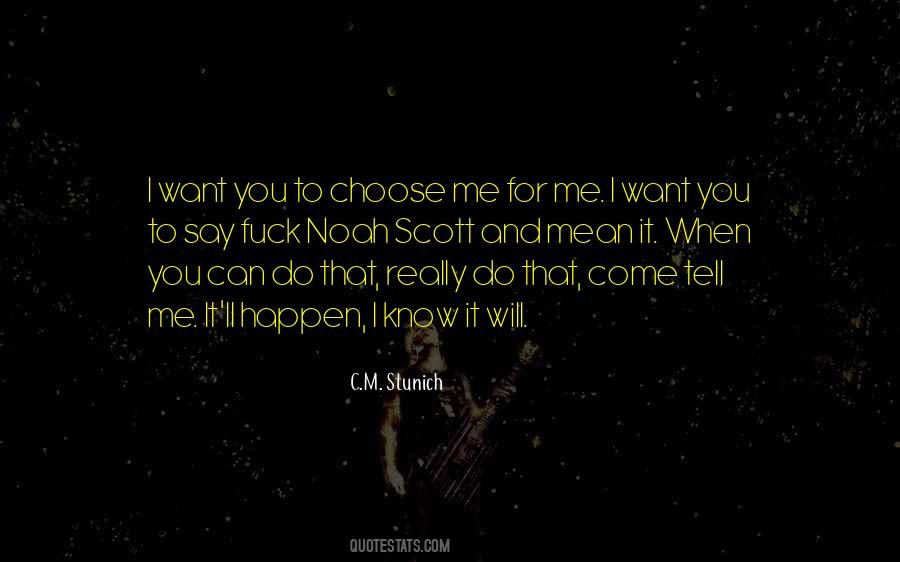 #77. I will be the Vampire Lestat for all to see. A symbol, a freak of nature - something loved, something despised all of those things. I tell you I can't give it up. I can't miss. And quite frankly I am not in the least afraid.
- Lestat, The Vampire Lestat, p. 532 - Author: Anne Rice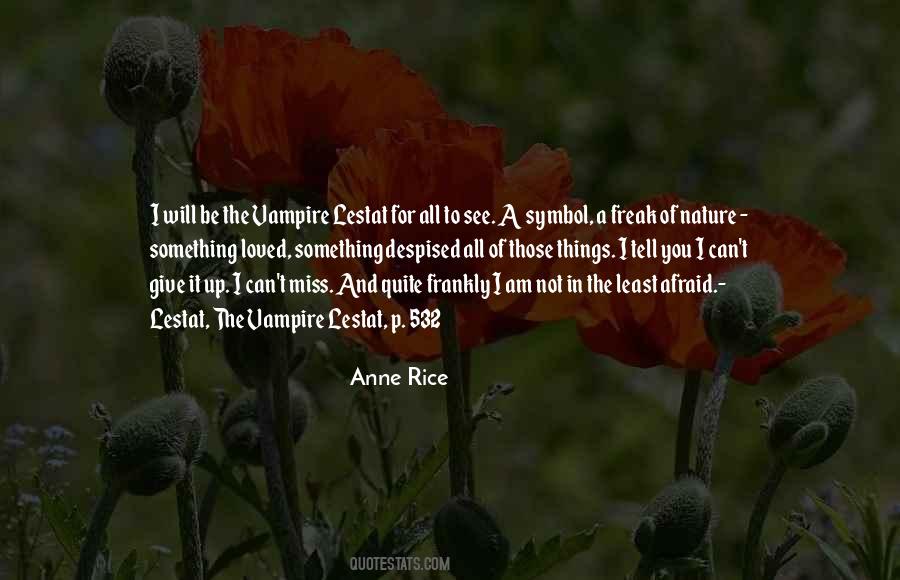 #78. If you feel like it, come with me. I will tell you a story. - Author: Markus Zusak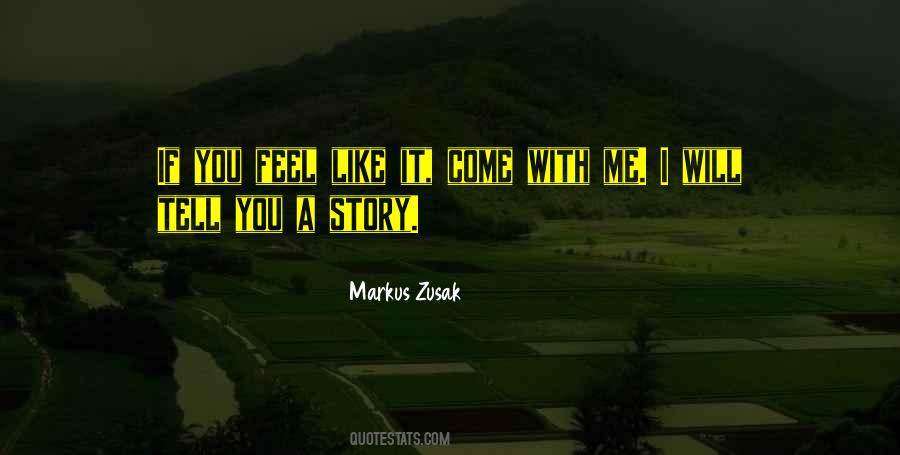 #79. Do you agree with that About saying 'forever' and being sure? I do. Will you tell me when you think you're there? Sure. Good. June? Yes? I'm there. You go ahead and take your time. - Author: Robyn Carr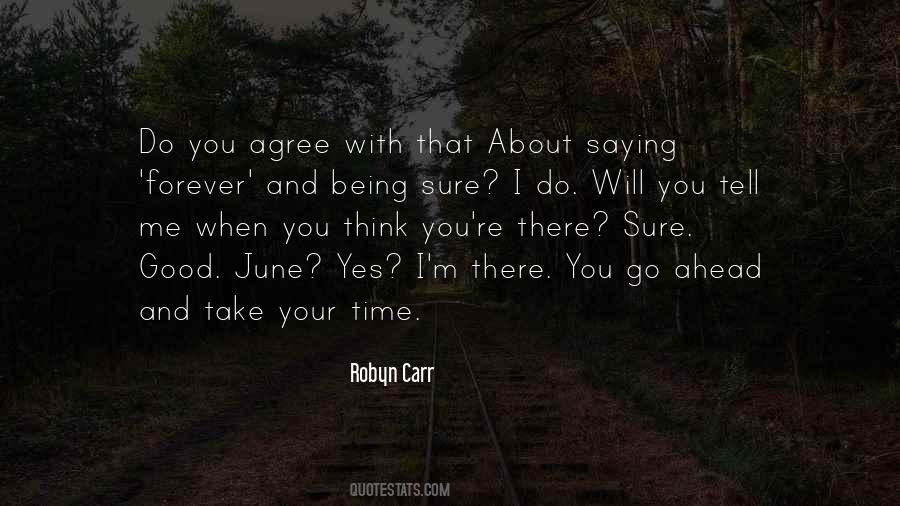 #80. Tell me what you eat, and I will tell you what you are.
- Author: Jean Anthelme Brillat-Savarin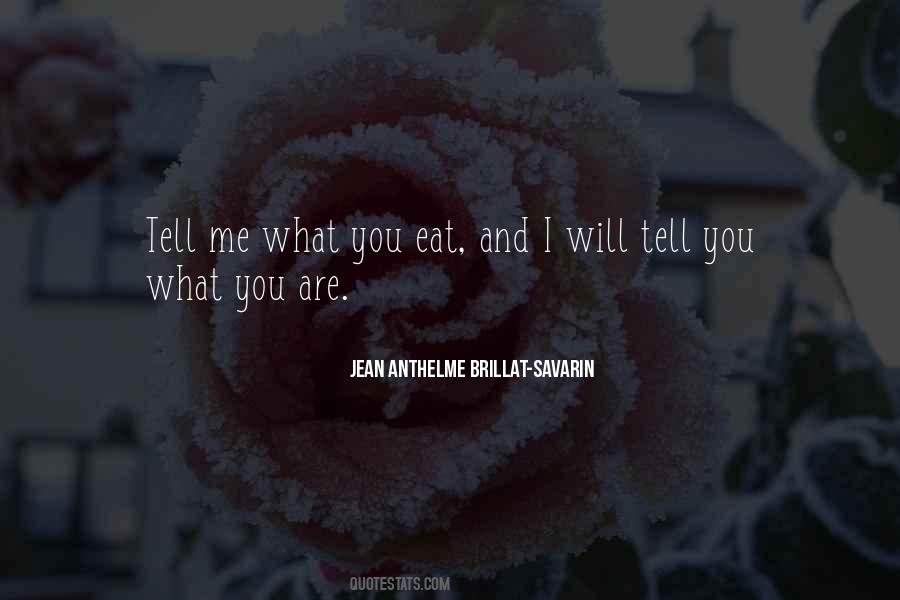 #81. Look at me and tell me it meant nothing to you, and I will let you go. - Author: Sylvain Reynard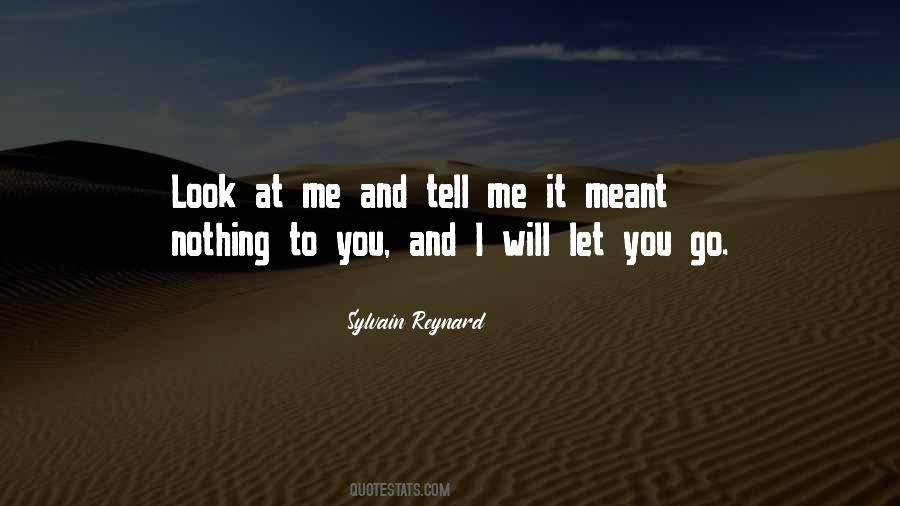 #82. Should I pull on a shirt?" he asked with hint of amusement. I WILL NOT BLUSH. "No." He'd be doing the world a favor if he never wore a shirt again, but I wasn't going to tell him that part. "You're fine. - Author: Gena Showalter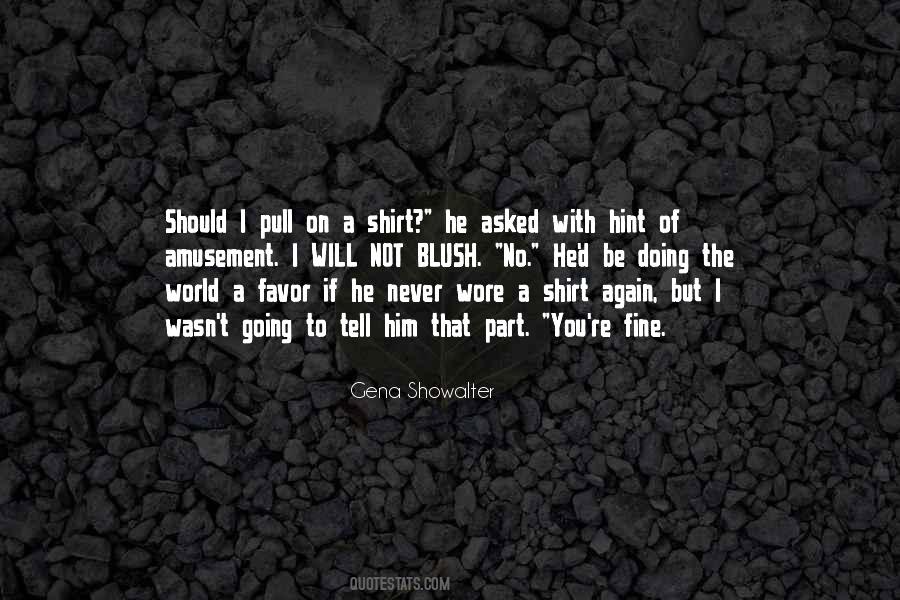 #83. I'll tell you this, I may be dead but my ideas will not die. - Author: Ken Saro-Wiwa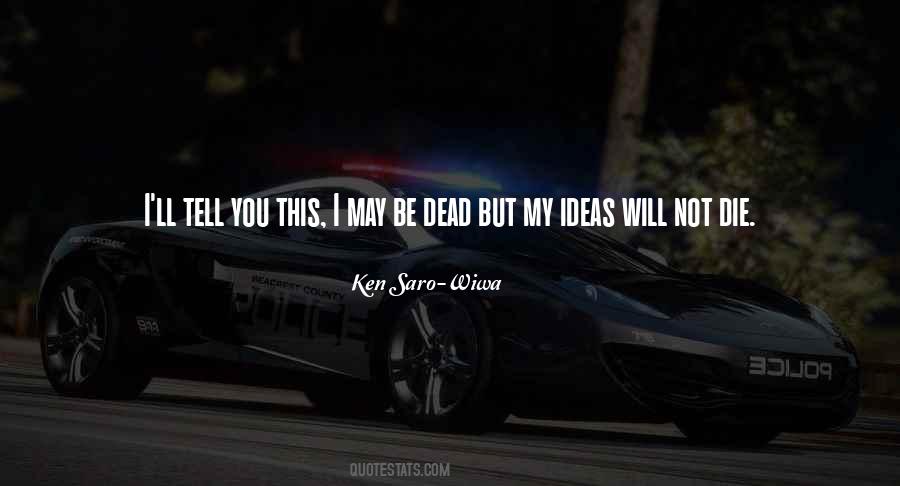 #84. If he sees you unclothed, I will have to kill him," he spoke in her ear. She didn't know if she should believe him or not, but she took no chances. "Tell him to leave, then," she said calmly but sternly. - Author: Madison Thorne Grey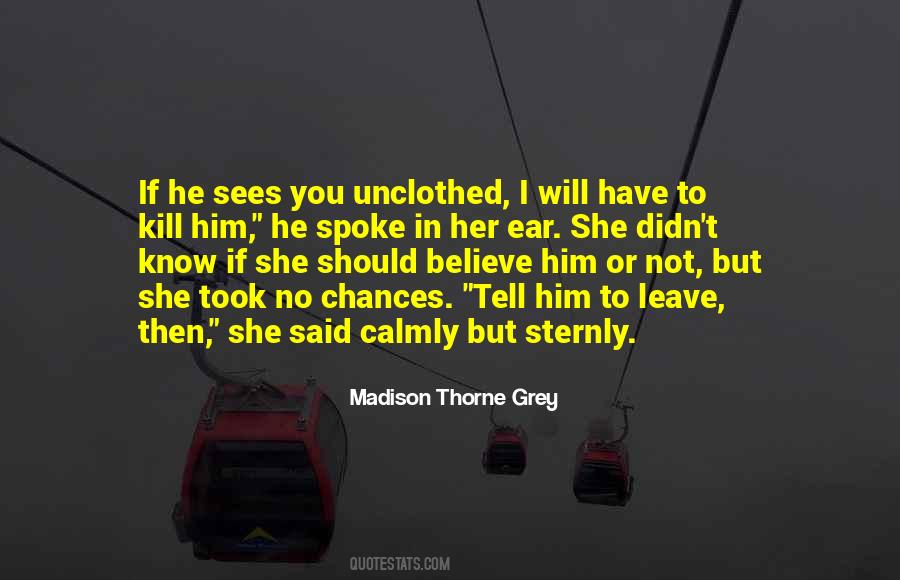 #85. I know they're true." "Because?" "Human nature," he said. "You know how it is. Whatever your intentions, if you have the ability to do something, then you will do it, sooner or later. The temptation is always there, and it can't be resisted forever. Don't tell me you think any different. - Author: Lee Child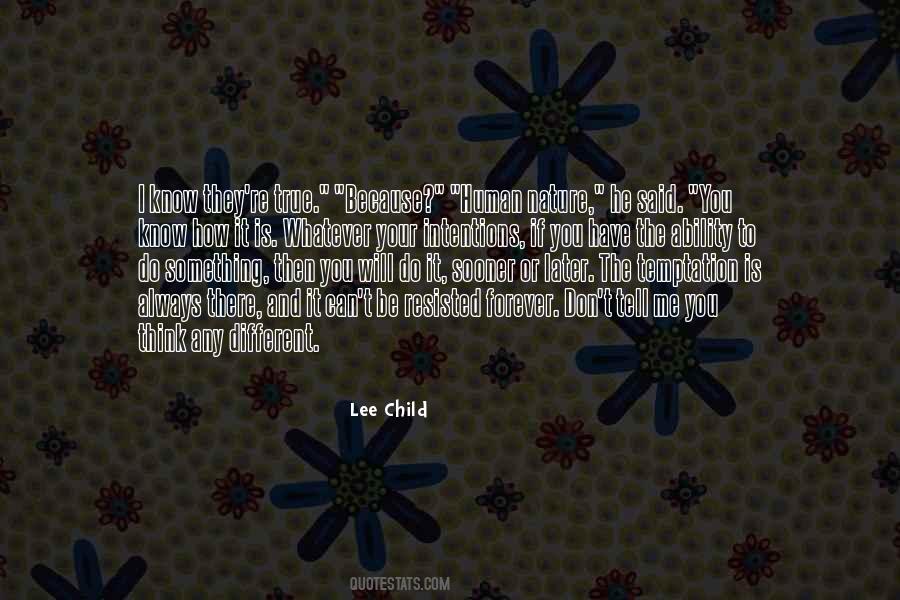 #86. I love rehearsals and I love creating a character, sticking with it until you have something to tell. It's always different though. Sometimes a director will tell you from day one what they want. Then you throw in your idea. - Author: Gael Garcia Bernal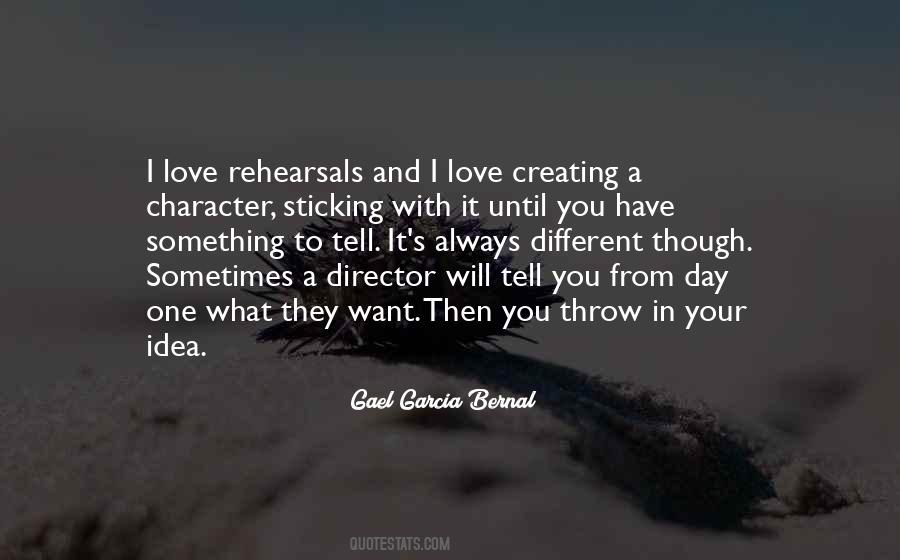 #87. My wife always says that I will be stuck with this forever: I am the difficult one. With Jack Nicholson they always said it was drugs. Warren Beatty is supposed to have screwed everything that jumped off the curve. I'll tell you, in reality a few of us had as many girls as Warren. - Author: Dustin Hoffman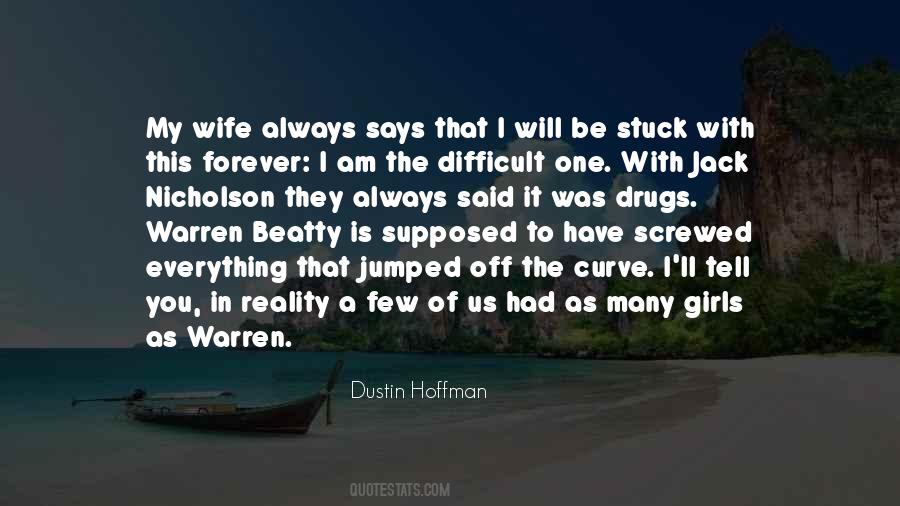 #88. Tell me how you measure me, and I will tell you how I will behave - Author: Eliyahu M. Goldratt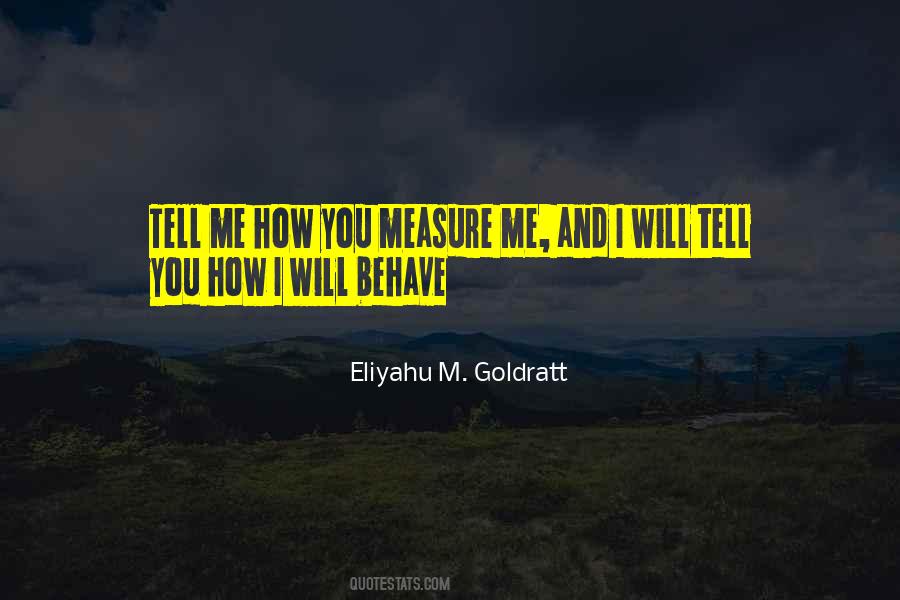 #89. Your excellencies' wishes; only, I tell you beforehand, the carriage will cost you six piastres a day. - Author: Alexandre Dumas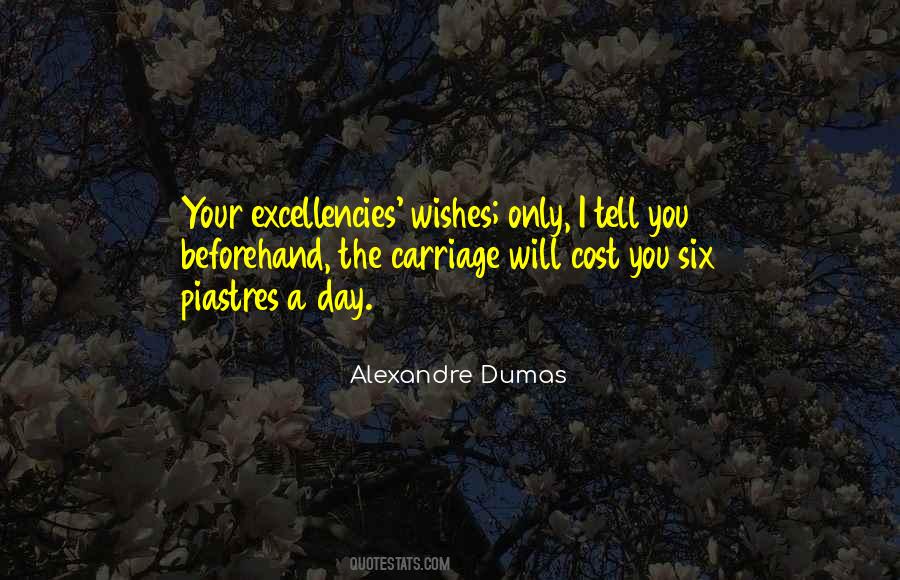 #90. I will tell you something about stories ... They aren't just entertainment. Don't be fooled. They are all we have, you see, all we have to fight off illness and death. - Author: Leslie Marmon Silko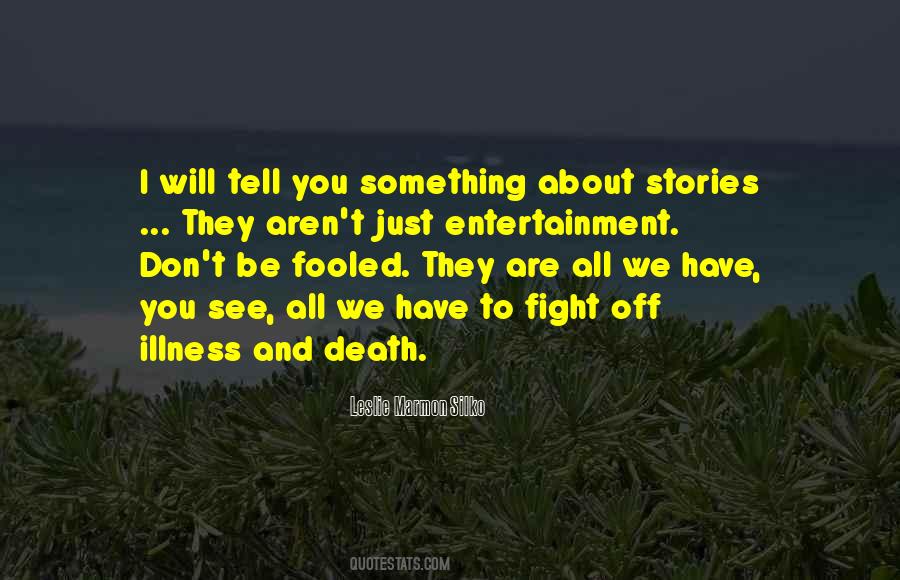 #91. Tell me what a man does in the matter of Bible-reading and praying, in the matter of Sunday, public worship, and the Lord's Supper, and I will soon tell you what he is, and on which road he is travelling. - Author: J.C. Ryle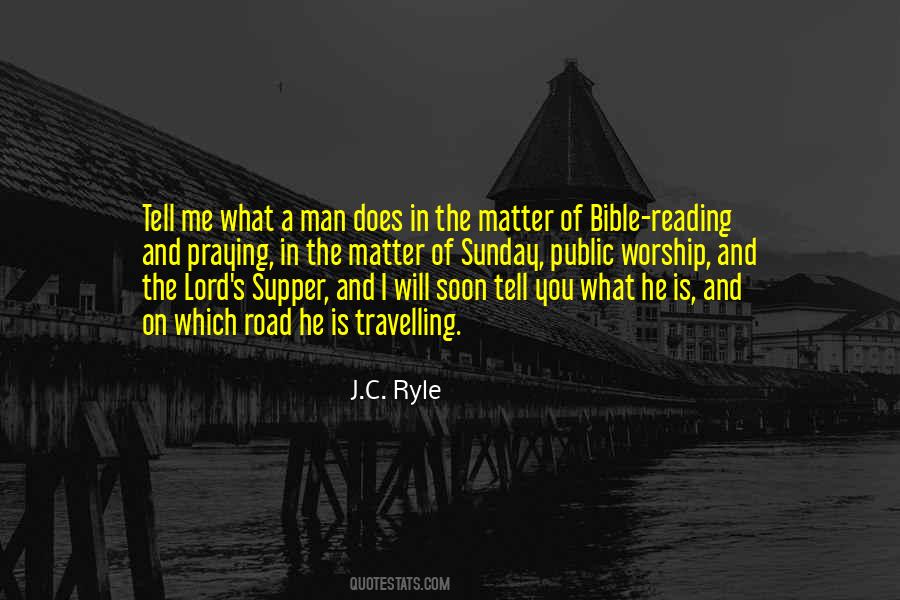 #92. If you tell me I have to talk like an illiterate halfwit to fit into this society, I will punch you. - Author: Kevin Hearne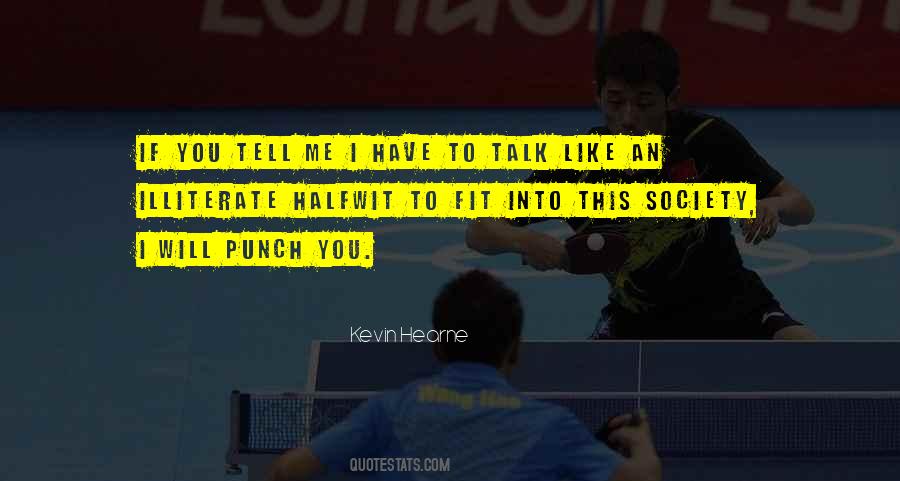 #93. I will never tell another person, "I don't understand you ... " and why? Because if I say that, it means that I am disabled in a way. The inability to connect to another's perspective is, I believe, a disability. - Author: C. JoyBell C.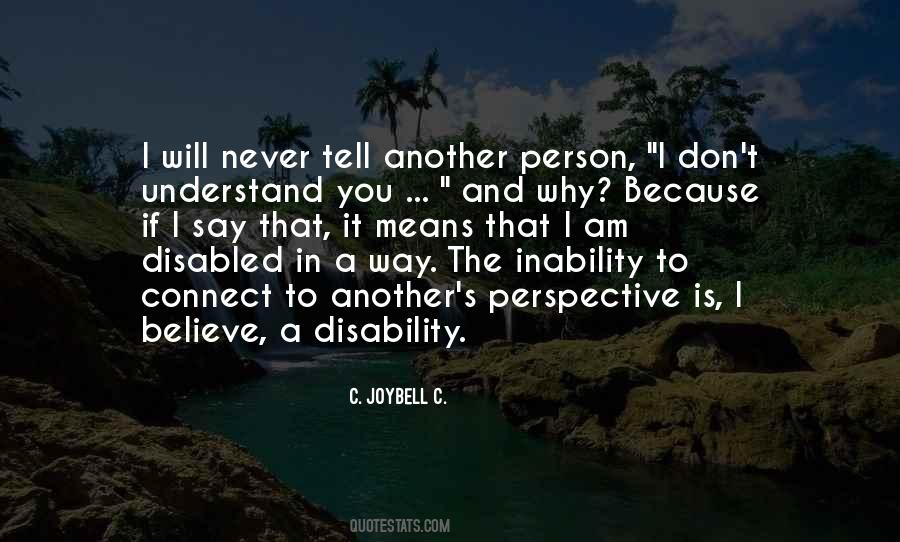 #94. I will tell you the secret to getting rich on Wall Street. You try to be greedy when others are fearful. And you try to be fearful when others are greedy. - Author: Warren Buffett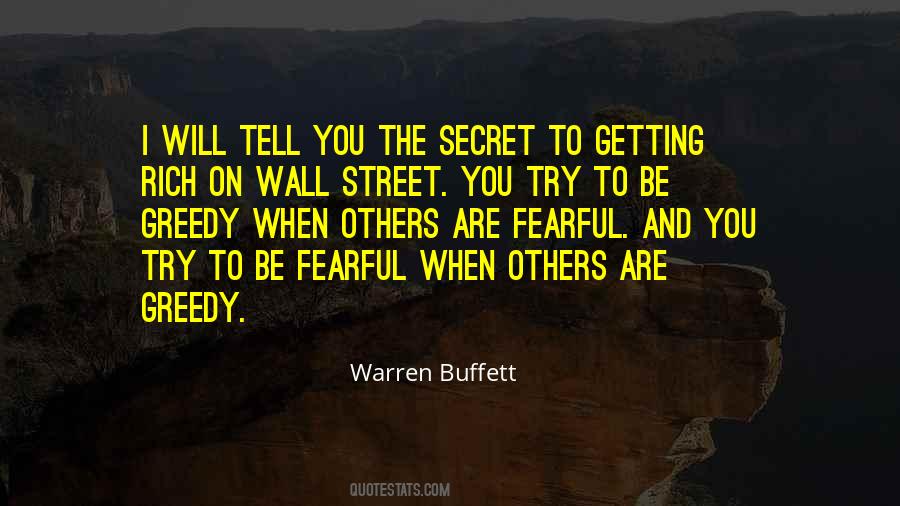 #95. I may as well tell you, here and now, that if you are going about the place thinking things pretty, you will never make a modern poet. Be poignant, man, be poignant! - Author: P.G. Wodehouse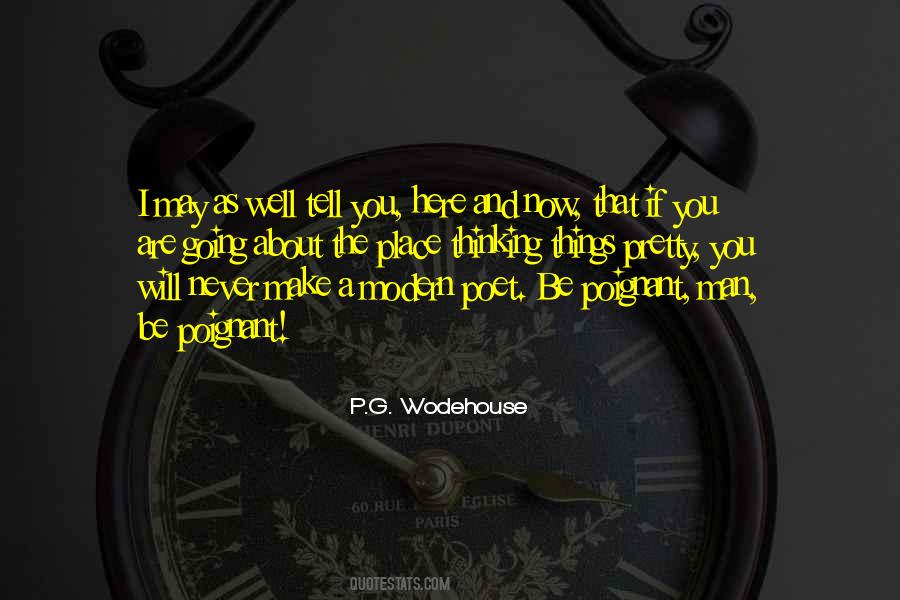 #96. Not just me but every professional footballer will tell you they miss playing the game, I miss the game especially as I retired early, not because I was a bad player but I retired solely for health reasons. - Author: Fabrice Muamba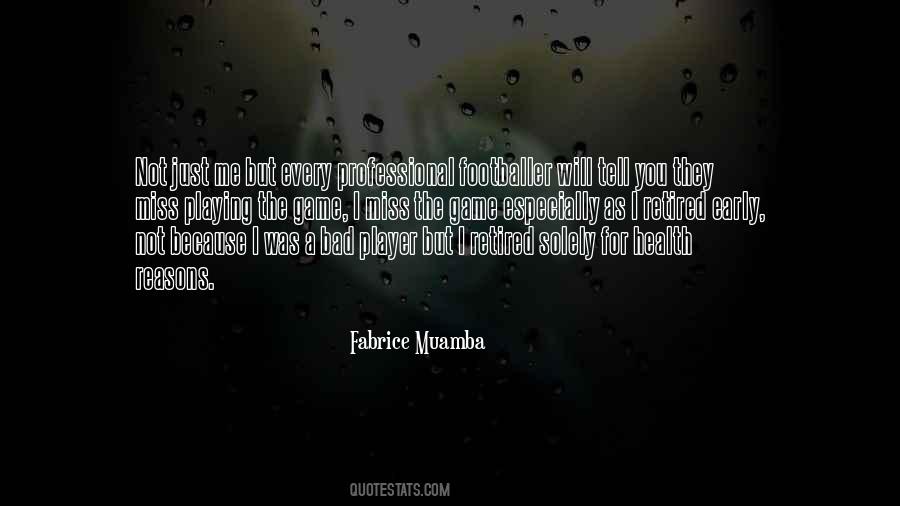 #97. My love for you is indescribable, it means more than words can ever say, and I just wanted to tell you I LOVE U and will FOREVER... - Author: Bernard Dsa
#98. People are dying to tell you their secrets; it's just a matter of getting the conversation going in the right direction. If you just let people fill the silence, they will let you the most extraordinary things. I sometimes wonder if afterward they remember what they've said. - Author: Charles McCarry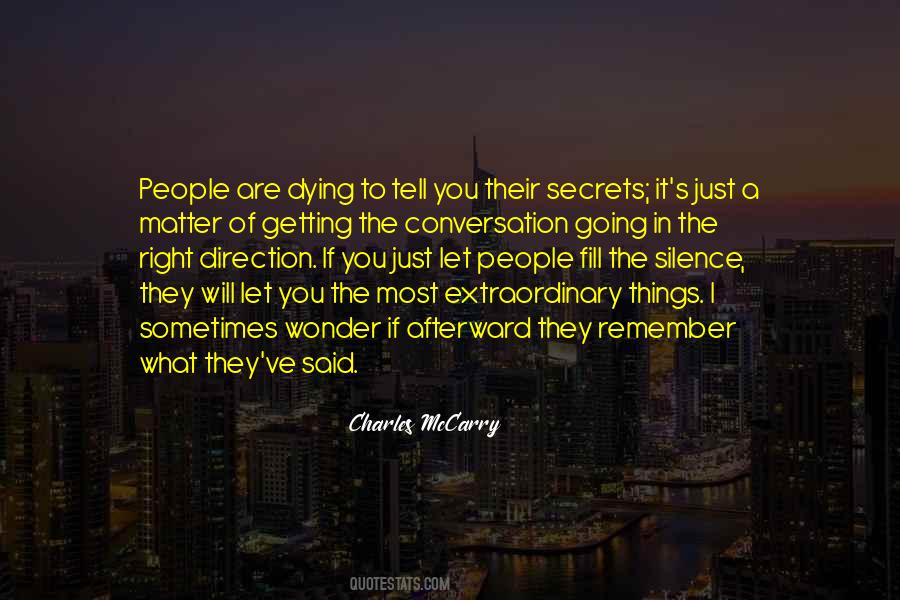 #99. Can't believe you're making me say this am willing to fill any role required by you i.e. buddy best buddy laborer unpaid driver unpaid gardener unpaid father of your children coat etc just tell me which and how we'll manage come home will square things with your Pa - Charlie - Author: Helen Oyeyemi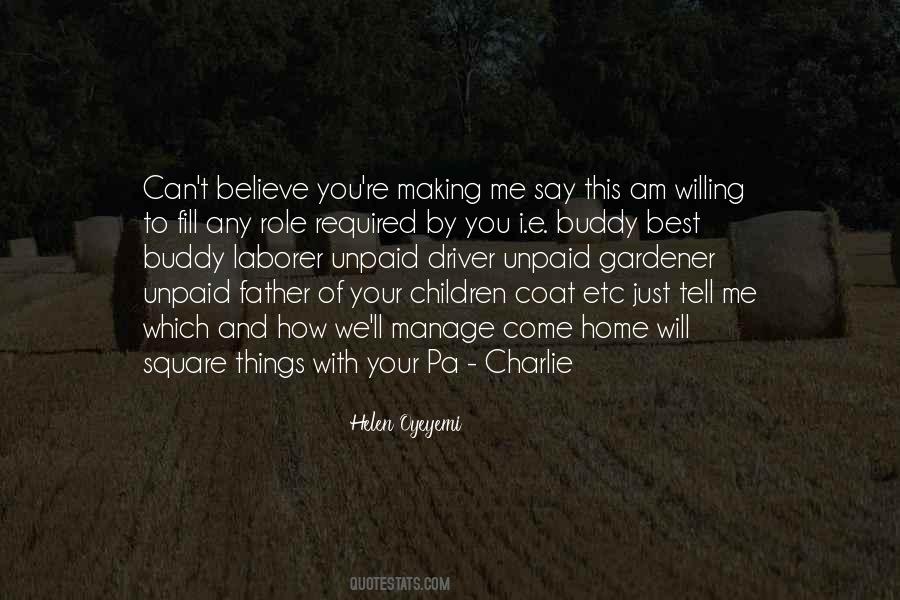 #100. Alan! How many more times do I have to tell you? We do not say "see you soon" to customers when they leave our shop. We say "goodbye", because they won't be coming back, ever. When will you get that into your thick head? - Author: Jean Teule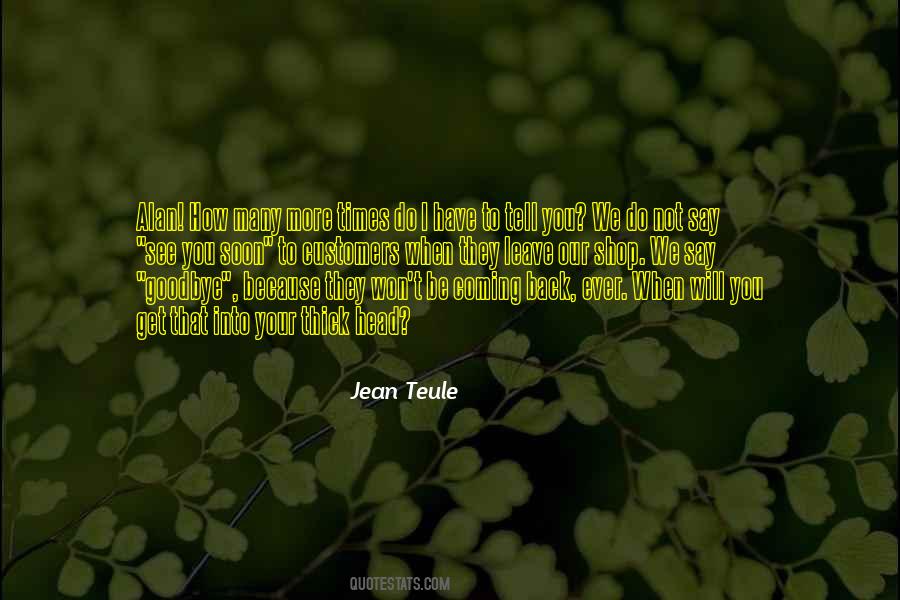 Famous Authors
Popular Topics