I Will Keep Moving Forward Famous Quotes & Sayings
List of top 48 famous quotes and sayings about i will keep moving forward to read and share with friends on your Facebook, Twitter, blogs.
Top 48 I Will Keep Moving Forward Quotes
#1. Today I will focus on a peaceful pace, rather than a harried one. I will keep moving forward gently, not frantically. I will let go of my need to be anxious and upset and will replace these feelings with calmness and harmony. - Author: Melody Beattie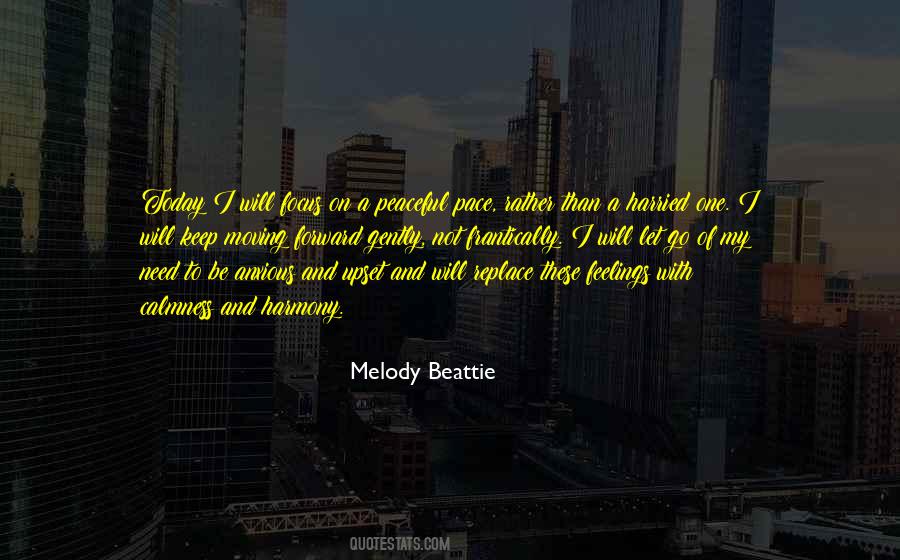 #2. It Ain't How Hard You Hit ... It's How Hard You Can Get Hit and Keep Moving Forward. It's About How Much You Can Take And Keep Moving Forward! - Author: Sylvester Stallone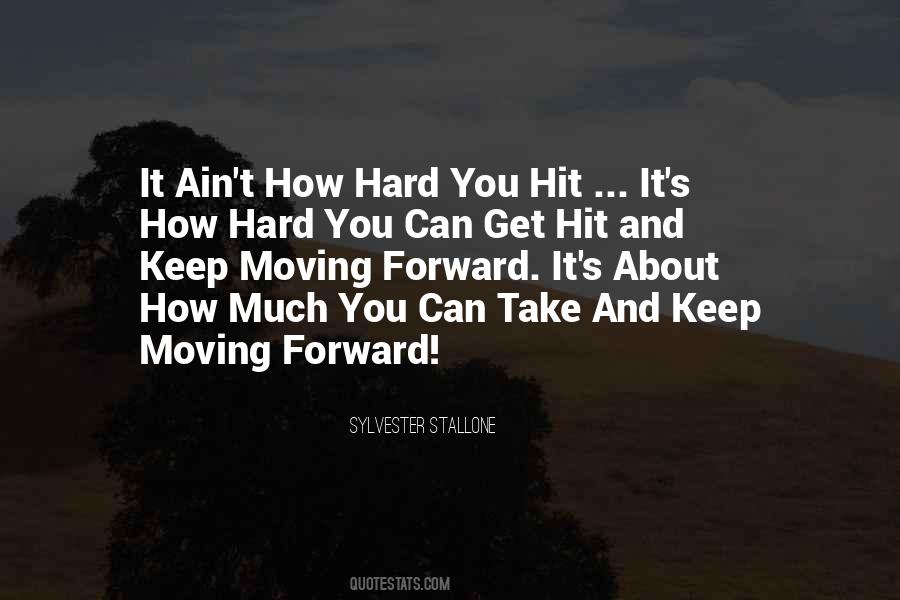 #3. Don't give in to the darkness, for there is so much life ahead of you. - Author: Seth Adam Smith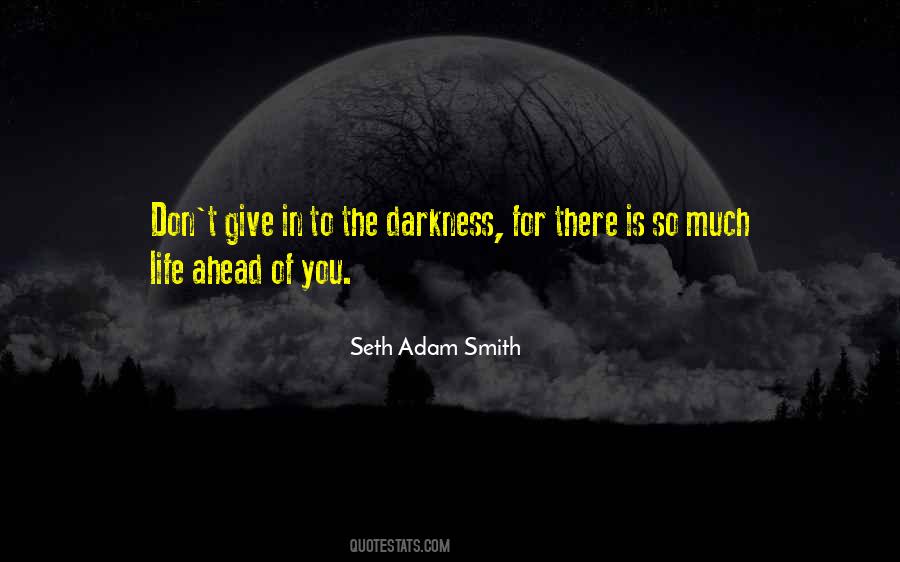 #4. Having faith is like having an extra energy source. It allows you to keep moving forward when all logic tells you, you can't. - Author: Michael Rogers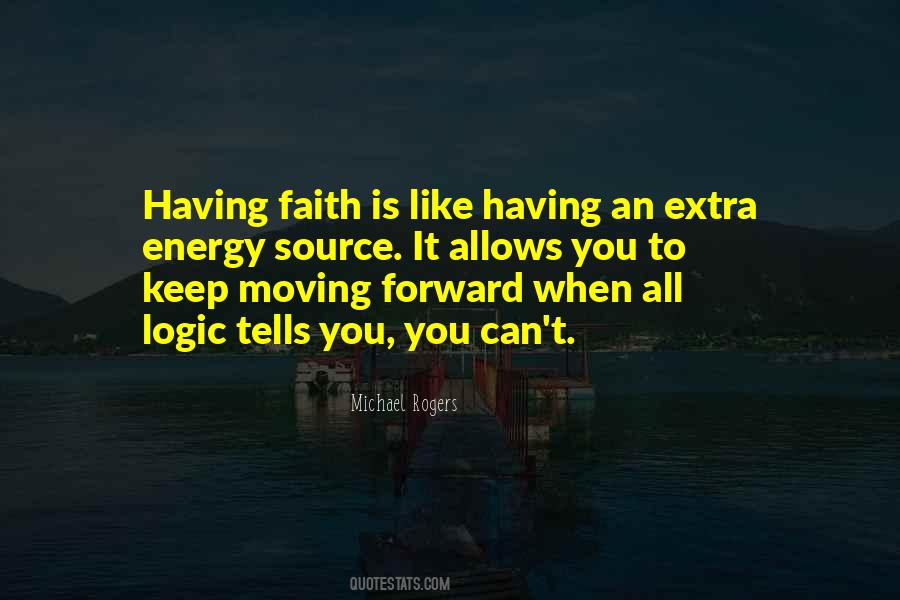 #5. Forgiving yourself is the first step, forgetting, well it never goes away. Moving forward and walking with one foot in front of the other does get you somewhere. Just keep walking. - Author: Shellie Palmer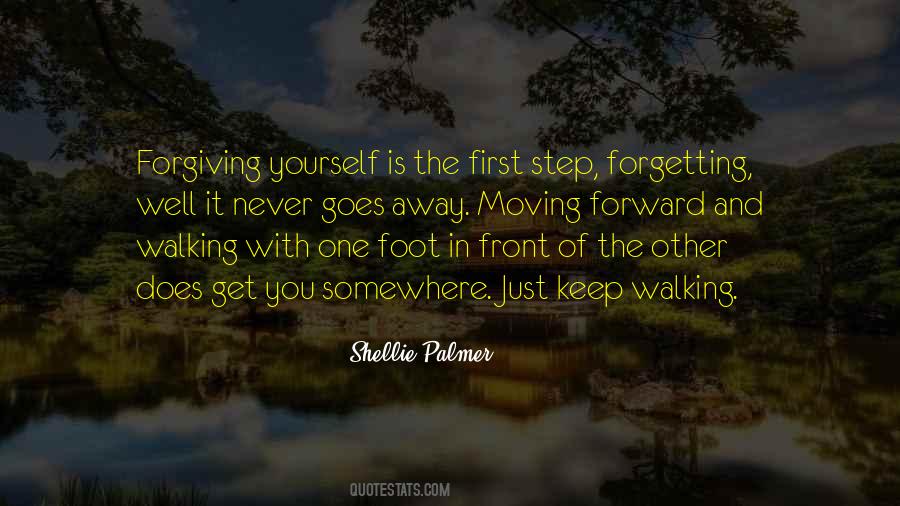 #6. Commitment to each other is critical. Let's make our deadlines and due dates mean something. For changes to occur, we have to embrace them over and over. Take it step by step
but keep moving forward
and a year from now, we'll find we've moved from here to there. - Author: Rhonda Abrams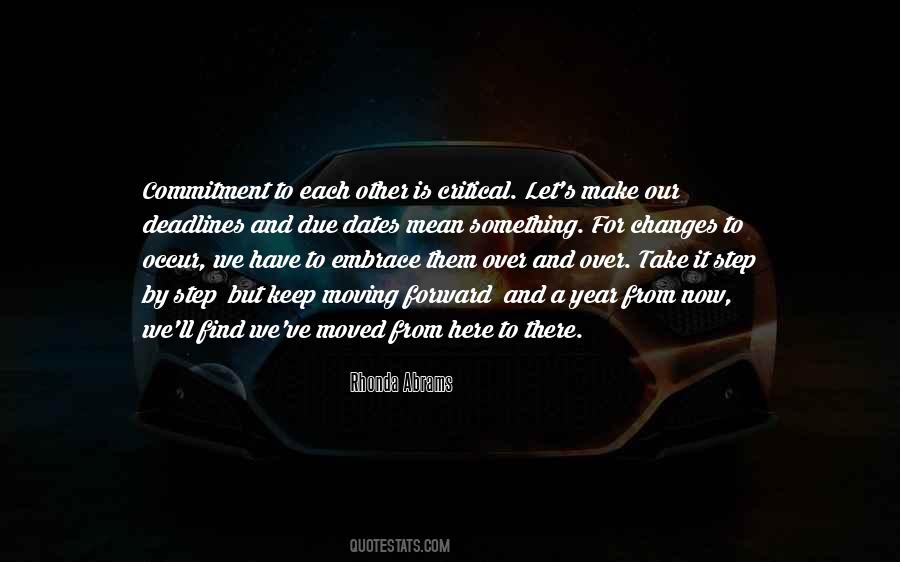 #7. If you can't fly run, if u cant run
then walk, if you can't walk then crawl
but whatever you do keep moving forward. - Author: Martin Luther King Jr.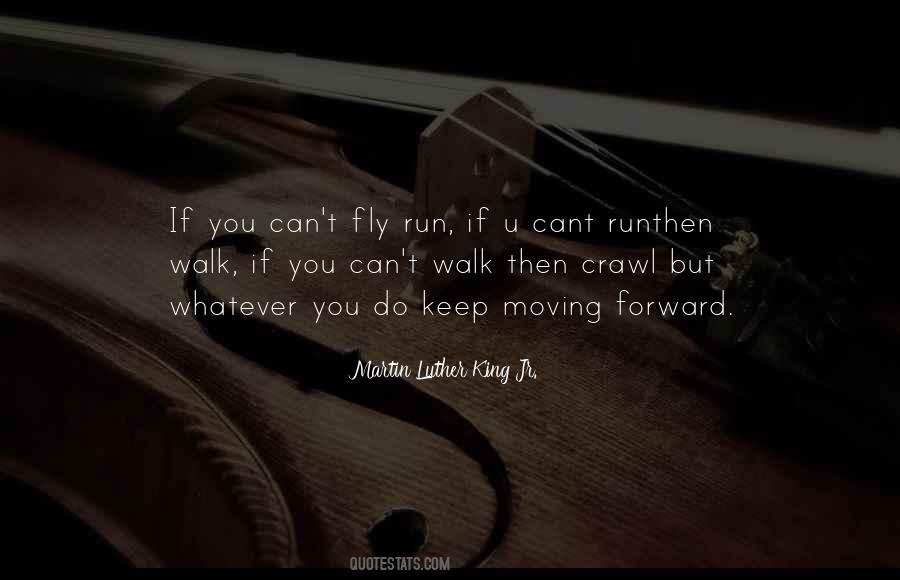 #8. Artists in not only country but other genres usually make four or five albums, then they change producers to keep their sound moving forward. - Author: Juice Newton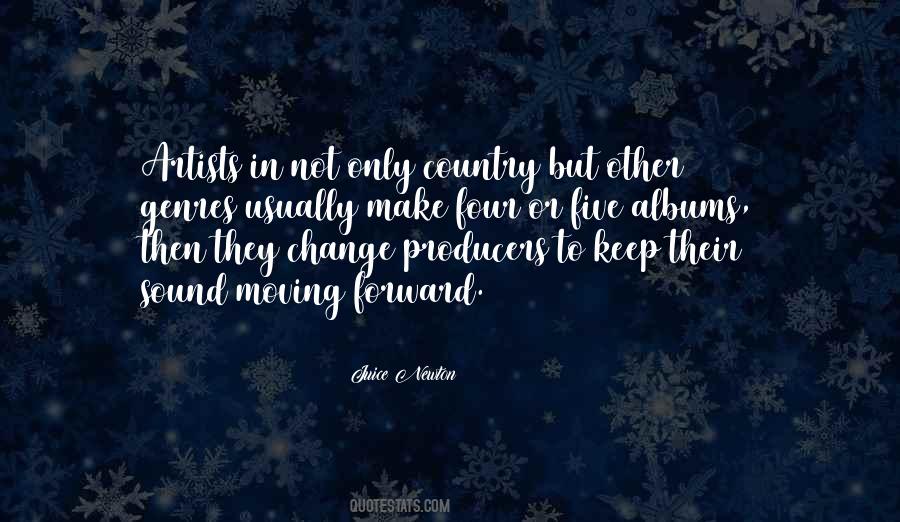 #9. Don't be discourage by your problems.
Let your passion and dreams inspired you to keep moving forward. - Author: Lailah Gifty Akita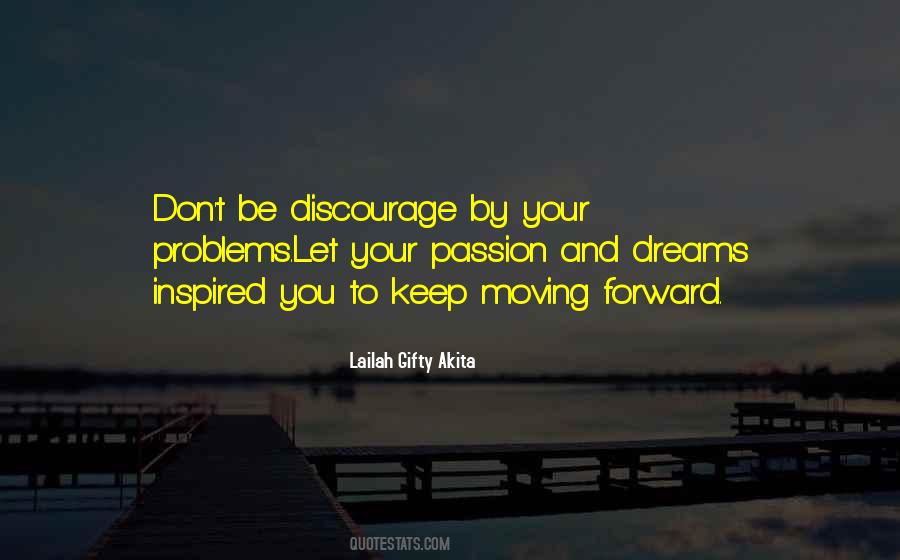 #10. Keep being persistent in your work and keep moving forward - Author: Sunday Adelaja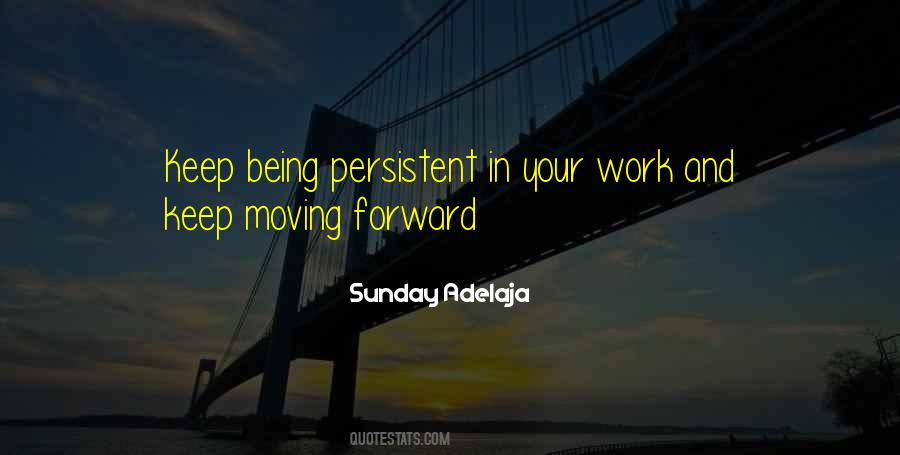 #11. I must keep moving forward. - Author: Realm Lovejoy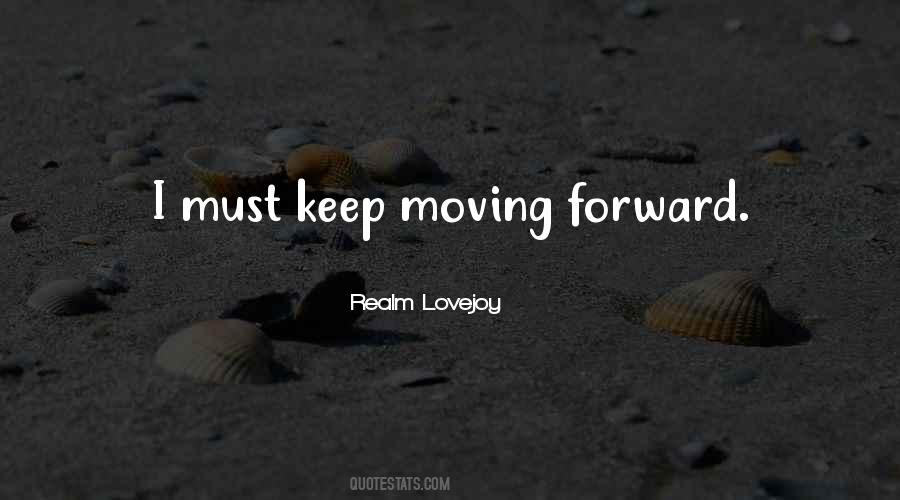 #12. When you prepare a list of improvements and you make them small and achievable, you won't just stick to then, you'll increase the chances that you'll keep moving forward. - Author: Georges St-Pierre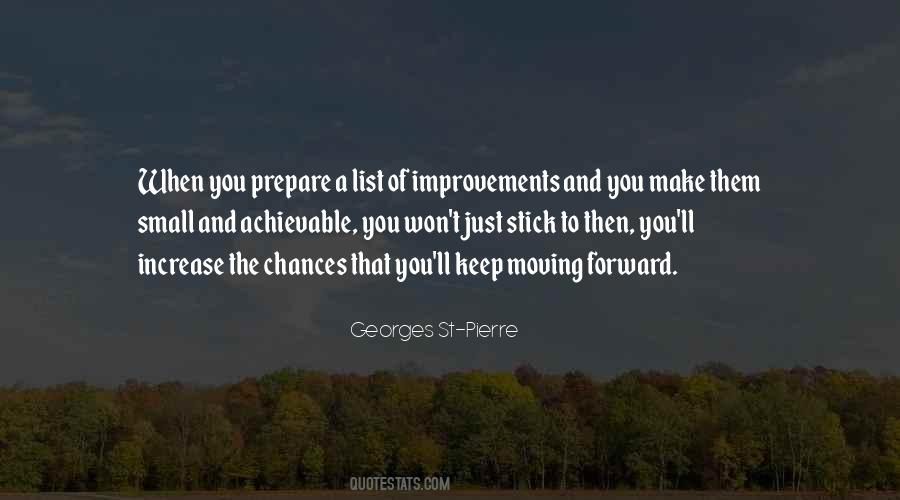 #13. From opposing unfair trade deals to fighting for a fair financial system, Hillary Clinton has shown she puts working families first. She knows as president that her first job will be creating jobs for the middle class. I am proud to endorse her today because I know she will keep Ohio moving forward. - Author: Sherrod Brown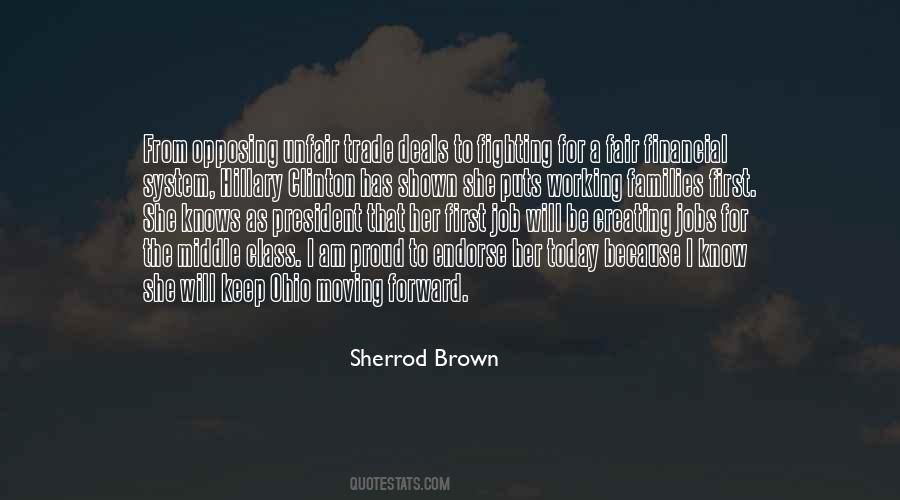 #14. Don't turn around. Don't look back. Keep moving forward. Keep pushing. The pot of gold is at the end of the rainbow, not the beginning - Author: Ziad K. Abdelnour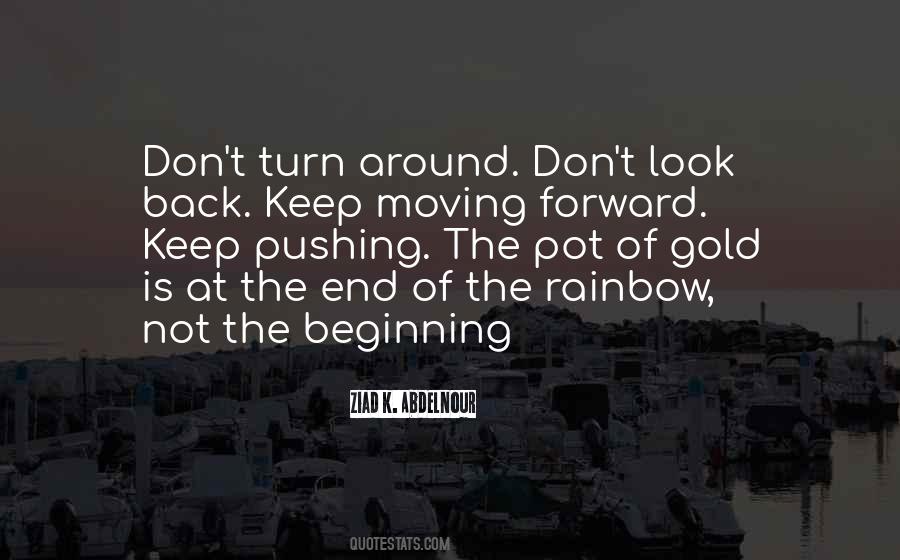 #15. Just because we stumbled upon some hurdles, big or small, it doesn't mean that time will stop and wait for us, it won't. We have to keep moving forward no matter what. - Author: Kcat Yarza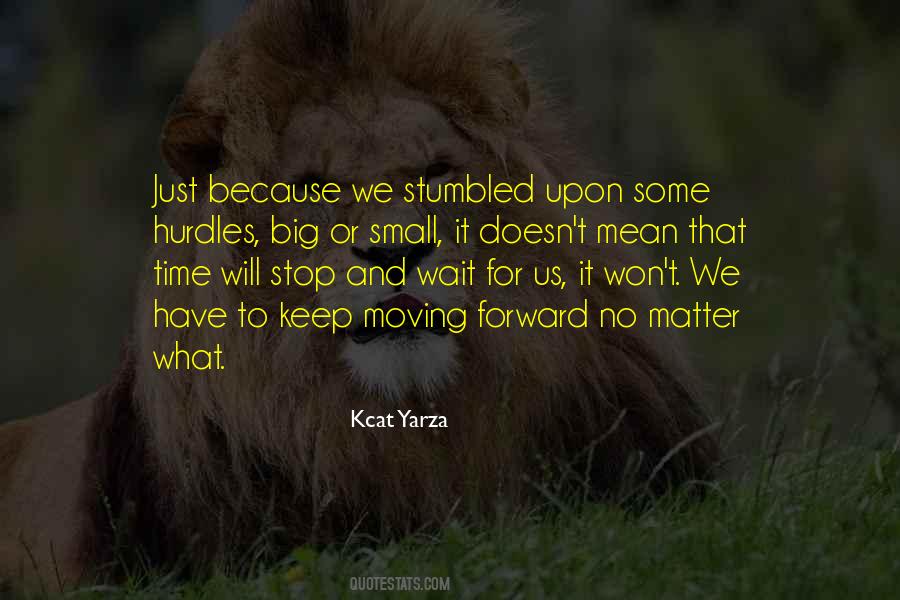 #16. I always keep my head down, working, doing things, moving forward. That's what I've done all my life. Then you stop and realize what you've done. - Author: Isaac Hayes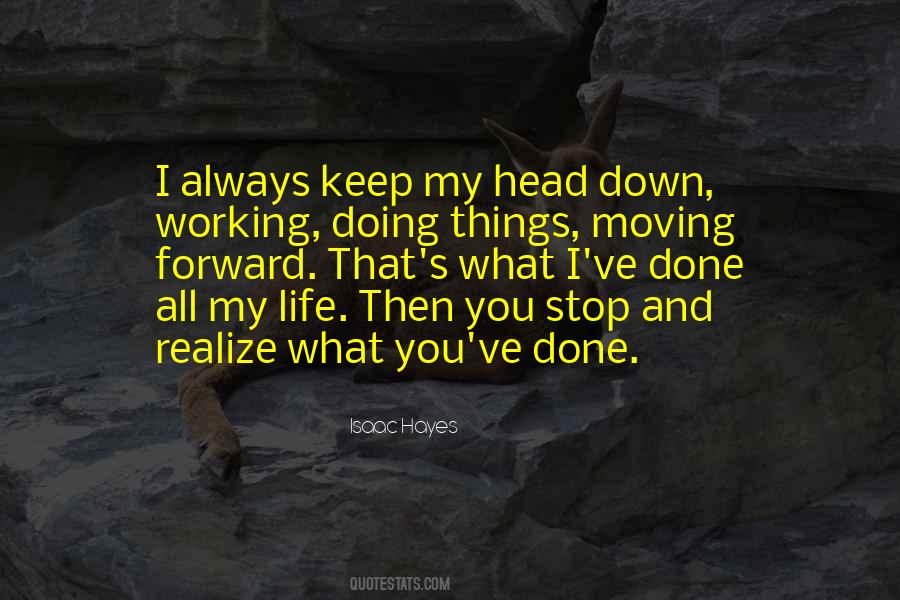 #17. Connecting with those you know love, like and appreciate you restores the spirit and give you energy to keep moving forward in this life. - Author: Deborah Day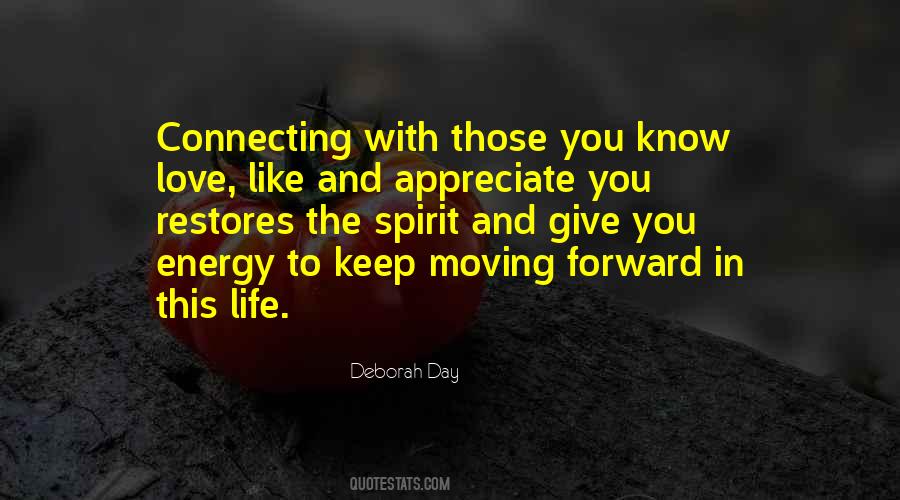 #18. You should dream and dream big. You never know. Your dreams may be the fuel that inspires others to keep moving forward."
Micah Richards - Author: Micah Richards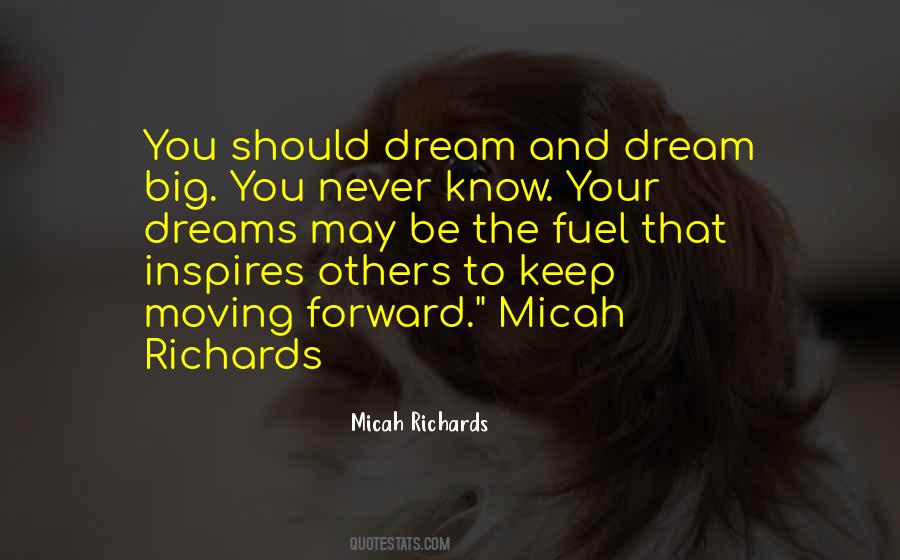 #19. Well, that's growing up, isn't it?" my dad said. "You don't always have to know. And things aren't always fair. You just have to keep moving forward. A step in one direction. - Author: Robin Benway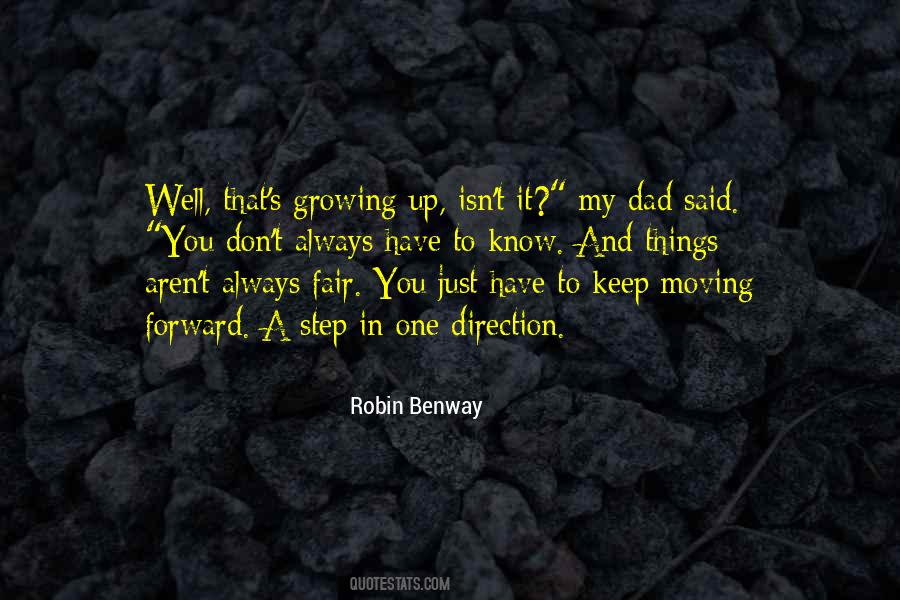 #20. I will keep America moving forward, always forward, for a better America, for an endless enduring dream and a thousand Points of Light. This is my mission, and I will complete it. - Author: George H. W. Bush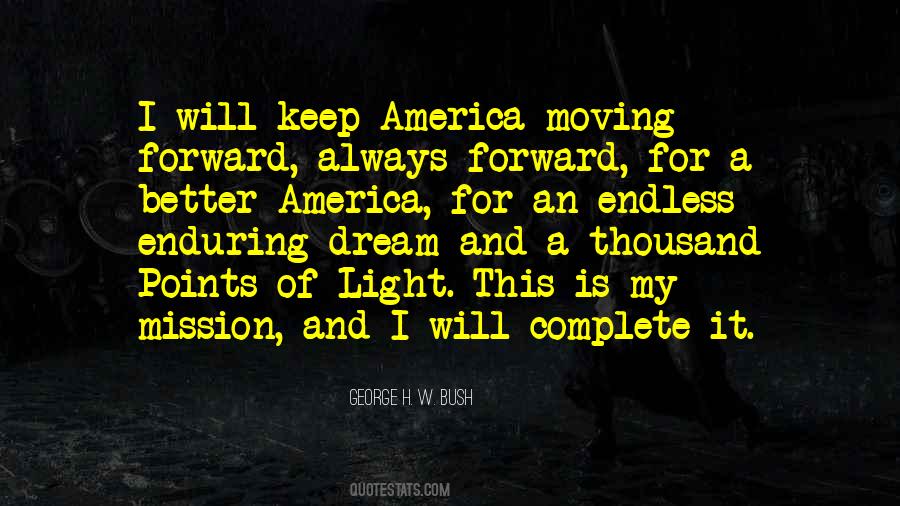 #21. I have suffered through enough illnesses, trauma and heartbreak to finally understand that life will keep moving forward inexorably, if terribly at times. I am starting to realize that it can be delightful too, if I let it. My love is not diminished if I let go of sorrow. I almost believe that. - Author: Jenny Qi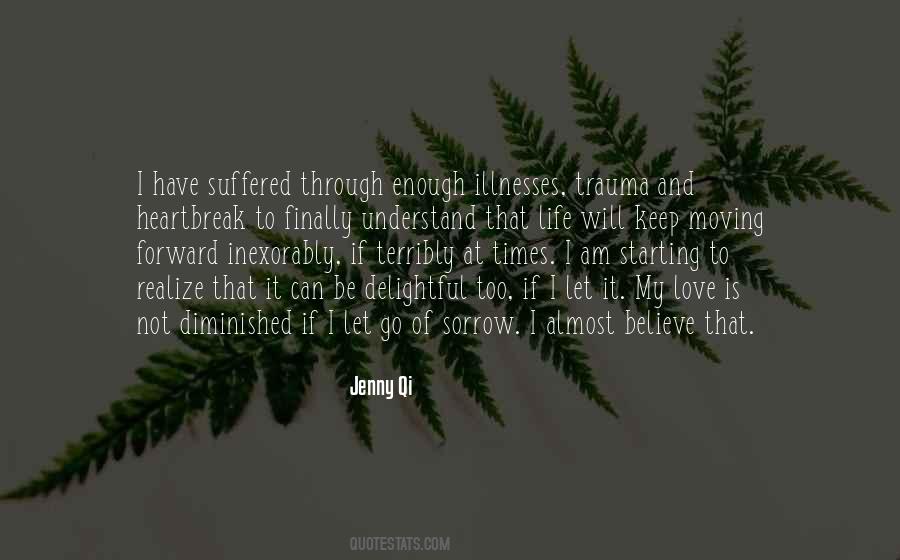 #22. God has a plan for you (Jer. 29:11) and you will make it through this time of testing. Keep on believing and moving forward and you will see Him working out the details. God is never early or late but His timing is always perfect. You will see, I promise. - Author: Tamara L. Chilver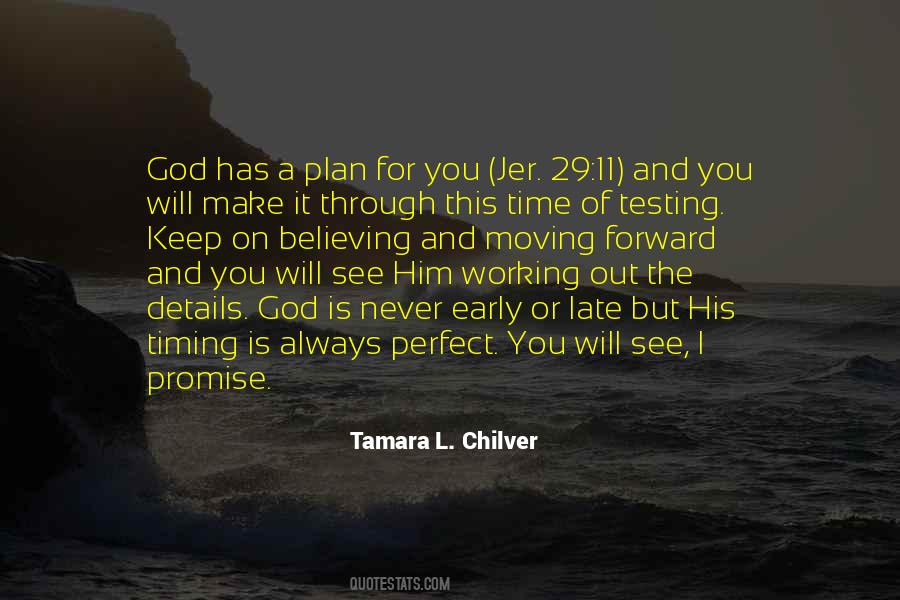 #23. Move forward. Keep drawing myself. I will look at the world in the eyes and run forward. - Author: Minzy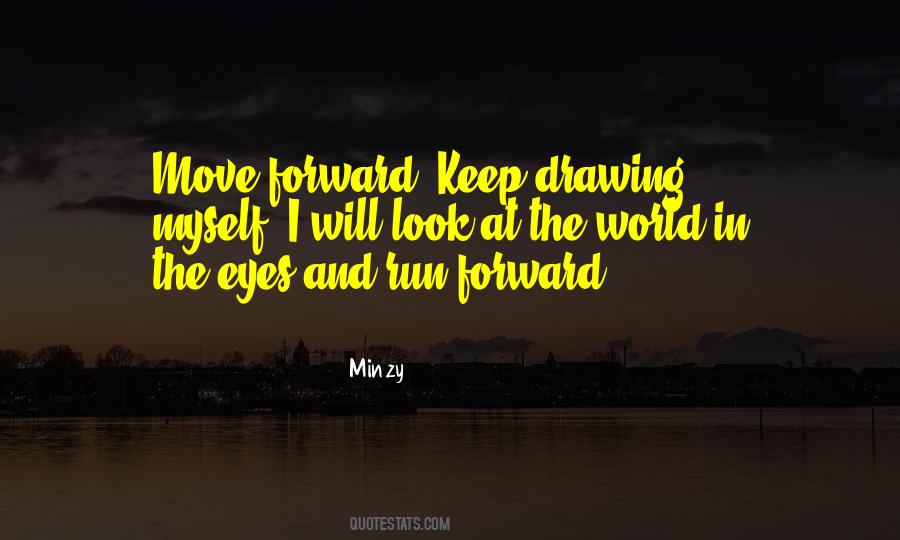 #24. I think quality will be increasingly important-we're moving away from a time of fast fashion. But really, the only constant in fashion is that you must keep moving forward, otherwise you'll be left behind. - Author: Michael Kors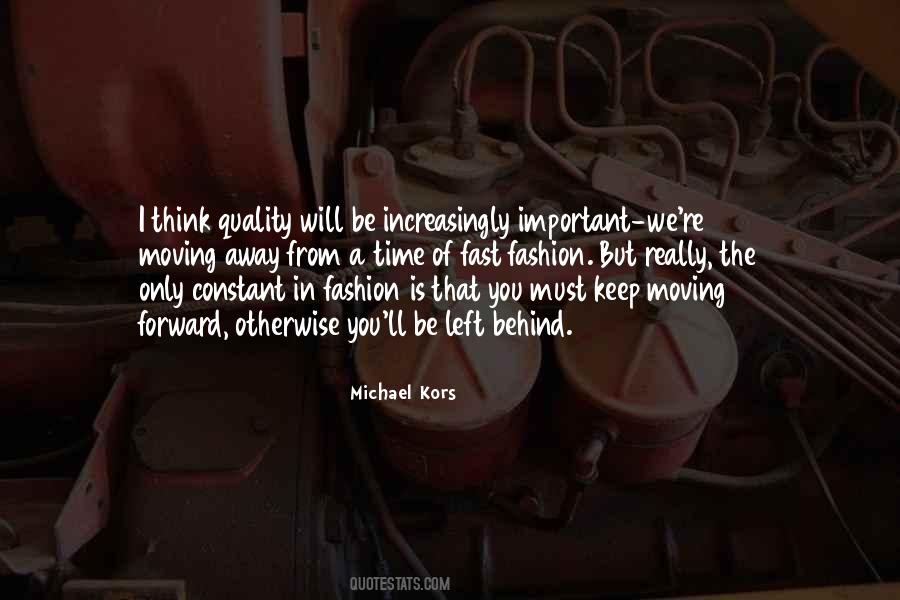 #25. If I had three wishes for my country, they would be these: keep fighting, keep moving forward, and don't act like a douchebag. - Author: Michael Ian Black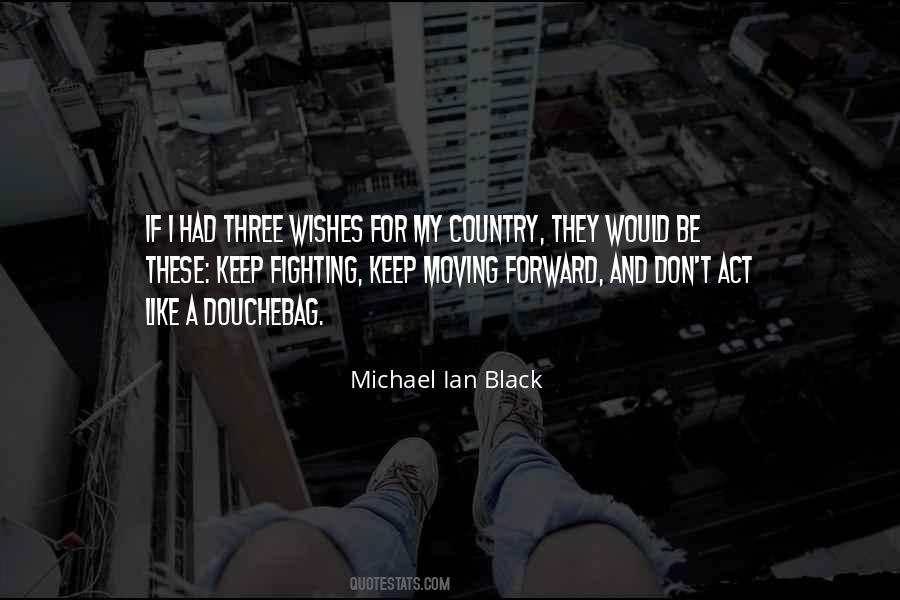 #26. The only thing a person can ever really do is keep moving forward. Take that big leap forward without hesitation, without once looking back. Simply forget the past and forge toward the future. - Author: Alyson Noel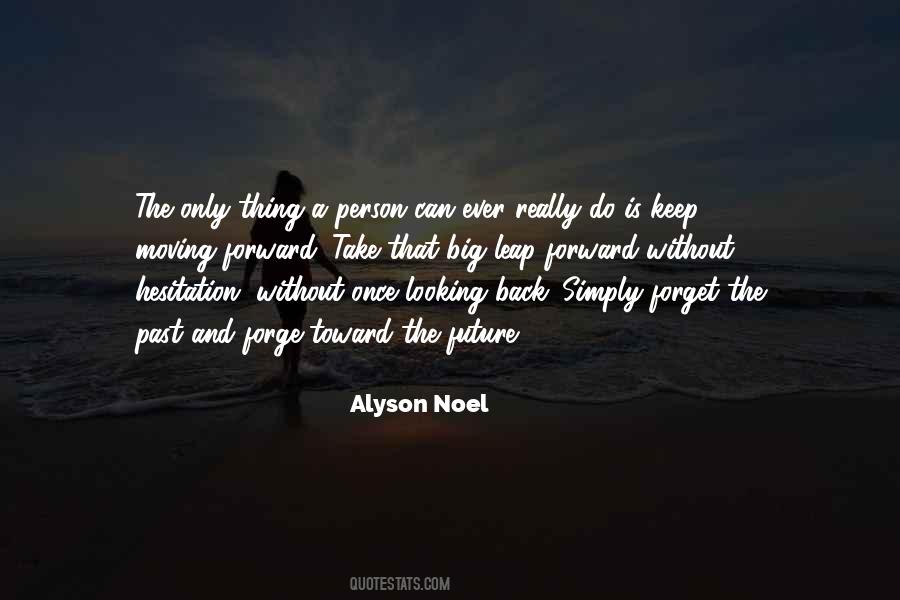 #27. Wanderlove is about forgetting the bad things and focusing on the good. Out with the old and in with the new ... The only way to escape the past is to keep moving forward. - Author: Kirsten Hubbard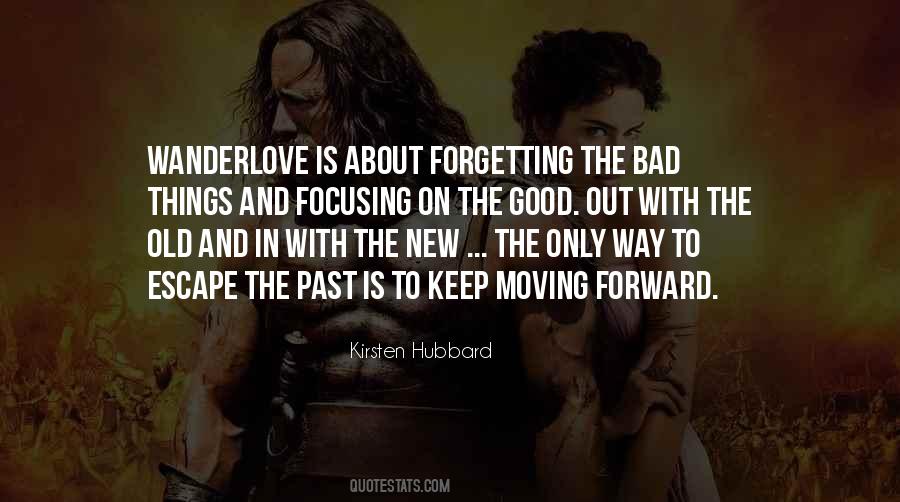 #28. When my husband Charles passed away in 2000, I took over as chair of our family's foundation. As I was mourning his loss, I also had to keep the foundation moving forward and to chart a course into what was then a very male-dominated philanthropic world. - Author: Lynn Schusterman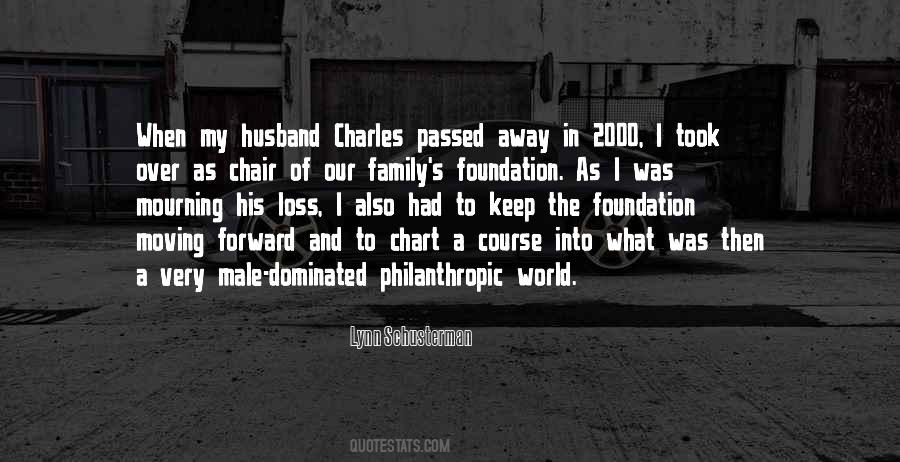 #29. Life is difficult and painful, but if you keep moving forward the final destination makes all of the pain worth it. - Author: Seth Adam Smith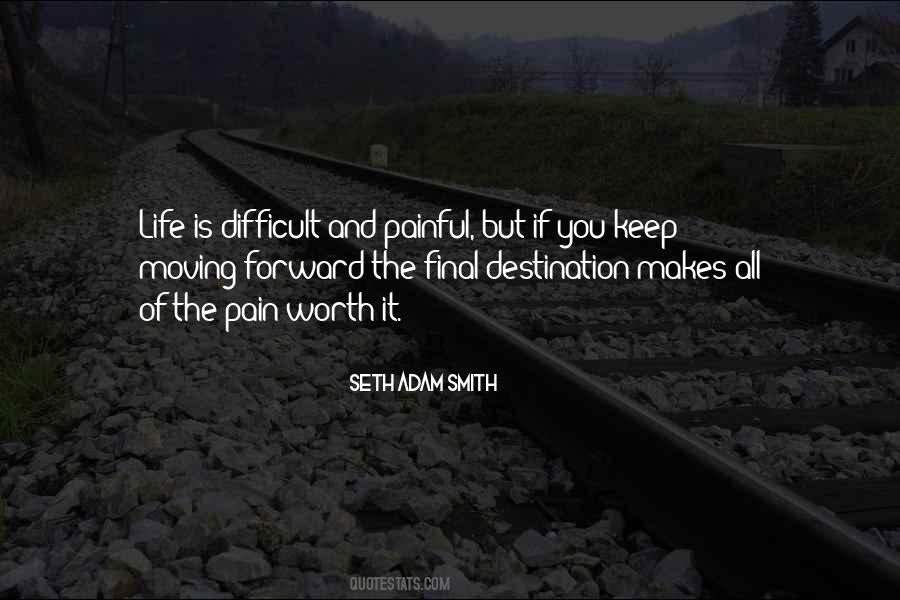 #30. If you're a writer, write. You just keep writing. And if you're a filmmaker, you keep doing what you can to keep telling your stories; you don't stay on the one. Keep moving forward and doing what you can to tell whatever story you can tell, be it via writing, be it via filming it. - Author: Dana Brunetti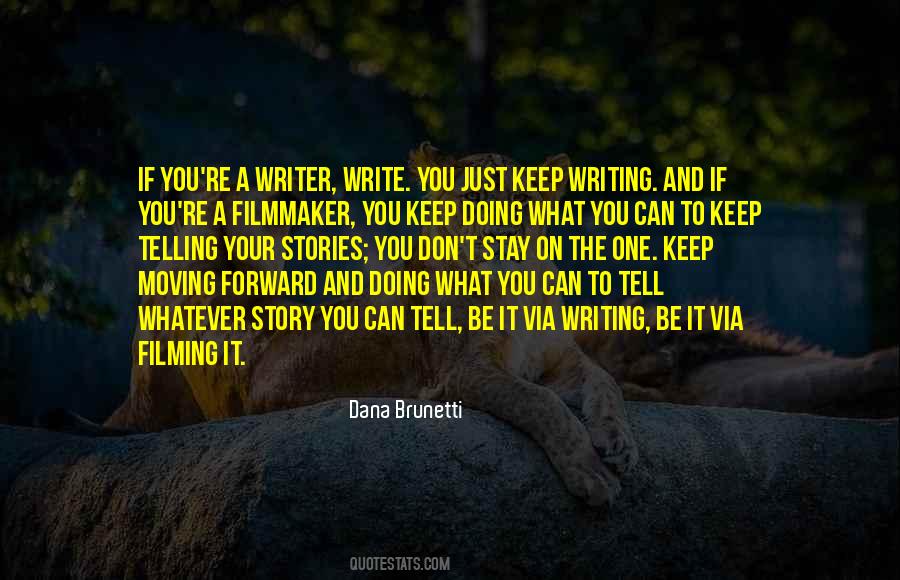 #31. Armed with my positive attitude and inherent stubborn nature, I keep my mind focused and my life moving forward. I stop to rest, pout and even cry sometimes, but always, I get back up. Life is giving me this challenge and I will plow through it, out of breath with my heart racing if I have to. - Author: Amy B. Scher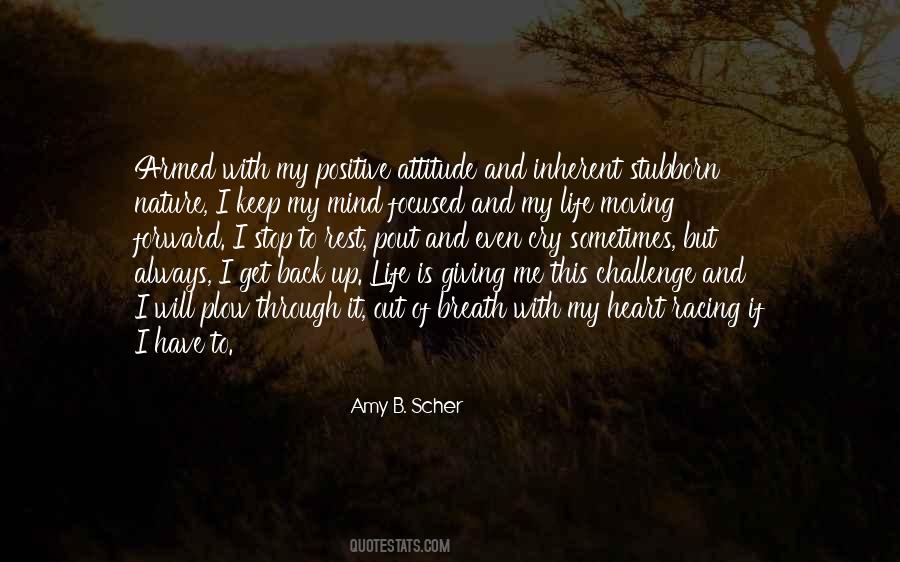 #32. The biggest sacrifice to me is to not be in an atmosphere where I can keep writing and moving forward. - Author: Trey Anastasio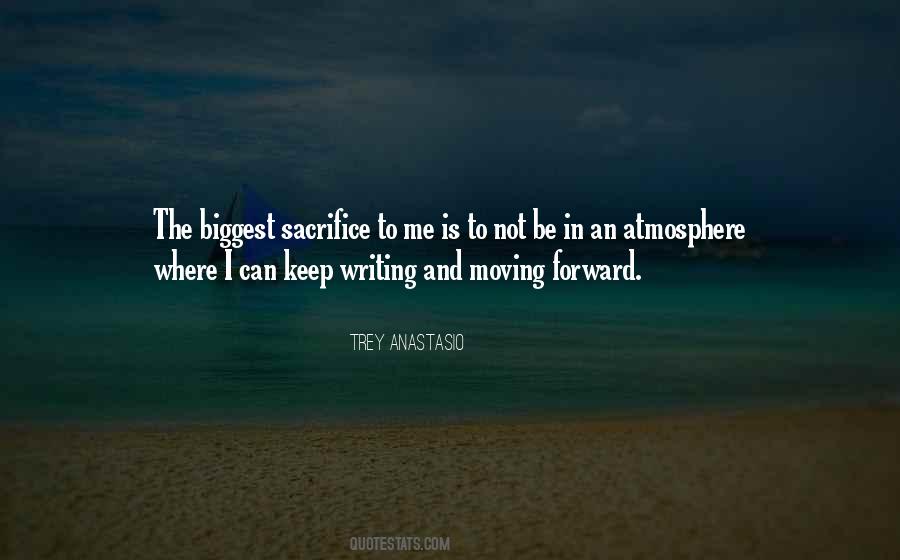 #33. Sometimes life seems a dark tunnel with no light at the end, but if you just keep moving forward, you will end up in a better place. - Author: Jeffrey Fry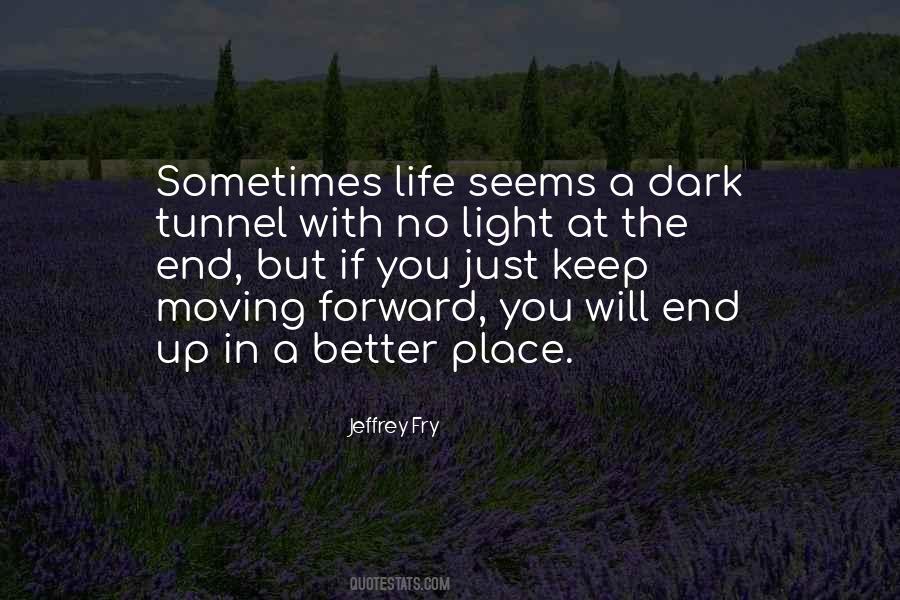 #34. You miss a lot of a person's life when you don't keep in touch. Maybe that's the point. - Author: Bryant A. Loney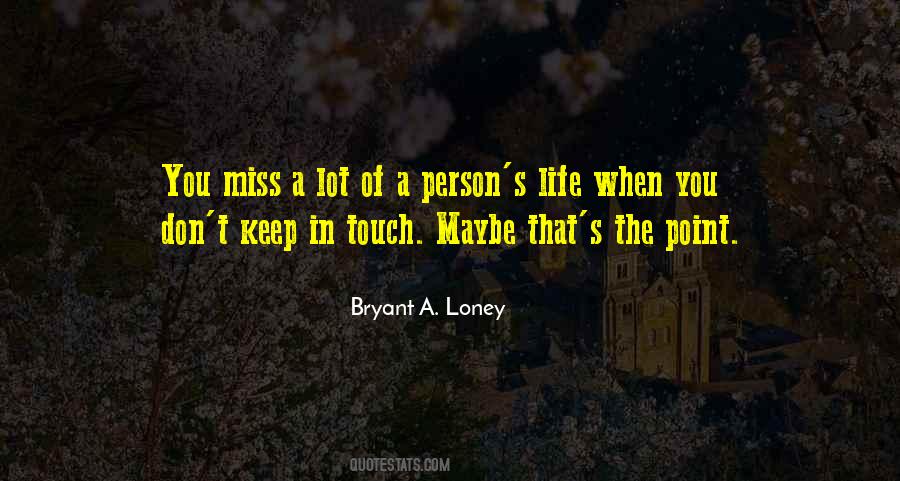 #35. Fear is only the enemy if you let it keep you from moving forward.

Put fear on your side and let it motivate you.

This is the definition of an alchemist. To turn base metal into gold. Fear into Motivation. - Author: Matthew Donnelly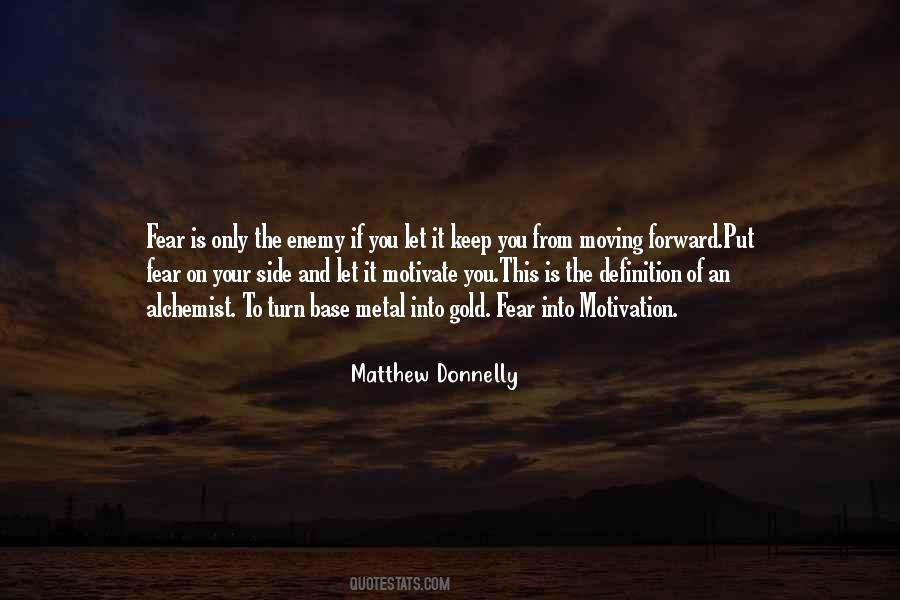 #36. Don't Give Up ... Just Always Keep Moving Forward In Your Life. Don't Ever Let Your Story End In Defeat! - Author: Timothy Pina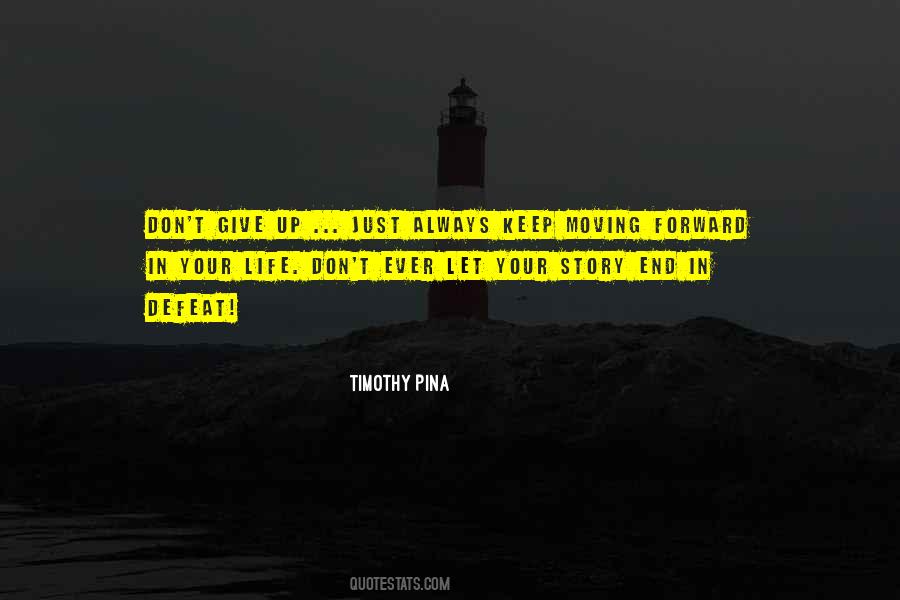 #37. Can you see the future, Kerbouchard?"
"Who would wish to? Our lives hold a veil between anticipation and horror. Anticipation is the carrot suspended before the jackass to keep him moving forward. Horror is what he would see if he took his eyes off the carrot. - Author: Louis L'Amour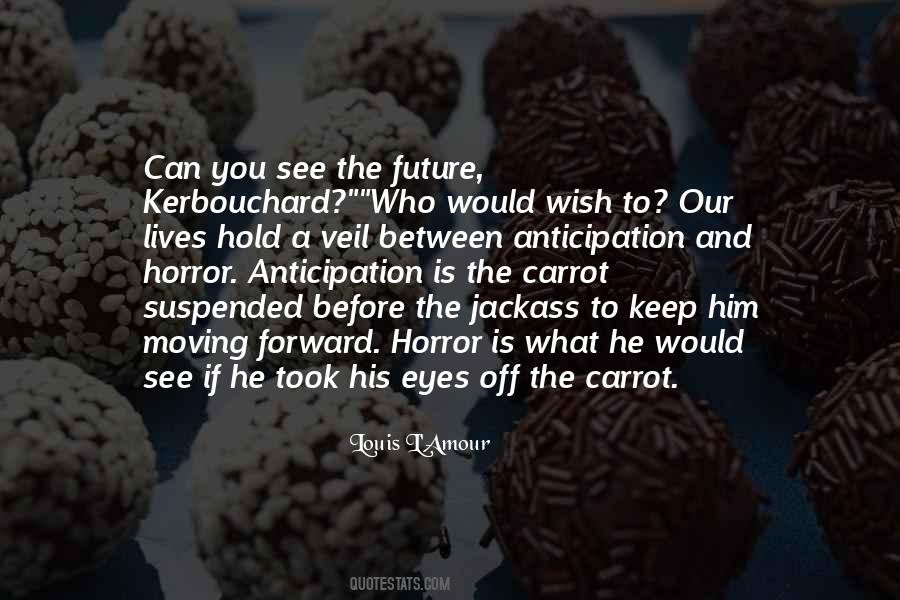 #38. Boredom is for the selfish. - Author: Patti Digh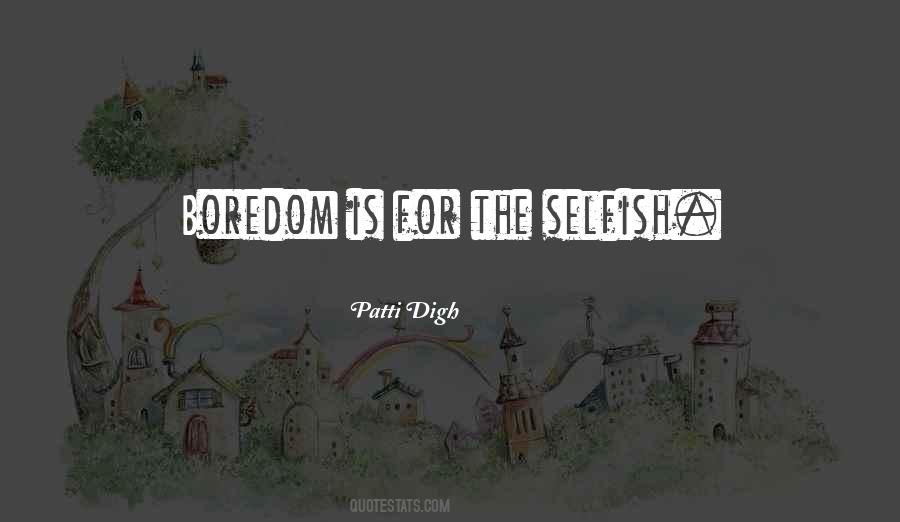 #39. Closed doors are a test of our faith. Keep moving forward, being your best, living with determination and faith. When you do, you'll see amazing changes all around you. - Author: Joel Osteen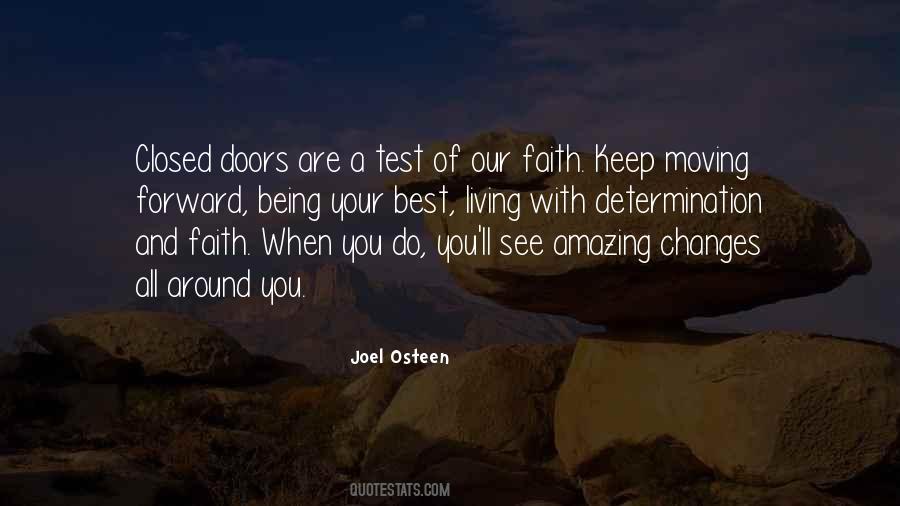 #40. Just keep moving forward and don't give a shit about what anybody thinks. Do what you have to do, for you. - Author: Johnny Depp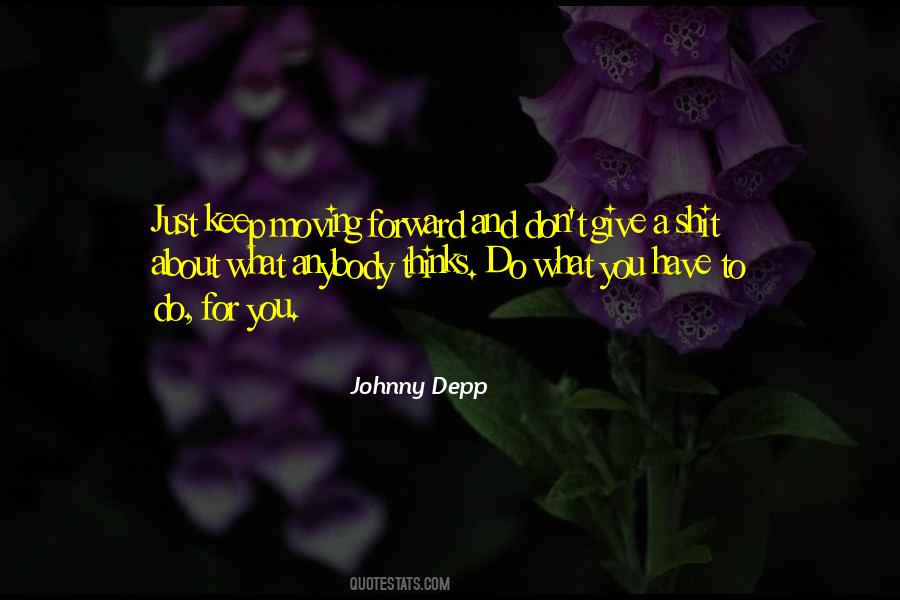 #41. I want to always move forward with everything I am doing. So, I do the radio show, speak at universities and other social institutions all around the world, appear on TV, and continue to create music all in the hope to keep the struggle alive. - Author: Chuck D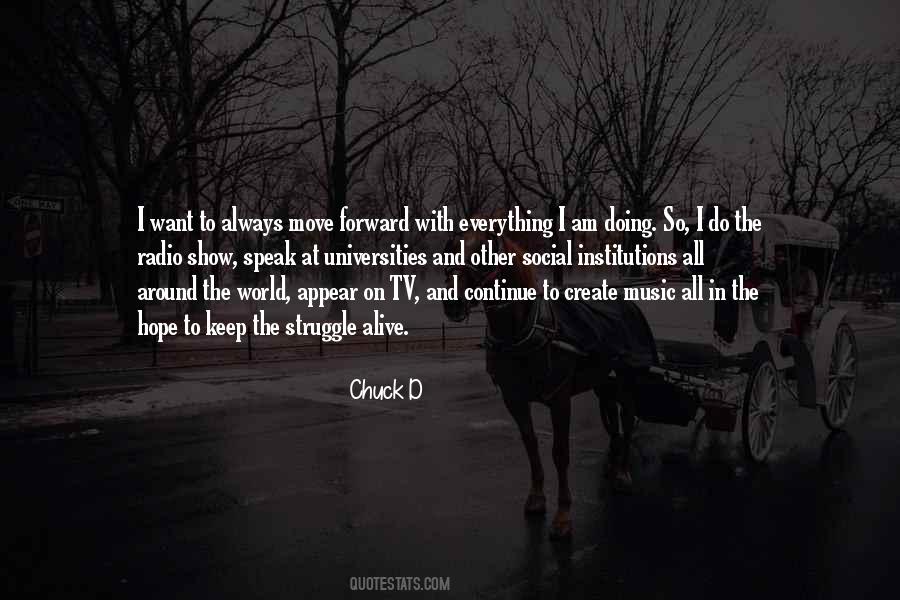 #42. Everything has a finsh line. You just have to keep moving forward until you cross it. - Author: Lillielyse Monsel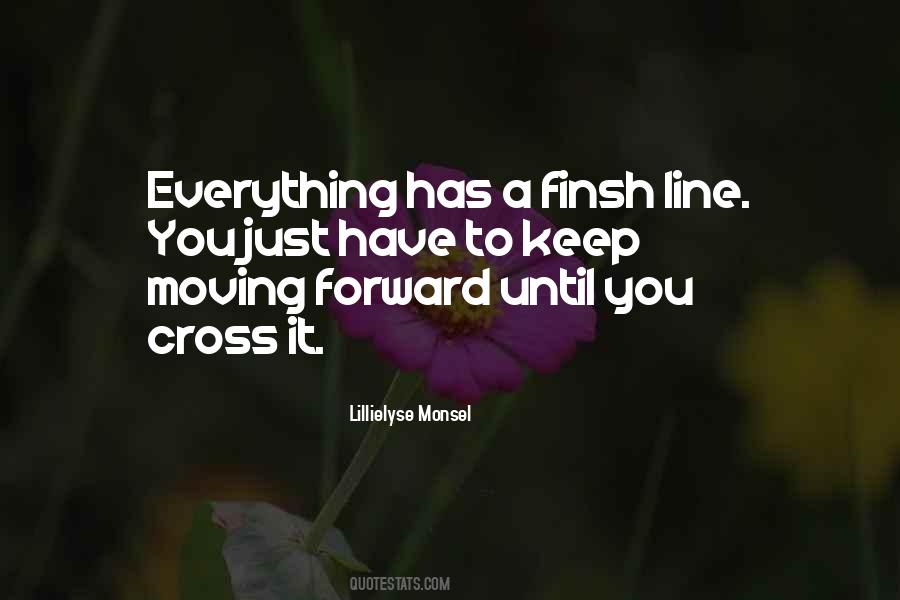 #43. My life isn't perfect and it will never be I make mistakes, I learn from them and keep moving forward. - Author: Shellie Palmer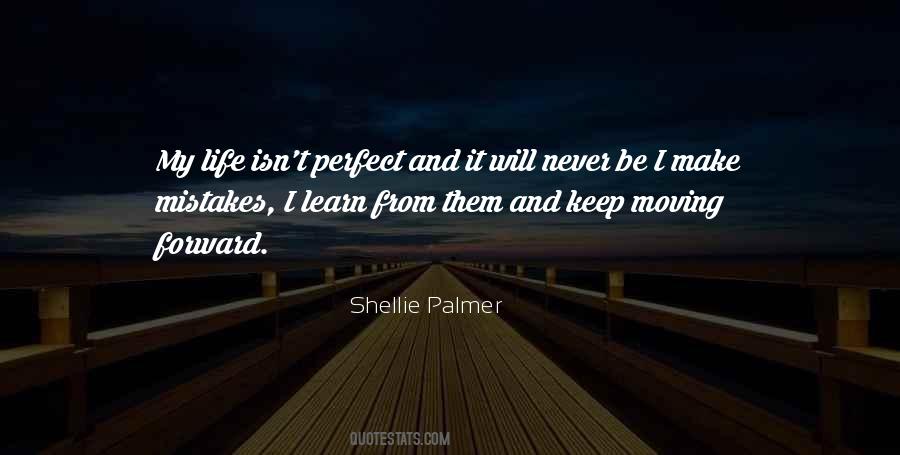 #44. I know that when things are at their worst, something better is just around the corner if we just put one foot in front of the other and keep moving forward. - Author: Suzanne Elizabeth Anderson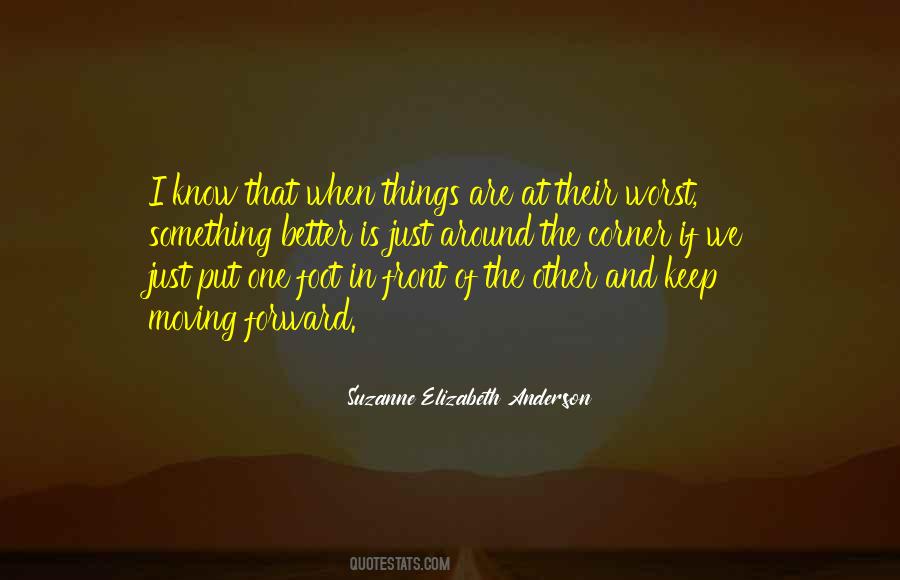 #45. Pause and remember - Everyone gets discouraged and feels lost at times. Don't worry - life will get better. A new way is being made for you. Keep moving forward even if it's just baby steps. - Author: Jennifer Young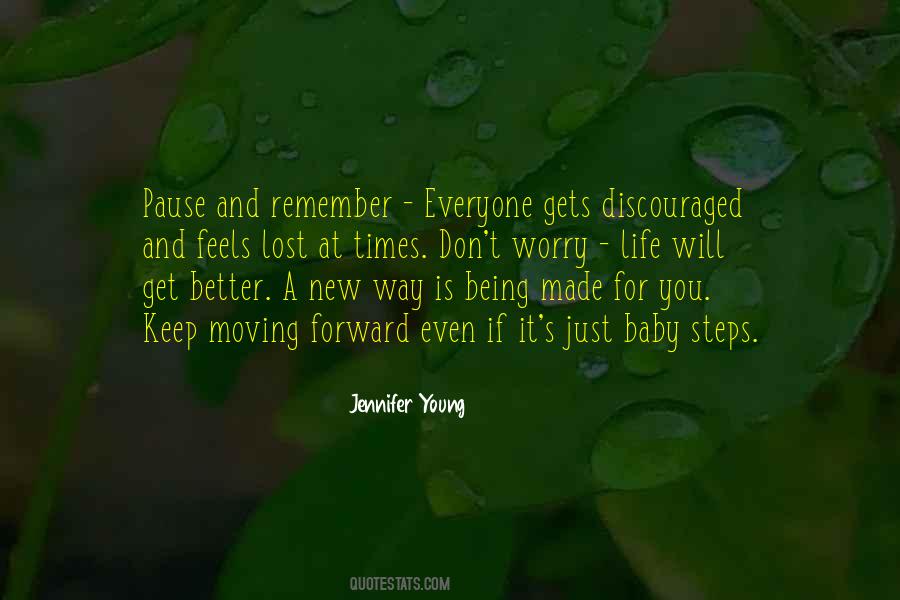 #46. Listen to your own voice. Don't listen to someone else's. To me the way to live is to always move forward - to keep searching for whatever it is that interests you. - Author: Neil Young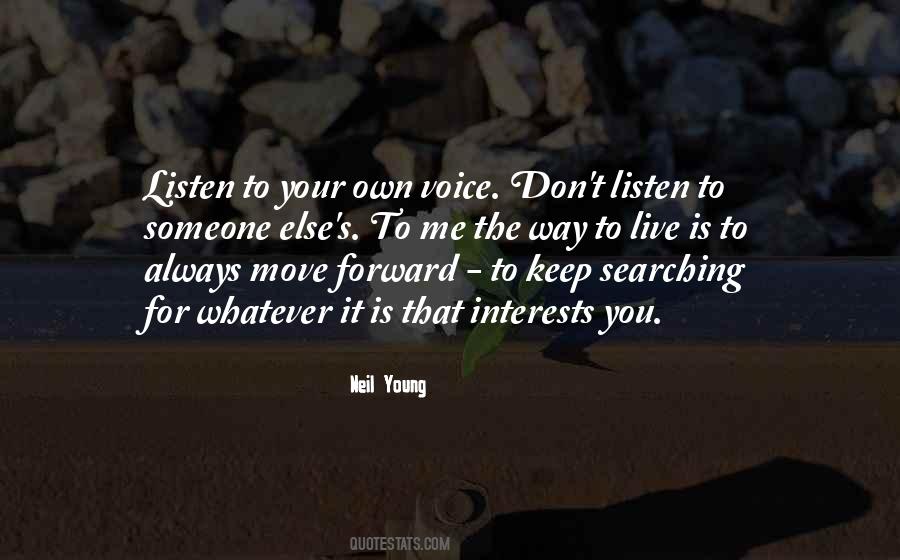 #47. As you keep moving forward, you can stay upright even when outside forces try to pull you down. - Author: Bonnie L. Oscarson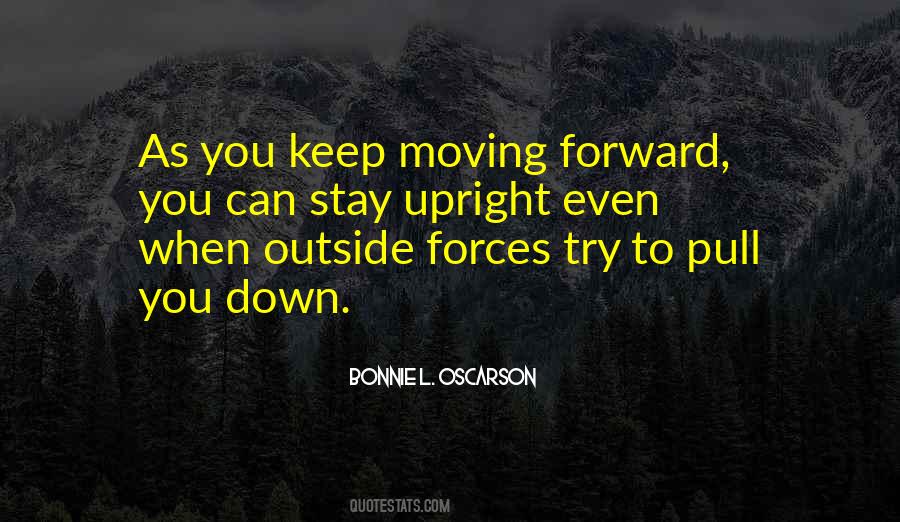 #48. With each step I take, I see that my ability to perform gets a little better. So until it starts getting worse, I'm going to keep moving forward. - Author: Rivers Cuomo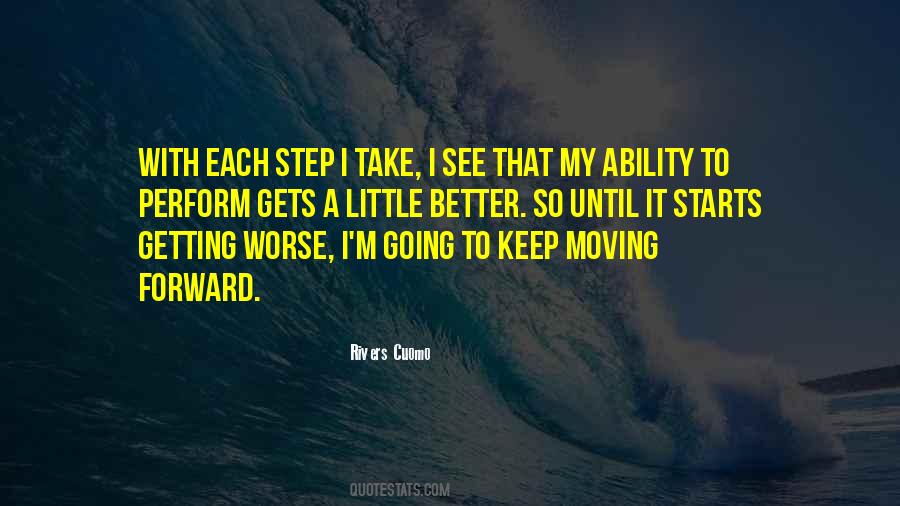 Famous Authors
Popular Topics