I Have A Lot Of Patience Famous Quotes & Sayings
List of top 56 famous quotes and sayings about i have a lot of patience to read and share with friends on your Facebook, Twitter, blogs.
Top 56 I Have A Lot Of Patience Quotes
#1. There's not a lot of room anymore for what I call 'made-up' drama. The drama comes from real places now - marriage takes work and focus, the kid stuff takes patience and commitment. And if you don't grow as people and as a couple, within all of that, then you've got some real drama. - Author: Jeremy Sisto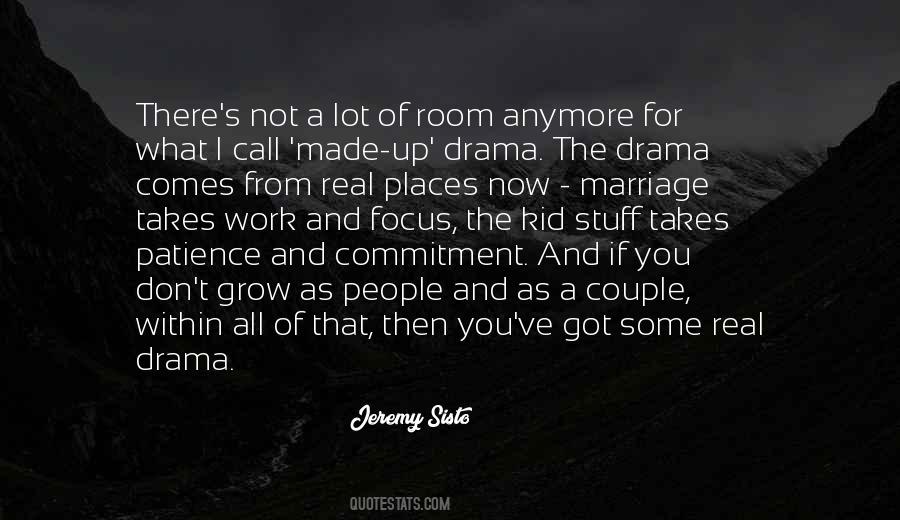 #2. Communication is the ability to ensure that people understand not only what you say but also what you mean. It is also the ability to listen to and understand others. Developing both of these aspects of communication takes a lot of time, patience, and hard work. - Author: Myles Munroe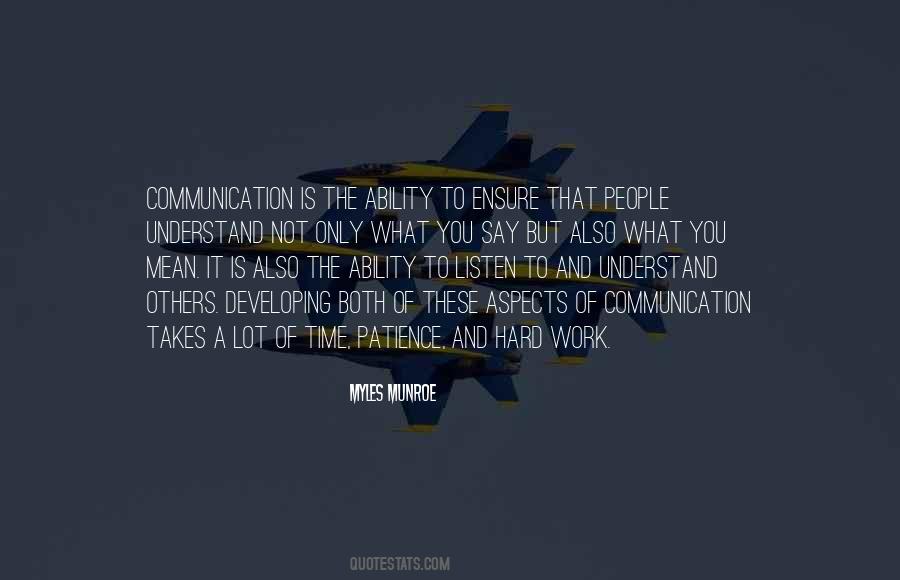 #3. My mothering needed a tad more Mother Theresa and a lot less Lizzy Borden. - Author: Irene Tomkinson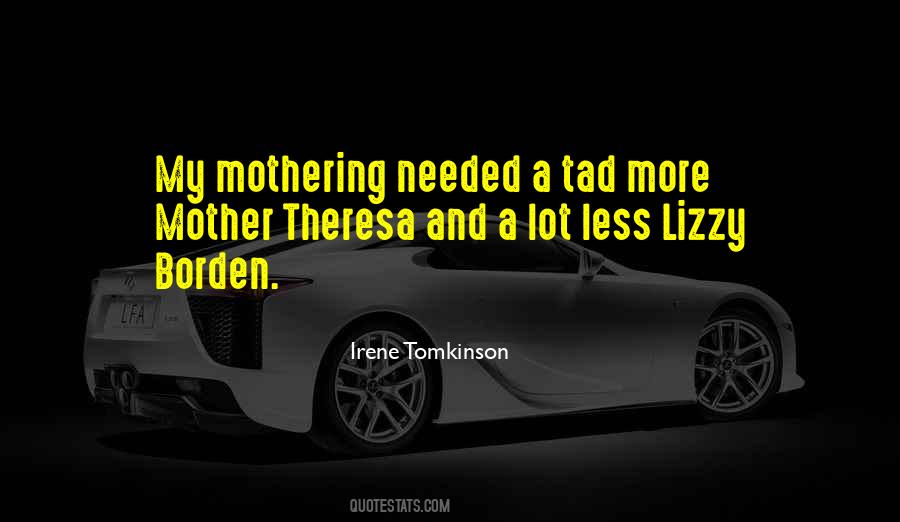 #4. A lot of can't deal with life because they lack the patience to become who they want to be ... Everything happens by process. If you don't go through the process to get it, you don't have the power to keep it. - Author: T.D. Jakes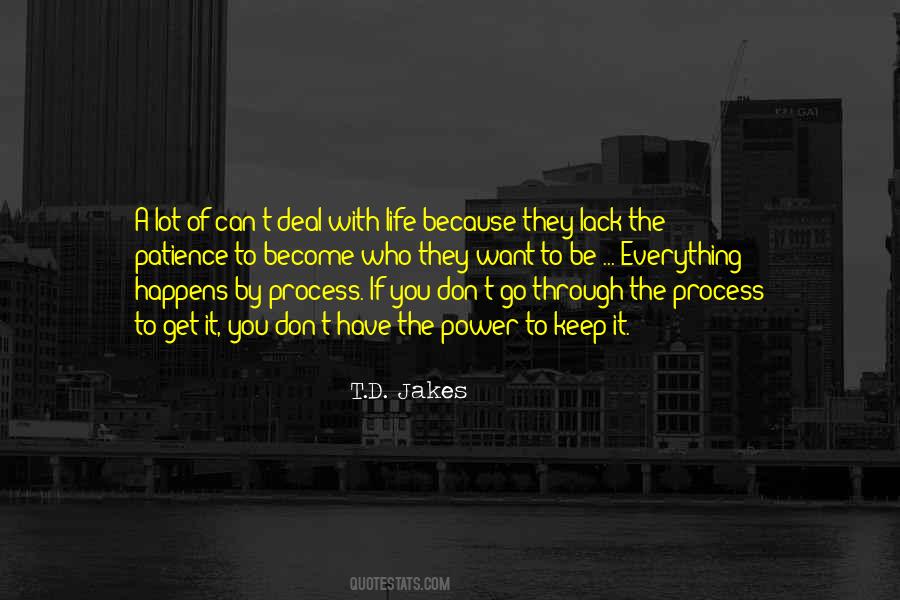 #5. I learned a lot about humility and patience, keeping my mouth shut. - Author: Madonna Ciccone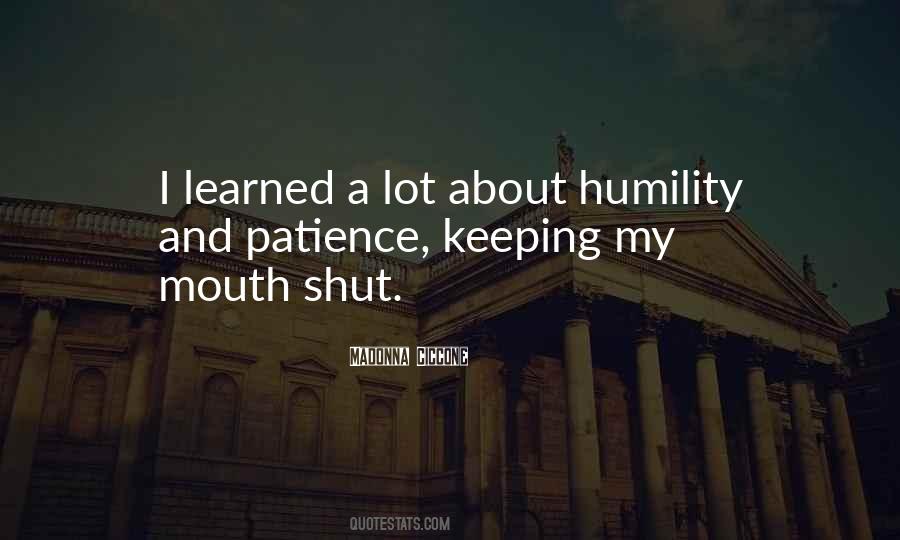 #6. Luck is a component that a lot of people in the arts sometimes fail to recognise: that you can have talent, perseverance, patience, but without luck you will not have a successful career. - Author: Bryan Cranston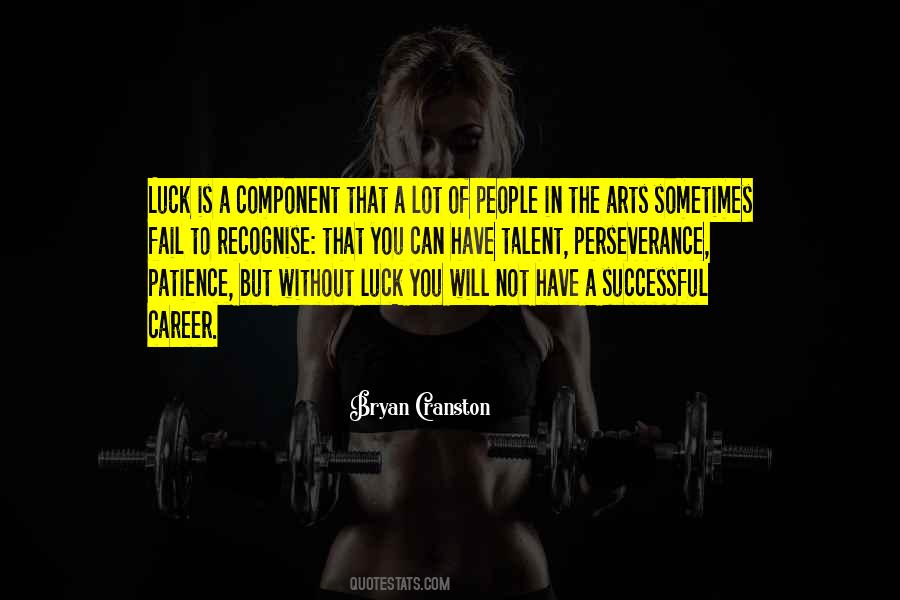 #7. A lot of impulsive mistakes are made by people who simply aren't willing to stay bored a little longer. - Author: Paul Aurandt Jr.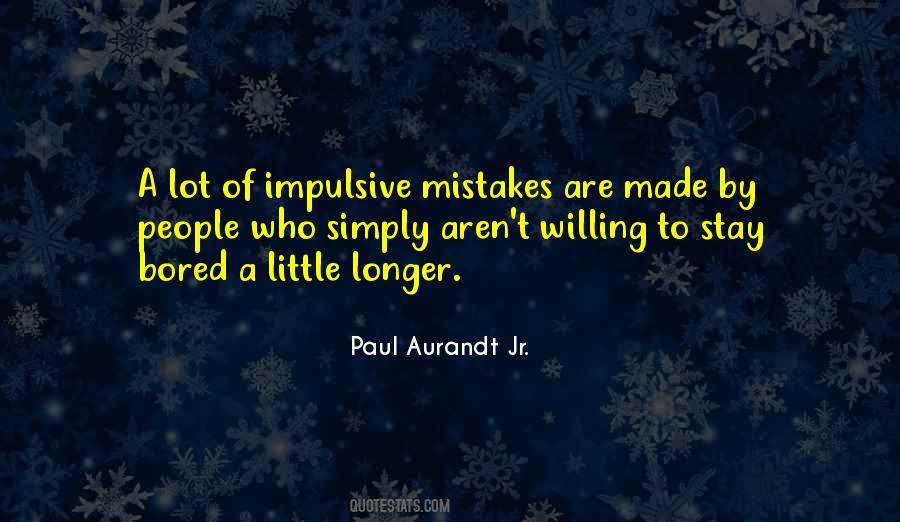 #8. People ask me a lot about the values I got from playing for the Cubs for so many years. The value I got out of it was patience. A lot of people these days are not very patient. - Author: Ernie Banks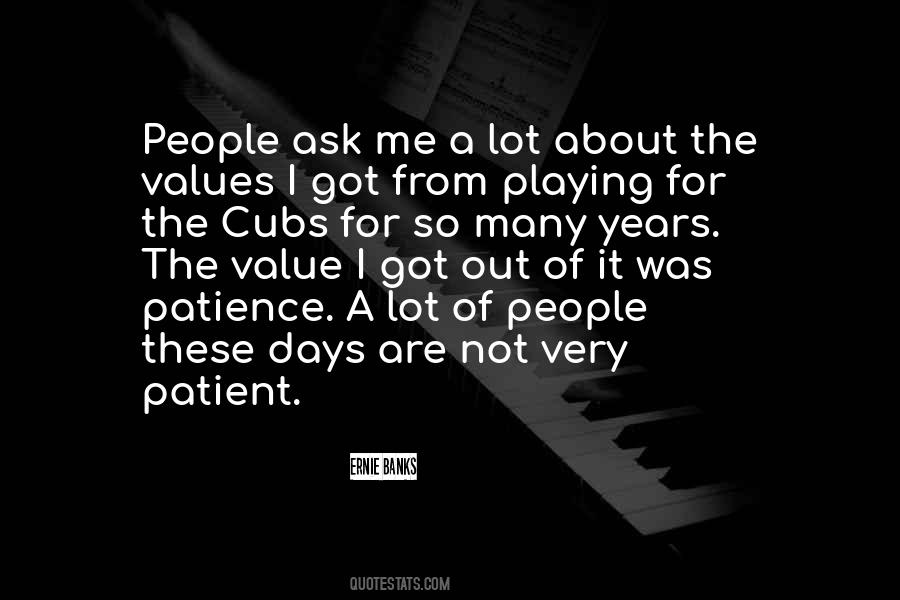 #9. I don't have a lot of patience for boring arthouse movies. - Author: Zoe Kazan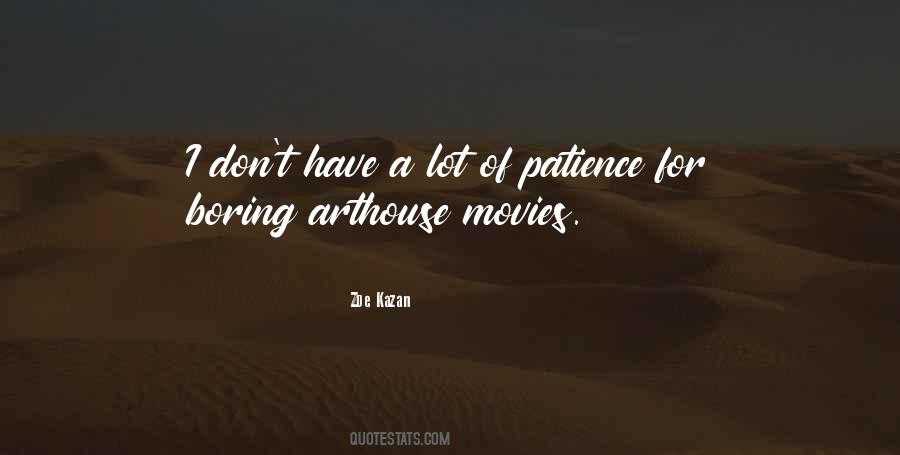 #10. A Good Relationship is like a neat and defined nail art. It requires a lot of concentration, time devotion and patience, to take it to perfection! - Author: Mehek Bassi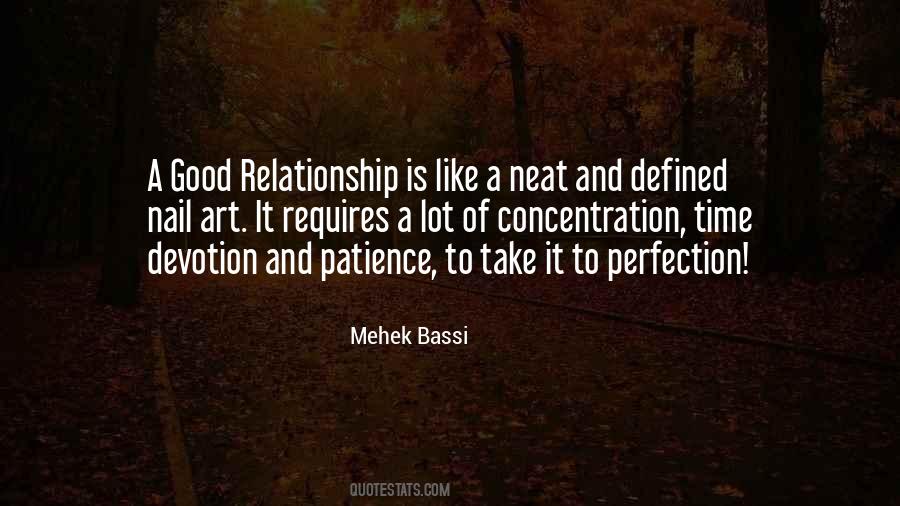 #11. When I worked with wildlife a lot in the Eighties and Nineties, I learnt the meaning of patience. And when I worked with trees, I learned the meaning of humility. - Author: James Balog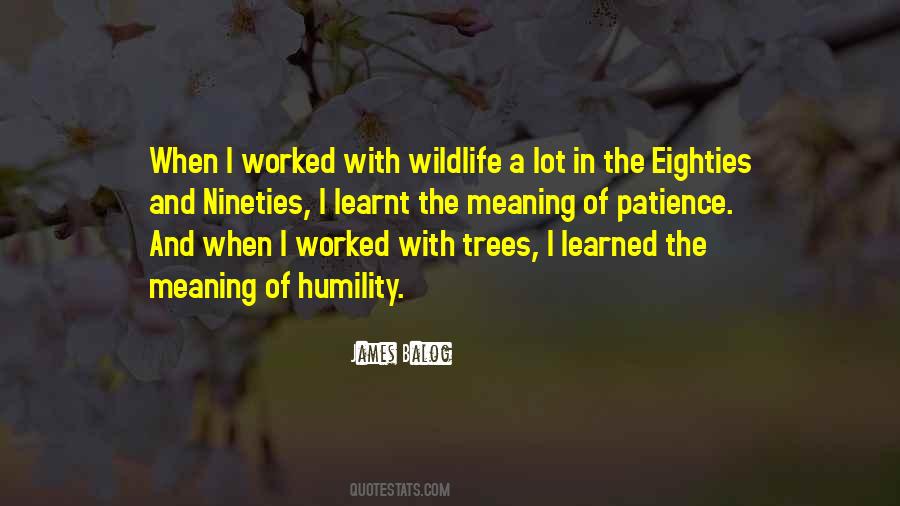 #12. Patience is like good motor oil. It doesn't remove all the contaminants. It just puts them into suspension so they don't get into your works and seize them up. Patient people have, so to speak, a large crankcase. They can put a lot of irritants into suspension. - Author: Cornelius Plantinga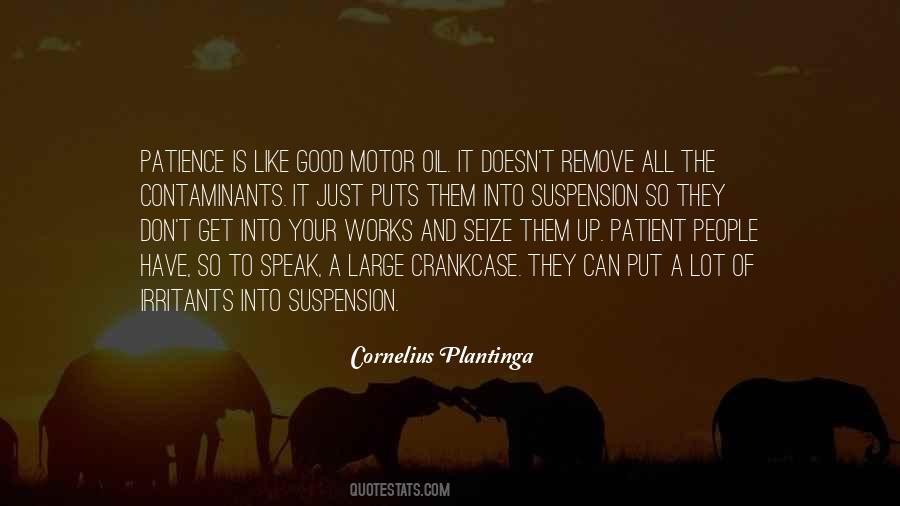 #13. Movies require a lot of patience. I like instant results. If I have done something that's not funny at all, the audience will let me know in two seconds. With the movie, I will have to wait nine months to know if I was that bad. - Author: Vir Das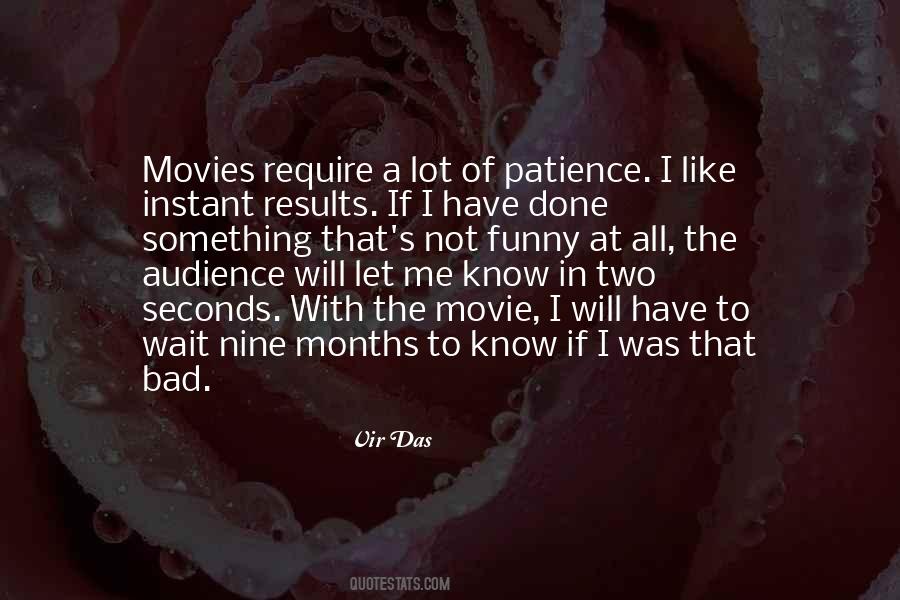 #14. I don't have a lot of patience for movies that aren't cleanly told. - Author: Jon Favreau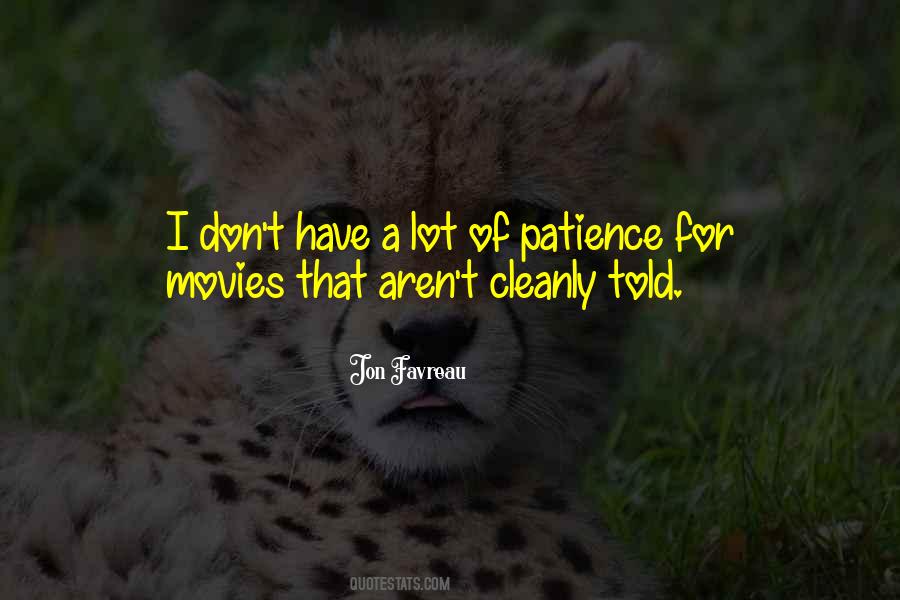 #15. So many low income people have seen so many failed promises broken and seen so many quacks and sporadic medicines offered to them that building trust takes a lot of time, takes a lot of patience. - Author: Jacqueline Novogratz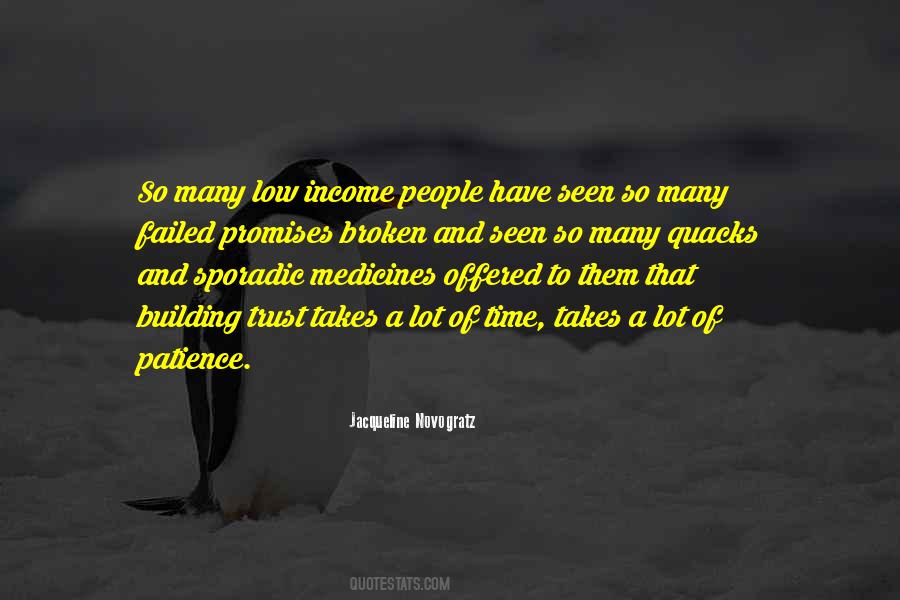 #16. We may not get what we want, when we want. But with a bit of perseverance and a lot of patience, we can get what we need. - Author: Sarah Strohmeyer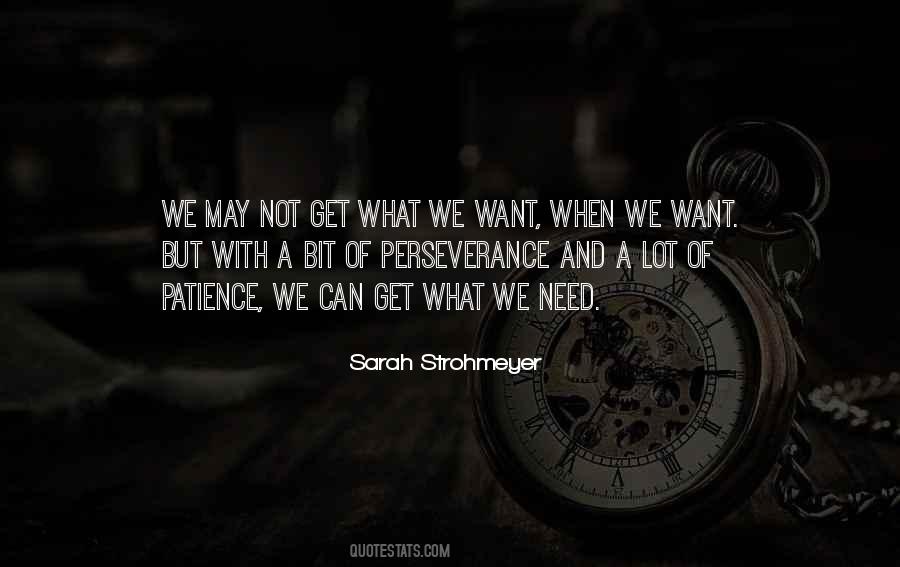 #17. Patience, persistence and hard work lead to success and happiness. Or you can do whatever the hell you want and with a bit or a whole lot of luck you'll stumble onto success and happiness. - Author: S.A. Tawks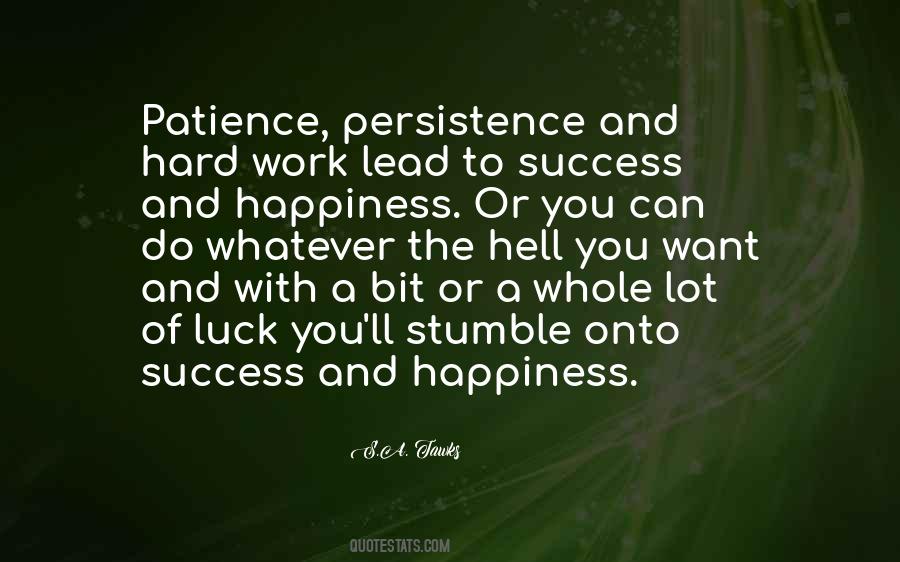 #18. Even if you have money, access to MoCap technology, and strong choreographic and computer-animation abilities, don't try to make a film like this if you don't have a lot of patience, perseverance and a deep affinity for risk-taking. - Author: Martine Epoque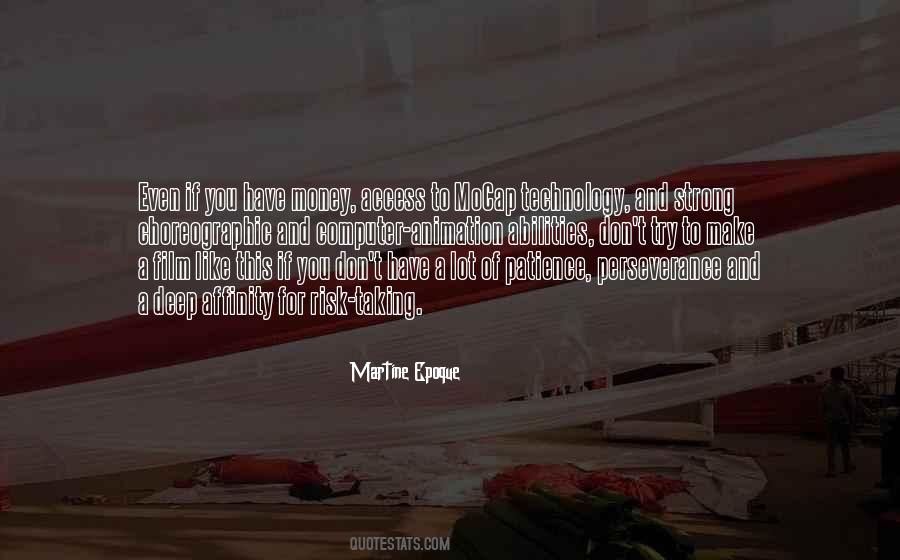 #19. I make a mean pecan pie, and I have a great recipe for pralines - also using pecans. Pralines take a lot of patience, and patience is a must in the duck blind as well as in the kitchen. Good things come to those who wait. - Author: Phil Robertson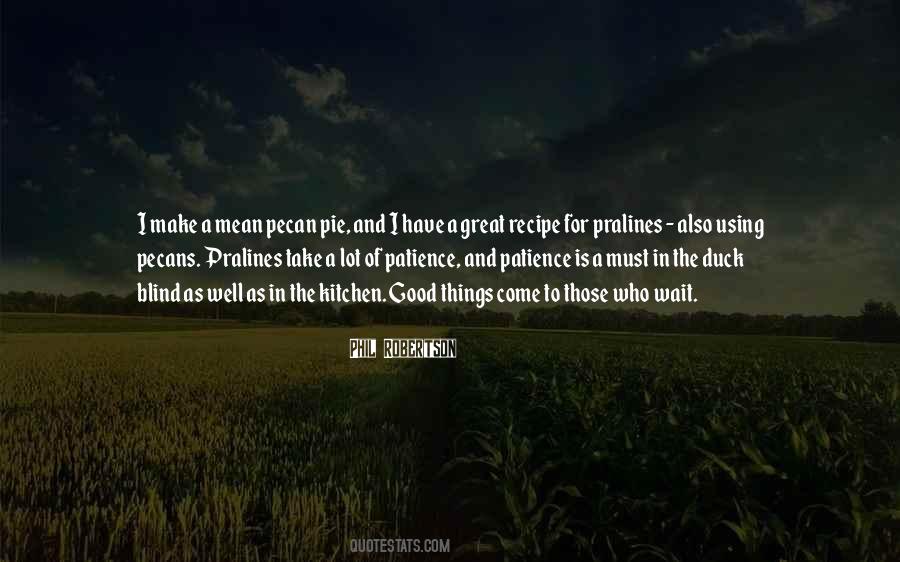 #20. You must first have a lot of patience to learn to have patience. - Author: Stanislaw Jerzy Lec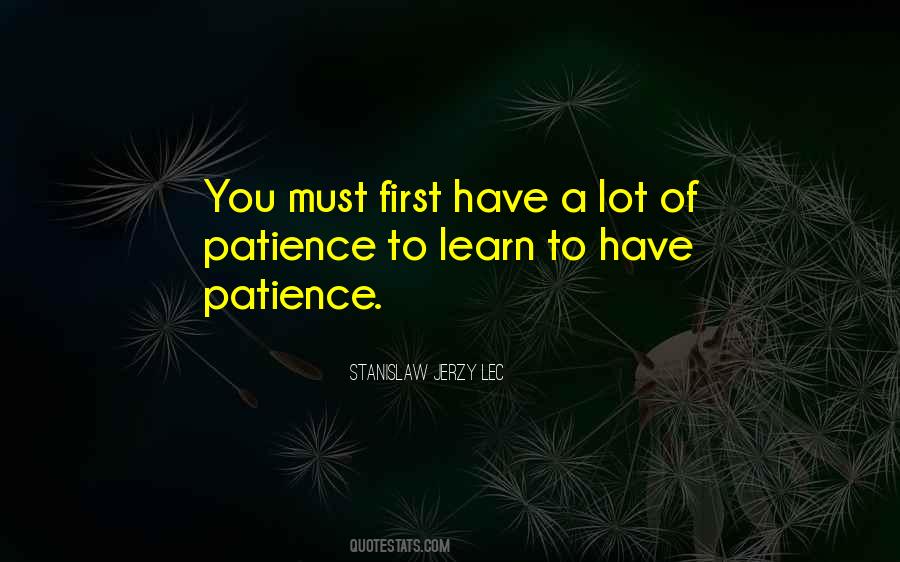 #21. Kids teach you a lot of patience. - Author: Mona Singh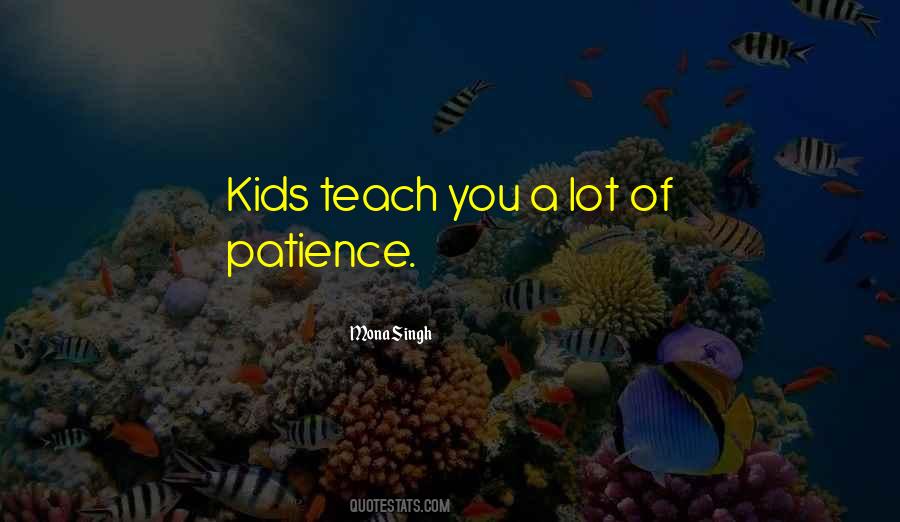 #22. There are many things behind a good novel, but in particular there is a lot of work - a lot of patience, a lot of stubbornness, and a critical spirit. - Author: Mario Vargas-Llosa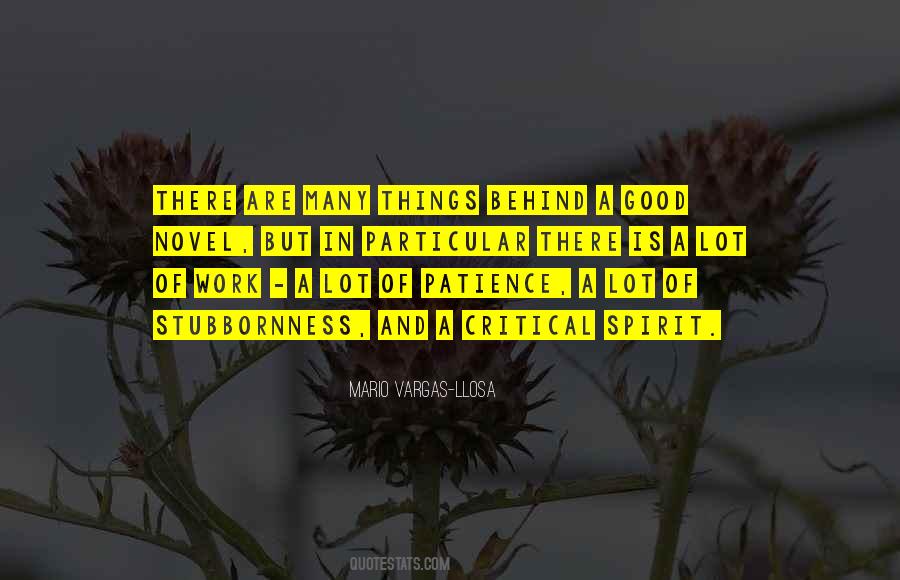 #23. Always try to fix what is broken so that when the blessings come, you will be able to receive it. This generation does a lot of right things for wrong reasons. - Author: Patience Johnson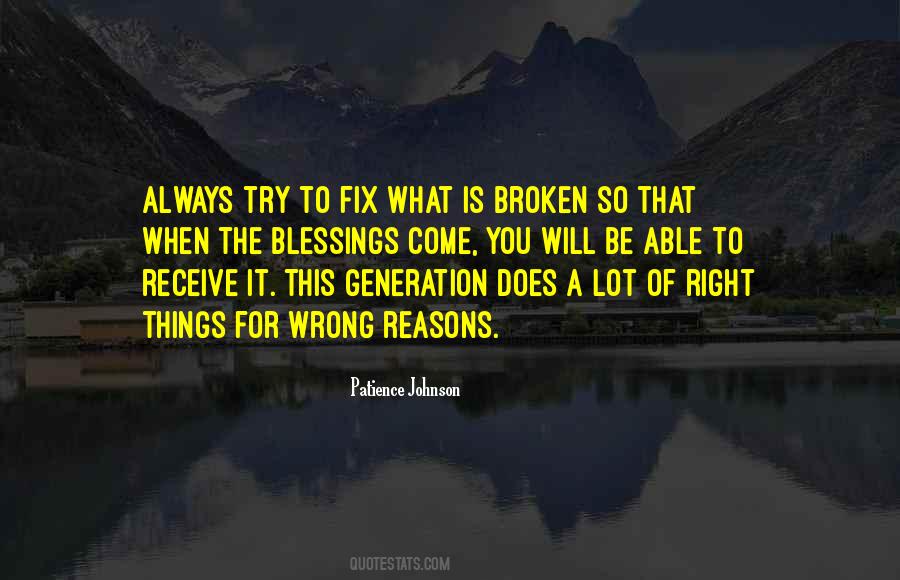 #24. You don't need princes to save you. I don't have a lot of patience for stories in which women are rescued by men. - Author: Neil Gaiman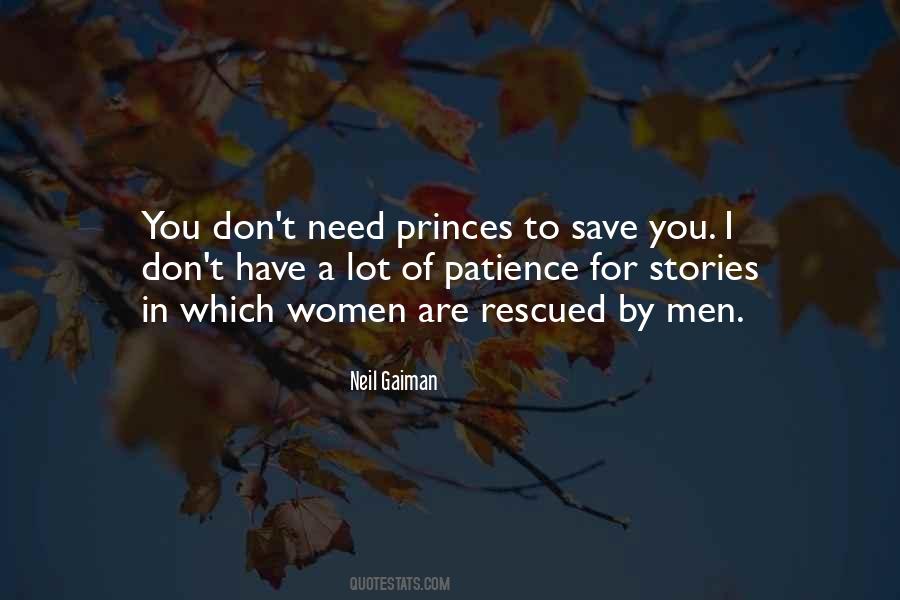 #25. The best thing about my family is my wife. She is a great first lady. I know that sounds not very objective, but that's how I feel. And she's also patient. Putting up with me requires a lot of patience. - Author: George W. Bush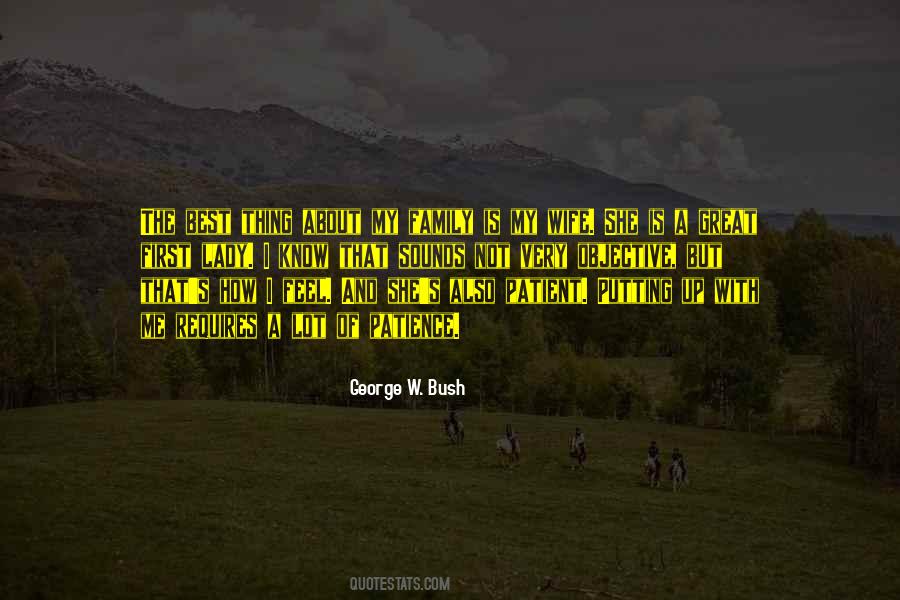 #26. Anyway, it seems to me a man can do an awful lot of evil in no time at all. Swing of a blade is all it takes. Doing good needs time. And all manner of complicated efforts. Most men don't have the patience for it. 'Specially not these days. - Author: Joe Abercrombie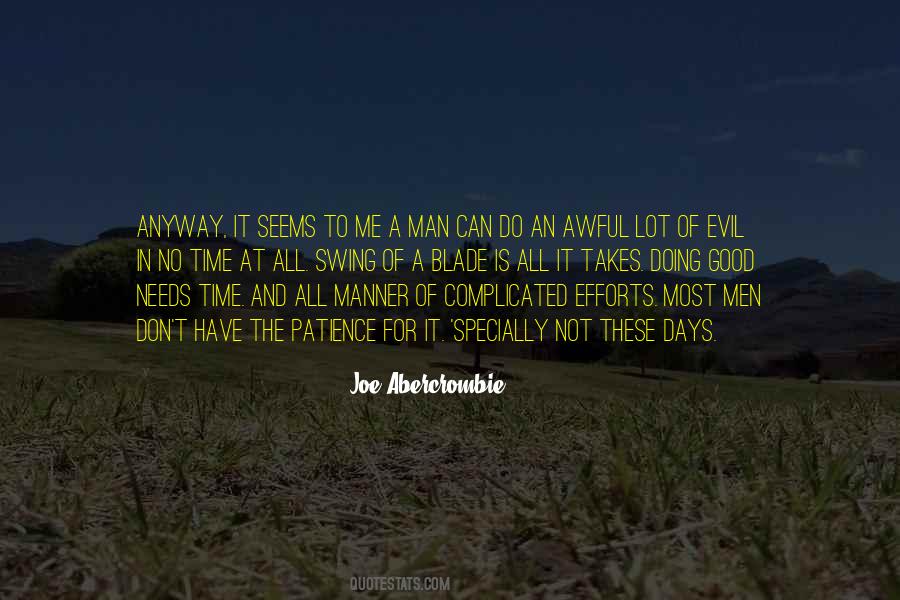 #27. I don't know the definition of a star; I am just an actor. I prefer doing hard work, as I feel luck can't do much in absence of hard work. I am a lazy person - when I entered into this industry, I thought it was a cakewalk, but I have realised it needs a lot of patience and hard work. - Author: Emraan Hashmi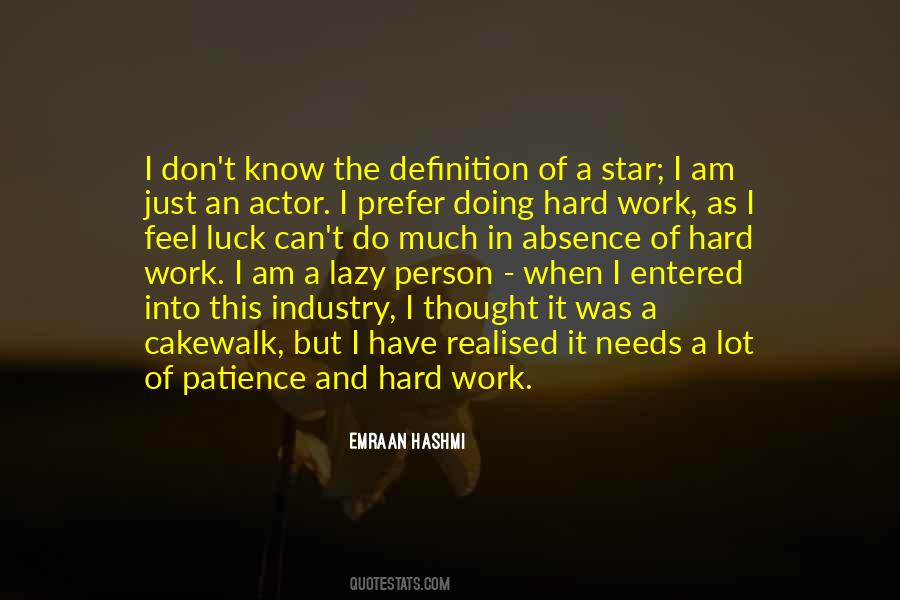 #28. While it is true that Frank had a great sense of humor, he was also very serious about composing music. In reality there are only a handful of skilled players who can play his most complex pieces. It takes a lot of patience to learn and requires a fantastic memory. - Author: Dweezil Zappa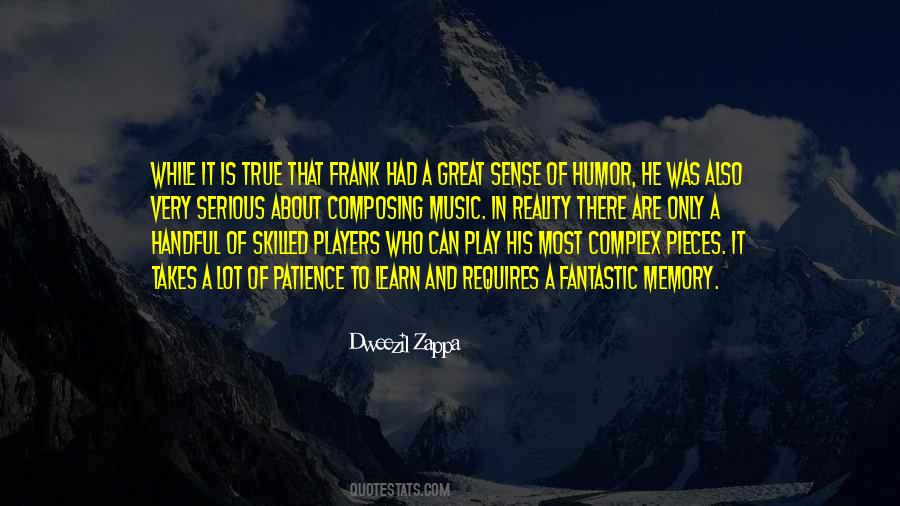 #29. My kids get very upset with me when I leave to do film work, but they have a lot of patience with me when I leave to do environmental work. - Author: Mark Ruffalo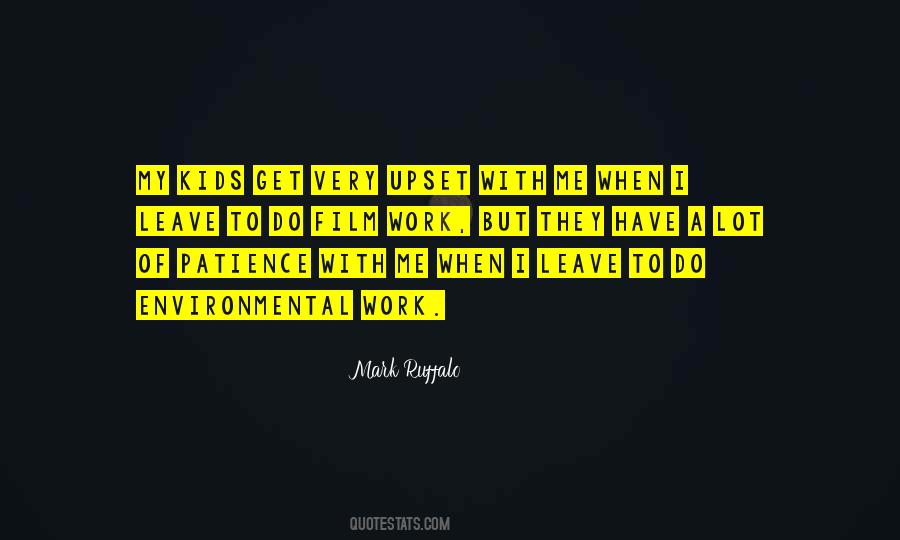 #30. It has a lot to do with developing patience, not with the check-out person so much, but with your own pain that arises, the rawness and the vulnerability, and sending some kind of warmth and love to that rawness and soreness. I think that's how we have to practice. - Author: Pema Chodron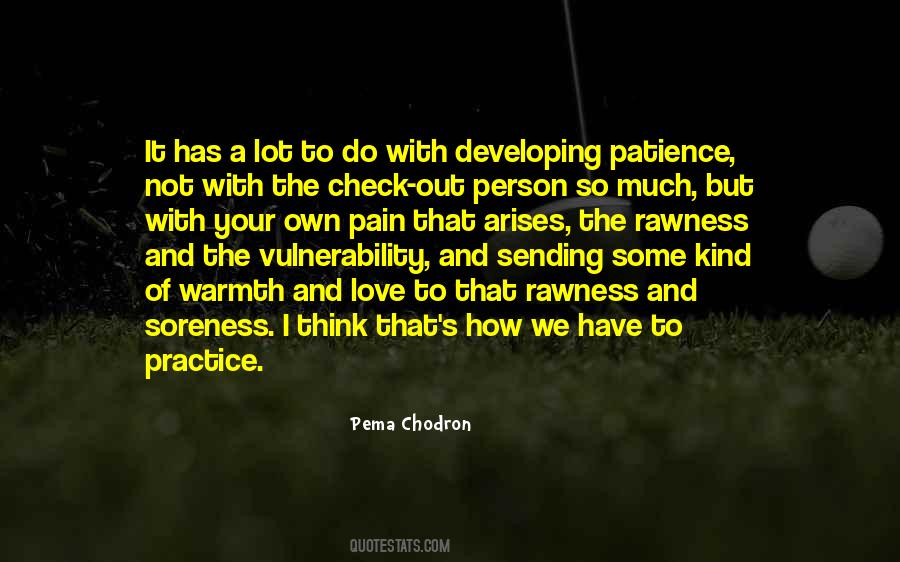 #31. When people see a legend, they call it a legend. But to be a legend, it's a lot of hard work and patience. You can't play for five or ten years and be a legend. It takes longer than that. - Author: Burning Spear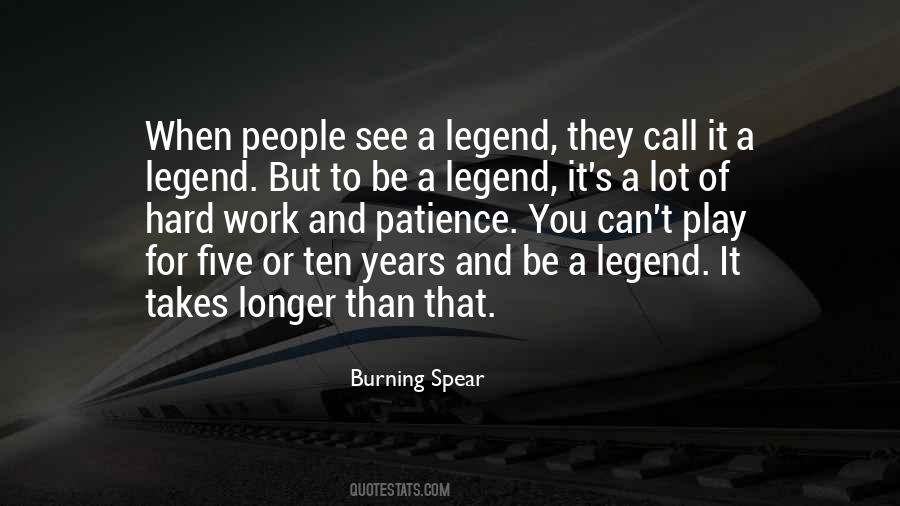 #32. He'd pushed and pushed and pushed until she had nowhere else to go but away from him. He'd been young back then himself. Inexperienced. Stupid. A little patience accomplished a lot more. Hard lesson to learn. Worst way to learn it. - Author: Erin Kellison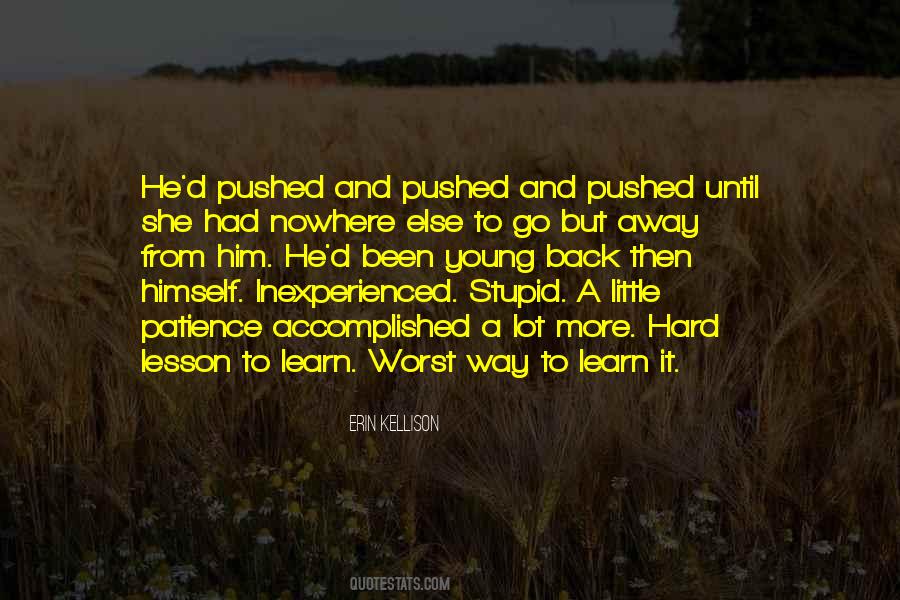 #33. With hand gestures, you can fill in a lot of gaps, and the words thing and stuff and -ness also help: patientness instead of patience, fastness instead of speed, honestness instead of honesty. With these choices, many words can be indicated, and pointing or gesticulating usually works. - Author: Aimee Bender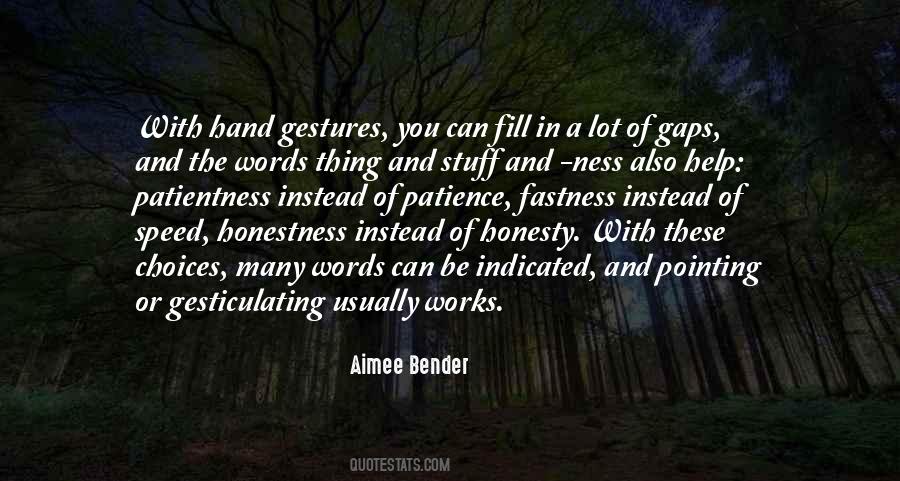 #34. A lot of my work is like picking potatoes; you have to get into the rhythm of it. It is different than patience. It is not thinking. It is working with the rhythm. - Author: Andy Goldsworthy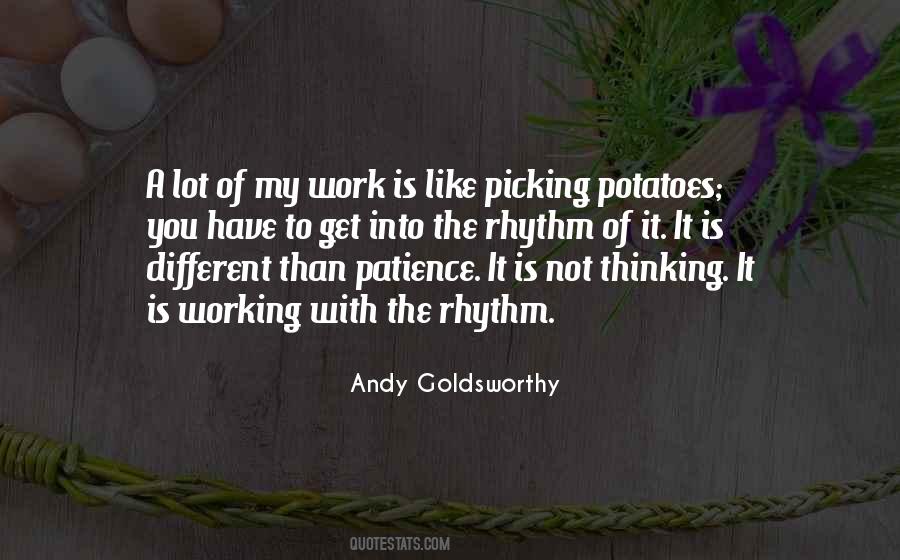 #35. I think as more people use the phones to access the Internet, they have a lot less patience for trying to find things on the search engines. That is because you need to figure a lot of things out for search to work. - Author: Adam D'Angelo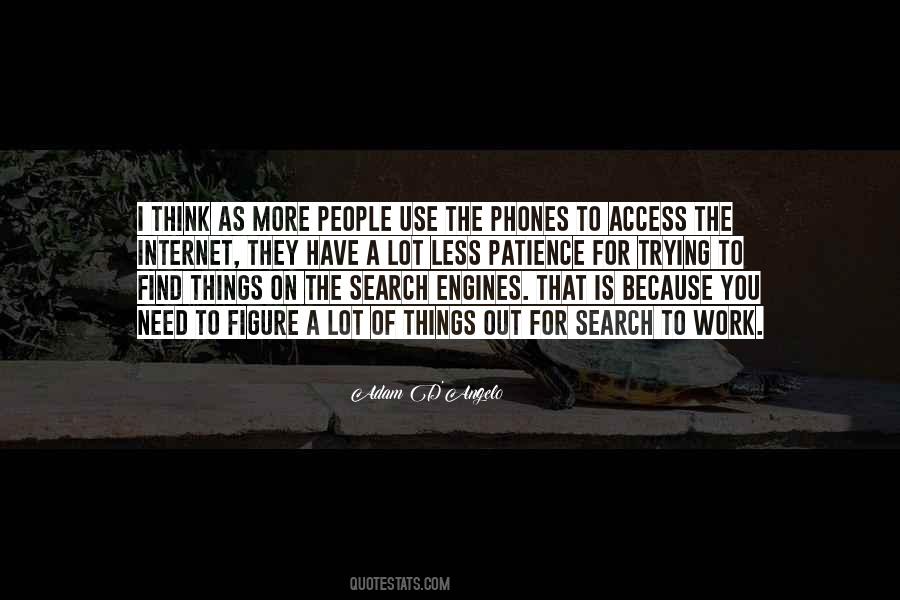 #36. He didn't say a lot so I tend to
remember what he did say. And I don't remember that he had a lot of patience with havin to say things twice so I learned to listen the first time. - Author: Cormac McCarthy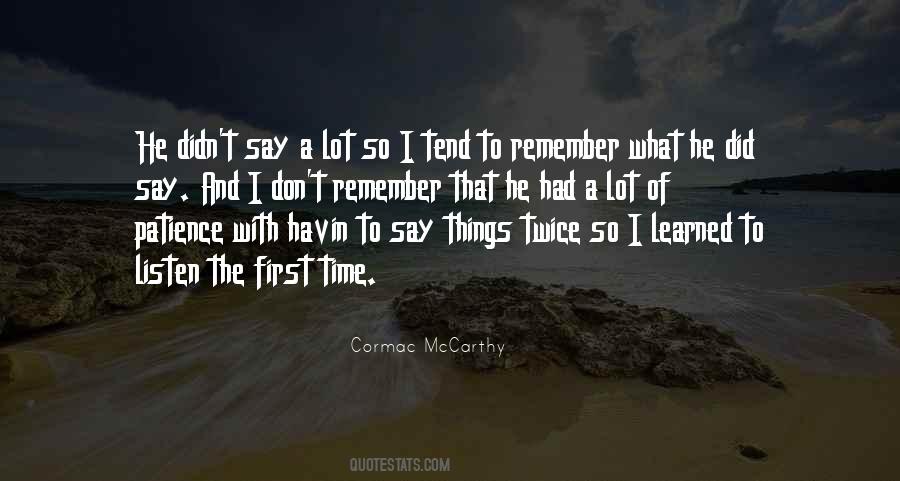 #37. It's pretty easy to think of the idea of a story, and maybe even to write a scene or two, but understanding the ebb and flow of a narrative, where to leave the little clues your protagonist (and reader) need, while playing fair, takes a lot more skill and patience than you might think. - Author: Dennis Green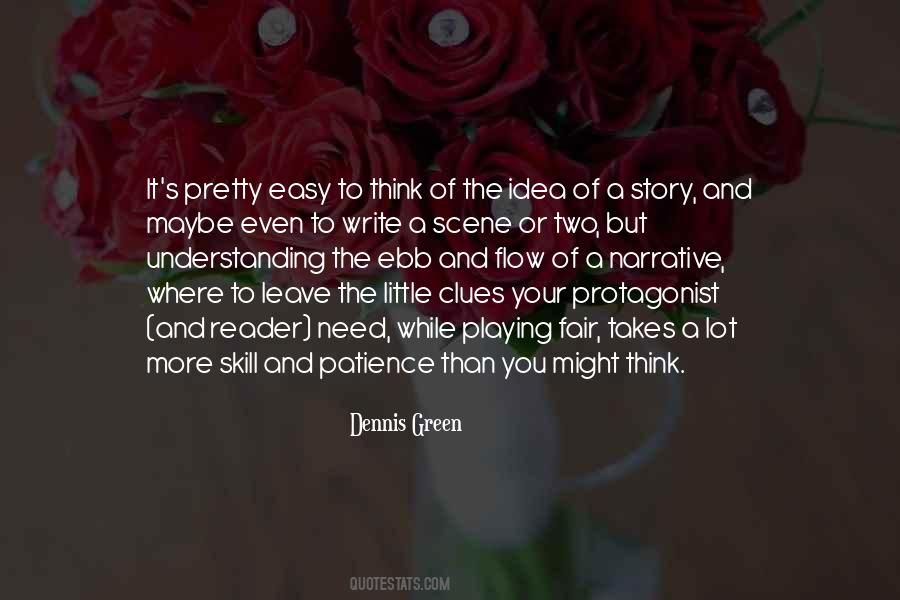 #38. This life of ours can feel an awful lot like waiting. - Author: Christina Baker Kline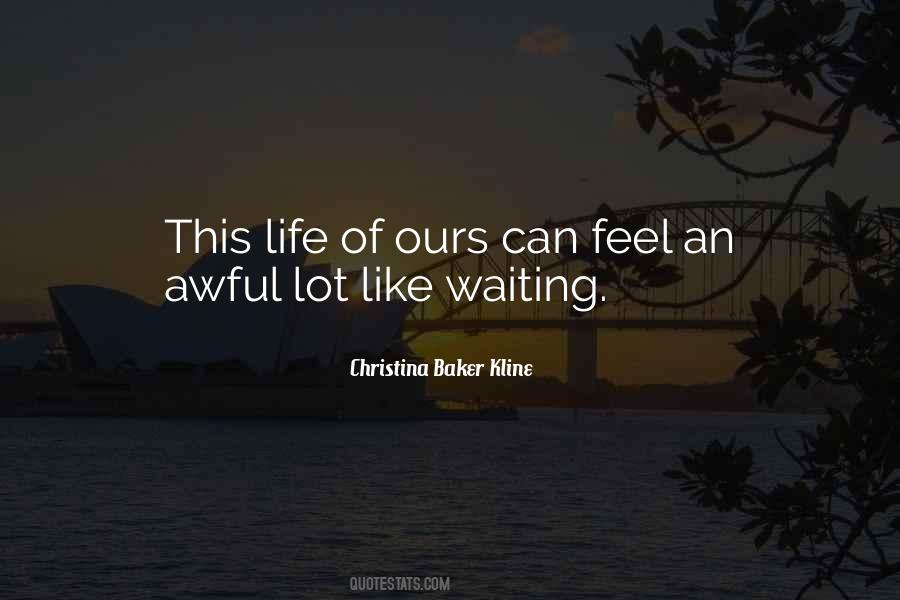 #39. Some broken things you can't mend. Some you have to put together very slowly piece by fragile piece, waiting until the last bit of work is strong enough before you try the next. It takes a lot of patience. - Author: Juliet Marillier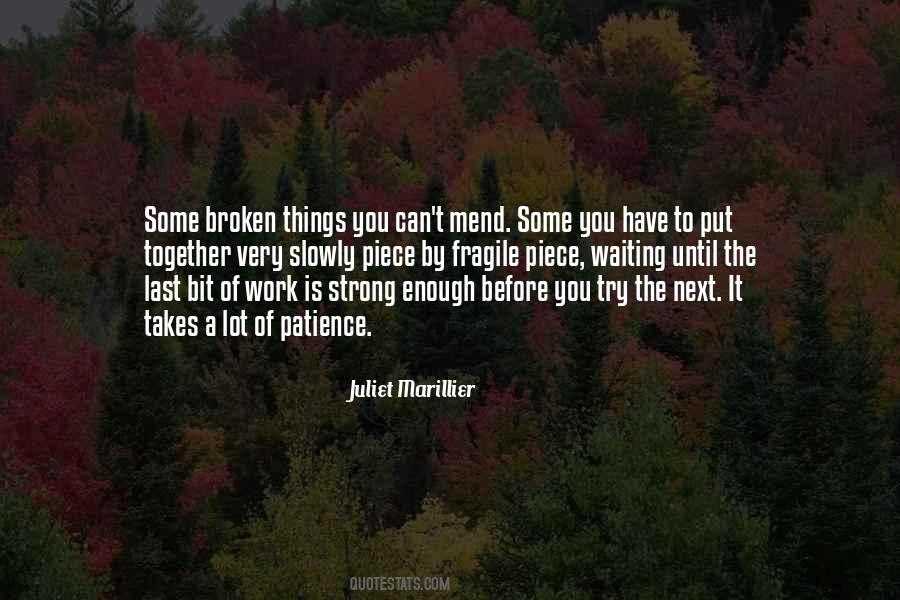 #40. Learning patience takes a lot of patience! - Author: Tim Hansel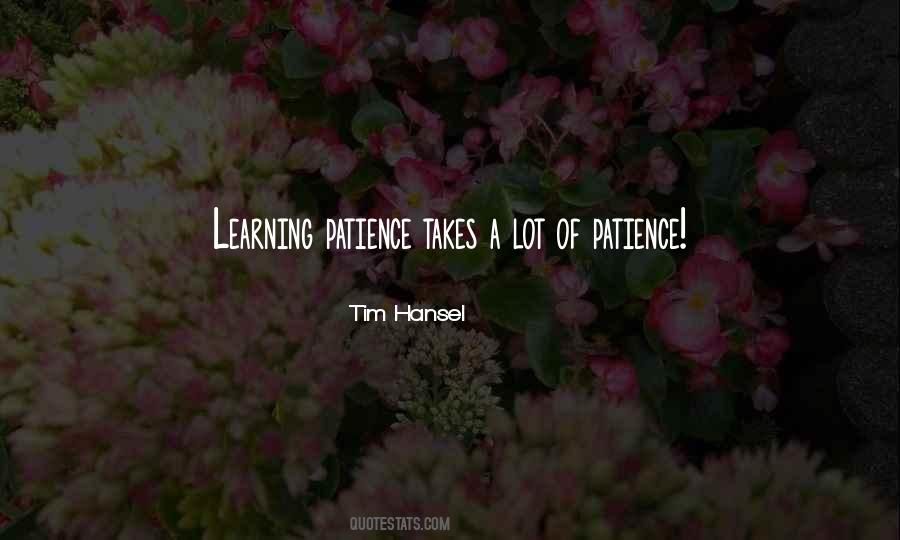 #41. I don't know if there's a lot of patience anymore. I think that could serve a lot of people. - Author: Jeremy Piven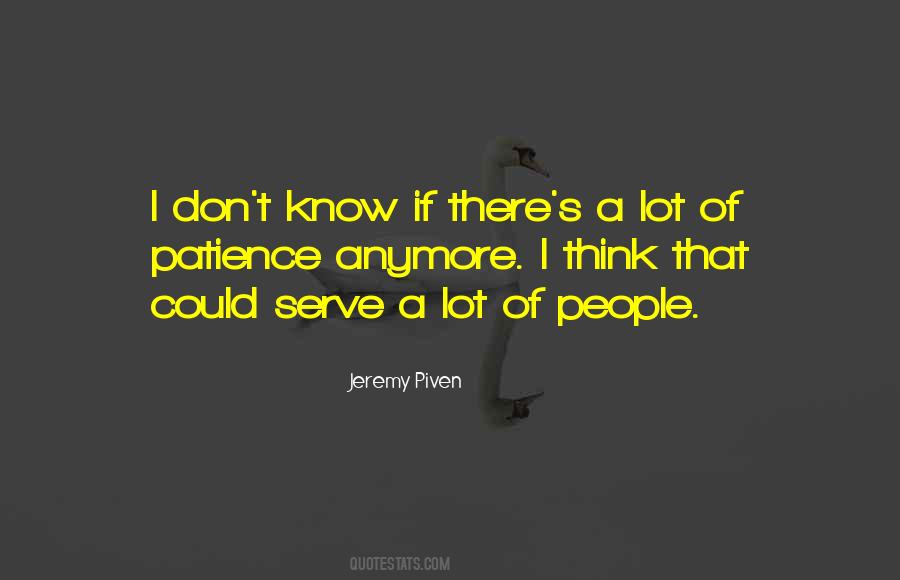 #42. We've lost a lot of years, but you can't lose love. Not real love. It stays locked inside you, ready for whenever you are strong enough to find it again. - Author: Martina Boone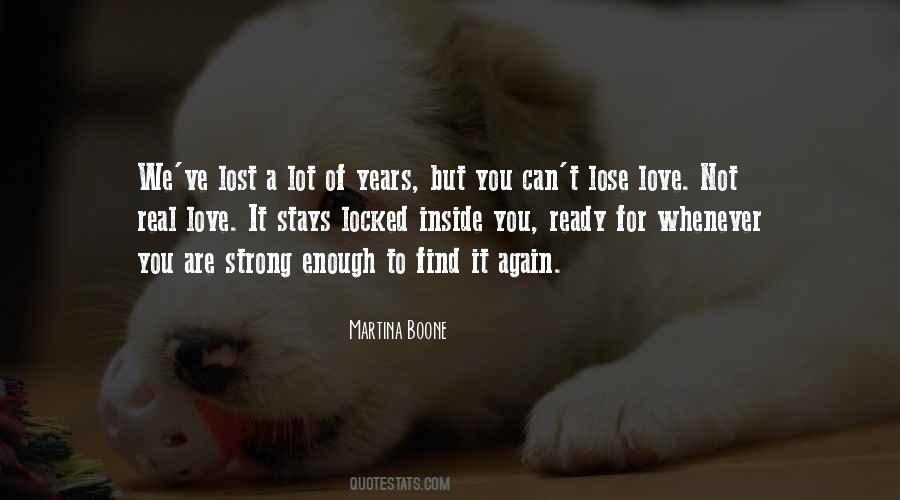 #43. Patience was part of his nature, and he accepted his lot as a short-lived mammal, scurrying in and out amid the roots of the giants. - Author: Ruth Ozeki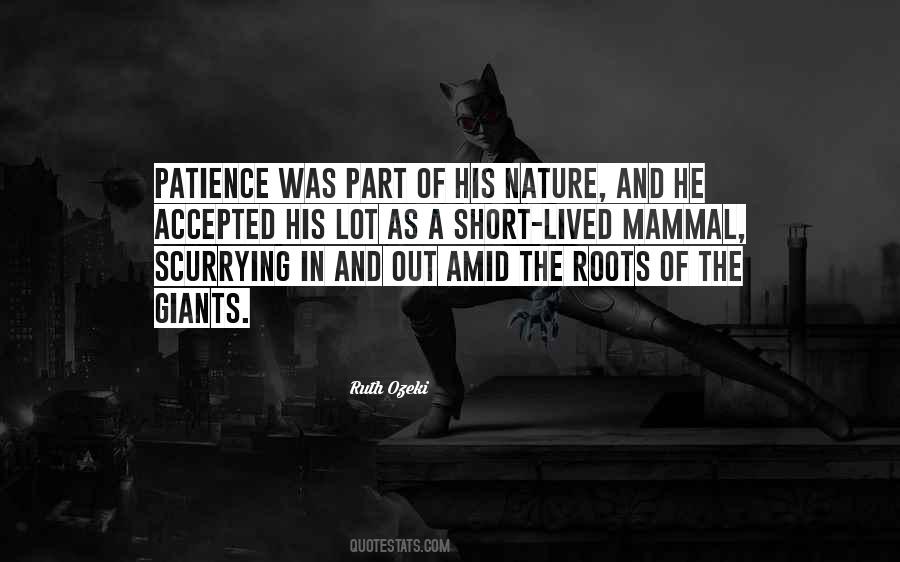 #44. I've done an awful lot of stuff that's a monument to public patience. - Author: Tyrone Power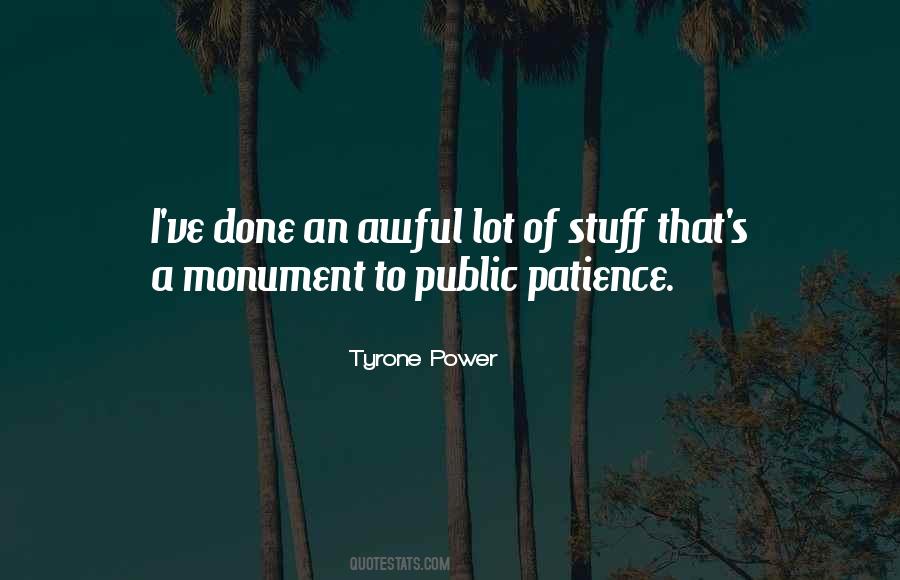 #45. Writing takes a lot of patience. It usually takes me a year to write a book. One time, it took me 14 years to write a book, not that I worked on it every day. - Author: Avi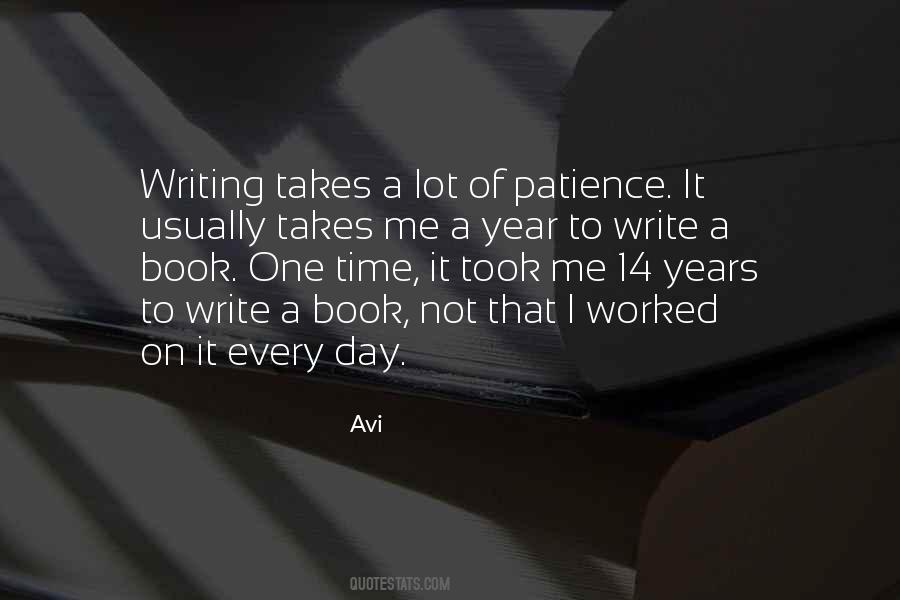 #46. But first I had to get through the ironing. It took a lot of patience. I had none. It took forever, and then I had to press the whole shirt again to get out the creases I'd pressed into it. - Author: Jennifer Echols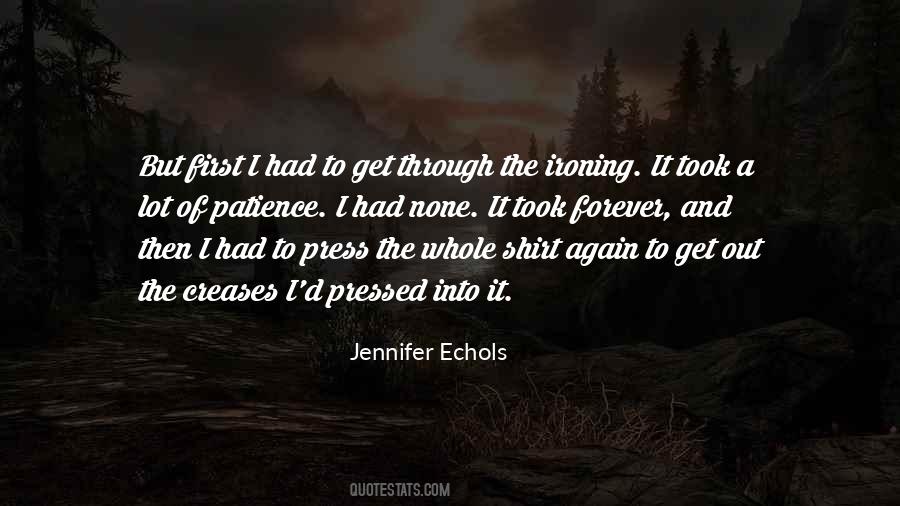 #47. The Gnostic needs a lot of patience because any act of impatience leads him to failure. - Author: Samael Aun Weor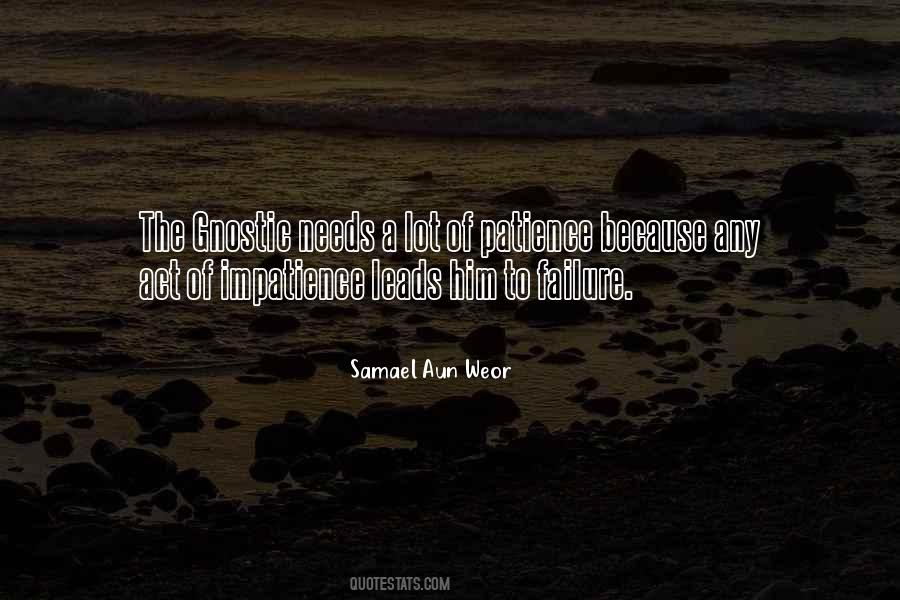 #48. I think God's really blessed me with patience. I'm good with a lot of things going on at once. - Author: Niki Taylor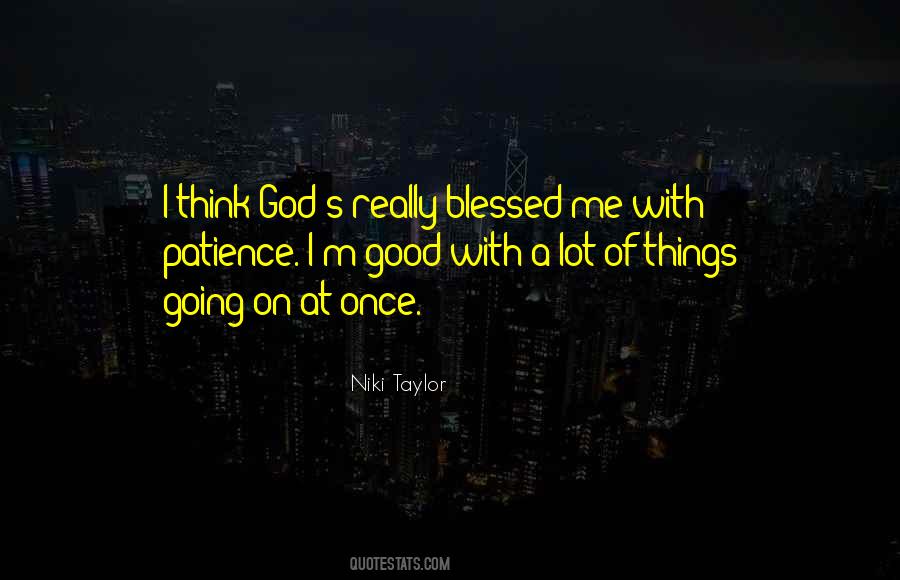 #49. Writing novels is largely about endurance and patience. I take a lot of breaks, hit walls, and go do something else while I think things through. But I do it every day, and I try to treat it as a job, something that is not dictated by whimsy or muses. - Author: Adam Mansbach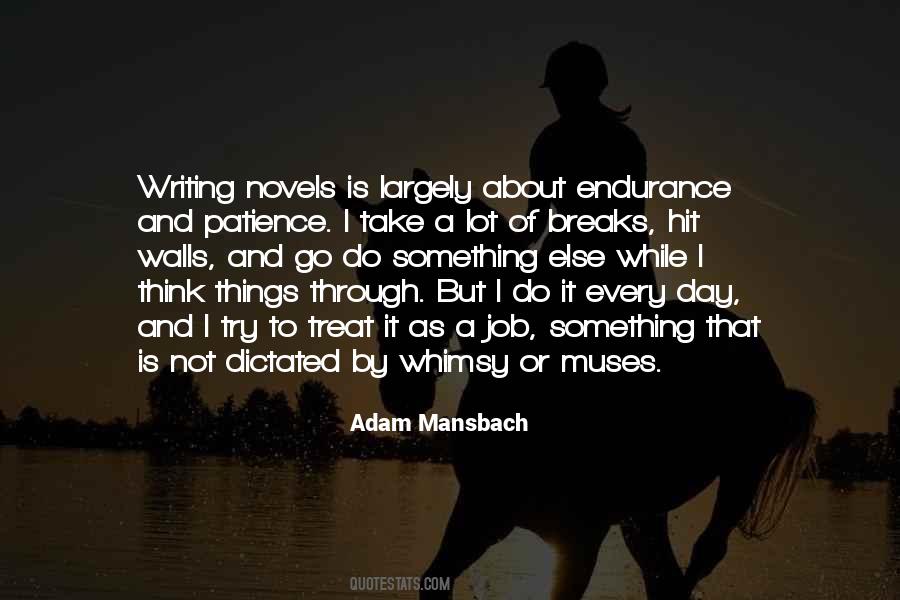 #50. If you took our top fifteen decisions out, we'd have a pretty average record. It wasn't hyperactivity, but a hell of a lot of patience. You stuck to your principles and when opportunities came along, you pounced on them with vigor. - Author: Charlie Munger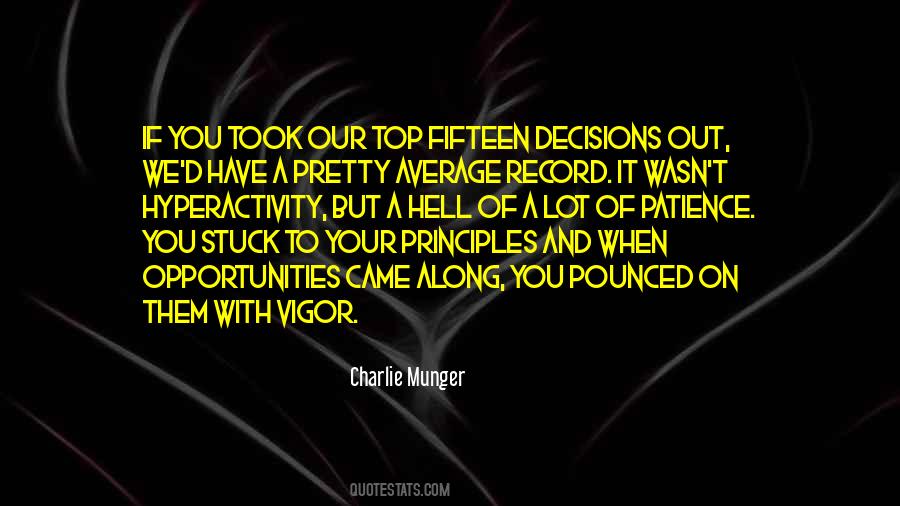 #51. Only it takes time to be happy. A lot of time. Happiness, too, is a long patience. And in almost every case, we use up our lives making money, when we should be using our money to gain time. - Author: Albert Camus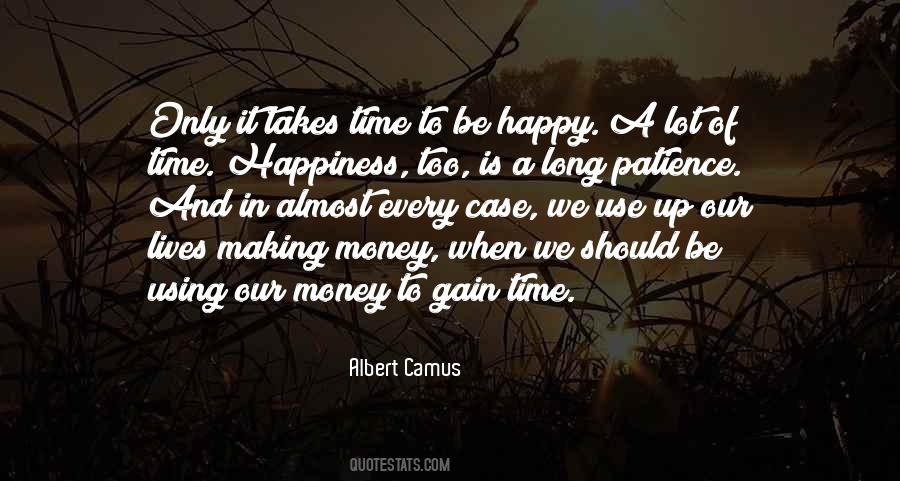 #52. However, to be a coach I think you have to have a lot of patience. You have to understand what they have going on in their lives and it's a very rewarding career but you also need to know that your not going to get paid a ton of money and you have to be patient with people and a good listener. - Author: Robin Farina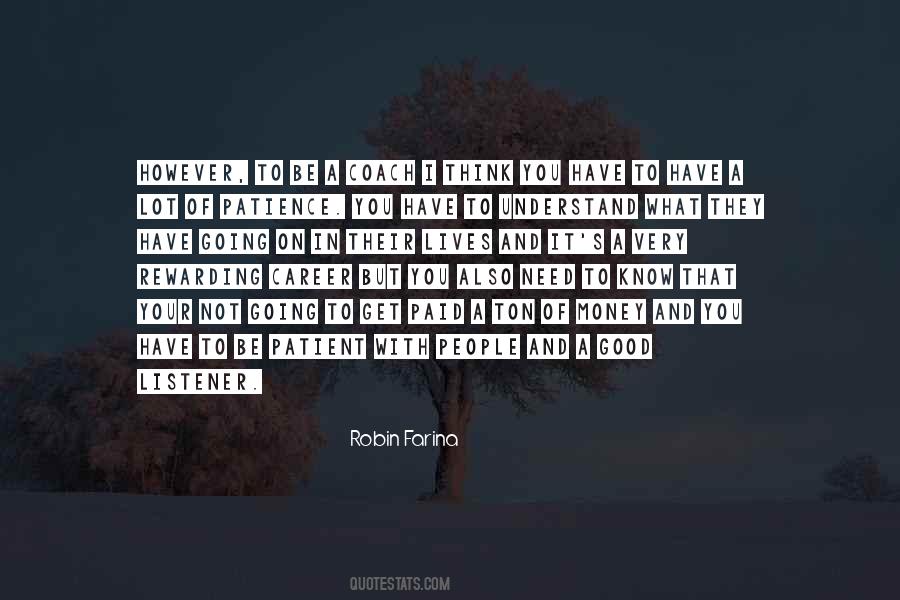 #53. In this day and age, you need a lot of patience if you are in the movie business. - Author: Brett Ratner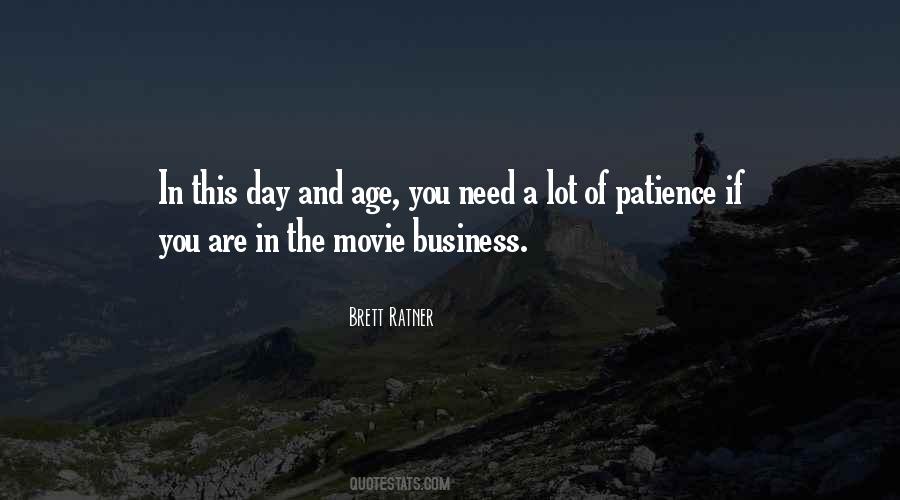 #54. I admire these phone hackers. I think they have a lot of patience. I can't even be bothered to check my OWN voicemails. - Author: Andrew Lawrence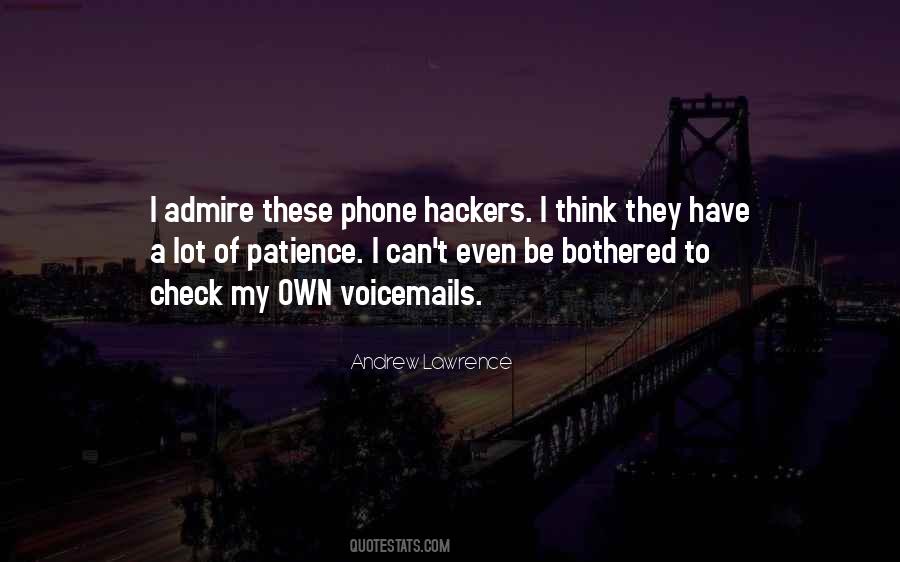 #55. The anti-suffragist talk of sheltering women from the fierce storms of life is a lot of cant. I have no patience with it. These storms beat on woman just as fiercely as they do on man, and she is not trained to defend herself against them. - Author: Susan B. Anthony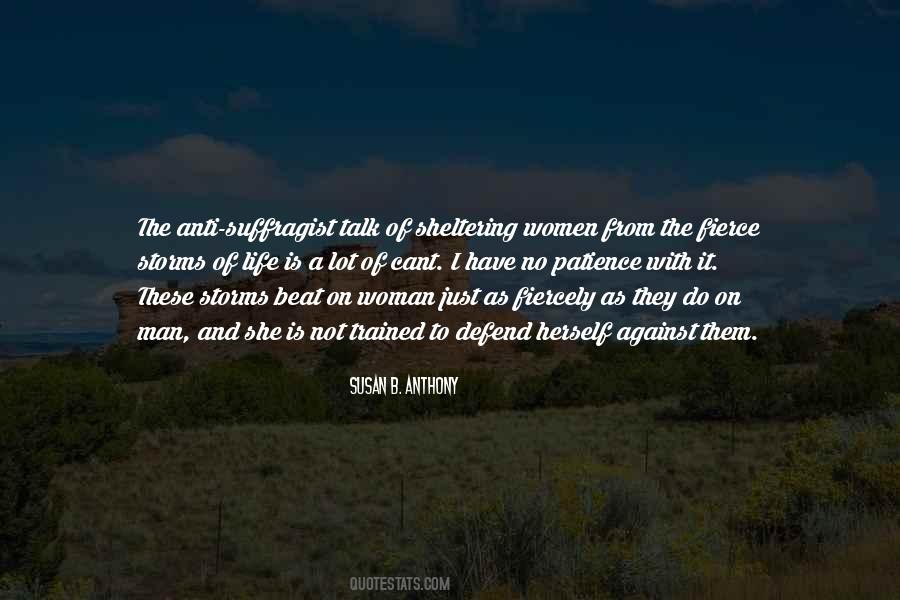 #56. I usually write very few stage directions. I think a lot of that is a waste of time. The art of screenwriting is in its terseness, saying a lot with a little. I have no patience when I read a script where the writer describes this guy and what he's wearing and his glasses and his hair. - Author: Scott Frank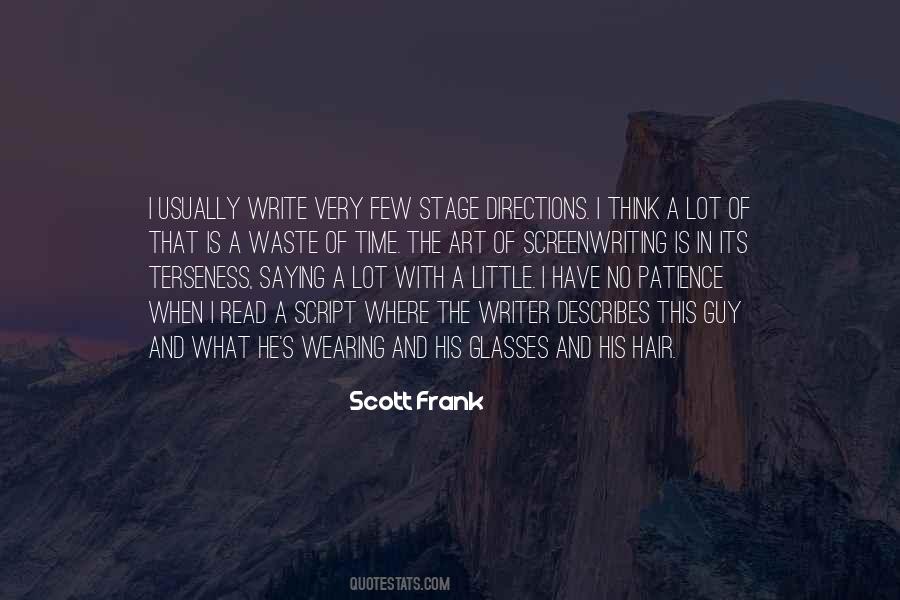 Famous Authors
Popular Topics