I Choose Peace Famous Quotes & Sayings
List of top 82 famous quotes and sayings about i choose peace to read and share with friends on your Facebook, Twitter, blogs.
Top 82 I Choose Peace Quotes
#1. I choose peace, over things I might hear about others, if I put my ear close to the wind! - Author: Kamini Arichandran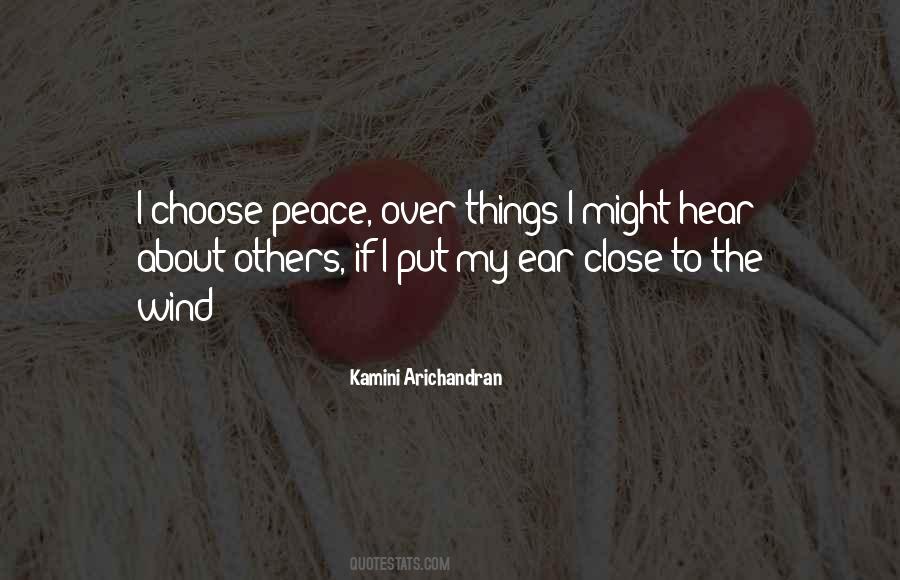 #2. I can choose peace rather than this. - Author: Wayne W. Dyer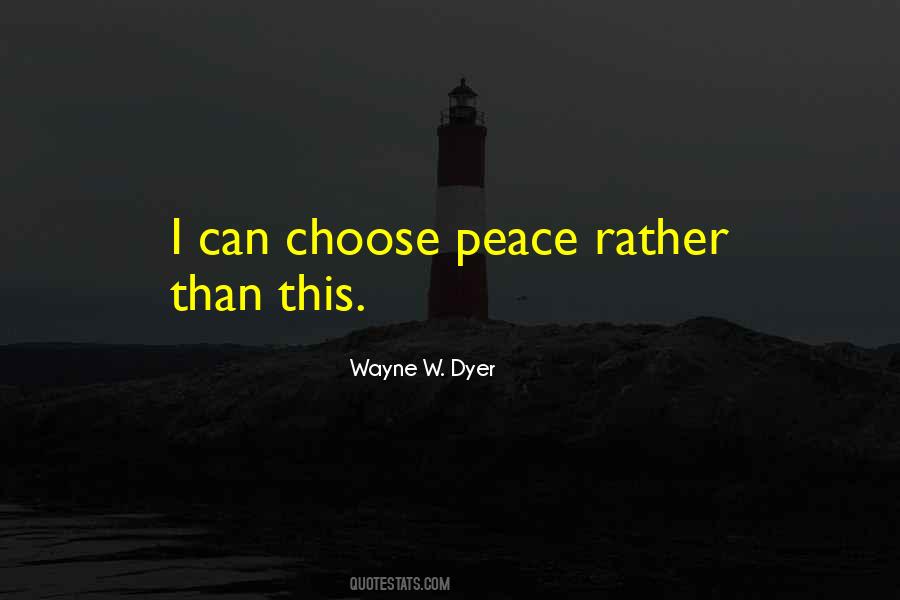 #3. Parents, choose your words wisely, carefully, thoughtfully. In the same way that violence begets violence and anger begets anger, kindness begets kindness and peace begets peace. Sow words of peace, words that build, words that show respect and belief and support. - Author: L.R. Knost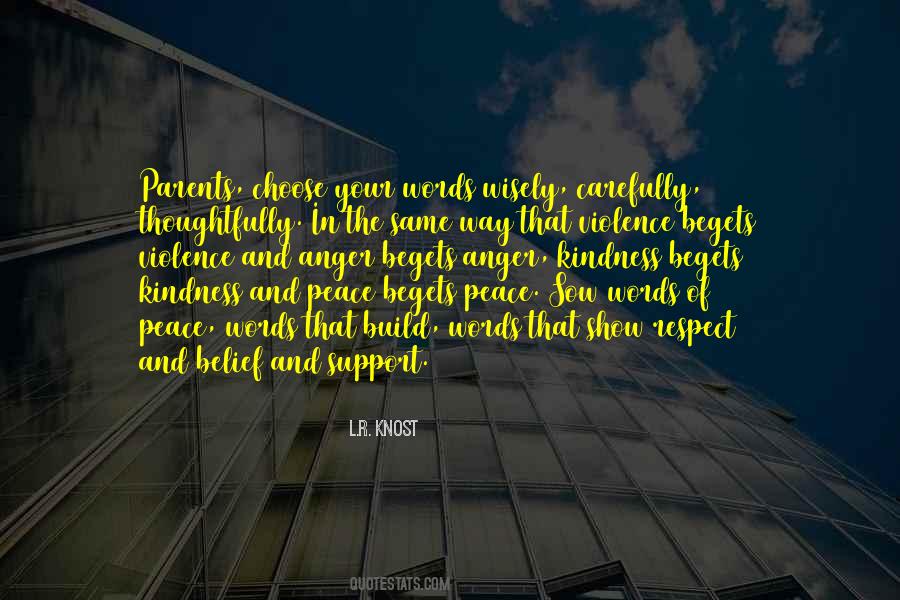 #4. It's not the situation that's causing your stress, it's your thoughts, and you can change that right here and now. You can choose to be peaceful right here and now. Peace is a choice, and it has nothing to do with what other people do or think. - Author: Gerald Jampolsky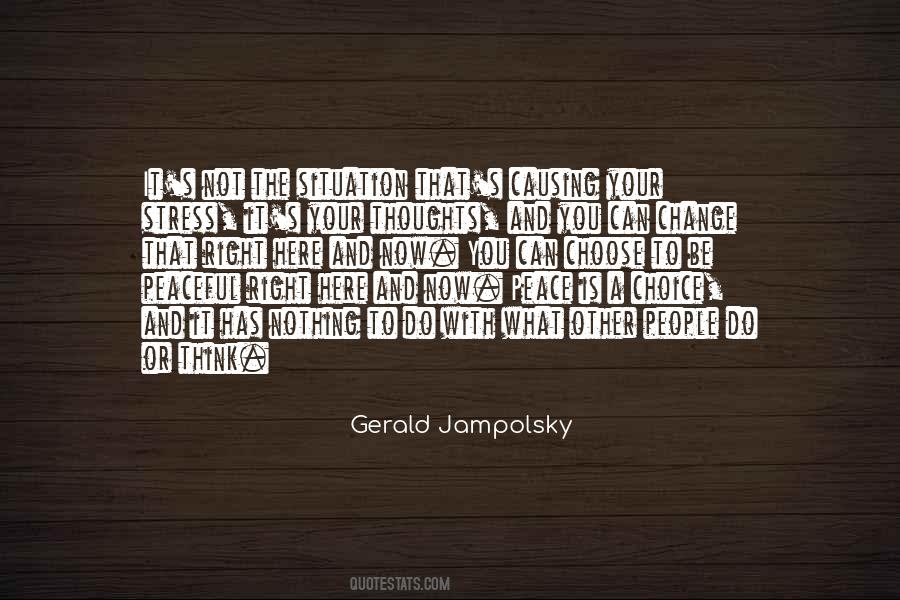 #5. What ideals, when followed, will bring to you those blessings you so much seek, even a quiet conscience, a peace-filled heart, a loving family, a contented home? May I suggest these three: Choose your friends with caution. Plan your future with purpose. Frame your life with faith. - Author: Thomas S. Monson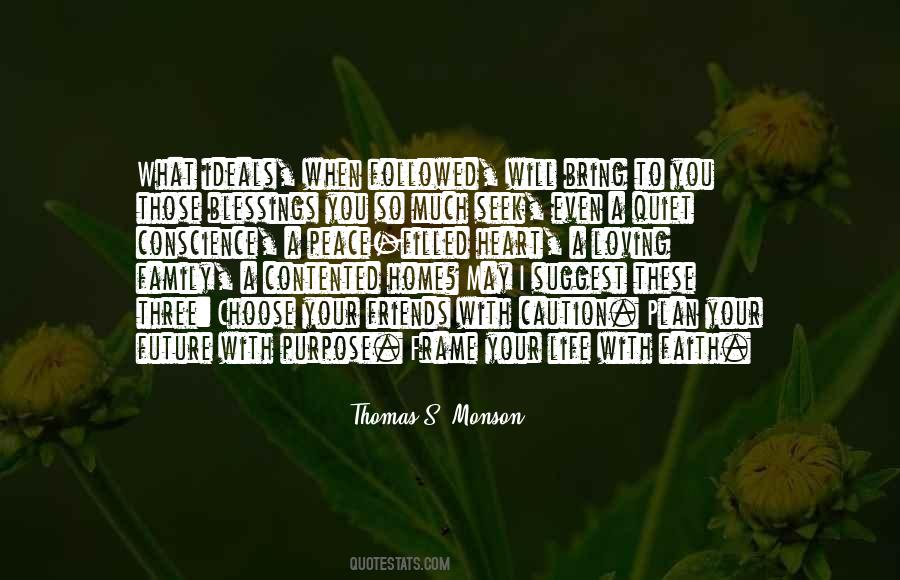 #6. As a war correspondent and a mother, I've learned to live in two different realities ... but it's my choice. I choose to live in peace and witness war - to experience the worst in people but to remember the beauty. - Author: Lynsey Addario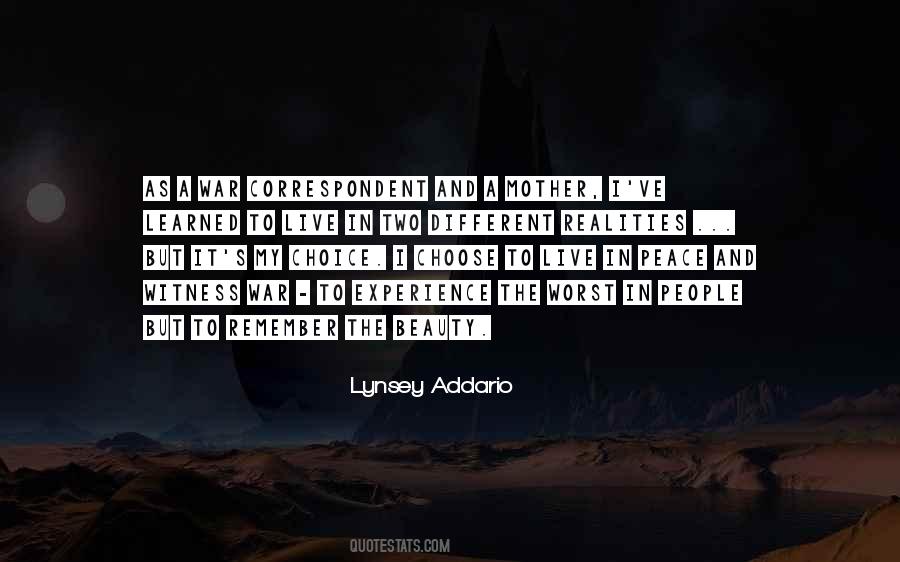 #7. We can't direct the wind, but we can adjust the sails. For maximum happiness, peace, and contentment, may we choose a positive attitude. - Author: Thomas S. Monson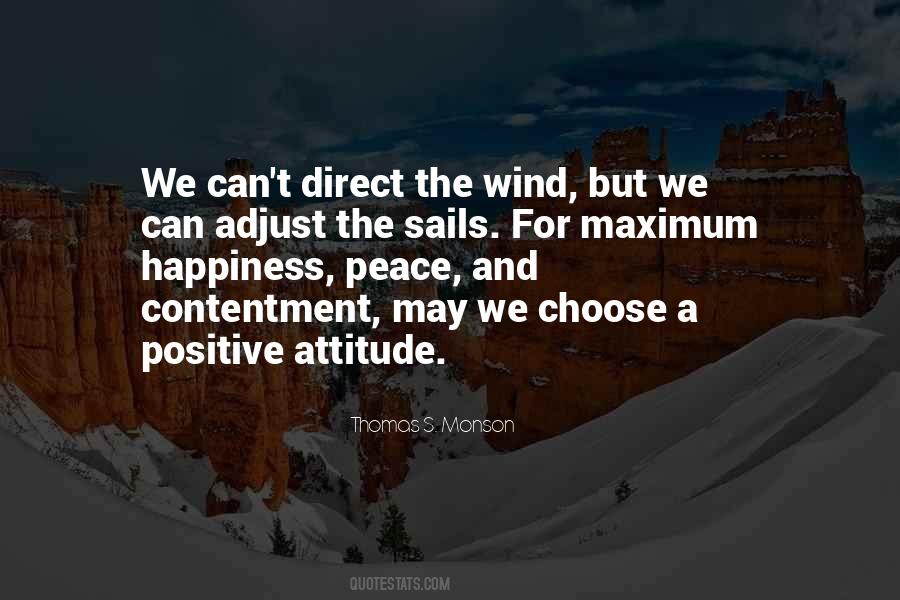 #8. I release all fears and doubts. I accept myself and create peace in my mind and heart. I now choose to free myself from all destructive fears and doubts. I am loved and I am safe. - Author: Louise Hay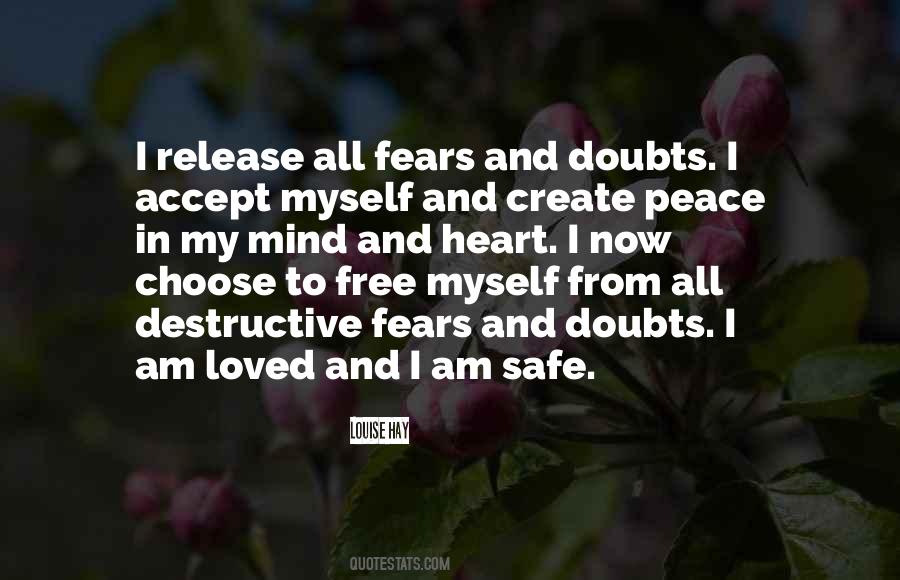 #9. Governments constantly choose between telling lies and fighting wars, with the end result always being the same. One will always lead to the other. - Author: Thomas Jefferson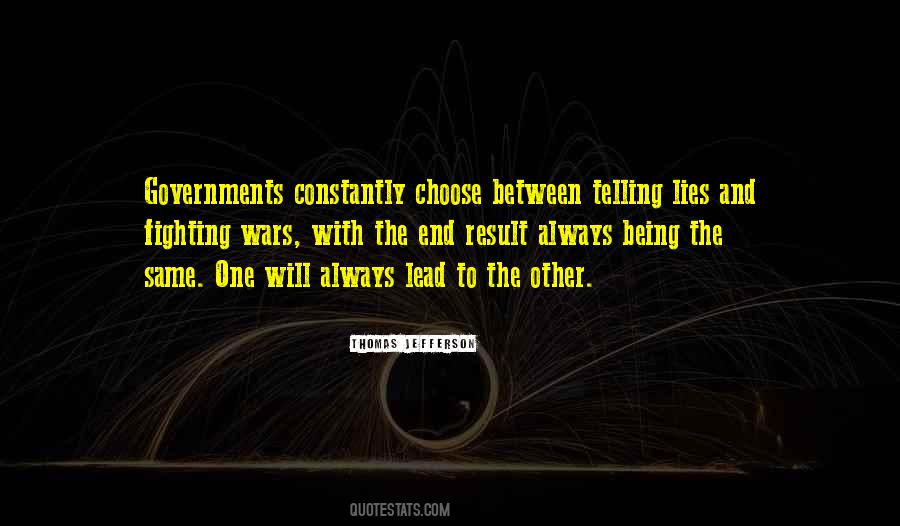 #10. In trials and hardships, we can choose to be grounded in hope and experience peace in the chaos, or wiggle and wrestle with worry and wind up at the same destination!EL - Author: Evinda Lepins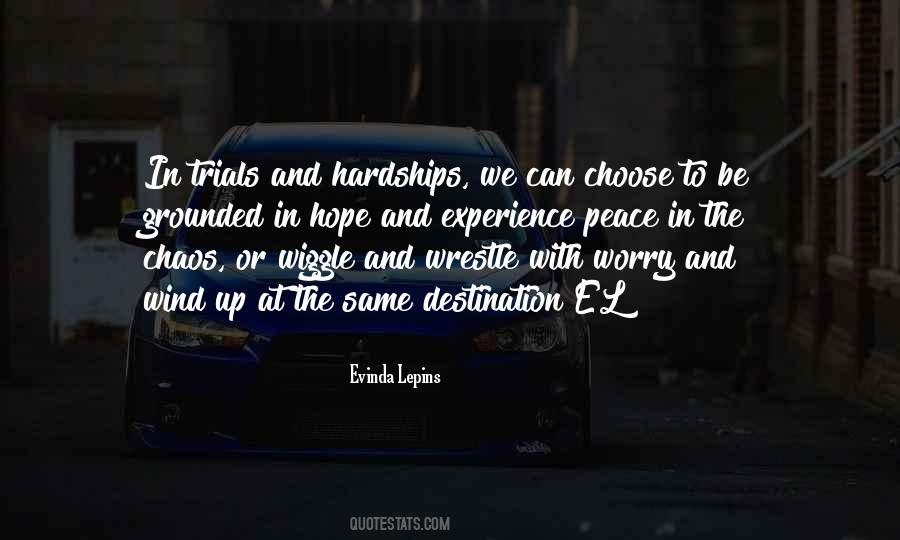 #11. Every day we have a choice - either to spread love and peace or to spread hate and war! And each one of us must choose love and peace each time and every time! - Author: Avijeet Das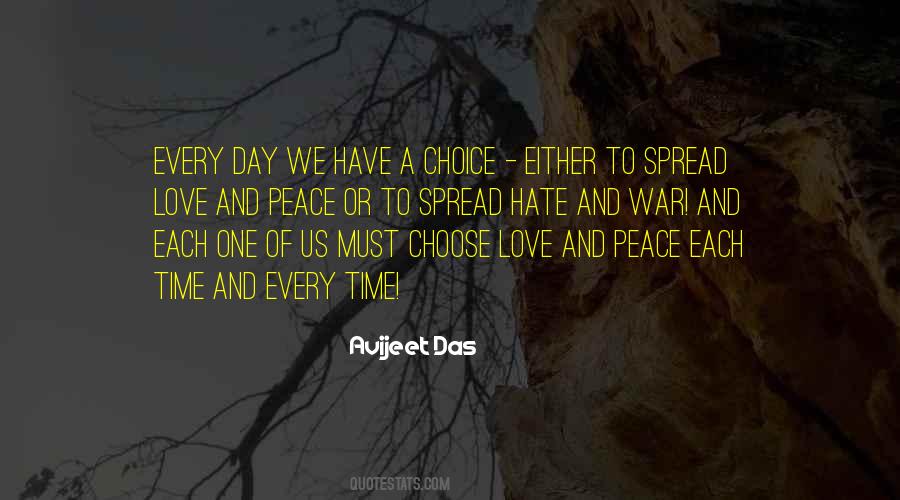 #12. I remember to breathe throughout the day. I remind myself that I can choose peace, no matter what is going on around me. Whenever I desire, I can retreat to that quiet place within simply by closing my eyes. - Author: Doreen Virtue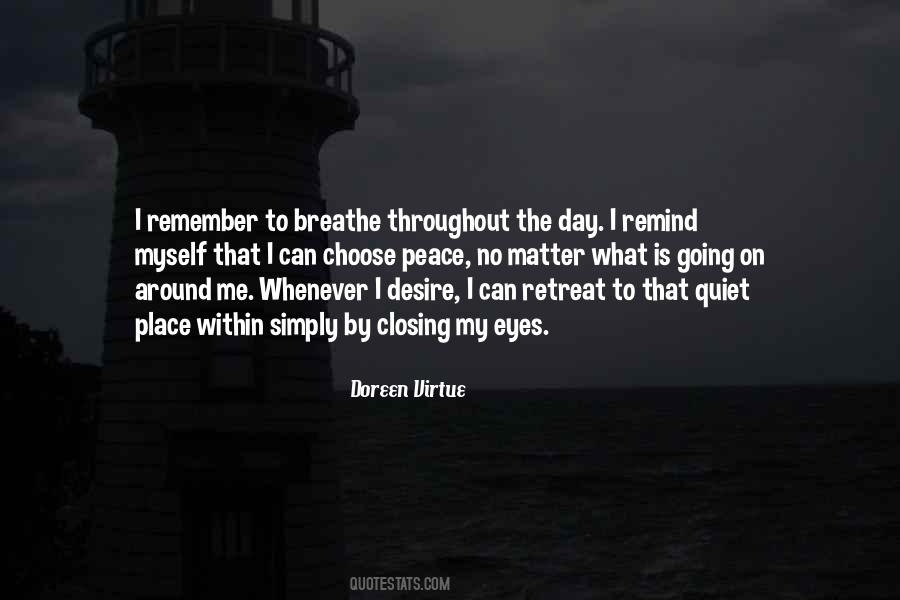 #13. Please choose the way of peace.. In the short term there may be winners and losers in this war that we all dread. But that never can, nor never will justify the suffering, pain and loss of life your weapons will cause. - Author: Mother Teresa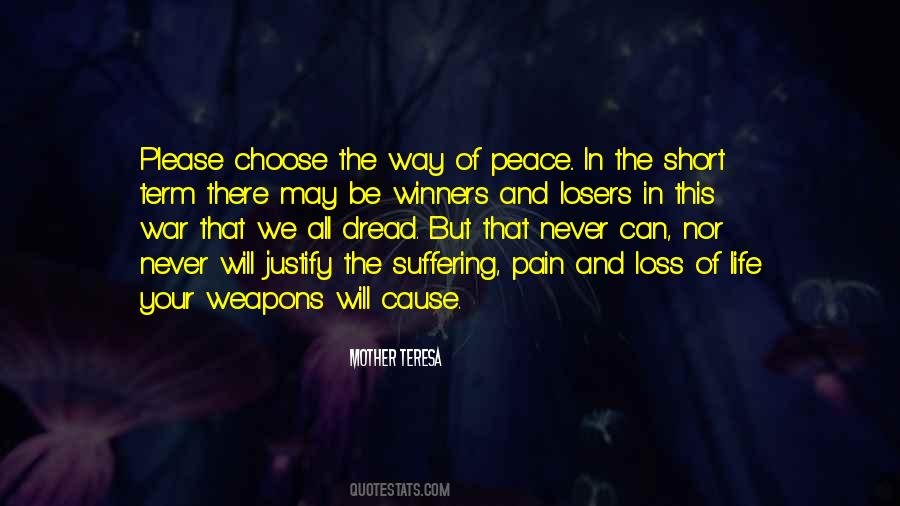 #14. Although we cannot command it, we choose joy, making a deliberate commitment to happiness (essentially another word for peace). - Author: Wendy Beckett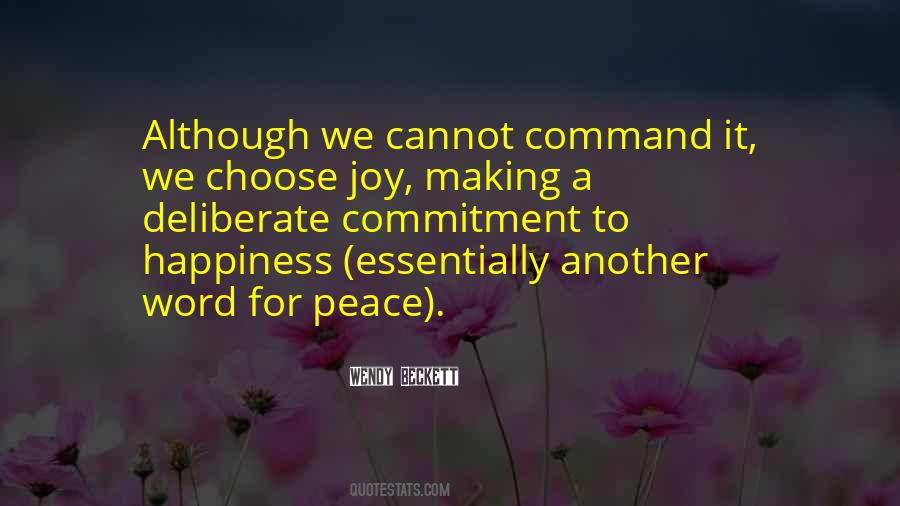 #15. Feeling at peace, however fragilely, made it easy to slip into the visionary end of the dark-sight. The rose shadows said that they loved the sun, but that they also loved the dark, where their roots grew through the lightless mystery of the earth. The roses said: You do not have to choose. - Author: Robin McKinley
#16. The truths of the gospel do not change. If you will follow the Christ, follow his prophet, and follow his Spirit, you will always choose the right. As a result of your wise choices, your testimony will grow stronger, and great blessings of joy, happiness, and peace will be yours. - Author: Joseph B. Wirthlin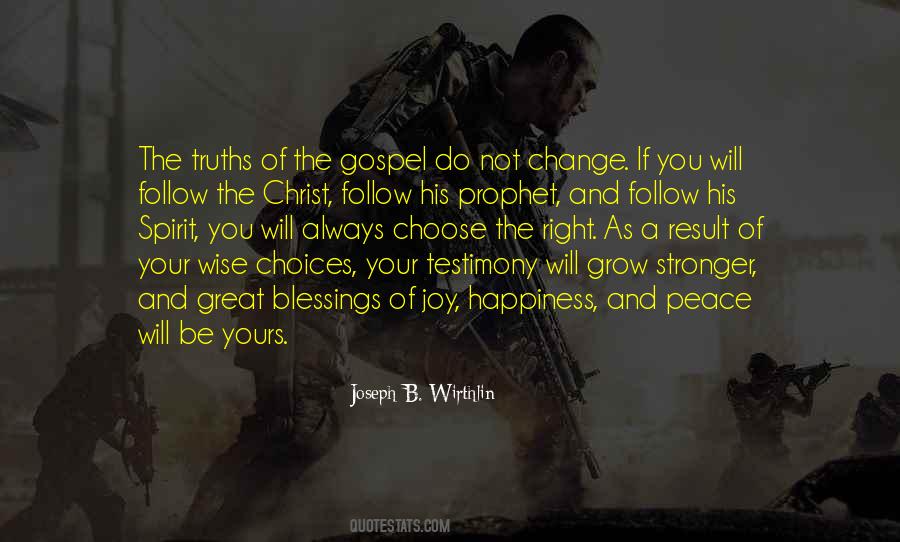 #17. I see the good in the world because I choose to. I don't imagine that it's there; it's there waiting to be noticed. - Author: Richelle E. Goodrich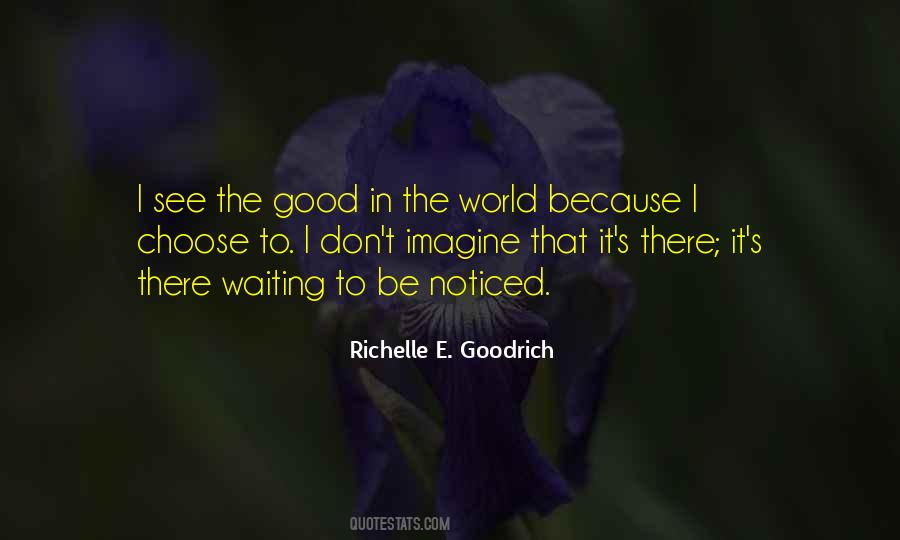 #18. The path you walk is unique and needed. There is no other like yours. On your path you experience love, joy and peace, as well as loneliness, sadness and torment. These all are specific lessons you choose to rediscover your divine identity. - Author: Raphael Zernoff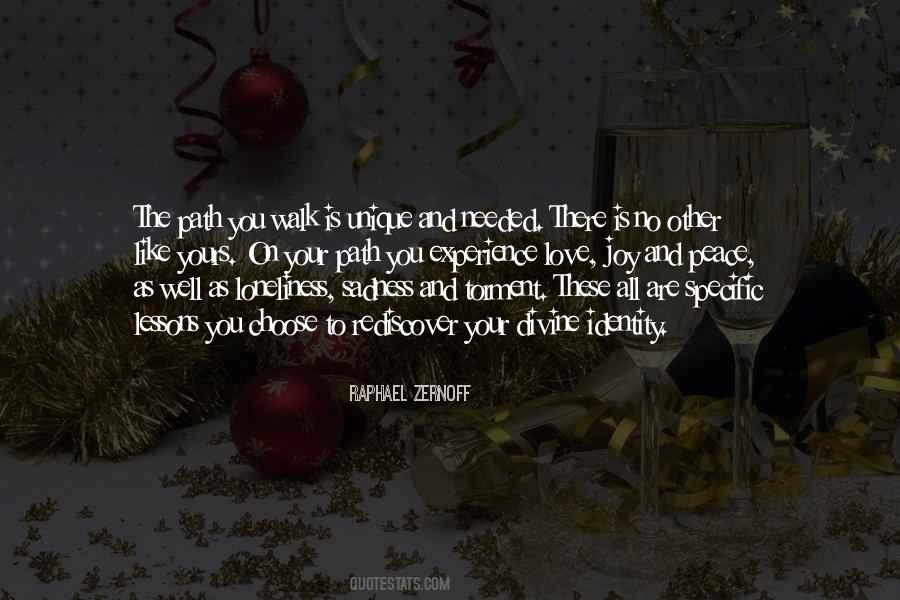 #19. It is up to us in our time to choose, and choose wisely, between the hard but necessary task of preserving peace and freedom, and the temptation to ignore our duty and blindly hope for the best while the enemies of freedom grow stronger day by day. - Author: Ronald Reagan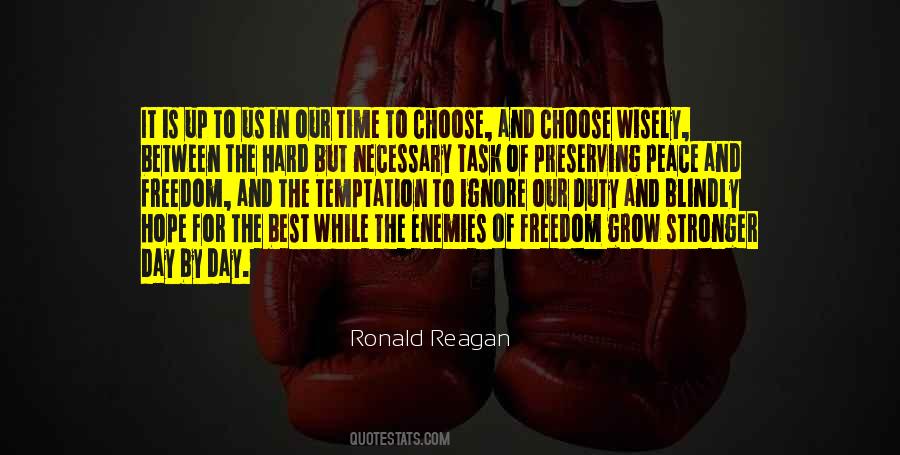 #20. I have a decision to go, but I am not sure to choose which other prison on the earth. - Author: Ali Rezavand Zayeri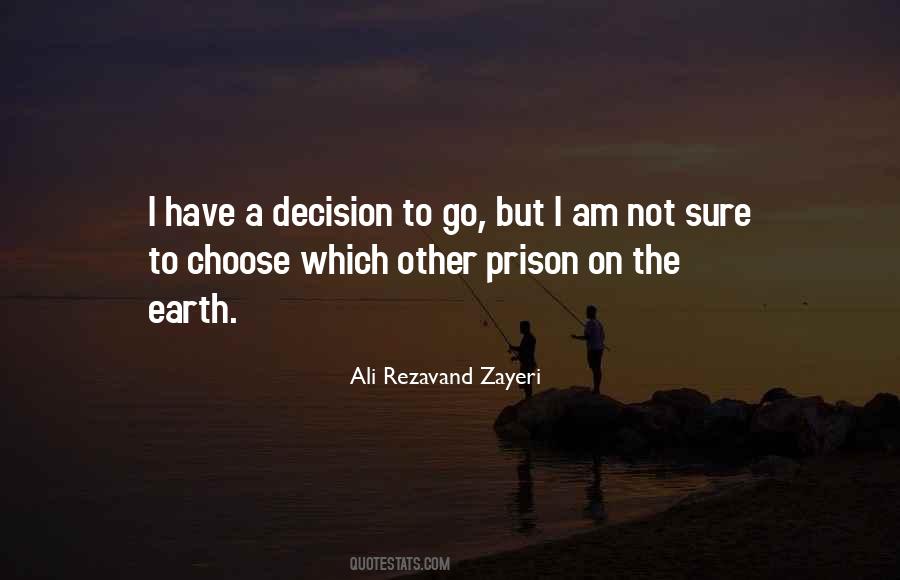 #21. If I have to choose between peace and righteousness, I'll choose righteousness. - Author: Theodore Roosevelt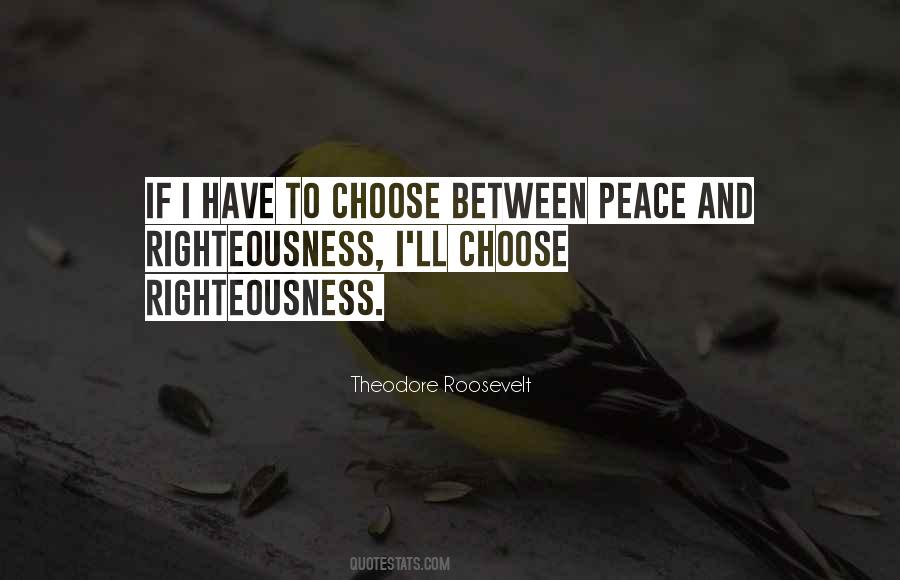 #22. I want to be awake. I want to choose kindness, live & let live. I want joy, gratitude, and peace today. - Author: Tracee Ellis Ross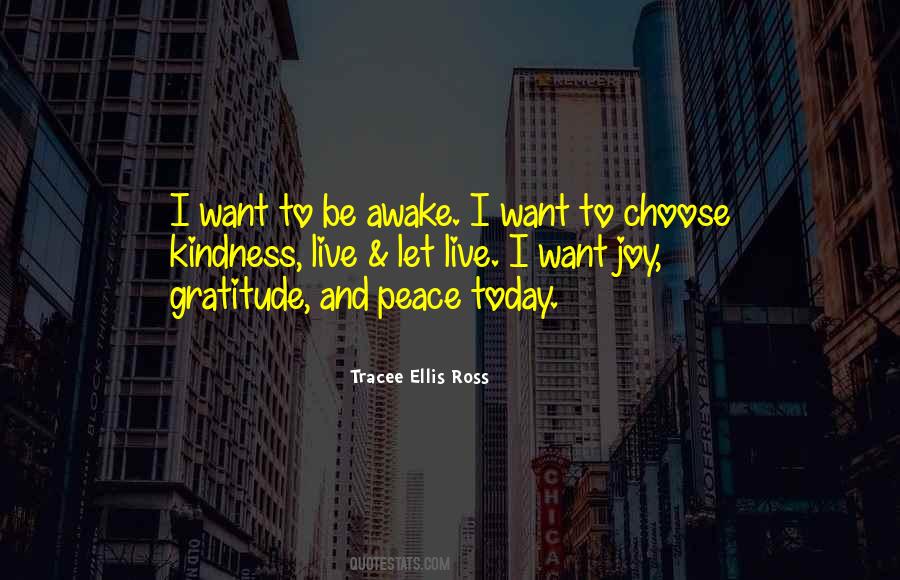 #23. The Universe totally supports every thought I choose to think and to believe. I have unlimited choices about what I think. I choose balance, harmony, and peace, and I express it in my life. - Author: Louise Hay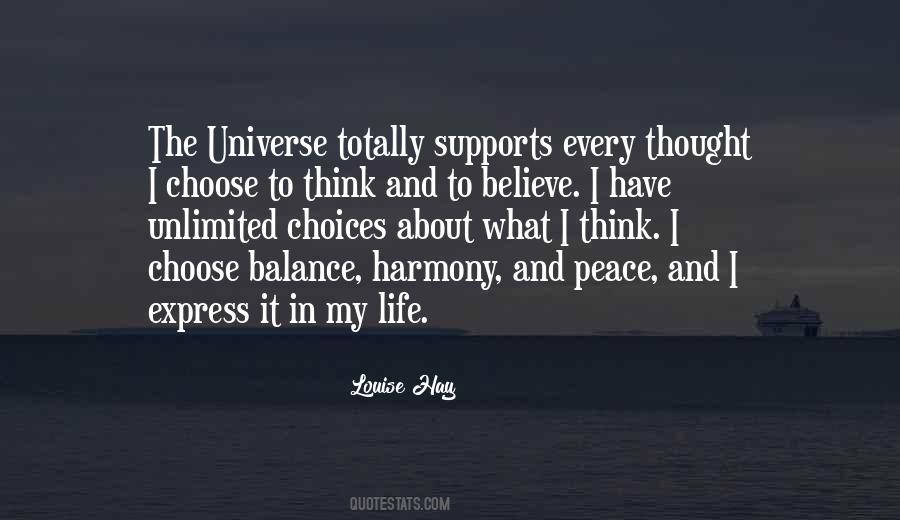 #24. I do not understand "damned." You are. And because you are, you can walk where you will, into peace, oblivion, or pits of fire, but you will always choose. - Author: Katherine Arden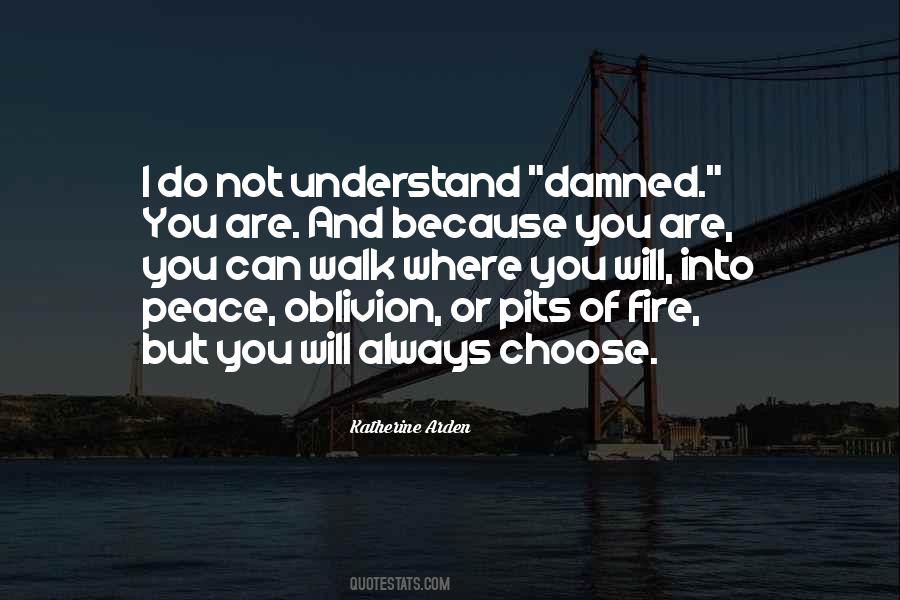 #25. Over time, I have come to believe that there is a killer and a saint in all of us. But ... I choose to focus on the future and the *potential* in people. - Author: Agnes Kamara-umunna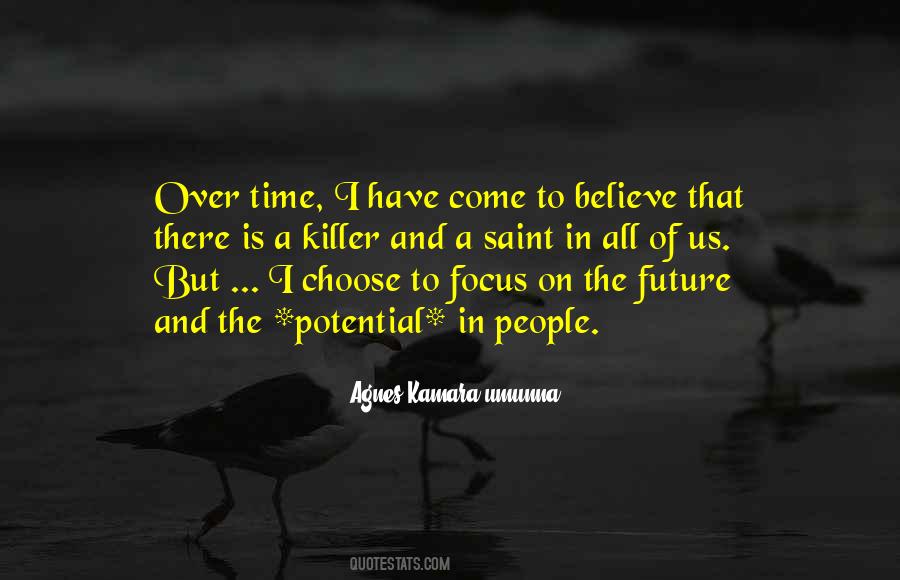 #26. Never speak out of anger, Never act out of fear, Never choose from impatience, But wait ... and peace will appear. - Author: Guy Finley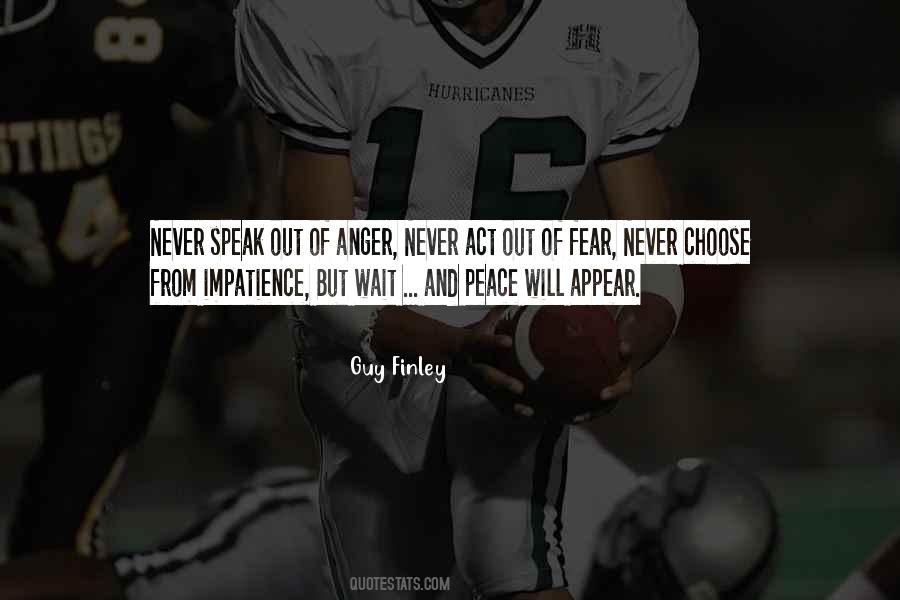 #27. I choose to live in peace today. I choose to get lost in my inner beauty today. - Author: Debasish Mridha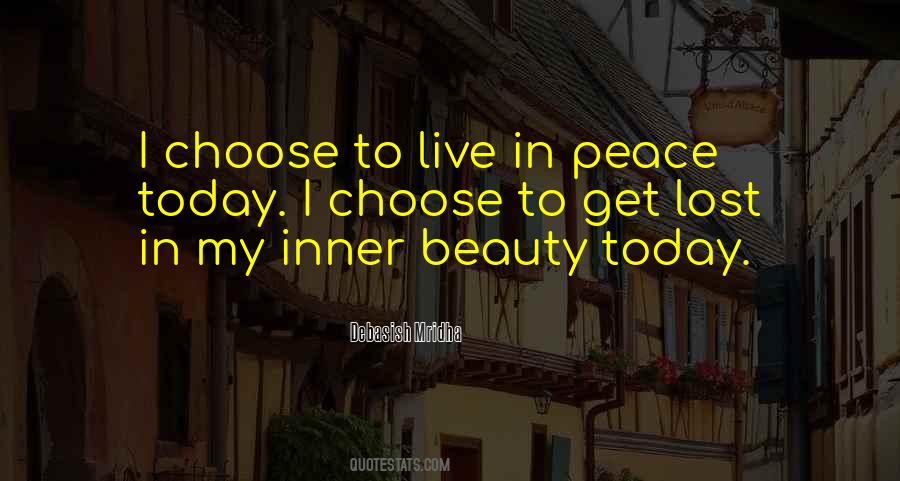 #28. Many are called but few are chosen" should be, "All are called but few choose to listen. - Author: Foundation For Inner Peace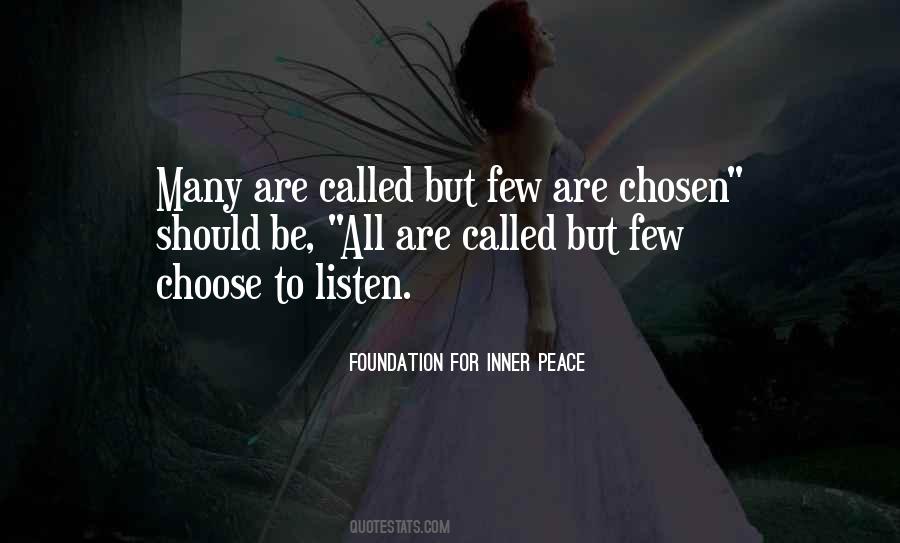 #29. When the sands of time come falling down, we are only left with our choices. Choose wisely; however, some may argue wisdom is relative. - Author: Virginia Vayna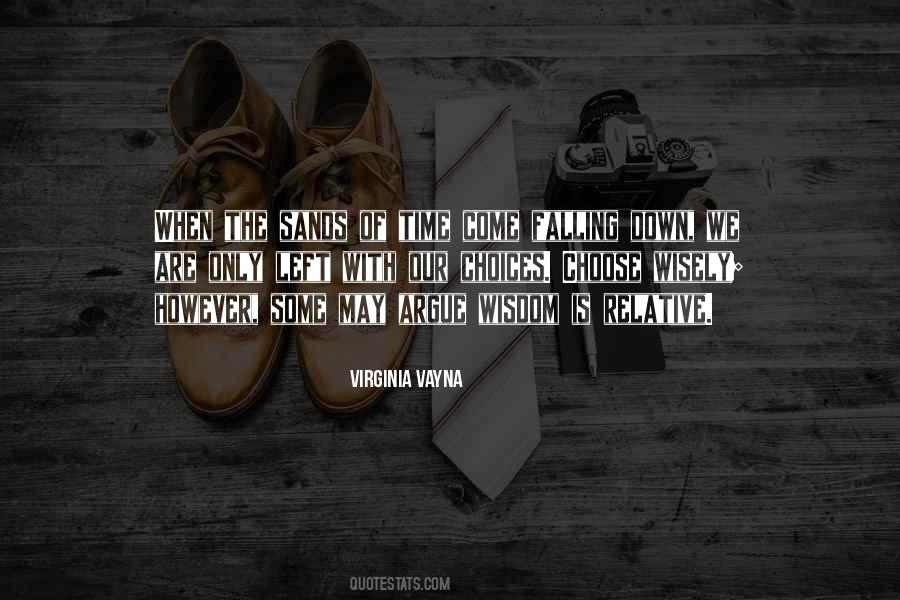 #30. Consciousness is the state that induces action, though it does not inspire it. You are free to believe what you choose, and what you do attests to what you believe. - Author: Foundation For Inner Peace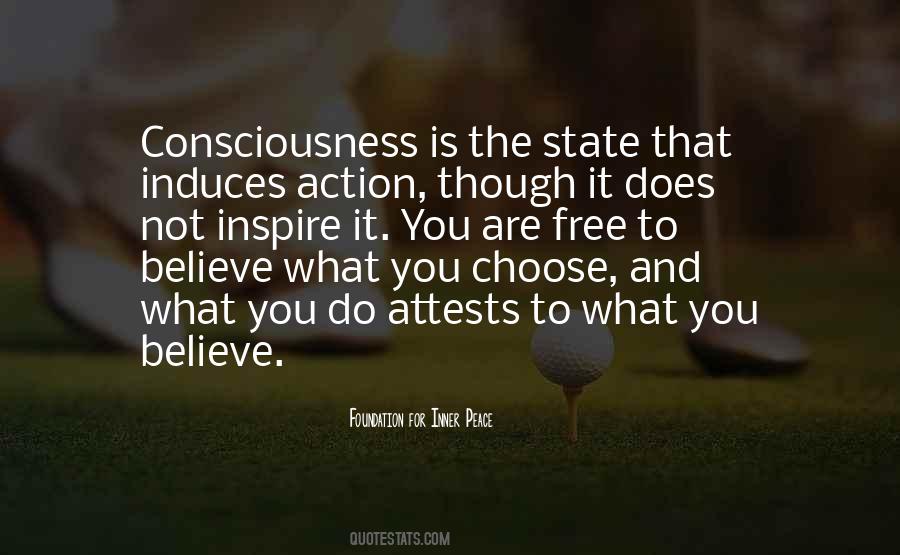 #31. Choose to experience peace rather than conflict. - Author: Gerald Jampolsky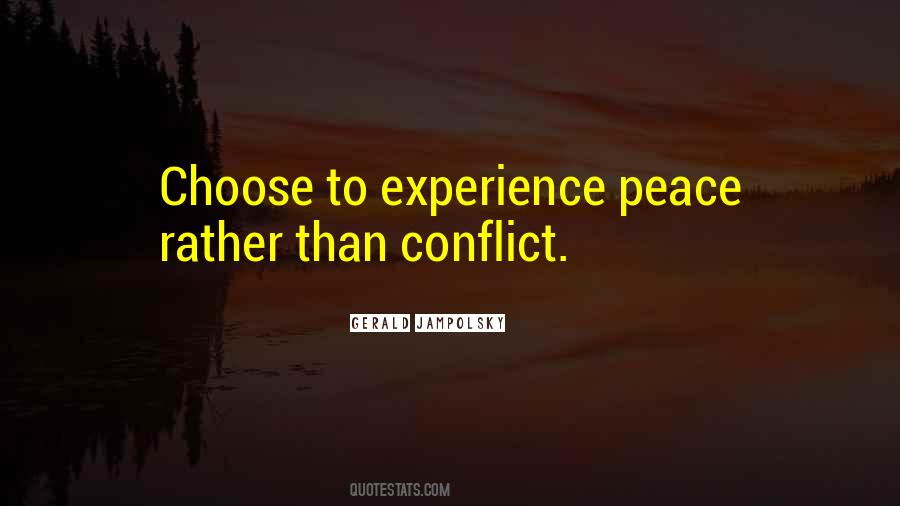 #32. Choose to be at peace with yourself and you will never have any battle to lose. Find yourself every reason and season to share your peace with others! - Author: Israelmore Ayivor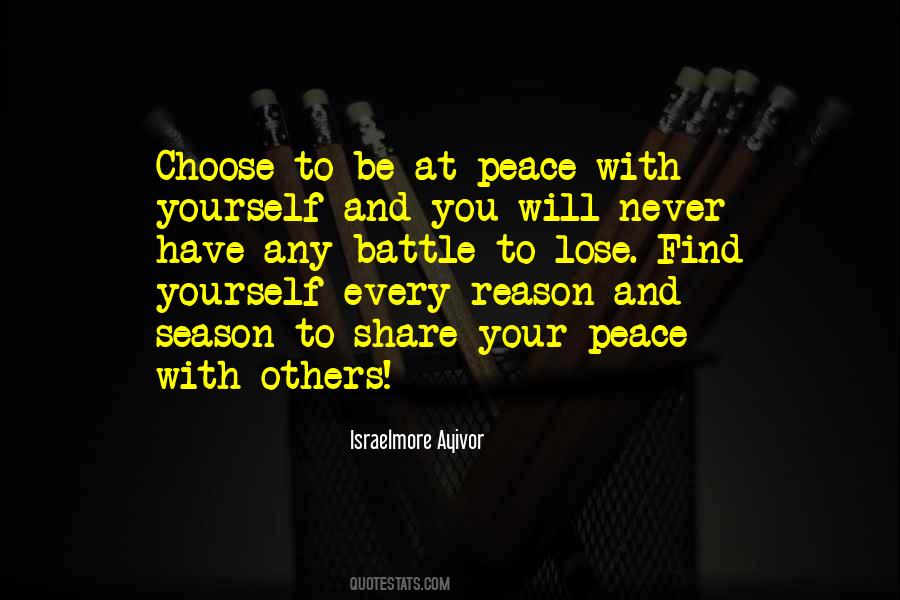 #33. Peace is our inheritance from Jesus, but we have to choose to follow Him daily. Colossians 3:15 teaches us that peace is to be the "umpire" in our lives, settling every issue that needs a decision. To gain and maintain peace in our hearts, we may have to learn to say no to a few things. - Author: Joyce Meyer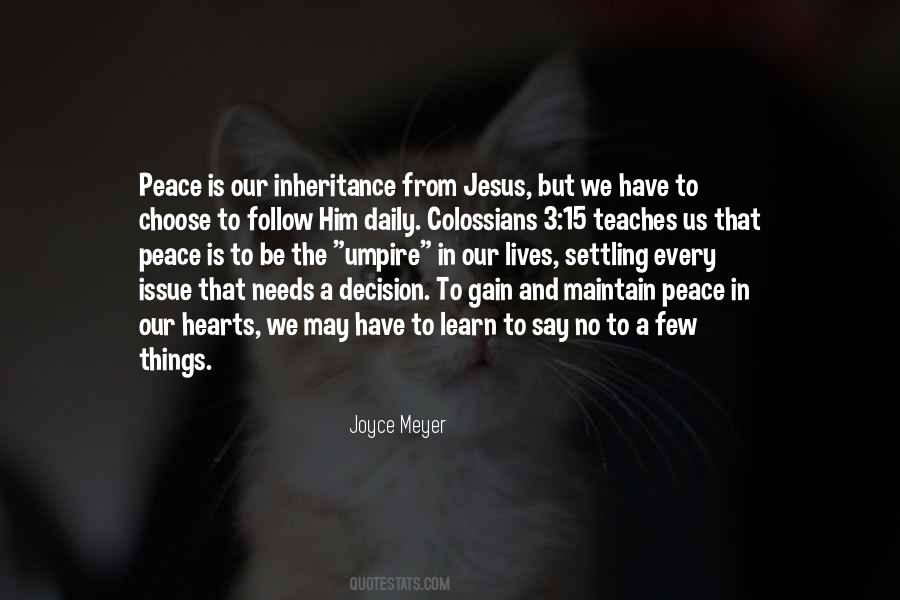 #34. Depression, anger, and sadness are states of mind, and so are happiness, peace, and contentment. You can choose to be in any of these states because it's your mind. - Author: Maddy Malhotra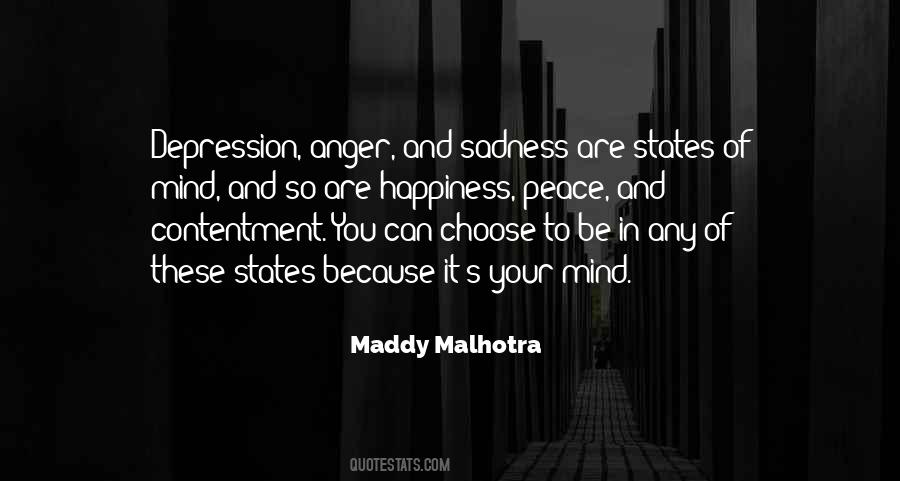 #35. Choose to be happy and make inner peace your mission is the best way to live life. Now organize your life to attain these. - Author: Debasish Mridha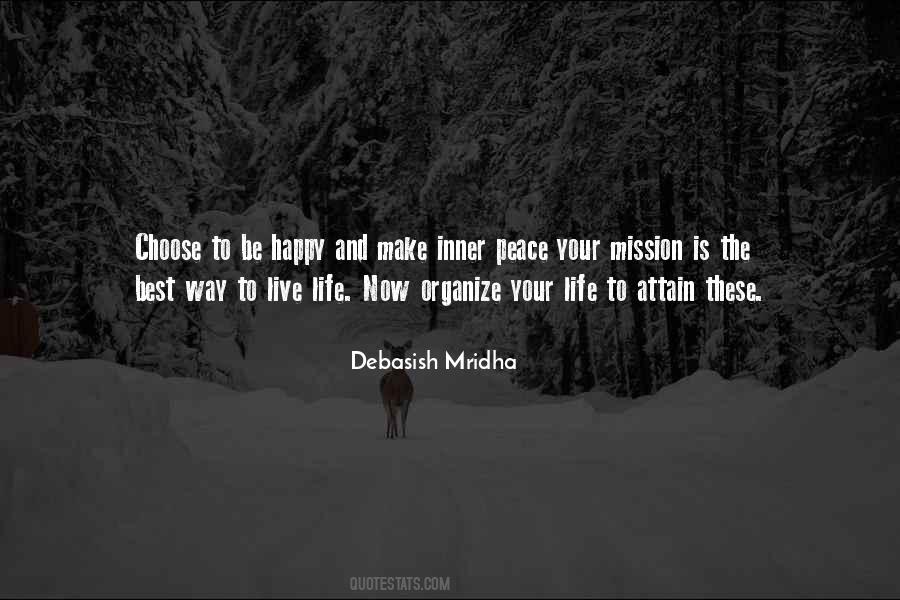 #36. I have no clear idea about this development, however, I have full faith in the government's peace talks committee. I suggest TTP choose its representatives from among its own leadership - Author: Imran Khan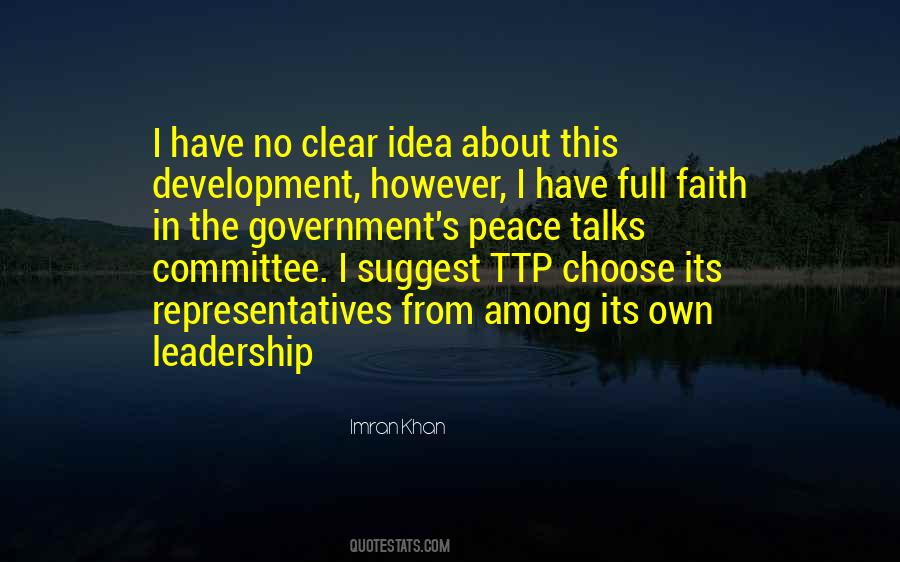 #37. We can choose to alleviate suffering. We can choose to work together for peace. We can make these changes - and we must. - Author: Jimmy Carter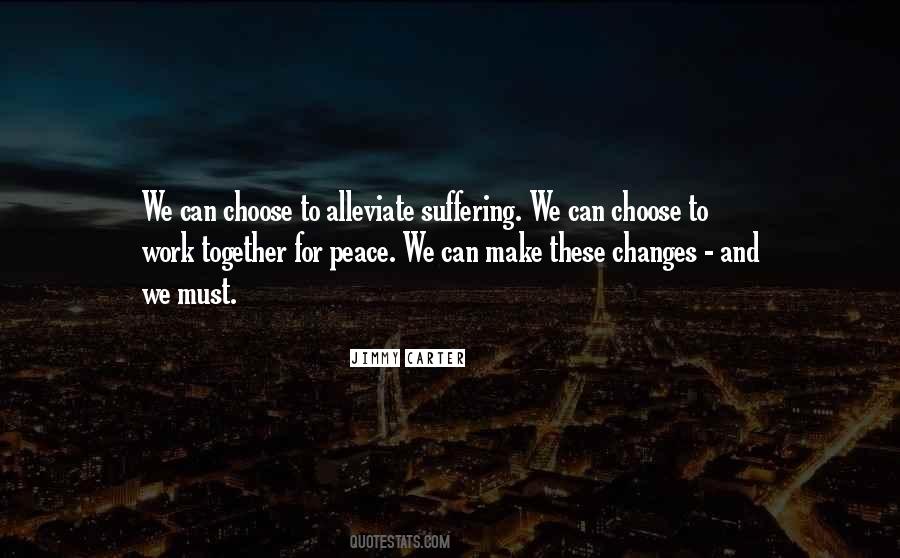 #38. If you're still, and if you don't hope too much, peace will come to you. It's a grace. But you have to choose happiness. - Author: Dean Koontz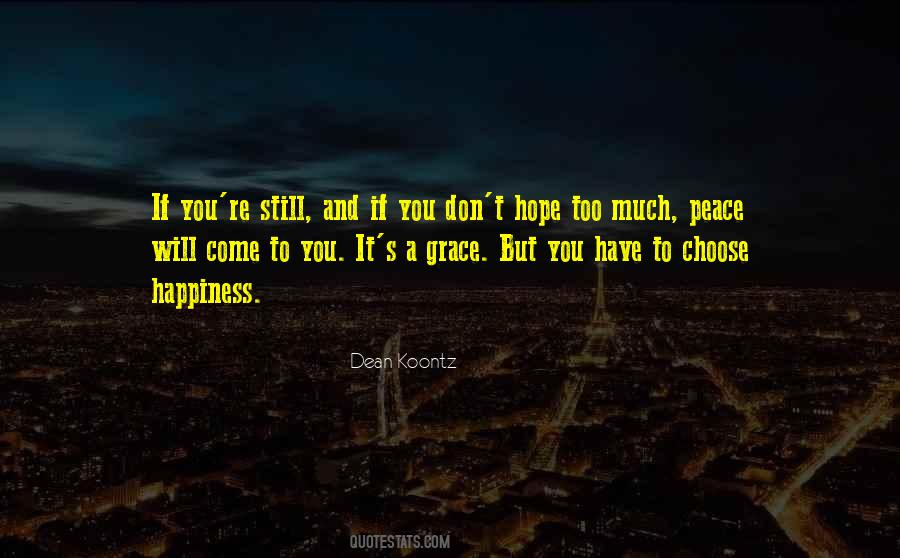 #39. If people often judge you by the company that you keep ... then choose your company wisely my friend, choose wisely! - Author: Timothy Pina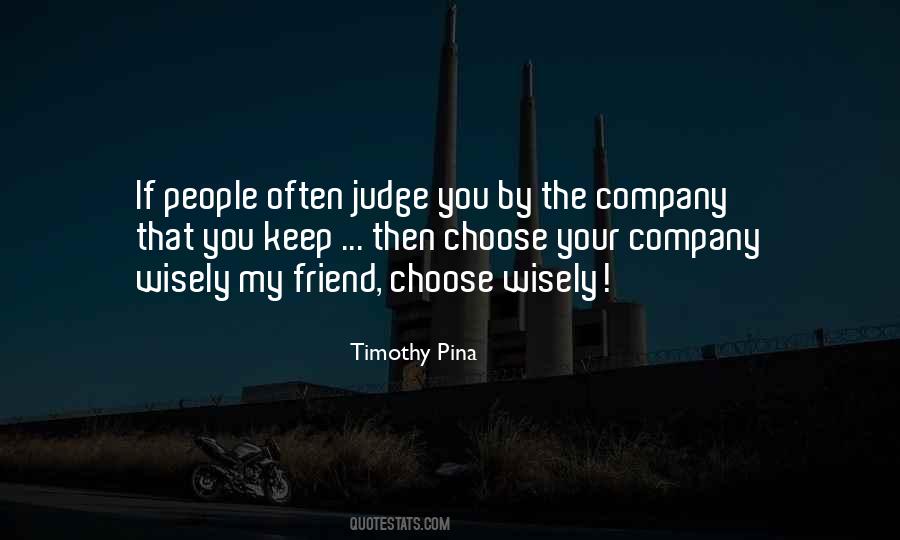 #40. This day I choose to spend in perfect peace. - Author: Gerald G. Jampolsky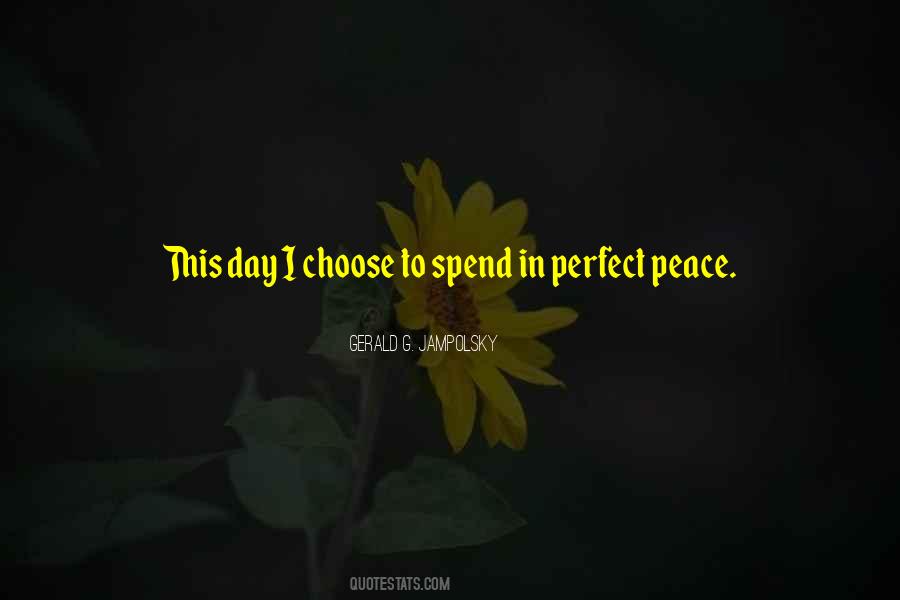 #41. People are naturally imperfect. No matter what your relationship, whether parent, child, friend or lover, there will always be mistakes on both sides. It's how we choose to accept the flaws of the people who surround us that determines our peace. - Author: Kate J. Squires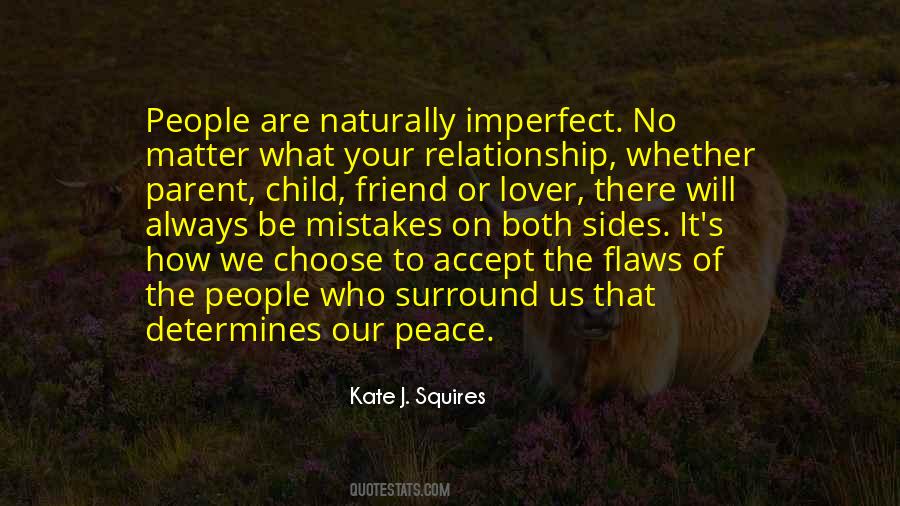 #42. If given the choice between Righteousness and Peace, I choose Righteousness. - Author: Theodore Roosevelt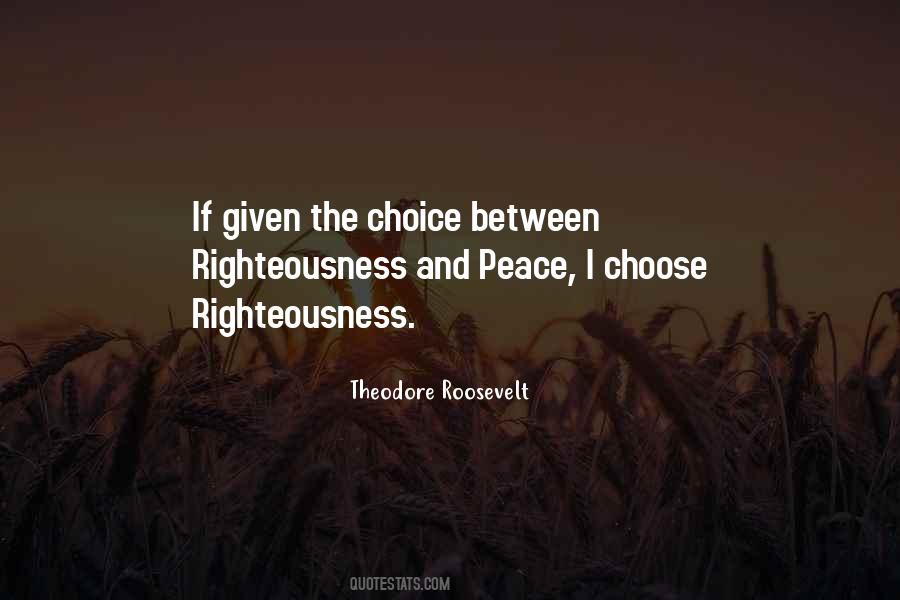 #43. Very few people chose war. They chose selfishness and the result was war. Each of us, individually and nationally, must choose: total love or total war. - Author: David Dellinger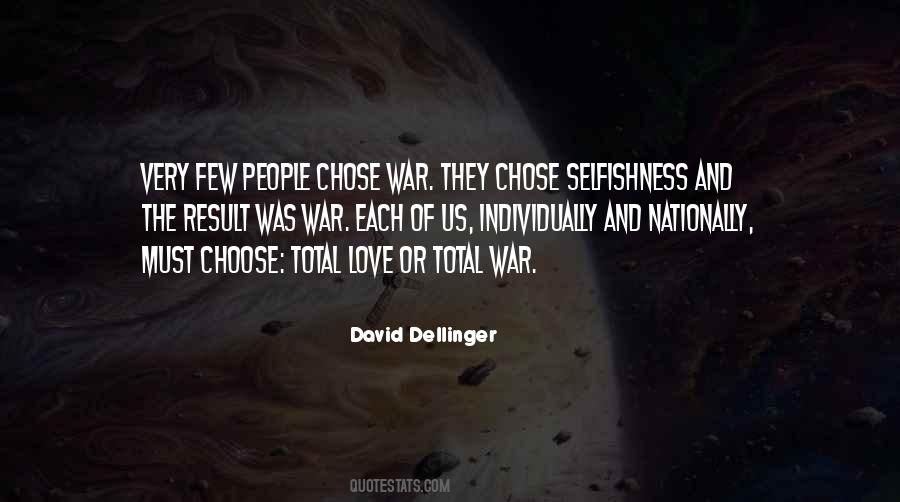 #44. When we fight wars, money is no object. When we choose peace, we ration every penny. - Author: Joel Berg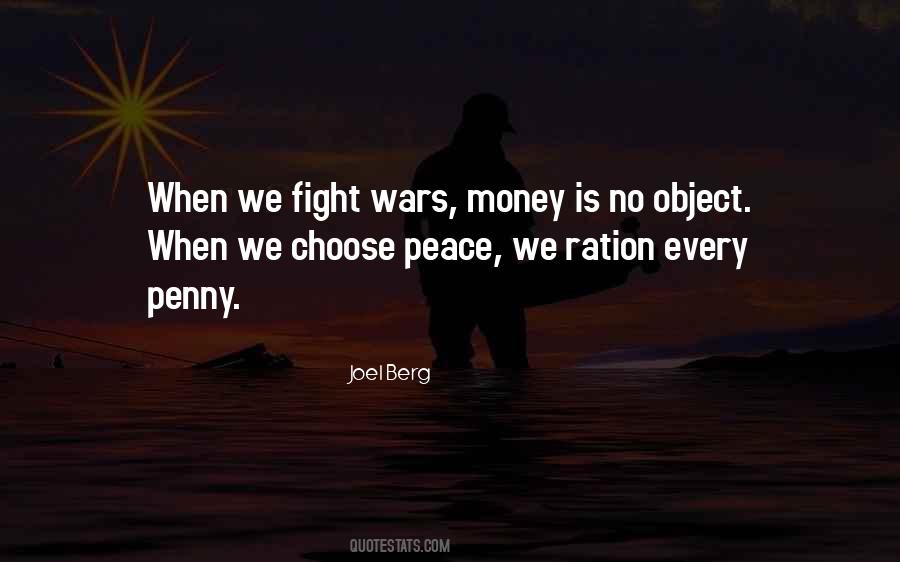 #45. You're not big on people, are you?"
"I wouldn't say that. Just ... when faced with the choice between small talk with strangers and peace and quiet, I'll choose the latter every time. You know? - Author: Kirsten Hubbard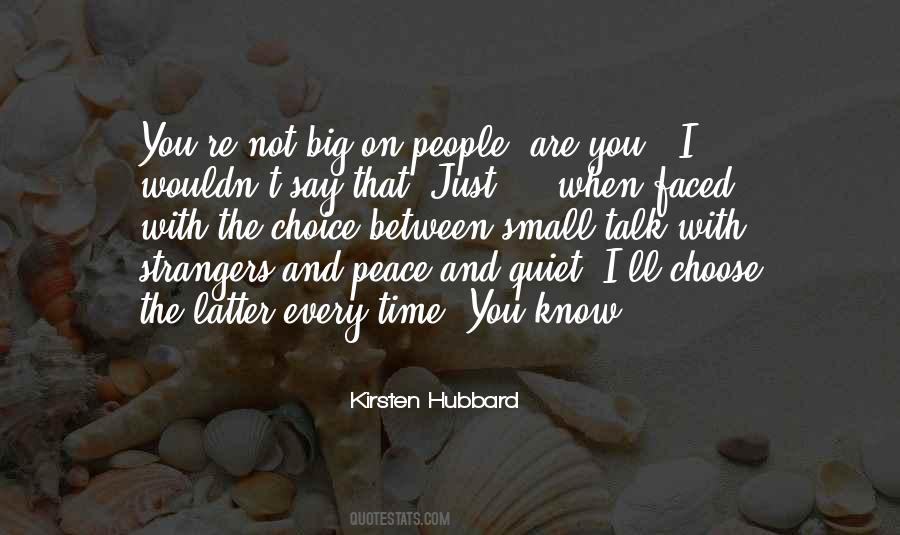 #46. Heavenly Father, thank You for Your peace that rules my heart. I choose Your peace today and thank You for guiding my every step. I choose to be thankful today and bless You for Your faithfulness. In Jesus Name. Amen. - Author: Joel Osteen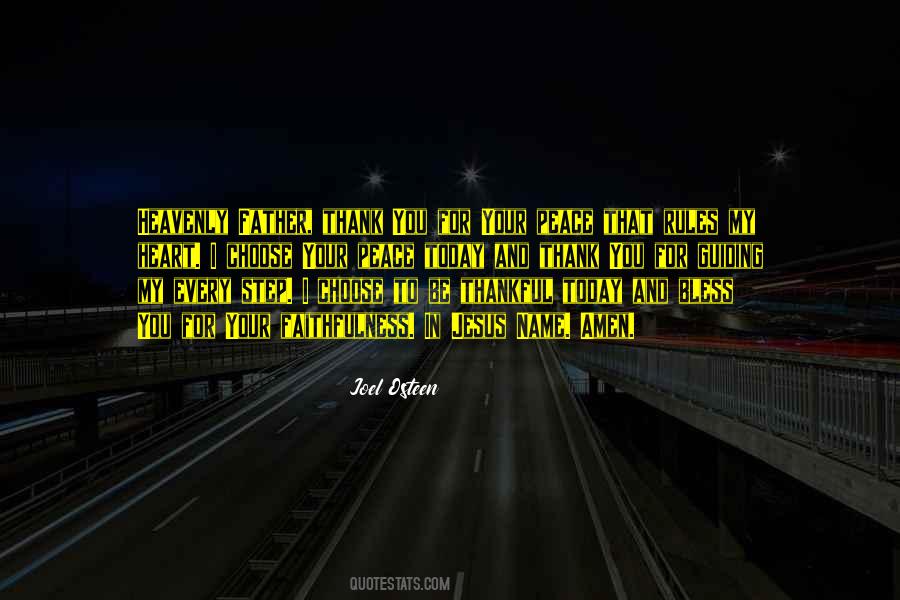 #47. Study to do another's will rather than thine own. Choose ever to have less rather than more. Seek ever the lower place and to be subject to all; ever wish and pray that the will of God may be perfectly done in thee and in all. Behold such a man enters the bounds of peace and calm. - Author: Thomas A Kempis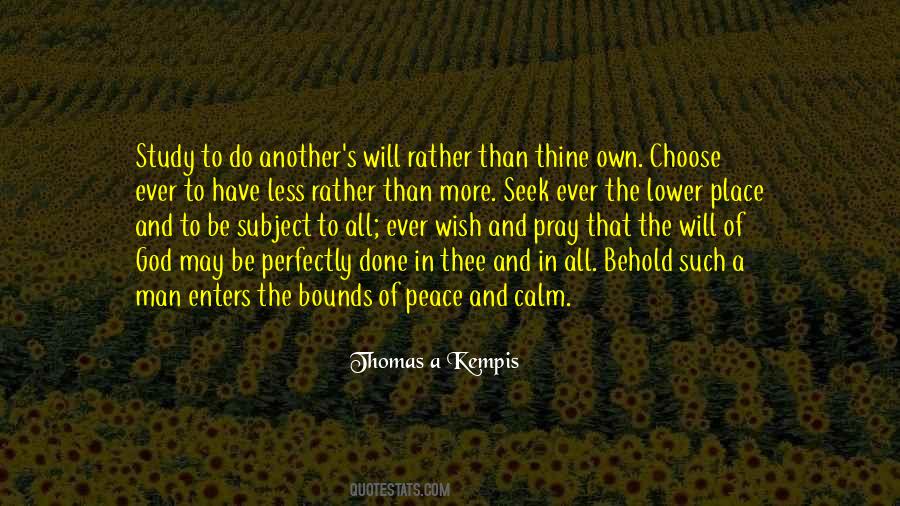 #48. Be careful when you choose your battle. In all cases peace is better than proving you are right. - Author: Sameh Elsayed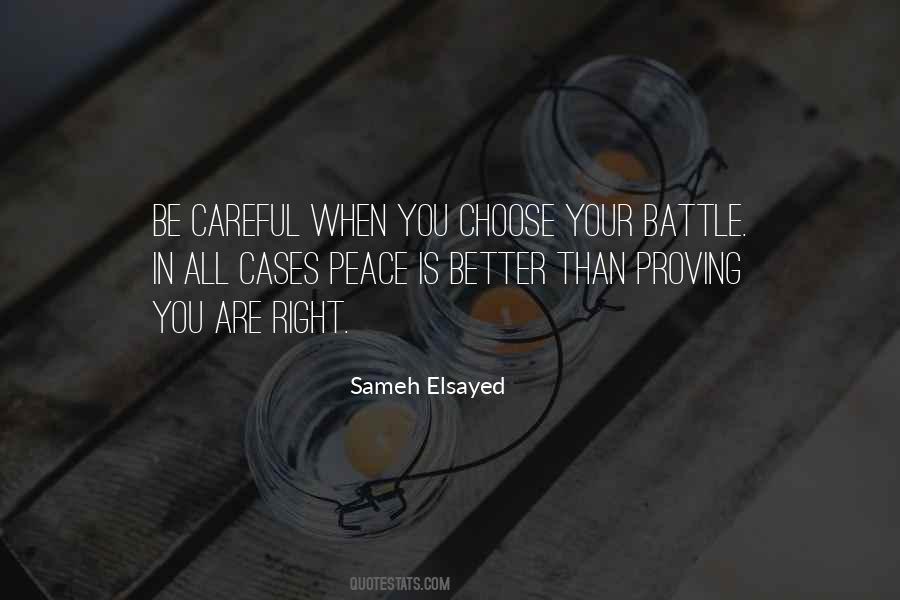 #49. Inner # peace begins the moment you choose not to allow another person or event to control your # emotions - Author: Pema Chodron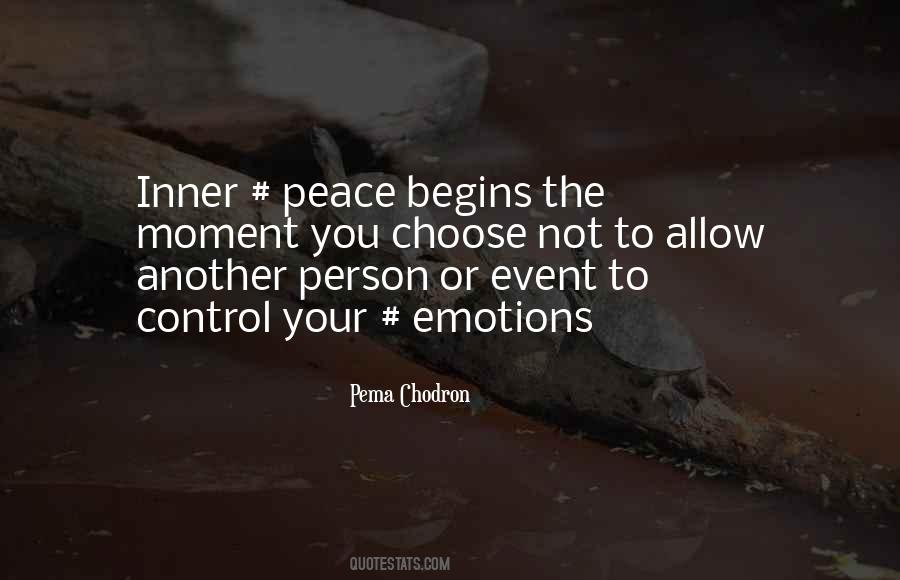 #50. Choose a single, sacred word or phrase that captures something of the flavor of your intimate relationship with God. A word such as Jesus, Abba, Peace, God or a phrase such as "Abba, I belong to you." ... Without moving your lips, repeat the sacred word inwardly, slowly, and often. - Author: Brennan Manning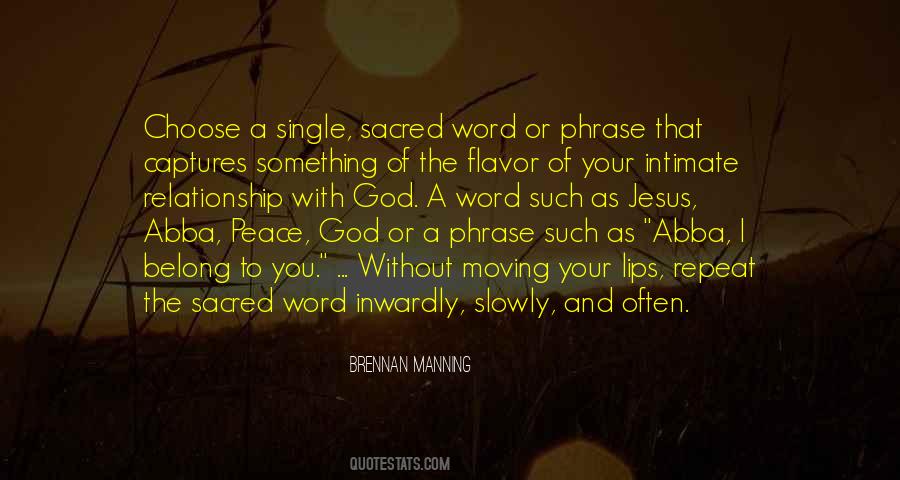 #51. Whenever possible, choose peace. - Author: Donna Goddard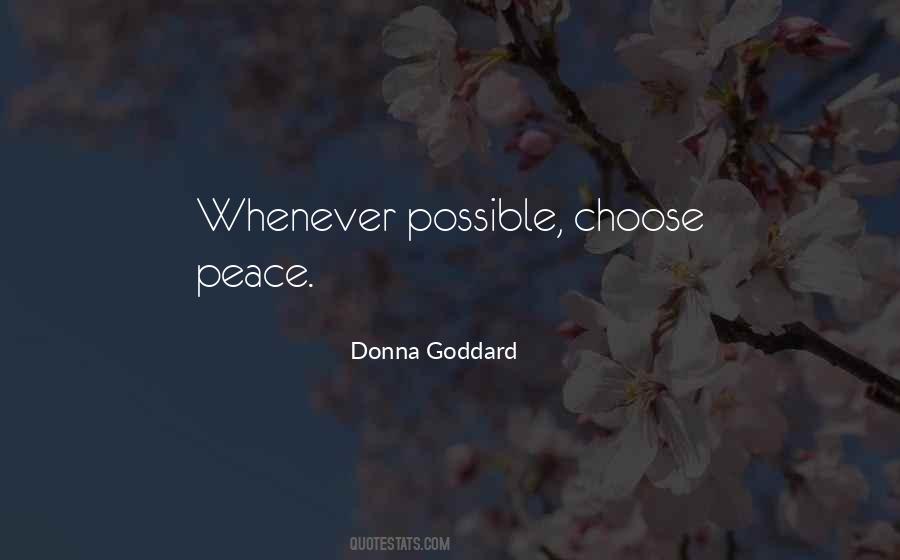 #52. A people free to choose will always choose peace. - Author: Ronald Reagan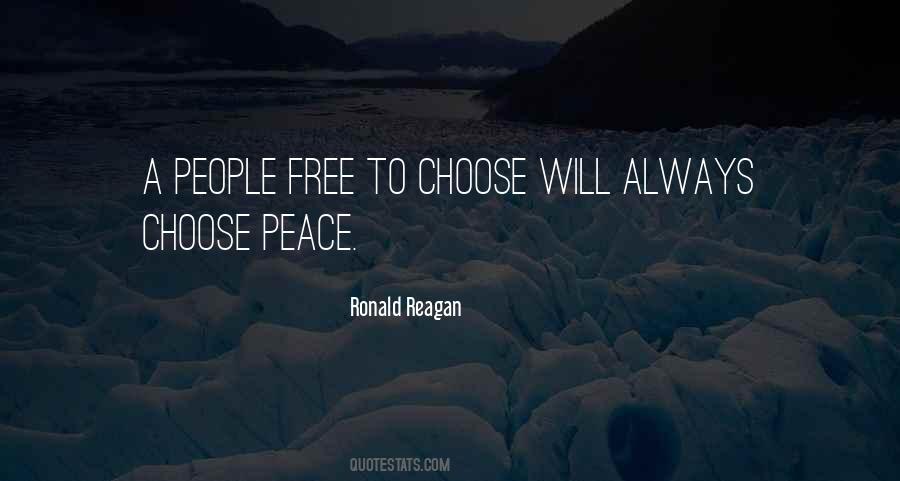 #53. It is no longer unusual for people who choose surrogacy, gay adoption, IVF, international and domestic adoption, fostering, and childlessness to live side by side and quietly judge each other. We can all live in peace thinking our way is the best way and everything else is cuckoo. - Author: Amy Poehler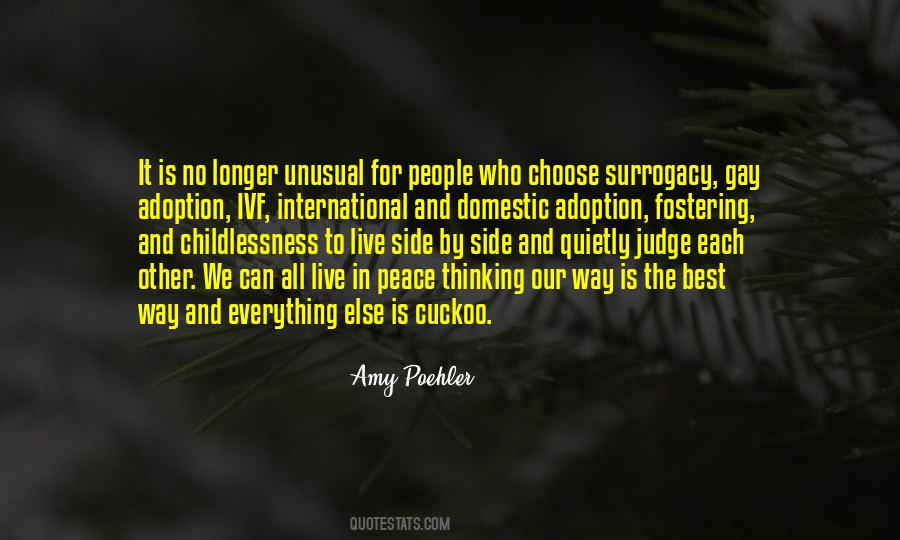 #54. When the people of any country choose peace at all costs, not even generals can make war. - Author: Pearl S. Buck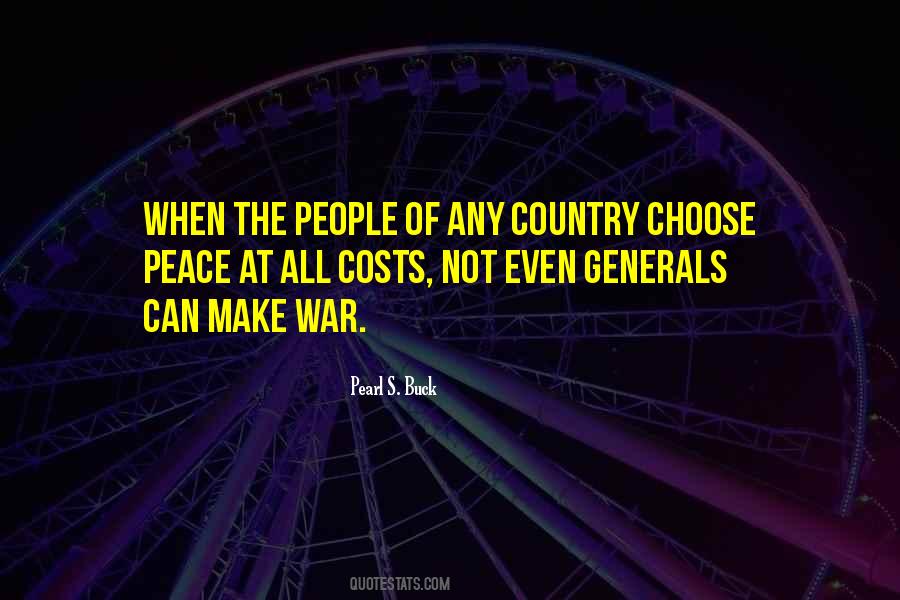 #55. I have a self-made quote: Celebrate diversity, practice acceptance and may we all choose peaceful options to conflict. - Author: Donzella Michele Malone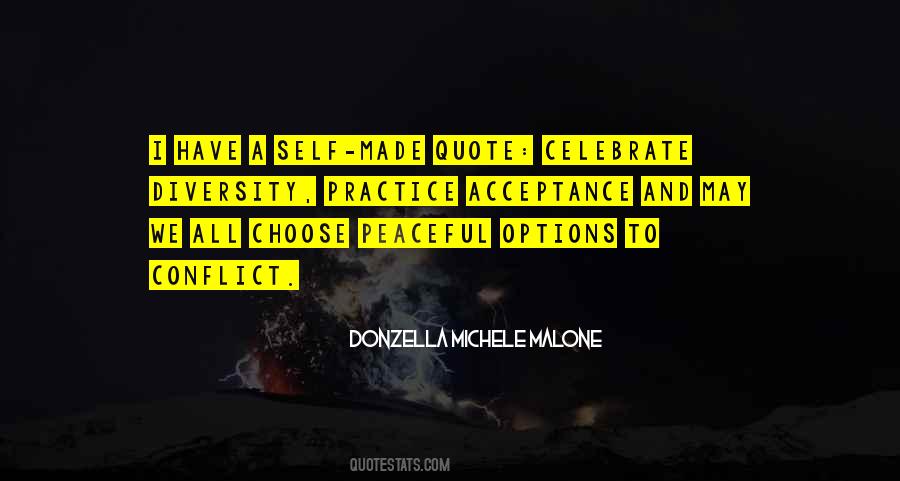 #56. So much in life depends on our attitude. The way we choose to see things and respond to others makes all the difference. To do the best we can and then to choose to be happy about our circumstances, whatever they may be, can bring peace and contentment. - Author: Thomas S. Monson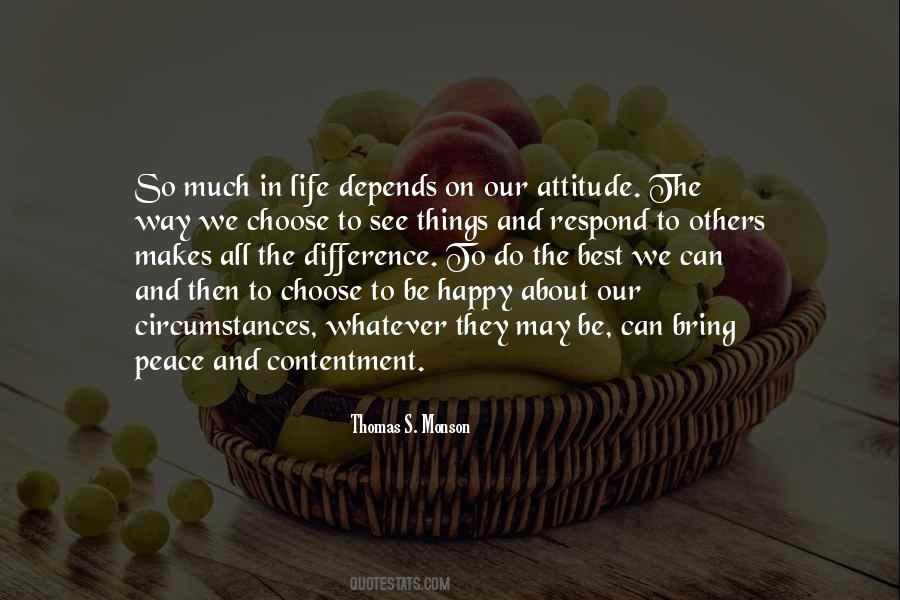 #57. Every hour of your life that ticks by, there are numerous points and moments when you can choose to pause - and be aware of your mental and physical state. At any given point, you can freeze the flow that is your life, and be fully conscious for a moment. - Author: Kevin Michel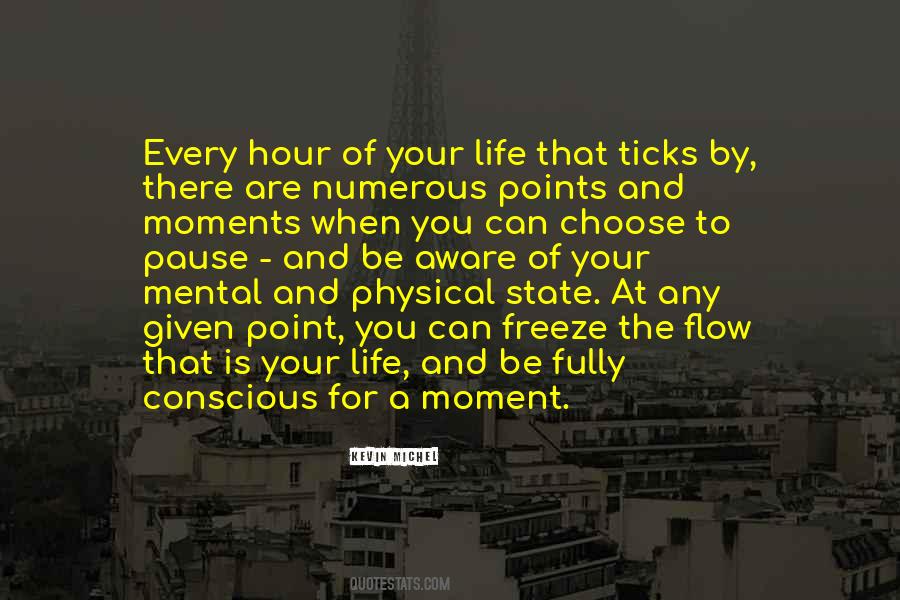 #58. Fear has no place in the lives of those who choose to be victorious. - Author: Molly Friedenfeld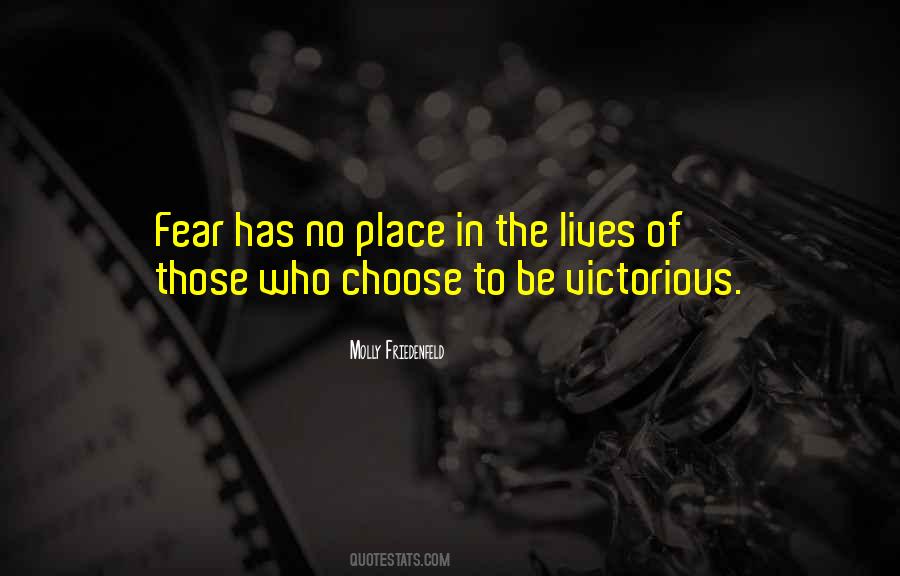 #59. When we choose to love people and the wonderful things around us, it always puts us one step above the people who choose not too. There's a peace we'll carry in our hearts. A feeling of being worthy of all situations. - Author: Ron Baratono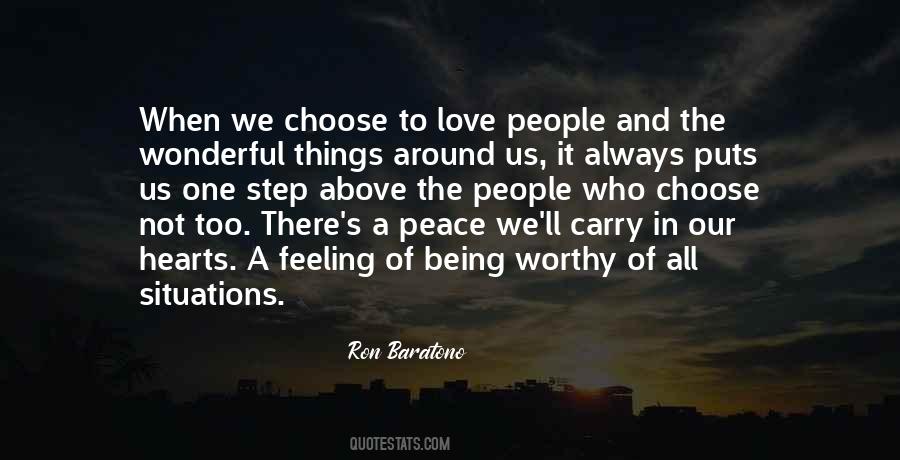 #60. Choose to obey the Lord quickly, always, in quiet times and in storms. As we do, our faith will be strengthened, we will find peace in this life, and we will gain the assurance that we and our families can qualify for eternal life in the world to come. - Author: Henry B. Eyring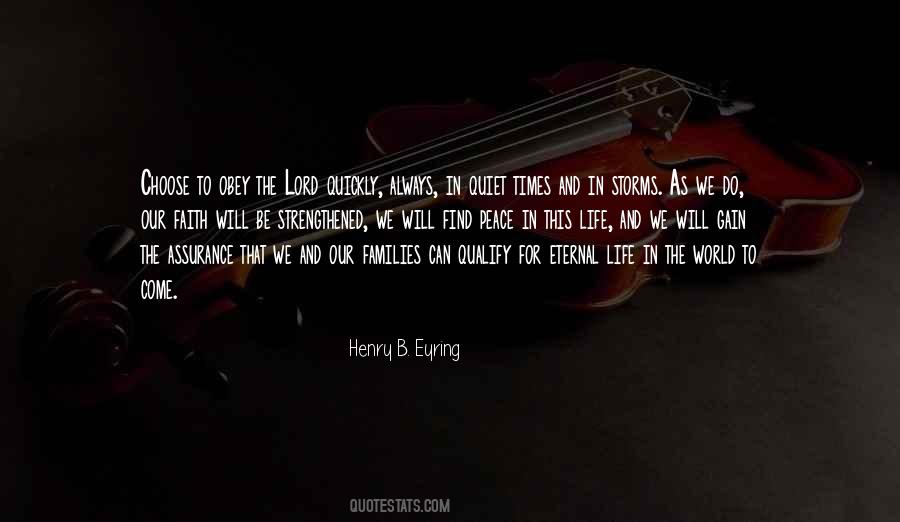 #61. Choose your friends carefully. They are a reflection of you. - Author: Jim George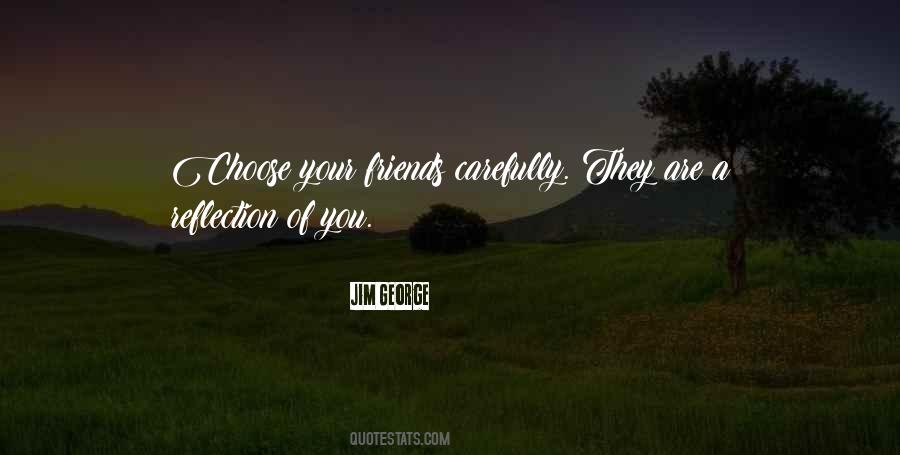 #62. Words matter, he tells them and us, and we have a choice to use them for good or for ill. We can choose to be boastful, mouth off a snide comment, fire a well-placed jab. Or we can let our words be a reflection of God's grace, so the words that echo are of peace and healing, not brokenness and pain. - Author: Richelle Thompson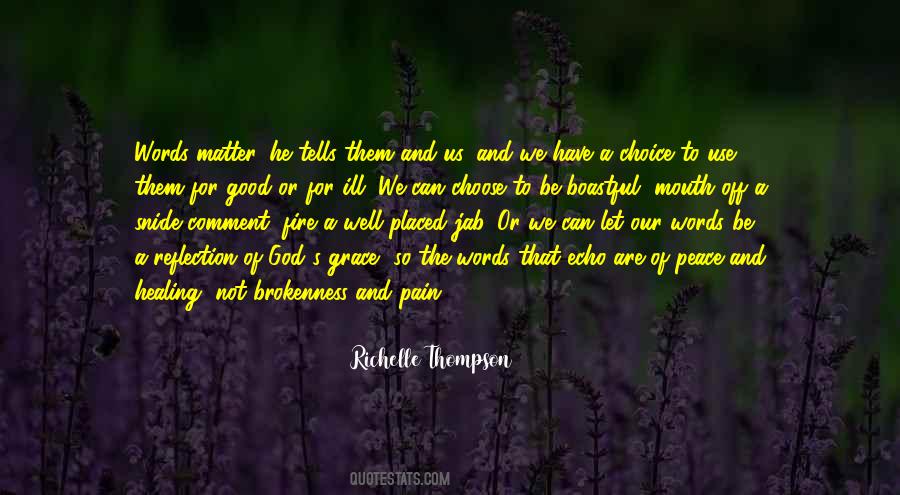 #63. I want to live the way I choose. It's all about happiness. I'm a happy person. But to find true happiness, peace within yourself and the world, that is something achieved in the moment. No matter the circumstance. - Author: Brett Dennen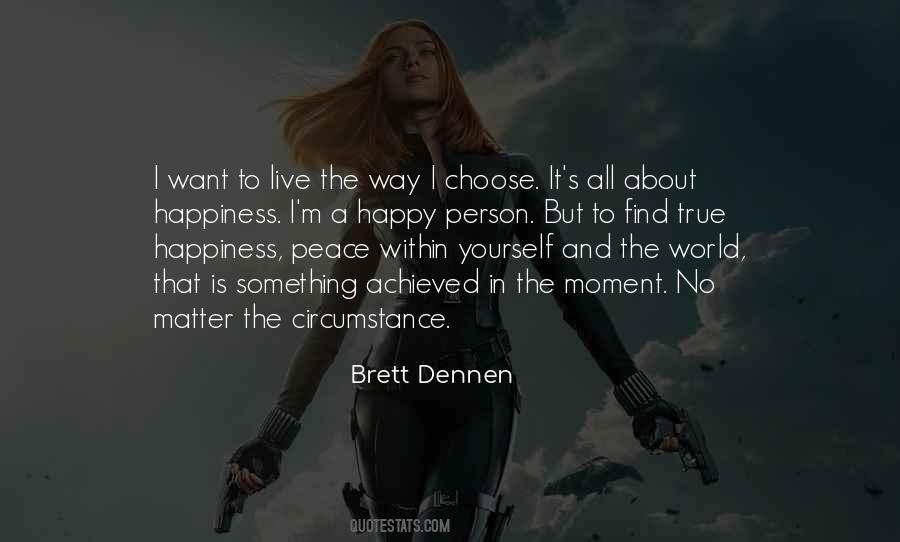 #64. You may choose to look the other way but you can never say again that you did not know. - Author: William Wilberforce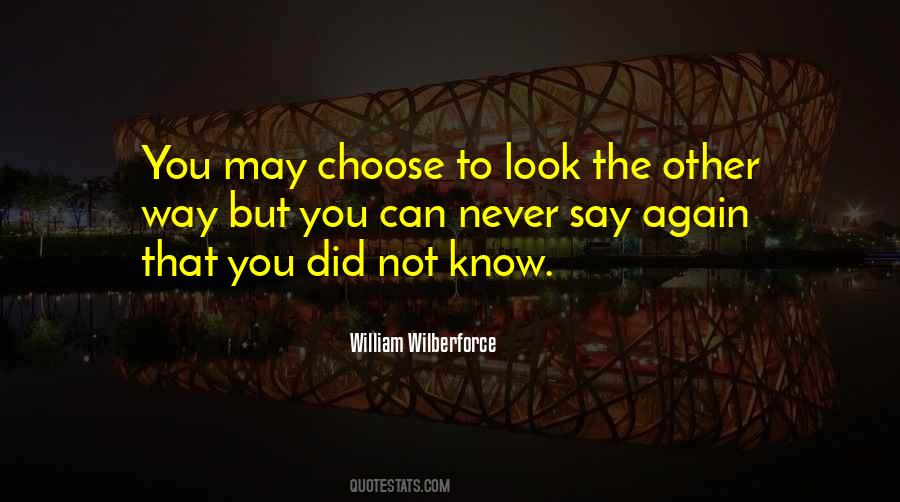 #65. Peace is not a dream; peace is an option! You either choose peace and prove that you are clever and angelic, or choose war proving that you are stupid and devilish! - Author: Mehmet Murat Ildan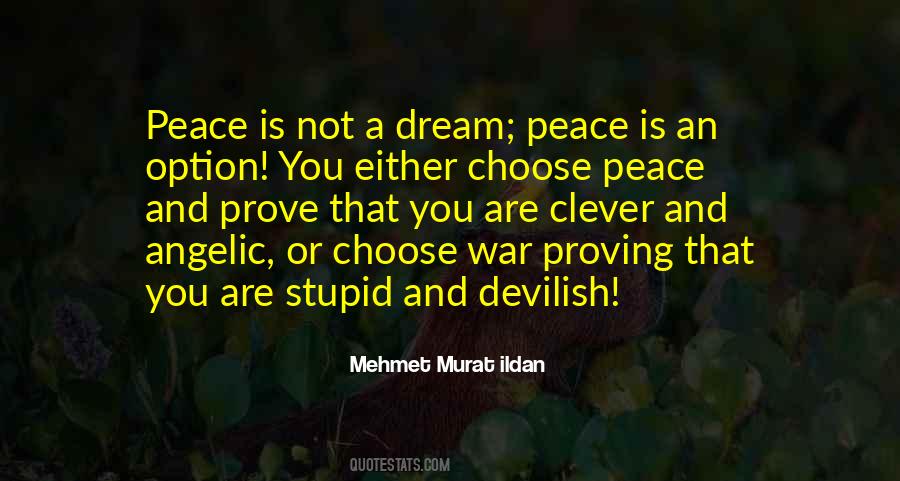 #66. We still have a choice today: nonviolent coexistence or violent co-annihilation. This may well be mankind's last chance to choose between chaos and community. - Author: Martin Luther King Jr.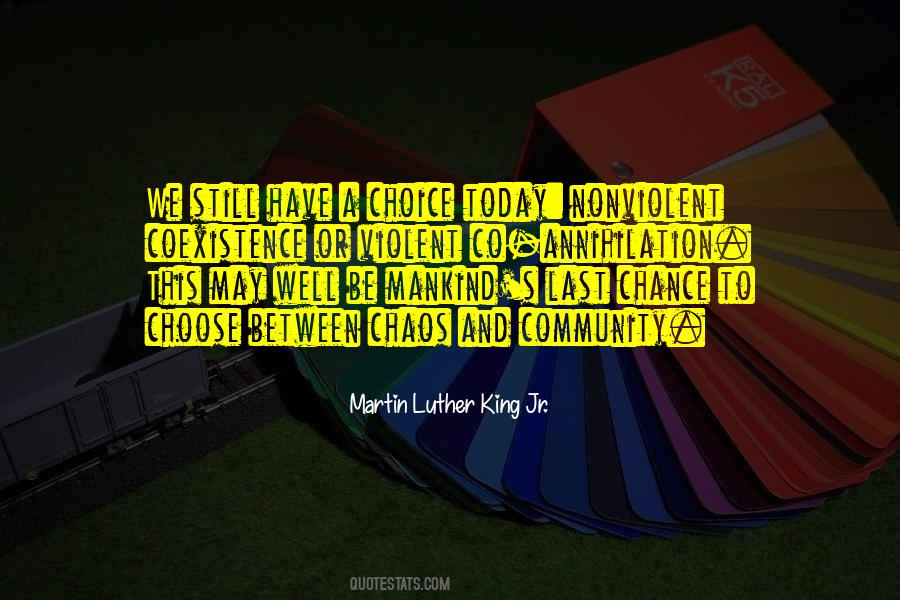 #67. Lord Jesus, Your love is beyond my understanding but I believe it's true. Right now I offer You my shame, the filthy rags of my past. I choose to step out of this storm of condemnation and into Your peace. Thank You for loving me and for making me worthy, In Your great name, amen. - Author: Sheila Walsh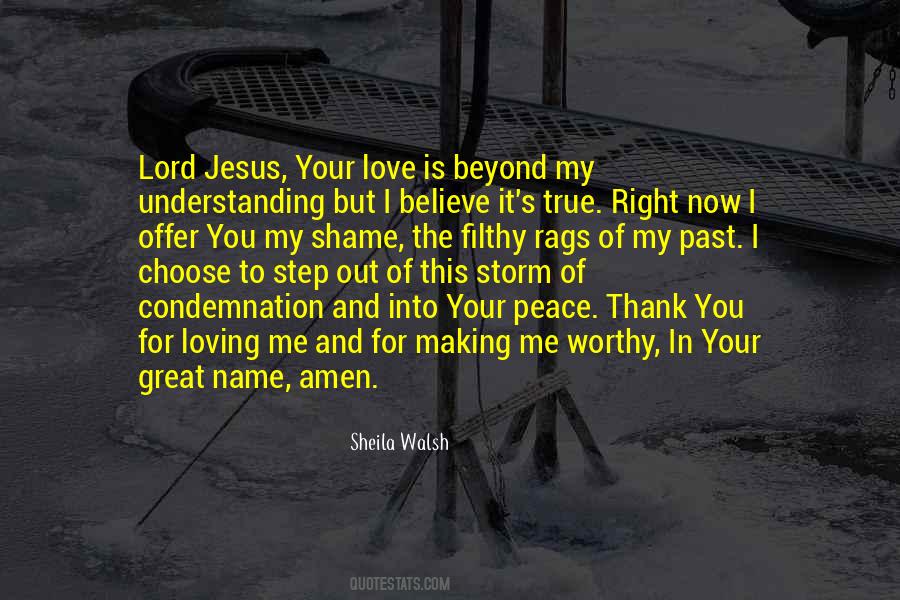 #68. Remind yourself that the greatest technique for bringing peace into your life is to always choose being kind when you have a choice between being right or being kind. - Author: Wayne Dyer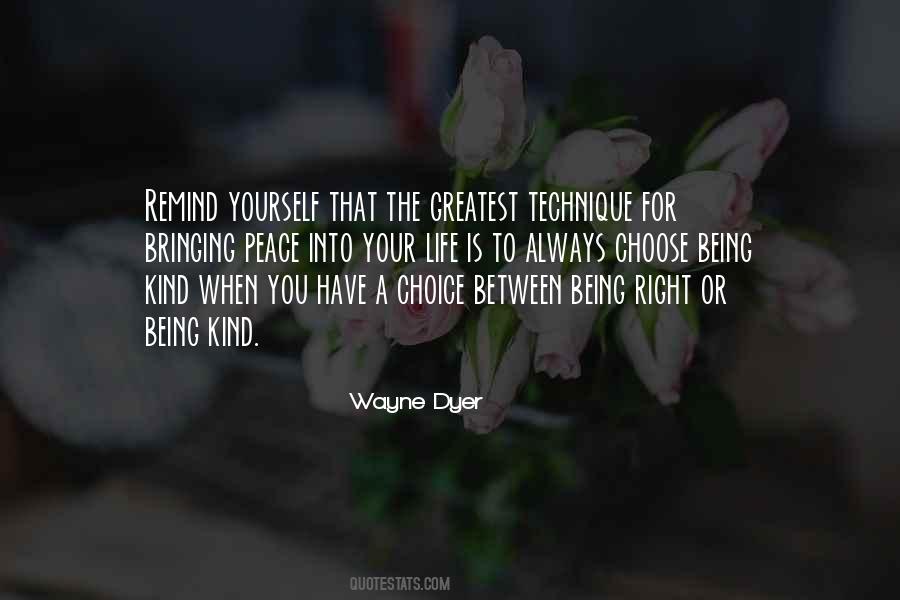 #69. We know that dictators are quick to choose aggression, while free nations strive to resolve differences in peace. - Author: George W. Bush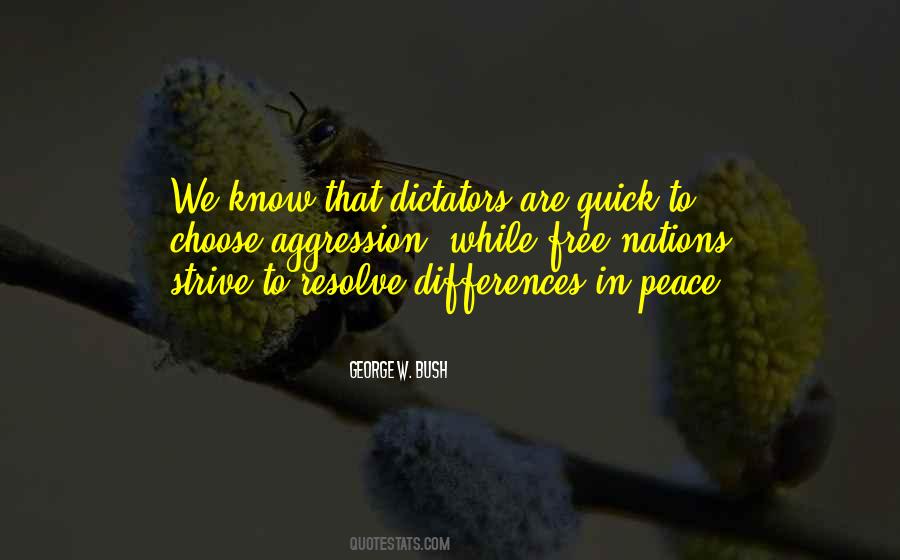 #70. My mission, should I choose to accept it, is to find peace with exactly who and what I am. To take pride in my thoughts, my appearance, my talents, my flaws and to stop this incessant worrying that I can't be loved as I am. - Author: Anais Nin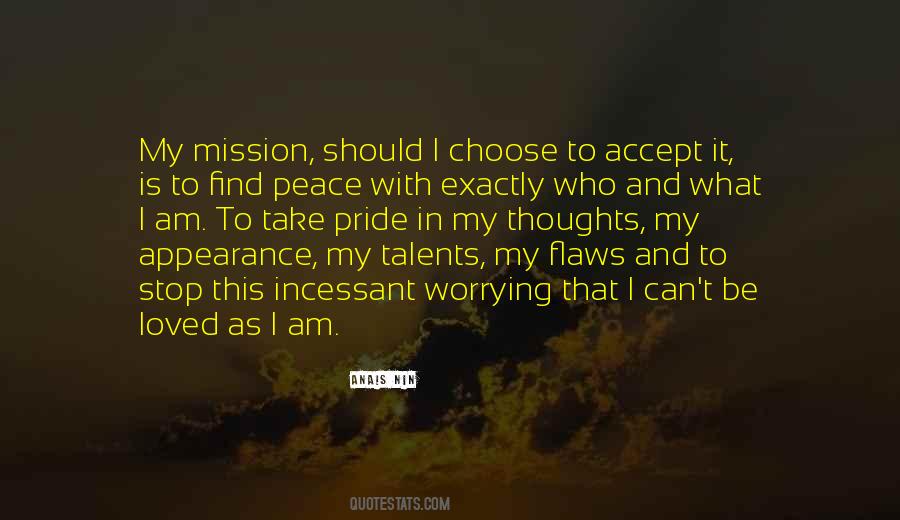 #71. Today, I choose awareness. I choose to be aware of the beauty of life and living. I choose to be aware of the simple pleasures in life. I choose awareness of joy, awareness of peace, and awareness of love. - Author: Iyanla Vanzant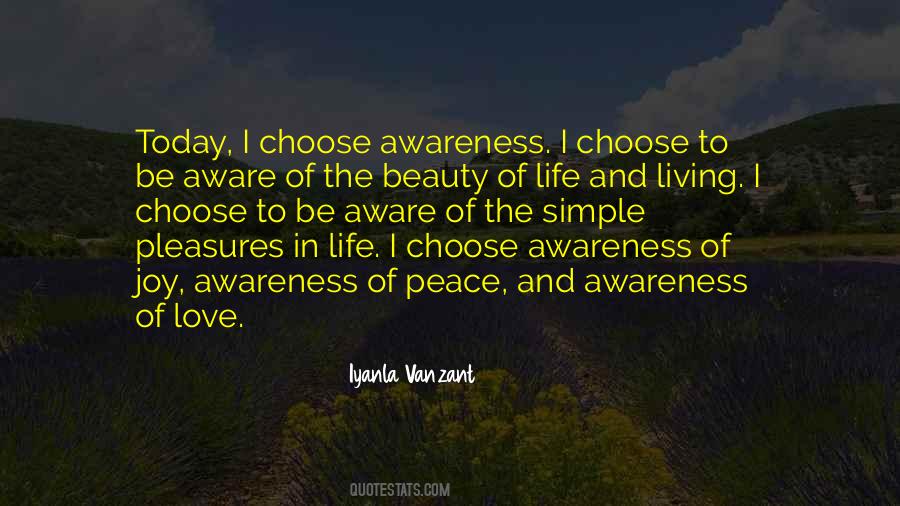 #72. We have a choice at every moment. We can engage in sadness, anger or fear or we can choose joy, love, and peace, - Author: Jude Bijou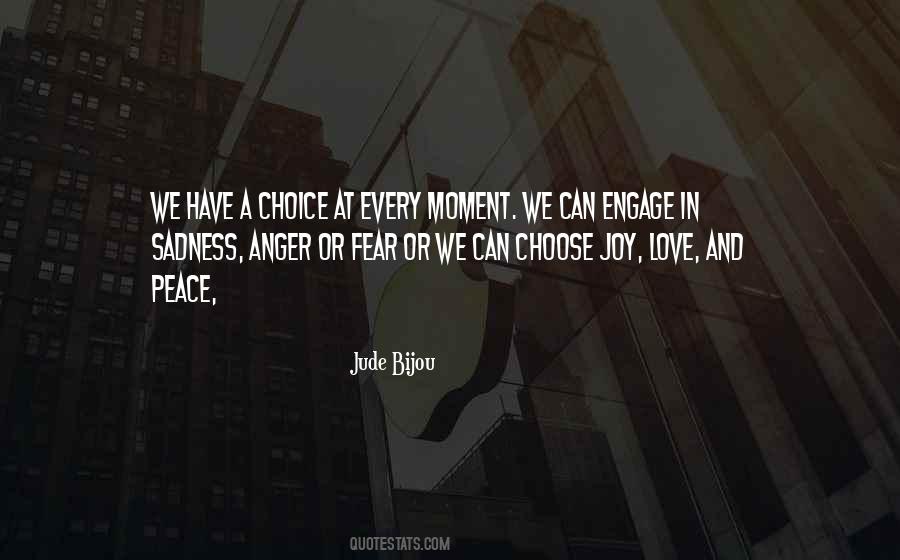 #73. You are the author of your lives book. While there may be fixed chapters ahead, you choose how to fill the pages within each one. - Author: Ricky Mathieson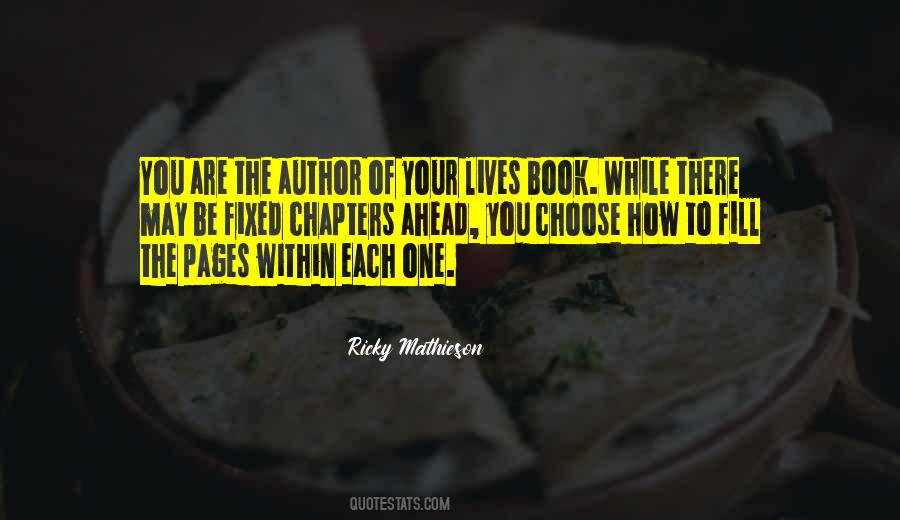 #74. A fig for partridges and quails, ye dainties I know nothing of ye; But on the highest mount in Wales Would choose in peace to drink my coffee. - Author: Jonathan Swift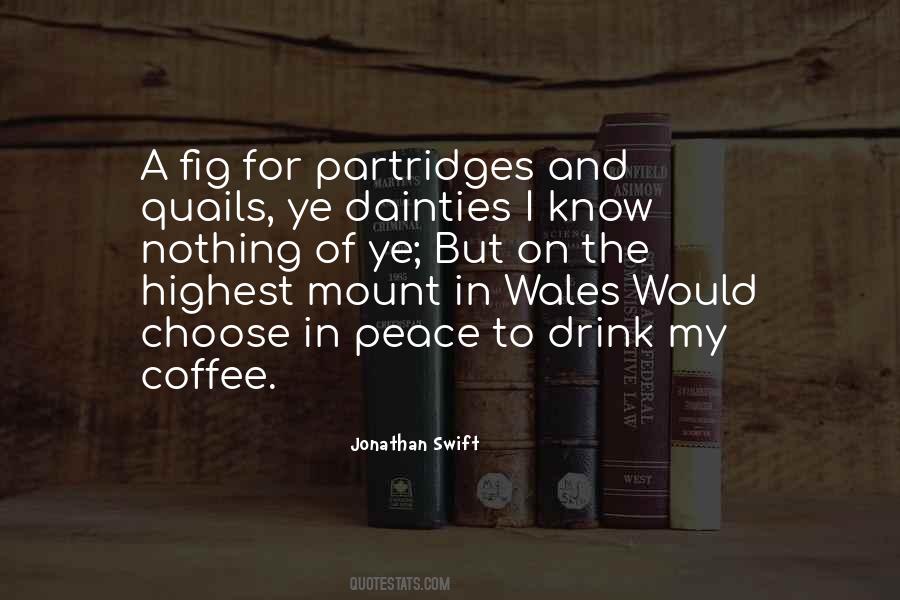 #75. We're not aligned with the Holy Spirit until people can behave in any way they choose to, and our own inner peace isn't shaken. There - Author: Marianne Williamson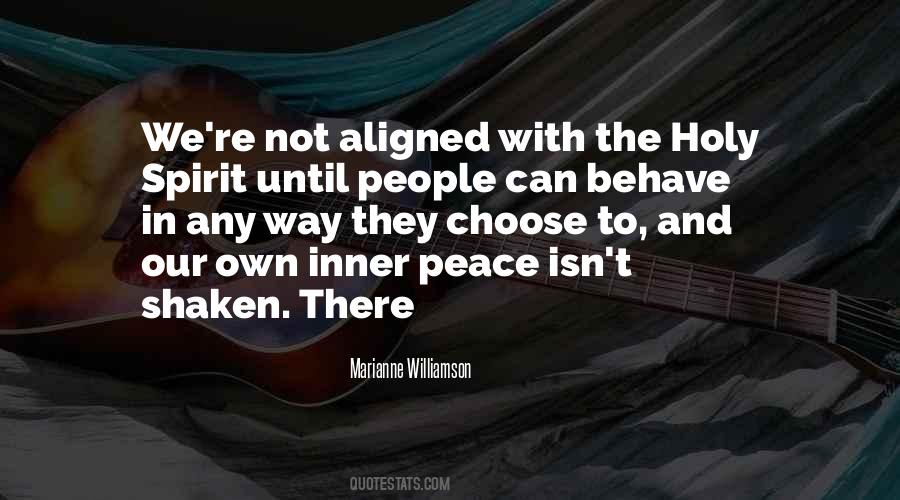 #76. We have little power to choose what happens, but we have complete power over how we respond. - Author: Arianna Huffington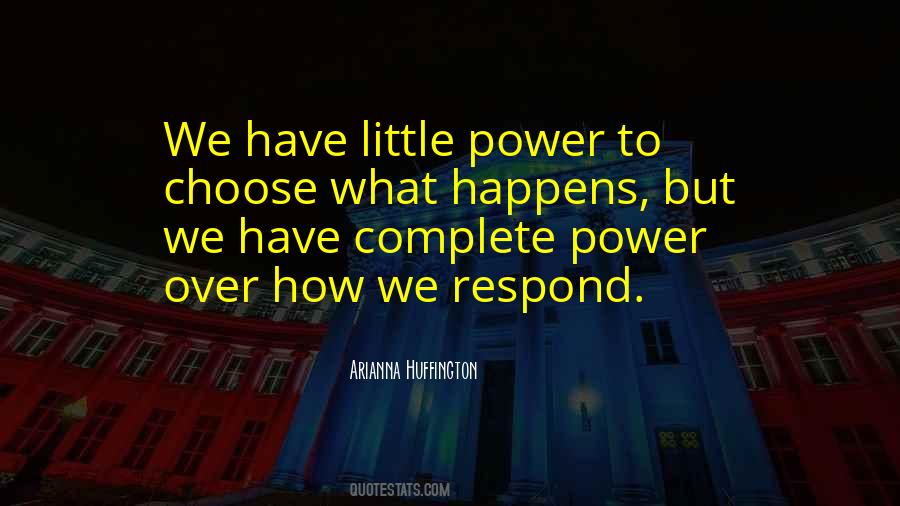 #77. It is a great, a pleasant thing to have a friend with whom to walk, untroubled, through the woods, by the stream, saying nothing, at peace
the heart all clean and quiet and empty, ready for the spirit that may choose to be its guest. - Author: Catherine Drinker Bowen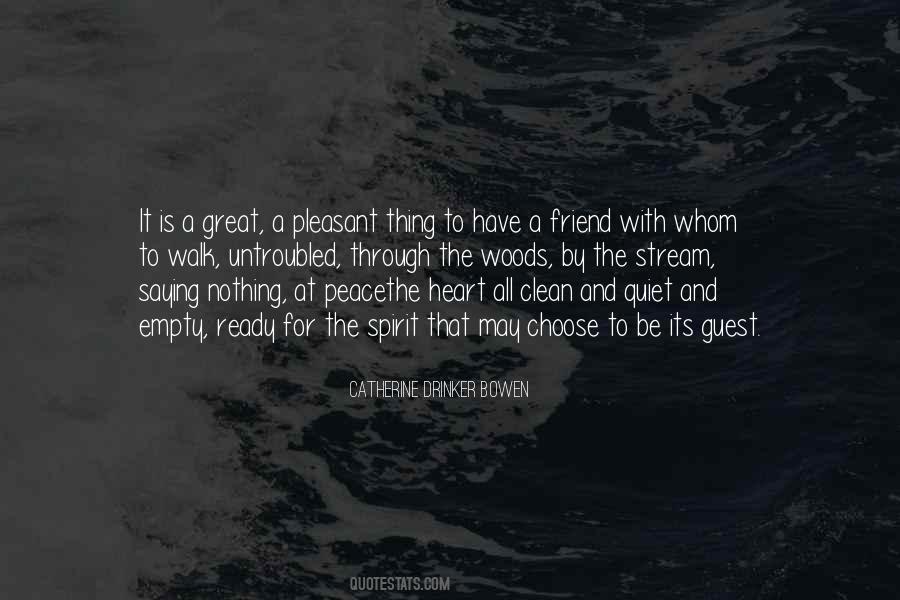 #78. He told her, when you choose peace, you choose the losing side. Maybe it was true. But she would not let him win either. - Author: Claire Hajaj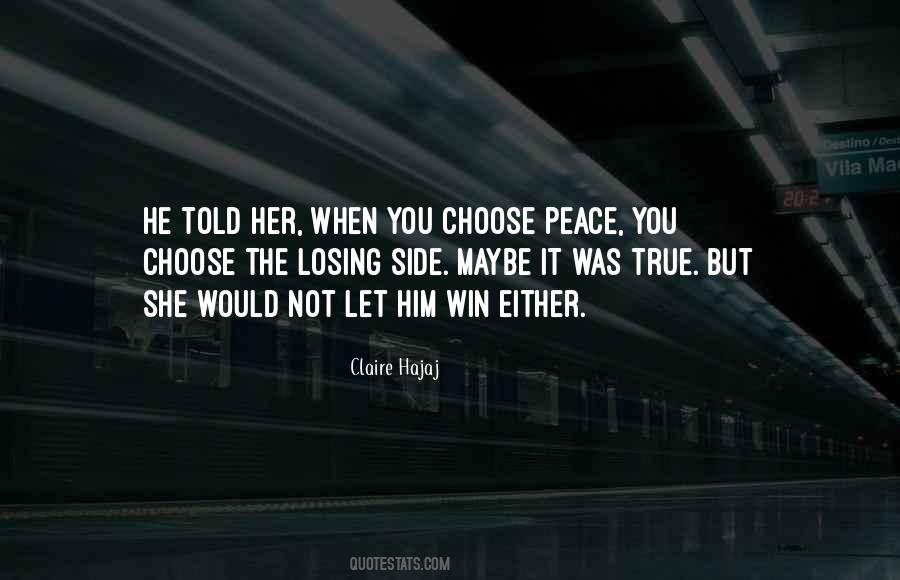 #79. No one is so senseless as to choose of his own will war rather than peace, since in peace the sons bury their fathers, but in war the fathers bury their sons. - Author: Herodotus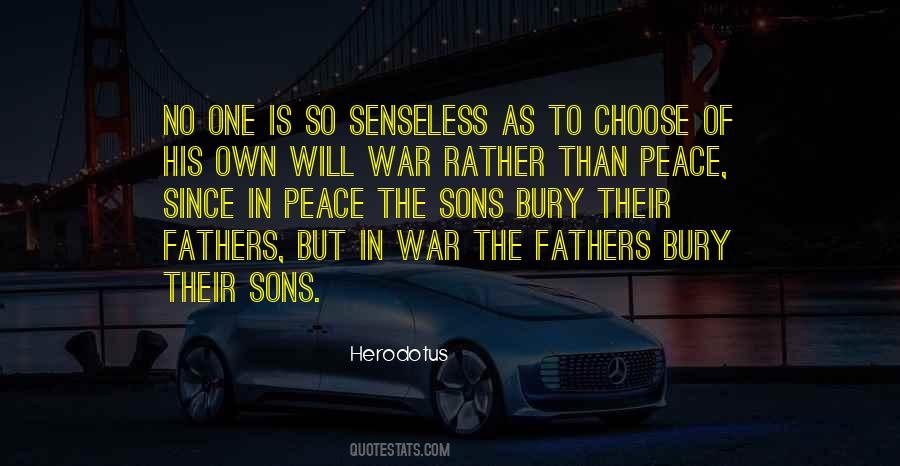 #80. Some souls seek to walk in awareness. Souls who walk in awareness choose a different path. They seek to experience all the peace and joy, limitlessness and freedom, wisdom and love that Oneness brings. - Author: Neale Donald Walsch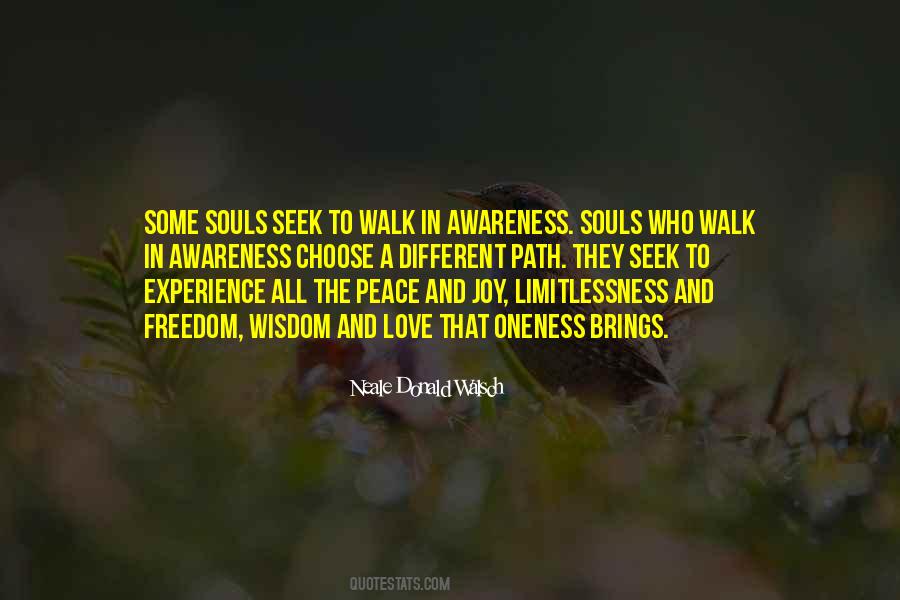 #81. The human mind isn't a terribly logical or consistent place. Most people, given the choice to face a hideous or terrifying truth or to conveniently avoid it, choose the convenience and peace of normality. That doesn't make them strong or weak people, or good or bad people. It just makes them people. - Author: Jim Butcher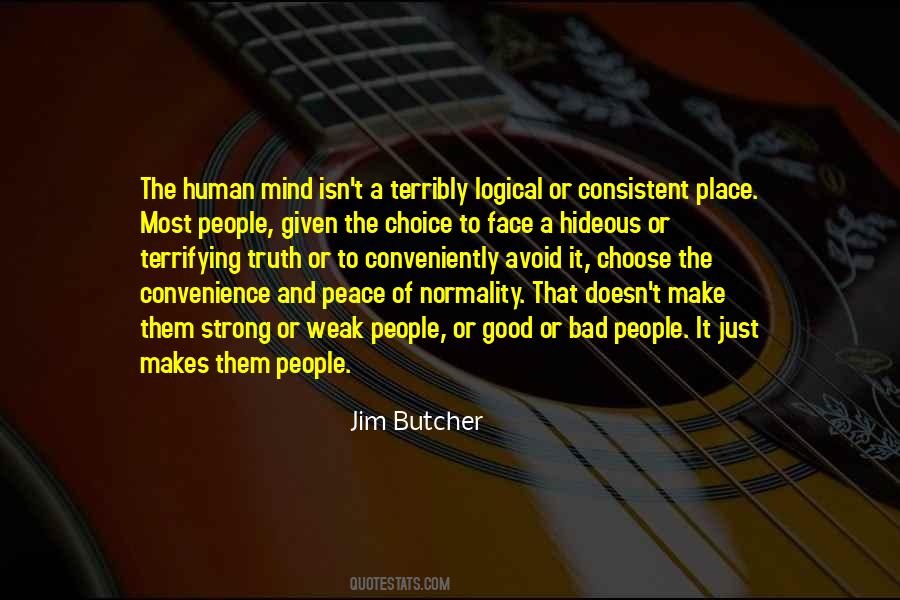 #82. Healthy people know not to gorge on anger. At the end of the day, they walk away. They choose to end it. And it's an easier choice the next time. - Author: Steve Goodier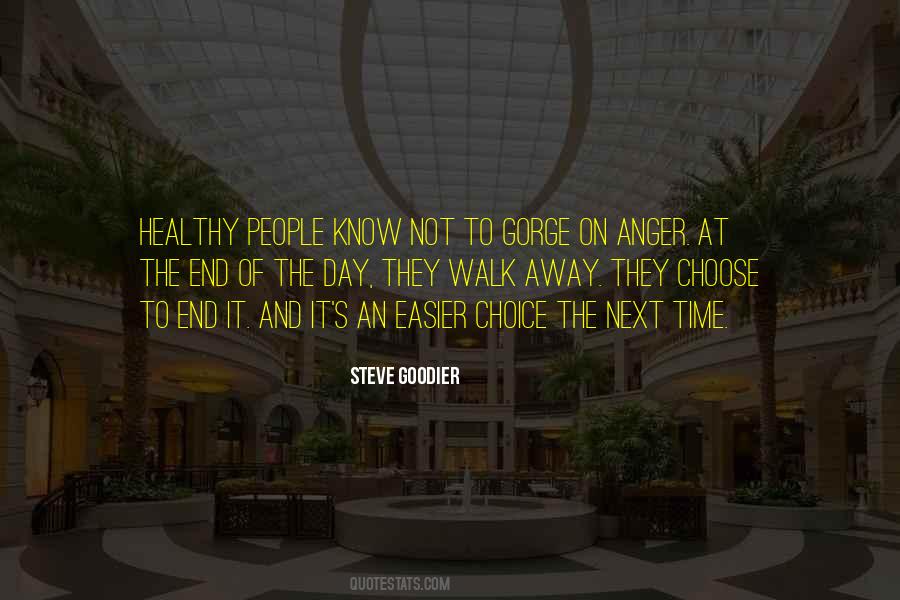 Famous Authors
Popular Topics