I Am Proud Of Famous Quotes & Sayings
List of top 100 famous quotes and sayings about i am proud of to read and share with friends on your Facebook, Twitter, blogs.
Top 100 I Am Proud Of Quotes
#1. I feel fantastically geeky. [But] I'm not one of those people who's enormously proud of being a geek, but nor am I particularly ashamed of it. - Author: China Mieville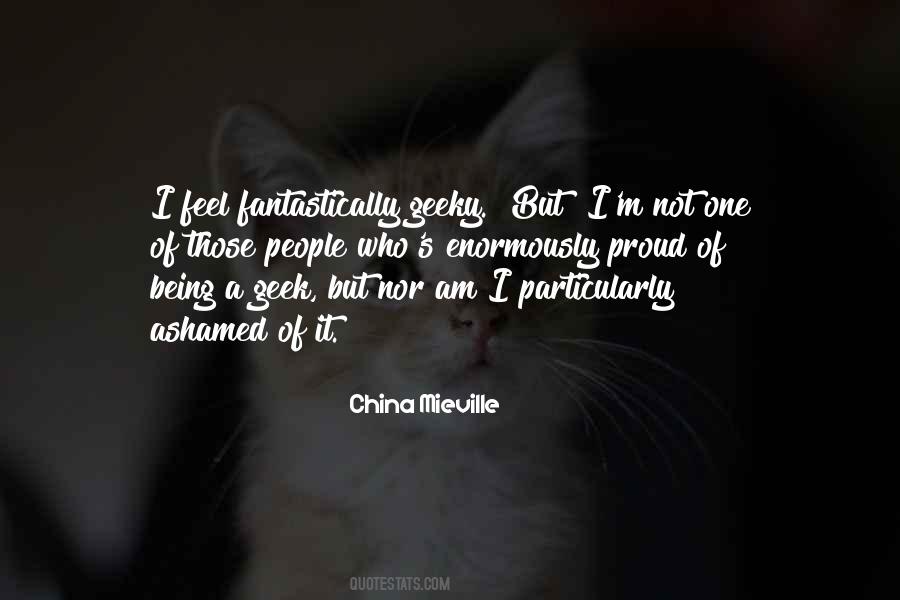 #2. You always think, "Oh, I'm sure I could have done that better." But generally speaking, I am very proud of this. - Author: Tom Hollander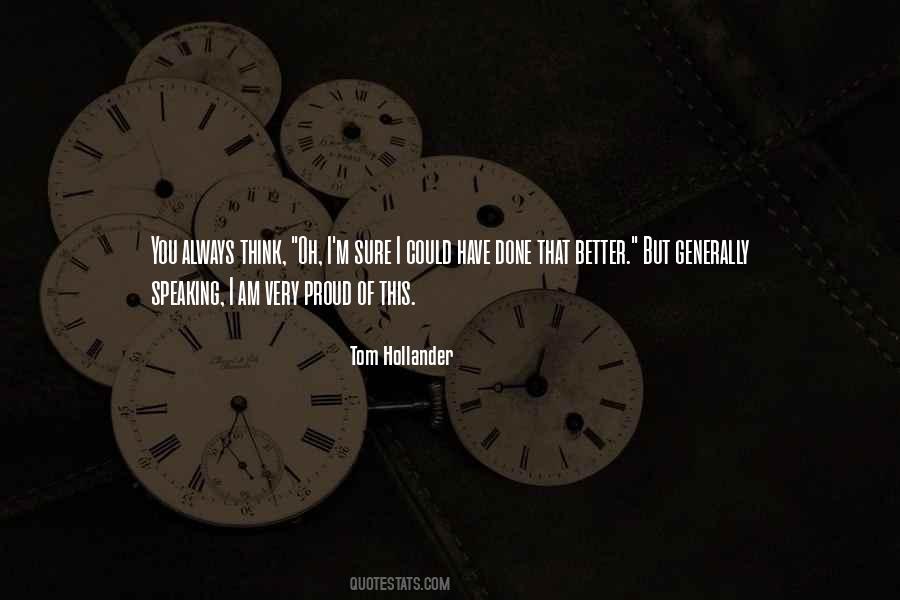 #3. I am particularly proud of my contributions in recent cases in which the government has argued in the Supreme Court that racial and ethnic quotas should not be allowed and that the Constitution does not protect a right to an abortion. - Author: Samuel Alito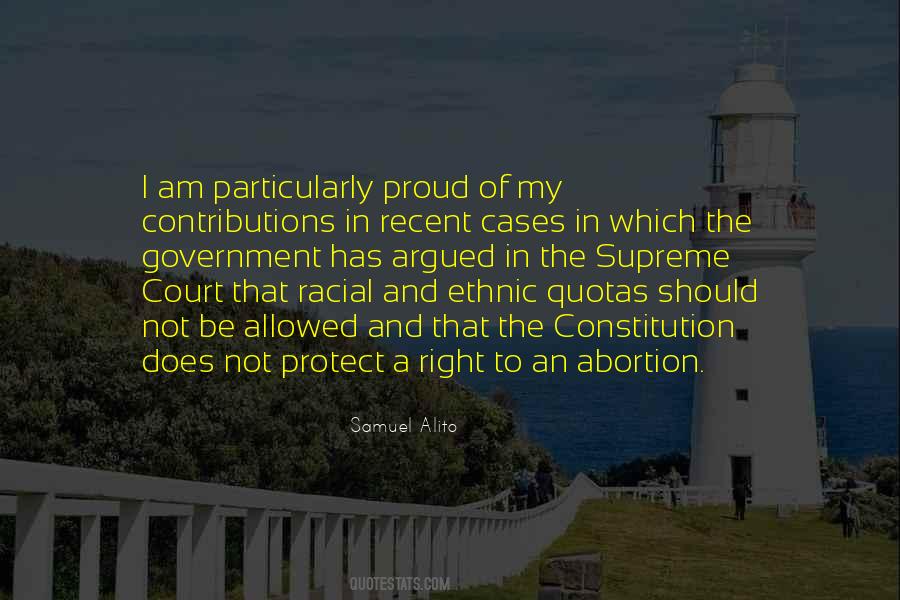 #4. As a Jew I am aware of how important the existence of Israel is for the survival of us all. And because I am proud of being Jewish, I am worried by the growing anti-Semitism and anti-Zionism in the world. - Author: Steven Spielberg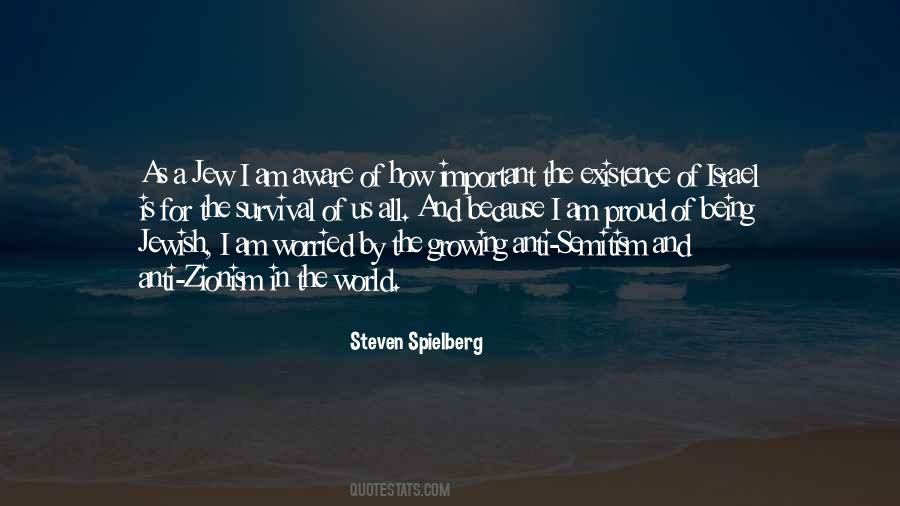 #5. I am attached to an incredible script called 'Wonder Drug,' about the DES drug disaster. It's a female-based drama, and I am so proud to be a part of because hopefully it will help evoke change - not only in our industry, but in the battle again corruption in big pharma. - Author: Alysia Reiner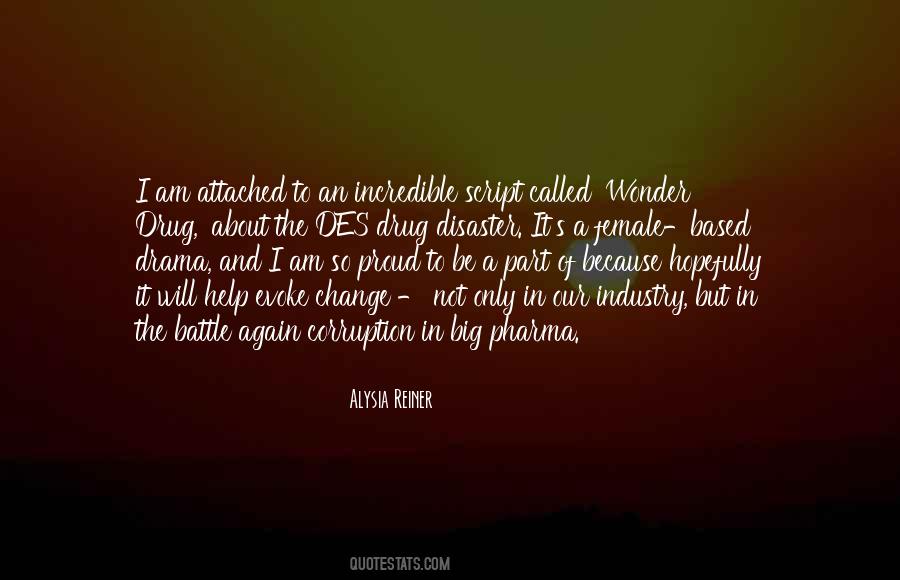 #6. I am proud of the fact that my wealth is completely transparent. - Author: Nandan Nilekani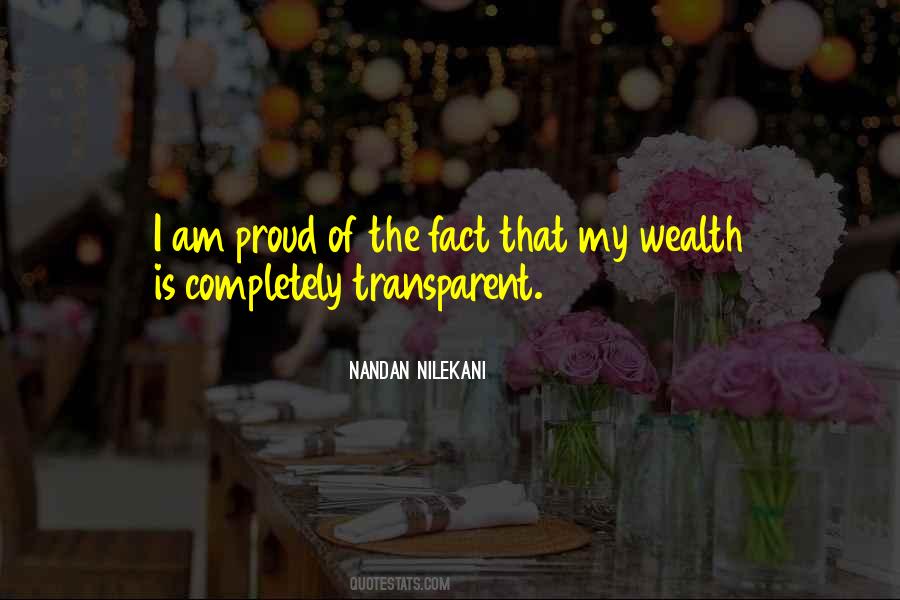 #7. I am so proud of Amelia Boynton. I can burst with pride. - Author: Lorraine Toussaint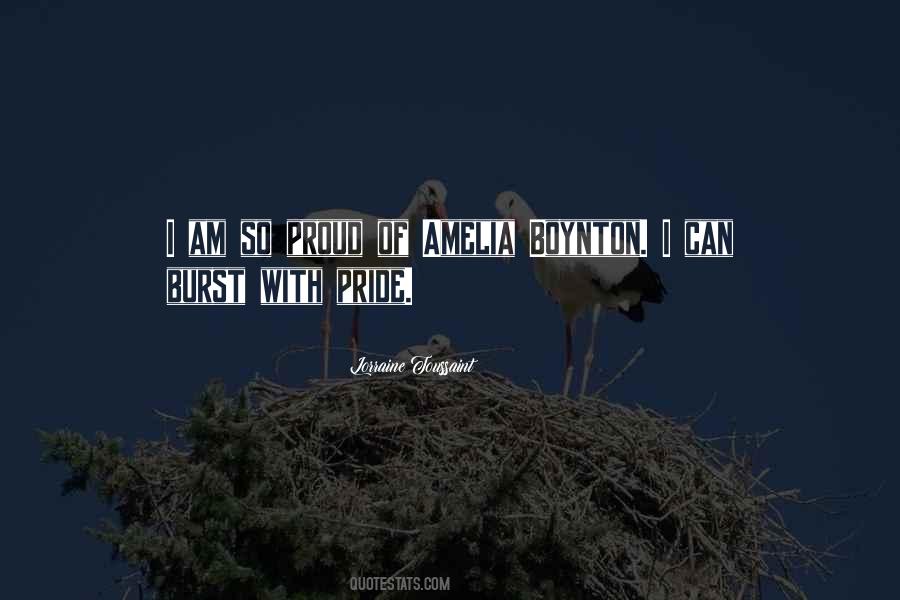 #8. I would honestly say that with all the awards and all the other things that I've done in my life, Dollywood is one of the greatest dreams that I've ever had come true - I am so proud of that I can't even begin to tell you, Dollywood is real special to me. - Author: Dolly Parton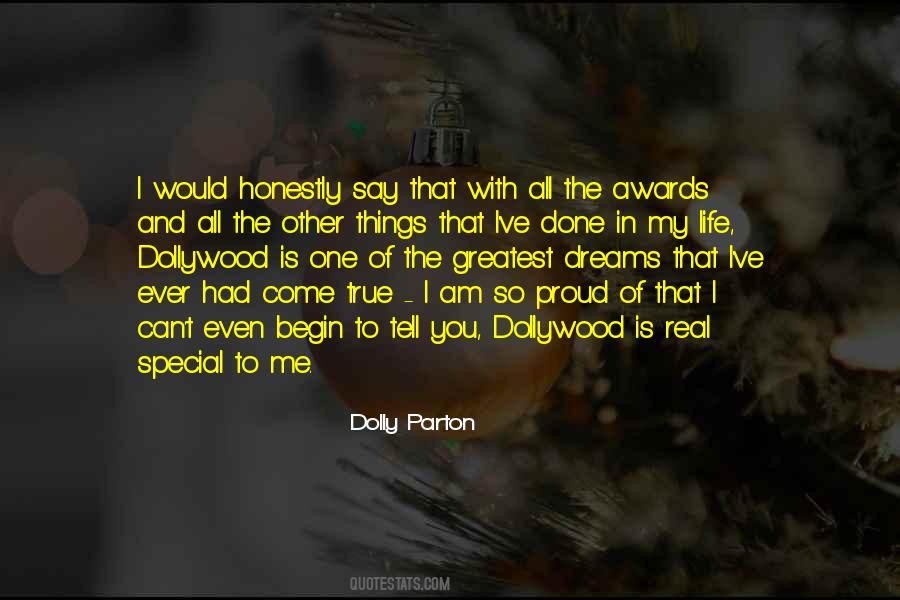 #9. Basketball paid for four years of my education, and I am so proud of that. - Author: Ramon Rodriguez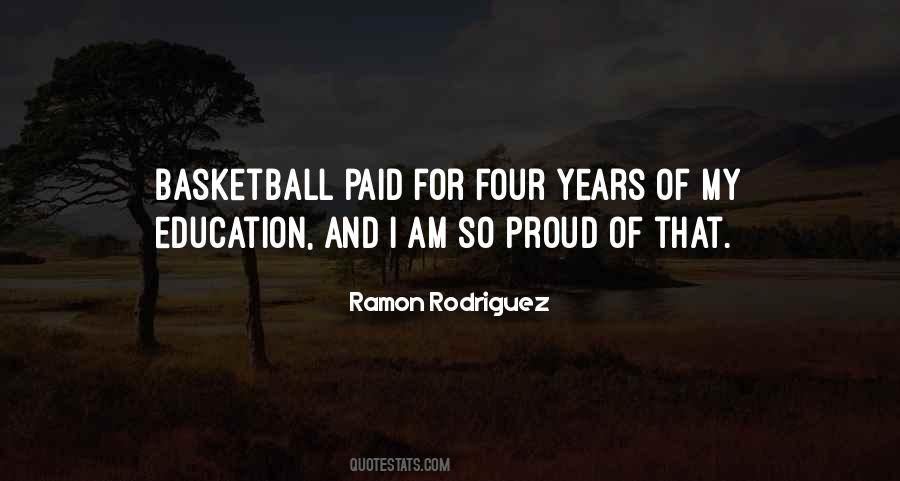 #10. Nothing in our lifetimes has been more heartening than when people of the former Soviet Union and Central Europe broke the grip of communism. We have aided their progress and I am proud of it. - Author: William J. Clinton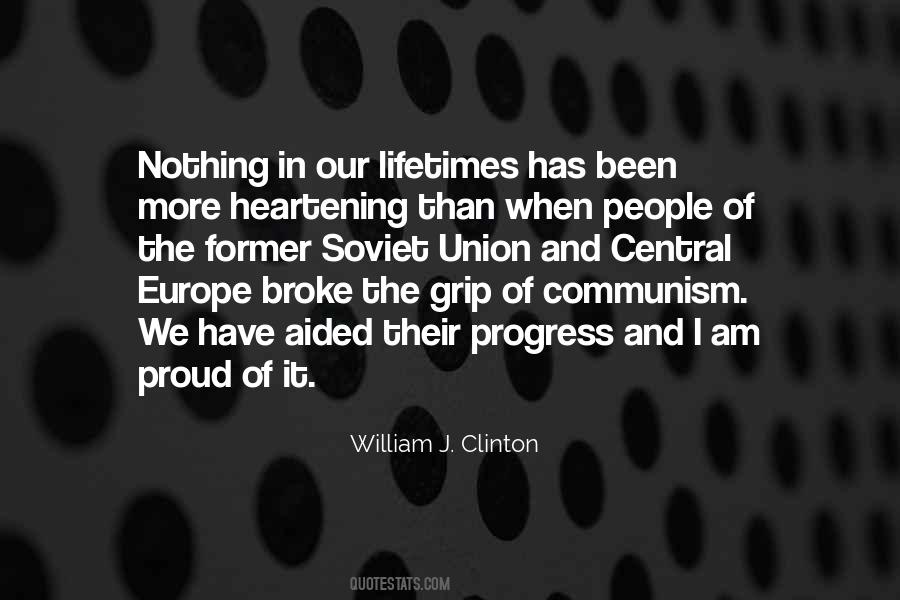 #11. I am very glad as well that it is a presidency built on a campaign that emphasized ideas. I hope it will be a presidency that will enable everybody to be part of and proud of. - Author: Michael D. Higgins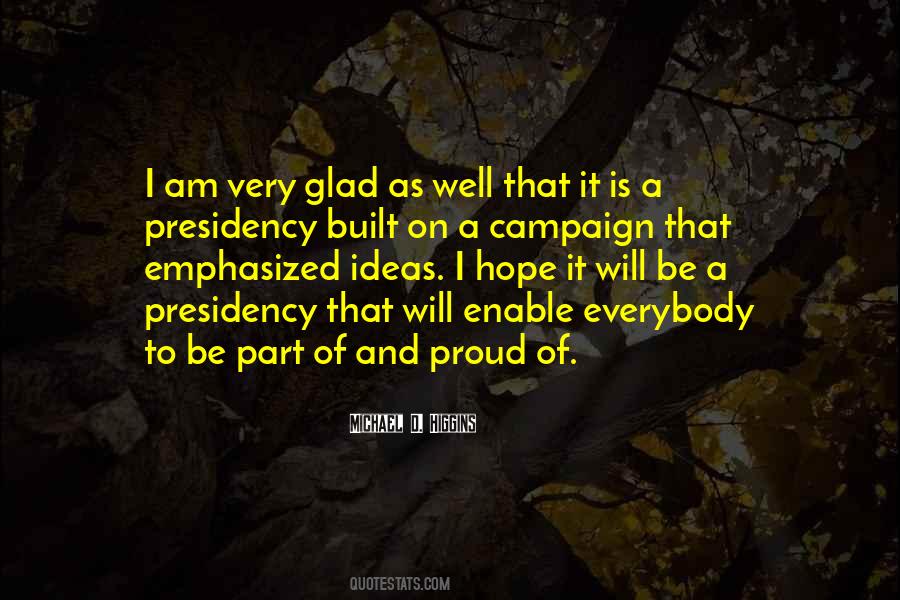 #12. My main purpose in life is to make enough money to create ever more inventions ... . The dove is my emblem ... . I want to save and advance human life, not destroy it ... . I am proud of the fact that I have never invented weapons to kill ... . - Author: Thomas A. Edison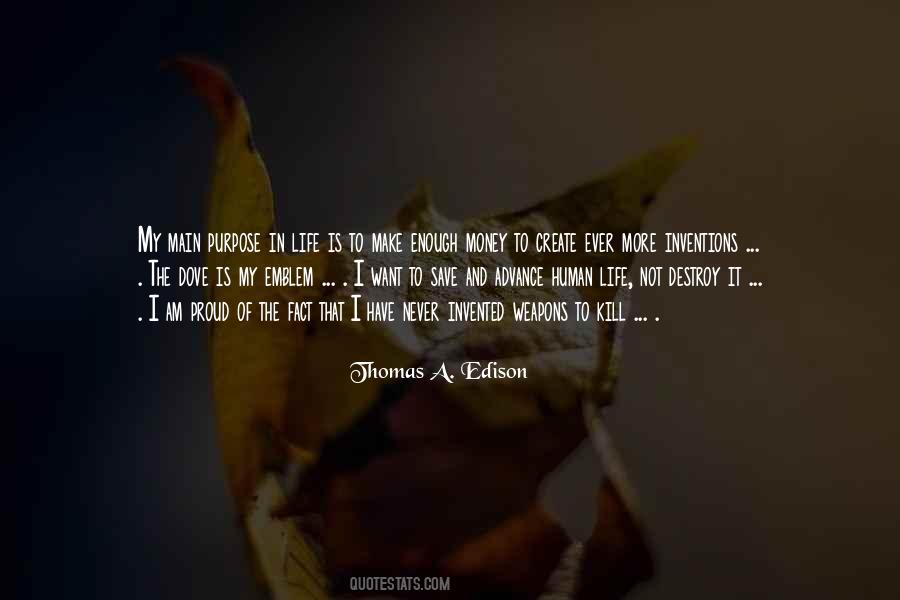 #13. I just look at my own life, which is full of error as all life is. I have done plenty of things that I am not proud of. - Author: Andrew Solomon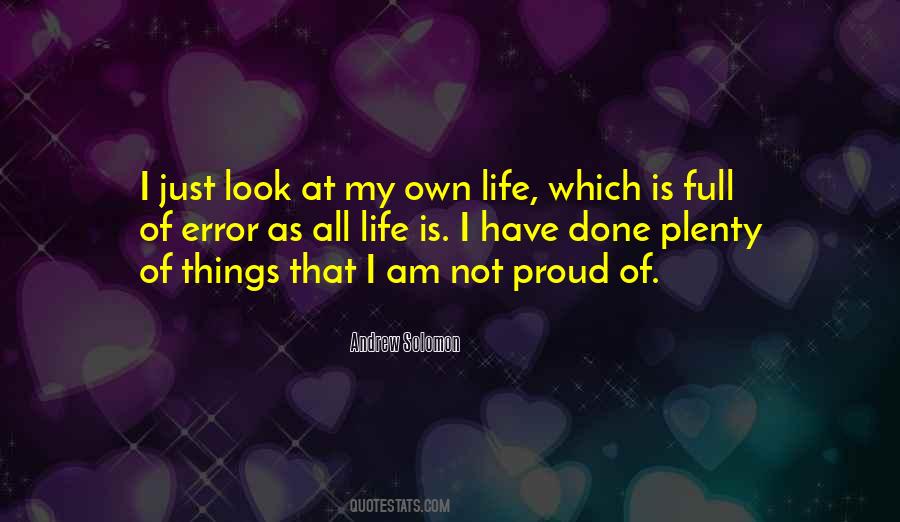 #14. I am proud of Kirk. I think he drums to his own drummer in every way. - Author: Lee Grant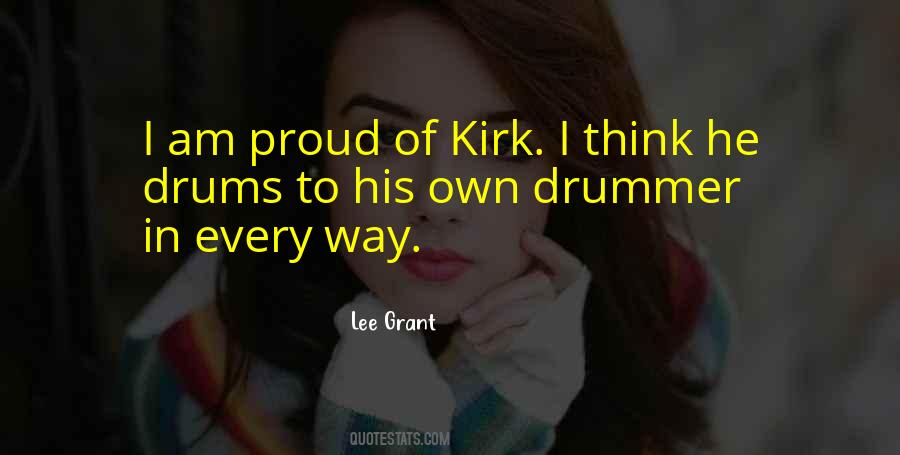 #15. I am proud to say that the Federalist Society was founded in part at the University of Chicago, and one of its best characteristics has been an attack on liberal shibboleths by looking at real consequences and specific problems and by asking what law actually does. - Author: Cass Sunstein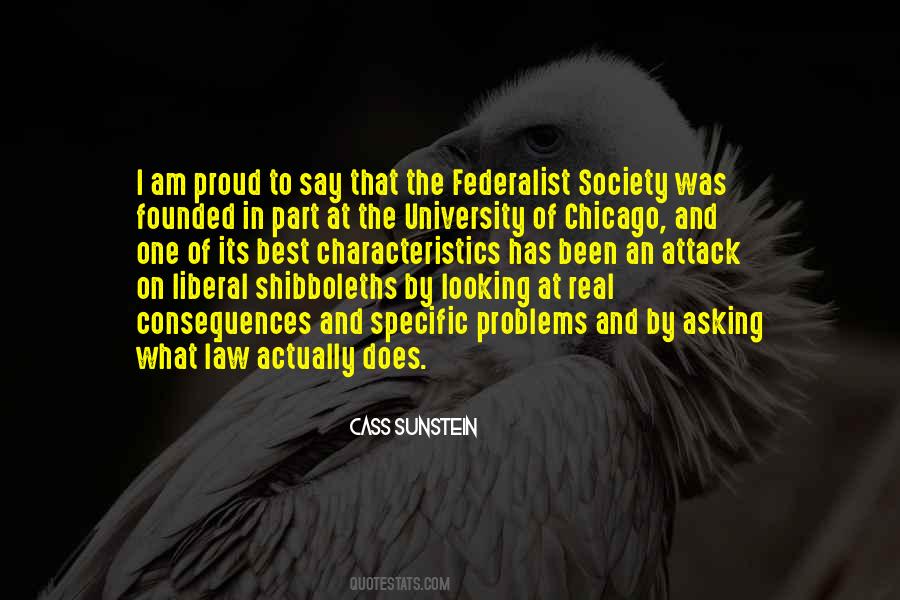 #16. My God may not be your idea of God, but one thing I know of my God he makes me a humanitarian. I am a proud Jew because we gave the world the Bible and the story of Joseph. - Author: Albert Einstein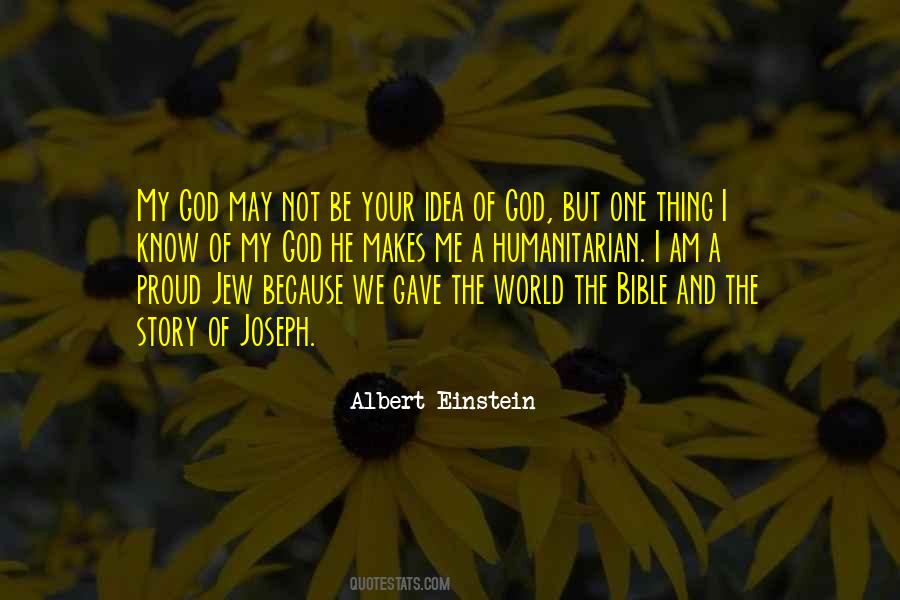 #17. I am proud to offer my endorsement of Donald J. Trump for President of the United States. He is a successful executive and entrepreneur, a wonderful father, and a man who I believe can lead our country to greatness again. - Author: Jerry Falwell Jr.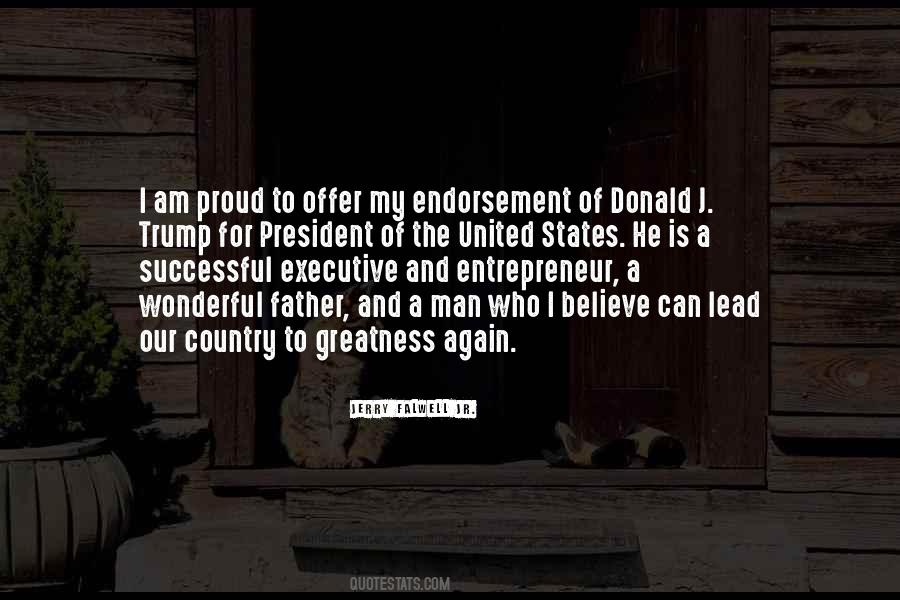 #18. When I see young men and old women come out of the closet and face being called faggots and dykes and pariahs and betrayers of the family dream, then I am honored to be gay because I belong to a people who are proud. - Author: Arnie Kantrowitz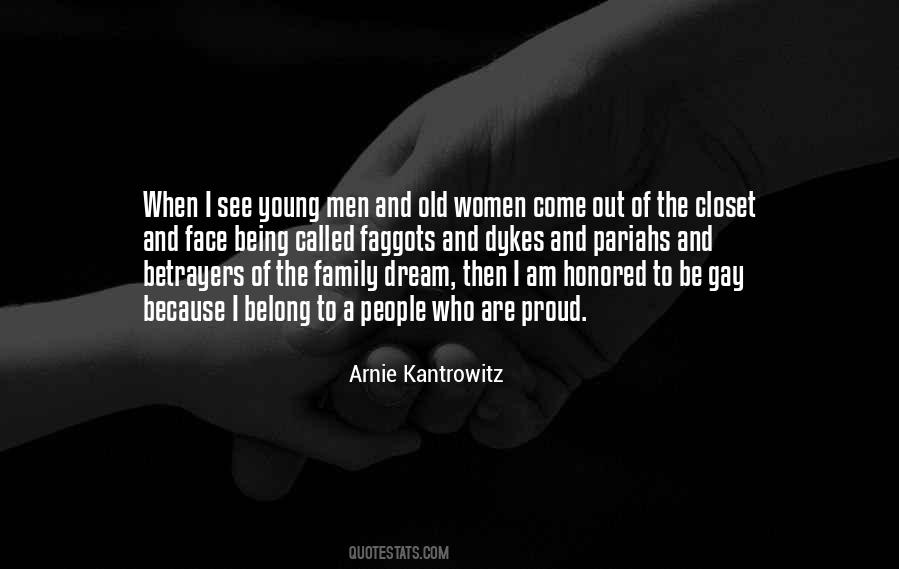 #19. I may be slow, but I know a racist when I'm called one - and I am proud to support the supremacy of the 100-meter leisurely stroll. - Author: Bauvard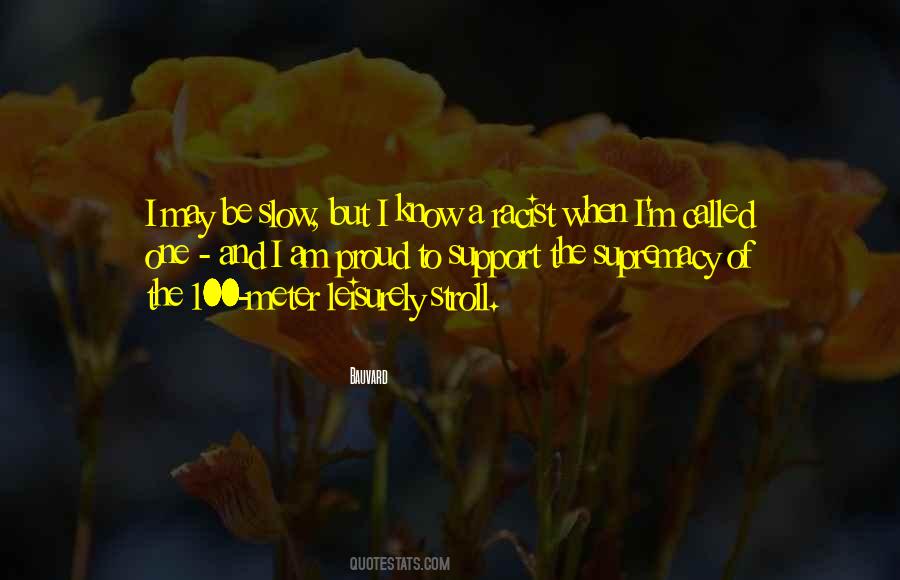 #20. I know that I'm getting the real deal with my mom. I know that she's telling it like it is. She's proud of me when I've earned it and she's disappointed in me when I've earn that. She's really my spectrum on where I am as a person. - Author: Lara Flynn Boyle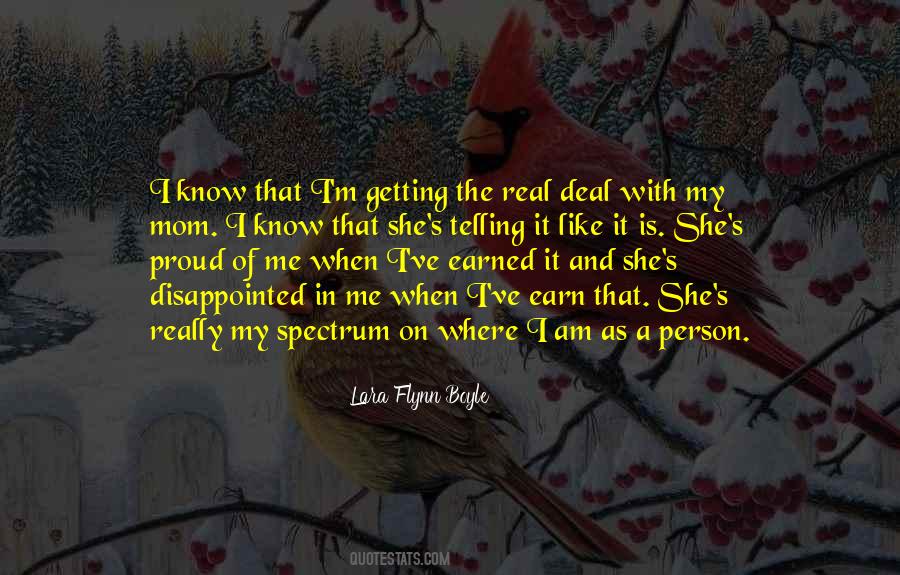 #21. Looking back on my achievements, it is fair to say that I am extremely proud of what I have done and accomplished so far. - Author: Arthur Godfrey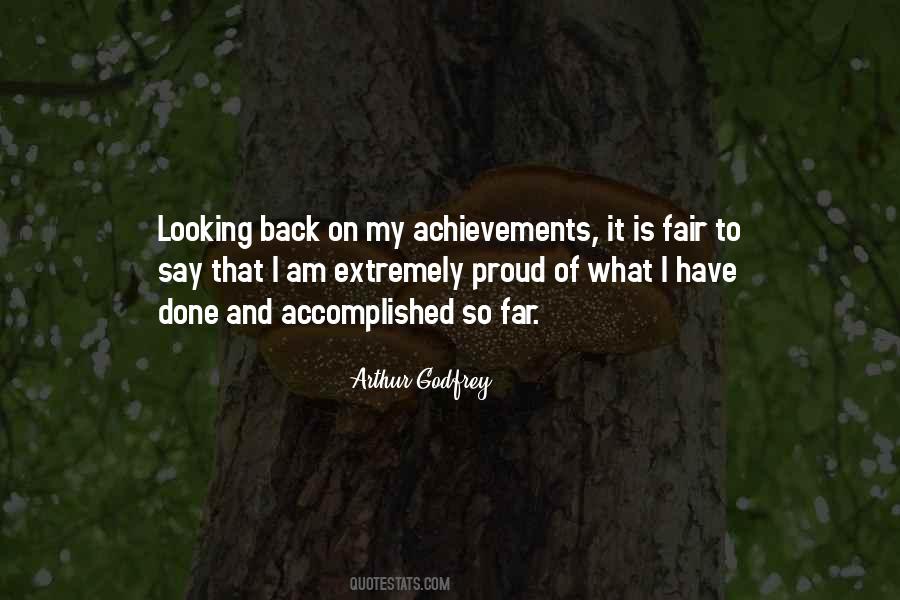 #22. As a dedicated and proud father of three, I am a strong advocate of life. I value life whether born or unborn. - Author: Gresham Barrett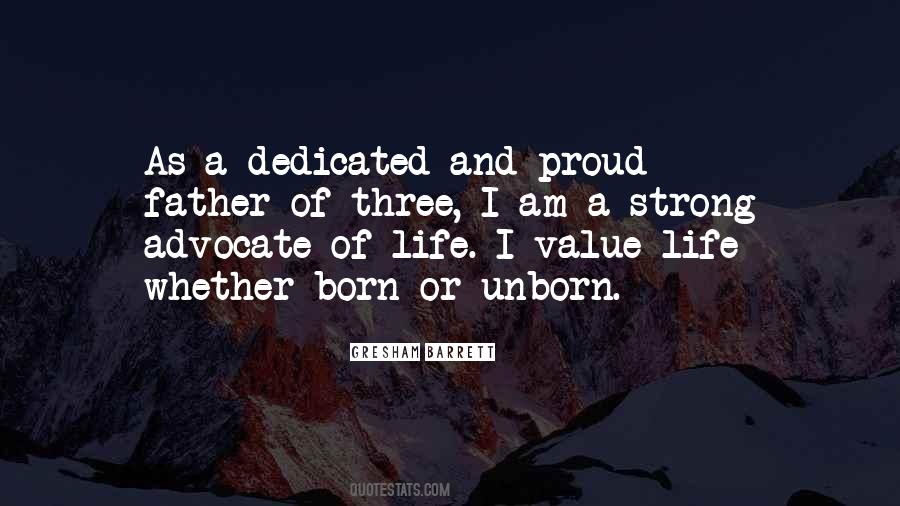 #23. I am proud of the fact there is not a human being that I have got it in for. I never met a man I didn't like. - Author: Will Rogers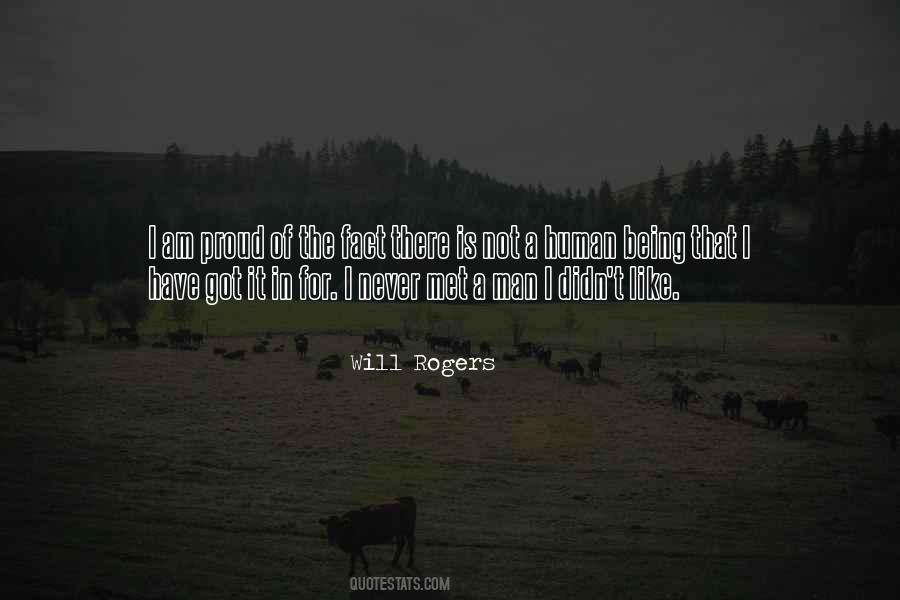 #24. Every night I tell my children all of the things that I love about them. I tell them how proud I am of their accomplishments and how much better our lives have been since they were born. I hope they will always realize how much they are loved and valued. I feel so blessed that they are in my life. - Author: Tom Giaquinto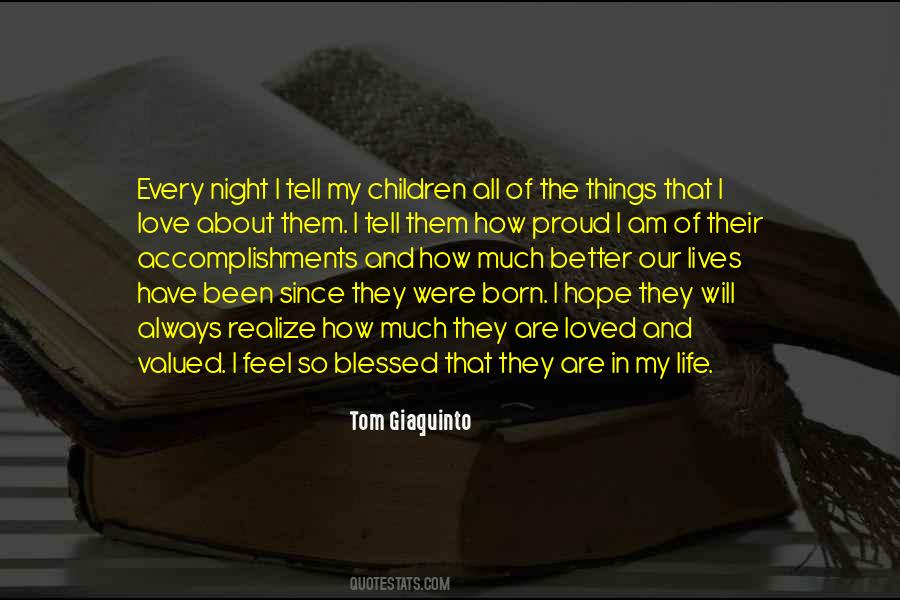 #25. There's a condensed softness about the Albanian people, and I've witnessed examples of their hospitality. Albanian blood runs through my veins and I am proud to call myself Albanian. - Author: Masiela Lusha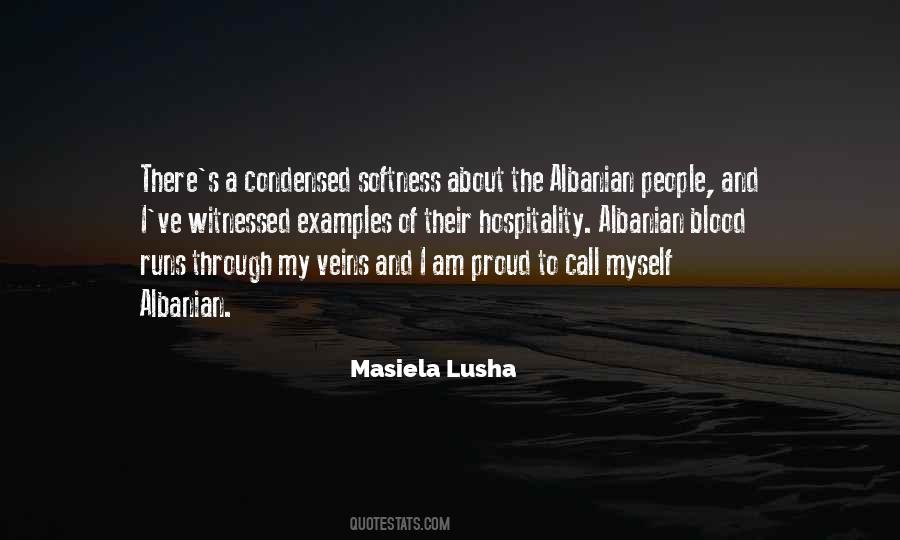 #26. I am a Maharashtrian and I am extremely proud of that. But I am an Indian first. And Mumbai belongs to all Indians. - Author: Sachin Tendulkar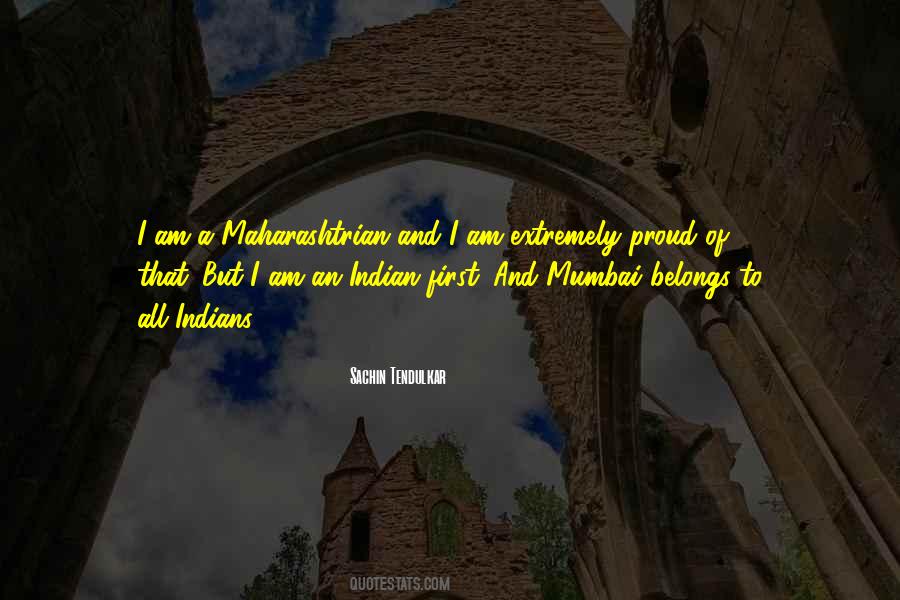 #27. Whenever I go to New York or any European country, they say: 'Nawal, why don't you get a facelift?' I tell them, 'I am proud of my wrinkles. Every wrinkle on my face tells the story of my life. Why should I hide my age?' - Author: Nawal El Saadawi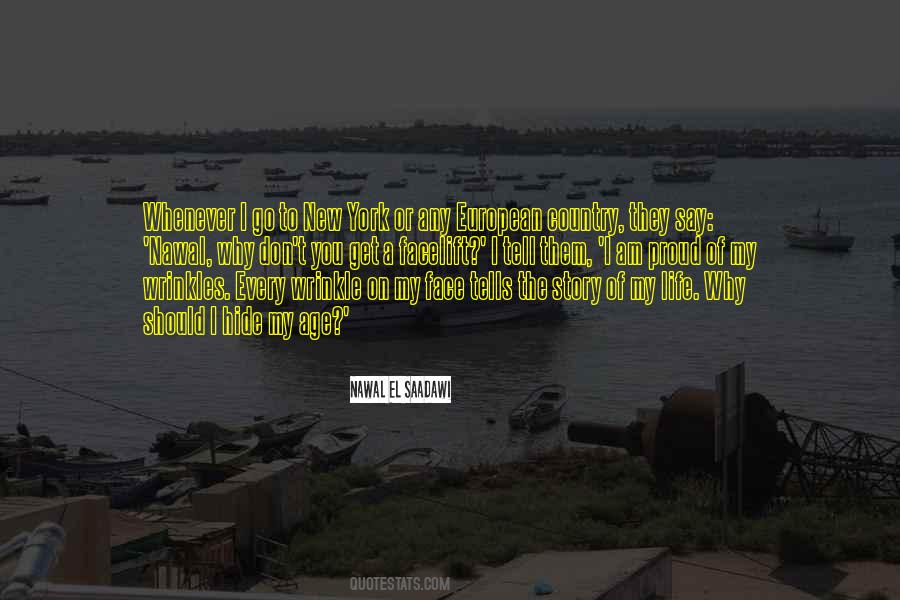 #28. As proud as I am of Doo-Wops I feel like, 'Oh, man. People haven't seen nothing. They don't even know what I'm about to do,' and that's what I can't wait to show the world. - Author: Bruno Mars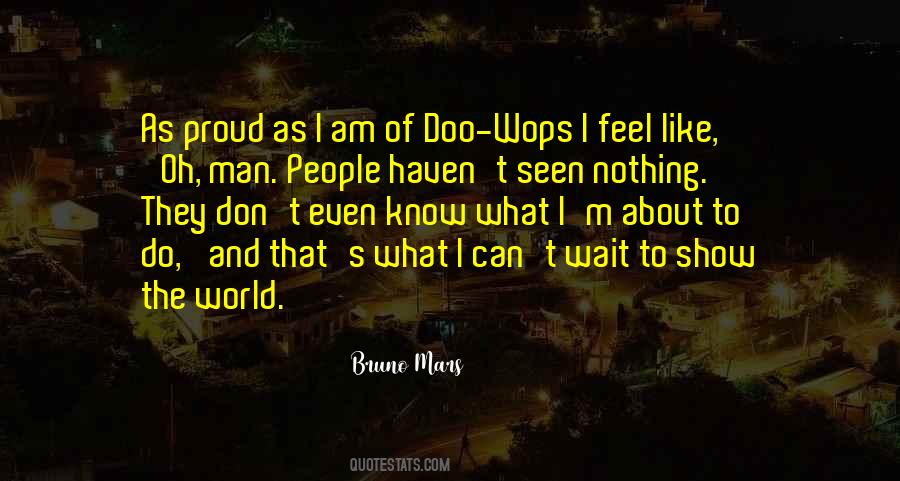 #29. I'm grounded in who I am, and I am a confident black man. A confident, Nigerian, black, chocolate man. I'm proud of my heritage, and no man can take that away from me. - Author: John Boyega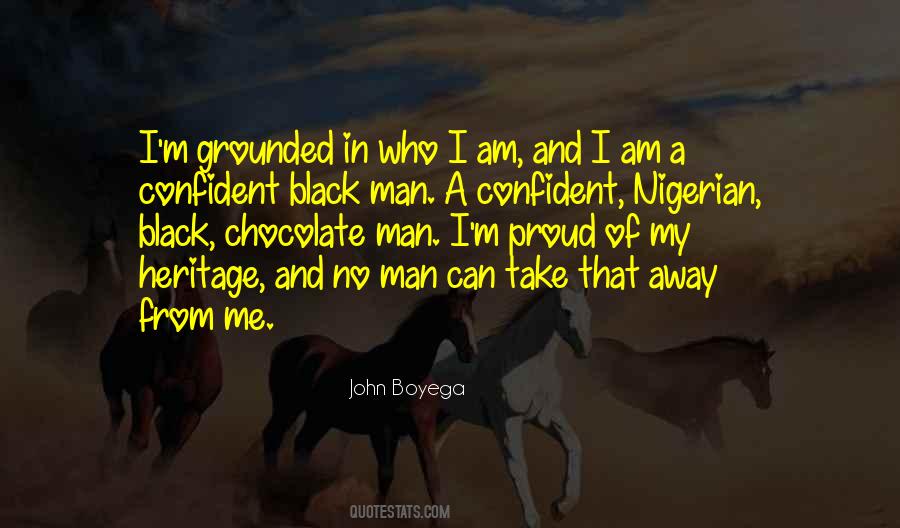 #30. Honoria Smythe-Smith," Sarah said, positively grinning, "I am
so proud of you."
"I would ask why," Honoria replied warily, "but I'm not sure I
want to know the answer - Author: Julia Quinn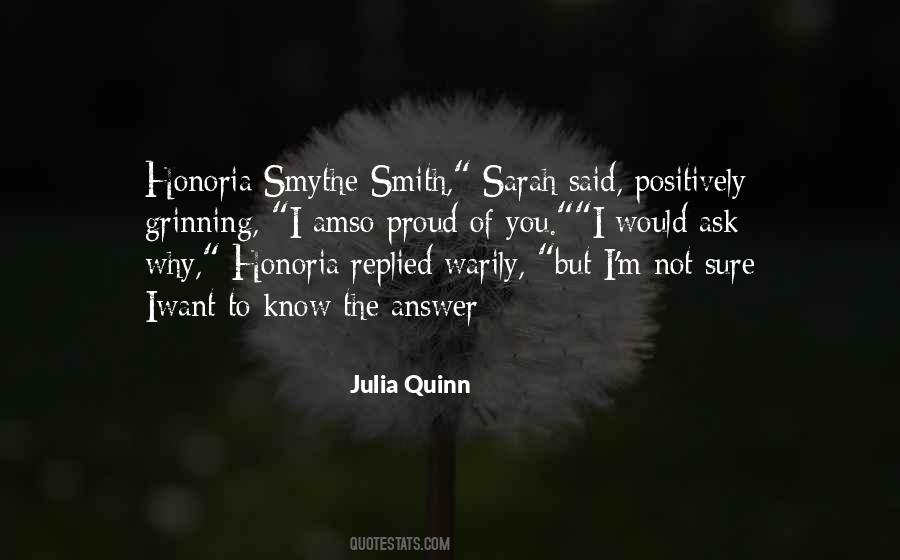 #31. All in all, Kirk's character is something I am very proud of. - Author: William Shatner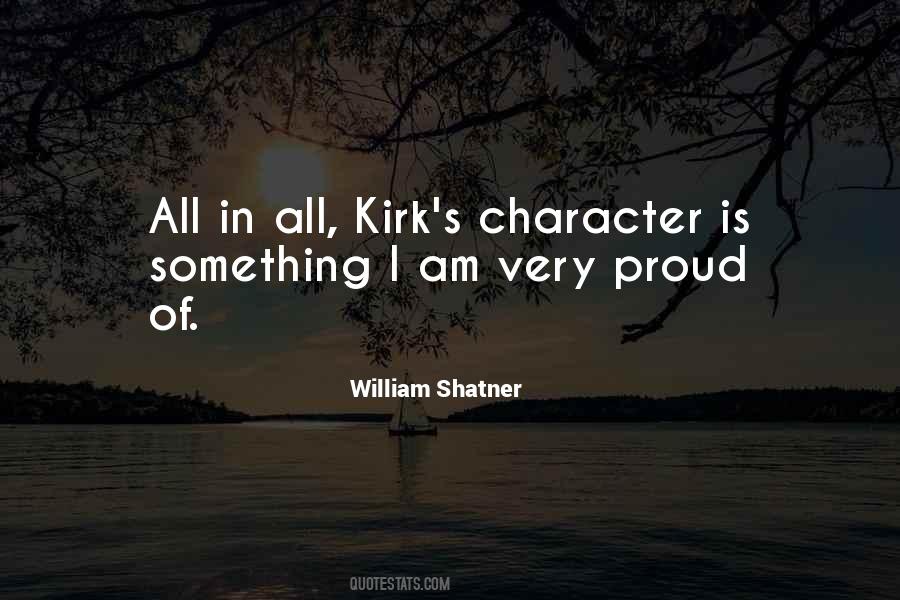 #32. As accomplished as Aboujaoude?" "He was accomplished and humble. You, my son, are ambitious. And proud. And your feet smell strongly of dung, if I am being perfectly honest. - Author: Jeff Wheeler
#33. One feature film that I am most proud of is Forrest Gump which starred Tom Hanks. Once you are called out to work in film, yes it is a small industry and your name gets around pretty fast. - Author: Leland Sklar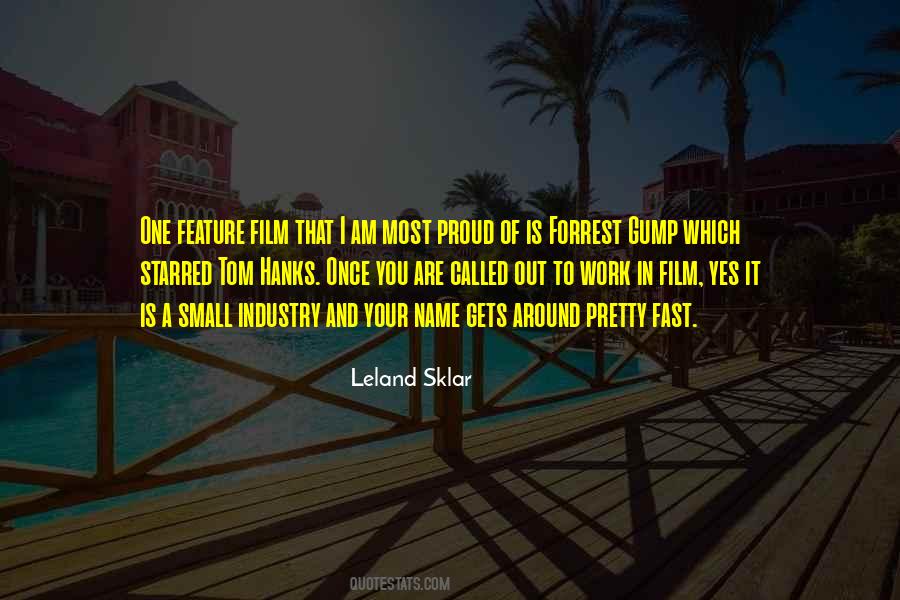 #34. I felt proud of myself. I worked out really hard, and the reason I wanted to do it the most is because I am posing for a purpose: a portion of the proceeds from each issue sold is going to go to my charity. - Author: Cindy Margolis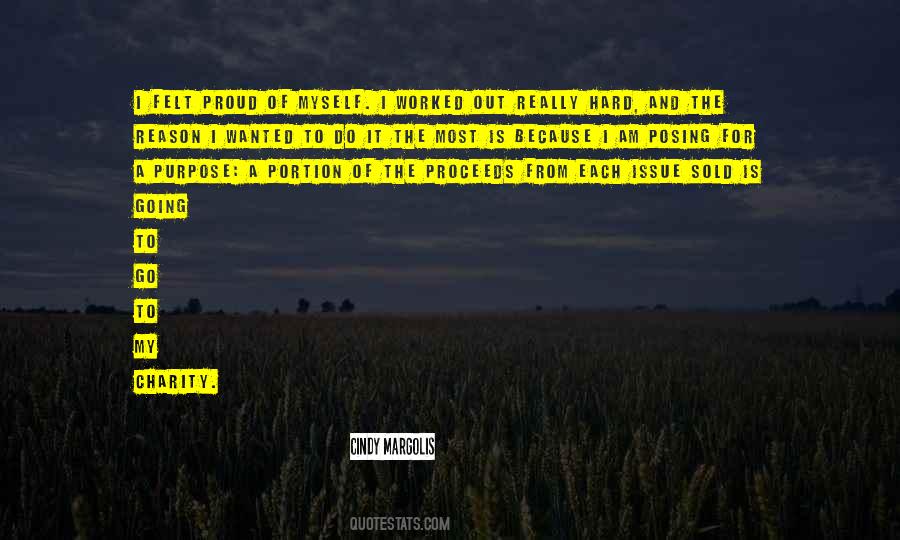 #35. And I am standing in front of my mother, and my whole life I have wanted to make my mother proud. And now I'm going to make my daughter proud. - Author: Nicole Kidman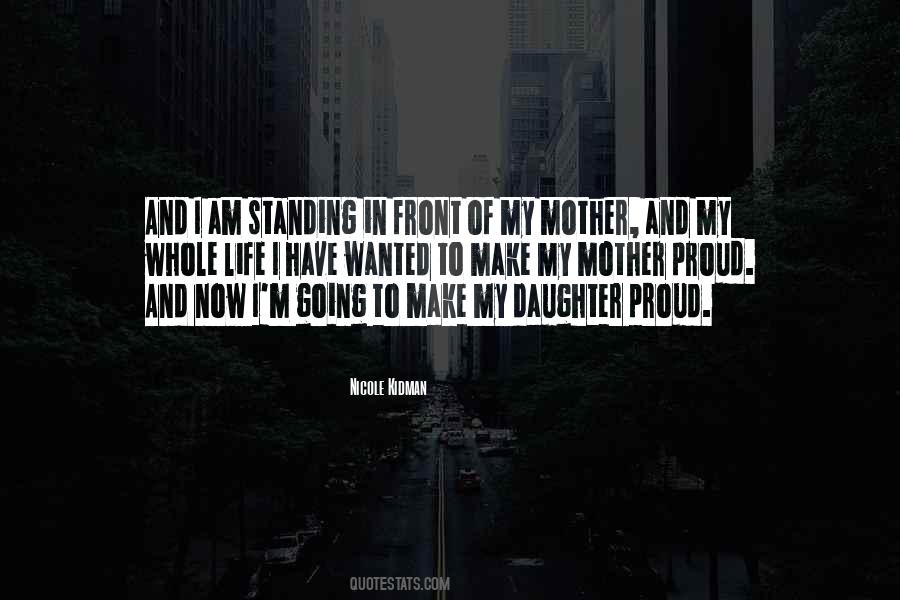 #36. I owe very, very much to Mozart; and if one studies, for instance, the way in which I write for string quartet, then one cannot deny that I have learned this directly from Mozart. And I am proud of it! - Author: Arnold Schoenberg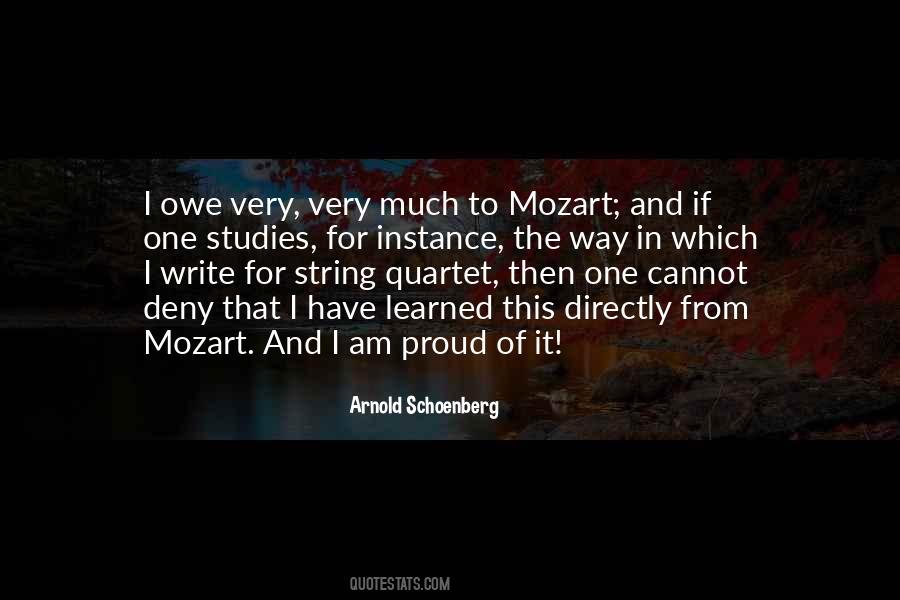 #37. I am so proud to be from New Orleans and to be one of those people who had been displaced. I wasn't there during that time, but that's where I come from, that kind of poverty, and I'm very, very proud of that because it's given me my history. - Author: Tyler Perry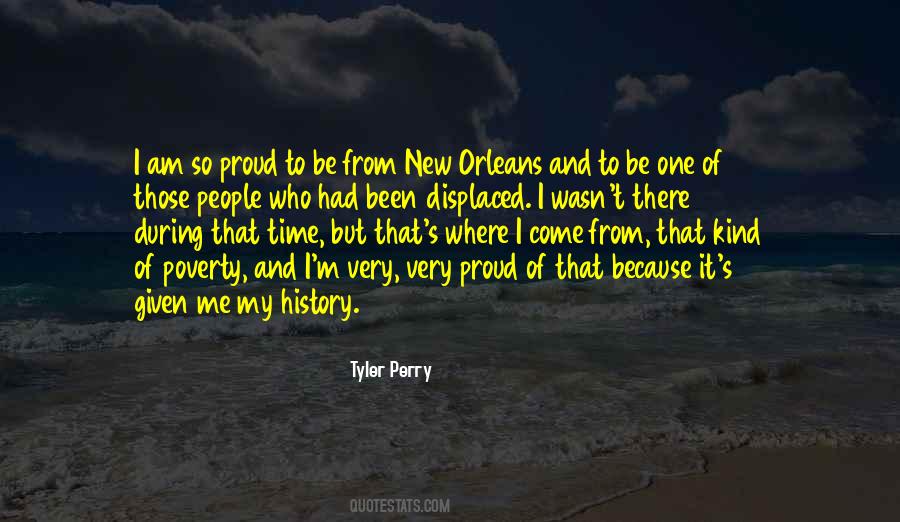 #38. I am naturally extremely proud to be selected as European Ryder Cup captain for 2016, european Ryder Cup has been a massive part of my life and my career so to have the chance to lead Europe next year is a huge honor. - Author: Darren Clarke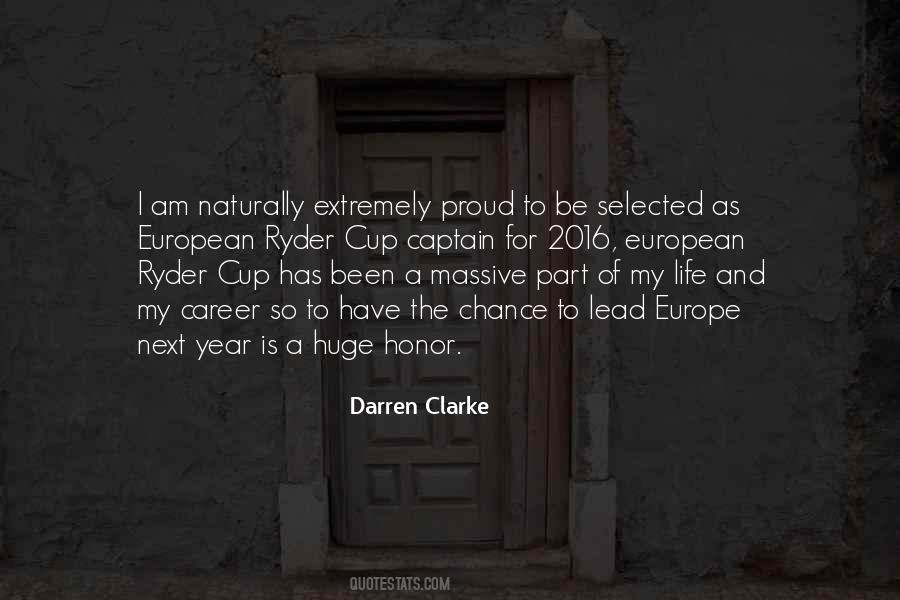 #39. Ethan sighed, then put a hand on my cheek. I don't tell you this enough, but I am incredibly proud of the vampire you've become. I want you to know that. - Author: Chloe Neill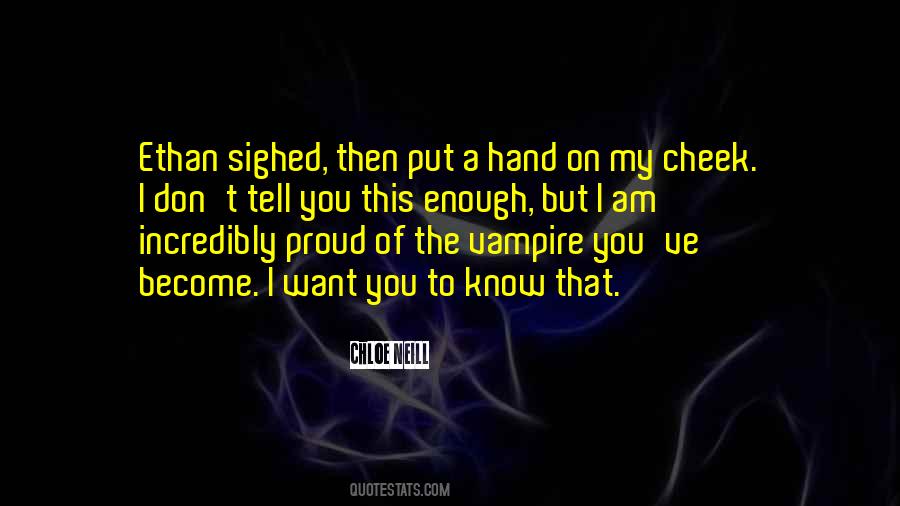 #40. For the first time in my adult life, I am proud of my country because it feels like hope is finally making a comeback. - Author: Michel'le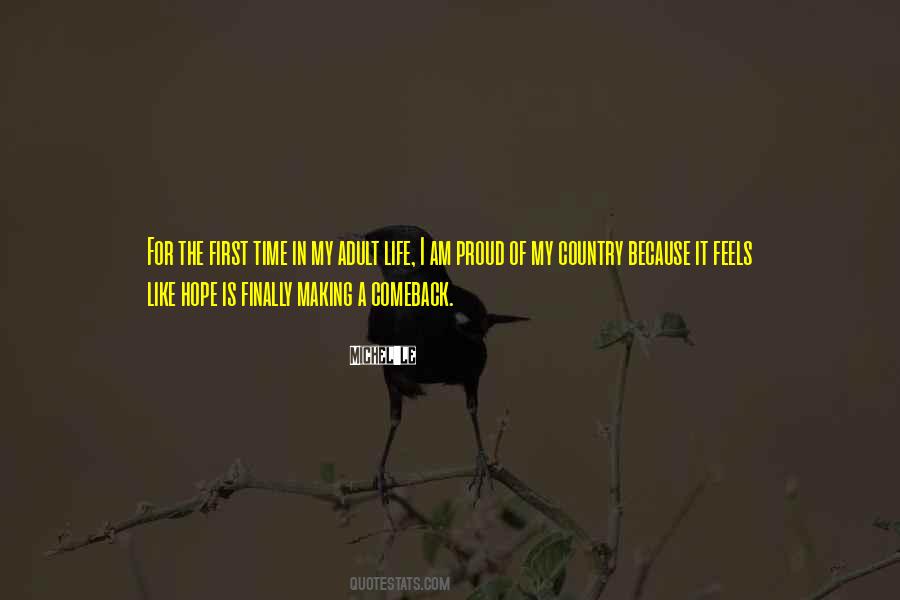 #41. Of course I am very proud of being a Tory. Yes, in my head and in my heart I regard myself as a Tory. As I have said, I was born that way; I believe it is congenital. I am unable to change it. That is how I see the world ... is the most un-Tory thing that can be conceived. - Author: Enoch Powell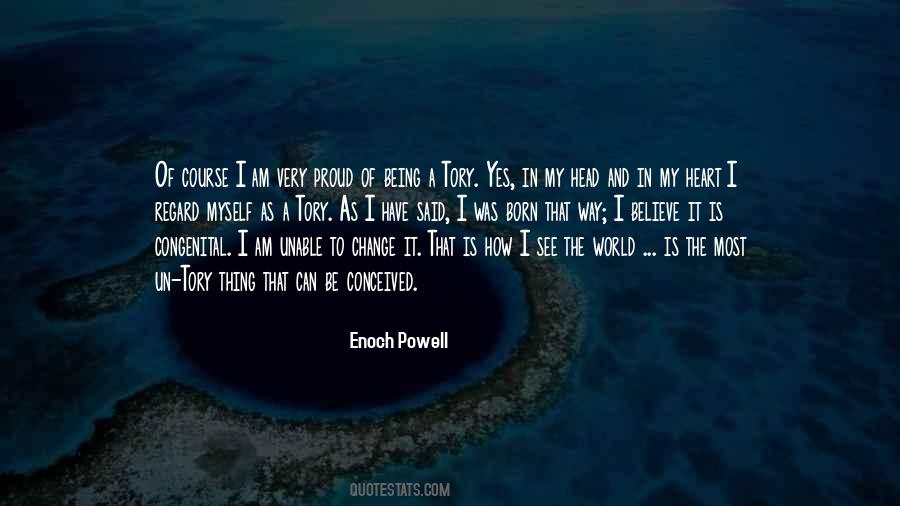 #42. My mom is proud of me. I just want to keep working hard so one day I can help my family. I am going to get a big house one day, and we all can stay in it and eat. - Author: Ben McLemore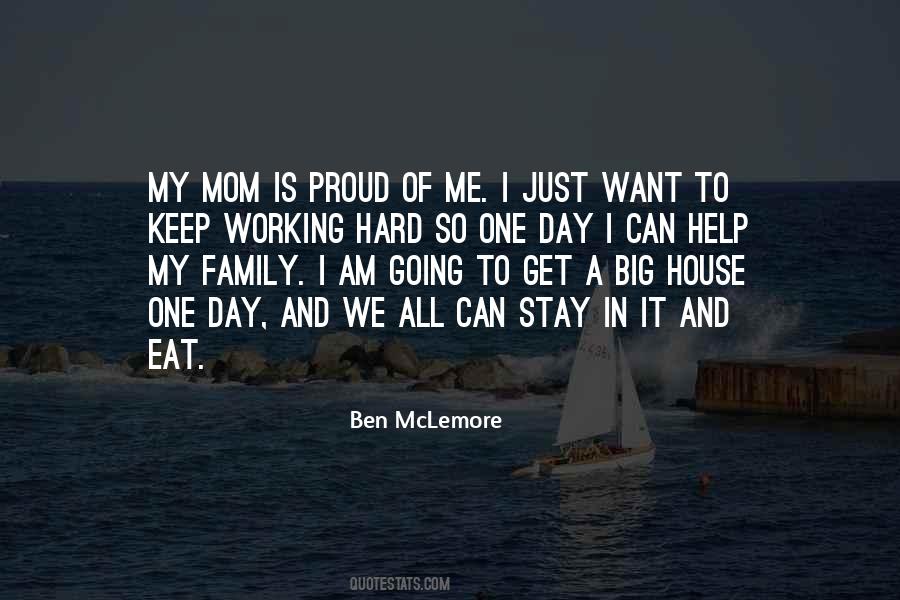 #43. I don't believe in God and all that. But I am Jewish, and very proud to be so, very proud of the culture. - Author: Alan Sugar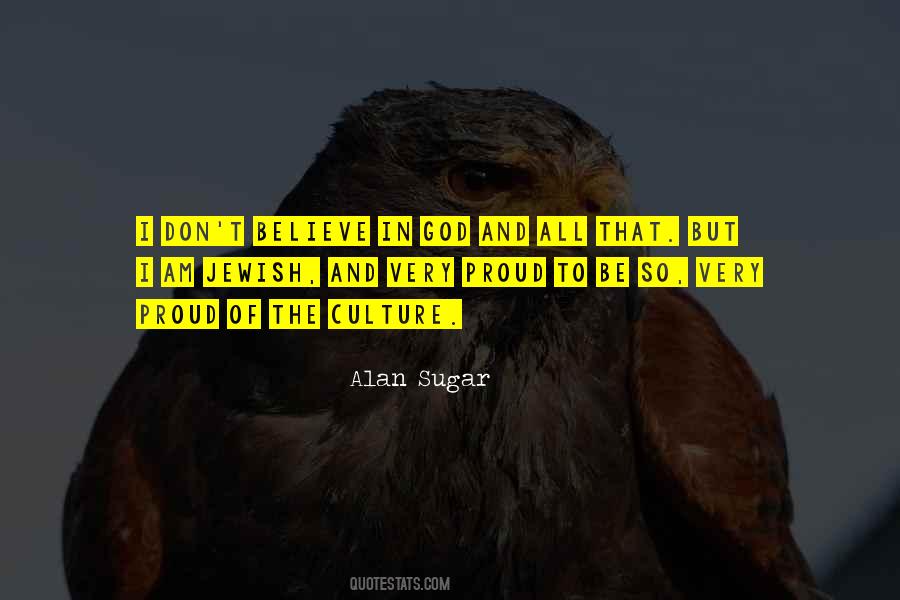 #44. I am very proud of being Jewish. I went to a Jewish school all my life. - Author: Anthony Pratt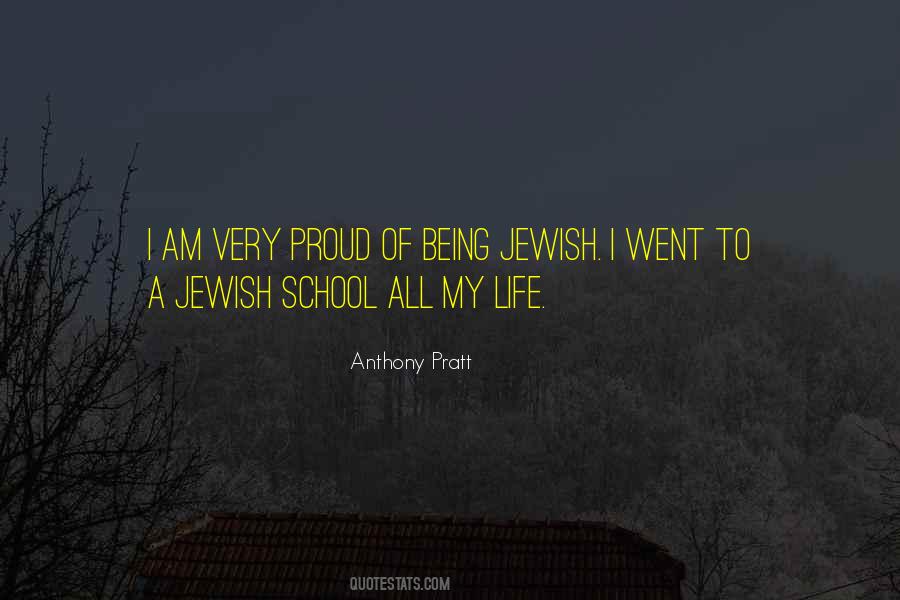 #45. To be honest, I think that I am a bit of a singer, coming from Wales; being Welsh, we are all very proud of our singing heritage. - Author: Ioan Gruffudd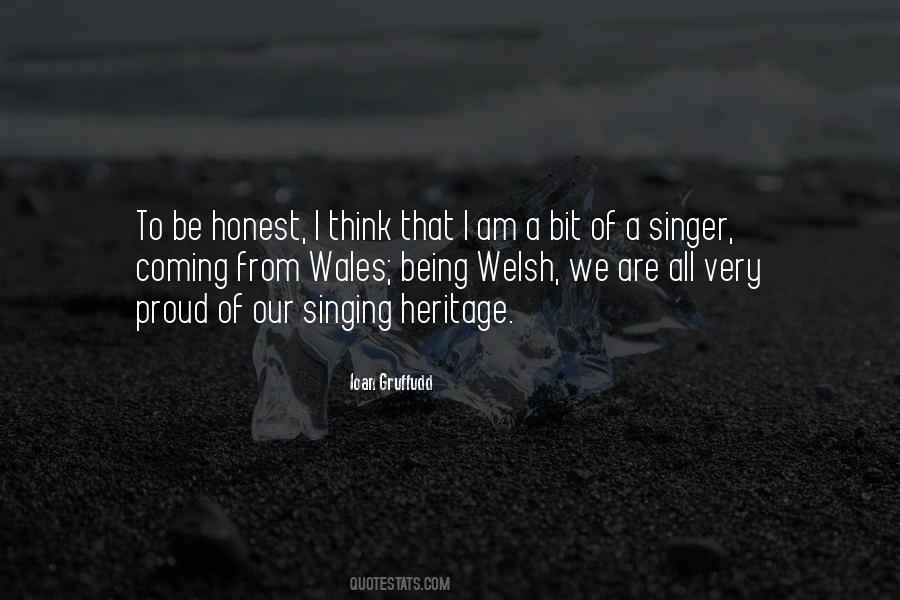 #46. My father was one-eighth Cherokee indian and my mother was quarter-blood Cherokee. I never got far enough in arithmetic to figure out how much injun that made me, but there's nothing of which I am more proud than my Cherokee blood. - Author: Will Rogers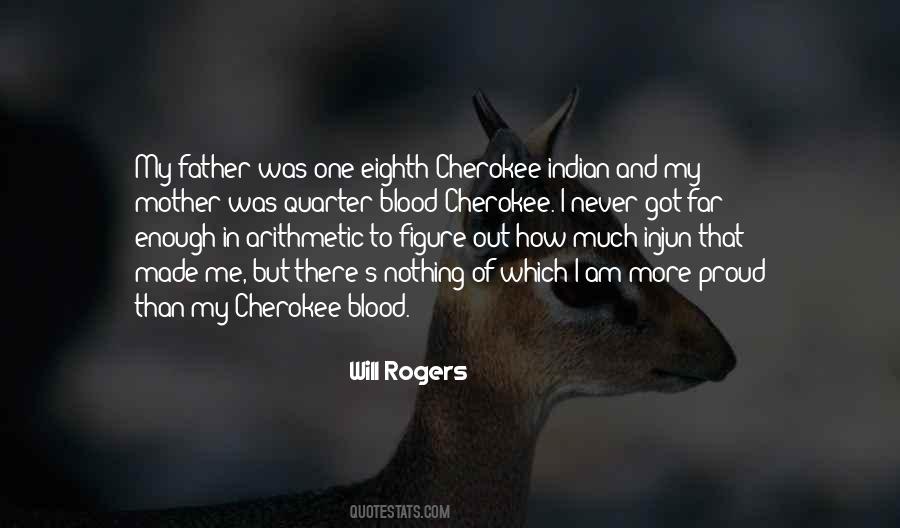 #47. I am really proud of the development of the people on my team as they grow in purpose; they like what they see in the mirror. - Author: Les Wexner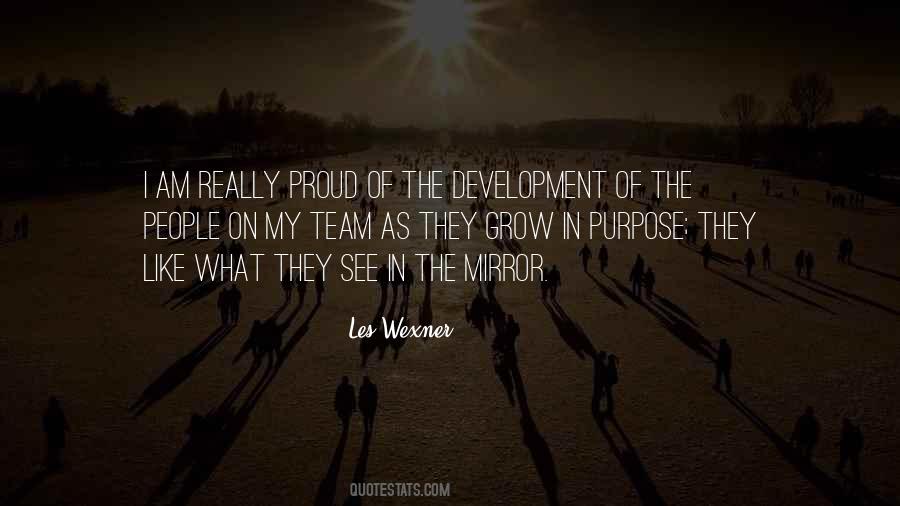 #48. I had been proud of my awareness, aware of my pride, and proud of that awareness again. It went on like this: How clever I am that I know I am so stupid, how stupid I am to think that I am clever, and how clever I am that I am aware of my stupidity, etc. - Author: Janwillem Van De Wetering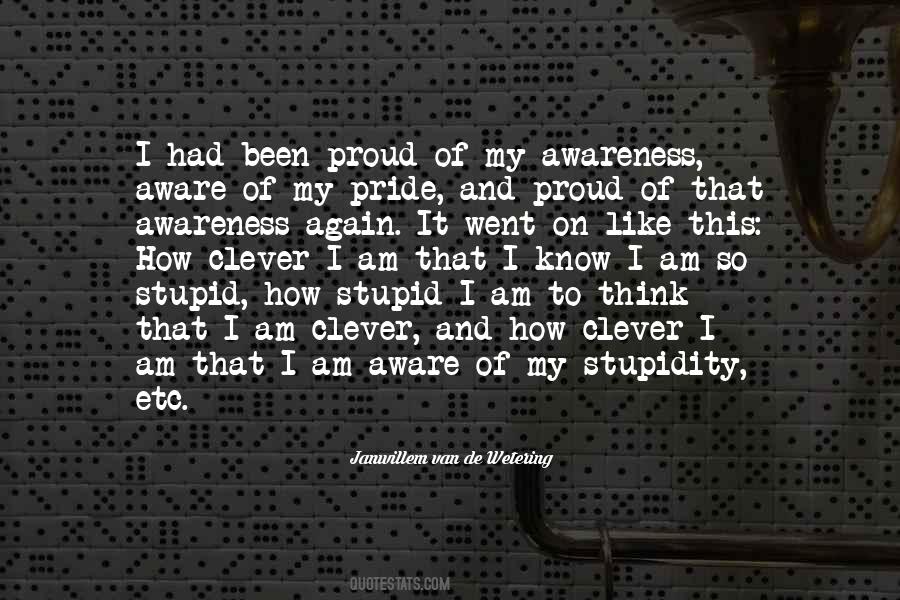 #49. I am a judge born, raised, and proud of being a Jew. The demand for justice runs through the entirety of the Jewish tradition. I hope, in my years on the bench of the Supreme Court of the United States, I will have the strength and the courage to remain constant in the service of that demand. - Author: Ruth Bader Ginsburg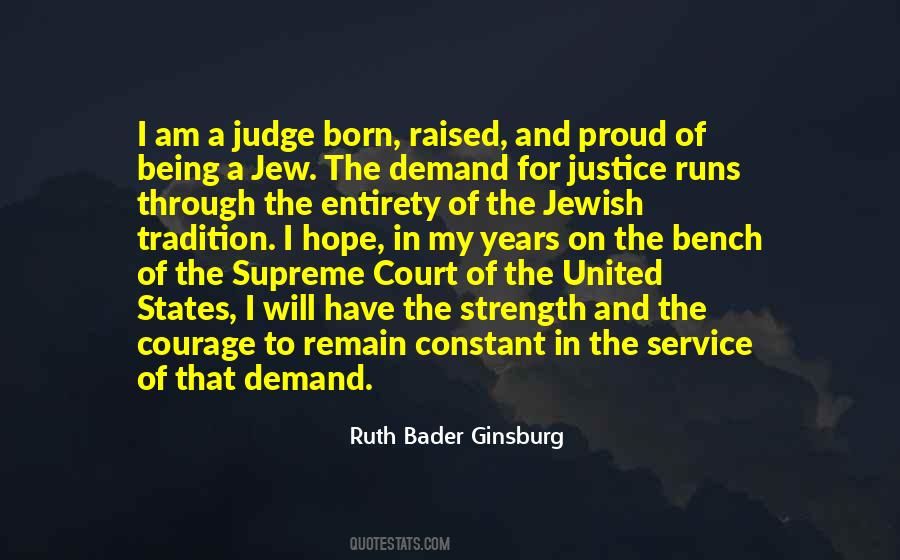 #50. I am proud of being a Southerner. I wasn't about to let Southerners on my show be stupid or aw-shuckses who just sit on the front porch and spit in the yard. I wasn't about to do that, and I made that very clear from the start. I was kind of the gate-keeper on that stuff. - Author: Andy Griffith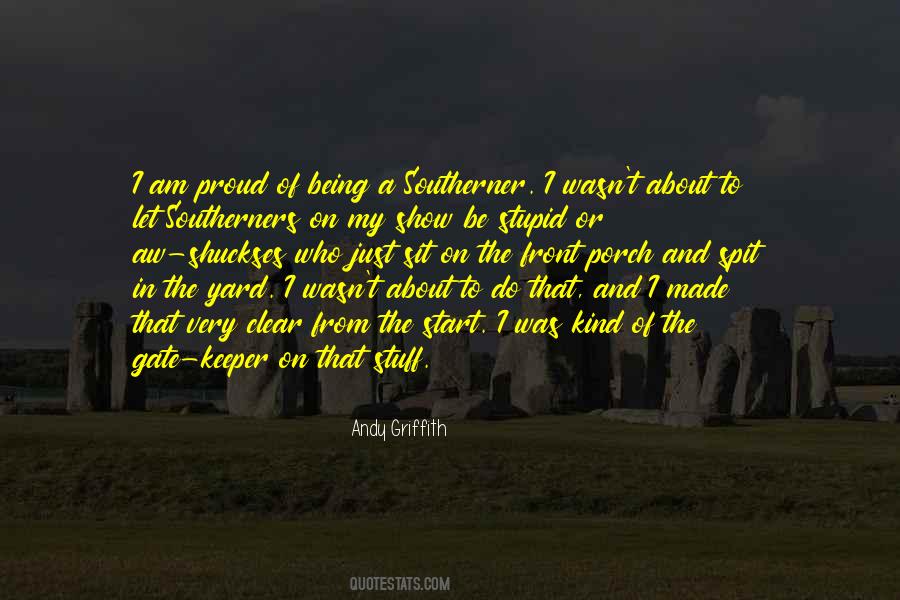 #51. Nana acts like a stray cat, wild, free, and proud ... But inside her heart, she houses a wound. Dense as I am, i thought that. This trait of hers was a part of her charm as well..but she never realized how much pain it brought her ... -Nana Komatsu - Author: Ai Yazawa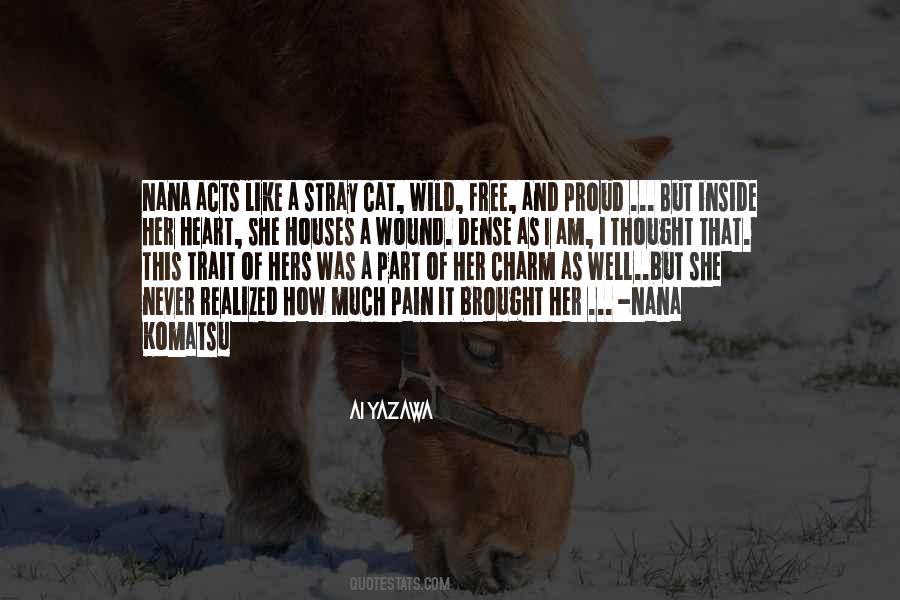 #52. I am proud of Edinburgh's status as a financial centre, but where is it on the index of global financial centres? Sixty-fourth. Below Hamilton, Casablanca and Mauritius. London, by contrast, is second only to New York. That's a link worth keeping. - Author: Rory Bremner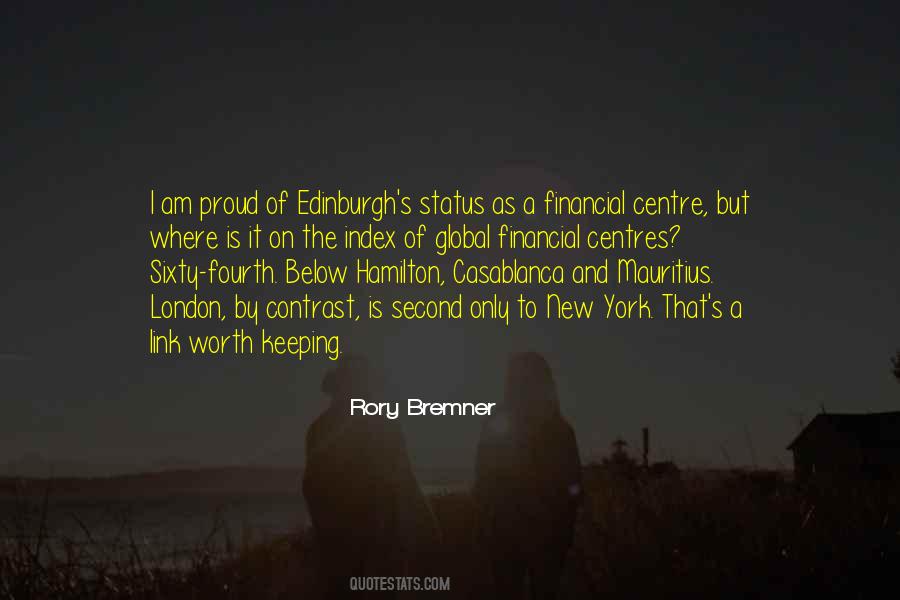 #53. I am not very proud of being an human being; in fact, I distinctly dislike the species in many ways. I can readily conceive of beings vastly superior in every respect. - Author: H.P. Lovecraft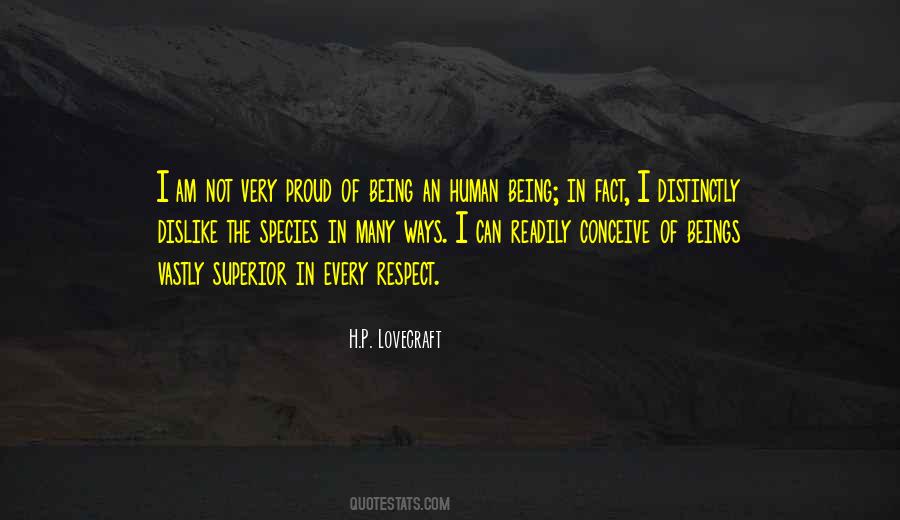 #54. Every American has a unique identity. I am proud to be gay. I am proud to be a Republican. But most of all, I am proud to be an American. - Author: Peter Thiel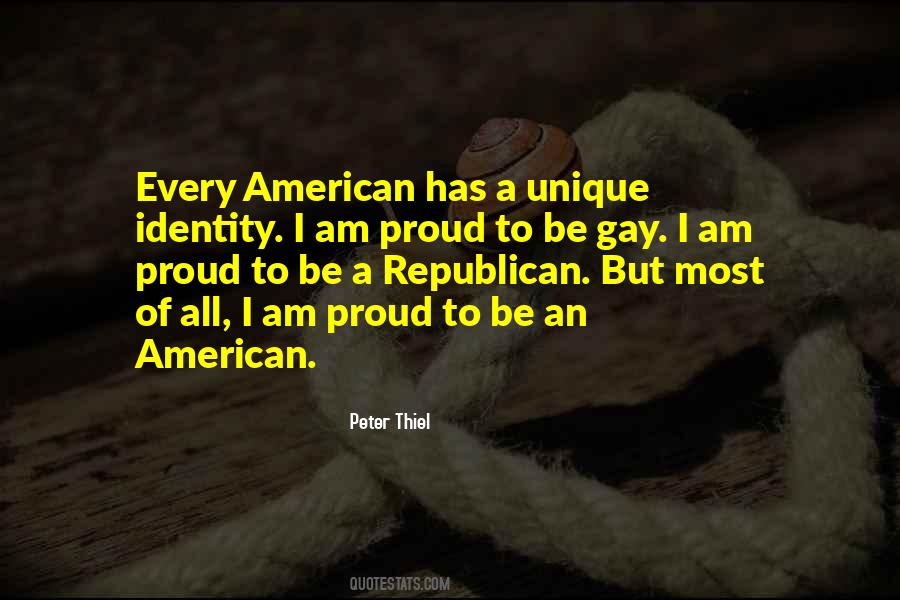 #55. My road thus far has not been an easy one, George, but it has been my own and I am proud of what I have accomplished. - Author: C.J. Hill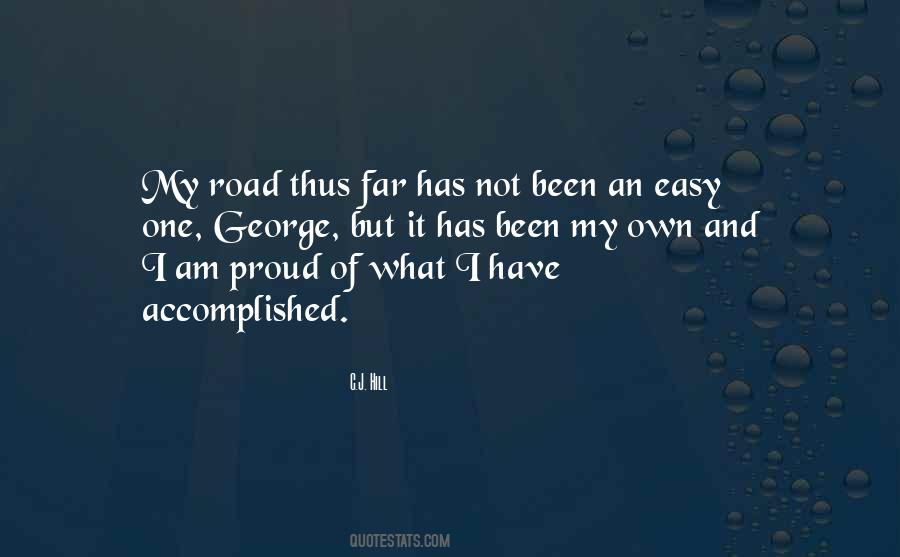 #56. I am patient with stupidity, but not with those who are proud of it. - Author: Edith Sitwell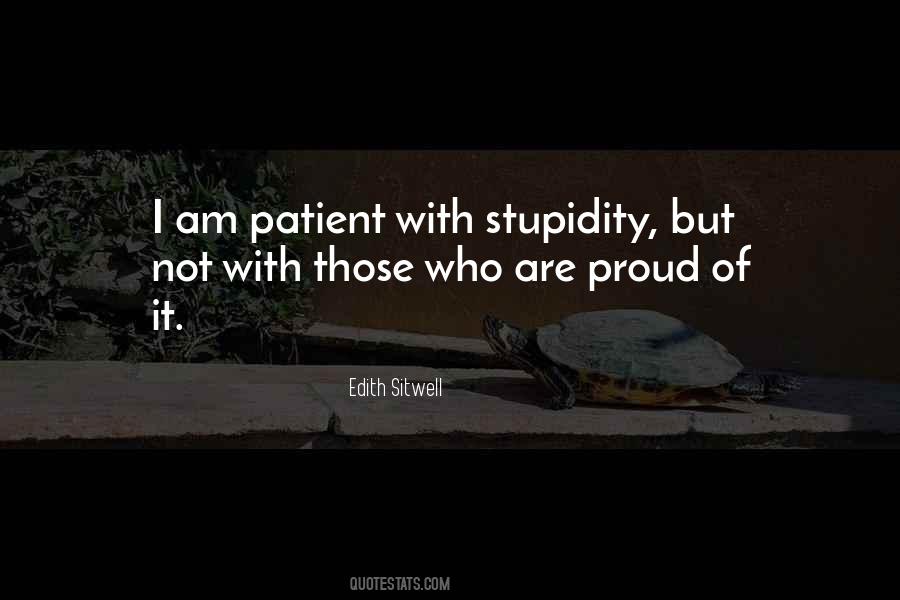 #57. I am proud of what I am. I am - a librarian. - Author: Rachel Weisz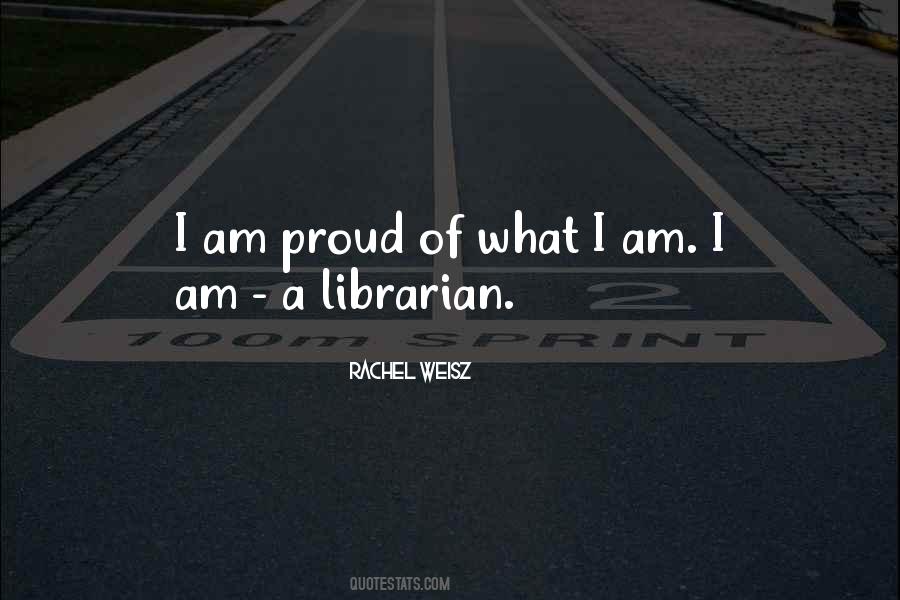 #58. As a child, I never heard one woman say to me, "I love my body". Not my mother, my elder sister, my best friend. No one woman has ever said, "I am so proud of my body." So I make sure to say it to Mia , because a positive physical outlook has to start at an early age. - Author: Kate Winslet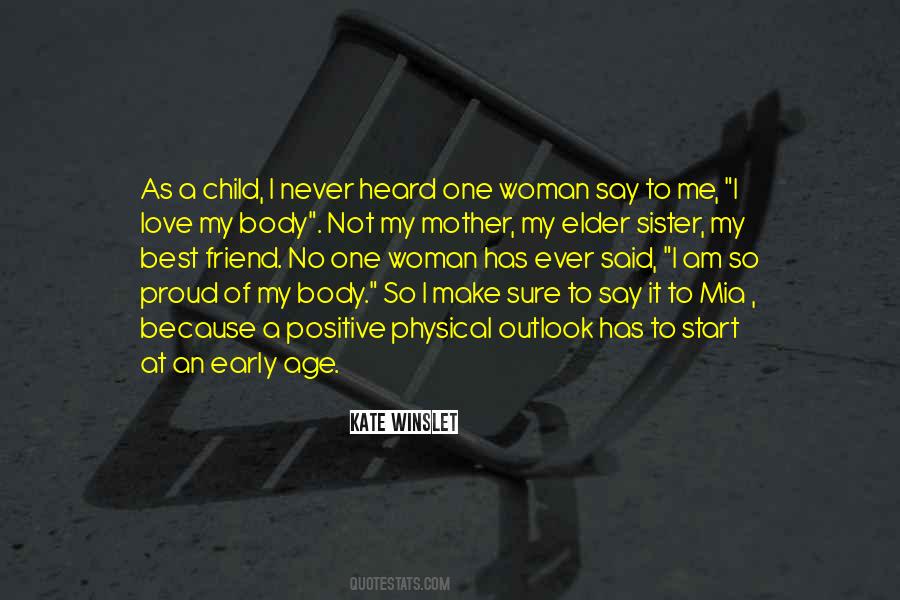 #59. I am happy and proud that during one year of presidency, my initiatives have been strongly supported by the people and society and we have launched the process of vitally important state reforms. - Author: Dalia Grybauskaite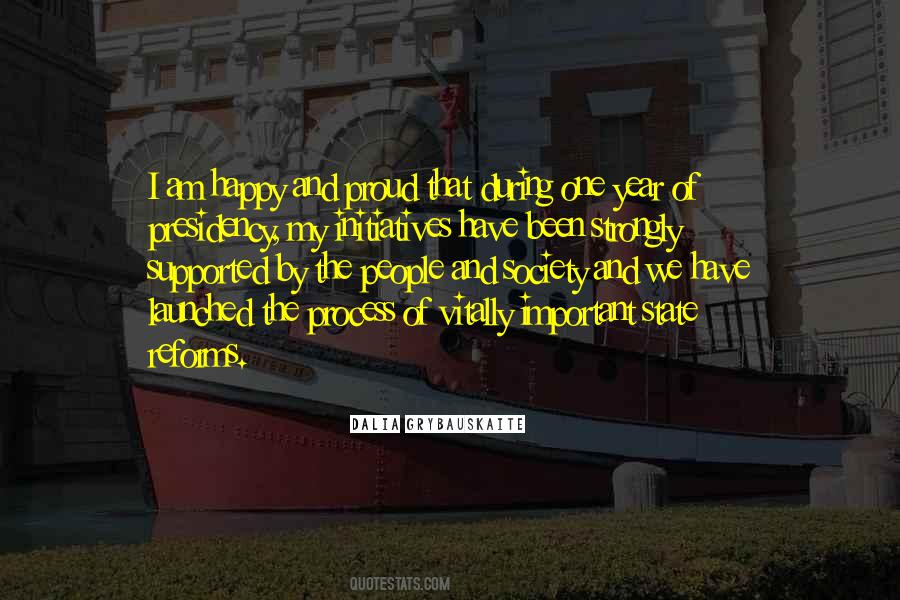 #60. Writers have told me more than once that I'm a better interview in defeat than in victory, which is a compliment I am extremely proud of. - Author: Jack Nicklaus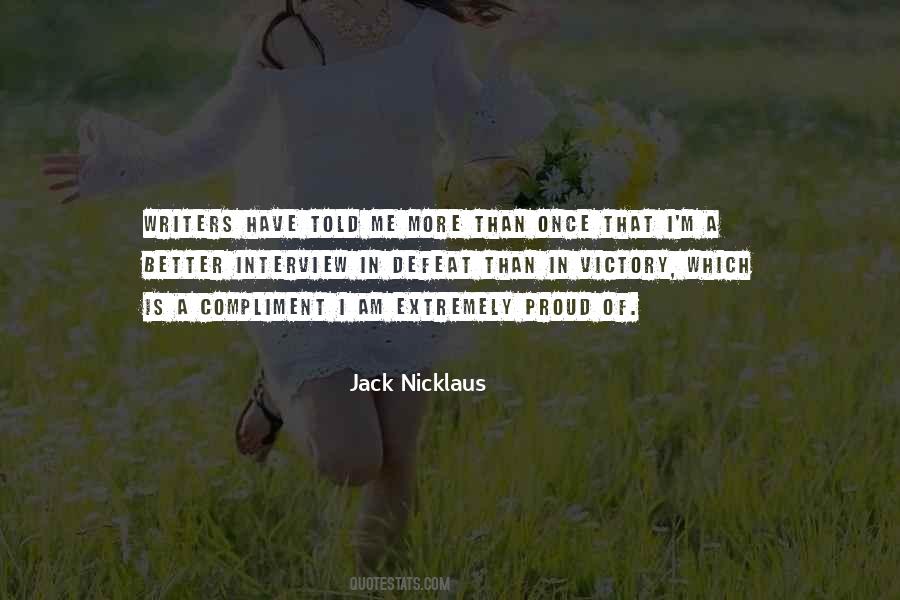 #61. I am proud that I have devoted all my life to the struggle for the triumph of Leninism. - Author: Tim Buck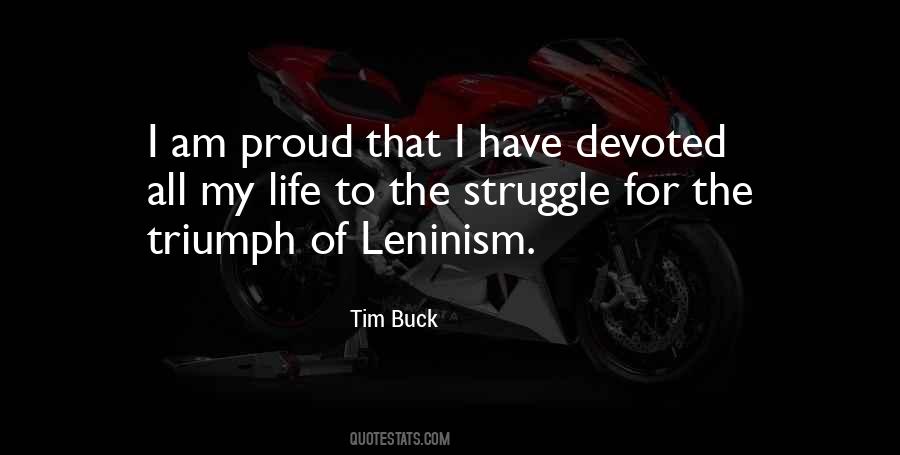 #62. I am proud to be known to the world as the founder of the Illuminati. - Author: Adam Weishaupt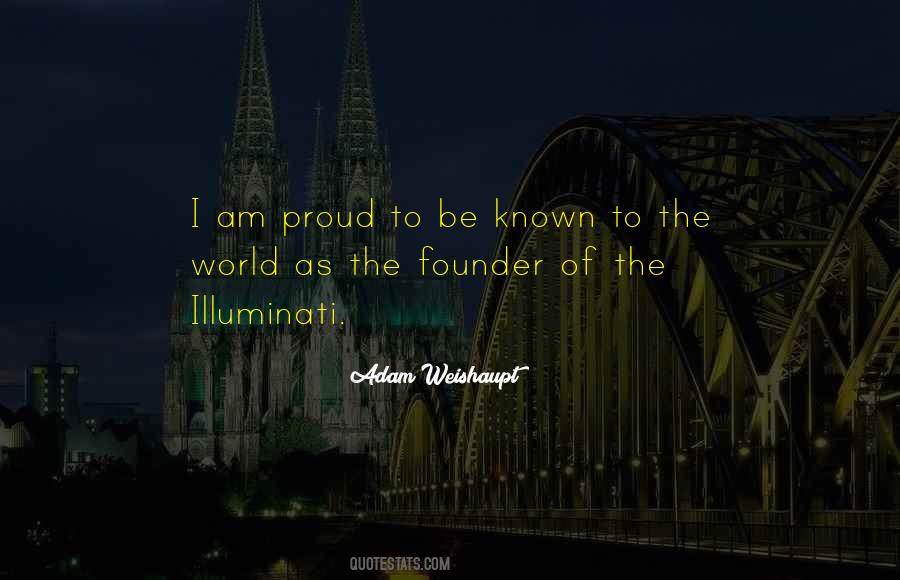 #63. The one thing I am most proud of myself is that I know how to keep my cool and not be intimidated - anyone can be beat. - Author: Perdita Felicien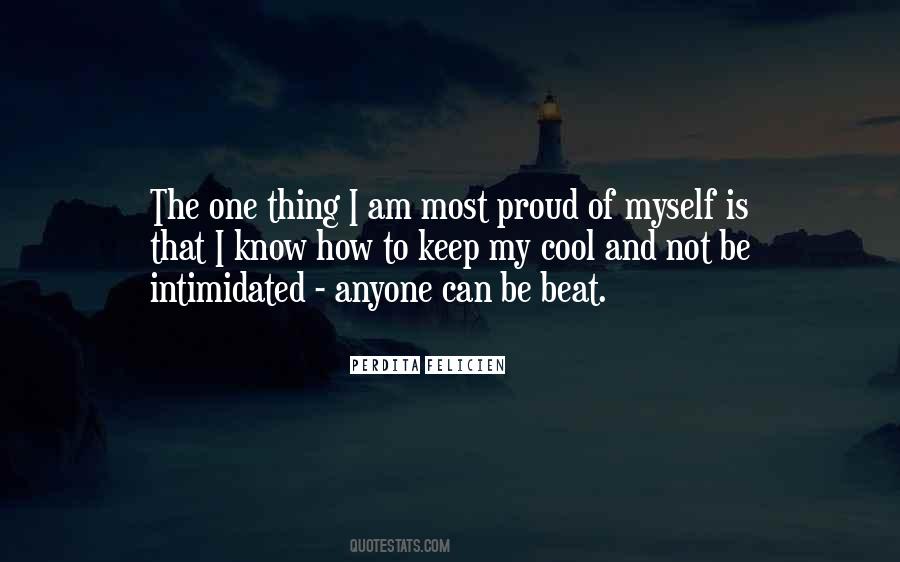 #64. Am I Latin? Am I American? What the hell am I? I love my culture and I'm very proud of my culture. - Author: America Ferrera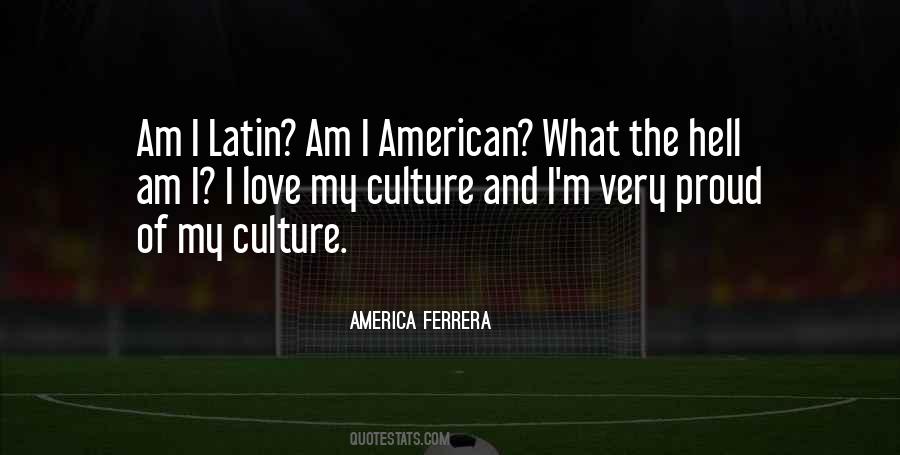 #65. I am proud to be able to claim that, from the age of nineteen, I've managed to earna living entirely as a composer. - Author: Richard Rodney Bennett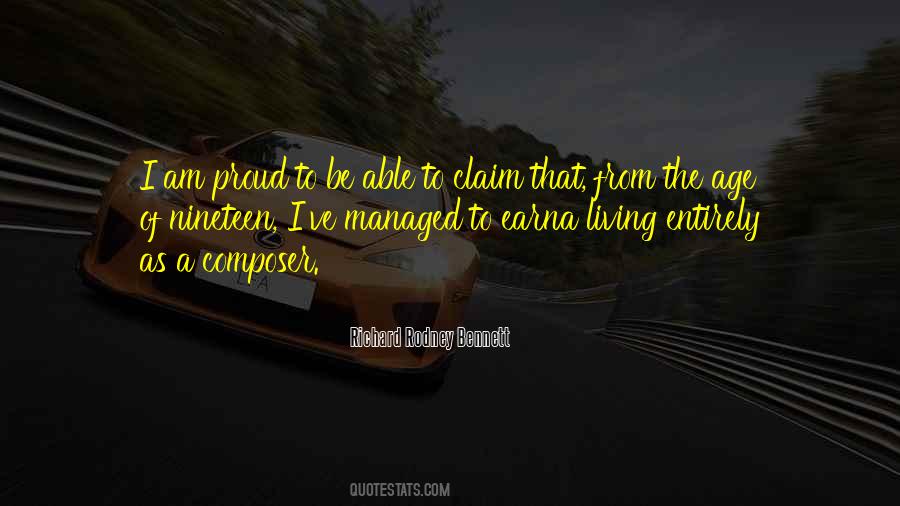 #66. I fully support the NOH8 campaign and all it stands for and am proud to be a part of it. But I stand by my husband's stance on DADT. - Author: Cindy McCain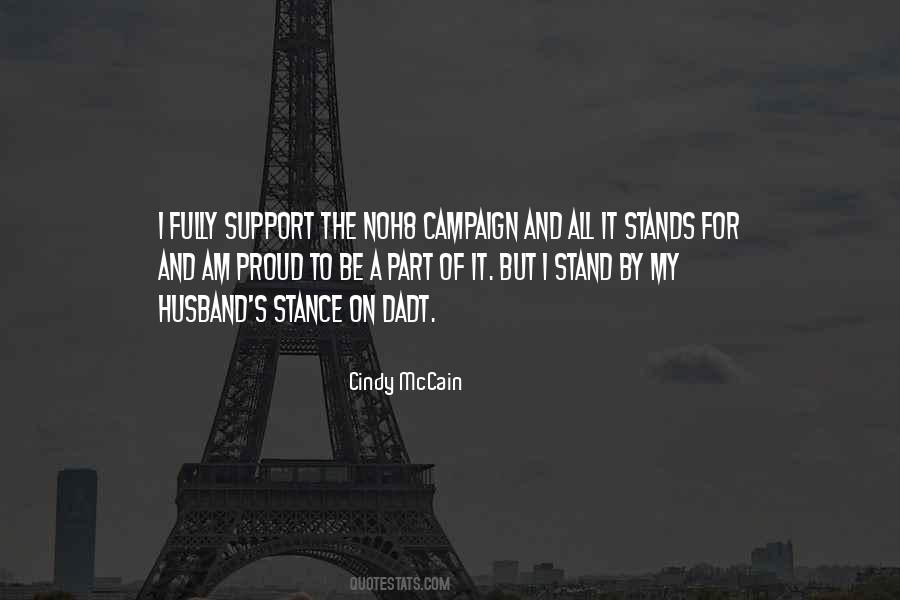 #67. The Grand Ole Opry is an artist, and I am proud to be one of its songs. - Author: Blake Shelton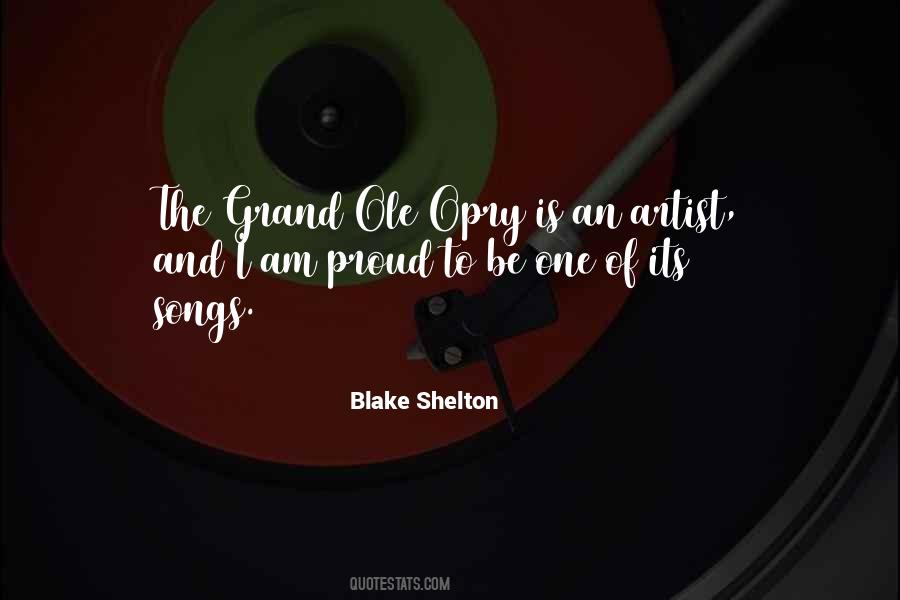 #68. I am deeply grateful to the citizens of Sarajevo and the Sarajevo Canton assembly for bestowing upon me this incredible honor of citizenship. I am so proud to now be a part of such an extraordinary part of the world and fellow citizen to the people I deeply love and admire. - Author: Angelina Jolie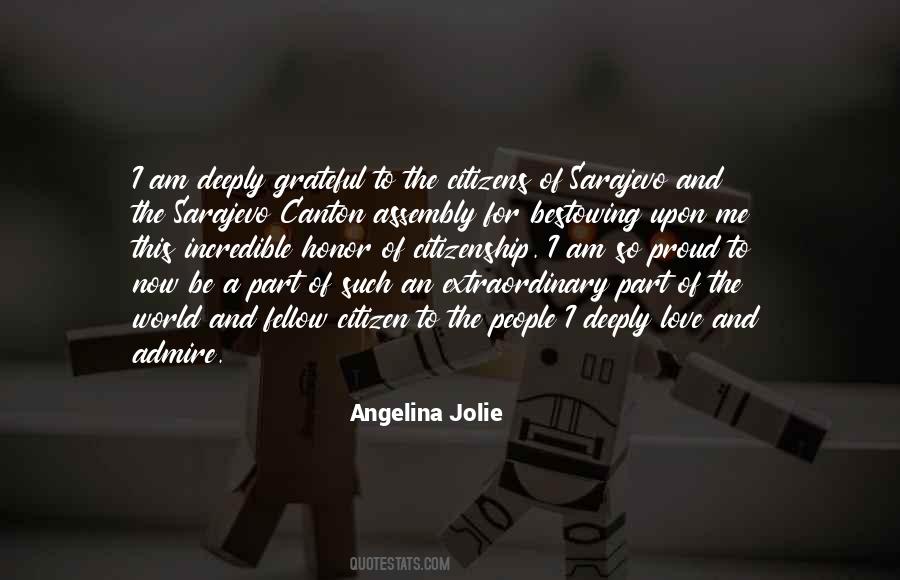 #69. I loved 'Rocky' and 'Rambo', and am very proud of them. - Author: Sylvester Stallone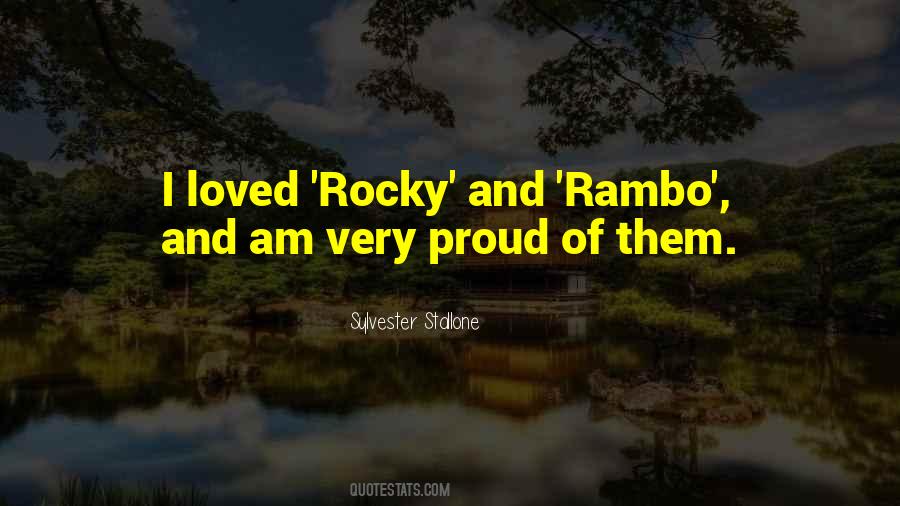 #70. I am very proud of the role I played in getting legal equality for people who are lesbian, gay, bisexual and transgender, and in helping get rid of the prejudice by being visible about it, helping to block the conviction of Bill Clinton of impeachment. - Author: Barney Frank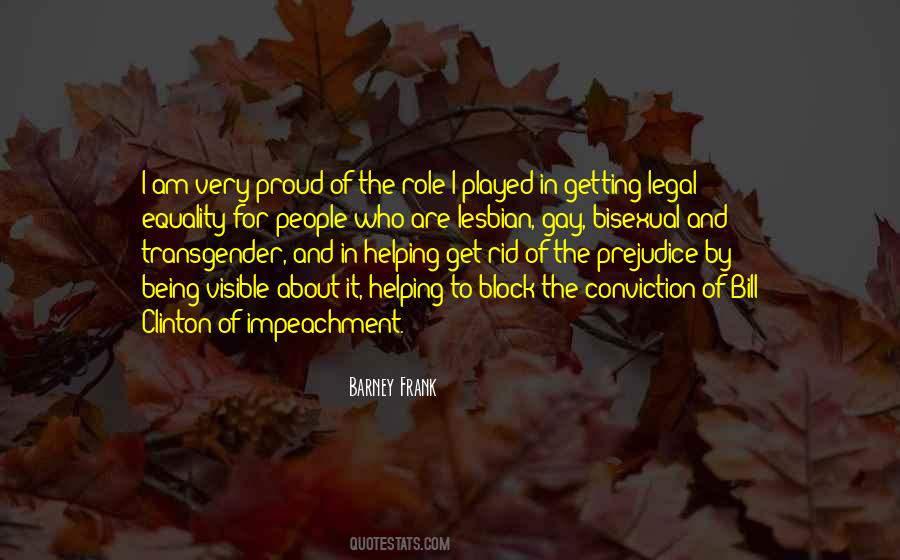 #71. The Democratic party is one that I've always observed. I have struggled greatly in life from the day I was born, and I am honored to be a part of something that focuses on working class citizens and molds them into a proud specimen. - Author: Joan Crawford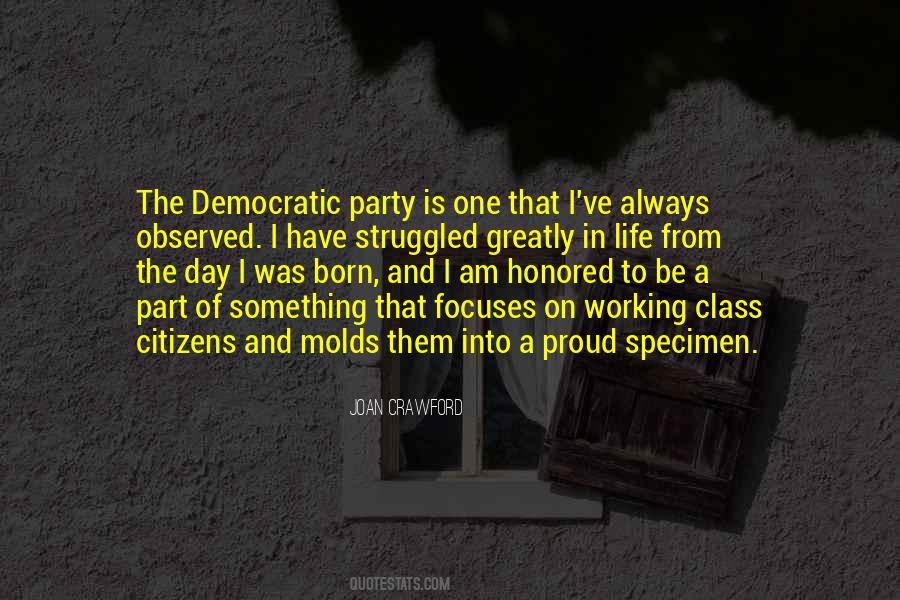 #72. If people didn't know me and only knew my public persona, what I'd want them to know is everything that I do, I do for the Glory of Lord. Because of my Christian faith, that's who I am. I wasn't always that way, but I'm very proud that I am. - Author: Tony Dungy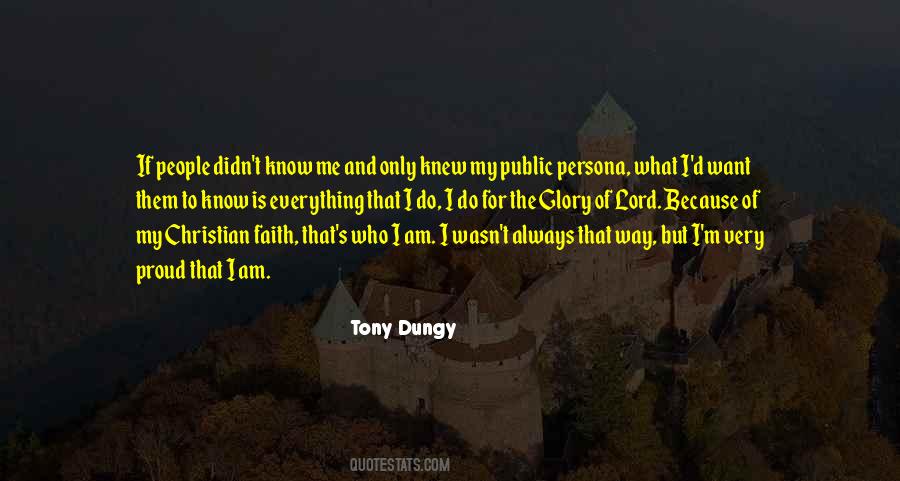 #73. I don't think I am a proud person, but I think my children are incredible ... I think I am part of that. - Author: Amanda Harlech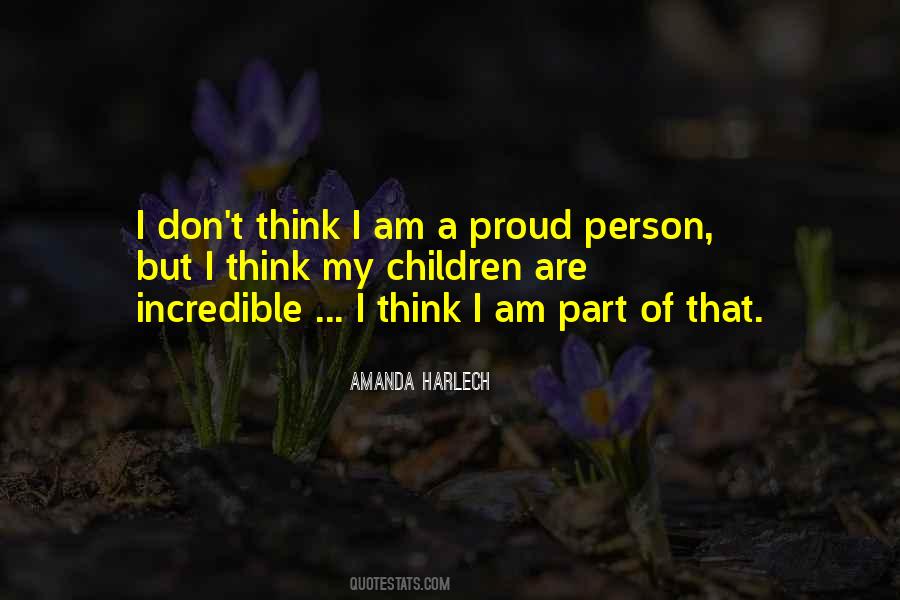 #74. I am proud to kill in the name of God. - Author: Umar Farouk Abdulmutallab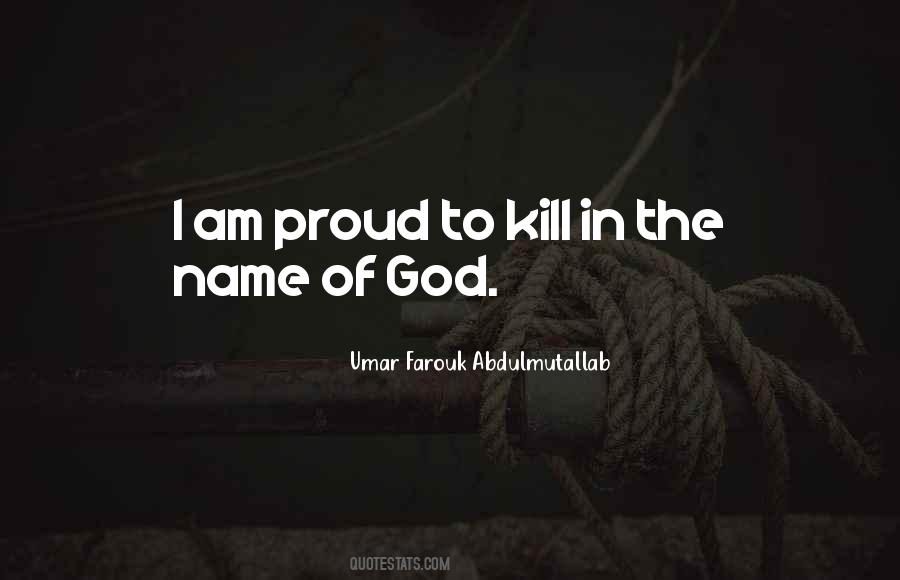 #75. I feel like I'm truly and genuinely proud and unafraid. I'm not scared of who I am. - Author: Drake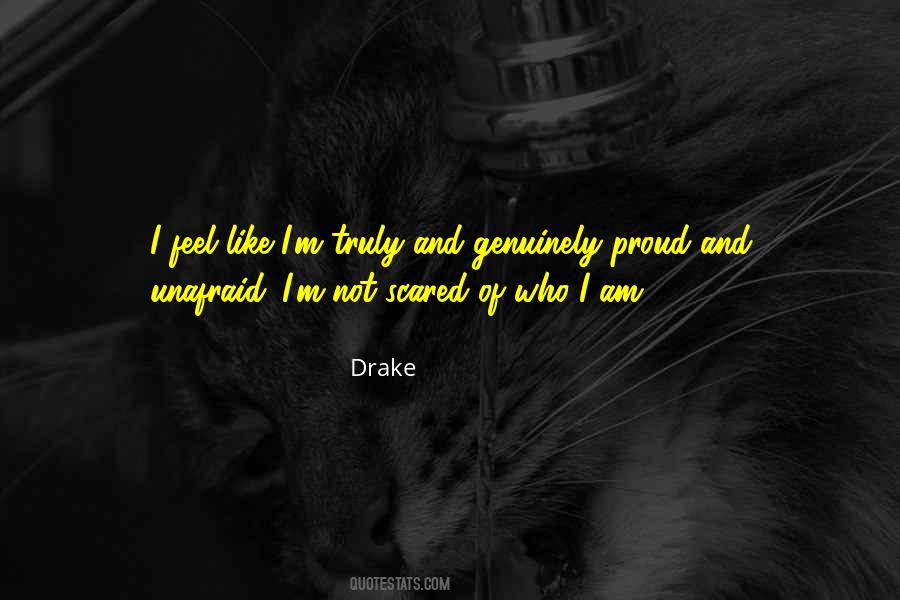 #76. When asked what I am most proud of, I stick out my chest, hold my head high and state proudly, 'I served in the United States Navy!' - Author: John F. Kennedy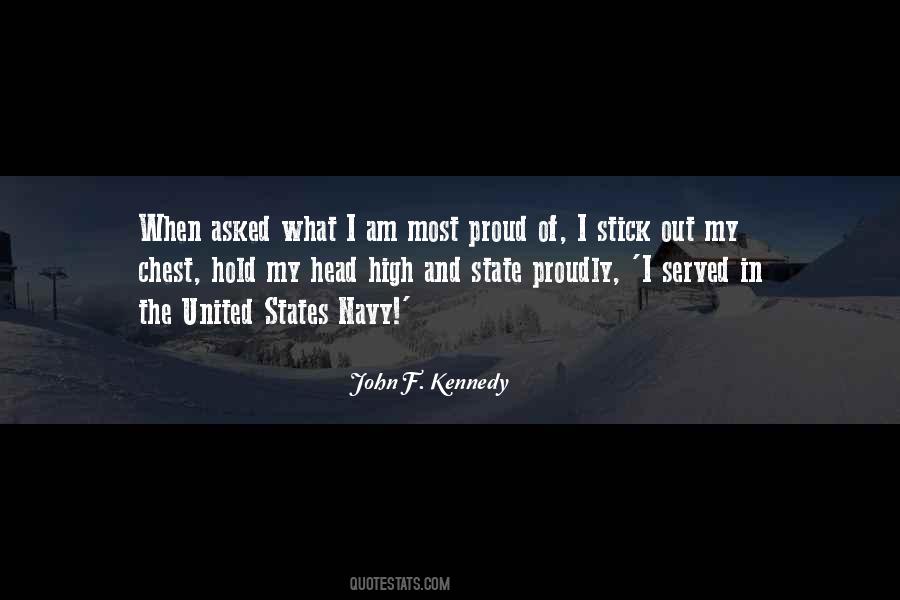 #77. Narcissism is the part of my personality that I am the least proud of, and I certainly don't like to see it highlighted in everybody else I meet. - Author: Ben Affleck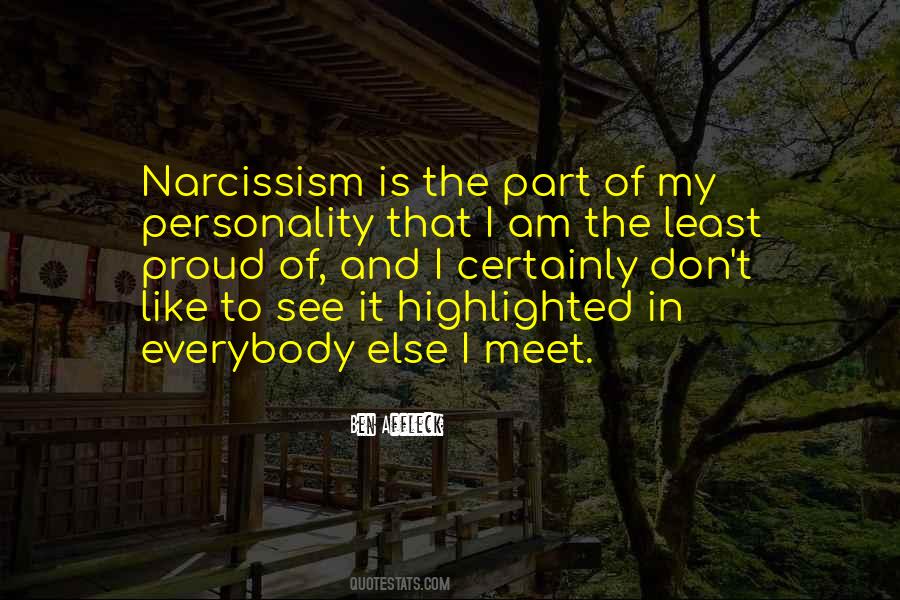 #78. It's definitely a struggle to prove yourself just as a good human being. I'm so proud of who I am and what I've become, the morals I have, and the people that I'm surrounded by. - Author: Tina Yothers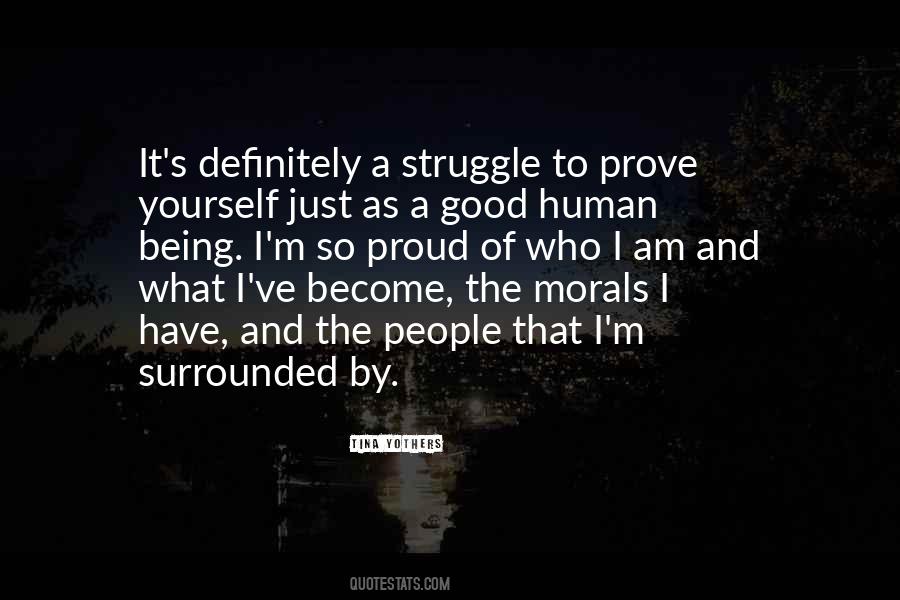 #79. I'm as proud of what we don't do as I am of what we do. - Author: Steve Jobs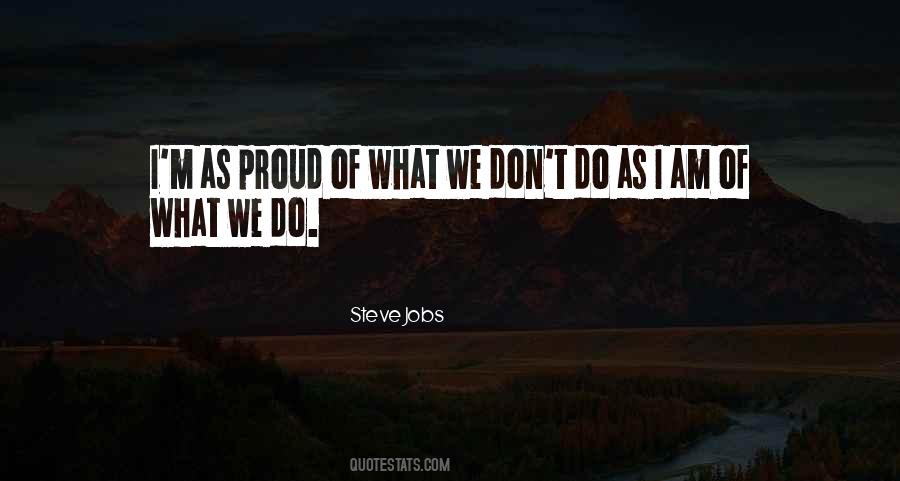 #80. I am a proud member of the LGBT community and could never bear the idea that someone could say I was closeted. - Author: Amber Heard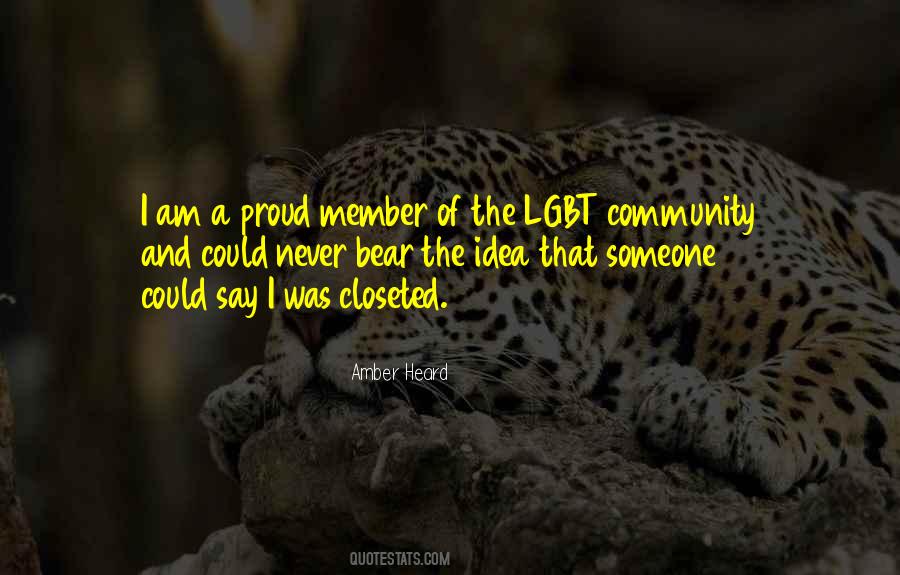 #81. One of the most important things I'm glad we did and am proud of is that we don't have any real grass on our property. It might not be realistic to ask people to pull out their grass, but we'll never have to think about it. We used Smart Grass, and I think it looks beautiful. - Author: Lisa Ling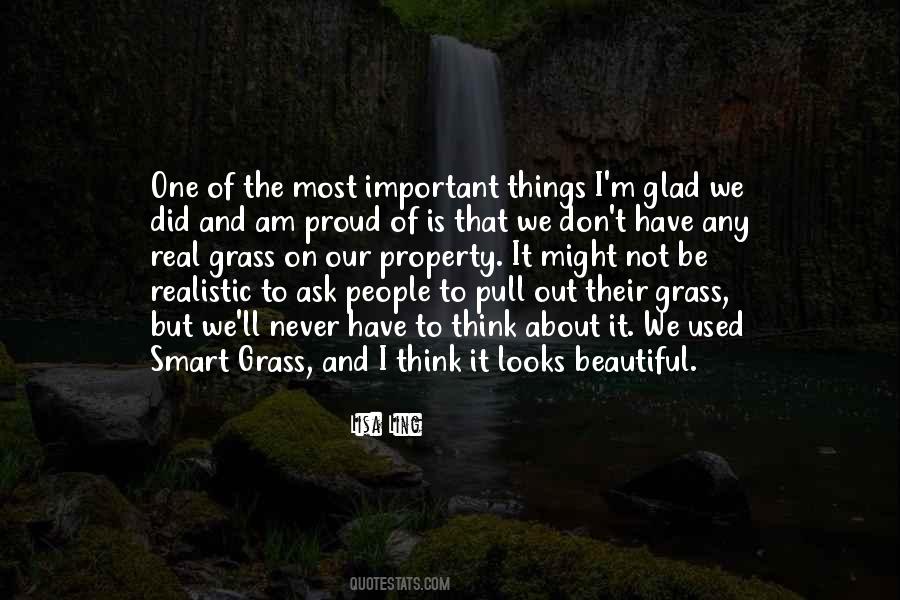 #82. I am proud to say that I am not in it for the money. If I made a million dollars, I would donate most of it to various charities and libraries. - Author: Selena I. R. Drake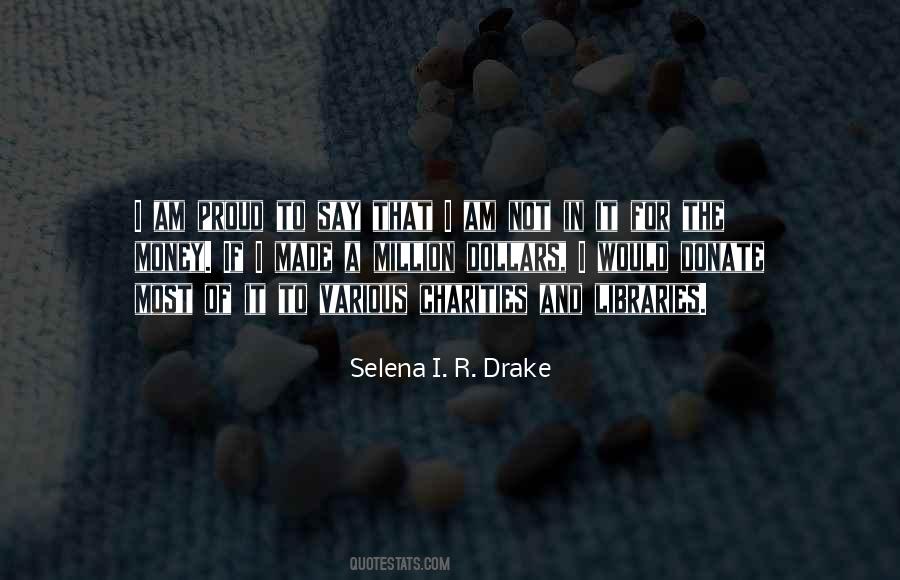 #83. What I am most proud of is the legacy of hope that FIFA and football leaves around the world. It makes all of the efforts and energy I pour into this job worth it. - Author: Sepp Blatter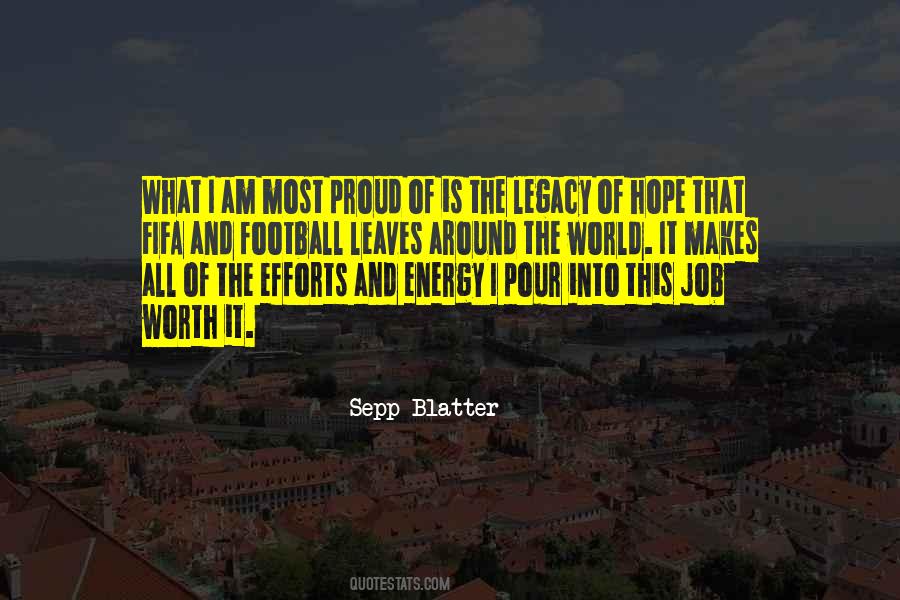 #84. I leave CNN with the utmost respect, love and admiration for the company and everyone who works here. This has been my family and shared endeavor for the past 27 years, and I am forever grateful and proud of all that we have accomplished. - Author: Christiane Amanpour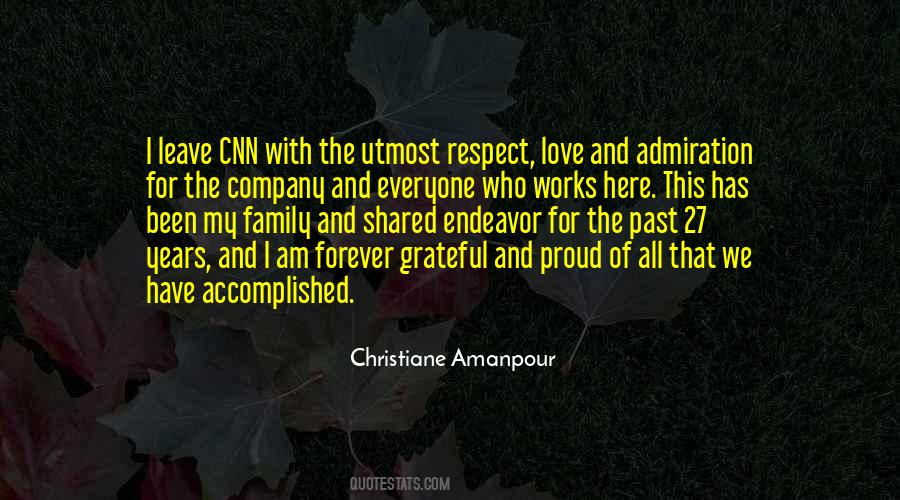 #85. I'm happy with who I am inside. I'd hate to have accolades and all that and not really be happy with who I was. So I'm really thankful for my family and for the support system that I have for being the person that I am today. I'm proud of who I am. - Author: Keke Palmer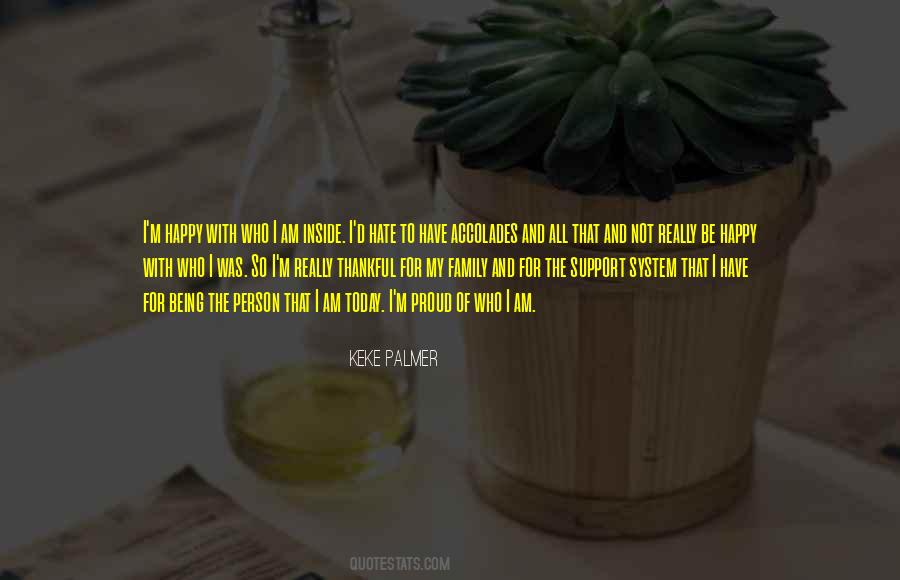 #86. I was an altar boy, which I loved and am very proud of. It was strict, but also really nice. - Author: Michael Keaton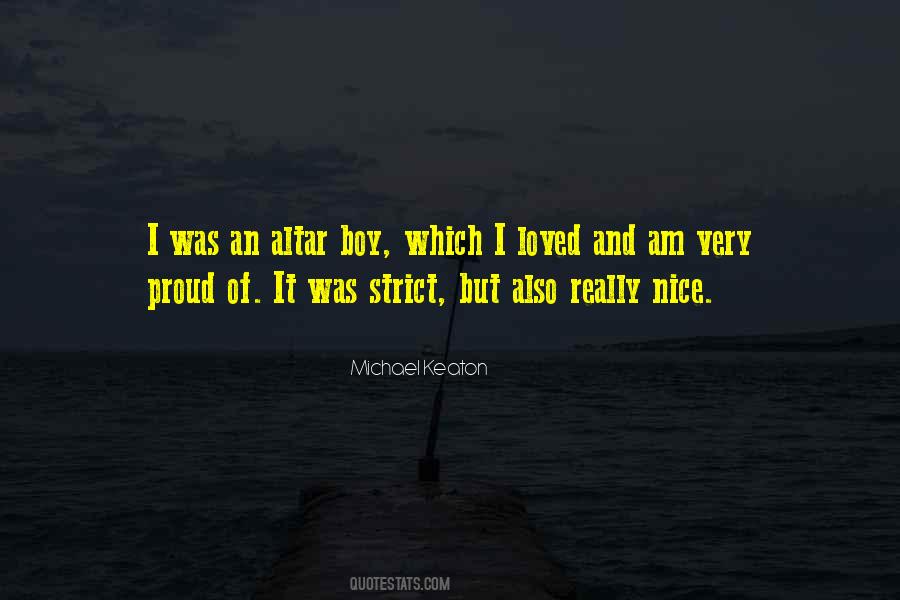 #87. But as bad as I am, I'm proud of the fact that I'm worse than I seem - Author: Ani DiFranco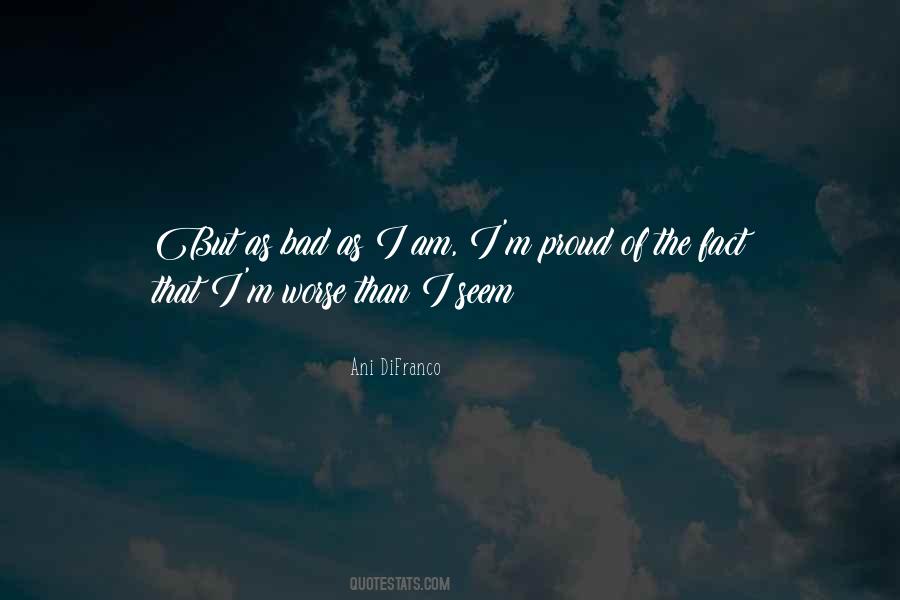 #88. We are stronger for the people who leave us, you know? Being able to live without them just shows how much better we are. No one can hold us back but ourselves, and I, for one, am proud of the person I am. - Author: Toni Aleo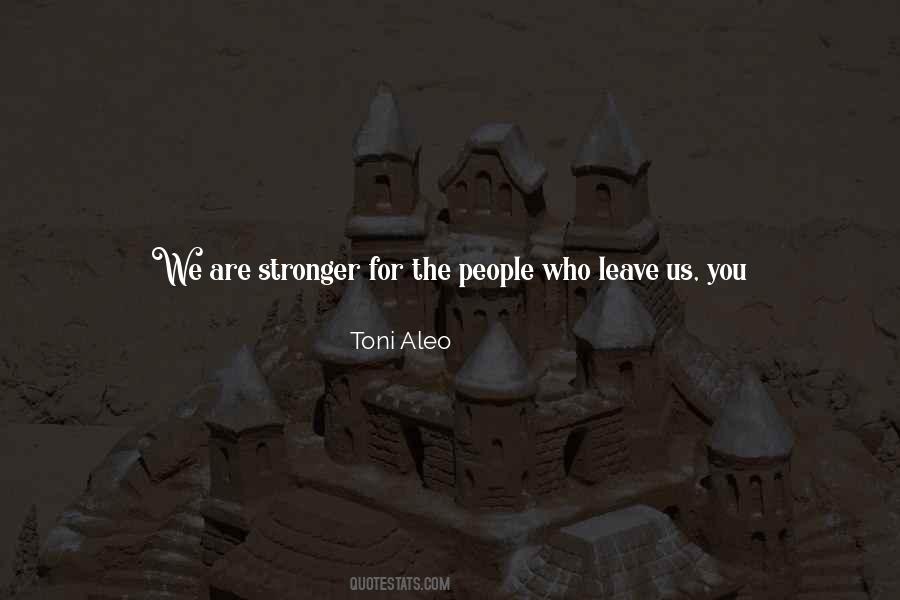 #89. I'm ashamed of what I did, but I'm not ashamed of what I've done to correct my mistakes ... I'm proud of who I am. - Author: Eddie Guerrero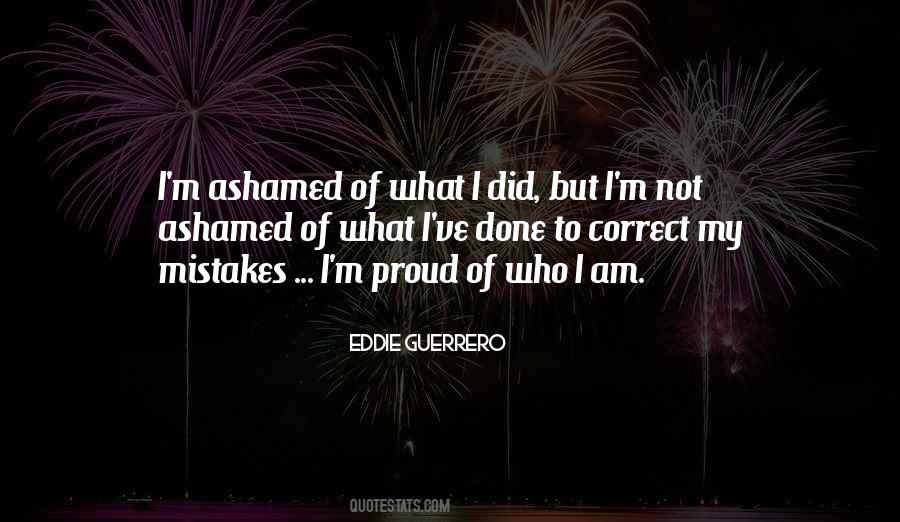 #90. One thing that I am proud of: I am really capable of laughing at myself. - Author: Penelope Cruz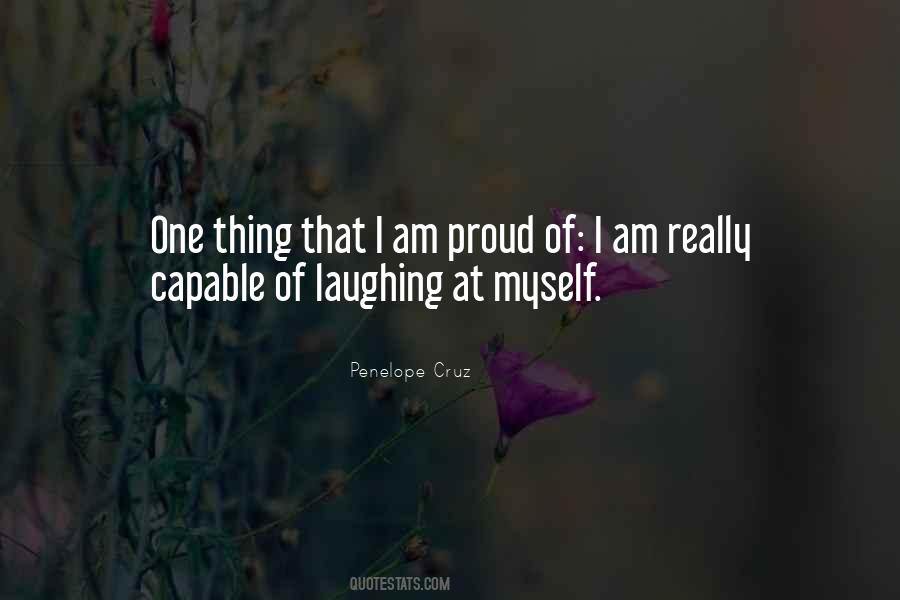 #91. I am proud up to the point of equality; everything above or below that appears to me arrant impertinence or abject meanness. - Author: William Hazlitt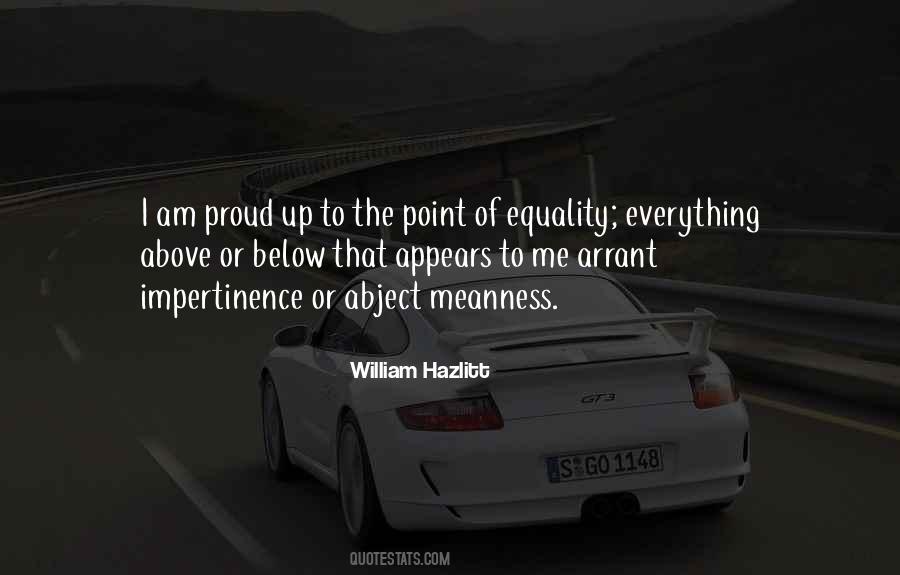 #92. One: I am proud to say that my vampires do not sparkle.
Two: I feel like in literature that we've gone [this way] towards the kissing vampires side of the needle. I think it's time we go back towards the killing vampires side of the needle. - Author: Seth Grahame-Smith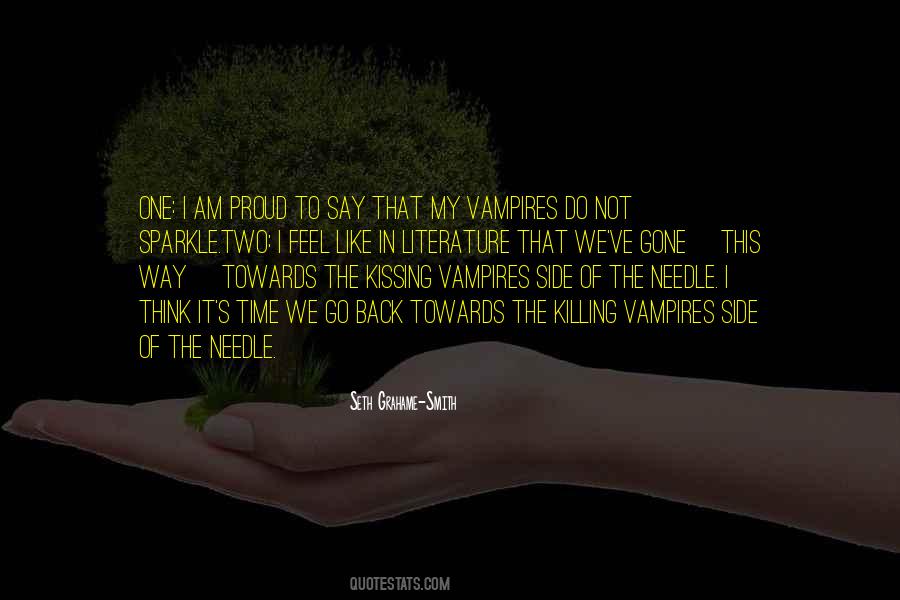 #93. I am very proud to be the only candidate up here who does not have a Super PAC, who's not raising huge sums of money from Wall Street. - Author: Bernie Sanders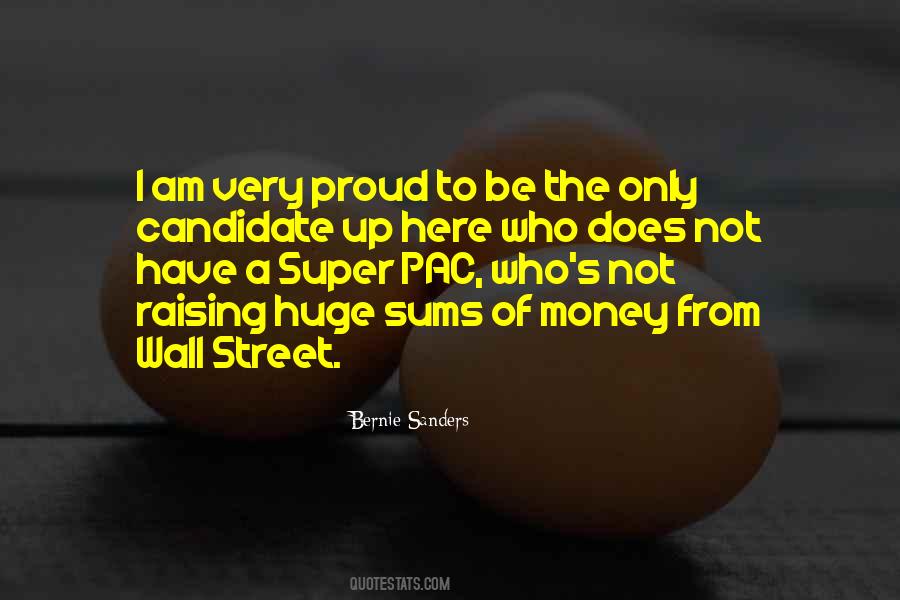 #94. I am proud of who I am, and nobody's going to steal that. - Author: Hope Solo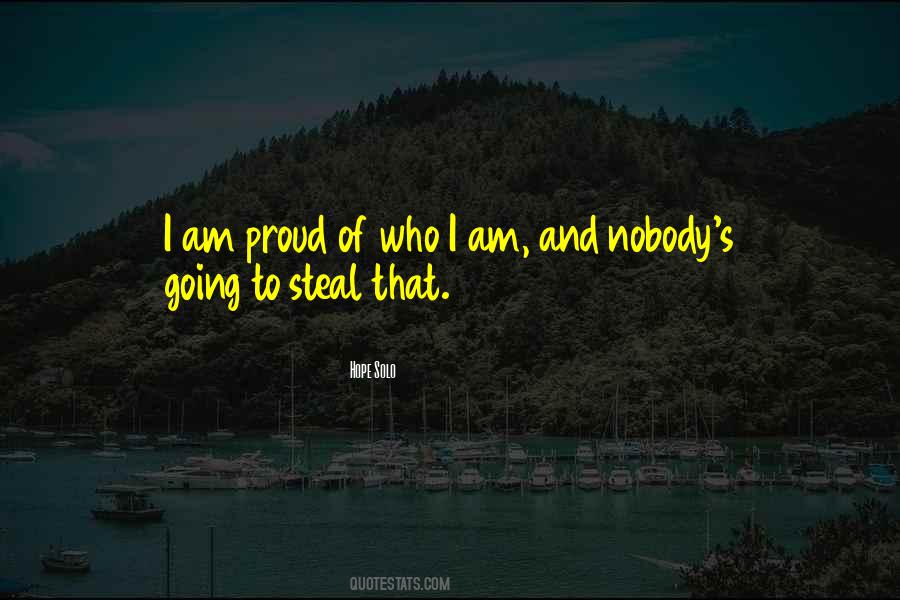 #95. I can't tell you how proud I am to be the head coach of the Buffalo Bills. - Author: Rex Ryan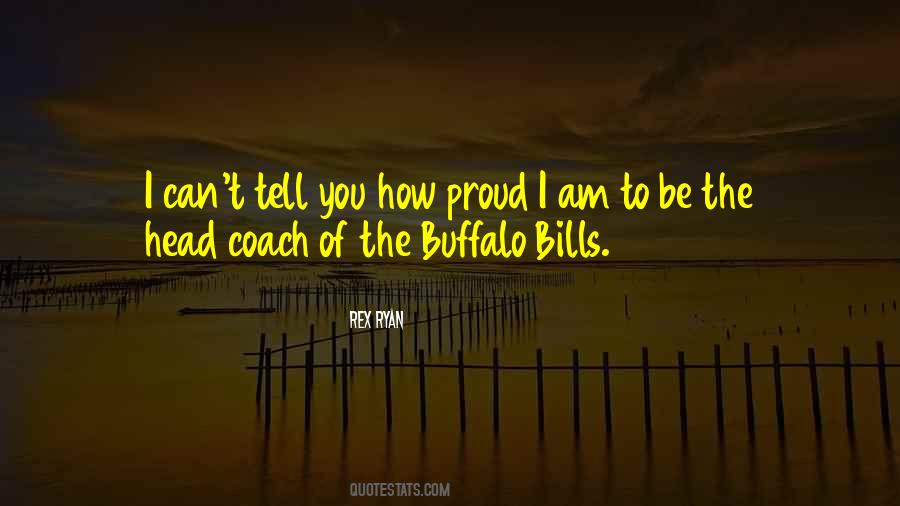 #96. I am proud to be a conservative ... but I am also proud throughout my life to have attracted the support and the love and affection of people from all over America and all parts of it. - Author: John McCain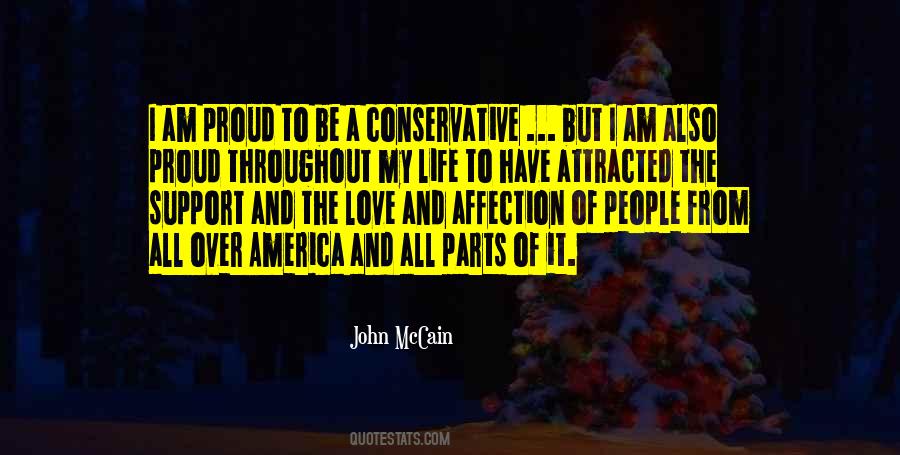 #97. I am proud to be from an ideology. Our ideology is that the Nation is bigger than party. We will live and die for the nation. Our ideology is not about aspiring for posts, it's based of sacrifice. - Author: Narendra Modi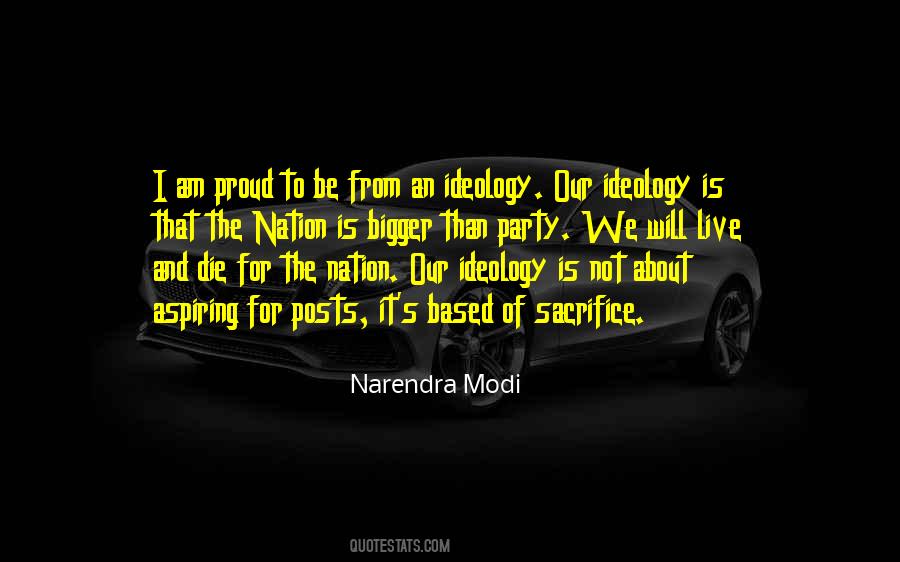 #98. The only achievement I am really proud of is the friends I have made in this community. - Author: Gary Cooper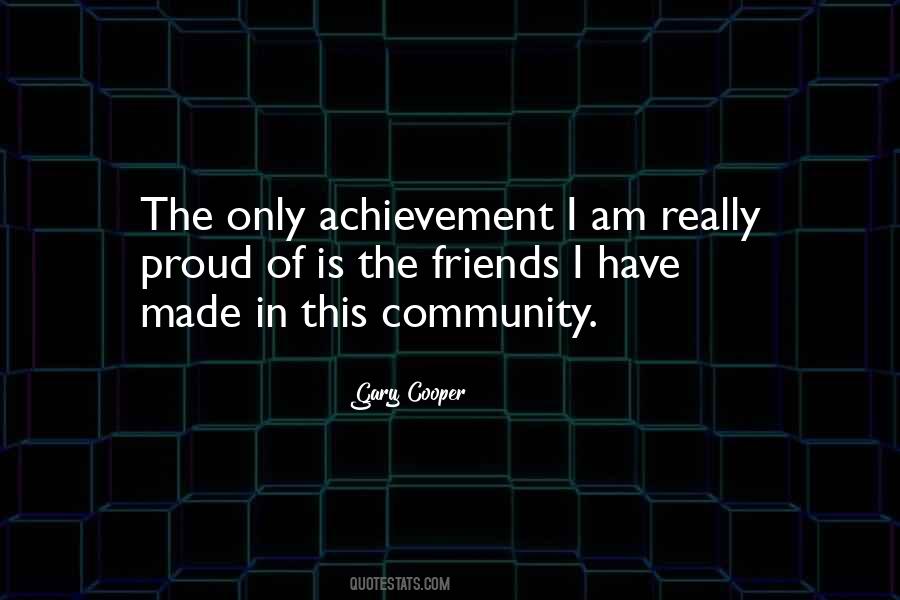 #99. I'm really proud that the LGBT community has gotten behind me because, as I said, I am part of the community, so I do as much as I possibly can for our community and for our rights, so it's nice that everyone is supporting me as well. - Author: Tabatha Coffey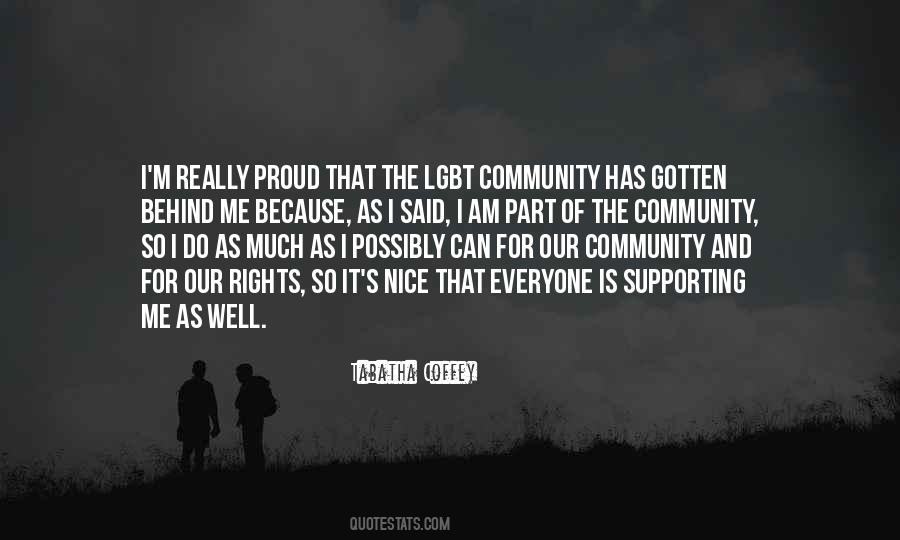 #100. These are important reforms. Infrastructure, education, health, hospitals, closing the gap with indigenous Australians. Also the Apology to the first Australians. As Prime Minister of the country I am proud of each and every one of these achievements. - Author: Kevin Rudd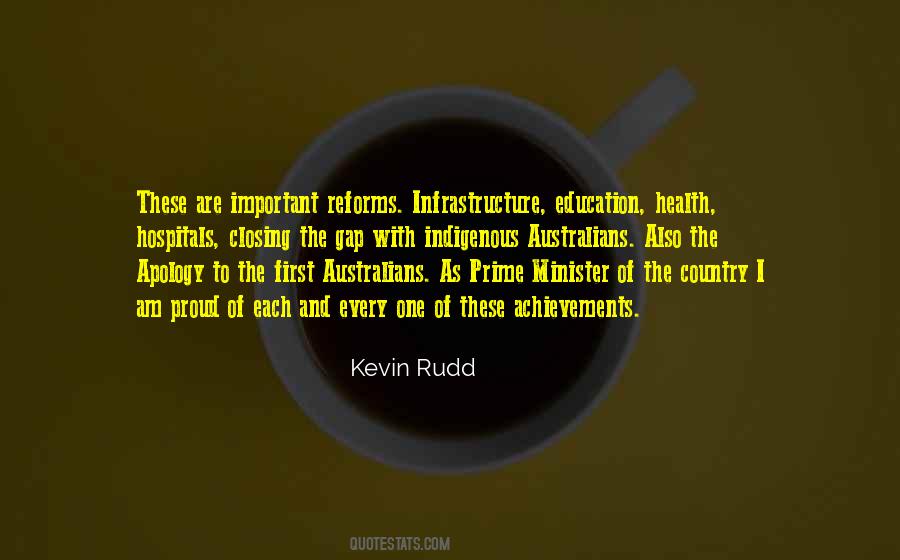 Famous Authors
Popular Topics