Good Fight Famous Quotes & Sayings
List of top 100 famous quotes and sayings about good fight to read and share with friends on your Facebook, Twitter, blogs.
Top 100 Good Fight Quotes
#1. There are more than enough
to fight and oppose;
why waste good time
fighting the people you like? - Author: Morrissey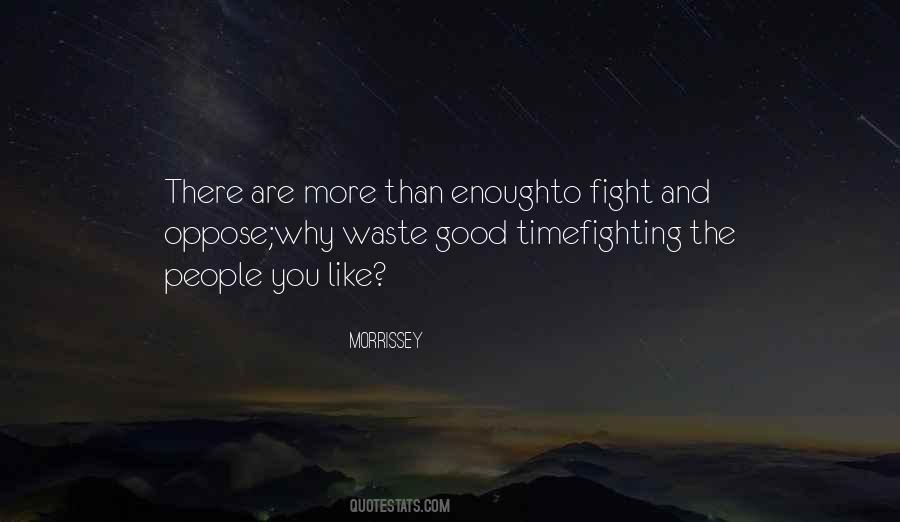 #2. We continue to fight for good jobs that pay well and jobs that last. Helping to get folks back to work is about helping them to regain their dignity and pride. That's what families care about. - Author: Jodi Rell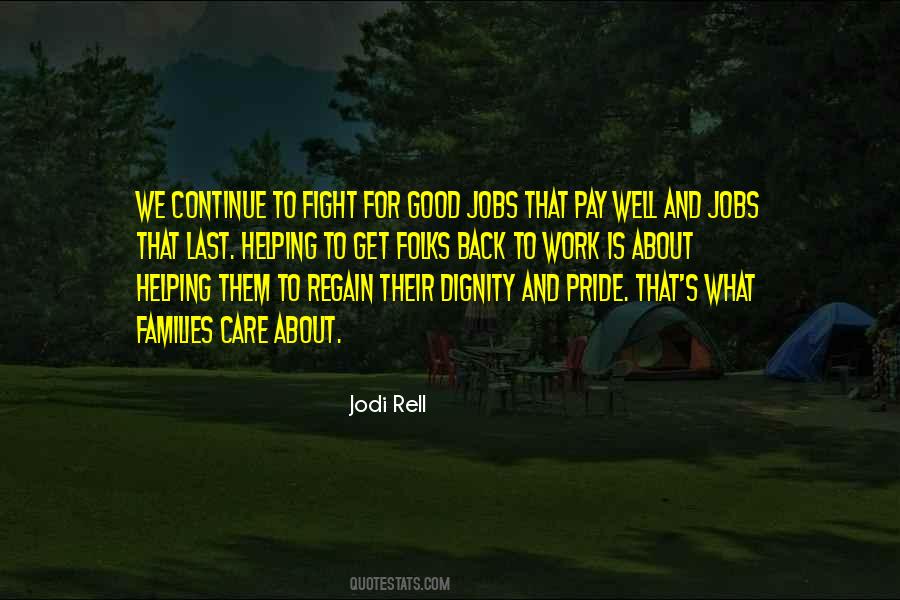 #3. I will do everything in my power to make sure people are aware that our team is out there fighting the good fight for the tennis fans of the United States. - Author: Jim Courier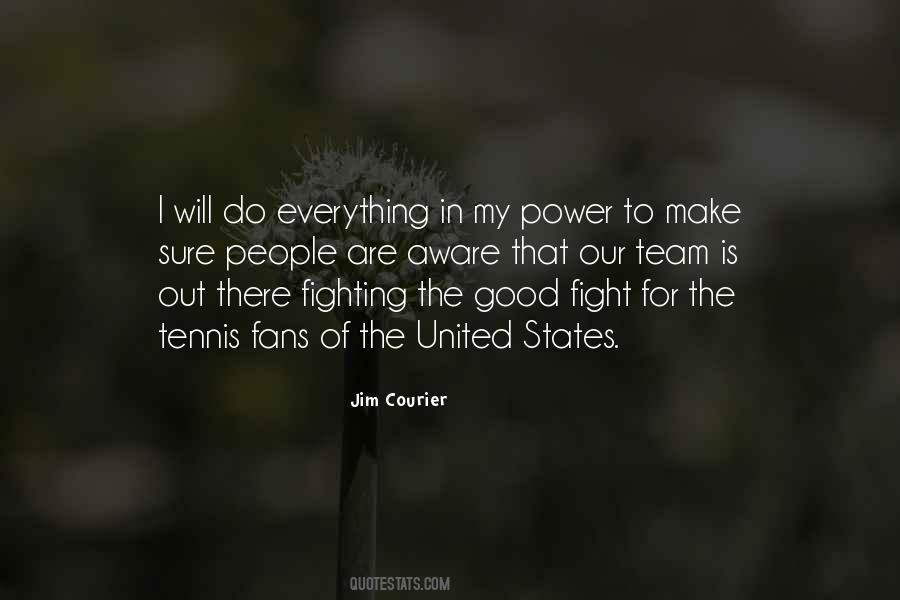 #4. I can tell you have a good heart ... " I sighed, opening the door to the outside." ... because the minute I met you, I wanted to fight for it. - Author: Rachel Van Dyken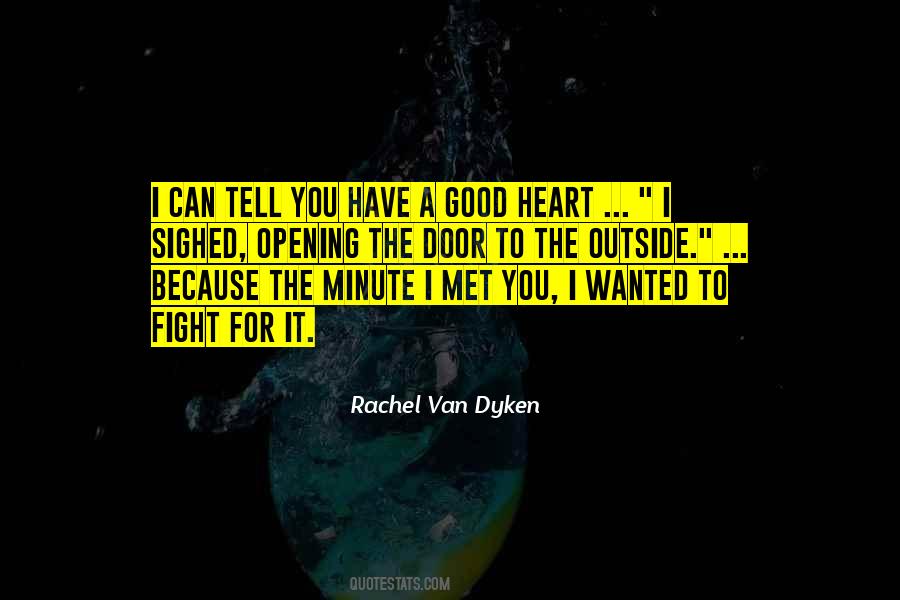 #5. One pattern to help yourself fight the mad dash for the mirage of being done is to think of a good day's work. Look at the progress of the day towards the end and ask yourself: 'Have I done a good day's work?' - Author: David Heinemeier Hansson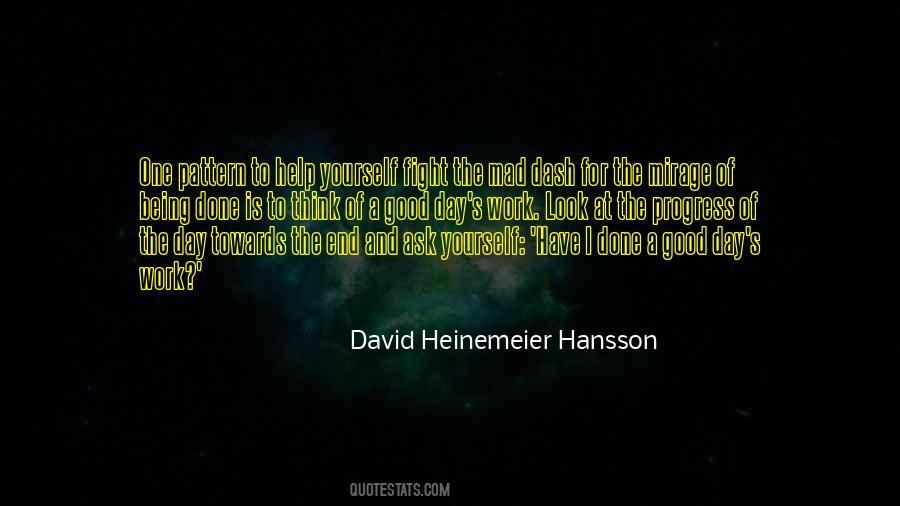 #6. I wouldn't ever say if you're having tough times then there must be something wrong with you or your attitude. Life's a fight. It's a good fight of faith. I encourage people to stay up, stay hopeful, stay faith-filled. - Author: Joel Osteen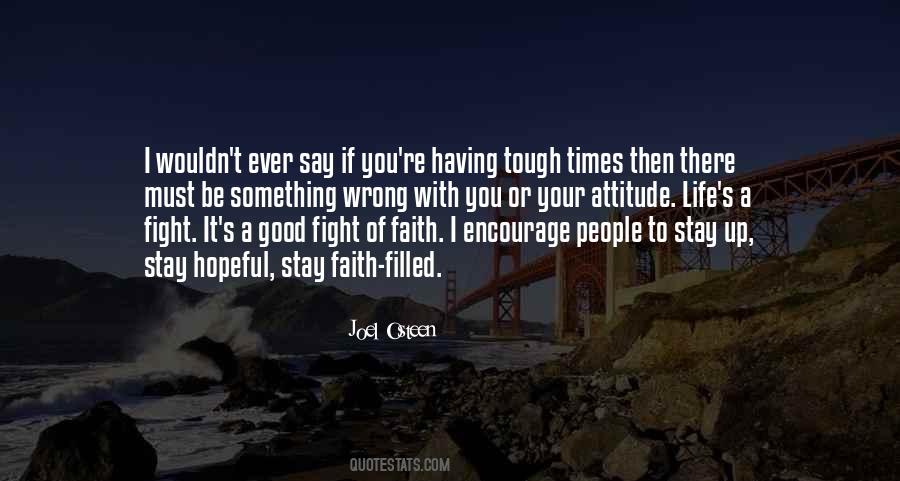 #7. I love a good fight and I think a bad fight can ruin a movie. I really do. - Author: Garret Dillahunt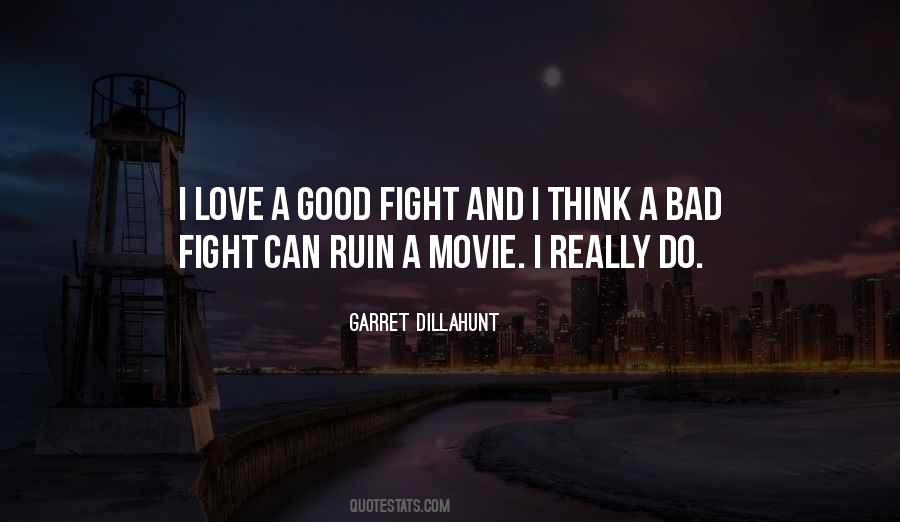 #8. He fought because it was considered the 'thing to do,' because he liked the people he had to live with, and because those people wouldn't have a good opinion of him if he didn't fight. People never needed much of a philosophic motive to make them do the socially approved things. - Author: Walter M. Miller Jr.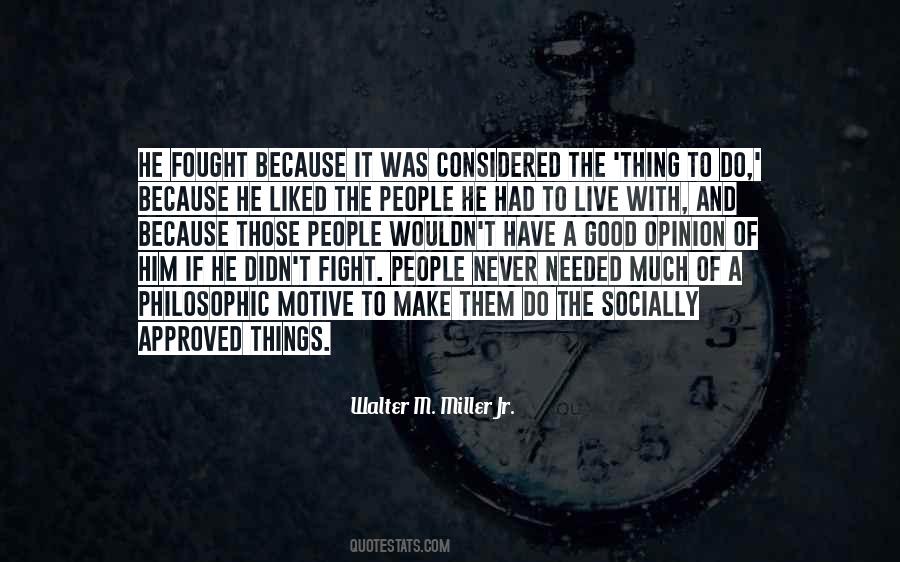 #9. I have fought a good fight, I have finished my course, I have kept the faith" (2 Tim. 4:7). - Author: Terry James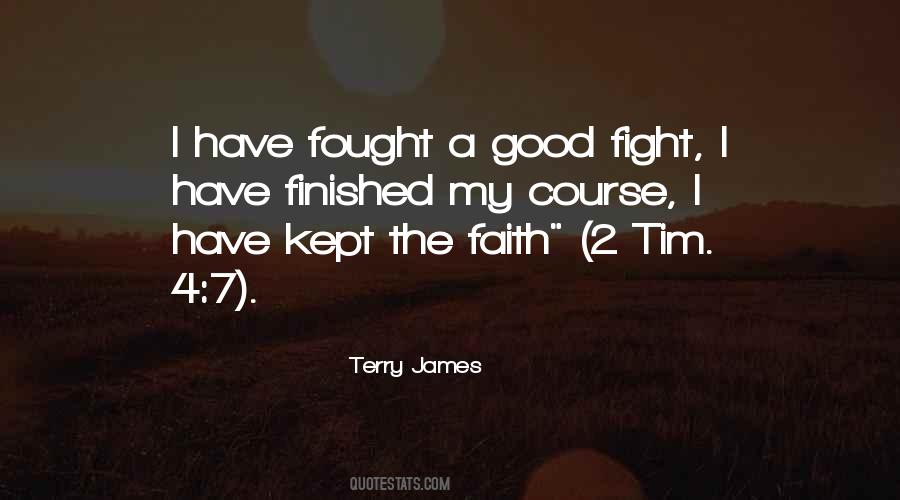 #10. And a good warrior knows when to lose a battle so she can live to fight the - Author: Jennifer Donnelly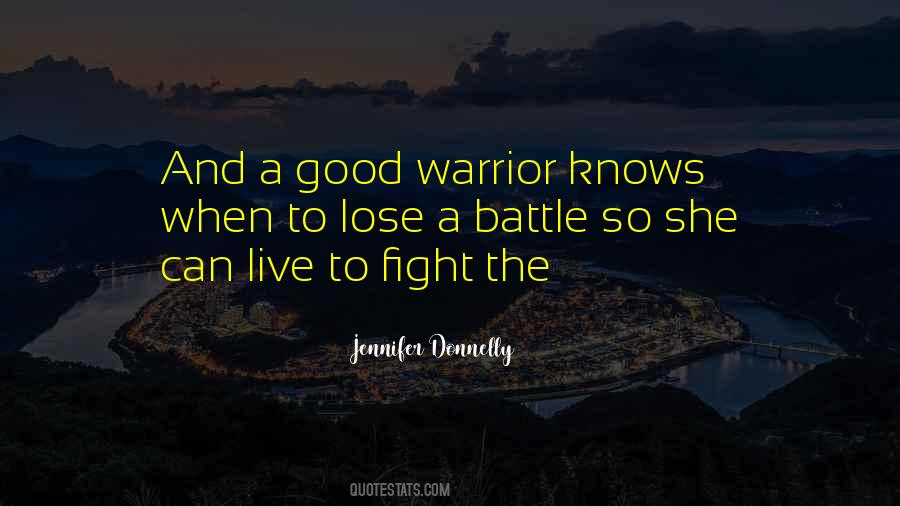 #11. It's obviously a lot harder to try and be a good guy than it is to be a bad guy. The world is a fundamentally evil place, it seems like. So in order to be a good person, you have to fight temptation and vice. - Author: Michael Shannon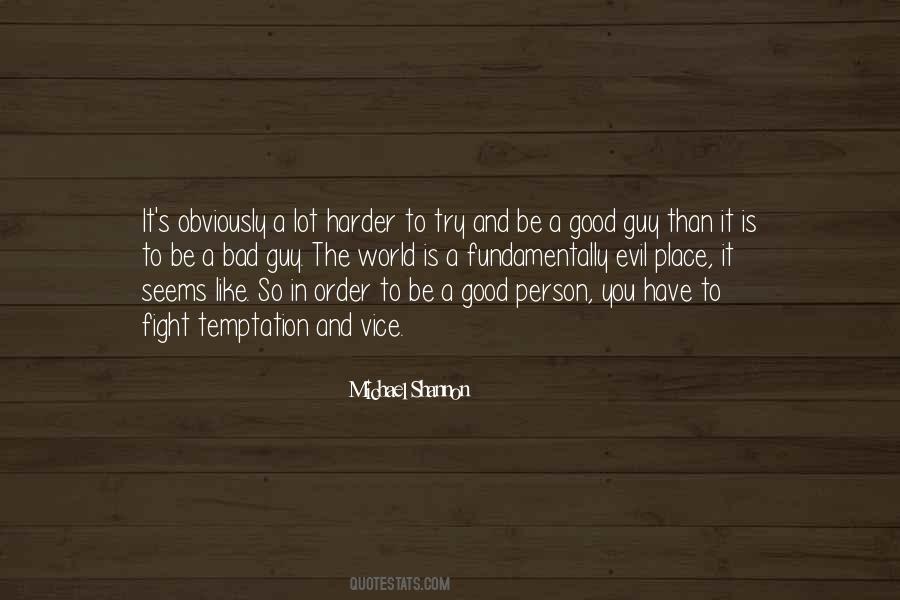 #12. The devil has been defeated, stop trying to defeat him. What we have left is the fight of faith, and it's a good fight! - Author: Chris Oyakhilome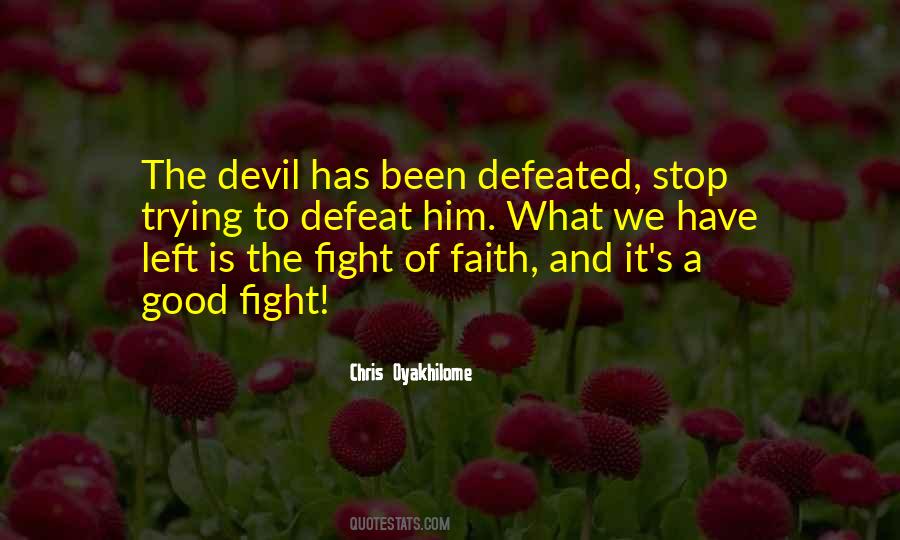 #13. The Gulf states are happy for us to fight and die. That's good for everybody, but the Americans fighting and dying. - Author: Adam Schiff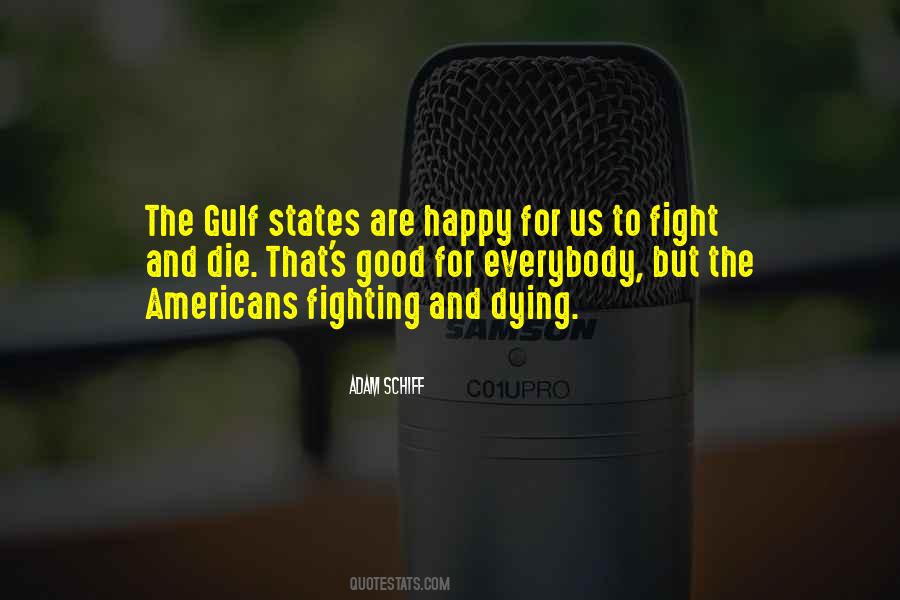 #14. You slept with my sister."
"Get over it. You could either fight with me over it or help me fight for her. She deserves some good guys on her side. And I'm planning on being one of them. - Author: Christine Zolendz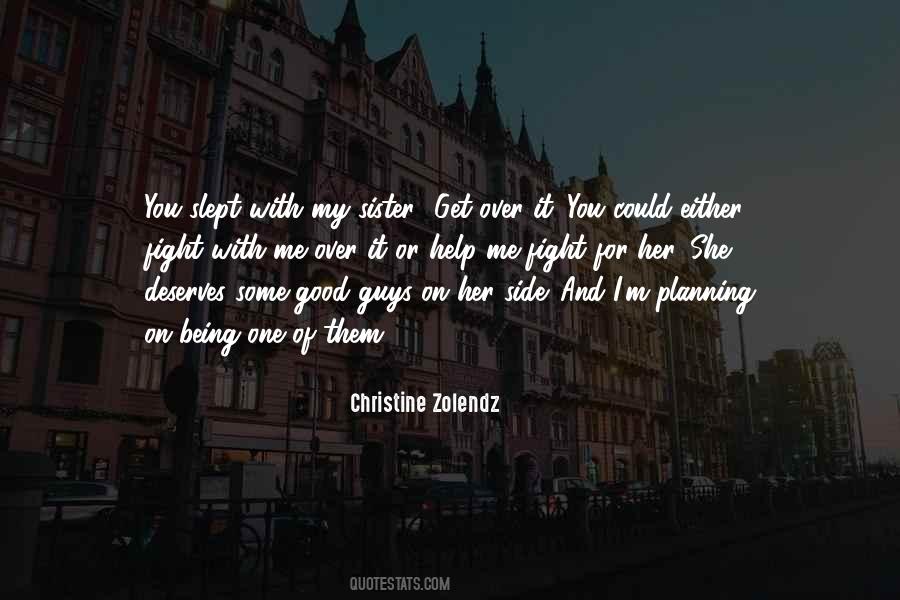 #15. Nothing is ever perfect. There is always some good in the bad and some bad in the good. What is important is to know if the good can make up for the bad. Fight only for those things that matter. Because otherwise after a point the battle will seem pointless. - Author: Mansi Soni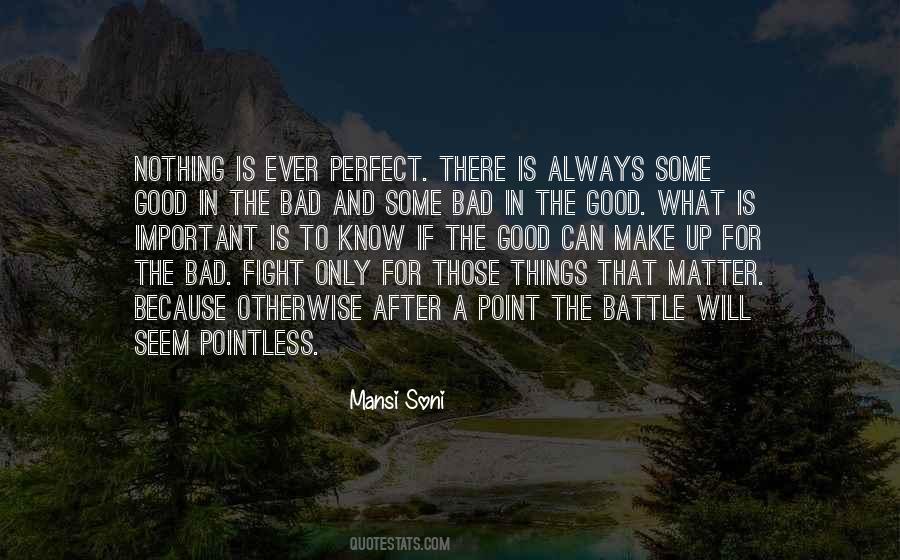 #16. When the sun died, I went up to heaven and saw God and all the people who had died a long time ago. God told me to come back and tell my people they must be good and love one another, and not fight, or steal, or lie. He gave me this dance to give to my people. - Author: Wovoka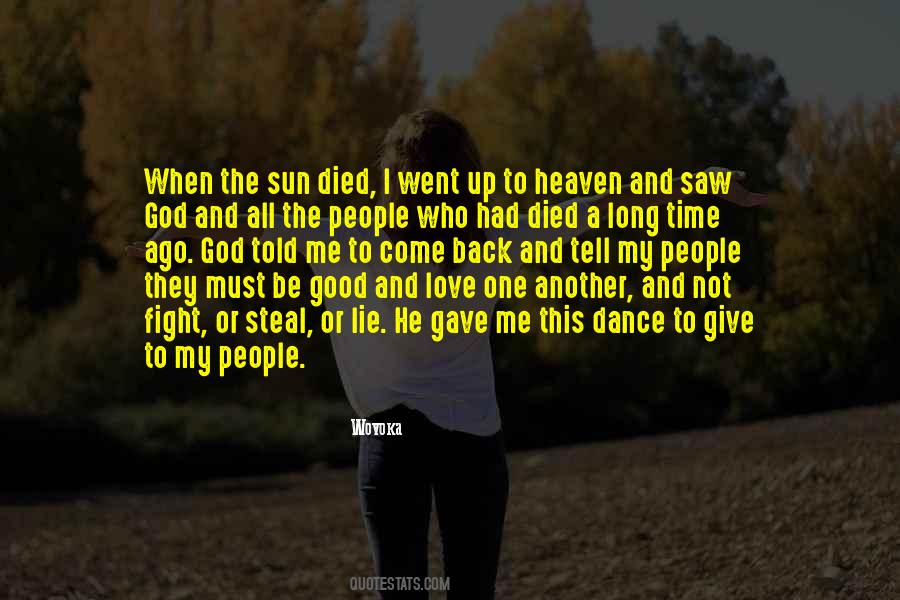 #17. Watson."
"What?"
"I'm sorry I picked a fight with you," Holmes said sleepily. "But you should know I had a good reason."
"I know, I was being an idiot."
"No, it wasn't your fault. The note said you'd be killed if you stayed, so I fixed it. I was horrible until you went away. - Author: Brittany Cavallaro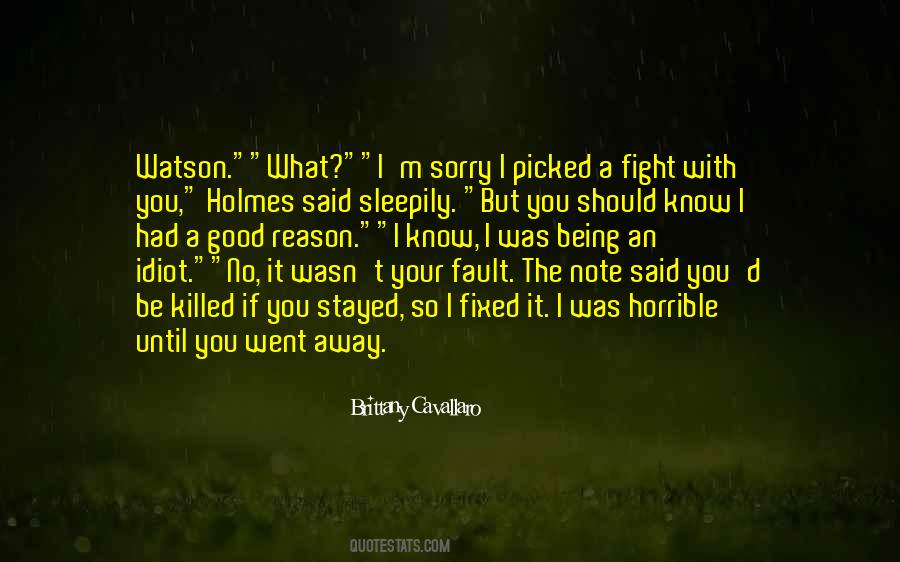 #18. Otis barreled towards them empty-handed, before apparently realizing that a) he was empty-handed and b) charging towards a large body of water to fight a son of Poseidon was maybe not a good idea. - Author: Rick Riordan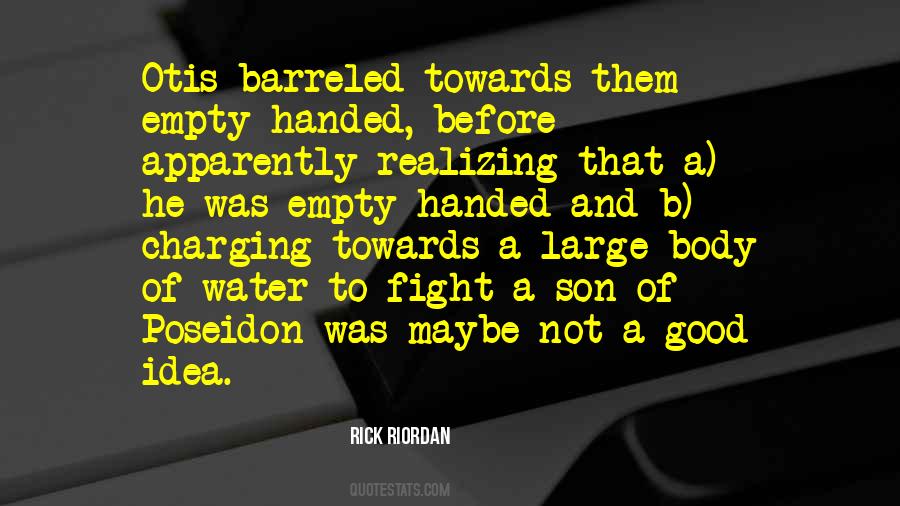 #19. They only the victory win,
Who have fought the good fight and have vanquished the demon that tempts us within;
Who have held to their faith unseduced by the prize that the world holds on high;
Who have dared for a high cause to suffer, resist, fight
if need be, to die. - Author: William Wetmore Story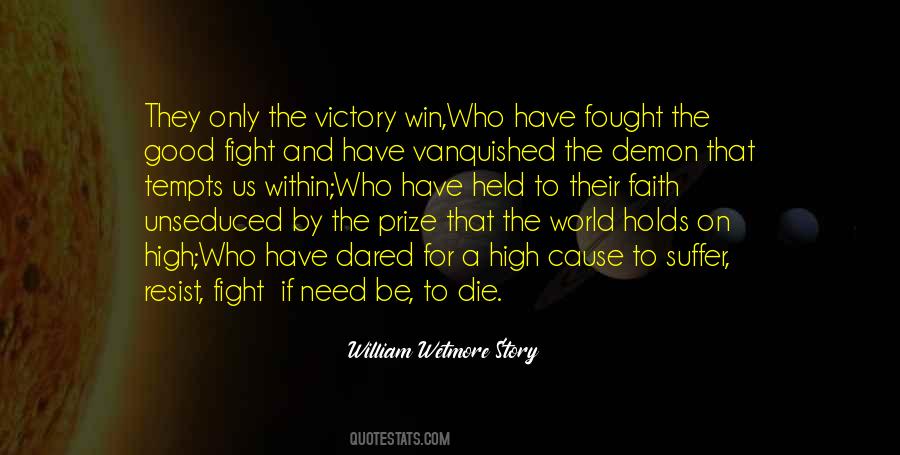 #20. Now let's get upstairs and fight, or all the good Death Eaters'll be taken. - Author: J.K. Rowling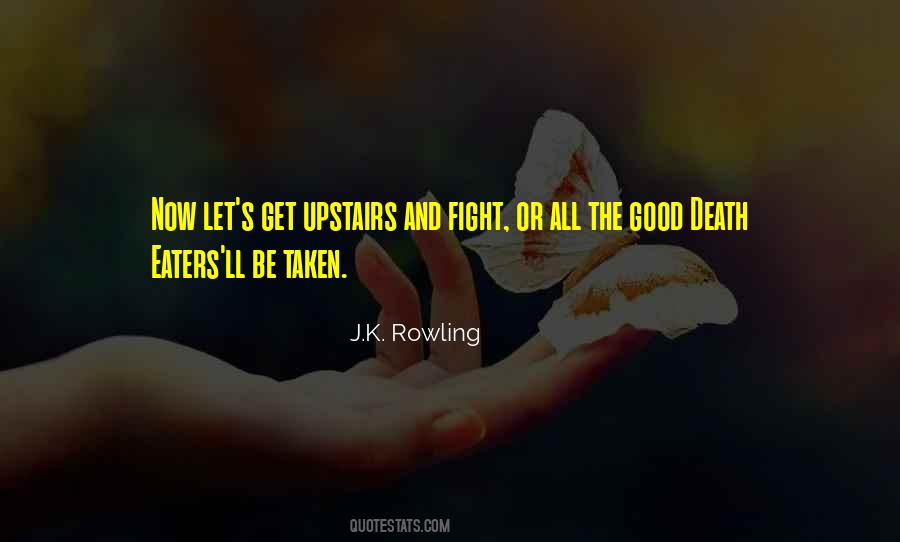 #21. I've learned that it's fine to have expectations, and dreams are wonderful, but once in a while, it would be good to have something come my way without having to fight for it. - Author: Adriana Trigiani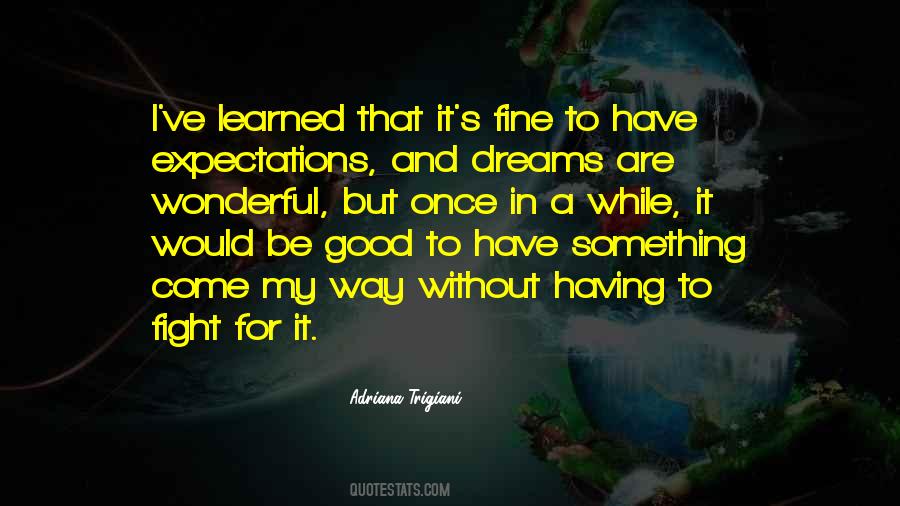 #22. There were worse fates. He was doing what he was born to do. Fighting on the side of good against radicals who sought to destroy the world. This was the good fight. The best fight. - Author: Isaac Hooke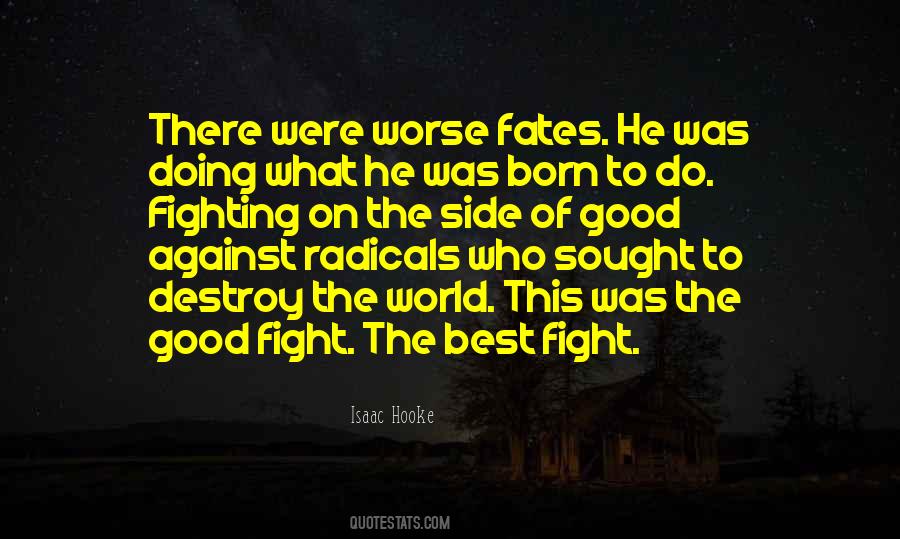 #23. I learned the bad guys are not always bad, the good guys are not always good, and to quote Captain Barbossa, the parameters are like rules, mostly guidelines. And that it takes a little bit of bad boy to fight the evil in the world.
Terri Mitchell - Author: Sherrilyn Kenyon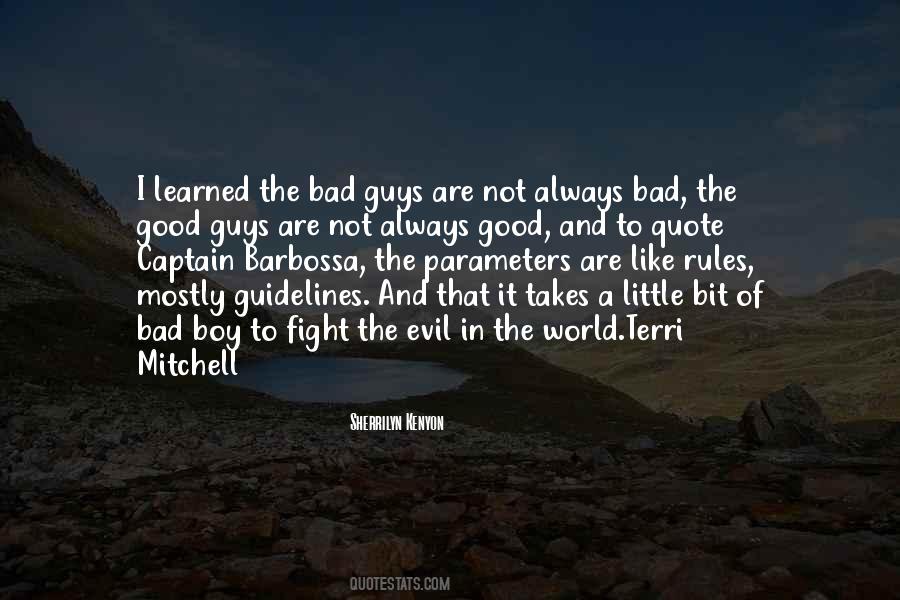 #24. They say a good man is worth fighting for. But a man who's good for YOU shouldn't make you fight just for the right to be in his life. - Author: Kyra Davis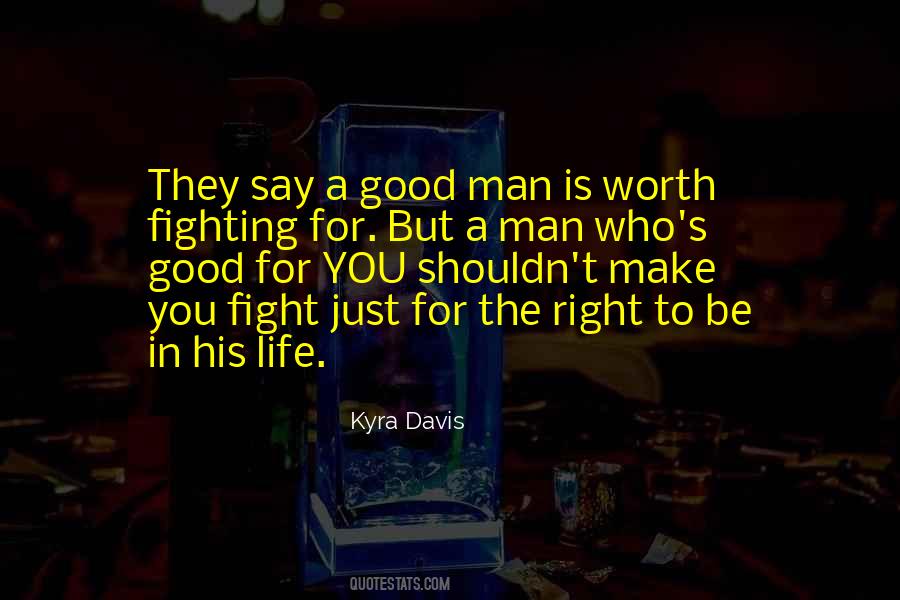 #25. If I hadn't won at the Worlds and claimed so many ranking points, I would have been struggling for Rio. I'm in a good place now, though, and having the chance to fight for gold in Rio after everything I've been through would be a dream. - Author: Bianca Walkden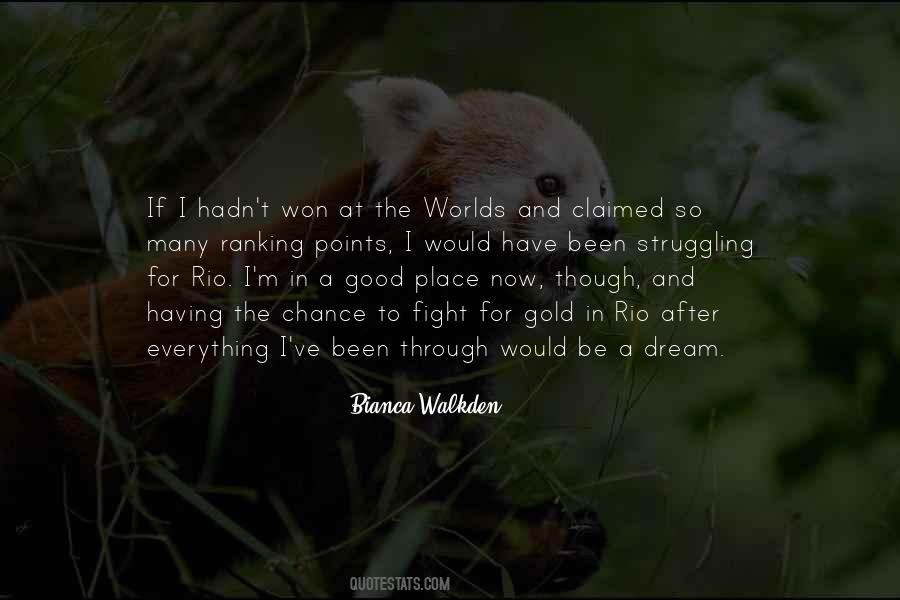 #26. Wisdom doesn't mean that you know how to argue things or you fight with people. No, it doesn't mean that. Wisdom means how you take to the good side of everything to enjoy it. This is wisdom and that you avoid all destructive things and take to something constructive. - Author: Nirmala Srivastava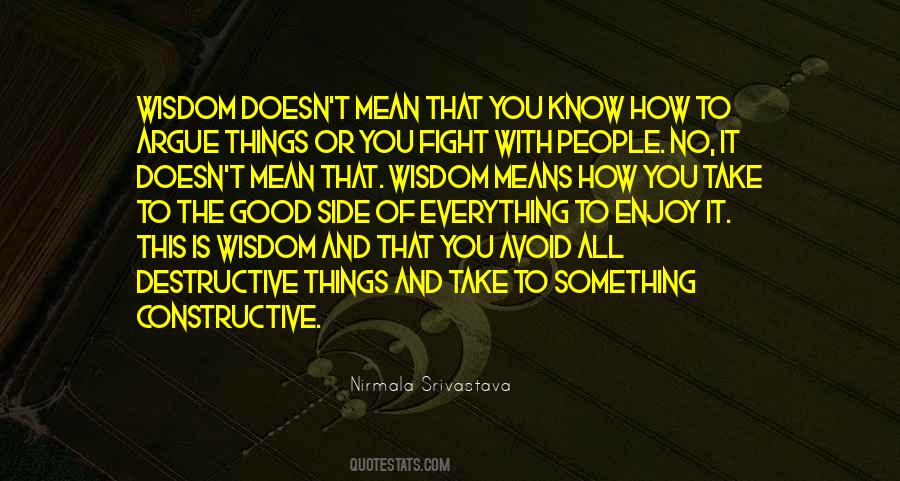 #27. I thought I was a pretty good physical specimen. But there was a teenager from Brooklyn, who basically wiped the floor with me on the street. He gave me a punch that I didn't even feel. All I knew I was looking up at the sky. I tried to fight him, and I got a number of injuries after that. - Author: Bernhard Goetz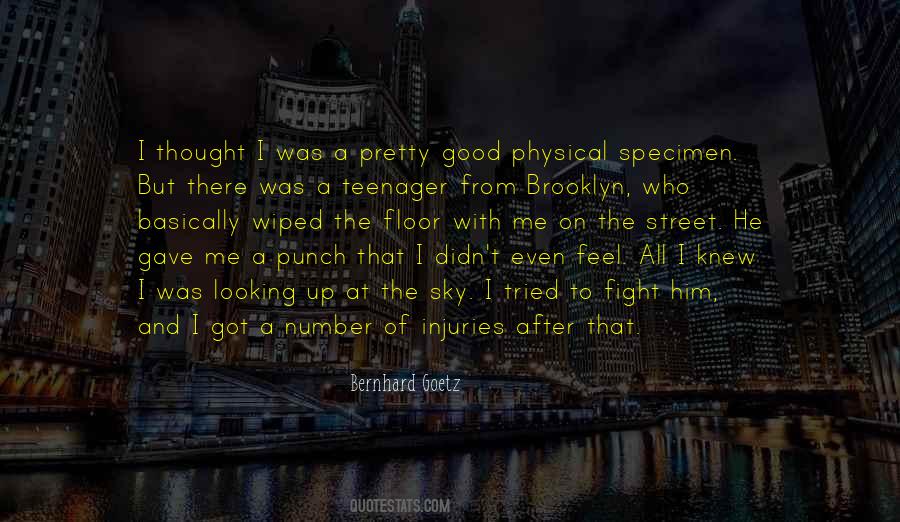 #28. I'am not predictor of fights, but I know when I hit 'em good, the fight is close to an end - Author: Mike Tyson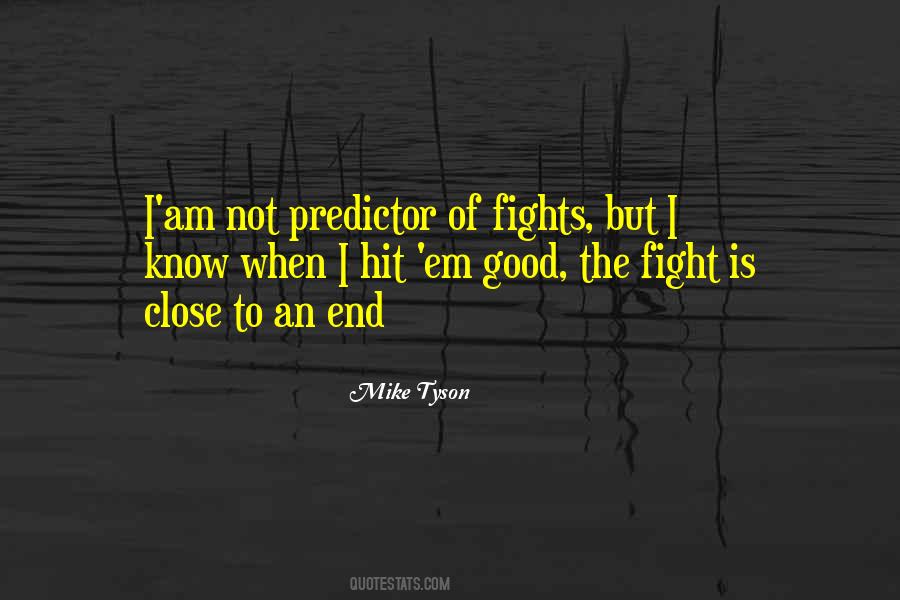 #29. I don't think lying has any ultimate justification. I don't think it ever leads to anything positive. The good fight to have is not to lie. That's one of the challenges in a way. - Author: Andy Garcia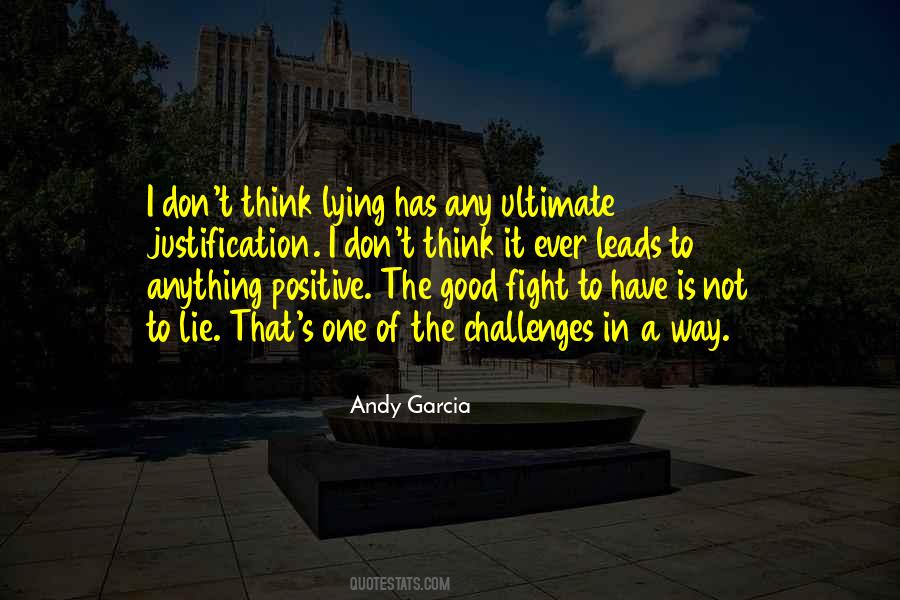 #30. Claire knew she was in control of her actions, she could choose to fight or complain. Her plan was for self-preservation until she was free. This had been a good old-fashioned thunderstorm, loud and boisterous but no real damage. - Author: Aleatha Romig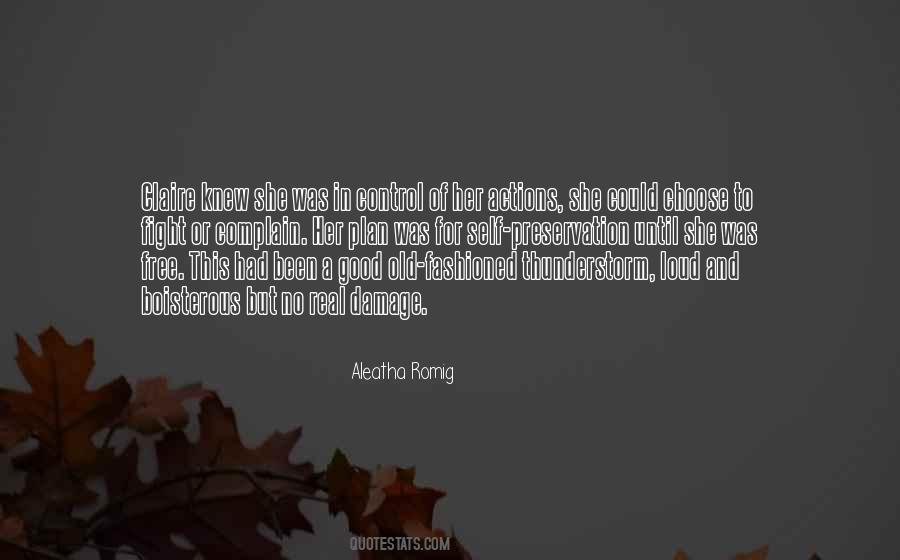 #31. Most of the time it is a good job and a good honour to fight against people's values, because most of the time people's values are irrational and absurd! - Author: Mehmet Murat Ildan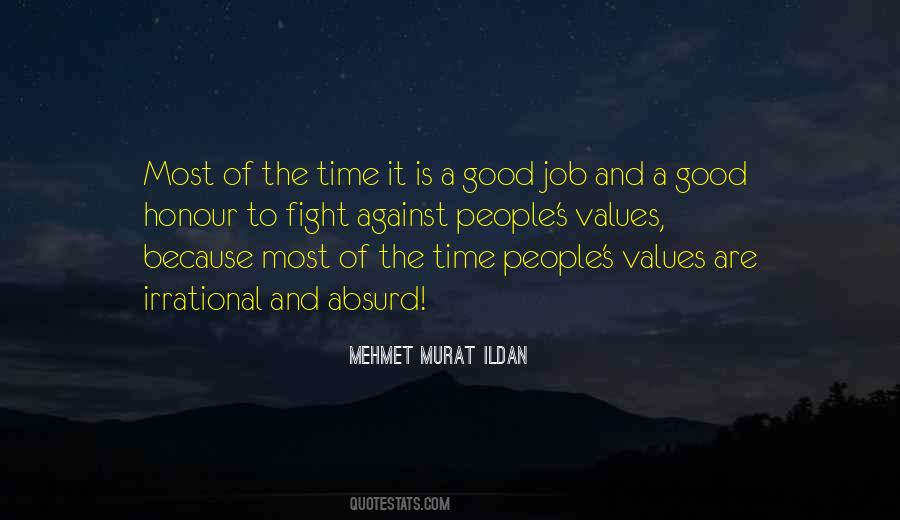 #32. No man is an island. To fight the good fight we need help. - Author: Paulo Coelho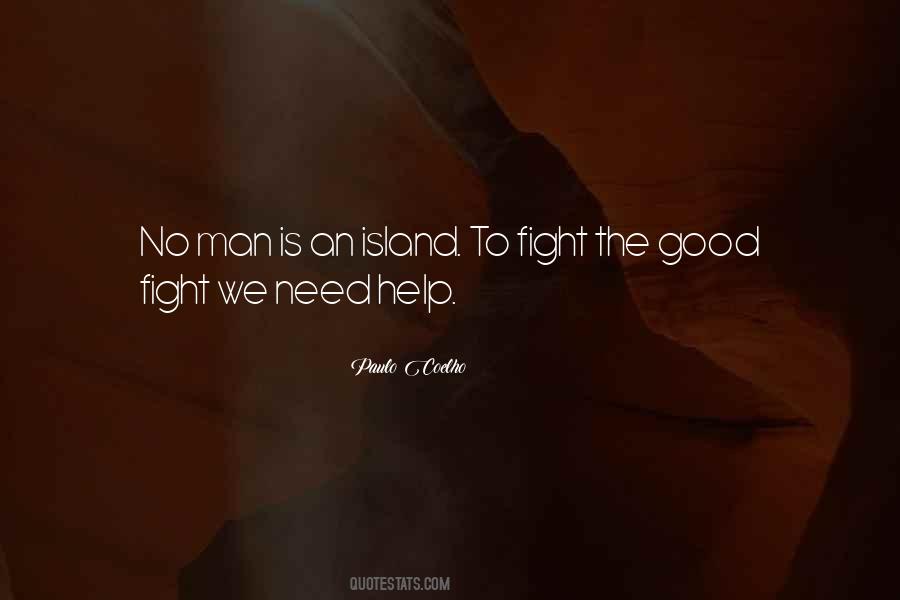 #33. Persevere in the fight, struggle on, do not let go, think magnanimously of man and life, for man is good and life is affluent and fruitful. - Author: Luc De Clapiers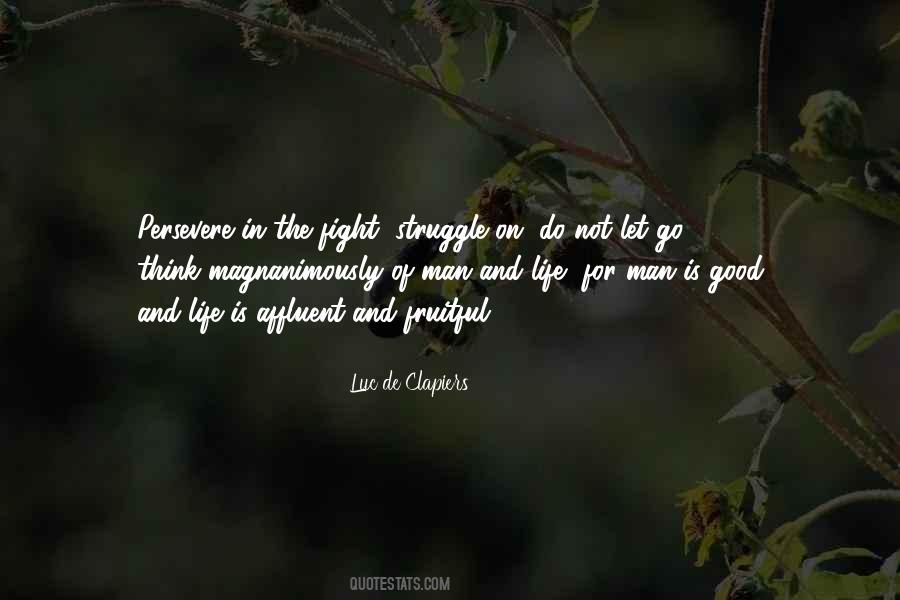 #34. Violence is about the attacker, not the victim. If you weren't there, your attacker would have chosen some other victim. You are all real, good, and valuable people and you are entitled to be safe. And you are allowed to fight back, run, scream, get help or do whatever it takes to be safe. - Author: Kaje Harper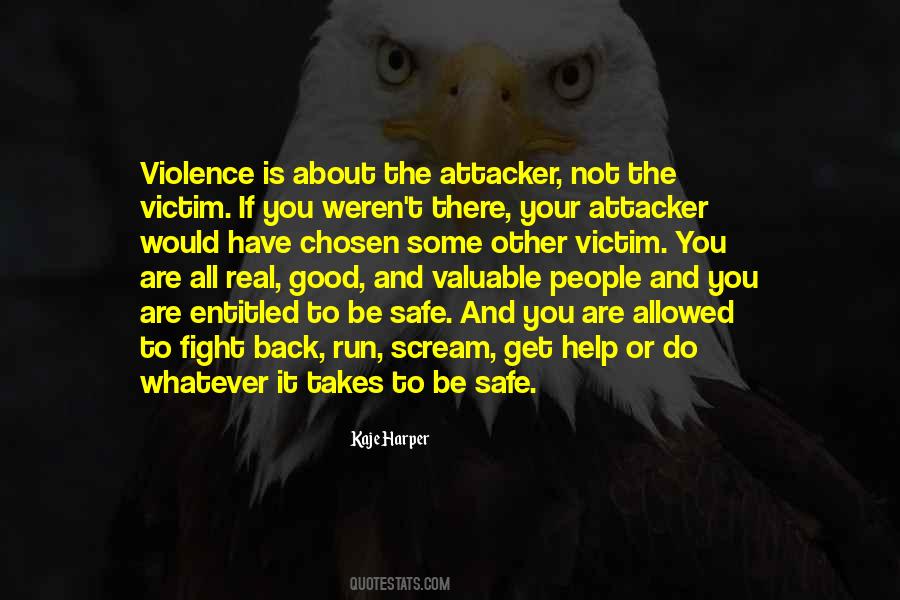 #35. We will fight and defend my good name in the European court. We have to be strong and defend Ukraine from this authoritarianism. - Author: Yulia Tymoshenko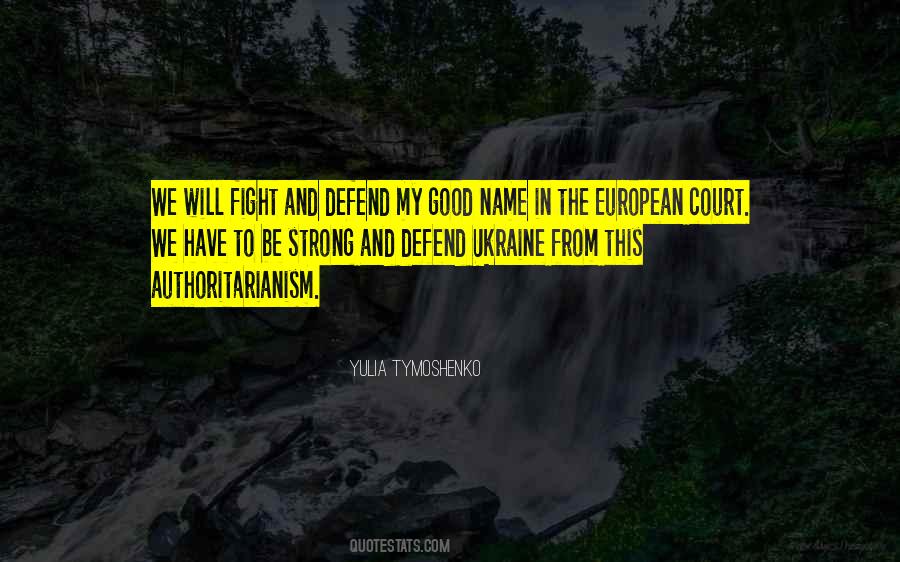 #36. Women are pretty good. Women usually fight about some stupid guy and then when they figure out it's just a stupid guy they make up and move on. - Author: Garry Marshall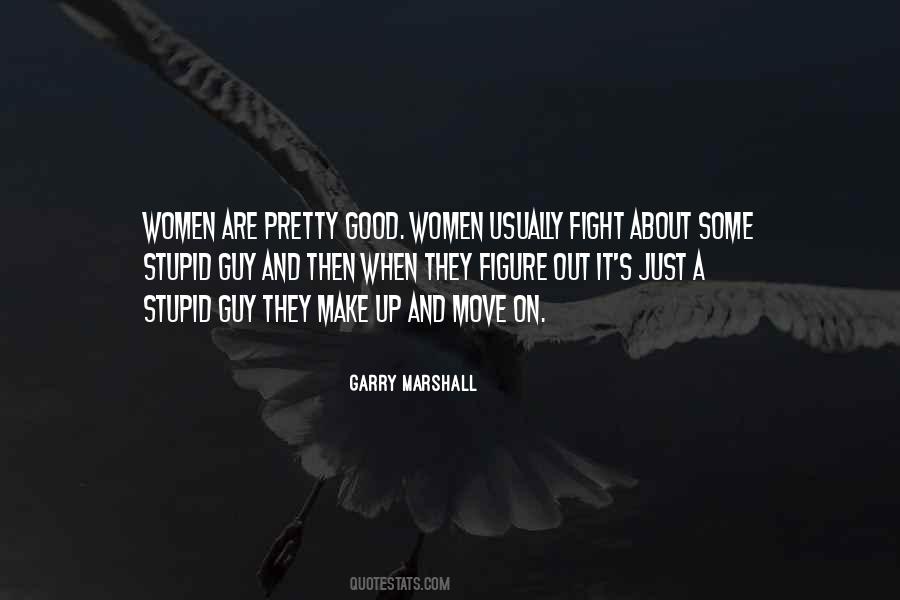 #37. I believe that it is my job to fight for the rights of others to have the same rights that I take for granted. As a white, American male, I have had it quite good. I recognize that and fight every day for everyone to have the same opportunities that I have had. - Author: Michael Skolnik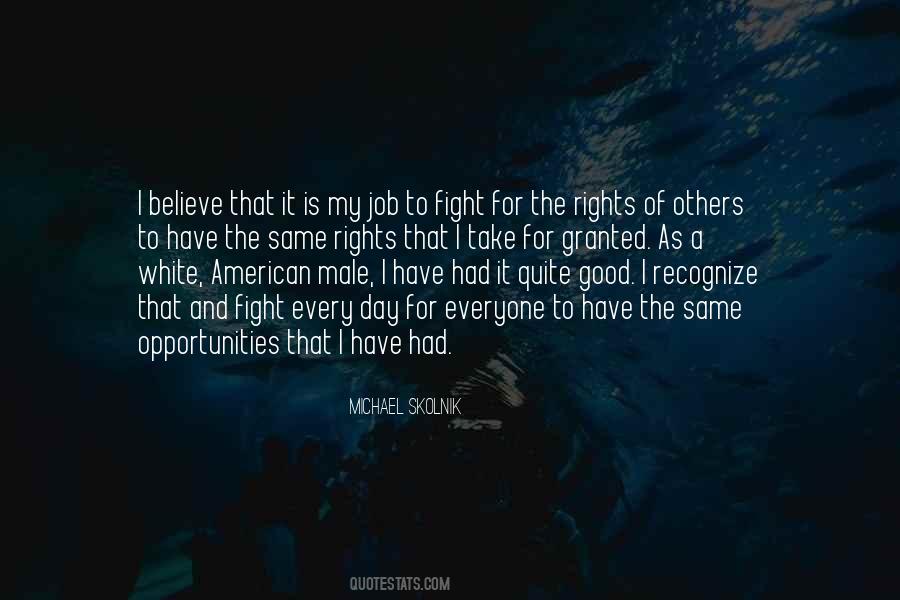 #38. Maybe this wasn't a good idea. He didn't have time to fight an evil symbiot. He had a softball tournament on Sunday. - Author: Adam Graham
#39. There is a greater war, Uhtred. Not the fight between Saxon and Dane, but between God and the devil, between good and evil! We are part of it! - Author: Bernard Cornwell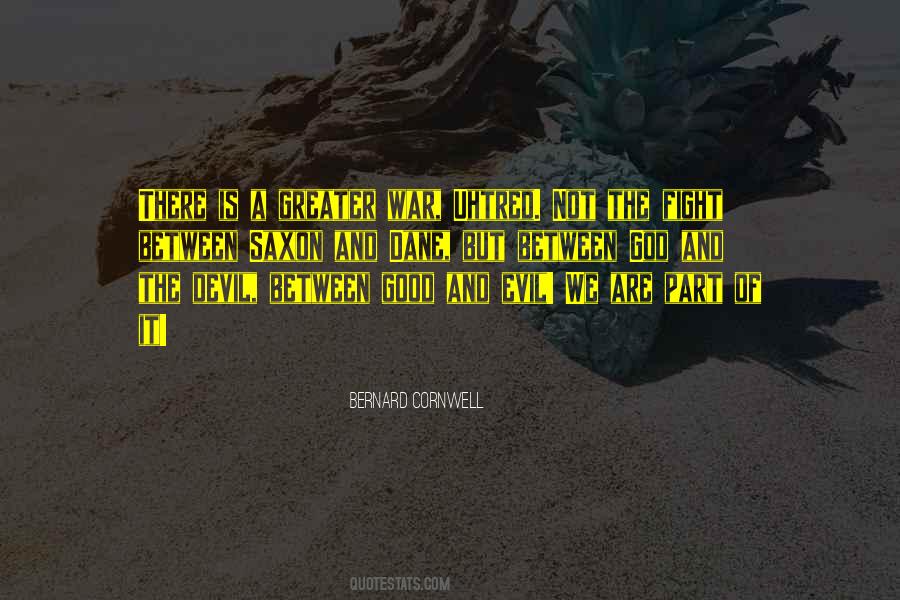 #40. No matter what life throws at you, fight with your eyes wide open to fight a good fight. - Author: Valencia Mackie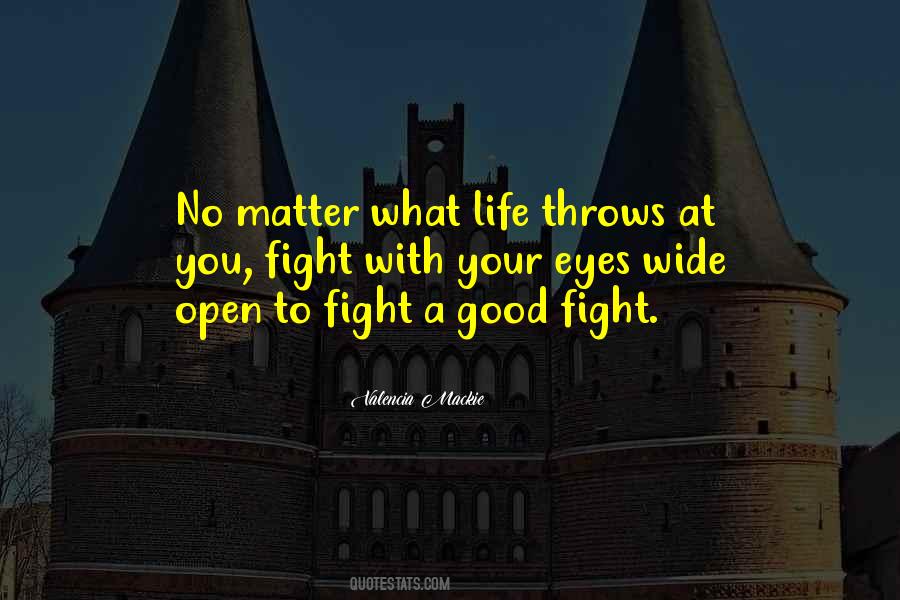 #41. The rebel can never find peace. He knows what is good and, despite himself, does evil. The value which supports him is never given to him once and for all - he must fight to uphold it, unceasingly. - Author: Albert Camus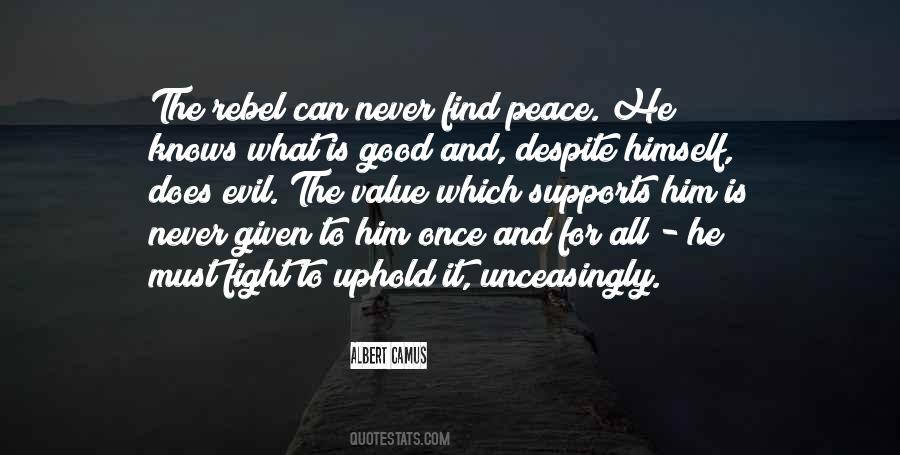 #42. Every good story needs a good, bad and lost soul. A people to fight for, an item to turn the tide of battle, an enigmatic character, a motivator/mentor, and an unlikely reluctant hero. - Author: Josh Rose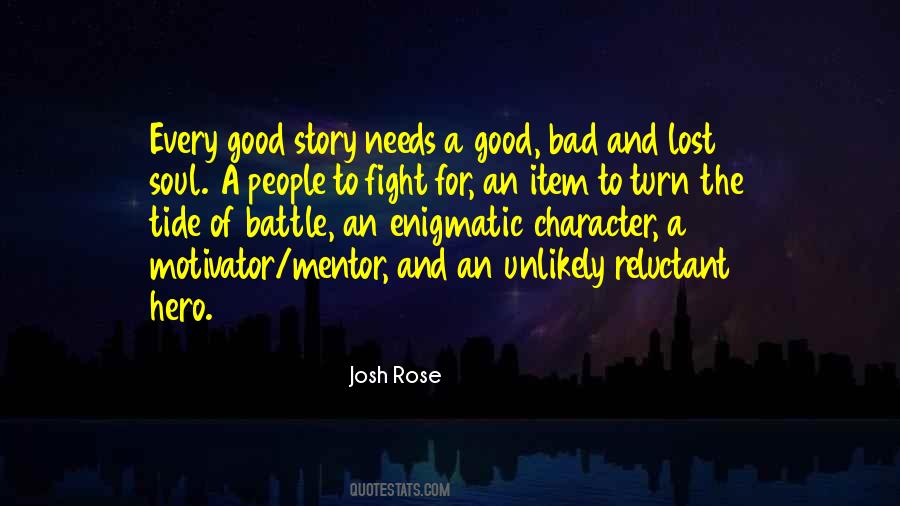 #43. I fight the same way as my dad! I've picked that up from him. We both get angry really fast and very intensely, and then get over it very quickly. You need to be good at apologising if you fight like that. - Author: Tove Lo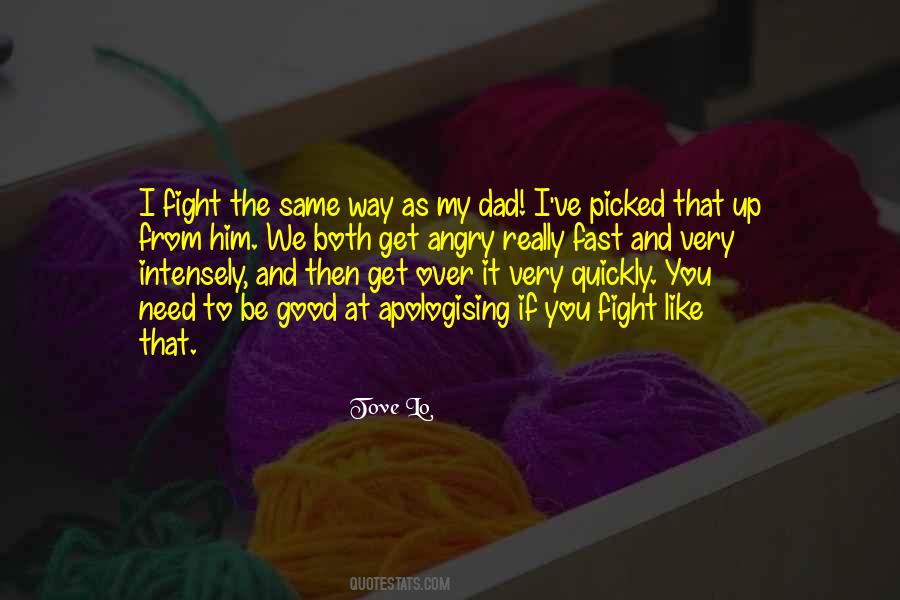 #44. In 1942, everyone was ready to go and fight for the good guys. It was so simple. - Author: Parker Stevenson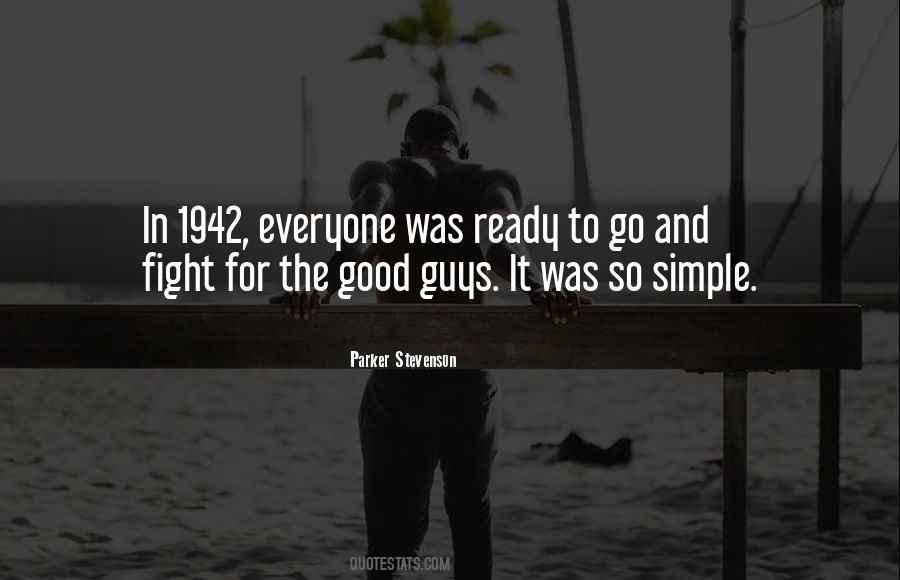 #45. As a director, you're only as good as your collaborators. You surround with collaborators that are going to understand what you're trying to do. Not only that, they're going to push and fight for what you're trying to do. - Author: Alfonso Cuaron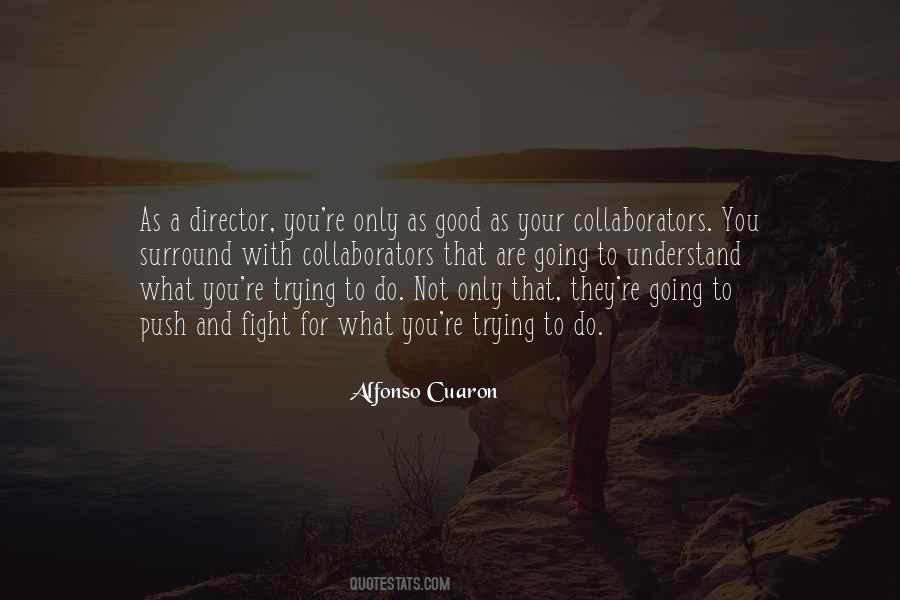 #46. However revolutionary it may be, the Internet still hasn't altered the basic law of human communication: Being nice to your interlocutors is a good way to start any negotiations, particularly, when being hostile is an open invitation for a cyber-fight. - Author: Evgeny Morozov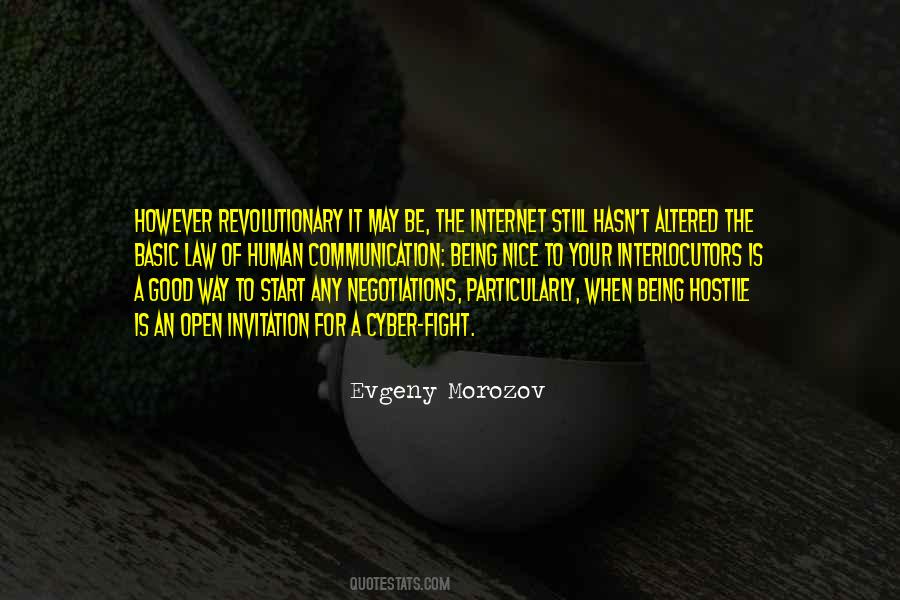 #47. Ravn had given me much advice and all of it was good, but now, in the night wind, I remembered just one thing he had said to me on the night we first met, something I had never forgotten.
Never, he had said, never fight Ubba. - Author: Bernard Cornwell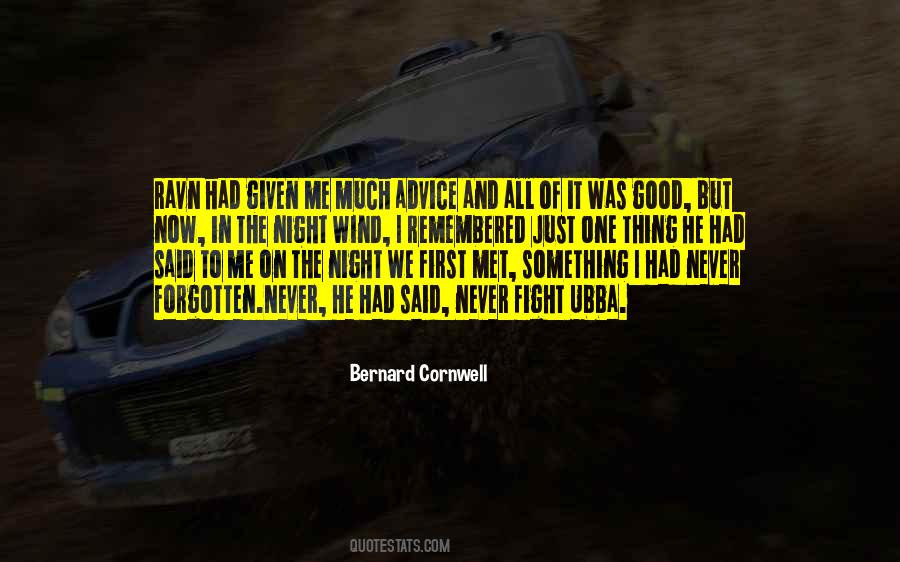 #48. I would love to see Wladimir Klitschko fight Antonio Tarver for many reasons. One is Tarver talks a lot; he would build up a big fight. And Tarver is coming off of a great victory. So I think he would be a good opponent. - Author: Emanuel Steward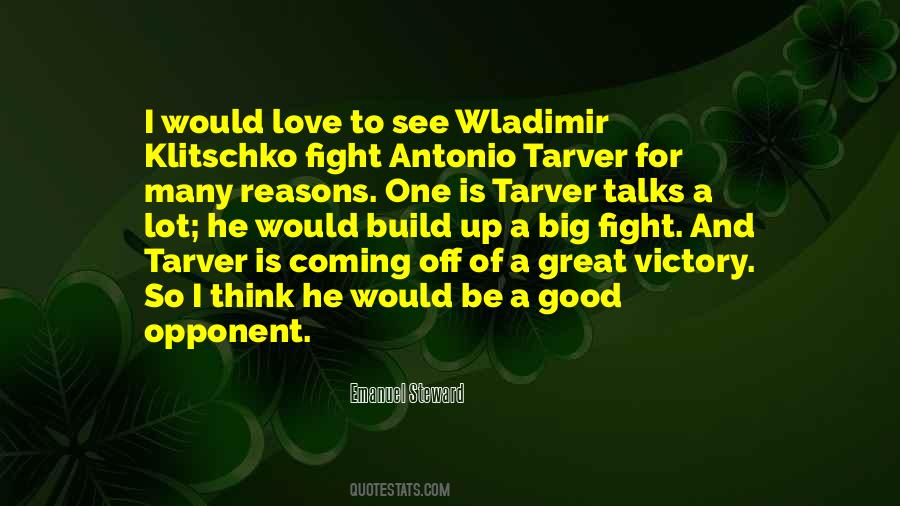 #49. And if all that wasn't enough, you're a good fucking human being, and I'm not losing you to whatever bullshit lies your head is telling you. I know you don't have any family, so I'm officially stepping in and stepping up. I will fight for you until you can fight for yourself. You hear me? The - Author: Laura Kaye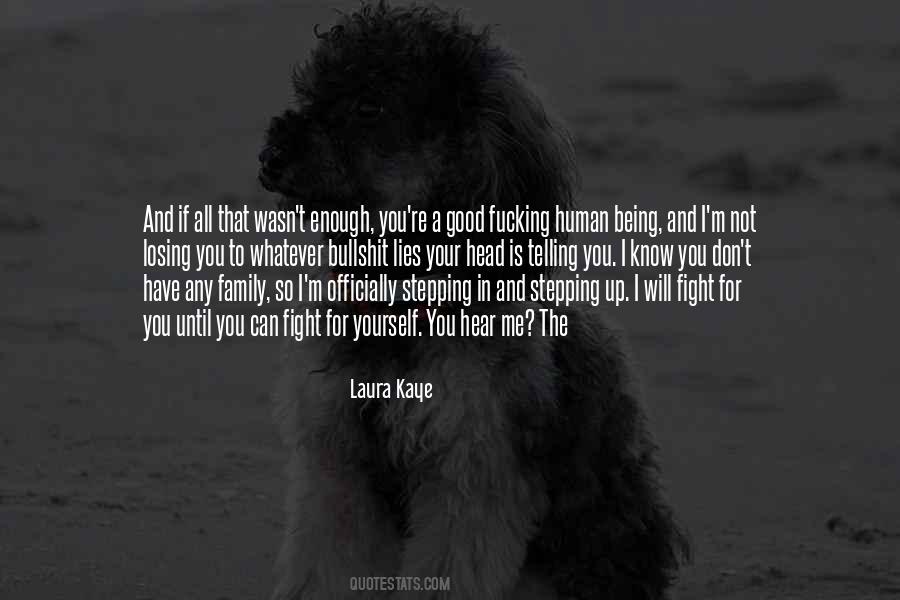 #50. It's good that the first half of the speech emphasized freedom, because George W. Bush has been the global champion for freedom. As he said, if we don't fight tyranny it will not leave us alone in peace. - Author: Ernest Istook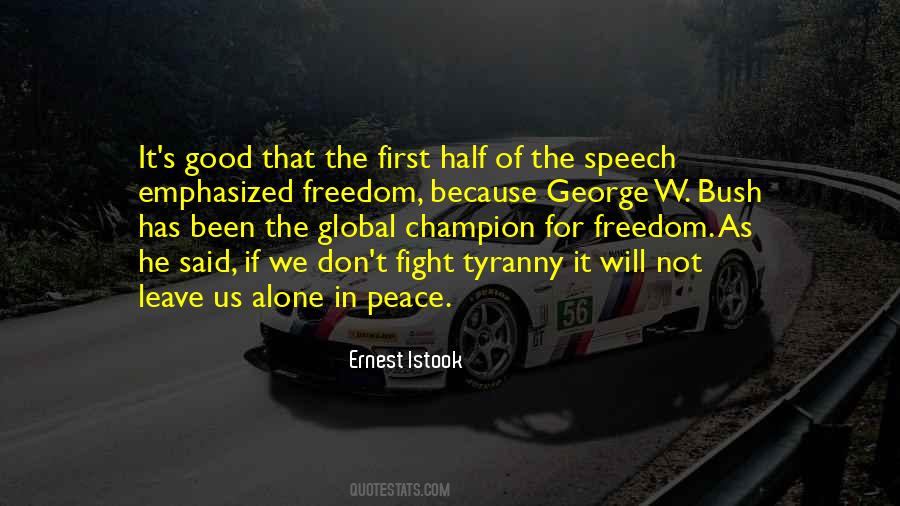 #51. You look good, you feel good. You feel good, you fight good. - Author: Eddie Alvarez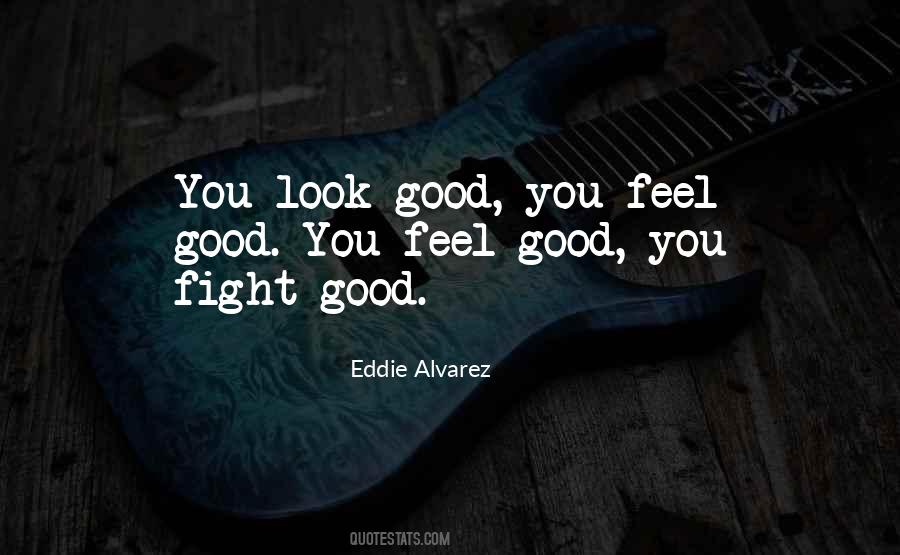 #52. A chess game, after all, is a fight in which all possible factors must be made use of, and in which a knowledge of the opponent's good and bad qualities is of the greatest importance. - Author: Emanuel Lasker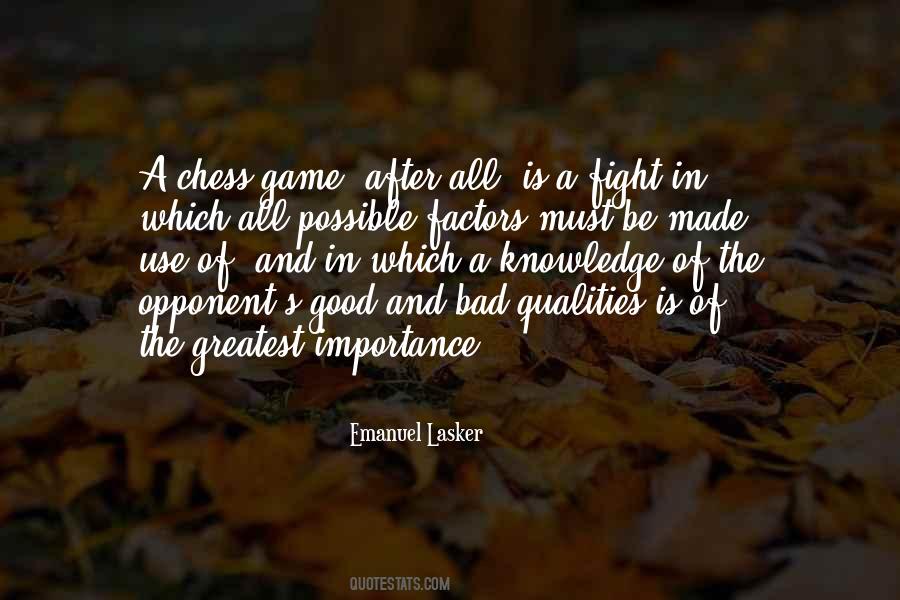 #53. I think anyone who has had a fight and who's a very good observer of the situation and people's behavior is capable of writing a fight. But you do start thinking about writing during the fights that you have with your partner. - Author: Julie Delpy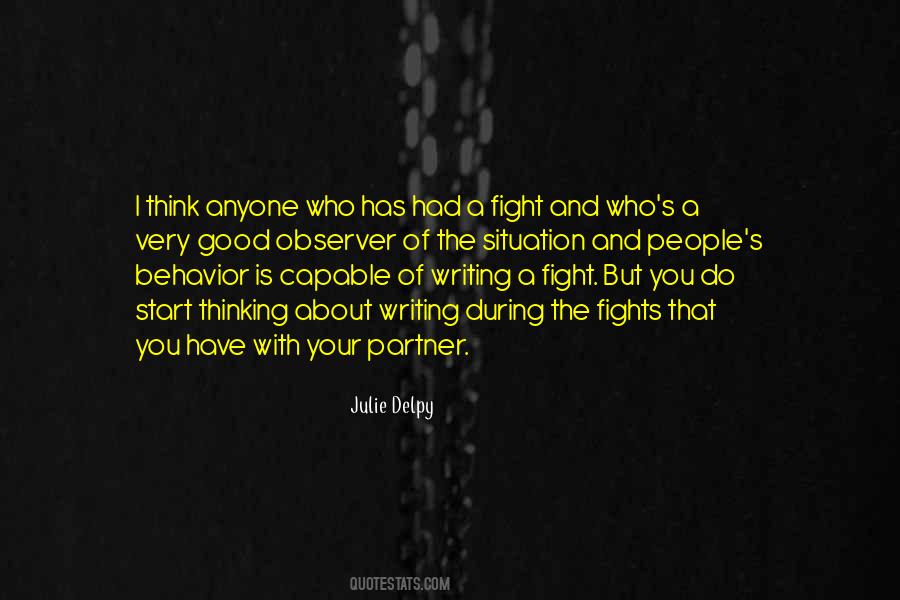 #54. Armies aren't very good about carrying libraries with them. I can't imagine why. We'd fight so much less if everyone would juste sit down and read - Author: Cynthia Hand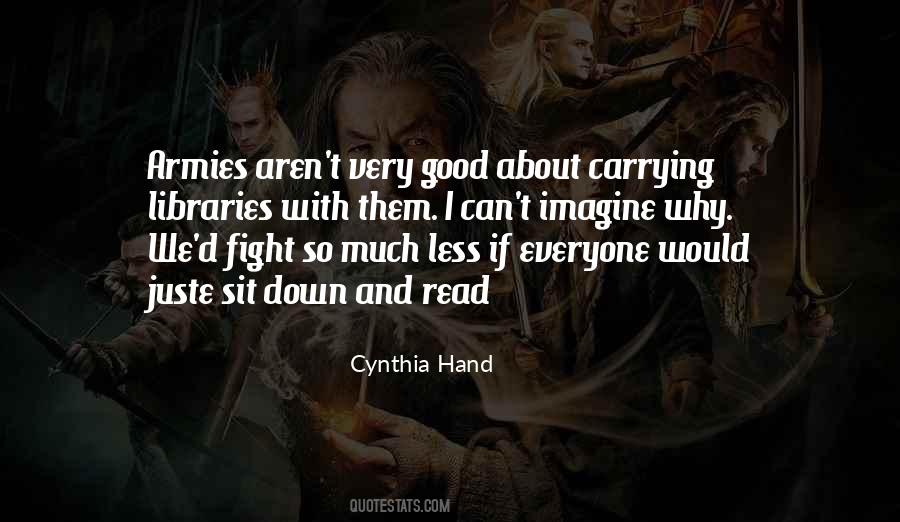 #55. Hydarnes: When we attack today, our arrows will blot out the sun!
Leonidas: Good; then we will fight in the shade. - Author: Frank Miller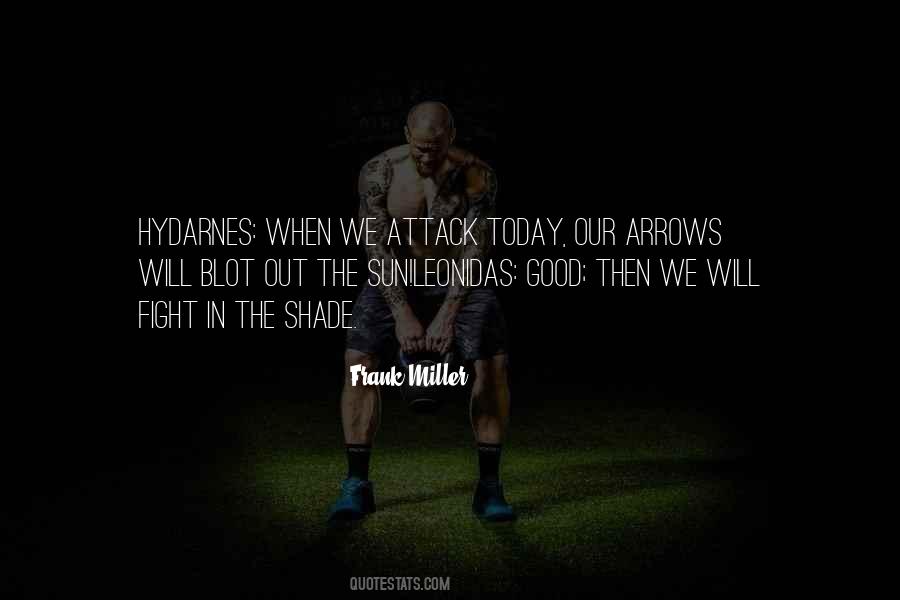 #56. Life is a sum made up of small parts, Kacie. Some are good; some are bad. You and the girls are definitely one of the good. The best good there is and I'll fight like hell to keep you here. - Author: Beth Ehemann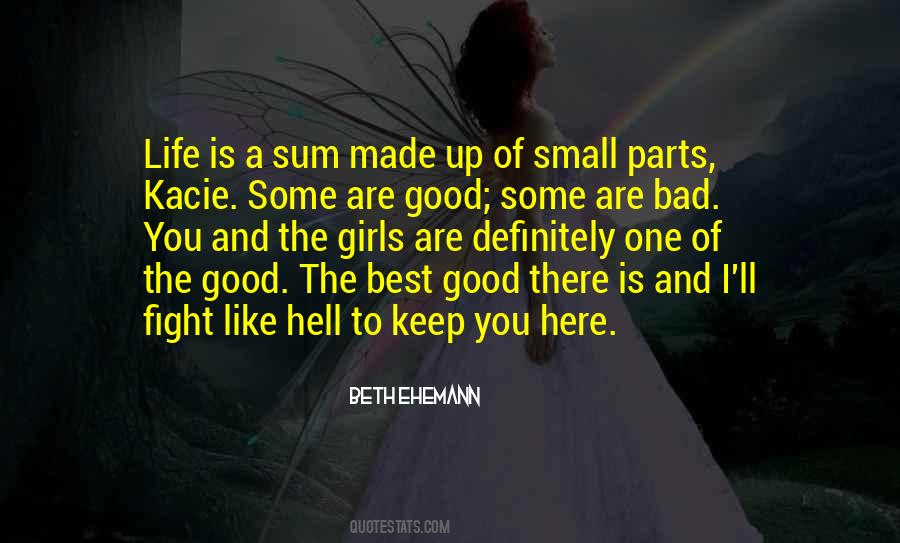 #57. We hadn't lost morale. But when you fight for four quarters, it's tough to always bounce back. The offense kept us in the game the last two weeks and to get out with a win feels really good. - Author: Barry Alvarez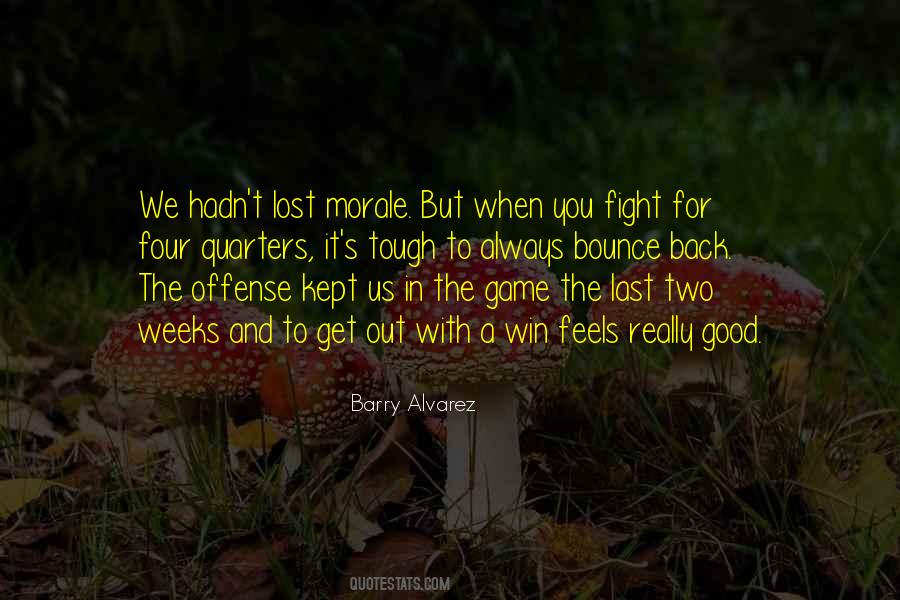 #58. I think the NAACP isn't recognized enough for all of the work it does, especially in the field of law. They may have faded from view over the last couple of decades, but they are fighting the good fight. - Author: Tayari Jones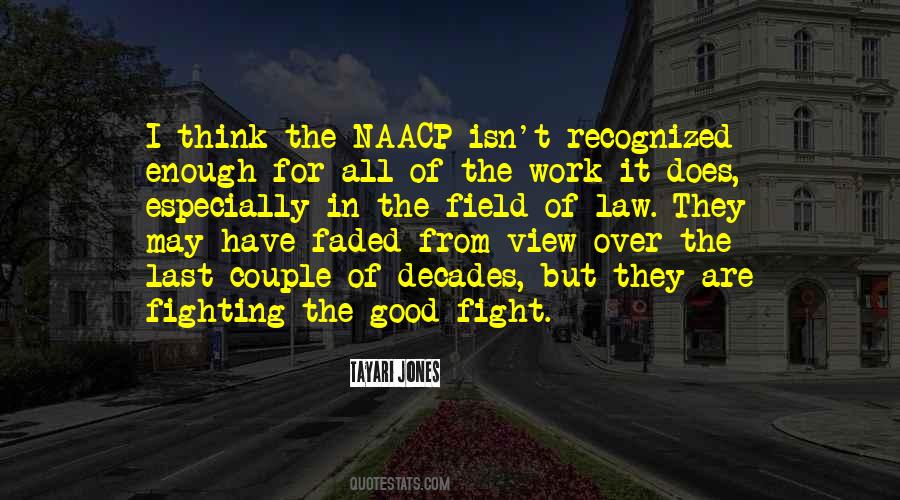 #59. Was there no hope for men? They killed those they should have loved. What good was it to fight, what good was it to win, if there was no difference between ally and enemy? What was victory? Meaningless. - Author: Brandon Sanderson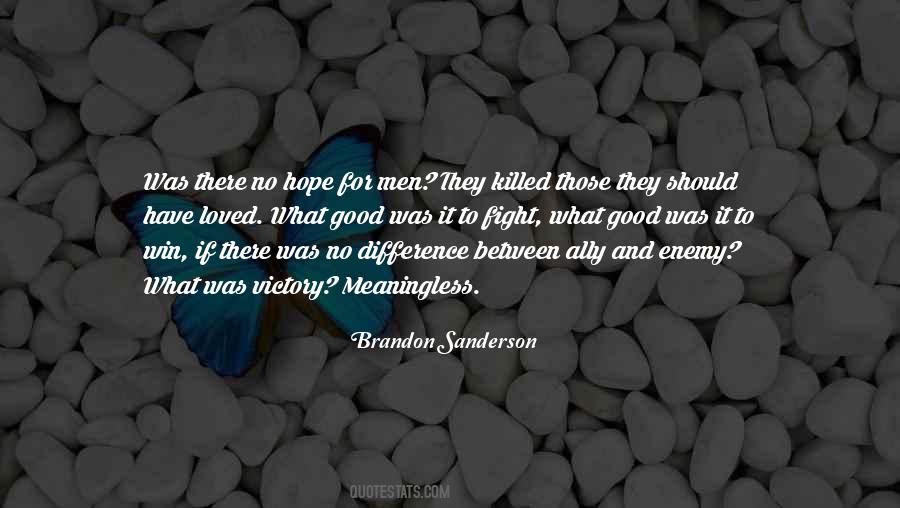 #60. If you have a sword, and the Aielman has his bare hands, it is an even fight. If you're good. - Author: Robert Jordan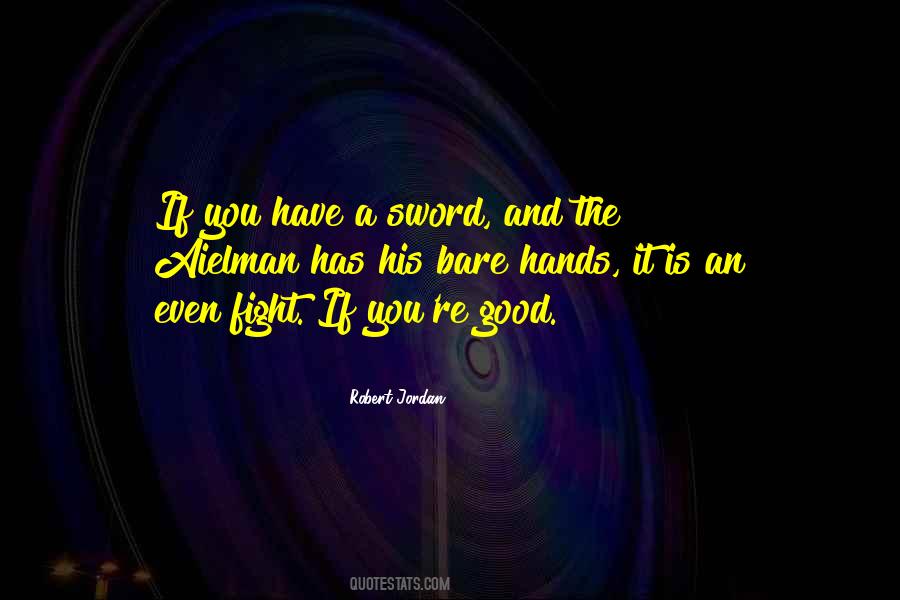 #61. The simplest idea of someone coming to your home to pamper you at a time when all your energy is being expended to fight a personal battle, is much more than just feeling good about how you look. Beauty Bus gives its clients renewed internal strength to keep fighting. - Author: Karen O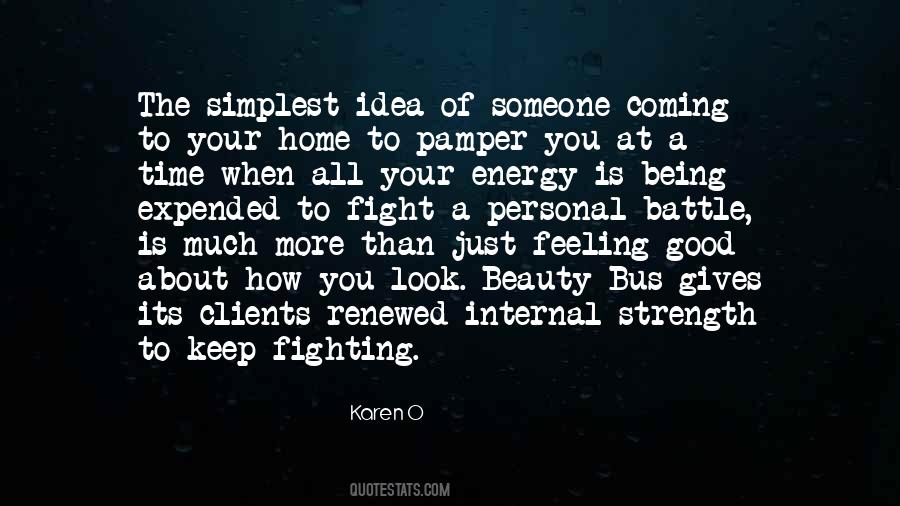 #62. My experience has been in a short 77 years that in the end when you fight for a desperate cause and have good reasons to fight, you usually win. - Author: Edward Teller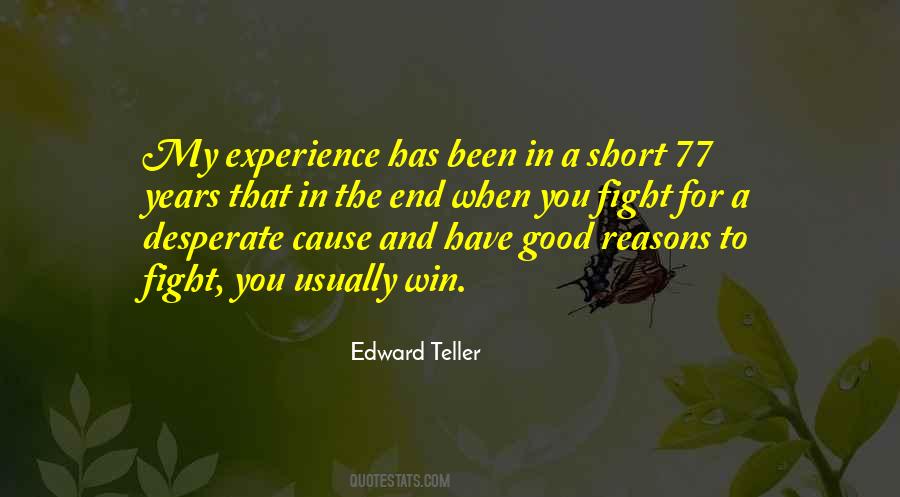 #63. I am not a celebrity. I work with celebrities, and it is very difficult. When a celebrity wears a dress, it's good for business, so brands fight for the red carpet. Me? I don't like it, because fashion becomes a job about dressing celebrities. And it's a bit boring. - Author: Carine Roitfeld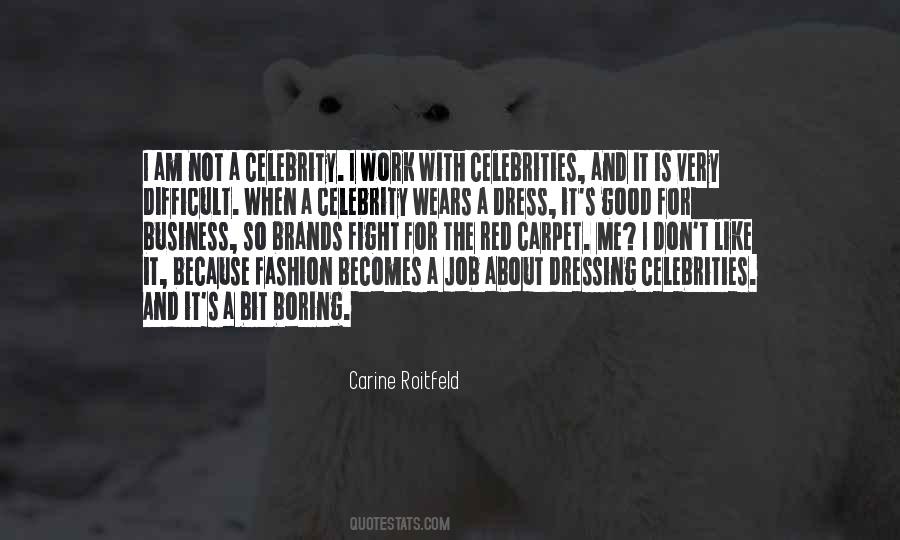 #64. Evil does not fight against evil, rather it struggles against Good. Where as, Good does not struggle against evil, rather it overwhelmingly defeats it".

~R. Alan Woods [2012] - Author: R. Alan Woods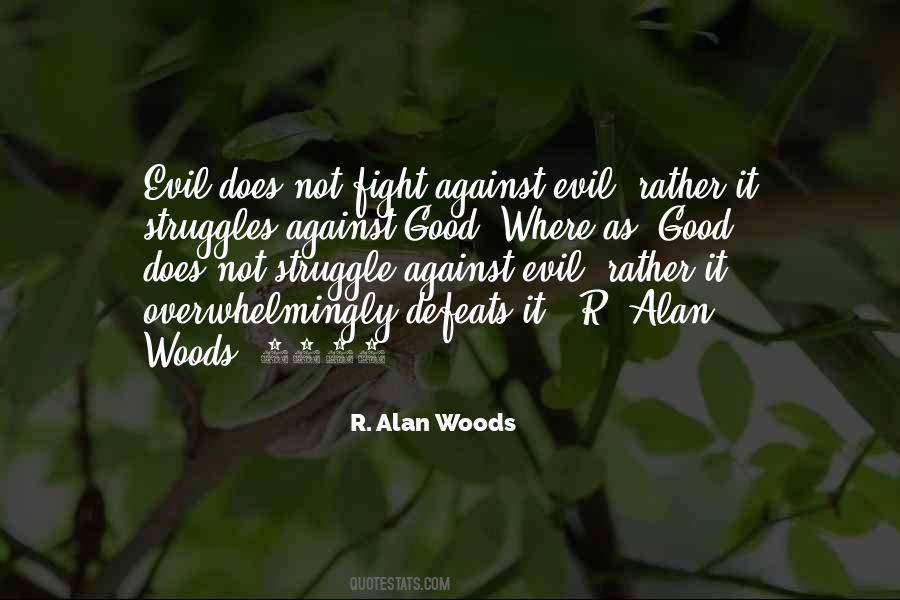 #65. No queen has had to fight an insurrection in half a millennium. And she takes it personally. But it was her fate to be a good queen that followed four poor ones - Author: Paul W.S. Bowler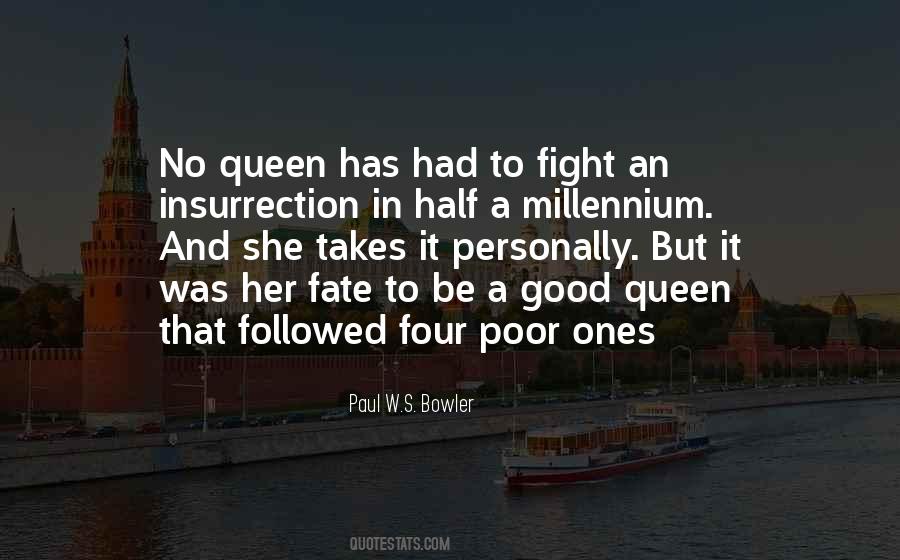 #66. That was a good fight back in the gym," he said.
"But I think you could benefit from a few more boxing
lessons. - Author: Becca Fitzpatrick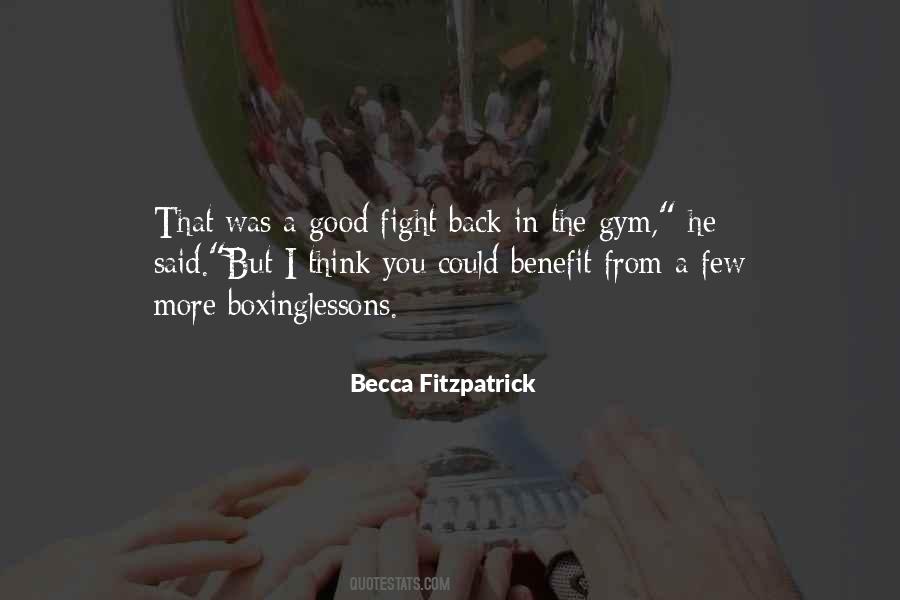 #67. It's good to be a little frightened. It's good to respect your opponent. It keeps you sharp. In the fight game, the head rules the heart. But in the end the heart is the boss. - Author: Bryce Courtenay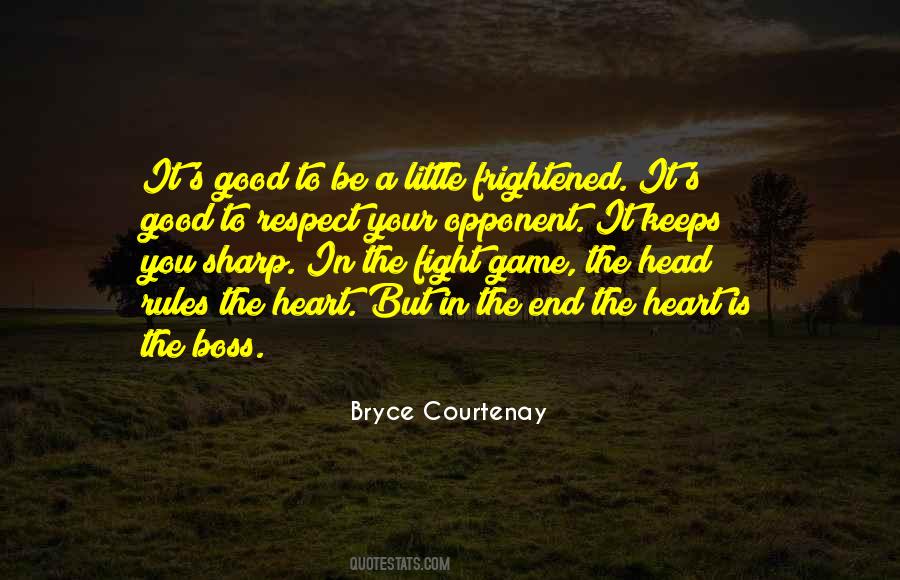 #68. Karate is not about techniques and their execution, but about boldness, integrity and fight for justice and common good - Author: Soke Behzad Ahmadi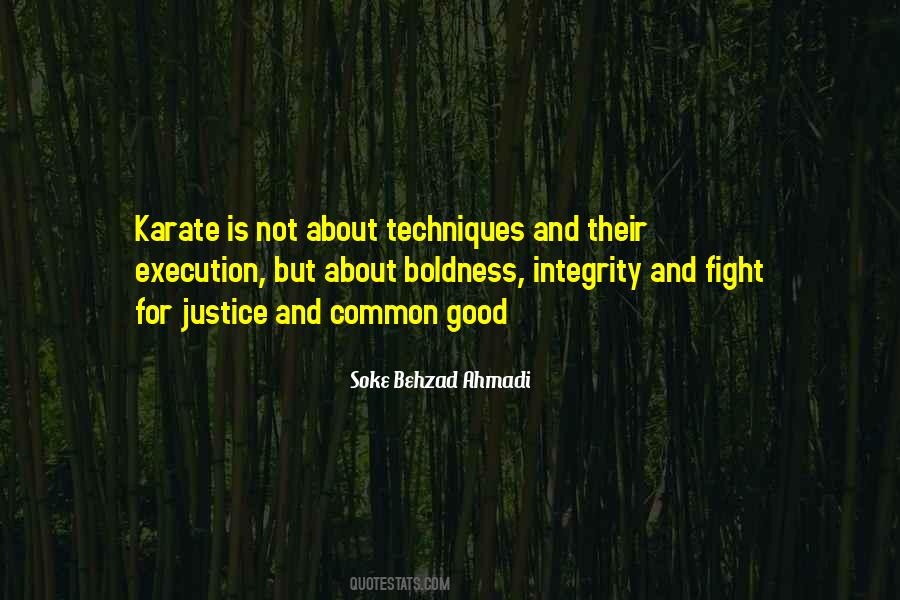 #69. If losing a fight is the worst thing that's ever happened to you in your life, you're doing pretty good. - Author: Randy Couture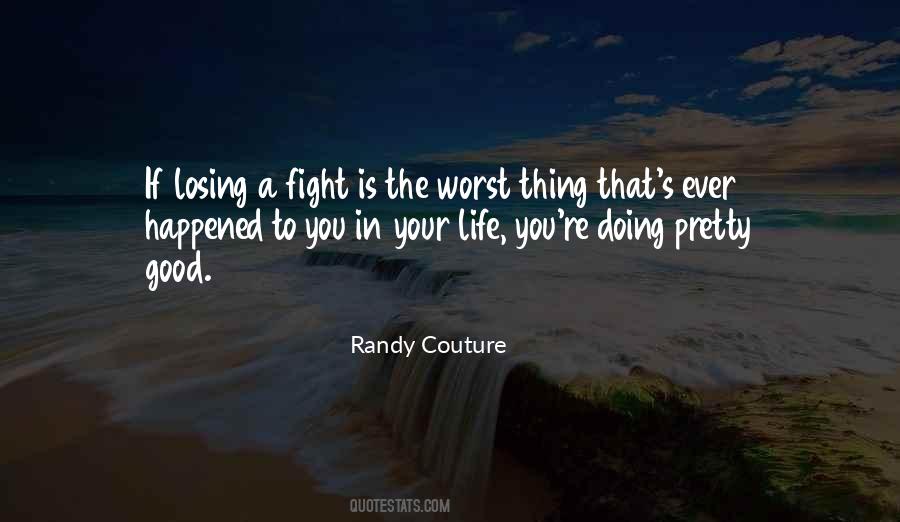 #70. Great presidents don't just fight good fights - they win them. - Author: Rush Limbaugh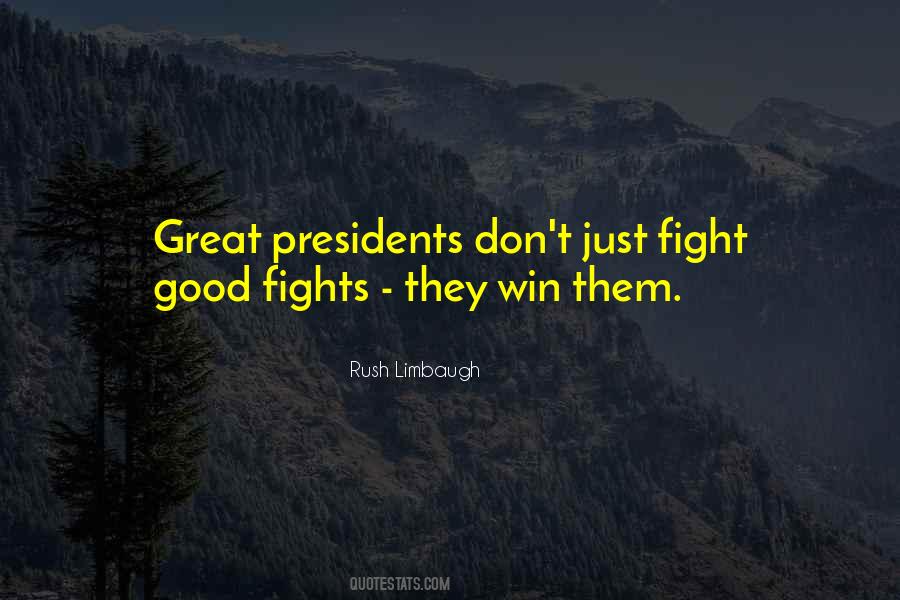 #71. First, I was opposed to gay marriage because it seemed like one more way that gays were wanting to assimilate. When I realized the Christian right was so opposed to it, as well as tyrannical governments in Africa and Russia, I thought, 'It must be a good thing to fight for.' - Author: Edmund White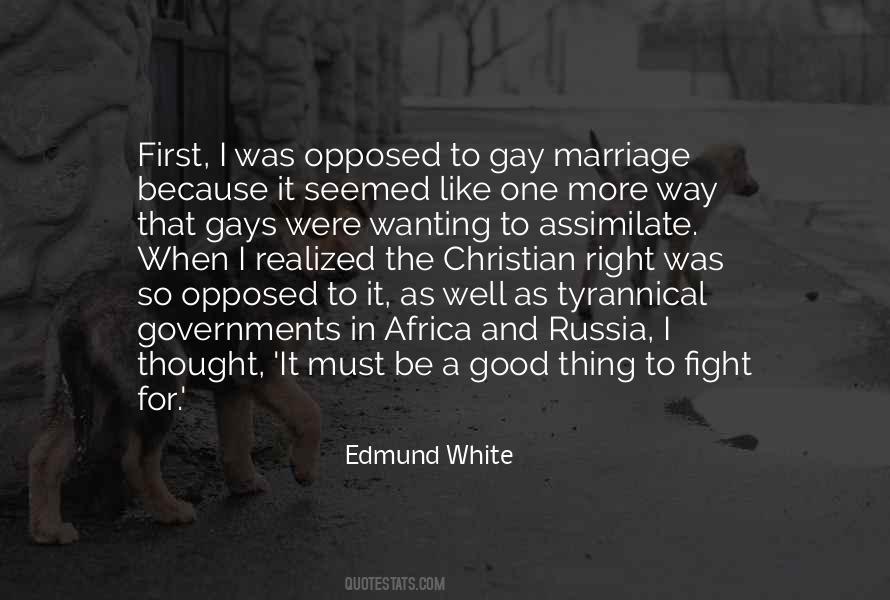 #72. 'The Fight Club' DVD is great. I like anything that has really good extras because as an actor, it's really great to see the behind-the-scenes stuff and see how different actors approach their particular project. - Author: A. J. Cook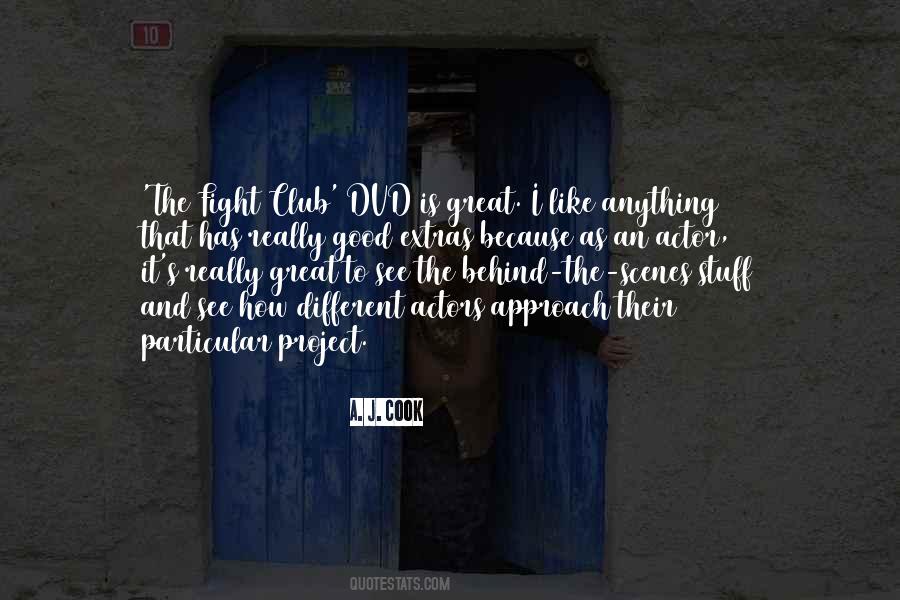 #73. A Marine likes a good fight and respects a good fighter. You've got yourself one fine Marine for an escort and the whole Marine Corps behind you. - Author: Bud Rudesill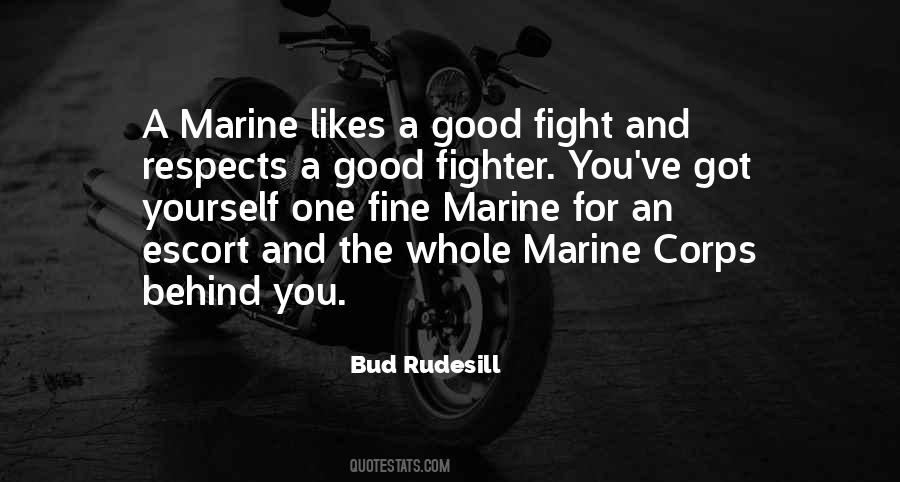 #74. At that time, there was only one thing better that a good fight, and that was having a good fight and getting paid for it. - Author: Stephen Richards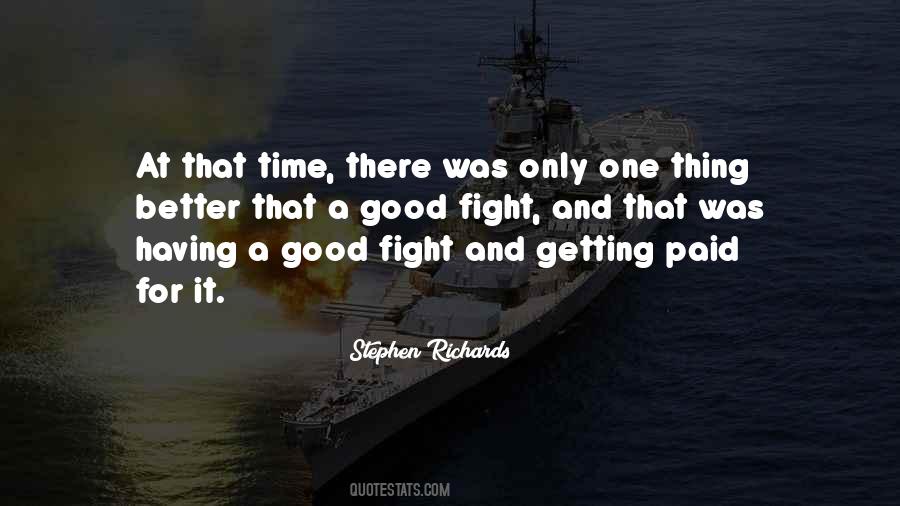 #75. I should move away from his touch. But he's a constant storm in my life, clouding my head, ensuring I make bad decisions. He doesn't do it on purpose, he knows we're not good for each other, but there's something about us that makes us fight back harder, thinking we can overcome it. - Author: Brittany Butler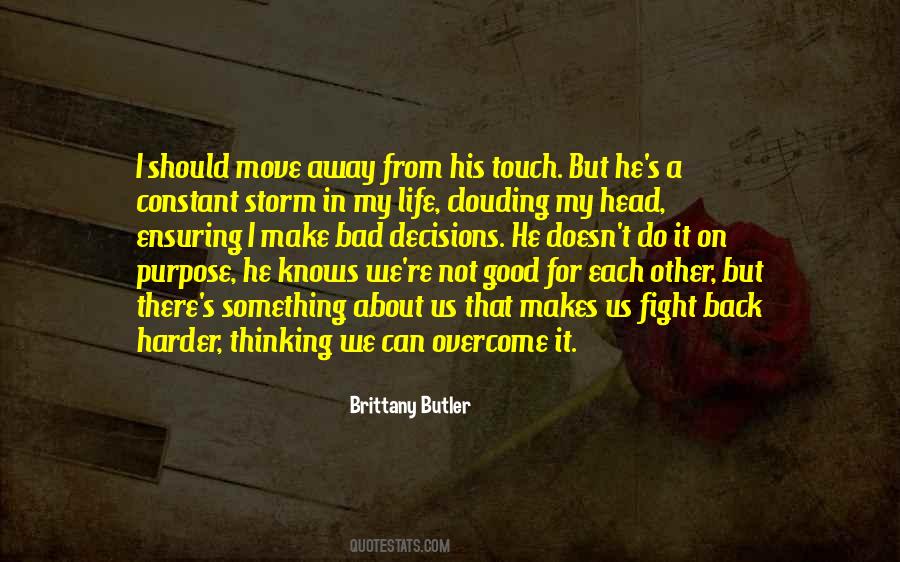 #76. All good things are borne from evil, just like good people. It's very rare that someone does things purely out of the goodness of their heart. Most need something to fight against, something to drive them forward in order to create a light in what will always be a very dark world. - Author: Kevin Reaver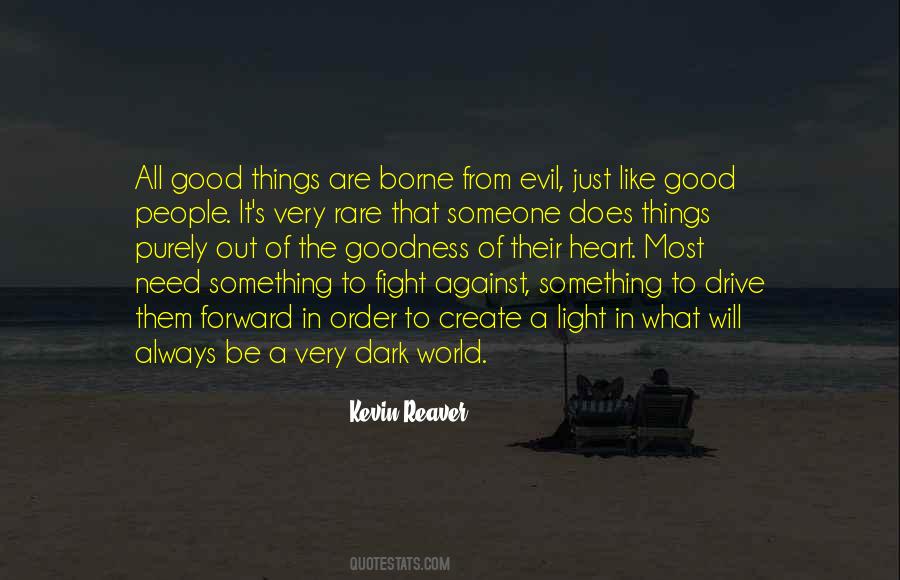 #77. Much of what we call evil can often be converted into a bracing and tonic good by a simple change of the sufferer's inner attitude from one of fear to one of fight - Author: William James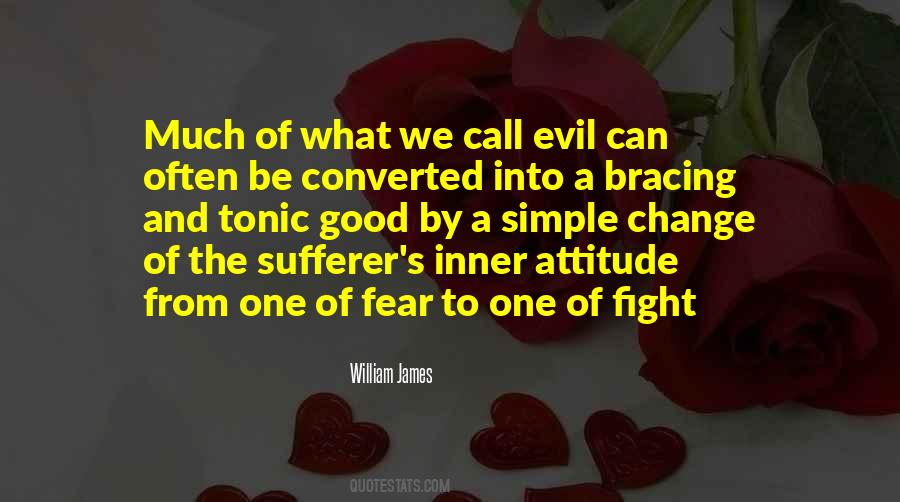 #78. I've got a little fight in me, but I think that's good. - Author: Scott Caan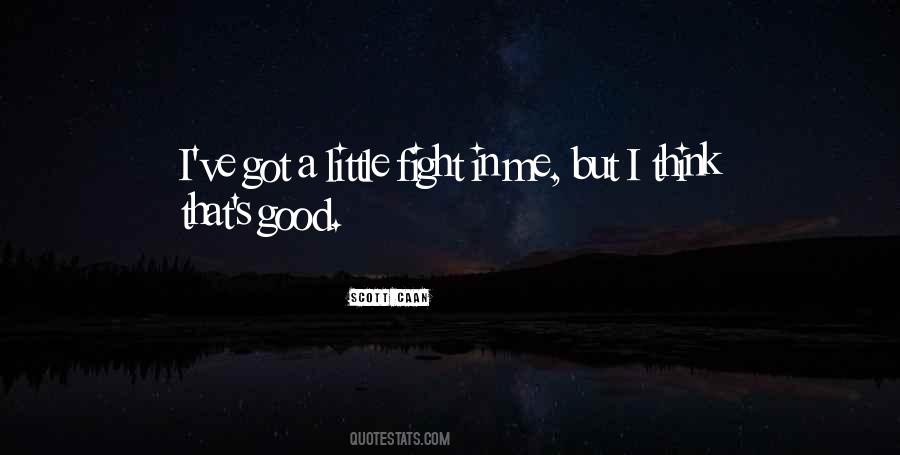 #79. The Americans won't win. They're not fighting for their homeland. They just want to be good. In order to be good, they just have to fight awhile and then leave. - Author: Denis Johnson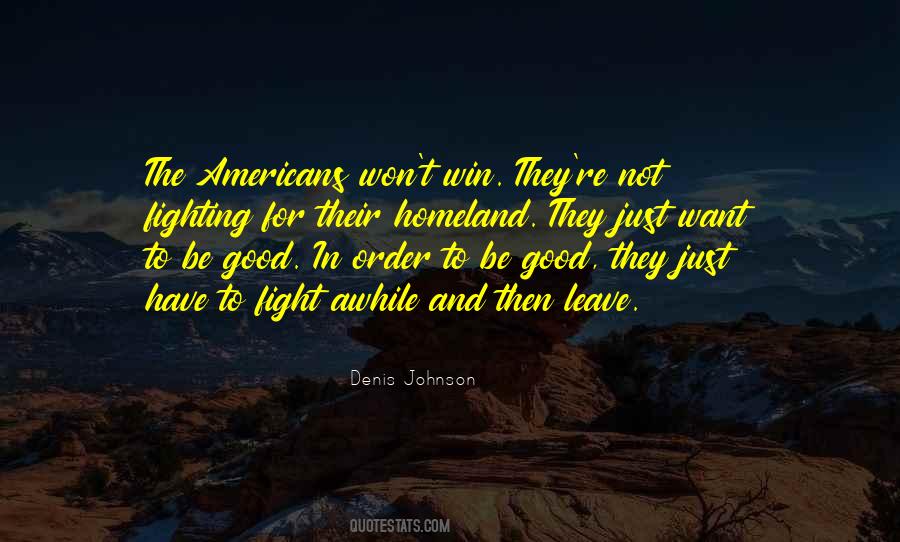 #80. Good stuff doesn't just happen. You have to fight for it. - Author: D.J. MacHale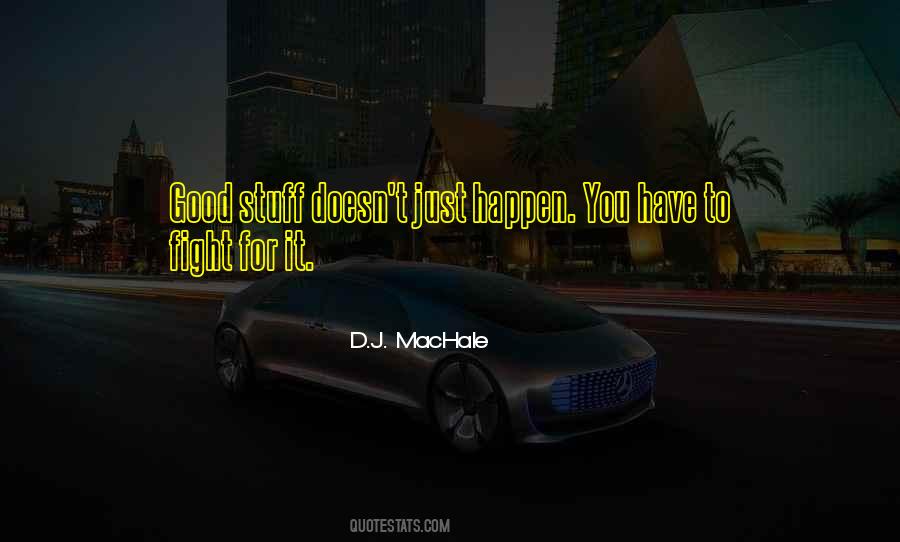 #81. I feel blessed that I managed to fight 46 fights undefeated, that I was a world champion for 11 years, one of the longest reigning champions of all time and I like to think that I come out looking pretty good. - Author: Joe Calzaghe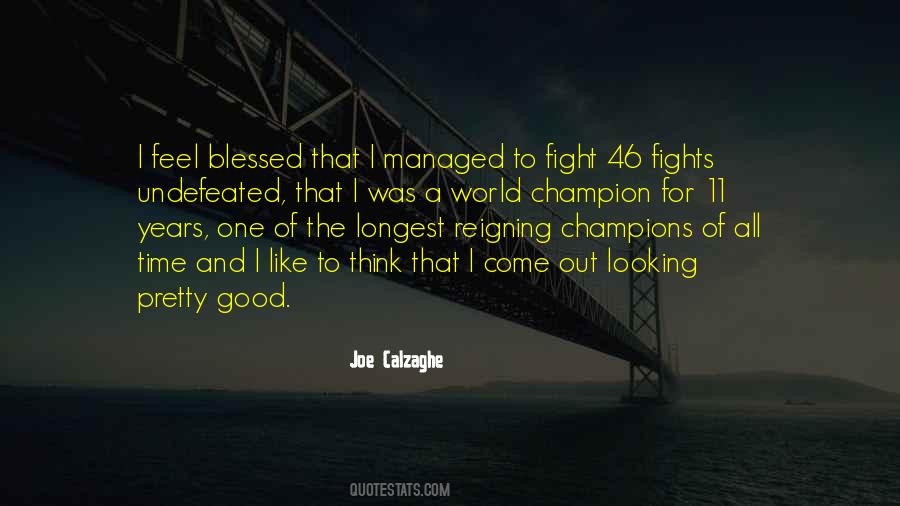 #82. As soon as I get time, I want to start to do some fight training. I tried a little boxing once with my personal trainer back in L.A. - it's such a good workout, and it's a good skill to have, especially in my industry, since sometimes you have to do stunts and fight scenes. - Author: Katia Winter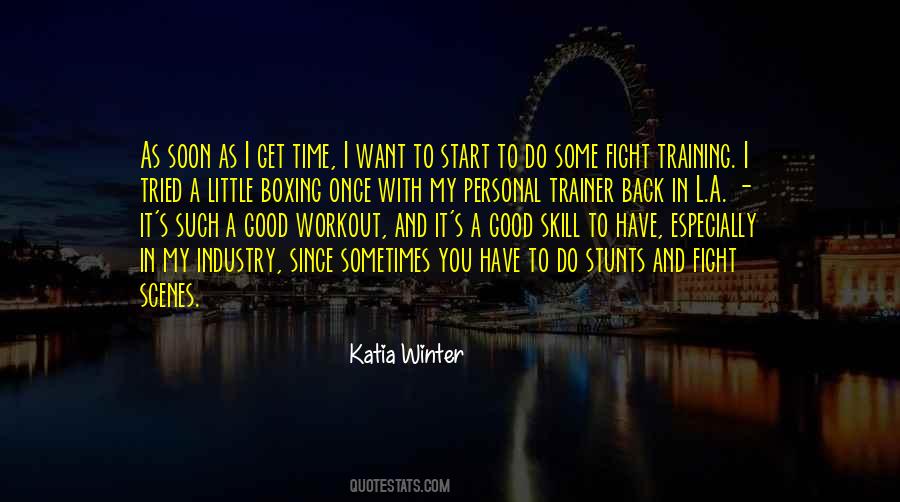 #83. Nothing like ADHD and a good fight to the death to make time fly - Author: Rick Riordan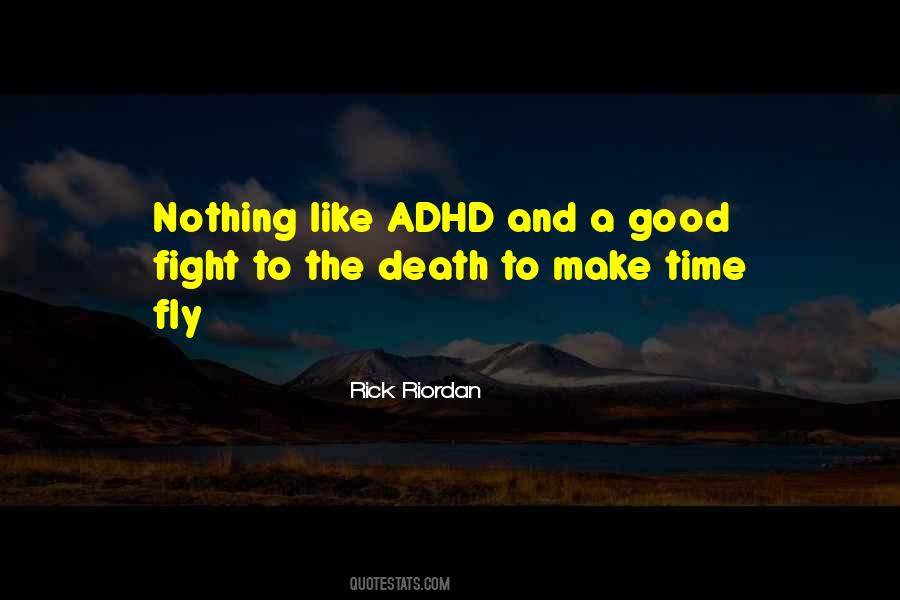 #84. We have been shown how to fight hate without becoming hate ourselves. We have been given a Companion and a Friend and not just a good idea. We have been given joy in the midst of failure, and not just a way of winning or being right. - Author: Richard Rohr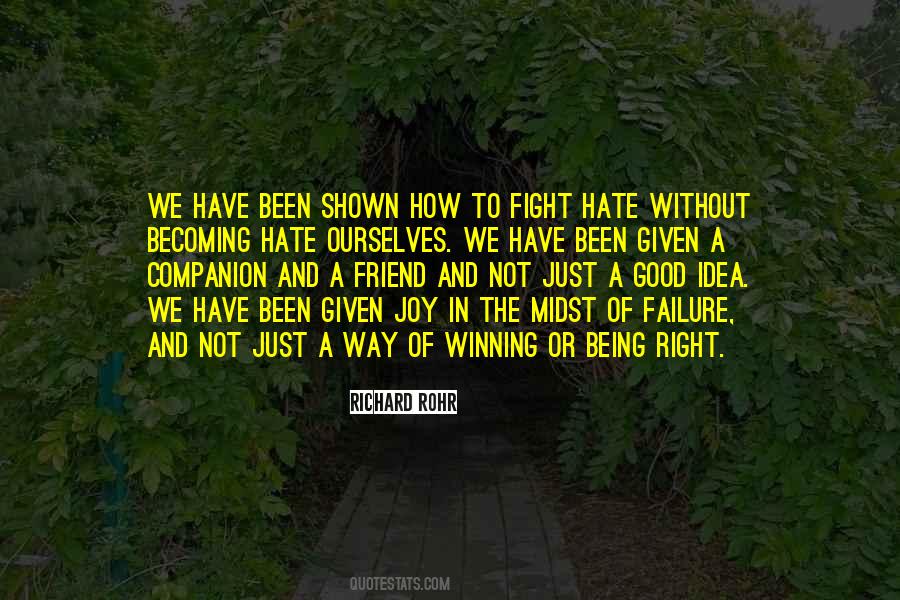 #85. Fight the good fight for the faith; take hold of eternal life, to which you were called and have made a good confession. 1 Timothy 6:12 - Author: Beth Moore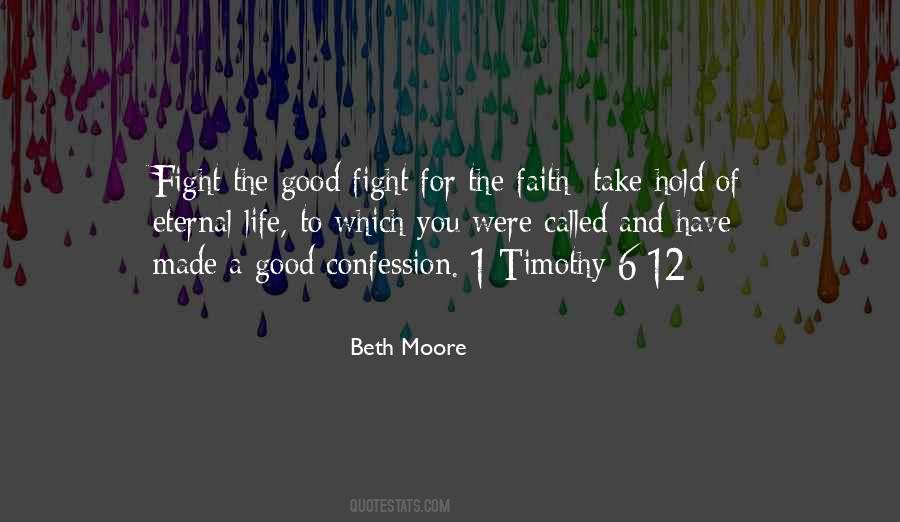 #86. As someone that was a good ambassador of a growing sport, that always wanted to fight the best fighters and always gave the fans the best he could give. - Author: Fedor Emelianenko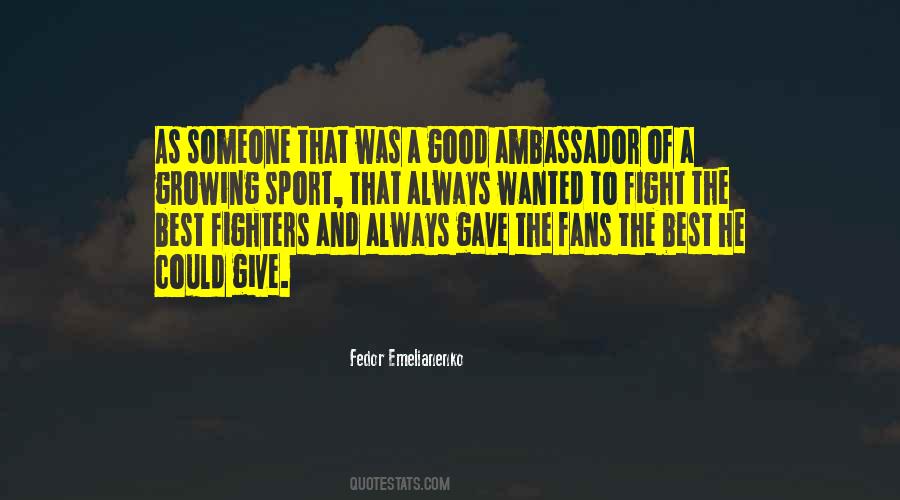 #87. I was not good at the whole making-death-a-positive-transition thing. How could I? I wanted her to fight to the last breath. It was a mistake. I should have listened to her fear, comforted her. Instead I'd promised her that everything would be okay, that she would heal. - Author: Kristin Hannah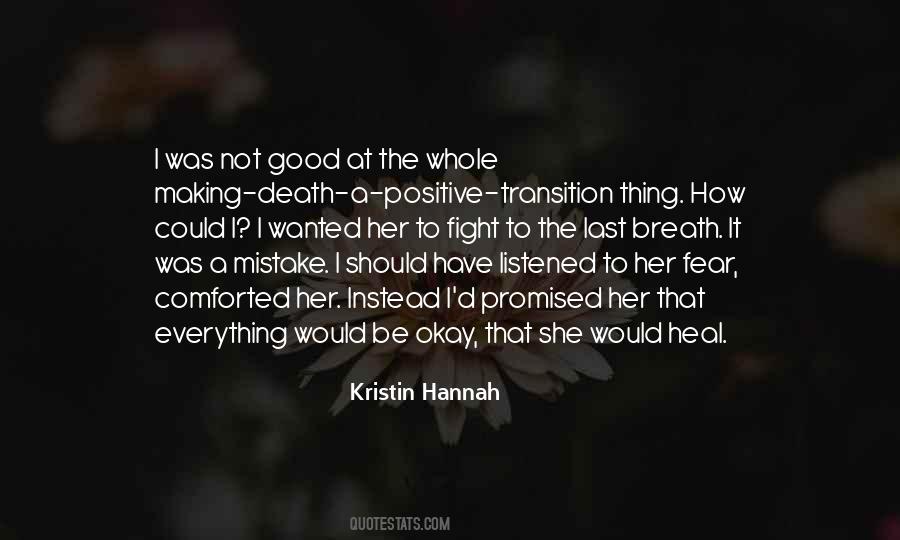 #88. For it is likely that if a city of good men came to be, there would be a fight over not ruling, just as there is now over ruling; and there it would become manifest that a true ruler really does not naturally consider his own advantage but rather that of the one who is ruled. - Author: Plato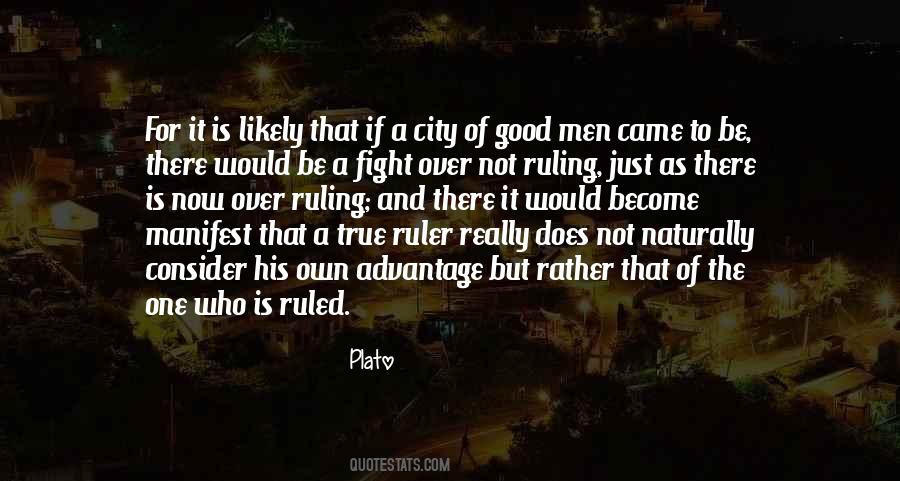 #89. Something must be wrong with me to stop a good girl-on-girl fight - Author: P.C. Cast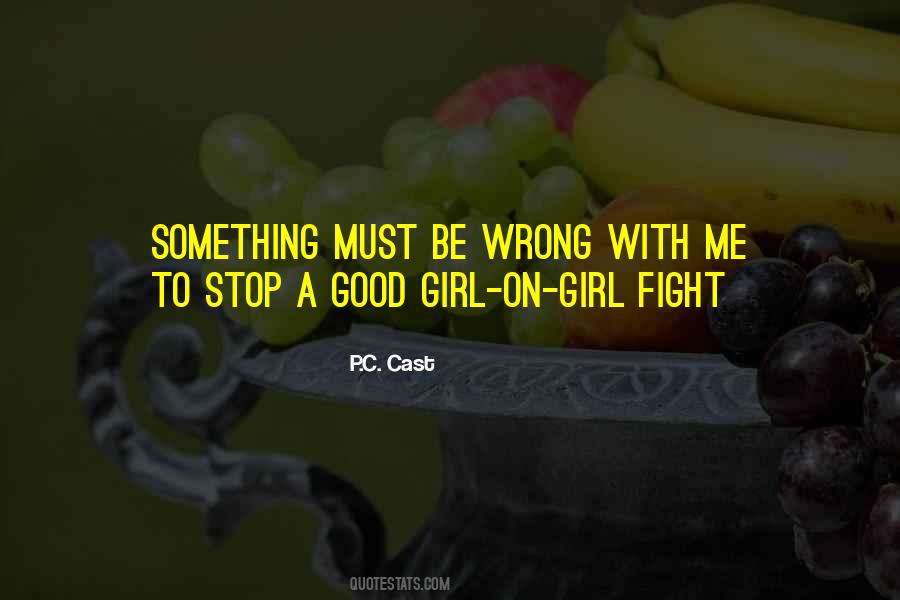 #90. Politically, I thought [Margaret Thatcher] stank. I think she had a real fight on her hands to get where she got, but I don't believe that her conviction was for the greater good. - Author: Andrea Riseborough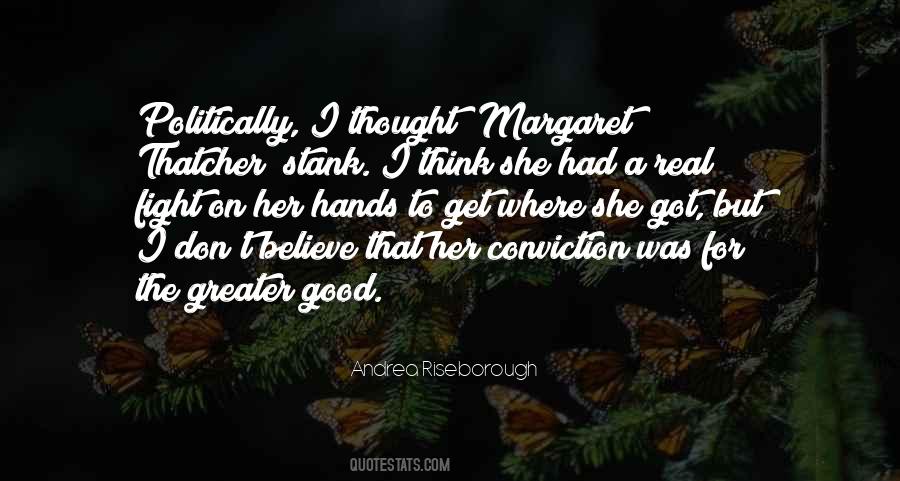 #91. But I have learned something good about myself. I can stand up to people who have more power than I do, and fight for what I believe in. - Author: Anne Perry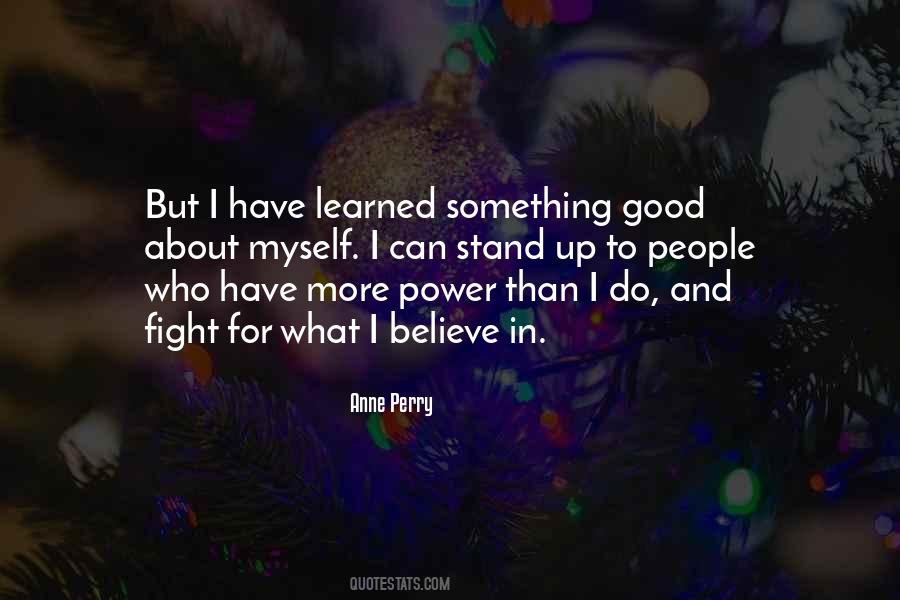 #92. A tough fight against evil is the duty of good man. - Author: Khem Veasna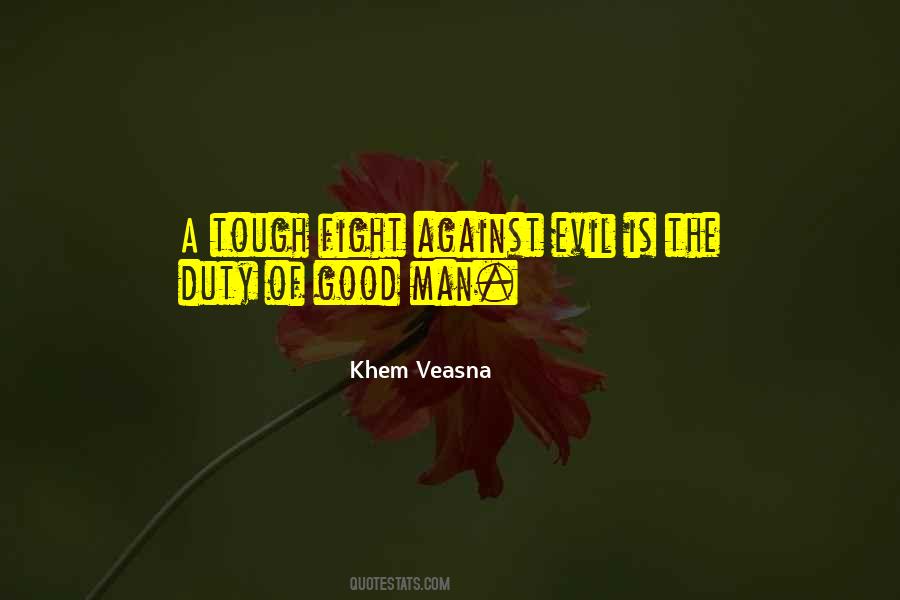 #93. The Good Fight is the one that we fight in the name of our dreams. - Author: Paulo Coelho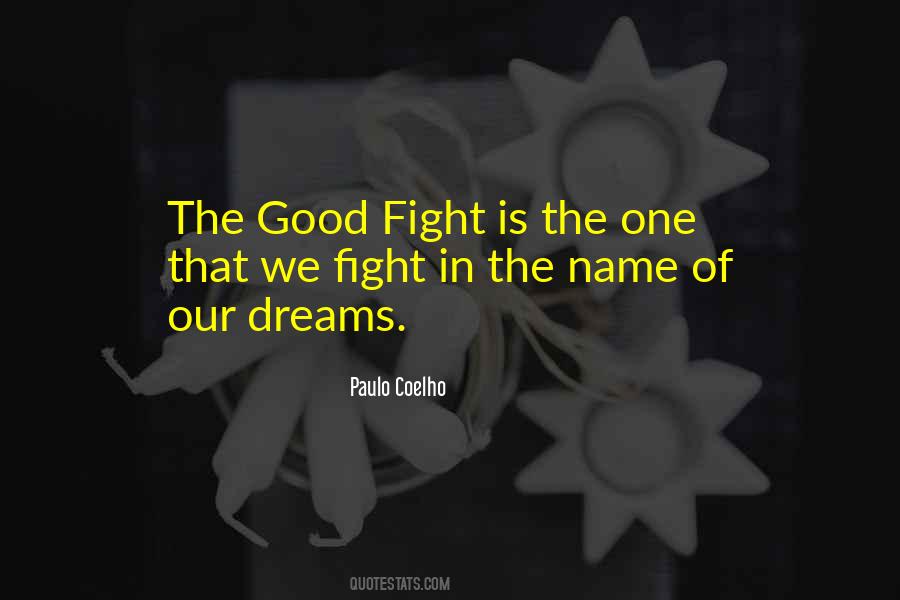 #94. Fight the good fight of faith, and God will give you spiritual mercies. - Author: George Whitefield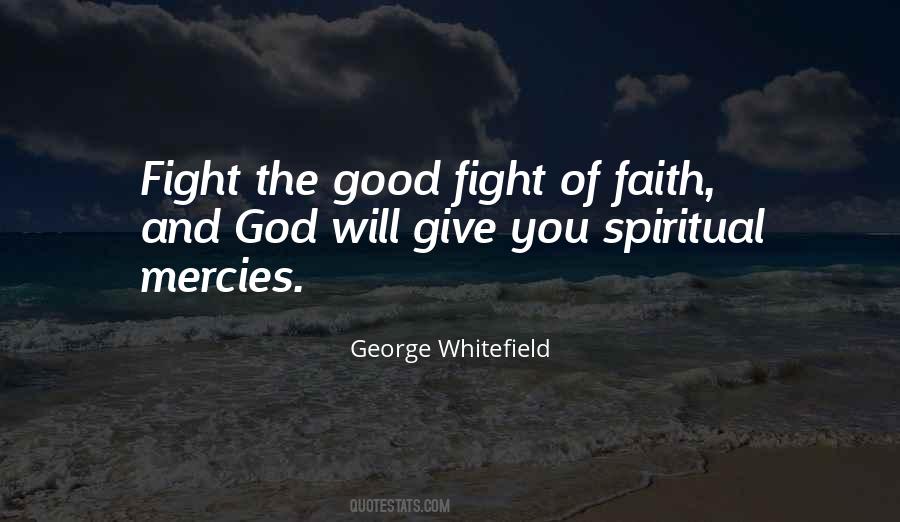 #95. It's something that I think I'm going to have to fight against for most of my career, for people to take me seriously as an actor as opposed to a good-looking guy. It's not what I want to be known as. - Author: Armie Hammer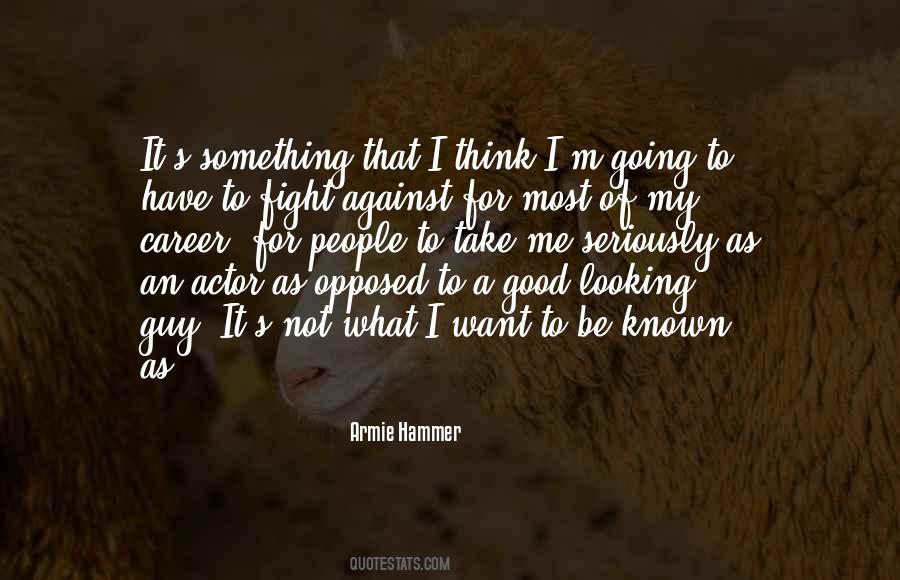 #96. We need intelligence services to fight against terrorism, but they have to respect the principles of good relationships between allies and protect personal, confidential data. - Author: Francois Hollande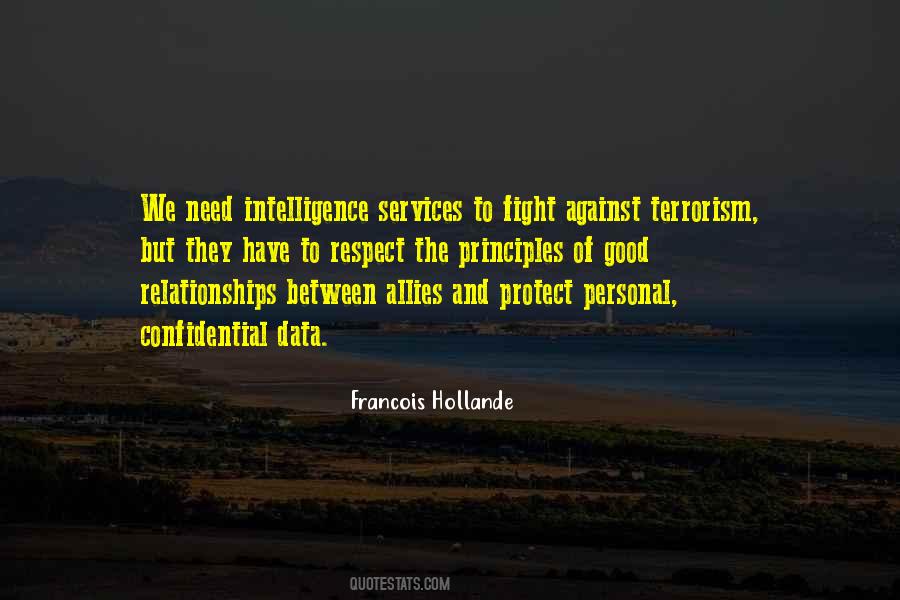 #97. We can see clearly that the end of following Christ wholeheartedly is to share, very possibly, in his very end. We can have great confidence that multitudes of fellow pilgrims have won the contest, fought the good fight, and endured martyrdom before the watching hosts of heaven. - Author: Greg Gordon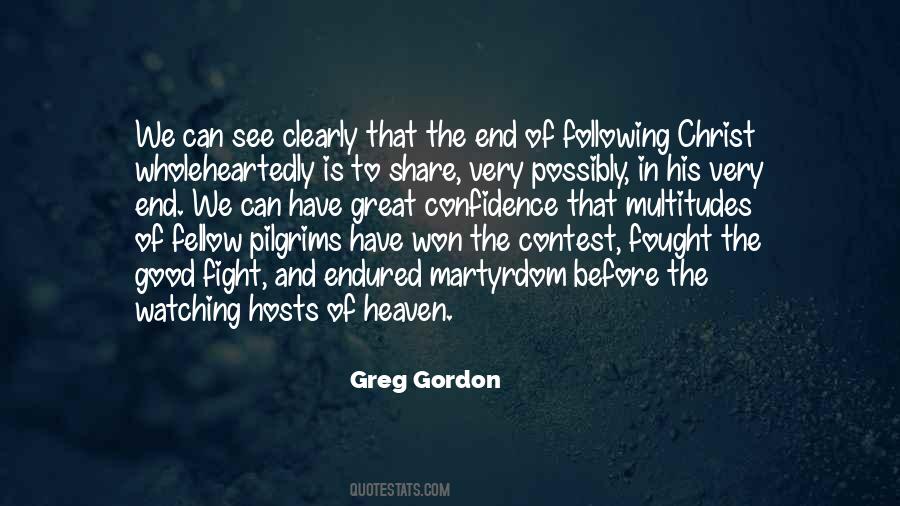 #98. I WANT to be a saint. I want to save souls by the millions. I want to do good far and wide. I want to fight evil! I want my life-sized statue in every church. I'm talking six feet tall, blond hair, blue eyes-.
Wait a second.
Do you know who I am? - Author: Anne Rice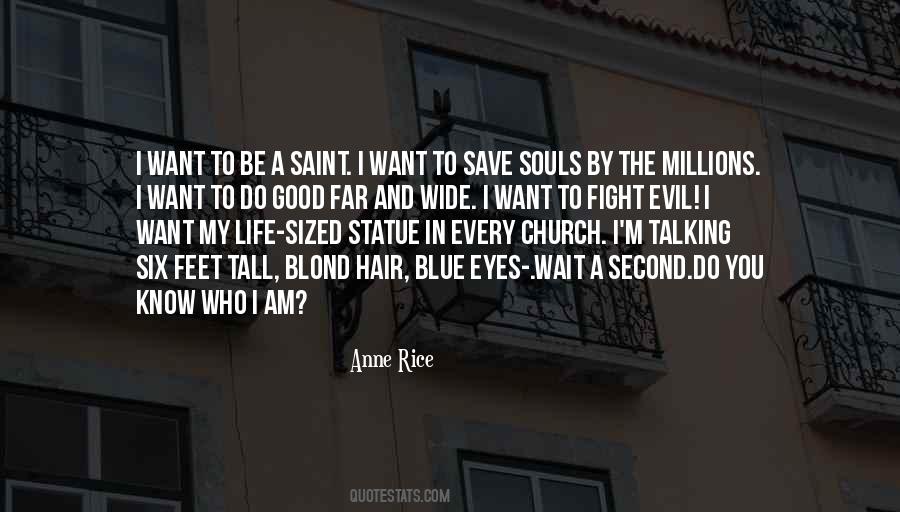 #99. My concern is what fight we can give to the fans. My first concern as a boxer is to try hard and give a good fight for the fans. - Author: Manny Pacquiao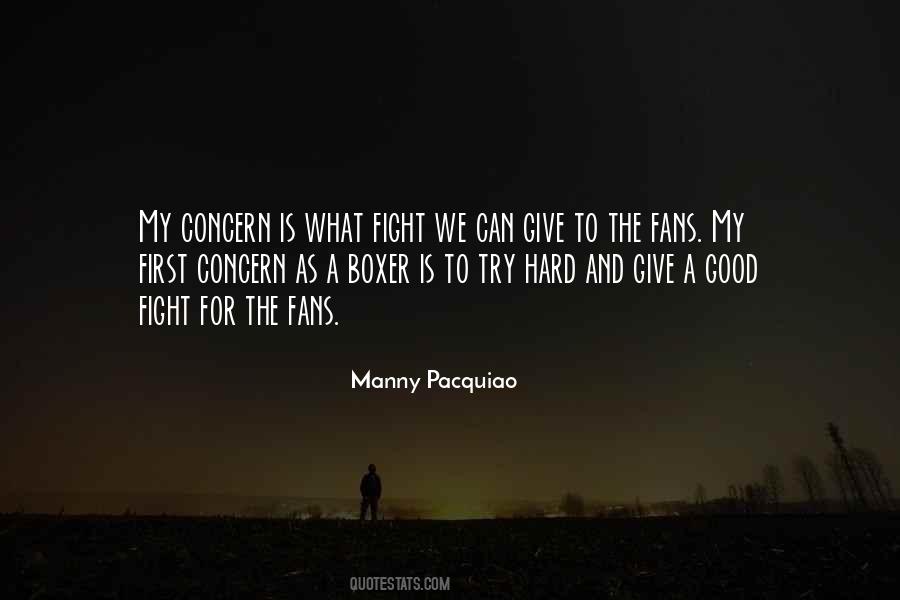 #100. Certainly, my father would not want to see me destroy myself in this business, as so many people in our family have been destroyed. I try to take good care of myself, but we are fighting the good fight, and the truth is powerful. - Author: Sam Sheppard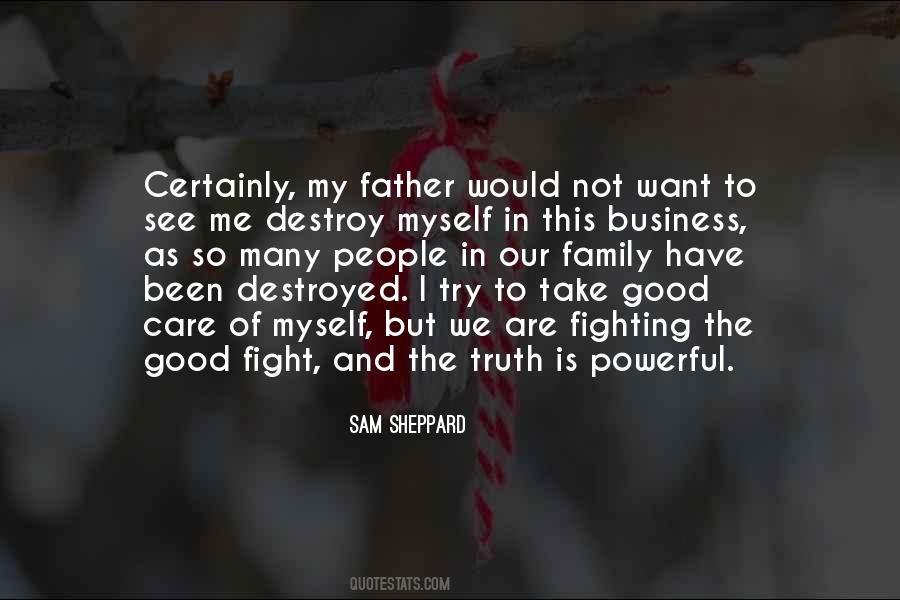 Famous Authors
Popular Topics