God Conversation Famous Quotes & Sayings
List of top 92 famous quotes and sayings about god conversation to read and share with friends on your Facebook, Twitter, blogs.
Top 92 God Conversation Quotes
#1. The most holy and necessary practice in our spiritual life is the presence of God. That means finding constant pleasure in His divine company, speaking humbly and lovingly with him in all seasons, at every moment, without limiting the conversation in any way. - Author: Brother Lawrence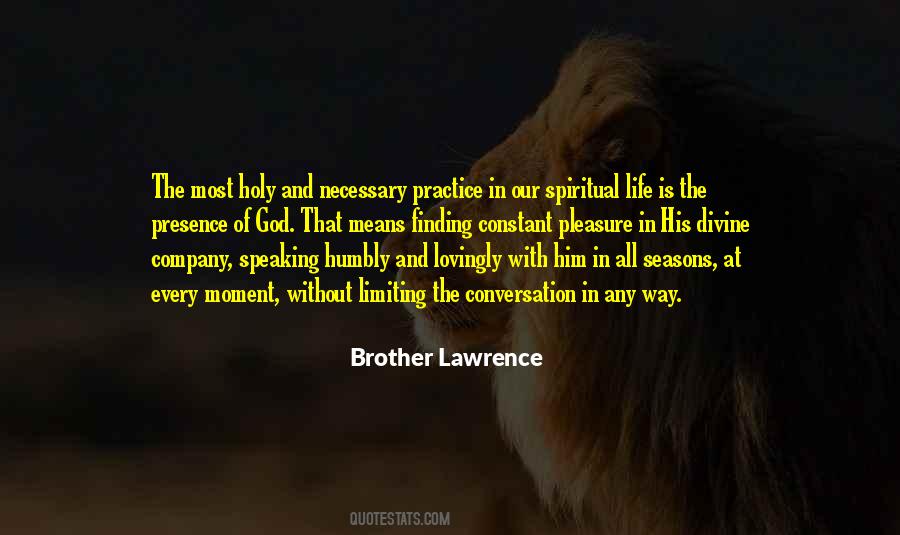 #2. Start today by practicing constant conversation with God and continual mediation on his Word. Prayer lets you speak to God; mediation lets God speak to you. - Author: Rick Warren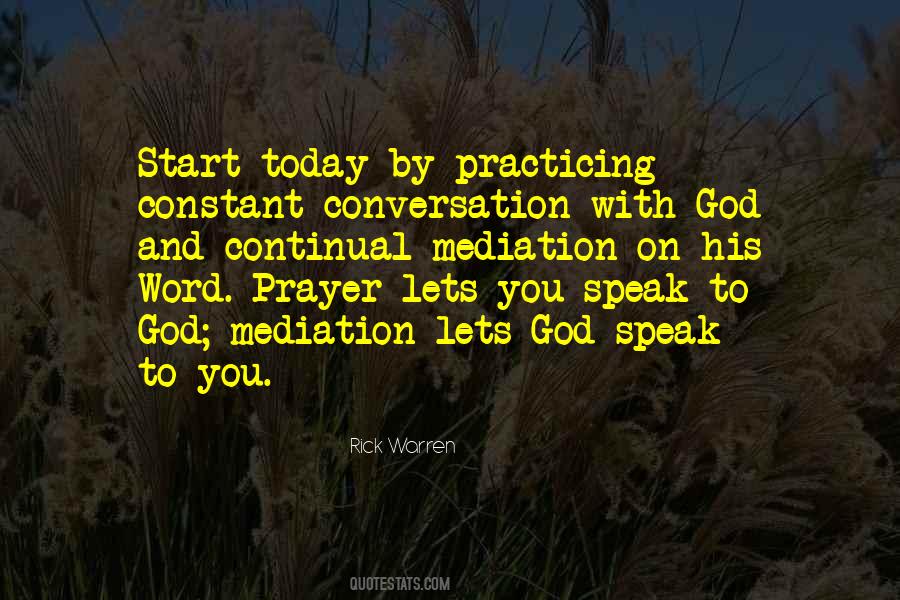 #3. When you're connected to a source and to each other through conversation, through making love, through meditation, playing games with your kids, all that stuff, then your self-esteem's going to go up. - Author: Jack Canfield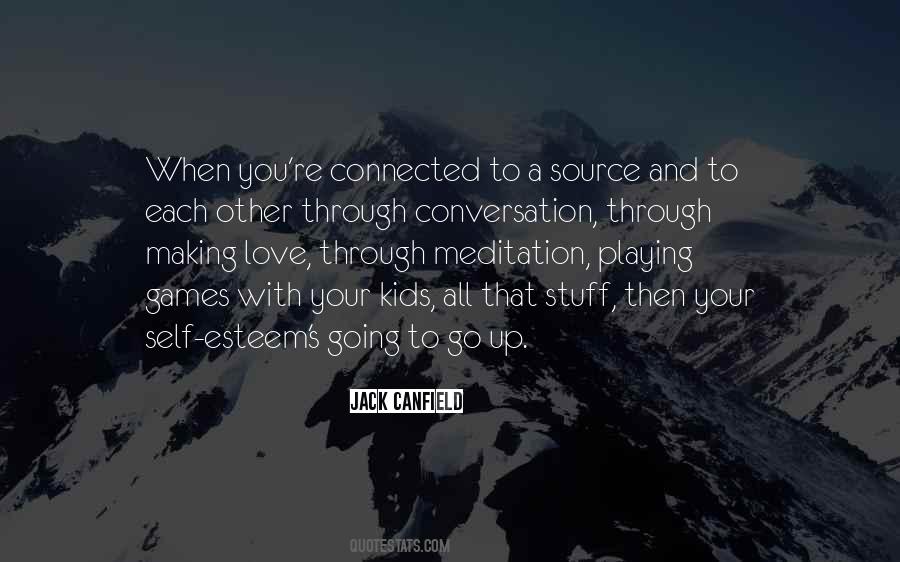 #4. As with most great communicators, God knows that the point of silence and the pause between sentences is not to give the audience the chance to fill the silence with empty babbling but to help create more depth to the conversation. - Author: Renita J. Weems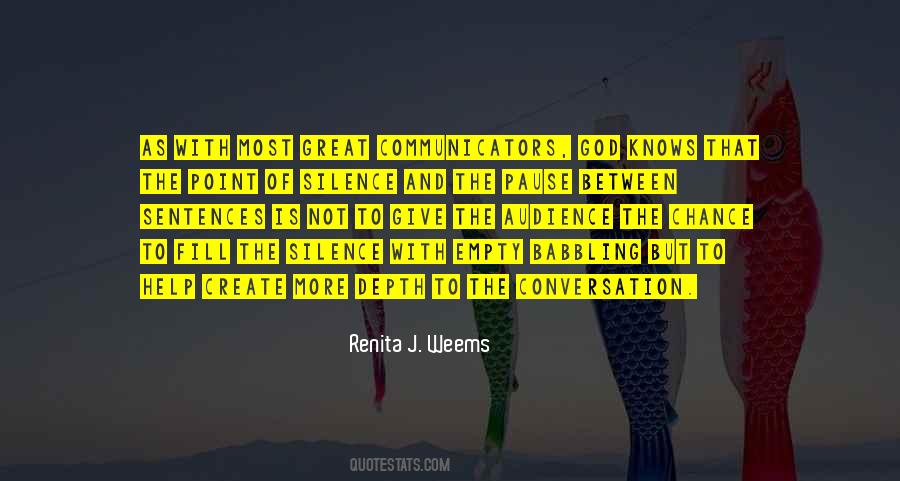 #5. Coaching is a non-directive conversation in which the coach asks a person questions to prompt reflection into what God is saying to that person. The coaching process empowers the person to develop custom solutions for his or her problems or goals. - Author: Keith Webb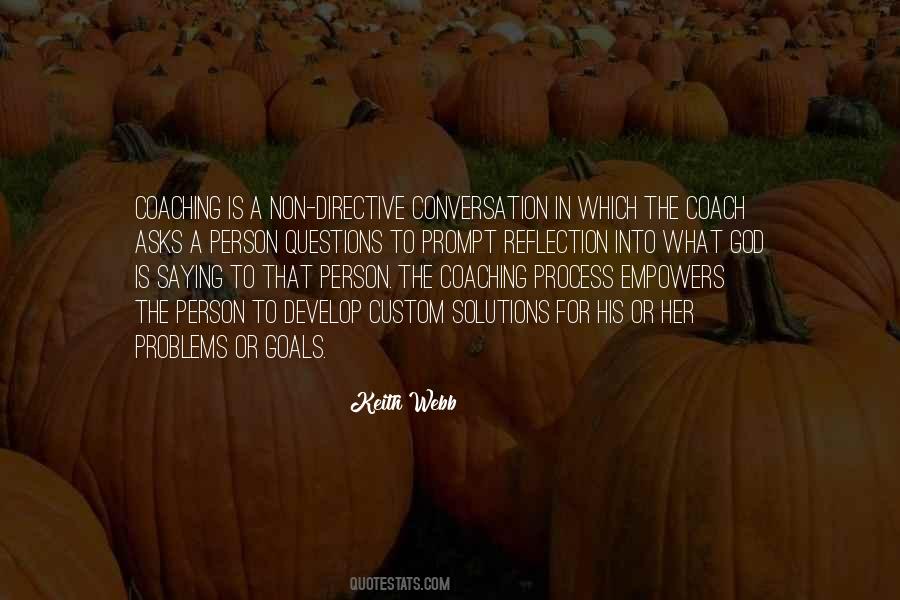 #6. If we're constantly trying to do the right things and spend much of our time helping others, then we're having a conversation with God and we don't even realize it. - Author: Ron Baratono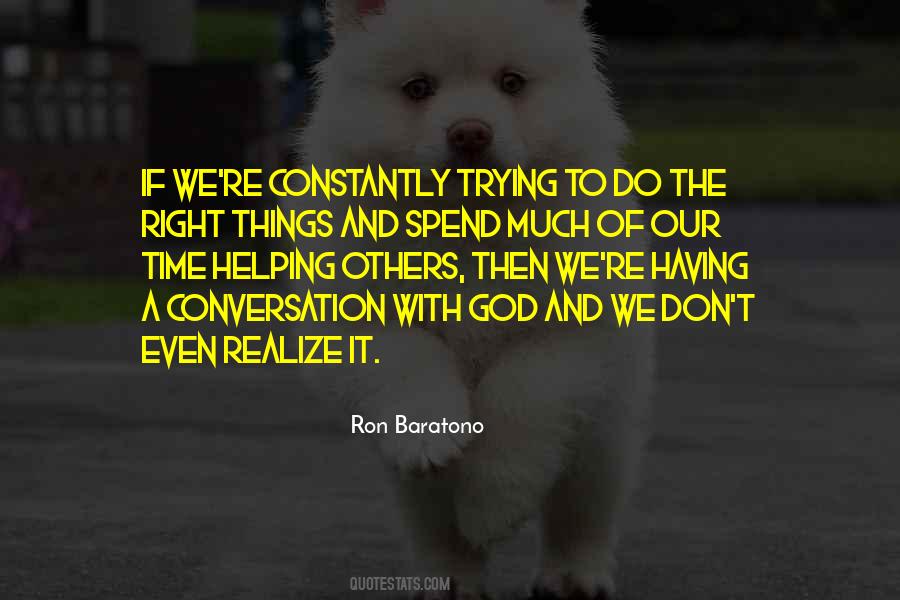 #7. Just ended a conversation with one of America's most famous atheists with "God bless you." Couldn't help it. And I meant it. And he knew it. - Author: Albert Mohler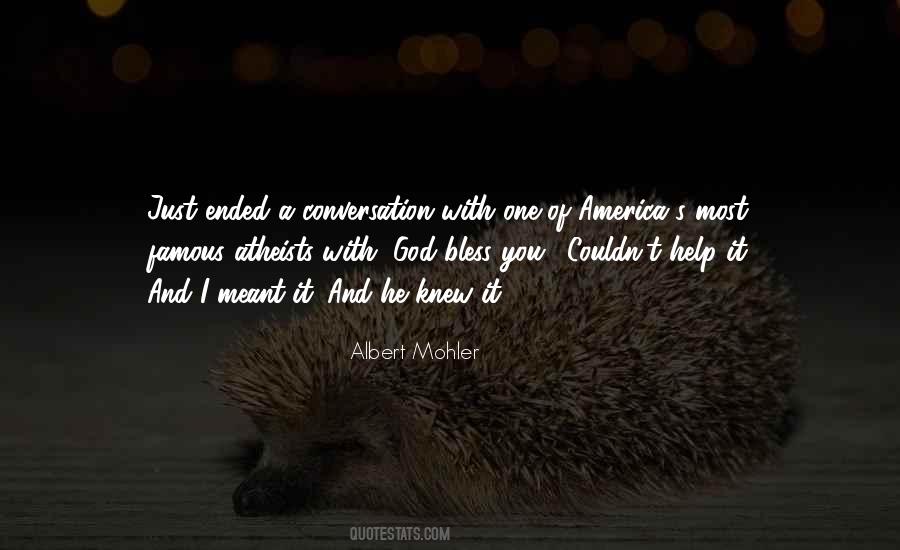 #8. I have always been astonished that women were allowed to enter churches. What conversation can they possibly have with God?
The eternal Venus (caprice, hysteria, fantasy) is one of the seductive forms of the Devil. - Author: Charles Baudelaire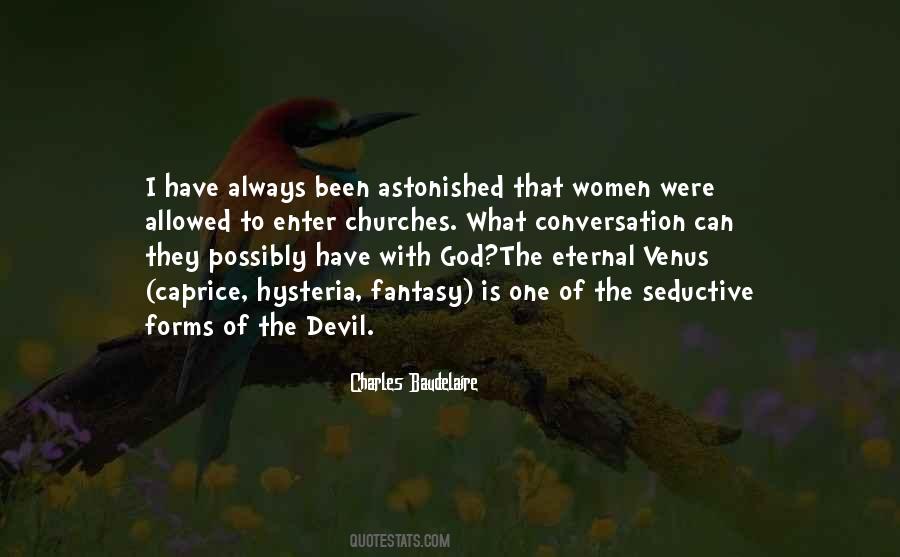 #9. In all conversation between two persons, tacit reference is made, as to a third party, to a common nature. That third party or common nature is not social; it is impersonal; is God. - Author: Ralph Waldo Emerson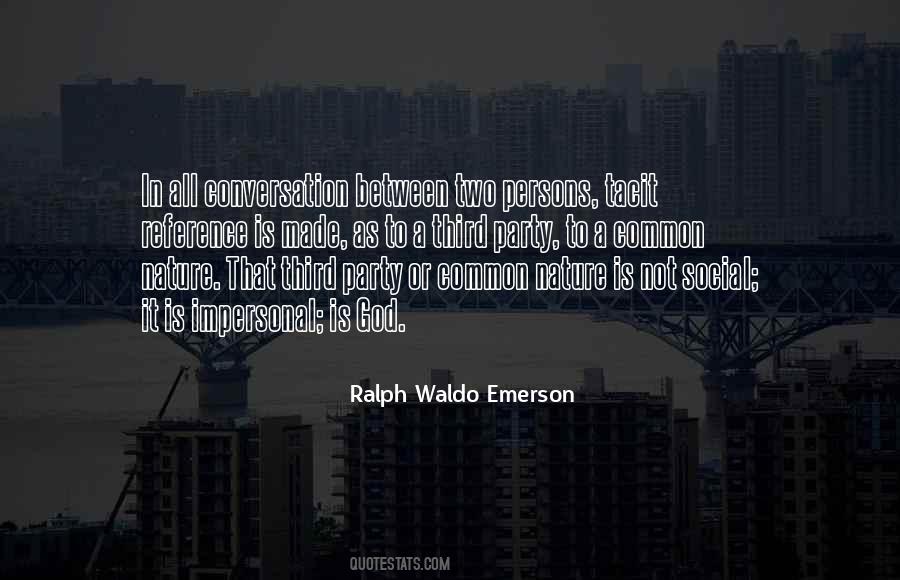 #10. There's no greater lifestyle and no greater happiness than that of having a continual conversation with God. - Author: Brother Lawrence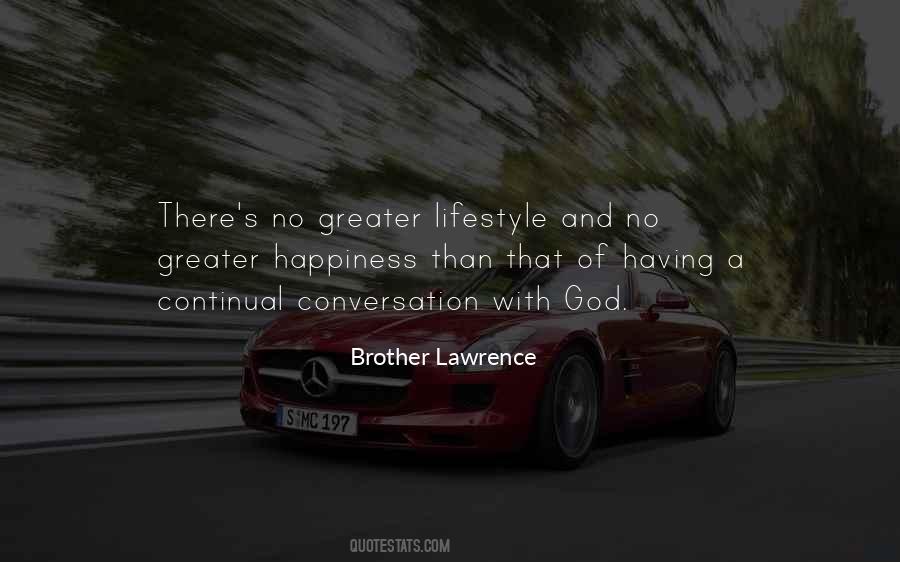 #11. Our daily conversation when we meet each other, whether it be in the office or on the campus or in the shop, should be concerned with the things of God. - Author: Billy Graham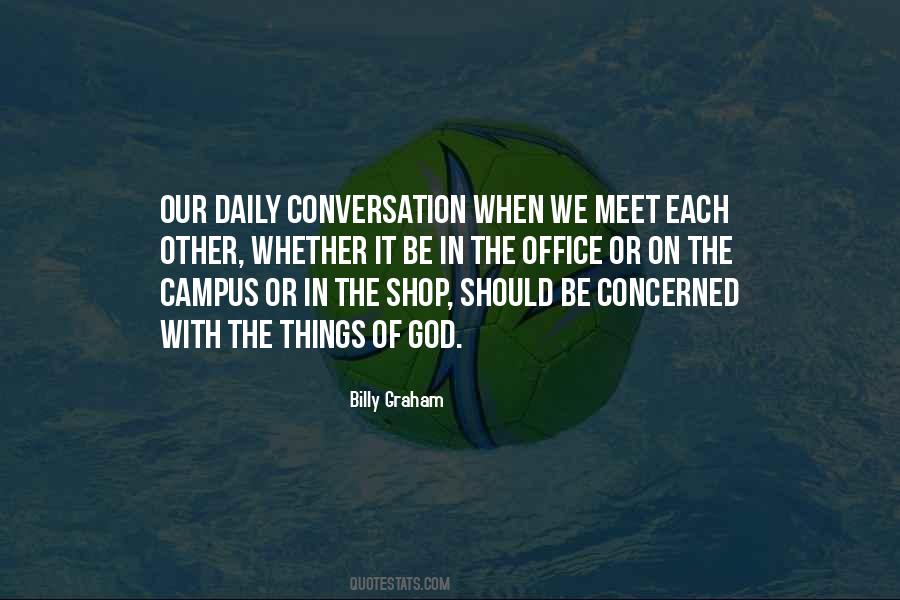 #12. Renew every day your conversation with God: Do this even in preference to eating. Think more often of God than you breathe. - Author: Epictetus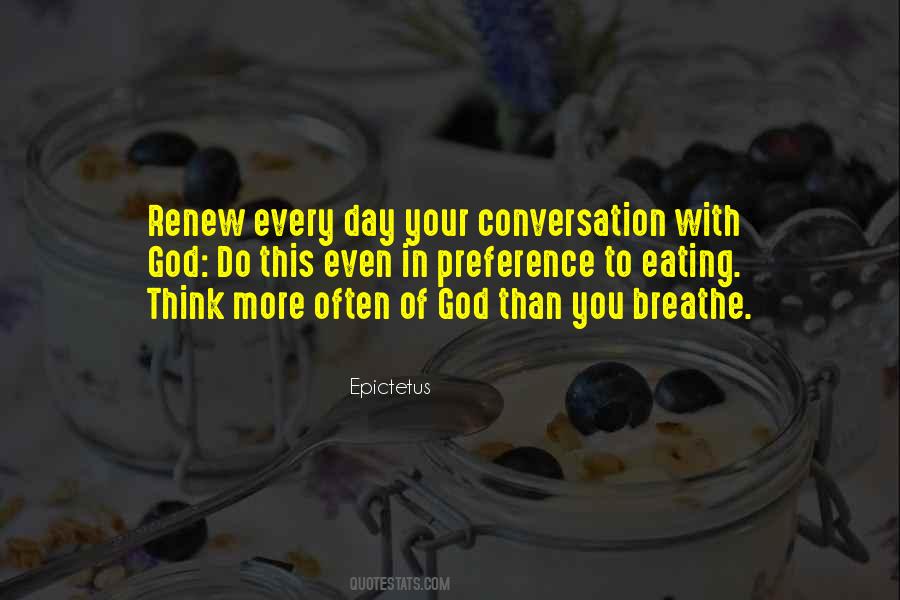 #13. I consider myself a religious person. God is something very personal with me and I don't flaunt religion in conversation with others. - Author: Richard Chamberlain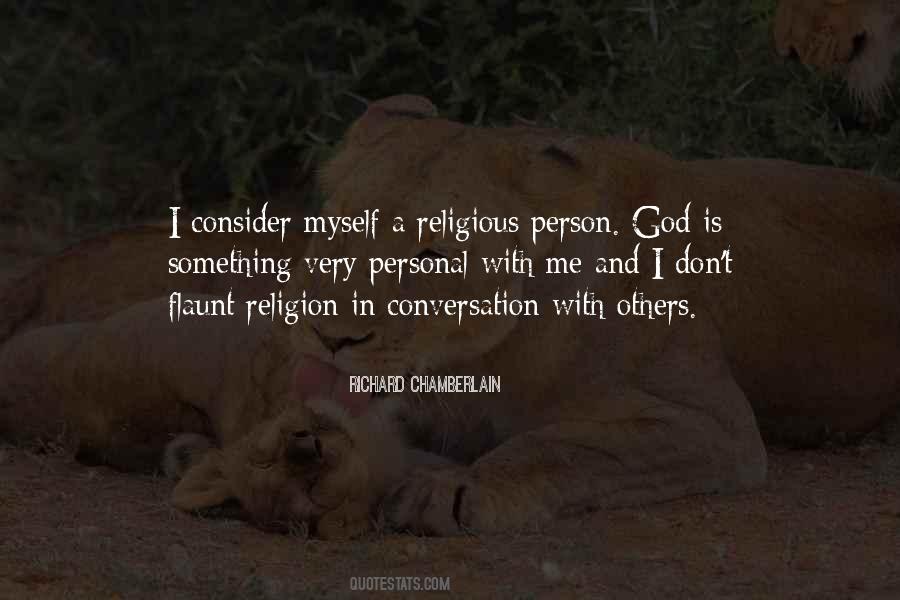 #14. I'm thankful to have Jesus as my Savior. My relationship with God has always been one to where I'm talking to him all day, every day, about anything and everything. It's just a continuous ongoing conversation that I have with the Lord, and I feel like that's brought me closer to Him. - Author: Josh Turner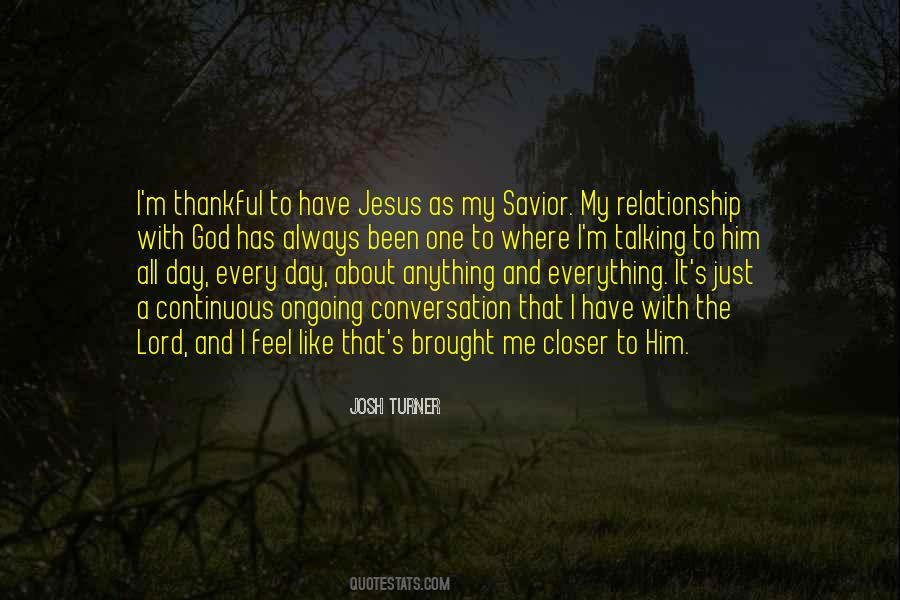 #15. In God's intention, a meet and happy conversation is the chiefest and noblest end of marriage. - Author: John Milton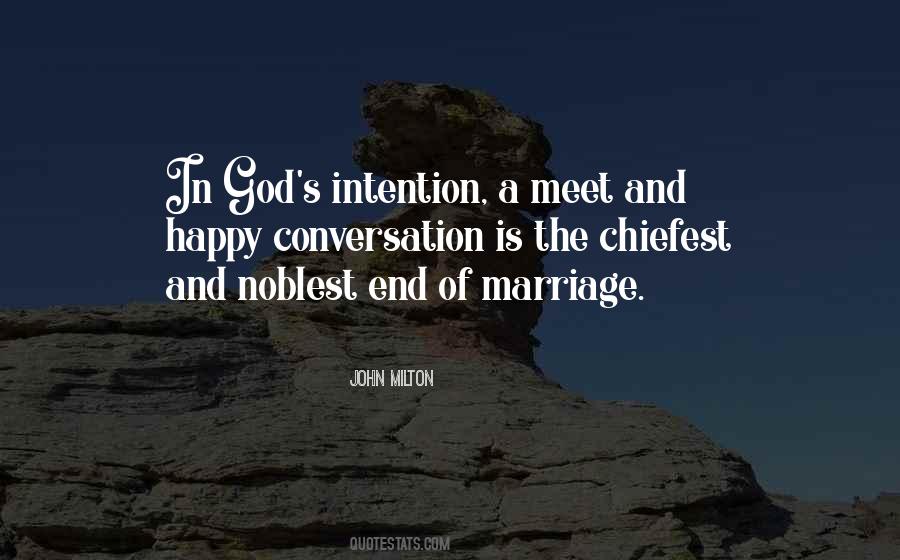 #16. When music is allowed to take the place of devotion and prayer, it is a terrible curse. Young people assemble together to sing, and, although professed Christians, frequently dishonor God and their faith by their frivolous conversation and their choice of music. - Author: Ellen G. White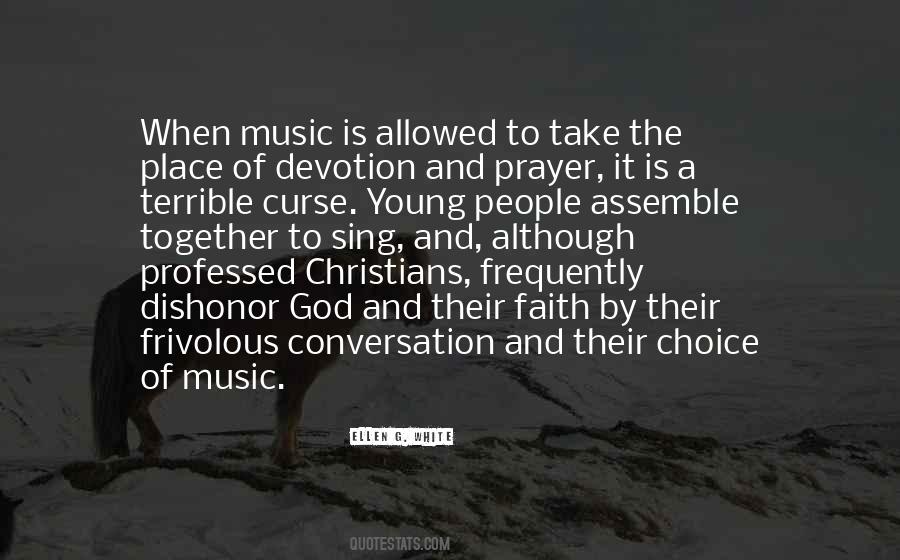 #17. LIII.
What is the holiness of conversation?
It is
to master death. - Author: Anne Carson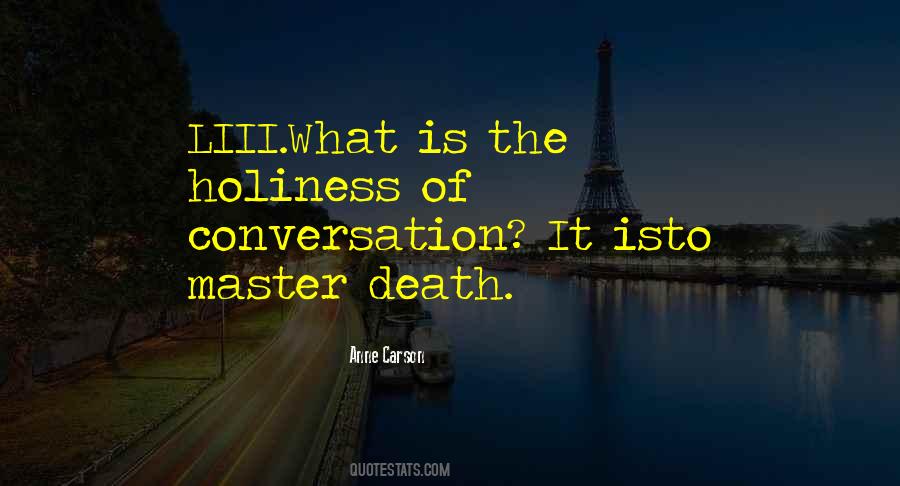 #18. Normally Connor would walk away from a conversation like this. His life is about tangibles: things you can see, hear and touch. God, souls, and all that has always been like a secret in a black box he couldn't see into, so it was easier just to leave it alone. Only now, he's inside the black box. - Author: Neal Shusterman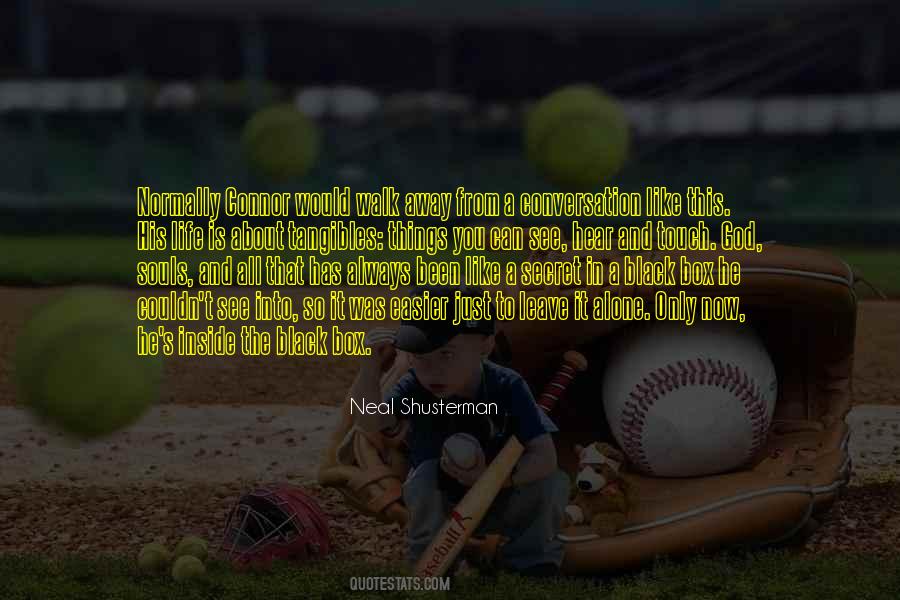 #19. God knew where he was, but he asked so as to start a conversation with Adam and avoid startling him too much to reply. - Author: Rashi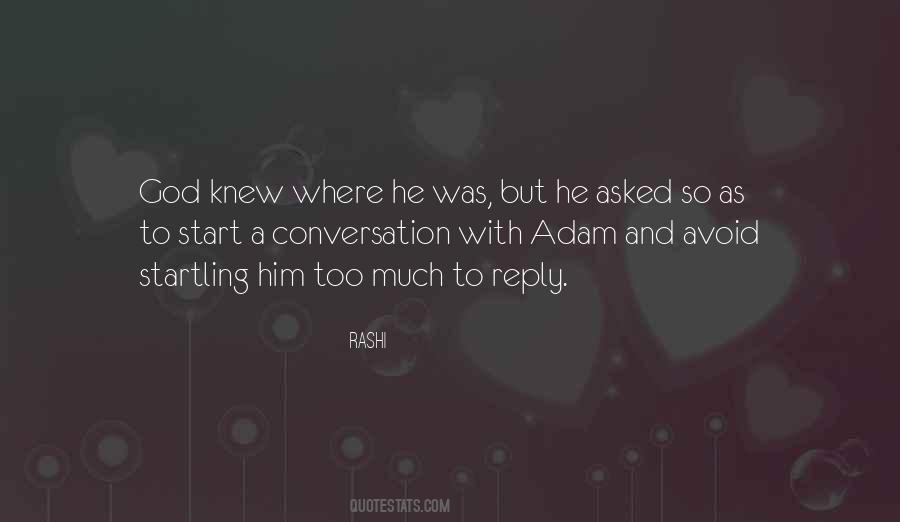 #20. Prayer is inward communication with yourself; action is outward conversation with God. - Author: Steve Maraboli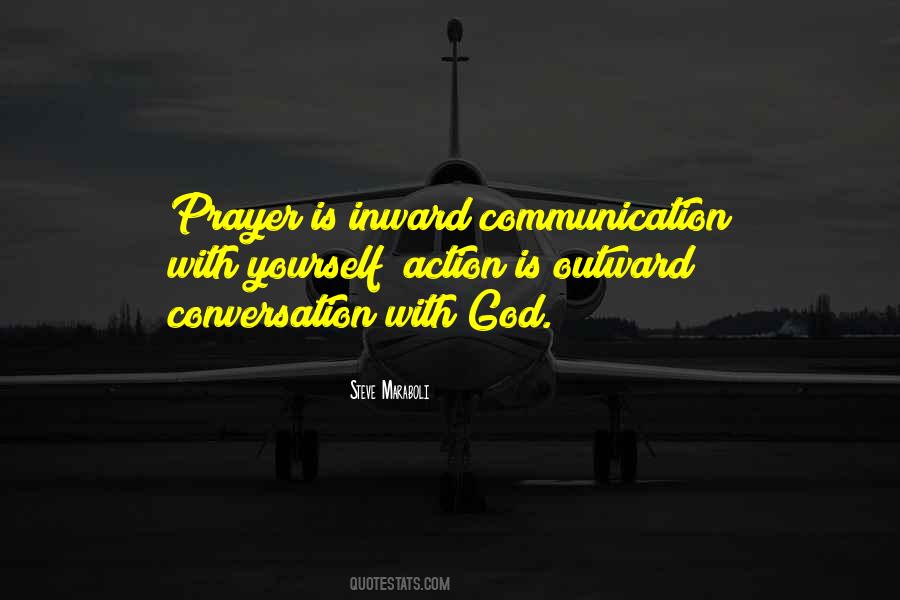 #21. Prayer is not about informing or persuading God but about connecting with Him in relationship. He is looking for conversation and dialogue with - Author: Mike Bickle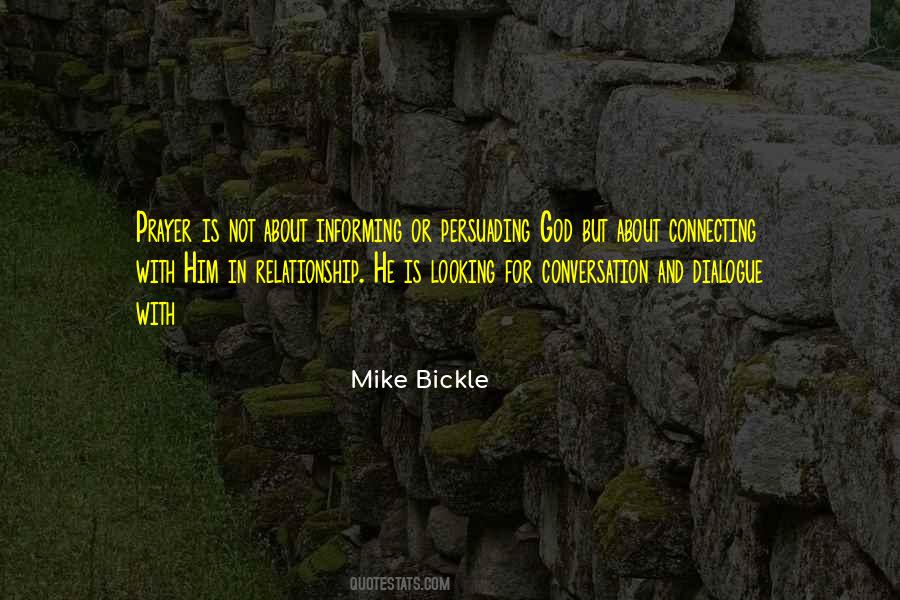 #22. Spirituality is conversation with God, everything else is just religious custom. - Author: Stefan Emunds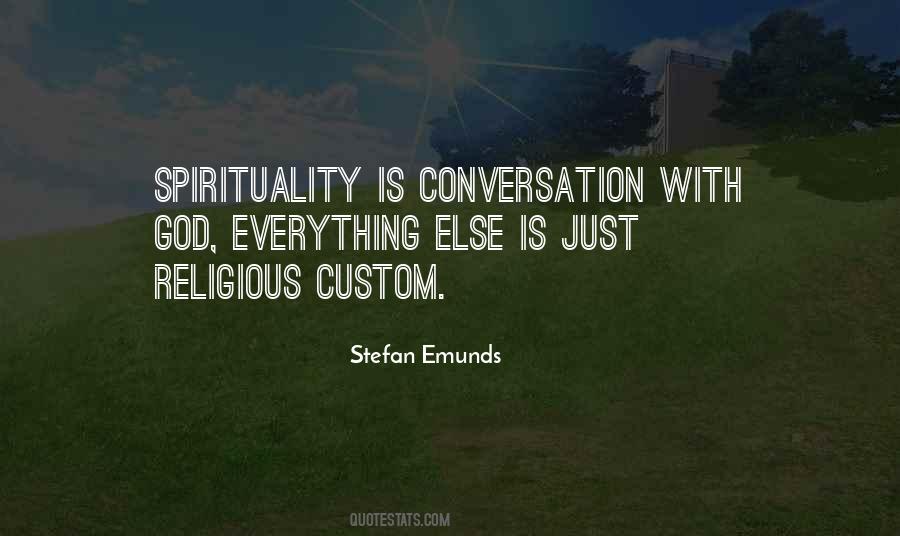 #23. God, just shoot me the day I start making music you can just put on in the car and have a conversation over it. - Author: Jack Antonoff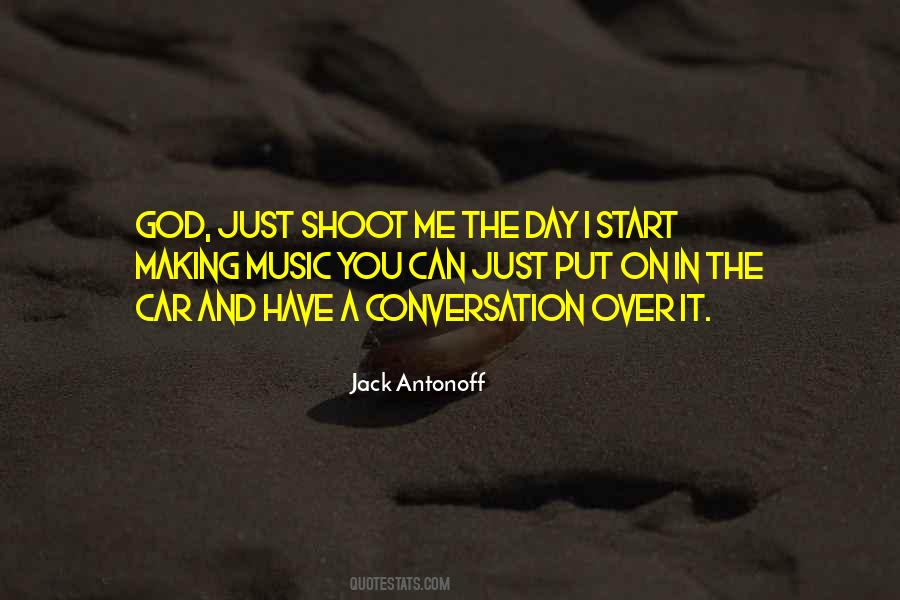 #24. The more you concentration on God, the longer your conversation with him lasts and the holier his consacration will be on you. Let your communication with him be controlled by your committment. - Author: Israelmore Ayivor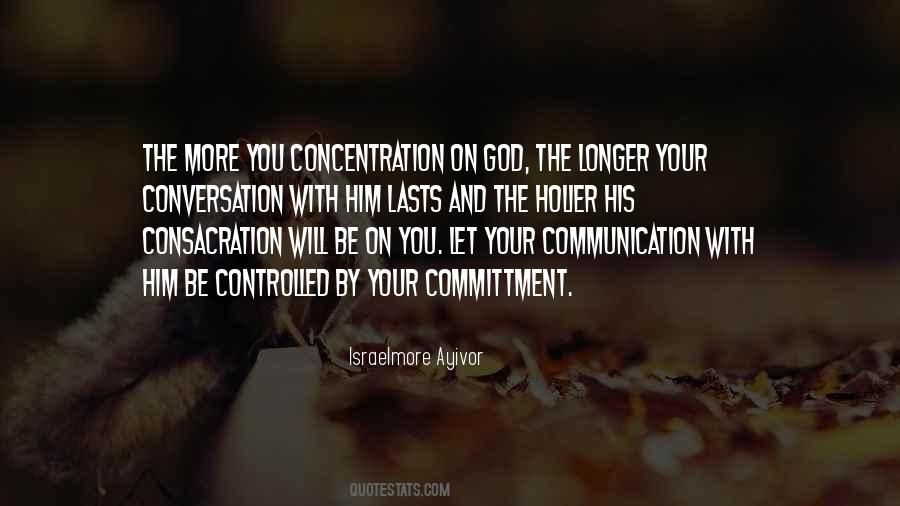 #25. Prayer, in essence, is conversation with God. You can talk to Him about anything and everything - He loves to hear from His children. Praise Him for His incredible love, tell Him why you love your favorite song, ask Him for help with problems at home, work or school and thank Him for His responses. - Author: Teresa Santoski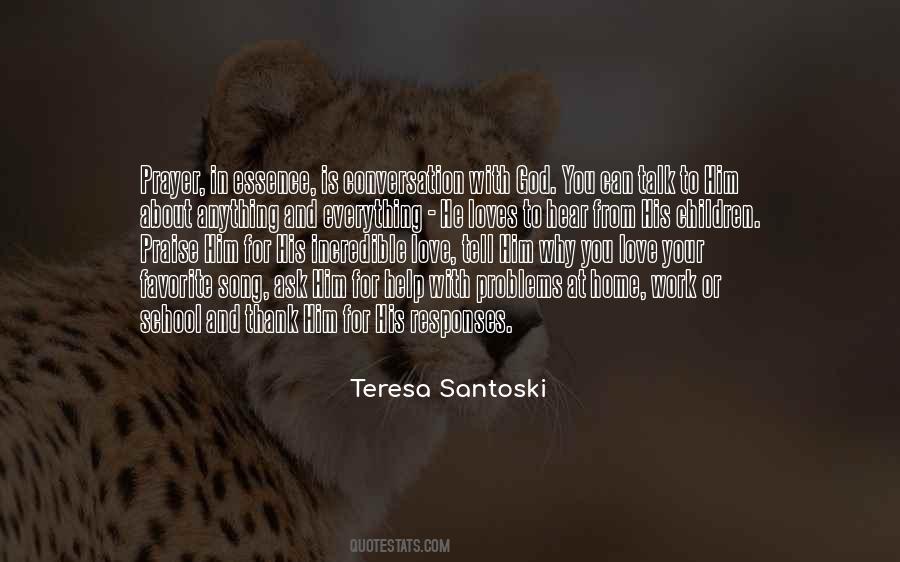 #26. as fellow pilgrims on the journey. In individual prayer, as we have seen, we have many ways of hearing and speaking with God, but in our wider spiritual life we are companioned and in conversation with friends in both the here and now and the 'great cloud of witness'. - Author: Malcolm Guite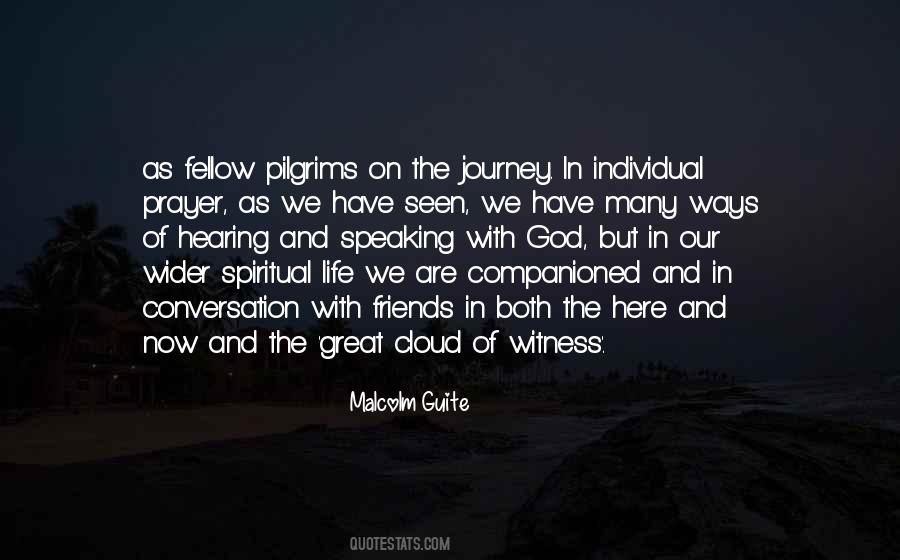 #27. I am sure your piety does you great credit, Margaret. But certainly, if God is speaking to the king, then He has not chosen the best time for this conversation. - Author: Philippa Gregory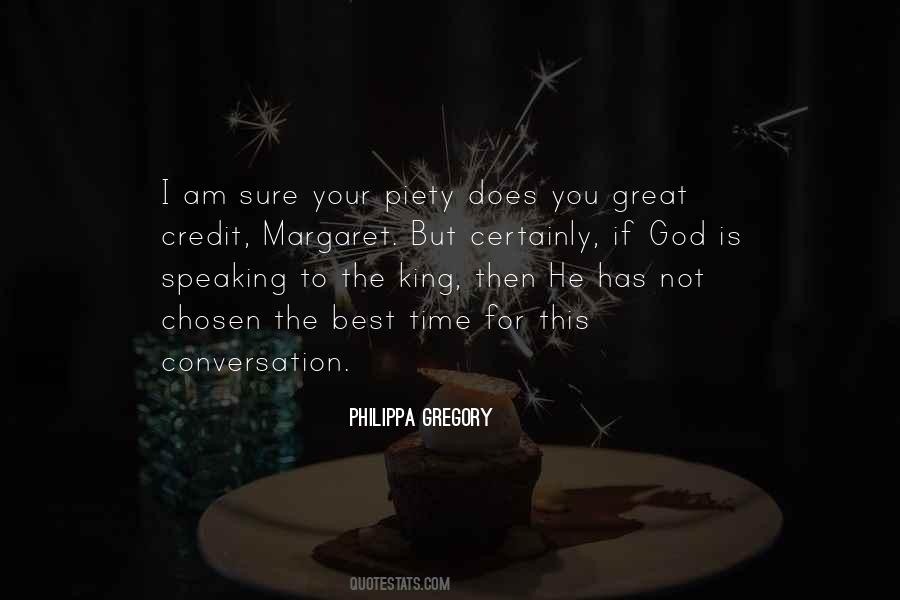 #28. Prayer is for every moment of our lives, not just for times of suffering or joy. Prayer is really a place, a place where you meet God in genuine conversation. - Author: Billy Graham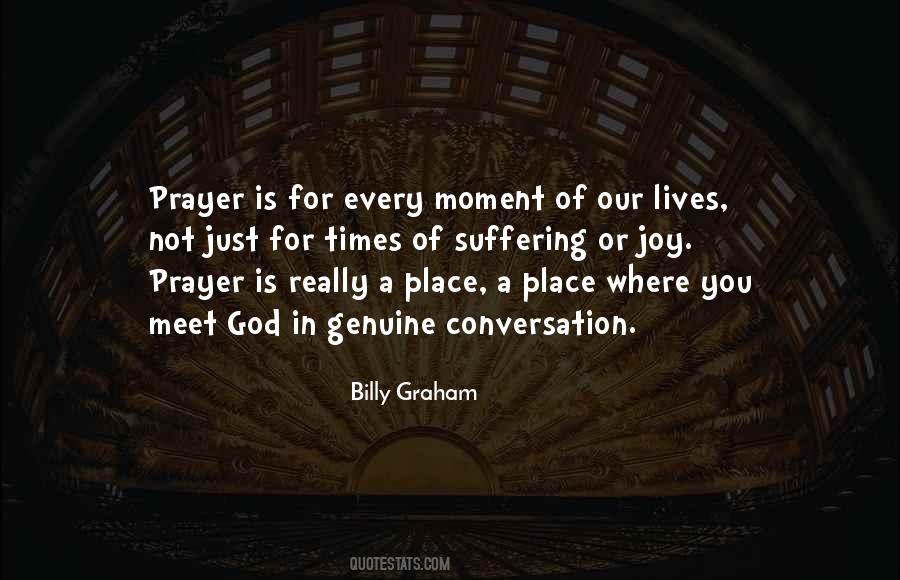 #29. Prayer is conversation with God while driving to work or awaiting an appointment or before interacting with a client. Prayer can be the internal voice that directs the external action. - Author: Max Lucado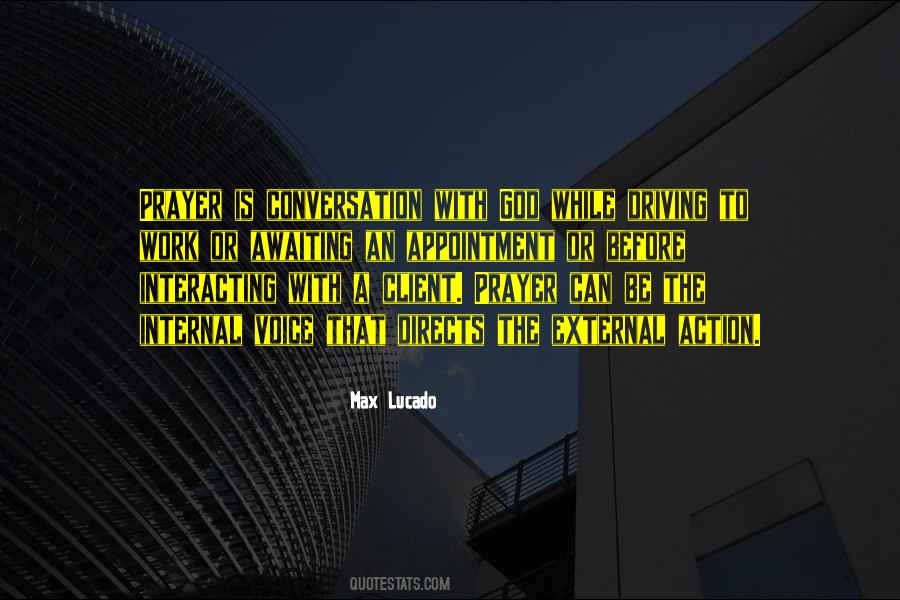 #30. God requires his people to shine as lights in the world. It is not merely the ministers who are required to do this, but every disciple of Christ. Their conversation should be heavenly. - Author: Ellen G. White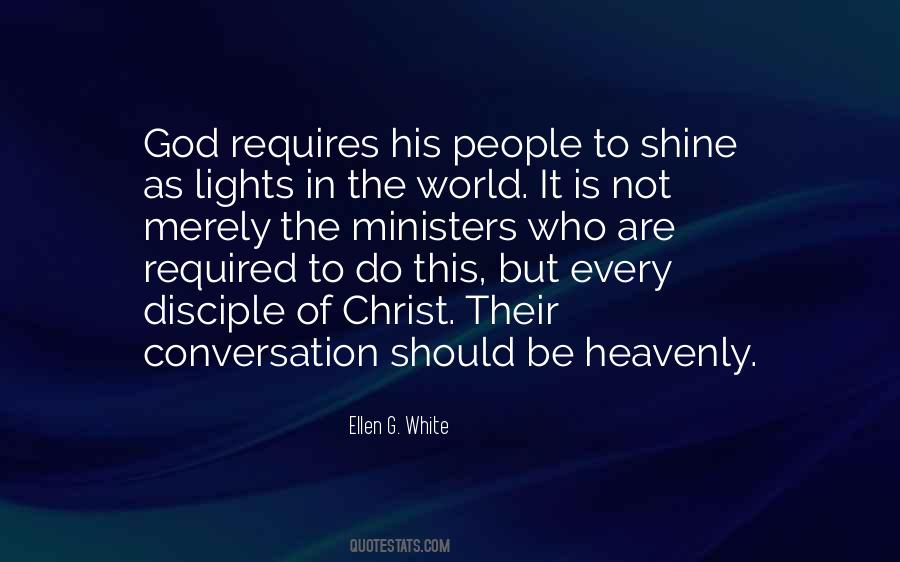 #31. Let's determine to finish well by helping facilitate a lifelong conversation and sense of community between God and the people He has called us to serve. - Author: Paul Baloche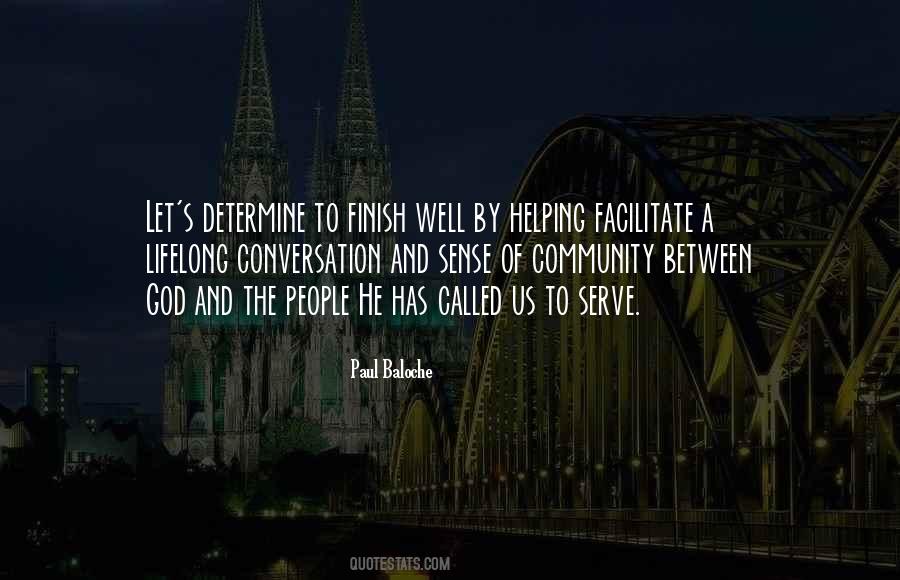 #32. His prayer was so different, like a conversation. People should not talk to the Almighty God like they were friends. It simply wasn't done. - Author: Melissa Jagears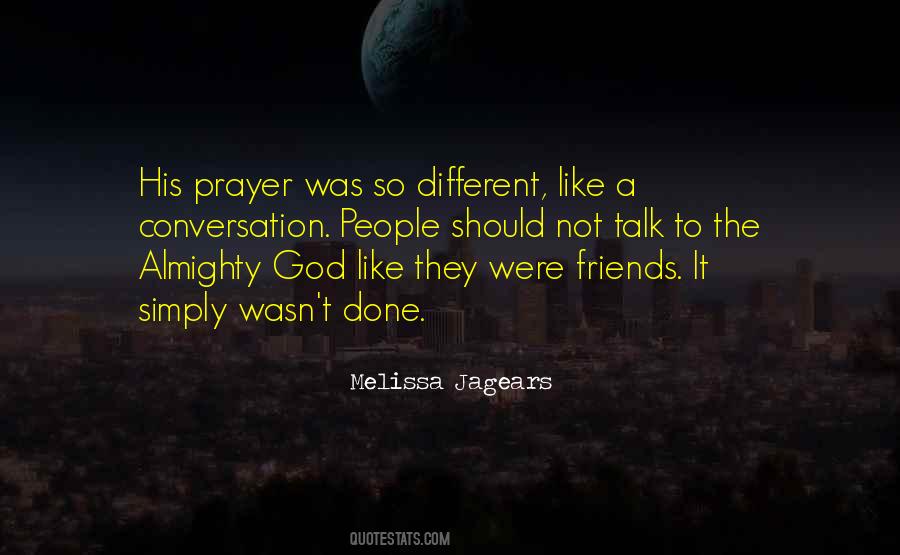 #33. And so I urge you: carry on an ongoing conversation with God about the daily stuff of life, a little like Tevye in Fiddler on the Roof. For now, do not worry about "proper" praying, just talk to God. - Author: Richard J. Foster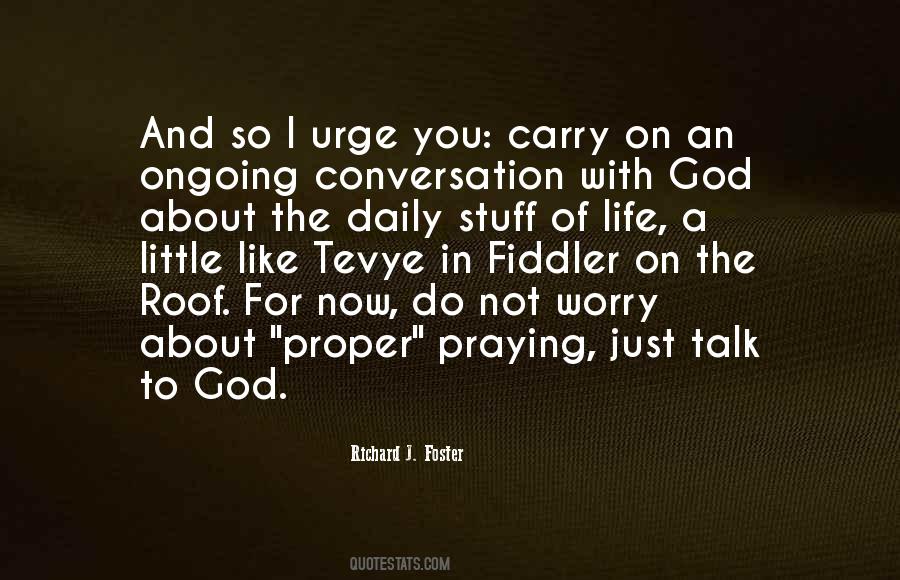 #34. Again, a conversation with the doctor. We always come back to the same point: "The church may not mix in politics." he says. And I tell him that when you are a Christian and profess that God is almighty, there is no single area of life from which you can eliminate God. -From the diary of Diet Eman - Author: Diet Eman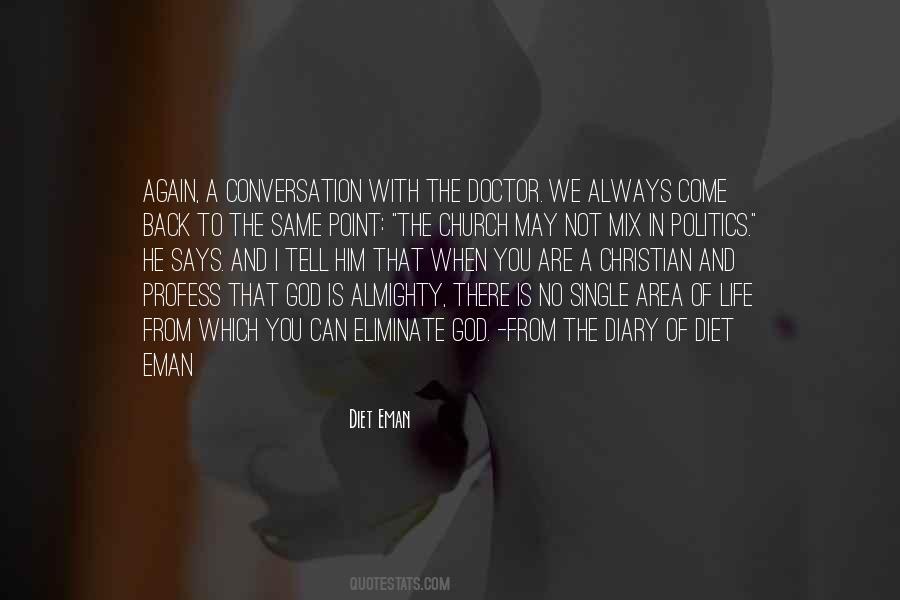 #35. Prayer is a conversation with God, but prayer is no substitute for work. - Author: Henry D. Moyle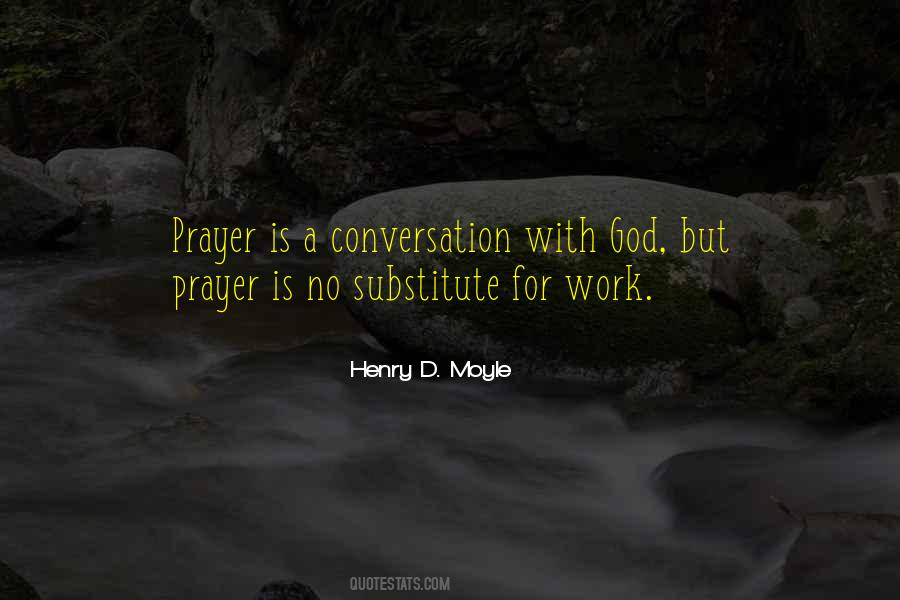 #36. My conversations with God always seem leave him speechless. - Author: Big K.R.I.T.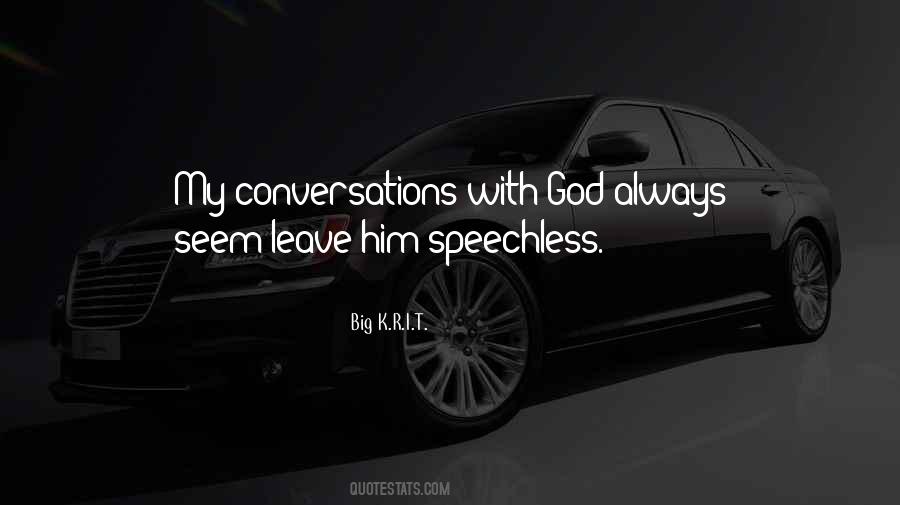 #37. There is not a day that goes by that does not include a conversation with God. There is not a day that goes by that does not contain signs. There are many days that go by on which we do not hear the conversation, do not see the signs. So stay awake. - Author: Neale Donald Walsch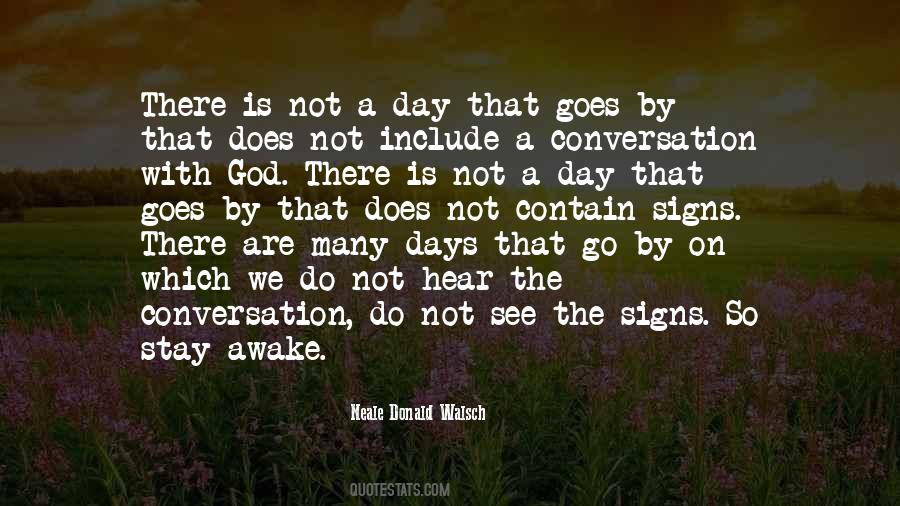 #38. I have abandoned all particular forms of devotion, all prayer techniques. My only prayer practice is attention. I carry on a habitual, silent, and secret conversation with God that fills me with overwhelming joy. - Author: Brother Lawrence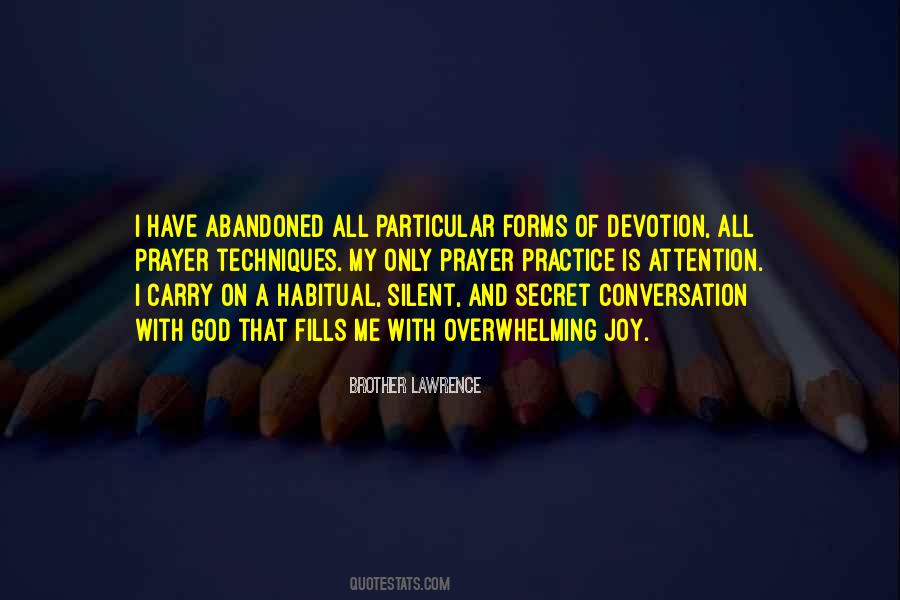 #39. Because the truth of God is love, conversion to God is conversion to love. - Author: Pope Benedict XVI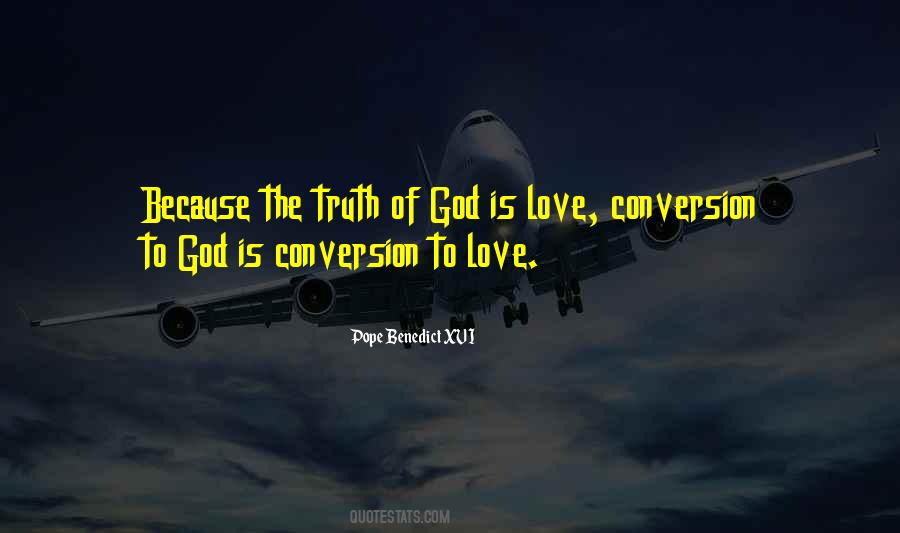 #40. Oh, this thing of keeping in constant touch with God, of making him the object of my thought and the companion of my conversations, is the most amazing thing I ever ran across. - Author: Frank Laubach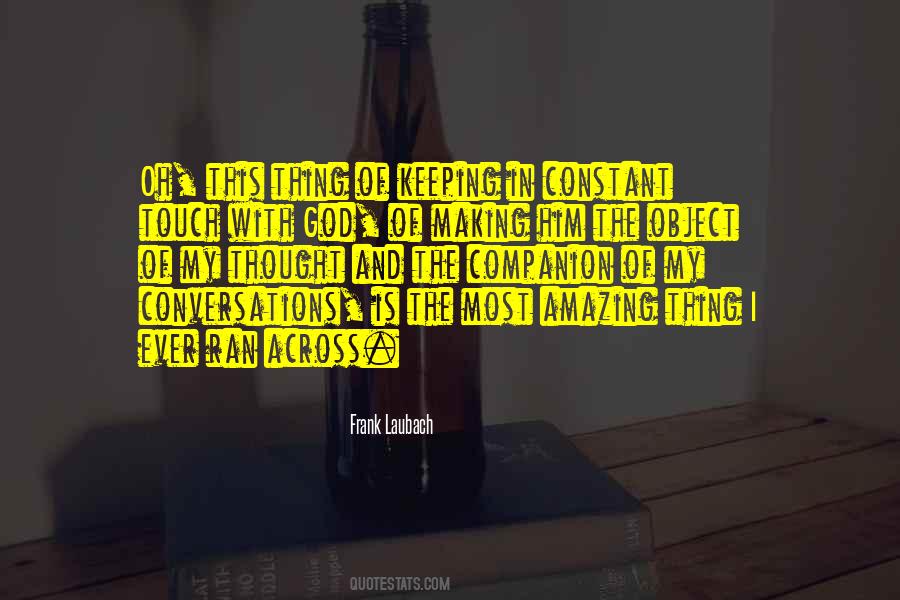 #41. Find time for a private conversation with your creator so that you can ask Him about the purpose of your existence - Author: Sunday Adelaja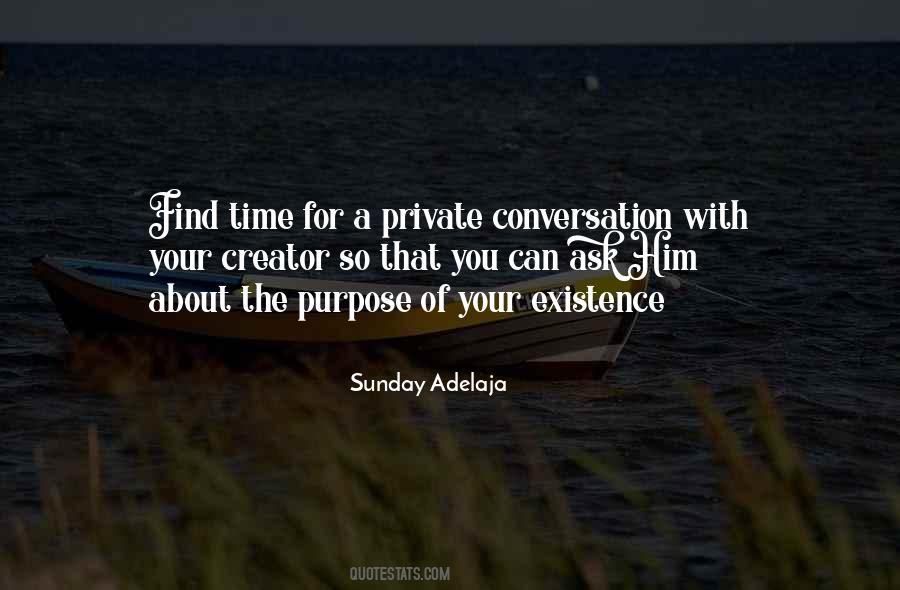 #42. I feel simply carried along each hour, doing my part in a plan which is far beyond myself. [ ... ] My part is to live this hour in continuous inner conversation with God and in perfect responsiveness to His will. This seems to be all I need to think about. - Author: Frank Laubach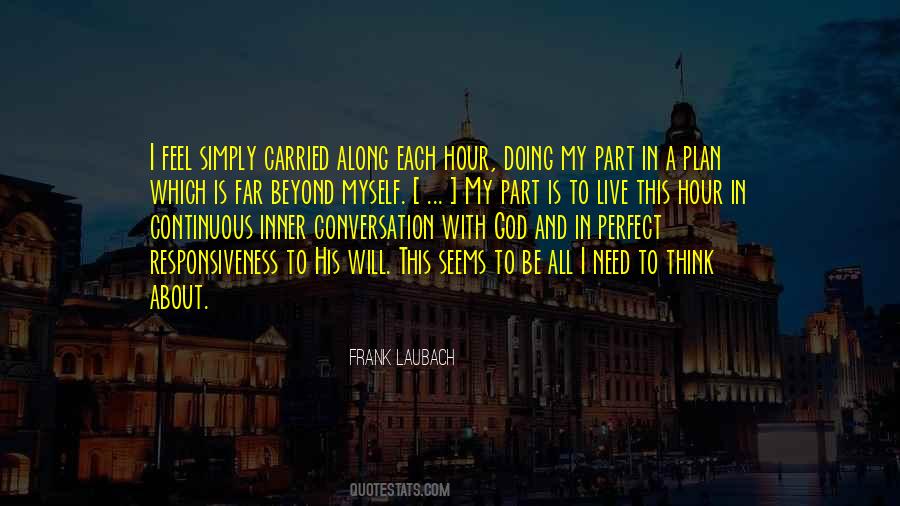 #43. I think that 'Little Angels' provides the gateway into that conversation about faith and about the Lord and about God's love for us. Remembering that the angels are just the messengers and the message is the message of love. - Author: Roma Downey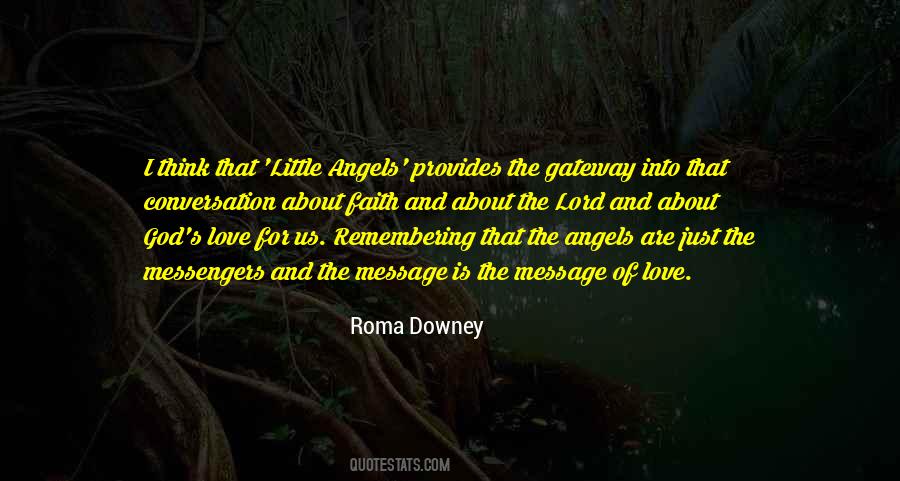 #44. If you never mention the Lord in conversation with each other,isn't that proof that you aren't so concerned about Him? - Author: Aiden Wilson Tozer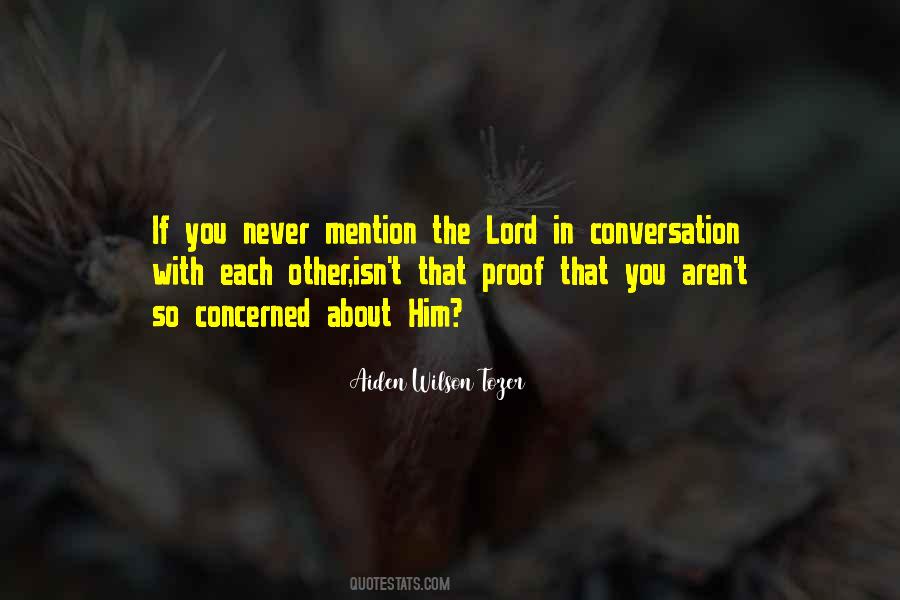 #45. Conversation can be as mutually incomprehensible as foreign languages. We need the different and complementary perspectives of the various yogas - and ideally of all religions - not only to reach God but to reach each other. - Author: Huston Smith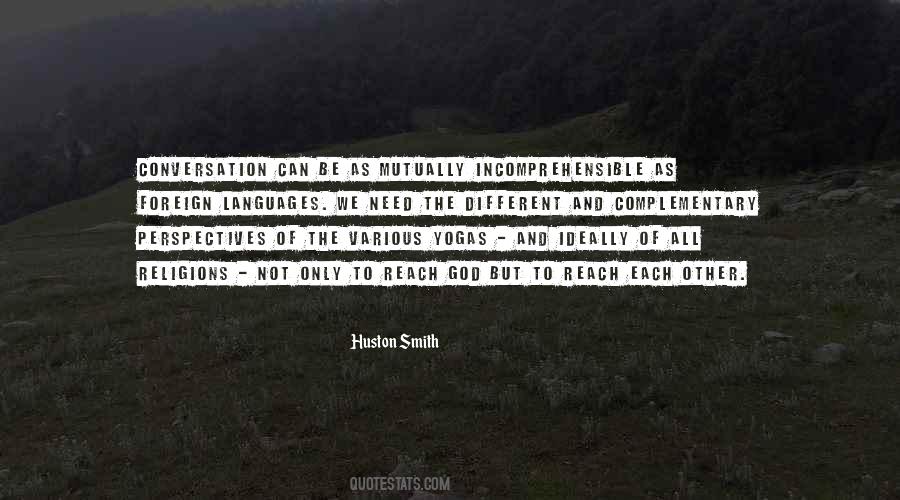 #46. To have God speak to the heart is a majestic experience, an experience that people may miss if they monopolize the conversation and never pause to hear God's responses. - Author: Charles Stanley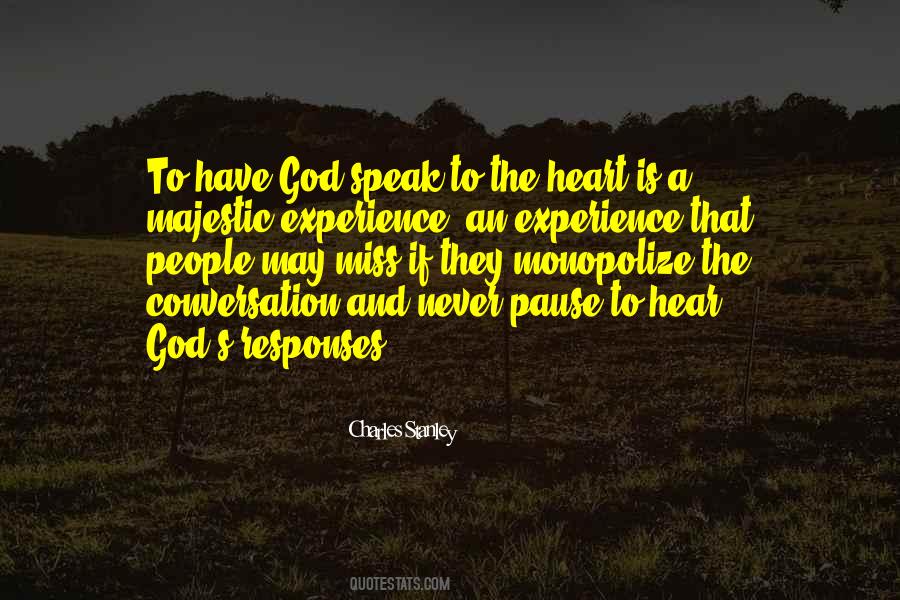 #47. God does not require from you empty words or idle conversations - Author: Sunday Adelaja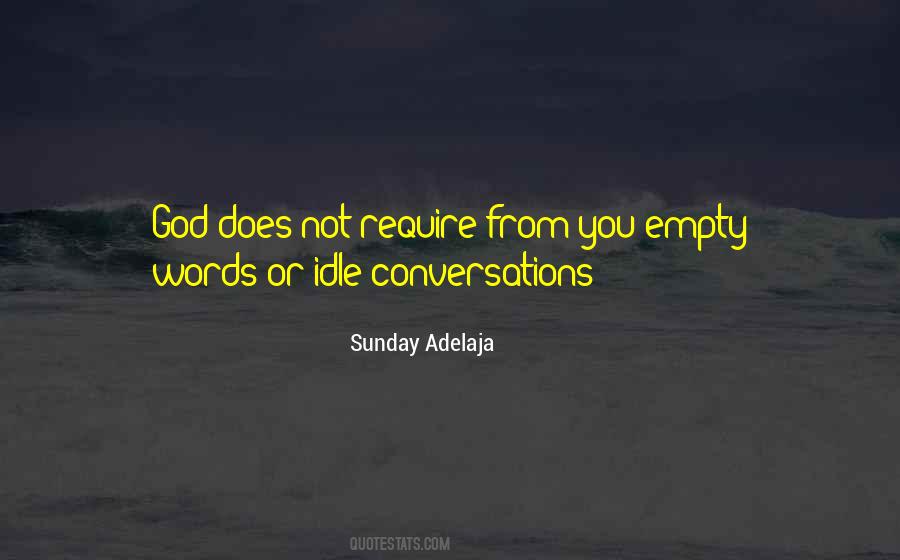 #48. I think I have an ongoing conversation with God. I think throughout the day, I'm constantly asking myself questions about what I'm doing, why am I doing it. - Author: Barack Obama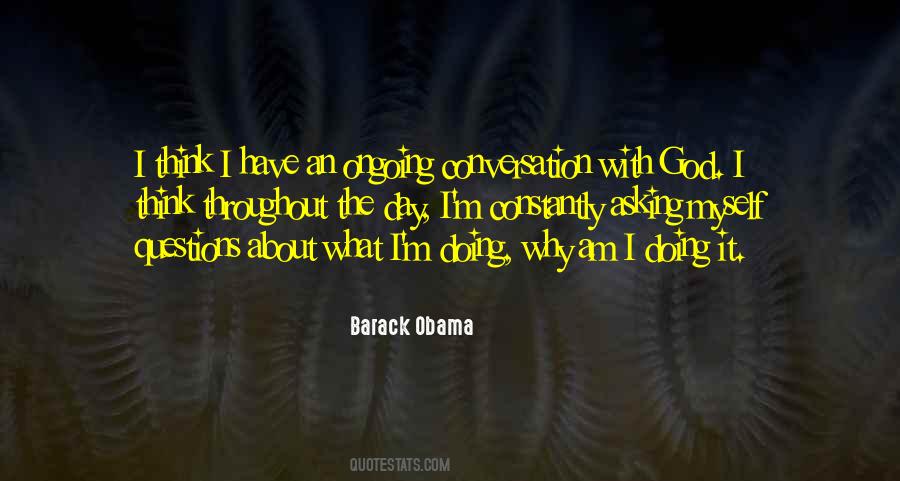 #49. The greatest use of your words is prayer. Talk to God about EVERYTHING, all the time. Maintain a running conversation. - Author: Rick Warren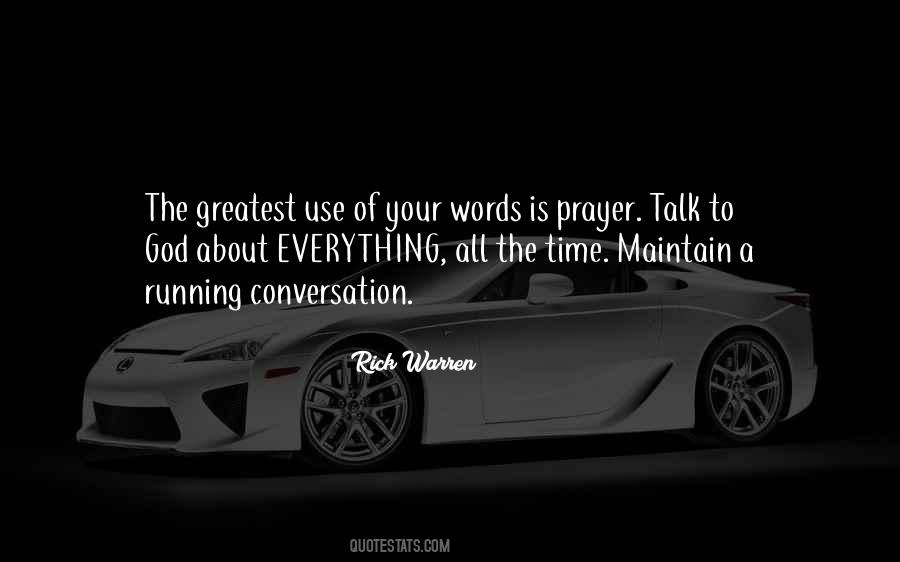 #50. The almost egregiously English couple, Cedric and Rosamund Chailey, had slipped quietly away when the conversation turned to God. It had not seemed polite to be present when anything so American was being discussed. - Author: Michael Frayn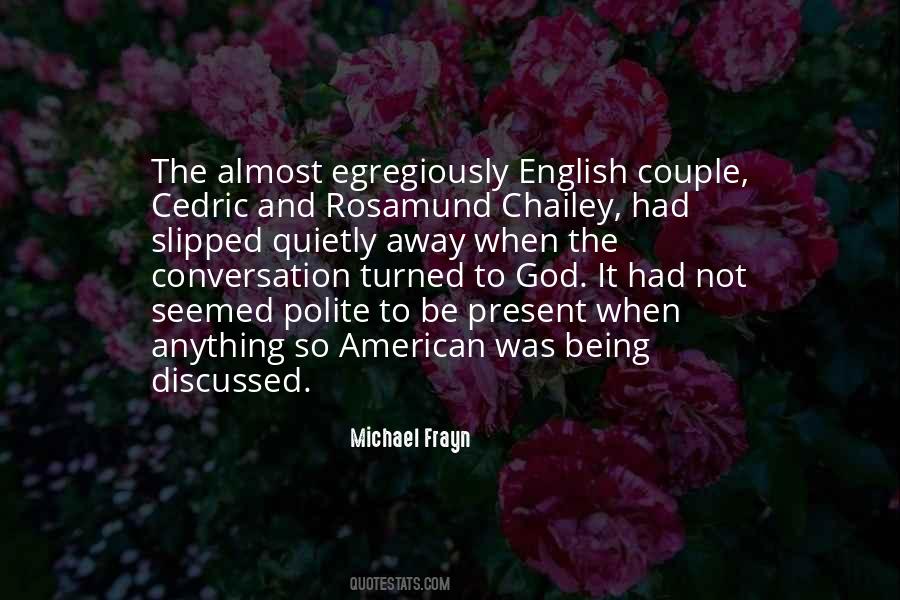 #51. Prayer is simply a two-way conversation between you and God. - Author: Billy Graham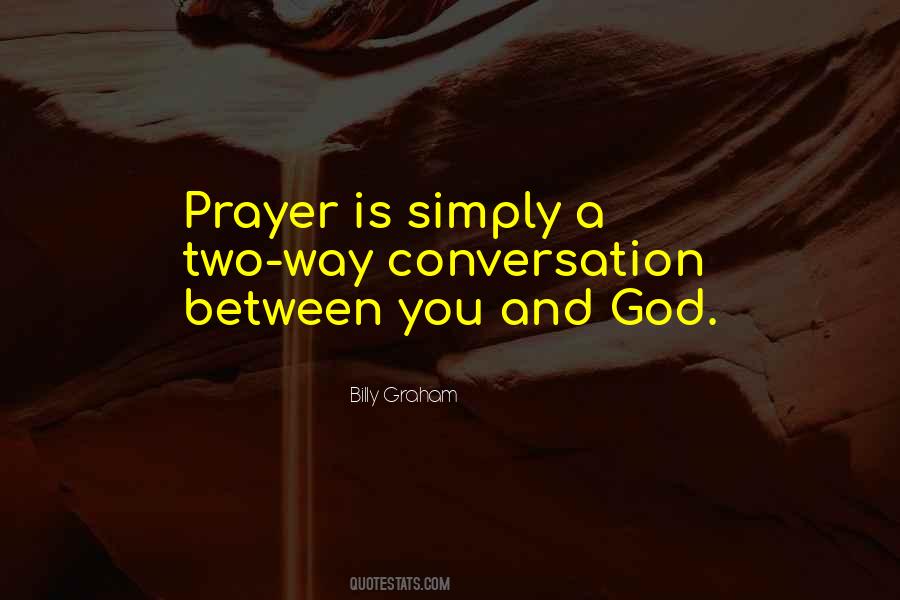 #52. When you love yourself you will never need closure from any man. That doesn't mean you didn't love him, it simply means you love yourself enough to realize God has a better plan for you that doesn't involve one more conversation that will remind you of that person's lack of respect for you. - Author: Shannon L. Alder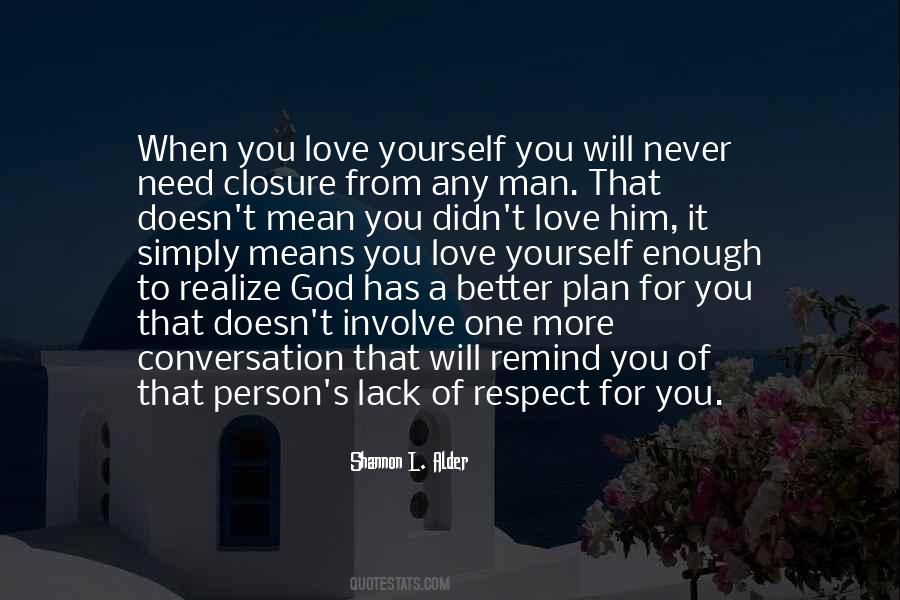 #53. If we've deluded ourselves into thinking that our angry mass emails or conversation-stopping talking points serve as a ministry or carry out the purposes of God, we need to slow down and take a breath. - Author: David Dark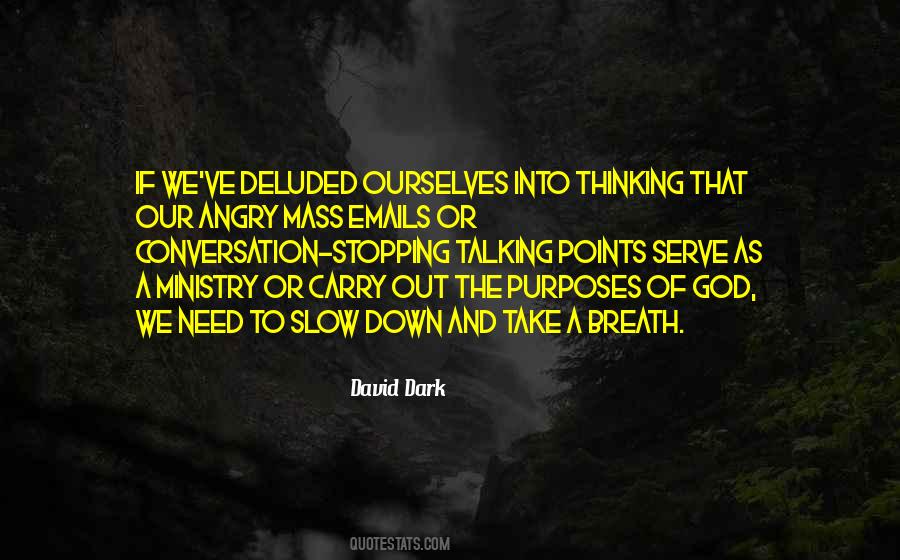 #54. Prayer is both conversation and encounter with God. - Author: Timothy Keller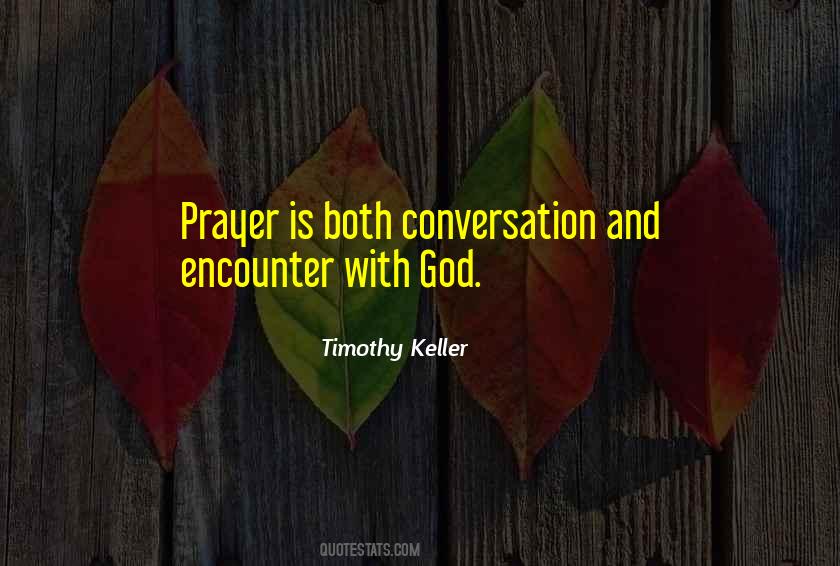 #55. If God is the mystery of the universe, these mysteries, we're tackling these mysteries one by one. If you're going to stay religious at the end of the conversation, God has to mean more to you than just where science has yet to tread. - Author: Neil DeGrasse Tyson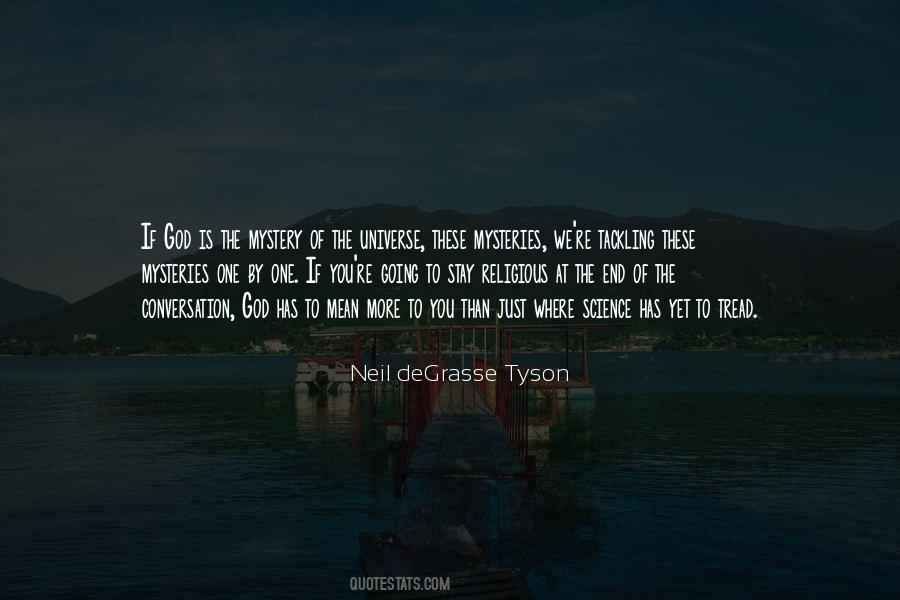 #56. Prayer is spiritual communication between man and God, a two-way relationship in which man should not only talk to God but also listen to Him. Prayer to God is like a child's conversation with his father. It is natural for a child to ask his father for the things he needs. - Author: Billy Graham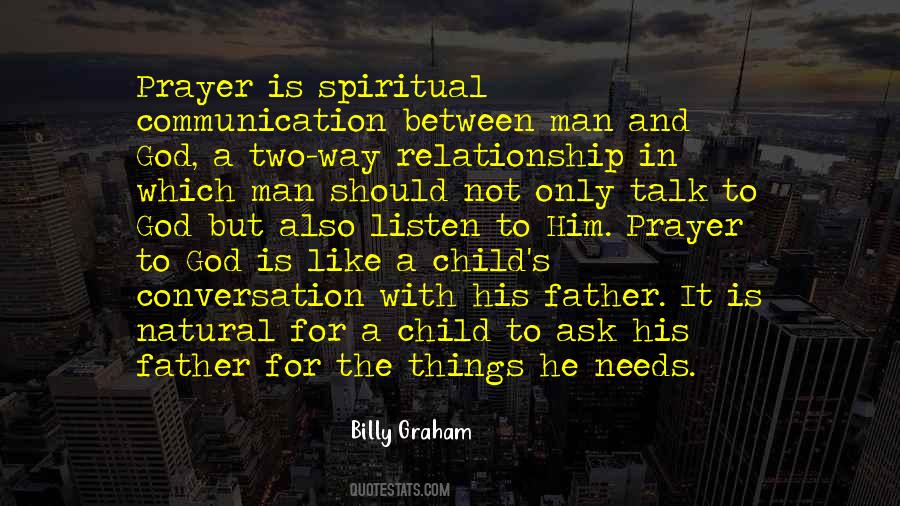 #57. There is not in the world a kind of life more sweet and delightful, than that of a continual conversation with God; those only can comprehend it who practice and experience it.
- Author: Brother Lawrence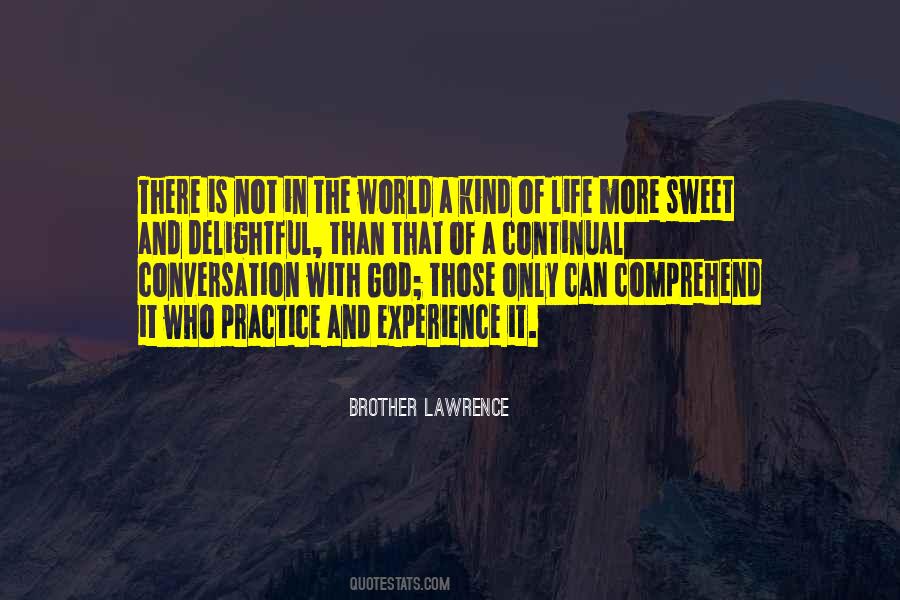 #58. A successful person is one who by God's grace and mercy is continuously maturing in his thoughts, in his conversation, and in his deeds to practice the revealed will of God and proving it according to His Word. - Author: Tim Yarbrough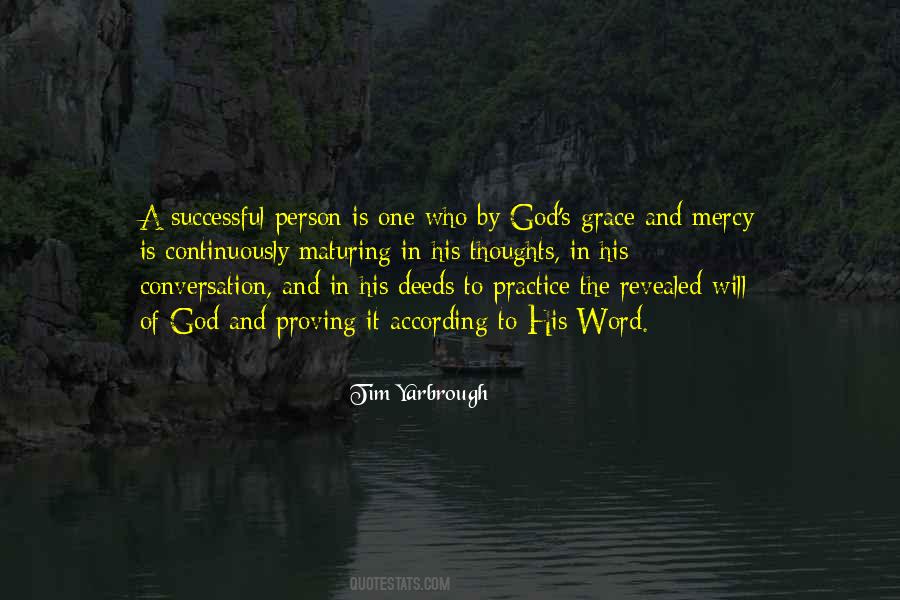 #59. Do not speak of God much. After a very little conversation on the highest nature, thought deserts us and we run into formalism. - Author: Ralph Waldo Emerson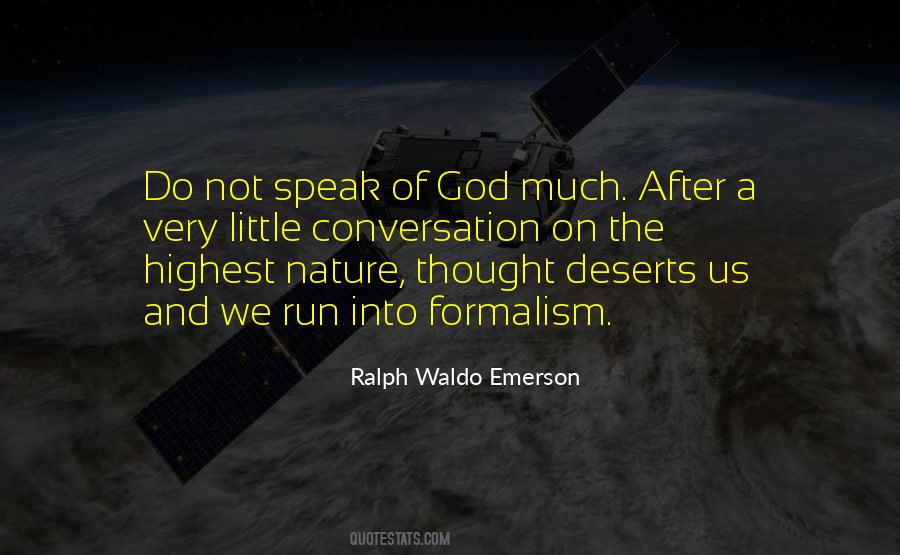 #60. Prayer is continuing a conversation that God has started through his Word and his grace, which eventually becomes a full encounter with him. - Author: Timothy Keller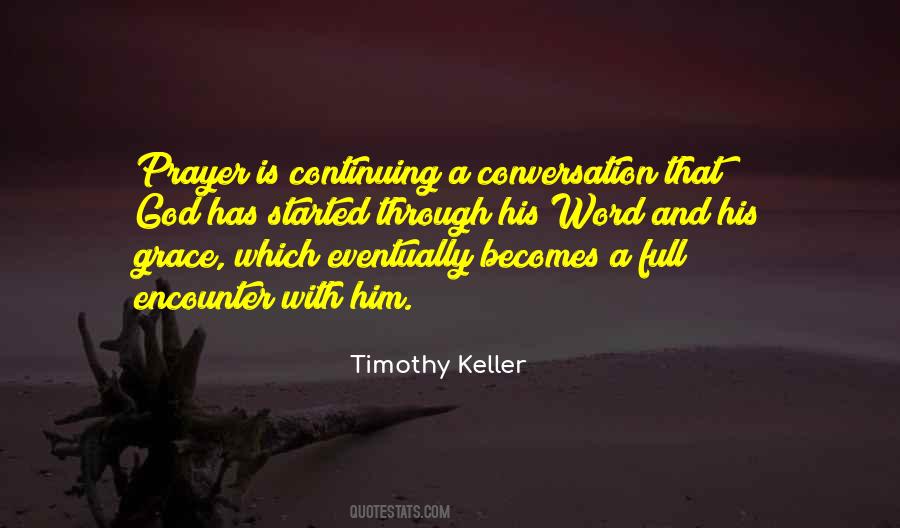 #61. That is one reason it is hard to get people to pray at church and why prayer meetings are often dead. People don't see that prayer - real, two-way conversation with God - makes any difference. If - Author: Dallas Willard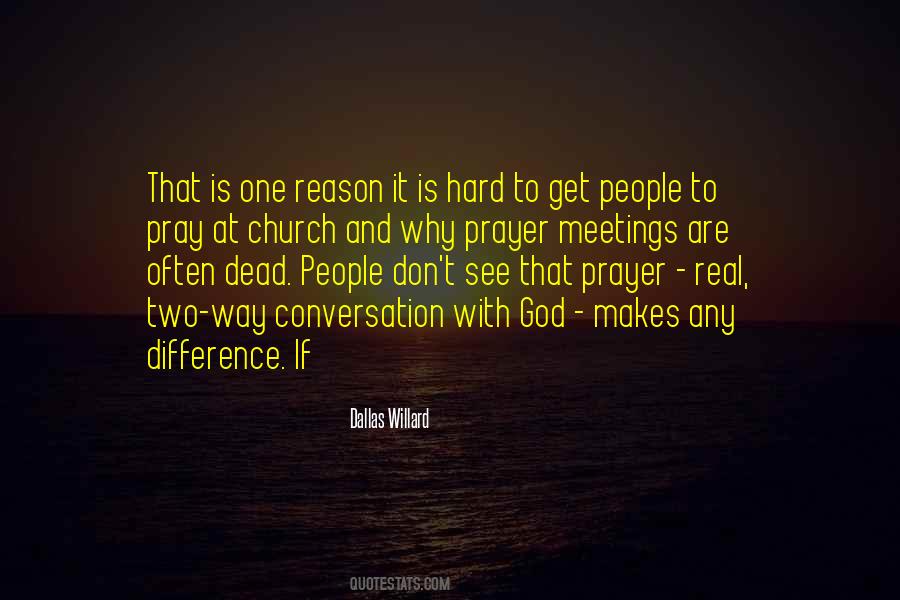 #62. My God! The English language is a form of communication! Conversation isn't just crossfire where you shoot and get shot at! Where you've got to duck for your life and aim to kill! Words aren't only bombs and bullets - no, they're little gifts, containing meanings! - Author: Philip Roth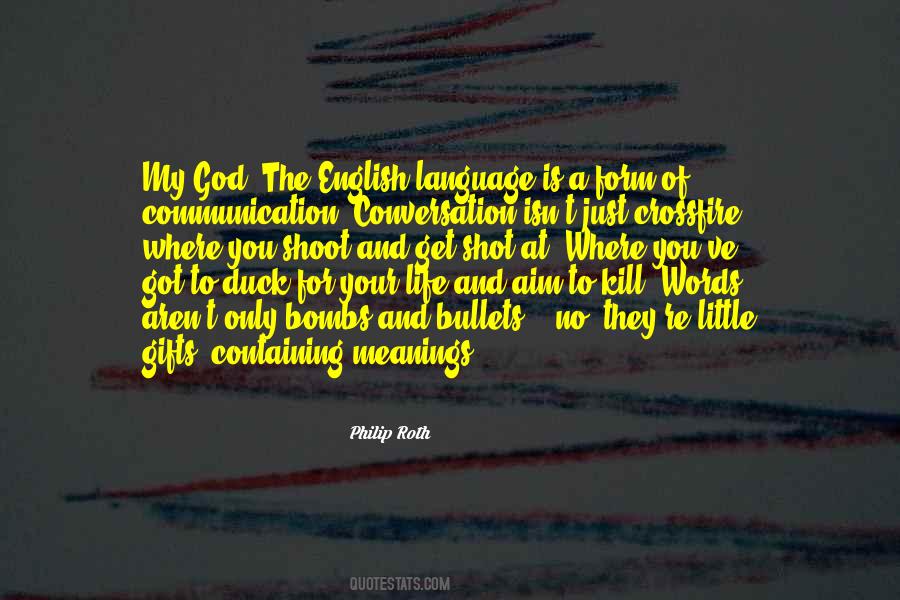 #63. Thank God for books as an alternative to conversation. - Author: W. H. Auden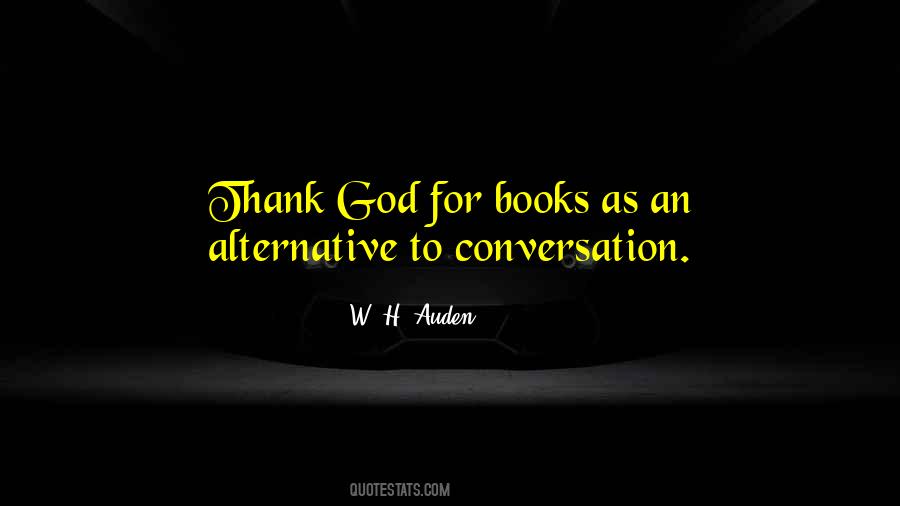 #64. You find out more about God from the Moral Law than from the univerise in general just as you find out more about a man by listening to his conversation than by looking at a house he has built. - Author: C.S. Lewis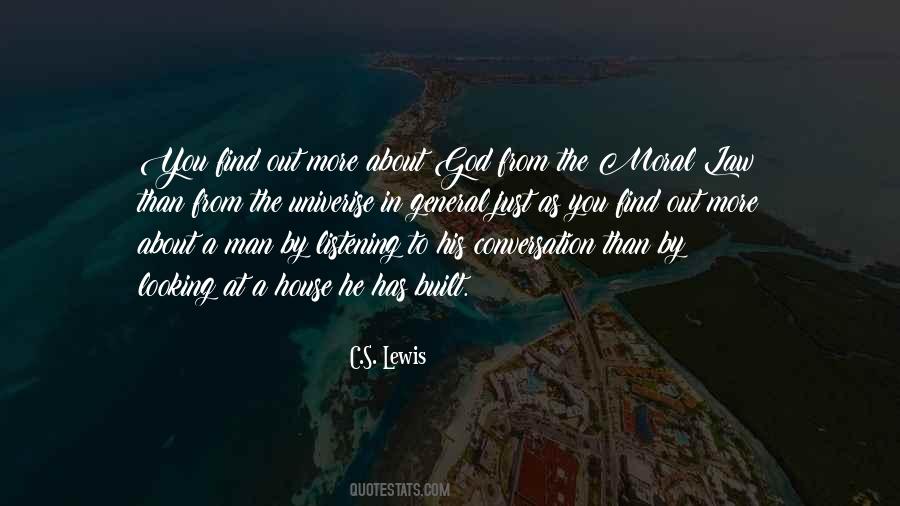 #65. His unfiltered conversation topics reminded me of my female sailor status: More than a hooker, less than a woman. I was a brick wall he could chuck rocks at all day and not feel a thing. But they hurt. God, they hurt. - Author: Maggie Young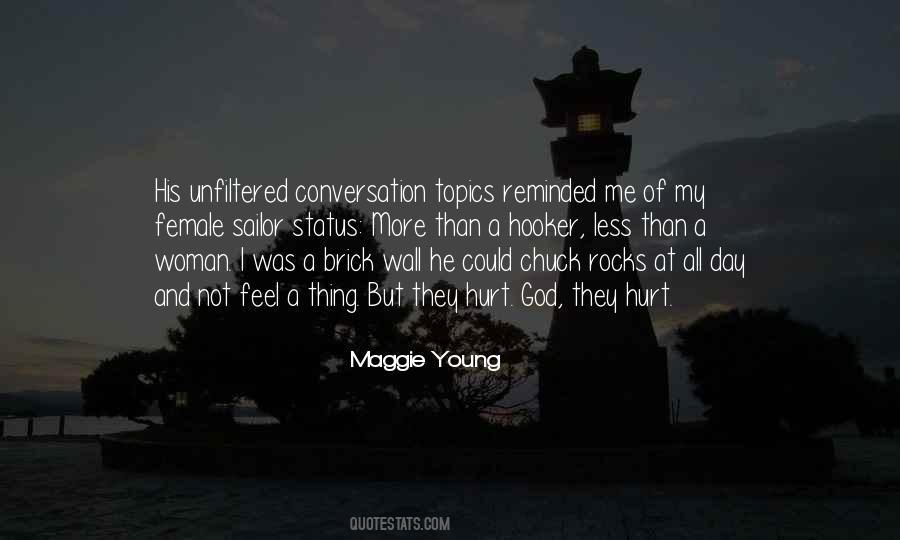 #66. There is no God, and conversation is a dying art. - Author: Raymond Carver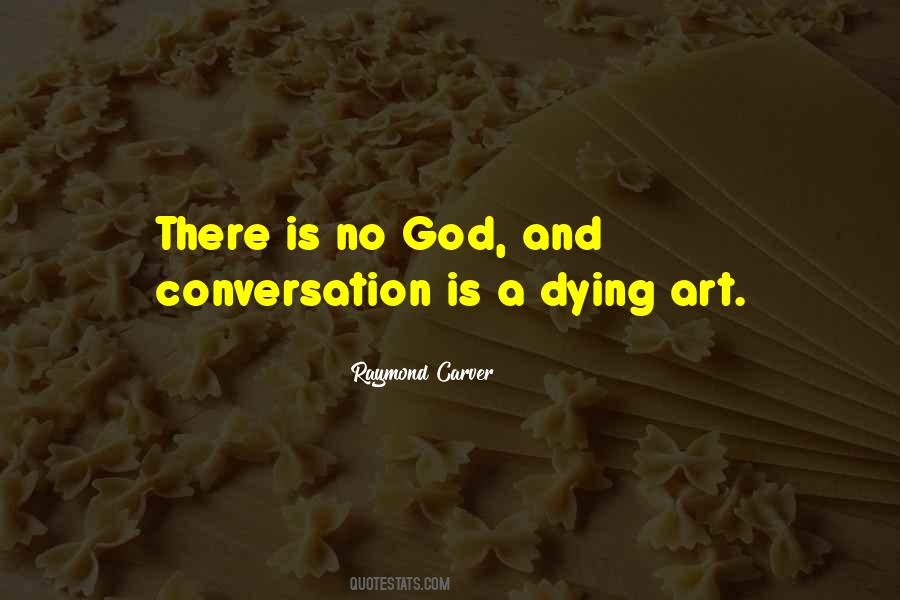 #67. Entire families are attending 'Son of God' together and sharing it with their own kids. Parents are using the film as a conversation starter to help bring the story of Jesus to life for their children. - Author: Roma Downey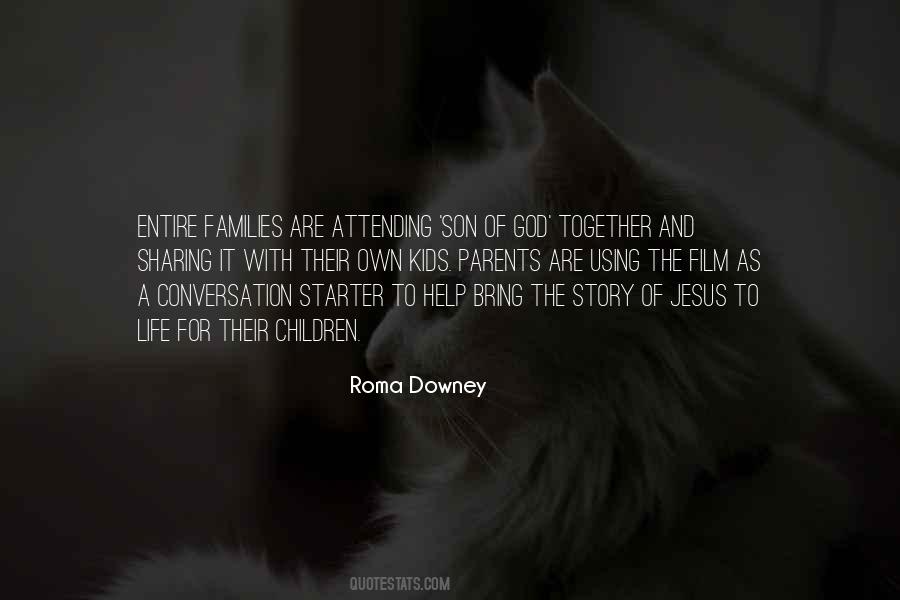 #68. Prayer isn't just about asking for things. It's taking time to hear what God is saying, too, just like any good conversation. Once we finally stop talking and demanding and begging for things, it's easier to hear what God is trying to say to us. - Author: Lynn Austin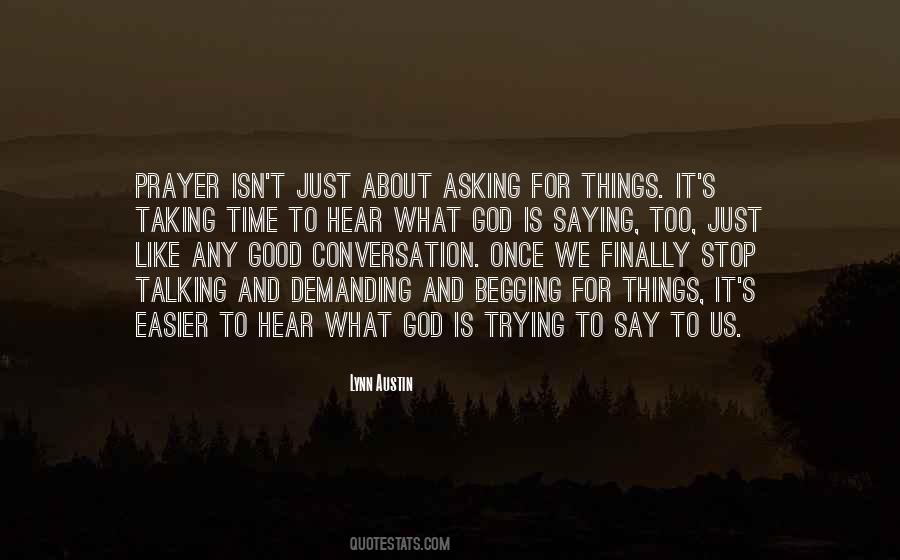 #69. Conversation. Hell is just the best God can do for some people. - Author: John Ortberg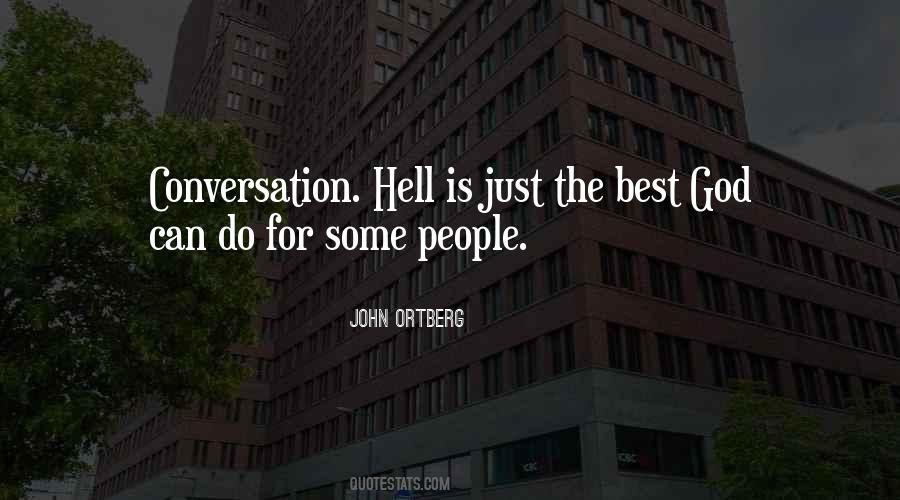 #70. Good God, here am I with stockings in either hand, panting towards restitution. I merely require you to keep my soul out of the general conversation.'

'And your brother's soul?' said James Stewart. He was drawling again.

'I understood,' said Lymond, 'that you had that in hand. - Author: Dorothy Dunnett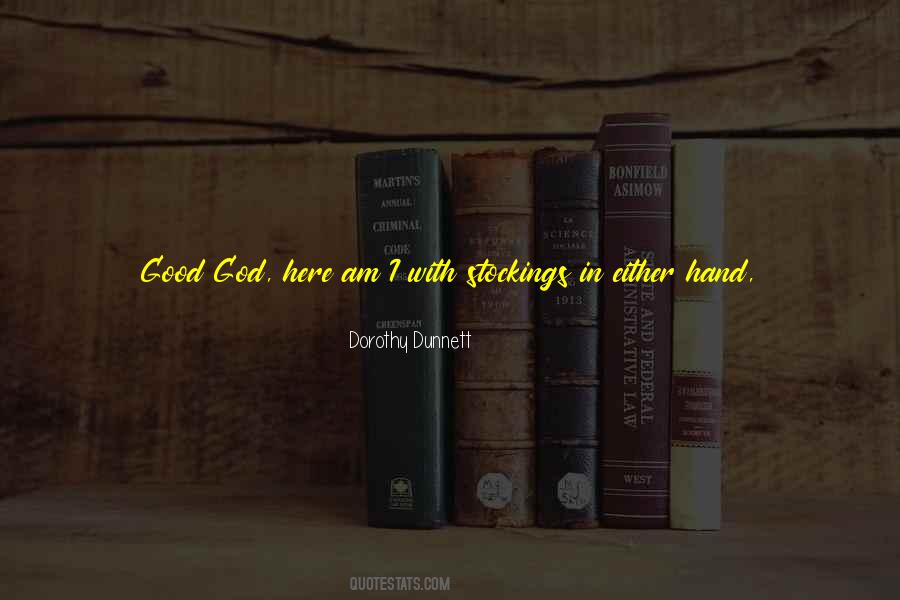 #71. To believe in God starts with a conclusion about Him, develops into confidence in Him, and then matures into a conversation with Him. - Author: Stuart Briscoe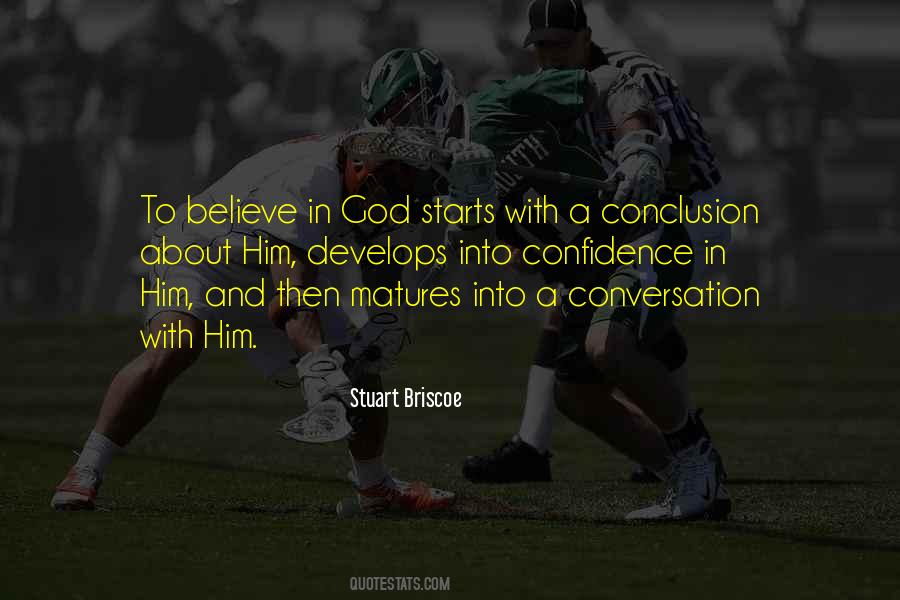 #72. A survey reported that the majority of the seminaries [in the United States] had no classes on prayer. That really shouldn't surprise us when we consider how many local churches offer classes on gardening and the "Art of Conversation" instead of the study of God's Word and prayer. - Author: Billy Graham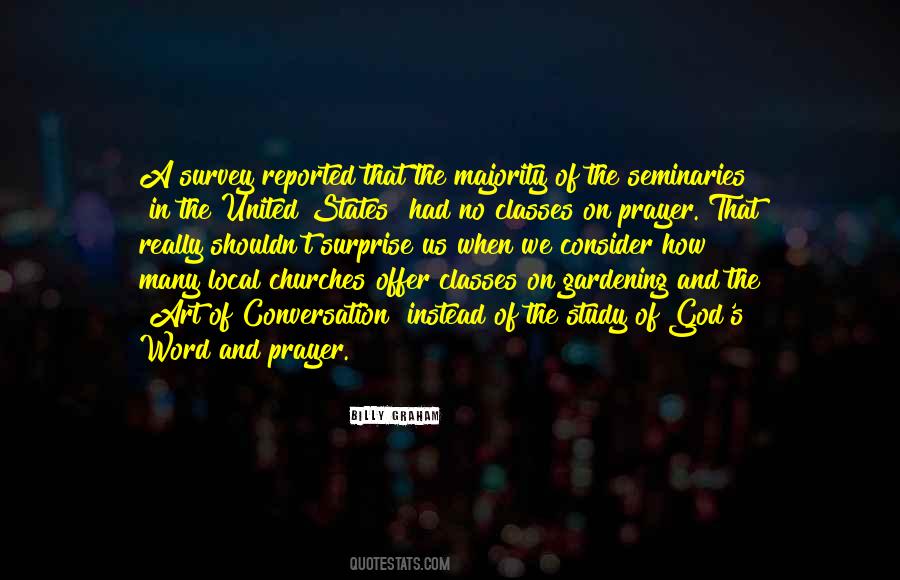 #73. I'd love to meet Darwin. He caused such controversy over whether God created the earth in six days or whether we evolved over time. I'd love to discuss that with him - what a fantastic conversation! - Author: Isabella Rossellini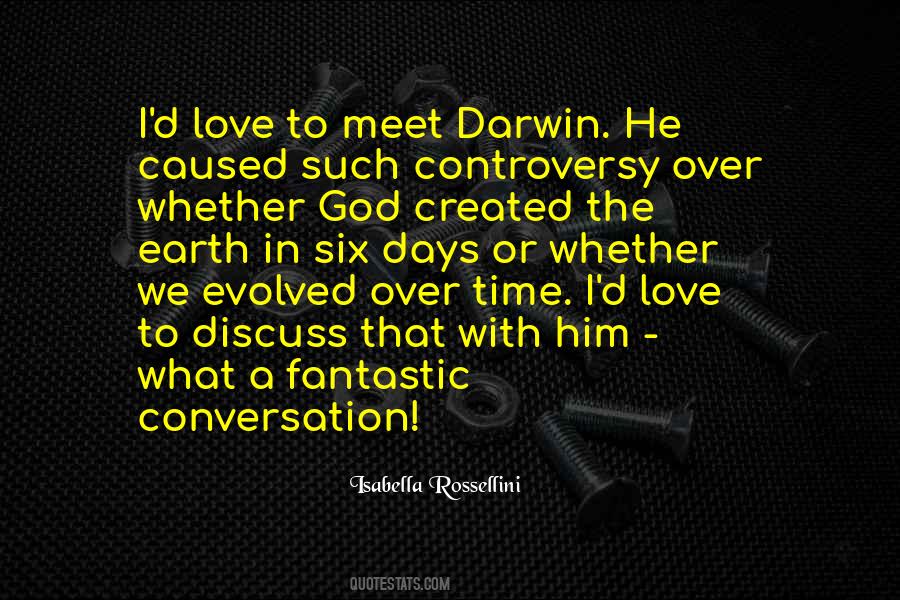 #74. That we should establish ourselves in a sense of GOD's Presence, by continually conversing with Him. That it was a shameful thing to quit His conversation, to think of trifles and fooleries. - Author: Brother Lawrence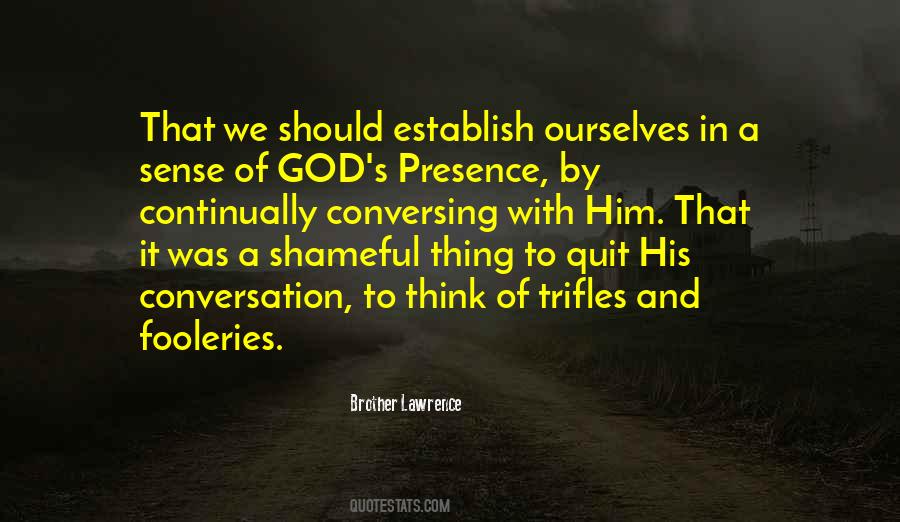 #75. Are you able to proclaim that you have been through some things and you survived it? You are a survivor. And if you are a survivor you are not a victim. You have to change the language that you give to yourself and then you have to change the conversation that you give to others. - Author: Bobby F. Kimbrough Jr.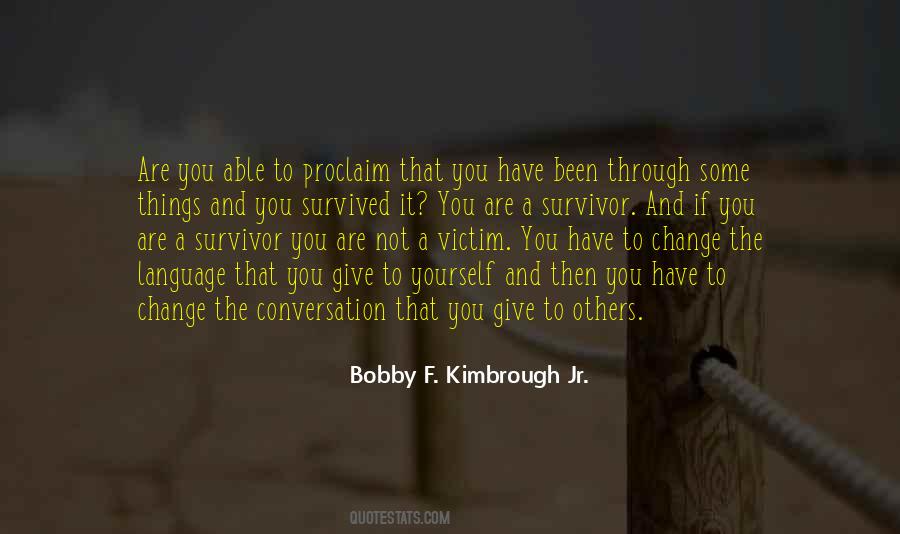 #76. If I'm in a relationship, I'll go to the ends of the earth. If I'm on the road and we have a conversation, and she says, 'God, I really wish I was there with you right now', I'll hang up the phone, send a car, and have the plane ready. - Author: Josh Groban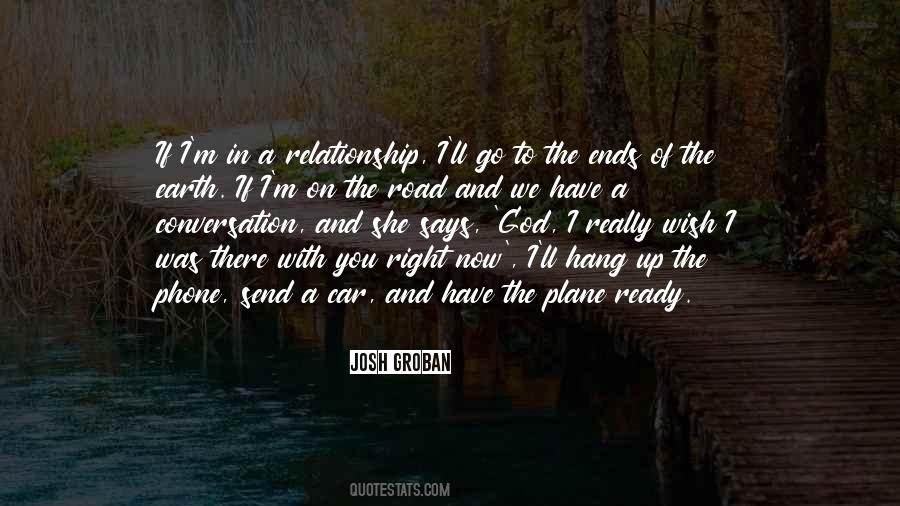 #77. For me, in my Christian belief, prayer is not an opportunity to manipulate God into doing what you want him to. Prayer is an opportunity to have a conversation with God to try to get in tune with what his will is. - Author: Francis Collins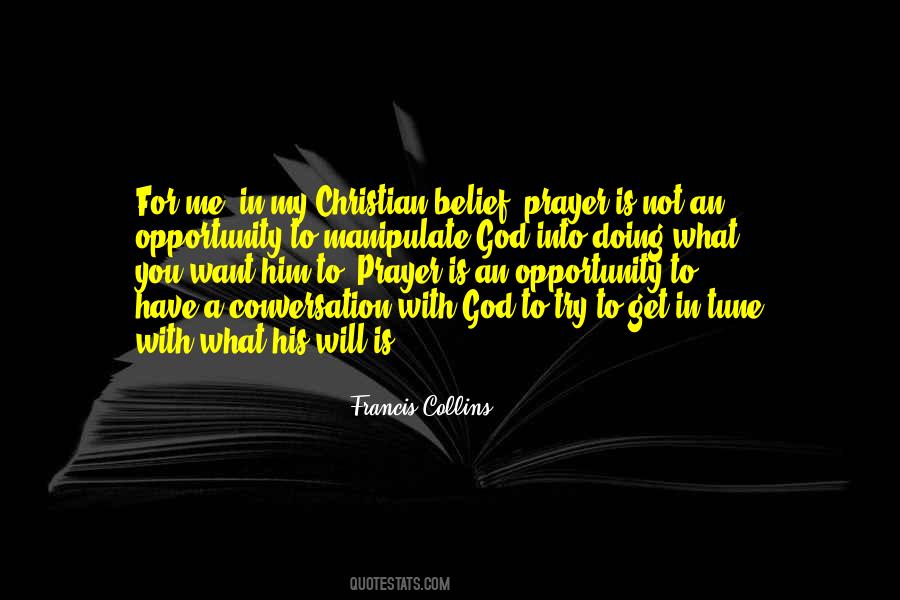 #78. Prayer at its highest is a two-way conversation-and for me the most important part is listening to God's replies. - Author: Frank C. Laubach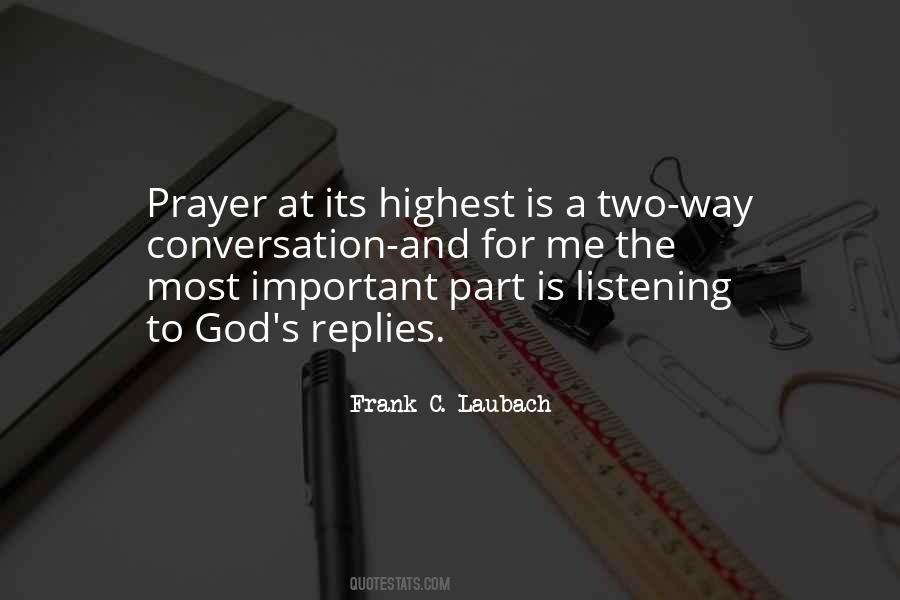 #79. Whenever I read the psalms, I feel like I am eavesdropping on a saint having a personal conversation with God. - Author: R.C. Sproul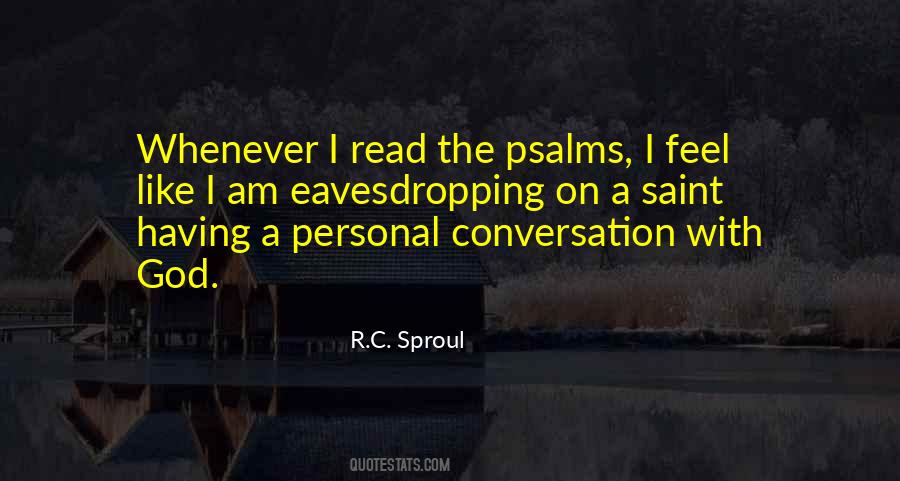 #80. We are identified and known by the sort of fruit, the quantity of fruit, and the quality of fruit borne out in our daily conversation, conduct, and character. There is no greater criterion for Christians. It is the paramount gauge of God's people. - Author: W. Phillip Keller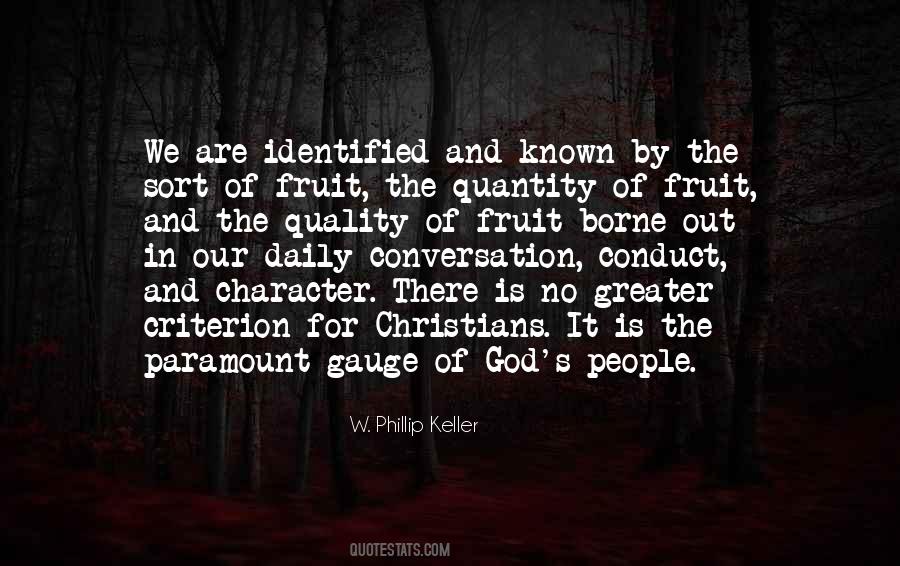 #81. It's a sweet thing to sit quietly in the early-morning darkness and talk to God for a while. It's amazing what you gain from the conversation. - Author: Richelle E. Goodrich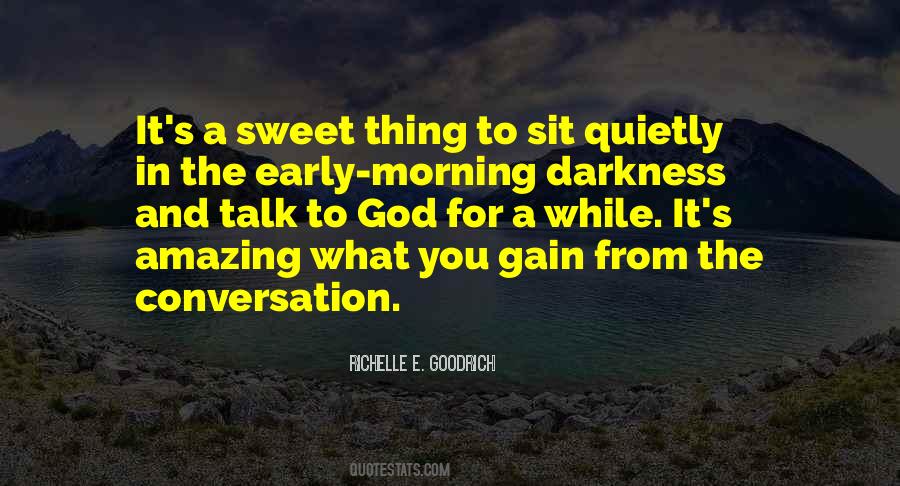 #82. The first person I came out to was God. And the first conversation I ever had with anybody was in prayer. - Author: Andrew Sullivan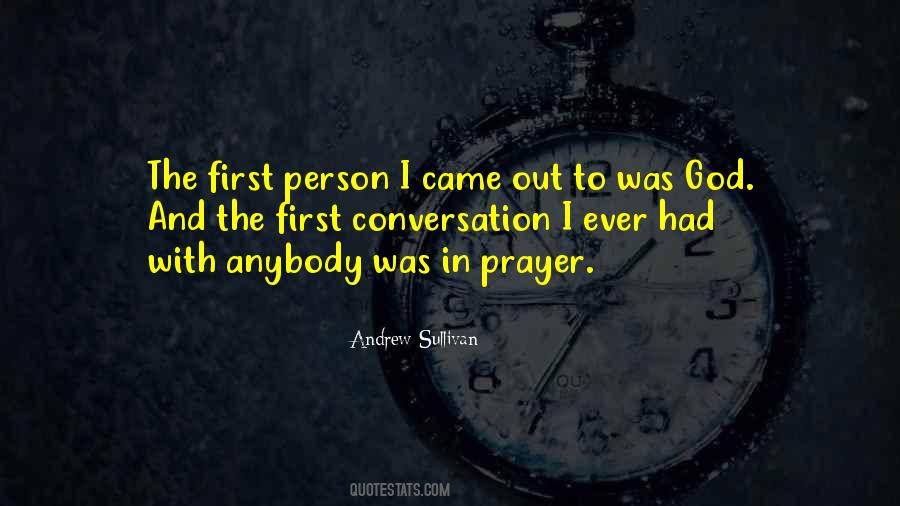 #83. In meditative prayer, one thinks and speaks not only with the mind and lips, but in a certain sense with one's whole being ... All good meditative prayer is a conversation of our entire self to God. - Author: Thomas Merton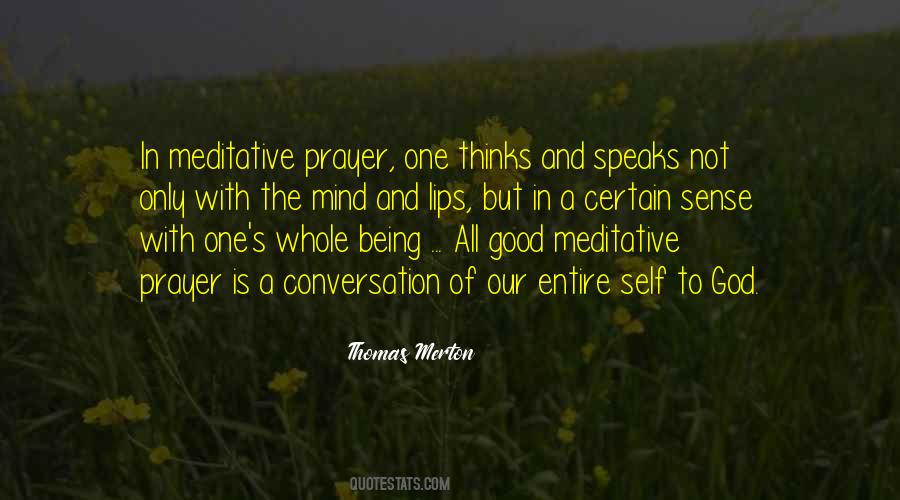 #84. Seriously, I'm totally weirded out by the girly nature of this conversation. And yet, it's kinda like you're growing up. Do you think Judy Blume made a book about adolescent vampires? Are You There God, It's Me, Merit? Mallory snorted, obviously pleased with herself. - Author: Chloe Neill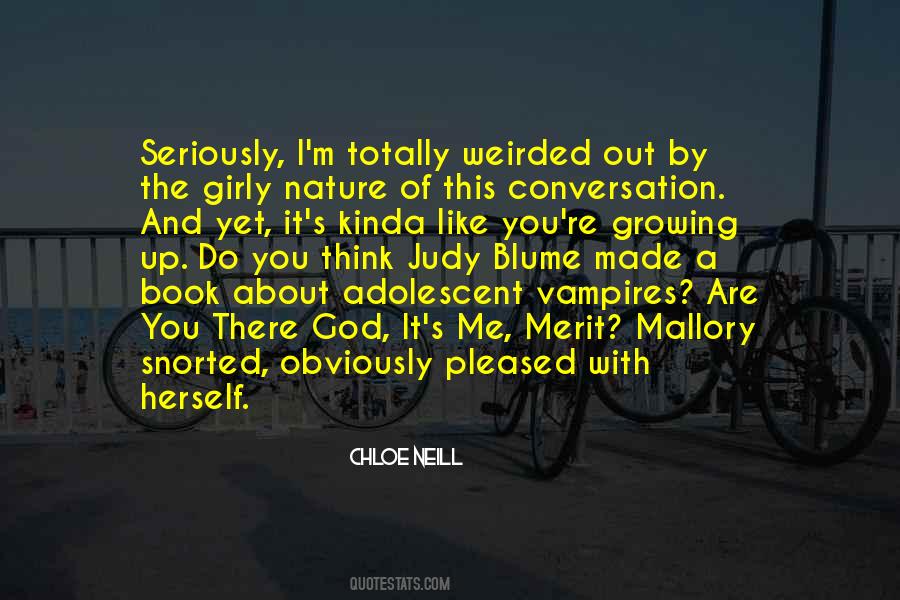 #85. Firstly, prayer is a conversation between God and the soul, and secondly, a particular language is spoken: God's language. Prayer is dialogue, not man's monologue before God. - Author: Hans Urs Von Balthasar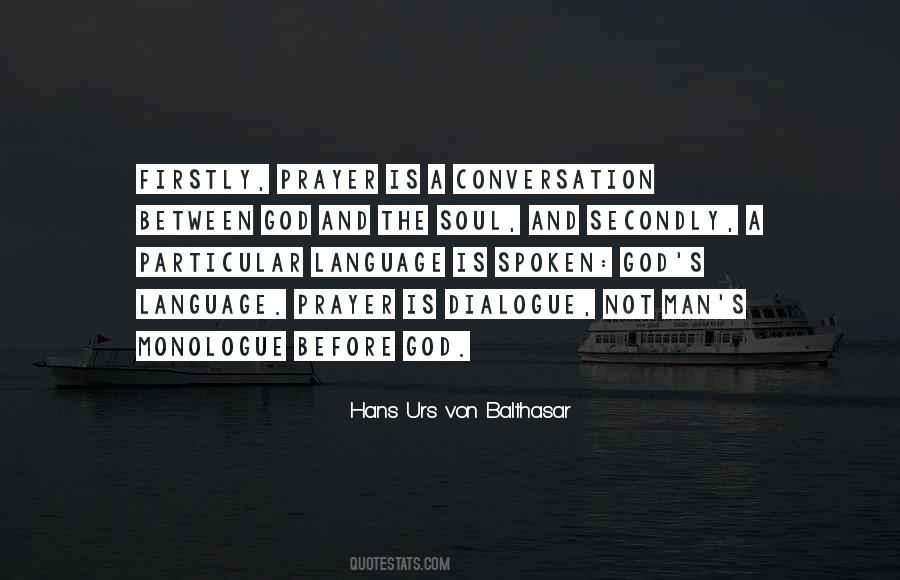 #86. Coaching is an ongoing intentional conversation that empowers a person or group to fully live out God's calling. - Author: Keith E. Webb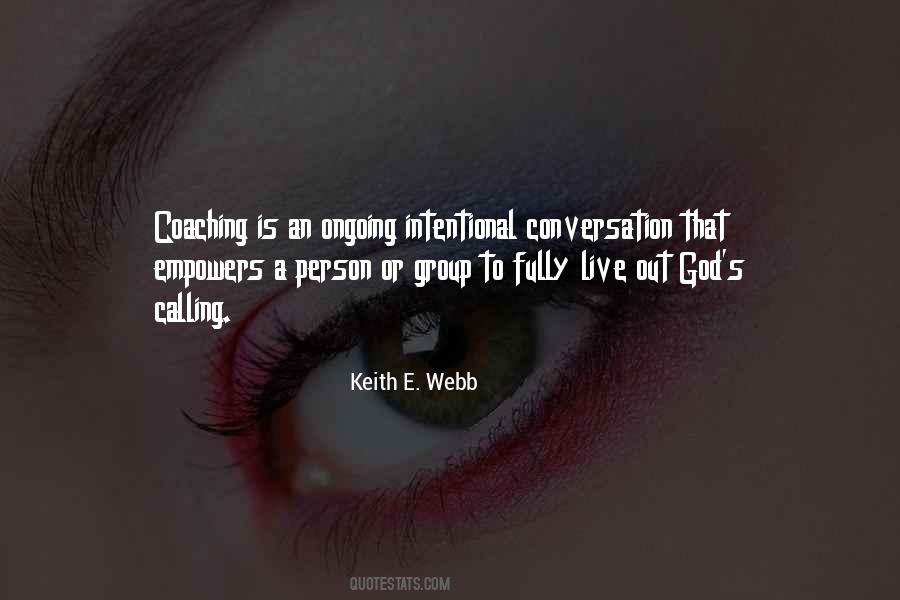 #87. Every conversation does not have to be blatantly spiritual for God to make it positively effectual. Sometimes God gives us favor with people who are touched or impressed with how we express ourselves because God empowered our words even when the listener couldn't distinguish the difference. - Author: Beth Moore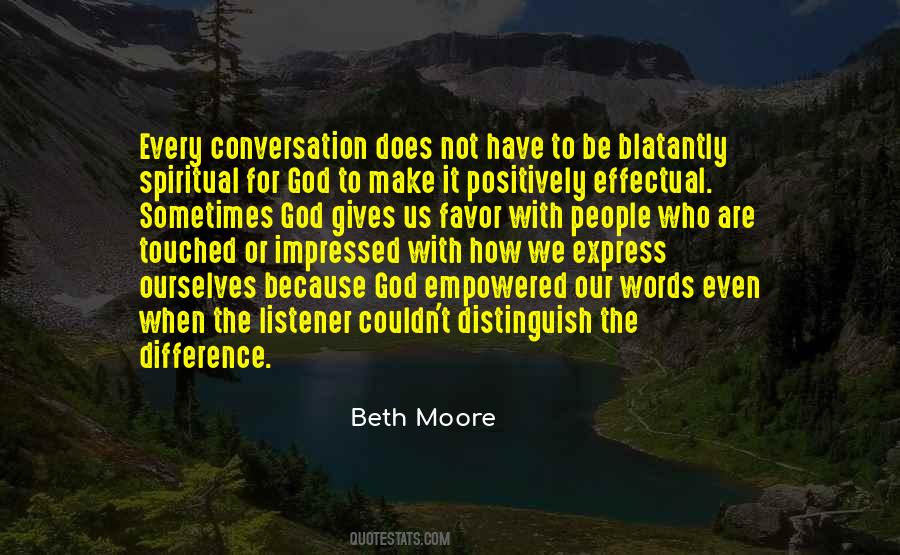 #88. We may make an oratory of our heart wherein to retire from time to time to converse with Him in meekness, humility, and love. Every one is capable of such familiar conversation with God, some more, some less. He knows what we can do. Let us begin, then. - Author: Brother Lawrence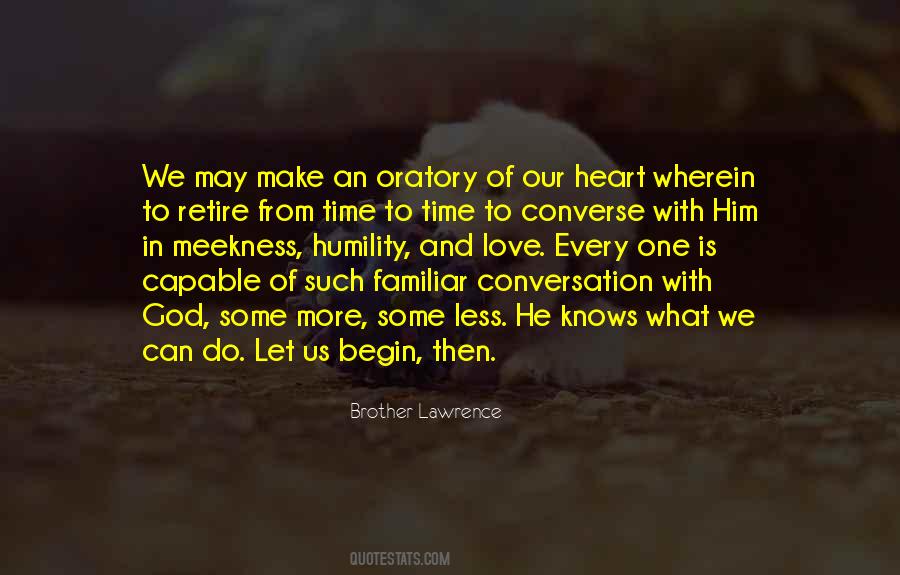 #89. 1. That he had approved himself to his own conscience, verse 12: "For our own rejoicing is this, the testimony of our conscience, that in simplicity and godly sincerity, not with fleshly wisdom, but by the grace of God, we have had our conversation in the world, and more abundantly to you-ward." 2. - Author: Jonathan Edwards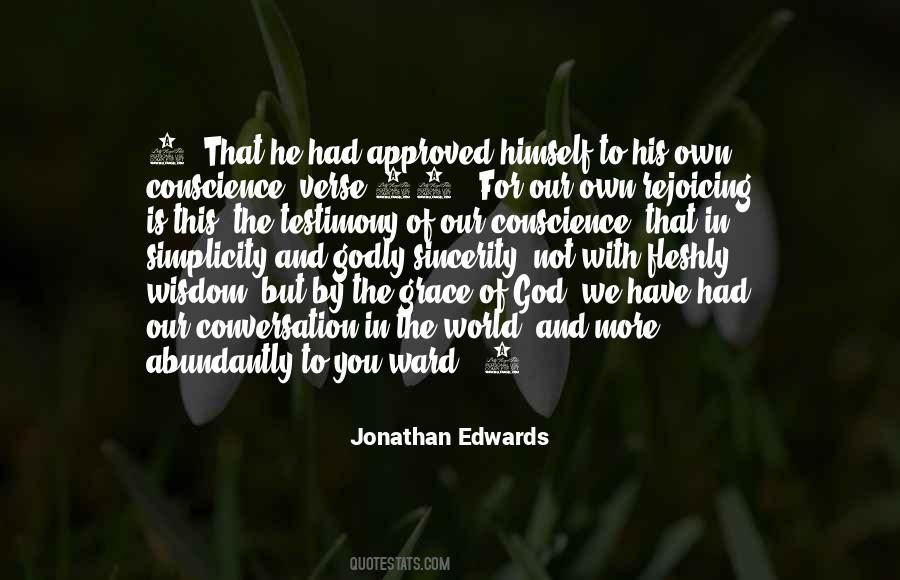 #90. It is because of the hasty and superficial conversation with God that the sense of sin is so weak and that no motives have power to help you to hate and flee from sin as you should. - Author: Aiden Wilson Tozer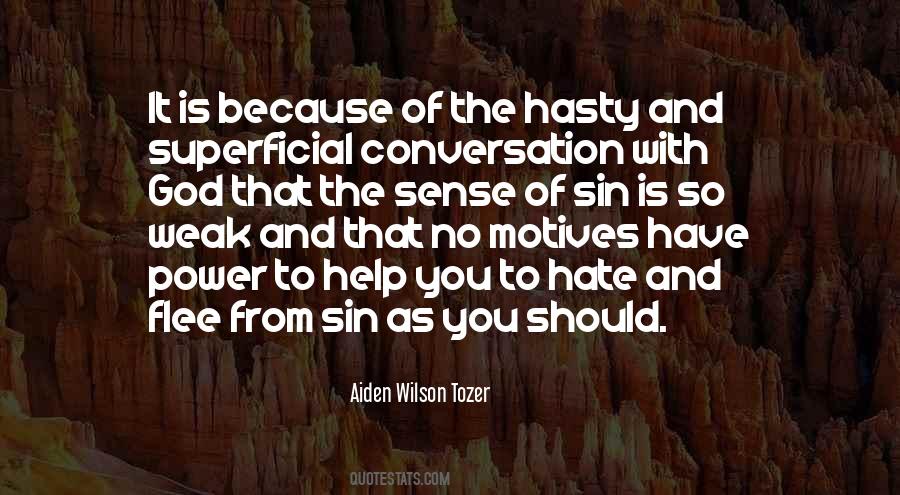 #91. I drove away from my mind everything capable of spoiling the sense of the presence of God ... I just make it my business to persevere in His holy presence ... My soul has had an habitual, silent, secret conversation with God. - Author: Brother Lawrence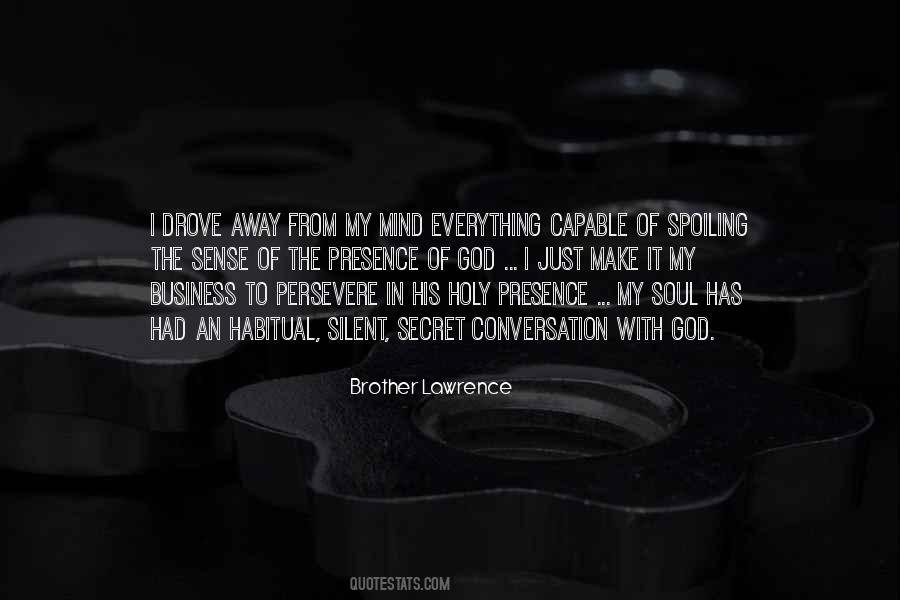 #92. It is not necessary to maintain a conversation when we are in the presence of God. We can come into His presence and rest our weary souls in quiet contemplation of Him. Our groanings, which cannot be uttered, rise to Him and tell Him better than words how dependent we are upon Him. - Author: Ole Hallesby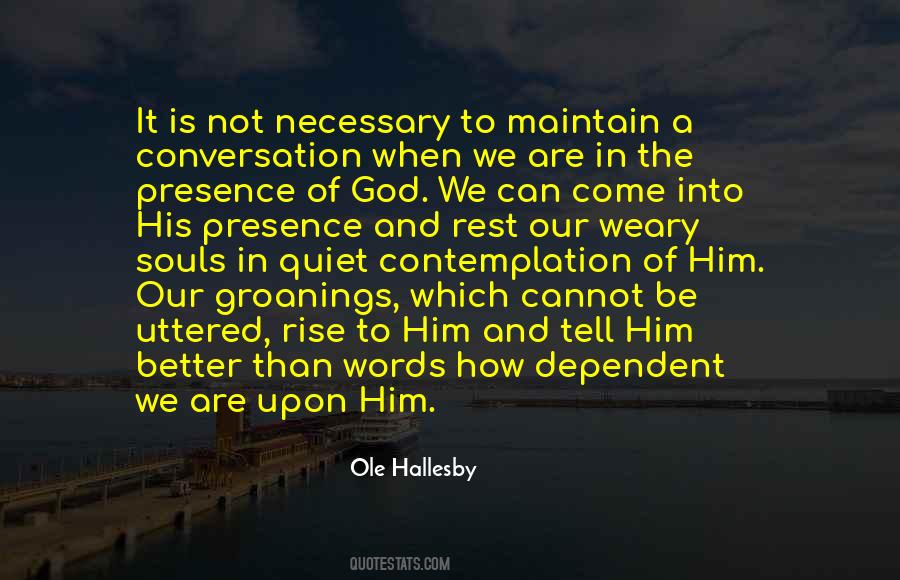 Famous Authors
Popular Topics