Follow Your Soul Famous Quotes & Sayings
List of top 74 famous quotes and sayings about follow your soul to read and share with friends on your Facebook, Twitter, blogs.
Top 74 Follow Your Soul Quotes
#1. I left my soul at Tears of Crimson, the New Orleans Vampire Bar. If found, don't return follow me into the endless night. - Author: Michelle Hughes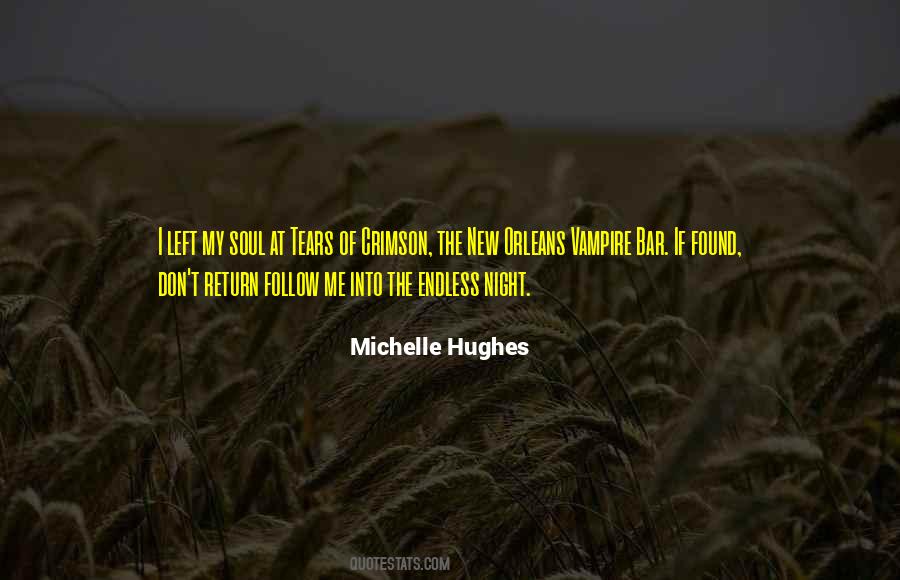 #2. To lift Him up, to preach His name, and to invite souls to love Him and to follow Him is the highest, heavenliest privilege of human life. - Author: W. A. Criswell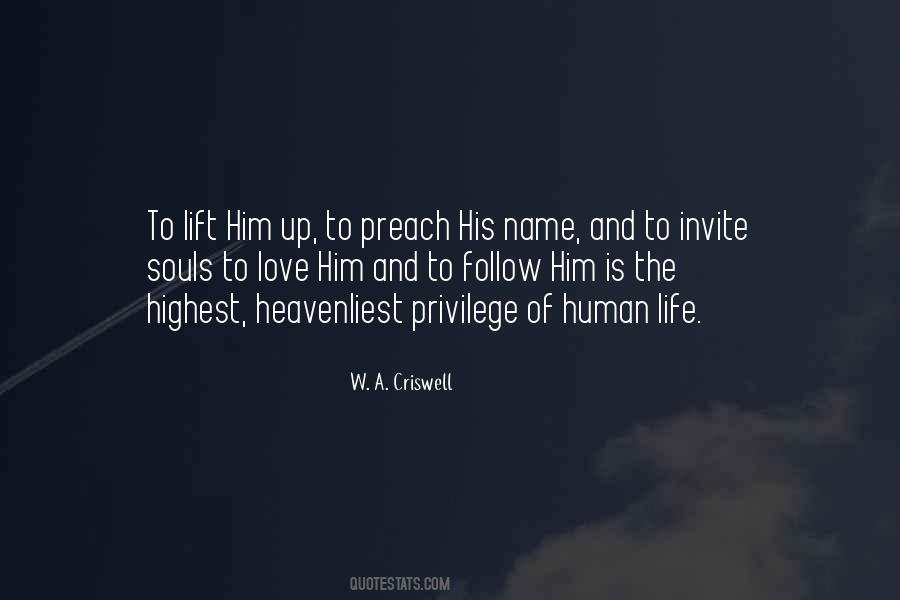 #3. Don't bend; don't water it down; don't try to make it logical; don't edit your own soul according to the fashion. Rather, follow your most intense obsessions mercilessly. - Author: Franz Kafka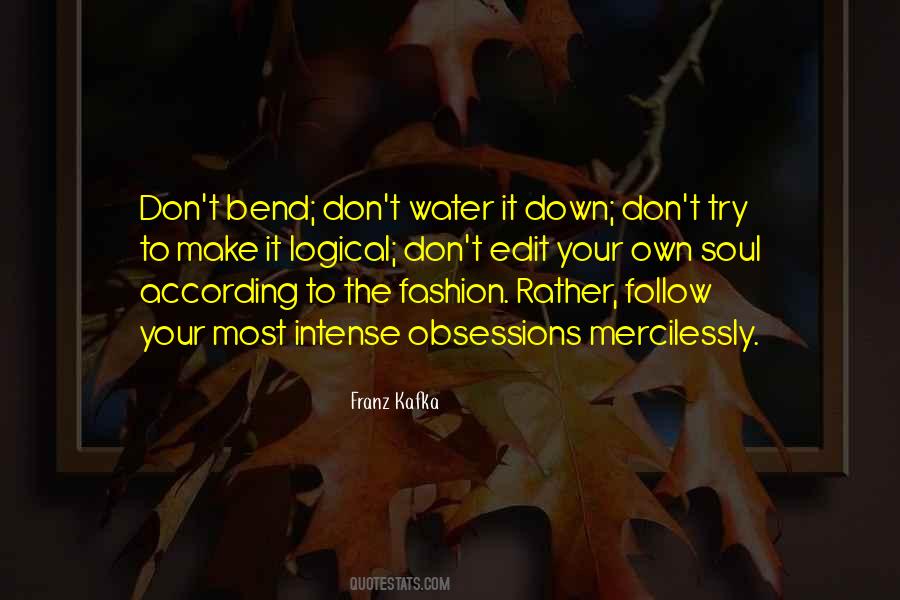 #4. And you must not worry about me. You must follow your dreams. You have your life ahead of you. I am just a wanderer passing by. - Author: Avijeet Das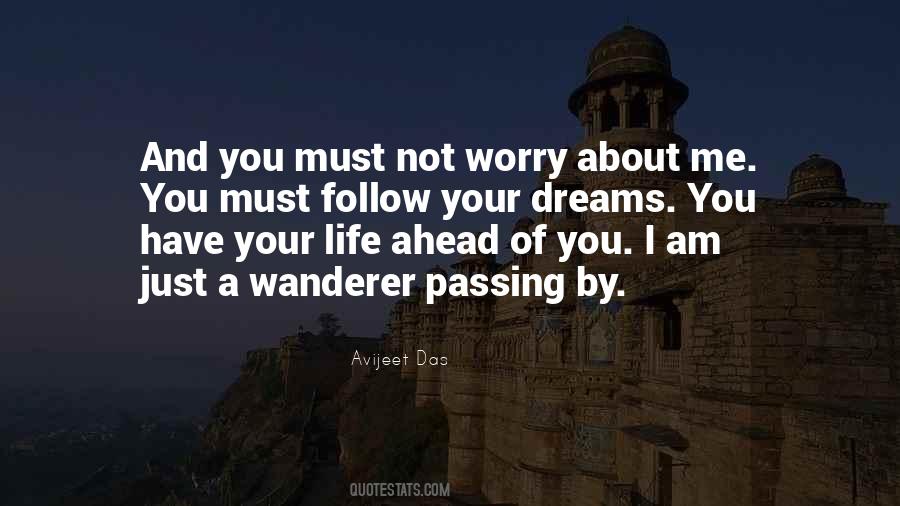 #5. A swami may conceivably follow only the path of dry reasoning, of cold renunciation; but a yogi engages himself in a definite, step-by-step procedure by which the body and mind are disciplined, and the soul liberated. - Author: Paramahansa Yogananda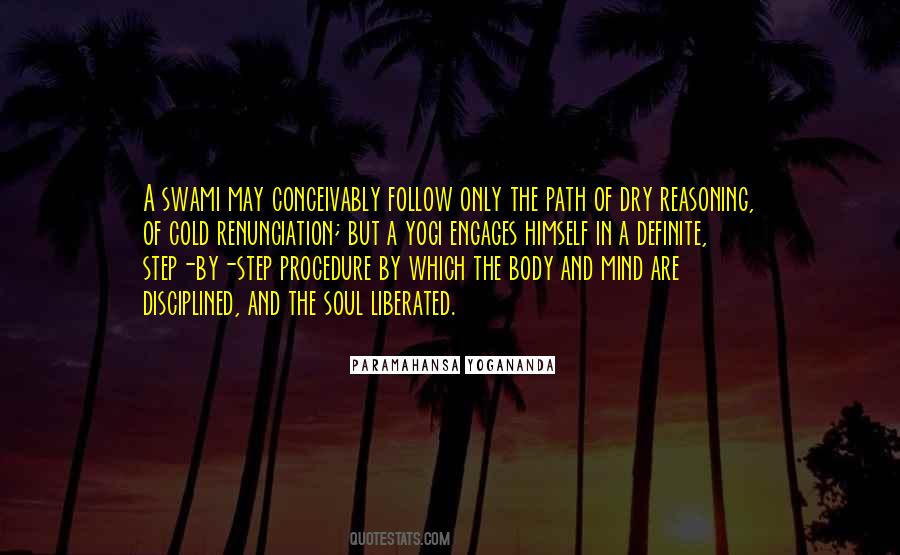 #6. Harry understood that those left behind - the failures and the deformed, the suffering and the dead - are not just equal in soul, but that they are we and we are they. Struggle as we may for distinction, soon enough we fail, and, without exception, follow. - Author: Mark Helprin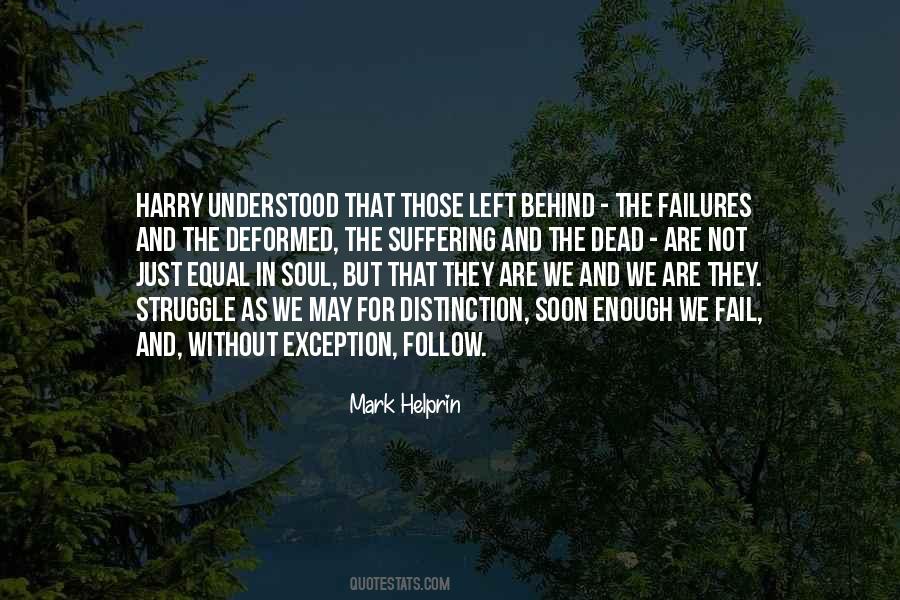 #7. The greatest comfort comes from within. Sit down comfortably. As you control your breath, let your mind watch your body. Tell yourself, "It's Ok." At this moment your soul will find peace and your body, too, will follow, finding comfort and new strength. - Author: Ilchi Lee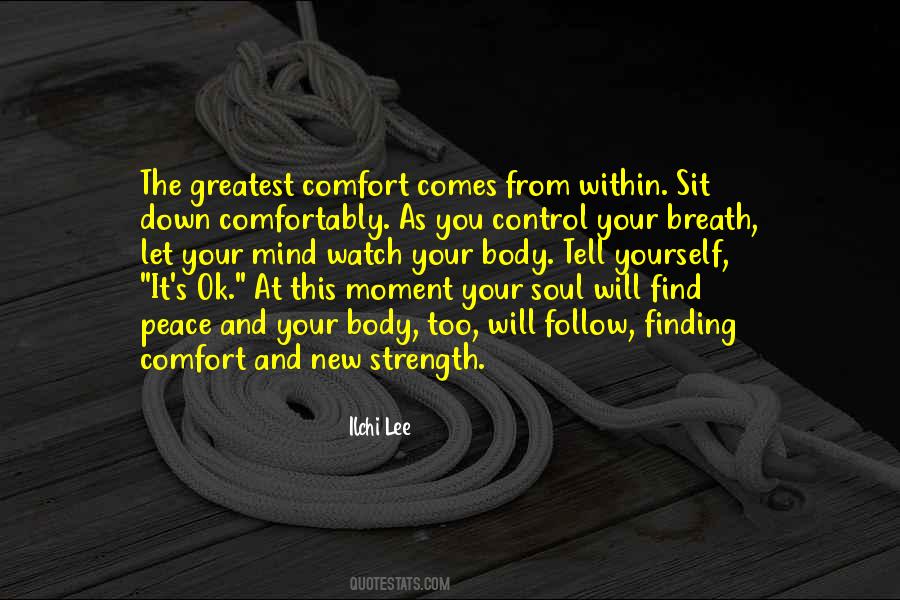 #8. I must follow the inscrutable exhortations of my soul. - Author: Bill Watterson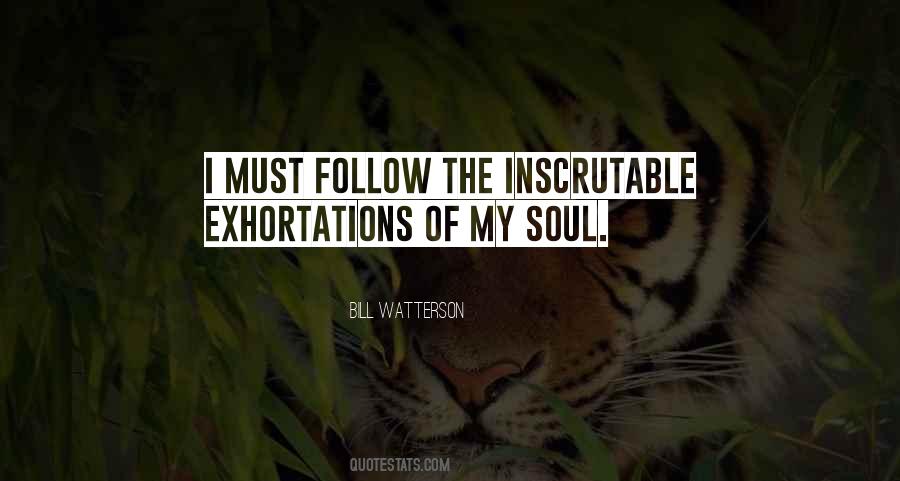 #9. The soul-Self doesn't follow the crowd. It encourages you to speak up when you need to and live by your truth. - Author: Debra Moffitt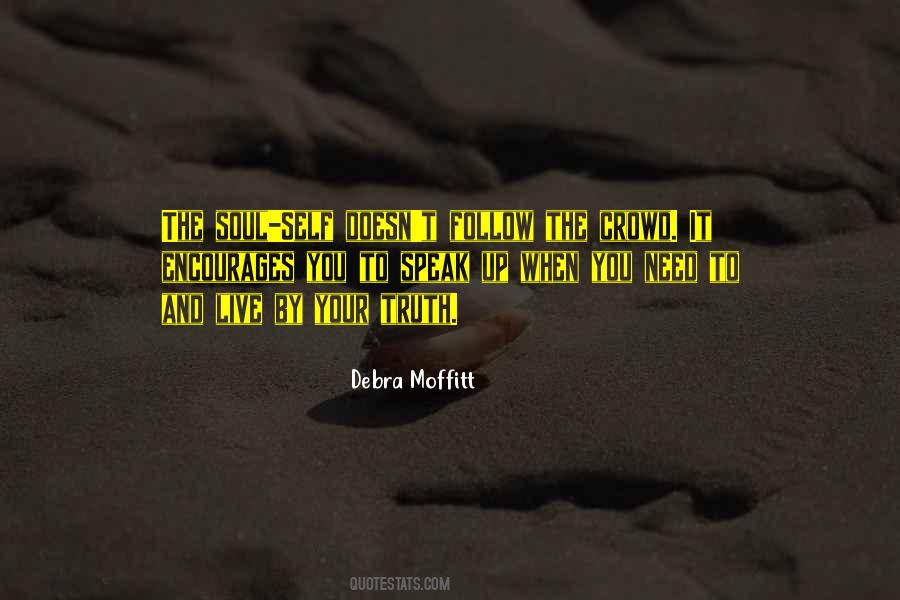 #10. On the third day after someone dies, the soul comes back to settle scores. In my mother's case, this would be the first day of the lunar new year. And because it is the new year, all debts must be paid, or disaster and misfortune will follow. - Author: Amy Tan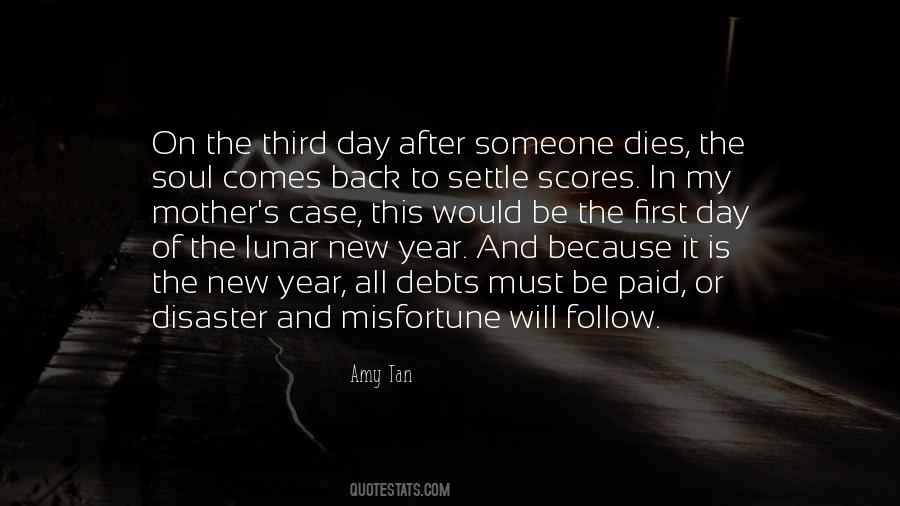 #11. If the earth needs night as well as day, wouldn't it follow that the soul requires endarkenment to balance enlightenment? - Author: Tom Robbins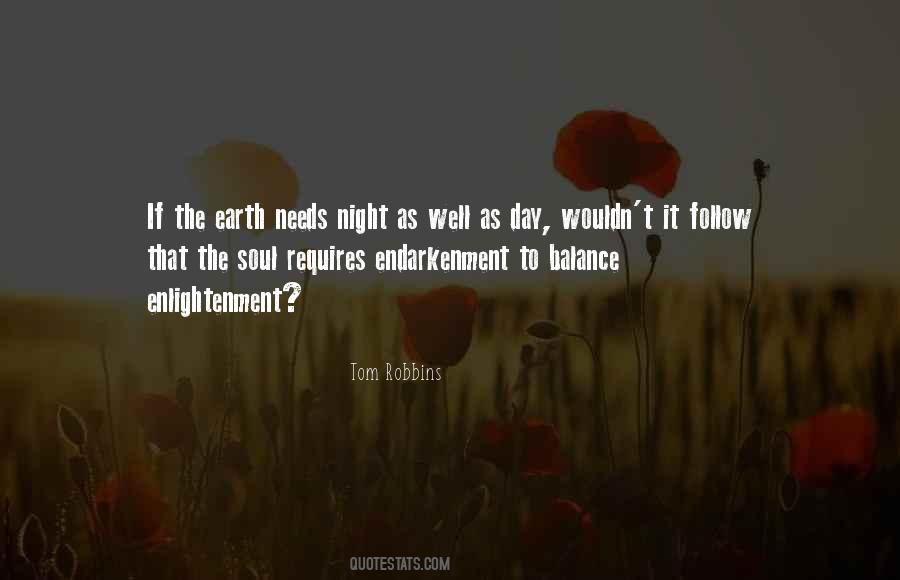 #12. The art of Mime encompasses all the feelings of the soul. The Dance, on the other hand, is essentially an expression of joy, a desire to follow the rhythms of the music. - Author: August Bournonville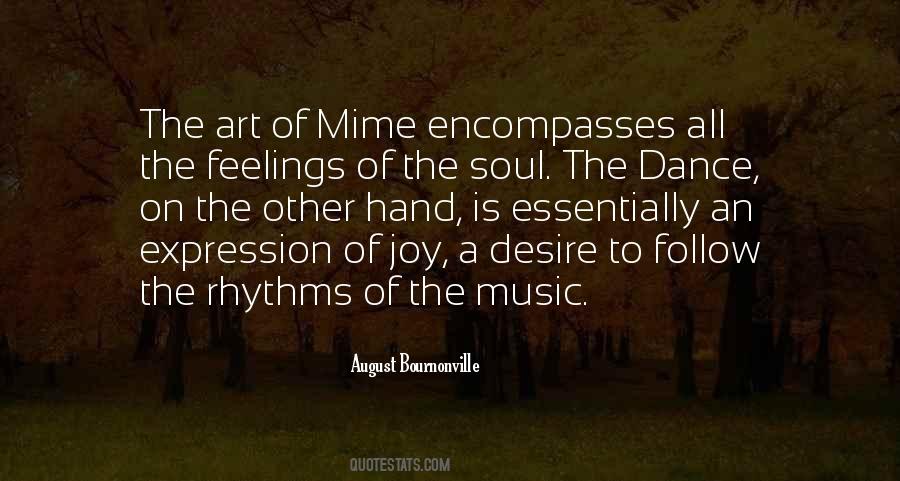 #13. Christianity is a religion which concerns us as we are here and now, creatures of body and soul. We do not "follow the footsteps of his most holy life" by the exercise of a trained religious imagination, but by treading the firm, rough earth, up hill and down dale. - Author: Evelyn Underhill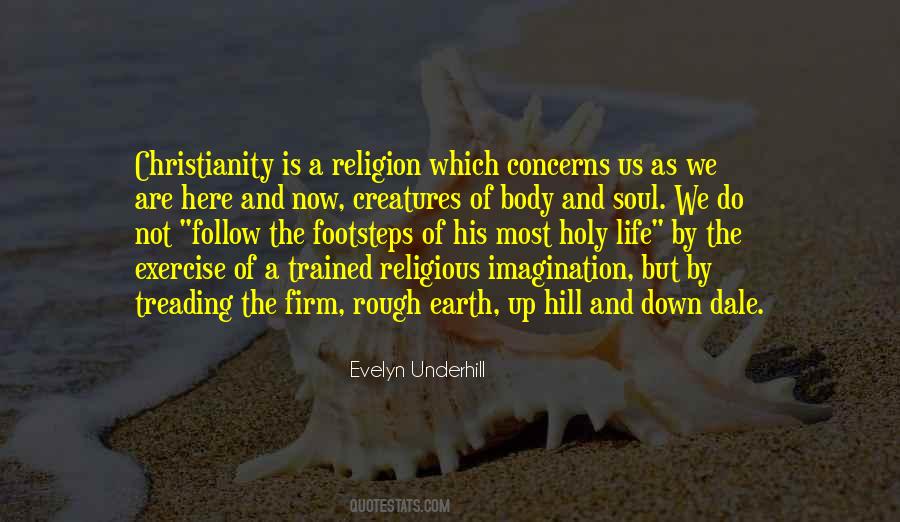 #14. summer of 2011, when the first call to walk the Camino Santiago de Compostela had tugged at my soul, I would not have known this was my why. A tug so fierce I had no choice but to follow, the next years would guide me to - Author: Katharine Elliott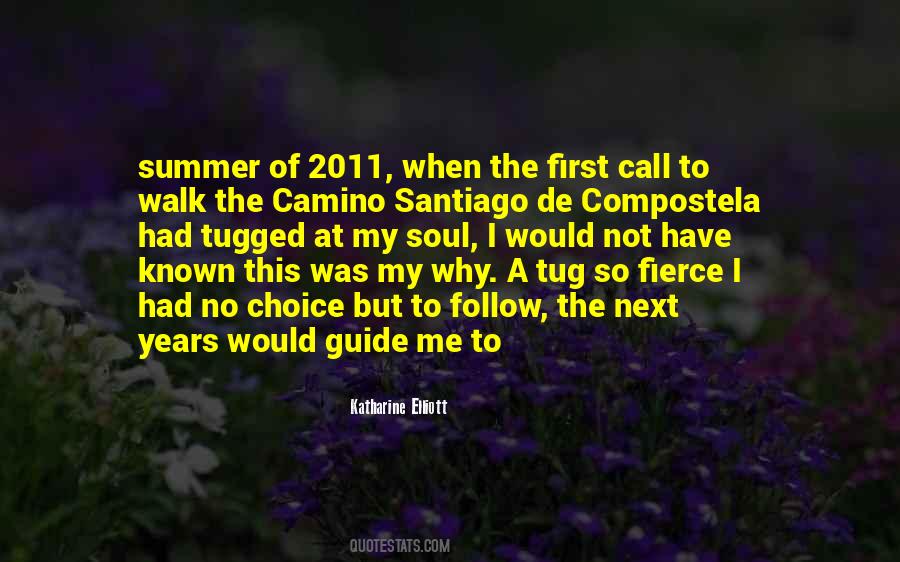 #15. Heal the soul first; then healing of the mind and body will follow. - Author: Zhi Gang Sha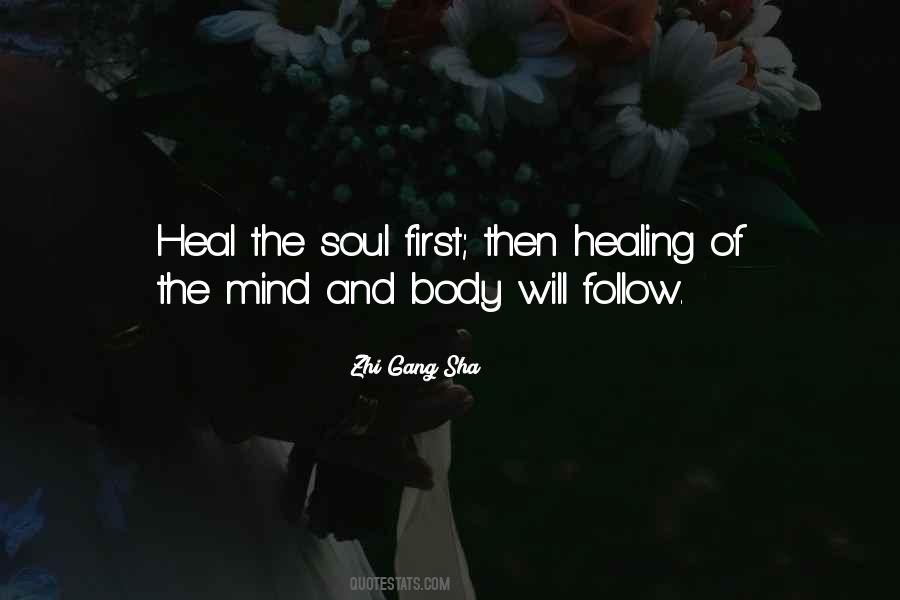 #16. You need to be confronted
By the Stranger on the shore
You need to have Him search your soul
You need to hear the call
You need to learn exactly
What it means for you to follow
You need to realize that He's asking for your all. - Author: Michael Card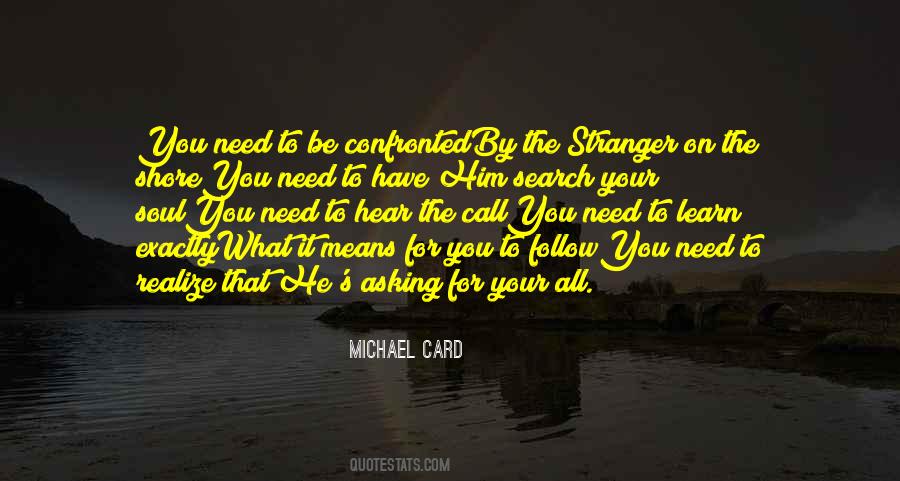 #17. Yes, she is the fruit that will Sustain me and yes, she brings A rain that I know can chill But it is a rain so sweet and sings A song my soul insists That I follow, if I would exist As more than I have ever, ever been If my mother calls it evil, then I embrace the sin - Author: Walter Dean Myers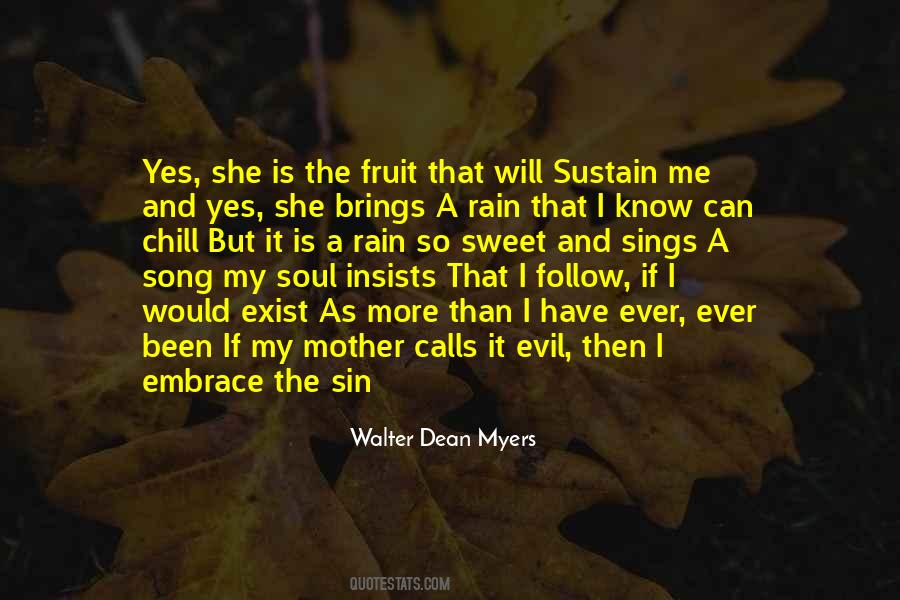 #18. Something watches over us and we know it when we follow the little voice inside or heed the warning or inspiration that arrives as if on wings. We need the intermediaries that keep us close to the spirit of life, to the wonders of nature and to the subtleties of our own inner nature. - Author: Michael Meade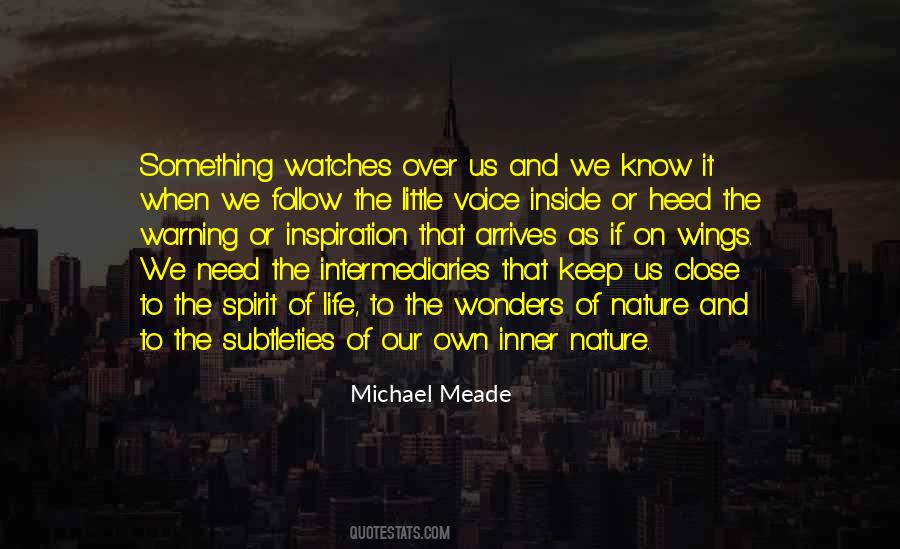 #19. Sold my soul long ago, nothing left to choose. I will follow Satan. Dancing in the dark. - Author: Lana Del Rey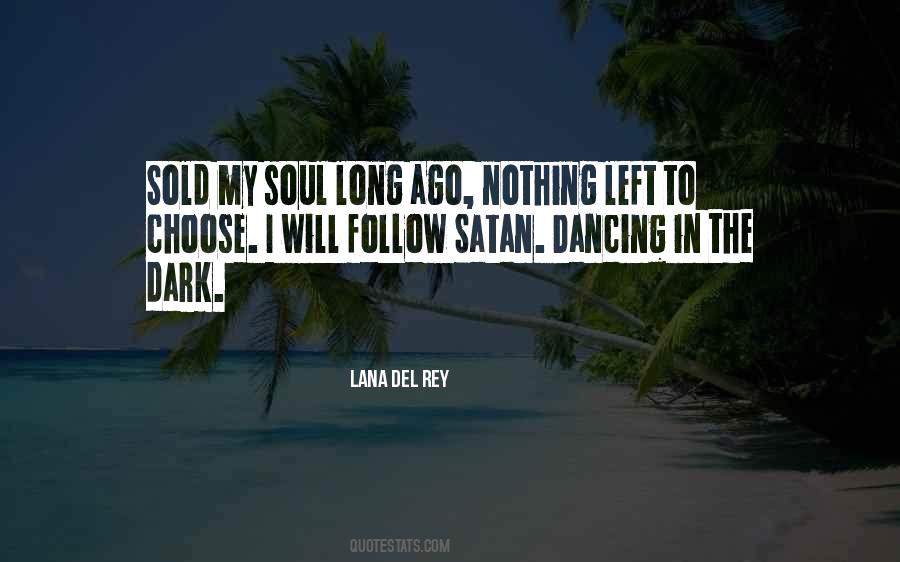 #20. Faith will help put us together on the same direction. Faith is building a relationship with God where he is in control. It is about believing although we do not always see. Do we love God with all our heart, mind, and soul? Can we follow his voice? - Author: Phil Mitchell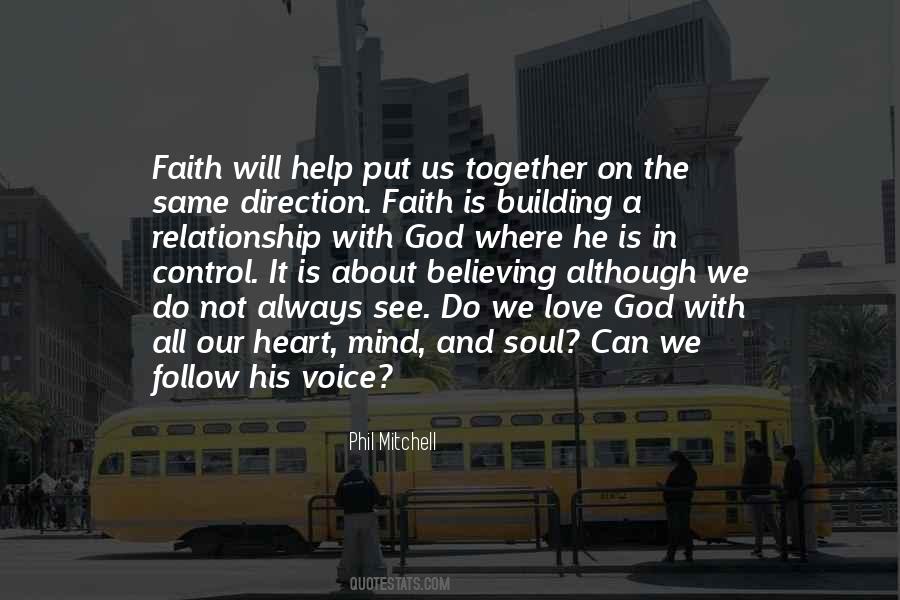 #21. By spiritually I merely mean that I feel I have good in my soul and am inclined to follow the correct course of action given a prescribed set of circumstances. - Author: Jasper Fforde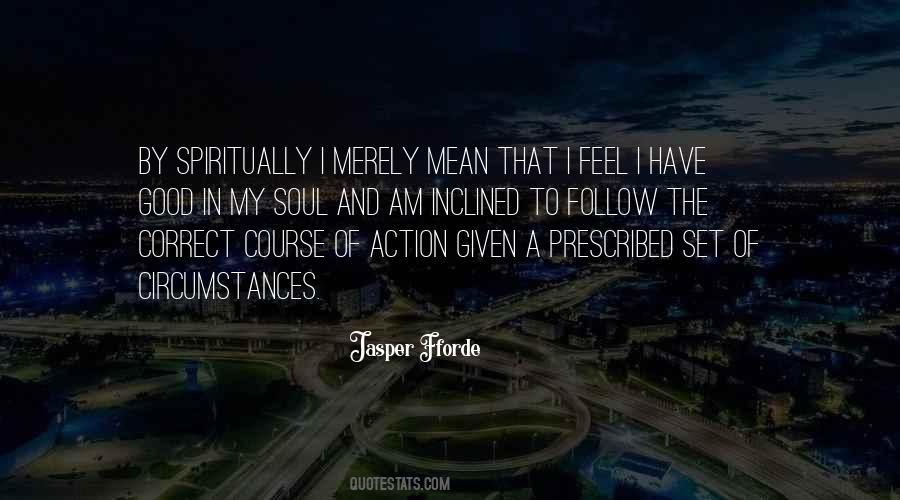 #22. Are you gonna follow your soul? Or just the style of the day? - Author: Dan Bern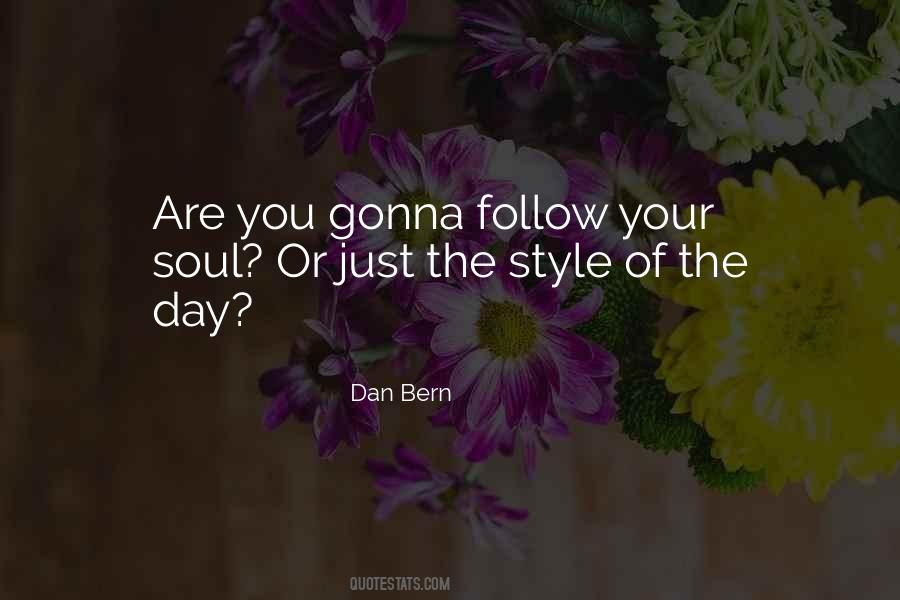 #23. I don't settle down. I don't follow any path.
Because I am the wanderer and wandering is my destiny! - Author: Avijeet Das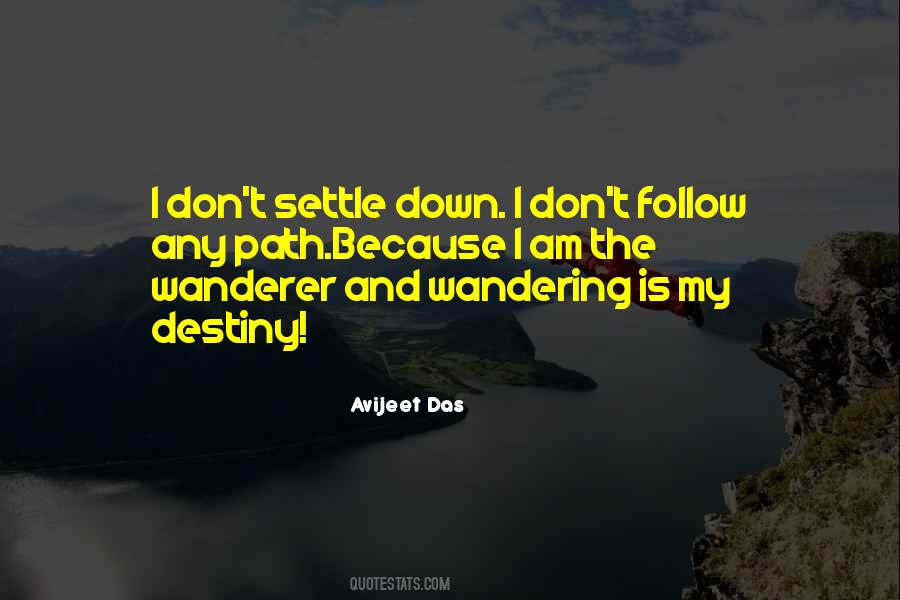 #24. Running was a part of my hardwiring, and that's what I wanted to do. So this is what I tell people who talk about wanting to follow their passion. 'It doesn't have to be running. It can be basket weaving. Be the best basket weaver in the world. Throw your heart and soul into it.' - Author: Dean Karnazes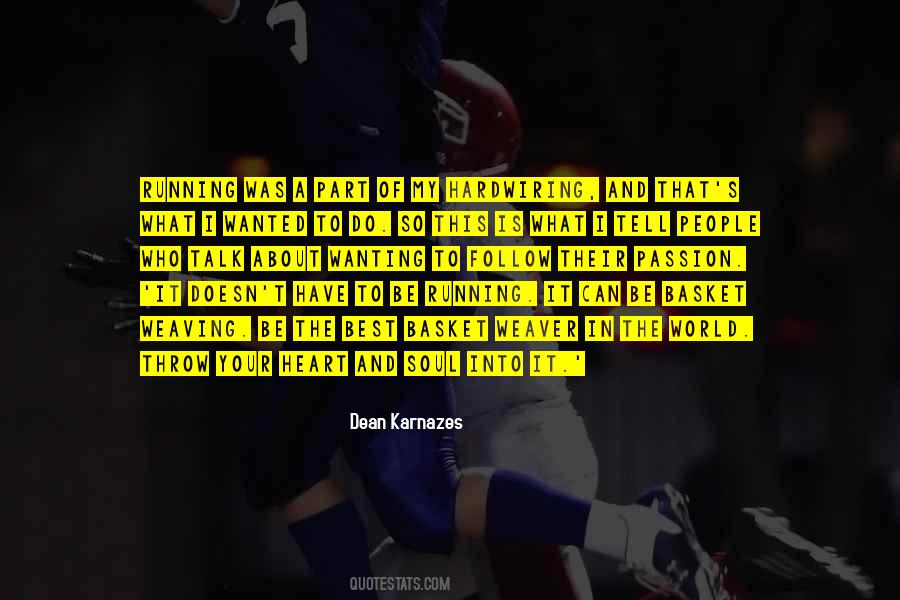 #25. He was not thinking that the Christian law which he had wanted to follow all his life prescribed that he forgive and love his enemies; but the joyful feeling of love and forgiveness of his enemies filled his soul. - Author: Leo Tolstoy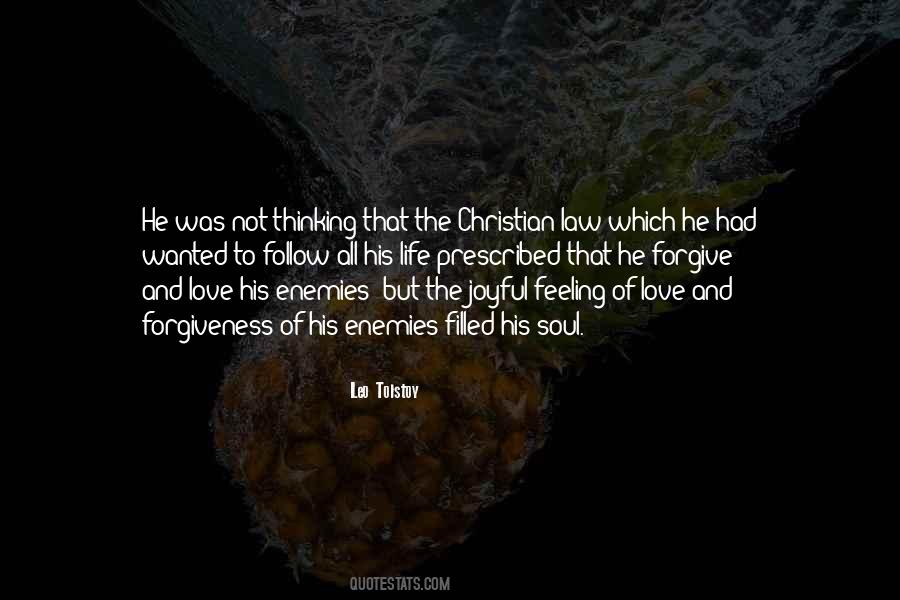 #26. Escape your troubles with your mind first and your soul will eventually follow - Author: Timothy Pina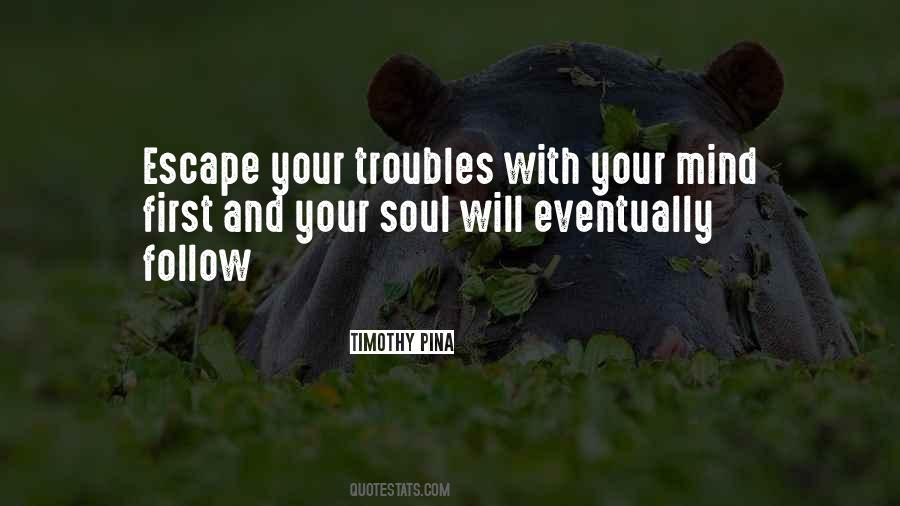 #27. My father was my main influence. He was a preacher, but he was also a history and political science teacher, and since he was my hero, I wanted to follow in his footsteps and become a teacher. - Author: David Soul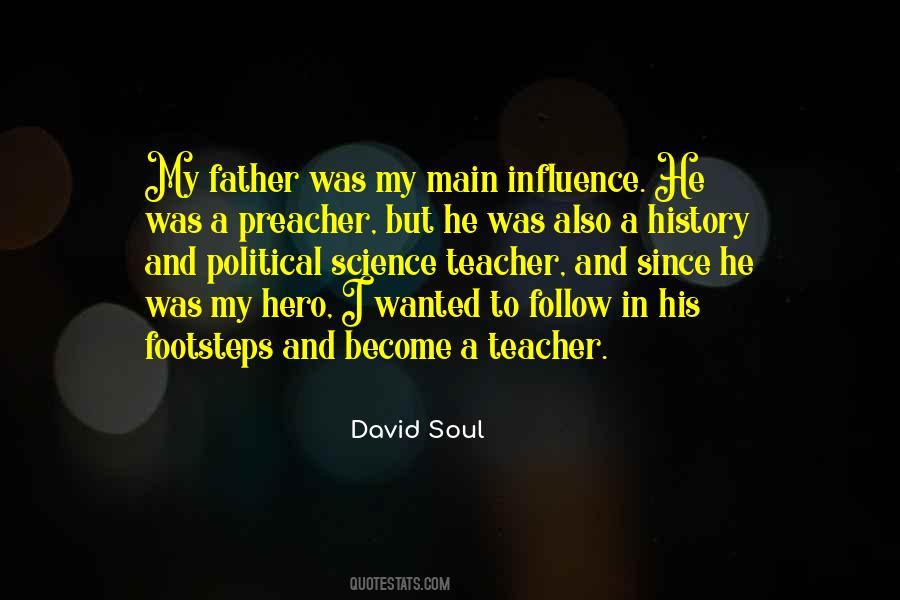 #28. If you have no soul you can gut it out. You know, like a marionette, you'll just follow what seems to actually give you whatever you ain't got. - Author: Chuck D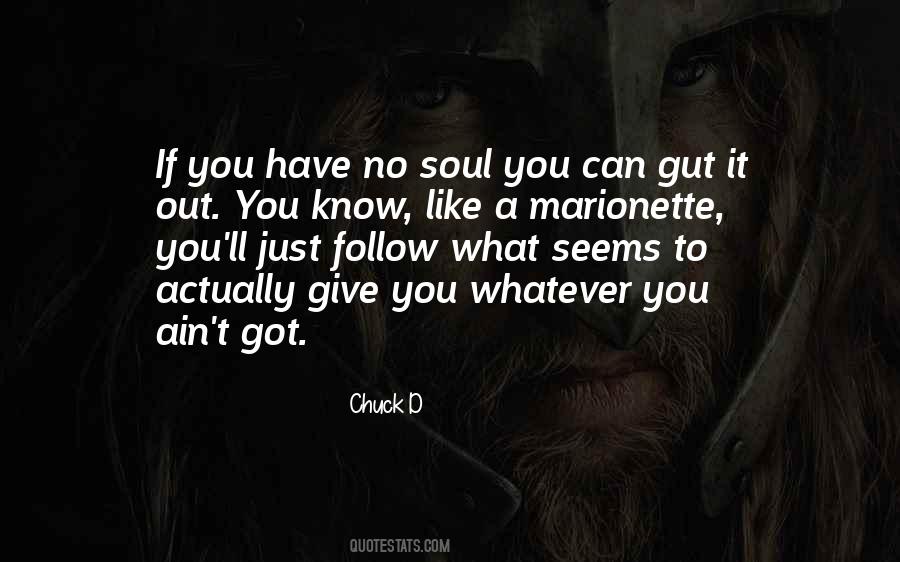 #29. Then he holds her and for a moment I hear total silence; that totally silent part of a cry that announces that the most horrible grief is going to follow. And it does, and he's muffling it, but I can hear and I want someone to come over and jab her with a sedative because its pitch pierces my soul. - Author: Melina Marchetta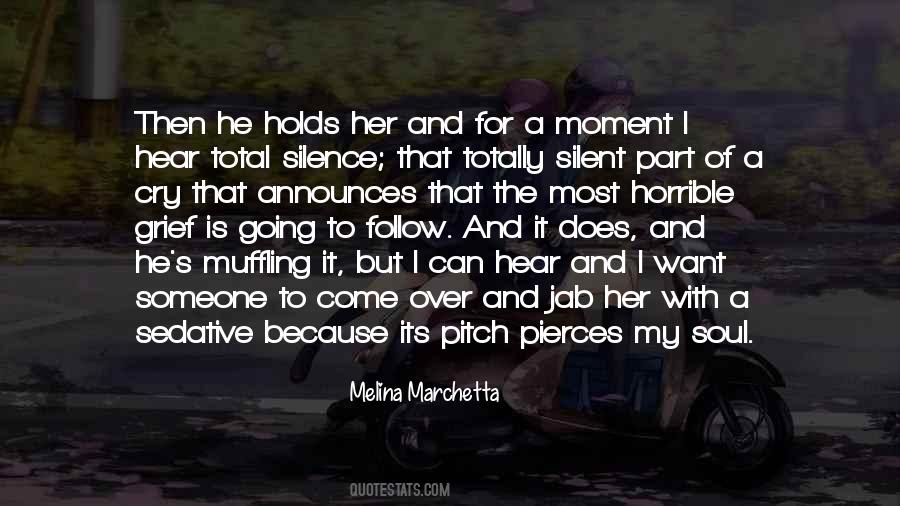 #30. May my children follow their own intuition to discover true empowerment - in the answers they seek. - Author: Eleesha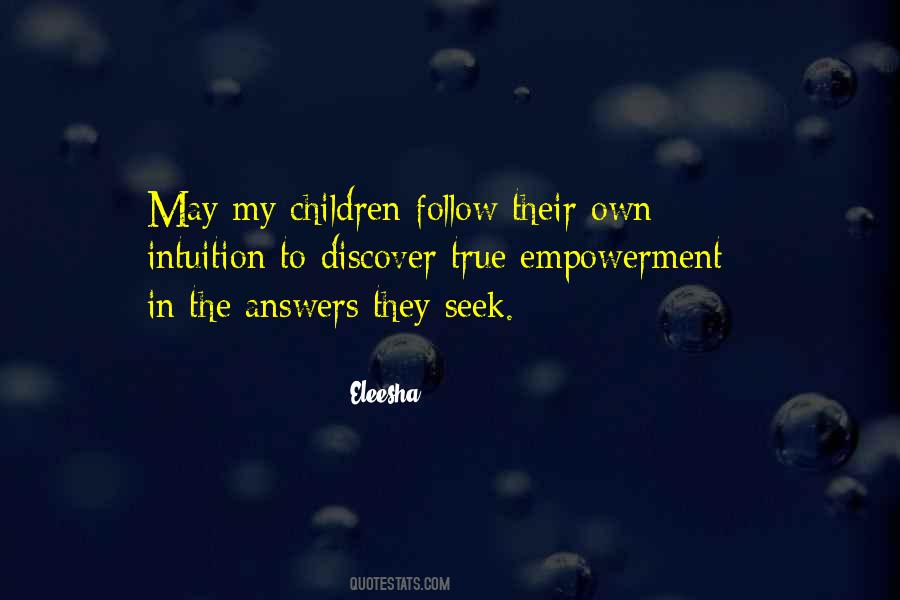 #31. The soul speaks to you in feelings. Listen ... follow [and] honour your feelings. - Author: Neale Donald Walsch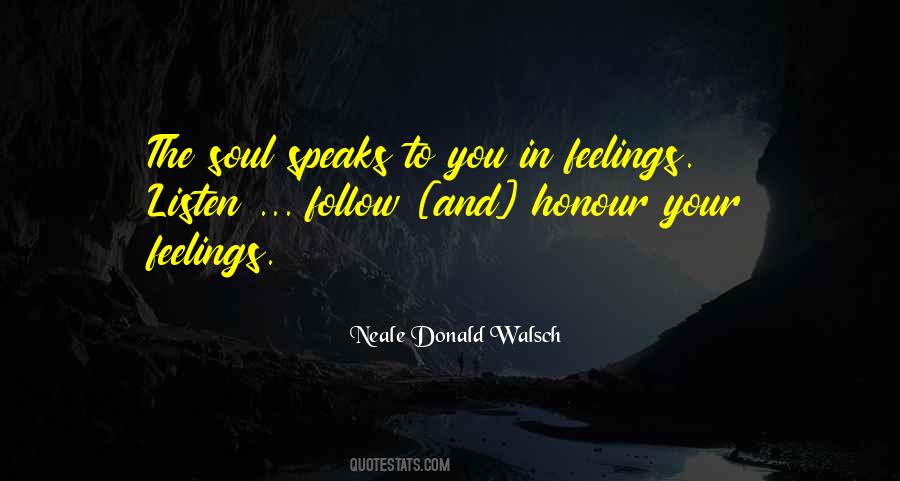 #32. A fragment for my friend - If your soul left this earth I would follow and find you Silent, my starship suspended in night - Author: Anonymous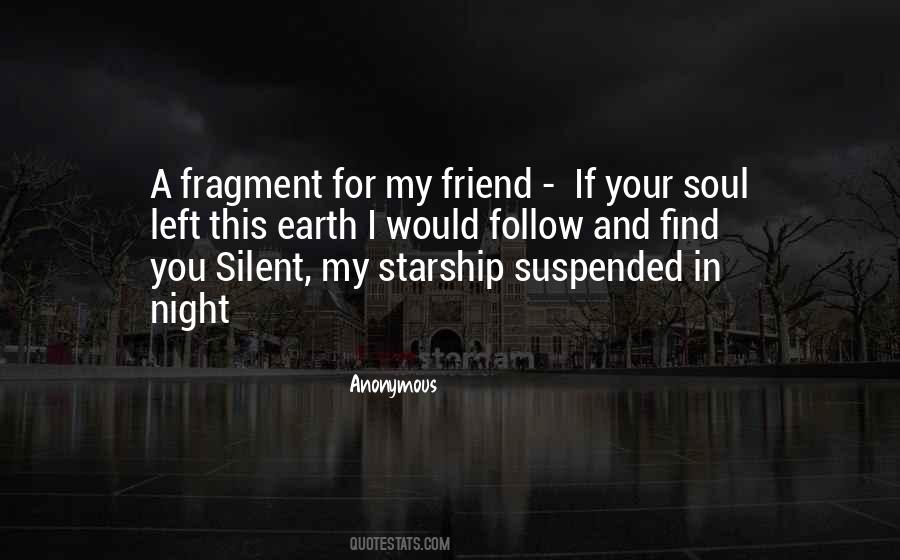 #33. I answer that, As Augustine says (De Moribus Eccl. vi), the soul needs to follow something in order to give birth to virtue: this something is God: if we follow Him we shall live aright. - Author: Thomas Aquinas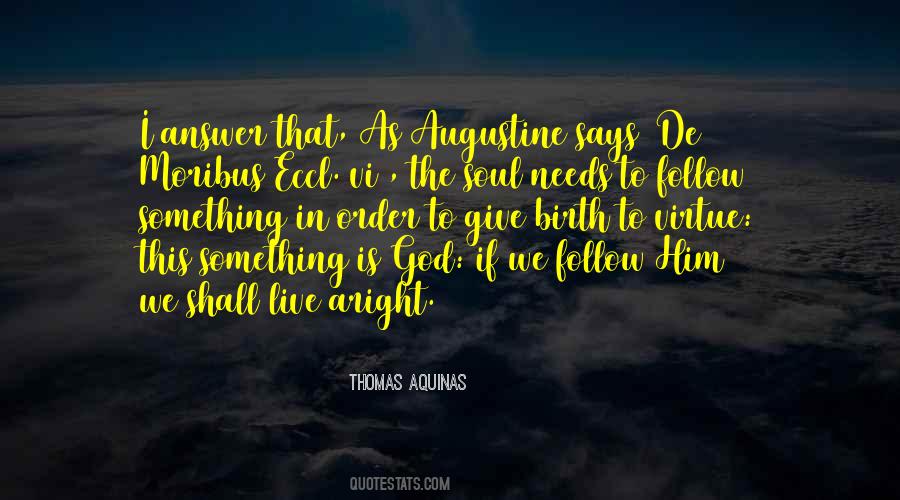 #34. Thought and science follow their own law of development; they are slowly elaborated in the growth and forward pressure of humanity, in what Shakespeare calls
... The prophetic soul,
Of the wide world dreaming on things to come. - Author: Matthew Arnold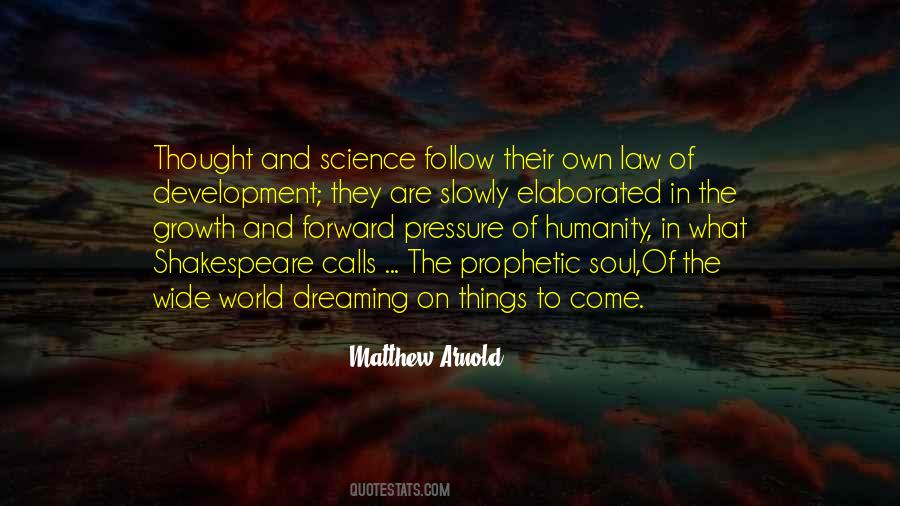 #35. Rejuvenate one's soul first, than rejuvenation of the mind and body will then follow. - Author: Scott Ravens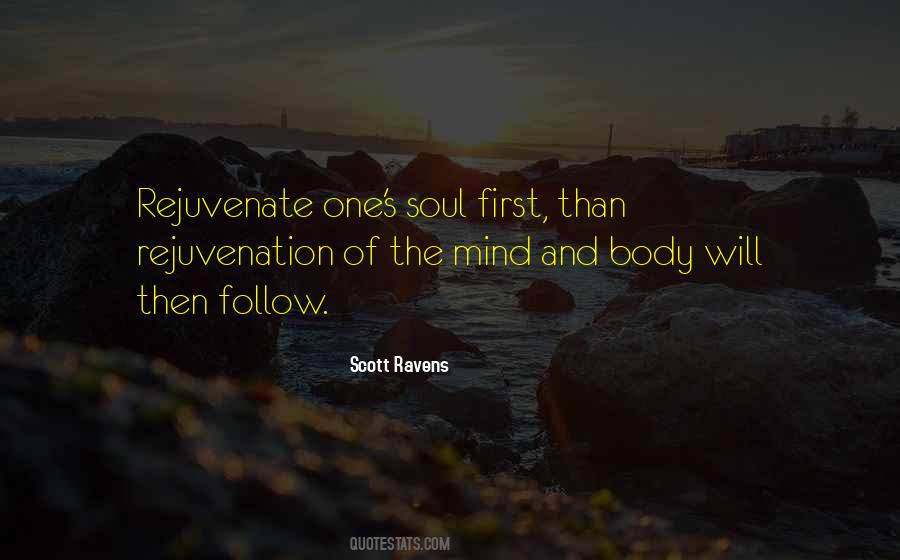 #36. Still follow sense, of ev'ry art the soul, Parts answering parts shall slide into a whole. - Author: Alexander Pope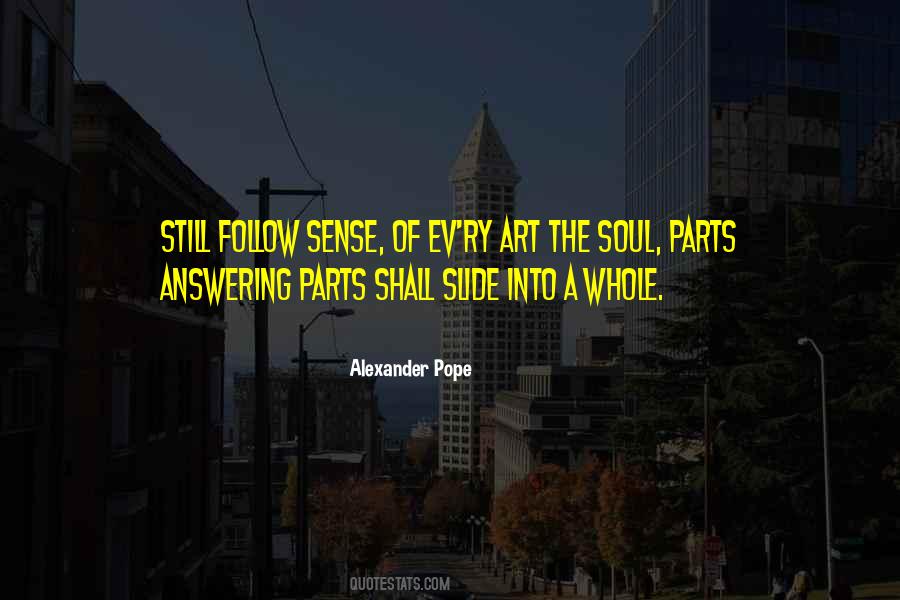 #37. Your Heart, Your Mind, Your Creator! Your Soul Will Follow. - Author: Richard M. Knittle Jr.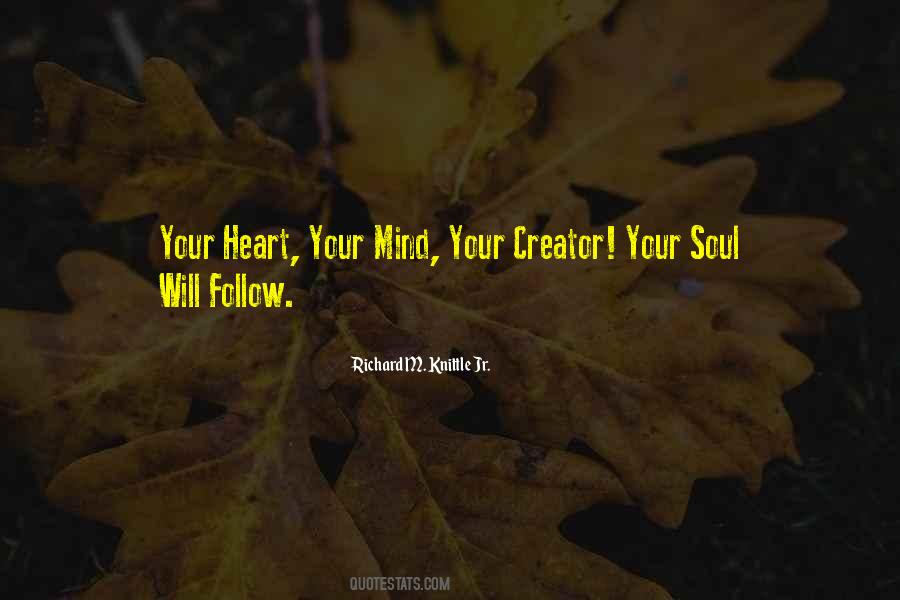 #38. Before you can hear, much less follow, the voice of your soul, you have to win back your body. You have to go on a pilgrimage beneath the skin. - Author: Meggan Watterson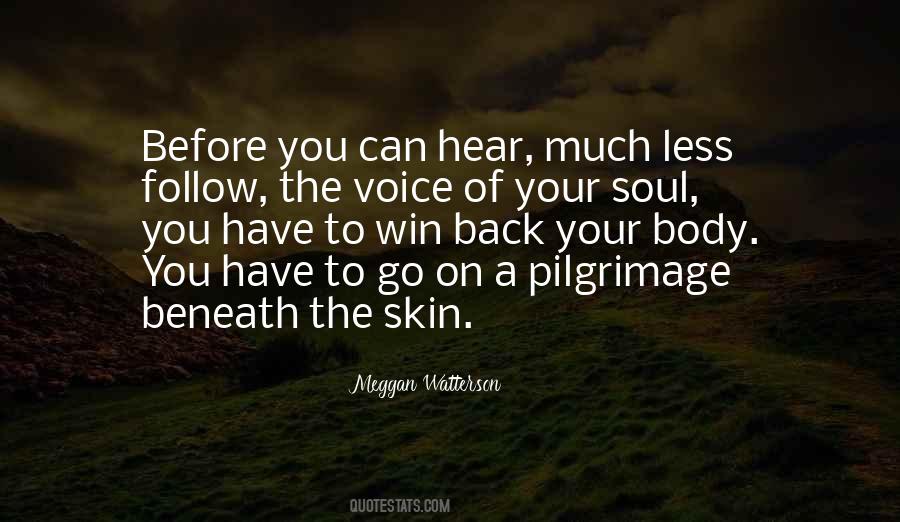 #39. Follow your heart, not the latest headlines. - Author: T.F. Hodge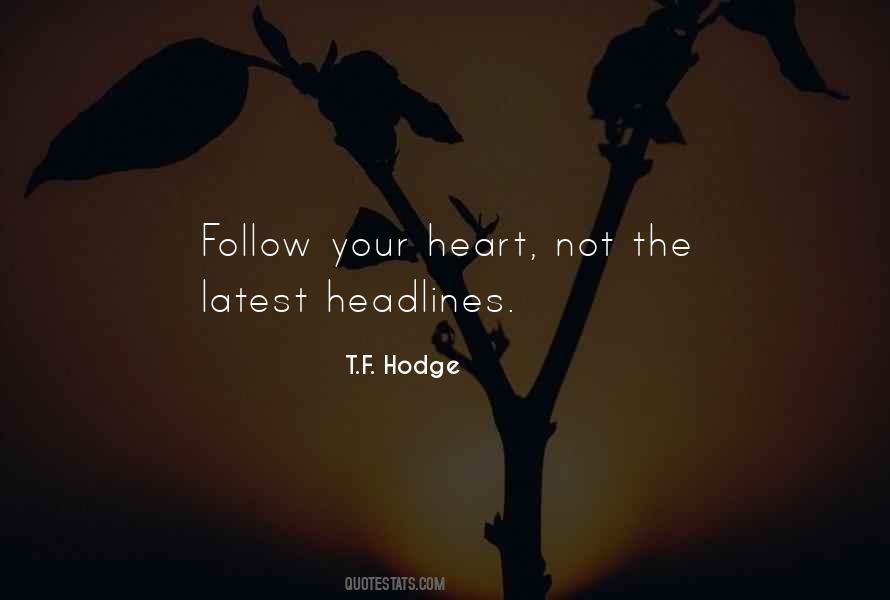 #40. I pray for guidance and strength today, to become the person I long to be and do the things I long to do. I honor the imprint of God upon my soul, and the yearning of my heart to follow the path He lays before me. - Author: Marianne Williamson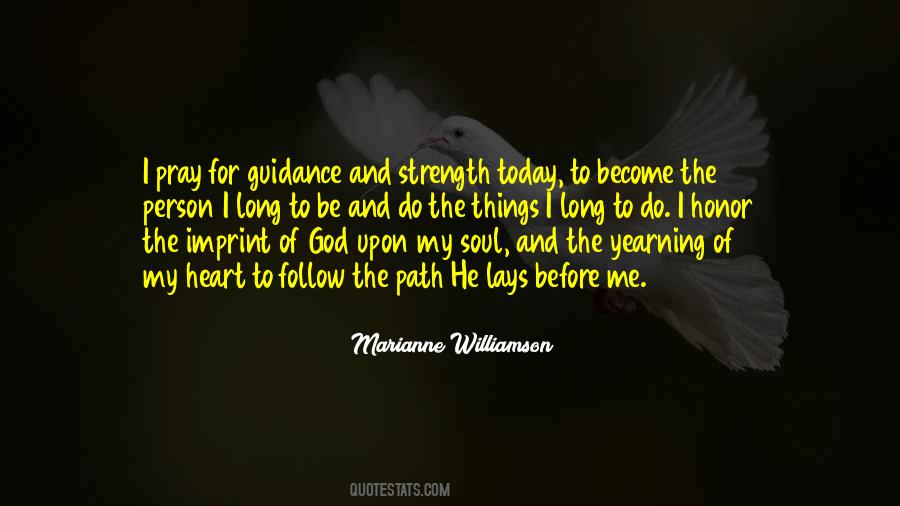 #41. God has a plan for you - I can promise you that. Your life is sacred. There is and always has been a path for your soul, and if you follow that path, it will lead you to the inner utopia that your soul longs to experience in this lifetime. - Author: Debbie Ford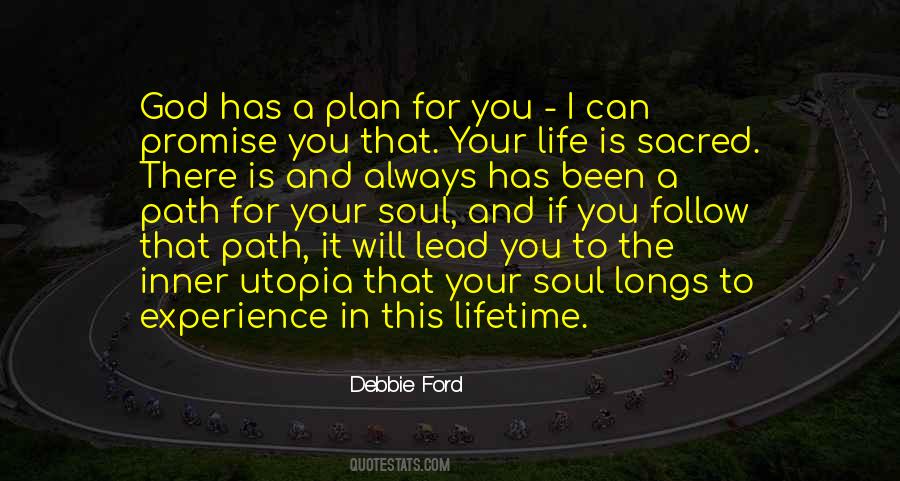 #42. Bottom line, I have to follow what my soul says, or my spirit. And my spirit said that poetry and the arts should be without borders, should be without political borders. - Author: Joy Harjo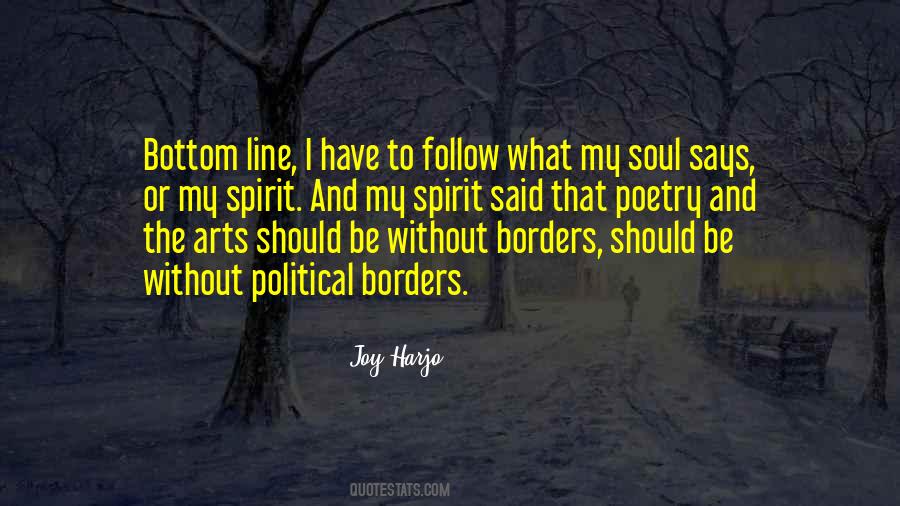 #43. When you create a lifestyle from a dream, you provide no room left; for failure. - Author: Nikki Rowe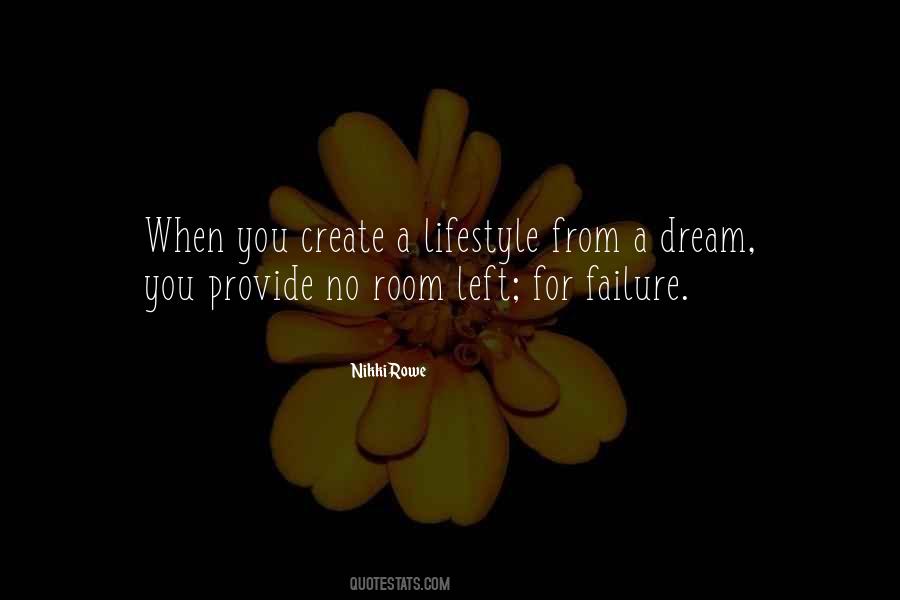 #44. I could crawl inside the lyrics and know each note intimately. They would claw at my soul, until I could no longer fight the emotions that took me to a place I couldn't experience. But, it was the possibility that made every verse a heart filled prediction and every beat a direction to follow. - Author: Shannon L. Alder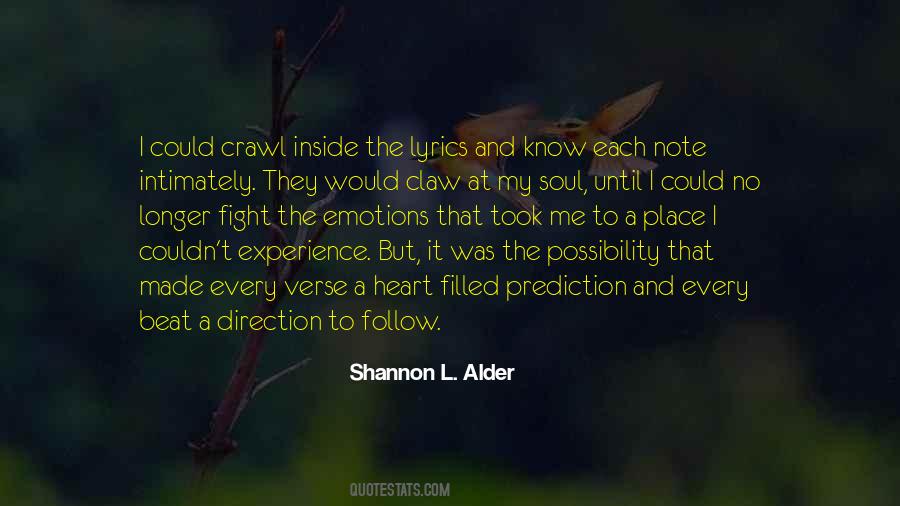 #45. Follow the lead of your symptoms, for there's usually a myth in the mess, and a mess is an expression of soul. - Author: James Hillman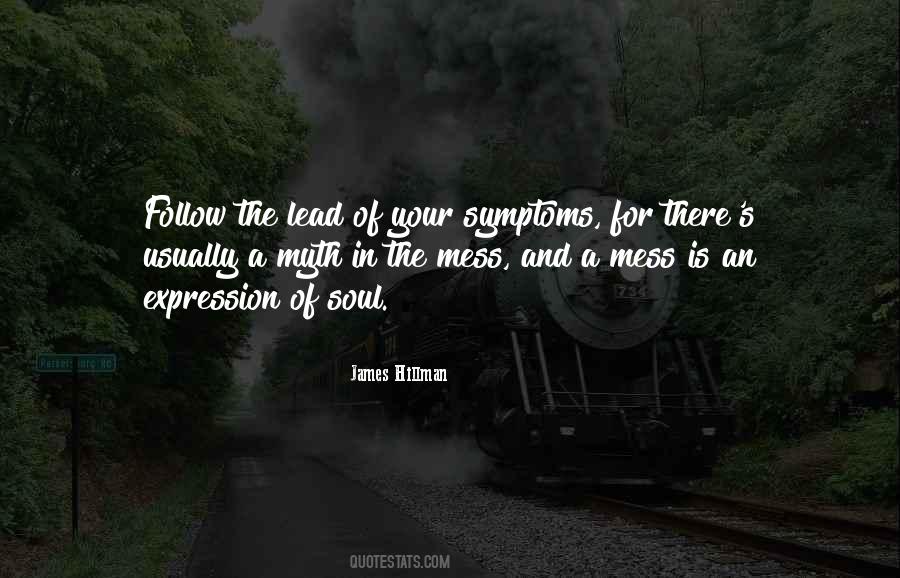 #46. Your dreams are a poetic reflection of your soul's wishes. Be courageous enough to follow them. - Author: Steve Maraboli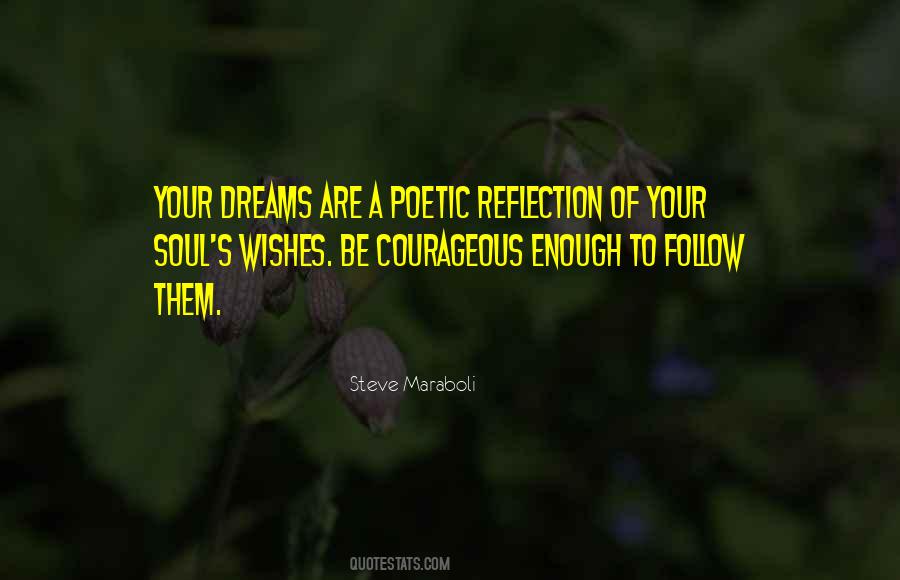 #47. If a path in your life leaves you in a place where you feel lost and alone, may you follow your heart and soul
until you feel at home. - Author: Leta B.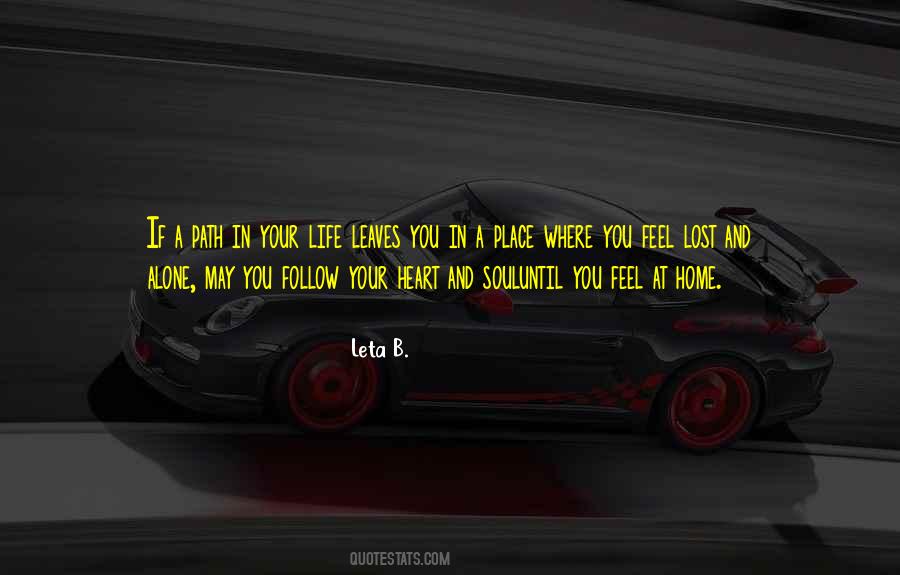 #48. The only justice is to follow the sincere intuition of the soul, angry or gentle. Anger is just, and pity is just, but judgement is never just. - Author: D.H. Lawrence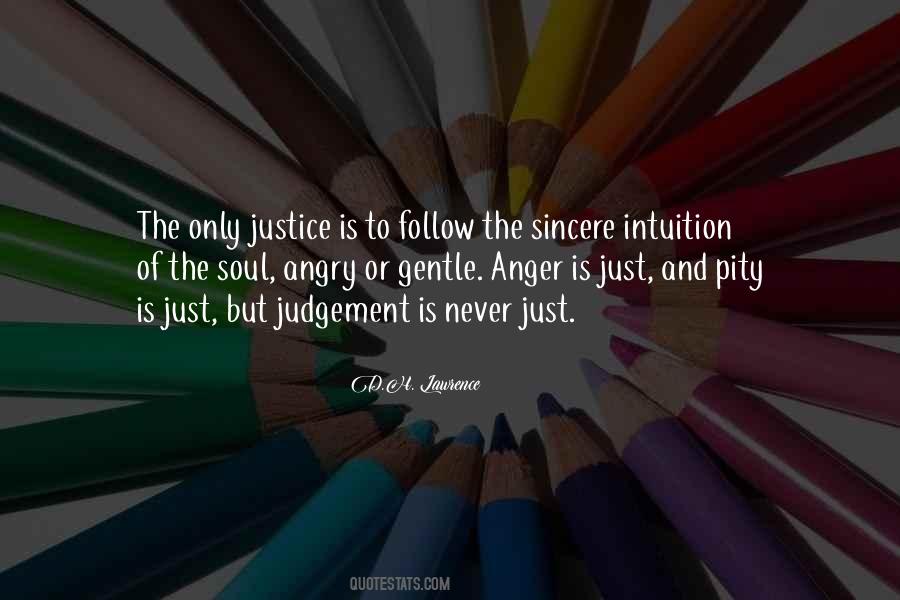 #49. True love allowed each person to follow their own path, knowing that they would never lose touch with their Soul Mate. - Author: Paulo Coelho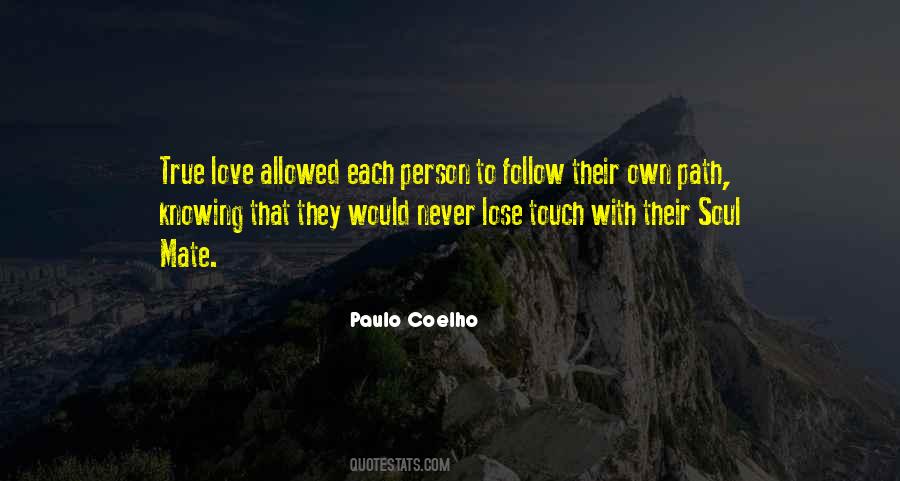 #50. Where Destiny sets its path,
Fate shall follow ... : - Author: Deborah Ann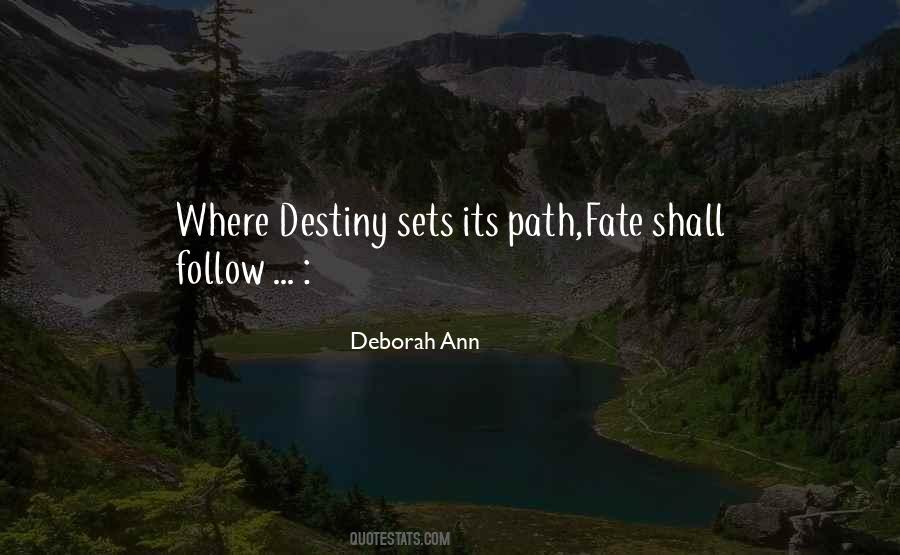 #51. Let us take refuge from this world. You can do this in spirit, even if you are kept here in the body. You can at the same time be here and present to the Lord. Your soul must hold fast to him, you must follow after him in your thoughts, you must tread his ways by faith, not in outward show. - Author: Saint Ambrose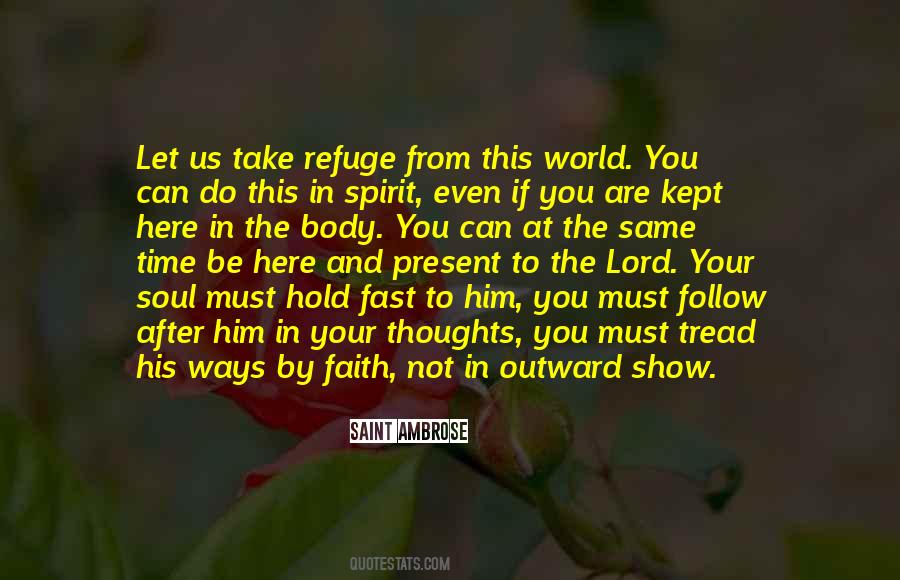 #52. If I had a soul I sold it for pretty words If I had a body I used it up spurting my essence Allen Ginsberg warns you dont follow my path to extinction - Author: Allen Ginsberg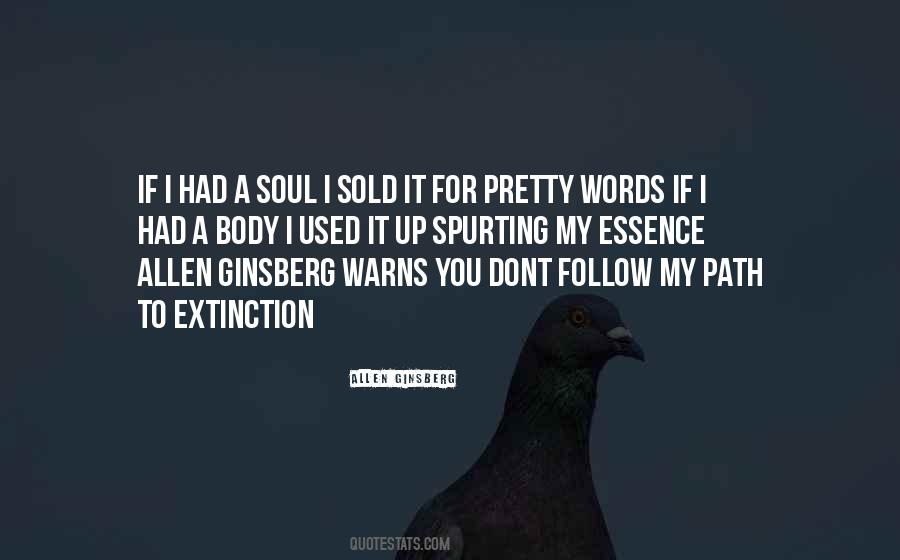 #53. I'm not explaining this right. What happened was this. There were these beautiful feelings and loose little pleasures inside me. And this woman was something like an assembly line for my soul. I run these little pieces of myself through her and I come out complete. Now do you follow me? - Author: Carson McCullers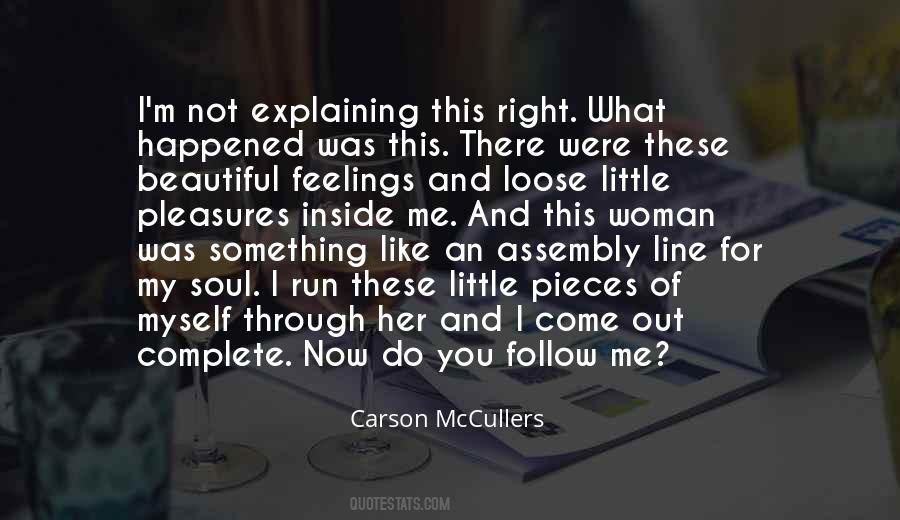 #54. A true pilgrimage requires letting go of the very things most people try to hold onto. In seeking after what the soul desires, we become pilgrims with no home but the path the soul would have us follow. - Author: Michael Meade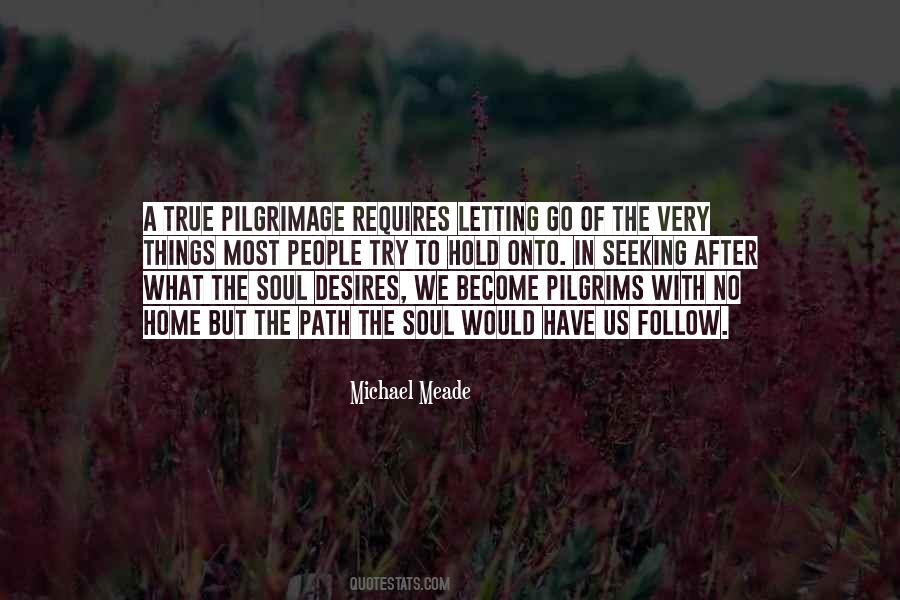 #55. People hesitate to follow their desires because they don't know how to divide their soul from their spirit. - Author: Rihanna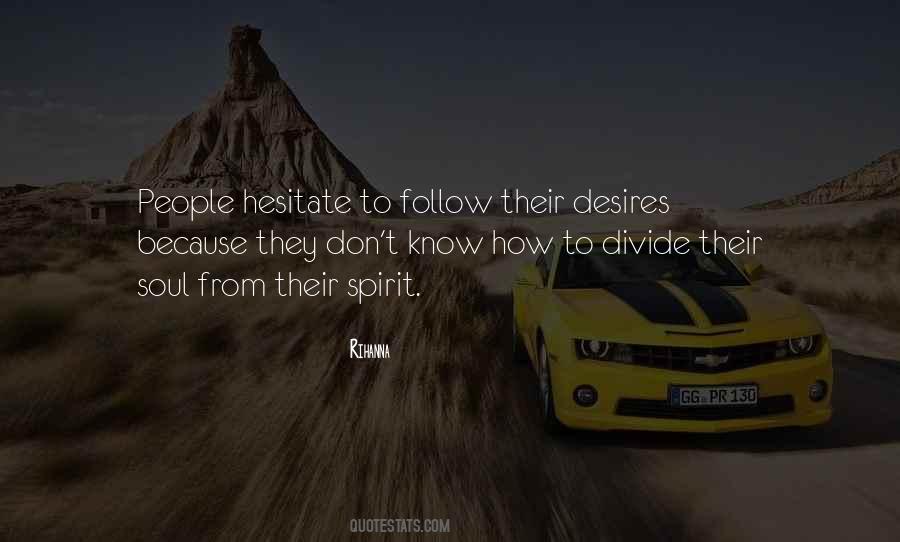 #56. You have seen a ship out on the bay, swinging with the tide, and seeming as if it would follow it; and yet it cannot, for down beneath the water it is anchored. So many a soul sways toward heaven, but cannot ascend thither, because it is anchored to some secret sin. - Author: Henry Ward Beecher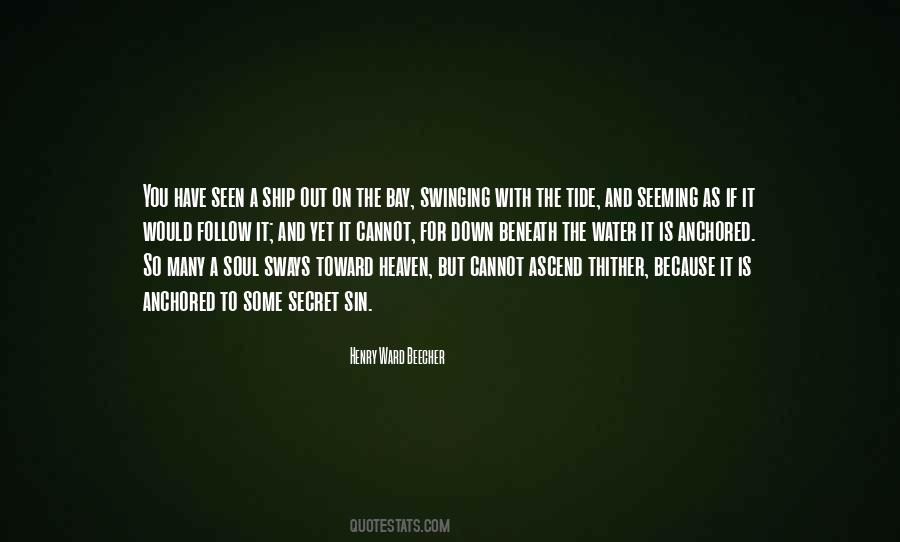 #57. Art is important for it commemorates the seasons of the soul, or a special or tragic event in the soul's journey. Art is not just for oneself, not just a marker of one's own understanding. It is also a map for those who follow after us. As - Author: Clarissa Pinkola Estes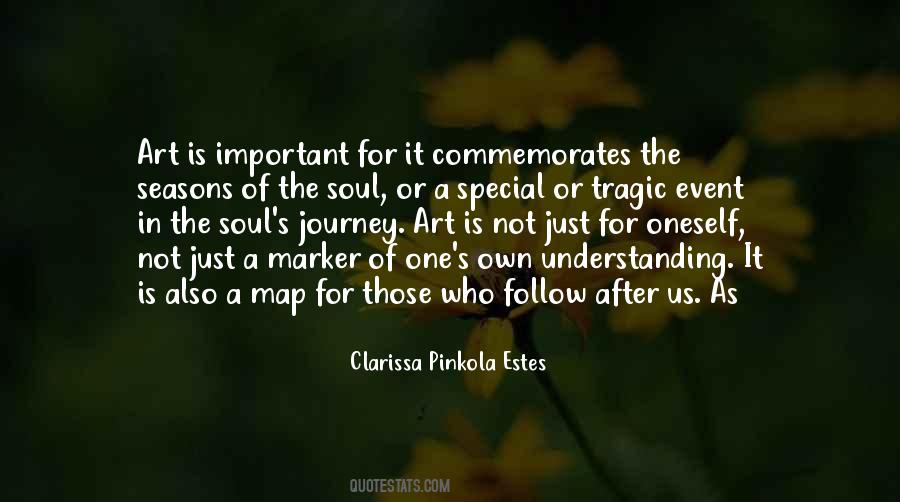 #58. In old age our bodies are worn-out instruments, on which the soul tries in vain to play the melodies of youth. But because the instrument has lost its strings, or is out of tune, it does not follow that the musician has lost his skill. - Author: Henry Wadsworth Longfellow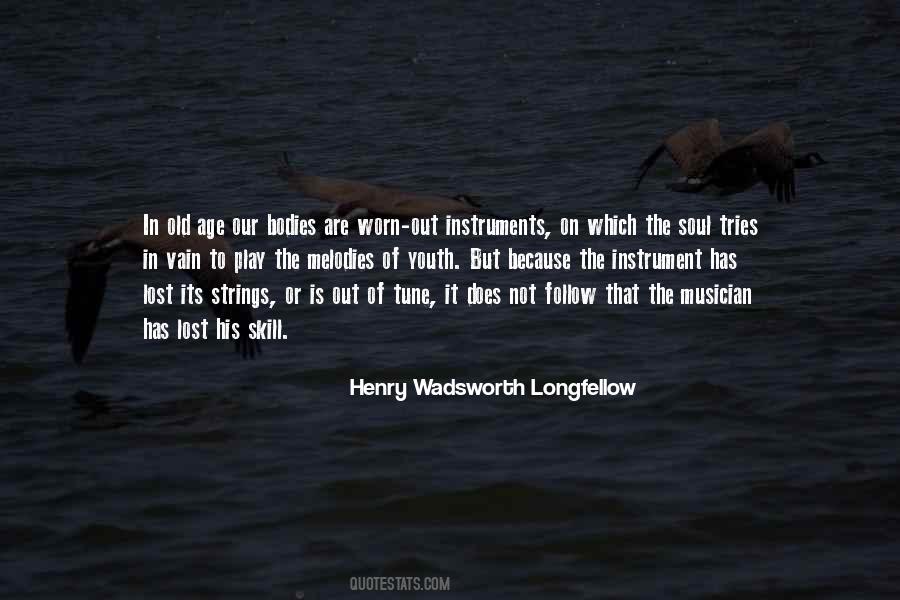 #59. My path was simple: Follow your passion. Pour in your heart and soul. Settle for nothing less than excellence. And with enough hard work and faith in yourself, you can realize your dream. - Author: Robert Mondavi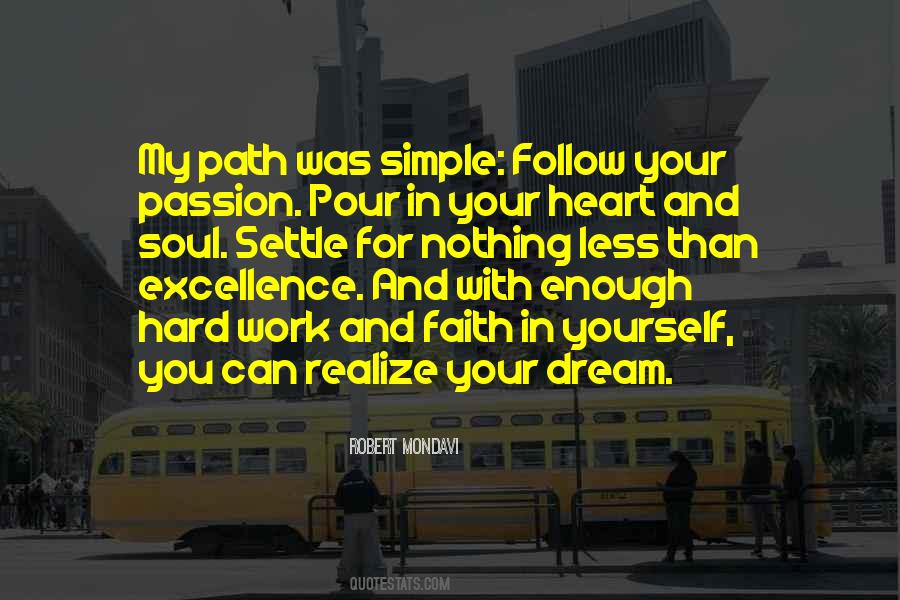 #60. Christ died. He left a will in which He gave His soul to His Father, His body to Joseph of Arimathea, His clothes to the soldiers, and His mother to John. But to His disciples, who had left all to follow Him, He left not silver or gold, but something far better-His PEACE! - Author: Matthew Henry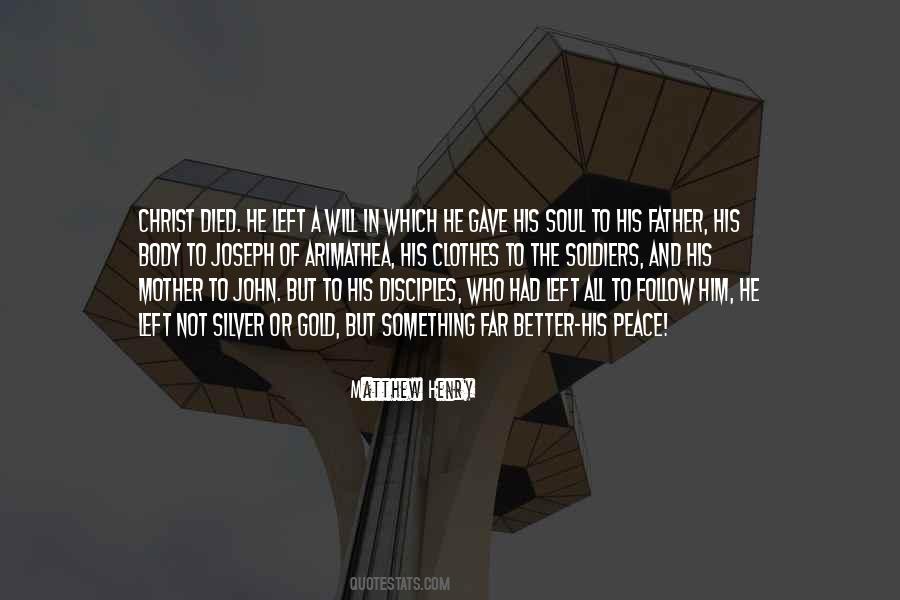 #61. I felt I had an opportunity to follow in the footsteps of great soul musicians of the past, who made a lot of social and political commentary through their music. - Author: Aloe Blacc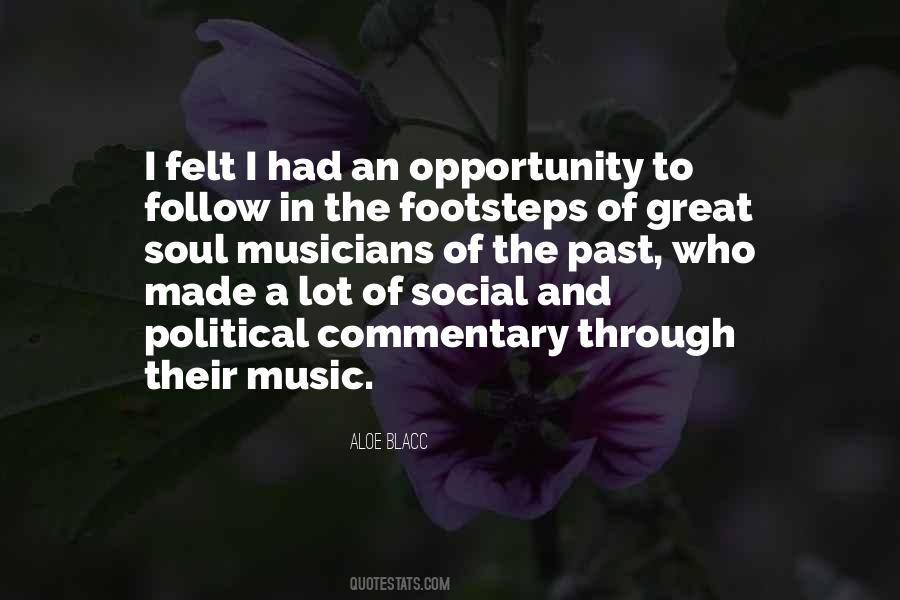 #62. You must do what you need to do to survive, but you will never survive your own heart if you don't also make it a need. - Author: Shannon L. Alder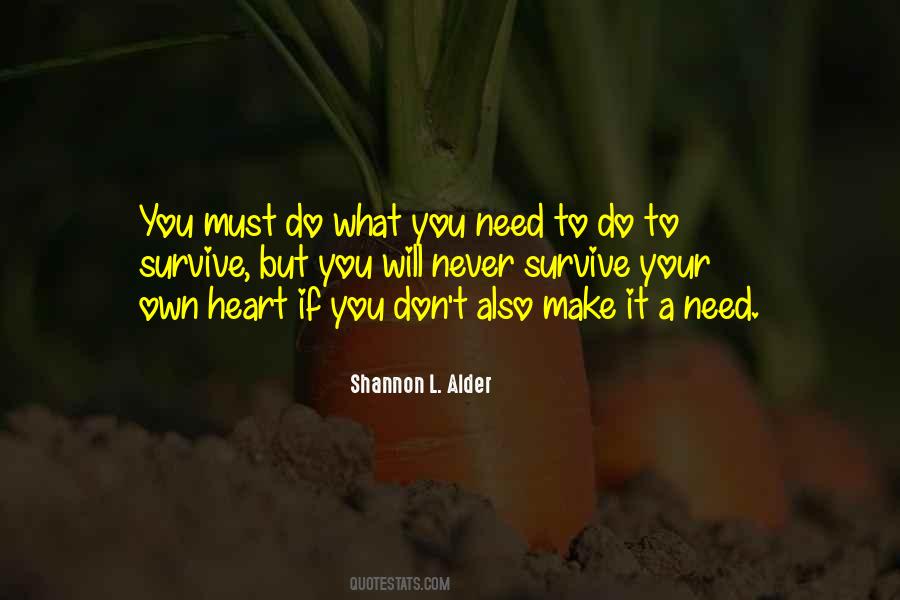 #63. Less a point on a map and more a region of the soul, but it is a path I can follow. - Author: Jessica Khoury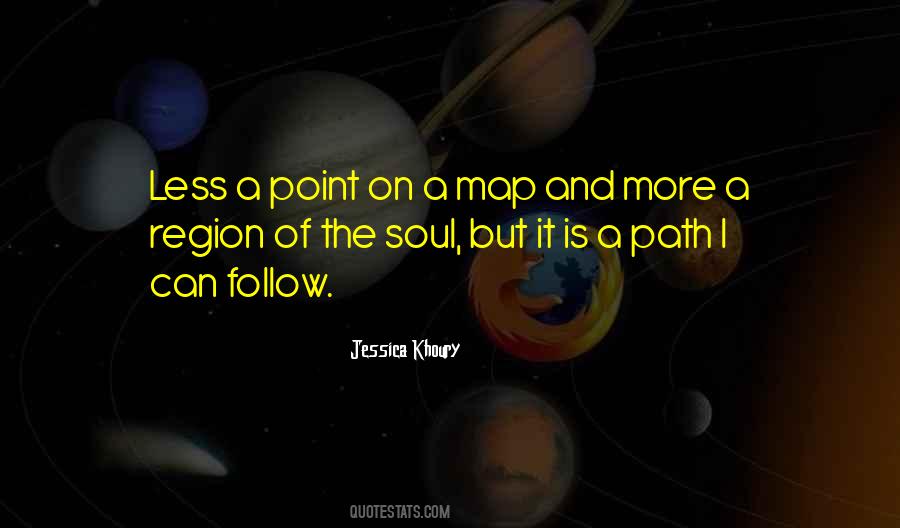 #64. The future is going to be boring. The suburbanisation of the planet will continue, and the suburbanisation of the soul will follow soon after. - Author: J.G. Ballard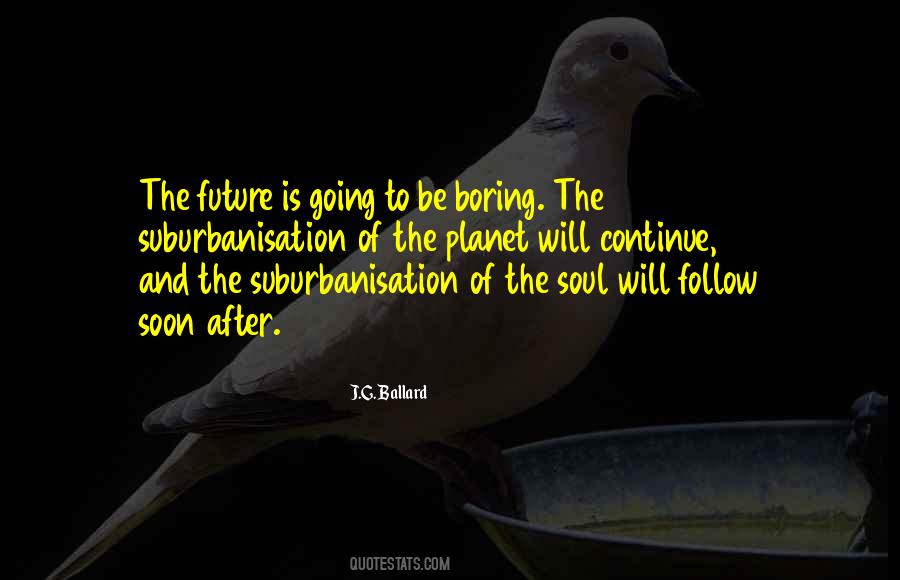 #65. If your soul left this earth I would follow and find you. - Author: Emily St. John Mandel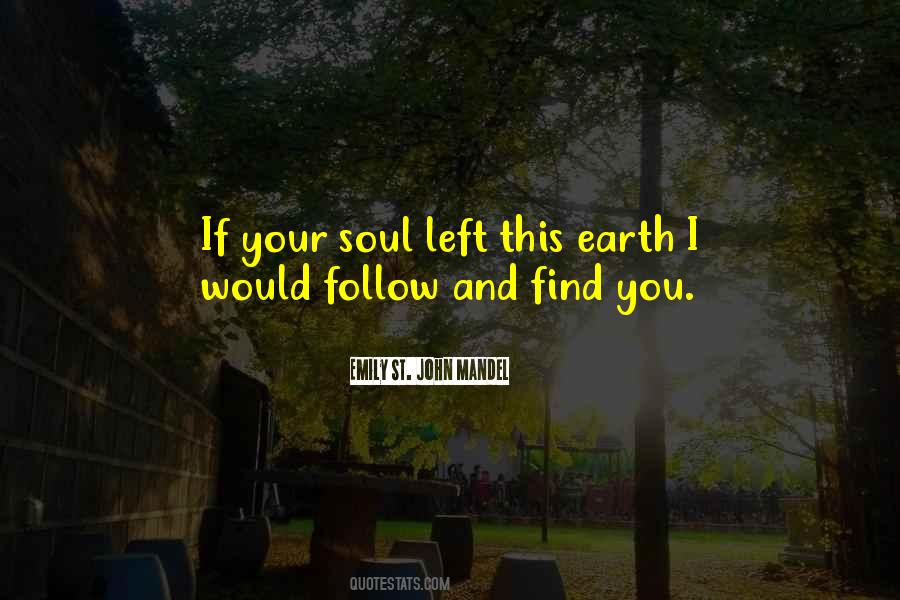 #66. I testify of our Savior, Jesus Christ, whose teachings and example we seek to follow. He invites all of us who are heavy laden to come unto Him, to learn of Him, to follow Him, and thus to find rest to our souls. - Author: Dallin H. Oaks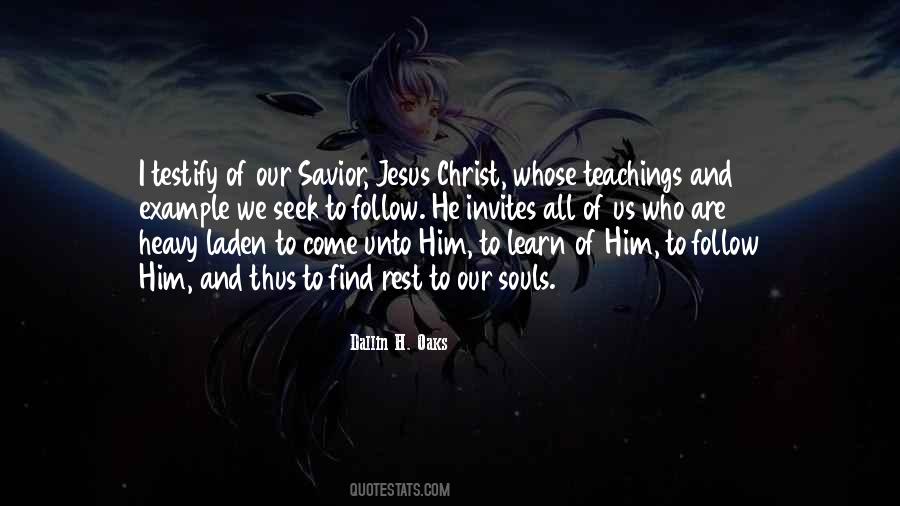 #67. Seek out that particular mental attribute which makes you feel most deeply and vitally alive, along with which comes the inner voice which says, 'This is the real me,' and when you have found that attitude, follow it. - Author: William James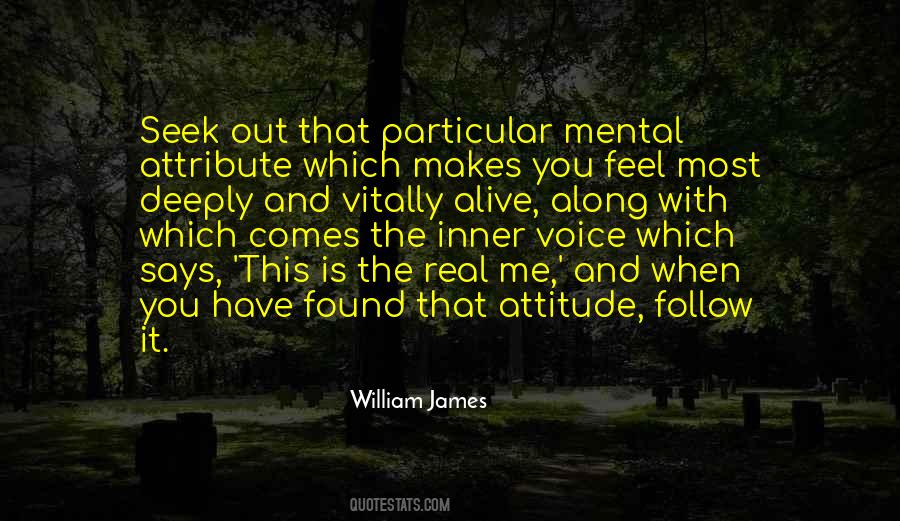 #68. Stop following the con artists, instead become the greatest and brightest artist ever to exist and let others follow your light instead - Author: Yolanda De Iuliis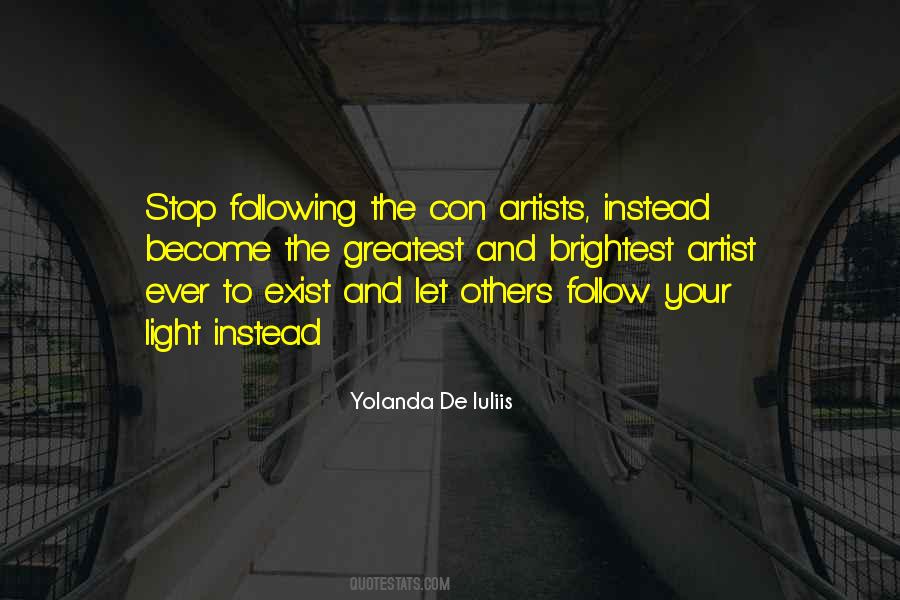 #69. The wise man should withdraw his soul within, out of the crowd, and keep it in freedom and power to judge things freely; but as for externals, he should wholly follow the accepted fashions and forms. - Author: Michel De Montaigne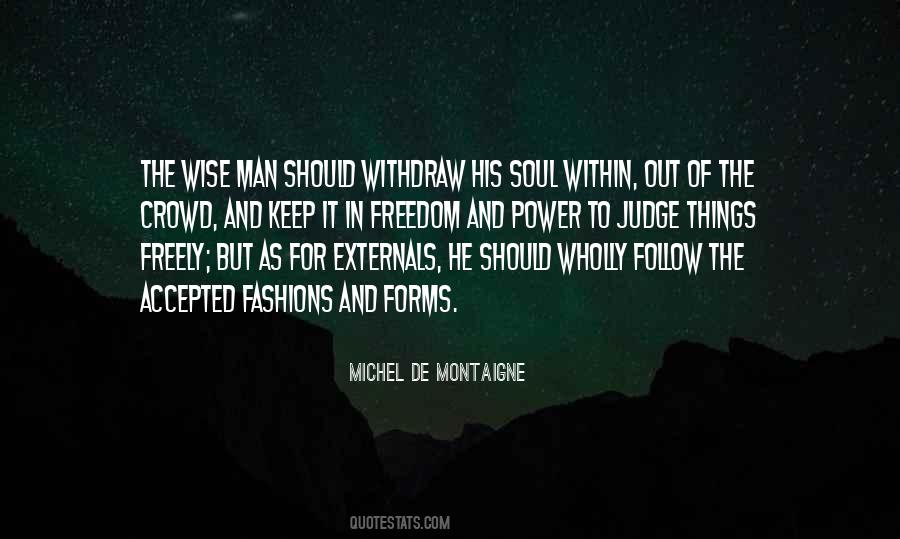 #70. On at least four separate occasions and recorded in the four Gospels the Lord Jesus called His disciples to deny their soul life, deliver it to death, and then to follow Him. - Author: Watchman Nee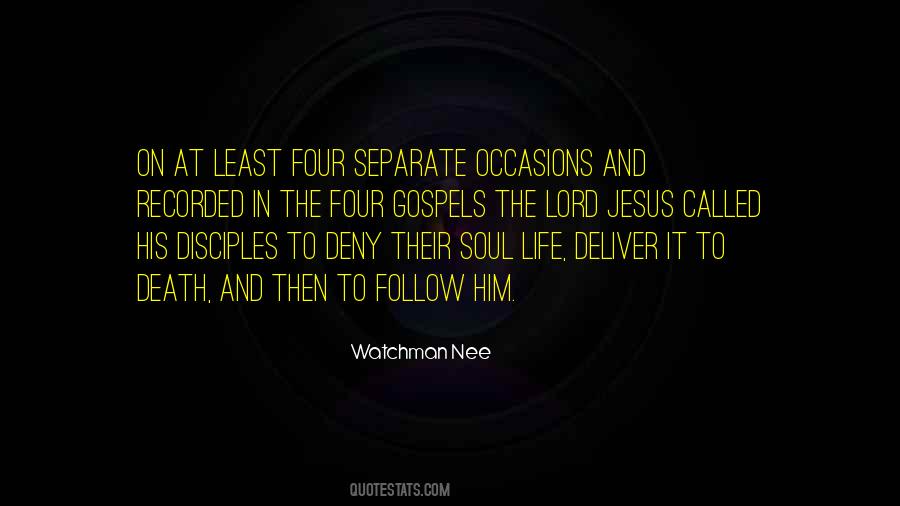 #71. Spend time beautifying your soul, the rest will simply follow. - Author: Aisha Mirza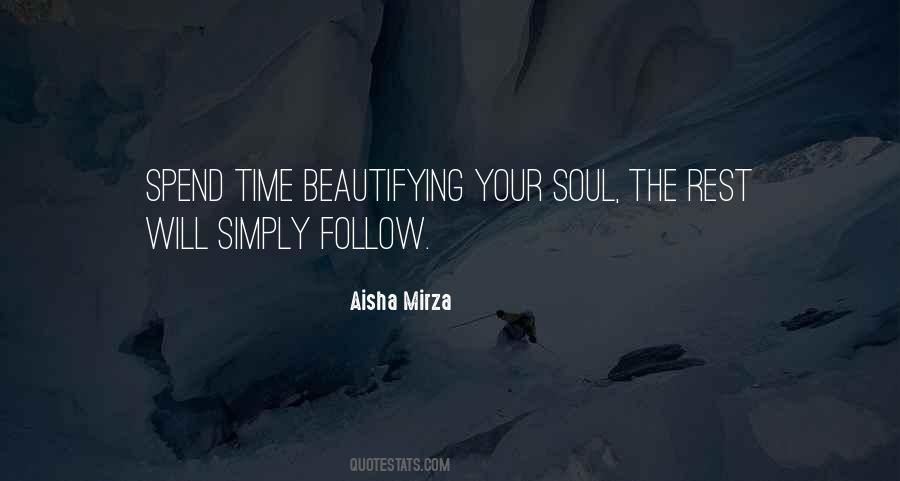 #72. To follow Story is to understand the path of healing. Each of our stories is a universe. Each one of us is living a story. To discover its shape and essence is essential to soul making. - Author: Deena Metzger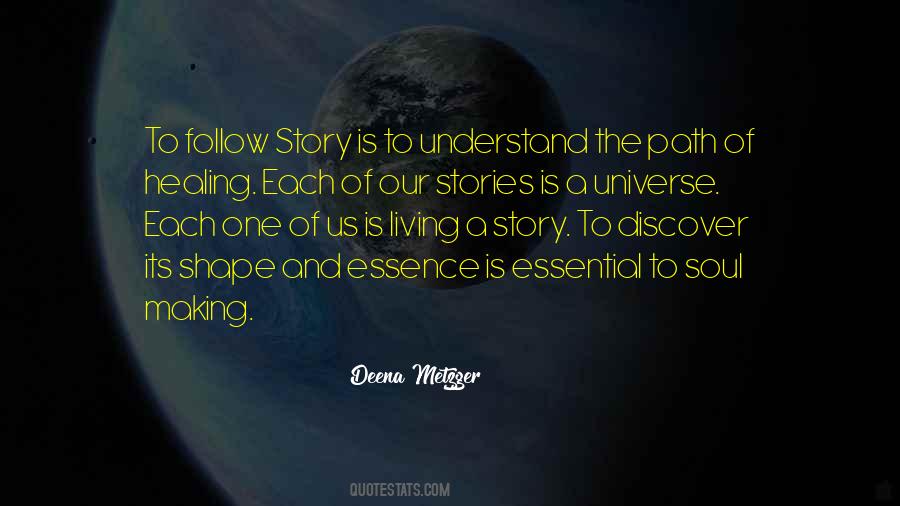 #73. All I wanted was to follow my heart, but somehow along the way I lost my soul. - Author: K.K. Allen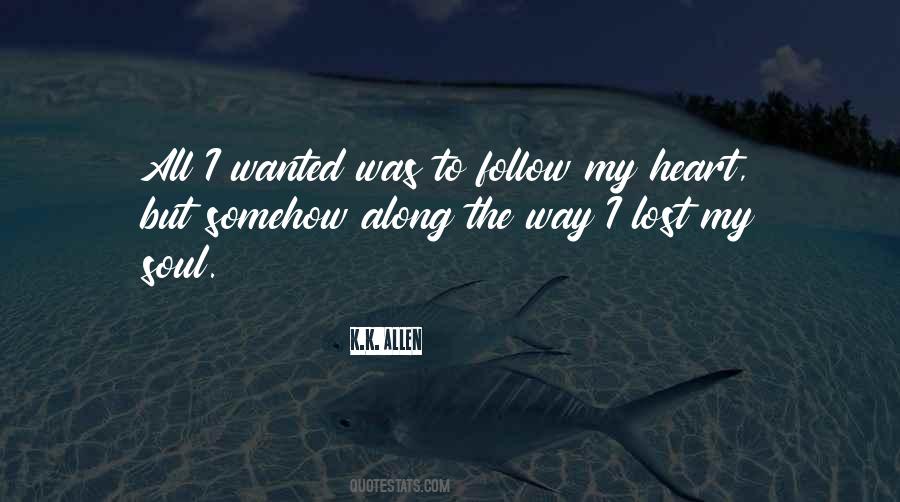 #74. Whatever you choose to do with your time on earth, do it passionately, follow the voice of your soul and don't focus some much on being interested in life, but being the interesting one full of life. - Author: Nikki Rowe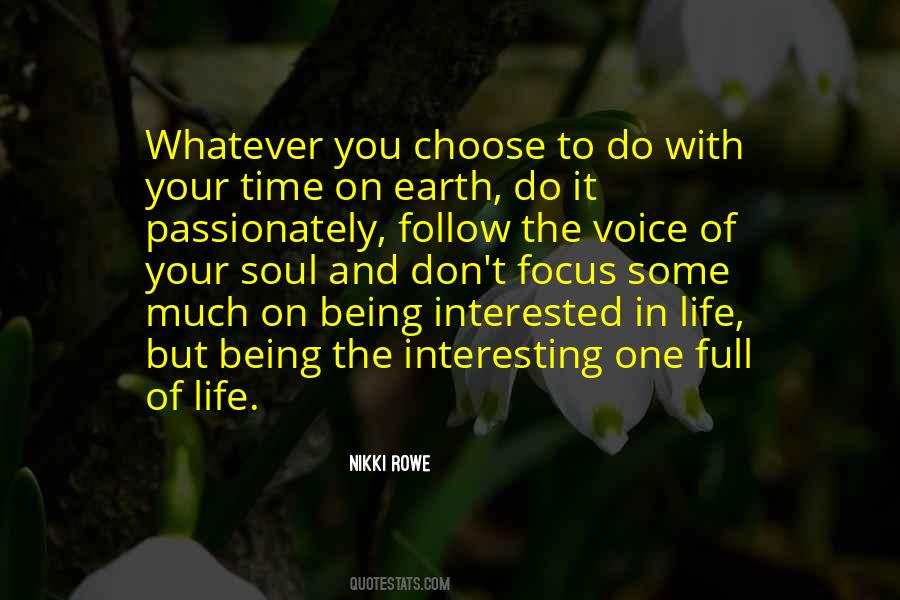 Famous Authors
Popular Topics