Fear No Man Famous Quotes & Sayings
List of top 100 famous quotes and sayings about fear no man to read and share with friends on your Facebook, Twitter, blogs.
Top 100 Fear No Man Quotes
#1. The man who fears war and squats opposing
My words for stour, hath no blood of crimson
But is fit only to rot in womanish peace - Author: Ezra Pound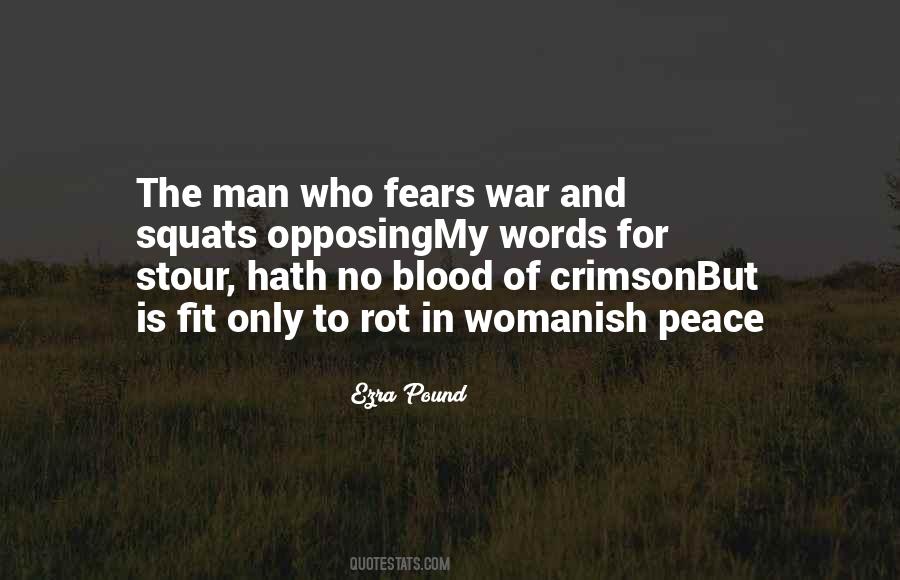 #2. The reason why darkness terrifying for us, he reflected, is that there remains in us the instinctive fear the primitive man had when there was as yet no light. - Author: Shusaku Endo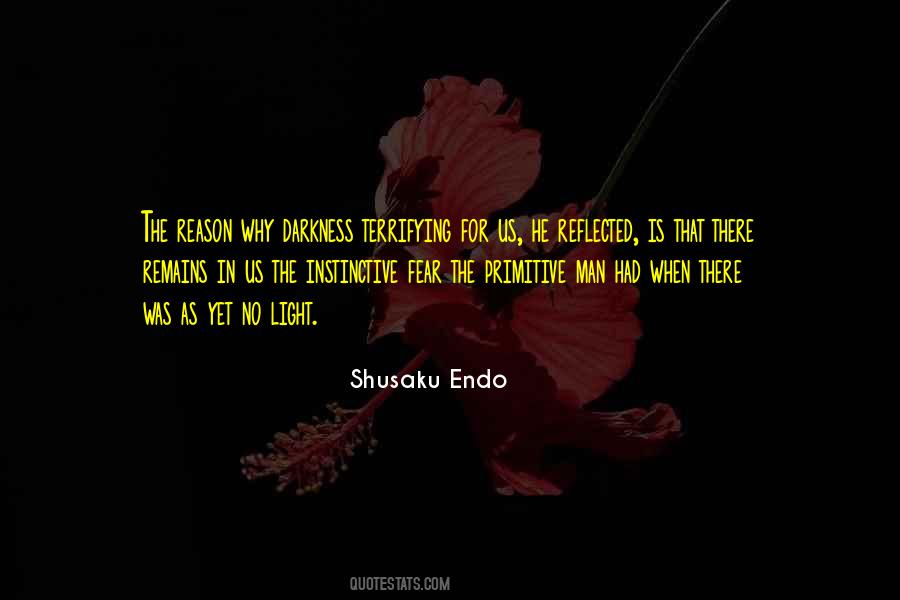 #3. The free man is the man with no fears. - Author: Dick Gregory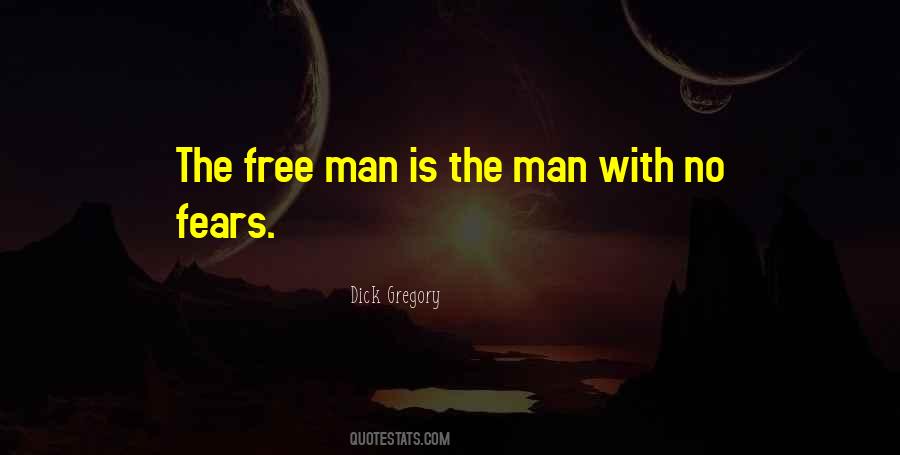 #4. I am Athena. Before that I was Thea, singer and slave and lover of gladiators. Before that I was Leah, daughter of Benjamin and Rachael of Masada. I am as mortal as you, you common little man. And I fear no one! - Author: Kate Quinn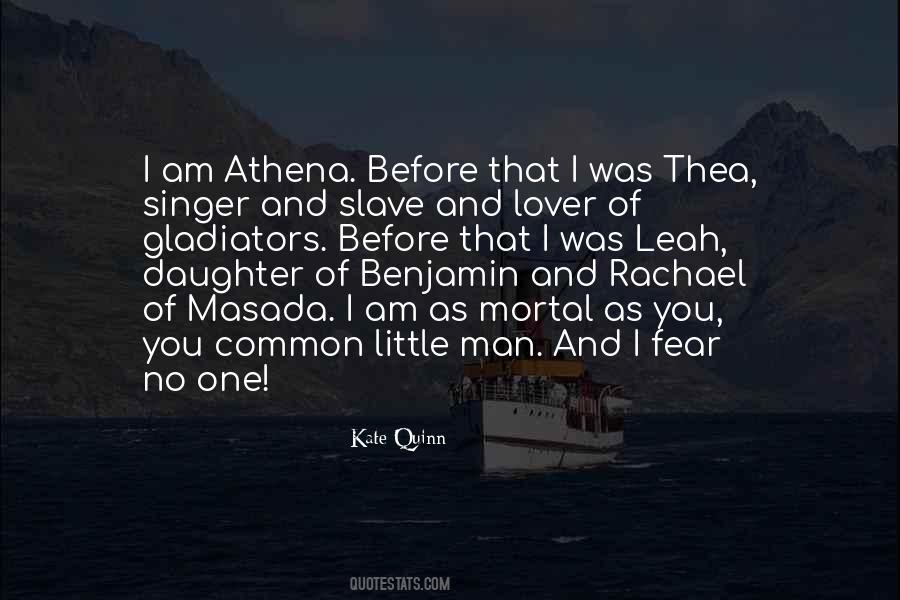 #5. Feel no fear before the multitude of men, do not run in panic,
but let each man bear his shield straight toward the fore-fighters,
regarding his own life as hateful and holding the dark spirits of death as dear as the radiance of the sun. - Author: Tyrtaeus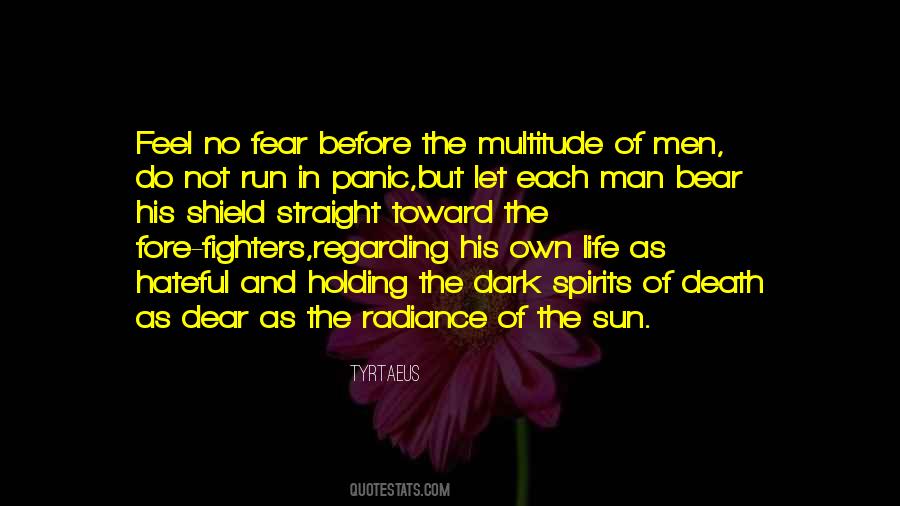 #6. No place, no company, no age, no person is temptation-free; let no man boast that he was never tempted, let him not be high-minded, but fear, for he may be surprised in that very instant wherein he boasteth that he was never tempted at all. - Author: Herbert Spencer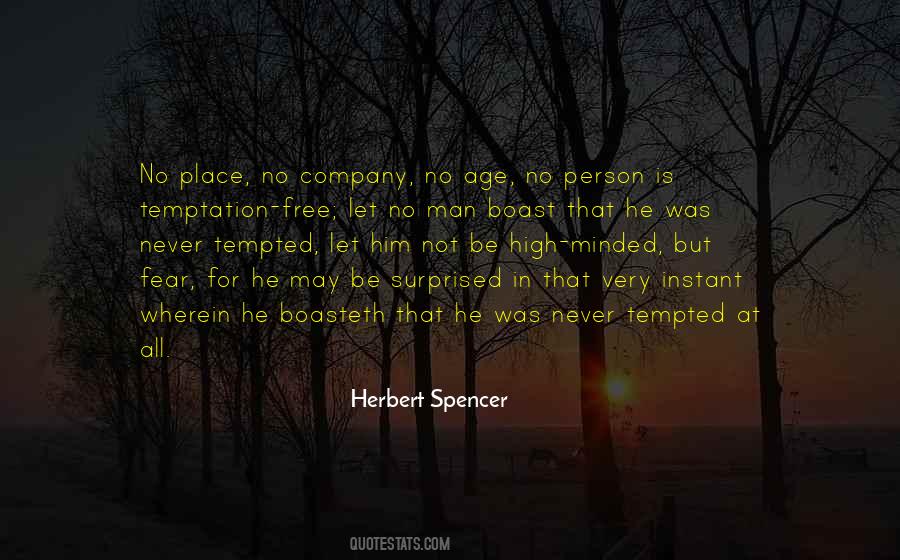 #7. Power, no matter what kind of power it is, without a foundation in truth, is a dictatorship, more or less and in one way or another, for it is always based on man's fear of the social responsibility and personal burden that "freedom" entails. - Author: Wilhelm Reich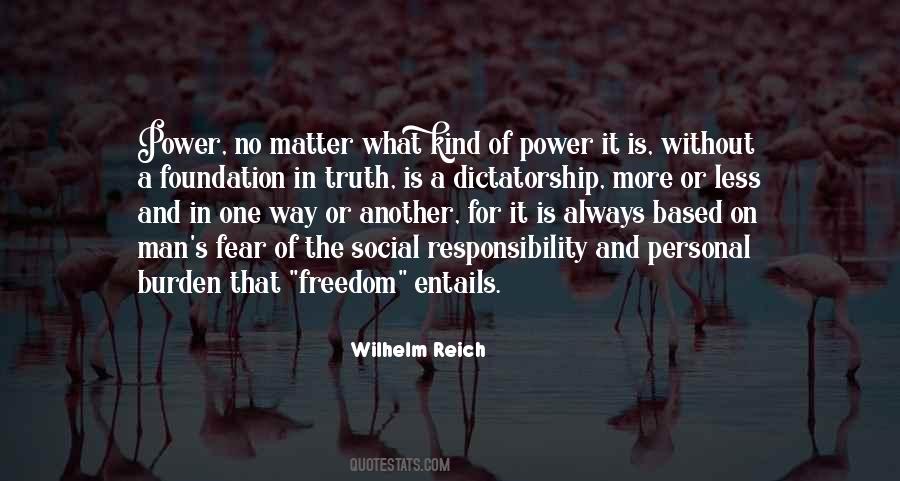 #8. For the wise man delights in establishing his merit, the brave man likes to show his courage in action, the covetous man is quick at seizing advantages, and the stupid man has no fear of death. - Author: Sun Tzu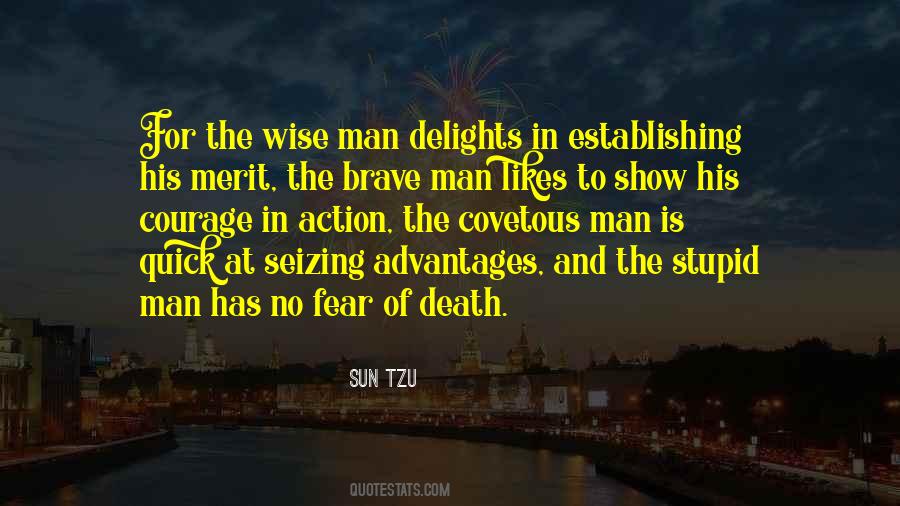 #9. Man torturing man is a fiend beyond description. You turn a corner in the dark and there he is. You congeal into a bundle of inanimate fear. You become the very soul of anesthesia. But there is no escaping him. It is your turn now ... - Author: Henry Miller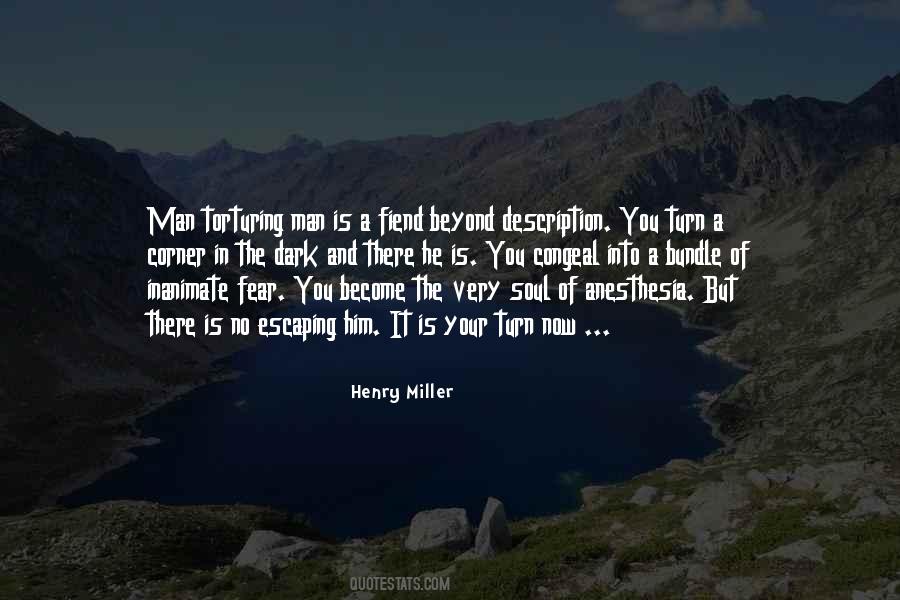 #10. If we take the generally accepted definition of bravery as a quality which knows no fear, I have never seen a brave man. All men are frightened. The more intelligent they are, the more they are frightened. - Author: George S. Patton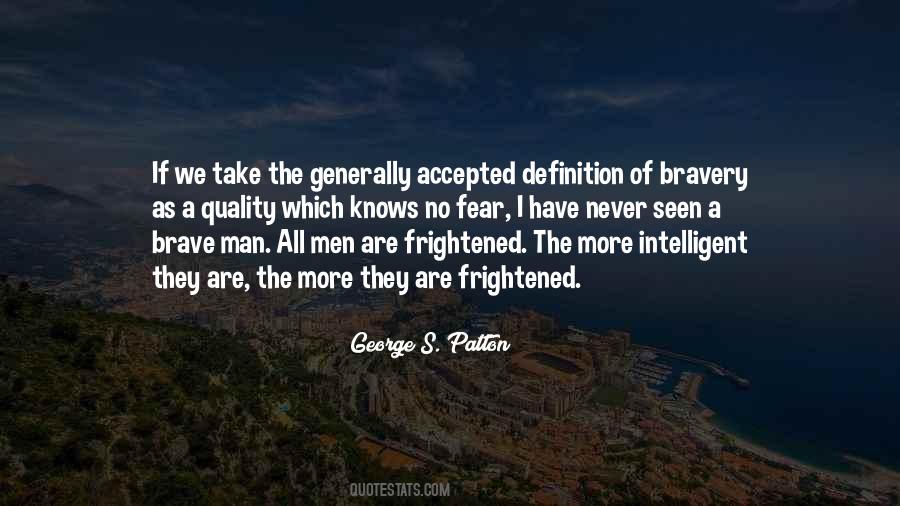 #11. Be a damn fire eater now. He'd seen it in the war work the same way. More of a change than any loss of virginity. Fear gone like an operation. Something else grew in its place. Main thing a man had. Made him into a man. Women knew it too. No bloody fear. - Author: Ernest Hemingway,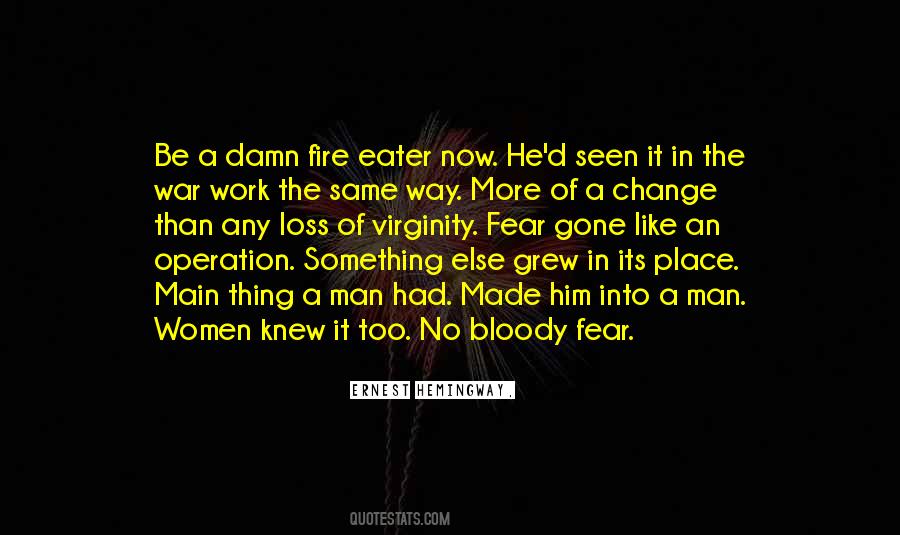 #12. No woman need fear the effect of absence upon the man who honestly loves her. The needle of the compass, regardless of intervening seas, points forever toward the north. Pitiful indeed is she who fails to be a magnet and blindly becomes a chain. - Author: Myrtle Reed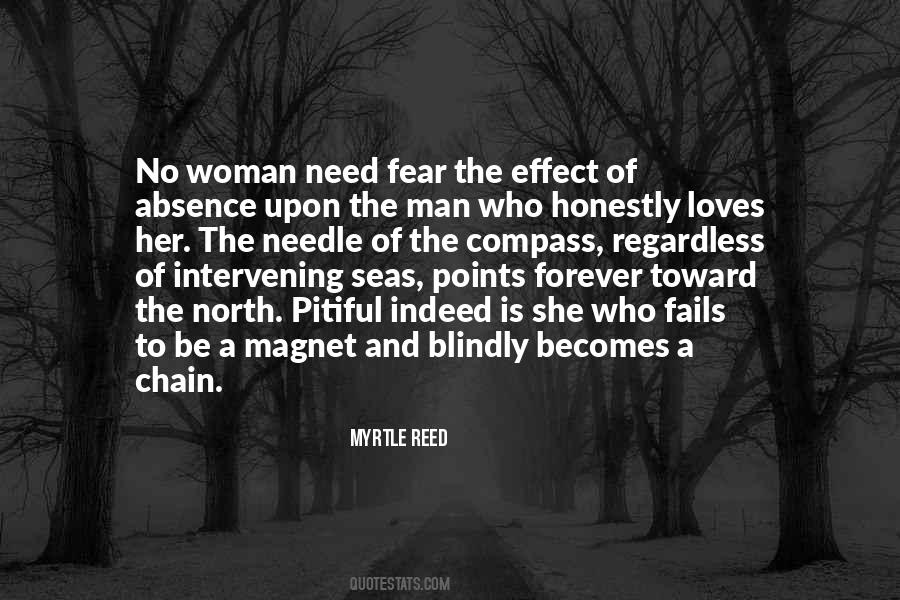 #13. Byerozkin knew very well that the man with no quiet at the bottom of his soul was unable to endure for long, however courageous he might be in combat. He thought of fear or cowardice, on the other hand, as something temporary, something that could be cured as easily as a cold. - Author: Vasily Grossman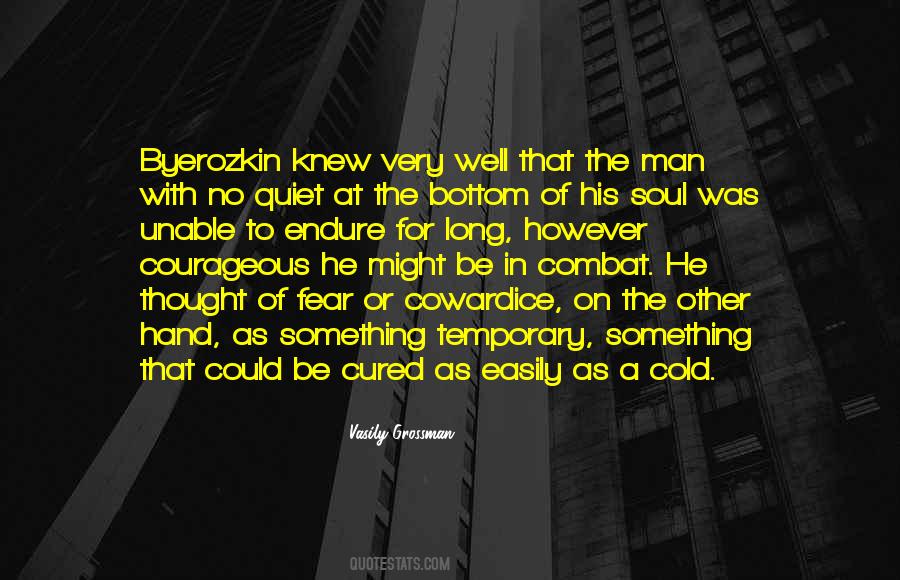 #14. Surprisingly, I felt no anger towards him. He was just Man. Man in his basic, rudimentary state, easily moved by powerful emotions like love, lust, anger, greed, and fear, but totally dumb to the finer, acquired emotions like pity, mercy, humour, and justice. - Author: Helon Habila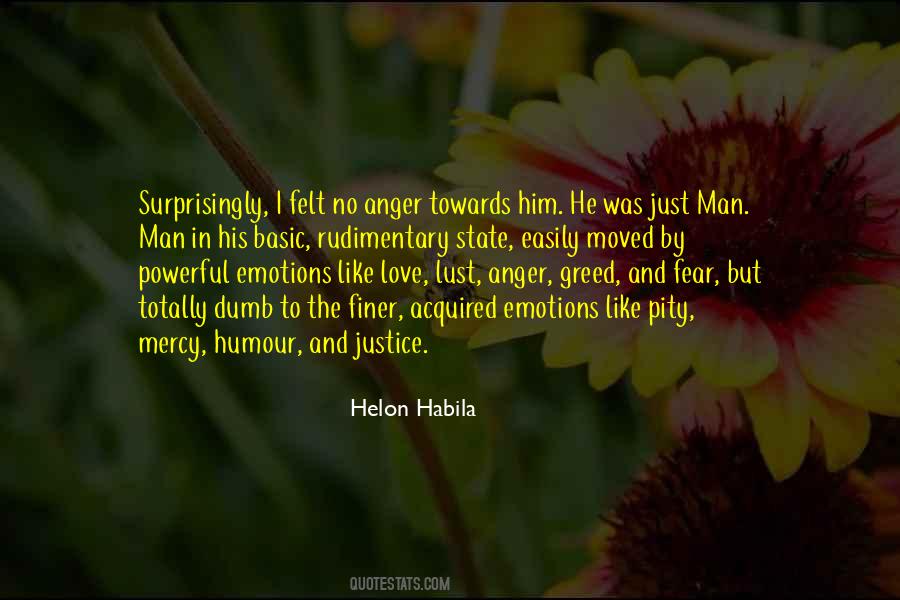 #15. I would put myself in the attitude to look in the eye an abstract truth, and I cannot. I blench and withdraw on this side and on that. I seem to know what he meant who said, No man can see God face to face and live. - Author: Ralph Waldo Emerson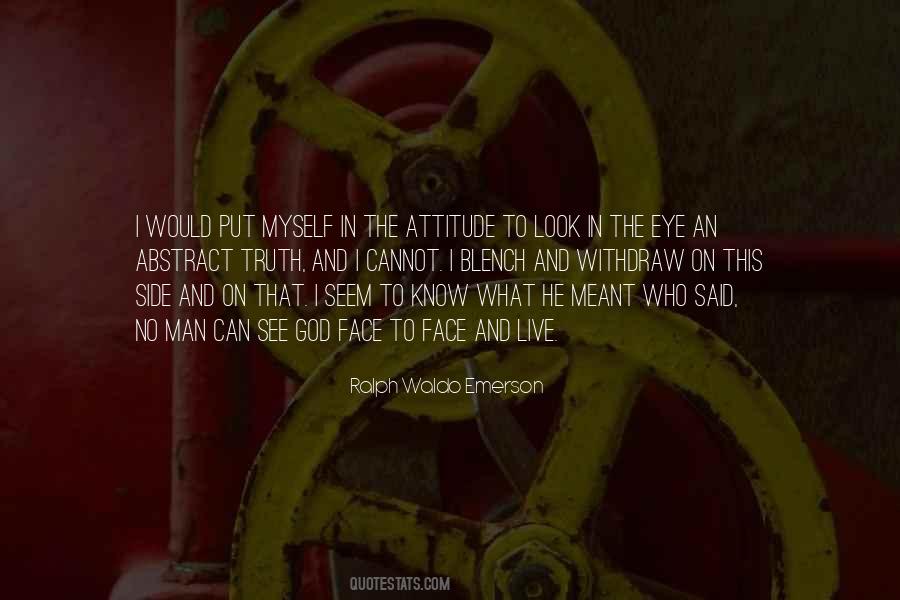 #16. I know only one thing. when i sleep, i know no fear, no, trouble no bliss. blessing on him who invented sleep. the common coin that purchases all things, the balance that levels shepherd and king, fool and wise man. there is only one bad thing about sound sleep. they say it closely resembles death. - Author: Andrei Tarkovsky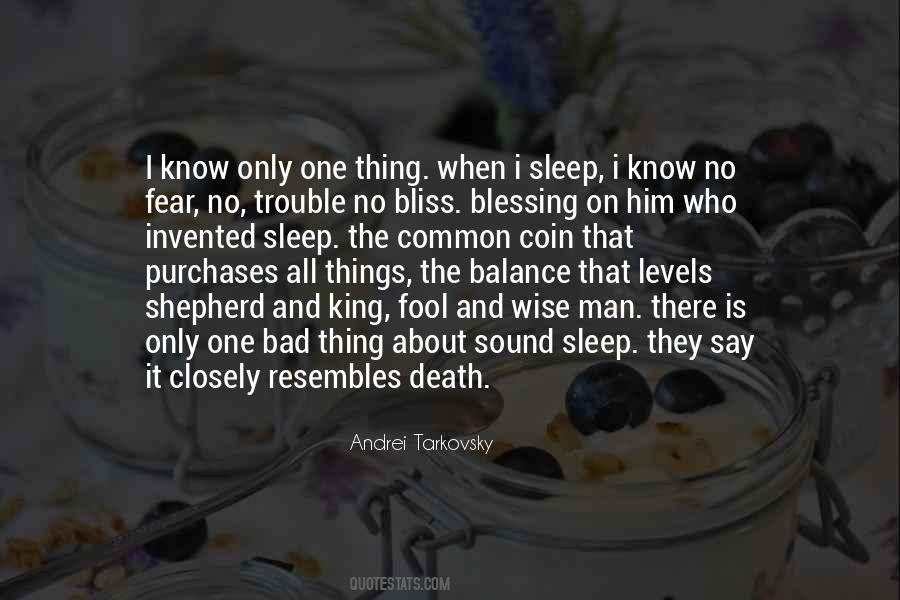 #17. No man knows where the Castle of King Death is. All men and women, boys and girls, and even little wee children should so live that when they have to enter the Castle and see the grim King, they may not fear to behold his face. - Author: Bram Stoker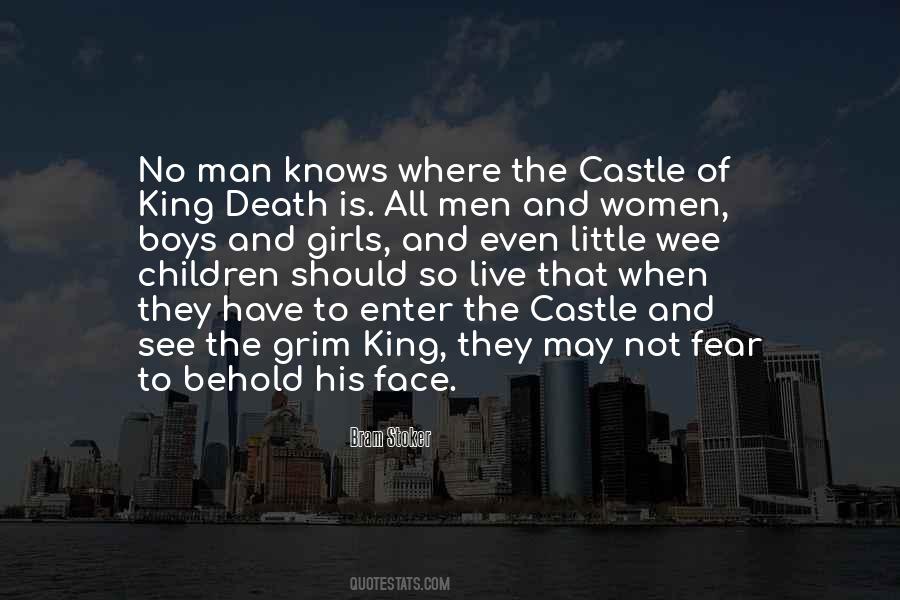 #18. Since the dawn of time man understands that suffering, faced with no fear, is his passport to freedom. - Author: Paulo Coelho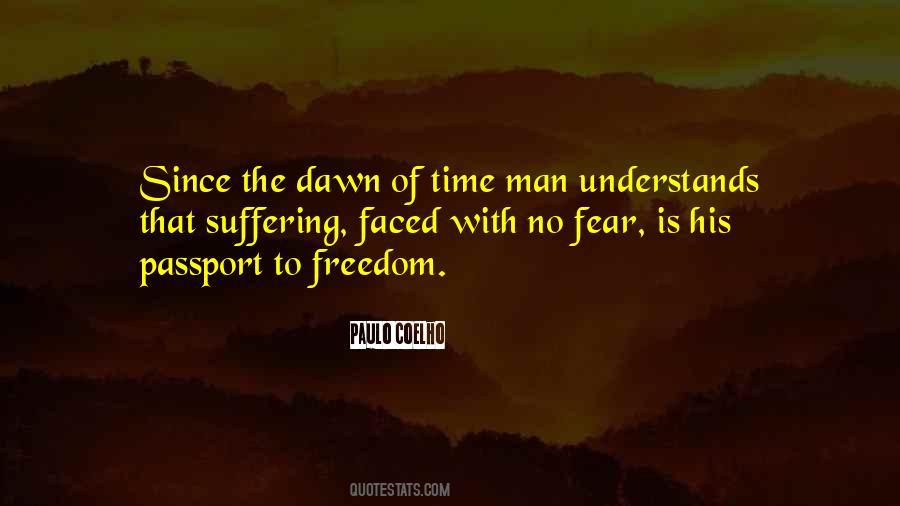 #19. Waking up in a room with no natural light does something to a man. no windows. I'm almost afraid to die. I fear my soul won't make it out. - Author: Darnell Lamont Walker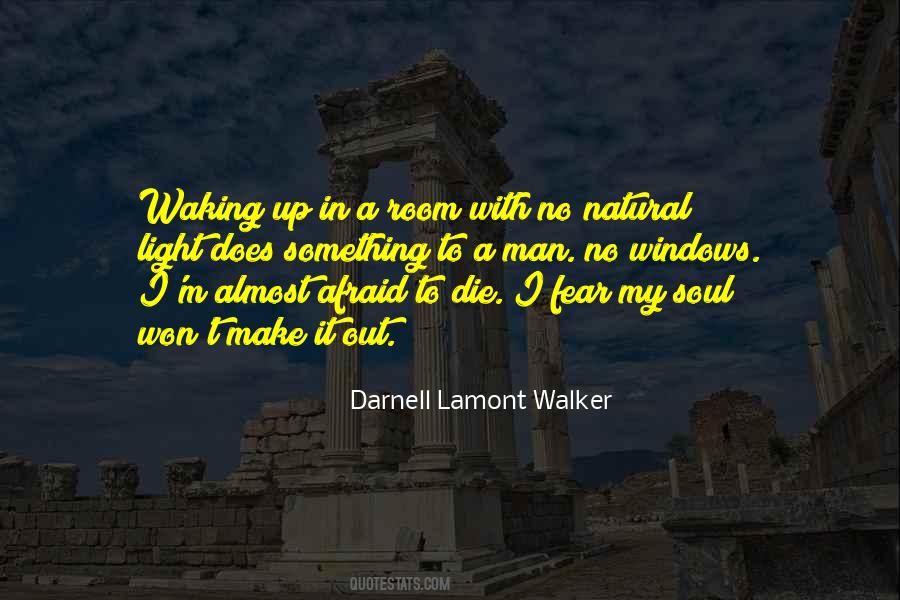 #20. Service can have no meaning unless one takes pleasure in it. When it is done for show or for fear of public opinion, it stunts the man and crushes his spirit. Service which is rendered without joy helps neither the servant nor the served. - Author: Mahatma Gandhi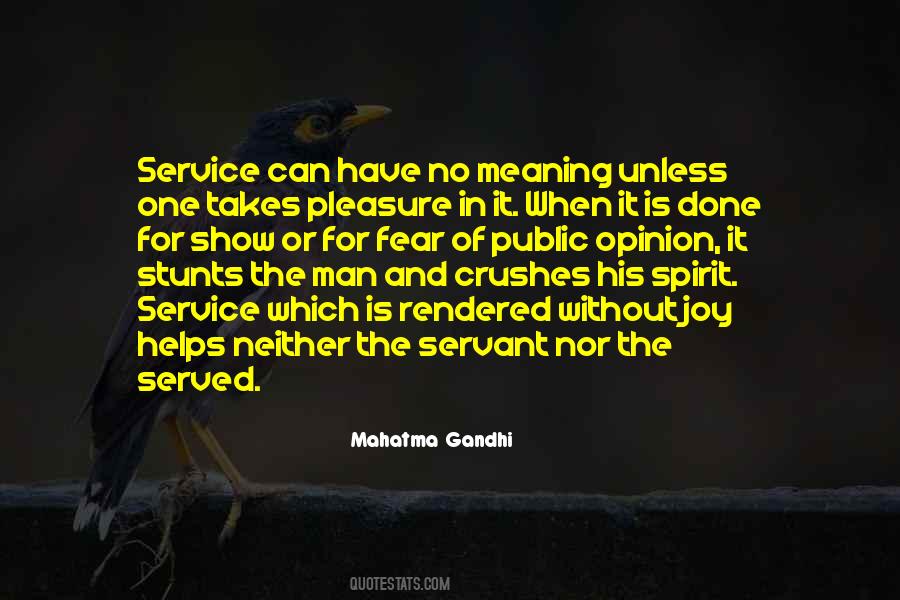 #21. No fear; I like a good grip; I like to feel something in this slippery world that can hold, man. - Author: Herman Melville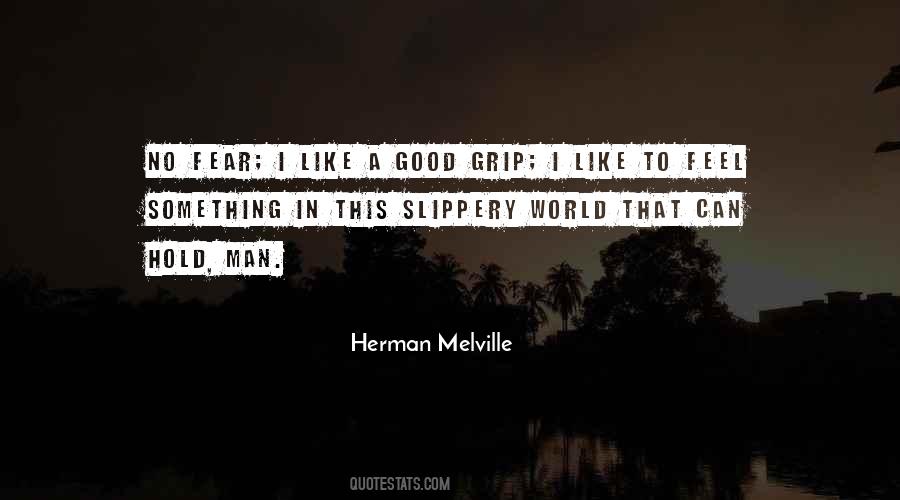 #22. A man of limited desire will always have less or perhaps nothing to worry and sensibly no fear of losing anything or everything in life. - Author: Anuj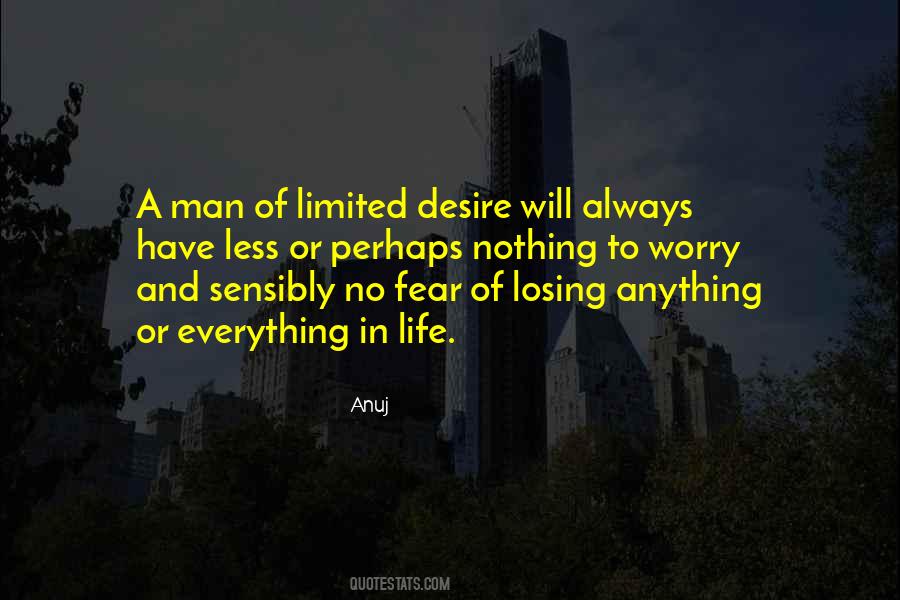 #23. A Chief must show no fear, no worry ... A Chief is a leader first, and a man second ... - Author: Cressida Cowell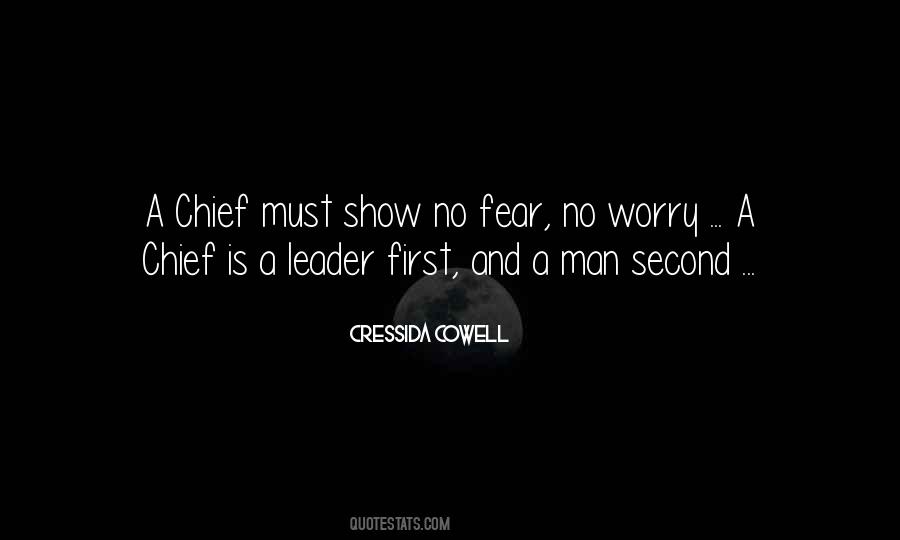 #24. The ideal man bears the accidents of life with dignity and grace, making the best of circumstances.
- Aristotle - Author: Aristotle.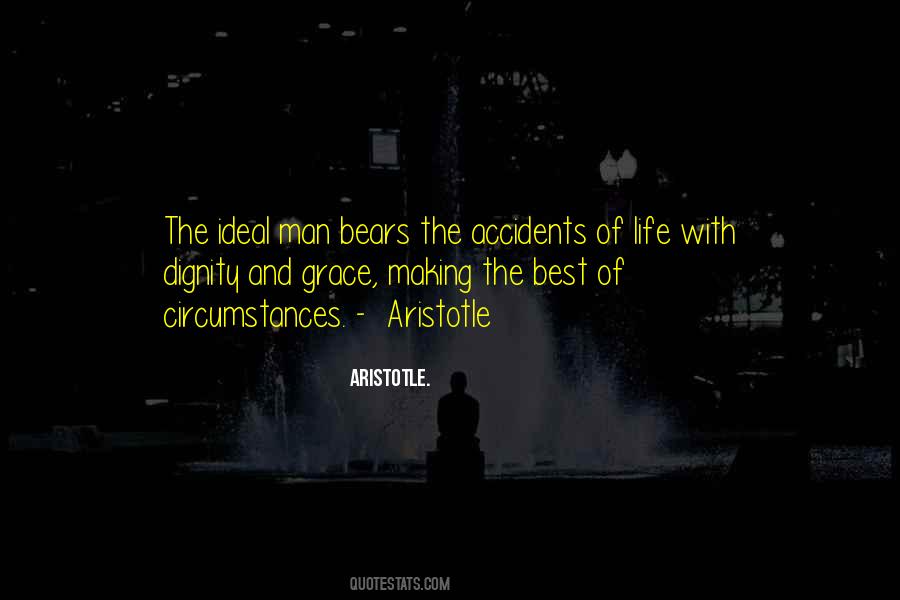 #25. But he'd never pictured himself as a father and had had no idea that there was an emotion that was a combination of pride, protectiveness, joy and fear and was so strong that it could take a man's breathe away. - Author: Erin Nicholas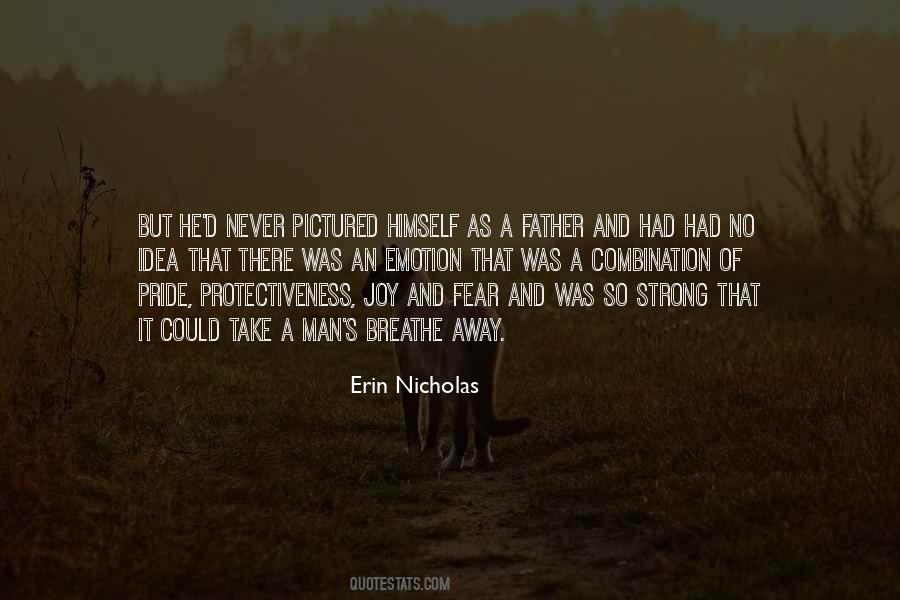 #26. fear no man but only God - Author: Tupac Shakur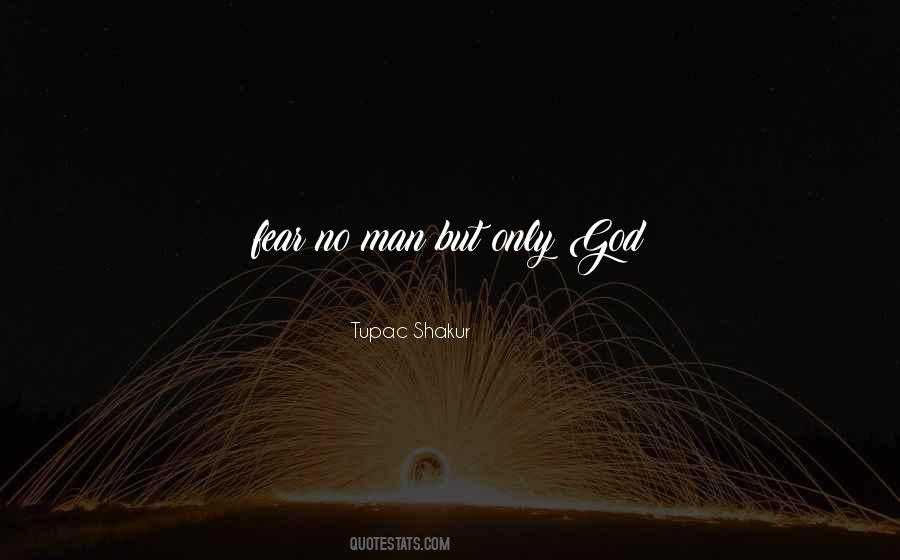 #27. No totalitarians, no wars, no fears, famines or perils of any kind can really break a man's spirit until he breaks it himself by surrendering. Tyranny has many dread powers, but not the power to rule the spirit. - Author: Edgar S. Brightman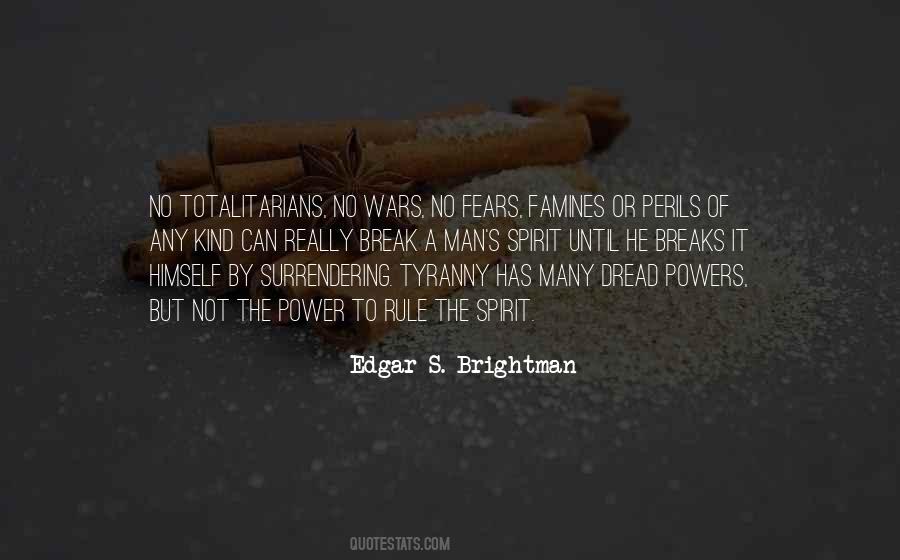 #28. You want to be free and break new ground, speak your mind, fear no man, have the neighbours acknowledge that you're a good man; and at the same time you want to be a success, make money, join the country club, get the votes and kick the other man in the teeth and off the ladder. - Author: Christina Stead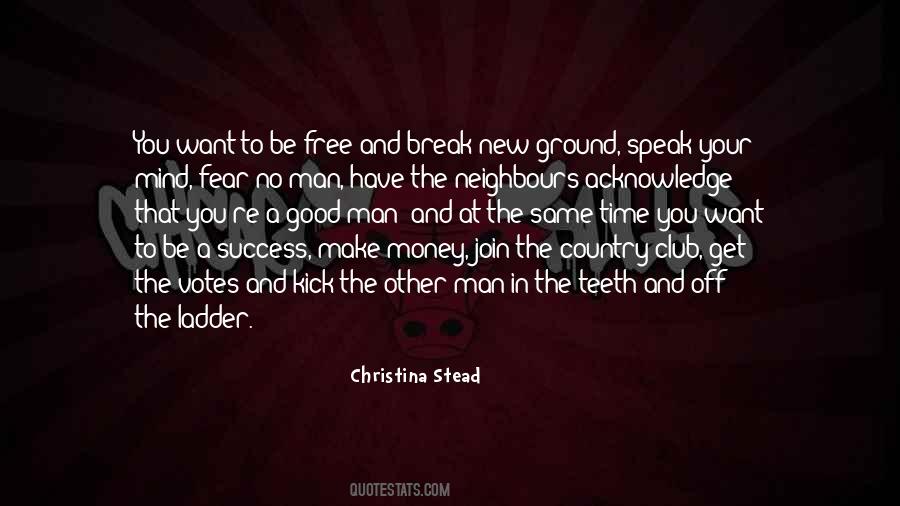 #29. With his mind free from the inflow of thoughts and from restlessness, by abandoning both good and evil, an alert man knows no fear. - Author: Gautama Buddha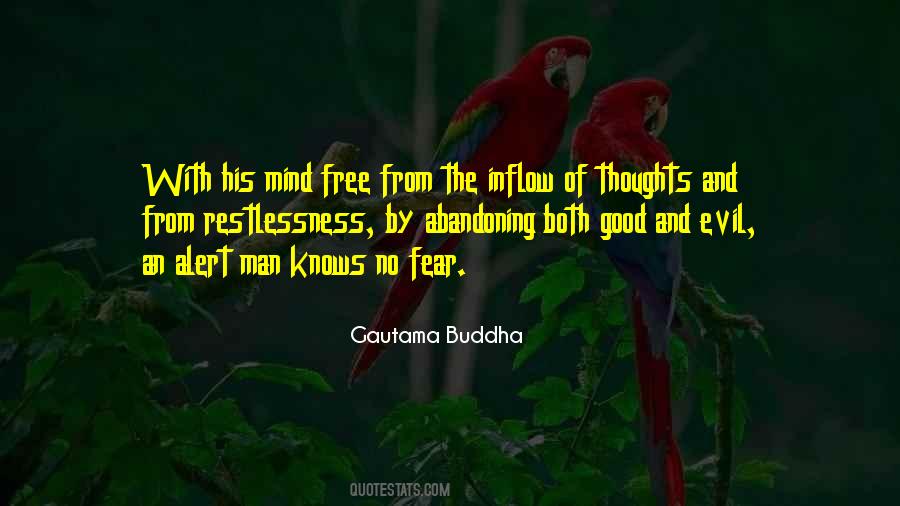 #30. It was no longer the fear of the gallows, it was the horror of being Hyde that racked me. - Author: Robert Louis Stevenson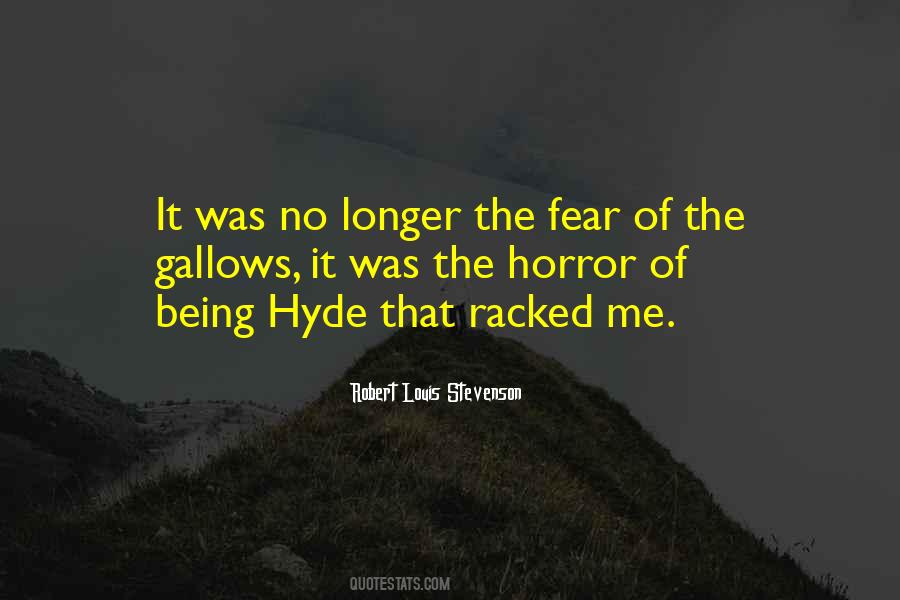 #31. The only advantage to being a middle-aged man is that when you put on a jacket and tie, you're the Scary Dad. Never mind that no one has had an actually scary dad since 1966. The visceral fear remains. - Author: P. J. O'Rourke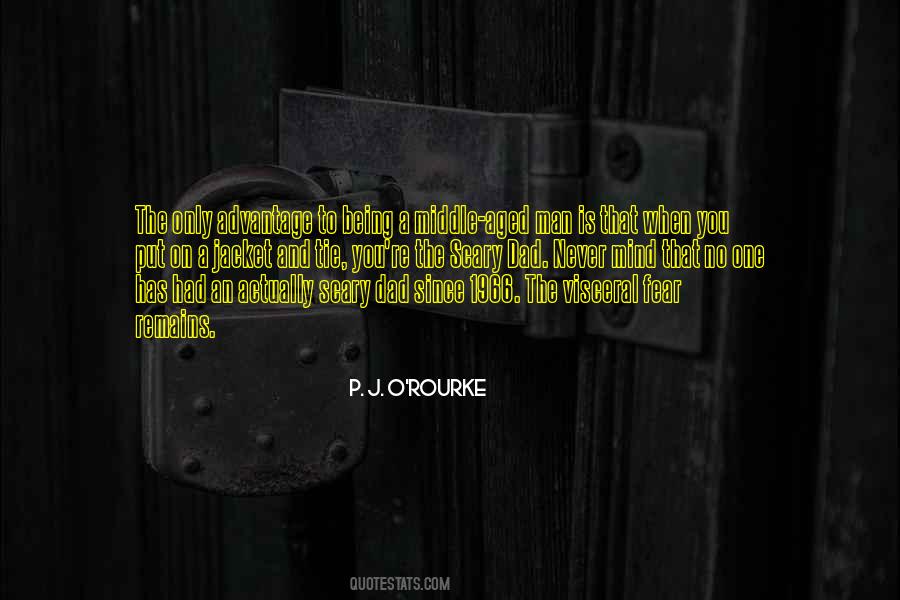 #32. Death should hold no fear for a man as old as me, but it does. Isn't that silly? It is always dark where I am, so why should I fear the darkness? Yet I cannot help but wonder what will follow, when the last warmth leaves my body. - Author: George R R Martin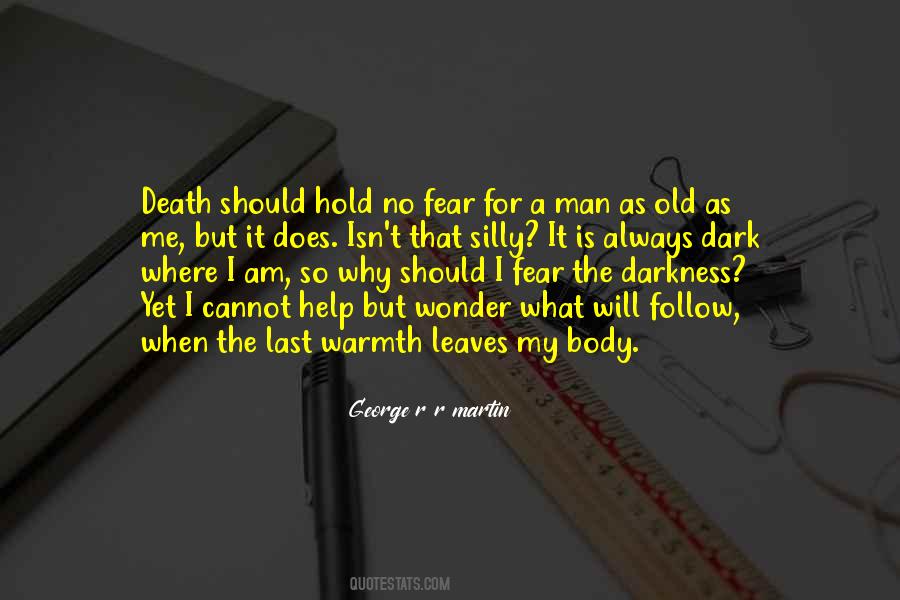 #33. Because I fear God, I have no man to fear. - Author: Oliver Cromwell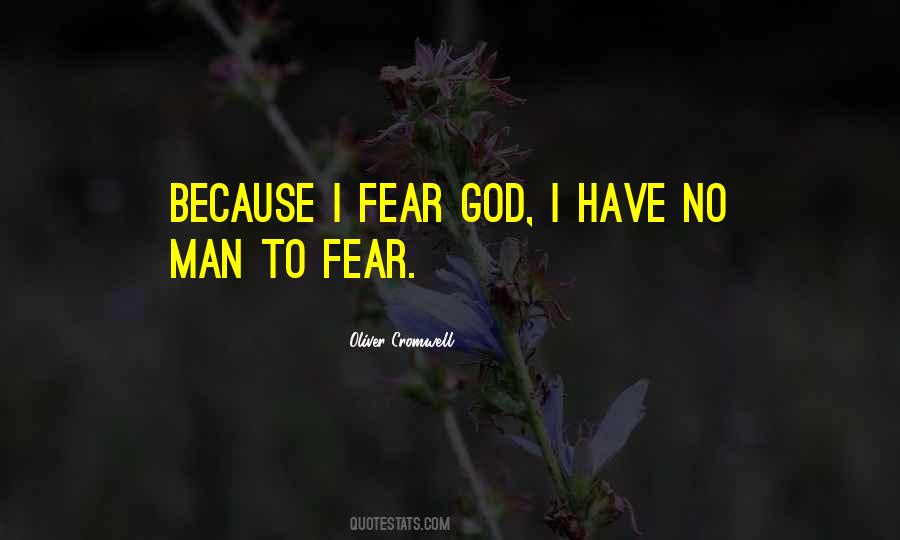 #34. It's fear, Jack. The man deals with a huge amount of fear.'
Because he got hurt?'
No, not entirely. Fear comes with imagination, it's a penalty, it's the price of imagination. - Author: Thomas Harris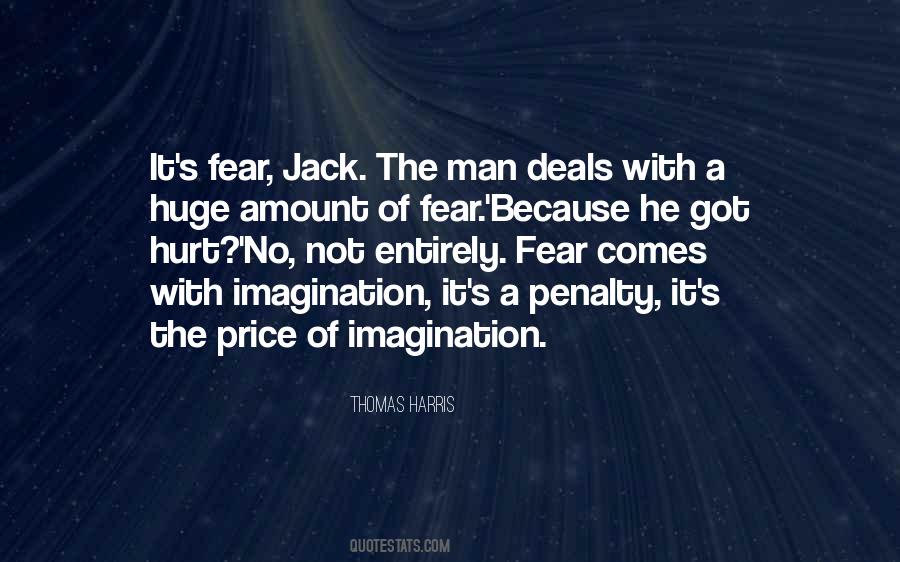 #35. A word does not frighten the man who, in acting, feels no fear. - Author: Sophocles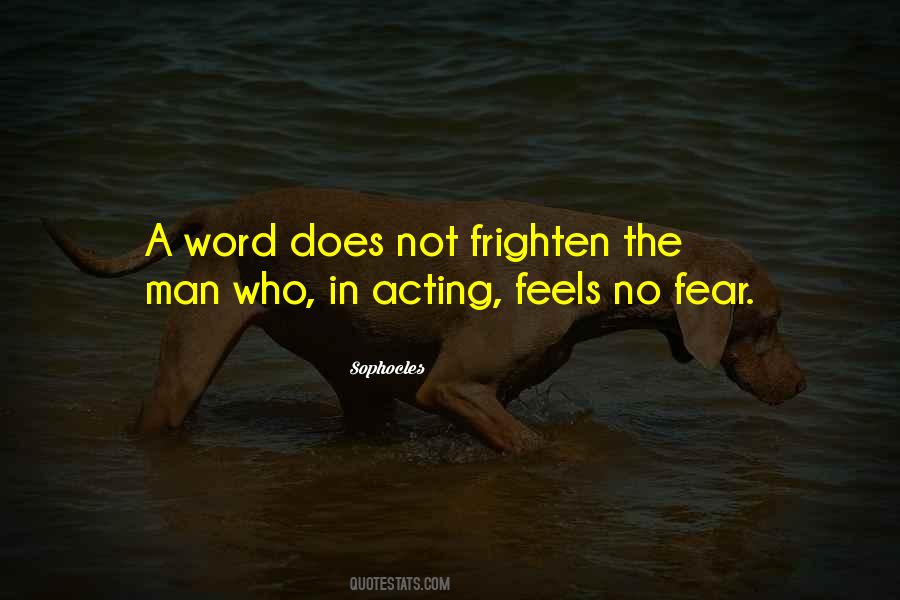 #36. No pain, no death, is more terrible to a wild creature than its fear of man. - Author: J.A. Baker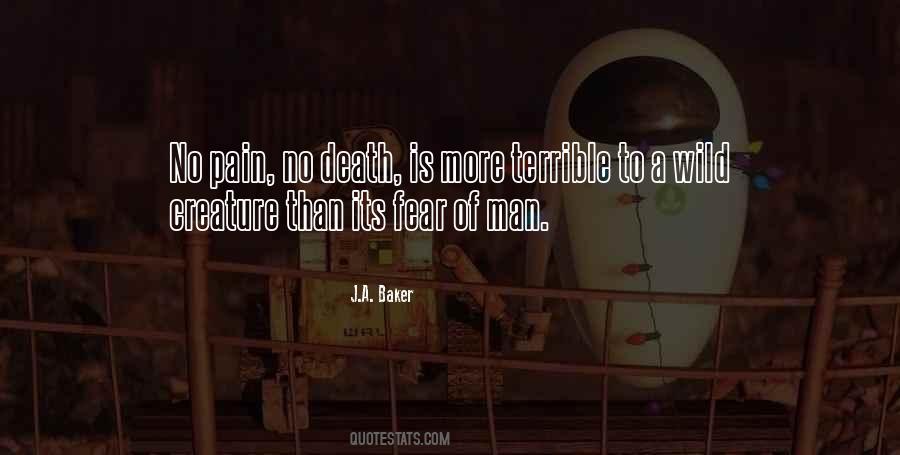 #37. If virtuous, the government need not fear the fair operation of attack and defense. Nature has given to man no other means of sifting the truth, either in religion, law, or politics. - Author: Thomas Jefferson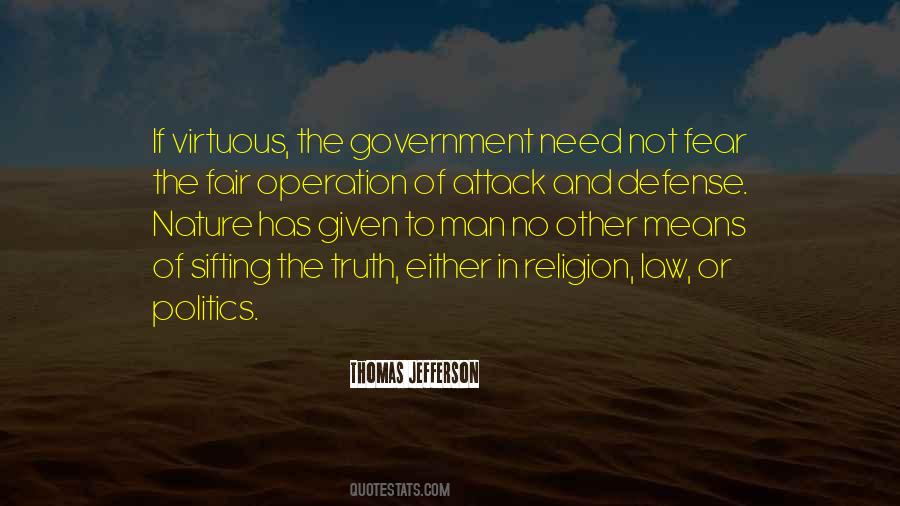 #38. A man wreaks harm because he forgets to love peace. He kills because of self-blinded fear, that imagines no other protection. - Author: Janny Wurts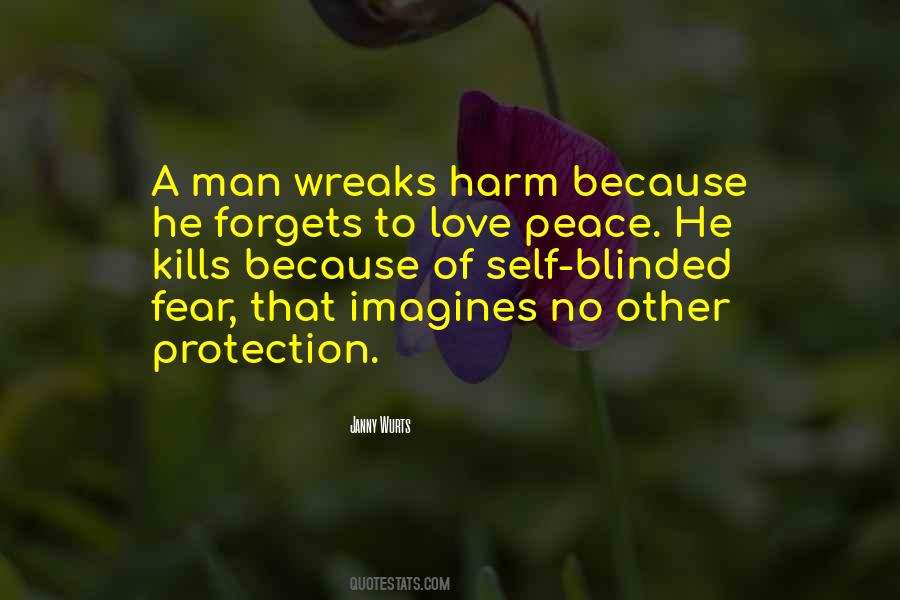 #39. It holds no fear for her now, because the shark has been tamed by the soul of a boy. No
the soul of a man. - Author: Neal Shusterman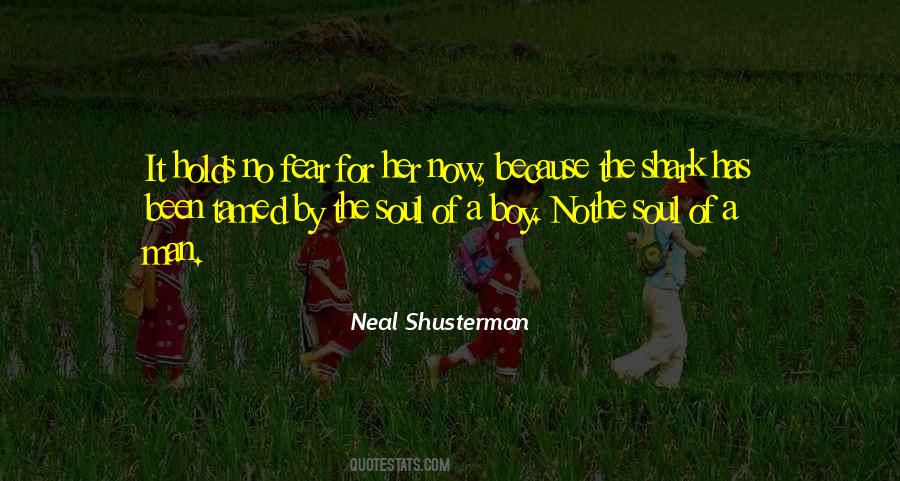 #40. I'm dreading the time that is not near As a man on a cross I have no fear I can't believe these words I'm saying You've got to feel your lines - Author: John Frusciante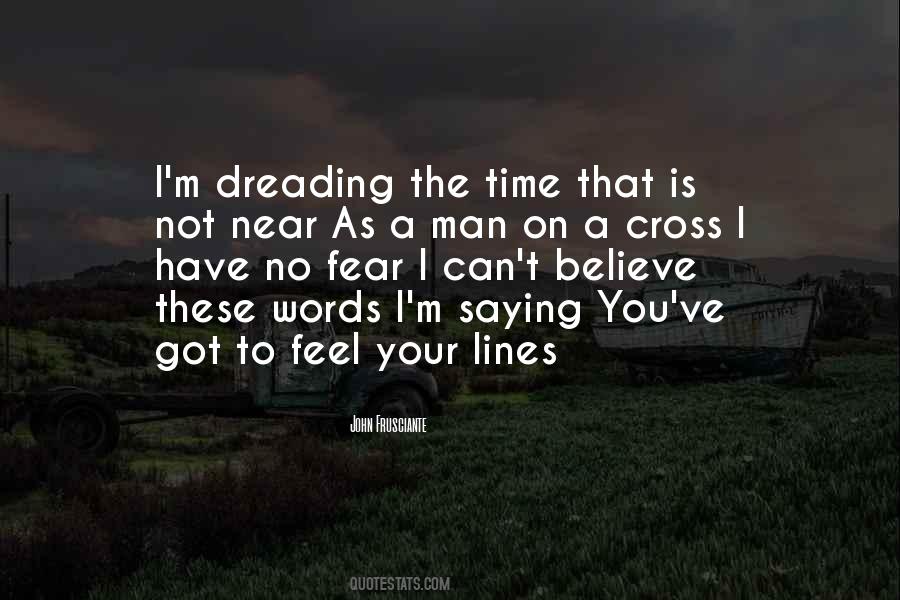 #41. There is no need to fear the strong. All one needs is to know the method of overcoming them. There is a special jujitsu for every strong man. - Author: Yevgeny Yevtushenko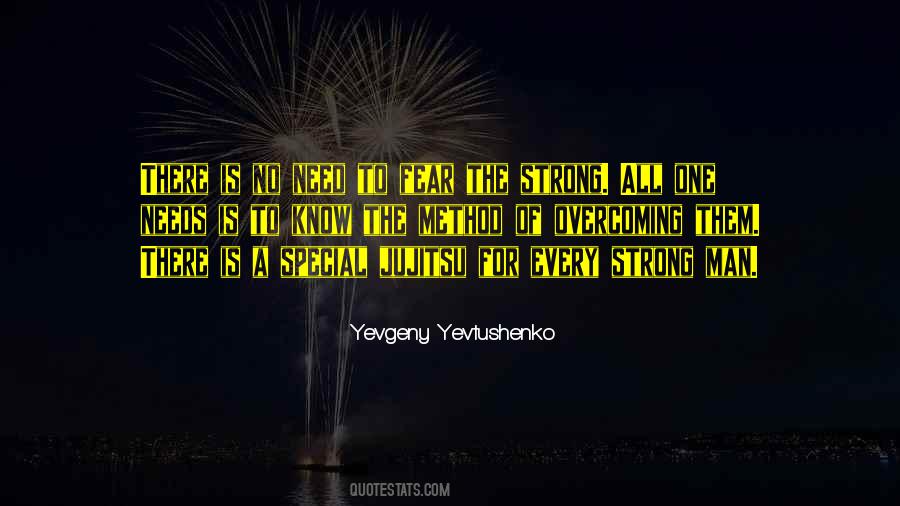 #42. I deny the lawfulness of telling a lie to a sick man for fear of alarming him; you have no business with consequences, you are to tell the truth. - Author: Samuel Johnson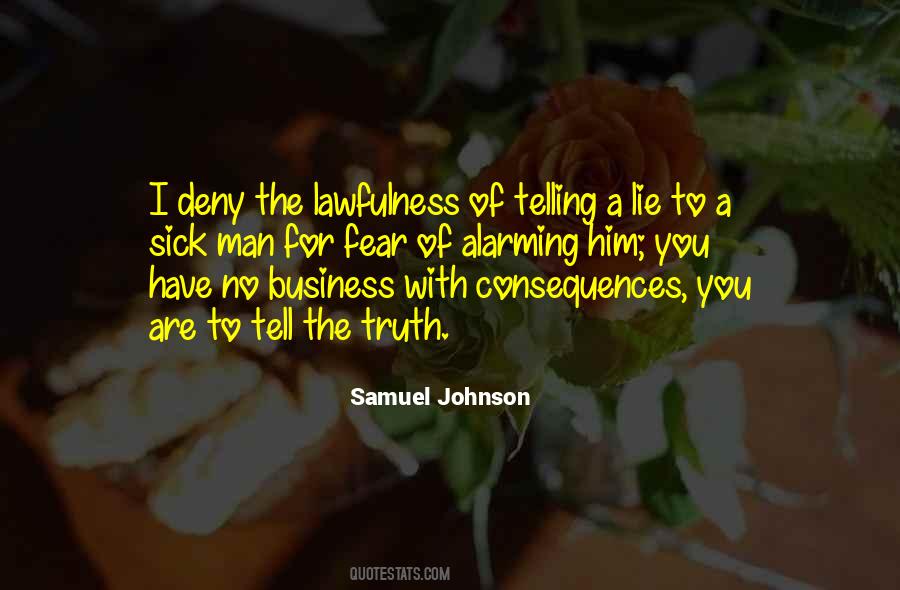 #43. She no longer fought out of fear for the man she loved. Instead, she fought with an understanding. She was a knife - Elend's knife, the Final Empire's knife. - Author: Brandon Sanderson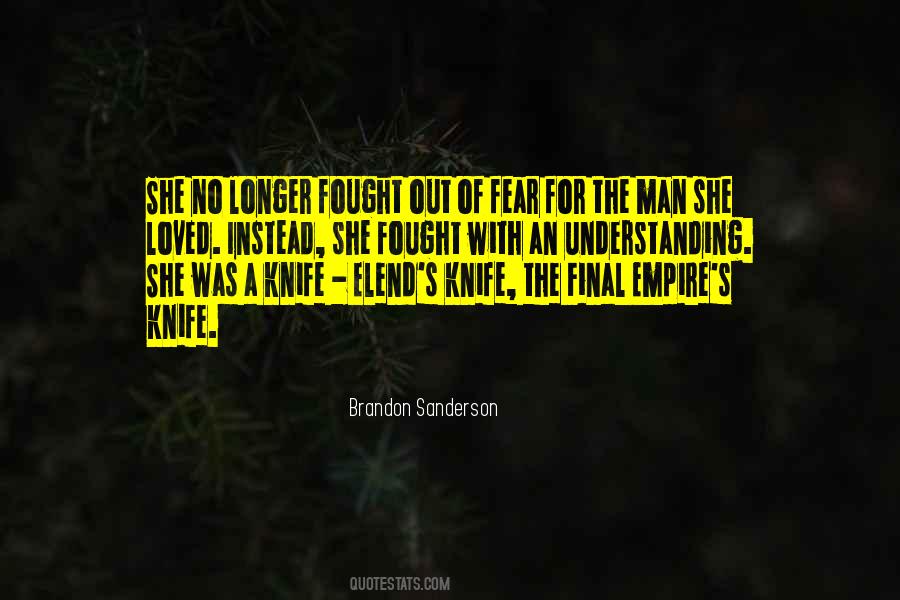 #44. The only time I really get afraid is when something is affecting my family. But even then, I start to think about the Bible and the passage that says "you should fear no one, fear no man, but only God," and I feel better. - Author: Vernon Davis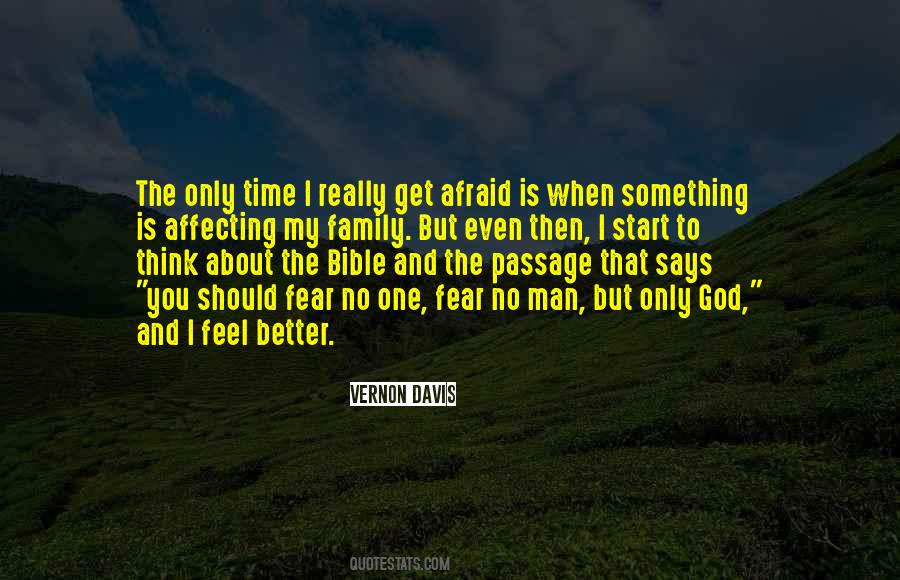 #45. There is nothing strange about fear: no matter in what guise it presents itself it is something with which we are all so familiar that when a man appears who is without it we are at once enslaved by him. - Author: Henry Miller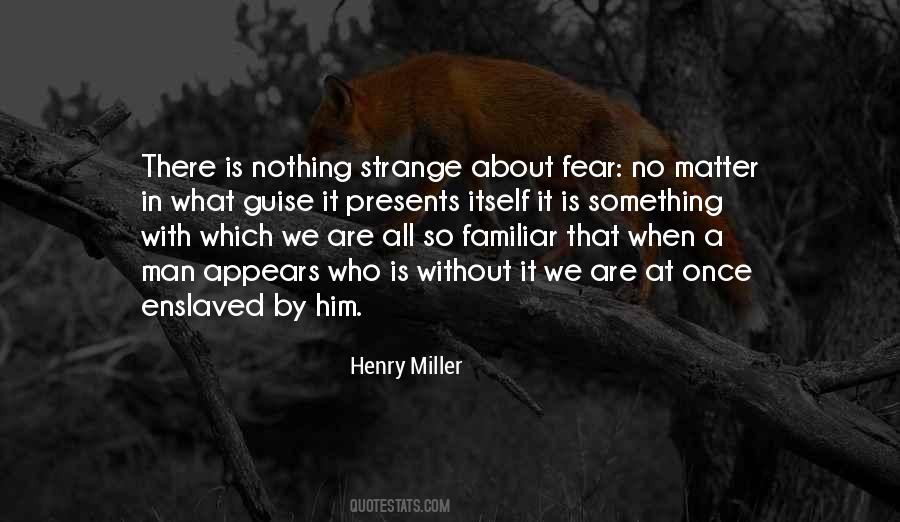 #46. Man cannot possess anything as long as he fears death. But to him who does not fear it, everything belongs. If there was no suffering, man would not know his limits, would not know himself. - Author: Leo Tolstoy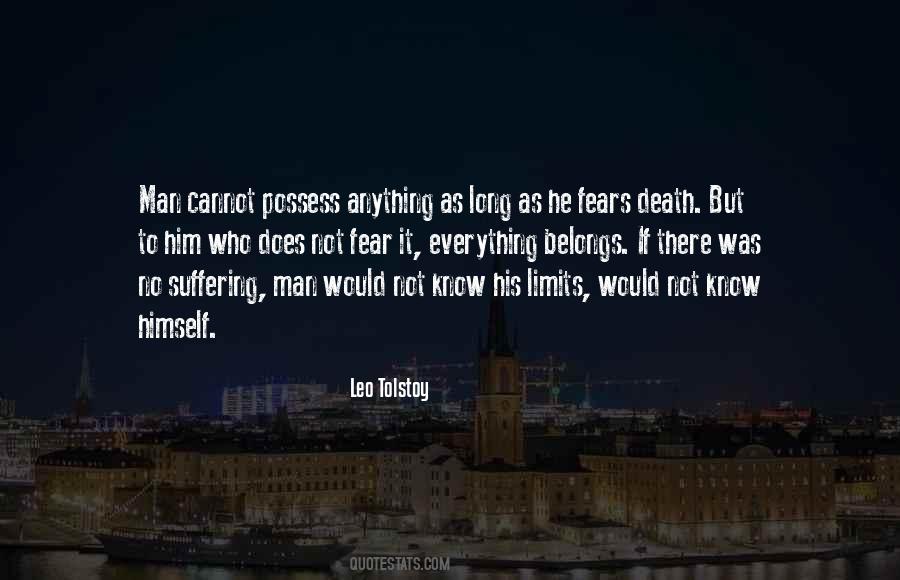 #47. When we fear God, then we shall fear no man, however high-placed he may be. - Author: Mahatma Gandhi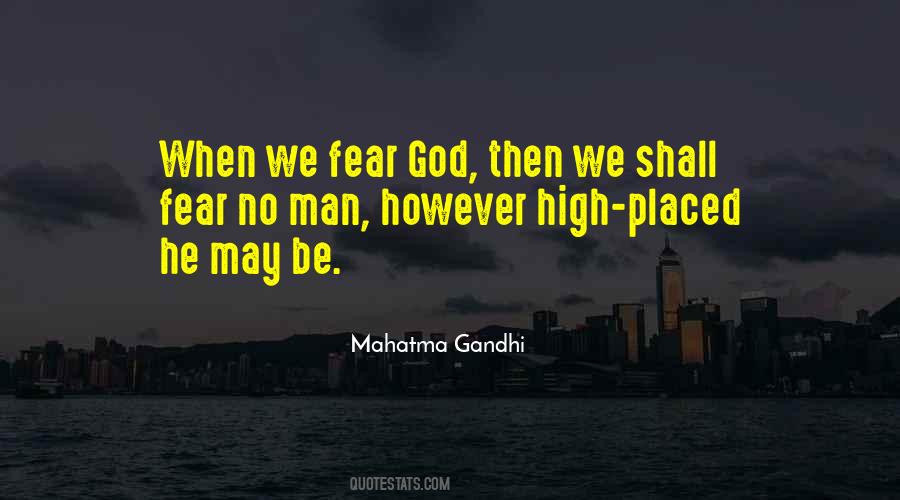 #48. Every man's death is standing in for every other. And since death comes to all there is no way to abate the fear of it except to love the man who stands for us. - Author: Cormac McCarthy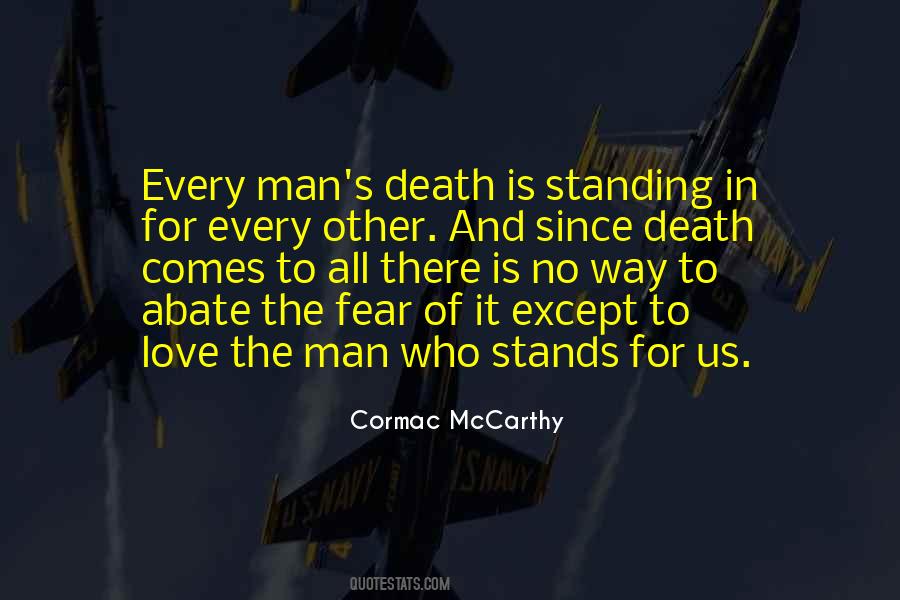 #49. No one knows whether death may not be the greatest of all blessings for a man, yet men fear it as if they knew that it is the greatest of evils. And surely it is the most blameworthy ignorance to believe that one knows what one does not know. - Author: Plato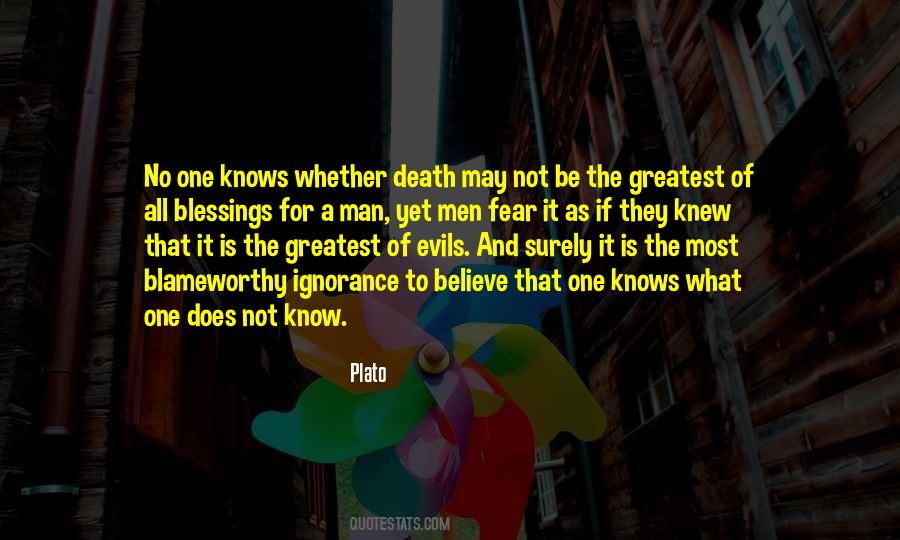 #50. What kind of living can be out of fear? Once the armor is dropped you can live out of love, you can live in a mature way. The fully matured man has no fear, no defense; he is psychologically completely open and vulnerable. - Author: Rajneesh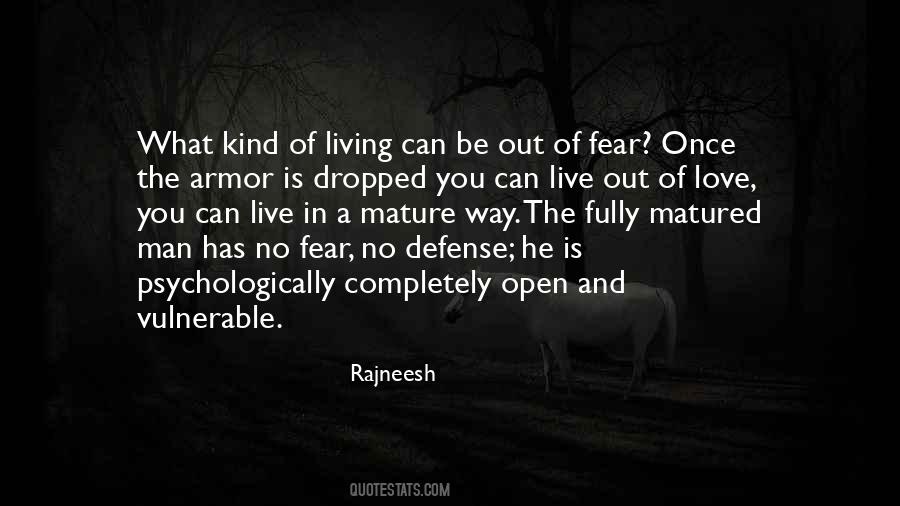 #51. What you want, chichi man?" The boy showed no fear. His insolence was practiced and drew hollers of pleasure from the audience. - Author: Mark Dawson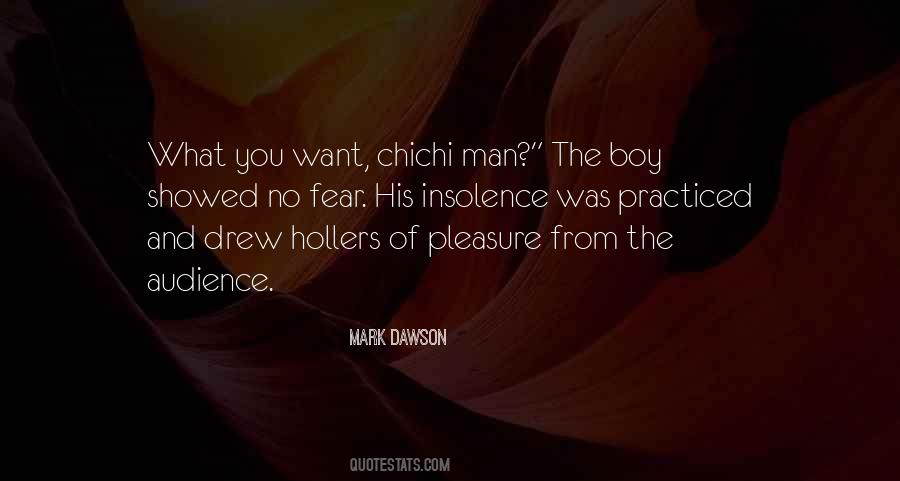 #52. No man on earth is truly free, All are slaves of money or necessity. Public opinion or fear of prosecution forces each one, against his conscience, to conform. - Author: Euripides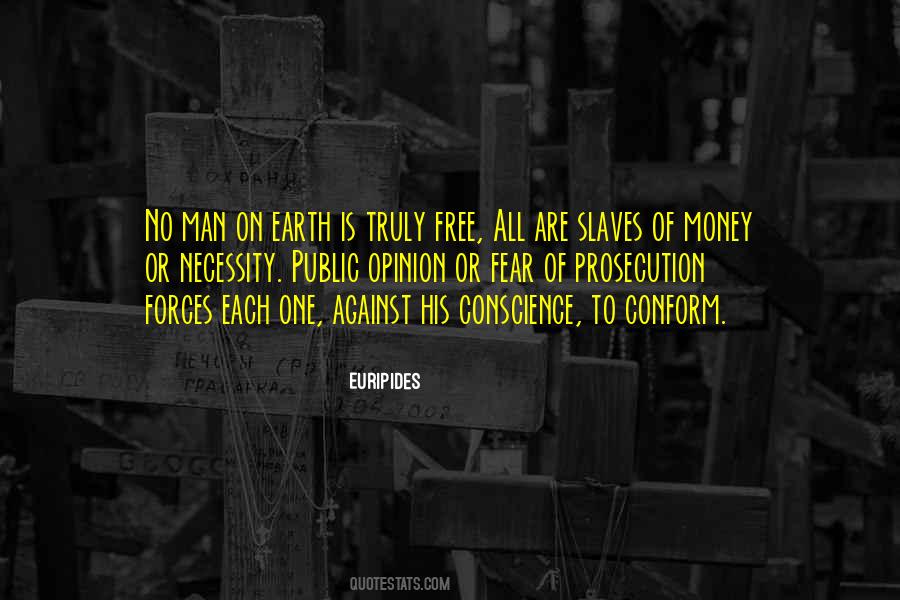 #53. I fear no man. If you breathe oxygen, I do not fear you. - Author: Conor McGregor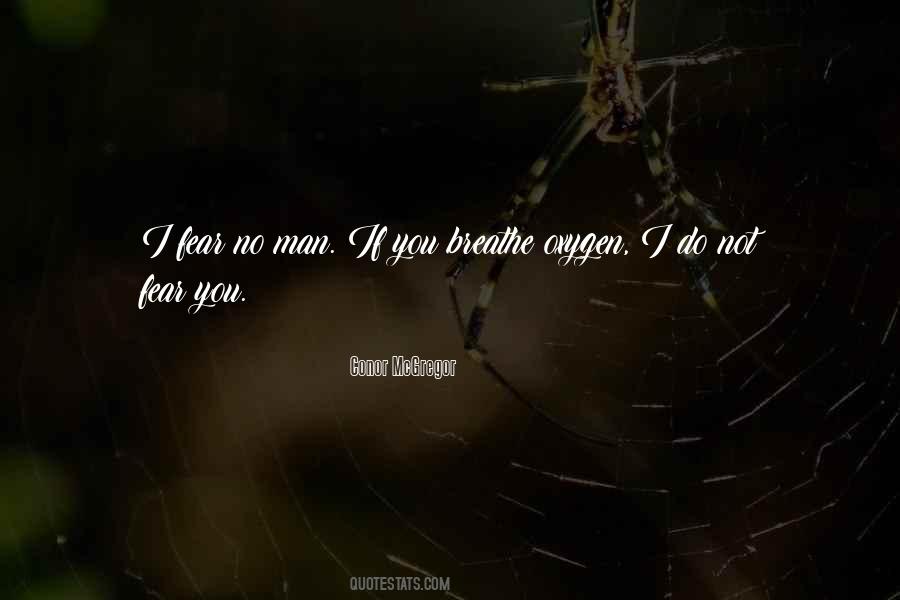 #54. I fear no man. Sometimes I think I do not even fear God. - Author: Zitkala-Sa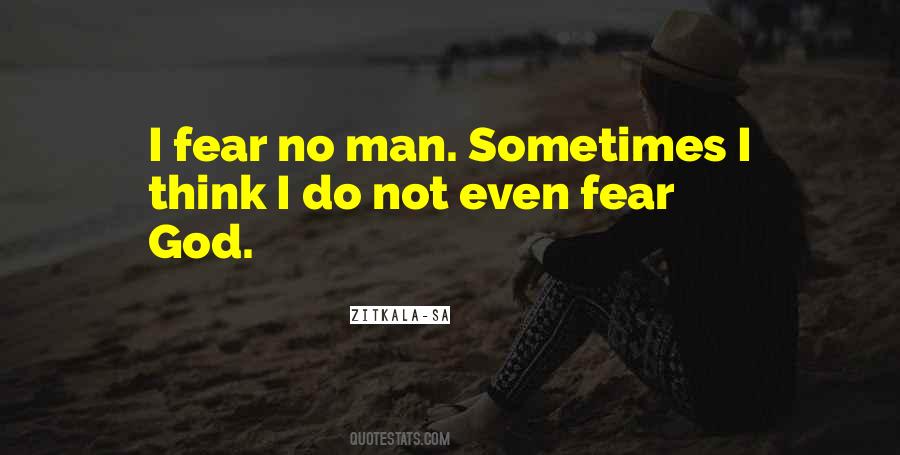 #55. The man who fears no truths has nothing to fear from lies. - Author: Francis Bacon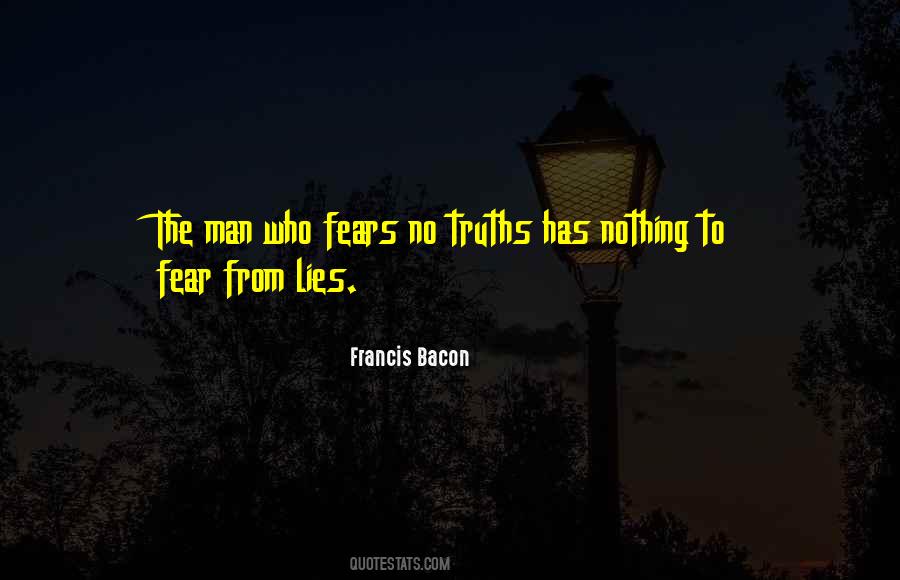 #56. Death reduces all men to the same rank. It strips the rich of his millions and the poor man of his rags ... Death knows no age limits, no partiality. It is a thing that all men fear. - Author: Billy Graham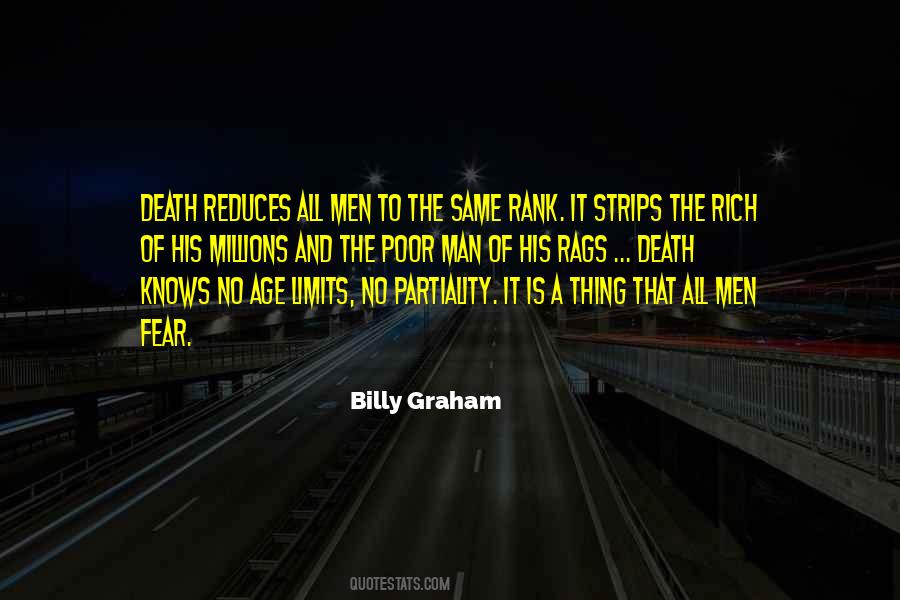 #57. Do good to another man, even when they do not do you good; another will certainly do you good. if there is still shame and fear in one's heart to do good, there will certainly be no progress at all. - Author: Sukarno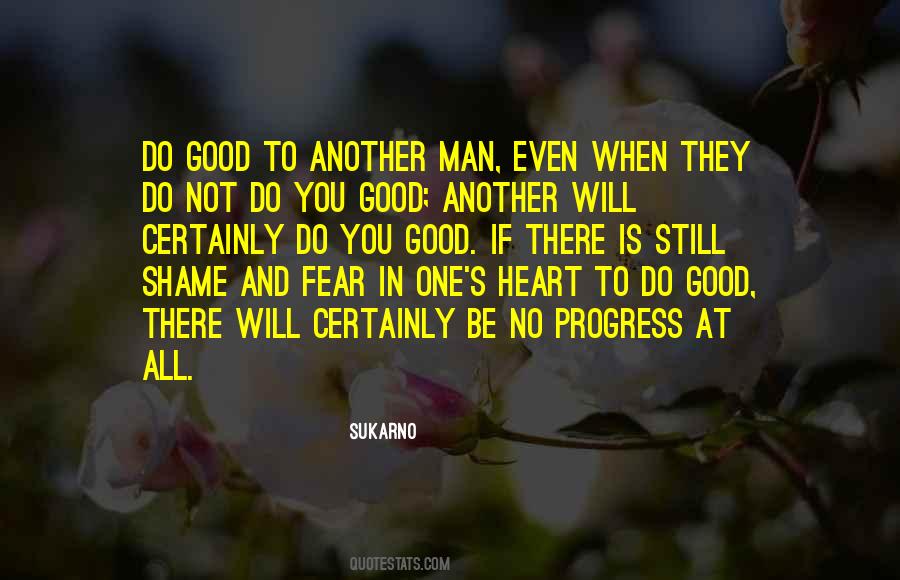 #58. No man will be found in whose mind airy notions do not sometimes tyrannize, and force him to hope or fear beyond the limits of sober probability. - Author: Samuel Johnson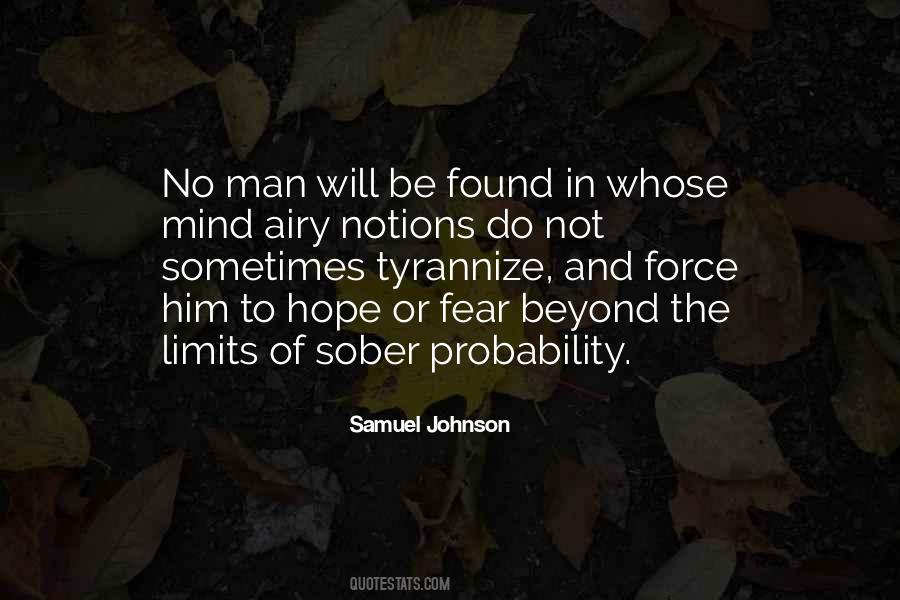 #59. God's the seamtress that tailor-fitted my pain yo I got scriptures in my brain I can spit at yo dane straight the good book, look, niggas is shook 50 fear no man, warrior swing swords like conana - Author: Curtis Jackson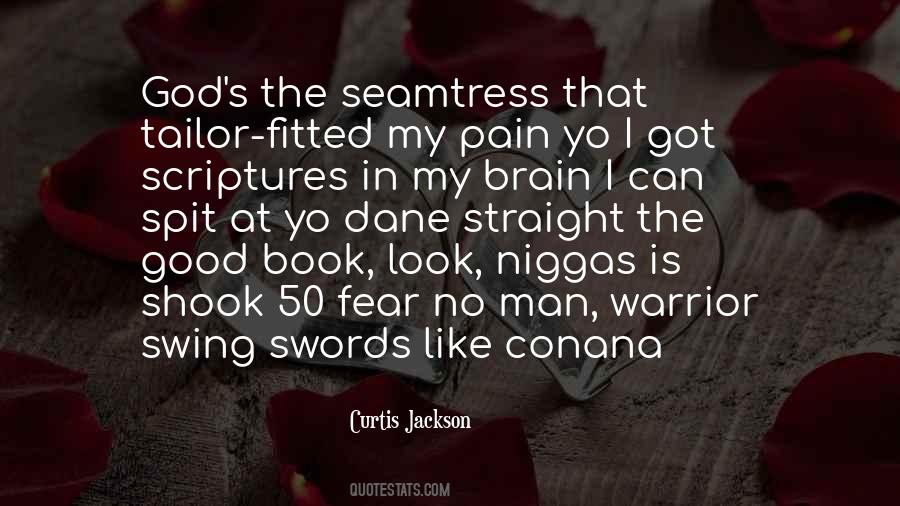 #60. Makin once told me that a man who's got no fear is missing a friend. - Author: Mark Lawrence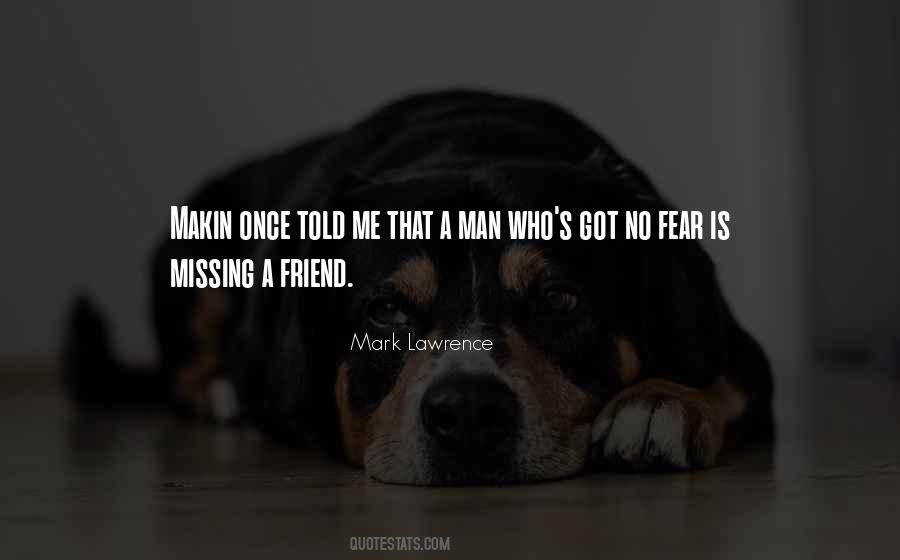 #61. Let no man pretend to fear sin that does not fear temptation also! These two are too closely united to be separated. He does not truly hate the fruit who delights in the root. - Author: John Owen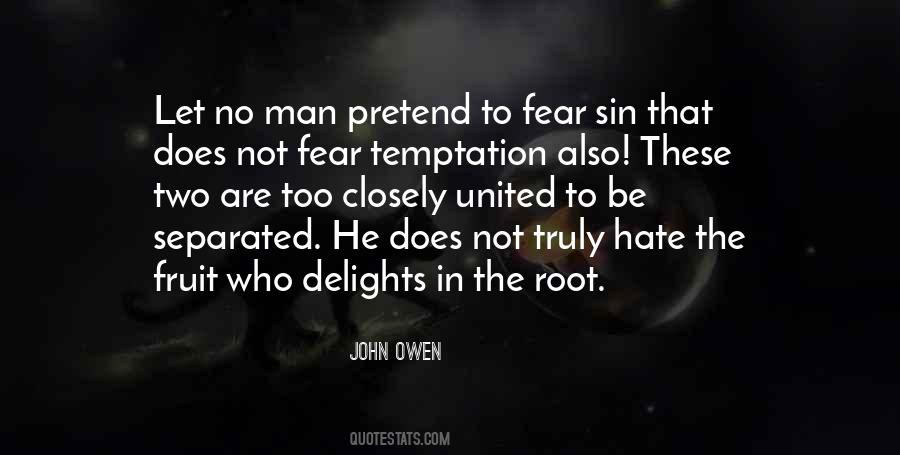 #62. With growing sorrow and fear, the poor man painfully saw how wasted and empty the life that lay behind him had become. It no longer belonged to him but was strange and disconnected, like something once memorized that could be recalled only with difficulty in the form of barren fragments. He - Author: Hermann Hesse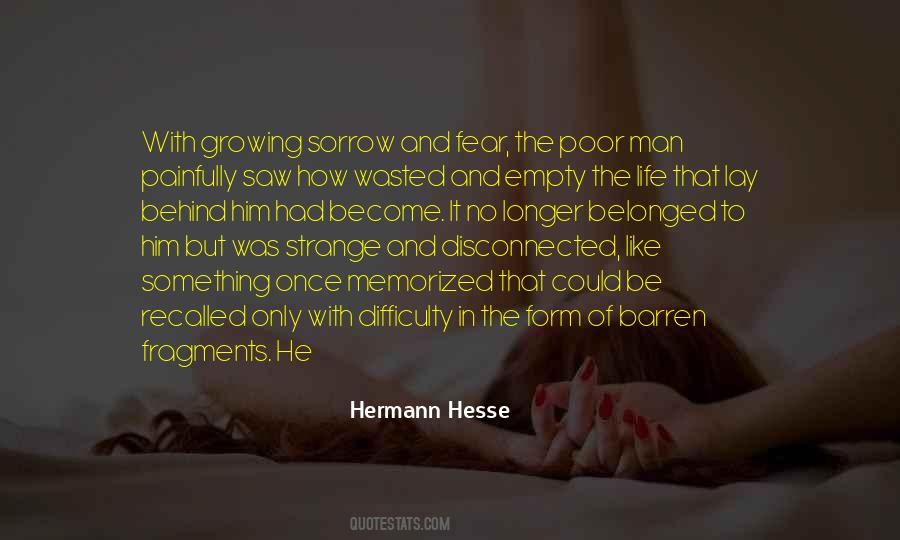 #63. He who fears God fears no man. - Author: Leonard Ravenhill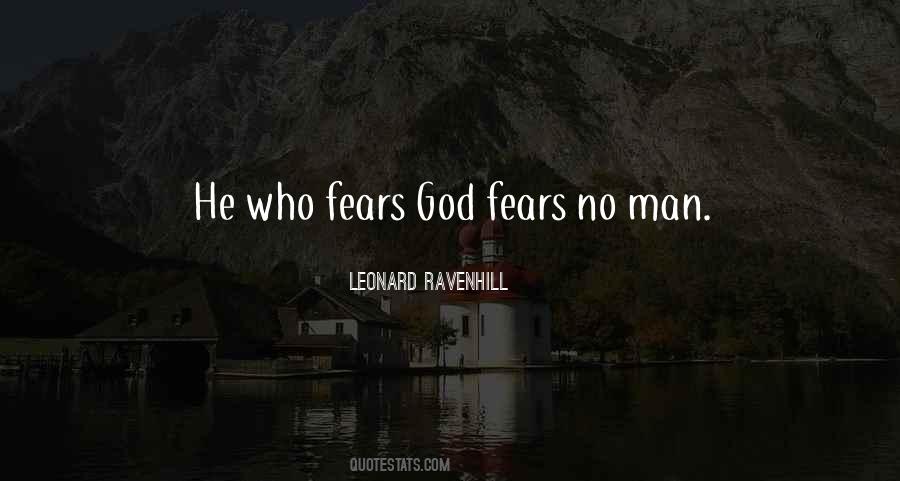 #64. If a man dies of cancer in fear and despair, then cry for his pain and celebrate his life. The other man, who fought like hell and laughed in the end, but also died, may have had an easier time in his final months, but took his leave with no more humanity. - Author: Stephen Jay Gould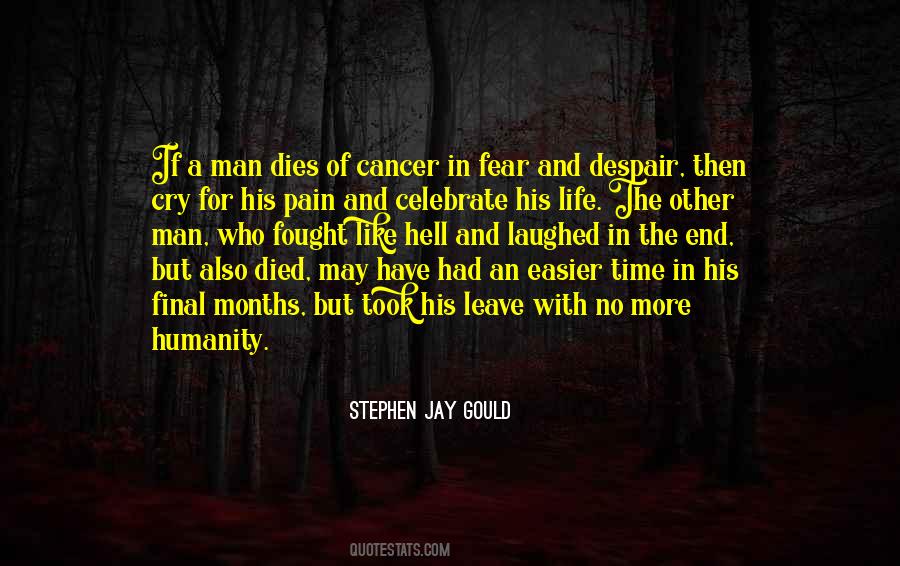 #65. Which is colder, the hand or the gun? - Author: Anthony Liccione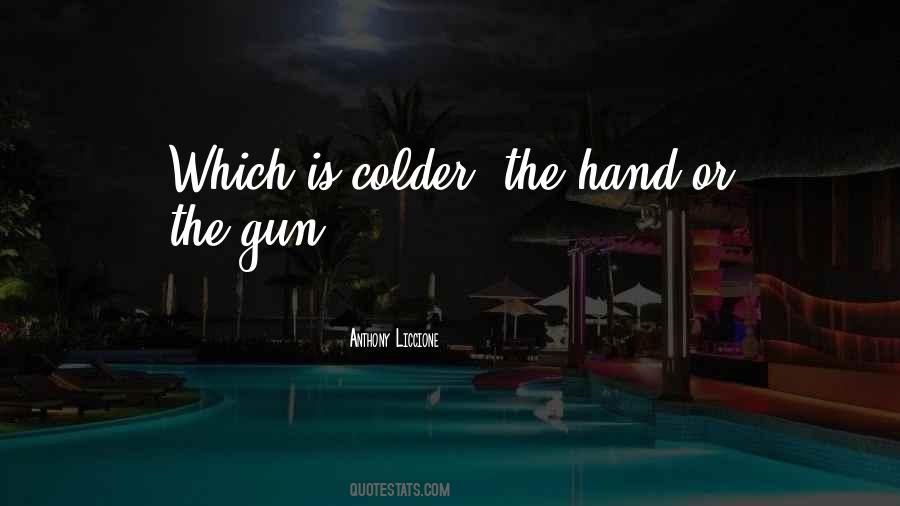 #66. There be many shapes of mystery; And many things God brings to be, Past hope or fear. And the end men looked for cometh not, And a path is there where no man thought. So hath it fallen here. - Author: Euripides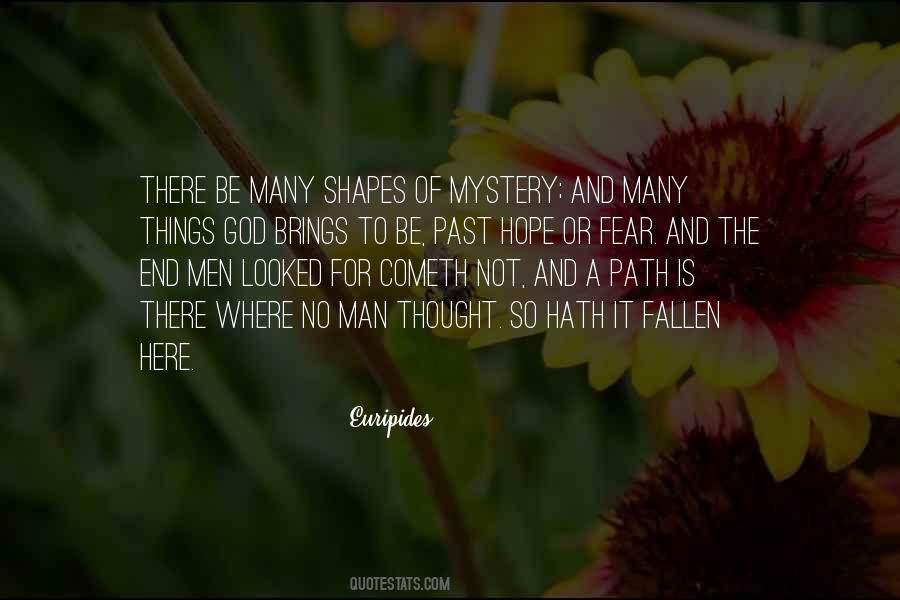 #67. No man need fear death, he need fear only that he may die without having known his greatest power: the power of his free will to give his life for others - Author: Albert Schweitzer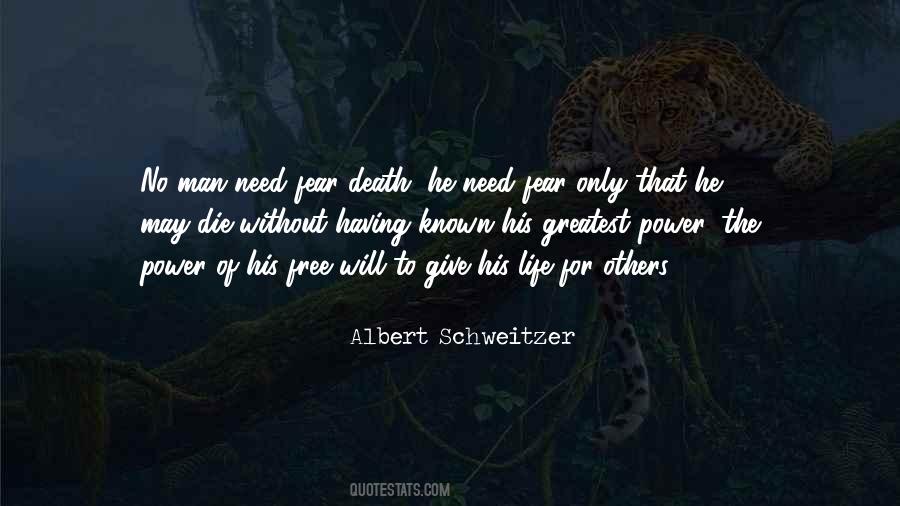 #68. So a man will sometimes go through half an hour of mortal terror with a brigand, yet when the knife is at his throat at last, he feels no fear. - Author: Fyodor Dostoyevsky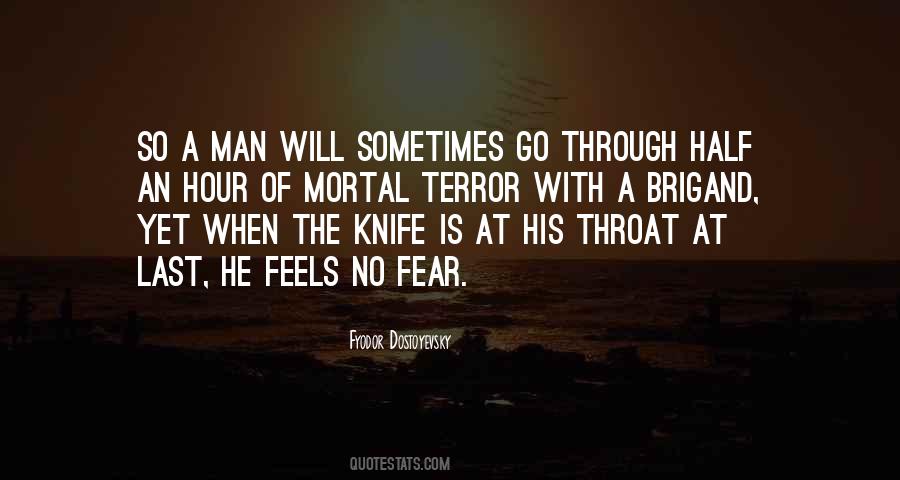 #69. There is no feeling, perhaps, except the extremes of fear and grief, that does not find relief in music,
that does not make a man sing or play the better. - Author: George Eliot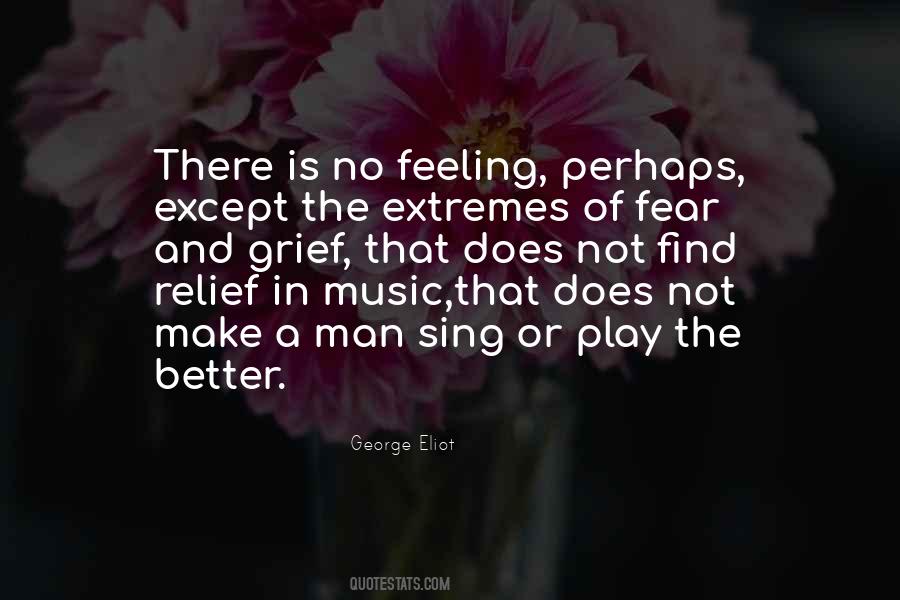 #70. The heretic was brought before the Supreme Judge unrestrained, there was no fear that he would flee. The room in which the heretic now stood was thoroughly secured, although the man had no intention of trying to escape anyhow. - Author: Dennis B. Boyer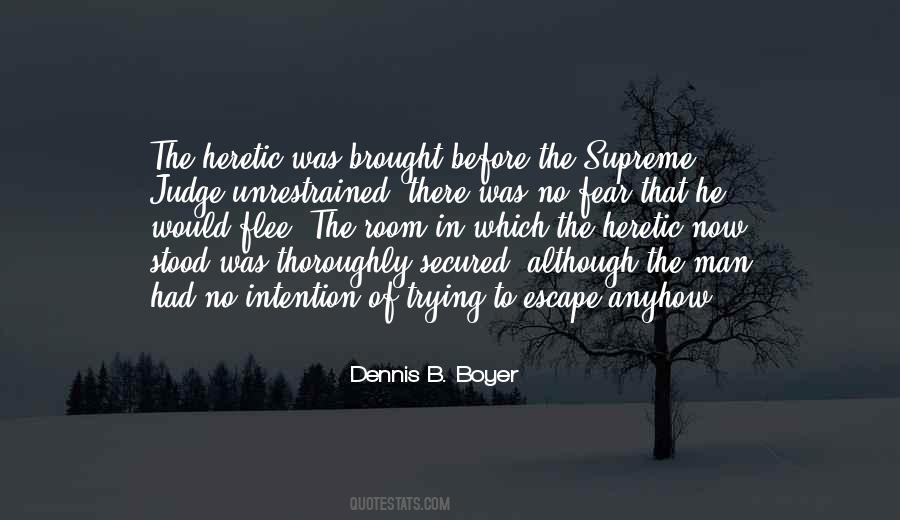 #71. One of the scary things is that, when you're a kid, you look at your dad as the man who has no fear. When you're an adult, you realize your father had fear, and that you have it, too. - Author: David Duchovny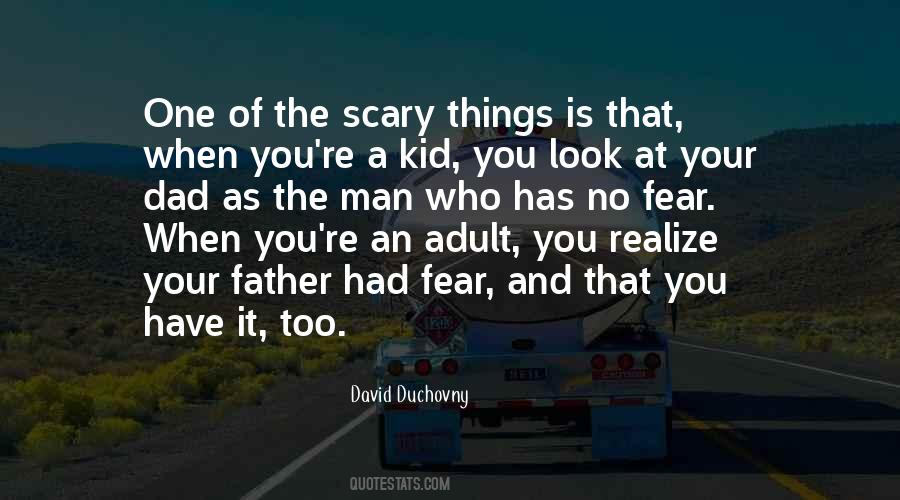 #72. No man should leave in the universe anything of which he is afraid. - Author: G.K. Chesterton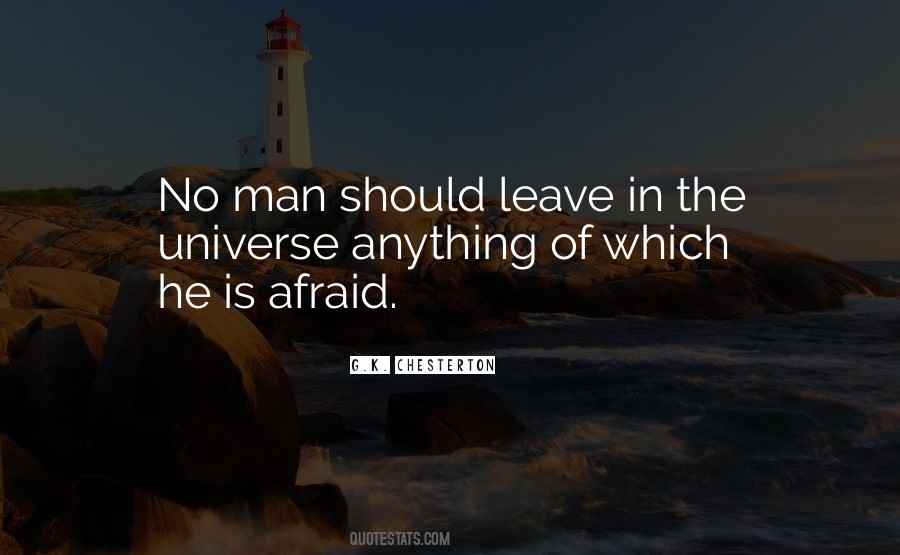 #73. A man who is not afraid is not aggressive, a man who has no sense of fear of any kind is really a free, a peaceful man. - Author: Jiddu Krishnamurti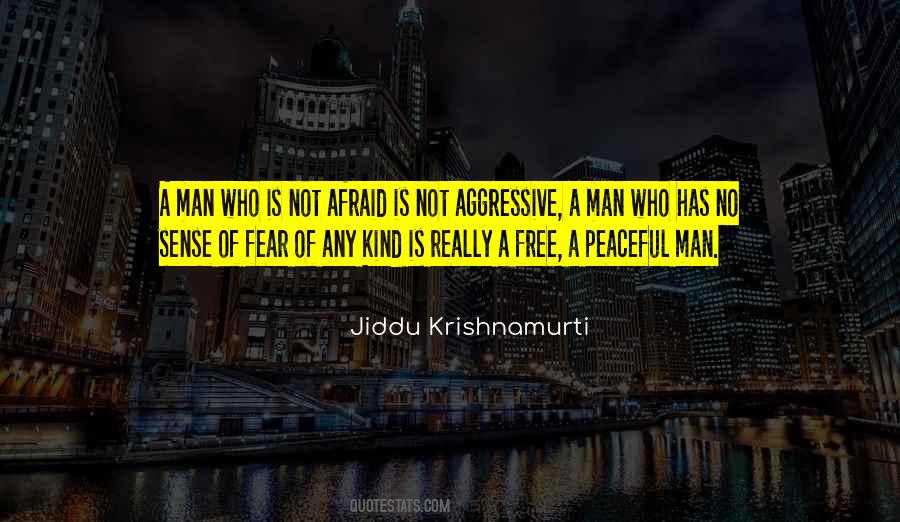 #74. There are three things all wise men fear: the sea in storm, a night with no moon, and the anger of a gentle man. - Author: Patrick Rothfuss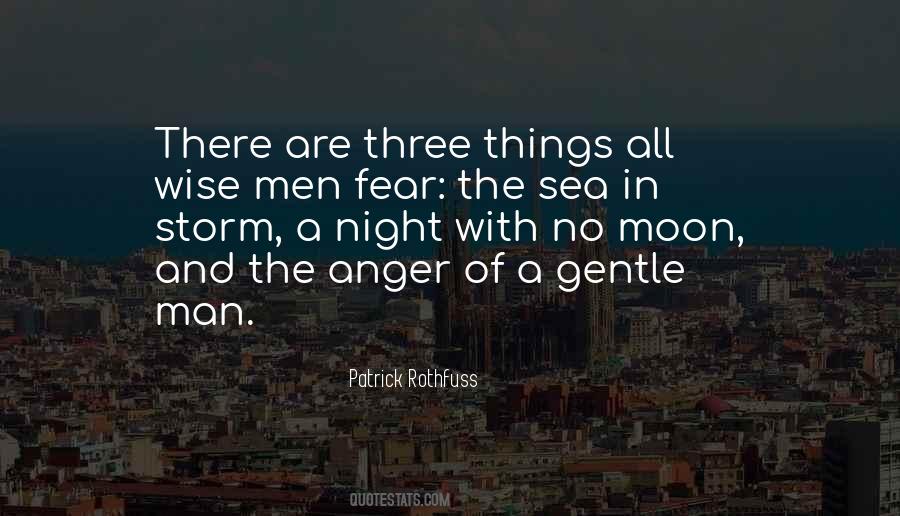 #75. If you fear the man who takes care about you, no one has ever loved you truly. - Author: Bryanna Reid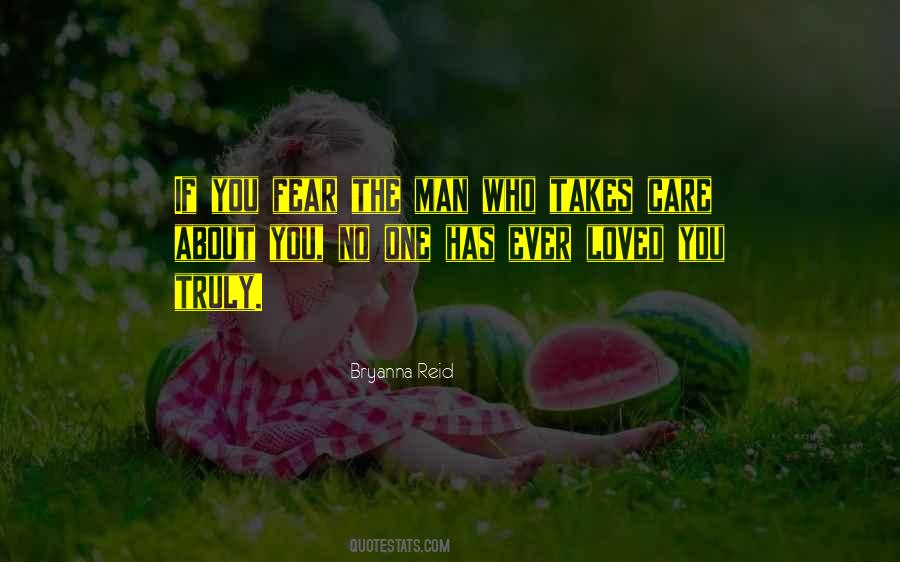 #76. He lay before God as a woman opens herself to a man, with legs apart, stomach exposed, arms open. But unlike some women, he did not have the inner strength that allowed them to do such a thing without fear. There was no woman's strength in Mellas at all. - Author: Karl Marlantes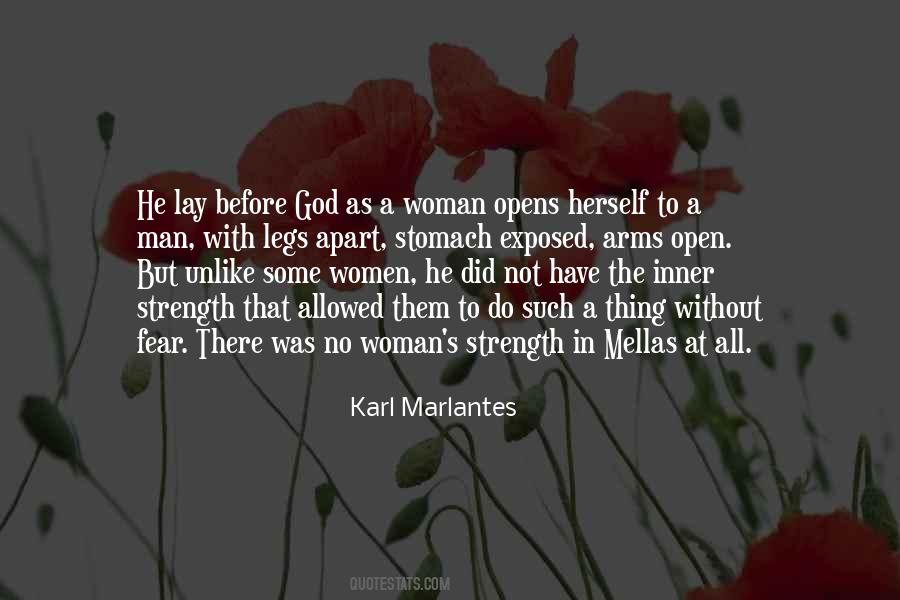 #77. The fear of man is no respecter of persons. It might be called codependency by adults, peer pressure with teens, and shyness with children, but whatever it is called, it all betrays the same idolatrous heart. - Author: Edward T. Welch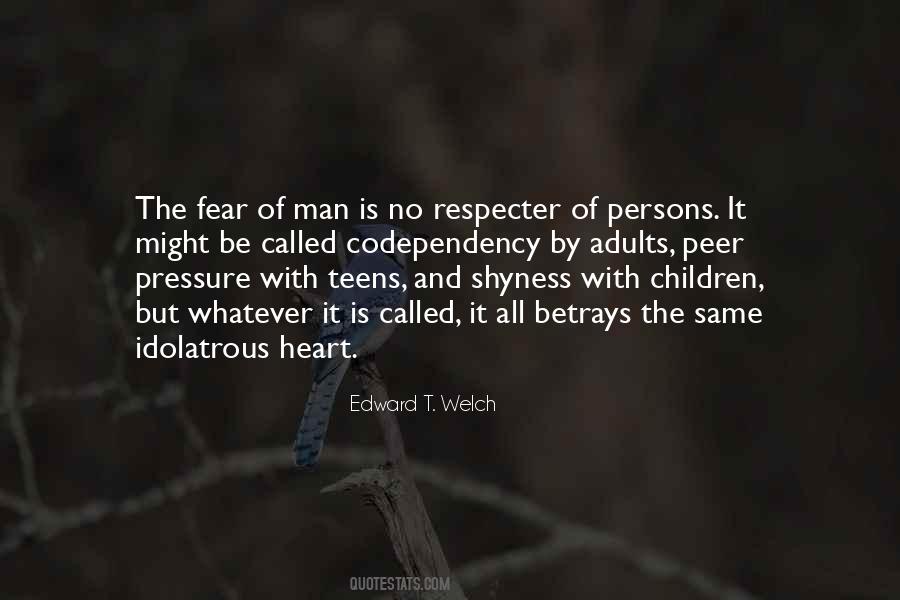 #78. A man's ethical behavior should be based effectually on sympathy, education, and social ties and needs; no religious basis is necessary. Man would be in a poor way if he had to be restrained by fear of punishment and hopes of reward after death. - Author: Albert Einstein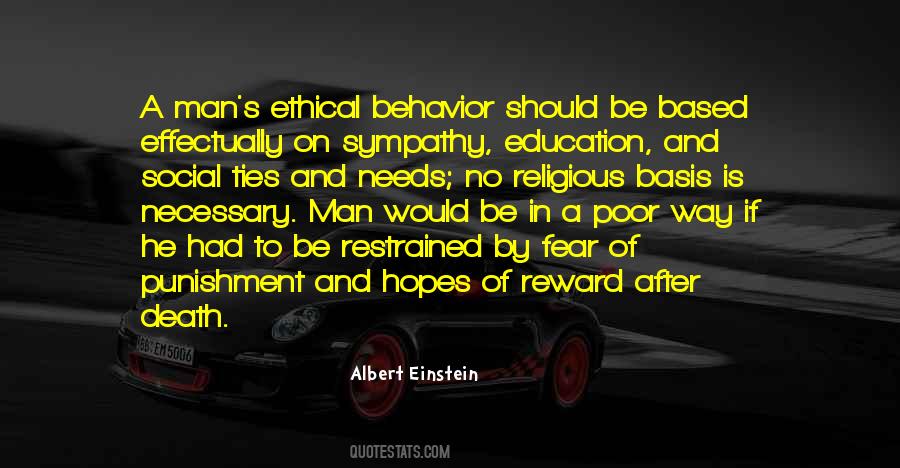 #79. No one is more vulnerable to fear than a man who keeps another in bondage. He will do anything to prevent justice from rearing its head - for he knows well what he deserves at the hands of those he subjugates. - Author: Jane Jensen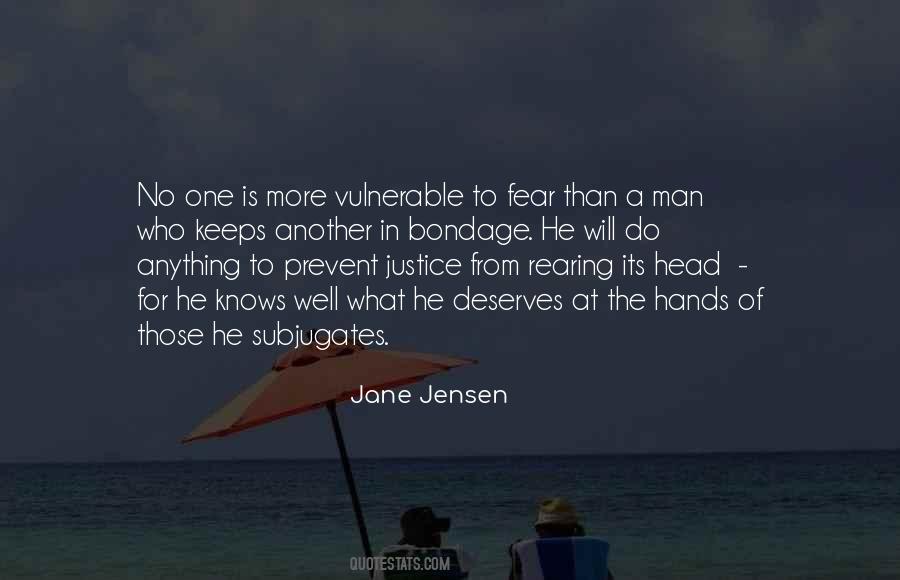 #80. It was an ugly face, pale, coarse, and cruel, but Ged feared no man, though he might fear where such a man would guide him. - Author: Ursula K. Le Guin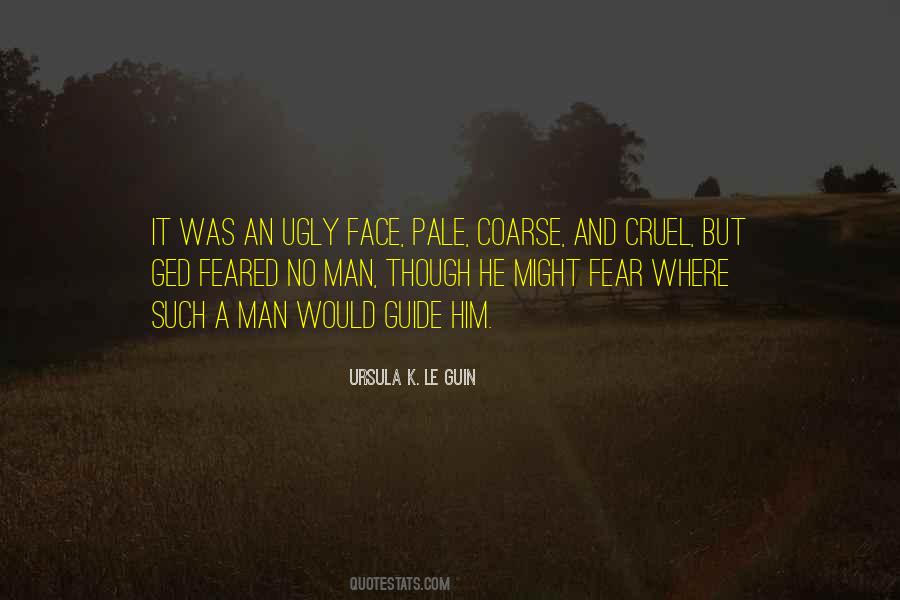 #81. There is no power outside of man. Man has created God out of fear. So the problem is fear and not God. - Author: U.G. Krishnamurti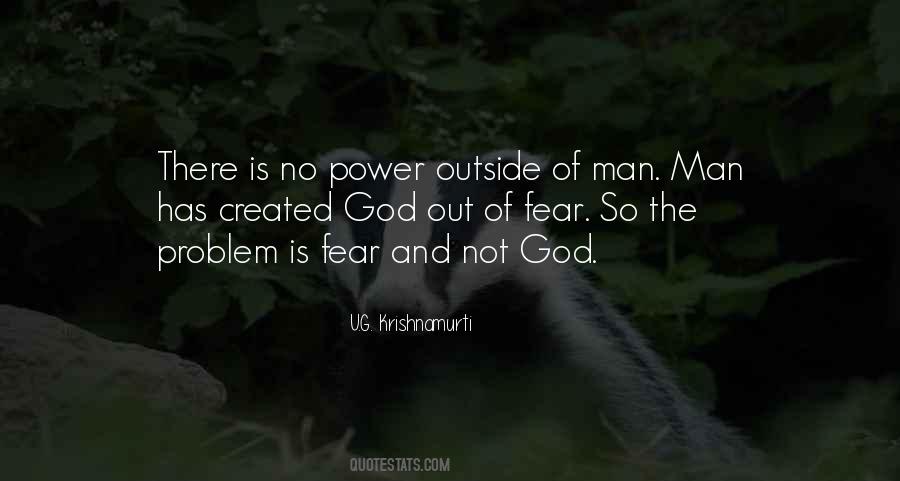 #82. Guilt is to danger, what fire is to gunpowder; a man need not fear to walk among many barrels of powder, if he have no fire about him. - Author: John Flavel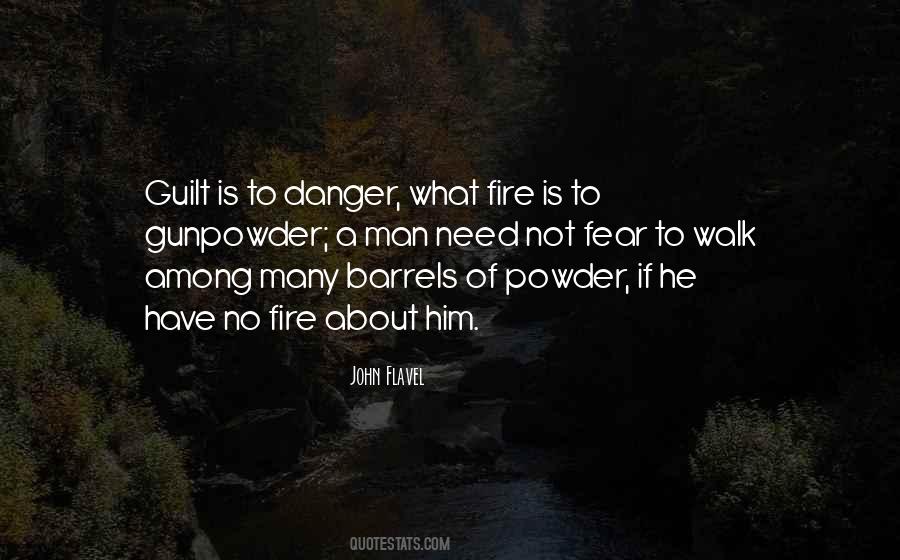 #83. There is no king saved by the multitude of an host; a mighty man is not delivered by much strength. Behold, the eye of the Lord is upon them that fear him, upon them that hope in his mercy. (Psalm 33:16-18) - Author: John Calvin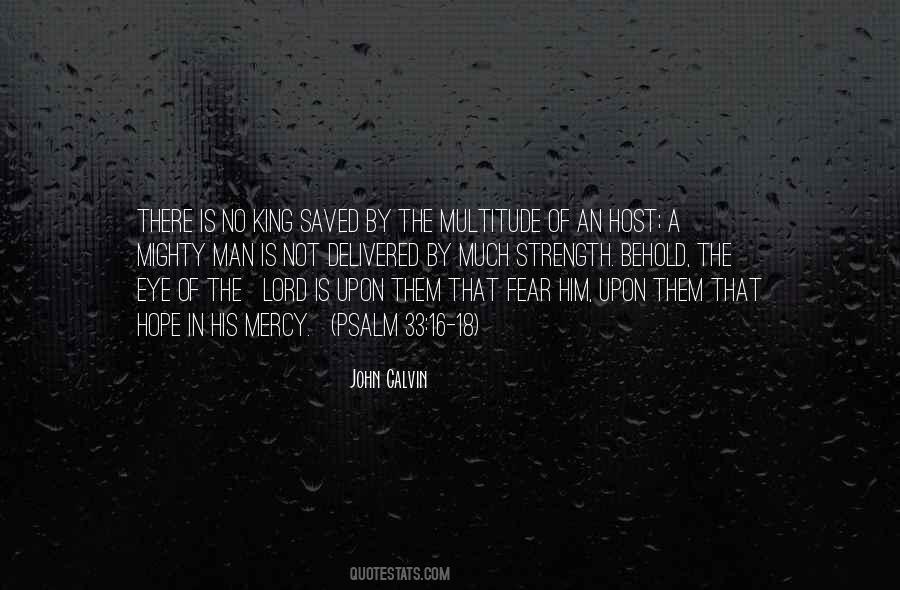 #84. Hail to the man who went through life always helping others, knowing no fear, and to whom aggressiveness and resentment are alien. Such is the stuff of which the great moral leaders are made. - Author: Albert Einstein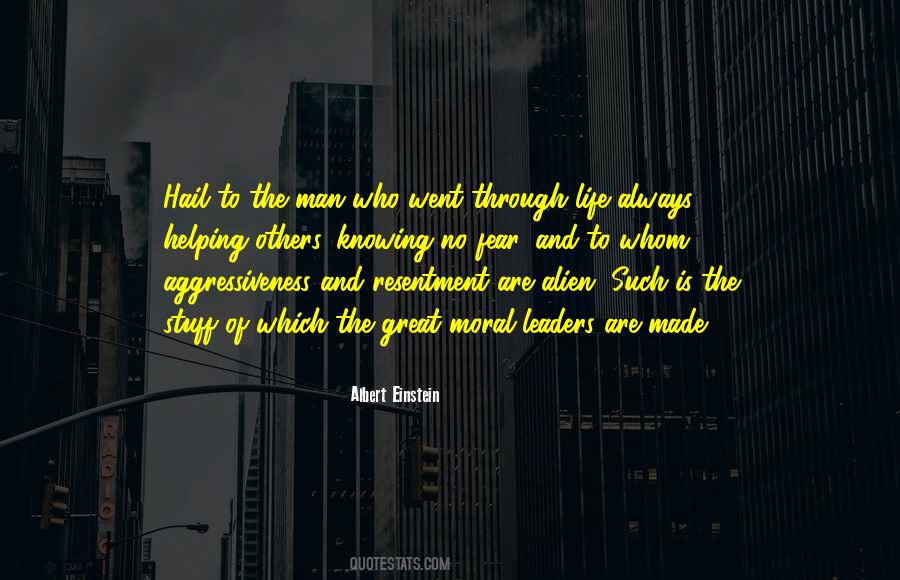 #85. There is a time for wondering what a man wants," said Fror, no fear at all in his. "And there is a time for splitting his head. This is that second time. - Author: Joe Abercrombie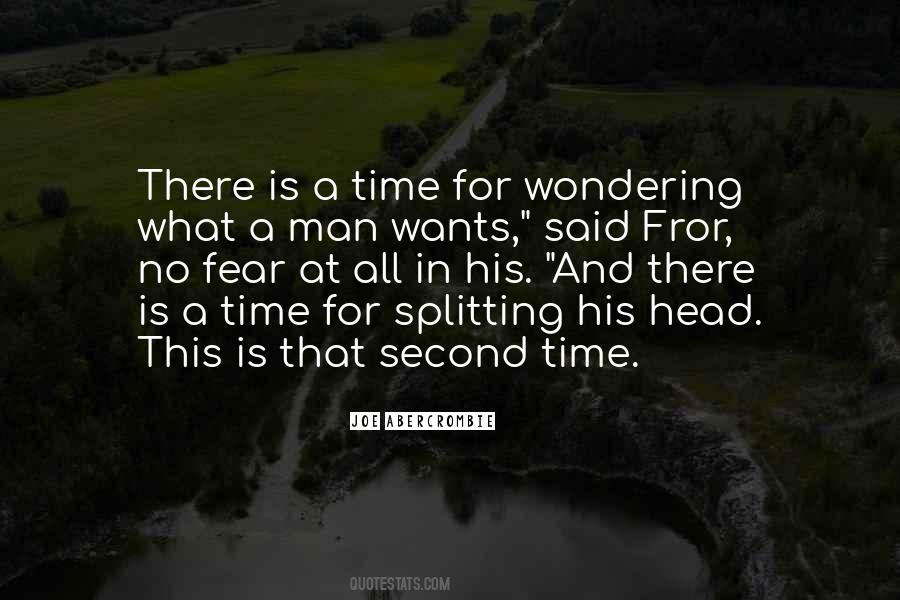 #86. You know, I met a wise man centuries ago in China who said to me, 'He who lets fear rule him, has fear for a master. (Acheron)
Confucius? (Talon)
No, Minh-Quan. He was a fisherman who used to sell what I'm told was the best zong zi ever made. (Acheron) - Author: Sherrilyn Kenyon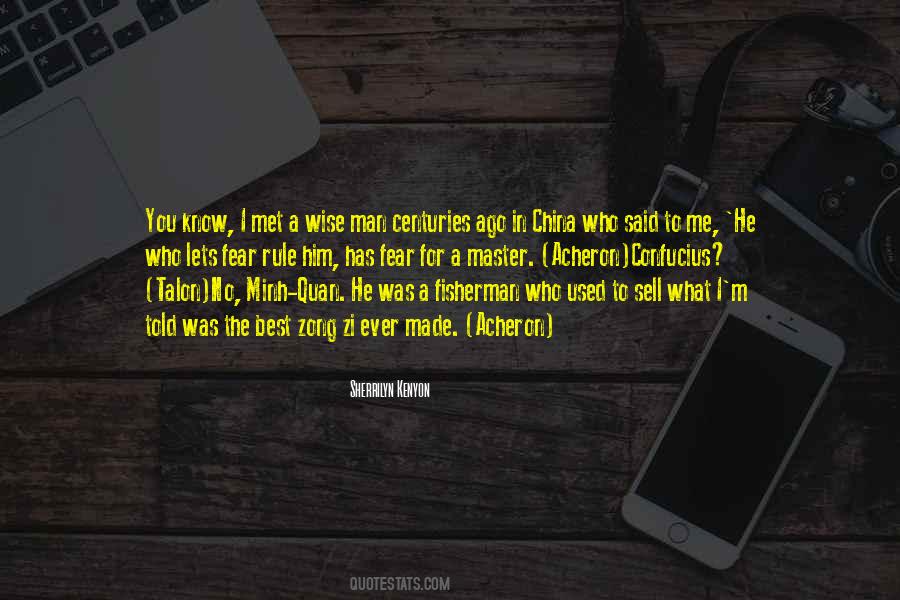 #87. You can believe that he was taught to love and respect all mankind - but to fear no man. - Author: Wellington Mara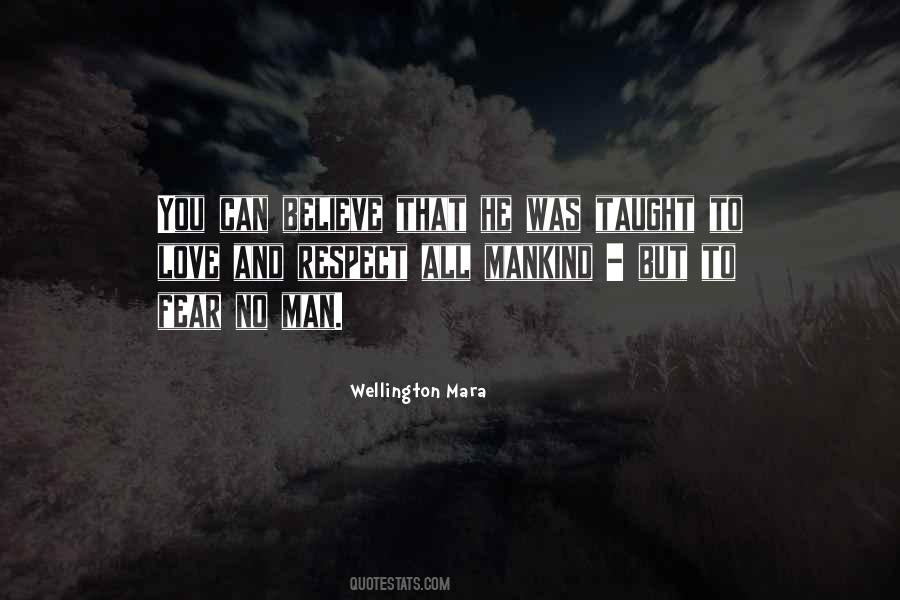 #88. Pain is a gift. Humanity, without pain, would know neither fear nor pity. Without fear, there could be no humility, and every man would be a monster. The recognition of pain and fear in others give rise in us to pity, and in our pity is our humanity, our redemption. - Author: Dean Koontz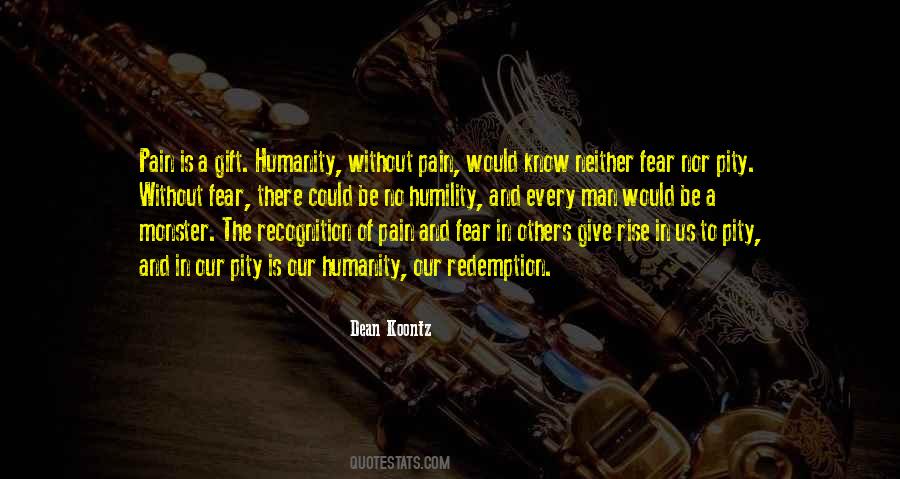 #89. Let no man fear to die, we love to sleep all, and death is but the sounder sleep. - Author: Francis Beaumont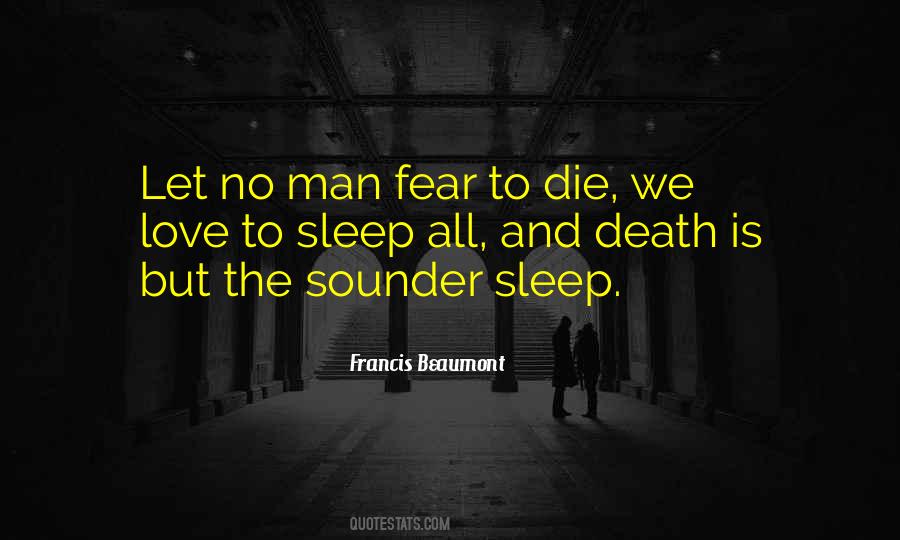 #90. That gut-wrenching feeling of defeat I can still feel today. Losing and God are the two things that I fear. I fear no man - Author: Joe Calzaghe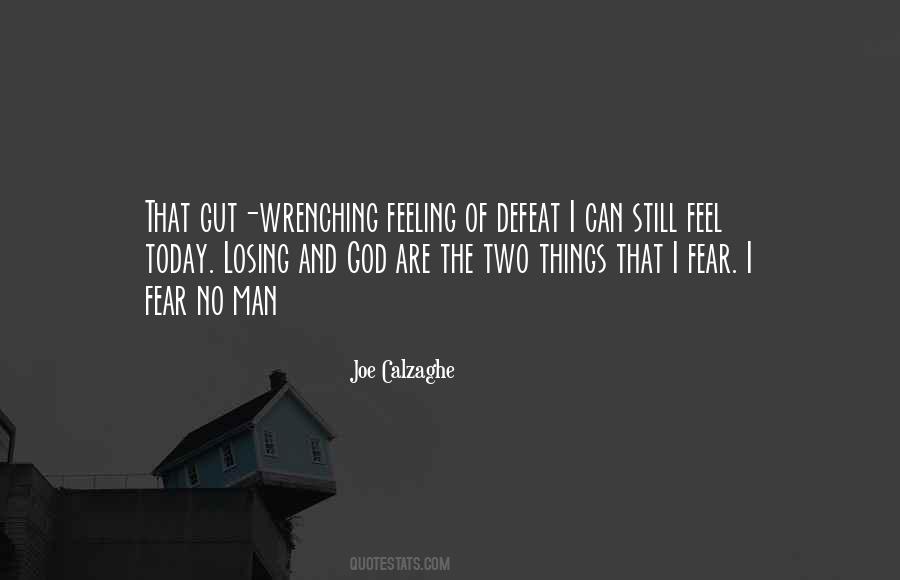 #91. Shall I, for fear of feeble man who shall die, hold my peace? Shall I for fear of scoffs and frowns, refrain my tongue? Ah, no! - Author: Maria W. Stewart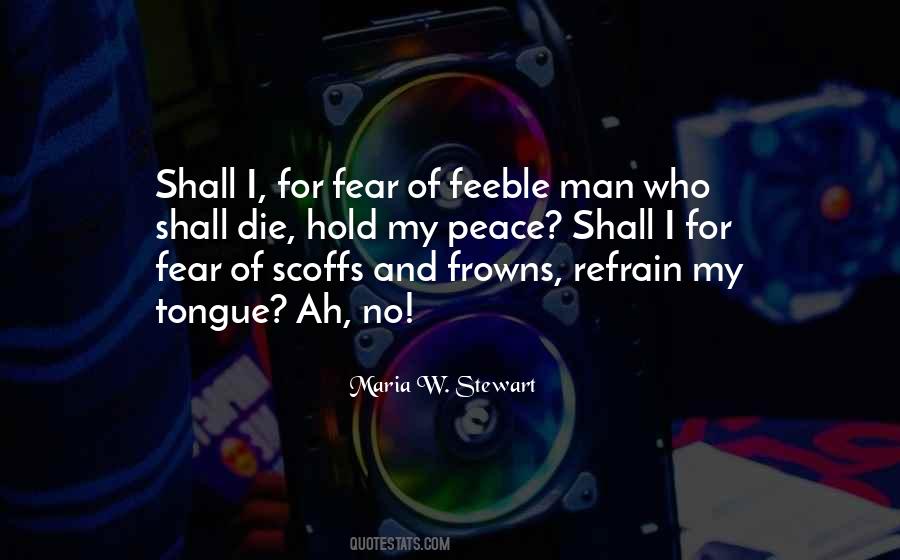 #92. No man has the courage to approach her or initiate questions she herself rise, for all men fear a fascist and she can very well be a fascist's wife. - Author: Mie Hansson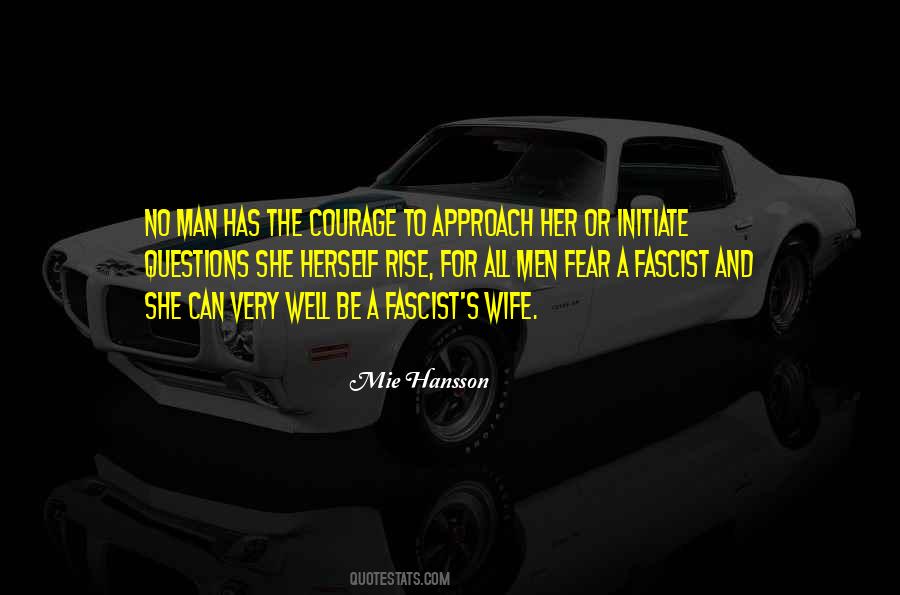 #93. Fear of want, no doubt, makes every living creature greedy and rapacious, and man, besides, develops these qualities out of sheer pride, which glories in getting ahead of others by a superfluous display of possessions. - Author: Thomas More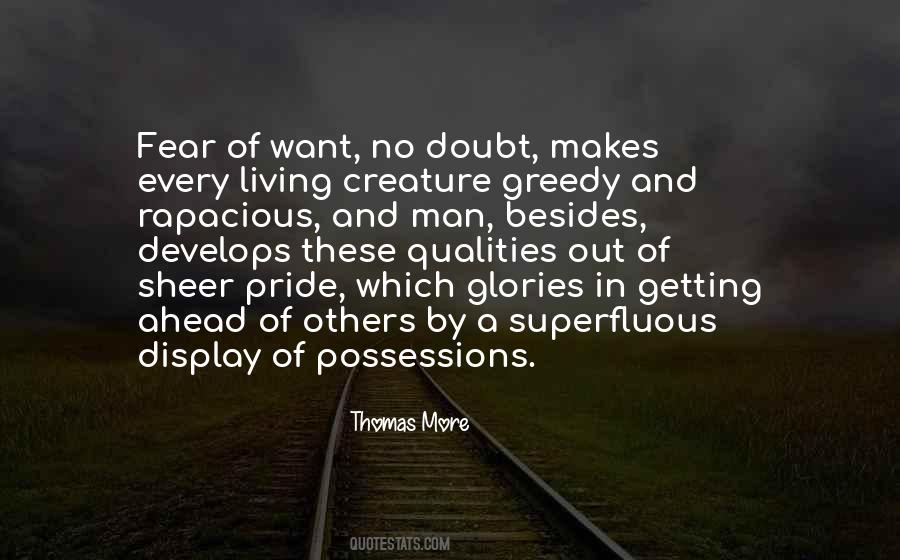 #94. The day, man will find that he never really dies; that his Soul persists beyond death; he will have no more fear of death. - Author: Swami Vivekananda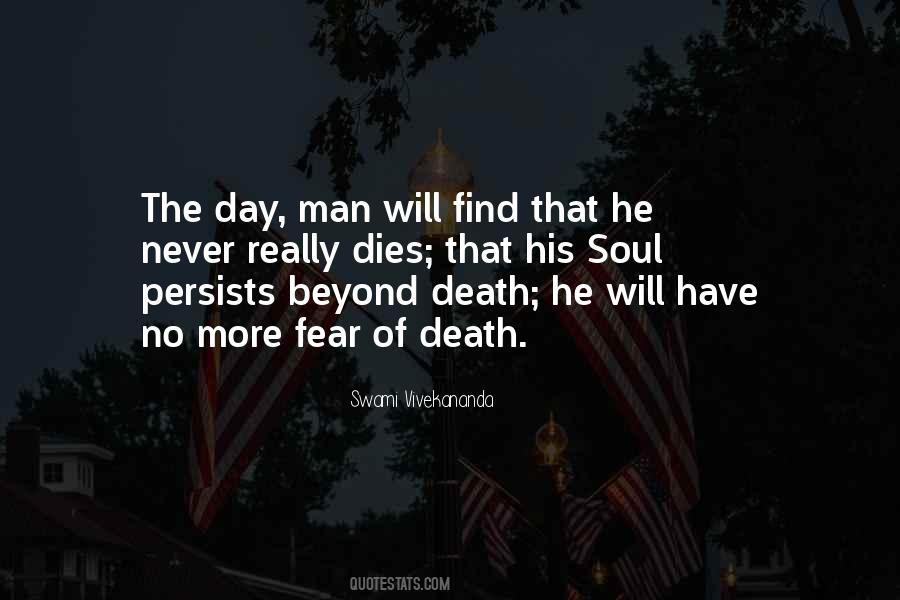 #95. Lass, doona fear me. No matter what happens, promise me you will not fear me. I am a good man, I vow I am. - Author: Karen Marie Moning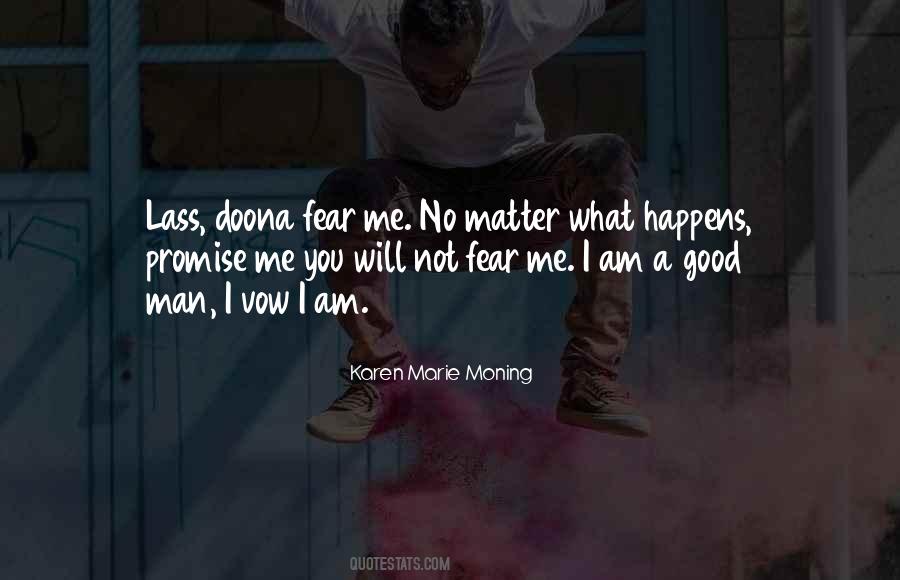 #96. All I can hope to teach my son is to tell the truth and fear no man. - Author: Edward R. Murrow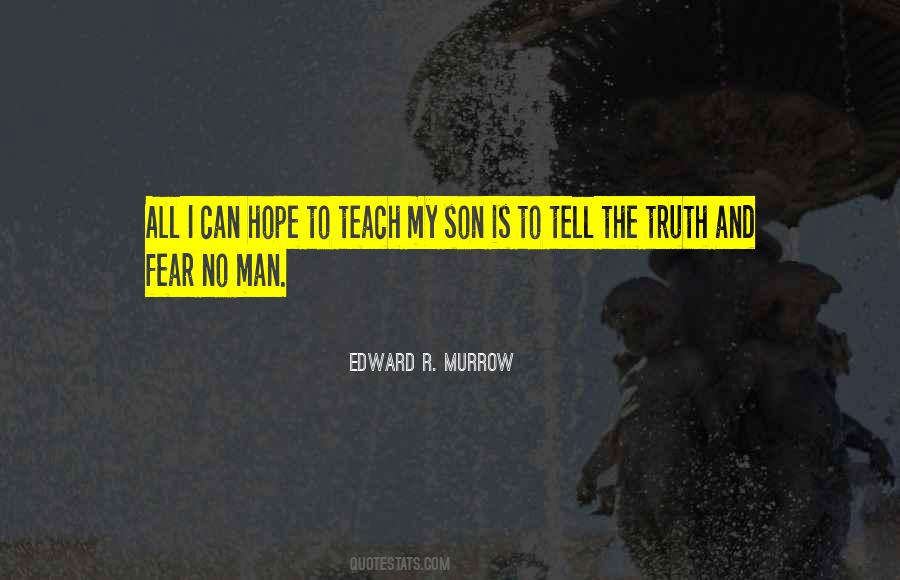 #97. A man who says he feels no fear is either a fool or a liar. - Author: Fred Dibnah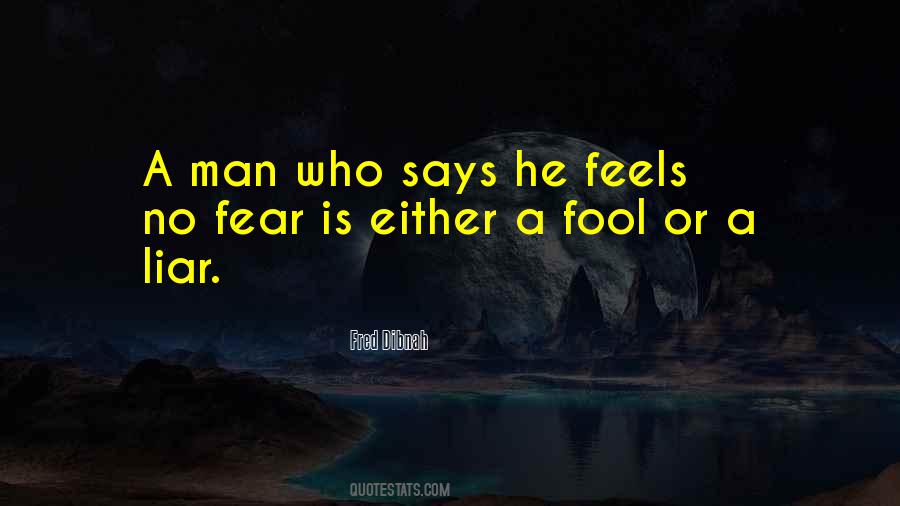 #98. A man's own conscience is his sole tribunal, and he should care no more for that phantom "opinion" than he should fear meeting a ghost if he crossed the churchyard at dark. - Author: Edward Bulwer-Lytton, 1st Baron Lytton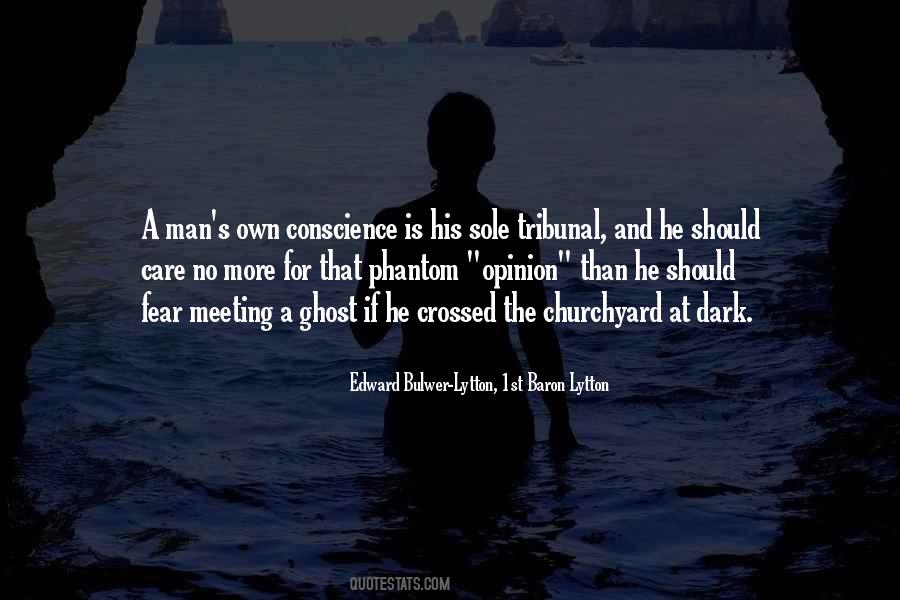 #99. I fear no man, no beast or evil, brother. - Author: Hulk Hogan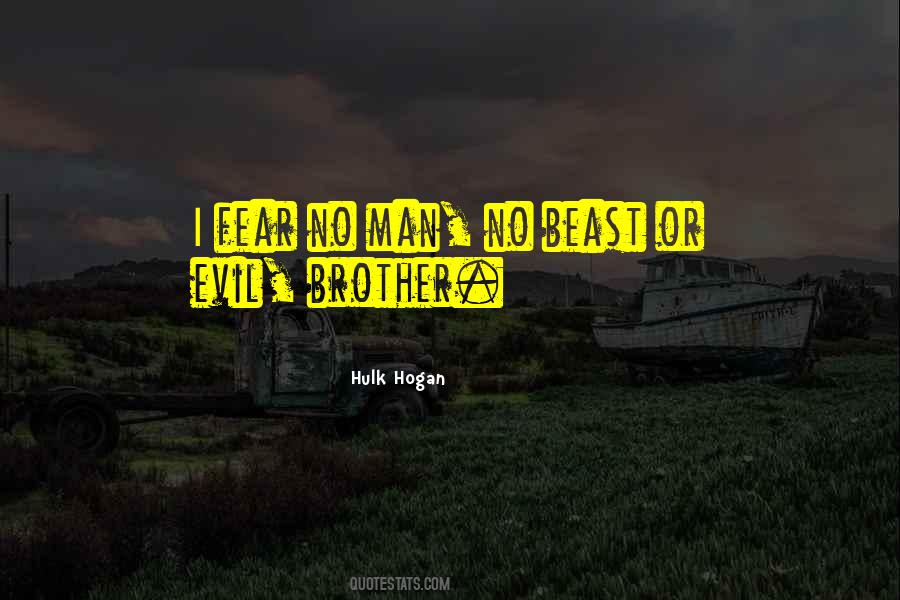 #100. No man is quite so much a hero in the dark as in broad daylight, in solitude as in society, in the gloom of the churchyard as in the blaze of the drawing-room. The season and the place may be such as to oppress the stoutest heart with a mysterious awe, which, if not fear, is near akin to it. - Author: William H. Prescott
Famous Authors
Popular Topics