Father Heart Of God Famous Quotes & Sayings
List of top 34 famous quotes and sayings about father heart of god to read and share with friends on your Facebook, Twitter, blogs.
Top 34 Father Heart Of God Quotes
#1. Prayer is more than thoughts and feelings expressed in words. It is the opening of mind and heart - our whole being to God our Abba Father. It is Divine Union. - Author: Richard J. Foster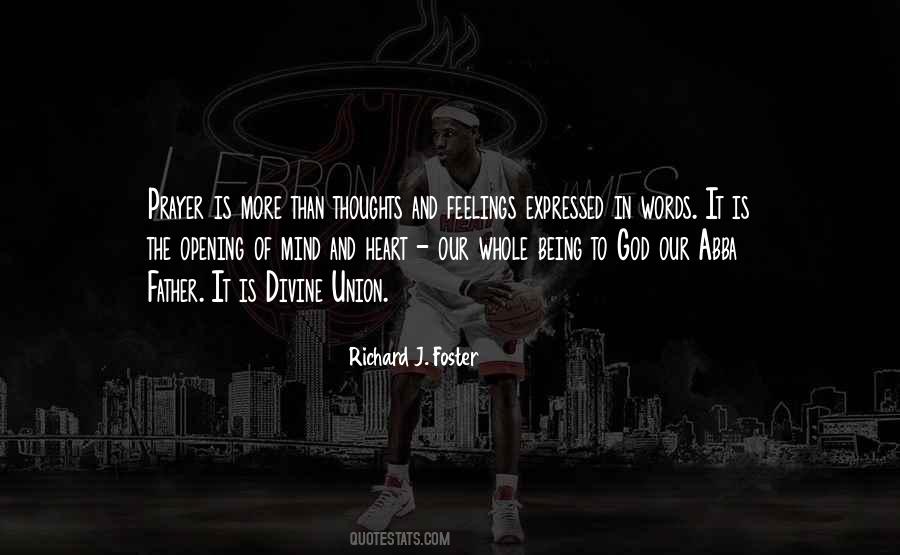 #2. The amount of time we give to something indicates it's importance to us. - Author: Jim George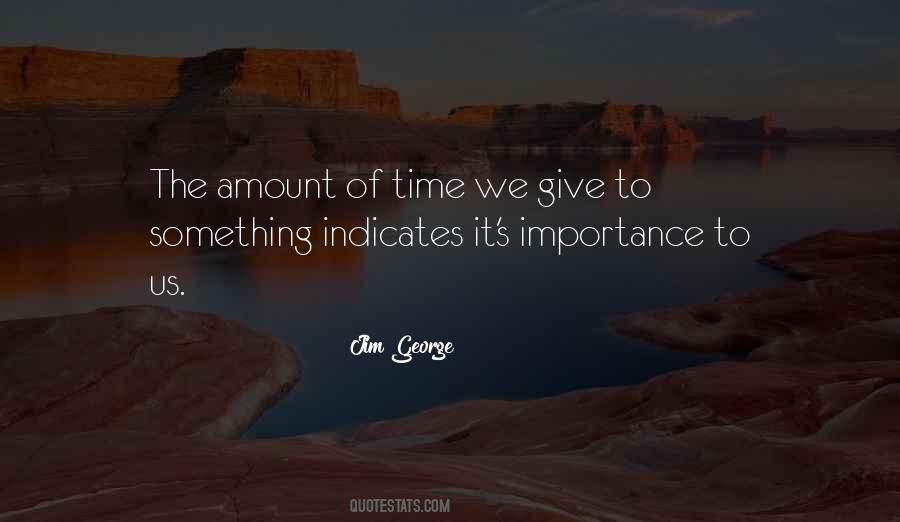 #3. God's love gives in such a way that it flows from a Father's heart, the well-spring of all good. The heart of the giver makes the gift dear and precious; as among ourselves we say of even a trifling gift, "It comes from a hand we love," and look not so much at the gift as at the heart. - Author: Martin Luther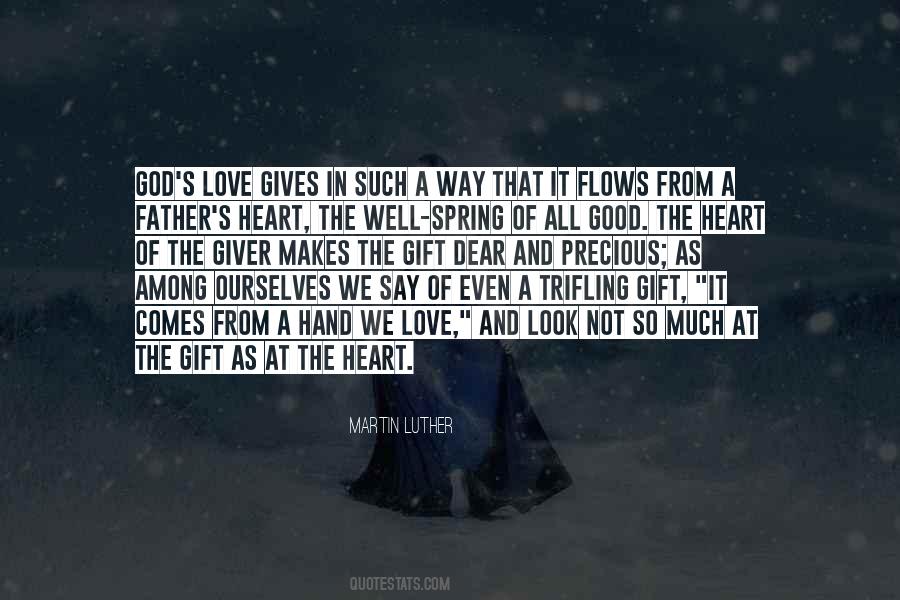 #4. Father, my heart, my heart; my dead heart, quicken it; my hard heart, soften it in Christ's blood. Father, my heart, my heart.' Surely God, who hears the cry of ravens, will hear the cry of his children! - Author: Thomas Watson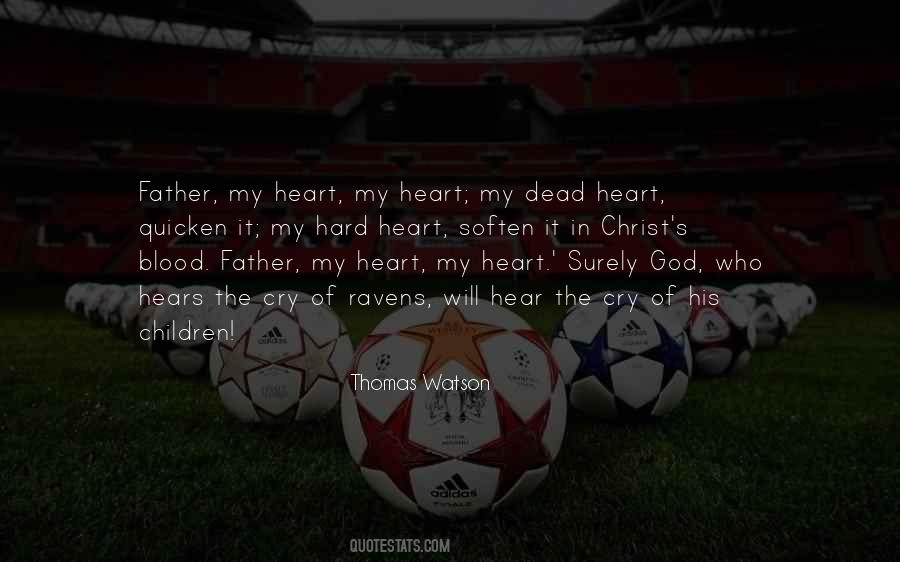 #5. Her father's marvelous gentleness was not because he lacked a keen enough perception of the faults and wretchedness of others; it came from his constant searching of his own heart before God, crushing it in repentance over his own failings. No, - Author: Sigrid Undset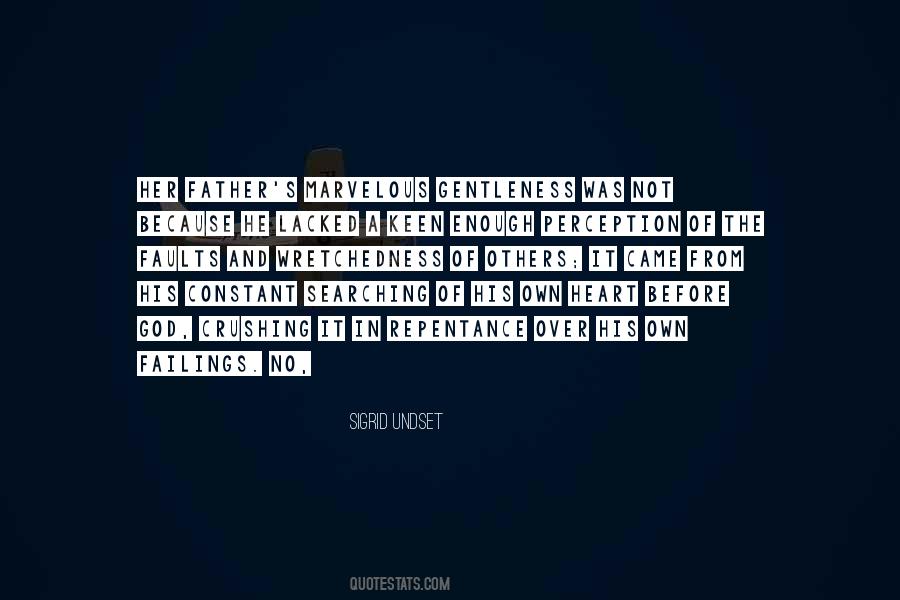 #6. Christ did not die to make his Father loving, but because his Father is loving: the atoning blood is the outflow of the very heart of God toward us. - Author: Charles Spurgeon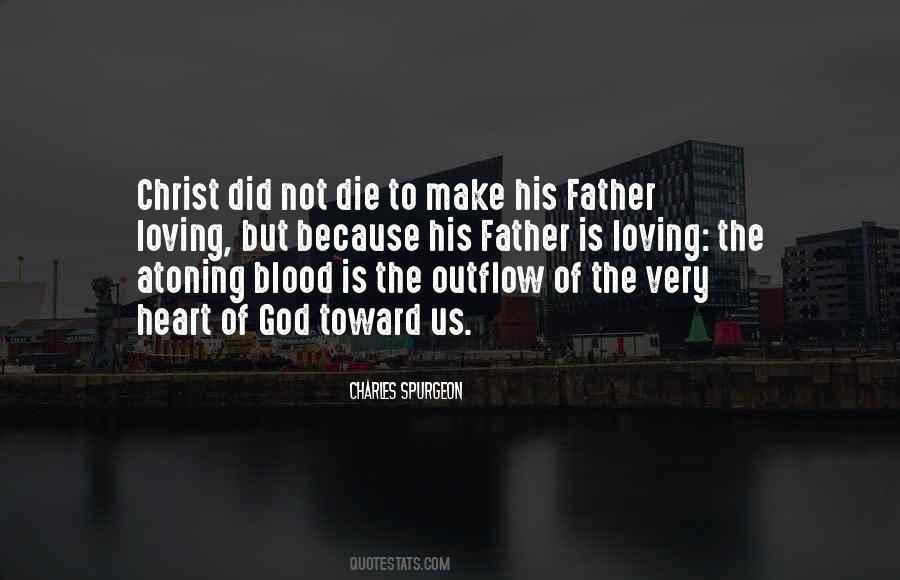 #7. you cannot destroy love for the world merely by showing its emptiness. The world-centered love of our hearts can be expelled only by a new love and affection-for God and from God. The love of the world and the love of the Father cannot coexist in the same heart - Author: Sinclair B. Ferguson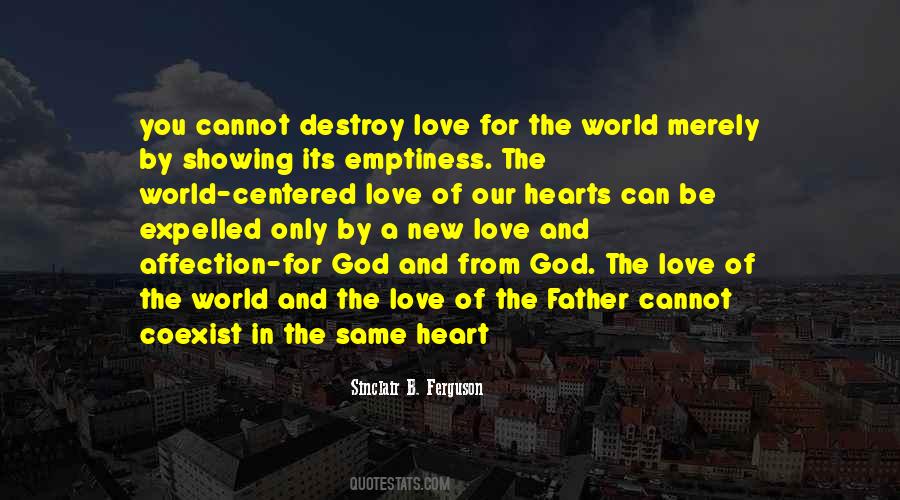 #8. The all-seeing eye of God beheld our deplorable state; infinite pity touched the heart of the Father of mercies; and infinite wisdom laid the plan of our recovery. - Author: David Brainerd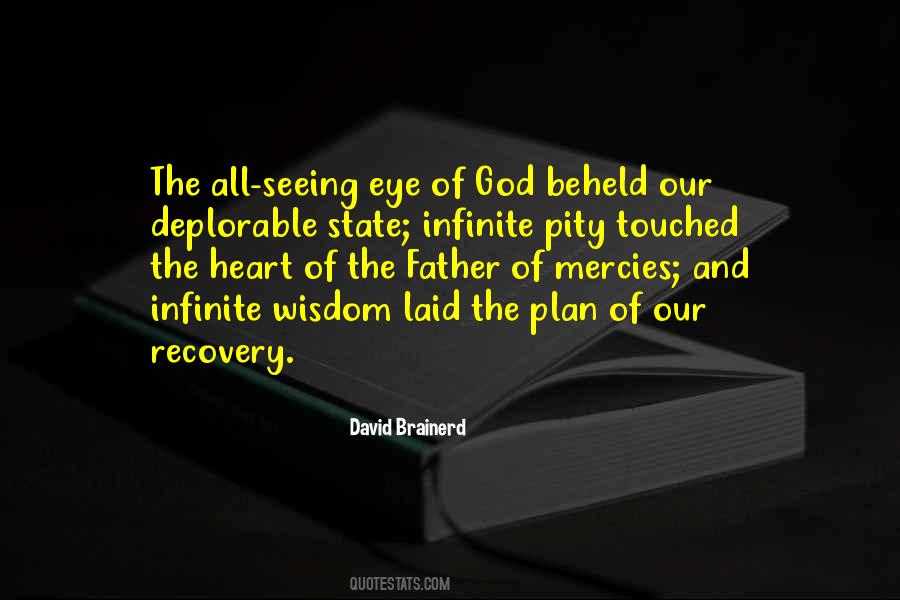 #9. God's solution to the problem of evil is his Son Jesus Christ. The Father's love sent his Son to die for us to defeat the power of evil in human nature: that's the heart of the Christian story. - Author: Peter Kreeft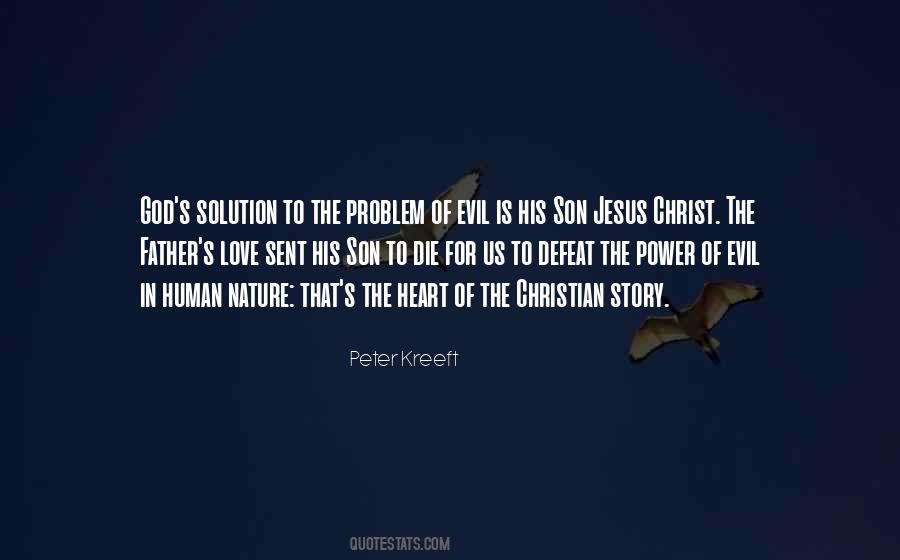 #10. Don't let hard lessons harden your heart. - Author: Carlos A. Rodriguez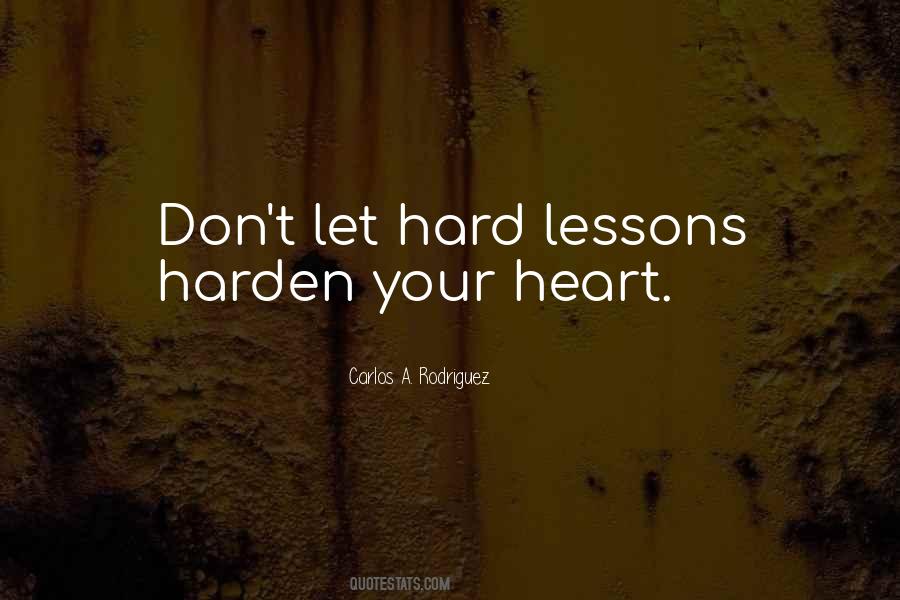 #11. We need to get to the heart of each heart issue - and we can't do it. Only the Maker can. The world needs #Jesus. - Author: Eric Samuel Timm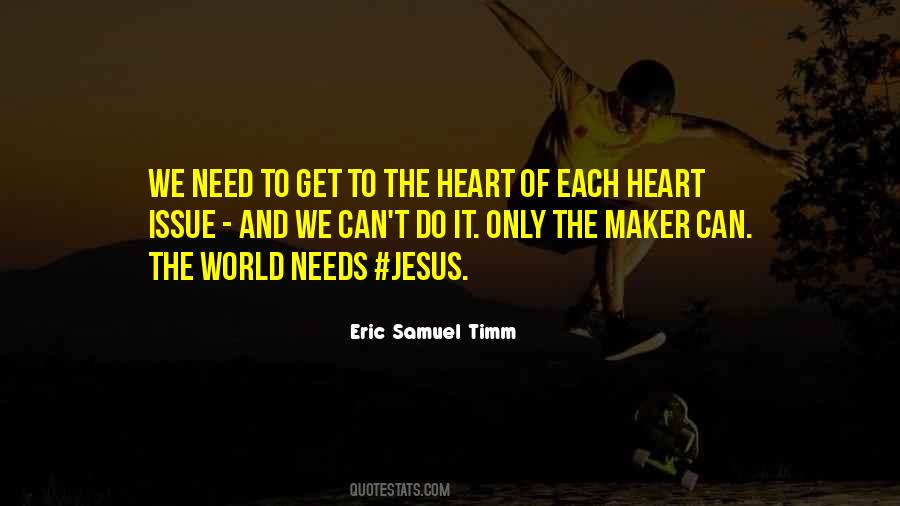 #12. If you truly desire intimacy with your Father and Jesus, you must be willing to do what is the very heart of intimacy: share who you really are with Him - all your innermost thoughts and feelings. - Author: Linda Boone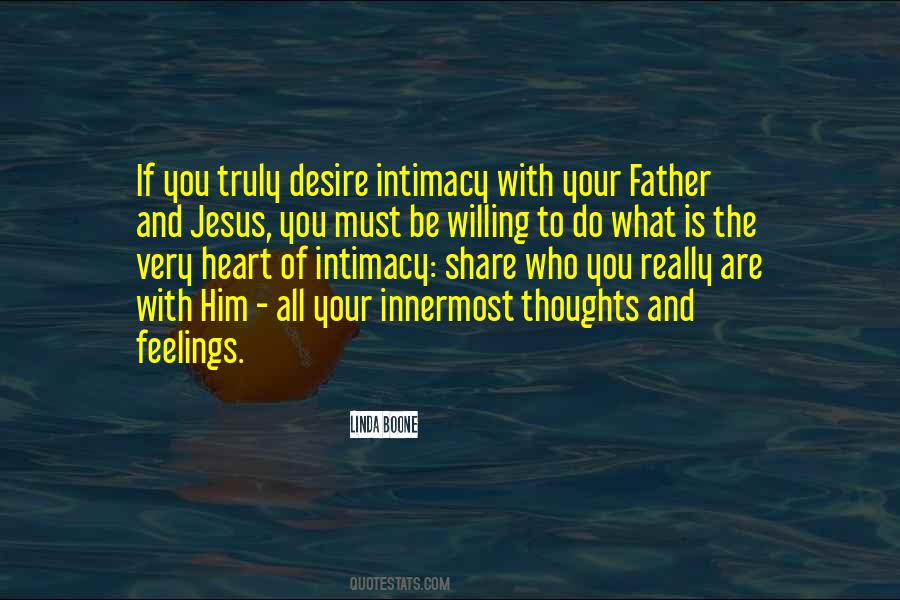 #13. He saves us by realistic restoration of our heart to God and then by dwelling there with his Father through the distinctively divine Spirit. The heart thus renovated and inhabited is the only real hope of humanity on earth. - Author: Dallas Willard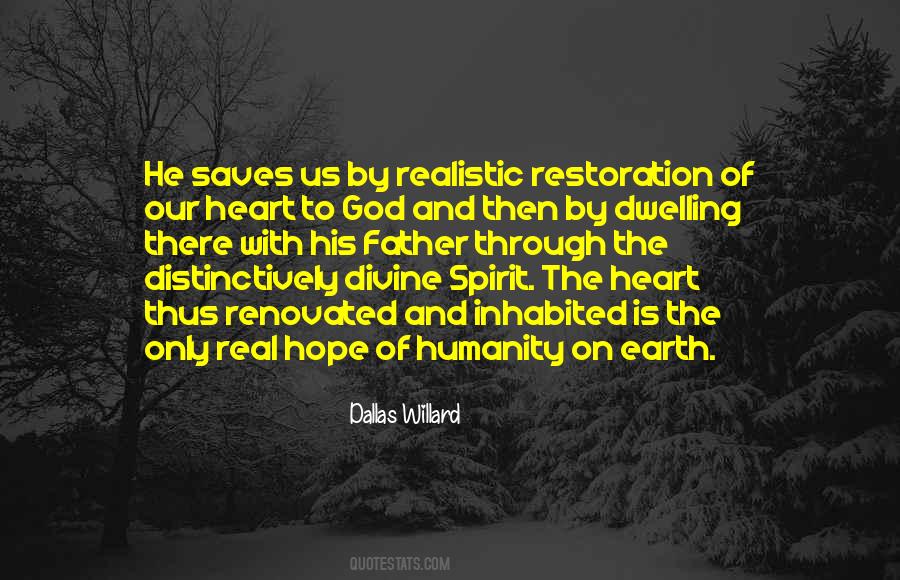 #14. Sin is nothing more than a most extreme form of amnesia. It is forgetting who were when we were created as a spirit that came forth from the heart of God the Father - as a spirit made in His sinless image. - Author: Praying Medic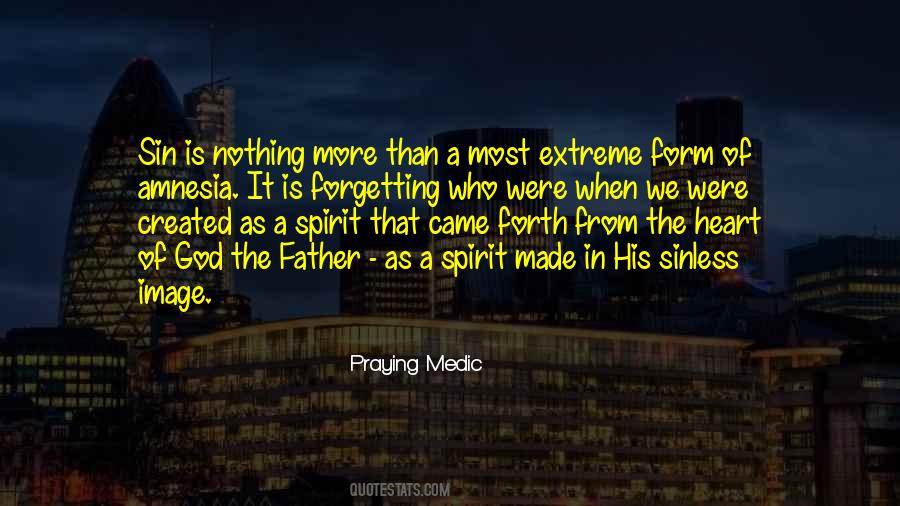 #15. The child asks of the Father whom he knows. Thus, the essence of Christian prayer is not general adoration, but definite, concrete petition. The right way to approach God is to stretch out our hands and ask of One who we know has the heart of a Father. - Author: Dietrich Bonhoeffer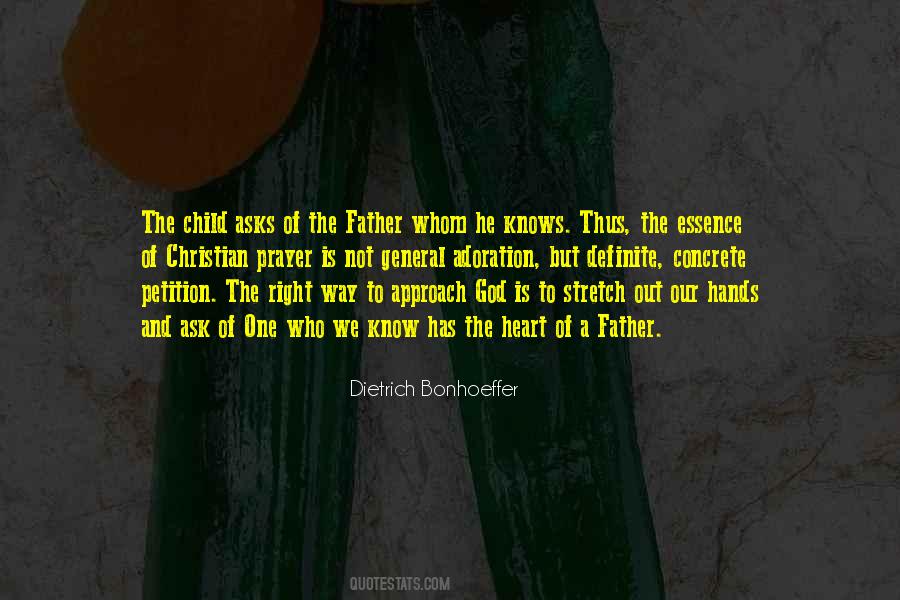 #16. Lament is a cry of belief in a good God, a God who has His ear to our hearts, a God who transfigures the ugly into beauty. Complaint is the bitter howl of unbelief in any benevolent God in this moment, a distrust in the love-beat of the Father's heart. - Author: Ann Voskamp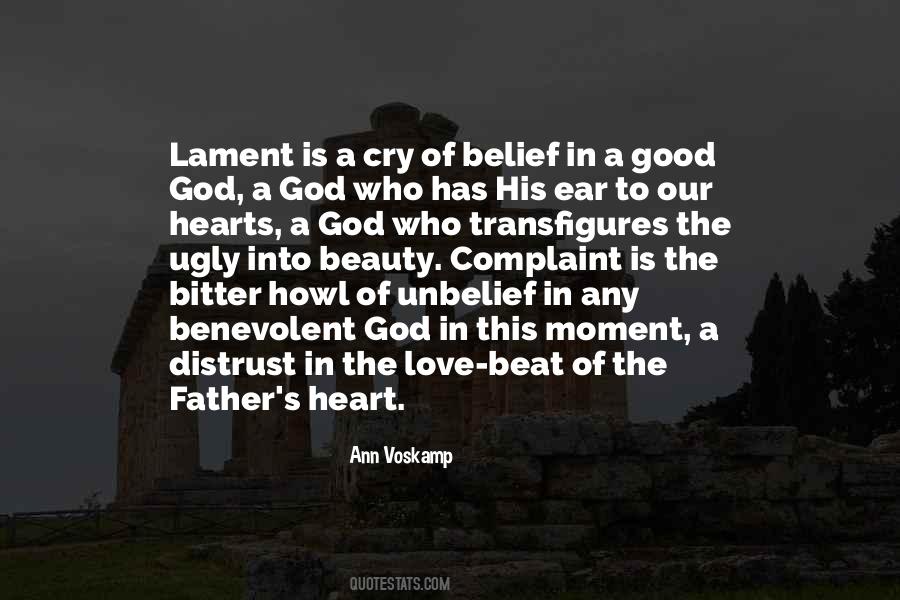 #17. Our physical body knows it cannot function without physical water. So, too, our spiritual life should realize that it can't function without the "living water" of Gods Word. - Author: Jim George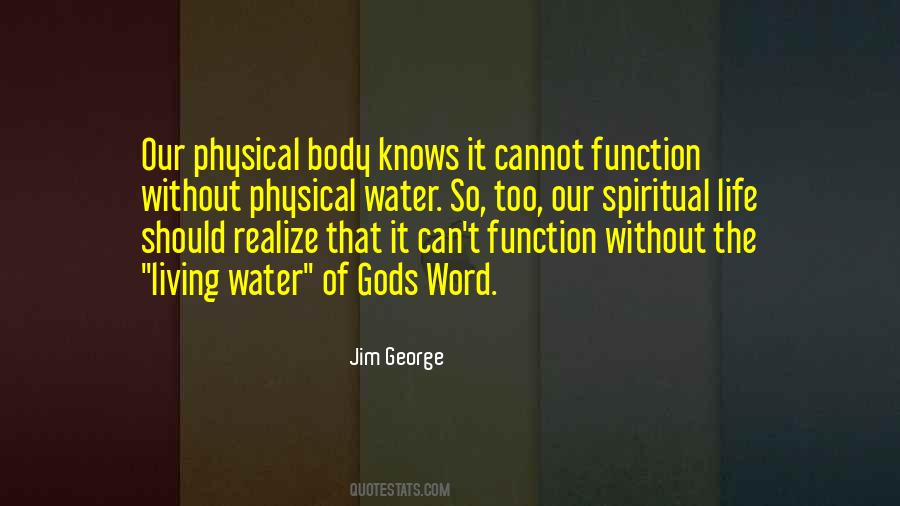 #18. Even God would say"Finish the task you have undertaken". He would never recommend breaking her mother's heart, damaging her parents' lives. "Your mother and then your mother and then your mother," the Prophet had said, "and then your father." But what about her own life? What is to become of that? - Author: Ahdaf Soueif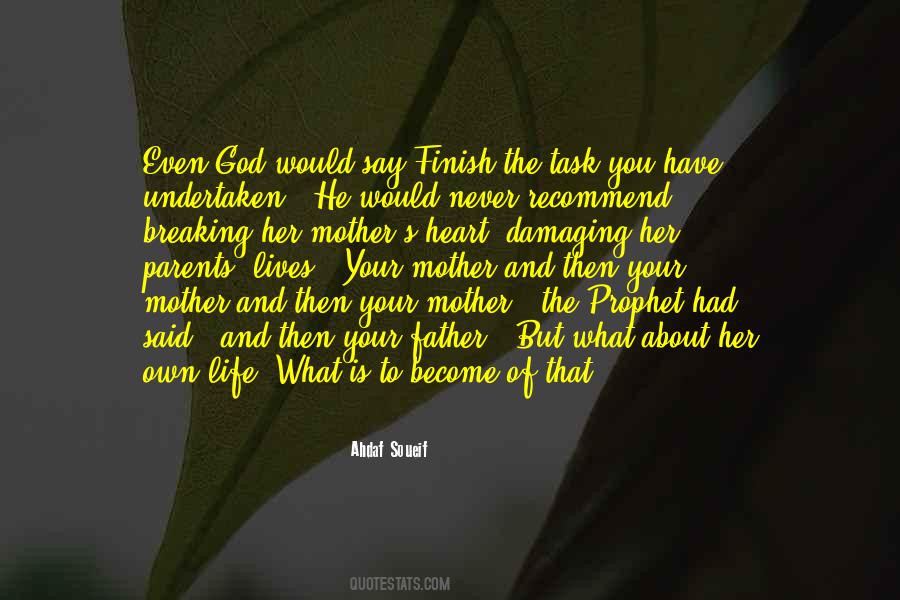 #19. Worship is about something we do. It involves sacrifice. But at the heart of the gospel is this truth, we are called and chosen by God to join in with the dance of the trinity, Father, Son and Holy Spirit. - Author: Tim Hughes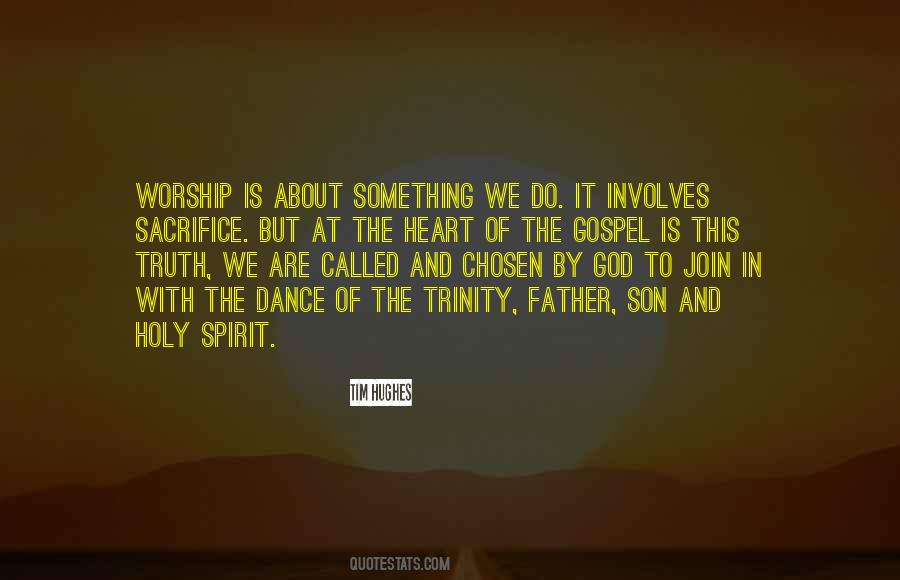 #20. John's heart was hardened against the Lord. His father was God's minister, the ambassador of the King of Heaven, and John could not bow before the throne of grace without first kneeling to his father. - Author: James Baldwin
#21. A good leader will seek the wisdom of others. After all, no man is an island! - Author: Jim George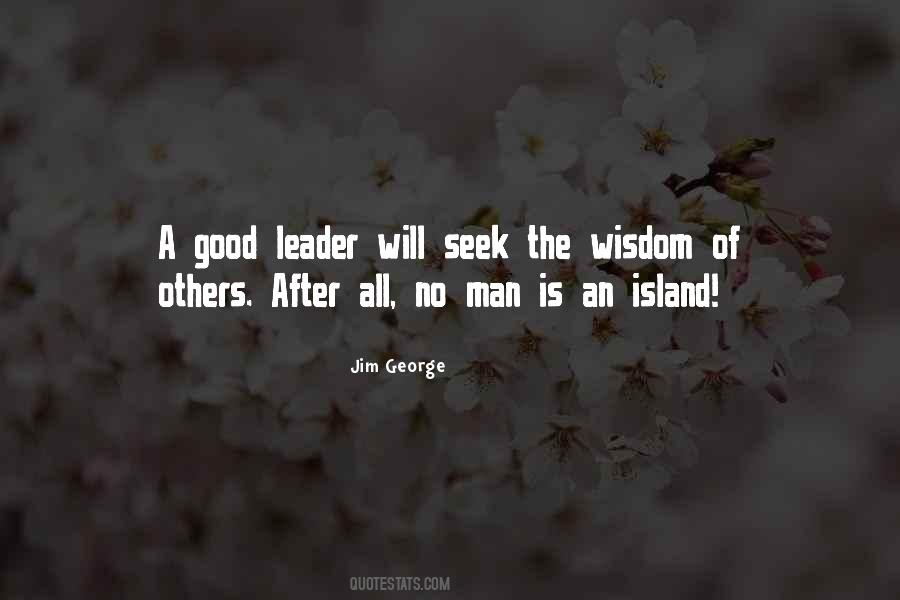 #22. A simple word of greeting, an offer of a cup of coffee on me, a smile and a hug will all go a long way toward reconciliation. A listening ear can open a wandering heart to the thought that God still loves them, and there just might be a place still set for them at their Father's table. - Author: Katherine J. Walden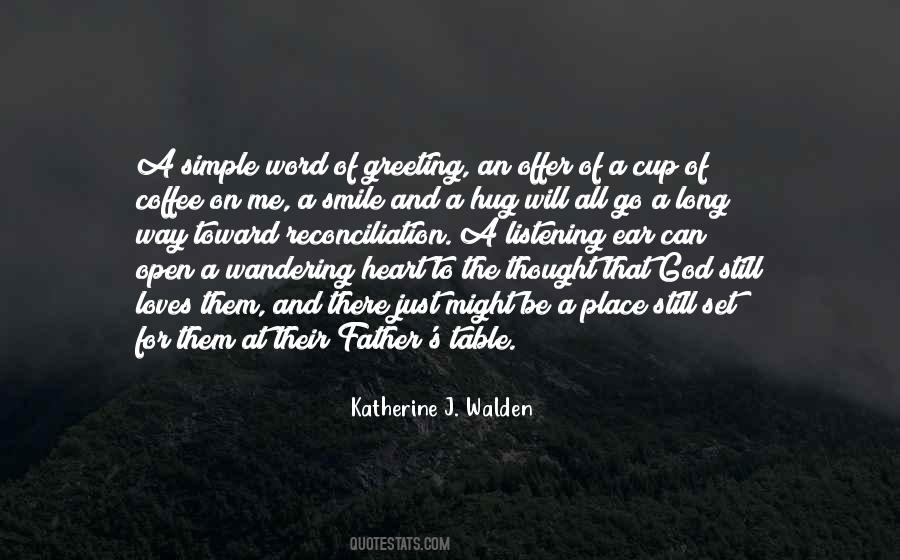 #23. Christianity affirms that at the heart of reality is a Heart, a loving Father who works through history for the salvation of His children. Man cannot save himself, for man is not the measure of all things and humanity is not God. Bound by the chains of his own sin and finiteness, man needs a Savior. - Author: Martin Luther King Jr.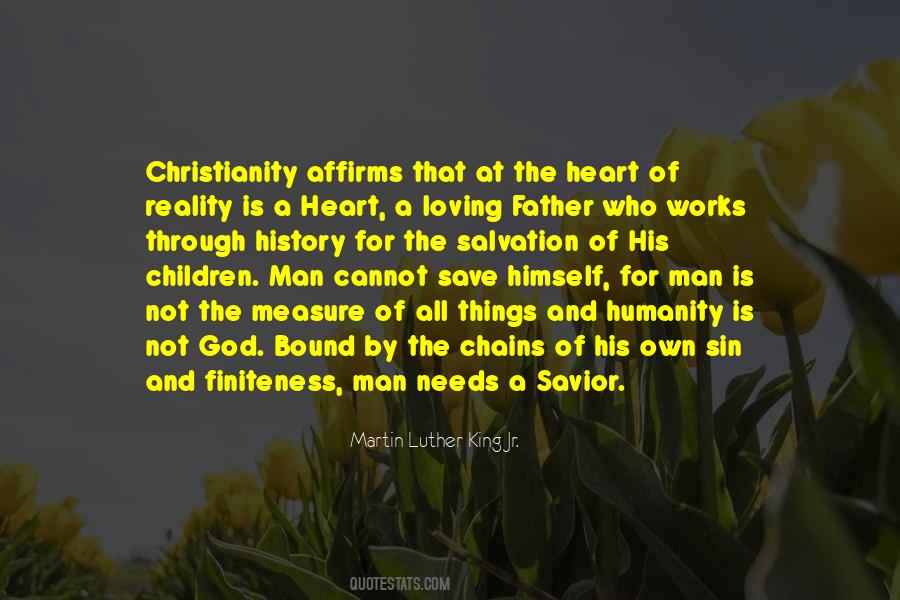 #24. Father God, keep my mind and heart fixed on You so that I can experience the fullness of Your peace, amen. - Author: Charles F. Stanley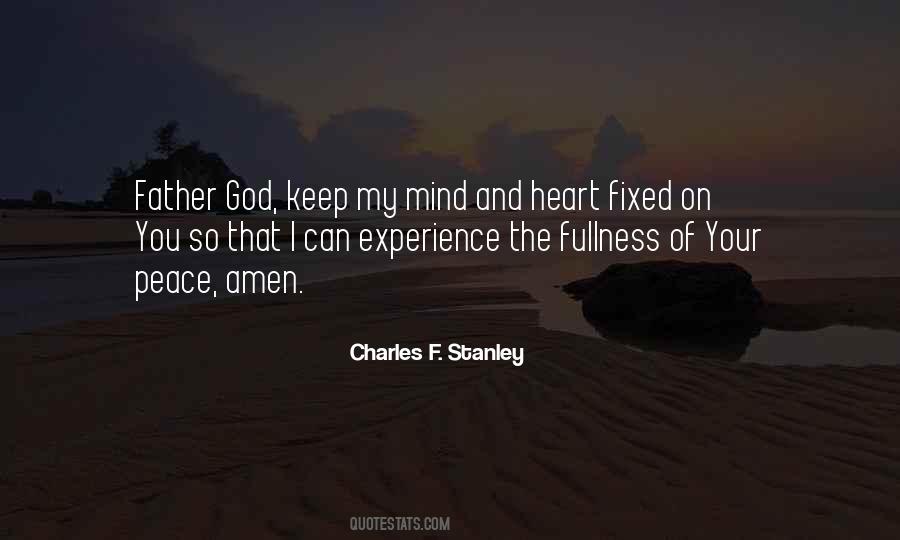 #25. What does it mean to fear the Lord? It means to have awe and reverence for him. The woman who fears the Lord obeys from a heart of love for the God of the universe, who is also her heavenly Father! Her childlike fear of her heavenly Father leads her to faithful and faith-filled obedience. - Author: Kimberly Hahn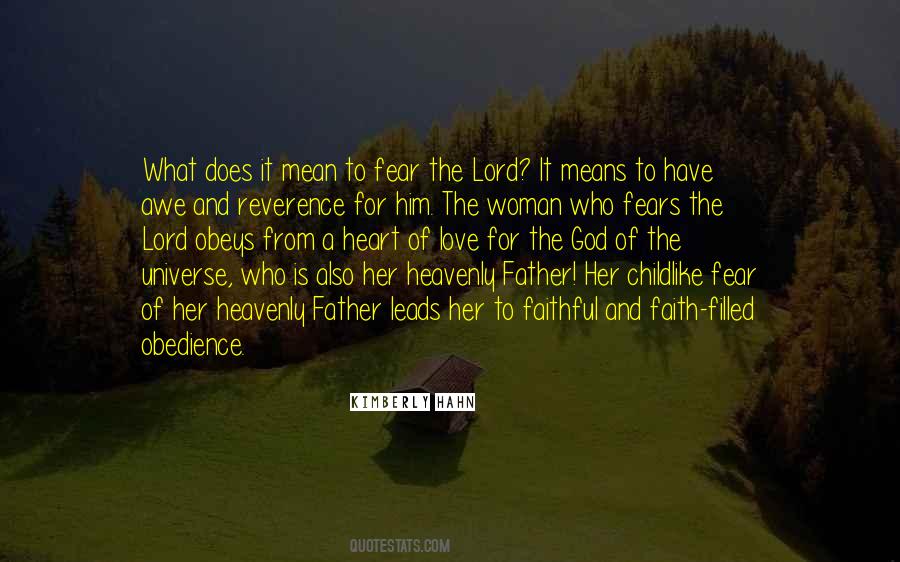 #26. Every major accomplishment in a man's life requires a major level of commitment. - Author: Jim George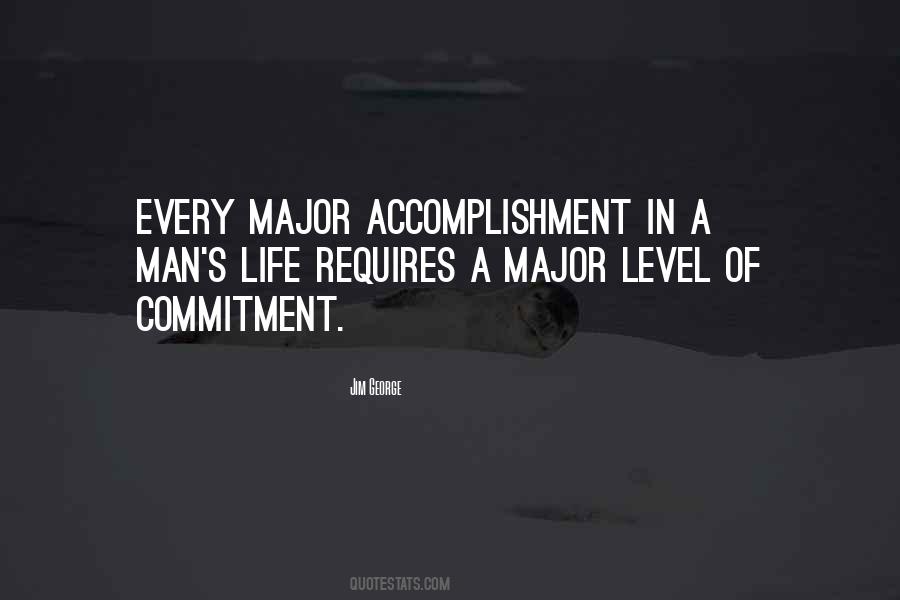 #27. In the will of God" is not a matter of intellectual discernment, but a state of heart ... It's motto is
" My Father can do what he likes with me, He may bless me to death, or give me a bitter cup; I delight to do His will. - Author: Oswald Chambers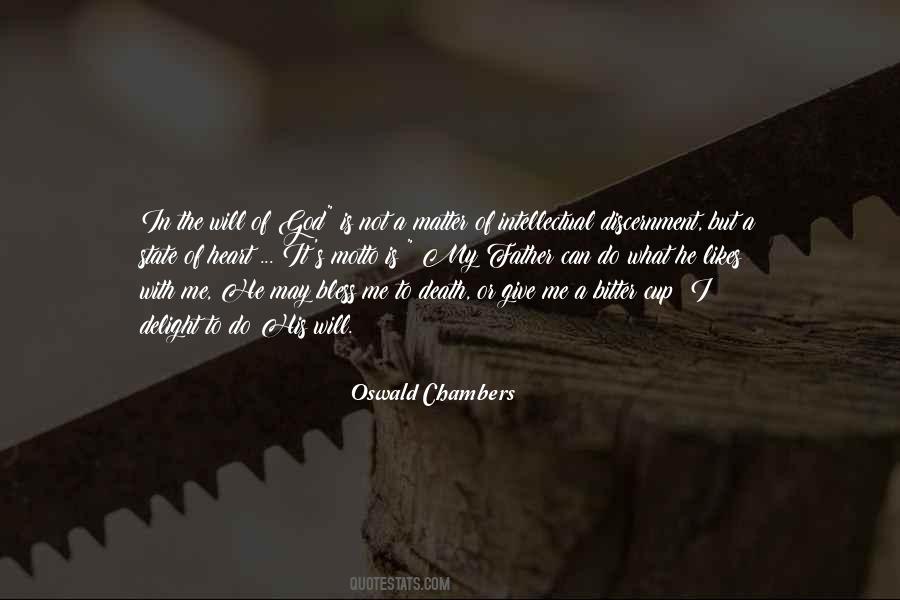 #28. Every time you and I bow our heads in surrender to the will of God, we embrace the cross and we manifest to the world the heart of Christ who bowed His head to the will of His Father. - Author: Nancy Leigh DeMoss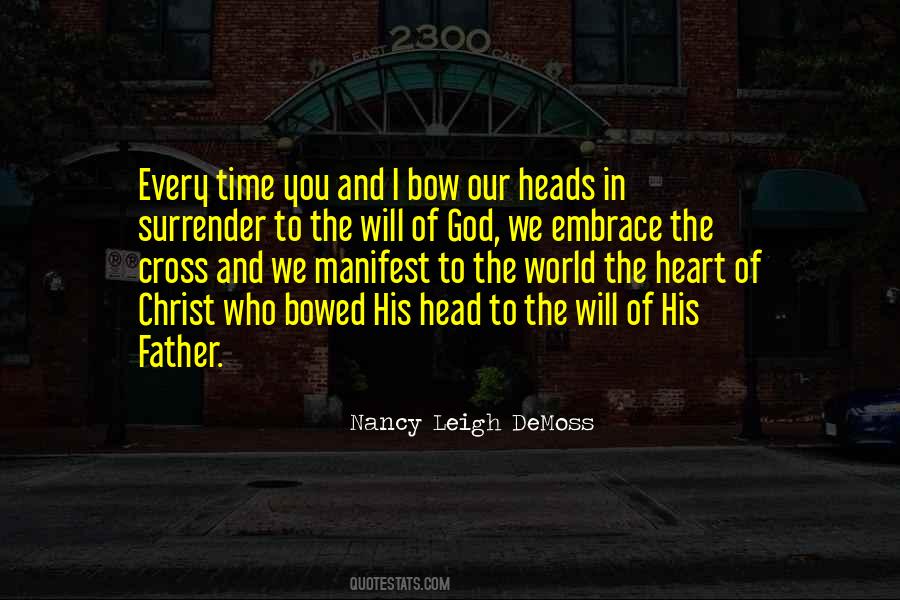 #29. Cam leaned over the bedside, clasping Jenner's hands in his just as Evie had done. "Father of my heart," the young Gypsy said softly, "be at peace with every soul you leave behind. And know that God will open your way in the new life. - Author: Lisa Kleypas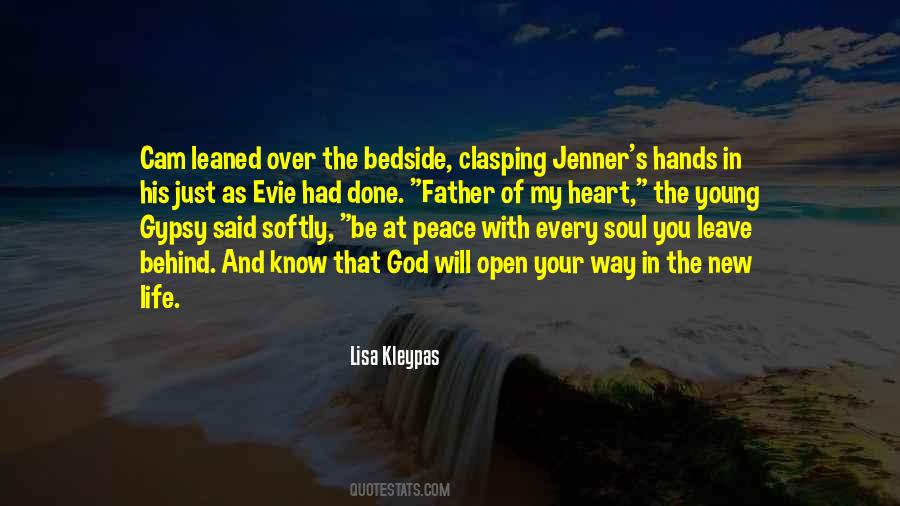 #30. There is one universal religion, Helen - the religion of Love. Love your Heavenly Father with your whole heart and soul, love every child of God as much as ever you can, and remember that the possibilities of good are greater than the possibilities of evil; and you have the key to Heaven. - Author: Phillips Brooks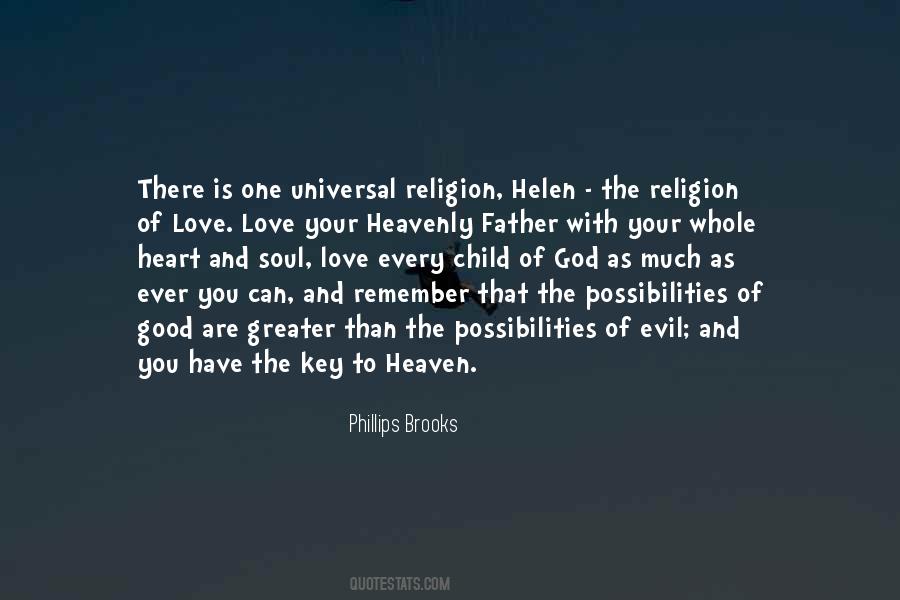 #31. Jesus did not come into the world as a new God or an arbitrator between us and an angry Father. No - He came as the exact representation of Father God's nature and character. He came to show us what God's heart is really like. - Author: Jim Welton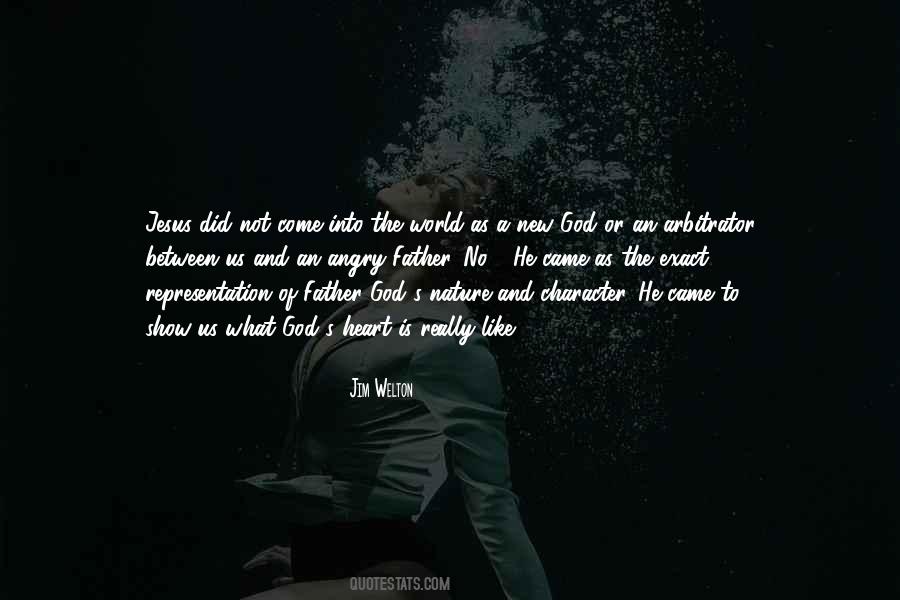 #32. My helpless friend, your helplessness is the most powerful plea which rises up to the tender father-heart of God. You think that everything is closed to you because you cannot pray. My friend, your helplessness is the very essence of prayer. - Author: Ole Hallesby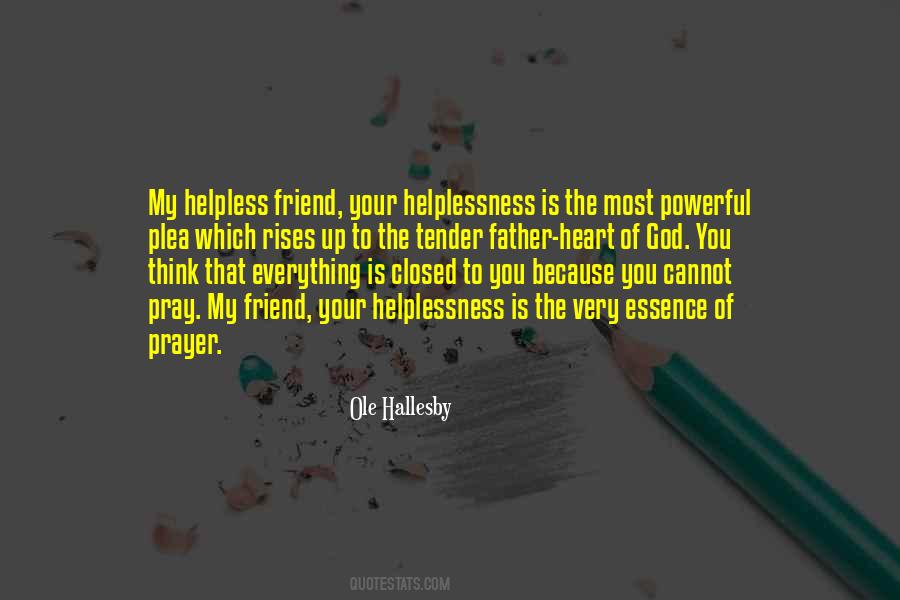 #33. As you grew up, when you were grown, totally unknown to yourself, you confused your father with God. You never saw him as a man with a man's heart, and a man's failings - I'll grant you it may have been hard to see, he makes so few mistakes, but he makes 'em like all of us. - Author: Harper Lee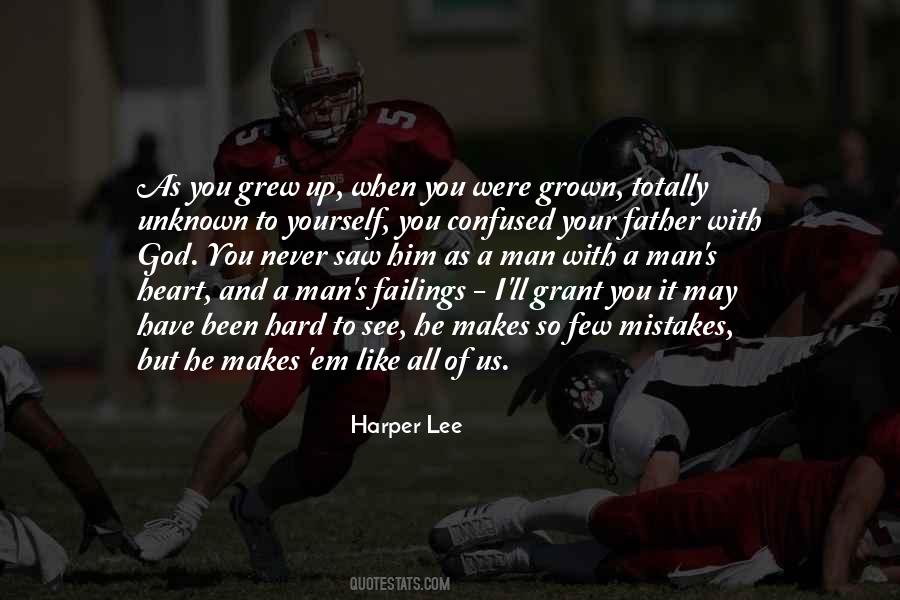 #34. Acknowledge the God of your father, and serve him with wholehearted devotion and with a willing mind, for the Lord searches every heart and understands every motive behind the thoughts. (1 Chron. 28:9) - Author: Beth Moore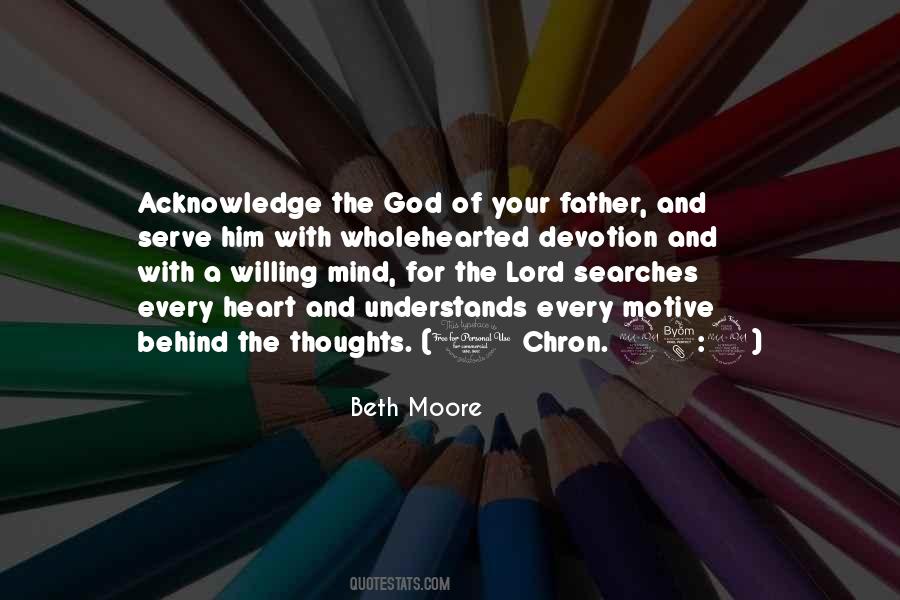 Famous Authors
Popular Topics