Eve Dallas Famous Quotes & Sayings
List of top 73 famous quotes and sayings about eve dallas to read and share with friends on your Facebook, Twitter, blogs.
Top 73 Eve Dallas Quotes
#1. Can you imagine what I wouldn't risk for you? You can't, because there's nothing. There's bloody nothing - Roarke - Author: J.D. Robb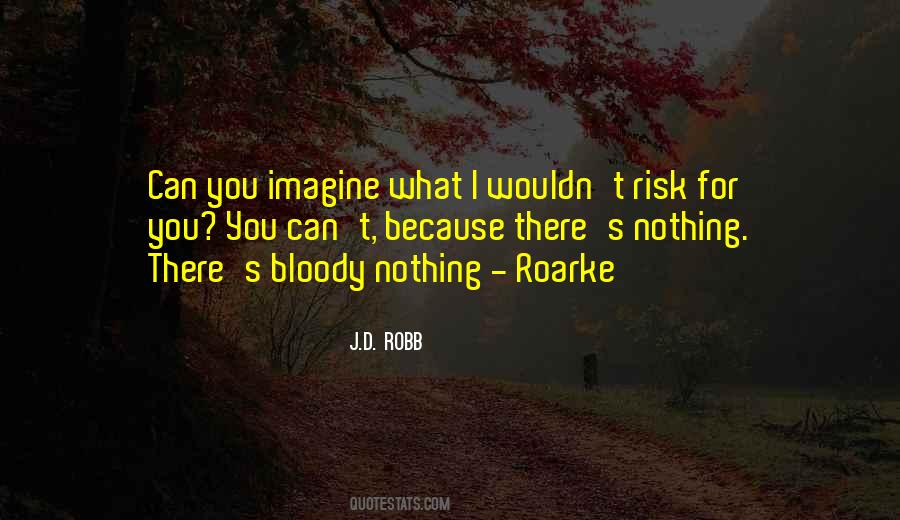 #2. There's an oatmeal cookie in there. I see no reason for the existence of oatmeal, particularly in cookies. - Author: J.D. Robb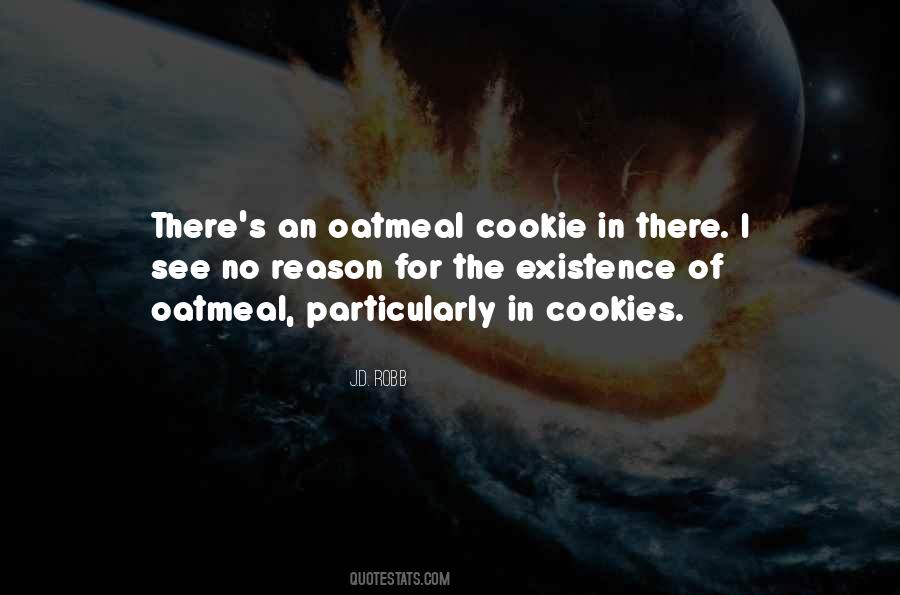 #3. Clearing her throat, Peabody turned the cube on record. I owe Dallas, Lieutenant Meaniepants Eve, twenty dollars to be paid out of my hard-earned, under-appreciated detective's salary next payday. Peabody, Detective Churchmouse Delia. - Author: J.D. Robb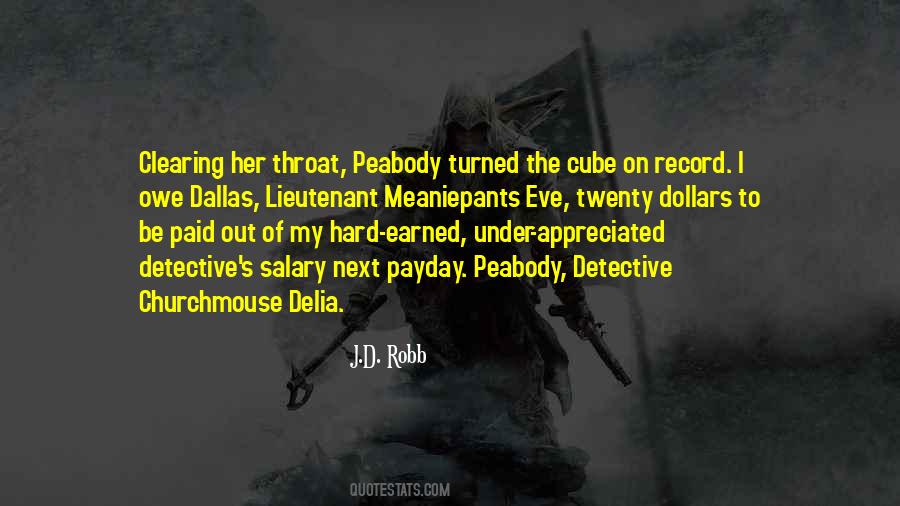 #4. You know, Roarke, you're kind of cute." Eve Dallas - Author: J.D. Robb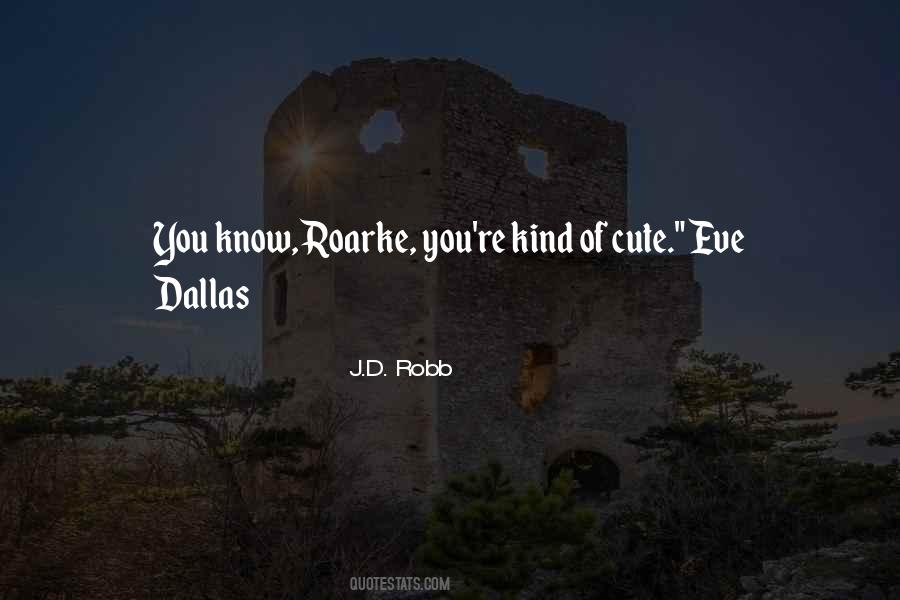 #5. Eve, we're going to be married in a few days."
The jittering started again, big time. "Yeah."
"If he keeps looking at you like that, I'm going to have to hurt him. - Author: J.D. Robb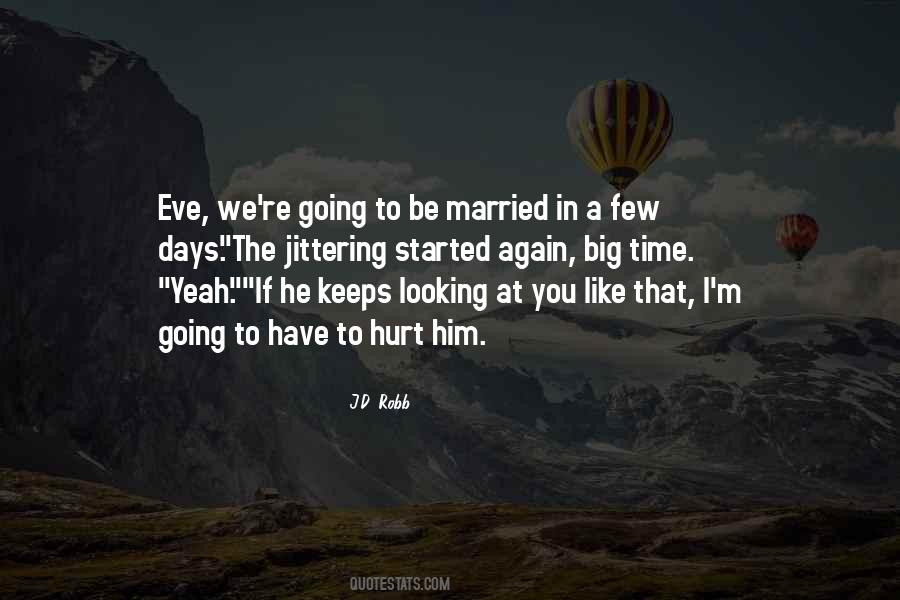 #6. Tag Feeney," Eve ordered when she was behind the wheel. "Have him run like crimes in and around London."
"It would be my honor, Mrs. Lieutenant Dallas Roarke." At Eve's burning look, Peabody only grinned. "Sorry. I just had to do it once. I'm over it. - Author: J.D. Robb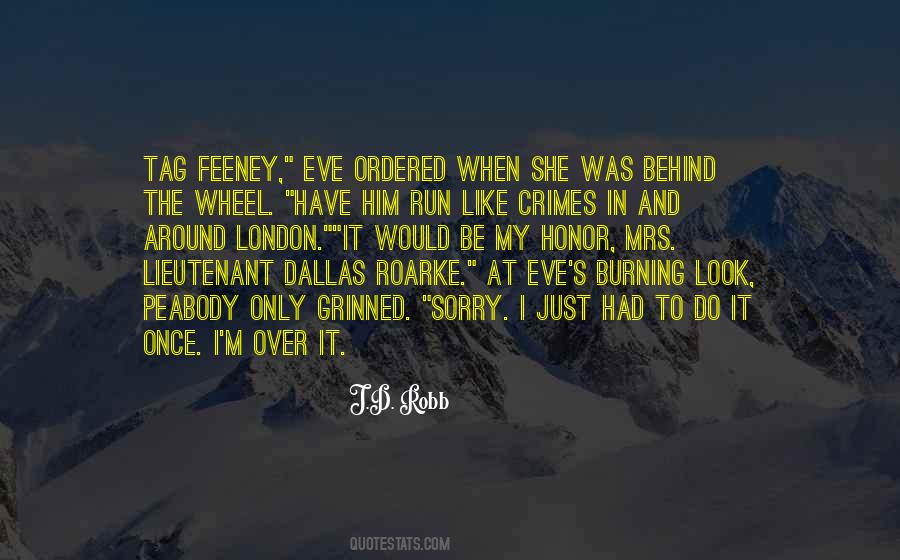 #7. Marriage is a freaking minefield. - Author: J.D. Robb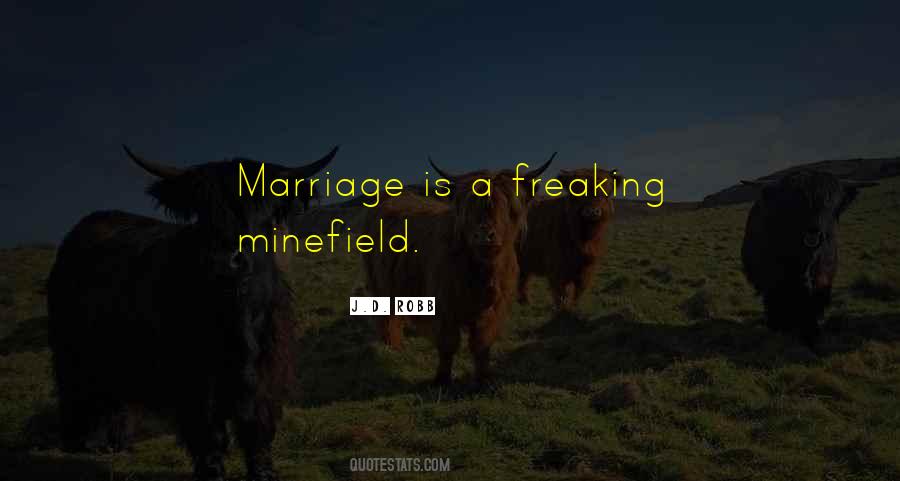 #8. Each year's regrets are envelopes in which messages of hope are found for the New Year. - Author: John R. Dallas Jr.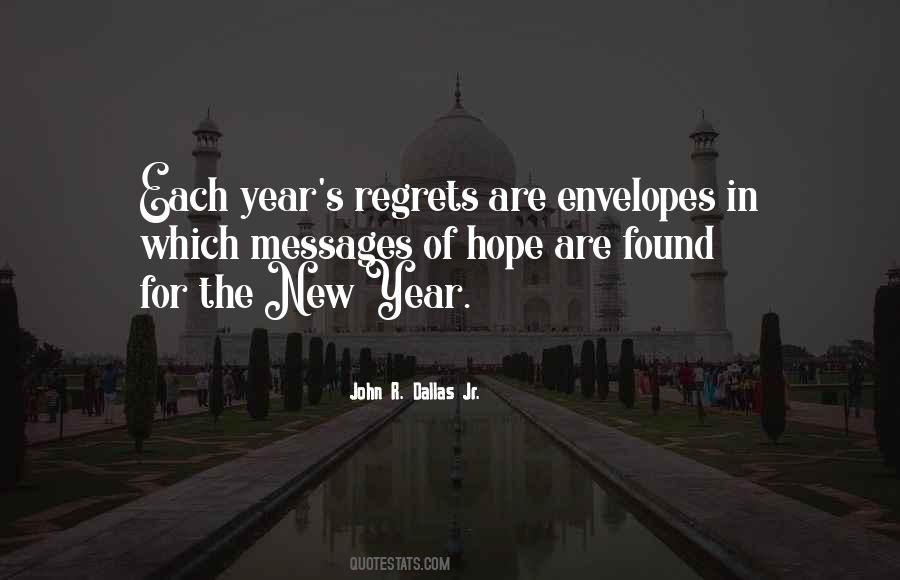 #9. I have to say you don't look anything like a policewoman." Maxia's perfect eyebrows arched as she gave Eve's dress a quick scan. "Leonardo dresses you, doesn't he?"
"No, I usually do it myself. - Author: J.D. Robb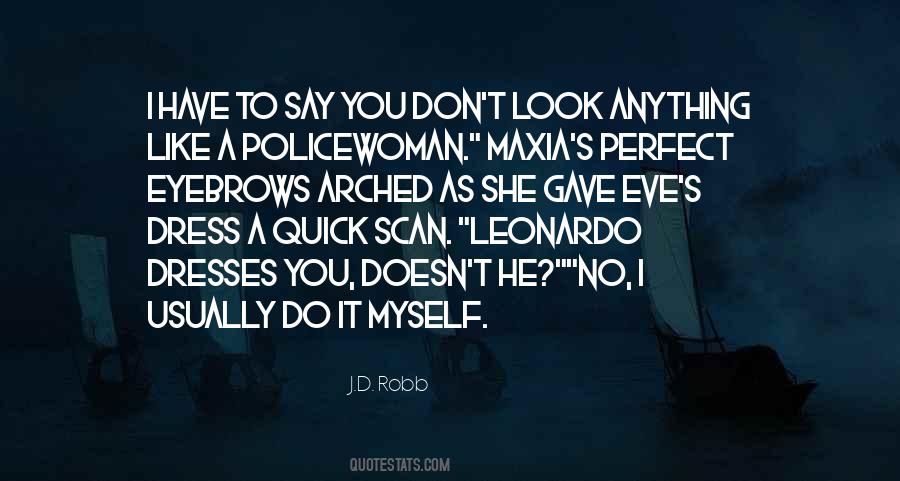 #10. Don't leave me again. God. God. Don't leave me again."
"I didn't"
"Part of you did." He moved her back, and his eyes swarmed with emotion. "Part of you left me, and I couldn't stand it. - Author: J.D. Robb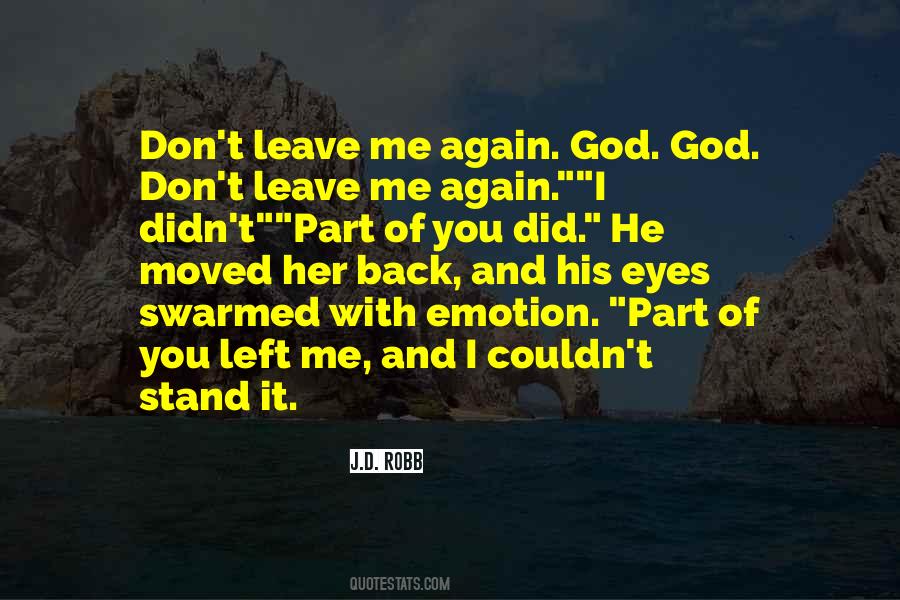 #11. You're almost as good as Peabody."
He stopped at the door, grabbed her up in a steaming kiss. "You can't get that from Peabody."
"I could if I wanted." But it made her grin as he uncoded the locks. "But I like you better for sex. - Author: J.D. Robb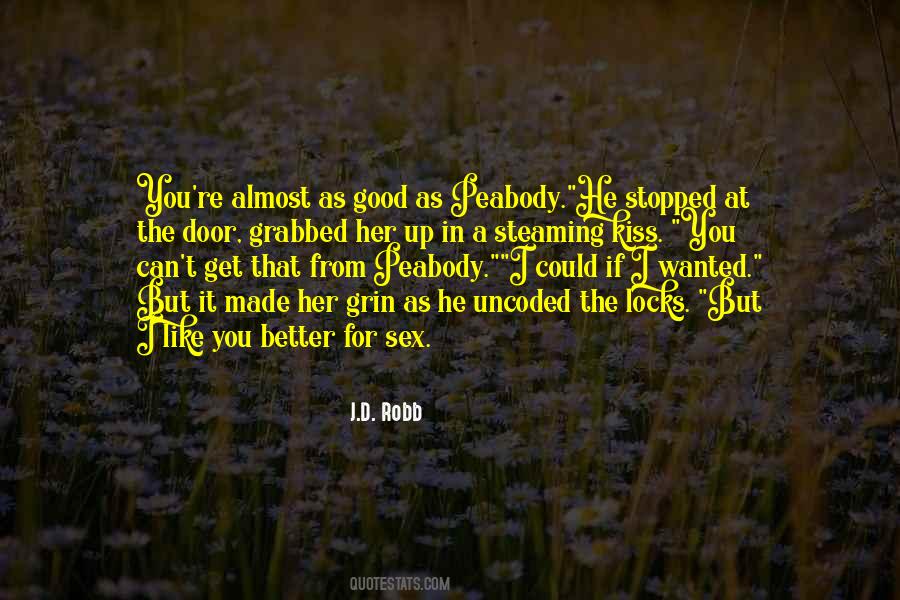 #12. Have I missed a national holiday? There must be celebrations in the streets for you to be home at this hour of the day."
"I'm calling it Summerset Goes Mute Day. The city's gone mad with joy. - Author: J.D. Robb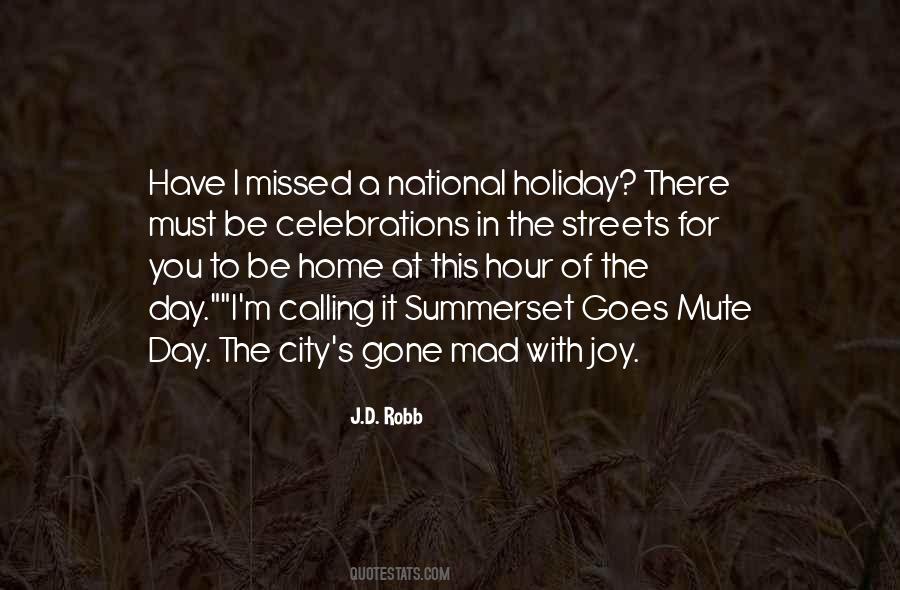 #13. I'd rather be screwed up with you than smooth with anybody else. - Author: J.D. Robb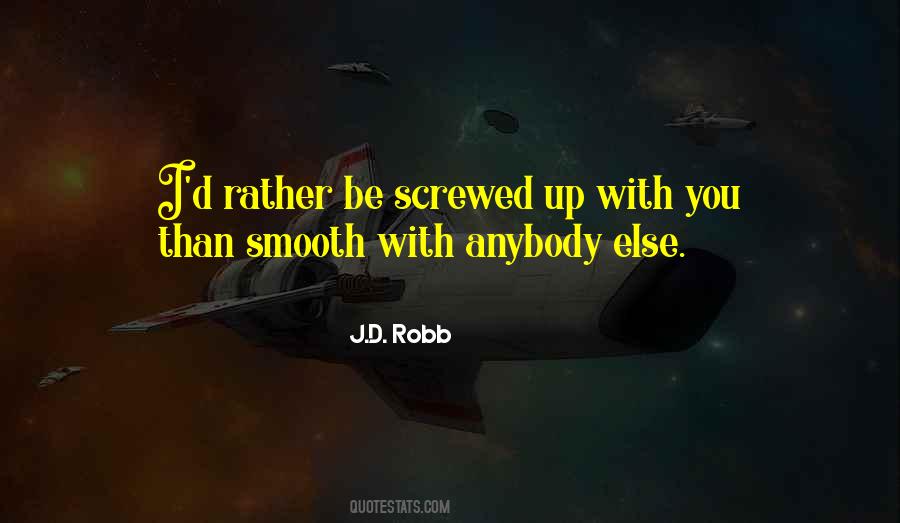 #14. Just shut your mouth, you ignorant twat."
"Aw, Dallas, he called me a twat. How come you get to be a bitch, but I only get to be a twat."
"It's the rank," Eve told her. "You'll make bitch one day."
"Thanks. That means a lot to me. - Author: J.D. Robb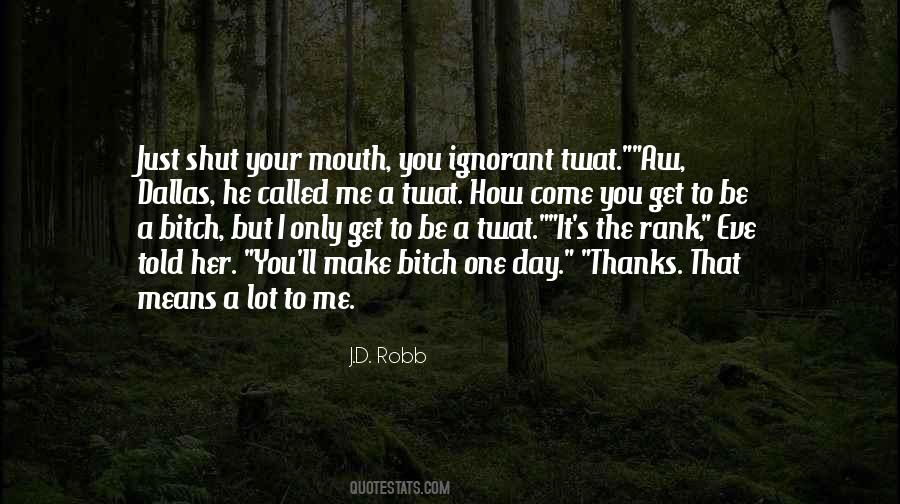 #15. He blinked, then roared with laughter. "Eve Dallas, Vampire Slayer. One for the books."
~Eternity in Death - Author: J.D. Robb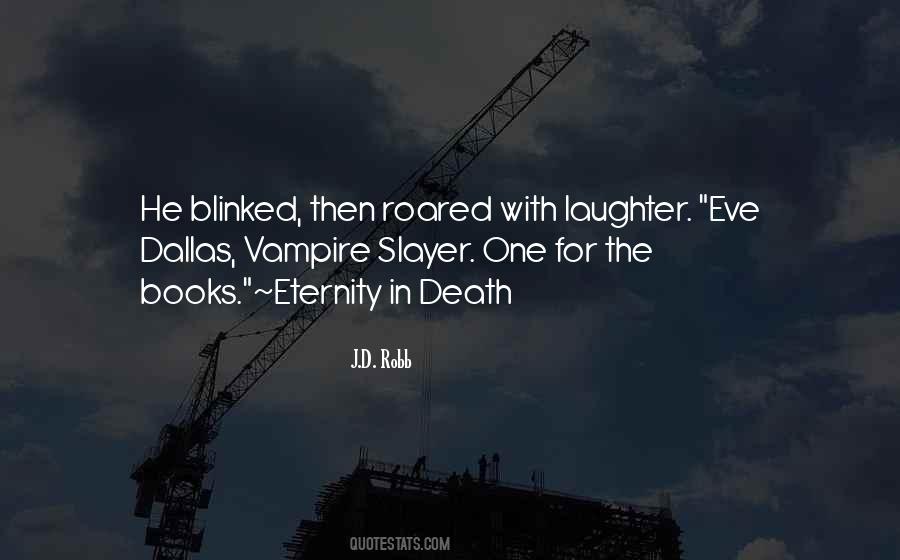 #16. But Roarke doesn't feel weird about it. He's full of it, the love, I mean. And when he loves me, things that never worked in me did - do. It was easier when they didn't work, but it's better when they do. You know? - Author: J.D. Robb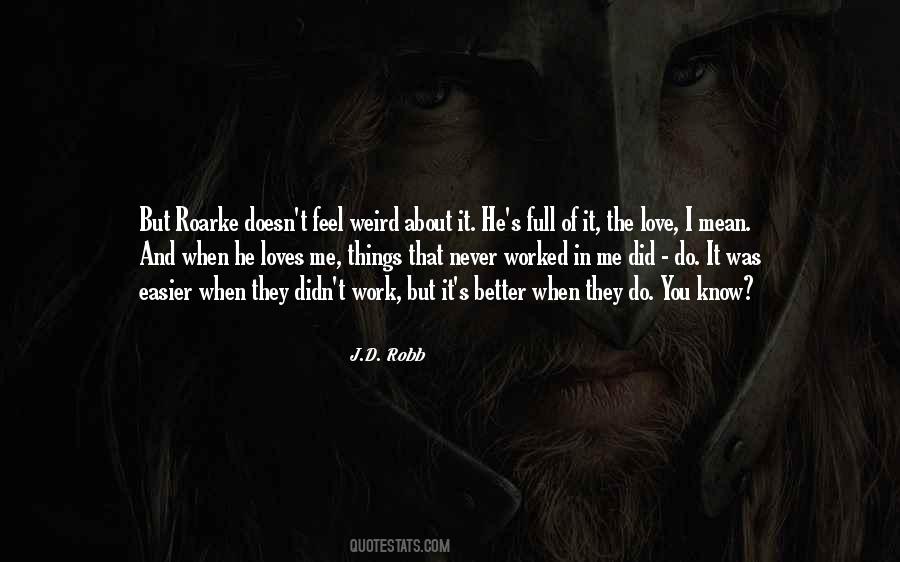 #17. Maybe he does have a choice to make, but everything I feel, everything I know says absoloutely that choice will be you"
"She speaks French and Italian."
"That bitch. - Author: J.D. Robb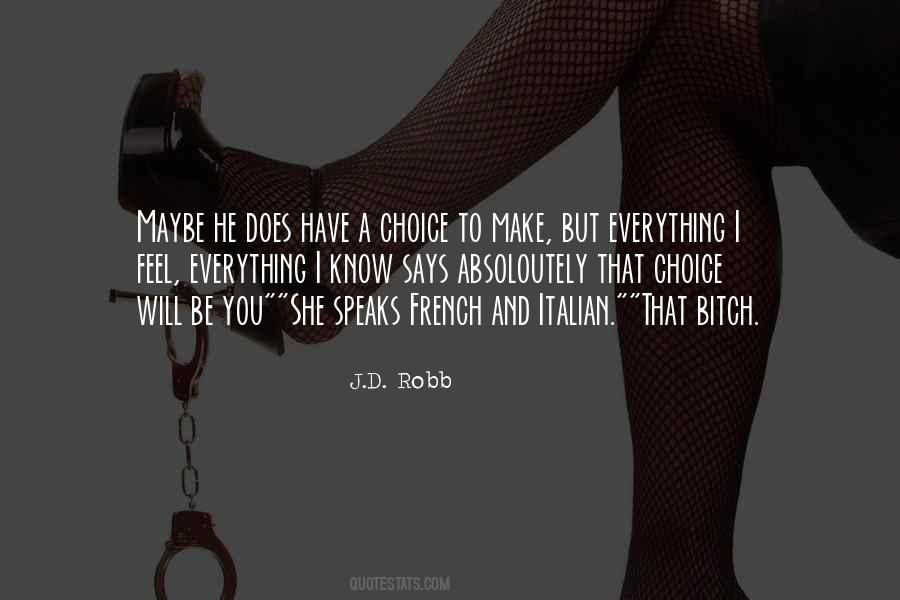 #18. Is there any exceptionally beautiful woman you haven't slept with?"
"I'll make you a list. So, you knocked her down. - Author: J.D. Robb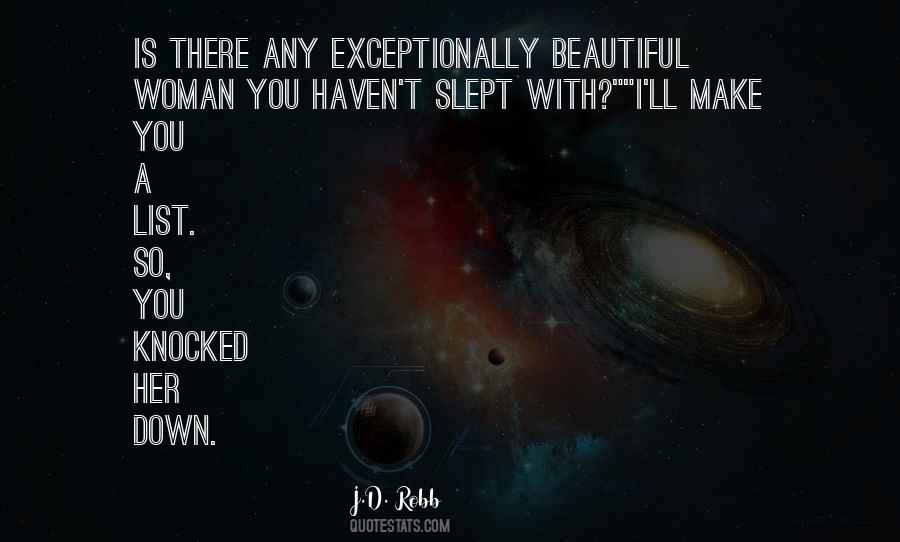 #19. What about your crepe?"
"Stuff It."
"She's crazy about you," Mavis commented.
"It's almost embarrassing, the way she fawns. - Author: J.D. Robb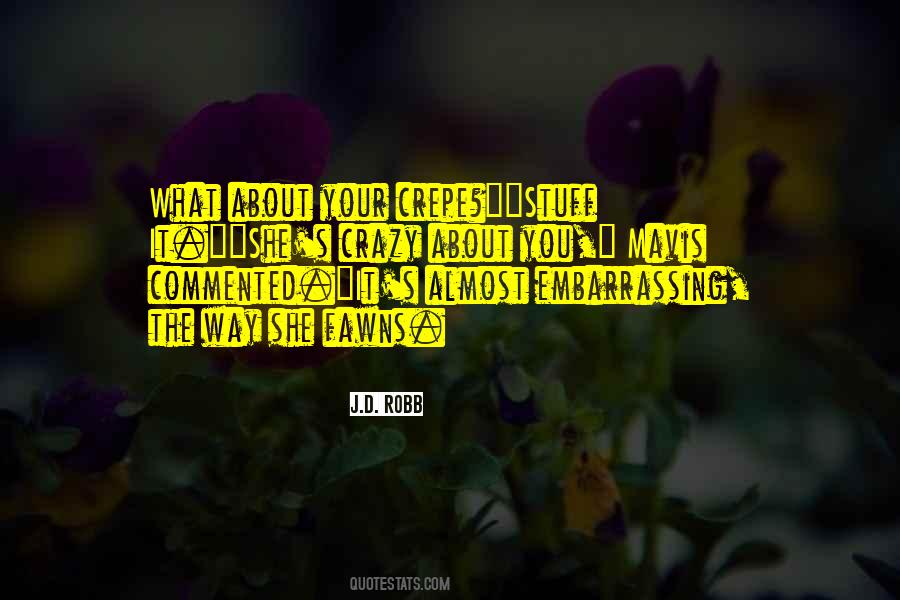 #20. Dallas, Lieutenant Eve, and aide, Peabody, - Author: J.D. Robb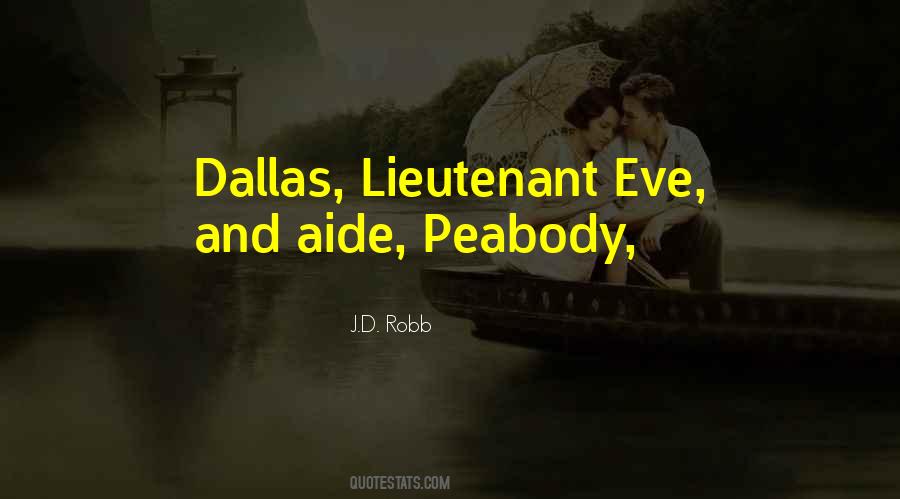 #21. Might have to go to London," she murmured. "Huh. Wouldn't it be a kick in the head if I really did have to be out of the country hunting a criminal mastermind when Mavis goes into labor?"
"I, my ass. That goes to we or I'll hurt you - Author: J.D. Robb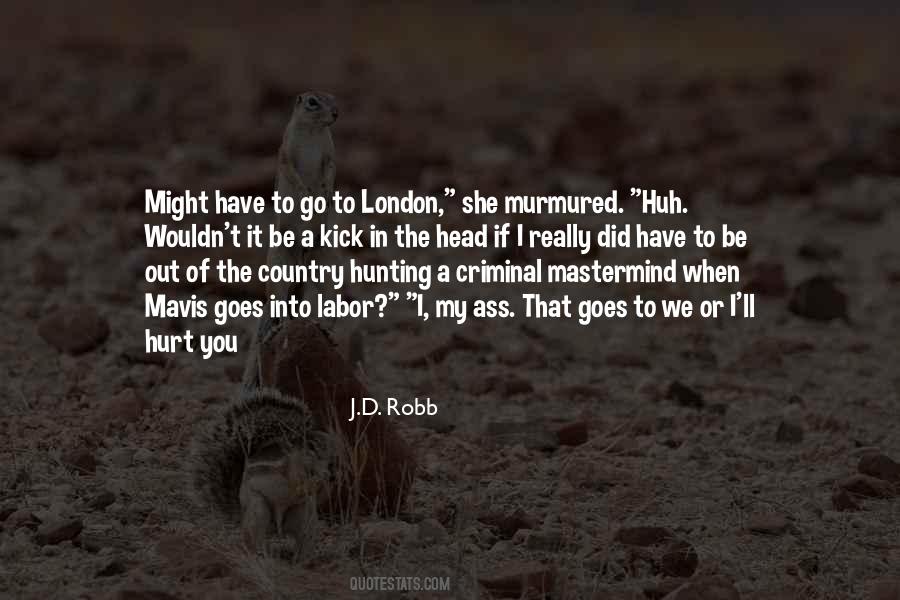 #22. You have heard the expression 'love is blind'"
"I think it's bullshit. Lust dazzles, sure, at least for the short term. But love clears the vision. You see better, sharper, because you feel more that you did before - Author: J.D. Robb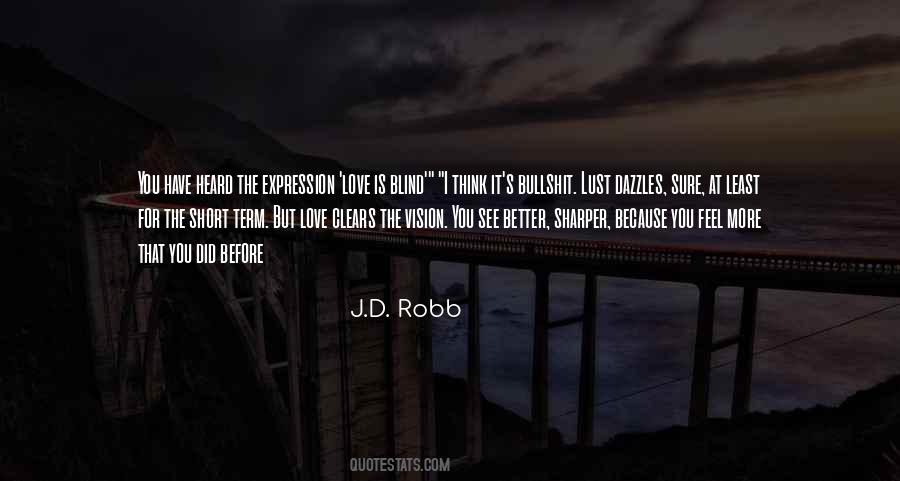 #23. Have McNab take the edge if you need one. Can he handle bad cop?"
"He does it really well during personal role-playing games when I'm the reluctant witness. - Author: J.D. Robb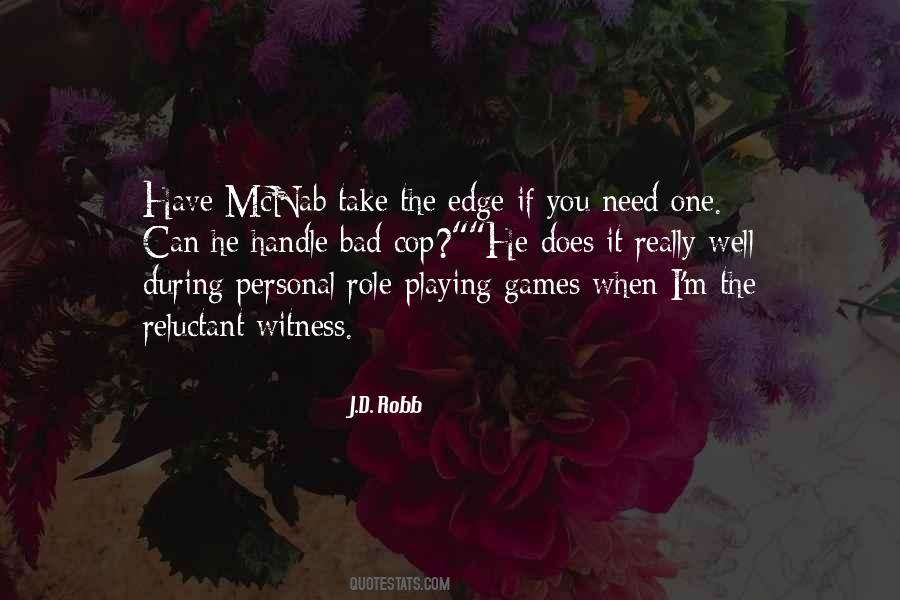 #24. Driven, damaged and dangerous, FBI agent Mercy Gunderson is one of the best female leads to come down the pike since Eve Dallas. Lori Armstrong delivers the goods with MERCILESS. - Author: Cindy Gerard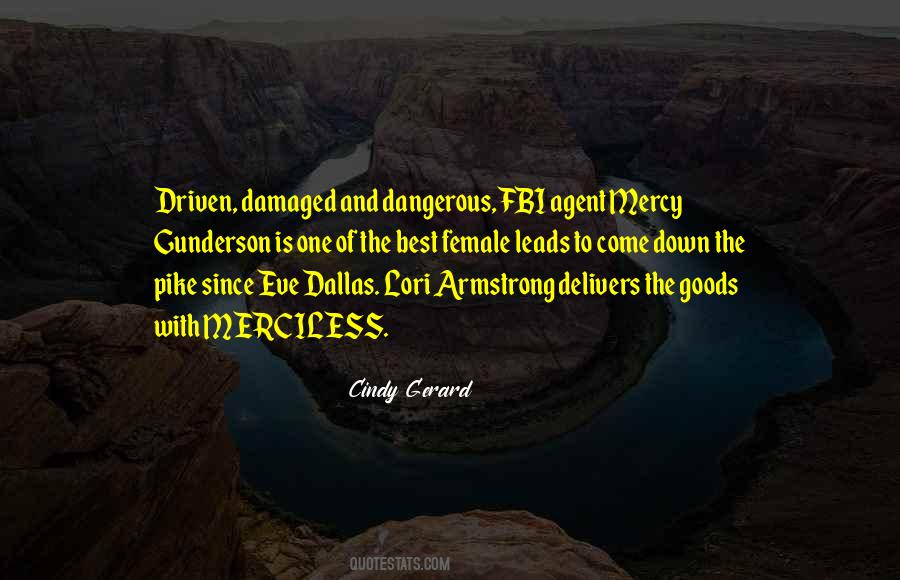 #25. She had an insult waiting for Summerset, who she knew would comment about her being home early. She'd say it was Mortician's Day, and she'd taken off in his honor.
Quick and to the point. - Author: J.D. Robb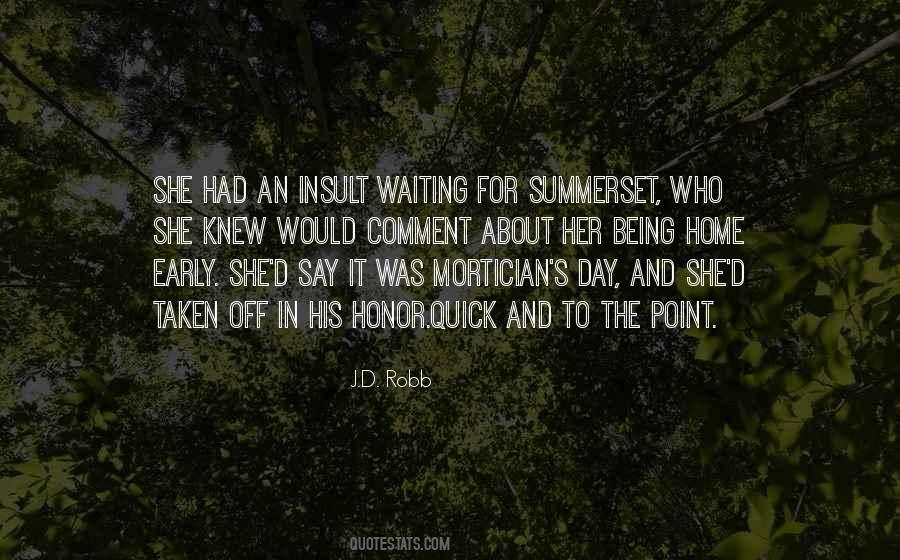 #26. You tell Roarke you were tagging me for this? Or is he going to get riled up so I have to kick his ass again?"
"Oh, is that what you were doing when you had to be carried out of the room unconscious?"
"I like to remember it that I was just getting my second wind. - Author: J.D. Robb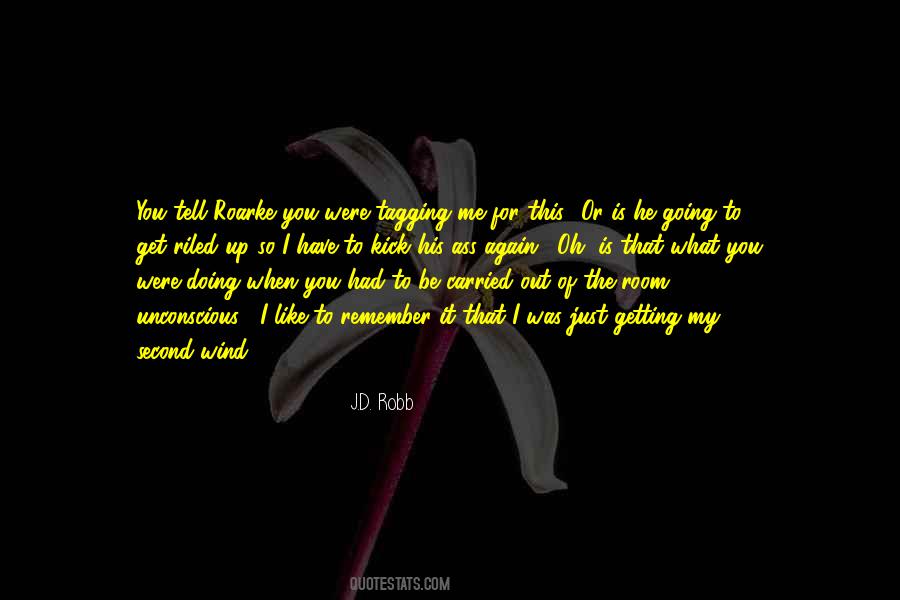 #27. You don't need to diet, She-Body. You are a just-right female."
"McNab?" Eve said.
"Yes, sir."
"Shut up."
"It's all right, Dallas. We're a couple."
"A couple of what? No, don't tell me. Don't talk to me. Don't talk to each other. Let there be silence across the land. - Author: J.D. Robb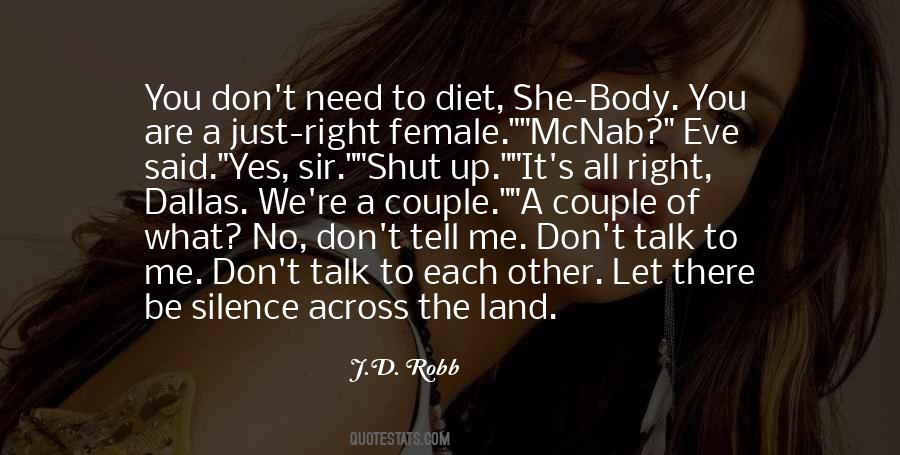 #28. It all jibed, and the books would close on Jasper as death by misadventure. Unofficially, Eve labeled it death by stupidity, but there wasn't a place on the sheet for that particular observation. - Lt. Eve Dallas on a drunk fall off the roof - Author: J.D. Robb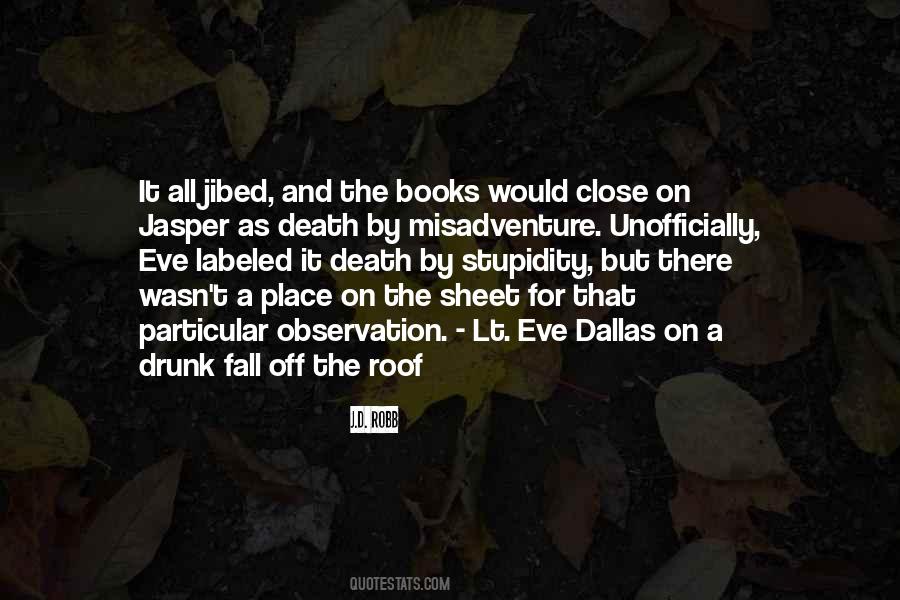 #29. When [Satan] undertook to draw Eve away from God, he did not hit her with a stick, but with an idea. It was with an idea that God could not be trusted and that she must act on her own to secure her own well-being. - Author: Dallas Willard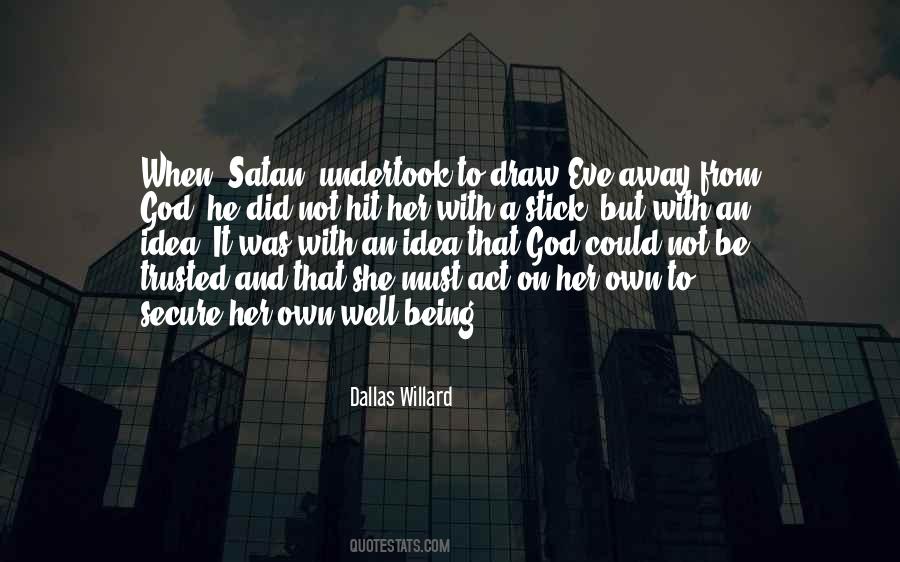 #30. As for her cat, Galahad made an appearance, regally ignored everyone under four feet until he clued in that this variety of humans was more likely to drop food on the floor, or sneak him handouts. He ended in a gluttonous coma, tubby belly up under a table. - Author: J.D. Robb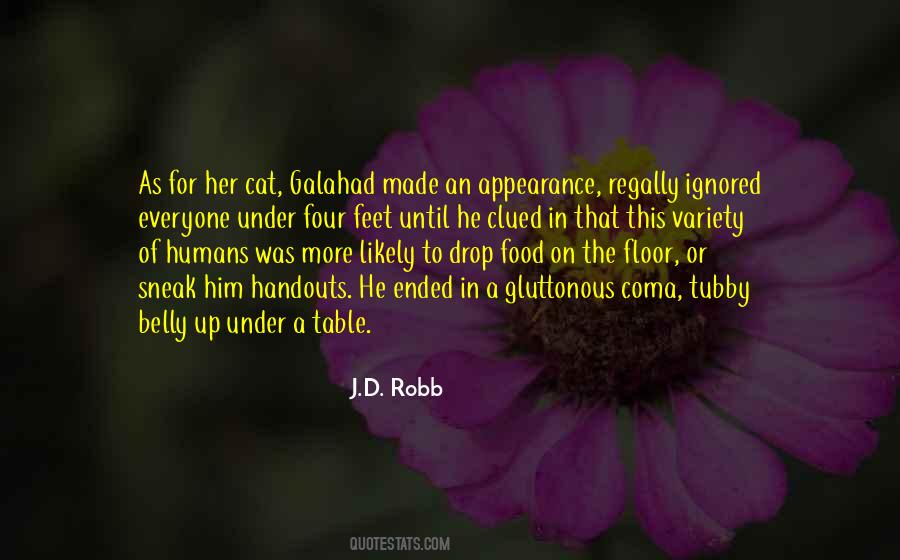 #31. Lord, Give me the strength not to bitch slap this woman. - Author: J.D. Robb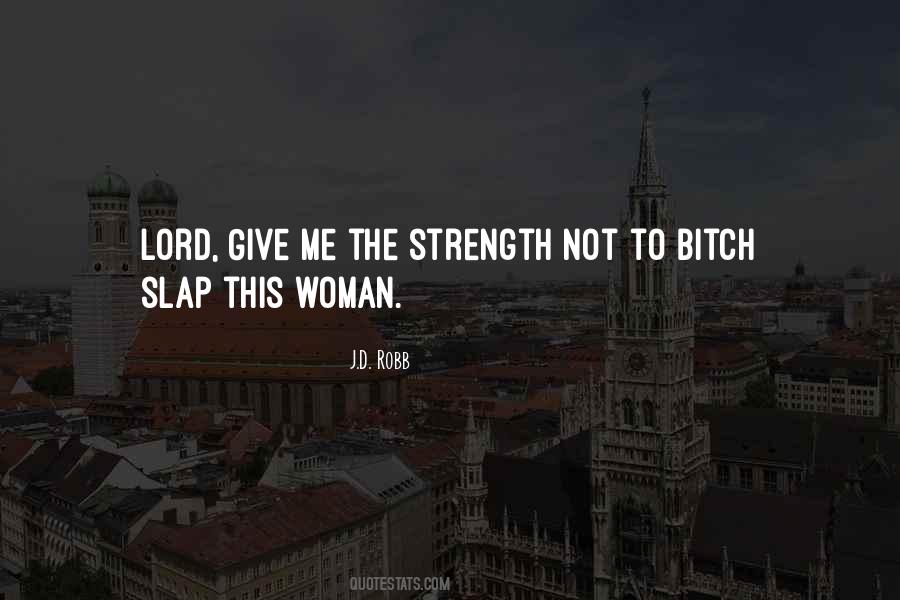 #32. I'm going to see if Morris has a spare spine lying around you can borrow if you're scared to speak to that high-heeled, smug-ass bitch, Peabody. - Author: J.D. Robb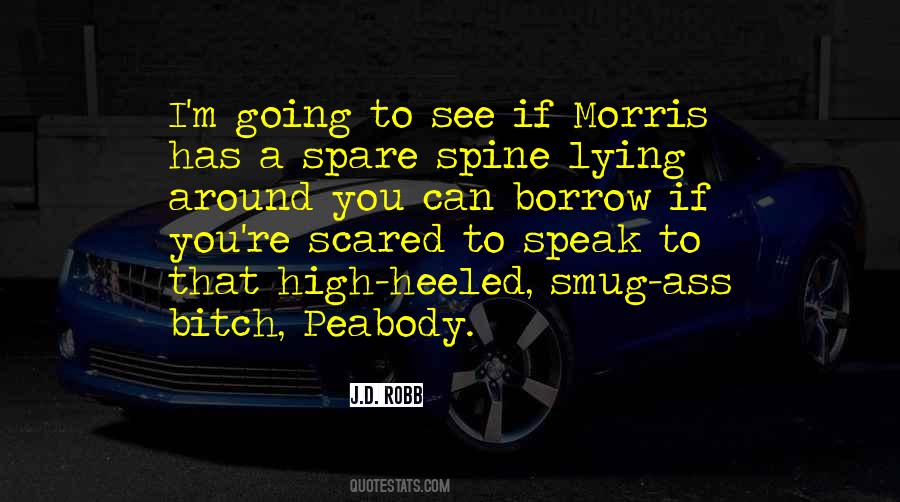 #33. Why do you always have to put you and McNab and sex in my head? It brings pain no blocker can cure. - Author: J.D. Robb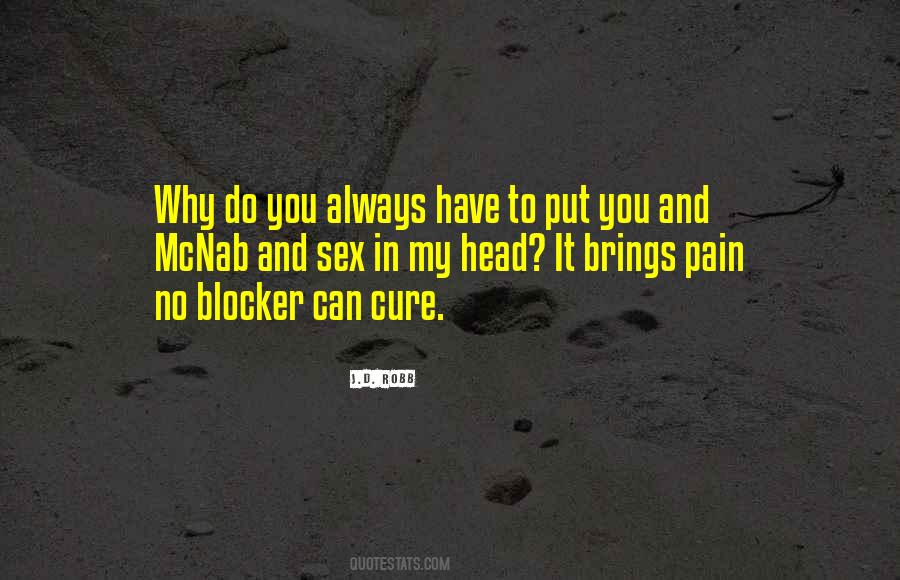 #34. Okay. Look, why don't you take care of the half a million things you've been letting dangle in Roarke's Empire of Everything?"
"Catchy title. I may use it one day. - Author: J.D. Robb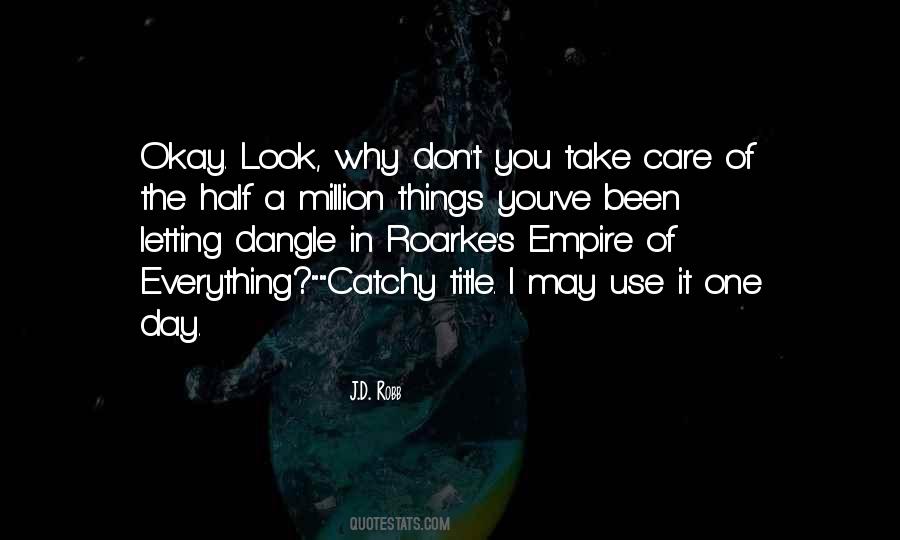 #35. I'm not afraid of you, Roarke."
"Aren't you?" He moved closer, curling his hands on the lapels of her shirt. "What do you think will happen if you step over the line?"
"Too much," she murmured. - Author: J.D. Robb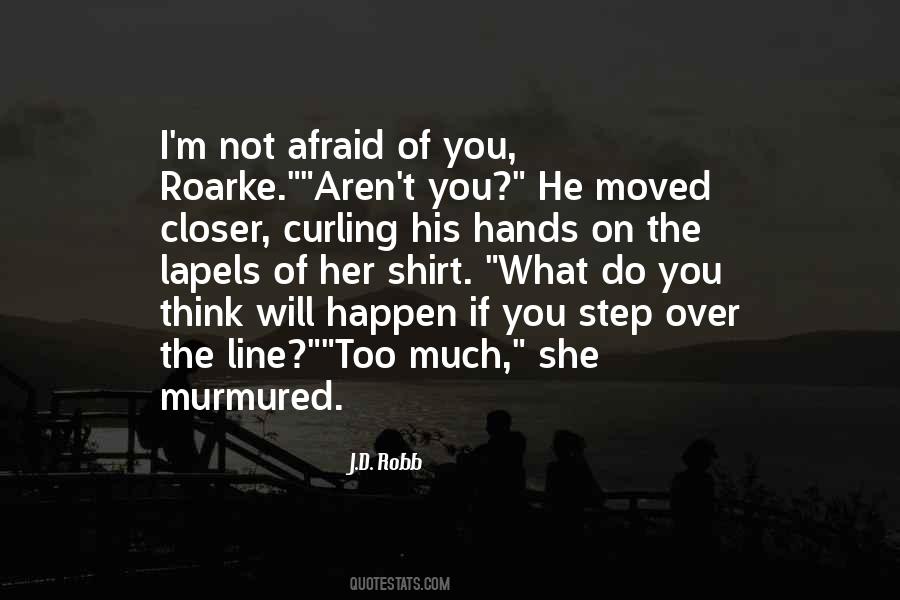 #36. What time is it in New York?"
He shook his head. "An hour later than it is here. The earth simply has to revolve, Eve, however annoying it is for you."
"It can revolve all it wants. I just don't see why people can't settle on the same time. - Author: J.D. Robb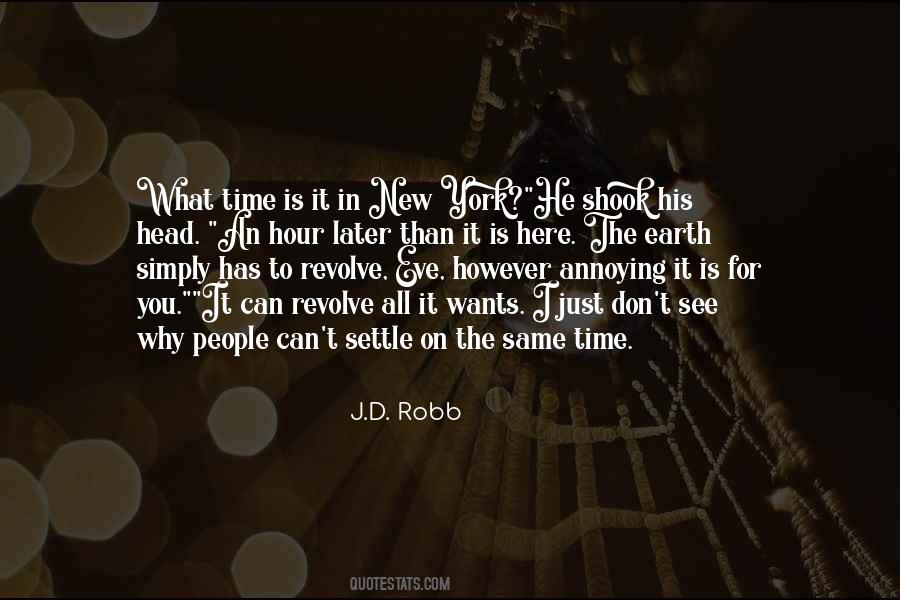 #37. Goddamn sneaking candy thief found my cache"
Peabody pursed her lips "You had candy in the file cabilnet." she angled her head "Under M?"
"M for MINE damn it - Author: J.D. Robb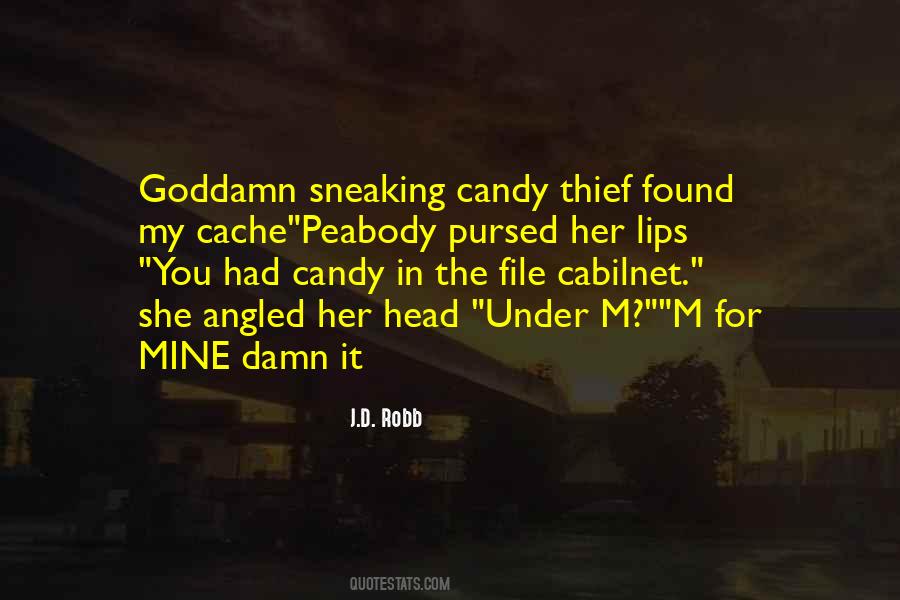 #38. Do you think the penis ever gets tired?
Whose?
Anybody's. I mean anybody with one. Does the penis ever just think: for God's sake pal, give it a rest? Or is it all: Woo-who!! Here we go again! - Author: J.D. Robb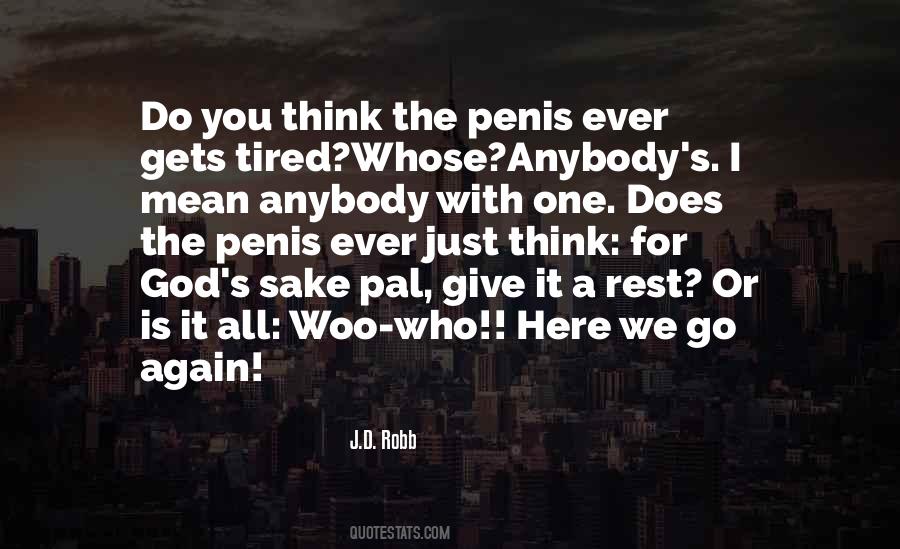 #39. I can't be in your place as I don't have a fat, knocked-up ass to sit on. Yeah, you asked me for a major, and if you want to come through on it, you'll sit down, shut up, and let me work. Bitch. - Author: J.D. Robb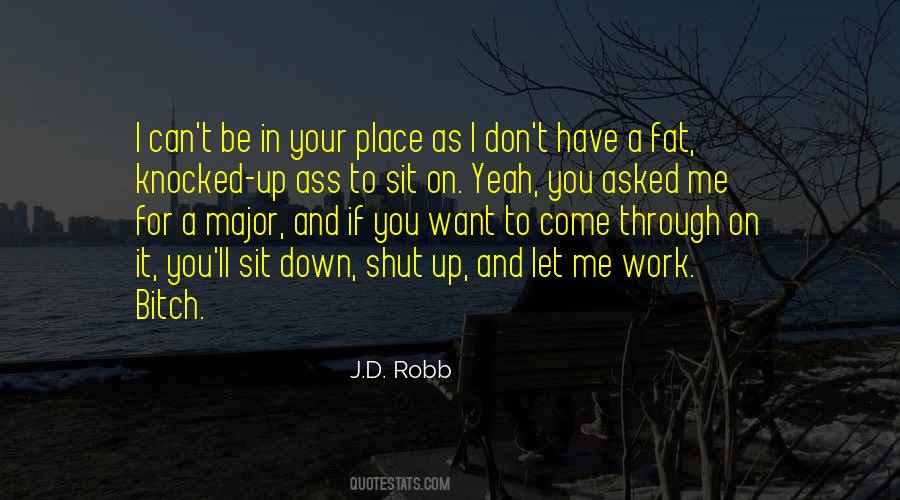 #40. The security officer smiled and said, 'Good afternoon, ma'am,' to me before I
gave him ID."
"It's a sick world, Eve." He resisted taking her hand for another squeeze. "A sick,
sad world. - Author: J.D. Robb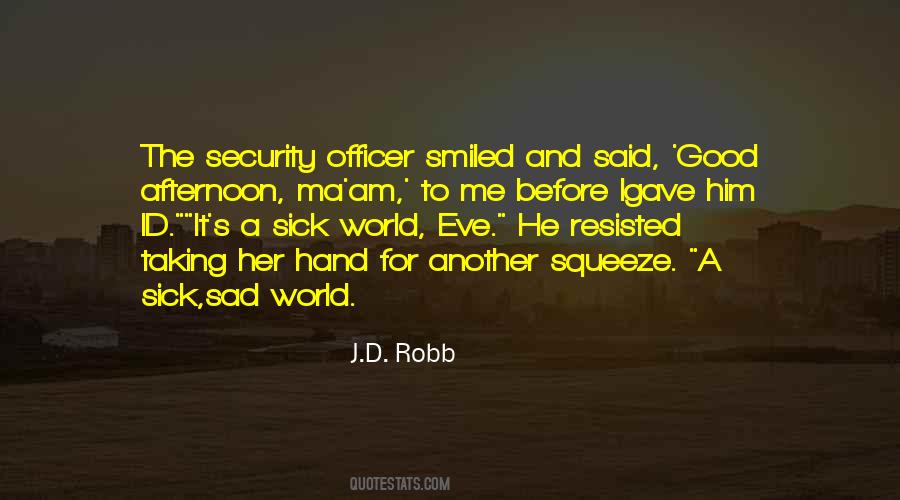 #41. Far be in from me to dictate how you should assuage your guilt. Do you have a lot of it?"
She bit his good shoulder. "You're about to find out."
She toppled them both off the bench and onto the mat. "Well, ouch. I take it guilt doesn't bring out your gentler side. - Author: J.D. Robb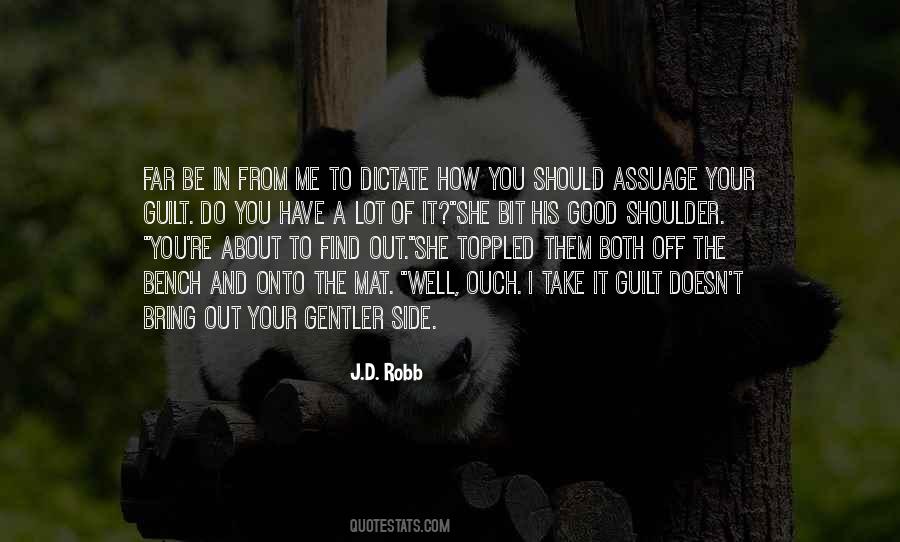 #42. You are who you are. I know you. You believe that?
"Yea but
"
"You're Eve Dallas. You're the love of my life. My heart and Soul. You're a cop, mind and bone. You're a woman of strength and resilience. Stubborn, hardheaded, occassionally mean as a badger, and more generous that you'll admit. - Author: J.D. Robb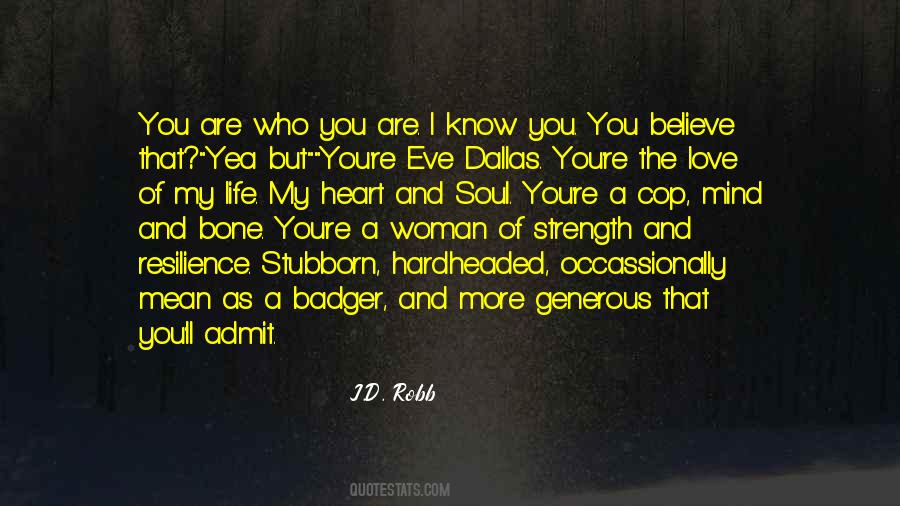 #43. When she brought Mira up, Eve gave Roarke another glance. "Don't talk to him," she warned. "He can get bitchy when he's in this deep. I don't know if we have any of that tea stuff."
"I had it stocked, and I don't get bitchy. Bloody, buggering HELL."
Eve just rolled her eyes and got the tea. - Author: J.D. Robb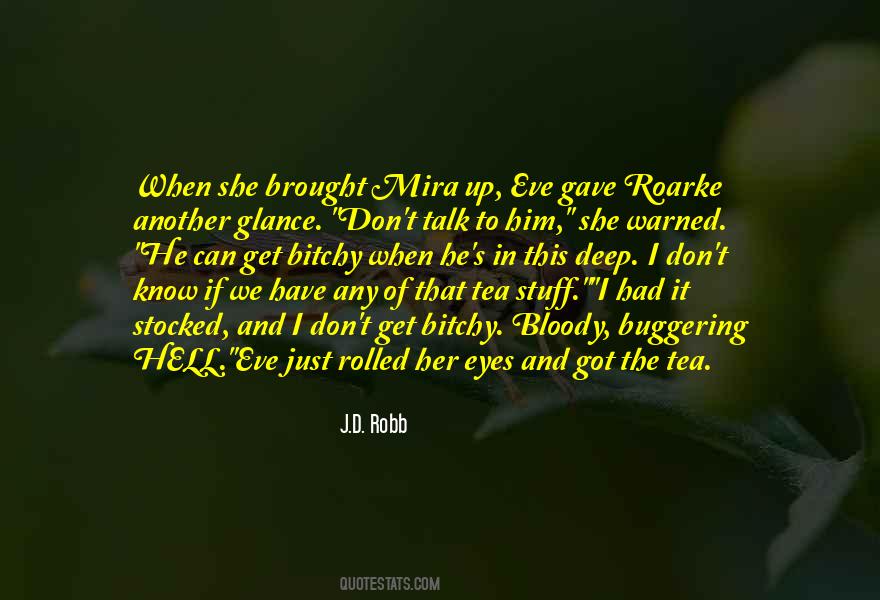 #44. Wow, colorful. I think the kid's head plowed into me. He came at me like a mortar. Pow! Skull meets tits. Tits lose. - Author: J.D. Robb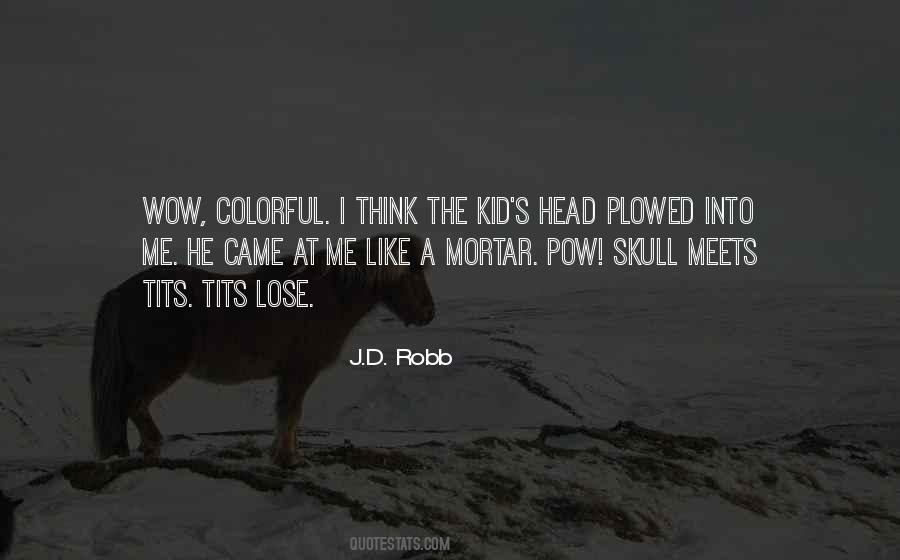 #45. The doll, Dallas. You know, Barbie doll. Jeez, didn't you ever have dollies?"
"Dolls are like small dead people. I have enough dead people, thanks. - Author: J.D. Robb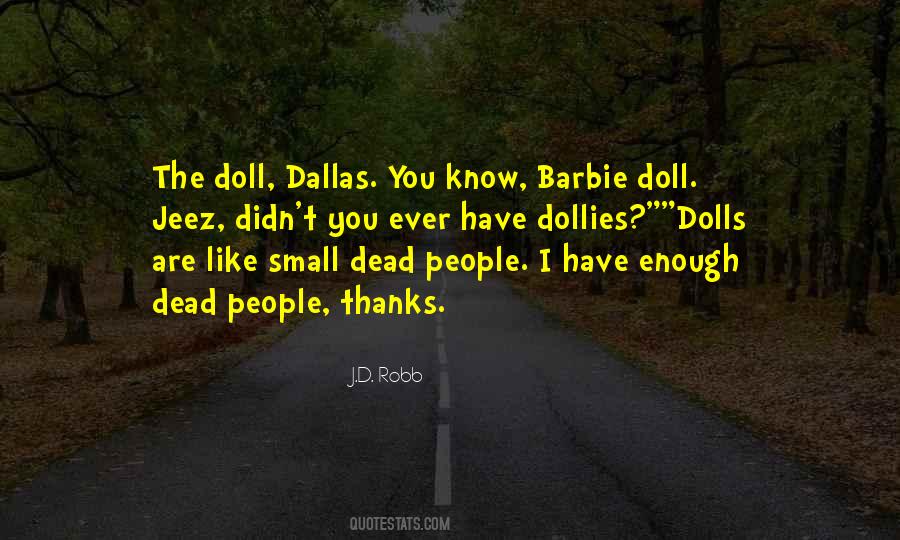 #46. I think I've just lost five pounds in fear sweat." Peabody mopped at her face. "Now I want a cannoli. I don't know why."
With a laugh, Roarke shifted to grin at her. "I'll buy you a dozen, precious."
"Cannolis, for God's sake. - Author: J.D. Robb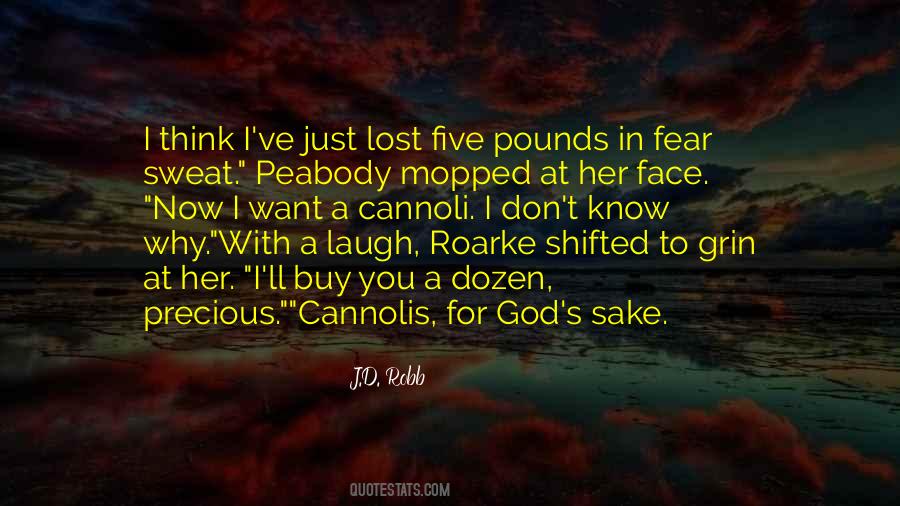 #47. Fuck him."
Feeney made a sound like a man who'd been pinched. "Christ Jesus, Dallas, you're in St. Pat's."
"If God's going to make little weasels like him, she's going to have to listen to complaints. - Author: J.D. Robb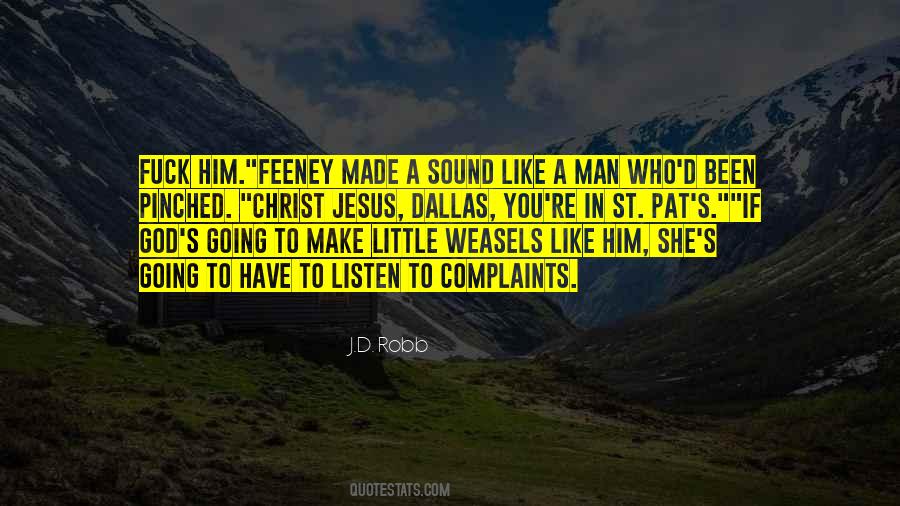 #48. Every minute with you, Darling Eve, is a minute to treasure."
She slid a glance toward him as she uncoded the seal. "You really do want sex."
"I'm still breathing, so that would be yes. - Author: J.D. Robb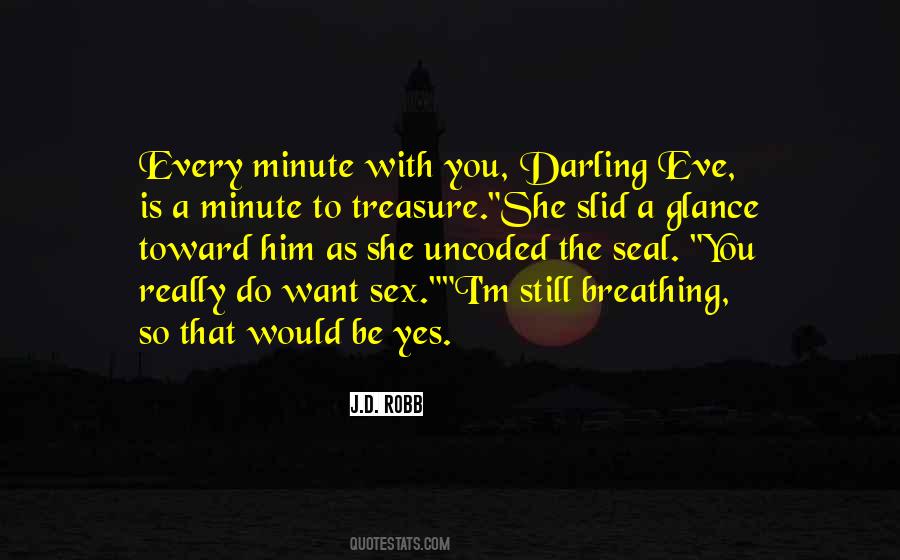 #49. Marriage is mostly a sucker bet"
"Spoken by the woman with Dream Husband"
"You just said Dream Husband might take a turn down the road and decide he wants to do a threesome or _"
"Me! Me!" Peabody shot up a hand. "Pick me!"
Eve & Peabody - Author: J.D. Robb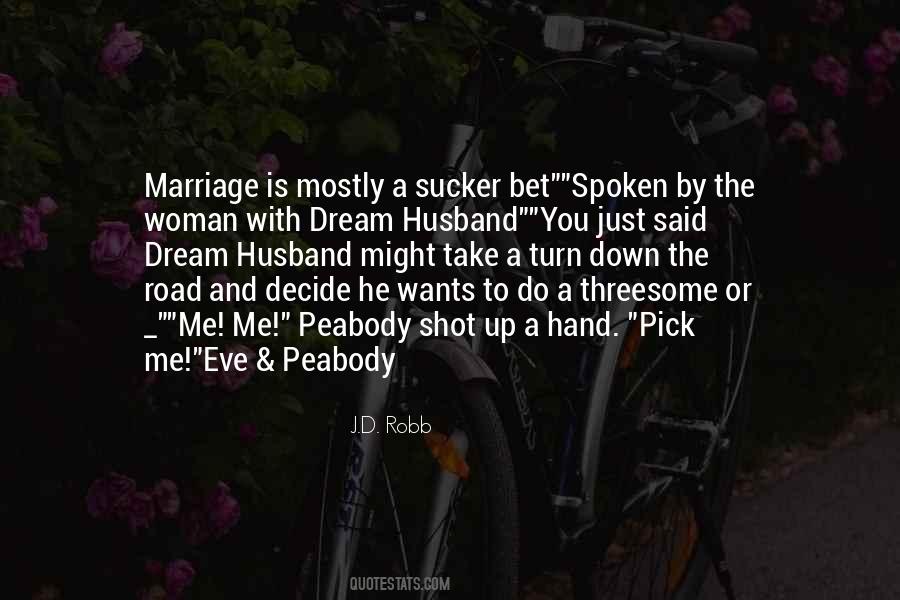 #50. Bite me. -Lieutenant Eve Dallas, from any of the In Death books. - Author: J.D. Robb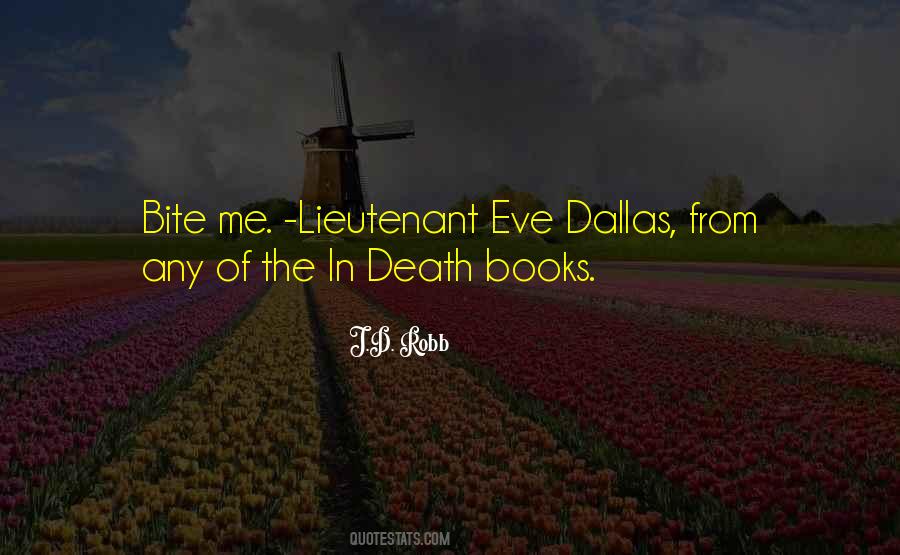 #51. You're a fascinating woman, Eve. Here we are, wet, naked, both of us half dead from a very memorable night, and still you watch me with very cool, very suspicious eyes."
"You're a suspicious character, Roarke. - Author: J.D. Robb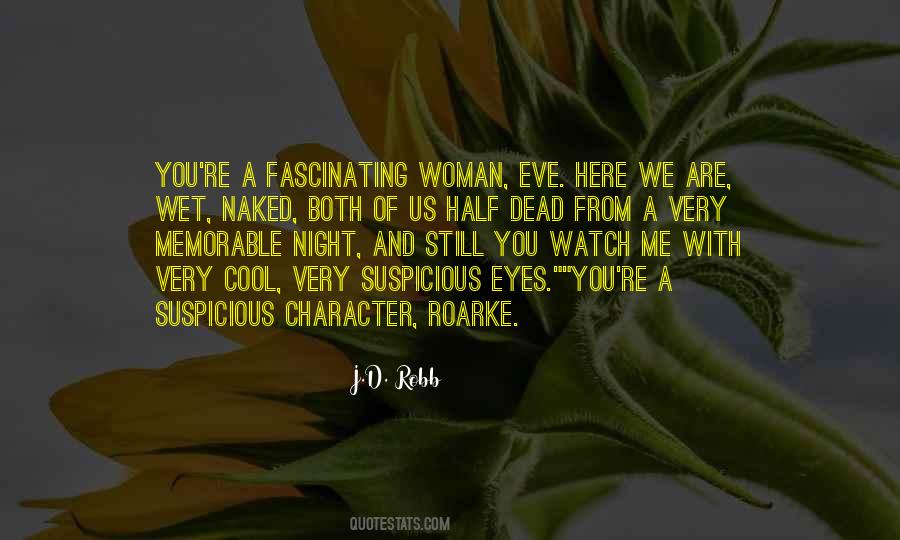 #52. Assaulting an officer will earn you one to five, Roarke. That's in a cage, not cushy home detention."
"You're not wearing your badge. Or anything else, for that matter." He gave her a friendly nip on the chin. "Be sure to put that in your report. - Author: J.D. Robb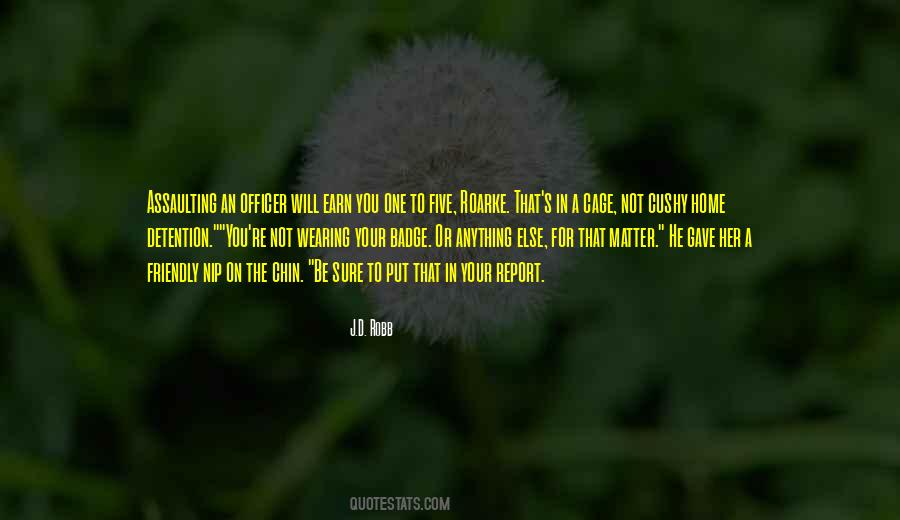 #53. It's always a pleasure watching you wake up," he commented. "But sometimes I wonder if you want me only for my coffee."
"Well ... " She grinned at him and sipped again. "I really like the food, too. And the sex isn't bad. - Author: J.D. Robb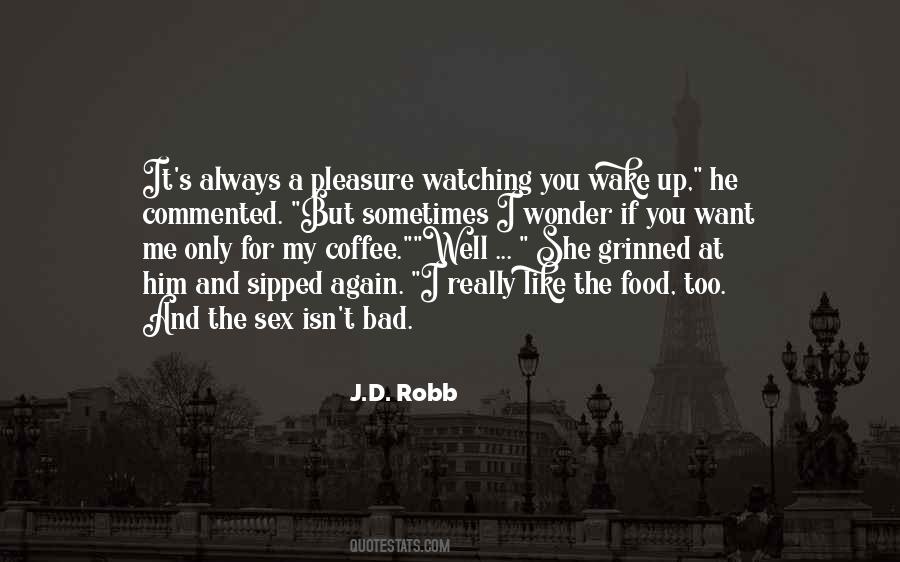 #54. We're standing here, beat to shit, walking away from a crime scene where either or both of us could have bought it, and you're asking me to marry you?"
"Perfect timing. - Author: J.D. Robb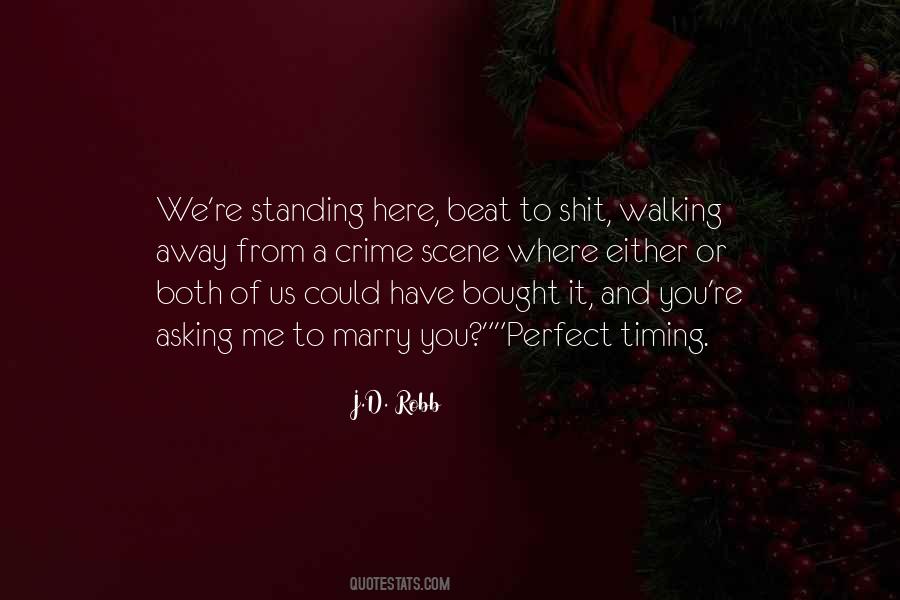 #55. Eve-"In the name of all that is holy ... It's 2060, not 1760. Can't they figure out a better way to handle this process?"
Roarke-"Amen - Author: J.D. Robb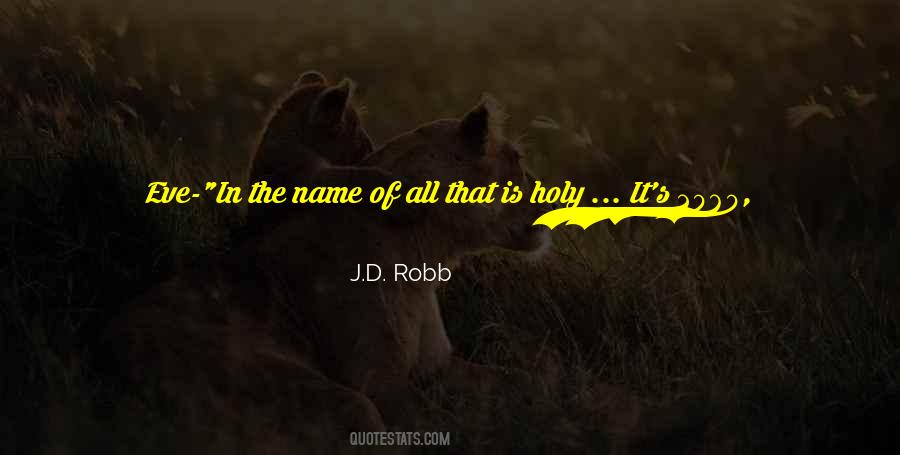 #56. If you tried to touch my woman she'd break your dick off like a twig then stick it up your arse. - Author: J.D. Robb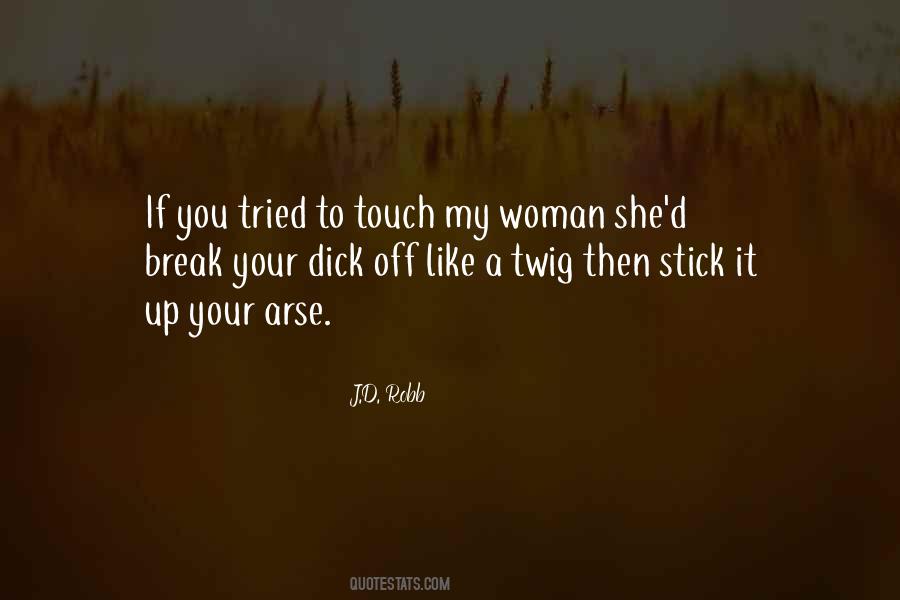 #57. I want to see you again." He stopped, took her face in his hands. "I need to see you again."
Her pulse jumped, as if it had nothing to do with the rest of her. "Roarke, what's going on here?"
"Lieutenant." He leaned forward, touched his lips to hers. "indications are we're having a romance. - Author: J.D. Robb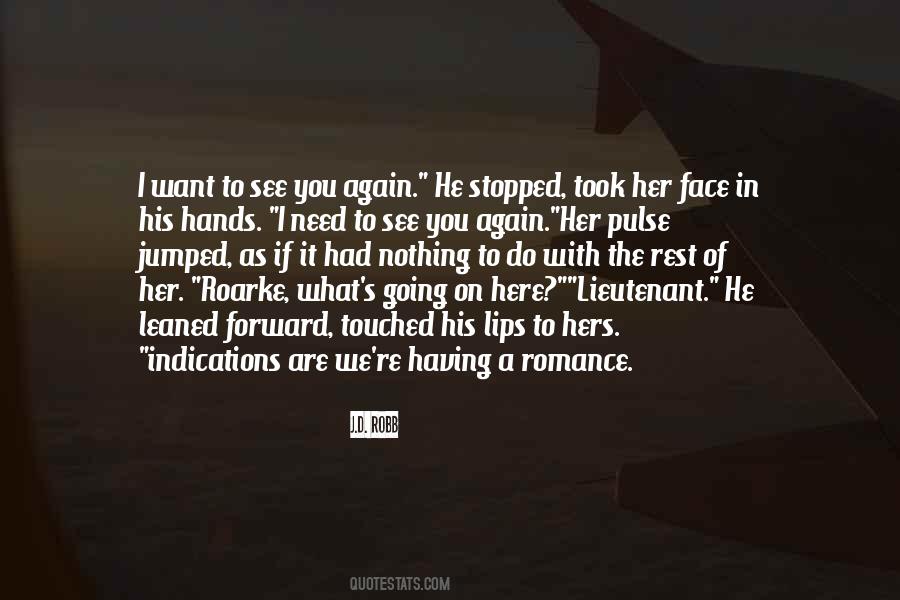 #58. Vending Machine: "This product has no known nutritional value and may cause irritability or wakefulness in some individuals. Please enjoy your selection and your day."
Eve: "Up yours. - Author: J.D. Robb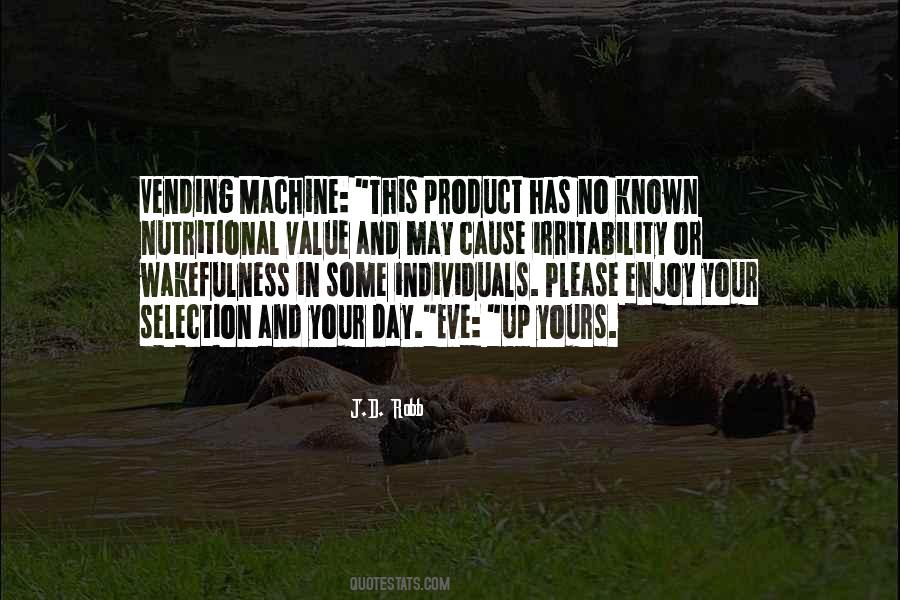 #59. Eve engaged her On Duty sign and stepped out of the car. Immediately her ears were assaulted with a blast of music. Christmas carols pumped, full blast, into the air. She decided that people ran inside, ready to buy anything, just to escape the noise. - Author: J.D. Robb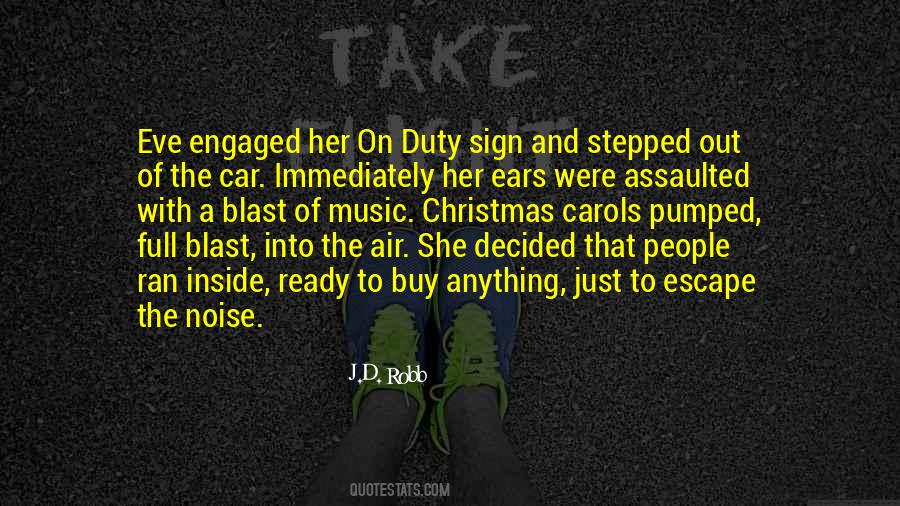 #60. Don't analyze me. We've got a whole department of shrinks on the payroll for that. - Author: J.D. Robb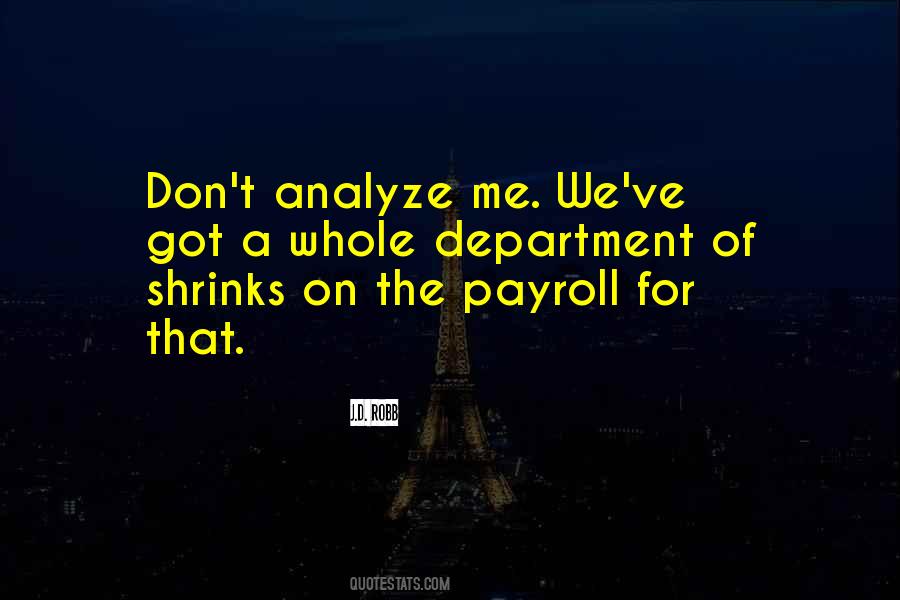 #61. You're still carrying Africa, but it's eroding at the edges.
Great. We're destroying the Dark Continent. - Author: J.D. Robb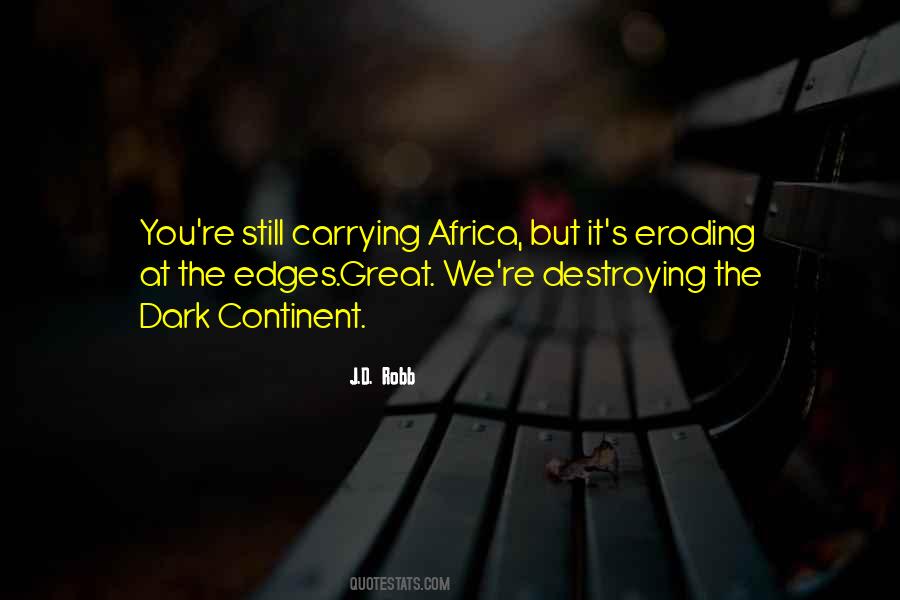 #62. You
Roarke." Eyes watering, she reached for more tissue. "Jesus, Eve. Jesus Christ, you never sleep with anybody. And you're telling me you slept with Roarke?"
"That's not precisely accurate. We didn't sleep. - Author: J.D. Robb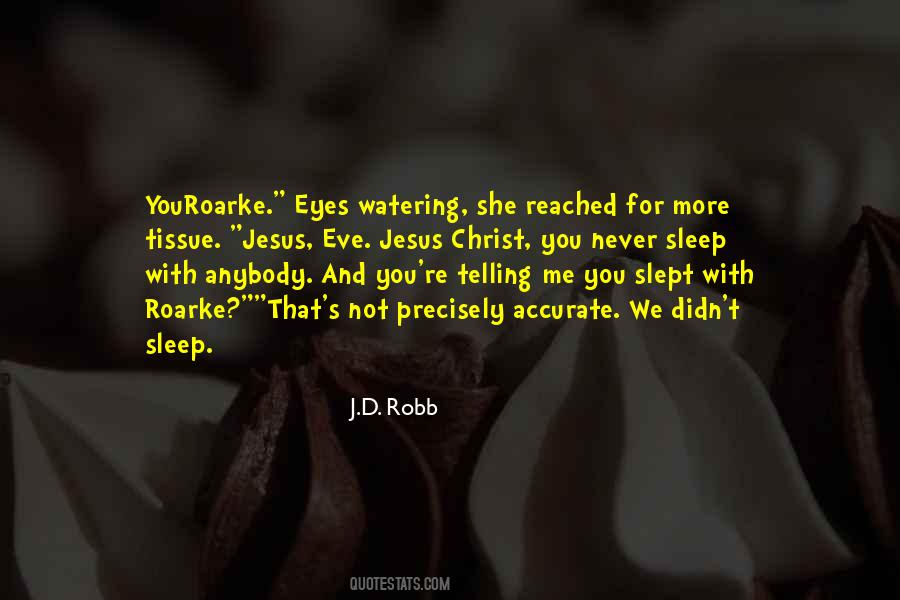 #63. I'm a barrel of monkeys, kid, though mostly I figure monkeys stuck in a barrel are just going to be pissed off. - Author: J.D. Robb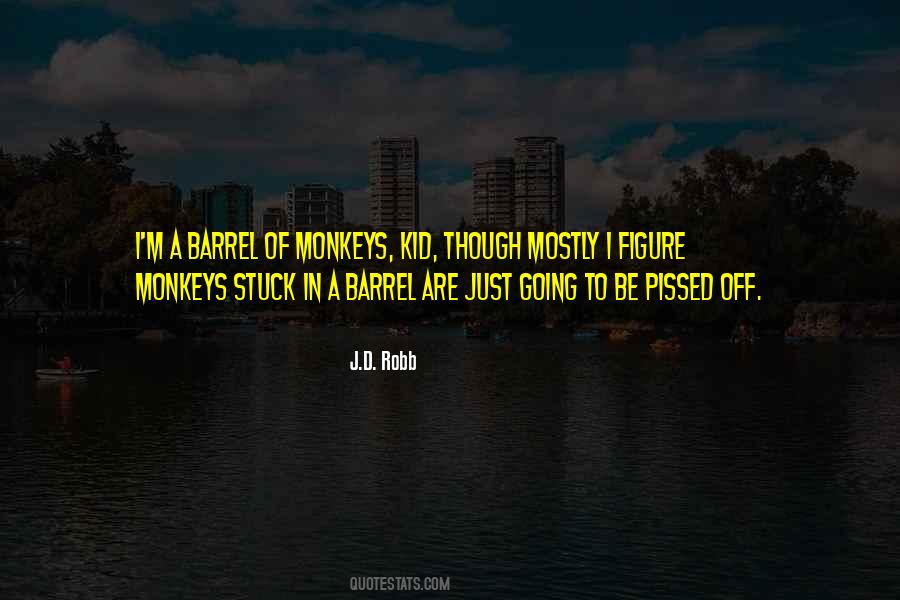 #64. The worst, the very worst requirement of friendship, in Eve Dallas's opinion, was sitting through an entire evening of childbirth classes.
What went on there
the sights, the sounds, the assault on all the senses
turned the blood cold. - Author: J.D. Robb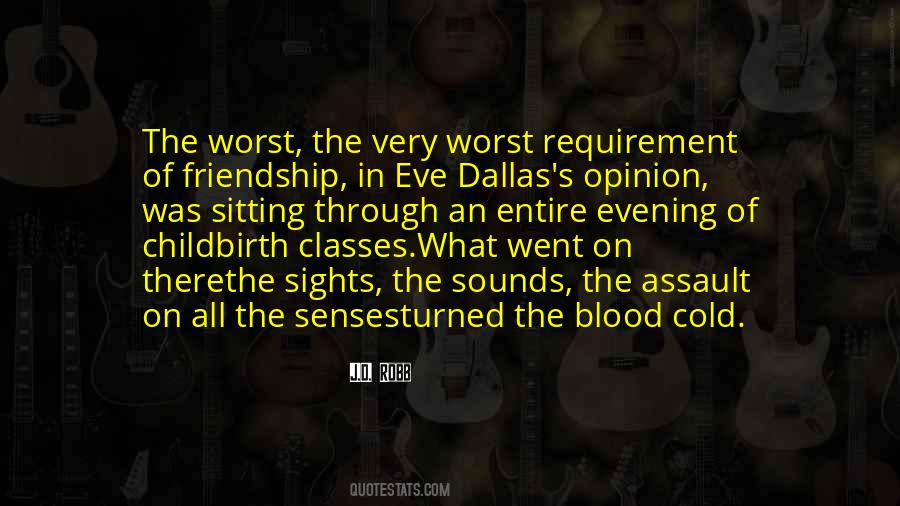 #65. Eve: "You already own half the universe"
Roarke: "Why settle for half when you can have all? - Author: J.D. Robb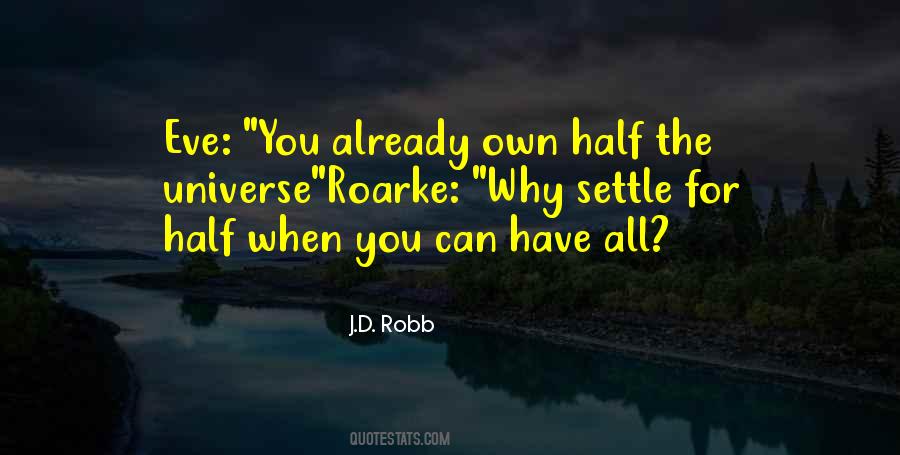 #66. And you're not going to tell me she didn't make a move on you. At least test the waters."
"The waters," he said, "were not receptive."
"If they had been, I'd have drowned her in them already. - Author: J.D. Robb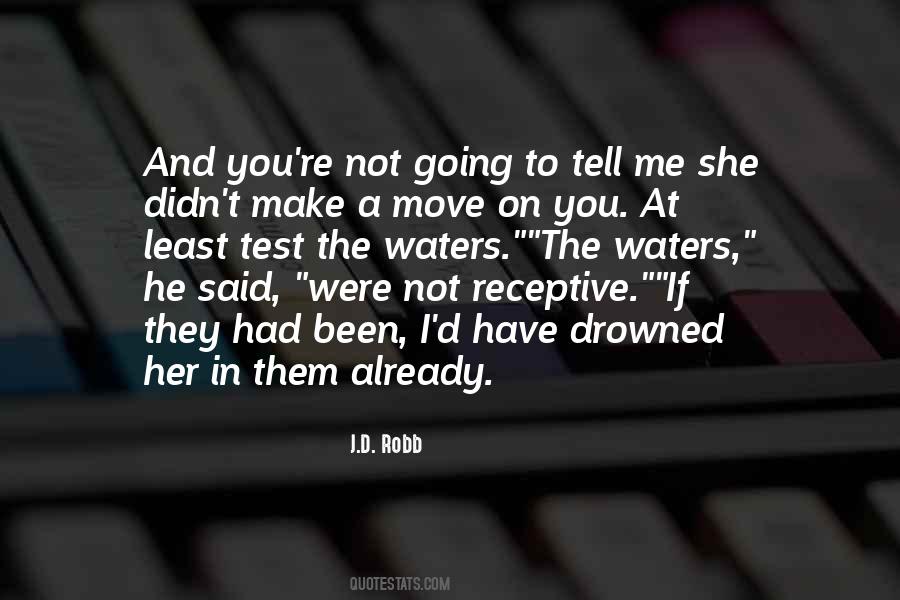 #67. I'd suggest putting your head between your knees, but I think that's physically impossible for you at the moment. - Author: J.D. Robb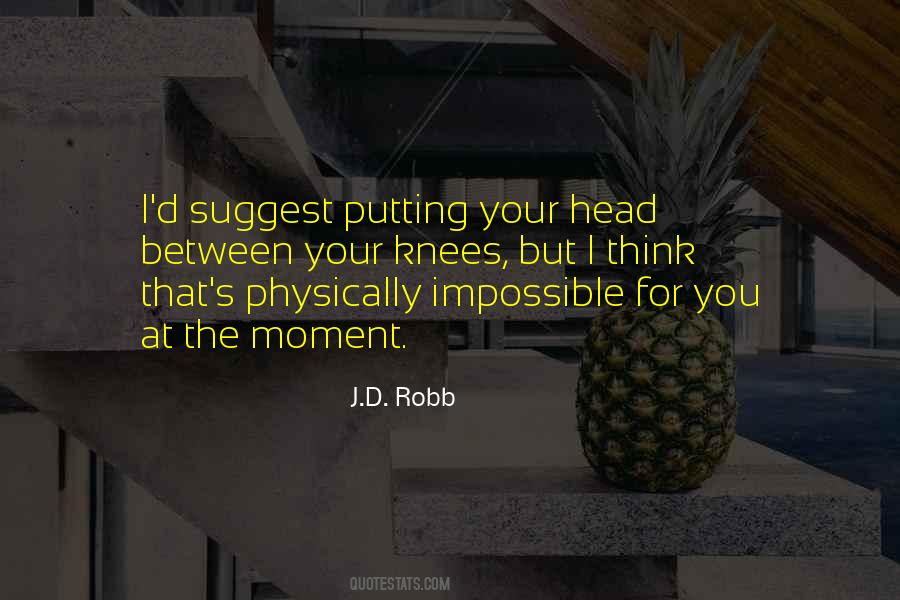 #68. A cop? You married a bloody cop?"
"I married a bloody criminal," Eve muttered, "but nobody ever thinks of that. - Author: J.D. Robb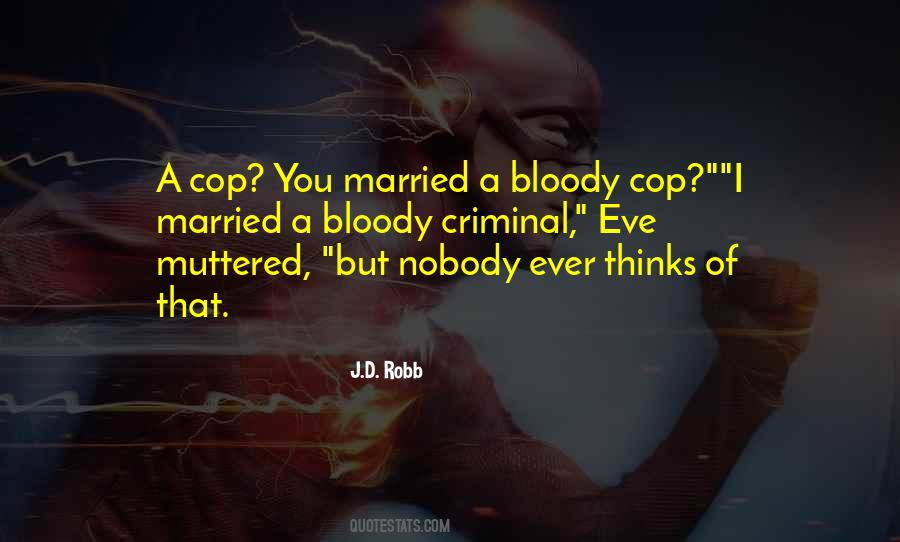 #69. Eve, did you marry me for my money?"
"You bet your ass. And you'd better hold on to it, or I'm history"
"It's very sweet of you to say so. - Author: J.D. Robb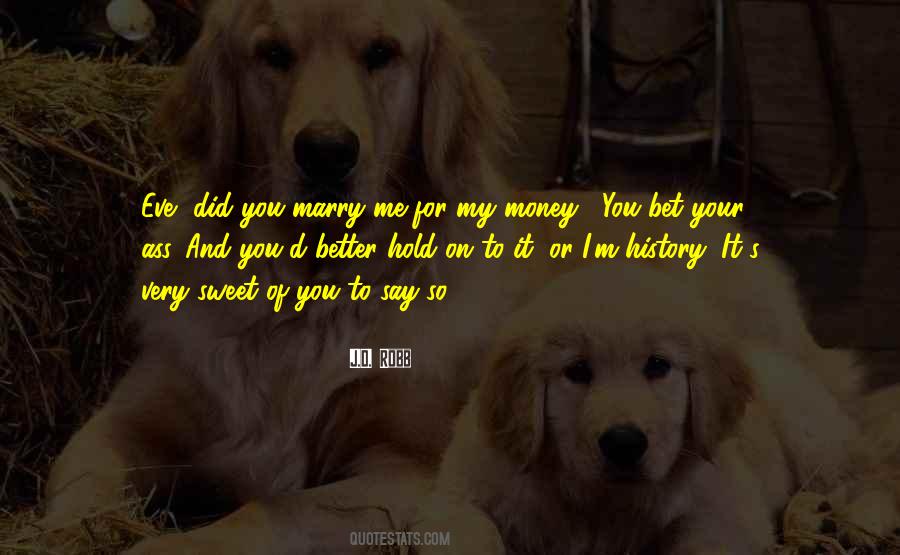 #70. Statues are too much like dolls, and dolls are creepy. You keep expecting them to blink. And the ones that smile, like this?" Eve kept her lips tight together and she curved them up. "You know they've got teeth in there. Big, sharp, shiny teeth."
I didn't. But now I've got to worry about it. - Author: J.D. Robb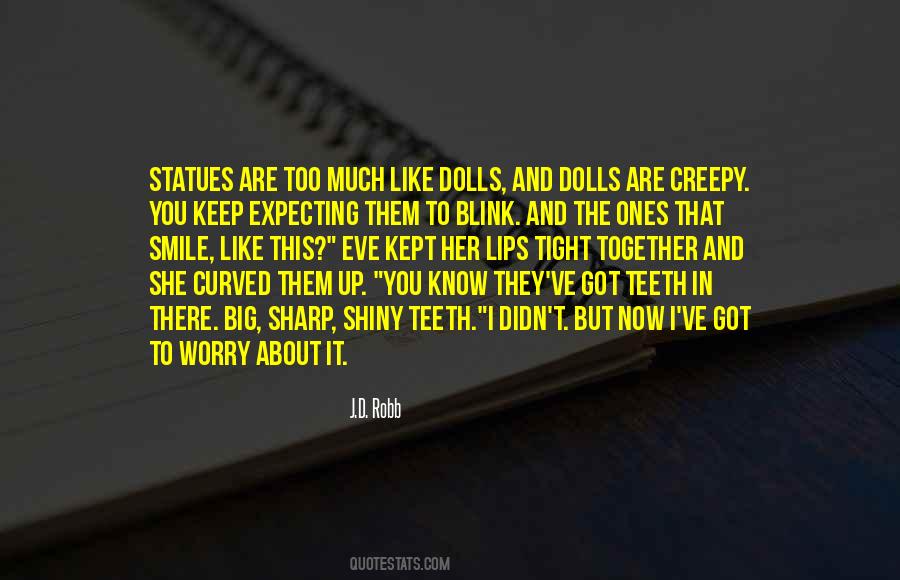 #71. I expected to have some tags from reporters, but I'm clear there so far."
"I've had all inquiries from media rerouted to my office."
She narrowed her eyes "You can do that?"
"I can."
"Why don't you always do that? - Author: J.D. Robb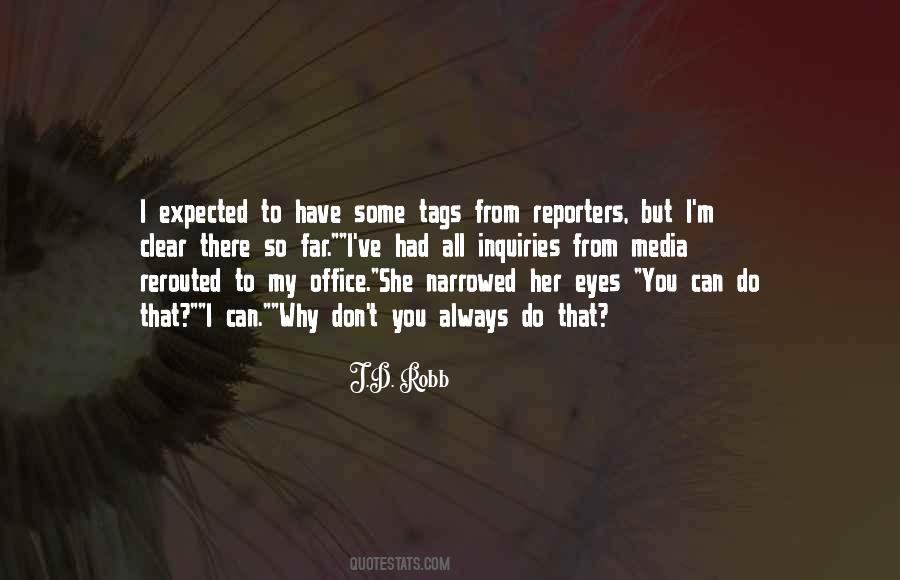 #72. What kind of a maniac needed over five thousand plates? - Author: J.D. Robb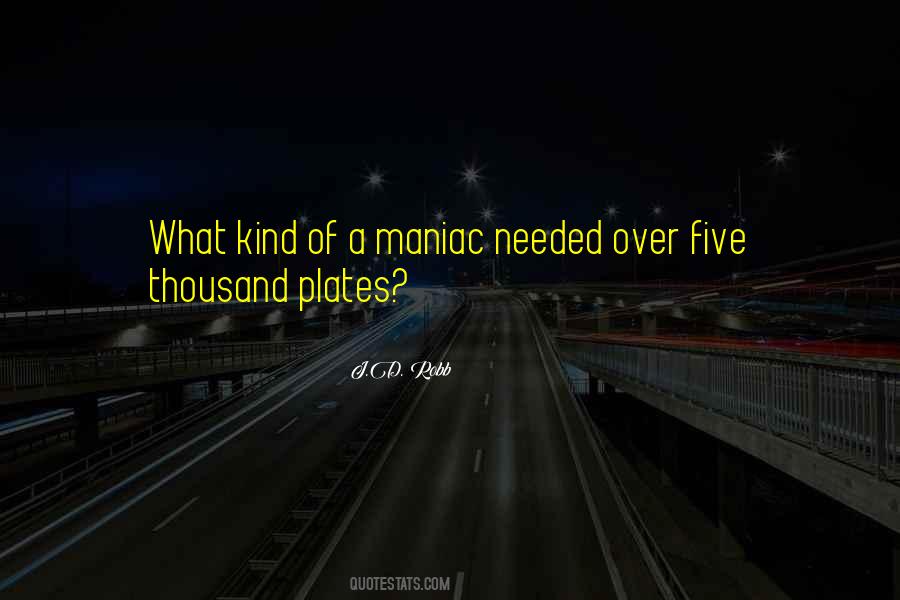 #73. I got you a present."
"Did you?"
"It's a book of poetry
romancy stuff. I thought, 'How schmaltzy is that,' so it seemed like the thing. Then I screwed up and left it in my desk at work - Author: J.D. Robb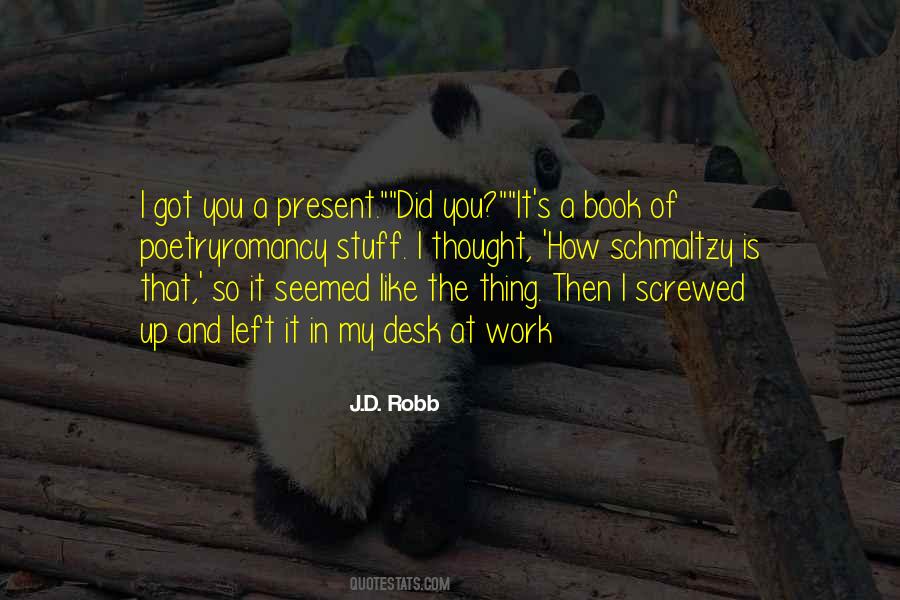 Famous Authors
Popular Topics