End Of Our Love Famous Quotes & Sayings
List of top 100 famous quotes and sayings about end of our love to read and share with friends on your Facebook, Twitter, blogs.
Top 100 End Of Our Love Quotes
#1. But ultimately we attempted to find some middle ground because at the end of the day we love each other in spite of all our many and vast differences. - Author: Melanie Shankle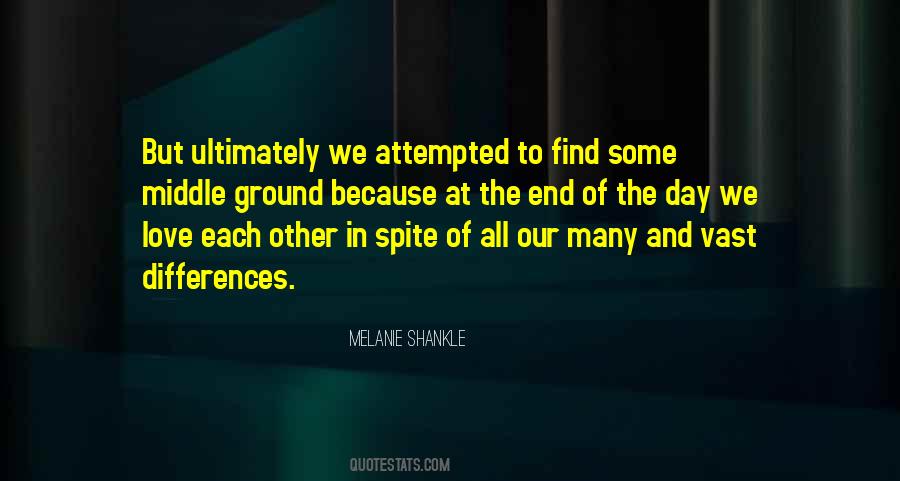 #2. He who has followed the path of love's initiation in the proper order will on arriving at the end suddenly perceive a marvelous beauty, the source of all our efforts - Author: Plato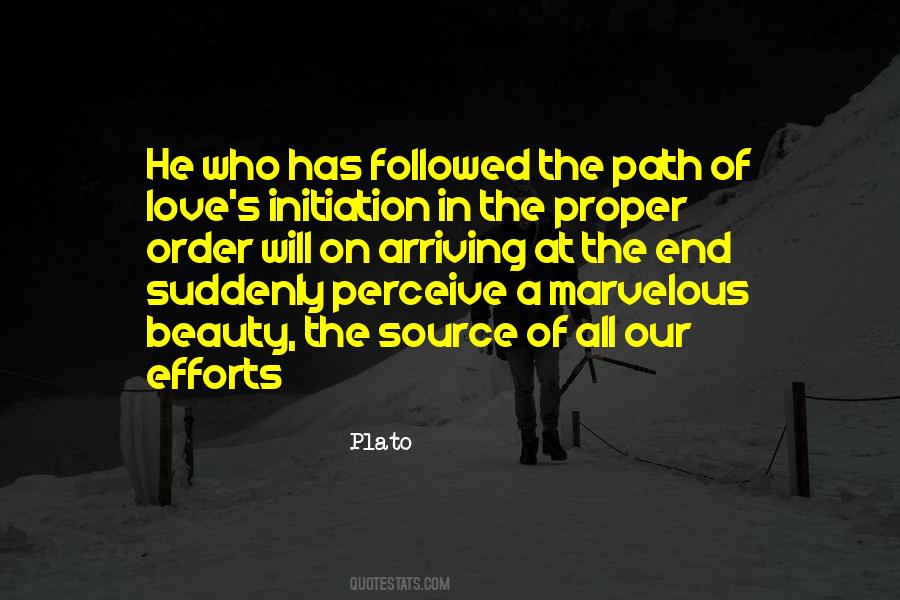 #3. When people we love and trust do not have a map of reality that is wide enough to fit our experiences, they often feel afraid for us. In their efforts to limit perceived harm, they end up instead limiting and inhibiting our personal growth. - Author: Therese Rowley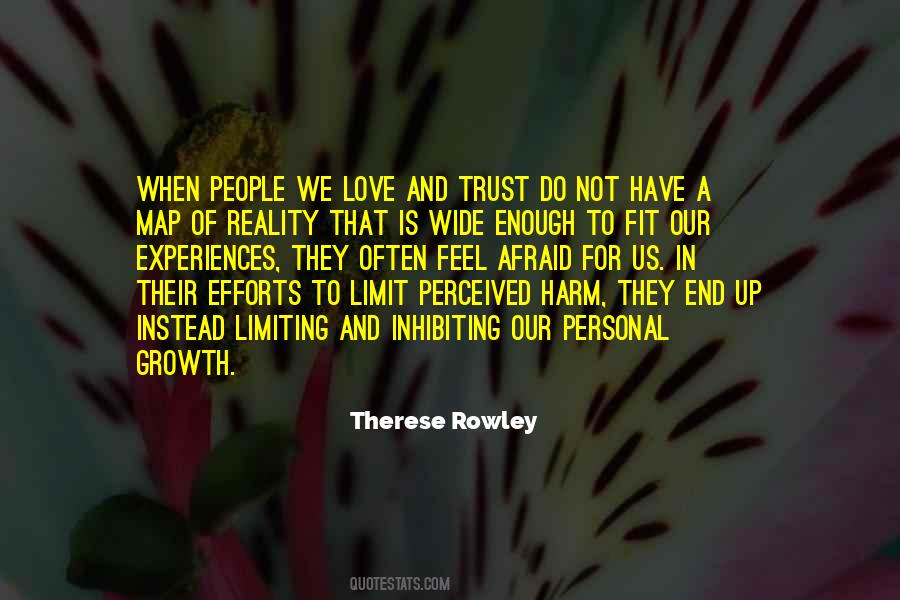 #4. We can exaggerate about many things; but we can never exaggerate our obligation to Jesus, or the compassionate abundance of the love of Jesus to us. All our lives long we might talk of Jesus, and yet we should never come to an end of the sweet things that might be said of Him. - Author: Frederick William Faber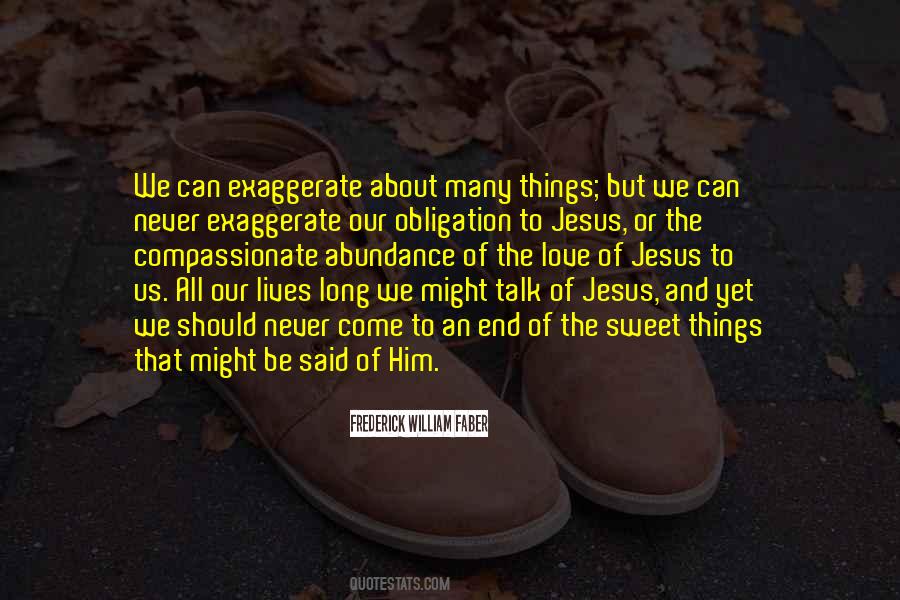 #5. So, in life we have a one question final exam - and it's not the kind of exam you can cram for at the very end. One of the main reasons we're alive is to expand our capacity to love. - Author: Marci Shimoff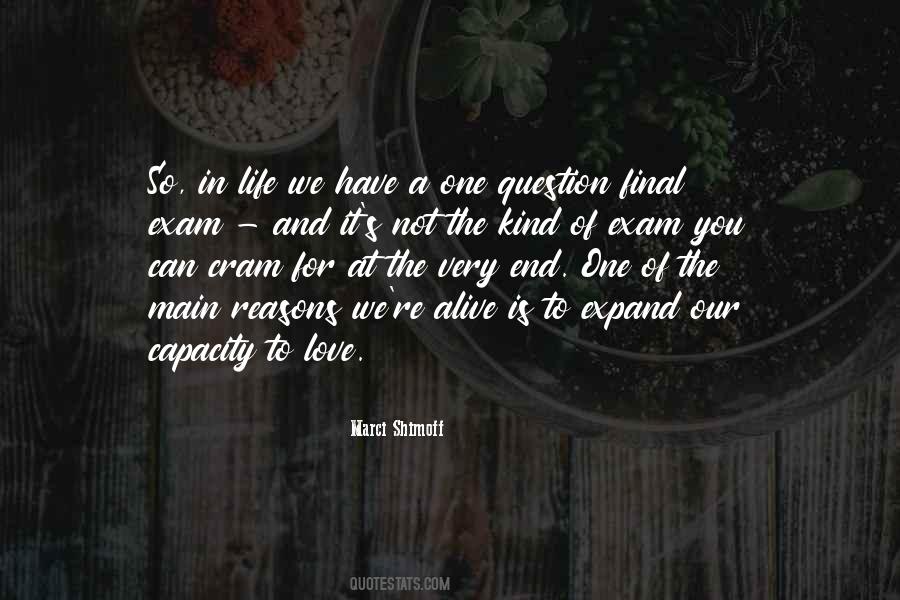 #6. Most of us fear reaching the end of our life regretting moments when we didn't speak up, say I love you, or say I'm sorry. - Author: Taylor Swift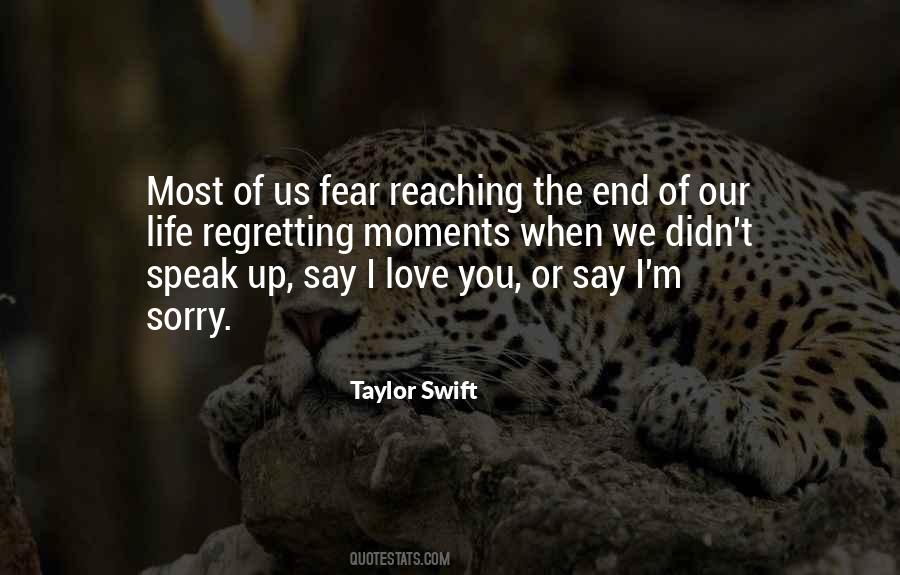 #7. Perhaps our loneliness can never be filled with even the best of human love. Maybe the longing for human love is just the beginning, and the longing for God is always the end. - Author: Susan E. Isaacs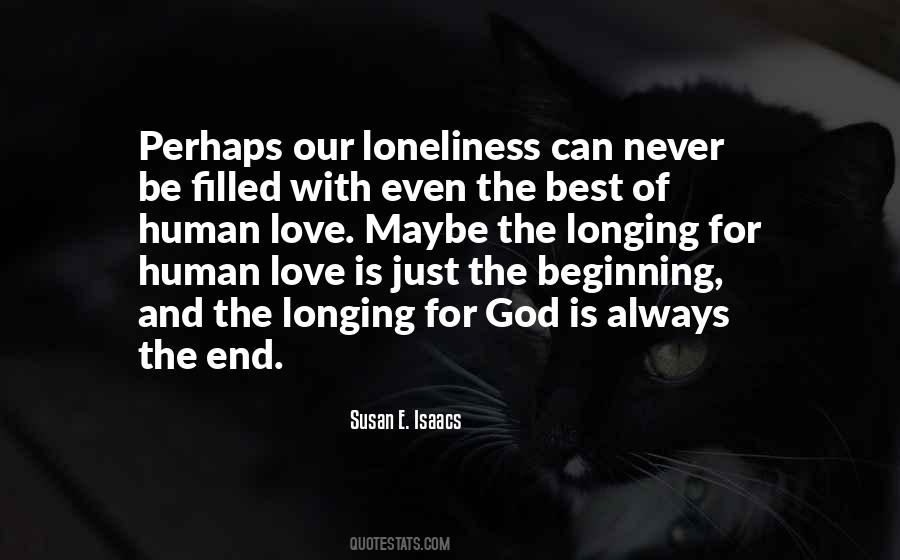 #8. Death is the beginning of a new life, not the end of the life.
You may leave this world but not our heart, you will live there for ever. - Author: Debasish Mridha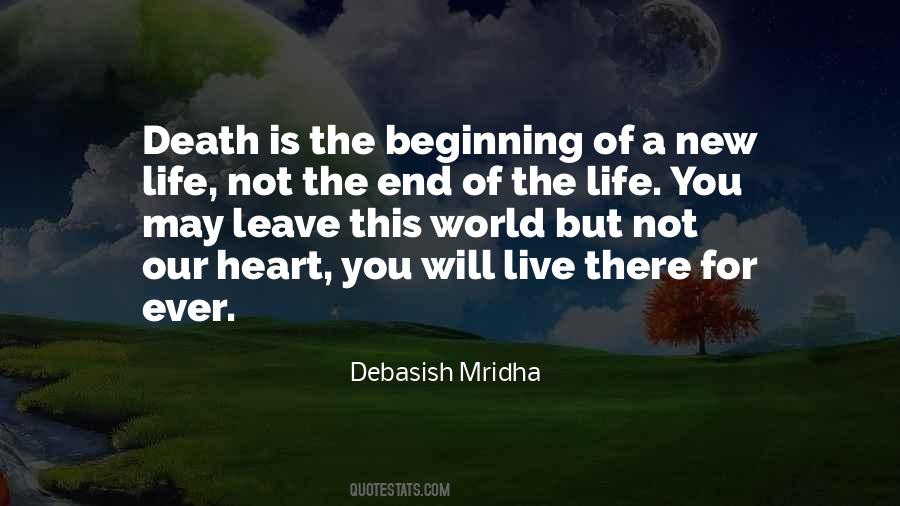 #9. It's hard to imagine that our love is a story with an end. But you know, at least I'm getting some really good songs out of it - Author: Miley Cyrus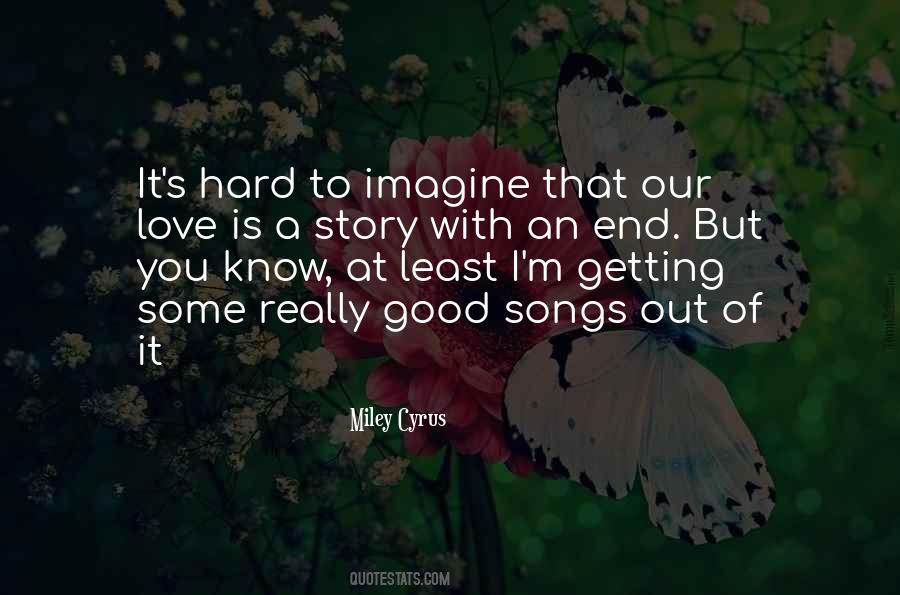 #10. I love you, and I am your wife, and I forgive you of all the sins of this world, all the sins we invented just to commit within our cave. I love you ... In a world without end. I love you. - Author: Catherynne M Valente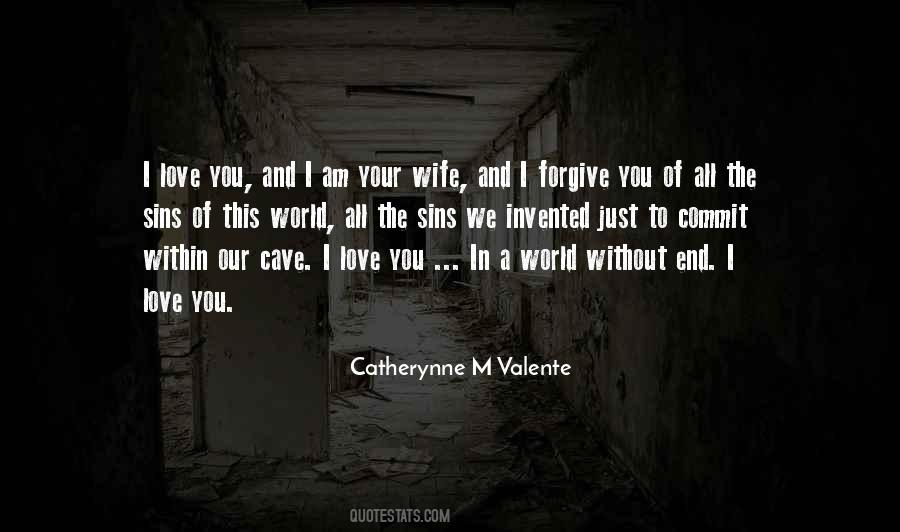 #11. Love has an enormous spectrum of expression and impact. At the far end, it begins to unravel and move away from subjective experience and personal preference. It becomes pure intent, something that no longer tickles our desires, but fulfills the deeper needs of each circumstance we're in. - Author: Darrell Calkins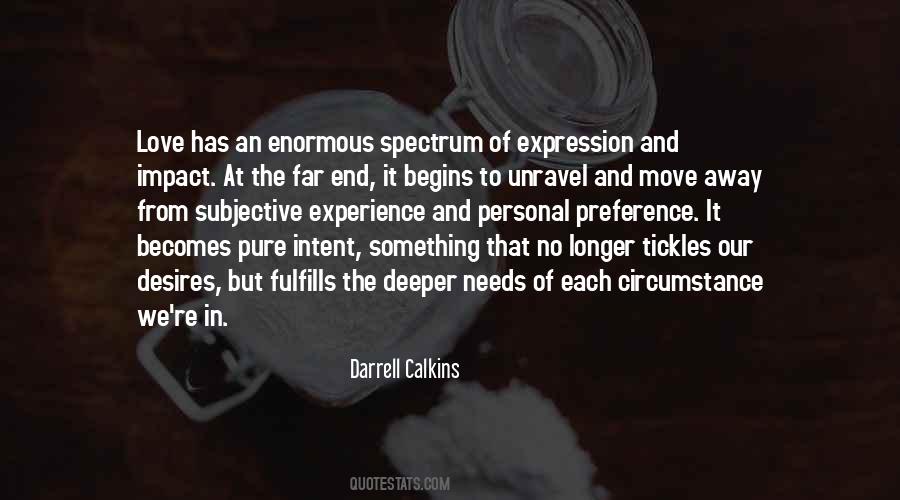 #12. Are you ready for the rapture of the church
Are you ready for Heaven
Our Lord Jesus Christ now wants all Christians to get into a sense of urgency in our preparation for His second coming. - Author: Doris Ijeoma Basil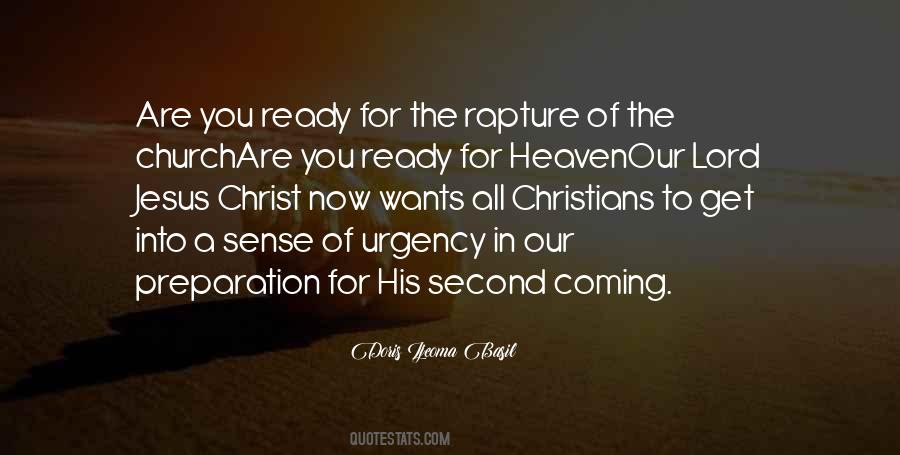 #13. At the end of our lives, we mostly regret the risks we didn't take, the dreams we didn't do and the love we failed to give. If those things are going to be important to you at the end, make them important to you right now. - Author: Robin S. Sharma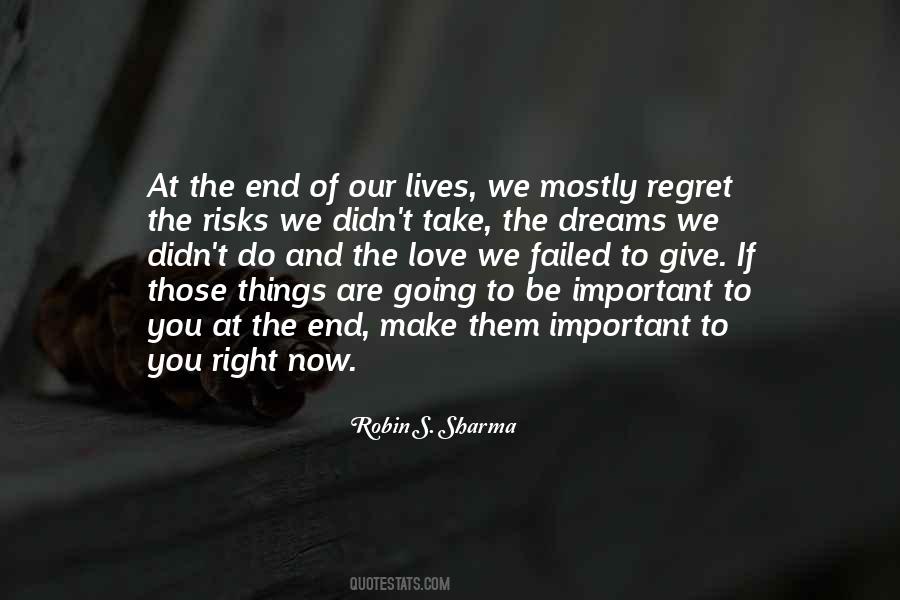 #14. Yes, one hundred percent, for sure, without a doubt do I believe in a 'love of your life.' But I think that we have multiple loves of our lives, who are supposed to join us at just the right times. Throughout our entire time on earth, we end up meeting all of them. - Author: Tyler Oakley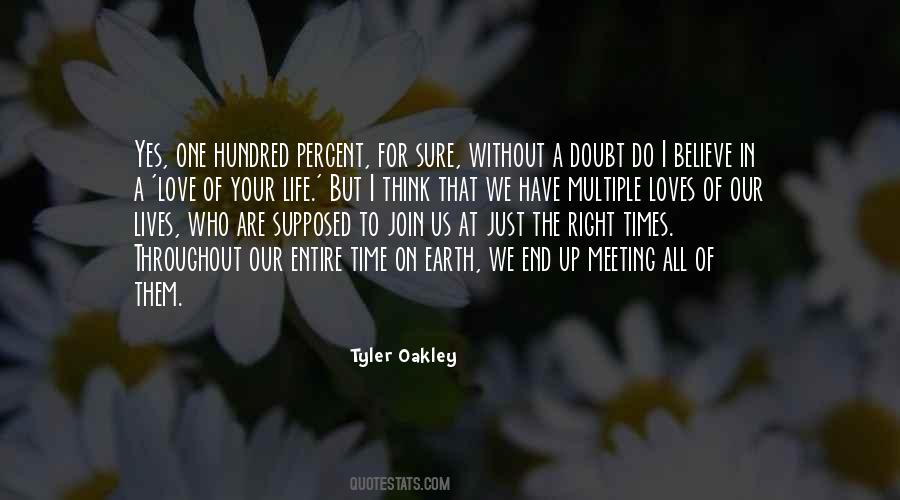 #15. Our world ends and some people never understand how much we really loved them. - Author: M.F. Moonzajer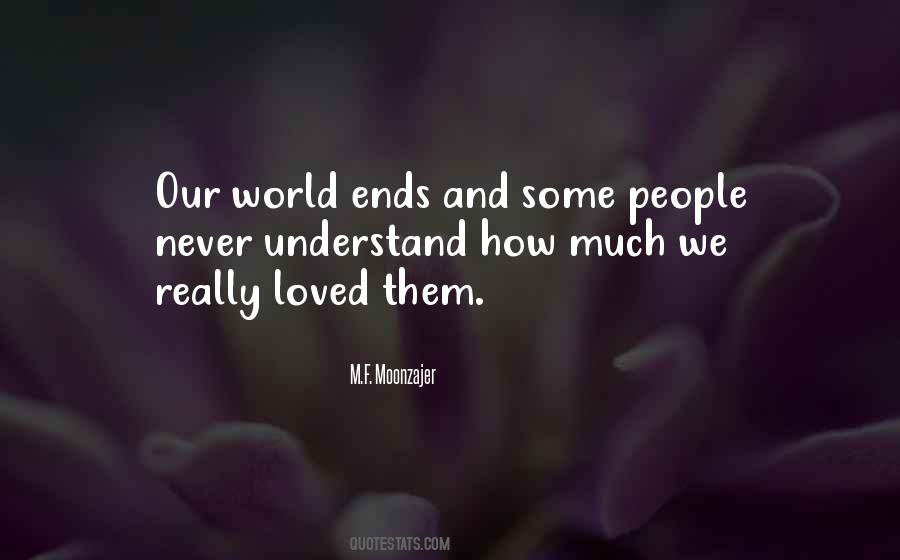 #16. Jesus receives us with all of our limitations, He bring us the mercy of the Father who forgives us, and transforms our heart, rendering it a new heart, capable of loving Him, who loved His own to the end (cf. John 13:1). And this love is manifested in his mercy. Jesus always forgives us. - Author: Pope Francis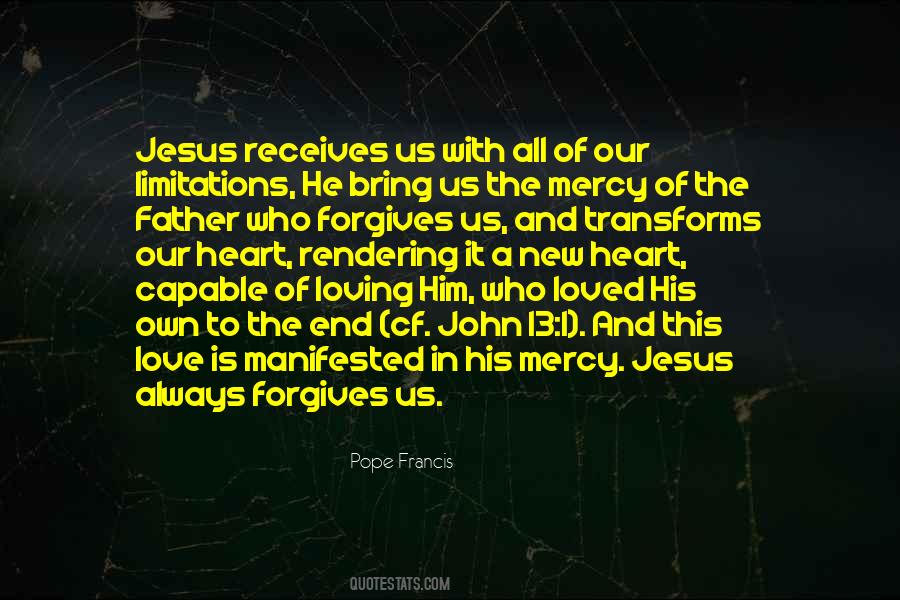 #17. I understand, Nate. I get the concept of infinity. It's like the two of us, like our friendship. No end, no limit. We're forever. That's infinity, right? - Author: Cardeno C.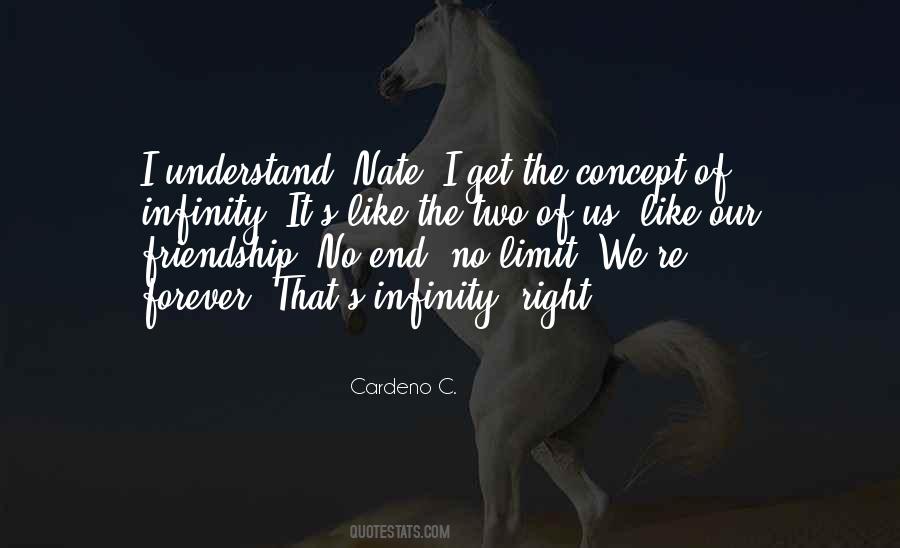 #18. Knowledge is power and at the end of the day, our health, the health of our children, the health of our community, and the health of Mother Earth is our responsibility. Therefore, it is imperative that we understand the human and environmental affects of the products that we buy. - Author: Obiora Embry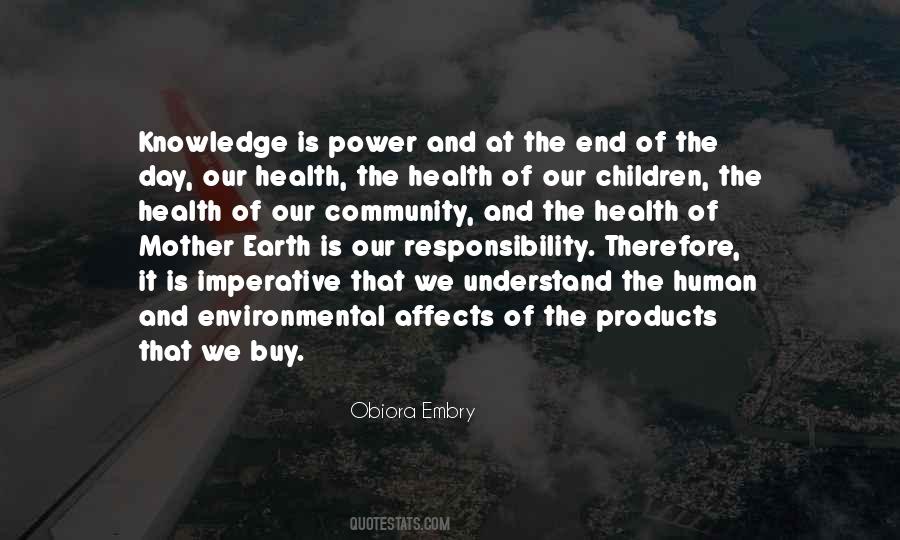 #19. I believe love is why we're here on the planet and that ultimately it's our purpose for life. They say people who've had near-death experiences often report back that at the end of our lives we have a life review and we're asked one question, and that question is, how much did you love? - Author: Marci Shimoff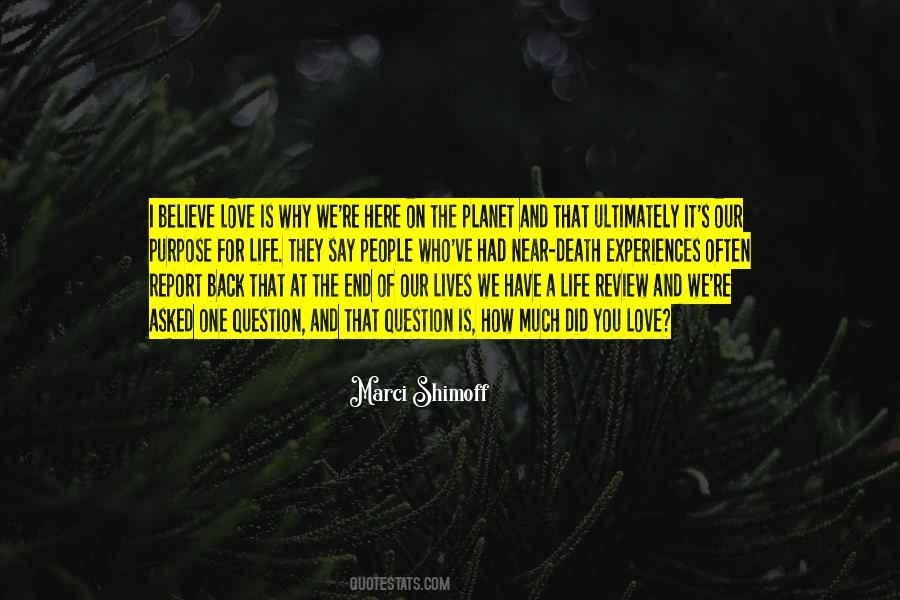 #20. I think a lot of us share a fear that we and people we love will lose control of our own destinies at the end of life. - Author: John C. Danforth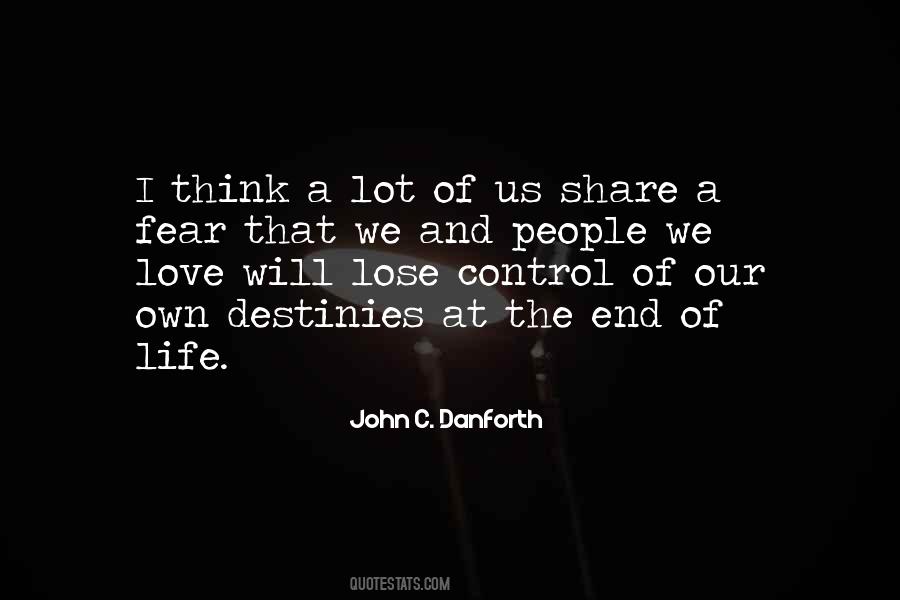 #21. I know not where we go from here. I do not think this is the end, but a new beginning, a new chapter in our tale. Told by minstrels who reveal not their sources. I know not if we have achieved victory this day. But I will forever know that I was honored to call each and everyone of you my brother. - Author: Guy T. Simpson Jr.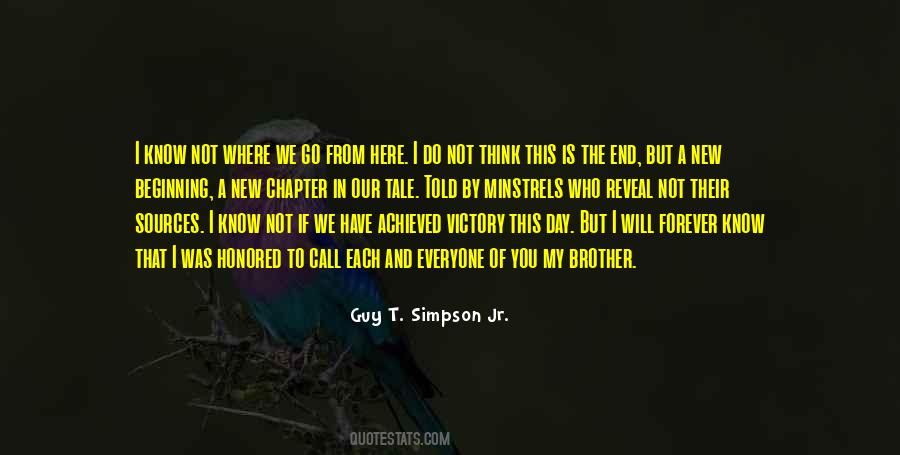 #22. How much of our earth has been wet by blood because of jealousy! And at the end of life, what does it all matter? We grow old and the young look at us and can never see that once we made a kingdom ring for love. - Author: Bernard Cornwell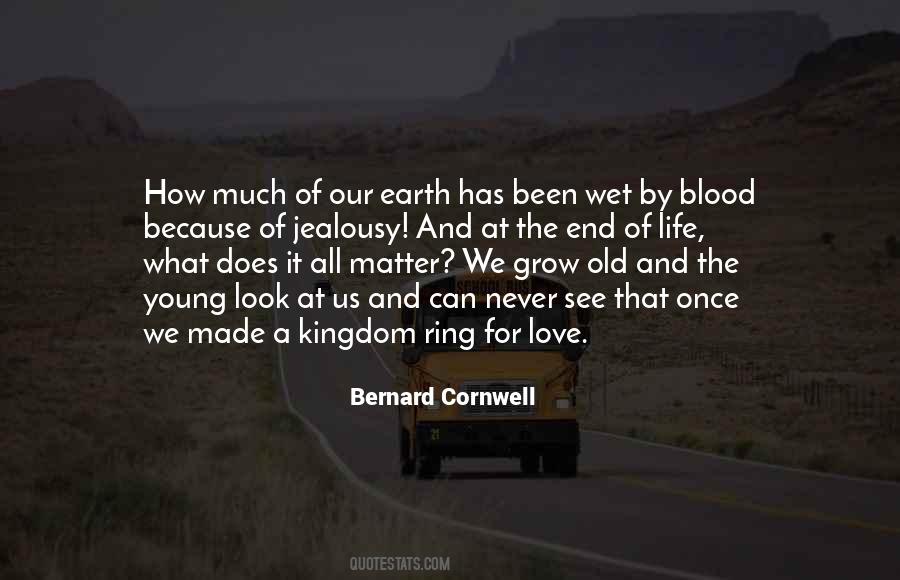 #23. We do not work for unity; we work to end and erase disunity. Unity is of God; disunity is of man. In matters of doctrine and practice of conscience, our guide should be this traditional saying: In essentials, unity. In nonessentials, liberty. But in all things, love. - Author: Mike Timmis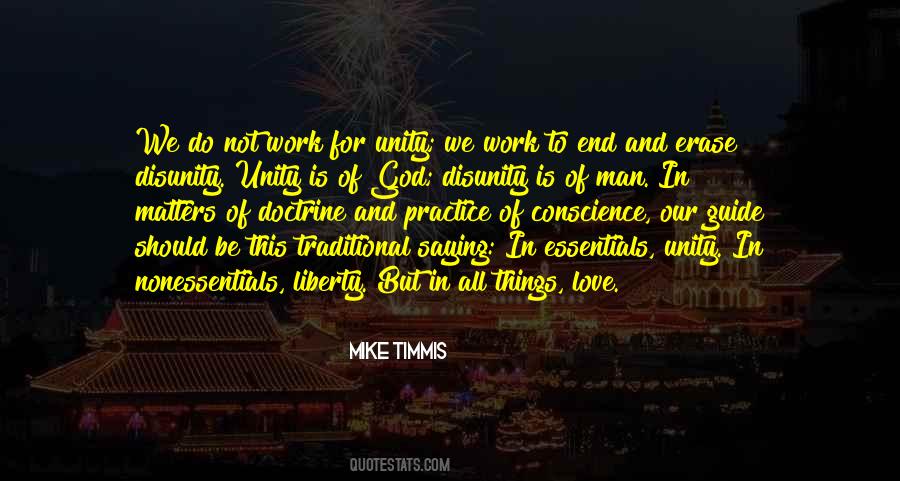 #24. That is why I love Starbucks. It doesn't matter how much money you have or what social world you're from, chances are you will still eventually end up at a Starbucks in order to revel in the taste sensation provided by the Frappuccino. It is the great equalizer of our time. - Author: Kyra Davis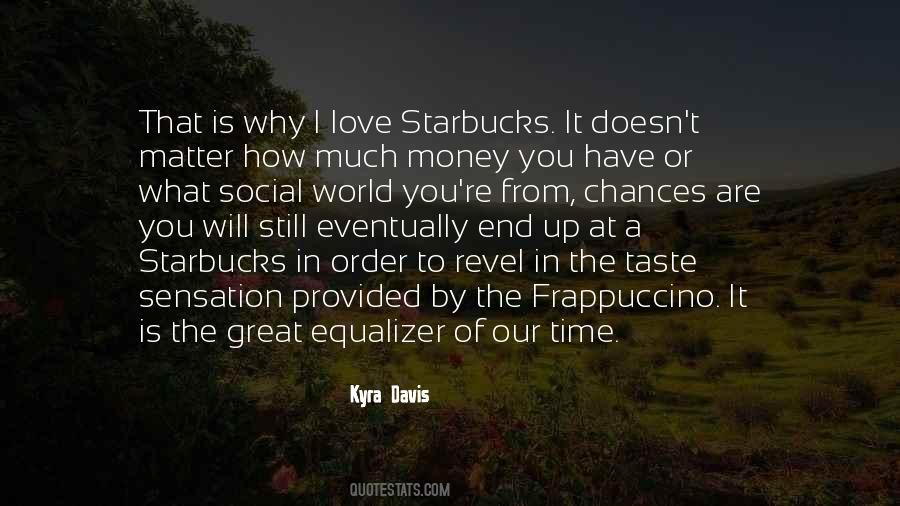 #25. Our surroundings fade and we exist in unison, two people who once shared cups of coffee, unprecedentedly ourselves in a changing world. - Author: Caroline George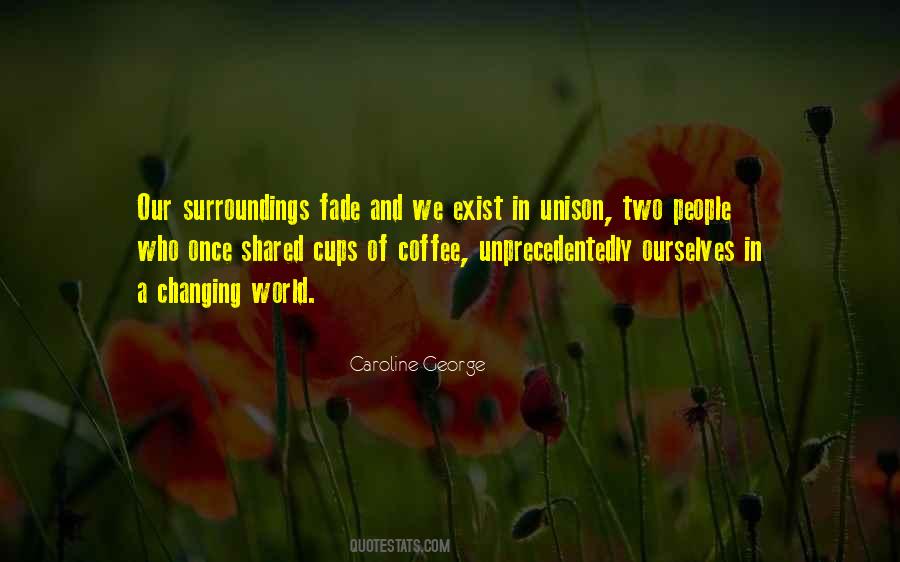 #26. Yes, I'm satisfied, but the problem is you're not, and never will be. You're insecure, afraid of losing everything you've achieved; you don't know how to quit once you're ahead. You'll end up destroying yourself. You're killing our marriage and my love. - Author: Paulo Coelho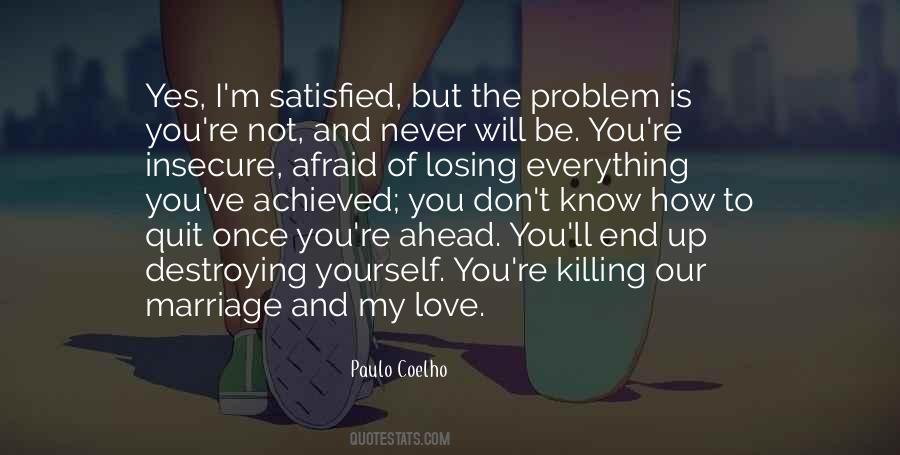 #27. We want 'Doll & Em' to be something we're proud of. We'd love to do another series, but it's not the be-all and end-all. Our friendship is the be-all and end-all. - Author: Dolly Wells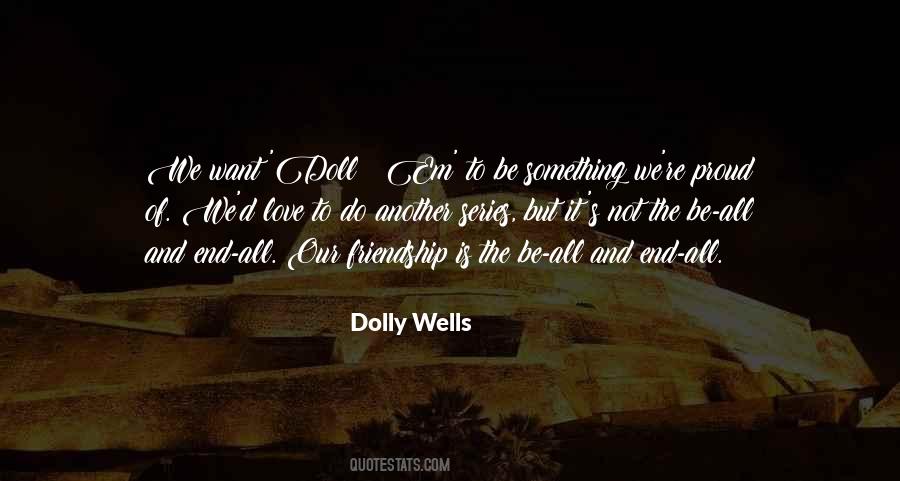 #28. We were little animals, which is not to imply that by the end of the week we were tearing our tank tops off; just that, metaphorically speaking, we had begun to sniff each other's bottoms, and we did not find the odor entirely repellent. - Author: Nick Hornby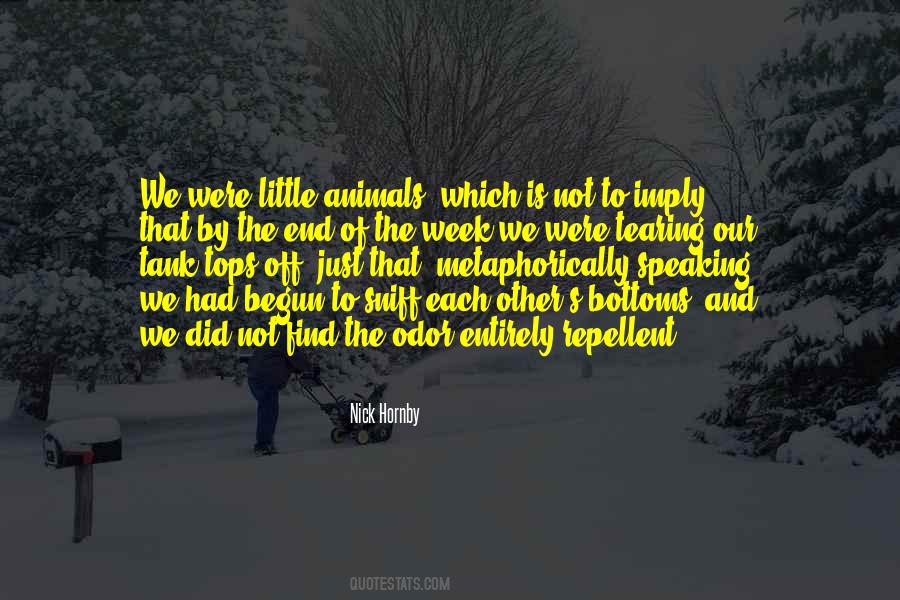 #29. Death doesn't have to be the end of it. Our love for her is stronger than the grave. - Author: James W. Bodden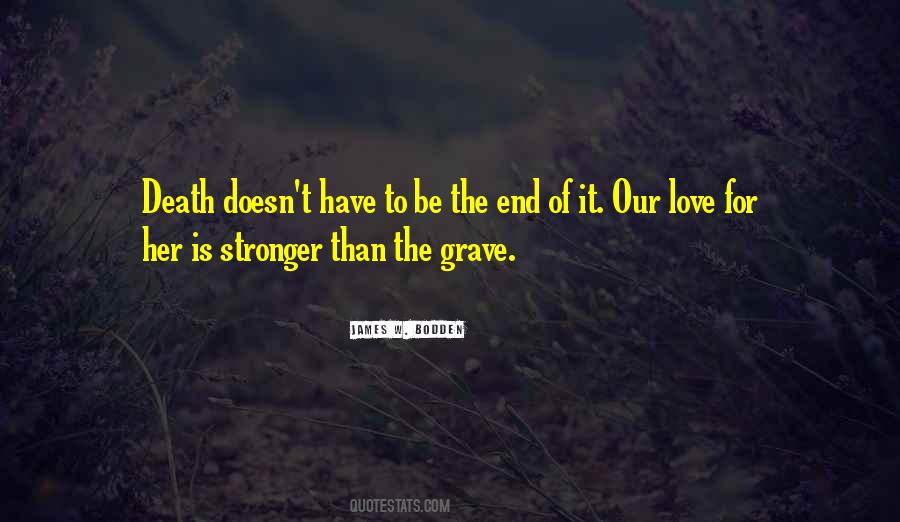 #30. When our sympathy leads to friendship and our friendship leads to love; only few will understand that it is the end of our past. - Author: M.F. Moonzajer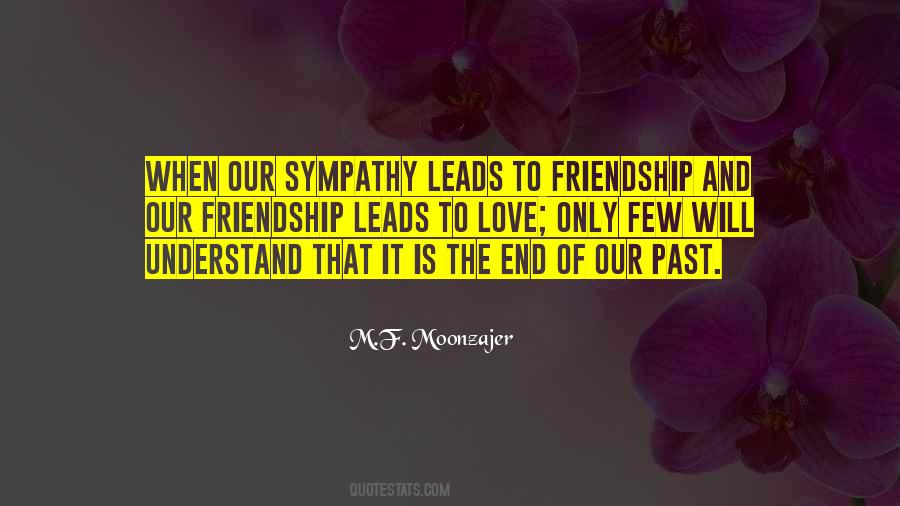 #31. Love empowers us to live fully and die well. Death becomes, then, not an end to life but a part of living. - Author: Bell Hooks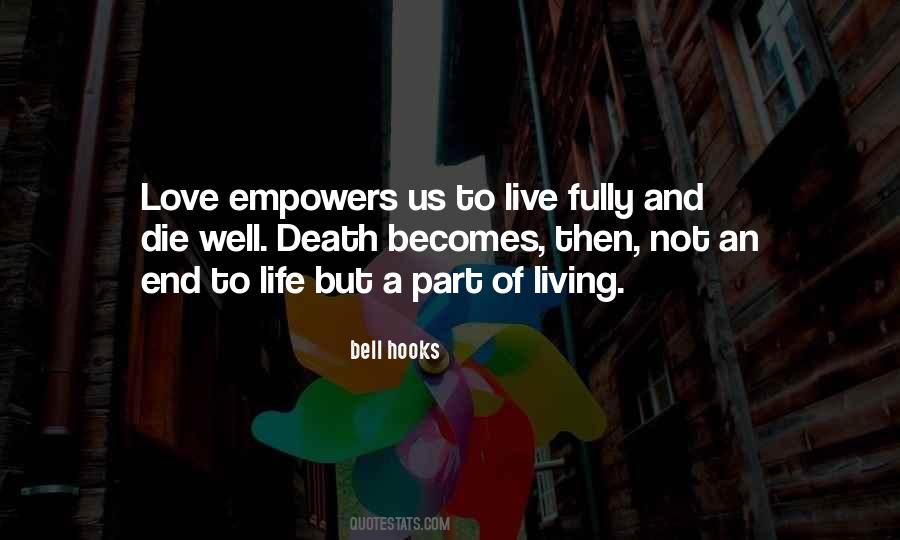 #32. But in the end of our love story,We are on the same page. - Author: Alon Calinao Dy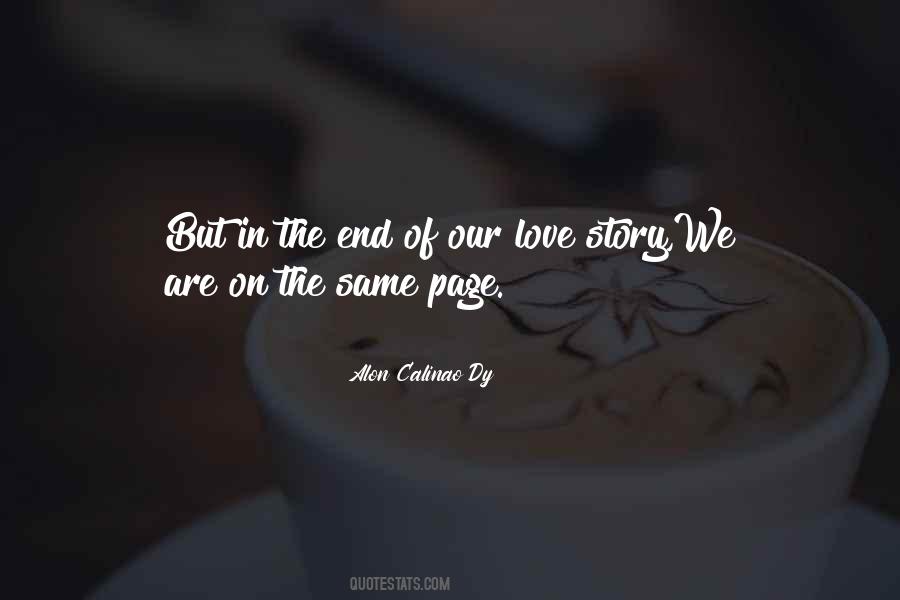 #33. What we love in our books are the depths of many marvelous moments seen all at once.There is no beginning, no middle, no end, no suspense, no moral, no causes, no effects. When seen all at once, they produce an image of life that is beautiful and surprising and deep. - Author: Kurt Vonnegut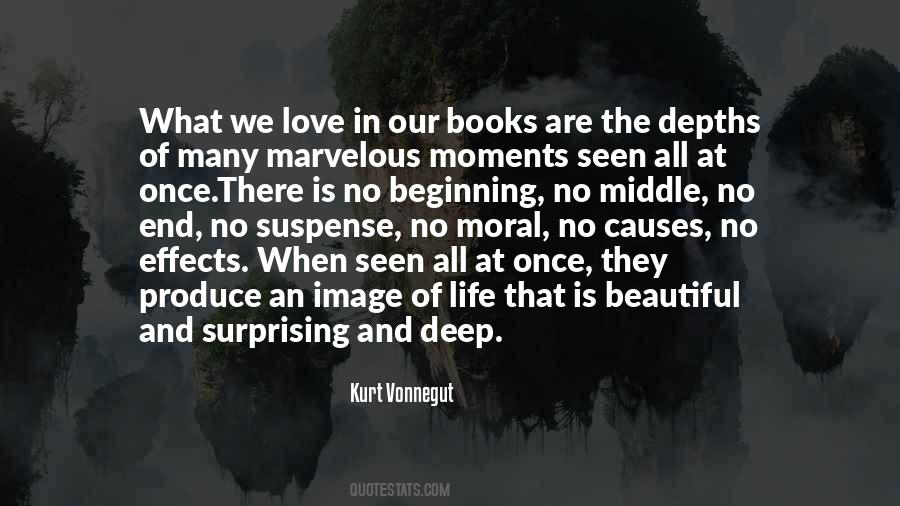 #34. We must always welcome the end of all things. For sometimes knowing nothing lasts forever is the only way we can learn to fall in love with all the moments, and all the people, that are meant to take our breath away. - Author: Robert M. Drake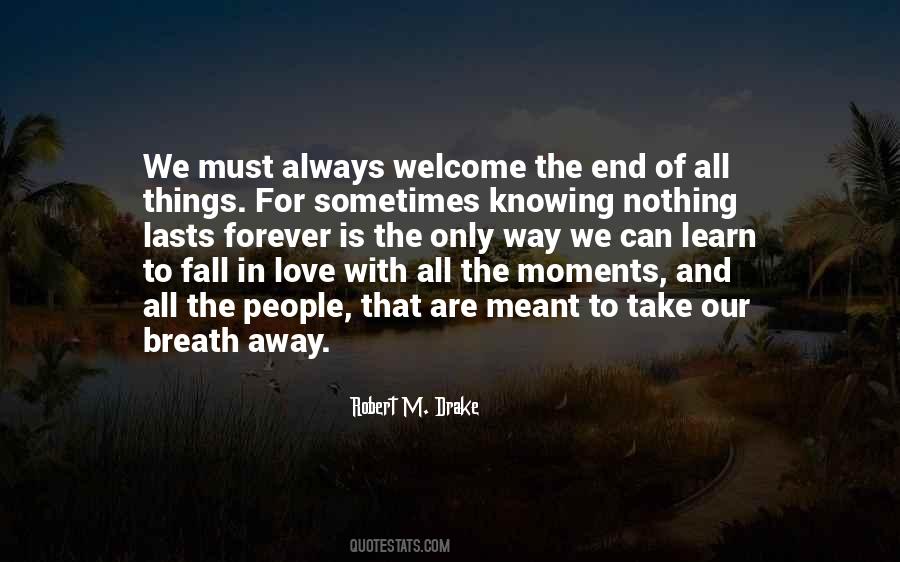 #35. We walk into the rest of our lives together, not knowing it'll end before it's truly started. - Author: Tess Sharpe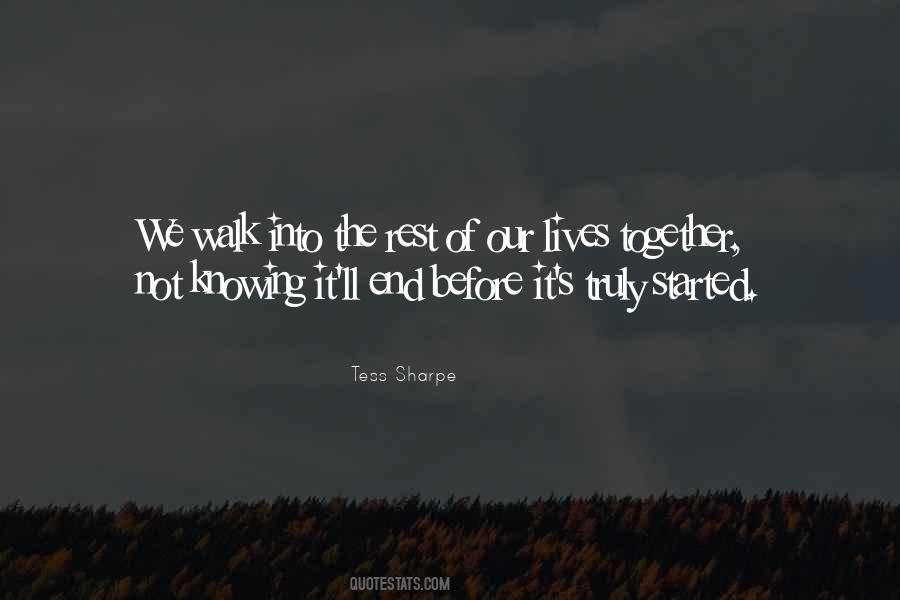 #36. Life does not end when we die. Death is a rebirth into a spirit world of light and love, a transition from the physical to the spiritual that is no more frightening or painful than passing between rooms through an open doorway. It is a joyful homecoming to our natural home, ... - Author: Betty Eadie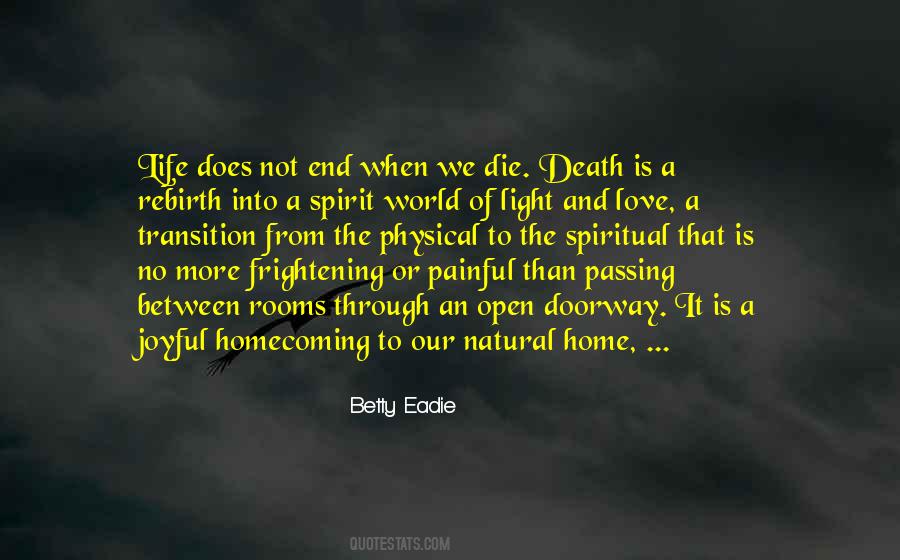 #37. We lose in order to find. We forget in order to remember. We die a death in the ego in order to be reborn in the Oneness, until the end of all our duality, until we become Human Angels: aware, compassionate messengers of Love in service to the Oneness. - Author: Human Angels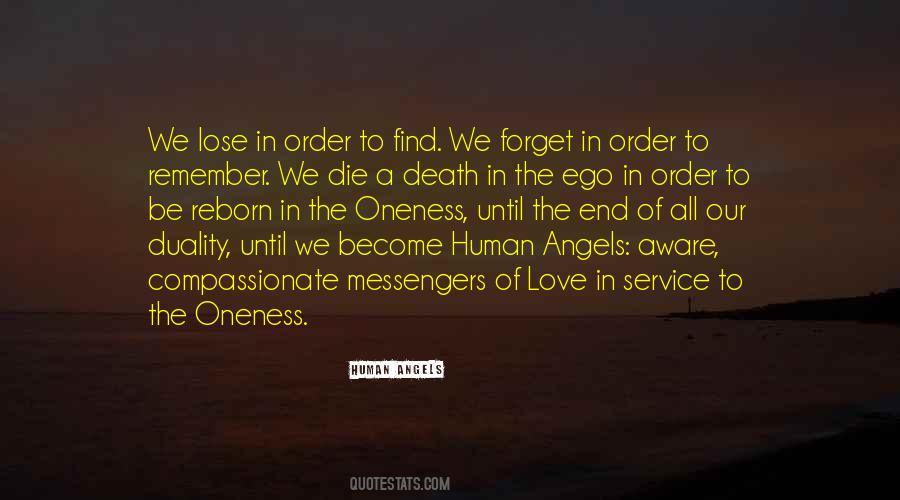 #38. Our understanding of the universe is like a tale without beginning or end, where the reader creates the script as he reads along. It's like the act of creation was more like an act of facilitation, where Love (divinity) is the facilitator and mankind's mind, with its free will, is the co-creator. - Author: Ivan Figueroa-Otero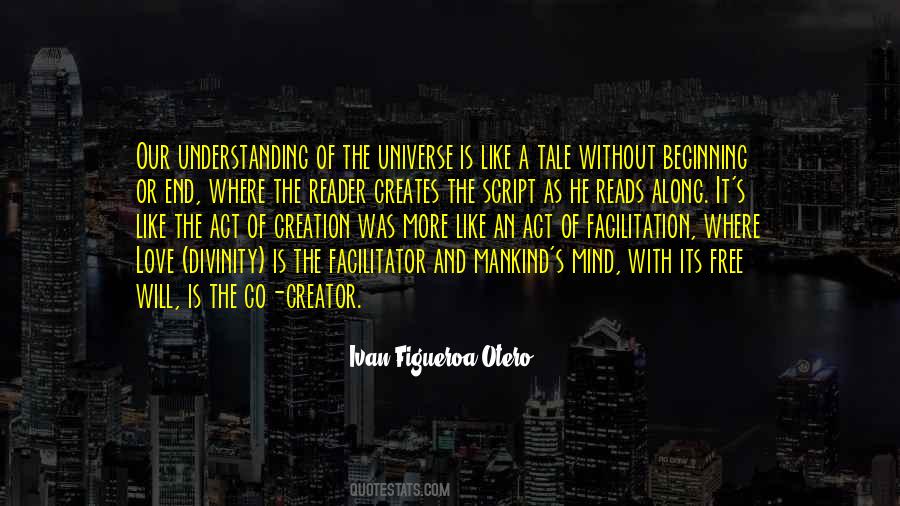 #39. His own sake and the love of our neighbor for God's sake
is the fulfillment and the end of all Scripture. - Author: Augustine Of Hippo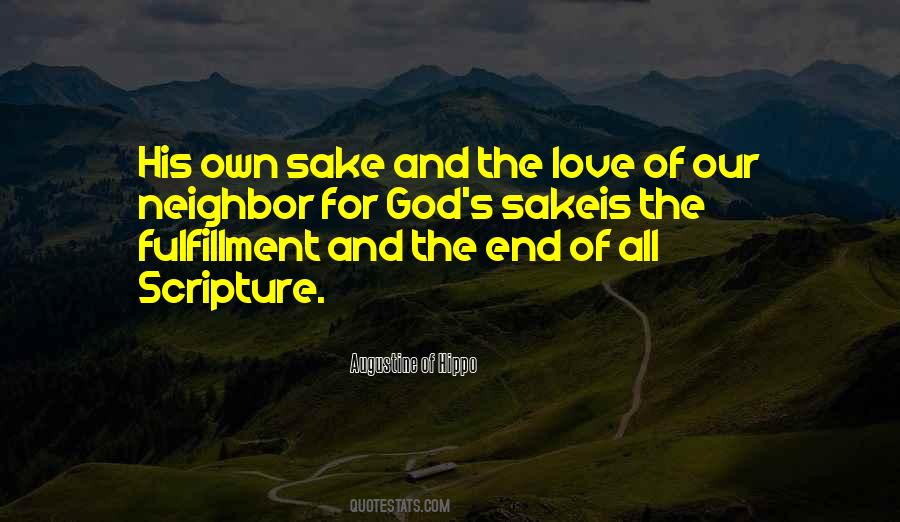 #40. Love is our only reason for living and the only purpose of life. We live for the sake of love, and we live seeking love ... it is not surprising that we keep looking for love. All of us are nothing but vibrations of love. We are sustained by love, and in the end we merge back into love ... - Author: Swami Muktananda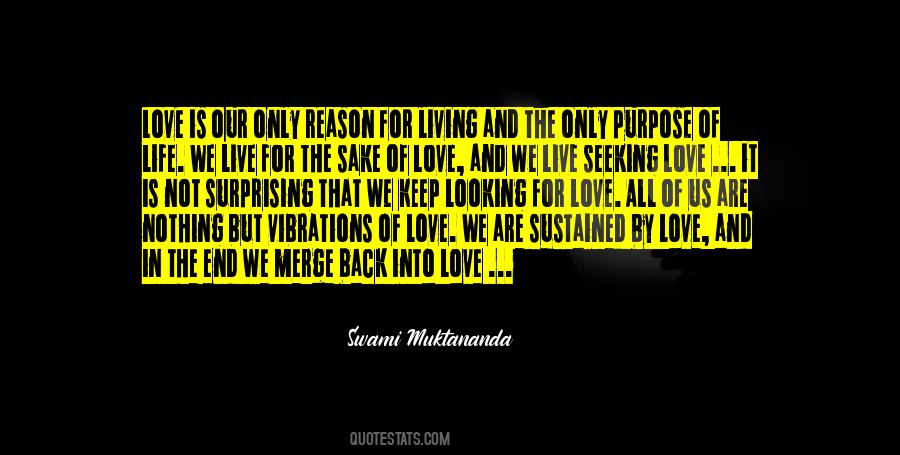 #41. Quite a few musicians came to our house. And my ma took me to hear many more, hoping to encourage in me a love of music. But she wouldn't consent to my having music lessons, for she feared I might end up as she had done - unable to play except from paper. - Author: Mary Lou Williams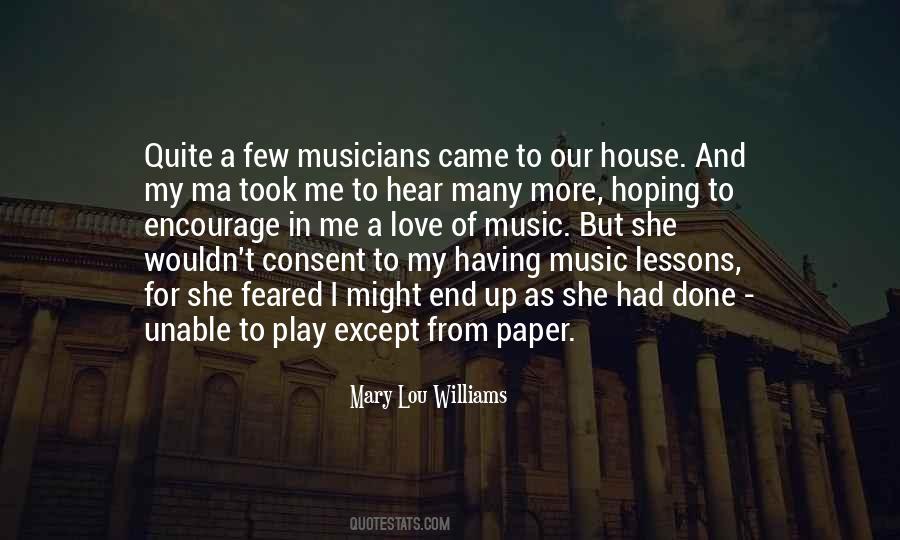 #42. Why were we put here, so inclined to love, when end of our story = death? That harsh. That cruel. Do not like. - Author: George Saunders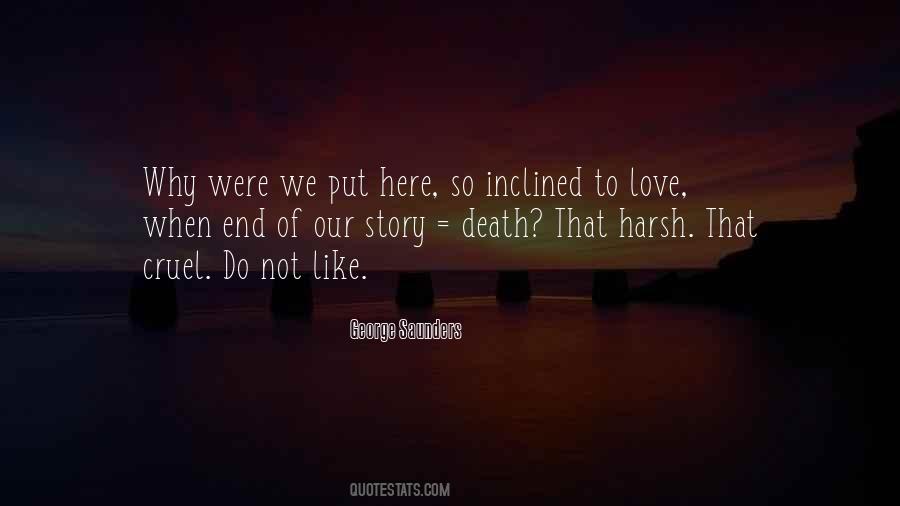 #43. Be patient, my friends; time rolls rapidly away; our longing has its end. The hour will strike, who knows how soon?- when the maternal lap of everlasting Love shall be opened to us, and the full peace of God breathe around us from the palmy summits of Eden. - Author: Friedrich Wilhelm Krummacher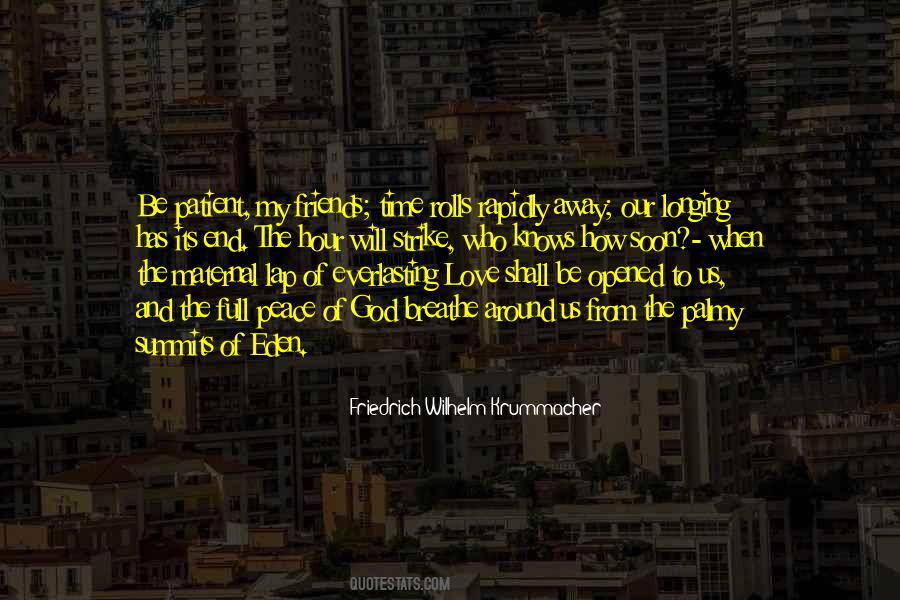 #44. I've learned two things in my life. One that love is the beginning and end of all meaning. And two that it is the same thing whatever shape our souls have taken on this journey. Love is love. Is love. - Author: Clive Barker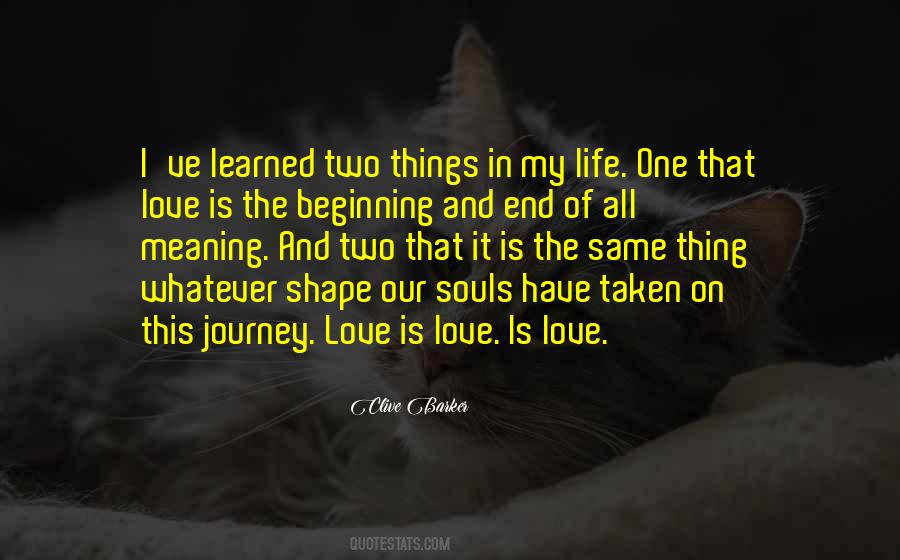 #45. At the end of the day, love is not perfect. It doesn't protect us or save us from the darkness surrounding our lives. Instead, it is the light that shines through to help us. Without it, we would be consumed by the darkness. - Author: K.A. Robinson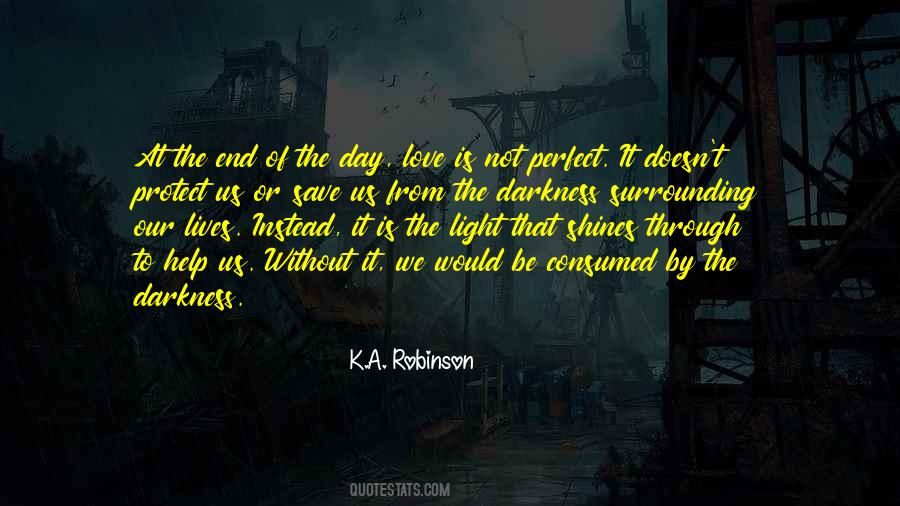 #46. This is a love story. Twisted and messy. Flawed and screwed up. But it's ours. It's us. I don't know how our story will end. but I know it will start. I pick up my pen and begin to write:
My name is not Mara Dyer, but my lawyer told me I had to choose something. - Author: Michelle Hodkin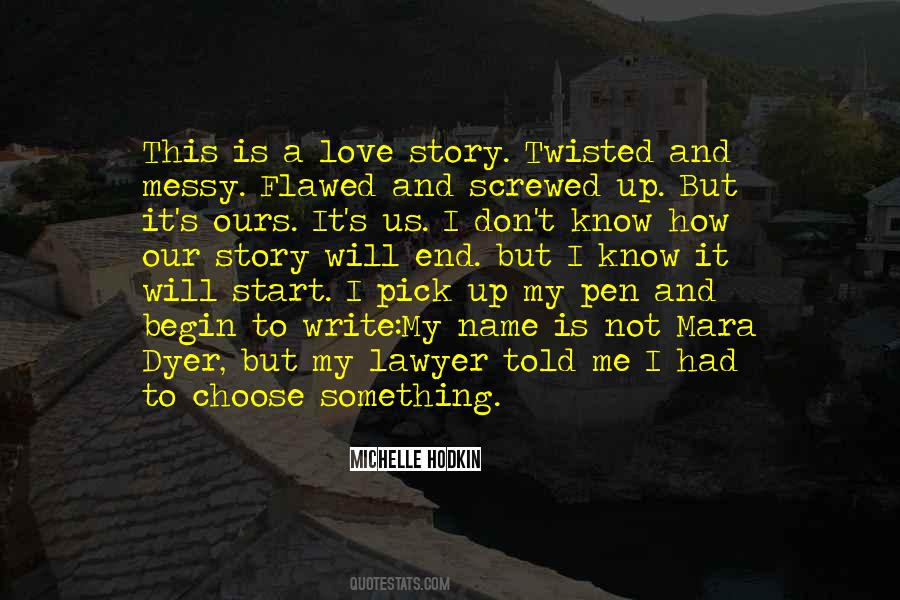 #47. At the end of our life our questions are simple: Did I live fully? Did I love well? - Author: Jack Kornfield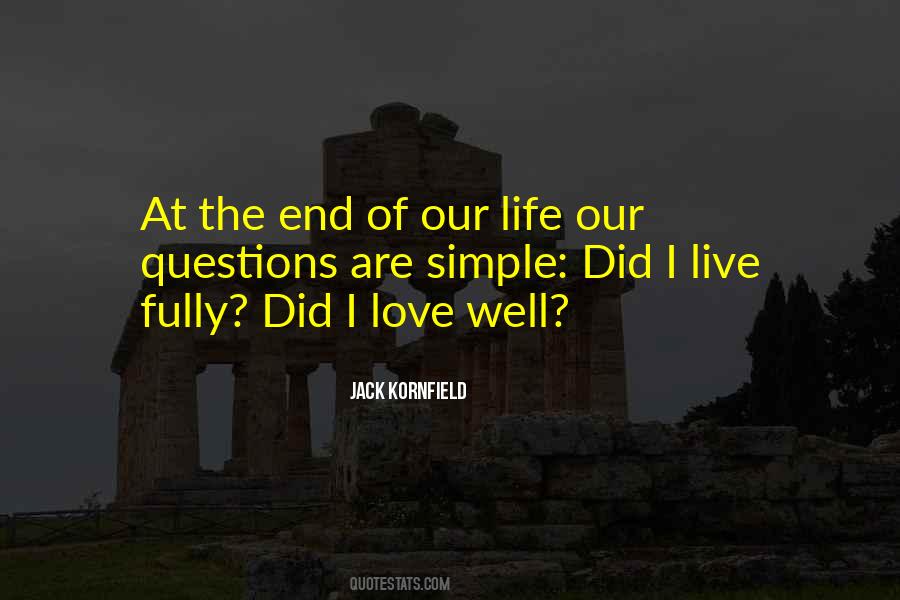 #48. Either give me your hand, or end it now, and put us both out of our misery - Author: Judith McNaught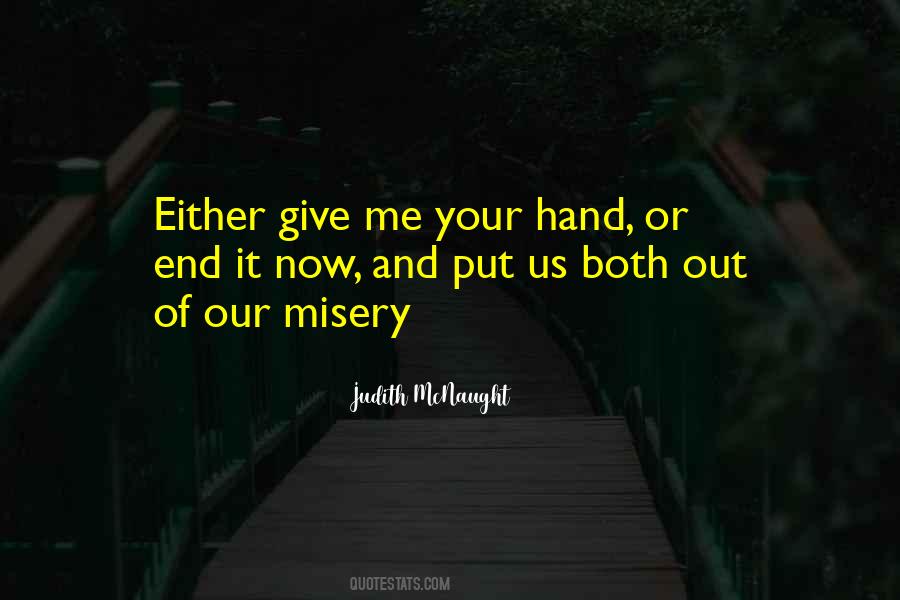 #49. We might hope to change the world through better, bigger programs to stop global warming, but global warming will not end unless people become less greedy and less wasteful, gaining a fresh vision of what it means to love our global neighbor. - Author: Shane Claiborne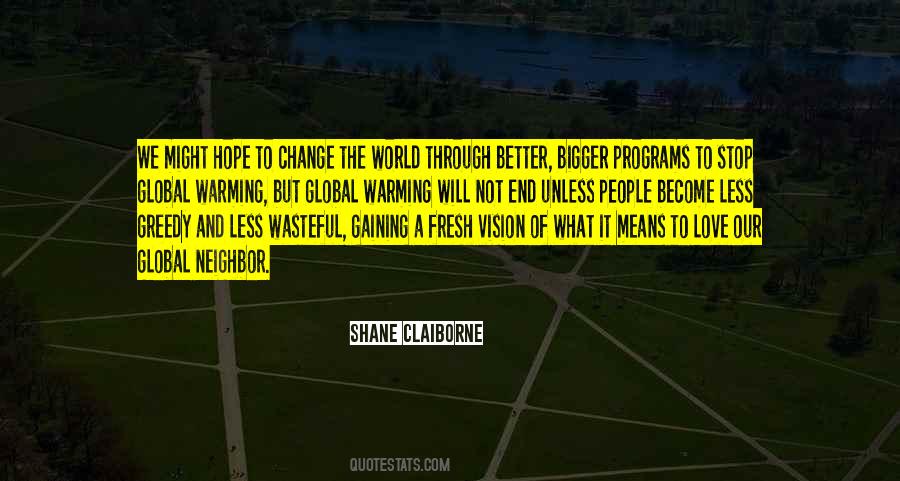 #50. It may be in morals as it is in optics, the eye and the object may come too close to each other, to answer the end of vision. There are certain faults which press too near our self-love to be even perceptible to us. - Author: Hannah More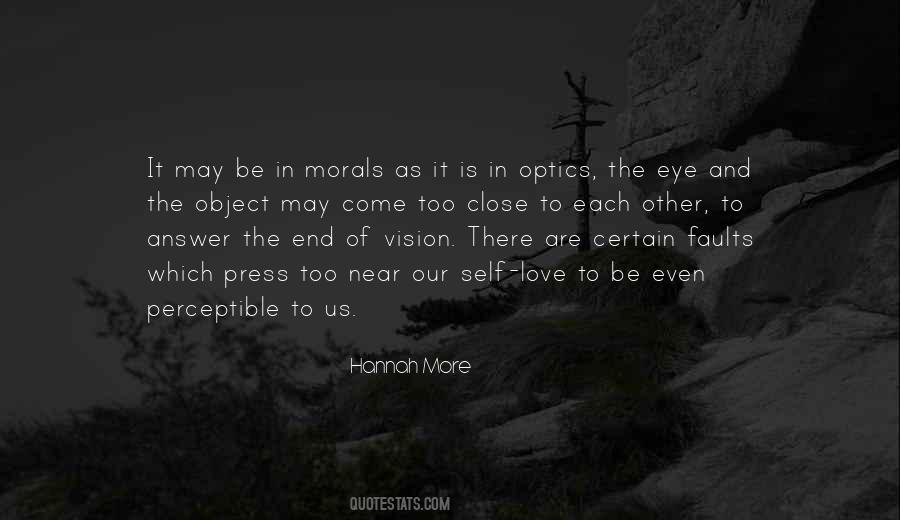 #51. At the end of the day, that's our sole purpose and our sole reason for existing, is to love somebody else. - Author: Nikki Reed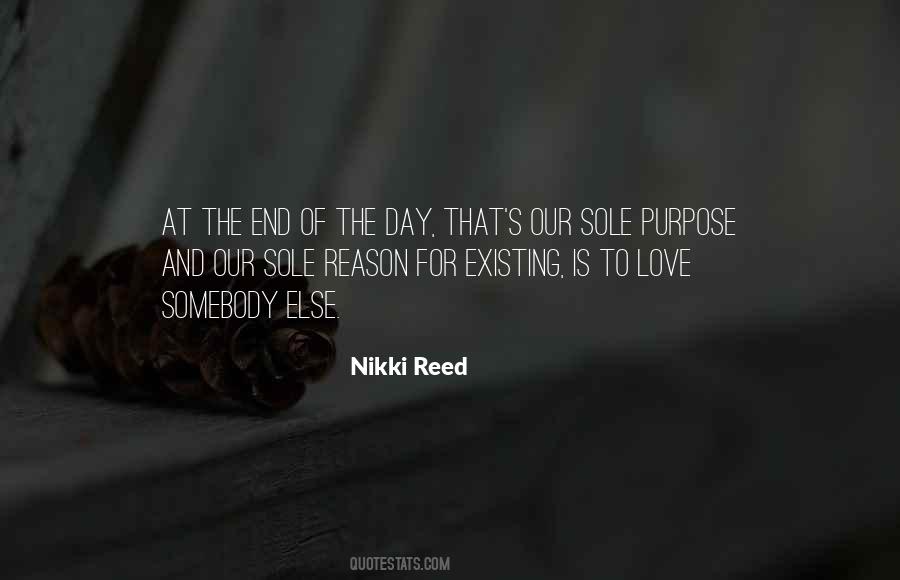 #52. At the end of our lives we all ask, 'Did I live? Did I love? Did I matter?' - Author: Brendon Burchard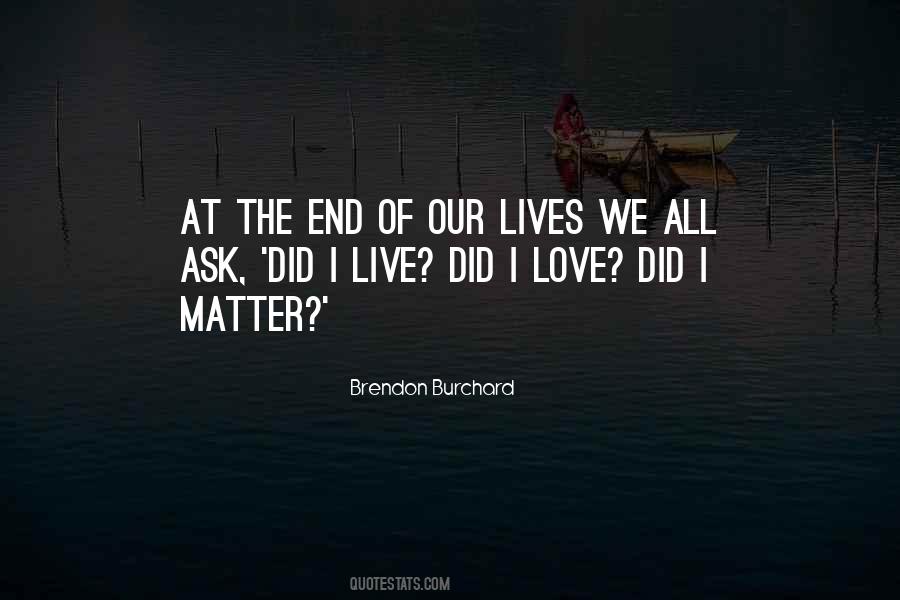 #53. We are all, in the private kingdom of our hearts, desperate for the company of a wise, true friend. Someone who isn't embarrassed by our emotions, or her own, who recognizes that life is short and all that we have to offer, in the end, is love. - Author: Steve Almond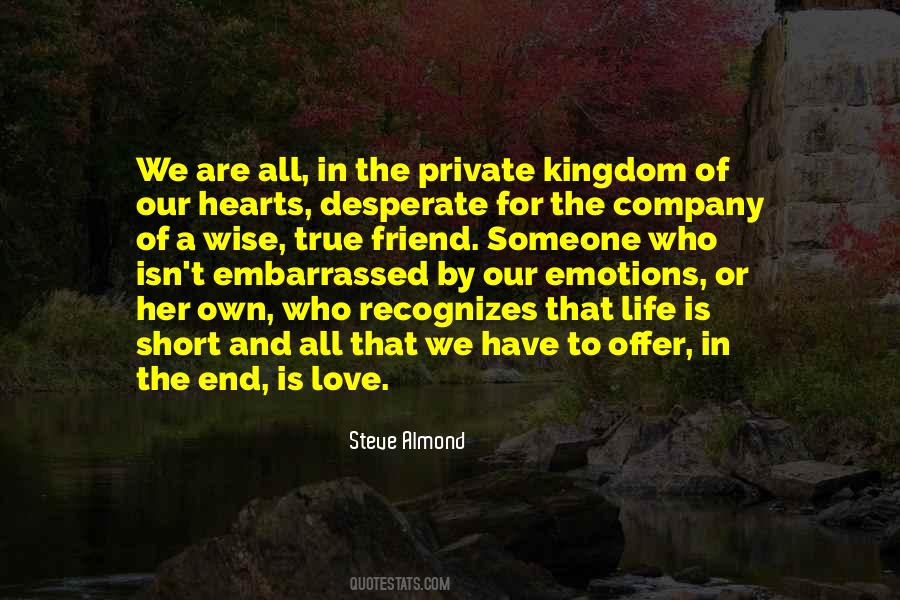 #54. My mother was all about unconditional love, and I don't think we give that to our patients a lot. At the end of the day, what they really need you to do is to look at them in the eye and say, 'I'm here for you. I'm going to make sure this works out.' - Author: Mehmet Oz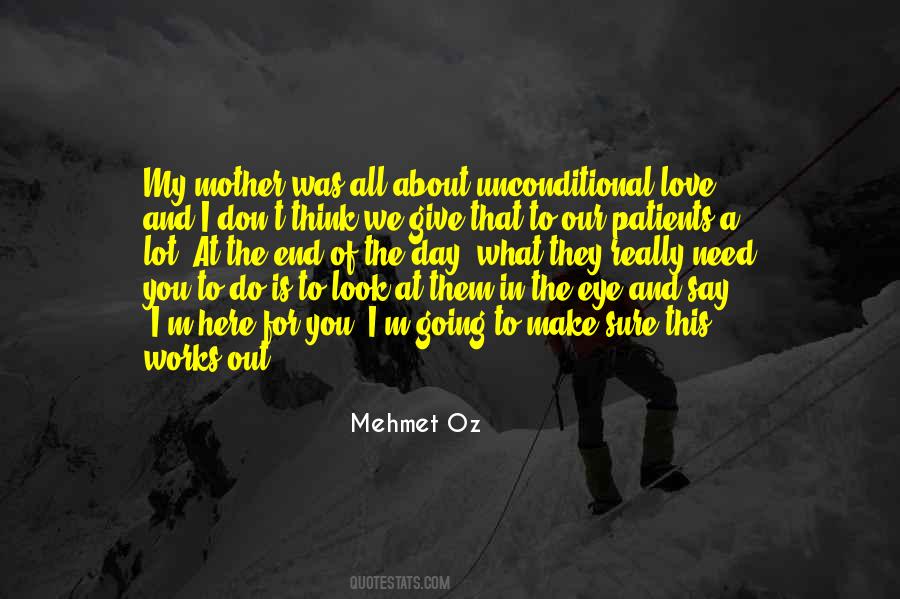 #55. We were young. Love had a way of making us fearless because we knew that no matter what happened, if we fell on our face as we entered the ring or conquered the world in battle, in the end it would just be us, together. - Author: Melodie Ramone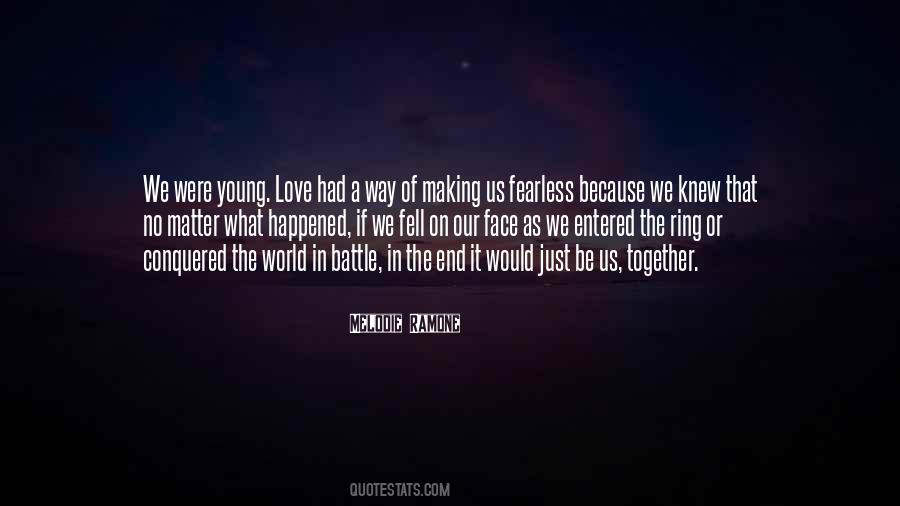 #56. There are all kinds of love. We place too much emphasis on romantic love as the be-all and end-all. But there is brotherly love. Sisterly love. Love for mom. Love for dad. And naturally, vice-versa. Even with our enemies, we should try to turn them into friends through love. - Author: Mark Andrew Poe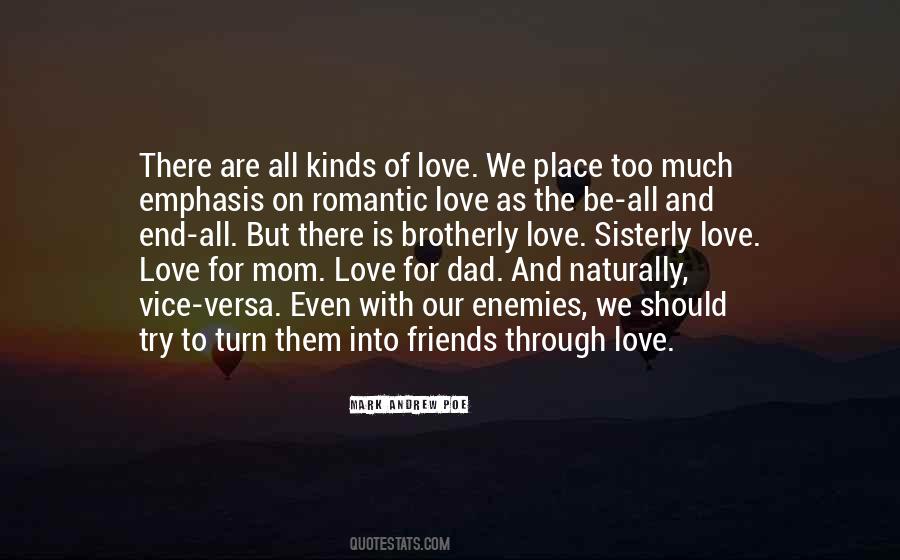 #57. The time between two seconds was immeasurable, and though I knew our moment would come to an end, it would be a limitless one. We were two halves of one being who had at last found each other and come together in this union. - Author: Nicole Williams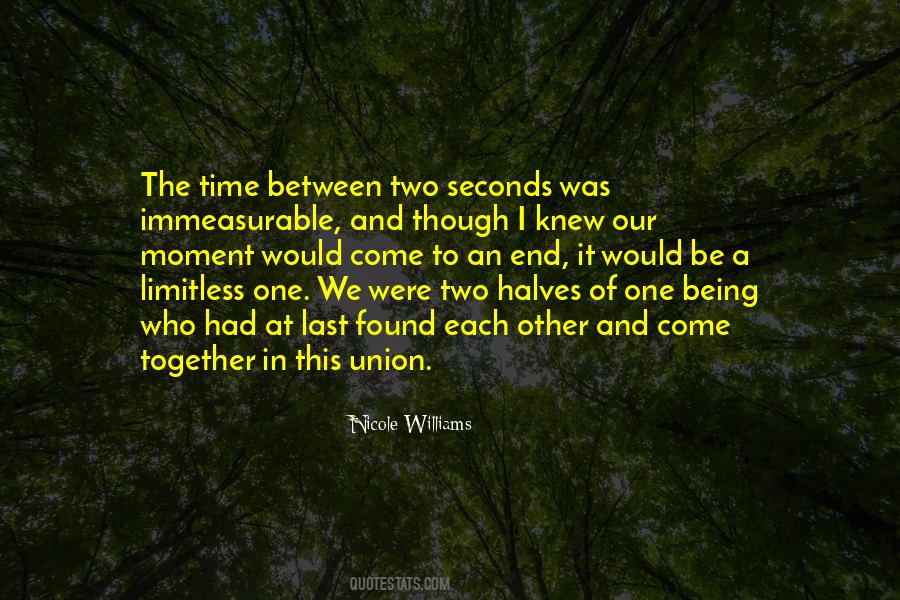 #58. Love, My Goddess loves us all, and she gave up Bhelliom willingly out of that love. Bhelliom can't begin to understand love. In the end that may be our only defense against it. - Author: David Eddings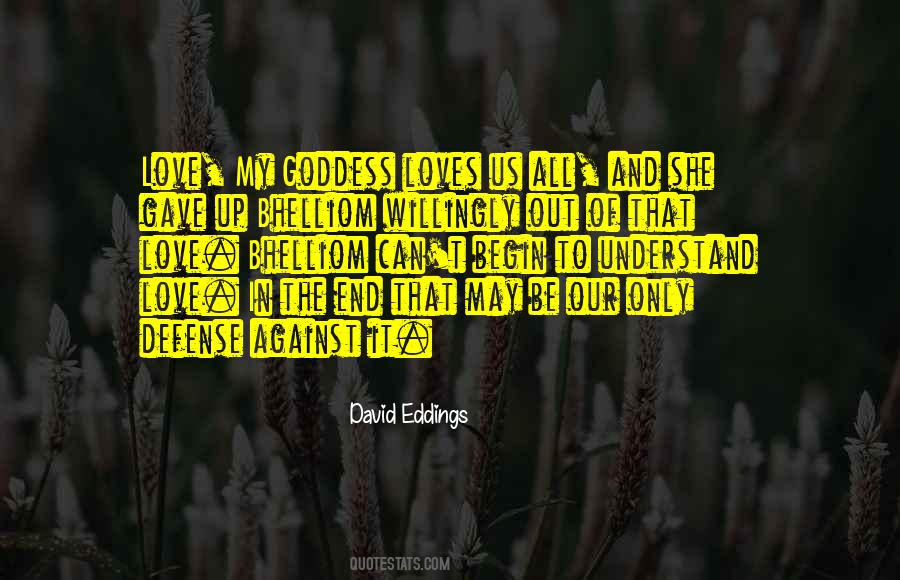 #59. In the end, the bedrock of existence is not made up of the family, or work, or what others say or think of you, but of moments like this when you are exalted by a transcendent power that is more serene than love. Life dispenses them parsimoniously; our feeble hearts could not stand more. - Author: Nicolas Bouvier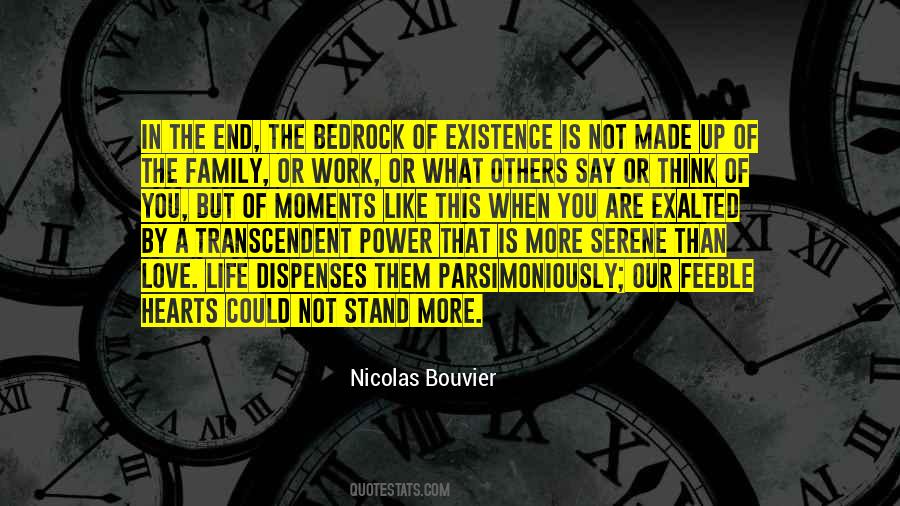 #60. Love is weird. Most find love in normal places. But some of us find it with our windows down and engines screaming, praying to God that the moment either lasts forever, or we end with it. - Author: Reddit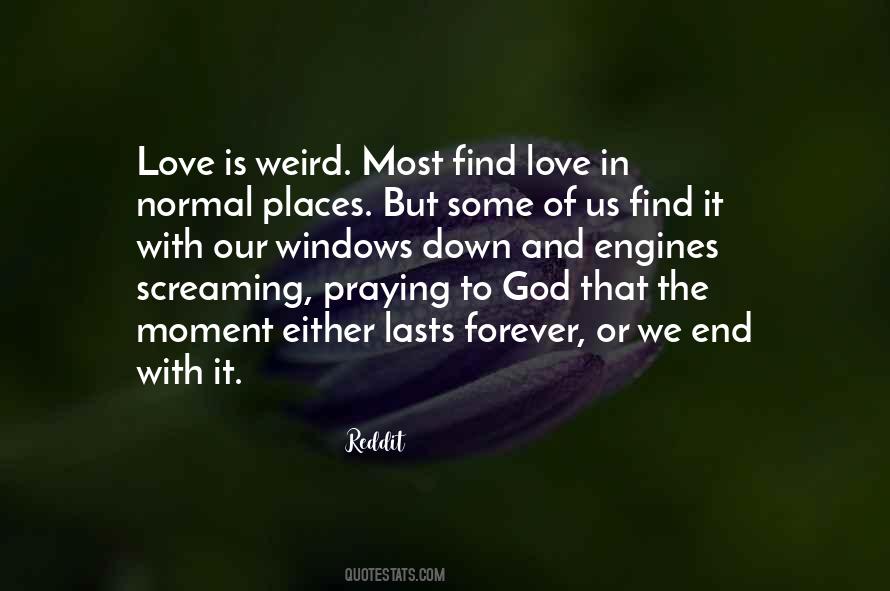 #61. To attempt the destruction of our passions is the height of folly. What a noble aim is that of the zealot who tortures himself like a madman in order to desire nothing, love nothing, feel nothing, and who, if he succeeded, would end up a complete monster! - Author: Denis Diderot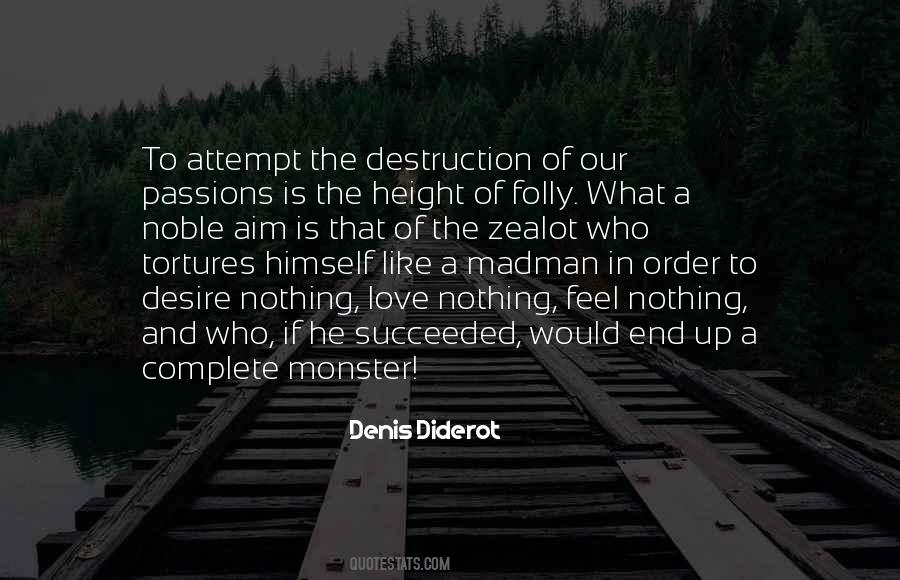 #62. It's a poem, of our love, that doesn't rhyme. A story, never meant to have, a happy end. - Author: Khadija Rupa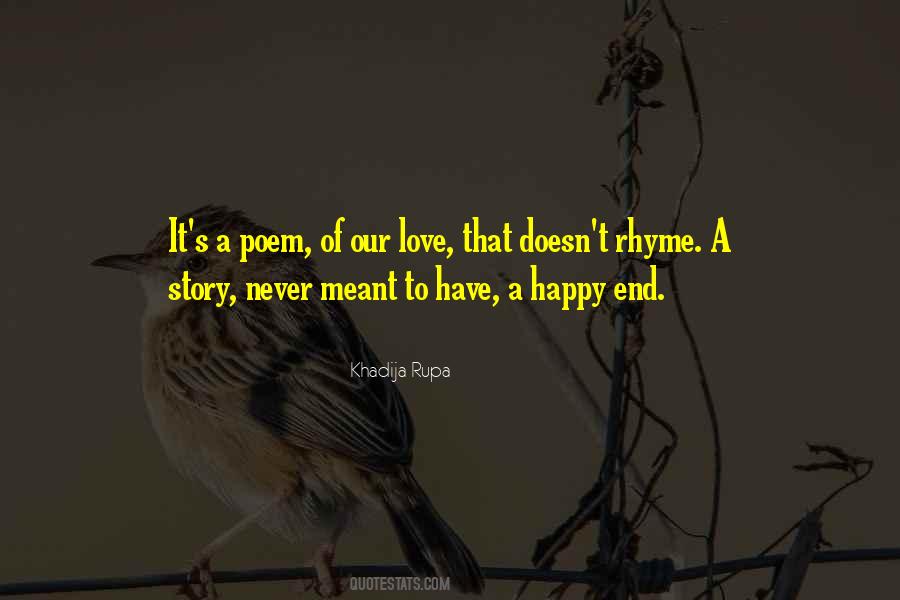 #63. Words start wars and end them, create love and choke it, bring us to laughter and joy and tears. Words cause men and women to willingly risk their lives, their fortunes and their sacred honor. Our world, as we know it, revolves on the power of words. - Author: Roy Williams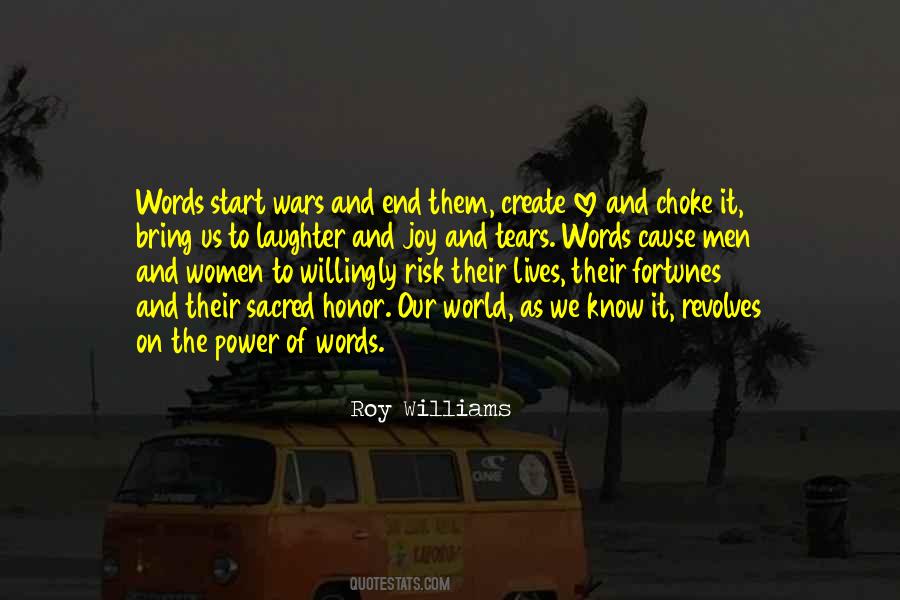 #64. We need to fall in love with the process, not just the end product of our work. - Author: Todd Henry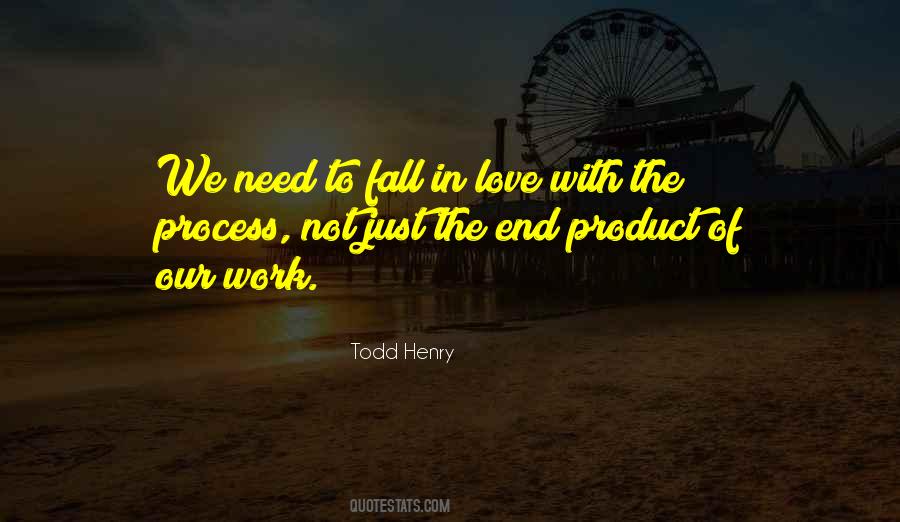 #65. Love. Help with no expectations. Destroy selfishness, self ... At the end of our lives, I believe the soul will be asked, "What did you do for your fellow man?" - Author: Misty Upham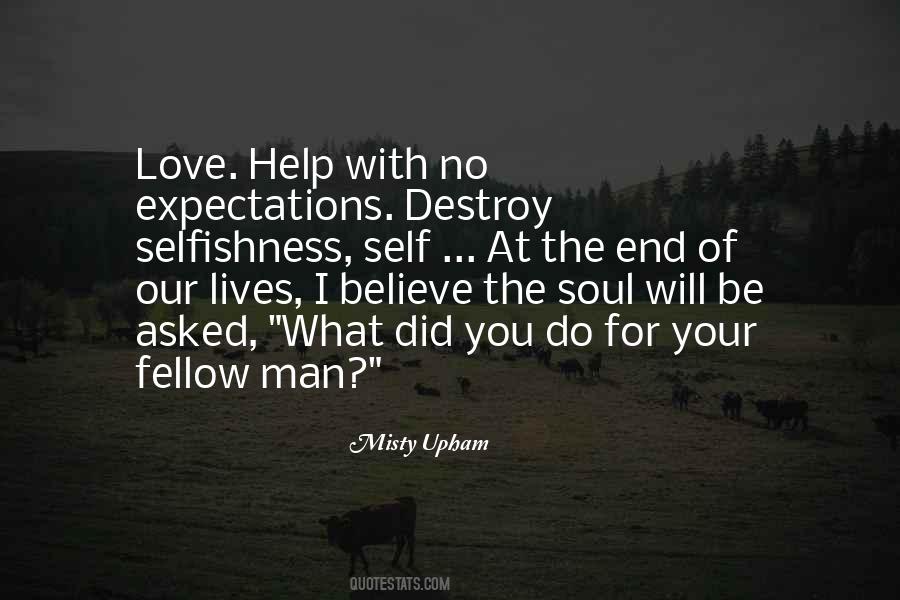 #66. The words we choose can build communities, reunite loved ones, and inspire others. They can be a catalyst for change. However, our words also have the power to destroy and divide: they can start a war, reduce a lifelong relationship to a collection of memories, or end a life. - Author: Simon S. Tam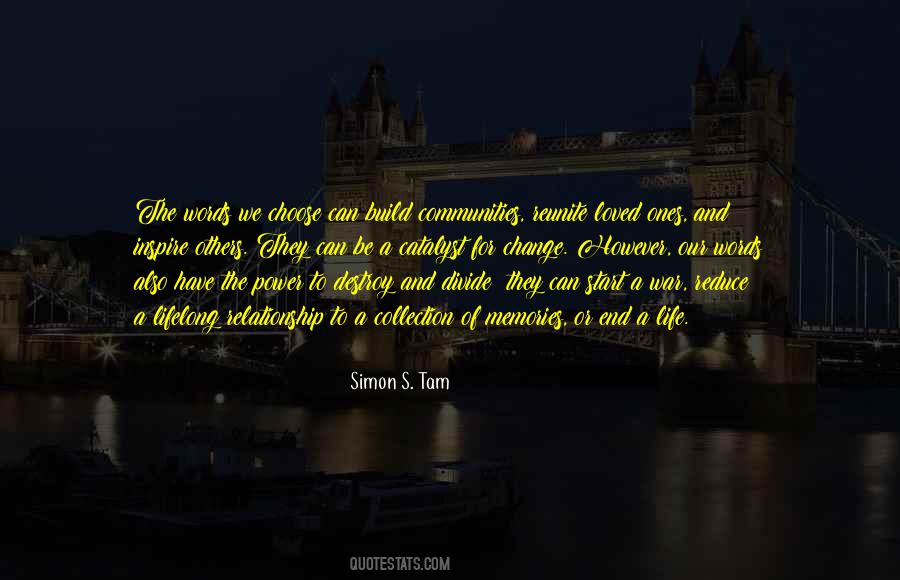 #67. We love, while knowing that someday our love might be lost forever. We laugh as we stride along, even while recognising that doom lies at the end of the road. We give, while comprehending that in the end 'twill all be taken away. we are nothing less then heroes. - Author: Cecilia Dart-Thornton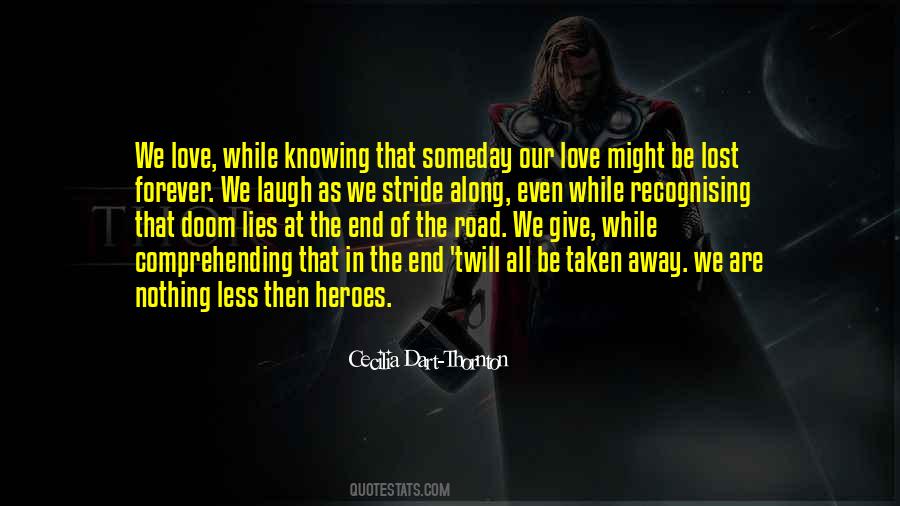 #68. At the start of our together you were the prelude to a vast orchestration. at the end of it all you will have been the most profound and enduring music of my life. - Author: Mary Anne Radmacher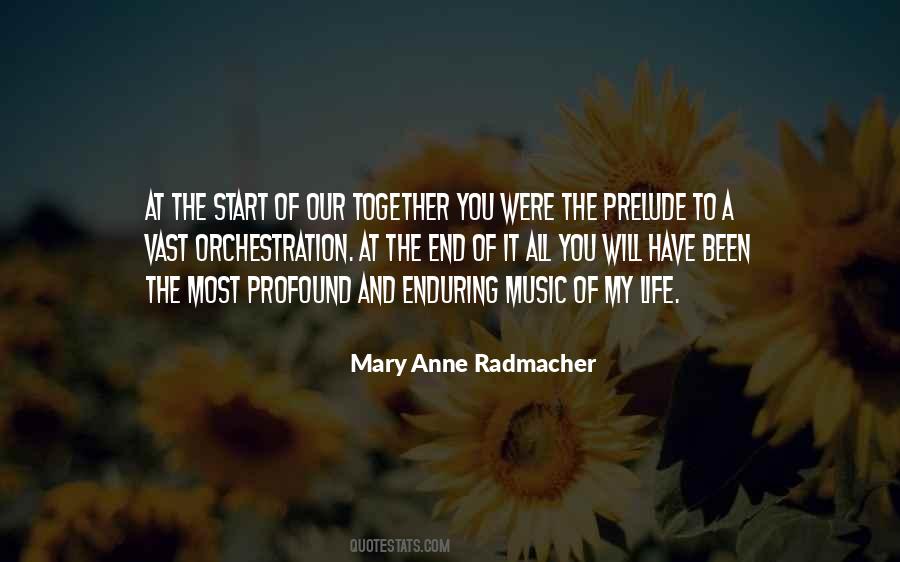 #69. The only thing that matters, at the end of a stay on earth, is how well did we love, what was the quality of our love? - Author: Richard Bach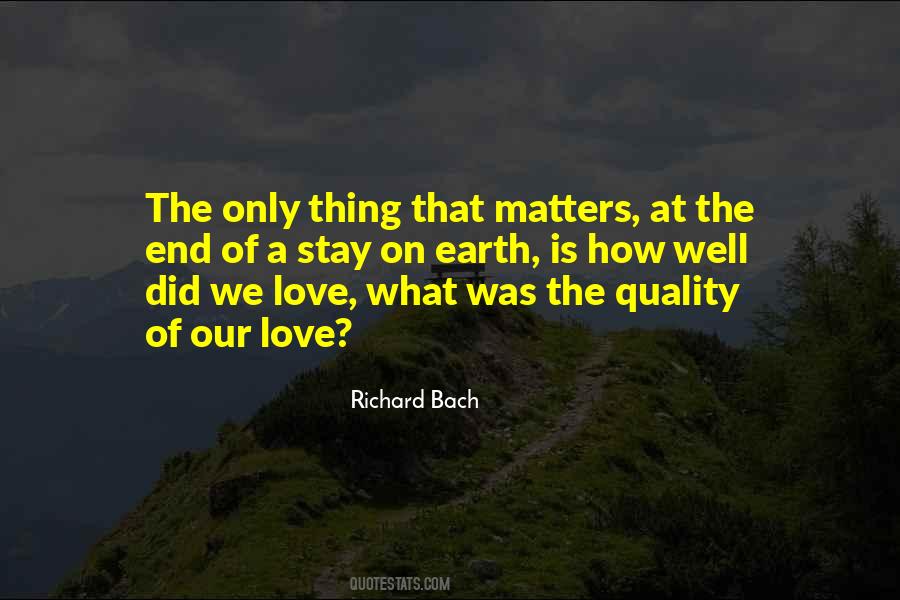 #70. You see, God's love is an endless ocean, and human beings strive to get as much water as they can out of it. But at the end of the day, how much water we each get depends on the size of our cups. Some people have barrels, some buckets, while some others have only got bowls. - Author: Elif Shafak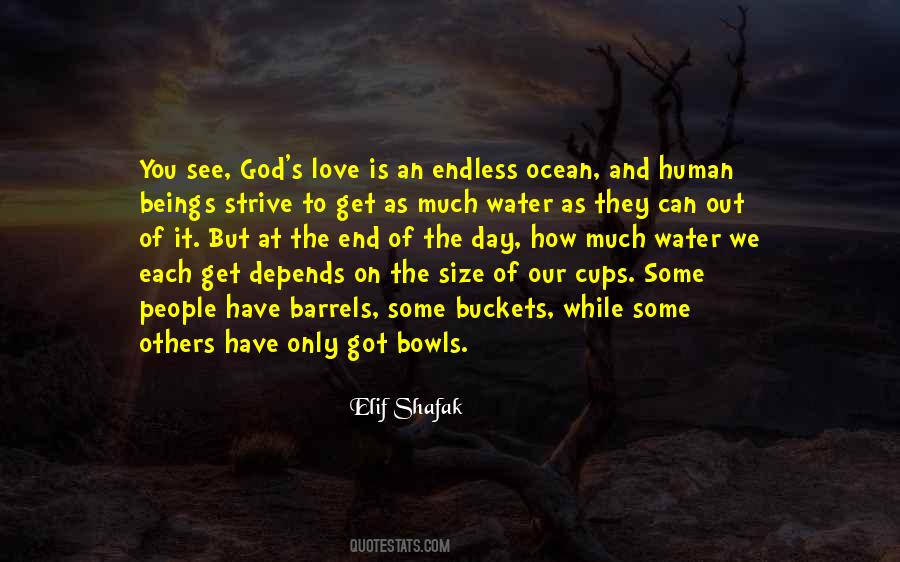 #71. The most treasured and sacred moments of our lives are those filled with the spirit of love. The greater the measure of our love, the greater is our joy. In the end, the development of such love is the true measure of success in life. - Author: Joseph B. Wirthlin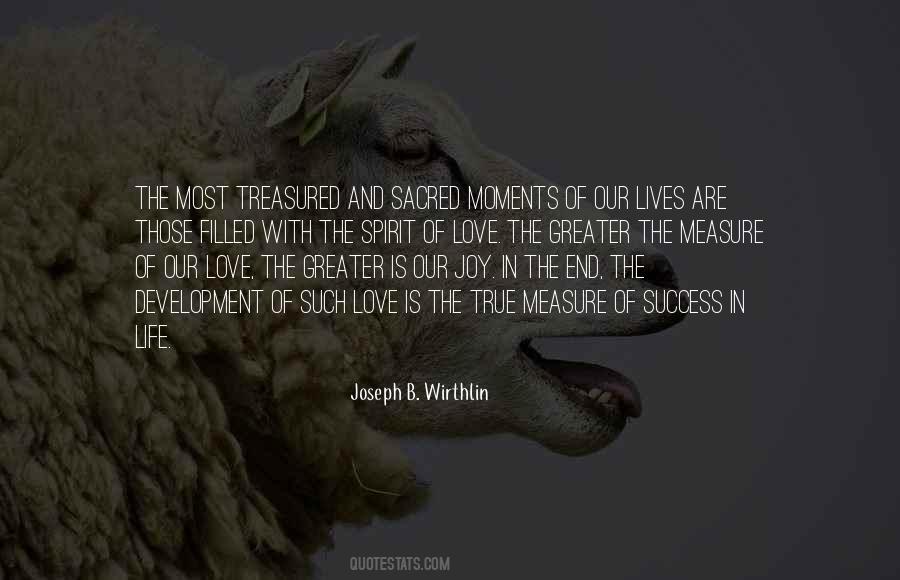 #72. We can talk about God's justice and love from now to the end of time. But until our theological discourse engages white supremacy in a way that empowers poor people to fight the monster, then our theology is not worth the paper it is written on. In - Author: Frederick W. Schmidt Jr.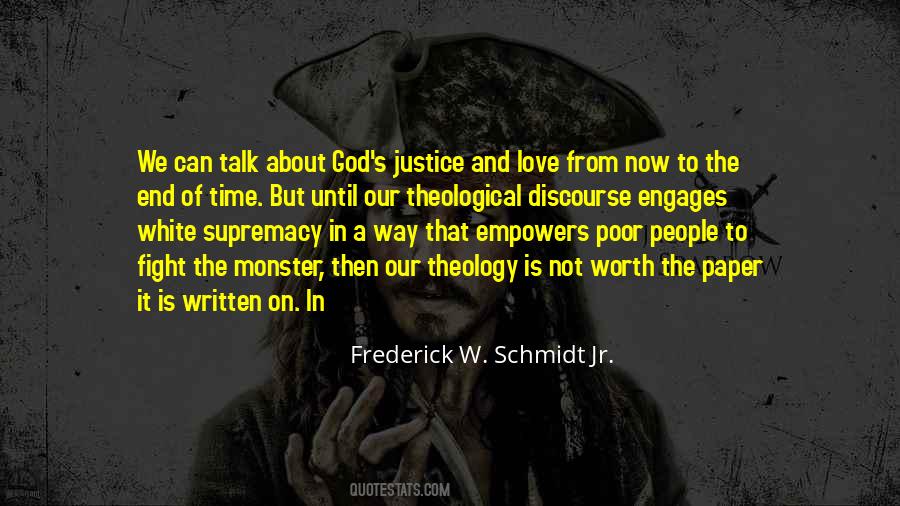 #73. The longer I live, the more boring youth becomes. So redundant. Each generation rediscovers the wheel of rebellion, the wheel of love, and so forth and so on. We hardly know which end is up until we're in our thirties. - Author: Barbara Neely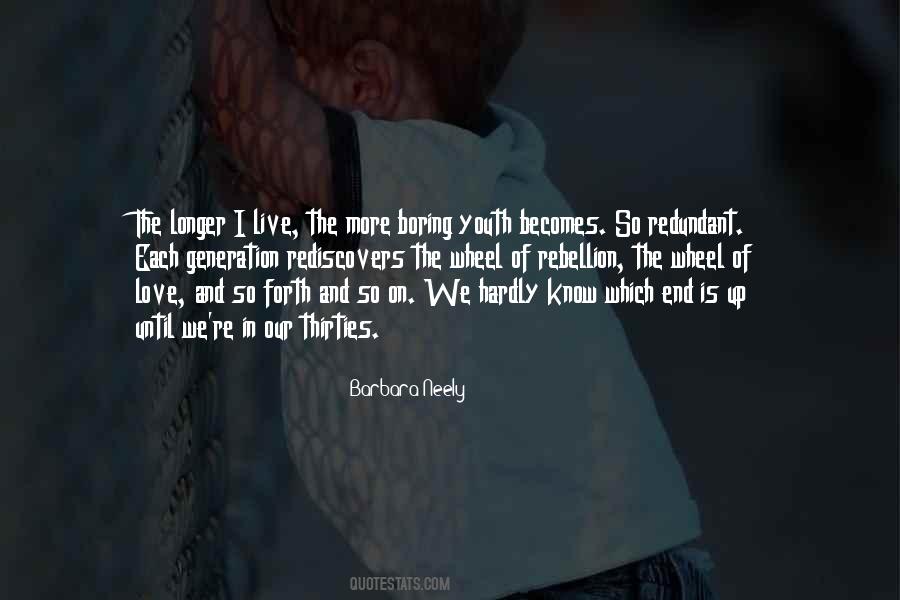 #74. If all life moves inevitably towards its end, then we must, during our own, colour it with our colours of love and hope. - Author: Marc Chagall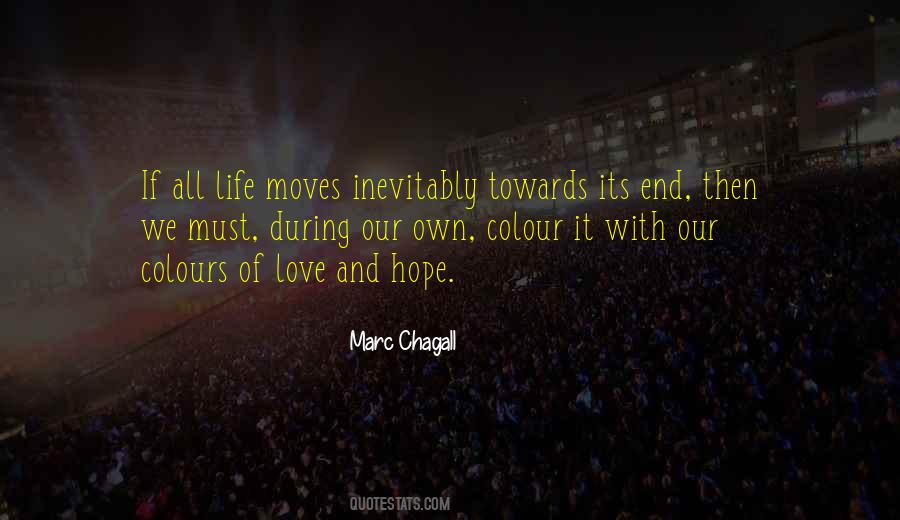 #75. They forgot who she was:
Something fantastic we could never explain. Someone better and bolder than every one of us. Someone to paint murals and build bridges for. Someone worth every ounce of our love.

Someone powerful, but in the end not powerful enough. - Author: Nova Ren Suma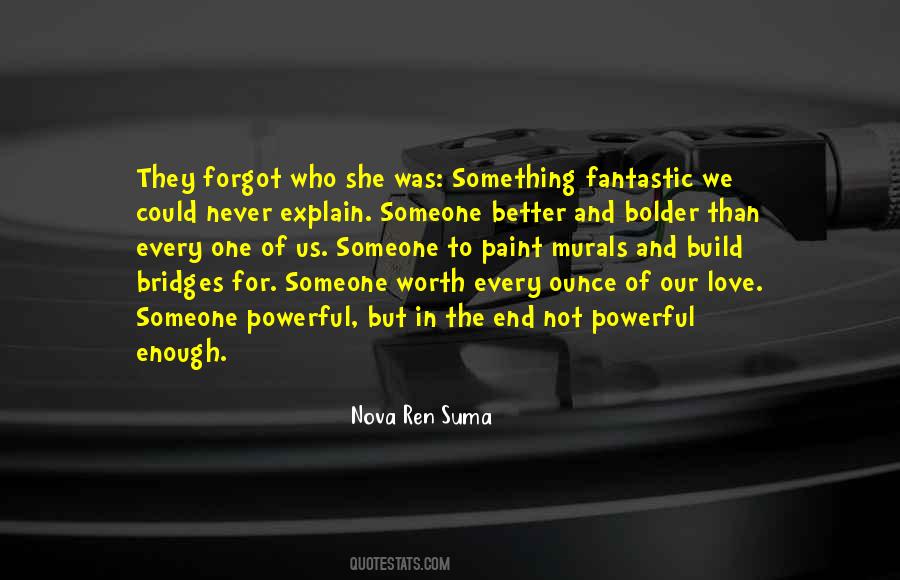 #76. Because of our love for each other, I understand just a little more how God has pursued me in creative and whimsical ways, ways the initially did not get my attention. Nevertheless, He wouldn't stop. That's what love does - it pursues blindly, unflinchingly, and without end. - Author: Bob Goff
#77. We are the masters of our own destinies, and only we can allow our hearts to be filled, and enable our souls to be happy. No amount of power or mercy can change a heart from empty to whole, or change the end of a will from everlasting sadness to eternal joy. - Author: Michael Brent Jones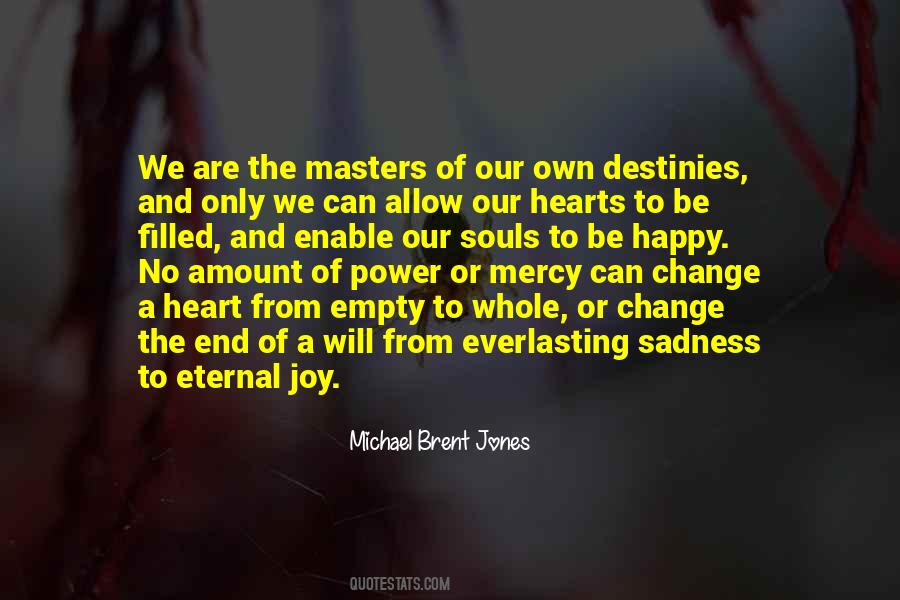 #78. Those of us with the courage to open ourselves to that much love and not fear it - who can give joy to a dying child until the very end without withdrawing to save ourselves - those are our saints. It is not the martyrs. It is never the martyrs. - Author: Derek Miller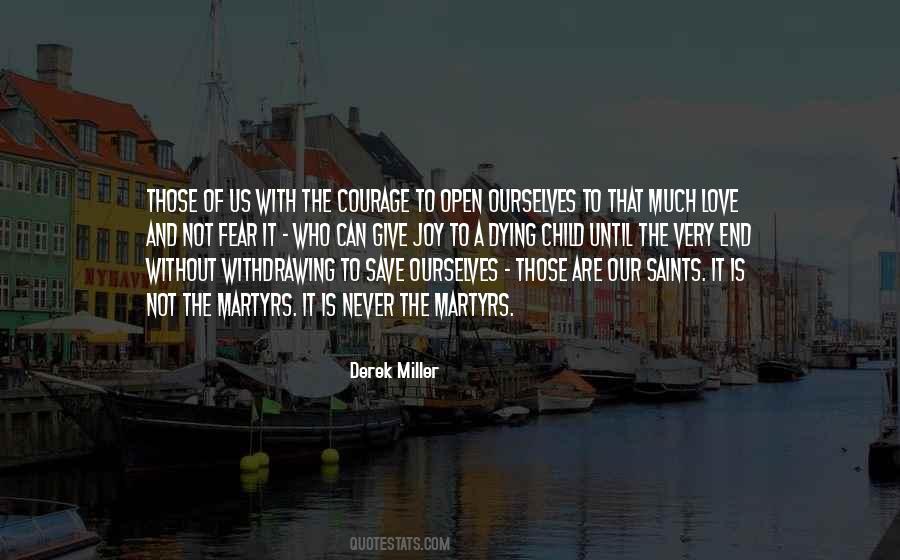 #79. Everyone thinks because we love cars and our dad was in the business, we love the mechanical end of cars. - Author: Joe Biden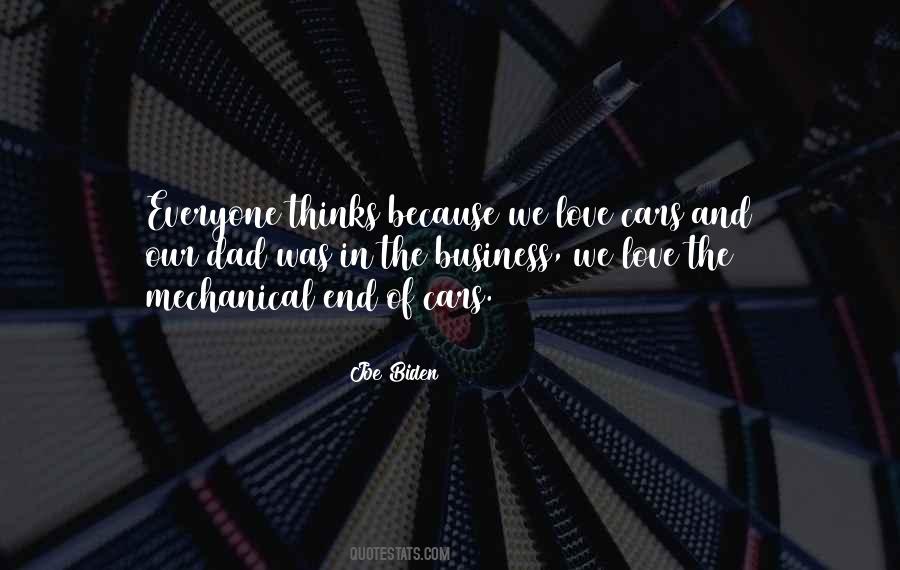 #80. In love be forged. In soul be bound. Forever, until the end of time. Our hearts and souls be united, for eternity in God's light - Author: Karen Swart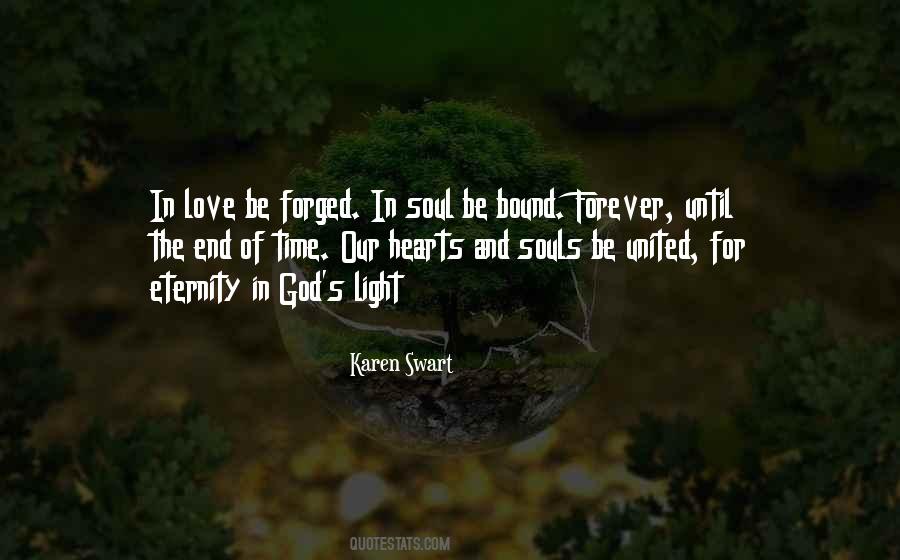 #81. The stories of The End of Free Love mark a great beginning. They are seductive and migratory, tapped into our earliest sense of the world. Steinberg inhabits our first bewilderments, the terrors and the tenderness that shape our lives. To read her is to fall out of the daily into a fresh elation. - Author: Noy Holland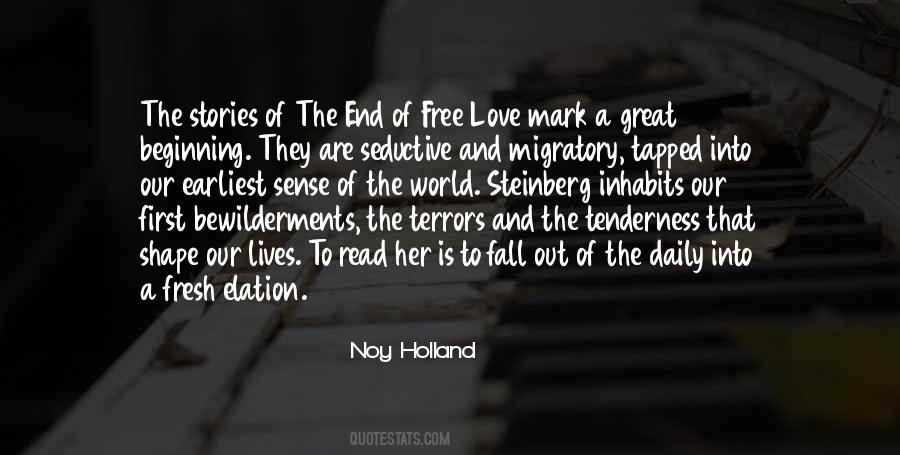 #82. One common desire that every human being has is to love and be loved. At the end of our lives, it's how we measure our lives. - Author: Denise Di Novi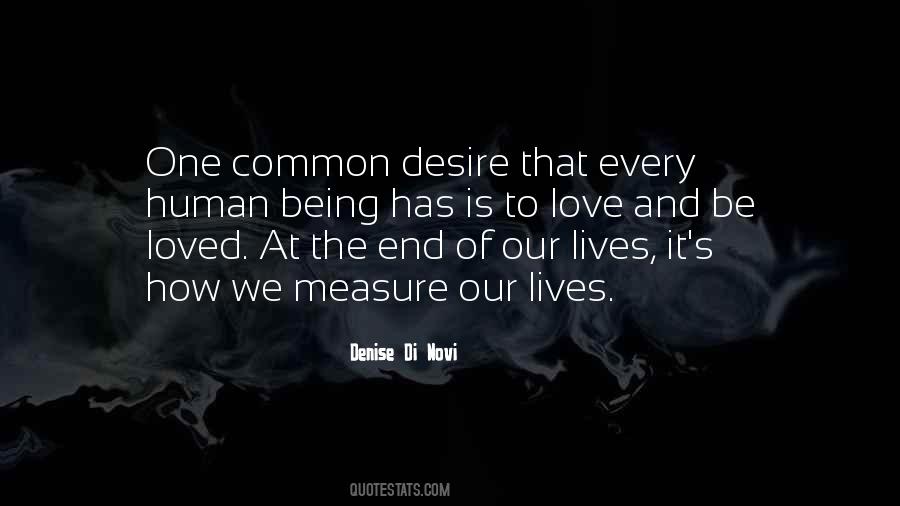 #83. Dance me through th curtains that our kisses have out worm.
Raise a ent of shelter now, though every thread is torn.
Dance me to the end of love.
Dance me to your beauty with a burning violin. - Author: Antonia Michaelis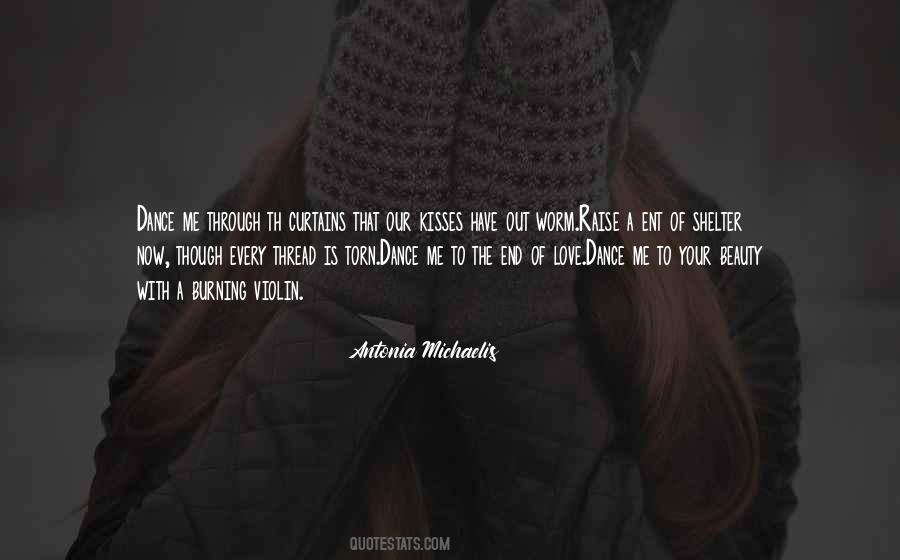 #84. On the question of relating to our fellowman - our neighbor's spiritual need transcends every commandment. Everything else we do is a means to an end. But love is an end already, since God is love. - Author: Edith Stein
#85. The magic of first love is our ignorance that it can ever end. - Author: Benjamin Disraeli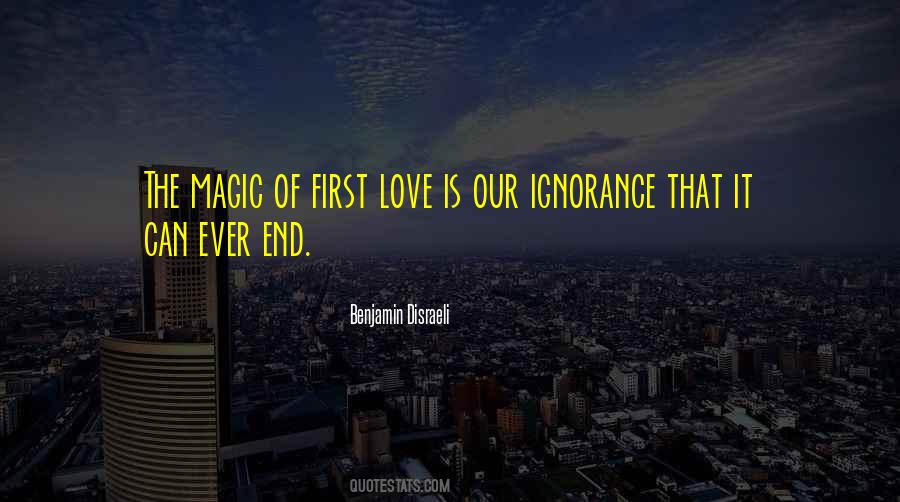 #86. Hey, I know planet earth is dying. So what do you want me to say?
Grumble? Give me a break! These all mean that we should live our
life to love and to be loved while we still have some time to do that. - Author: Toba Beta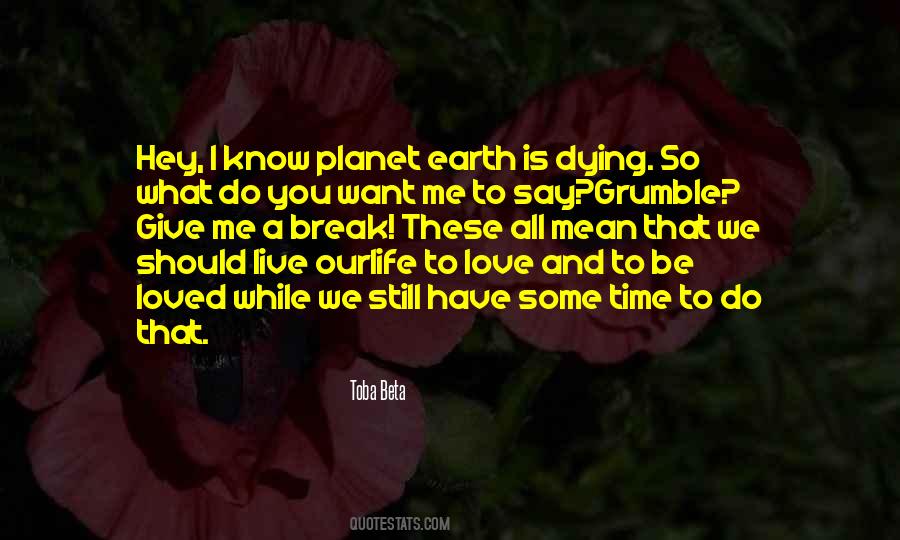 #87. I believe in the end ... the final synthesis will be that it was our generation with our undying love and concern for all of humanity ... that truly conquered all! - Author: Timothy Pina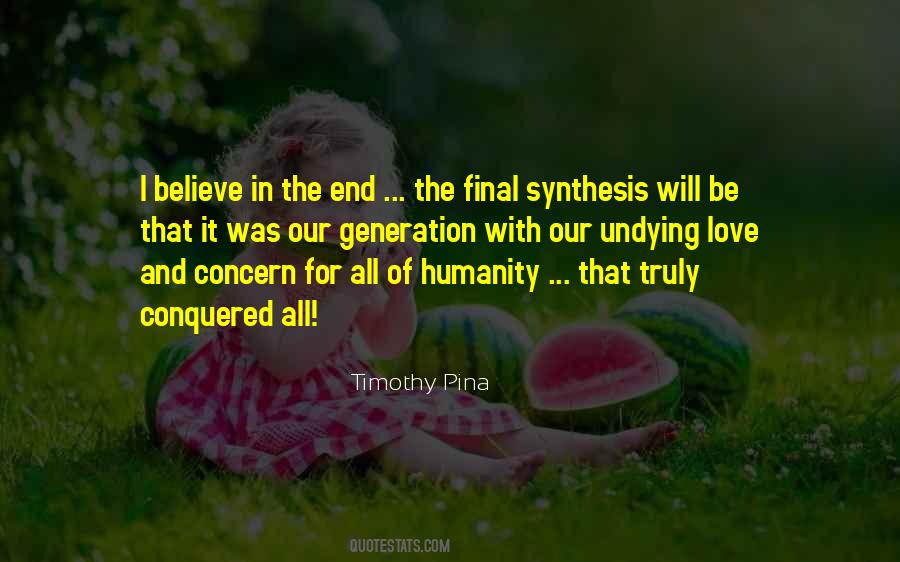 #88. We must come to terms with our responsibility to be the gatekeepers to end childhood hunger. Our love for life can propel us to share and provide a secure future for the children of our country. - Author: Edward James Olmos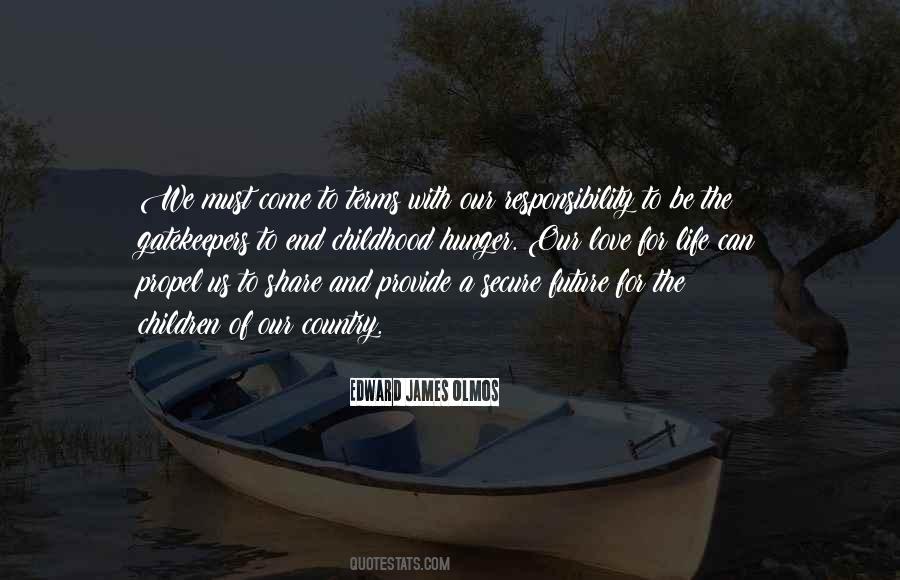 #89. The first summer that we spent together,
we did so many obscene things to each other, that
by the end of it, the trees blushed a shy shade of scarlet,
leaves falling to the ground, scandalized by our acts. - Author: Danabelle Gutierrez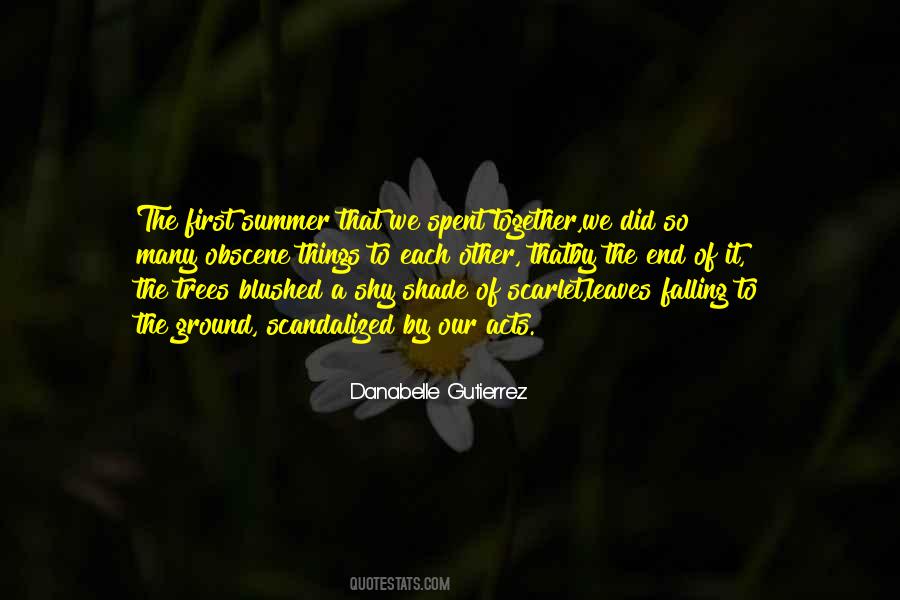 #90. Nothing touches the soul but leaves its impress, and thus, little by little, we are fashioned into the image of all we have seen and heard, known and meditated; and if we learn to live with all that is fairest and purest and best , the love of it all will in the end become our life. - Author: David B. Haight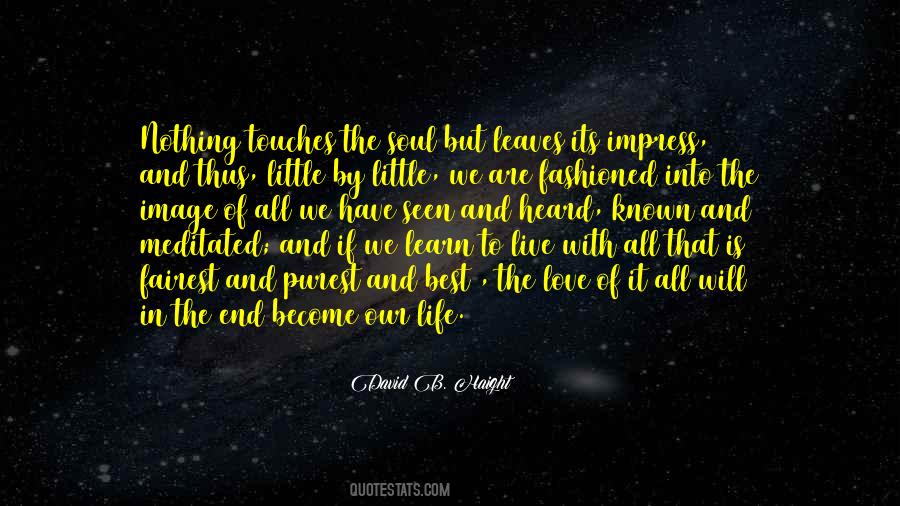 #91. We knew not where we were going. We only knew that we must run, run to the end of the world, run to the end of our days. - Author: Ayn Rand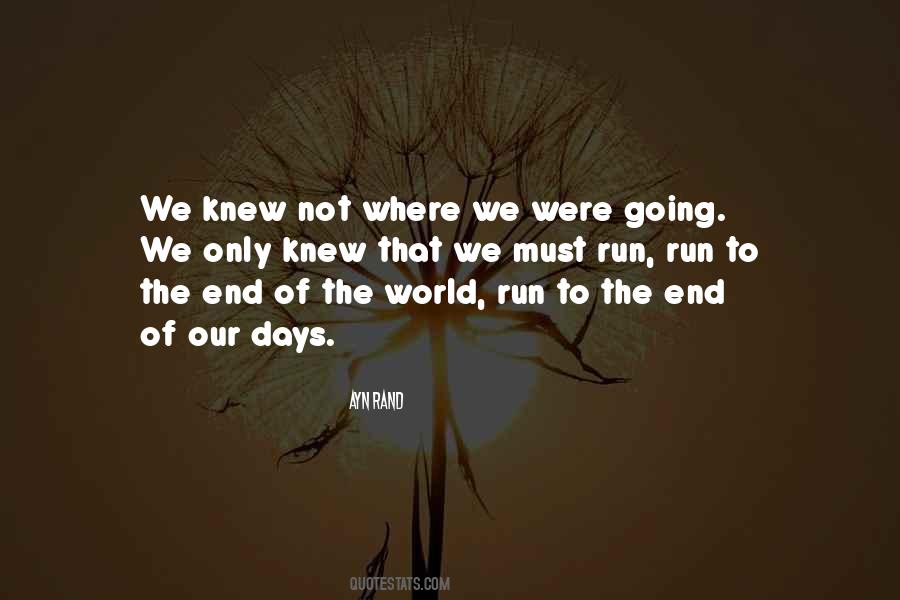 #92. ...At the end of the day, what matters is our faith in humanity... - Author: Janvier Chouteu-Chando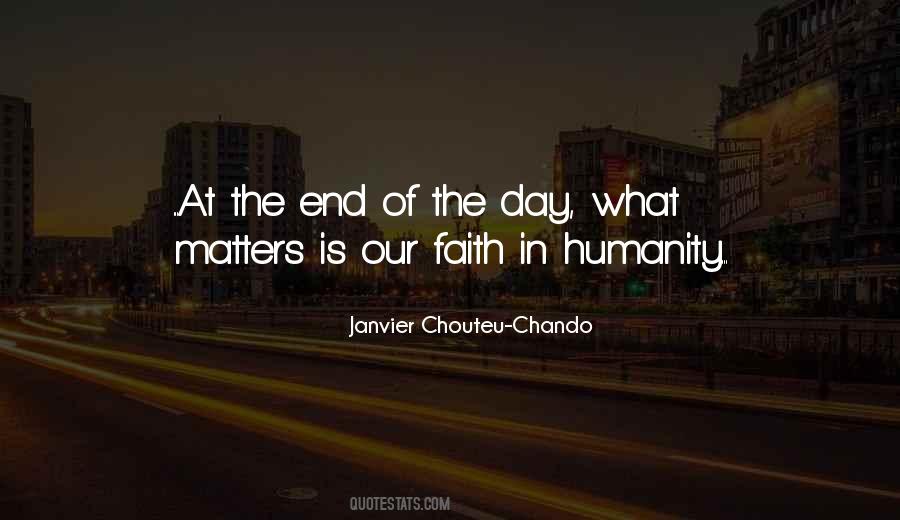 #93. When we come to the end of our days, the little things will seem so unimportant compared to how well we've loved, laughed and treasured our lives and loved ones. - Author: Charlotte Sophia Kasl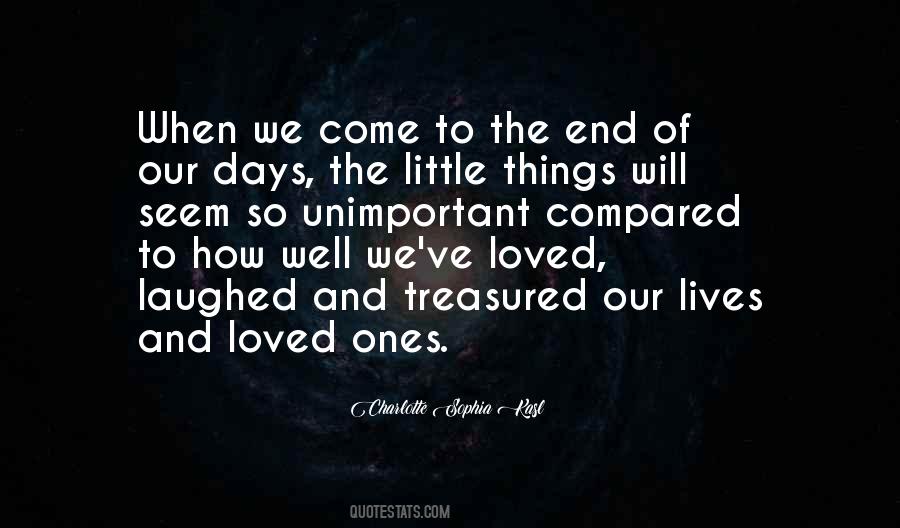 #94. There is no beginning, no middle, no end, no suspense, no moral, no causes, no effects. What we love in our books are the depths of many marvelous moments seen all at one time. - Author: Kurt Vonnegut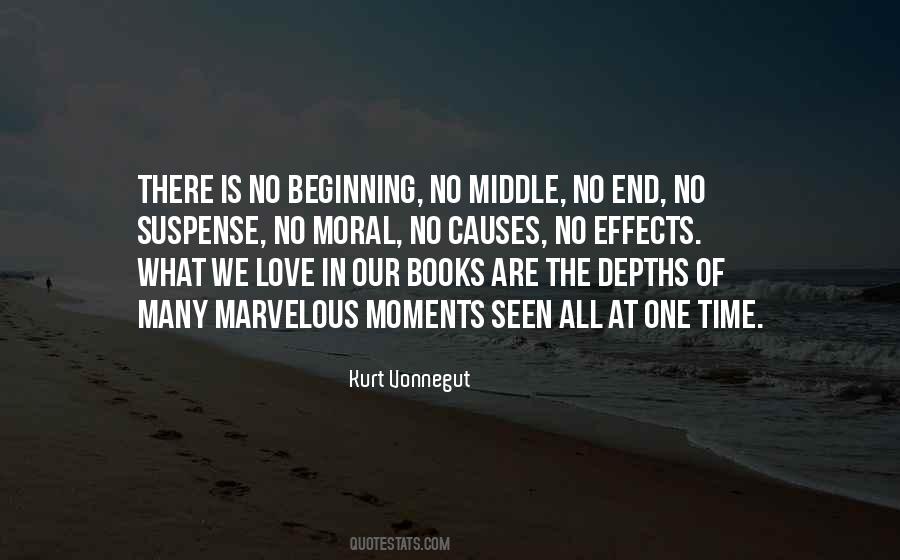 #95. Love and Dread are brethren, and they are rooted in us by the Goodness of our Maker, and they shall never be taken from us without end. We have of nature to love and we have of grace to love: and we have of nature to dread and we have of grace to dread. - Author: Julian Of Norwich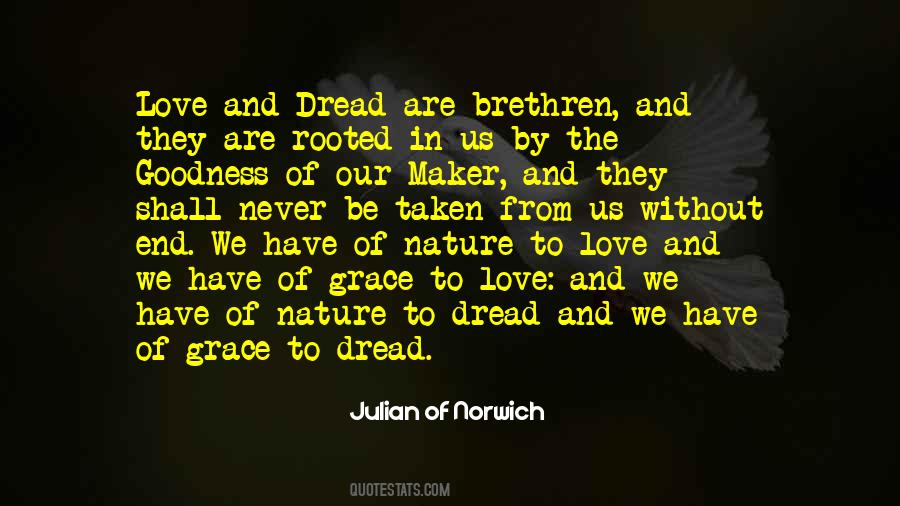 #96. But no matter what was going on in our lives, I could imagine lying beside her in bed at the end of the day, holding her while we talked and laughed, lost in each other's arms - Author: Nicholas Sparks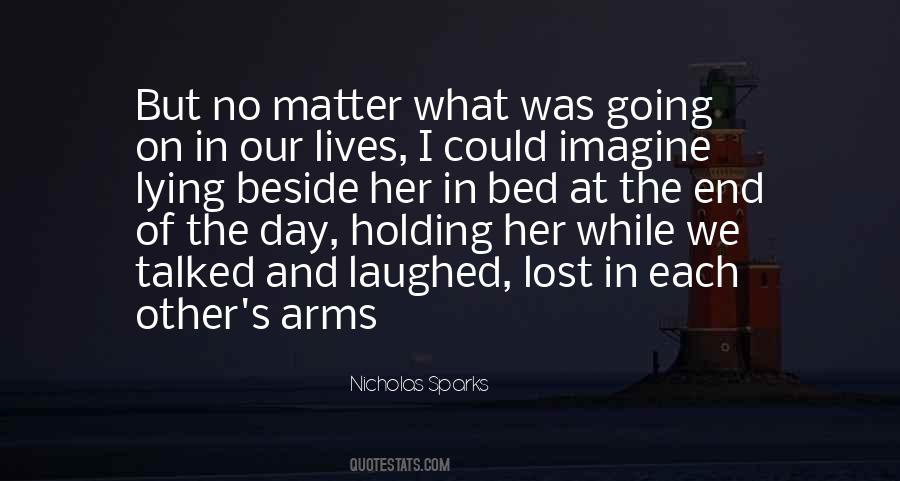 #97. We are meant to love. We are meant to lose. Love is our promise of a bittersweet end, and our desperate, hopeless struggle not to hurt anyone along the way. - Author: Courtney M. Privett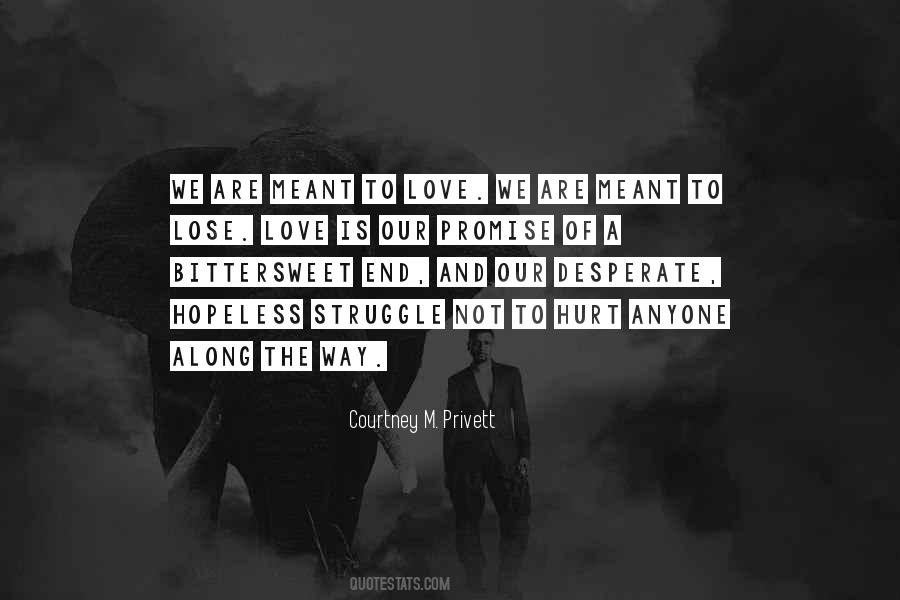 #98. Love frees us of all pain, or of any restraint.
Once a circle that ever widens without end.
Various colors it shines in our lives to paint
Excelsis, glorious manifestation to befriend. - Author: Ana Claudia Antunes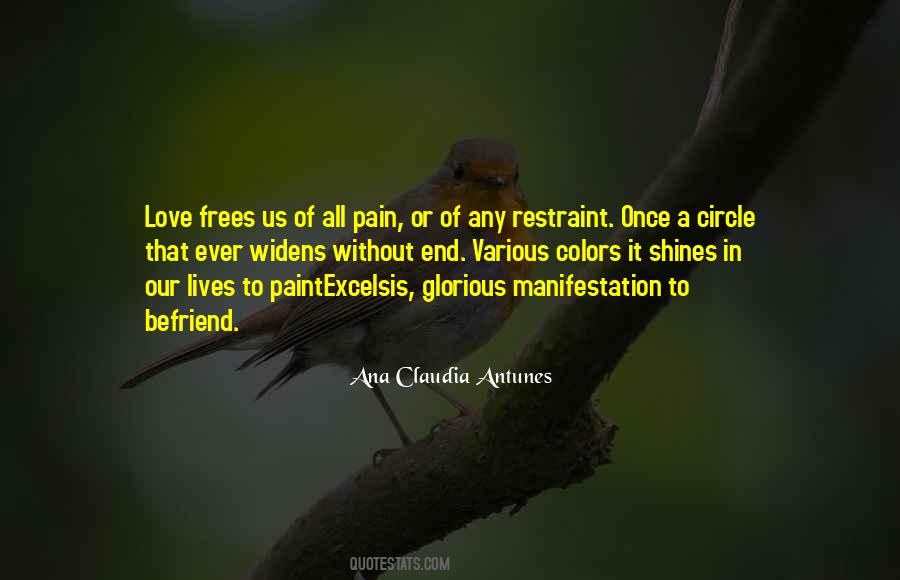 #99. Let us never forget that, to be profited, that is, to be spiritually improved in knowledge, faith, holiness, joy and love, is the end of hearing sermons, and not merely to have our taste gratified by genius, eloquence and oratory. - Author: John Angell James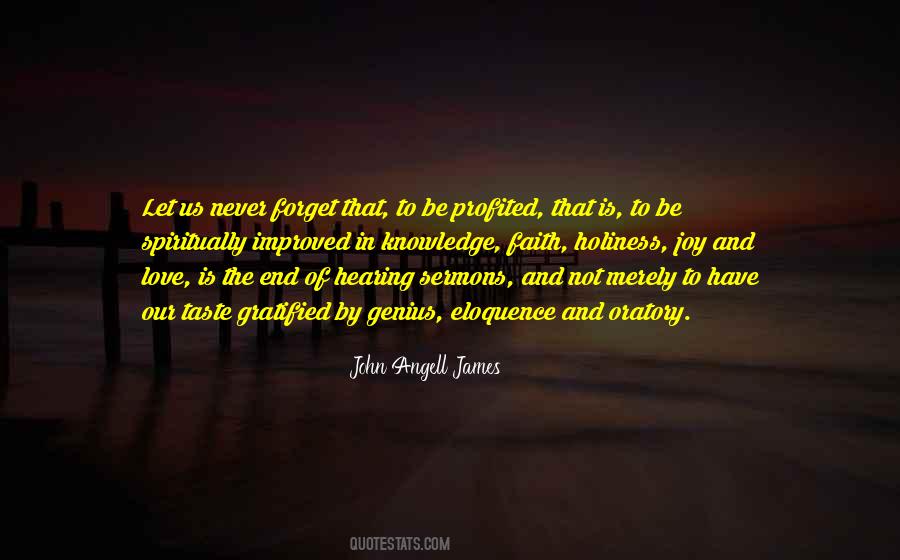 #100. The realest and scariest monsters are internal demons, the specters of regret and guilt and lack of fulfillment, awareness of the entropic end of love, or the first shivers occasioned by the realization of our own ageing, and the eventual inevitability of death. - Author: Michael Marshall Smith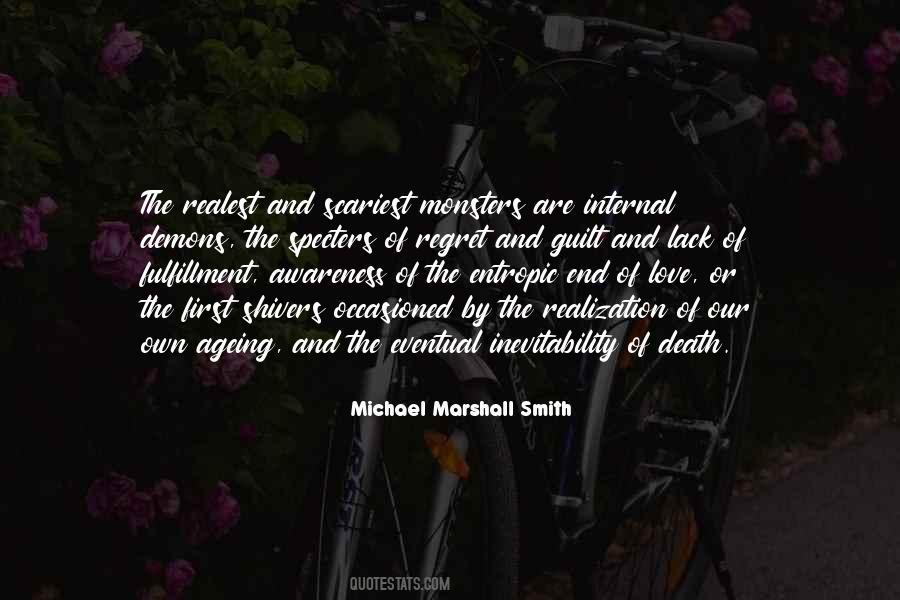 Famous Authors
Popular Topics