Emotions All Over The Place Famous Quotes & Sayings
List of top 42 famous quotes and sayings about emotions all over the place to read and share with friends on your Facebook, Twitter, blogs.
Top 42 Emotions All Over The Place Quotes
#1. I feel like a sailor, or better, like an explorer of the immense universe of art. The artist is a discoverer in search of the keys that open the door to emotions and feelings . Art is the place where rationality, fantasy, truth and fiction mix up in a detonating mixture. - Author: Augusto De Luca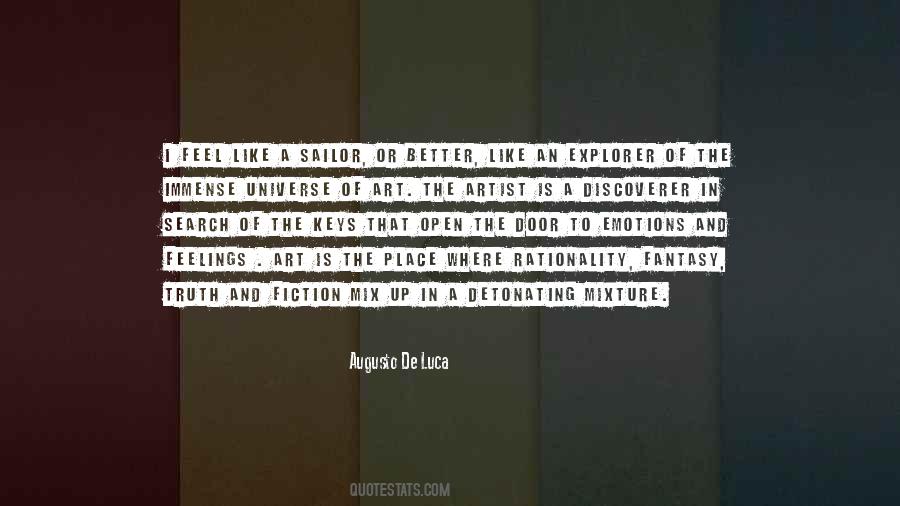 #2. You owe it to yourself not to permit your emotions to place your happiness in the keeping of another person. - Author: Napoleon Hill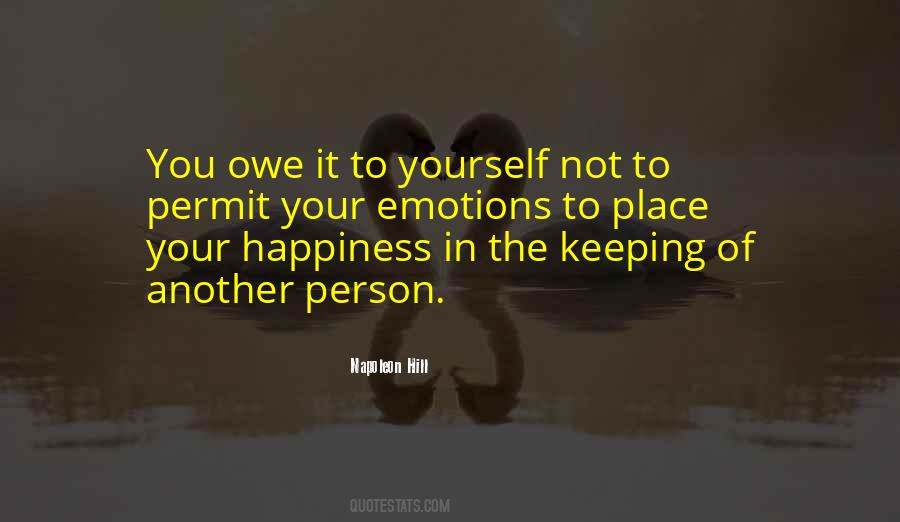 #3. For me, the most luxurious place is somewhere that allows you to feel emotions and pleasures. - Author: Alain Ducasse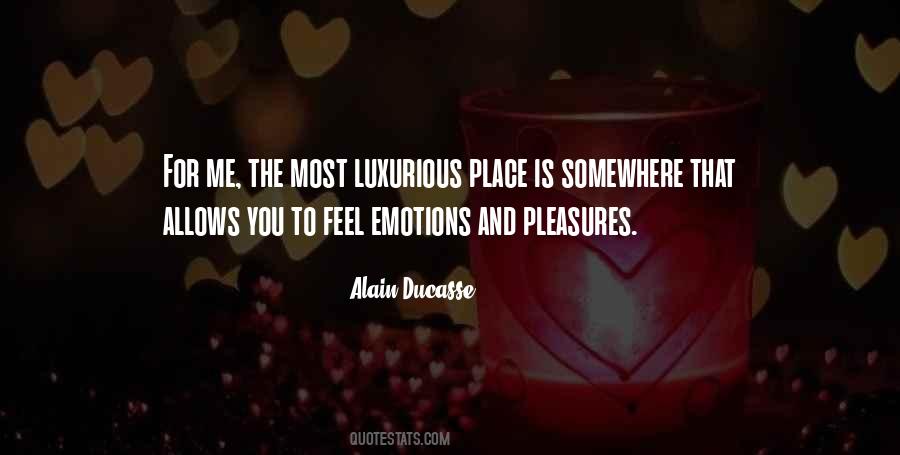 #4. All this hurrying from place to place won't bring you any relief, for you're traveling in the company of your own emotions, followed by your troubles all the way. - Author: Seneca.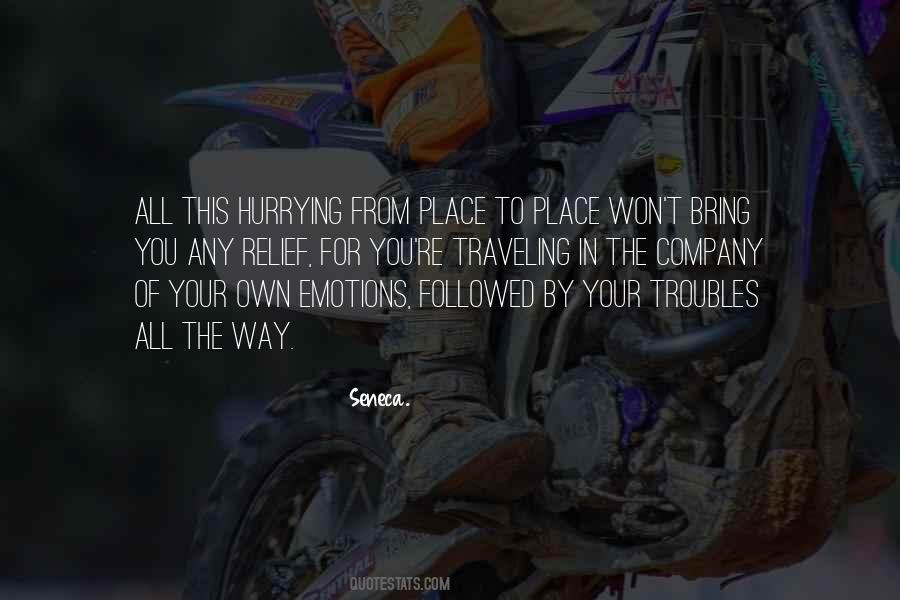 #5. The events might have taken place twelve centuries back, but when I closed my eyes, I could visualize many things. It made me very emotional. Later, when I grew up, I became passionate about history and started detaching it from emotional point of view and became more aware of the facts. - Author: Sudha Murty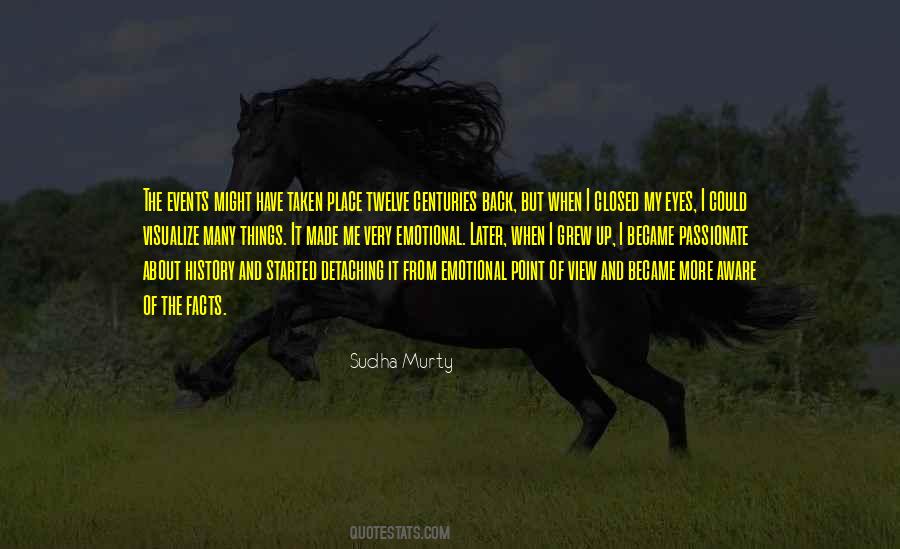 #6. Even when it was easy, music's patterning shaped the emotions ... Music proclaimed an orderly universe, promised a better place. - Author: Ellen Hunnicutt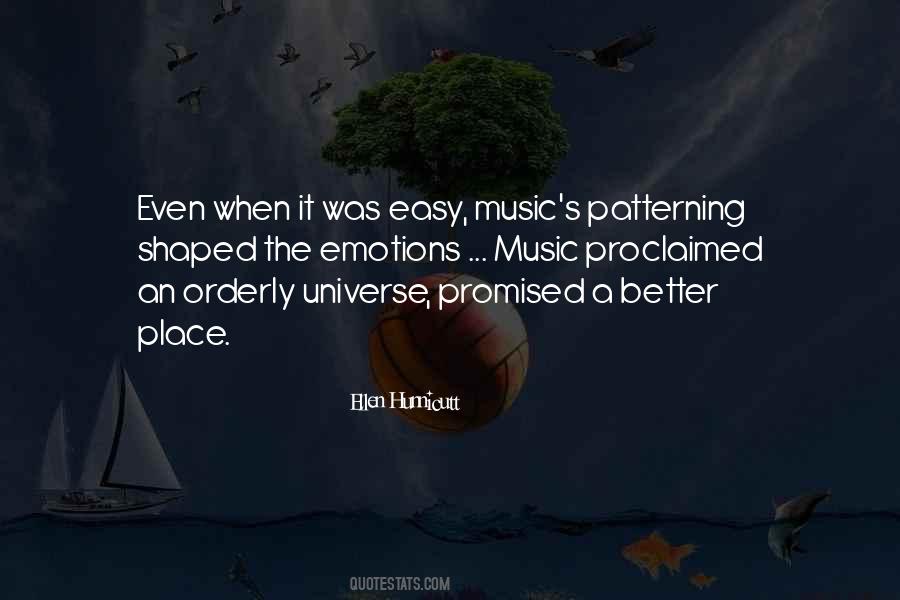 #7. She had so much to give, but no one to give it to. She buried all those messy, writhing emotions deep in a hidden secret place and pretended it was okay. - Author: Jennifer Probst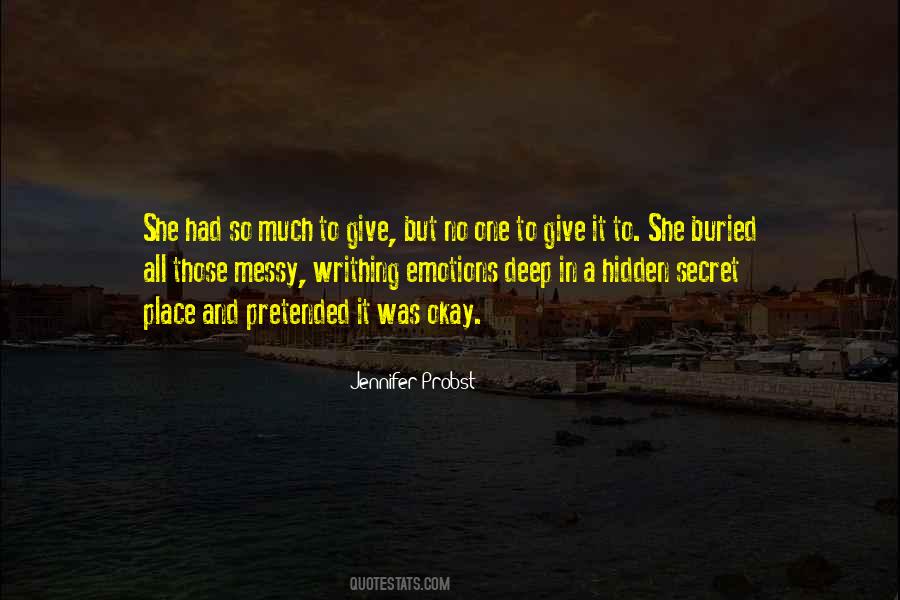 #8. As an actor, demonstrating your feelings in front of people is not what you're supposed to be doing. You're supposed to hold your emotions and control them, and not show them all over the place. - Author: James Hong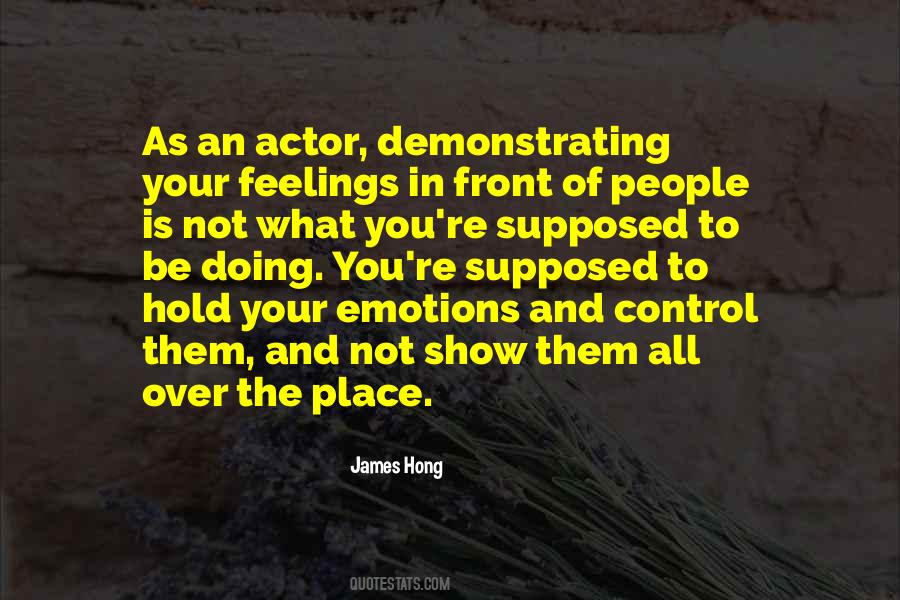 #9. Dear, dear, the miniature world of the family! All the emotions of mankind seem to find a place in it. - Author: Ivy Compton-Burnett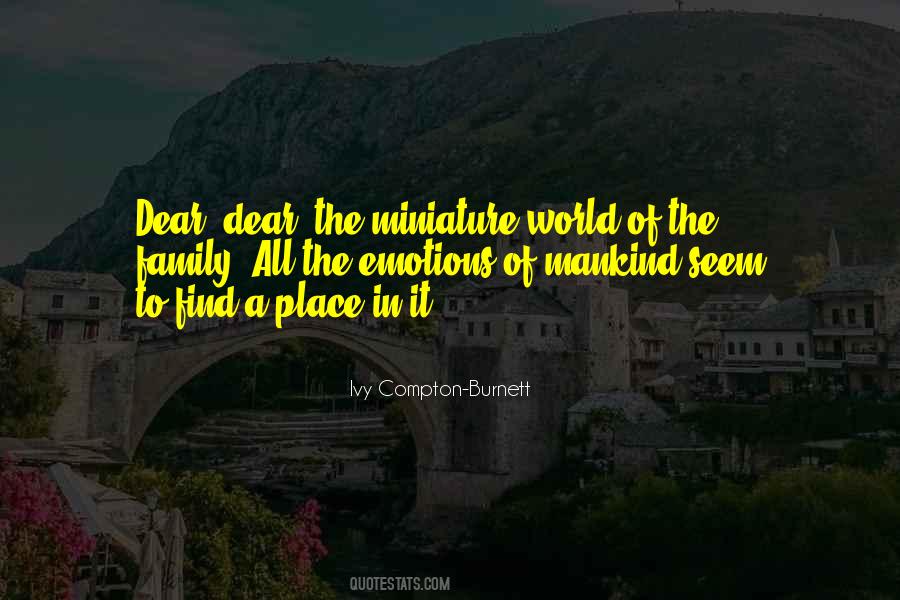 #10. In the First World War, there was the sudden passion of nationalism, and the killing took place because of these emotions. But the Soviet case is different, because you had systematic murder, like the Holocaust. - Author: Ryszard Kapuscinski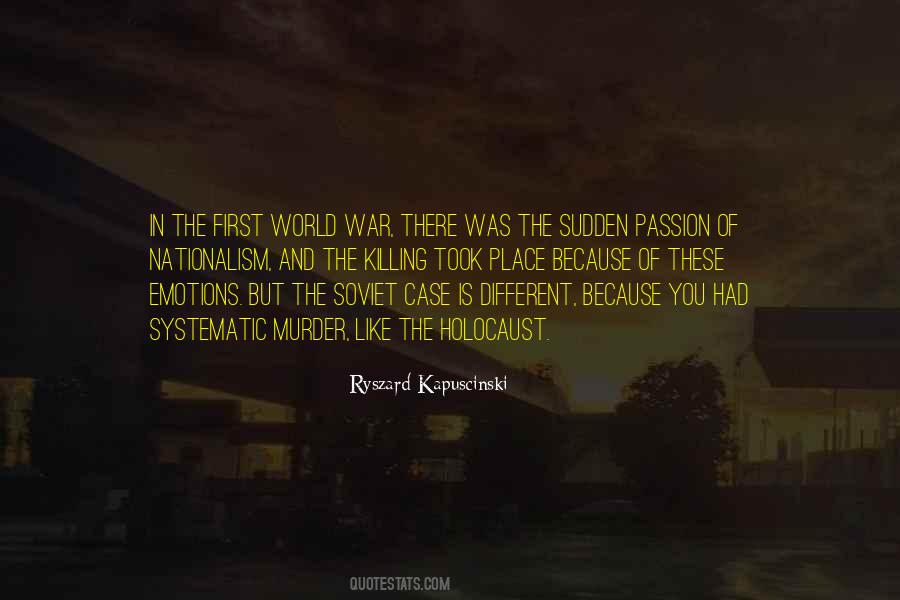 #11. Human beings are not reasonable creatures. Instead of being rule by logic, we are ruled by emotions. The world would be a happier place if the opposite were true. - Author: Nicola Yoon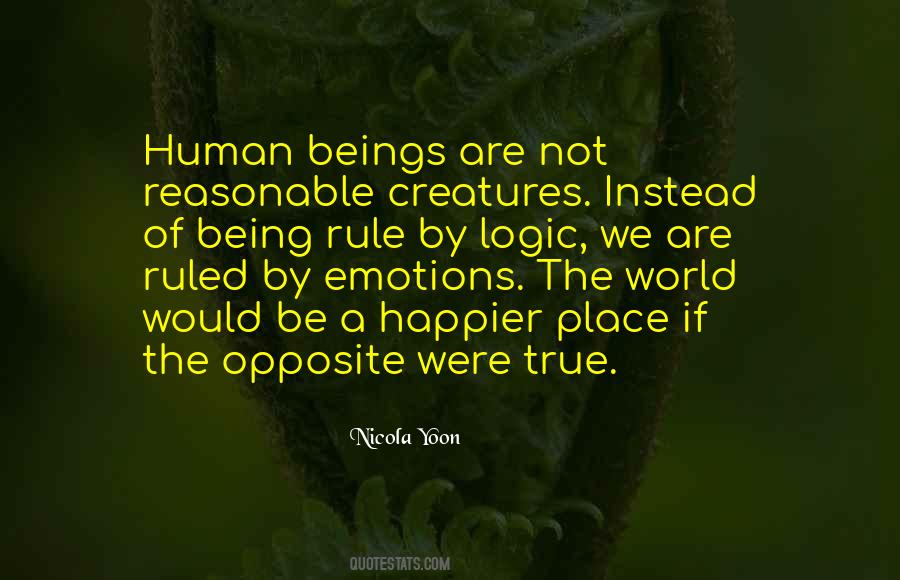 #12. Blame doesn't empower you. It keeps you stuck in a place you don't want to be because you don't want to make the temporary, but painful decision, to be responsible for the outcome of your own life's happiness. - Author: Shannon L. Alder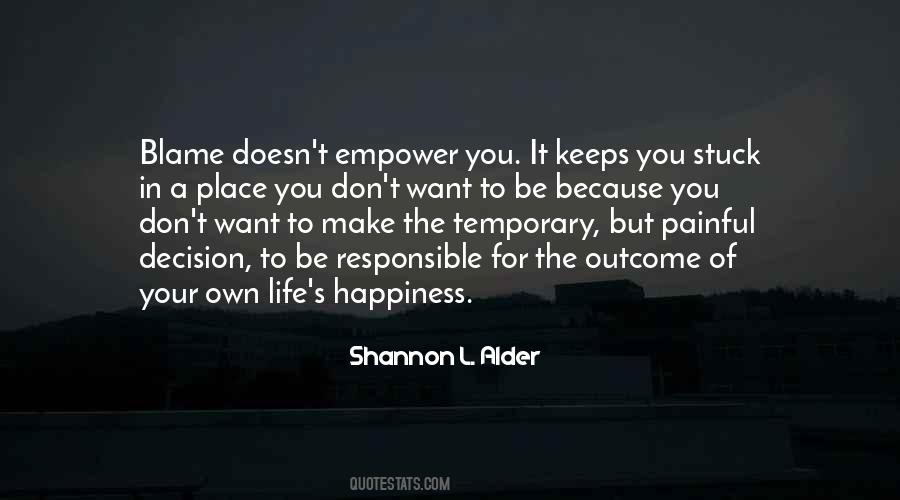 #13. Childhood is the time and children's books are the place for powerful emotions, powerful language, powerful art ... There is no room for cutesy books, dull books, or books that talk down. Children are not inferior. They may be small in stature but not in what they feel, think, listen, and see. - Author: Betsy Hearne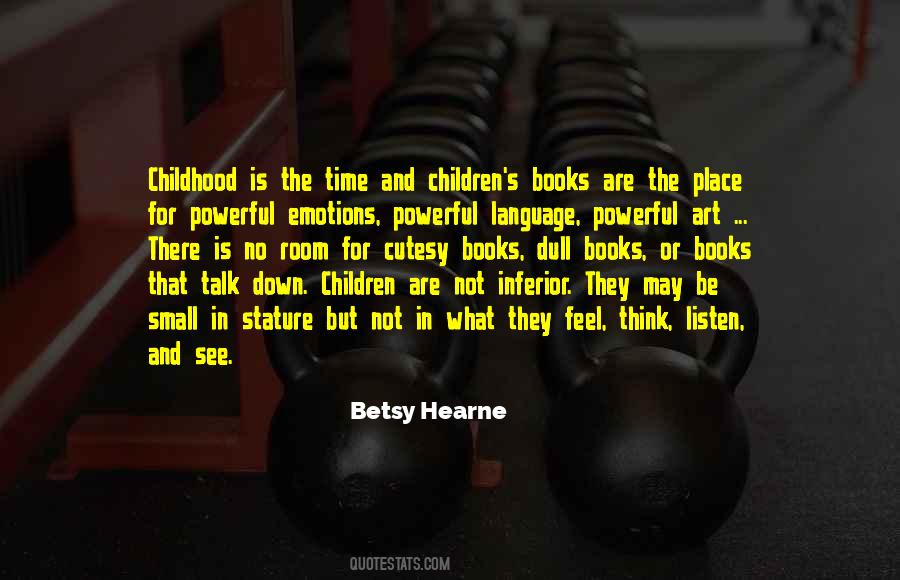 #14. Romance takes place when you first fall in love. It stirs all emotions and you can manipulate and be manipulated. - Author: Steve Martin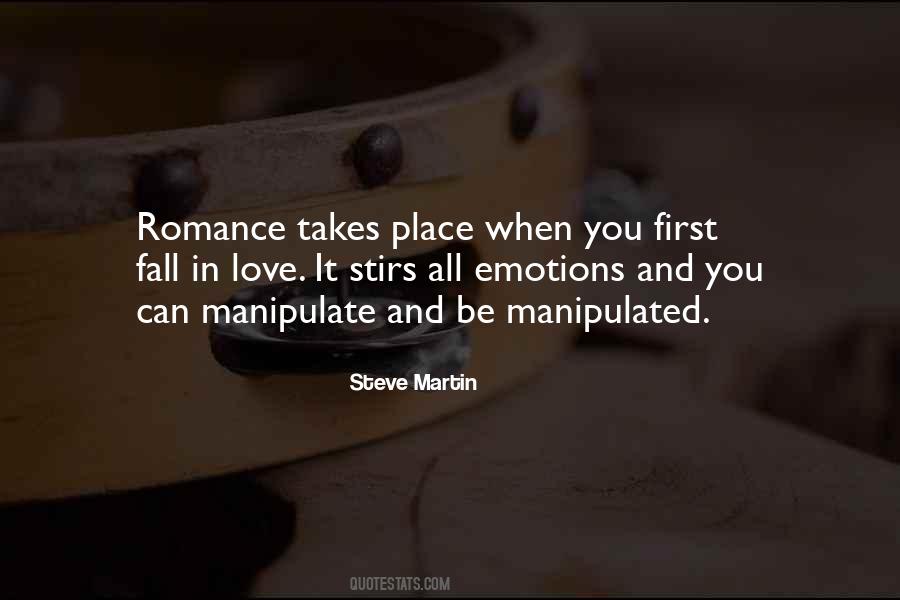 #15. Life is not a thing of knowing only
nay, mere knowledge has properly no place at all save as it becomes the handmaiden of feeling and emotions. - Author: Learned Hand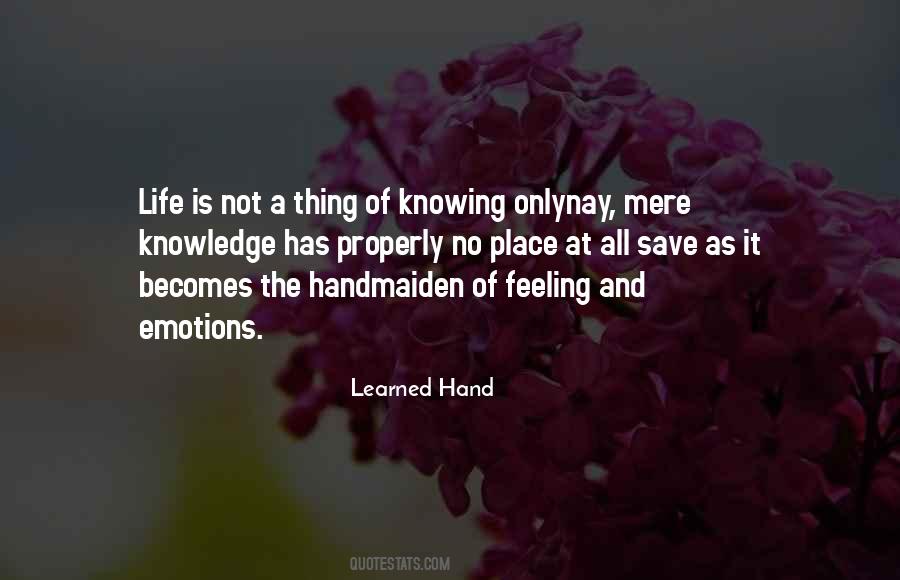 #16. The human brain is fascinating; we will forget a scent until we smell it again, we will erase a voice from our memory until we hear it again,and even emotions that seemed buried forever will be awakened when we return to the same place. - Author: Paulo Coelho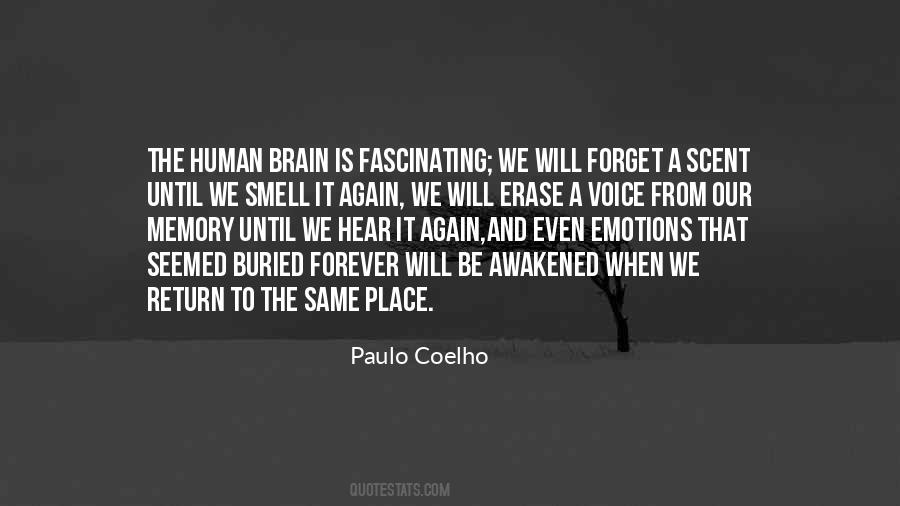 #17. The artist is a receptacle for emotions that come from all over the place: from the sky, from the earth, from a scrap of paper, from a passing shape, from a spider's web. - Author: Pablo Picasso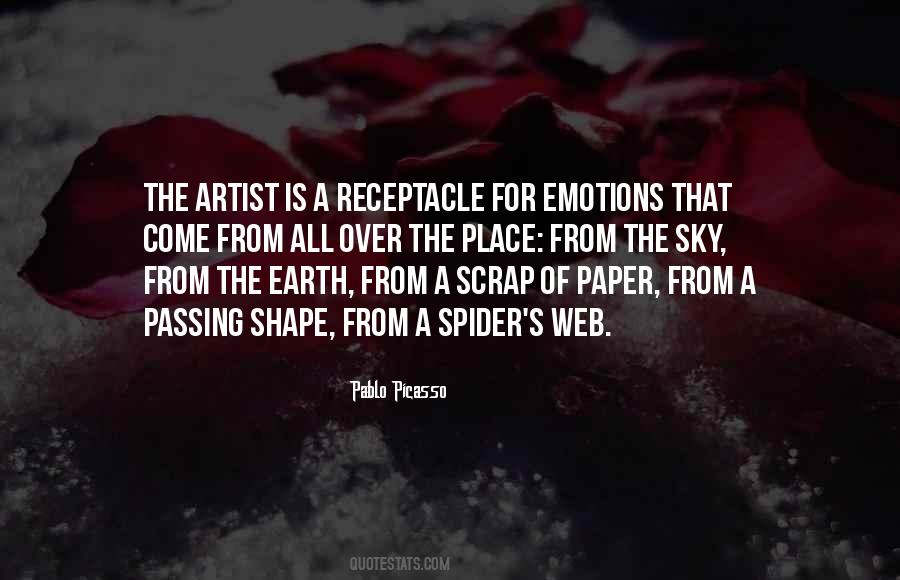 #18. And he has so much, Sydney. So much feeling. He feels everything so strongly - love, grief, anger. His emotions are up and down, all over the place. - Author: Richelle Mead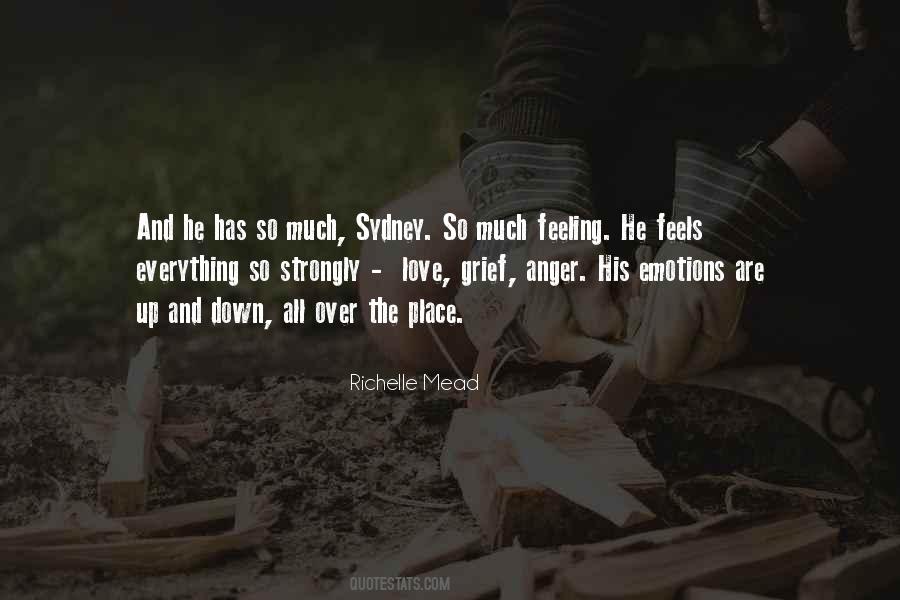 #19. My emotions are all over the place. - Author: Colleen Hoover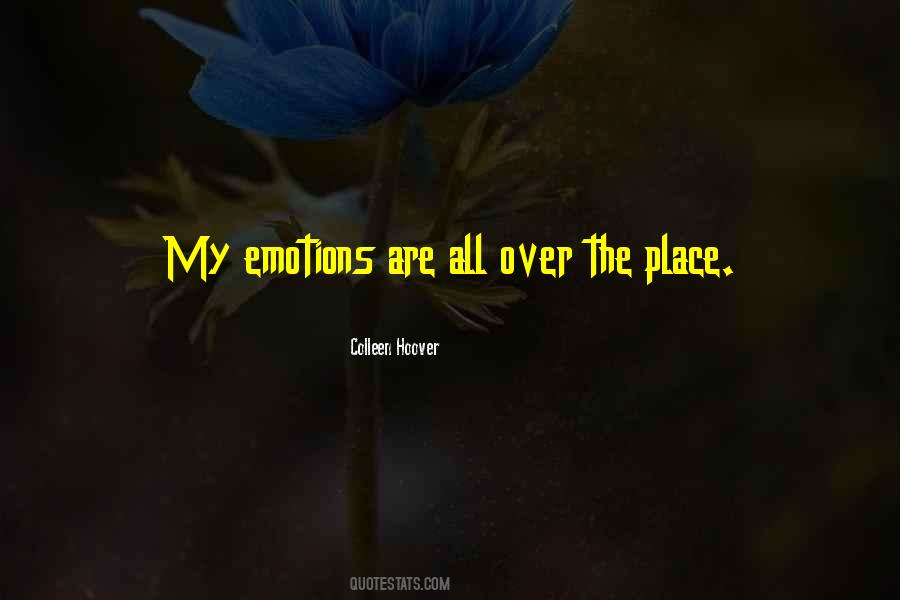 #20. A lot of our music came out of a lot of weird psychology and weird emotions. When you play the whole body of work, you get tossed all over the place. It's not easy listening. It's not even comfortable to listen to. - Author: Dave Davies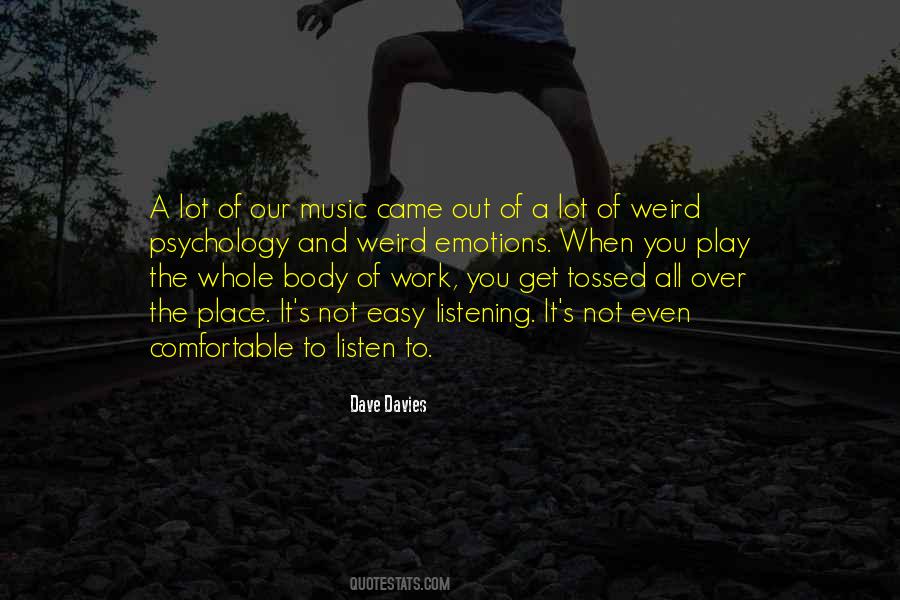 #21. His thoughts are unfathomable & her emotions are all over the place. Oh! The tragedy of Love. - Author: Ankita Singhal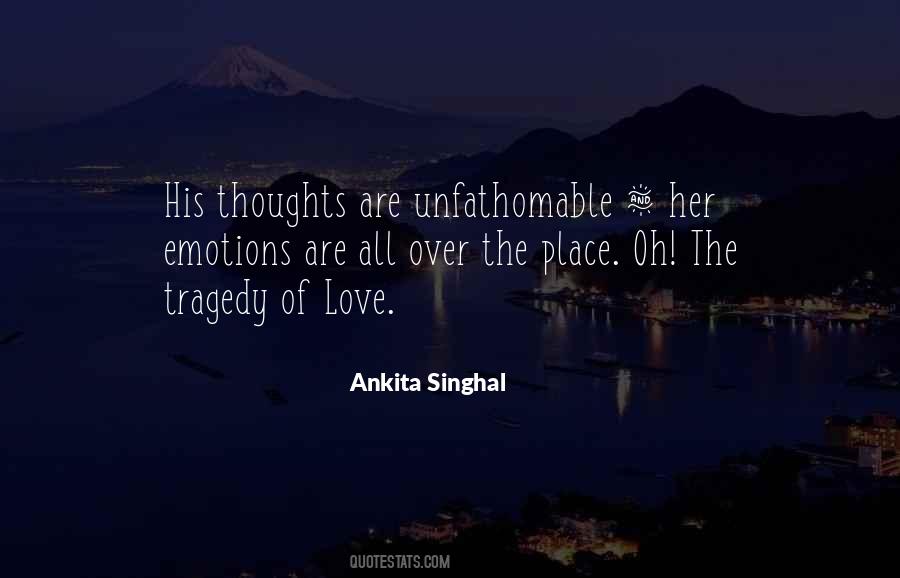 #22. Emotions have no place in business, unless you do business with them. - Author: Friedrich Durrenmatt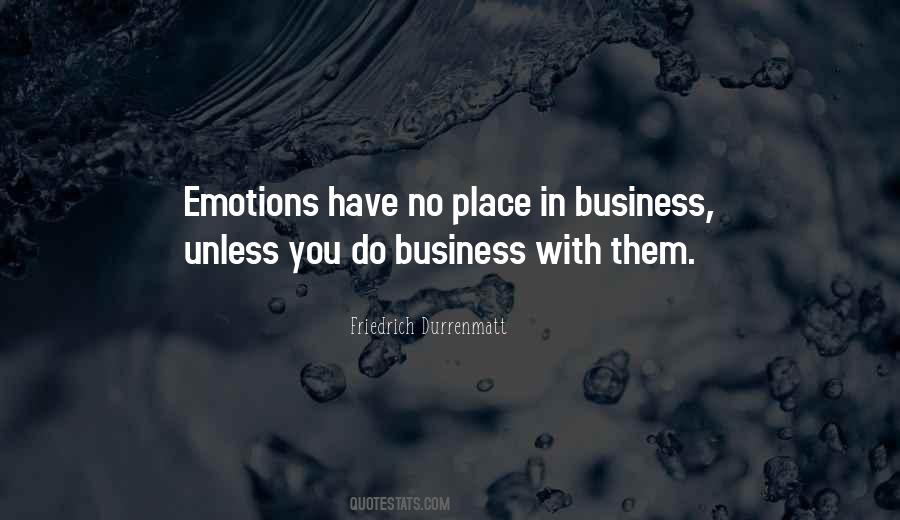 #23. Wes Anderson's mind must be an exciting place for a story idea to be born. It immediately becomes more than a series of events and is transformed into a world with its own rules, in which everything is driven by emotions and desires as convincing as they are magical. - Author: Roger Ebert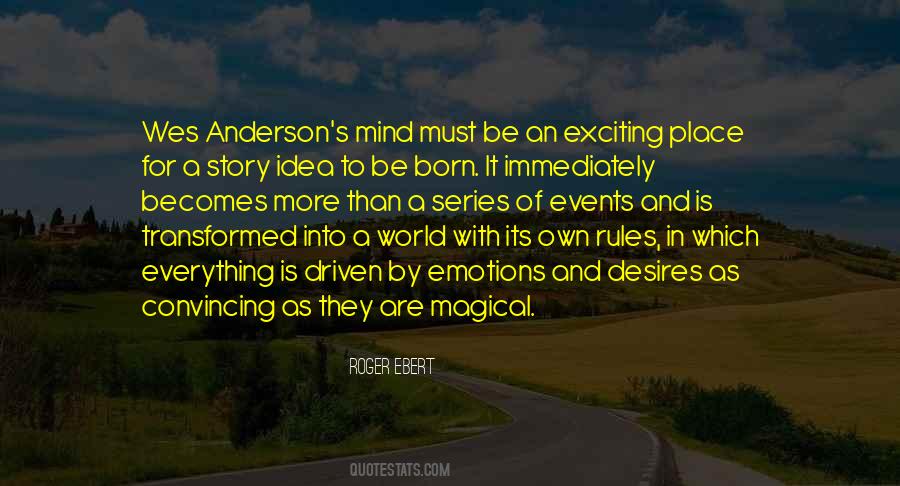 #24. Girls are genius at getting through sexual abuse. Often the only way to get through is not to feel. And that is exactly what these fantasy worlds allow: They give girls a place to go so they don't have to be present in their violated bodies. Brilliant. - Author: Patti Feuereisen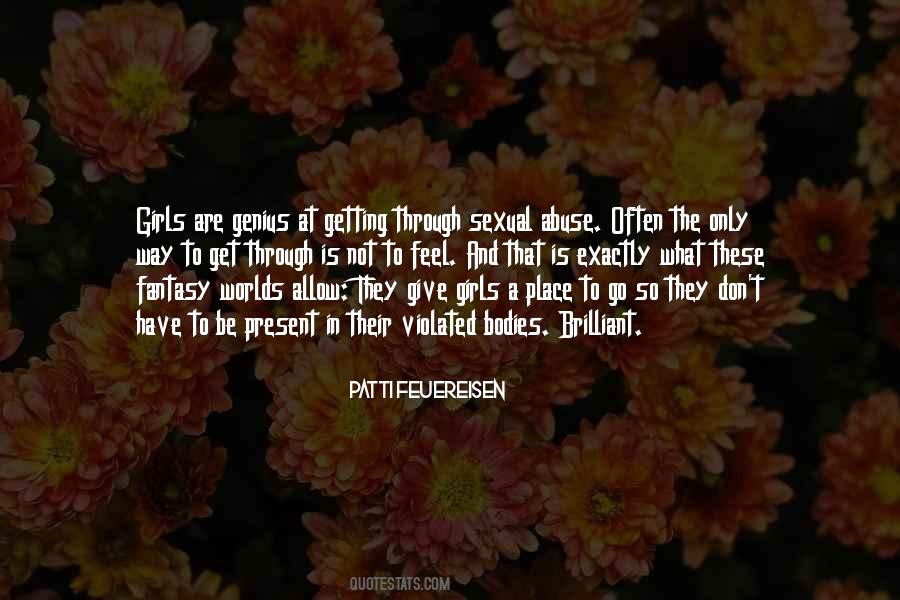 #25. It is, alas, chiefly the evil emotions that are able to leave their photographs on surrounding scenes and objects and whoever heard of a place haunted by a noble deed, or of beautiful and lovely ghosts revisiting the glimpses of the moon? - Author: Algernon H. Blackwood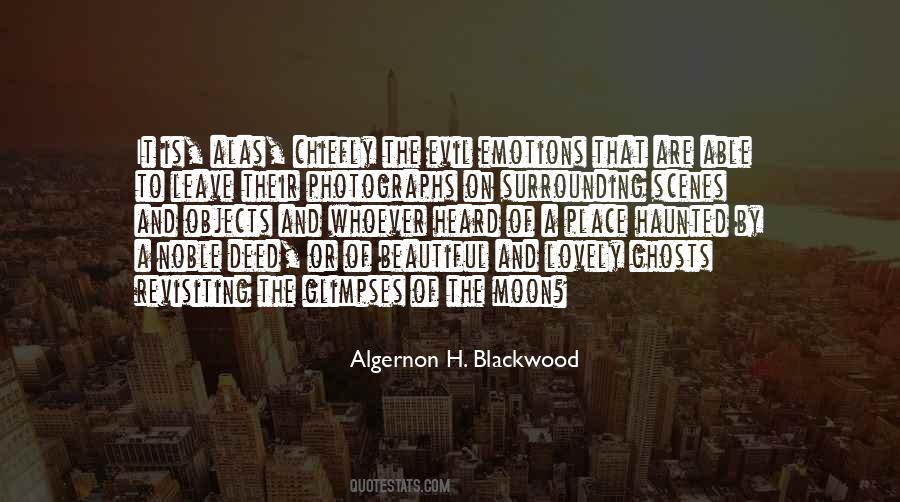 #26. Any comic is a tragic soul. Comedy is one of the things that allows one to survive. Particularly if one has been in the process of separating off the emotions, it's one place you can process them. - Author: Twyla Tharp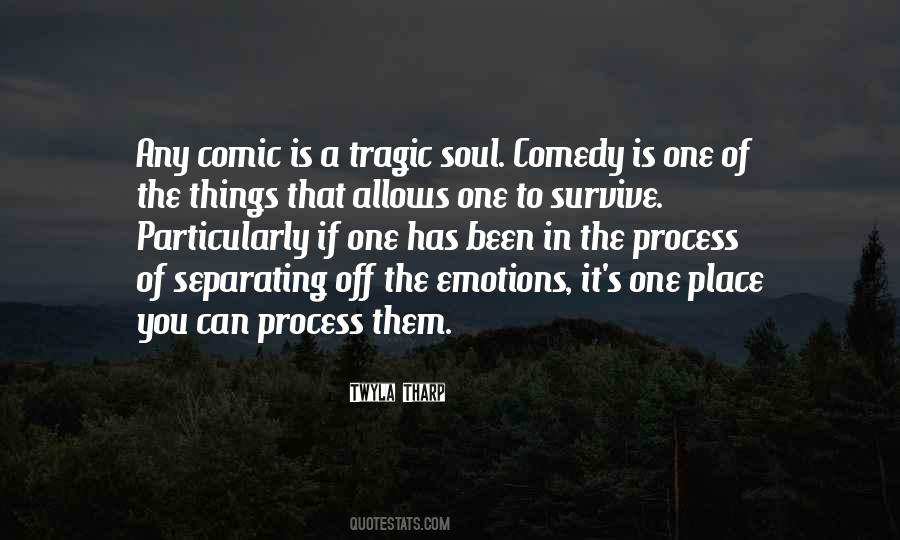 #27. Maybe they didn't choose locks because love is permanent. Maybe they chose locks because emotions bind us into place. They weigh us down. - Author: Cora Carmack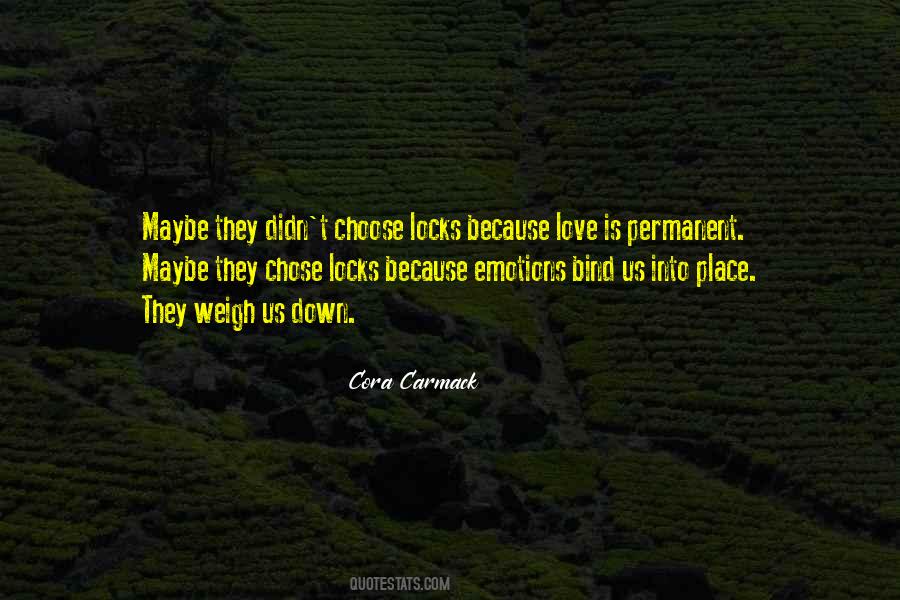 #28. In all cultures, the midwife's place is on the threshold of life, where intense human emotions, fear, hope, longing, triumph, and incredible physical power-enable a new human being to emerge. Her vocation is unique. - Author: Sheila Kitzinger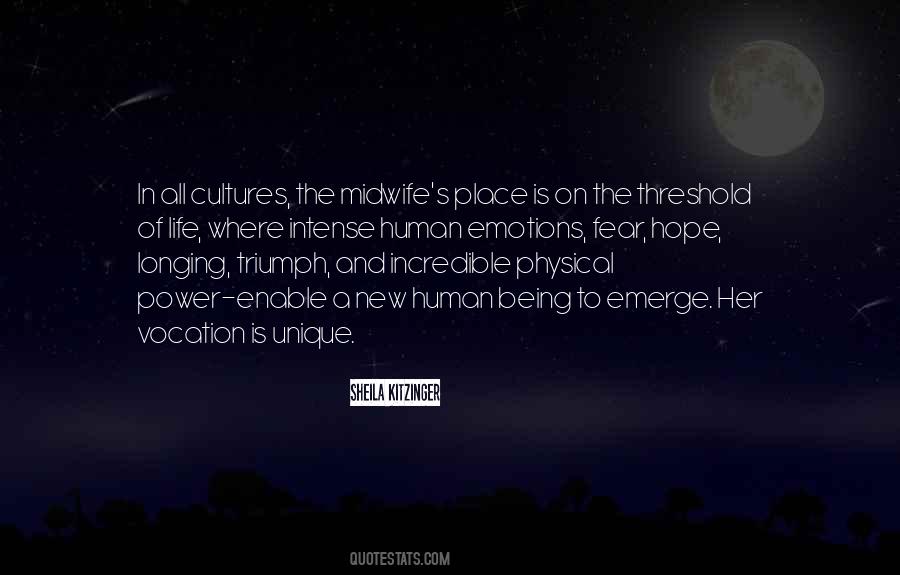 #29. Men have physical needs, and they have emotions. While physical needs are unsatisfied, they take first place; but when they are satisfied, emotions unconnected with them become important in deciding whether a man is to be happy or unhappy. - Author: Bertrand Russell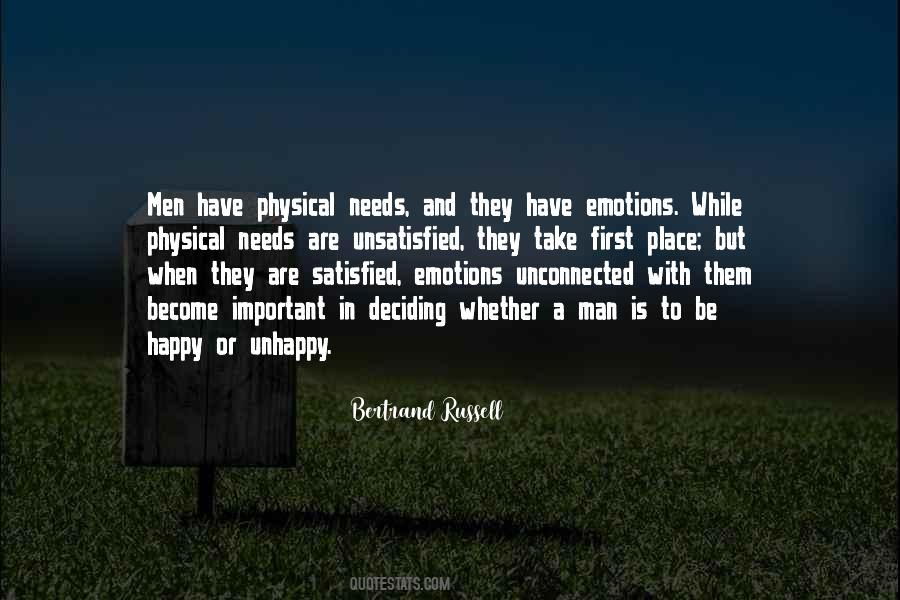 #30. Gabriel discourages emotional attachments the way most of us discourage door-to-door salesmen. They're inconvenient, intrusive, and liable to end up saddling you with something you never wanted in the first place, at a cost far higher than you wish to pay. - Author: Kelley Armstrong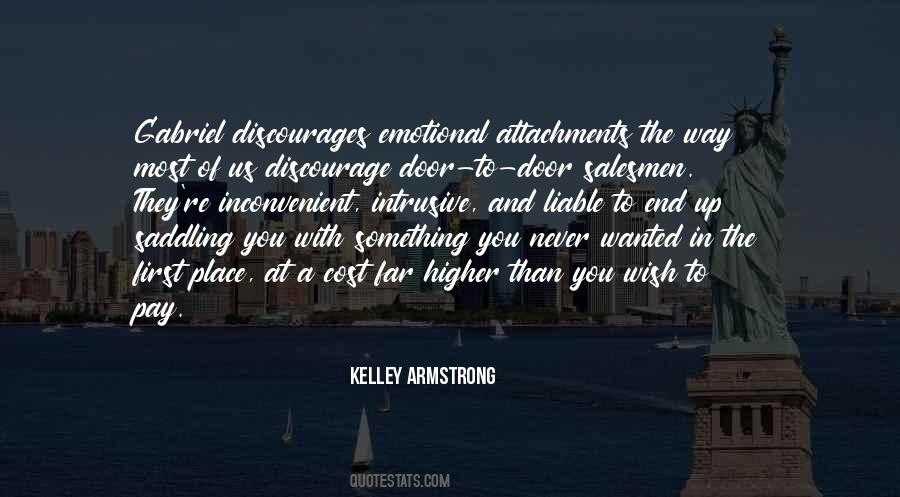 #31. Maybe the theatre isn't any place for a reasonable human being after all. It keeps your emotions in such a constant state of upheaval. It's really terribly wearing. I wonder if I could stand it, one emotional upset after the other just going on and on for the rest of my life. - Author: Madeleine L'Engle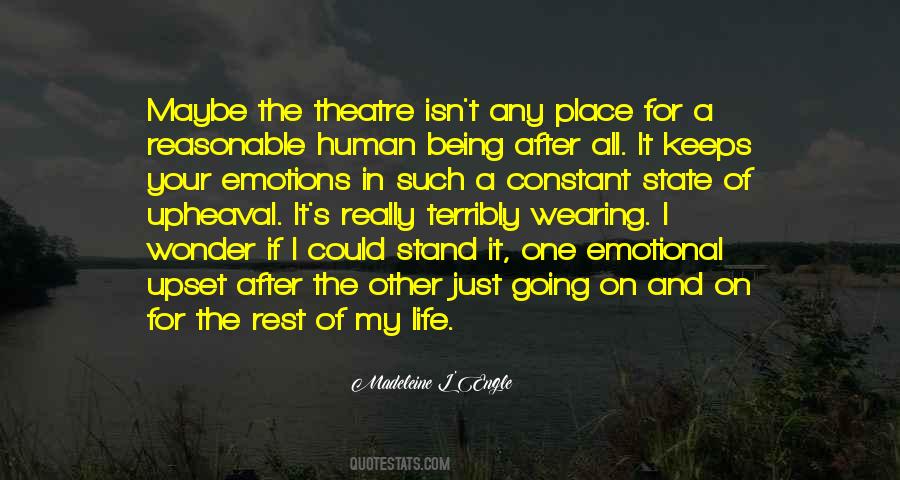 #32. It was hard to feel the right emotions at the right times. They didn't come at all when you set a place for them, and they sacked when you weren't ready, when you were just innocently flossing your teeth, for example, or eating a bowl of cereal. - Author: Ann Brashares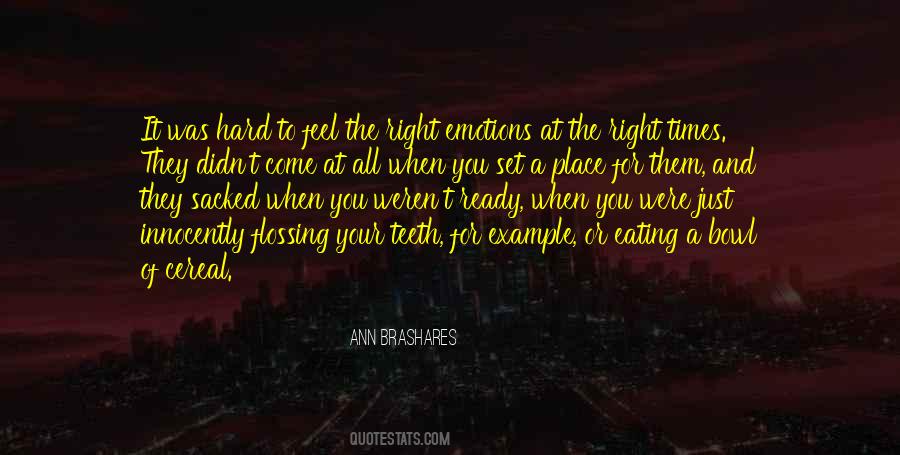 #33. Just as ripples radiate from the place where a stone is thrown into a pool of water, our sometime-unconscious thoughts, feelings, emotions, and beliefs create the "disturbances" in the field that become the blueprints for our lives. - Author: Gregg Braden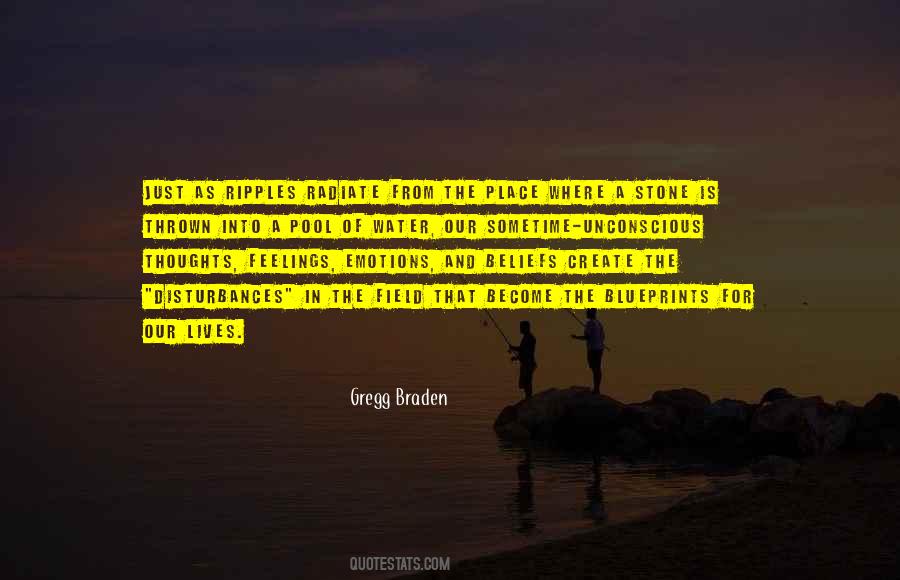 #34. Comedic actors can be looked at as a lower form because we have to put ourselves in a lower place than most of the audience. I think lofty emotions are somehow considered more special. The best stories in the world to me are the ones that elicit a real emotion, but have humour. - Author: Jim Carrey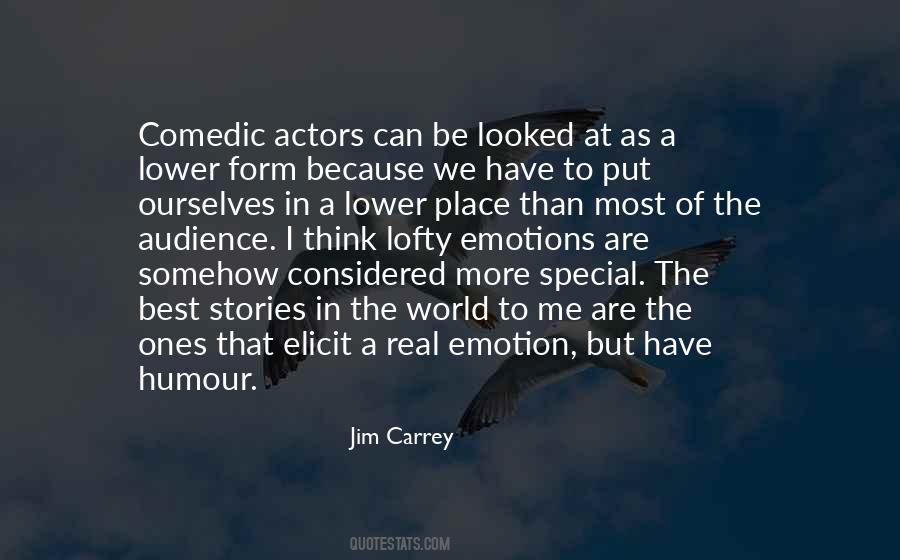 #35. On stage, you can use your emotions. It's the place where you can channel them. They have a purpose. - Author: Florence Welch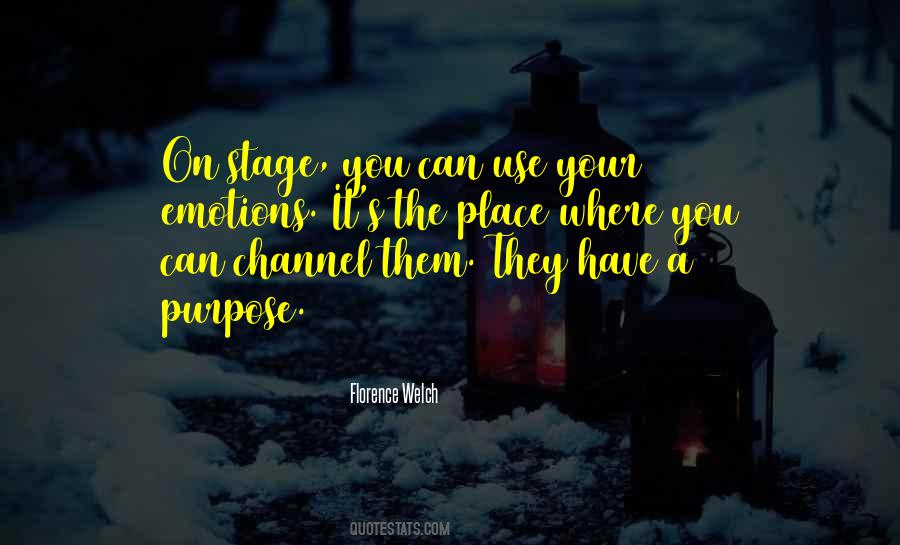 #36. You cannot operate from a place of love when you are emotionally unstable. - Author: Kemi Sogunle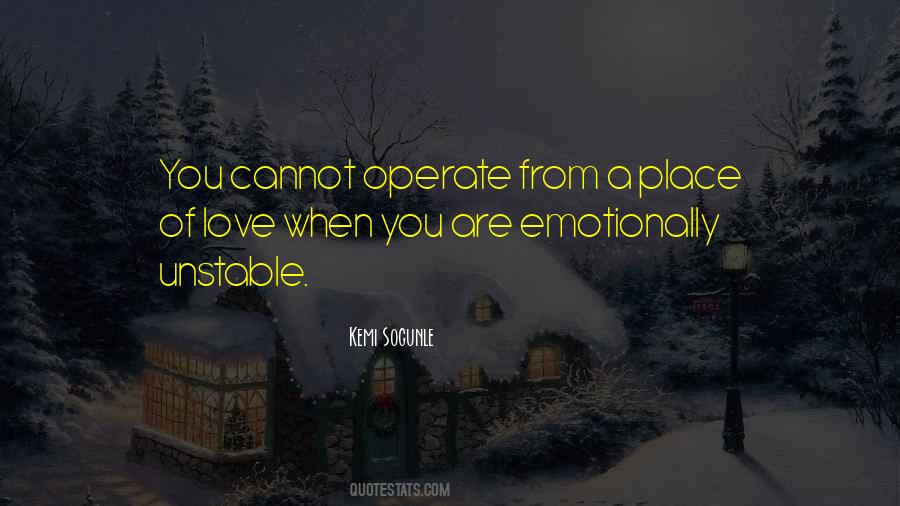 #37. Emotions stem from attitudes, therefore you should change your attitude in the first place. Feelings and emotions are nothing but consequences. They are caused by one single thing, importance. - Author: Vadim Zeland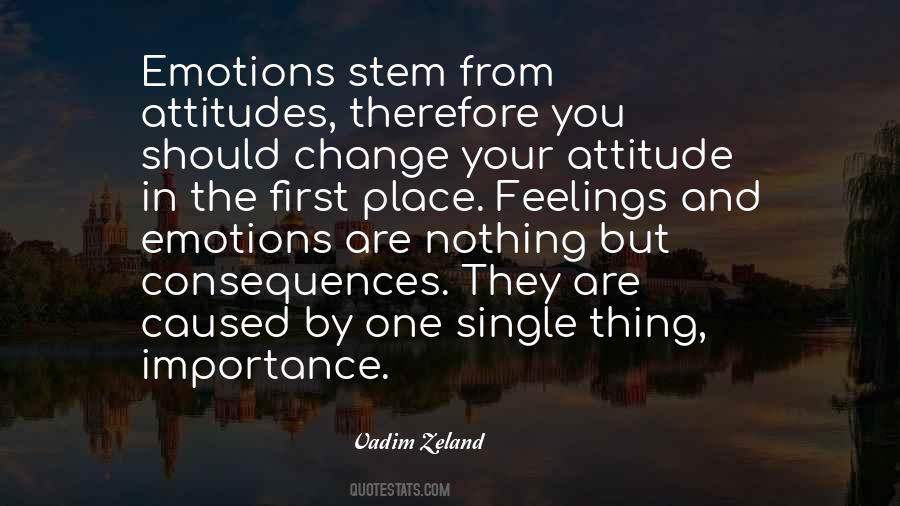 #38. The least interesting aspect of good conversation is what is actually said. What is more interesting is all the deliberations and emotions that take place simultaneously - Author: Tor Norretranders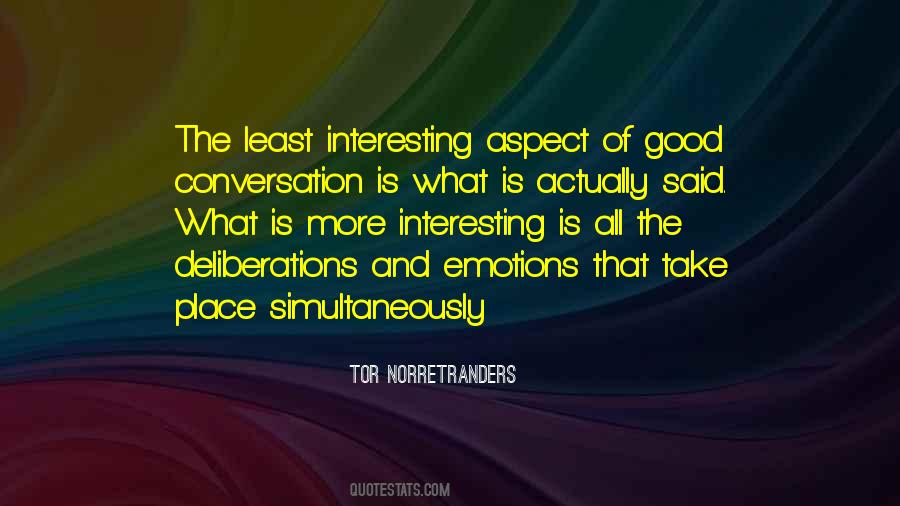 #39. True saints know that the place where all the joy comes from is far deeper than that of feelings; joy comes from the place of the very presence of God. Joy is God and God is joy and joy doesn't negate all other emotions - joy transcends all other emotions. - Author: Ann Voskamp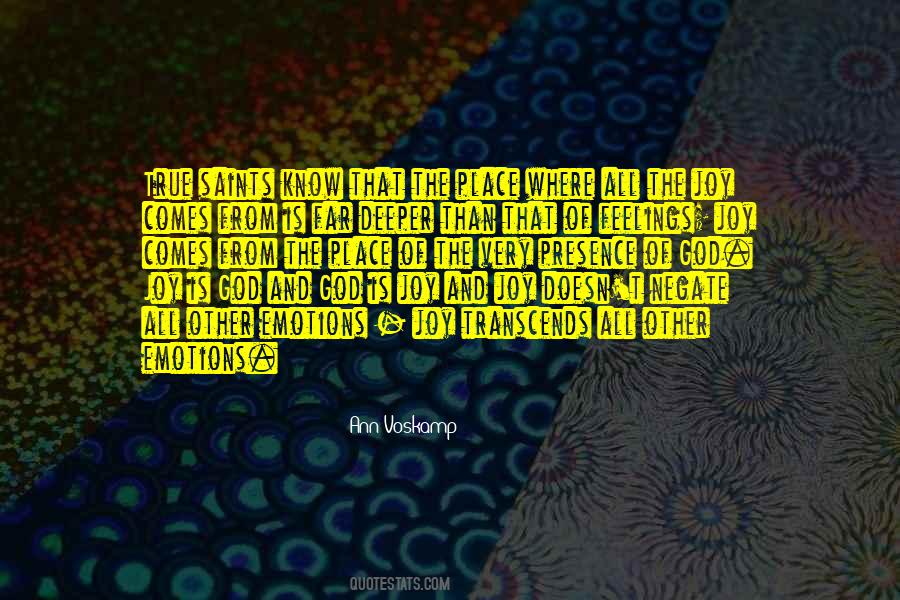 #40. In place of thoughts it has impulses, habits, and emotions. - Author: Edward L. Bernays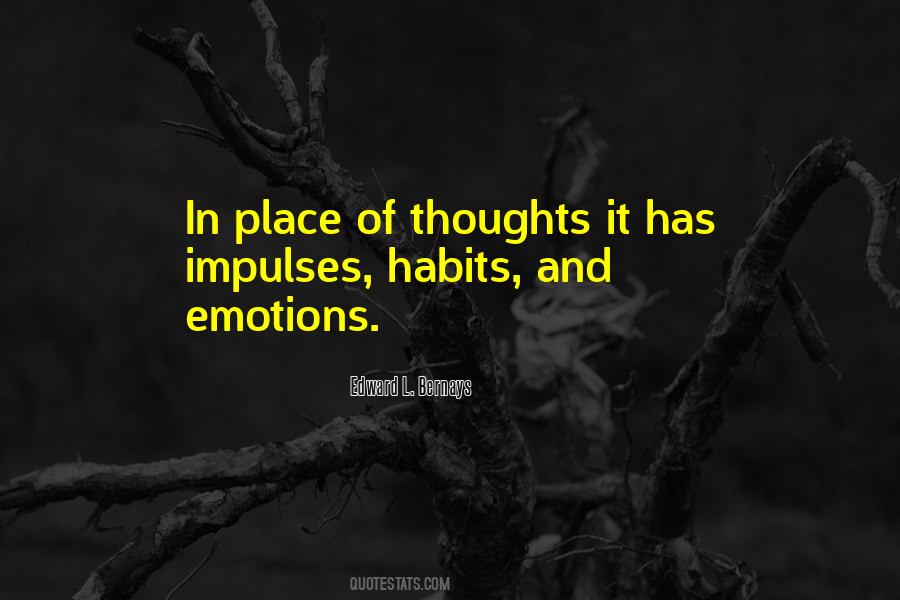 #41. [If you] give into your [emotional] illusions, and you will find yourself lost in a maze with no exits, nor entrances, but winding paths that lead you in circles so many times that you grow familiar and comfortable with the very place you shouldn't be in. - Author: A.J. Darkholme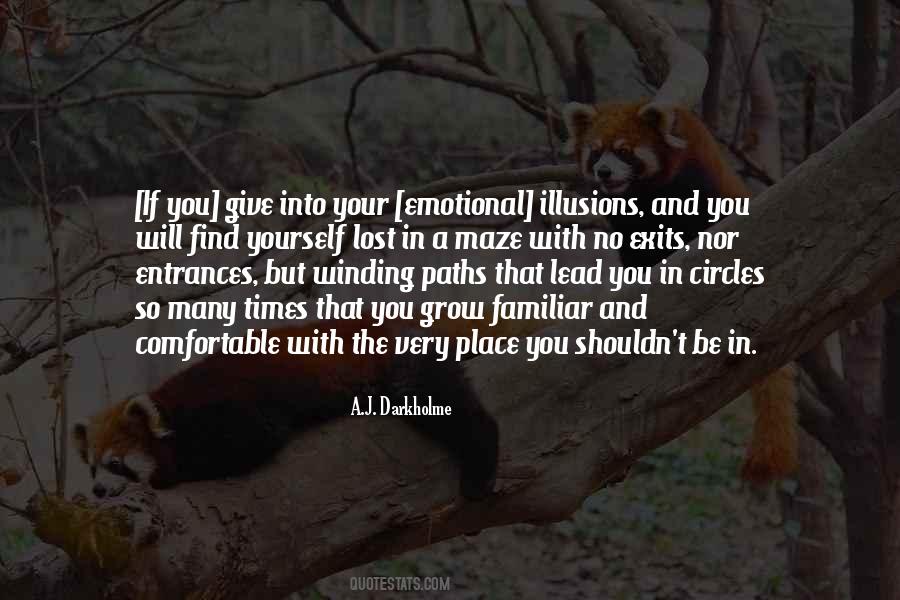 #42. But she looked for the emotions and they weren't there; just scraps and tatters, clinging to the empty place where they belonged. She had no feeling left, hollowed out and lost and wondering how she'd ended up - Author: Cole McCade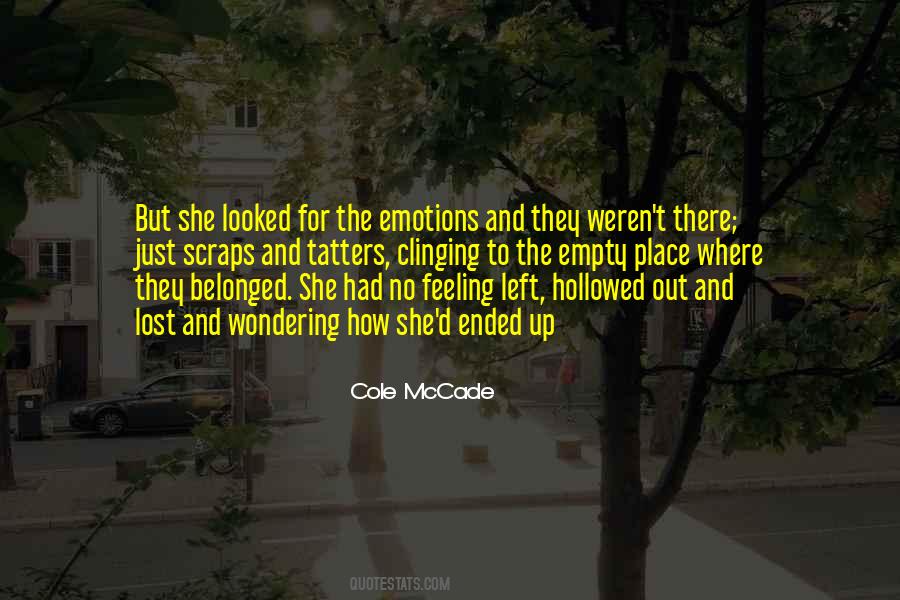 Famous Authors
Popular Topics