Don't Think Too Much Famous Quotes & Sayings
List of top 100 famous quotes and sayings about don't think too much to read and share with friends on your Facebook, Twitter, blogs.
Top 100 Don't Think Too Much Quotes
#1. I think of my life as a series of moments and I've found that the great moments often don't have too much to them. They're not huge, complicated events; they're just magical wee moments when somebody says 'I love you' or 'You're a really good at what you do' or simply 'You're a good person'. - Author: Billy Connolly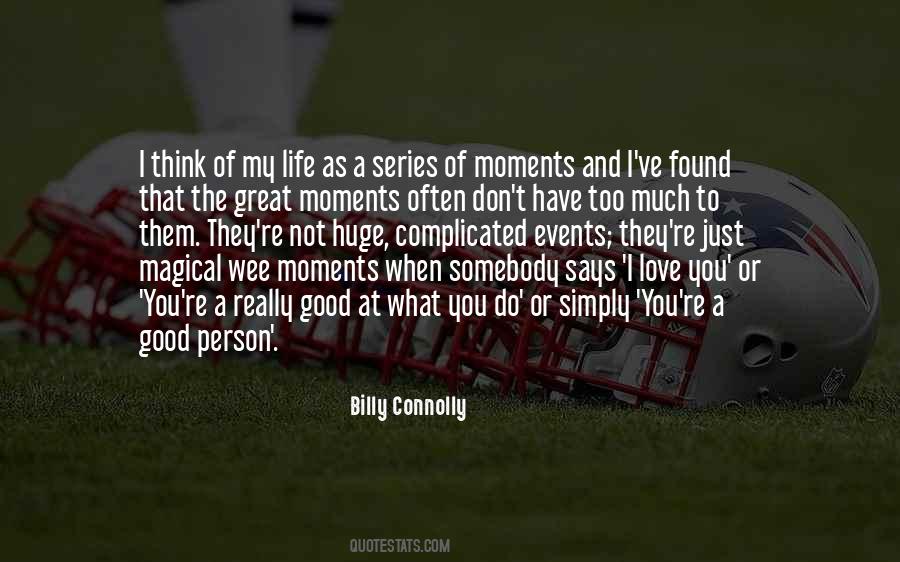 #2. I don't want to think too much about art, you see. I don't want to attend symposia, listen to papers, or discuss it at cocktail parties ... What I want to do is clutch my heart and fall down when I see it. (Mr. Nannuzzi to Edgar) - Author: Stephen King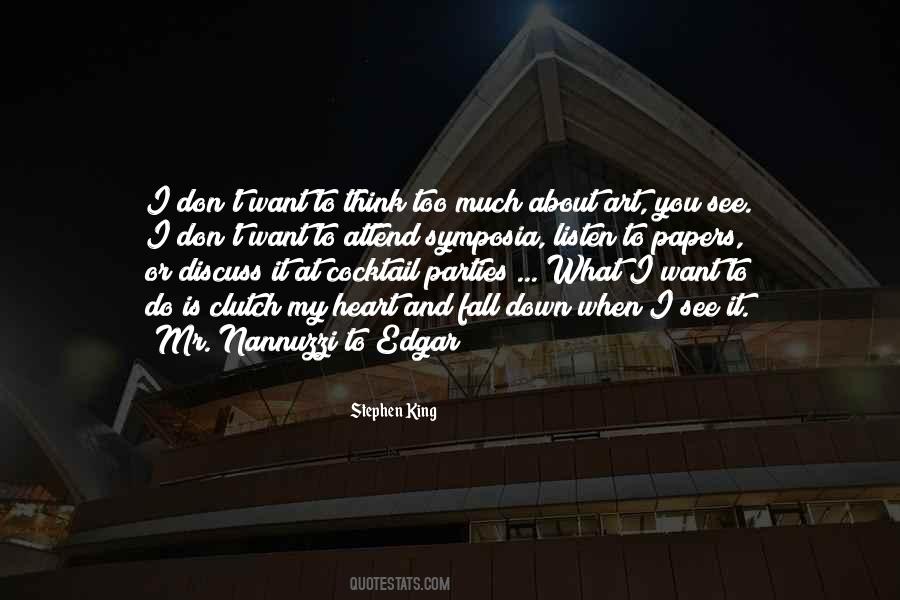 #3. Economists tend to think they are much, much smarter than historians, than everybody. And this is a bit too much because at the end of the day, we don't know very much in economics. - Author: Thomas Piketty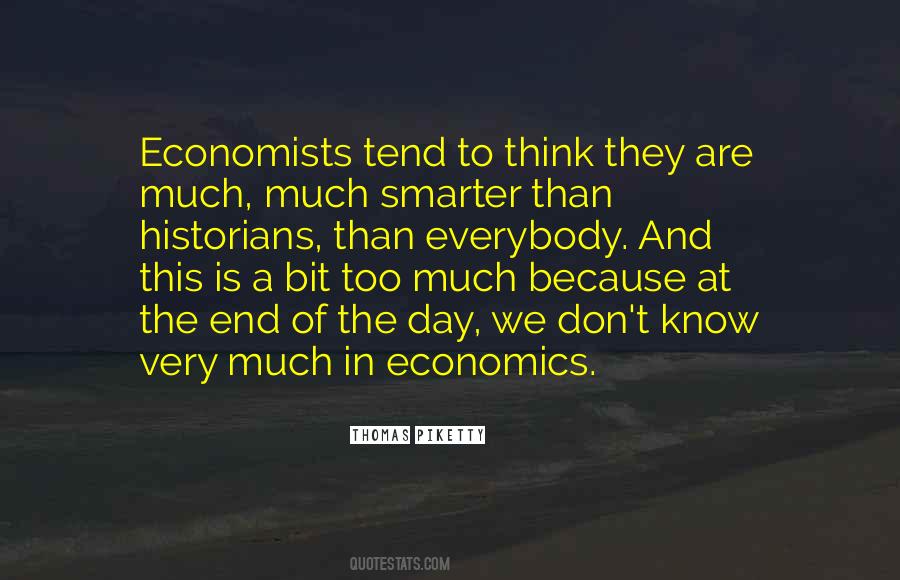 #4. I don't think it's a director's job to peek behind the curtain too much. - Author: Paul Thomas Anderson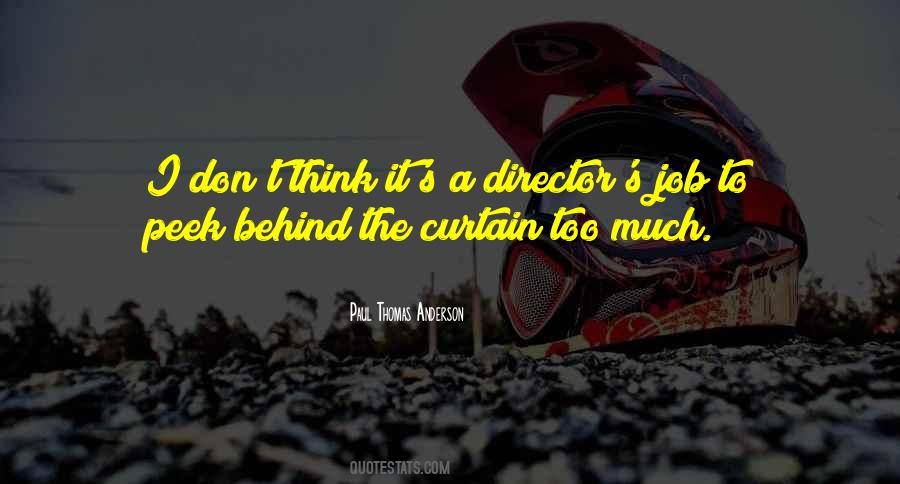 #5. The need of exercise is a modern superstition, invented by people who ate too much and had nothing to think about. Athletics don't make anybody long-lived or useful. - Author: George Santayana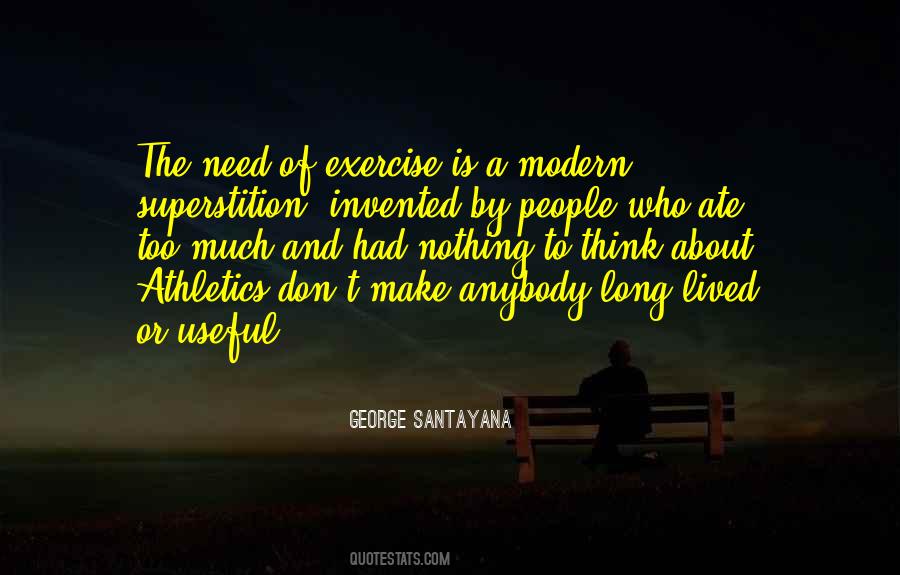 #6. It'd be a mistake," Lee said. "I think maybe you have to make a few," Merrin said. "If you don't, you're probably thinking too much. That's the worst mistake you can make. - Author: Joe Hill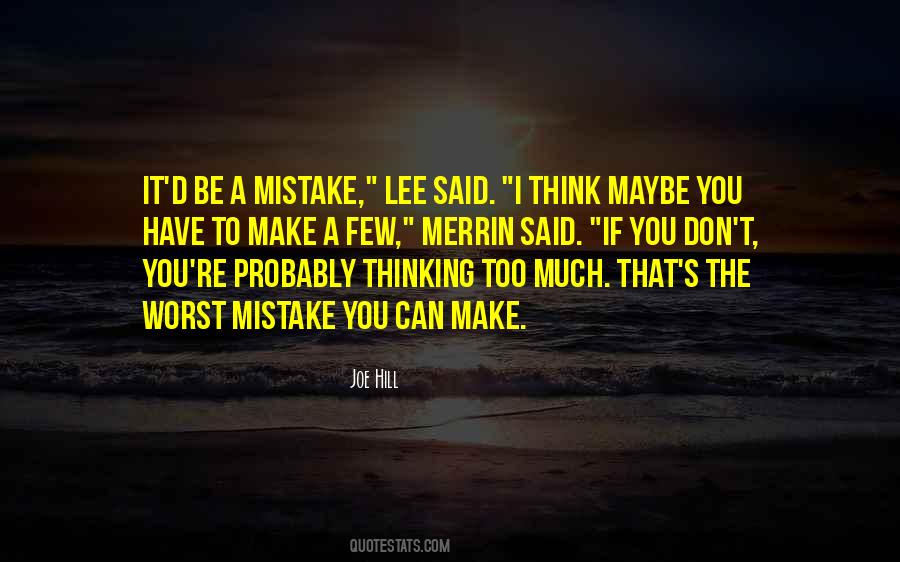 #7. I don't think too much about the future. Not because I'm hiding my head in the sand but because I figured out that whatever the future was going to be, the thing I had to do was to quiet my mind and open my heart and do what I could to end suffering. - Author: Ram Dass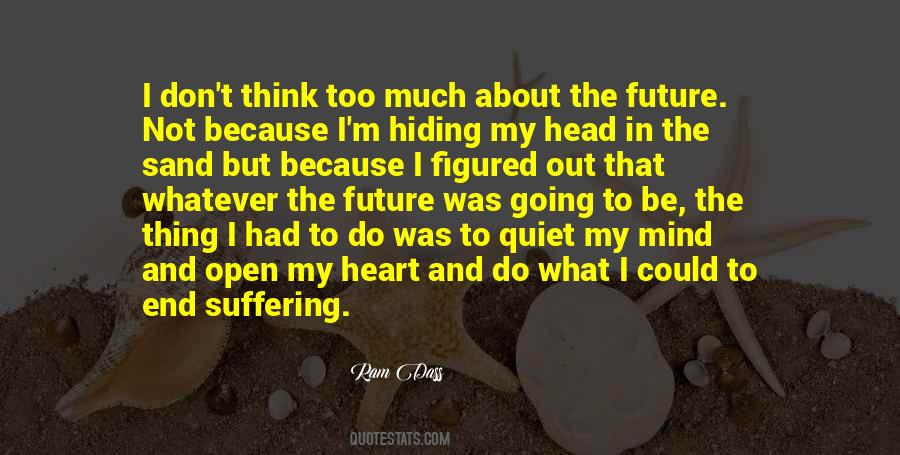 #8. Don't think too much. You'll create a problem that wasn't even there in the first place. - Author: Sukhraj S. Dhillon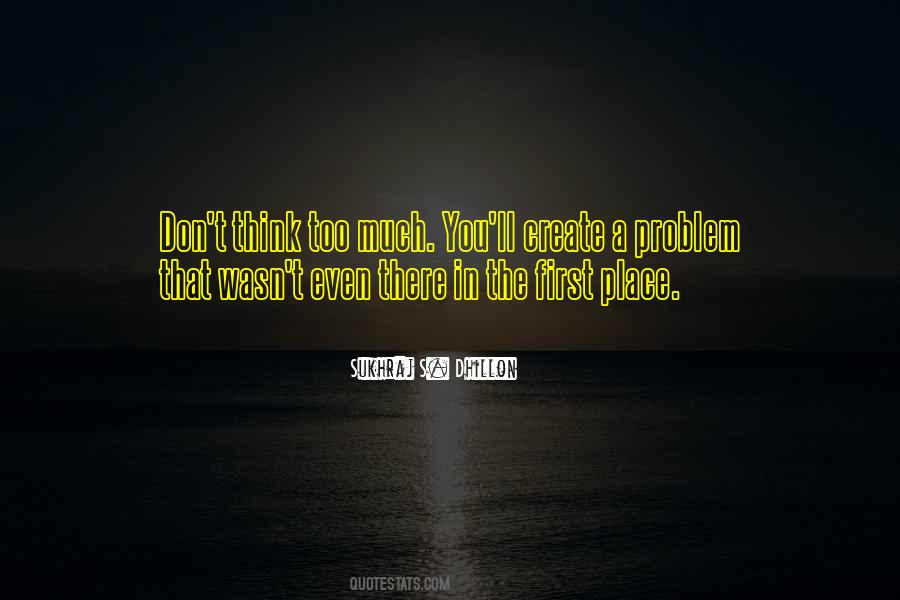 #9. If you can spend enough time playing other people, you don't have to think too much about your own character motivations. - Author: Dean Koontz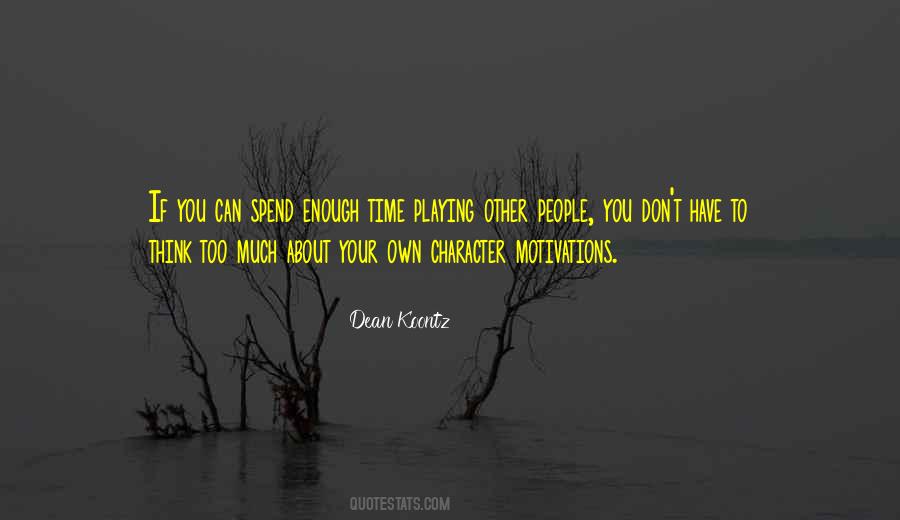 #10. I just don't think of age and time in respect of years. I have too much experience of people in their seventies who are vigorous and useful and people who are thirty-five who are in lousy physical shape and can't think straight. I don't think age has that much to do with it. - Author: Harrison Ford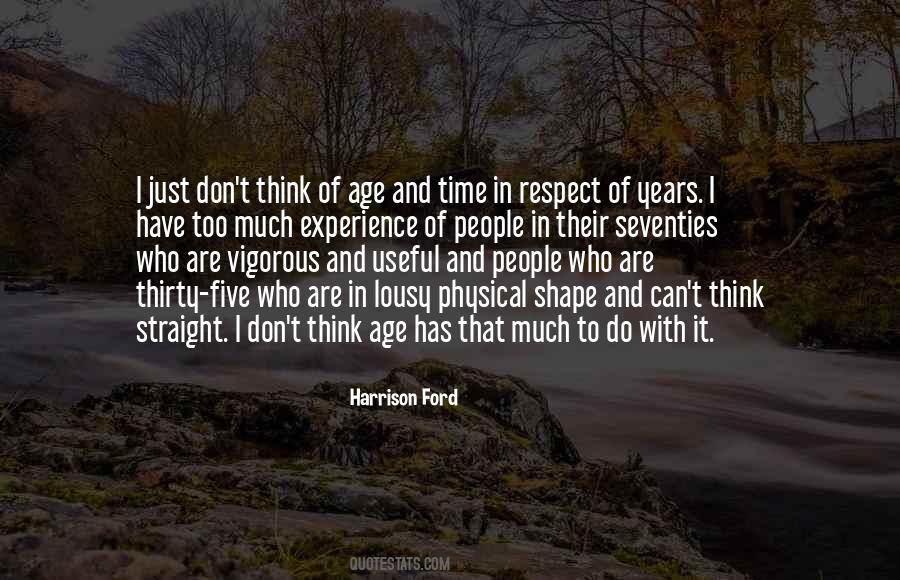 #11. I've been grasping at nothing, running in circles, trying desperately to fill the emptiness inside with nothing but air. If I think about it too much, I feel shame, so much shame. So I don't. - Author: Kerry Cohen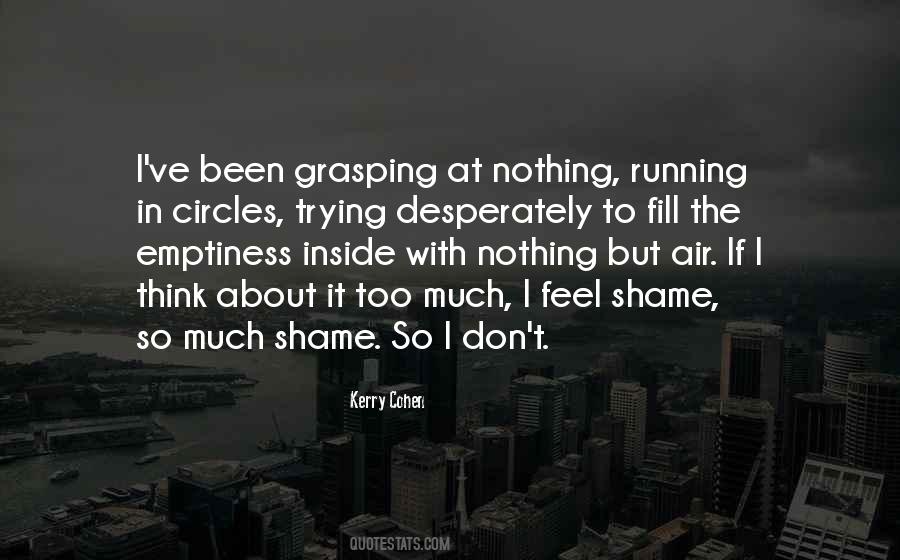 #12. You can't really think about more than one movie at a time. You're thinking about it consciously, and the subconscious is working too, and if you cram too much into your head, you don't get any ideas in the shower. - Author: Marshall Brickman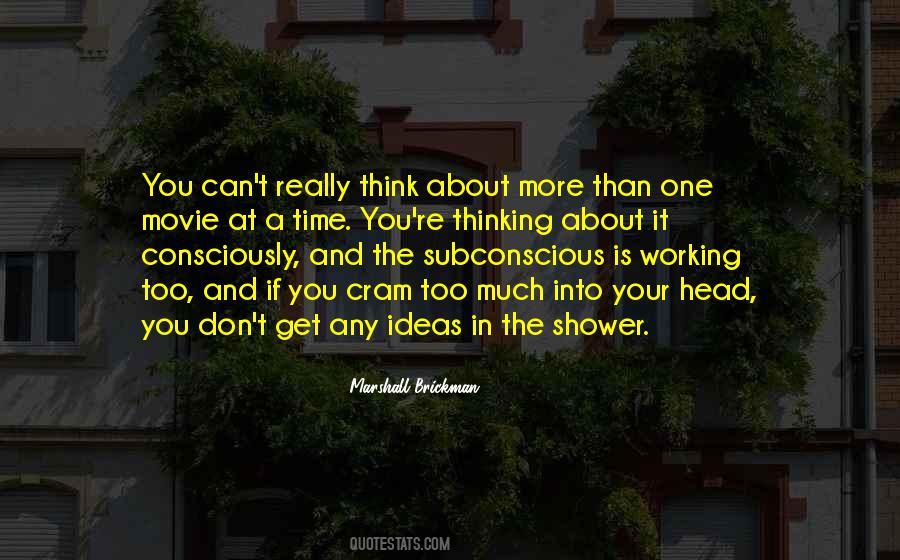 #13. I don't believe in writer's block. Think about it - when you were blocked in college and had to write a paper, didn't it always manage to fix itself the night before the paper was due? Writer's block is having too much time on your hands. - Author: Jodi Picoult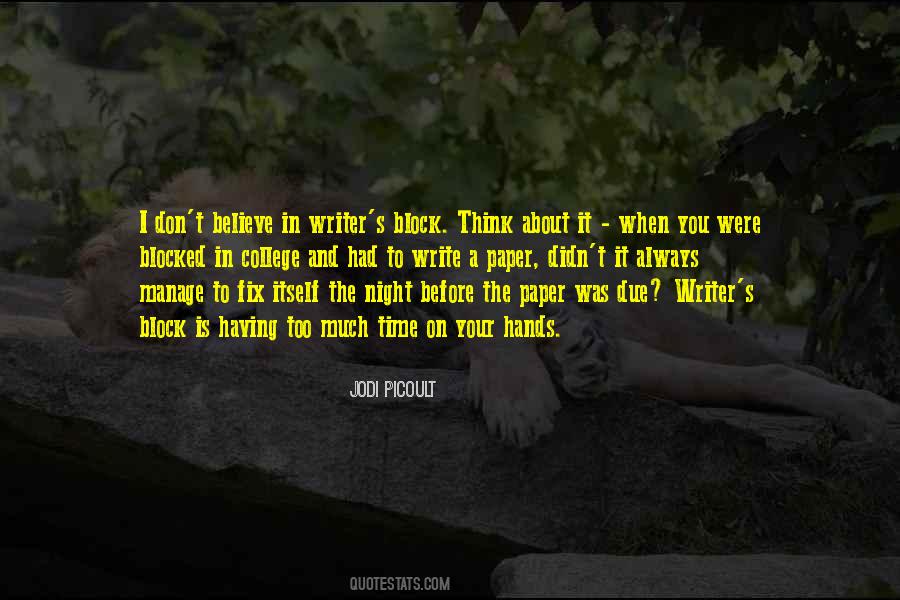 #14. I've heard it said before that those who don't learn from the past are bound to repeat it, and I just don't know what I think about that. I figure I don't have too much use for it. The past will just weigh on you if you spend too much time remembering it. - Author: Wiley Cash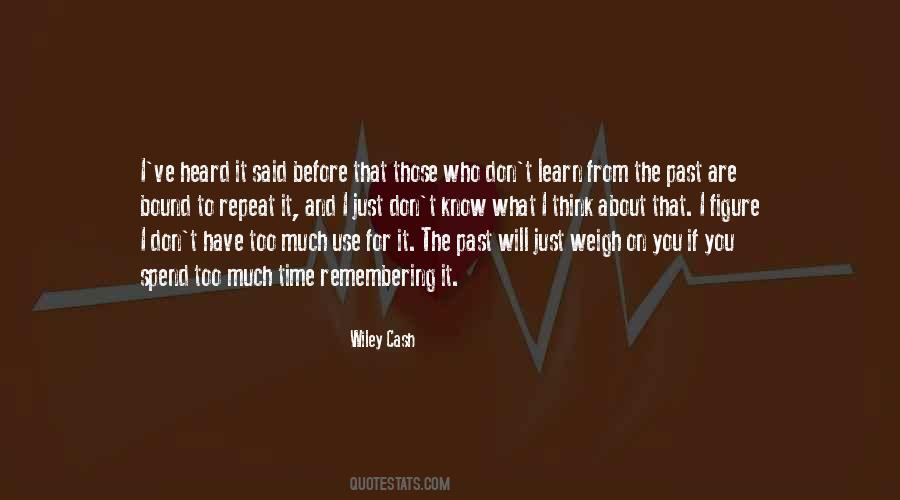 #15. Sound is often talked about in a very subjective way, as if it had a colour. This is a bright sound, this is a dark sound. I don't believe in that because I think that is much too subjective. - Author: Daniel Barenboim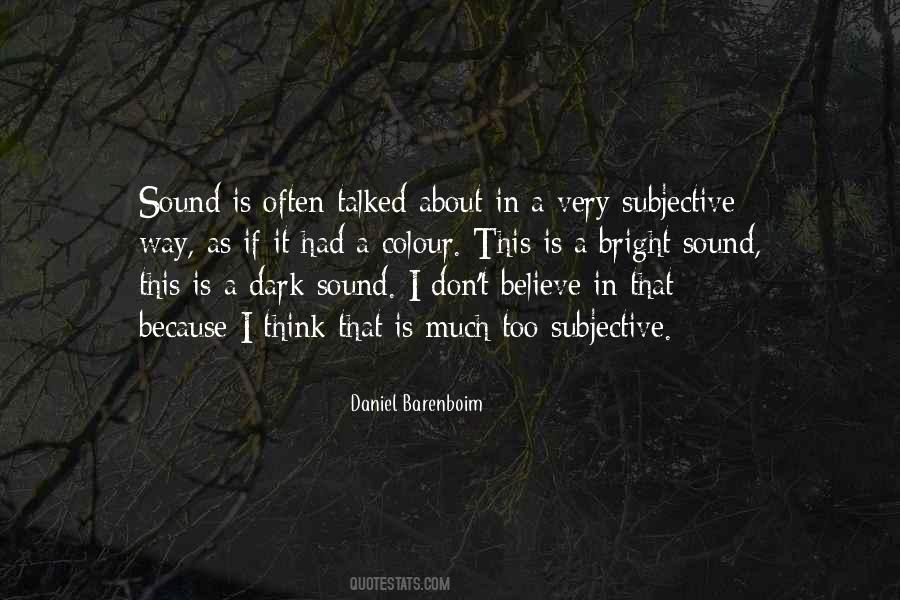 #16. I think they find it - they find me quite confusing, because - they know the music, but they don't know anything about me ... because I keep a very private lifestyle so they end up ... making up stories as such. But I don't really concern myself too much about them. - Author: Enya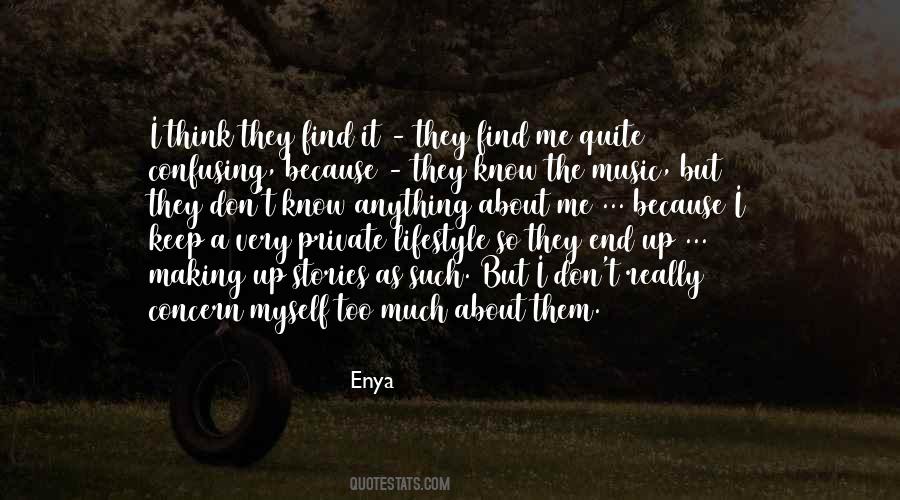 #17. My friend, stay positive! It is really good to always stay positive. You don't really give a damn to negative people, circumstances and things! You only learn lessons from them that can help you take precautions to always stay positive for positive footprints! - Author: Ernest Agyemang Yeboah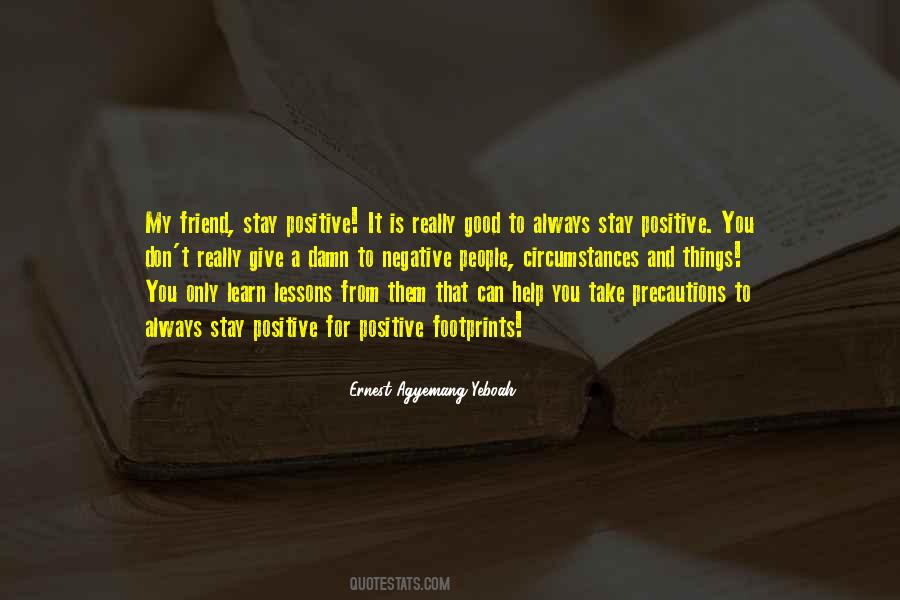 #18. I think Westlife is very unique: we have a certain sound; we do our thing our way, and we don't try to change too much. I think that's what the fans love about us. We keep giving the fans what they want every year. The style of music never really changes too much. - Author: Shane Filan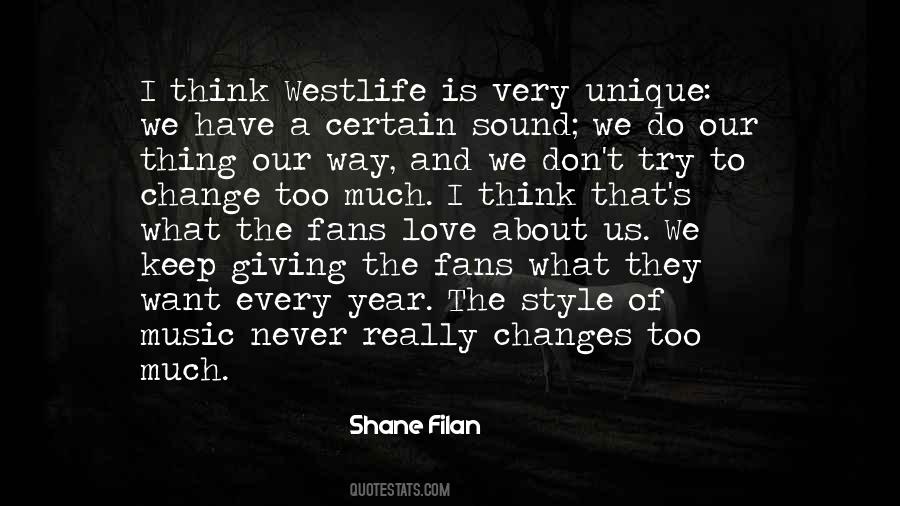 #19. I don't think you can ever do too much. Life would be so boring if you didn't have these, like, holes to fall into and climb out of. I want to do everything. I just want everything. I don't think you can ever have too much. - Author: Courtney Love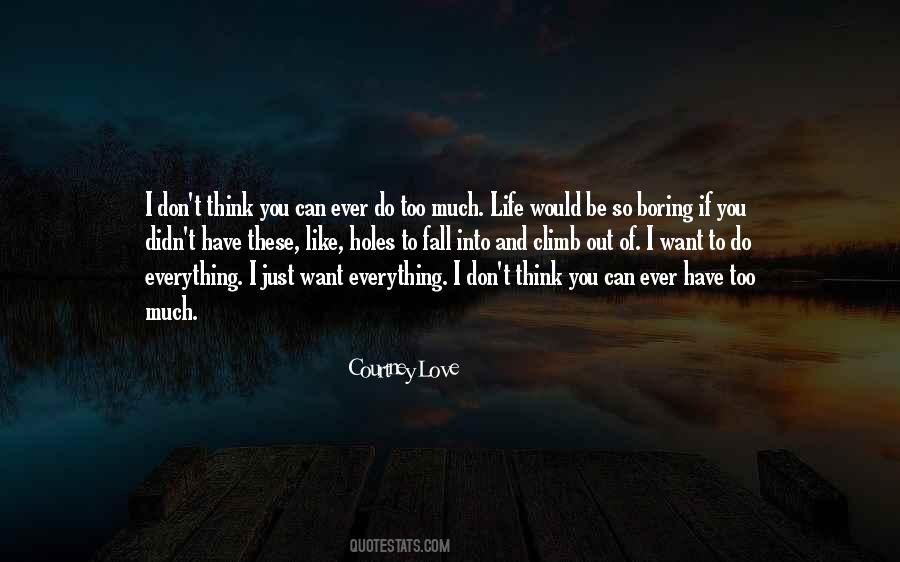 #20. I don't get afraid in talking about subject matter that may spark controversy, and I'm not afraid to not be liked. I think that sometimes people pay too much attention to being liked, and it's paralyzing. - Author: Jada Pinkett Smith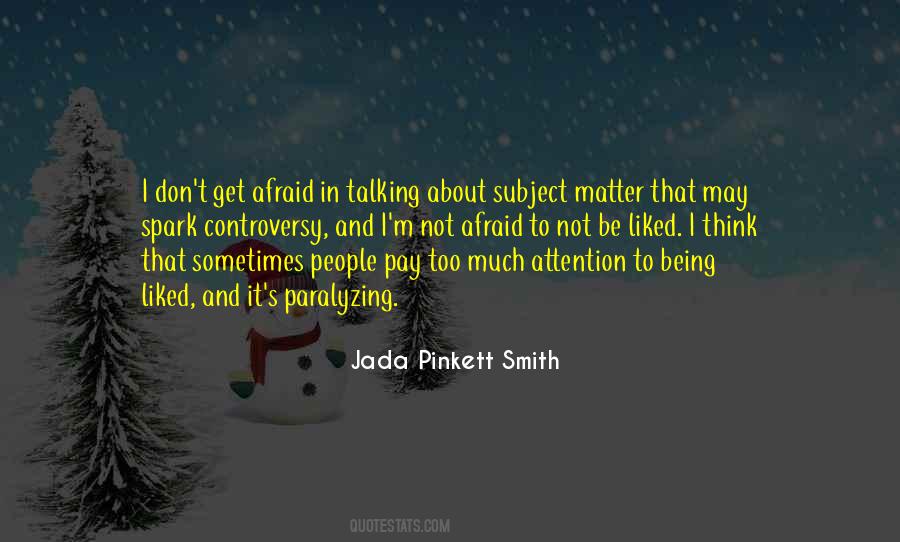 #21. People vote for the president, not the vice president. I think sometimes people that are in the veepstakes talk too much about this and certainly the media does. I don't think that it's that important. - Author: Rob Portman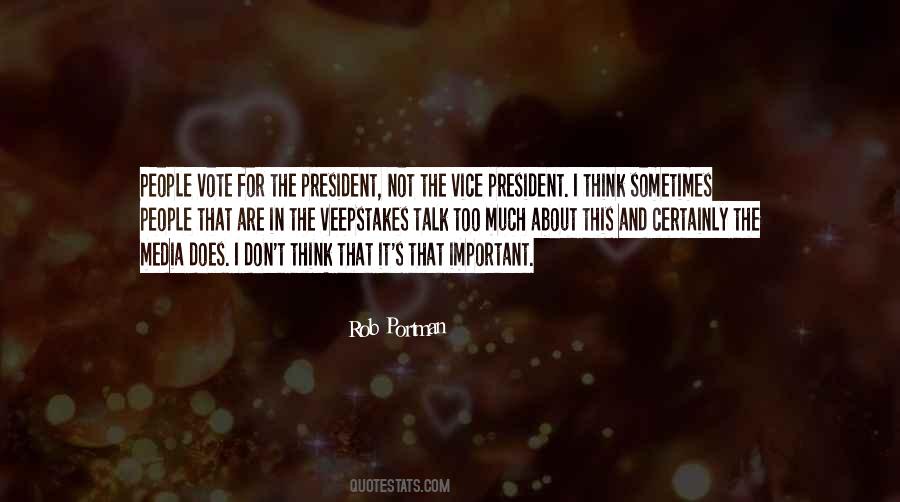 #22. As human beings in general ... I don't think we've grown that much. Technology wise, we are getting too intelligent for our own good. - Author: Butterfly Boucher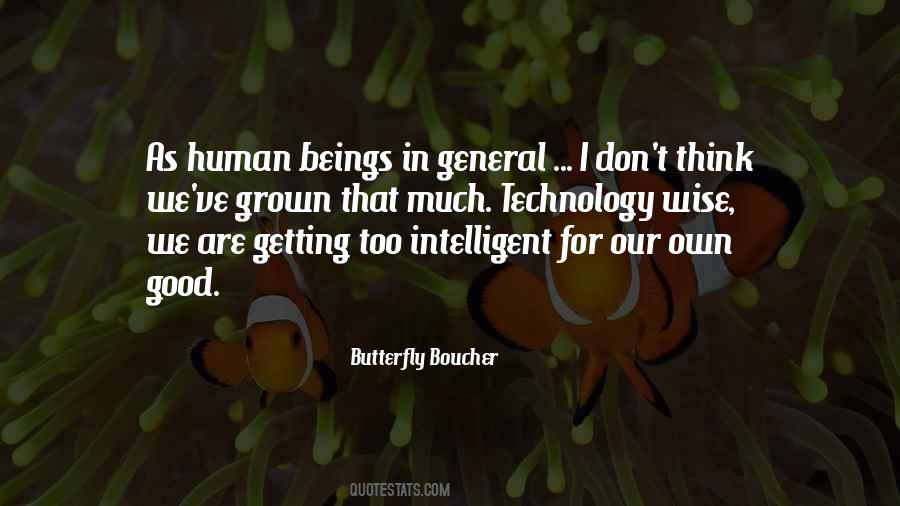 #23. I don't think people need to know what colour socks I'm wearing today; I don't think people need to know what shower gel I'm using. There's too much information in the world, and there's no magic or mystery anymore. - Author: Noel Gallagher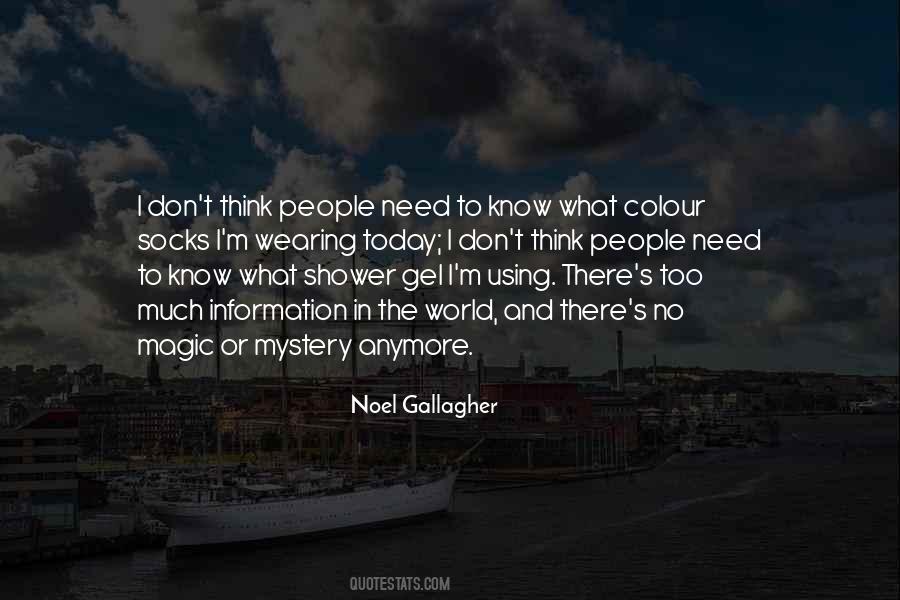 #24. I don't think we should go around life and being miserable all the time and feel the pain of paying. It's a question of what categories we want to spend more on and what categories we want feel that we are spending too much on and we want to cut down. - Author: Dan Ariely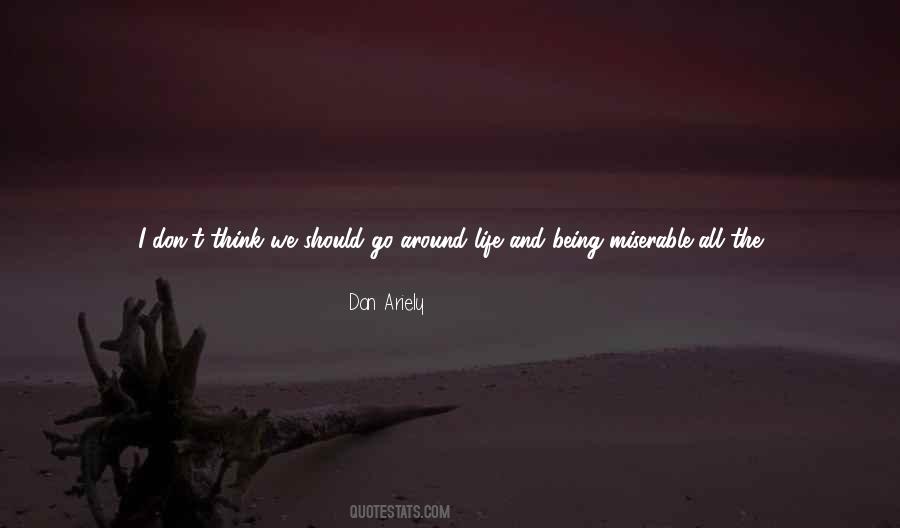 #25. And so back up the ravines to the comfortable places (the sane ones?) where we don't have to think too much. Where life is, after all, just 'getting by' and where we survive, half asleep. - Author: Robyn Davidson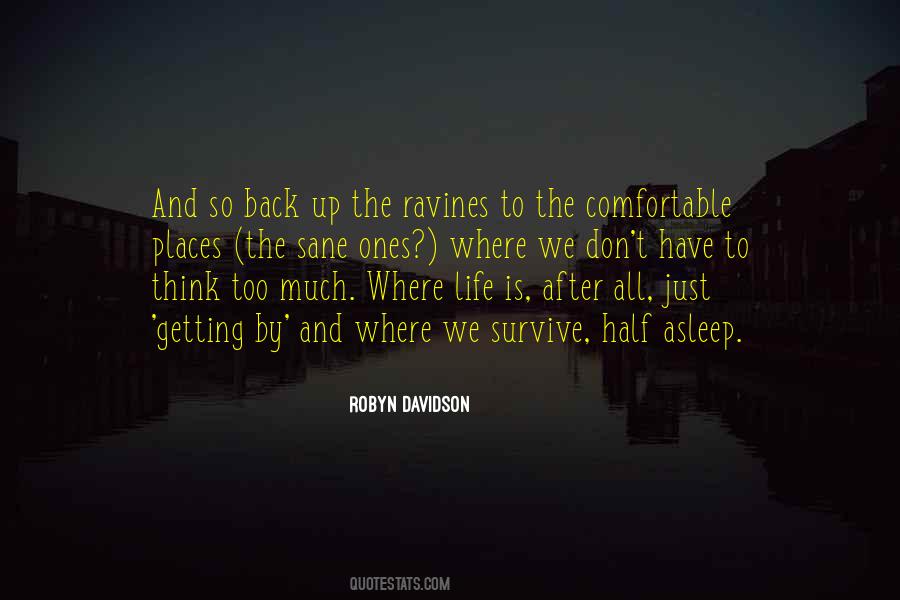 #26. If you're bringing up kids, you just want to smother them with love and praise and enthusiasm. So I don't think you can mollycoddle your kids too much really. - Author: Richard Branson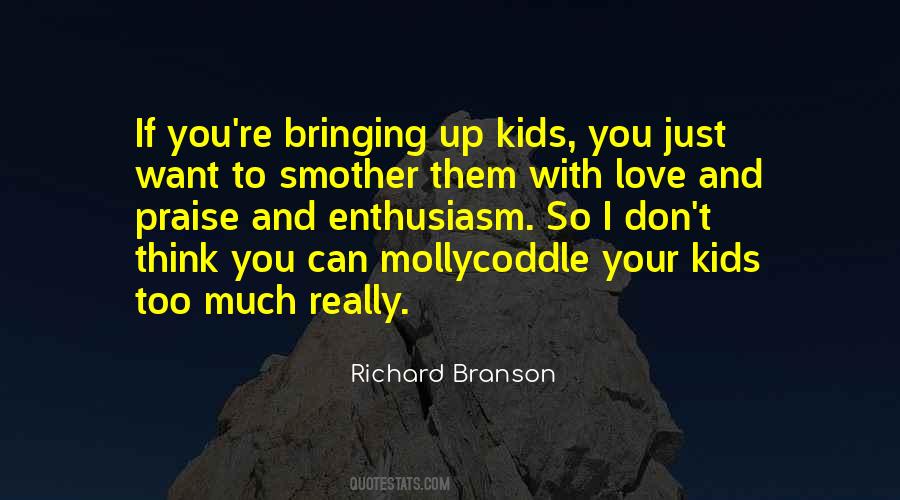 #27. If you become very self-conscious about what you are doing, you kill. You kill the character. Then it doesn't work. You have to come from a sincere place. And you don't think too much. I don't go to the hotel and I start thinking what am I going to say tomorrow and start writing things down. - Author: Antonio Banderas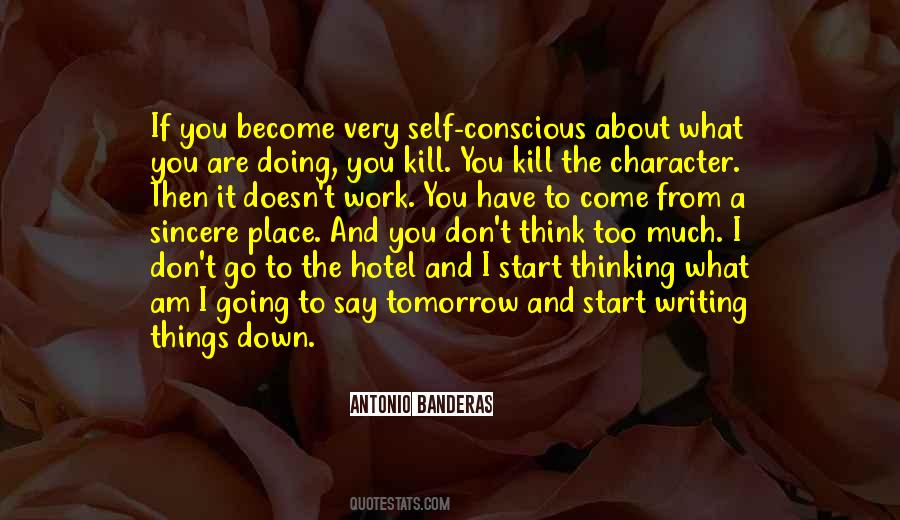 #28. I don't like paying too much for anything or wasting it. I think that I'm more of a balanced individual rather than a dichotomy. - Author: John Caudwell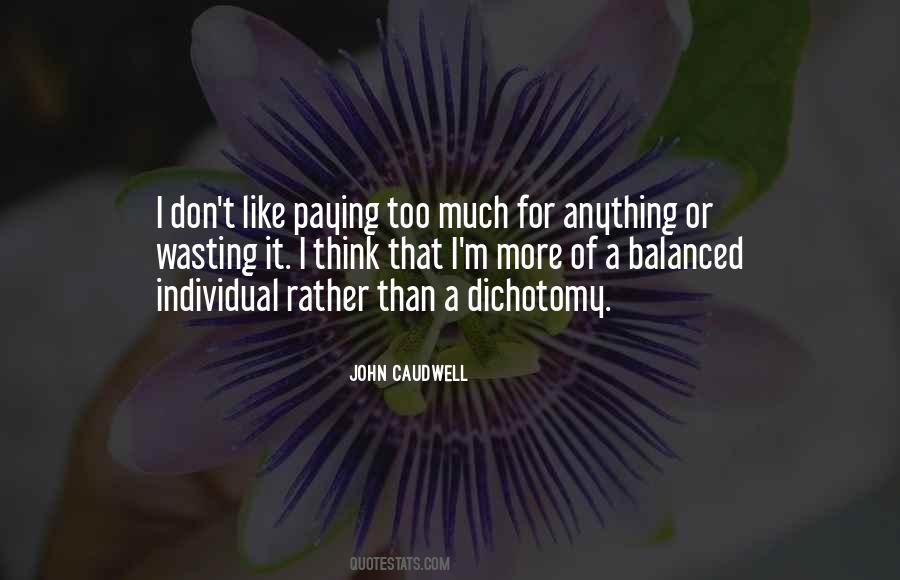 #29. I think I'm probably a very sad man wrapped in a very joyful package, and I think I'm very resilient, and I think I'm quite generous, sometimes to a fault. And I'm very bad with money, but I don't see that too much of a flaw. - Author: Dave Matthews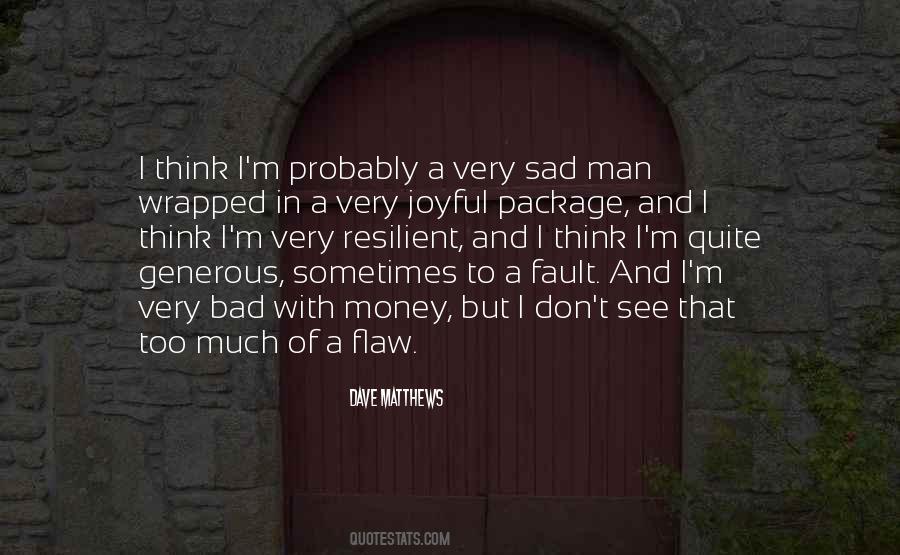 #30. We have made too much of one or two people, and we think that they can win or lose elections for us. Don't be depressed if one particular person transgresses. It doesn't lose an election unless the Party loses faith in itself. - Author: Margaret Thatcher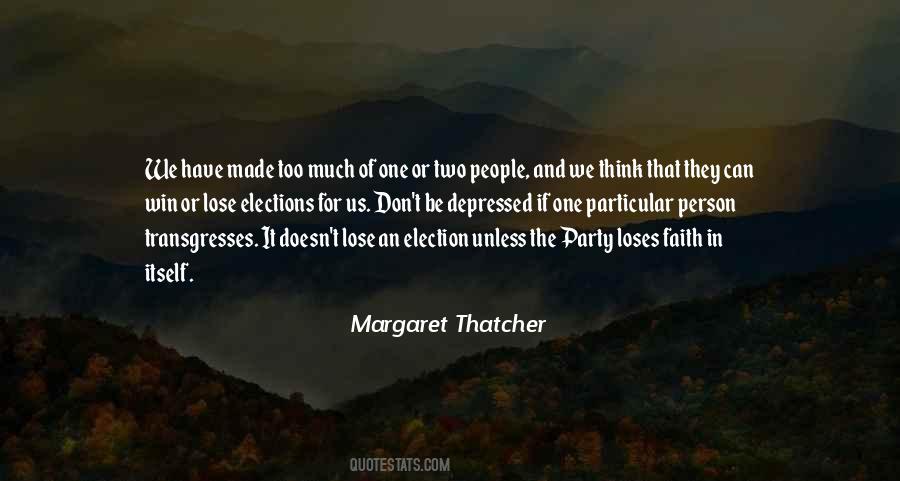 #31. On the whole, I don't want to think too much about why I write what I write. If I know what I'm doing ... I can't do it. - Author: Joan Didion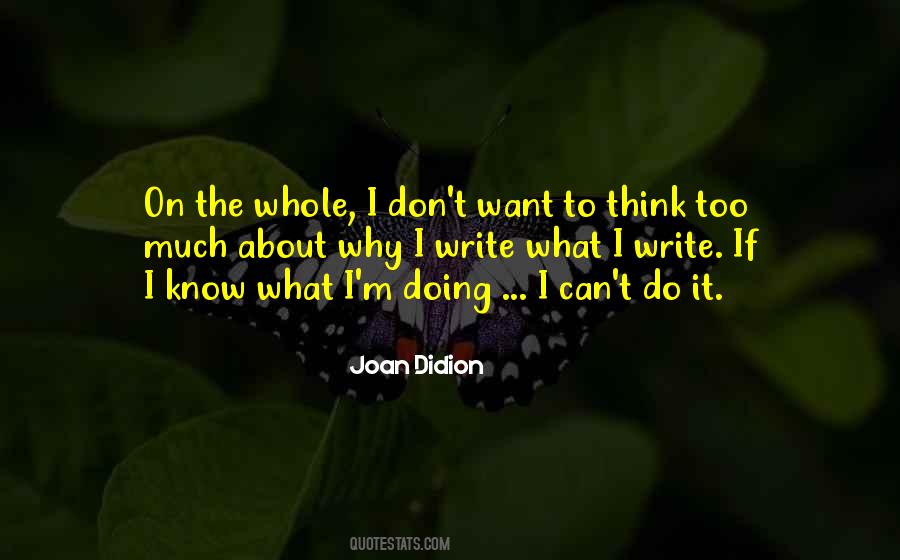 #32. I honestly believe that the counsel I gave Curt was mainly sound, and I don't think too much of it was holier-than-thou. I tried to give him a code to live by. He wanted not one scrap of it, he didn't agree with a single value that I held. - Author: Wallace Stegner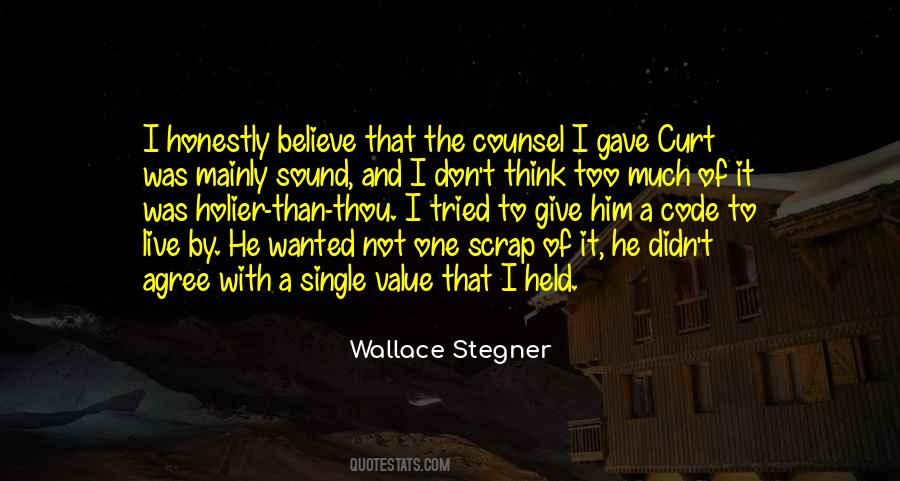 #33. Every picture has its own demands, and every picture stimulates something within you to tell it a certain way. I don't know what that is; I don't think too much about that. - Author: Clint Eastwood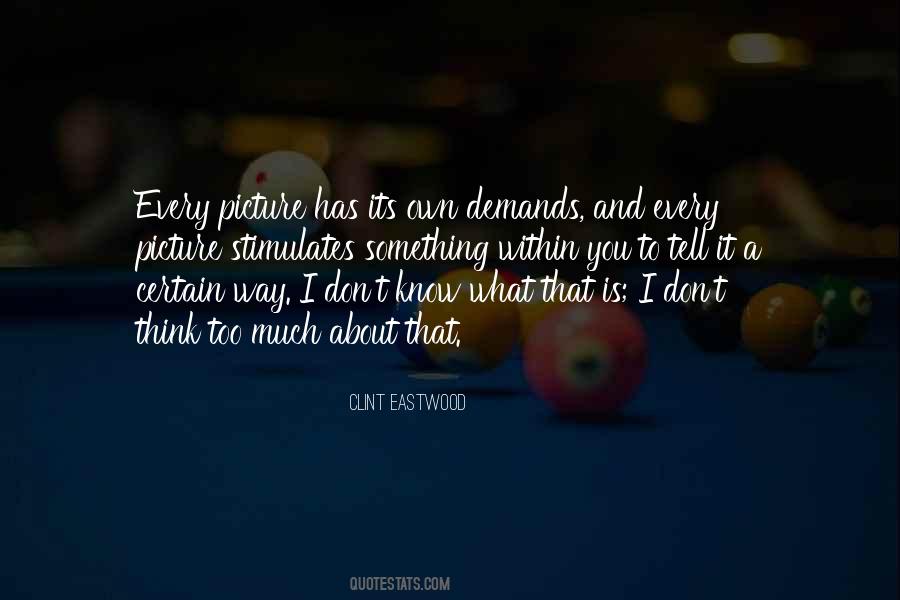 #34. Women often postpone their lives, thinking that if they're not with a partner then it doesn't really count. They're still searching for their prince, in a way. And as much as we don't discuss that, because it's too embarrassing and too sad, I think it really does exist. - Author: Jane Campion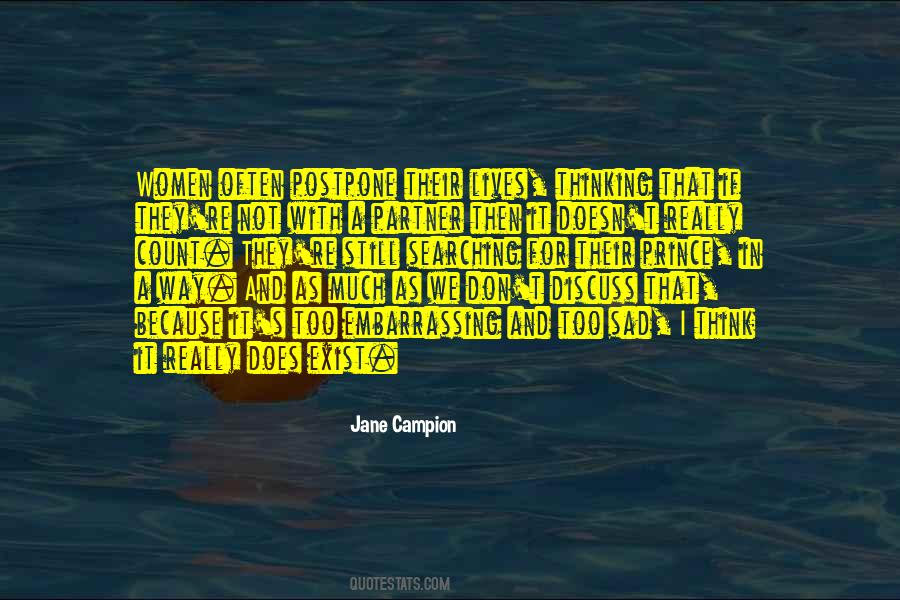 #35. She looked up with a certain anxiety. 'But you don't think I'm too plump, do you?'
He shook his head.Like so much meat.
'You think I'm all right.' Another nod. 'In every way?'
'Perfect.' he said aloud. And inwardly, 'She thinks of herself that way. She doesn't mind being meat. - Author: Aldous Huxley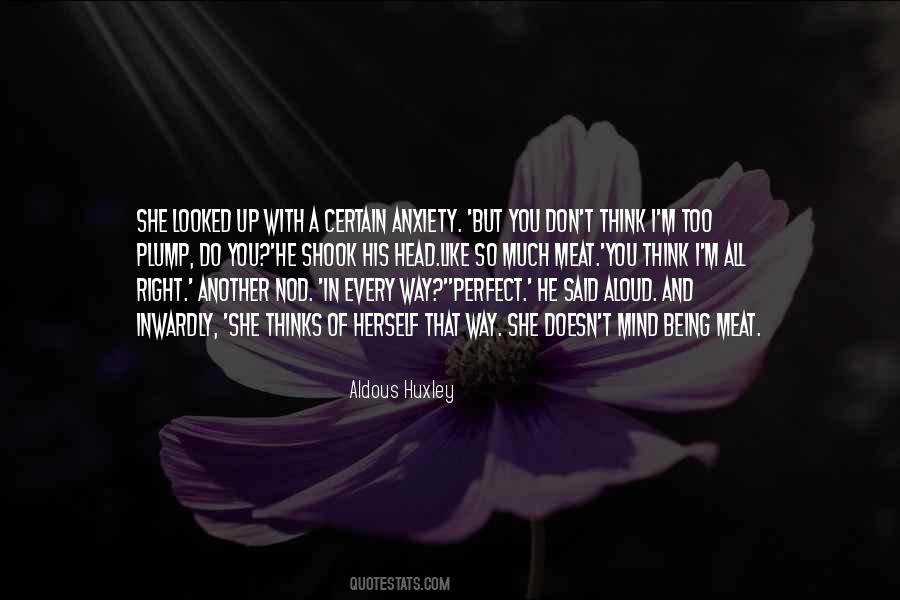 #36. I don't want to write every week, it's too much trouble, and I shall only write when I want something. If you think I'm sick when I don't write, you can send for me to come and tell you. - Author: Robert Gould Shaw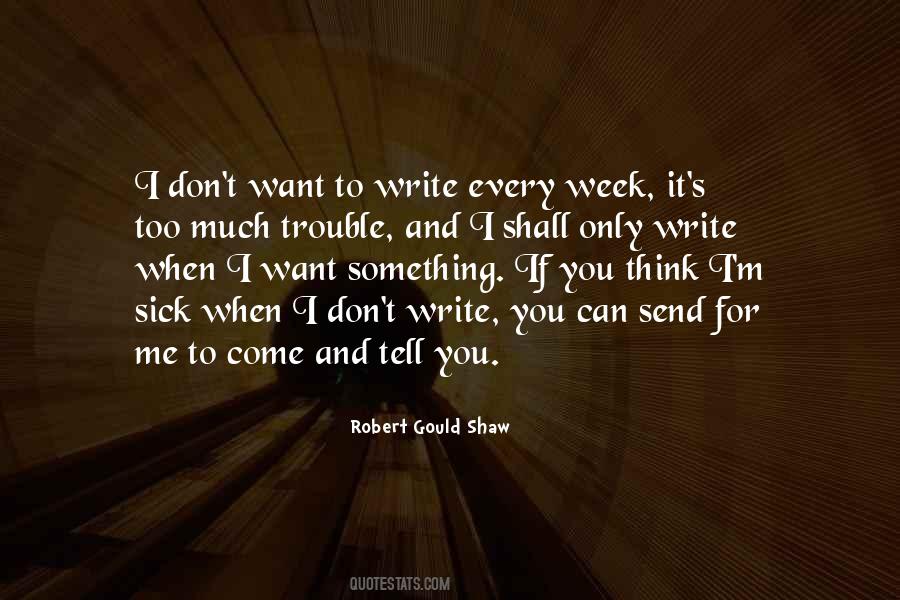 #37. You can point any kind of laser at my face, but I don't think Botox is for me. I think it is bad. People who have too much, they look like their faces are full of candles - a shiny, shiny face. - Author: Tina Fey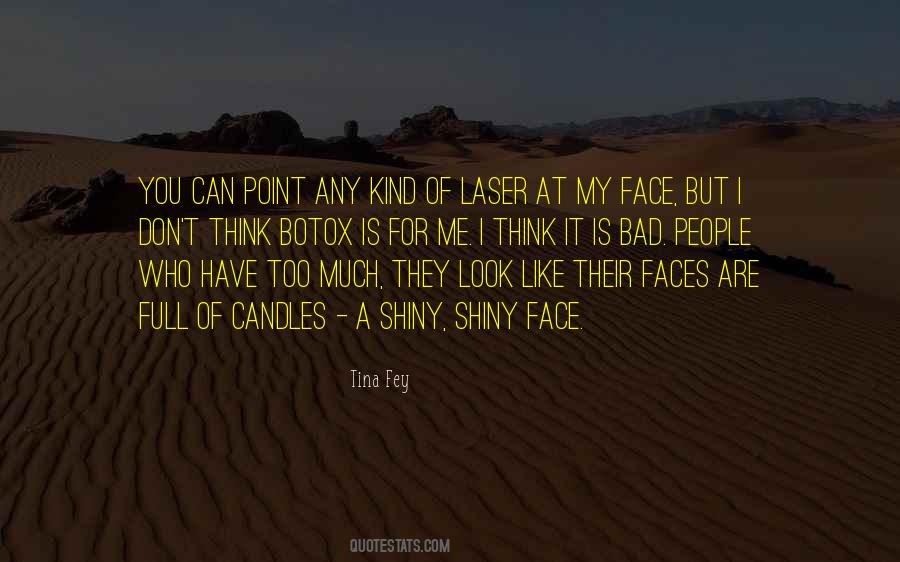 #38. Economists don't usually make good speculators, because they think too much. - Author: Paul Krugman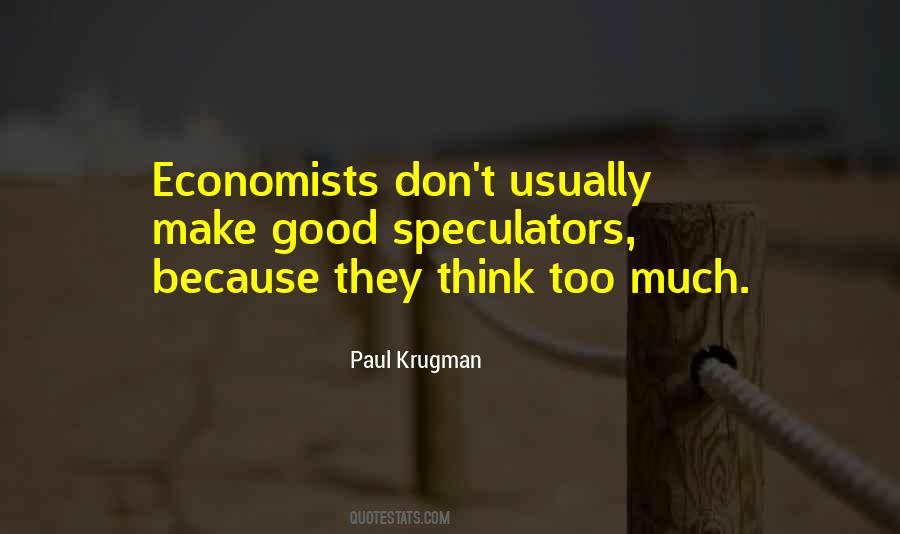 #39. I don't really think about anything too much. I live in the present. I move on. I don't think about what happened yesterday. - Author: Pamela Anderson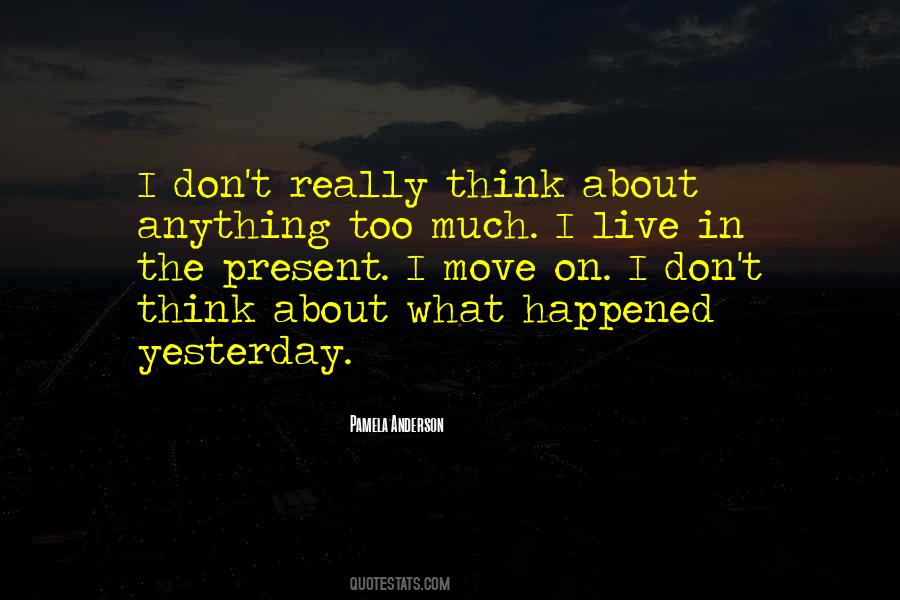 #40. I get nervous the more time I have to think about something so I deliberately don't give myself too much time between jobs. I take a big break and then I start working again usually. - Author: Meryl Streep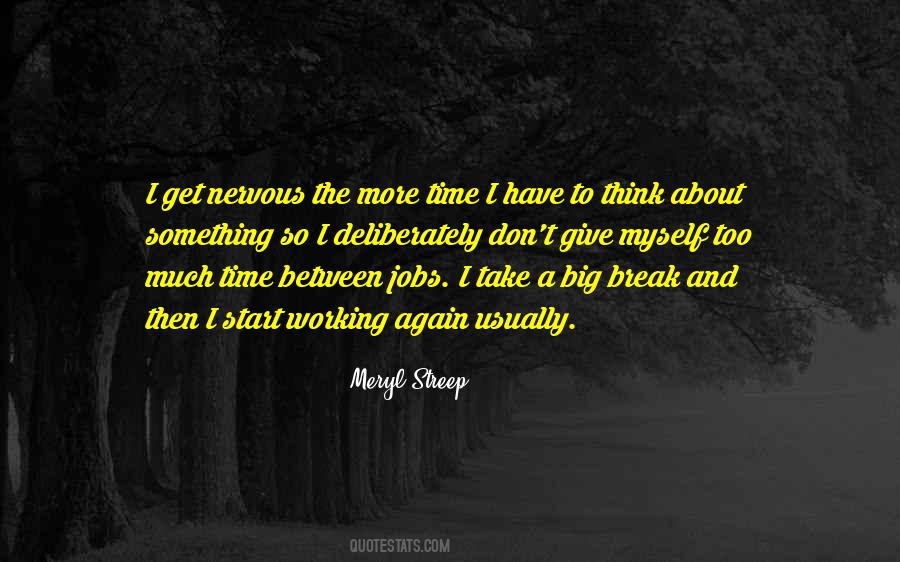 #41. There are quite a lot of people who think my aspirations are not possible. That's a good thing. We don't need to really worry about these people very much, because since they don't think it's possible they won't take us very seriously- and they will not actually try to stop us until it's too late. - Author: Peter Thiel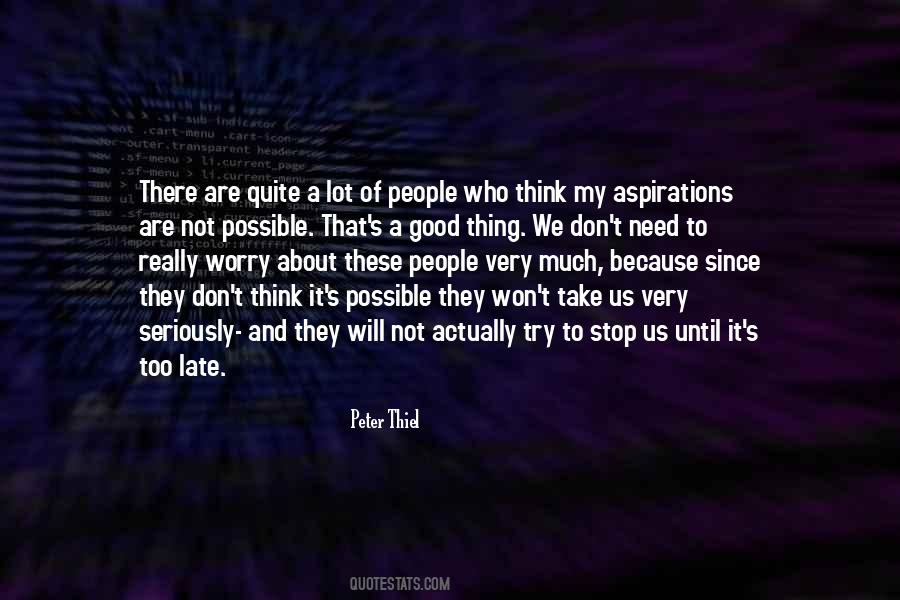 #42. I really don't think I have that much of the gift; I have a little bit, but I wish I were Schubert or Chopin or Beethoven, though Beethoven had a very difficult time writing melody, too. - Author: Gian Carlo Menotti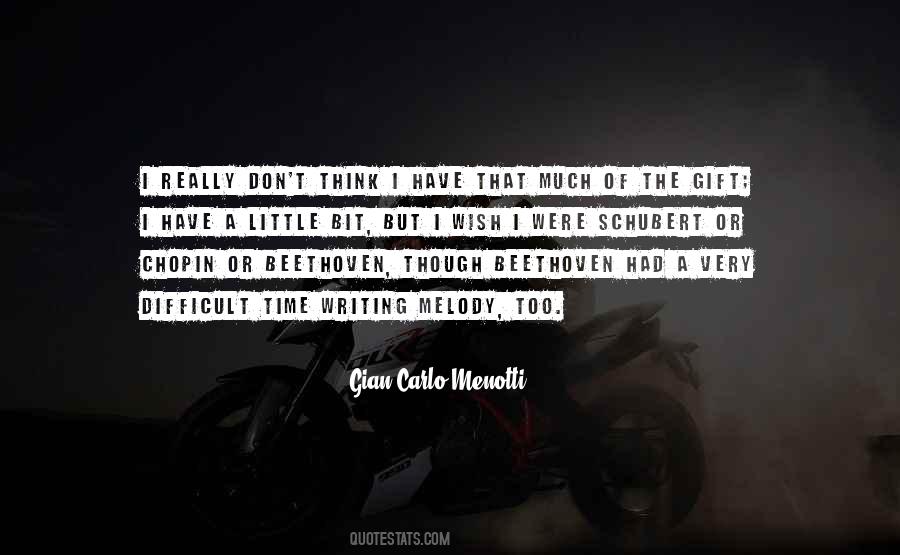 #43. I don't think I would have been a good mother. Being a parent brings immense responsibility. It's a Herculean task. It would be almost too much for me. - Author: Julie Christie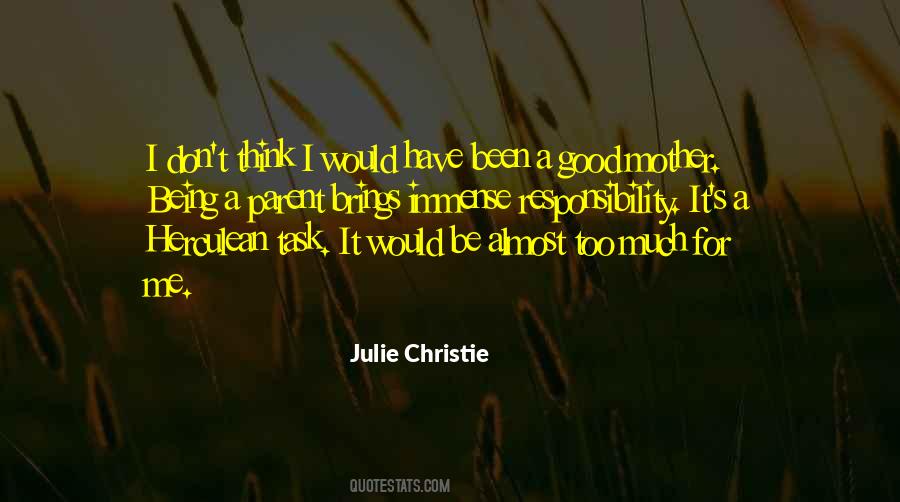 #44. I do want to make music that people love, but I also want to make music that I love. I know I can't please everyone with anything I do, so I don't think too much about how other people are going to take things. - Author: Rivers Cuomo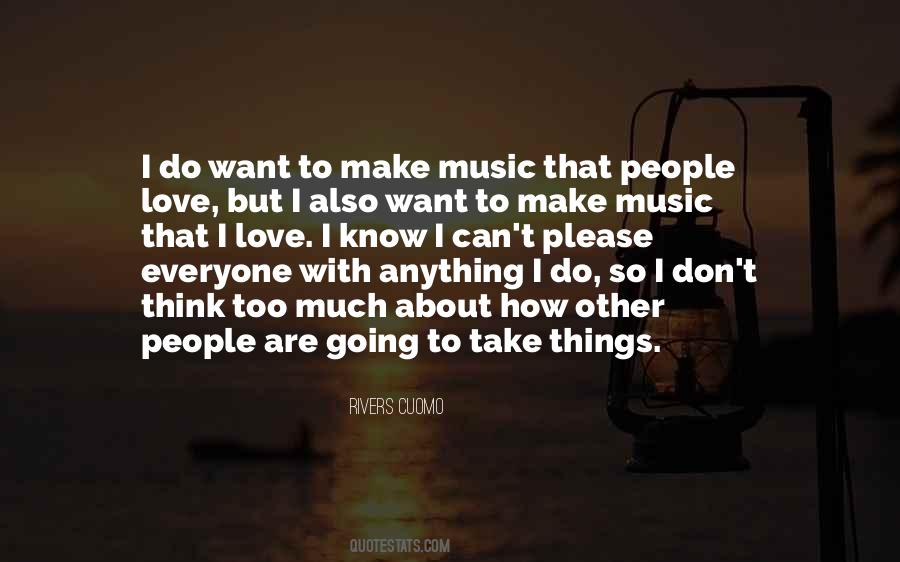 #45. One of the album's songs features Mary J. Blige, but I don't want to talk too much about it yet. I think you will hear the music that's been playing in my head when it comes out. - Author: Chaka Khan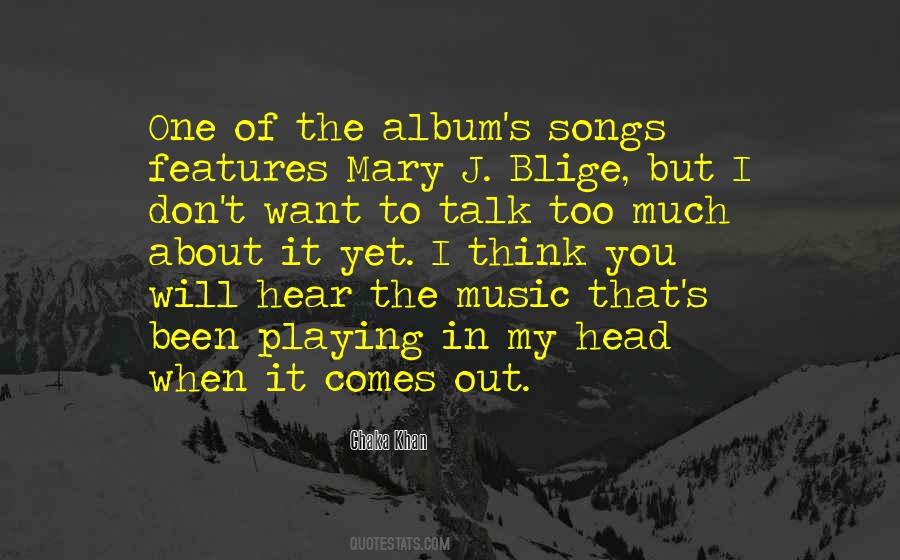 #46. I don't think I ever worry too much about what our target audience is, what we should be releasing. I just write naturally and organically and try to write from the heart. - Author: Martin Gore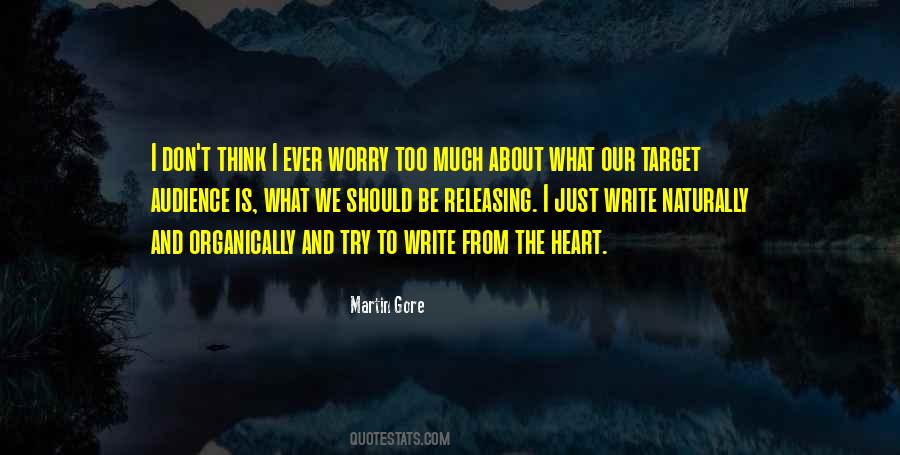 #47. I am interested in writing how women really feel, how they really think, and how they respond to men. I don't want men reading my books because they might find out too much. - Author: Charlotte Lamb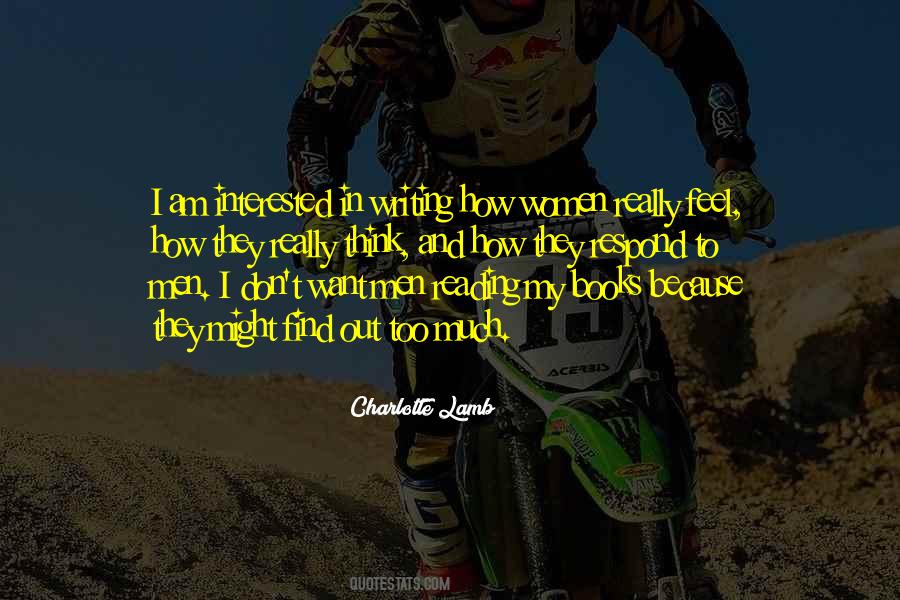 #48. Don't think too much. That makes you believe you have more choices than you do. Then you mind becomes confused. - Author: Amy Tan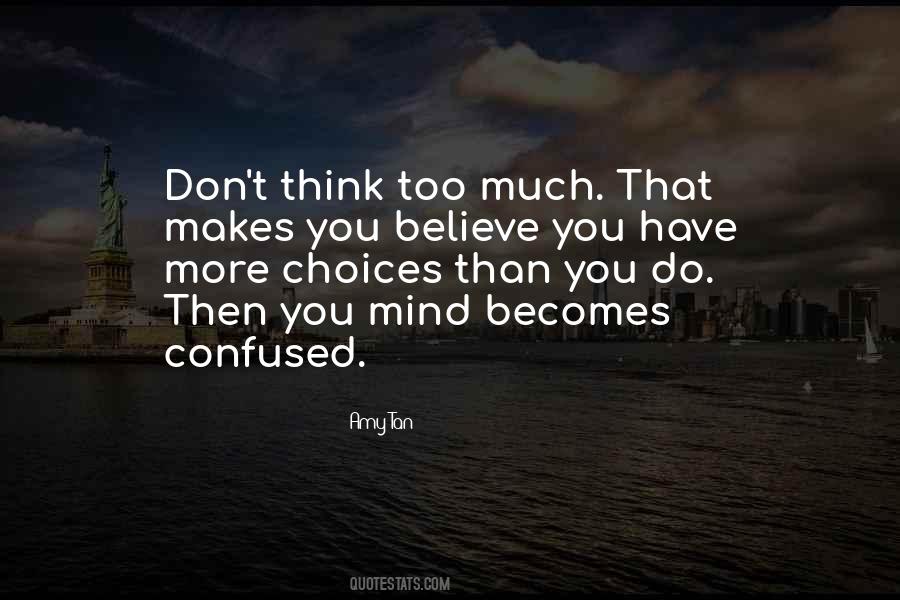 #49. Kids just don't read any more. They spend much more time with video games. It's just hard to get kids to read anything. Book sales have dropped dramatically, too. I think 90% of the books are bought only by 5% of the US population. - Author: Stan Sakai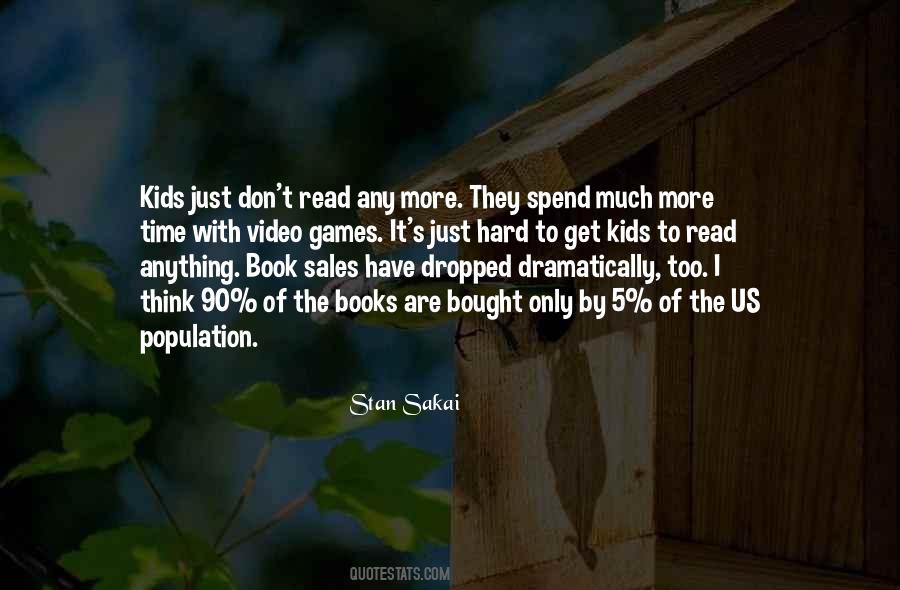 #50. Make an effort to exert yourself-everyday. Don't fail because you never allowed yourself to get started! Don't avoid success because you think the responsibility might be too much-just focus and get going! You'd be surprised at what intelligent effort can produce. - Author: Donald Trump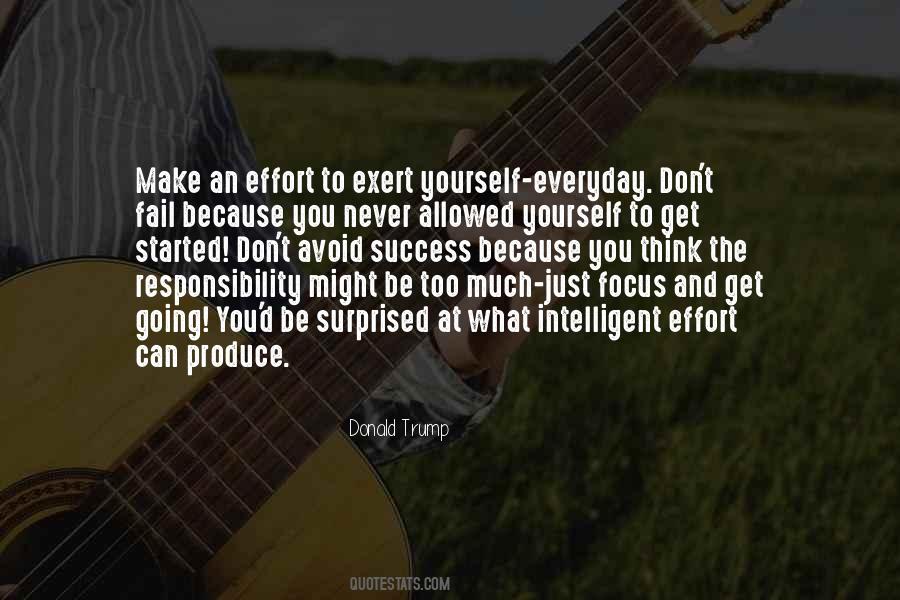 #51. I haven't even thought about a world record. I just want to go out there and have fun. I think when you focus too much on the numbers, you don't see anything that's out there. - Author: Missy Franklin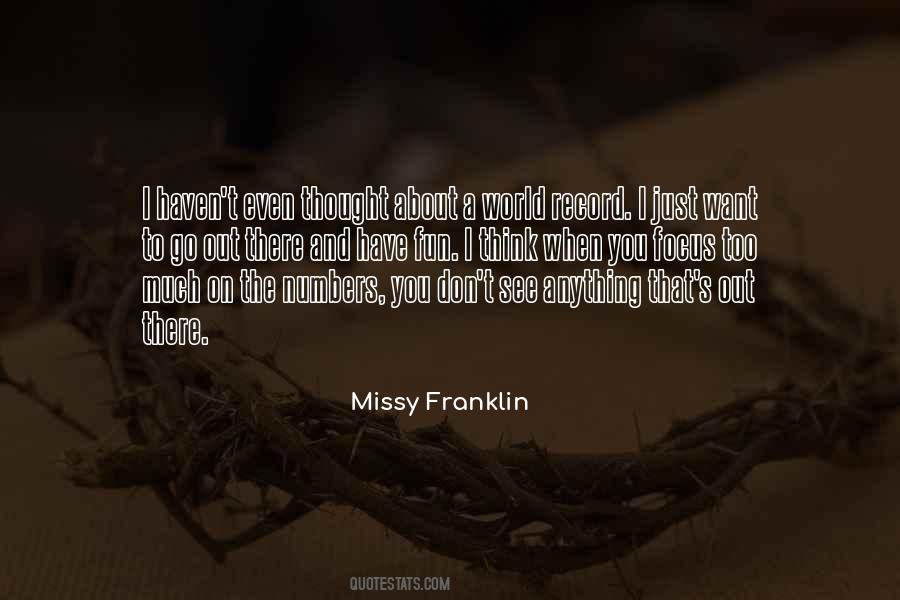 #52. Most of our fans seem to be very intelligent people who don't stand out too much, but they're still total freaks. I like that - they're smart and sadistic, which I think is a reflection at us. - Author: Gene Ween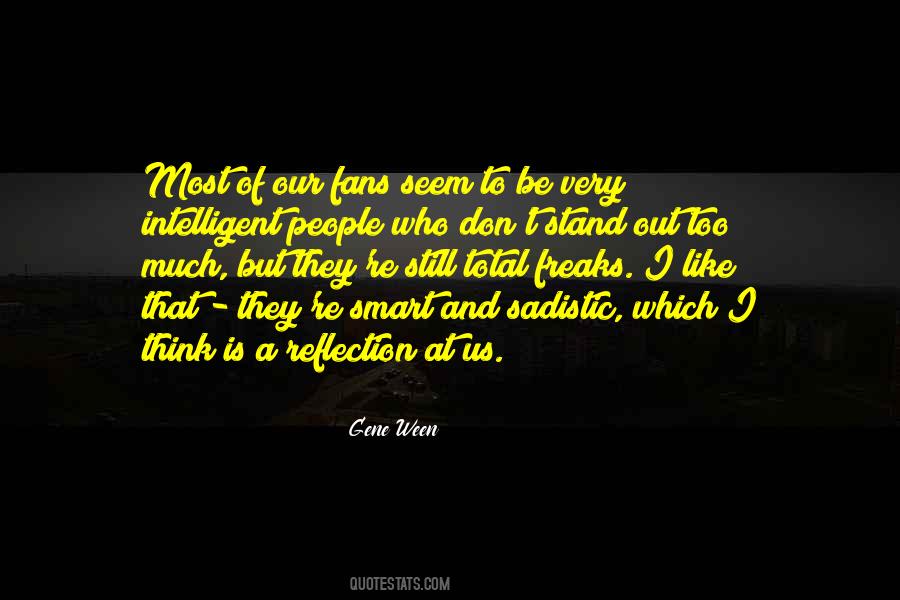 #53. For being a young guy, I'm articulate and can hold a decent conversation with somebody. But I've been able to do that since I was young. I don't think that has to do too much with schooling, it has more to do with the people I was raised around, my parents. I have respect for adults. - Author: Larry Fitzgerald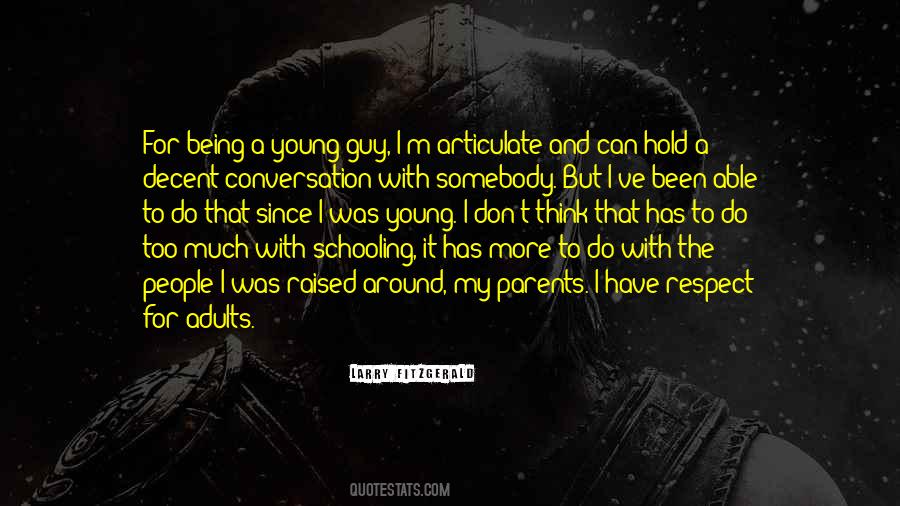 #54. I'm not sure anybody's ready to see me in a drama. And loving movies so much, I've seen a lot of comics try to make that transition too fast, and it can be detrimental. And I don't think I've had as much success as I need in the comedy genre to open up those opportunities. - Author: Seann William Scott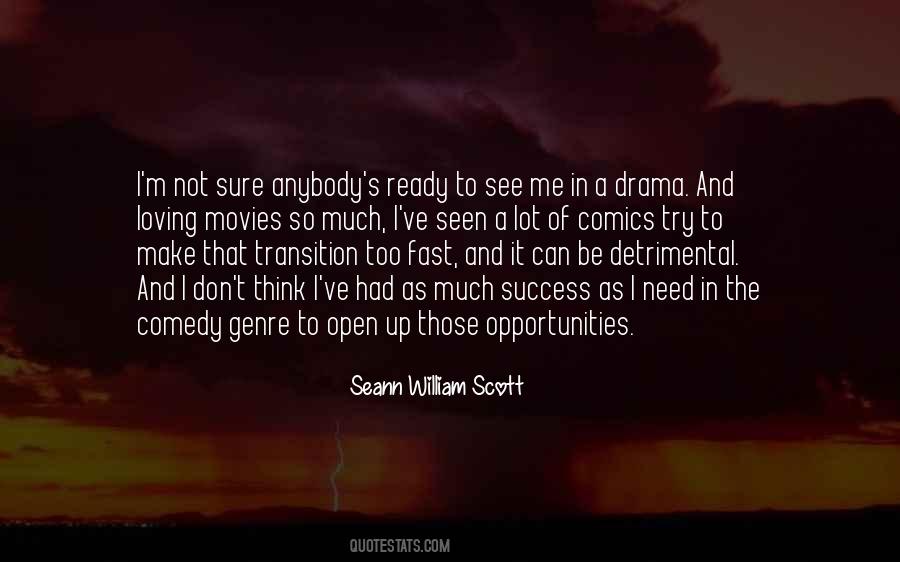 #55. Take some more advice from Dr. Micah. Don't give women too much time to think. It never ends up good for either of you. - Author: Melissa Schroeder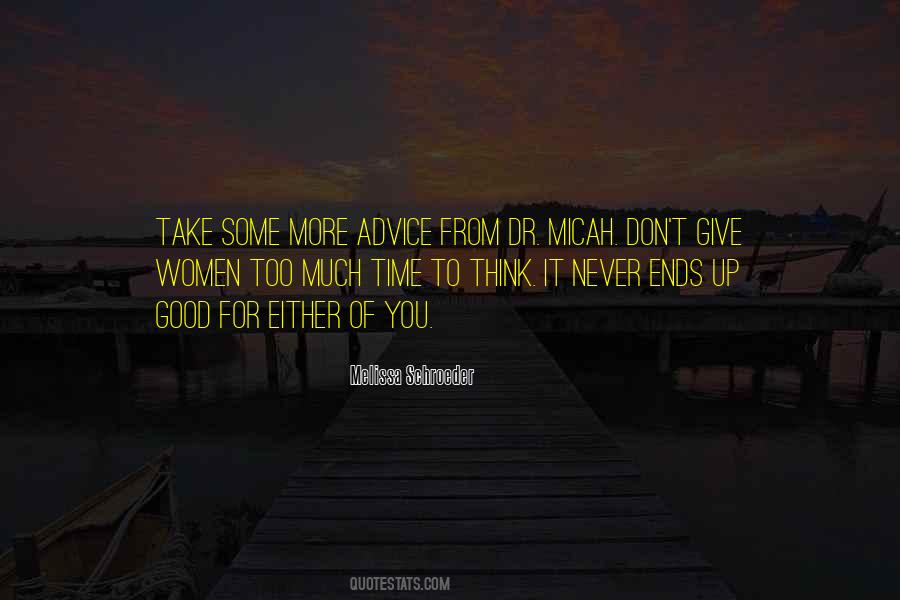 #56. I never - when I go into a project, I don't think too much about if there's a lot of other sci-fi books out there or horror books or whatever. I just tell the stories I want to tell, and I think that is evident on the page. - Author: Jeff Lemire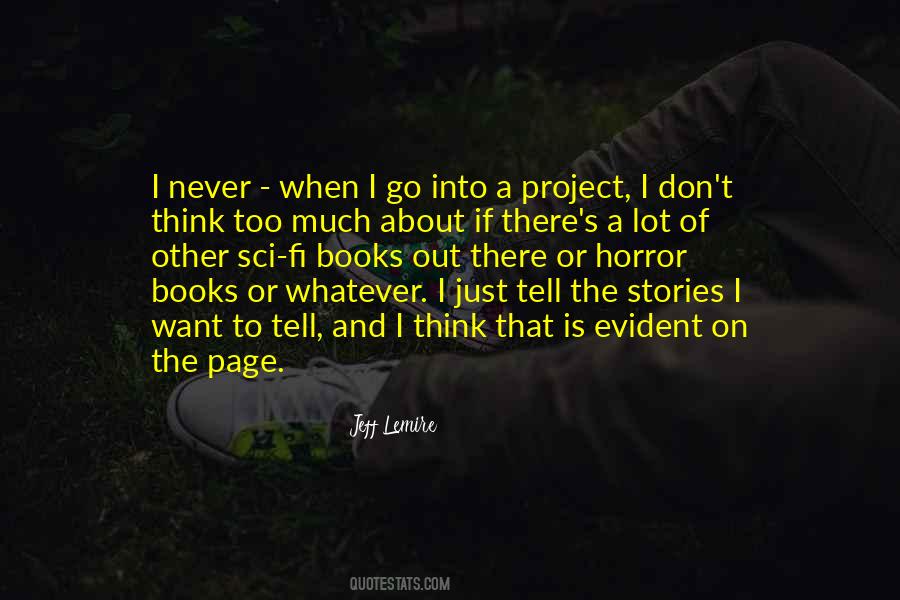 #57. I do believe in God. I think God has given so much power to people, and intelligence, and said, 'Well, you are on your own. Maybe I'm tired, I need a nap. You are mature. Why don't you look after yourselves?' And I think He's been sleeping too much. - Author: Tracy Kidder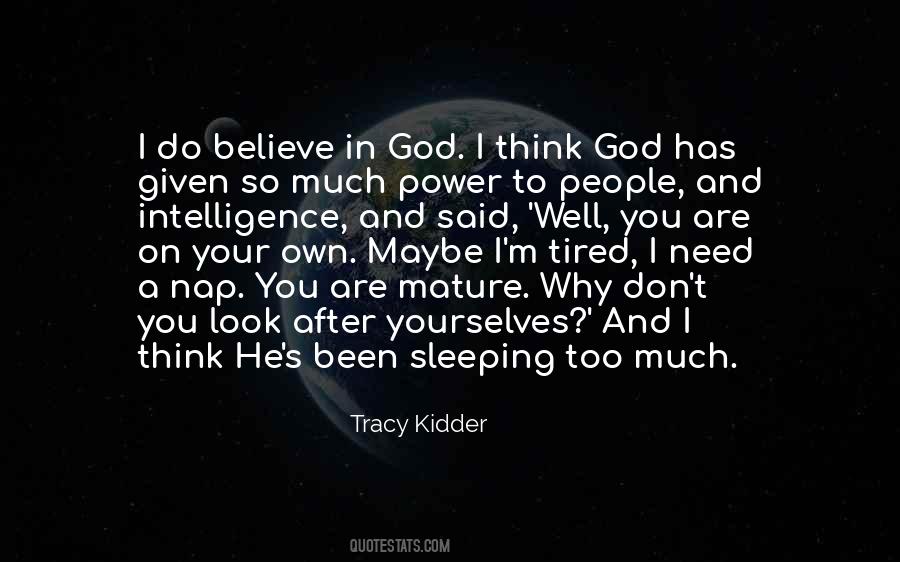 #58. The funny thing is, I don't care too much. You think you love something so badly, but when it's gone you find out you don't care so much. - Author: Damon Galgut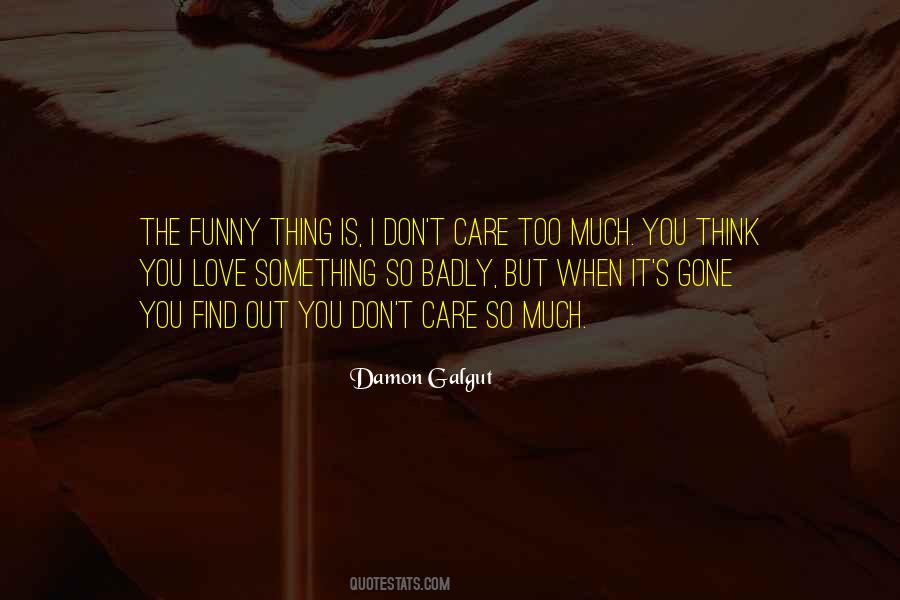 #59. Woody Allen - nobody has been a better joke teller than him - and even in his great films, it's always coming out of the character. If you don't have that, jokes are just empty and I think that people rely too much on jokes. - Author: Brett Gelman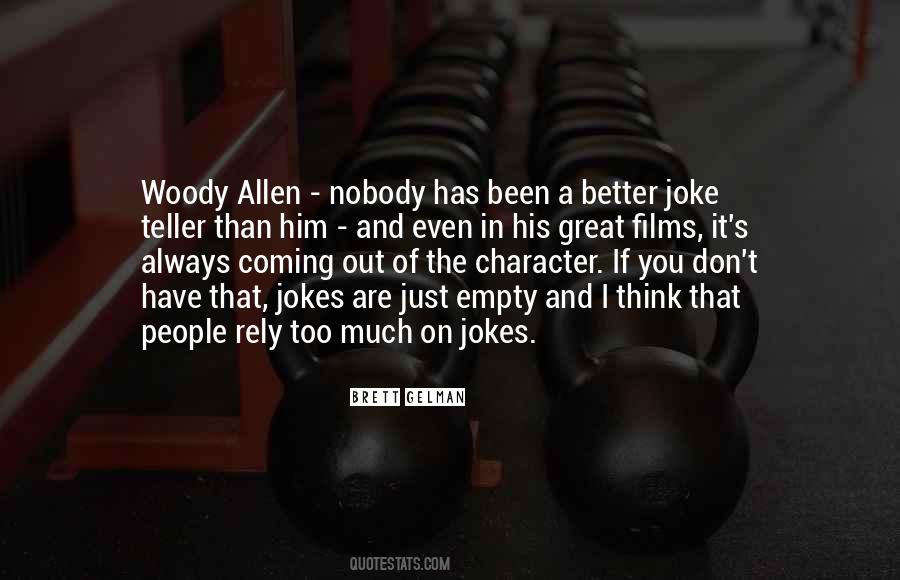 #60. I think the action is ninety-three percent, and the consideration is peppered throughout but pretty short ... Once I start it, I feel as though I don't want to look over my shoulder too much. I want to trust the preparations I've made. - Author: Chang-rae Lee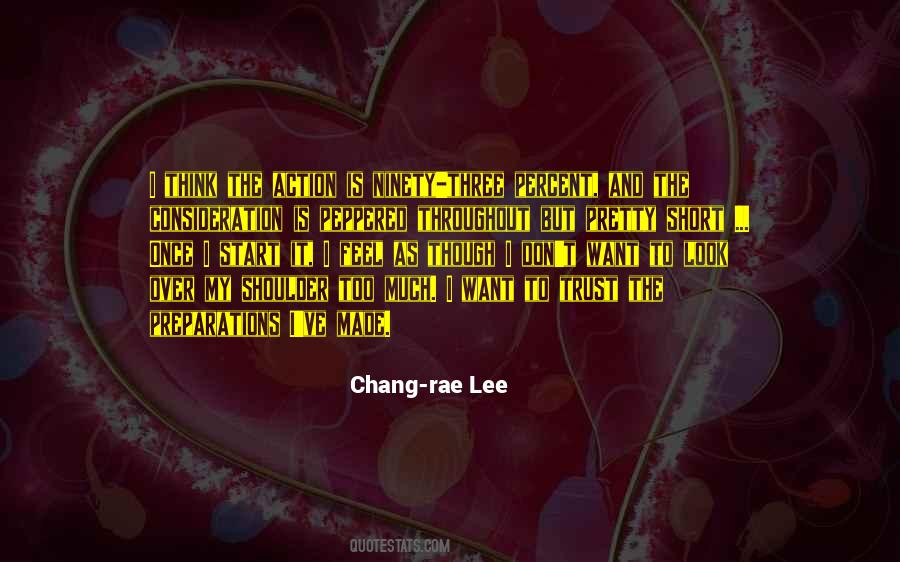 #61. Before I had kids I'd go out on the road for months and months at a time, but now I don't think I'd want to do that anymore, because I'd miss too much time at home, so it's just a matter of monitoring how much work that I do and how much time I'm on the road. - Author: Harry Connick Jr.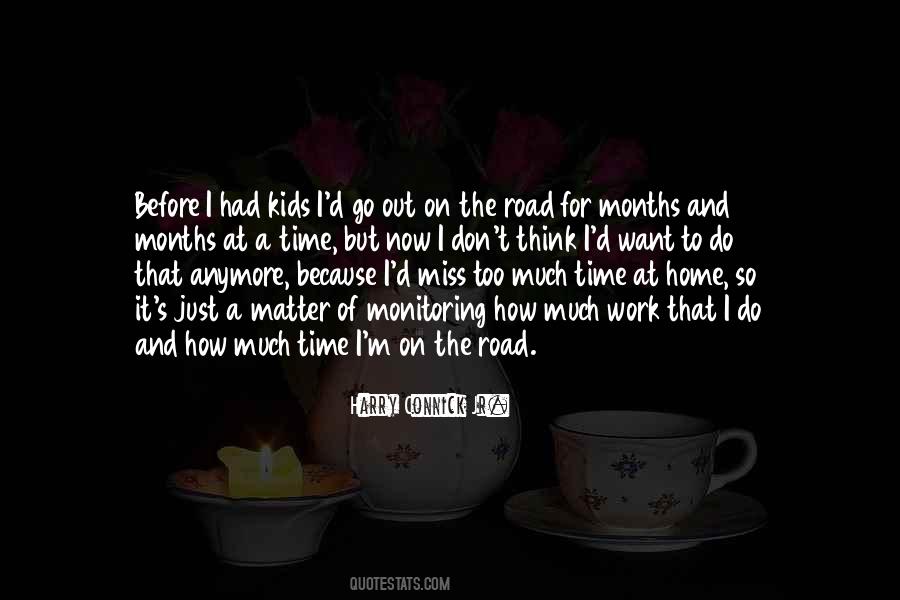 #62. You don't dare to think ahead too much, for you don't want this melted under the heat of your attention, don't want it gone from your life. - Author: Nikki Gemmell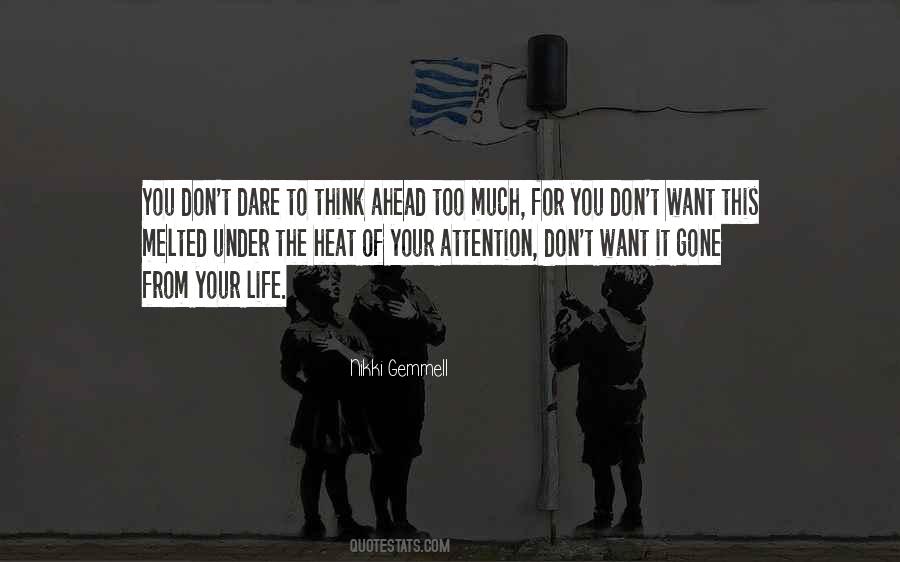 #63. You think giving you a hug would give away too much?" he says.
"You know," I say. "I really don't care."
I stand on my tiptoes and press my lips to his.
It is the best moment of my life. - Author: Veronica Roth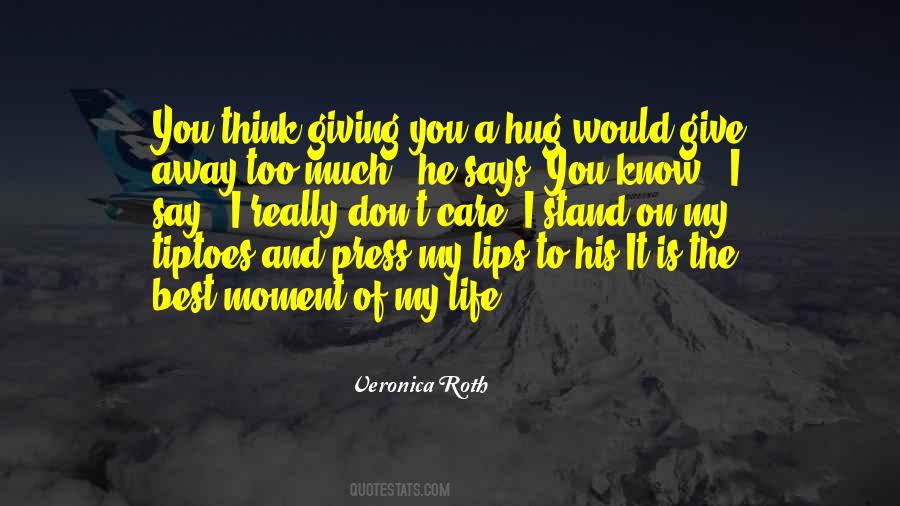 #64. No matter how powerful our political and religious leaders think they are, they are as dust before the immense and implacable forces of history and progress. I just hope that they don't make too much of a mess or take too many more people down with them. - Author: Alan Moore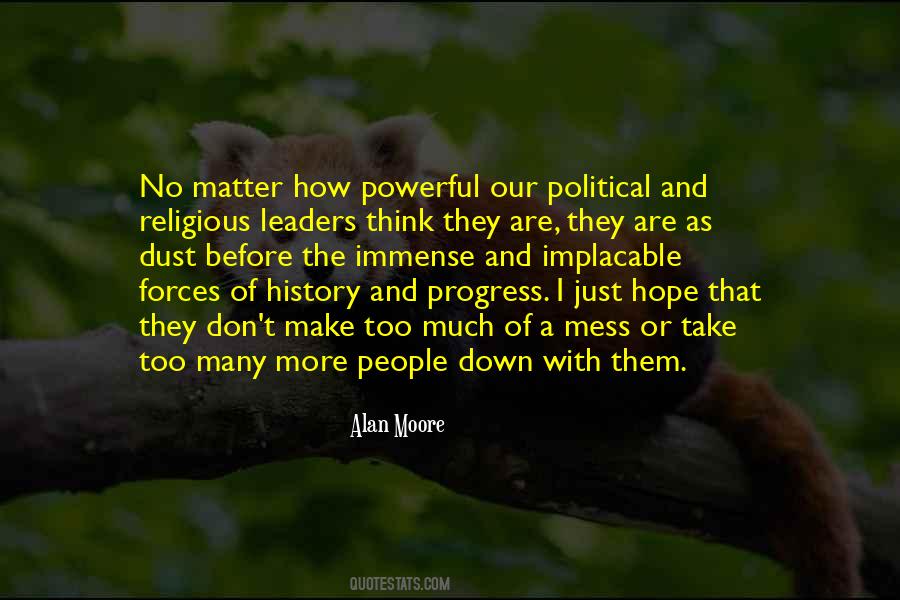 #65. Not everybody can create a foundation that's worth a billion dollars, but all of us can figure out those things we do. I really think God loves us too much to give us an assignment we don't enjoy doing. - Author: Max Lucado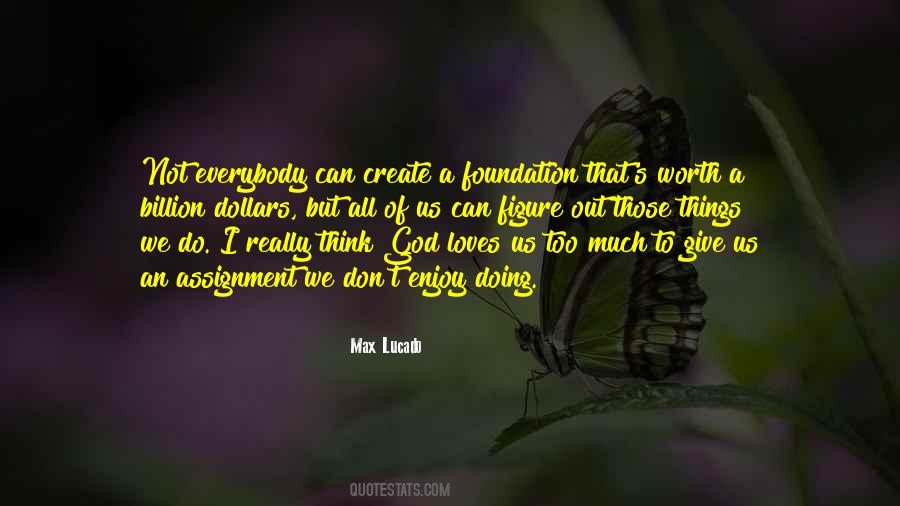 #66. I dunno," i said, "but i have an idea that people who don't think too much tend to look younger longer - Author: Charles Bukowski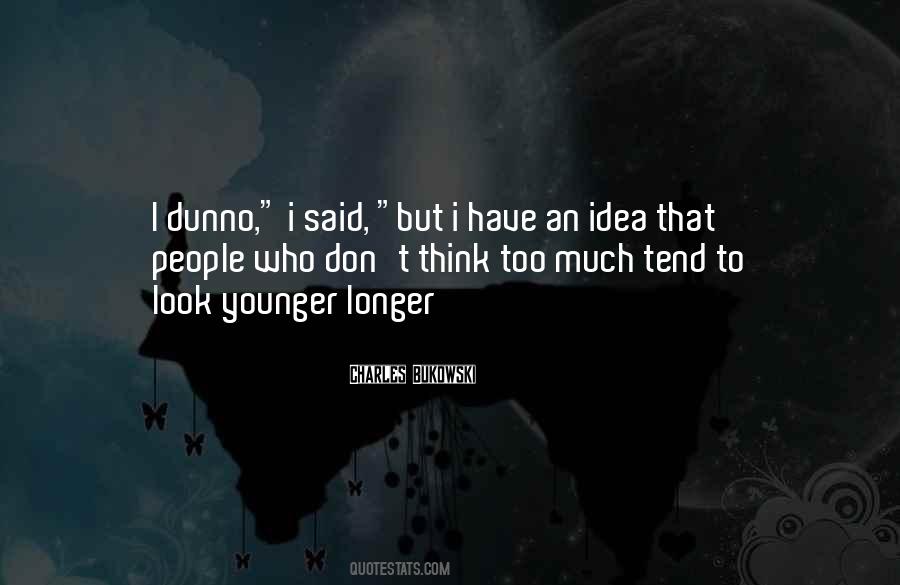 #67. When I was a kid, I got really great advice from someone who is so important to me and someone who I respect so much, and they told me, 'Don't do too many endorsements. Don't throw your name on things; think of your longevity.' - Author: Drew Barrymore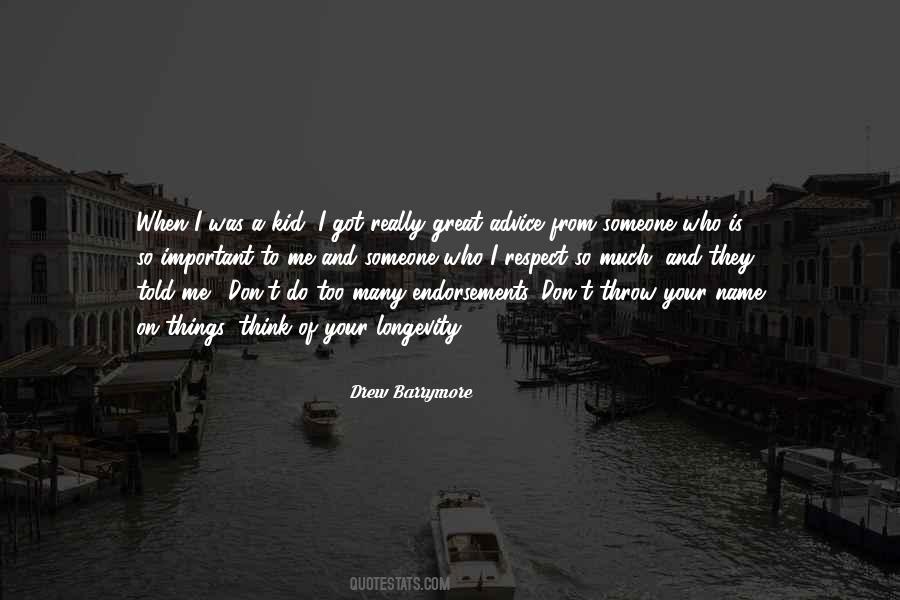 #68. I like acting too much and it's too, I'm just too busy doing that and I'm too hungry for it, to get behind the camera. I mean, unless I could act in it, too. I don't think I've got the right brain. I'm too disorganized. - Author: Rachel Weisz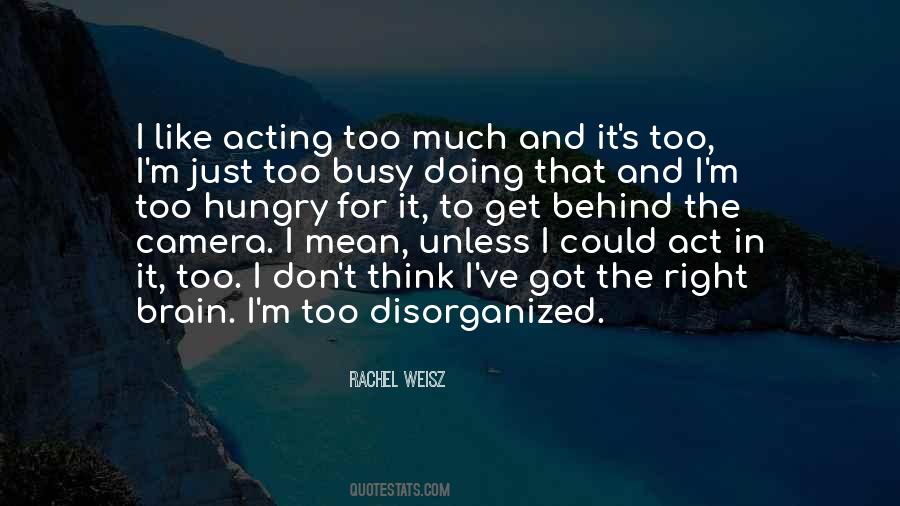 #69. I wanted to forget you, too," Sage said morosely. "Even now, I still do. With you right here in front of me. Even after last night. It still hurts to think about when you left. How it felt to be so alone. How much I don't want to care about you anymore. - Author: Sibylla Matilde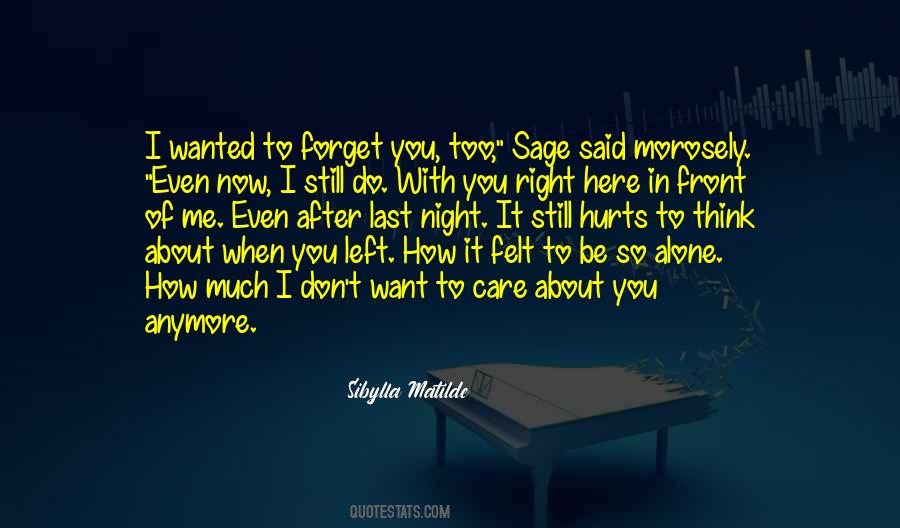 #70. We writers don't really think about whether what we write is good or not. It's too much to worry about. We just put the words down, trying to get them right, operating by some inner sense of pitch and proportion, and from time to time, we stick the stuff in an envelope and ship it to an editor. - Author: Garrison Keillor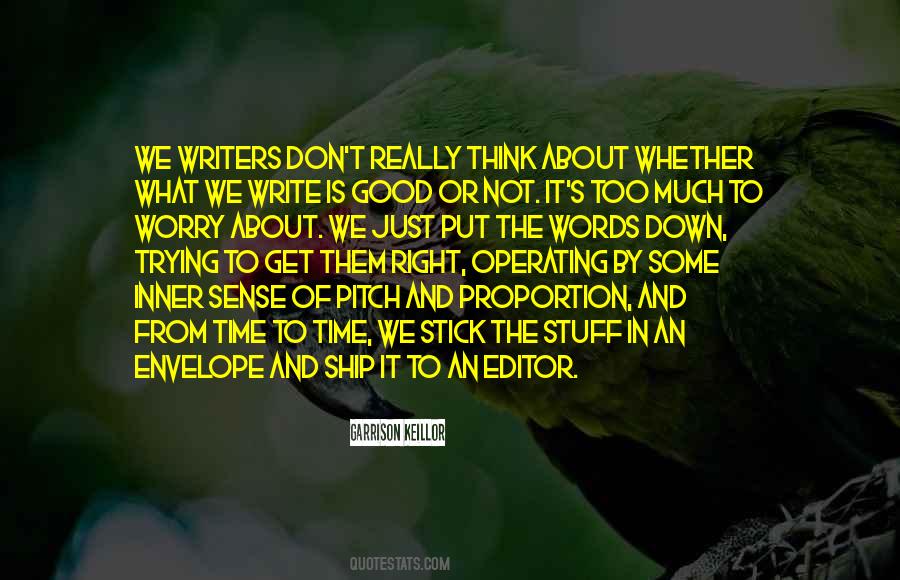 #71. I don't expect too much from the afterlife, I think that I know very well what pain is. When I think of the end of my life, I think mainly: I didn't do nothing, but I could have done more. - Author: Sylvia Kristel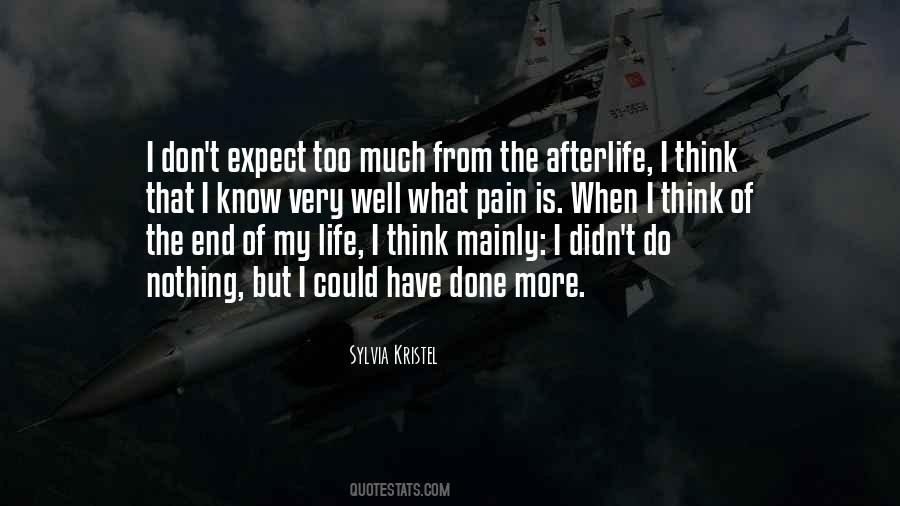 #72. I don't think you can spend too much time as an artist believing what other people think. - Author: Liz Phair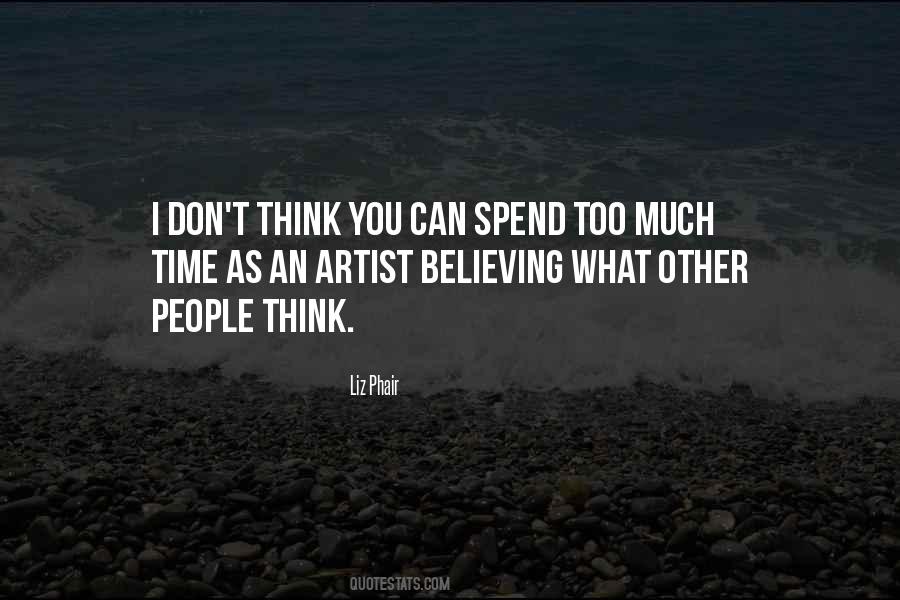 #73. If I had a long-term partner, I don't think I'd be an actor. It'd be too much of a strain; you have to work too hard to balance that life with a family and a mortgage and all that stuff - it would be too much. - Author: Rory McCann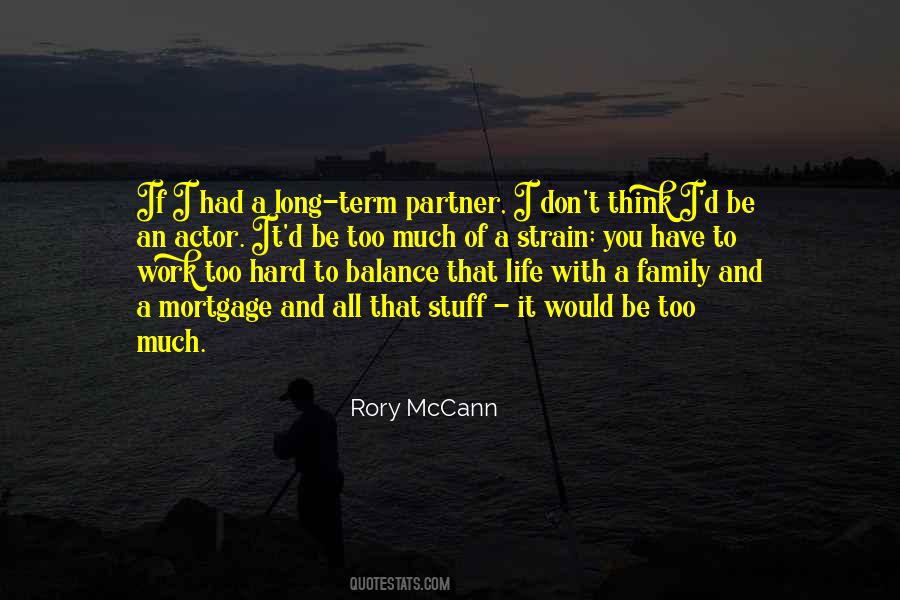 #74. I never put too much pressure on myself when I'm the central thing, just because I don't think I could handle it mentally. I haven't really thought about the implications of carrying a movie. It still has to be just a fun, weird thing. - Author: Will Ferrell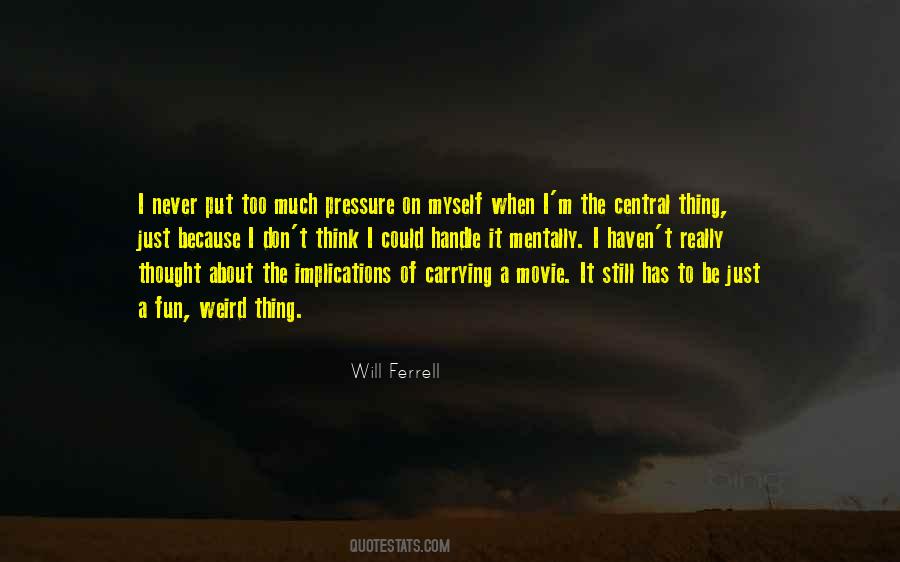 #75. I laugh when Floyd Mayweather says that if he went back in time he would beat us all. I'll tell you this: if he was in the same era as Hagler and Hearns and Leonard and me, I don't think he would be such a big name. There is too much talk. - Author: Roberto Duran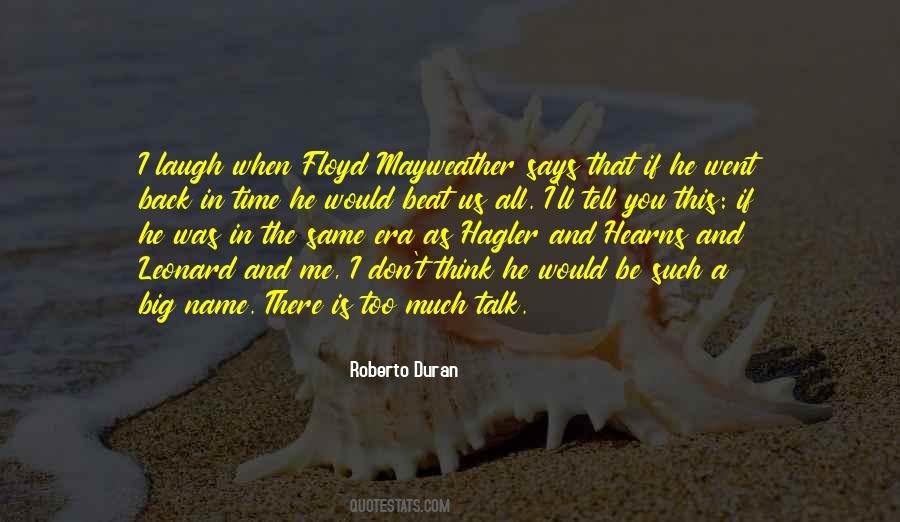 #76. When I decide to write a story, I don't think too much about what I want it to be, I just let things come naturally and this is how it turns out. It's just how my subconscious works. - Author: Asghar Farhadi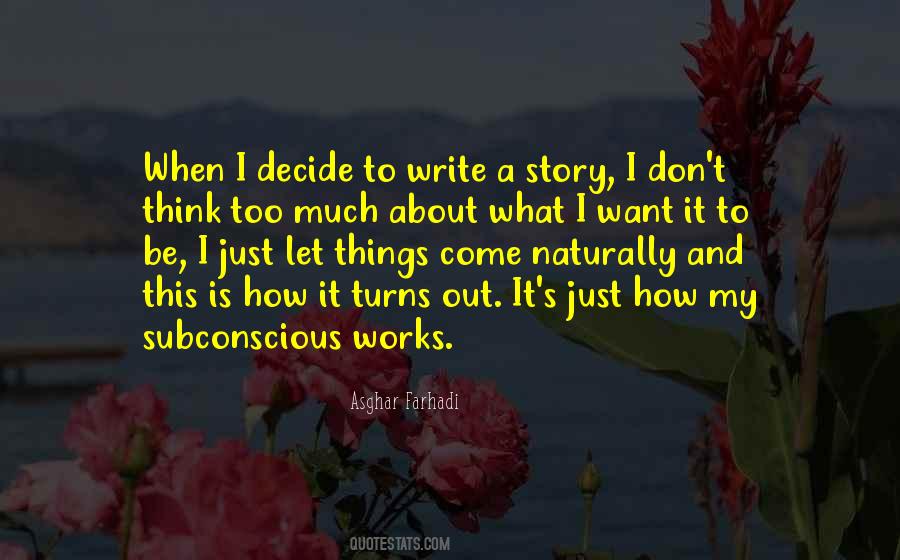 #77. Don't you think most of those kids think too much about who got an A or a B when they were in law school and what that means to an inflated G.P.A. and not enough about the world? asked Connor irrelevantly. - Author: Daniel Amory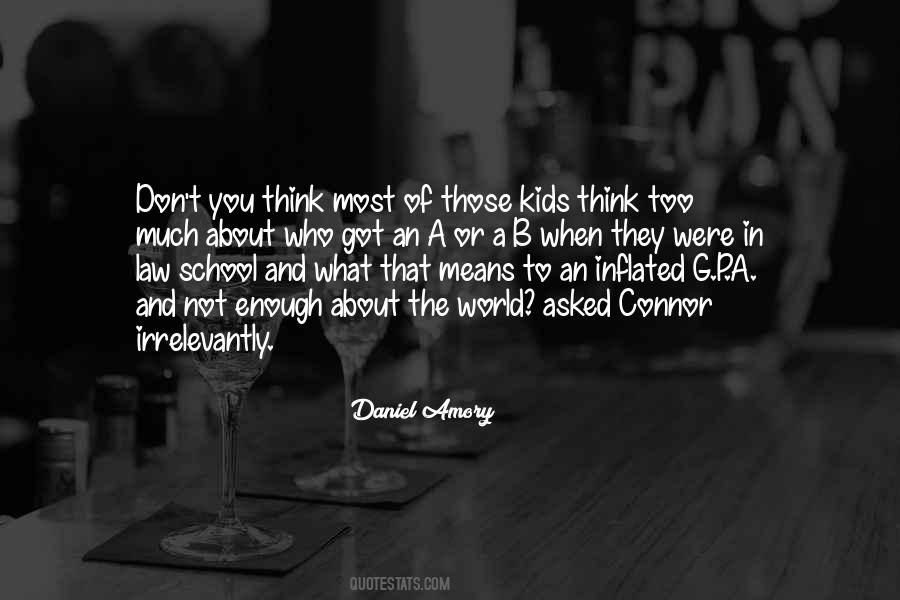 #78. I think maybe my greatest weakness is that I trust people too much. I'm too trusting. And when they let me down, if they let me down, I never forgive. I find it very, very hard to forgive people that deceived me. So I don't know if you would call that a weakness, but my wife said "let up." - Author: Donald Trump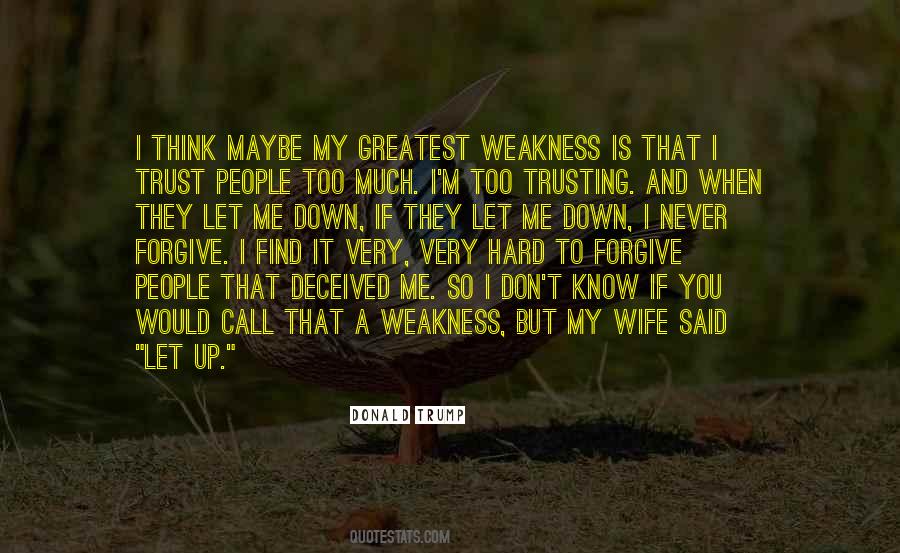 #79. I don't think men should think too much about their hair. They shouldn't think. They should just open bottles for women, hammer nails into wall and chop wood. - Author: Kemp Muhl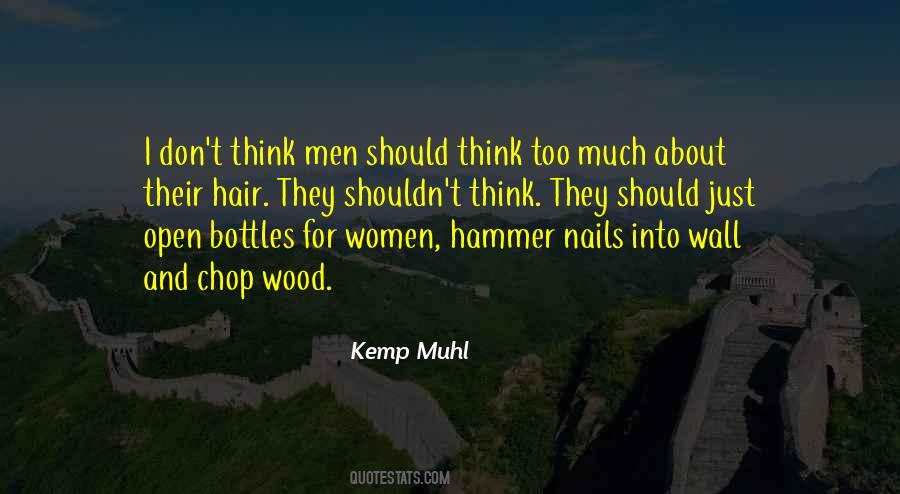 #80. The police pull up in back of my car and run my plates - they don't see you as you are; they see you through a racialized negative gaze. I think the best thing is not to internalize it too much, or it'll make you crazy because you know it's going to happen again. - Author: Mark Bradford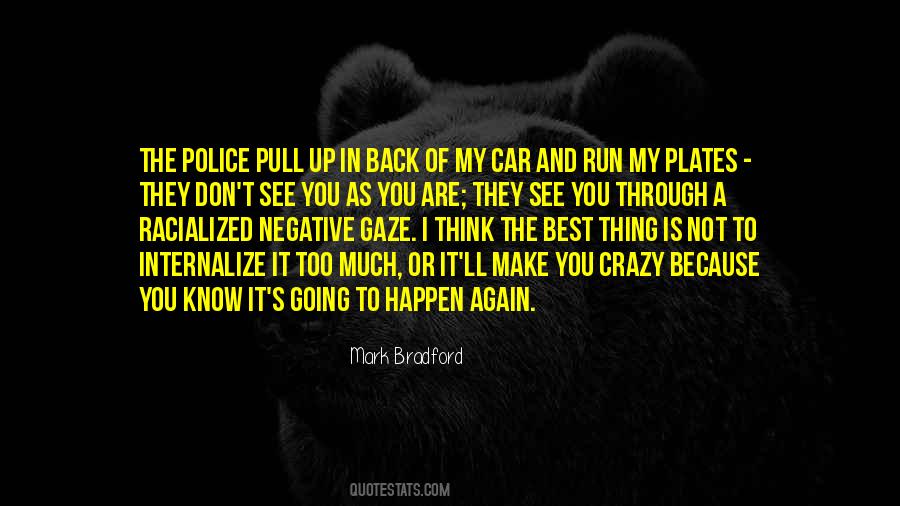 #81. I don't know why I've always been uncomfortable being too feminine. If a dress has too many flowers on it, if I'm giggling too much, I'm like ugh, put some combat boots on. I love masculine women. I think it's because I'm like a fake lesbian, I don't know. - Author: Moon Bloodgood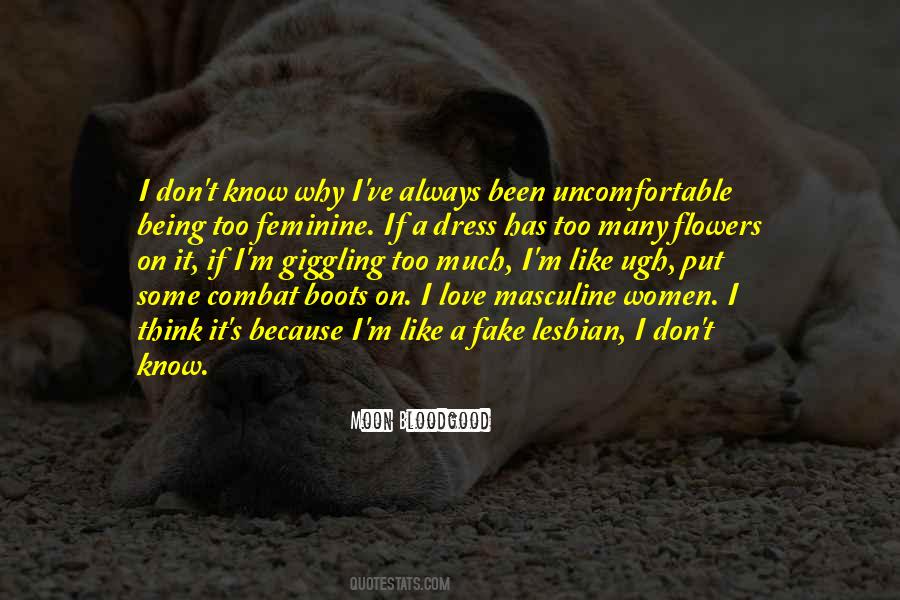 #82. Growing up in the 80's, I think a lot of us saw things that were "new," an experience we don't get too much of these days. We saw things that were never done before. When Star Wars first came out, no movie before that had ever looked that way. - Author: Gabriel Campisi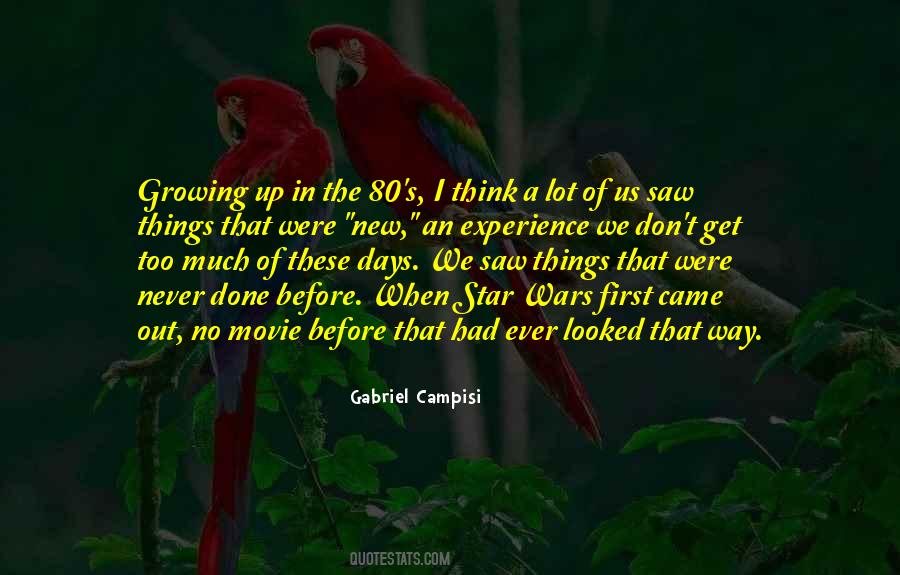 #83. I've retroactively made all that wasted time rotting my brain into research. It makes me a hypocrite when I try to tell my own daughter, "I don't know, I think we've played a little too much Mario." - Author: Ernest Cline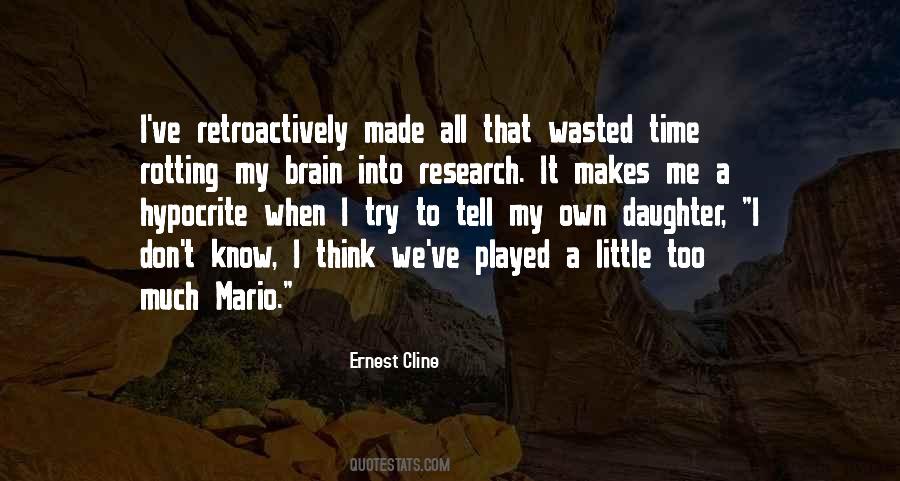 #84. I don't believe in self-pity. I think it's for people who have too much time on their hands. Instead of dreaming of a miracle, you learn to make your own. - Author: Jodi Picoult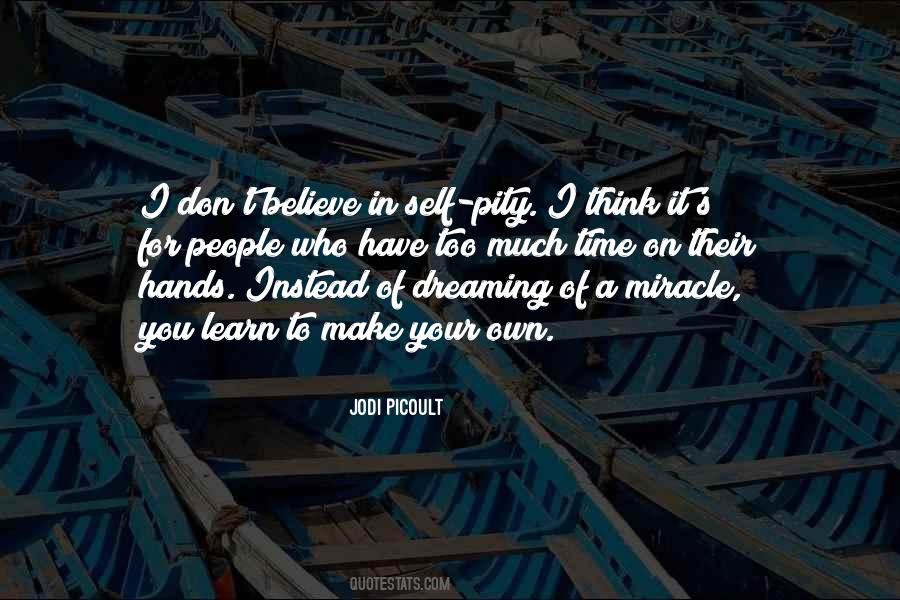 #85. I don't think too much about age. Maybe if you're hurting, aching and arthritic, then you think about it a lot. But I don't. - Author: Bob Newhart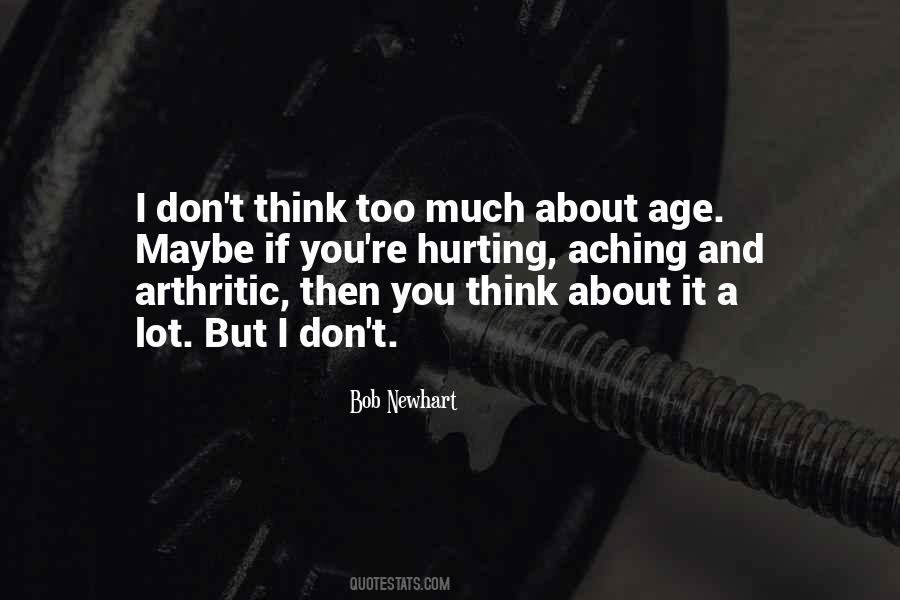 #86. I mean, I don't really pay too much attention publicly to what people think. - Author: Brooke Burke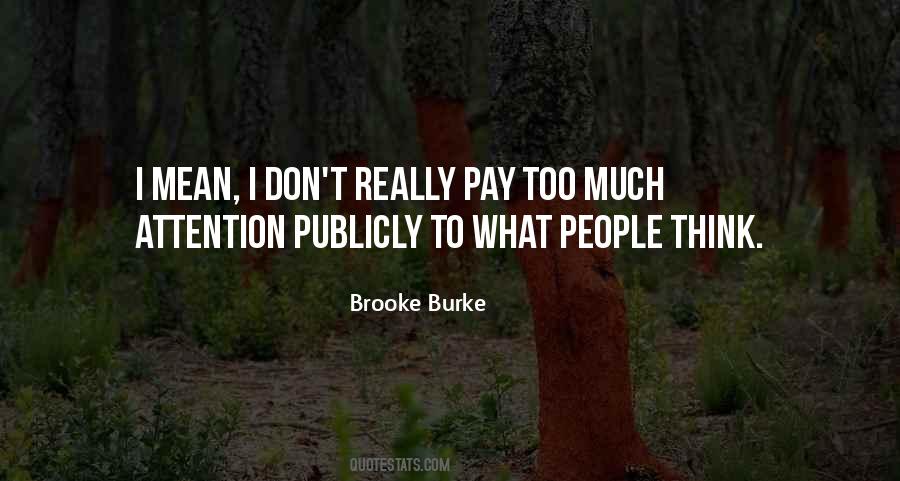 #87. Too much analysis kills a thing. Art is created from passion and inspires passion. And passion is beyond reason. Don't you think? - Author: Menna Van Praag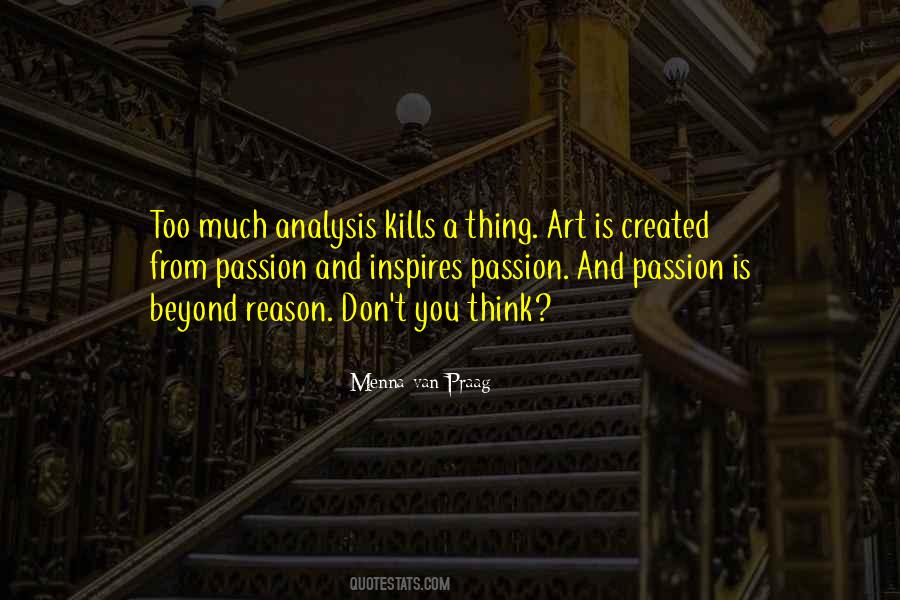 #88. I think a lot of people study the rules too much and then don't know how to be creative. - Author: Julian Casablancas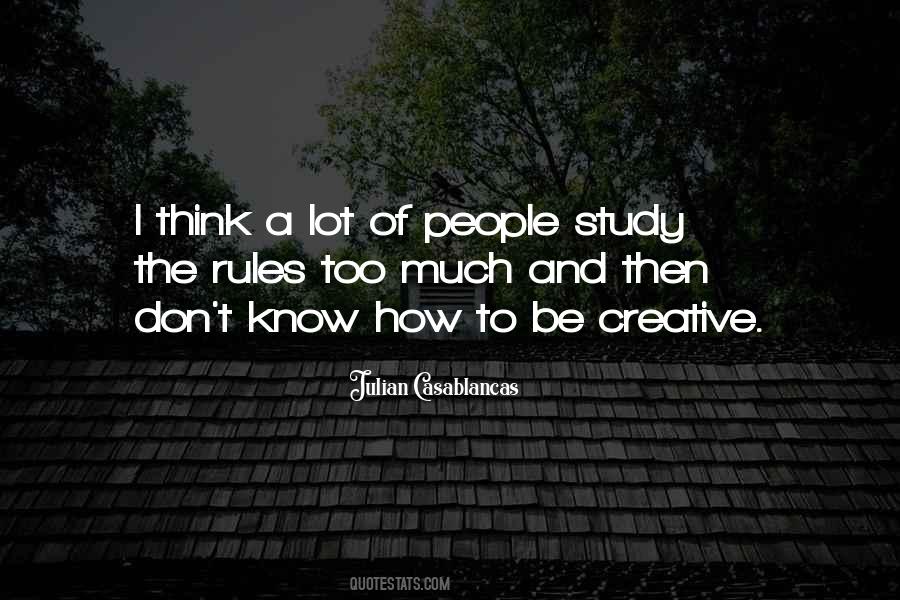 #89. People with a lot of money don't dress as well as people who have to make do, who have to be inventive. Those are the people who are always more interestingly dressed, I think. Everything I do, I do with gut instinct. If I think too much, it won't come out right. - Author: Iris Apfel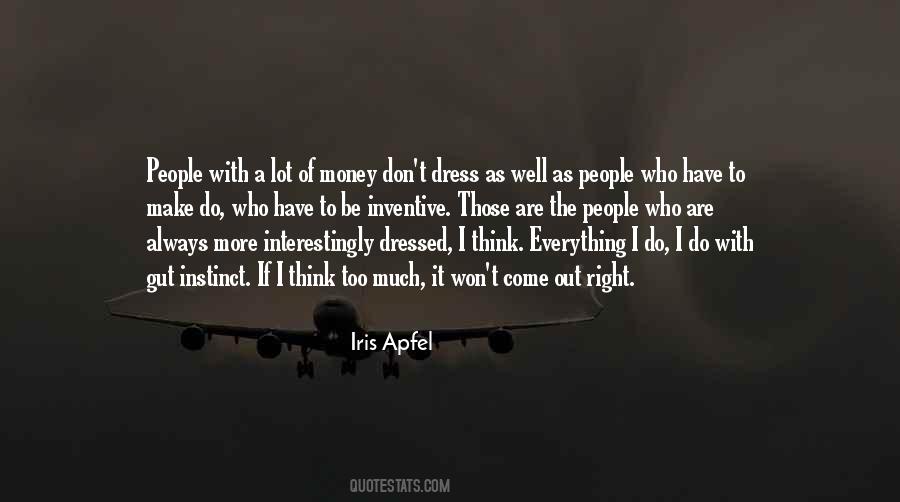 #90. I don't think you can be a mysterious rock star the same way you could in 1965 because there's too much information. Everything you do is available all the time. So the only thing you can rely on is not being false. - Author: Chris Martin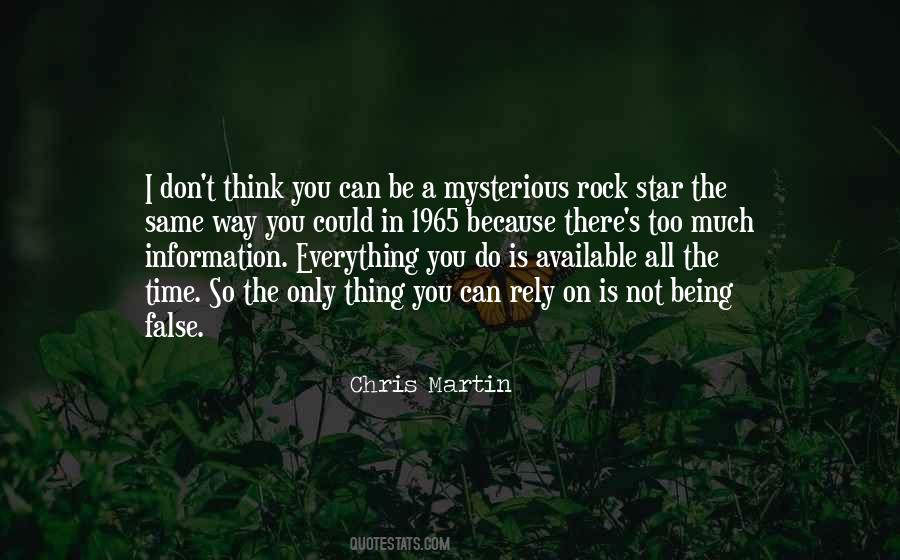 #91. I don't like music docs, usually. There's nothing to really say. What can you say about music? Normally, you can't say too much. There are a few really good ones, but the majorities are boring, I think. - Author: Malik Bendjelloul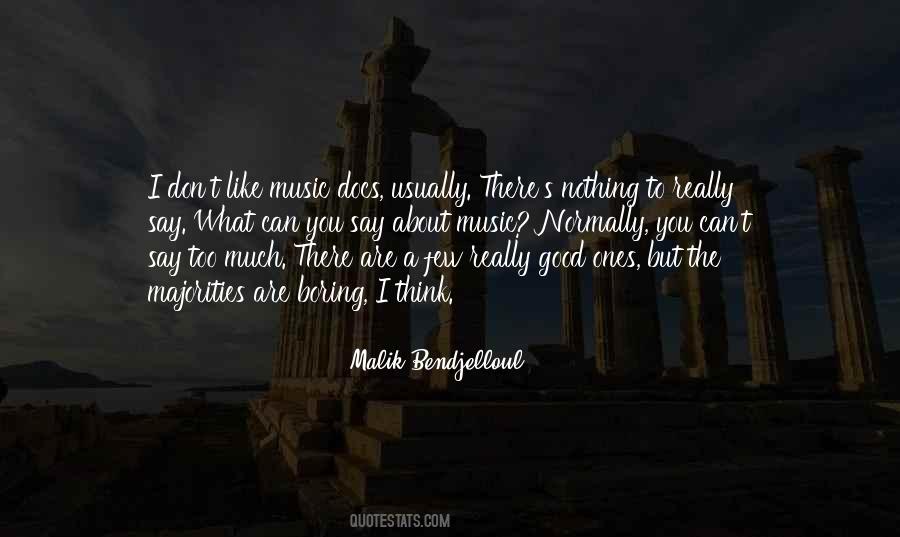 #92. Potentially, America is really the greatest, but it's not yet, I don't think. It's too much like an old-fashioned empire, waving the stick and dropping too many bombs on too many people. - Author: Robert Wyatt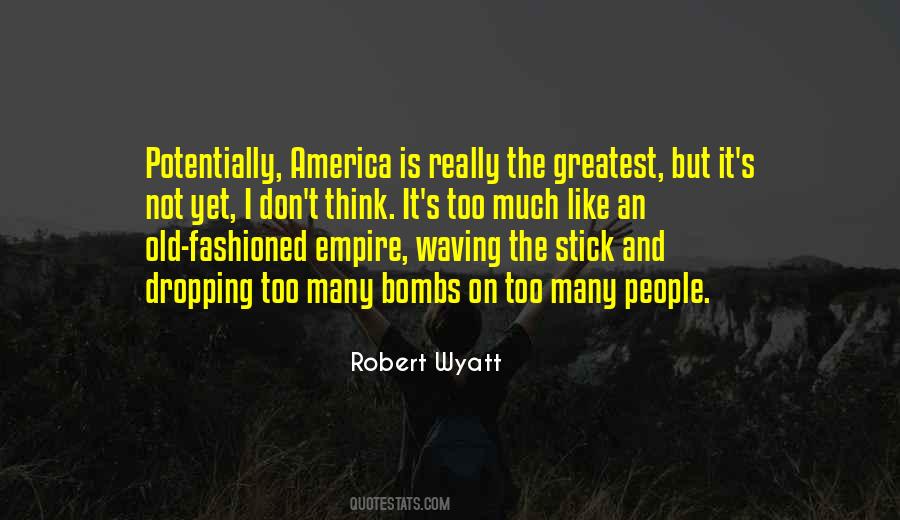 #93. The competition, the naysayers, the owners who talk too much. The people who don't think a 36-year-old can do what I do. I take a lot of pride in my craft, I work really hard at my craft everyday, and I'm a true professional. - Author: Kevin Garnett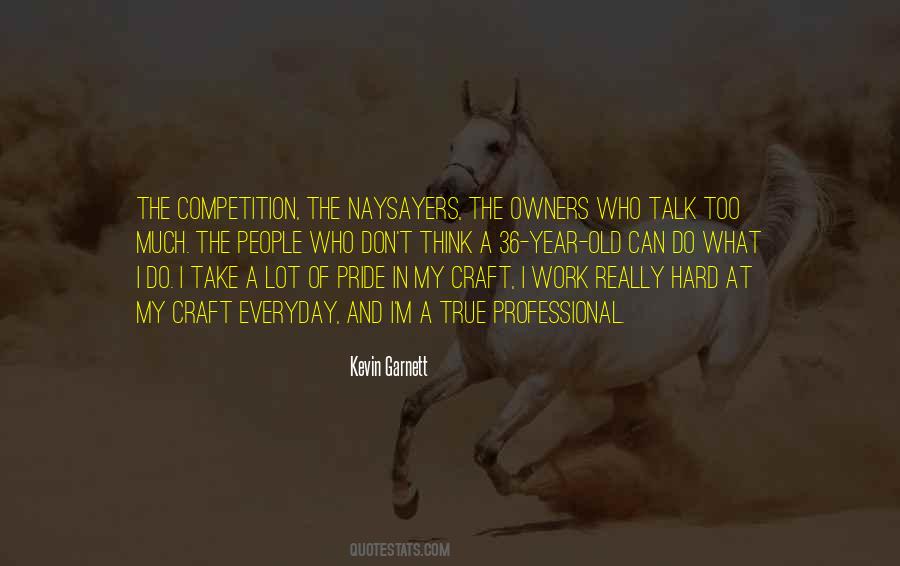 #94. It's continuously humbling to work hard, you know? As long as you've got a good work ethic and a sense of humor, I don't think anybody can become too much of an egoist under those circumstances. - Author: Rachael Ray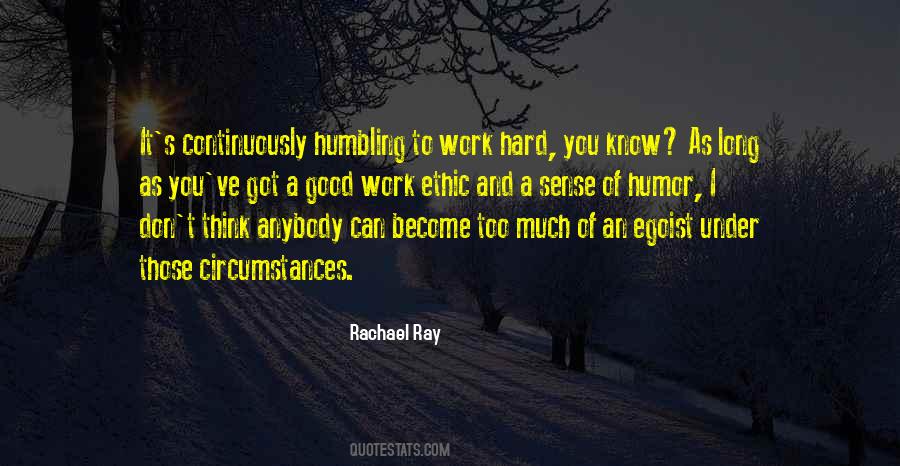 #95. When you're young, you're very insecure. And if I could learn, if I could revisit my own past I could say to myself, don't think too much, just get on and do it. - Author: Anthony Hopkins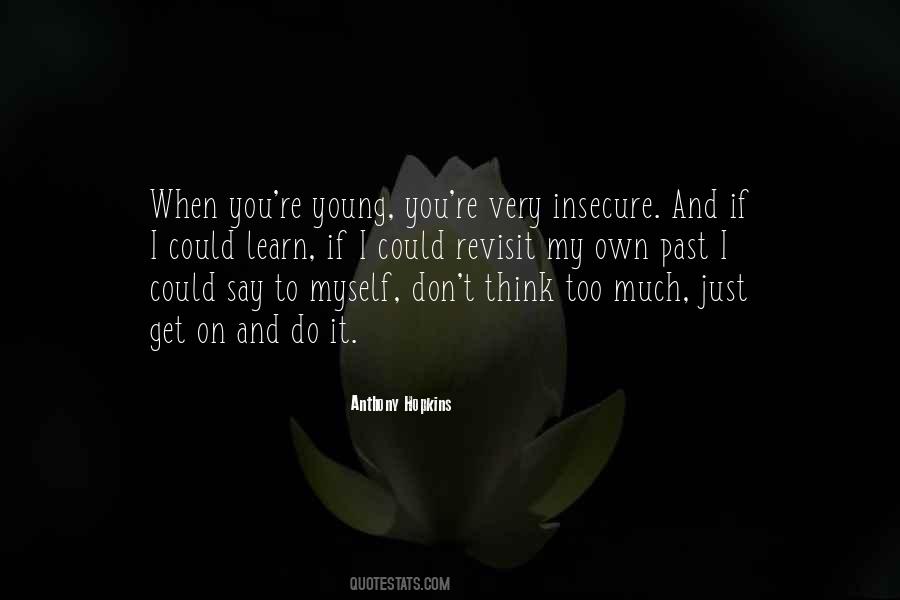 #96. There's a reason people say everything happens for a reason, but don't think about that reason too much, because then you'll turn into the unhappy "skeptical one" of the group. - Author: Jay Clark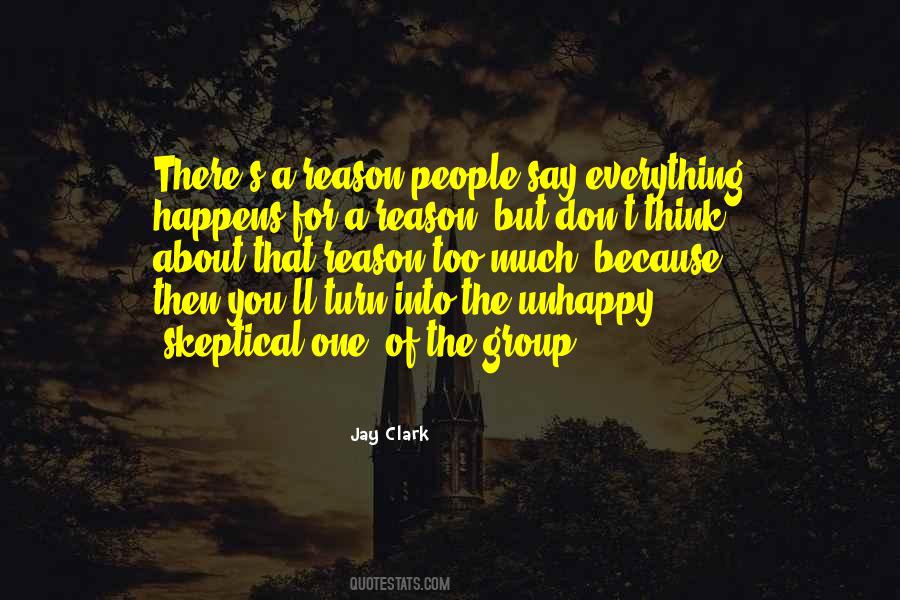 #97. You can't think about what you're going to do. It just gets in the way. You have to be just available for life, otherwise you're not bringing anything to the party. So I don't lie awake thinking about what I'm going to do workwise. There's just too much going on. - Author: Bill Murray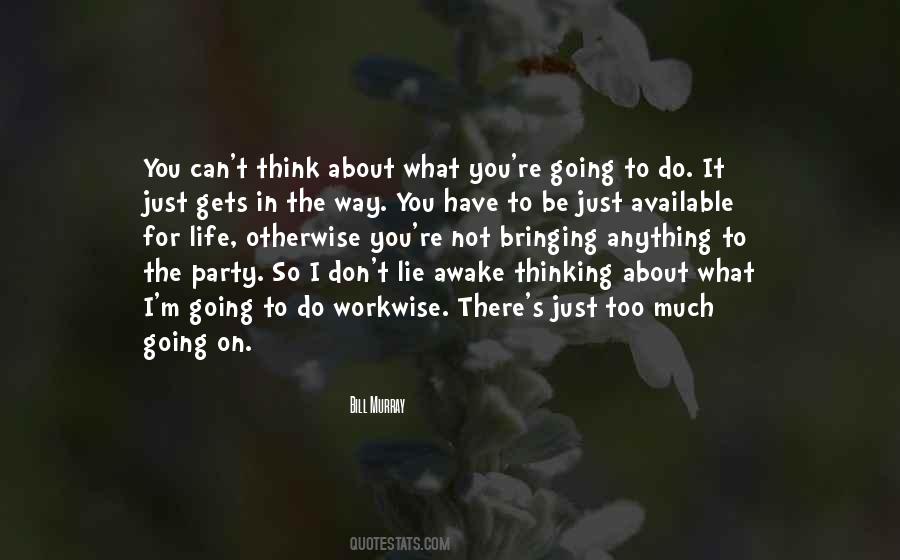 #98. Actually, most people don't think I have too much sense because I would rather be fairly intelligent and act dumb instead of not having any sense at all and try to act smart. - Author: Phil Robertson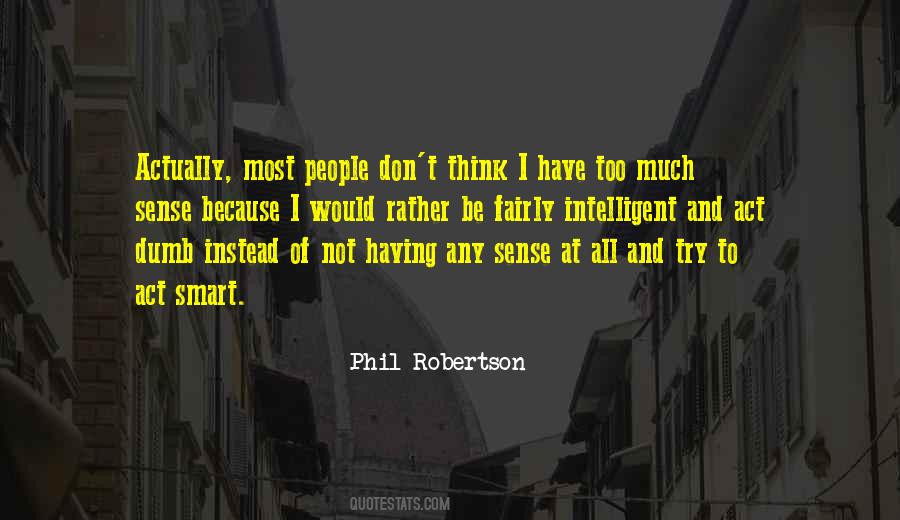 #99. I think the biggest issue for legacy media - both TV and film - is that it just costs too much money to develop a TV series or movie. And most of them don't work. Then the one that works has to pay for the rest. - Author: Shane Smith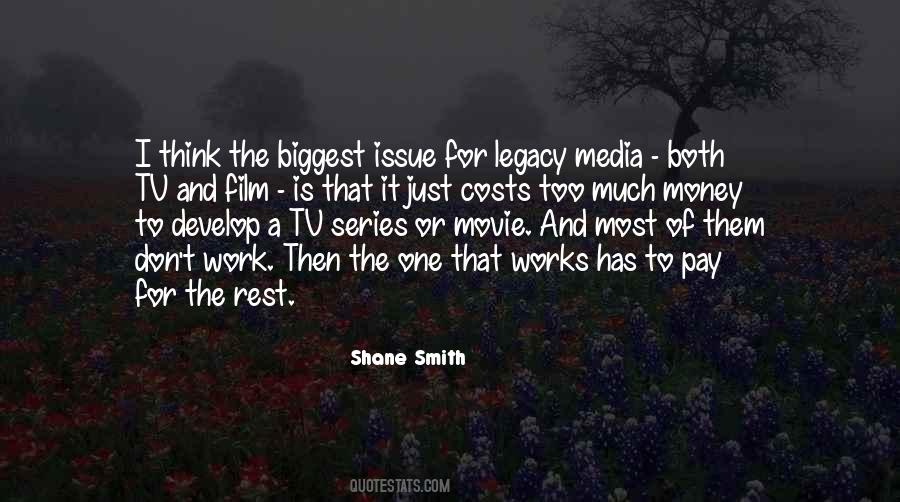 #100. So I don't really focus too much on that, and I think it's dangerous if your goal in life is to get the other guy, then you're not going to be doing a really quality job yourself. - Author: Katie Couric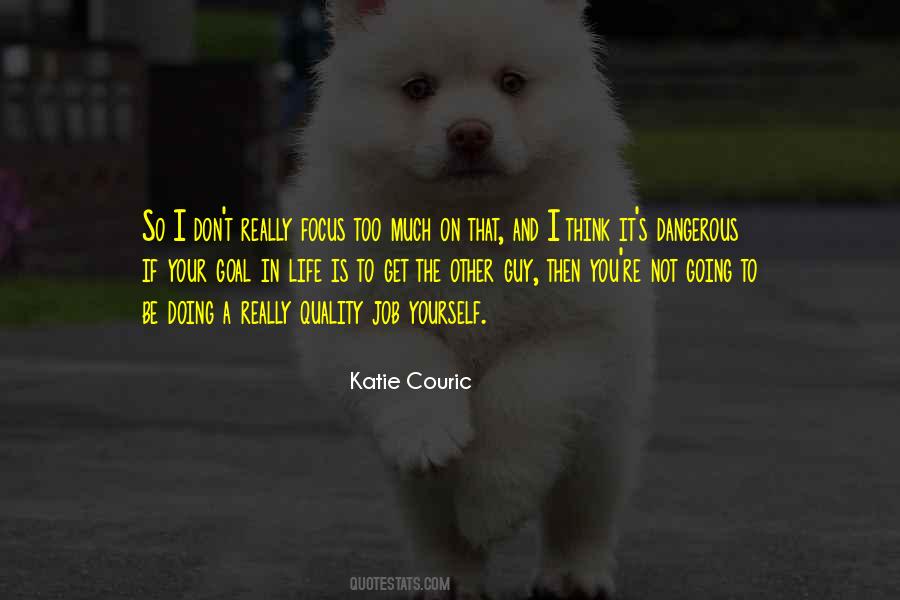 Famous Authors
Popular Topics