Do Not Question God Famous Quotes & Sayings
List of top 80 famous quotes and sayings about do not question god to read and share with friends on your Facebook, Twitter, blogs.
Top 80 Do Not Question God Quotes
#1. I'd be perfectly happy with a mathematically precise description of how time began. I see science and religion as being two completely different things. I don't see science as relevant to the question of whether or not there's a God. - Author: Neil Turok
#2. The question is not, "Do you know you are a sinner?" the question is this, "As you have heard me preach the Gospel, has God so worked in your life that the sin you once loved you now hate?" - Author: Paul Washer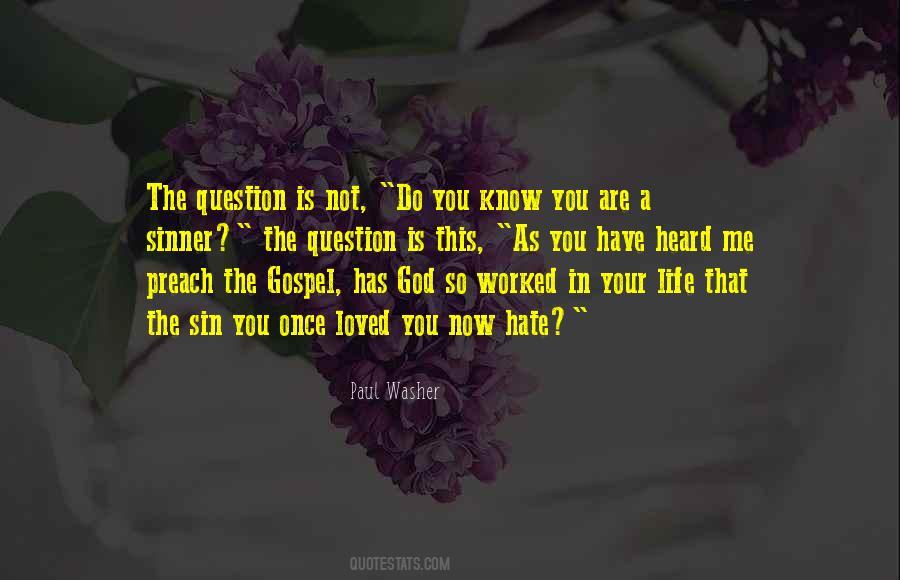 #3. We need to ask ourselves a question: Do we trust God? Is he not the same yesterday, today, and forever? And if he is, then how is compromise a strategy? It's not a strategy, it's wholesale surrender. - Author: Matt Shea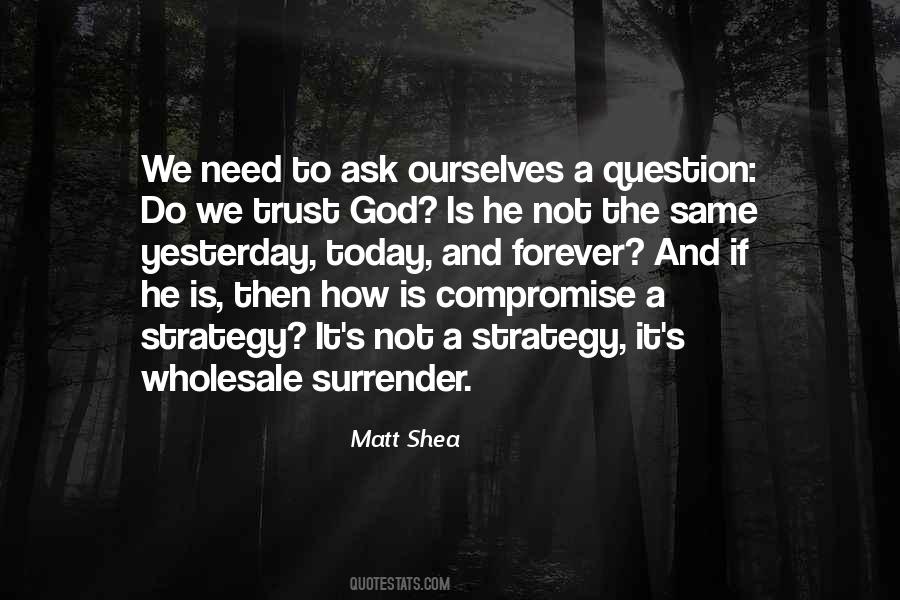 #4. I really look for asking myself that question, "Oh my God, how am I going to do this?" That's what I aspire to every time I take on a new role. - Author: Emily Blunt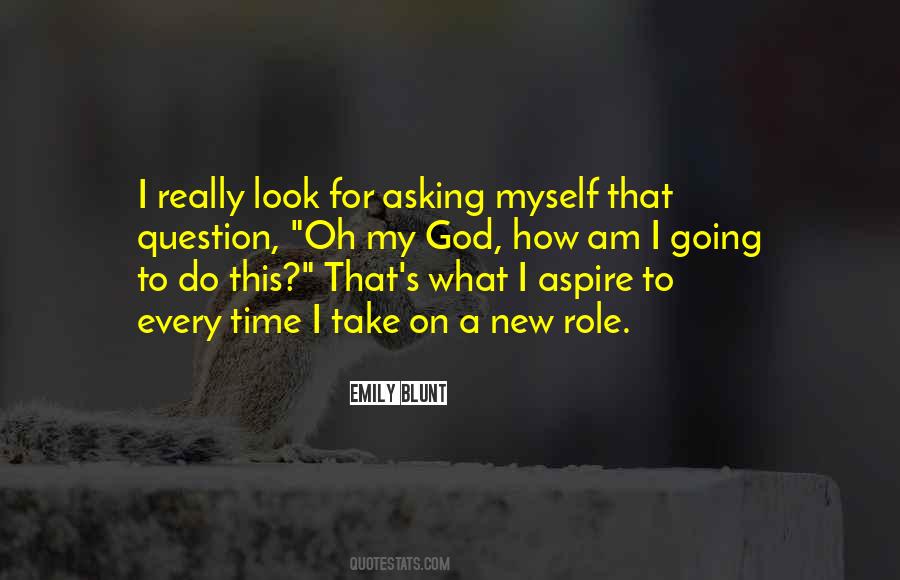 #5. The question is not: do we believe in God? but rather: does God believe in us? And the answer is: only an unbeliever could have created our image of God; and only a false God could be satisfied with it. - Author: Kenneth Patchen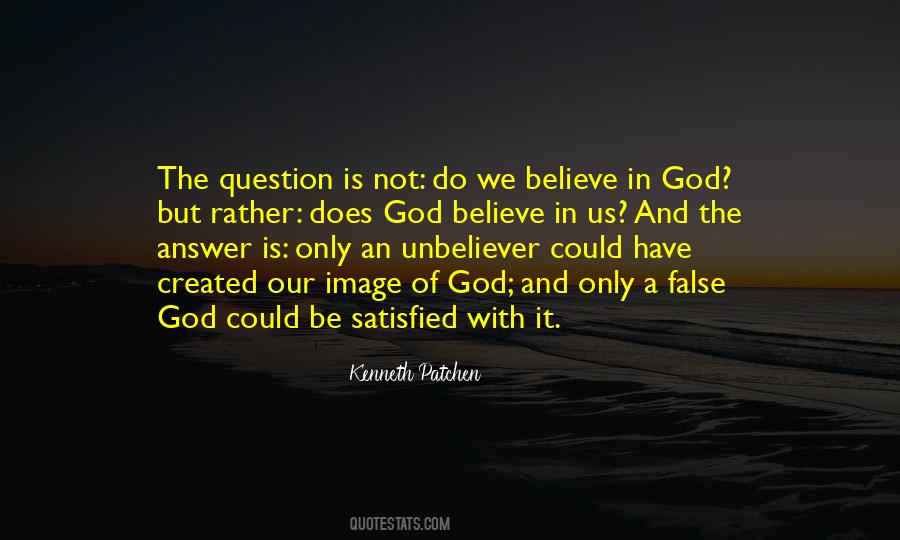 #6. The beginning of questioning well is to seek to question well, which may mean laying down our questions and allowing them to be reshaped and reformed by the answers given us by God. - Author: G.K. Chesterton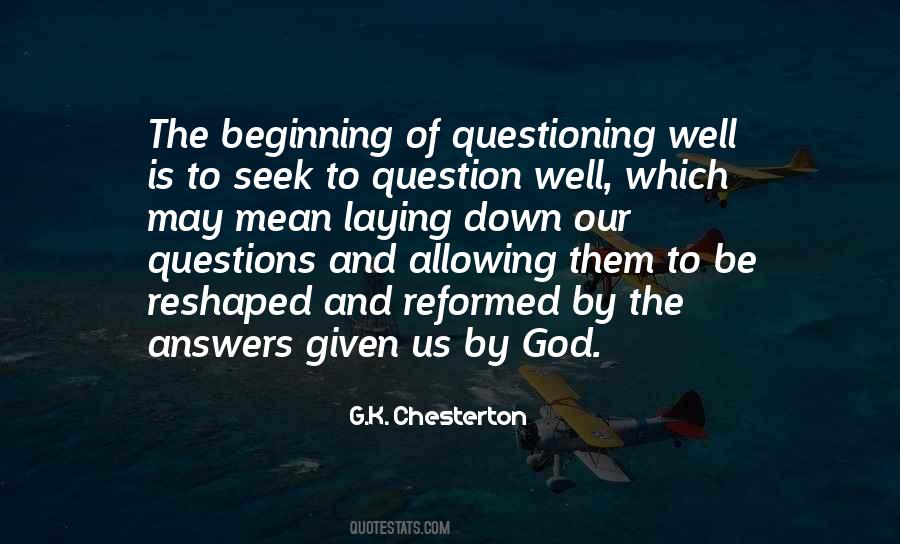 #7. The question of historicity and actuality with regard to gods and unicorns is a relatively trifling matter which may be left to antiquarians and biologists, for both the god and the unicorn had a business to perform greater than any mere existence in the flesh could explain or provide a basis for. - Author: Odell Shepard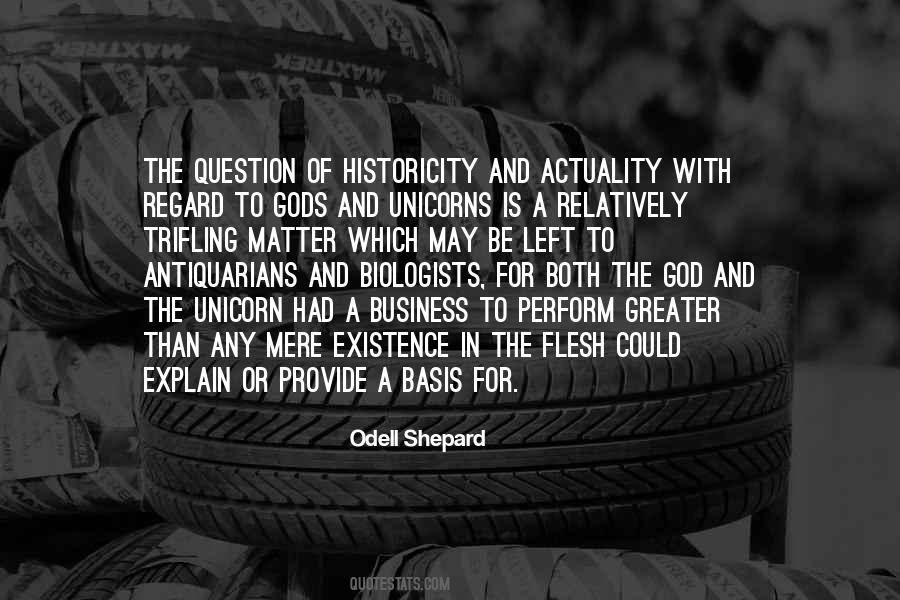 #8. If you know that God loves you, you should never question a directive from Him. It will always be right and best. When He gives you a directive, you are not just to observe it, discuss it, or debate it. You are to obey it. - Author: Henry Blackaby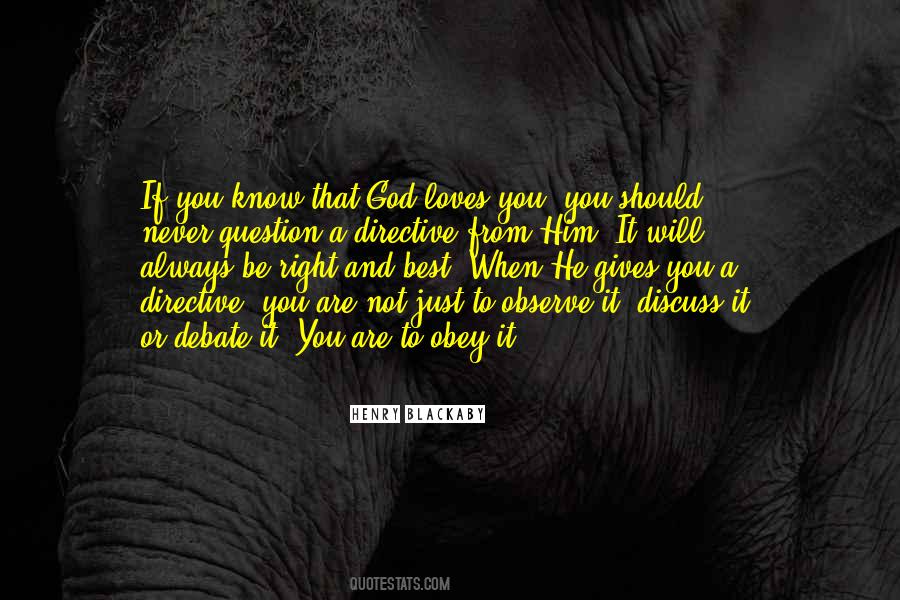 #9. The most pressing question on the problem of faith is whether a man as a civilized being can believe in the divinity of the Son of God, Jesus Christ, for therein rests the whole of our faith. - Author: Fyodor Dostoevsky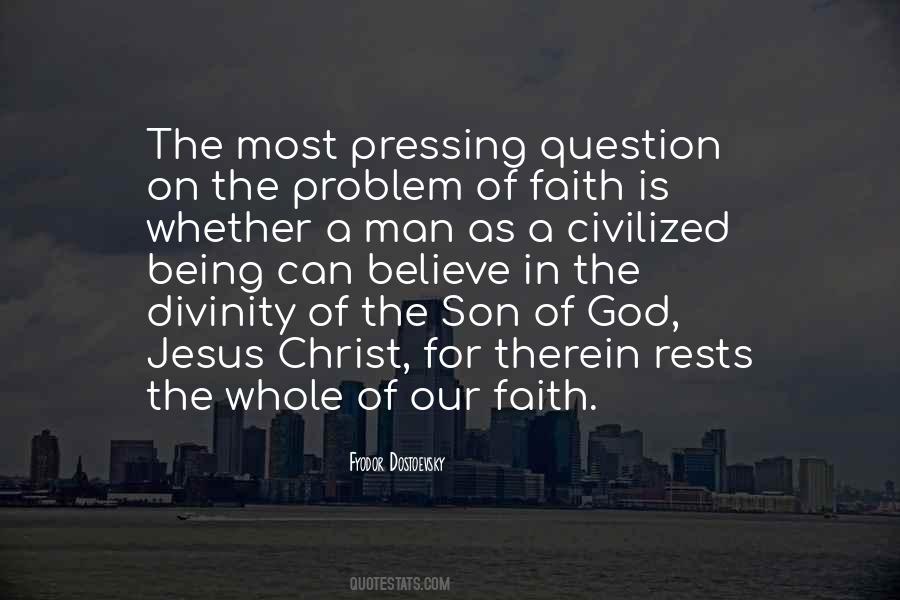 #10. If you are faced with the question of whether or not to surrender, make a determination to go on through the crisis, surrendering all that you have and all that you are to Him. And God will then equip you to do all that He requires of you. - Author: Oswald Chambers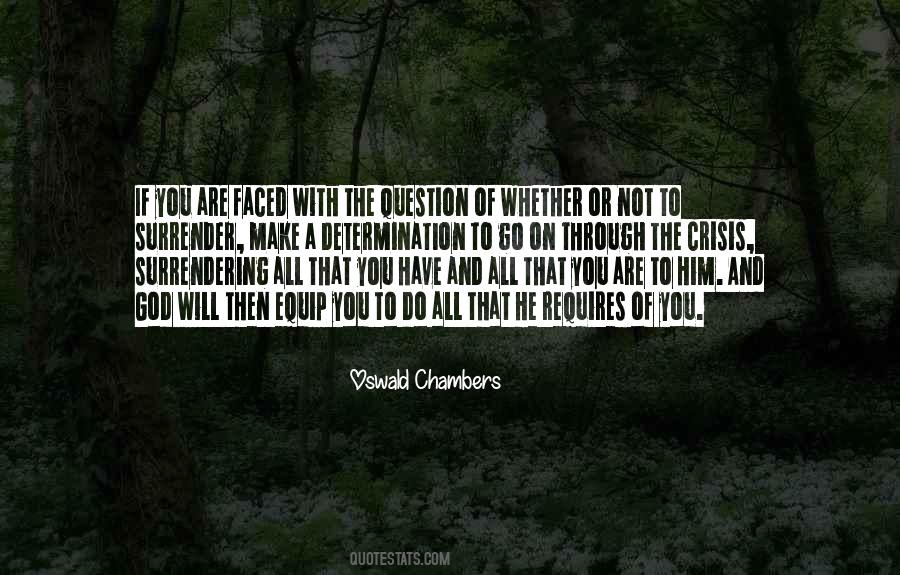 #11. Do not question God. Do not question America. Mix those two ideas together, and you've got a lovely recipe for blind obedience. I - Author: P.Z. Myers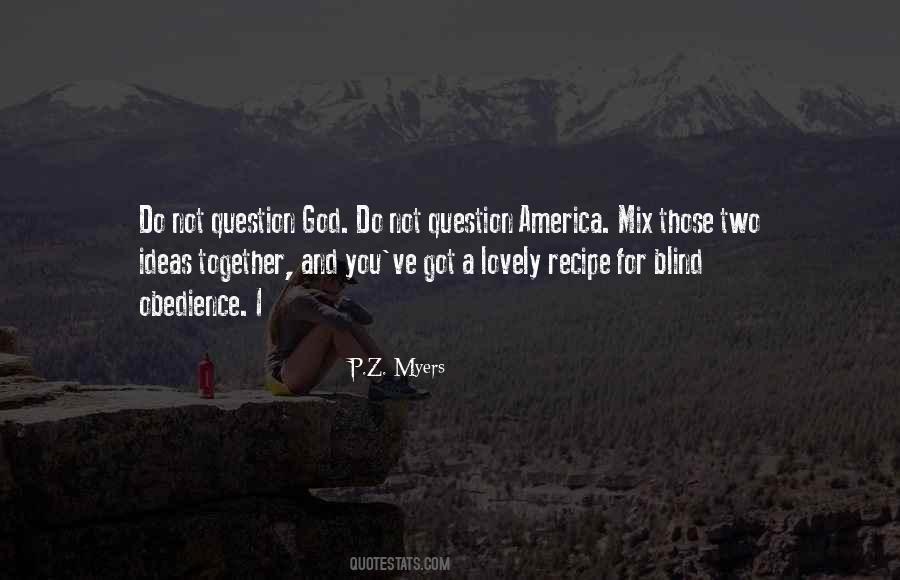 #12. There are, as we know, powerful and illustrious atheists. At bottom, led back to the truth by their very force, they are not absolutely sure that they are atheists; it is with them only a question of definition, and in any case, if they do not believe in God, being great minds, they prove God. - Author: Victor Hugo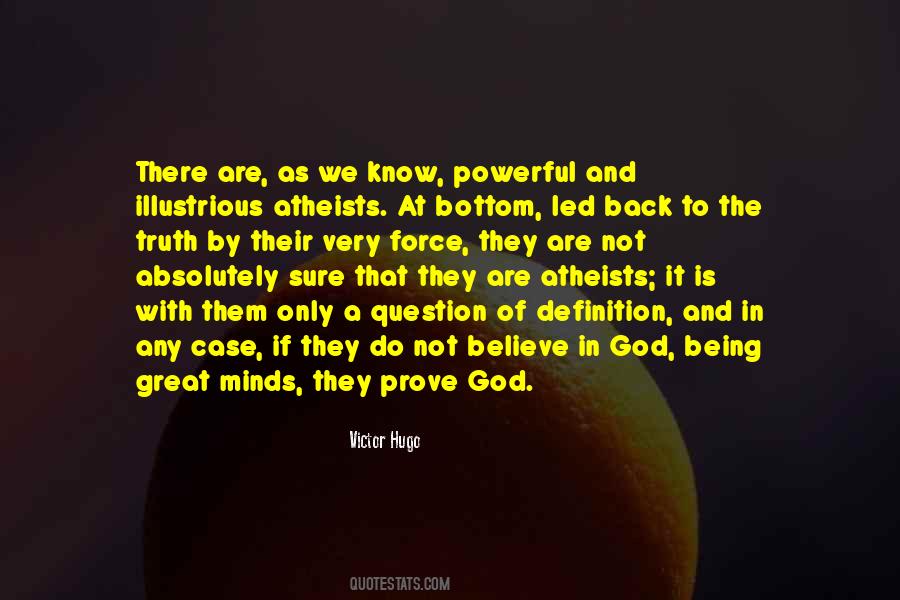 #13. People, who seek God, find answers to their question - Author: Sunday Adelaja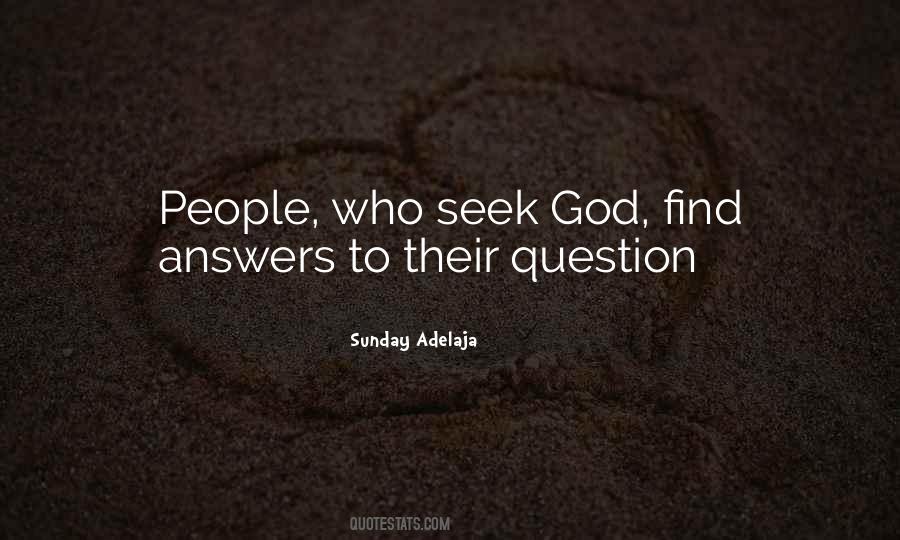 #14. One question such events provoke is "What kind of God allows this to happen?" Another question we might ask is, "What kind of creatures are human beings that we should cause and allow this to happen? - Author: John E. Goldingay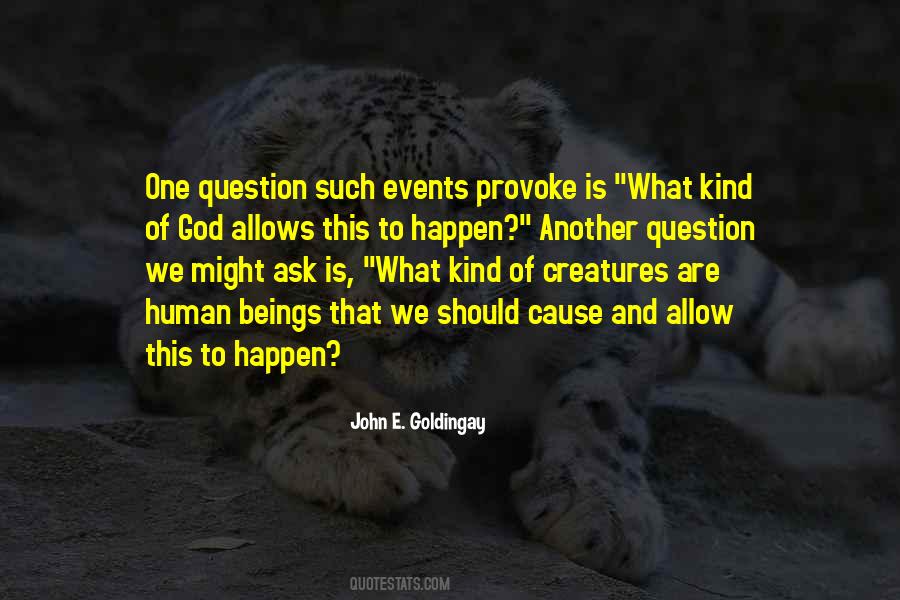 #15. Recently God asked me the same question in a new way, "And if I don't allow you to heal, if I never remove the pain, will you still trust Me? - Author: Cindee Snider Re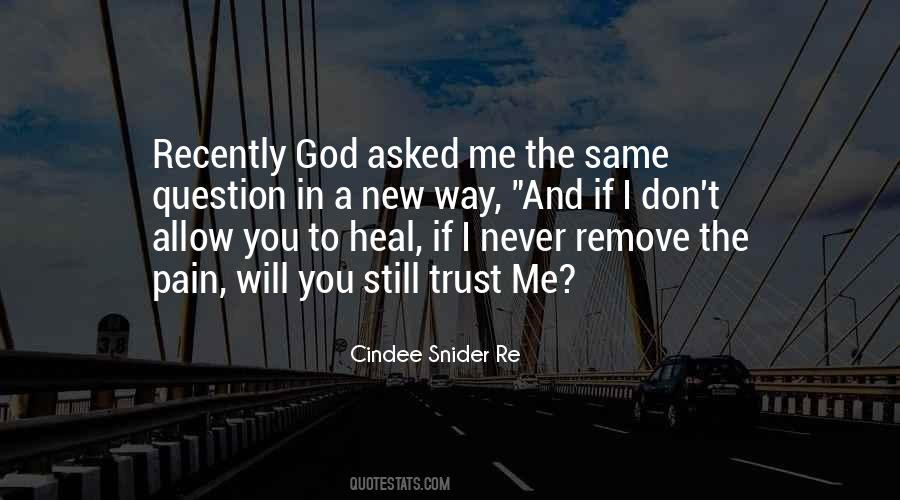 #16. An atheist doesn't have to be someone who thinks he has a proof that there can't be a god. He only has to be someone who believes that the evidence on the God question is at a similar level to the evidence on the werewolf question. - Author: John McCarthy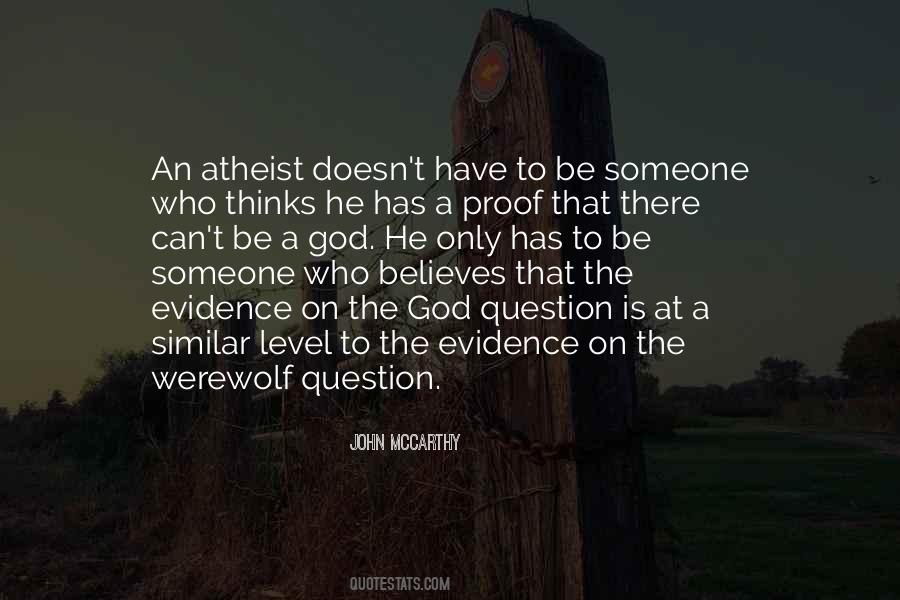 #17. We must question the story logic of having an all-knowing all-powerful God, who creates faulty Humans, and then blames them for his own mistakes. - Author: Gene Roddenberry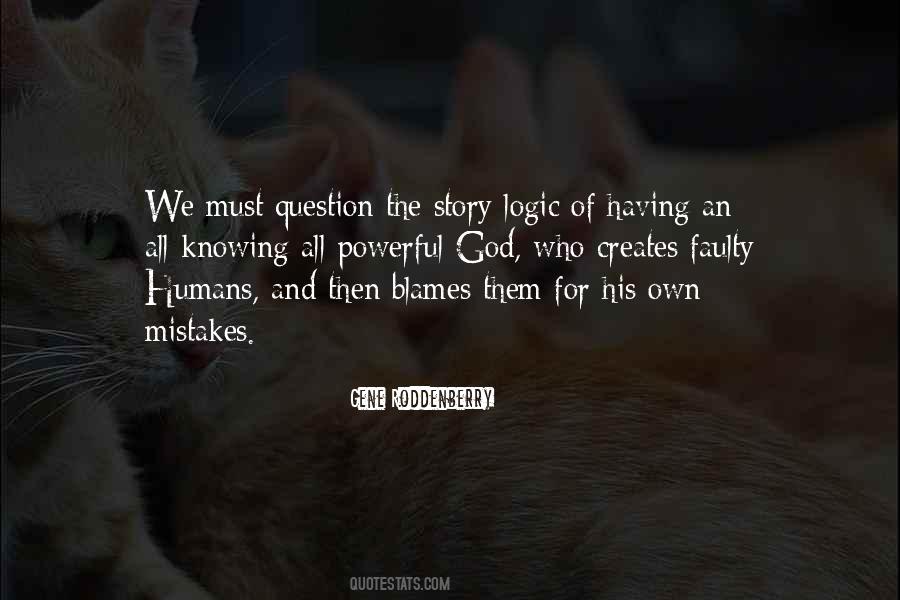 #18. Your responsibility is to not question God's actions or what looks like a lack of action. Your obligation is to count on God's character. - Author: Jim George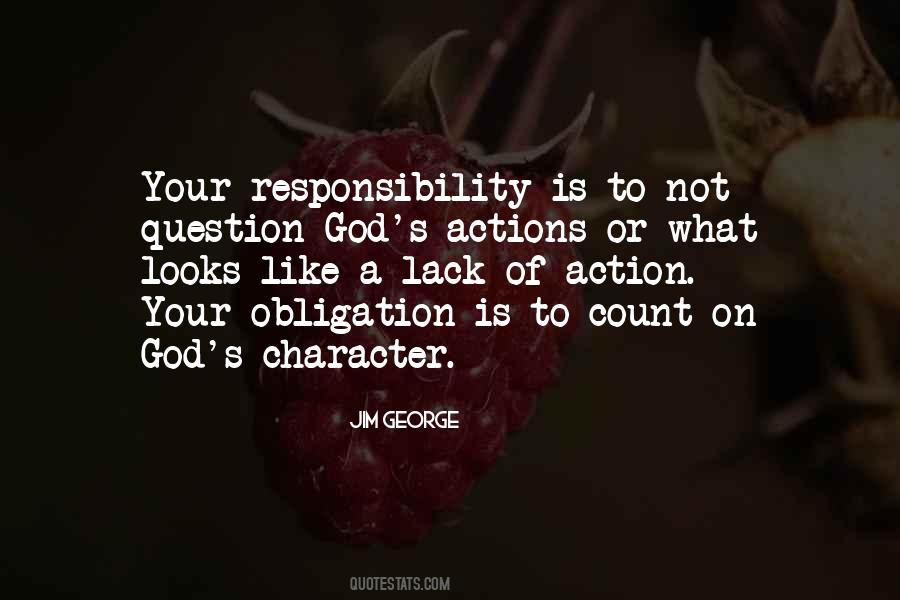 #19. Don't question in the dark what God showed you in the light. - Author: V. Raymond Edman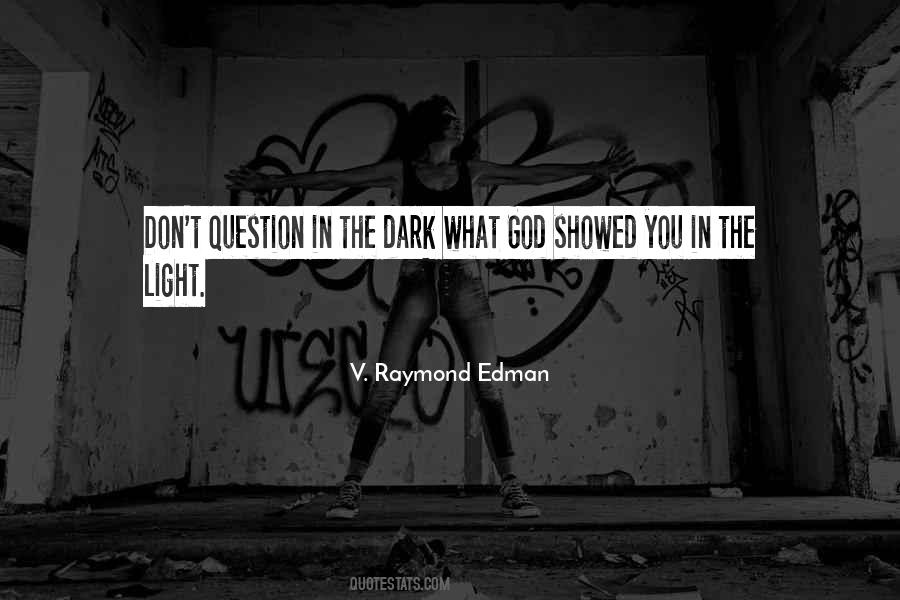 #20. There are those who insist that it is a very bad thing to question God. To them, "why?" is a rude question. That depends, I believe, on whether it is an honest search, in faith, for His meaning, or whether it is the challenge of unbelief and rebellion. - Author: Elisabeth Elliot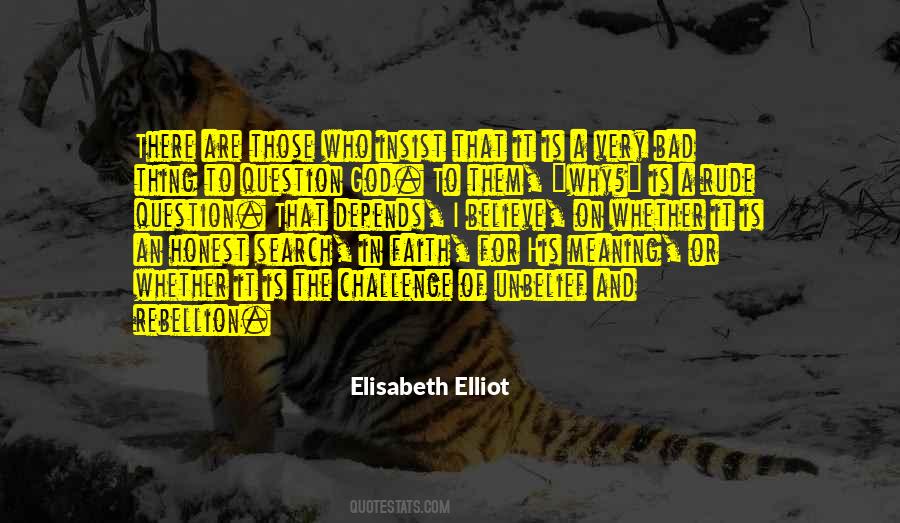 #21. For this reason the gravest question before the Church is always God Himself, and the most portentous fact about any man is not what he at a given time may say or do, but what he is his deep heart conceives God to be like. - Author: A.W. Tozer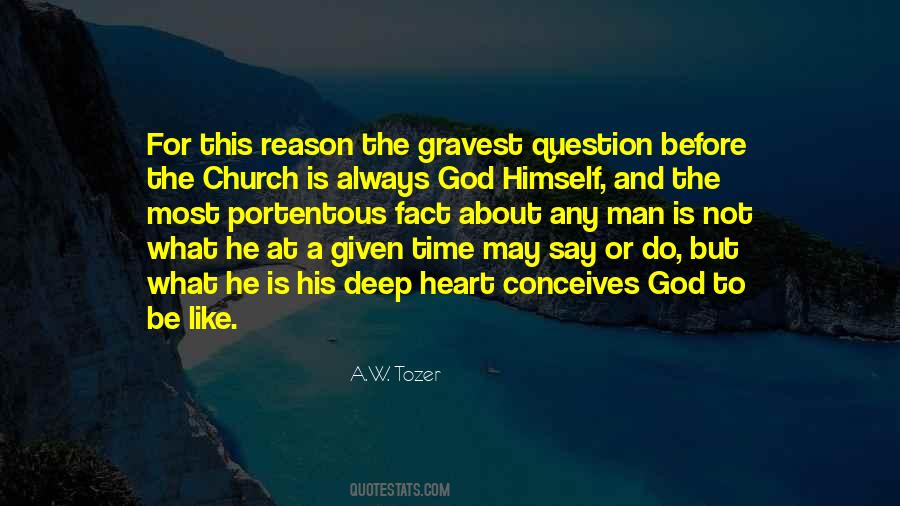 #22. The question is not, "Do you want to go to heaven?" The question is, "Do you want God?" - Author: Paul Washer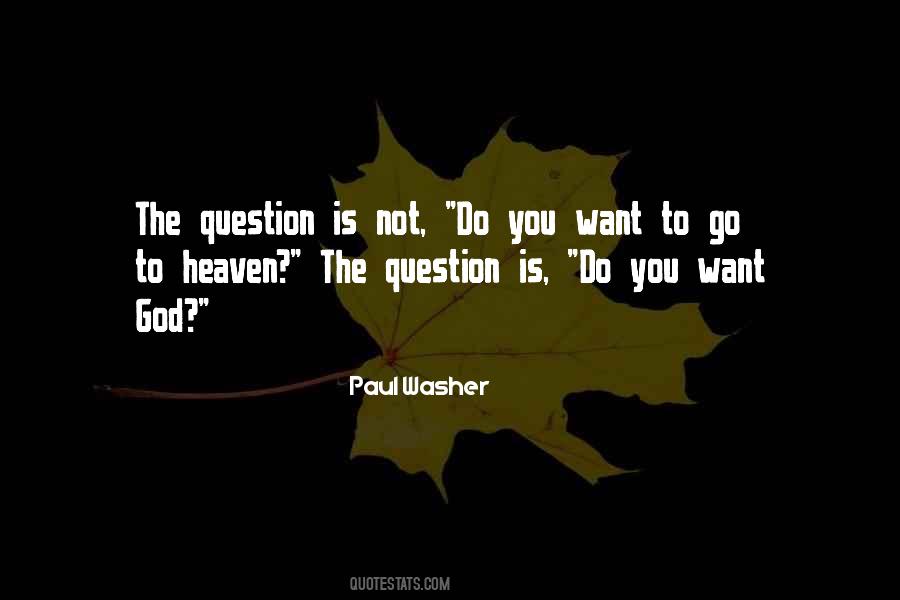 #23. The tragedy in our colleges and seminaries right now is that we turn men out who know the word of God. That is never going to turn the world.
The question is not whether they know the Word of God ...
The question is ... Do they know the God of the Word? - Author: Leonard Ravenhill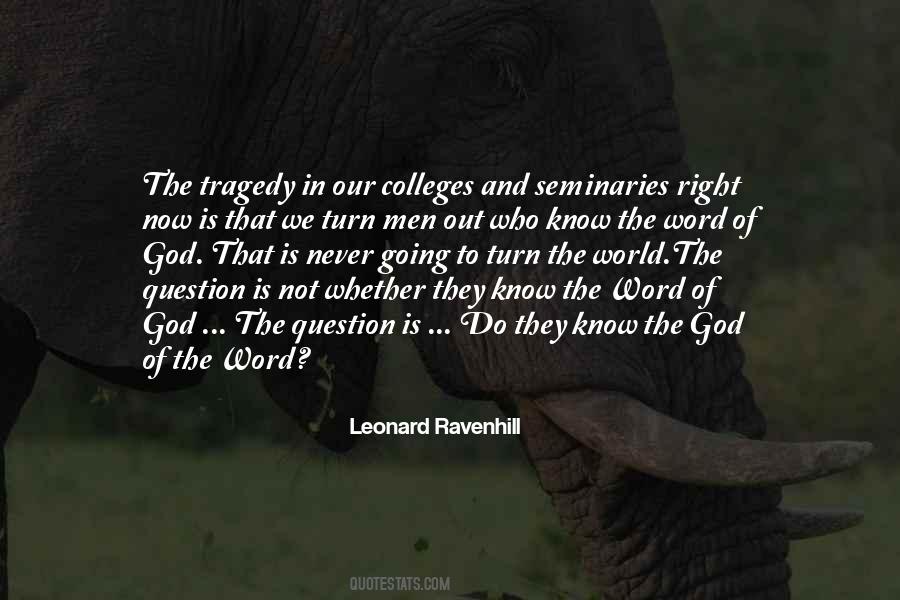 #24. The great question that God's speech out of the whirlwind poses for Job and every other person of integrity is this: Can you love what you do not control? - Author: Ellen F. Davis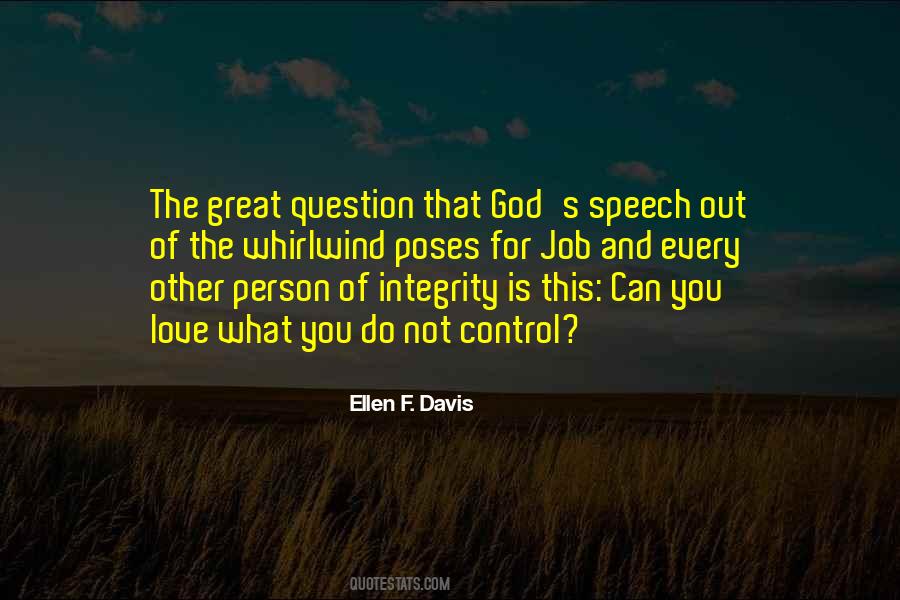 #25. Ask yourselves this question: How often is Jesus inside and knocking at the door to be let out, to come out? And we do not let him out because of our own need for security, because so often we are locked into ephemeral structures that serve solely to make us slaves and not free children of God. - Author: Pope Francis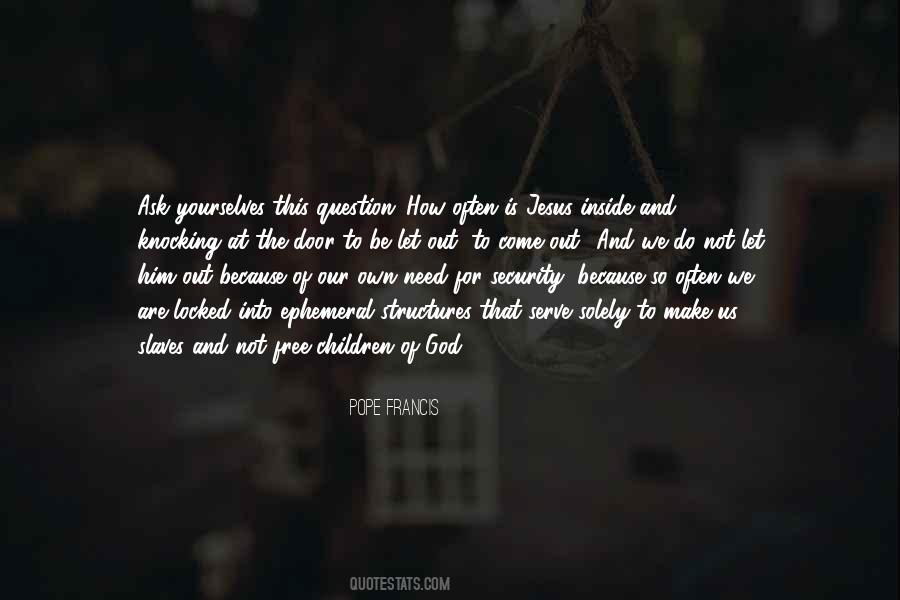 #26. Do not question your ability or worthiness. God is a universe of purpose-driven balance. If you have been called to action, it is because you have it within you to rise to the challenge of your calling. Now, RISE to it! - Author: Steve Maraboli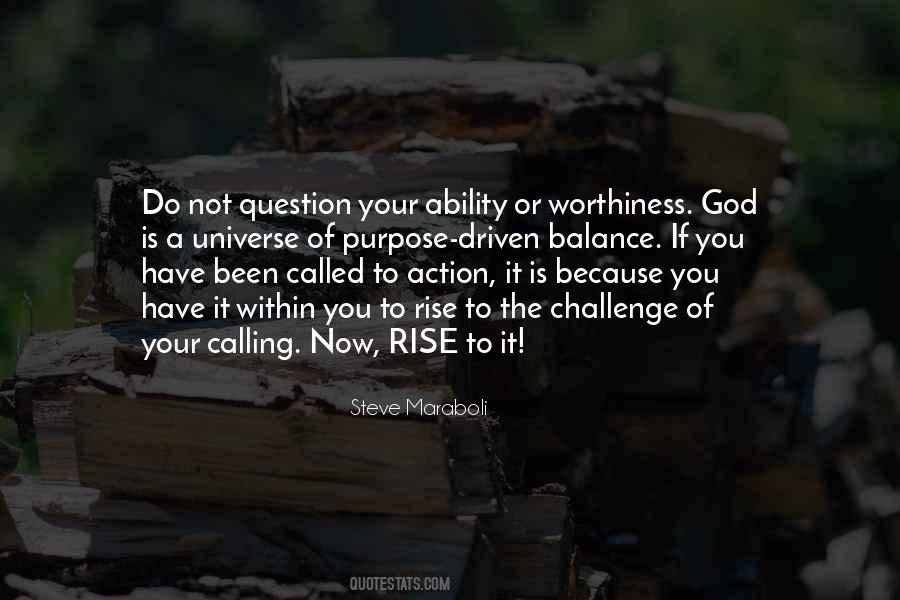 #27. Love is greater than marriage, love is the greater thing while marriage, though noble and honorable, is questionable in its origins. I question the creations of man, I do not question the masterpieces of God. - Author: C. JoyBell C.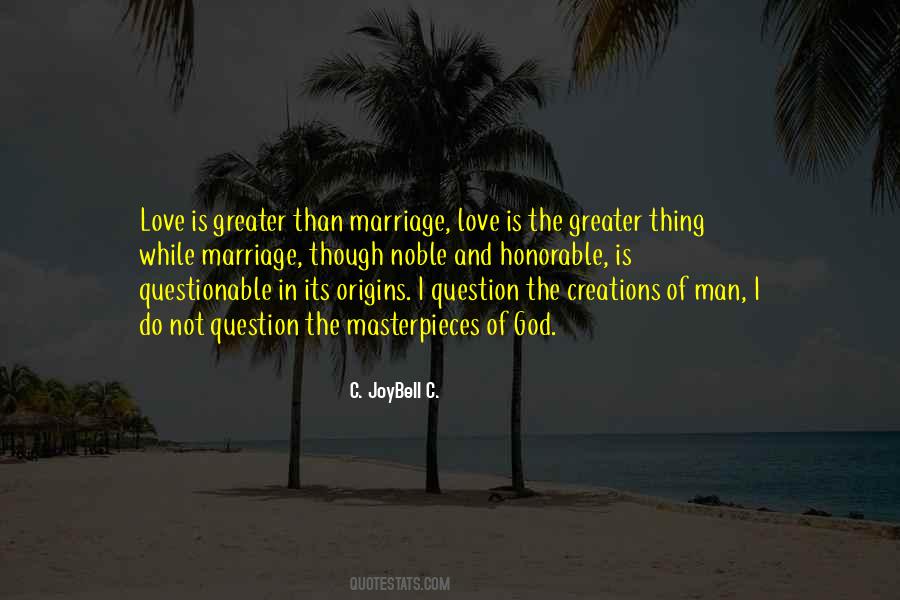 #28. Secular folks have no opinion about God's existence; they're busy with other matters. But a secular mystic would say, "The question is not 'Does God exist?' It's rather, 'What do we mean by 'God? - Author: Victoria Zackheim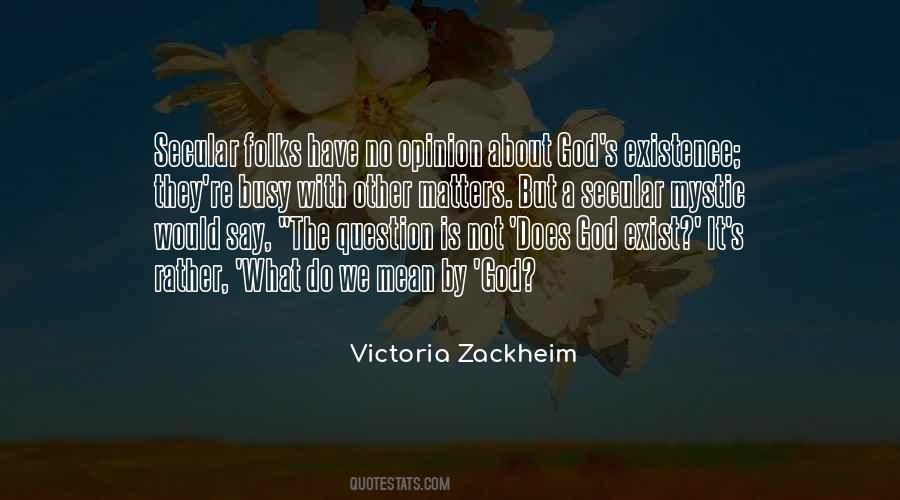 #29. Mario, what do you get when you cross an insomniac, an unwilling agnostic and a dyslexic?"
"I give."
"You get someone who stays up all night torturing himself mentally over the question of whether or not there's a dog. - Author: David Foster Wallace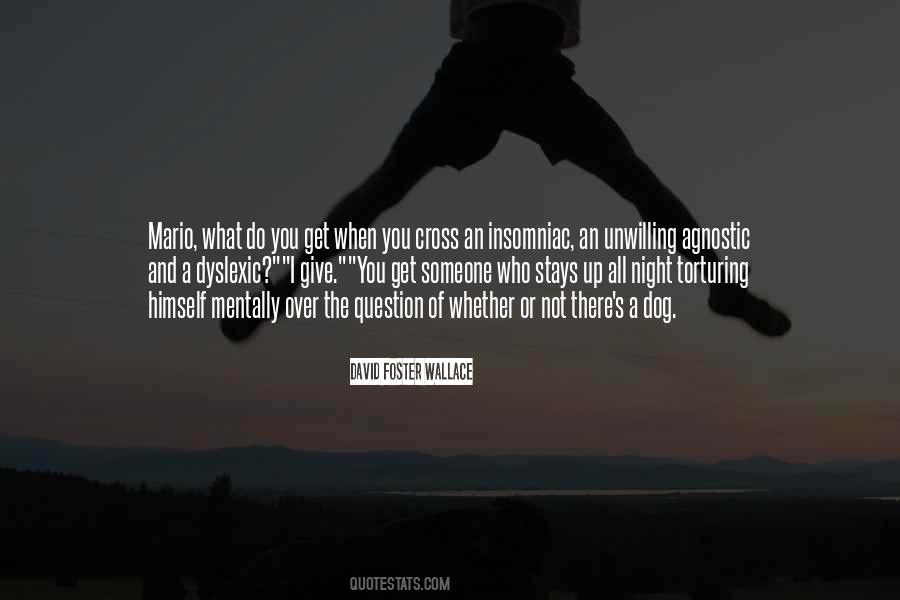 #30. Nevertheless, the liturgy of Ash Wednesday is not focussed on the sinfulness of the penitent but on the mercy of God. The question of sinfulness is raised precisely because this is a day of mercy, and the just do not need a savior. - Author: Thomas Merton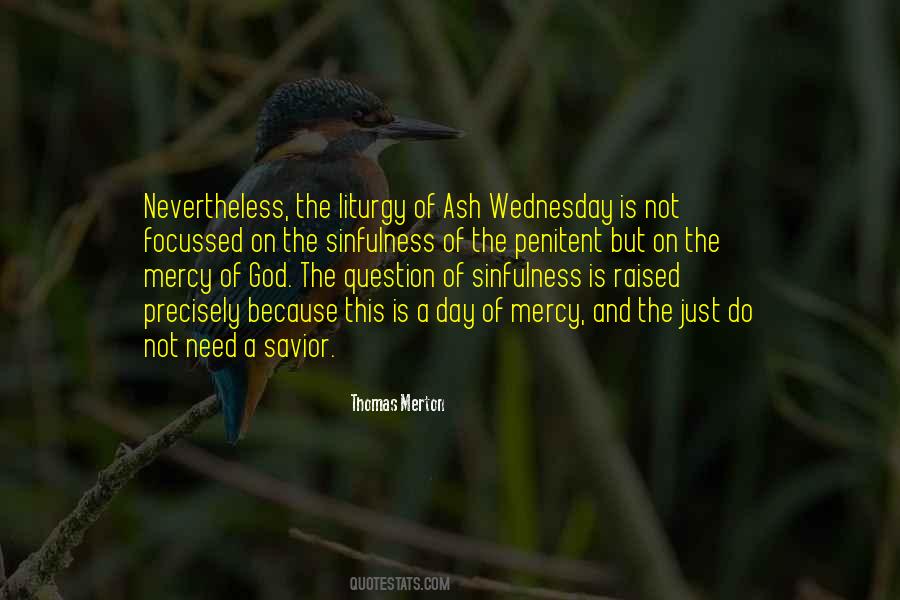 #31. A question for Christians who accept evolution: When did we gain a "soul"? Did Homo habilis have a soul? Homo ergaster? Did God only spontaneously add a soul when we evolved into Homo sapiens? - Author: David G. McAfee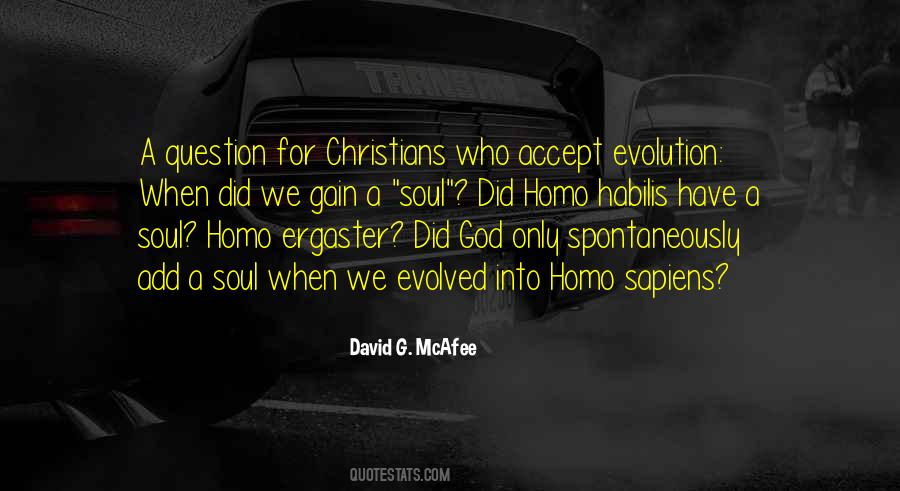 #32. Even the concept of the infidel is misleading, because the infidel is normally someone with a different faith, someone who refuses to recognize the truth of the words of the Koran, as revealed by God. He has every right to do so, as long as he does not question my right to believe in my truth. - Author: Tariq Ramadan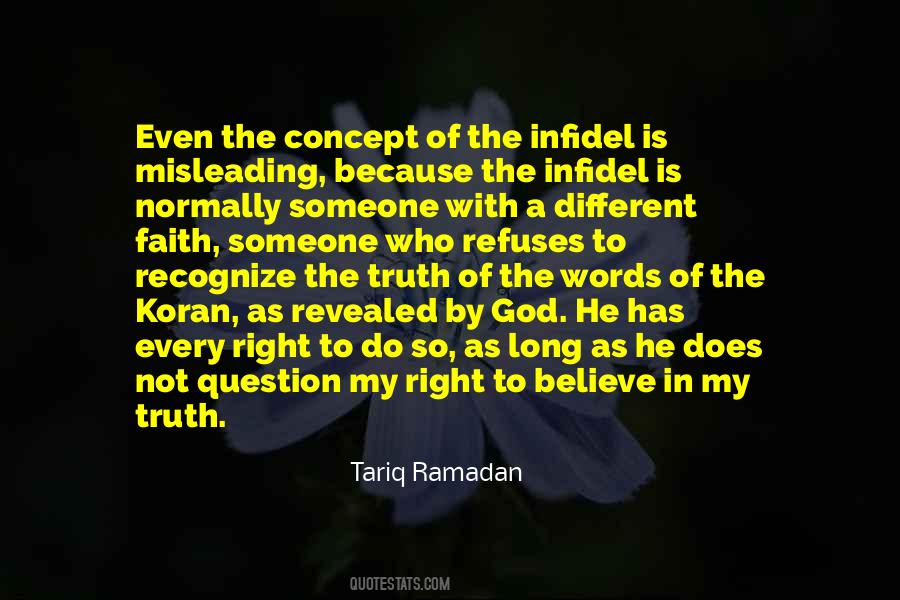 #33. I never question God. Sometimes I say, 'Why me? Why do I have such a hard life? Why do I have this disease? Why do I have siblings who died?' But then I think and say, 'Why not me?' - Author: Mattie Stepanek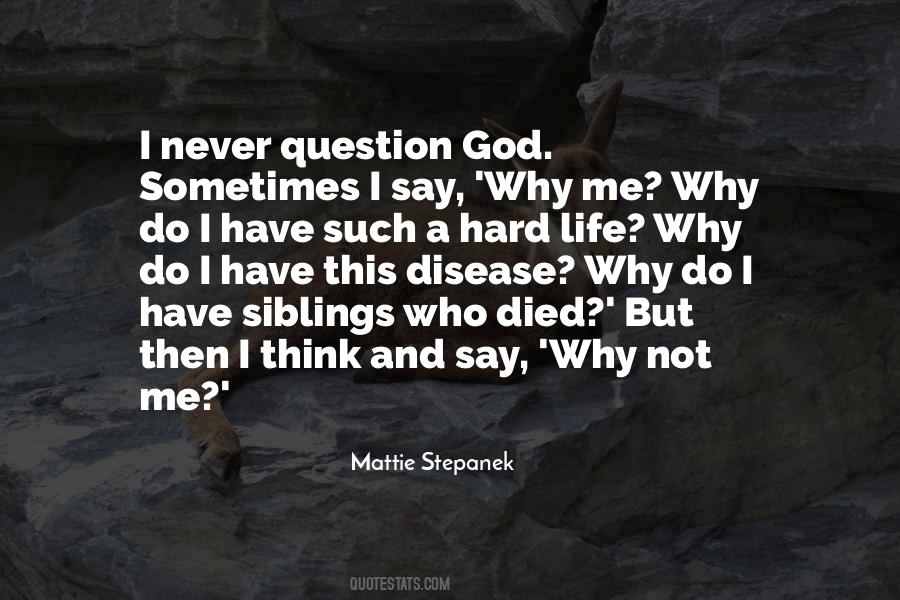 #34. But, he says again, if God much strong, much might as the Devil, why God no kill the Devil, so make him no more do wicked?
I was strangely surprised at his question, [ ... ] And at first I could not tell what to say, so I pretended not to hear him ... - Author: Daniel Defoe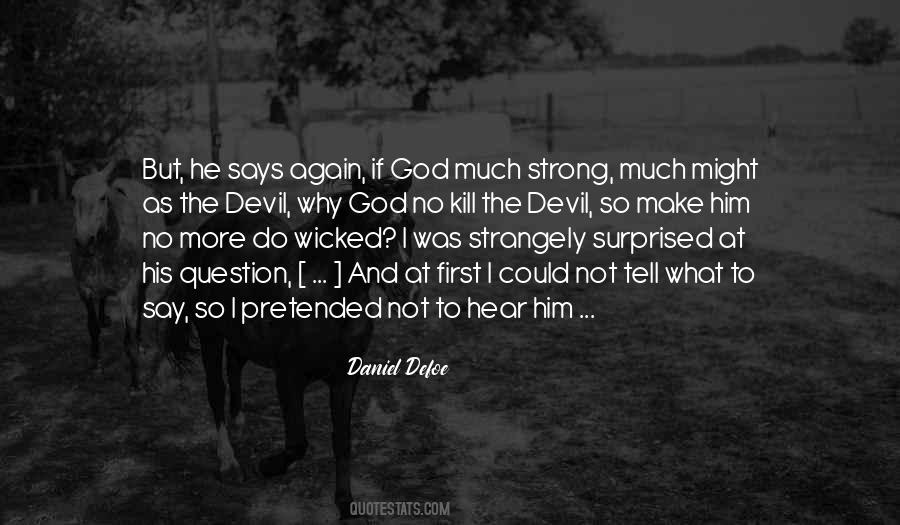 #35. Community thus is obedience practiced together. The question is not simply, "Where does God lead me as an individual person who tries to do his will?" More basic and more significant is the question, "Where does God lead us as a people?" This - Author: Henri J.M. Nouwen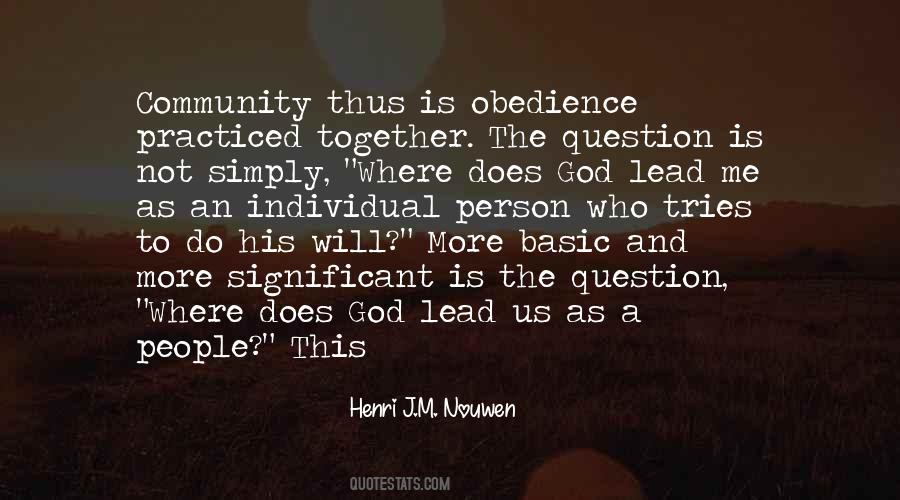 #36. If you do not believe in a personal God, the question: 'What is the purpose of life?' is unaskable and unanswerable. - Author: J.R.R. Tolkien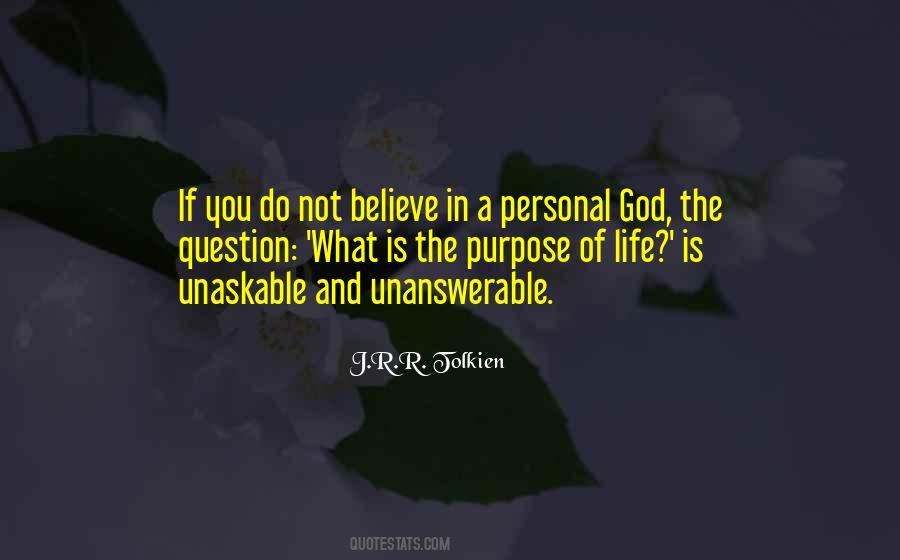 #37. Invisible God, who will most surely do as he hath said. If after clearly seeing that the onus lies with the Lord and not with the creature, we dare to indulge in mistrust, the question of God comes home mightily to us: - Author: Charles Haddon Spurgeon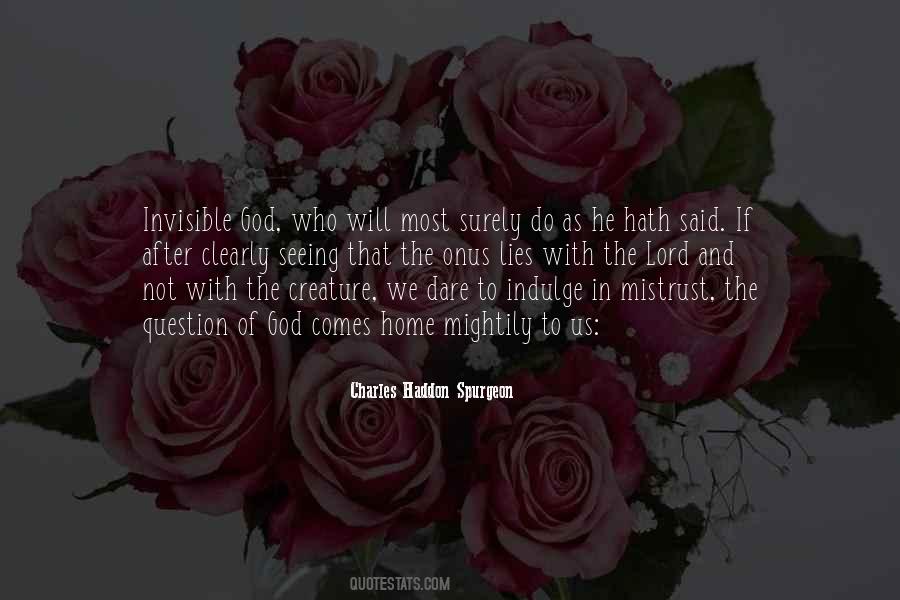 #38. The question is not, how much of what is mine do I give to others. The question is, how much of what is God's do I reserve for myself. The answer we give is a faith issue, a stewardship issue. - Author: William Avery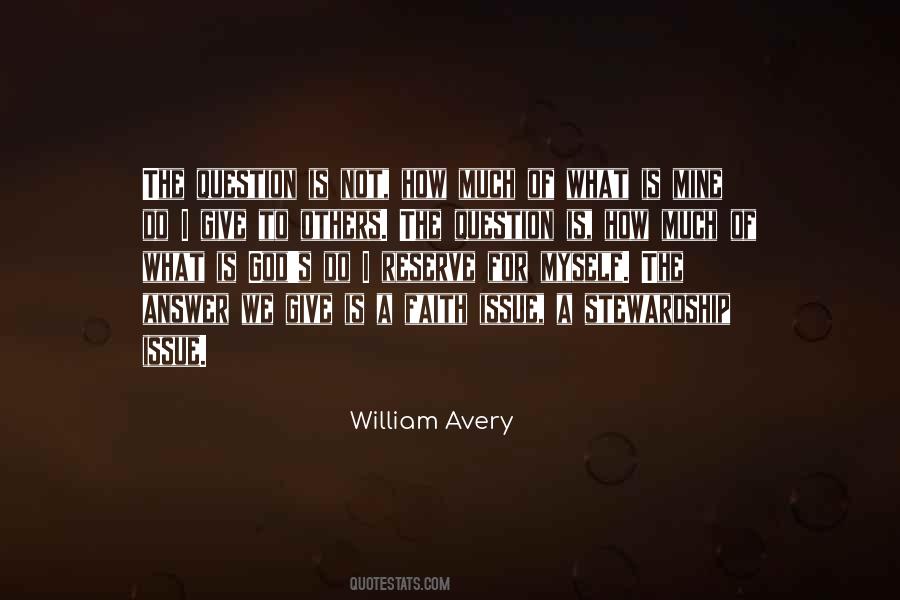 #39. Your question to me is about God, but boiled down to its essentials, it's not so different than most of the questions people ask me to answer. It says: This failed me and I want to do better next time. My answer will not be so different either: To do better you're going to have to try. - Author: Cheryl Strayed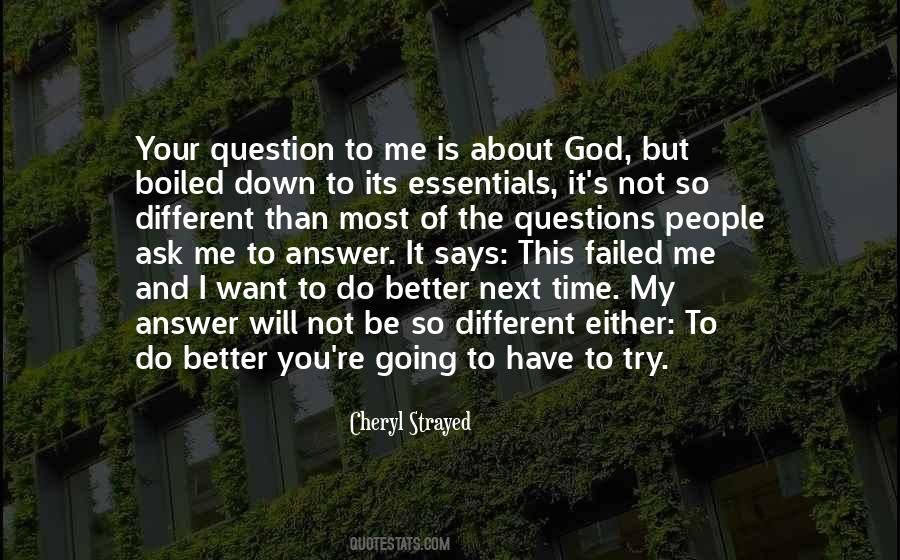 #40. I am not particularly religious. But I think we do face the question of where God is, why we are created and where does life go, why we exist. That sort of thing. And it is very hard to talk about it these days, because it cannot be proven. It is hard to discuss it rationally. - Author: Ang Lee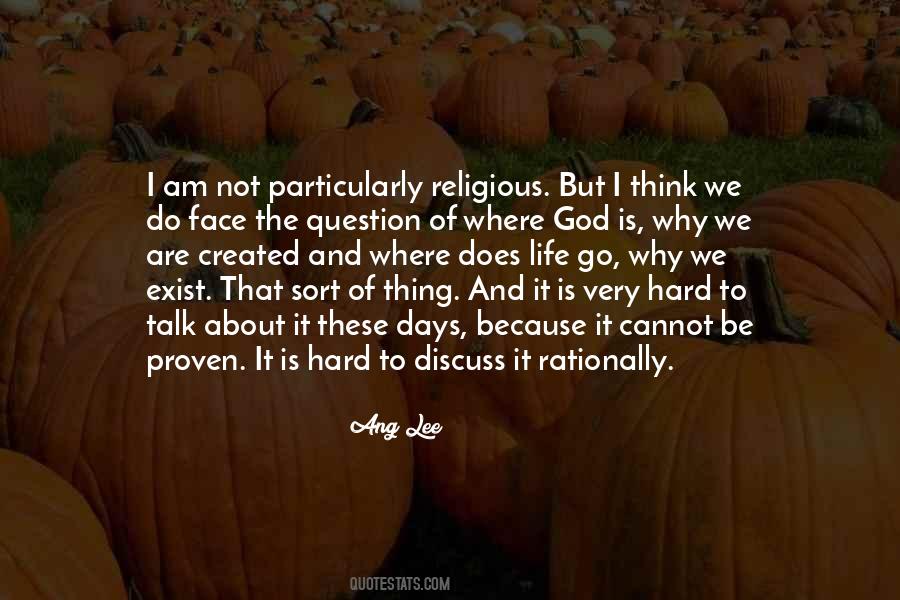 #41. God is the ultimate philosophical questioner, the one who asks the logically paradoxical ultimate philosophical question about the nature of his own existence. - Author: Kedar Joshi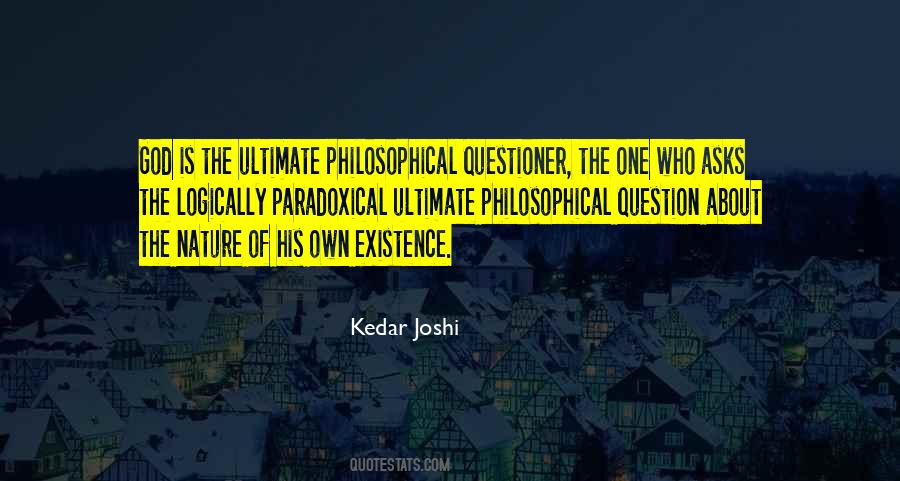 #42. Prayer is beyond any question the highest activity of the human soul. Man is at his greatest and highest when upon his knees he comes face to face with God. - Author: D. Martyn Lloyd-Jones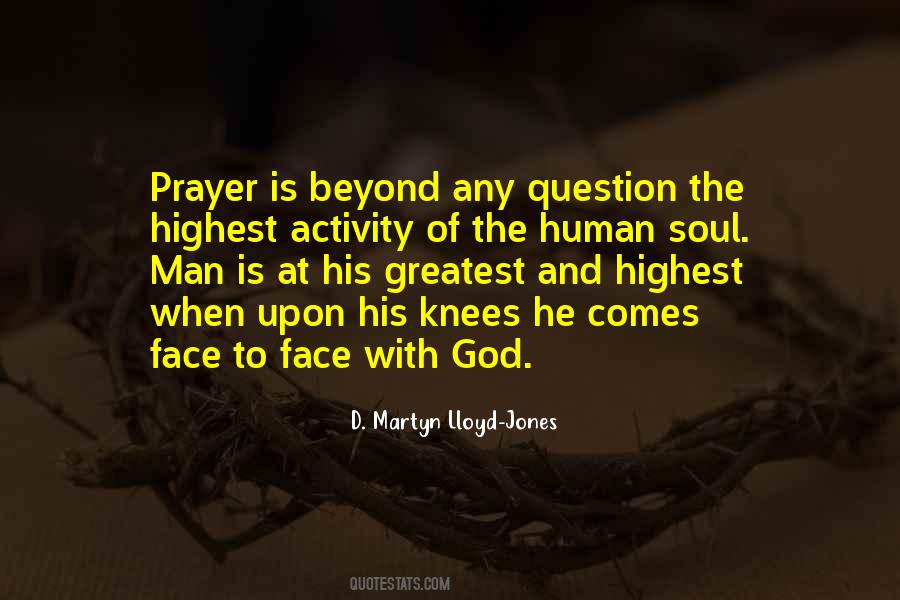 #43. she prays to feel as powerful
as she might if God sang silent
words into her ear and answered
all the rattling questions
now - Author: Beth Morey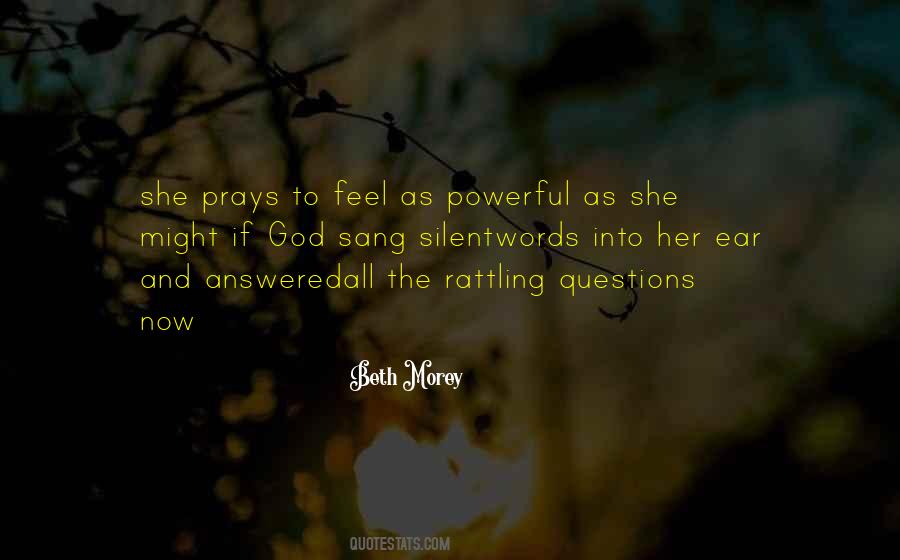 #44. Ninety-nine percent of everything you do in life is attitude. If you have a relationship with God ... you're going to learn to ask the one question in life that covers everything: How can I help you? - Author: Walter Levine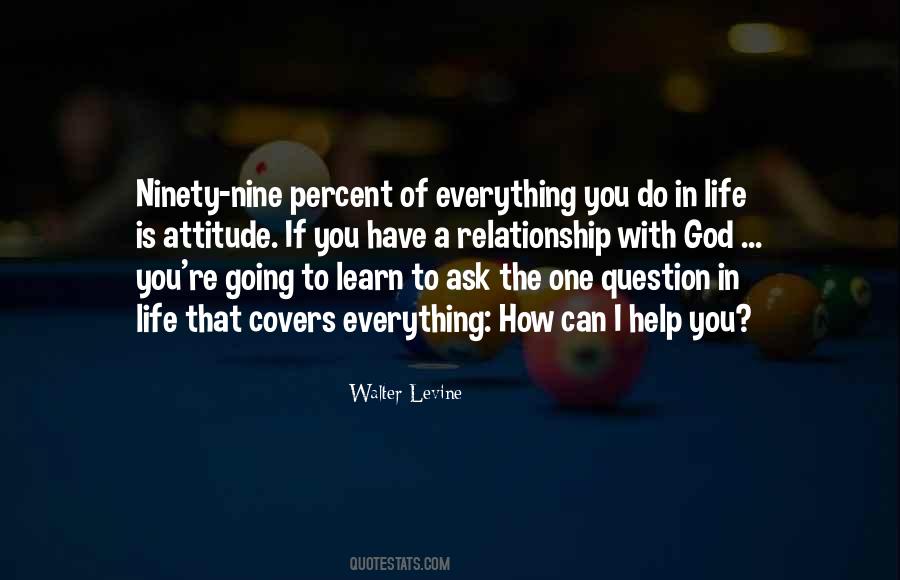 #45. Cameras have really made people question the police. People, especially white people, are saying, 'Oh my God, we had no idea.' - Author: Stanley Nelson Jr.
#46. I prefer rationalism to atheism. The question of God and other objects-of-faith are outside reason and play no part in rationalism, thus you don't have to waste your time in either attacking or defending. - Author: Isaac Asimov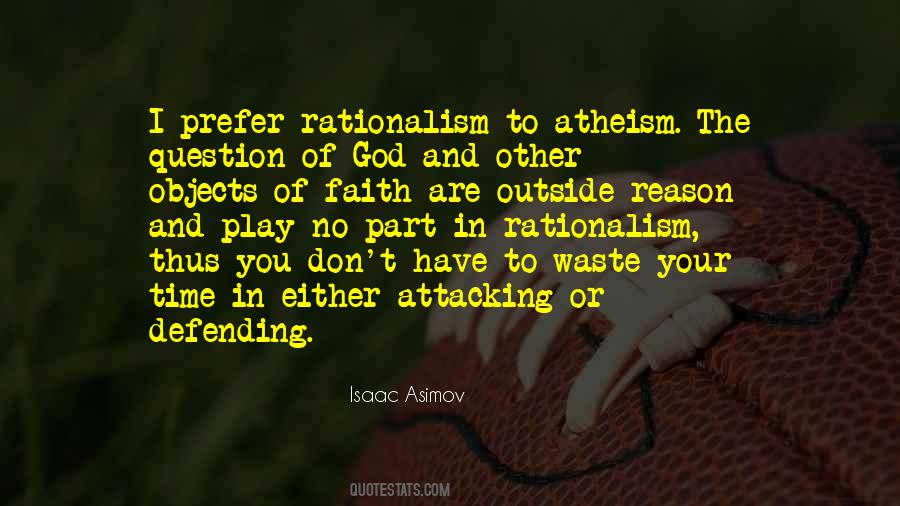 #47. When everything goes wrong, it's better to remember
someone who is not going to question you or blame you for what
you have done. Not even offer some free advice.
That's the best thing about God. - Author: Sheeja Jose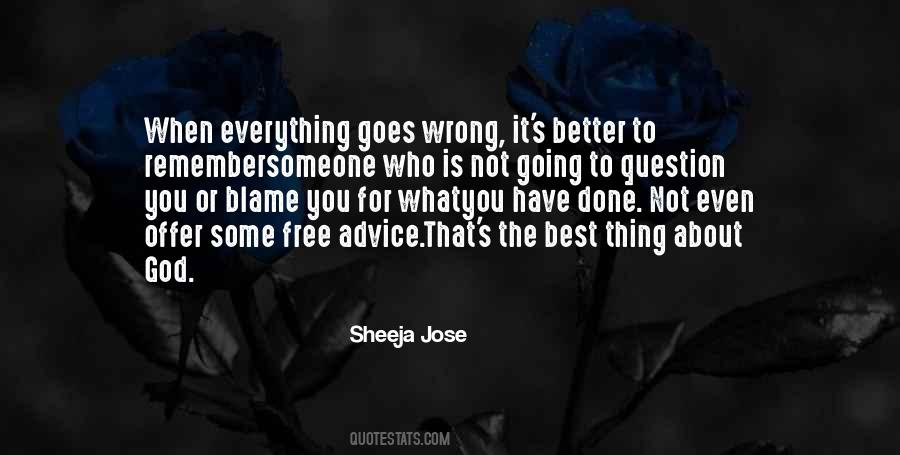 #48. Premature as the question may be, it is hardly possible not to wonder whether we will find any answer to our deepest questions, any signs of the workings of an interested God, in a final theory. I think that we will not. - Author: Steven Weinberg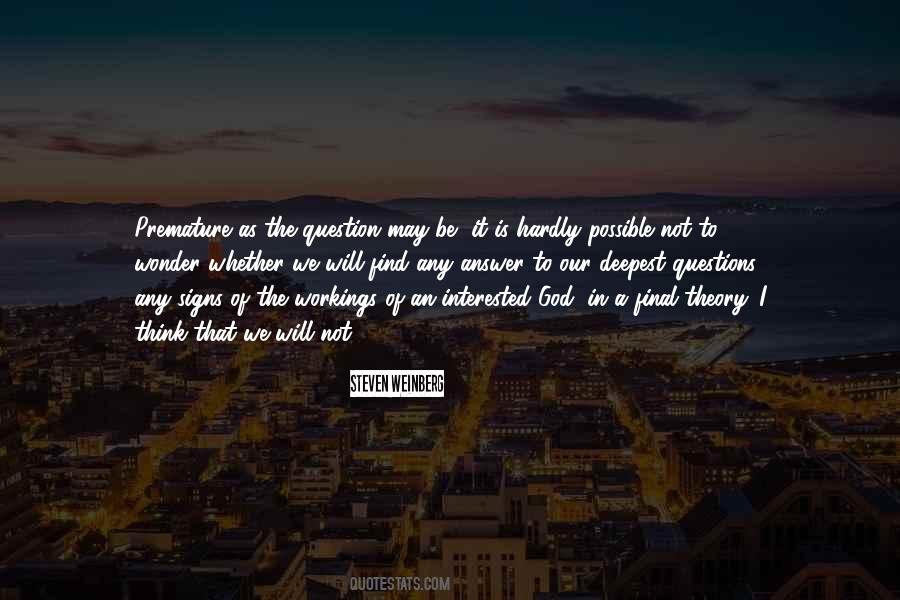 #49. But now the question arises, Why has God demanded of man that which he is incapable of performing? The first answer is, Because God refuses to lower His standard to the level of our sinful infirmities. - Author: Arthur W. Pink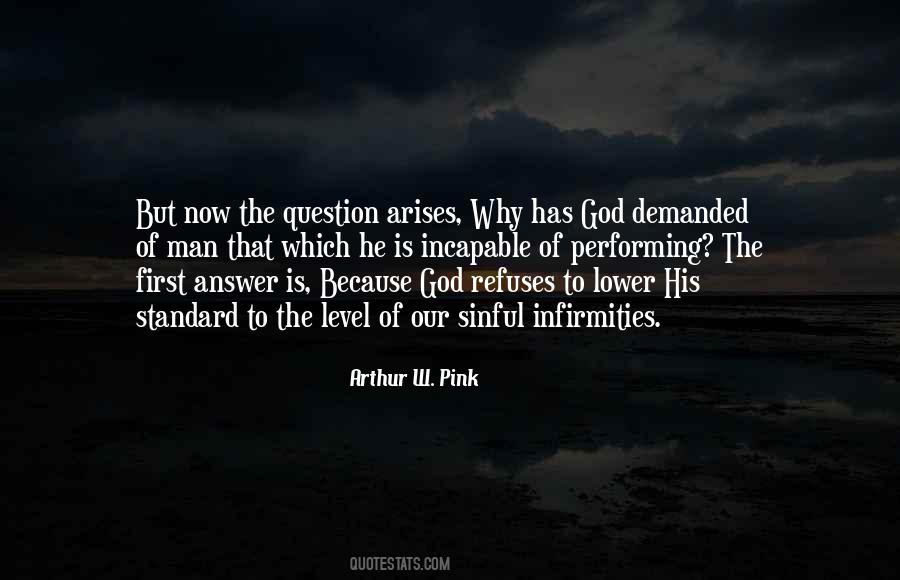 #50. The question is, do you have deliberate plans for your life? Do you have intentions with you time? God planned that there should be a time for everything and for every season, meaning you can plan for everything and every season in your life! You may ask, 'Is that possible?" I say, "It's up to you! - Author: Archibald Marwizi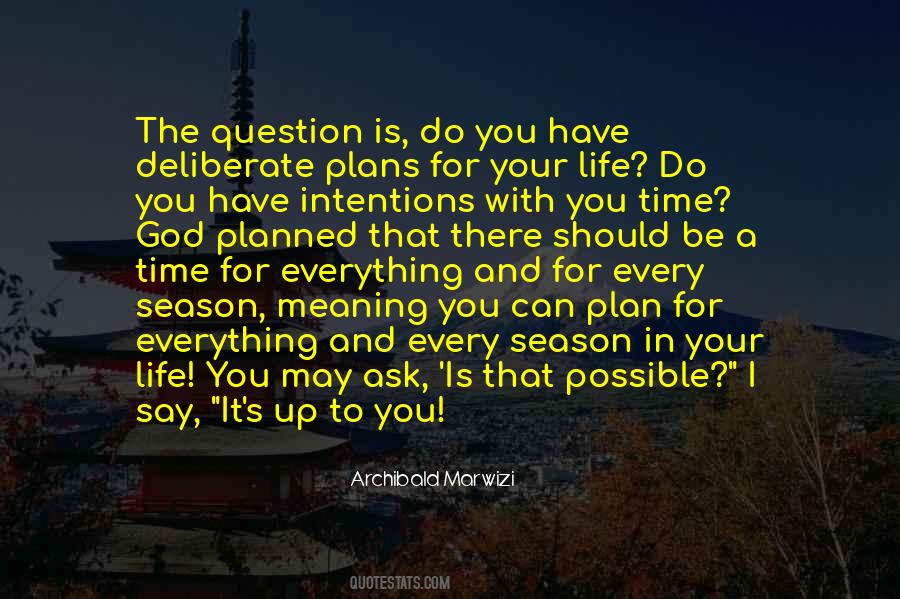 #51. I have been asked this question over and over again: 'Dr. Jeremiah, do you think God is finished with America?' But that is the wrong question. The right question is: 'Is America finished with God?' - Author: David Jeremiah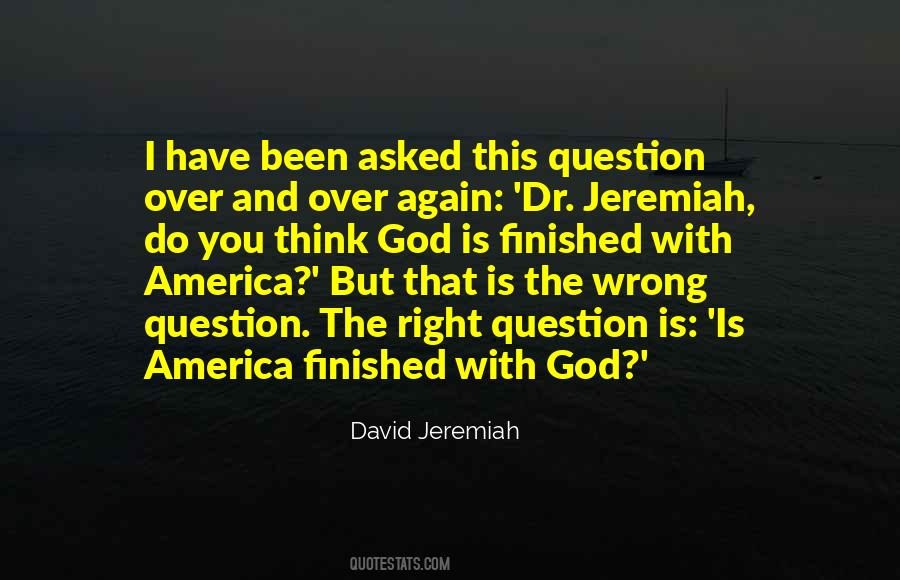 #52. I start work by spending time in personal Bible study. Because my projects center on a question in my own faith walk, I find Bible study essential. And God gives me scriptures daily that speak to the question with which I'm struggling. - Author: Francine Rivers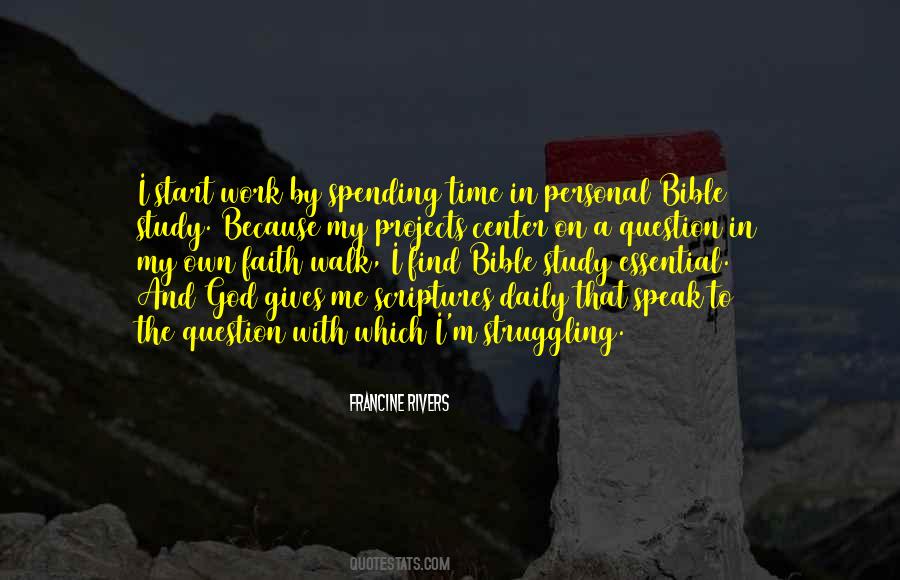 #53. If we are merely a chance product of 'random happenstance' and nothing more, doesn't it strike you as a bit odd that we have the ability to contemplate the question of 'random happenstance' with such methodical complexity? - Author: Craig D. Lounsbrough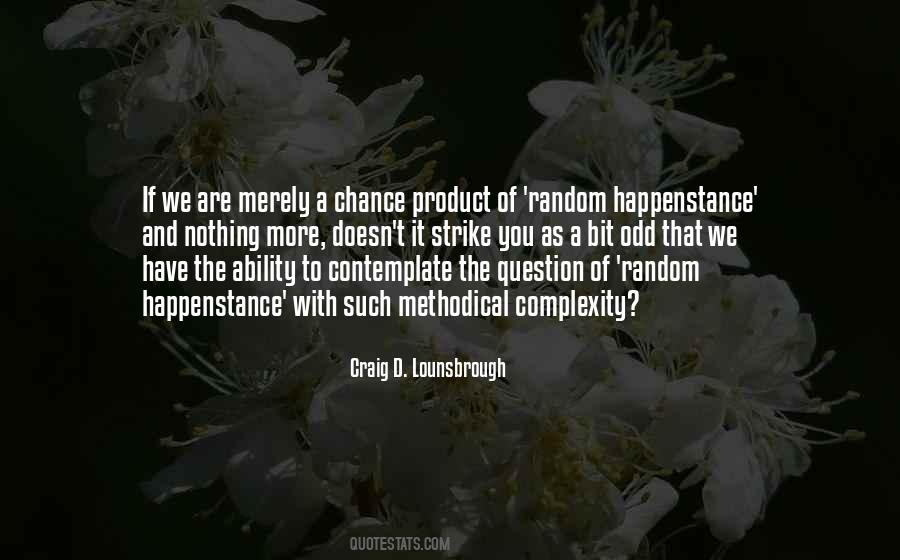 #54. Murray said, "Is this Heaven?"
The Voice said, "This is no place as you understand place."
Murray was embarrassed, but the next question had to be asked. "Pardon me if I sound like a jackass. Are you God? - Author: Isaac Asimov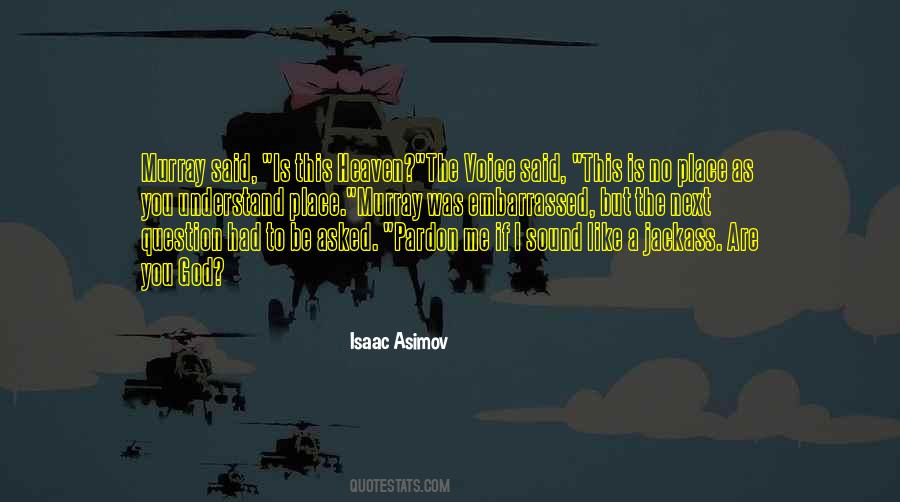 #55. don't fast, I will never go on any pilgrimage, and I drink wine - and what's more, the air that makes it better. To cry out that I'm free, and that God is a question, not an answer, and that I want to meet him alone, at my death as at my birth. - Author: Kamel Daoud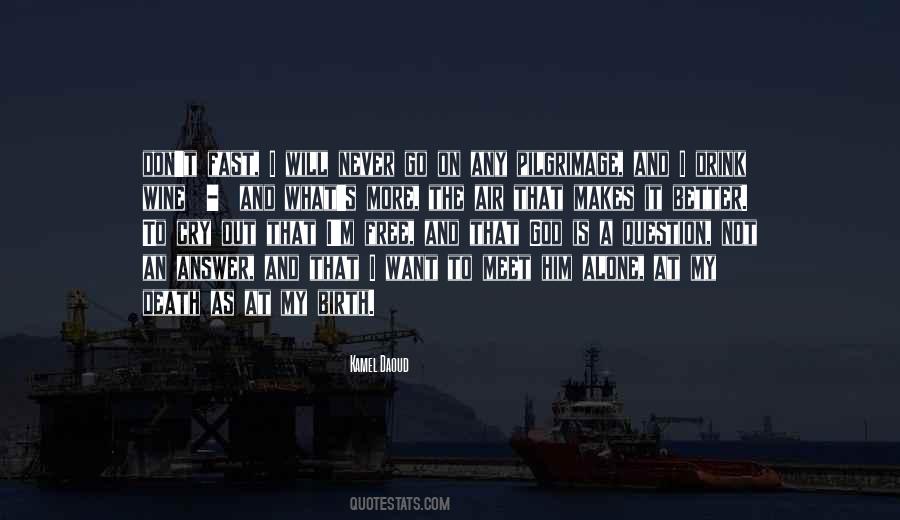 #56. If 'why' was the first and last question, then 'because I was curious to see what would happen' was the first and last answer. A version of it had been spoken to God Himself in the Garden of Eden, and it was destined to be the reason for the end of things at the hands of man. - Author: John Connolly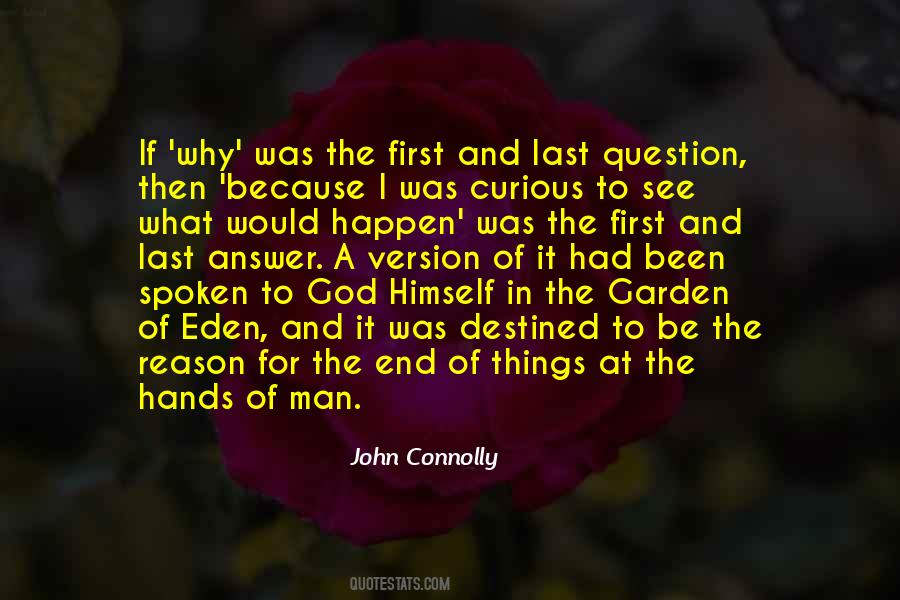 #57. Intercessory prayer for one who is sinning prevails. God says so! The will of the man prayed for does not come into question at all, he is connected with God by prayer, and prayer on the basis of the Redemption sets the connection working and God gives life. - Author: Oswald Chambers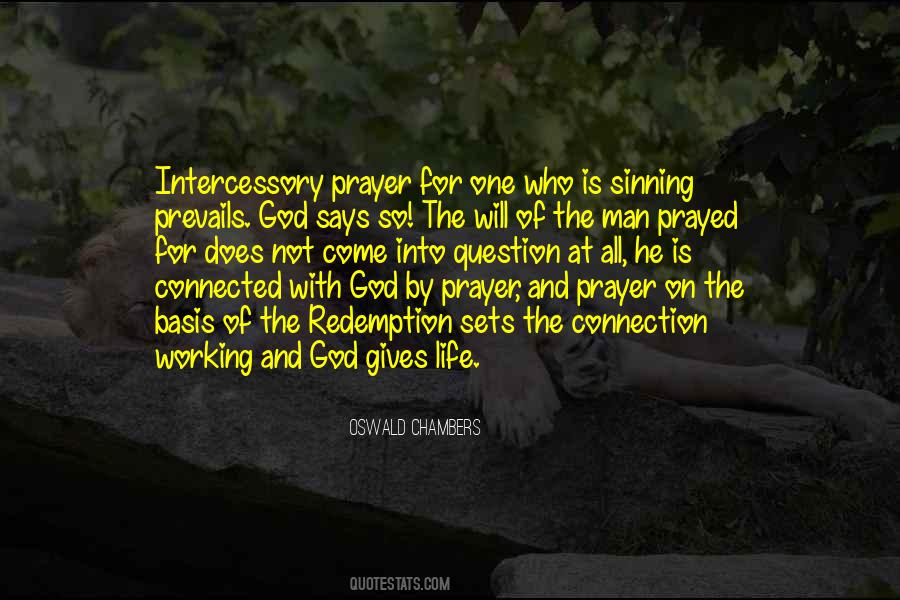 #58. Question: How do you know you're God? Answer: Simple. When I pray to him, I find I'm talking to myself. - Author: Peter O'Toole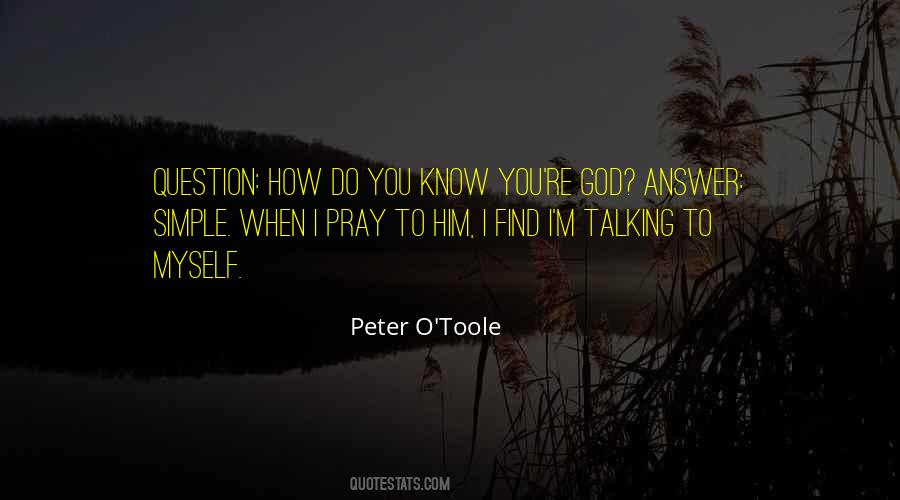 #59. [T]he question actors most often get asked is how they can bear saying the same things over and over again night after night, but God knows the answer to that is, don't we all anyway; might as well get paid for it. - Author: Elaine Dundy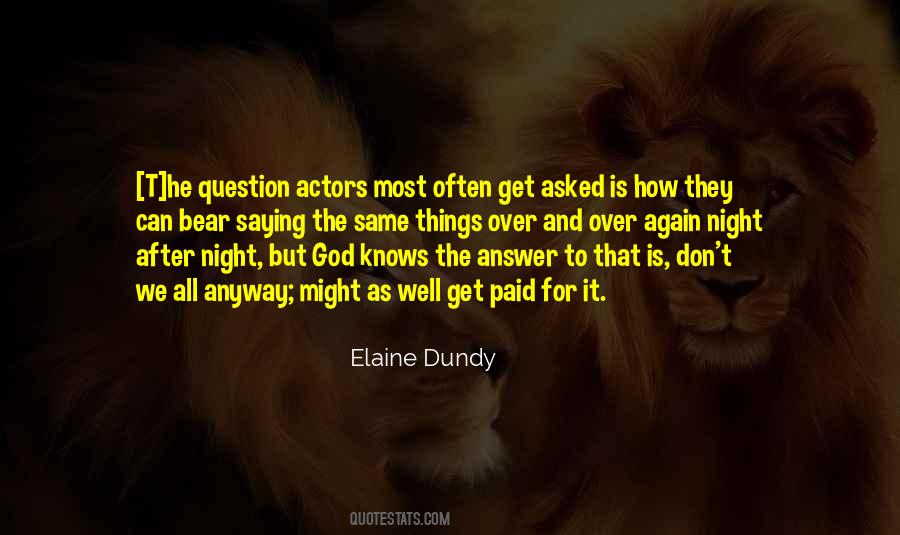 #60. One should only question gods where none but gods can reply. - Author: Friedrich Nietzsche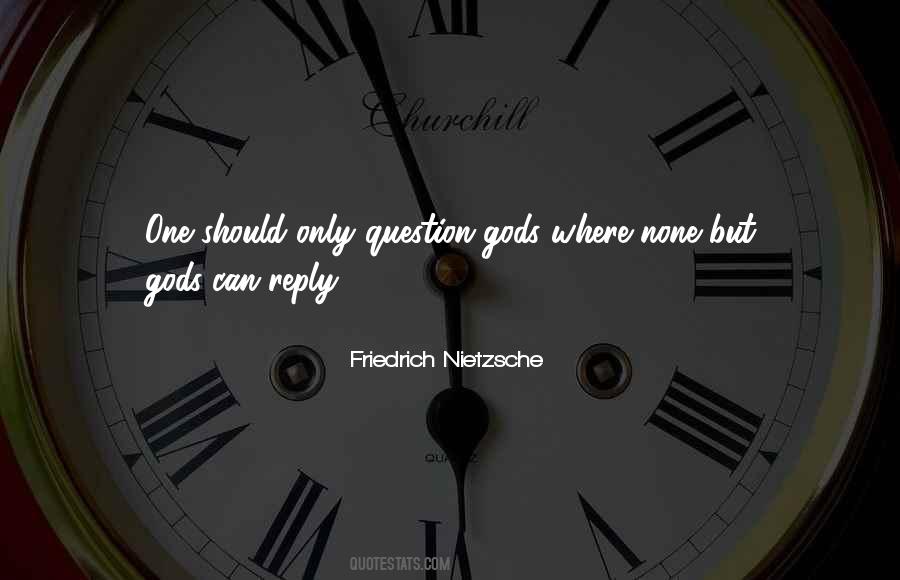 #61. She was satisfied with the answer God had given Moses from the burning bush when Moses had seen fit to question. Who are you? Mose asks, and God comes back from that bush just as pert as you like: I Am, Who I AM. In other words, Mose, stop beatin around this here bush and get your old ass in gear. - Author: Stephen King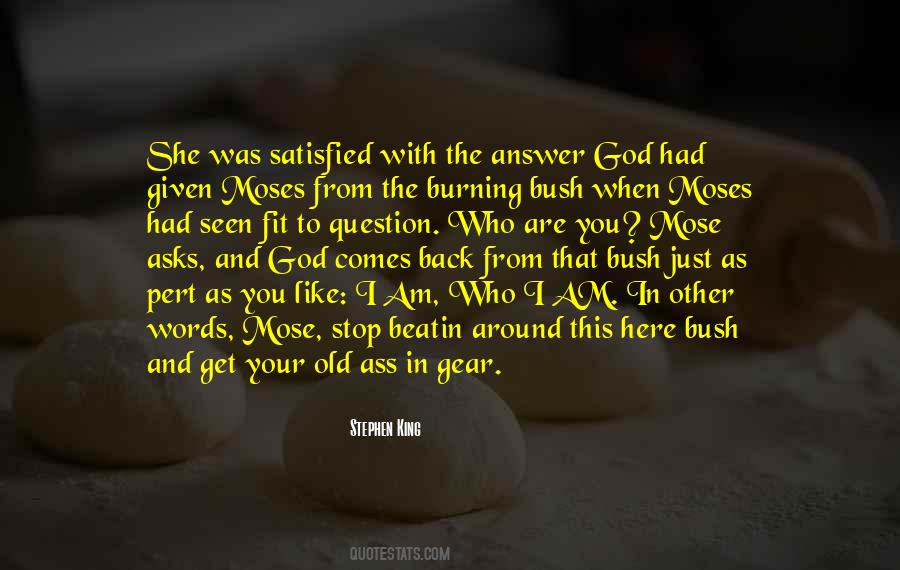 #62. What Jesus did and said was designed to give a decisive answer, in deeds as well as words, to the question, What would it look like if God was running things? - Author: N. T. Wright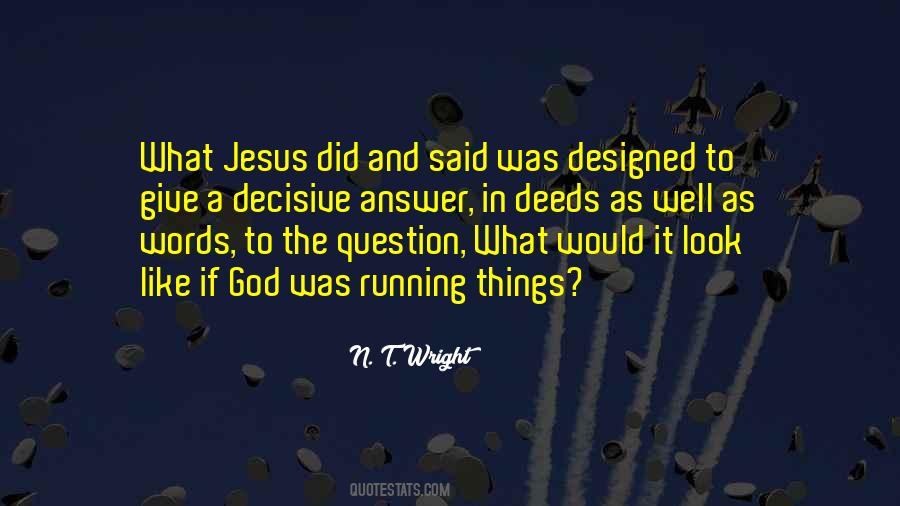 #63. Nowadays nobody bothers, and it is considered in slightly bad taste to even raise the question of God's existence. Matters of religion are like matters of sexual preference: they are not discussed in public, and even the abstract questions are discussed only by bores. - Author: John Rogers Searle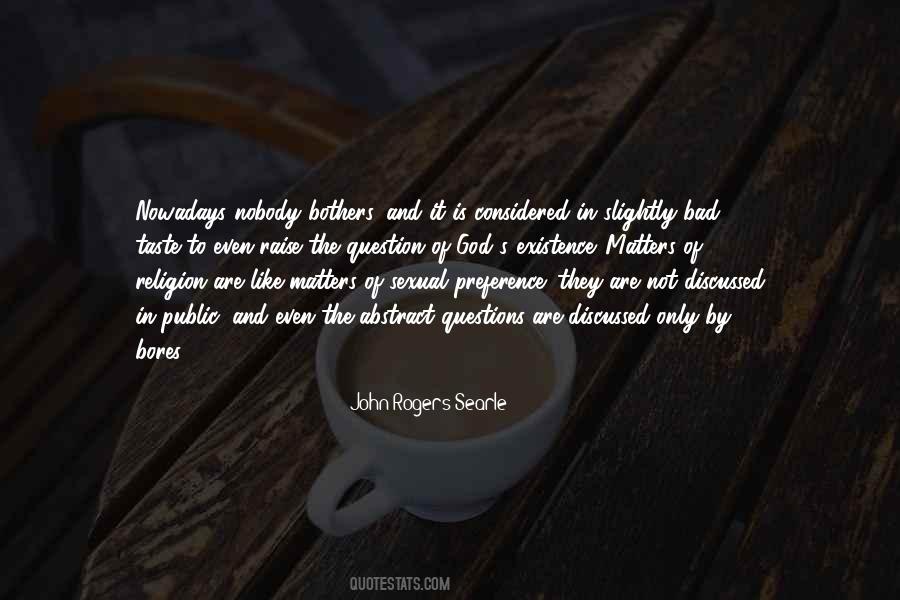 #64. Question for God every morning:
What is the main event today? What do you want me to focus on today? - Author: John C. Maxwell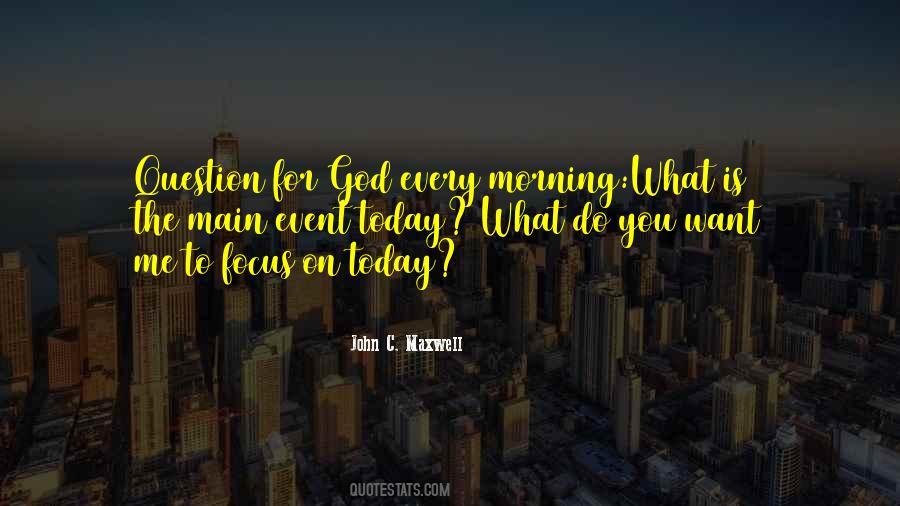 #65. I'd say that the question whether love still exists plays the same role in my novels as the question of God's existence in Dostoevsky. - Author: Michel Houellebecq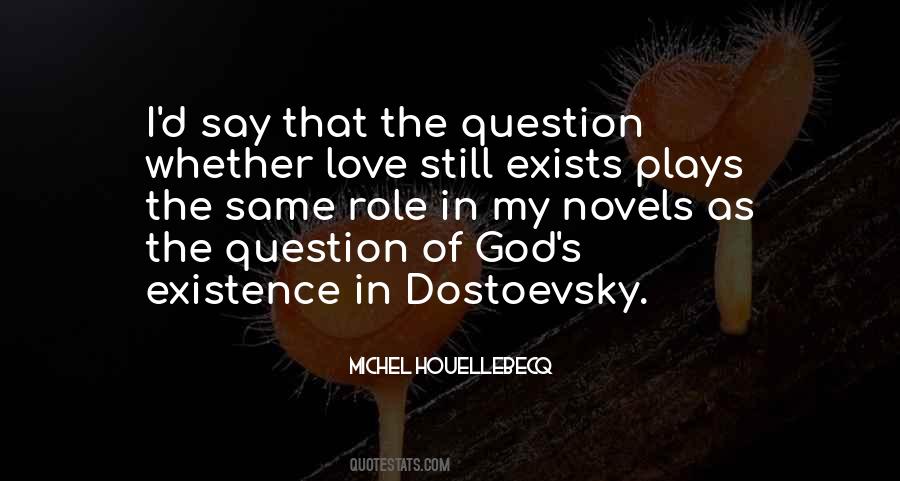 #66. Don't put a question mark where God already put a period. - Author: T.M. Mendes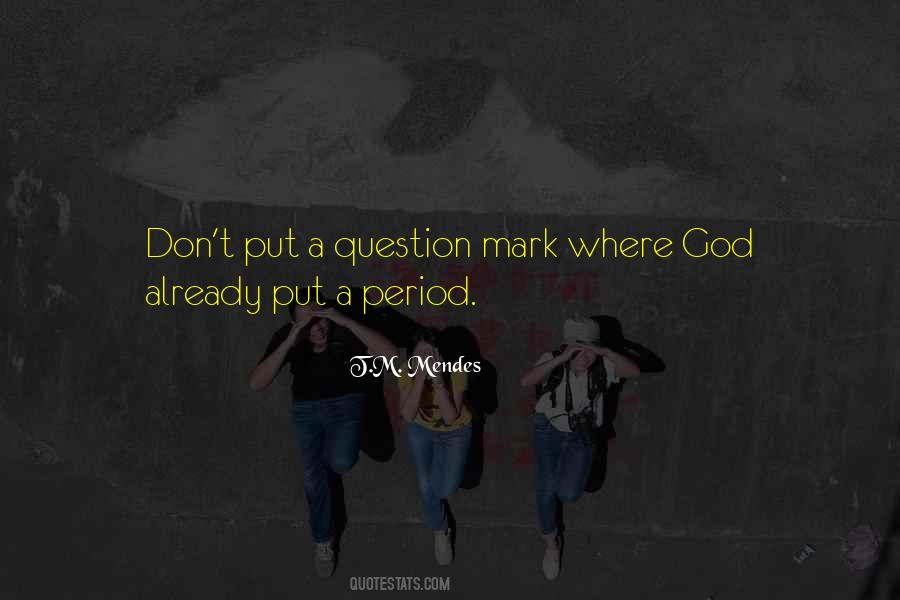 #67. And now brothers, I will ask you a terrible question, and God knows I ask it also of myself. Is the truth beyond all truths, beyond the stars, just this: that to live without him is the real death, that to die with him the only life? - Author: Frederick Buechner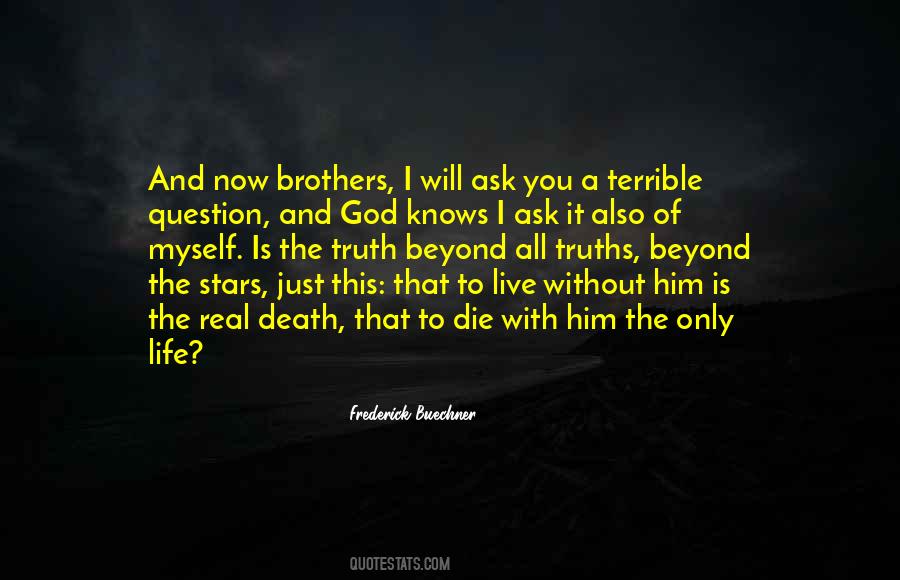 #68. The first question here, then, is not "What is best for my soul?" nor is it even "What is most useful to humanity?" But-transcending both these limited aims-what function must this life fulfill in the great and secret economy of God? - Author: Evelyn Underhill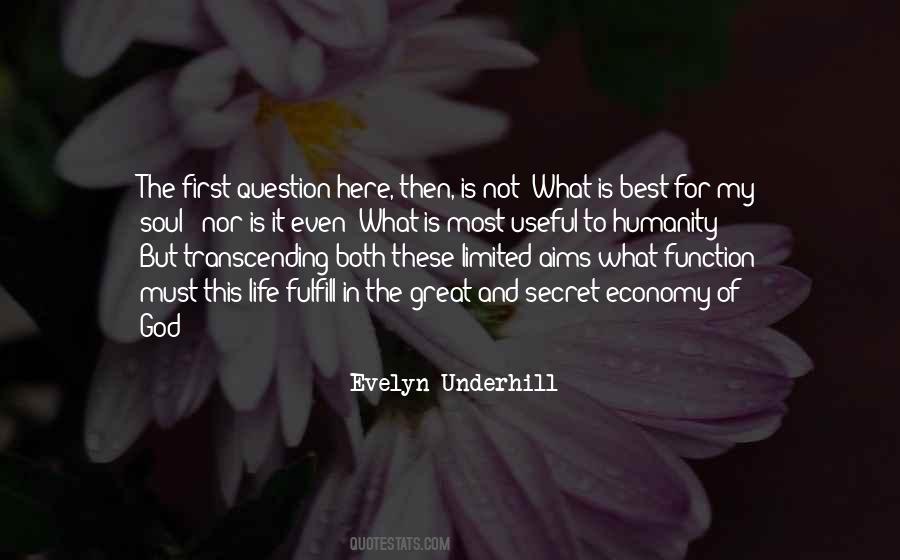 #69. Whereas orthodox Christianity answers Jesus' question to Peter - "Who do you say I am?" (Mark 8:29) - by affirming that Christ was both God (the Creator of the universe, the Lord of Israel) and human (an average Joe, yet without sin), these heretical thinkers answered the question differently. - Author: Justin S. Holcomb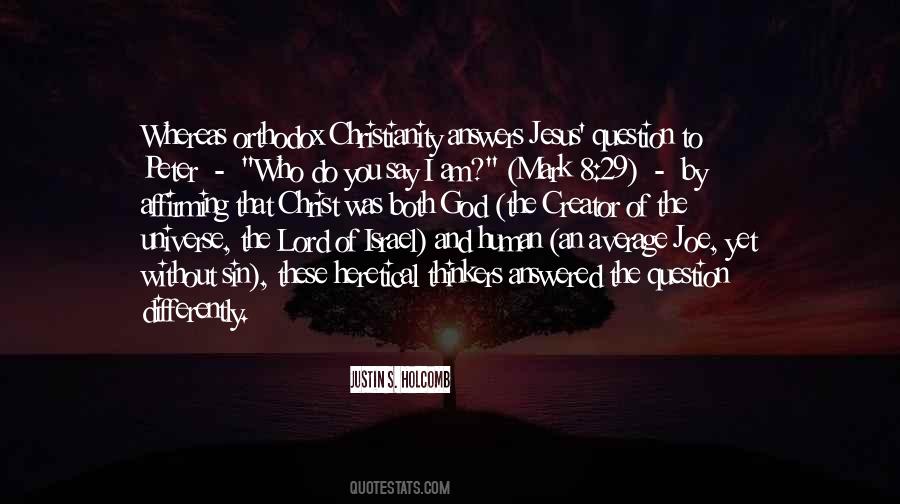 #70. I don't question God. - Author: Victoria Osteen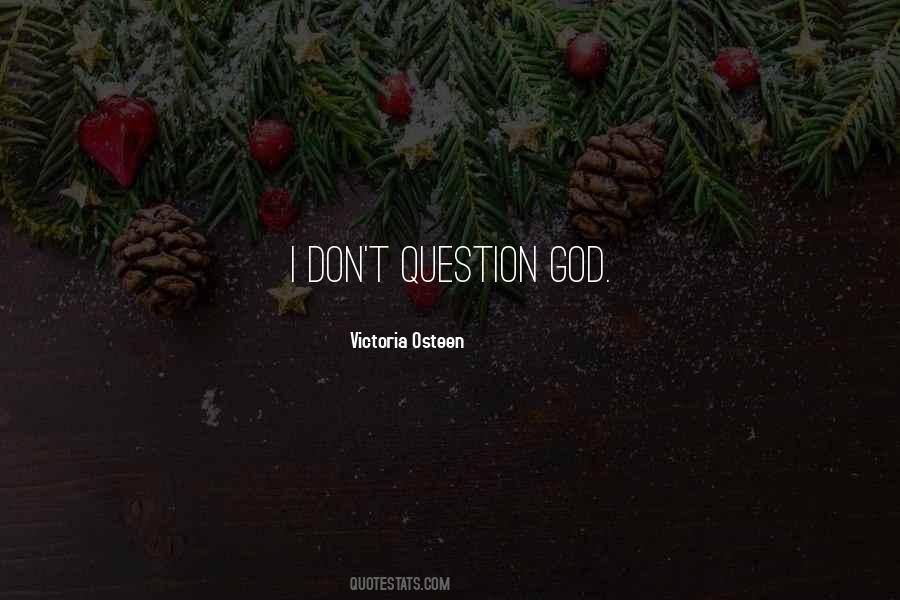 #71. DAY 10 Thinking about My Purpose POINT TO PONDER: The heart of worship is surrender. VERSE TO REMEMBER: "Surrender your whole being to him to be used for righteous purposes." ROMANS 6:13B (TEV) QUESTION TO CONSIDER: What area of my life am I holding back from God? - Author: Rick Warren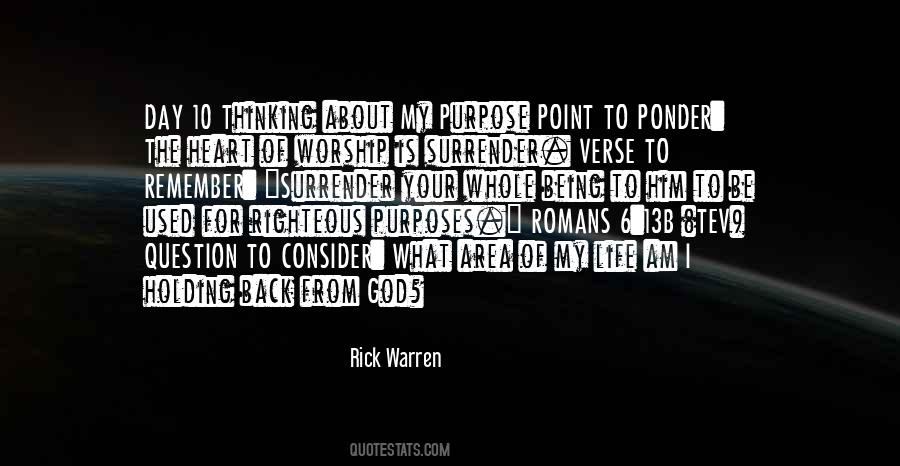 #72. Posing the question: does the god of love use underarm deodorant, vaginal spray and fluoride toothpaste? - Author: Harlan Ellison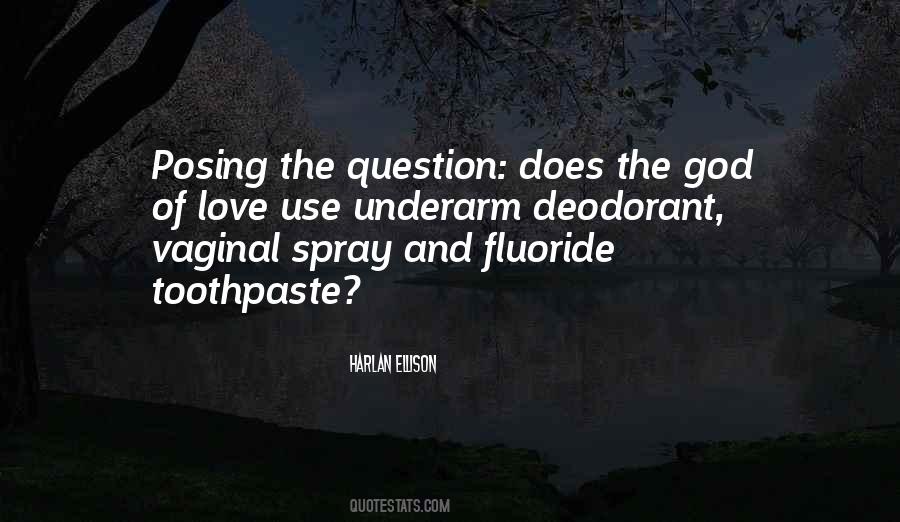 #73. It's not that blue-collar philosophy is misunderstood, it's that blue-collar philosophy shouldn't exist in the first place. The ultimate question is not the justification of ones existence when your belly screams for sustenance? People are hungry god damn it! - Author: Mick Lexington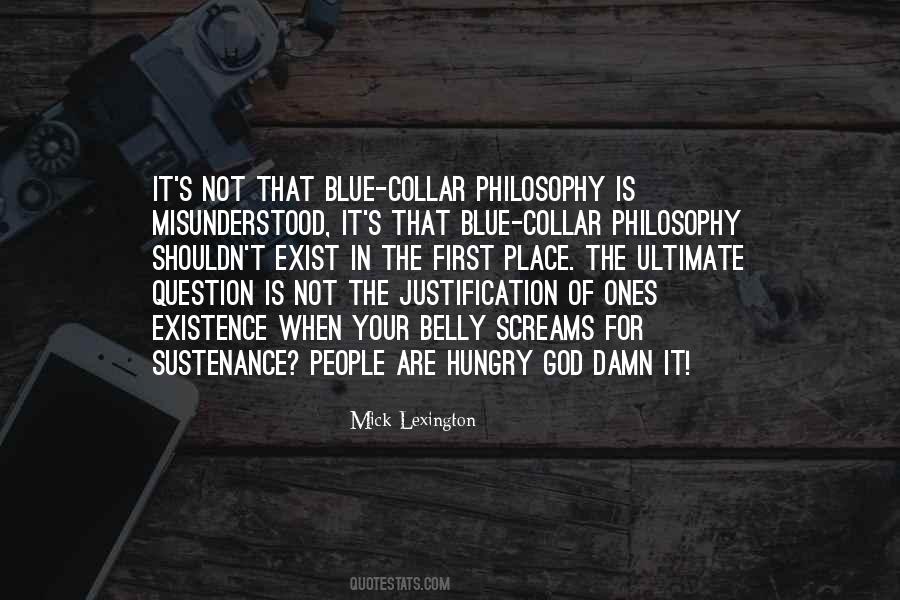 #74. I went into a church and simply said, 'Goodbye.' It is the terrible unfairness of life. How could God allow cancer, poverty, the sheer unfairness of so many lives? That is the question which finishes it for me. - Author: Ruth Rendell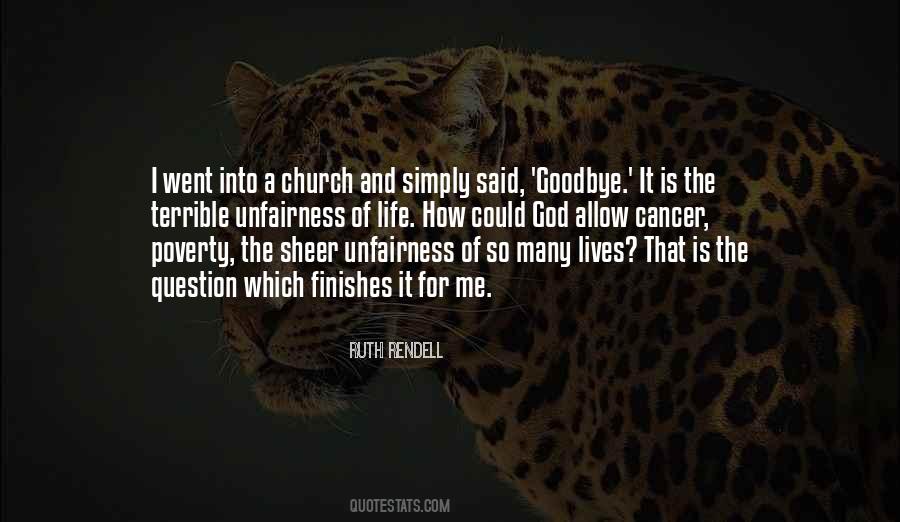 #75. As long as every question is answered by the word "God," scientific inquiry is simply impossible. - Author: Robert Green Ingersoll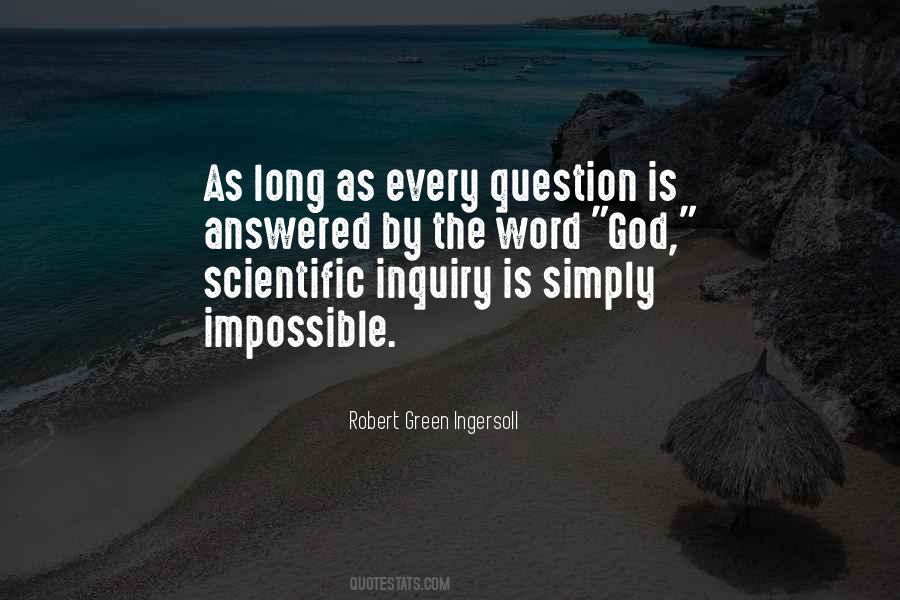 #76. What kind of dog is that?" I would always give the same answer: "She's a brown dog." Similarly, when the question is raised, "What kind of God do you believe in?" my answer is easy: "I believe in a magnificent God. - Author: Elizabeth Gilbert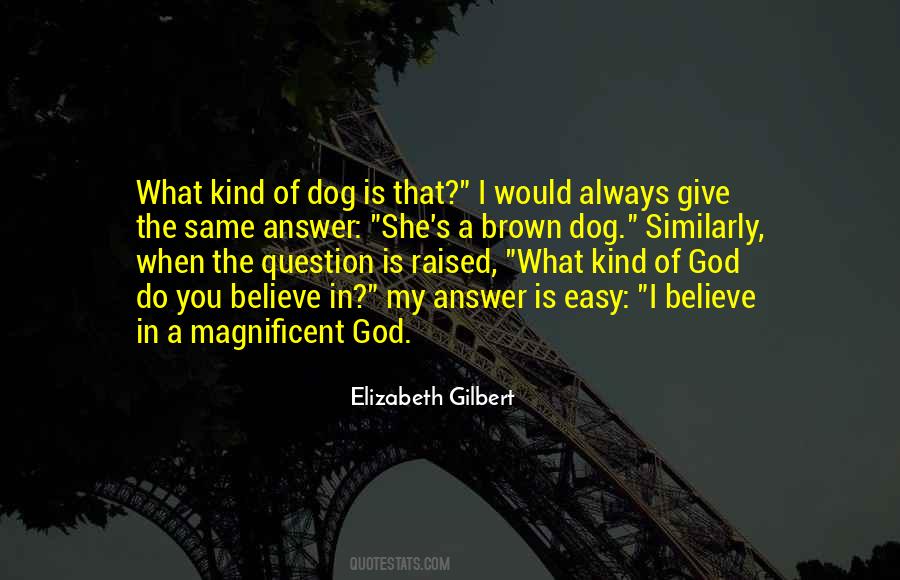 #77. It is reasonable to ask who or what created the universe, but if the answer is God, then the question has merely been deflected to that of who created God. - Author: Stephen Hawking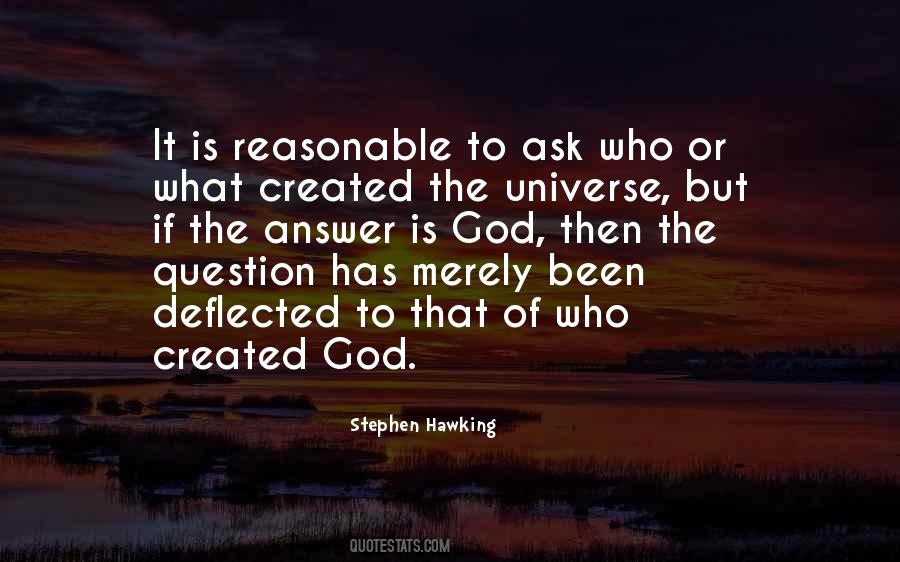 #78. I have the gift of laughter. I can make people laugh at will. In good times and in bad. And that I don't question. It was a gift from God. - Author: Buddy Hackett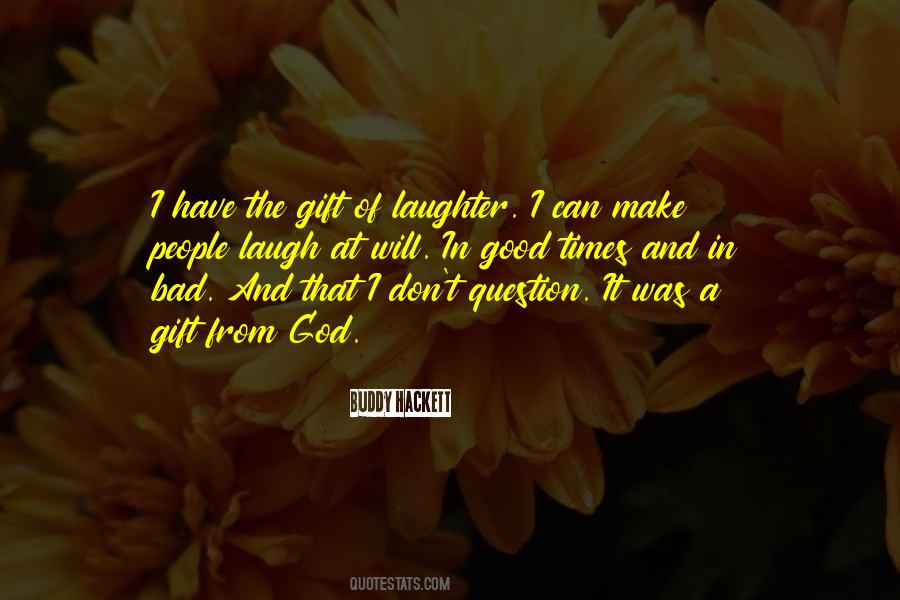 #79. I'd like to meet god. Not to question it, just to have a peak at what it is. I say 'it' because we don't know what it is. - Author: Ruud Gullit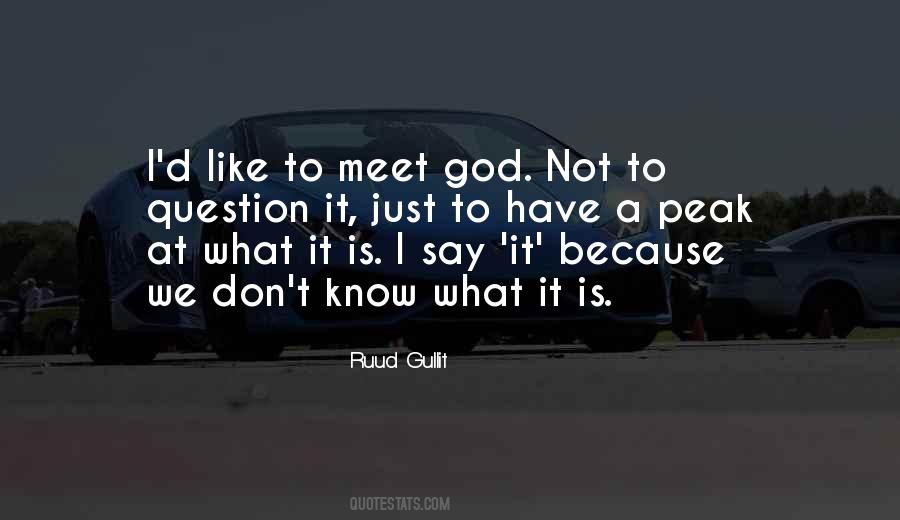 #80. You don't know who you are until you know God and you don't know how to live until you've settled the question of how to die. - Author: Alistair Begg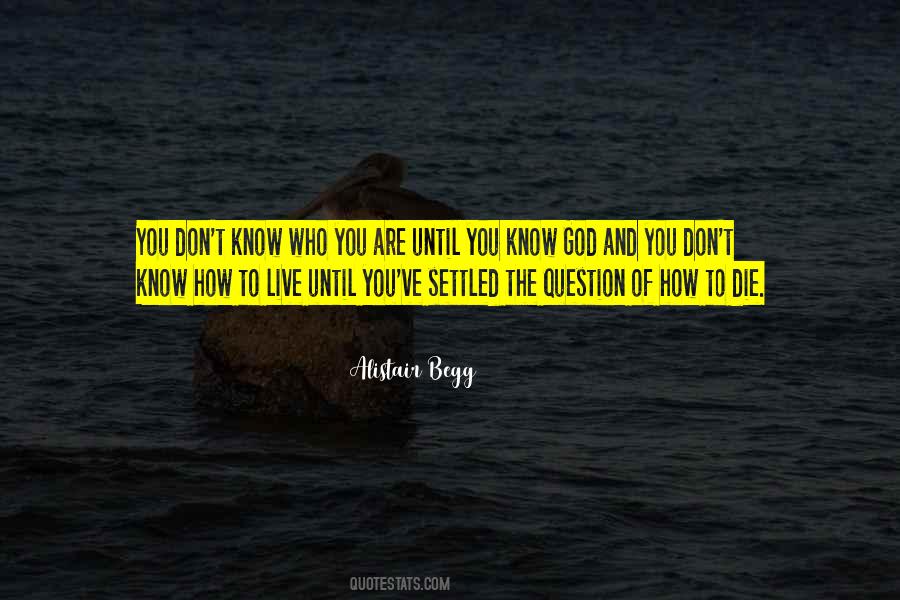 Famous Authors
Popular Topics