Do Not Live In Fear Famous Quotes & Sayings
List of top 68 famous quotes and sayings about do not live in fear to read and share with friends on your Facebook, Twitter, blogs.
Top 68 Do Not Live In Fear Quotes
#1. I lost someone close to me once . . . Taught me to live in the moment. Life is short, you know? - Author: Brent Jones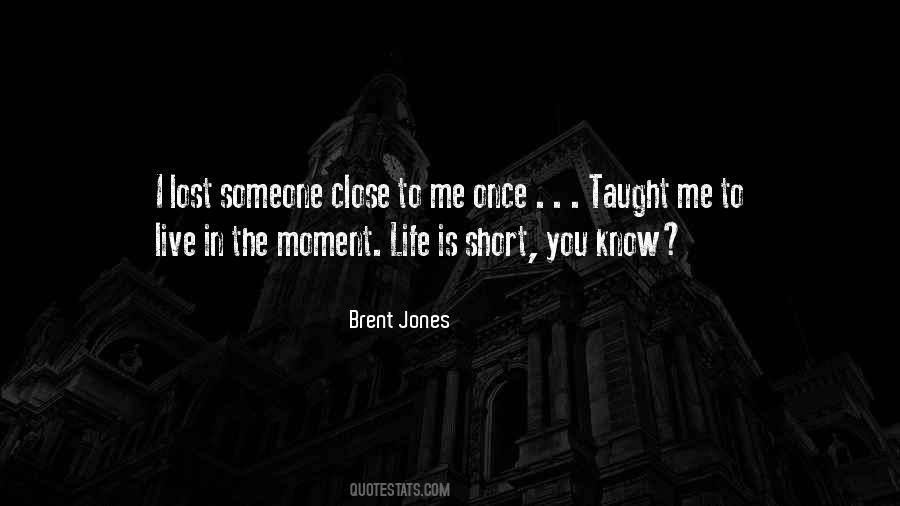 #2. XII Do not live for death, pay it no fear or wonder. This is the firmest law of the truest faith. Death is the dew that wets the grass in the early morning dark. It is God's entirely. Withdraw your fatal homage, and live. - Author: Wendell Berry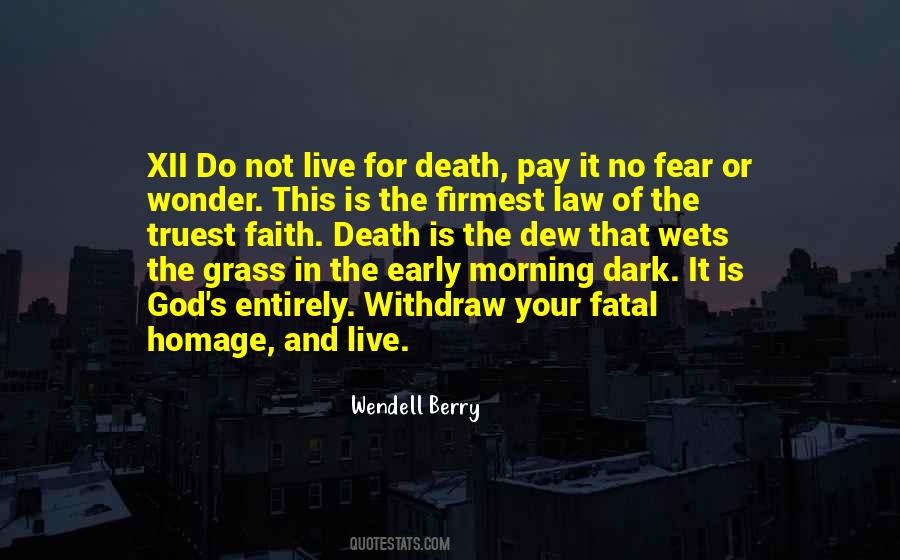 #3. Don't fear, just live right. - Author: Neal A. Maxwell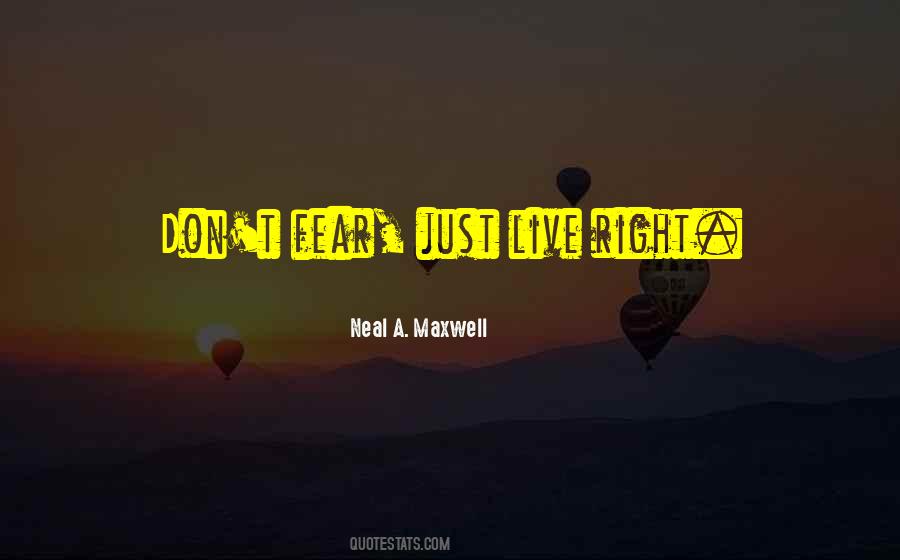 #4. trusting someone and the doubt that they'll be true is what kills marriages. 'Give in to love, or live in fear. - Author: Toni Aleo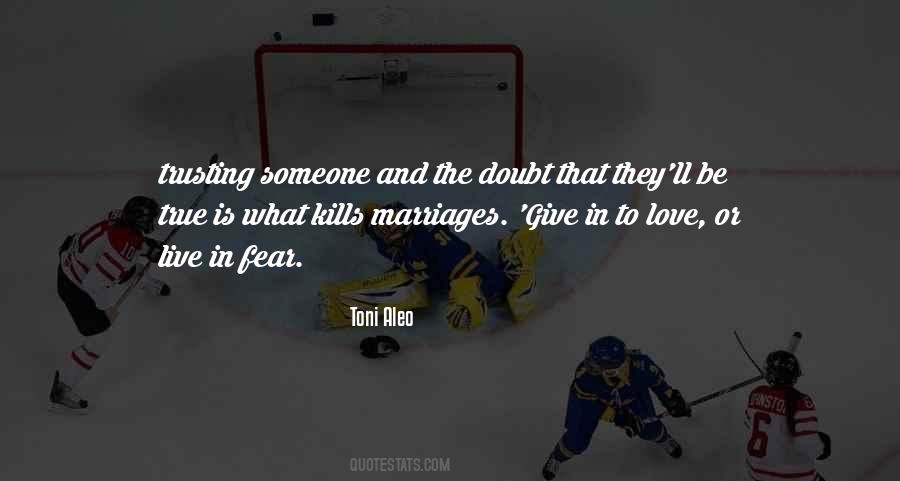 #5. It's good to be successful and have financial status but if you're only gonna live for the money, you're only gonna reach a certain status and I'm in there for greatness and peace of mind. - Author: Mike Tyson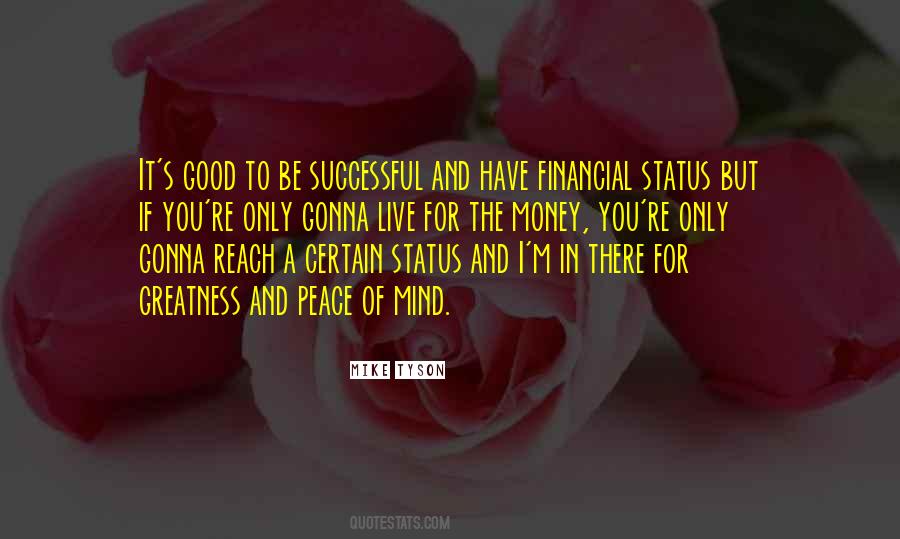 #6. Pessimism, cynicism and fear will only lead to a very small life. Don't live small. - Author: Neil Abramson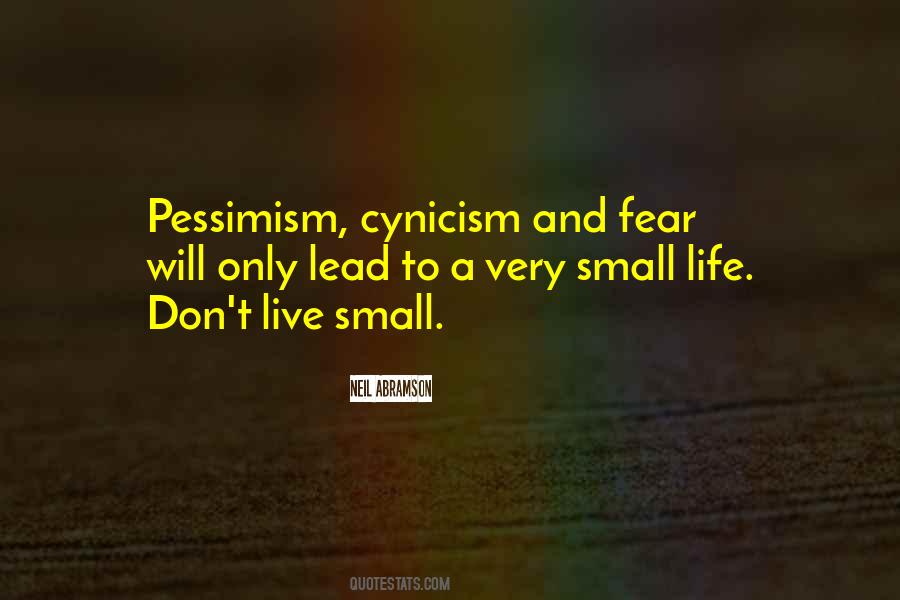 #7. I wanted to write a novel that would make others feel the history: the pain and fear that black people have had to live through in order to endure. - Author: Octavia E. Butler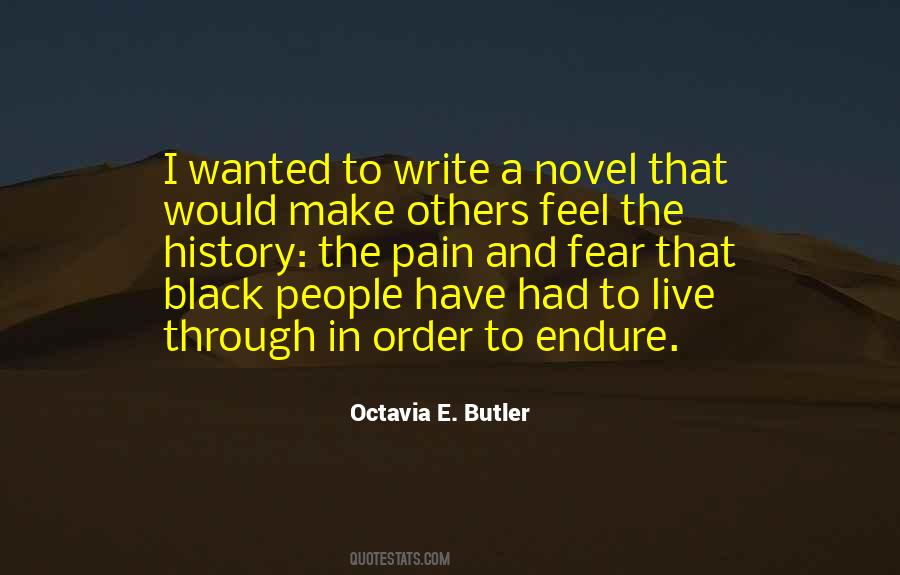 #8. Alice interrupted. No tears, no secrets. I want the life I'm meant to have, Etta. It's as simple as that. My father always says that the way to truly live is to do so without expectations or fear hanging over you, affecting your choices ... - Author: Alexandra Bracken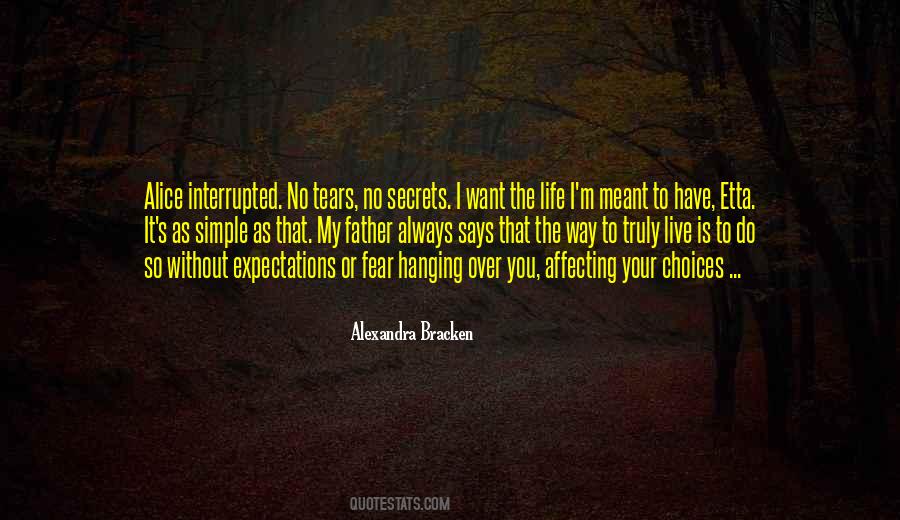 #9. I am so tired of fear. And I don't want my girls to live in a country, in a world, based on fear. - Author: Michelle Obama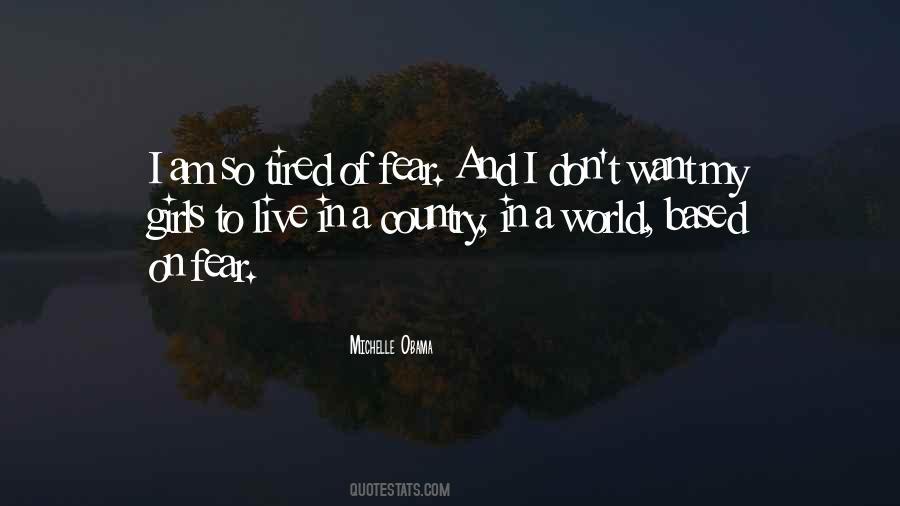 #10. It's not rocking the boat, Dad. It's called communication. You're allowed to ask questions. Other people do it all the time. Other people don't live in fear of someone else's reactions. They don't relentlessly stress out about getting into trouble. - Author: Koren Zailckas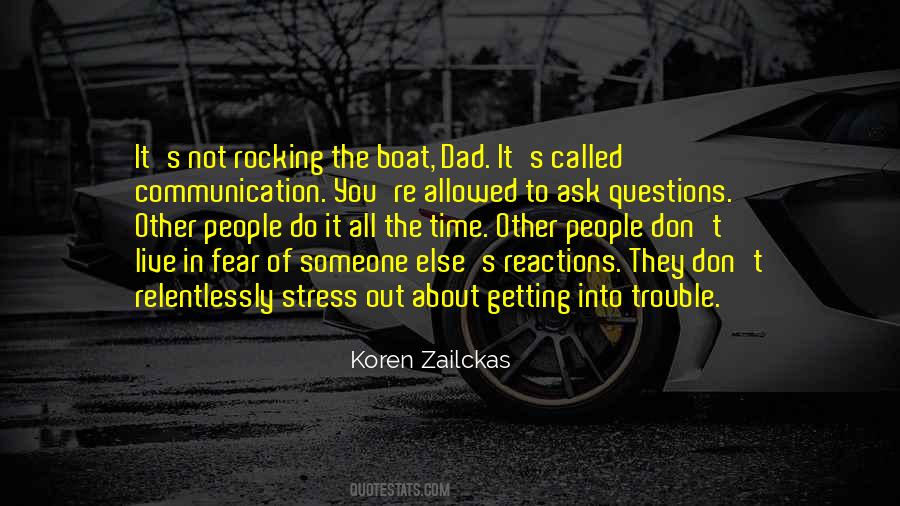 #11. I'm not the type of person to live in fear. I think positively. - Author: David Guetta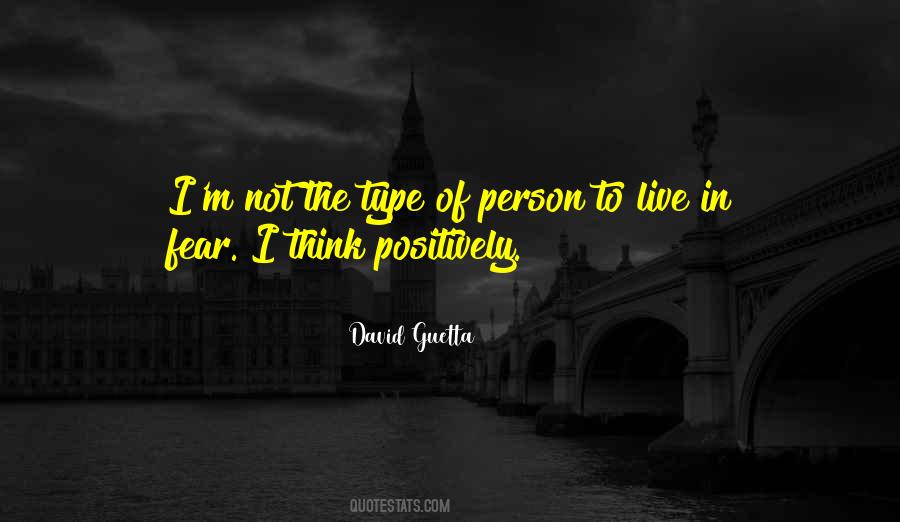 #12. If people live in constant fear of death, and if breaking the law is punished by death, then who would dare? - Author: Laozi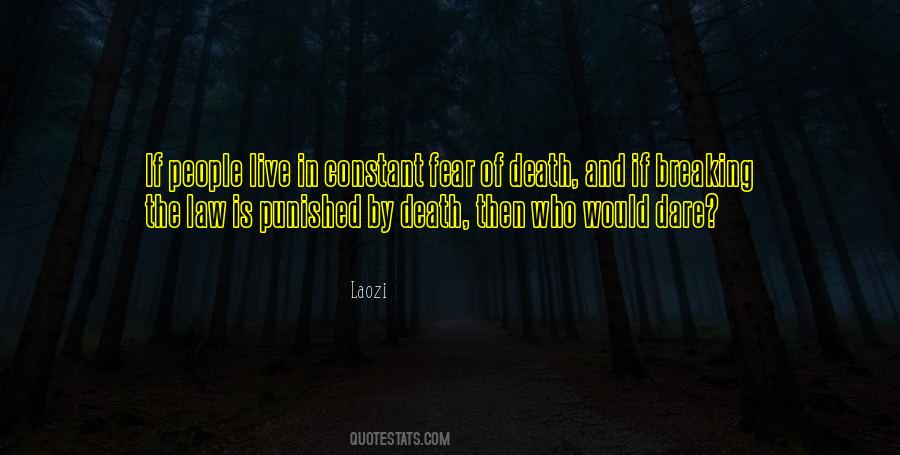 #13. On some level we trade passion for security, that's trading one illusion for another. It's a matter of degree. We can't live in constant fear, but we can't live without any. The fear of loss is essential to love. - Author: Esther Perel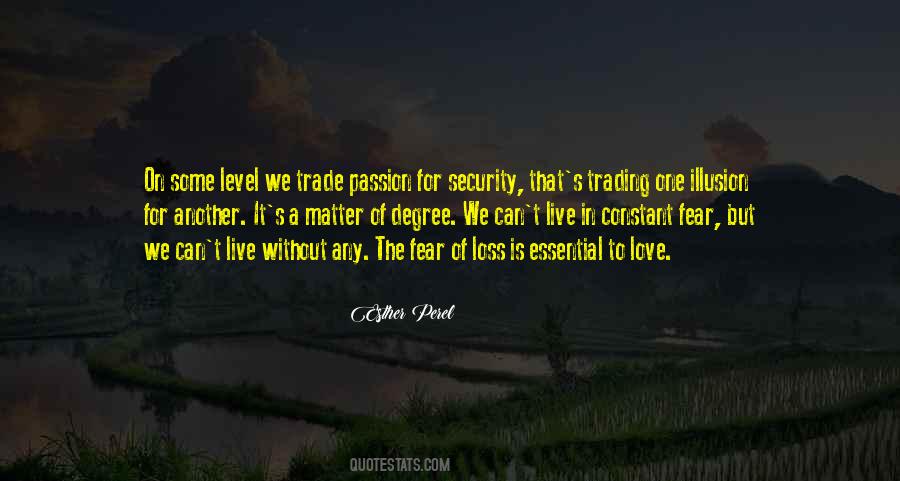 #14. Too busy with the crowded hour to fear to live or die. - Author: Ralph Waldo Emerson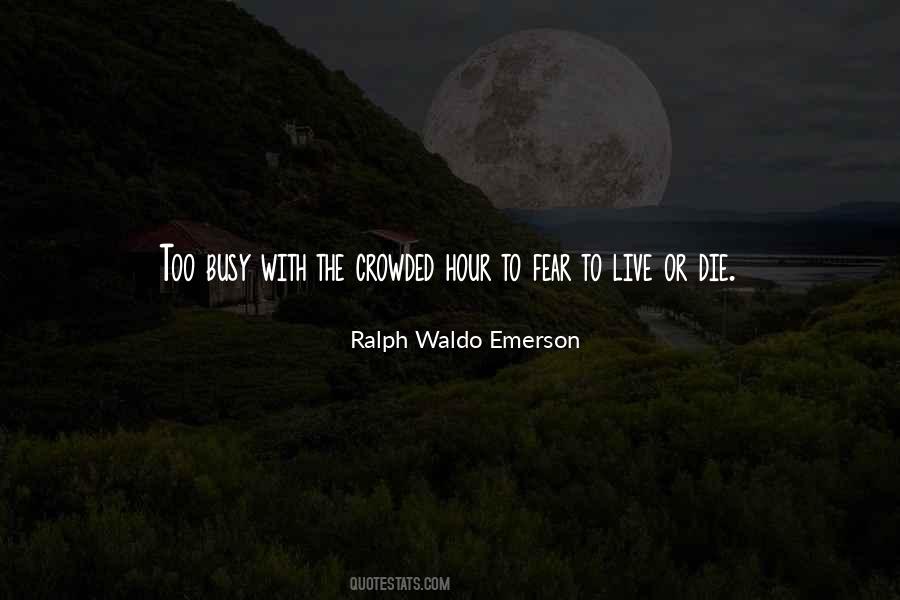 #15. Fear is a prison. A feeling of crippling power that spreads darkness within. It blinds. It questions. It takes over every decision we make, coloring it with doubt. Fear, for most of us, rules our lives, and it's only when you conquer it that you can truly live your life to the fullest. - Author: Mia Asher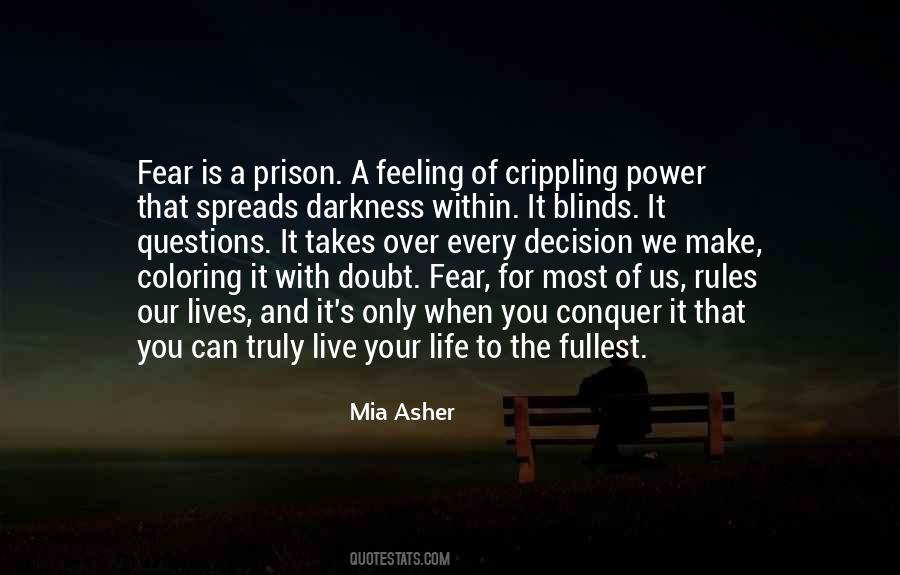 #16. In fetid darkness still to live and run
And all for nothing it had ever done
Except forget to go in fear perhaps.
No one would know except for ancient maps
That such a brook ran water. - Author: Robert Frost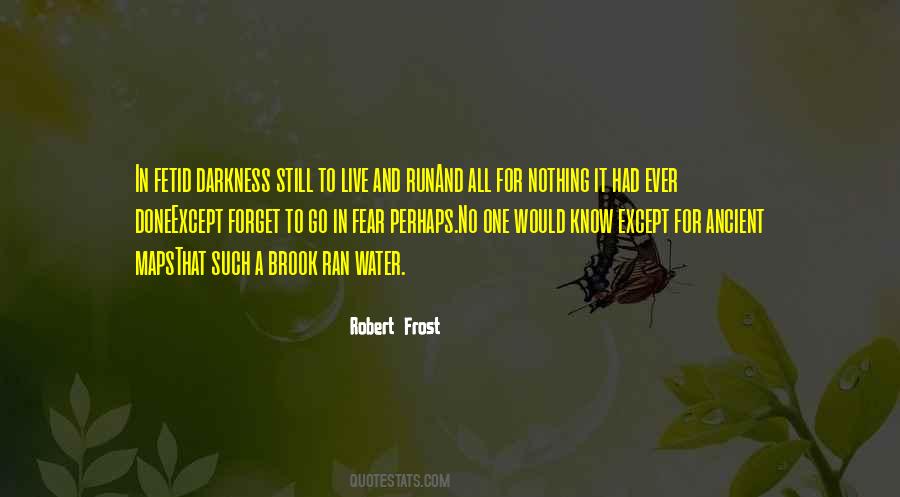 #17. We live in such fear of puncturing the moment, of forgetting our lines. - Author: Kate Zambreno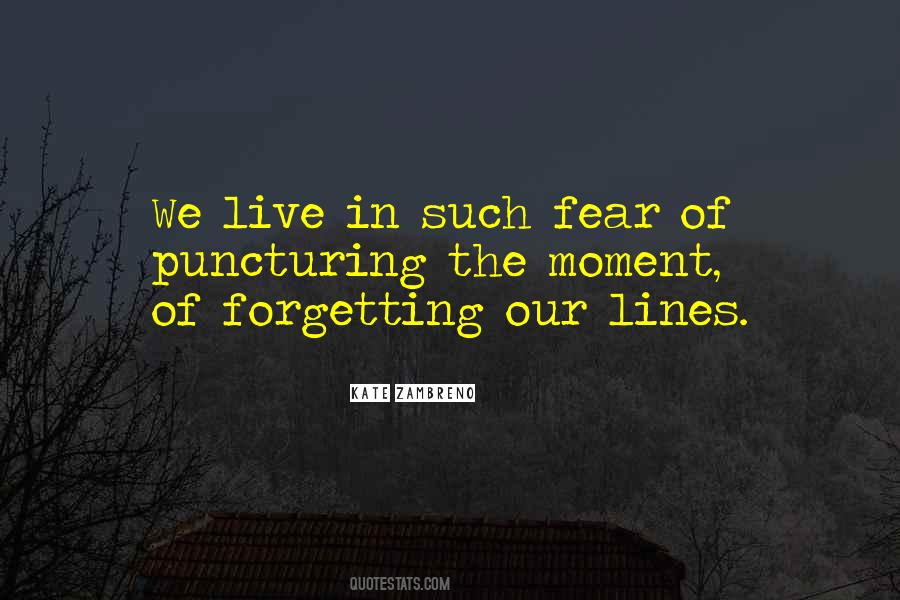 #18. People live in fear of bad being out to get them, when in reality, the bad side is there only to be in polar opposite proportion to the positive that you are destined to thrive in. Conquer the negative, and thrive in the positive. - Author: C. JoyBell C.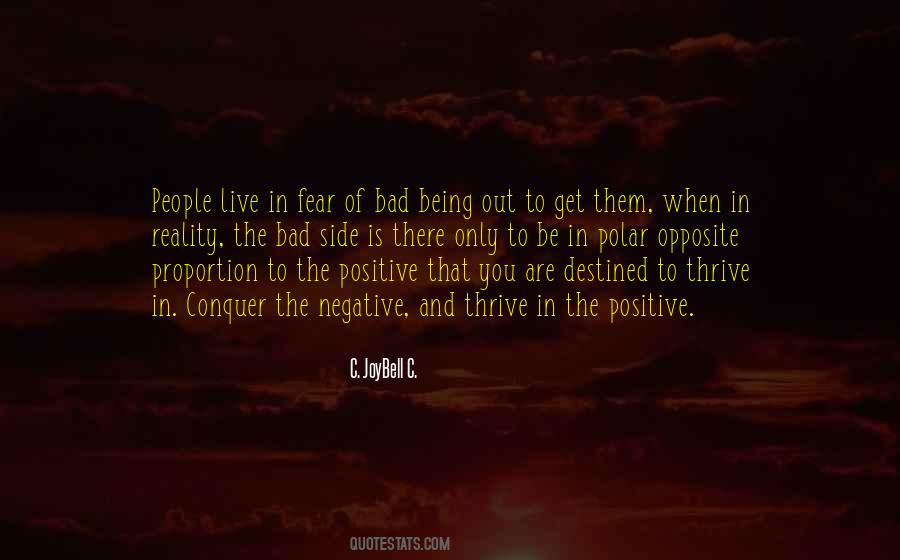 #19. Sometimes as a man, you fear what you can't see. Nobody can predict the future. You don't know what's going to happen. Tomorrow's not promised. The only thing you can do is live your life, hope for the best, continue to have faith, believe in yourself. - Author: Michael Vick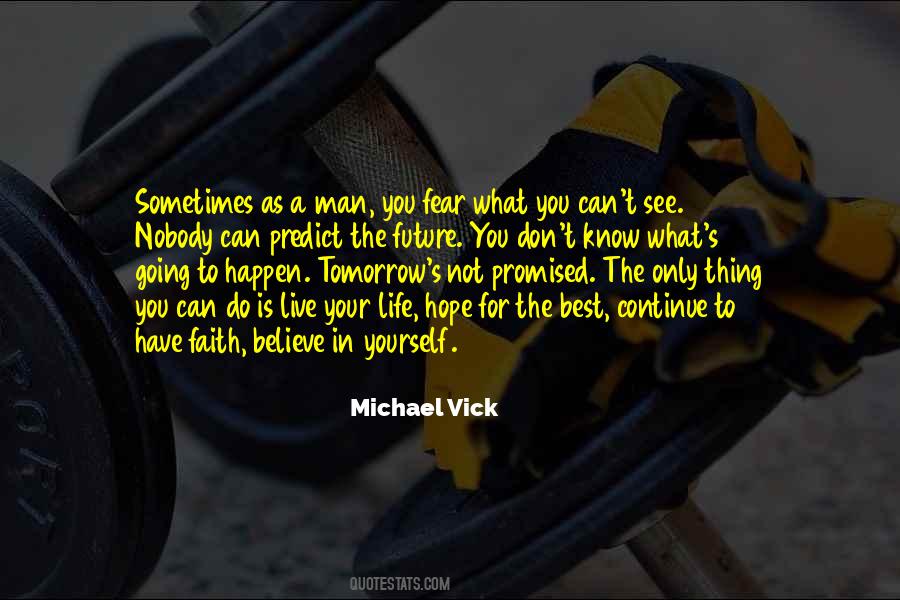 #20. When life moves you, move with it; do not place roadblocks of judgment or fear. Your fear and judgment are roadblocks on the easy path that life has chosen for you. Fear is an illusion and it is bondage. When you understand that all is good; you can live in Freedom. - Author: Premlatha Rajkumar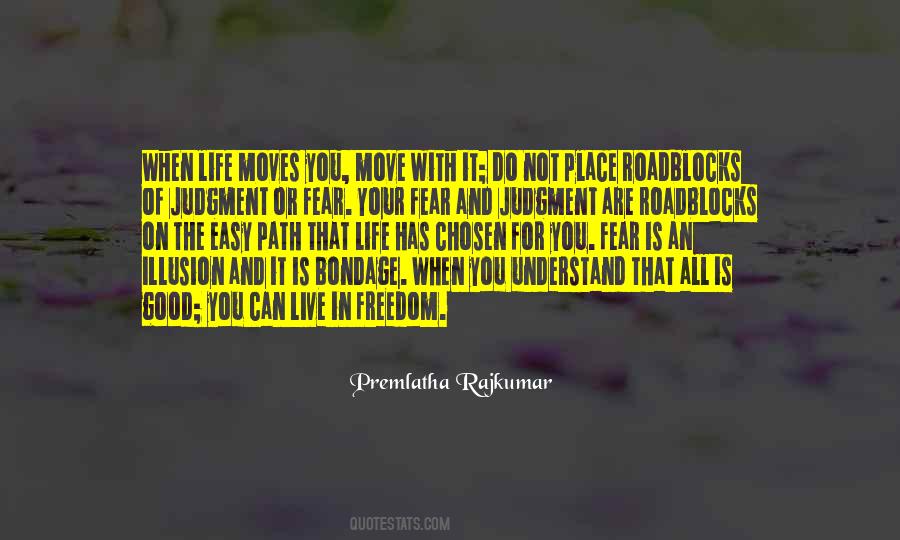 #21. I do not want our children and grandchildren to live in a world where everyday they fear some regional strongman with weapons of mass destruction. We need to send a message to these future would-be bullies: you will not be allowed to threaten the world. - Author: George Voinovich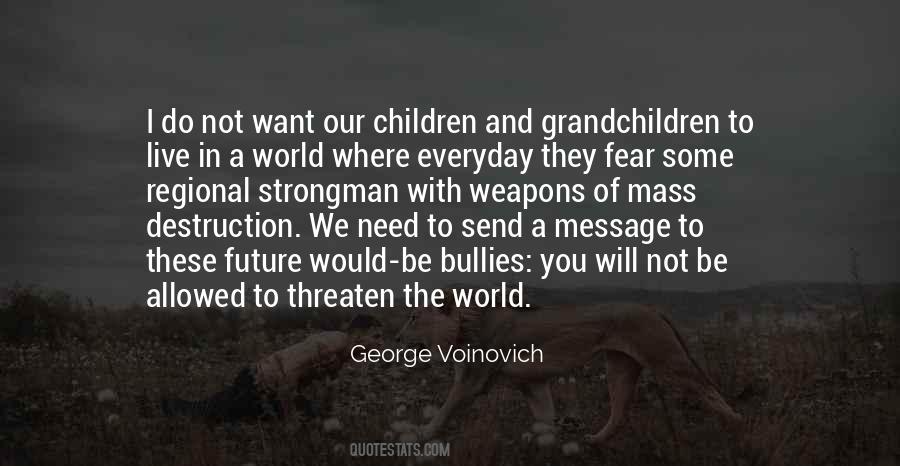 #22. Do not feel fear because if you live your life in fear you're not living your hiding. - Author: Salman Aditya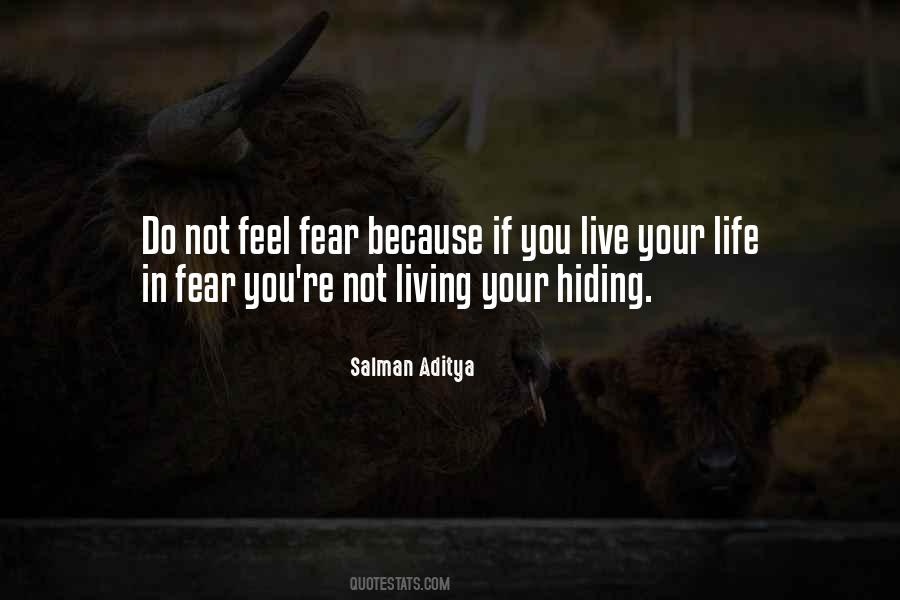 #23. There were many reasons why I chose to stay silent about my past for so long, mostly fear and shame. Now im older and wiser.Now I understand that I should never have to live in fear of another human being, and if I do, that's their shame, not mine. - Author: Gabriella Gillespie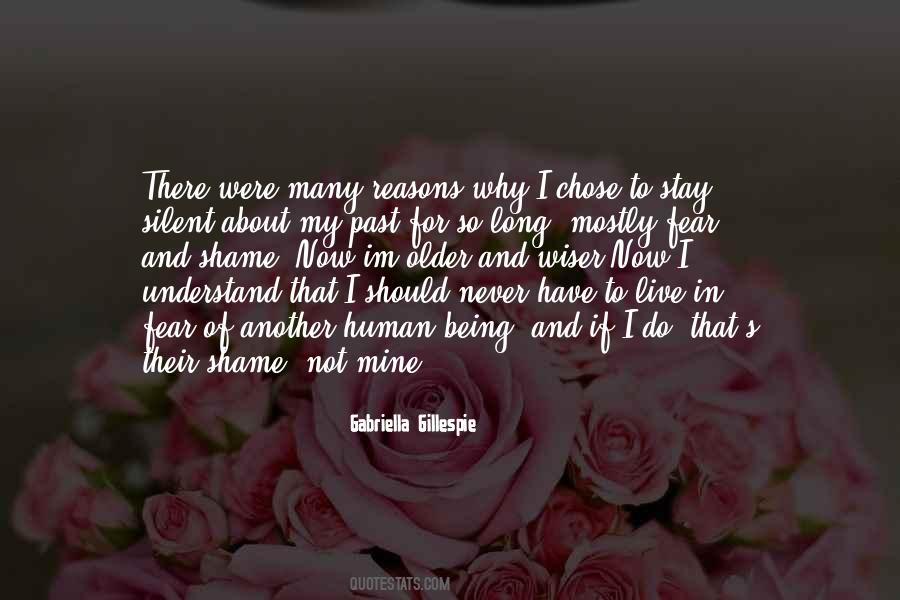 #24. By the time we are women, fear is as familiar to us as air; it is our element. We live in it, we inhale it, we exhale it, and most of the time we do not even notice it. - Author: Andrea Dworkin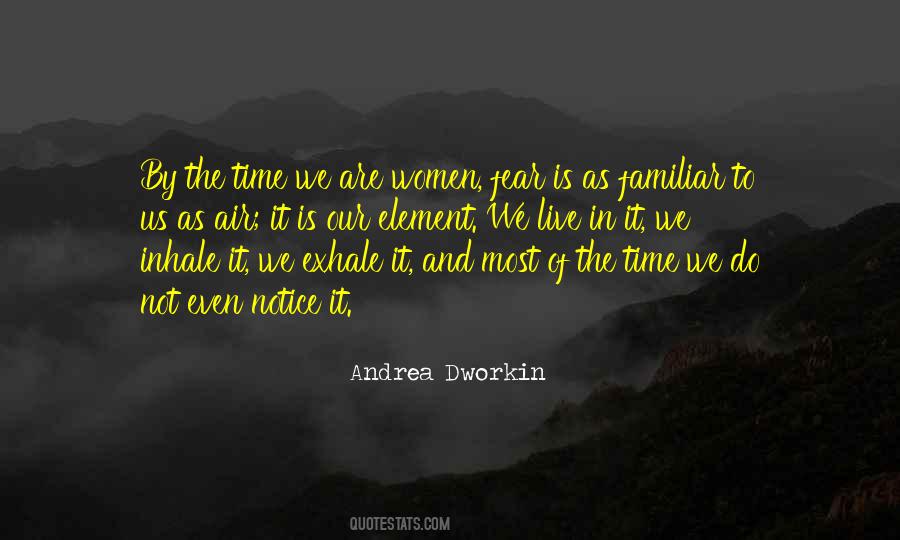 #25. I don't know as I am fit for anything and I have thought that I could wish to die young and let the remembrance of me and my faults perish in the grave rather than live, as I fear I do, a trouble to everyone ... Sometimes I could not sleep and have groaned and cried till midnight. - Author: Harriet Beecher Stowe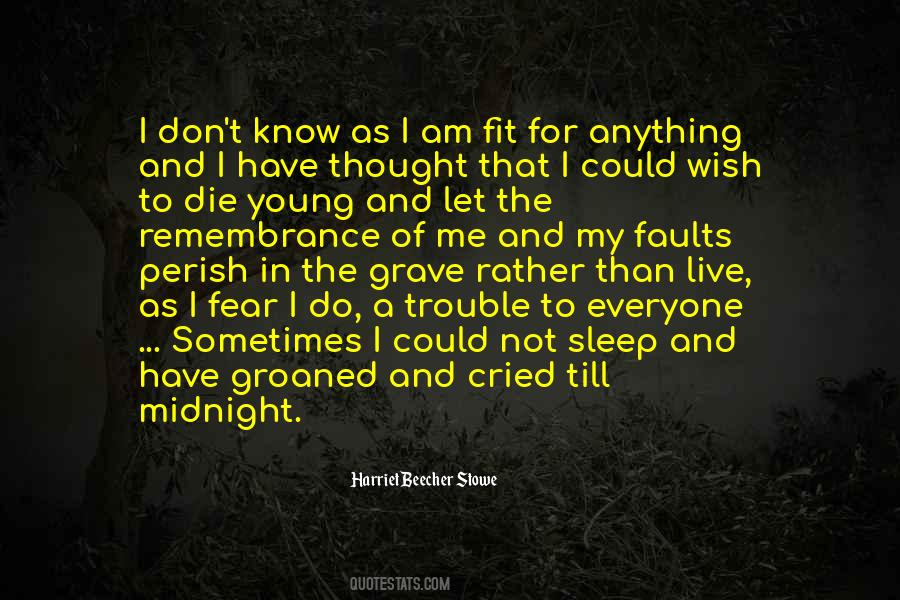 #26. Successful contrarian investing requires us to live with discomfort, for being "wrong" and alone. But bargains do not exist in the absence of fear. - Author: Robert D. Arnott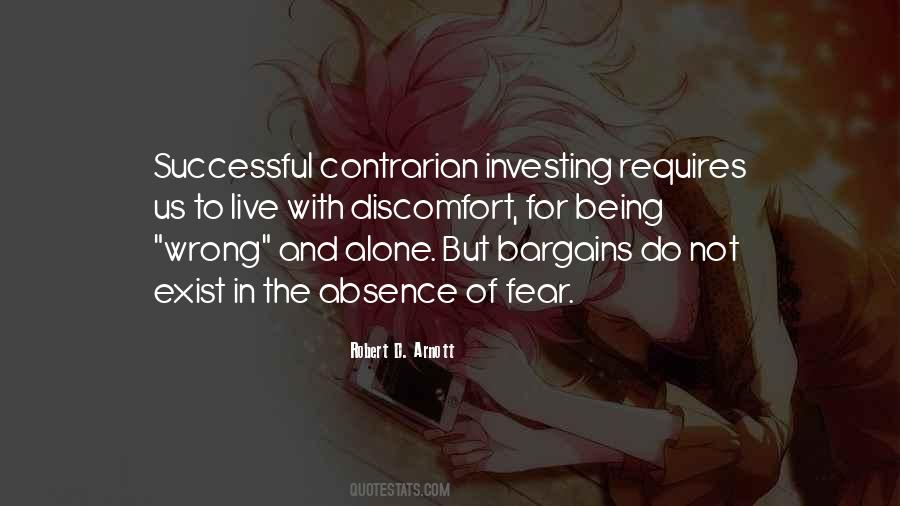 #27. I fear that we live in an ahistorical age in which we believe that we are so wise that we no longer need the lessons of the past, perhaps most disturbingly of all that technology has put us beyond the lessons of the past. - Author: J. Rufus Fears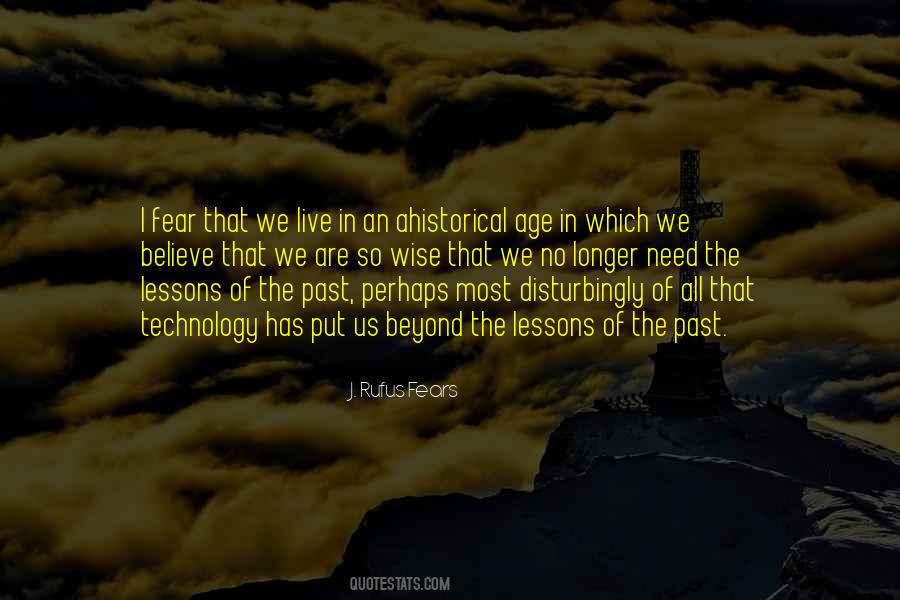 #28. Most men ebb and flow in wretchedness between the fear of death and the hardships of life; they are unwilling to live, and yet they do not know how to die. - Author: Seneca.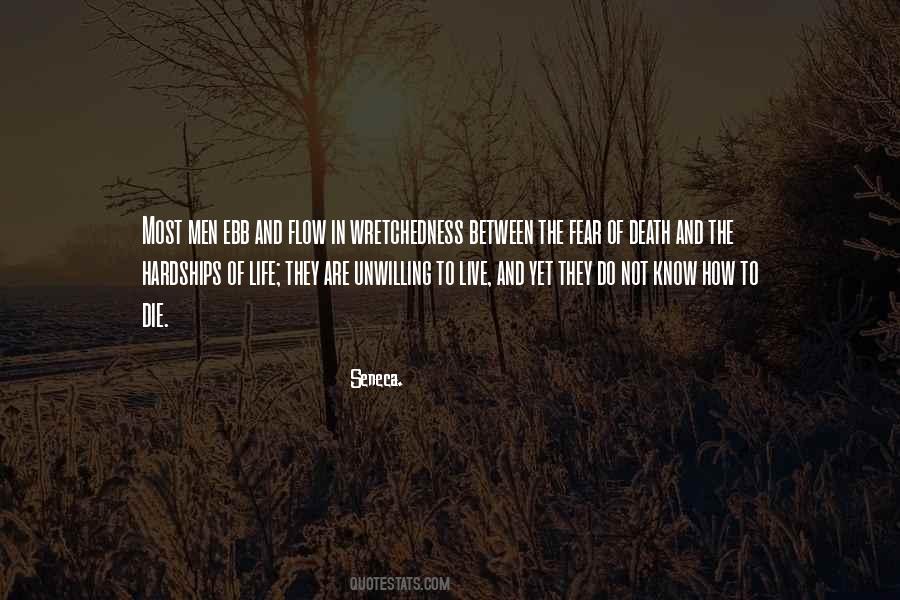 #29. Do not live in fear, Khalid-jan, for that is not a life. - Author: Renee Ahdieh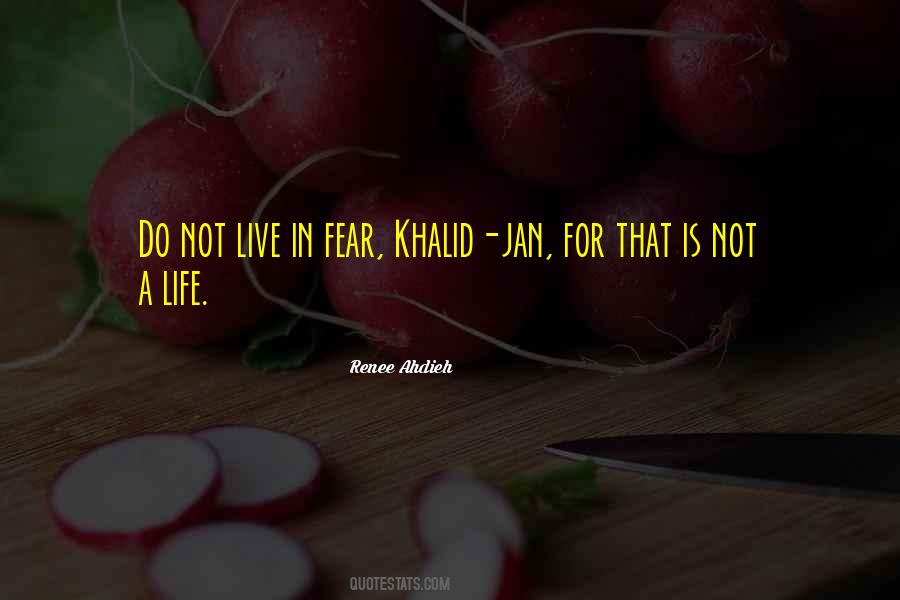 #30. When you're in government, of course, you have protection and you have people who are looking out for your wellbeing, but you can't live in a state of fear. If you do, you're not going to do your job very well and you're going to give yourself high blood pressure, which probably isn't worth it. - Author: Condoleezza Rice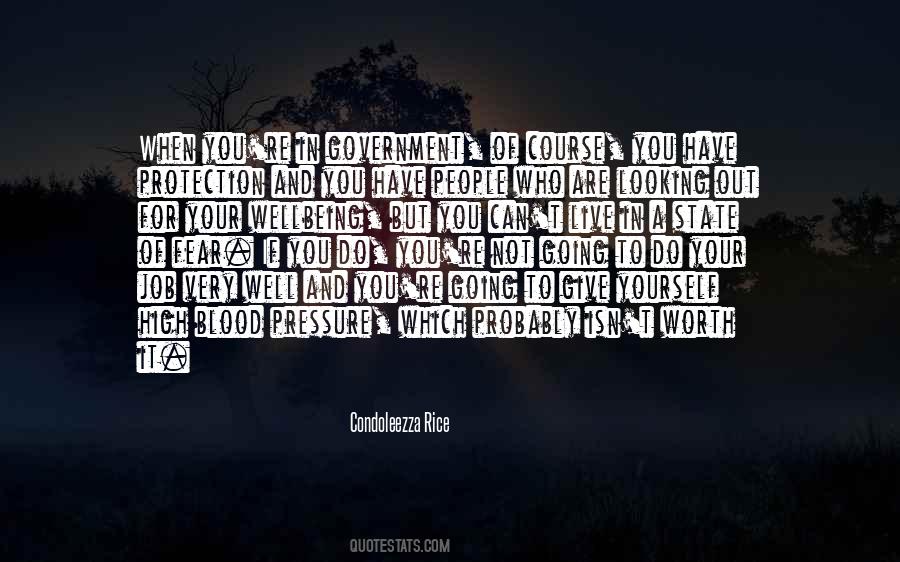 #31. The worst lies are the lies we tell ourselves. We live in denial of what we do, even what we think. We do this because we're afraid.We fear we will not find love,and when we find it we fear we'll lose it. We fear that if we don't have love we will be unhappy. - Author: Richard Bach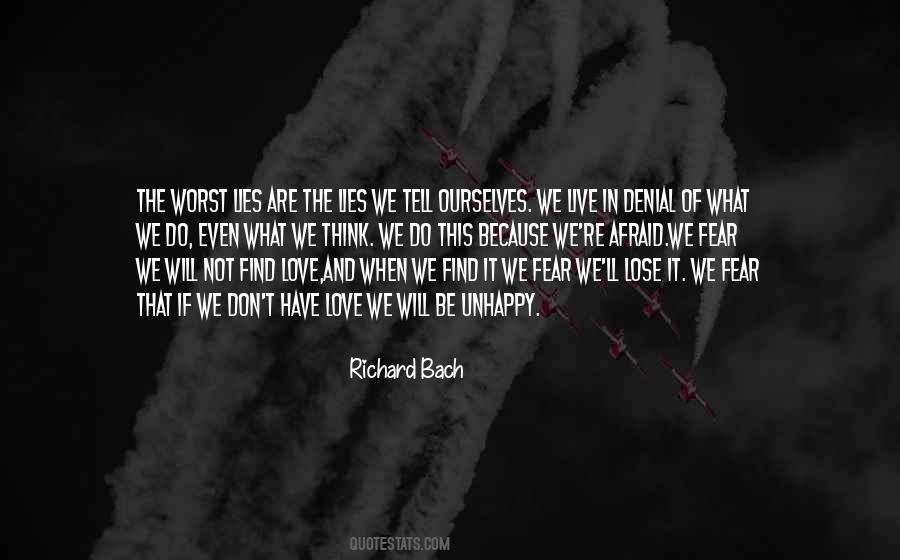 #32. I wanted to take part in this campaign because it's so easy to forget the many women who live their lives in fear because of domestic violence. Men have an important role to play in sending out the message that real men do not hurt or abuse their partners. - Author: Ian Somerhalder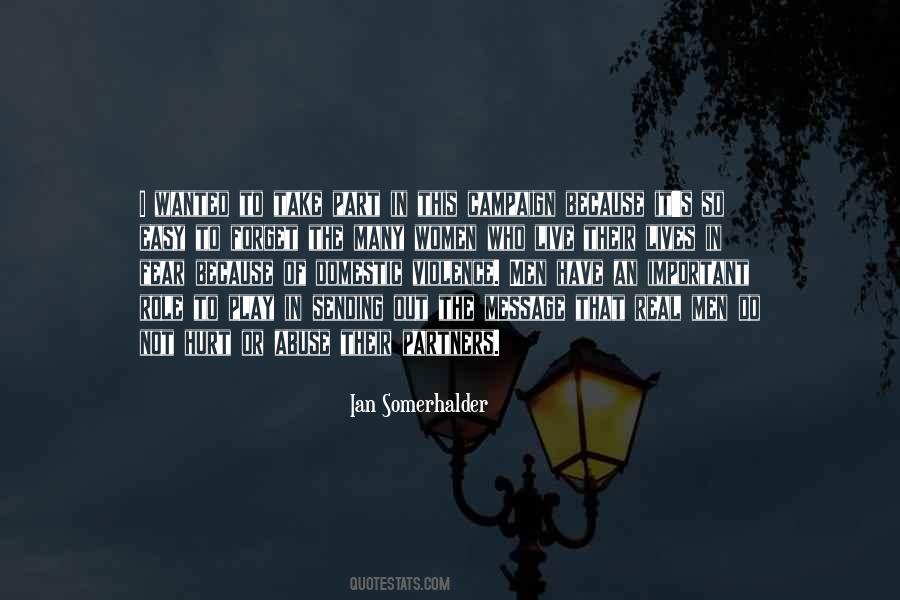 #33. The worst lies are the ones we tell ourselves. we live in denial of what we do, even what we think. We do this because we are afraid. We fear we will not find love, and when we find it we fear we will lose it. We fear that if we do not have love we will be unhappy. - Author: Richard Bach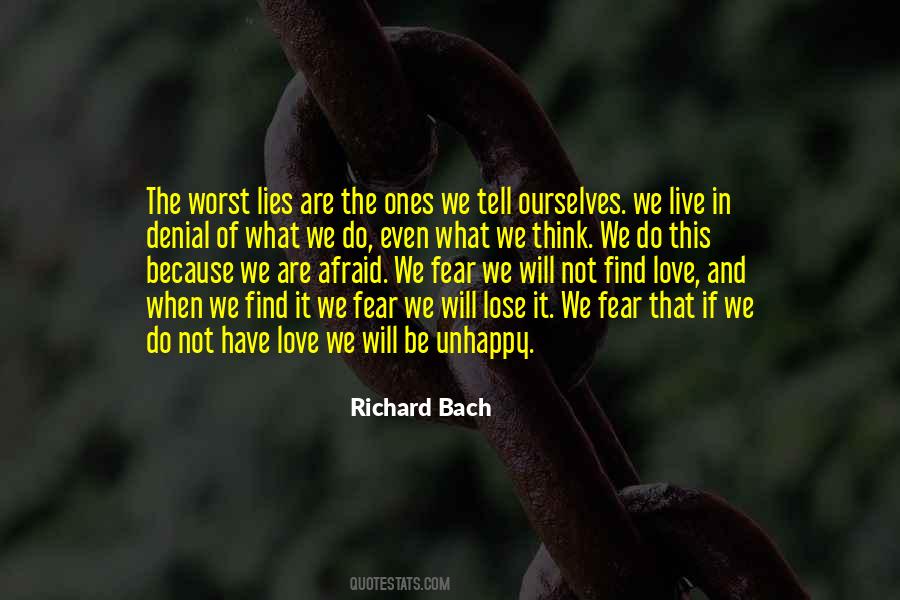 #34. If I live in fear of what might be, how can I truly live my life to the full in the present? And if I do not give myself to the day, to hope, to life, what do I miss? - Author: Lisa Tawn Bergren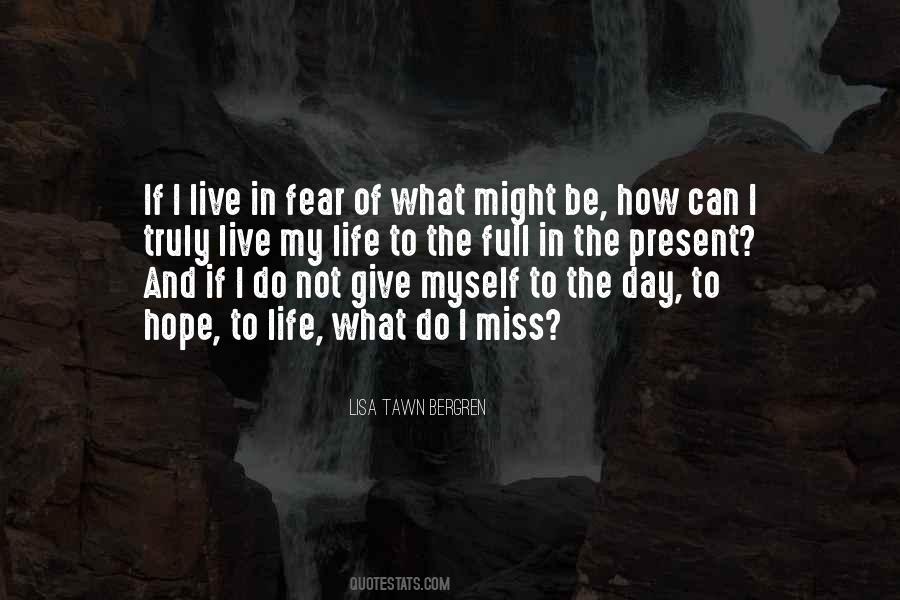 #35. I love the passions. They create such sensation! Anger, grief, fear, love, hate, excitement. The fierce emotions make one feel. Such are a gift, so one knows one is alive. To live without passion is to have no life at all. - Author: Nikki Sex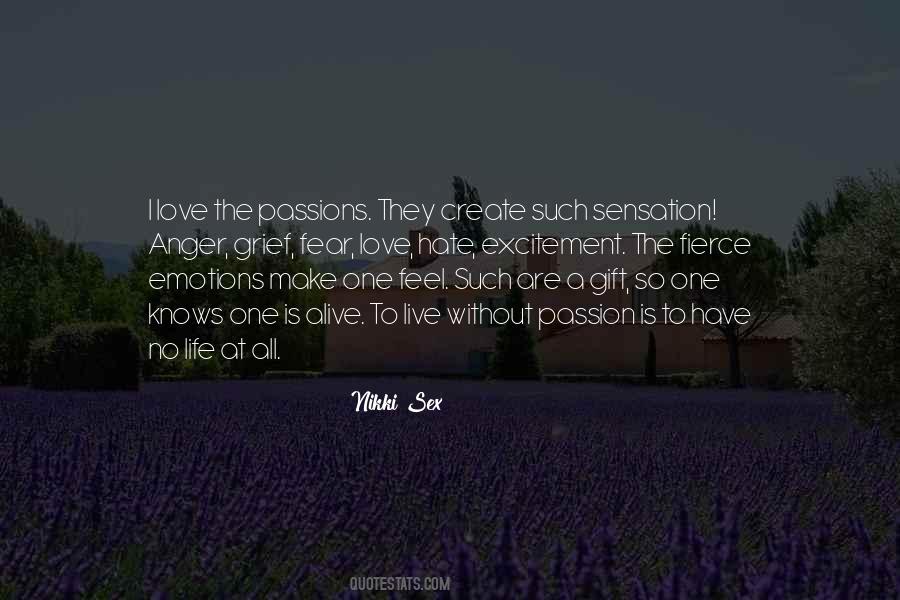 #36. there are things in our souls which we know not how much they mean to us. Or rather, if we live without them, it is because, either through fear of failing or suffering, we daily postpone the moment of coming under their thrall. - Author: Marcel Proust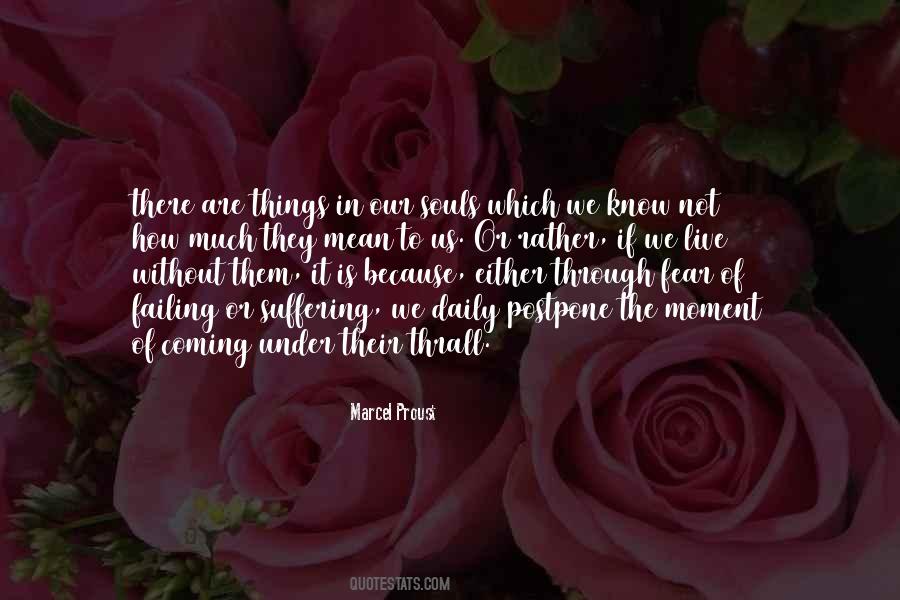 #37. Understand your driving force, whether you're operating out of fear or love. When we operate in fear, we tend to hold back and not get the most from life. When we operate in love, we open new avenues and experience life more abundantly. - Author: Amaka Imani Nkosazana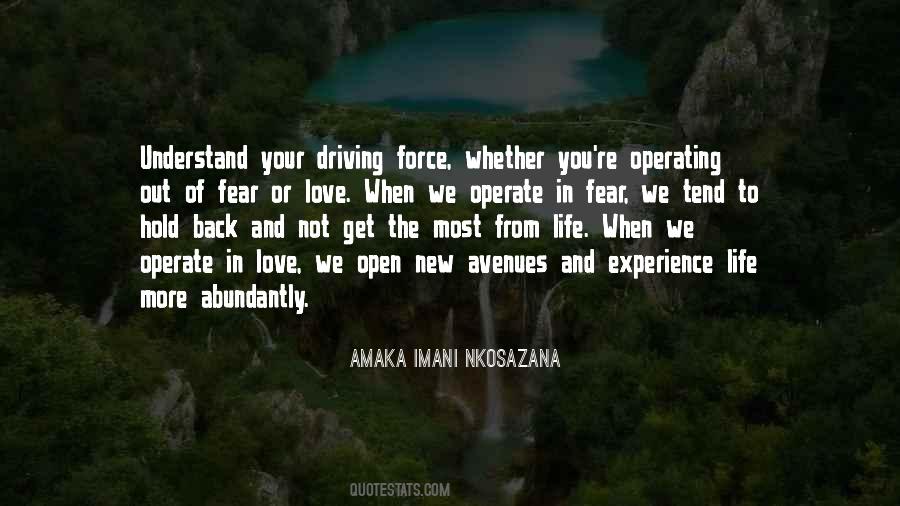 #38. Powerlessness is dangerous. For most of us, the inability to affect change is a desperate feeling. We need resilience and hope and a spirit that can carry us through the doubt and fear. We need to believe that we can effect change if we want to live and love with our whole hearts. - Author: Brene Brown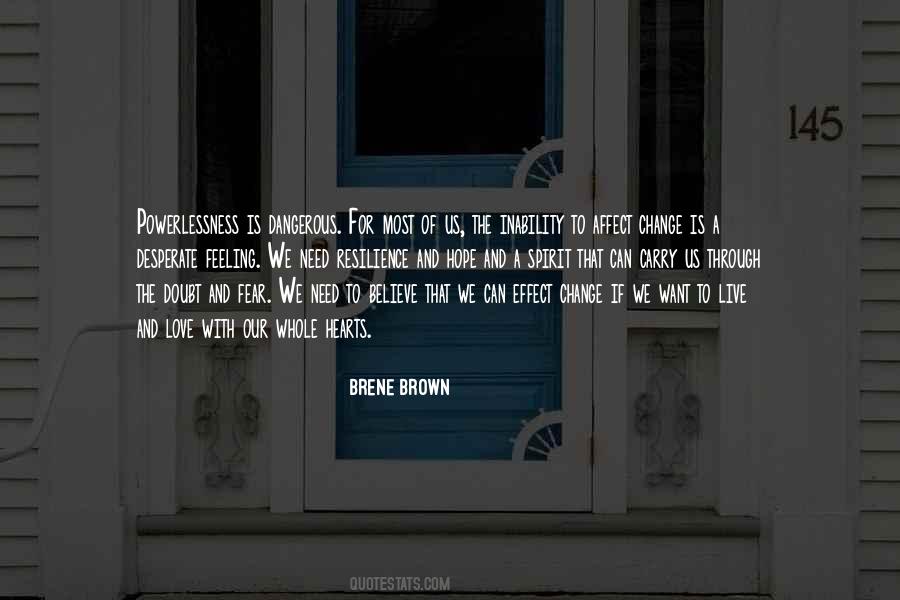 #39. I'd rather live life with the consequences of my choice than live with the consequences of fear. - Author: Daniel Waters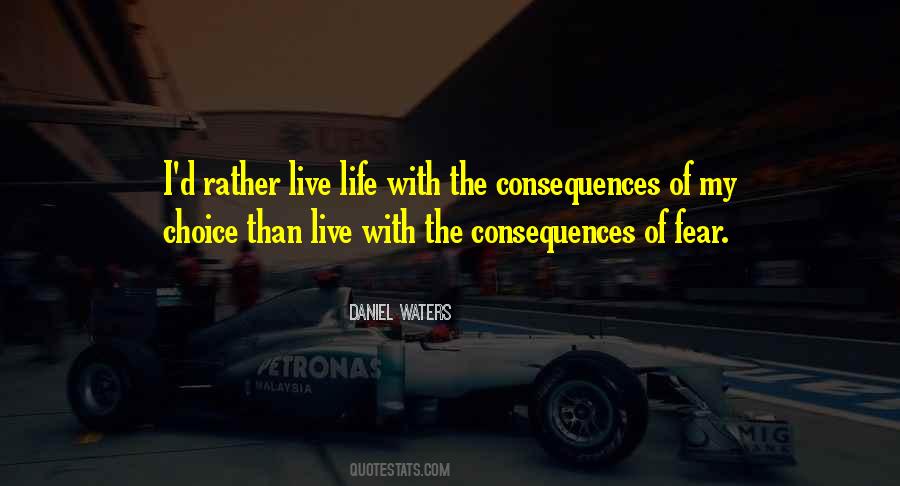 #40. We should live every day like people who have just been rescued from the moon. - Author: Thich Nhat Hanh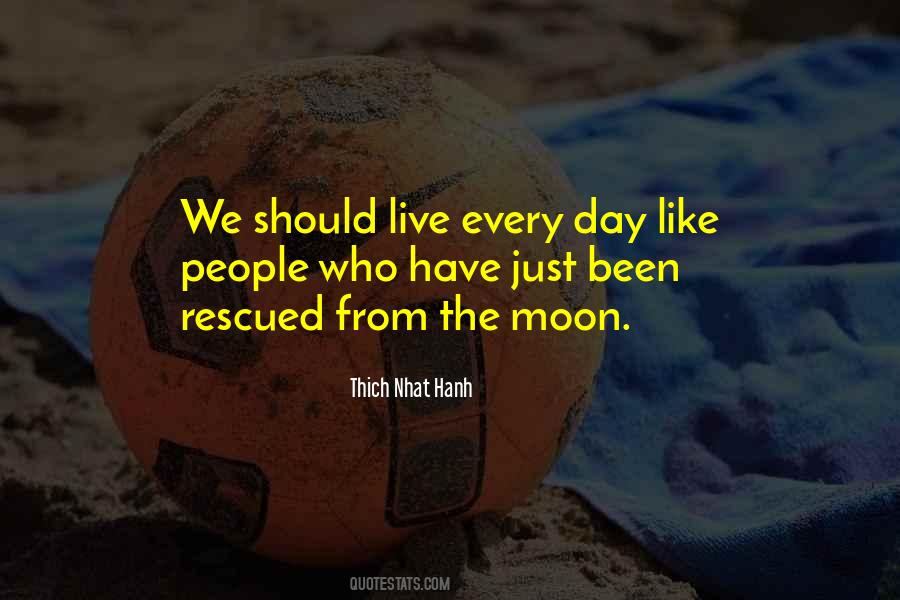 #41. There is nothing one can have that one cannot fear to lose. Instead of living life in order to have more abundantly, live life in order to be more abundantly. - Author: Stephen Batchelor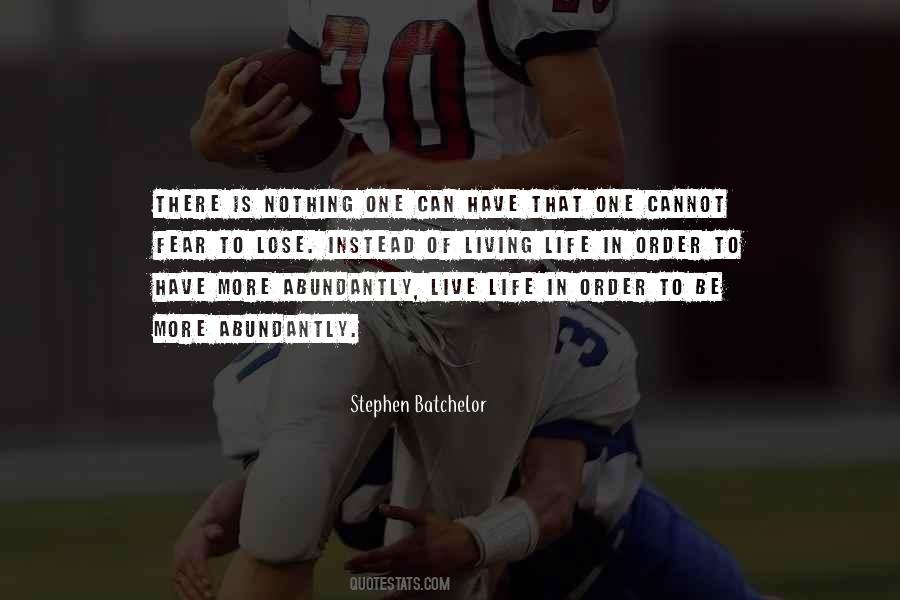 #42. The ability to live for five hundred years would be an incredible gift. But I greatly fear it would be a gift only for the wealthy - one that might greatly widen the gap between those with access and those without. - Author: Ann Leckie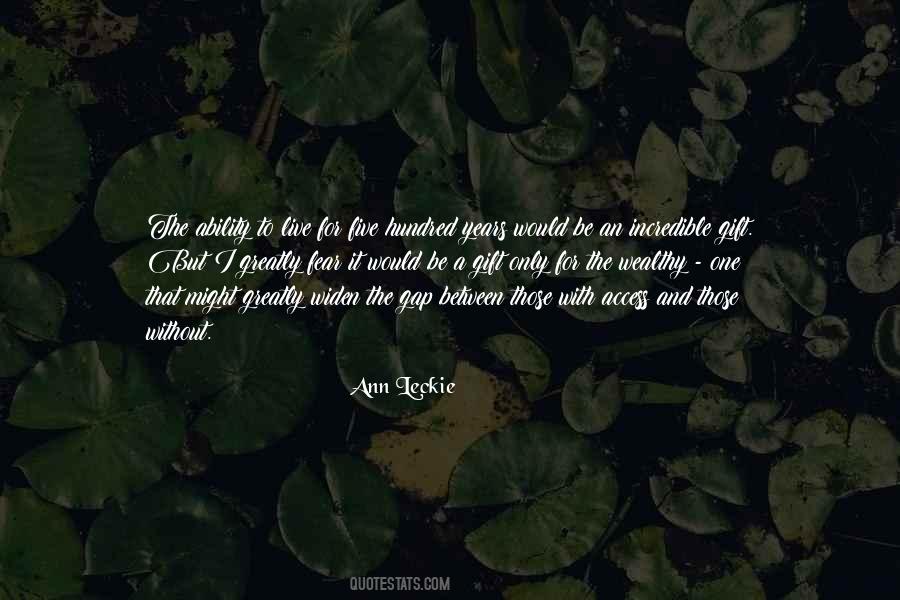 #43. I fear feeling my heart break a second time, because I'm not sure I could survive it. I'd rather live alone than risk the pain. - Author: Nora Roberts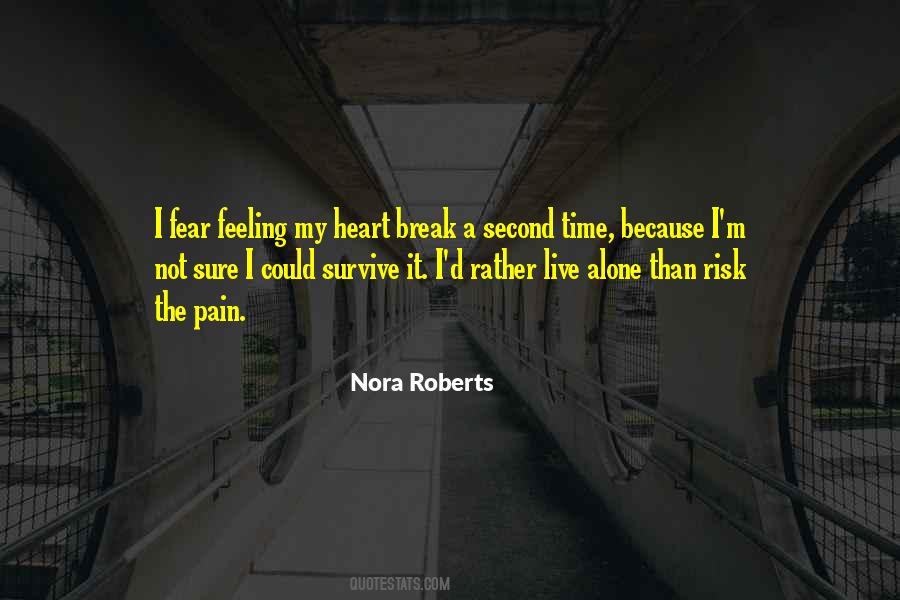 #44. The best way to live above all fear of death is to die every morning before you leave your bedroom. - Author: Charles Spurgeon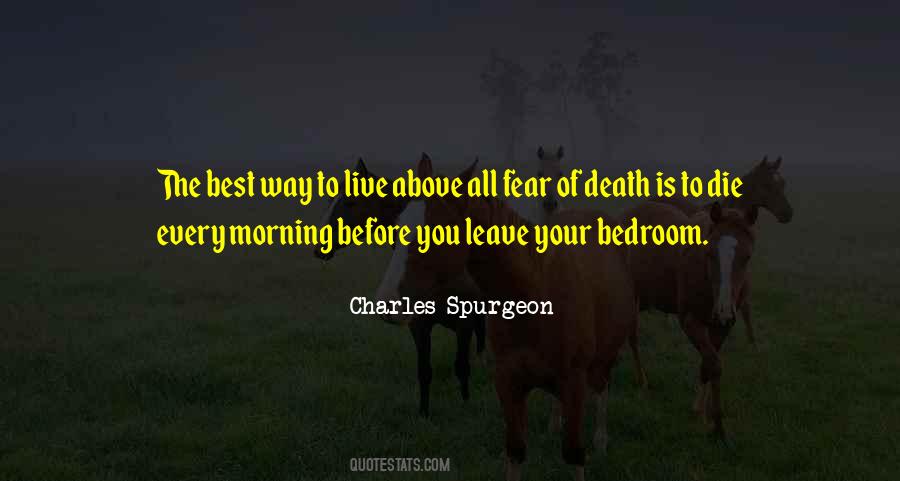 #45. Facing that was my ultimate fear and my biggest freedom. I was alone. I was tiny. I was no one. Live or die, the world wouldn't know or care. - Author: Pepper Winters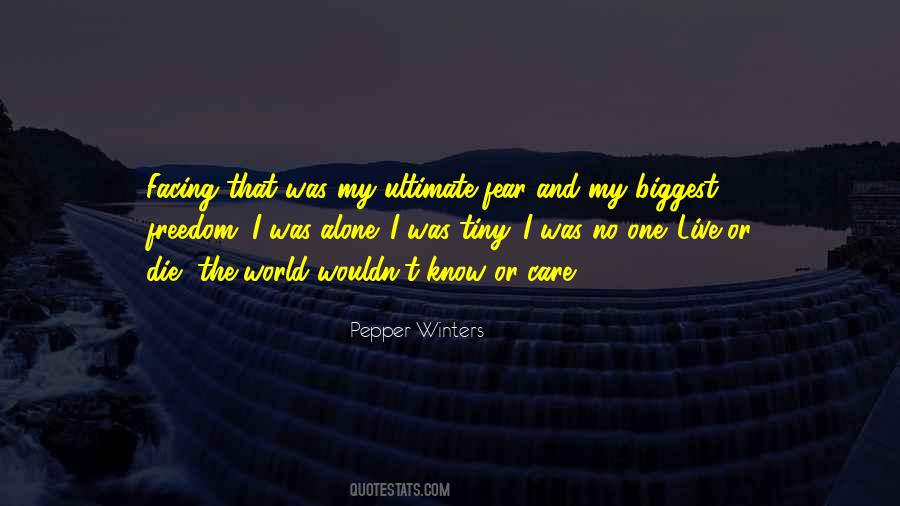 #46. In the midst of fear Lyra knelt by Lanre's body and breathed his name. Her voice was a beckoning. Her voice was love and longing. Her voice called him to live again. But Lanre lay cold and dead. - Author: Patrick Rothfuss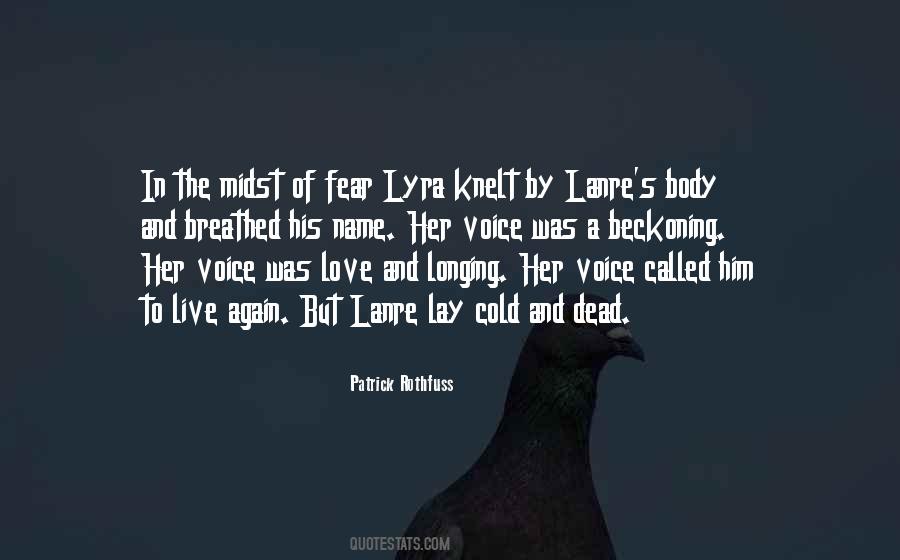 #47. Fools live in fear, a wise man lives in strength. - Author: Harbhajan Singh Yogi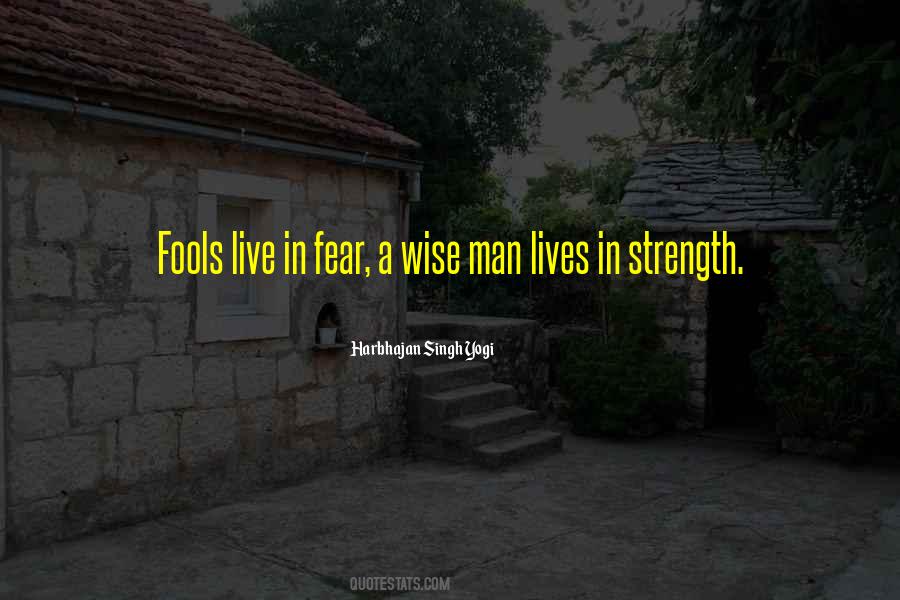 #48. Government of limited power need not be anemic government. Assurance that rights are secure tends to diminish fear and jealousy of strong government, and by making us feel safe to live under it makes for its better support. - Author: Robert H. Jackson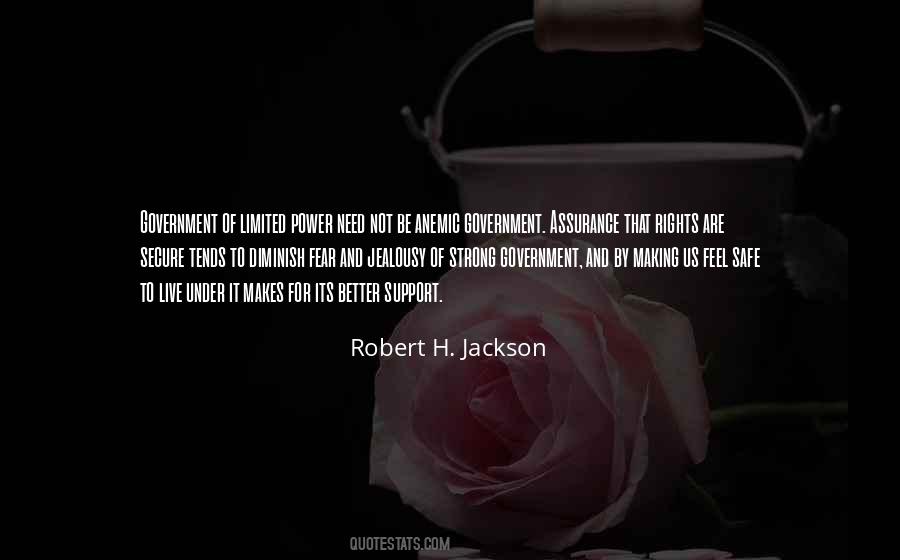 #49. If you let fear dictate your decisions, you will live defensively, reactively, cautiously. Living by faith is playing offense with your life. - Author: Mark Batterson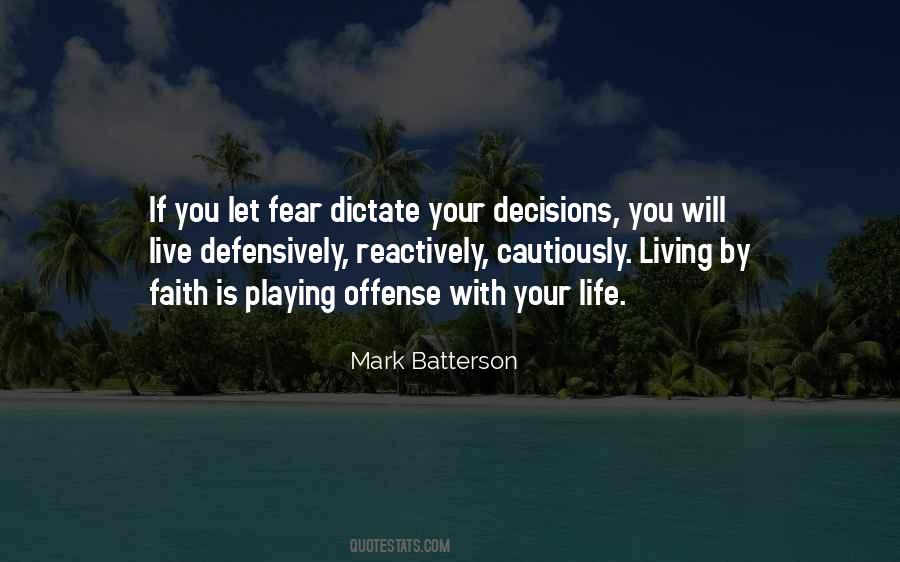 #50. Those who flee freedom live on
but their souls die in fear
Those who thirst for freedom die
but their souls live on in resistance - Author: Xiaobo Liu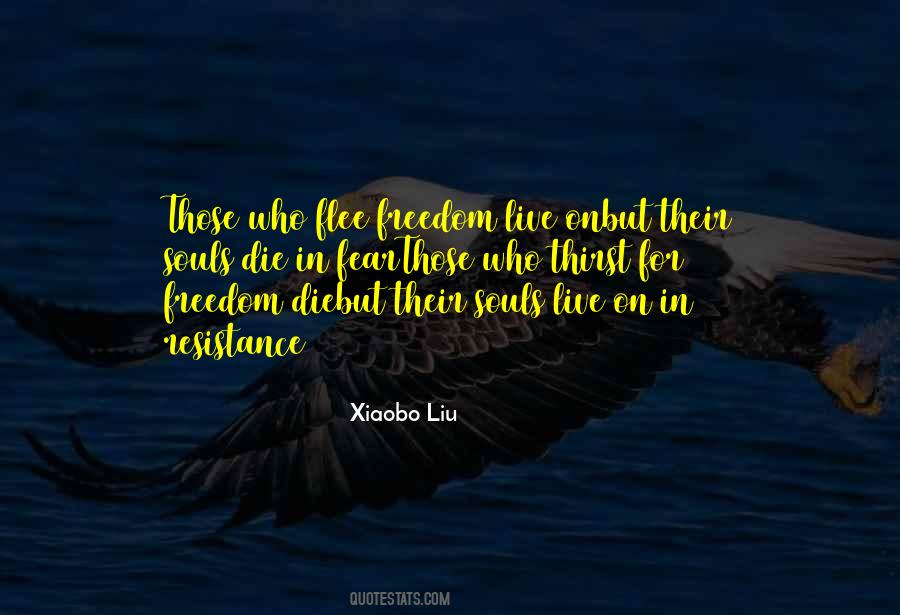 #51. Let us fear to leave Him. Let us be always with Him. Let us live and die in His presence. - Author: Brother Lawrence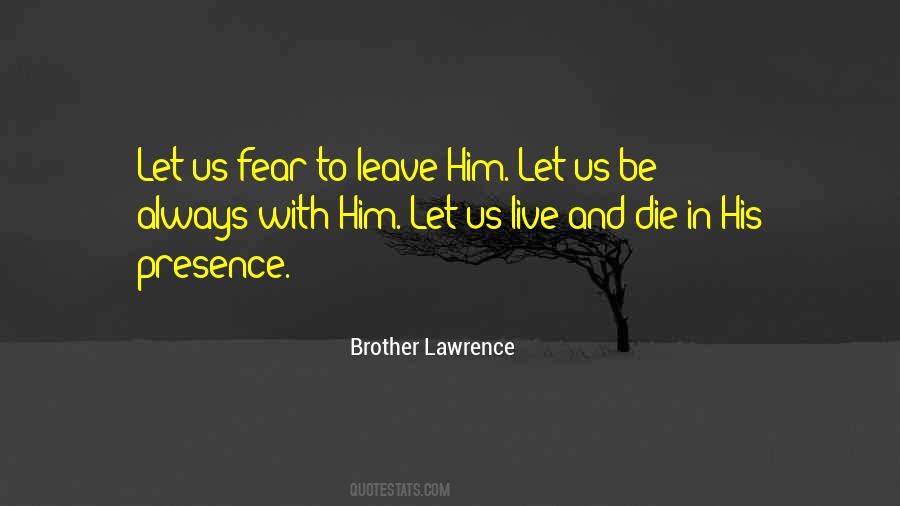 #52. Without fear, we truly live. - Author: Carey Corp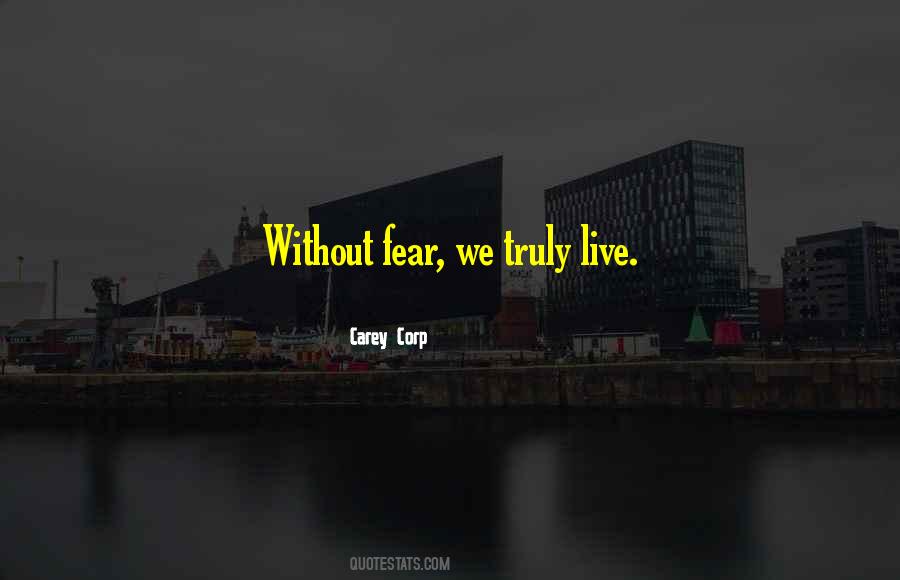 #53. It's okay to be afraid, it means you have something to live for. - Author: Alicia D'Aversa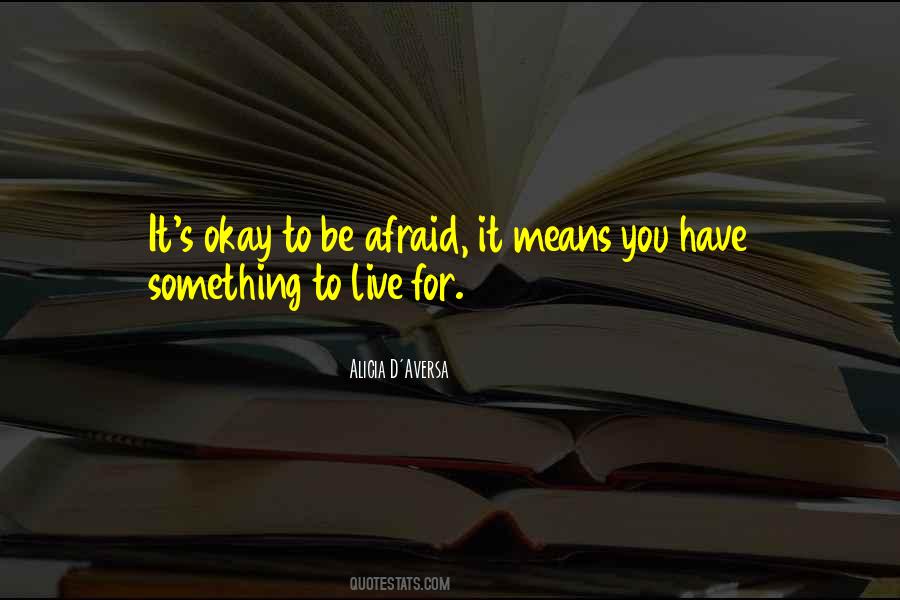 #54. when the uncertainty is known, certainty is guaranteed. Until we unravel the uncertainties of our lives, we shall always be uncertain with the life we live - Author: Ernest Agyemang Yeboah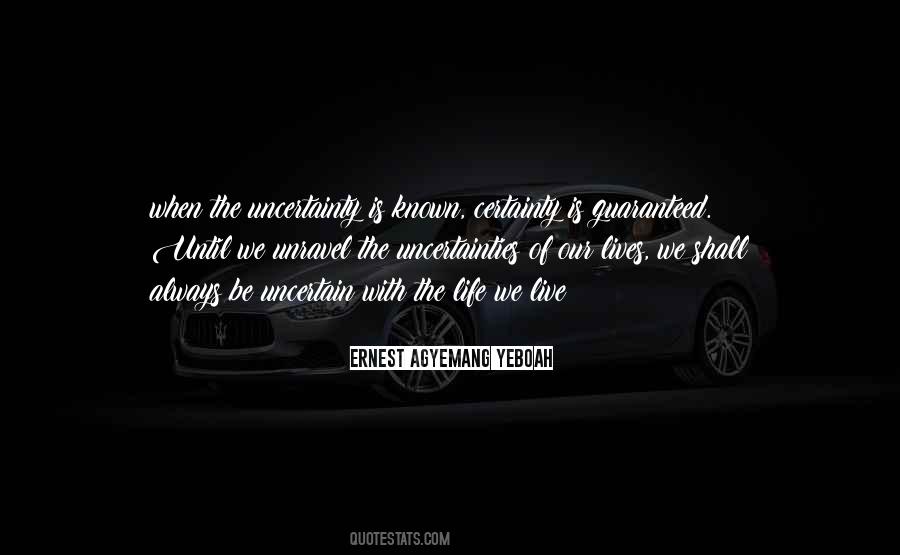 #55. But I get frightened sometimes," she admitted.
"I know. Fear is only fear, though."
"And somehow you live without it."
"No," he corrected her. "You live with it. - Author: Nicole Mones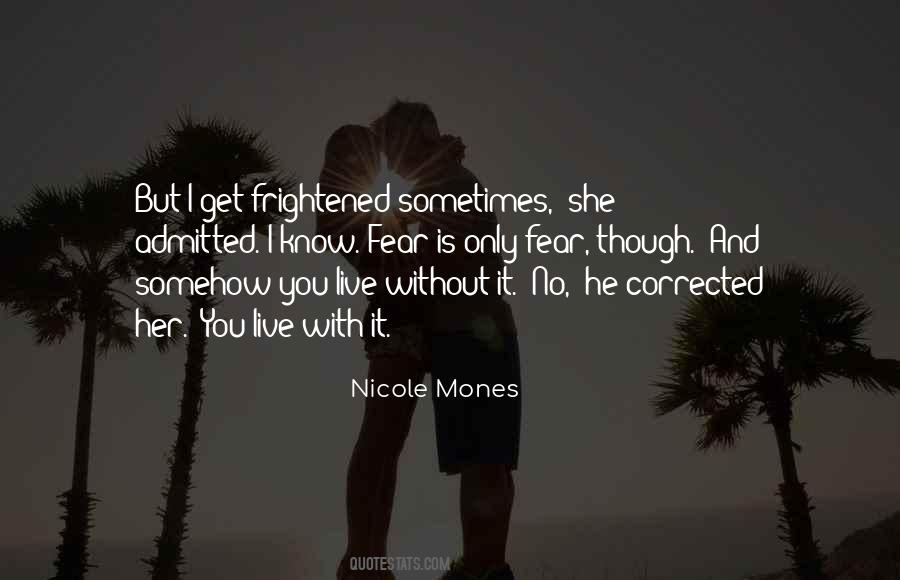 #56. When two people are free to disagree, they are free to love. When they are not free, they live in fear, and love dies. - Author: Henry Cloud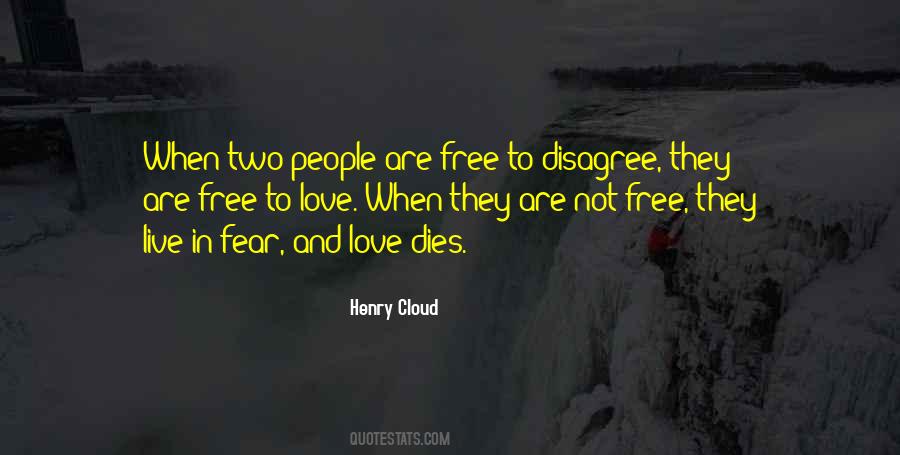 #57. We live in a society bloated with data yet starved for wisdom. We're connected 24/7, yet anxiety, fear, depression and loneliness is at an all-time high. We must course-correct. - Author: Elizabeth Kapu'uwailani Lindsey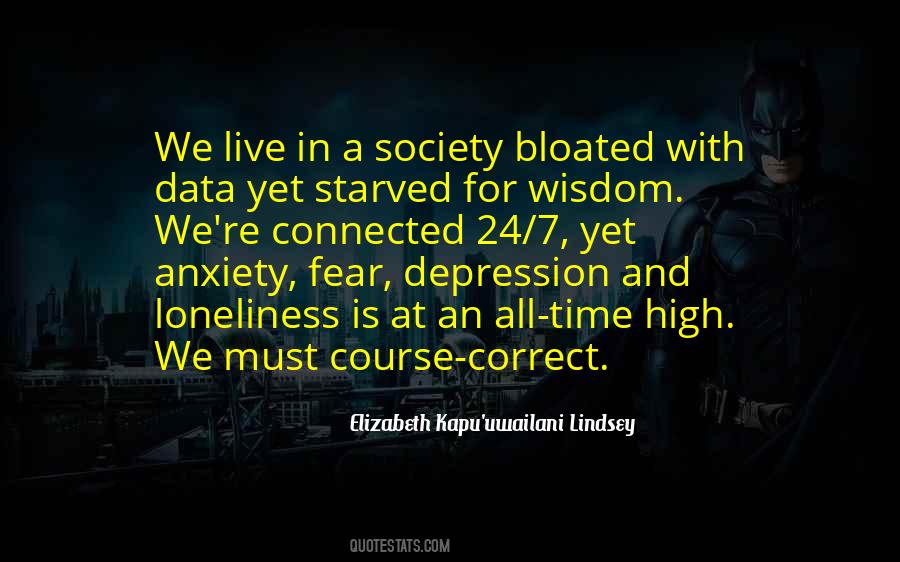 #58. To live with Faith, eliminate Fear.Only one can exist in our Life at any point of time.-RVM - Author: R.v.m.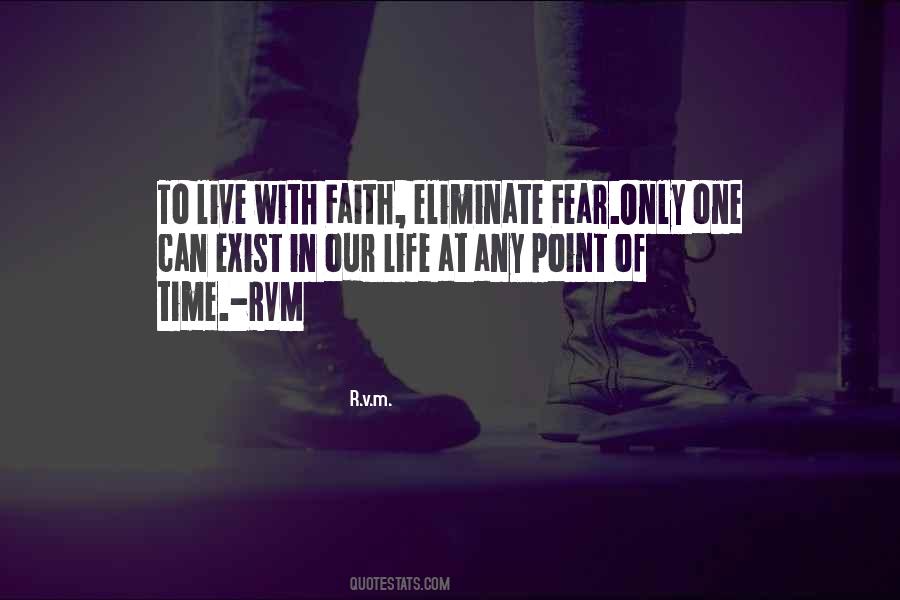 #59. Believe it or not, the number one fear in America remains public speaking. And, in some ways, I think that is a real shame because we are so blessed to live in a country where we are able to express ourselves, so we should want to do that. - Author: Dana Perino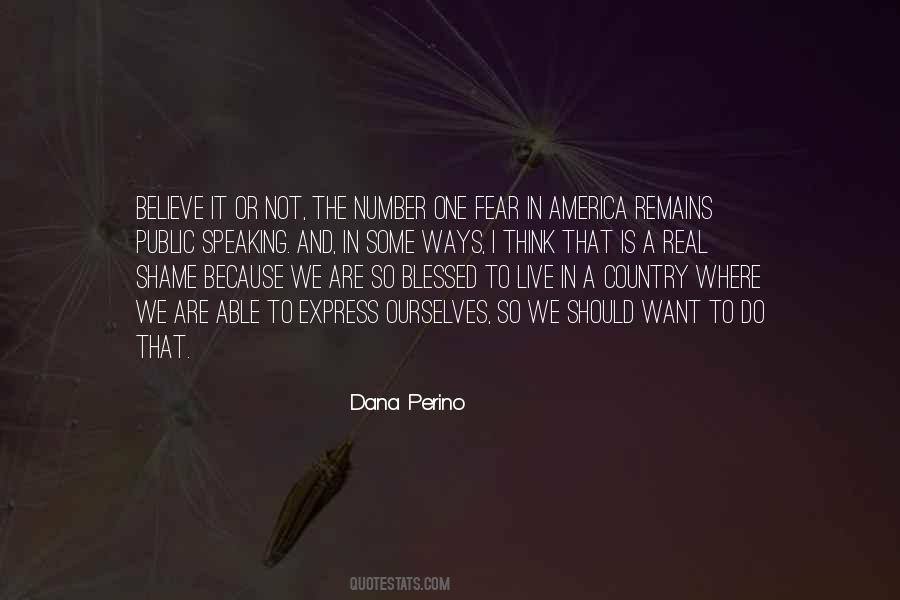 #60. To live your life in the fear of losing it is to lose the point of life. - Author: Malcolm Forbes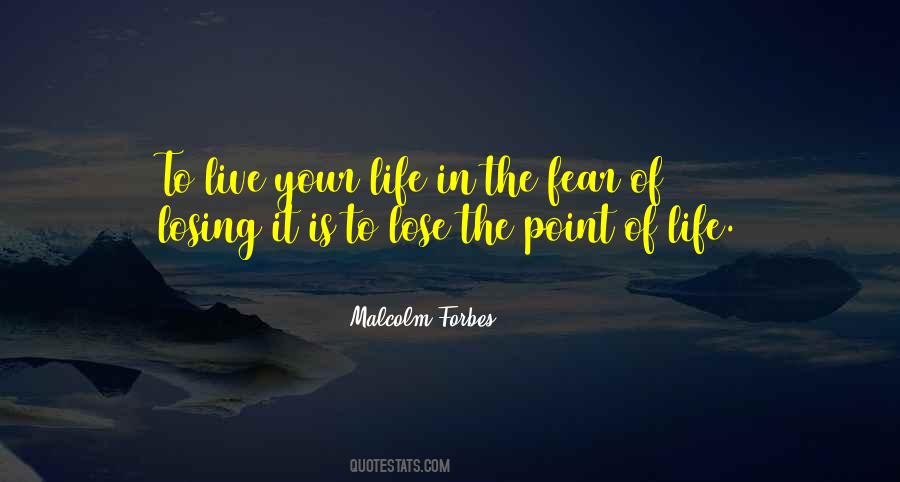 #61. The day you let go of fear and instead embrace understanding, is the day you begin to live. - Author: Leon Brown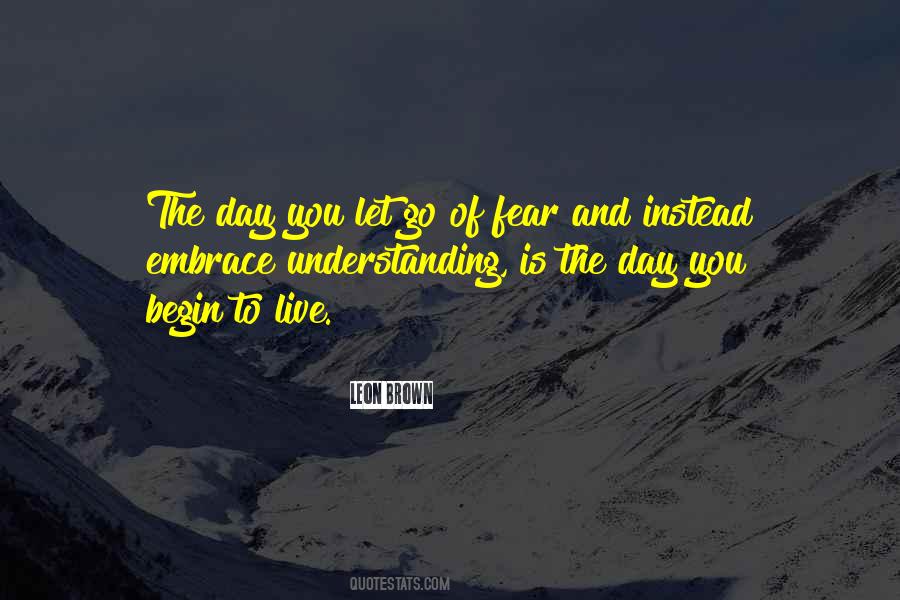 #62. Men could not have too much. Ecstasy and vulnerability belonged in the same dish. The fear the cup would be snatched away was what gave the wine its savor and as Zhirem's cup was sure, so was his joylessness ... to die is a fear, but to live is a fear, also. - Author: Tanith Lee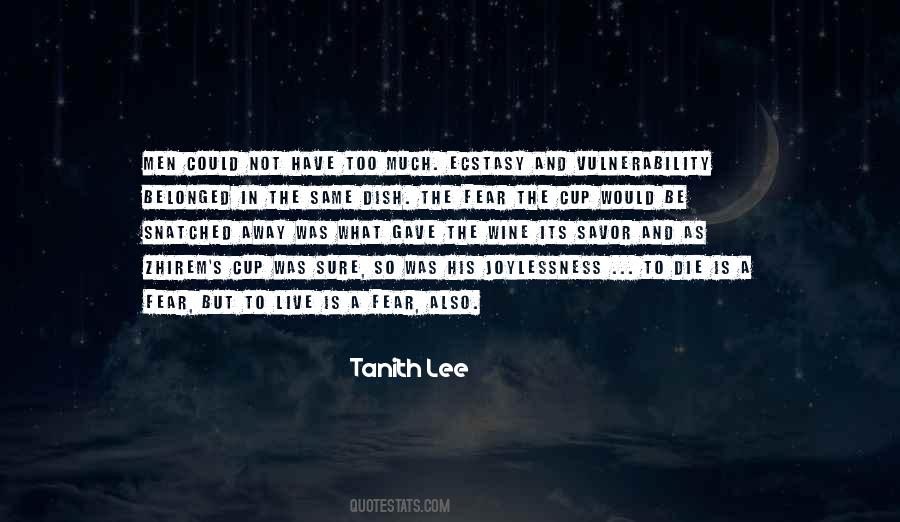 #63. Fear is the engine that drives the human animal. Humanity sees the world as a place of uncountable threats, and so the world becomes what humanity imagines it to be. They not only live in fear but use fear to control one another. Fearmongering is their true religion. - Author: Dean Koontz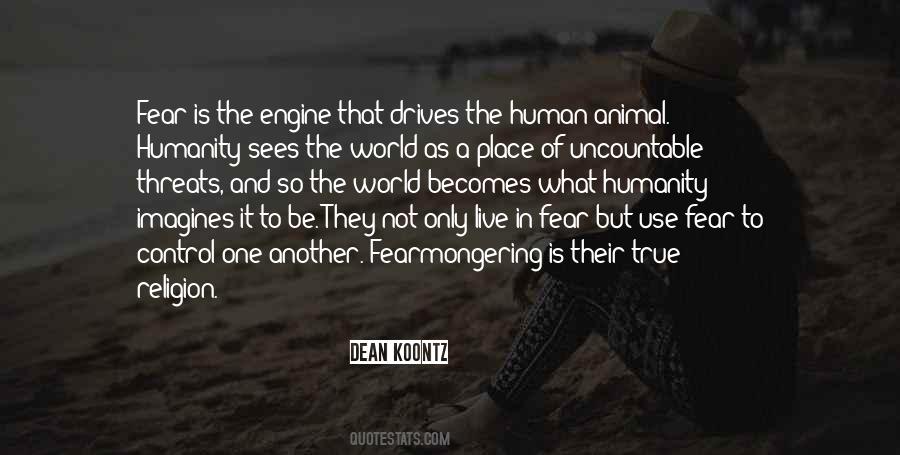 #64. There is no fear. Absolutely no fear. When one lives without fear, one cannot be broken. When one lives with fear one is broken before one begins to live. - Author: James Frey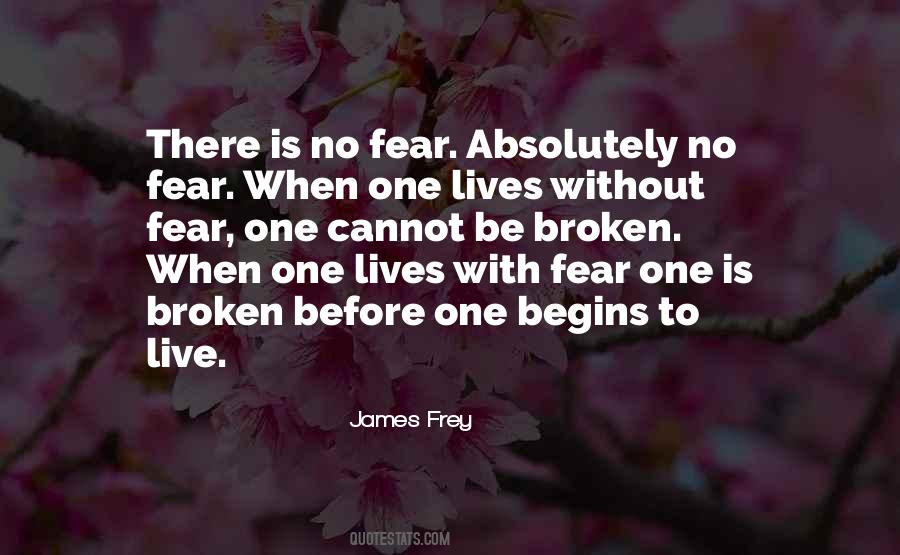 #65. Procrastination is the fear of success. People procrastinate because they are afraid of the success that they know will result if they move ahead now. Because success is heavy, carries a responsibility with it, it is much easier to procrastinate and live on the "someday I'll" philosophy. - Author: Denis Waitley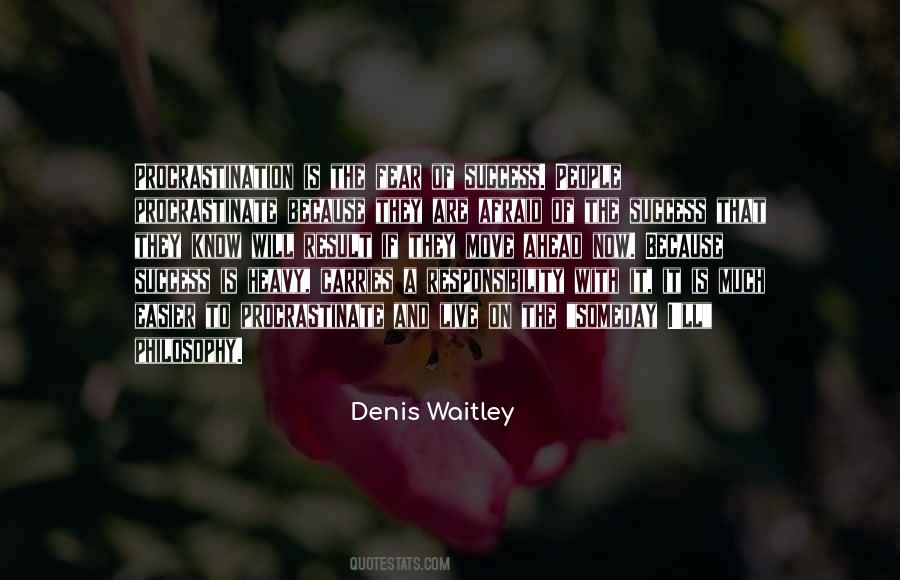 #66. I really do fear that I'm dying I really do fear that I'm dead I saw it in your eyes what I'm looking for I saw it in your eyes what will make me live. - Author: Rufus Wainwright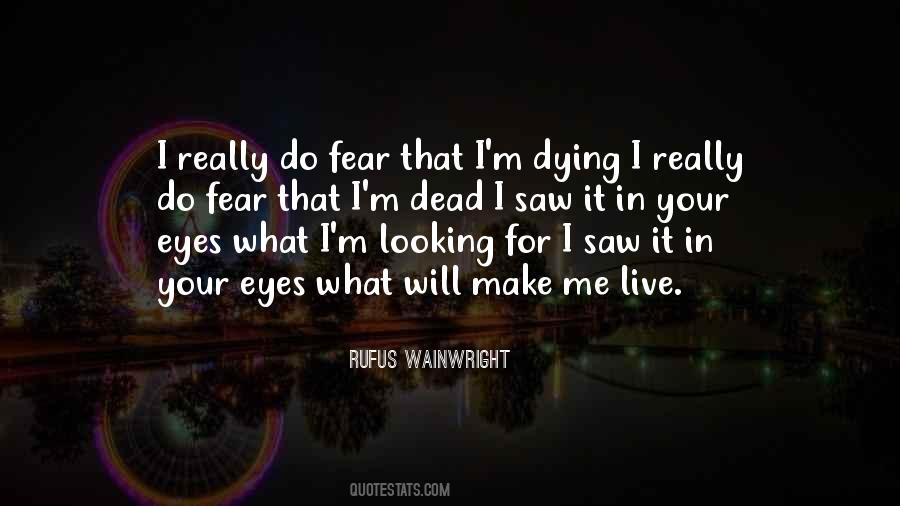 #67. Live because you're dying. Tomorrow is no more guaranteed than the next hour. No minute is minuscule; every second is a new breath that fills the lungs with life. - Author: Bron Dayvid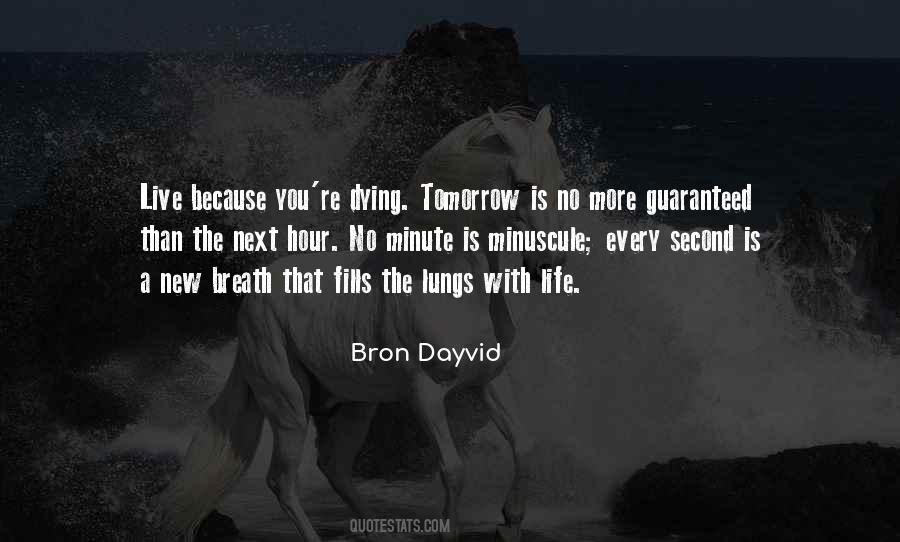 #68. The forgotten world is made up primarily of the developing nations, where most of the people, comprising more than fifty percent of the total world population, live in poverty, with hunger as a constant companion and fear of famine a continual menace. - Author: Norman Borlaug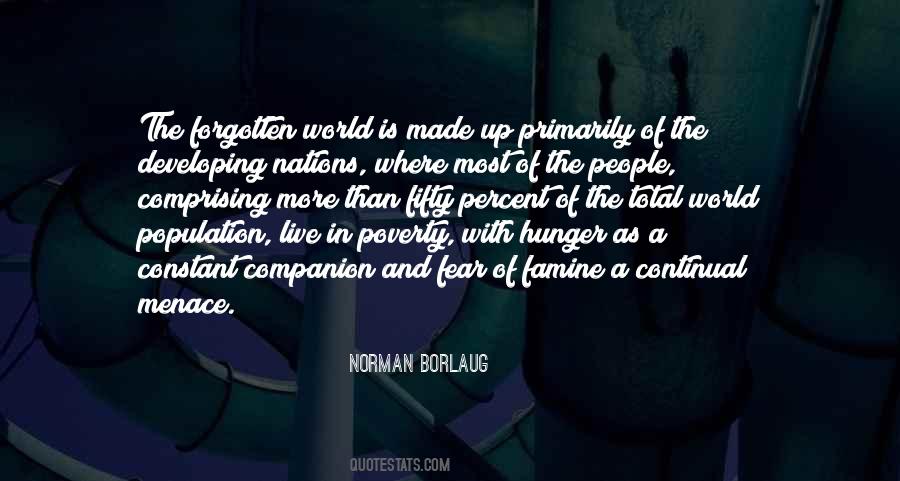 Famous Authors
Popular Topics