Customer Wants Famous Quotes & Sayings
List of top 70 famous quotes and sayings about customer wants to read and share with friends on your Facebook, Twitter, blogs.
Top 70 Customer Wants Quotes
#1. There's a battle between what the cook thinks is high art and what the customer just wants to eat. - Author: Mario Batali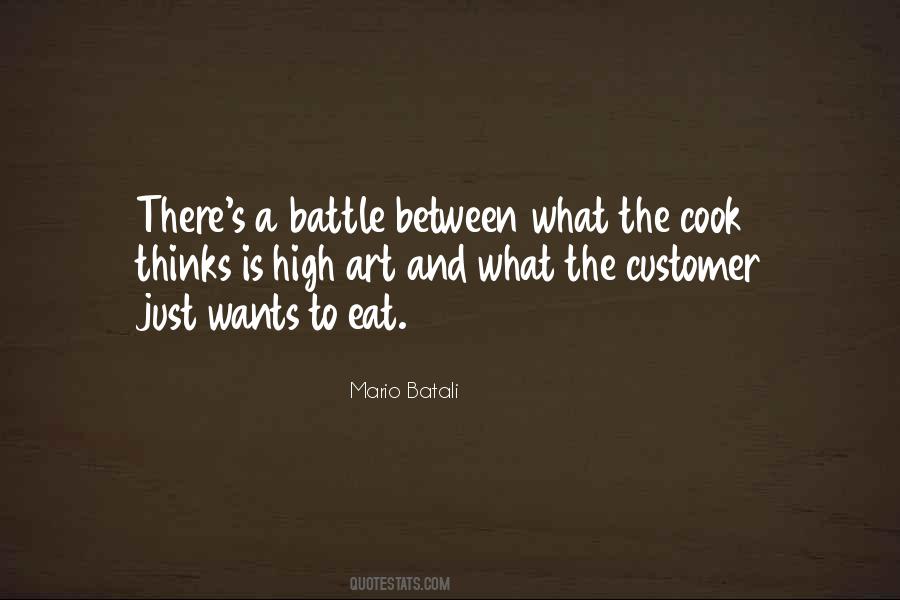 #2. In the marketplace, small businesses are the face and voice of humanity, which provides them with a great advantage in the Age of the Customer. - Author: Jim Blasingame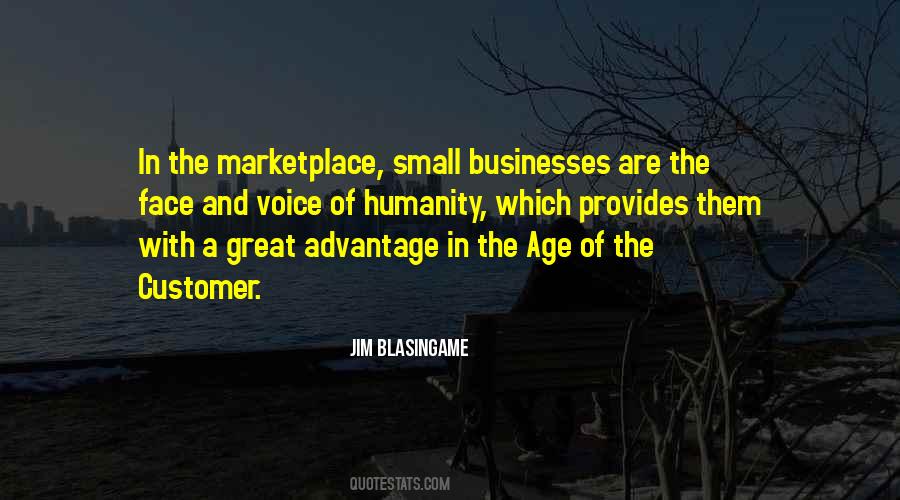 #3. When you're taking care of the customer, you can never do too much. And there is no wrong way ... if it comes from the heart. - Author: Debbi Fields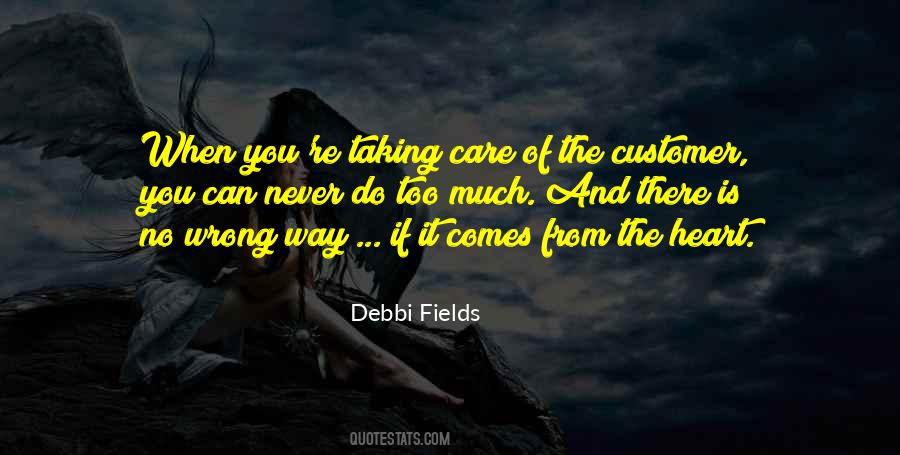 #4. The most successful Subway customers, of course, are the ones who can't keep their hands off their sandwich. Join your artist in the sandwich assembling process. That sneeze guard is a suggestion. That sneeze guard is trying to intimidate you into staying on the customer's side of the partition. - Author: Mallory Ortberg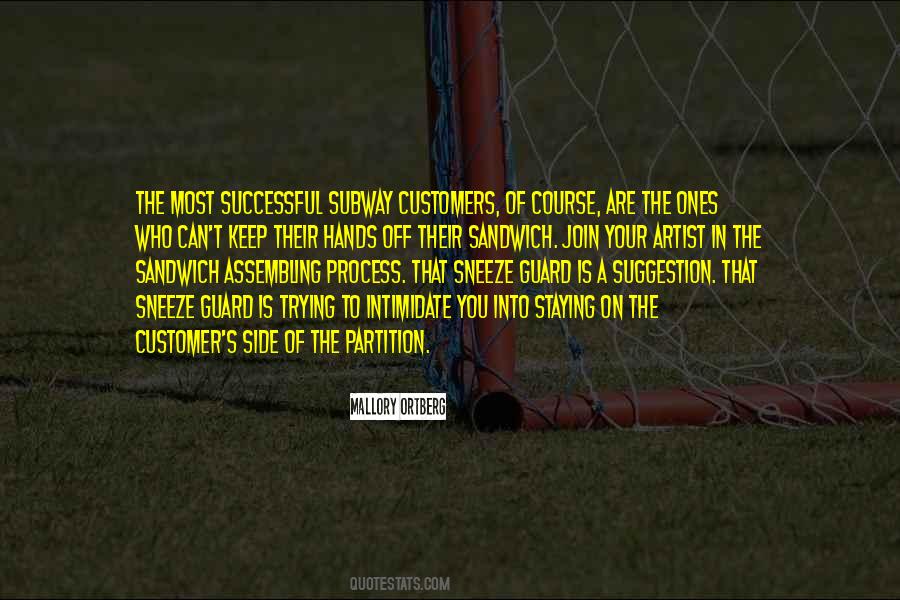 #5. Demo: presentation of a specific set of capabilities needed to solve the customer's critical business issue. - Author: Peter Cohan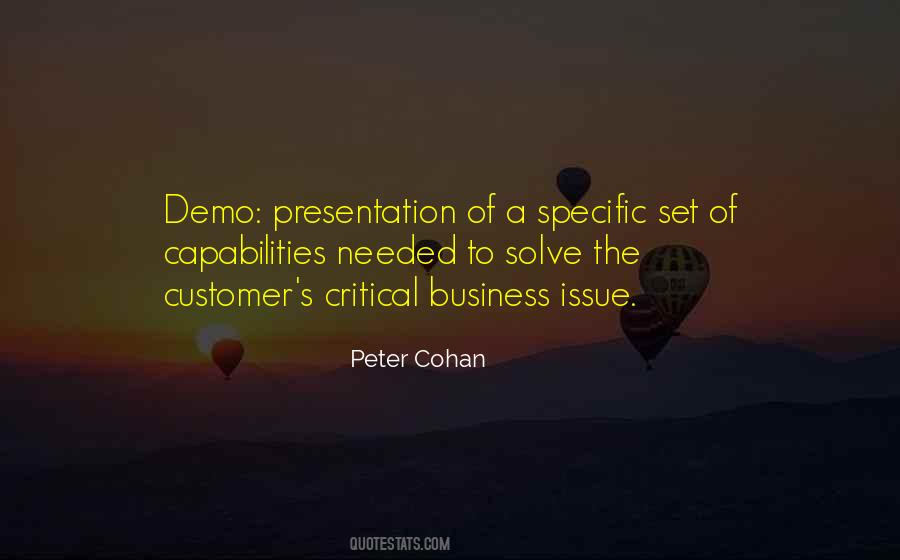 #6. The service in L.A. is the best. You don't get sarcastic, surly, fed-up waiters and waitresses like you do in England. They're good at their job and they're there for the customer. The only depressing thing is a lot of them have written more screenplays than me. - Author: Ricky Gervais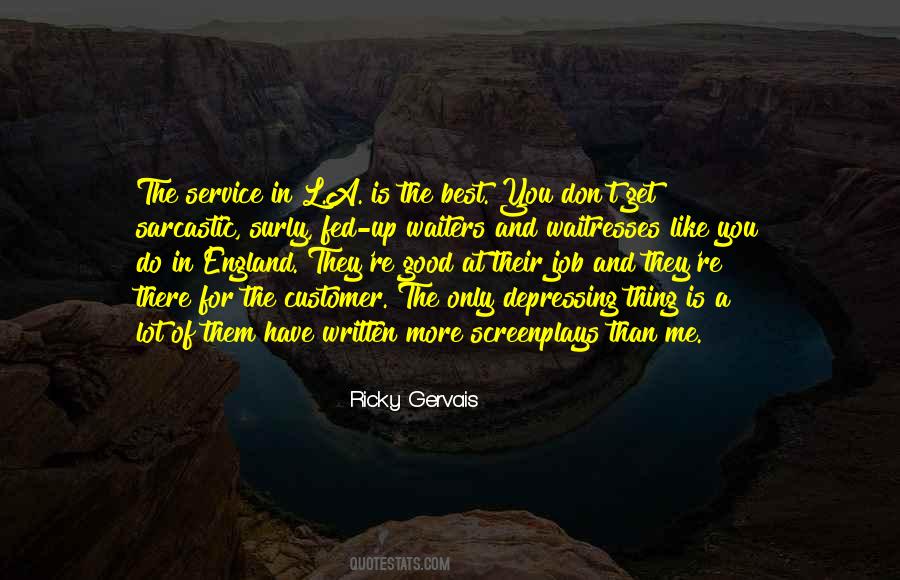 #7. Forget 'branding' and 'positioning.' Once you understand customer behavior, everything else falls into place. - Author: Thomas G. Stemberg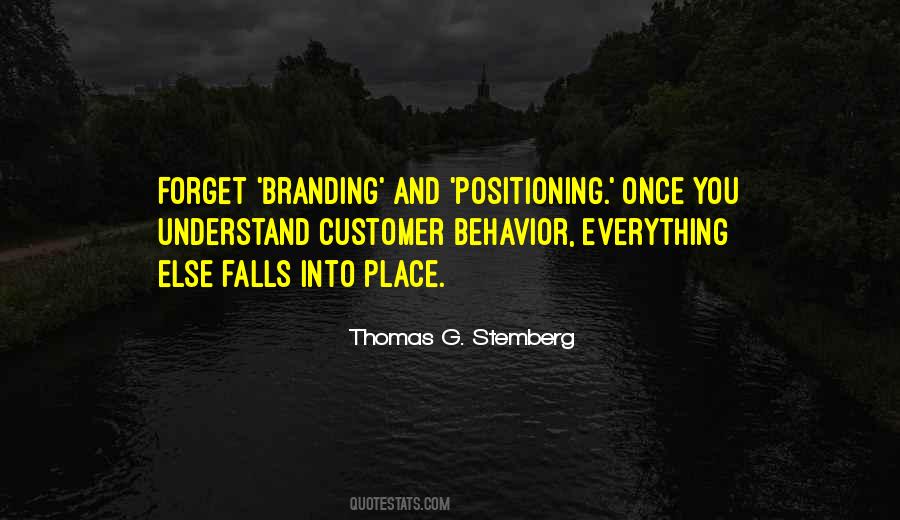 #8. Most DRM solutions diminish the value of the product by either directly restricting a customer's use or by creating uncertainty. - Author: Gabe Newell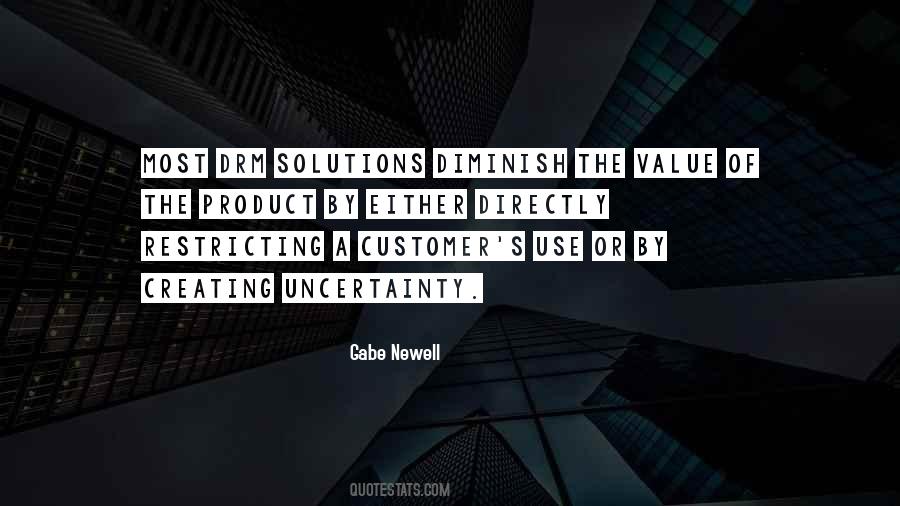 #9. Branding is about building trust and loyalty and extending your customer relationships far beyond a single transaction. - Author: Phil Cooke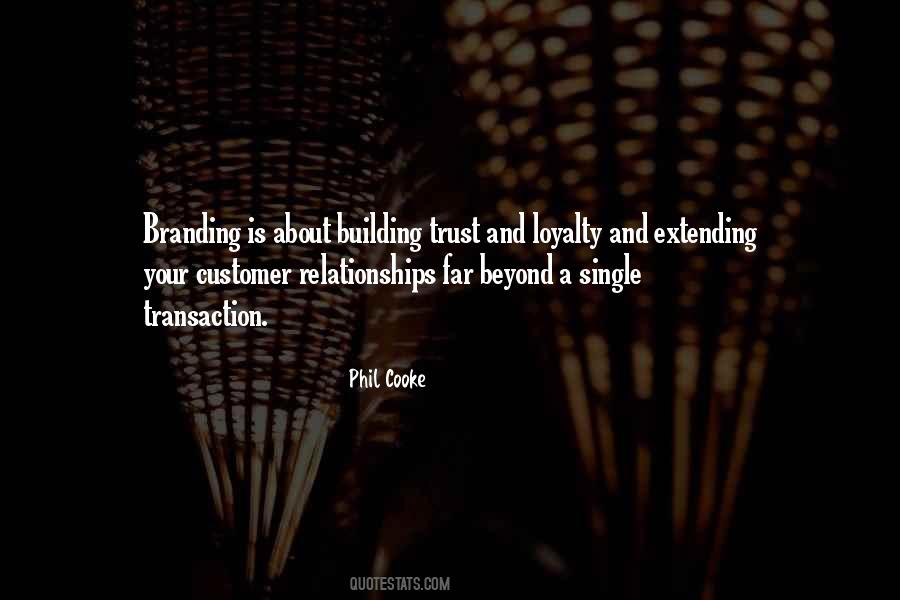 #10. We need to reengineer companies to focus on figuring out who the customer is, what's the market and what kind of product you should build. - Author: Eric Ries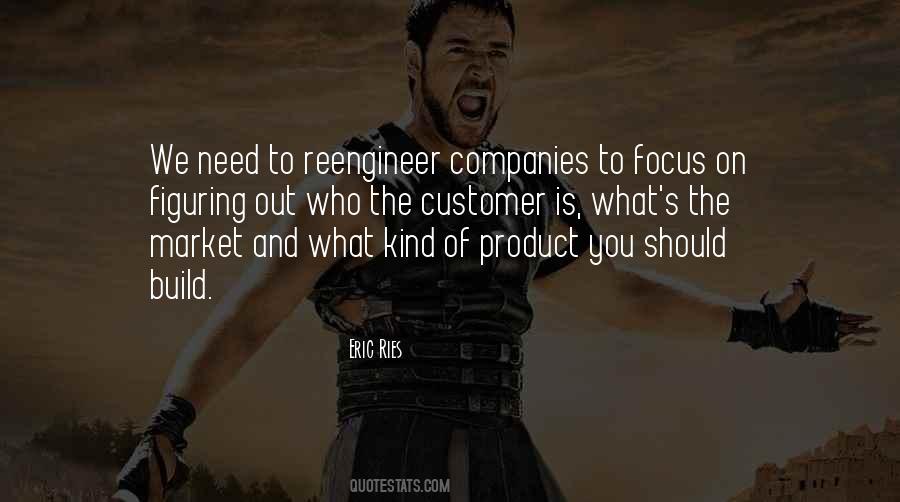 #11. It's like when you're on hold and a recorded voice comes on telling you how much the company values you as a customer. Really? Then maybe you should hire some more support people so I don't have to wait thirty minutes to get help. - Author: Jason Fried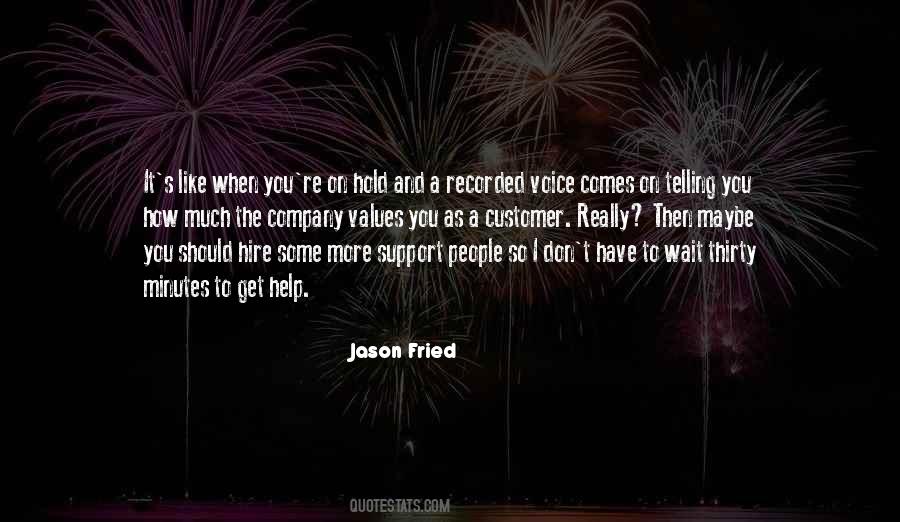 #12. Man is born to dream, to be enlightened, to connect and to be fulfilled. Managers are too. - Author: Stan Slap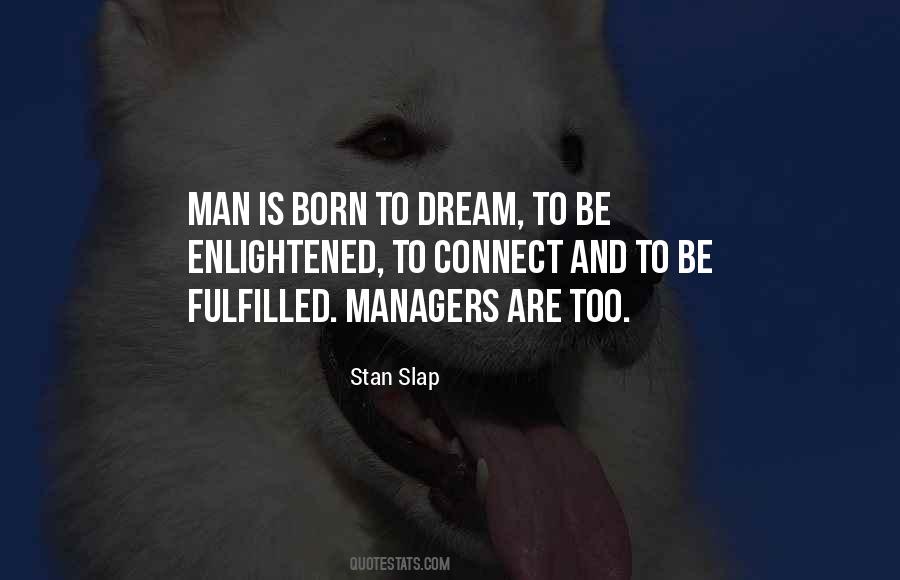 #13. The toughest thing about the power of trust is that it's very difficult to build and very easy to destroy. The essence of trust building is to emphasize the similarities between you and the customer. - Author: Thomas J. Watson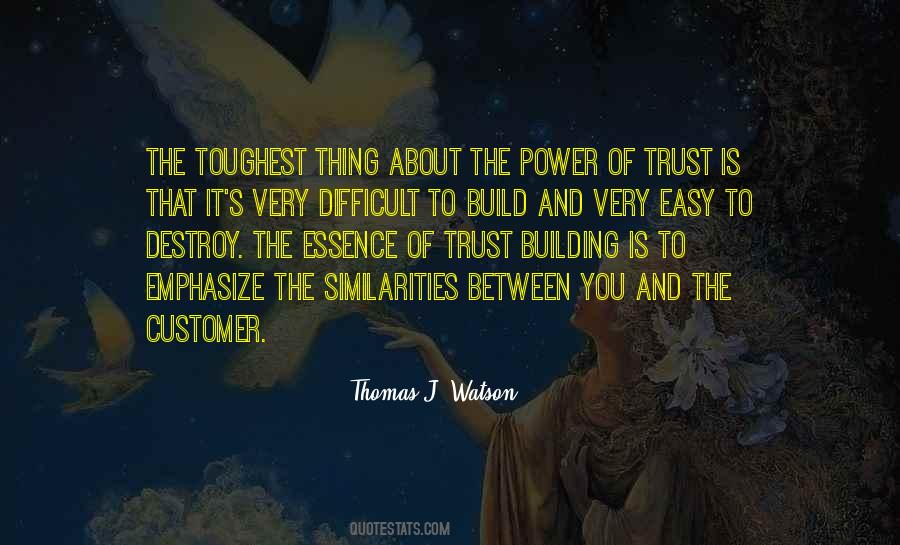 #14. Because its purpose is to create a customer, the business has two and only two functions: Marketing and Innovation. Marketing and Innovation produce results. All the rest are costs. - Author: Peter Drucker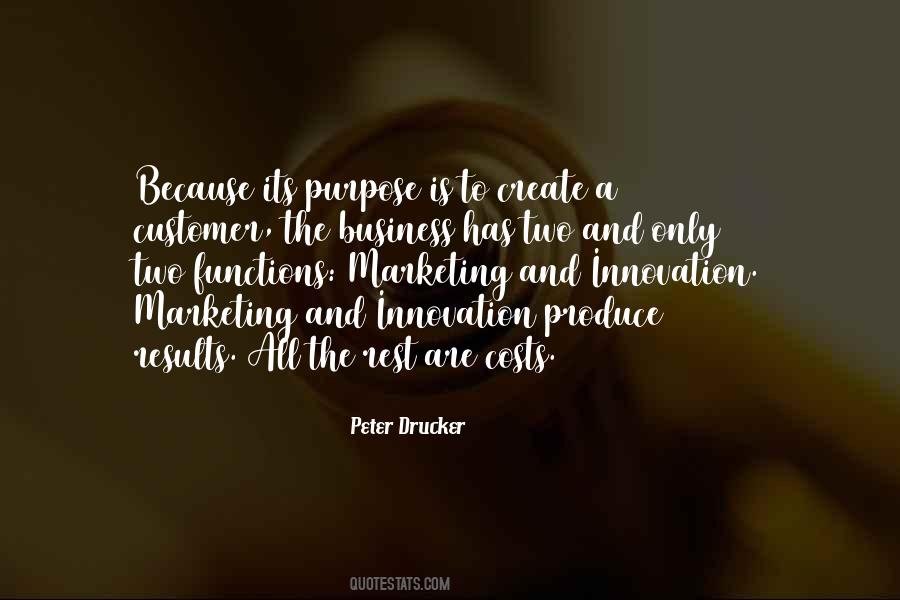 #15. Think of every contact a customer has with your brand as the most important encounter of your life. - Author: Dane Brookes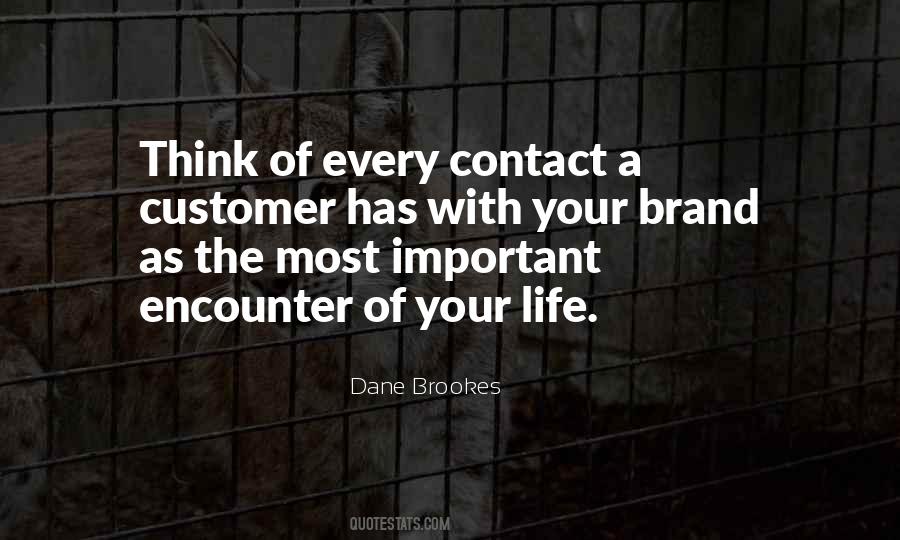 #16. One of the most important elements in the evolution of human institutions is the emergence of the difficult customer within the system itself, the radical who starts to question its very being, the reformer who calls for changes in the way it runs. - Author: Richard Holloway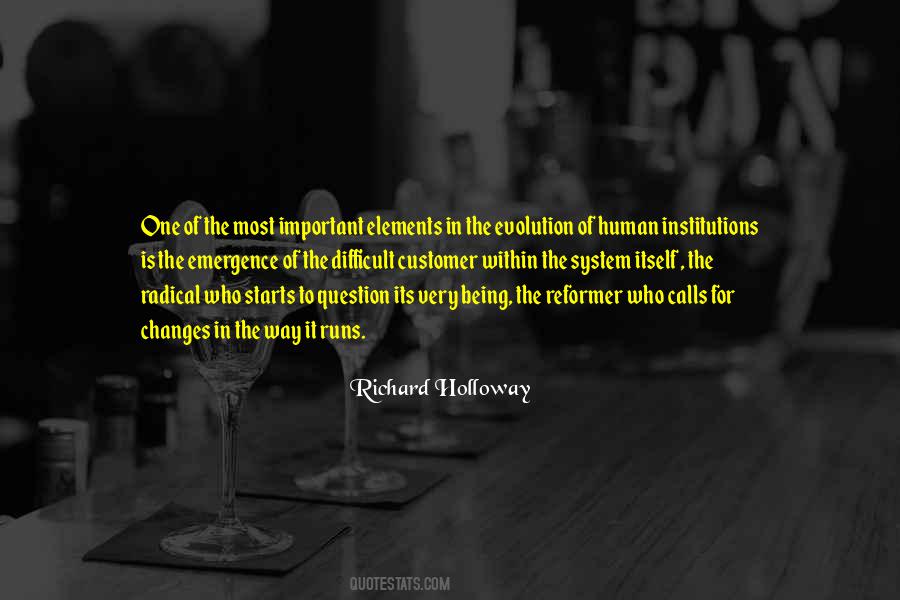 #17. If anything goes wrong, the customer doesn't care whose fault it is. He's the one who's going to suffer anyway. - Author: Jan Carlzon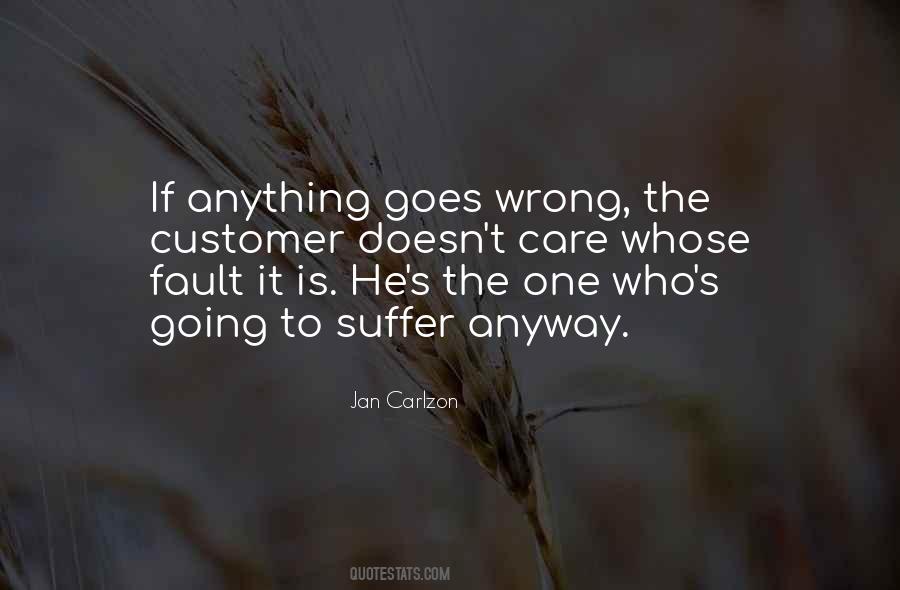 #18. Without a customer, you don't have a business - all you have is a hobby. - Author: Don Peppers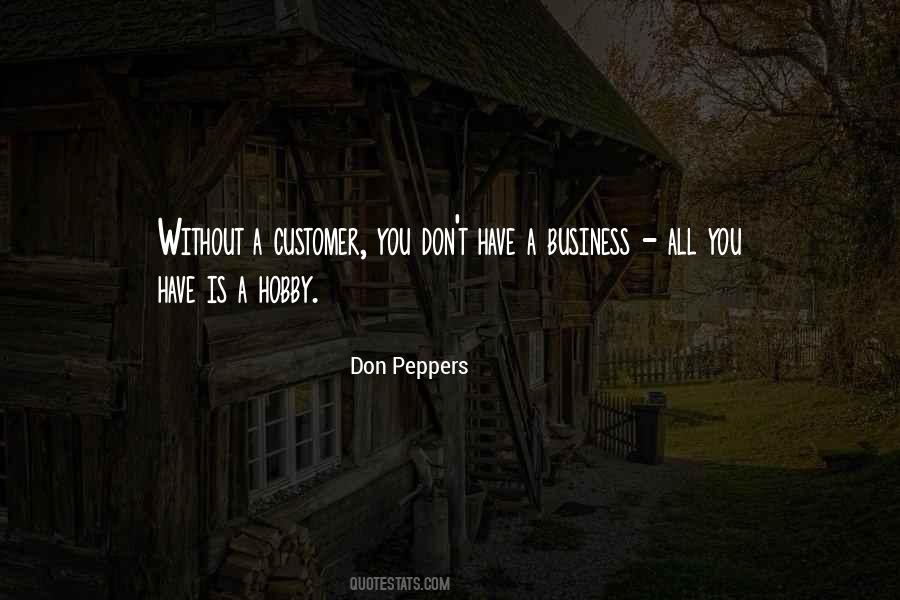 #19. What people in business think they know about the customer and market is likely to be more wrong than right ... the customer rarely buys what the business thinks it sells him. - Author: Peter Drucker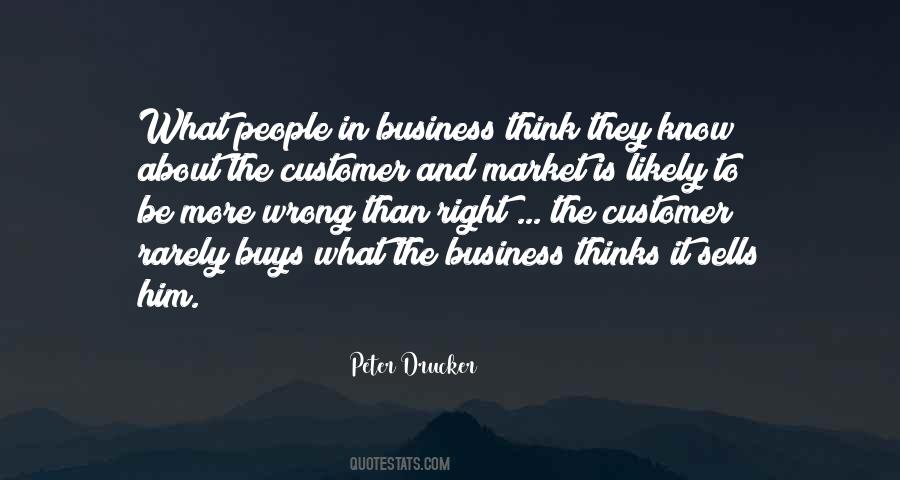 #20. My biggest complaint about customer service is that I am put on hold too long. - Author: Jon Jones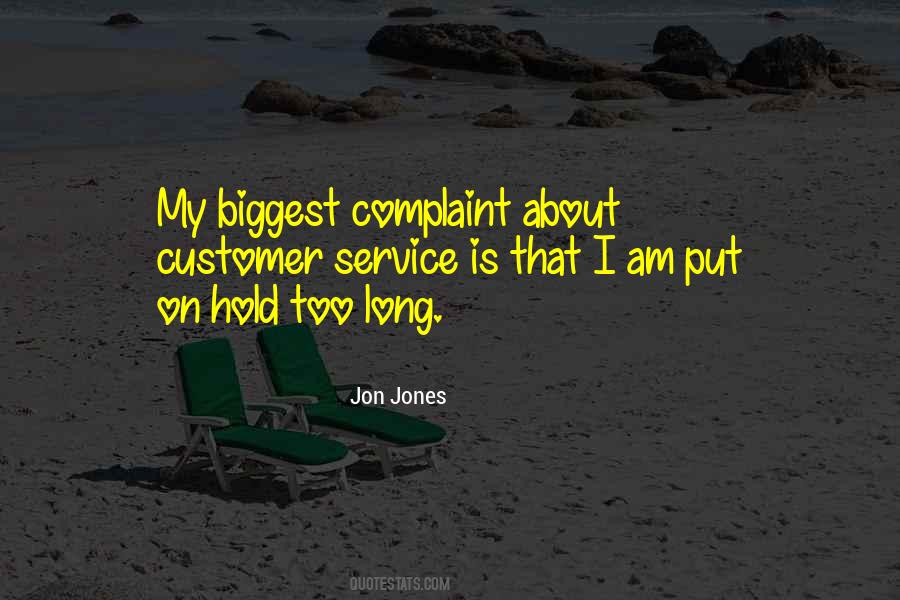 #21. You can never learn Sales by reading books and watching videos, you can only get motivated by that.. To learn Sales (telesales) dial 300+ calls daily and (direct field sales) meet at-least 5 clients daily ...
Only customers can teach u sales! - Author: Honeya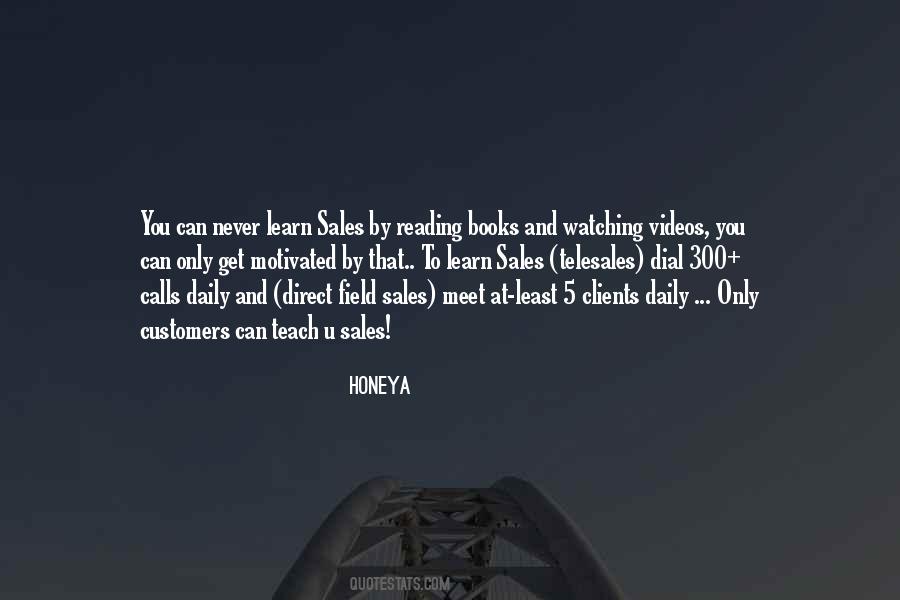 #22. The power of a successful salesman is not putting his hand in the customer's pocket to pull his money out. but rather manipulate the customer's mind to let him put his hand and happily pull the money and give it to you - Author: Hisham Fawzi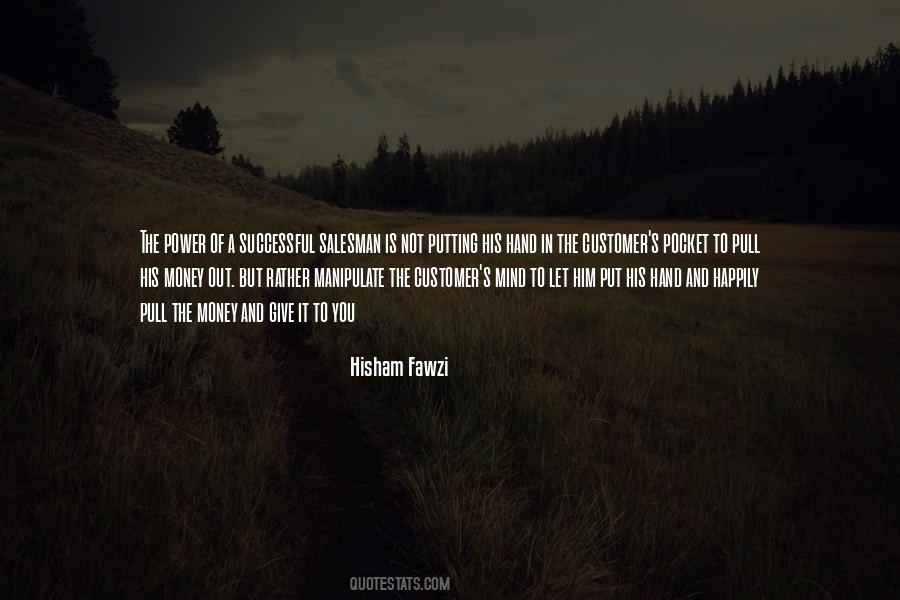 #23. 5) "lost" prescriptions (for example, a customer dropped off a prescription on Tuesday and returned on Wednesday only to find that the pharmacy staff can find no trace of that prescription - it happens more often than you think!). - Author: Dennis Miller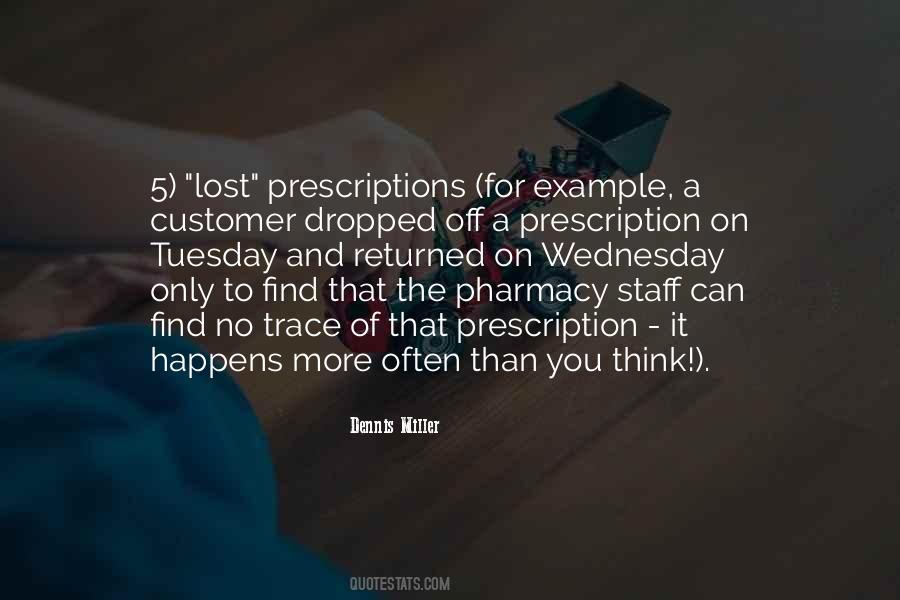 #24. Really good customer service will deliver sales. You are training salesmen to give the best possible advice and then to achieve the sale. People actually like you to ask for a sale because it shows you value their business. - Author: John Caudwell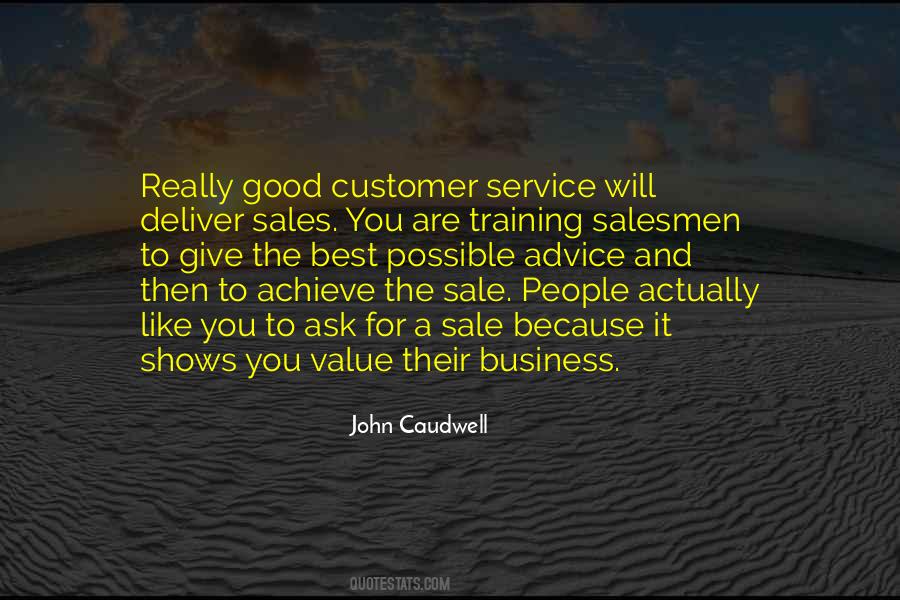 #25. I empathize with women in their high heels so I'll be there in my kilt and T-shirt and I'll walk around all day just to prove that if I can wear the shoes for 36 hours then certainly our customer can wear them. - Author: Marc Jacobs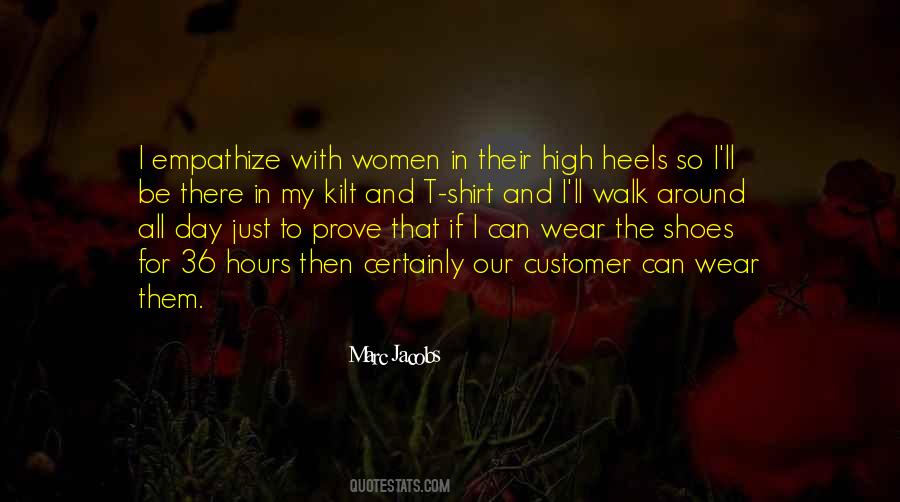 #26. As a general rule, if you have a product that doesn't get the job done that a customer is needing to get done, then often you have to offer it for zero. Because if you ask for money for it - because if it doesn't do the job well, they won't pay for it. - Author: Clayton M Christensen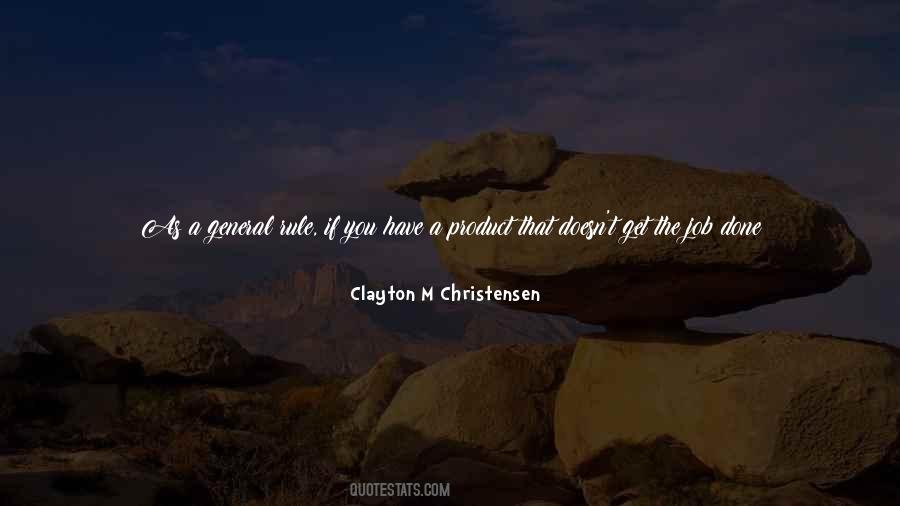 #27. The best customer service is if the customer doesn't need to call you, doesn't need to talk to you. It just works. - Author: Jeff Bezos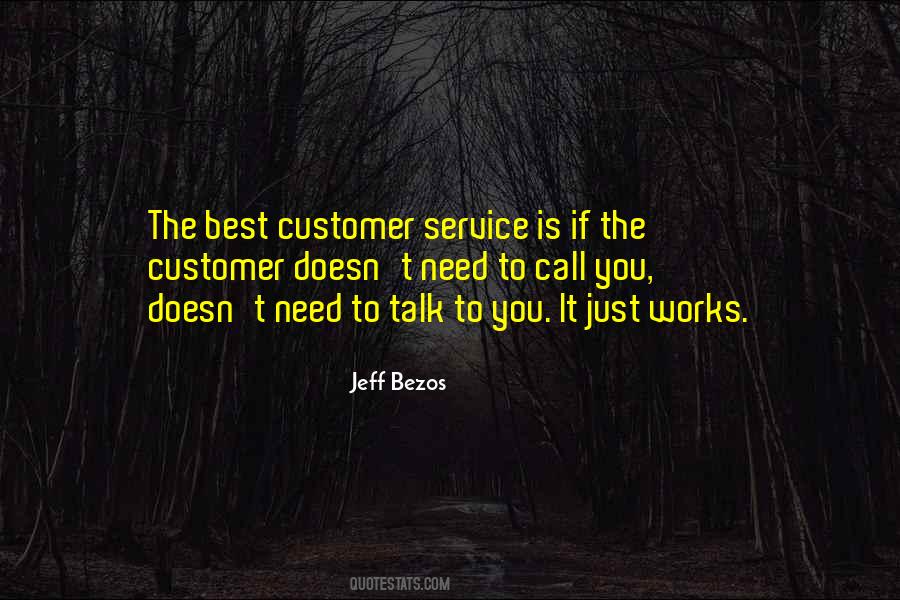 #28. Reward is a happy customer - and an empty plate. - Author: Jacques Torres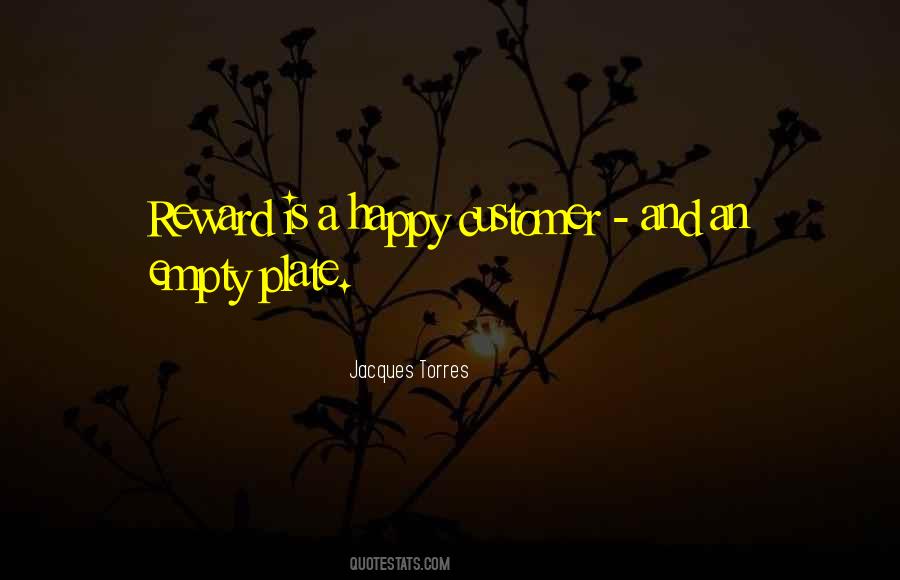 #29. Earning the Right is a commitment to be the sales professional that your customer really needs - Author: Chris Murray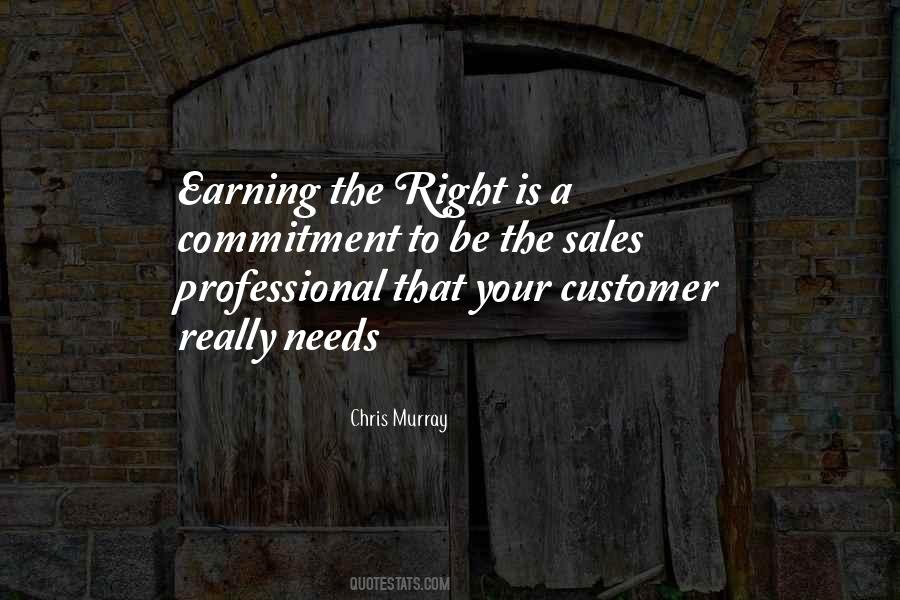 #30. It puts the provider in a situation of looking for ways to have someone else pick up a piece of the cost. As a result, every customer who has insurance ends up paying a 'hidden premium.' It simply adds to the health care cost burden. - Author: Dave Obey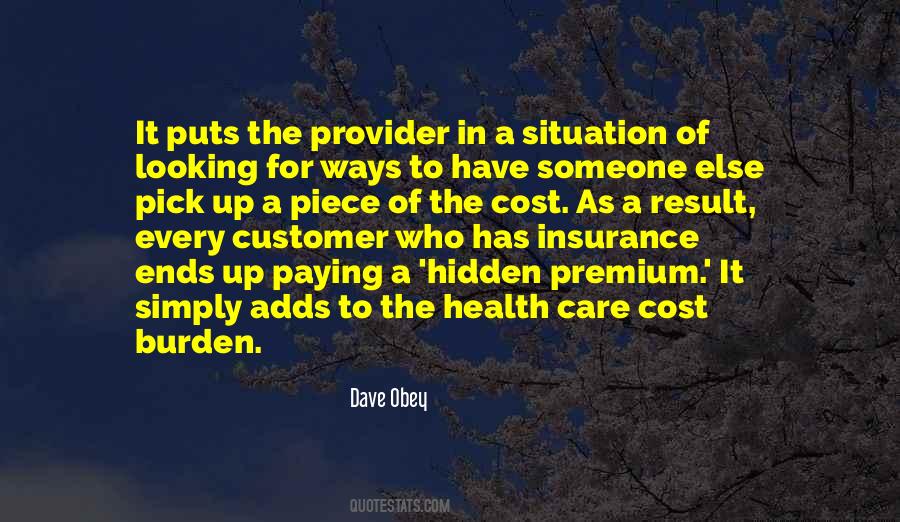 #31. Corporations invest in sophisticated CRM, or Customer Relationship Management, programs to effectively oversee their relationship with their customers at every point during the buying process. - Author: Marc Ostrofsky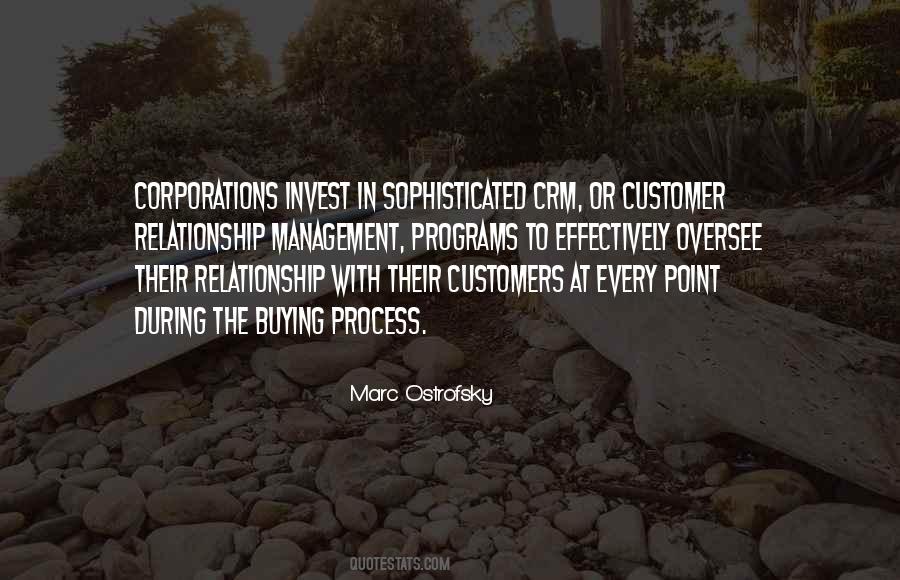 #32. The customer deserves to receive exactly what we have promised to produce - a clean room, a hot cup of coffee, a nonporous casing, a trip to the moon on goassamer wings. - Author: Phil Crosby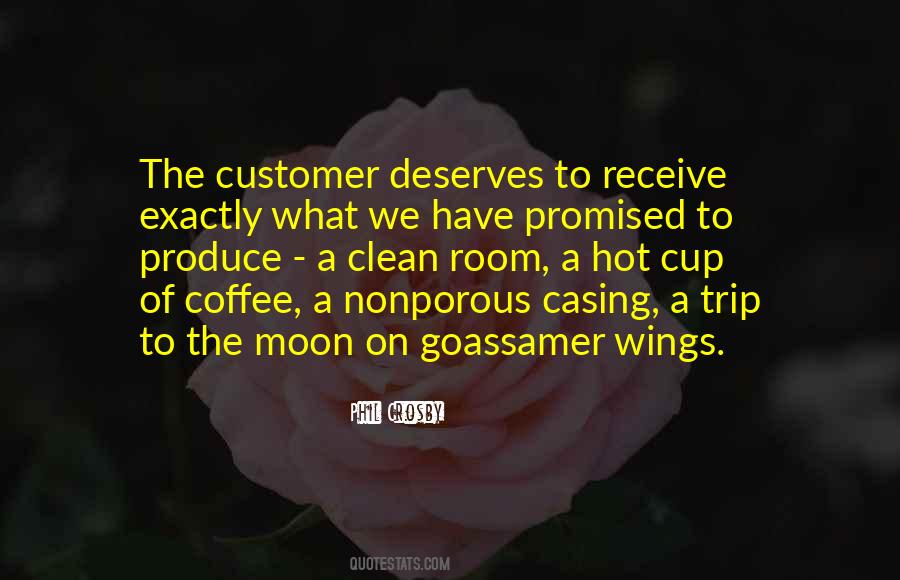 #33. The first time formal customer research is done, executives frequently are surprised by the sizeable percentage of customers who defect for service-related reasons. - Author: Leonard L. Berry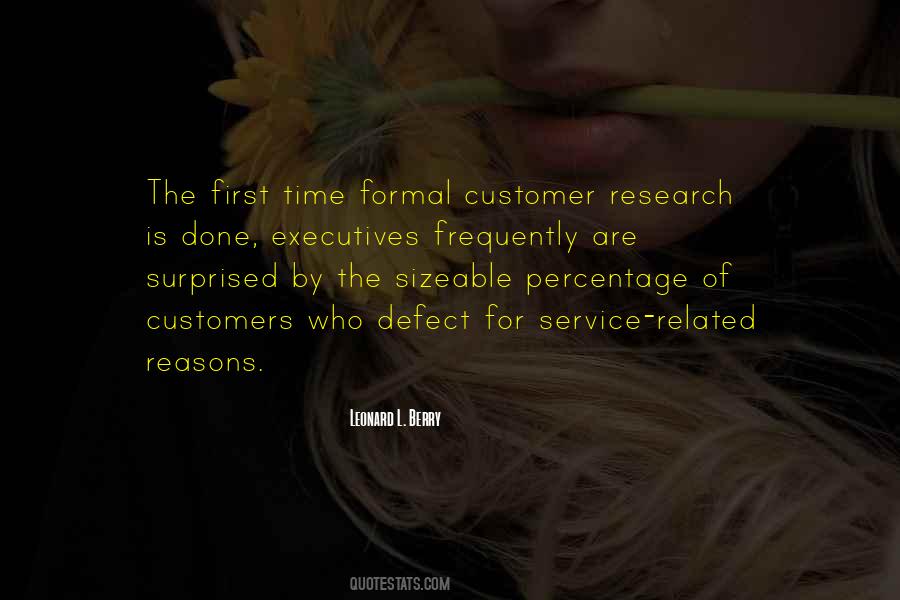 #34. We are reinventing ourselves as a company. Compaq is taking ownership of its customer relationships and accountability of our customer's needs. - Author: Eckhard Pfeiffer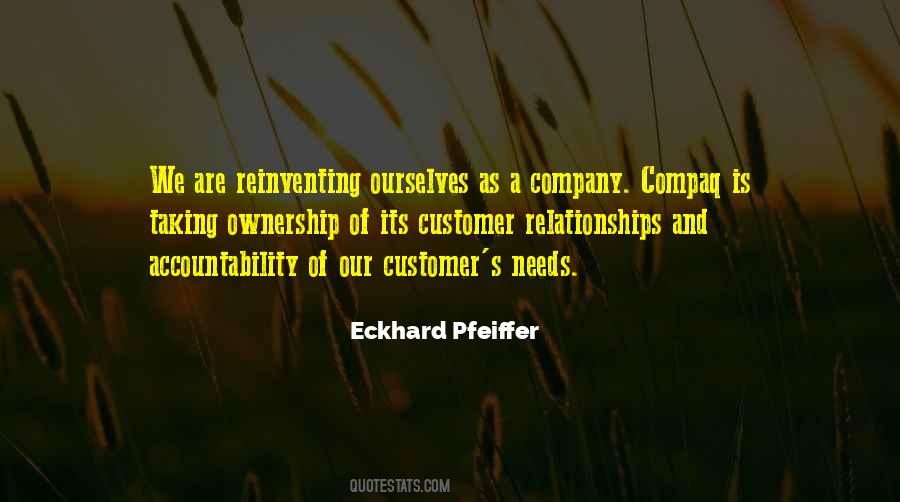 #35. Thank your customer for complaining and mean it. Most will never bother to complain. They'll just walk away. - Author: Marilyn Suttle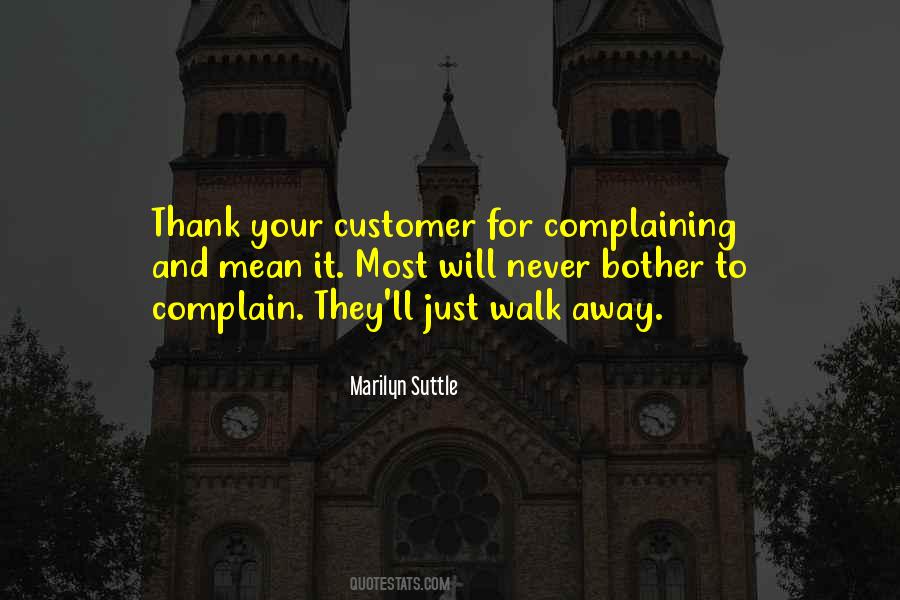 #36. The by-product of fewer technical support issues is also an increase in customer satisfaction, which can be reflected in reduced subscriber churn. - Author: Patrick Fitzgerald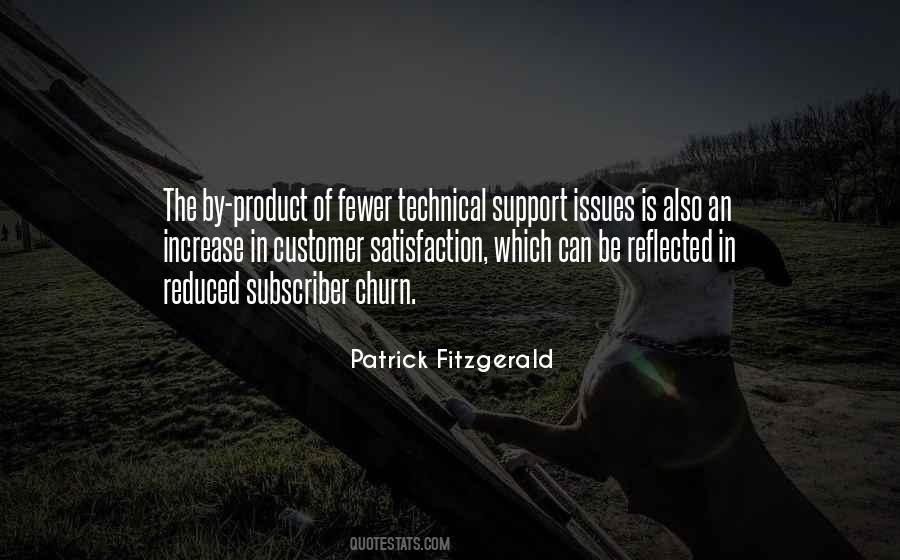 #37. Any small business owner wears many hats. We [New View Window Cleaning] are the salesman, bookkeeper, scheduler, cleaner, customer complaint department, etc. If you aren't organized and willing to do all these things (at least in the beginning) you are better off working for someone. - Author: Tony Evans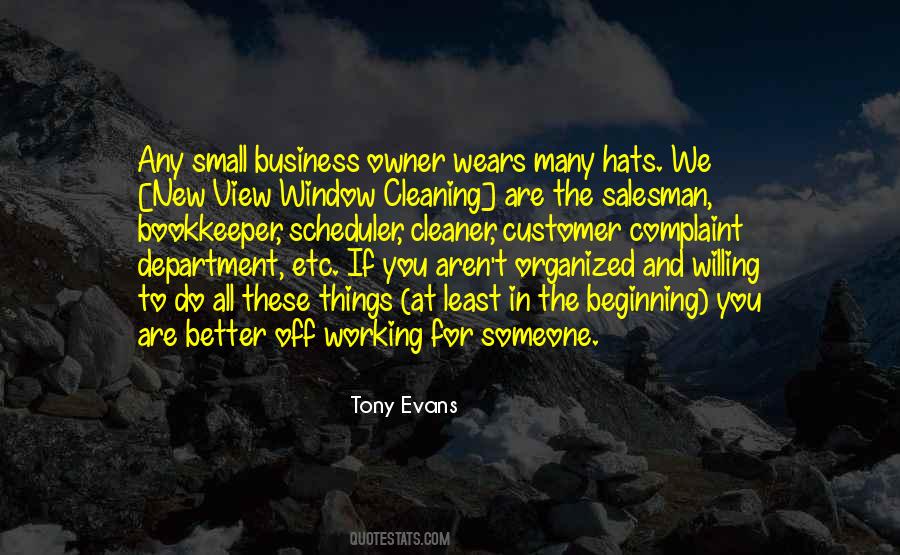 #38. I worked at Sears in the Woodfield Mall as a gift wrapper. I'm actually a great gift wrapper, and the customers were so nice to me. I was only 16, and eventually Sears put me in customer service because I was so friendly. - Author: Sherri Shepherd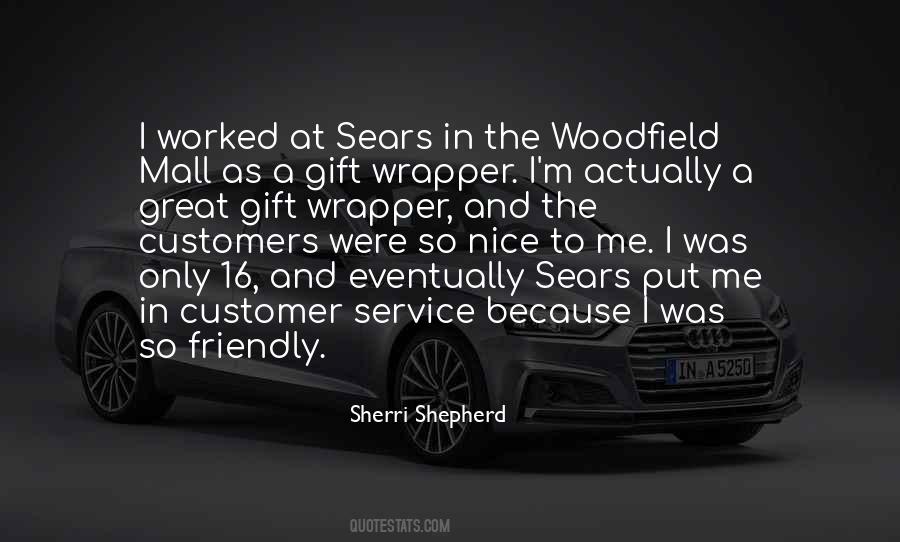 #39. Listen to the customer's complaint and act fast. - Author: Richard Branson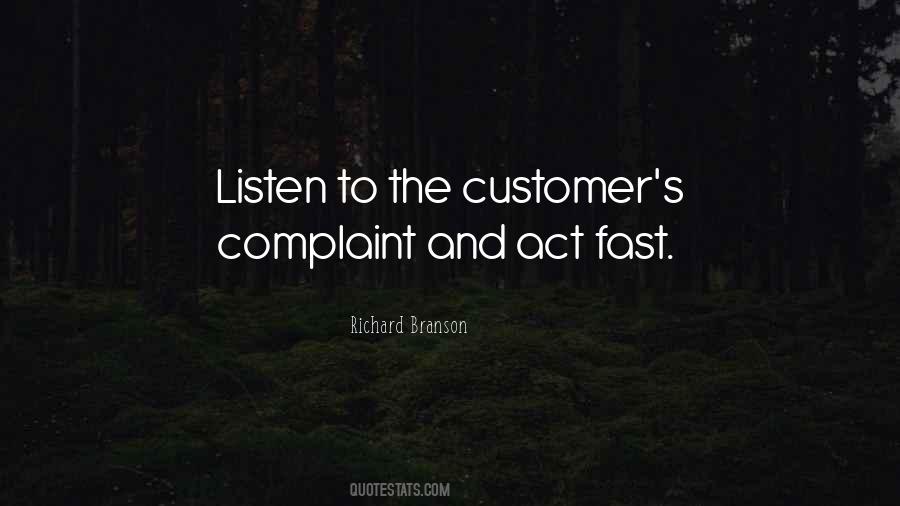 #40. We have to change the culture from one in which people simply do their own job in their own function to make their own numbers look good (a vertical focus) to one in which people are focused horizontally on the customer and on improving value streams that deliver value across functions. - Author: Jeffrey K. Liker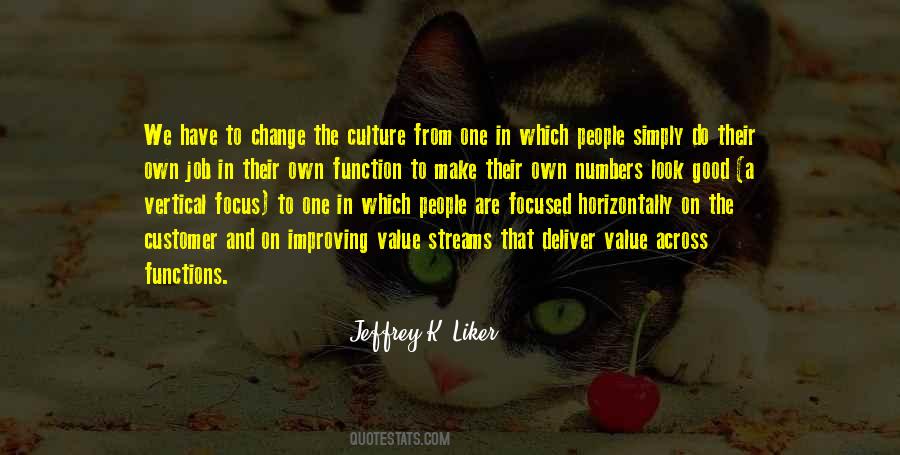 #41. When leaders reframe customers into guests, and results into experiences, profits escalate. - Author: Eric Schiffer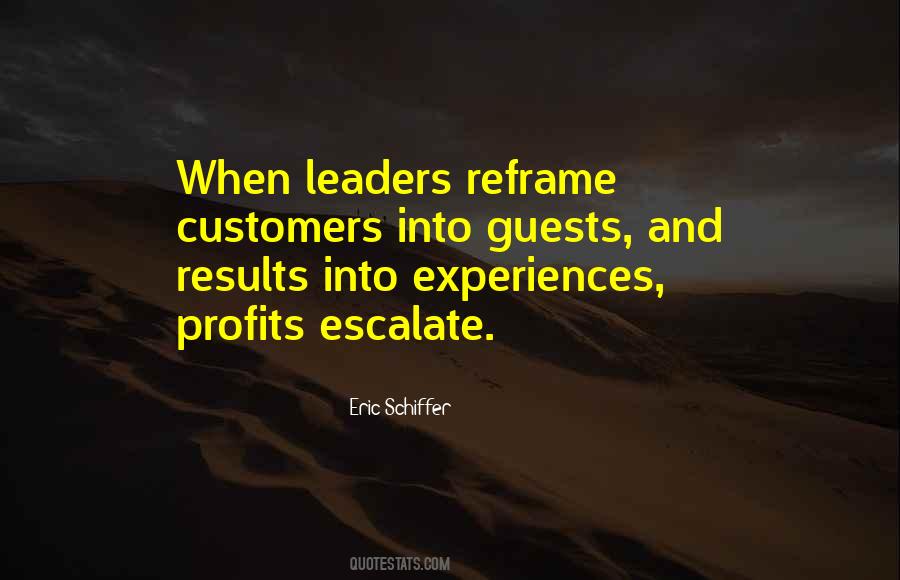 #42. Teaching is the rare profession where the customer isn't always right and needs to be told so appropriately. - Author: John Maeda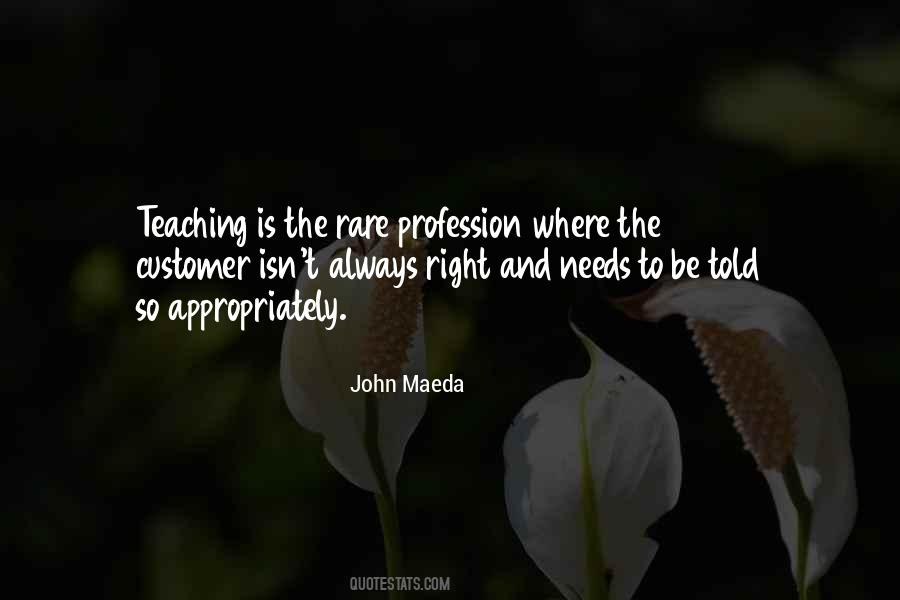 #43. Like any small business owner, I experienced the pressures of building a company from the ground up - developing a business plan, balancing the books, meeting payroll and building a customer base. - Author: Gavin Newsom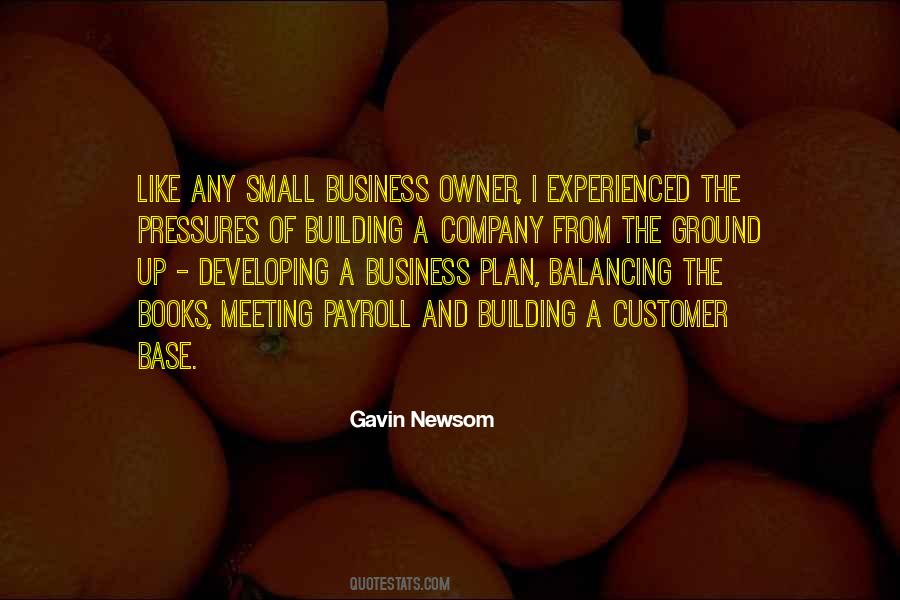 #44. they shared mortals' reluctance for either reading instructions or calling customer support. - Author: Rick Riordan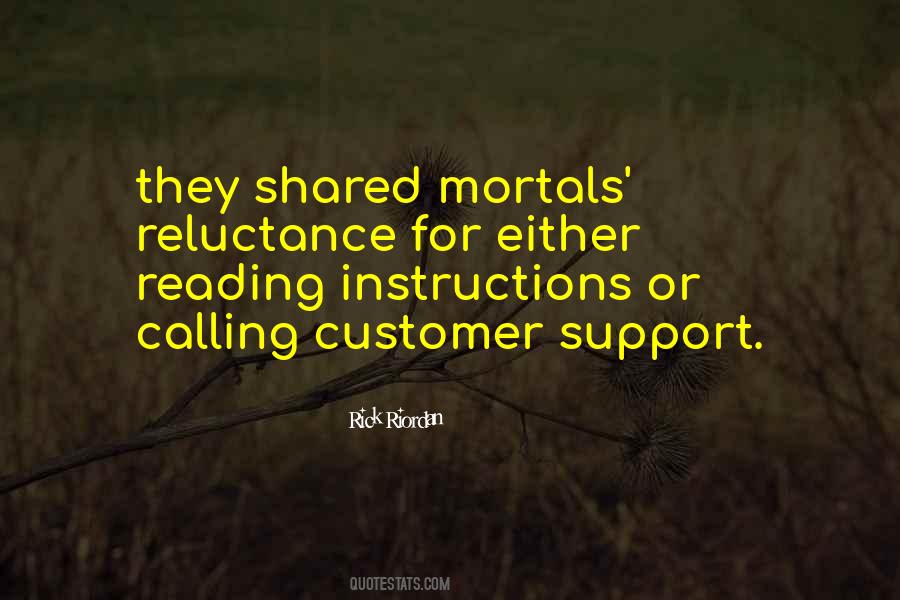 #45. Whether you're an opera singer, a legislator or customer service operator, there is a way that we can find common ground with our audience - be they young or old, Democrats or Republicans, rich or poor, religious or secular. - Author: Charity Sunshine Tillemann-Dick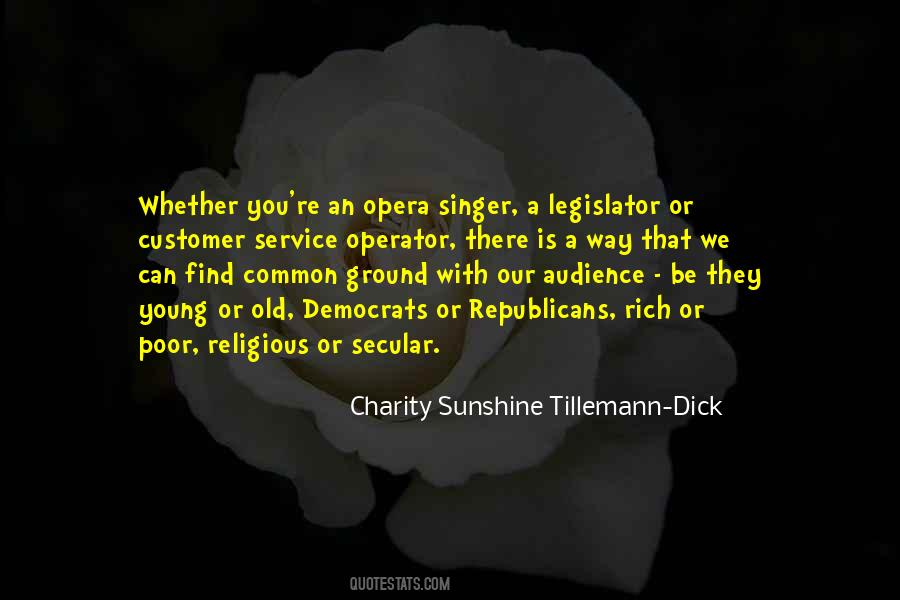 #46. Next time, can you ask him to bring cookies? I don't like to put up with that level of insane unless there's some kind of high-calorie compensation. - Author: Lauren Beukes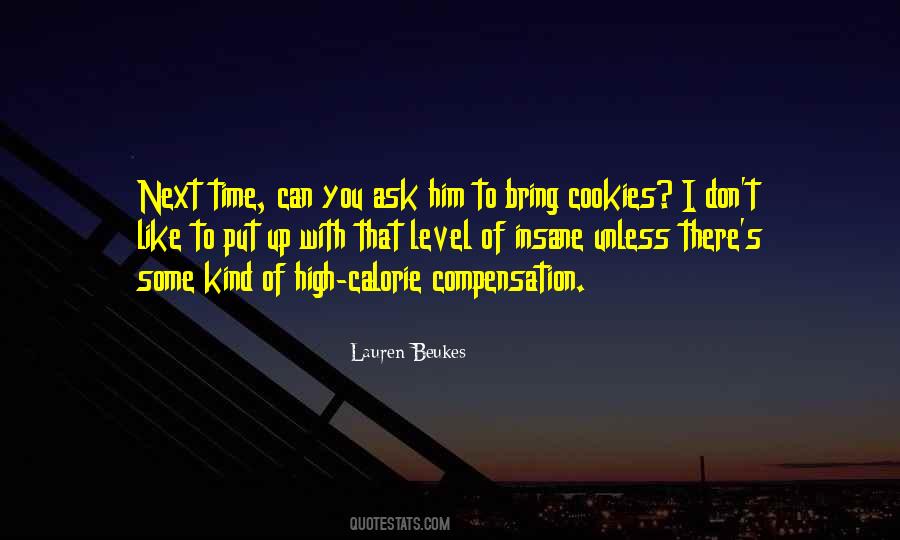 #47. The more harried a customer, the more they purchased precooked or frozen food, the more likely they were to be poor. And I knew they were poor because of the clothes they wore or because they purchased their food with food stamps. - Author: J.D. Vance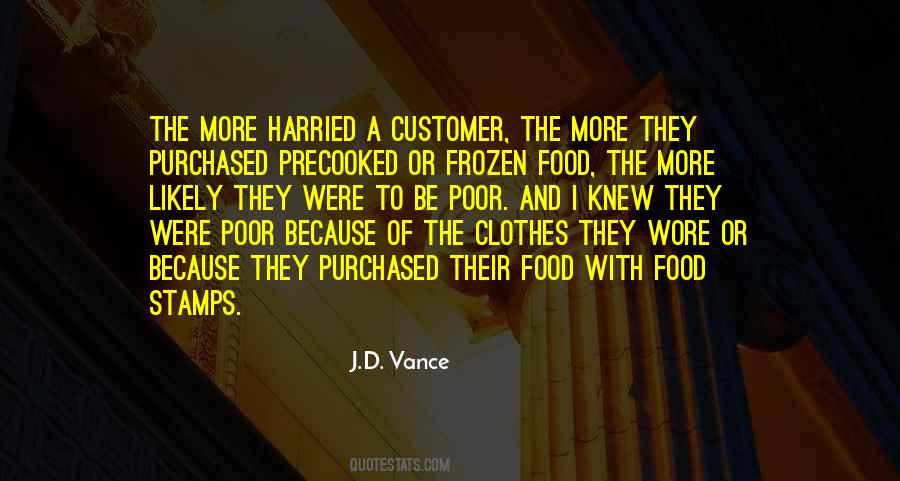 #48. Every small business has to become a publisher - a publisher of marketing messages and customer resources, and a publisher of stories. - Author: Jim Blasingame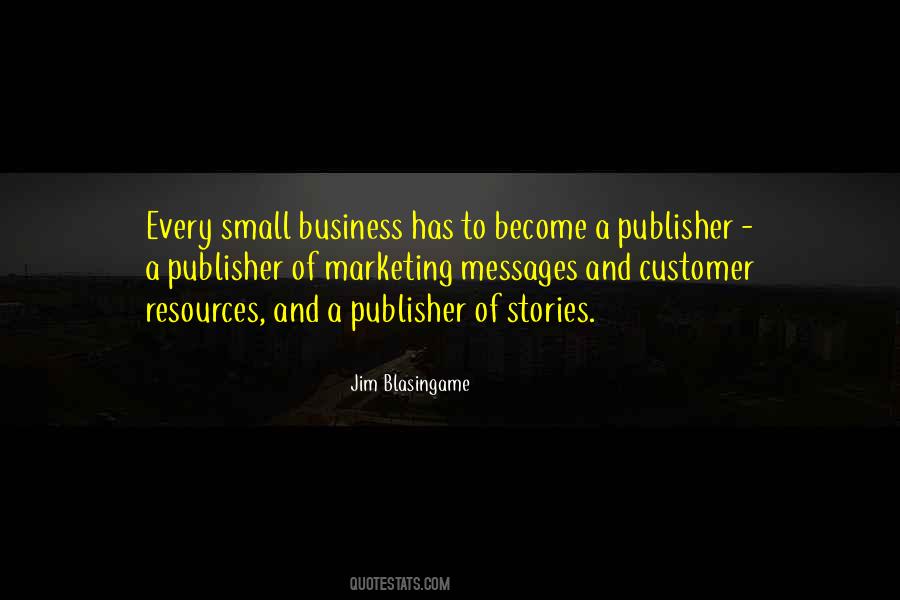 #49. The most important thing you can do is make the distinction between customer service and guest hospitality. You need both things to thrive, but they are completely different. - Author: Danny Meyer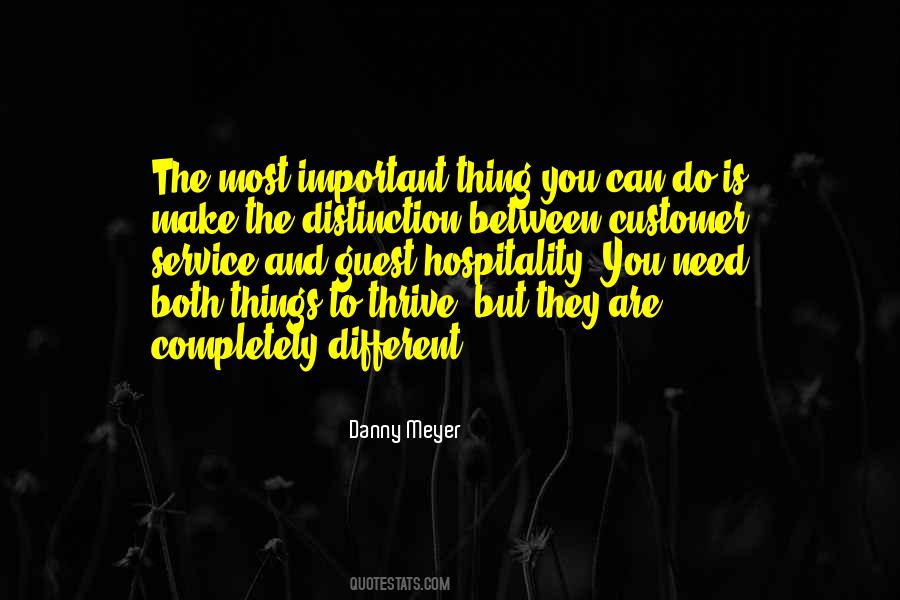 #50. If you deal with every customer in the same way, you will only close 25 to 30 percent of your contacts, because you will only close one personality type. But if you learn how to effectively work with all four personality types, you can conceivably close 100 percent of your contacts. - Author: Rod Nichols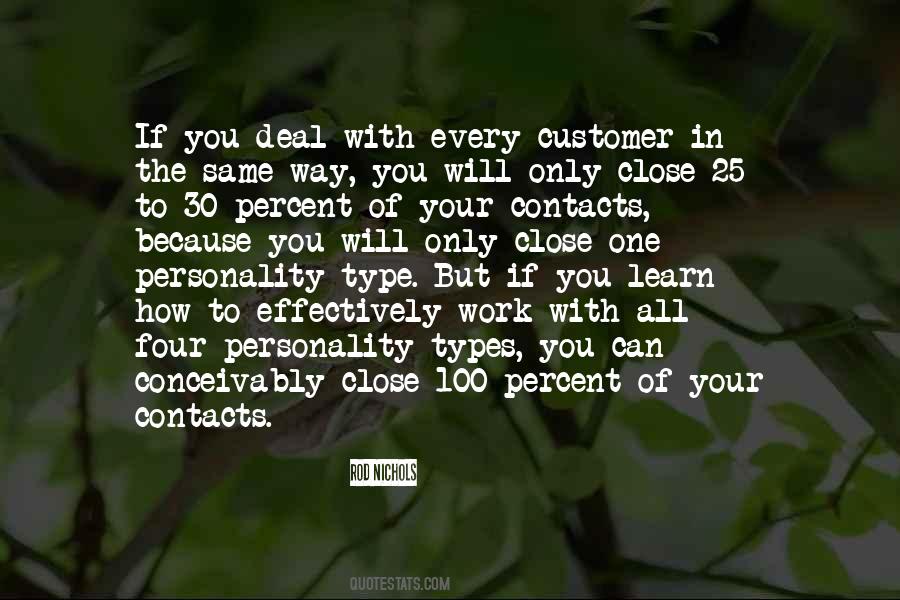 #51. If people could handle their self-loathing, customer service would be smoother. - Author: Caroline Kepnes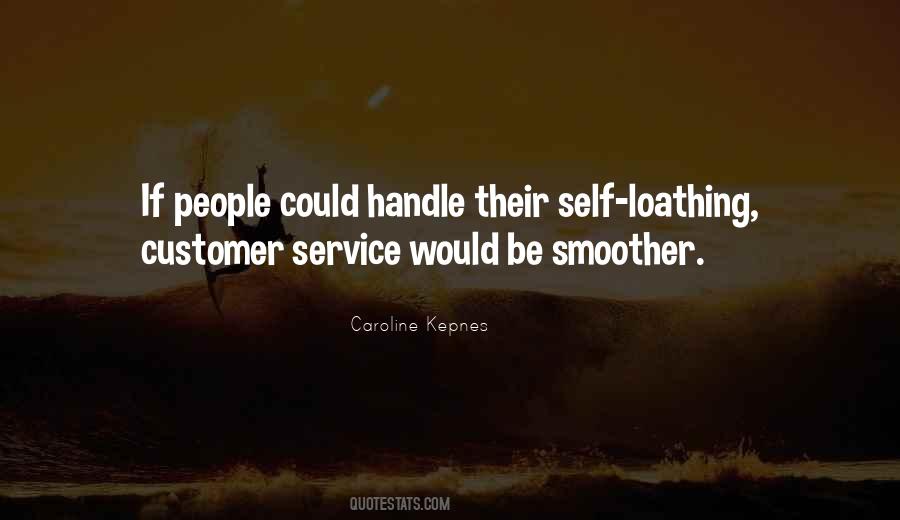 #52. At URBN, we see ourselves as customer specialists, a collection of brands, each one specializing in one particular customer group, a particular lifestyle or a life stage. We offer her things she wants in environments that inspire her. We talk to her and listen to her ideas and opinions. - Author: Richard Hayne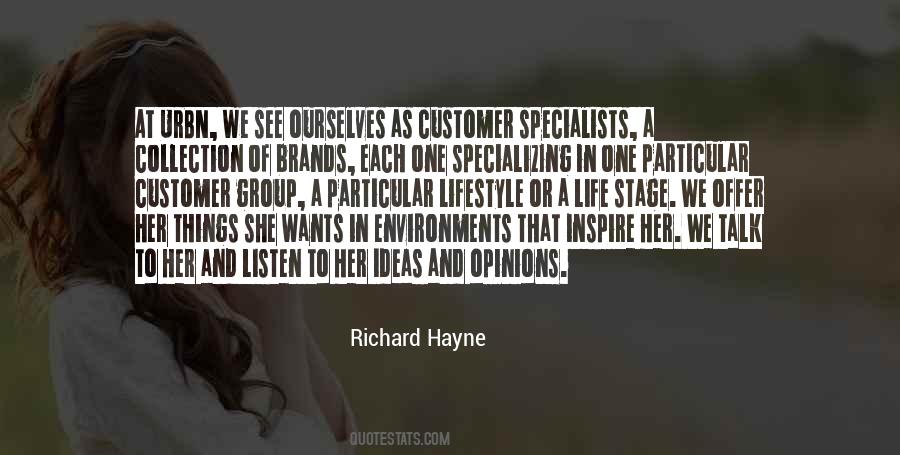 #53. When we have a corporation, we must know what the customer wants, what the customers needs. Also, the politician must know what the people want, what the people need. - Author: Joko Widodo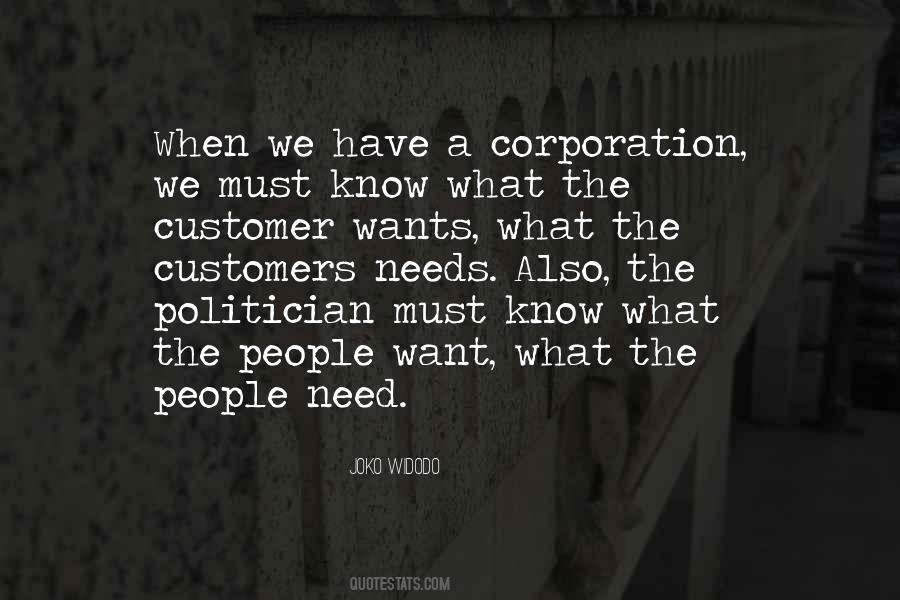 #54. Quality is not an absolute measure. It doesn't mean 'deluxeness' or 'perfection'. It means keeping the promise the customer wants you to make. - Author: Seth Godin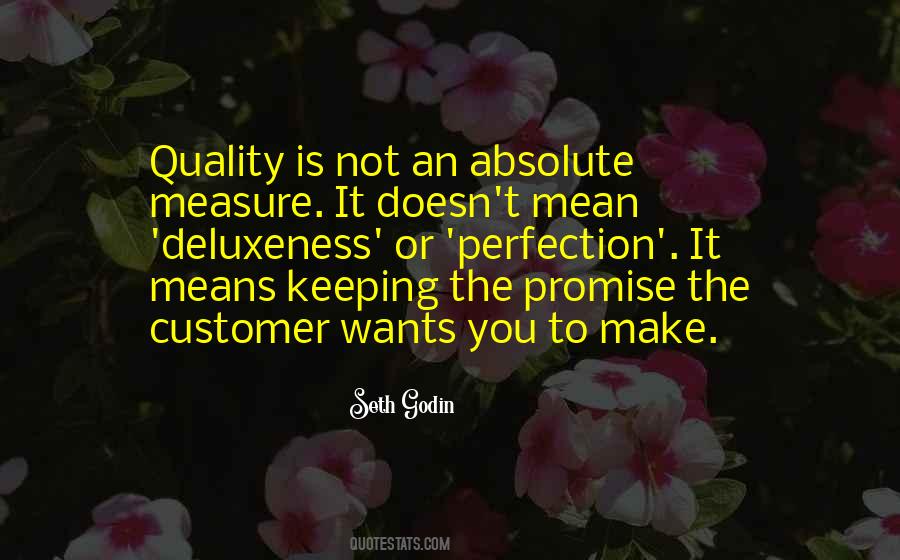 #55. We are superior to the competition because we hire employees who work in an environment of belonging and purpose. We foster a climate where the employee can deliver what the customer wants. You cannot deliver what the customer wants by controlling the employee. - Author: Horst Schulze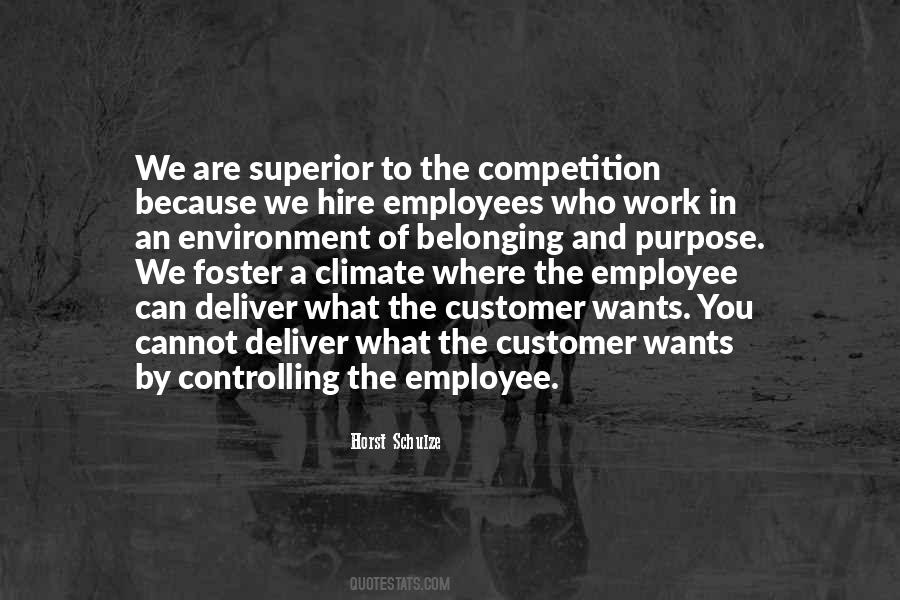 #56. I feel I'm able to serve my customer by knowing what she or he wants. One of the ways I'm able to do this is through my website, and email: people give me great ideas, tell me what they want, what they don't want. It's really instrumental, and helps me stay in touch with people. - Author: Kathy Ireland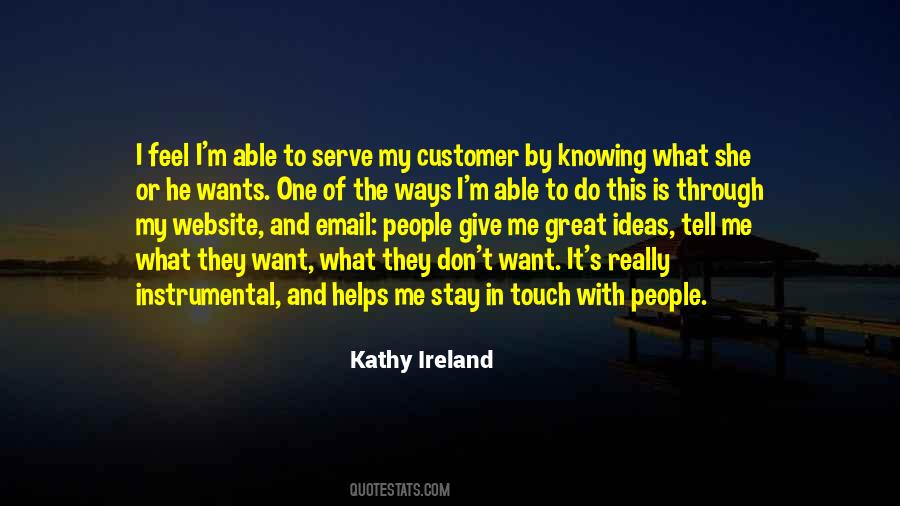 #57. Market research can't tell you about solving problems that customers can't conceive are solvable. Giving the customer what he wants is less important than giving him what he doesn't yet know he wants. - Author: Eric Schmidt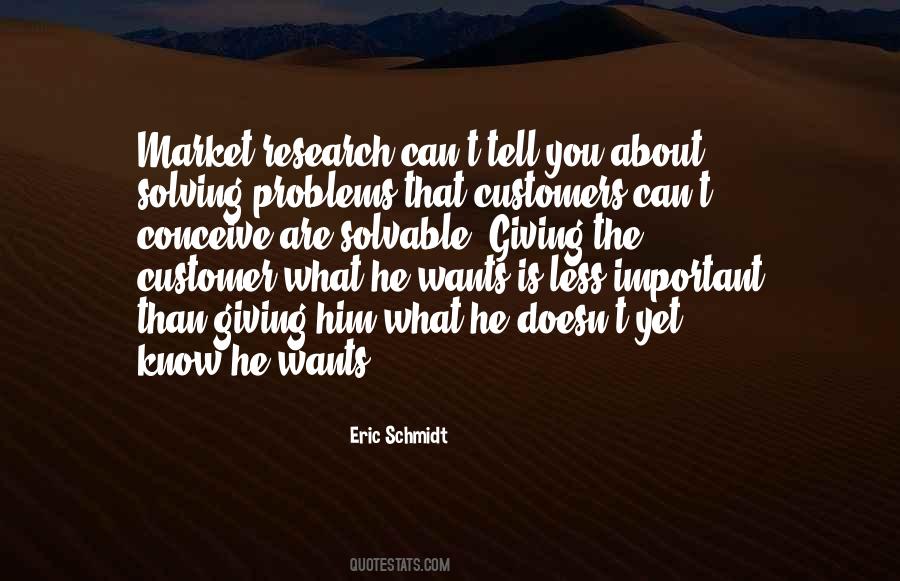 #58. Successful entrepreneurship begins and ends with customer wants and needs, not what you want and need. - Author: Joseph C. Kunz Jr.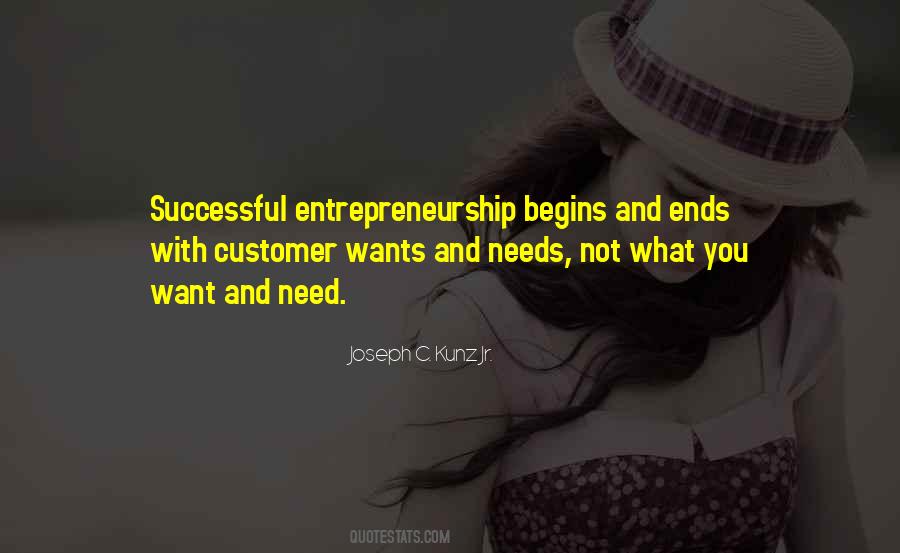 #59. A customer doesn't get what he wants, but what he's offered ... in such a way that he thinks it's what he wants. - Author: Anthony North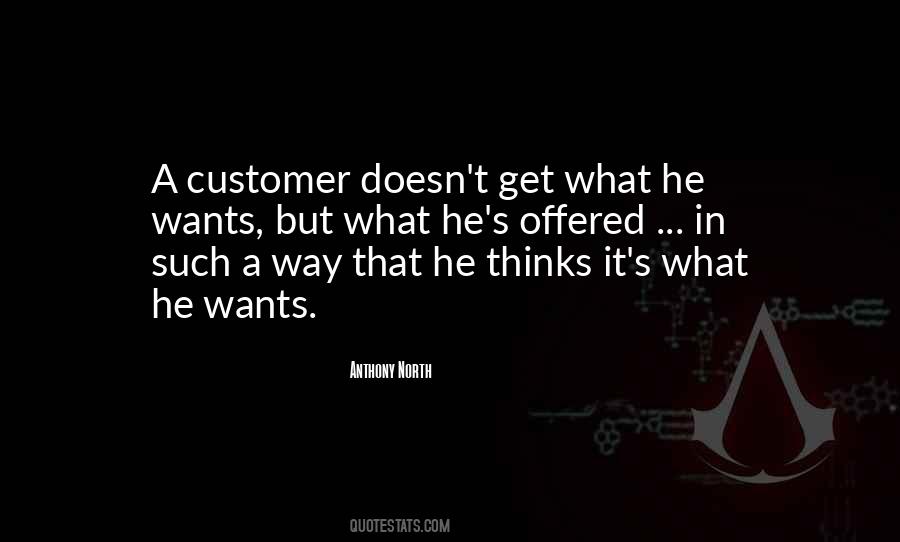 #60. Any customer can have a car painted any colour that he wants so long as it is black. - Author: Henry Ford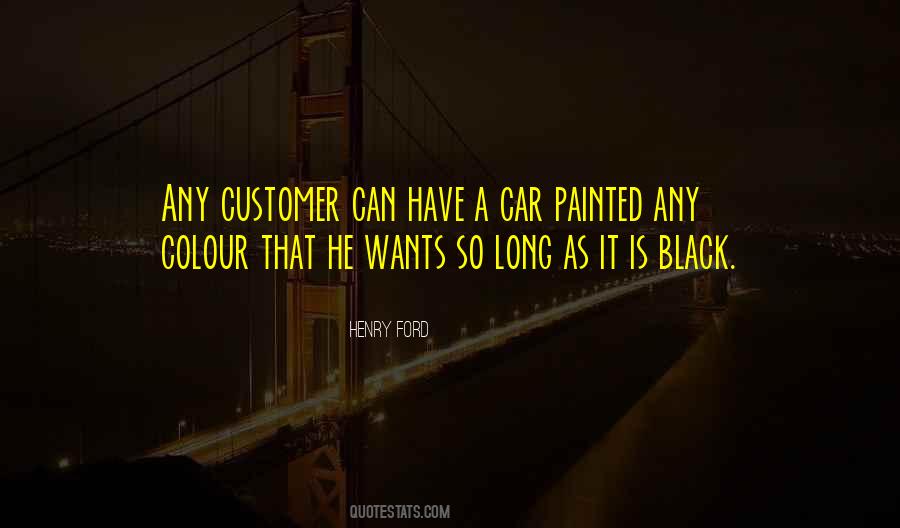 #61. Remember,' she'd tell her staff, 'every customer wants to feel like a princess, and princesses are selfish and overbearing. - Author: Margaret Atwood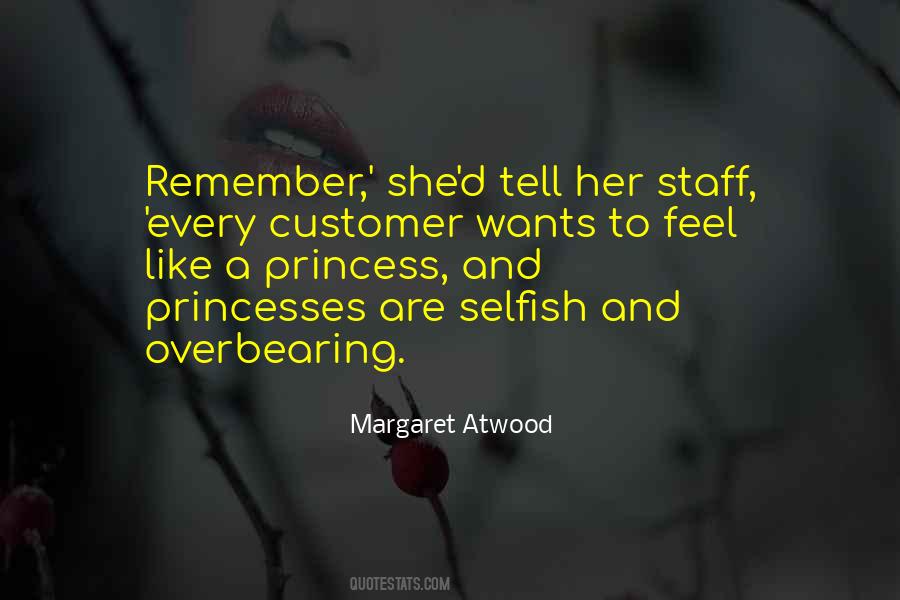 #62. CUSTOMER: I don't know why she wants it, but my wife asked for a copy of The Dinosaur Cookbook.
BOOKSELLER: The Dinah Shore Cookbook? - Author: Jen Campbell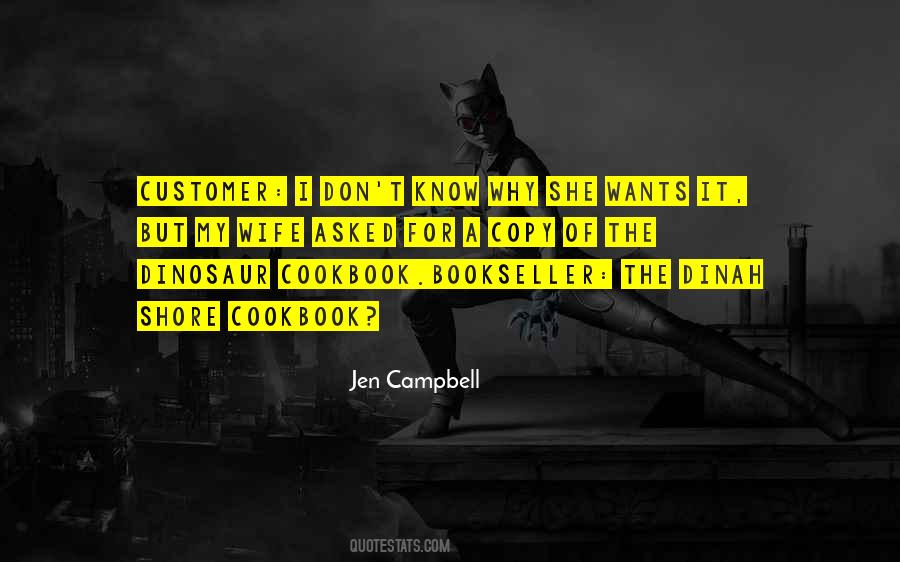 #63. Everyone wants to know why customer service has gone to hell in a handbasket. I want to know why customer behavior has gone to hell in a handbasket. - Author: Brene Brown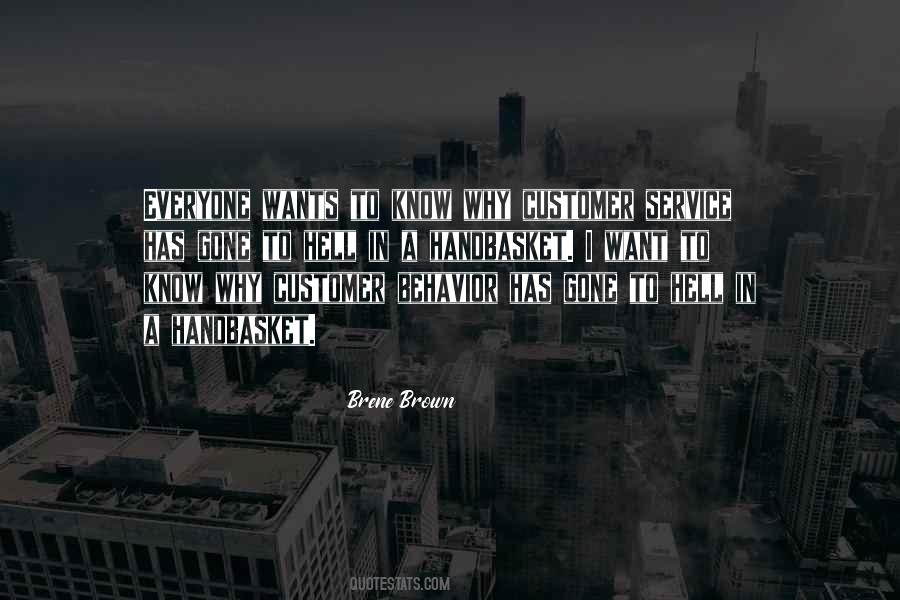 #64. Usually all I care about is how elegant or over-the-top the pieces are, it's nice to really get to understand what the customer wants and needs as opposed to just focusing on the aesthetic. - Author: Christian Cota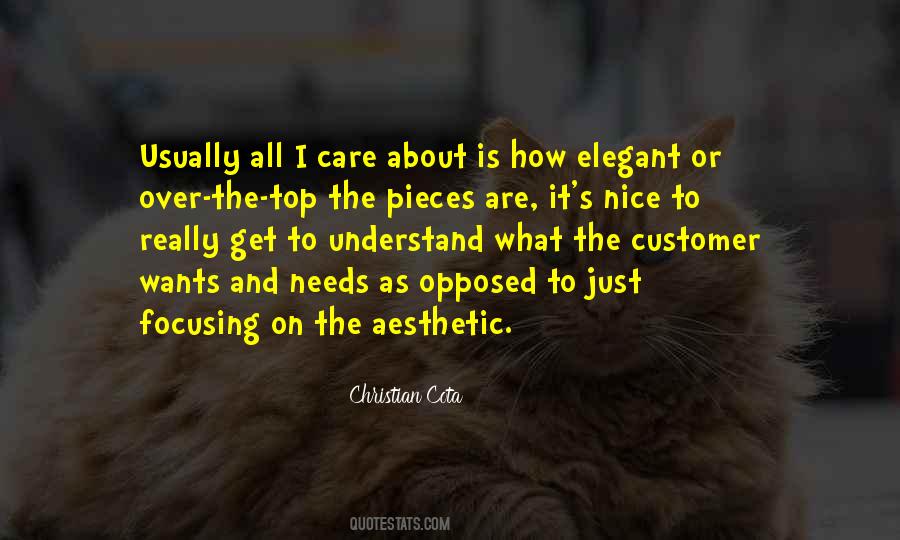 #65. Find out what the customer wants and then make it better. - Author: Frank Perdue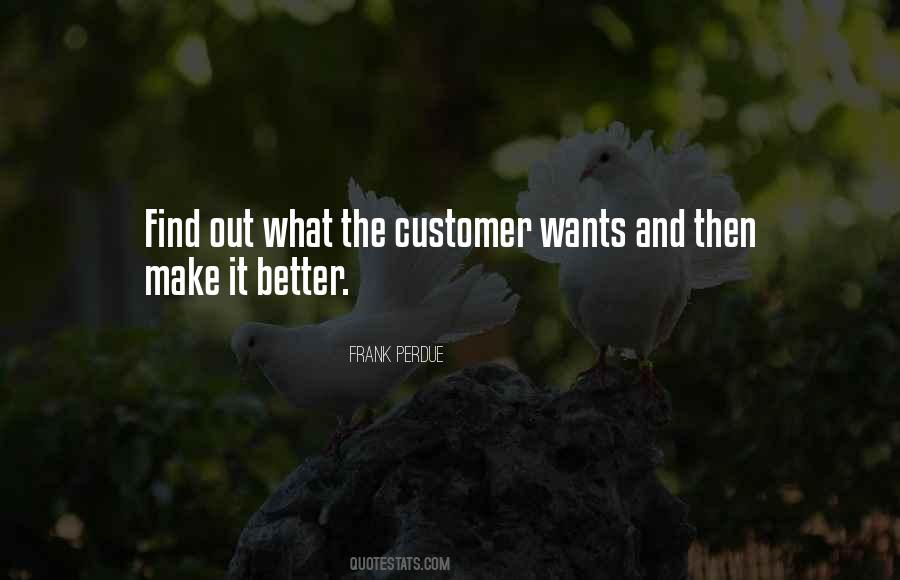 #66. Knowledge that is acquired is not like this. Those who have it worry if audiences like it or not. It's a bait for popularity. Disputational knowing wants customers. It has no soul ... The only real customer is God. Chew quietly your sweet sugarcane God-Love, and stay playfully childish. - Author: Rumi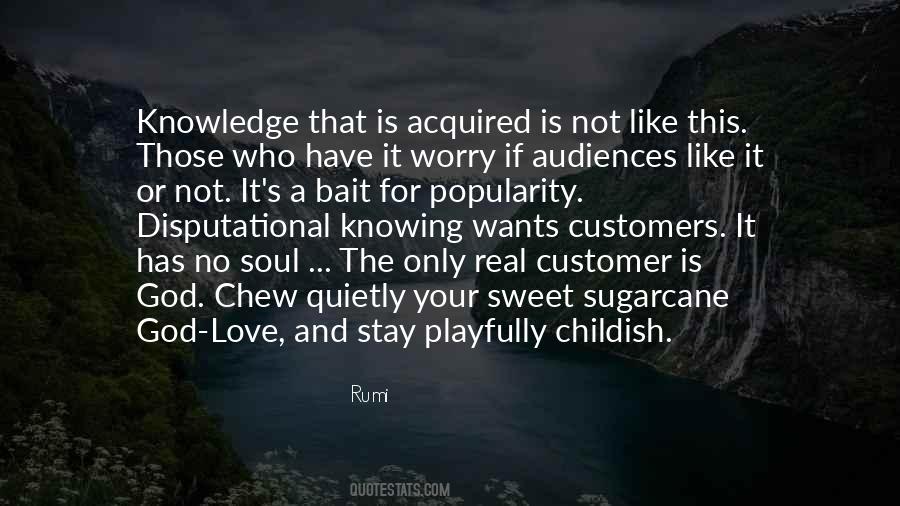 #67. The interesting thing is when we design and architect a server, we don't design it for Windows or Linux, we design it for both. We don't really care, as long as we're selling the one the customer wants. - Author: Michael Dell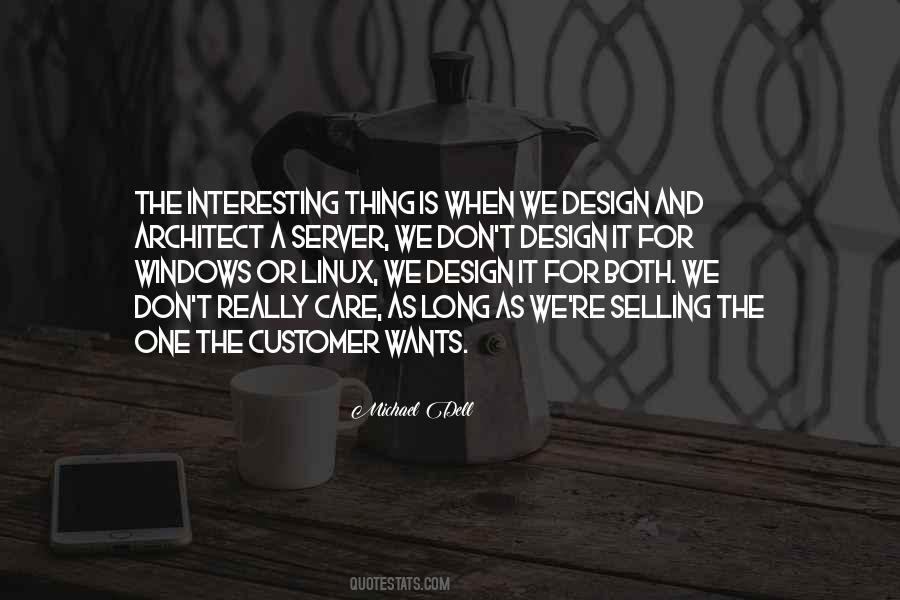 #68. When the customer makes contact, he does not want a quote. He wants a commitment. - Author: Ron Kaufman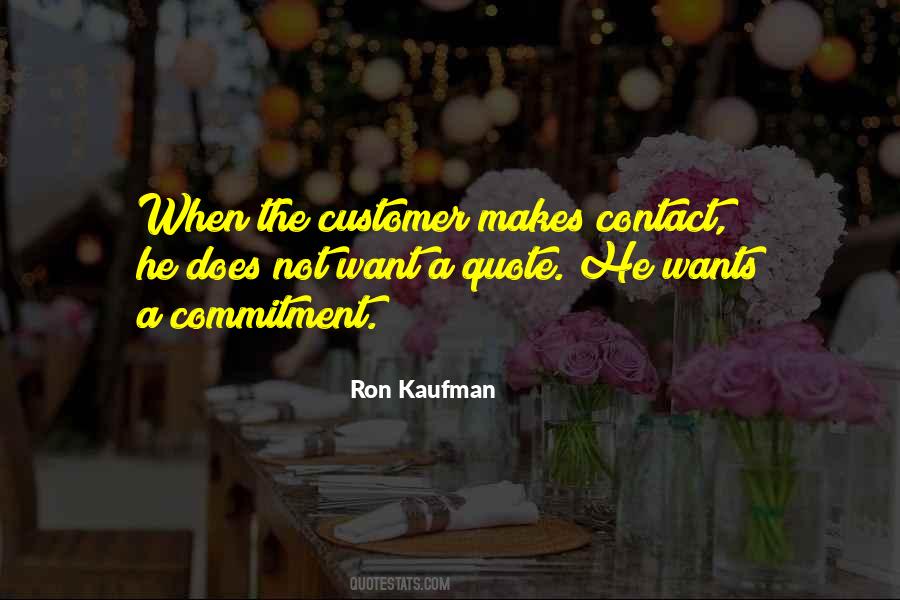 #69. It's all taking the customer's money and giving him exactly what he wants and then leaving him poorer than when he started. - Author: Robert M. Pirsig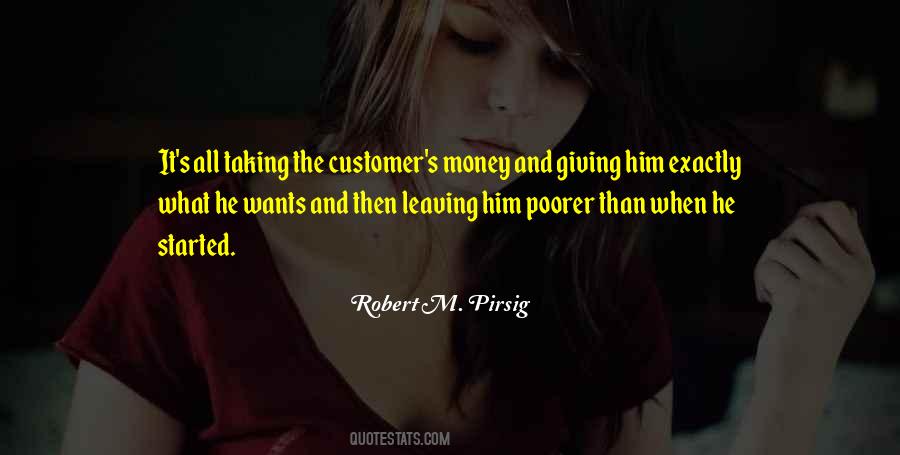 #70. Focus on something the customer wants, and then deliver it. - Author: Sam Walton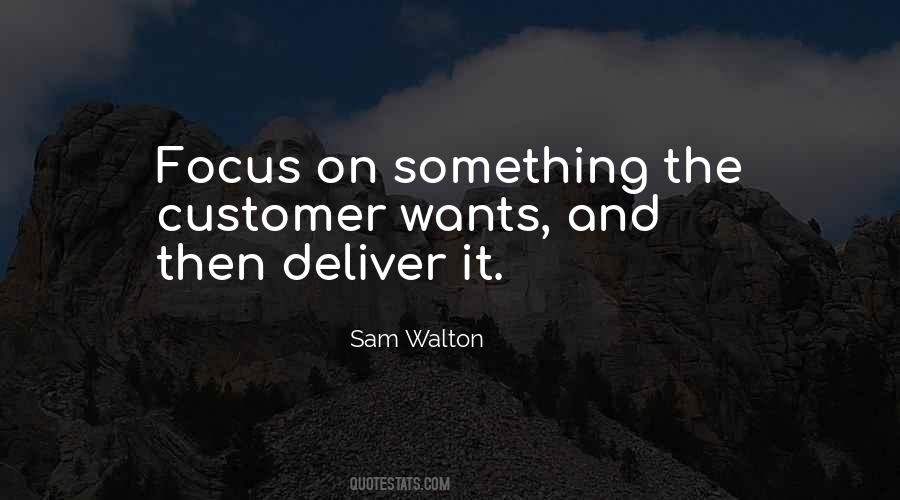 Famous Authors
Popular Topics