Come Sail Away Famous Quotes & Sayings
List of top 32 famous quotes and sayings about come sail away to read and share with friends on your Facebook, Twitter, blogs.
Top 32 Come Sail Away Quotes
#1. Well, it's not far down to paradise, at least it's not for me
And if the wind is right you can sail away and find tranquility ... - Author: Christopher Cross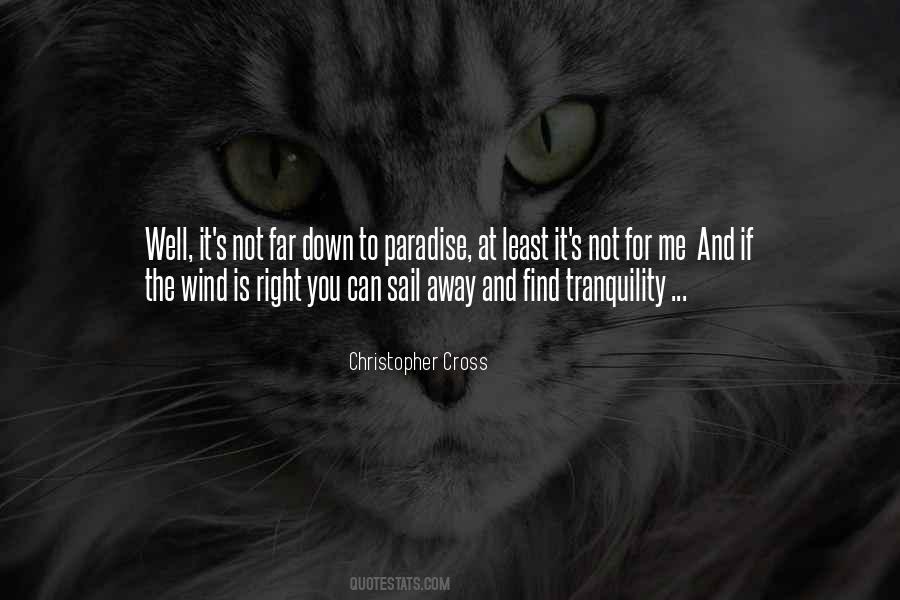 #2. It is the tenderness that breaks our hearts. The loveliness that leaves us stranded on the shore, watching the boats sail away. It is the sweetness that makes us want to reach out and touch the soft skin of another person. And it is the grace that comes to us, undeserving though we may be. - Author: Robert Goolrick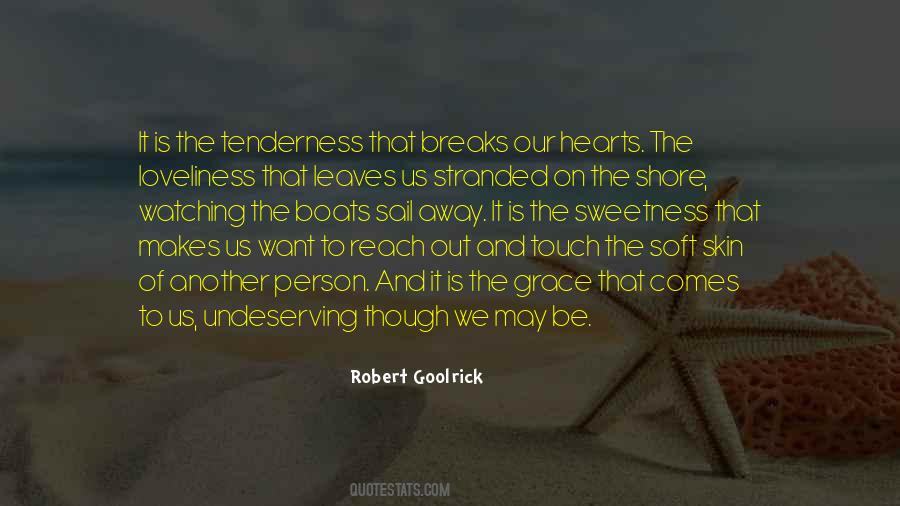 #3. I sail with you on the ocean of my dreams
to a far away distant Place of great beauty and tranquility.
where suffering and pain do not exist,
where we give praises for our joy and happiness,
where our Love interwines with Love for all things. - Author: Rumi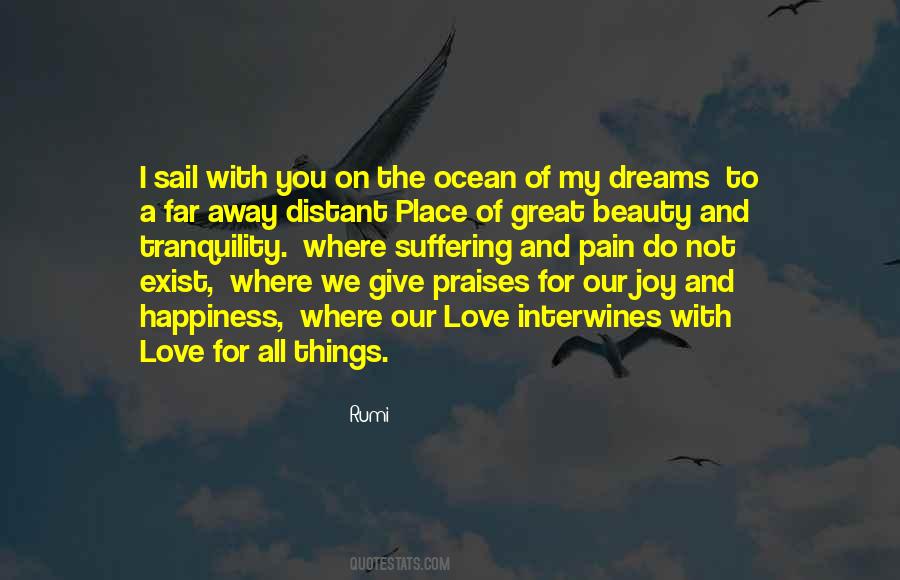 #4. There was a man
Who made a boat
To sail away
And it sank. - Author: J.P. Donleavey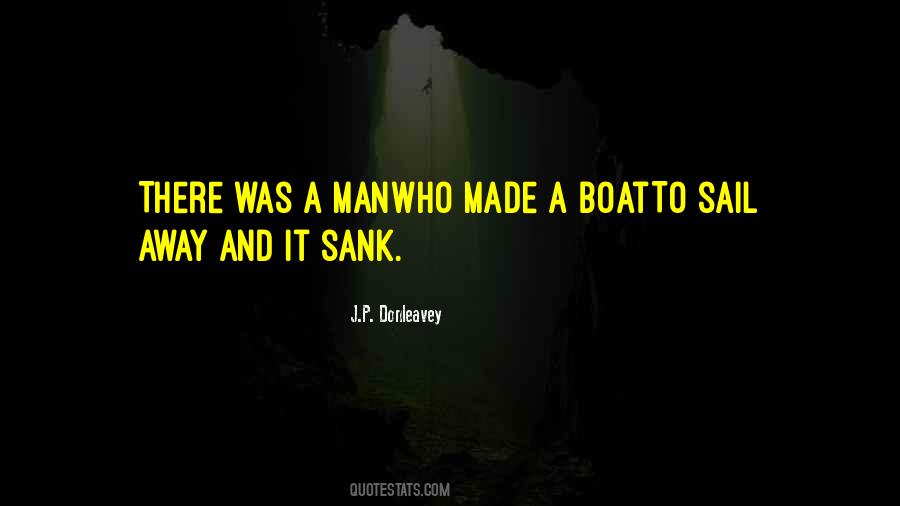 #5. O bid me mount and sail up there
Amid the cloudy wrack,
For Peg and Meg and Paris' love
That had so straight a back,
Are gone away, and some that stay
Have changed their silk for sack. - Author: W.B.Yeats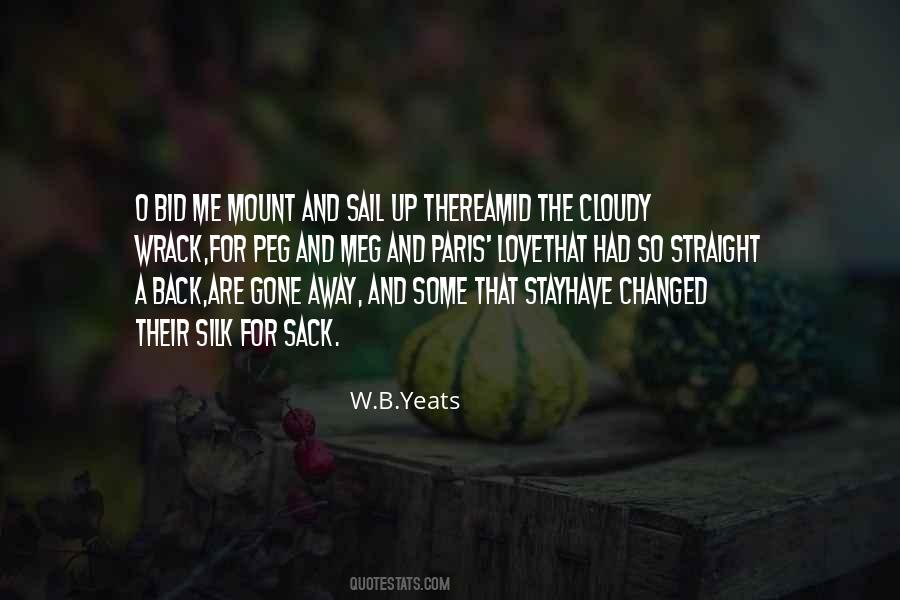 #6. Desert winds blow hard at me
Till we reach the shining sea.
And borne away across the waves
My lover's life I'll sail to save. - Author: Anthony Ryan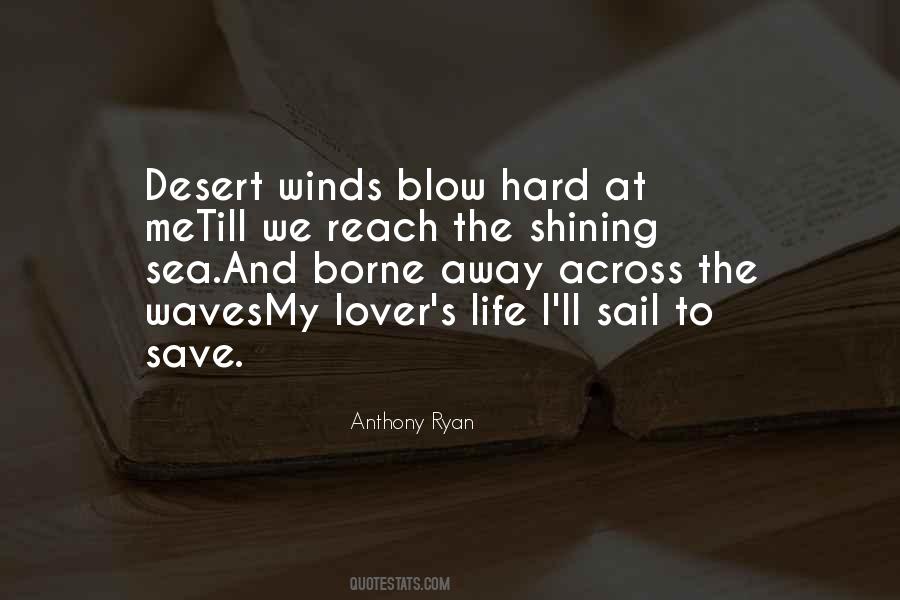 #7. Up anchor! Up anchor!
Set sail and away!
The ventures of dreamland
Are thine for a day. - Author: Silas Weir Mitchell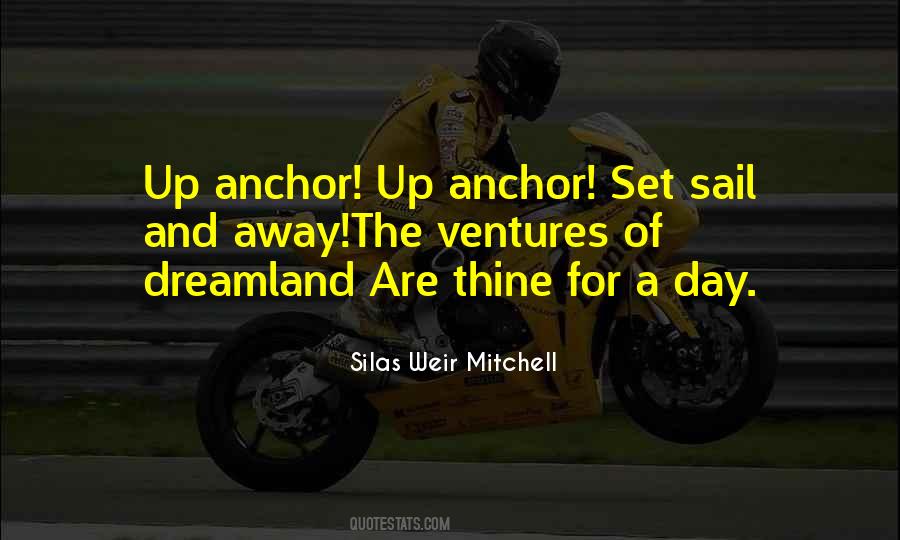 #8. I like the idea of my art being a covetable object; I like preciousness. A lot of art seems to flaunt its throw-away character ... But you have to sail out into the dangerous sea of fine art with these crafted works. - Author: Grayson Perry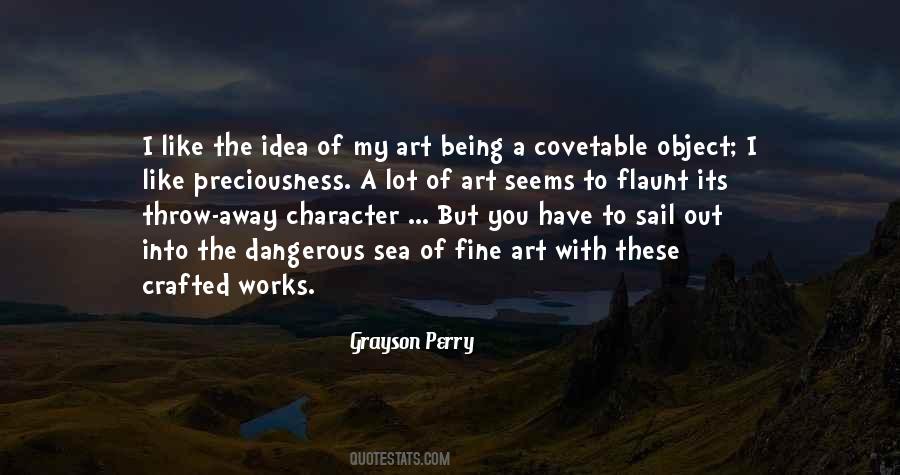 #9. I take chances. I don't limit myself. I don't think anybody who listens to Boston would have predicted hearing a female rapper on the beginning of the song 'Sail Away.' But that's what fit. - Author: Tom Scholz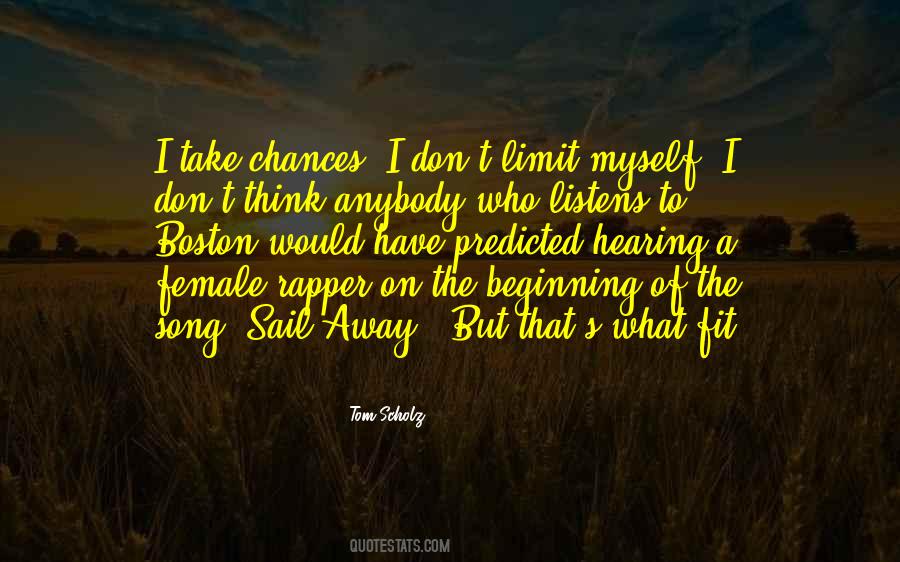 #10. The power chords in 'Come Sail Away' were super heavy to me as a kid. Metal? No. Hard rock? At times, for sure. - Author: Eddie Trunk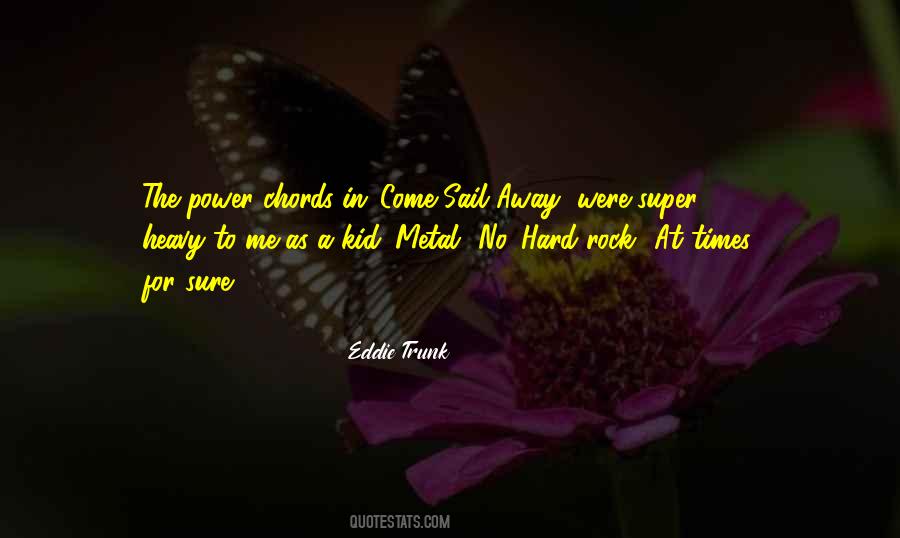 #11. Perhaps Sadness will use the shimmering wings of the morning kissed with dew and promise to sail away, and the dark Heart of the Night will rush headlong into the blinding light of the Day, to kiss it full and hard upon the mouth and embrace life's brilliance once more ... - Author: Gloria Smith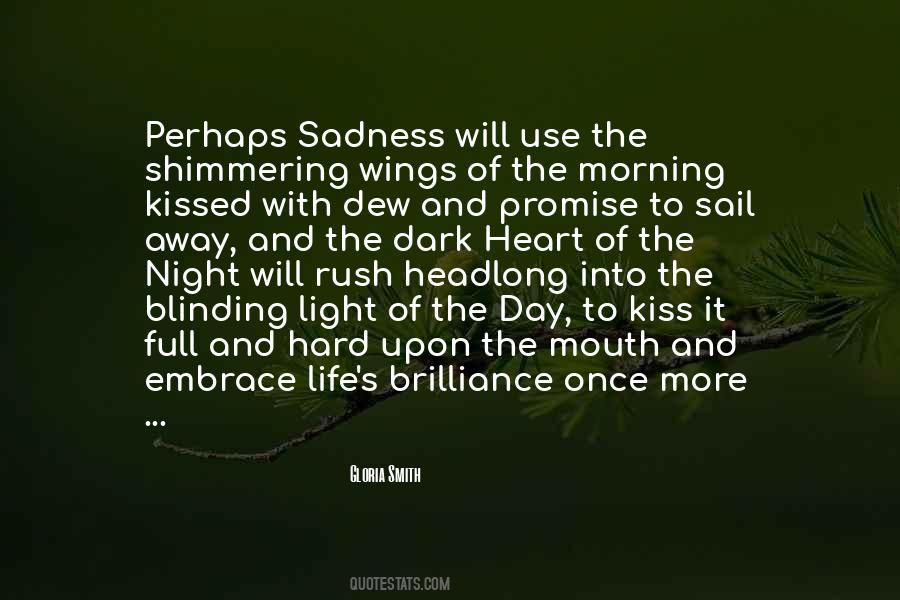 #12. I know that you are not a man content to wait behind and just watch as the ferry chugs away. But perhaps this isn't your boat. Perhaps it doesn't sail where you want to go. You'll make the right decision. I think you already know what it is. E - Author: Jessica Brockmole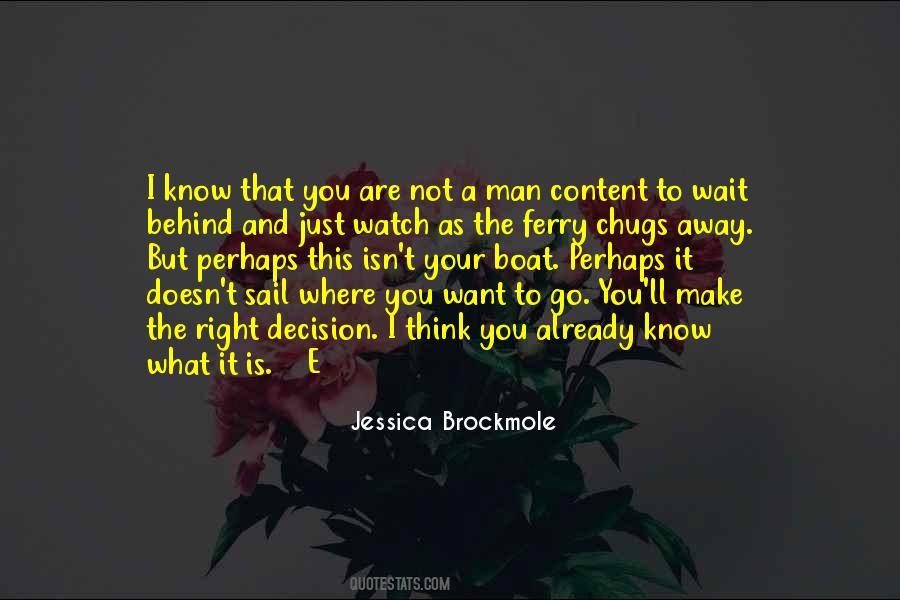 #13. Twenty years from now you will be more disappointed by the things that you didn't do than by the ones you did do. So throw off the bowlines. Sail away from the safe harbor. Catch the trade winds in your sails. Explore. Dream. Discover. - Author: H. Jackson Brown Jr.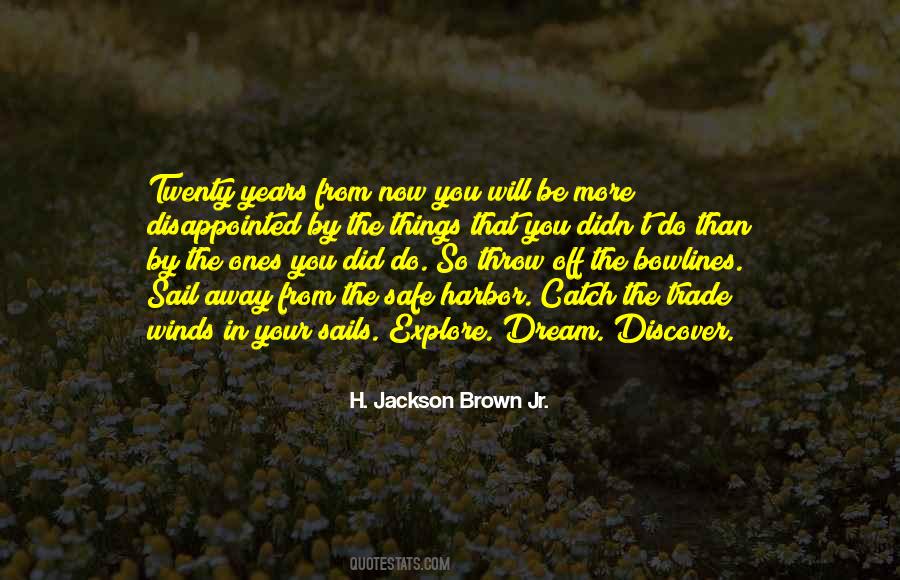 #14. My heart rides the wind and my thoughts sail away - to a land below the horizon where I know you hide from me ... - Author: John Geddes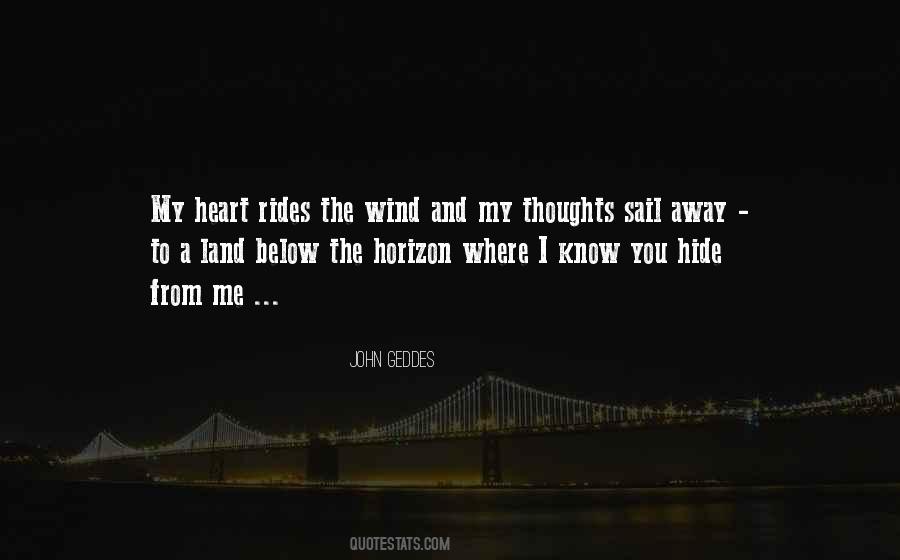 #15. You can sound your barbaric yawp over the rooftops ... or suffer the slings and arrows of outrageous fortune ... or seize the day ... or sail away from the safe harbor ... or seek a newer world ... or rage against the dying of the light, - Author: Robyn Schneider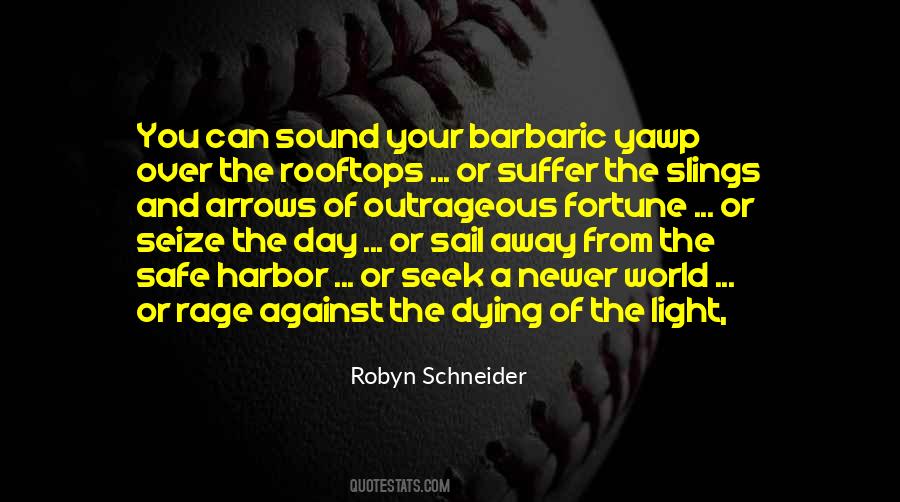 #16. If this was a sandalwood pyre she would have thrown herself in and this paper she'd become would have caught fire and she and him could sail away like two birds. - Author: Janet Fitch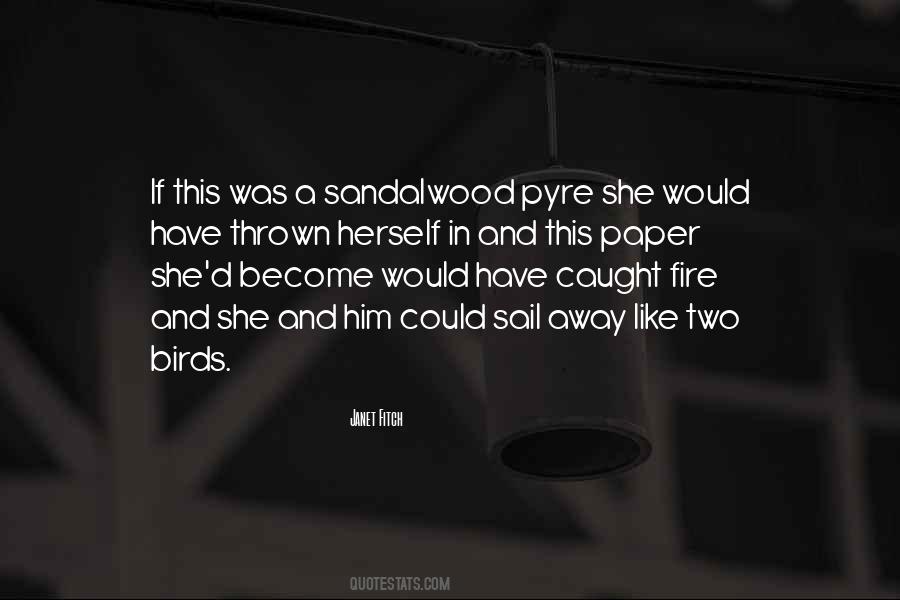 #17. Someday I'd like to sail far away again. Think of how much of the world we've left to see!" But then he cocked his head. "Would you mind?"
"Not as long as you took me with you." There was that beautiful smile.
"Always. - Author: Kim Fielding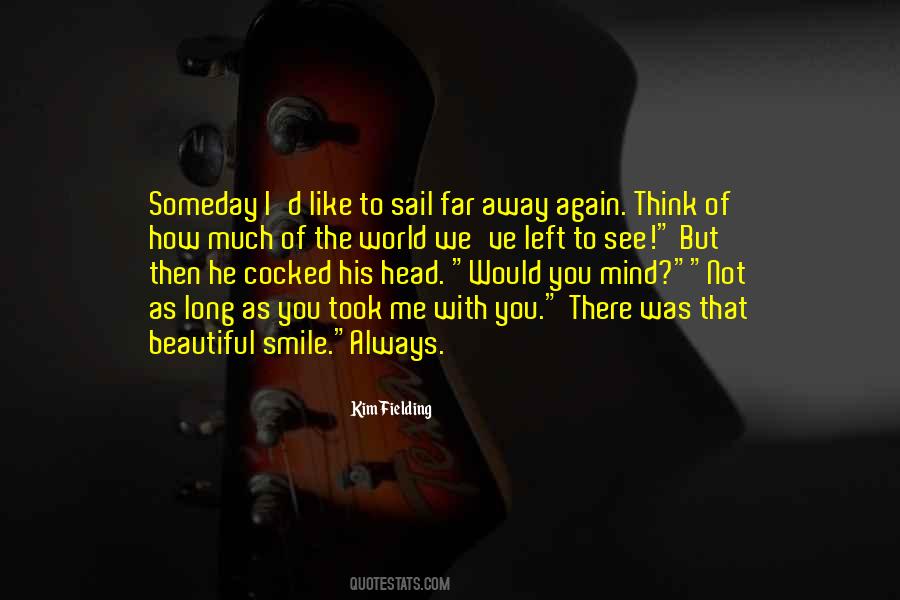 #18. I wish I could get all the discourteous drivers on a ship and sail them away and make sure it's a really horrible, wavy journey and when they get to where they're going, keep them there. - Author: Alvin Martin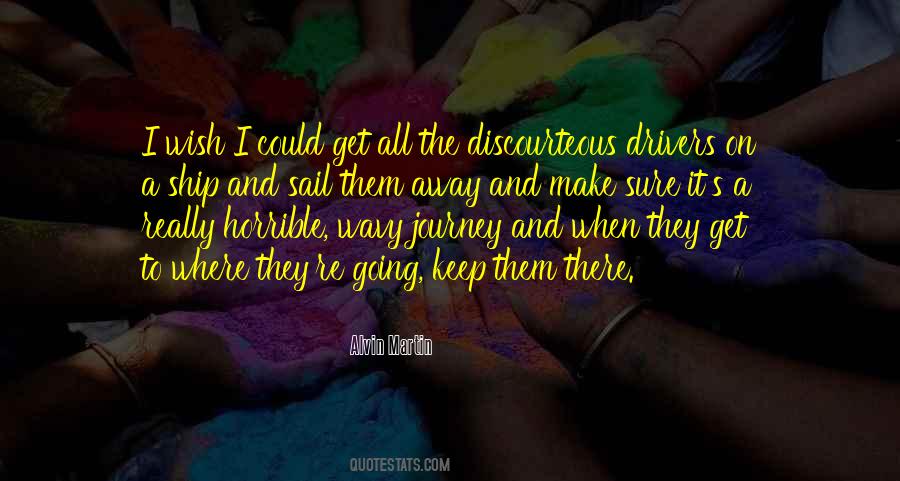 #19. When I go abroad I always sail from Boston because it is such a pleasant place to get away from. - Author: Oliver Herford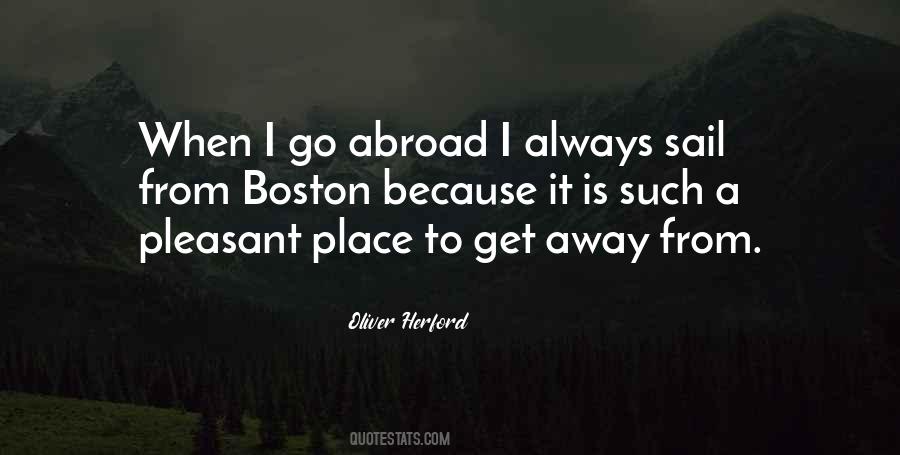 #20. The pirate he will sink you with a kiss, he'll steal your heart and sail away. - Author: Joni Mitchell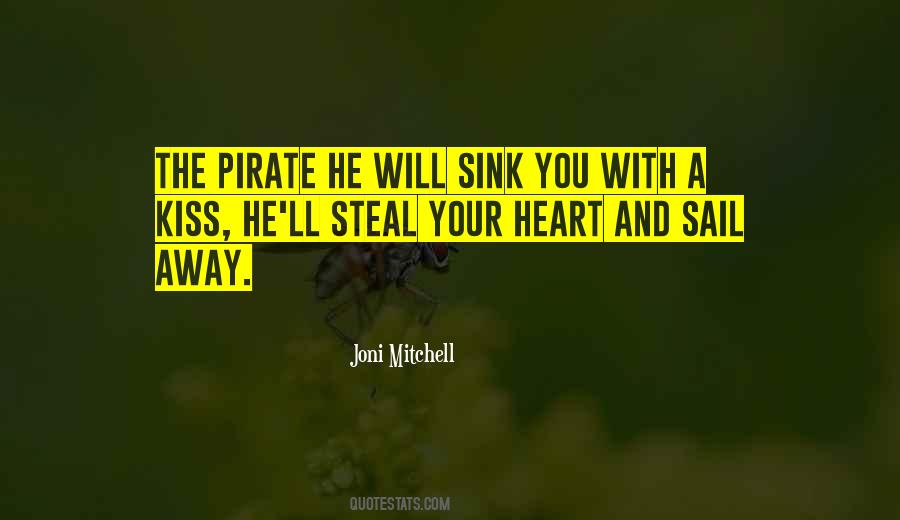 #21. I would not have shied away from an assignment to sail a canoe around Cape Horn or to take charge of the government of Afghanistan. - Author: Jan Valtin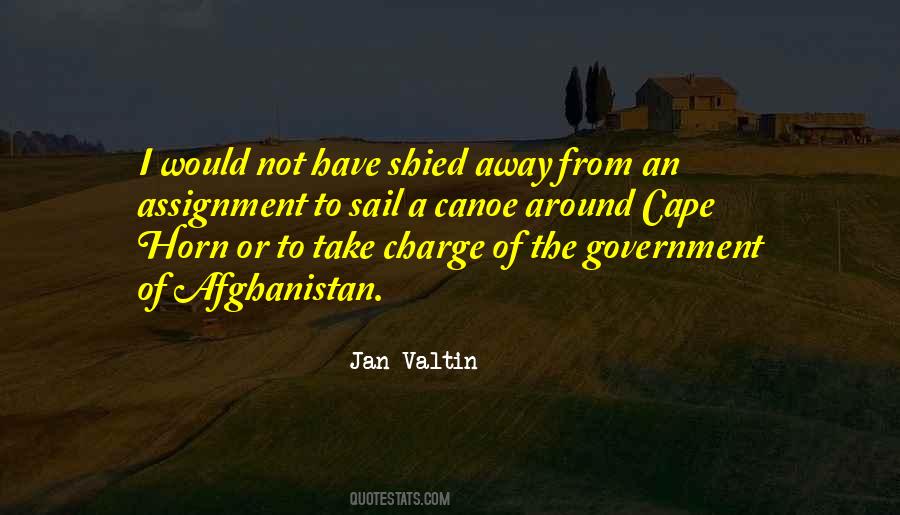 #22. A nation aimlessly drifting away from God is a nation for which prayer is a rudder and praise is a sail. And it is the man or woman on their knees that builds the former and gives wind to the latter. - Author: Craig D. Lounsbrough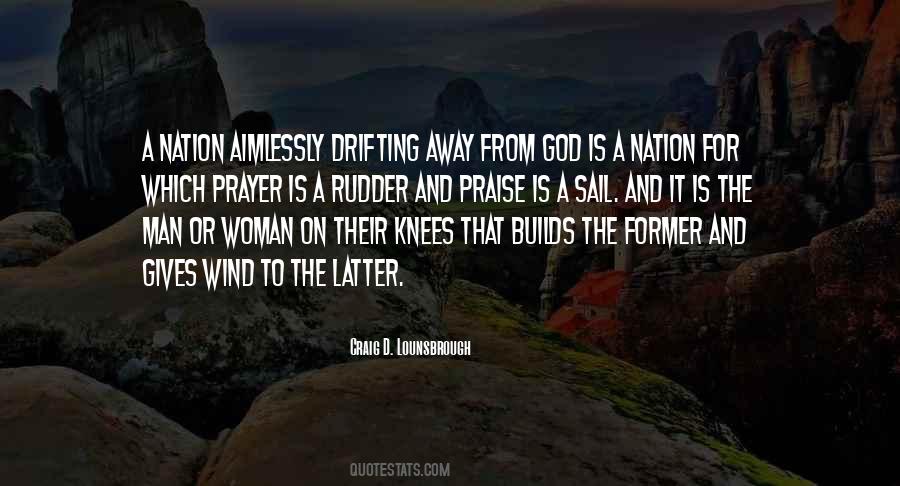 #23. Paradise was always over there, a day's sail away. But it's a funny thing, escapism. You can go far and wide and you can keep moving on and on through places and years, but you never escape your own life. I, finally, knew where my life belonged. Home. - Author: J. Maarten Troost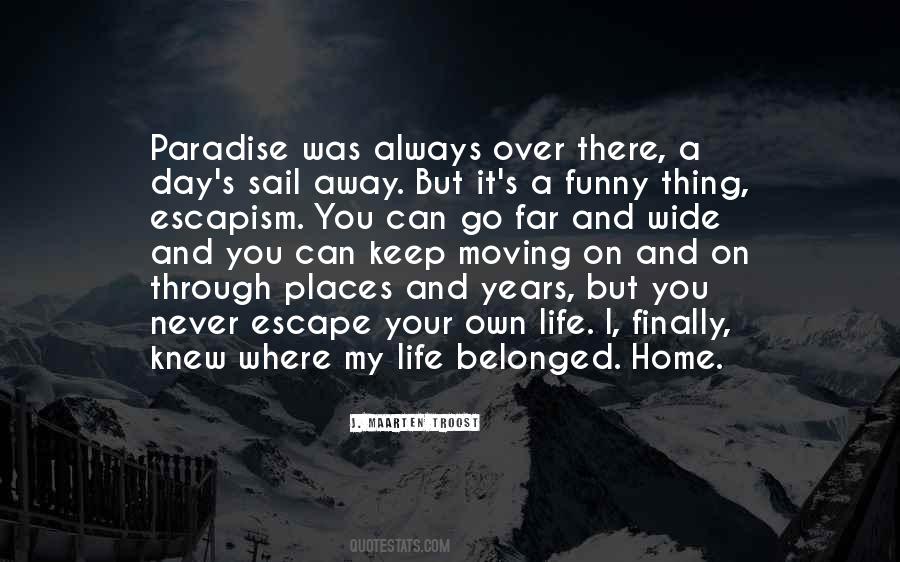 #24. I think network television is really hard because it has to sail right away. HBO's so much more nurturing, patient. They think it takes a while for a show to kind of congeal and figure out what its strong spots are. - Author: Amanda Peet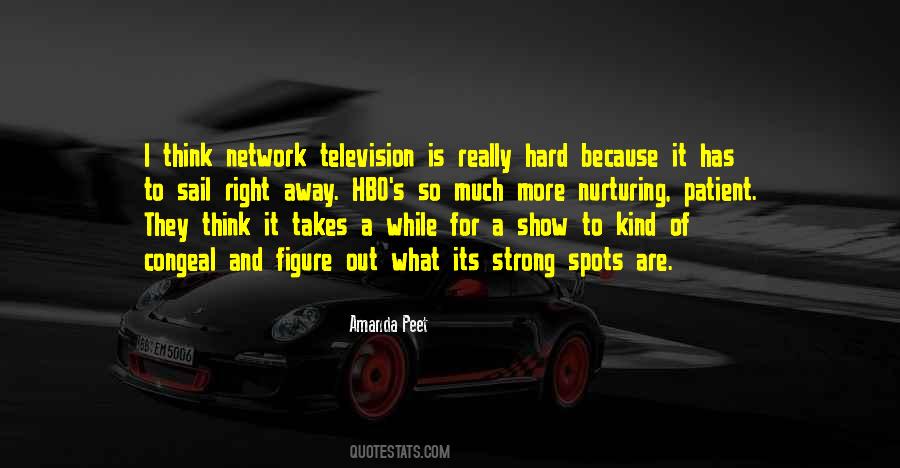 #25. Why cross and ocean when you can cross a river? Why should we sail to Washington when we can meet right away 10 miles from here? - Author: Shimon Peres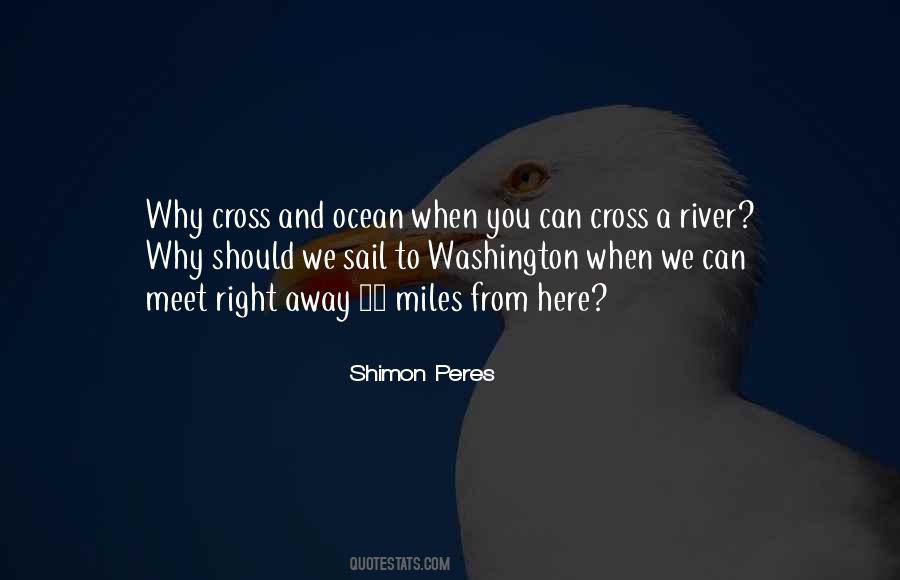 #26. All right boys, let's sail away! Show those bastards how airship pirates fly a ship! - Author: Katherine McIntyre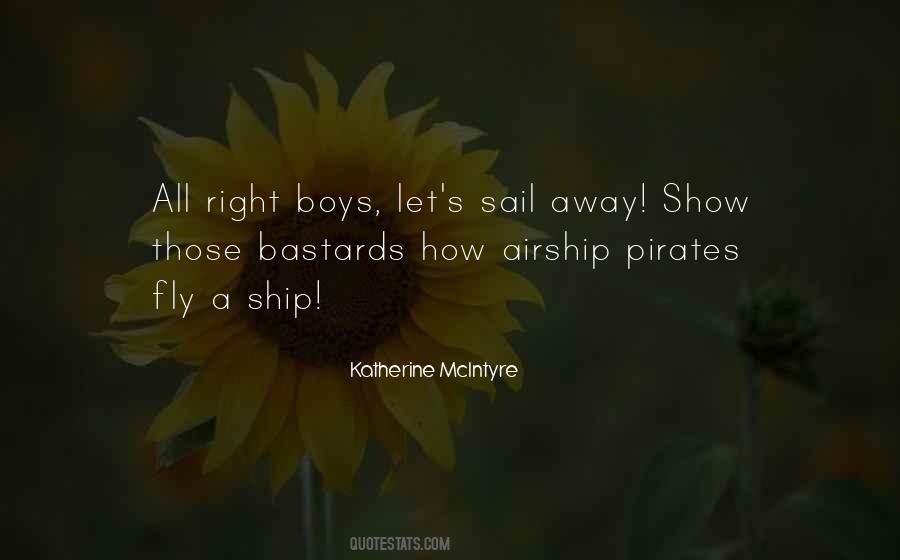 #27. Perhaps it was because of his wife that Pippo the farmer dreamt of becoming a sailor. There are certain people on this earth who make you want to sail very far away, and above all for a very long time. - Author: Timothee De Fombelle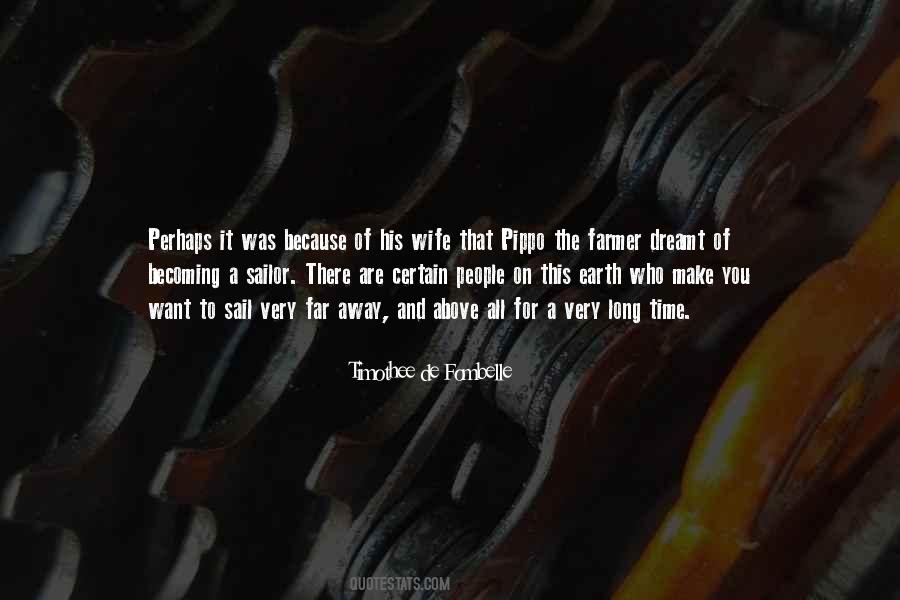 #28. I would like to sail across the Atlantic. I would like the experience of being that far away from land. - Author: Peter Sarsgaard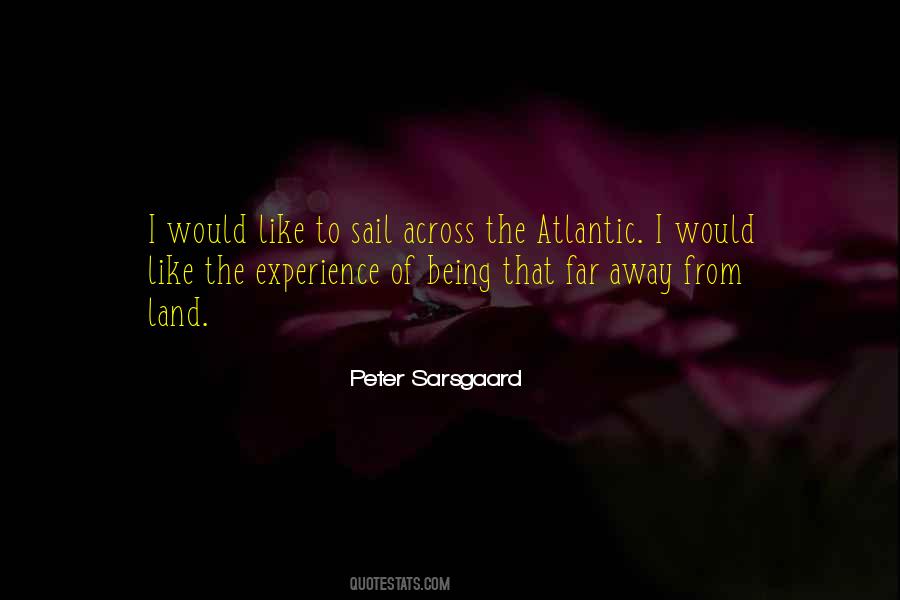 #29. I can't speak. I have no voice. I just stare at his dark blue yes. It feels as though I let the lifeboat sail away. I'm drowning in a sea of pain. He reached out, but I can't take his hand. - Author: H.M. Ward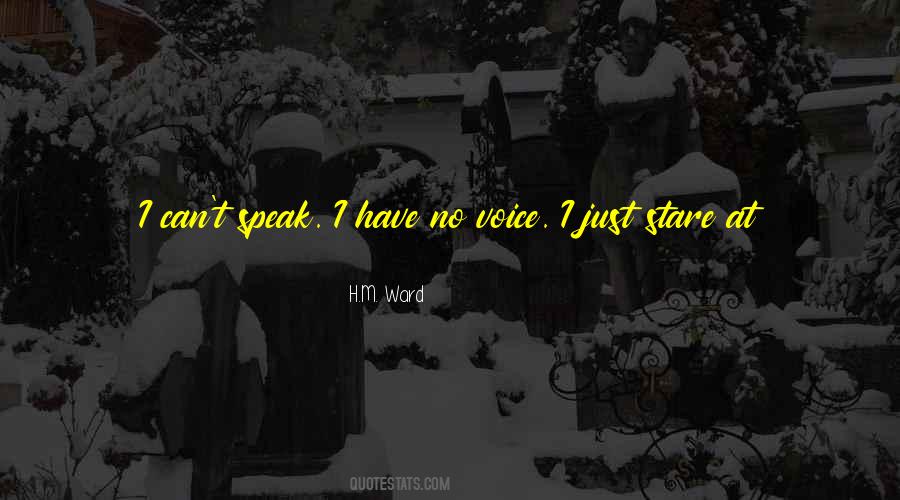 #30. Hey, this ship hasn't sunk yet," she said, tearing her gaze away from the museum. "We may have one sail, but we're still going. - Author: Alexandra Bracken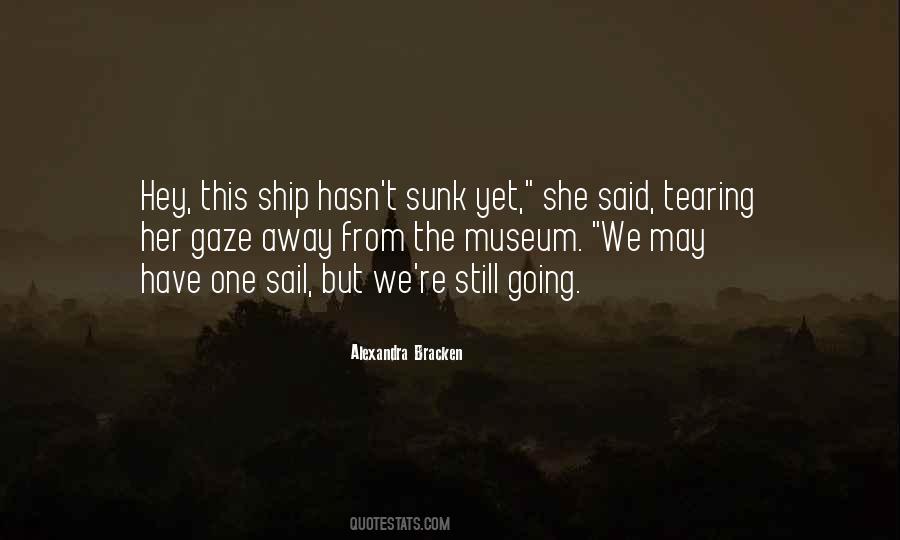 #31. I don't wanna die in a nuclear war, I want to sail away to a distant shore, and make like an apeman. - Author: Ray Davies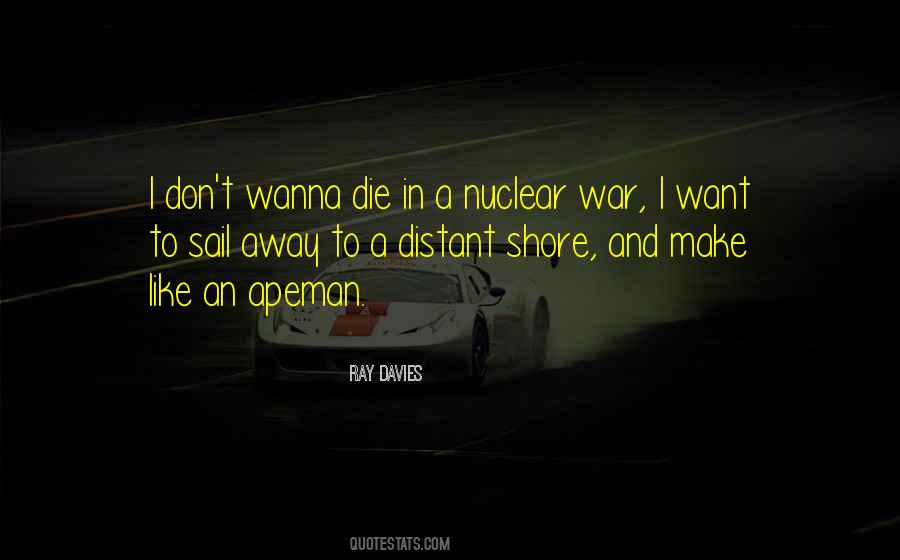 #32. On the wind his sail unfurled and away from our shores his ship drifted. - Author: Celma Ribeiro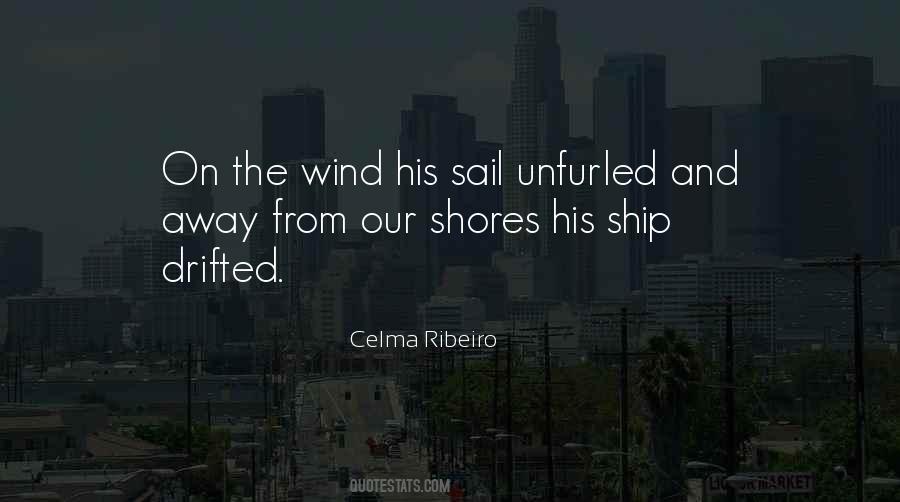 Famous Authors
Popular Topics