China Business Famous Quotes & Sayings
List of top 55 famous quotes and sayings about china business to read and share with friends on your Facebook, Twitter, blogs.
Top 55 China Business Sayings
#1. I don't want to go to a trade war, I want to beat China. I want to go to war with China and make America the most attractive place in the world to do business. - Author: Rick Santorum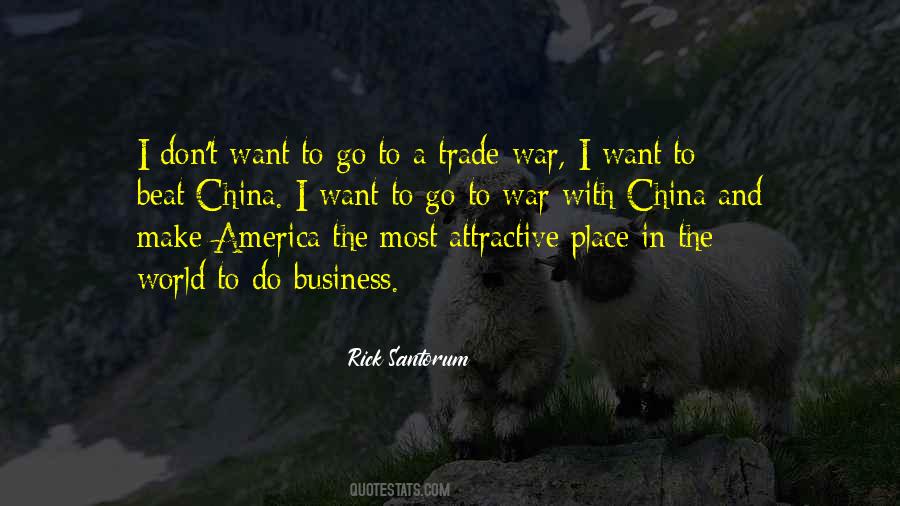 #2. If China wants to be a constructive, active player in the world economy, it's got to respect intellectual property rights or it makes it pretty impossible to do business with them. - Author: Dan Glickman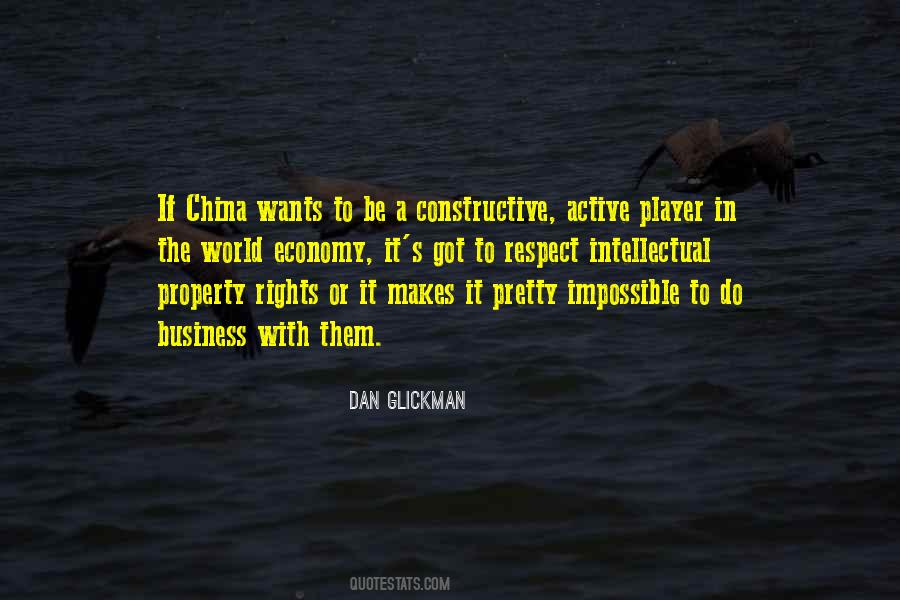 #3. Google's real threat to China is not that it will leave the country. It's that it will embarrass China and damage its national reputation as a place to do business. - Author: Jose Ferreira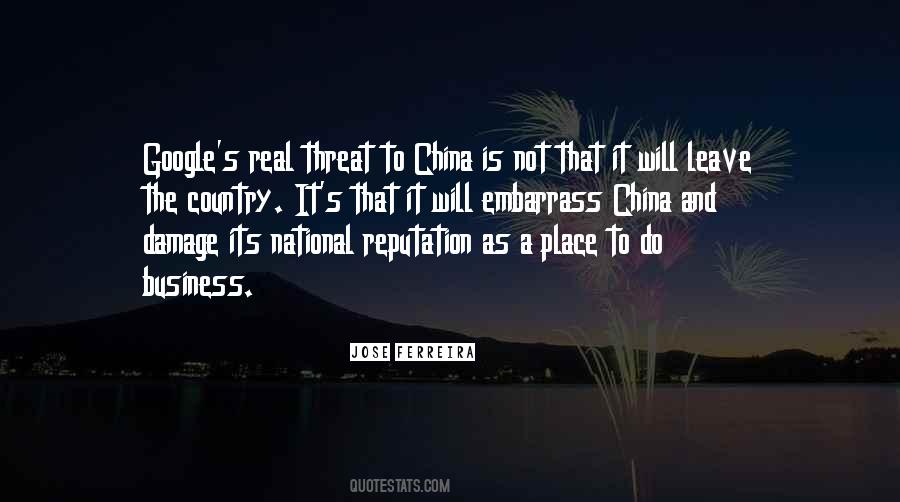 #4. All things being equal, I think people would still prefer to do business with their hometown companies. That's true in America, that's true in China, that's true in Germany. - Author: William Clay Ford Jr.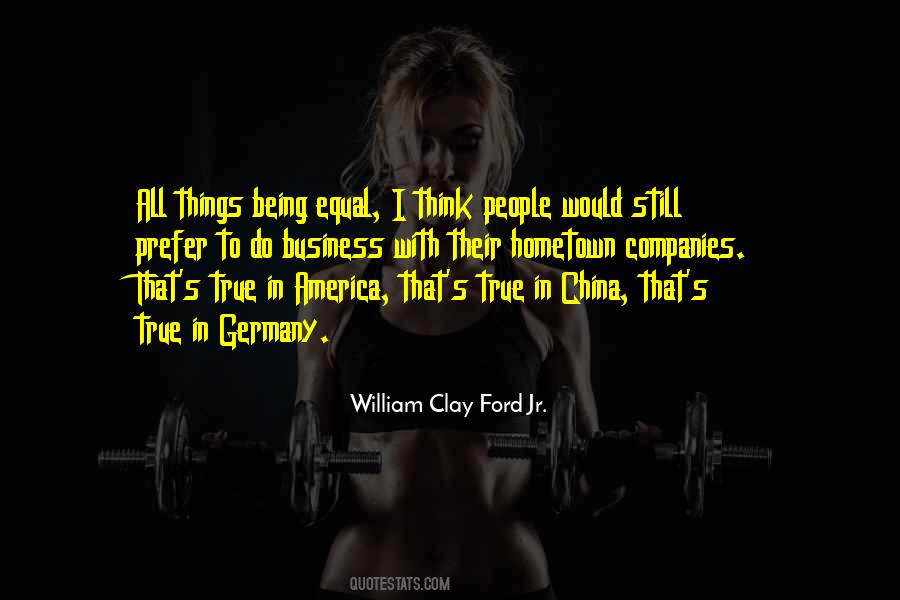 #5. We are not hiding things from the American people, but China everyday is conducting business in a way that hides things from their people. - Author: Chris Christie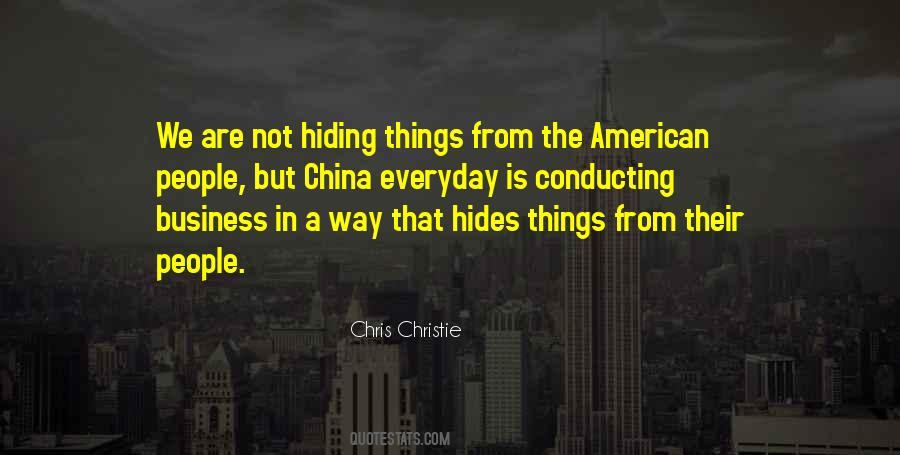 #6. There are a lot of millionaires being created in China. We should all be seeking that business, and I think there's enough to go around. - Author: Terrence Lanni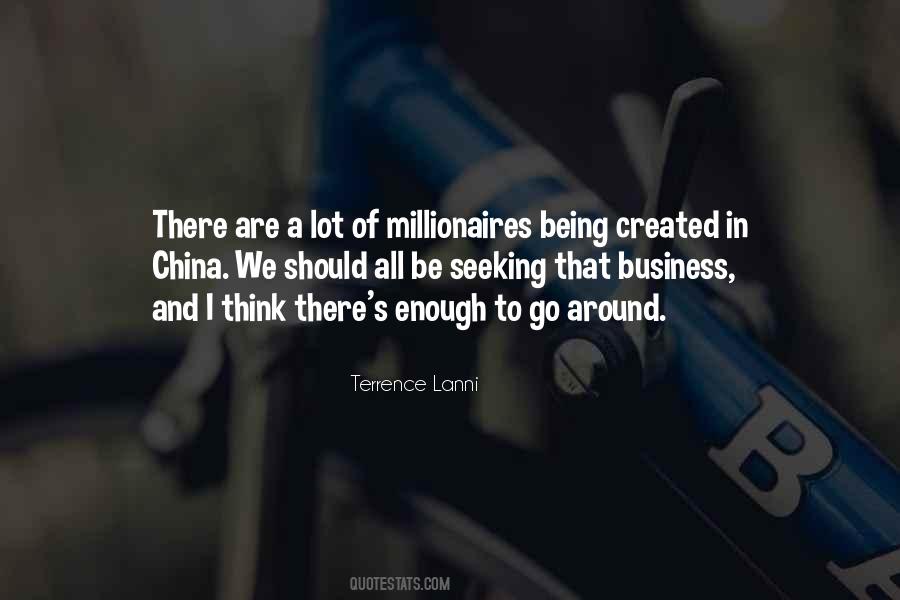 #7. Treat your business relationships like friendships (or potential friendships). Formality puts up walls, and walls don't foster good business relationships. No one is loyal to a wall ... except the one in China. - Author: Steve Pavlina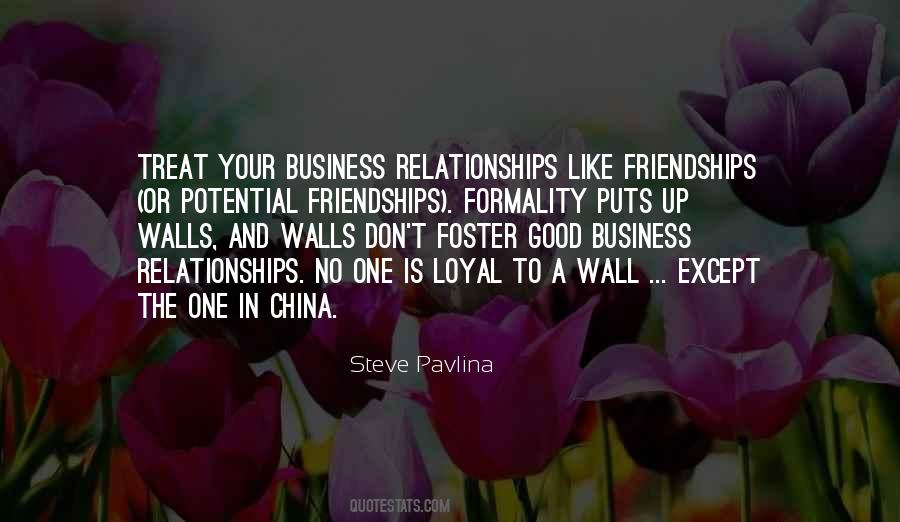 #8. There is not a single country in the world that is not interested in doing business with China. And no one is seriously concerned about human rights. But Africans are criticized for wanting to do business with China. - Author: Jacob Zuma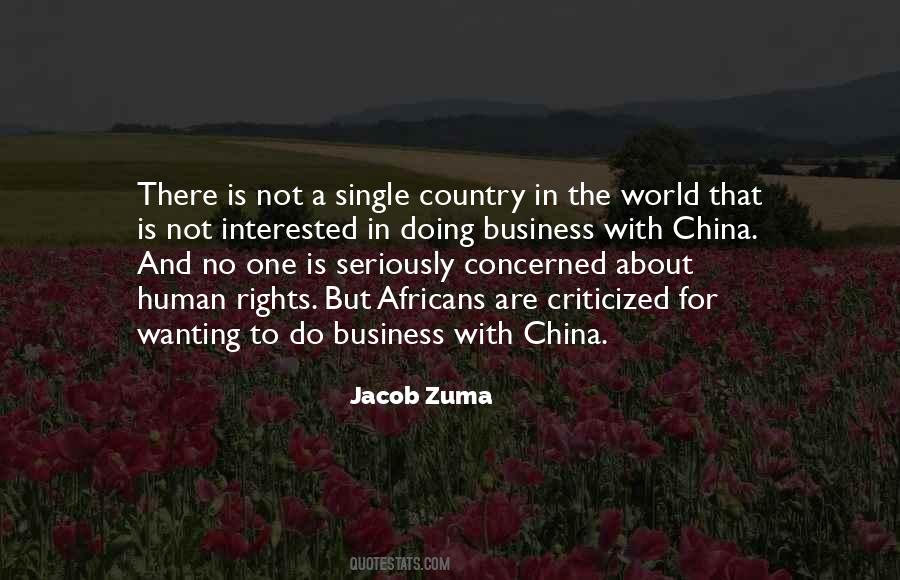 #9. We should be doing more business with China. We should be better connected to the Chinese economy. - Author: George Osborne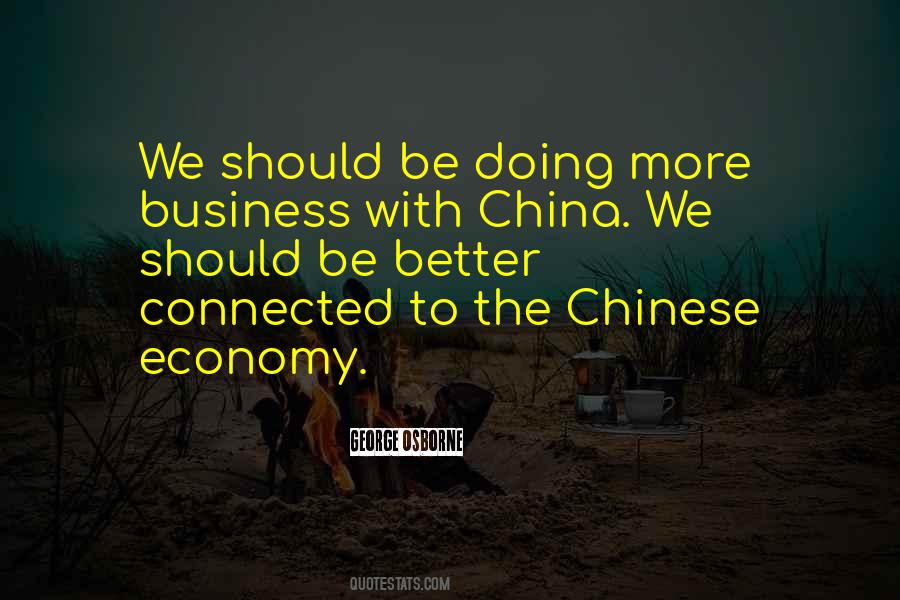 #10. Never Underestimate. Just as in any other negotiation, watching before acting is as important as listening before speaking. It's doubly important in China, however, where customs are time-honored and breaches of protocol not so quickly forgiven. - Author: Irl M. Davis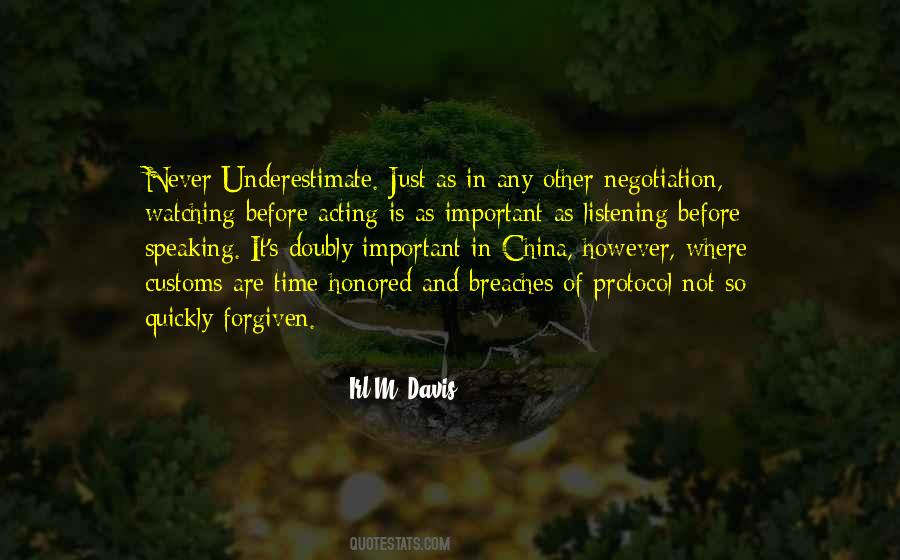 #11. In China, you have to have a strong leader for a business to get anything done. - Author: Zong Qinghou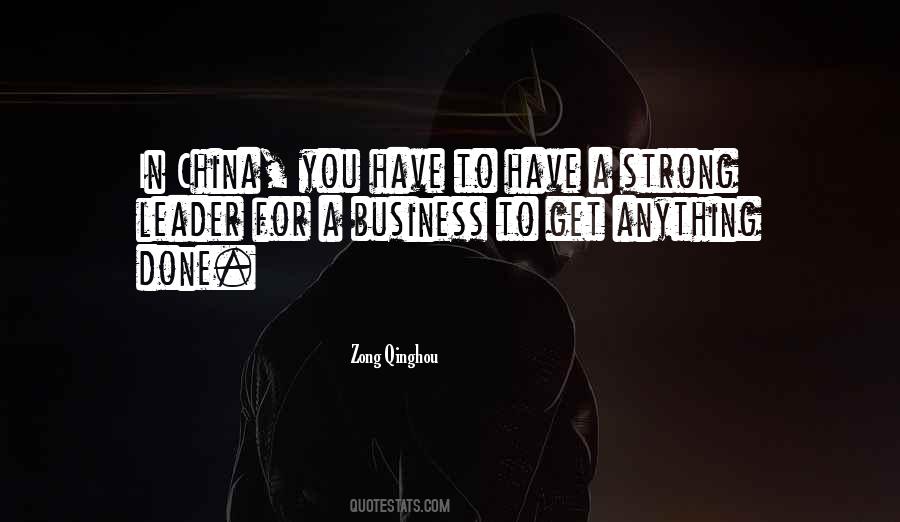 #12. China is a political beast, with the Party at its heart, and the importance of political and regulatory due diligence cannot be overstated. - Author: Jeremy Gordon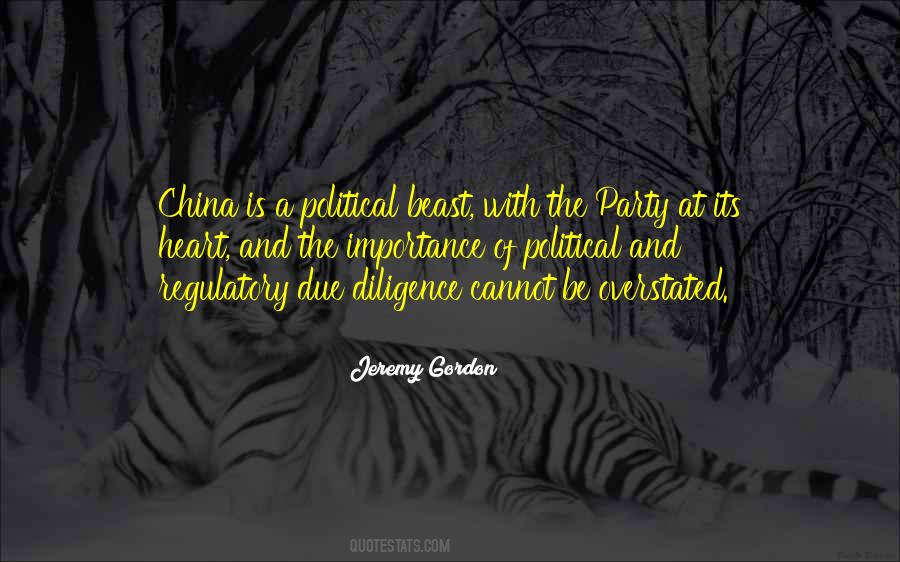 #13. When you go for business, you just see the airport, the offices, cities. You never see what 80 per cent of the population does in a country, so if you want to understand what Indonesia is made of, or the depths of China or India, you have to go and see. - Author: Jean-Pascal Tricoire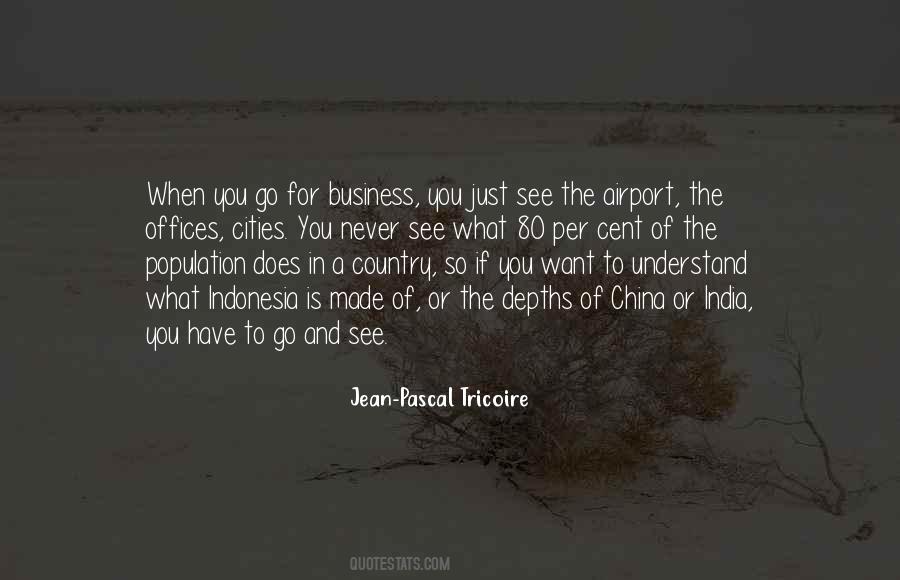 #14. If a bank fails in China, they behead the men at the top of it that was responsible ... If we beheaded all of ours that were responsible for bank failures, we wouldn't have enough people left to bury the heads. - Author: Will Rogers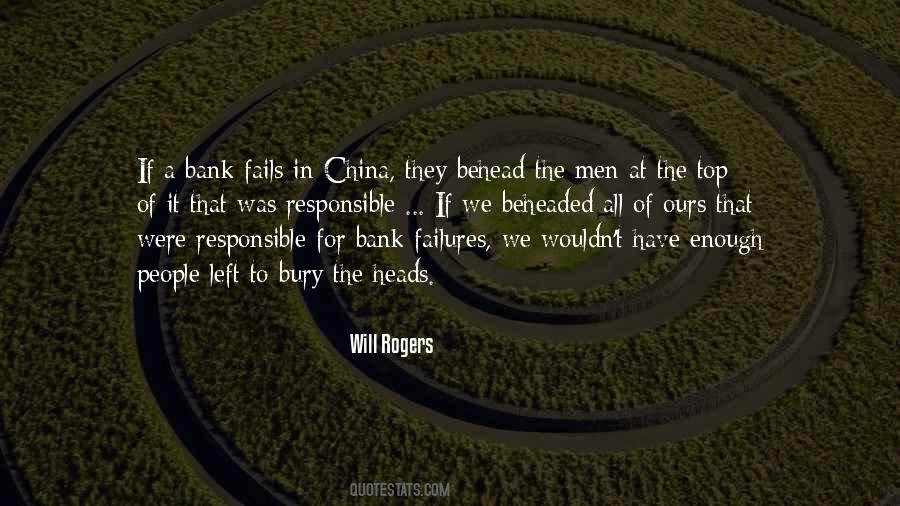 #15. Clearly Google is searching for a way to do business in China that avoids them sending someone to jail over an e-mail. - Author: Rebecca MacKinnon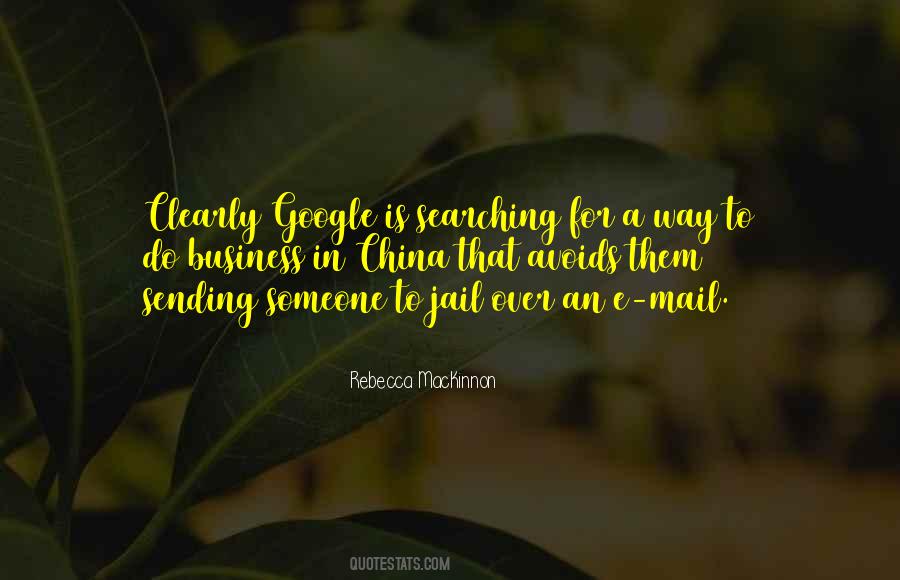 #16. All over the world, I do business. I make great deals. I've made hundreds of millions of dollars against China. All over the world I make money and I build great things. Who's going to build a wall like me on the southern border? I built a great company. - Author: Donald Trump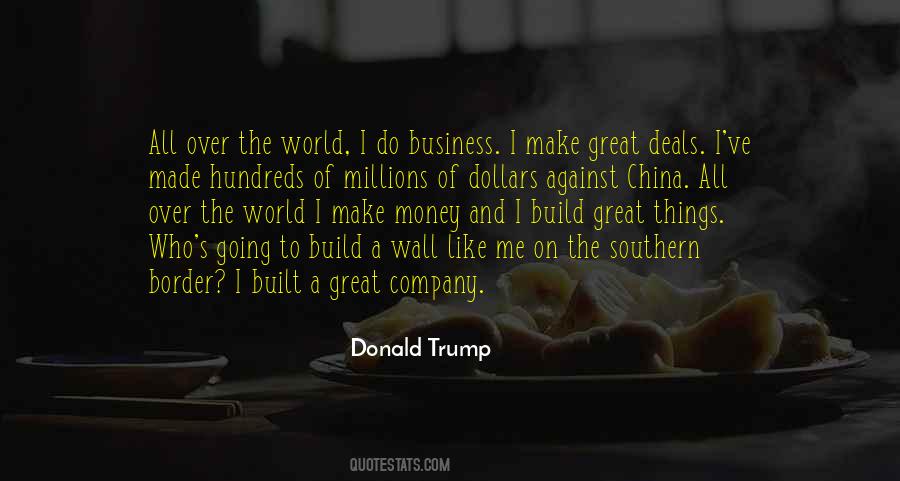 #17. If China's expansion into Africa and Russia's into Latin America and the former Soviet Union are any indication, Silicon Valley's ability to expand globally will be severely limited, if only because Beijing and Moscow have no qualms about blending politics and business. - Author: Evgeny Morozov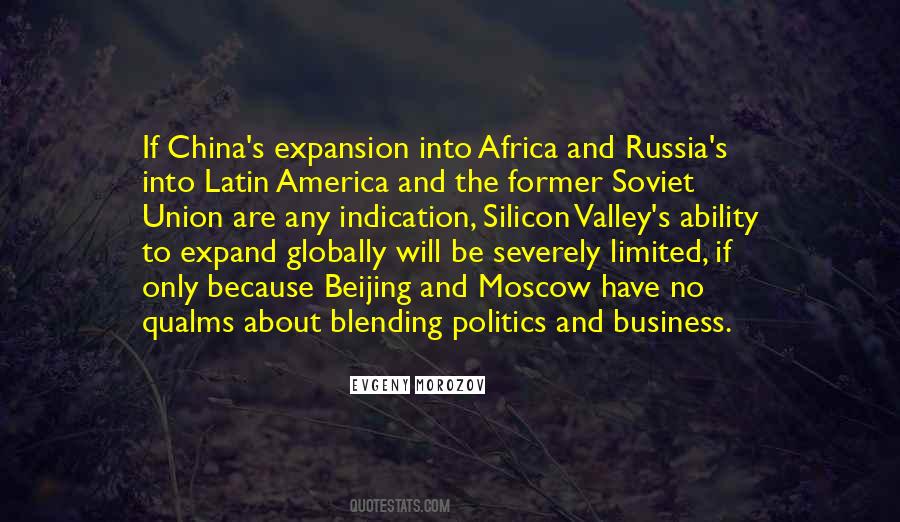 #18. It's just a reality of the business model. People are outsourcing a lot more, and China has established a pretty good infrastructure. - Author: Mario Morales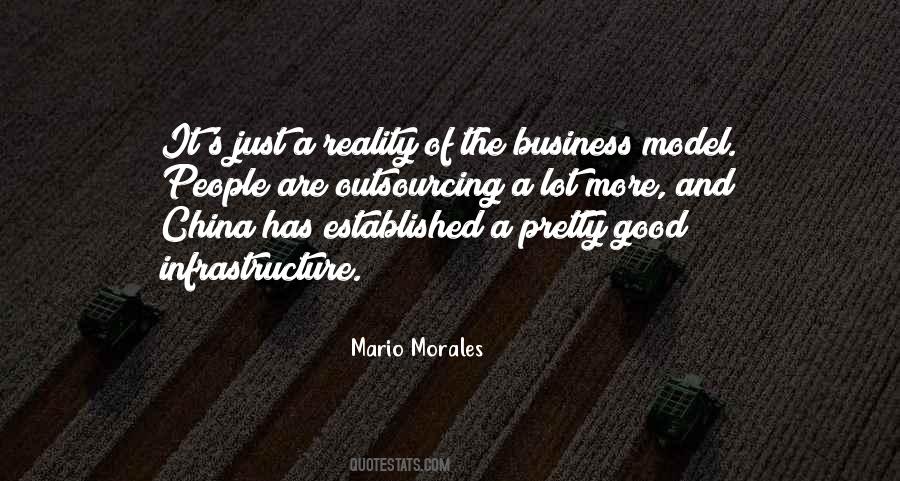 #19. I cannot do business. I cannot sit and say, 'How are you, the weather's great, how's your golf?' I'm like a bull in a china shop. - Author: Cilla Black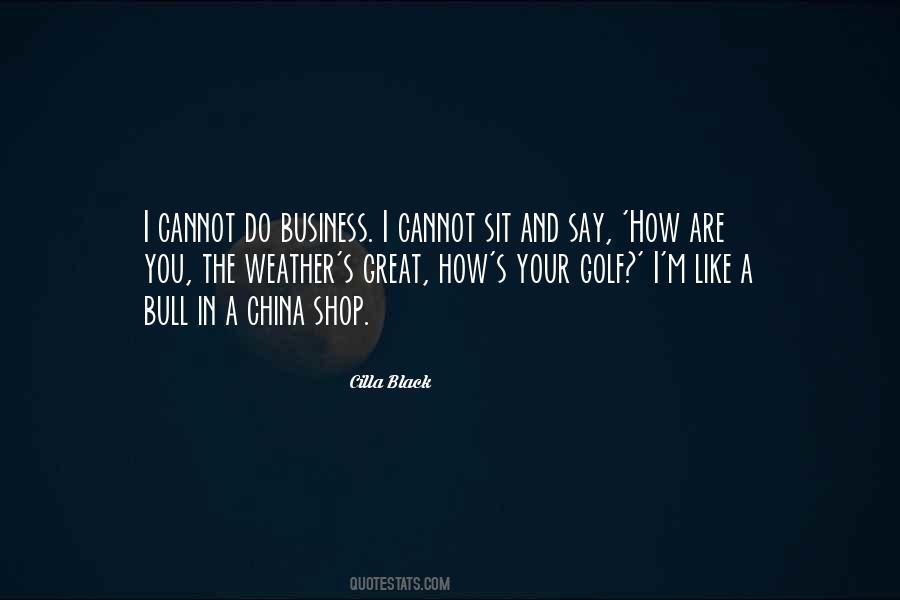 #20. All foreign companies registered in China are Chinese enterprises. Their innovation, production and business operations in China enjoy the same treatment as Chinese enterprises. - Author: Hu Jintao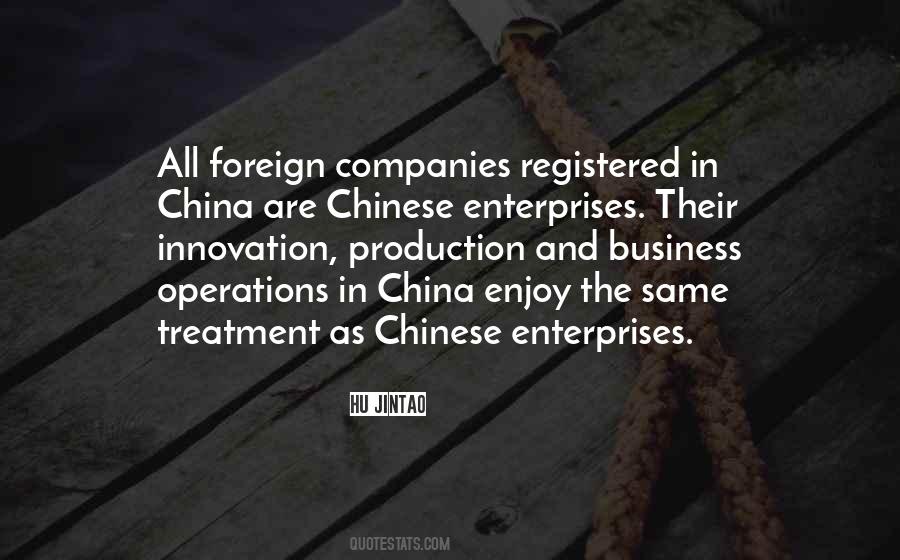 #21. Although I don't like the way the Chinese do business, I continue to do business in China. I have to. They're the next world power. - Author: Robert Kiyosaki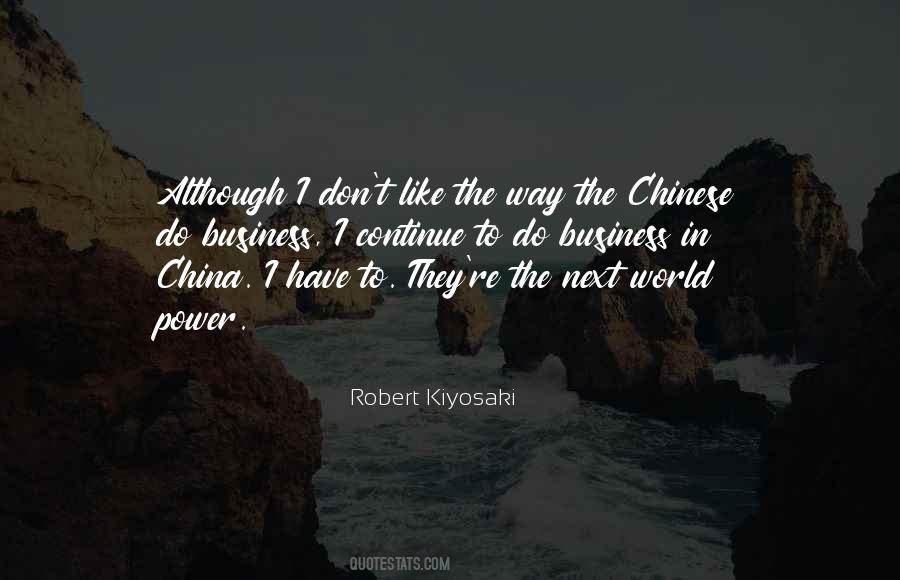 #22. It doesn't worry me a bit that China and Japan hold so much US debt. In a way, it seems foolish for them to do it because they get lower returns than they might elsewhere. But that is their business. - Author: Milton Friedman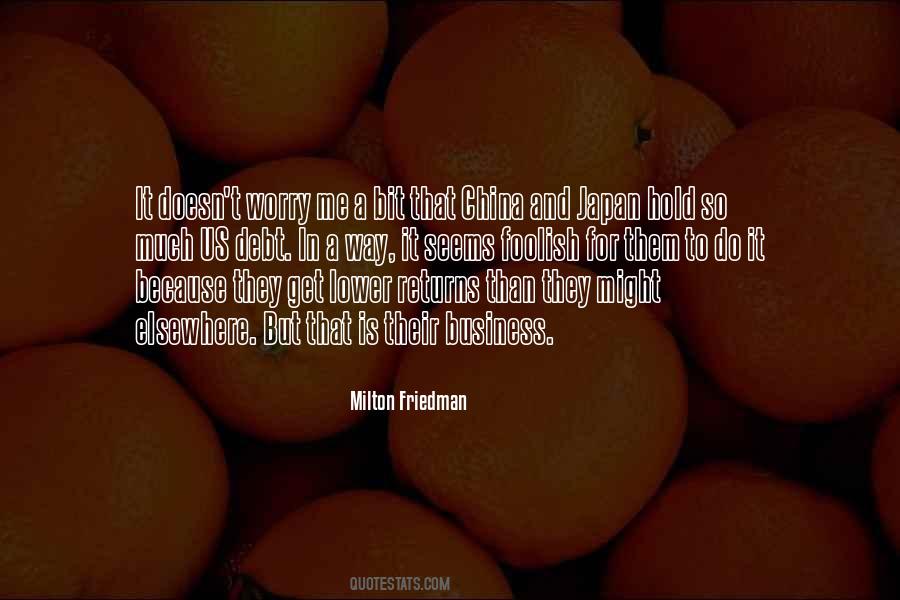 #23. I routinely make trips to China and India where we have offices to continue to maintain the linkages that are necessary to run a successful business. - Author: Douglas Leone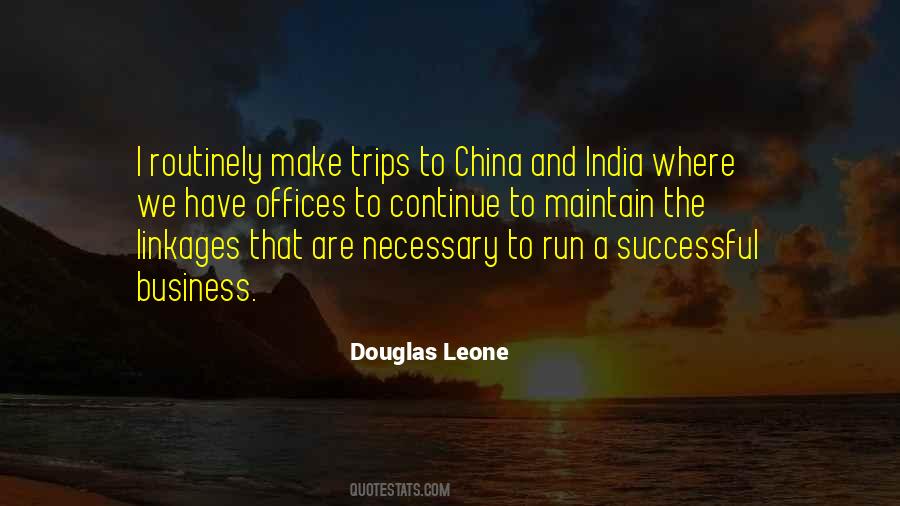 #24. Never mind Communist solidarity, China and the Soviet Union wanted to do business with the likes of Hyundai and Samsung, not with state-owned enterprises in the North that didn't pay their bills on time. - Author: Barbara Demick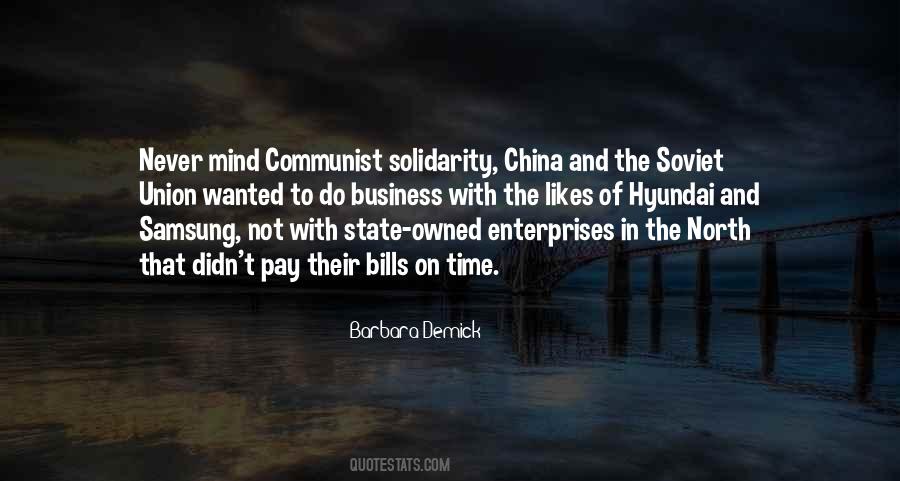 #25. I would have a democratic process for people to get together and talk about the way they want the government to conduct business with China. - Author: Tsai Ing-wen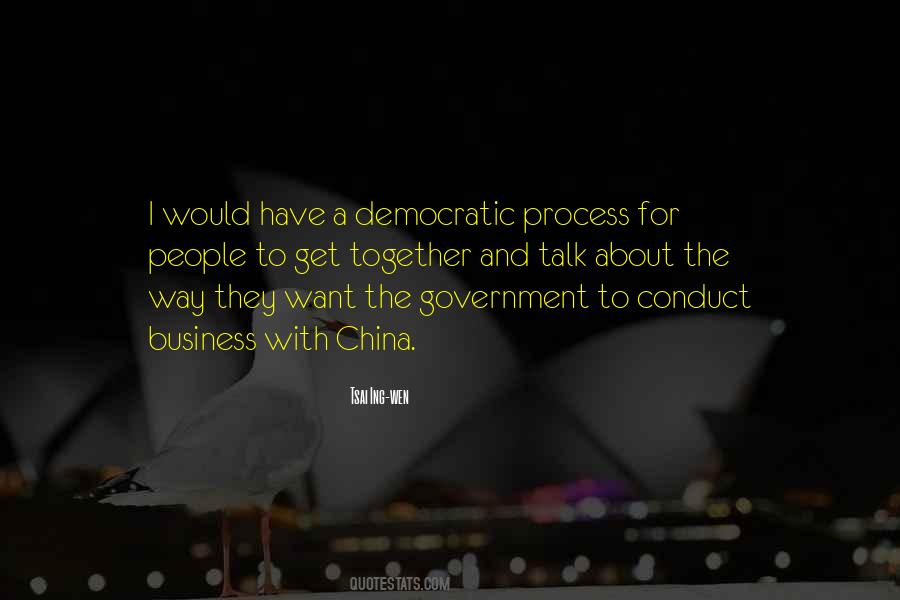 #26. Of course I have the license to make up things, but I think a lot of what's written about China is misleading, and most Americans don't know much about China, in-depth, even though China is such a crucial business partner, rival, whatever. - Author: Anchee Min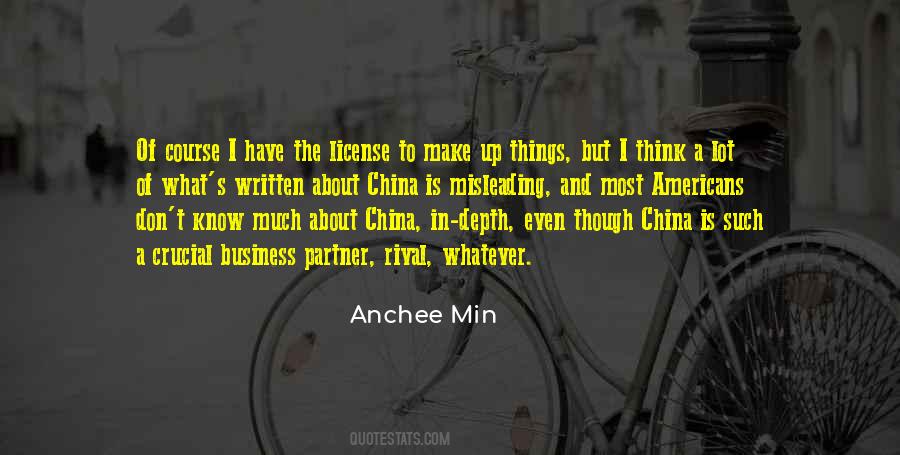 #27. One thing everyone understood, however, was that when they sprayed him with snow during a stoppage in play and he responded by throwing his blocker up into one of their guys' nose, he meant business. To be fair, he was not the first foreigner in China to lash out when frustrated by this culture. - Author: Tom Carter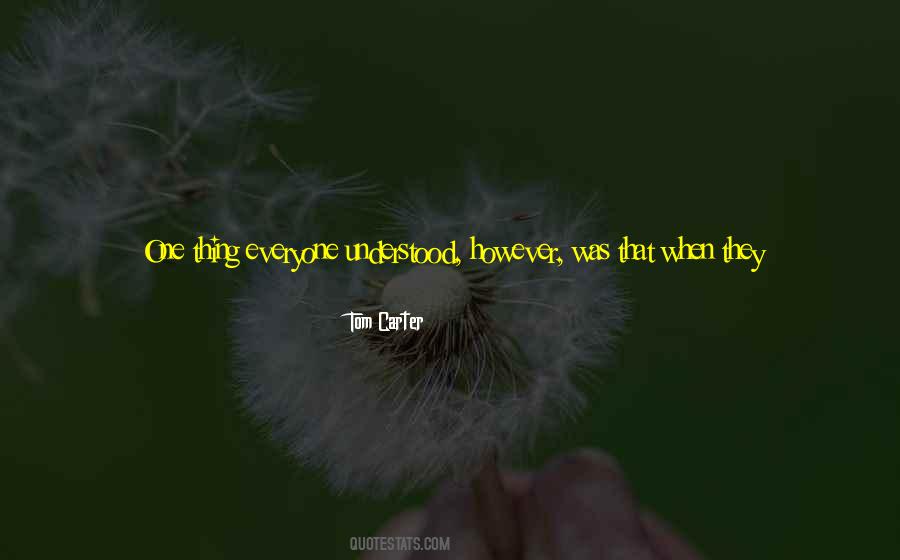 #28. In the 19th century China dominated the manufacture of porcelain. Then European factories discovered a cheaper method of making pottery of equal quality, demolishing the Chinese industry the exact reverse of what is happening now. World economics have turned full circle. - Author: Martin Sorrell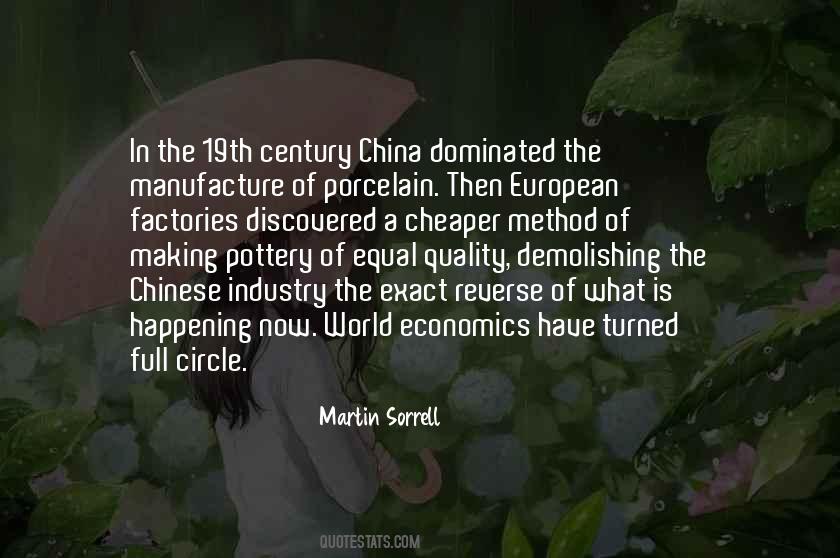 #29. Master Li, how are we going to murder a man who laughs at axes?" I asked.
We are going to experiment, dear boy. Our first order of business will be to find a deranged alchemist, which should not be very difficult. China," said Master Li, "is overstocked with deranged alchemists. - Author: Barry Hughart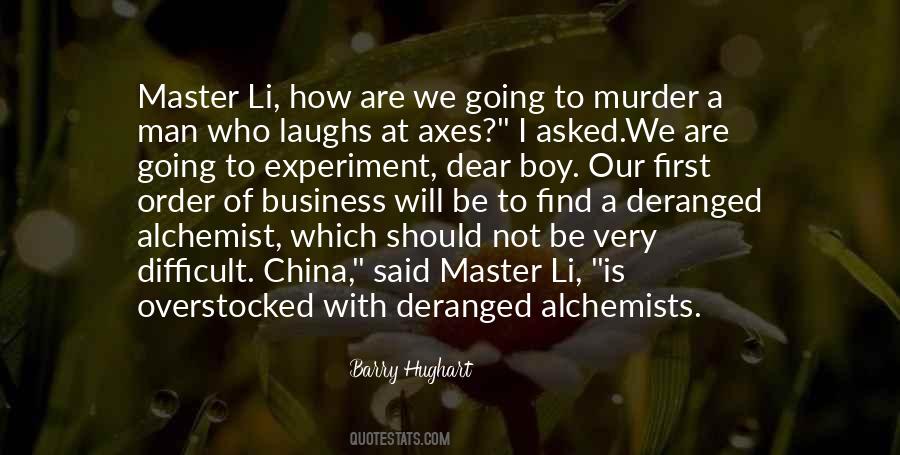 #30. When you're in another country, remember to do as the locals do, since it is your ways that may seem strange of offensive to them. - Author: Tracey Wilen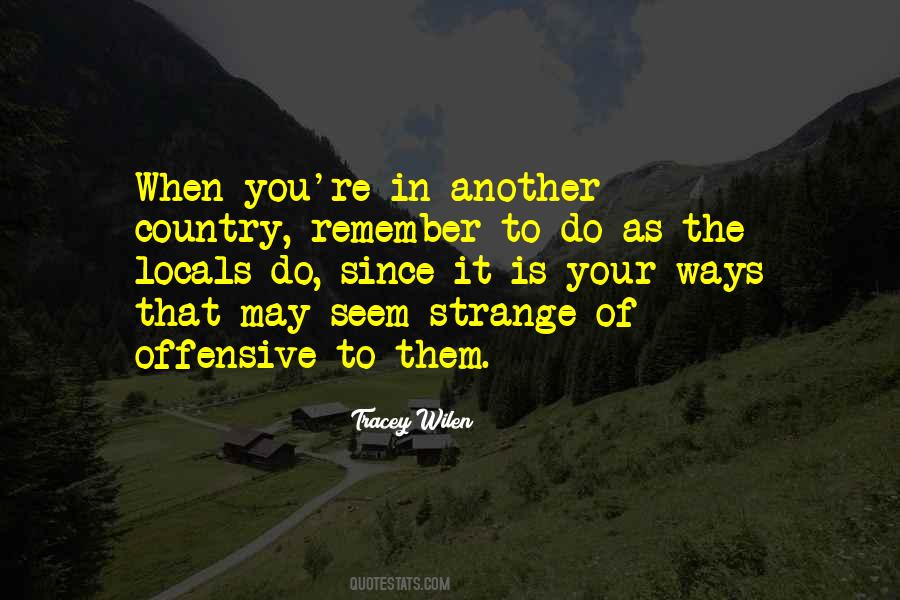 #31. I believe Donald Trump would be better for America than Barack Obama, because he understands business. Donald Trump has taken a pro- life position. He believes that we're getting shanghaied by China. - Author: Mike Huckabee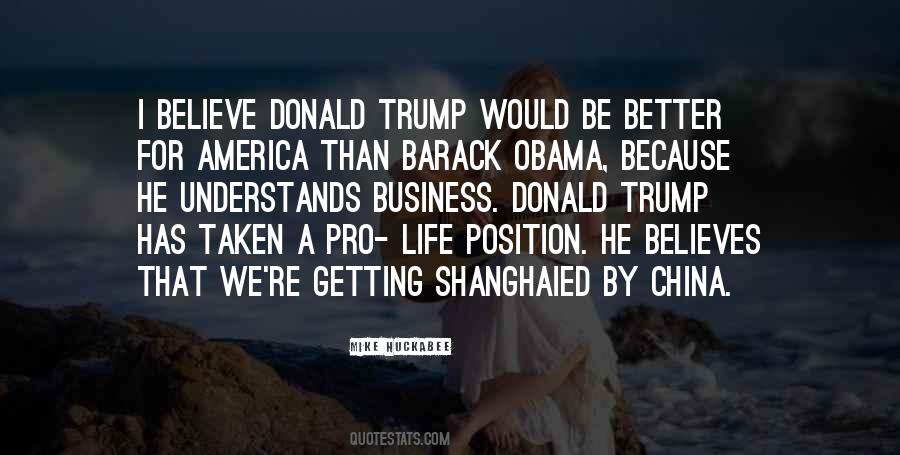 #32. China has many successful entrepreneurs and business people. I hope that more people of insight will put their talents to work to improve the lives of poor people in China and around the world, and seek solutions for them. - Author: Bill Gates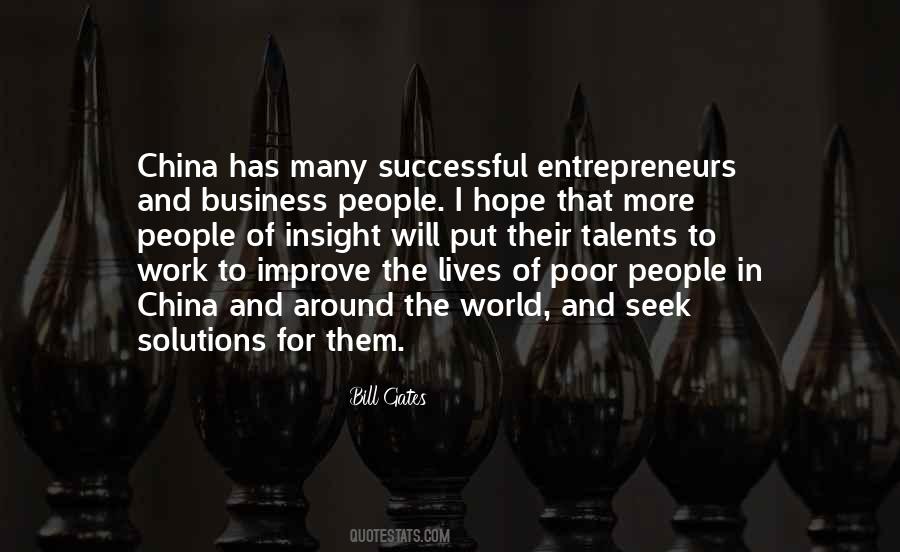 #33. As president, I will stand up to the great human rights tests of our time - in China, Russia, and the Middle East. We must send a signal to our allies and adversaries that America is back in the leadership business. - Author: Carly Fiorina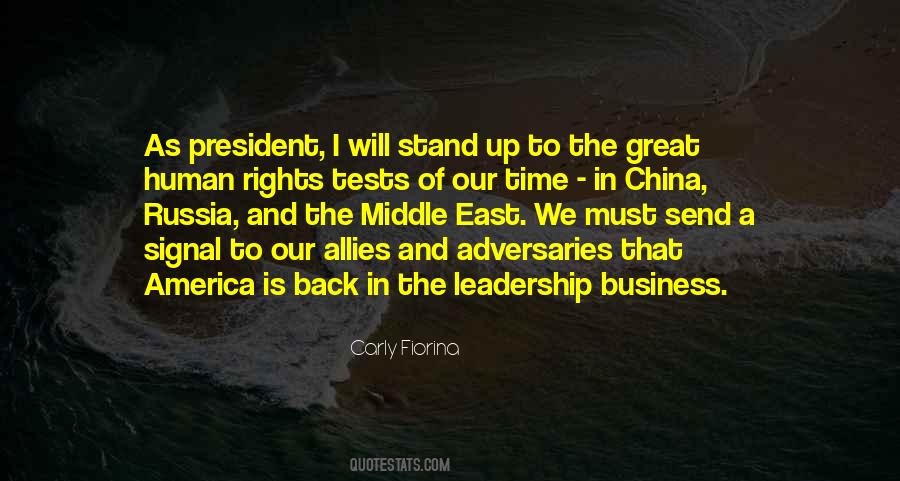 #34. The fact is ... that when totalitarian nations like China and Saudi Arabia play ball with U.S. business interests, we like them just fine. But when Venezuela's freely elected president threatens powerful corporate interests, the Bush administration treats him as an enemy. - Author: Robert Scheer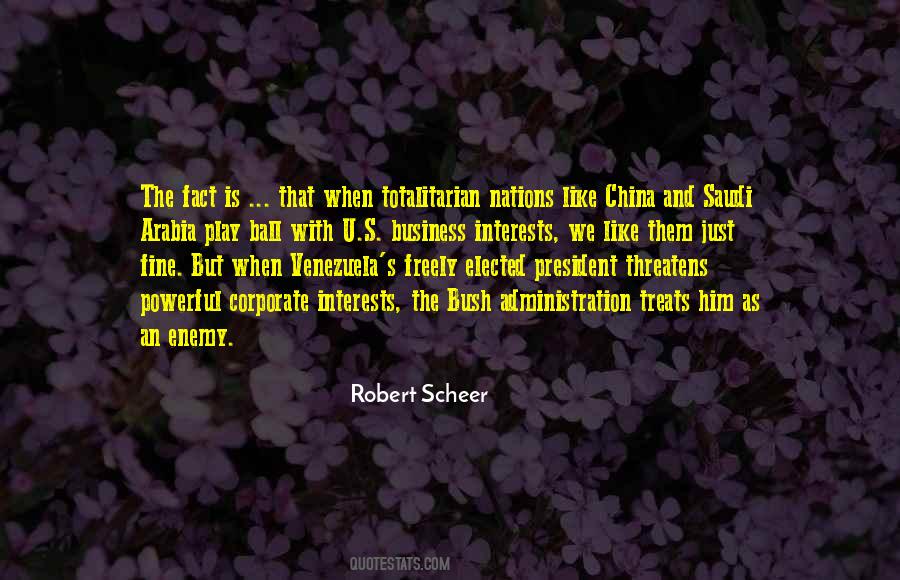 #35. A lot of people, including business leaders, think the future belongs to China. Globalization is not a zero-sum game, but we need to hone our skills to stay in play. - Author: Jon Meacham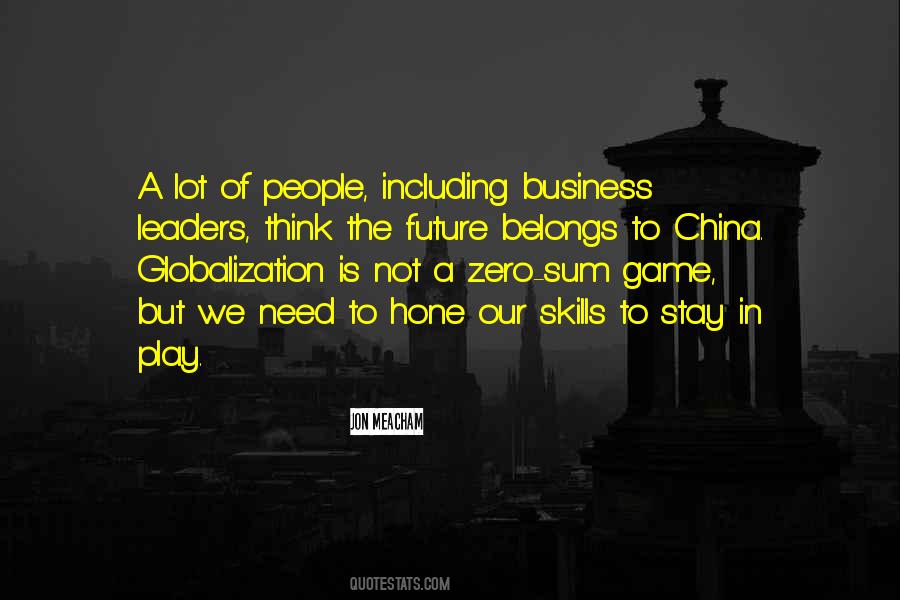 #36. As I now see it, America had no business involving itself in a series of distant convulsions where the ideas, variously interpreted, of a long-dead German economist were bringing biblical calamity to China, North Korea, Vietnam, Laos and Cambodia. - Author: Martin Amis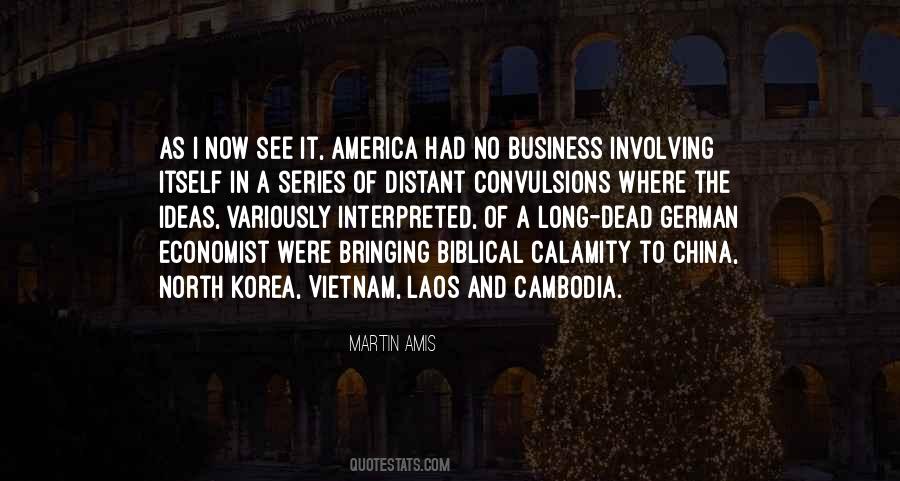 #37. Thomas Friedman's 'The World is Flat' sold more copies in India than in the U.K. The market for go-getting business books or wonkish tomes by corporate moguls posing as philosopher kings has grown dramatically in modernising China and India. - Author: Pankaj Mishra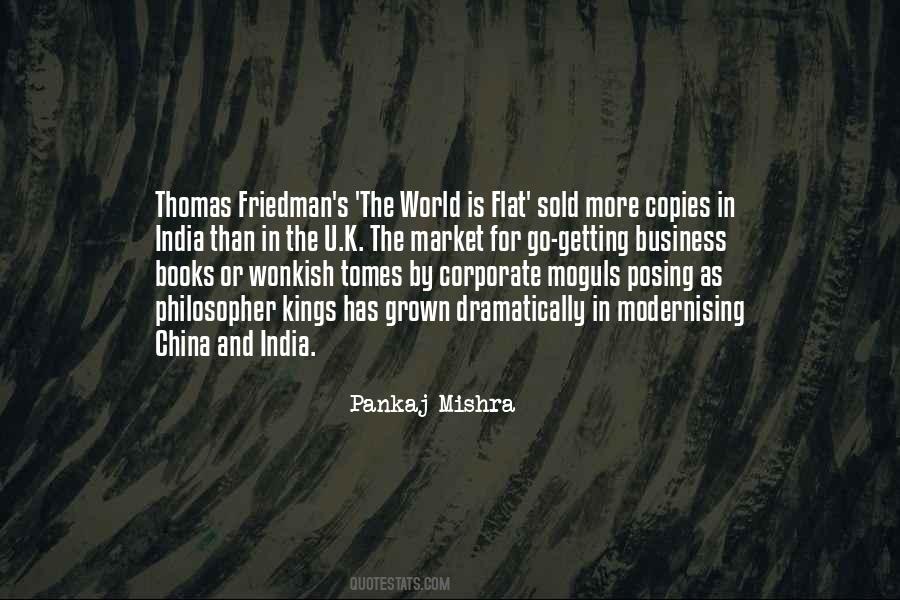 #38. In Chinese business culture, humility is a virtue. - Author: Stefan H. Verstappen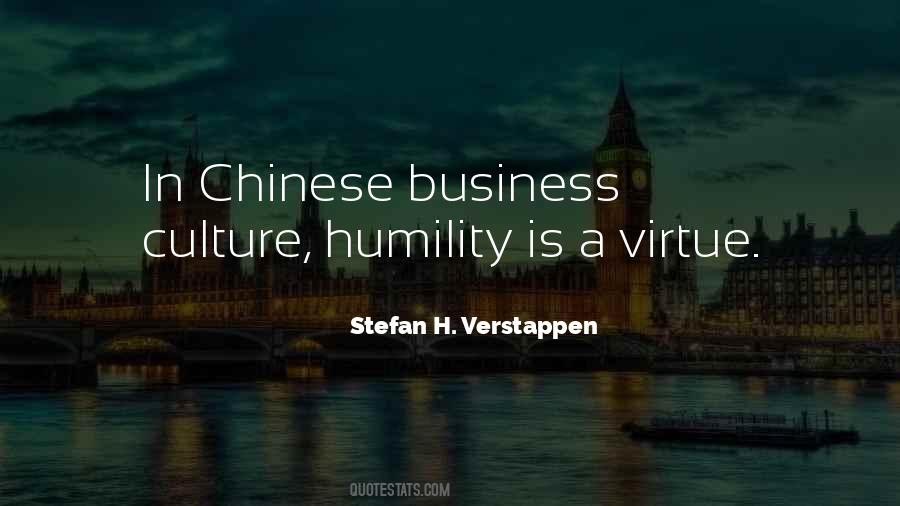 #39. Japan needs to cooperate with China economically. This is understood better by the business community than the government. - Author: Sadako Ogata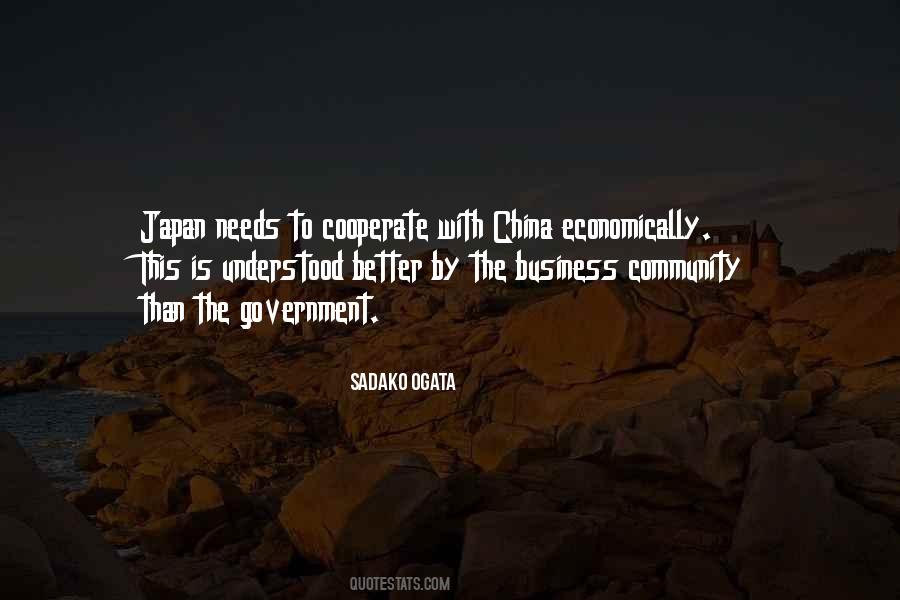 #40. Our experience is that it is not terribly difficult to do business in China. But the issue is, how much stability do you have in terms of what you negotiate up front and when you've got your feet and your investments on the ground. - Author: Azim Premji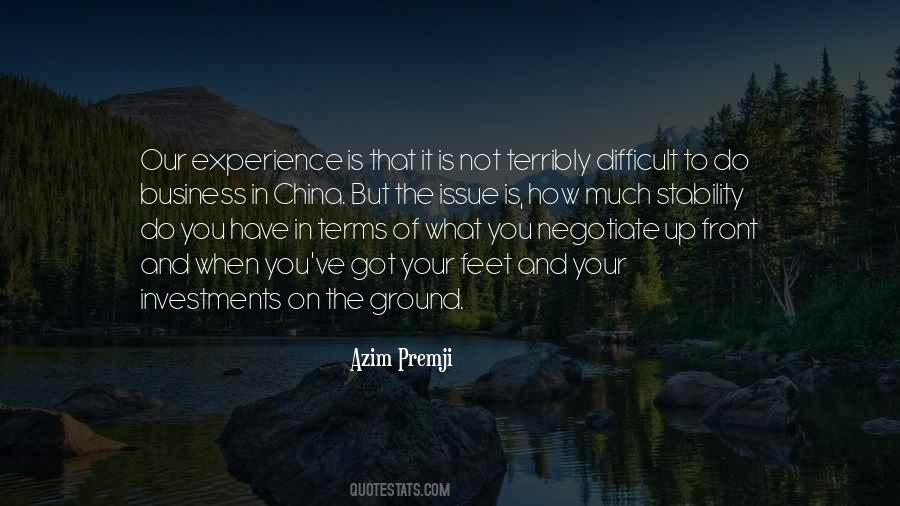 #41. What business could be mature when you have economies with more than 2 billion people in India, China and Southeast Asia? - Author: Jack Welch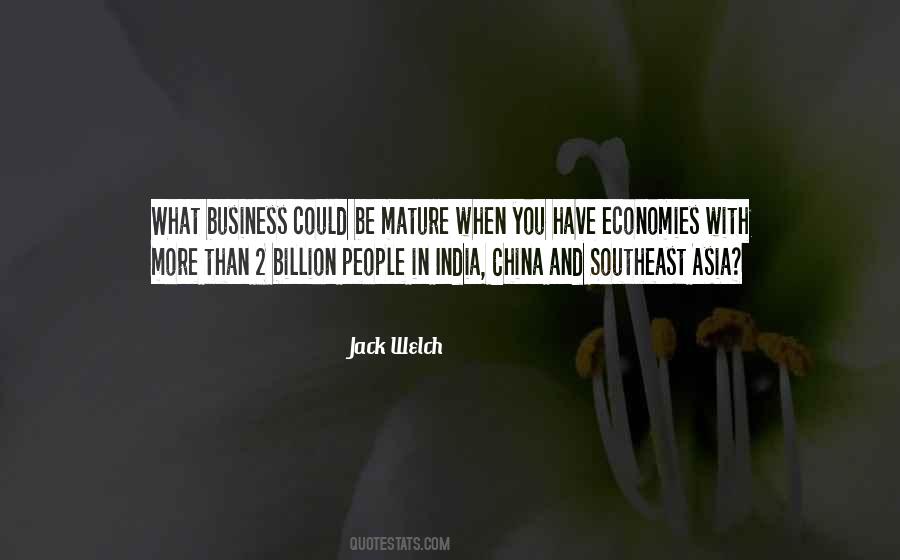 #42. staying out of wars and political confrontations and zeroing in on business - its global influence far exceeds its existing economic strength. Nations do not fear China's military might; they fear its ability to give or withhold trade and investments."2 - Author: Robert D. Blackwill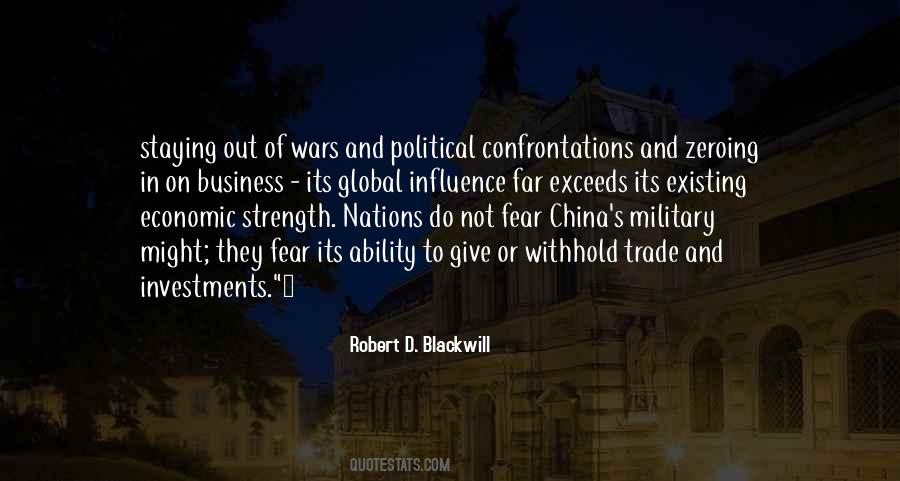 #43. By the Nineties, so many people were moonlighting and creating their own professional identities that China generated a brisk new business in the printing of business cards. - Author: Evan Osnos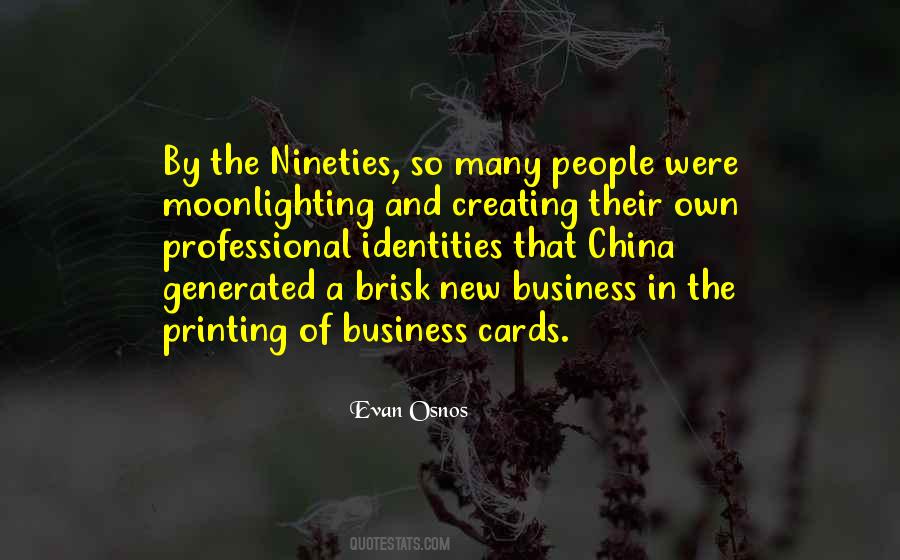 #44. Of course, socialism is just evil now. It's completely discredited supposedly by the collapse of the Soviet Union, but I can't help noticing that my grandchildren are heavily in hock to Communist China now which is evidently a whole lot better at business than we are. - Author: Kurt Vonnegut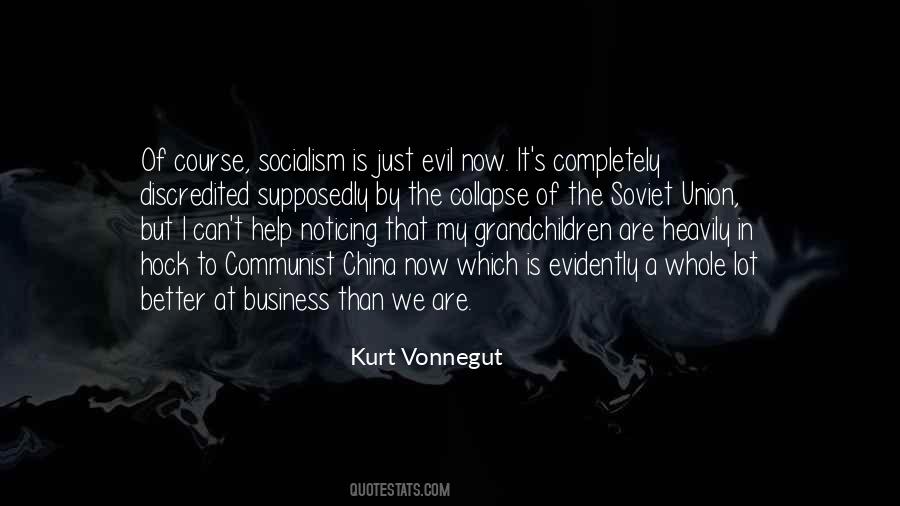 #45. Analysts, scholars, business people, diplomats, and journalists involved with China spend so much time questioning one another's biases and loyalties that they have even settled on two opposing categories: 'panda huggers' versus 'panda sluggers.' - Author: Evan Osnos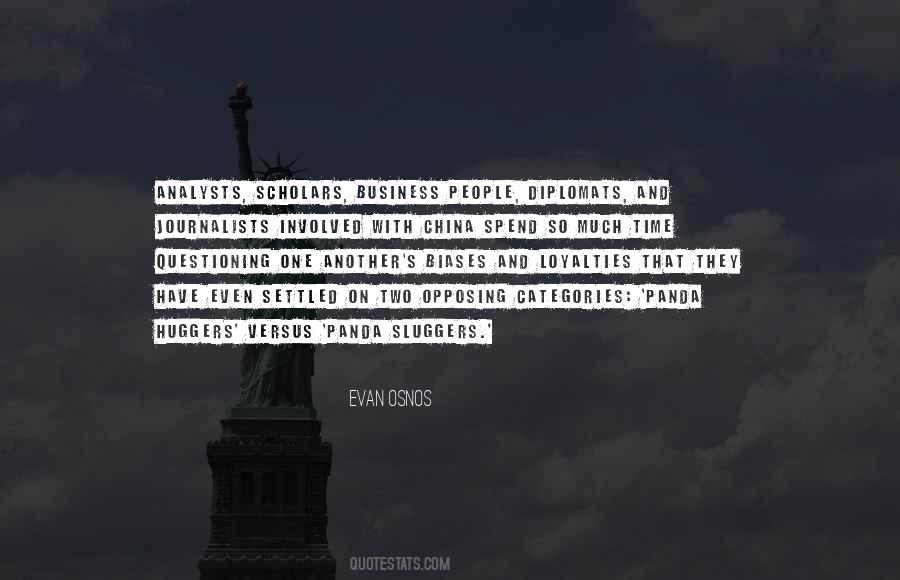 #46. China is very entrepreneurial but has no rule of law. Europe has rule of law but isn't entrepreneurial. Combine rule of law, entrepreneurialism and a generally pro-business policy, and you have Apple. - Author: Marc Andreessen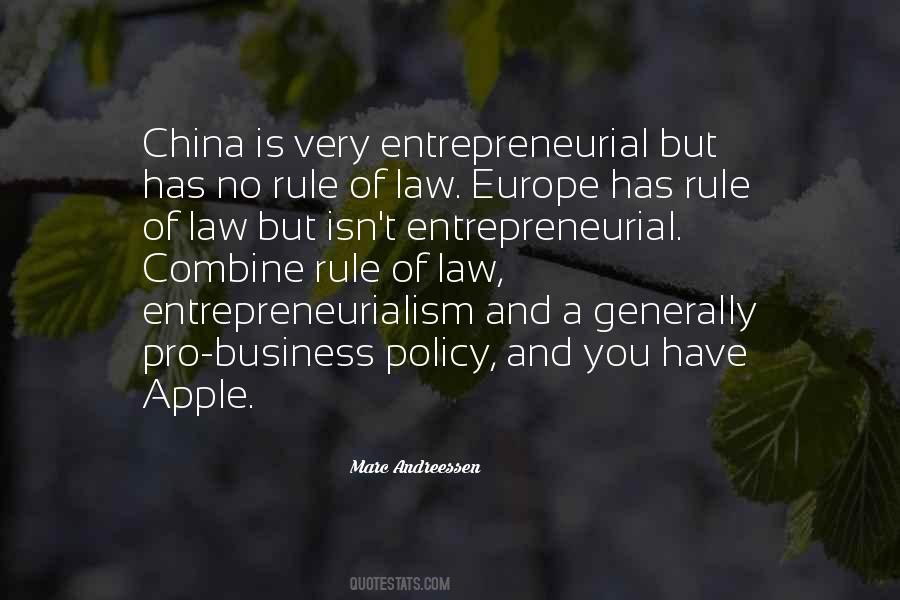 #47. But I believe in fair trade, and I will tell you, I have many, many friends heading up corporations, and people that do just business in China, they say it's virtually impossible. It's very, very hard to come into China. And yet, we welcome them with open arms. - Author: Donald Trump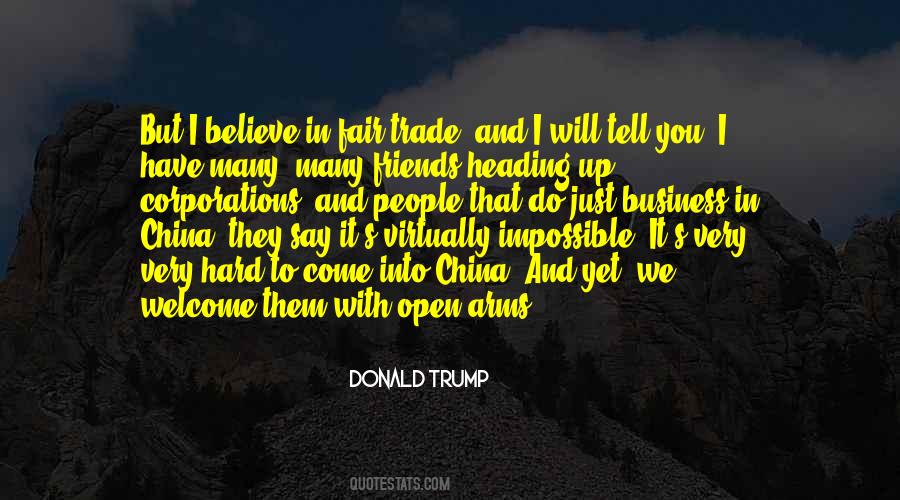 #48. We are anxious and open to all forms of doing business in China. - Author: Ted Sarandos
#49. Deception, you see, lies at the heart of business, politics and war. Even pleasure, wouldn't you say? Everyone practises it, from the President of China to the whores on Lockhart Road. - Author: Michael Wreford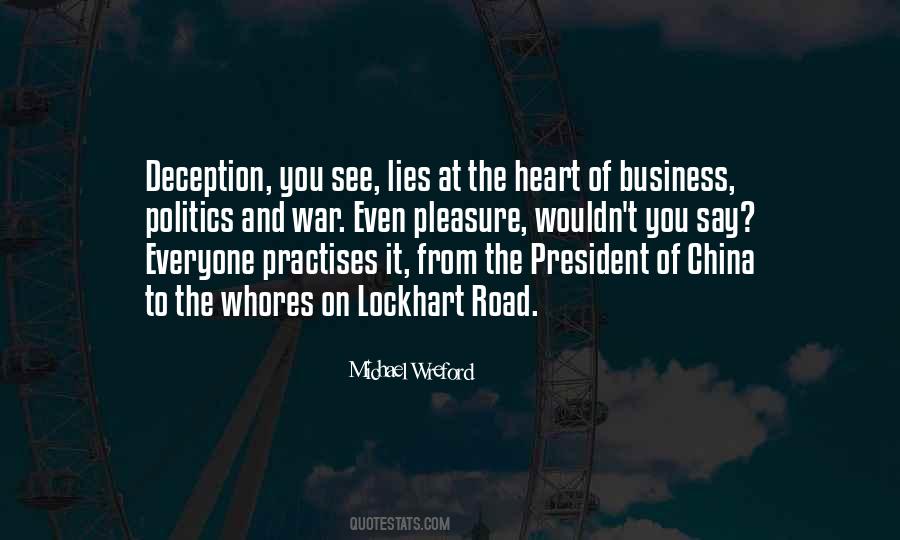 #50. Everybody wants all of our businesses to have no restrictions in any country, but even in Canada, in order to distribute home entertainment, you need to follow the Canadian rules, and it's just about as hard to do business there as it is in China. - Author: Jon Feltheimer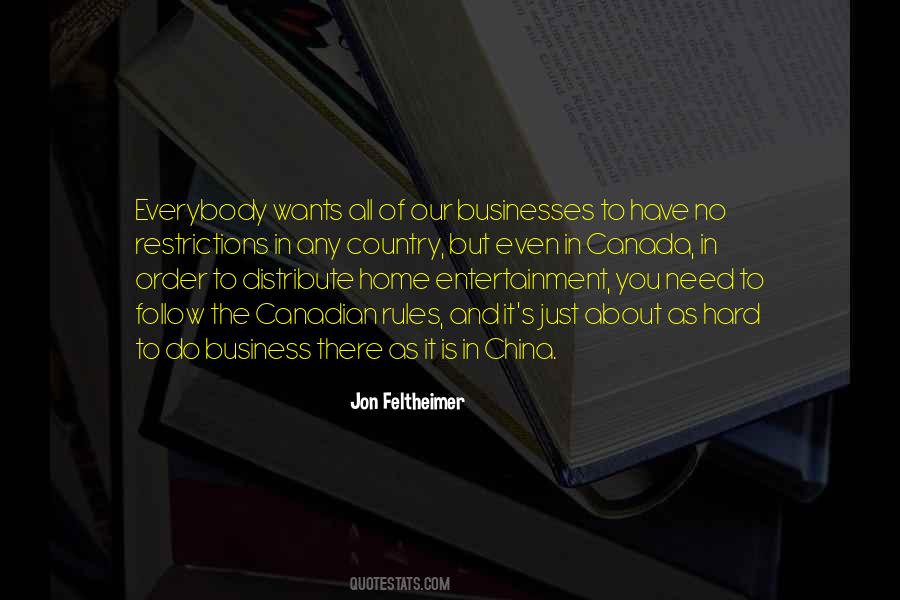 #51. The online video business started in both China and the US around 2005/6, when broadband penetration grew big enough. - Author: Victor Koo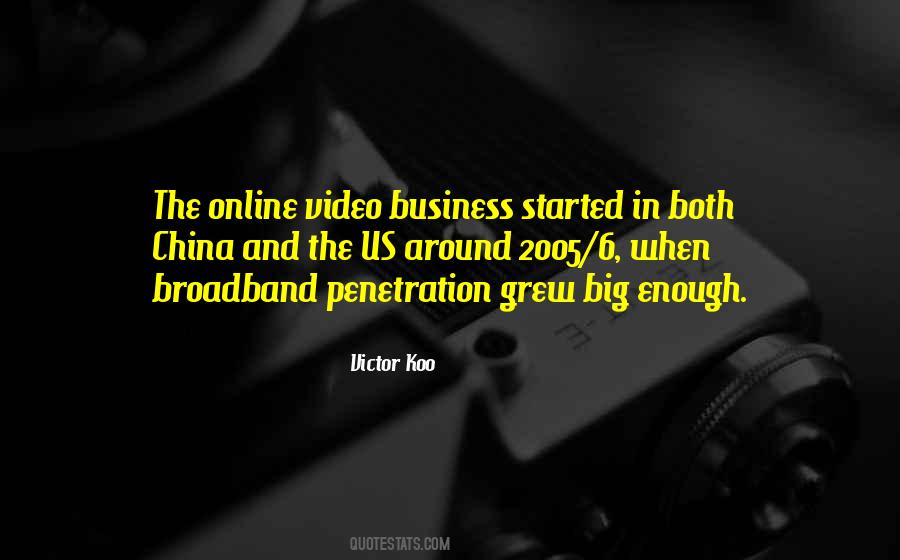 #52. Because of the economic crisis, China and the United States are bound together. This is a totally new phenomenon, and nobody will fight for ideology anymore. It's all about business. - Author: Ai Weiwei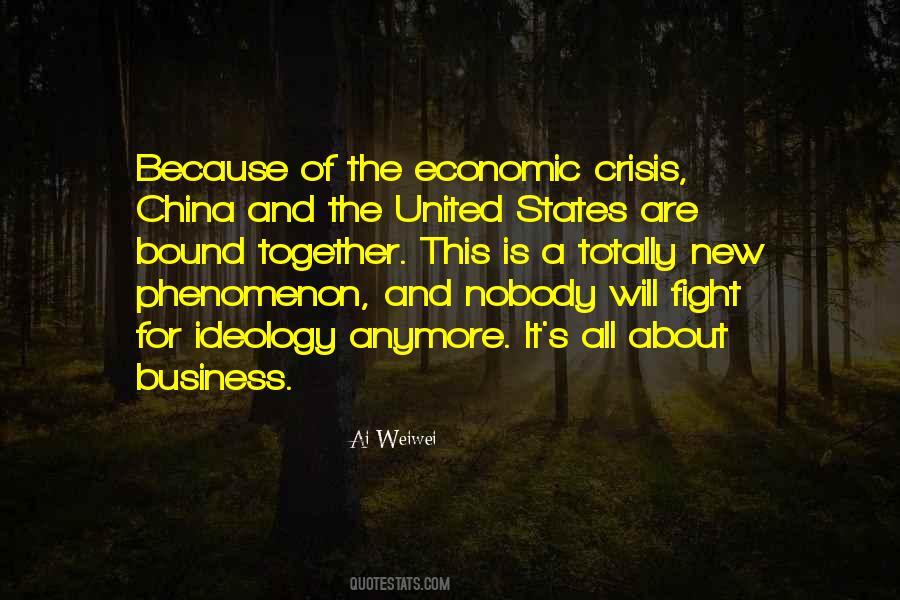 #53. In the late 1970s, business cards were just being reintroduced in China. I received one which stated, in English: The responsible person of the department concerned. KAREL KOVANDA Brussels - Author: Anonymous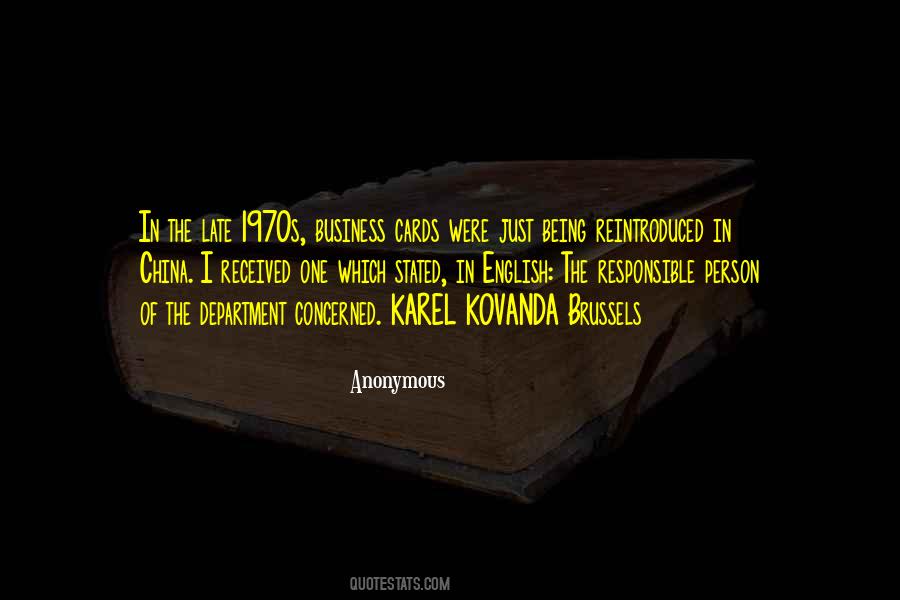 #54. China is a government-oriented economy. No one can say he can run his business entirely without government connections. Anybody who says that he or she can do things alone ... is a hypocrite. - Author: Wang Jianlin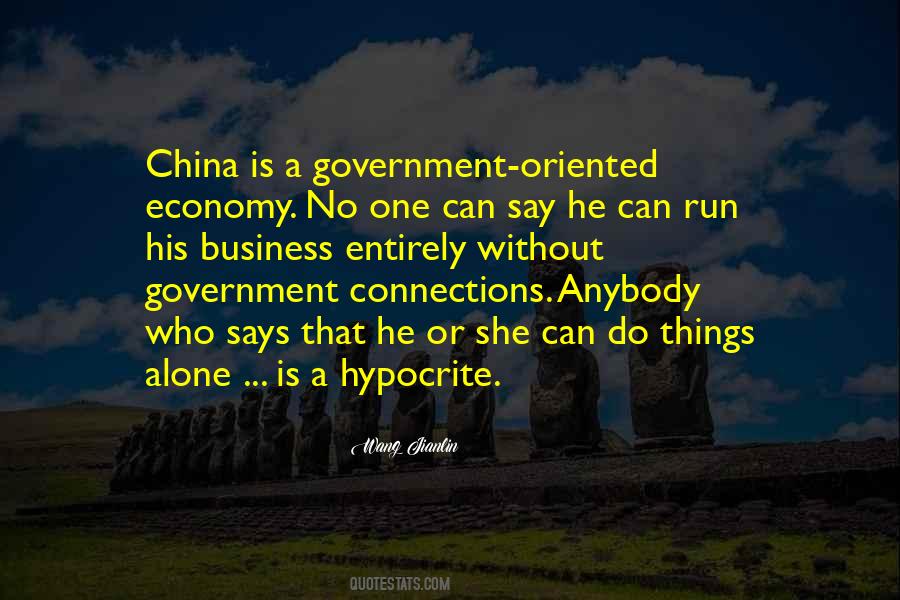 #55. By a quirk of culture and history, it could be that China has arrived today where many other 'more developed countries' will arrive tomorrow. - Author: John Woodward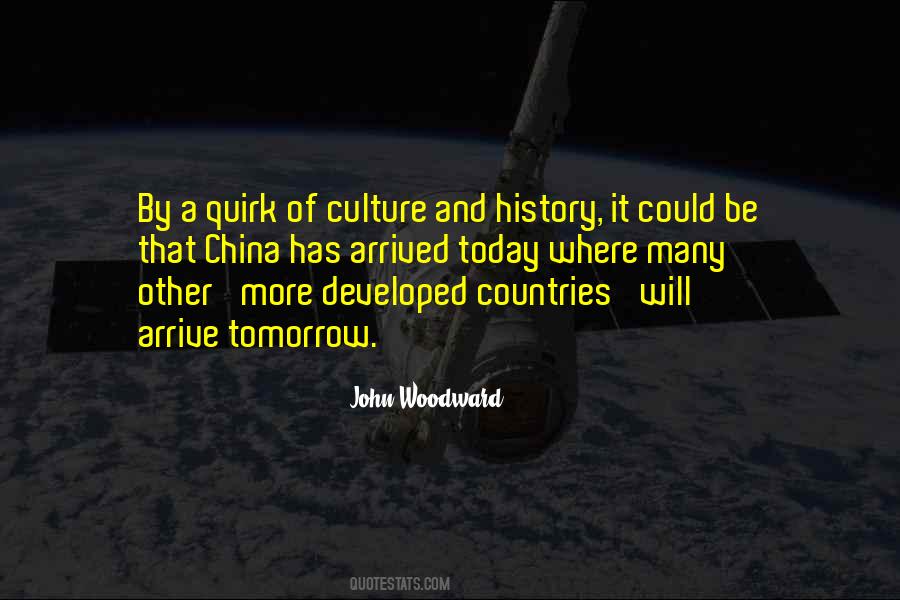 Famous Authors
Popular Topics