Baseball Manager Famous Quotes & Sayings
List of top 31 famous quotes and sayings about baseball manager to read and share with friends on your Facebook, Twitter, blogs.
Top 31 Baseball Manager Sayings
#1. Nine equals eight ... just ask any math teacher. Well, make that a Tampa-St. Pete area math teacher, one who also likes baseball, and is a diehard Rays fan, and who knows that Joe Maddon deserves more than just the 2008 Manager of the Year Award. - Author: Tucker Elliot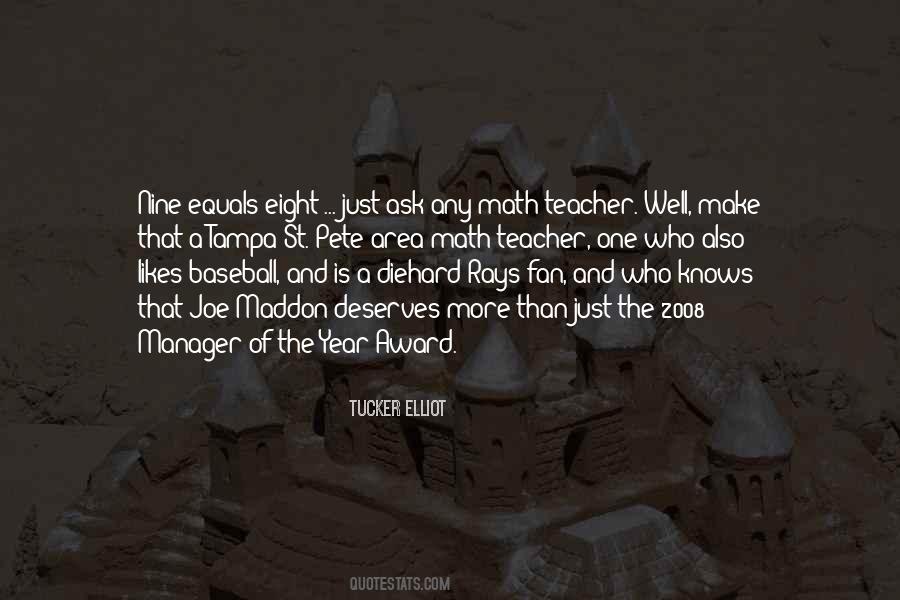 #2. Even though my dad was a manager in the minor leagues, I still traveled around with him and saw it from the field out. Now, as an owner, you're kind of looking from the whole baseball activity from outside in, from a fan's perspective. - Author: Cal Ripken Jr.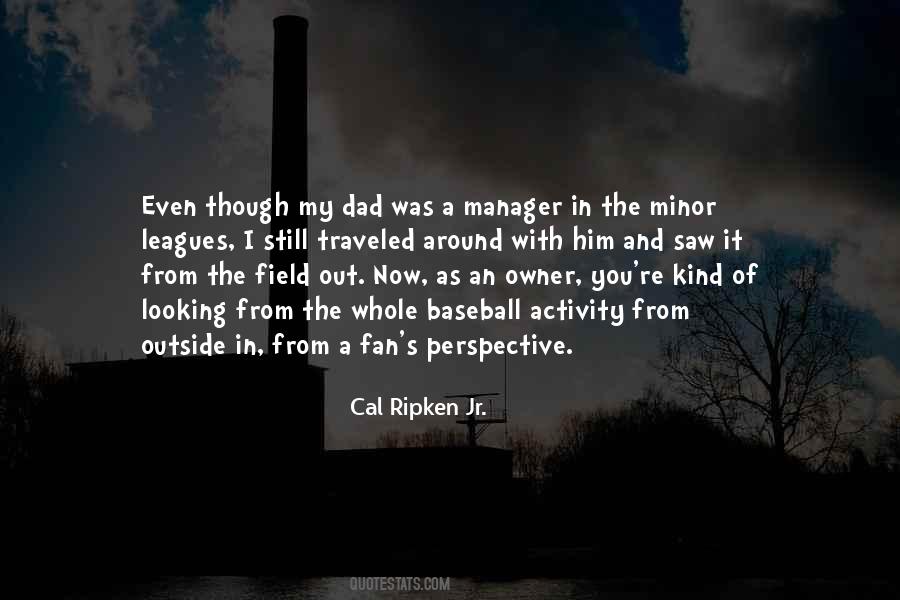 #3. (Al) Lopez is a great believer in speed and hustle, in the go-go style of baseball. No other manager is so determined a foe of stodgy baseball, lack of hustle and slipshod practices and so powerful an advocate of the unexpected. - Author: Nellie Fox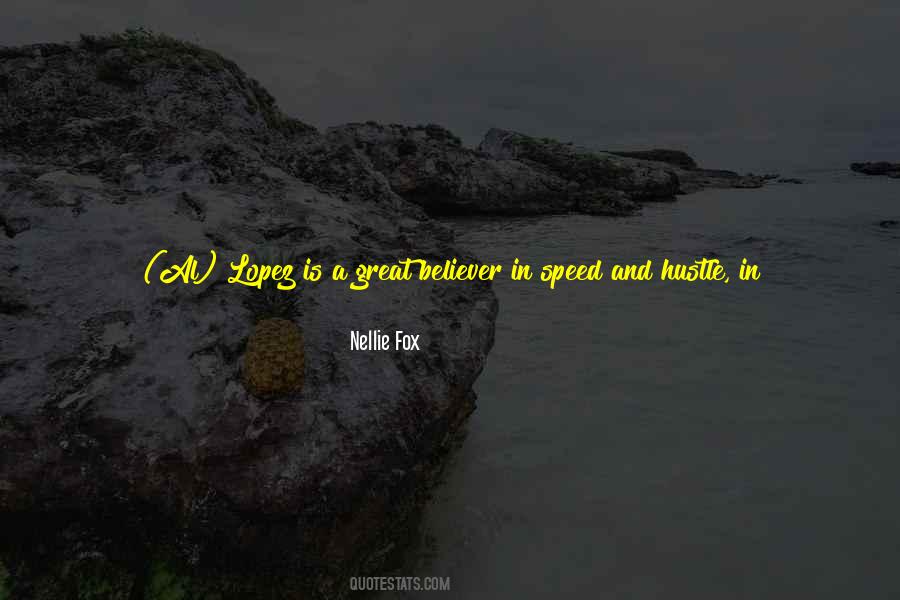 #4. A baseball manager has learned a lot about his job from having played the game, but a parent has not learned a thing from having once been a child. - Author: Bill Cosby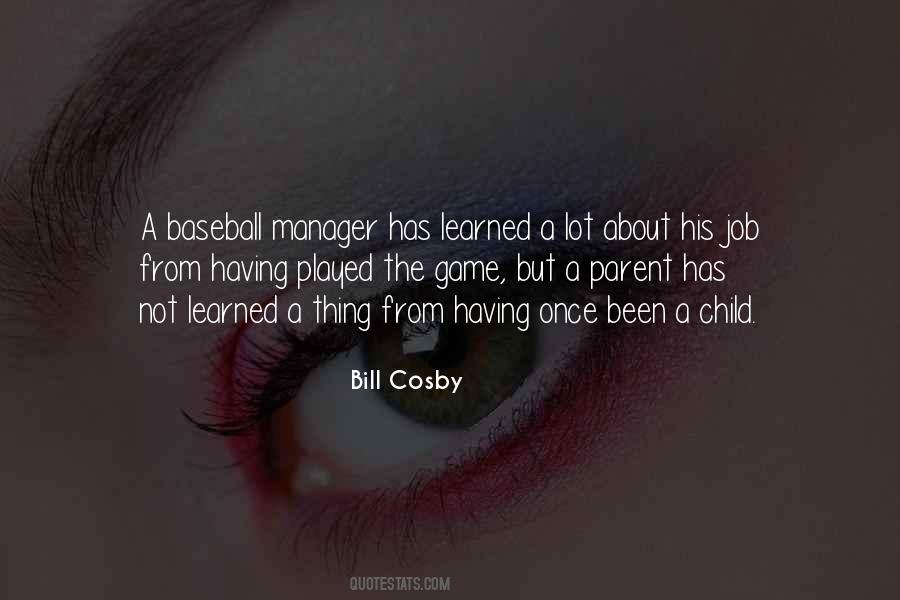 #5. Your job as a baseball player is to come to the park ready to play every day, and the manager, it's his job to make those decisions about who plays. - Author: Cal Ripken Jr.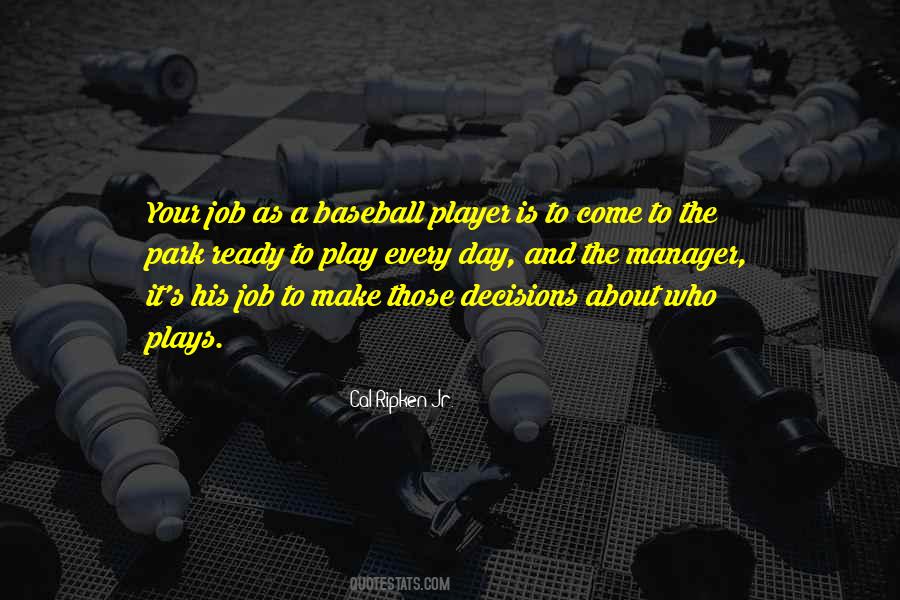 #6. I SEND YOU MY HEARTY CONGRATULATIONS UPON BEGINNING THE THIRTIETH YEAR OF YOUR GREAT CAREER AS MANAGER OF THE NEW YORK GIANTS, IN WHICH YOU HAVE DONE SO MUCH TO UPHOLD THE TRADITIONS OF CLEAN SPORTSMANSHIP IN THE MOST BELOVED NATIONAL GAME. - Author: Herbert Hoover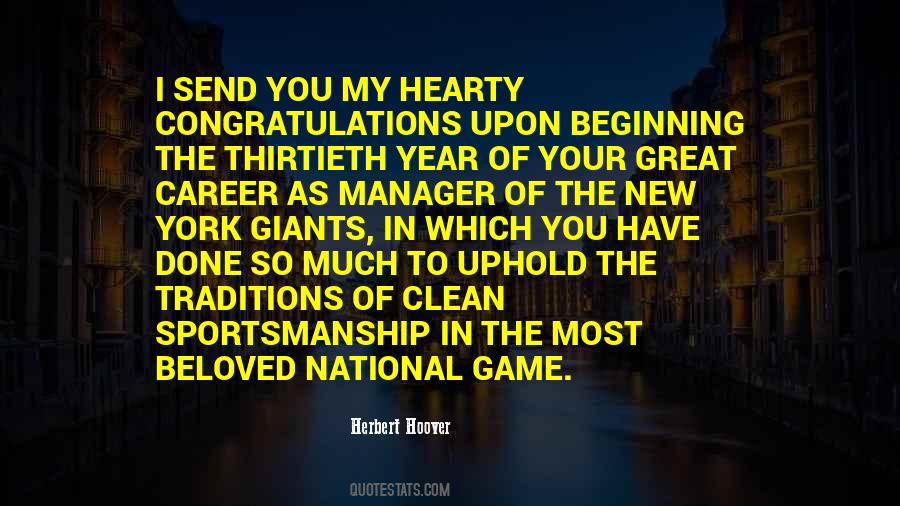 #7. Bruce Sutter and his new pitch, the split finger fastball, fascinate the manager of the Cuban national teams. 'We must find out about this new weapon,' he said. 'Are the American hitters plotting to murder him? - Author: Thomas Boswell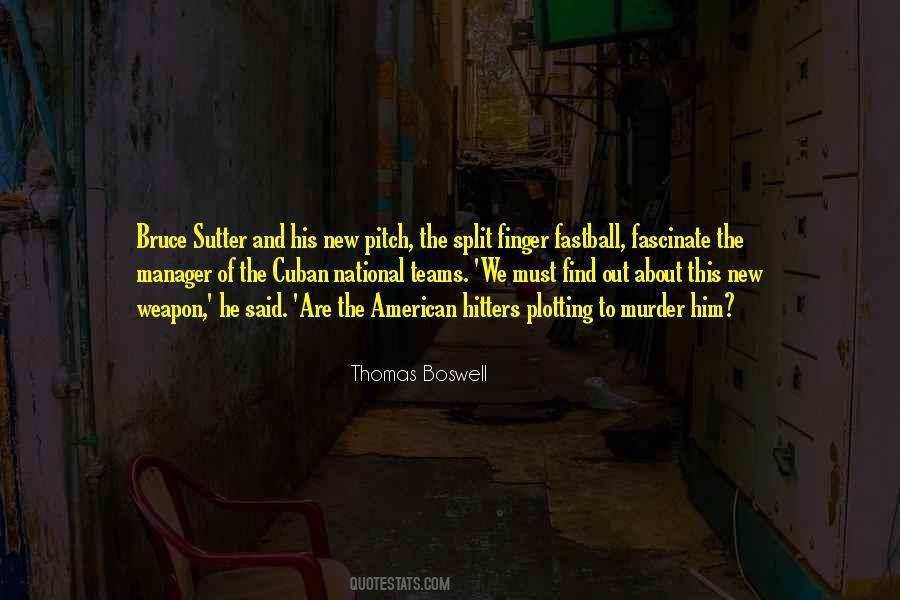 #8. A baseball manager is a necessary evil. - Author: Sparky Anderson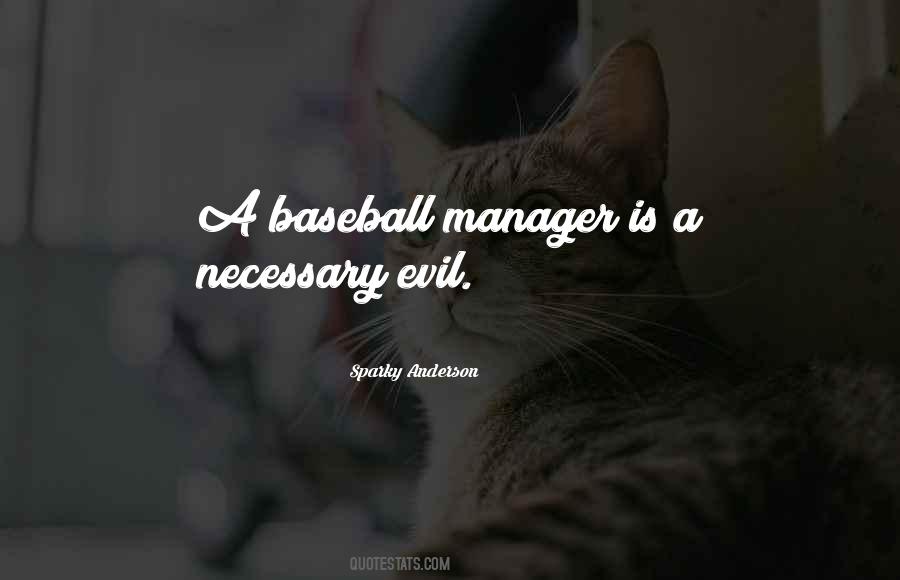 #9. Fifteen minutes in the majors means you're a great baseball player," said Detroit Tigers manager Jim Leyland - who never got his fifteen minutes above the Triple-A level. "People just can't understand how good you have to be to get there at all. - Author: John Feinstein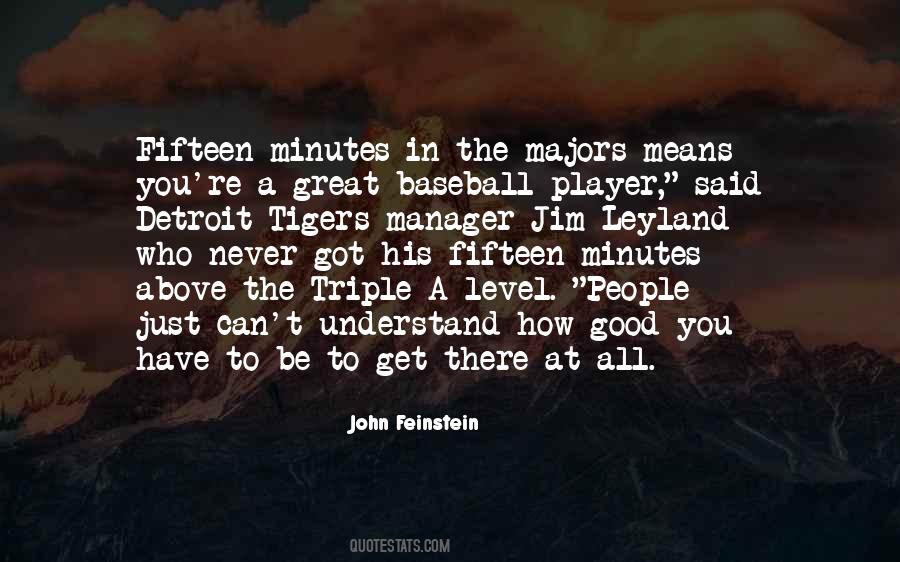 #10. I became a major league manager in several cities and was discharged. We call it discharged because there was no question I had to leave. - Author: Casey Stengel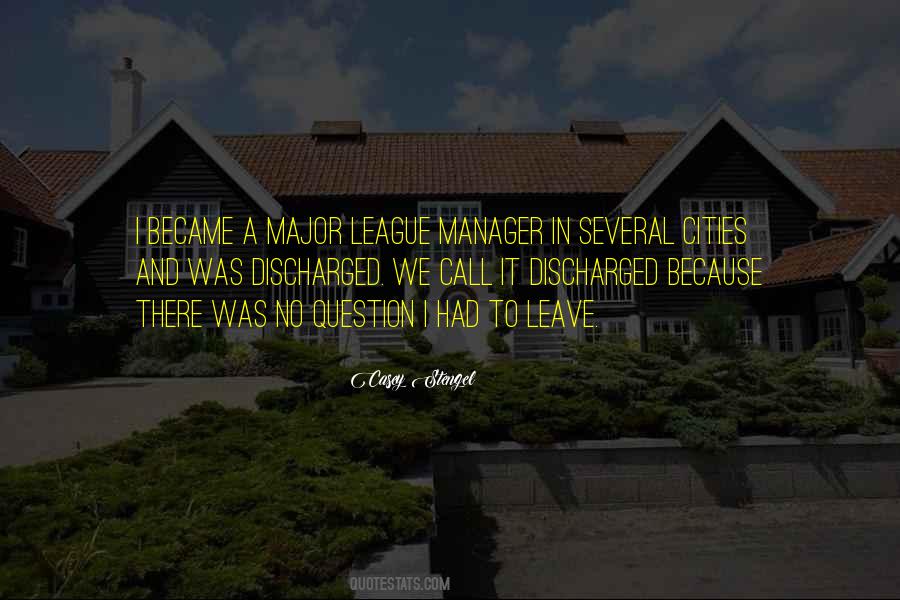 #11. Listen, I was the first black manager in baseball and there was incredible pressure. I don't blame anyone else. I was too tough ... I lack patience. I probably got on guys a little too hard, with the wrong tone of voice. - Author: Frank Robinson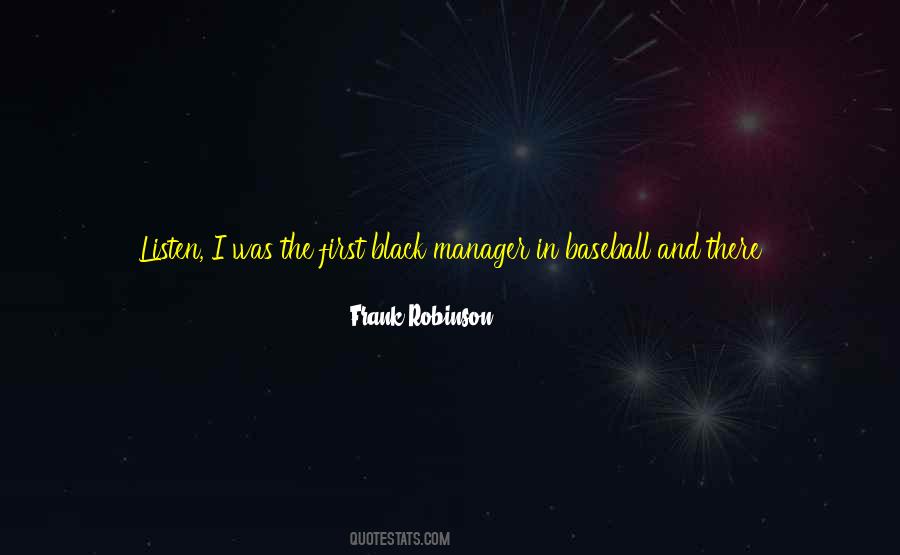 #12. The chance to be a general manager in major-league baseball and for a franchise as storied as this one, probably as storied as the Giants, is great. - Author: Ned Colletti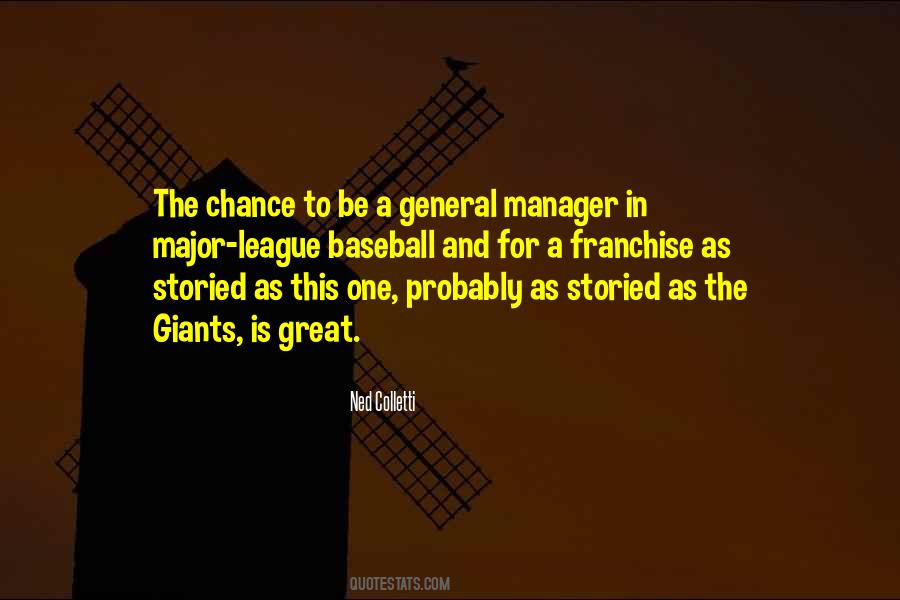 #13. Baseball calls it a curve ball for a reason: you just don't know where some pitches will land. Your ace could get injured. Your golden glover could err. Your team could sit through a rain delay. Your manager could get ejected. Your bench must be broad and deep enough to overcome. - Author: Christine Pelosi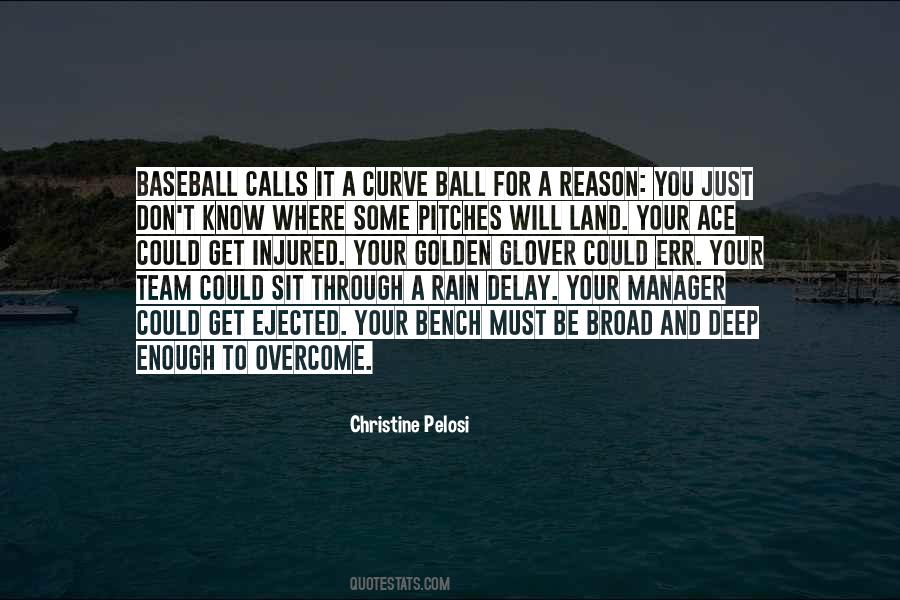 #14. I'm a big baseball fan, and I feel proprietary about the Dodgers. I'm not the owner. I'm not the manager. But I feel passionate about the decisions that they make, and I take it personally when they make decisions I don't like. - Author: Carlton Cuse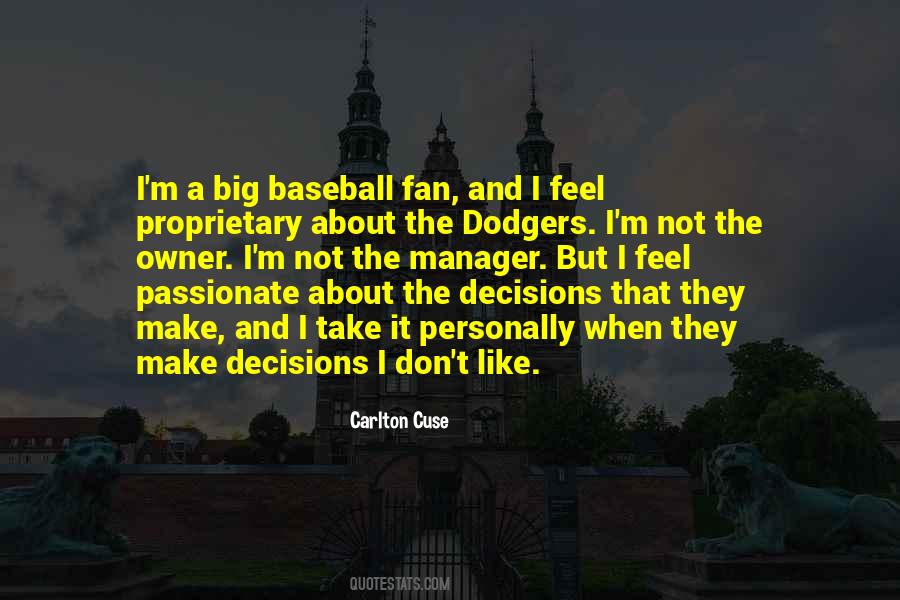 #15. It is the nature of being the general manager of a baseball team that you have to remain on familiar terms with people you are continually trying to screw. - Author: Michael Lewis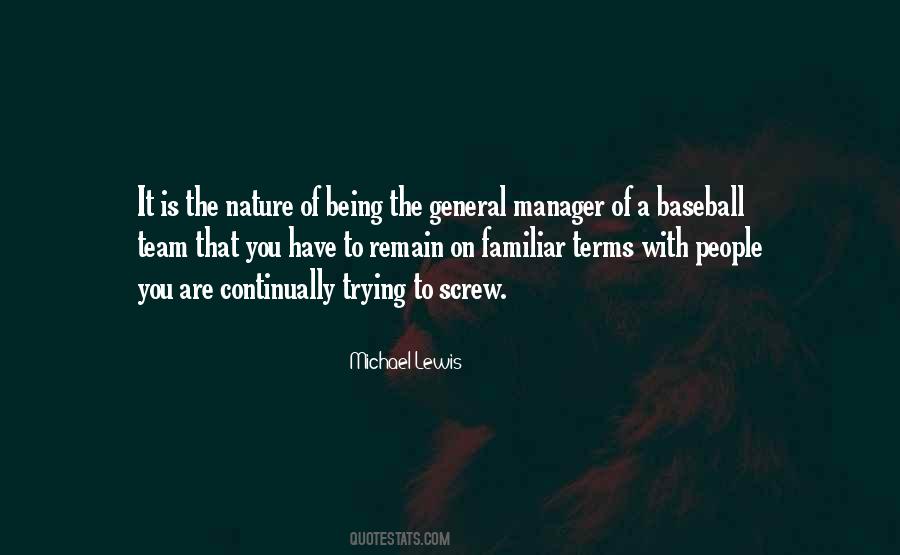 #16. If you seriously aspire to be a manager in the big leagues, there is a baseball 'book' that one must learn. Alongside that book, you must practice Spanish. Of 25 players on each roster, sometimes there are between eight and 15 players who speak Spanish. - Author: Tony La Russa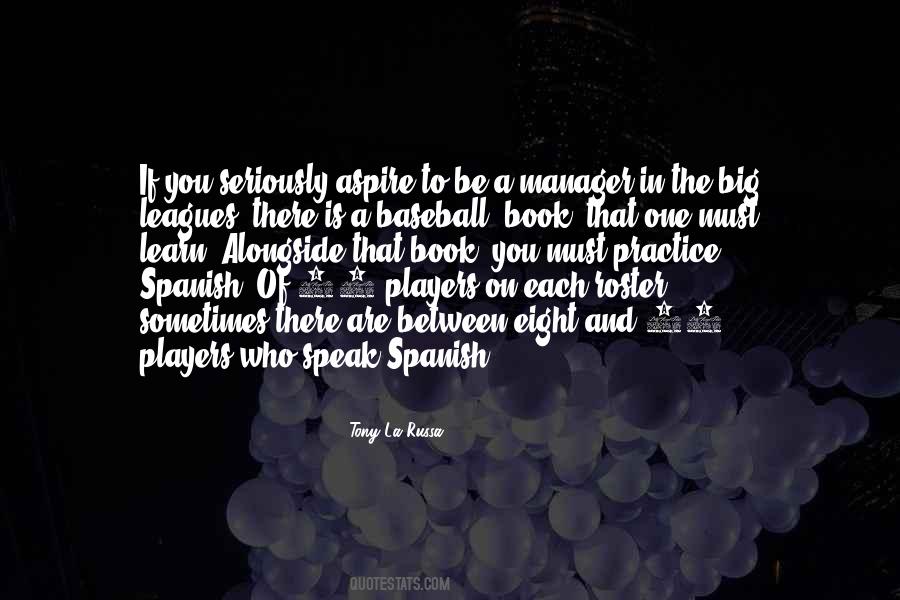 #17. Toughest job in baseball is the general manager. Second toughest is the hitting coach. - Author: Ken Harrelson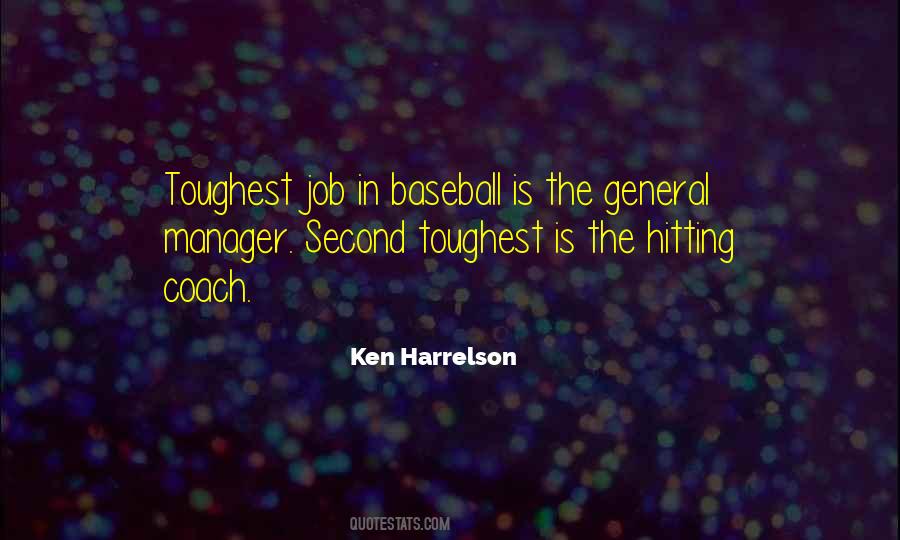 #18. A baseball manager recognizes a nonphysical talent, hustle, as an essential gift of great players and great teams. It is the characteristic of running faster than necessary, moving sooner than necessary, trying harder than necessary. It is essential for great programming teams, too. - Author: Frederick P. Brooks Jr.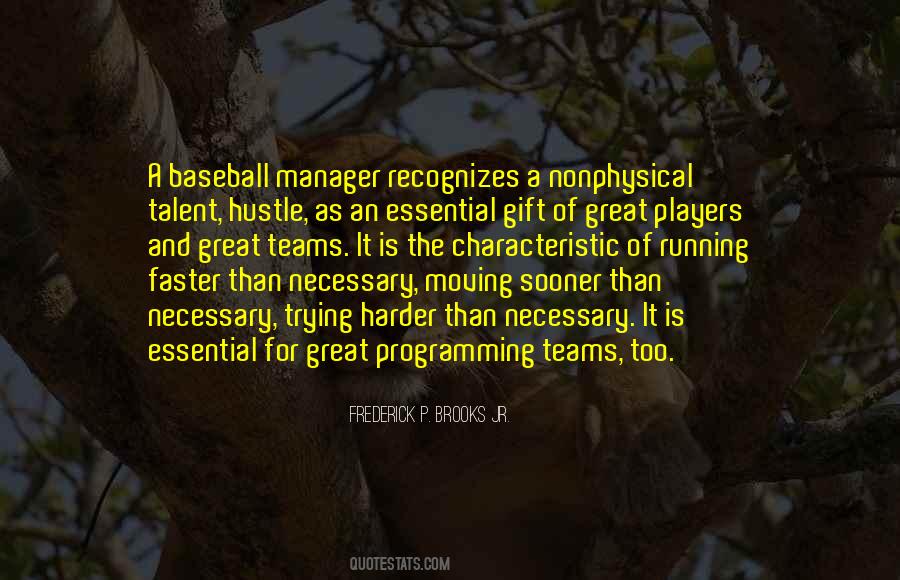 #19. Every time I sit with our general manager at a baseball game, and there's number-cruncher and statistician guy - I'm sitting around - they start talking about stuff, and I say, 'What's that? I've never heard of that one before.' - Author: George Brett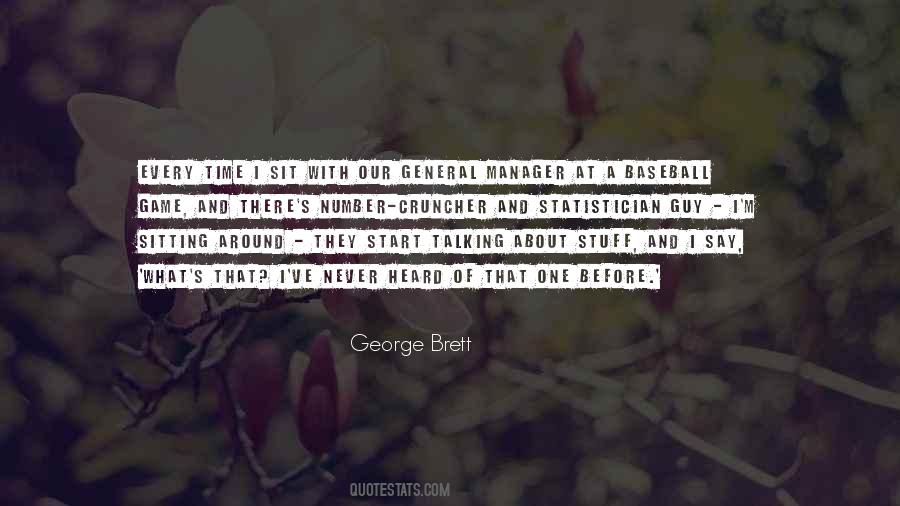 #20. When I took the job as the manager of the Olympic team, I didn't take it because I was a Dodger. I did it because I was an American, and I wanted to bring that gold medal where it belongs in baseball, the United States. And that's exactly what our team did. - Author: Tommy Lasorda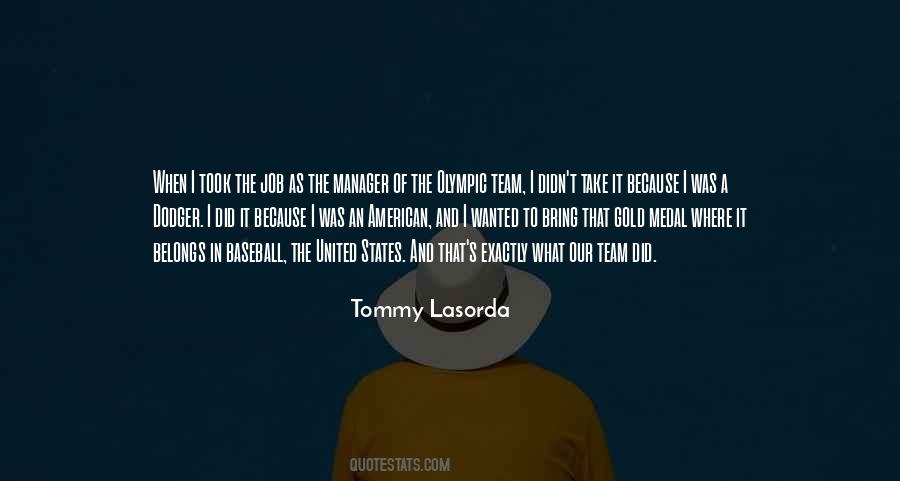 #21. Why would you want to stay manager and be second-guessed by me when you can come up into the front-office and be one of the second-guessers? - Author: George Steinbrenner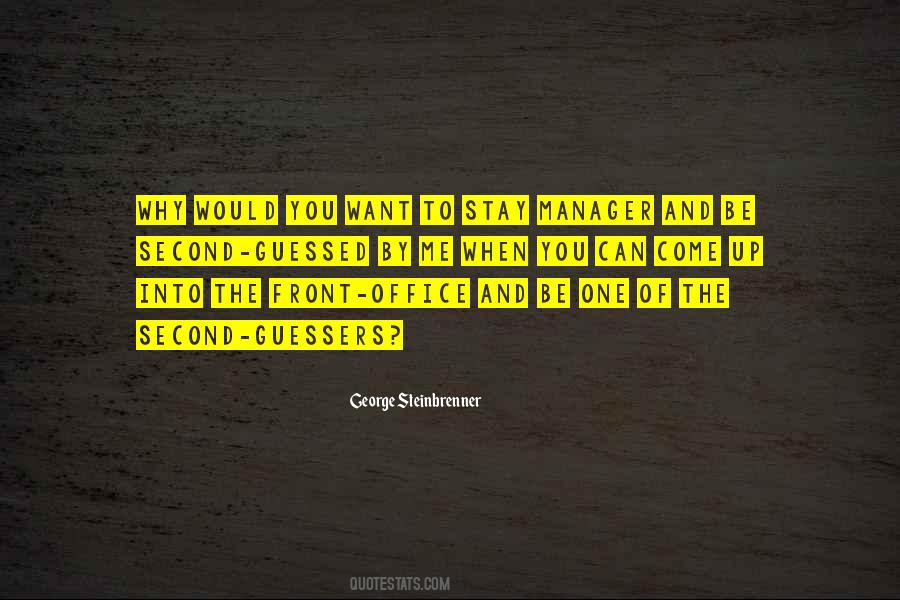 #22. I have goals and ambitions, and I see myself as a lifelong baseball student. I have certain philosophies that I'd like to test at some point at the big league level. The job of manager appeals to me, a coach appeals to me, at a different time frame. - Author: Cal Ripken Jr.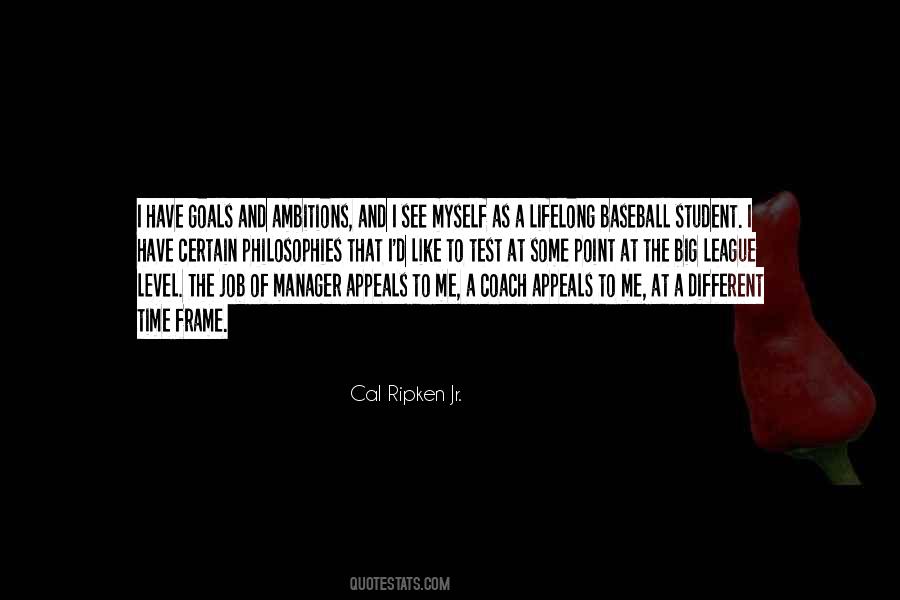 #23. Yes, in baseball when the team stinks, you fire the manager. But you don't fire him because it rains. And you don't let the opposing team choose a new manager for you. And you don't fire him between innings. And replace him with a Viennese weightlifter. - Author: Bill Maher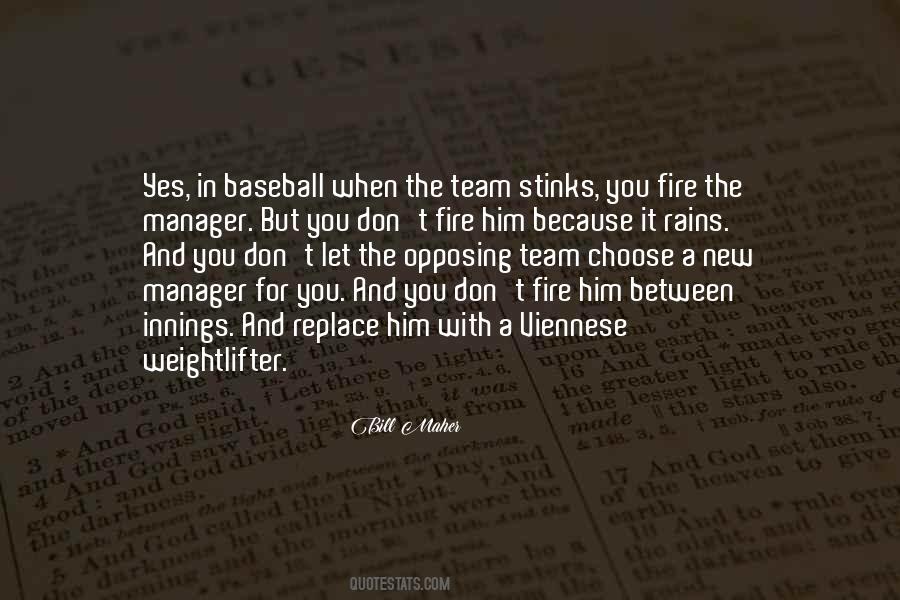 #24. When I was a little kid playing baseball, my manager called me Sleepy. And only a few people, who know me from way, way back, call me that still. I used to drift off and that's why they made me the catcher, so I wouldn't fall asleep. That gift I have still. - Author: Bill Murray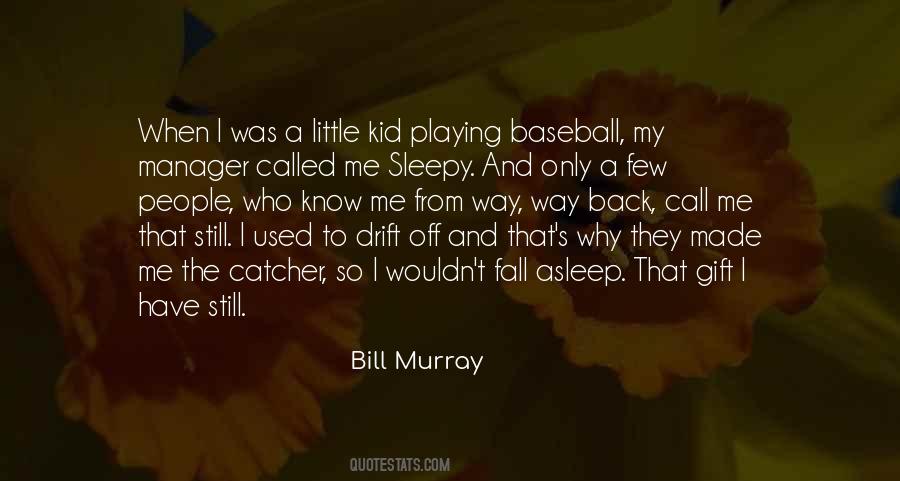 #25. Baseball is a simple game. If you have good players and if you keep them in the right frame of mind then the manager is a success. - Author: Sparky Anderson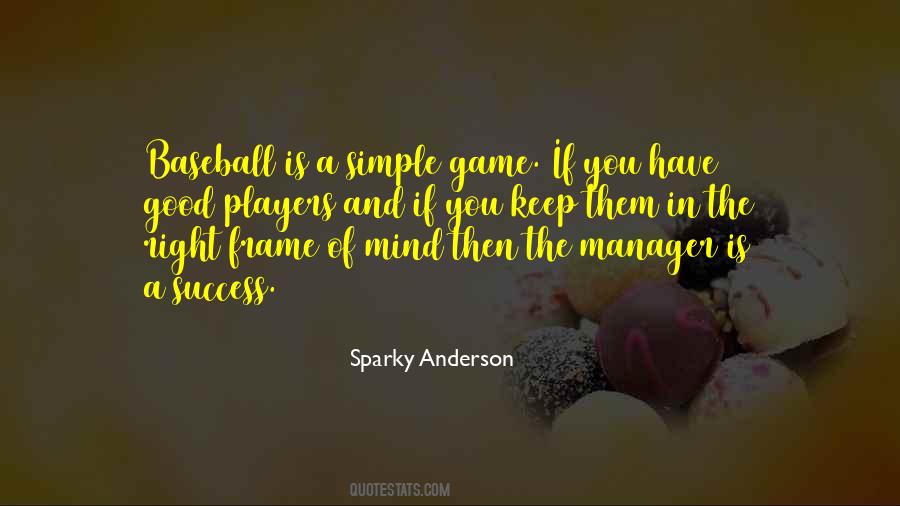 #26. Baseball has traditionally possessed a wonderful lack of seriousness. The game's best player, Babe Ruth, was a Rabelaisian fat man, and its most loved manager, Casey Stengel, spoke gibberish. In this lazy sport, only the pitcher pours sweat. Then he takes three days off. - Author: Thomas Boswell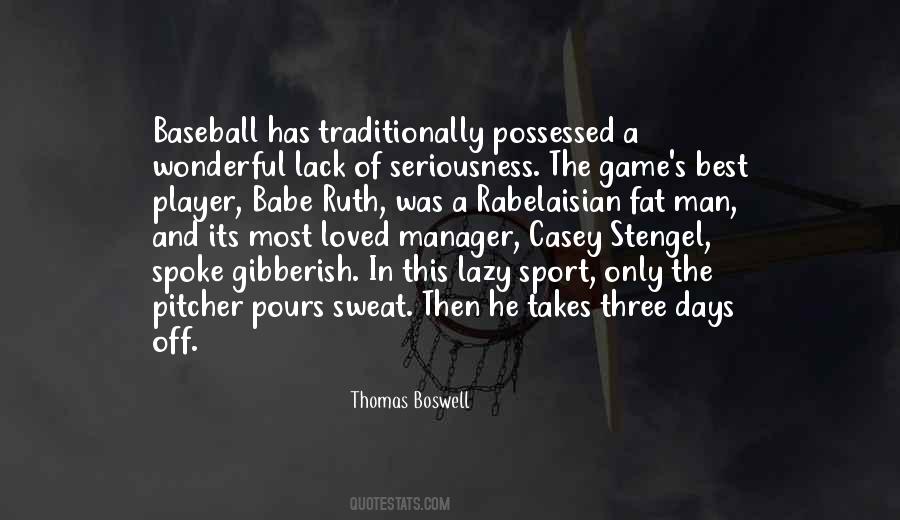 #27. Sparky Anderson wasn't just my favorite manager ... he was my mom's favorite manager. - Author: Tucker Elliot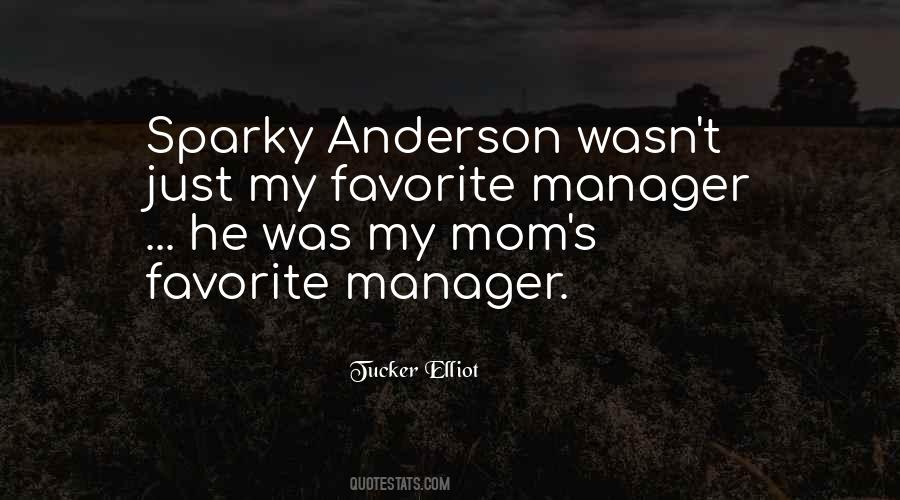 #28. He's (Jack McKeon) been around baseball for twenty-plus years. He knows what it takes to be a manager. I hope he gets the chance. - Author: Ken Griffey Jr.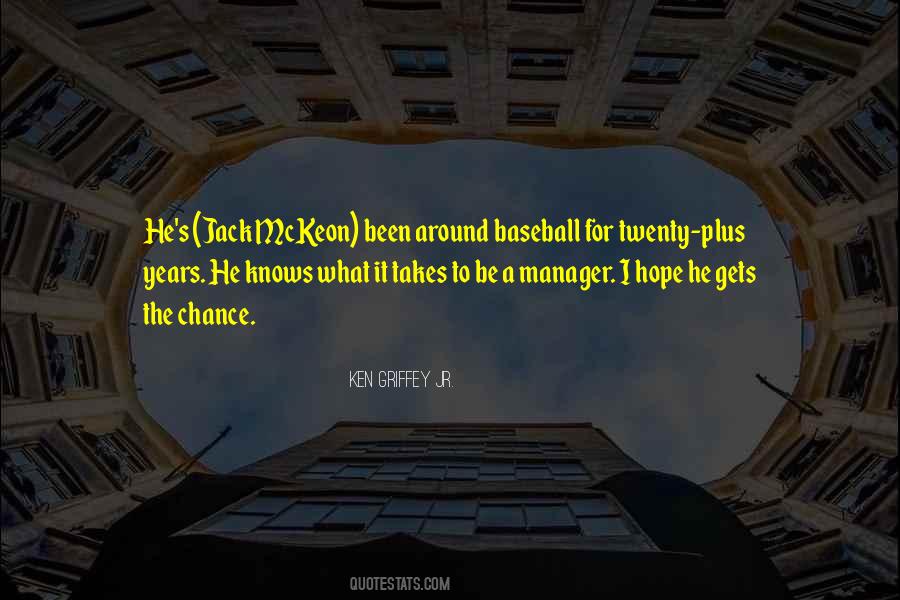 #29. As the late baseball manager Sparky Anderson put it: Losing hurts twice as bad as winning feels good. - Author: L. Jon Wertheim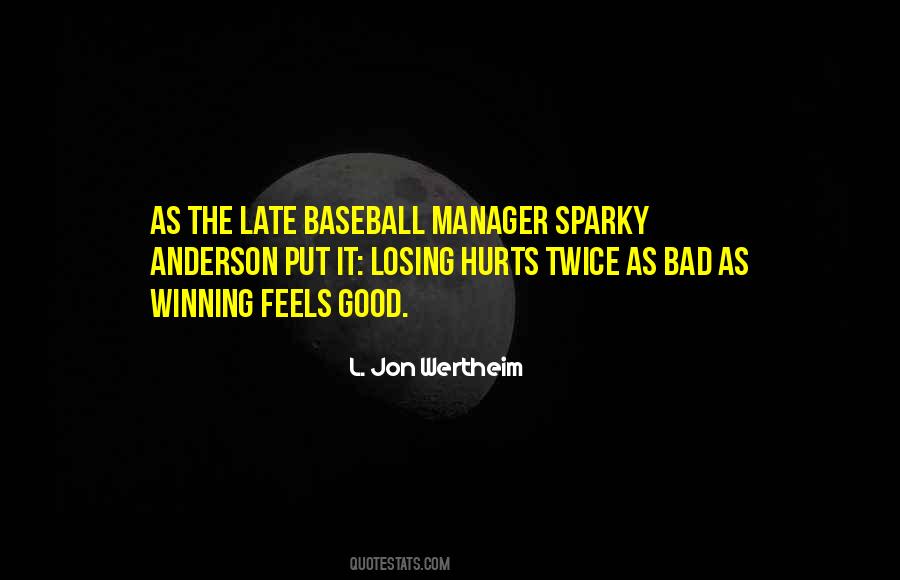 #30. If I had any interest in coming back to baseball, it would be as a general manager and not as a manager. - Author: Lou Brock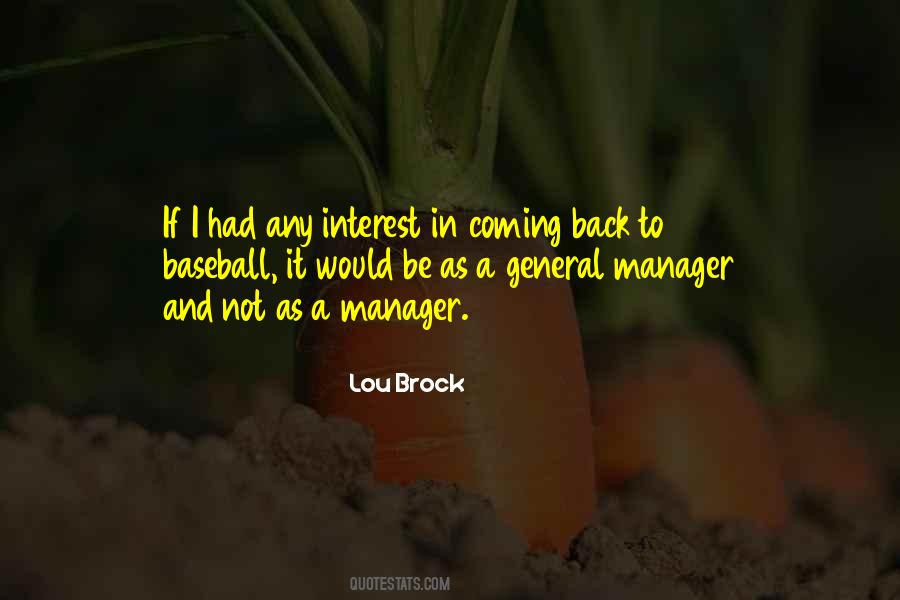 #31. To be manager of the Yankees under the malevolent dictatorship of George Steinbrenner is like being married to Zsa Zsa Gabor - the union is short and sweet. - Author: Robert Rubin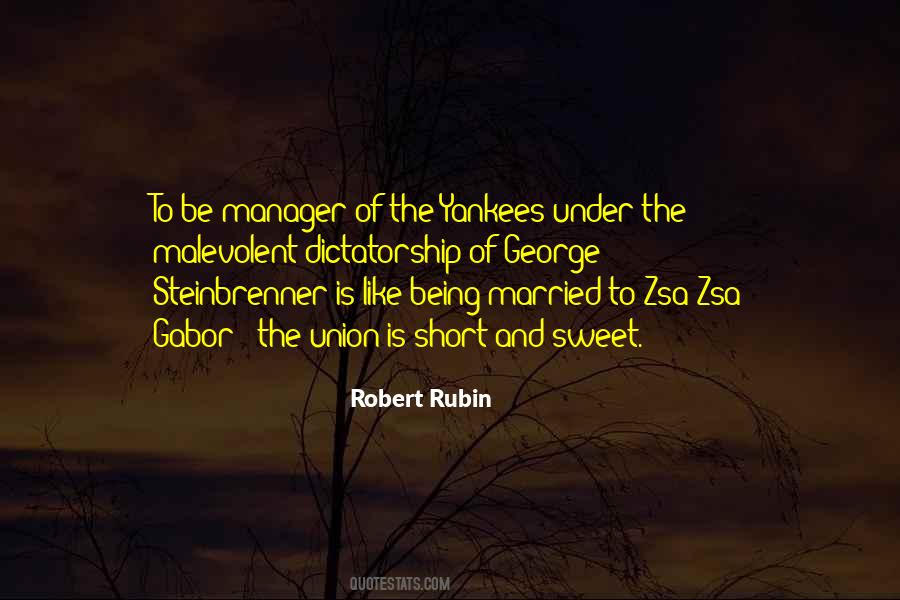 Famous Authors
Popular Topics