At The End It's All Worth It Famous Quotes & Sayings
List of top 44 famous quotes and sayings about at the end it's all worth it to read and share with friends on your Facebook, Twitter, blogs.
Top 44 At The End It's All Worth It Quotes
#1. Even if it doesn't alter or change the end result even in the slightest... making decisions based on convictions that you believe in... and walking your own path... has it's own merit and worth. There's something to be said for not having... even on regret. - Author: Tite Kubo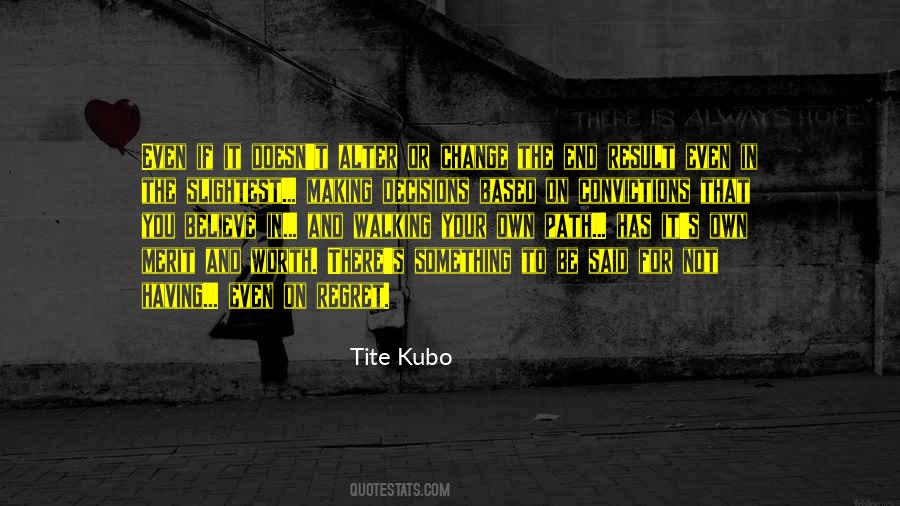 #2. The road to redemption might be damn hard, but in the end - if you reached the end - his father was right. It was worth it. Maribelle was worth it. Funny how her birth was the reason he'd started running, but she ended up being the reason he'd stopped. Life was really fucking funny that way. - Author: Madeline Sheehan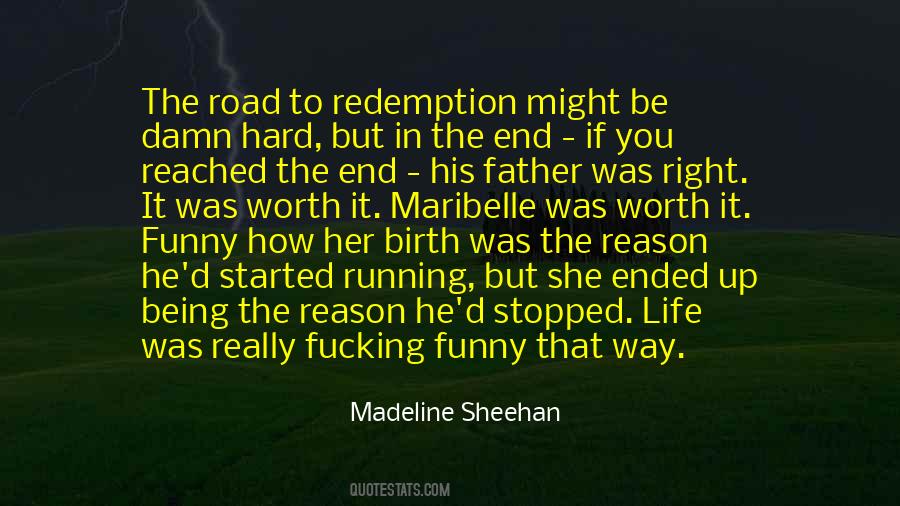 #3. No, I'm not mistaken. I know you don't love me. But I'm going to fight for your love. There are some things in life that are worth fighting for to the end. You are worth it. - Author: Paulo Coelho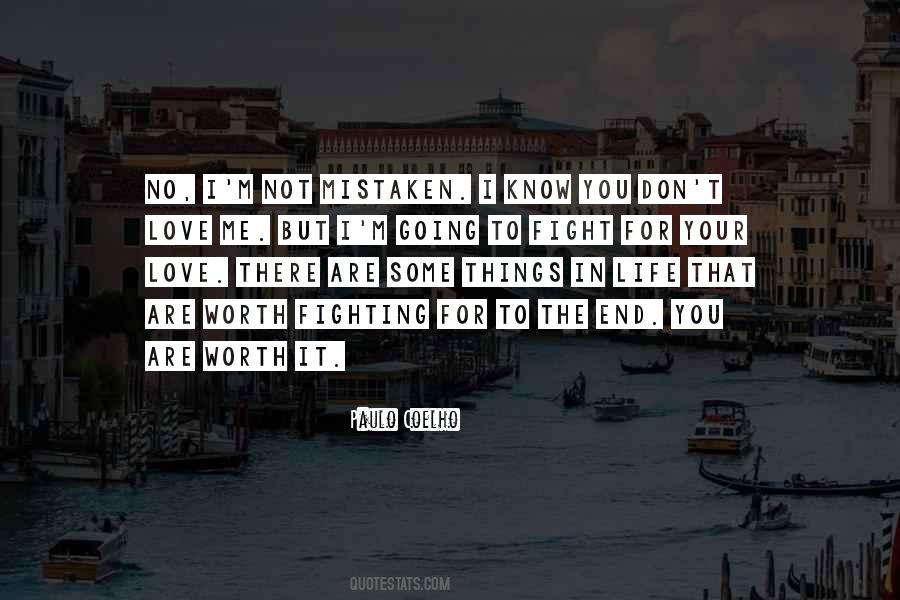 #4. You take that leap of faith. You have to be willing to follow, blindly, wherever it takes you. If you know where you're going beforehand, you're not going to end up with anything worth knowing. - Author: Sam Messer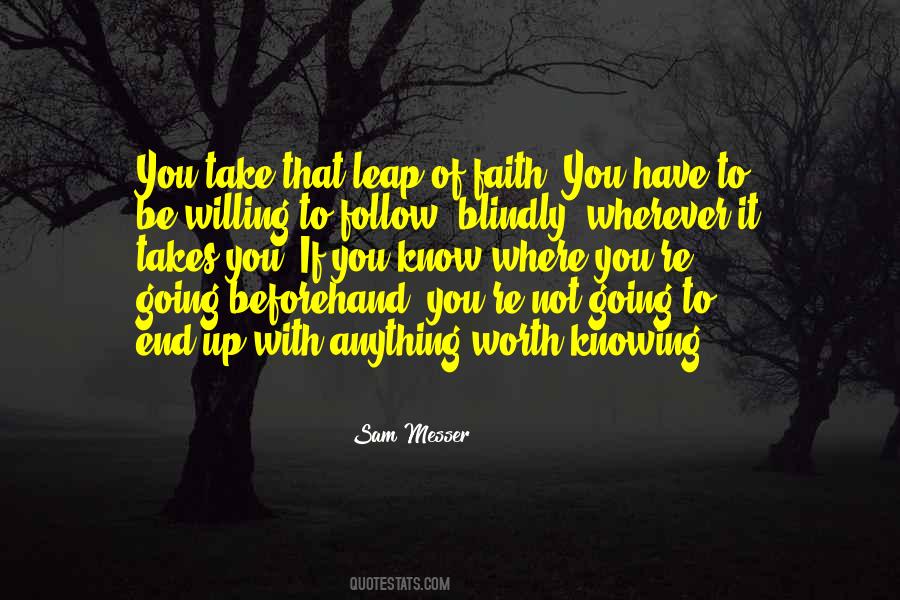 #5. If it's not in your heart you're not gonna make it. At the end looking back, you know its worth it. - Author: Amy Dumas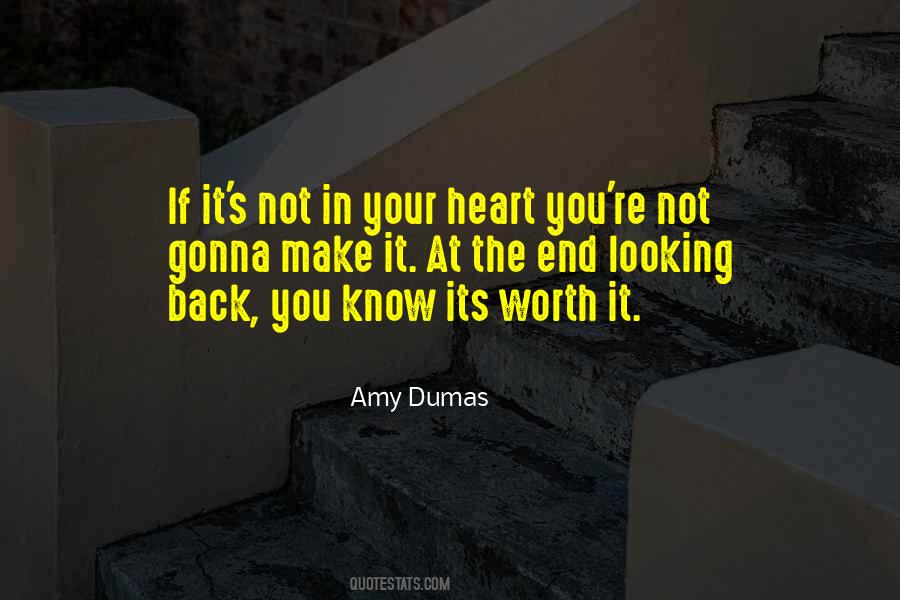 #6. The fight for justice against corruption is never easy. It never has been and never will be. It exacts a toll on our self, our families, our friends, and especially our children. In the end, I believe, as in my case, the price we pay is well worth holding on to our dignity. - Author: Frank Serpico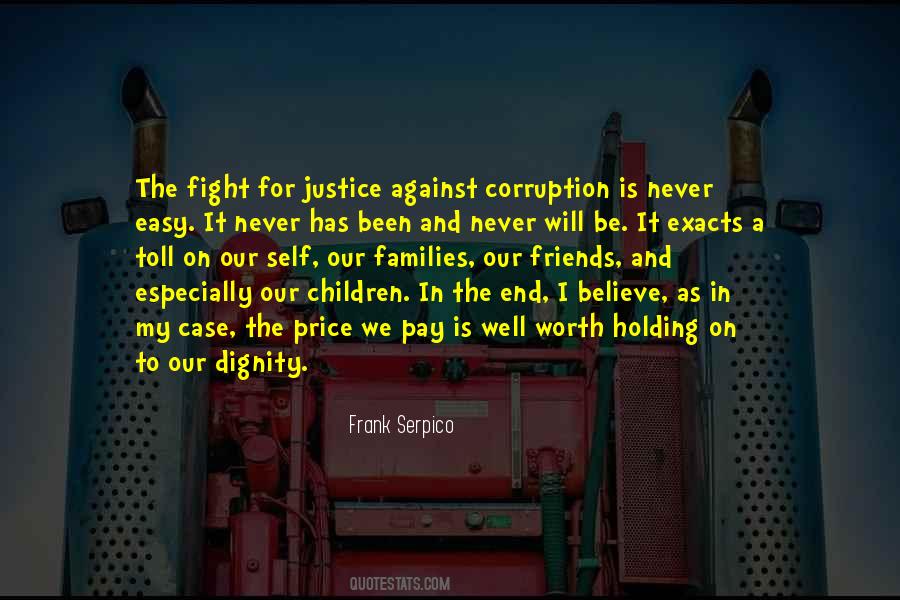 #7. Hat the next generation will value most is not what we owned, but the evidence of who we were and the tales of how we lived. In the end, it's the family stories that are worth the storage. - Author: Ellen Goodman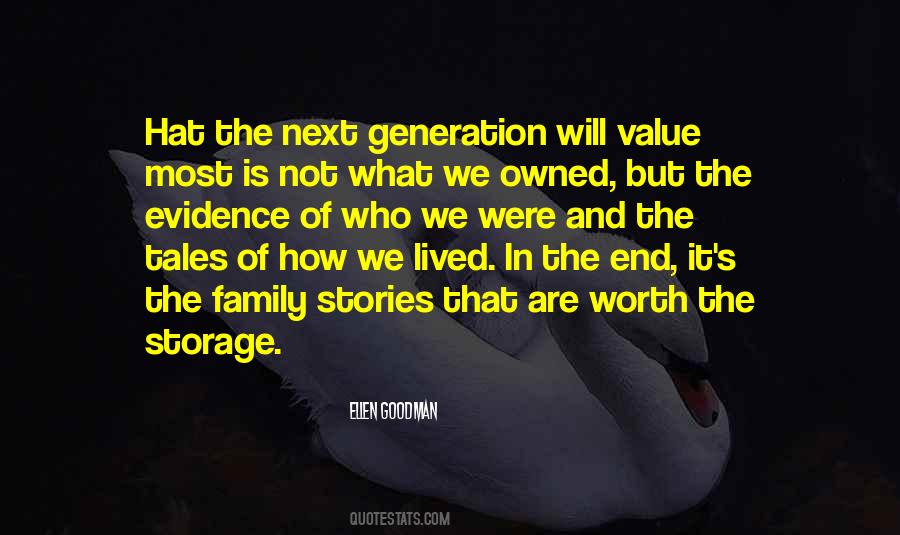 #8. But I, who am old, who have done what I must do, who stand in the daylight facing my own death, the end of all possibility, I know that there is only one power that is real and worth the having. And that is the power, not to take, but to accept. - Author: Ursula K. Le Guin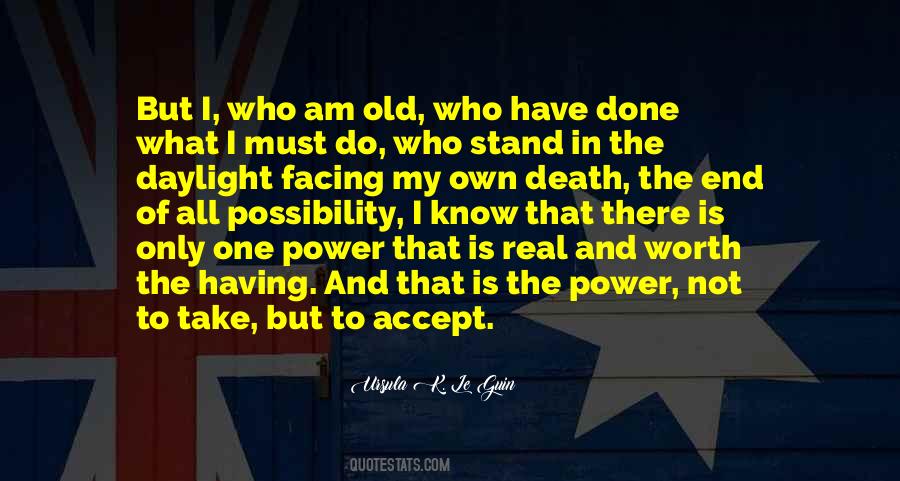 #9. Comedy naturally wears itself out - destroys the very food on which it lives; and by constantly and successfully exposing the follies and weaknesses of mankind to ridicule, in the end leaves itself nothing worth laughing at. - Author: William Hazlitt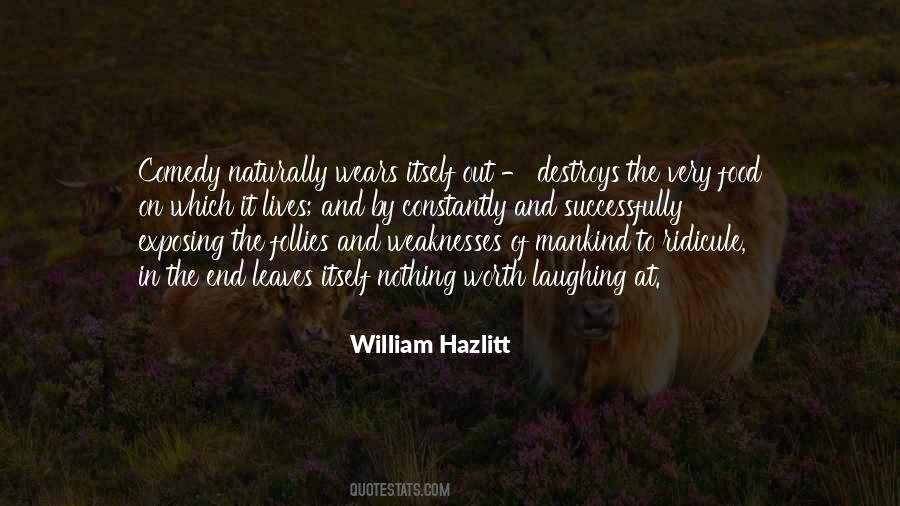 #10. The fact is most computer roleplaying games that offer a zillion highly specialized skills end up with nine-tenths of a zillion skills that every player quickly realizes aren't worth the experience points to buy. - Author: Warren Spector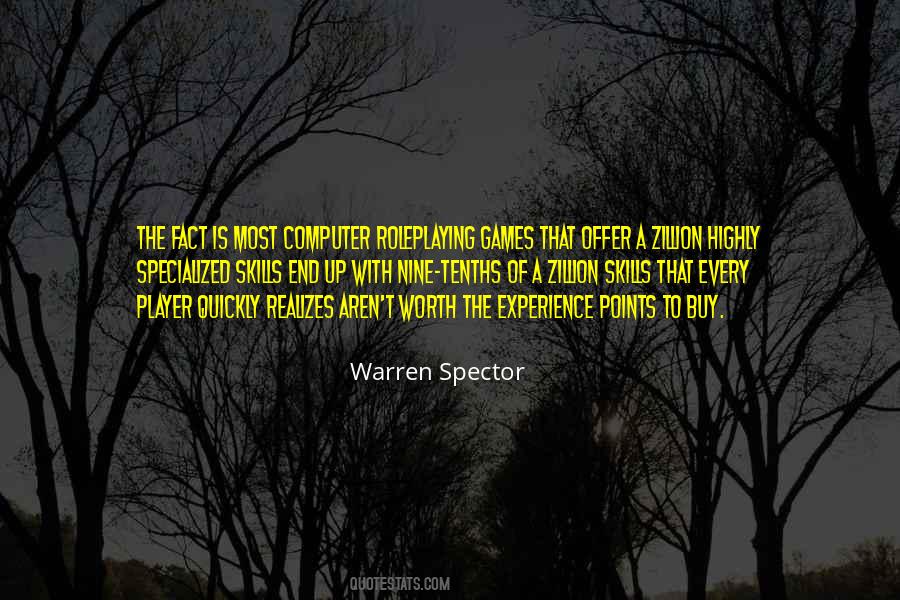 #11. The creative process isn't easy, even for chocolate-fountain people. It's more like a wobbly, drunken journey down a very steep and scary hill, not knowing if there's a sheer cliff at the end of it all. But it's worth the journey, I promise. - Author: Felicia Day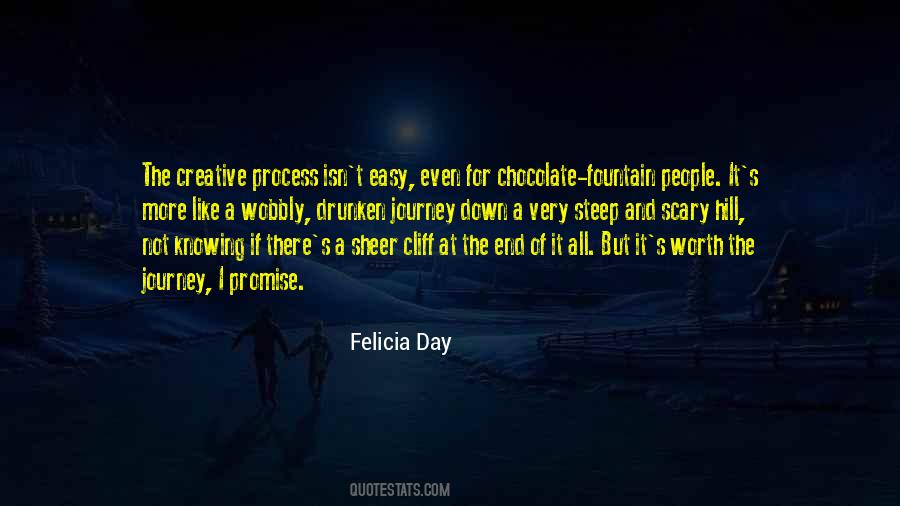 #12. I don't like being retired. It's like announcing an end to your worth, whatever that worth was, and the longer you go on, the more you realize that that worth wasn't worth anything like you once thought it was, and that just makes it worse. - Author: Steven Erikson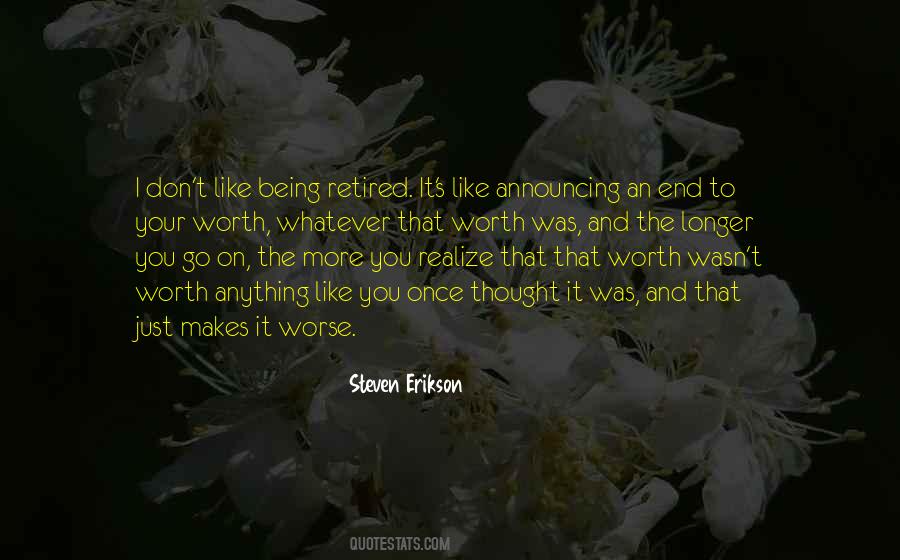 #13. I don't think someone's worth can be measured by the number of cities he visited, the number of countries he traveled to or the number of seas and oceans he crossed.
One can be a traveler even by simply going to the end of the street. - Author: Laure Lacornette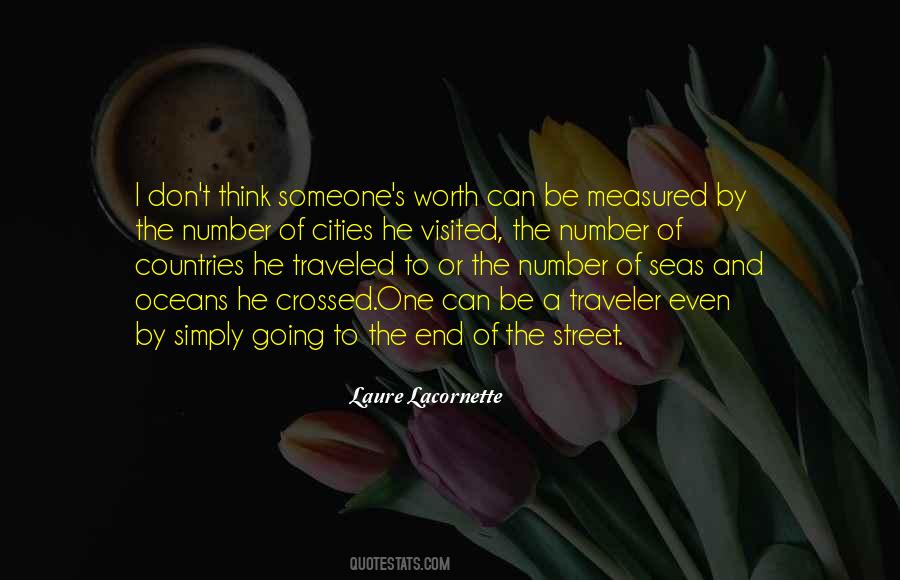 #14. Love is like a roller coaster. It can take you to the highest, most spectacular heights or drop you to bottom in seconds. However, even with the risks, love is undoubtedly worth it in the end. - Author: Sheila Jackson Lee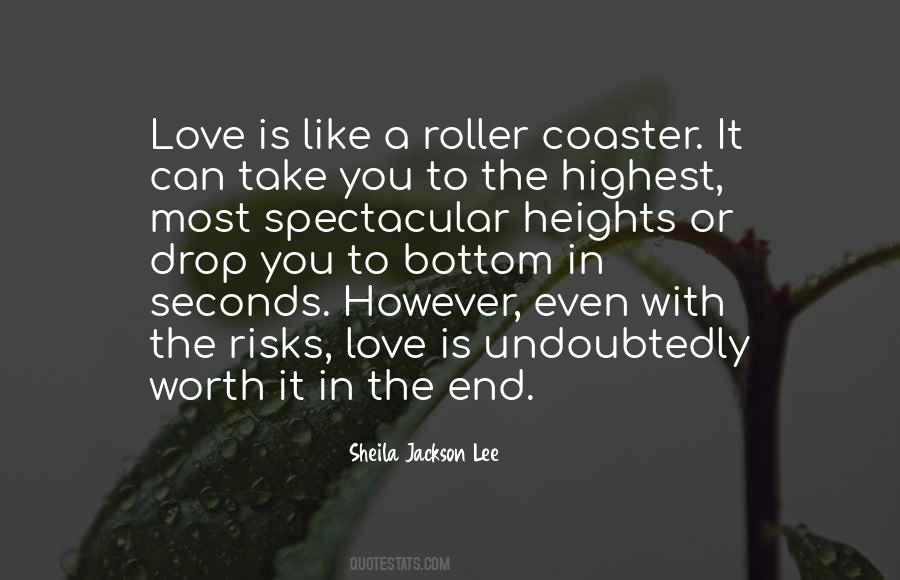 #15. When you start something, make sure that you're willing to take the time to finish it right because, honey, the work you put into it will be more than worth it in the end. The best things always are. - Author: C.M. Stunich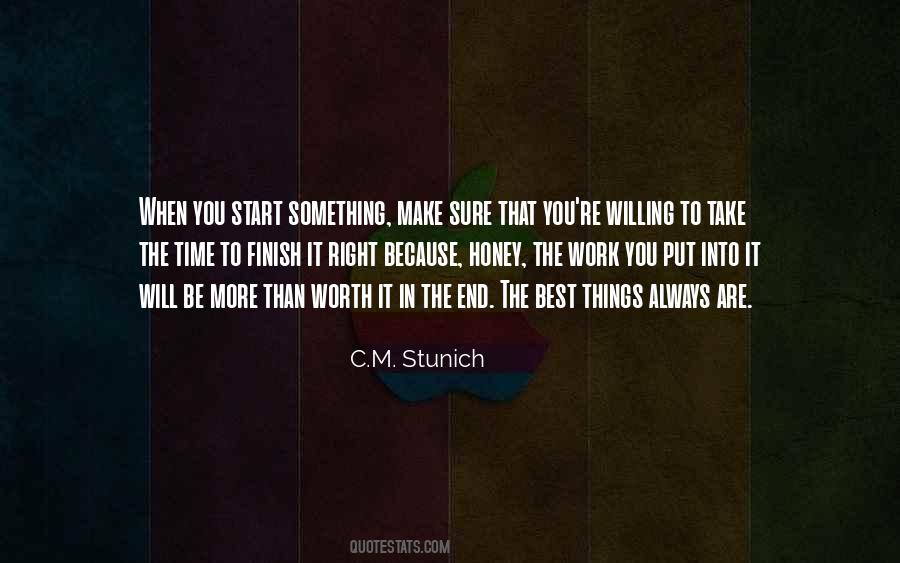 #16. But stranger than that was the feeling he had, that everything had been worth it, that all his miseries were going to end, that he was going to a life that would be as good as, perhaps better than, anything he had read about in books. - Author: Hanya Yanagihara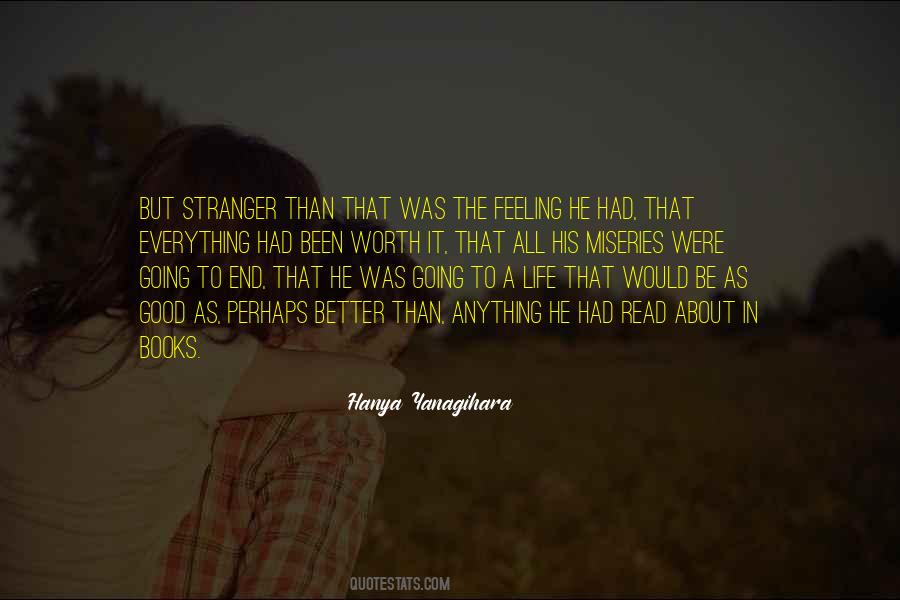 #17. It was like sitting through a movie, no matter how boring or confusing, until the end. Because at the end, sometimes things were explained or the ending itself was cool enough that you felt like sitting through all the boring stuff had been worth it. - Author: Dennis Lehane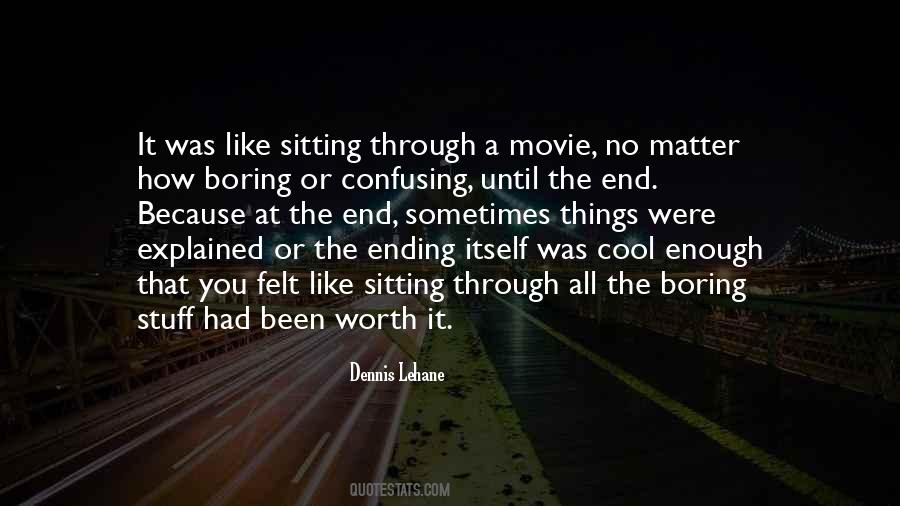 #18. Never give up. It might not seem easy at first but in the end, it will all be worth it - Author: Sunday Adelaja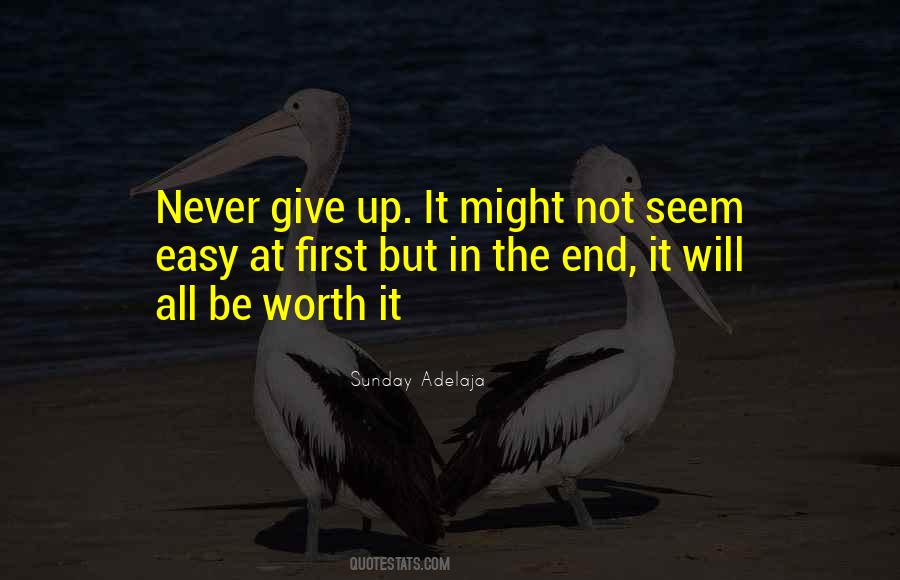 #19. The process of truly learning is laborious, monotonous, and at times down right bitter and boring. Therefore, obtaining a truly higher education will require of you a determined mind and a will to stick and stay. In short, it will take discipline. But in the end, it will be worth it all. - Author: Daniel Whyte III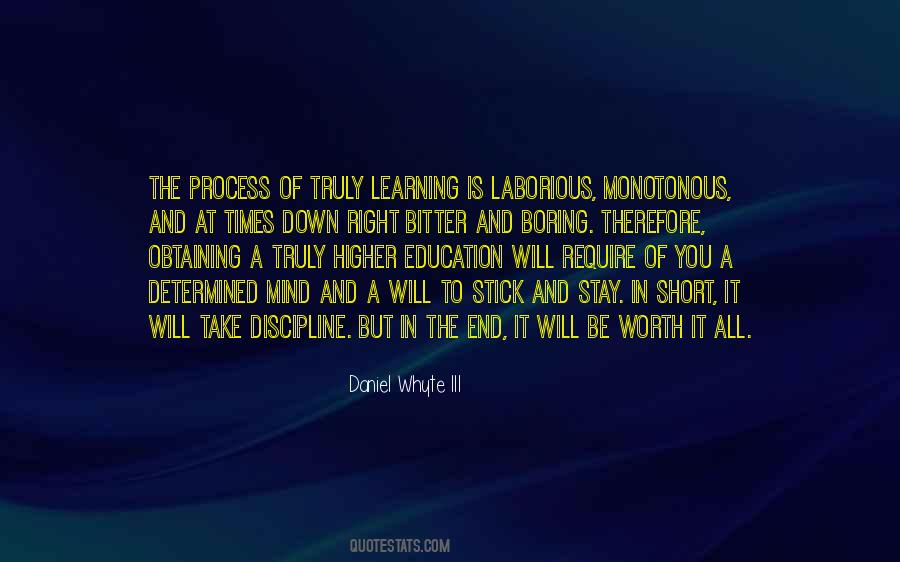 #20. You're not going to enjoy every minute of the journey, but the success you'll find at the end will make it all worth it. - Author: Muhammad Ali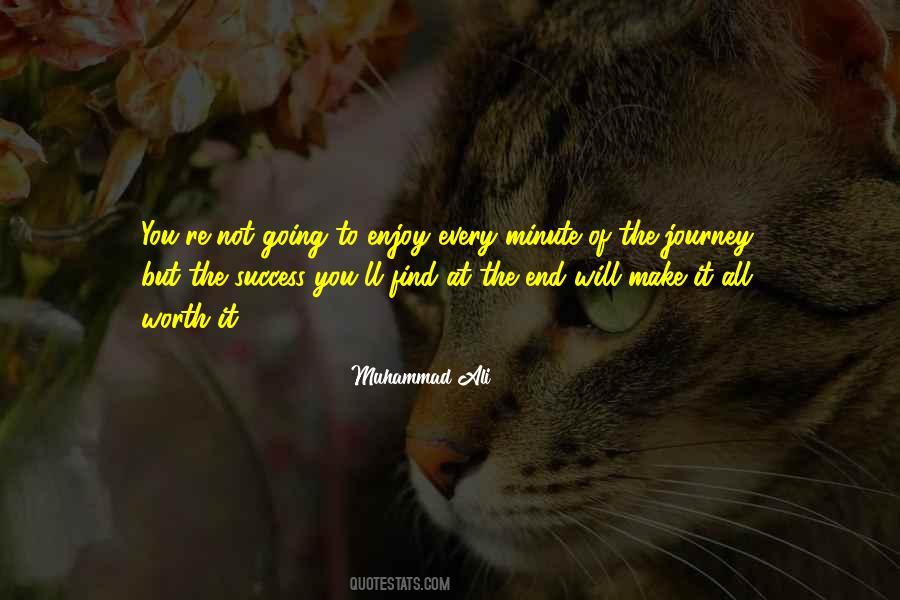 #21. I am lucky in that I love what I do, but it can still be hard to be away from the kids for long lengths of time. At the end of the day, all I want is to be with my kids, but it's worth it to create a future for my family. - Author: Rebecca Ferguson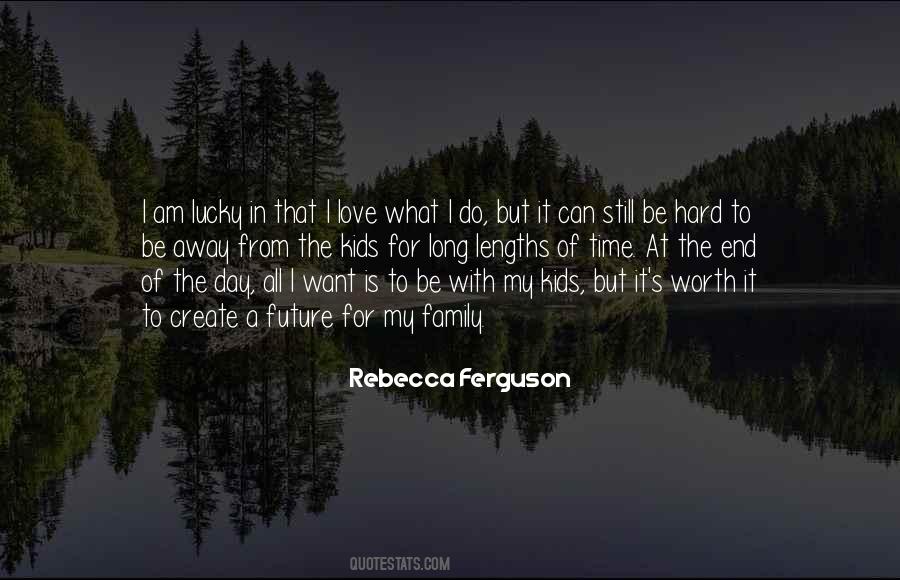 #22. But the most important thing is that we keep loving. We have to believe that at the end of the day, the love we have is worth all the bad stuff, because all the good stuff is what makes it so amazing. - Author: Kandi Steiner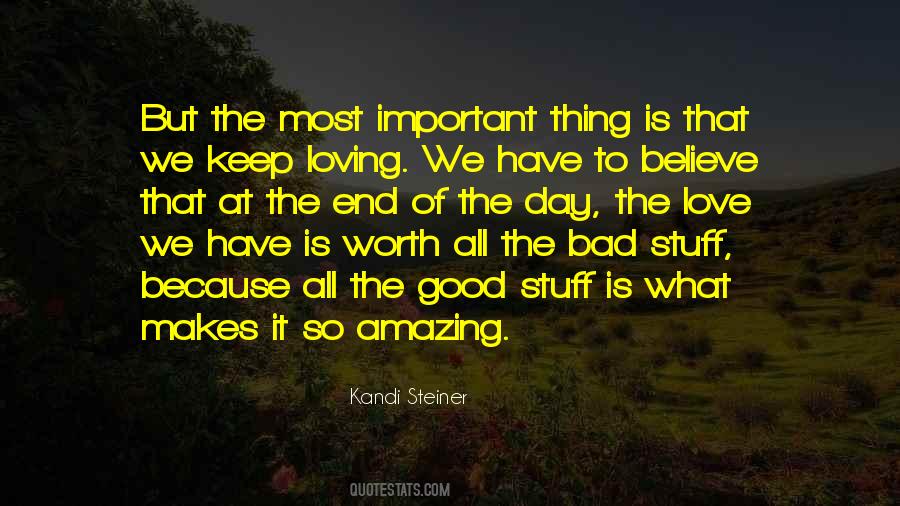 #23. Besides, men aren't worth your time anyway, Letti. If we women spent as much time on ourselves as we do fretting over men, we'd be invincible! Work on yourself because at the end of the day, you're the only person you can trust. - Author: S.R. Crawford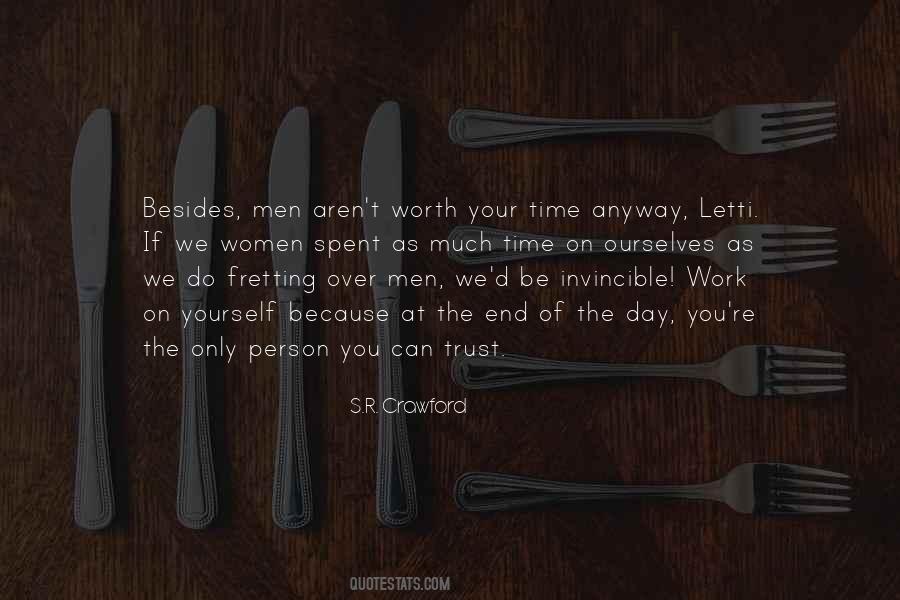 #24. Yes, it will all end one day; but today is worth living. - Author: Innocent Mwatsikesimbe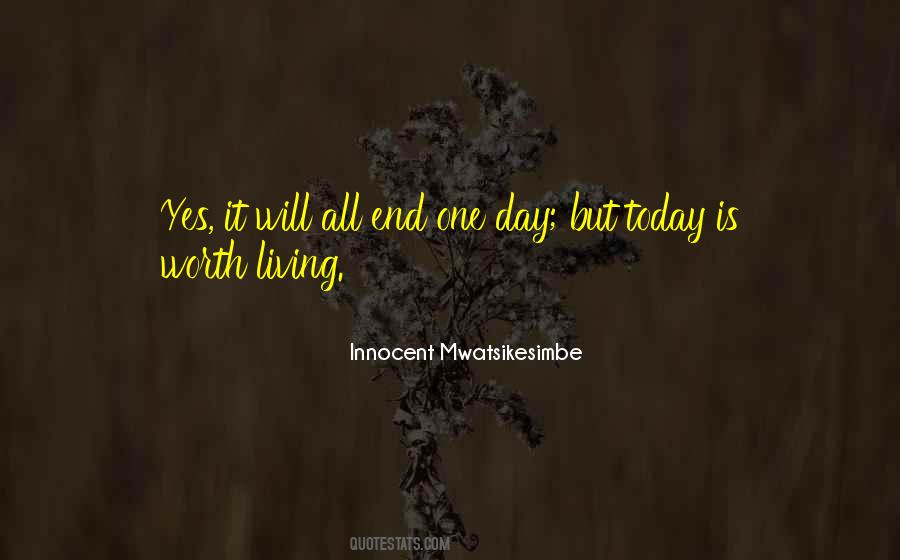 #25. In this life, no matter what you do-you will never be able to satisfy everyone. So stay true to yourself and do you. Trying to please others, you will only end up angry and dissatisfied with life. - Author: Redd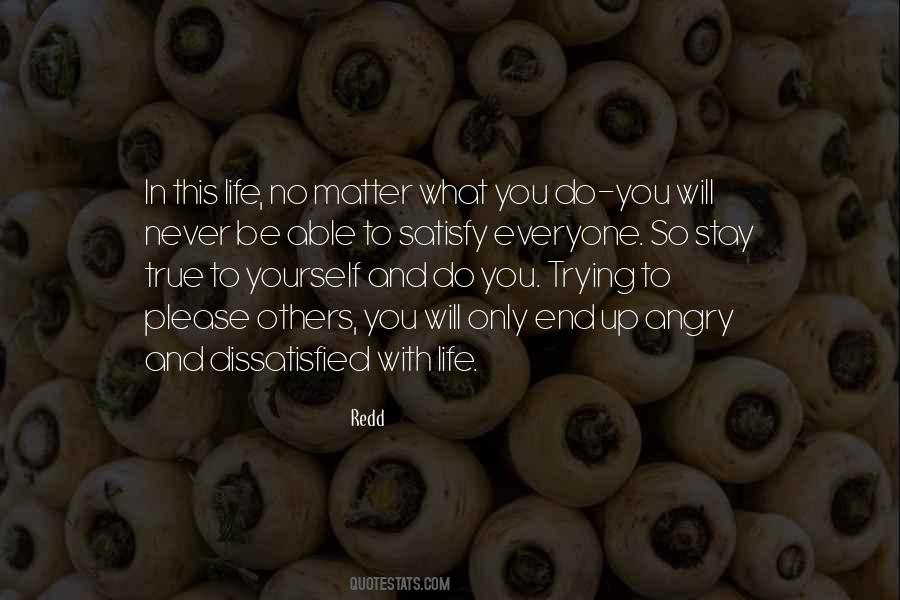 #26. I know you don't love me. But I'm going to fight for your love. There are some things in life that are worth fighting for the end. You are worth it. - Author: Paulo Coelho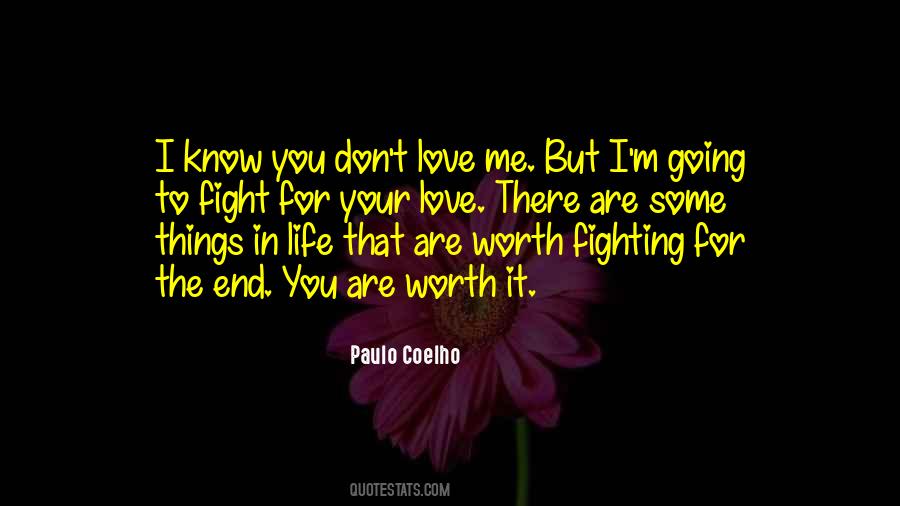 #27. They forgot who she was:
Something fantastic we could never explain. Someone better and bolder than every one of us. Someone to paint murals and build bridges for. Someone worth every ounce of our love.

Someone powerful, but in the end not powerful enough. - Author: Nova Ren Suma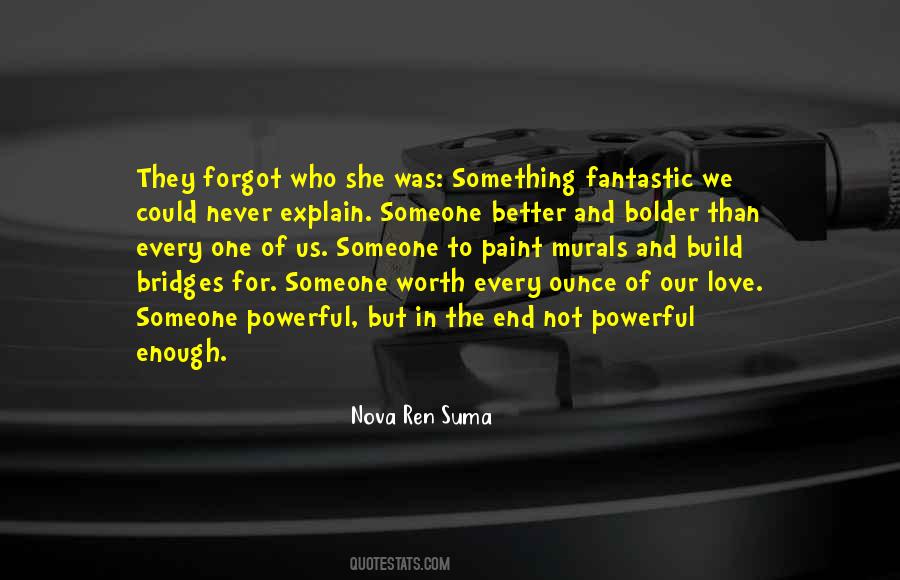 #28. The worth of that is that which it contains, and that is this, and this with thee remains. end of Sonnet 74 - Author: William Shakespeare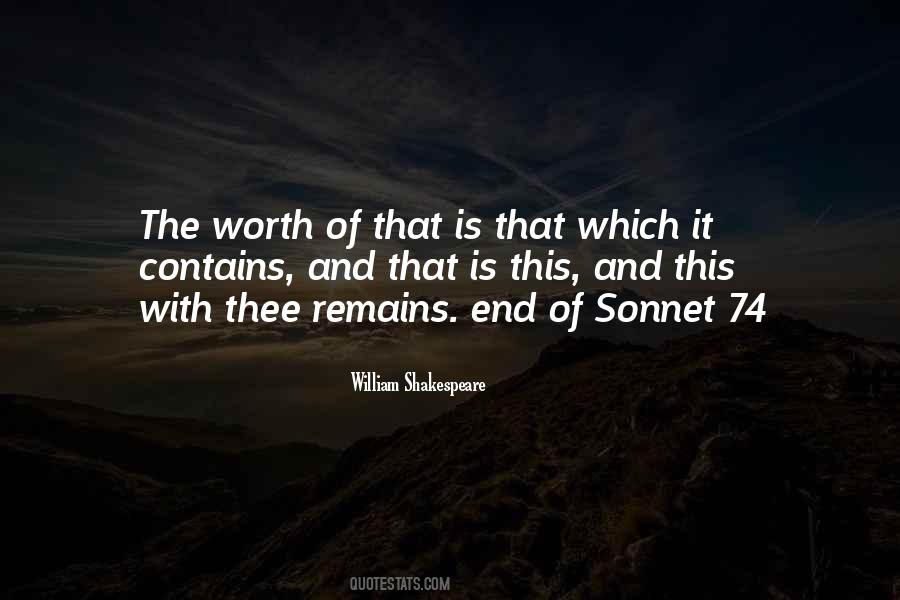 #29. In the end, there was you, and that made it all worth it - Author: Penelope Ward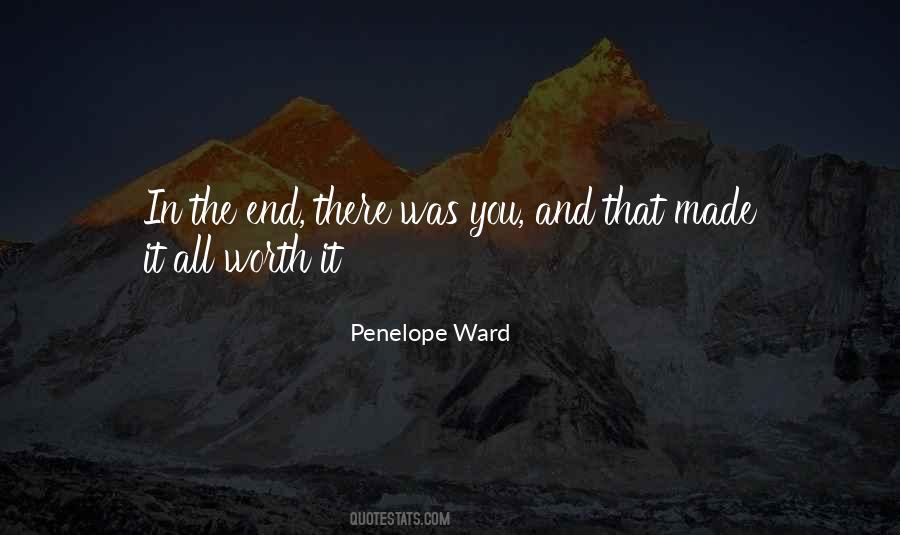 #30. You can put on as many airs as you want, but in the end, that dress is the same as you: an old, cheap design dressed up to look like its worth more than it is. - Author: Richelle Mead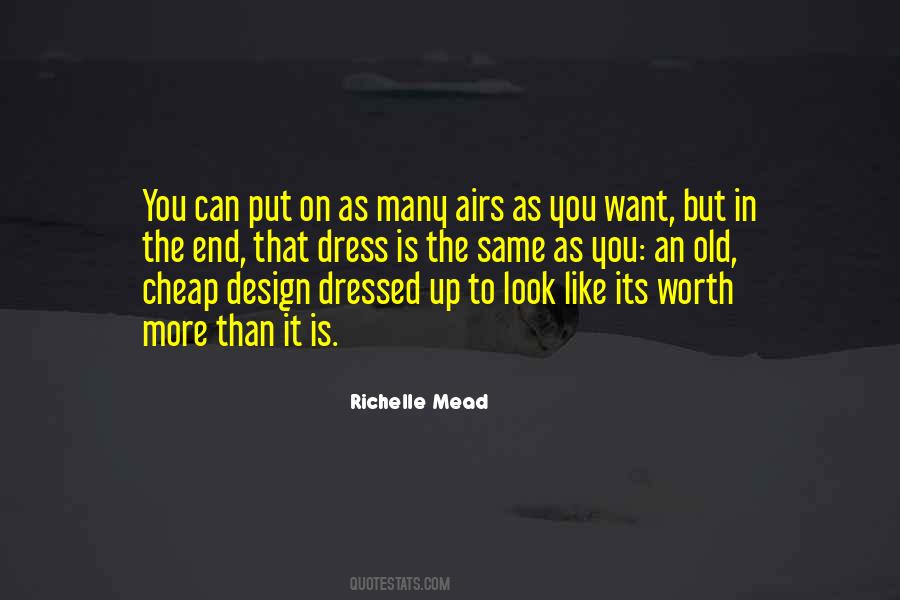 #31. As I look back on the time I've spent with him, loving him, learning him, I'm grateful for the moments. Because in the end, it's the moments that make life worth living ... - Author: Marie Hall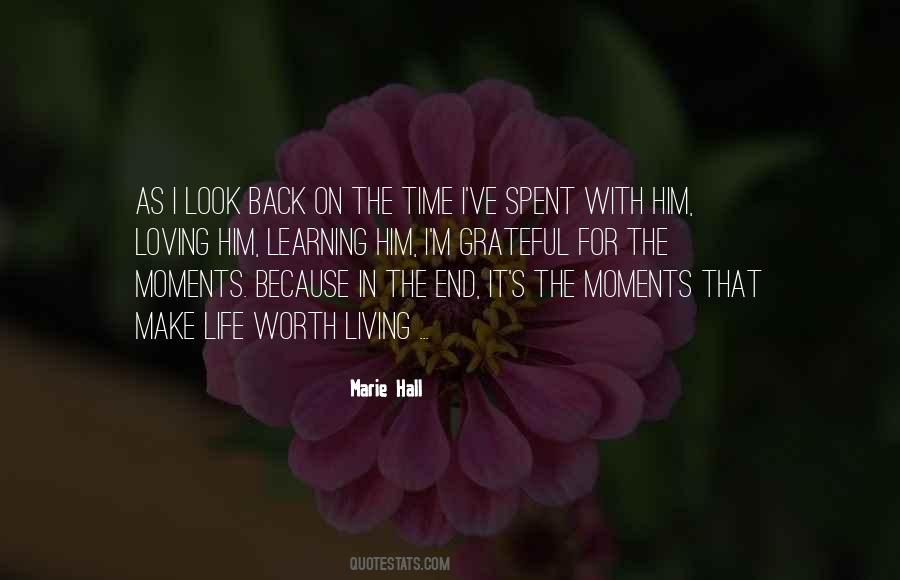 #32. We can talk about God's justice and love from now to the end of time. But until our theological discourse engages white supremacy in a way that empowers poor people to fight the monster, then our theology is not worth the paper it is written on. In - Author: Frederick W. Schmidt Jr.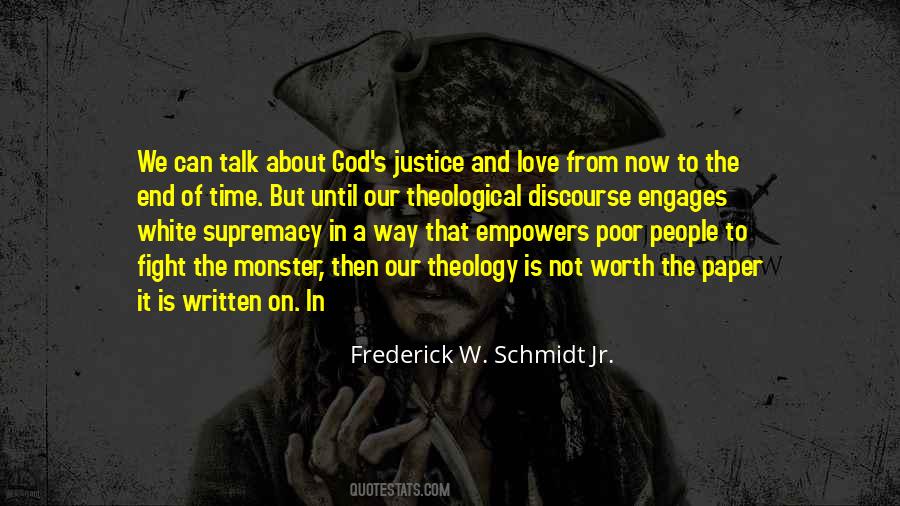 #33. I didn't know it until the end. All stories worth telling are love stories. - Author: Julianna Baggott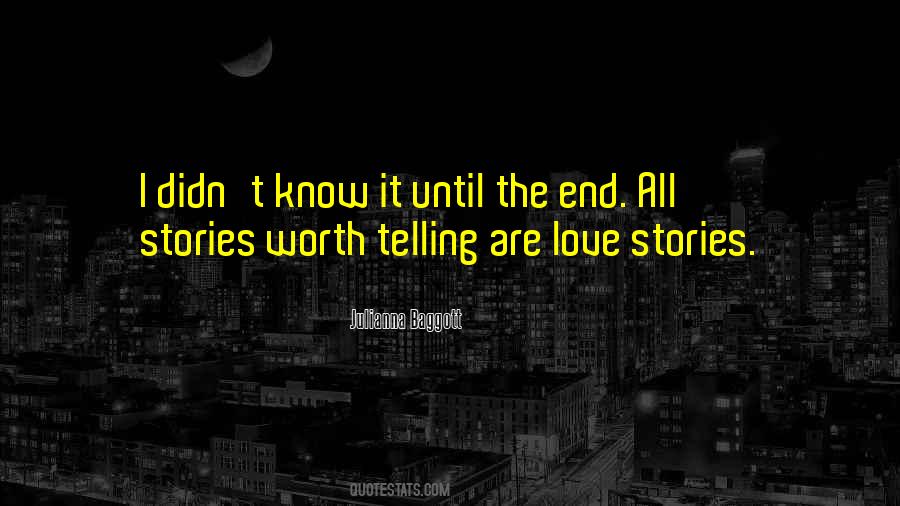 #34. I write - and read - for the sake of the story ... My basic test for any story is: 'Would I want to meet these characters and observe these events in real life? Is this story an experience worth living through for its own sake? Is the pleasure of contemplating these characters an end itself? - Author: Ayn Rand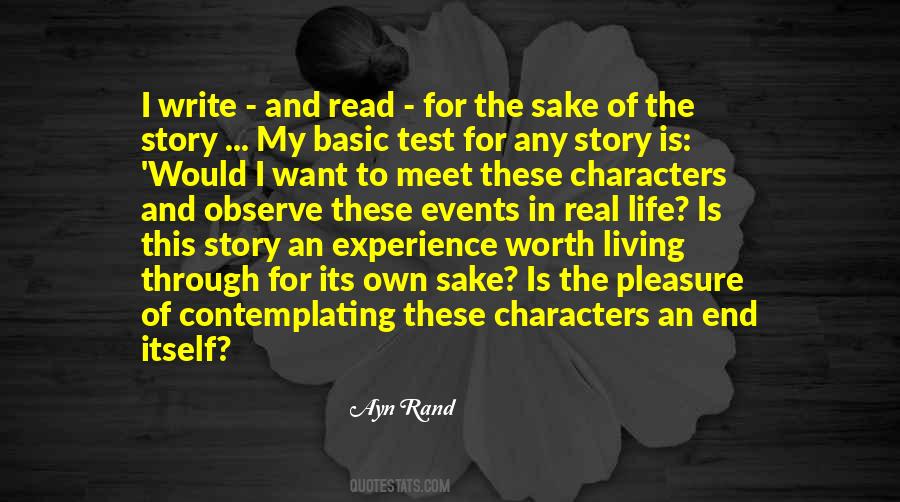 #35. That was what happened to a man in the end: the stuffy room, the wakeful children, the Saturday night movements from the other bed. Was there no escape
anywhere
for anyone? It was worth murdering a world. - Author: Graham Greene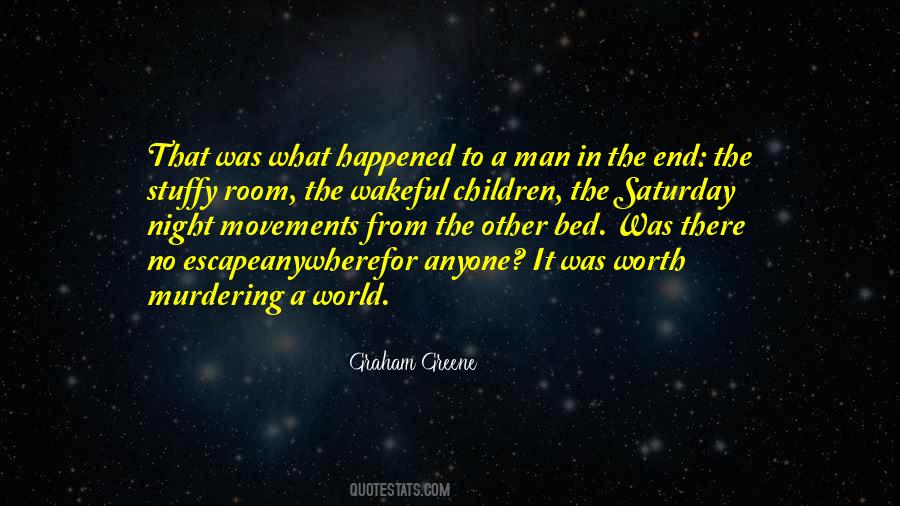 #36. Yet gold all is not, that doth gold seem,
Nor all good knights, that shake well spear and shield:
The worth of all men by their end esteem,
And then praise, or due reproach them yield. - Author: Edmund Spenser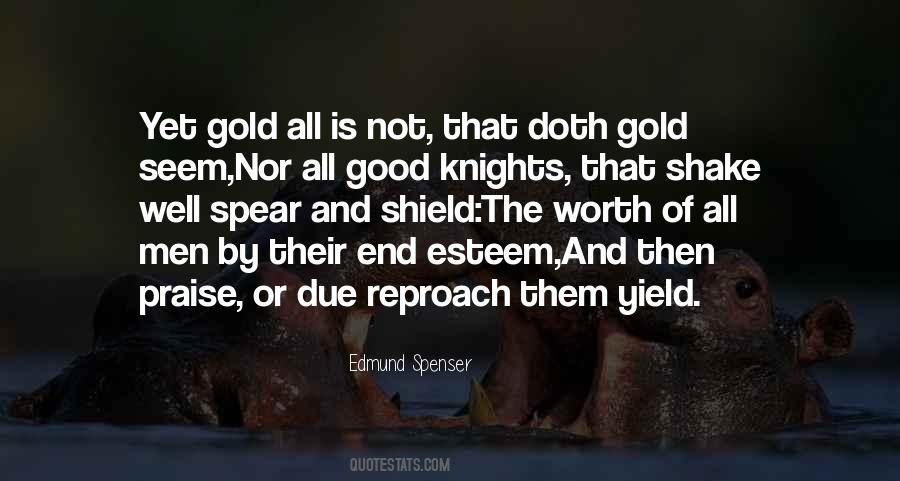 #37. I wish the music business was a much easier thing, but you know what? Nothing easy is worth anything. So it is what it is. There comes a time when things can work out and everybody can be happy. And that's what it's all about in the end - everybody being happy and working it out. - Author: Nas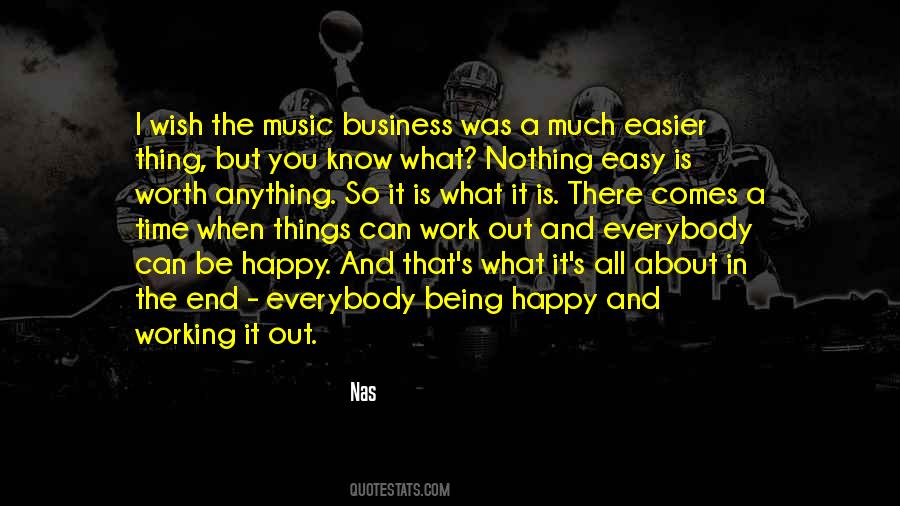 #38. So do your duty, boys, and join with prideServe your country in her suicideFind the flags so you can wave goodbyeBut just before the end even treason might be worth a tryThis country is too young to dieI declare the war is overIt's over, it's over. - Author: Phil Ochs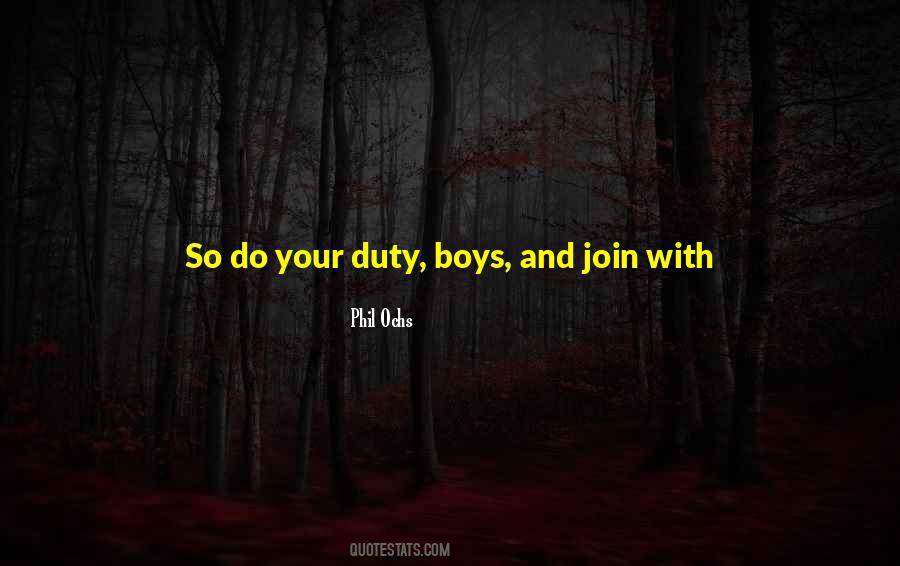 #39. Don't fret. We all experience it. We must. For despite our humanity love is the only way we can be like gods. It is in love that we glimpse heaven during our lifetime and have proof that there's something worth looking forward to in the end. - Author: Felix Alexander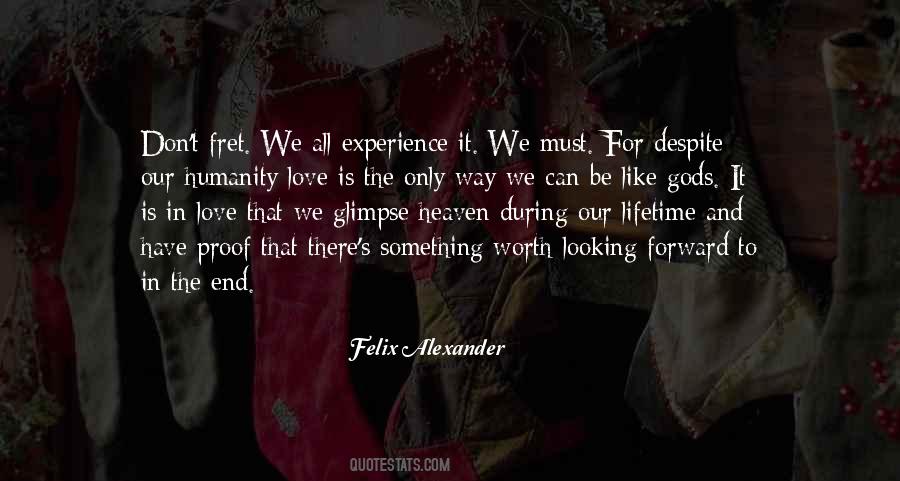 #40. At the same time, my anxiety had turned into an anxiety quite lacking in anxiousness. And any anxiety that is not especially anxious is, in the end, an anxiety hardly worth mentioning. - Author: Haruki Murakami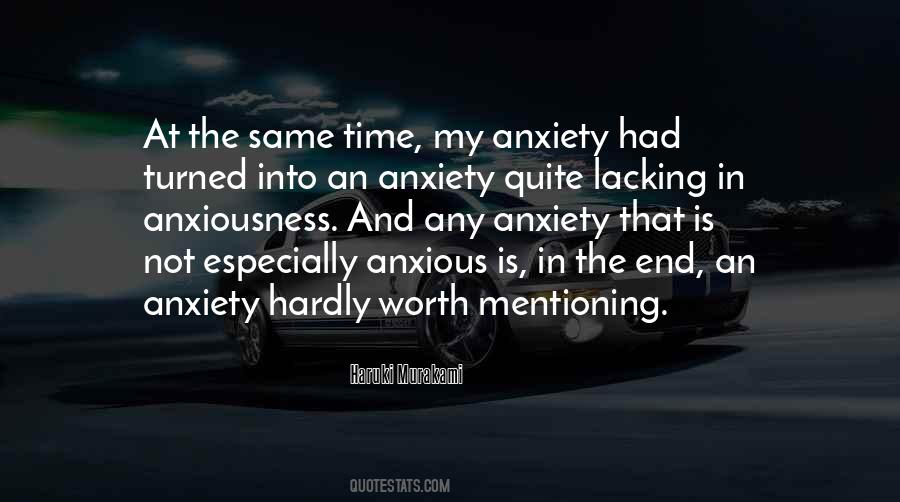 #41. Who knows who you are ... A person is a novel: you don't know how it will end until the very last page. Otherwise, it wouldn't be worth reading to the very end ... - Author: Yevgeny Zamyatin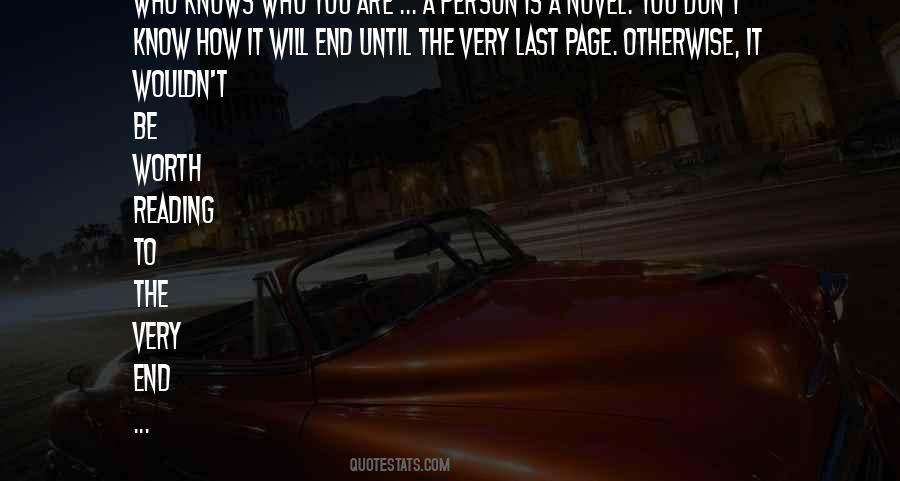 #42. Obviously I love writing with Katy [Pery], I feel like we're the same person when we write together. Even though we fight a lot, we fight over every line and we pull each other's hair and we cat-fight all the time, it's always worth it in the end. - Author: Bonnie McKee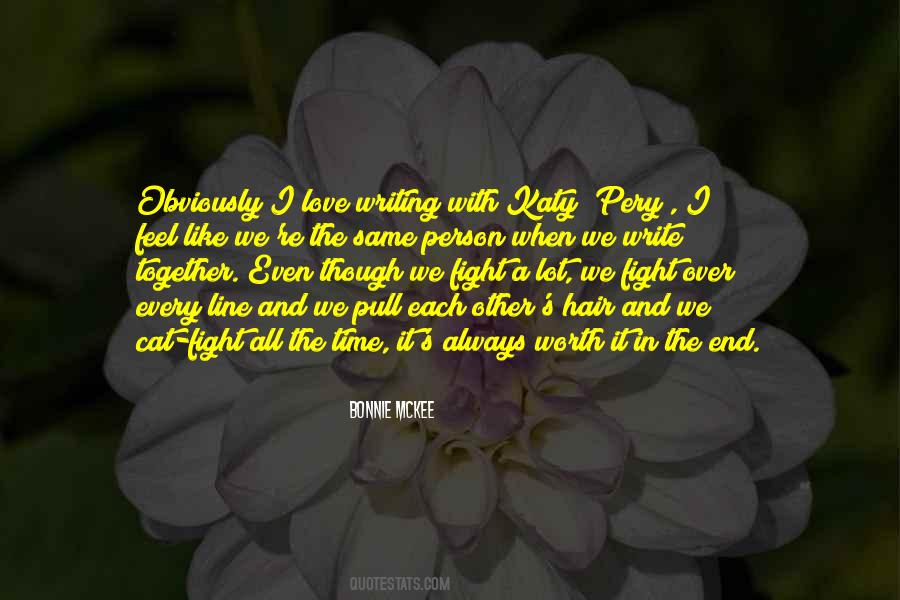 #43. In the end we're all janitors and if we can leave the world a little better, a little cleaner, then our lives were worth living." ~*~ - Author: Frank Dorn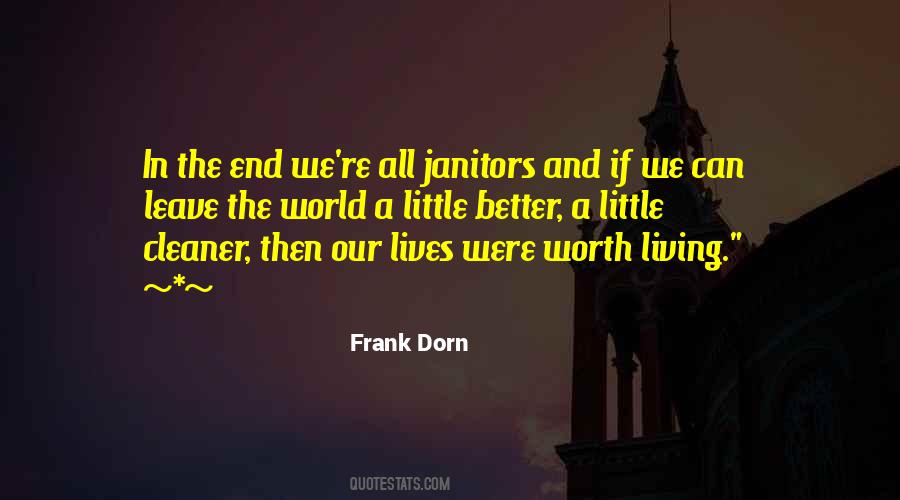 #44. Yeah, but I don't know. There is something about the tragic stories of Shakespeare. It's as if we all know how it will end, but the adventure makes it worth it. - Author: Brittainy C. Cherry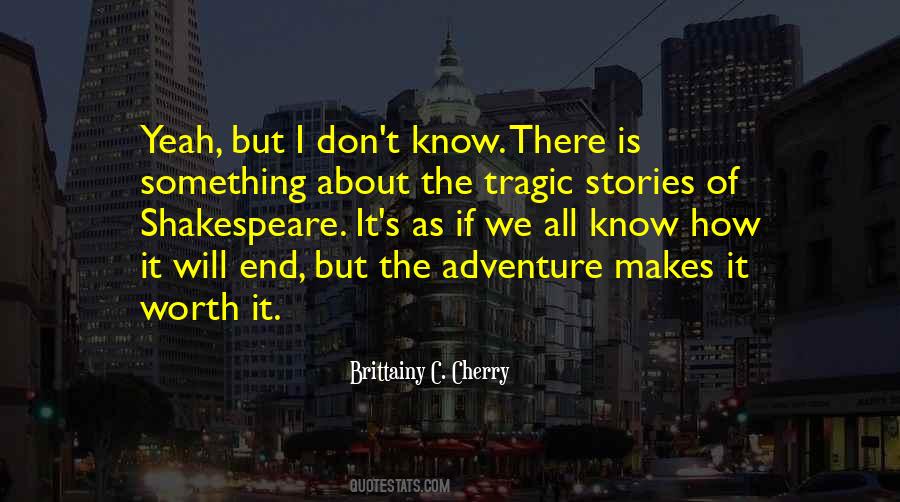 Famous Authors
Popular Topics