All The Riches In The World Famous Quotes & Sayings
List of top 54 famous quotes and sayings about all the riches in the world to read and share with friends on your Facebook, Twitter, blogs.
Top 54 All The Riches In The World Quotes
#1. Benevolence is a world of itself
a world which mankind, as yet, have hardly begun to explore. We have, as it were, only skirted along its coasts for a few leagues, without penetrating the recesses, or gathering the riches of its vast interior. - Author: Horace Mann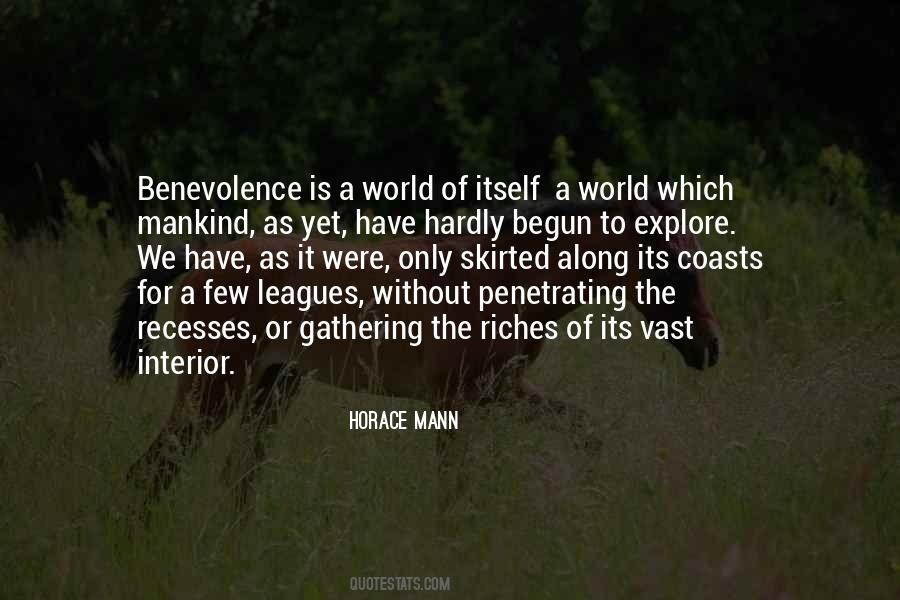 #2. The world has plenty of room, riches, money and beauty ... Let us begin by dividing it more fairly. - Author: Anne Frank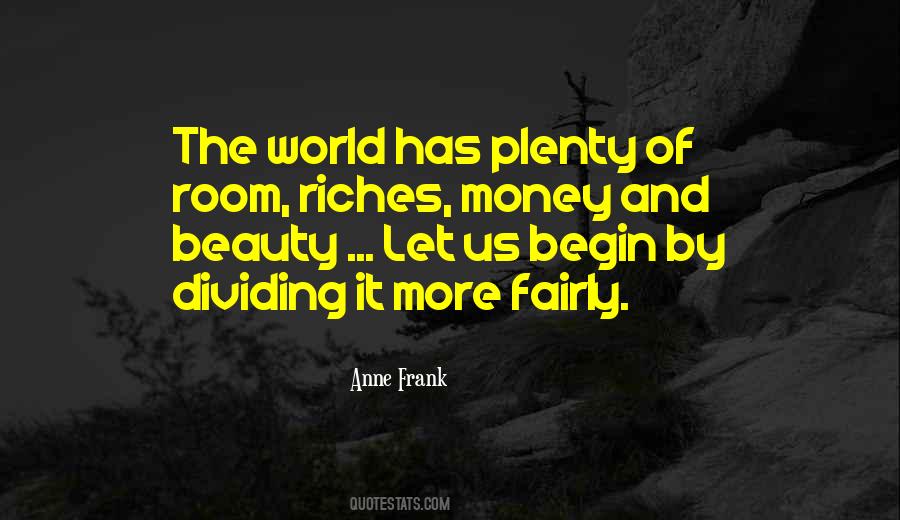 #3. A good reputation may be worth millions,
but a good character is worth all the riches of the world. - Author: Matshona Dhliwayo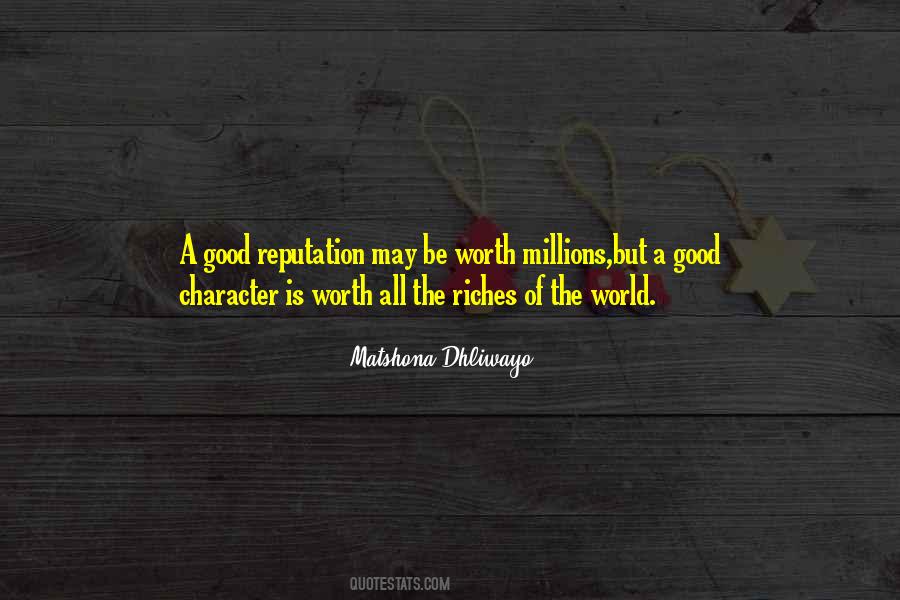 #4. My friend, you see how perishable are the riches of this world; there is nothing solid but virtue, - Author: Voltaire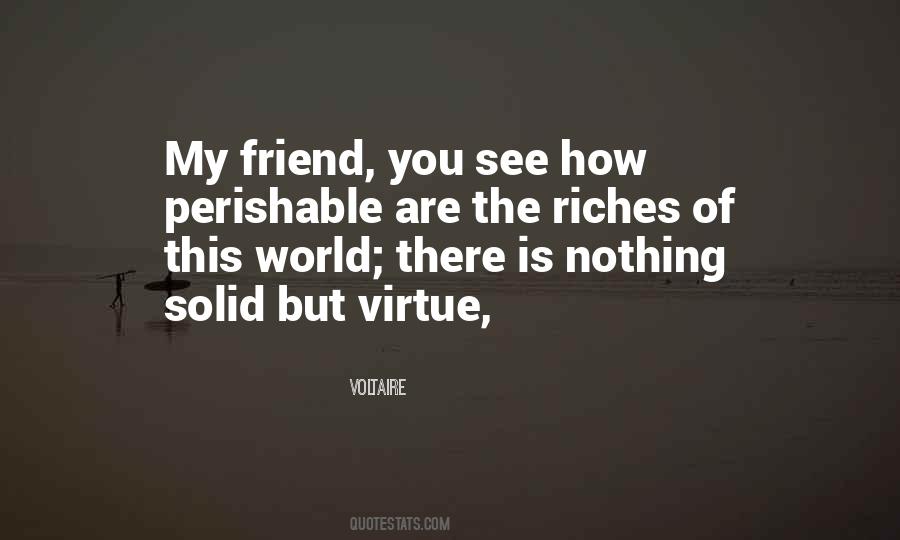 #5. This world loses its appeal when the steps become tottering, when the hearing becomes dim, when the faded eyes cannot see as they once did. When loved ones are nearly all gone on ahead, then all the riches or fame or pleasures of this world are baubles and trash. - Author: John R. Rice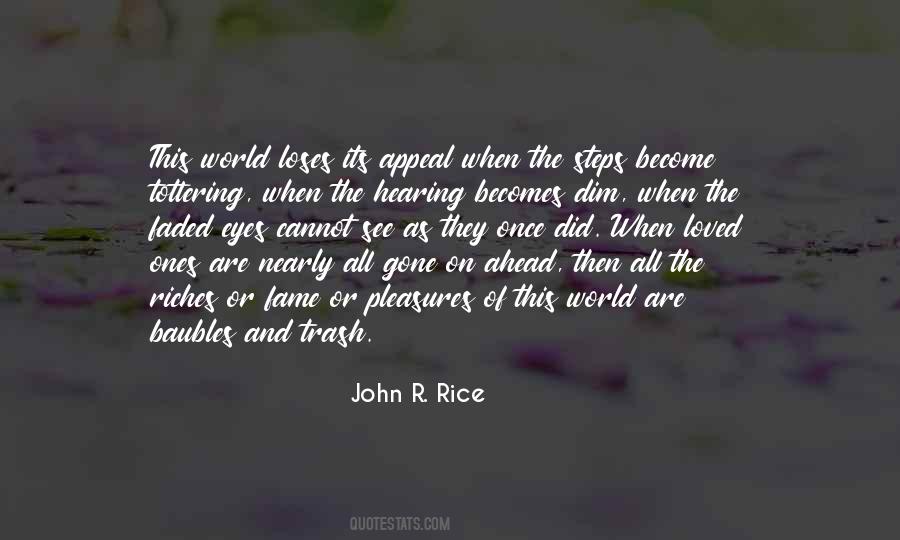 #6. Even if you were taken out of school for want of money, Hugh. It's no excuse for false values. The world is full of poor people who understand that love and friendship are more important than riches - Maisie Greenbourne - Author: Ken Follett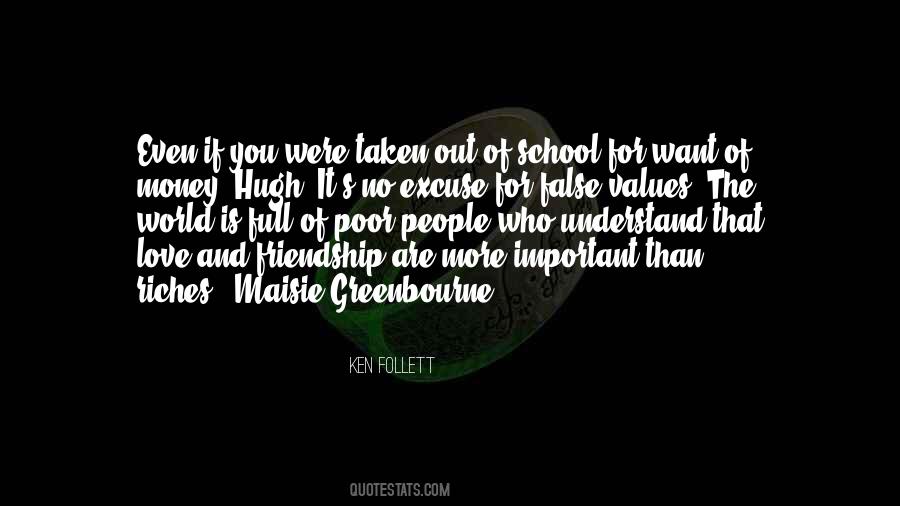 #7. The God of this world is riches, pleasure and pride. - Author: Martin Luther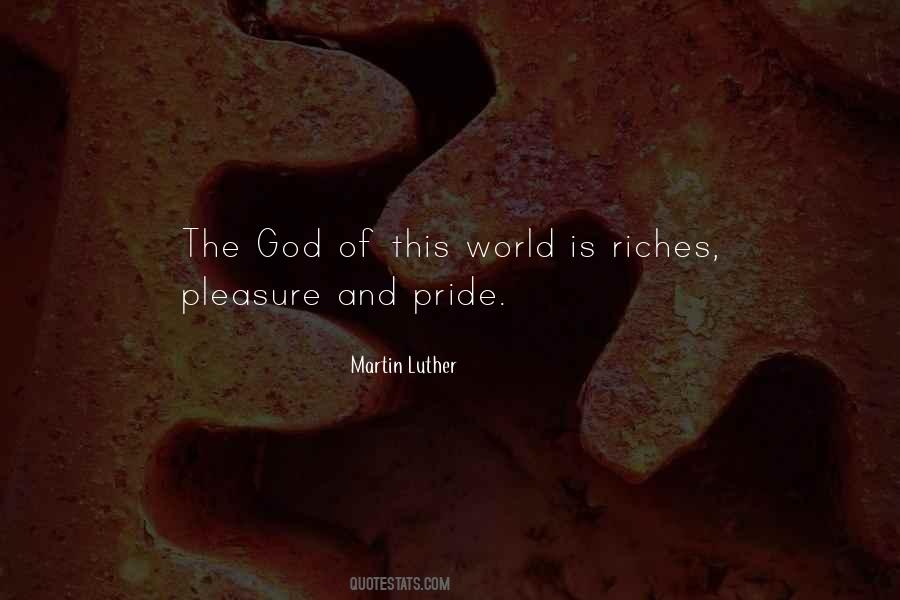 #8. Riches and power, what is there more in the world? For money answereth all things-that is, all but soul concerns. It can neither be a price for souls while here, nor can that, with all the forces of strength, recover one out of hell fire. - Author: John Bunyan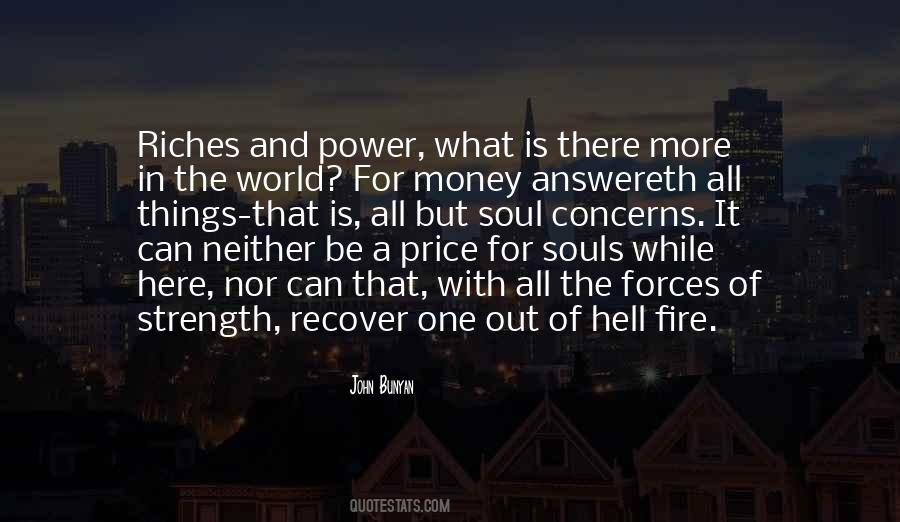 #9. The world tempts us either by attaching us to it in prosperity, or by filling us with fear of adversity. But faith overcomes this in that we believe in a life to come better than this one, and hence we despise the riches of this world and we are not terrified in the face of adversity. - Author: Thomas Aquinas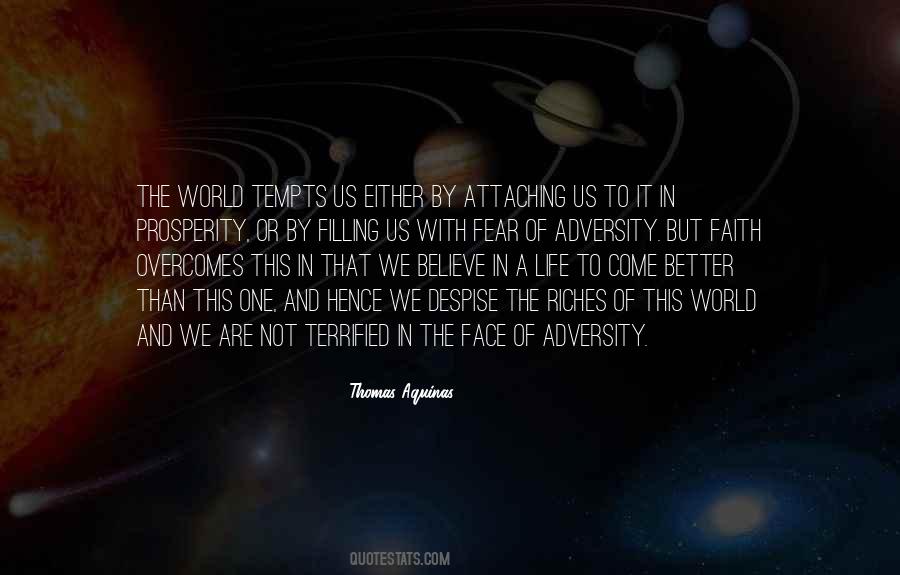 #10. If I might be the means of saving one soul I should prefer it to all the riches and honor in the world - Author: Asahel Nettleton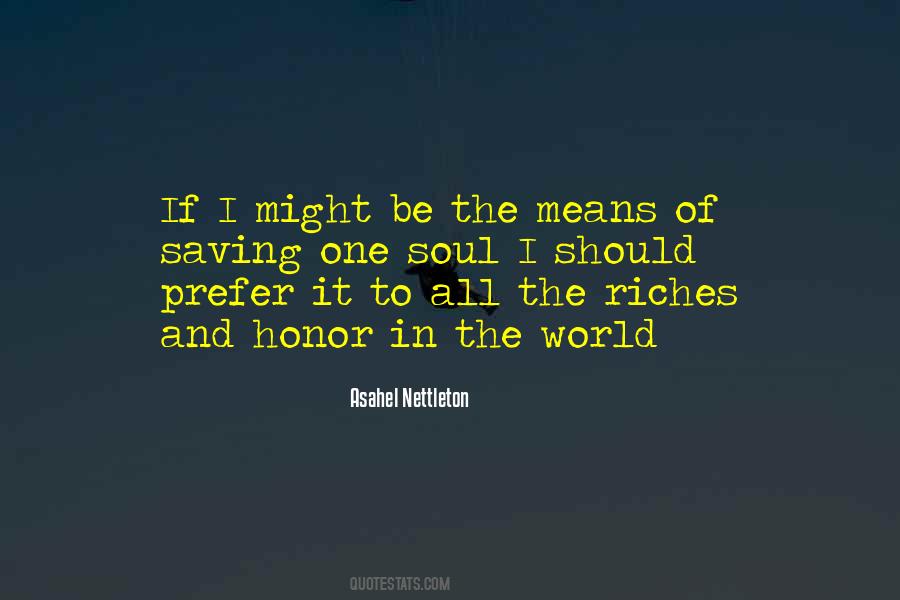 #11. I am poor and naked, but I am the chief of the nation. We do not want riches but we do want to train our children right. Riches would do us no good. We could not take them with us to the other world. We do not want riches. We want peace and love. - Author: Red Cloud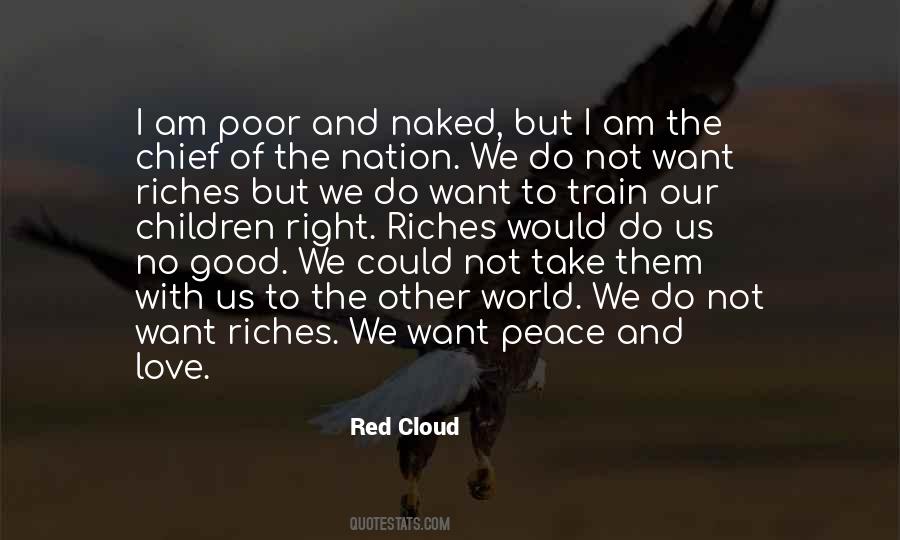 #12. It is not easy to be a pioneer - but oh, it is fascinating! I would not trade one moment, even the worst moment, for all the riches in the world. - Author: Elizabeth Blackwell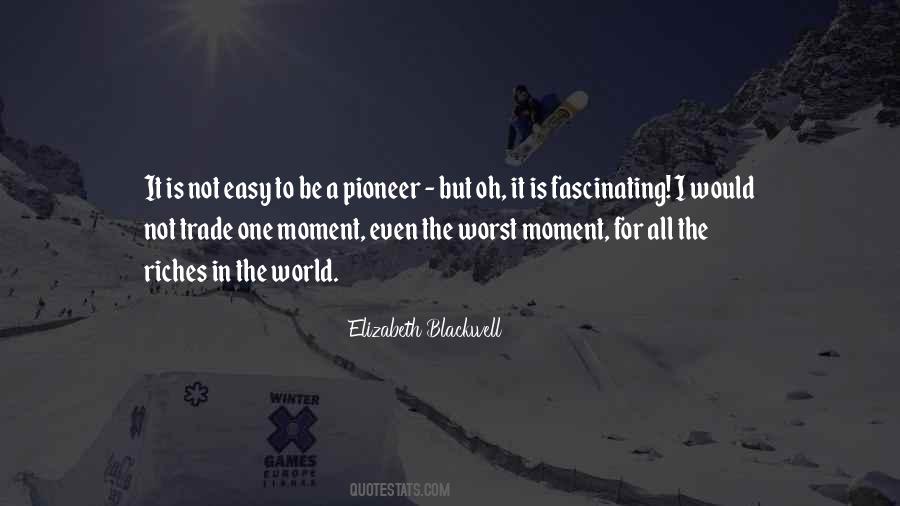 #13. Let me love Thee so that the honour, riches, and pleasures of the world may seem unworthy even of hatred - may not even be encumbrances. - Author: Coventry Patmore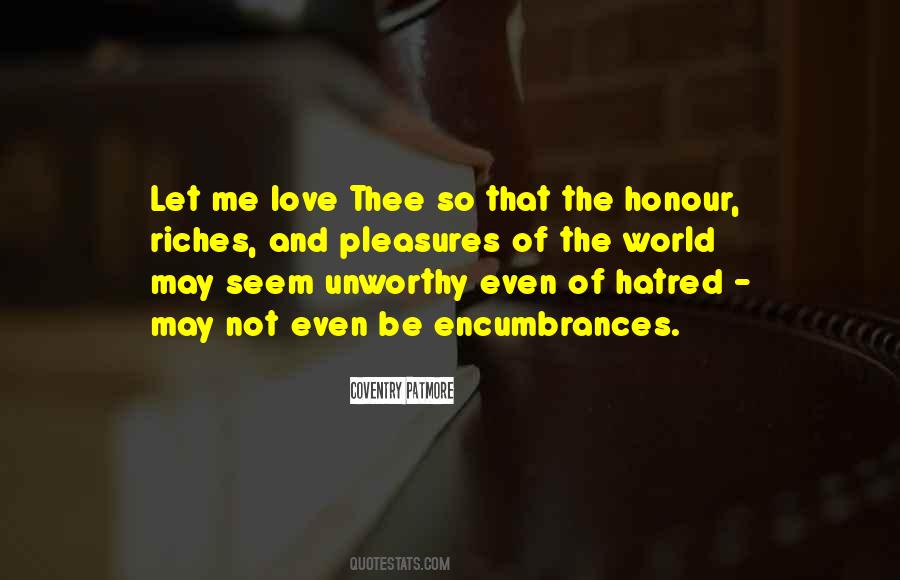 #14. Aggressive capitalism leads the world, and we can see the results, especially in Europe: more poverty for the vast majority, and more riches for a few. - Author: Costa-Gavras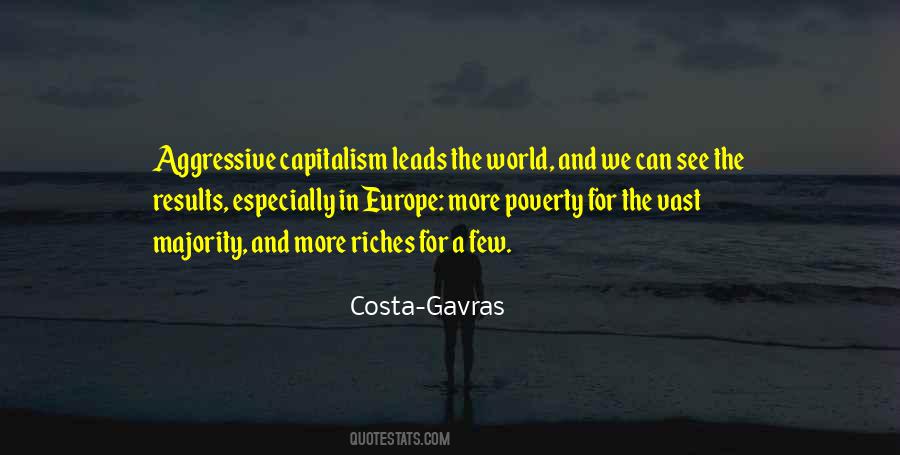 #15. If I had rubies, riches, and crowns, I'd buy the whole world and change things around. - Author: Bob Dylan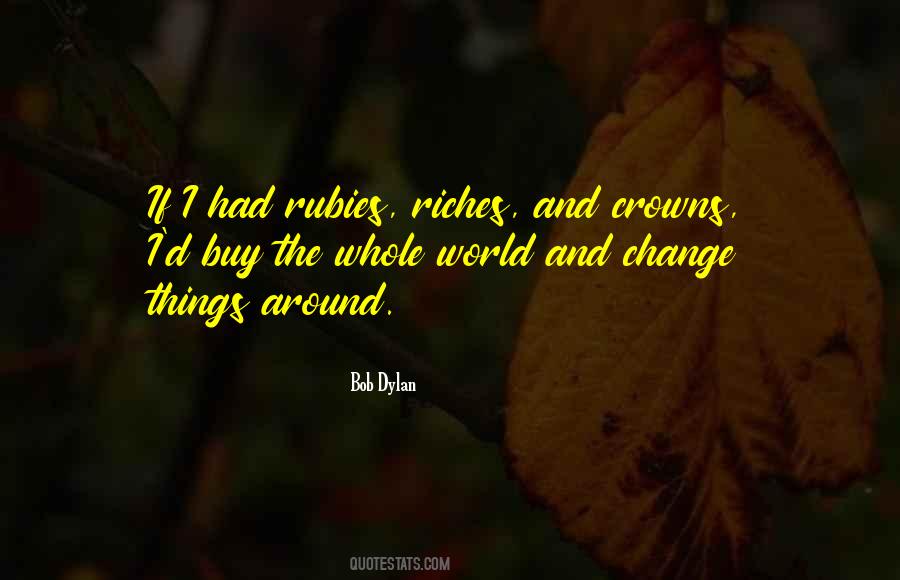 #16. We, as children of God, have an advantage over the world - Author: Sunday Adelaja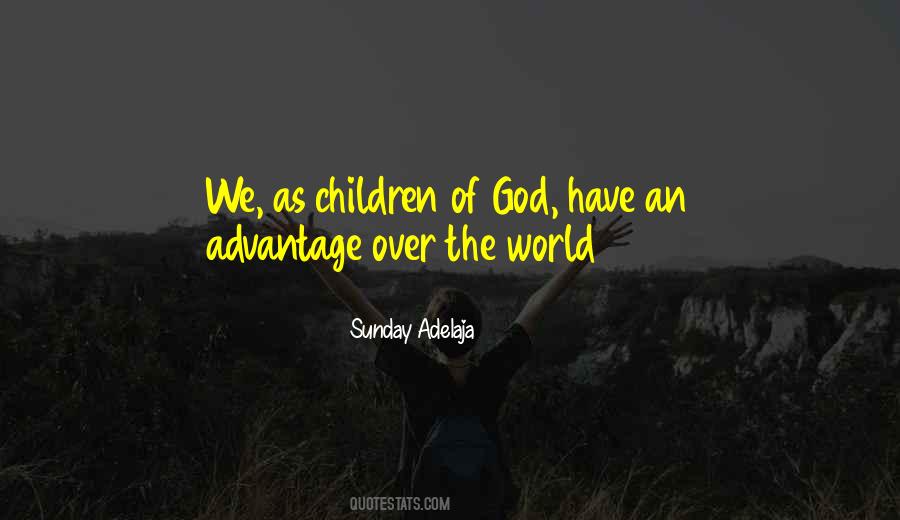 #17. Remember that Divinity is the true self of Man. It cannot be sold for gold; neither can it be heaped up as are the riches of the world today. The rich man has cast off his Divinity, and has clung to his gold. And the young today have forsaken their Divinity and pursue self-indulgence and pleasure. - Author: Khalil Gibran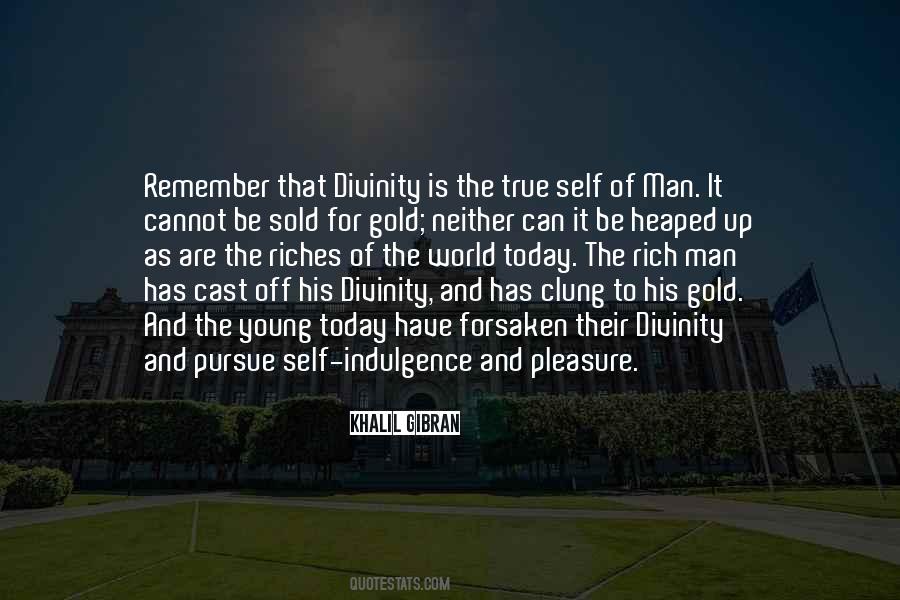 #18. O Christian, never be proud of things that are so transient, injurious, and uncertain as the riches of this evil world! But set your heart on the true and durable riches of grace in Christ Jesus. - Author: Isaac Ambrose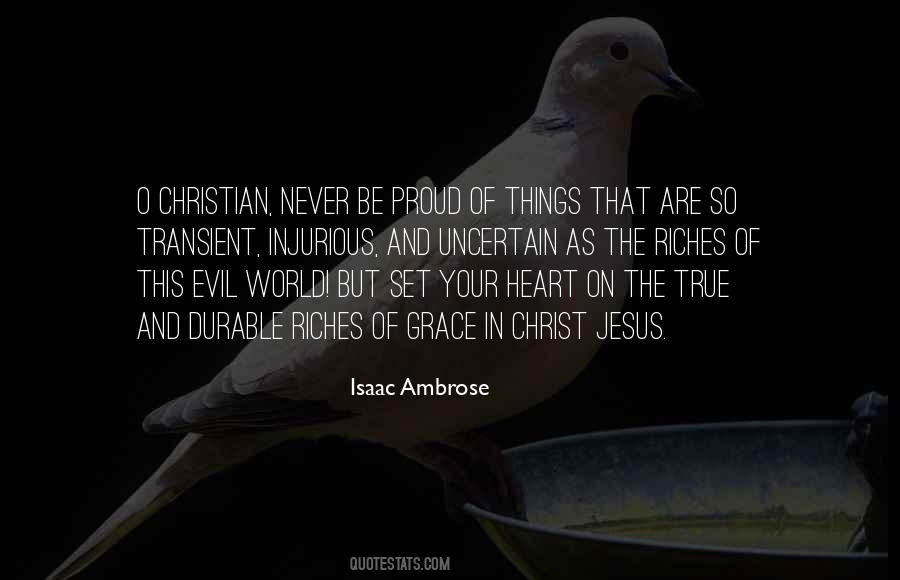 #19. Whoever commands the sea, commands the trade; whosoever commands the trade of the world commands the riches of the world, and consequently the world itself. - Author: Walter Raleigh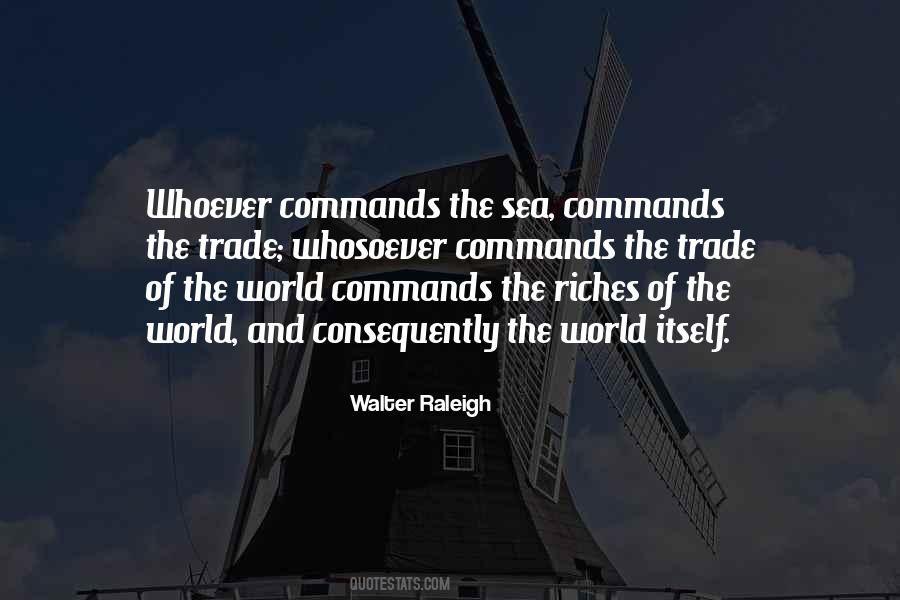 #20. Many of those who once were so passionately in love with Christ now run about pursuing their own interests. They're burdened down with stress and problems, chasing after riches and the things of this world. - Author: David Wilkerson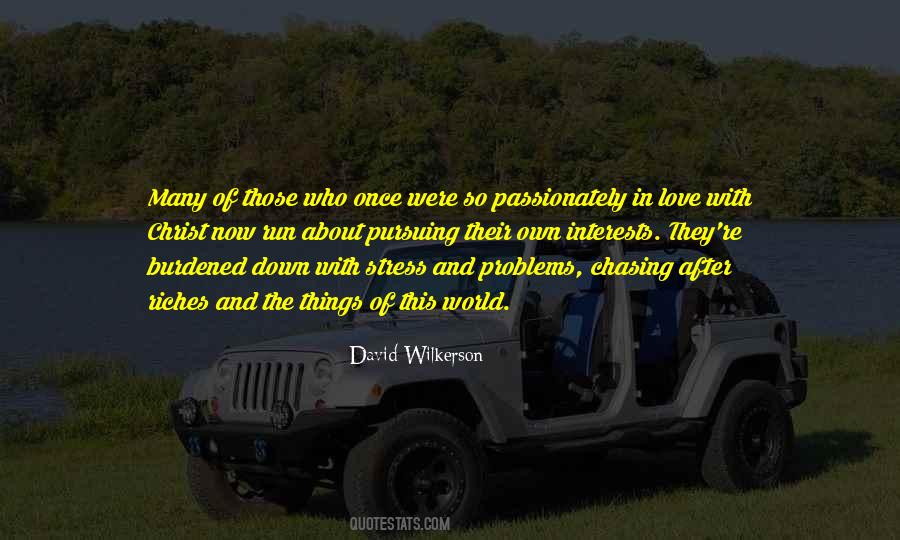 #21. I learned that ruling poor men's hands is nothing. Ruling men's money's a wedge in the world. But after I'd split it open a crack I looked in and saw the trick inside it, the filthy nothing, the fooled and rotten faces of rich and successful men. - Author: Robinson Jeffers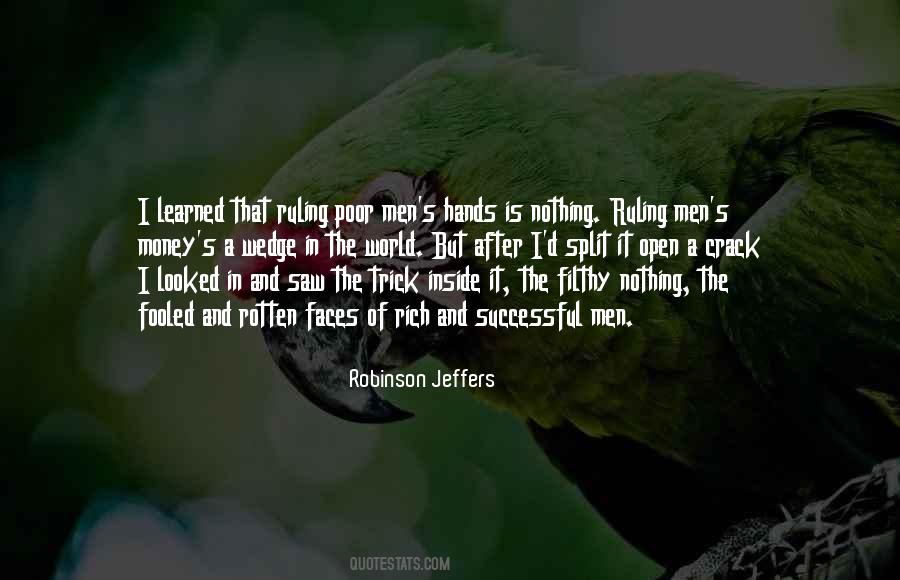 #22. Marriage is a wonderful thing, the wonder of wonders. It is a veritable garden of delights, a perennial fountain of the most exquisite sweetness, happiness, a land of enchantment. The riches and honors of the world are nothing in comparison with it. - Author: John Jaques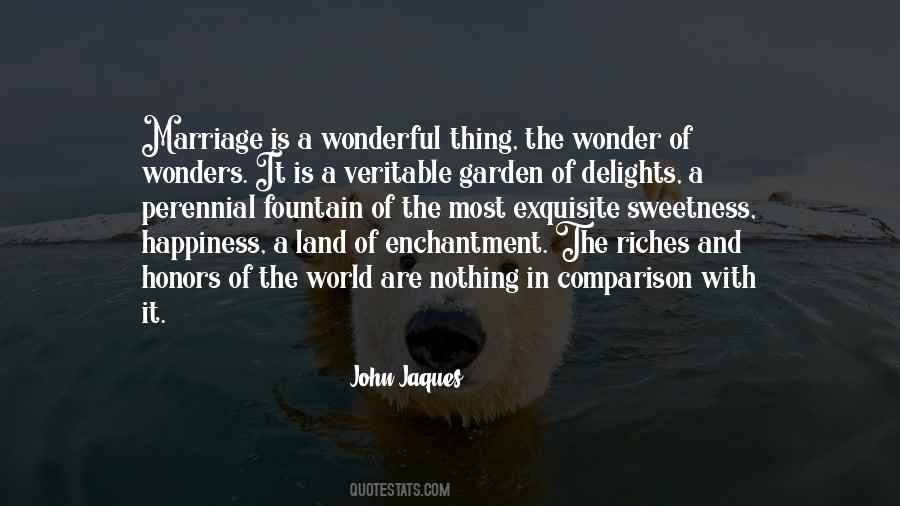 #23. It is true that money cannot buy happiness but it does make it possible for you to enjoy the best that the world has to offer. - Author: George S. Clason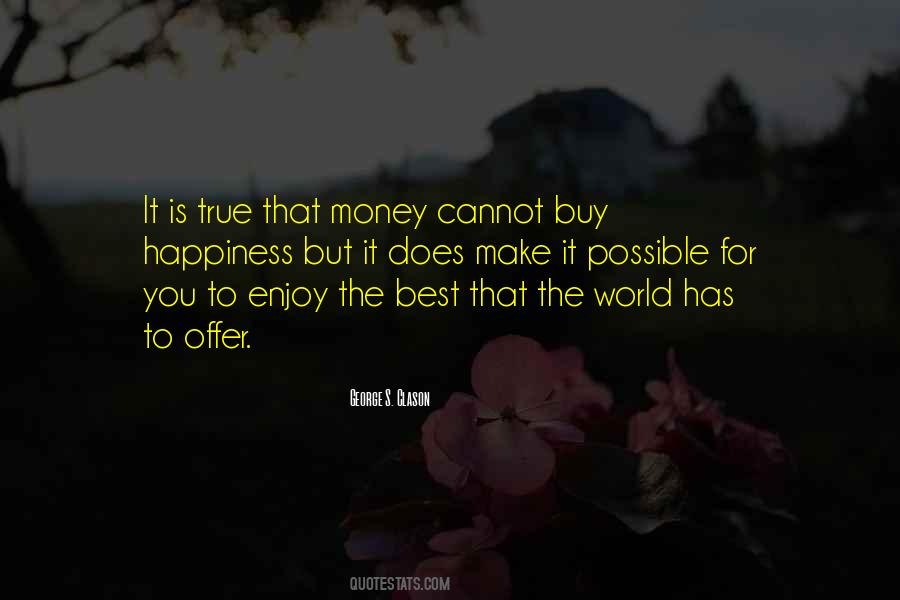 #24. MAR4.19 And the cares of this world, and the deceitfulness of riches, and the lusts of other things entering in, choke the word, and it becometh unfruitful. - Author: Anonymous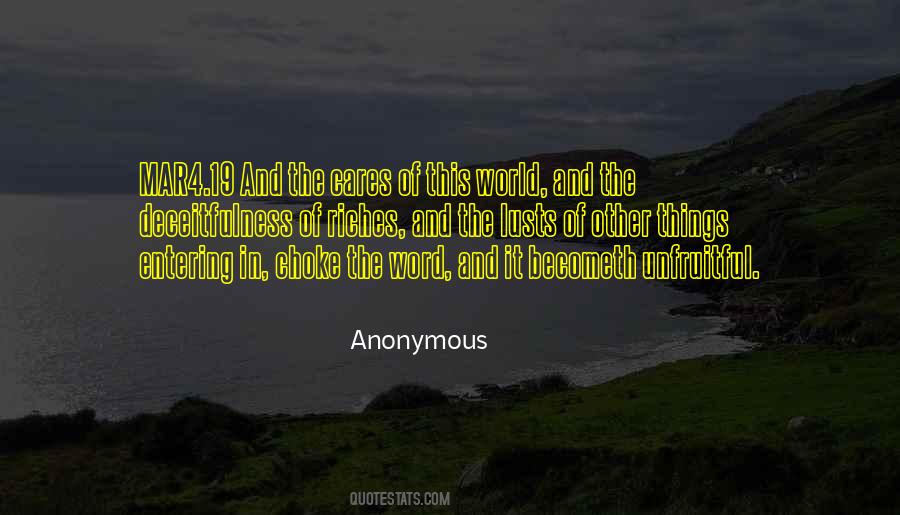 #25. The human spirit is itself the most wonderful fairy tale that can possibly be. What a magnificent world lies enclosed within our bosoms! No solar orbit hems it in, the inexhaustible wealth of the total visible creation is outweighed by its riches! - Author: E.T.A. Hoffmann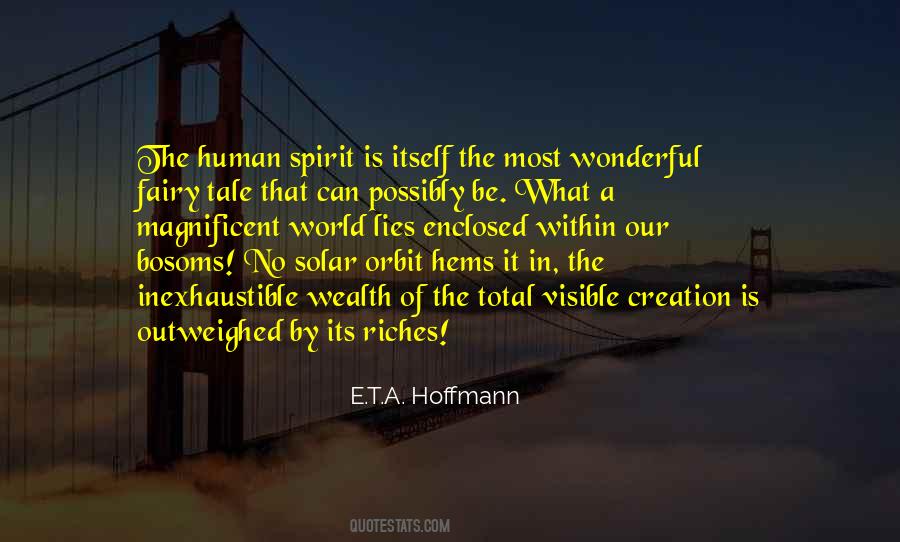 #26. We cannot compare our position to the people in this world - Author: Sunday Adelaja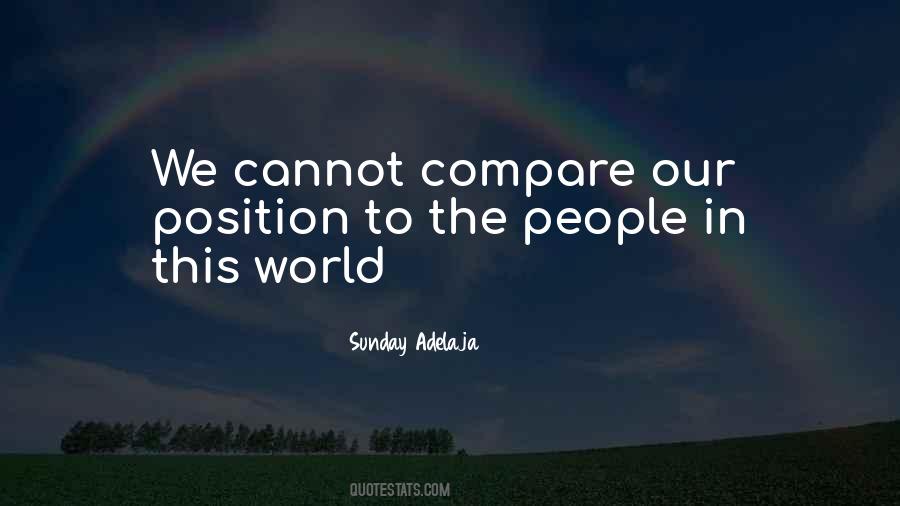 #27. The richest people in the world are the people that love the most - Author: Alinani Joe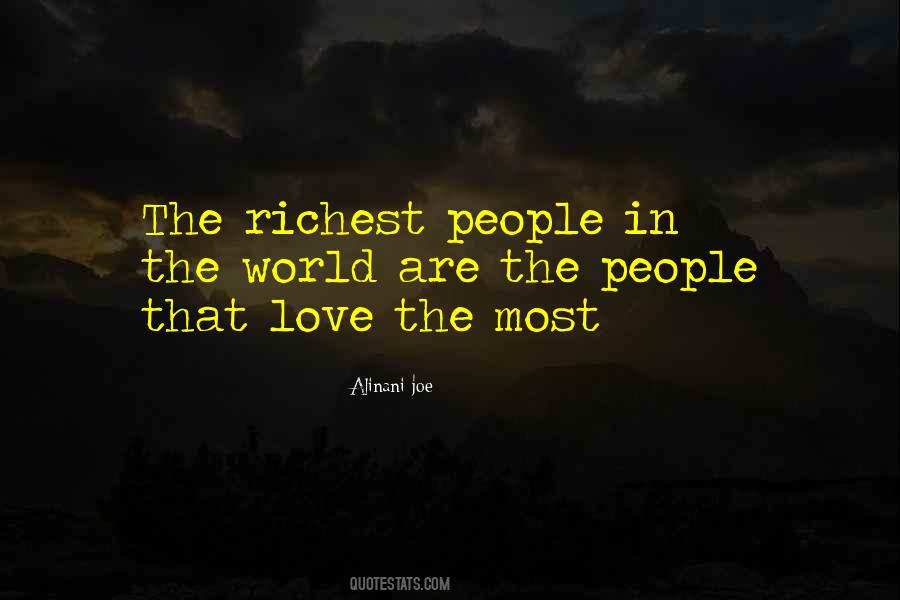 #28. It is easy to forget, not that we ever should, that everything in this world is an accident, including the origin of life itself, plus the accumulation of riches. We should show more respect for nature, not less. An accident isn't necessarily ever over.

"Scratching The Head - Author: Diane Williams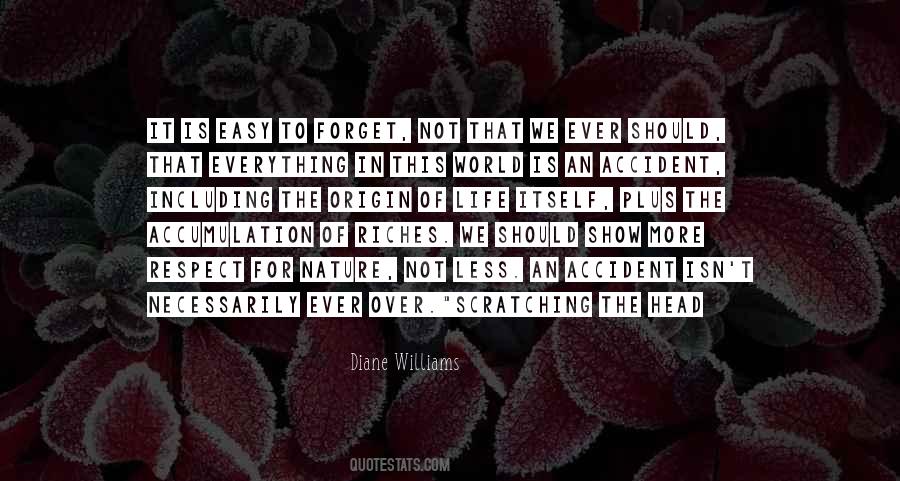 #29. All the nations that make up the world are burdened down with riches or poverty, obesity or malnutrition, success or failure. - Author: Billy Graham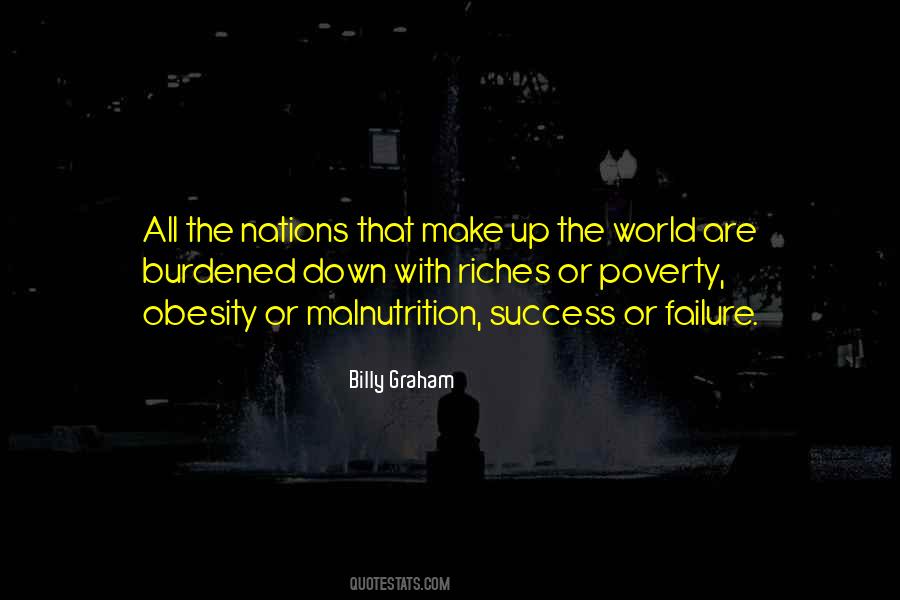 #30. Peace of mind is better than all the riches of the world. - Author: Matshona Dhliwayo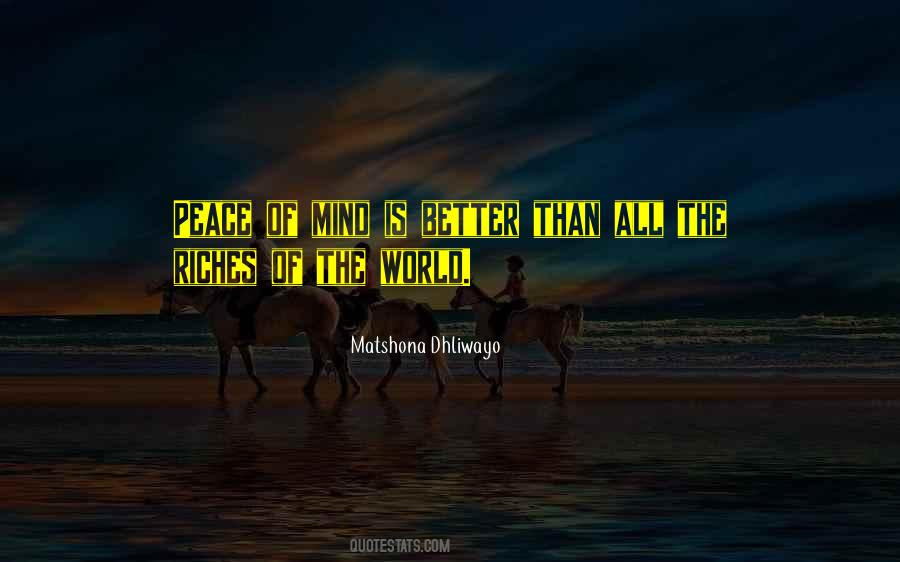 #31. We should reveal God to this world with our wealth - Author: Sunday Adelaja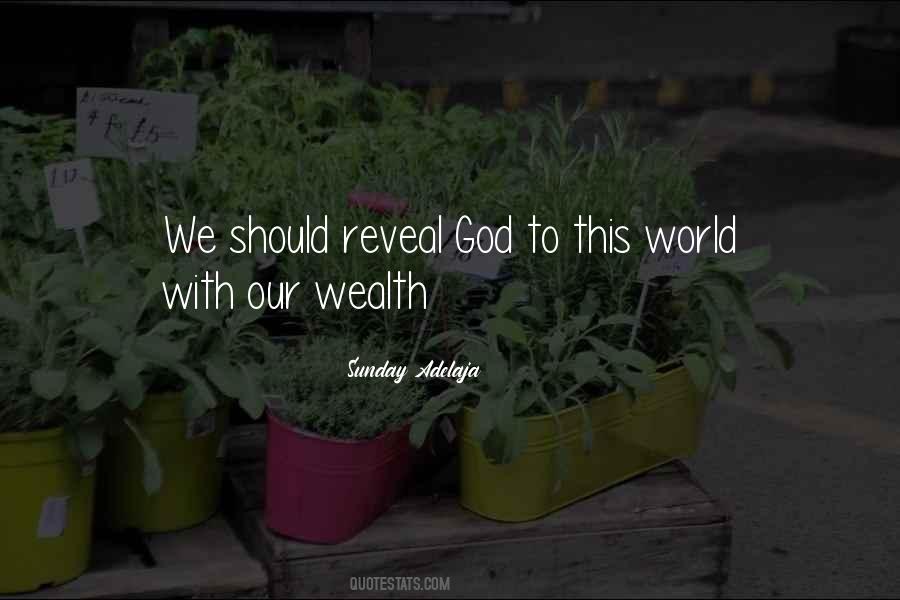 #32. The world has not yet learned the riches of frugality. - Author: Marcus Tullius Cicero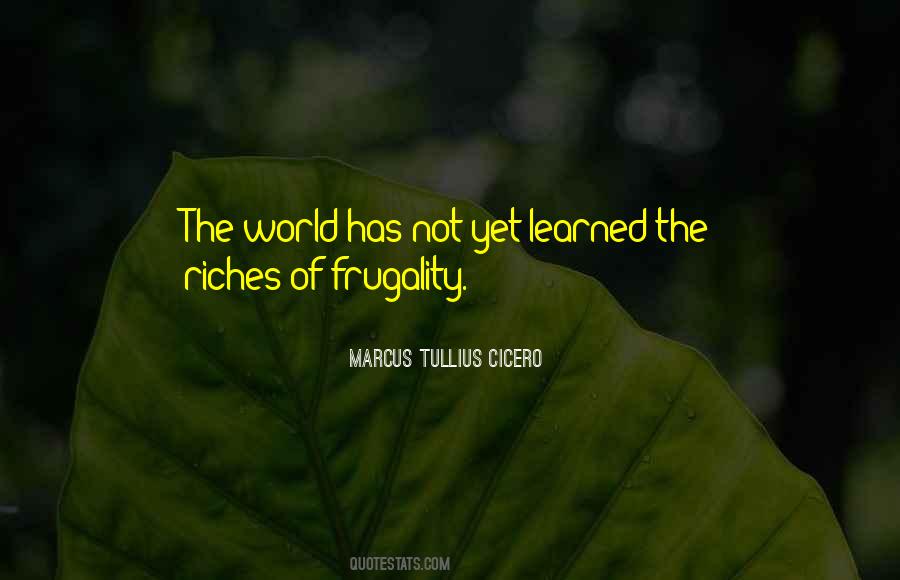 #33. The whole world is put in motion by the wish for riches and the dread of poverty. - Author: Samuel Johnson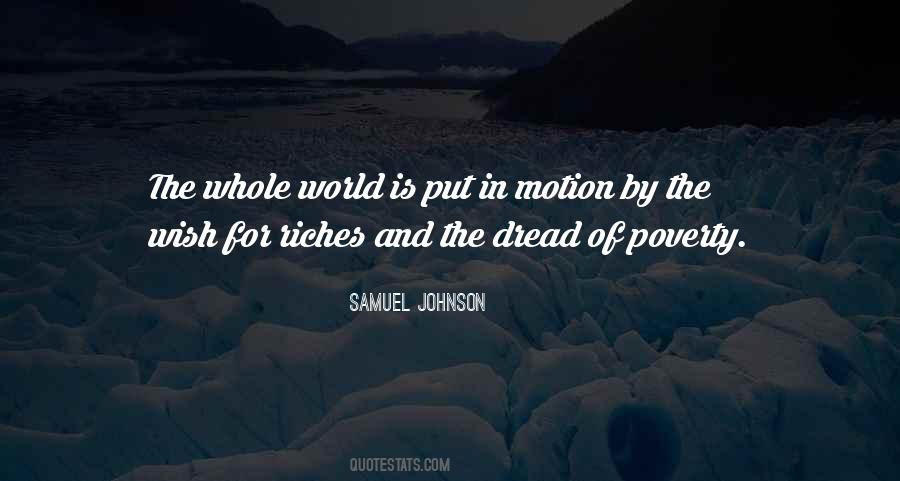 #34. When you go into the world you would not even notice when you become dead - Author: Sunday Adelaja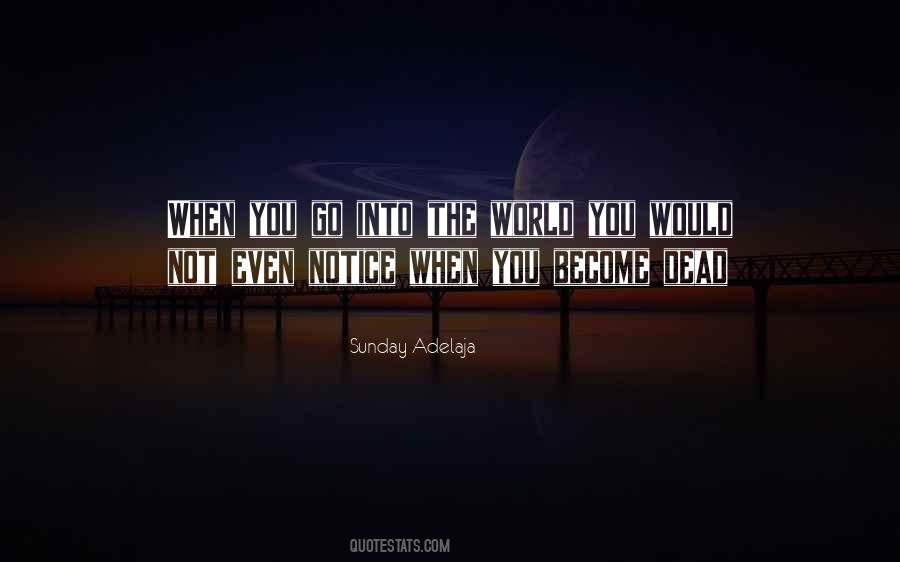 #35. It is the information we have that will determine who will hold a dominant position in this world - Author: Sunday Adelaja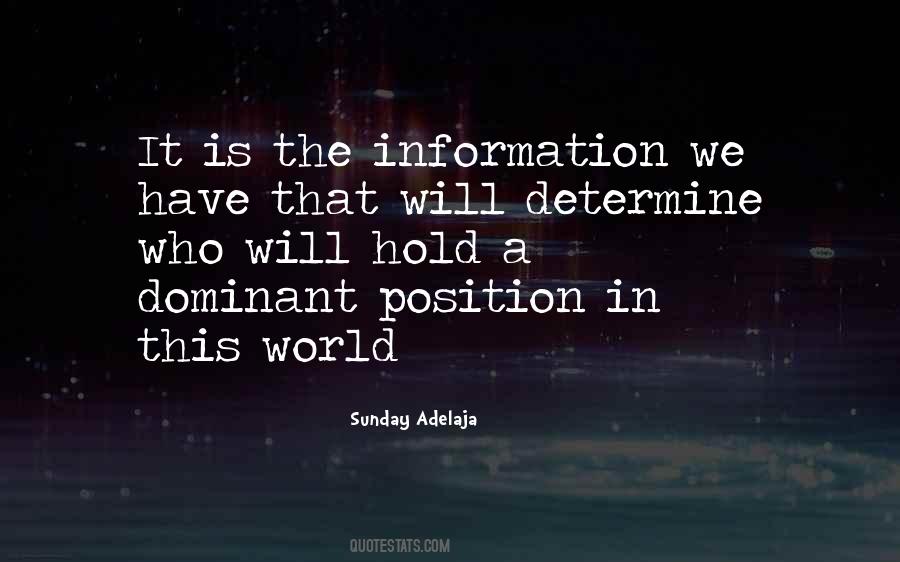 #36. I have everything I could ever want here, Adelina," he finally says. "You've handed me what feels like the world's riches, a palace, a life of luxury." He draws closer. "I get to be at your side. What more do I need? - Author: Marie Lu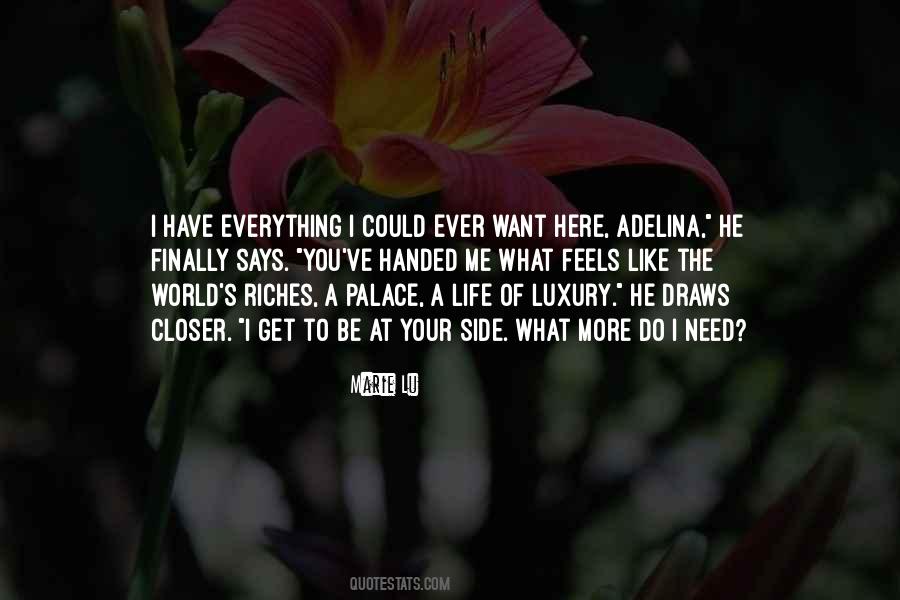 #37. We should always live in holiness and reveal the holiness of God to the world - Author: Sunday Adelaja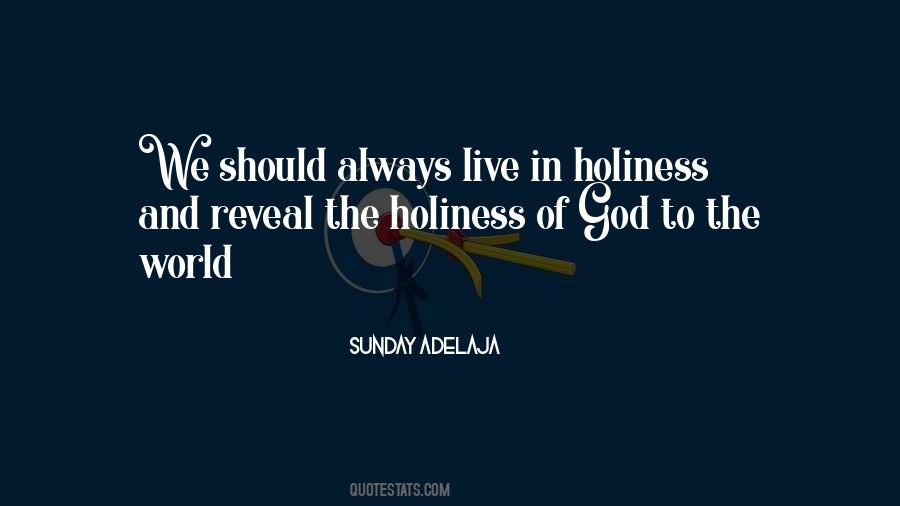 #38. Though I may accumulate a great deal of riches in this world, it is only my wealth of knowledge, talents, and emotional bonds that I keep when I leave. - Author: Richelle E. Goodrich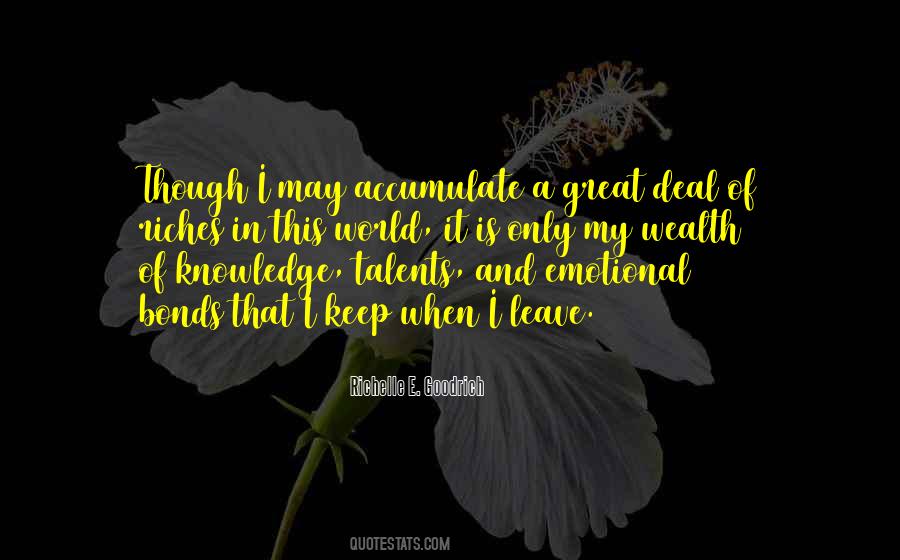 #39. The world is focused on success, which is defined as riches and fame.
Define your success as a person of values.
Make love, compassion, and kindness your only success and everything else will be available to you. - Author: Raphael Zernoff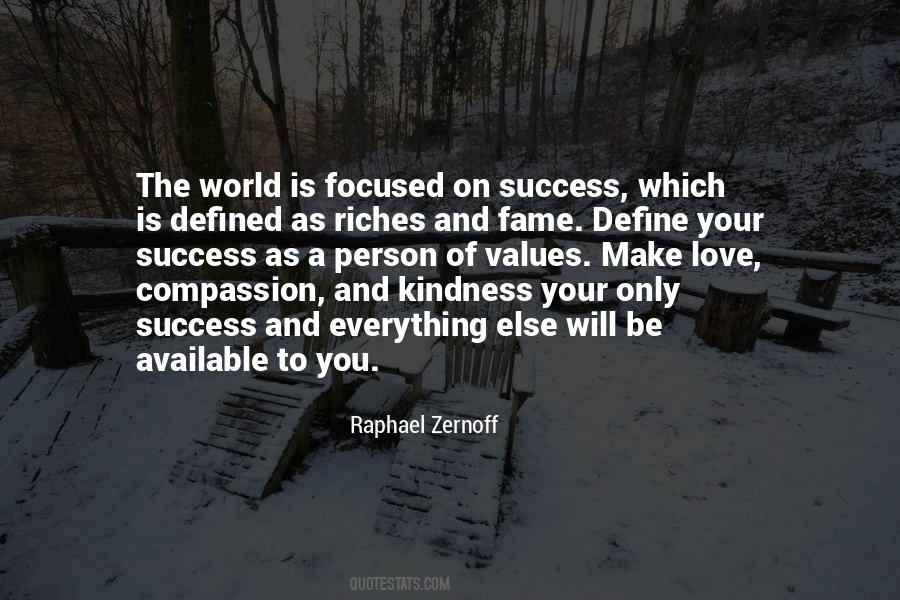 #40. He wondered what percentage of the world's art was actually kept in bank vaults and the like. Like unread books and unplayed music, did it matter that art went unseen? - Author: Ian Rankin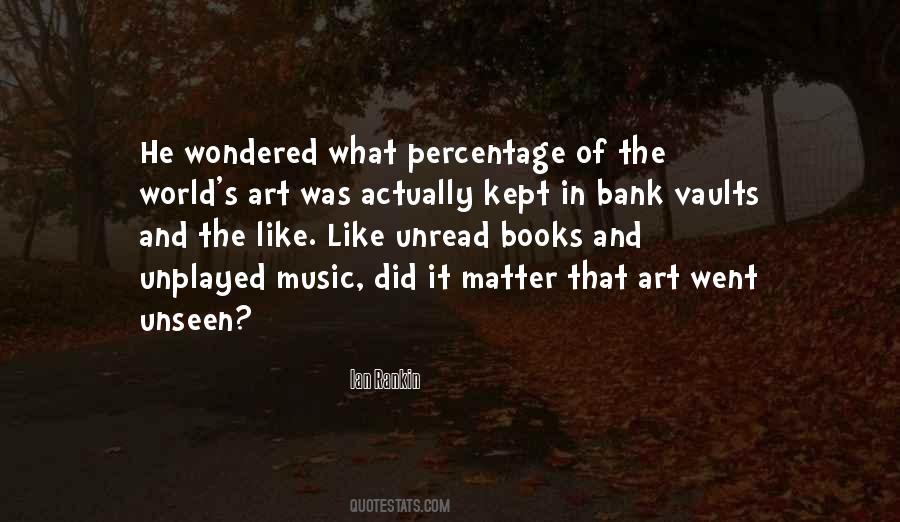 #41. If you do not carry out your mission, your gift to the world will be buried with other riches - Author: Sunday Adelaja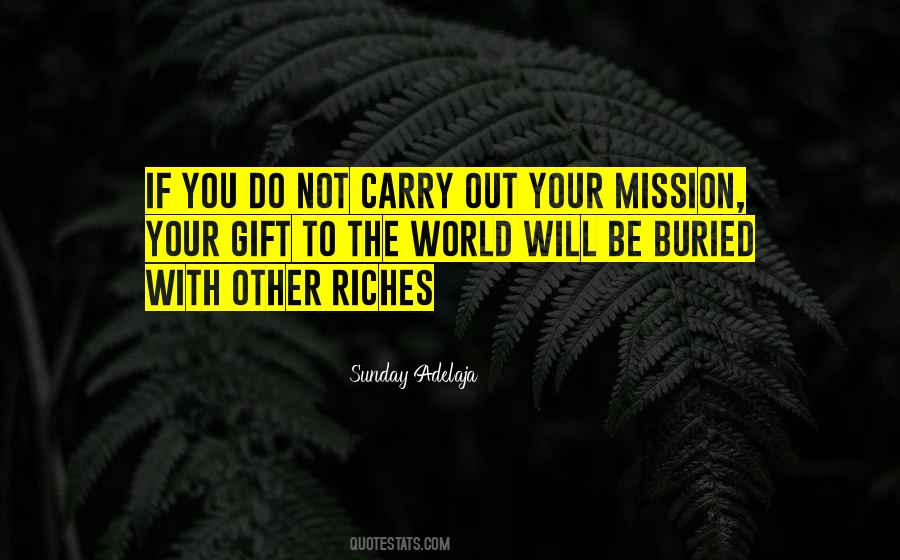 #42. Riches naturally beget pride, love of the world, and every temper that is destructive of Christianity. - Author: John Wesley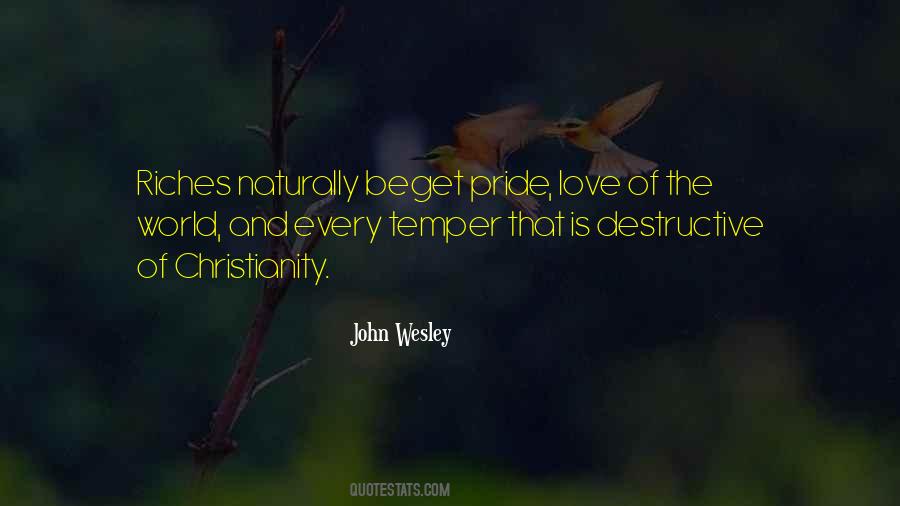 #43. The descendants of those who crucified Christ ... have taken ownership of the riches of the world, a minority has taken ownership of the gold of the world, the silver, the minerals, water, the good lands, petrol, well, the riches, and they have concentrated the riches in a small number of hands. - Author: Hugo Chavez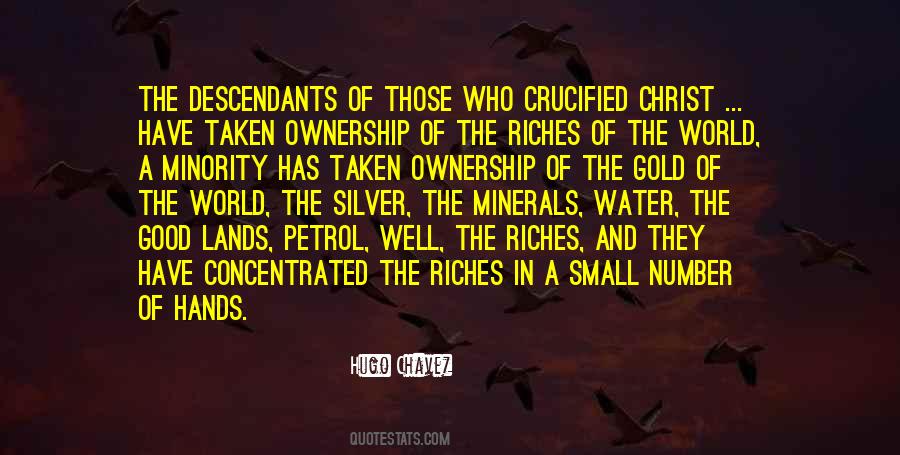 #44. Man cannot be content in his riches even if he has the whole world, there must be a frivolous extra desire. - Author: Michael Bassey Johnson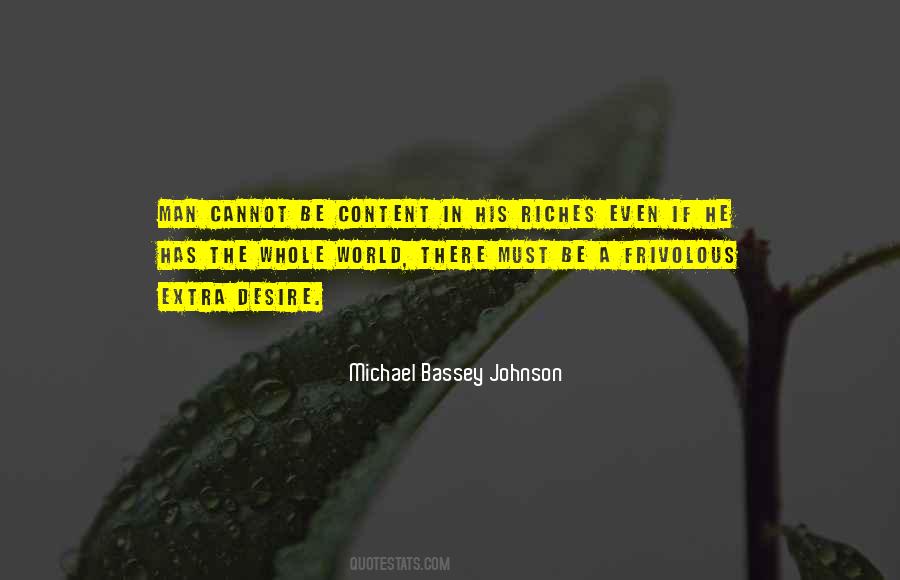 #45. Pleasures, riches, honor and joy are sure to have care, disgrace, adversity and affliction in their train. There is no pleasure without pain, no joy without sorrow. O the folly of expecting lasting felicity in a vale of tears, or a paradise in a ruined world. - Author: Gotthold Ephraim Lessing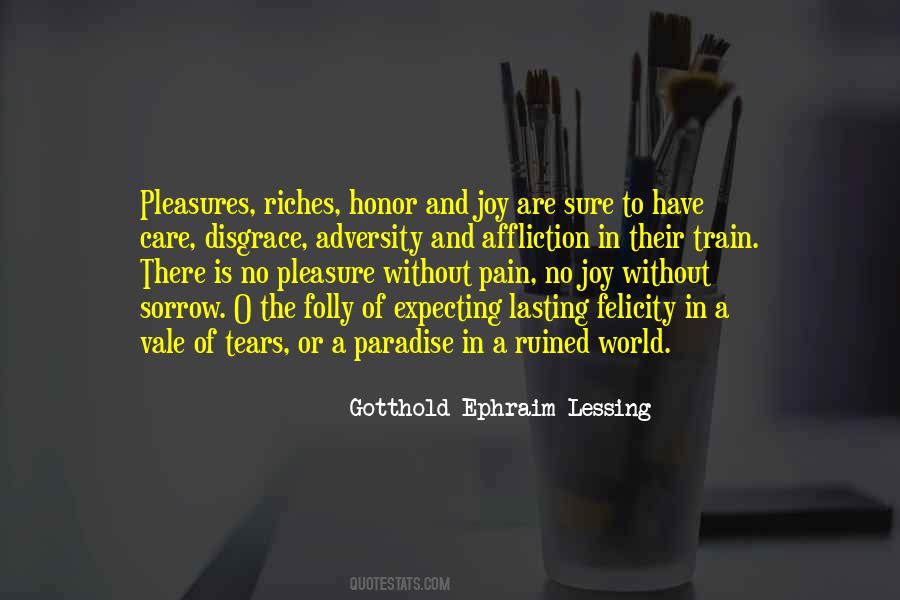 #46. These days there is a lot of poverty in the world, and that's a scandal when we have so many riches and resources to give to everyone. We all have to think about how we can become a little poorer. - Author: Pope Francis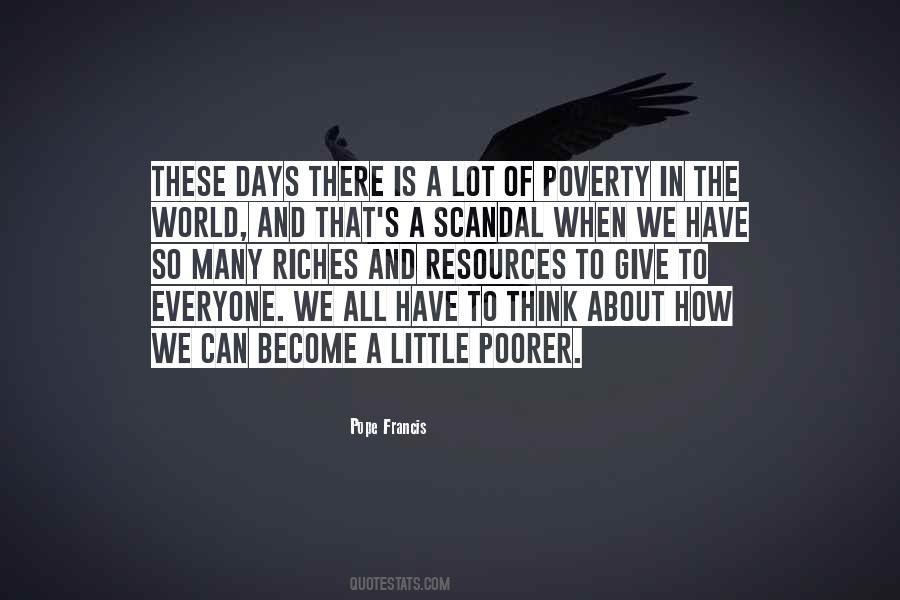 #47. You can have all the riches and success in the world, but if you don't have your health, you have nothing. - Author: Steven Adler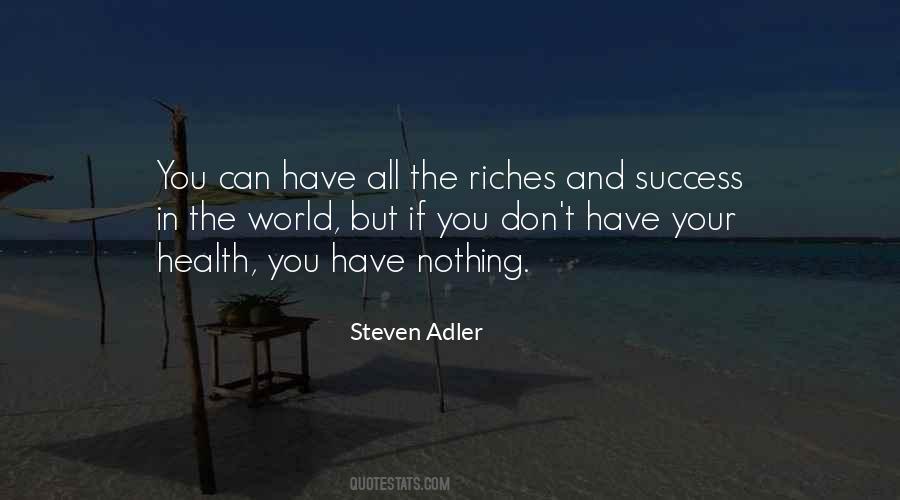 #48. If riches increase, set not your hearts upon them: so if friends increase, set not your hearts upon them, but trust in the living God, let it be the living God that you rest on even for all outward things in this world. - Author: Jeremiah Burroughs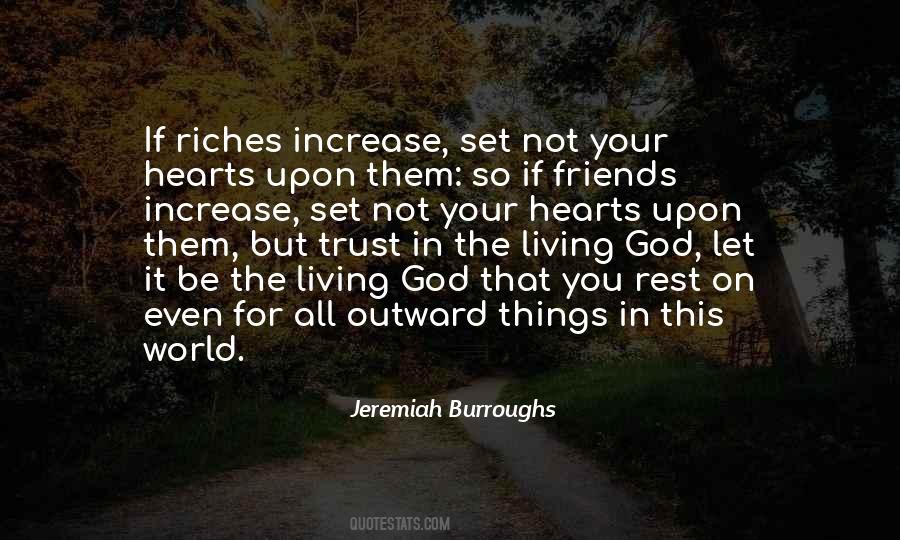 #49. A praying mother is more precious and valuable than all the riches in the world. - Author: Violet James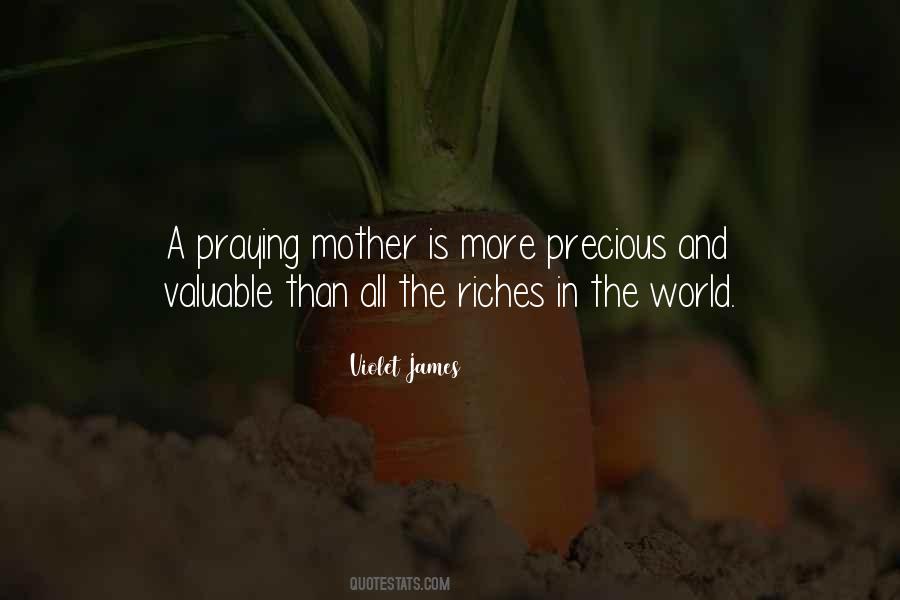 #50. It is impossible, Bible in hand, to limit Christ's Church to one's own little community. It is everywhere, in all parts of the world; and whatever its external form, frequently changing, often impure, yet the gifts wherever received increase our riches. - Author: Abraham Kuyper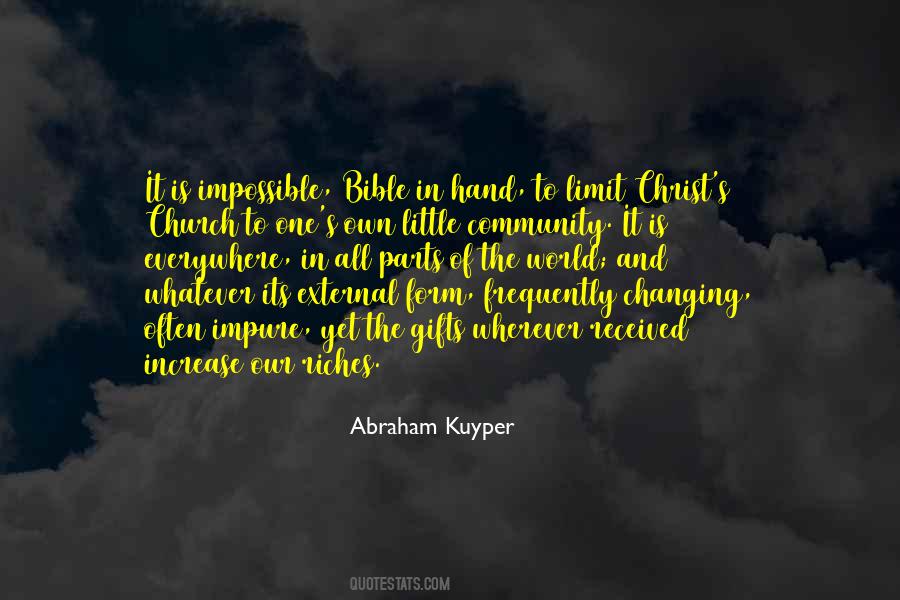 #51. There's plenty of room for everyone in the world. Enough money, riches, and beauty for all to share. God has made enought for everyone, so let us all begin then by sharing it fairly. - Author: Anne Frank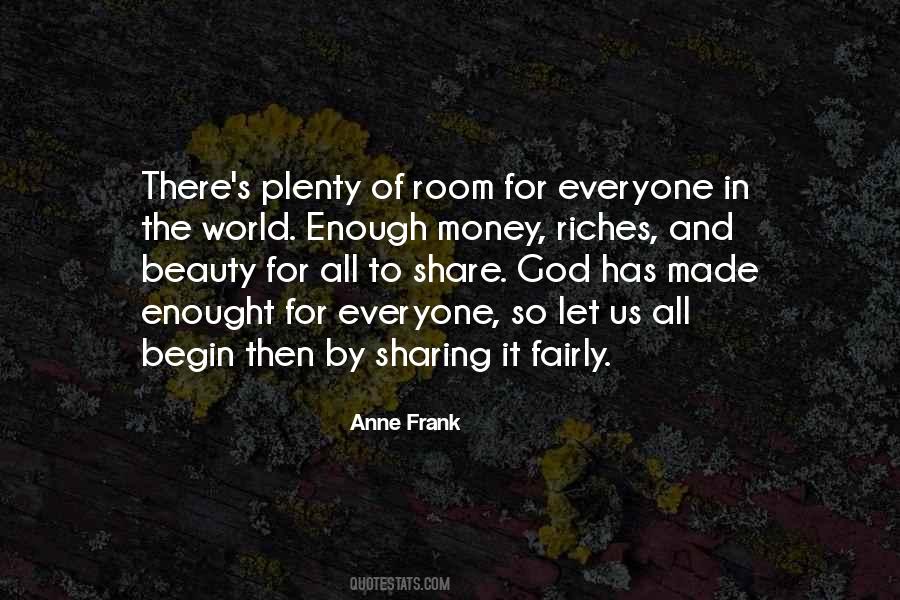 #52. What good does it do to have all the riches of the world and all the world's pleasures? They will all disappear in the flash we call a human lifetime. Focusing on the pleasures of the world keeps the mind too distracted to search for the inner Self. - Author: Rama Swami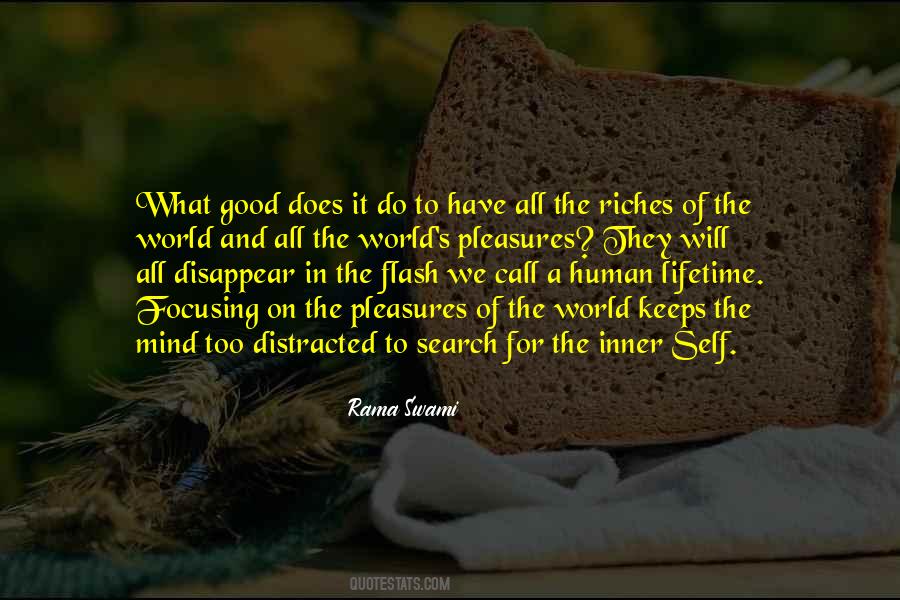 #53. There is nothing in all the world greater than freedom. It is worth paying for; it is worth going to jail for. I would rather be a free pauper than a rich slave. I would rather die in abject poverty with my convictions than live in inordinate riches with the lack of self respect. - Author: Martin Luther King Jr.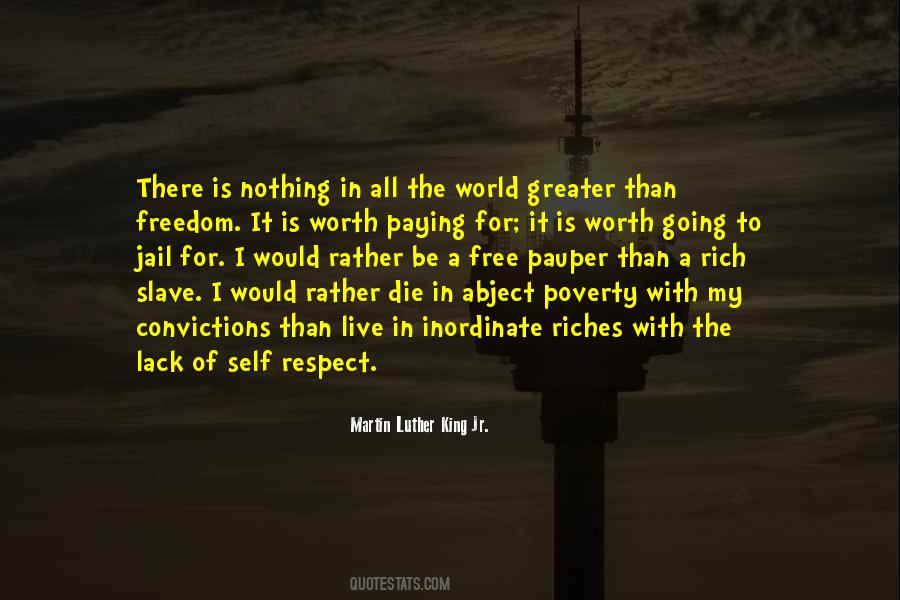 #54. See to it, Christian, that you do not love the world. By faith in the cross of Christ, and the bleeding glories of Calvary; this world with all its riches and honors will become a dim and dying object in your view. - Author: David Harsha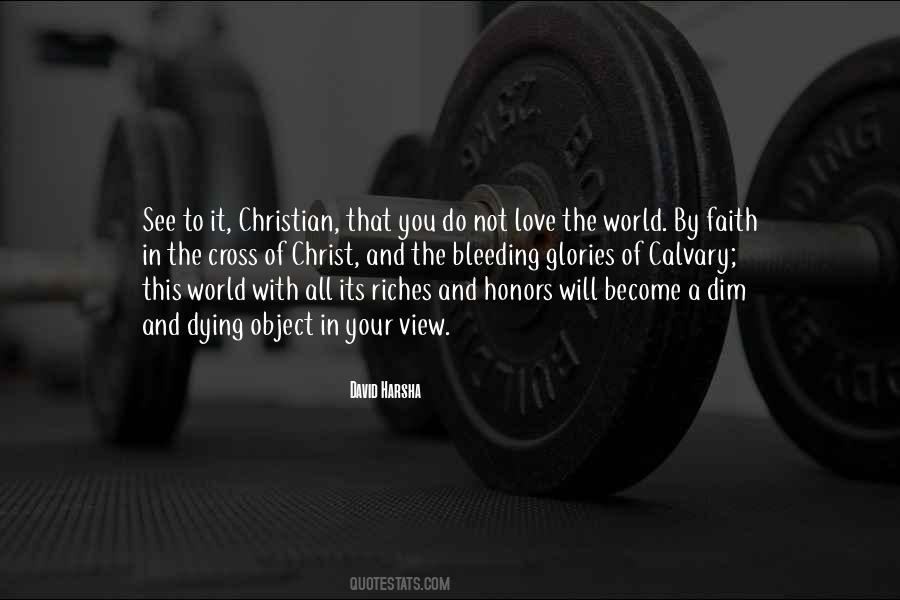 Famous Authors
Popular Topics